ALTY LEGENDS SECTION 46
by Terry Rowley
These pages chronicle the playing legends of Altrincham Football Club. The texts have been kindly supplied by Terry Rowley, formerly joint editor of the Robins' Review matchday programme. Many of the profiles have previously appeared in the Robins' Review.
---
136. Eric Michael ROBINSON
137. Henry "Harry" BOYLE
138. Ian Denzil GREAVES
---
136. Eric Michael ROBINSON
By Terry Rowley
Born: Manchester 1st July 1935
Died: Marple 25th April 2008
Position: Inside-Left
Eric, was a local lad, educated at Brooklands, Sale, who, as a teenager, gravitated towards his local club, Altrincham, first, as a teenager, becoming involved with the Reserves in 1953.
He went on to make his Altrincham debut at inside left on 20th October 1956 in 5-2 win away at Gresty Road against Crewe Alexandra Reserves 1956/57, with his first goals for the club coming in the return match at Moss Lane, on 24th November. He became a regular at either inside right or inside left.
Coach, Arthur Gale, (a former West Bromwich player), recommended Eric to the Maidlands club and, after playing nineteen league games and scoring three goals, in March 1957 joined WBA for £1,000. Eric's final game came on 9th March 1957 in a 5-2 win at home over Buxton. Never a prolific scorer, Eric was a creative player who provided opportunities for other players.
At the Hawthorns, Eric was confined to the Reserves playing 71 games for them and scoring twenty-three goals. He made his solitary first team appearance against Blackpool, away, in a 2-0 defeat at on 19th April 1958.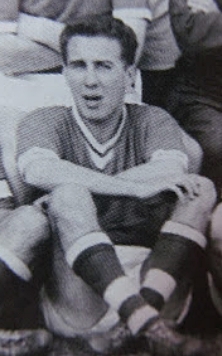 Eric was then sold to Second Division, Rotherham United for £5,000 in January 1959, making his debut towards the end of the 1958/59 season and playing in eight league games. He then played in the opening five games of the following 1959/60 season scoring in a 3-2 win at Bristol City on August 29th 1959, but he then lost his place and returned to the Reserves and was released at the end of the 1960/61 season without regaining his place.
Eric returned to Altrincham for the 1961/62 season and made his second debut in the season's opening fixture, a 2-2 draw with the Chester Reserve side at Moss Lane.
Eric suffered a fractured collar-bone in the 1-0 victory over Witton Albion in the Inter-League Cup on the 5th February and did not reappear until 31st March in a 4-3 win over Tranmere Rovers Reserves in which he played at left-half, before reverting to his more favoured inside-forward position.
By the end of the season Eric had played a total of 33 league games, scoring three goals, in addition to six games in the FA Cup, in which he scored twice, and three games, with one goal, in the Inter-League Cup as well as a single appearance in the Cheshire Senior Cup.
In 1962/63 Eric started the season as a first-team regular and ever-present until picking up an injury in a 1-0 defeat at Wrexham on the 27th October, which meant Eric missed the next five matches. He re-appeared in the 3-0 home defeat to Ellesmere Port on 8th December. He played one more game, making his final Altrincham appearance against Northwich Victoria on 15th December 1962.
In February Freddie Pye was appointed manager and allowed Eric to join Bangor City, where he made his debut on 9th February 1963, putting in a sterling performance in the mud to bring home a 2-1 win. At the end of April 1964 he lined up with former team mates, Tommy Banks and Rex Grey, to face Cardiff City in the first leg of the Welsh Cup Final, in front of a crowd of 8,500. Eric scored in a 2-0 win.
Unfortunately, Bangor lost the second leg at Cardiff, 3-1, so a third, play-off match was held, which Bangor also lost meaning that Eric had to be content with a runners-up medal. Eric had a brief spell at Ashton United in June 1965 but, after a couple of months of the season, he was allowed to leave in September. His career after Ashton United is unknown. He retired in 1969
Eric Robinson's Career
Brooklands School
Altrincham (1953 Reserves)

1956-57, 19 games - 3 goals in League, 1 game - 0 goals in League Cup, 1 game - 0 goals in CSC
1957-58, 12 games - 2 goals in League

West Bromwich Albion (03/57 £1000) 1957/58 1-0L (71 Central League games 23 goals)
Rotherham United (01/59 £ 5,000)

1958/59: 8 games - 0 goals in League
1959/60: 5 games - 1 goal in League

Altrincham (08/1961)

1961/62, 33 games in League - 3 goals in League, 6 games -2 goals in FA Cup, 3 games -1 goal in League Cup, 1 game -0 goals in CSC
1962/63, 15 games in League - 2 goals in League, 4 games -1FAC, 1 game -0 goals in League Cup

Bangor City (02/63) Welsh Cup runner-up 1964
Ashton United (06/65) 1965/66 9 games -2 goals in League, August to September 1965
Retired 1969.
---
137. Henry "Harry" BOYLE
By Terry Rowley
Born: Possil Park, Glasgow 22nd April 1924
Died: Southport 9th April 2012
Harry was born in the Possil Park district of Glasgow and was a second cousin of Sir Matt Busby.
His parents moved to Middlesbrough, when Harry was 6 and he grew up in England. He first played for Southbank Park, St Peter's, and from there played for Grangetown St Mary's, joining Billingham Synthonia Recreation in 1945. (Brian Clough was to play for Synthonia in 1952/53).
Soon after joining Billingham, Harry, a steady left back, was approached by Middlesbrough and signed amateur terms in November 1945. Due to his family's relations with Matt Busby, Harry was signed as an amateur by Manchester United on 3rd May 1946 and United allowed him to join Merton Colliery Welfare who played in the North Eastern League for the 1946/47 season to gain further playing experience.
Due to United's scout being sacked, Harry was not contacted; instead he was spotted by Southport's North Eastern scout. Harry signed on 8th July 1947 for Southport in the Third Division North. Ironically, United contacted him the following day to offer professional terms!
Harry made his Southport debut on 26th August 1947 in a 1-1 draw with Lincoln City and went on to be a near ever-present that season, playing 38 league games, two in the FA Cup and, in addition, played in the Lancashire Cup final, (a chastening 5-1 defeat by Bolton Wanderers).
Harry was a regular choice in 1948/49 playing a further 33 games for the 'Sandgrounders'. Unfortunately, Harry missed much of his third season with Southport through a variety of injuries and only played 17 games. He was released at the end the 1950/51 season.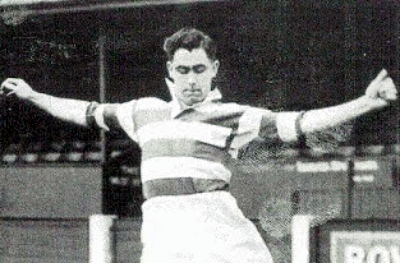 Harry then signed for fellow Third Division North side Rochdale on 24th June 1950. Now settled in Southport he played the 1950/51season under continual pressure to relocate to Rochdale, which he refused to do, and at the end of the season he left and signed for Bangor City for the 1951/52 season. After a successful season Harry was allegedly offered the managers role at Farrar Road but turned it down and, after receiving improved terms and travel payments from Rochdale, Harry returned to Spotland for the 1952/53 season.
He then spent the next four seasons as Rochdale's regular left-back, playing on till the end of the 1955/56 season. He played 175 League games in two spells and made a final total of 263 League appearances for both clubs. It was during his second spell at Rochdale that Harry had taken his first coaching badges, passing the preliminary award in 1953, which he put to good use by going into schools holding coaching sessions organised by the FA and Lancashire Schools' Association.
Now 32 and running a Spar shop in Southport, Harry dropped down into non-League, joining struggling Runcorn for the 1956/57 season and then Altrincham when manager Jimmy Morris persuaded him to move to Moss Lane for the 1957/58 season.
He made his debut at right-back on the season's opening day, 24th August 1957, in a 4-1 Moss Lane win over Mossley. The season started well with wins over Congleton and Hyde United following. But, as was typical at Altrincham during this time, results started to go against the team. Harry eventually switched to left-back when Dennis Wilson established himself at right-back and lost his place entirely as Ernie Gillespie reclaimed the left-back position.
His only goal came in a 4-3 defeat at Wellington, on 4th January 1958 and his final game was in a 2-3 away defeat at Rhyl on the 22nd February 1958 where he played at number 11! During his spell at Moss Lane he had only missed two games out of 33 played, leaving having played 28 League games, four more in the FA Cup and once in the Cheshire Senior Cup.
Harry then retired from playing and concentrated on coaching but, in 1959 fter a year without playing, Harry was persuaded by goalkeeper and player/manager, Ray Minshull to coach the second team at recently formed Wigan Rovers, who had just joined the Cheshire League. He ended up as player/coach to the first team!
Back playing, Harry then went on to become player/coach at Skelmersdale United between 1960 and 1962. Throughout this time Harry never stopped and continued with his various coaching duties with the Lancashire FA. From 1963 onwards he coached Formby FC Youth Team (league cup winners) and Southport Youth select (Inter League cup winners). In 1966 Harry gained his FA Senior Coaching Badge at Lilleshall and later still passed the full coaching award; in addition, he was appointed Chairman of the Southport Coaching Association.
His coaching skills were much sought after and Harry led a party of 15 coaches in 1968 on a 10-week tour to Zambia. Harry coached the International Squad, whilst each of the other coaches were given a league team to train. Amongst the coaches on that trip was Graham Taylor who went on to become a successful football league manager.
After a successful tour, Harry was offered and turned down the National Coach position. Harry had also turned down similar offers from the USA, Bermuda and Saudi Arabia. In 1970, despite his myriad coaching duties, Harry was appointed manager at Marine, bringing with him, Roly Howard as reserve team manager. Marine had enjoyed little success in the previous 20 years. Harry was moderately successful as he had taken the team to the final of the Cheshire League Cup but with coaching and work commitments Harry couldn't devote sufficient time to Marine and after a 6-1 win against Rossendale he was sacked!
Perhaps his greatest impact on Marine was introducing Roly Howard to the club. Harry then had a brief spell managing Ormskirk FC, in the Cheshire League, (formally Guinness Exports), who folded in 1974. In 1974 he also coached the Southport team in the BBC's gameshow, 'It's a Knockout', with Southport winning the British Championship and then competing in the European version in both Belgium and Italy. He remained Chief Coach for the Lancashire FA for 21 years and, on taking voluntary retirement, he was awarded the LFA Order of Merit.
Outside football, as if he wasn't fully occupied with coaching, Harry was employed by the National Girobank, first as a Clerical Assistant becoming a Clerical Officer and he was then promoted to Executive Officer until his retirement in 1985. Retirement did not seem to slow Harry down as he then turned his hand to poetry and published three books of verse, the first in 1989 titled, "I Love Today" was published with the proceeds donated to the Queenscourt Hospice in Southport.
His second book was published in 1991 and titled, "Love is Freedom". His third book "Love Defined" was published in1998 with proceeds divided between Queenscourt and Macmillan's Cancer relief.
In 1998 he was diagnosed with cancer and sadly passed in Southport on the 22nd April 2012.
Note: In 2014 the Southport Visiter newspaper held a competition where residents were asked to nominate the top all-time one hundred Southport residents. Harry Boyle was nominated top of the list; out of 2,972 nominations, Harry received 754 votes.
Harry Boyle's VCareer
Southbank Park, St Peter's
Grangetown St Mary'
Billingham Synthonia Recreation (1945)
Middlesbrough (Amateur 11/1945)
Manchester United (Amateur 05/1946)
Murton Colliery Welfare (NE League),
Southport (07/47) 1947/48-1949/50 88 games - 0 goals in League
Rochdale (06/50) 1950/51 17 games - 0 goals in League
Bangor City 1951/52 56 games
Rochdale 1952/53-55/56 175 games - 0 goals in League
Runcorn 1956/57
Altrincham 1957-58. 28 games - 1 goal in League, 4 games - 0 goals in FA Cup, 1 games - 0 goals in FA Cup
Wigan Rovers 1959/60 Player/coach
Skelmersdale 1960-62 Player/coach.
---
138. Ian Denzil GREAVES
By Terry Rowley
Born: Shaw, Oldham, 26 May 1932
Died: Ainsworth, near Bury, 2 January 2009
Born in Shaw, Ian started his football with St. Joseph's and then joined Buxton in 1949, after trials with Oldham Athletic.
He performed his National Service in the Lancashire Fusiliers, making it to the rank of Sergeant. After de-mob, Ian re-joined Buxton before being scouted by Manchester Unite and persuaded to sign in May 1953.
Ian had to wait until the 2nd October 1954 for his first team debut, away at Wolverhampton Wanderers and then had to wait until following season, (1955/56), to make another appearance. In total he made fourteen league appearances that season, with one further appearance in the FA Cup, winning him a League championship medal.
Finding it difficult to displace first choice, Roger Byrne, Ian only played three games in the 1956/57 season. He missed the flight to Munich due to injury but eventually replaced Roger Byrne, (tragically killed in the Munich air crash), at left-back in the 1958 FA Cup final in addition to making twelve League appearance and six games in the FA Cup.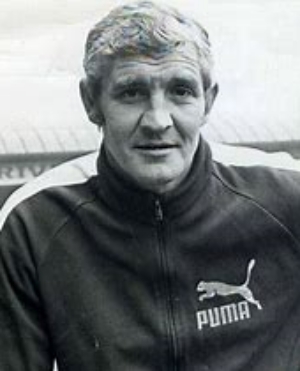 He also played in the European Cup semi-finals. In the post Munich, 1958/59 season, Ian was called upon to play in thirty-four league games but by the 1959/60 season, mainly through injury, Ian had dropped out of the first team scene, finally leaving Manchester United in December 1960, to join Lincoln City where he played eleven league games before joining his home town team, Oldham Athletic in June 1961, for a small fee.
Injuries meant his appearances were becoming increasingly intermittent and, in two seasons, he managed only twenty-two league games.
Ian, along with Colin England was the first of newly appointed Altrincham manager, Freddie Pye's signings in April 1963, having persuaded Ian to drop into the non-League scene and utilize his experience in Pye's attempts to re-build the Altrincham team.
Ian played out the remainder of the 1962/63 season in an unfamiliar midfield role but, for the following 1963/64 season, he was established in his more usual role of full-back, his confidence, experience and ability to use the ball and turn defence quickly into attack was crucial to the development of the team Pye was building.
He played in the FA Cup 1st Round games against Wrexham and helped Altrincham reach the final of the Cheshire League Cup, although he missed the two-legged final win against Macclesfield through a back injury, an injury that basically finished his playing career and which was to trouble him for the rest of his life.
At the end of the 1963/64 season Ian gave up playing and started on a career in coaching beginning with a spell as national team coach of Northern Rhodesia, (Zambia), before returning to the UK to take up the post of coach at Huddersfield Town, being appointed manager in June 1968.
Huddersfield's glory days were history, but in his second season he took them back up to the top division as champions, with star striker Frank Worthington scoring 22 goals. Huddersfield could hardly compete in the transfer market with more affluent clubs, but he kept them in the top division until 1972 and remained in the post until he resigned in June 1974.
After a brief spell coaching at Plymouth Argyle, he took up the post of assistant manager at Bolton Wanderers, eventually succeeding Jimmy Armfield as manager in October 1974.
Bolton had slipped out of the First dDivision 10 years before but Ian brought them back again, putting together a side that contained Frank Worthington (reunited with Greaves, after a spell at Leicester City), Sam Allardyce and Peter Reid. On a tight budget he managed to keep Bolton in the top division until sacked in January 1980, with Bolton relegated at the end of the season.
He then became assistant manager at Hereford United in July 1980, leaving in December when he was appointed manager at Oxford United, where he stayed until February 1982. After a brief and unhappy spell at Wolverhampton Wanderers (February 1982 to August 1982), he moved into his final managerial post at Mansfield Town in January 1983, leading them to promotion from Division Four in 1986 and a year later to a Wembley appearance in the final of the Freight Rover Trophy.
He left Mill Field, by 'mutual consent' in February 1988, never to return to football management. He was a true gentleman, well known and well thought of throughout the football world, including Altrincham AFC (and not just because he was father-in-law to another Altrincham manager, Gerry Quinn!
Ian Greaves's Playing Career
St Joseph's Shaw, Oldham
Oldham Athletic (trial),
Buxton (assistant manager 1949),
Manchester United (08/05/53)

1954/55 1-0L
1955/56 15-0L
1956/57 3-0L
1957/58 12-0L 6-0FAC, 2-0 EC
1958/59 34-0L
1959/60 2-0L

Lincoln City (12/60) 1960/61 11-0,
Oldham Athletic (05/61 £2000)
Altrincham (04/63)

1962/63, 4-0L
1963/64, 32-0L, 6-0 FAC, 4-0 LC, 3-0 CSC

Retired
---
Go to ALTRINCHAM FC LEGENDS INDEX
---