ALTY LEGENDS SECTION 45
by Terry Rowley
These pages chronicle the playing legends of Altrincham Football Club. The texts have been kindly supplied by Terry Rowley, formerly joint editor of the Robins' Review matchday programme. Many of the profiles have previously appeared in the Robins' Review.
---
133. William "Noel" McFARLANE
134. Maurice "Matt" WOODS
135. Stan ACKERLEY
---
133. William "Noel" McFARLANE
By Terry Rowley
Born: Born: Bray, County Wicklow 20th December 1934
Died:19th March 2019.
Born in Bray Noel, a naturally gifted forward, gravitated towards his local senior side, Bray Wanderers and went on to represent Eire Schoolboys in April 1952.
He signed by Manchester United signed the same month. He played as no. 7 in the first FA Youth Cup final against Wolverhampton Wanderers in 1952/53 scoring twice in the 7-1 1st leg victory at Old Trafford in front of 20,934 spectators. The second leg ended 2-2 at Wolves in front of 14,290 fans.
Noel made his Manchester United debut as a 19 year-old on the 13 February 1954 in a First Division match against Tottenham Hotspur, in front of 35,000 spectators. United won 2-0 through goals from Jack Rowley and Tommy Taylor. This was to be Noel's only appearance for the Manchester United first team, as he was an unfortunate victim of an excess of outstanding young forwards on United's books at the time.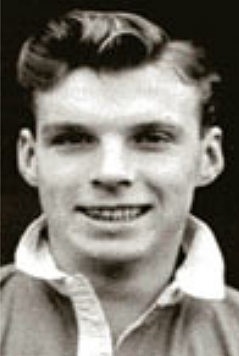 Noel spent the next couple of years playing in the reserves and with little prospect of further first team action Noel returned to Ireland to join League of Ireland side, Waterford in June 1956.
He returned to England to join Altrincham, making his debut at centre forward on the season's opening day of the 1957/58 season, a 4-1 home win over Mossley on 24th August 1957. His scoring debut followed four days later in a 2-0 win away at Congleton. Not a natural centre forward, by November he had shifted to inside forward, where he could use his skills to create for his team mates. In a struggling side and although not a prolific scorer, Noel found himself, Altrincham's leading scorer at the end of the season with sixteen goals.
For the 1958/59 season, Noel found himself moved around the front line, starting at inside left, then playing as a right winger, centre forward again, inside-right and then left-winger. Despite playing in a variety for positions and on occasion captaining the side, Noel still scored eleven goals, with a total only second to Doug Jones's fifteen goals in Altrincham's scoring list.
Dogged by a knee injury that would eventually lead to his premature retirement, Noel played the 1959/60 season as an inside forward, occasionally filling in at centre forward. Finishing once again second in the scorers' list, again to Doug Jones, with nineteen goals.
!960/61 was a traumatic season for Altrincham, with them nearly going bankrupt and being in disarray.
Noel started at centre-forward once again, scoring in the opening day 5-2 defeat at Oswestry. Noel even scored all three Altrincham goals in an embarrassing 4-3 FA Cup defeat at Earlestown but the early exit, meant an even further drain on what were, limited resources.
The club's finances were in a terrible state leading to the club asking the professional staff to take a drastic pay cut. Noel was one of the senior players who refused, (Dewer, Mathews, Wallwork, Gillispie and Harrison, were the others). Noel had scored a further eight goals before joining the exodus in October 1960 and joined Hyde United.
Noel made his debut on the 15th October and finished the season with twenty-five league goals in only twenty-seven league games, with a further six goals in cup competitions, making this his best season in the Cheshire County League, a combined total of thirty-nine goals. Hampered by injury, Noel missed most of the following season, he added only a further three goals in eight games.
At Altrincham White and Swales had taken over in April 1961 and the club was on a much firmer footing and, after Paddy Fagan had come and gone as player/manager, Charlie Mitten was in the chair for the 1962/63 season. He brought in Noel's experience.
Noel made his second Altrincham debut in a 3-3 draw with Witton Albion on the 17th November 1962. Still dogged by his knee injury Noel only played a further ten games, scoring, four goals during the remainder of the season.
Freddie Pye took over on April 9th and Noel played his final Altrincham game in a 3-1 home defeat to Mossley on the 6th May 1963 with Noel fittingly the scorer of Altrincham's consolation goal. At the end of the season Noel was released and retired from playing due to his cruciate knee ligament injury.
Noel's Altrincham career spanned a period of great struggle and turmoil for the club, so his fifty-eight goals in one hundred and twenty-four games is to be commended.
Noel sadly passed on 13th March 2019.
Note: Noel's son, Ross was a professional golfer, and then a commentator for Sky Sports.
Noel McFarlane's Career
Bray Wanderers
Manchester United (04/52) 1953/54 1-0
Waterford (06/56) 1956/57
Altrincham

1957-58, 30 games - 13 goals in League, 4 games - 3 goals in FA Cup, 1 game - 0 goals in CSC
1958-59, 27 games -10 goals in League, 1 game - 1 goal in League Cup, 1 game - 0 goals in CSC
1959-60 28 games -13 goals in League, 4 games - 3 goals in FA Cup, 2 games - 0 goals in League Cup, 4 games - 3 goals in CSC
1960-61 10 games - 5 goals in League, 1 game - 3 goals in FA Cup

Hyde United (debut 15th October 1960)

1960/61 25 games -21 goals in League, 5 games - 6 goal in FA Cup
1961/62 7 games -2 goals in League, 2 games -1 goal in Cup
1962/63 2 games -1 goal in League, last game 3rd November 1962.

Altrincham (rejoined 11/1962) 1962-63, 10 games - 2 goals in League, 1 game - 2 goals in CSC
---
134. Maurice "Matt" WOODS
By Terry Rowley
Born: Skelmersdale, 1st November 1931
Died: Stockport, 26th September 2014
Matt Woods was born in Skelmersdale and started playing football as a wing half in the Wigan Sunday League. He then moved on to Burscough.
His uncle wrote to Everton to request a trial. Having impressed for the 'B' side Matt was offered amateur terms aged 15 in 1947. By the 1949/50 season he was a regular in the reserves and getting good reviews. He went off to perform National Service, being de-mobbed in January 1952.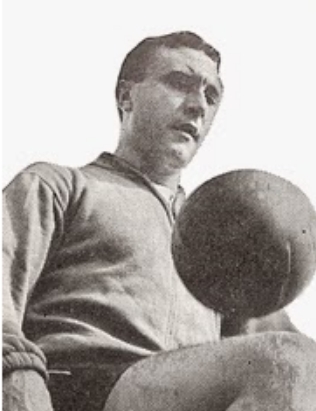 Everton were in Division 2 when Matt turned professional but things did not go well with Matt as his manager, Cliff Britton took a dislike to him, a feeling that was mutual. Although not quick, Matt had two good feet, was dominant in the air and could read the game. Despite the antipathy, Matt eventually made his first team debut at centre half on 15th March 1953 in a 3-3 draw with Fulham. It was a torrid debut, Fulham forward, Jezzard ran him ragged and Matt deflected a shot from Dennis Stevens past his own keeper.
The Liverpool Echo reported 'It was not a happy debut for Maurice Woods. Woods is nicely built for the pivotal job but on this showing he is lacking somewhat in craft and positional sense. This will doubtless come with added experience. He should not be depressed by yesterday's experience many a star of later years has had a similar disappointing debut'.
Chastened Matt however did not give up, although he had to wait two years before getting a second chance in the first team, which was in April 1955. In October 1955 Matt was given a run of three games and performed with style, scoring from the penalty spot in his third game a 5-2 win over Huddersfield Town.
Much to everyone's surprise Matt was then dropped. He must have taken a little consolation when Everton lost the next match at Cardiff. Matt was now getting frustrated, there seemed to be no way into the team with regular centre half Tommy Jones a certainty and now there was a young player called Brian Labone competing for the centre half role.
Matt knew it was time to leave if he wanted to progress and play regular football. But in a fit of spite manager Britten wouldn't let him go and basically priced him out of the market. Both Bury and Bristol City were interested in signing him but were put off by the transfer fee.
Matt was only allowed to leave after Cliff Britton was sacked, making one last appearance on the 27th August 1956, a 5-3 defeat by Blackpool. Three months later he transferred to Johnny Carey's Blackburn Rovers for a fee of £ 5,250. From here Matt's career bloomed.
He was to make over 300 appearances for Blackburn, helping them to promotion to the First Division in 1957/58 and he was part of the side that made it to the 1960 FA Cup Final. He formed a formidable partnership with Ronnie Clayton.
Matt's form was first class and was considered unlucky not to receive an England call up but, unfortunately, Billy Wright was the England first choice centre half. Matt was called up to play for a Football League XI against A League of Ireland XI in Dublin but almost didn't get on the plane when an FA member told him that he hadn't been called up for England as the selectors had actually forgotten all about him at one selection meeting.
His team-mates had to dissuade him from leaving and returning home. Matt continued playing for Blackburn until 1963 when, aged 31, he emigrated to Australia to take up a post as player-coach at Hakoah in the New South Wales First Division where they won the Federation Cup, beating South Coast United, 2-1 in the final.
Matt then went on to play for Hellas and Sydney Olympic. Ill health in the family caused his return to the UK and he signed for Luton Town in July for the 1965/66 season, making 34 appearances. The next season the 35-year-old veteran was signed by Stockport County manager, Eddie Quigley, who knew him from his Blackburn days.
Matt led Stockport to the Fourth Division Championship in 1966/67. Moving up to the Third Division in 1967/68, Matt did not look out of place but he was increasingly troubled by a cyst on his knee, which affected his performances and he was released at the end of the season after 94 appearances, his last game coming on 4th May 1968, a 5-3 defeat at Bury.
He then signed for Drumconda on the 9th August spending four months in Ireland before finally hanging up his boots, his last game coming on the 15th December 1968 against Waterford.
At Altrincham Freddie Pye had resigned as Manager in February and the Board had no hesitation in offering Matt the manager's job. He was appointed on 26th February 1968 and was in the job less than six months before resigning on 19th August to be replaced as player/ manager by Laurie Brown. His reign lasted only a mere 17 games which included a record of 6 wins, 3 draws and 8 defeats. Six of those defeats came in a run of six which encompassed the last three games of the 1968/69 season and the first three games of the 1969/70 season.
He resigned the day after Altrincham had scraped a 3-2 win over Fleetwood, only the fourth game of the season.
Matt returned to Stockport County in October 1969 as chief coach with a remit to develop young talent. However, the sacking of Walter Galbraith in April 1970 saw Matt elevated to the manager's chair, initially in a temporary, caretaker role, before being appointed full time, although without a contract. With money troubles dictating transfers Matt amazingly lasted 20 months in the role, ending during the 1971/72 season after a bad FA Cup defeat to non-league Blyth Spartans in December.
He took up a position coaching Preston North End's 'A' team for the rest of the season, followed then by spells at Southport in 1974 and coaching at Bobby Charlton's Soccer School, Matt left football to run his own two truck haulage company in the Stockport area.
He was liked and respected by supporters at all the clubs he represented.
---
135. Stan ACKERLEY
By Terry Rowley
Born: Born: B Manchester 17th July 1942
Stan Ackerley was born in Manchester on the 17th July 1942, joining Manchester United as a 15-year-old straight from school, initially, as an amateur left winger in July 1957. He had been playing for Baguley Hall Youth Club.
He turned professional in November 1959 and played initially for the youth team, making it as far as the reserve side. Unable to break into the first team he joined Oldham Athletic in June 1961, where the same problems confronted him and he made only two first team appearances for Oldham.
In August 1962 he moved to Kidderminster Harriers and then decided to emigrate to Australia.
Whilst waiting for his papers to be processed he turned out for Altrincham, making his debut at Moss Lane, at left back against Frickley Colliery on the 9th February 1963 and he held the left back position till the end of the season, even surviving the arrival of Freddie Pye as manager! He left in May having played 17 games for the 'Robins'.
Moving to Australia he signed for Slavia in the Victorian State League. The following season he moved to NSW State League side, APIA Leichardt Tigers and, apart from a short spell back in the UK, where he played for Witton Albion during the 1964/65 season, Stan played the rest of his career in Australia, turning out for APIA until 1970.
Consistent performances at left back led to him being selected to represent Australia, making his international debut in November 1965 in a 6-1 defeat to North Korea in the Asia-Africa-Oceania group Final for the 1966 World Cup. Thereafter he became Australia's regular left-back playing a further four internationals in 1965 against Cambodia (0-0), Taiwan (3-1) and twice against Malaysia, winning 1-0 and 3-0. Stan went onto to play 27 official FIFA matches for the Australian national side and was nominated captain on three occasions, the first being in Melbourne against Japan in 1968.
He played his final international in a World Cup group qualifying final against Israel in Sydney on 14th December 1969, aged 27, with his side drawing 1-1 after losing the first leg 1-0 in Tel Aviv.
Winding down his playing career, Stan moved to South Sydney Croatia in 1973 and then to Toongabbie, (a suburb of Sydney)in 1974, where he remained until 1975, taking on the player/coach role. Obviously, his playing career was winding down after leaving APIA but he became increasingly active in coaching and, after 1975, as a player, coach, trainer, director and selector, he was involved with his local Penrith side.
He was the Director of Coaching for the Penrith Panthers Soccer Club from 1992 until 2001 and went on to manage the Panthers in 1998, and also becoming assistant manager to junior sides Bonnyrigg White Eagles in 2001 and Canterbury-Marrickville FC in 2002. He coached Schofields Scorpions in 2003 and 2004 and then became, Black Town Spartans under-18 youth team manager. After retirement, despite two hip operations and a dodgy knee, Stan continued to coach and run a small academy in Penrith.
In July 2002, Stan was inducted into the Soccer Australia Hall of Fame with an Award of Distinction. This award recognises contributions that have been selfless in the development of soccer in Australia.
Note* Stan's brother, Ernie, a centre forward, who was also on Manchester United's books had played for Barrow and also moved to Australia in 1964, and played for South Melbourne Hellas, Australia's most successful club until 1971, scoring 57 goals in his time there.
Club career:
1957-1961 Manchester United (youth & reserves)
1961-1962: Oldham Athletic 2 games - 0 goals, Division 4
1962-1963 Kidderminster Harriers West Midland League
1962-1963: Altrincham 17 games - 0 goals,Cheshire League
1963: Melbourne Slavia VSL
1964-1965 Witton Albion 4 games - 1 goal, Cheshire League
1964-1972: Sydney APIA Leichhardt NSW Division 1
1973: Sydney Croatia NSW Division 1
1974-1975: Toongabbie Sydney NSW inter-sub League, then NSW Division 3
International career
1965-1969: Australia (27 FIFA official International matches) captain on three occasions
NSW and Victoria representative honours.
---
---
Go to ALTRINCHAM FC LEGENDS INDEX
---