ALTY LEGENDS SECTION 43
by Terry Rowley
These pages chronicle the playing legends of Altrincham Football Club. The texts have been kindly supplied by Terry Rowley, formerly joint editor of the Robins' Review matchday programme. Many of the profiles have previously appeared in the Robins' Review.
---
127. John Barton 'Jack' GRIMWOOD
128. John 'Jack' NEWNES
129. Stanley Hugh 'Stan' GALLIMORE
---
127. John Barton 'Jack' GRIMWOOD
By Terry Rowley
Born: Marsden, Durham, 25th October1898.
Died: Childswickham, Worcestershire, 26th December 1977
John was one of six brothers and three daughters, born in Marsden, near South Shields. Their father was a miner at Whitburn Colliery. Having progressed through Marsden Schools, John played for Marsden Rescue before joining South Shields Parkside. From here he joined First Division, Manchester United in May 1919.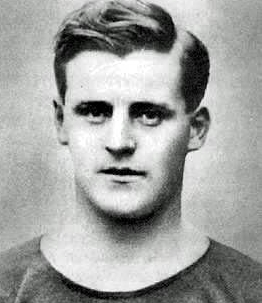 He made his Manchester United debut on the 11th October 1919 in the first, post-War, Manchester 'Derby', as a replacement for another former Altrincham recruit, 'Lal' Hilditch, who was away on representative duty. Able to play across all positions in the half-back line, John was what today would be considered a utility player. He scored his debut goal came against Bradford Park Avenue in a 4-1 win on 6th April 1920.
In total, he played twenty-two League games in his first season, scoring once, in addition to two games in the FA Cup. The following season he played twenty-five First Division games, scoring four goals, including two goals against Aston Villa on Christmas Day, in a 4-3 win.
In 1921/22 John registered a further twenty-eight league games in a struggling United side that were relegated to Division Two at the end of the season. For the 1922/23 season John played thirty-six games in the League in addition to three in the FA Cup. For 1923/24 played a further twenty-two games in the League, scoring twice.
John was a near ever-present in 1924/25 and helped United gain promotion back into the First Division. He suffered a twisted knee in the second pre-season practice match in August 1925, which eventually required surgery causing him to miss most of the following 1925/26 season, playing only seven games in the First Division and one in the FA Cup.
His final season at Old Trafford saw John play a further seventeen League games before being allowed to leave and join newly formed club, Aldershot FC, (then in the Southern League), in June 1927. But he only played twice before moving back north to sign for Blackpool, in November, where he made another nine League appearances. Whilst on the transfer list at Blackpool, Jack was allowed to assist Altrincham. With no takers for John's services, he decided to retire from professional football.
After retiring, John regained his amateur status and turned out for Taylor Brothers FC (the works team of Taylor Brothers based in Trafford Park, a company that worked in iron and steel and were owned by Vickers).
John, and his brother Alf, ran Grimwood's Ice Cream, based at Davyhulme Circle in Davyhulme. Alf drove the van and blew the whistle, whilst John stayed at the shop and made the ice-cream.
John Grimwood's Playing Career:
Marsden Schools
Marsden Rescue FC
South Shields Parkside
Manchester United (05/1919 amateur) 1919/20-1926/27 (Total 196-8L 9-0 FAC)

1919/20 Division 1 22 games - 1 goal in League, 2-0 in FA Cup
1920/21 Division 1 25 games - 4 goals in League, 2-0 in FA Cup
1921/22 Division 1 28 games - 0 goals in League,
1922/23 Division 2 36 games - 0 goals in League, 3-0 in FA Cup
1923/24 Division 2 22 games - 2 goals in League,
1924/25 Division 2 39 games - 1 goal in League, 1-0 in FA Cup
1925/26 Division 1 7 games - 0 goals in League, 1-0FAC
1926/27 Division 1 17 games - 0

Aldershot FC (June 1927) 1927/28 S. League, 2-0
Blackpool (November 1927 £2,750) 1927/28 9-0
Altrincham

1927/28 1-0 L
1928/29, 7-0 L
---
128. John 'Jack' NEWNES
By Terry Rowley
Born: Trefnant, Wales, 4th June 1895 .
Died: Salford 3rd February 1969
John Newnes was born on 6 June 1895 in the village of Trefnant near St Asaph, Denbighshire. He was a late developer in football terms. Prior to his football career Jack worked in the steel industry and as a coal miner and, during the First World War, served with the Royal Welch Fusiliers.
As a youth Jack played amateur football for Whitchurch and, later, after the war whilst working in the steel industry near Wrexham, also represented, Brymbo Institute. (A team associated with the steel foundry at which he worked).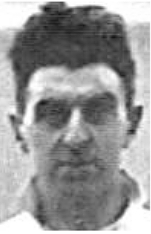 He was nearly 27 years-old when he finally moved to Manchester and joined First Division, Bolton Wanderers in May 1922. Jack was initially restricted to reserve team matches, and did not make his League debut for the club until selected to play in the 4–2 win against Nottingham Forest on 2 January 1923. He then went on to make seven first-team appearances for Bolton during the remainder of the 1922–23 season.
In September 1923, Jack moved to newly promoted Second Division club Nelson for an undisclosed transfer fee, although it was announced that it was the largest fee ever paid by the club at the time. He played his first game for Nelson in the 0–0 draw with Southampton at Seedhill on 11 September 1923. A penalty taker, Jack scored his first goal for the Blues from the spot in the 2–0 defeat of Stoke later the same month.
Generally playing at right-half or centre-half, Newnes featured as an inside forward for a three-match spell in April 1924, playing a total of 39 competitive matches for Nelson during the 1923–24 season. But, despite scoring three goals (two of them penalties), he could not prevent the team being relegated to the Third Division North. Jack retained his place in the starting line-up at the outset of the 1924–25 campaign and scored in the first home match of the new season, a 4–0 win over Ashington. Three games later, he netted a penalty in the 7–1 defeat of Durham City.
Newnes played in all but two first-team matches during the season, including the 2–0 win against Hartlepools United on 21 March 1925, in which he played at right-back in the absence of William Harper. Nelson finished second in the Division behind Darlington, thus narrowly missing out on an immediate return to the second tier. Jack remained at the club for one more season and, by the time he left Nelson in October 1926, he had made 113 league appearances and scored 7 goals.
Jack's performances for Nelson in the 1925–26 season had also earned him a call-up to the full Welsh national side for the match against Ireland on 13 February 1926, Wales losing 0–3. Jack was never selected for his country again. In representing Wales, Newnes became the only player ever to be capped at senior international level while at Nelson.
Placed on the transfer list, Jack Left Nelson and joined fellow Third Division North rivals, Southport where he spent almost two seasons, playing 38 league matches for the club. Jack then moved into non-League football when he signed for Mossley in July 1928 and went on to score 7 goals in 67 league games for before departing in February 1930.
He subsequently spent a year with Manchester North End, followed by short spells at both Winsford United and Glossop, eventually joining Altrincham in September 1933 at the age of 38, as player/coach. He made his debut on the 27th September, in the 2-1 League Cup defeat to Macclesfield, (surely some record for the shortest period a team has held a trophy title? Altrincham having only won the replayed final, with Manchester North End on the 6th of September, meaning that Altrincham had only held the cup for twenty-one days!).
Jack's arrival was probably due to former team mate, Alf Steward. His experience was useful in helping Altrincham reach the 1st Round proper of the FA Cup for the first time in the club's history. Altrincham went out to former Football League side Gainsborough Trinity. From reports of the time Altrincham gave an excellent performance and were unlucky to lose. 1-0.
Jack only played in eleven games for Altrincham but his experience was used well in what was to be Altrincham's second successful period. Jack returned to Manchester North End as a player-coach in September 1935, retiring from football in 1936, at the age of 40. He continued to live in the Manchester area and was employed as a salesman at a fruit and vegetable market.
Jack passed at Ladywell Hospital, Salford, on 3 February 1969, aged 73.
Jack Newnes's Playing Career
Brymbo Insitute: 1919,
Whitchurch: 1921,
Bolton Wanderers: (16/05/1922) 1922/23 7 games - 0 goals in League
Nelson: (10/09/1923) (Total League games 113 games -7 goals),

23/24 37 games - 3 goals in League, 2 games - 0 goals in FA Cup
24/25 40 games -3 goals in League
25/26 36 games- 1 goal in League, 1 game - 0 goals in FA Cup
Southport: (7/10/1926)
1926/27-27/28 38 games - 2 goals

Mossley: (07/1928) 1928/29-29/30 (67 games - 7 goals),
Manchester North End: (19/02/1930) 1929/30-30/31
Winsford United: (1931) 1931/32
Glossop: (08/1932) 1932/33
Altrincham: (09/33) 1933/34 6 games - 0 goals in League, 4 games - 0 goals in FA Cup, 1 game - 0 goals in League Cup (total 11 games)
Manchester North End: (09/1935)
---
129. Stanley Hugh 'Stan' GALLIMORE
By Terry Rowley
Born: Bucklow Hill, Cheshire, 14 April 1910.
Died: Northwich, September 1971
Growing up, Stan played for the Stamford Park School team and was selected to play for Cheshire Schools against Leicestershire Schools in a match played at Runcorn in January 1924.
He joined Witton Albion as a Junior and then signed for Manchester United as an amateur in September 1929 but was still allowed to turn out for Witton during the 1929/30 season and by mid-November had notched ten goals, including a hat trick against Chester in a 4-3 win. Stan usually played inside- or outside-left, though occasionally he was played at centre-forward.
Stan eventually made his Manchester United first team debut the following season, at West Ham United on 11 October 1930. The season was a disaster for United, with them finishing in bottom place and suffering relegation to the Second Division.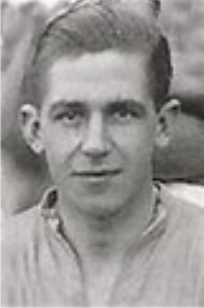 Stan, however, made twenty-five appearances in the First Division, scoring five times, in addition to playing four games in the FA Cup, scoring once. In 1931/32 United finished in twelfth place and Stan played a further twenty-five League games, scoring six times.
The following 1932/33 season saw Stan dogged with a knee injury and so he played only twelve more games but scored five goals. Stan was handed a free transfer at end of 1932/33 season after long-term injury. Stan had a knee operation and re-signed for United in February 1934, playing a further seven games, scoring three further goals.
However, Stan was released at the end of the season and joined Altrincham, having played a total of 76 games for United and scoring 20 goals of which one was scored in the four F.A. Cup ties in which he played.
Stan Joined Altrincham in June 1934 and made his debut at outside-left in the 1934/35 season's opening fixture, on the 25th August, a 1-1 draw at Witton Albion. He scored his debut goal in a 2-1 win at Chester on the 12th September. He was then shifted to inside-left and spent the rest of the season at on the left side of the attack with occasional appearances at inside right.
That season saw Altrincham finish second in the table on goal difference to winners Wigan Athletic and they also made it to the semi-finals of the Senior and League Cups. Stan contributed six goals in fifty-one games.
1935/36 saw Altrincham repeat the previous season's second place but this time finishing thirteen points behind Wigan Athletic, nor was there a cup run to compensate. Nevertheless, Stan had a good season, scoring fifteen goals in forty-five appearances. But from here to the start of the war, Altrincham went into a steady decline, with most of their best players being sold on to League clubs, or released. Finances were poor and a number of amateurs were tried.
However, 1936/37 was a personal success for Stan; he scored nineteen goals in forty-five games but the campaign was an abject failure for the club, as they finished thirteenth in the table and made early exits from three cup competitions, the result being that only four players were retained for the 1937/38 season. Stan was one of them, along with, Billy Felton, Briggs and goalkeeper, Tommy Harper.
Stan scored ten goals in forty-seven games during the season but finances were further hit in August, when the club were expelled from the FA Cup, prior to their preliminary round match with Middlewich Athletic. This was on the grounds that the club had breached FA Rule 3 when they became a nursery club of Manchester City during the close season and were therefore deemed illegible to enter the competition.
In the close season Stan moved to Northwich Victoria but his stay at the Drill Field was brief, with him returning to Moss Lane in October and making a second, scoring debut in a 2-1 Moss Lane victory over Buxton.
He played in a variety of positions, starting at inside left before shifting to centre forward and then out to the left wing. He also played as a stand-in, emergency goal keeper in the first half of the 7-1 defeat at Witton Albion on 24th April 1939, being replaced at half time by Gilbert who had started his only Altrincham appearance at right-half.
The 1939/40 season was cancelled after just three games had been played, two in the league and one in the league cup. Altrincham lost both league games but Stan scored a hat-trick against Chester in the 4-3 defeat at home to Chester.
In place of the cancelled season, a war-time competition was set up. To reduce travelling two leagues were set up, East and West, with the winner of each section playing off for the title. There were two competitions, one in 1939 and a second in 1940. The 1939 competition kicked off on the 30th September 1939 and Stan was a regular until mid-March when war work made him unavailable. Apart from a brief four game spell for Witton Albion in 1945/46 that was Stan's career finished.
Stan Gallimore's Career:
Witton Albion: (1929) 1929/30 11 goals by November including one hat trick
Manchester United: (amateur 09/29, pro 12/29) (1930/31-1933/34 72 League games 19 goals)

1930/31: 28 games - 5 goals in League, 4 games - 1 goal in FA Cup
1931/32: 25 games - 6 goals in League
1932/33: 12 games - 5 goals in League; re-signed in February 1934
1933/34: 7 games - 3 goals in League

Altrincham: (06/34)

1934/35, 39 games - 5 goals in League, 4 games - 1 goal in FA Cup, 6 games - 0 goals in League Cup, 3 games - 0 goals in CSC
1935/36: 38 games - 12 goals in League, 5 games - 2 goals in FA Cup, 1 game- 0 goals in League Cup, 1 game - 0 goals in CSC
1936/37: 41 games - 16 goals in League, 1 games - 1 goal in FA Cup, 1 game - 1 goal in League Cup, 1 game - 1 goal in CSC, 1 game - 0 goals in CLS
1937/38: 41 games - 9 goals in League, 3 games - 1 goal in League Cup, 3 games - 0 goals in CSC

Northwich Victoria: 1938/39 1 goal,
Altrincham: (10/1938)

1938/39: 30 games - 10 goals in League, 3 games -0 goals in CSC
1939: 2 games - 4 goals in League, 1 game -1 goal in League Cup. Cancelled League
1939/40: 20 games - 3 goals in League, 2 games - 1 goal in CSC war time

Witton Albion: 1945/46: 4 games - 1 goal war time
---
Go to ALTRINCHAM FC LEGENDS INDEX
---