ALTY LEGENDS SECTION 42
by Terry Rowley
These pages chronicle the playing legends of Altrincham Football Club. The texts have been kindly supplied by Terry Rowley, formerly joint editor of the Robins' Review matchday programme. Many of the profiles have previously appeared in the Robins' Review.
---
124. Nelson Everard STIFFLE
125. Alex STEPNEY
126. Mitchell DOWNIE
---
124. Nelson Everard STIFFLE
By Terry Rowley
Born: Calcutta, India, 30th July 1928
Died: Brisbane, Australia, 8th April 2005
Nelson was born in Calcutta, India on 30th July 1928 and arrived in England as a 21 year-old in 1949, having allegedly learned his football playing barefoot on hard, grassless pitches in India.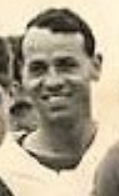 He started his career with Ashton United before signing for Chester in December 1951. He made his Chester debut in a Welsh Cup match against Bangor City on January 2nd and his League debut followed in a 5-1 thrashing at home against Mansfield Town on March 8th 1952.
Although Nelson played the next 6 matches, he never really established him in the Chester side, playing in only seven league games and three Welsh Cup games, scoring twice.
The summer of 1952 saw him signed up at Moss Lane, making his debut on the right wing in a 3-2 win at Runcorn on the 3rd September. Nelson scored his debut goal 10 days later in a thrilling 5-4 win at home to Hyde United. He was tried at centre forward for the first time against Macclesfield on 24th January, an experiment that proved successful as Nelson scored in a 2-0 win.
He retained his place for the following match in the Cheshire Senior Cup and scored again as Runcorn were defeated, 2-0. At the end of the season Nelson found himself leading scorer with 13 goals and had a Cheshire Senior Cup losers' medal, as a struggling Altrincham successfully played him at centre forward.
The following season Nelson started the season at centre forward, scoring twice in the opening day 5-0 win over Runcorn and then scored all three in a 3-2 win at Hyde United, following this with two goals against Tranmere Rovers Reserves and then two against Stalybridge Celtic.
He was then swapped between the centre forward and right-wing positions for the rest of the season and finished with 30 goals (including three hat tricks) and was again the side's leading scorer.
Unfortunately, his goal-scoring and direct wing play attracted the attention of Chesterfield, who had tried seven players on the right wing the previous season, and they signed him in March 1954 but allowing him to finish the season at Moss Lane. Nelson finished his Altrincham career having scored an excellent 43 goals in 88 games.
At Chesterfield he reverted to outside right. He proved to be a fast, two footed, skilful dribbler on the right wing, with a more than useful ability to score goals. He strangely spent just the one season at Chesterfield being surprisingly released after playing in 38 league games and 1 FA Cup tie, scoring 9 goals.
The major surprise being that Chesterfield had tried seven players on the right wing the season prior to Nelson's arrival and were to do the same the season after he left!
His next move was to Bournemouth in May 1955 where he spent the next three seasons, in and out of the side, contesting the right-wing position with the likes of Roy Littlejohn and Brian Loughnane. Nelson played in Bournemouth's famous FA Cup run and played against Wolves, Spurs (Nelson scored in a 3-1 win) and Manchester United during the 1956/56 season. In total he managed 35 league games, scoring seven goals, with six FA cup games and 1 goal.
He joined Fourth Division Exeter City in March 1958, making his debut on March 15th 1958 in a 3-0 away defeat at Walsall and he then played nine games without scoring during the rest of the 1957/58 season.
Nelson played for the next two seasons on the right wing, as a virtual ever-present. His career at Exeter finished with him having played a total of 94 league games, scoring 17 league goals and also playing in four FA Cup games and scoring a further two goals. Nelson was also a part of the Exeter side that lost 9-0 to Northampton in April 1958!
After being released by Exeter he joined Third Division Coventry City in July 1960 but never established himself in the side, playing just 15 games and scoring a mere two goals in his only season. Following Coventry, Nelson went to Rhodesia to coach and then emigrated to Australia where he joined New South Wales First Division side, Bankstown in 1963, playing until 1969 and later he became a coach.
He sadly died in Brisbane 8th April 2005, after a long-standing heart problem.
Interesting Notes
* Nelson was the first Indian born player to player in the football league
** Nelson made his debut for Ashton United in the side that also contained Altrincham manager Freddie Pye
Ashton United (March 1951): 1960/51-1951/2 15 apps - 1 goal in the Lancashire combination, March-September 1951
Chester (12/51), 1951/52, 7 apps -2 goals in the League
Altrincham:

1952-53, 32 apps - 11 goals in League; 4 apps - 0 goals in FA Cup, 1 app - 0 goals in League Cup, 4 apps - 2 goals in the Cheshire Senior Cup
1953-54, 40 apps - 25 goals in League, 2 apps -0 goals in FA Cup, 2 apps - 1 goal in League Cup, 3 apps - 4 goals in the Cheshire Senior Cup

Chesterfield (03/54): 1954/55 38 apps - 9 goals
Bournemouth and Boscombe (05/55): 1955/56-57/58, 35 apps - 7 in League
Exeter City (03/58 signed for £750): 1957/58-59/60, 94 apps - 17 in League, 4 apps - 2 goals in FA Cup
Coventry City (07/60): 1960/61, 15 apps - 2 goals in League
Bankstown, Australia NSW 1963-1969.
Coached Bankstown.
---
125. Alexander Cyril "Alex" STEPNEY
By Terry Rowley
Born: Mitcham 18th September 1942
Alex progressed through Surrey Schools, London Schools and Achilles FC, before arriving at Tooting and Mitcham FC of the Isthmian League in 1958, after trials at Fulham.
He stayed for four years before joining Millwall, initially as an amateur, signing professional terms in May 1963. During his stay at the Den, Alex won promotion from Division 4 (1965) and the following season promotion to Division 2, playing a total of 137 league games and earning three under-23 caps for England. He also played for Young England against England, at Stamford Bridge, watched by Tommy Docherty, then manager of Chelsea, who signed him for Chelsea in the summer of 1966 for £50,000.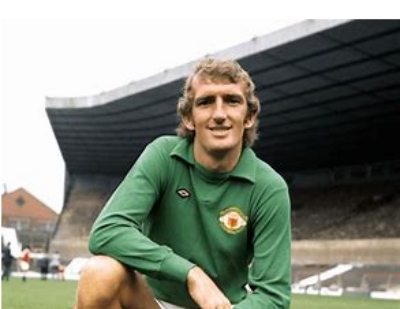 His stay at Stamford Bridge was a brief four months before Matt Busby signed him for a then World record fee for a goalkeeper of £55,000, in September 1966.
Alex was signed as a replacement for David Gaskell and Harry Gregg and was then to go on and play 545 games and keep 175 clean sheets for Manchester United over the next twelve and a half years. He made his debut in the Manchester Derby and finished his first season at Old Trafford with a League Championship medal (1967) and, a year later, a European Cup winner's medal. He was immortalised in United's history for his point blank save, at the feet of Eusébio, which kept the scores level in normal time and allowed United the chance to win the final in extra time.
He also gained his one and only full England cap the same season in a 3-1 win over Sweden at Wembley.
An unspectacular but reliable and consistent keeper, Stepney was included in England's World Cup squad in 1970. In 1975 he collected a Division Two winner's medal as United bounced back immediately from relegation the previous season, a season in which Alex scored twice, both from the penalty spot. He played in successive FA Cup Finals in 1976 and 1977, receiving a runners-up medal in 1976 against Southampton but picking up a winner's medal 12 months later against Liverpool.
By now reaching the veteran stage it was little surprise when, in February 1979, he signed for Dallas Tornado in the USA. It was during the American club's close season and, in early September, Tony Sanders, Altrincham manager made an approach to sign Alex to bring his experience to Moss Lane as Altrincham made their bow in the inaugural Alliance Conference season.
Colin D'Arcy had started the season in goal but, after back-to-back 3-2 away defeats at Worcester and Telford, Sanders believed he needed a top-class, experienced keeper. Alex made his debut on the 8th September 1979 in a 3-1 home win over Nuneaton Borough, playing his last game of the season in a 5-1 FA Trophy defeat, at home to Mossley on the 23rd February before returning to the States for the Tornado season.
In all Alex played in thirty-one games for the Robins during the 1979/80 championship winning season, which also included playing in the FA Cup wins over Crewe Alexandra and Rotherham and the two Third Round games against Leyton Orient.
His influence on the team and the season's triumph cannot be underestimated. However, this was not Alex's 'last hurrah' as, two seasons later, on 28th April 1982, Altrincham had a goalkeeping crisis and Alex, now retired, answered the call and took his place between the posts one last time.
Unfortunately, there was no fairy tale ending as Altrincham lost 2-0 at home to Northwich Victoria. Following retirement Alex took on a number of jobs in the North West, including goalkeeping coach at Manchester City and working in the commercial departments of both Stockport County and Rochdale. He also acted as scout for both Exeter City and Southampton, whilst managing a car rental company in Rochdale, where he also briefly ran a pub. He still works as an after-dinner speaker.
Alex Stepney's Career
Tooting & Mitcham:
Millwall: (05/63) 1963/64-65/66, 137-0L (total games 157-0)

1963/64 53 apps - 0 goals
1964/65 53 apps - 0 goals
1965/66 51 apps - 0 goals. Relegated from Division 3 at the end of 1963/64, promoted as runners-up end of 1964/65 and Division 3 runners-up and promoted to Division 2, end of 1965/66

Chelsea: (05/66) 1966/67, 1 app - 0 goals in League
Manchester United: (09/66) 1966/67-77/78 (539 apps - 2 goals, total games 175 clean sheets)

1966/67 35-0L 2 apps - 0 goals in FA Cup,
1967/68 41- 0 goals in League, 2 apps - 0 goals in FA Cup, 1- 0 goals CS, 9- 0 goals in European Cup
1968/69 35- 0 goals in League, 5 apps - 0 goals in FA Cup, 6- 0 goals in European Cup, 2- 0 goals IC
1969/70 37- 0 goals in League, 9 apps - 0 goals in FA Cup, 8- 0 goals in League Cup
1970/71 22- 0 goals in League
1971/72 36- 0 goals in League, 7 apps - 0 goals in FA Cup, 6- 0 goals in League Cup
1972/73 38- 0 goals in League, 1 app - 0 goals in FA Cup, 4- 0 goals in League Cup
1973/74 42-2L 2- 0 goals in FA Cup, 1 app - 0 goals in League Cup
1974/75 40- 0 goals in League, 2 apps - 0 goals in FA Cup, 7- 0 goals in League Cup
1975/76 38- 0 goals in League, 7 apps - 0 goals in FA Cup, 2- 0 goals in League Cup
1976/77 40- 0 goals in League, 7 apps - 0 goalsin FA Cup, 6- 0 goals in League Cup
1977/78 23- 0 goals in League, 1 app - 0 goals in League Cup, 1 app - 0 goals in CS, 4 apps - 0 goals in European Cup Winners' Cup

Dallas Tornadoes: (02/79) 1979 28 games
Altrincham: 1979/80 17 apps - 0 goals in NL, 4 apps - 0 goals in FA Cup, 4 apps - 0 goals in League Cup, 1 app - 0 goals in Cheshire Senior Cup, 4 apps - 0 goals in FA Trophy, 1 app - 0 goals in NPLS
Dallas Tornadoes: 1980 26 apps - 0 goals
Altrincham: 1981/82, 1- 0 goals in NL
---
126. Mitchell DOWNIE
By Terry Rowley
Born: Irvine North Ayrshire, 9th February 1923
Died: Bingley, Bradford, 12th July 2001
Mitchell Downie was a stalwart goalkeeper in both Scotland and England and played professionally across three decades on both sides of the Border. He had a good reputation as both a skilful, agile shot stopper and good handling skills. Mitchell compiled just short of 700 games, playing in both countries.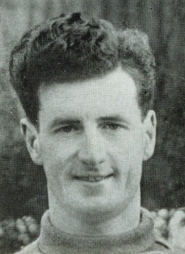 As a junior, Mitchell played for Kilmarnock Amateurs and worked in the Troon shipyards as a plumber before signing for Hibernian during the war. He made his debut on September 18th 1943 in a 4-3 win over Dumbarton and went on to play 22 games during the 1943/44 wartime season.
That was a season that culminated with Hibernian going on to win the Southern League Cup at the end of 1944. He then played 29 games during the 1944/45 season, honing his skills and always looking to improve. He had played 16 games in the 1945/46 and a total of 67 games over two and half seasons when he was surprisingly released in December 1945.
Mitchell then played out the remainder of the season with Troon Amateurs before signing for Kilmarnock in August 1946, ready for the 1946/47 season. He made his debut on the 10th August 1946 in a 2-2 draw against Queen's Park and played 28 league games during the season, in addition to 6 league cup games and one further game in the Scottish Cup.
Kilmarnock were relegated and the following season Mitchell made only 6 Scottish League Cup appearances, the last of them coming on September 13 1947. In August, unable to get back into the first team and unbeknownst to Kilmarnock, Mitchell had undertaken unauthorised trials with Glasgow Rangers, something which got him into trouble with the manager, Tom Mather, (see letter below). This incident was probably instrumental to Mitchell finally being transferred in December to Airdrieonians (now defunct) where, between late 1947 and 1950, he played 107 games, making it as far as the Scottish Cup Quarter finals in during the 1947/48 season.
Moving South to England in search of better prospects, Mitchell joined Division 3 North side, Bradford Park Avenue, in August 1950 for a reputed fee of £5000 and slotted straight into the first team. He was an ever present in the 1950/51 season and quickly built a reputation as a brave, dependable keeper, with quick reflexes and a growing 'knack' for saving penalties. He spent four seasons at Bradford Park Avenue, being a near ever present throughout and in total played 156 League games.
He was then transferred to League Division 2 side, Lincoln City, in May 1954 and once again he was an ever present for Lincoln City during the 1954/55 season. He followed that when he missed only one match during the following 1955/56 season and in total played 157 league and 7 cup games for Lincoln City over five seasons.
He was then allowed to join Third Division Bradford City, in September 1959, where once again he became the first-choice keeper. But, despite his best efforts, Bradford City were relegated to Division Four at the end of the 1960/61 season. Mitchell continued playing on to the end of the 1962/63 season and amassed a total of 136 league games before being released.
Mitchell then probably thought his professional league career was over as he was rapidly approaching 40 years of age. Nevertheless he moved into non-League football and turned out for Goole Town early in the 1963/64 season. Surprisingly, Fourth Division Doncaster Rovers offered him a last farewell in the Football League in September 1963. It didn't last long though and, after just 7 games, he was released once again.
Freddie Pye was still searching for that elusive winning formula and having heard of Downie's release stepped in and offered him terms at Moss Lane, with him joining Altrincham in early November 1963.
Once again it was a short stay! Mitchell made his Altrincham debut in a 2-3 home defeat to Ellesmere Port on 2nd November 1963 and played his final game for Altrincham, at Moss lane just four weeks later, a 0-3 defeat by Tranmere Rovers on the 30th November. Mitchell had played in just six games, in which there were four defeats and two draws. His one claim to fame was that he had played in both of Altrincham's 1st Round FA Cup games against Wrexham. He then briefly joined Stalybridge Celtic in December before retiring.
After retiring from the game Mitchell ran the 'New Inn' in the village of Calverley, northeast of Bradford. Mitchell was admitted to Shipley Hospital in June 2001 and sadly died there on 12th July 2001. A post-mortem showed that he had died of asbestosis. Mitchell had come into contact with asbestos whilst working in the Troon shipyards in the 1930s and early 40s. The coroner recorded a verdict of death from an industrial disease and indicated that his death could be directly linked to his shipyard work more than sixty years before.
Mitchell Downie's Career Mitchell never scored during his career.
Kilmarnock Amateurs
Hibernian (War time)

1943/44: 22 games
1944/45: 29
1945/46: 16
(Total 67)

Troon Amateurs (12/1945)
Kilmarnock (08/1946) 1946/47: 28 games,
Airdrieonians (12/1947)1947/48-49/50: 21 games
Bradford PA (08/50) 1950/51-53/54: 156 games
Lincoln City (05/54) 1954/55-58/59: 157 games
Bradford City (09/59) 1959/60-62/63: 134 games
Goole Town (08/63)
Doncaster Rovers (09/63) 1963/64: 7 games
Altrincham (11/ 1963) 1963/64: 4 League 2 FA Cup games
Stalybridge Celtic (12/63)
---
Go to ALTRINCHAM FC LEGENDS INDEX
---