ALTY LEGENDS SECTION 41
by Terry Rowley
These pages chronicle the playing legends of Altrincham Football Club. The texts have been kindly supplied by Terry Rowley, formerly joint editor of the Robins' Review matchday programme. Many of the profiles have previously appeared in the Robins' Review.
---
121. Ray DRAKE
122. Gordon CLAYTON
123. Michael "Mick" SMYTH
---
---
121 Ray DRAKE
By Terry Rowley
Raymond Bradwell Drake
Born: Stockport 24th October 1934
Died: Stockport 31st March 2013
Ray Drake was a remarkable person and definitely 'one who got away'.
Born in Stockport he was affected by meningitis when he was three years old, leaving him deaf in one ear and with only 30% functionality in the other, on top of which he was diabetic. (Currently hearing loss is thought to occur during the first two days of the illness. If medication begins within this period, hearing loss can be stopped or helped).
Yet, despite these challenges, he played as a professional footballer in Division 3 North for Stockport County.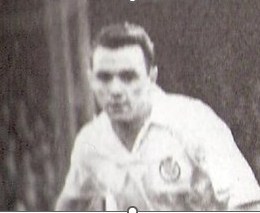 Ray (left) played local football for the Co-Op as a teenager and from there signed for Lancashire & Cheshire League side Bramhall FC and from there was invited for trials in 1954 with Stockport County's 'B' Team, scoring twice in three games.
He then joined Stockport as an amateur for the 1954/55 season and made an immediate impression in the junior sides, scoring heavily for both the 'A' side and reserves, scoring an amazing 69 goals in just 46 games, including six goals against Droylsden in a 9-2 Manchester League game and all four goals in games against Newton Heath Loco and Lancashire Steel. Even when moving up to the reserves, playing in the Cheshire League, he scored three goals in three games.
His form was so good that he was signed on semi-professional terms in March 1955. During 1955/56 Ray continued where he left off, scoring goals for fun. Now playing more regularly for the reserves did not seem to slow him down and he notched another 58 goals in just 41 games, including hat tricks in the Cheshire League against Mossley and Buxton and all eight goals in an 8-1 against Cheadle Rovers in a Boxing Day Manchester League win for the 'A' side.
1956/57 saw Ray start the season with the reserve sides yet again and it was more of the same, scoring regularly including six games in a row, and he scored eight goals between the end of September and mid-November, form that could no longer be ignored, especially after Jack Connor's departure to Crewe. Goal scoring duties at Edgeley Park were shared between Eddie Moran and future Altrincham player, Ken Finney.
Ray was called up to play for the first team in a Cheshire Medals game at home against Crewe Alexandra, on 26th November 1956. Stockport won, 4-0 and Ray scored twice. The following Saturday Ray made his league debut for Stockport at home to Derby County and scored on debut after just 14 minutes in a 3-2 win.
Keeping his place in the side, he scored twice in each of his next two games, a 4-2 win in a friendly with Exeter City and a league fixture against Mansfield Town. He then scored in the 2-0 win against Southport and then again on Christmas Day, set the record for Stockport County by scoring in just seven seconds in a 2-1 win over Accrington Stanley. That was five goals in his first four league games.
On January 1st he scored two more against Barrow and then scored one against Chester in a 2-1 win before perversely being sent back to the reserves, where he scored four goals in a 9-1 win over Stalybridge Celtic, followed by another goal a week later.
Restored to the first team, he scored against Darlington in a 5-2 win and then registered a hat-trick against Gateshead in a 5-1 win away from home. The following Monday he scored two more in a friendly organised by the manager. The following Saturday, (23rd February) Ray scored all four goals in a 4-0 home win against Wrexham.
Moving into March, Ray scored three more goals, including a penalty in a 3-2 defeat against Halifax Town. It was then back to the reserves, where again he scored one and four goals. Ray scored one more goal for the first team before the end of the season in a 2-1 win over Barrow, finishing the season with 19 goals in only 22 league games, in addition to three goals in two games in the Cheshire Medals competition and four goals in two other friendlies for the First team.
One issue that highlighted Ray's disability was that during the 1950s the centre forward always kicked the game off, following the referee's whistle, with a pass to his inside forward. In itself this proved to be a problem for the hard of hearing Drake. But Ray and inside forward, Eddie Moran, worked a system that once the whistle had blown, Eddie would pull on Ray's shorts to let him know that the game could start.
But so good was Ray's form that it was a surprise that he had not been given his chance in the first team earlier. It is reputed that Bolton Wanderers actually enquired about Ray as a replacement for England legend Nat Lofthouse, but nothing came of it.
All seemed set for a fantastic career but an undefined argument with manager Willie Moir, brought his career crashing down.
For season 1957/58, when his career should have been developing, Ray found himself transfer listed and consigned to the reserves, playing only one further first team game. He did however continue to score goals; 18 in 22 appearances for the reserves and seven in just three games for the 'A' side. At the end of the season he left Stockport and the professional game.
He then joined Altrincham and the Altrincham fans must have been looking forward to have Ray in the side having witnessed his goals scoring feats for Stockport Reserves in the Cheshire League. But it didn't happen.
Ray was signed by Altrincham's manager, Jimmy Morris, who had himself been both a player and a coach at Stockport before taking on the role of Altrincham manager in 1955. Ray lined up at centre forward in Altrincham's opening match of 1958/59 season, a 0-2 defeat at Congleton, then played in a 0-0 home draw with Runcorn and then finally scored in the 1-1 draw with Winsford United at Moss Lane.
The next two games were both defeats and that was Ray's Altrincham career, 5 games 1 goal.
He left and joined Hyde United in September 1958, where he continued to score goals, finishing the season with 31 goals, followed by 24 in 1959/60. He even scored back-to back hat tricks in August 1960. But by the 1961/62 season he was turning out for Cheadle Rovers in the Manchester League.
A Stockport County fan through and through, Ray continued to attend games at Edgeley Park as a season ticket holder, and in the 1990s became a founder member of the Stockport County Ex-Players' Association. He worked in a book-makers and lived near Edgeley Park. By all accounts he was a kindly and gentle soul.
Sadly, Ray passed on Saturday 30th March 2013.
---
122 Gordon CLAYTON
By Terry Rowley
Raymond Bradwell Drake
Born: Chadsmoor, Cannock, Staffordshire 3rd November 1936
Died: Stretford, September 29th 1991
Gordon Clayton was born in Cannock and developed as a goalkeeper, playing initially for Cannock Schools. He progressed through the schoolboy system to play for Birmingham and District Boys, where he became a lifelong friend of Manchester United legend, Duncan Edwards.

Born within a month of each other in 1936, Edwards and Clayton were both Wolves fans and used to stand on the huge South Bank Terrace Molineux ground. Manchester United were popularly known as the 'best team in the world' at that time after a series of famous floodlit victories over great sides such as, Moscow Spartak and Real Madrid. So the pair were easily sold on the idea of playing for Manchester United by the club's Midlands scout Reg Priest, along with chief scout Joe Armstrong.
This led to the pair to be invited to Old Trafford. It was surprising that two Midlands lads, with so many big local clubs to choose from, chose Manchester United, especially as the pair had been training at Wolves every Tuesday and Thursday.
On Monday, June 9, 1952, still only 15 years old, Edwards and Clayton moved to Manchester to sign as amateurs. Edwards boarded a train at Dudley and saved a seat for Clayton, who boarded at Stafford as he still lived in nearby Cannock.
Bert Whalley, a United coach, met them at Manchester's London Road Station and, on the Wednesday, the pair started work; Edwards as an apprentice carpenter in Trafford Park, Clayton at a factory in Altrincham. All they wanted to do was play football, but as apprentices they needed a job. They were both boarded with other young footballers at Mrs. Watson's of Ravenhurst Drive, which was close to Old Trafford where, incredibly, the players slept two to a bed!
Both seemed destined for a career in football, both were selected for England Schoolboys against Wales in 1952. In 1953 both Gordon Clayton and Edwards played in the Manchester United team that won the inaugural Youth Cup final, beating Wolves 7-1 at Old Trafford, in front of nearly 21,000 spectators and drawing 2-2 in the away leg at Molineux.
Edwards, David Pegg and Eddie Lewis had already played for the first team and team-mates Eddie Colman, Billy Whelan, Albert Scanlon and Ronnie Cope would all go on to make first team appearances. The youth team were strengthened the following season when they were joined by Bobby Charlton and Wilf McGuinness. All seemed to be going well for Gordon as he signed professional terms for United in November 1953. He gained further representative honours in 1955 when he, along with Edwards, was selected for England for a youth international, against Holland. But, whilst Edwards went on to full England honours and regular first team football, Gordon was confined to the reserves, his career stalled.
He finally made his first team debut for Manchester United on the 16th March 1957 against Wolverhampton Wanderers. Gordon couldn't do anything about Peter Broadbent's header after 17 minutes, but other than that, had a steady debut. Bobby Charlton scored after 35 minutes and the final result was 1-1. His second and final game for Manchester United came just other a month later on 29 April 1957.
First choice keeper Ray Wood was injured and Gordon was called up for the final game of the season against West Bromwich Albion, the match also ended 1-1. Gordon was still at the club the following season, but now injury prevented his progress and in February 1958 that meant that he was omitted from the squad that took the fatal flight to Belgrade for the second leg of the quarter-final.
The arthritis that would ultimately prematurely end his career had already been diagnosed. Gordon heard the news of the air crash and rushed to the nearby home of Mark Jones, whose pregnant wife wasn't in. He then went to Jackie Blanchflower's house and sat with his wife, Jean, answering the phone and the door as the news from Munich filtered through. They knew Jackie was alive but had no idea of his condition. He survived, but his career was cut short by the injuries sustained.
Gordon, along with Wilf McGuiness would represent United at the funerals of the players, eight of his closest friends including Duncan Edwards, his best mate. Edwards was buried back in Dudley and Gordon was one of the pallbearers.
In November 1959, Gordon was transferred to Third Division Tranmere Rovers for a fee of £4,000, plus reserve team half-back, Bobby Harrop. Once again Gordon was used merely as a reserve and only played in four league games during his eighteen months at Prenton Park.
He then dropped down into the non-league, signing for Sankey of Wellington who had just joined the Cheshire County League for 1960/61. (The club only changed its name to GKN Sankey in 1968).
He was brought to Moss Lane by Freddie Pye for the final three games of the 1962/63 season. His Altrincham career lasted just one week! His debut game was a creditable 0-0 draw away to Wigan Athletic on May 4th and hefinished the season with a 3-1 defeat at Moss Lane to Mossley on the 6th May and a 3-1 away defeat at Runcorn on the 11th May. Gordon was released and finished his playing career with a few games at Radcliffe Borough, who had just joined the Lancashire Combination for the 1963/64 season.
In 1969, as a close friend of Wilf McGuinness, who had succeeded Sir Matt Busby as United's manager, Gordon was appointed assistant to United's chief scout and is credited with the signing of Mick Duxbury in 1975.
He later undertook scouting for Derby County in the early 1980s and was Chief Scout at Burnley, responsible for recruiting Lee Dixon in 1980 and later Andy Kilner. He was briefly assistant manager in 1983. In addition, he had a spell managing the now defunct, Urmston Town. He then moved on to coach Cheadle Town.
In July 1991 he was appointed as Sammy McIlroy's assistant manager at Northwich Victoria but was in the post only until September 29, 1991, when he died suddenly at home in Stretford, only 54 years old.
Gordon Clayton's career:
Manchester United (amateur 06/1952 professional 11/1953): 1956/57 1 apps - 0 goals
Tranmere Rovers (11/1959): 1958/59-1959/60 4 apps - 0 goals
Sankeys of Wellington: 1960/61
Altrincham: 1962/63 3 apps - 0 goals
Radcliffe Borough 1963/64
---
123 Michael "Mick" SMYTH
By Terry Rowley
Born: Born Dublin 13 May 1940
Born in Dublin Mick started as a youth playing for the well-known St Joseph's C.Y.M.S club. He joined Drumcondra in 1960 and developed into a dominant goalkeeper. (Drumcondra were merged and taken over by Home Farm in 1972).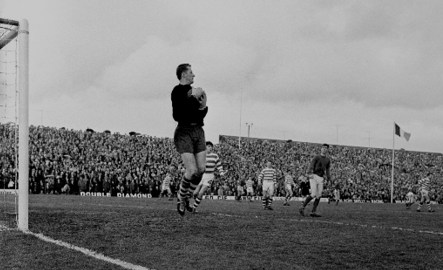 English club, Barrow persuaded him to cross the Irish Sea, Mick signing for them in August 1962. He played six league games in his first season but was only ever considered a reserve and, after two seasons at Barrow, playing eight league games and two in the League cup, he was released at the end of the 1963/64 season.
Mick was persuaded by Freddie Pye to sign for Altrincham, as first-choice keeper, making his debut in the season's opening day 2-1 defeat at Oswestry Town on the 22nd August 1964. After a 1-1 home draw with Stafford Rangers. Mick performed what is still considered a rarity in football, scoring in the match against Northwich Victoria.
This occurred when he picked up a back-pass in the penalty area and slammed the ball 100 yards down field. The Vics' keeper, Jack Hardman was caught napping having one eye on the ball and the other on the incoming Altrincham centre forward, with the result that Smyth's kick flew off Hardman's hands into the net and gave Altrincham the lead.They went on to claim a 4-1 win.
Mick collected his first clean sheet in the following game, a 5-0 win at Stafford Rangers. His final game came on December 5th in a 4-3 win at Congleton. Mick had played twenty-four games, scoring the one goal, against Northwich and kept six clean sheets.
He then returned to Ireland and signed for Shamrock Rovers the same month. He made his debut at Drogheda on the 27th of December 1964 and kept a clean sheet and went on to become a League of Ireland Legend, winning five FAI Cup winners medals in a row with Rovers from 1965 to 1969, in addition to making twelve appearances in European competitions and gaining international honours when he was capped for the Republic of Ireland side against Poland in 1968.
Mick left to join Bohemians in May 1971. Here he won two league winners medals in 1974/75, (keeping 16 clean sheets in 26 League games) and in 1977/78 and was named Irish Football Personality of the Year in 1977. In addition, he made a further 16 appearances in European competitions. Mick also played in a run of 136 consecutive competitive games between December 1973 and April 1979.
Mick, now 39, signed for Athlone in August 1979, where he won another League title in 1980/81 and two League of Ireland cup winner's medals in 1979/80 and 1981/82.
In February 1981 Mick aged 40 he was called up again by Ireland to act as cover against Wales before re-joining Shamrock Rovers in August 1982. Retiring at the end the 1982/83 season, having played one further game, Mick took up coaching with Home Farm, becoming reserve team manager.
Disappointingly, on 25 November 2008 it was reported that Mick's collection of medals had been stolen.
---
Go to ALTRINCHAM FC LEGENDS INDEX
---