ALTY LEGENDS SECTION 39
by Terry Rowley
These pages chronicle the playing legends of Altrincham Football Club. The texts have been kindly supplied by Terry Rowley, joint editor of the Robins' Review matchday programme. The profiles have previously appeared in the Robins' Review.
---
118. Laurie BROWN
119.
120.
---
---
118 - Laurence 'Laurie' BROWN
By Terry Rowley, Joint Editor of The Robins' Review.
Born: Shildon, Co. Durham, 22nd August 1937
Died: Newton Aycliffe, Co. Durham, 30th September 1998
Laurie Brown was born in Shildon, County Durham on August 22 1937.
At 6 foot 2 inches he was able to play at either centre-forward or centre-half and started as a centre-forward with his local side, Shildon, before moving to Bishop Auckland, whilst training to be a cabinet maker and working in a department store in Bishop Auckland.
He was then called up to perform his National Service, during which time he turned out for both Woking and Fulham reserves. Returning to Bishop Auckland, he continued making progress, primarily at centre-forward, scoring five goals in a 9–1 Northern league defeat of Ferryhill Athletic, in November 1958.
He also made three league appearances as an amateur for Darlington towards the end of the 1958-59 season. In December 1959, Laurie, scored nine goals for the Durham FA as they beat the East Riding FA, 11–0 and, although he was making his name as a goal-scoring centre-forward, it was as centre-half that he was selected in February 1960, for the Great Britain amateur team to play against Northampton Town, the result a 2-2 draw.
He performed well enough to merit selection for the England international amateur side, making his debut on the 5th March 1960, in a friendly against West Germany, once again playing at centre-half.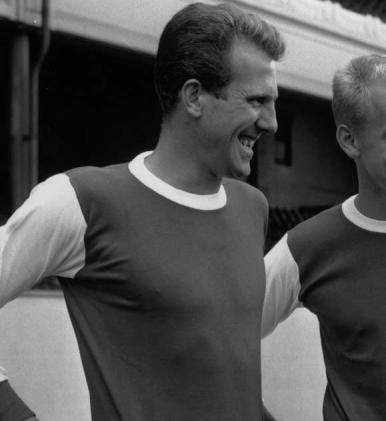 He then played for Great Britain at Dublin in the 3-1 Olympic qualifying win against the Republic of Ireland on 13th March. On the 26th March he played for England in the British Amateur Championship, in a 2-1 win over Scotland. This was followed by a 5-1 Olympic qualifying win over the Netherlands on 2nd April, meaning qualification, with a game to spare. The final qualifier was played on the 13th April, also against the Netherlands, ending in a 2-2 draw. It was reported at the time that Laurie had delayed signing professional terms, with any club, so as to be free to play in the 1960 Rome Olympics.
Laurie was indeed selected, not only as a player but also to captain the Great Britain side that was to compete in Rome; the British team failed to progress to the knockout stages, losing 4-3 to Brazil and then drawing with both Italy and Formosa, (Taiwan), and they finished the tournament ranked eighth overall. On his return to England Laurie was to captain the England amateur side in a 3-2 win over Northern Ireland.
He had signed for Northampton Town, initially as an amateur, playing two games, before finally accepting professional terms in October, going on to became the club's leading scorer in his initial season, (1960-61), with twenty-two goals in the league, helping the club to third place and promotion to the Third Division.
However, late in the season, he had been switched from centre-forward into central defence and, from then on, he flourished in that position. At the end of the season Laurie was selected to go on the FA XI world tour, where he played alongside Bobby Moore, Tom Finney and Colin Appleton as the side played eleven matches in the Far East, New Zealand and the US in the space of a month.
In August 1961 he was signed by First Division, Arsenal for a fee of £35,000, and immediately became a first-team regular in the Arsenal side, missing just one match during the 1961/62 season. After making 109 appearances for the 'Gunners' in two-and-a-half seasons, scoring two goals, Laurie, having been dropped in December, made the surprising move to local North London rivals, Tottenham Hotspur in February 1964, for a fee of £40,000, thus becoming one of the very few players to play for both clubs.
His first match for Spurs came the day after signing and was against his former club Arsenal, with Laurie nearly scoring in a 3-1 Spurs win on February 22, 1964.
Laurie failed to settle at Spurs, though he still made 62 League appearances in his two seasons at White Hart Lane but, in September 1966k he was sold to Norwich City, where he spent the next two seasons. Laurie captained the side during the 1967/68 season, playing in total 81 games and scoring 3 goals. He finished his professional career at Bradford Park Avenue, where he became the club's player-manager, on 5th December 1968. Unfortunately, he was presiding over a club that was battling re-election and relegation from the Football League.
Early the following season, 1969/70, Laurie was informed that team selection was to be taken over by the chairman, so Laurie resigned as manager and, on 24th October 1969, all nineteen professionals at the club asked to be placed on the transfer list. Laurie was given a free transfer on 15th November. He had played 36 games and scored once.
Over at Moss Lane, Altrincham were still seeking a manager to replace Freddie Pye, who had been acting manager since Matt Wood'ss resignation in August. Laurie, after talks, agreed to take over and was appointed Altrincham's player-manager on 19th November1969, making his playing debut at Springfield Park in a 2-2 draw against Wigan Athletic on November 22nd 1969. It was Laurie who brought, former Bradford player, Charlie Rackstraw to Altrincham, to supplement the attack.
Dogged by injury, Laurie tried to lead on the field. The highlight of his Altrincham career was winning the Northern Premier League Cup. In all, Laurie played 22 games in his first season in all competitions, his only goal being a crucial one, as it came in the second leg of the Northern Premier League Cup final, staged at the Moss Rose, which Altrincham won, 2-1, thus taking the Cup, 3-2 on aggregate, in front of 6,000 spectators.
The following 1970/71 season started poorly, with a 2-0 defeat at Bangor City. Jack Swindells had moved on and Tony McLoughlin had been brought in to replace him. Laurie also brought in new players, such as left-winger Lou Thom, John MacNamee, Geoff Dover and Graham Carr, and played himself at centre-half. The changes were not successful and, after a string of poor results, including an embarrassing 6-0 defeat at South Liverpool, Laurie tried one last change, playing himself at centre-forward in the 3-1 defeat to Stafford Rangers in the Northern Premier League Cup.
It was his final game in an Altrincham shirt. Laurie resigned soon after, having played a further seven games, with an additional one as substitute. Freddie Pye once more took temporary charge.
Laurie then had a spell as player/manager of King's Lynn from December 1970, lasting until April 1971 and, later still, after moving back to the North East, he became manager of Stockton. On retiring he ran a public house and, later still, worked as a milkman.
Laurie Brown sadly passed away in Newton Aycliffe, County Durham on the 30th September 1998.
Note: Laurie was the father of England field hockey international, Karen Brown.
Laurie Brown's Career
Shildon AFC (Amateur)
Woking & Fulham reserves, whilst on National Service.
Bishop Auckland
Darlington (03/59 am): 1958/59 3 apps.
Bishop Auckland
Northampton (professional 10/60): 1960/61 33 apps, 21 goals in League, (total 38 apps, 25 goals).
Arsenal (08/61 £35,000): 1961/62-62/63 101 apps, 2 goals.
Tottenham Hotspur (04/63 £40,000): 1963/64-64/65 63 apps, 3 goals in League; 3 apps in FA Cup
Norwich City (09/66 £25,000) : 1966/67-67/68 80+1 apps, 2 goals.
Bradford PA (player/manager 12/68- 10/69): 1968/69 36 apps, 1 goal.
Altrincham (player/manager 10/1969)

1969-70, 14 apps in NPL; 4 pps, 1 goal in League Cup; 2 apps in CSC; 1 app. in FA Trophy; 1 app. in NWFL.
1970-71 6+1 apps in NPL; 1 app. in League Cup.

King's Lynn (player/manager) (December 1970-April 1971).
Stockton (manager).
---
Go to ALTRINCHAM FC LEGENDS INDEX
---