ALTY LEGENDS SECTION 38
by Terry Rowley
These pages chronicle the playing legends of Altrincham Football Club. The texts have been kindly supplied by Terry Rowley, joint editor of the Robins' Review matchday programme. The profiles have previously appeared in the Robins' Review.
---
112. Dennis John FIDLER
113. Gordon McKINNA
114. John HIGGINS
---
112 - Dennis John FIDLER
By Terry Rowley, Joint Editor of The Robins' Review.
Born: Reddish, Stockport 22 June 1938
Died: Italy 1st June 2015
Born in Reddish, Stockport, Dennis started his career with Manchester United in the mid 1950s.
Manchester United had won the initial FA Youth Cup in both 1953 and 1954, beating Wolves over two legs on both occasions.
Making the final for a third time in a row in 1955, Dennis was picked by United to play on the left-wing. This time, the opponents were West Bromwich Albion. Dennis played alongside, the likes of Bobby Charlton, Duncan Edwards, Wilf McGuiness and Shay Brennan. The first leg was played at Old Trafford, United winning 4-1. The return leg was won at a canter, 3-0, for a 7-1 aggregate win. Dennis then picked up a second winner's medal in 1956 as Manchester United, made it four finals in a row, going on to beat Chesterfield, 3-2 in front of 24,544 spectators and, in the return second leg, Dennis scored in the 1-1 draw, United winning 4-3 on aggregate.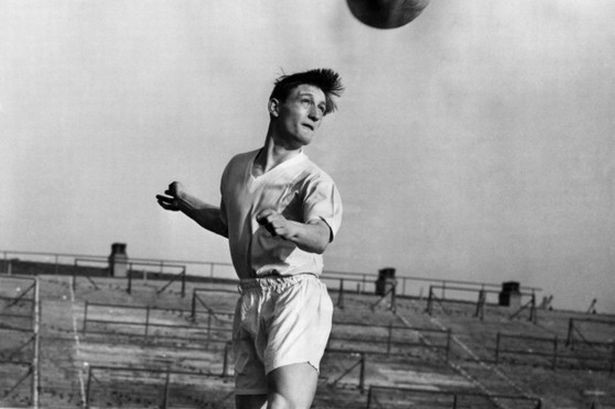 Realising that further progress was likely to be blocked by the array of young talent available to Matt Busby, Dennis, just turned 18, tried his luck across town with Manchester City, signing on as an amateur in the summer of 1956, turning professional the following year in January 1957.
He made his first team debut in October 1957 in a 2-2 draw with Luton Town. Then had to wait over a year before he played his second first-team game but then held his place for a further three games, during which he scored his only senior goal for City in a 4-0 win over Leeds United. Dennis played his final game for Manchester City in February 1959, against Wolves.
Unable to break back into the first team Dennis moved on to Port Vale in May 1960, scoring on debut in a 3-1 defeat and then scoring again 2 days later. In all he scored 11 League goals in 34 league games, with 2 further goals in 5 FA Cup appearances to end a satisfying debut season.
The following season, in 1961/62, Dennis scored on the opening day of the season but, after just three further games, he was surprisingly dropped in September. In October 1961 Grimsby Town paid a fee of £2,000 for his transfer but Dennis never really settled in Grimsby, playing only nine league games and scoring three times as Grimsby finished runners-up to Portsmouth in the Third Division. At the end of the season Dennis moved on to Halifax Town.
The Shay became Dennis's home for the next five seasons. Halifax were one of the League's perennial strugglers, finishing bottom in in 1962/63 and never finishing above 10th in the Third Division. Dennis however was consistent and, in his stay at the Shay, he scored 40 league goals in 143 league games, a good return for a winger. For 1967/68, Dennis's last in the Football League, he moved to Darlington, where in 34 league games he scored 3 goals.
Dennis then joined Macclesfield at the tail end of the season, in April 1968, and made his debut against Altrincham at Moss Lane on 8th April 1968. He played in nine games to the end of the season, without scoring. This total included the North West Floodlit League second leg win, over Altrincham at the Moss Rose, in front of a crowd of 5016.
For the next three seasons Dennis was part of a team that won the Northern Premier League championship twice, in both 1968-69 and 1969-70 and he picked up a winner's medal in the 1970 FA Trophy at Wembley and won two winner's medals in the Cheshire Senior Cup, in 1969 and 1971. In addition, he picked up a second North West Floodlit League winner's medal in 1969-70 and a Cheshire League Cup finalist's medal, Macclesfield losing to Altrincham over two legs, drawing 1-1 at Moss Lane, in front of 4,400 spectators and losing at the Moss Rose, 2-1 in front of 6,833 spectators.
Dennis was a regular scorer throughout this time, scoring 14 goals in 42 league and cup games in 1968/69, 11 goals in 54 games in 1969/70, and 19 goals in 60 games in 1970/71.
He then moved to Altrincham for the 1971/72 season, scoring on debut in a 4-2 win at Moss Lane against Ellesmere Port and he also scored in the 1-1 draw at Stafford Rangers, following up with both goals against Bradford Park Avenue in a 2-1 win at Moss Lane. Dennis was a regular scorer throughout his season at Moss Lane and finished the season joint second-top scorer, along with Barry Ashworth, with 14 goals, just behind leading scorer Tony Broadhead who had 20.
Altrincham played 67 games during the season in all competitions and Dennis had played in 55 league and cup games, scoring 14 goals, a record on a par with his Macclesfield days.
At the end of the season, finishing trophy-less, Dennis returned to Macclesfield for the 1972/73 season and was made captain during the season. He picked up his third Cheshire Senior Cup winner's medal against Witton Albion, a final that went to three replays! During the season he scored a further eleven goals in 57 games.
Dennis now thirty-five moved briefly to look after the reserves, until resigning in January 1974, and then he had a brief spell at New Mills for the remainder of the 1973/74 season and onward to eventual retirement. On retirement from football, Dennis worked in the family fish business, with his brother Ray, in Bramhall, where he was a well-known character until his retirement in 1990 when he sold up and moved to Italy, a country he loved and where he passed away on the 1st June 2015.
** Footnote Dennis's father, Albert Fidler, played for Altrincham during the 1928/29 and 1929/30 seasons
Dennis Fidler's Career
Manchester United (Youth)
Manchester City (professional 01/1957)
1957/58 1-0 in League
1958/59 4-1 in League
Port Vale (06/1960)
1960/61 34 apps, 11 goals in League; 3 apps, 1 goal in FA Cup; 2 apps, 1 goal in other
1961/62 4 apps, 1 goal in League
Grimsby Town (10/1961)
1962/63 9 apps, 3 goals in League; 1 app. in FA Cup
Halifax Town (04/1963)
1962/63 13 apps, 2 goals in League
1963/64 38 apps, 10 goals in League; 1 app. in FA Cup; 3 apps, 2 goals in other
1964/65 43 apps, 11 goals in League; 1 app. in FA Cup; 1 app. in other
1965/66 41 apps, 13 goals in League; 1 app. in FA Cup; 1 app. in other
1966/67 8 apps, 3 goals in League; 2 apps in other
Darlington(10/1966)
1966/67 23 apps, 3 goals in League; 3 apps, 1 goal in FA Cup
1967/68 11 apps in League; 1 app. in FA Cup, 2 apps, 1 goal in other
Macclesfield Town
1968/69 25 apps, 10 goals in League; 2 apps in FA Cup; 5 apps, 3 goals in CSC; 10 apps, 1 goal in NWFL
1969/70 25 apps, 4 goals in League; 3 apps in FA Cup; 8 apps, 1 goal in FA Trophy; 7 apps, 2 goals in League Cup; 1 app. in CSC; 10 apps, 4 goals in NWFL
1970/71 33+1 apps, 9 goals in League; 1 app. in FA Cup; 5 apps, 1 goal in FA Trophy; 6 apps, 1 goal in League Cup; 4 apps, 3 goals in CSC; 8 apps, 5 goals in NWFL
Altrincham
1971/72 42+1 apps, 9 goals in League; 4 apps, 1 goal in FA Cup; 3 apps, 1 goal in League Cup; 2 apps, 3 goals in CSC; 3 apps in NWFL
Macclesfield Town
1972/73 36+1 apps, 5 goals in League; 4 apps, 2 goals in FA Cup; 4 apps, 1 goal in League Cup; 6 apps 1 goal in CSC; 8 apps 1 goal in NWFL
1973/74 Reserves.
New Mills (01/1974)
---
113 - Gordon Hayden McKINNA
By Terry Rowley, Joint Editor of The Robins' Review.
Born: Sale, August 2nd 1930
Died: Kenilworth, Warwickshire, 1st July 2007
A young twenty-year-old, from Sale made his debut for Altrincham at Moss Lane, playing at centre-forward on the 26th March 1951; the opposition, Ellesmere Port Town. The result, a 1-0 win. He didn't score and nothing unusual happened. But the story of this young forward was unusual.
Gordon Hayden McKinna was born in Sale on August 2nd 1930 and was one of the last of a generation of sporting amateurs. He was educated at Manchester Grammar School and represented the School at cricket between 1946 and 1949, as a right-arm, medium-paced bowler. He was good enough to be given his debut by Cheshire in the Minor Counties Championship in August 1949 against Staffordshire, taking 3-29 and 1-32 and scoring 0 &15. He played one further match, against Worcestershire 2nd XI, before going up to Oxford University.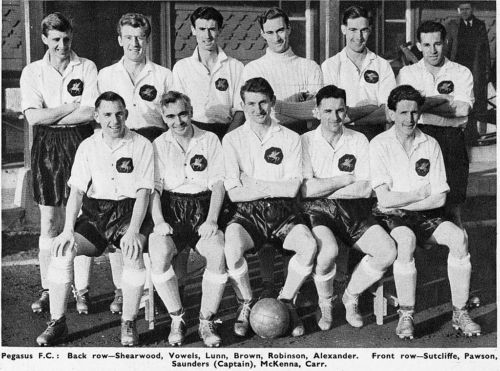 Gordon continued to be selected for Cheshire, when available, until 1953, playing 9 matches in all for the county.
But like many amateur sportsmen of his day, Gordon also excelled at other sports, including football; he was good enough to be playing for Manchester United junior sides during the 1948/49 season.
His education continued at university, with him going up to Brasenose college, Oxford in 1949, where he pursued his education. In July 1950 he was playing for Cheshire against Lancashire Seconds taking 3-43 and 3-33 before playing two further matches that season. He made his first-class debut the following season in May 1951 against Middlesex taking 0-29 and 2-42. He didn't play for the University in 1952 but reappeared in 1953.
He played football throughout his stay but, in addition, in the latter part of his stay at Oxford, Gordon was selected for the famous amateur club Pegasus FC, a club formed in 1948 and made up of the best Oxford and Cambridge University players. Pegasus didn't play in any league but came together only for cup games, such as the FA Amateur Cup and were the invention of the FA Chairman, Professor Harold Thompson.
Gordon joined Pegasus at the height of their fame, having won the FA Amateur Cup by beating Bishop Auckland at Wembley Stadium at the end of the 1950/51 season.
Prior to this, though, Gordon was home in Sale for the Easter vacation 1951 and was persuaded to turn out for Altrincham but only in home games. He played his first game in a 1-0 home win over Ellesmere Port on 26th March 1951. This was followed by a 2-0 win over Wellington Town, at Moss Lane on 2nd April, (having missed the away game at Wellington), Gordon scoring both goals.
After missing the 5-0 away defeat at Rhyl he next played on 14th April in the 4-0 home win against Runcorn, again netting two of the goals. His final game for Altrincham game two days later in a Cheshire League Cup Second Round tie against Wellington Town. Altrincham won 2-0 and Gordon scored yet again.
It was now time to return to University and that was the last Altrincham saw of Gordon, 5 goals in 4 games, Gordon's destiny lay elsewhere.
Returning to Oxford, Gordon continued playing football and cricket, gaining a blue in each sport and even captaining the football side in both 1952 and 1953.
At the end of the 1952/53 season, Pegasus once again reached the Amateur Cup final at Wembley having disposed of the other great amateur side, Corinthian Casuals, in the third round, they then beat Slough in the fourth round before drawing 1-1 with Southall at Highbury, in the semi-final, winning the replay, 2-1 at Craven Cottage.
An unbelievable crowd of 100,000 watched the final as Pegasus demolished Harwich & Parkeston, 6-0. Gordon played in that match at full-back his partner being the future West Indian wicket keeper, Gerry Alexander, who was studying at Cambridge and, a few weeks later, they were in opposition at Lords in the annual 'Varsity' cricket match.
After victory in the Amateur Cup final Gordon was called up for the England amateur side and made his debut on 3rd May 1953 in a 2-0 victory over France. The match was played at Boulogne. His second cap came 16 days later in a 1-0 win over Norway in Oslo, in front of 20,000 spectators. He gained two further caps in September, at Selhurst Park in a 4-0 defeat at the hands of South Africa and finally in a 4-2 win against France at Kenilworth Road in November.
University complete, Gordon joined the Royal Air Force for his National Service and continued to represent them at both cricket and football, in addition representing the Combined Services at cricket in 1955 against Warwickshire. On De-mob, he married in 1956 and started work, his career in The City, curtailing his senior sporting career.
He reappeared in competitive sport to play cricket for Chester, Boughton Hall, between June 1967 and April 1969 in the Liverpool and District League.
Gordon passed away in Kenilworth, Warwickshire on 1st July 2007.
---
114 - John Oldfield HIGGINS
By Terry Rowley, Joint Editor of The Robins' Review.
Born: Monsal Head, Bakewell, 15th November 1932
Died: Macclesfield 22nd April 2005
'Big John', as he was popularly known, was born at Monsal Head, Bakewell on 15th November 1932. He grew up in Buxton and initially played for local side, Grove Juniors whilst attending Buxton College. In his teens he joined Buxton United before being scouted and then invited to train with Bolton Wanderers.
His initial impression was not good a good one. In his own words, "The first Tuesday night I came here and there were a lot of little lads with dark eyes and they'd been in pit all day, and the muck was that bad that night I couldn't believe it. The bath was that thick with scum. When I got home, I said I'm not going back any more, dad. Anyway, I went back following week and they were the best set of lads I've ever known in my life".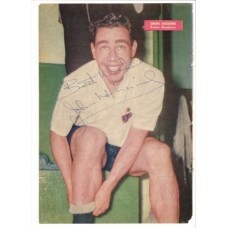 Settling in, John set about working his way up through the club's junior sides after signing in October 1950. He made his first team debut during the 1952/53 season, playing two games. Now established in the reserves, he was made captain and played 4 games for the first team in the 1953/54 season. In 1954/55 he played 2 further games for the first team but led the reserves to the Central League title, playing 40 games.
1955/56 was the season that John started to establish himself in the side, taking over at centre-half from Malcolm Barrass. He played 10 games during the season and, the following 1956/57 season, became a first-team regular, playing 29 league games, with a further one game in the FA Cup. For away games he roomed with club captain, Nat Lofthouse and eventually replaced him as captain when he retired.
His performances were now drawing interest from the England selectors and the 1957/58 season confirmed the general view that John was a top-class centre-half. He was an ever present in 1957/58, playing all 42 League games, with a further 7 games in the FA Cup, culminating in a FA Cup Final and a winner's medal, when Bolton beat the Munich-devastated Manchester United at Wembley in 1958.
Bolton went on to win the Charity Shield on 5th October 1958, beating Wolves 4-1 at Burnden Park. (The Charity Shield of Community Shield as it is now known was only played at Wembley from 1974 onwards). John played in 38 league games in addition to 4 more in the FA Cup.
In 1959/60 he played 39 league games, with 3 in the FA Cup. But any lingering hopes of an international 'call up' were probably finally dashed at Sheffield Wednesday in February 1960, a game that the national selectors were present at. Goalkeeper, Joe Dean got injured and had to go off and Derek Hennin then went in goal. Shortly after that, the referee awarded a penalty. John objected to this and pushed the ref, which resulted in him being sent off. Hennin saved the resulting penalty, with nine-man Bolton losing 1-0.
There was never any further mention of England call ups after that. The nearest John got to any international honours was playing for Bolton Wanderers in a friendly match against the West German 'B' side.
John also wrote a column for a Sunday newspaper. According to John, he had been approached to 'throw' the upcoming league game against Manchester City. He told his team mates, who were then determined that Bolton would win the game.
Denis Law was City's star player at the time. In the first five minutes, the Bolton defence had put Law on his backside about ten times, Law's threat was negated and Bolton won the game.
John's final season at Bolton was in 1960/61 when he played 17 league games, with an additional 4 in the league cup. His Bolton career had finished with a very respectable 183 League games, in addition to 15 games in the FA Cup and 4 in the League Cup.
At the end of the season he joined ambitious Wigan Athletic, as captain, for two seasons, playing a total of 77 Cheshire League games.
He was then persuaded by Freddie Pye to join Altrincham for the 1963/64 season, as captain. He made his debut in an exciting 7-3 home win over Stafford Rangers on the opening day of the season and scored his debut goal in a 3-2 home win over Stalybridge Celtic. He led Altrincham's FA Cup run, which terminated in the First Round with defeat by Wrexham, after a replay.
Injury robbed him of most of the second half of the season. But he was fit enough to feature in Altrincham's two-leg Cheshire League Cup final win over Macclesfield, with Alty drawing 0-0 at Moss Lane but winning 4-2 at the Moss Rose. At the end of his only season at Moss Lane, 'Big John' departed having played 42 games in all competitions and having scored twice.
He then moved closer to home, joining New Mills for the 1964/65 season and had a short spell at Stockport County, playing 6 games for the reserves which were followed by a spell at Stalybridge Celtic before quitting the senior game, at the end of the 1966/67 season.
He then joined his brother Peter in the family business, a bakery, making pies, later becoming a publican after selling up and buying 'The Plough' in the village of Flagg. He was still active, playing amateur football for village sides, Flagg and Youlgreave.
An outgoing personality, he also enjoyed singing, bowls and golf. His son Mark, followed in his footsteps, as a footballer, playing at centre-back for Everton, Manchester United, Bury and Stoke City.
John sadly passed away at Macclesfield General Hospital on 22nd April 2005.
An amusing footnote... In 2002 The 'Richard and Judy' show invited John's' mother on to the show, as she was the oldest working baker in Buxton. She was accompanied by her 'small son' as Richard described him. At the end of the interview, Richard turned to John and as the World Cup was ongoing, asked him if he was interested in football.
His mother answered that of course he was interested and that he had an FA Cup winner's medal against Manchester United. Taken aback, Richard asked 'Who did you play for?'. John told him and then added that son Mark, who had driven them to the studio, had also played football for Everton and Manchester United!
---
Go to ALTRINCHAM FC LEGENDS INDEX
---