ALTY LEGENDS SECTION 37
by Terry Rowley
These pages chronicle the playing legends of Altrincham Football Club. The texts have been kindly supplied by Terry Rowley, joint editor of the Robins' Review matchday programme. The profiles have previously appeared in the Robins' Review.
---
109. David Lesley MOBLEY
110. Ernest Peter JONES
111. Charles RACKSTRAW
---
109 - David Lesley (Dave) MOBLEY
By Terry Rowley, Joint Editor of The Robins' Review.
Born: Oxford, 24th August 1948
Position: Defender, height 5' 10", weight 11st 10lb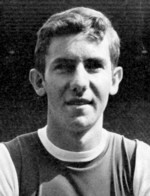 Right: Dave Mobley. Image courtesy of Silkmen Archive
Dave was born and educated in Oxford and joined Sheffield Wednesday in September 1965, as a junior. His elder brother, Vic had already begun a promising football career there. Dave however spent four years at Sheffield Wednesday without making a first-team appearance.
He was then signed by Bobby Kennedy for Grimsby Town in July 1969 and was an ever-present till the New Year when he was replaced by Jack Duncliffe. His final Grimsby game came in a 0-1 defeat at Newport County in front of 998 spectators.
Released at the end of the season Dave switched to playing part-time and was brought to Altrincham for the 1970/71 season, by then manger Laurie Brown, whilst working for a Manchester distribution company. He made his first Altrincham debut at right-back in the season's opening fixture, a 2-0 defeat at Bangor City.
After a spell out of the side following a 6-0 defeat at South Liverpool. Dave returned to the side at left-back where he played for the remainder of the season. He played in both legs of the final of the North West Floodlit League triumph over Macclesfield Town. He scored once during the season, in a 3-2 win at Fleetwood.
Retaining the left-back position, Dave was a near ever-present during the following 1971/72 season, only reverting to right-back for the final two games of the season. He played a total of sixty-three games out of a possible sixty-seven.
For 1972/73 Stan Allan made the right-back position his own, so Dave reverted to left-back. He played in the 1-0 FA Cup defeat at home to Notts County and the Cheshire Senior Cup semi-final defeat to Macclesfield, played at Edgeley Park. Dave was an unused substitute for both legs of the North West Floodlit League Final victory over Buxton, having been replaced at left-back by Mickey Brooke.
Dave then signed for Macclesfield during the summer of 1973. Now an experienced and capable defender, he gave the Silkmen six good seasons of service before returning to Altrincham in March 1979, having played two hundred and fifty-four games. He scored no goals
After Dave had returned to Altrincham in 1979, he remained there until the end of the 1978-79 season, playing at right-back and scoring a further goal in the 2-0 victory over Scarborough> He finished the season having played further thirteen games. During his two stints at Altrincham he played in a total of 185 matches, scoring three times. Dave then signed for Mossley in the summer of 1979. The highlight of this spell was Dave scoring winning goal in Mossley's 1-0 1st round FA Cup win over Crewe Alexandra in 1980.
He remained at Mossley until the end of the 198/81 season, having made 52 appearances and scoring three goals. He then retired from playing.
Dave was appointed to the Altrincham Board in 1981 where he served until 1984.
Outside of football, in 1980, Dave set up his own businesses called Lovelane Limited, which dealt in Cash & Carry and also Lovelane Frame Company which was a photo-frame manufacturer. In 2009 he set up Oakfield Arts
Footnote: His elder brother, Vic, was the well-known Sheffield Wednesday and QPR defender.
Dave Mobley's playing career
Rose Hill Boys
Sheffield Wednesday (09/65),
Grimsby Town (07/1969)

1969/70 26 apps 1 goal in League, 1 app. in FA Cup, 1 app. in League Cup

Altrincham (07/1970)

1970-71, 37+1 apps in League, 2 apps in FA Cup, 2 apps in CSC, 3 apps in FA Trophy, 10 apps in NWFL, 1 app. in NPL Shield
1971-72, 46 apps in League 6-0 in FA Cup, 4-0 in League Cup, 2 apps in CSC, 1 app. in FA Trophy, 5 apps in NWFL
1972-73, 35 apps, 7 apps in FA Cup, 2 apps in League Cup, 3 apps, 1 goal in CSC, 3 apps in FA Trophy, 3 apps in NWFL

Macclesfield Town,

1973/74 36 apps in League, 5 apps in FA Cup, 6 apps in FA Trophy, 1 app. in League Cup, 4 apps in CSC, 1 app. in NWFL
1974/75 43 apps in League, 1 app. in FA Cup, 1 app. in League Cup, 3 apps in CSC, 9 apps in NWFL
1975/76 27+1 apps in League, 4 apps in FA Cup, 1 app. in FA Trophy, 1 app. in League Cup, 2+1 apps in NWFL
1976/77 29 apps in League, 2 apps in FA Cup, 3 apps in FA Trophy, 1 app. in League Cup, 4 apps in CSC, 3 apps in NWFL
1977/78 26 apps in League, 1 app. in FA Trophy, 2 apps in CSC, 5 apps in NWFL
1978/79 25 apps, 1 app. in FA Cup, 2 apps in FA Trophy, 1 app. in League Cup, 1 app. in CSC.

Altrincham (03/79)

1978-79, 12+1 apps in League

Mossley

1979/80 16 apps
1980/81 36 apps, 3 goals; retired at the end of 1981.
---
110 - Ernest Peter JONES
By Terry Rowley, Joint Editor of The Robins' Review.
Born: Salford 30th November 1937.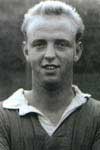 Right: Ernest Peter Jones
One Altrincham player who is often not remembered is Ernest Peter Jones, known throughout his career, as Peter, but he achieved more than many players, without hitting the heights. He won two trophies whilst at Moss Lane and was an integral part of the Altrincham side in its first two seasons in the Northern Premier League, slotting in wherever he was required.
Peter was born in Salford and naturally gravitated towards Manchester United. He initially joined them as a schoolboy and then he had a brief spell at Wolverhampton Wanderers before homesickness brought about his return to Manchester and he re-signed as a trainee for Manchester United in April 1954, signing professional terms a year later.
For Manchester United, Peter appeared at centre half in the first leg of 1954-55 FA Youth Cup final and at left-half for the second leg, United winning the tie, 7-1 on aggregate. In the 1955/56 final, Peter had shifted to left-back for both legs of the final against Chesterfield, which United won 4-3 on aggregate.
He made his only first team appearance, at Old Trafford, against Portsmouth on the 19th October 1957, replacing the injured Roger Byrne. He then went on two years' national service. Confined to the reserves, he then joined Third Division, Wrexham in March 1960, who were subsequently relegated to Division Four at the end of the season. Wrexham gained promotion back to Division Three at the end of the 1961/62 season by achieving third place in the table but were relegated again at the end of the 1963/64 season.
Apart from promotion, Peter gained a couple of Welsh Cup runners-up medals in his time at Wrexham and in his seven years at Wrexham, Peter made 226 league appearances, scoring seven goals, playing in a variety of positions across the back line and midfield.
Released at the end of the 1965/66 season Peter joined Stockport County, then in the Fourth Division, making his debut on 29th August 1966 at Barrow, playing at left-back and lining up alongside future Altrincham manager Matt Woods, along with Norman Sykes, Tommy Henderson and Albert Quixall.
Peter spent two seasons at Edgeley Park, moving between left-half and left-back and he played fifty-eight games. He only scored once for Stockport but the goal was important, a 58th minute winner in a 1-0 victory at Southend United on 13th May 1967.
Released at the end of the season. Peter's experience was recruited at Moss Lane, as Altrincham were about to begin their debut season in the Northern Premier League.
Peter started his Altrincham career in the Northern Premier League on the opening day of the 1968/69 season at centre-back in the 0-0 draw at Chorley. After six games he missed the 3-1 home win over Runcorn before re-appearing at right half for the next 6 games. He was then tried in the North West Floodlit League match at left-half and, till towards the end of the season, Peter was played at either centre-half or left-half, occasionally filling in at right-back.
Shifting to left-back for the game against Ashington and, bizarrely, he played at inside-right for the final game of the season, a 3-1 defeat at Morecambe. During the season Peter picked up a winners' medal in the North West Floodlit League, playing at centre-half in both legs, as Altrincham beat Macclesfield, 2-0 on aggregate.
The following season Peter started at left-half, then spent most of the season filling in across the midfield or back line, as required, finishing the season at left-back, as Altrincham yet again defeated Macclesfield, yet again over two legs, this time in the Northern Premier League Challenge Trophy. Peter played 103 games in his two seasons at Moss Lane, without scoring but his contribution should not be underestimated.
Released at the end of the season, Peter then joined Chorley during the close-season and, after two seasons, he wound down his career at Radcliffe Borough.
When Peter retired from the game he lived in Swinton. Outside of football Peter worked as a window cleaner, running a fish and chip shop and a textile company in Carrington, and finally working for a chemical company for over 30 years
Peter Jones's career:
Wolverhampton Wanderers
Manchester United (trainee 04/1954, Professional 04/55) 1957/58: 1 game vs Portsmouth 19th October 1957 at Old Trafford, a 3-0 defeat
Wrexham (03/60) 1959/60-65/66), 226 games, 7 goals in League
Stockport County (07/66)

1966/67 27 apps, 1 goal in League, 1 app. in FA Cup, 1 in League Cup
1967/68 27 apps, 2 apps FA Cup)

Altrincham (C/S 1967)

1968-69, 35 apps in NPL, 2 apps FA Cup, 3 apps League Cup, 2 apps CSC, 8 apps NWFL
1969-70, 35 apps in NPL, 1 app. FA Cup, 6 apps League Cup, 4 apps CSC, 2 apps FA Trophy, 5 apps NWFL

Chorley (cs 1970),
Radcliffe (cs 1972)
---
111 - Charles (Charlie) RACKSTRAW
By Terry Rowley, Joint Editor of The Robins' Review.
Born: Sheffield 23rd April 1938
Charlie was a very talented forward who graced the lower Divisions of the Football League for twelve seasons, scoring 100 league goals in 370 appearances.
He was born in Sheffield on 23rd April 1938 and joining Chesterfield, as a professional in March 1958, having graduated through their youth system, playing in Chesterfield's 1956 FA Youth Cup final defeat to Manchester United. He then spent the next six seasons with Chesterfield being their leading scorer in both 1962/63 and 1963/64 seasons.
Not always appreciated by the fans or the management and being accused of laziness, nevertheless he attracted interest from other clubs> For instance, Luton Town offered £10,000 in March 1963, but this was turned down. Surprisingly, just over a year later, he was transferred to Third Division Gillingham for a fee of only £4,000 in addition to Peter Stringfellow moving to Chesterfield. Charlie left Chesterfield having scored a very creditable 48 goals in 172 league matches.
He joined Gillingham in May 1964 and spent two and a half seasons at Priestfield, playing in 94 league games and scoring 25 goals. Controversy was never too far away; for example, in January 1965 he was hit by a bottle during a 1-0 home win over Brentford. In September 1965 he was punched to the ground after the final whistle by Reading centre-forward, Pat Terry.
Charlie then moved to Bradford City in January 1967, for a fee of £1,500 and spent the next three years, scoring 27 goals in 104 league matches, playing a large part in Bradford's promotion from the fourth Division in 1969 and scoring seven goals in the league. He scored the 100th League goal of his career against Exeter City and this came from the penalty spot, on 7th April 1969, thereby maintaining his record of never having missed a penalty, (this record fell on February 28th 1970 when Charlie missed a penalty for Altrincham against Boston United).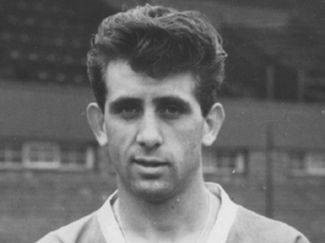 Bradford City released him in late January and, although Crewe Alexandra had shown interest, Charlie's next move was to Moss Lane, Altrincham, where he was signed up by player/manager, Laurie Brown to supplement his attacking option of Worth and Swindells. Charlie made his debut in a 4-1 home win over Hyde United on the 7th February 1970. His scoring debut came in the following game, with two goals in a 3-0 home Cheshire Senior Cup Second Round victory over Witton Albion.
His League scoring debut followed with the winner in a 1-0 win over Boston United, which he followed up with a goal in the 2-1 win at Gateshead. He then scored in Altrincham's 3-2 defeat to Hyde United in the final of the Cheshire Senior Cup, played at Edgeley Park and played in both legs of Altrincham's Northern Premier League Cup Final victory over Macclesfield Town, finishing the season with a creditable 7 goals in 20 league and cup appearances and two medals.
Altrincham started the 1970/71 season with a new forward line, Jack Swindells and John Worth had moved on and the new line-up took time gel. Charlie, after missing the opening day defeat at Bangor City, scored in the 3-2 home defeat to South Shields and scored again in the 4-4 Northern Premier League Shield match, (Champions v Cup Winners), against Macclesfield and, again, in the following match, a 1-1 draw at Boston United. Charlie followed this up with a final goal in the 5-0 trouncing of Netherfield on the 2nd September. Charlie played a further 11 games, with his final game coming in a 0-3 defeat v Northwich 21st November.
New manager John Davis obviously didn't think Charlie's style fitted, so he was allowed to move back to Bradford and finish the season and his senior career at Bradford Park Avenue, having scored a further 4 goals in 20 appearances, making a total of 11 goals in 40 games for Altrincham.
Charlie then became an insurance broker and he continues to follow Bradford City.
Footnote: Charlie was voted number 65 in The Fanzine, 'Wide of the Post', list of the 100 most popular players, for Bradford City. (Paul Showler, was voted number 91).
Career
Chesterfield (03/1958)
1957/58
1958/59 3 apps in League
1959/60 14 apps, 3 goals in League; 1 app. in FAC
1960/61 32 apps, 8 goals in League; 5 apps, 2 goals in FA Cup
1961/62 36 apps, 10 goals in League; 3 apps, 2 goals in FA Cup; 1 app. in League Cup
1962/63 41 apps, 12 goals in League; 2 apps in FA Cup; 1 app. in League Cup
1963/64 46 apps, 15 goals in League; 4 apps, 1 goal in FA Cup; 1 app. in League Cup
Gillingham (05/1964)
1964/65 38 apps, 11 goals in League; 2 apps in FA Cup, 1 app. in League Cup
1965/66 45 apps, 12 goals in League, 1 app. in FA Cup, 1 app. in League Cup
1966/67 10+1 apps, 2 goals in League, 1+1 apps, 1 goal in FA Cup; 3 apps, 1 goal in League Cup
Bradford City (01/1967)
1966/67- 1969/70 Total 104 apps, 27 goals in League
Altrincham (02/1970)
1969-70, 14 apps, 3 goals in NPL; 3 apps, 1 goal in League Cup; 3 apps, 3 goals in CSC
1970-71, 13 apps, 3 goals in NPL; 2 apps in FA Cup; 1 app. in League Cup; 3 apps in NWFL; 1 app., 1 goal in NPL Shield
Bradford Park Avenue (11/1970)
---
Go to ALTRINCHAM FC LEGENDS INDEX
---