ALTY LEGENDS SECTION 36
by Terry Rowley
These pages chronicle the playing legends of Altrincham Football Club. The texts have been kindly supplied by Terry Rowley, joint editor of the Robins' Review matchday programme. The profiles have previously appeared in the Robins' Review.
---
106. John Brian PHILLIPS
107. William Alexander 'Bill' GOWDY
108. Joe FAGAN
---
106 - John Brian PHILLIPS
By Terry Rowley, Joint Editor of The Robins' Review.
Born: Cadishead, 9th November 1931
Died: Sutton-in-Ashfield, Nottinghamshire, 28th March 2012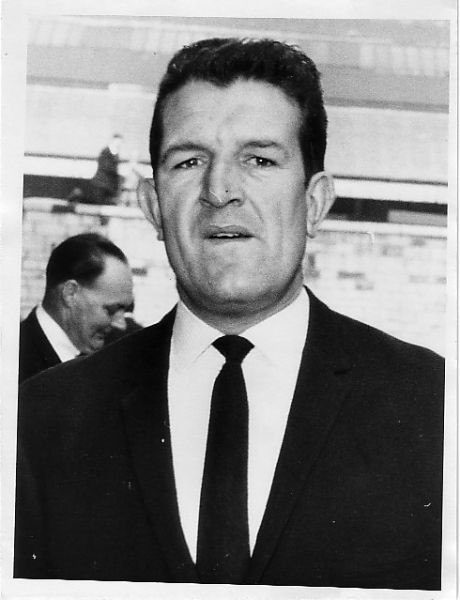 John Brian Phillips was born and raised in Cadishead [near Warrington]. He was playing for Lancashire Steel, in Irlam, when Altrincham trainer, Arthur Gale spotted him as a teenager and brought him to Moss Lane, with him signing terms in December 1950. He made his debut on Boxing Day, in a 2-0 defeat away at Ellesmere Port.
He then dropped out of the side but was recalled after Altrincham lost the next three games. His return game was a 2-2 away draw at Congleton on 27th January 1951. Thereafter he missed only one game till the end of the season and played in all three ties in Altrincham's Cheshire League Cup run, culminating in a 1-0 Final win over Macclesfield Town in front of 7,000 spectators.
Altrincham finished 10th in the league and Brian had played 24 league and cup games. In 1951/52 Altrincham improved their league position, moving up to 8th, and Brian was now the regular centre-half, finishing the season having played 38 league and cup games.
In 1953 Brian was called up for National Service, thus missing most of the second half of the season as he performed basic training. He served in the RAF as a policeman, though he still managed 24 games but missed the Cheshire Senior Cup Final, a 2-1 defeat to Stalybridge Celtic. Stationed within easy commuting distance, Brian played 37 games in 1953/54 and had already attracted the interest of Football League sides. Having played 123 games for Altrincham over three-and-a-half seasons, Brian Joined Second Division Middlesbrough in June 1954.
At Middlesbrough he would become a team-mate and later adversary to the mercurial, Brian Clough. Both had served in the RAF and initially got along fine, though that was soon to change. Brian made his first team debut 10 months after signing in a 4-3 home win over Blackburn Rovers on 26th March 1955 and played two further games before the end of the season.
Over the following two seasons, Brian was still very much a reserve, playing just 12 games in 1955/56 and 10 games in 1956/57. He was first choice centre-half in 1957/58, playing 40 league games, in addition to two in the FA Cup. This was followed in 1958/59 with 37 League games and 1 in the FA Cup, eith him also scoring his debut goal.
The acrimony with Clough was growing. Clough, as ever outspoken and conceited, started berating the defence for what he saw as soft goals, even questioning whether some of the games results were fixed.
Phillip's and Clough's relationship blew up on the training ground in a practice match, Clough continually tugging at Brian's shirt. Even when told to cease he continued, so finally Phillips at the next opportunity took Clough out with a crunching tackle, following through and leaving Clough needing treatment. Things got worse when Clough was appointed captain. Brian stated 'We'd be flogging our guts out for a 0-0 draw and Cloughie would be strolling around at the other end quite unconcerned. He did bugger all when the pressure was on. Then we'd have to read in the paper what a great game he had.'
Phillips was a vocal and strong opponent of Clough's captaincy at Middlesbrough and he was at least partially responsible for raising a petition to the manager and board of directors, signed by nine players, to have Clough stripped of the captaincy as he continually berated his team mates, especially the defence. Clough was a loner and, apart from his best friend Peter Taylor, was isolated. Clough was also alleged to have raised suspicions about match fixing, especially in regards to Brian Phillips and Ken Thompson after a particularly bad 5-0 defeat at Orient.
Brian Phillips later denied that anything out of the ordinary was happening at Middlesbrough, that came later.
1959/60 was Brian's final season playing only 19 games and scoring 1 goal, (against Liverpool in a 2-1 win at Anfield). As fall-out from the arguments with Brian Clough he was only offered reduced terms for the following season, which he rejected and joined newly relegated Fourth Division, Mansfield Town.
The season started poorly and, by mid-December, Mansfield were in the bottom four. But then came the fateful signing of the 'infamous', Jimmy Gauld, who scored in wins over Aldershot and Hartlepool, either side of Christmas, Gauld broke his leg in the latter match and 'turned his hand' to alternative 'employment', one that would destroy players' careers, including that of Brian Phillips.
In 1961/62 Mansfield had erected new floodlights and amassed 44 points for a mid-table placing. In 1962/63 Brian captained Mansfield back into the Third Division, gaining promotion on a 0.118% goal difference. With the last game of the season Mansfield were in fourth place with a final game at Stockport and one point ahead of Gillingham. In a situation that would not be permitted today Gillingham's match with Oxford was allowed to kick off an hour before Mansfield's.
The news was relayed that Gillingham had lost, 2-1 and Mansfield need merely a draw to gain promotion, that they achieved with a 1-1 draw.
The 'bombshell' was dropped on April 28th 1963 when Brian was named in the 'Sunday People' as one of the Jimmy Gauld 'match fixing ring'. He was immediately suspended by the club and thus was unavailable for the exciting run-in to the end of the season. His career was finished, having played 103 League games, with 3 goals.
In July 1963 three players, Mansfield's' Phillips and Bristol Rovers pair Esmond Milliom, (who had been a team mate of Brian's at Middlesbrough) and Keith Williams were found guilty at Doncaster Magistrates' Court, where they were charged under the Prevention of Corruption Act of trying to fix the result of the Bradford Park Avenue v Bristol Rovers game, played on 20th April 1963. All three were found guilty.
Milliom was fined the maximum £100 and Williams and Brian £50 and, three weeks later, the careers of all three were over as they were banned from football for life.
The final chapter of the footballing careers of Williams, Million and Phillips took place in a Birmingham hotel on August 15, 1963, where a four-man commission set up by the Football Association convened to examine the case, the decision came after just two and a half hours.
The week after the trial, The People had exposed Brian as the 'middle man' in Doncaster who had met the others to arrange 'the fix' and his contract with Mansfield was terminated the following day. The story didn't end there though, rumours continued that this was merely the 'tip of an iceberg' with a much larger alleged, organised betting syndicate yet to be uncovered.
On the 12th April 1964, 'The People' revealed that five Mansfield Town players plus Ken Thompson of Hartlepool, had been involved in fixing a match, an allegation that Thompson confessed to. Jimmy Gauld, in search of a final 'payday' sold his story to the 'Sunday People' for £7,000 (equivalent to £127,000 in 2016), incriminating three Sheffield Wednesday players who had 'thrown' the game against Ipswich Town in December 1962.
The story broke on 12 April 1964 and, the following Sunday, a number of other players including Brian, were also named as having taken part in fixing matches.
The investigation, was now handed to the police and ten players, including Brian, appeared at Mansfield Magistrates' Court in September, charged with bribery and corruption, all being found guilty and committed for trial at Nottingham Assizes. A three-week trial in January, 1965 ended with all ten found guilty as charged. Jimmy Gauld as the ring leader was sentenced to four years and a £5,000 fine after admitting 14 charges of conspiracy to defraud bookmakers.
Gauld had a network which involved up to 30 players and three England internationals and was alleged to be making £4,000 a month, ten times the average wage for a player at that time. Brian Phillips and York City's Jack Fountain were jailed for 15 months, Jack Beattie of St Mirren received 9 months. England internationals Peter Swan and Tony Kay received 4 months, along with David 'Bronco' Layne. Chapman, Howells and Ken Thompson received 6 months. On release, Layne, Swan, Kay, Beattie, Fountain, Chapman and Howells were banned for life from any further participation in football (Gauld, Thomson and Phillips had already been banned).
In all, 33 players were prosecuted in one of the biggest scandals ever to rock football. There was redemption though, in 1971, the FA rules changed and Brian appealed against his life ban, he was 40, and too old to make a playing comeback and the ban was repealed. He then took up a role coaching with Nottinghamshire FA.
Between 1975 and 1978 Brian also began a career in management at Clipstone Welfare, then moved to Retford Town, before taking the manager's role at Rainworth in 1975, leading them to runners-up position at the end of the 1975/76 season. He then led the club to national attention with six successive Notts Alliance championships, culminating in the 1981-82 season when, along with the league title, they won both the League Senior Cup and Notts Senior Cup and, most famously of all, Rainworth played Forest Green Rovers in the final of FA Vase at Wembley, losing 3-0.
But Rainworth had become only the second truly amateur club to reach the Vase final and the first Miners' Welfare club to play in a Wembley final. Brian resigned at the end of the 1982-83 season, but was soon persuaded back for a short second stint in charge.
In later years Brian was dogged by ill health, but still kept in touch with the club. He refused to ever discuss the match fixing affair. Brian passed away in Sutton-in-Ashfield on 28th March 2012. There were many warm tributes from the local footballing community. The story was dramatized by the BBC in 1997 in a film called 'The Fix'.
---
107 - William Alexander 'Bill GOWDY
By Terry Rowley, Joint Editor of The Robins' Review.
Born: Belfast, 24 December 1903
Died: Larne, 16 March 1958
Born in Belfast, Bill Gowdy started with Duncairn Olympic, finally making the breakthrough to senior football with Cliftonville. Appearing in their 3-2 Irish Cup Final defeat by Ards on 26 March 1927, he earned the attentions of Burnley, though Cliftonville advised him against travelling for a trial. Gowdy was exceptionally fast, he was NCC Sports' quickest man over 100 and 220 yards, though he was criticised as being lightweight. He was however noted as "exceedingly clever... his footwork is neat and bewildering to the opposition... has rare command over the ball and can kill a lively sphere with grace and ease."
It wasn't until he joined Irish League, Ards, in 1927 that Bill attained significant recognition. It was while with the North-Down club that he made the first two of his four Inter-League appearances during the 1927/28 season and, from there, he gained a move to the Football League with Hull City, following a short trial, in June 1929. He signed in July.
During his first season in England, Hull suffered relegation to Division Three (North), but a strong showing at a lower level brought Gowdy to the attentions of the Irish selectors, and he made his international debut as left-half in a 3-1 defeat by Scotland in September 1931.

The following January, Gowdy was transferred to First Division Sheffield Wednesday. Unfortunately, his time at Hillsborough proved to be unhappy, and he made just two first team appearances in a year, a 2-2 FA Cup 3rd Round draw with Spurs, and a 3-1 home win over Portsmouth in the League.
In September 1932 he was again selected as Northern Ireland's left-half and, once again, finished on the losing side. In mid-April 1933, Gateshead manager, William McCracken, obtained his signature for a transfer back to Division Three (North) but this brought no change so fortune, so after four games, Bill returned to Ireland and joined Linfield for the 1933/34 season.
At Linfield, Bill's form revived sufficiently enough to earn him a recall to the Northern Ireland side. He added three further caps to his total while at Windsor Park, playing at right-half, left-half and inside-left, two further Irish League appearances, and an Irish League title.
In November 1935 it was reported in the local press that Bill would be signing for Dundee but, in December, Bill was crossing the Irish Sea, to sign for Hibernian, along with Linfield team mate, Jack Jones and he made his debut two days after signing, on the 7th December 1935 against Arbroath. It was at Hibernian where he was to win his sixth and final Ireland cap in March 1936.
In July 1936 Bill signed on loan for non-League Goole, whilst on the Hibernian transfer list, valued at £500. He went on to captain the Goole team to the Yorkshire League title, before Hibernian received a satisFA Cuptory bid for his services in the summer.
The surprising source of the £500 offer was none other than, Altrincham, with Bill signing in July 1937. At the time it was regarded as quite a coup for the Moss Lane club.
Unfortunately, the successful Altrincham side of the mid-Thirties had almost bankrupted the club and only four players from the previous season were retained. So, Bill was regarded as part of the re-building, albeit on more limited budget.
Bill lined up for the 1937/38 season in the opening day defeat at Rhyl, playing at inside-right. He was then shifted to right-half for the second game against Winsford then back to inside-right, then finally to left-half for the rest of the season, except for the final game when he played, once again at right-half.
Altrincham had, of course, been removed from the FA Cup, due to their alleged 'nursery club' status. So, apart from the league, they only had the Challenge Cup and Cheshire Senior Cup to play for. Altrincham finished ninth in the table and were knocked out of both available cups in the early rounds.
Bill had played forty-two games, scoring no goals. With money even harder to find, the club released him.
Bill had stayed just one season at Moss Lane, before having another brief spell back in the Football League with Aldershot for the 1938/39 season where, once again, he FA Cuped disappointment, playing only three games. In March 1939 he applied for the manager's job at Linfield, where he was short-listed but not selected, Billy McCleery, getting the job instead.
Living in Hull he briefly returned to Hull City, playing three games during the 1940/41 wartime North Regional League season.
After the War, he returned to Ireland and opened a gift shop on Larne High Street, selling stationery, fancy goods, glassware and leather goods.
Careeer
Representative Honours:
Northern Ireland: 6 Full Caps (1931-1936); Irish League: 4 Caps (1927-1935).
Northern Ireland Cap Details:
19/09/1931 Scotland A L 1-3 BC
12/09/1932 Scotland H L 0-4 BC
20/10/1934 Scotland H W 2-1 BC
06/02/1935 England. A L 1-2 BC
27/03/1935 Wales... A L 1-3 BC 11/03/1936 Wales... H W 3-2 BC
Club Honours
With Cliftonville: Irish Cup Runner-Up 1926/27
With Linfield: Irish League Champion 1934/35
With Goole: Yorkshire League Champion 1936/37
---
108 - Joseph Francis 'Joe' FAGAN
By Terry Rowley, Joint Editor of The Robins' Review.
Born: Walton, Liverpool, 12th March, 1921
Died: Liverpool, 20th June, 2001
Joe Fagan was born in Liverpool on March 12th 1921 and spent his childhood in the Litherland area of the city
As a boy, he watched both Everton and Liverpool play although he preferred Anfield, he later recalled, "as it had a better boys' pen". He was educated at St Elizabeth Central School, where he led the 1st XI to victory in the Daily Dispatch Trophy in 1935 before moving on to play as an amateur for Earlestown Bohemians. Playing for Bohemians, as a reliable centre half, good in the air and solid on the ground, he caught the eye of several clubs. Although he was offered forms by Liverpool, in October 1938 he opted instead to join Manchester City.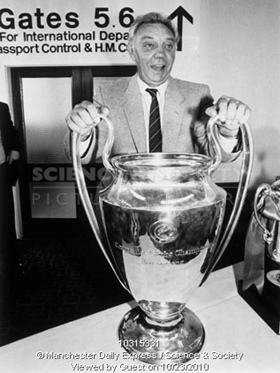 However, as with all his peers, Joe's playing career was severely hampered by the onset of war in 1939.
During the War Joe served his country in the Royal Navy but continued playing occasionally in the wartime league. It was during this time he first came into contact with Harry Catterick, a man who would later make an impact with Everton. Fagan eventually made his full official debut for City on New Year's Day 1947, nearly nine years after signing for the club, helping the club attain promotion to the First Division. In the following four seasons he made 168 appearances, skippering the side for the last three.
In 1951, at the age of 30, Joe left Maine Road to become player-manager of part-timers Nelson, a job he combined with one inspecting gas meters in local factories. Under Fagan, Nelson were champions for a second time in 1951/52, this time scoring 139 goals and, in 1952/53, Fagan's second and final season in charge, Nelson finished in fifth place.
Joe then briefly returned to the professional game with Bradford Park Avenue before being appointed trainer at Rochdale in 1953, under the management of his old wartime friend Harry Catterick.
In October 1954 Joe Joined Altrincham, playing at centre-half and finished the season having scored once in 27 Cheshire County League games in addition to one League Cup and two Cheshire Senior Cup games. Joe missed a month of the season after picking up a serious injury against Chester. Apart from that, the club had achieved very little.
With the season over, Joe retired from playing leaving him to concentrate on developing his coaching experience at Rochdale. In May 1958, just 18 months before the arrival of Bill Shankly, Fagan, on Harry Catterick's recommendation joined Liverpool as assistant trainer. Bill Shankly had long been an admirer of Fagan's and had indeed tried to sign him when he was managing Grimsby Town, whilst Joe was playing for Manchester City.
It was the start of a footballing dynasty that Joe Fagan was to play a major role in. After a spell looking after the reserves, Fagan was appointed first team trainer in 1971, and stepped up to chief coach in 1974 with the retirement of Shankly forcing a reshuffle. In 1979 he continued his move up the 'Boot Room' hierarchy by becoming Assistant Manager and was instrumental in helping to grow the club's ever-increasing pile of silverware. Joe finally took the helm at Liverpool as manager in the summer of 1983 on the retirement of Bob Paisley.
The first year was astonishing with Joe leading the club to an unprecedented treble, that included the League Championship, European Cup and League Cup and culminated in Joe being named 'Manager of the Year' for 1983/1984, this after just a single year in charge, the only English manager to achieve the feat.
The following season, though, was to be an anti-climax, as the club finished second in the League to a rejuvenated Everton. Fagan had already decided to finish as manager at the season's end but the tragic events at Heysel in May 1985 with the deaths of 39 Juventus supporters before the European Cup Final were destined to cast a darker shadow over his tenure as manager. In a game subsequently rendered meaningless by these earlier events, Liverpool lost the European Cup tie 1-0 and ended the season without a trophy.
Joe kept a low profile in retirement, although he returned occasionally to the Liverpool training ground at Melwood, especially when Roy Evans was in charge. Joe sadly died of cancer, in Liverpool on 30th June 2001.
Note* Joe's son Michael also played for Altrincham during the 1984/85 & 1985/86 seasons, scoring 7 goals in 56 games, with the most notable achievement being his winning goal in the 1-0 FA Cup win over Blackpool.
Joe Fagan's playing career
Earlestown Bohemians:
1937-38
Manchester City (08/1938):
Wartime
Portsmouth: 1942/43 1 game
Manchester City:
1943/44 and 1944/45: 5 games
1946/47 20 apps in League, 4 apps in FA Cup
1947/48 42 apps, 1 goal in League, 3 apps in FA Cup
1948/49 42 apps in League, 1 app. in FA Cup
1949/50 39 apps, 1 goal in League, 1 app. in FA Cup
1950/51 5 apps in League, 1 app. in FA Cup
Nelson:
Bradford City (08/53):
1953/54 3-0LG
Altrincham (10/1954):
1954/55 27 apps, 1 goal in Cheshire County League, 1 app in Cheshire League Cup, 2 apps in Cheshire Senior Cup
---
Go to ALTRINCHAM FC LEGENDS INDEX
---