ALTY LEGENDS SECTION 35
by Terry Rowley
These pages chronicle the playing legends of Altrincham Football Club. The texts have been kindly supplied by Terry Rowley, joint editor of the Robins' Review matchday programme. The profiles have previously appeared in the Robins' Review.
---
103. Wilf HALL
104. Fionan Richard ("Paddy") FAGAN
105. Eric BARNES
---
103 - Wilfred "Wilf" HALL
By Terry Rowley, Joint Editor of The Robins' Review.
Born: Haydock, St Helens, 14th October 1934
Died: Macclesfield 6th August 2007
Born in Haydock, St Helens, and raised in Haydock Lane, Wilf started football as a kit-boy with a local amateur side, before being asked to stand-in as an emergency goalkeeper, in the open age side.
He was a natural, agile, shot stopper, with a preference for punching rather than catching crosses. It was not long before Wilf came to the attention of Haydock's major club, Haydock C&B, members of the Liverpool County Combination. But so good were Wilf's performances that he was soon signing as a semi-professional, Earlestown FC, of the Lancashire Combination.
Once again Wilf seized the opportunity and it wasn't long before Second Division Stoke City had scouted him and then signed him, for a small fee, aged 19 as a professional in October 1953, as understudy to Bill Robinson. Wilf moved to Fenton and in addition to learning his trade as a goalkeeper, also played cricket for Fenton CC, as a fast bowler.
Wilf had to wait over a year for his debt which came in a Third Round FA Cup tie away at Bury on January 8th 1955. The match ended in a 1-1 draw. The replay took place on Wednesday 12th but with the score 1-1 in injury time, the match was abandoned due to a snow storm, after 112 minutes.
The replay was rescheduled for Goodison Part the following Monday, with the game ending 3-3. Two days later, the next replay switched to Anfield, where the sides played out a 2-2 draw. The tie was eventually settled at Old Trafford on Monday 24th when Stoke beat Bury 3-2, in the last minute of extra time. Wilf played in all five games, which was a record for the FA Cup, a total of 9 hours and 22 minutes being needed to settle the tie.
Wilf made his league debut later in the season against Charlton Athletic. Throughout his time at Stoke Wilf was used mainly as a stand-in, playing only 6 first team games in 1955/56 and none at all in 1956/57. In 1957/58, Wilf got his best run in the side playing 24 games in the league and 5 more in the FA Cup. He played a further 11 league games the following 1958/59 season and a further two in the FA Cup but was no closer to establishing himself as first choice keeper.
In 1959/60 he played just 3 league games and at the end of the season he was sold to Alf Ramsey's Ipswich Town in June 1960 for a fee of £4,250, (the money was used to buy back Stanley Matthews). Wilf had played a total of 57 first team games.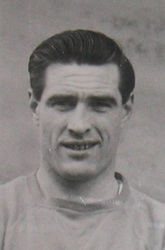 At Ipswich, Wilf [left] was used as back-up to Roy Bailey, making his debut in August 1960 but playing in only a further 3 matches to the end of the season, which saw Ipswich win the Second Division title. The following 1961/62 season was slightly better, with Wilf playing 5 league games, 1 in the FA Cup and 2 further games in the newly established Football League Cup.
The season was a triumph as Ramsey's side lifted the First Division Championship. Wilf's final season in professional football, ended in tragedy as his seventh and final game of the season came at West Bromwich Albion on March 9rd 1963. Wilf lasted 12 minutes before being carried off with a badly dislocated shoulder, (subsequently found to be broken in four places). Worse was to follow; David Moran was carried off with a badly twisted knee and nine-man Ipswich lost 6-1.
Based on his injuries, doctors advised Wilf that he should retire from playing professional football immediately.
As an aside, Wilf worked, as a builder in the close season on the construction of what was to be later named the North Stand at Portman Road during his time at Ipswich.
Former Stoke team mate, Frank Bowyer, who had been player/manager at Macclesfield persuaded Wilf to try his hand at Macclesfield Town, which was to be the start of a 40-year association with the club.
Right: Wilf during his Alty days
He made his debut on August 24th 1963 against Buxton and had a tremendous first season as Macclesfield won the Cheshire League Championship, Cheshire Senior Cup and were runners-up in the Cheshire League Cup. Wilf played 57 games and was awarded the Silkmen's 'Sportsman of the Year for the 1963/64 season' and was presented with the Webster Trophy and the County Express Medal.
Wilf followed this up with 47 games the following 1964/65 season, when Macclesfield finished runners-up in the Cheshire County League. Wilf then moved to Stafford Rangers before joining Altrincham in early November 1967 making his debut on the 4th November in a 4-3 win over Rhyl at Moss Lane and throughout the season, Wilf shared goalkeeping duties with George Smith.
He picked up a North West Floodlit League runners-up medal at the end of the season, playing in both legs of the final, against his old team, Macclesfield and in total played a total of 26 games for Altrincham, including 6 clean sheets.
Returning to Macclesfield for 1968/69 season, Wilf found himself understudy to Macclesfield 'legend', John Cooke for the next 5 seasons, playing a further 36 games and picking up another North West Floodlit League, runners-up medal in 1971/72.
Wilf finally hung up his gloves at the end of the following 1972/73 season and went on to carry out a number of roles at Macclesfield over the next thirty years including, trainer, groundsman, reserve-team coach, director, programme seller, gateman and finally in his later years, commissionaire in the McIlroy Suite or at the players'/directors' entrance.
Throughout this time, Wilf carried out his work with total professionalism but was well known for his genuine, caring, friendly nature and a wonderful sense of humour.
Wilf fought with cancer of the last few years of his life and finally passed peacefully at the East Cheshire Hospice on Monday 6th August 2007.
---
104 - Fionan Richard "Paddy" FAGAN
By Terry Rowley, Joint Editor of The Robins' Review.
Born: Dublin, 7th June, 1930
Died: Manchester 19th November, 2014
Fionan Fagan, (pronounced "Fin-an"), was born in Dublin on the 7th June 1930 and grew up playing sport, cricket, rugby and football. Football was in the blood, his father John had played for Shamrock Rovers as a left winger and represented Eire at league level, Irish FA level and played one full international against Italy in 1926.
Paddy progressed through the junior sides at Shamrock Rovers, then had a spell at Home Park, where he won the under 18s' league and cup double. He then joined League of Ireland side, Transport FC in 1949. Jack Hill, a scout for Second Division, Hull City, spotted him playing as a fast and direct right-winger and brought manager Raich Carter over to watch him play in a match against Dundalk. Obviously impressing, Paddy was asked to sign after the game.
Agreeing to terms, Paddy took the ferry to Liverpool and then took the train to Hull. Fionan had never been to England before and did not know what to expect.
He formally signed terms in March 1951 but didn't make the first team that season. In 1951/52 he played 6 games, without scoring and in 1952/53 he scored his maiden goal and played 8 games.
He enjoyed his time at Hull under Carter but, once he had left, Paddy did not see 'eye to eye' with new manager, Bob Jackson and, after 12 games and another goal in 1953/54, was sold to Manchester City for £15,000.
Paddy travelled up to Manchester on Christmas Eve and met Manager, Les McDowall, in the Queen's Hotel and signed on the spot.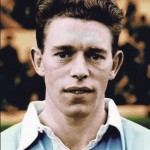 On Christmas Day he played for the Reserves and the following day made his first-team debut at Maine Road against Sheffield United, winning 2-1. He played 6 further games till the end of the season.
1954/55 saw Paddy establish himself in the side as a regular. This was the era of the 'Revie System' and Paddy flourished. Initially living in 'digs', he moved in with Bert Trautmann in Bramhall and together they took the bus for training and matches.
The 1954-55 season proved to be Fagan's most successful for Manchester City, playing 42 games and scoring 11 goals, including two goals against Manchester United at Old Trafford in a 5-0 win. City also reached the 1955 FA Cup final losing 3-1 to Newcastle United.
Manchester City reached the final again the following season, but Fagan did not play in the final, and missed out on a winner's medal.
After continuing to play regularly for a further three seasons, Fagan lost his first team place to Colin Barlow during the 1959/60 season, and transferred to Derby County for a fee of £8,000 in March 1960, having played a total of 165 games, (153 league, 11 FA Cup, 1 other) and scoring 35 goals, (34 league, 1 FA Cup).
Fagan was capped twice by Eire whilst at City. The first of these international caps came on 7 November 1954 in Dublin, against Norway, a major honour, as this first appearance meant that he and his father were the first father and son ever to play international football for Ireland. http://www.lusoweb.co.uk/legend38.htm
A 'B' International in 1957 was followed by his second full international match on 1st November 1959, a 3-2 win over Sweden in Dublin
Moving to Derby County, Paddy wound down his league career. For the remainder of the 1959/60 season Paddy played 10 games and scored once. He followed this in 1960/61 by playing only 14 league games and 1 game in the League cup but scored 5 goals.
It was at Derby though that he won a further 6 Caps for the Republic, the first of which came in a 2-0 win over Chile, in March 1960, followed by a 1-0 win over West Germany, in Dusseldorf on the 11th May 1960, Paddy scoring his first goal for his country. A week later he scored twice in a 4-1 win over Sweden in Malmo.
His scoring form continued in September, when he scored both goals in Dublin, as the Republic lost 3-2 to Wales and in November he scored again in Dublin as Norway beat the Republic, 3-1. His eighth and final cap for came on the 7th May 1961, a 3-0 defeat to Scotland.
Also, at Derby Paddy was sent off for the only time in his career, playing for the reserves against his former Manchester City team-mates. After a tussle with Gerry Baker at the corner flag, Paddy, stopped, turned round and punched his former team mate in the face. He didn't wait for the referee he just walked off the pitch! Paddy referred to it later as merely a 'difference of opinion'.
Paddy wanted to return to Manchester and Noel White and Peter Swales had just taken over Altrincham and offered Paddy the player-manager's role, he accepted on the 1st July 1961, less than two months after representing his country.
He brought in tried and tested 'pro's like England internationals, Tommy Banks and Ernie Taylor. (When was the last time Altrincham had three internationals' in their side?).
Paddy led from the right-wing, scoring on debut in a 2-2 home draw with Chester on the 19th August, following up with a goal in the 3-3 draw at Oswestry.
Next, in the FA Cup Preliminary Round, he scored a hat trick in a 6-1 win, five goals in his first three games!
He then scored again in his next game, against Fleetwood, (having missed the return game with Oswestry) in a 3-0 win played in the Inter League Cup and followed that with two against Marine in the 3-3 FA Cup 1st Qualifying Round tie.
A great start but his knee ligaments were now troubling him. He soldiered on for a few more games and, after the 3-1 FA Cup win over Ashton United, he missed the next two games.
He re-appeared for the 1-1 FA Cup game with Wigan but missed the replay defeat. He played in the 4-1 defeat at Ellesmere Port on the 14th October and then injury forced him out of the side.
He reappeared in the 1-1 draw at Winsford played on Christmas Day, and scored, (the last Altrincham player to do this).
He then sat out the next three games before reappearing at Rhyl and then played in the 5-1 Cheshire Senior Cup win against Sandbach Ramblers and the 3-1 defeat at Macclesfield. He missed the next 4 games and reappeared for the 2-1 win in the Cheshire Senior Cup against Cheadle Rovers and the following 1-0 home win over Wrexham, in which he scored the winner.
He missed the next two matches, reappearing for the 5-2 Cheshire Senior Cup semi-final defeat against Hyde United. He played the next four games and scored against Buxton in a 4-2 home win.
His final goal came in a 2-1 home win over Witton Albion and, after playing in the 1-1 draw with Winsford United, was unavailable for the last three games of the season. Altrincham finished 16th in the table and Paddy resigned. He had managed 28 games and scored 15 goals.
Missing the playing side of things, if not the management, Paddy returned to Moss Lane in 1962/63 to help out Charlie Mitten, who himself was struggling with age and injury.
Still very effective, when fit, Paddy made his second Altrincham debut in a 3-2 win at Winsford United on the 12th September. He scored his first goal of the season in a tight 1-1 draw at Mossley on November 10th, following this with the goal in a 1-1 draw with Chester, at Moss Lane two weeks later.
His final goal coming in a 3-1 defeat at Tranmere on the 9th March. His final game for Altrincham came under, newly installed manager, Freddie Pye in a 0-0 draw at Wigan Athletic on the 4th May. He had added a further 3 goals in 13 games to the 15 goals in 28 games from the previous season, a very healthy return for a left-winger with a dodgy knee!
Paddy wound down his playing career with Northwich Victoria, then Mossley, (playing 3 games), in the 1963/64 season) and, finally, Ashton United before hanging up his boots for good in 1966 due to his continued knee ligament problems.
After football, Paddy embarked on a career as a driving instructor, a career he pursued for around ten years and then later worked for Trafford Council in the Treasurer's department.
In the early nineties Paddy was also one of the founders of the Manchester City Former Players' Association.
---
105 - Eric BARNES
By Terry Rowley, Joint Editor of The Robins' Review.
Born: Wythenshawe, 24th November, 1937
Died: Crewe, 3rd January, 2014
Eric was born in Wythenshawe, South Manchester, and whilst serving his National Service with the RAF at RAF Stafford, Eric joined Crewe Alexandra, initially as an amateur in 1957 and then he signed professional in January 1958, despite being pursued by Leeds United.
Eric made his debut a month later in February, a 2-1 home defeat to Hull City and went on to play 12 league games during the remainder of the season, in addition to a further game in the Cheshire Bowl. He quickly established himself as the long-term replacement for ex-England star Neil Franklin in the Crewe back line and was a regular fixture and, eventually, captain and club stalwart of the side for the following 11 seasons.
At 6'1", Eric was a natural centre-half and leader on the field. Though initially playing at centre half, he showed his flexibility as he fitted in seamlessly at right-back during the 1962/63 season after Dave Ewing had been signed as centre-half from Manchester City. He prospered just as well as in his old position.
Like many of his generation Eric excelled at many sports including golf, fishing and especially cricket. Eric played for the Crewe Alexandra Cricket Club as a fast bowler between 1958 and 1970, winning consecutive League championships in 1961, '62 and '63, the Talbot Cup in 1964 and 1970, the Talbot Shield in 1970, in addition winning the Demson Shield on several occasions. Eric, as a right-arm fast bowler was also good enough to represent Cheshire in the Minor Counties championship in 1965 and 1966, playing six times.
There is no doubt that the highlight of his career came in January 1961 when Eric was a true leader in a Crewe side which beat First Division Chelsea in a Third Round FA Cup tie at Stamford Bridge. Crewe were sixth in the Division Four when they caused a major upset by winning 2-1 at Stamford Bridge, thanks to goals from Barrie Wheatley and Billy Stark. The Chelsea team that day, contained the likes of Jimmy Greaves along with Peter Bonetti, Terry Venables, Bobby Tambling and old Gresty Road favourite Frank Blunstone, who opened the scoring.
Greaves later said in his autobiography 'In the previous season Crewe had suffered the ignominy of being beaten 13-2 by Tottenham Hotspur in a fourth-round replay. So, even in the long traditions of the FA Cup, this was an extraordinary result and humiliation. Though no one expected us to run up double figures, every Chelsea supporter among the crowd of 32,574 did expect us to win and handsomely.'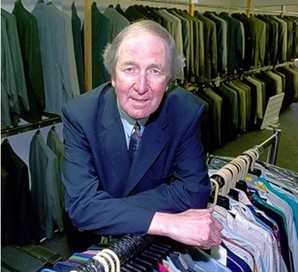 But, with Crewe leading 2-1 at half-time, Greaves added 'In the second half, on what was a glue-pot of a pitch, we just couldn't find an answer. Their centre-half Eric Barnes played a blinder and, when we did breach their rear-guard, goalkeeper Brian Williamson stopped everything we threw at him.
Crewe were brought down to earth in the Fourth Round when they lost 5-1 at White Hart Lane to the eventual, league and cup, 'Double' winners, Tottenham Hotspur.
Eric recalled '"Thankfully, I was a reserve for the first Spurs game but I will never forget it. They beat us 13-2, which flattered us as we were 10-1 down at half-time. The manager, Jimmy McGuigan, told us, 'At least you will be making the headlines in the morning lads'. We played Spurs the following season in the cup and they beat us 5-1'.
In addition to this 'giant killing' Eric also led Crewe to two promotions, the first time being in 1962/63 when Crewe finished third and gained promotion to the Third Division, only to be relegated at the end of the following 1963/64 season, finishing in 22nd place. Crewe were once again promoted by finishing fourSth in 1967/68, only to face relegation the following season, by finishing in 23rd place.
Eric, jointly with Barrie Wheatley, was given two testimonials by Crewe, one in 1964, when a Crewe XI took on an International Clubs XI in February 1964 and a second, in May 1966, when Crewe took on Stoke City.
His only league goal for the club came against Rochdale in October 1962; (he scored one other goal in the FA Cup). He played his last full game for Crewe against local neighbours Port Vale in September 1969. Over a 12-year period, Eric had made 390 appearances for the club, making him the fifth highest in appearances for Crewe, (350 League, 26 in the FA Cup and 14 in the League Cup).
After retiring from professional football Eric then moved to Cheshire County League, Witton Albion, where he remained until early in the 1970/71 season. New manager John Davis brought Eric to Moss Lane for his experience and as cover for Brian Taylor and Barry Ashworth and, although past his best, he did a job for the manager before finishing his senior career at Altrincham. Eric made his debut in the NWFL against Buxton, away in a 3-0 win on 27th October 1970.
He followed this by playing as substitute in the return leg, a 1-1 draw at Moss Lane. He made his NPL debut, at centre-half against Runcorn in a 3-1 win and played in the next 6 of the next 7 games. Eric then dropped out, only to return in January when he filled in for three final games, playing his last game against Great Harwood Town in a 2-1 defeat on 8th February 1971.
In total, Eric only played 12 games for Altrincham, (4+1 League 5+1 NWFL & 1-0 FAT) but he only played in three defeats and two of those were his final two games.
Leaving Moss Lane, Eric continued to turn out at amateur level in the local Crewe leagues and, away from football, opened a successful men's outfitters shop, situated in Eddleston Road in Crewe town centre. Eric continued to regularly attend games at Gresty Road throughout his retirement.
Eric passed peacefully at Station House Care Home, Victoria Avenue, Crewe on the 3rd January 2014.
---
Go to ALTRINCHAM FC LEGENDS INDEX
---