ALTY LEGENDS SECTION 29
by Terry Rowley
These pages chronicle the playing legends of Altrincham Football Club. The texts have been kindly supplied by Terry Rowley, joint editor of the Robins' Review matchday programme. The profiles have previously appeared in the Robins' Review.
---
85. John CLACHER
86. Albert BARNETT
87. Ralph "Eddie" CHESTERS
---
85 - John CLACHER
By Terry Rowley, Joint Editor of The Robins' Review.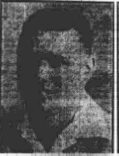 Born: Kirkcaldy 1st January 1912
Height: 5' 8" Weight: 11st 6lbs
Position: Midfield
John Clacher started football as a teenager with St Andrew's Athletic before moving across to Alloa Athletic in 1928, still only sixteen years old. Apart from football, he was in addition a keen sprinter, (once taking part in a football athletics tournament he came second in the 100 yards sprint behind St Johnstone's, Harry Ferguson).
He spent four season playing for Alloa but, although a carpenter by trade, John wanted to play football professionally. A trial for Hearts in September 1929 came to nothing. In pursuit of his goal he was famously reported in the local press for motorcycling down to Altrincham looking for employment and football. Signed by Altrincham he made his debut in a 5-1 win over Hurst on the 8th October 1932, playing at inside right. John must have done all right as he held his place as a regular starter for the rest of the season on the right side of midfield, wearing the number 7 or 8 shirt.
Following his debut John scored his maiden goal the following week in a 7-1 rout of Nantwich Town. This was followed up with another goal in the next round of the FA Cup a 3-2 win away at Rhyl. The Cup run ended at the next stage, Altrincham losing 0-1 to Stalybridge Celtic at Maine Road in a second replay. League form was very inconsistent so the best hope of silverware was a knockout cup. John was lucky to avoid the 6-1 thrashing by Hyde that saw Altrincham crash out of the Cheshire Senior Cup. This left just the Cheshire League Cup, in which Altrincham progressed through to the final in the famous 3-3 draw with Manchester North End, for whom Alf Steward kept goal. The replay was held over till the following season but John could be well pleased with his efforts.
1933/34 was to be a successful year for Altrincham Football club. They won the replay to lift the Cheshire League Cup in early September, (it must be some sort of record because Altrincham were only Cheshire League Cup holders for three weeks! Being knocked out at the First Round stage by Macclesfield). John was by now an ever-present, when fit, and eventually moved into the half back position where he began to excel and draw attention to his abilities. He was part of the side that saw Altrincham make the First Round proper of the FA Cup for the first time, going out 1-0, away to Gainsborough Trinity. That season saw them lift the Cheshire Senior Cup, beating Congleton Town, 1-0 at Stockport counties, Edgeley Park. At the end of the season Altrincham finished a respectable 6th in the table.
After nearly two seasons at Moss Lane John was destined to move. Second Division Burnley's scouting system had spotted his abilities and, on May 30th 193,4 Mr Tom Bromilow, the Burnley manager came to Altrincham to sign John Clacher. Apart from a "good fee" being paid, as part of the transfer a match was arranged between Altrincham and Burnley in early September, with Altrincham taking £100 from the gate, the result an honourable 3-3 draw.
1934 saw John initially bed into the reserves, eventually making his debut on Christmas day 1934 in 2-1 win over Bolton Wanderers. He went on to make ten first team appearances that season in addition to scoring his debut goal in a 1-2 defeat at home to Blackpool. A change of manager in 1935/36 saw John start the season at right half, playing the first seven games of the season but spent the remainder of the season in the reserves. 1936/37 was his last season at Turf Moor, where he played thirteen games before being released on a free transfer at the end of the season.
In May 1937 he signed for Darlington, then playing in the Third Division (North). John started the season at right half and played thirty-six league games, in addition to one game each in the FA Cup and Division (North) Cup, scoring two goals. After this John Clacher dropped off the football radar, still only 26 years old.
John Clacher Football League Career
Burnley:
1934/35 10 games 1 goal
1935/36
1936/37 13 games
Darlington 1937/38:
36 League apps, 2 goals
FA Cup: 1 app.
Division (North) Cup: 1 app.
---
86 - Albert BARNETT
By Terry Rowley, Joint Editor of The Robins' Review.
Born: Altrincham 7th January 1892
Died: Altrincham October 1941
Height: 5'9" Weight 11st 6lbs
Albert was the fourth of five brothers to play for Altrincham, closely following his brother John into the Altrincham team, John having played the season prior to Albert before joining Bury. Albert made his debut as a teenager in Altrincham's first match of the 1910/11 season playing at inside right. His career was to take him all over the country in somewhat nomadic career.
Of all the Barnett brothers, Albert probably progressed the furthest, by playing in the First Division of the Football League and, but for war and injury, could probably been a notable top class player. By January 1911 he had already moved to Heywood United and had had a trial with Bolton Wanderers before signing for Macclesfield in December 1911. Strangely Macclesfield had decided for this season to field two first teams, one in the Manchester League and one in the Lancashire Combination with the players for both leagues being interchangeable.
So, in that first season, Albert played three matches in the Manchester League and one in the Lancashire Combination. For the 1912/13 season the Macclesfield Committee reverted to having, conventionally, just the single first team, Albert thrived and was the top-scorer with twenty-three goals in thirty-seven games. Prior to signing for Glossop for the 1913-14 season he had a further trial at Bolton Wanderers but signed for Second Division Glossop, making his debut on September 20th at inside left in a 1-0 defeat at home to Fulham.
Albert had a reasonable season in a struggling side and was shuffled around from inside-left, outside-right to centre-forward, scoring twice in nineteen league games in addition to the goal he scored in two FA Cup games. Southern League Division One side Cardiff City had seen potential and at the end of the season signed Albert up in May 1914 for a fee of £50.
He started the 1914/15 season in the reserves, not making his debut until 23rd January 1916 in a 2-1 defeat at Brighton but then held his position for the rest of the season scoring six goals in sixteen league games. With organised football shut down, Albert moved back North and next appeared in the wartime league as a guest player for Stockport County between January and April 1916 scoring nine goals in 14 matches, in addition to fitting in three games for Rochdale in late February to mid-March.
In 1916/17 he continued to help out Stockport County between September and November 1916, scoring three times in five matches and, in January 1917, he was turning out for Manchester United playing eleven games that season, playing just one more match for United in February 1919.
For the 1919/20 season he was back at Cardiff for the Southern League campaign. Although starting the season at his more usual inside-left position, he was later tried at left back a move that proved to be very successful. Albert played twenty three league and three FA Cup games and at the end of the season Cardiff were elected to the Second Division.
For 1920/21 Albert started the season at left back before dropping out the side in November through injury only to reappear in January at inside left and scoring the winner in a 1-0 win over Bristol City. This was a famous season for Cardiff as they went on an FA Cup run that took them to the semi-finals where they were eventually knocked out by Wolves, only after a replay. Albert played in all but two of the FA Cup ties, including the 1-0 win over Chelsea in front of 50,000 spectators and the two games with Wolves at Anfield and Old Trafford in the semi-finals, (both games in front of crowds over 42,000). Sadly, five days after the FA Cup semi-final defeat, Albert's career took a major blow as he broke his leg in a 1-0 defeat by Leeds United.
Cardiff were promoted to Division One and Albert had fully played his part, scoring once in sixteen league games and playing in five of the seven FA cup ties. The following season he tried to come back from his broken leg and played just one game in Division One but, by all reports, he was not the same confident player he had been before his injury. He remained with Cardiff for the next two seasons, playing almost entirely for the reserves and making just one Welsh Cup game appearance in March 1924 for the first team.
Released, he joined Welsh side Aberdare in Division Three (South) making a creditable twenty-two appearances during the season. His next port of call was Ireland,where he was offered a coaching position at newly elected League of Ireland side Fordsons for the 1925/26 season (later Fordsons were to be renamed Cork City). Fordsons finished the season by winning the Irish FA Cup by beating Shamrock Rovers. After this one season Albert returned to Manchester and at the start of the 1926/27 season made himself available to Altrincham.
However, struggling Division Three North side, Wigan Borough, offered a one-month trial which Albert accepted and made his debut at New Brighton, playing in his old inside left position. Obviously he impressed as he was retained for the following game, at home to Bradford Park Avenue but his football career came to a sorry end when, two minutes into his third game, at home to Wrexham his leg was broken above the ankle in a challenge for the ball with a Wrexham player. After recovering, Albert retired and worked as a plumber in Altrincham till his death in October 1941.
---
87 - Ralph "Eddie" CHESTERS
By Terry Rowley, Joint Editor of The Robins' Review.
Born: Nantwich, 1907
Position: Forward/Midfield
Ralph F. 'Eddie' Chesters was born in Nantwich and brought up in Crewe and in today's football parlance would be known as a 'utility' player, capable of playing up front, in midfield of defence, right side or left side.
Eddie started his playing career as a forward with Whitchurch before joining Northwich Victoria as an established free-scoring centre-forward for the 1928/29 season. Eddie opened the season scoring in each of the first four games and finished the season with a total of thirty-nine goals, including a hat-trick against Hurst and a Cheshire Senior Cup winner's medal.
The following season Eddie started the season in similar style and had managed twenty goals, including five goals in a 6-5 win over Hurst and a hat trick against Mossley, all by the New Year. But in January 1930, after a number of poor results, Eddie and former Altrincham forward, Bob Jackson were placed on the transfer list in an attempt to reduce the wage bill and in February 1930 Eddie joined Third Division North side, Crewe Alexandra.
Eddie made his only first team appearance at outside right at Rochdale in March, a 3-1 defeat. At the end of the season he was released and joined Chester as an amateur. However, he was overshadowed by the exploits of Arthur Gale. He then moved to Macclesfield for the 1931/32 season and, during his single season at the Moss Rose, Eddie was an ever-present and completed the season as second-top scorer netting just one goal fewer than future Altrincham team mate, John Jepson.
He scored a hat-trick in the 4-0 away win against Ashton National in December 1931, gained a Cheshire League Championship medal, in addition to a winners' medal in the Challenge Cup competition.
He signed for Altrincham in the summer of 1932 and was joined by a previous season's team mate at Macclesfield, John Jepson. They both made a goal-scoring debut in the season's opening fixture, Jepson with two goals and Eddie with one in a 5-2 win away at Whitchurch. Eddie showed his versatility by playing in a variety of positions, after starting the season at centre-half he then played at outside left, inside right, outside right and centre forward and then went on to have spells at both right half and left half before settling in at right half.
Despite the unsettled positions, Eddie still managed fourteen goals in his first season. Altrincham reached the final of the Cheshire League cup and drew the final with Manchester North End, 3-3. The replay was held over to the following season. Eddie picked up his winner's medal early the next season when Altrincham beat Manchester North End, 4-1. Eddie was now settled in at right-half, (except for the odd game at right-back, centre-back or centre-forward!).
Unfortunately Eddie was injured and missed the second half of the season. For 1934/35 season he was back in the starting line-up for the start of the season but lasted only two matches before injury put him out till the New Year but, on return, he played most of the rest of the season at right-half.
Altrincham probably didn't use Eddie in his best position but he nevertheless never complained and gave everything whether that was at right-back or centre-forward.
On leaving Altrincham he briefly joined Congleton Town before signing for his home town team Nantwich in September 1935 where he scored on debut against Tranmere Rovers reserves in a 7-1 win. Eddie continued to play for Nantwich as a forward through to the commencement of the Second World War.
---
Go to ALTRINCHAM FC LEGENDS INDEX
---