---
30 June 2020
On Monday evening, Chester FC, Altrincham's designated opponents in the projected play-offs in National League North finally agreed to take part in the tie. Coincidentally this projected match, to be played at the J. Davidson Stadium, will be the same fixture which was Altrincham's last game of the regular season to be called off when the Corona Virus pandemic started in March. That game was set to be played on 21 March; the play-off fixture is now planned to be played seventeen weeks later, on 18 or 19 July, subject to FA approval.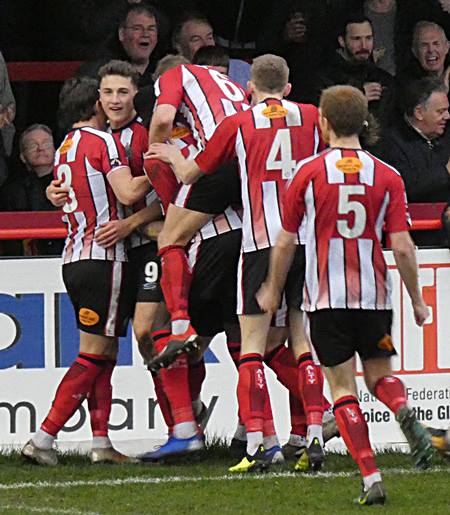 Right: Joe Piggott celebrates the opening goal when Alty beat Chester FC 4-0 on their last league clash at the J. Davidson Stadium, in 2019.
In its statement on Monday night, Chester Football Club stated that the club could "confirm its intention to compete in the 2019/20 National League North play-offs.
Having undertaken a detailed analysis of the financial and operational commitments involved, the Board unanimously agreed we can finish this season on the pitch and challenge for promotion to the National League without risking the financial security of our Club.
We wish to thank supporters for their patience and understanding during what has been a complex and challenging process.
This would not have been possible without the cooperation of the players, managers and coaching staff, who are united in their desire to represent you as supporters and reward the tremendous backing you have given the team throughout the season.
The players have taken the very generous step to donate their contractual entitlements back to the Club to enable us to take part, again demonstrating how our special Club continues to pull together in the face of adversity.
The Club will incur significant expense as a result of participating in the play-offs due to the testing requirements, staff returning from furlough leave and Covid-19 safety measures, however we have taken steps to mitigate this and believe this decision reflects the wishes and ambitions of our members...
While we share the frustration of our fellow National League North and South clubs regarding the sequence of events that has led us to this point and compound already uniquely difficult circumstances for clubs, this is a matter for another day. For now we are focused on the challenge at hand and we are #InItTogether".
Chester's last visit to Moss Lane for a league match was on Saturday, 2 March 2019, when Altrincham won 4-0. They sides met again this season in an FA Cup replay at the J Davidson Stadium on Tuesday, 24 September 2019, with Alty again the winners, this time by 1-0.
Sunday's
Non-League Paper
interviewed former Alty striker Kyle Perry. Now at Redditch United, the big striker says that during lockdown "I sat through You Tube trying to think of games I played in and scored a goal. I managed to find fifty. I put them all together, chopped it all up, put some music on tt, and it's something nice to look back on....
Nothing beats the exhilaration of scoring a goal. You have an out of body experience no matter what level... I can remember every single goal....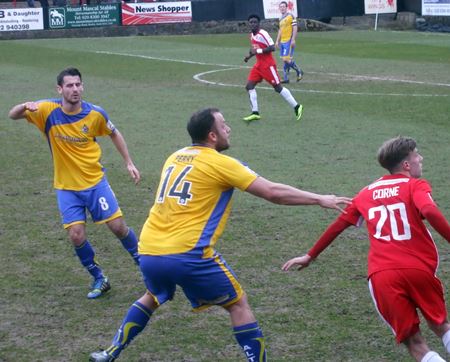 Right: Kyle in action for Alty at Welling United.
'I'd love to get myself super fit and finish like that again!...
I still move around a lot for a big man, the most embarrassing thing is the shirts don't fit me. I think at Colville it made the BBC that I had to wear the fans' shirts for my first couple of games because they couldn't get me one!...
Now everyone tells me that target men aren't needed any more... It's a difficult position because I'm kind of ready to go into management but I feel I can still add something on the pitch and I've got a few seasons left".
Off the field, Kyle said "I'm Marketing Manager for a manufacturing company in construction, so I'm fortunate, I've had a job... I'm working from home now which I love. I'm working in my hot tub in my garden!
'I've always joked. I could write a book from some of the things I've seen in football'".
Kyle joined Alty at the end of May 2013 from Nuneaton Town. The BBC in 2008 had reported that as a "Port Vale striker, Kyle Perry has praised manager Lee Sinnott for rescuing his career. Sinnott brought Perry to Vale Park from Chasetown in January after he helped the Southern League Division One side knock the Valiants out of the FA Cup. The 22-year-old told BBC Radio Stoke, 'He saw my ability and believed in me so I can't thank him enough for that. He pulled me back into league football and saved my career'".
Many of his appearances both in 2013-14 and 2014-15 were from the bench and in each campaign he amassed a respectable goals to time on the pitch ratio. However, Kyle was released at the end of the 2014-15 season and joined Hednesford Town. His Altrincham appearances totalled 38(+53) in which he scored 22 goals.
According to
NL Daily
"Congleton Town will also encompass Congleton Vale Rovers and Congleton Rovers following the launch of a merger between the clubs.
After the plans were announced last month, the following was said in an official statement today. 'The football provision in the town has historically been disjointed, with individual clubs working separately and without a defined structure for juniors to move through the age groups and into local senior football. This new working arrangement will provide this structure and offer a significant incentive for ambitious juniors looking to represent their local team ultimately at senior level.
'The merged club will operate boys' and girls' teams from Under-7s, through the age groups to Under-18s, and then combine its senior football with an academy team, reserves, the semi-professional first team and a veterans team.'
In addition, former Manchester City defenders Ian and David Brightwell, who come from the town, have agreed to become club ambassadors."
Relegated back to the National North for next season are Chorley, from where the
Chorley Guardian
reports that "Chorley boss Jamie Vermiglio has begun the process of rebuilding his squad following relegation...
The Magpies manager has swooped for centre forward Harry Cardwell and midfielder Ollie Shenton. Former Scotland Under-19s and under-21s international, Cardwell returns to the Magpies after spending part of last season on loan from Grimsby Town. Vermiglio told chorleyfc.com 'Harry joined us last season and was unfortunate with injury. We've kept in touch and I'm delighted he has agreed to sign for us. He's a strong, quick forward and has the ability to kick on – I'm confident he can do that with us'...
Shenton arrives after spending the previous decade at Stoke City and spent a period of the last campaign on loan at Kidderminster Harriers.
'I wanted to come to a club that would offer regular football and had ambitions to push on and challenge for promotion, and Chorley are definitely in that category,' said Shenton. 'I got a good feel for the National League North last season at Kidderminster and can't wait for football to start up again.'
Vermiglio said 'Ollie's exactly the kind of player we want at the football club. He's young, hungry and has a fantastic pedigree. He is technically very good, has a great left foot, and there's no doubt that with a good run of games he will kick on and be a great asset to the team.'"
According to the NL Paper "The SK Kits National League North Player of the Year award is justification to Adam Marriott he can be the main man, and [he] still believes he can get better.
The red-hot King's Lynn Town striker bagged 28 league goals in a golden season for both him and the club. Although Marriott has experienced National League and EFL football with Lincoln City and Stevenage, he felt a prolonged goalscoring run was what he needed.
'I always felt I needed this season to prove to myself I could do it at this level and play the majority of games,' he told The NLP, having joined the club in October 2018... '"I started scoring straight away; I had a good year at Royston before where I scored near enough 30 goals.
'I had confidence going in and I knew they played good football which suits my game really well. I have played higher but quite a lot of the time as an impact player from the bench. I didn't really make myself the main man, I wanted to be that. Going forward, I've got the confidence from this season and I think I can kick on again.'
Marriott had double cause for celebration this week as the Linnets promotion to the top-flight was confirmed on points-per-game.
'I always remember the first game when we lost 3-0 at Guiseley. We thought we were in for a hell of a tough season,' he said. 'That was a wake-up call. We got the first win and managed to carry the momentum on. Our home form has been brilliant all year and we barely lost a game there.
'To get 28 goals in 30-odd games I've surprised myself. Going into the season I had a target of 20 and I think I did that by January. Hopefully I'll get the golden boot but I've not heard anything!
'There has been all sorts of stories over the last few weeks about what was going to happen with the season. The table doesn't lie, we've done really well this year.'
Marriott hasn't re-signed with King's Lynn yet but isn't ruling out continuing with the club next term. 'I've been waiting to see what happens with us and see what interest is about,' he added. "King's Lynn have been brilliant to me and I'm not going to say I'm not going to sign but I'm just going to see what comes about.'"
Guiseley "announce that Prince Ekpolo has signed a new contract for the 20/21 season.
Manager Russ O'Neill said 'He is going to be massive for us, he will be a big part of our team going forward.'
The 26 year-old Nigerian midfielder joined The Lions as a Non-Contract player last season from Glossop North End. O'Neill... said 'Prince took our physicality in the midfield area to a new level in the games he got in for us before Covid-19 ended the season. He was a non-contract player last season so it was our priority to secure him on a contract'...
O'Neill, who had watched Ekpolo play a number of times before signing him, said: 'Before bringing him to Guiseley I really thought that he had real potential and before lockdown came he had proved that he has got what it takes to play at our level in the Vanarama National League North'...
Ekpolo was on the bench for the first time at Altrincham on 11th January but had to be patient and wait for his chance. He made his debut off the bench in the home game with Darlington on 21st January and his first start was in the West Riding County Cup win at Goole Town on 18th February. His performance sealed a start in the following four league games and the County Cup semi-final win at Harrogate Town before Covid-19 brought an early end to the season.
In all Prince made six starts for the club and three appearances from the subs bench quickly becoming a fans' favourite... Before joining Guiseley he had made 27 appearances in the season for [Glossop]... having previously played for Burscough."
In the Shropshire Star "Courtney Meppen-Walter says the biggest selling point at AFC Telford United was manager Gavin Cowan, citing his passion and ambition as the decision to join.
The defender became the club's fifth new recruit this month, after leaving newly-relegated Chorley...
'When I first got the message, I knew that Telford was quite far away so I wanted to have a drive down first to see what I thought of it,' he said. 'I met the gaffer then and his enthusiasm and passion is what sold it for me, that's what made me jump on board.
'After going down and meeting Gav it sold it to me, seeing his vision for the club. The gaffer sounds very passionate, he knows what he wants. He's eager to get there so, when he spoke to me about the ambitions of the club, especially this season, I was ready to jump on board straight away. He's young and ambitious, so the same as me really.
'Everything ticked the box, it's a very nice ground and they've just had the pitch done so I'm expecting that to be very good. The way I play football, I like to play with the ball at my feet, so that will suit me well'".
Before Monday night's decision to participate in the play-offs, Chester FC reported on on "Boost the Budget, Chester FC's most ambitious fundraiser in our history! Our aim? To raise a total of £100,000 for the playing budget for 2020/21.
After hitting £80,000 at the end of the second week of BTB on Friday, we can now reveal the amount pledged is £86,864... But we must keep pushing towards our goal".
And on Monday Cheshire Live reported that "The Chester FC board is expected to take a vote this evening on whether or not to participate in the National League North play-offs.
All other clubs in the National League, National League North and National League South have committed to taking part in the play-offs with Chester still weighing up whether or not the financial risk is too great for a fan-owned football club to take. The Blues had hoped to make a decision by the end of last week but that was revised in order for a vote to be held at the usual Monday board meeting where the costs of participation will be voted on by the elected directors.
Chester had been confident that they had driven down Covid-19 testing costs and other football costs sufficiently to make it viable last week but were let down by a testing supplier which means that they had to source and re-cost ahead of this evening's meeting.
Cheshire Live understands other suppliers have been found but the impact on projected costs for taking part will have to be scrutinised this evening before a vote to decide. Chairman Andrew Morris told Sunday's edition of the Non-League Paper 'We had a good deal lined up for testing, the company aren't able to do it now and other providers may be more expensive.'"
We learn from the Telegraph & Argus that "Bradford will be aiming to find a new number nine to lead the line next season after Tom Clare joined Northern Premier League side Buxton for the 2020/21 season.
The 20-year-old arrived at Horsfall after his contract had been terminated by mutual consent at National League North rivals Boston United last November. When on-form, Clare was a lethal force going forward, netting big goals to secure wins against champions King's Lynn Town and playoff finishers Chester. However, those days were far and in between, as he ended the curtailed campaign with five goals from 14 games.
Previously, the 6′5″ striker had spells at Barnsley and Bradford City, whom he joined during the 2018 summer... The youngster was loaned to Boston last March before signing permanently. Although, his stay at the the Lincolnshire club only resulted in five goals from 15 matches."
The Boston Standard reports that "Craig Elliott described Boston United's new home as 'a stadium ready for the Football League'. Now the Pilgrims' boss is planning to take the club one step closer to fulfilling that ambition.
The club's management team were given a guided tour of the under-construction Jakemans Community Stadium on Saturday after the squad had met up for their COVID-19 tests...
'I think it was September since I last went, and it's come on a lot since then,' Elliott told The Standard. 'The chairman (David Newton) still thinks there's a lot to do but it just looks so impressive. It's going to be fantastic when it's done. Not just the big main stand and the pitch, the dressing room and things like that.
'As you can imagine, it's very much a modern stadium ready for the Football League'...
United's squad, with the exception of full back Matt Challoner, who is undergoing regular testing closer to home, met up on Saturday. The Pilgrims are... hoping for a clean sweep of negative testing as they prepare to return to training tomorrow (Tuesday)...
Elliott added 'Everybody was there apart from Matt Challoner, who's being tested in Burnley. He gets tested every couple of days there... It's strange in the way we were all two metres apart and interaction probably wasn't as natural as its used to be. But the world's a different place an we have to adjust best we can. The lads were brilliant and bought into what we said.'"
Cheshire Live
confirms that "The FA Cup and FA Trophy will be worth considerably less to Chester FC and other non-league teams next season. Due to the financial impact of Covid-19 the FA is facing substantial losses of up to £300m according to the Telegraph, with the National Game budget cut by £22m.
This means that prize money for the FA Cup will revert back to the level that it did two years ago with prize money halved from just under £4m for clubs from Steps 3-6 to just under £2m.. The funding relates to Steps 3-6 clubs, which includes the National League and below, and takes into accounts the rounds that precede the first round proper.
The FA Trophy and FA Vase have seen a six per cent drop in their total cash pot. This means a further financial hit for non-league clubs with a run in early rounds of the FA Cup having been particularly lucrative for smaller sides in the past couple of seasons...
The National League have told clubs to ready themselves for a September start for the 2020/21 campaign, although a revision of that could be forced if the Covid-19 situation changes for the worse. Should the start of the season be delayed then there has been some suggestion that county cups and individual league cups could be abandoned for a season to allow the season to be completed in a tight time frame, although this is subject to confirmation."
---
29 June 2020
The 2019-20 season is several weeks from its conclusion, assuming the play-off proceed as planned.
However, today, is exactly twelve months since 2019-20 pre-season started with the first game being a clash between an Altrincham First XI and an Altrincham FC Youth team at Manchester Health Academy on 29 June, 2019.
The "First Team" comprised a mixture of the previous season's players and a number of trialists and, collectively, they ran out 5-0 winners in a match played in sweltering heat on the artificial surface in Baguley.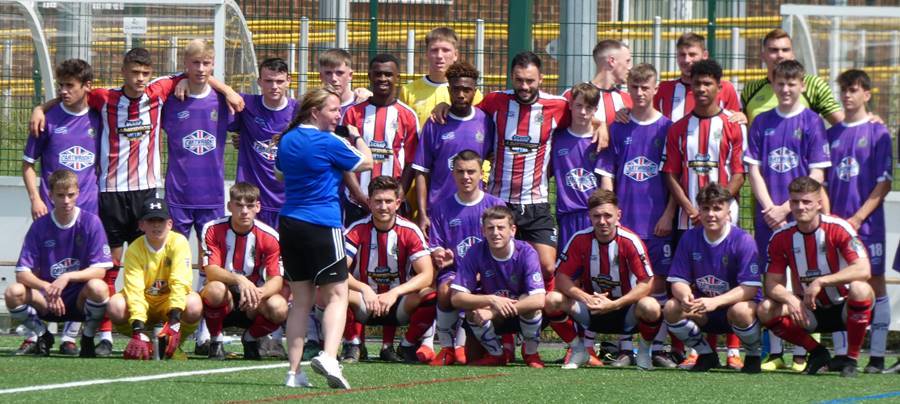 Above: The two squads mingle before kick off.
Watched by aroud fifty spectators, the previous season's first-teamers who took part for some or all of the game were Connor Hampson, who captained the team, Ben Harrison, John Johnston, Toby Mullarkey and Conor Branson, who all started the match, and Max Harrop who came on before the break.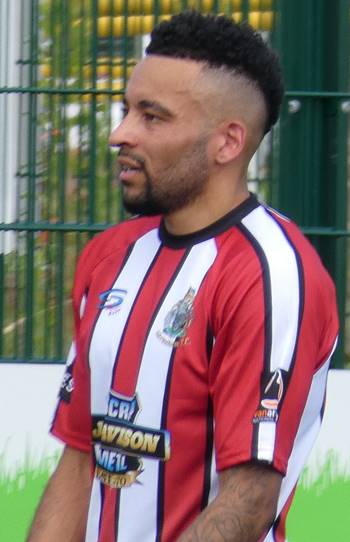 In the second half, James Jones, Nathan Arnold (right) and Tony Thompson saw action. Watching the game but not participating was Matt Chadwick.
The trialists invoved included Hungarian goalkeeper Dan Gyollai (Stoke City), defender Zac Corbett (ex-Southport and FCUM), Lewis Salmon (Hanley Town, ex-Stafford Rangers and Leek Town), winger Jamal Crawford (ex-Chester FC), Ethan Cartwright (Newcastle Town) and Shakeel Jones (ex-Bolton Wanderers).
The First XI squad featured 1. Dan Gyollai, 2. Harry Sheridan, 3. Connor Hampson (c), 15. Ben Harrison, 5, Zac Corbett, 6. Toby Mullarkey, 7. John Johnston, 8. Conor Branson, 9. TBC 10. Lewis Salmon, 11. Jamal Crawford. Subs: 4* Shakeel Jones, 10* Max Harrop, 14. Ethan Cartwright, 16. Nathan Arnold, 19. James Jones, 20. Tony Thompson.
In 30+ degree temperatures, which were to necessitate several drinks breaks during the afternoon, John Johnston opened the scoring after 15 minutes. On 34 minutes, Max Harrop replaced Mullarkey in midfield.
Debutant midfielder Conor Branson doubled the lead, just before half-time, when he finished off a neat move, initiated by trialist Jamal Crawford and the ball to the scorer was relayed by Connor Hampson.
In the second half, several changes of personnel at the interval included the introduction of new signing Nathan Arnold on the left-wing. Tony Thompson and James Jones also joined the game at this point.
Altrincham First Team continued to dominate before trialist Lewis Salmon made it 3-0. The fourth goal arrived midway through the half from another trialist, Zac Corbett, as his shot proved too hot for the keeper to save. On the right, trialist Jamal Crawford impressed before the scoring was completed by Max Harrop's well-taken goal as the game went into its final ten minutes.
At
Bradford (Park Avenue)
"The Avenue are delighted to announce that after an exhaustive search they have made the appointment of the new Academy Manager, Alex Cross.
The long and detailed interview process was driven by the ambitious plans for a new Academy structure that will revolutionise our club from 5 years old and upwards. Once these plans were formulated in helped to define the type of individual that we would be looking for to develop and bring these plans to fruition. Alex was interviewed by people from inside the club and also by experts from outside the club, to ensure that this would be an appointment for the long term, something that has failed to happen up until now.
Alex Cross said, 'I am excited to get going at such a historic football club as it embarks on this very promising future... A very thorough interview process gave me clarity and showed significant alignment with my personal plans and the plans at BPA.
After working in full time football and education for the past 4 years whilst working part time in professional and semi-professional clubs, I am really looking forward to putting all my time, experience and knowledge towards one entity. We have a very clear strategy and that is to offer a five-star experience across every element of the football club which has already started with the pitch and stadium developments that are currently ongoing.'
Alex, has experience at academy level with Cambridge United and Notts County. His last job was heading Grantham College's Centre of Excellence, while being first team coach at Northern Premier League Division One South East side Stamford. At 27 years old, Alex is currently on his way to earning a UEFA A Licence, is highly motivated, ambitious, talented and will bring energy plus modern thinking to the club, something we sorely need to drive us into a new and exciting future...
New branding will see all of the teams from under 5s through to the under 18s coming under the Bradford (Park Avenue) Academy banner, all wearing the exact same kit as the first team, sharing the same kit sponsors, and all using the fabulous new state of the art 3G pitch currently being laid at the Horsfall... Regardless of ability, each and everyone of our players will have the opportunity to play and train at incredible facilities and be trained to the same high standard, by the same coaches".
Gateshead FC have been combing the locality for new sponsors are now "pleased to welcome MonkeyFist Hair as the club's official barbering partner and sleeve sponsor for the 2020/21 season.
MonkeyFist Hair is a full-service luxury barber shop located on Grainger Street in central Newcastle. Established in 2019, the team at MonkeyFist Hair are leading the way in offering the best quality hair services along with the highest trained barbers in the area...
'MonkeyFist Hair are delighted to be part of the 2020/21 season, and we hope that this is a partnership we can build for years to come,' added Alastair Slaven, co-owner of MonkeyFist Hair. 'We believe in delivering the best service and we believe that Gateshead FC share our vision. We look forward to seeing the fans and players in our shop'".
Hopefully the company and club will gel and there will be no parting of the ways for many years.
Meanwhile, Kidderminster Harriers "have linked up with MatchDayInfo, the global providers of digital match day programmes.
In what is the club's second major new partnership in a matter of days, MatchDayInfo and will provide a platform enabling the club to sell the publication digitally for the first-time via a tailored smartphone app.
Supporters who are unable to attend Harriers fixtures at Aggborough Stadium, (both home and away fans) or even those who follow the Reds from abroad, including the loyal Norwegian Harriers fan base, will be able to download the programme from the comfort of their own home or whilst on the move.
The club's match programmes will be uploaded to the MatchDayInfo app the evening before each home fixture kicks-off, ready to be purchased at the normal match day programme price and downloaded to the supporter's Android or iPhone device.
Speaking on the new partnership Paul Biggerstaff, Commercial Manager, said... 'Our Media team put a lot of time and effort into producing a fantastic publication, which voted Programme of the Year in the National League North for the 2019-20 season by M60 programmes. So, whilst we appreciate that some fans will still want to continue to purchase physical copies, we want to expand our reach to those fans who aren't always able to get to every game.
'Further to this, the digital programmes will be easily accessible on a variety of electronic devices and supporters will be able to zoom in on the content which we hope will help our visually impaired supporters. The digital programmes can also be available when downloaded through airplane mode, meaning it can also be easily consumed when on the go, too...
Managing Director and Founder, Will Biggs, said... 'Paul and the team appear to have great plans to enhance the experience for supporters and we're excited to be part of that transformation'...
Programmes can still be purchased in physical copies as supporters enter the stadium... with the regular price of the digital and physical copies to always remain the same. The club will also be offering a seasonal digital programme bundle whereby supporters can advance purchase for all home league fixtures at a discounted price and receive the match day programme delivered to their device ahead of each fixture.
To start supporters off and provide content during these quieter times, the club has uploaded all match day programmes from the 2019-20 season which are currently available free of charge on MatchdayInfo, with other programmes expected to become available over the coming weeks for fans to enjoy as the club looks ahead to the start of the new season!"
Spennymoor Town "have bolstered their midfield with the capture of former Guiseley and Huddersfield Town midfielder Jamie Spencer.
Spencer captained the Terriers' under 18 side and became a key player for their under 23s. He went on to play for Bradford Park Avenue for two years, before making the move to Guiseley at the start of 2019/20.
The 22-year-old describes himself as a box-to-box number eight who likes to score goals and becomes a strong option in central midfield for Jason Ainsley, alongside Robert Ramshaw, Jamie Chandler and new man Jason Kennedy. He becomes The Moors' sixth summer signing, following Kennedy, Adam Blakeman, Tyler Forbes, Dale Eve and Stephen Thompson to the County Durham club.
He had a number of offers on the table from around non league football, but chose to join Spennymoor after speaking to the management team and visiting The Brewery Field...
Jason Ainsley eulogised about the signing of a well-fancied player. He said 'Jamie is a player we have had our eye on over the last few years, ever since he left Huddersfield. He became a leader at an early age and captained Guiseley several times last season. He is a real competitor with high energy and composure on the ball. He is also very capable of scoring goals.
'There was a lot of interest in him from teams in the league above, as well as ours. So for him to come to Spennymoor shows the ambition and intent of this club.'"
---
28 June, 2020
Co-chairman Bill Waterson has told the
Altrincham FC
website that "The Altrincham FC playing squad and management team faced what could be described as their most searching examination of the season so far at The J. Davidson Stadium on Thursday evening - Covid-19 testing.
And, this morning, [Saturday] we were delighted to hear that every single person tested was given a pass and declared free of the virus.
The clean bill of health came as a huge relief to everyone at the club and opened the way for an immediate resumption of training, in the build-up to our first play-off game, tentatively scheduled by the Vanarama National League for the weekend of 18th and 19th July.
The stadium was put through its paces, too, as club safety officer Nigel Bunce, recently appointed as Alty's Covid-19 officer, in line with National League instructions, and the club's chief medical officer, Dr Rob Jackson, oversaw the testing regime at the ground"
Follow the above link for more information on the club's preparations.
Bill adds that "The question of televising the ties, in both North and South divisions, is still up for discussion, with the National League board working with our broadcaster BT in an attempt to finalise plans for this particular subject...
The players and staff will be coming off furlough imminently, and they will remain so, as long as our campaign continues".
At
Brackley Town
, "we have brilliant news to share on the funding front but, first,the play-offs!...
We... await league approval for our plans including detailed stadium management plan[s] as the home team in the tie against Gateshead which is expected to take place on the weekend of 18/19 July. All play-off games are spectator-free events.
Meanwhile Kevin [Wilkin] has been bringing his squad together. The rules specify that only players who were eligible on 16 March can play and this is of course only fair, preventing teams signing on players solely for the play-offs. The status of loan players is not entirely clear and is being taken up with the league.
Several temporary rule changes have been announced for the play-offs. These include allowing an extra substitution from a larger bench and the inclusion of water breaks at the halfway point in each half. The referee also has discretion to allow further breaks in play if the weather conditions require it.
Training is due to start this weekend. Initially this is small group and non-contact. A pre-requisite for this was the first round of weekly antigen testing for the virus which was carried out on Thursday on the players and all club staff who will be in the "red zone" for training and on match-day.
While the game against Gateshead will be behind closed doors, a further requirement for these matches to proceed is that the areas around grounds themselves are spectator-free...
Looking further ahead, the FA has continued to set out tentative plans for next season for all leagues from Step 1 to Step 7.
They have stipulated that all leagues will play to the same calendar and only when spectators can again be accommodated in grounds. hey have set out four scenarios. The first is an August start which would entail few changes to a normal season. Second is a September or October start when a full league season could be played minus some of the league or county cup competitions.
Third, a November, December or January start would see a curtailed season of either half fixtures (play each other just once) or splitting divisions in half (most likely geographically). Finally, the fourth option is a start later than January when the season most likely would not take place at all and the planned re-structure of the pyramid would also be delayed by another year.
In a further blow to non-league clubs, the FA has reduced FA Cup prize money for next season and in the Trophy and Vase competitions also as it contends with its own loss of income. With fixed TV deadlines in the FA Cup, a late start to the season could also see participation by lower league teams in the FA Cup drastically reduced.
So, while great uncertainty remains, we can begin to see the possible outline of the return of football to St James Park, possibly as soon as September.
We will provide an update on progress with the clubhouse next time but we have had some fantastic news this week which helps take forward the re-build. Thanks to the work of the Stand Together Campaign group one of the grant applications has been successful bringing £75k of funding from HS2 towards the re-build costs. This brings the total raised by the group to £89k which has made a real difference to what we can achieve...
Further good news came in the form of a £1500 Pitch Maintenance grant from the Football Foundation... and this grant is to help support clubs with work on pitches in these difficult times".
Leamington "have completed their first piece of business in preparation for the 2020/2021 campaign by snapping up Kyle Morrison from Alvechurch.
The 24 year-old Birmingham based defender has spent the last two seasons with the Worcestershire club in the Southern League Premier Division, his second spell there after beginning his career at Lye Meadow as a 16 year-old, where he spent 3 years gaining valuable experience in the Midland Alliance and the Midland League.
His performances caught the eye of then Halesowen Town boss John Hill, and Kyle switched to the Yeltz where he racked up over 120 appearances in the Northern Premier League in a 3 year period before returning to Alvechurch in 2018...
Manager Paul Holleran... said 'I am delighted to get Kyle on board. He has spent the last few seasons at Step 3 and is a very reliable, robust player. He is still young but has played well over 200 games at that level. He reminds me a lot of James Mace when he first came to the football club'...
While predominantly a centre back, Kyle is also comfortable at right back, and had this to say... 'Leamington FC seems like a great football club with good people involved throughout. Paul has always had a close bunch of lads with good team spirit'".
In the Shropshire Star we read that "AFC Telford United boss Gavin Cowan insists the club's facilities and reputation is [sic] what is attracting new players, not the money on offer.
The Bucks have made five new signings already this summer, so far having a total of 12 players commit to next season...
'The reality is our budget has been cut this year. But when we started to make the signings we have people will question that,' Cowan said. 'When people are saying we've got bundles of money to throw around, I feel it takes the gloss off the players, takes away from what they are looking to do.
'One thing we have is our resources in terms of a beautiful stadium, we know if we're successful we can get that place rocking. We've got a great training facility over at Lilleshall National Sports Centre, the partnership we have with those guys is second to none.
'We're able to create an environment that matches the ambition of these guys. Speaking to players coming in, Jack Byrne, Lee Vaughan and Courtney Meppen-Walters, we've been able to form a good reputation for ourselves over the last two years within the football fraternity. That's flattering, that myself, the staff and club are held in such a high regard that players want to come and play for us.
'We're not able to pay big money, that does the players a disservice, because they are coming here for success and achievement. We didn't imagine to sign such quality players but we stuck our neck out, the board have backed me as much as they can in really uncertain times, and credit to the players for buying into something they think will be successful.'"
Cheshire Live reports that "Over £80,000 has now been pledged through the club-s 'Boost the Budget' initiative
The current initiative isn't necessarily aimed at making signings, it is aimed at topping up the budget the Blues can muster for next season... a budget that with fans' help could allow bosses Bernard Morley and Anthony Johnson the chance to retain an element of the hybrid structure that they see as so key to Chester being able to compete and improve year on year...
Chester chairman Andrew Morris told the club's official website... 'The coming season, whichever level we find ourselves in, is going to have real significant financial challenges given the impact of Covid in regards to any attendance restrictions affecting matchday revenue and to the economy impacting on the ability to attract sponsors.
'This, as well as the withdrawal of sponsorship support provided by Stuart Murphy, means we have to recover from a doubly whammy.'"
The Boston Standard informs us that "A buzz returned to the Boston United camp when it was revealed the play-offs were back on, according to manager Craig Elliott.
The Pilgrims' boss... said 'It's football and we all love it. It's what we do and for football to be back means a lot of excitement. You want the chance on the pitch to earn something...
'The adrenaline's been pumping and that competitive edge has come back. You start 24/7 again, thinking about what's needed to win games of football'... Elliott says he wouldn't like to guess how [?any] individual squad will gel as they take to the pitch again.
'I've no idea,' he said... 'The big thing now is which team can get organised and deal with it the best way. We need to get the players in, see where they are fitness-wise and build from there.
'I think the adrenaline of big games will get players through matches. You'd like to have a game or two but there's no point moaning'...
United chairman David Newton suggested taking part in the play-offs would cost clubs somewhere between £30,000 and £70,000, due to teams having to fund COVID-19 testing and the staging of matches, as well as taking staff off furlough leave...
Elliott thanked Mr Newton for allowing the club to compete and remains 'confident' the club can overcome the financial and geographical hurdles... 'It's looking like it's going to go ahead, which is great news,' Elliott said".
---
27 June 2020
Altrincham supporters learned on Thursday of the death of Mick Farrelly (58), who will always be remembered at Moss Lane as the man who scored the winning goal as Altrincham lifted the FA Trophy at Wembley in 1986, against Runcorn.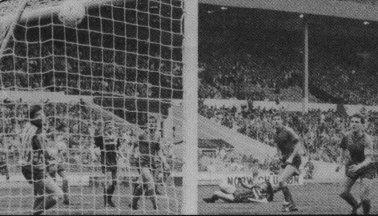 Right: Mick Farrelly's goal in the 1986 Trophy Final.
But, as Terry Rowley recalled in his Alty Legends profile of the player, Mick "contributed a lot more than that in his time at Moss Lane. He became a versatile utility player who performed well wherever he was asked to play. Though originally signed as a midfield player, in his time at Moss Lane he played in every shirt number except numbers 1, 9 and 11, eventually settling in as right back.
Farrelly started his footballing career with Preston North End; signing professional forms in June 1981, having previously won four England Schoolboy caps. Over the next four seasons he played 77+5 League games, scoring 4 goals for Preston before being released at the end of the 1984/85 season.
Preston's loss was Altrincham's gain and, unlike many players coming to Moss Lane, Mick came with the right attitude and over the next four and a bit seasons gave sterling service.
Left: Mick with the FA Trophy.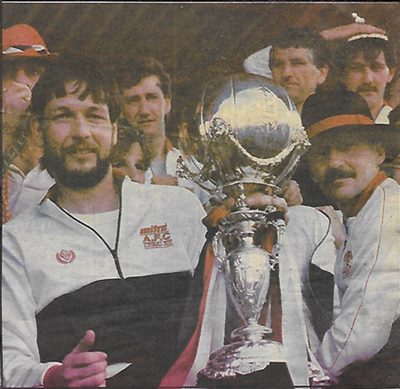 Mick won an FA Trophy medal in his first season, his winner coming from build up play from Gardner which put Anderson away on the right. He pulled back his cross to be hit by Farrelly, whose well struck shot hit the cross bar, bounced down and span viciously high into the roof of the net.
The following season he was a Cheshire Senior Cup finalist and played in Altrincham's FA Cup wins against Blackpool and Birmingham City (as sub). He was also considered good enough to win three semi-professional caps in 1987 against Ireland, Holland and Scotland.
He was transferred to Macclesfield early in the 1989-90 season and went on to give them five seasons of quality before moving to Winsford United for two seasons in 1994/95 and, finally, he went to Radcliffe Borough from 1996/97.
Including that goal at Wembley, Mick scored 19 times for Altrincham in 203(+12) appearances for the club.
On the news of his death Macclesfield Town recorded they were "deeply saddened to learn that former defender Mike Farrelly has sadly passed away.
A tenacious and likeable member of Peter Wragg's Silkmen squad, Mike joined the club in October 1989 after previously representing Preston North End and Altrincham...
Mike wore his heart on his sleeve every single week and was an incredibly well-respected figure throughout his time here at the Moss Rose".
Yesterday, 26 June, was the 117th anniversary of Broadheath FC becoming Altrincham Football Club, in 1903.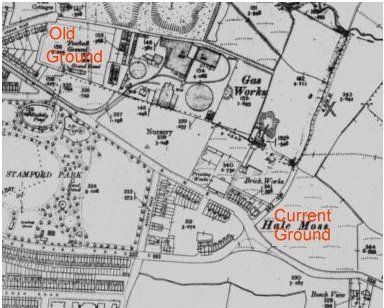 Terry Rowley reminded us some time ago that "Altrincham played in black and red up until 1904 when, in a home match with Tonge, they unveiled their new kit of scarlet jerseys and sky blue knickers". He also reminded us that Altrincham's nickname was the Heathens or Old Heathens, which is probably an abbreviation of Broadheath, the club's name from 1891 to 1903.
In his history of the club Terry wrote that "The origins of Altrincham AFC can be traced back to around 1891 when they were known as the Rigby Memorial Club, formed from a local Sunday school. They went on to merge with another local club know as the "Grapplers" to form Broadheath F.C. and become founder members of the Manchester League in 1893. Today, they are the only founder members of the Manchester League still in existence.
Prior to 1903 the club played on a variety of fields in Broadheath, West Timperley and Altrincham before acquiring a new home at Pollitt's Field [off Moss Lane by the old gas works] and, at the same time, changing their name to Altrincham AFC. They won the Cheshire Amateur Cup in 1903-04, beating Congleton Town 4-1, and the following season won the Cheshire Senior Cup, (defeating Chester 2-1), and the Manchester League title, a feat they repeated two years later. For the start of the 1910-11 season Altrincham were installed at Moss Lane after agreement with The Urban District Council. Moss Lane was officially opened on 3rd September, 1910 with the visitors being Macclesfield, who won 3-1".
Also, researches made public by Terry in the 'Metro News' of 20 June 2003 confirmed that the change of name to Altrincham FC took place at a meeting of Broadheath FC on 26 June 1903 in the now demolished Forrester's Arms pub in Altrincham. He wrote that "When the team first moved to Moss Lane, there was nowhere to change so the lads had to use the local pub, The Woolpack, and then run to the pitch".
He also informs us that "Minutes from the Club's 12th AGM and minutes taken from meetings of the Cheshire FA make it clear that 1903's renaming was merely a change of name for the established Broadheath AFC to that of Altrincham AFC. It is also merely co-incidental that they moved to Pollitt's Field in that same year, as the club had actually been planning to move to a permanent ground, closer to the centre of Altrincham, regardless of name change, for some time. Pollitt's Field became, albeit briefly, the first permanent home for the club as until that point they had played on various pitches in Broadheath, Timperley and even Moss Lane, Altrincham".
Bradford (Park Avenue)
report that "In what we hope will a hugely successful fourth year at the Avenue, we are really excited to announce that the man, the myth, the legend and fan favourite
Nicky Clee
has decided to extend his stay at the Horsfall. After two hugely successful seasons, Nicky briefly left the Avenue in the 19/20 season, but returned to join up once again with Mark and Danny.
His return saw him put in a series of man of the match performances and score a few great goals, before the suspension of matches, which eventually culminated in our great escape (albeit not the way we would've like to have done it).
Regarded as 'the best player in non-league football' by his team mates, it should be fantastic to see him strutting his stuff on our new 3G pitch, where his technical ability will be given an even better stage on which to shine.
Nicky Clee stated, 'I'm delighted to commit to Bradford (Park Avenue)for another season and be able to work with Mark, Danny, Ryan and Tally again. They are a really good group to play for and hopefully we can put last season behind us and kick on this season.
'This is a brilliant football club to be involved with and I'm looking forward to getting back to the Horsfall as soon as we possibly can. I enjoy an excellent relationship with the supporters and in my three years at the club they have followed us through thick and thin. These supporters deserve success and will be doing my best to give them something to shout about.'
Mark Bower added, 'Nicky's signing I'm sure will be as pleasing for the supporters as it is for myself and the staff. There is no doubting his quality as a player and since taking up a position as a central midfielder, he has put in a string of man of the match performances to cement himself as one of our key players. He is also a great pro to have around the dressing room and he shares his experiences with our younger players to help their development.
'Despite reaching the latter years of his career, I see Nicky having a good few years left as a central midfielder and we are delighted he has committed another year to us.'"
In the Shropshire Star "AFC Telford's new signing Courtney Meppen-Walter has revealed he turned down a trial at a Football League club for the 'security' of a Bucks contract.
The 25-year-old put pen to paper on a deal last week, leaving Chorley who had been relegated from the National League...
'I had a few offers from all sorts of leagues,' Meppen-Walter said. 'I had one offer to train and trial at a Football League club, but I made my decision off how I felt at the time. With everything that is going on, it made it a sticky situation for a lot of clubs to offer contracts. They didn't push as much as Telford.
'Telford made me feel wanted, so that was definitely one of the main reasons that I signed. The security of a contract is also a big thing, I have a family to provide for. I just felt wanted by Telford. There were a lot of other shouts but they didn't know what was happening with the coronavirus and they didn't push as much as Telford did. Telford were keen and it's good to feel wanted, so that was my main reason.'
Meanwhile, former Bucks striker Amari Morgan-Smith has signed for National League North rivals Kidderminster Harriers. He has signed a one-year contract."
Meanwhile, Stourbridge report that "Richard Peniket agrees to become Mark Yates' eighth summer signing, and... has agreed terms with Stour for the 2020-21 season.
The 27 year old departed Kidderminster Harriers in January this year, and has been a free agent since leaving Aggborough before linking up with Mark Yates's new look squad yesterday afternoon. Stourbridge-born Peniket represented Wales up to under-21 level, and started his senior career with Fulham after coming through the junior ranks at Walsall...
Peniket says it's a relief to sort out his future and concentrate on the new season. 'I'm delighted to be here. This is my home town club,' he said. 'I decided to take some time out from the game to let my body fully recover from cumulative injury issues at Kidderminster. To be honest, I feel like I made the correct decision'"
---
26 June 2020
According to
NL Daily
"Mossley's Mark Lees [right] has made the decision to join Matlock Town.
The experienced defender signed for the Lilywhites last season, having previously played for the likes of Ashton United, Hyde and Stockport County [and Altrincham!].
Mossley say he was offered new terms to remain at Seel Park but turned them down."
Mark, now nearly 32, joined Altrincham on 13 June 2011, having been at Hyde United as well as other Tameside clubs Mossley, Curzon Ashton and Stalybridge Celtic. He had then joined New Mills, Buxton and Ashton United before arriving at Ewen Fields. A versatile player, Mark featured at left-back and in midfield at Alty. He left Altrincham for Stalybridge Celtic, for whom he signed on 17 March 2012, after making 24 (+3) appearances and scoring one goal for Altrincham.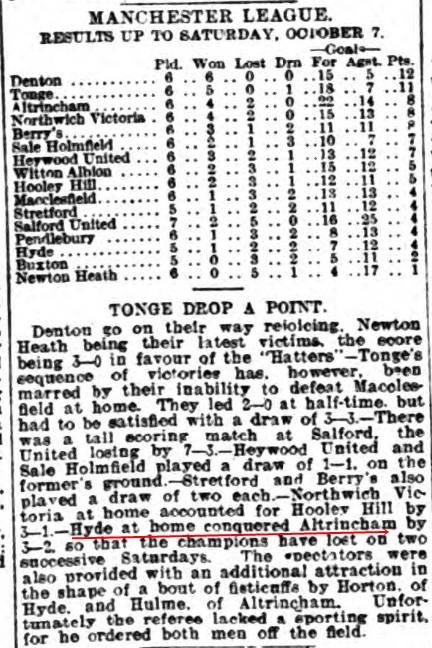 Back in 1905, Altrincham, who were reigning champions of the Manchester League, were engaged in a fiery match at Hyde. But the Robins lost 3-2 and a player called Hulme was sent off for "fisticuffs" as this enthusiastic report (right) from The Athletic News explains!
Brackley Town
have joined Altrincham, York City, Gateshead and Boston United in confirming their particpation in the planned promotion play offs for the National League North.
"Club chairman Francis Oliver has said that the club is 'fired up and raring to go' in anticipation of the National League North play-offs.
'We are not the only club involved to have to look long and hard at the arrangements necessary to participate in the play-offs,' he said. 'This is a challenge on all fronts but one we are delighted to have the opportunity to embrace. Kevin and the team have earned the right to take our place in these games. It is the best way to finish the incomplete season, on the pitch. The finances are difficult but we started the season aiming for one of the precious promotion places and we look forward to the competition now to see who wins through.'
The club has had lots of planning to put in place and this continues including arrangements for weekly testing of the players and coaching staff, Covid-19 safe training and a stadium management plan. 'This is an entirely new world we are entering and one we had never thought of just a few months ago,' he continued. 'We have a number of submissions to make to the National League and FA to satisfy the entry criteria including around the three phases of training; small group, contact training and match preparation.
'This will be our third successive season of play-off action. We look forward to competing in this important round of games but, at the same time, the welfare of our players and staff and everyone involved is paramount.'
For the play-offs to take place, at least four of the six clubs must take part and it seems that everybody will do so. 4th placed Saints take on 7th placed finishers Gateshead at St James Park in a game to be played behind closed doors on the weekend of 18/19 July. BT Sport may stream the match; confirmation of this is awaited. Meanwhile it is hoped to provide live commentary on BBC local radio so that supporters can follow the action".
And across the county border in Oxfordshire, the Banbury Guardian confirms that "Kevin Wilkin's squad and staff will be tested today (Thursday) ahead of a return to training at the weekend...
It's an opportunity that boss Kevin Wilkin thought had slipped away but now he and his players are ready to return to prepare for their promotion bid... The Saints finished in fourth place which means they will now host Gateshead at St James Park with the winners going on to a semi-final at Boston United, who finished third...
'We are just trying to pull everything together because, of course, there is [sic] certain criteria that we have got to put into place,' the Brackley manager said. 'It's nice in a lot of ways. It's something to gear towards and I enjoy the planning and preparing side of things and hopefully we can have a successful play-off campaign.
'They will be testing everybody today and, subject to those tests being negative, we are planning to get back in on Saturday and we will be tested weekly thereafter, which is the protocol we are following. And then we will be resuming a Saturday-Tuesday-Thursday-Saturday training regime until we play the game.
'It's been topsy-turvy. One minute we thought there was a chance and the next we were being told there was absolutely no chance the play-offs were going to happen. But then, pretty much within 24 to 48 hours, it turned itself on its head again and we are now told that if we can meet the necessary criteria then we can go and do it.
'For us, it's just fantastic that the boys were there or thereabouts again and mixing it with some big clubs.
'We are not the big club like those we are involved in the play-offs with, like Boston, York, Chester and Altrincham. It's fantastic for everyone at the club and hopefully we can be successful. You only get one shot at it and it's an interesting scenario that we wouldn't normally face.
'I know the majority of the boys will have lived right in the last few weeks and they will have done the right things to condition themselves. As long as that is the case, then we can be competitive. And if we pick up from where we left off, then we will have as much chance of being successful as anyone else.'"
Alfreton Town "confirm that forward Amari Morgan-Smith has joined fellow National League North side Kidderminster Harriers, for an undisclosed fee.
Despite the forward being a part of the Reds' plans for the 2020/21 campaign, Amari departs the Impact Arena due to personal reasons and the club have respected Amari's needs.
Morgan-Smith, 31, was born in Wolverhampton and started his football career at Crewe Alexandra before making his Football League debut following a move to Stockport County. Dropping into non-league football, he caught the eye of bigger clubs in a productive spell at Ilkeston Town. The club's demise saw him sign as a free agent for Luton Town. Subsequent moves have seen him wear the colours of Macclesfield Town, Kidderminster Harriers, Oldham Athletic, Cheltenham Town and York City.
Amari joined us in the summer of 2019 on a free from Telford United; he made 36 appearances scoring 18 goals in all competitions, with 15 coming in the league".
Meanwhile, Kidderminster Harriers "are delighted to have added further to their squad with the key signing of striker Amari Morgan-Smith.
Amari returns to the club for a second spell, joining us from Alfreton Town, having previously played here between 2013 and 2014. A big, physical presence up front, the 31-year-old bagged 19 goals in all competitions last season and was high on the list of targets for boss Russ Penn... He bagged 12 goals in a Harriers shirt in his first time at Aggborough.
Harriers have paid a nominal fee to secure Amari's signature, which will remain undisclosed at Alfreton's request. Due to the current climate, the fee has personally been met by the Harriers' owners to ensure there is no direct impact on club finances.
CEO Neil Male explained 'We want to back Russ in recruiting the type of player that he feels will bring success to the club, but this has to be done carefully. Paying a transfer fee personally, for Richard and myself, is an exception rather than the rule as it is important that the club generates money and spends it sustainably but, again, we felt this was an important time to back our Manager.'
The Club launched its Boost the Budget campaign on Monday... Neil added that, going forward, this would be the only way to make signings in this fashion... Amari re-joins Harriers on a one-year contract, subject to FA confirmation."
The Boston Standard tells us that "Craig Elliott has told his Boston United squad to report back with a winning mentality.
The Pilgrims will meet on Saturday to undergo COVID-19 testing, which will allow them to resume training next week as they prepare to push for promotion in the National League North play-offs. The squad may not have been together since March 12, but Elliott won't accept a summertime feel in the camp.
'I've had talks with all players this week and we've got to come back with a mentality of being competitive and not having that pre-season feel to it,' he said... 'Me and the chairman are trying to get everyone to meet up at the weekend, get it all done as much as we can. That's down to availability of all players. They all need to have the tests before they start training and that's trying to get to stage one as quickly as we can...
'Nicky Walker, in the very early stages of it, believed he had it, but everybody's fit and healthy at the moment'...
Walker and George Willis, who were on loan at Gainsborough Trinity when the season was halted due to the coronavirus pandemic, are in contention to play. And Elliott hopes that will also be the case for Jake Wright, Frank Mulhern, Simon Ainge and Jordan Nicholson, who were all on loan at York Street when play stopped.
'Everybody's involved,' Elliott added... 'There's no pressure on anybody to feel like they have to play but, obviously, it's a big thing for themselves and the club. The league alluded to the fact there'd be a lot of flexibility to loan signings so we're quite hopeful the loan signings will be able to play.'
Matt Challoner, who joined Boston from Chorley days before the season was suspended, is yet to play for the club. And despite signing for Southport for next season, he could still be in line to make his United debut. 'He's still a Boston United player,' Elliott told The Standard... United have found a new training base a few miles from their usual haunt at Doncaster's Keepmoat Stadium, which remains closed...
'We've got somewhere sorted just outside Doncaster'... he added. 'It's just seven or eight miles outside Doncaster so it's not too bad. A nice grass surface as well, so it's perfect to be honest'
The play-offs will provisionally begin on July 18-19 but may be moved due to BT Sport's interest in screening matches... Third-place Boston would meet the winners of the Brackley-Gateshead game and York City, who finished second, await the victors in the other contest. These games have been pencilled in to take place on July 25-26. The final looks set to be played on either August 1 or 2...
Said Elliott, who is still unsure whether he would be allowed entry to watch his potential opponents face one another, 'I'm not sure if it's on BT sport or I can be there personally, but a lot of these play-offs will be about your own team rather than the opposition'".
According to York Press "The Football Association have revealed its [sic] annual list of the fees paid to agents by clubs, showing York City to have spent more than any other National League North club.
The figures, which cover from February 1, 2019 to January 31, 2020, show that York spent £6,130 on the signings of Peter Jameson and Dan Maguire from Blyth Spartans as well as Andy Bond from AFC Fylde.
Four other clubs from City's division were listed, those being Hereford (£3,500), Kidderminster Harriers (£3,250), Guiseley AFC (£1,800) and Boston United (£1,250).
To put the figure into context, the Minstermen were shown to have spent more than four clubs in the National League - Ebbsfleet United, FC Halifax Town, Maidenhead United and Stockport County."
Spennymoor Town "have converted another of last season's successful loans into a permanent signing.
Midfielder Jason Kennedy has joined the club after spending the closing stages of last season in the Moors side on loan from Hartlepool United. The 33-year-old will be one of the Moors' most experienced players, boasting more than 300 Football League appearances on his CV.
The former Rochdale, Middlesbrough, Carlisle and Darlington man was a calming influence on the side when he played for Jason Ainsley last season, constantly keeping the ball moving with intelligent passing and dictating the pace of games...
Manager Jason Ainsley...said 'After spending the latter part of the season on loan with us we are delighted to land Jason permanently. He is a brilliant lad who puts everything into training and his preparation is second to none. His experience and game intelligence was there for everyone to see last season and it is no coincidence that we only lost one game out of our last seven [at Altrincham] with Jason in the side...
Kennedy said 'It was an easy decision to sign permanently. I loved my time here on loan and I really enjoyed working with Jason and the management team. I felt really wanted. The lads were a different class and I got a great feel for the club in a short space of time. I feel Spennymoor will push on and be even more successful'...
Kennedy becomes Spennymoor Town's fifth summer signing, following Stephen Thompson, Dale Eve, Adam Blakeman and Tyler Forbes."
---
25 June 2020
The
Sale & Altrincham Messenger
reports that "Archaeologists have digitally preserved a modern relic; the head of Frank Sidebottom.
Right: Frank Sidebottom in his Alty kit at Bootham Crescent for the York City v Altrincham game in 2006. He had a gig at the club after the match, which Alty lost 1-0.
Experts from the University of Liverpool's Department of Archaeology, Classics, and Egyptology... in partnership with 11:37 Sievey Enterprises and the Manchester Archives... using photogrammetry... have been able to digitally map the dimensions of Timperley legend Chris Sievey's creation for posterity.
The announcement comes in the week of 10th anniversary of Sievey's death, which saw an online memorial night broadcast on the Youtube channel of the Old Courts in Wigan, featuring rare footage and clips from Frank's back catalogue.
David J Arnold, a close friend and associate of Sievey's, brought Frank's head from storage for analysis at the university.
Dr Arden Hulme-Beaman, one of the team members, said 'Frank Sidebottom's head is such a huge cultural icon for the north west. Objects have a life and they start to deteriorate and so you can see on the head it's sort of beginning to show some cracks. There's rub marks from where he used to wear it, where he held the microphone, and to make sure that that all survives we need to find a way to digitally preserve it.'
And David added, 'I like to think Chris Sievey/Frank Sidebottom's story follows that of a succession of other famous artists in that they only become truly appreciated after they are gone. He was all things to all men; young kids, boozy football lads, gig-goers, comedy fans, and high-brow art lovers. He was an utterly "ahead of his time" upsetter and a champion of the underdog and, as time goes by, I believe his stature will only grow as he is recognised as the true artist he really was.
'The preservation of the physical aspect of his legacy is incredibly important.''
The Chris Sievey/Frank Sidebottom archive is held in Manchester and an exhibition was hosted at Manchester Central Library of the works last year... Several cameras and a turntable were used to map the head so it could be captured from all angles."
Altrincham supporters will be sad to hear of the death of fellow Altrincham fan, Ivan Curtis.
Ivan passed away on Tuesday evening after a long battle with illness, which he bore with fortitude and good humour.
The condolences of his many friends at the J. Davidson Stadium go to his wife, Audrey, and his family.
Ivan was not only a regular at Moss Lane but was also a frequent traveller on the TASC supporters' coaches to Altrincham's away games and, in addition to his loyalty to the club, his dry humour will be much missed on the terraces.
According to
Cheshire Live
"Akwasi Asante says he never expected to leave Chester FC this summer. The Dutchman, who netted 27 goals in 36 National League North games in an 18-month stint at the Deva Stadium, decided to leave the Blues earlier this month to join Gloucester City on a two-year deal.
It was a decision that came as a blow to Chester, although not necessarily a shock, with the services of the 27-year-old in demand after his superb Blues stint and Chester unable to offer any new deals to players owing to the uncertainty over just when their own season will finish and what next season's budget will look like.
For Asante, with a young family to support, he had to take a decision that he wasn't planning for and one that would be the best for his family situation, opting to make the switch on a lucrative deal with Gloucester, a side set to spend big and challenge for honours next season.
'I didn't want to leave and I didn't expect to leave. Before this pandemic if you would have asked me where I would be playing next season then I would have absolutely said Chester. The managers wanted to keep me and I wanted to stay and we had started chatting about the future and a new deal.
'But the pandemic has changed everything for everyone. In the end there was no firm offer from Chester, and I get that because their season is still going and they don't know what they are planning for yet. Then there was the whole thing with [financial backer] Stuart Murphy pulling out. But I had to make a call on what I felt was right for me and my family. I couldn't turn down a good wage and a two-year deal somewhere as I have bills to pay and a family to feed and football is my only income.
'It's nothing to do with loyalty, I loved playing for Chester and I was proud every time I pulled on the shirt. This pandemic has created a real mess and things that wouldn't have otherwise have happened have happened. There were other clubs to show an interest but when you have a good contract offer at a time like this then you have to take it. I hope people understand my reasons for that.'
Asante, who became the first Chester player since Stuart Rimmer in 1985 to score a hat-trick on his debut when he arrived on loan from Tamworth in December 2018, was a firm fans' favourite. Although dogged by injury problems that became a running theme throughout his stay, whenever he did play the chances were he scored and he became an integral part of Anthony Johnson and Bernard Morley's plans...
'Having no proper farewell hurts as I wanted to say thank you to the fans as they made me feel right at home and helped me enjoy my football again,' he said. 'I don't think I've enjoyed football as much in my career as I did at Chester. When I told Joel (Taylor) I was leaving he couldn't believe it. "Everytime I put on a Chester shirt I score", I told him...
'Everything was going well, the managers were amazing with me and my teammates were class'...
Moving to a new home after several years in exile in Evesham, the Tigers are looking to make a mark in 2020/21 and Asante will be linking up once more with a familiar face. He said 'My youth team coach at Birmingham City was James Rowe and he is the manager at Gloucester now so I already knew about him and he knew about me. They are really ambitious and have a new ground on the way. They've made some big investment and are going for promotion next season.
'I'll be living there, be full time and hopefully be part of a winning team on the pitch. But I'll never forget my time at Chester. They are a proper club with proper fans who deserve to be successful and I think that they will be'".
Also at Chester FC "Will Goodwin became the latest Academy Graduate to sign professional senior forms with Chester FC. Back in January, the teenager became the 16th Academy product to make a senior debut for the club (excluding Cheshire Cup)...
Goodwin first joined the Blues as a nine-year-old in November 2011... Fixtures took place against numerous Football League and Premier League sides as well as other non-league Academies...
Current Academy Head Coach Calum McIntyre said... 'When you look back, the players brought into the club have gone on to do so, so well... Dave Richards... said 'I was running the Under 14s at the time when Will left Bolton and we made sure we got him straight back in with us. He flew through the age groups but was a really popular lad too. This feels like a massive moment for the Academy to have brought a player through the age groups at the club. The hard work of the likes of Jason Bowdler all those years ago has paid off...
Chester FC Academy graduates, to date, include some who wear or have worn the Altirncham shirt too, namely Sean Miller and Tom Peers [above,right].
At Guiseley The Lions "are extremely grateful to our former stopper Steven Drench who has donated a signed pair of his goalkeeper gloves to support our CrowdFunding campaign.
The former Lions goalkeeper made 288 appearances over six seasons played a key role in securing our promotion to the Vanarama National League and then survival in non league's top tier.
We have raised over £10,500 so far through our two CrowdFunding campaigns with the money used to help us through the Covid-19 pandemic".
According to York Press, "York City manager Steve Watson has hailed the fans that have donated to the fundraiser which is raising money to support the club's recruitment budget.
The York City Football Club Vice-Presidents' Assocation has been raising money to support Watson's 'player recruitment and team development'...
The club... said last week that the play-offs may cost them between £120,000 and £150,000 while in May they estimated they have lost upwards of £250,000 due to the crisis.
The fundraiser was launched in early May and since surpassed its £10,000 target. The fundraiser closes on tomorrow and, at present, almost £13,000 has been raised.
'I wanted to take the time to say a heartfelt "Thank you" to everyone'... Watson told the club's website. 'While I'm currently focusing on the upcoming play-offs, of course I have one eye on next season as well and this fund will really make a difference to my team development and player recruitment budget'...
Elsewhere, the club's petition, which has called for the National League to promote two clubs should the play-offs not go ahead has, at the time of writing, received over 2,400 signatures having been launched late last week."
Kidderminster Harriers "is delighted to offer local businesses in Kidderminster and the surrounding areas the opportunity to provide an offer or discount to the club's season ticket holders as part of a new benefit scheme it hopes will add value to season ticket holders whilst providing much needed exposure and support to local businesses during these challenging times.
Paul Biggerstaff, Commercial Manager, commented 'We are looking at many ways of increasing the range of benefits our season ticket holders receive through their loyal support of the club and, as an organisation, very aware of our position and responsibility within our local community, we wanted to tie that in with providing a boost to businesses by enabling them to promote their services to our core group of supporters.
'Benefits could be as simple as a 10% discount across the board, free upgrades or more specific product-related offers. It's entirely up to each individual business who joins the scheme. Our season ticket holders will receive a credit-card type swipe card this season which can be stored safely and conveniently in their wallet or purse so it will likely be with them as they move about the town, and production of that card is how they will take advantage of the offers provided by businesses".
---
24 June 2020
Pontefract Collieries
have "made the announcement of [a] double signing in [the shape of ]
Damian Reeves
and Sam Tingle.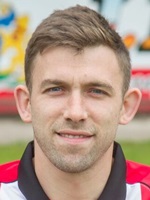 Firstly, it was the experienced striker in Reeves [left] who had been confirmed to have committed to the club for the coming season. Formerly of Northern Premier League rivals Tadcaster Albion and Ossett United. Damian has scored goals higher up the pyramid and will be a crucial part of Monkhouse's plans for this season.
We spoke to Reeves after the confirmation of his move. 'When the manager gave me a call it was an easy decision having played with him as a player and knowing the way he wants to play. His vision for the club is exciting and if I can help him do that then I'm all for that.
'Also it's a local club that I've always kept an eye on having played a few pre-season friendlies at the ground. As a player I'd say I am a fox in the box type. I am a goalscorer but also like to link up play'...
Andy also discussed his delight... 'Damian is the experienced forward I wanted to bring to the club, given chances he's proved over his career he knows how to score goals. He will be a real positive influence for the younger players'".
Damian left Altrincham after the 2016-17 season, having played 278(+54) games and scored 166 times.
Every now and then a glance back to this website's news from the same date in past years can make us realise how Altrincham FC has moved on...
From 24 June 2000

INS AND OUTS? The Pink has confirmed (24/6/00) that Mark Ward is pursuing Leigh RMI's right-winger, Steve Jones who was the Player of the Year at Hilton Park last season. Ward hopes to pair Jones with Kevin Ellison but any move awaits the return from holiday of the Leigh Chairman.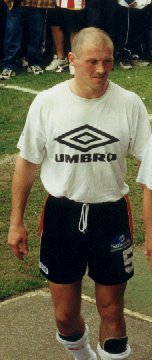 As reported below, Ward is also still pursuing Lancaster's Jamie Udall, but he faces competition from Morecambe and others. However, Ward has acquired an Everton reserve striker, Mark Quayle, on pre-season trial. Leigh's reserve goalkeeper, Mark O'Connor is also a possible arrival at Moss Lane as his present employers are seeking to sign Bamber Bridge's keeper, Craig Dootson. Mick Morrell has signed for Leigh and Chris Timons is expected to do so, to join ex-Alty midfielder, Ged Kielty.
Whilst Kevin Ellison remains at Alty despite some interest from Chester City, Northwich Vics have made an approach for centre-back Gary Talbot [right]. Surprisingly, Keith Russell has not jumped at the offer from Hednesford to sign him and still has not yet agreed terms with the Pitmen. North-West Trains side Salford City are hoping to sign two ex-Alty players, Darren Lyons and Neill Hardy both of whom have been released by Morecambe in the last few months, although it is surprising, particularly in Hardy's case, that the players in question are prepared to drop several leagues. Southport have made a player-exchange offer for Danny Adams, but this has been rebuffed.
From 24 June 2001

ALTY CHASE SERTORI? According to the NLP, Altrincham are one of the clubs pursuing Cheltenham Town's released utility man, Mark Sertori. However, Nuneaton Borough are believed to have made a bid for him. Manchester-born Mark, aged 33, formerly played League football for Stockport, Wrexham, Lincoln and Bury.

The same paper also reports on Alty's link to a proposed new stadium in Stretford and records the signing of Jeremy Illingworth, with Bernard Taylor saying, "He is a box-to-box player, a strong boy. But he has played upfront, in midfield and even as a sweeper. We will make good use of him". Elsewhere in the paper Kevin Ellison is described as "the pick of the bunch" in an article on future stars. Mark Harris describes Kevin as "a lovely lad. You can never stand in a player's way once they want to progress and we were delighted to be able to facilitate that for him". Ex-Alty man Tony Hemmings has cost Chester City £3,500. The payment, to Ilkeston Town, had been delayed by a wrangle after Hemmings left Chester for Carlisle. Hemmings had joined Ilkeston after being released from Moss Lane.
From 24 June 2003
As Altrincham prepare for 2003/04, above is a picture of the squad as it warmed-up before the first pre-season game of last season, on 17 July 2002 against Tranmere Rovers. Those seen above are: Mike Turner, Peter Mellor, Derek Ward, Rod Thornley, Chris Adams, Gary Scott, Neil Ryan, Danny Frost, Ian Craney, Stephen Rose, Gary Talbot, Mark Maddox, Andy McDonald and Danny Murphy. Other unpictured participants in that game, who are not now playing for Alty, include Eric Nixon, who kept goal for the Robins, Ryan Hevicon and Stuart Locke.
Alfreton Town state that "Following the National League statement released last week which confirmed a points per game outcome to decide the season, we are now in a position to announce our released and retained list.

Players Contracted & therefore retained for Season 20/21: [ex-Alty man] Connor Branson, Amari Morgan Smith

Players retained under new contracts for 20/21: Danny Clarke, Dominic Smith, Josh Clackstone, Teddy Unwin Marris, Kieron Hinchley, Harvey Grice, Morgan Brough

Players offered terms for Season 20/21: Bobby Johnson, Josh Wilde, Ben Tomlinson, Andy Kellett, Michael Frieter

Players returned to parent club: Jordan Wright, Ethan Stewart

Players left the Club: Dale Witham, David Lynch, Shane Killock, Ryan Qualter, Daniel East, Nyle Blake". P>
At Guiseley "Young defender Nathan Newall will be looking to kick on his footballing career with the club having taken up the option to extend his contract.
The 18 year-old left back made his first team debut in the season past, in the 1-1 draw with Altrincham, and signed a first team contract on his 18th birthday after impressing over the past two seasons with the club's Academy side.
Newall went on to make three further first team appearances from the bench and towards the end of the season had a loan spell at Ossett United... He made 20 appearances for the Academy, scoring five times... The Baildon teenager joined Guiseley as a 14 year-old in the Centre of Excellence and progressed to the Academy...
He was recently awarded the Academy Manager's Player of the Season award... Joint First Team Manager Russ O'Neill said 'Nathan couldn't have done any more in his time with the Academy. He had had a taste of first team football lower down the pyramid out on loan and he made his first team debut as well as training with us every week. I've told him to come back to training with the mindset that he is a first-team player and not an Academy player who has been given a taste of the first team environment'".
From the Shropshire Star we learn that "'Leader' Theo Streete will continue to 'bring real energy' to the AFC Telford United dressing room next season. The 32-year-old has extended his contract until May 2021, becoming the 12th player to commit to the Bucks for next season.
And boss Gavin Cowan is thrilled to keep hold of the former Doncaster Rovers, Rotherham United and Solihull Moors defender.'Theo's a huge part of the changing room,' said Cowan. 'He's a man's man and an outright leader; he brings real energy to the changing room... I feel he has a lot to offer on and off the pitch...
He's a busy guy in terms of working and is a family man, but he's a real old head for some of those young shoulders and a class act around the place'...
Cowan has built from the back during pre-season, signing two new goalkeepers in Russ Griffiths and Ash Rawlins, as well as securing the services of six defenders.
'We're looking strong,' added the boss. 'We're looking to secure another two or three players and then we have guys coming in pre-season to take up those last places. We've got recruitment to do, but it's all in hand. We're making sure Henry Cowans has the opportunity to prove his fitness and I'm really hopeful he can do that.'
Streete will be joined in the fight for places at the back by Ross White, Shane Sutton, Zak Lilly, who are staying on, as well as new signings Lee Vaughan and Courtney Meppen-Walter.
Speaking about the most recent capture of Meppen-Walter, Cowan said 'I'm ecstatic to get him, we found out he'd be leaving Chorley and moved quite quickly off the back of that. He's a player I've admired for some time but didn't imagine we'd be able to get through the door... In terms of professional he works as an education mentor, I've been able to mix up what he'll be doing with the club and there's an opportunity for him to work at Crossbar [Cowan's firm] as well. That's how we've been able to get it over the line.
'Having spoke to Courtney, he felt he more than held his own at the level and I agree with him. I think he's that level or above... I believe he's the best left-sided centre-half in the league, so to get him just shows what we've been doing the last few seasons has been worthwhile'".
Kidderminster Harriers "have launched a Boost the Budget campaign...
After the COVID-19 pandemic forced us to shut the doors at Aggborough Stadium, we have been inundated with messages from supporters with how they can contribute to help THEIR club in its time of need.
Whilst we are continuing to work hard towards securing the club's future, this Crowdfunder gives any fans who can afford to, the chance to immediately help the club whilst securing exciting rewards for their donations.
All funds raised from the campaign will be directed solely towards supporting the first-team playing budget for the season ahead and replacing equipment recently damaged by vandalism at the club's training ground... We will donate one match ticket for the 20/21 season to NHS staff for every £100 raised in our crowdfunding campaign".
York City Football Club's "preparations for the National League North play-offs have begun.
During a group conference call on Friday 19 June, clubs were given instructions and requirements deemed necessary for the play-offs to go ahead. Plans are now being put into place to prepare for the play-offs with the safety of players, staff and the community as a priority.
A 'Covid-19 officer' has been appointed by the club, plans for Covid-19 testing are in place and all processes will be carried out following the government guidelines for returning to elite sport.
Manager Steve Watson hopes to return to training as soon as possible... Despite our disappointment that automatic promotion for York City FC has not been recognised, the club welcomes this second chance at promotion...
Although this is a significant financial investment for the club, with currently no support confirmed from any of football's governing bodies, it is important to be part of the play-offs and fight for the promotion which the club deserved.
We hope to be able to share the play-off journey live with fans and are currently looking into the best ways to do that".
"Gateshead Football Club have partnered with cleaning supplier UK Commercial Group ahead of the upcoming Vanarama National League North play-offs.

UK Commercial Group, based in Teams Valley, are a national supplier who offer commercial cleaning services... With our intention to compete in the Vanarama National League North play-offs, comes the need for PPE in line with government guidelines for returning to elite sport, at no small cost to all clubs at our level.

UK Commercial Group have generously donated a wide range of PPE for the club to use, which will be available upon our return to training...

'We are immensely grateful for the kind donation of PPE'... said chairman Neil Pinkerton...

'We were lucky to get the opportunity to support one of our local clubs,' added UK Commercial Group managing director, Tony Earnshaw... 'Bringing our resource back home to support our community is special, and we are proud partners to help keep the community safe.'"

Chorley manager Jamie Vermiglio reports that "It's been over three months since the 2019/20 season was brought to an abrupt halt... The sudden end to our season was one we fully supported and the National League's final decision to support the most successful sides on a points-per-game basis is a justified one. The decision to only relegate from tier one of non-league is one which, of course, will not feel fair to most followers of non-league football, particularly to those involved with teams extremely close to survival.

However, a decision needed to be made. To those that have benefited, everyone at Chorley FC sends their congratulations and luck. To those who feel the decision is unjust I hope they use the experience as motivation for future success.

Over the last decade Chorley FC has turned nearly 20 years of decline and apathy into three promotions, six play-off campaigns, four Lancashire Challenge Trophy successes, three FA Cup first round appearances and countless memorable games watched by capacity crowds at Victory Park. As everyone knows, success is not linear; there are challenges, setbacks and upsets. This past season has been a huge learning curve for everyone associated with the Club. We worked extremely hard to compete in the National League and were more than deserving of our opportunity.

Unfortunately we didn't make the most of that opportunity. When we earn our chance again, we will be more prepared, both on and off the pitch...

The group of players we've had at Victory Park over the last three years and more have been loyal and dedicated, with many contributing over 100 games to the cause. A majority of the recent squad shared a plethora of brilliant memories with us, not least the fantastic, against all odds, promotion to the National League last May. Some players, namely Andy Teague and Jake Cottrell, contributed to even more promotions!...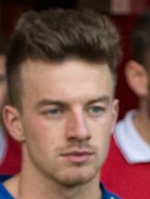 We have made a decision to review our on-field model and, as a result, a lot of players have moved on; some of their own accord, some for personal reasons, some to accept offers we cannot compete with and some because we made the tough decision to let them go.
The uncertainty of our league status has meant we've been unable to commit to any new players so far this summer. However, at the time of writing, we are delighted to have secured the services of Matty Urwin, Lewis Baines and [ex-ALty loanee] Elliot Newby [left] again. We remain in talks with other members of last season's squad too and are hopeful of agreeing terms with at least one player...
The 2020-21 season will see more dedication to our youth system and the new Player Pathway. We are aiming to build on the first year of our Education Programme which offers 16 to 19-year-olds the opportunity to train and think like full time footballers. As a result, the first team model will change accordingly, with the profile of some players we're aiming to recruit fitting into this model. The first team training schedule will also be changing to ensure when we do have the opportunity to compete in the National League again, we will be more prepared.
I am in such a privileged position and feel an immense sense of pride to be the manager of our Football Club. Without doubt the 2019/20 campaign will go down as a season where, ultimately, we failed, where I failed and where our team failed to take an opportunity in the National League. But that failure has done nothing to diminish my determination to ensure that we are successful...
We've been promoted before; we WILL be promoted again!"
---
23 June 2020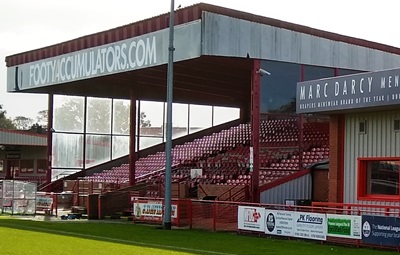 Altrincham FC's Press and Media officer John Edwards [writes for the Sale & Altrincham Messenger] that "Promotion is back on the agenda at The J.Davidson Stadium after the National League gave approval for play-offs...
Right: The J Davidson Stadium will be virtually empty when Chester FC visit for the play-offs, should they take place.
As things stand, Saturday and Sunday, July 18th and 19th have been earmarked for the two eliminator ties, with fifth-placed Alty at home to sixth-placed Chester on one of the dates and Brackley Town (4th) home to Gateshead (7th) on the other...
It was stipulated that clubs can only use players who were under contract to them on March 31st, but there are other conditions that also have to be met for the play-offs to proceed.
Covid-19 testing is one of the main ones, and the dozen play-off clubs from the two divisions are working together and sharing information on documentation and costing for what will be one of the most time-consuming processes but also one of the most important... There are multiple test suppliers, all with widely varying cost implications, and Alty bosses are... liaising with safety officers over plans for meeting official guidelines for staging games...
Alty's board have shared between them a lengthy list of tasks that need doing... while on the pitch, there will be a phased return to training.
While the league also stated they hoped to start next season in mid-September, with at least some spectators allowed to attend games, the play-offs will be behind closed doors.
With that in mind, talks are underway with BT Sport about televising the ties. Should there be no coverage, Alty will seek permission to screen their games live on Alty TV".
The Northern Premier League reports that "A busy few days at Bower Fold has seen Stalybridge Celtic announce five signings for 2020/21.

One of the five is a retention, in the shape of versatile [ex-Alty man] Kallum Mantack, who made 37 appearances in his debut season for the club last term.

He said 'I'm really excited to be here for another year. There's a few new faces that have arrived so I'm looking forward to getting the season started. I feel as a player no matter what age you are, you have to go where you feel most confident and the gaffer has played a big part in that.'"

Winger Kallum Mantack made 4(+3) appearances for Altrincham after joining in November 2018. He had come through the Oldham Athletic system and played once for the Latics' first team before a four-month spell on loan at Alfreton Town, where he made 11 appearances.

A single loan appearance at FCUM was followed, in 2017-18, by a loan to Stockport County. At the back end of 2017 he broke his leg playing for County at Alfreton. Kallum recovered to play in County's first team and, in all, he made seven appearances for the club, scoring twice. He left Edgeley Park in early 2018-19 season. Kallum scored for Alty just three minutes after making his debut as a substitute against Bradford (PA) on 24 November 2018 but he moved onto Ashton United, a move announced on 8 February 2019.
Chester FC has issued an update "in relation to the National League North play-offs.

On Friday 19th June, our Club and the other 11 to have qualified for the National League North and South play-offs took part in a conference call with the National League and The FA... The requirements for competing in the play-offs were set out to clubs for the first time on Friday and as a board we have spent a considerable amount of time over the weekend reviewing this information and working through the challenges and potential solutions.

While the Club took the decision to furlough the playing squad and coaching staff in preparation for this eventuality, there are still a number of practical and financial considerations to be taken into account, including but not limited to:
The Club is required to develop a thorough Covid risk assessment and stadium management plan in the unlikely event we are required to host a game in the play-offs. This plan includes the appointment of a Covid Officer and Medical Officer and must be approved by both the Safety Advisory Group and the National League.
The Club must develop a viable Covid testing process for all players and coaching staff in order to participate in the play-offs. These tests must meet clinical testing standards and the provider must be certified and approved by the National League Medical Officer. As testing is required weekly for a minimum of a three week period, this is a significant financial cost for clubs.
We continue to work with the management team around the development of Covid compliant training sessions in line with FA and Government guidance. This includes the use of small groups, non-contact training at stage one, regular sterilisation of equipment and sessions of limited duration held at a suitable venue.
The Club has held provisional conversations with the playing squad and coaching staff regarding the contractual wage and bonus structures which would ordinarily be in place for the play-offs. This will enable the Club to reach a clear understanding of the costs and potential liabilities of taking part. Although the players have been undertaking personal training regimes at home, participation in the play-offs will require them to return from furlough leave for training and matches which has potential cost implications for the Club.
We continue to engage with the National League regarding several outstanding queries around player registration including the use of loan players, in particular those players whose contracts have expired and those whose loan spells have come to an end, to ensure these players will be available should clubs participate.
The Board is continuing to work tirelessly on this matter with relevant stakeholders and wishes to reiterate to supporters our desire to uphold the integrity of the competition and to ensure the players, management and fans, have the opportunity to finish the 2019/20 season on the pitch. However, we cannot risk the financial security of the Club and this will be paramount to our decision".
Meanwhile, Cheshire Live adds that "Chester FC are expected to make a decision this week on whether they will be competing in the National League North play-offs.
The Blues face a significant financial challenge should they wish to compete in the post-season competition... Altrincham, who Chester would meet in a play-off eliminator on the weekend of July 18/19 should they agree to participate, have given the thumbs up, as have Gateshead, who finished the season in seventh spot on a points per game basis...
York City, who finished the season in second spot, and third placed Boston United are expected to compete but have stressed how much of a financial burden they could be placed under. York chairman Jason McGill put a cost of between £120,000 and £150,000 on completing the season but has committed that the Minstermen will be a part of the play-offs.
'I think we'll have to issue warranties and indemnities,' he told the Yorkshire Post. 'It will probably cost us £120,000 to £150,000 to bring the players off furlough and test them (for Covid-19) but it would be doing a disservice to our supporters, manager, team and staff if we didn't try for promotion after 80 per cent of the season.'"
Meanwhile a club reprieved from relegation, Bradford (Park Avenue) "confirm the signing of former Leeds United player Matty Downing. The talented left back joins us after spending over 15 years with Leeds.
Downing came through the Leeds academy after joining them at five years' old. A powerful, technically gifted player he will give us options up and down the left flank in both the defensive and attacking thirds. We hope to see the natural ability of Matty as he continues his rehabilitation from a broken leg whilst out on loan, after having fought off competition to sign him this summer.
Matty Downing said, 'I'm buzzing to have been given the opportunity to join BPA for the next season. After speaking to people at the club, family and friends, the chance to get on board with the club's plans is one that really excites me. I have played with and against a few of the players previously and heard great things about working with Mark and Danny'...
Mark Bower added, 'Matty is a player who was highly regarded throughout his many years at Leeds United and we are delighted he has signed for The Avenue. Being naturally left sided, Matty gives balance to the squad.'"
The Boot Room reports that "Matty Downing has posted on Twitter after it was confirmed he had left Leeds United and joined National League North side Bradford Park Avenue with his Elland Road contract expiring at the end of the month.
Downing, 20, initially joined Leeds's academy 15 years ago and has since been a prominent member of both the Under-18 side and reserve teams but has endured a torrid time with injury... breaking his leg at the start of 2019. Downing is still recovering from that problem, but looks as though he will do so away from Leeds".
And, still in Yorkshire, Guiseley "reveal the following retained list.
Players returning to parent clubs after their loans ended are: [ex-Alty loanee] Chris Sang, Harry Sheppeard, Brad Wade and Lee Shaw.
Option taken up by the club to extend contract by an additional year – Nathan Newall.
Contract offers have been made to – Kennedy Digie, Jamie Spencer, Kaine Felix, Andrai Jones, Hamza Bencherif and Prince Ekpolo.
Players under 24 offered same or improved terms of re-engagement – Gabriel Johnson, George Cantrill, Reiss McNally, Aram Soleman, Brad Nicholson, Declan Lambton and Will Thornton.
Players not offered re-engagement but invited to pre-season training are – Jed Zanos, Scott Smith, Aleks Starcenko, Dylan Barkers and Tabish Hussain.
Lloyd Allinson leaves the club with our best wishes".
AFC Telford United confirm that "the New Buck's Head will not be hosting Wolverhampton Wanderers U23s during the 2020/21 season.
We are disappointed with their decision and [which will] bring an end to 16 years as the venue for the Wolves U23s
We will continue our working relationship with the Premier League club and have stated that our door is always open should they wish to return in the future we would be open to new discussions... This now allows us to explore other good revenue streams which we were unable to do whilst we had Wolves U23s playing at the New Buck's Head.
With the pitch renovations that we [have] independently undertaken with the help from the Shropshire FA and the Football Foundation which have taken place as [at] the New Buck's Head this season we feel that this now gives us the best opportunity to maintain a good standard of playing surface for the 2020/21 season."
On the pitch AFC Telford United "confirm Theo Streete has signed a one year extension which will keep him at the New Buck's Head until May 2021.
The 32 year-old will become Gavin Cowan's twelfth signing of the summer.
Boss Gavin Cowan [said] 'It's great to have Theo back on board. He's really popular around the place and is a big figure for us on the pitch. This, alongside his experience, will be vital for us going into this coming season.'"
And what is The Bucks' misfortune becomes the Harriers' delight as the Kiddermister Shuttle relates that "Harriers have secured an extensive partnership with Premier League side Wolverhampton Wanderers that will see Premier League 2 football played at Aggborough next season.
The deal is a result of hard work by Harriers CEO Neil Male... As part of the agreement, Aggborough Stadium will stage a host of matches featuring the next generation of Wolves talent, including televised games on Wolves TV, with scope for more games as the season progresses.
Bosses say the deal has been structured to ensure mutual benefit to both Harriers and Wolves to ensure it is more than an arrangement to play football matches. The two clubs will work closely together to help develop young talent from both Aggborough and Molineux. It may see young Wolves players given the opportunity in senior football on loan with Harriers, similar to the loan agreement for Austin Samuels recently.
Harriers CEO Neil Male said 'This is an agreement that will have massive benefit for us as a football club at all levels. The biggest pull for us was them wanting to have a partnership that works both ways and helps players, staff and stakeholders both here and for Wolves, rather than just needing a place to play matches'...
Wolves Head of Academy, Scott Sellars, said 'We've been impressed with the facilities in place at Kidderminster and the direction of the club... It has never been more important for clubs to work together and support each other, and that's what we're looking forward to doing with Kidderminster next season.'"
Lincolnshire Live reports that "Boston United have released images showing the progress the club is making on their new Community Stadium.

The Pilgrims were set to play their final game at York street this season, but the coronavirus pandemic brought a halt to what would have been an emotional farewell.

United finished the season in third place, after National League clubs voted to end the season using Points Per Game... Chairman David Newton said that if the play-offs are to go ahead, they would pose a number of challenges in the short term and the long term.

He said 'The play-offs would present many immediate challenges for the club in terms of logistics, training facilities, testing, compliance and cost and the "longer term" issue of having to build the East Stand at the new Community Stadium by March 2021 to meet higher ground grading requirements should we be successful in the play-offs.'

He added... 'Clearly the club's finances have been decimated by the pandemic, so we would look for as much help as possible from fans and sponsors should play-offs go ahead behind closed doors, where clearly we will have all the costs of training; staging games, un-furloughing players and Covid-19 measures, but with no gate income from the games.'"

The Daily Mail reports that "South Shields face a crippling legal bill of £200,000 after being told they must pay the FA's share of the costs from their failed appeal against a decision to expunge the season.

The Northern Premier League leaders fronted the appeal on behalf of hundreds of dissatisfied semi-professional clubs and followed the FA's Rule K arbitration process.

But the claim was dismissed and having to pay the FA's costs doubles the bill and magnifies a feeling that the governing body have let down small clubs they should be helping in these difficult times.

The latest blow came in a week when the National League voted to conclude their season on a points-per-game basis, with promotion and play-offs but no relegation from the National League North or South.

That means those at the top of the Northern Premier, Southern League and Isthmian League will not be rewarded for their efforts and investment made in 2019-20. The seasons were abandoned and expunged in April. Many complained it was unfair at the time, writing to the FA to protest. The National League voted to cancel relegation so South Shields will not be promoted

'I'm clearly devastated by the outcome but have to accept it,' said South Shields chairman Geoff Thompson. 'Clubs at our level have experienced a serious injustice and lack of respect and support from the FA. I've received hundreds of comments from clubs devastated by the decision.

'We had hoped the FA would treat us the same as the National League and other levels of the pyramid. Now we all have to come to terms with the outcome. A further challenge for us is to now fund the cost of a process we had no choice but to invoke, and these costs include the FA's legal costs which are very considerable.'"
---
22 June 2020 The Northern Premier League reports that "Gibraltar international Reece Styche headlined a 'super Sunday' of signings for NPL Premier Division side Buxton... He joins the Bucks from Bromsgrove Sporting after spells with Hereford, Alfreton Town, Darlington, Tamworth, Gateshead, Macclesfield Town, Kidderminster Harriers, Forest Green Rovers and Hednesford Town...

Other new signings are former AFC Telford United captain and centre-back Shane Killock and experienced Spennymoor Town right-back Stephen Brogan...

Wingers Callum Powell and [former Alty reserve] Osebi Abadaki have joined from Nuneaton Borough and Hednesford Town, where Hayward was boss at the beginning of last season".
The Telegraph & Argus provides "Five reasons why it went wrong for Bradford (Park Avenue). In order [sic], Garry Thompson, Mark Bower and Marcus Law all took the hotseat at Avenue at some point during the 2019/20 season

Three managers, 54 players and only 20 points. It is fair to say that, in a season that promised so much, Bradford (Park Avenue) failed to live up to expectations.

After surviving relegation on a unique technicality... I look at five reasons why it all went wrong...

Coaching and player upheaval. Back-to-back opening 5-0 defeats against Curzon Ashton and Guiseley immediately cost Garry Thompson his first managerial job and... interim boss Marcus Law did not do much better, losing six out of his 10 games in charge.

Two-time play-off finisher Mark Bower then returned to pick up the pieces after Bradford had just suffered their biggest loss in recent times, an 8-0 hammering at the hands of Brackley Town. In the space of three months, from the 16 players that were selected for that first game, only six players remained at the club for Bower's opener.

Miraculously, he started quickly by producing a shock 3-2 win over in-form Hereford. However, that success was short lived, as the following 20 league games only resulted in three further victories...

No team can be successful with that amount of change. It was the club's highest turnover since the 2005/06 campaign, where an astounding 62 players were used... A core with ability and experience must be established to avoid what happened last season.

Older heads crucial... At Horsfall last term, the armband was thrown around like a game of pass the parcel. The likes of Ryan Cresswell, Rhys Taylor, Keith Lowe and Nicky Clee all had a turn... If Avenue are to improve, they need a skipper they can depend on all season...

Defensive problems... All in all, 17 defenders and five goalkeepers were involved in the 80 goals conceded... As it stands, Lund and Toulson remain the only ones at the back staying on, while new signing Dan Atkinson is the man between the sticks...

Where's the goals?... The lack of a potent centre forward was another factor in Avenue's dismal campaign, where they only scored a bleak 25 in total.

So, who ended up as Avenue's top scorer? That title fell to 21-year-old winger Lewis Knight, with his lowly six goals being enough...

The entertainment factor. .. The new Horsfall 3G pitch (read more) may give Bower different options. The carpet-like surface could be brilliant to help play entertaining football
The Chester Standard says that "Altrincham have confirmed that they are ready to tackle Chester in the National League North play-offs.
The Blues are expected to make a decision on their play-off intentions this week, with the Robins lying in wait should all six teams agree to participate.
Altrincham would entertain Chester over the weekend of July 18/19 should the play-offs go ahead as scheduled, something the Robins are expecting...
Gateshead also confirmed that they are willing to take part in the play-offs, meaning they will visit Brackley Town in an eliminator should Kevin Wilkin's men participate.
A statement on Gateshead's website confirmed... 'Although the cost is significant and 100 per cent borne by all the Non-League clubs participating, Gateshead Football Club are committed to finishing the season following the outcome of the resolution, which saw the majority of member clubs vote in favour of the play-offs.
'By making this commitment, we are maintaining the integrity of the competition and ensuring that four clubs will be rightly promoted into the National League. We must stress that this decision will not put the club in any immediate financial danger or adversely affect the agreed 20/21 budget despite not receiving any financial assistance from football's governing bodies.'
Either Chester or Altrincham will head to York city on the weekend of July 25/26 in the play-off semi-finals as Boston United face Brackley or Gateshead, with the showpiece event taking place a week later...
Chester's play-off cause could be aided by the Boost the Budget scheme, which has raised over £57,000 in a week... Defender Kevin Roberts [said]... 'We all saw how much the fans had put in the budget in just a few days; it was remarkable. It showed us that everyone is wanting to help out. I'd suggested to the lads that we should do our bit as well, we are all in it together and no one hesitated. Everyone agreed straightaway'"
Meanwhile, Chester FC report that "Galactico Sports have teamed up with Chester FC to help Boost the Budget!
The high-quality sports coaching company have joined the #InItTogether drive and have already made a very generous donation to the scheme. Earlier this month, they also recruited Blues midfielder Gary Roberts to their coaching team!
Voted the National League North Player of the Season in the NL Paper, the Eastern Daily Press reports that "Adam Marriott appears to be the only missing piece in Ian Culverhouse's jigsaw as he plots promoted King's Lynn Town's National League campaign.
It looks likely the Linnets boss will again talk to his former club Norwich City about the possibility of taking on young loan players, particularly on the back of the successful cameo role played by Simon Power at the end of the season just finished.
Culverhouse has been quick to sign up a sizeable chunk of last season's title-winning squad, with one addition, Alex Brown from Buxton, plus some departures, including Ryan Fryatt and Nathan Fox. Midfielder Ryan Jarvis is understood to have agreed a new deal, but not yet completed the paperwork.
But Marriott, leading scorer with 24 and 28 league goals in the past two seasons, has not yet committed his future to the Linnets and is thought to be pondering over the possibility of a last stab at full-time football. Marriott is 29 years old and has been a revelation since joining Lynn from Boston United on a two-year deal in October 2018, having also played for Cambridge United, Lincoln City and Stevenage....
'We have made him an offer,' said Lynn owner Stephen Cleeve. 'He is 29 years old and he would like to have another shot at full-time football and we would not want to take that opportunity away from him. But obviously we would love him to stay.
'He loves the club and he loves being part of the club but clearly he knows this might be his last shot at something he wants to do. He knows he plays in a team that pays to his strengths and of course, if he moved on, that might not be the case so there is that to consider as well.
'He has agreed that before making any decision he will discuss things with the manager so I guess it just depends on what comes up.'
Lynn's relationship with Norwich City saw them bring in Alfie Payne, on a season-long loan, and Power, who made an immediate impact when he joined in January...
'Obviously we are in discussion with Norwich City about loan options, and I would expect over the summer to bring in a couple of players on top of that' added Cleeve."
In Lynn News, "King's Lynn Town manager Ian Culverhouse believes the lure of National League football could prove a major transfer draw this summer...
Although he knows the club are out on a limb when it comes to location, he is convinced that their lofty new status will prove an incentive for players when it comes to negotiating deals."
We also learn from King's Lynn Town that "The Linnets have begun planning for the new National League season...
Discussions have taken place on season ticket and general admission pricing's and other match day arrangements that may need alteration ahead of a possible September start date".
Blyth Spartans "announce the arrivals of Callum Guy and Kieran Charlton from South Shields.
The pair become Michael Nelson's first additions as manager...
Guy, 20, who lifted the National League Under-19s Alliance League Cup with the Mariners in 2019, made 15 appearances for the Mariners in total, scoring three goals. His time... included a successful loan spell with Northern League Division One outfit West Auckland Town...
'I hope I thrive from the opportunity. I know it's going to take a lot of hard work to get up to standard'...
Meanwhile, Charlton, 19, started on the books at Middlesbrough before making the move to Mariners' Park last summer. During his solitary season under ex-Spartans duo Graham Fenton and Lee Picton, the full-back featured 14 times...
Both players have already met their new teammates for the first time after taking part in some socially distanced training".
---
21 June, 2020 Altrincham FC co-chairman, Bill Waterson has reported on the club's involvement as "one of 12 Vanarama National League North and South clubs to attend an online meeting with the National League on Friday afternoon to discuss the 2019/20 season play-offs...

The Altrincham FC Board met this afternoon to start the planning process. The club is raring to go and aiming to reach the Promotion Final and then win it to reach the National League for the 2020/21 campaign.

We have to go through a formal process of testing and risk assessment and sign-off ahead of commencing training and preparing for a match...

For the play-offs to take place, at least four of the six [qualifying] clubs [i.e. the second to seventh-placed clubs when play was suspended] must take part in each competition".

Provisional dates for the play-off are as follows:
Sat/Sun 18 & 19 July: Eliminators
Sat/Sun 25 & 26 July: Semi-Finals
Sat/Sun 1 & 2 August: Finals
As previously reported here the Eliminators in the Vanarama National League North would feature
Brackley Town (4th) v Gateshead (7th), with the winners away at Boston United in a semi-final match.
Altrincham (5th) v Chester (6th), with the winners away at York City in the other semi-final.
The winners of those semi-finals would then meet in the final, which would be played at the ground of the higher-placed of the finalists.
Bill Waterson adds that "Teams can use players under contract at March 31st 2020
The National League are awaiting confirmation from BT Sport regarding whether the National League North & South play-off games will be televised. If any game that we are involved in is not televised, we will request that we can stream the game live, so that supporters have the opportunity to watch on television".
By coincidence, four of the other five clubs involved in the play-offs were set to play Altricham in any case before the end of this season, Gateshead being the only club in the play-offs already to have played Altrincham twice.
Lynn News reports that "When Stephen Cleeve bought King's Lynn Town Football Club four years ago, many thought his dream of leading them towards the Football League was somewhat ambitious.

The club was out of the play-off picture in the Evo-Stik League Southern Premier Division and it seemed more a case of consolidating their place in the league rather than achieving promotion from it. Fast forward four years and back-to-back promotions has catapulted the Linnets into the big time with a place in the National League for the first time in the club's history... Nothing can be taken from the little old Linnets who upset the National League North's big boys for much of last season...

Cleeve said: "I was always quietly positive that we'd go up but thank goodness it's all over. I'm absolutely exhausted after the last few months but now it has been confirmed I'm so pleased for everyone...

'Personally, I think we played the best football in the league and we've been rewarded for it'...

'The supporters have been absolutely fantastic,' admitted Cleeve. 'Seeing the town come together and the club grow has given me the greatest satisfaction but we need those supporters more than ever now as we prepare for our next challenge. I'm not going to come out and say we're going to win the league next season, but when you stop trying to achieve something then you might as well give up. Our first aim has got to be to consolidate and stay in the league and then try to push on from there.

'We've got to be realistic as we're going to be up against a lot of big, full-time clubs. We can't go full time,' he revealed. 'Many of the players have other full-time jobs and we don't have a proper training facility to be able to do that. We need our own training centre and, if we were to get that, it would be of a huge benefit to the football club and West Norfolk as a whole.

'Several of the players would be happy to go full-time now but until we get the facilities that just isn't going to happen. The decision will ultimately rest with the manager. I will leave that to Ian (Culverhouse), that's his call, but I think we're going to be looking at more of a hybrid model of training two or three times a week'...

'It's inevitable that there are going to be price rises, it's the only [way] we are going to survive', said Cleeve... 'We won't be any more expensive than other teams in the league and we are going to try to put together some attractive packages together for the fans. Would fans rather see the team struggle and keep £3 or £4 in their pocket, or pay a little bit more and see a side giving it a real go and putting smiles on people's faces?

'If we could say get 700 fans to give the club £20 a month by standing order every month it would make a huge difference and also make us hugely competitive on the pitch'".
Bradford (Park Avenue) and The Horsfall Community Stadium would like to thank long serving fan David Bruce for his sizeable donation that has funded and part funded some developments in the stadium.
David Bruce said, 'I am delighted to have funded the white pitch side perimeter fence at Bradford (Park Avenue) FC and also to have part funded the new security fence that is going into the stadium this Summer. As a supporter of the club for over 50 years it's great that Gareth has finally been able to obtain the new Lease, 3G pitch and commission the new Stadium Security Fence'...
David was presented with his new season ticket by Neil Fawcett. Neil is a very well-known ambassador for Bradford (Park Avenue) FC with many years' kind voluntary service.
And the Telegraph & Argus adds that "Bradford (Park Avenue) manager Mark Bower has admitted he is clueless as to what the next few months hold for his team and football in general, but said the installation of a new 3G pitch at Horsfall can give those associated with the club cause for optimism...
Bower said, 'We'll have to limit contact training when we return. Our ground is a good size to keep people apart but we've just got to be sensible. We're thinking it could maybe be the end of July for distanced sessions but that could still change.
'Our pitch is still under construction but we have the facilities at the club to be ready (for when we can start). We've pencilled in some pre-season friendlies but we should hopefully know more about those once we have a start date for the non-league season.'
Bower is enthusiastic about the under construction 3G pitch, saying 'It's definitely all pleasing on that front. It's been talked about for as long as I've been here, us having a 3G pitch... Now it will be done comfortably in time for the new season.
'It will help us on the pitch, with the players we've got, but it's going to help us off the pitch commercially too.'"
According to the Shropshire Star, "AFC Telford United are pencilling in a return to pre-season training for next weekend...
Players have been away for more than three months and the Telford chief is keen to begin fitness work and to re-introduce footballs... 'We're looking to come back at the end of the month if possible,' Cowan said. 'We'll have to adhere to government guidelines but are looking at light training at the end of the month...
'Strength and conditioning work needs to start and we need to get a feel of the footballs... We're prepared to train as the rules are now but we're hoping for some form of normality.'
A new-look Bucks group will be meeting to train at Lilleshall National Sports Centre. New signings Lee Vaughan, Jack Byrne, Russ Griffiths, Ash Rawlins and Courtney Meppen-Walter will join Adam Walker, Brendon Daniels, Zak Lilly and Henry Cowans while Cowan has confirmed trialists will be invited."
The Boston Standard tells us that "Boston United are confident playmaker Andi Thanoj has overcome his injury problems and will be fit to feature in the play-offs.
However, question marks remain over whether Jake Wright will be able to line up for the Pilgrims.
'I spoke to him last week and he's confident. He's been doing running and says there's no problems,' said manager Craig Elliott. 'Hayden (Clifton, sports therapist) wants to obviously do the checks he needs to do. But he's had him on a programme and he's more than confident he'll be fit for the play-offs.
'He's played a big part in the success we've had and it'd be nice to have everyone fit and available. If we can have that we've got a strong squad'...
Elliott hopes those squad members who were on loan from other clubs will also be able to compete for the club. Jordan Nicholson, Frank Mulhern, Simon Ainge and Jake Wright were all on loan at Boston when the campaign was brought to a halt.
While the other players' deals have come to an end with their parent clubs, striker Wright... remains under contract with play-off rivals York City until June 30. This could possibly be extended by the club if the play-offs go ahead. This would give the Minstermen the final say on whether the attacker can feature for United. He was not given permission to play against his parent club when the two sides met previously.
'First and foremost we've got to find a training complex we can use,' Elliott said. 'I believe there's going to be a lot of flexibility around loan players who will be available for each club, which will be right. Anyone who was signed on when we stopped playing football should be available in my eyes. Hopefully the loan players are available to me and want to play. If we can have that we've got a nice strong squad...
'Brackley and York have loan players as well. I've no problem with that as long as it's the same across the board for everyone.'
Elliott has previously confessed he's not sure whether defender Matt Challoner, who has agreed to join Southport, will feature for Boston in any possible play-offs...
United chairman David Newton has said Boston will take part even if success means the club having to build a third stand at their new stadium in time for the start of next season."
Guiseley "are delighted to announce the winner of our final 19/20 campaign award which goes to Kaine Felix who gets a third trophy with the Managers' Player of the Season!
Kaine said, 'Like I previously stated before, this is hands down the best management team I have ever worked with. They make playing football fun and enjoyable but don't miss out the serious element of when it's time to work it's time to work.
'From a footballing knowledge perspective and understanding of the game, Marcus is the best manager I have worked with. I've never worked with someone so tactically advanced and equipped as Marcus. He's simply the Pep Guardiola of the National League and always approaches every game like it is a cup final no matter who the opposition is...
'[Joint manager] Russ [O'Neill] is what I call a great footballing Dad. He's helped me in so many ways on and off the field in terms of growing up fast on the field, teaching me how to play multiple positions, giving me the confidence to push on...
Russ can turn an average player into a player a team can rely on week in week out. Between these two great managers I've played my best football in my career without a shadow of doubt... Not to forget Paul Clayton who compliments this duo in everything they do. Paul has brought experience to my game and taught me how to focus when the tide is against you'...
Russ O'Neill [added]... 'I've stressed over the last few months our desire to keep the whole group together where possible as I believe from my experience in the past that the second year with a good group can reap great rewards...
'When he first came to the club Kaine was a flakey winger that if he had a couple of good touches early on in games he could have a real good performance but also if his first couple of touches didn't quite come off for him he would go into his shell and go missing...
'He's had a change of position from winger to striker which we thought would suit his physicality. He's into double figures in the goals column'".
Blyth Spartans "and The Supporters' Club have launched a Future Fund in light of the unprecedented times surrounding the impact of Covid-19...

We have been overwhelmed by the volume of supporters getting in touch to ask how they can help. This initiative is the opportunity to do just that... The club and the Blyth Spartans Supporters' Club have teamed up to launch a GoFundMe Page – Blyth Spartans Future Fund.

Your donations will go towards Michael [Nelson]'s playing budget for next season... Nelson said 'Anything we can raise from our loyal fanbase or people who want to help a club so steeped in history, would help myself and the football club massively.

'I'm trying to build a squad that can compete in the league next season and every little helps... I'm hopeful we can build a very good squad that will give their all for the shirt, then the fans who donate can really feel that they've made a contribution and played a part in the history of this football club.'

Chairman of Blyth Spartans Tony Platten said 'After weeks of uncertainty, the news that Blyth will not be relegated has at last been confirmed and this now allows us to put plans in place for the new season. The fact that supporters approached the club about additional fundraising shows the fantastic commitment of the Spartans fans'".

https://nonleaguedaily.com/macclesfield-avoid-relegation-to-national-league-despite-point-deduction/#utm_source=rss&utm_medium=rss&utm_campaign=macclesfield-avoid-relegation-to-national-league-despite-point-deduction "Stevenage are facing up to relegation to the National League after Macclesfield Town's latest points deduction failed to put them bottom of League Two.

With one team set to go down into non-league, the hope for Stevenage was that Macc's latest points deduction would be enough to send them into 24th place. The Silkmen were docked two points for breaches of regulations over non-payment of wages and have also been fined £20,000, ordered to cover payment of legal costs, and given an additional four-point penalty (suspended and carried forward to next season).

The BBC say that Stevenage's only hope of a reprieve now is if the National League is unable to assure the EFL board that their 2020/21 season is able to go ahead."
---
20 June 2020 According to York Press and other news sources, "The FA have said that matches from Steps One to Seven will not be able restart without spectators.

Earlier today [Friday], the FA met with leagues in Steps Five and Six to discuss their plans for next season amid the coronavirus pandemic.

Steps One to Seven are tied together on their restart date, though leagues below Step Seven may be permitted to play, subject to following Government guidance.

While making no guarantees, the FA believe the most likely restart would be in September.

Should fans not be able to attend matches by either September or October, then no League or County Cups will be played.

If this were to extend to between November and January, then half seasons would be played or divisions would be split geographically.

A restart beyond January would lead to a "worst case scenario" re-structure and potentially null and voiding the 2020/21 season.

The FA also hope to run the FA Cup and FA Vase in full, though this may not be possible given that the FA Cup must contractually take place on the first weekend in January.

Any restart would need approval from the Department of Culture, Media and Sport".

Yorkshire's Telegraph & Argus adds "An FA online meeting with all Step Five and Six leagues, including the Toolstation Northern Counties East League, was held today to discuss the strategy for starting the 2020/21 season.

The FA are trying to work out what would happen if the season was allowed to start on various different dates, starting in September in the earliest scenario and as late as January in the worst case. It is believed that the earlier date is the most likely for a restart. If that was the case, leagues would become the main priority, with no League or County Cups.

A November to January start could force half-seasons or having to split divisions in two. Any later than that may see leagues and any restructuring held over until 2021/22.

All scenarios are dependent on Government guidance and would be subject to approval from the Department for Culture, Media and Sport.

The NCEL published a statement, including the main confirmed points at the meeting:
As full as season as possible will be played.
Football at our level will not be played behind closed doors as the FA understands the importance of bars and food outlets to club finances.
As much inclusion as possible for our clubs in the FA Cup and FA Vase will take place.
Players' and other officials' commitments post-lockdown, as well as the potential impact on our volunteers, will be taken into consideration.
A full copy of the FA presentation will be made available in due course". Altrincham FC has announced that its Patrons' Scheme has again topped the two-hundred members' mark.

Director, Rob Esteva stated, 'It's an absolutely amazing response. The last two seasons are the only times we have broken 200, so to do it again with a new high in the current climate is nothing short of remarkable but says everything about what the club means to the fans.

'We've committed in recent years to putting these funds straight into the playing budget, and that will continue to be the case. It gives us the best possible chance of making our mark in the play-offs, should they proceed as planned, and on next season, whichever division we are in.

'In terms of the play-offs, we know that testing and the whole process of getting the lads back in is going to cost a significant amount, but this kind of support gives us the confidence to commit to making these key decisions.

'Likewise, whether we are in the National League itself or the North Division again, we will go into next season in great shape to make an impact. That's the difference Alty fans make with the way they get behind the club, and it is hugely appreciated by everyone.'"

Details of how to join the scheme are on the Altrincham FC website.

Here, courtesy of Terry Rowley, is another incident from Altrincham FC's history which shows how different football was in the past. The story is from the Cheshire Observer of 8 October 1960.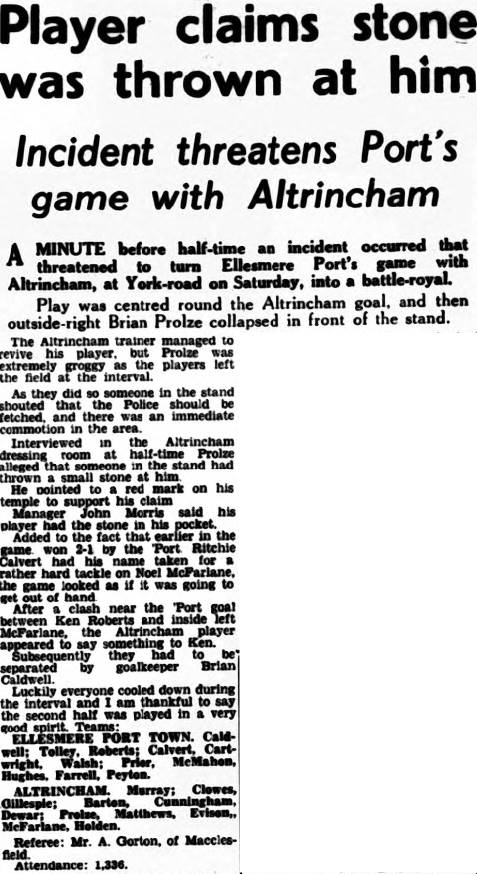 Outside his football career, Altrincham FC's Brian Prolze worked at the Moss Lane Gas Works, just a few hundred yards from the football ground. He also played, briefly, for Crewe Alexandra (1953-54).
A six-foot tall forward, Brian (b.1932) remained at Moss Lane for 1961-62 by which time he was the club's longest serving player on the staff. He made 25 first-team appearances for Alty in the 1960-61 season.
The Alty manager at the time was Jimmy Morris, who had been appointed in July 1955. A former Stockport County player and coach/trainer, he had spent 17 years at Edgeley Park. He resigned as Altrincham manager on 4 April 1961, two weeks after White & Swales's takeover, which led to an upturn in the club's fortunes.
At Blyth Spartans, the club can "announce its retained list following the end of the 2019-20 National League North season.

Players on contract for the 2020-21 season: Kris Thackray, Rhys Evans, Corey McKeown and Robbie Dale. The club has exercised an option on Olly Scott's contract and are finalising the final details.

Players offered new terms: Adam Wrightson

Players not offered new deals: Anthony Callaghan, Tom Devitt, Lewis Hawkins, Jack Hunter, Damen Mullen and Ben Harmison.

Players already released: Scott Fenwick, Lewis Horner, Michael Sweet, Jordan Summerly.

Players who return to parent clubs following loan spells: Zach Hemming (Middlesbrough), Aaron Cunningham (Hartlepool), Shane Blaney (Doncaster Rovers), Scott Wilson (Burnley), Mark Waddington (Barrow) and Leighton McIntosh (Wrexham).

Michael Nelson explained 'Difficult conversations have taken place over the last few days in line with our new budget. However, our recruitment for next season is underway and offers have been made to some targets".
At the other end of the table, the Eastern Daily Press informs us that "Ian Culverhouse believes King's Lynn Town's promotion will help clear some of the 'back water' attitude as he prepares his squad for another new and bigger challenge.
The accessibility to Norfolk clubs can prove a hindrance when trying to sign new players, but Lynn's elevation to the uncharted waters of National League is an attractive lure.
'Obviously, we are going into a professional league and we are definitely not at that stage yet,' said Culverhouse. 'We will be fighting well above our weight anyway, but we always have been here. It has always been a struggle to recruit because of the distance from anywhere but we are slowly opening up and going into a huge league will open more doors to us on the recruitment side of things,
'But we are really looking forward to the challenge. We already meetings [have signings?] lined up and we are going to try and really give a good account of ourselves in a really tough, tough league.'
Culverhouse has stuck to his own philosophy of retaining many of his players for the new challenge, with the addition so far of Alex Brown from Buxton Town.
'We have kept the majority,' he told the Non League Football Show podcast. 'I have always believed if you can keep a core group, who have got the club at heart, been at the club for a few years, know how we work, so that is what we have tended to do all the way through and what we have tried to do is to add a bit of quality around it, so adding one or two, no major overhauls.
'That is the way I have always gone about it. If you can keep the core group together and then a little bit of quality, that is what we will look to do again this year, hopefully.'
Word is the new season will begin in September, and Culverhouse has ensured his players will be ready for kick-off.
'All the players have been seen [sent?] an off-season 30-day programme so they will work back from that and we will try and get a good six-week pre-season programme into them. As soon as we get the time frame, obviously, we will get cracking on that but there is going to be a hell of a lot of work to do now to get us in place and ready for the new season because it is going to be a hell of a challenge, it really is. It was this year because I think we were favourites to go down early doors and the players really stood up.
'The game is all about the players and we are quite lucky at this end that we have got a special group.'"
The Chester Standard reports that "Chester FC are expected to learn more about what participating in the National League North play-offs entails... Anthony Johnson and Bernard Morley's Blues, who are closing in on raising £50,000 via their Boost the Budget scheme... finished sixth in the National League North and qualified for the end of season lottery...
[National League] Chief executive officer Michael Tattersall added... 'We can now also look towards the completion of end of season play-offs'. However, it's not that simple with the cost of participating in the play-offs could be over six figures per team when testing, disinfecting grounds and taking players and staff off furlough is considered.
This [Friday] afternoon's meeting will hopefully clarify the exact cost of participating in the play-offs and allow each club to say whether they want to take part. At least four of the six qualifying clubs need to say they are willing to take part for the play-offs to go ahead. If only five agree to participate then the two lowest qualifying teams would play an eliminator, with a straight semi-final shootout if just four teams opt to return to action.
As it stands, Chester, who revealed their new home kit yesterday, are set to visit Altrincham in the first round of the play-offs with Kevin Wilkin's Brackley hosting Gateshead in the other preliminary tie.
Should they win, the Blues would then visit York City... with Boston awaiting the winners of the other tie. Matches are pencilled in to start by July 18 and finish by July 31.
York City's players are believed to be returning to training on Monday ahead of their potential semi-final".
From York Press comes news that "York City's National League North play-off matches could be available to be watched on BT Sport with the National League looking into broadcasting the Step Two play-offs.

That is according to National League South side Dartford...

BT Sport regularly broadcast National League matches, but they do not screen either the National Leagues North or South.

However, the league are looking into the play-off campaigns for the two divisions in Step Two being shown by the broadcaster.

'The League are looking in to the possibility of its media partner, BT Sports, filming not only the National League but the (National League) North and (National League) South as well,' Dartford wrote in a club statement published on Wednesday. Earlier this week, York City media officer Dan Simmonite wrote on social media that he had plans in place for live streaming, should this be permitted by the league.

He wrote on Twitter 'If the league allow, this would be pay-per-view at (a) price TBC (to be confirmed). Possibly (streamed on) YouTube live.'

The number of sides entering the play-offs in the National League North has yet to be confirmed. The cost for clubs to implement sufficient testing for coronavirus and to bring their playing squad and coaching staff off of [sic] furlough is likely to incur a significant cost [sic]. This could prove to be unaffordable for some, particularly given that clubs have not played matches since early March.

Elsewhere, York chairman Jason McGill said that he was hopeful that the club's players can return to training on Monday"

According to NL Daily "The decision to relegate Chorley from the National League has been labelled 'unfair' and 'disappointing' by chairman Ken Wright.

After three months of being in limbo over their future, the Magpies finally received the news this week that they will be playing in the National League North next season... It seems likely the other clubs in the bottom four will also face relegation with the champions of the NL North and South being promoted while the play-offs look also set to go ahead having previously been thought to be off the table.

While accepting that the Magpies were where they were in the table, Wright believes the integrity of the league has been compromised, especially as every other league in non-league has been declared void.

'Obviously we are disappointed,' said Wright. 'I think the decision is somewhat unfair, but there is nothing that we can do about it.'"
---
19 June 2020 Redditch United tell us that an "Experienced hit man [is] set to bring goals to the Redditch attack.We are delighted to announce a second player has committed to the Wayne Spicer revolution, this time it is former Port Vale, Mansfield Town and Telford United hitman, Kyle Perry.

Perry who has scored goals at every club he has been at, boasts an impressive scoring record in the division... His nonleague football CV includes clubs such as Stafford Rangers, Altrincham and Tamworth, where he has shown his prolific instincts in front of goal... Tthe forward was impressed with the club's ambition, training regime and off field package. Perry had this to say upon committing to the club for the 2020-21 season:

'I'm delighted to get over the line as it is a club that has so much potential to push on in the leagues. After speaking to the gaffer throughout the summer I knew it was something I was eager to be a part of. His enthusiasm and love for the game speaks volumes and it really is what sold me on and is what I am looking for at this stage in my career...

'I know we will be turning a few heads this season; I want to be a big part in establishing Redditch as a team you fear to play."
First team manager, Spicer, was obviously delighted with his new addition, saying that... 'He's a top player who can really help us move forward. He is a natural scorer and we are hoping to build a team that can help him hit the number of goals he should be getting.
'I really like Kyle's attitude too, his commitment to the club is linked with his desire to pass his knowledge on to some of the younger, less experienced players and help them to come through so the team can be as strong as possible'.
The prolific front man has committed himself to the club for the upcoming season".
Kyle (now 34), joined Altrincham from Nuneaton Town in May, 2013. Previously, having been at Walsall, Kyle joined AFC Telford United (2004-06). Spells at four Midlands teams followed; Sutton Coldfield Town (on loan), Hednesford Town, Willenhall Town and Chasetown. Indeed, Kyle was in the Chasetown side which knocked Port Vale out of the FA Cup and the Valiants later signed him (January 2008), when Alty's boss in 2013, Lee Sinnotts was their manager. Kyle went on to make 31 appearances for the Burslem side.
Indeed, Kyle credited Lee, praising the manager for rescuing his career. He tols BBC Radio Stoke, 'He saw my ability and believed in me so I can't thank him enough for that. He pulled me back into league football and saved my career'".
Following a loan spell with Northwich Victoria (2009), he spent 2009-10 at Mansfield Town and 2010-11 at Tamworth, before signing for Lincoln City (2011-12). 2012 saw him have a loan spell at Telford before joining promoted Nuneaton Town for 2012-13. During that season he had loan spells with Hereford United and Tamworth.
For Altrincham many of his appearances both in 2013-14 and 2014-15 were from the bench but in each campaign he amassed a respectable goals to time on the pitch ratio. However, Kyle was released at the end of the season and joined Hednesford Town. His Altrincham appearances comprised 38 starts and 53 as a used substitute, with a haul of 22 goals.
According to Lynn News "Chairman Stephen Cleeve has spoken of his delight after seeing King's Lynn Town promoted to the National League. The Linnets were confirmed as champions of the National League North after an Ordinary Resolution was 'overwhelmingly' passed...

Cleeve said 'I am absolutely delighted for the manager, his staff and all of the players. But most of all I'm over the moon for our fantastic supporters who deserve this promotion to the top level of non league football, as well as all or our sponsors and the people behind the scenes who you don't see much off but their hard work is never forgotten.'".
Meanwhile, York Press report that "York City have asked the National League to honour their commitment to promoting two clubs from the National League North, should the play-offs be cancelled for any reason.
Yesterday, it was confirmed that the play-offs would go ahead in the National League's three divisions 'subject to the applicable government guidance on the phased return of elite sport', the league said.
But, York are keen to ensure that they would be promoted if the play-offs were unable to be staged under any circumstances.
York City stated today, "Today, the club also raised a query directly with the league, regarding the protection of promotion places, asking that should the play-offs be cancelled for any reason two promotion places are still honoured...
York City chairman Jason McGill highlighted that the league could and should adopt the EFL's new regulations which state that 'If the Board determines that it is necessary to cancel a Division's 2019/20 play-off competition, the Board shall determine which one of the four Clubs (in this case six Clubs in the NLN and NLS) that would have participated in that play-off competition shall be promoted to the next highest Division.'"
And York Press adds that "York City have created a petition calling on the National League to honour their commitment to promoting two clubs...
The club said 'Many clubs, in particular those in play-off positions in the National League North and National League South, find themselves in an ambiguous position, with 79 per cent of the season completed, play-offs confirmed to go ahead but no regulations to protect two promotion places should play-offs be cancelled.
'Currently, based on National League resolutions passed on June 17, the National League Board can "modify, restrict, postpone or cancel the Play-Offs", as they see fit but has not yet committed to guarantee original promotion places in the event of the above'...
The proposal states that if a season is cancelled with over 75 per cent of matches played then the original promotion places are guaranteed, being decided on unweighted points-per-game. York further stated "Should sport resume (in line with government guidance), the appropriate teams (would) compete in the play-offs. If play-offs are not allowed to take place, promotions are upheld and decided based on rankings.""
A further departure from Chorley is reported by the Shropshire Star "AFC Telford United have completed the signing of defender Courtney Meppen-Walter and the 'leader' is aiming to add another promotion to his CV.
Former Manchester City youngster Meppen-Walter, 25, won the National League North title with Chorley two seasons ago, where he was an integral part of the Magpies' drilled backline under ex-Telford man Jamie Vermiglio.
Meppen-Walter is Gavin Cowan's fifth new signing of the summer, joining Lee Vaughan, Jack Byrne, Russ Griffiths and Ash Rawlins. He made 35 appearances for Chorley in the National League last season... Having already tasted step two success, former Carlisle, Stockport and Glossop stopper Meppen-Walter is ready to use his experience to help bring similar joy at Telford.
The centre-half... said 'I'm excited to be here, and I can't wait to get going. The gaffer's told me some really great things, and the main aim is promotion. I definitely see myself as a leader on the pitch, and he's brought me in because I've had promotions, so I know what it's about in this division.
'You need a few experienced lads, because that helps you to get through games, not just towards the end of the season but the whole season. It can be the difference between getting promoted and not getting promoted, so it helps having players who have been there and know what it takes.'
Cowan's five new signings join Adam Walker, Brendon Daniels and Zak Lilly, who have all recommitted for next season. Aaron Williams, Shane Sutton and Ross White remain under contract at the New Buck's Head.
The Bucks' boss... Cowan said 'To be able to sign a player of the quality of Courtney is a real coup for the football club'".
According to the Sunderland Echo "Former Newcastle United defender Mike Williamson has confirmed that he will continue to combine player and managerial duties at Gateshead next season.
It's just under two years since the former Magpies centre-back moved back to the North East and became a popular figure with the Heed Army. His first season saw the International Stadium club hampered by off-field issues...
He stepped up to the role of player-manager last summer after Gateshead were forcibly relegated into the National League North as a punishment for financial irregularities under their former owners. However, Williamson made a bright start to his managerial career as a hastily assembled Heed squad adjusted well to life in non-league's second tier and Wednesday's vote to end the season on a points per game basis saw them end the campaign in a play-off place.
The club have offered no comment over the National League's announcement and are awaiting further information on the play-offs but Williamson has confirmed that he will play on as long as he can do a job for his side.
He told the club website 'I want to play every minute I possibly can that is going to help the club. That hasn't changed, and I don't think it will until the day I hang my boots up. I want to put the most competitive team out every week, and if we collectively decide that my name is on the team sheet then so be it, I want to play every game'...
The club are now under the ownership of a supporter-led consortium that are working hard to rebuild the club on and off the pitch. A budget booster initiated and led by Gateshead supporters has been a success as it surpassed the £16,000 mark earlier this week...
'I'm an optimist in general,' said Williamson. 'There's a lot of uncertainty with things we can't control, but I'm very comfortable and confident in the directors and how they're steering the ship'".
And Gateshead add that "Mike Williamson is feeling 'comfortable and confident' about the future on Tyneside... The player-manager has recruited 12 players to his squad so far, including himself...
Eleven of those players have renewed their contracts from last season, with full-back George Smith the sole new recruit so far...
'The atmosphere and the environment was brilliant [last season],' Williamson told gateshead-fc.com... 'It's about how we conduct ourselves in the community and how we conduct ourselves on the pitch, it's in every area and that nucleus was very important to keep hold of. It's a brutal business and we're always looking to improve, so we're still a way off of completing the squad.
'We've got many more players to recruit, but I'm delighted with the lads we've managed to keep'...
'I'd say tactically and technically. we're always looking to improve our formula for success and how we approach it,' he added. 'The foundation of good attitude and good character stays the same, and I think that's a massive one for me and Busted [Ian Watson]...
'We've been in regular contact with the lads, just making sure everyone is ok and they're dealing with the situation as best as they can,' he continued. 'Obviously we struggle for equipment with some of the lads. although some have their own stuff'...
The 36-year-old passed 50 Gateshead appearances as a player at the turn of the year, playing a key part at the heart of defence".
At the bottom of the table, fortunately reprieved Bradford (Park Avenue) tell us that the club has "bolstered their off the field team with the addition of Calum Cullen as Football Operations Manager. Cullen is joining the club as it embarks on an ambitious restructure of its entire set up, from 1st team right the way down to its under 5s junior section.
There will be a vast amount of work to get through from an operational and process perspective, something acknowledged by the club's ownership, and demonstrated by their support of this appointment.
On a day to day basis, Cullen will be helping with the football administration, club shop, program production and supporting the club secretary and directors. He will also be part of the Academy team as we seek to deliver a multi age, fully inclusive proposition for all the people of Bradford and the surrounding area.
Cullen brings an understanding of what it takes to run an amateur football club, having set up the football group Friends of FC; a collection of teams that spreads the length and breadth of Leeds. This knowledge of grass roots, financially prudent, planning and execution will help fill some of the experience gaps to our existing management team.
Calum Cullen said, 'The dream has always been to work full-time within the game and, when the offer came, it was an easy decision for me to come work at a club with a great history, loyal fanbase and, with the new lease, an unbelieve amount of potential'".
---
18 June 2020 National League play-offs are set to go ahead as Altrincham FC reproduced a press release from the National League which confirmed this.

If the full six-team play-offs do take place, Altrincham would firstly be at home to Chester FC before the winners of that tie faced the victors of a Brackley Town v Gateshead match. The winners of Alty v Chester, if they won that second match, would then have to face second-placed York City away. If that happened it would be Altrincham's third visit to Bootham Crescent in the season, having won there in the FA Cup and FA Trophy. The scheduled league game at York was postponed due to the Covid-19 outbreak.

"Following a vote by all member Clubs, and subject to FA Council approval, the Vanarama National League, Vanarama National League North and Vanarama National League South seasons 2019/20 will be concluded with final league tables compiled on an 'Unweighted Points Per Game' basis.

The outcome is Barrow AFC are champions of the Vanarama National League, King's Lynn Town are champions of Vanarama National League North and Wealdstone are champions of Vanarama National League South.

The end of season Play-Offs will now proceed with the Clubs that qualify, subject to the competition rules and the applicable government guidance on the phased return of elite sport.

The number of Clubs to be relegated from the Vanarama National League will be determined so as to maintain a National Division of 24 Clubs after any relegation from EFL League Two, promotion to EFL League Two and promotion from the National League North and National League South divisions. There shall be no relegation from Vanarama National League North and Vanarama National League South.

Chief Executive Officer Michael Tattersall commented 'I congratulate each of our champions Clubs on their successful campaigns. The enforced curtailment of our season does nothing to discredit the quality of the football played and I am pleased that our Clubs have overwhelmingly supported the award of their titles. We can now also look towards the completion of end of season Play-Offs'"

Here is the adjusted league table for the North Division...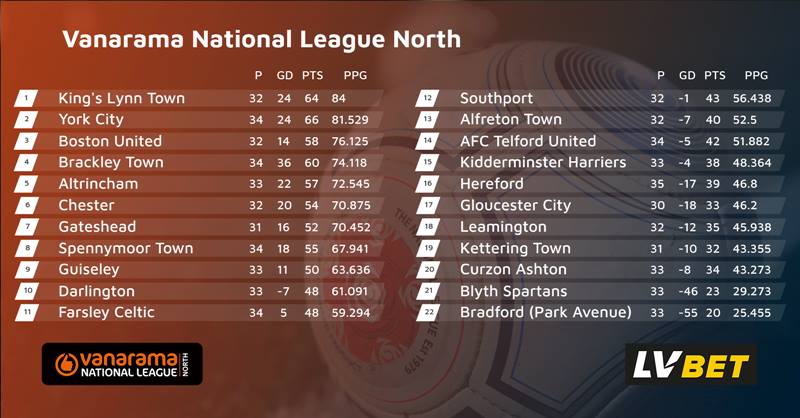 Reacting to the above news, York Press says that "Should all six teams enter the National League North play-offs, which has yet to be confirmed, then York, Boston United, Brackley Town, Altrincham, Chester and Gateshead would be involved"
Earlier, John Edwards reported in this week's Sale & Altrincham Messenger that "Altrincham have been given fresh hope that they could yet challenge for promotion to the Vanarama National League after being told play-offs in the North and South divisions may be held after all.
Robins officials were reluctantly forced to accept last week that their season was at an end and their promotion dream dashed after league bosses conveyed an apparent ruling from the Department of Culture Media and Sport that the two second tiers of the National League did not count as elite sport and therefore could not stage play-offs. The furore that followed, however, has prompted a rethink and forced the league to soften their stance and, in an unexpected about-turn, throw open the possibility of a second team from each division being promoted...
The league's draft resolution from last week [was] finally sent to clubs earlier this week, offering them the chance to vote for a final league table based on a points-per-game average and the staging of play-offs, 'subject to Government guidance'. The alternative would be to declare the season null and void...
'We have made it clear all along that we would willingly meet the considerable expense involved, likely to be in the region of £50,000, for meeting all the requirements for participating in the play-offs,' said Alty joint-chairman Bill Waterson. 'That is still the case, and we will cast our vote accordingly. We must wait and see what the outcome is, but at least there seems to be a chance, which wasn't the case a week ago.'"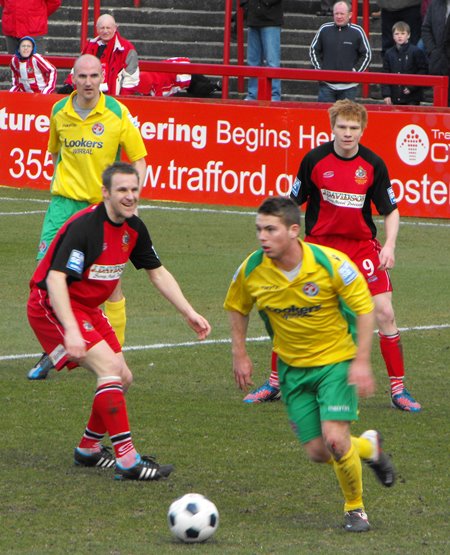 The Sunderland Echo confirms that "Duncan Watmore is one of five Sunderland players who will be released when their contracts expire at the end of this month".

Now 26, Duncan was released by Manchester United in his schooldays but his career took off again after graduating to Alty's first team via the club's Juniors' section and its youth team, under George Heslop's management.

Right: Duncan is pictured (right) playing, with Nicky Clee (left) for Alty against Vauxhall Motors in March 2013.

Duncan made his first-team debut for Altrincham as a substitute in an FA Trophy game against FC United on 27 November 2011. He was first named in a league squad at Histon and, before the end of the season, Duncan signed a contract to the end of the 2012/13 season. He scored his first goal in just his second start, against Gainsborough Trinity. Duncan went on to make 35 starts, a further 22 appearances from the bench and netted 15 goals for Altrincham before he moved directly to the Premier League with Sunderland in May 2013.

He made his Sunderland first-team debut in January 2014 as a substitute in an FA Cup Third Round tie. A spell on loan at Edinburgh club, Hibernian (Jan. 2014) led to his selection as Scotland's Premier League Player of the Season.

After returning to Sunderland, he made his first Premier League appearance and scored his first PL goal on 15 August 2015. With a four-year contract signed, injuries sadly began to plague Duncan, the worst being a cruciate injury in December 2016 after a foul on him by a Leicester City defender.

In addition to his league career, Duncan has also represented England at under-20 and under-21 level.

We learn from NL Daily that "Mossley have confirmed that several players have now departed the club... Ryan Brooke has left the club after turning down new terms. He made 30 appearances for the Lilywhites last term, scoring five goals."
NL Daily reports that "Steven Cunningham has been named as Curzon Ashton's new manager.

It follows the announcement this week that Mark Bradshaw was to leave his role and refocus his efforts on his primary position as football development officer. The National League North side have now announced his successor, with Cunningham beginning a new chapter after six seasons leading Colne.

He told the club's website, 'This is the toughest job in the National League North but I could not turn down the opportunity to manage this great family club.

'(New assistant manager) Damien (Crossley) and I are really looking forward to catching up with the players, staff, volunteers and the club's supporters and getting stuck straight in.'"
Oxford City who were on the verge of rejoining the National League North last summer, but for the demotion of Gateshead, announce "the signing of James Roberts from Spennymoor Town ahead of the 2020/21 season!
Manager David Oldfield fought off competition from several other clubs to be able to secure the signing of the in-demand Moors forward... The pacey winger managed to cause all sorts of problems for opposition defences as he scored 12 goals in 32 starts, also providing 6 assists in a very competitive National League North last season.
Of course, Roberts is a name that is fondly remembered in and around Oxford, starting his career off with our friends over at Oxford United as a teenager, before also having two loan spells with City in 2015/16 and 2016/17. He hit the ground running with United as he was given his debut as a 17-year-old in October 2014... The season after he joined the Hoops on loan, for two separate spells over two seasons... Since then, he has had loan spells at Stalybridge Celtic, Guiseley, before he then moved onto Hereford in the National League, where he netted 5 times in 19 appearances.

This form then earned him a move further North to Spennymoor Town where he had a fine (shortened!) season down the wing, and in front of goal".
Before the outcome of Wednesday's vote, Boston United "chairman David Newton commented 'We continue to seek a resolution to the current season. Last week we were asked to vote on concluding the season by firstly determining the final league positions on a "points-per-game" basis (which would put ourselves in third place) and then for the second promotion place being determined by play-offs behind-closed-doors.

'Ahead of the vote, we were then informed by the National League that football below National League level was not classed as 'elite' so clubs in the North and South divisions could not take part in play-off games under Government advice. We were also informed that the teams finishing in second place would not be promoted from the North and South divisions, as the rules only provided for promotion via play-offs.

'We, and many other clubs, did not agree with the National League's interpretation of the Government guidance around the definition of 'elite' so it was requested that should be re-visited. We also felt that it was only fair that, if the play-offs could not be played under Government guidance, then a rule change should be made to allow the second promotion place to be determined on a points-per-game basis. The alternative would mean that only one club would be relegated from the National League, and that was neither fair or equitable and did not uphold the integrity of the competition.

'We have now received a new Resolution that all National League clubs are invited to vote on today [Wednesday], which includes potential play-offs for North and South clubs. A further process would then be put in place by the National League to finalise details of the play-offs and ensure all qualifying clubs wish to participate and can be legally compliant in doing so.

'The play-offs would present many immediate challenges for the club in terms of logistics, training facilities, testing, compliance and cost and the "longer term" issue of having to build the East Stand at the new Community Stadium by March 2021 to meet higher ground grading requirements should we be successful in the play-offs.

'On balance, the directors have decided that the club will vote in favour of the Resolution to uphold the integrity of the competition and to give Craig Elliott the chance of delivering what we set out to do at the beginning of the season. We would then work on meeting all those challenges. Clearly the club's finances have been decimated by the pandemic, so we would look for as much help as possible from fans and sponsors should play-offs go ahead behind-closed-doors, where clearly we will have all the costs of training; staging games, un-furloughing players and Covid-19 measures, but with no gate income from the games.

'The vote takes place today and we hope that things will be finalised tomorrow [Thursday]... We also understand that if the Resolution is voted down, the outcome may be 'null and void' but that is not totally clear at the moment'".
According to NL Daily "Hereford say they will be voting in favour of the National League's Ordinary Resolution to formally end the 2019/20 season.

The Bulls are not one of the sides who would be set to take part in the National League North play-offs, but they have shared their preference in a statement:

'Any play-off campaign would need to be completed by July 31st, the date the FA have extended the current National League season to, in order to form a valid conclusion to the season. Clubs have been asked to vote by 5pm on Wednesday with the result hoped to be known shortly afterwards.

'Currently there are no further updates on the ability to play football in front of supporters, or any firm details on the 2020/21 season dates.'"
Kettering Town "confirm that goalkeeper Paul White has left the club for pastures new, despite being offered new terms for the 2020-21 season. Paul has been a magnificent servant for the past 4 seasons both on the park and off it, especially his community and academy work, which will be sorely missed.

Paul made 159 first class appearances for the Poppies, saving 9 penalties along the way. There have been some very special moments involving the Irishman'"

According to the Sale & Altrincham Messenger, "A new multi-purpose sports and activity hub could be coming to playing fields in Sale. Crossford Bridge Playing Fields has been identified as the potential location for Crossford Bridge Community Sports Village.

The vision for the inclusive hub aims to build an even better community for future generations and inspire people of all ages, backgrounds and abilities to live a more active lifestyle, bringing positive change to the local area in a variety of ways...

Crossford Futures, with Sale Sharks as an active partner, is consulting closely with a range of local stakeholders including the community clubs that currently utilise the playing fields, Trafford Council, Cheshire FA and Manchester FA..

As part of the proposals, one of England's oldest rugby clubs, Sale Sharks, has ambitions to bring its elite men's and women's teams back to its hometown, along with the Sharks Community Trust which delivers health, education and social inclusion programmes. This would see the North's only premiership rugby club move from its current base in Salford, back to where it began in Trafford [Cheshire].

Steve Diamond, Director of Rugby at Sale Sharks, said 'Sale Sharks has always had a vision to return to our hometown; bringing the club closer to its original fanbase and the communities in Sale. As part of the plans for Crossford Bridge, we not only have a chance to establish a long-term home for the club, but there's also a real opportunity for our men's and women's teams to inspire the next generation of sporting talent".
---
17 June 2020 On the official Altrincham FC website, joint-chairman Bill Waterson responds to the possibility that there may be play-offs in National League North after all.

National League clubs have been given till 5pm today (17th) to vote on the manner of concluding the 2019/20 season. There is more background to this in the Vanarama National League North News section, below.

I am endebted to Terry Rowley for reminding us of another curious event in the history of Altrincham F.C., reported in January 1902. Until 1903 Altrincham FC existed as Broadheath FC and clearly there was not much Christmas cheer between them and Northwich Victoria, even nearly 118 years ago...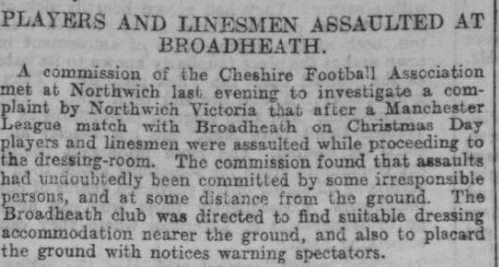 Terry advises that "Broadheath had started the season (1901-02) playing at the Railway Arches in Broadheath, having moved from Navigation Lane (Road) but in October 1901, it was reported 'The Broadheath Club, from force of circumstances, has had again to seek new pastures. A suitable pitch has been secured near Timperley Station. The field is a long way out and will test the loyalty of the most ardent supporter. The gates may in consequence suffer, especially as Oldfield, last year's winners of the Sale and District, are operating in Broadheath and are sure to prove a strong counter attraction'. So the above match was played in Timperley".

So this was before the club moved to Pollitt's Field (in 1903). At the time it was common for teams to use local hostelries and other venues as their changing rooms before and after matches so, presumably, this incident occurred somewhere in the local streets.
Tony Platten, Chairman of Blyth Spartans confirms that "We have been advised that there will be no relegation from Step Two, subject to FA ratification.

Blyth Spartans' performance on the pitch was not good enough last season and it seems we will get a second chance to put things right. There is only one thing that the Executive Committee of the club is focused on, and that is the survival of our special football club.

It was hoped that the appointment of experienced defender Michael Nelson as manager at the end of last season would rescue the club, but the virus interrupted that plan. We are now looking to Michael to take the Club forward next season. Michael is talking to many players about next season and we hope to make further announcements regarding the squad soon.

With so much uncertainty about next season, even down to when it will start, putting together a budget has been very difficult. As most people are aware, there are three main elements to financing our football team – sponsorship, our social club and most importantly our supporters...

We are confident that most sponsors recognise the importance of the club to our town and county and that they will be supportive... Our social club is in the same position as other licensed premises. The club had a full programme of bookings over the summer but these have all had to be cancelled... The social club does have some advantages in that it has large rooms and space outside.

Work has been taking place to improve the efficiency and appearance of the club during the lockdown. All lighting has been upgraded to LED saving over 70% on electricity costs. The gent's toilets have been upgraded and work is starting on improvements to the décor in the Club foyer using volunteers.

The most difficult area to quantify is how many supporters will attend matches. This is the most significant element of income. As I have stated in the past, if we could achieve an average gate of 1,200 the finances of the club would be transformed. Some of our loyal supporters are elderly and the potential risks of gathering at sports events in the light of the virus will be hard to judge. We have a capacity of over 4000 and there is talk that a limit of 25% of maximum capacity will be implemented. The simple answer is we just do not know.

There was talk of playing behind closed doors but for football at our level this is simply not financially viable. Equally, if the opening of the social club is not synchronised with the commencement of football the offering available to spectators will be seriously reduced. If the season starts late, there is talk of running a compressed season with two games every week. If this were to happen it would have a serious impact on income because, in a lot of cases spectators, understandably, may not be able to afford two matches per week.

For all of the above reasons and in frank discussions with the manager, we have set a very modest budget to ensure the survival of the club".

Consequently, Blyth Spartans also report that the club has "taken the decision to discontinue its reserve team next season and resign our membership of the Northern Alliance Football League.

A reserve team can provide a vehicle for players to step up to the first team or it can provide an avenue for first-team players who are recovering from injury and need 'game time' as part of their rehabilitation. It also gives players not selected for the first team squad an opportunity to retain match fitness.

The potential benefits need to be offset against the cost of running the team and in the current financial climate, the costs did not justify the return on the investment...

We remain absolutely committed to developing the football pathway and to this end, we are enhancing our links with Tyne Metropolitan College and will field a team in the National League Under 19 Alliance next season".
"On Friday Chester FC "launched the most ambitious fundraiser in our club's history, aiming for a total of £100k for the playing budget.

We are delighted that our dedicated fans have backed the scheme with such enthusiasm so far.... £25,000, over 25% of our total goal raised in just three days!... The Fan Reward Menu at Tier 3 (£20 per month and above) proving particularly popular, with almost half of the amount raised coming from this tier!

Tier three includes unique prizes such as buy a brick and being featured in our 2020/21 squad photo".

Also Chester FC "confirm that on Monday evening we received an ordinary resolution from the National League outlining their proposal to end the 2019/20 season and resolve the outstanding promotion and relegation situation at Steps 1 and 2... This resolution proposes adopting an unweighted points per game model to determine the league champions and qualification for the play-offs. It also removes relegation from the National League North and South as well as ensuring the National League comprises 24 clubs for the 2020/21 season...

Clubs have until 5pm on Wednesday 17th June to respond to the ordinary resolution. The National League has been clear that should it be passed, this resolution does not confirm the play-offs will take place or that clubs will participate, but will enable discussions to continue about whether the play-offs can be legally and safely completed...

Before any decision can be taken about whether the Club will participate in the play-offs, the Board will seek from the National League a full breakdown of the financial commitments and operational requirements for clubs, including testing, the duration of the play-offs which will dictate player costs, the availability of any financial support for clubs and any matchday costs clubs will be expected to meet given the joint liability in place for play-off fixtures.

Only once all of this information has been received will the Board be in a position to fully assess the financial implications associated with participating in the play-offs. The Board wishes to reiterate to our supporters that we will not risk the long-term financial sustainability of the Club and as such we must be in receipt of the full facts to enable an informed decision to be made."
Meanwhile, York Press reports that "York City say that they have welcomed the National League's 'Ordinary Resolution', which will allow play-off matches to take place... The move by the National League comes after widespread criticism of their interpretation of the Government's ruling on "elite sport", in which they concluded that play-offs in the National Leagues North and South could not go ahead. That position has now been altered, much to York's delight.

A statement published on the York City website read 'The club welcomes this revision, which would gift a second chance at promotion and is a significant shift in the club's favour... The league has communicated that, should play-offs go ahead, clubs would have to issue indemnities and warranties and adhere to government coronavirus guidelines for elite sports. The league did not give clarity on options if clubs do not vote in favour of play-offs or should the play-offs be cancelled.

'However, we would hope that based on fairness, integrity of the league and sporting merit, that the National League board would automatically promote the top two teams based on league positions after the unweighted points per game calculation. Clubs have been given a deadline of 5pm Wednesday 17th June to vote."
At Leamington "Connor Gudger has informed manager Paul Holleran of his intention to leave the club for a new challenge.

The left-back joined Brakes from Worcester City early in 2015, and made 194 appearances, scoring three goals.

He is currently undergoing rehabilitation after sustaining an ACL injury six games into last season...

'Connor has informed me of his intention to leave the football club,' said Holleran. 'Whilst I am obviously disappointed, I understand his reasons. He is still in the midst of his recovery from his ACL injury, and feels he needs to drop down a level to suit his body. Connor has been a tremendous servant year in year out and has been a consistent performer for us. He has been fantastic to have around the place and has been a big part of our success, and the club'".
Spennymoor Town "have landed their third new addition of the summer, securing the services of former Chorley left-back Adam Blakeman.

Moors supporters will be no stranger to the marauding left-footer, having witnessed some memorable games against The Magpies... The 28-year-old started his career with Bolton Wanderers at youth level, before moving on to play for Hyde in the Conference Premier and Conference North in 2013/14. He then moved North of the border to play in Scottish League One for Ayr United before returning to the rebranded National League with Southport in 2015/16.

One year later he made the switch to Chorley and has spent four seasons with The Magpies... Blakeman is adept at playing higher up the pitch and is capable of operating on the left of midfield, as well as his natural left-back... In 2018/19 he scored once in every four games... in the season Chorley were promoted to the National League.

The Moors lost one of their dead ball specialists this summer when fellow left-back Stephen Brogan left the club, but Blakeman is a ready-made replacement...

Blakeman said 'I knew this was the place for me to come and play. Spennymoor is a club that is moving in the right direction both on and off the pitch...

Manager Ainsley... said 'Adam is a player we have admired for a few season now, having come across him many times when playing against Chorley... His defensive knowledge, coupled with his delivery from wide areas and set pieces are of a very high standard'".
Hereford FC say that Edgar Street "has been recognised for many seasons as having one of the most impressive playing surfaces outside of the EFL, and better than many in that football league...

The entire Board of Directors of Hereford FC, thank you sincerely for your kind donation towards our Pitch Maintenance Fundraising Appeal. We are staggered by the raising of the target in less than a week".
Over at Farsley Celtic the club is "delighted to announce that Will Hayhurst has extended his contract to remain with Farsley next season.

After joining from Warrington in 2018, Hayhurst has made 87 appearances for the club, scoring 22 goals and providing countless assists across the last two seasons.

The former Republic of Ireland U21 international continued to impress last season, finishing as the club's top scorer in the league alongside Jimmy Spencer and Dave Syers.

Hayhurst sid, 'Since coming back to football after my injury three years ago, I've really enjoyed the last two years at Farsley. I feel that the gaffer gets the best out of me and I enjoy playing for him and playing with the group of players we have. Seeing so many signing again next year shows how good of a group we are, I've enjoyed some great times at Farsley and hopefully next season there will be many more.

'I think we've had a good season. On the outside, everyone was thinking that we were favourites to go down, so we've had a great season, but as a group, I feel we always believed we could reach the playoffs, so next season I feel that is what we need to be aiming for."
---
16 June 2020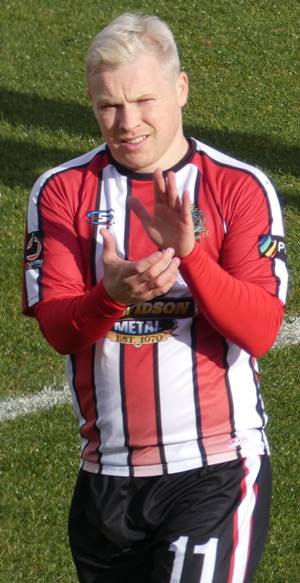 The Footy Gang assesses "The Top 5 Non League Footballers". The list includes...

Elliott Durrell, 30, [pictured, right] currently plies his trade in the National League North for Altrincham. Durrell, known for his crossing ability and a knack for scoring long range goals, started off his career at Hednesford Town before moving to AFC Telford. In 2014, Durrell moved on a permanent deal, to National League side Wrexham. Unfortunately for Durrell, his time with the Welsh side was hampered by injuries and Durrell left the club at the end of the season. Durrell dropped down to the National League North to sign for Tamworth, where his former Wrexham manager Andy Morrell was in the managerial hotseat. Durrell impressed for Tamworth, scoring 13 goals and at the start of 2016/17 season moved back up to the National League to sign for Chester.

Despite scoring 8 goals for the club, Durrell was on the move again, after only one season for Chester, moving to fellow National League side Macclesfield Town. His stint at Macclesfeld Town was the most successful of Durrell's career to date. Macclesfield Town went on to win the league, with Durrell a pivotal part of this side, scoring some important goals for the club along the way. Durrell scored two excellent long range goals against Macclesfield's promotion rivals Tranmere Rovers. The Silkmen went on to win the match by four goals to one. At the age of 29, Durrell made his Football League debut. Durrell missed the first part of the season due to injury, but after Sol Campbell took over as Macclesfield Town manager, Elliott Durrell hit a rich vein of form. Durrell scored some vital goals as Macclesfield Town managed to survive and stay in the Football League.

Surprisingly to many, Durrell left the League Two side at the start of the 2019/20 season. Durrell signed for National League North side York City, where the York manager was Steve Watson. Watson, was formerly assistant manager to John Askey while Durrell was at Macclesfield. Due to York's good form, Durrell struggled to force his way into the side and joined fellow National League North side Altrincham in February 2020. Durrell scored on his debut for the club and appeared to be finding his feet before the league was suspended due to the Coronavirus pandemic".

Altrincham FC has thanked those volunteers, including some of the players and the club's management duo of Phil Parkinson and Neil Sorvel, for coming to the J. Davidson Stadium over the weeked to carry out socially-distanced maintenance of the premises.

A further session is to take place and there are full details available via the above link.

On Monday Bulls' News reports that the "National League vote, in essence to settle promotion and relegation issues, which was due to take place today has been delayed.

'The National League is in a state of limbo,' said BBC's Ian Dennis. 'The day when the ordinary resolution was due to close, the clubs are yet to receive any papers. No vote yet. Naked levels of self-interest at play and null/void still an option.'"
Curzon Ashton have announced that they "have released Mark Bradshaw from his position as First Team Manager.

The Club would like to go on record and thank Mark for his efforts whilst in his role as the First Team Manager

Mark however will remain at the Club at his primary role as Football Development Manager.

As soon as a new appointment is made the club will make an announcement".
to the Yorkshire Post "York City manager Steve Watson is hopeful that sense will prevail and the club will be promoted to the National League if play-offs are not allowed to take place in National League North...

The National League proposed to promote just the champions and have no play-offs because those divisions are not thought to fall under the government's classification of elite sport. It would mean that York... would not feature in any play-offs or be promoted...

York have tabled an amendment that would allow the top two clubs in National League North and South to be promoted if play-offs are not possible...

Watson said 'We have done all we can and put a good case. It seems to me to be the sensible option as well. We have done everything right and worked as hard as we can and just hope that we get the rewards. We've just got to put our faith in people to do the right thing. I don't think anybody in football, whether it be rivals of ours or teams in the league above would disagree with the fact that the team who are sitting at the top (before PPG) should go up.

'I heard something from the Chester manager and the King's Lynn chairman has come out (and spoken) and people genuinely agree the two best teams were ourselves and King's Lynn. They had a great season and we did.'

All National League clubs have a vote, with the North and South divisions having four votes each. A majority of 51 per cent would be required to vote through a proposal, but any decision still has to be ratified by the FA Council".

And in the iNews, "'There are four places to fill in the league above, the National League, and two promoted from National League North and two from the South was always the plan,' Watson explains 'But because the Government have put out this questionable "only elite sports can compete" at the moment, it has thrown so much confusion into it'...

So the solution would be that York, who would drop to second behind King's Lynn on the points-per-game scenario, would still go up in second, if no play-offs can take place, given there are four spaces to fill in the league above, right? Well, not under the latest National League proposal...

'Because of this pandemic, I understand no play-offs. If, then, the obvious thing in sport is to reward those who have worked to earn promotion,' Watson adds. 'I obviously don't like seeing teams relegated, but if you are down there near the end of the season, in these extraordinary circumstances, it wouldn't be entirely unexpected to be relegated. We are top and won't go up. "Whether we agree with points per game or not is another argument. If we had only played 10 games, then I could understand them looking at other ways to decide the table, but we are 80 per cent of our games done – you are where you deserve to be at this stage. The majority of football clubs seem to back us, but the decision-makers seemingly do not... All we are asking is for the National League to honour promotion and relegation, the same way all other leagues are doing. Tough decisions have to be made in these circumstances....

'We were ready to play the play-offs, even if we did not agree with the points-per-game decision. Once that was taken away, we just assumed they would honour the four places to go up. It is then tough when even that was taken away from us. We thought the worst-case scenario was play-offs and we would roll our sleeves and battle on. We might not even get that but we live in hope.'"
In the Chester Standard "Antoni Sarcevic insists that he owes Chester, and the phoenix club's most successful ever manager Neil Young, everything for sparking life into his career.

Sarcevic looked on course for a successful career in the game having joined Manchester City's academy... But the playmaker opted to leave at 16, instead starring at Woodley Sports before he was snapped up by Crewe Alex, who gave him a taste of life in the Football League. History repeated itself as Sarcevic made it clear that he wanted out at Crewe after a loan spell at the Deva Stadium and with the promise of regular first-team football at Gresty Road failing to materialise...

Sarcevic, now working under former Chester City striker Ryan Lowe at Plymouth, talked about his formative years... The teenage Sarcevic was soon making an impact for Woodley Sports after grabbing a chance presented to him by a team-mate's late return from a holiday in Ibiza...Sarcevic opted for Crewe, although he was quickly shipped out on-loan to Young's rising Blues...

'I was meant to go until January, but Dario [Gradi] pulled me back... He put me in the squads, I was on the bench and got on in a few games, I scored away at Northampton and was doing really well... but he didn't start me, which he said he would and it got to me a bit'. So Sarcevic told Gradi and Crewe he wanted to leave, Chester completing a permanent deal...

'I really excelled, I won all of the awards for Chester and for the league. From that season, I can't owe Chester enough because that's what really catapulted the start of my professional career. I owe Neil and that club so much. Without them, who knows where I'd have been.'...

A move to League Two Fleetwood Town happened... Sarcevic was soon scoring the winner in Fleetwood's 2014 play-off final success over Burton Albion... At the end of his contract Sarcevic headed for Shrewsbury, a 12-game spell he summed up with "I shouldn't have ever signed", before uprooted his young family to sign for Plymouth... Plymouth won promotion to League One last week and the out-of-contract Sarcevic, named the club's player of the year, has been offered a new deal by boss Lowe".
At Bradford (Park Avenue) "Brad Dockerty has put pen to paper on a new one-year deal with the Avenue, with an option for a second year. Brad originally joined The Avenue at the beginning of last season, Mark Bower had originally set up the deal with Hemsworth prior to his summer departure on the back of two incredible seasons for The Wells scoring 40 goals and making 34 assists from the wing.

Dockerty started his Bradford (Park Avenue) career strongly with 3 goals from 5 starts, with a further 9 appearances from the bench, and all that during the difficult start to last season. Unfortunately as the club stabilised with the re-appointment of the man (Mark Bower) responsible for his recruitment in the first place, there was a large change in working circumstances that meant it would be difficult for Brad to play and train with us. A Loan to Pontefract for what remained of the 19/20 season brought another 3 goals in 16 games.

After some discussions with his family and Mark, Brad wants to return to the Horsfall and commit fully for the season... Brad Dockerty said, 'When Mark phoned me, it was a no brainer, to return and test myself'...

Mark Bower added 'Brad showed his potential early last season with his quality, pace and eye for goal. Unfortunately work commitments limited Brad's involvement later in the season, however he is now in a position to fully commit to the training and travel required'".
According to the Boston Standard "Boston United manager Craig Elliott has held discussions with 'three or four' targets; now, the Pilgrims boss is hoping those players can keep the 'faith'...

However, due to the Pilgrims still not knowing whether or not they will be involved in National League North play-offs this campaign, no deals can be made at present. 'I spoke to good targets. I'm not going to lie, some really good players I identified since Christmas,' Elliott said. 'Fingers crossed things can happen and these lads show a bit of faith so they'll be in a position to speak to us when we can make offers.

'It's unique circumstances and I don't know what will happen. Fingers crossed we can retain the majority of the squad and these three or four lads I want to add.'

Due to the possibility of United competing in play-offs, last season's squad remain on the books, leaving Boston in limbo while league rivals begin planning for the future.

'I'm not going to lie, I've found it hard,' Elliott added. 'There's not a lot to say to the players, I've got no budget at the minute so I can't retain and release. Not only that, we've got the situation with the play-offs so we're behind the ball straight away in terms of other teams.'"
---
15 June 2020 During lockdown, this website has been in contact with Terry Rowley who, as many will know, is one of the Club's best informed historians. Despite being based abroad Terry has often supplied the answer to historical queries raised by supporters and recently we have been trying to assist him to fill in some gaps in the historical record of Altrincham FC.

One such historical report that has come to light may amuse present-day supporters...

In 1910 Altrincham moved from Pollitts Field (Urban Road nowadays) to the current site of the J. Davidson Stadium. Just before that move, towards the end of the 1909-10 season, Alty travelled to play Newton Heath and this is what happened, according to The Staffordshire Sentinel newspaper of 30 April, 2010...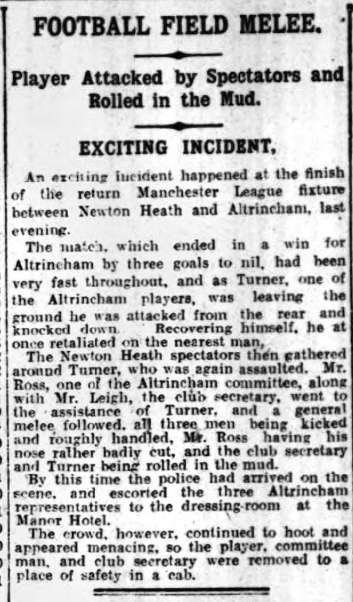 York Press tells us that "York City's requested amendment to the National League for two sides to be promoted has been rejected, though there is renewed hope that the play-offs can be played... City's request was for the top two sides in the North and the South divisions to be promoted, should the play-offs not be able to be played.

The National League Board voted against this resolution however... Alan Mak, the MP for Havant, which covers National League South side Havant & Waterlooville (HWFC) who, like York, will finish second after PPG,has publicly called out the League's interpretation... wrote 'The Government has not expressed a view about whether the National League and/or the National League South are, or are not, 'elite', and has not expressed a view about whether the players employed by HWFC are 'elite athletes' or not under the regulations.

'The Government doesn't give case-by-case guidance at such a granular level, and they've not issued a special "directive" about the National League, the National League, the National League South or HWFC. It is up to the National League to decide whether there are play-offs this season and how it promotes and relegates teams in the leagues that it oversees. "Elite athlete" means, in the regulations, a person who is "an individual who derives a living from competing in a sport".

'If HWFC and the National League agree that HWFC's players meet this definition, the Government is not intending to prevent National League South play-offs from taking place or HWFC from taking part, if this can all be done safely and with regard to the Government's Covid-19 guidance and the wider public health advice. I am calling on you and your colleagues at the National League to organise play-offs for the National League South. If the playoffs cannot be organised, then I am calling on you and the National League to automatically promote HWFC to the National League on the basis of their league position to date this season"...

It is now thought that, should the Government allow Step Two play-offs to take place, the play-offs would then be back on the table in regards to voting. National League clubs were due to vote before Monday on the original proposal, though it is now expected that this will be delayed until Tuesday."

And York Press adds that "The York City Supporters' Trust have called for the National League to show 'transparency and fairness' in their resolution of the current campaign.. It is now understood that the Government may allow play-off matches in Step Two and that this is on the table for voting.

Clubs have until Tuesday to vote on their League's proposal, which will be without the requested amendment from York to have two sides automatically promoted, shouuld the play-offs not be available to take place. The York City Supporters' Trust released a statement... Their statement read... 'We steadfastly stand behind their proposed amendment that would see two teams promoted from both divisions on a points per game basis. The National League board should recognise that all teams entered the competition on the basis that two promotion places were available. It is only fair, sporting and equitable to conclude the season on this basis, despite the unprecedented circumstances...

The Government guidelines regarding the return of elite sport clearly state that an elite athlete means "an individual who derives a living from competing in a sport". This test would apply to the vast majority of players at National League Level 2, albeit that many derive their living on a part-time basis. All senior players at York City Football Club are full-time professional footballers. They are no different to players working in the Premiership or English Football League."

And York Press adds that "Both of York's MPs have backed York City's bid for promotion... Alan Mak, the MP for Havant, has claimed that the Government 'has not expressed a view' on this issue and called for the League to reconsider their position. This view has been echoed by York MPs Rachael Maskell (York Central) and Julian Sturdy (York Outer).

Maskell said 'I have called on Oliver Dowden, the Cabinet Member with responsibility for sport to pause proceedings and make further consideration of York City's proposals, which I back 100 per cent, as it is the fairest way to conclude the season... When arbitrary decisions are made, which are completely unfair, it devalues the sport. York City players have worked hard to pull themselves out of the Northern League [no, they didn't!] and these efforts should be awarded with promotion if play offs behind closed doors are disallowed.

'There is no rush to make this decision over the next few days, it is more important to get this right'...

Sturdy wrote... 'I think this resolution does not recognise the immense effort by York City FC and would be in fact prove more unfair than voiding the season for all teams. In fact, the guidance published by the Department of Digital, Culture, Media and Sport someone is classed as an elite athlete if they derive their living from playing sport. As York City FC maintains a full-time squad, it is reasonable to use this guidance to classify their games in the National League North as elite sport so therefore eligible to be played behind closed doors...

'I am pleased to report that this has also been supported by King's Lynn Town FC in a heartening display of sportsmanship'... John Sentamu, the former Archbishop of York, also backed York's cause tweeting: "#Promote2. Natural justice and a very good season for the Minstermen demands it! A well earned promotion as we move to our new Stadium!"
According to the Telegraph & Argus, "Ryan Cresswell's spell at Bradford (Park Avenue) was certainly one for fans to forget. The experienced defender started the 2019/20 campaign as captain. Five starts, five losses and 22 goals conceded later, he was released at the end of October.

Being hooked at half-time in the 8-0 drubbing at the hands of Brackley Town was the last time Cresswell appeared in an Avenue shirt. However, he believes his dismal spell at Horsfall wasn't all down to his own performances on the pitch.

The centre back said 'It was a very bad start in regards to Garry Thompson having his hands behind his back and his feet tied together to assemble a squad. I ended up going to Bradford for next to nothing. The club had ambitions but, financially, didn't want to back them. They lost their players, the owner pulled the budget and said to Garry, 'sign a squad with this much money'. He could not afford any experience, there was only me.

'The fans thought I was this overpaid, luxury player. I went to help Garry out because he needed a centre half with some experience. I had not done a pre-season, so I was chasing fitness. A week into the season my wife gave birth to our first child, complications with the birth meant I had to be at home. The club didn't like that so I thought, "hold on a minute". If you are not willing to go pay for a player to make the club better, then don't go moaning at me when I am needed by my family.'

Two managers bit the dust during Cresswell's short lived spell at the club. Thompson (two) and Marcus Law (10) only lasted 12 games. He believes it was Bradford's failure to back the pair that meant they performed severely under par. Cresswell added 'I was devastated for Garry (when he was sacked). I just think he was so poorly treated in terms of his recruitment process. To make the club even competitive was a task he took on, because it was his opportunity to become a manager. You can't knock him for trying.

'Marcus came in with the right ideas but he didn't have the squad or funds. You need that fine balance between youth, experience and energy, we didn't have it. I am not knocking the lads because they tried their hardest. It is just the reality, that they won't play at that level again....

He said 'It was so frustrating my time at Bradford because I like the club and the fans. The perception they had of me was upsetting...

Before arriving at Avenue, Cresswell had racked up over 200 Football League appearances with the likes of Rotherham United and Northampton Town. However, during his peak, Cresswell had to battle his own demons, mainly alcoholism...

'It affected me for a couple of years injuries wise,' Cresswell revealed... 'Drinking was a release from reality, which was my dark place, drink got me out of that. It was just a spiralling effect. I have good times and bad. During this lockdown I have been struggling. I need that help. I just find myself lost in my thoughts'...

After leaving Bradford, Cresswell had an unsuccessful spell at Romford and most recently, starred for Parkgate. He admits that he still has lofty ambitions of one day returning to the Football League.

The ex-pro added... 'The reality has to set in. I have got to look at another career, whether that is in football or not'">
"The Chester FC Boost the Budget campaign kicked off on Friday evening... Fans can access exciting rewards in return for one-off donations or monthly direct debit payments with five tiers of incentives.. Pledges will boost the first-team budget for next season...

Boost the Budget is open for six weeks with the aim of raising £100,000".
Darlington report on "The latest netcafe with the chief exec... 'I think it was important for the club to reach out and talk to many of our fans during this unprecedented lockdown. Trust me, the team got as much out of making the calls as hopefully you did on receiving them....

This whole position has been illuminating as I recognised how insignificant the NLN, NLS, and NL are to the EFL and Premiership. The leagues above us in my view have spent irresponsibly whereby they do not have sustainable businesses without TV income. They are now suffering serious financial pressures and as such a lot of clubs are in difficulty. We will not receive any further income in my view.

In my view the long term goal has to be our own ground and as such we need to plan to get there via the best route possible...

The club made the decision not to continue with a full time Commercial Director role after the financial performance did not justify the expenditure. Commercial revenue was £96k (of which £65k was sponsorship & advertising, £20k hospitality and £11k matchday sponsorship) last year but this was offset by £65k total commercial costs to deliver.

This year's budget is set at £90k revenue... We have structured a commission-based incentive that ensures costs are only incurred when commercial sales are delivered. What is clear however is that we have limited commercial opportunities at Blac[k]well Meadows... If we sold every board, every sponsorship, every match day and filled hospitality with 90 fans every week, we would only turn over c£175k a year. Our budget of £90k is therefore c 50% of the opportunity but quite clearly even selling everything does not give us the increased revenue for the necessary budget increase for National League demands...

What is clear is that we will return to a different financial climate. In my day job, I am dealing with finance on a daily basis and it is clear there are many companies who are struggling and have had to take bail outs to avoid closure. Some banks have lent 4 years' worth of money in the space of 3 months so this should not be underestimated. This will impact for years and the government debt created by the furlough scheme (which I fully support) will need to be repaid in some way shape or form. If this is increased taxation etc then people will have less to spend...

The impact on football clubs is still to be seen and it would not surprise me if more clubs follow the likes of Bury into administration.

Quite simply we need our own ground where we can sweat the asset 7 days a week driving commercial revenue... At the moment, the return to full time basis is not practical and the current covid pandemic has affected many clubs. We need to move carefully to protect what we are developing here but at some point, we will look to move from part time to hybrid and then when finances allow, to full time...

From a financial perspective we are in a decent place at the moment... Returning to playing however is a complicated issue but we are hopeful that this could take place in September... I cannot see us playing to restricted crowds or behind closed doors as quite simply we need the revenue and that is the same for every non-league club so I think it's a nonstarter. Live streaming however is a possibility to offset this and we are in dialogue with other clubs and the league about how this could work. Personally, I would like for us to take responsibility for this and take the associated revenue we could get from a global audience of expats but also other lucrative foreign markets with the prospect of increased revenue from advertising etc. We will await the league guidance on this as they currently have a deal with BT (from which we get peanuts) but there is appetite for change

I wondered if it would be possible to arrange a deal with Mowden Rugby Club for us to use the Arena temporarily until it is no longer necessary to social distance It would be easy for a crowd of up to 2000 to stay 2 metres apart in that stadium. Although arrival, queuing, seating and departing would have to be controlled.

Where we could we held players on furlough at the end of the year and we topped up the 80% for last season. The new contracts generally start when the season officially starts so we do not incur significant salary costs until we start playing again. Management are furloughed as mentioned previously. The furlough scheme has been an important lifeline for the club, and like many others, we are appreciative of it...

We have completed a large piece of our squad recruitment through Covid but have held budget back to bring in 3-4 more players to complement the squad. Alun is not pressured here as he believes there will be more talent available (probably from the EFL) as budget cuts hit clubs and we will then be selective about our future business... If we do get promoted the financial requirements will increase due to larger travel, overnight stays and possibly a larger squad. We will be working hard this coming season to see if we can develop greater commercial sponsorship and interest in DFC. It is clear we will struggle to drive revenue at Blac[k]well Meadows.

The league issues a summary (anonymised) of the playing budgets that each club submits and this ranges from £160k lowest, to £650k largest with an average of £300k. This however may not include any signing-on bonuses or any potential expenses etc that may be paid; this remains an unknown and can increase the total expenditure which may not always show as playing budget...

Last year we had circa the league average playing budget... Financially we are secure and have taken the right steps to ensure sustainability. It is difficult however to judge how we compare against other clubs but it is clear the top 4-5 clubs in our division is where they have the higher expenditure. How they will emerge from Covid however is a complete unknown for all of us. We may see instances where benefactors or companies supporting clubs may have to reduce sponsorship if their businesses have been unduly affected by Covid; who knows, to be honest, but we are in decent shape'"
---
14 June, 2020 The Northern Premier League reports that "Trafford have promoted Danny Caldecott after manager Tom Baker handed in his resignation.

[A former Altrincham reserve player], Baker, 35, stepped down after five seasons in charge, citing personal reasons, with assistant manager Caldecott accepting the club's offer to succeed him.

When the 2019/20 season was curtailed due to coronavirus in March, Trafford were ninth in the NPL N/West Division.

During Baker's tenure, they reached the play-offs in 2017/18 and notably won the 2019 Integro League Cup, beating NPL champions Farsley Celtic in the final.

A club spokesperson said... 'The club has promoted from within and Baker's assistant-manager Danny Caldecott has accepted the position of manager and is looking forward to the challenge ahead.'

Caldecott has been with Trafford since August 2015, first as a player and then stepping up to assistant in the 2017/18 season. He previously played for Stalybridge, Hyde, Ashton United, Nantwich Town, New Mills and Droylsden."
According to the Hereford Times "Hereford FC have been told that they could return to league action in September, if Government guidelines allow.

Clubs were told the news at a virtual meeting held by the National League on Thursday... A statement on the Hereford FC website said 'National North/South, and leagues below, will have to follow public guidance on gatherings, which is currently limited to just six people in a gathering.

'Once the guidance is relaxed to allow not only sufficient numbers but also contact between participants, football at our level should be able to resume. The FA are working with the Government to allow spectators into grounds, and the protocols required to not only allow fans in but to also keep everyone safe, from travelling to matches to the use of the various facilities around the ground.'

Following the news Hereford hired Josh Gowling as their permanent manager... [Chairman] Graham said that the National League announcement gives them confidence to start preparing for next season...

'This is in no way a signal for an immediate resumption of normality, it does enable us to have some confidence to now move forward'...

Club Secretary Watson added that the provisional date of September depended on the infection rate continuing to decline... 'Under the current plans, one of the North and South divisions will run a team short due to the gap higher up the pyramid caused by Bury's demise. That, plus the eventual start date and format of the League season means it is still too early to be certain on what season tickets we can sell.'"
AFC Telford United "announce the signing of goalkeeper Russ Griffiths on a one-year deal.

After a brief introduction to Bucks' fans last season, the 24 years-old goalkeeper has joined the club on a permanent basis ahead of the 2020/21 season...

Russell featured in two games on loan from his previous club Chester, signing in early March... Gavin Cowan's plans have made him eager for the resumption:

'I'm really excited for the upcoming season; I think it's going to be a good season for Telford with some exciting signings coming through the door'...

Those two games in March gave Russell an opportunity to appraise the Bucks...

'The manager made it obvious to me what the club was like in the first phone call we had and, within a couple of days of training, I realised this was a club I'd really like to be at. When we initially spoke, the manager said he wanted to get business done early, which as a player is great, it's what you want to hear.

It's not just football; in other jobs, there a lot of people where things are in the balance at the moment, so knowing I'm going to be here next season and playing football is massive.'

Hailing from Gravesend in Kent, Russell's career began in Everton's academy, where he was a team-mate of former Buck Arlen Birch. Spells on loan followed, most notably at League Two side Cheltenham Town, where he made his EFL debut. Following his release from Everton, Russell spent a season at Motherwell in the Scottish Premier League, another team where he has spent time on loan.

His next move brought him south to AFC Fylde and he spent the majority of last season at the Bucks' National League North rivals Chester.

'The fundamentals are in place for us to have a really good season'...

Boss Gavin Cowan [said] 'Russ is a goalkeeper that I have admired for some time, so I am really happy to get him through the door. He is a lot of experience at a relatively young age and will be another big presence for us'.

Russell won't have it all his own way, however; joining him in competition for the No.1 shirt next season is Ash Rawlins; the 24 year old returns to the New Buck's Head having played briefly at the end of the 2016/17 season under Rob Smith and Larry Chambers.

Ash joins from Market Drayton Town, where he had established himself as their permanent choice between the sticks... With returning goalkeeping coach Darren Acton overseeing them both, Ash and Russell will be competing to be Gavin Cowan's choice.

[Ash added] 'That's the plan. I was training with Russell at the end of last season, and he's a great lad, we really do push each other. I've been at Drayton for about four or five season now, almost part of the furniture, but I'm keen for a new challenge and some new beginnings'...

'I'm literally two minutes up the road in Arleston. It's a bit surreal, growing up here and watching Telford and the likes of Ryan Young, it's a bit weird but I aim to take it in my stride'...

Cowan [opined] 'Ash has excelled at Market Drayton for some time now and he recognises he needs to make that next step to progress and test himself. He is very talented and will now develop other key areas of his game and push for our No1 spot.'"
In the Boston Standard "Craig Elliott has dismissed claims the National League North is non-elite sport, calling them 'nonsense'.

The Boston United manager has also called for 'clarity and leadership' as the Pilgrims' play-off hopes hang in the balance, branding the situation a 'shambles'...

The league's original proposal wanted all three divisions settled on a points per game basis, with the top sides in the North and South, King's Lynn and Wealdstone, promoted, with just one relegation from the National League, as opposed to four.

By Friday morning York City and Havant and Waterlooville, who would both finish second in their divisions on PPG, proposed amendments to promote the top two clubs from the North and South if play-offs cannot be held.

It has been suggested that York and Havant's proposals have been rejected by the league, but the option of play-offs, which would involve Boston, who would finish third on PPG, appear to be back on the table as the league awaits clarity from the Department for Digital, Culture, Media and Sport.

'It's obviously a naivety from people who haven't got a clue about this level of football,' Elliott said of the non-elite tag. 'Everyone at this level realises it is elite. There are so many full-time clubs, I'd dare say 75-80 per cent (of players), probably more, their income is the main income which pays the bills.

'The standard of football as well. There are fantastic teams and players, and that's been proved in cup competitions. A lot of teams who have got promoted have gone into the Football League, so it's a bit of an insult really'...

He added, 'It's basically people who haven't got a clue about this level of football. It's not one-offs, this is over the years. You can look to a lot of examples, even Altrincham, from our league, taking Portsmouth to the last seconds of the game (also in the FA Cup this season).

'It's nonsense for me. We're part of the National League and, in my opinion, we are an elite league. We've got teams like York City who are full time. It's nonsense...

'It's forever changing, the information coming through. Again it's a shambles if I'm being honest,' he said. 'It's ridiculous it's gone on this long and it's lacking clarity and leadership...

'My thoughts were always the season should be null and void,' he told The Standard. 'The fairest way to deal with football is on the pitch and if you can't do that it should be null and void. But saying that, if they go down PPG, you can see why York are trying to fight to get things changed for their own benefits. But that seems to have stalled it (voting).

'At the end of the day, you're looking for leadership and people to make decisions and that's been lacking from day one really.'

Elliott has previously spoken of his frustration that league rivals not involved in potential play-offs are able to begin planning for next season while United remain stuck in 'limbo'...

He said, 'It's got to the point that I'm sending messages to the players and then things change. This week I felt the play-offs weren't going to be on and then I woke up this morning and read a few things and listened to a podcast and potentially it's back on. My head's all over the place.

'We need somebody to take control but it's never happened and, yet again, it's dragged on. We're the last league in the country to get sorted and it's going to be really interesting to see what happens... It's something you can't control'."
Gloucester City "confirm the contract extension of Fabien Robert until the summer of 2022. Fabien has made 52 appearances for City, scoring 11 goals.

Fabien will also be taking up an Assistant Manager/coaching role within City's U18's team working alongside Craig Robinson as U18's manager.

[Robert said] 'This was an easy decision to make. On the pitch I believe the team will make some noise in the league this season. We've made a number of good signings which shows the ambition from the club."

'Off the pitch the club's progression continues at pace and I want to be part of it. I enjoy working in the Foundation and the club are supporting me in my coaching journey...

'Gloucester City is on the rise and it's exciting for all of us'...

[Chairman] Alex Petheram concluded with, 'When I joined this club, there were far too many walls. A sort of them and us, between the men's side, the ladies, and the youth. I just didn't understand it, we as a club have worked very hard to remove these barriers. We now need to stop talking about the youth, the ladies and the first team as silos.

'We need to remember to just talk about football. We are Gloucester City, we need to be proud of who we are and remember that we're all the same, doing the same thing, with the same end goal. Next season you will be able to watch football a lot at Meadow Park, we'll have games on a Saturday morning with the youth teams, not sure what age group yet or how this will be happen but we as a club are committed to doing it. Then Saturday afternoon will be the men's first team, Sunday afternoon the ladies' first team and Monday evenings the U18s with Robbo and Fabien...

'And I have also spoken about launching an U23s team for the following season, as we feel this will help player development within the Club'"
Farsley Celtic "announce that Jack Higgins has signed a new contract to remain with Farsley for the 2020/21 season.

The centre-half has made 89 appearances since joining the club in 2018...

Higgins told FarsleyCeltic.com 'I'm signing up for my third season at Farsley now and I've really enjoyed my time so far. It's a great club with some real honest, hardworking and good people...

'Last season I think we competed well at times. It's a strange one because although we knew we were the favourites to go down, we always knew we would compete because of the strengths we have. I think if the season would have been completed there is every chance we could have nicked a playoff place, which would have been a great achievement...

'Like all lads at this level, you have to keep on top of your fitness work. It's difficult when you have no idea of a start date as you don't want to push yourself too soon, so I've just been running, cycling and doing some home circuits'...

The former Warrington man is also looking forward to making further strides forward next season...

[Manager] Adam Lakeland added his thought... 'He's a big player for us and a great presence not just on the pitch and in both boxes, but also off the pitch where he is a big character within our group. He has been outstanding for us since joining, he always puts his body on the line...

'It's worth mentioning that Jack, like all of the other players who have committed to us for next season, have done so having been asked to reduce their wages from last season. I'd also like to say that Jack was offered good offers to play elsewhere next season, one of which in the league below was eye-watering and they pursued him almost daily for several weeks which is frustrating as a manager.

'However, Jack, along with a number of our players who'd been offered deals elsewhere, has committed to the club because he enjoys playing for Farsley, with this group of players and working under our management'"
At Brackley Town "Almost one year to the day since fire destroyed the clubhouse, work has started on site. It has been a long and at times tortuous route...

On Tuesday the demolition team began setting up on site bringing equipment in, fencing off the area and establishing their compound. Then the soft strip work started and next week they expect to begin the demolition of the structure itself and removal of the debris.

When finished, we know that we will have a clubhouse to be proud of with better facilities, a more practical and useful layout and a modern, indeed stylish, interior. It is still too soon to set a completion date for the construction works...

The Stand Together campaign has raised an impressive sum towards the construction... The new stand has arrived and is in place and awaiting the seats to be fitted. It brings St James Park up to National League (Step 1) standard."
---
13 June 2020
Blackpool have released former Alty loanee Yusifu Ceesay (25), pictured right.

This season, Ceesay's stay was curtailed by injury after just 3 starts and two further appearances from the bench.

This was his second spell at Altrincham after a successful stay in 2018-19 in which he made 13(+2) appearances and netted three times.

In 2018-19 Altrincham had been his fourth National North loan-club of that campaign when he arrived from Blackpool on 6 February 2019. This move had immediately followed a month's loan at Nuneaton, whilst earlier in the campaign he had also spent loan spells at Boston United and AFC Telford United. Earlier, Ceesay had first emerged at Sporting Khalsa, in the Black Country, before a move to Alvechurch.

Blackpool signed him in September 2018 before loaning him out for spells at the three National League clubs mentioned above, as well as for a couple of months back at Alvechurch in autumn 2018.

After impressing on his second spell at Alty, Yusifu was sidelined by a hamstring injury in mid-September 2019 and did not recover before his loan spell ended on 4 January 2020. Overall he made 16(+4) appearances, scoring 3 goals, for Altrincham.

Altrincham FC expresses its "gratitude to young supporter Erin-Beau Carroll, who has been raising funds for the club in quite a unique manner.

Erin has been producing her own hand-drawn and water-coloured illustrations of Altrincham players and putting them up for sale through her Instagram account.

Her fine efforts have resulted in a donation of £65 to the club, for which we are truly grateful".

Erin comes to all the Altrincham home games with her grandad, John Hogburn.

With not a word on the subject on the National League website as of Friday evening, it has been left to individual clubs and newspapers to respond to the major news about the proposals for winding-up of the National League season.
The Brackley Guardian reports that "Any hopes Brackley Town had of competing in the National League North play-offs look to be disappearing with clubs set to vote on a set of proposals to finally bring the season to a conclusion after the Covid-19 outbreak.

It's understood that the play-offs will still go ahead in the National League but in North and South only the champions, determined by points per game ratio, will be promoted.

Voting is taking place until Monday when a final decision is expected and Brackley boss Wilkin accepts the play-offs are now out of the question.

But that seems to have come about due to the government's current policy of only allowing 'elite sport' to resume, with Step 2 football not included. The Department of Culture of Media and Sport's definition doesn't apply to part-time sport. And that is something that doesn't sit well with the Saints' manager.

'I am not sure that whoever describes our level as "non-elite" has a grasp and an understanding of the level that these boys play at, let alone the time and commitment they put into it,' Wilkin said. 'Okay, there are some smaller clubs like ourselves at the level but how anyone can describe clubs like York, Darlington and Hereford as being "non-elite" clubs is beyond me to be honest. Whoever is using that terminology needs to revisit it.

'There are full-time clubs at our level and boys who commit an awful lot of time to it and discipline themselves to take part in the competition... These players are working to a professional standard. I just think whoever in the government has called it "non-elite" would need to, perhaps, go along to a couple of matches and go and see the standard of the play and the size of the crowds and maybe that would make them view it in a different light'...

It's understood that National League clubs have been told to prepare for a September start for the new campaign.

And Wilkin added 'Getting to this point just seems to have taken longer than it needed to. Whatever decision they end up making after the vote, it will hopefully give us the chance to move forward and start planning for whenever the next season starts. That's been the biggest frustration I think, the lack of communication and silence we have had for so long.

'It doesn't come as any surprise to be honest and it's a little bit frustrating but if that's all we have got to worry about during this crisis then I think we'll all take that. Now we just have to dust ourselves down and start looking ahead to next season.'"
The Yorkshire Post reports that "York City manager Steve Watson says that the club have the support of their National League North rivals after proposing an amendment to the National League's resolution to promote just one club in the division in 2019-20 and not two.

Players and staff at Bootham Crescent were left disappointed and shocked on Thursday when the National League proposed to decide final placings in National League North and South by unweighted points per game (PPG), promote the side who finish first and not have play-offs.

Under PPG, King's Lynn, who were second when the National League North season was curtailed in March, would be promoted to first above York, who had a two-point advantage but had played two games more...

Watson told The Yorkshire Post 'The biggest thing for me is the change in direction in terms of how many go up and how many go down. Throughout it all, they (National League) have aligned themselves to the EFL who have stuck to their original plan of number of relegations and promotions.

'For some reason, the National League have decided to only relegate the one team and promote the two (one team each from National League North and National League South) and it is the first league to do that and it could create all kinds of problems for themselves.

'Rivals of ours who we have locked horns with all season and teams we have had real scraps against and managers who we have rows with all accept that (York's position). I have heard some great support from other managers.

'Football does understand. The part that someone like myself doesn't quite get is that the two best teams should be rewarded with promotion. Unfortunately, the other side of the story is that if you are down the bottom of the league and have a disappointing season, punishment comes with that.

'But the way things were proposed, it was almost going to be that we were going to get punished for being successful and teams were going to get rewarded for having a poor season.'"

Before Thursday's league meeting, the national Guardian newspaper stated that "Deep in the bowels of English football, York City are preparing to become the unfortunate answer to a pub quiz question: can you name one of the two men's clubs to finish top of their league but miss out on the title because of the coronavirus pandemic?

York's potential fate is... to lose the National League North championship on a points-per-game basis to King's Lynn Town.

Lower divisions were annulled altogether, with the seasons deemed to have never existed, but pending a decision on applying the points-per-game rule, which is being discussed on Thursday, York will join Crewe Alexandra as a club denied a league title... Which, on the face of it, does not matter to anyone other than the few thousand fans of a struggling former Football League club. There is still a good chance of York being promoted. But... what is the the post-pandemic future for clubs like York?

This is a club that finished last season 139th in the pyramid yet still maintain a full-time squad, giving York a good claim to be one of the lowest-ranked professional football teams in the world. Will this be sustainable? And it poses deeper questions about the purpose of a club at this level; is it to produce a competitive team or to act as some sort of cultural civic glue for the local population? This was supposed to be the club's final season at Bootham Crescent, probably the only football ground in the country to have both been briefly named after a chocolate wafer and to have its executive boxes face over the car park rather the pitch. The ground is in such a state of neglect it was recently decked in swastika drapes and used by Bollywood film-makers as a stand-in for a 1930s' Nazi sports stadium.

Now, with a functionally bland, out-of-town stadium almost complete, coronavirus may have stolen the chance for York's fans to say goodbye to its city-centre home of 88 years... Is it realistic for clubs at this level to have budgets in the millions of pounds with only a few thousand people turning up to watch and no TV deal? And is it worth paying to maintain a youth set-up that produced Premier League players, including Ben Godfrey, when dozens of clubs are going to be offloading talent on the cheap?...

York's staff and players have been furloughed, the business effectively put into cold storage. Many contracts run out at the end of June and recruitment plans have gone out of the window. There is no clear route back to matches this year. Even when football restarts... it's possible it will be in a new stadium, with new players and physically-distanced fans2.
Across the County, the Telegraph & Argus reports that "Bradford (Park Avenue) have written to the National League in support of York City, after a proposal was offered yesterday that would see their Yorkshire neighbours miss out on promotion... It is understood that if the National League North clubs don't vote this through by Monday's deadline, then the season will be declared null and void.

It is said that the Department for Digital, Culture, Media and Sport has declared that step two of the non-league pyramid (National League North and National League South) is not classified as elite sport with elite athletes - which is defined as 'an individual who derives a living from competing in a sport'.

This means any play-offs would not be allowed to occur behind closed doors, hence why they cannot be offered as part of the proposal either. City are one of only a few professional clubs in the league and were two points clear of Town, but having played two games more, before the campaign was brought to an early end.

It is also understood that the 22 National League North clubs only have four votes between them ahead of Monday's deadline, compared to all 24 teams in the National League having one each, which has produced a feeling of strong injustice among most chairmen.

Avenue have requested an amendment, to not just the proposal, but to the ruling of the competition, which would see York promoted. Bradford believe that if a situation like this was to occur again, as long as 75 per cent of the season is played, the league would be finalised on PPG. And in the event that the play-offs could not be played, the team finishing second would be promoted.

Avenue's director of football Martin Knight, who attended yesterday's meeting alongside club owner Gareth Roberts... said 'It is fundamentally unfair that the National League are suggesting York can't get promoted. We would like to see that in there (in the amendment), if something like this were to happen again. For Avenue, we wouldn't get relegated either way. For us to take that moral position, it has financial implications, because York is our biggest gate of the season.

'If they get promoted we lose that game. You have got to separate your own interests with what is morally right in very unusual circumstances. From a moral point of view, we think what has been offered to us is incorrect and unreasonable. If they don't make an amendment, we won't support the proposal. Also, how can you have a democratic system when my vote is worth a sixth of someone in the National League? We are all members of it".

And we read that "Bradford (Park Avenue) AFC CIC [CIC = Community Interest Company] football club in Bradford, West Yorkshire, has today completed a deal with the City of Bradford Metropolitan District Council to take a 35-year Lease to the Council property, the Horsfall Stadium in South Bradford. The Club has been based at Horsfall Stadium for some years, but now this provides a permanent home for the Club.

It enables the Club to maintain, repair and develop the facilities to create an increasingly improving experience for users. It is hoped that West Bowling ARLFC will soon also relocate to the Stadium, while retaining their current access to Emsley Recreation Ground. The Stadium will continue to be the base for Bradford Airedale Athletics Club and there are plans to invest in the athletics facilities too.

The Horsfall Community Stadium Development Project has long been a dream of Director, Gareth Roberts, who continues to invest heavily in the Club. The completion of the Lease enables work to start on the long-awaited new 3G artificial grass pitch and new site boundary security fencing around the Stadium area. The new security fence and gating system will help protect the new infrastructure. The fencing is being in part grant-aided by the Football Stadia Improvement Fund (FSIF)...

Once work gets under way, this opens the door to potential further developments in months to come...

Gareth Roberts, the Club's owner and long-time benefactor, said 'It is part of our broader plan to create a sporting hub at Horsfall Stadium that will be of benefit for years to come with a focus on improving both the Club and grassroots sport in the community, within the Bradford area'".
Hereford FC "confirm that Josh Gowling and Steve Burr will be our management team for the 2020/21 season...

Chairman Andrew Graham said 'We are delighted to be able to take the first steps towards the resumption of football with the commitment of Josh and Steve for the coming season. It has been a long wait for everyone and we share the frustration of the fans over the uncertainty of the past three months. Now we have a target of a potential return to action in September we can start building towards that.'

Josh Gowling added 'I am honoured to have the opportunity to manage at a Club that means a lot to me, and I want to thank the Board for giving me the chance to carry on the task we started back in January. The Chairman has been very supportive over the lockdown period'".

And the Hereford Times adds that "Bulls defender Gowling made the step up to caretaker manager after Russell Slade left the club in January 2020, with Burr brought in as his assistant.

They guided the club away from the relegation zone before football was suspended in March".
According to the Northants Telegraph, reports that "Gary Stohrer has signed a one-year contract with Kettering Town. "Having been part of the Poppies' title-winning team in the Southern League Premier Central, Stohrer established himself as the club's first-choice right-back in the National League North last season under both Nicky Eaden and current manager Paul Cox.

Stohrer, along with other members of last season's squad, had already agreed fresh terms for the next campaign.

But that has now been made more permanent and he will now look to add to his 120 appearances and five goals he has already had in Kettering colours."
At Curzon Ashton "Our first signing of the summer and newest recruit is former Alfreton Town midfielder, Dale Whitham. Whitham becomes Mark Bradshaw's first acquisition as he looks to bolster his playing squad ahead of the 2020/21 campaign, whenever that may begin.

Whitham opted to make the switch to the Tameside Stadium following just one season with Alfreton, but had previously been a key figure at Chorley, where he won promotion to the National League during the 2018/19 season.

The midfielder began his career with Maine Road, before joining Leigh Genesis in July 2008. A move to Victory Park followed in July 2010 and the now 28 year-old went on to spend nine years with Chorley, prior to moving on to Alfreton last summer. During the latter stages of his time with Chorley, Whitham also enjoyed a loan spell with FC United of Manchester, in January 2019.

While in Lancashire, Whitham became Chorley's longest serving player, and went on to register 364 appearances, scoring on 69 occasions."
AFC Telford United "announce the signing of midfielder Jack Byrne.

Jack has had spells with Solihull Moors where he played 85 games over the two seasons, scoring 9 goals and was voted Players' Player in 2016/17. He joined the Moors after five seasons at Kidderminster Harriers where he made 164 appearances, scoring 28 goals... Jack had also experienced spells at Redditch United and Stratford Town.

Byrne, who celebrates his 31st birthday in July, spent last season at Nuneaton Borough, in his return to the game after a long spell on the sidelines. An anterior cruciate ligament injury he suffered whilst at Brackley Town meant he spent an arduous 18 months returning to full fitness, with the Bucks playing a part in his recovery, as he explained 'I know Gav from when we were both at Solihull together; when I left Solihull for Brackley and I got my injury, Gav was kind enough to ring me and was one of the few people who offered to help me out.'

That help was an offer to rehabilitate with club physiotherapist Jake Roe and then Aaron Lambley, one which Jack took Cowan up on. That led to an offer to join the Bucks last season, but it wasn't one Jack felt was right to take up, at least not until now. 'I said to Gav "look, I want to get some games under my belt, to see where I'm at". Telford's a big club, and I know the level, but I needed just to see where I was, after so long out of the game; I just wanted to see if everything was still working, I guess, to see if I could play football without picking up an injury again.'

Jack chose to test himself in the Southern Premier Central, teaming up with manager Jimmy Ginnelly at Liberty Way for the 2019/20 season. 'I was lucky enough to go to Nuneaton and I had a good spell... I played over thirty games, so I feel that was worthwhile and will stand me in good stead going forward'...

Boss Gavin Cowan was delighted to get Jack signed up for the forthcoming season. 'Jack is one of the most complete midfielders I have seen play at this level so to be able to bring him in to the club is a real coup for us! Another leader that I have no doubt will bring more quality to the group'".

The BBC provides a summary of this week's goings on in the National League, stating that "National League clubs are to vote on ending the season via points per game. Under the plan Barrow would be promoted to League Two as champions while only bottom side Chorley would be relegated.

The proposals would allow play-offs for a second promotion place to the English Football League, but no play-offs in National Leagues North and South, with only the champions going up.

Wealdstone would win National League South while King's Lynn would leapfrog York City to take the North title...

No sides would be relegated from National Leagues North and South under the proposals, meaning Blyth Spartans, Bradford Park Avenue, Braintree and Hungerford would avoid dropping into the level's feeder leagues which were declared null and void in March.

Clubs have until Monday to decide whether to support the motion, with the National League indicating that if it does not go through they will next consider declaring the leagues null and void.

Only one side will be coming down from League Two after Bury's expulsion from the EFL in August so, if approved, the plans would see 24 teams in the National League and a return to 72 teams competing in the English Football League, while either National League North or South would have 23 teams next season.

All National League clubs will have a vote, with the North and South divisions having four votes each. A majority of 51% would be required but any decision still has to be ratified by the FA Council."
---
12 June 2020 On its official website Altrincham FC has reacted angrily to the decision that there will be no play-offs for the National League North this season.

Joint chairman, Bill Waterson, said "The Department of Culture Media and Sport determined that whilst the Vanarama National League National Division was elite sport, the North and South Divisions were not.

That was the ruling and it meant that, legally, we are not able to play football under the rules announced for the recommencement of football. Forget about behind closed doors, our players and our club have been deemed as not worthy by the Government. Some NLN clubs protested that they were full-time and therefore should be considered as elite, but the Government has damned all clubs at our level to second-class status".

As of 0845 this morning there was not a word about the situation on the National League website.

However, York Press reported on Thursday that "York City will miss out on promotion to the National League under the league's proposed method of resolving the season, it has been widely reported.

The proposal would see the league placings decided via points-per-game (PPG), meaning that Vanarama National League North leaders York would fall below King's Lynn Town, who were two points behind City with two games in hand when the season was suspended in March amid the coronavirus pandemic. The top clubs from the National League North and South would then be promoted.

But the play-offs in the sixth tier will not take place due to government guidelines stating that only sport that qualifies as 'elite' will be allowed to return behind-closed-doors.

Given that the majority of clubs in the sixth tier are part-time those play-off matches do not qualify as 'elite sport'.

Clubs have until Monday to vote on this.

According to King's Lynn Town owner Stephen Cleeve, speaking on his 'I Bought a Football Club' podcast, League regulations state that the only way a second team can be promoted is through the play-offs. Cleeve said that he understands that York will to ask the League to allow them to be promoted as runners-up.

'Are the National League then going to allow York to pass a special resolution to allow the second (placed) team to be promoted, if there can be no play-offs? I believe that is York's aim,' he said.

Cleeve said that there will be calls from sixth-tier clubs to the government to allow them play play-off matches. Despite the two club's battling against one another at the top for the majority of the season, he said he'd like York to be promoted.

'I fully believe that if the play-offs cannot happen, the second (placed) club needs to be promoted... it must happen,' he said. '"Putting rivalries to the side, you have to do the right thing. If there is a vote on that this afternoon (yesterday), I will be voting for that motion.' Cleeve also advocated for the individual votes by the clubs to be made public".

Before Thursday evening's "meeting" of National League North clubs, Altrincham FC issued a statement "to respond to the announcement from the Non-League Paper that there may not be playoffs from the National Leagues North and South...

The possibility of playoffs for the National League North had been formally tabled by the National League and on the basis of 'points-per-game' Altrincham were one of the teams who would qualify.

The board met last night to discuss our approach to the end of the season. Any playoffs would have to take place behind closed doors, and with a comprehensive testing regime in place for a number of weeks beforehand. We had estimated the cost of this exercise as being perhaps as much as £50,000. That being said, the Board were unanimous in our position that our brilliant team and our superb fans deserve this shot at promotion; and we strongly committed our support to the motion for playoffs.

The National League sent out a note late Wednesday evening implying that playoffs would not now take place from the NLN and NLS 'on the instructions of the Government'. We await further information on this, but what we have received so far is not definitive in this matter.

The club will be attending this afternoon's call with the intention of continuing to press the case for playoffs, and therefore for promotion, from the National League North. The National League have always maintained the position that all three divisions will have the same approach to promotion and relegation and we therefore also expect to see this rule to be applied in any decision reached.

The club will update further after the National League North meeting this afternoon, but we will respect the confidentiality expected from all member clubs as part of this process."
The BBC has a piece asking "Do footballers make good teachers?... Let's take a look at a few candidates for the classroom...

In 2015, Sunderland winger Duncan Watmore became only the second Premier League player to get a first-class degree, after graduating in Economics and Business Management at Newcastle University.

The Black Cats might have benefited from some of his economic nous as they dropped from the top flight to League One in two seasons, with relegation in 2017 and 2018.

Still, he would have had no trouble working out the consequences of deciding League One on a points-per-game basis this week. No promotion chance for Sunderland this year - maybe next season".
According to NL Daily "Darlington's Terry Galbraith has announced he is leaving the club.

The defender/midfielder initially joined Darlo almost eight years ago, signing from Dunston UTS. After three promotions with the club and time as captain, the 30-year-old is now set to move on.

He tweeted, 'After a long, hard think and many sleepless nights I've made a decision to leave Darlington FC. Obviously it's been a very tough choice but I feel it's the correct one to make right now. It's been an amazing 8 years that's produced many memories...

A fresh start is sometimes good, wherever and whenever that may be'".
In advance of Thursday evening's consultation between the National League clubs, the Shropshire Star reported that "AFC Telford United representatives will join National League board members for a meeting at 5pm as proposals to conclude the season are thrashed out... with clubs understood to be frustrated at the delay.

The call to cancel the remaining regular fixtures in the National League divisions was made in April.

Board members met yesterday, with discussions about whether to hold play-offs and how to decide the leagues top of their agenda. Clubs will today be given a virtual presentation on a divisional basis from National League chief executive Michael Tattersall and an FA representative. It is understood that clubs will be asked to vote on proposals as to how the season will be concluded across all divisions.

The outcome has little relevance to AFC Telford, who finished 13th in National North. But it is unclear who will be awarded the title, with York leading King's Lynn by two points having played twice more, and what will happen to the six sides in play-off places. There will be no relegation from National North, but clubs may come down from non-league's top tier.

If the National League follow the model adopted by the EFL, then leaders Barrow will win automatic promotion to League Two on points-per-game, with play-offs going ahead.

Ebbsfleet, Maidenhead, AFC Fylde and Chorley occupied the bottom four positions and could be relegated.
Gateshead FC "confirm that Paul Blackett has re-signed on a one-year contract...

The forward becomes the 11th player to sign on Tyneside this summer, and the 10th from the 2019/20 squad to extend their contract.

Blackett made 14 appearances in Heed colours, scoring four goals, before heading out on loan to Whitby Town for the latter half of the season... scoring 10 goals in 11 appearances for The Blues".

And the Harrogate Advertiser adds that "Former Harrogate Town defender George Smith has wasted little time in finding himself a new club. The 23-year-old left-back was released by Simon Weaver last month after just a single season at Wetherby Road and has now agreed a one-year deal with Gateshead...

Smith said 'After speaking to Mike [Williamson] and Ian [Watson] about the plans they have got in place for this season, the direction that the club is going and not to mention having one of the best years of football up at Gateshead, it's one I couldn't really turn down.

'So, I am really looking forward to it. This season is going to be a big season and I can't wait to get back playing in front of the Heed faithful.'

Smith's move sees him re-join Gateshead four years after his first spell at the club... [Simon] Weaver said 'George started well here. When he's on it, he's a brilliant left-back, but he didn't quite nail down the position'".
The Banbury Guardian says that "Work is due to start on the building of Brackley Town's new clubhouse this week, a year on from the devastating fire that resulted in the previous one being destroyed.

Saints' chairman Francis Oliver confirmed work will be getting under way with the hope being that the new clubhouse will be ready to be opened in December. Oliver also revealed a new stand is due to be installed at St James Park to help bring the ground up to National League standard. But, despite the positivity, Oliver admitted quite what happens once the gates of the ground and the doors of the new clubhouse are opened again remains 'the unknown'...

In their latest update to their 68 clubs, the National League confirmed that August 8 remains the official start date for the 2020-21 season but that it will 'inevitably need to be reviewed and updated'. They also said 'it is assumed that it is not practical and sustainable to commence the new season if matches are to be played behind closed doors'.

And Oliver said 'My personal view is I think it will be September at the earliest but, for all I know, it might even be January. But nothing can be done until decisions are made about crowds and whether they limit them or not. It may be that there is a limit of 500 or 1,000 people to be allowed into the grounds.

'At Brackley, our average crowds are around 500 so we would have no problem with social distancing but, if you're a York or a Chester where crowds are 2,000 and more then it might be a bit different... We are concentrating on getting the clubhouse rebuilt...

'We are lucky financially because we got to Wembley in the FA Trophy recently and we get decent crowds. We are having another stand installed and that will be the final piece in the jigsaw as far as capital expenditure for the ground is concerned. You'll always have your maintenance but we will have a ground that is fit for the National League aside from a few bits and bobs... What actually happens income wise from clubhouse use and crowds at games is the unknown'".
At Leamington, "There's good news as we have been awarded a £1,500 Pitch Preparation Fund grant from the Premier League, The FA and the Government's Football Foundation.

The Pitch Preparation Fund was set up in support of the game... providing grants to clubs that have lost out on normal revenue streams during this difficult period. The funding will enable us to prepare our football pitches so that they are match-fit for when it is safe to play football again, following Government advice.

We can use the grant towards the cost of materials, work such as verti-draining, chain harrowing, rolling, over-seeding, fertilising, weed-killing, and routine preparatory work such as grass cutting and the setting out and line-marking of pitches.

Clubs and other organisations are also being given access to the Football Foundation Groundskeeping Community. This is a free online resource the Foundation developed with The FA and the Grounds Management Association, containing advice and guidance...

Jim Scott, Leamington FC Chairman, said 'These are difficult unprecedented times financially for non-league clubs such as ours, run entirely by volunteers on the income we are able to raise ourselves. The grant will go some way to offsetting the cost of preparing our pitches for the resumption of football'"
---
11 June 2020 The Irish Independent reports that "Former Ireland striker and current FAI interim deputy CEO Niall Quinn has paid tribute to Manchester United and Ireland legend Tony Dunne, who passed away on Monday, aged 78. Dunne has been remembered as a... golfing entrepreneur and a footballer who idolised those he played with in the European Cup winning team of 1968.

Quinn was a regular visitor to the Altrincham golf driving range that Dunne ran after his playing days at Shelbourne, United, Bolton Wanderers and Detroit Express...

'Tony was a wonderful character and a great host at his driving range in Altrincham. I loved going there to hit a few balls and have a chat with him,' remembered Niall, a City player from 1990 to 1996. 'He was passionate about his football and loved nothing better than telling me every time I visited that the players of his generation were streets ahead of my colleagues at City and the United team of the time".

Defender Daniel O'Donnell, the grandson of Tony Dunne, played for Alty Youth c.2008.
The Telegraph & Argus reports that "Bradford (Park Avenue) are just waiting on the Football Association's green light to signal that they won't be relegated from the Vanarama National League North.

It is understood that the National League have already informed Bradford that they have recommended to the FA that there should be no team going down from tier two of the National League System (which Bradford are in)...

After the EFL confirmed that they had curtailed the League One and Two seasons yesterday using a points per game system (PPG), the National League are set to have a virtual meeting tomorrow [Thursday].

Bradford's director of football Martin Knight and club owner Gareth Roberts are set to be in attendance....

Knight said 'Although it has not been confirmed, we know the National League have recommended to the FA that there should be no relegation from tier two and they are waiting for ratification from the FA. We have always been planning to be in National League North next season.'

The choices for the 22 National League North clubs to consider when finalising the season include PPG, where two go up automatically with no play-offs, PPG with play-offs or null and void.

Knight expects the first option to be voted through, after calculating what it would cost for clubs to go through a play-off system.

He added 'I have been speaking to some of the CEOs in the league about the cost of the play-offs. They would have to test their 40 players twice a week for a month and it is £125 a test. The cost for one team to participate in the play-offs is about £50,000-£70,000, on top of their wage bill. Whether you have got four chairmen who are willing to spend that money on the possibility of getting promoted through a play-off system, I personally don't see that happening at our level.

'I think the votes will go PPG with two up automatically. That would be the correct sporting result and financial result.'"

As for next season, Knight thinks Avenue may only be playing 19 other teams, assuming they remain in the National League North as expected.

He said 'We will have two up (to League Two) from the National League. I think they will do one promoted and play-offs for the other spot because they are full time teams. The question is what do they do with National League North or South with no teams coming up (like South Shields etc)? Potentially we think we might be playing next year with 20 teams instead of 22.'"
At Southport, "Manager Liam Watson has completed his third signing of the summer with the addition of defender Mo Ali. Mo joins Southport after two seasons in the Vanarama National League North with Curzon Ashton, establishing himself as an accomplished performer at this level.

Born in Zeist, the Netherlands, the 25-year-old has been capped seven times by Somalia... Mo moved to the UK in 2013, having learned his trade at Alphense Boys, making his first-team debut in the third level of Dutch football at 18, whilst also representing ADO Den Haag. Ali's first club in English football was Northwich Victoria, before going on to play for Mossley and Droylsden. A successful two years with Curzon ended by collecting the Supporters' Player of the Year award earlier this month...

Watson said 'I'm really pleased to add Mo to our squad, he's a versatile defender who has really come into his own at this level during his time at Curzon. For someone who is still young he has got plenty of experience and I'm sure there's still plenty to come from him as a player. His performances have consistently been assured, he's got an excellent reading of the game and he will be a big player for us next season.'"

Southport add that "On the international stage, Ali represents Somalia, where he was born and spent his early years, before his family fled to Holland, due to the civil war that took place there between 1991 and 2006...

When he's not featuring in Somalian footballing history, he is a part time driving instructor, and will be looking to steer Southport's defence on the field next season."
We learn from York Press that York "City director Richard Adams has said that the club are not in a position to offer players contracts until they know the outcome of the current season... Such uncertainty as to whether National League North leaders City will be playing in the National League or remaining in the sixth tier has meant little movement in regards to bringing in players or securing others' futures.

'Like all supporters, the board are frustrated by the numerous discussions on the outcome of the 2019/20 campaign,' Adams wrote... 'The management team, players etc are all furloughed and still been partly paid by the club. Until we know the outcome, which league will we be playing, we are therefore not in a position to sign or offer contacts to existing or new incoming players, which would result in paying them.'

The director added 'At the present time with the staff furloughed and, under the rules they can not work, therefore statements [are?] not as forthcoming as we would like... We failed to complete the season at Bootham Crescent, therefore, all our plans were shelved.' he continued.

'From reports, the LNER Stadium is complete, but there is still the question of "Testing and Certification". To gain the necessary certification [something?] needs to be done with people in the ground, within the hospitality areas etc. The pandemic has currently put an end to this until groups can congregate in large numbers. The general feeling from League One and Two, plus the National League remains that any resumption is not financially viable behind closed doors.

'At this point of time, we are cannot name a date for games to start again, but we are hopeful. Testing of the new stadium is the key to whether we start at Bootham Crescent or Monk's Cross. Personally, I would like to see a farewell game before making the move, in September it will be 70 years since my very first visit.'

Adams, who is also chairman of the York City Vice-Presidents' Association, also commended the £1,000 donation by the York City Supporters' Trust which took the Vice Presidents' Association's fundraising effort past its £10,000 target earlier this week.

'100 per cent of money raised will be used for the assembly and development of the team'... he said".
At Hereford FC "Helen Byard, will be stepping down from the Board of Directors at the end of the month.

Helen said, 'I have very much enjoyed becoming part of the Club over the last couple of years but my professional work must take priority at this time'...

Chairman Andrew Graham, understands and accepts Helen's reasons for leaving the Board and cannot thank her enough for the dedication and considerable amount of hard work that she has undertaken to develop and imbed HR, Welfare and Safeguarding into all that we do at HFC... Her professional role in the NHS cannot be underestimated'".
The Shropshire Star reports that "Gavin Cowan insists 'dependable' former team-mate Lee Vaughan has mellowed with age and experience as he welcomes the defender into his AFC Telford ranks.

Fan favourite Vaughan, 33, checked in last week to return to the club he left 10 years earlier, as Cowan's first new signing of the summer. The all-action right-back seldom lacked enthusiasm in Bucks white during his first spell at the club, which lasted four years... He picked up six red cards across 179 games...

But boss Cowan says his new recruit, who he believes Telford 'had no right' to sign, has an 'immaculate' disciplinary record in recent years. Cowan said 'I suppose his discipline was probably an issue when he was younger but as he's got older it's been immaculate. That comes with age and experience.

'He's a guy with a huge heart, a very exciting player and is very team dependable as well. We'll be able to depend on him. It's a real coup. Since me and Lee played together we've been good friends and kept in touch very regularly. Really I don't feel like we had any right to sign him, is the truth. He's had offers from the league he was playing in and he's made the decision, although he's still very ambitious football-wise and wants to be successful, he recognises he's delaying the inevitable and wanted to look at the transition to part-time.

'We've reaped the benefits of that. Ordinarily I don't think we had any right to sign anybody of his quality and calibre. But it just fitted right. I was able to tell him this is the place he needed to be and he's convinced and over the moon and excited on what's to come'...

He rebuffed offers from National League clubs to return to Shropshire, which marks a switch to semi-professional football... 'I've heard a few people say we must be paying him big money, that does Lee an injustice, he's certainly not come for the money,' the boss added. 'He's been offered some very, very good deals and I think it does him an injustice to say we're paying him big money. The reality is we're just not. He's come because he really believes with [in?] what we're doing and it fits well with his goals. He could've gone to other clubs part-time for more money.

'He loved his time here last time and believes and trusts me and I could get him over the line. If it was a money decision he certainly wouldn't be signing for us.'".

Alty fans will remember Vaughan's friendly greeting to them at the end of the match when Kidderminster played Altrincham at Aggbrough in 2018.

Also from the Shropshire Star we learn that "Gavin Cowan has warned his undecided AFC Telford United players that time is running out to recommit to the club for next season. The Bucks boss revealed he is still waiting on decisions on the futures of some members of last season's squad...

Theo Streete, Ellis Deeney and Marcus Dinanga are three regulars from Cowan's ranks last season whose futures are yet to be clarified.

The boss said 'We're still in talks with a couple of them and are waiting to hear back. I've told them all, I'm not waiting forever. I suppose my mind is made up and the time has gone now. Those players run the risk of me recruiting other people. The timescale has moved on now and I'm looking for alternative players. I was very, very on the front foot and proactive about who I wanted to keep and who I didn't.

'If they want to drag that out it's totally up to them. I'm in a position now where I'm recruiting for the positions I need. If those players come back before I recruit someone else then so be it and if not then they miss out.

Cowan has so far agreed new deals with Brendon Daniels, Adam Walker and Zak Lilly. Shane Sutton, Ross White and Aaron Williams were already contracted for the 2020/21 season.

Telford have been awarded a £1,500 Pitch Preparation Fund grant from the Premier League, FA and Football Foundation to help cover pitch costs.

Henry Cowans has been invited to pre-season training, while James McQuilkin, Darryl Knights, Jon Royle and Arlen Birch have been released".
At Blyth Spartans, "Club legend Robbie Dale has once again signed for the upcoming season.

Dale needs absolutely no introduction having made his debut back in March 2005... And the 35-year-old hasn't looked back, playing and scoring for Spartans in every season since and well and truly writing his name in club history. He is the club's all-time leading appearance holder and second top goalscorer behind the great Brian Slane.

Indeed, his current tally of 680 appearances and 212 goals can only increase as he embarks on his 17th season at Croft Park.

Dale, after signing his new deal, told blythspartans.com... 'Last year wasn't good enough. From top to bottom, we've got a lot of things we need to put right and we've all got a responsibility to make that better. We can't go through what happened last year. It is not nice for anyone involved, that includes fans, players, board and management. We've got to take it on the chin and come back stronger.'

Dale joins Rhys Evans, Kris Thackray and Corey McKeown to commit their futures to Blyth as we await confirmation of our league status.

He added 'It's awkward to try and prepare for next season but I've been impressed with Micky. He seems like a good man and he's got ideas'".
---
10 June 2020 As National League North clubs await developnents in their own division, the BBC reports that "The League One and League Two seasons have both been ended early after a formal vote by clubs on Tuesday. Both tables will be settled on points per game, while promotion, relegation and the play-offs all remain...

'Ongoing disciplinary matters" mean it is not yet certain who will drop out of the EFL and into the National League. Stevenage are bottom, but they could yet be reprieved after Macclesfield Town were handed a fresh EFL misconduct charge on 1 June. The Silkmen, who are three points above Stevenage, have already had 11 points deducted for previous rule breaches this season and have a further suspended two-point penalty hanging over them if they transgress again.

Both votes were passed by an 'overwhelming majority', according to the EFL, who also confirmed that the League Two play-off final would be held at Wembley on 29 June. No dates have yet been confirmed for the League One play-offs.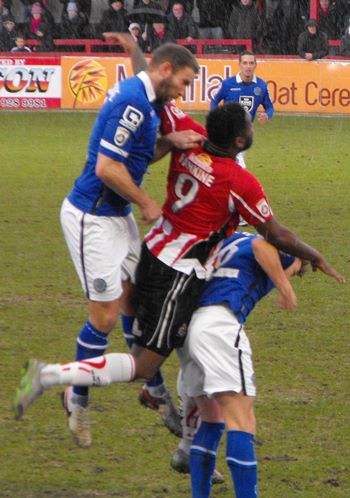 Who will our neighbours, Macclesfield Town, be playing next season? Back in 2016, Alty played their last league fixture against The Silkmen. Here (right) we see Michael Rankine compete for an aerial ball in that match, a goalless draw at Moss Lane, played in pouring rain.

Elite football in England has been suspended since 13 March because of coronavirus, with only the Premier League and Championship so far committing to resuming their seasons later this month...

The points-per-game system does throw up one significant change to the League One table, with eighth-placed Wycombe Wanderers replacing sixth-placed Peterborough United in the play-offs...

While the top half of League Two is largely unaffected, Swindon Town have been named champions after leapfrogging Crewe Alexandra because the Robins have a game in hand. [Actually it's NOT because they have a game in hand, it's because they have a higher points per game tally].

The situation at the bottom has been complicated by the Macclesfield charge, however, which relates to late payment of wages in March and for 'failing to act with utmost good faith in respect of matters with the EFL and for breaching an order, requirement, direction or instruction of the league'...

The League Two play-off semi-finals are to begin on Thursday, 18 June... The final, which will take place on Monday, 29 June, is to be held at Wembley as originally planned. All games will be held behind closed doors".

THe Non-League Paper adds that "The National League are set to make one of their biggest decisions in decades after League Two clubs formally voted to bring their 2019/20 season to a conclusion. Leaders Barrow and the chasing pack have fresh hope that at least one of them will be promoted after Tuesday morning's vote to call off the campaign but keep promotion and relegation to replace their bottom-placed side...

The National League have previously said they will announce their own plans for promotion following the key votes and clarification by the EFL... [The EFL stated] 'Under the proposals agreed by Clubs, the 24th placed Club in the League Two will be relegated to the National League provided the Board receives the necessary assurances that the National League will start Season 2020/21 (i.e. the relegated Club in League Two has somewhere to play). Due to ongoing disciplinary matters, the final placings cannot yet be confirmed.'".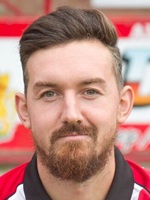 Confirmation comes from The NPL that "Clitheroe have signed experienced striker Craig Hobson [right] from Stalybridge Celtic.

Hobson, 32, hit double figures for the Bower Fold outfit last season...

Hobson has previously played in the National League for Stockport, Lincoln City and Chester. He played under new Clitheroe boss David Lynch at Alfreton Town".
The Boston Standard reports that manager "Craig Elliott will be sad to see Boston United leave York Street but he is determined to make some special memories at the club's new home. The Pilgrims look on track to kick off next season at the Jakemans Community Stadium, currently being built south of the town.

Their York Street lease ends later this month, with United ending their stay at the place they have called home since 1933. There is a slim chance the stadium may still host competitive action with the option of National League North play-offs still on the table, but any further matches this season look set to be played behind closed doors...

'We always said we wanted to give York Street a good final season, but we also want to make a positive start at the new stadium,' he told The Standard. 'I went to have a look around (York Street) and it was sad to see the boards coming down and the place being taken apart. But I also had a drive past the new stadium and it's looking amazing, I can't wait to get started there.

'If we've played our last game at York Street then we have to start looking forward. We want to make good memories at the new place and make a statement'...

Before the COVID-19 pandemic ended the campaign early, The Pilgrims had won 13 of their 19 competitive games and drew three times as they sat fourth in the National League North standings... The one stand-out frustration was the final home game at the stadium being a 3-0 defeat to an in-form Gateshead side.

'It's a shame if that's our last home game,' Elliott added. 'But I think overall we can look back at a good season, some good performances and a good FA Cup run... I'll definitely miss it, it's an amazing place,' he continued. 'I've said before, I get a buzz every time I turn up there. I'm immensely proud to be the manager of such a great football club... Hopefully we created some special final memories for the fans'".
Another club looking forward to a different stadium next season are the subject of a report by the National League which recalls that "The flood water so high it kissed the crossbar, Gloucester City's Meadow Park came under siege when Severn Trent Water's treatment works was breached by a 12-hour downpour... Getting on for 5,000 days later, and with thousands of miles travelled by fans to home games in the 13 years since, their homecoming parade is nearing its start...

Gloucester fans are not only counting down the days until they return, but they are building a squad which looks certain to draw the crowds as they work their way towards full-time football.

Chester's 18-goal striker Akwasi Asante is now theirs, while Solihull Moors' talented midfielder George Carline is also on board.

Classy Fabien Robert, electric winger Bernard Mensah and experienced Liam Daly already provide a spine to a squad which have many in the National League North talking.

James Rowe will be the man leading them home and thinks the new stadium and its location will help build a big future for a club on its knees since 2007.

'There's a buzz, a genuine excitement that the club is at last coming home,' the former Aldershot assistant told us. 'The new stadium has a 3G pitch and it's our belief that will engage everyone... Just take a look at others who have turned their stadium into a community home. Sutton United and Bromley now play in front of big crowds, and Maidstone United, similar to us, were transformed when they returned to the town.

'We've lost a generation of fans, but we're determined to win them back... Yes, Gloucester is a huge rugby city but there are football people in it who have lost out on watching the team for a decade'...

The nomadic Tigers have played home games at Cheltenham Town's Whaddon Road, after three seasons sharing at Cirencester Town. Forest Green Rovers' New Lawn also came to their rescue before another pit-stop at Evesham United.

Rowe, in his first number one role, says Eamonn McGurk, Steve Harvey and Alex Petheram are providing the club with a platform to flourish.

'13 years is a long time,' the manager said... 'More than a decade has been lost and now we need to produce a good team and hopefully we can challenge for promotion. That's our ultimate ambition... Nobody deserves it more than the club's loyal fans. Even last year at Evesham crowds were over 400. Our core support has always been there and the new ground is right in the city centre by the docks; it's the perfect location and we can't wait'...

The signing of talented Asante from Chester on Friday made some wonder if Gloucester will be the summer's big spenders. Rowe responded 'It's a great signing for us but it's not about the financial side. I've known Akwasi for more than ten years, he's a player I have always admired and one I'm delighted to get. He lives in Birmingham so the commute is better for him. He has two young children and that comes into play; it's not about huge money.

'We're transitioning to full-time but we want to do it the right way. We'll be a hybrid version of that next season but we don't want to change too much too soon, especially with what's going on in the world right now. We saw Forest Green do it locally this way and it's an excellent example to follow'".
Gateshead Football Club "confirm the signing of George Smith on a one-year contract...

The defender arrives on Tyneside for the second time in his career, having left National League side Harrogate Town this summer.

The 23-year-old first joined Gateshead after leaving Barnsley in June 2016 and went on to make 38 National League appearances... His form at the International Stadium earned him a move into the Football League when he penned a two-year deal at Northampton Town.

He joined Chesterfield for an undisclosed fee in January 2018 before leaving to join Harrogate Town last summer.

Smith appeared for Harrogate 21 times in the league last season... prior to the campaign's premature ending."
---
9 June 2020
The NPL reports that "Stafford Rangers have confirmed a number of players have agreed to return to training with the club.

The list of players is: Lewis King, Jon Brown, Josh Burns, Danny Burns, Jon Moran, Josh Green, Sam Coulson, Alex-Ray Harvey, Tom Thorley, Theo Bailey-Jones [pictured, right], Joe Cuff, Evan Garnett and Owen Turner. New manager Jody Banim continues to wait for the required clearance and rules to get his squad together, with signings and additions to be released in due course."
Gateshead have issued "an update on the status of our squad.

Connor Oliver, Connor Thomson, Scott Barrow and Toby Lees are all set to depart the club at the end of their respective contracts.

Barrow has made 112 appearances across three seasons with the club after arriving in 2017/18, earning Player of the Season in his first campaign, before captaining the side for the following two seasons. Scott has understandably become a fan favourite during his time at the club...

Thomson joined the club in the summer of 2018 and made eight appearances last season, before spending time out on loan with Northern Premier League Premier Division side Scarborough Athletic during the latter half of the campaign.

Oliver and Lees both joined the club last summer and have made 27 and 22 appearances respectively...

The club can also confirm that striker Paul Blackett has been offered terms for the new season. Blackett joined us at the start of last season and made 14 appearances before going on to impress during a loan spell with Northern Premier League Premier Division club Whitby Town.

For confirmation of our current squad status:
Contracted to the club for next season – Sam Guthrie, Alex Nicholson, Mike Williamson, JJ O'Donnell, Elliott Forbes, Danny Greenfield, Greg Olley, Nicky Deverdics, Jordan Preston, Ruairi Keating
Offered terms for next season – Paul Blackett
Terms not agreed for next season – Scott Barrow
Released after contract ends - Connor Thomson, Connor Oliver, Toby Lees
Will return to parent club after loan spell ends – Brad James, Jake Cooper, Liam Agnew, Dom Tear, Mitchell Curry, Jack Hindle"
According to the Derbyshire Times, "Alfreton Town chairman Wayne Bradley has confirmed that the club finances will be tighter following the global pandemic and the abrupt ending of the 2019/20 season... with Alfreton 14th in the National League North table...

Bradley confirmed that the Reds will be fine following this period, but they will need to be careful going forward.

'Alfreton are financially sound and debt free', he said. 'It is the unknowns that are the current issues that we need to solve. Finances will be tight for the next season and I believe they might well be beyond. Player costs balanced with stadia income will be a fine line to walk, going forward.

'We have plans of action in place, but we currently await on a perspective of the time frame within which we will have to carry these plans out'...

Bradley added 'We voted to call a halt and cancellation to the season, mainly due to the duty that we have to protect the fans and players from the Covid 19 pandemic. Due to our mid table position, we would not be affected dramatically so that made the decision easier. But there are still clubs, mainly those occupying play-off and promotion positions, still debating a desire to play on.

'The National League have been reasonable with us and have been regular with their communications to league member clubs. But they are between a rock and a hard place with the decisions that they must make. The league is currently awaiting direction from the EFL and the FA on clarity of how to play out the conclusion, as there are ramifications for all leagues with every decision made...

He said 'Whenever football is viable to recommence, there must be spectators in attendance for us. Playing behind closed doors is not a viable option for us as we don't receive the television money and sponsorship that the higher leagues do. We will need adequate time to prepare for the new season to enable the plan for player recruitment to move along with plans of operation.

'Club volunteers currently aid progress with pitch and ground developments. As social distancing rules change, this will trigger further club actions in those areas.'"
Bradford (Park Avenue) "confirm the signing of Jake Hibbs on a one year deal with the option for a second. After starting his career with Manchester City U18s, Jake eventually found himself at Halifax Town, where he played 57 times for them in the National League. He capped his time there by helping them win the FA trophy at Wembley...

Jake left Halifax for Spennymoor in 18/19 season. The move was unfortunately dogged by injury and playing in his less favoured role of right-back. This led to him taking loan spells at Buxton and latterly with the Avenue last season where he started 9 times in his preferred role.

A dynamic box to box midfielder with strong technical skill, Jake is the perfect blend of talent, experience and potential. We look forward to Jake showing us exactly what made him hot property during his time at Halifax with an extended run in the Avenue engine room.

Mark Bower said, 'We are delighted to secure the signing of Jake Hibbs on a permanent basis following his loan spell with us. Jake put in some strong performances for us last season and we are looking forward to helping him push on and fulfil his undoubted potential. Jake was a stand out player in The National League a few years ago whilst at Halifax, but has had a frustrating time more recently.

'We believe Jake has the potential to reach and surpass the standards he has set in the past and the key for him joining us was our determination to help him achieve this by playing him regularly in his strongest position in a style of play that suits his attributes.'"

Jake Hibbs added, 'When the opportunity came up to sign for BPA it was a no brainer for me really, having worked with Mark and Danny before. I've always enjoyed my time playing for them and feel that they can bring the best out of me by having a full season with them. Obviously last season was a bit of a strange one, both personally and for football in general, but the time I spent on loan at Bradford has made my decision really easy to join for the upcoming season. Looking at the players we have already signed it looks like it's going to be an exciting season on the pitch'".
NL Daily informs us that Chester FC "will not be announcing a retained list until the outcome of their 2019/20 season is finalised.

The Blues were one of the sides in the play-off places of the National League North at the time of March's season suspension... No 'sporting outcome' has been decided with regards to promotion from the division.

The club have said 'The board is committed to safeguarding the football club and ensuring it remains financially sustainable so we can overcome these challenges together and prepare for the safe return of football. This commitment means the board must be prepared to make difficult but necessary decisions if required. Complicating the current situation is the continued uncertainty over how the 2019/20 campaign will be concluded and the prospect of a potential play-off campaign. We are sure supporters will appreciate that while this remains a possibility, it has a bearing on the board's decisions and actions.

'To this end, we have decided it is not appropriate to publish a retained list until the 2019/20 season has been decided...

'We continue to access the Coronavirus Job Retention Scheme (CJRS) and the majority of club staff remain on furlough leave, with some rotation as operations dictate. Given the play-offs remain a possibility, we have re-engaged most of the first-team squad on short-term contracts until 27th June. All furloughed employees will now receive 80% of their salaries up to a maximum of £2,500 per month, and the board wishes to thank the players, non-playing and non-football staff for their agreement to ensure we can preserve the club's resources and protect roles. The CJRS has been extended until the end of October although government support will be tapered and we will continue to review our use of the scheme.

'We have received a Coronavirus Business Support Grant (£25,000) through Flintshire County Council and continue to take steps to manage ongoing running costs and annual outgoings such as utilities and insurances. We are grateful to those companies who have agreed payment holidays and payment plans.'"
We learn from the Shropshire Star that "AFC Telford United manager Gavin Cowan has kicked off his summer rebuild at the New Buck's Head and sealed his first new signing, the popular return of defender Lee Vaughan, late last week.

The Bucks have also so far revealed three players from last season, Brendon Daniels, Adam Walker and Zak Lilly, are staying at the club, while Henry Cowans has been invited to prove his fitness in pre-season. Non-league contracts expired in early May.

Cowan feels that players... should be grateful of their security. More than 1,000 EFL players are out of contract on June 30 and uncertainty around the finances of many lower league clubs means the pool of free agents hunting for a new home will grow, with clubs unable to commit to lucrative deals.

'I think players under contract should be really appreciative of that because it becomes power,' said former Shrewsbury defender Cowan. 'Unless you're a 25 or 30-goal a season player, or unless you've got a contract at the moment, you'll want to get tied up sooner rather than later. The pool of players is just growing and growing, more so than previously, that will be a natural filter down from League One and League Two.

'For me, it's had a knock-on effect. Yes, our budget has been hurt but I hope we can command some really good players. The reality is we can't pay really big money, whoever we sign has to come for the whole package. Sometimes your currency doesn't have to be financial, it can be facilities in place, the little one per cents we add to the environment that means players enjoy their football and being at the club.'

Cowan has released James McQuilkin, Darryl Knights, Jon Royle and Arlen Birch from his ranks and is expected to clarify the status of the remainder of last season's squad in the coming weeks.

The Bucks boss added 'Players will talk about how they want to wait or assess their options, but I'd be advising players to get fixed up... as soon as possible because the pool of players is going to be huge.'

Telford's 'Boost the Budget' fundraiser, which began as a coronavirus survival fund before the club altered its description to instead back Cowan's player budget, has reached almost £2,200, with the manager donating £50 himself".
Meanwhile at Hereford FC, we read that "In normal seasons pitch renovations at Edgar Street would be well underway by now but the COVID-19 pandemic has halted all but essential spending at the Club. This means that no renovations have started and the pitch is beginning to look a little sorry for itself thanks to the limited work and the extremely dry weather through May.

Groundsman Ben Bowen and Highground Maintenance have outlined a plan of works to bring the pitch up to scratch... but... the Club is not currently in a position to fund this work, with a total cost of around £7,500. Thanks to the Football Foundation's Pitch Preparation Fund, Club Secretary Martin Watson has secured a grant of £1,500 towards the work but that still leaves £6,000 outstanding... We would like our supporters to assist Ben in producing another pitch to be proud of by donating to our new Pitch Maintenance Fund...

The Club will produce a special digital programme on the Edgar Street pitch to commemorate the fundraising. Every donator will have their name in the programme, while those donating £50 or more will be entered into a draw to win one of a number of special Hereford FC experiences in the coming season. These experiences will include being a Director for the Day at a match, mascot packages, and joining the manager for a pre-match chat in his office before a game."
At Farsley Celtic "In the last couple of months, two new appointments have been made to our academy staff.

Dyson Dzapasi joins as the Head of Recruitment for our academy and U23 squad, whilst Pathikrit Sarkar is our new Head of International Recruitment and Partnership Development. Dzapasi has previously worked as a scout for the Leeds United Academy and runs the PYE Football Academy, whilst Sarkar was a professional footballer in India before founding Fast Sports & Management in Leeds.

Farsley Academy Manager Neil Ross is delighted to have both on board, as he said... 'Dyson's role is to recruit for the academy, for our BTEC programme, and for the under 23s, in the elite section within Leeds and Yorkshire. Pat is in charge of our international recruitment, he's got experience working in India and around the world, so his role is to bring players from around the world into the academy programme, and also into the under 23s.

'It's an opportunity for us to put the Farsley brand worldwide and get young players from around the world into our academy set up.'"
---
8 June 2020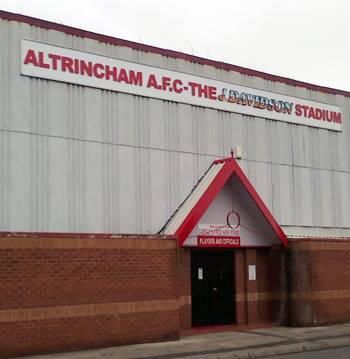 The official Altrincham FC website has published a "Message from Altrincham FC director Neil Faulkner" which states,

'I hope everyone is keeping safe and well in these difficult times. We are certainly missing our football, and we still don't know when it will resume at our level, as we continue to wait for word on outstanding issues pertaining to this season and when next season might start.

In the meantime, we have to be prepared. Whenever we start again, we must ensure the ground in prime condition to enable the players to perform at their best and make the match day experience a memorable one for supporters.

With that in mind, I am appealing to our many fantastic volunteers and fans to help us with working parties we have pencilled in for the next couple of weeks to spruce up all areas of The J.Davidson Stadium.

Naturally, we will be taking all the necessary precautions recommended for helping combat Covid-19, and social distancing guidelines will be observed.

We are looking to carry out the usual jobs of painting, tidying up the ground inside and out, filling skips, weeding, washing the seating and many other tasks on our long list.

If you feel you would like to help and are able to attend, you will be making a difference, and your contribution will be hugely appreciated by everyone at the club. It is more important than ever that we are ready for the restart, whenever it might be, so if you can come along to either session, please let me know by emailing me. If anything changes, we will, of course, advise you.

The first two sessions are as follows:
Saturday, 13th June, 10am - 4pm
Saturday, 27th June, 10am - 4pm
Thank you, as ever, for your support, Neil Faulkner".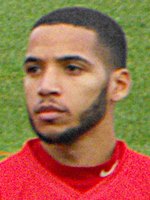 According to the Northern Premier League "Radcliffe have announced the signings of forward Andy Owens and defender Curtis Obeng, [both of whom are former Altrincham players].

Obeng [right], 31, hails from Manchester and came through the youth ranks at Manchester City. Notable stops in his career have come at Wrexham and Nuneaton Borough, while he also had a spell on loan at Ashton United.

Owens moves to Radcliffe following a couple of seasons in the Welsh Premier League, where he turned out for Connah's Quay Nomads and Airbus UK Broughton.

A former England C international, the 30-year-old counts Altrincham, Marine, Stafford Rangers, Southport, Telford United and Stalybridge among his former clubs."
At Farsley Celtic "captain Danny Ellis has extended his stay at the club into a fourth season.

The former Guiseley and Harrogate Town defender has made 123 appearances since joining the club in 2017, lifting the West Riding County Cup and Northern Premier League title as captain. The skipper is pleased to have remained in west Leeds, as he said 'I have really enjoyed the last three years at Farsley, we have a fantastic dressing room which I believe is very important.

'I thought we more than competed with all the teams last season considering the size of some the clubs we were up against. We were favourites to go down, so when you look at that I feel we had a great season...

'I regularly use the gym. It's been hard without that so, most nights, I've been going out on the bike or running to keep fit.'

Ellis... added 'Next season the aim is simply to win as many games as possible and see where it takes us. I will be aiming for the playoffs, but we are aware of how difficult this division is'.

The experienced centre-half will also take up a greater role alongside his playing duties next season, as [manager] Adam Lakeland explains 'Danny has been outstanding for us throughout the past three seasons and epitomises everything that we are as a team. He's hard-working, committed, competitive and puts his body on the line every time he takes to the pitch.

'He may be another year older, but I said that last summer and he went on to have a fantastic season, so I'm sure he will do the same next campaign. When the time comes for Danny to 'hang them up', I'll find a position for him within our management team because of his knowledge and love of the game, connections and coaching ability as a UEFA B coach.

'Next season he will become involved with the coaching side of things supporting me and Bettsy (Mark Bett) during the times when we need to manage his load in training to protect him ahead of games, something we have done successfully this season. But first and foremost, he is a player, our captain and I'm delighted to keep him on board.'"
At Boston United the club reports that one of their fundraising initiatives."Super Draw Lotto have issued an update in relation to their deferred draws during the Coronavirus pandemic. Unlike the National Lottery and many charity lotteries, who have been able to continue making their prize draws due to their operations being primarily funded by online and direct debit payments, the revenue from the Super Draw Lotto comes from a variety of different channels, of which some of it depends on social interaction.

The deferred weekly draws will be made as soon as possible when the office reopens... until we have caught up and all the draws are up to date... Please continue making your regular payment".
---
7 June, 2020 Sixteen years ago today, 7 June 2004, the Altrincham FC website reported that

"Regarding the Accrington Stanley bid for Ian Craney, Alty manager Graham Heathcote [left], (on behalf of himself and Alty chairman Geoff Goodwin [right]) and, separately, Alty director Grahame Rowley have posted messages on the Alty Fans' Forum. These are in response to comments in the Accrington Observer...

Graham Heathcote writes 'We have given Accrington Stanley our bottom line figure with add-ons; they have not agreed the figures [with us]... Accrington know the fee, if they can't meet it, we will be patient'. Grahame Rowley adds, 'We have tried to be dignified in our dealings with Accrington and Ian but the comments made by Accrington have not been helpful in the negotiations. Let's hope that everyone can get around the table in the proper manner and discuss a way forward for everyone concerned'".
Ian was a skilful midfielder, quick-footed, strong on the ball and had a powerful long-range shot with either foot. He was formerly at Runcorn and made his first-team Alty debut against Emley on 9 September, 2000. In 2000-01 season Ian attracted a number of scouts from League clubs, which included Manchester City.

He continued to perform very well in 2001-02 as an ever-present member of the first team and made a good start to the 2002-03 pre-season before being required to play out of position. Ian reverted to midfield on the appointment of Graham Heathcote as manager in October 2002 and went on to make a successful debut for the England semi-pro side against Belgium in February 2003 and was again capped in May 2004 against the USA.

Ian was elected Altrincham Player of the Season for both 2002-03 and 2003-04, and also lifted the NLP's UniBond Player of the Season award in 2003-04. In 2003-04 he ended the season as leading scorer and team captain. He played two games for Tranmere Rovers Reserves in May 2004 but was sold to Accrington Stanley for £15,000 (plus £2,500 after 20 appearances) and a 50% sell-on clause. In his Alty career he made 197(+17) appearances and scored 40 goals.

As for his later career Swansea City asked "Have you ever wondered what a former Swans player has been up to since hanging up his boots? We look at what former Swansea City players have been up to since retiring from playing.

This week we focus on a former midfielder, who made 31 appearances for Swansea City between 2006 and 2008. He now works for a bread distribution company owned and run by his family.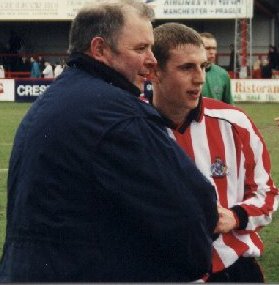 Right: Ian receives Man of the Match award in season 2001-02 from the late Kevan Guiney.

During his 13-year career as a professional footballer, Liverpool-born midfielder Ian Craney signed for Accrington Stanley on no fewer than five occasions as well as turning out for Swansea City and Huddersfield Town. Having started out as a youngster with Everton, Craney made over 100 appearances for Altrincham before joining Accrington for the first time in 2004.

He initially signed for the Swans on loan in November 2006 before making his move to the Liberty Stadium permanent in January 2007.

'It was a fantastic feeling making my Swansea debut against Bristol City', says Craney. 'No disrespect to Accrington, but I left there to join a club I thought would be a Premier League club of the future and so it proved... It was great getting my first touches of ball, knowing I was playing at League One level'...

He made a return to Accrington on loan, then on a permanent deal in 2008. 'I don't like to look back on any part of my career with regret, but I suppose the one thing I think about Swansea is the players and the fans never got to really see what I was all about,' Craney says. 'My career there never quite panned out how I saw it going. Kenny Jackett [who at one time lived in Altrincham] signed me but then left about four or five weeks later.

'I was known as a goalscoring midfielder prior to joining Swansea, but I usually played in a holding role under (the club's next manager) Roberto (Martinez). I learned a great deal from Roberto though, and I thoroughly enjoyed every minute of my time at Swansea.' Craney played in four matches in all competitions for the Swans during the 2007-08 season... The Swans were promoted to the Championship as League One champions.

'It was great to have played a very small part in their promotion-winning season,' smiles Craney. 'It was a shame for me to leave Swansea but the key thing for me throughout my career was to play matches'...

Having dropped down a division when he re-signed for Accrington, Craney got the opportunity to play League One football once again in August 2008 when he joined Huddersfield Town. 'Like when I signed for Swansea, I joined Huddersfield knowing they were a club moving in the right direction,' says Craney. 'I was really pleased with my time at Huddersfield, especially my first season'...

Craney netted six times in total in 35 appearances for Huddersfield and was also loaned to Morecambe during his time with the Terriers prior to his transfer to Fleetwood Town in 2010. He later played for the likes of Rochdale, Telford United and Stockport County, as well having two more spells with Accrington Stanley, before retiring in 2014.

'These days [2017] I work for my family business with my uncles and my mum and dad. We distribute bread all around the north-west of England,' explains Craney. 'I'm up early with the job, at 4.30am, but I'm usually finished by 10.30am. It's a change from football, but it's a change I'm comfortable with... This job fits well around my family life as I'm able to pick up my six-year-old daughter from school every day.

'Since retiring from playing, I've had a season ticket at Liverpool. I have my coaching badges, but I don't have any plans to get back into the game, so that's my main link with football these days'".
Bradford (Park Avenue) report that former Alty full-back "Ryan Toulson has put pen to paper on a new deal, extending his stay with the club. Ryan forms part of a formidable management team with Mark and Danny having worked with them over the last 3 years.

The experienced, solid and hard working right-sided defender becomes the clubs sixth signing ahead of the new season. Ryan is the ideal signing for the club being able to coach and develop some of our younger players both on and off the pitch.

After leaving the club in the summer of 2019, Ryan re-joined last season as one of Mark [Bower]'s first signings and went on to make 15 appearances in league and cup..

Ryan Toulson said 'I am delighted to be joining Mark and Danny as part of the management team for another season. They have shown trust in me to join an already successful management team at this level and they have both helped me gain knowledge and understanding in different areas of management/coaching, so long may that continue. As the club looks to the future on developing younger players I hope my experience on the pitch complements the work that we do off it'...

Mark Bower added,'It is great news that Ryan has extended his stay at the club. He has proved to be a trusted and knowledgeable member of the staff and also provides an experienced head on the pitch which will be important as we place a greater emphasis on developing more younger players over the coming seasons. Ryan's style and personality compliments our management team well'".
Brackley Town tell us that they "continue to seek to improve the facilities around the ground and to prepare for the re-build of the clubhouse. We were expecting the delivery and installation of a further seated stand this week. This has been delayed due to difficulties with the transport but it is now due next week so hopefully we can update you about this next Saturday.

At the top end of the ground we have altered the configuration of the third turnstile so we can widen the access gates. This is a long overdue and welcome improvement.

The demolition of the burned out clubhouse will now start within days. The demolition team will move onto site on Tuesday to start setting up with work scheduled to begin on Thursday. We are using a specialist company from Telford for this work.

We are installing a time-lapse camera to capture the progress of the works from start to finish so look out for what should be some interesting footage in the months ahead."
According to NL Daily, Kidderminster "Harriers can confirm the signing of former AFC Fylde captain, Lewis Montrose.

Lewis brings a wealth of experience to the Aggborough midfield, with almost 400 appearances to his name and two promotions from League 2.

He's spent the last three seasons in the National League and National League North, most recently with the Coasters, where he had been skipper.

Manager Russ Penn said 'Lewis is a great addition to our squad. He brings with him a vast amount of experience at not only this level but also ones above. I have played with Lewis in the past and I feel it's what the club has been missing over the past few years; a man who will lead on and off the pitch and is another piece of the jigsaw to what we are building...

Lewis officially becomes a Harriers player on a one-year contract from 1st July."

Montrose was also formerly at our neighbours, Stockport County.
---
6 June 2020 AltrinchamFC have confirmed that the club's major sponsors, J Davidson Scrap Metal Processors have renewed their club sponsorship for a further season.

For full details follow the above link to the club's official website.
The NPL reports that "Warrington Town have announced their player retention list for the 2020/21 season. A total of 10 players from the squad that ended the 2019/20 season have committed for the new campaign.
That includes skipper Mark Roberts, striker Josh Amis and winger Jack Mackreth, as well as Jack Dunn, Bohan Dixon, Jordan Buckley, Mitch Duggan and Adam Carden. Young left-back Tom Warren was the only player under contract for next season when the Northern Premier League was suspended back in March...

Departures are headlined by veteran duo Tony McMillan and Tony Gray. Goalkeeper McMillan was the club's longest serving player and leaves to take up a player/coach role at a National League club, while 36-year-old Gray leaves after scoring 41 goals in three seasons.

Recent arrival Luke Wall [right] is taking up a playing opportunity in Gibraltar and young fringe player Ashar Nelson is going to Australia".

And NL Daily reports that "Matt Urwin and Elliot Newby have agreed to stay at Chorley next season...

24-year-old Newby has racked up 79 appearances for the Magpies across two campaigns, scoring eight goals. He said... 'I feel I have unfinished business after how last season ended. I've enjoyed my time at Victory Park so far and feel like I'm in a good place to make a big contribution no matter what league we're playing in.'"

Elsewhere, Clitheroe "have landed another of their top transfer targets with Craig Hobson arriving at Shawbridge to pep up the Blues' attack. Hobson becomes player-manager David Lynch's fifth new signing and once again brings an outstanding pedigree to the Blues' new-look squad.

The towering striker comes with top-flight non-league experience following spells in the National League with Stockport County, Lincoln City and Chester City.

And the 32-year-old joins the Blues after hitting double figures last season for BetVictor Premier League outfit Stalybridge Celtic... 'Craig is the experienced big target man David has sought since he first got the job weeks ago,' said the Blues' director of football, Carl Garner. 'I think the fact he's played at all the higher non-league levels at some huge clubs tells you the stature of the player we are getting...

'For me, securing Hobbo was vital,' said the Blues' player-boss... 'Hobbo is everything you could wish for in a centre forward. He's big, strong, fantastic with his back to play, knows where the net is and has a fantastic attitude'".
Gloucester City "Announce our third new signing with striker Akwasi Asante joining from Chester.

Asante has been in sensational form for the Seals, scoring 21 goals in 29 appearances including a penalty in City's defeat at Chester at the start of the season. He was third in the National League North top scorers' table, averaging a League goal every 94 minutes, the best in the divison and only bettered by Sergio Aguero across the top six domestic leagues.

Akwasi, who is 27 and originally from Amsterdam, started his football career with Jame Rowe at Birmingham City in 2011. He had loan spells at Northampton and Shrewsbury before leaving the Blues to sign for Kidderminster Harriers.

After leaving Aggborough he made the short trip north to Solihull Moors, where he played with Liam Daly and George Carline. In a two season stint in the National League he scored 28 goals, attracting the attention of Football League Clubs. In 2017 he moved back into League football, signing for Grimsby Town in League Two. Asante left Grimsby by mutual consent and signed for Tamworth. After 24 games with Tamworth he moved to Chester, initially on loan, and on his debut scored a "perfect" hattrick in Chester's 3-1 win over Darlington. He has been prolific for the Deva Stadium outfit, making him one of the National League North's most sought after marksmen.

Akwasi said, 'It didn't take very long to make my mind up with James Rowe being the manager here. I've known him for 10 years, he coached me as a 17 year-old at Birmingham City. James has always stayed in touch with me over the years and kept an eye on my career. He's tried to sign me over the years when he was at Aldershot as assistant but we never managed to sort it out and I now feel like the time is right."

'I had a few offers from other clubs and some even offering better wages but I like the ambition and the project at Gloucester City and I want to be a part of that with James Rowe'...

Co-Chairman Alex Petheram [said] 'I'm so pleased to confirm that we've signed our number one attacking summer target. I've been chatting to Akwasi this week and he's been great, Steve and I met with him yesterday evening, as Akwasi was on the M5 so he swung by Meadow Park. We found him a hard hat, high-vis vest and we walked the ground. He was good company! I explained we can't match the financial fire power of most in the league and that we've a very black and white approach to signing and contracts. But that he's the only striker we as a club want to sign and the only striker I'm talking to!'

'On the drive home I had an hour on the phone with Eamonn bringing him up to speed. As I pulled onto my drive I had a message saying, 'I really believe in the club, the players and the manager, I want to come. I understand you can't offer the same as others, but I want to sign!' I was taken aback as I'd not made an offer yet, so I put my best and only foot forward… I went to bed happy, naturally I couldn't sleep... the rest as they say is history! I'm speaking to a couple of other players still from James's list of five'".
And Chester FC "confirm that striker Akwasi Asante has decided to leave Chester FC. The forward departs the Deva Stadium after joining initially on loan from Tamworth in December 2018, before making a permanent switch the following month.

Akwasi ends with a superb record of 41 appearances and 28 goals in all competitions in the blue and white, with 18 goals in 20 starts in the National League North this term. The 27-year-old also bagged two hat-tricks for the club... He was recently named alongside Michael Wilde in the strikeforce of our 'Team of the Decade'.

Blues Joint Manager Anthony Johnson said 'In terms of any number nine myself and Bernard have coached, Akwasi has to be the best and we are sad to see him go. In terms of what he has brought to the football club, his record is outstanding... We had him on our radar at Salford City before his move to Grimsby Town and ever since we kept our eye on him. As a football club, we are not yet in a position to speak to any player with regards to next season and beyond and Akwasi has taken the decision to explore other options.'"
AFC Telford United "announce the signing of defender Lee Vaughan on a one-year deal.

The 31-year old from Castle Bromwich was a trainee at both Birmingham City and Portsmouth before joining Walsall in 2005 but subsequently moved to AFC Telford United a year later.

He made 179 appearances for the Bucks before joining Kidderminster Harriers in 2010. Having signed for Kidderminster in 2010, he made 157 appearances in all, either side of moves to Cheltenham Town and Tranmere Rovers, before returning to the Harriers in 2017.

Vaughan becomes Gavin Cowan's first new signing of the summer and has stated... 'It feels good to be back at the New Buck's Head having left over 10 years ago. The chance to work with Gav was a brilliant opportunity and I am looking forward to playing into front of the fans again at the New Buck's Head"

Manager Gavin Cowan said, 'To sign a player of this ilk is a real coup for us. Lee has had lots of offers at a higher level so it is testament to him that he has decided to go part-time to make the footballing/work transition and we are the lucky part-time club he has chosen'".
At Spennymoor Town "The latest tranche of investments in The Brewery Field mean that every spectator area in the ground has been improved in the last two years.

The transformation of the ground and its matchday experience has been one of the success stories of last season. Average attendances were up by more than 40 per cent and season ticket sales reached record heights.

The Neil Adams Sports Bar; a new covered stand; terracing; safety measures; turnstiles; bars; seating areas; a relaunched club shop; top-quality floodlights; and a state-of-the-art CCTV system are just some of improvements to have been introduced since last August. Not to mention The Brewery Field's beautiful new pitch.

The improvement project has continued... Tony Wilson, Managing Director...said '"We have undertaken another comprehensive review of what the final matchday product looked like at the end of last season and identified another list of areas we can make further progress... The return of football is going to be a momentous occasion for millions of people in this country; but it will be made so much sweeter for our supporters when they walk back into a ground they can be deeply proud of'...

The latest new investments to date include:
Further improvements to pitch drainage
Artificial referee's assistant runs.
Floodlight fine-tuning... The lights exceeded league requirements when they were installed last year but were slightly brighter in some areas than others. This has been evened out.
Updating the final terracing.
New surface in the Wood Vue corner.
Extension of crush barriers.
Toilet block upgrade.
External pathway around the Main Stand.
Painting and cleaning.
Flexible segregation fencing.
Disabled section cover.
Pitch care. The playing surface has been verti-drained and treated with sand and extra seed to stay level and improve surface coverage.
"It has been nine weeks since a href="https://www.yorkcityfootballclub.co.uk/news/club/update">York City Football Club temporarily closed, following government advice regarding the Coronavirus pandemic.. The club remains optimistic about its future.

During the nine weeks of closure, club staff and players have been furloughed, however those at the club who are able (in line with the HMRC Job Retention Scheme) have been working hard to plan for the future of the club and a return to football.

Our fans have remained engaged and the club has been overwhelmed with support and kind gestures, not least from the Vice Presidents who are currently crowdfunding specifically for Steve Watson's team development".
From Gateshead we learn that "Nicky Deverdics has agreed a one-year deal to remain on Tyneside ahead of the 2020/21 season...

The midfielder first appeared in Gateshead colours as a youngster in 2006, before returning to the North-East in the summer of 2019 for a second spell.

The 32-year-old scored three goals and made 10 assists in 31 appearances last season...

Deverdics's arrival takes the current squad up to 10 players, including player-manager Mike Williamson, following the additions of Greg Olley, JJ O'Donnell, Jordan Preston, Sam Guthrie, Danny Greenfield, Ruairi Keating, Alex Nicholson and Elliot Forbes."
At Farsley Celtic "Midfielder Dave Syers has signed an extension to remain with the club next season.

Syers has made 109 appearances across his two spells at Farsley, playing for the original Farsley club in 2009/10, and has found the back of the net on 38 occasions. The former Bradford City Players' Player of the Year was our top scorer last season, and he is now looking forward to spending a fourth season in west Leeds.

Syers, who has also played cricket for Farsley, said 'I didn't want to go anywhere else, it will be nice to try and actually complete a full season with the club at some point!... My hope at the start of the season was that we'd still be in the hunt for a playoff place with 10 games left and have taken points off some of the so-called 'big teams'... Since it became apparent we weren't going to get playing again, football has taken a back seat...

'I was furloughed through April so all I really did was look after my daughter and exercise... Last season I had a slow start after picking up an injury in preseason, but it was going really well when we finished, so hopefully I can carry that on into next season...

'I think teams may have underestimated us a bit so we're going to have to expect things to be harder going forward, but I believe we can rise to it.'

Farsley Manager Adam Lakeland also added his thoughts, saying... 'He enjoyed an excellent second half to the season after struggling with injuries in the early stages of the campaign, which saw him miss the majority of pre-season. He ended up as our highest goalscorer overall and joint top goalscorer along with Will (Hayhurst) and Jimmy (Spencer) in the league. His presence not only on the pitch, where he is a natural leader and fierce competitor, but around the club in general is invaluable to us'".
---
5 June 2020 Altrincham FC report via Press and Media Officer, John Edwards, that that "Zoom boom... this is how board meetings have looked during lockdown, as Alty's directors tune in to work their way through another busy agenda.

Work practices and procedures have been severely disrupted during the coronavirus crisis, but it has been business as usual, with just one or two concessions to lockdown guidelines, for Altrincham FC's busy board of directors.

It has been a case of boardzoom rather than boardroom for debating the issues of the day, but Alty's decision-makers have otherwise been able to plough on as normal with the task of helping shape future planning, both on and off the pitch...

As a final summary of the work that has been going on behind the scenes at board level, joint-chairman Bill Waterson said 'This pause in football, while it may be unwelcome from an on-field perspective, has enabled us to focus on strategy and projects which we often do not get the time for during the season. Our efforts have all been focused on that and naturally on minimising the risks and fall-out from the coronavirus on the club.'"

Follow the above link for the full account of the Board's work during lockdown.

Below is a selection of Altrincham FC stories which appeared on the website in past years on today's date, 5 June...
2019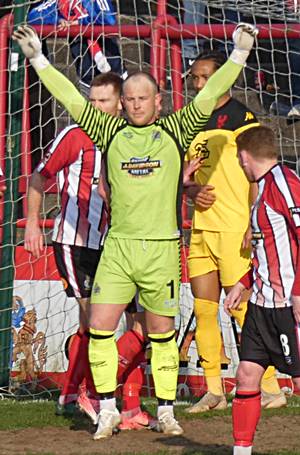 Altrincham FC "has announced that a further three of last season's squad will be remaining at the club for 2019-20 season. They are goalkeeper Tony Thompson [right], defender Ben Harrison and forward James Poole.

24 year-old Tony Thompson has racked up 86 appearances in his two seasons at Moss Lane.

Ben Harrison (28) was an ever-present in his first season at Altrincham before a knee injury sadly curtailed his 2017-18 season in April 2018. Recurrent injury robbed him of much of 2018-19 but by the end of the campaign. He was fit again. Ben has made 49(+6) appearances to date, and scored twice.

29 year-old James Poole, likewise, suffered an injury-ravaged 2018-19 which limited his appearances to 37(+16) over the two seasons he has spent at the club. He has netted 14 goals.

So far, the following 18 players have been confirmed as being at Altrincham next season.

Shaun DENSMORE, Steven DRENCH, Connor HAMPSON, Josh HANCOCK, Tom HANNIGAN, Ben HARRISON, Max HARROP, Jordan HULME, John JOHNSTON, James JONES, Jake MOULT, Toby MULLARKEY, Tom PEERS, James POOLE, Simon RICHMAN, Anthony THOMPSON, Andy WHITE, Sean WILLIAMS.

All except Tom Peers and Toby Mullarkey ended last season at the J. Davidson Stadium. However, one of last season's players who is unlikely to remain at Moss Lane is Callum Dolan. According to Sports Connexions he is 'going back to Burton Albion for pre-season training to earn himself a professional contract with Nigel Clough's Division one side'".
2015
"The Football Conference announces that 'The official rebranding of the top tier of English non-league football as The National League is now effective.

The Parent Company, formerly known as The Football Conference Ltd, will officially enact the name change at its Congress weekend on Saturday June 6 2015 at Celtic Manor, Newport.

Its three Divisions are henceforth officially entitled the:
Vanarama National League
Vanarama National League North
Vanarama National League South.
Brian Barwick, Chairman of The National League said, 'As the incoming Chairman of the Vanarama National League, I am pleased to welcome the new name in the full knowledge that it will be coupled with existing values and strengths of the competition that have been in existence for over 35 years.

It is an exciting time to take over as Chairman and I look forward to the new season. I would also like to pay tribute to the person who I am succeeding; as a fellow Brian, I know it will be a tough act to follow Brian Lee who has enjoyed the respect of the game for many years.' "
According to York Press, "York City have said that they remain 'optimistic' about the future, despite the current uncertainty caused by the coronavirus pandemic.

York's entire club staff and playing squad have been placed on furlough since April 2 following the suspension of their 2019/20 Vanarama National League North campaign. Having not played a match since early March, the financial impact is being felt by the club while further uncertainty is being caused by the continued wait to resolve their league season.

A statement published on the club's website read... 'It's important to us that our supporters know that despite the financial impact of coronavirus, uncertainty surrounding the closure of the 2019/2020 league campaign and commencement of next season, the club remains optimistic about its future.

'During the nine weeks of closure, club staff and players have been furloughed, however those at the club who are able (in line with the HMRC Job Retention Scheme) have been working hard to plan for the future of the club and a return to football. Our fans have remained engaged and the club has been overwhelmed with support and kind gestures, not least from the Vice Presidents who are currently crowdfunding specifically for Steve Watson's team development'".
In the Northants Telegraph manager "Paul Cox says he was "amazed" with the transformation of Kettering Town's Latimer Park home on a recent visit to the ground.

Work has resumed on upgrades to the Poppies' ground in Burton Latimer as they bring it up to the appropriate grading for the National League North.

New turnstiles have now been installed, a new 250-seater stand is due to be installed shortly, new steps of terracing have been added an extension of the 'Tin Hat End' is due to happen with a new terrace, which the Kettering Town (Poppies) Supporters Trust have helped pay for following a big fundraising campaign.

Other general maintenance has also been taking place to ensure the ground will look a lot different whenever the new season gets under way...

'I was amazed by the transformation when I went down there,' he said. 'There's a lot of good people putting a lot of hard work in and I was really surprised by how much has gone on. There are new stands to go in behind both goals and the new turnstiles are in so it's looking good... Me, John [Ramshaw, assistant manager] and Ben [Marvin, coach], when we were down there, likened it to the set-up at Solihull Moors.

'When they first went to their new ground there seemed to be a lot of open space around it but little by little they have filled it in and created a nice stadium... I am sure there is loads more that can and will be done but strong foundations are being laid for the future'".
We learn from the Shropshire Star that "Gavin Cowan is on the hunt for leaders to fix his AFC Telford United side's 'weak underbelly' during his summer recruitment drive... Cowan feels that much of his side's inability to hold on to leads, particularly in the closing stages of matches, highlighted mentality issues and a 'weak underbelly'.

'The reality this year is as a team I thought we did some really good things, but we were our own worst enemy at times,' Cowan said... 'We had a bit of weak underbelly in my opinion, conceding late goals; that's a mentality, not an ability or game strategy. That's something we need to address, make sure we've got leaders in the team and people who can close out games'...

Cowan has so far re-signed three players for next season, with four leaving the New Buck's Head. He added 'It doesn't take a rocket scientist, when you've got players of the calibre we've had, when we've been dominant in possession, working to a strategy that works every time we put it in place, there's only thing that can be said. That's a lack of ruthlessness and a weak underbelly and it's something we've got to address.

'Some would say that money buys that but I think it's about individuals that come together collectively.'"
AtGateshead "Elliot Forbes has agreed a one-year deal to remain on Tyneside for the 2020/21 season,...

The Gateshead academy graduate carved a place for himself in the starting eleven with his versatility, after being deployed in central midfield, central defence and full-back across the past season.

The 21 year-old netted his first Gateshead goal against Hereford last season, and will now mark his third campaign in Heed colours since he progressed through the club's academy system alongside the likes of Tom White and Jon Mellish.

The Gateshead FC Academy programme is delivered in partnership with Gateshead College and players train and play as part of the football club's under-19 squad whilst studying for nationally recognised qualifications at the college. He becomes The Heed's eighth signing of the summer, following in the footsteps of Greg Olley, JJ O'Donnell, Alex Nicholson, Jordan Preston, Sam Guthrie, Ruairi Keating and Danny Greenfield."
---
4 June 2020 4 June 2005: The website reported on that day that "Alty manager Graham Heathcote has returned from holiday to announce the first changes to his playing squad for the new season in Conference National. His first signing of the summer is a familiar face, the former Altrincham captain, midfielder Steve Hawes, who has rejoined The Robins from Stocksbridge Park Steels. Steve was previously at Moss Lane from late 1999 to May 2002 and made 25+3 appearances for Alty in the Conference in his first season.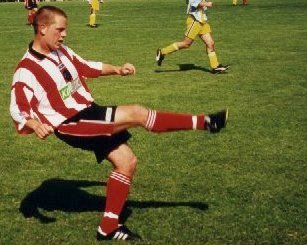 Despite being surprisingly advised in January 2002 that his services would not be required at Altrincham for the following 2002-03 season, Steve [left] continued to apply himself for the club, making 56 starts in 2001-02 season. By the time of his departure to Worskop Town in May 2002, Steve had made 193+4 appearances for Altrincham and had scored 17 goals.

Steve was one of Alty's few southern-born players in recent seasons, having been born at High Wycombe, Bucks, on 17 July 1978. He joined Altrincham from Hull City, for whom he had started 18 league games. Before that he was the youngest player ever to play in the Sheffield United first team, for which he made 1 full and 3 substitute appearances, before moving on to Belle Vue where he played 18 full games for Doncaster Rovers. Steve then drifted into Sunday league football before being signed by Bernard Taylor in 1999.

He was the sole non-Conference player in the FA XI versus the Unibond XI game in November 2000 and turned down a £20,000 move to Southport in December, 2000. He was appointed Altrincham captain on 27 January 2001 on the departure of Gary Talbot. Whilst at Moss Lane, Steve had trials at Doncaster (mid-February 2001) and was due to go to Barnet for trials in mid-March 2001 before he re-signed for Alty for 2001-2. Though generally a central-midfielder, he had a spell in 2001-02 at right-back. He is also a proficient taker of corners and free-kicks and has a good long throw. He becomes the fifth player in the current squad to rejoin Alty after a spell elsewhere; the others are Coburn, Adams, Maddox and Talbot".
3 June 2006: On 3 June 2006, The Conference National AGM ended a season of chaos.

Firstly, Canvey Island resigned at the end of the season, following the resignation of their main financial backer, and dropped three divisions. This reprieved Tamworth from relegation.

Then, Altrincham were deducted 18 points after playing James Robinson [right], whose previous club, Accrington Stanley, had failed to get international clearance for him. Despite the FA issuing a letter to Altrincham confirming no breach of FA or FIFA rules, the Conference deducted 18 points and fined Altrincham £1,000. Shortly after fining Accrington a mere £200 for the offence, the FA upheld the Conference's decision regarding Altrincham.

At the Conference AGM in Birmingham on 3 June 2006, Scarborough were demoted for allegedly breaching Conference rules relating to their financial arrangements, thereby reprieving Altrincham.

Meanwhile, Crawley Town lost just three points for breaching the wage cap and other financial irregularities. Crawley announced that they would go into administration during the close season and would start 2006-07 with a ten-point deduction.

At the top of the table, Hereford won the play-off final against Halifax Town to join Accrington Stanley in League Two.

Altrincham FC announces that "Altrincham fans are invited to put their questions to new co-chairmen, Lawrence Looney and Bill Waterson for a Questions and Answers interview that will be posted on the official website on Saturday.

Please e-mail your question by 5pm on Thursday June 4th".
At Bradford (Park Avenue) "The club have been able to take a major step forward with their players thanks to the generous donation from the Development Fund Committee. The state of the art Playertek GPS tracking system supplied by market leader Catapult will see the 1st team and the academy using the system next season. This will be the first time that the club will have used and owned their own GPS system...

It will enable us to personalise training plans to optimise match performance and keep fatigue injuries to a minimum...

Martin Knight, Director Of Football, said 'After a few discussions with the committee about the future of the club and how the development fund can support these aims, I was delighted when they agreed and approved my request for them to fund completely our purchase of the Catapult Playertek system. It is a major step forward for us on the playing side'".
At Guiseley "We are delighted to re-launch our creative crowdfunding campaign which reflects the core values of #GuiseleyTogether.

Nearly £10,000 was raised to help us through the Covid-19 pandemic... This money has helped us pay our creditors and partners whilst many small local businesses struggle to stay afloat, our hope is with our support our relationship with them can continue for many more years.

We are also proud to donate an adult match ticket to a key worker for each £100 we raise, with what has been raised so far we can donate 98 tickets through our community partners and hope that number continues to grow in the coming weeks. None of this would be possible without everyone's support and for that we are extremely grateful.

Our re-launched crowdfunding campaign enables you to Pay It Forward with the purchase of 20/21 Season Tickets across all age ranges and included in the price is a free tea/coffee or Bovril at every home league game throughout the season when football resumes...

Chairman Gary Douglas has said 'Now, more than ever, can I ask you to keep supporting the club and if possible give a little more to help us through these very difficult times? '".
The Chronicle Live reminds us that "Gateshead FC are no strangers to a fight for survival. The Heed were days away from the threat of liquidation last year in the final throes of the austerity era of the Ranjan Varghese and Joe Cala administration.

Saved at the 11th hour by a combined effort from Gateshead Soul Supporters' Trust and a number of local businessmen, the club began their rebuilding task in the National League North. Former Newcastle United defender Mike Williamson was appointed player-manager, and together with assistant Ian Watson worked quickly to recruit a squad from scratch.

The Heed unsurprisingly made a slow start to the season, but their push for promotion was gathering momentum when the latest threat to the club's future emerged. Gateshead sat eighth, one place and two points adrift of the play-off places, when the National League North campaign was curtailed...

Williamson insists he has loved every step of the ride so far... 'The journey has been incredible for me. I'm fortunate enough to have a good team around me, they have been fantastic. We got off to a slow start; we drew our first seven or eight games, but the whole time it's all been about getting the message across to the lads... It was just a matter of time before we started clicking...

'[What] I've learned is you need to fully understand your strengths and weaknesses as a person, a player and a manager. You need to try and build your coaching staff around that... It's more than just a one-man band. I've played for managers who want to cover every area, and they've spread themselves very thin... We want a core of leaders who live our ethos, and the rest of the lads will follow that as it becomes a mentality'...

Williamson said 'No matter who we face, regardless of their budget and players, we can beat anyone and we've got to make sure we do the hard work on the training field'...

The short-term financial ramifications for the club was the loss of four home fixtures... The Heed's pre-season plans, which included money-spinning clashes with 'big clubs', have also been scuppered by the ongoing uncertainty. ... The goal from the board and the club's point of view, we want to get everything to a self-sustaining platform where the revenue is funding the whole club.

'At the moment, we're relying on the directors, and this has just put that back in terms of timescale a little bit. But there's going to be plenty more clubs who won't have that backing that we're fortunate to have. The owners and directors have a love for the town and the community, that's what drives them'...

This commitment has firmly been matched by Gateshead's loyal fans... More than £8,000 has already been raised in a matter of days, and for Williamson the gesture reaffirms what he already knew about the region's 'passion' for football".
---
3 June 2020 The Sale & Altrincham Messenger reports that "Josh Hancock was celebrating a notable double achievement after being crowned Altrincham's outstanding performer of the past season by his team-mates and the club's supporters.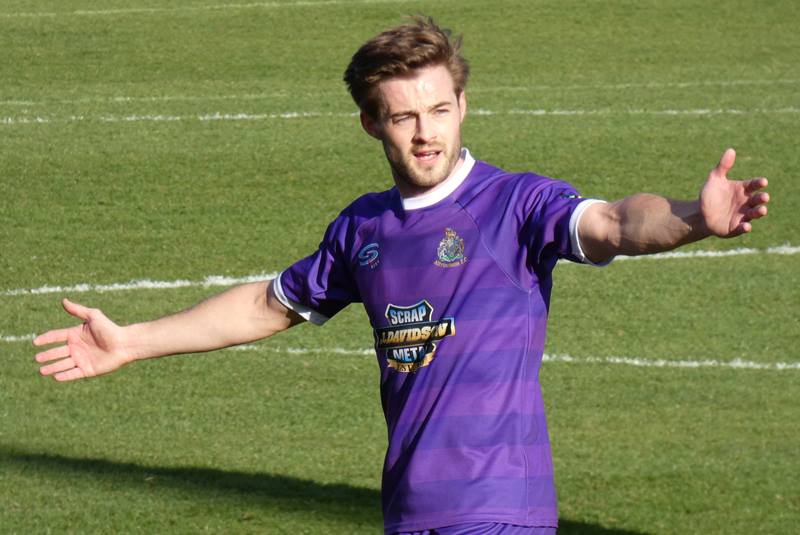 In a YouTube screening of the end-of-season awards, featuring manager Phil Parkinson, his assistant Neil Sorvel, backroom staff, club directors and members of the first-team squad, attacking midfielder Hancock took star billing by winning both the Players' and Supporters' Player of the Season categories.

James Jones was voted young player of the year, Tom Peers's FA Cup winner at York City won goal of the season, Shaun Densmore was Parkinson's choice as Manager's Player of the Season and Club Person of the year went to Inclusion and Diversity Officer, Jordan Tyms.

In recognition of 12 years' service, it was announced that Densmore would be awarded a testimonial game at some point next season.

Reflecting on his double triumph, Hancock [above] said 'I'd like to say a massive thank you to the boys and to the supporters for voting for me. It has probably been my standout season so far, based on some of the goals I've scored, and I just hope I can keep it going.

'The penalty at Portsmouth in the FA Cup was the one that stands out, for the emotion and celebrations and stuff. I was feeling the pressure a bit, and I'm just glad it went in. I'm over the moon with these awards.'

Explaining his choice of Densmore as Manager's Player of the Year, Parkinson said 'He has proved he is still a great player. He has come back from a really serious injury and performed fantastically well. In my first season here, I was looking at clearing the decks but he fought tooth and nail to stay at the club. The decision to keep him here was the best I've made.

'He trains unbelievably well and sets a great example to the others. As for performances, when we play well, he's played well. Those creative runs he makes, it's like he's 21 again!'"

Another report from the Northern Premier League tells us that "Mossley are looking for a new manager, after interim Andy Keogh decided not to put his name forward for the role permanently.
Above: ALTRINCHAM FC YOUTH TEAM 2005-06, Back row: Tony Spilsbury (coach), Rick Crawford, Michael Risk, Dean White, Reza Zareh-Ourang, Lewis Bishop, Tom Barclay, Danny Chebrika, Ben Shanks-Pepper, Ashley McGrath, Hassan Zareh-Ourang, Danny Gray, George Heslop (manager). Front row: Astley Mulholland, Andy Keogh, Ben Deegan, Richard Gresty (capt), Matty Williams, Anthony Davies.

Keogh, 32, took over in early February and helped the Whites to 7th in the table before the season was ended prematurely.

Vice-Chair Callum Irving said 'We have spoken at length over the past two months and chatted through all options. It's an absolute testament to Andy of how he has approached these conversations with honesty, integrity and reflection. It's still his desire to focus on playing for the next few seasons and the club are fully behind him in that decision. Andy took on the interim role and not only achieved in terms of playing and results, but also carried himself with great class and led by example across the board.

'Andy still harbours ambitions to manage one day and we have discussed how the club can support him on this journey as he continues his playing career.'"

Meanwhile, NL Daily reports that former Alty loanee midfielder, "Liam King is the latest notable addition to the ranks at Newark Flowserve.

Former Notts County striker Craig Westcarr was recently announced as one of the club's signings, and King, who began last season in joint-charge at Gainsborough Trinity is the latest.

The former Rotherham United midfielder had taken a step back from playing, due to concentrating on management and coaching, as well as a back problem that had affected his playing days."
The Shropshire Star reports that "Darryl Knights and James McQuilkin have departed AFC Telford United after two seasons at the club.

The pair are joined through the exit door by longest-serving player Jon Royle and defender Arlen Birch as boss Gavin Cowan continues to build for the 2020/21 season.

Midfield duo McQuilkin, 31, and Knights, 32, had two seasons at the New Bucks Head... They were signed in Cowan's first summer in charge and played important roles in Telford's memorable 2018/19 campaign, where the Bucks missed out on the National North play-offs by one goal and reached the FA Trophy semi-finals.

McQuilkin made 70 appearances for Telford, scoring five goals. Knights played 64 times, netting on seven occasions.

Also leaving the club is 25-year-old defensive midfielder Jon Royle, who first arrived on loan from Southport in September 2016. 'Joffy' became an integral part of a number of Bucks teams, clocking up 101 appearances in his five season at the club. The Welshman struggled for game time last season and was sent on loan to league rivals Bradford Park Avenue.

Full-back Birch, 23, who grew up in Ellesmere, was brought in by Cowan last October as the boss made mid-season changes to his ranks after a stuttering start. Birch signed fresh terms in January and made 20 appearances in all for the Bucks. All four players were out of contract at the New Buck's Head.

The departure news comes after Cowan tied down the futures of end-of-season award winners Adam Walker and Brendon Daniels, as well as defender Zak Lilly, while Henry Cowans has been invited to pre-season training. They join Shane Sutton, Ross White and Aaron Williams already under contract.

Cowan said 'All four players have been a pleasure to work with. The level of trust we have in each other made for a difficult decision but ultimately both parties decided what was best'".

Also from the Shropshire Star we learn that "Gavin Cowan is working with chairman Andy Pryce to help AFC Telford United become 'a better version of themselves' after the coronavirus pandemic.

The Telford manager said the club is determined to break out of a cycle of struggling to make ends meet on a day-to-day basis in a bid to change the 'bigger picture'... 'Speaking to the chairman, we don't really want it to be a case of going back to normal,' Cowan said. 'It's a good opportunity, during all of this, to re-assess. I've been working with Prycey on how we can change the day-to-day logistics of the football club. Then hopefully we can change the overall bigger picture, because what we don't want to keep doing is letting it wash its face.

'At some point we want to break out of this cycle of being a club that financially struggles. Ultimately, Adam Walker made a great point, we need supporters coming and supporting us'...

The survival fund launched by the club shortly into lockdown is nearing £2,000. Pryce suggested losing the final five home games of the cancelled National North season came at a cost, while sponsorship talks have proven difficult, as are [sic] selling season tickets when no plans laid by league bosses for next season. The Bucks did manage to secure an extension with Hamer Leisure Ltd of naming rights of the north stand at the New Buck's Head".
According toiNews Kettering Town is "The club now living hand to mouth who started the commercialisation of football. The Midlands club were the first to realise the financial opportunity of selling sponsorship space on their shirts...

In the mid-1970s, despite several German clubs enjoying contractual relationships with local companies whose logos filled the front of shirts and added a welcome financial boost in return for the advertising, no British club enjoyed the same freedom. The Football Association had banned sponsorship in 1972...

Enter Derek Dougan, the eclectic former Wolves striker. Dougan had been installed as Kettering Town player-chairman and, with the non-league club ensconced in mid-table and operating on meagre budgets thanks to falling attendances and rising inflation, he moved to ease the club's economic burden by brokering a sponsorship deal. Kettering Tyres would have their company name written across the players' chests in large white letters. The contract was worth an unspecified amount in revenue that Dougan would only describe as a 'four-figure sum'. But even £2,000 would have been worth eight times as much in today's money.

A week later, with the logo still in place for the trip to Weymouth, the FA ordered its removal despite Dougan's insistence that their sponsorship ban had never been ratified in writing. Dougan's response only enraged them further, altering the shirts to say 'KT' that he claimed stood for 'Kettering Town' rather than their new sponsors' name. Historical news clippings do not mention whether the chairman kept a straight face during his explanation.

The FA were not amused. They reiterated their order that the logo be removed, and threatened Kettering with a £1,000 fine that they knew the club could not risk suffering. Grudgingly the club accepted their position and the 'Kettering Tyres' logo was removed.

But the cat was out of the bag. Unsurprisingly, Football League clubs had taken notice of Kettering's bravado and, with the potential for easy financial reward now laid bare, campaigned to exploit it. Kettering were joined by Derby County (of the First Division) and Bolton Wanderers (Second Division) in proposing a relaxation of sponsorship bans to the FA...

In June 1977, feeling the pressure from clubs who might not have baulked at a £1,000 fine, the FA finally relented....

For Kettering Town, the story ends less lucratively. Despite their initial agreement, Kettering Tyres pulled out of a subsequent sponsorship proposal, leaving the club without immediate sponsorship revenue while their more glamorous peers were enjoying the benefits of their hard work (a deal was eventually done with local company Skateside). Dougan left and Kettering continued to miss out on Football League promotion or election. A flurry of national media attention in 2005 was short-lived; new manager Paul Gascoigne lasted only 39 days.

Sitting 20th in the National League North, Kettering now rely upon the generosity of their supporters to keep heads above water... At least Kettering have been able to embrace the trappings of modern football with separate sponsors for their home and away kits this season. If local firm BM Pallets and digital and information security company Evolution, of which the owner is a director, aren't quite Etihad Airways, Fly Emirates or Yokohama Tyres, it's an awful lot better than nothing at all".
Gloucester City "announce our second new signing with versatile midfielder George Carline moving to Meadow Park.

Carline, 27, arrives from National League's Solihull Moors and will join-up with former teammate and City Captain Liam Daly.

After four seasons of first team appearances for Solihull Moors, all at National League level, he spent two months on loan at fellow National League North side Leamington last season... After his short loan period he returned to Solihull where went onto play a further 11 times in their National League promotion chase. George has also represented England at C level...

George had the following to say... 'After positive conversations with the manager and clearly seeing the ambition of everyone involved, it's an exciting time to be joining the club as it moves back into the City'.

Co-Chairman Alex Petheram added, 'He will bring fire power and creativity going forward'".

They played against Altrincham a couple of seasons ago but the Northern Premier League reports that "Mickleover Sports will now be known as Mickleover FC.

The move has been made to appeal to the growing population in the town, with the thought that the previous name was giving a misleading signal... Club secretary Tony Shaw said 'The present football club have [sic] now changed its name to Mickleover FC, as it was felt that many locals associated the club as a general sports club or even a private club. But by changing the name we are hoping to widen our audience to the whole of the local area, appealing specifically to football enthusiasts.'

The club was established as Mickleover Old Boys in 1948, renaming to Mickleover Sports in 1992, coinciding with the move to their current home on Station Road."

Also from the Northern Premier League we read that "Witton Albion are considering the possibility of a 3G pitch at their Wincham Park home.

A growing number of clubs in the Northern Premier League and beyond are turning to artificial pitches, with Buxton and Hyde United amongst the most notable. Plans to install similar pitches at Mickleover and Ilkeston Town have been put on hold due to the COVID-19 pandemic...

Witton chairman John Salmon said 'Neil (Wilson), at the Board's request, is also considering the possibility of a 3G pitch which would fundamentally change our business model and make us financially secure for many years. Any such project will be funded by grants, donations, fundraising and a possible share issue. We will keep you updated. The stadium will not be used as security. We will not sell the family silver.'

Salmon also updated fans on the club's current situation, saying that they are in good shape and up to date with liabilities despite the current difficult times. The club has recently announced the signings of Scott Bakkor, Josh Gregory and Isaac Baldwin for next season."
---
2 June 2020 Grahame Rowley has confirmed that his tenure as Chairman of Altrincham FC ended on 31 May 2020 and that the co-Chairmen in waiting, Bill Waterson and Lawrence Looney have jointly assumed the chairmanship role from 1 June 2020.

Grahame's statement to this effect and his review of his time as a member and as chairman of the Board is on the official Altrincham FC website. As reported yesterday, Grahame is now becoming the President of Altrincham Football Club.
Grahame is pictured, right, at the time of the appointment of Lee Sinnott in 2011.

At the time of his apppointment as chairman, press officer John Edwards wrote the following in the Sale & Altrincham Messenger, which was reported on the website on 16 September 2010.

"New chairman Grahame Rowley vowed to keep Altrincham moving in the right direction, despite having to cope with the loss of boardroom boss Geoff Goodwin and team manager Graham Heathcote in the space of a few hours.

Goodwin bowed to outside pressures and stood down as chairman on Monday afternoon, while Heathcote's eight-year reign as manager ended by mutual consent at a board meeting later that evening.

While many clubs may have been left in disarray by the departure of two such prominent figures, Rowley is convinced Alty are on a sound enough footing to maintain the progress of recent seasons on and off the pitch.

Confirmed as Goodwin's successor at a meeting which also handed temporary control of team affairs to Heathcote's assistant Ken McKenna, Rowley said: 'Geoff's decision has been coming for a while, because of pressure at work and the need to find time for some sort of home life.

'His company has been taking on more bus routes, as well as their luxury coach service, and he has been heading into his office at 5.30 every morning. His son has been making great strides at kart racing as well, and, naturally enough, he has taken a close interest in that. He told me he felt guilty about not being able to devote more time to Altrincham, but he has nothing to reproach himself over after all he has done for this club.

'When he took over in 2002, and formed a new board with me and Andrew Shaw, we inherited a debt of £650,000 and were on the point of going bust. We didn't know each other, and were different characters from different backgrounds, but the shareholders proposed us for the job, and we set about making it work.

'During the course of that, close relationships were formed. We all got on really well, and though the prospects looked extremely bleak at the outset, sheer hard work got us through. We sold advertising space round the ground and in the programme and organised fund-raising events, sporting dinners and Christmas do's, chipping away at the debt all the while. Selling the car park a couple of years ago for house building also made a big difference, and finally we managed to pay it all off.

'You see some clubs going into administration at the drop of a hat these days, then re-forming, but that was never our intention. It may have been the easy way out, but we can hold our heads high and say we repaid every penny to anyone we were in debt to. Everyone who played a part in getting us back on our feet is entitled to feel extremely proud about that.

'There were times when you wondered if you would ever reach the end of it, and it was a huge relief to be able to say "mission accomplished". It's what this club is all about, too, doing things the right way. It was sad to see Geoff go, after the times we've had together, but I share the same values as him and will try and ensure the club continues to be run within its means.

'I was voted in as chairman at the meeting on Monday, and I can't tell you how proud I am of that. I am Altrincham born and bred and have supported the club since I was six-years old. To be given the honour of taking up the mantle is something I'll never forget and has to be one of the proudest moments of my life. It's not going to be easy following Geoff, but at least this gives us some continuity. Geoff, Andrew and myself have always sung from the same hymnsheet, and the aim will be to carry on in the same sensible, hard-working way as before'".
Gloucester City "confirm our first new signing with the acquisition of goalkeeper and First Team coach Jake Cole. Cole, who is 34, joins fellow teammate Luke Pennell in making the switch from Maidstone United and also joins the Club as first team coach.

London-born Jake started his career in the Championship with Queens Park Rangers, playing six times for the R's in between spells on loan at Hayes, AFC Wimbledon, Oxford United and Barnet. In 2009 he joined Barnet permanently and appeared for the Bees 87 times in League Two.

After his time in North London Cole transferred to Plymouth Argyle in 2011, establishing himself as their first choice keeper. After three seasons and 91 games for Argyle in League Two, he then went into the National League with Woking and then later Aldershot. Cole spent last season in the National South at Maidstone, playing 28 times for the Stones.

Co-Chairman Alex Petheram stated 'Jake is someone I've seen play a number of times from my Plymouth days so, when James suggested him, I thought, wow this could really work well. Jake has the experience and contacts in the game that tick a lot of boxes as First Team coach. He'll also be able help develop not only keepers like Niall but the young talent within our youth team and ladies set up. At 34 he's a great age for a goalkeeper, I just couldn't see a negative in bringing him in.

'Jake also knows Matty, Luke, Fabien and Bernard from days gone by, so I'm hoping he settles in quickly both on and off the field'...

'I'm looking forward to a new challenge in the role given to me by the gaffer. It'll be good to link up with some former teammates'", said Cole.
Meanwhile, https://www.farsleyceltic.com/news/luke-parkin-extends-citadel-stay-2539647.html">Farsley Celtic "announce that Luke Parkin will remain with the club next season after exercising an option in his contract. Parkin, who joined from Brighouse Town in 2017, was an integral part of the squad that won the Northern Premier League and has made 136 appearances across his three seasons with the club, scoring 17 goals.

The 24-year-old is looking forward to spending another season at the Citadel, as he said 'I have been here for three years and loved every minute to be honest, I'm sure you have heard it from many of the lads but the dressing room is unbelievable, and that's what has been so good for three years. I thought we did really well in our first year in the National League North, after being tipped to go down at the start, to finishing mid-table with a chance of the playoffs, I don't think you could argue with that.

'I did have a month on loan at Tadcaster which was a strange one, because I went to play some games and ended up only playing two because the weather saw four cancelled. So it was frustrating, but coming back to Farsley made me realise how much I love it here...

'Next season I want to play as many games as possible to help the team... There's no reason why we can't finish in the playoffs' [next season].

Farsley Manager Adam Lakeland... added 'Luke has become an important member of the group and always gives his all on the pitch. He's incredibly popular with his teammates and possesses great ability. Sometimes the way in which we set the team up last season resulted in him missing out more than he would like, but he understood that'".
The Boston Standard reports that "Matt Challoner could still make his Boston United debut, despite signing for Southport. The defender joined the Pilgrims in March after leaving National League side Chorley, but has not featured for the club.

He linked up with his new teammates for one training session before contests... were postponed due to the COVID-19 outbreak... On Friday United's league rivals Southport announced that Challoner had signed a contract to spend next season at the Pure Stadium.

However, with the prospect of Boston still being involved in some form of play-offs, the right back's contract was extended and he is still, at present, a Pilgrims player. Challoner will be a Southport player next term, but the FA will not rubber stamp the move until Boston's campaign is officially over.

United boss Craig Elliott has not ruled out Challoner featuring, if Boston's season is still to be completed. 'He's still technically our player and still with the club,' he told The Standard. 'I think that's down to the individual and whether they want to play. He's agreed to join Southport and I don't know what his thought process is in terms of whether he would want to play as he knows he won't be here next year.

'I think that there will have to be a bit more flexibility if we are to play play-offs. It's been a strange time for players but we want to know what their commitment to Boston United will be.'

'Players are talking to clubs and other teams are doing business and I'm not able to retain or release players at the moment. We're stuck in limbo,' added Elliott... 'It's something we've not seen before and we have to look at the best way to manage that. It's frustrating when you don't know if we're working towards finishing this season or preparing for a new one. I think it's obvious we're waiting to see what divisions above do and we'll take the lead from that. But it's frustrating not knowing what that decision is.

'I do hope there's an opportunity to try to finish off what we've started.'

Loanees Simon Ainge, Jake Wright, Frank Mulhern and Jordan Nicholson should be eligible to feature for United in play-off contests as they were available for selection when the campaign was concluded. But they would need to be free agents and agree to sign short-term deals."
At Bradford (Park Avenue) "Isaac Marriott has agreed a pre-contract agreement to join the Avenue for next season when his current deal with Huddersfield Town expires. The dynamic and energetic midfielder has been part of the Huddersfield elite academy set up since he was 9 years old, and benefits from the strong work ethic and technical skills developed and instilled in him by Huddersfield...

[He joins] on a permanent basis after his loan spell with us last season".

[Assistant manager Danny Boshell said], 'He's a great kid with a top class attitude, and has a willingness and determination to learn which is a real positive in any player. The challenge for Isaac now is for him to establish himself at this level, then to hopefully kick on and fulfil his potential and get back into the EFL. Its great that he sees us as a platform to that and having played the odd game or two in Isaac's position myself, I'm sure I can give him one or two pointers in the right direction to try help him meet his ambitions.'

Isaac Marriott [added that he was]... 'inspired by the ambitious plans the club have moving forward. I also felt that during my loan spell the fans took a liking to me which is a big factor in me joining'">
The National League reports that "Even now, Salford City's parting of ways with Anthony Johnson and Bernard Morley having just lifted the National League North trophy is somewhat of a head-scratcher...

Much water has passed under the bridge since the pair departed in May 2018, and two years in at Chester they say the ambition still burns to do it all again... Johnson said 'It's not bitterness, it never has been. It's more about proving people wrong, we're constantly trying to do that. We feel we could manage at National League level and we desperately wanted to, but we weren't given that chance. It's a decision we respected and we move on. OK, we maybe feel a little cheated, and that's nothing against the Salford owners at all.

'What you've got to remember is that we are going into our 12th season as managers next year. We have served two years or more in all the divisions from North West Counties up...

'We actually felt we would have taken Salford up again, we might have even won that league. But you've got to move on and we certainly have... Chester are something different. Ramsbottom United were the village club, while Salford City were the money machine with big ambition.

'Chester are more of the sleeping giant, the historical club who hope to be back playing at a higher level. Being the ones to try to take them there has always excited us... We actually had a chance to go in at a National League club, but like everything the situation has to be right... Then we got the call about Chester and it just felt like something we needed to do. We actually accepted the job without knowing the budget for the season! We feel we can have success without being the biggest spending side in the division...

'Next season is a very big one but first of all our current season isn't over,' he added... 'I think we're actually going to see the level of football get better and better. Squads throughout the game are going to be more compact and streamlined and that means that better players are going to be playing a level down than maybe they should be. Clubs will now have more control and there could be a lot more balance going forward.'"

Cumbria's NW Evening Mail confirms that "A vote to decide the outcome of the League Two season... will be held on June 8.

League Two clubs have already decided that ending the season is their preferred option and are likely to agree this with a majority.

Once the climax of League Two is rubber-stamped, the National League is expected to decide how to conclude its own season and if play-offs will be staged... The English Football League (EFL) confirmed on Friday that the June 8 meeting would take place. The EFL board had unanimously agreed upon a framework at a meeting on Wednesday, but now needs clubs to approve it.

Clubs have until next Tuesday to continue putting in any alternative suggestions for how the season's end could work.. As things stand, a points-per-game system would determine final league placings in all three divisions if seasons cannot be completed. So far, no consensus on how to end the season has been reached in League One...

The League One and League Two play-offs are likely to be held before the Championship play-offs because these divisions have many players whose contracts expire at the end of June. The Championship play-offs are likely to be held in late July and the final at the start of August, to help clubs deal with difficult contractual situations."
---
1 June 2020 The Altrincham FC Awards event was relayed via YouTube on Sunday evening and produced the following outcomes...
Young Player of the Season: 3rd - Josh Lundstram, 2nd - Tom Peers, 1st - James Jones
Players' Player of the Season: Josh Hancock
Goal of the Season: 3rd: Josh Hancock v Blyth (H), 2nd: Shaun Densmore v Hereford FC (H), 1st: Tom Peers v York City (A) (FA Cup). Also, James Jones at Telford, Andy White at Curzon, Tom Peers at Southport, received a lot of votes.
Tom Earley Trophy for Club Person of the Season: Jordan Tyms
Manager's Player of the Season: Shaun Densmore (right)
Fans' Player of the Season: 5th: Tom Hannigan 215 points, 4th: Jake Moult 249, 3rd: Shaun Densmore 256, 2nd: Jordan Hulme 339, 1st: Josh Hancock 482.
Before the awards, Phil Parkinson praised his team, both those who played on the pitch and those whose roles were off the field.

Phil also paid tribute to goalkeeper Steven Drench, who is "really ill" with appendicitis and supporter Mark Eckersall, in his exemplary battle against cancer.

The physical awards will be made when football resumes.

Following the awards, compere Brian Flynn invited future co-chairmen Bill Waterson and Lawrence Looney to speak. They paid homage to current chairman Grahame Rowley and saluted his twenty years of endeavour, eleven as chairman. He has been appointed President of Altrincham FC in succession to the late Noel White.

Grahame paid tribute to Shaun Densmore who joined the club in 2008 and announced that Shaun has been awarded a testimonial when football resumes at the club.

Bill Waterson then thanked the supporters, not least for their generosity during the Covid-19 lockdown.

Next week the Club will announce its plan of works over the summer and will be launching a sale of shares. Other initiatives will be undertaken including the establishment of the club's Academy.
---