---
30 April 2020
The last five occasions when Altrincham have played on 30 April have all featured important matches in which, before kick off, Altrincham had at stake playing in a different division (up or down) the following season. The outcomes of the five games saw them either qualify for a promotion play-off place (2005); play a play-off game which led to promotion (2014) or to failure (2013); or, end up being relegated (2011 and 2016).
Right: Josh Mitten rises highest at Hucknall in 2005
2005 Despite losing 4-2 at Hucknall Town, Altrincham qualified for the play-offs and went on to win promotion to the Football Conference.
2011 Alty threw away the opportunity to avoid relegation by allowing already relegated Eastbourne Borough to cruise into a 3-0 half-time lead at Moss Lane before getting the score back to 3-3 and then losing the match 3-4!
2013 Alty defeated Brackley Town 2-1 at Moss Lane in a play-off semi-final first leg, before bowing out in the return leg.
2014 Alty drew 2-2 in another promotion play-off semi-final first leg, this time at Hednesford Town. But this time Alty won the second leg, at Moss Lane, before clinching promotion dramatically against Guiseley.
2016 A win in their last fixture of the season would have given Alty a glimmer of hope of surivival at national level but they lost 3-0 at Braintree Town and were duly relegated.
Above: On 30 April 2011, Alty were booed off by some supporters at half-time when they trailed 0-3 at home to relegated Eastbourne Borough, but they were saluted (as seen here) at the final whistle after a tremendous second half comeback left them, at 3-3, just a goal away from an unlikely survival in the BSBP, before Eastbourne's injury-time winner settled the Robins' fate.
The
Northern Premier League
reports that "New Stafford Director of Football Andy Fearn says he can't wait to get started in the new role, having made the step up from manager.
After a difficult 2019/20 campaign was brought to a close, Stafford parted company with Fearn's co-manager [ex-Alty man] Alex Meechan and are currently advertising for a new first team head coach. Fearn, who has 30 years experience in senior roles in business, has joined the club's board of directors...
Fearn's football CV includes the likes of Nuneaton Borough, Chester, Kidderminster and Stalybridge. Meanwhile, Stafford's fundraising efforts have centred around the selling of shares, and that has helped them to raise more than £40,000.
The club says it hopes to wipe out all of its debts through the fundraising, as well as guide the club through the uncertain times caused by the COVID-19 pandemic."
Meechan, now 40, made his Alty league debut and scored, away at Woking on 9 August 2008. When selected, he figured mostly on the right-wing. After a period on the sidelines, hw went on a month's loan to Stalybridge Celtic at the end of January 2009. He returned from loan and was a used sub in the Cheshire Senior Cup Final win on 23 March but had his contract cancelled by mutual consent and joined Stalybridge Celtic. His career for Altrincham comprised 11(+17) appearances, in which he netted three goals.
At
Leamington
, "The club are pleased to announce the signing of Joe Parker from our Vanarama National League North counterparts Gloucester City for an undisclosed fee.
The 24 year-old is comfortable in midfield or up front, and has made the switch from his hometown club where he came through the Youth ranks to make the first team as a youngster.
Joe scored two hat tricks in his first full season in Gloucester's first team, one in 19 minutes in an FA Cup tie, which bought him to the attention of Newport County, for whom he signed before being loaned back to Gloucester... Joe returned to Gloucester for a third spell at the end of his contract with Newport. He has considerable experience at Step 2 having made over 240 appearances for Gloucester, scoring 49 goals. Joe has scored five goals so far this season...
Manager Paul Holleran said of his new acquisition, 'Joe Parker is a player that has been around at this level for a long time and has always been a consistent performer and somebody that we have liked. When we heard that he would be leaving Gloucester and was interested in us it was something we wanted to tie up very quickly.
'He is a player that has had a taste of league football before and there's no reason why he cannot get there again. We are delighted to get his signing over the line'".
Meanwhile, Kidderminster Harriers "have confirmed that nine players will not be offered new contracts with the club.
The National League North side, who confirmed interim boss Russ Penn as their new manager last Friday, have released the following players: Harry Higginson, Brandon Diau, Declan Weeks, Samir Nabi, Ryan Johnson, Reiss Taylor-Randle, Correy Davidson, Lewis Miccio and Knory Scott.
Alex Penny, Sam Austin, Jim Kellermann, Ashley Hemmings, Cliff Moyo and Ethan Freemantle were already contracted for next season, while talks have been opened with the following players: Jaiden White, Milan Butterfield, Alex Prosser, Keith Lowe, Ashley Chambers, Ed Williams and Tom Palmer.
Manager Penn told Harriers' website 'This is a really difficult part of the job and not one any manager enjoys, but we are making decisions in the best interests of the club and, in my opinion, to give us the best base on which to build a strong squad for next season. I'd like to thank each of the players who will be leaving us for their efforts. Some of them have been with the club for a long time and given great service'".
---
29 April 2020
Altrincham FC
reports that "The auction run by Ian Senior to raise funds for the club took an unusual but hugely gratifying turn this week when versatile and ever-dependable defender Peter Band won the bidding for a shirt he wore in first-team action for the Robins over a decade ago.
Left: Peter Band in 2005-06 season when he wore the no.15 shirt auctioned this week.
When the prized piece of merchandise, packed with autographs on the front and name and squad number on the back, was first presented for auction, Peter, fondly known as 'Bandy' by all and sundry, wasted no time registering his interest in securing it as a valued souvenir of his Moss Lane days.
The fact that he opened the bidding, lodged another at the halfway point and stormed in with a last-minute winner says everything about the high regard and lasting affection so many players have for the club, even after they have left.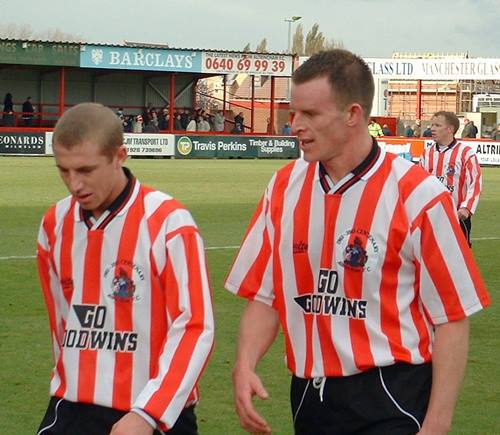 Right: Peter Band (right) leaves the field with Ian Craney in 2003-04 season. In the background is Steve Aspinall..
Cheers Bandy, for that £60, and thanks also to SKkits owner Ian for organising an auction that has generated welcome funds for the club and is continuing to do so. We intend to publish a full list of items, recipients and amounts when the auction finally ends."
Peter (now 36), was signed from Hyde United for a small fee in July 2002. He had joined Hyde United, where he became captain, from Bollington Athletic in July 1998 and was used as a striker. He made his Altrincham league debut in the fourth game of the 2002-03 season when he appeared in central midfield and scored a goal. Peter soon established himself in the first team and played well in various positions, occupying every outfield role except left-back but was probably at his best in central defence.
Peter became captain when Mark Maddox was suspended in August 2004 and retained this role even after Mark's return, when he moved into midfield. He left Moss Lane for Northwich Victoria on 3 December 2004 but returned in 2005 close season. In 2005-06 he generally played at centre-back with occasional appearances in central midfield and was Alty's most consistent player in the first half of the campaign. In Spring 2006 he was deployed in several games as a striker/ target man.
In 2006-07 a series of injuries limited his appearances and when he returned to fitness the form of Karl Munroe and Stephen Rose at centre-back meant he was deployed in midfield or even up front before an injury to Rose allowed him to reclaim his centre-back berth. Following Alty's relegation in 2007, Peter opted to leave Altrincham again and he rejoined Hyde United in May of that year. Appearances for Alty: 206(+3), goals 19.
With the annual Altrincham FC Beer Festival deferred by the lockdown,
Altrincham FC
announces that the Club "in partnership with Libero, has joined the 'Save Pub Life' campaign! The Budweiser Brewing Group has launched the campaign to help save and support local bars and pubs.
You can purchase a gift card for £10, £20, £50, £75 or £100 to use at the Community Sports Hall bar or the Manchester Glass Libero Hut when the live action resumes and Budweiser will match that to support the club.
You can buy a gift card for yourself, family or friends to redeem in the Community Sports Hall bar or the Manchester Glass Libero Hut when they reopen and help raise funds with Budweiser matching up to £1,000.
Visit the website here and get your gift card now!" https://savepublife.com/products/altrincham-football-club-wa5-8ap?variant=33121863106692"
Altrincham last played on today's date, 29 April, at Tamworth in 2017, where they lost 2-1. It had been eleven years since their previous game on that date, a 3-1 loss at Woking in the Conference in 2006.
Above we see the emotional scenes which greeted the final whistle as Alty players and supporters saluted each other at the end of a season which should have ended in celebration at the magnificent feat of survival as a part-time side with the lowest budget in the Conference. Instead, the rejoicing was muted, as we have a massive points deduction hanging over us because James Robinson's previous club did not get international clearance for him. As a result, Altrincham do not know in which league they will be competing next season.
Emotional scenes greeted the final whistle as Alty players and supporters saluted each other at the end of a season which should have ended in celebration at the magnificent feat of survival as a part-time side with the lowest budget in the Conference. Instead, the rejoicing was muted, as Altrincham had a massive points deduction hanging over them because James Robinson's previous club, Accrington Stanley, had not get international clearance for him before he played for their Reserves.
As a result, Altrincham were unsure in which league they would be competing in the following season.
Above: No.17, Watson's freekick beats Coburn and the Alty wall.
With the help of two dubious decisions by referee Ward, which gave the Cards a penalty and a freekick, from both of which they scored, Woking took a 3-0 lead. Alty hit the woodwork twice and forced two great saves from the keeper but only had Colin Little's well taken goal after 72 minutes to show for a strong second-half performance. But Woking were deserved winners for their first half performance.
In the first half, just after Colin Potts's fine shot had hit the post, a mix-up between Gary Scott and Gary Talbot, set Murray clear and though Stuart Coburn saved well, McAllister netted the rebound (17 mins). Then, when Richards went down in the box, Scott was very harshly judged to have fouled him. Richards netted from the spot (31 mins). McAllister and Karl Munroe then collided just outside the box and Mr Ward awarded a freekick from which Watson scored (40 mins).
For the game Alty were again without Val Owen and Stephen Rose as well as long-term absentees Richard Norris and Eddie Hussin. With both Adams and Aspinall on the bench, Munroe started at right-back.
ALTRINCHAM: 1. Stuart COBURN, 17. Karl MUNROE, 4. Mark MADDOX, 5. Gary TALBOT, 11. Gary SCOTT, 7. Colin POTTS, 15. Peter BAND, 37. Ged MURPHY, 12. Warren PEYTON, 9. Colin LITTLE, 10. Rod THORNLEY. SUBS: 2. Steve ASPINALL, 3. Chris ADAMS, 14. Lewis CHALMERS, 18. Blake NORTON, 28. Pat McFADDEN.
Gloucester City
"confirm that three players have left the club this week. Marlon Jackson, Jake Jackson and Cameron Ebutt have all been released.
Marlon Jackson joined the Tigers last summer from Weston-Super-Mare and the 29 year-old forward appeared for City 28 times, scoring 9 goals in all competitions.
Fellow striker Cameron Ebutt, 21, arrived mid-way through the season on a free transfer from Bristol Rovers but failed to break into the first team, making two substitute appearances.
Jake Jackson joined the Club in 2018. After 11 appearances and 1 goal for the Tigers in the National North this season he spent time on loan to Taunton Town after sustaining injury...
Meanwhile six players are confirmed for next season; Jack James, Fabien Robert, Matt McClure, Bernard Mensah, Liam Daly and Josh Thomas."
In the Eastern Daily Press we read that "For King's Lynn Town, it is an anxious waiting game as National League officials try to make sense of football before, during and after the coronavirus pandemic. Chris Lakey looks at some of the options...
Just short of six weeks later the National League board crossed out the words 'season suspended' to 'season cancelled' because of the coronavirus pandemic... For the league, it is tough... They have some major issues to take into consideration, and both are unknown. The first is the pandemic itself... Secondly, they are somewhat beholden to the football clubs and governing bodies above them in the league system... and the EFL and the Premier League have yet to decide what they are doing.
So the National League has been in a very difficult position, let's be fair about that... Now the season is officially over, how do they decide what they refer to as the 'sporting outcomes'?... The suggestion is that clubs will be polled, rather than having a vote... A poll gives an idea of the general preference and doesn't mean action will be taken in the same way as a vote; it is for advice and interest.
The options for these 'sporting outcomes' may well rest with how many teams can go into the EFL's League Two. Ordinarily it would be two; the champions and the play-off winners. Four clubs are relegated; two to National League North (in which King's Lynn Town play) and two to National League South. And two go up from North and South; the champions and the play-off winners...
King's Lynn are second in the National League North, two points behind York, but with two games in hand, why would it be fair to put them into the play-offs? And again, some teams just outside the play-off positions have games in hand on some of those in them. And when would the play-offs be? Hardly possible to play them soon - and playing them closer to next season than this one is fraught with problems; you can't leave it that late to know which league a team is playing in...
The season has been cancelled – surely that includes the play-offs schedule?
Points Per Game... seems to be more fair. An average points haul doesn't disadvantage teams who have played fewer games. It is also more reflective of the season's form...
Null and void all results... Solves massive problems given it leaves everyone in the same boat and it has happened in steps 3-7 already... The further you go up the food chain the more money is involved. And when there is money to be lost through no fault of your own, there are usually winners - the legal profession in this case. Could the National League cope with a mass of legal actions against it?
Conclusion: The football season past surely cannot become irrelevant when there are workable alternatives: not just because it would not be fair on those involved, from fans, to players, to owners and employees, but because football must retain some sort of credibility.
And being unable to find a solution other than ripping it all up would suggest football has taken the easy route and buried its head in the sand, however unprecedented the situation."
The
BBC
reports that "National League clubs have been notified that the number of promotion places across their three divisions could potentially be changed because of the disruption caused by coronavirus.
A letter sent to all 68 clubs on Monday warned that if either the National League play-offs do not take place, or League Two in the English Football League (EFL) is not completed, then 'It is quite possible that the promotion place for a play-off winner could be jeopardised'.
It emerged on Friday that if the EFL is unable to finish their season then they are likely not to relegate Stevenage and only accept one club from the National League... National League clubs have until Friday lunchtime to share their views on the feasibility of going ahead with them.
After that, the National League Board will decide whether to postpone the play-offs and see if they can find a way to play them at a later date or cancel them. Once that decision has been made, then they may need to make a decision on the clubs that qualify for the play-offs.
In the letter, they outline there is no formal system to determine the final league tables across the National League, National League North and National League South.
But they mention three possible scenarios; to expunge all results, confirm clubs' final league placing as of now or to calculate them on a mathematical formula. Any such formula would have to be approved by the FA Council. A final decision is expected early next week."
The
BetVictor NPL
reports that "FC United have hailed an astonishing response to their #NoDrainNoGame crowdfunding campaign, raising £15,000 in less than 48 hours.
They have now increased their target to £30,000 to help carry out further essential work to the pitch, having already raised enough to complete the essential drainage work to the pitch this summer which will reduce the risk of costly match postponements next season.
Groundsman Graham Byrne said 'Fixing the drains is the number one priority but the essential work we had planned before the pandemic doesn't end there; a lot more still needs to be done. Koroing is the process of planing off the top surface of the pitch. This removes the organic matter that has built up in the upper profile, which holds moisture on the surface and can promote disease.
'It also removes shallow rooted weed grasses which kick-out more readily than deeper rooting rye grasses. A much more stable and hard wearing surface will be the result. Ideally, koroing should be carried out every two years, so we need to make up for lost time'...
A postponed Saturday afternoon men's first team match typically costs the club around £8,000 if it gets rearranged to a midweek night... In normal circumstances, the cost of pitch maintenance would be paid by the club and we were intending to set aside £30,000 for improvements to the main stadium pitch this summer.
The club says that it will lose around £220,000 in revenue due to the COVID-19 pandemic, which is partially offset by much needed, and much appreciated, grants and other support from Manchester City Council and HMRC as well as the fantastic fund-raising efforts of FC United supporters."
---
28 April 2020
It is two years ago today, 28 April 2018, that Alty wrapped up their Northern Premier League championship season with a 3-0 home win over Hednesford Town. The title had already been conformed as Alty ran out 3-0 winners over the Staffordshire Pitmen who were in lower mid-table.
After a midweek game against Marine, for which nine first teamers missed the starting eleven, Phil Parkinson was able to bring back Simon Richman, Andy White and Josh Hancock to start against Hednesford.
ALTRINCHAM : 1. Tony THOMPSON, 2. Simon RICHMAN, 3. Connor HAMPSON, 4. Tom HANNIGAN, 5. Andy WHITE, 6. Jake MOULT (c), 7. John JOHNSTON, 8. Max HARROP, 9. Jordan HULME, 10. Tom PEERS, 11. Josh HANCOCK. Subs 12. Rhain DAVIS, 14. Theo BAILEY-JONES, 15. Chris MERRIE, 16. Sam HEATHCOTE, 20. Andrew JONES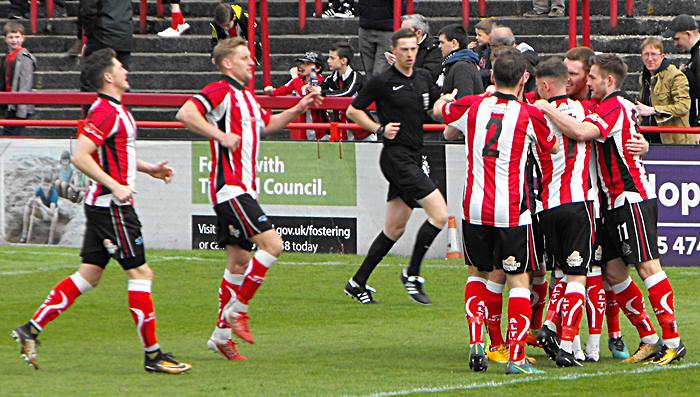 Above: Alty celebrate Tom Hannigan's opening goal.
In the match itself, Altrincham cruised to a comfortable 3-0 win on a bright afternoon, in front of a crowd of 1,856. They took a fourth-minute lead when Tom Hannigan slotted the ball home after a Harrop shot had been blocked. Alty slackened their intensity in the latter part of the first half but Hednesford were not able to take advantage.
The second Altrincham goal, their 100th of the campaign, arrived in the 53rd minute when goalkeeper Veiga handled a Hednesford back-pass. The freekick, from well inside the box, was teed up for Moult to volley superbly through the massed ranks of defending players.
And Moult's superb long ball forward for Hancock laid on the third goal in the first minute of added time, Alty's no.11 finishing calmly past Veiga. After the match there were massed celebrations on the pitch before the team received the EvoStik NPL championship trophy.
According to the
Northern Echo
"Alun Armstrong feels Darlington fans have their club back, and admits his frustration at the season derailing his play-off hopes. Quakers have finished 11th in National League North after the campaign was curtailed officially last week.
The season was a more enjoyable one than the morose nature of the previous campaign under Tommy Wright. They finished six points short of the play-off zone, but still had nine games to play... But Armstrong believes his side had enough about them to make up the shortfall to the top seven if the season hadn't been stopped short.
'I said when I came to the club last May that the season would be one of team building and consolidation in the league and try and get the connection back between the fans and the players / club and I believe those aims have been achieved', he said. 'We brought in several players who improved the team and, in turn, have provided some great entertainment.
'I set the team up to attack and score goals, but we didn't take enough of the numerous chances we created. I would like to think that we have won some very entertaining games this seaso and, at times, the quality of our football has been excellent... There have also been times when we have been too inconsistent...
'I believe that if I can add some more quality players to the squad, then we can be more consistent in terms of results. I really thought that we could make a late bid for the play offs after the Telford away win, which I thought was one of our best performances of the season. Unfortunately, the lockdown means that we will never know'.
David Johnson, the club's chief executive officer, paid tribute to Armstrong... 'Alun, his staff and the players did an excellent job, and gave us some very proud moments, especially in the FA Cup... We are in turbulent times at the moment, but we will endeavour to back Alun financially as much as we can with his team building for the new season, whenever that will be.
'I know these are tough times but please, if you can, continue to support the Boost the Budget and buy season tickets. Commercial revenue will be tough next year as companies emerge from the lockdown with tighter purse strings than before. We therefore need your help to ensure we have a decent playing budget to support Alun. At the end of the day we will manage with whatever we get but recognise next season may be difficult.'
And Armstrong added 'I think many of you will agree we are not a million miles away from being a top side and I have already started thinking of the squad for next season... Hopefully I'll be able to bring in the quality of players that we need to launch a really serious promotion challenge next season.'"
"With the National League season officially over, AFC Telford United "are planning for some major pitch renovation work to be completed this summer.
Chairman Andy Pryce has made the pitch renovation work a 'top priority' for the club this summer. The club are planning for a complete overhaul of the pitch's collapsed drainage system, which has not been updated since the stadium was built in 2003. AFC Telford United remain in talks with the Football Foundation's Stadia Improvement Fund to help secure a grant that will pay towards the essential work although the club will also need to part-fund.
Chairman Andy Pryce spoke to the Shropshire Star 'It's one of the things we've been working hard on to try to organise during this lockdown period. I know the contractors that we'd had plans with are not working at the moment, but we are planning on getting that work started ASAP ready for the pre-season...
'We will do some work to the pitch whether we get the grant or not but if we get the grant it will enable us to do a little bit more. We'll have to add money to it, it's an expense we didn't really envisage over the last 12 months but if we haven't got a good football pitch then we can't play football'".
In the Chester Standard we learn that "Anthony Johnson... is currently trying to get the Blues promoted from National League North, with Wrexham counterpart Dean Keates attempting to get his side heading in the right direction after a season scrapping at the bottom of the table.
Johnson and Bernard Morley recently penned a new two-year contracts... and Johnson is keen to rekindle a rivalry that the Blues boss likens to some of the fiercest in the country.
'There's nothing I want more than to be part of a Chester versus Wrexham derby,' said Johnson. 'We've never really been involved in a derby. When we were at Salford we played FC United and there were 4-5,000 there, but that was based on locality, not rivalry like Chester versus Wrexham.
'The Chester versus Wrexham derby is more akin to Rangers versus Celtic and Cardiff versus Swansea, it's a derby everyone around the country has heard of... I definitely want to play a part in a derby before we move on, especially at Chester...
'We've had brilliant games against York this season where we've had big gates and that's great, it's what you want... One of the things people want is for their team to have parity, or be above, their rivals. At the moment we are in the league below Wrexham and it's something I've got to put up with on social media...
When this [lockdown] is all over and we do eventually get back to playing football, how good would it be to see the bigger clubs playing local friendlies against local clubs like they used to do?... We are probably around the 125th best team [in England] and with our games in-hand, we are only a few places below Wrexham. Based on form and what we've done this season compared with what they've done this season, I think we are the better team.
'It's okay if Wrexham think they are better, it's absolutely not a problem for me'".
According to NL Daily, "Southport director Ian Kyle has confirmed that all Southport employees have been furloughed.
Speaking as he answered questions from supporters, Kyle said the following as he was asked whether manager Liam Watson and assistant Jon McCarthy had been placed on furlough during the current football shutdown:
'Liam and I have been discussing where we want to be, and what players we do or don't want for next season, and what players we want bringing in, it wouldn't surprise anyone to know since about January, with Liam! He's had firmly in his mind who he wants and how to go about getting them. so we're not in any danger, with him being furloughed, of having to start late or not be going through the planning stages that we should be, because that's been well in hand.'" In the Lytham St Anne's Express "Millionaires can't compete these days says AFC Fylde owner David Haythornthwaite.

Owner David Haythornthwaite says the economic downturn resulting from the coronavirus crisis can pose particular problems for clubs at AFC Fylde's level, who are dependent on benefactors such as himself...

The Coasters chairman stated that he contributed around £1m to the National League club last season, though admitted struggling to compete against clubs with 'billionaire' backers... Businessman Haythornthwaite explained 'In our case, we get some funding from TV. TV money funds everything. The Premier League teams on average get around £140m. In many cases for them, the gate money and revenues are insignificant.

'When it filters down, I think in League Two, which is our aspiration, it's about £900,000. "However, there is then a seismic drop to the National League. We actually get £90,000. By the time everybody at the top has had all their money, that's all we get in payments at our level.

'That's a starting point. The rest of the money then comes in the shape of matchday revenue and, as everybody knows, we haven't got a massive fan base. Our average home gate this season is 1,500 or 1,600.

'It is an important part of the revenue and the associated revenue that comes with that, as is sponsorship, but it is not enough to run the football club in its current form. Most football clubs, such as Fylde, rely on benefactors to get them success.

'There are varying levels of benefactors. Last season, for example, in our league we were competing with Salford City, whose benefactor Peter Lim is a billionaire who tried to buy Liverpool. We're competing against billionaires, and when you're a relatively successful millionaire, like some of us are, then it pales into insignificance.

'Most people who contribute are like me. Last season, I contributed around £1m into AFC Fylde through my company and various sponsorships, which came straight out of my business. Some clubs have no benefactors but have a reasonable crowd base they can survive on. Some have been lucky to get both.'"

The Northern Premier League reports that "Basford United are one of six clubs to be shortlisted for the latest share of the Buildbase £100k Transfer deal fund.

The programme, which is helping Buildbase FA Trophy or Buildbase FA Vase clubs to renovate their facilities, will enable two of the six finalists to each walk away with a £25,000 product bursary, including building, electrical and hire materials.

After scoring the highest number of public votes for its application, Merthyr Town FC won a 'golden ticket', ensuring its place in the final. The club will compete against Basingstoke Town FC and Basford United FC in the Buildbase FA Trophy category while Shoreham FC, Chester-Le-Street Town FC, and Kirkley and Pakefield FC have been shortlisted in the Buildbase FA Vase group.

Each of the clubs has outlined its proposed renovation plans, which include extensions, changing room upgrades and building a new clubhouse.

The finalists will pitch against each other and present their plans to a panel of judges from Buildbase and the FA in the coming months. Clubs will need to demonstrate the feasibility of their projects as well as benefits to the club, fans and wider community.

Local Buildbase branches will be supporting the clubs with information, advice and supplying the building products required for their projects".
---
27 April 2020 Altrincham have not lost any of their last six games played on 27 April. Last season witnessed a 1-1 at Hurst Cross against Ashton United.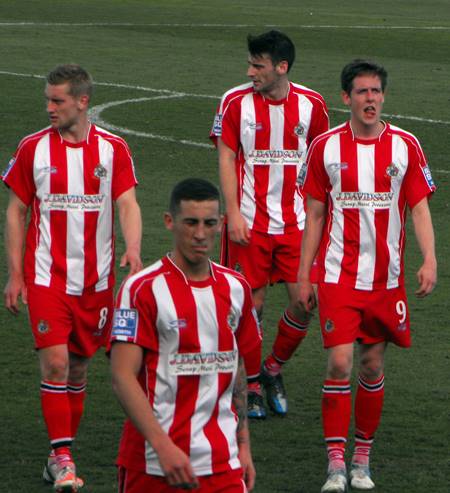 Right: Paddy Lacey leads Jake Moult, Simon Richman and Ryan Brooke off the pitch at half time.

Before that, the last game on 27 April was at Moss Lane in 2013, when Droylsden were beaten 6-0. Moss Lane was not a happy venue for the Bloods, who before the 2013 match had never won there in fifteen attempts. They arrived for this match already condemned to relegation to the EvoStik Northern Premier League.

In a one-sided match, a much-changed Altrincham cruised to a 4-0 interval lead. Nicky Clee started the rout with a right-foot chip over Latham. Four minutes later Jake Moult hammered home a second from 15 yards. Ryan Brooke's fierce drive made it 3-0 after 29 minutes before the same player headed home a corner in first-half added time.

Two goals midway through the half made it 6-0; Moult taking advantage of a keeper error before James Lawrie beat the keeper in a one on one.

Pre-match fitness doubts had concerned Carl Rodgers and fellow midfielder, Danny Boshell and they were two of the six starters of the previous Tuesday's game not to be in the initial eleven today. Rested were goalkeeper Stuart Coburn, Matt Doughty, Duncan Watmore and Damian Reeves. Matt was on the bench and, for Damian, it was the first game he had not started in the league that season. The six replacements were goalkeeper Tony McMillan, who was making his debut, plus Danny Hall, Patrick Lacey, Simon Richman, Ryan Brooke and Jake Moult.

Droylsden included former Alty men Carlos Logan and Joe O'Neill in their starting line-up but Lewis Chalmers was only on the bench.

ALTRINCHAM: 1. Tony McMILLAN, 2. Shaun DENSMORE (capt), 3. Scott LEATHER, 4. Pat LACEY, 5. Gianluca HAVERN, 6. Danny HALL, 7. Simon RICHMAN, 8. Jake MOULT, 9. Ryan BROOKE, 10. James LAWRIE, 11. Nicky CLEE. Subs: 12. Matt DOUGHTY, 14. Damian REEVES, 15. Sam GRIMSHAW, 16. Callum MOONEY, 18. Josh SAMBERG

Altrincham FC's John Edwards reports that "A trip down Memory Lane has helped make the future of Moss Lane more secure than ever after yesterday's rerun of Altrincham's epic play-off encounter with Blyth Spartans raised over £2,000 for club funds.

Each subscriber paid between £5 and £20 to watch the drama unfold, and their generosity has helped boost the overall funds raised across all sources to over £25,000, an invaluable income stream for the club in the absence of gate receipts during the coronavirus lockdown.

As promised, a draw was made after the screening for a series of prizes, ranging from a free season ticket to a photo opportunity with manager Phil Parkinson...

After marvelling at the fortitude of the players during a physically and mentally draining two-hour battle, the professionalism of the Alty TV broadcast accompanied by Radio Robins commentary and unfailing support of fans who continue to rally round the club in its hour of need, director Bill Waterson enthused 'I cannot emphasise enough just how blown away I am by the generosity and commitment of our supporters. This event alone raised more money than some Vanarama National League clubs, both North and National, have managed in total from their fundraising campaigns.

'When you consider that one club reaching £1,500 last week made the front page of their local press, you realise the unstinting efforts of our fans really does constitute big news!!

'These are telling comparisons that leave no room for doubt about the financial success of yesterday's initiative. A total of 160 tickets sold and £2,250 raised is an absolutely outstanding result, a great effort all round. If there were a trophy for best fans in non-League, it would be heading towards The J. Davidson Stadium right now.

'It was also a stirring reminder of how the players and management team rose to the challenge on the night, drawing on reserves of resilience and no little skill to overturn 2-0 arrears and holding their nerve to prevail in the shoot-out. What a night, and what excitement reliving it'".
Curzon Ashton relate that "We spoke to players, Andy Halls, Cam Mason and Rob Evans, coach, Jack Salkeld and manager, Mark Bradshaw, about 'Life in Lockdown'...

A.H - I'm on furlough from both jobs so I've not had much to do to be honest. I decided to raise some money for charity and will be attempting 100km over seven days, starting on Monday 4th May. It will obviously help me keep fit and gives me something to focus on...

C.M - I've been playing PlayStation with my mates, practising putting and chipping in my spare room and I've been working on my cooking/baking skills. Not saying it's going well but I'm trying.

R.E - I've been doing little jobs that need doing around the house, painting, a little bit of DIY, cutting the grass and the hedges (the grass is like Wembley now.)

J.S - I'm classed as a key worker so I am still working Monday-Friday doing engineering, making things for hospitals, oil refinery's etc. so I've been busy with that, which I'm pleased about as it stops me being bored. At the weekends I've been doing jobs around the house to keep me busy, Zoom quizzes with family and friends, also had a few BBQs and beers in the nice weather.

M.B - To keep busy I've sorted my garden, first time in years. I've also been at the ground recently while the chef prepares food for the homeless...

A.H - The club have been great at keeping us informed with what's going on regarding wages & games etc, but I haven't spoken to many of the lads if I'm honest apart from the WhatsApp group on a few occasions...

M.B 'We will be back stronger because that is what Curzon do, we are a massive family, from the kids to the adults teams, the volunteers to the community'">
---
26 April, 2020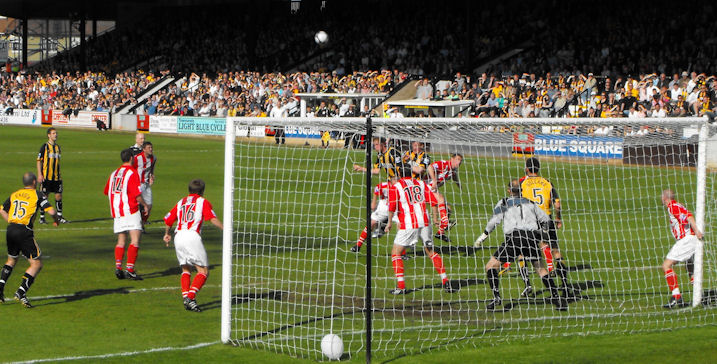 Above: Action from 2009 at Cambridge.
Nobody can currently watch Altrincham FC because of the termination of the league season but on this date in 2009, which was a Sunday, more than seven thousand spectators watched The Robins secure a goalless draw at Cambridge United.
Cambridge went into this, the final match of the regular season, with a chance of winning the Blue Square Premier but they were to be denied by the eventual champions, Burton Albion. Burton actually lost at Torquay that day so a 4-0 win for Cambridge over Alty would have secured the title and automatic promotion ot League Two. Ironically, in the play-offs it was Torquay United who overcame Cambridge, who would have to wait a further five seasons before regaining their Football League status.

Above: The Alty contingent of 166 in the away area at Cambridge.

Despite having regular defenders Greg Young (injured) and James Smith (ill) both missing today, Altrincham frustrated Cambridge United's hopes of securing automatic promotion with a disciplined performance in front of 7,090 supporters at the Abbey Stadium. Altrincham spent much of the game on the back foot, though a good first-half effort from Peyton forced a fine tip over the bar by Potter. The point secured an excellent 15th place for the part-timers.

Robbie Lawton was back after his two-match suspension and goalkeeper Stuart Coburn returned after injury so Richard Acton moved to the bench. But Alty had lost two of their regular back four before kick off when Greg Young was ruled out through a foot injury and James Smith was taken ill overnight. So, Mark McGregor returned to the back line, where Shaun Densmore reverted to right-back after playing recently in midfield. Chris Lane dropped to the bench, with Ben Wilkinson, whilst Chris Denham returned to the starting line-up for only his second start in the last 36 league matches, because of various injuries.

ALTRINCHAM: 1. Stuart COBURN, 21. Shaun DENSMORE, 4. Mark McGREGOR, 18. Michael WELCH, 3. Matt DOUGHTY; 9. Colin LITTLE, 7. Robbie LAWTON, 16. Anthony DANYLYK, 11. Warren PEYTON, 14. Dale JOHNSON; 10. Chris DENHAM. Subs: 23. Richard ACTON, 17. Ben WILKINSON, 2.Chris LANE, 12. Joe O'NEILL, 5. Greg YOUNG.

Altrincham FC reported on Saturday that "It's matchday and, while there's no sound of turnstiles clicking, there is the every-bit-as-welcome lockdown equivalent of Alty fans clicking on e-tickets for this afternoon's screening of our epic promotion play-off encounter [in 2019] against Blyth Spartans.

The response has been exactly what club bosses have come to expect from Robins devotees in these trying times, when normal income streams have dried up and Altrincham FC's wellbeing hinges largely on the generosity and backing of their loyal army of supporters.

There was an initial hope that the event may add another thousand pounds to the amount raised, £25,000-plus overall at the last count, and that ambition has already been realised.

As of around 11 o'clock this morning, donations had surpassed £1,000 and the response was on the verge of eclipsing the 79 e-tickets sold for the game against Southport and setting a new record, in terms of e-ticket sales for a single Alty event".
According to the NL Paper, "Bradford Park Avenue are considering legal action if they are threatened with relegation from National League North because of the coronavirus crisis.

Avenue were rock bottom when the season was suspended in March before being abandoned on Wednesday after clubs were polled on whether to kick off again during the public health crisis.

With the promotion and relegation now 'under careful consideration' by the National League, the club's director of football Martin Knight told the Bradford Telegraph & Argus on Saturday that they won't go down with[out] a fight... Knight insists one up and one down would be unfair and contested.

'Tiers three to seven have already been voided so we can't be relegated,' he told the Telegraph & Argus... 'If they said they are going to relegate us, there would be a legal challenge from us. We are planning for National League North next year.'

Avenue are still set to have a new 3G pitch installed this summer for the start of next season and Knight believes the new surface will be a welcome boost for manager Mark Bower's recruitment drive when the public health crisis is over.

The 50-year-old, who was appointed director of football operations earlier in April, added 'If you have got a player like Nicky Clee, one of the most technically gifted in this league, it doesn't help when the ball is bouncing off a divot and smacking him in the shin. If you know you are going to have a good playing surface, it changes the type of football that Mark [Bower, the manager] might try and play. He knows he is going to have a good surface, therefore his recruitment might change as he might be able to look for a more technical player.'"

The Telegraph & Argus adds that "Bradford finished rock-bottom on 20 points, which would usually send them down to the Northern Premier League".
Blyth Spartans have written to their supporters' club saying, "thank you... for your continued support through the 1899 Club. We'd like to remind you just how much we appreciate your monthly contributions... With that in mind, we are planning to overhaul our 1899 Club during the summer months...
This will include offering cash prizes and producing a periodical bulletin with news updates on what is happening at the Club, which we will email to club members...
It is easy for fans to become detached from the Club, so being able to tell you about what is going on will hopefully help to keep you in touch and maintain your interest until we can begin playing matches again... Unfortunately, there will be certain things we cannot talk about because the topic is commercially sensitive or confidential, but I am happy to consider all constructive comments".
The Boston Standard reports that "Today should have been Boston United's final ever league match at York Street.
The Pilgrims were due to host Hereford in the final contest of the 2019-20 National League North campaign... before the club moved to its new Community Stadium this summer.
Of course, Craig Elliott and his side were hoping the Jakemans Stadium would host at least one additional match as United set their sights on a place in the play-offs. The coronavirus had put paid to those dreams. The fantastic ground, United's home since 1933, has seen some weird and wonderful matches over the years...
Boston United's fist competitive fixture at York Street was a Lincolnshire League contest against Grimsby Town Reserves on August 26, 1933. A crowd of 1,544 watched the Mariners win 3-1...
Highest attendance: on January 9 1974 a sell-out 11,000 fans packed into the stadium to watch Boston United host First Division Derby County in the FA Cup. Due to the three-day working week, imposed to conserve energy because of the oil crisis and industrial action by the coal miners, the match was played in the afternoon to save the floodlights being used. Local schools also shut for the afternoon. The two sides had drawn 0-0 at the Baseball Ground but the Rams won the replay 6-1...
Top home attendances: The Pilgrims may have only broken the 10,000-fan barrier once... 11,000 v Derby County, FA Cup (January 9, 1974)...
The COVID-19 outbreak saw this season end early, with six games left to play. Darlington, Alfreton, Farsley Celtic, Spennymoor Town, Gloucester City and Hereford never got their final games at York Street. That means the final competitive contest played at the stadium was the 3-0 defeat to Gateshead, only Boston's second home league defeat of the campaign on February 25. The final FA Cup contest was December's 2-1 defeat to League One Rochdale. The last home victory was the 1-0 victory over AFC Telford United on February 22, Dominic Knowles the last Pilgrim to score at the stadium with his decisive penalty."
Kettering Town report that "End of season programme cover mugs are being produced. We've had the remaining unplayed match programme covers designed. The mugs, [which feature each cover], will be £9 each with all proceeds going the the Presidents' Appeal."
---
25 April 2020 At 3pm today (Saturday) Alty TV is broadcasting the play-off match against Blyth Spartans from last season and "tickets" to view the match can be purchased here.

And don't forget that there are other ways of donating to the Club during the current lockdown period; details here.

Altrincham FC reports that "At the Altrincham FC AGM in November, our Chairman Grahame Rowley announced he was stepping down at the end of the season. It looks like the curtain may be brought down on this season early due to the impact of Covid-19, but the Board have unanimously decided that there should be no change in the Chairman whilst we remain in this crisis. Grahame will therefore continue in the role until we emerge from the lockdown, ensuring continuity at the club through the crisis.
Grahame [right] has filled the role of Chairman of Altrincham Football Club with energy, scrupulousness and dignity for the last 10 years, and has served as a Board member for nearly 20 years, and this tenure will continue for a little longer yet.

Despite all of football being shrouded in uncertainty at the moment and for some time to come, our planning for the next term has begun in earnest. And in order to clarify our intent, we are announcing plans for Grahame's succession.

To fill Grahame's shoes is not an easy task, and the board have called upon two of our existing directors to step up. Lawrence Looney and Bill Waterson will assume the role of Joint-Chairmen for next season and will lead the planning from now, ensuring continuity and driving the club forward in line with the strategic plan.

Once this season is done and dusted, and when the restrictions begin to be lifted, Grahame will hand over the Chairmanship and will also step down from the Board. He will then take up a role responsible for matchday preparation and execution at The J.Davidson Stadium. In this way, he will continue to serve the club, which is so close to his heart.

Both Lawrence and Bill will be speaking at more length on their ambitions for the club in due course".

For more on this, click here.

25 April has witnessed contrasting fortunes for Altrincham over the years. The four most recent fixtures have all been in years when Alty were either relegated or promoted. The most recent fixture on this date was in 2018 when Alty drew 1-1 with Marine in the NPL, having already secured promotion.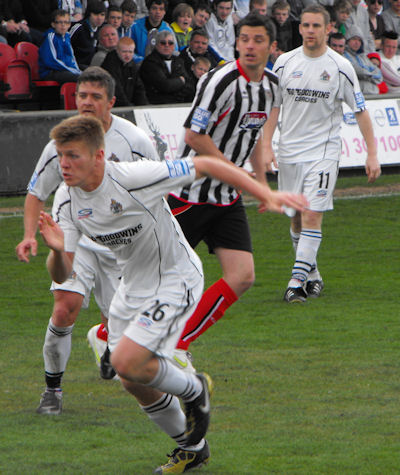 Right: Carl Piergianni, Ryan Brown and Nicky Clee all did a good job on the Alty left at Grimsby.

In 1998 a 7-1 trouncing of Emley at Moss Lane in the UniBond Premier League confirmed Alty as champions that season.

But in 2015 a 4-2 loss at Braintree Town in the Conference was the final nail in Altrincham's relegation back to the NPL.

In between 1998 and 2015, a 2011 trip to Grimsby Town ended in a fine 1-0 win but was ultimately worthless as Alty then threw away their chance of staying up by losing at home to already relegated Eastbourne Borough when results elsewhere would have kept them up.

In the 2011 match, in the Blue Square Bet Premier, played on Easter Monday, a fine performance from Altrincham saw them keep their hopes of survival alive to the last game. After a Damian Reeves goal had been ruled offside in the first half and Dale Johnson had then spooned over the bar from close range, Marc Joseph's headed goal from a Ryan Brown corner in the 52nd minute won it for the visitors. Alty then defended well in the closing stages.

With Stuart Coburn, Anthony Danylyk and Steve Connors all sidelined by injury till the end of the season, and both Chris Denham and Jon Bateson also sidelined, Alty had to call up youth teamers Sam Langford and James Smart to their squad today. Ryan Brown and James Smith both started but Alty had no keeper on the bench. Youth keeper Adam Reid was present, helping with Craig Dootson's warm-up, but was not registered to play.

ALTRINCHAM: 30. Craig DOOTSON, 2. James SMITH, 4. Marc JOSEPH, 5. Rob WILLIAMS, 26. Carl PIERGIANNI, 6. Shaun DENSMORE, 7. Robbie LAWTON (capt), 15. Ryan BROWN, 11. Nicky CLEE, 8. Damian REEVES, 14. Dale JOHNSON, Subs: 19. Mark BEESLEY, 9. Michael TWISS, 17. Wes BAYNES, 25. Sam LANGFORD, 27. James SMART

The Derbyshire Times reports that "Gary Neville has 'pleaded' with the Premier League to do the 'right thing' and provide more financial support for National League clubs to stop then going 'bust'.

The Premier League has already advanced funds of £2m to all 68 National League clubs to share but this is money they would have received in August anyway as solidarity payments. A number of clubs initially thought this would be extra funds and have criticised the move saying it only delays the financial problems they will experience....

Neville, 45, the co-owner of League Two Salford City, told Sky Sports' Football Show [said] 'I've gone from anger to despair to almost pleading for someone from the Premier League to do the right thing for the game. Why am I on calls with chairman of EFL clubs who are desperate to pay their next wages or worrying about their clubs going bust for the sake of a couple of million pounds?

'You hear the National League chairman saying they need £10m to £15m across the 68 National League clubs to prop the clubs at that level up. You've got the FA potentially falling over because of the money lost from their revenue streams'...

Neville added 'Once the Premier League do the right thing they can be seen as the organisation they should be. We need to fall in love with it again. They need to look after football, reassure the game it's looking after them. It's not about the 20 Premier League clubs, it's about the game, it's about the grassroots.

'The Premier League are the only people who can stop this being economic carnage for the game. It's something that should be done very quickly by the Premier League clubs. They can do it, it's just whether they want to do it.'"

And the BBC has a speculative article on various ways how the National League season could be wound up.
The Eastern Daily Press reports that "King's Lynn Town have reiterated their 'strong support' for a points per game method to decide promotion and relegation issues in the National League...
Lynn are second in National League North behind York, two points behind but with two games in hand, so a points per game (PPG) resolution would suit them.
In a media statement released on Friday, the club said 'The curtain was bought down on the National League North 2019/20 season on Wednesday when the decision was announced that members of all three divisions had voted by a big majority to cancel the season with immediate effect. We wish to inform you that, after much deliberation, we also voted to cancel the season along with many of our league members. It is understood by ourselves that the next stage of the process will see our opinions and thoughts collected by the league as to the way the member clubs wish for the season to be finally decided.
No timescale has been placed upon this procedure but it will be the club's stance to strongly support a points per game method (PPG) so that there is a definitive ending to a season where the vast percentage of games have been played.
'The season has been an amazing one for King's Lynn Town football club. We have enjoyed some remarkable moments and games provided to us by an extremely talented manager, coaching staff and members of a team will total commitment and dedication to the cause, week in, week out...
'At present we have no idea as to what league we will compete in, what teams we will face or a possible starting date for a new season. These situations will be resolved, we are sure, over the coming weeks and months and we will keep everyone updated'".
Kidderminster Harriers' "Interim Chief Executive Neil Male has today confirmed the permanent appointment of Russ Penn as the club's Manager and Jimmy O'Connor as Assistant Manager.
Given the lack of continuity the club and its fans have endured in recent seasons and the general uncertainty surrounding the game in general at present, the Board feels it is vital to offer everyone some stability with an eye for the future. As such, Russ and Jimmy have been appointed to their roles for the next two seasons, during which time it is expected that the club and the team to succeed and thrive under stable leadership on and off the field...
In a short space of time, the two also demonstrated their managerial capabilities, working together for the latter part of the 2019/20 season to get results, and bring back some of the club's feelgood factor. The Board are wholly confident they are the right people to continue to do this in the future.
Interim Chief Executive Neil Male said 'Having had more than five managers in 18 months, there's a need to put in foundations and build something powerful for the future; Jimmy and Russ have our full backing to do that... I know they are the people who can bring success back to Kidderminster Harriers with their extensive experience and contacts at this level."
Manager Russ Penn said today 'I'm so proud to be named Manager of Kidderminster Harriers. Everyone knows this is my club. I'm a local lad who played over 200 games here, and I know what it means to the people of the town. To be given this opportunity at my age shows the faith and confidence Richard and Neil have in me. They know what this club means to me, as do the fans'...
Jimmy and Russ will be meeting the current Harriers squad remotely in the coming days and weeks to discuss plans for the future."
We read in the Chester Standard that "Matty Hughes still hopes to right the wrongs of last year by finishing the National League North season on a high.
Twelve months ago Hughes had just started running as he attempted to battle back from an ACL injury, which had required an operation. Hughes returned in time to take part in Chester's pre-season and the 2020/21 National League North campaign was on track for the attacker only for the coronavirus pandemic to force a suspension...
But Hughes... thinks this year's end of season lottery should take place. 'I want to end on a high,' declared Hughes. 'I missed out on last season and we've got a miles better squad this season, which could go on and do good things... I don't think I've completed a season in two years, it feels like I can't see anything through!'...
Hughes, like the majority of his Chester team-mates, sees his current deal expire on May 2...
'I'm not bothered about things like contracts,' he said... 'I'm concentrating on finishing the season. Contract issues have crossed my mind, but there are much bigger things going on at the moment...
'I thought my form was alright, I just don't score!' said Hughes. 'I don't know what it is, but I've been told I'm the Gary Stopforth of upfront, I do all the running and Akwasi scores the goals. I'm not bothered about that in the slightest though, I'll happily run around all day long as long as we go up.. We've got a week by week [fitness] programme with different intensities... It's boring, but it's got to be done'".
---
24 April, 2020 At 3pm on Saturday, Alty TV is broadcasting the play-off match against Blyth Spartans from last season and "tickets" to view the match can be purchased here. Ten years ago today, 24 April 2010, Altrincham entertained Cambridge United at Moss Lane and lost 0-2. It was the final match of a Blue Square Premier (Conference) season which saw Alty finish in a commendable fourteenth place, despite taking just a single point from their final six fixtures of the season. Indeed, a depleted Altrincham squad had managed just two wins in their last sixteen games.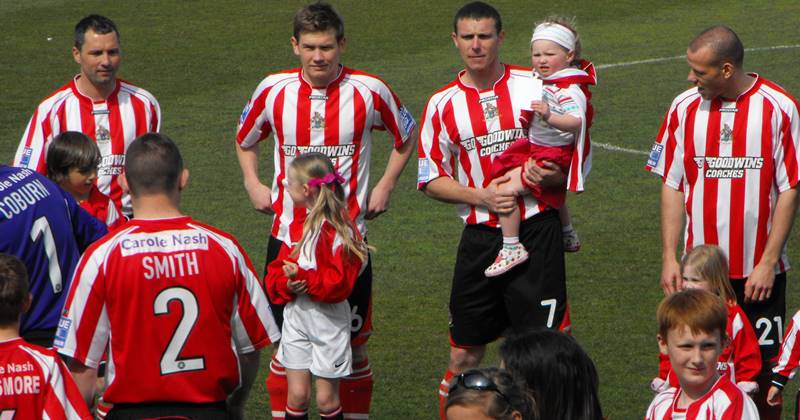 Above: Alty line up before kick off; l. to r. Mancunian Colin Little and the Merseyside quartet of Shaun Densmore, Robbie Lawton and Peter Doran, with James Smith about to join them.
Altrincham were again reduced to just sixteen fit players with Chris Denham out. There were two changes to the previous line-up, a 1-4 defeat at Salisbury, as Ryan Brown and Jon McAliskey dropped to the bench allowing Colin Little to start in his last game for the club, whilst Peter Doran returned to midfield. Greg Young was captain, which may have had something to do with regular skipper Robbie Lawton having to arrive late at the ground due to his full-time job as a teacher meaning that he had a commitment in Nottingham before kick off. There were no such problems for full-time sides in this league!
Right: Colin Little (right) is seen with Greg Young, sitting in the stand, at the post-match awards ceremony.
Altrincham hoped to finish the season on a high note after their heavy midweek defeat, which had been the low point of a difficult run-in.
After six successful years at Altrincham, with the game goalless, Colin Little had the chance to end his Moss Lane career with a goal and a potential win. But his 29th minute penalty was saved by Brown. Saah had pushed over Greg Young on the by-line to concede the spot kick. Alty went on to have the better of the second half until a defensive mix-up saw a clearance cannon off an Alty player to substitute Adam Marriott, who took his chance well (75 mins). Marriott, of course, was the leading scorer in National League North this season, playing for King's Lynn Town.
Having fallen behind and despite sending Robbie Williams and, later, Greg Young, forward, Alty could not get a goal. Doran sliced a couple of decent chances wide but Marriott showed the hosts how to finish when he made it 2-0 in the second added minute. Despite just two wins in the final seventeen games, it had been a successful season for Alty with the management and players all deserving of the applause they received at the post-match award ceremony on the pitch side.
Altrincham: 1. Stuart COBURN, 2. James SMITH, 12. Robbie WILLIAMS, 5. Greg YOUNG (capt), 6. Shaun DENSMORE,7. Robbie LAWTON, 16. Anthony DANYLYK, 21. Peter DORAN, 11. Nicky CLEE ; 19. Chris SENIOR, 9. Colin LITTLE, Subs: 27. Ryan BROWN, 18. Michael WELCH, 13. Russell SAUNDERS, 24. Adam CARDEN, 17. John McALISKEY
The unofficial Harriers Online report that "We now finally have an answer from the National League. Never ones to rush into things they have now announced, and weeks after everyone else, that all remaining games are to be cancelled but still no answer to what will happen to the teams well placed for promotion and relegation.

Within days of the lockdown starting the clubs from below the Harriers in the pyramid said that they would be calling their season off without any promotion or relegation taking place...

In our division, the National North, both York City and Kings Lynn Town have been fighting it out at the top all season and at the bottom it looks odds on that Bradford (PA) and Blyth Spartans fate had been sealed weeks ago but now the top two could have it all to do again while the bottom two will be rejoicing at the possible second chance given to them. It all depends on the next statement to come out.

As for us we'll stay safely ensconced in mid-table and can now start to rebuild for next season (if that actually gets underway in August)...

To be honest most fans thought that it was daft to carry on with all the risks involved and all will be glad that at least now we are someway to knowing what will happen".
Potentially reprieved from almost certain relegation, Bradford (Park Avenue) report that "The National League have confirmed that the rest of the games this season have been postponed, effectively ending the league. As a club we voted in support of the motion as to do so was the sensible and prudent thing to do in light of the unprecedented circumstances the community and country find themselves in....
Whilst no firm decision has been made on promotions and relegations, we are now planning for life in the National League North for next season. We are in constant communication with the National League and the other clubs in the National League North, whom are currently debating how best to address promotions and any possible relegations for the 19/20 season...
The great news is that we have [managers] Mark [Bower] and Danny [Boshell] contracted to us for next season and they are working hard on putting together a exciting and competive team for us to watch next year, and we hope to have news on some signings very soon.
We haven't forgotten our loyal season ticket holders and we are currently discussing what we can do to address the 4 games they have missed out on and will communicate the remedy as soon as we have it".
According to NL Daily "York City have said they will continue to push for promotions to be honoured in this season's National League divisions.
The club's statement follows the announcement from the National League that no further fixtures would be played for 2019/20 due to the continuing COVID-19-enforced football shutdown. With no official decision yet communicated regarding the fate of the promotion and relegation situations, York have said 'Throughout the process, York City FC has put forward a strong case to see promotions honoured and will continue to do so until a decision is made'".
At Hereford FC "Club Chairman Andrew Graham has welcomed the National League's vote to close the regular season down with immediate effect.
Graham stated that 'This news is very welcome, in so much as it enables us to move to another phase. As a Board we have met many times since the season was suspended and have acted to ensure that the Club is protected as much as possible financially and from a compliance position.'
'Club Secretary Martin Watson continues to manage day to day operations, until there is a need to scale operations up once we have clarity on when next season is likely to begin.'
Graham went on to say, 'We have already considered what next season may or may not look like... in preparation for as and when football resumes'".
---
23 April 2020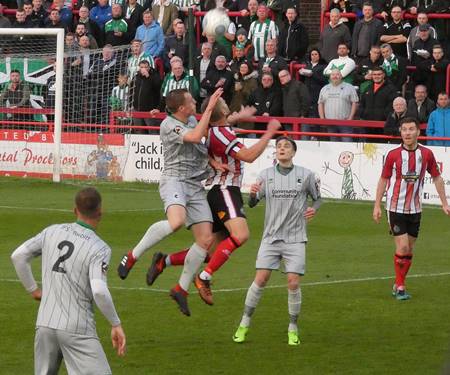 Altrincham FC advises "Stay in, keep safe and watch Alty at 3pm this Saturday!

Live football may be on hold for the foreseeable future, but Altrincham are determined to bring the curtain down on the scheduled season in style by screening one of their most dramatic games in recent memory on Saturday afternoon.

Right: Jake Moult battles for an aerial ball against Blyth.

Alty fans would have been heading to Farsley Celtic for the final fixture of the 2019-20 Vanarama National League North campaign but for the coronavirus bringing proceedings to a halt early last month.

The club have ensured they will still have an Alty performance to cheer, however, after arranging a special screening of last season's epic play-off cliffhanger against Blyth Spartans for 3pm this Saturday...

It offers supporters the chance to relive one of the great nights under The J.Davidson Stadium floodlights and it has the added attraction of giveaways and prizes for anyone clicking on altrinchamfc.com/club/tickets and donating either £5, £10, £15 or £20 as a means of accessing the coverage.

The gripping two hours-plus tale of a dramatic comeback amid mounting tension has the added attraction of free gifts and draw prizes, with the number of entries into the draw dependent on the amount donated; one entry for £5, two for £10, three for £15 and five for £20.

The free gifts lined up for the event, which are all digital and will be emailed:
3 x Altrincham FC desktop wallpapers and a free Altrincham FC Josh Hancock FA Cup celebratory photo
The prizes up for grabs in the draw are:
A free season ticket.
A 2020 season signed home shirt.
A 2020 season signed away shirt.
Hospitality for two in the sponsors' lounge for a game of the winner's choice.
Hospitality for two in the boardroom and seats in the directors' box for a game
A Meet the Manager and Captain photo opportunity after next the home game.
Explaining the initiative, Alty director Bill Waterson said 'This Saturday would have been the last match of the regular season and would, more than likely, [have] been followed by another tilt at the play-offs... We thought we'd offer our amazing fans a reminder of one of the highlights of last season."

Altrincham FC "have received the following statement from the National League, explaining that the outstanding fixtures for this season have been scrapped but that promotion and relegation issues are still under consideration.

'National League Clubs were asked to support an ordinary resolution on 9 April to end the Playing Season for all fixtures scheduled up to and including 25 April 2020. With almost 90% of responses returned it is evident a clear majority of Clubs are in favour, including a majority of Clubs in each of the National League, National League North and National League South divisions.

In the knowledge that the ordinary resolution has passed, the League's Board has chosen to communicate the decision now and before the last few responses are received, which will not change the outcome, to enable Clubs to make business decisions with greater clarity as soon as possible. Clubs yet to respond still have an opportunity to do so, and the League wishes to include as many preferences as possible before the final voting result is declared.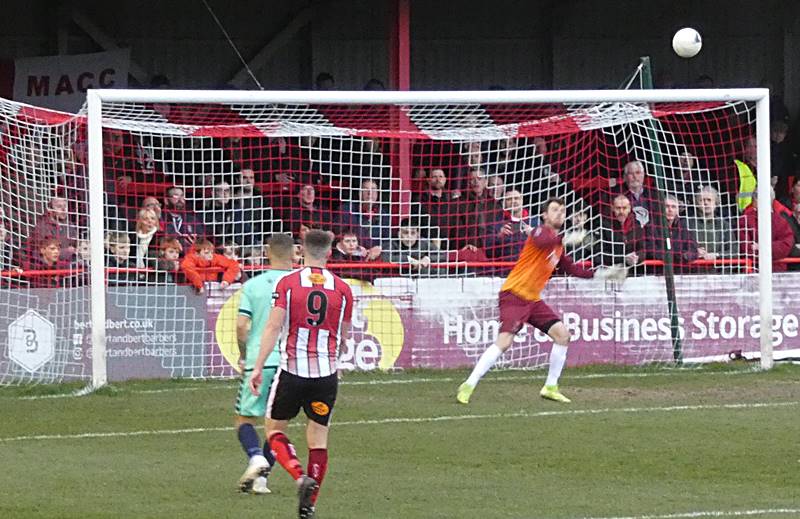 Above: What proved to be Altrincham's last goal of 2019-20 was a memorable one, scored on 7 March at the J. Davidson Stadium. It featured Jordan Hulme (9) who here watches as his superb shot dips into the top corner of Spennymoor keeper Gould's net to make it 4-1. Whether the goals scored by Alty players in 2019-20 will be voided from the records remains to be seen!

National League Chief Executive Officer, Michael Tattersall, commented, "At a time when the entire country is wrestling with the devastating impact of Covid-19, the cancellation of the remaining normal season matches brings a degree of certainty to our Clubs coping with the business implications of the virus."

In consideration of the very serious and unprecedented national public health emergency caused by the coronavirus, National League, National League North and National League South football activities have been suspended since 16 March. The options concerning the sporting outcomes of the 2019/20 season remain under careful and timely consideration, and further updates will be given in due course'".

On today's date, 23 April, in 2016, Altrincham were fighting a relegation battle in the National League as they entertained Welling United at Moss Lane. Before kick off, with two fixtures to be played, Altrincham could have finished anywhere from 19th to bottom of the league. However, a win against Welling would be the only way of ensuring that Altrincham's fight for National League survival would go to the final game of the season, irrespective of results elsewhere.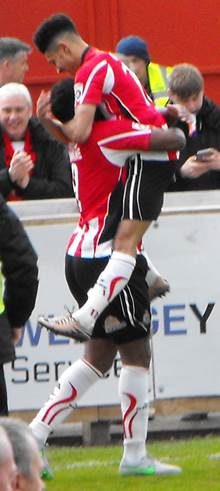 In 2000 both Alty and Welling were relegated at the same time from the Conference. So, with Welling already having already been relegated this season, Alty were not wanting a repeat of that season's conclusion. Indeed, the only certainty before kick off was that this would be the last time Alty and Welling would meet in a league match for some time.
Former Bromley boss Mark Goldberg was in charge of The Wings for the first time for this match. Welling's Slovak keeper, Marek Rodak, was on loan from Fulham where he made 30 apearances and he went on to play for Accrington Stanley and Rotherham United.
Right: Josh Ginnelly and Michael Rankine celebrate Alty's second goal at Welling in 2016.
Alty welcomed back Marcus Holness from suspension. However, Simon Richman (injured ten days earlier) was fit only for the bench whilst, in midweek, manager Neil Tolson had ruled out loanee Jimmy Phillips (knee) and had said that Ryan Crowther was unlikely to be fit, which he was not.
Although Altrincham won the game, convincingly, 5-0, their biggest win of the season, they would go into the final game of the season, at Braintree Town, needing not only to win but also for FC Halifax Town to lose and Guiseley to do no more than draw for The Robins to stay up. However, Alty's heavy 3-0 defeat at Braintree was to confirm their relegation.
Back in the game at Welling, after a nervous opening in which Rankine missed two good chances, Altrincham went ahead out of nothing in the 33rd minute. A long ball was nodded on by Rankine to Jordan Sinnott who slotted home calmly in the 33rd minute. As the first half ended, Welling's Gayle conceded a penalty for handball from a Luca Havern cross, which Michael Rankine converted.
It became 3-0 five minutes after the break when, from Sinnott's cross, James Lawrie's shot into the ground beat goalkeeper Rodak. Alty scored a superb fourth with a one-touch move up the right which featured a magnificent exchange of passes by Scott Leather and Jordan Sinnott before Damian Reeves headed in Sinnott's cross from the right. That was after 66 minutes and, in added time, Rankine added a fifth as he lobbed the exposed Rodak.
ALTRINCHAM: 17. Tim DEASY, 6. Scott LEATHER, 26. Marcus HOLNESS, 5. Luca HAVERN, 3. Adam GRIFFIN, 4. Jake MOULT (capt), 7. James LAWRIE, 20. Jordan SINNOTT, 15. Josh GINNELLY, 9. Michael RANKINE, 10. Damian REEVES. Subs: 23. Callum WILLIAMS, 27. Adam SAVILL, 14. Josh O'KEEFE, 8. Simon RICHMAN, 12. Sam HEATHCOTE.
Reaction to the termination of the 2019-20 season comes from York City who remind us that "promotion and relegation outcomes are still being considered...

Throughout the process, York City FC has put forward a strong case to see promotions honoured and will continue to do so until a decision is made.

Ending the campaign, sitting at the top of the league and having endeavoured to play as many games as possible during the season, when it comes to voting on the sporting outcomes of the 2019/2020 league results, we are confident that the league and other clubs will take this key aspect into account...

We will share further information when we receive it".
Meanwhile at Spennymoor Town the Moors reiterate that "all remaining fixtures have now been permanently cancelled.

The second stage of their [National League] resolution-setting will now focus on deciding what happens with potential promotion and relegation candidates in the National League, National League North and National League South.

Spennymoor Town FC voted in support of the resolution to end the season here."

More on the effects on football of Covid-19 comes in NL Daily in which "AFC Fylde chairman David Haythornthwaite has laid bare the club's outgoings in the past few weeks, which he says amount to £115,000 during the current COVID-19-enforced football shutdown.

Last year's National League play-off finalists and FA Trophy winners have been battling relegation this season and were four points adrift of safety at the time of the 2019/20 season suspension.

Haythornthwaite has been updating supporters on the situation facing Fylde, explaining 'Since the last home match, Aldershot on the 14th (March), I just called Lisa this morning, the FD, and I just said "what have we paid out since then, in the last month?" It's roughly, almost exactly, a month since we finished, and AFC Fylde has paid out £115,000, and we're a little club.

'I talked to a League One chief exec yesterday and he told me that in that same period, he paid out £440,000.'

Haythornthwaite added 'If what happens is what I suggested could happen earlier, which is we now have nine months of that, then that's, in very simple terms, a million quid, that somebody is going to have to find. There's only one person and that's me, and that is the situation that we find ourself in.

'I've therefore had to make some difficult decisions, and one of those decisions is that I'm not gonna [sic] support the football club at the level that I've supported it before, because I feel it's morally wrong for me to ask all my managers in my, shall we say, "real business", to take pay cuts, or to furlough people on the government scheme, and to have to terminate some people, while at the same time fund my football club which, as I explained, of that 95 percent is wages, and to pay every single player full wages'".

Y-Clwb Pel-Droed reports that "One of Wales's most proudest [sic] clubs could be no more. Rhyl announce plans for liquidation.

Rhyl have been consigned to liquidation after failing to secure external investment to preserve the club's future.

Following a month of trying to attract investors, no viable option was found and now the board has initiated the formal winding up of the company.

There was a final deadline at 5 pm yesterday but [Rhyl] were unable to find the £175,000 required to ensure the club would run for the entirety of next season.

In an emotional statement, penned by Paul Higginson, the club chairman said... 'I have no doubt that a very strong new club will rise from this low. The difficult decision was taken by the board of directors after considering the financial impact of the suspension of all football activities due to the unprecedented impact of COVID-19, the unwillingness of the ground's owner to consider either a long lease or sale on market terms and the ongoing fixed costs with no income prospects'...

Attention could now turn towards setting up a phoenix side. Rhyl Fans Association raised £3,469 through a GoFundMe fundraiser which may go towards supporting the new side. It brings to an end 141 years of existence of a club which has tasted much success in Wales. Rhyl had been a top-flight side in as recently 2017 and were crowned Cymru Premier champions in 2009".
---
22 April 2020 A year ago today Altrincham played their last home game of the regular season and drew 1-1 against Hereford United to cement their place in the play-offs.

Two years earlier they had also drawn 1-1 at Moss Lane against Alfreton Town.

Back in 2006, on 21 April, Altrincham had lost 0-2 at home to Grays Athletic in front of a bumper gate of 2,118. At that time the Essex side boasted a number of players who were to go on to have Football League careers. These included at least eight of the starting eleven who faced part-time Altrincham in 2006; Michael Kightly (Wolves, Burnley etc), Aaron McLean (Peterborough United, Hull City etc), Jamie Stuart (Rushden & Diamonds, AFC Wimbledon), Glenn Poole, (Brentford, AFC Wimbledon), Dennis Oli (Gillingham), John Nutter (Gillingham, Lincoln City), Stuart Thurgood (Gillingham) and Gary Hooper (Celtic, Sheffield Wednesday etc).
Above: 55 minutes, watched by Dalton Steele and Graham Heathcote, Stuart Thurgood (in yellow, foreground) sent in a freekick which Aaron McLean (on the deck) and Mark Maddox (hidden behind Karl Munroe (17)) went for. The Alty captain unfortunately headed the ball (seen just above Grays no.3's head) into the net for an own goal.
Having reached 36 points from 29 games, Alty had recently hit the buffers, taking just five more points from the 11 games preceding the visit of Grays and having failed to win any of the preceding six home matches. The pressure continued as this was to be their third successive game against teams in play-off places at the top of the Conference and they were still not safe from relegation.
Alty's Val Owen and Stephen Rose remained sidelined, as did long-term absentees Richard Norris and Eddie Hussin, whilst regular left-back Chris Adams was, once more, only fit to sit on the bench. Manager Graham Heathcote brought in Karl Munroe at centre-back and moved Gary Talbot to the bench, presumably a move designed to counter Grays' pacy attack. Alty reverted to their customary 4-2-4 after a flirtation with 4-1-4-1 at Morecambe. Up front, both Colin Little and Rod Thornley returned, with Pat McFadden moving to the bench where Kieran Lugsden returned returned to the squad. Steve Aspinall reverted to right-back as Gary Scott was again switched to left-back, whilst Peter Band played in midfield once more.
Grays were without their dangerous striker, Jamie Slabber, who was injured but the league's highest scorers had plenty of other attacking threats. They came into the game needing points to confirm their play-off place and having won their last match 7-2, away at Scarborough.
In the 2006 game, which came after Alty had drawn the reverse fixture 1-1 in Essex thanks to a very late goal netted by Kieran Lugsden in a midweek match which was delayed by a floodlight failure, Alty had chances to score in an excellent first half, though they were aalso grateful to Stuart Coburn, who made two important saves.
Right: Alty players saluted their supporters after learning that results elsewhere had secured another season for them in Conference National - barring the outcome of the club's appeal against an 18-point deduction.
However, Grays dominated the second half, though they failed to score from open play during it. Alty fell behind when Mark Maddox headed a Thurgood freekick past his own keeper (55 mins) and then referee Scarr gave a penalty when Kightly went down despite no contact from Coburn as he dived at his feet. The excellent Thurgood beat Coburn comfortably from the spot (63 mins).
Alty created no real chances in the second half but as news filtered through of results elsewhere the magnificent home support chanted "Staying up!". After the match, all the players and the Board attended an awards ceremony on the pitchside for the ballboys and girls at Moss Lane, who are supervised by Ray Armstrong and Mike Antrobus. In a brief speech, Graham Heathcote praised his players and all at the club before presenting the Clubmen of the Year awards to Alty's kitmen, Dave Mitten and Charles Heathcote. Chairman Geoff Goodman paid tribute to the management, players and supporters and indicated that the club would be debt free in six months time.
Rarely can a seventh home game without a win have prompted such post-match scenes of celebration as Alty players and supporters saluted each other on hearing of the defeats for Forest Green, Tamworth and Scarborough, outcomes which ensured Alty's survival on merit in the Conference. But that was before the FA deducted the club 18 points for the James Robinson affair! Nevertheless, Alty got a reprieve thanks to the demotion of Scarborough for financial reasons.
The referee of this match was Mr Ian Scarr, the same official who refereed the Nationwide Conference Promotion Play-Off Final at Stoke in 2005 in which he awarded a penalty against Altrincham as they overcame Eastbourne Borough..
ALTRINCHAM: 1. Stuart COBURN, 2. Steve ASPINALL, 4. Mark MADDOX (capt), 17. Karl MUNROE, 11. Gary SCOTT; 5. Peter BAND; 7. Colin POTTS, 37. Ged MURPHY, 12. Warren PEYTON; 9. Colin LITTLE, 10. Rod THORNLEY. Subs: 3. Chris ADAMS, 5. Gary TALBOT, 14. Lewis CHALMERS, 20. Kieran LUGSDEN, 28. Pat McFADDEN.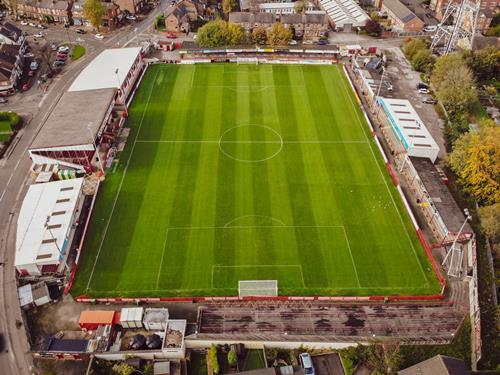 Back in January 2020, Altrincham FC held an open meeting at which it unveiled to supporters its long-term plans for the modernisation of the J. Davidson Stadium at Moss Lane (pictured right in its current state).

It is only now that e-architect has made these plans more widely available as it announces, with architectural illustrations, that "Define Architects have unveiled proposals for the redevelopment and expansion of Altrincham FC's existing stadium at Moss Lane. The Vanarama National League North side have partnered with Define Architects to develop a potential 10-year development strategy in line with the Club's ambition for future growth and National League status and Football League ambitions.

The plans include the refurbishment of key areas of the existing stadium and the addition of new building elements, which together will provide new facilities for the club staff, players and supporters, to transform the ground into a new 'destination' within the town.

Areas of the existing stadium including the Sponsors Lounge & Player/ Officials Areas will be refurbished in the short term with the aim to set the design principles for future larger scale projects.

Landscaping in the form of new 'Fan Zones' will strengthen the community atmosphere around the stadium... New perimeter walls will tie all aspects of the stadium together by creating a coherent appearance and also focuses on opening the stadium up to the Local Community; providing new amenities to residents.

Long term projects include the replacement of the existing terraces on the Popular Side and Moss Lane with new stands and the introduction of safe standing zones to the Golf Road and Chequers End...

Gavin Watts, Founder of Define Architects said... 'Our intention is to transform the stadium into a 365-day destination by ensuring the architectural design compliments the implementation of new business opportunities for the Football Club...

Altrincham Football Club are in full support of the scheme. Bill Waterson, Director at Altrincham FC said... 'We pride ourselves on being at the heart of the community, and we want our ground to represent the best of the town of Altrincham'...

Phase 1 works are due to start on site in July 2020, focusing on the refurbishment work to the Sponsors' Lounge and also the creation of the first Supporters' Fan Zones through a self-build initiative which will be led by Define Architects".
The Boston Standard reports that "David Newton hopes Boston United can still kick off next season in their new ground. Work at the Community Stadium has halted for the past month due to the coronavirus lockdown...

'We've not given upup on having it ready for the start of the new season,' Mr Newton told The Standard. 'We've only lost one month so far and, if we can get back fairly quickly, we haven't given up on starting next season in the new ground. In reality, all we need are the facilities like a ticket office and changing rooms.

'We don't need our corporate facilities to be open. Ideally we'd like them to be because they bring in revenue, but we could start the season without that. It's also possible next season may also be delayed if the EFL season is delayed'...

However, Mr Newton, who owns property developers Chestnut Homes, admits problems such as employees travelling in groups, working in close proximity, and even workers signing in and eating lunch in the same area, could cause complications.

'We are considering if and how we can start construction again. It's very difficult because we get quite a lot of people working in a relatively small area. We often have 80 people on site. It's not very big and guys often work side by side, not two meters apart'...

Mr Newton confirmed that United have spoken to clubs in the area and, although keeping names close to his chest, says there is a ground share option in place if the club were unable to have the Community Stadium, being built at the south of the town, ready in time.

'The National League are comfortable with the position we are in,' he said... 'We don't have to have it ready as they are aware of our possible ground share arrangements. We are laid back about the situation as we have that in place'.

The Pilgrims have called York Street home since their inception in 1933. While the lease runs out this summer and owners, the Malkinson family, have put the site up for sale, Mr Newton says United continuing to play there beyond that date may be another possibility...

'At the moment the answer is that we are leaving at the end of June if we can, obviously we need to be able to get in and remove everything. But at the moment, we're leaving at the end of June.'" he concluded.
In the Eastern Daily Press is a story that "King's Lynn Town owner Stephen Cleeve says he won't sell season tickets in advance for the 2020-21 campaign because he doesn't want to disadvantage his most loyal supporters...
With the possibility that next season's schedule could be affected the resumption of the current season, Cleeve says the sale of season tickets is not on the table.
'We don't know how many games or how many teams are going to be in which league,' he said. 'They are all saying the games are going to kick off in August; that can't happen, it physically can't happen. I can't believe we are going to get a football match until September, it could be October. The leagues next season might be shortened.
'If any club was to go into administration and were to be thrown out, you could find yourselves bumped up or possibly bumped down I guess. The reality is, until you know how many games you are going to play, how can you price a season ticket fairly to the people that are most loyal to you?
'I don't understand how you can do it. I don't want my most loyal fans to be disadvantaged. I would be putting the people who are buying the odd matchday ticket here and there first in the queue; they would be receiving better treatment than the people who are buying games in advance. Until you know who's in your league and how many clubs are in your league and exactly what league you are going to be in you shouldn't really be selling season tickets until that is done.
'Nothing is off the table; so many things could change in various ways we haven't even thought of yet.'"
The Shropshire Star says that "AFC Telford manager Gavin Cowan hopes the 'brilliant relationship' with neighbours Shrewsbury Town can continue bearing fruit for all parties. Town youngsters Ryan Barnett and Ryan Sears are the latest to have trodden the short path cross county to the New Buck's Head...
Former Town defender Cowan praised the duo's mindset and Shrewsbury for allowing them to sample senior football experience. Winger Barnett, 20, made the switch in November after a hugely impressive season-long loan last time around. Three goals in 19 appearances this season is an improved return on his return for hometown club Telford last season, where he was a constant supply of goals flying down the wing.
Newtown youngster Sears's Telford loans have, on both occasions, been short but sweet. Six games in August 2018 were followed by a recall...
Cowan said 'They are lads that have needed game time. What was brilliant was what happened during Searsy's original loan; you saw what came of it. Straightaway he got called back. We had the decision whether to let him go, but we did and he made his (league) debut. It was a proud moment for us as much as Searsy, his family and Shrewsbury Town. We've got a good relationship there. If we can continue doing things like that in the summer then that's brilliant'...
'They come and buy into what I ask and I would like to think they respect what I'm trying to do, which is why they came back,' Cowan added. 'We're creating a good environment for these young lads and for me it's a no-brainer for Shrewsbury Town, if they want to see what they're made of at a brilliant level then we're down the road. Credit them, at times financially we can't meet players' wages and Shrewsbury have seen the bigger picture to get the lads out on loan'".
Also from AFC Telford United we learn that "midfielder Adam Walker is ensuring he is 'ready' for when football finally returns... Away from the game it has been very much business as usual, with his full-time role at Leamington Spa-based company Market Location, as Adam explains 'In my normal job I am currently working from home'...
Adam's full-time job involves marketing and data solutions and helping businesses to market their brand and improve their services; the current lockdown has seen an increase in demand for their expertise...
'We have seen more businesses approach us for some help and support to ensure they can get through this difficult period. We offer marketing and data solutions to those who need business intelligence, and what we've seen in that companies have become cautious with how they spend their money'...
He is making sure he is following the club's fitness programme so that he is well prepared for when football can resume once more. 'The club have been brilliant during this time. I have been in contact with the staff and the rest of the lads. Azz (physio Aaron Lambley) has set us all fitness programmes to work from which involves physical and strength work. I have spent a lot [of] time running with the dog and outside in the garden doing all my strength work...
'I have seen a few of the lads playing a lot of computer games, but I am not really for them. I have spent most my downtime in the garden, walking the dog and enjoying some Netflix box sets with the missus... I have played football semi-professionally since 19 and it's only now that you come to realise how important it is in everyone lives.'".
---
21 April 2020 Although the current season has not been completed, the average home attendance in league fixtures in 2019-20 has been remarkably consistent with Alty's last two seasons at National League North level.
2016-17: 1150 (relegated)
2018-19: 1137 (play-offs excluded from figure)
2019-20: 1139
With an exciting run-in on the cards, the 2019-20 average would almost certainly have been somewhat higher than the 1139 point at which it stood when the season was halted. Four of the five unplayed fixtures were against play-off rivals Chester FC, King's Lynn Town, Boston United and Brackley Town and certainly would have attracted above-average gates.

Altrincham's last three fixtures on today's date, 21 April, have all been high-scoring wins for The Robins. On a less serious note, the trio of good results were achieved in three different kits; yellow and blue, all purple, and the normal red and white stripes!
2012 v Eastwood Town (away) in the BSBN, Alty won 6-1.

Right: Right: Leighton McGivern celebrates his hat-trick goal at Eastwood.

This match was Duncan Watmore's first start for Altrincham and, with Nicky Clee unfit, James Lawrie started on the left. Simon Richman returned in midfield whilst Shaun Densmore was at right-back in the absence of Kieran Walmsley who had been ill. Leighton McGivern, who was playing his last game before suspension, started up front with 43-goal Damian Reeves. McGivern then disappeared and never played for Alty again.

Altrincham coasted to a comfortable win but it took them 34 minutes of lacklustre play before they went ahead when Scott Phelan drove home a low shot, following a throw-in won by an overlap from Shaun Densmore. When James Lawrie was upended, Damian Reeves converted the penalty for his 44th of the season (39 mins). Leighton McGivern made it 3-0 on the stroke of half time, to make it three goals in eleven minutes.

Phelan got a second four minutes after the interval when the keeper failed to hold a Duncan Watmore effort. McGivern scored again after 78 minutes when Lawrie's breakaway set him free and he scored after rounding the keeper (78 mins).

Alty, yet again, could not keep a clean sheet as Burgess scored following an Eastwood corner (82 mins). The win at Moss Lane on the afternoon of Bonfire Night 2011 had been the last time that Altrincham kept a clean sheet! But McGivern completed his hat trick in the closing minutes to make it 6-1.

Eastwood had already been relegated before today's match and had been forced to field a team of young players in recent weeks following the financial problems caused by their previous backer's withdrawal from the club.

The ground here has three small stands and this fact is what, reputedly, had cost Eastwood a place in the play offs the previous season; the club had the requisite number of seats but they were spread over too many stands for the football authorities to approve!

ALTRINCHAM (Yellow & blue shirts, blue shorts, yellow socks): 1 Stuart Coburn, 2. Shaun Densmore (capt), 3. Andrew Smart, 4. Simon Richman, 5. Matthew Flynn, 6. Marlon Broomes, 7. Duncan Watmore, 8. Scott Phelan, 9. Leighton McGivern, 10. Damian Reeves, 11. James Lawrie. Subs 12. Chris Lynch, 14. Mark Lynch, 15. John Miles, 16. Michael Twiss, 18. Adam Reid

2014 v Vauxhall Motors (home) in the Skrill North, Alty won 5-1.

After a fairly quiet start to the game, Alty scored twice in a five-minute spell. First, James Walshaw's airshot from a Nicky Clee throw was cleared to Jake Moult. His rasping shot was blocked but fell for Walshaw to hook home (22 mins). Then a James Lawrie corner was headed home by Luca Havern to make it 2-0, after 27 minutes.

The last act of the first half was a great run up the right by Shaun Densmore and, from his feed, Damian Reeves volleyed home impressively to make it 3-0.

Above, Gianluca Havern nets one of Alty's goals on Monday against Vauxhall Motors.

Walshaw chipped the keeper superbly from Adam Griffin's excellent feed to make it 4-0 after 51 minutes. Altrincham dominated play after that and Lawrie scored a fine fifth after 73 minutes.

Tames's speculative shot eluded sub keeper Russ Saunders to make it 5-1 (83 mins).

ALTRINCHAM: 1. Stuart Coburn, 2. Shaun Densmore (capt), 3. Adam Griffin, 4. Carl Rodgers, 5. Gianluca Havern, 6. Scott Leather, 7. James Lawrie, 8. Jake Moult, 9. James Walshaw, 10. Damian Reeves, 11. Nicky Clee. Subs: 12. Tom Marshall, 14. Simon Richman, 15. Greg Wilkinson, 16. Kyle Perry, 18. Russ Saunders.

Sadly, this would be the Motormen's last visit to Altrincham for a league match for some time following their decision to drop to the West Cheshire League next season.

2018 v Grantham Town (away) in the Vanarama NLN, Alty won 4-1.

Altrincham were without the injured Densmore, Poole, Jones, Harrison, Deasy and Peers, so left-back Connor Hampson remained at centre-back, whilst Simon Richman replaced Shaun Densmore at right-back. Theo Bailey-Jones started his first league game for Alty and for Chris Merrie it was only his second start. Youth and reserves' graduates Harry Sheridan and Rhain Davis joined the bench. Nevertheless, a strong second-half performance from Altrincham secured the league title and promotion back to the Vanarama North.

Above Alty manager Phil Parkinson and assistant Neil Sorvel leave the pitch at Grantham, 2018.

After a goalless first half played in a swirling wind, Altrincham dominated the second half. Loanee midfielder Chris Merrie put Alty ahead with a measured shot in the 51st minute and John Johnston beat keeper Preston in a one on one to double the lead (79 mins). But for Preston, the margin of victory would have been much greater for Altrincham.

ALTRINCHAM: 1. Tony THOMPSON, 2. Simon RICHMAN, 3. Connor HAMPSON, 4. Tom HANNIGAN, 5. Andy WHITE, 6. Jake MOULT (c), 7. John JOHNSTON, 8. Chris MERRIE, 9. Jordan HULME, 10. Theo BAILEY-JONES, 11. Josh HANCOCK, Subs: 12. Max HARROP, 14. Rhain DAVIS, 15. Sam HEATHCOTE, 16. Harry SHERIDAN 20. Andrew JONES
According to the Shropshire Star "Gavin Cowan wants to add hungry talent to his AFC Telford United ranks to ensure his side are 'better equipped than ever'...

Chairman Andy Pryce has revealed talks with Cowan over squad additions have already taken place. Cowan last summer gave the squad that missed out on the National North play-off by a goal another chance to succeed but this time has a different mindset.

'It's a mentality. When there's players with a point to prove you want those players,' said Cowan. 'When there's players that have entitlement because they've had a good season is maybe where it can come tough. I realised that quite early and did a lot of work through the season that probably should've been done (in the summer). In hindsight I probably wouldn't change it now but we should've mixed it up a bit more.

'You wanted to stay loyal to those players you'd been on a journey with but a few of them just couldn't do it again. I understand that.'

Pryce has revealed that three members of the current squad are under contract for next season. Cowan says... 'I think the focus this year will be on signing players with the correct mentality that have a point to prove and want to buy into what we're doing. I'm not saying the lads didn't, it's not a conscious thing, I think sometimes it can be subconscious, where it's so difficult to be part-time and go again, to put in so much energy, to play Orient twice and just miss out on the play-offs.

'It's been a real brilliant learning curve the last two seasons. I don't think I've ever been as excited and optimistic as going into this third season as a manager. Going into next year I think we'll be better equipped than ever. I'm imagining the budget will be reduced slightly, which isn't music to my ears, but those are the cards you're dealt. There won't be any excuses made, I want to be judged on the job I do with what I've got'".
---
20 April 2020 Last year on today's date, 20 April, Altrincham won 2-0 at Nuneaton Borough.

The previous match on that date occurred in 2013 when Altrincham travelled to play Hinckley United in Leicestershire and won 6-0! And the following Saturday they hit six again, against Droylsden.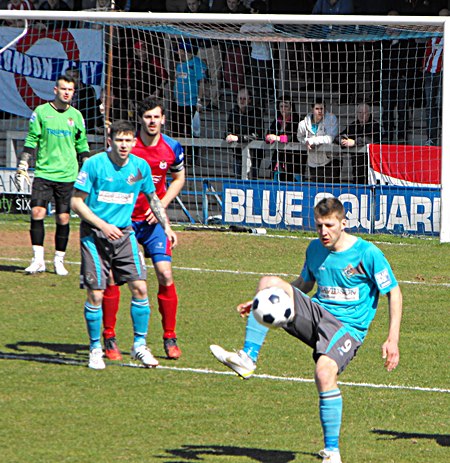 Right: James Lawrie controls the ball at Hinckley as Damian Reeves looks on.
In the Hinckley game Altrincham, in their aquamarine and grey kit, cruised to a comfortable win against a young but game side.
There was little sign of the goals to gome in a goalless first forty minutes. Then Alty took the lead in when hesitancy by former Robins' keeper, Ashley Timms, allowed Damian Reeves to loop a header over him. Alty also hit the post twice in the first half but led by only a single goal at the break.
The crowd was well entertained before the match and at half-time by an excellent young band of musicians, as part of Hinckley's "fun-day" celebrations.
Luca Havern headed home a 52nd minute corner to make it 2-0. After Duncan Watmore had won a penalty, Damian Reeves hit it well over the bar. Remarkably that was Alty's tenth penalty miss of the season! But Rodgers added a third after 65 minutes after Nicky Clee and James Lawrie had combined well.
Watmore tapped in a fourth when Timms and a defender collided in going for a Reeves cross (74 mins). Ryan Brooke lashed home a fifth with six minutes left as Alty dominated and he scored again on 90 minutes.
For the match Alty were without the injured Scott Leather and Simon Richman, and Duncan Watmore started only on the bench. Hinckley had only one outfield substitute on their bench.
ALTRINCHAM (Aquamarine and grey shirts, grey shorts & aquamarine socks): 1. Stuart COBURN, 2. Shaun DENSMORE (capt), 3. Matt DOUGHTY, 4. Carl RODGERS, 5. Gianluca HAVERN, 6. Danny HALL, 7. Jake MOULT, 8. Danny BOSHELL, 9. James LAWRIE, 10. Damian REEVES, 11. Nicky CLEE, Subs: 12. Paddy LACEY, 14. Ryan BROOKE, 15. Duncan WATMORE, 16. Callum MOONEY, 18. Tony McMILLAN (gk),
Alty's win confirmed their place in the play-offs where they lost out, over two-legs, to Brackley Town. Hinckley were relegated with just seven points on the board and a negative goal difference of 106. They had actually won thirteen points from their fixtures but had six of them deducted for infractions!
According to the Eastern Daily Press "'The law saved our bacon' says the King's Lynn Town owner. National League clubs are voting on whether or not to bring the season to a halt...

Stephen Cleeve is an advocate of the points per game assessment, which would see Lynn top the National League North and, therefore, earn promotion... But Cleeve has revealed that his worst case scenario was saved by the intervention of legal eyes.

'What happened was there was an about-face and the reason for that were [sic] the Articles of Association so whilst I go on a little bit about the legals, people who are more worried about the legal aspect of the game than actually doing the right thing for football fans as opposed to doing things for lawyers, this seems to have saved the day for us, so I was rather pleased about this.

'The Articles do not allow, as far as I understand, for the league to treat the National League North and the National League South in a different way to how they treat the National League. If they null and void us they would have to null and void the National League which would therefore essentially mean no promotion.

'So the law saved our bacon, and thank goodness for it. I have something to be grateful for there, and apparently that was literally at the last minute.'

The National League board has asked clubs to vote with them in favour of bringing the season to an end.

'I have voted through gritted teeth,' he said on his podcast, "I Bought a Football Club", 'I didn't want vote to finish it, but I think in the greater interest of the game it has to be done.'

Cleeve has been wrestling with the on-going financial fall-out, with players taking a 20pc wage cut and those on two-year contracts agreeing to be paid next season only when games have restarted, not when their contracts kick in, at the start of August."
At Brackley Town "The National League is still to decide how the season will all end. It has now been confirmed that no teams from our league will be relegated as the FA have now ratified the end of the season for clubs from step 3 down. But other decisions remain to be confirmed including whether clubs will be promoted and, if so, how this will be decided. The continuing uncertainty is unhelpful to say the least.
On a more positive note, the maintenance works on the pitch have now been completed and the grass is growing well. When the pitch markings and white lines are renewed, we are ready to play and St James Park will be ready to host games again!
Supporters have seen a lot of changes to the ground over recent months as we have added new stands, including a dedicated Family Stand, and additional toilet facilities. Further ground developments are now about to be put in place. These include moving the media tower back over the new toilet block and moving the dugouts onto the concrete strip to increase the sight-lines.
There will also be another stand installed seating 82 spectators. The latest addition will be attached to the existing, newly-added stands on the East side of the ground. Also, the third turnstile at the North end of the ground is being re-configured with new gates to make better access into the ground for maintenance vehicles.
So while we await decisions about the football side of matters, we are getting on with putting into place plans that continue to upgrade facilities at SJP. Over the next couple of years the club will mark the 50th anniversary of our move to St James Park. How it has changed!
This brings us to the clubhouse. The new clubhouse project is now picking up speed. Planning permission was lodged some time ago and we hope to get planning approval by the first week in May. We have now received quotes from the builders and a lot of work is taking place behind the scenes so that the work can begin on the ground. We are hoping that we will be able to start removing the old clubhouse in May for the new build to then start when the restrictions of the current health emergency have been lifted".
In the Non-League Paper, Leamington boss Paul Holleran, who "celebrated 500 games in charge of Leamington back in August" is asked about the club's success in selling players on to EFL clubs. This season, he says, "If you look back to the start, we had young Colby Bishop and we've managed to make his dreams come true. There aren't many players who've made an impact on League football from non-League like he did. To go and get 12 goals before December, he's doing fantastic at Accrington.
"We then took another lad, Josh Marsh, from lower league football and threw him in the spotlight. He did brilliant and got his opportunity. He's made his League debut and scored League goals...
"We had a spell from around November to December where we had everybody fit, George Carline on loan, Josh was scoring goals, Dexter Walters from Coventry on the left... and we looked a good side.
"It's no coincidence the results in that period were very strong and we looked a good unit... Goerge went back to Solihull Moors and we lost Josh but we've done all right...
"We lose good players but I never begrudge that".
As for concluding the season, Holleran said, "Practically there's no way we can play the [remaining] games... Look at our squad. 40% were made up of loan players, they will go back. Contracts finish the first week in May... I hate to say it, because null and void will affect clubs, but you can't really see any other way of doing it".
As for the club itself, "Leamington has always stopped within its means. The fact we've sold a couple of players this year has been a big help to us, plus the fact we've been able to get grant has helped a bit, plus we've had quite a few loan players. At the minute, we're in no immediate financial issues and we can cope at the moment".
---
19 April, 2020 "The Altrincham FC fundraising appeal now stands at over £20,000, which is magnificent.

There have been a further 44 donations in the last week, including a hugely generous donation of £1000 from Ray & Jan Sant.

Thank you to each of the 311 donors to date; you have all made a difference.

Let's keep this rolling....you can donate here.

In addition, Ian Senior's daily kit auctions for the benefit of the Club are noted on the Fans' Forum.

It is two years today, 19 April 2018, since Altrincham paid their only visit to Athersley Recreation FC to face their tenants, Shaw Lane AFC in the Northern Premier League. The Barnsley outfit were looking to cement a mercurial rise through the divisions with promotion to the National League North but their challenge fell away and their first-team was wound up at the end of the season.

The match with Alty in 2018 was unusual in being on a Thursday night.

For this game, Altrincham were without the injured James Jones, Ben Harrison, Tim Deasy and James Poole, but left-back Connor Hampson returned, albeit at centre-back, whilst Max Harrop replaced Simon Richman in midfield.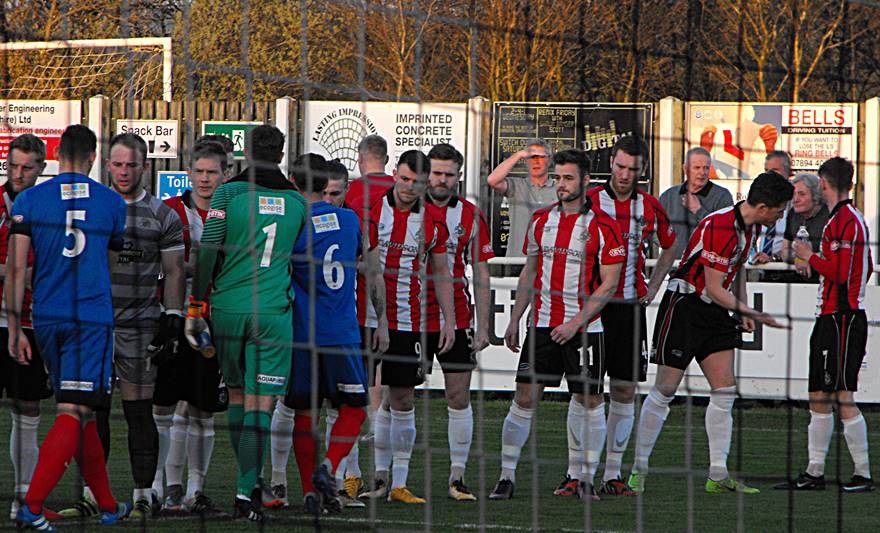 Above: Alty line up before kick off at Athersley.
Despite losing Shaun Densmore to injury in the first half, Altrincham took a giant stride towards the NPL title with a 2-1 win. The Robins took a deserved lead in the 40th minute when John Johnston finished superbly at the back post.
But, as in the reverse fixture, Alty conceded just before half-time from the penalty spot, this time ex-Alty star Damian Reeves was the man who converted the spot-kick (43 mins).
In an often physical encounter, Alty kept out Shaw Lane in the second half without too many alarms before applying some pressure of their own. This culminated in a close-range winner by Josh Hancock after good work, left of goal, by Jordan Hulme (83 mins).
Altrincham: 1. Tony THOMPSON, 2. Shaun DENSMORE, 3. Connor HAMPSON, 4. Tom HANNIGAN, 5. Andy WHITE, 6. Jake MOULT (c), 7. John JOHNSTON, 8. Max HARROP, 9. Jordan HULME, 10. Tom PEERS, 11. Josh HANCOCK, Subs: 12. Simon RICHMAN, 14. Chris MERRIE, 15. Sam HEATHCOTE, 16. Theo BAILEY-JONES, 20. Andrew JONES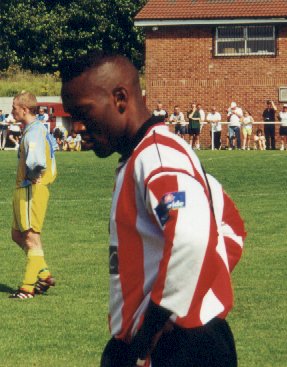 The Boston Standard has a profile of former Altrincham striker Leroy Chambers, who hit 22 goals in 50 appearances for Altrincham during 1998/99 season. In that season, spent in the UniBond Northern Premier League, Leroy was the club's leading scorer, despite a barren spell towards the end of that campaign.

After starting a few games at the start of the 1999/2000 season, Leroy was injured and lost his form. He went on loan to Kettering Town, for whom he scored one Conference goal, but returned to Moss Lane in January 2000. In all, during 1999-2000 he started 20 Conference matches for Altrincham and made a further six appearances from the bench, but he managed only one league goal all season. Outside football was a male-model by profession and sported an earring.

His indifferent form in 1999/2000 was attributed to injury by chairman, Gerry Berman, and it was hoped that he would return for the new season (2000-01) fully-fit, once again. Two fine goals in the first three pre-season friendlies suggested an upturn in his fortunes but, unfortunately, he picked up an injury and did not play again until he scored at Runcorn.

Leroy was transfer listed in early October, 2000 and had not played since then before he faced Hyde Uited on 22 November, 2000 in the Unibond Challenge Cup and then Bamber Bridge in the League. Later, Leroy signed for Frickley Athletic on loan, till the end of the 2000-01 season (and of his Alty contract). Despite his poor form at Altrincham, Leroy went on to score 7 times in his first 7 appearances for Frickley and even got two goals against Altrincham! He moved to Hucknall Town in summer 2001, then briefly to Bradford PA (Dec. 2001) before he returned to Frickley (Dec.2001). In 2004/05 he was still at Frickley Athletic.

Below is Brian Flynn's assessment of Leroy from the book "The UniBond Years" by Grahame and Terry Rowley.

The Boston Standard adds that, at Boston, Leroy was "A cult hero of the mid-nineties... [and] registered a better rate than a goal every 2.5 games across his 17-month spell at Boston. An FA Cup double left Morecambe 'totally tangoed' in the words of the BBC on the way to 36 goals in 88 appearances.
A United career condensed between August 1996 and December 1997, Leroy Chambers reached a dozen short of 100 appearances thanks to the Pilgrims' involvement in six different cup competitions...
Leroy had arrived at the age of 23 on 'trial terms' in the Summer of '96 after playing for Chester the year prior. His career had begun at Sheffield Wednesday... His 24 goals were enough to share honour of 1996-97 top goalscorer with Phil Brown...
Chambers played every game the following campaign until leaving in mid-December to move back into the Football League... His United spell reached an abrupt conclusion, the non-contract forward choosing a move to Division Three Macclesfield Town. Not only did the Pilgrims lose a star man, they didn't claim a fee.
The Silkmen enjoyed a second consecutive promotion but Chambers ended 1998 at Altrincham. His career continued with various non-league outfits, including Hucknall, Bradford Park Avenue, Frickley, Belper and Droylsden."
The Telegraph & Argus reports that "When Bradford (Park Avenue) appointed a new director of football operations earlier in the month, many fans were intrigued to see what Martin Knight would bring to this new role at the club.

The 50-year-old has made his ambitions clear from the outset, by outlining a plan to create a self-sustaining Avenue for the future. Knight, who is the father of fan favourite Lewis, wants a restructure to take place to make sure Bradford can not only compete on the pitch, but behind the scenes too.

He believes the club have been caught at a crossroads with their identity and thinks 'They (Avenue) are too big to be run like a Sunday League club and too small to be run like a proper professional business. There are people there who absolutely love the club but don't necessarily know how to make the next steps. I have written a five-year plan with a budget, a goal and an ethos.

'Lets go for best in class. You can still be inclusive and still look to become the best. We need to change the thinking from "okay is good enough" to "be the best that we can be". The football analogy is "Who is the Lionel Messi of websites, or digital strategy, or the junior section?" That is the thinking'.

Knight added 'We are going to be self-sustaining. Millions of pounds have been invested and there has been nothing to show for it. No infrastructure, no better pitch, no better stand, and we haven't got promoted. We can add a level of pride. We want to be a professional regional football club. We want to produce a five-star experience for our fans, players and staff.

'If we do that, we will get a higher level of engagement and attendance and we will grow our fanbase. The future is digital, so we have to get a handle on it. If you go into Google now and type in Bradford football, we are not even on the first page, which is unbelievably criminal from a business point of view.'

Despite not having any direct football experience, Knight has spent more than 25 years optimising the commercial performance of retail businesses. Something Bradford have struggled with in the past is that volunteers have often had to bear the rigours of publicising everything, instead of focusing on their love for the club. Knight wants to increase the level of professionalism at the football club, without disregarding those who commit their free time to the cause.

He said 'I don't want anyone carrying out a business operation who isn't employed by the club or has some vested interest in the quality of the work that they produce, a student for example,' he said. 'When you have got a lot of volunteers, they are emotionally attached to the club and their perceived value of their worth is probably higher than if you looked at it from a pure business point of view. The trick is working out how I engage with the volunteers and what they are good at, which is the player fund and that kind of stuff.

'Football clubs belong to the fans, not the owners. They need to understand what the journey is and why we are looking to do it. If we can capture the hearts and minds of our current fanbase, it will make the transition of changing the demographic to some extent easier.

'It is an old, white man fanbase if I am being really direct. How do we modernise to better our matchday experience and communication with them? They don't use social media, whereas the young fans want to engage. When you speak to our older fans, they think social media is Facebook and Twitter, they don't know what TikTok or Instagram are.'

Knight added 'We want to move away from volunteers. People associate the word of semi-professional in non-league with amateur. I think we can add a layer of professionalism to what we do at Bradford (Park Avenue). We have to be competitive on the pitch too, because ultimately Bradford (Park Avenue) will be judged on their men's first team results.'"
---
18 April 2020
Altrincham FC announces that "On Saturday at 3pm, Alty TV will be showing highlights of the game at Grantham almost two years ago, when we clinched the Northern Premier League Premier Division title.

Details of how you can watch this significant day in the history of Altrincham Football Club will be posted [on the official website] by Saturday morning."

Right: Wigan Athletic loanee, Chris Merrie, featured for Altrincham at Grantham on 21 April 2018.

Eleven years ago today, 18 April 2009, Altrincham beat Grays Athletic 2-0 at Moss Lane to confirm them as mathematically safe for the following season in the Blue Square Premier. But it was not a great performance from the home side against a Grays team which won the corner count 12-1 and enjoyed plenty of possession yet lacked any punch up front.

Altrincham took the lead after 24 minutes when Colin Little finished calmly from the edge of the box. For much of the second half Grays were on the front foot but Alty substitute Chris Denham scored another well-taken goal ten minutes from the end to wrap the game up.

Altrincham had Shaun Densmore back in midfield, after missing the last game through injury, whilst Robbie Lawton dropped out to start his two-match suspension. Otherwise they were unchanged, with Mark McGregor again on the bench with hamstring doubts ruling him out of the starting line-up. Joining him as a potential substitute was Warren Peyton, who replaced Rod Thornley. In Lawton's absence, Greg Young took over the captaincy.

ALTRINCHAM: 1. Stuart COBURN, 22. James SMITH, 5. Greg YOUNG (capt), 18. Michael WELCH, 2.Chris LANE; 17. Ben WILKINSON, 21. Shaun DENSMORE, 16. Anthony DANYLYK, 3. Matt DOUGHTY; 9. Colin LITTLE, 14. Dale JOHNSON. SUBS: 4. Mark McGREGOR, 10. Chris DENHAM, 12. Joe O'NEILL, 23. Richard ACTON, 11. Warren PEYTON.

After the game, the end of season awards took place for the ballboys and girls as well as the players of Altrincham FC.

Supporters' Player of the Season:
Greg Young
Mark McGregor
Dale Johnson
Tom Earley Clubman of the Year: Graham Barrow
The Jimmy McKiernan Goal of the Season: Michael Welch v Crawley Town
Young Player of the Season: Shaun Densmore
Players' Player of the Season: Greg Young
Internet player of the Season: Greg Young, 2nd Shaun Densmore, 3rd Anthony Danylyk
| | |
| --- | --- |
| | Left: Michael Welch receives the Jimmy McKiernan Goal of the Season award from Fred Eyre, the former footballer and author. |
| | |
| | |
Above upper: Left, Greg Young - Players' Player of the Year, receives his award from Stuart Coburn. Right, Shaun Densmore, Young Player of the Year, receives his award from Dave Johnson.

Above lower: Left, Graham Barrow, Tom Earley Clubman of the Year, receives his award from Graham Heathcote. Right, the winner of the Ballboy of the Year award.

NL Daily informs us that 'Warrington Town chairman Toby Macormac has been speaking about the club's plight during the current COVID-19-enforced football shutdown, admitting the obstacles that continue to crop up each season have made him consider his role at the club.

Warrington were only denied a place in the National League North 11 months ago by King's Lynn Town in the Super Play-off final. This time around, Paul Carden's side were 3rd in the Northern Premier Division before the season suspension last month.

Macormac said 'It feels like it's something every year. We had the Shaw Lane and North Ferriby issues, we had the Super Play-off last year and now this; something different seems to be stopping us getting where we want to be. It makes me rethink my position within the club. I have put that much money in myself, it's only now when you get time and sit back and look at it, and you go back to 2013 when I first started putting money in, I've put in a high-end six-figure sum.

'When I look back at what I could have done or could be doing with that money, it does make you think. You think "what's going to happen next season and the season after?" knowing how hard next season and the season after are going to be, do I want to do it all again? For pretty much no return; I'm not in it for the return, I'm in it for the progress of the club and to give the town something it desperately needs but when it's starting to affect you personally, then you're going to re-think'.

Macormac said he agreed that a null and void season was the best solution possible, adding that the club would not have survived if the season was to resume in June. Of the financial hit the club has taken, he explained: "From my calculations, it's around a £70,000 impact on the club. We've got absolutely nothing coming in. The season ended was compounded by the social club closing, which helps fund the football outside of the season. The entire place is in lockdown.

'We had four games to go, including South Shields, so it's had a really big impact and that hole continues until next season when revenue starts coming back in. With the best will in the world, you can't fill a £70,000 hole, and that's from March, based on my estimates on when things are going to re-start. Then of course there is the fact that sponsorship budgets are going to be affected, so that could make the hole even bigger. It's definitely had a huge impact on us and what we're doing. We've lost so many revenue streams, from sponsorship, gate money, bar takings, even decent sized pre-season games, 3G pitch revenue, it goes on.'"

As for the wider Northern Premier League, "Pickering Town manager Steve Roberts wonders whether it might be a more even playing field in 2020/21... Roberts, and coach Tony Hackworth... said 'There is no doubt that all clubs are going to find it more difficult, sponsorship will be more difficult, and there will financial implications.

'From both our previous experiences at the club we know Pickering is a well run club, and lives within its means, it may well be that there will be a more even playing field within the leagues. Our aims are to consolidate and aim for mid table, we both realise that is going to be hard, and the league will be very competitive again...

'We are already planning for next season, talking to players, having discussions between ourselves and, at the moment, planning to start training in June but do fully realise that may well have to change depending on how circumstances develop.'

Pickering sat bottom of the NPL N/West Division when the season was suspended, five points adrift of Kendal Town who had a game in hand... They now know they will be in step 4 whenever football resumes."

On a happier note, the NW Counties Football League says that "People living in Wythenshawe are set to benefit from fresh investment into local football facilities. Wythenshawe AFC have been awarded a grant from the Premier League, The FA and Government's Football Foundation, to Upgrade their Junior Pitches at Hollyhedge Park...

This grant will enable Wythenshawe AFC, who have 34 teams within the club and gives around 500 players the chance to play football each week, to funds to improve their playing pitches annually at their Hollyhedge Park facility... Wythenshawe AFC worked with the Football Foundation and the Lancashire FA to secure a £35,516 grant over the next 6 years towards the project.

Carl Barratt, Chair, said 'To receive this funding from the Premier League, The FA and the Government through the Football Foundation means a lot to us, as it will help us to improve grassroots sport in Wythenshawe and get even more people involved in the nation's favourite game'".
We learn from the Shropshire Star that "Gavin Cowan is hoping that the coronavirus break can help propel AFC Telford United into a new dawn.

The Bucks boss is keen to use the break from football as a positive...

'I don't want to revel in the negativity of it all', Cowan said. 'Hopefully this can be a break where we can come up with ideas. You look at businessmen all across the country, Andy Pilley, the Fleetwood chairman, was saying when they go back they won't do anything the same, everything will be different. Maybe that might be the blessing to help kickstart us and get us back to where we were historically, one of the top teams in non-league.

'I see everything as a positive to try to act as a catalyst to get us back to that status that we once had. We're not there at the moment, we understand where we are, we're not there financially or in status.'

The Bucks have been grateful for the understanding of key local sponsors during the pandemic. Supporters have chipped in to raise £1,500 on the club's gofundme page while shares have also been purchased. Cowan will be in charge for a third season in the 2020/21 campaign...

The boss continued 'We don't claim to be a big club but we have all the capacity and capabilities, with the number of people in the town, that's why I've always preached that it won't just be players, backroom and admin staff, it'll be supporters and local businesses to help get the club back where it needs to be'".

Meanwhile, the Shropshire Star also reports that "AFC Telford have teamed up with sporting leisure giant Adidas and kit supplier Sporting Touch on a four-year deal.

Gavin Cowan's men will be stripped out in Adidas next season as a replacement for current kit manufacturer Joma. Nuneaton-based kit supplier Sporting Touch replaces former Shropshire kit supplier Fortis Sports, who it was announced in February were no longer trading as a business.

AFC Telford said in a statement that, as a brand, Adidas reflects the club's ambition for growth. [Adidas] Company director Mark Bradbury said... 'New playing kits, training gear and leisure wear is to be unveiled by the National League North club in the coming weeks... Adidas are the largest sportswear manufacturer in Europe and second in the world after Nike.'"
---
17 April, 2020 Altrincham FC reports that "There's no rivalry like it anywhere on the sporting calendar. England squaring up to Australia for the Ashes. The three lions engaging the baggy greens with an intensity that never falters for arguably the most coveted prize in sport...

And now, courtesy of Josh Hancock's dad, we are able to offer you the chance to own a lasting memento of one of these iconic sporting occasions.

The 2018 one-day international series was an unforgettable one from an England perspective... John Hancock is the proud possessor of an autographed bat from that series, and he has kindly offered to put it up for auction, with all proceeds going directly to Altrincham FC, a fantastic gesture that will boost the club's finances in these difficult times... The auction will run until this coming Sunday, April 19th, closing at at 10pm, after which the winner will be notified. Alty director Neil Faulkner is acting as recipient for bids, which should be sent by e-mail".

On the last seven occasions that Altrincham have played a game on 17 April, they have been away from home on six occasions. The last time they won a game on 17 April was in 2004 at Whitby Town in the UniBond League Premier Division. The game was important to both sides as they hovered around the automatic qualification places for Alliance North in 13th and 14th places in the league. Kieran Lugsden, who had turned 18 only a fortnight earlier, made his first full start after 14 substitute appearances. He was alongside Peter Band up front. Stephen Rose was unfit but Gary Scott started once again after his surprise return from long-term injury in midweek. Gary Talbot returned to partner Mark Maddox but there was no place for Jamie Baguley or two other recent recruits, Ryan Hutchinson and Jamie Almond.

After a round-trip of 300 or more miles to Blyth in midweek there came another long journey for Altrincham, to Whitby. Indeed, it was longer than it should have been as the supporters' coach, not supplied by the usual firm, gave up the ghost 7 miles south of Scarborough. After a wait of almost an hour, the team coach arrived to ferry the supporters to the game, courtesy of Alty chairman Geoff Goodwin. (Had we been in a broken-down private car or van, waiting for a recovery firm, we would not have seen the game at all so, once again, the STAR Travel arrangements organised by Mark Eckersall came up trumps! Mark even provided relayed match commentary from the Turnbull Ground, via a mobile phone, as we followed the road from Scarborough to Whitby.) However, all this meant that the supporters' coach arrived 25 minutes after kick-off and the passengers missed the apparently exciting opening stages.

Altrincham secured a victory after taking a two-goal lead inside 13 minutes. In a lively opening period, with Kieran Lugsden particularly impressive in his first start for Alty, the visitors took the lead from Steve Aspinall's penalty after Lugsden had been brought down by Whitby keeper Campbell (6 mins). Peter Band added a second with a rising drive (13 mins). But Lugsden was then knocked into a concrete-backed advertising board and suffered a head injury and concussion. After he had been taken to hospital it emerged that, though his head and neck were not seriously damaged, he had fractured his forearm and so he joined the enormous casualty list at Moss Lane.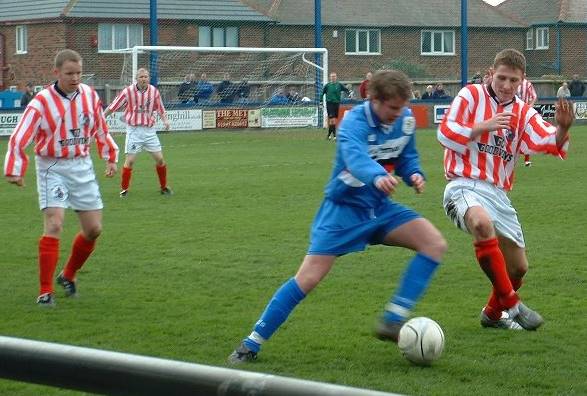 Right: Gary Scott gets in a tackle, watched by Steve Aspinall and Mark Maddox.
Altrincham: 1. Stuart COBURN, 2. Steve ASPINALL, 3. Barry SHUTTLEWORTH, 4. Mark MADDOX, 5. Gary TALBOT, 6. Ged KIELTY, 7. Gary SCOTT, 8. Ian CRANEY (capt.), 9. Peter BAND, 10. Kieran LUGSDEN, 11. Stuart WRIGHT. Subs: 12. Marcus HALLOWS, 14. Matt BAILEY, 15. Steve LUNT.
The Shropshire Star reports that "Gavin Cowan has declared his immense pride at how AFC Telford United have looked after their players during the coronavirus outbreak.

The Bucks' manager explained that, while the club has taken measures to ensure they can be financially stable in the crisis, it has stood by the squad of players amid financial uncertainty for them and their families. Cowan, who has been helping deliver food and clothes to the community on behalf of his company Crossbar Coaching, says he has been 'overwhelmed' and 'honoured' to play a part...

'We had a group meeting before we were put on lockdown. We wanted to address the players early, it's credit to the club that they've looked after the players,' Cowan said. 'As much as the club have got to put themselves first, I've been absolutely overwhelmed by their desire to want to look after players. I'm sure there are other clubs who have just said "see you later" to players but this club has had the players' lives and their families in mind while acting and I'm really humbled by that.

'It shows a lot of integrity and that's one of the traits I adhere to. I will never be a part of anything that hasn't got that honesty, integrity, loyalty and trust and I've been honoured to be a part of it. It's come out as the best case scenario for the players. As a player it wasn't always the case for me'".
In the Chester Standard we learn that "Johnson and Bernard Morley became stars of the small screen as they were tasked with leading Salford through the non-league pyramid with television cameras following their every move... Johnson and Morley guided Salford to a hat-trick of promotions in just four seasons as the duo were thrown in the deep end...
'It's all publicity for us and it helped put us in the public domain, even if we were on the radar at Rammy,' said Johnson, who, alongside Morley, had led Ramsbottom to Northern Premier League Division One North promotion the previous season. 'It was good for us and we were good for them... We got notice that Salford wanted to speak to us and we went to a game (against Kendal) where Phil Neville and Scholesy were in charge.
'We met them afterwards and they told us to go in and speak to the players. When we got in there the cameras were there. We'd had no media training or anything like that, but I suppose that's why it makes such good television. We were a couple of nobodies from Bury in-front of some cameras... "They appoint Bernard and Jonno, who aren't just the most ruthless managers in the league but probably two of the scariest men in the world," read a review. "These are men who don't pull their punches, metaphorically or literally. They sack ten players and the ones who are left are so terrified they start playing well"...
Johnson said 'It showed that we were relentless winners, but people can be narrow-minded. We don't do what we've done in the game from just shouting at players. And if we were people who just beat up and bullied players then why do so many of our former players still speak to us? We keep in touch with a lot... We had Steve Howson for eight or nine years, the same with Jordan Hulme and while we've got these players with us, it's then about getting the next lot ready.
'We put a group together that buy into what we want. It's not the way everybody does things, but perhaps some people would be more successful if they did things our way... I'm loving doing what I'm doing as much as when we first started and I'm hungrier than ever'...
Johnson, who signed a new two-year deal with Chester alongside Morley earlier this year, continued... 'I've been told that over the last decade we've had the most success in terms of promotions in Europe and if we can replicate that over the next decade we will be much higher up the pyramid'".
According to the Eastern Daily Press, "Norwich City loan player Alfie Payne says his season-long stint with King's Lynn Town has been a 'real positive' move in his career... Payne has started 10 games, with seven appearances off the bench, and scored three goals.
'The season at King's Lynn so far has been a very positive one and a very good one for the team,' said Payne. 'Obviously, as we stand in the break, we're currently two points off top with two games in hand, I think. It's within our hands to go top, which is a great achievement for the club and the team. It's been a real positive and it's been great to be a part of a successful team.
'I think it's been a good learning curve and season for development. The teams we come up against are a lot different to playing Academy football'...
Payne points to improved defensive skills as part of the learning under Culverhouse... 'I've got a lot of support at Norwich,' he said. 'I was training every day there before the virus, coming into contact with the Under-23s coach David Wright and the support staff around him, like the Sports Scientist Jay Eastoe-Smith, so I'm able to get all the support I need'".
The Northants Telegraph reports that "Kettering Town legend Brett Solkhon believes he has 'a good couple of seasons' left in him at National League North level.
The 37-year-old has enjoyed yet another renaissance with the Poppies during the 2019-20 campaign having been playing regularly at centre-half since Paul Cox arrived as manager... Solkhon's legendary status with the club is secure but he is now agonisingly close to another huge milestone as he currently sits on 598 appearances in a Poppies shirt...
'It's uncertain times and we don't know whether the season will start again or whether it will be voided or decided on points per game ratios,' Solkhon said. 'I am not really thinking about next season yet but my main focus is doing well for Kettering. I am keeping myself fit and looking after myself and I feel I have a good couple of seasons left in me at this level. I came back into the team under the gaffer (Cox) and he has pushed us in training.
'At my age, in the last couple of seasons, if I was feeling tired there were times I wouldn't train but the manager has got training sharper and I have found I can be fitter and sharper... I have felt more comfortable than I have in the past couple of years'".
---
S 16 April 2020 John Edwards, AFC press and media officer, writes in the Sale & Altrincham Messenger that Phil Parkinson is "insisting his squad remain in peak condition, so they can resume their quest for a play-off place, at least, at a moment's notice.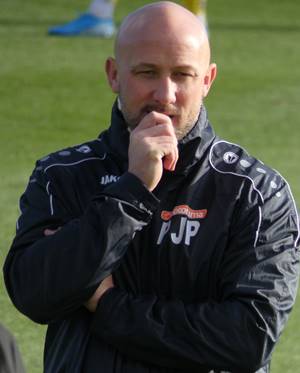 'The players have probably done more running in the last few weeks than they have ever done,' said the Alty manager. 'We are all observing social distancing, of course, and it seems a lifetime ago since I was last at the ground. It's so tough for everyone at the moment, and there is so much uncertainty that you can't predict what might happen next or how long this is going to last, but we are all professional enough to know we have to be ready to go again whenever called upon.
'The medical team, coaching staff, myself and everyone in the background are working really hard to ensure the players are maintaining fitness levels. We are probably monitoring it more than ever, because that's all we can do at the moment.
'We have been sending them running apps and personal programmes, and we've been scrutinising everything they have been doing, going through all the split times they've sent back and stuff like that. There's the mental side of it as well, because it's difficult being in isolation. It's good to have something to focus on, so we have a quiz within the group and there's constant communication, making sure no one is left out.
'When you look at the form table, we were right up there when the programme came to a halt. Who knows when it might start again, but we are doing all we can to be ready whenever that might be.'"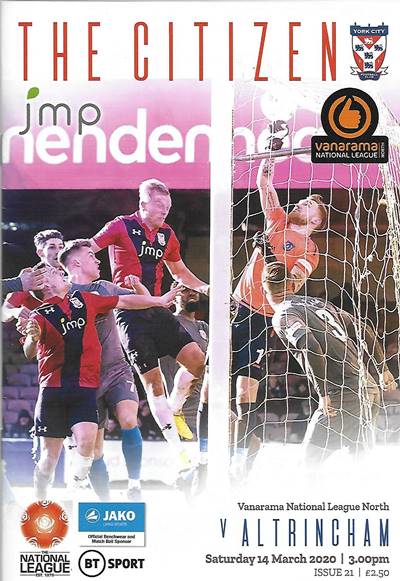 On 14 March, Altrincham were expected to play at York City in a crucial Vanarama National League North match. The Minstermen have made available the programme printed for that postponed game (right).

In an article curiously headed, "Assistant Manager's View", the first-team manager Steve Watson says of Altrincham, "we have played them three times this season now. We know all about them; they're a very good side...

Al[t]rincham are a good side with some good players. They always have been. I watched them in the summer before we played our first game with them and they performed really well that day.

[There was] nothing much in both the cup games. We missed a penalty early in one of them, just narrow 1-0s [to Alty]. I've seen enough of them to know they've got great quality.

They use a tough system to play against, they're very good with their movement. Durrell has been playing well, so's Mooney and Hancock. We know all about their quality...

They have hit some really good form; they've had some really impressive results. They have been on a high and they've come here three times since I've been here, and they've come away with the points [and cup wins]. I'm determined that won't happen this time".

It is 26 years since Altrincham won a match on today's date, 16 April. Since 1994 when Alty defeated Telford United 2-0 in the Conference, a draw at Burscough has been the only point earned from five further matches on today's date.

In 2016, Altrincham travelled to Hampshire, lying in 22nd place, a position they were to stay in till the end of that relegation season.

The omens were poor as Eastleigh went into the game on a run of 11 home games without defeat in the league whilst Altrincham had not won any of their last ten away matches. And so it proved as Eastleigh won 2-0.

Altrincham suffered an early blow when keeper Deasy went down injured in the opening minutes. Though he completed the game he was unable to take goalkicks and limped throughout. Nevertheless, Alty did well in the first half and got to half-time goalless thanks to good defending and poor finishing from Eastleigh.

Eastleigh mounted some second half pressure and got ahead in the 59th minute when a cross from the right was met by Jai Reason's rising shot into the net. A well-hit long shot from Coulson made it 2-0 in the 70th minute. Alty's pantomime villain from the Eastbourne play-off game in 2005, Yemi Odubade, was playing for Eastleigh.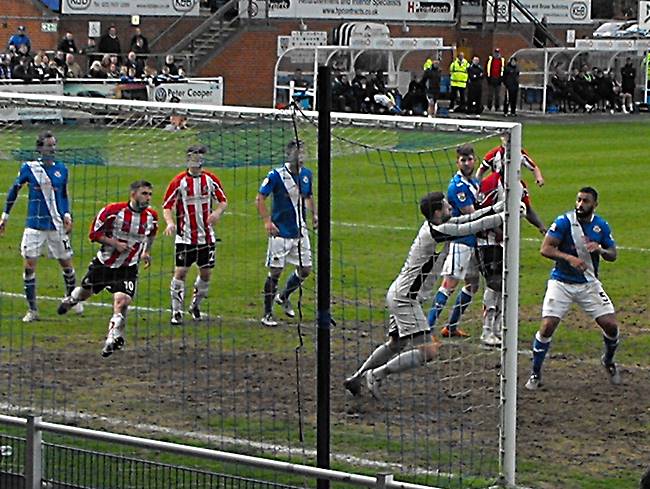 Above: Eastleigh keeper, Ross Flitney, punches clear in the second half.

In addition to having four long-term absentees, Alty were without the suspended Marcus Holness but Jake Moult had recovered from injury to start. However, Simon Richman (injured in midweek) did not travel today. Damian Reeves and Michael Rankine both started as did Josh Ginnelly but Jordan Sinnott moved to the bench.

Altrincham: 17. Tim DEASY, 12. Sam HEATHCOTE, 6. Scott LEATHER, 5. Luca HAVERN, 3. Adam GRIFFIN, 4. Jake MOULT (capt), 7. James LAWRIE 19. Ryan CROWTHER, 15. Josh GINNELLY, 9. Michael RANKINE, 10. Damian REEVES. Subs: 23. Callum WILLIAMS, 24. Rhain DAVIS, 27. Adam SAVILL, 20. Jordan SINNOTT, 14. Josh O'KEEFE.

"National League title sponsors Vanarama, the UK's leading independent commercial and personal vehicle leasing company, has launched the Covid-19 Small Business Support Team to provide information and guidance for clubs, sole traders, the self-employed and small limited companies on how to access the funding available from the UK Government during the Covid-19 pandemic.

'We are immensely proud to be involved in non-league football and watching the Vanarama National League grow[th] year on year has been truly amazing. We don't want to see any UK club collapse due to the Covid-19 pandemic.' Said Andy Alderson, CEO and Founder, Vanarama. 'We understand that this is an incredibly stressful time for clubs across the country and finding the right government funding can be overwhelming. As a company we pride ourselves in providing industry leading customer service, so, have further invested in training our customer service team so that they can offer sound advice and guide clubs in these difficult times.'

The free to use service provided by Vanarama can be accessed via Covid-19 Small Business Support Team or by calling 0808 196 3900. Up to date detailed information on all the support that the UK Government is offering as well frequently asked questions from mortgage holidays to life insurance queries can be found here. The Vanarama Facebook group will provide a secure space for members to discuss issues and share their business stories.

'This is a fantastic scheme from Vanarama, who have further shown their amazing commitment to our league by offering support and advice in the National clubs' time of need. We know this will give all of our clubs a boost to know they have an expert helping hand through such a difficult period', [said] Michael Tattersall, CEO National League".
The Shropshire Star claims that "AFC Telford United are disappointed with a lack of communication surrounding the National League's vote to end the season.

National League North will have just four of the 32 votes for the overall decision on how to end the campaign, with National League South also getting four, though the 24 clubs in the Premier will get one each.

Bucks' chairman Andy Pryce feels the voting structure means the overall outcome will not give a true reflection from North and South clubs.

He said 'It is very hard to get a picture of how clubs in the National League North and South feel when all 44 clubs from both leagues don't get an individual vote. We're disappointed in the time taken and the lack of communication between the National League and all clubs at step one or two regarding the voting process.'

Pryce said the club are still to confirm their decision on the vote. Meanwhile, National League clubs will each receive £13,636 as part of the £125 million advanced relief package from the Premier League to the EFL and National League. But that is cash Telford and other clubs were already due to receive this summer.

Pryce added that, while the club are grateful for any help, the funds would be better received later on. 'If the Premier League had come and said do we want the £13,000 now or in September when it was due we probably would've said September when we needed it most,' he added. 'Yes it's needed now, but there are more running costs when the season is up and running.'"
In the Telegraph and Argus we learn that "Jamie Lyons has signed a two-year deal to become part of Mark Bower's first team plans at Bradford (Park Avenue).
The winger, who joined Avenue's academy last September, has already experienced a taste of semi-professional football, making three appearances in the 2019/20 campaign... Experienced academy coach, Des Hazel, praised Lyons... He said, 'When I went in there after a week, I realised this kid could play. He had the right ability and temperament. He still has to grow into his body but that will come in time. Technically, from all the players I have worked with, he ticks a lot of those boxes at such a young age.'
Lyons was delighted when the club offered him the contract and wants to become a player Bradford can rely on. He said, 'I can see that I am improving as a player and I am becoming more talkative too. I used to be quiet. It is a different intensity and it is more of a challenge coming up against people that are older than you'".
The Eastern Daily Press states that "Rory McAuley admits it would be 'crushing' if King's Lynn Town's season is declared null and void...
Eleven years ago the old King's Lynn FC was wound up by the High Court due to financial difficulties, later reforming in January 2010, and it is now enjoying unparalleled levels of success, with a double promotion within touching distance, against all the odds. An extra-time play-off final win against Warrington Town last summer secured promotion to the National League North, and Ian Culverhouse's charges have taken to the rise in challenge seamlessly. They have been far from the bookies' pre-season favourites for relegation...
Now they await their fate – which is in the voting hands of the clubs in the three divisions that make up the National League.
McAuley, no stranger to the National League Premier, having made more than 100 appearances for Cambridge United at the level feels the Linnets deserve promotion for all their efforts and success on the pitch this season...
'The boys have worked so hard to get us to this point. A lot of us have other jobs outside of football. A lot of us have taken time out of work unpaid to travel four or five hours each way across the country to play football, leaving kids on a Friday and not getting home until the early hours of Sunday morning. So much effort has gone onto this season and for all that to be taken away from us would be crushing. The opportunity is there for us to get promoted and you don't know when that opportunity is going to come around again.'
McAuley joined Lynn from then Southern League rivals Lowestoft Town in July 2018, signed by Culverhouse's short-lived predecessor Simon Clark. Under Culverhouse it has been a story of almost non-stop success.
'The last couple of seasons has brought me so much joy,' said the 30-year-old. 'Signing for King's Lynn is the best decision I've ever made in football. We've got great characters in the dressing room and there's a great bond between the players. We've managed to instil a winning mentality and you can't underestimate the amount of time it takes to build that up.
'There are no cliques in the dressing room, we're one big group, with everyone pulling in the right direction and there's a real sense of togetherness'...
'First game of the season we lost 3-0 at Guiseley and a lot of the boys thought we were going to be in for a long season,' said McAuley... 'I never thought we would be in the top two, but I know we have the ability to compete with any team if we are on our game... You're playing in proper football grounds, going away to big clubs; it gives you a lift and brings that extra few per cent out of every player,' McAuley said.
'You've got to remember we were playing in front of gates of 200 and 300 people last season so to turn up in front of these crowds as the underdog it spurs you on to get a result. Everyone is left in limbo and we have no idea what the outcome is going to be'".
NL Daily tells us that "2019/20 "has been deemed the season that never was, though Scott Fenwick has more reason than most to hold out hope that it may not quite be done and dusted...
Back in pre-season, Scott Fenwick had high hopes for his move to Blyth Spartans. It was the former Hartlepool United striker's return to the North East via Malta and Essex, bringing as well the chance to work with a manager in Lee Clark who was part of the Newcastle United team he idolised as a kid... Suffice to say, it has been an arduous season for the Croft Park faithful, with Spartans nine points from safety in the National League North when the campaign was halted last month. In an October game with Heaton Stannington, their ex-Chelmsford City forward was stretchered off just a few minutes into his return to action after a fortnight out injured, this time suffering ankle ligament damage.
The original estimate was a two-month lay-off, but it would be more than double that in reality...
'I always look back on stuff; I think it helps you mentally knowing where you've been and what you've done. This one has been really hard because I haven't been out this long since I was a kid. I've been relatively fit for the last couple of seasons, which is why I've played a lot of games... I've never not scored in a season before! This would be my first one'...
Scott reveals that the season suspension came just as he was on the cusp of returning. 'It's been quite hard; you don't realise how much freedom gets taken away from you. I've just been watching a lot of films, doing the odd work-out – I'd probably say eating and drinking more than anything! It's been the odd run here and there, and some body weight stuff in the back garden when I can. Luckily, the girlfriend has a decent back garden, so we've made a head tennis court and me and her brother have been playing most days.
'I was due to finally be back in the squad the weekend in which the suspension started. It had been a long, long five-month recovery'...
The season will not likely be taking pride of place in Blyth folklore. Back in pre-season, though, with almost an entirely new squad needing to be assembled, there was optimism that a side containing a number of local players being given the opportunity to step up the divisions could progress...
'I think the management staff underestimated the level, and I think some of the new signings got a massive shock in the jump in quality from the leagues they had played in previously. You need a good mental head to play in these leagues, because they are tough... There's a lot of experienced men in these lower leagues nowadays.
'I just think because the squad have never experienced professional football before, they didn't understand (Lee Clark's) methods and his approach to things. They were all new, young lads with virtually no experience of proper men's football, and it showed massively...
'There is a loyal fan base there in which they just want the best for the club. As long as you're trying and giving your all, the fans will stick by you. I think they just want a little bit more success, punching at the right end of the league. There is a lot of talent up in the North East. I'm hoping to start my (UEFA) A (coaching) licence in the summer, and I've looked at maybe becoming a football agent, too. So, as long as I stay in the game, that's all that matters to me really.'"
We read in the Northants Telegraph that "From runs and sprints to yoga with the family, Brett Solkhon is doing what he can to keep himself in shape for whenever football returns...

Solkhon confirmed the Kettering squad have been receiving weekly training programmes from assistant-manager John Ramshaw to ensure they remain in shape.

'Rammers is sending us a weekly isolation programme with runs for us to do and there is an app on our phones so we can track everything,' Solkhon, who has now made 598 appearances for the Poppies, said. 'At this particular moment I am only working the odd couple of days a week so I have plenty of free time and I am getting out as much as possible for runs and sprints as well as weights.

'But it is all about ticking over. It's not easy with kids as well but we have a nice schedule in our house... We have been doing a bit of yoga as well and my little girl is putting me to shame with that! When she's doing her moves and poses, it's definitely making me feel old!'".

The BetVictor NPL reports that "Clubs across the Northern Premier League have paid tribute to fans for supporting their fundraising campaigns.

Bamber Bridge became the latest Premier Division club to launch a Just Giving page over the weekend... They reached their initial £1,500 target within hours, and at the time of writing, had hit £3,325...

Gainsborough have brought forward a number of ticket packages for the 2020/21 season to enable them to have the appropriate cashflow to get through the summer. That includes sponsorship opportunities, VIP experiences, grandstand naming rights and director experiences. Their Crowdfunder campaign has so far raised nearly £4,000 of a £10,000 target.

Chairman Richard Kane said 'It is not enough for us to simply sit tight and hope that it all blows over. By moving forward a number of package opportunities for next season, we are able to ensure cashflow in the short term, as well as give a little back to the NHS heroes who are working to keep us all safe and healthy.'

Hyde United have been playing virtual matches since the end of the real season, and their efforts have seen them raise more than £4,400 so far. A club spokesperson said... 'It has meant delaying certain bills and asking for time to pay, with mixed responses from certain service providers, but essentially the Club outgoings still remain, such as utilities, premiums, communication costs, contract wages etc.'

Scarborough Athletic revealed they had reduced the shortfall in their finances to £25,000, and have since raised more than £20,000 from the Valley Bar Seadogs GoFundMe page, the Supporters' Club, individual contributions and their own virtual matches...

Mickleover Sports are more than 10% towards their goal of £15,000, as they look to plug the gap left by missing eight home fixtures.

Witton Albion chairman John Salmon paid tribute to his club's fans... He said 'Despite fans having their own money worries at this time, they continue to donate between £25 and £1,000 every month. I cannot thank them enough.'

South Shields have already sold more than 250 season tickets for the new campaign, to help with their planning for 2020/21".
---
15 April 2020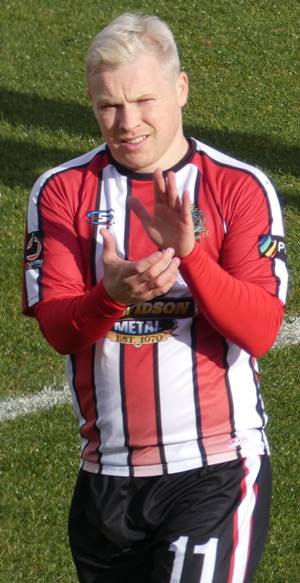 We learn from the Chester Standard that Altrincham's "Elliott Durrell is undecided on the future of the 2019/20 National League campaigns but feels the play-offs would be a fitting end to a strange season.

Durrell and Altrincham were in fine form when the National League North season was brought to an abrupt halt by the coronavirus pandemic... Durrell, who has scored in four successive games since signing for the high-flying Robins, the best run since Bert Lister netted in nine consecutive Altrincham matches back in 1966, feels the play-offs could still be staged if the regular season is brought to an early close.

'I'm a little bit undecided on the best thing to do,' said Durrell. 'If the outcome is done on points per game then that can decide the champions and relegation places. When football is able to return then why not play the play-offs then? I think it would be a good way of doing things when it's safe to do so. It's a shame how the season has panned out, but there are a lot more important things than football at this moment in time and everyone needs to follow the guidelines given by the Government and it will pass.' Should the National League North play-offs go ahead then Durrell will have plenty of connections. Former clubs Chester and York City could find themselves in the play-off places, while Brackley, managed by Kevin Wilkin, who bossed Durrell at Wrexham, are set for a top-seven spot.

'There would be plenty of interest for me, wouldn't there?' said Durrell, whose team-mates at Moss Lane include former Chester trio Craig Mahon, Tom Peers and Tony Thompson. 'It would certainly make for big games and the sort of games that our team thrives on. You only have to look at our last game against Spennymoor. They came into the the match in better form than anyone and we beat them 4-1.

'Apart from 10 or 15 minutes we were comfortable, overly comfortable to the point when we had our bad spell one of their players said "What's happened, you were like Barcelona in the first-half?" We were confident of making the play-offs given our form and we were excited at the thought of the play-offs because they are the sort of games that we play well in.

'We were up near the top of the form table, if not top, when the season was stopped and we were confident in our ability. We certainly didn't fear anyone, but we respected all our opponents and that was allowing us to play the football we were playing.'

Durrell was playing a key role in Altrincham's fine form, the 30-year-old getting back to his best after a frustrating campaign. A four-month stint at York City preceded Durrell's move to Altrincham, the playmaker adding 'I came in at the wrong time. They were flying and the manager was loyal to the players who had been there from day one.'"

The National League has issued the following statement:

"The National League wishes to place on record its gratitude to the Premier League for an advance in its annual solidarity payments.

The Premier League unanimously voted to send funds to The National League three months earlier than originally scheduled.

Reflecting on their decision, National League Chairman, Brian Barwick, said 'I am delighted that the relationship between the Premier League and The National League remains so strong.

'We are very grateful that the Premier League have advanced us monies to be able to distribute to our clubs in the coming days.

'It is a gesture that will bring some welcome relief to many of the clubs in our league. It is appreciated'".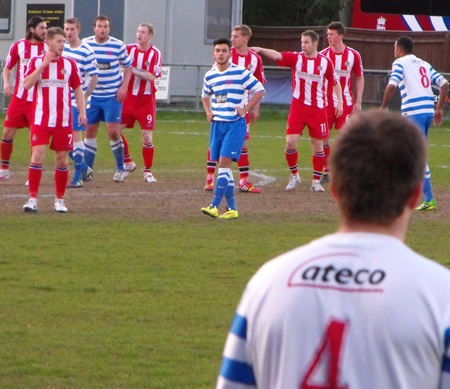 Six years ago,today, 15 April 2014, Altrincham faced a long midweek trip to Oxford City for a Tuesday fixture in the Skrill North watched by just 283 spectators. It was Alty's second ever visit to Oxford City. Earlier this season, an own goal and a penalty had given Oxford City a 2-2 draw at Moss Lane, after the Robins had taken a 2-0 lead.
Right: Alty defend a freekick from Oxford's no.4, Michael Pook.
Altrincham went into the game in third place and went on to earn promotion through their play-off victory over Guiseley. The Robins welcomed back Damian Reeves for this game, but were without Simon Richman (wisdom tooth problem) and Tom Marshall (sickness).
After the wet winter had wrought havoc on the Oxford pitch, Alty arrived after a drier spell to find a bobbly surface at Court Place Farm, with the central strip almost a dustbowl. Oxford kicked off on the heavily sanded surface and the visitors started poorly but went ahead after 16 minutes when a Nicky Clee throw found Damian Reeves and his lay-off was converted by James Walshaw. But Oxford had more of the first-half attacking play.
In the second half, after Oxford had again enjoyed more of the forward momentum, Alty raised their game and Jake Moult volleyed home superbly from 30 yards in the 83rd minute, before substitute Jackson pulled one back for City in added time.
Alty's line up was 1. Stuart Coburn, 2. Shaun Densmore (capt), 3. Adam Griffin, 4. Carl Rodgers, 5. Gianluca Havern, 6. Scott Leather, 7. James Lawrie, 8. Jake Moult, 9. James Walshaw, 10. Damian Reeves, 11. Nicky Clee. Subs 12. Matt Doughty, 14. Greg Wilkinson, 15. Jeff King, 16. Kyle Perry, 18. Russ Saunders.
York Press confirms that "Clubs in the three divisions of the National League, including York City, have been asked by the league's board to vote in favour of ending the season.

Should this vote pass, clubs will then determine the outcomes of the season, with York hopeful that they will be promoted given their position at the top of the National League League North table.

A statement by the National League Board said 'The Board's resolution is that the playing seasons for the National League, National League North and National League South shall immediately end for all fixtures scheduled up to and including April 25. The Board recommends clubs vote for this resolution. If that resolution is passed, and the remaining 'normal season' league matches are cancelled, the league will then immediately proceed with a poll of North and South clubs to determine the outcomes of the season across those divisions.

'This will be followed by a vote to determine the outcomes of the season in the National Division.' All 24 clubs in the National Division will have a vote, but the National League North and South only have four votes per league (32 overall). Should the vote end equally, the league's chairman will be given the casting vote.

Elsewhere, it was confirmed that York will receive just under £14,000 from the recent pay-out by the Premier League. The National League statement added '£2m of funds have been received from the Premier League, which is money brought forward from the 2020/21 season. This money will be distributed next week as an advance payment to clubs... The amount for North and South clubs is £13,636."
The Chester Standard stated on Tuesday (14th) that "Uncertainty surrounding player contracts will not be a distraction to Chester players insists Danny Elliott. Blues' joint-manager Anthony Johnson has voiced concerns about the number of non-league players whose contracts might expire before the end of a season extended because of the coronavirus epidemic.
But 24-year-old forward Elliott insists that the squad are focused solely on returning to action at the earliest opportunity.
'It's not in our hands, so it's not something we've got any control over,' he said. 'Contracts might be at the back of some players' minds, but it's not something we can influence at this moment so it's not a distraction for us. We just have to see what cards we are dealt whenever the end of the season eventually gets resolved'...
Elliott said 'It's a strange experience for us not to be playing games at this stage of the season. Football's the biggest thing in my life and that means I don't really know how I'll fill my Saturdays with no matches on. It's not like we can even watch other sport on TV because that's all off... Maybe I'll just play FIFA and see if I can get better at that'...
Team spirit remains high at Chester's training ground, with plenty of jokers among the squad... 'We all love a laugh and they always keep the lads' spirits up. We're still working on our fitness at home too. All the players have been handed programmes to work on at home and they should help us keep our levels up and where they need to be.
'Chris Jones (strength and conditioning coach) is great and has put together these programmes which will hopefully help to keep us in good shape.'"
The Chester Standard also has a lengthy article on former Moss Lane boss Neil Young, albeit with no mention of his stint at Altrincham.
The Shropshire Star reports that "Clubs also face a possible delay before learning precisely how their season will be resolved... Somewhat complex voting rules mean that while the 24 clubs in the Premier Division get a vote each, just four votes apiece are allocated to the National League North and South divisions.

Clubs in the North Division are understood to have met last week and agreed unanimously to vote to end the season. But the National League have set a deadline of May 7 for clubs to return their votes and a delay looks likely with some in the Premier Division already criticising the process".

According to ESPN "English football is aiming to resume at the beginning of June, with sources telling ESPN that clubs in the EFL are working towards June 6 as a date for the return of competitive action, though matches would be behind closed doors...

While football in Italy and Spain remains suspended indefinitely, the authorities in Germany have allowed clubs in the Bundesliga and Bundesliga 2 to return to training, ahead of plans for games to take place behind closed doors from early May.

A video conference of all 20 Premier League clubs is due to take place this Friday in order to discuss and outline a tentative schedule for the resumption of the league in the coming weeks. But sources have told ESPN that the EFL, which includes the Championship, League One and League Two, is working towards games being played from June 6 onwards after an initial three-week mini pre-season starting on May 16.

Sources have told ESPN that the EFL plans depend entirely on government advice and the extent of the lockdown measures in the United Kingdom, but there is optimism that football can return by the beginning of June, albeit behind closed doors. The Championship, led by Marcelo Bielsa's Leeds United, still has nine match-days to play in order to complete the season".
---
14 April 2020 Eight years ago, today, on 14 April 2012, in an entertaining Blue Square Bet North game at Moss Lane, Altrincham's ten-men secured a point against play-off contenders FC Halifax Town, despite Leighton McGivern being sent off, just seven minutes after he had come on as a substitute.

Altrincham had won the reverse fixture this season convincingly, 4-2 at The Shay, but they had gone into this match having won just one of their previous seven league games. There was a surprise return for this match for defender Marlon Broomes, after seven games missed with a hamstring injury. With Simon Richman and Kieran Walmsley ruled out, John Miles and Leighton McGivern returned to the bench.

Town included four men who have previously donned an Altrincham shirt; Sean Clancy, Tom Baker, James Dean and Ryan Toulson. Ross Hannah was the Town dangerman; he was an on-loan striker from Bradford City.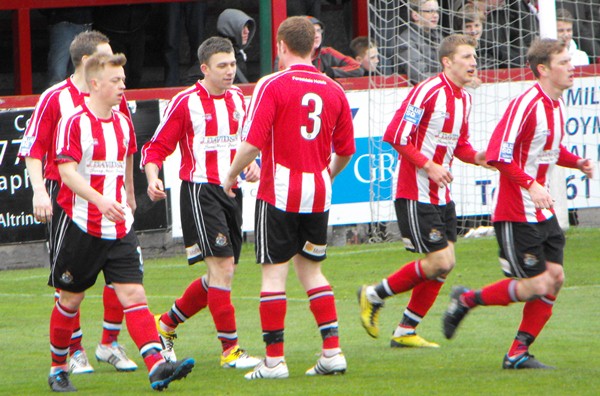 For the 43rd time this season, Damian Reeves was congratulated by his team mates after netting the opening goal of the match against FC Halifax Town.
Halifax started the game the better but Damian Reeves fired Alty ahead when he took a pass from Nicky Clee superbly, on the run, before planting the ball past Eastwood in the Shaymen's goal (19 mins). After Clancy had seen a visitors' penalty saved by Stuart Coburn, former Altrincham loanee, James Dean, scrambled home the equaliser as the first half went into added time.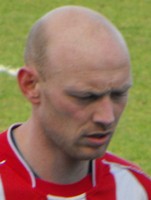 The second half started with, first, Dean spooning over from five yards at one end, before James Lawrie wasted as good a chance at the other end, firing wide as the net beckoned. Lawrie was also guilty of another bad miss later in the game when he tried to dribble the ball, rather than shooting, in the goalmouth.
Leighton McGivern (right) was forming a two-man wall with Scott Phelan, awaiting a Halifax freekick, but saw two yellow cards in succession and then a red, for dissent, in just a matter of seconds. The volatile ex-Vauxhall man had avoided even a single yellow card in his seven previous appearances for Altrincham but his indiscipline today almost cost Alty dear. Stuart Coburn was a well-deserved Man of the Match, not only for his penalty save, but also for a couple of other quite magnificent stops.
ALTRINCHAM: 1. Stuart Coburn, 2. Chris Lynch, 3. Andrew Smart, 4. Shaun Densmore (c), 5. Matt Flynn, 6. Marlon Broomes, 7. James Lawrie, 8. Scott Phelan, 9. Michael Twiss, 10. Damian Reeves, 11.Nicky Clee, Subs: 12. Mark Lynch, 14. John Miles, 15. Duncan Watmore, 18. Adam Reid (gk), 16. Leighton McGivern
The Shropshire Star reports that "AFC Telford chairman Andy Pryce has warned that non-league volunteers have 'fallen out of love with the game' after their season was made null and void.

The Bucks are to take part in a National League vote as to whether to end the current season and expunge records, with Gavin Cowan's men still having 10 games to play... And now Pryce, who along with other board members and staff at the New Buck's Head will decide on Telford's National League North campaign, has already heard of chairmen and those with 'good intentions' in the game who have been hit hard.

'I did think this time last year it would've been good to make a bit of a diary or write a book about running a football club,' said Pryce, when asked about a the possibility of a documentary similar to the 'Sunderland 'Til I Die' Netflix series... 'I didn't do it in the end, I was too busy... I've spoke [sic] with so many chairman over the last few weeks or people involved in football at this level or the level below. And in the leagues below they have just fallen out of love with the game after what has happened.

'These are people that have been involved all their lives, they've had championships, promotion pushes, and had it taken away from them. These are people with not loads of money, but good intentions. If we lose people like that from the non-league pyramid it's not good for the game. It's going to be very difficult for a lot of teams in the near-future. It's going to be scary.'

AFC Telford United's Covid-19 survival gofundme page has raised almost £1,500 while others have supported in alternative ways... 'It's been amazing, absolutely amazing, the response we've had from our supporters and sponsors,' Pryce said... 'It's great to have a little club. Football is football. Everyone has an opinion, you're never going to please anybody with decisions but you try the best for the club as a whole.

'It's great when you do have a good win on a Saturday and fans are cheering. That's what you do it for. It's a great football club we've got.'"
Hereford FC "is deeply saddened to hear of the passing of Tony Cole, a long standing football supporter not only at Edgar Street but to the wider Herefordshire footballing community.
Tony was one of the driving forces of the Hereford Lions Club tours to Holland that were so successful that he received the freedom of Vianen, the Dutch city that he spent over 40 years organising exchange tours of young footballers with... The current Dutch Bulls contingent that visit Edgar Street each season is a testament and ongoing legacy to Tony's dedication.
At Edgar Street, Tony was a prominent member of the Vice-Presidents' Club, acting as Treasurer for most of its existence and helping to enable hundreds of thousands of pounds of donations to Hereford United. His son, Mike, acted as Hereford FC's Financial Director for a couple of years and remains involved in Junior Bulls".
At Alfreton Town thoughts have turned to next season as "Town would like to invite supporters to send their kit designs ahead of the new 2020/21 campaign.
With the future of the current season uncertain due to the Covid-19 outbreak, we are delighted to welcome designs from supporters... Supporters can create their own designs...
We look forward to welcoming your ideas!"
Blyth Spartans state that "In these unprecedented times, the future of our club and fellow non-league sides are in a situation none of us have ever experienced before.

Despite there being no news as to when the National League will resume, the Executive Committee members are doing all they can to ensure the survival of the club...

We have to give a special thank you to our longstanding 1899 Club members, who are continuing to support us with their monthly contributions. It goes without saying the Executive Committee expresses its gratitude and appreciation to all members.

We ensure the 1899 funds will benefit the new manager as and when we are able to start assembling a squad for next season".

From the Nantwich News comes confirmation that "Bosses of the Northern Premier League have been dealt a blow after its main sponsor BetVictor served notice to end its contract.

BetVictor served notice in March on the NPL, the Isthmian League and the Southern Football League that they were activating the break clause in each of their contracts. It means their sponsorship of the leagues will cease on July 9.

It's another blow to the leagues which were told by the FA Council last week that the 2019-20 seasons must not be completed and all results, and potential promotions and relegations cancelled.

BetVictor's decision was made prior to the coronavirus crisis so is not believed to be linked to the current pandemic or the decision to end the seasons. All clubs in the three leagues have been written to.

The letter states 'BetVictor have terminated the sponsorship for a number of reasons, but mainly due to the fact that the increasing compliance restrictions and challenges faced in their first seven months outweighed the benefits they were drawing from the sponsorship. However, the escalating negativity towards betting in football did not help, nor did, most disappointingly, compliance breaches by clubs in and outside of the Isthmian League'.

Although the search for a new sponsor has begun, the Covid-19 crisis makes it very difficult to engage meaningfully with potential replacements.

So, as of now, the Leagues operating at Step Three and Four have no main sponsor for season 2020/21".
---
13 April 2020 In Sunday's Non-League Paer, Altrincham FC chairman, Grahame Rowley, says "I don't see any football being played before May or June at the earliest. So it's sensible to end the season now and give everyone a bit of certainty about things. What comes after that is a bit more contentious.

Personally, I think the question of promotion and relegation is one that the National League could answer if it wanted to.
Unfortunately, we're beholden to the gods from above and it negates our own body's ability to make a conclusive decision.
For instance, it's all very well us saying 'Well, we'll promote two teams'. But if the EFL turns round and refuses to relegate anyone we have no say in that. Equally if the EFL want to relegate a team, or two, the National League wouldn't want to say, 'Sorry, we aren't putting anyone up'. It's a real predicament.
Personally I'm an advocate of the null and void option and the guidance on that should have come from the FA as it did with levels 3-7. I think they should have done exactly the same with the National League.
There's never going to be a totally fair way of doing this... Nobody actually knows what would have happened.
At the end of the day we don't want to lose our autonomy as a competition. Otherwise we could find ourselves in a position where the start of next season is dictated by the Premier League and EFL.

If they decide they'll finish the league in August, we'll have to wait till October. That wouldn't help anyone at this level"

Seven years ago today, in 2013, Altrincham defeated Bishop's Stortford 2-1 in the Blue Square Bet North. The Hertfordshire side had travelled almost 200 miles to Moss Lane from their outpost in the North section of the National League.

This Saturday game took place just 41 hours or so after Alty had completed their game at Guiseley the previous Thursday.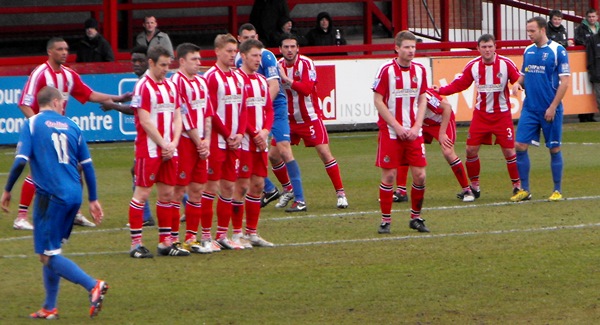 Above: Alty defend a first-half freekick against Bishop's Stortford.
Before kick off Alty manager Lee Sinnott received the BSBN Manager of the Month award from the Football Conference's Bill King, a former Alty chairman. Also before kick off, Alty Youth player Rob Gilroy was photographed with the trophy won this week by the English Schools team, of which he was captain. The England lads won 3-1 against Scotland at St Johnstone's ground in Perth.
For Altrincham, Danny Boshell, on loan from Guiseley, returned to central midfield, displacing Jake Moult. Also back in the starting line-up was Nicky Clee who had had tonsilitis. But missing was Duncan Watmore, with a groin injury. However, Simon Richman had recovered from his eye injury sustained on Thursday.
It turned out to be a game that Altrincham should have wrapped up in the first half hour when they totally dominated the match but only scored once. That goal arrived in the third minute when Nicky Clee, who put in a fine performance, crossed from the left. The ball came to Carl Rodgers, towards the back post, and he seemed to knock it goalwards with his leg rather than foot. But his effort had just enough power to trickle over the line.
In the latter stages of the first half the visitors got back into the game and they also made the second half a more even contest before more good work from Clee, from Matt Doughty's feed, led to a well-struck goal by James Lawrie in the 67th minute to make it 2-0. Alty would have been home and dry had Damian Reeves taken either of two one-on-ones but he shot wide on the first occasion and his touch was too heavy in the second instance.
But Stortford's Woodall drove home a shot from outside the box in the 83rd minute to give Altrincham an edgy closing few minutes. Having started the game without the injured Duncan Watmore, Alty lost Simon Richman to injury midway through the first half of this game.
Altrincham: 1. Stuart COBURN, 2. Shaun DENSMORE (capt) 3. Matt DOUGHTY, 4. Carl RODGERS, 5. Gianluca HAVERN, 6. Scott LEATHER, 7. Simon RICHMAN, 8. Danny BOSHELL, 9. James LAWRIE, 10. Damian REEVES, 11. Nicky CLEE. Subs: 12. Danny HALL, 14. Jake MOULT, 15. Pat LACEY, 16. Ryan BROOKE, 18. Tony McMILLAN (gk)
The Hereford Times reports that "Hereford FC have stated that they will be voting to end the National League North 2019/20 season 'immediately' due to the financial 'uncertainties' of continuing the campaign.

The National League North is currently suspended 'indefinitely'. The Bulls state that... 'If the vote is successful no further matches will be played in the regular season. Clubs will then have a further vote to decide on exactly how the season ends, with the options for that still being decided by the league and FA.

'As a club we are voting for the season to end immediately. With the current season potentially running to September, and no guarantees on being able to play in front of spectators during that time, there are far too many financial uncertainties to consider carrying on the season'...

The club state that secretary Martin Watson has continued to operate in the background 'at minimal cost to the club' to liaise with the National League, other clubs, the FA, and Herefordshire FA over various matters to conclude the current season.

The board have also asked Watson to provide limited updates to the club's social media, to fulfil online club shop orders, and to act as caretaker of Edgar Street stadium".
At Kettering Town the chairman, David Mahoney, states that "As many of you will have seen in the national press there are discussions underway, around ending the season but it's not simply a 'Yes' or 'No' vote. Consideration has to be given as to what happens next. Is the league voided, like the leagues below our own, or do we look for a way to define a final table and if so what about promotion and relegation? If the league isn't ended what does that mean with regards a restart date, player contracts etc. Hopefully a decision will be made in the next week or so but one thing is for sure, there is still work to be done BEFORE a final decision can be made.
There has also been a lot of 'news' around payments being offered to clubs under the National League structure. Numbers as high as £125m have been discussed but the reality is that funds of this volume are very unlikely to actually happen. Instead the league are looking at bringing forward central payments that would have been made around September. So at present, the only funds really being discussed are actually existing funds and not new ones. What we receive now will simply be the funds we would have received, so come September that pot will be empty. Whilst this money will be gratefully received, it means we will have to consider the impact on next season, albeit we don't know when that would start.
The President's Appeal, launched by Ken Samuel, has been a fantastic success and as you all know has raised in excess of £11,000 to date, which is a massive help and donations continue to be made. But we need to accept that we had a number of high profile games moved from Saturdays to Tuesdays during the season, which resulted in lower gates and therefore lower revenue. We had some high profile matches scheduled for the end of the season too, including a visit from high flying Kings Lynn and a home bank holiday fixture against Leamington.
The net result is simple; we have lost the opportunity to gain considerable revenues and we still have a gap between what we need to run the club and what we have saved, what has been raised and what has been provided from central funds.
The board have worked hard over the past 5 years to improve the club's financial standing and we are proud of what has been achieved to date. Our controls may have limited the size of our squad and meant ground improvements may have been slower than we'd all want but at the end of what has been a challenging year we're still here and we're still fighting...
We have likely lost the last six home games of the season (admission fees, bar sales, hospitality sales and sundries) and also potentially missed out on the Hillier Cup Final and without taking anything for granted the potential of a lucrative Maunsell Cup Final...
If we stand together then I am sure that we will get through this. The importance of every donations made to the President's Appeal should not be under estimated... We are looking at other schemes to raise additional funds but we're also aware that times are hard and uncertain and we understand that people who would like to contribute can't and that's fine. We also need to ensure that we don't simply bring funds forward from next season, and simply delay a budgeting nightmare.
Our goal over the next month is to get the club to the end of the season and to understand where that leaves us... We will have to look at completing the ground improvements which were halted by the lockdown and ultimately the installation of the 250 seat stand and new terrace. .. We will focus on one or two things at a time, whilst considering the wider picture...
We need you all the stay positive, to stay away from negative views and accept that everything we're doing is for the good of the club... Sadly a number of clubs may not come out of the other side of this nightmare, we need to make sure that The Poppies are not one of them".
---
12 April, 2020 One of the best ever loanees to play for Altrincham was defender Ryan Shotton who arrived at Moss Lane from Stoke City on 14 September 2007, initially on loan for a month, after Graham Heathcote had tracked his progress with the Potteries club's Reserves.

He made his Alty debut in the game at Woking the following day and soon made a very favourable impresson both with his performances on the field and his commitment to the cause off it. Although his loan was extended to 15 December 2007, he then had to return to Stoke because of the transfer window but was re-signed for the rest of the season with effect from 1 January 2008. He made 40 appearances that season for Alty and scored five times.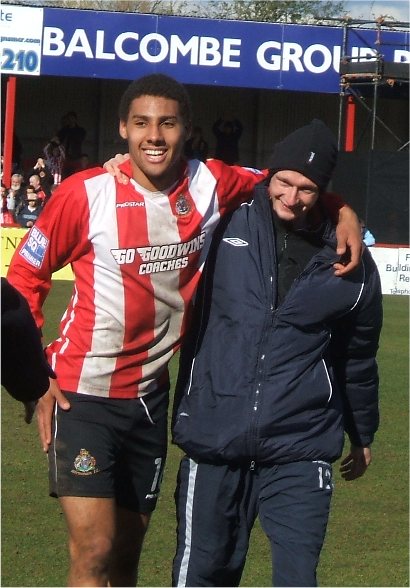 Right: Ryan Shotton after the game with Ryan Toulson.
After leaving Alty and returning to Stoke, Ryan played not only for the Potteries club but also Tranmere Rovers, Barnsley, Wigan Athletic, Derby County, Birmingham City and currently Middlesbrough.
Twelve years ago today, on 12 April 2008, Ryan scored twice in a 3-1 victory over Salisbury City in the Blue Square Premier (Football Conference). In the reverse fixture, away at Salisbury, Alty had led 3-0 with 18 minutes to go, only to draw 3-3 in injury time. Alty started the game at Moss Lane in 22nd place whilst City had enjoyed a long run with only two defeats.
And things looked bad when Altrincham found themselves trailing to Matt Tubbs's tapped-in goal after 15 minutes and had also lost left-back Ryan Lynch to injury. But a tactical switch five minutes after the break saw striker Joe O'Neill withdrawn and defender Ryan Shotton sent up front. The change worked as Shotton levelled the scores just six minutes later when he got the better of a three-way aerial duel with keeper Clarke and defender Cook. The on-loan Stoke defender hooked the ball into the net whilst on the ground.
A superb dribble up the left by another loanee, Paul Turnbull laid on a second goal for Shotton at the near post after 61 minutes. Just after Turnbull had hobbled off injured, a fine run from Chris Senior brought the striker Alty's third goal in the 77th minute. The win lifted Alty four places to 18th- their highest placing this season, as Farsley and Northwich lost and both Weymouth and Halifax drew. But all four had games in hand on the Robins. It was to be Altrincham's last win of the season and they finished the campaign in 21st place. Ironically, the club just above them on the final day of the season, Halifax Town, suffered financial collapse and Alty were reprived for the third season in a row!.

Alty's squad comprised, 1. Stuart COBURN; 16. Ryan SHOTTON, 5. Darren TINSON (capt), 10. Greg YOUNG, 4. Ryan LYNCH; 14. Greg TANSEY, 7. Robbie LAWTON, 21. Paul TURNBULL, 11. Warren PEYTON; 9. Colin LITTLE, 12. Joe O'NEILL. Subs: 3. Gary SCOTT, 15. Chris LANE, 17. Richard BATTERSBY, 19. Chris SENIOR, 20. Carlos ROCA.

The Derbyshire Times reports that "The National League has advised that all clubs approve a proposal to cancel all remaining fixtures.

If clubs agree then they will then be asked to vote again to determine the outcomes of the season.

Chesterfield have already returned their voting form to the National League and gone along with the recommendation that all fixtures up to and including April 25 should be cancelled. Clubs have until May 7 to cast their votes. It has emerged that both Notts County and Yeovil Town, who are both in the play-offs, have expressed concern at having to vote.

Yeovil chairman, Scott Priestnall, said 'I am extremely disappointed. I don't think this situation has been thought through properly in that we actually don't know what we are voting on. If we potentially vote to end the season we don't know what the ramifications of that might be. Are we then going to vote on promotion, relegation and play-offs? It's mooted that's a possibility. Are we going to retain the existing places that we have got? There's so many things that are unanswered in this current situation.

'Our position is that we don't want to vote at all and we'll be certainly lobbying to get this motion amended so that we are actually voting on the real outcome of the season rather than an immediate outcome of the season.'

He added 'I think it should be left to the FA and the National League to decide what they think should happen. I don't think it should come down to club level because simply clubs are going to vote for what is right for them and I think we should be voting for what's right for all clubs and the integrity of the league in general.'

County have also written to the National League asking for the motion to be scrapped over the uncertainty of what will happen to promotions, relegations and play-offs."
The Huddersfield Examiner reports on a former Kidderminster Harriers player, Joe "Three Arms" Lolley.

"Former Huddersfield Town man Joe Lolley has revealed that he had the option to go back on his agreement to join Huddersfield Town from non-league side Kidderminster Harriers back in 2014, but felt it would have been the wrong thing to do.

The winger, now at Nottingham Forest, quickly gained the attention of EFL clubs after he joined Kidderminster Harriers in 2013 and eventually it was the Terriers who captured his signature. He would go on to enjoy four years with Town before leaving for the City Ground midway through the 2017/18 season.

Lolley told Whoscored.com ' think [the interest] had gone on a while. I think after I played my second game [for the Harriers], the club sat me down and told me I needed an agent because of the amount of calls they were getting. That was the shocking part!

There were a few clubs that came in towards the end but I'd already committed myself to Huddersfield and didn't feel right to turn back as they were the first team who moved on their interest."
---
11 April 2020 On today's date, 11 April 2006, Altrincham played a memorable Tuesday night match at Dagenham and Redbridge in the Nationwide Conference and emerged 4-2 winners.

After the huge disappointment of conceding a draw to Gravesend, the previous Saturday, through a last-minute penalty, as well as a run of eight games without a win and a threat of an 18-point deduction hanging over Alty for the failure of James Robinson's previous club, Accrington Stanley, to secure his international clearance, Graham Heathcote and Dalton Steele might have faced a difficult job in lifting their team of part-time players for this game against a full-time outfit who had turned them over 5-0 at Moss Lane earlier this season.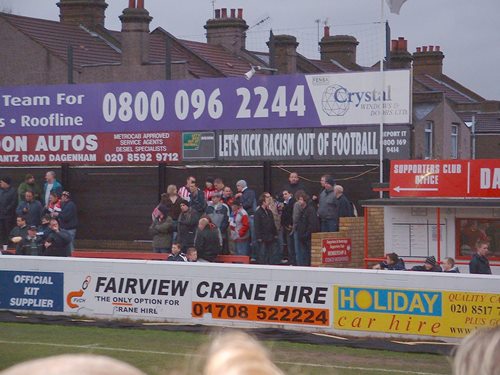 Right: Just some of the Alty fans who made the trip to Dagenham. They sang throughout the game, got soaked in the latter stages, endured a 6 hour journey to the match and then a closure of the M1 on the way back, but their support was excellent throughout.

To make matters worse, Mark Maddox continued his suspension whilst Val Owen was out injured for the second successive game. Left-back Chris Adams was only fit to be on the bench, so Gary Scott played in that position, with Steve Aspinall moving from midfield to right-back. Colin Potts retained his place in the starting line-up.

In an entertaining first half at Dagenham, Alty, who had previously scored just 10 times in 18 games on the road, took a 3-0 lead. Firstly, Colin Potts fired a freekick into the top corner from 25 yards (8 mins). Then Ged Murphy made it 2-0 after 32 minutes when he fired home from the edge of the box before centre-back Peter Band pounced to make it 3-0 after 37 minutes.

However, the Daggers' Paul Bruce made it 3-1 with a fine 30 yard shot (39 mins). Then Scott Griffiths made it 3-2 on the stroke of half time. After the whistle had been blown for half time, Bruce and Alty's Warren Peyton were involved in a skirmish and the Dagenham man was sent off.

Despite plenty of pressure from the ten men, Alty made it 4-2 when the Dagenham keeper Tony Roberts dropped a Potts cross and the ball went into the net off a startled Colin Little (69 mins). Dagenham finished with nine men when Blackett was sent off near the end for a "last-man" foul on McFadden, whose late introduction caused the Daggers problems.

This was a superb team performance from Alty and lifted Altrincham eight points above the relegation places. And the supporters' performance was pretty exceptional too especially after a six-hour journey caused by traffic chaos on the M25 which meant the supporters' bus only arrived 10 minutes before kick off.

ALTRINCHAM: 1. Stuart COBURN, 2. Steve ASPINALL, 15. Peter BAND, 5. Gary TALBOT, 11. Gary SCOTT, 7. Colin POTTS, 37. Ged MURPHY, 12. Warren PEYTON, 14. Lewis CHALMERS, 9. Colin LITTLE, 10. Rod THORNLEY. Subs: 3. Chris ADAMS, 17. Karl MUNROE, 18. Blake NORTON, 21. Kieran LUGSDEN, 28. Pat McFADDEN.

Altrincham FC announces that "On Saturday at 3pm, Alty TV will be showing the whole of last season's epic National League North home game with Chorley, which was played on the corresponding Saturday last year.

Details of how you can watch this superb advert for National League North Football will be posted on Saturday morning".
According to the Telegraph & Argus, "It has been confirmed that Bradford (Park Avenue) will receive just under £15,000 in payment from the Premier League, while their status in the Vanarama National League North finally looks set to be resolved next week.

The National League Board have recommended that clubs in their three divisions vote to end the season. Assuming that happens, clubs will vote to determine the outcomes of the season, the result of which Avenue will be following closely, as they sit 12 points from safety.

In a statement released yesterday evening, the National League Board said '£2m of funds have been received from the Premier League, which is money brought forward from the 2020/21 season. This money will be distributed next week as an advance payment to clubs. The amount for National Division clubs is £58,333 and the amount for North and South clubs is £13,636.'

They added 'The Board's resolution is that the playing seasons for the National League, National League North and National League South shall immediately end for all fixtures scheduled up to and including April 25. The Board recommends clubs vote for this resolution.

'If that resolution is passed, and the remaining 'normal season' league matches are cancelled, the league will then immediately proceed with a poll of North and South clubs to determine the outcomes of the season across those divisions. This will be followed by a vote to determine the outcomes of the season in the National Division.'

All 24 member clubs in the National Division will have a vote, but the National League North and South only have four votes per league (32 overall between the three divisions). In the case of an equality of votes, the Chairman of the League shall be entitled to a casting vote.'"

So even if the regional divisions vote as a bloc of eight, their decision could be easily out-voted by the National League's 24 top-flight clubs.
The National League says that "There's never a good time for a crisis to come, but Liam Watson knows some moments are probably a little less devastating than others...

There's not a chairman anywhere expecting an easy ride. Port manager Watson is all too aware no club will escape these most testing of times totally unscathed. But battle-hardened, the sun is still out in the seaside town on Merseyside.

Damage limitation is already in place but the 49-year-old fears some are going to end up harder hit than others. The experienced former AFC Telford manager, a NHS worker for 18 years before going full time in football back in 2013, has told us how his club plan to cope...

'We're going through something nobody ever has before,' he told us... 'It's hugely important to consider people's mental health and the longer this goes on, the more we have got to do. As Southport's manager I look at what football is faced with and think that if this came [sic] a few years ago then it could be a very different story for this club.

'It would have hit us very, very hard. That's not to say it won't be very challenging, but we're now better equipped. We have had a difficult few years but, thankfully, we have a board in place that grasped the enormity and reality of the situation when they arrived... For the first time in a long while the club was on course to break even. We've had a year of getting our house in order.

'Would we have survived this before? I'm not sure. Football is a volatile, unpredictable industry... but it could actually be the smaller clubs who come out the other end in a better place. There are some fantastically well run clubs in the National League North. Look at Leamington and their manager Paul Holleran, the man bends spoons and every year they're nowhere near trouble.

'I don't think you can ever be prepared for something of this size of this, but I don't believe we will be as damaged as some, and as we could have been a few years ago, by the coronavirus.'

Watson is Southport's most successful manager since the club left the Football League, and he is managing in a division he has won three times already. But this season they have rarely escaped mid-table...

'It was always going to be a challenge, everyone knows just how competitive this division is and has been for a number of seasons now,' Watson adds. 'We've got a small squad and that was tested to the max when we played Chester and lost four players in just one game. Then, after that, our next games were against Altrincham, Chester again, York, Boston and AFC Fylde in the FA Trophy!

'We never really recovered from that, but we've kept going and going and there's a good little group here. We've done everything we can. We've had to tighten our belts to get back on and even keel. That's football, we're in a stronger place now'".
In the Chester Standard "Anthony Johnson insists his joint-manager role with Bernard Morley works because of 'implicit trust' and 'concrete belief'.

The duo have been working together for 11 years next month, securing five promotions during that time and achieving a win-rate of close to 58 per cent from over 500 games in charge. Johnson and Morley first joined forces in the dugout at Ramsbottom, who they led to two promotions, before achieving a hat-trick with Salford City under the Class of '92.

It's been a successful time for Johnson and Morley, now looking to achieve promotion number six with Chester, the former explaining exactly why it works... Johnson declared 'Implicit trust. Bernard could come in and say "This is the team I think we should play" and we would play it. Why would I question him? We have concrete belief in each other.

'We've known each other since we were 12 or 13 years of age. Bernard will be 36 soon and I'm 37, so we've known each other a long time and there's plenty more to come. The ironic part is that we played under joint managers and it was a car crash because they weren't working together, but we have one idea. This is probably the least we've spoken to each other with isolation happening. We usually speak two, three, four or five times a day about football and family.

'We are joint managers and we have the same idea. We've never been people to let our heads drop, we march forward with our best foot forward'...

Morley has continued to work, while Johnson has been combining home schooling, garden renovations and planning for the time football is finally allowed to return safely.

'Bernard is out working because he's a key worker. He has got a young family but he's out working on things that need to be done,' said Johnson, who, alongside Morley, signed a new two-year deal with the Blues in January...

'I'm quite a morbid person, so I'm looking at things like the goals we've conceded; I'm surprised at how many there have been. I'm reviewing what we've done and what we would do differently when we start, whether that's in a week or three months.'"
We hear from the owner of King's Lynn Town in the Eastern Daily Press as he explains why "Behind-closed-doors a non-starter, and why I signed a new player for King's Lynn Town during coronavirus suspension".

Stephen Cleeve "is awaiting news from the National League as to what happens next following the indefinite suspension of matches due to the coronavirus pandemic... What happens next in terms of promotion and relegation issues is unclear. The waters are muddied because the National League set-up feeds into the Football League which, in turn, feeds into the Premier League at the very top of the game and, until decisions are made higher up the food chain, teams at Lynn's level will still be awaiting their fate.

There is one automatic promotion spot in National League North which is occupied by York City. Lynn are second, two points behind but with two games in hand.

There are two scenarios ahead. The suspension is lifted and the season is played out, over a time period yet to be decided; or, the season is scrapped and then a huge decision is to be made on whether results are expunged (as has happened on Steps 3-7) or they actually mean something.

Cleeve believes the season cannot be bolted on to the 2020-21 campaign, as has been suggested by some, and that a behind closed doors ending is unlikely.

'I don't think it is going to work for our league,' he said. 'Would I do it if I had to? Yes, but most clubs are not affected by it. They would rather draw a line under the season but to be then told you have got to play your next six games at home and you are not going to get a penny income in from them because you are not allowed anyone in the stadium, they are going to say "why one earth should I?" That is a good point and I don't dispute that, so I just can't see that working out at our level.

'It could work at level one and level two because they have the iFollow situation, but in my view I think the Premier League could play out, the Championship could play out, that is where the biggest financial risks and potential legal cases are.'

Then there is the prospect that this season will end completely leaving the vexing question of whether results are expunged or a way of dealing with promotion and relegation issues is actually agreed. And this is where Cleeve has a firm view and one that is not at all surprising given his team's position.

Cleeve is an advocate of PPG – points per game but knows the National League will have to wait and see what happens above, and that is complicated by much bigger financial and legal questions, with telephone number figures under discussion.

'There are only two things you can do; null and void or PPG,' said Cleeve. 'Most people aren't affected because they aren't going to get promoted or relegated. But why they should care is maybe next season it will affect them.

'I believe the only way it can be dealt with us PPG – the reason I believe that is it is the only way you can justify the season. I believe there should be a league rule made saying if we played less than 66pc of matches and the season is suspended for any reason then results are null and void. If more than 66pc of games have taken place it will be determined on a PPG basis and I am quite happy to do what rugby chiefs have done in their report recently where they went on PPG and balanced it up (home and away games).'

Such is the tangled ball of string that football has got itself into, there have been all sorts of alternative solutions put forward, including the convening of a pools panel to decide the outcome of matches and, therefore, final positions.

It is an idea quickly shot down by Cleeve. His own team are proof of its fallibility. Lynn were top from early September to early March and won only four points from their final four games. They went to in-form Gateshead and won, but a week later lost at home to bottom side Bradford Park Avenue.

'I think two consecutive games shows it can't work,' he said. 'If we all knew what was going to happen people would be multi-millionaires, and that is what keeps us interested in the game. Little clubs can beat big clubs. Norwich City can beat Manchester City, and did'...

Cleeve's decision to sign Alex Brown from Buxton Town, for an undisclosed fee, drew criticism after he had asked for financial help from fans to steer the club through troubled financial waters... 'We are the only club who have done it as far as I know', he said.'It is a strange thing to do because you are asking fans for money because you are broke. Why did we sign Alex Brown? It is a really good point.

'I spoke to the manager. He didn't ask me to sign him, he just mentioned to me he was available and he was good and I said, "How good?", he said "Very good", and we believe he could be a Football League footballer. One or two clubs had a look from higher divisions and obviously because of this mess they decided it wasn't right to act because they wanted to see how it all pans out.

'It required a bit of fortitude. I got a lot of stress from rival fans who said "What are you doing asking for money then buying a footballer?", but they don't really know how it has been done, how it has been structured and put together so knowing all the facts as I do it is a no-brainer. I was very pleased with the deal, I thought it was excellent. It was good timing. Turn it round the other way. If we didn't do that deal and, in two months time, this all becomes a blip and newspaper wrappers and we all forget about it, that player would probably not go to King's Lynn, or it would have cost me a lot more.

'So it was a clever move to make it now, although I accept it is one that may not be seen that way by the vast majority of fans who don't have access to all the facts. I am paid to make these big calls. Sometimes they are not the most popular calls, but popularity is not something I base my decision making on. Is it the right decision and is it the right thing for King's Lynn Town Football Club? And I think it is, personally, so that is why I did it.'"
In the Shropshire Star "Chairman Andy Pryce admits he 'doesn't know' how AFC Telford United can conclude this season...

'In an ideal world we'd love to have the season finished and fans coming through the doors,' Pryce said... 'But I don't know how that's going to happen. I don't know how it can? Do we play behind closed doors? If it's behind closed doors it makes no sense to me because we don't get any revenue from that.

'In that sense it'd be very difficult to finish the season because we still have to pay players and you're not getting any income streams from gates. I know they've taken the stance of null and voiding the league below. Is that the way to go? I don't know...

'The issue is the majority of the players' contracts at this level finish in the first week of May,' he added. 'That's the issue if they want to continue the season. If it continues past that which players do you use? Do you use new players? Which is not in the spirit of the game, or are contracts going to be extended?'".

The Bet Victor NPL has confirmed that "The FA Council has ratified the decision to conclude the 2019/20 season across Steps 3-7 of the National League System, Tiers 3 to 7 of the women's football pyramid and the wider grassroots game.

Since the outbreak of the COVID-19 pandemic, The FA has been working collaboratively with the leagues within the National League System, the Women's Football Board, the Women's Football Conference, and the wider grassroots game to identify the most appropriate way to conclude the 2019/20 season at each level.

The request to end the 2019/20 season was taken to The FA Council by the representatives of the relevant committees, having been fully supported by The FA Board.

The FA Council's vote today [Friday] was overwhelmingly in favour of ratifying the decision".

A decision regarding Steps 1 and 2 (i.e. the National League) is still to be announced, see below.
---
10 April, 2020 Today's date, 10 April, has not been a popular date for Altrincham matches. There have been just two such games this millennium. And, to make matters worse, on the seven occasions that Alty have played on 10 March since 1976, Altrincham have not won once!

The most recent game on this date was in 2010 when Altrincham lost by the only goal of the match at Moss Lane against Oxford United. Oxford had narrowly won the reverse fixture 1-0 but they arrived at Moss Lane after a poor run had seen them lose a commanding lead at the top of the BSP and they were now resigned to a play-off place. Altrincham lay tenth at kick-off.

Altrincham's April fixtures in 2010 were formidable with four successive games against top five teams in the Blue Square Premier (Football Conference).

Following a last-minute defeat by York the previous Monday, Saturday brought Oxford United as the opposition, to be followed by games against the top two, Stevenage Borough (the next Wednesday) and Luton Town (the following Saturday). And with Nicky Clee still injured, as well as longer-term absentees Dale Johnson, Matt Doughty and Tom Kearney all missing too, the match's 16-man squad comprised all of the remaining first-team members, apart from youth teamers John Bennett and Andy Smart, neither of whom had appeared yet in the Conference.

In this context, Graham Heathcote and Ken McKenna rotated their squad and assigned both of their leading scorers (Senior and Denham) to the bench, starting instead with Colin Little and John McAliskey up front.

For Oxford, ex-Altrincham player Lewis Chalmers was on the bench. He was at Oxford, whilst on loan from Aldershot Town.

Above: Robbie Lawton feels the brunt of Chapman's freekick.

After holding the visitors to a goalless first half, Altrincham were disappointed to lose this game early in the second half to slack marking from a corner, which allowed James Constable a free header (53 mins). Oxford had enjoyed the better of the first half without forcing Stuart Coburn into any really serious action, though an Oxford header did strike the cross bar.

Alty had rotated their small squad with a view to tough games against the top two (Stevenage and Luton) later in the week, so leading scorers Chris Senior and Chris Denham only joined the game just before the hour mark. With centre-back Robbie Williams also pushed forward, Alty pressed hard in the closing stages but could not get an equalizer.

Full-back Ryan Brown's excellent burst forward was one of their best chances but his final shot was a disappointment. But overall there could be few complaints at the outcome, as Oxford became the only side to beat Alty home and away during the 2009-10 season.

The match was watched by 1,356 with 368 Oxford supporters in the away section.

ALTRINCHAM: 1. Stuart COBURN, 2. James SMITH, 12. Robbie WILLIAMS, 5. Greg YOUNG, 27. Ryan BROWN, 6. Shaun DENSMORE, 21. Peter DORAN, 16. Anthony DANYLYK, 7. Robbie LAWTON (capt); 9. Colin LITTLE, 17. John McALISKEY, Subs: 19. Chris SENIOR, 10. Chris DENHAM, 18. Michael WELCH, 13. Russell SAUNDERS [gk], 24. Adam CARDEN.
Spennymoor Town managing director Tony Wilson writes that "It is no secret that the Coronavirus pandemic is hitting football clubs of all levels hard, particularly non-league...

I would like to take a moment to thank our incredible supporters for the season so far. Whichever way the it ends up being finished, you have turned up in record numbers and created brilliant atmospheres at The Brewery Field (and a few other grounds)..

We have focused on two things this season off the pitch; making improvements to the matchday experience and embedding the club further into the County Durham community.

We have carried out significant development projects within the ground and enriched our matchdays with new experiences, activities, venues and offers. Feedback has suggested these tactics have been successful...

We have also engaged with more businesses and community organisations than ever before. Our Academy has grown to more than 550 young people and its footprint is now close to 2,000. We have exciting plans in place, which we believe will improve youth football for the better in County Durham.

Our business club is flourishing with positive outcomes already achieved for its members. Our work with schools has seen more than 20 Community Partners come into the club and take part in engagement measures such as story competitions, free ticket offers and even designing our mascot.

We have been extremely unfortunate that the current situation has resulted in our first ever international fixture being postponed. We held early stages of a national youth football competition at our ground, which was delivered to critical acclaim. We have even hosted a training session for the England Lionesses, two days before they faced Brazil at The Riverside, which felt like a momentous occasion for all of us at the club and was an experience we learned a lot from. That is the absolute pinnacle of the game in this country and Spennymoor is now involved in it...

The club's immediate future is obviously a concern for all of us. We operate to an annual budget, with specific targets for income. A proportion of that income is no longer possible now matchdays are not taking place. Meanwhile, The Moors Tavern has closed its doors for the foreseeable future.

There is no club in non-league football who is immune to the worries of the next few months... We have worked with our partners and creditors to postpone and defer any variable costs where we can. They have been gracious and helpful, a measure of the excellent relationships we've built with organisations over the years.

The main positive for Spennymoor is that we still have a revenue stream outside of football and it is of benefit to the wider business community. During normal operation, this revenue stream can be a competitive advantage to the club. But now, we need it to continue to cover the costs the club incurs even without matches being played.

I'm referring to our commercial relationship with cost saving consultancy Great Annual Savings Group (GAS), which is owned by our Chief Executive Brad Groves. The firm specialises in helping other businesses reduce their outgoing costs. GAS can help minimise a business's expenditure in utilities, telecoms, broadband, payment machines, electric vehicle charging, waste management and many more areas classified as 'variable costs'.

Of course, GAS' team of experts have helped the club itself in all of these areas to be as efficient as possible. The team there can be an asset to businesses around the UK in this time of crisis and potentially offer advice which can boost finances. This commercial relationship works by the club being a referral partner to GAS. For every successful referral to the Group, we are paid a fee. This has proven useful so far this season and will be priceless over the coming weeks and months to help us earn revenue.

However, it relies on a pipeline of constant new referrals. This is where you can come in... Help us by referring business to GAS through the club...

Additionally, we have been asked about accepting cash donations. We have set up the means to do this through our online club shop, although we are not promoting this heavily as we appreciate people have pressing financial priorities of their own at present".
Guiseley report that "As we go through the Covid-19 pandemic we at Guiseley AFC would like to praise our local heroes who are keeping the country going through these unprecedented times...

Our second and third Lions Local Heroes are Connor and Alison who both work for Guiseley AFC Community Foundation. Connor has been phenomenal for the local community, he has supported people with collecting shopping, medicines and has done some gardening some days as well as doing 8+ shops. He has also been supporting the Foundation's partner charity Aireborough Children's Centre getting food and essential supplies out to some of our most vulnerable families for which they are very grateful.

Alison joined the Foundation at the end of January in an admin role. She has coordinated requests for help and has created a newspaper round which helps link isolated people to the outside world and they get to speak to at least one person a day. She is also shopping for elderly people from Rawdon to Menston and arranging free food boxes from Morrisons for the vulnerable".
According to the Eastern Daily Press "King's Lynn Town's official supporters' group has made a donation to the club.

The Linnets, like thousands of club throughout the country, are suffering the financial consequences of the suspension of football due to the coronavirus pandemic. But the committee of the Friends of the Linnets have made a donation of £5,000 'to assist the running of the club in the current climate'.

Club owner Stephen Cleeve said 'Huge thanks to the Friends of the Linnets for their donation to the club of £5,000. There are always cashflow issues when you run a football club, it is very much the nature of the beast, but this situation dwarfs anything that I have had to endure since taking over at the helm.

'The Friends have worked hard together over the season to raise funds for the club and many of the Friends have also donated in a personal capacity to the club. This situation, if anything, has bonded us all together and made us stronger and without the fans and supporter groups such as the Friends of the Linnets we as a club would simply not exist.

'I would like to thank the Friends for their efforts and their support and would like to urge any King's Lynn fan who is not already a member of the FOTL to join their merry throng as they are the only fan group that donates any money to the club. My heartfelt thanks goes out to every member of the FOTL who has helped in any way this season'.

FOTL committee member Jamie Heaphey added 'The FOTL regularly assist all teams of the football club throughout the season by purchasing equipment and assisting the A team and ladies' team with pitch and referee expenses. However, with the current lack of football and income it felt the right decision to help the club out with this donation...

Cleeve is trying to make up an estimated £100,000 shortfall because of the suspension of football. The National League North club's players have accepted a 20% wage cut, but a request for a donation from another supporters' group, the Blue and Gold Supporters' Trust, was declined".
Cheshire Live reports that "Tributes have been paid to a long standing and well known steward at Chester FC who has died.

Steve Morris had been a car park steward, who had worked for the Blues over the last 17 years and would have been the first person fans would have seen when entering the ground on Bumpers Lane on matchdays. But Steve sadly passed away on the morning of Wednesday, April 8, from what it understood to be a suspected heart attack...

Joint manager Anthony Johnson posted 'Devastated to hear this. Spent so much time chin wagging with him at the main gate. Gutted'. A fundraising page has been set up... and has a target of £1,000".
---
9 April 2020 Altrincham FC has announced that its "Monthly Draw for March 2020 has taken place and the results are as follows:-
£500 cash | #149 | Mr. Herbert
£75 cash | #257 | Bill Morris
£25 cash | #24 | Mick Taylor
Match Hospitality for 2 | #452 | Paul Bingham
Home Replica Shirt | #356 | Geoff Halliday
Alty FC Polo Shirt | #330 | Kevin Davies
Congratulations to all 6 winners, who will be contacted regarding their prize."

Eight years ago today, in a Blue Square Bet North match, played on Easter Monday, 9 April, 2012, Altrincham led 2-0 at the interval at Nethermoor against a Guiseley side they have still, in 2020, never beaten on their own ground in ten attempts.

For the 2012 encounter, Nicky Clee had moved to left midfield as Andy Smart returned at left-back whilst, up front, Michael Twiss continued. Defender Marlon Broomes warmed up though he was still not fit enough to be involved.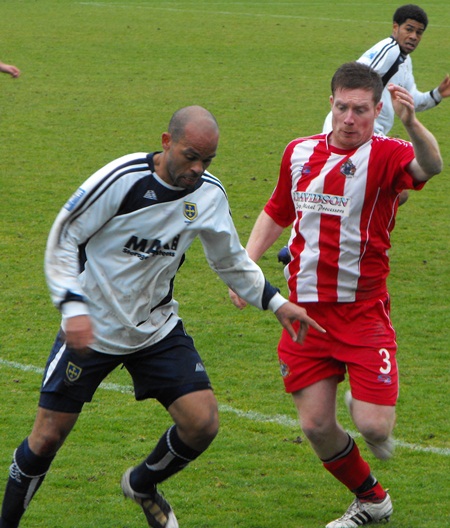 Right: Alty's Andy Smart battles with Guiseley's Simon Baldry.

Two ex-Robins were on the Guiseley bench in the shape of Chris Senior and Lee Ellington. As well as James Walshaw, Guiseley also started with Danny Boshell, both of whom were later to wear the Altrincham shirt.

Ironically, Alty went two-up thanks to goals from Yorkshiremen. The first was a magnificent volley by Nicky Clee (13 mins) and the second was a smartly taken effort by Damian Reeves, on the stroke of half-time.

But Alty conceded twice in two minutes soon after the start of the second half. Simon Ainge and James Walshaw were the Yorkshire side's scorers.

Altrincham, who were without Leighton McGivern (ill) and Simon Richman (injured, but named on the bench), looked to be finishing strongly until substitute and former Alty player, Chris Senior, got the winning goal deep into added time, with Altrincham appealing for offside.

It was a goal which robbed Altrincham of a well deserved point against a side which did not particularly look like promotional material on the day, though The Lions did go on to finish second in the league table that season.

Altrincham's squad comprised 1. Stuart Coburn, 2. Kieran Walmsley, 3. Andrew Smart, 4. Shaun Densmore (c), 5. Matt Flynn, 6. Chris Lynch, 7. James Lawrie, 8. Scott Phelan, 9. Michael Twiss, 10. Damian Reeves, 11. Nicky Clee. Subs: 12. Mark Lynch, 14. Simon Richman, 15. Duncan Watmore, 16. James Holden, 18. Adam Reid (gk).
The Northern Echo reports that "With many of its fans unable to leave the house, or take part in social activities, Darlington Football Club has started the scheme so it can keep in touch despite matches being cancelled for the foreseeable future.

It is now more than three weeks since the last match at Blackwell Meadows and it is unknown how long football will be put on hold. Dave Mills, from the club, said 'We feel it's really important at this moment to reach out to our community and our fan base. We have a large population of elderly supporters and we do know a number of them are self-shielding at the moment.

'We'll be getting in touch with those who are living alone, or those who are isolated and make sure they get their football fix. We have a whole range of people who will make contact with them to give them the opportunity to talk about football so they know that we are here and operating, albeit remotely and over the phone and not a football game.'

The buddy scheme involves someone from the club, a director, official, manager or player, ringing fans and having a chat with them over the phone.

Mr Mills added 'For a lot of our supporters football is their life. It's family, work and football and sometimes I'm not sure what order it comes in. We have a vital part to play in the community and we want to be at the forefront to keep our fans in touch and informed with what is going on.

'Our supporters are our life blood. They keep us afloat. That's why we want to work with them and engage them.'

As part of its efforts to stay in touch with people during the current lockdown, it will be running net cafe sessions, where people can ask questions of people at the club. This week, fans also have the chance to ask player Will Hatfield questions. He is running the net cafe on Thursday, which people can log into to hear his answers... The net cafe will be streamed on the club's website on Thursday evening.

Mr Mills said 'We've done them down the years before so we thought we would give that a go... The club will be getting in touch with people if it has the details for them but also has an email address and phone number for fans to call if they want to be involved'".
Meanwhile, at Gloucester City, "Lifelong City Supporter Mark East will be running a marathon in his garden to raise funds for the NHS and the Football Club. All donations will be split 50/50 between Gloucester Royal Hospital and the new Gloucester City AFC Club House...

Mark said, 'This may sound dramatic, but anyone who loves football and supports a team will completely feel my pain here. I know a lot of people in the same boat, we have found ourselves now at home and suddenly without our usual weekly fix of football. Not only are we missing GCAFC, they are missing us; our money is no longer being collected to help contribute to the building of the new ground. We have been waiting since 2007 to get back home, and we are so close…but this has been a bit of a kick in the teeth...

I am going to complete a garden marathon... Please give what you can, any contribution is greatly appreciated!'

Mark has stated that the best donation wins a pack of 9 toilet rolls, we can't confirm whether this will be Luxury quilted Shea Butter or school tracing paper however."
The Shropshire Star advises that "Interim chairman Andy Pryce is keen to see more clarity and better communication from the National League in the face of the coronavirus pandemic.

AFC Telford United have admitting to feeling 'in the dark' before all National League football was suspended indefinitely because of the outbreak... Pryce believes more communication from the league can help with the uncertainty. He said 'We don't know where we stand, as in how the league is going to be finished. We don't know whether we'll still be playing football. We don't know whether it's points-per-game or null and void.

'It obviously puts the club in a very uncertain position that we just don't know anything.'

Pryce is joining manager Gavin Cowan on the club's Twitter page for a Q&A with fans... He added 'We have a National League rep. We haven't vented frustration or anything, just asked for more communication and quicker. I don't think there's going to be massive financial help along the way, I can't see that happening...

'As a club we've tried to look after our own ship with the comms put out in the last two weeks. If there's any time we need our supporters and sponsors then it is now... We've just got to try to look after ourselves'.

The Bucks are yet to hear what, if any, portion of the £125 million Covid-19 relief advance from the Premier League will be allocated to them. A Premier League statement last week said the funds will be used to help clubs in the EFL and National League.

'We've had no more information from the National League,' Pryce added. 'We've had no email regarding that funding. Again my personal opinion is I can't see any of that funding filtering down to us'".

According to the Derbyshire Times, "A new handball rule could be used in the National League for the final part of the season if fixtures resume, according to reports.

The new law change surrounds using the 'T-shirt line' to differentiate between the arm and the shoulder for handball decisions. Normally new rules would come into place on June 1 but because all football is on hold due to the coronavirus outbreak leagues will get the opportunity to implement them straight away if, of course, the season is not cancelled.

However, it may be that it is decided that the new rule will not come into force until the start of the 2020/2021 season. It is thought the Football Association will make the final decision on behalf of the National League. The International Football Association Board (IFAB), the body that determines the laws of the game, has reportedly contacted the FA to confirm the changes... IFAB updated the handball rule at the start of the season which meant any goal scored or created with the use of the hand or arm would be disallowed even if it is accidental".
---
8 April 2020 Altrincham FC press and media officer John Edwards writes that "Altrincham bosses have defied the current uncertainty over football's future by boldly declaring they will press ahead with plans to have an Academy up and running for the start of next season.

The scheme was plunged into doubt by the far-reaching effects of the coronavirus across the country... But while cutbacks have been the norm elsewhere, Alty have bucked the trend and pledged that they will open up a potential pathway to manager Phil Parkinson's first-team squad for the area's emerging young talent.

Buoyed by emphatic evidence of the club's importance to supporters, in the form of an appeal fund that now tops £17,000, and eager to reap the benefits of producing homegrown talent, director Lawrence Looney explained the board's stance by saying 'We had a tough choice to make. Do we go ahead and launch the Academy in these uncertain times, or play safe and wait until next year? Our decision was clear; we go ahead.

'The ending of the academic year and the fact there will be no end-of-year exams has caused so much stress for young students, who now face massive uncertainty about their future. By sticking to our plans for the Academy, we can offer a way forward, we can offer hope to those young people to whom we have offered a place.

'The benefits of being able to support our community at this time far outweigh the risks and the potential financial burden that this may put us under. Altrincham Football Club are committed to setting up this Academy, and we are delighted to be able to go ahead for 2020-21.'

Pre-lockdown trials were held at the club in January, with Looney, fellow-director John Coyne and assistant-manager Neil Sorvel all in attendance.

Coyne commented 'There were some great players out there, and they were so impressed by the fact that Neil was there to watch them. You can see that the idea of an Altrincham FC Academy is an exciting one for the players.'

Sorvel added: 'The Academy adds an important step in our Player Pathway and will be a critical link between the juniors, the youth teams and the first team. We want to attract the best young talent to this club, knowing they will be developed to become the best footballers they can be.'

The Academy will start with around 20 places this year, with the hope that this will grow to nearer 40 from next year and beyond. And if things have not returned to normal by then, the club will launch with Distance Learning and individual training plans to make sure that all students get the right support as they start this important journey.

Meanwhile, Alty's appeal for funds reached a remarkable £17,309 after a donation of £750 from former Robin Duncan Watmore, now at Sunderland, and £860 from fans group The Flaggers, the money they would have spent in sponsoring Saturday's scheduled game against Gloucester City."

Six years ago today, on Tuesday 8 April 2014, Altrinncham made an evening trip to Cumbria where they won 6-1 against bottom placed Workington. The original fixture had been postponed an hour before kick-off so, for Alty, it was a second journey of the season to Borough Park.

Once the game got underway, Altrincham cruised to a 4-0 half-time advantage. They took a fourth-minute lead when Densmore's freekick flew in from 25 yards. Then the keeper brought down Lawrie and Walshaw converted the resulting spot kick after 14 minutes.

Walshaw made it 3-0 when a Workington clearance fell to him in the box (40 mins). Two minutes later Perry headed home a Lawrie freekick to make it 4-0.

Perry and Clee engineered a fifth for Moult (52 mins). After 69 minutes Perry headed in a Lawrie corner to make it 6-0. However, Abadaki got a goal back after 76 minutes from a Fernandes pass.

Alty rose to third in the table after this victory.

Nicky Clee was fit to start but Simon Richman was ill (though on the bench) and Damian Reeves was out, injured.

Alty's line up (as seen above) comprised, 1. Stuart Coburn, 2. Shaun Densmore (capt), 3. Adam Griffin, 4. Carl Rodgers, 5. Gianluca Havern, 6. Scott Leather, 7. James Lawrie, 8. Jake Moult, 9. Kyle Perry, 10. James Walshaw, 11. Nicky Clee. Subs: 12. Simon Richman, 14. Matt Doughty, 15. Greg Wilkinson, 16. Tom Marshall, 18. Russ Saunders

The BetVictor NPL confirms that "Funding has been secured for a new stand at Trafford FC's Shawe View ground - but the COVID-19 restrictions may mean it can't be built until next summer.

The Trafford FC Supporters' Club will build a terrace at the Pennybridge Lane end, which is currently a grass bank, and they aim to eventually put a roof over it to match the stands on the other three sides.

Pete McGrath, secretary of the Supporters' Club, said 'The plan remains to build the terracing this summer but, of course, we can't go ahead with the current Covid-19 restrictions in place and no one knows when we might get back to normality...Carrying out major building work like this obviously needs a window of opportunity where there's nothing happening at the ground for a decent period. That only happens for about 6 weeks in June/early July, so if we do miss it we'll just have to build in 2021.

'We always planned to do the terracing one summer and the steelwork/roof the following year so everything just shifts along 12 months'...

The club is approaching its 30th anniversary this summer, and the plans provide a boost looking ahead to 2020/21. Money raised by the Supporters Club has been added to a £2,000 grant from Manchester FA's "Fund4Football", with skilled volunteers ready to do the work.

Without the new stand, the Pennybridge Lane end would largely have been out of use, following guidance that grass embankments at football grounds are not to be used as spectator viewing areas due to FA Ground Grading criteria.

McGrath added 'It's become more pressing since the ground regulations were tightened up and the grass bank at that end of the stadium was made out-of-bounds. We've never had any issues with spectators on the embankment, but it clearly isn't ideal'"
The National League reports that "A visit to Farsley Celtic on a wet and windy February midweek evening isn't for most 19-year-olds making their way in the game. It proved to be a memorable acid test for youngster Rhys Williams, currently on a season-long from Liverpool with National League North side Kidderminster Harriers.

Less than a year earlier, the centre-half formed a vital cog in a side crowned FA Youth Cup winners. Instead of progressing into the under-23 set-up at Melwood, Williams opted for something different...

'The plan was always for me to go out on loan in the first year of my professional contract,' explained the England under-19 international... 'But I was a little nervous about stepping into men's football'...

Kidderminster Harriers, one of the few full-time outfits in the sixth-tier with a clear academy pathway, are closer than most National League clubs to providing Williams' accustomed football surroundings. The opening months provided a daunting test of 10 matches in the space of 36 days...

'It was so tough for us because we had such a small squad at the start of the season,' he admits. 'One thing it did mean was we knew we would all be playing each game. I didn't feel as nervous as I might have been going into matches because of that. I was able to play my natural game without the fear of being dropped. Dealing with the change of intensity in the football was what I found hardest to adapt to.

'I remember my first game against Leamington, where I made a mistake, the gaffer (John Pemberton) came over to me afterwards and told me he still trusted me. Those types of assurance paid off as I've gained experience with every match I've played'...

The defender has had as many managers in nine months at Aggborough as he has had in a decade of time on the books of the European champions. Following a change of ownership, Pemberton was replaced by Jimmy Shan. But his reign lasted just two months, heading east to take charge at Solihull Moors. Club legend Russell Penn has stepped up into the interim position...

The 19-year-old said 'If you want to survive at a club and keep playing, you have to be able to alter your game to the way a new manager wants you to. Being able to have done that is one of the things I've been most pleased about. Pemberton's style was more cautious than Shan's, and we became more expansive with three instead of four at the back. Penners (Russell Penn) has merged the two styles together...

'Playing in a three for the majority of the season has been a great learning curve. I like having the licence to go forward. It suits my style to be able to take the ball into risky areas of the pitch for a centre-half to be in possession...

'My basic defending has improved so much. Liverpool knew I had the attributes to play with the ball at my feet, but now this will have proven to them that I'm capable in defensive situations too...

'The atmosphere in our win against Hereford on Boxing Day was the best I have played in front of. Representing my country is the best moment of my career so far. It's interesting that I've still been noticed playing in National League North by my international side'".
---
7 April 2020 Thirteen years' ago, 7 April 2007, was the date of Altrincham's first ever visit to the characterful Clarence Park ground of St Alban's City. Sadly, in some respects, the oak tree which had stood behind one of the goals had been removed in 1998.

St Albans were lying at the bottom of the table for this, the first match between these sides. For their part, Alty lay 18th in the Nationwide Conference but were to join City in the four relegation places by the end of the season. However, Altrincham were reinstated by the demotion of Boston United from League Two to Conference North for financial reasons.

Alty's form in recent weeks had been strange; three successive away wins in a seven-match sequence which also showed three home defeats in four fixtures. For Altrincham, Val Owen and Gary Scott were still out, injured, and Chris Senior's injury suffered the previous week ruled him out, too, along with the suspended Stephen Rose. So, Andy Scott continued in centre-midfield as did Karl Munroe at right-back.

A pulsating start to the game at St Albans saw four goals netted in the opening 20 minutes, three of them to Alty but, with the visitors 4-1 up by the interval, the second half was a non-event apart from Coburn's penalty save and a stupendous fifth Alty goal from Rod Thornley.

Robbie Lawton put Alty one-up following Lewis Chalmers's long throw (3 mins). After Colin Little had missed a sitter, Archer headed an equaliser (9 mins). When Joe O'Neill sprang the offside trap, Little converted when his fellow-striker's shot came back to him (12 mins).

After goalkeeper Paul Bastock had failed to gather another Chalmers long throw, Little nodded in Alty's third goal (20 mins). Little completed his hat-trick in first-half added-time when Gary Talbot nodded on another Chalmers throw to him.
The Alty supporters celebrate after Colin Little had netted Alty's second goal at St Albans.
... and after Alty's third goal, too.

The second half was poor as Alty conserved their energy for another match in 48 hours and St Albans found it hard to raise their game. But Karl Munroe needlessly conceded a penalty when he pushed over an opponent long after Coburn had the ball in his hands. However, the Alty keeper saved the spot-kick superbly (60 mins).

After 30 more minutes of uninspiring fare, the referee found 6 added minutes and in the second of these, substitute Rod Thornley thumped a tremendous looping shot over Bastock from 30 yards to complete the scoring. Curiously, Alty manager Graham Heathcote stormed down the tunnel, 20 minutes from the end, seemingly annoyed that his team were not following his instructions.

ALTRINCHAM: 1. Stuart COBURN; 17. Karl MUNROE, 4. Peter BAND, 5. Gary TALBOT, 11. Warren PEYTON; 7. Robbie LAWTON, 6. Steve BUSHELL, 22. Andy SCOTT, 14. Lewis CHALMERS; 9. Colin LITTLE, 12. Joe O'NEILL, . Subs: 13. Richard ACTON (gk), 2. Steve ASPINALL, 3. Gary SCOTT, 10. Rod THORNLEY, 18. Pat McFADDEN.

Colin Little's hat-trick at St Albans was Altrincham's first in the league since 28 March 2005, when Colin hit three against Hinckley United at Moss Lane in the Nationwide North in a 4-1 win. Before that, the last league hat-trick had been Rod Thornley's against Gateshead on 26 August 2002. The last away hat-trick was Lee Poland's at Lancaster City in the FAC1R on 27 November 2001. Two weeks earlier, Poland had hit four in an 8-1 win at Woodley Sports in the CSC.

At the time of the above game in 2007, the website also recorded the following events on the day of the match...
Robins' supporters who only see their team's home games miss a lot of enjoyment on the road with Altrincham FC. Yesterday, Altrincham fans had an enjoyable day travelling down to St Albans, where they were met by bright sunshine and a friendly club. And STAR travel coordinator Tom Jacobs gave his travellers a pleasant surprise by announcing a reduction in the advertised coach fare as the vehicle was virtually full.

Unlike the sometimes featureless modern stadiums to which Conference clubs are increasingly moving, St Albans's Clarence Park ground has plenty of character. Afer a short walk through the park, away supporters enter the stadium via an open-air turnstile attached to a well cared-for wooden hut (see picture). Inside the ground, the two ends are both open to the elements which, on a sunny day like yesterday, was a bonus.

The main stand is a long wooden construction whilst the opposite side of the pitch is a half-covered terrace. The clubhouse is behind the main stand and has a modern bar, SkySports TV and excellent views on the busy main line railway to London. The pitch itself slopes towards the away end where, before the game, there was a nice touch from the St Albans staff. They came and spoke to Alty fans and asked them which teams' scores they would like to hear at half time in addition to those of the Conference clubs. Macclesfield Town was an obvious choice for the travelling Robins.

The tannoy then also named several Alty fans in its welcome to St Albans. Although for Alty it was great day out, with their 5-1 win being their first five-goal haul away from home in the Conference since a trip to Merthyr in September 1994 it was a pity to think that we might not be coming back here next season as St Albans are deep in relegation trouble and we are not yet entirely safe, either.
Right: Steve Murray, Robert Bate (with ice cream) and "The Skipper", Gary Wright, in front of the supporters' coach. Sadly, Steve and Gary are no longer with us.

Another facility not found at other Conference grounds was the ice cream van parked outside the ground, which was rather incongruously branded as "Ulster Maid". After the game, several of the Alty travelling fans sampled its wares (see picture) before boarding the Go Goodwins coach, hired from chairman Geoff Goodwin's company, for the journey home.

Two Alty fans wished they had used the coach in both directions yesterday; they set off by private car only to break down whilst still in Cheshire, near Crewe. Undeterred, they hired a taxi for £218 to get them to St Albans, before taking the only two spare seats on the coach for the return trip!

If you fancy joining Alty on the road, there are two more opportunities this season. On Saturday next we make our last trip for a while to Dagenham and Redbridge, who clinched promotion to the League yesterday. Though the Daggers have beaten Alty 5-0 two years running at Moss Lane, it was a different story last season at the Glyn Hopkin Stadium at Dagenham where Alty won 4-2.

News of former Altrincham player, the late Jordan Sinnott, comes from The Mirror, which reports that "A kind-hearted young footballer who was killed during a night out has now saved at least seven lives and helped dozens more.

Caring Matlock Town player, Jordan Sinnott, 25, had spoken to his family about his wish to be a donor if anything happened to him. In January in a devastating incident he suffered a fractured skull during a night out in Retford, Notts. Two men are awaiting trial for his manslaughter. But despite their 'nightmare' his family made sure his wishes were carried out.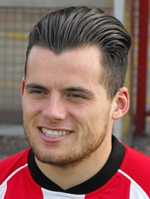 And now he has saved seven people aged between 20 and 50 after donating his organs. Soldiers and other burns victims are also benefiting from skin grafts created after his donation

His brother Tom said, 'He loved giving and even after he's passed he managed to do that. At least his heart is still beating.'

His mum, Melanie Tait, 51, said she brought up the issue of organ donation after being told there was no hope for her son who was on life support at Sheffield's Northern General Hospital. Melanie from Shipley, West Yorks, said 'All I could think of was the phone call that would be made to tell them an organ had been found for their loved one. It's a gift of life and the highest gift you can give'...

Melanie said 'When he was in the operating room the theatre staff gave him a minute's silence.'

Jordan lived and breathed football, his family said but he was looking forward to getting engaged and married to the love of his life Kelly Blossons, 26. The family were 'blown away' when they appealed for clubs to send signed shirts with Jordan's name on the back and 1,000 shirts arrived from all over the world. The shirts will be auctioned to raise money for Sport Relief".

Former Alty goalkeeper and coach, Ian Senior, owner of the club's kit supplier, SKkits, is raising funds for the Football Club via a daily auction of Alty-related sportsgear. He is doing this via the Twitter feed of Altrincham FC.
According to the Hereford Times, "Hereford FC chairman Andrew Graham has urged all factions of the club to band together during this tough time and speaks of his frustration of the politics that have previously 'burdened' the Bulls.

Graham was elected onto the Bulls board as a Hereford United Supporters Trust (HUST) nominated director two years ago. He was than appointed as Hereford FC chairman in June replacing outgoing Ken Kinnersley. The Bulls board consists of three HUST nominated directors and four appointed by the initial directors.

With Hereford preparing to announce 'significant losses' this season, Graham says... 'I have no time for politics and certainly no time for divisiveness,' said Graham. 'We are a great club; we have no room for any entity thinking that they are bigger than any other and I am sure that no one wishes to carry that candle into the history books.

'The message must be, that we will work as one, where every fan is as important as another, where every voice is listened to and where the needs of the club drives the agenda and nothing else. The beauty of this club is that every fan is deserving of a voice. I will represent every fan equally and justify this for the right reasons. If that isn't what is needed, I will return to my place on the Meadow End.

'Getting to understand the politics that burden Hereford FC (as in every organisation) has been an eye-opening and myth-busting experience. My belief is not that any group of individuals will be the reason for the success of this fantastic club but, more, the ability of passionate individuals, pulling together, for the right reasons, in a cooperative manner. Regardless of whether someone is an employee, volunteer, major shareholder, minor shareholder, service-provider, supporter or sponsor, we must ensure that there is a common purpose...

He added... 'I was clear with both the Hereford board and to the HUST board that I would always put the club and Hereford fans first and if this means 'rocking the proverbial boat' then get your lifejackets on... The objective of the chair is to drive the strategy forward and not to favour any shareholder or group of shareholders in particular. Being a HUST nominated director and chairman feels like I am the flag on a rope in a tug of war. Only I was expecting to have been pulled in both directions from day one and have only felt pull from one side.

'I see no reason for it and it certainly isn't warranted. During what has been a disappointing time on and off the pitch I cannot allow myself to "tow a party line". I will do what is right for this club and what is right for each fan, irrespective of how many shares they may, or may not hold.'

Graham added that everybody should be working towards one purpose; that is to become a 'Sustainable Fan-Owned Football League Club' and to do this everybody should accept it is already '100 per cent fan-owned'...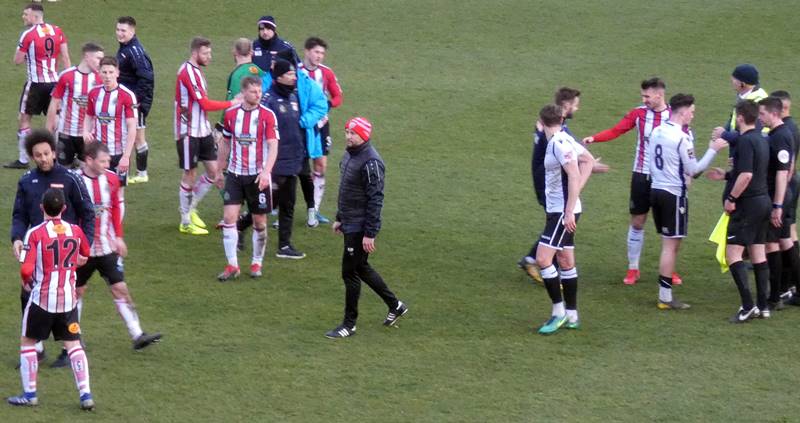 Above: Altrincham's last away game to date was a 2-0 win at Hereford. Here we see Phil Parkinson and his players at the end of the game at Edgar Street. Far right, Simon Richman is saluted on his goal by Josh Hancock, whilst in the foreground, left, Bulls' manager, Josh Gowling takes time to congratulate Alty's Craig Mahon.

HUST are working towards owning a 50 per cent shareholding in the club by fundraising and using the money to buy additional shares while donating the money to Hereford FC. To date they have donated £220,000 which is 43 per cent of the share capital...

'I air my frustrations at misinterpretation, misinformation and a somewhat cynical belief among some factions that there is a hidden agenda, an ulterior motive, that without HUST having a 50 per cent shareholding, and an equal number of directors on the Hereford board, some ill-fate will potentially befall Hereford FC', added Graham... 'I have been reminded all too often of the potential for HUST to remove me from my position and I believe that there are moves to remove me now, but, despite this, I will continue to promote what is best for Hereford FC...

'Regardless of the level of HUST shareholding, Hereford FC will always be 100 per cent fan owned'.

Most of HUST's income comes from their 50/50 matchday draw along with other fundraising draws. However, Hereford FC plan to run the draw themselves next season and have asked HUST to consider alternative fundraising initiatives...

'It was my belief and ours collectively as a board that, with the club facing unprecedented financial pressures and likely to post a significant loss that, whilst we would allow HUST another year to try to reach the 50 per cent shareholding desired, we would like them to explore alternative methods of raising funds, allowing HFC to operate the 50/50 (through a community charitable status) thus retaining the surplus (50 per cent) whilst additionally receiving income from HUST fundraising efforts, via share purchases.

'It was our belief that we thereby maximised potential fundraising from two streams instead of one. I have been asked by HUST to explain this, have attempted to do so, and do not believe my communication has been accurately disseminated or has perhaps been misinterpreted along the way. I would welcome a situation where the focus isn't on a 50 per cent shareholding, but on continued fundraising efforts where 50 per cent shareholding happens to be a welcome achievement not a target'".
We learn from the Telegraph & Argus that "Bradford (Park Avenue) have appointed Martin Knight as their new Director of Football Operations to help with their plans for the Horsfall Stadium...

The role entails Knight taking 'complete control' of all football matters from first team down to the academy system".

Earlier, Bradford (Park Avenue) had announced the appointment, adding that "The club is currently working on an ambitious plan to improve Horsfall stadium and now needs to make changes to take full advantage of these amazing facilities once they are completed.

Club chairman Gareth Roberts commented, 'We are very fortunate to have somebody with the knowledge and experience of Martin Knight available who can come in and help us build a successful and sustainable community club. It is even more important in these difficult times that we carefully manage our resources and we look forward to creating a club to be proud of". Martin has a background with more than 25 years' experience in optimising the commercial performance of businesses across a varied number of sectors, most recently at SharkNinja, building a leading consumer brand. Martin focusses on developing a high-performance culture of leaders and operators, refining organisational structures and processes, and developing engaged and collaborative workforces".

Knight commented, "I am extremely honoured and excited to be joining Bradford (Park Avenue) and hope that with the support of our fans, staff, volunteers and board of directors, we can transform our club to be the standard bearer in how community clubs can operate on and off the field, from our junior section through to our 1st teams. There is a lot of hard work ahead of us all to achieve these ambitious aims, and a challenge of our current thinking and practices too. However, we have a lot of talented, dedicated and hugely passionate people involved already, whom I hope will join us in achieving this."

The Standard confirms that "Lawyers backed by more than 150 clubs have written to the FA to challenge the decision to end the non-League and women's seasons.

Pressure on the governing body is mounting with the nine-page letter from law firm Walker Morris, sent on behalf of three clubs, South Shields, Worthing and Hastings, who represent a further 148 men's and women's teams.

Last month, the FA announced an immediate end to the season for all steps below the National League and all but the top two tiers of the women's game.

The letter called for a 'thorough consultation' before the move is officially ratified by the FA Council and raised concerns about the process and timing of the FA's decision.

It read 'The clubs request that prior to any decision being put to FA Council to be ratified, the FA should ensure that a thorough consultation process has taken place through the leagues to ensure that what is put to the Council to ratify is the will of the clubs.'

An FA spokesperson said the decision was made by 'committee representatives for the respective leagues' and 'fully supported' by the governing body."

Meanwhile, the BBC reports that "The National League season should be completed regardless of how long everyone has to wait, says Yeovil Town chairman Scott Priestnall.

Elite football across England has been suspended indefinitely because of the coronavirus pandemic. Priestnall's Glovers are fourth in the fifth tier with nine games to go.

'Whenever it's finished, even it's in January, it should finish and then a new season starts whenever deemed possible,' he told BBC Points West.

'For sporting competitiveness and the sheer idea of a competition, I was very disappointed with the FA's decision to end the lower leagues. That was a decision that probably didn't need to be made. We should all be taking a breathe [sic] at the moment, concentrating on what's important, and then finishing football when we can finish it.'

Priestnall, who said it had been an 'easy decision" to put the club effectively in hibernation while the country is in lockdown, added everybody should get the 'humanity side right first' before dealing with football".
---
6 April 2020 One of the more eventful Altrincham matches on today's date, 6 April, occurred in 2013 when the Robins won 4-3 at The Shay against FC Halifax Town in the Blue Square Premier

Though the sides had yet to meet in the league, Halifax had beaten Alty 5-2 at The Shay earlier in the season in the FA Trophy. They started the game fourth with Altrincham fifth, but the Shaymen had three games in hand. James Lawrie was out, having caught the same bug that had afflicted Nicky Clee and Pat Lacey and ruled them out. Into the squad came youth team defender Alex Weatherby.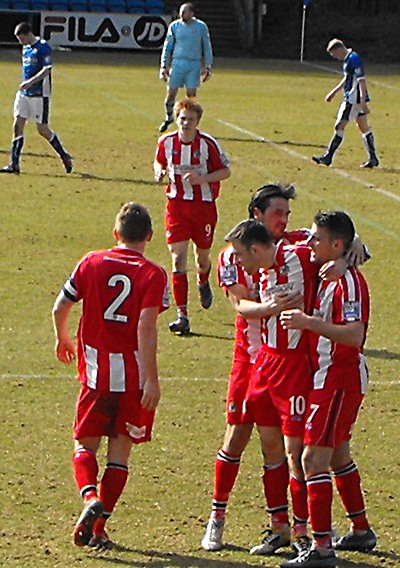 Right; Damian Reeves celebrates his first goal at Halifax.

An excellent second-half performance from Altrincham saw them record a magnificent win after trailing 3-2 at the interval. Halifax dominated the opening half hour and took the lead after 23 minutes when substitute Titchener was allowed to proceed after Alty claims for a foul had been ignored. Altrincham gradually improved and equalised after 33 minutes when an excellent passing move up the middle of the pitch ended with Reeves tapping in from Watmore's feed. Town claimed vainly for offside.

Alty then took the lead after Watmore got free and fed Richman (40 mins). But the Robins seemed to have thrown the game away when they conceded twice before the break. McManus levelled after 42 minutes before a poor back pass led to Coburn losing the ball, wide right of his goal. From an acute angle, Titchener made it 3-2 (45 mins).

But Watmore laid on another for Richman (56 mins) before Reeves clinched it with a 69th minute goal. Halifax tried to get back in the closing stages but Alty had dominated the half and rode out an excessive six minutes of injury time to consolidate a play-off position.

ALTRINCHAM: 1. Stuart COBURN, 2. Shaun DENSMORE, 3. Scott LEATHER, 4. Carl RODGERS, 5. Gianluca HAVERN, 6. Danny HALL, 7. Simon RICHMAN, 8. Danny BOSHELL, 9. Duncan WATMORE, 10. Damian REEVES, 11. Nicky CLEE. Subs: 12. Matt DOUGHTY, 14. Jake MOULT, 15. Ryan BROOKE, 16. Alex WEATHERBY, 18. Tony McMILLAN (gk)

The Boston Standard reports that "Christian James looks back at the Boston United career of a club legend who felt both the highs and lows...

He was a man who played for Boston United in four divisions and six cup competitions across eight years, racking up 287 appearances at 82 grounds, facing 94 different teams. He played for the Pilgrims on all bar one of the days of the week (Thursday), in front of crowds more than 13,000 fans and fewer than 150; in the FA Cup third round and second qualifying round.

His name? Paul Ellender.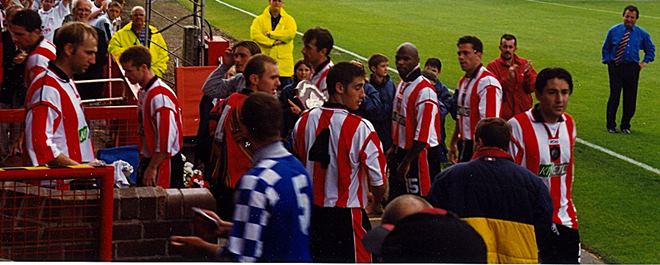 Above: Paul Ellender (far right of the players) with the Altrincham team at Moss Lane after winning the UniBond Shield against Stalybridge Celtic in August 1999.

Bought for a club record fee from Scarborough on the eve of the 2001-02 season, Ellender played before, during and after the club's Football League years, bookending his half-a-decade in the fourth tier with a season in the Nationwide Conference and Blue Square North. That wasn't quite it for Ellender's Boston career through.

After 10 months away, 'Ellie' returned to see out the end of the 2008-09 Unibond Premier campaign as the Pilgrims secured safety on the final day.

Ellender's career began at Scunthorpe United, although his first senior appearance was for county rivals Gainsborough Trinity. Having played in the Blues' Unibond Cup win over Boston in 1997 he captained them to an FA Cup first round tie at Sincil Bank the following season.

The centre back attracted attention from Altrincham, who signed him alongside centre-back partner Chris Timons. The Robins were Northern Premier League Champions in 1998-99, Ellender's only full season at Moss Lane.

Scarborough paid £70,000 him in November 1999 and the Seadogs went on to finish 10th in the Conference while Altrincham were relegated.

The following season proved to be Ellender's last at Seamer Road as Boston United and Football League Oxford were both chasing his services. The BBC reported the chance to remain living in Scunthorpe swayed the centre-back to join the Pilgrims...

Having made 38 appearances in the Conference-winning season, scoring twice, Ellender led Boston into the Football League, but soon lost his place in the starting XI due to injury... But things changed. After coming on in a 2-0 win at Exeter in mid-February, the centre-back enjoyed a remarkable run of starts from there on in, lining up for 62 of 67 games up to the end of the following season.

Ellender impressed enough in 2003-04 to be voted the club's Player of the Year... A two-month spell in the autumn of 2005 saw Ellender firmly out of favour as the defender started one game in 11, in the LDV Vans Trophy, and made just one further appearance off the bench, in the FA Cup at Swindon... By the time February came around, Ellender was loaned out to Chester City...

Steve Evans [recalled] his captain from the Deva Stadium in time for seven consecutive starts at the end of the 2005-06 campaign. Ellender returned to the role of consistent starter in 2006-07, missing just four games in all competitions...

Sticking by the Pilgrims after a two-division drop in 2007-08, Ellender made a further 44 starts, including his 250th for the club at home to Alfreton in December... Having left to join Alfreton Town in the Summer of 2008, during which the Pilgrims were demoted once again, Ellender rejoined for the final two months of the season to see United to safety on the final day against Cammell Laird...He collected the 81st booking of his Boston career before leaving for the final time in 2009.

He moved on to Retford, who for a sustained period lead the Unibond Premier League before falling out of the play-offs (which Boston would ultimately win) after a poor run in the spring of 2010... He then represented North Ferriby United the following season.

In games featuring Ellender the Pilgrims had an almost even record: won 111, lost 109, drawn 78 with a goal difference of +6 (402-396)... He scored 16 goals, two own goals, kept 75 clean sheets - at a rate better than 1 in four games - and secured legendary status at the club."
Curzon Ashton report that "In light of recent events, and troubled times ahead, with football postponed across all levels we need your support more than ever!

It would be amazing if we could all stick together and support the club and our Curzon family, helping out where possible. Any help or donations would be gratefully received...

Financial Director, Harry Twamley had this to say 'It's going to affect us all badly. With the league suspended there are not only no gate receipts but there are no bar receipts either,' he explained. 'Because people are being told not to go outside, we're getting lots of calls cancelling parties in our function room. We're losing room rent because organisations have called off the meetings they hold at our ground during the week, and we're not receiving anything from the 3G pitch because youngsters have been told not to train'...

Chairman Wayne Salkeld said: "The current pandemic stretches way beyond the football industry. However, the club feels a very real sense of responsibility to do everything it can to support our club and surrounding community. It is not enough for us to simply sit tight and hope that it all blows over. By moving forward, we can offer various options for next season, we are able to ensure cashflow in the short term, as well as give a little back to the NHS heroes who are working to keep us all safe and healthy.'

For every £20 raised in our crowdfunding campaign, we will donate one match ticket for the 2020/2021 season to NHS staff and any Frontline Workers from Tameside".
At Southport "We have been running a daily teaser on Twitter for the last eleven days and these will continue until Friday. The current score is 5 to us and 6 to supporters; all to play for in the remaining five days!

From Saturday we will start a weekly SFC themed quiz on the website for the next few weeks with a different theme each week starting with 25 Cryptic Clues to Southport FC players. We may even be able to find a little prize to reward the winners...

Future weeks will be Guess Who Pictures, Who Am I, Where Are We Playing Pictures, Find The Southport Players in a passage of text, General SFC Knowledge, Cryptic Pictures to SFC people and maybe more".
"Here's the latest of the behind the scenes updates of events at at Darlington FC...

The Boards of Darlington FC and DFCSG met for the third time during the enforced break on Friday evening via video conference call, to discuss various ongoing relevant matters...

Chief Executive Officer David Johnston was due to take part in a webinar with all the other National League club chairmen last midweek, but this was cancelled because of the league's ongoing business with the EFL.

The sales of season tickets are ongoing, and there is now the option of buying a season ticket over five instalments... We urge fans to buy season tickets now in order to help support the club's cashflow position.

We are also delighted to announce that the Boost the Budget scheme for season 2020/21 will be announced in early May.

During these unprecedented and challenging times, the club is introducing several initiatives designed to reach out to our entire local community and fan base... During the coming week we'll roll out a variety of ways of engaging with you all and some of these will include;
The introduction of a Buddy Mentoring scheme on Monday in which Club Directors and Officials will begin making some phone calls and speaking directly with supporters. Initially, we will focus on keeping in touch with fans who may be shielded, lonely or self-isolating.
A Contact Line, which will include a phone number and an email address for those supporters who feel the need to talk to someone at the Club
The players will be making selfie videos and we'll put them out on social media
Netcafes are being organised and we'll include Q&A sessions with the manager and players in which fans will be able to submit questions. The first will be held with Will Hatfield later this week.
We're maintaining contact with all our schools, as they are still providing a service for vulnerable children and children of Key Workers.
The Club is also in continuous contact with our sponsors and partners and we're maintaining our excellent relationships with them during this difficult time."
---
5 April, 2020 Altrincham FC Press and Media Officer, John Edwards, writes in the Sale & Altrincham Messenger that "Altrincham bosses have been overwhelmed by the generosity of fans, players and even supporters of other clubs after seeing their appeal for funds surge past its £10,000 target inside a week... and by Tuesday morning this week, the total raised had reached a staggering £12,460.

Long-serving defender Shaun Densmore set the tone for player contributions and his donation was swiftly followed by similar gestures from team-mates Jake Moult, Josh Hancock, James Jones, Jordan Hulme, [former team-mate] Josh Ollerenshaw and at least two more anonymously.

Alty-supporting Premier League referee Anthony Taylor pitched in, and there was even an offering from a Portsmouth fan, following the Robins' gallant attempt at an FA Cup giantkilling act at Fratton Park earlier this season...

The appeal remains open here, and director Bill Waterson said 'The job of thanking our fans for their support is one I will never tire of, and they are making me more and more proud to be associated with Altrincham Football Club.

'The board are frankly blown away by a response that cements our fans' reputation as the best in the business. The appointment of Anthony Taylor is often questioned when he officiates one of the bigger Manchester clubs, but the answer is clear; he is an Alty fan".

Altrincham's most recent game on today's date, 5 April, was in 2016 when they lost 2-1 to Dover Athletic at Moss Lane under the floodlights on a Tuesday night

The result meant that Altrincham dropped to 22nd in the Vanarama National League as, not for the first time that season, they let a lead slip. Alty were the better side in the first half and deservedly led thanks to a fiercely driven shot from Michael Rankine from Jordan Sinnott's lay-off at a freekick just outside the box. The goal arrived after 36 minutes and Rankine might have doubled the lead, three minutes later, when put clear by Lawrie but his first touch was too heavy and keeper Walker got the ball.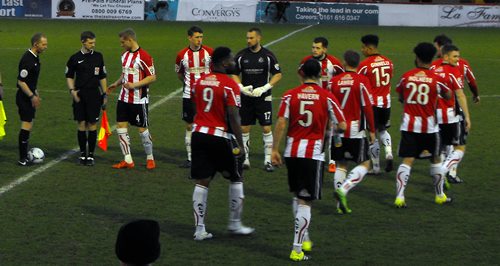 The second half was a different affair as the visitors penned Alty back from the re-start. The got their reward when an attempted clearing header by Altrincham struck a Dover player and allowed Miller to score from six yards or so in the 67th minute. Eight minutes later Payne got past Havern to make it 2-1.

Right: Alty take to the field against Dover.

Alty brought on Reeves, Crowther and Heathcote but could not get back into the game. So, for the second time in a week a half-time position of safety for Altrincham had witnessed a drop of three places during the second half.

And there was post-match confusion as it emerged that Marcus Holness had been red carded after the final whistle following a challenge on a Dover player who had been winding down time at the corner flag very near the end of the game. Dover's Bellamy then tackled Holness, though no foul was awarded against either Holness or Bellamy at the time. Holness was then indirectly informed, in the dressing room, that he had been dismissed.

For this match, Adam Griffin was ill, so centre-back Scott Leather had moved to left-back and midfielder Jordan Sinnott had returned, at right-back. Up front Michael Rankine was preferred to Damian Reeves presumably in acknowledgement of the opposition's style of play. Loanee Jimmy Phillips started as Josh O'Keefe moved to the bench.

ALTRINCHAM: 17. Tim DEASY, 20. Jordan SINNOTT, 26. Marcus HOLNESS, 5. Luca HAVERN, 6. Scott LEATHER, 4. Jake MOULT (capt), 8. Simon RICHMAN, 26. James PHILLIPS, 15. Josh GINNELLY, 7. James LAWRIE, 9. Michael RANKINE. Subs: 10. Damian REEVES, 12. Sam HEATHCOTE, 14. Josh O'KEEFE, 19. Ryan CROWTHER , 23. Callum WILLIAMS.
At Gloucester City, the chairman, Alex Petheram, writes that "I've seen a couple of messages from concerned supporters wondering what our current financial position is...

Following the outbreak of COVID-19 we as a club have been effected massively. I personally went down with the virus before the Blyth game with several others self-isolating. I'm not going to name which players, they can do that themselves if they want.

Financially, times are hard, very hard! If this was a 'normal' business and not a football club, you'd shut the doors and walk away. The key word above is 'business', the football club is a business, it has a company number like every company in the world. I genuinely believe some people think, as we're a football club, that it's a charity number. But the club like every business in the world, needs to make money, as trading insolvently is illegal.

With that said, now we've no football being played, no community projects, no working in schools, no Easter and Summer Camps etc., etc, yet wages and bills still to pay. We are going to lose £111.4k at the last count. How's that going to be paid I hear you ask?

The second football stopped I had to personally put in £25k, with another £54k put in this week. What makes it worse for me, is that with so little football played over the winter, I had to pump in £30k in that period also. This was to get us over what I thought would be a cashflow issue; ha, I got that one wrong!

So, at a time when the weather has turned and we should be having a run of home games in the sun, we're in fact facing further losses. Steve Harvey has also put money into the club (thank you mate) and as for Eamonn… well for the past 20 plus years Eamonn has done nothing but put money in to the club.

As I said the other day, all our staff and players have been placed as furlough workers, with all players taking a 20% pay cut, thank you lads. So everyone in the club is feeling the pain, but that's what teams do, stick together as we're never out the fight!...

So, what's the solution? There isn't one. As closing the doors and walking away from a club formed in 1883 just isn't an option.

How's this affecting the [return to the club's former] ground? The lack of cash in the current economy is a massive issue. We couldn't be building the ground at a worst time!

What are our options on the build? The same as with the club, we have none. We're too far into the project to do anything other then get our heads down and keep swinging, always moving forward. Does every penny spent scare me? Yes! Does every penny spent keep me awake at night, yes! How's the ground being funded? We've an 18% grant from the FSIF with Eamonn and myself putting in the rest, this is on top of the day to day club costs and who can forget the current COVID-19 losses! To make matters worse we've also currently had nothing from the FSIF, however I'm hoping the first payment lands soon...

Why haven't we set up a 'go fund me page' was another question I was asked? Simple; everyone is affected by this, so I don't feel it's fair to ask...

I'm personally struggling to stay positive and pumping in cash left right and centre into the club to keep us alive is a rubbish game to play. The club is struggling but it's being propped up by the will of three incredibly either stupid people, or three very committed people. Three people that only want good for the club and its supporters. But I'll let you pick which one, as no doubt something I've written here will be picked up and twisted by someone or something...

What is it Rocky said? 'Going in one more round when you don't think you can; that's what makes all the difference in your life'". We're never out of the fight".
Leamington report that "Having recently made his 400th appearance for Leamington FC, James Mace has had the devastating news that he has ruptured his Medial and Anterior Cruciate Ligaments (ACL) .

There is always the initial disappointment of sustaining such an injury but when it results in loss of earnings and a huge medical bill, as players we feel we must do what we can to help.

James works as a tree surgeon and his injury has meant he cannot work. His insurance company will pay a small sum each month but not enough to sustain his young family and there would be no contribution to surgery costs. Colby Bishop and Connor Gudger have recently had similar operations, costing between £6k and £9k.

A GoFundMe page has been set up after players and fans have all asked how they can contribute to help James. We hope that this platform will allow those that want to donate to help fund the surgery... We will of course follow NHS guidelines regarding elective surgeries to not put a further strain on the NHS."

"With the North West Counties Football League joining the country in lockdown in the fight against the coronavirus, the league has turned its attention to finances in order to help our member clubs.

As well as being Football Clubs, all 60 of our clubs are businesses who are suffering financially from being closed at present...

Funds may be available to some clubs to help them through this time, with the Government, HMRC, Sport England and others all offering help if clubs meet specific criteria. However we are conscious as a league that we too must also do our best to help our own clubs.

Earlier this week the Finance Committee held a meeting via our conference call facility to come up a package that can help our clubs. These recommendations have been subsequently been approved and ratified by the Board via email communications.

The total amount of the package that was agreed totals over £35,000, and this is made up of some of the following items. The league will be waiving the annual subscription for the 2020/21 season. This will ensure that NONE of our 60 clubs have to pay ANY annual fees for both the league, Macron Cup or PlayerMatch.com Cup.

Our Annual General Meeting and Awards Dinner that we hold every year at the Imperial Hotel in Blackpool is to be cancelled this year. Clubs pay for this in their League Services payments throughout the year, and this will be reimbursed to all clubs...

Clubs that are owed money for match officials travelling expenses will be paid with immediate effect. Our league operates an equalisation scheme where every club pays the same amount for match offcials regardless of location, with some clubs refunded and some billed at the end of each season.

The league are also looking to further reduce costs for the 2020/21 season through a variety of measures that can in turn be passed onto the clubs. This could include online handbooks, the reduction of matchday paperwork and match report books, or a reduction in pass cards and the Observer's levy.

Unfortunately, any outstanding amounts that clubs owe to the league via fines or referee equalisation cannot be written off as it would be in breach of Article 4. However any clubs that do owe money can request a deferment via the League Secretary on the amount owed".

Meanwhile,the BetVictor Northern Premier League has it's own NPL Show. Last week's show is available here.

Also the BetVictor Northern Premier League adds that "Clubs in the NPL N/West Division have launched fundraising initiatives to help them through the current crisis and support their local communities...

League leaders Workington have already raised an incredible £11,485 in donations, via their appeal on their club website. Mossley have been selling a special edition "Wembley Shirt" to mark 40 years since they reached the FA Trophy final... City of Liverpool have used this time to admirably raise funds for their local community, collecting donations to purchase food to enable the delivery of food parcels to the most vulnerable people in the Liverpool City Region...

Meanwhile, fellow Merseysiders Marine have issued an appeal for donations to help get through the financial impact of the current crisis. They were celebrating their 125th anniversary and seeking immediate promotion back to the Premier Division when the season was brought to an end. Marine Chairman Paul Leary said, 'We will be applying to Sefton Council and HMRC for some of the government financial assistance that has been made available, but whilst these are a help it will not be enough to see us get through this unprecedented situation...

'This is our biggest challenge ever but we shall get through it and come out stronger...

Marske United have launched "All Marske United Together"... Supporter Iain Thomson, who runs Scottish Pickles, has pledged to donate a percentage from every jar of chutney/preserve he sells towards the appeal...

Pickering Town have launched a Just Giving page, while Runcorn Linnets are staging a virtual match against Dunston on Saturday 11, where fans can purchase their usual match day items to raise money for the club.

Tadcaster Albion are encouraging supporters to sign up to their 100 Club, which costs £10 per month and offers a prize of 30% of the monthly proceeds to the winner".

Meanwhile, Nantwich Town report that "manager Dave Cooke has reiterated the club's stance on the decision to null and void the Step 3-6 season in non-league.

The Dabbers were chasing promotion to the National League North and sat in 6th place... Nantwich have expressed their disagreement with the decision to null and void the current campaign, as well as their disappointment that they were not consulted prior to the call being made by The FA...

Cooke said... 'We believe that the verdict from the FA was hastily decided and it is disappointing that perhaps we won't have football until October. For me, even if the 2019-20 season had to be suspended, it was imperative that we should finish the campaign, even if that meant 2019-20 became 2019-21. I felt that we were having a very good campaign, and we would have made the play-offs at the very least, and we were looking forward to being involved'"

The National League has a reprise of season 2003-04, which was won by our Cheshire neighbours Chester City. Sadly, Altrincham were not in the Conference that season.
---
4 April 2020 Sporting Life has reported that "The Premier League has announced that it will advance £125m to EFL and National League clubs, while a £20m donation has also been made to the NHS.

The league confirmed the news following a video conference call on Friday, where there was also an acknowledgement that it is unlikely football will resume in May and will only restart when it is safe to do so, in line with government advice.

In a statement, the Premier League said 'Discussions also took place regarding financial relief for clubs in the short term and while there is no single solution, measures are to be put in place to immediately deal with the impact of falling cash flow.

'"Critically, the League unanimously voted to advance funds of £125 million to the EFL and National League as it is aware of the severe difficulties clubs throughout the football pyramid are suffering at this time...

'The League, clubs, players and managers express huge appreciation for the heroic efforts of NHS staff and all other key workers who are carrying out critical jobs in such difficult circumstances,' the statement continued".

It seems that this money for the National League is not a donation but, rather, an advance payment of so-called "solidarity" moneys which would have come to the National League in due course anyway.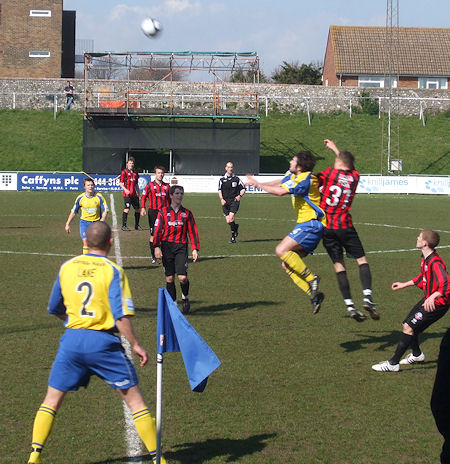 Right: Dale Johnson (in yellow) competes for the ball at The Dripping Pan.

Eleven years ago, 4 April 2009, was not a great day in the history of Altrincham FC. The club made the 500 mile round-trip to play Lewes. The Sussex side were rock bottom of the league and, going into the match, had previously experienced EIGHTEEN straight defeats. And, of course, they were to beat Altrincham 2-0!

For their part Alty had faltered badly in recent weeks after coming within touching distance of securing enough points to secure their place in the league for the following season.

Before the Lewes game, it had already been a long week for Altrincham FC with two away trips in four days (to Crawley and Ebbsfleet) racking up almost 1,000 miles on the road before they set off for Lewes. A draw at Crawley had been folllowed by defeat at fourth-bottom Ebbsfleet. And as the management had only 13 fit players at its disposal; to bring in reinforcements would have jeopardised the club's financial position, it was easy to see why form had recently dipped. Five subs had been named at both Ebbsfleet, the previous Tuesday, and here at Lewes, but only two of those named on the bench were actually fit to play.

Fortunately, Michael Welch had surprisingly recovered from an apparently bad injury on the previous weekend and he came back into the side in a 3-4-3 formation, with Greg Young and Marc McGregor the other components of the back line. Chris Lane moved to right midfield, with Matt Doughty on the left. James Smith was serving the final game of his three-match suspension, whilst Ben Wilkinson dropped to the bench, with Warren Peyton and he being the only fit substitutes amongst the five named.

This poor performance from Altrincham thrust them back into the relegation mix as their own run of poor form was extended to just three wins in their last 15 games. A very bobbly pitch at the natural hollow that is The Dripping Pan did not help but Altrincham resorted far too much to aimless balls forward.

Nevertheless, in the opening twenty minutes Altrincham created and missed several half-chances, whilst Lewes started nervously as was to be expected after their lamentable run. But, once Wheeler had taken advantage of a slip by Marc McGregor to score from the Rooks' first real chance, Alty were second best for the rest of the half.

Slack marking allowed Keehan to make it 2-0 from a corner just before the interval.

Ben Wilkinson replaced McGregor at the break and Alty then enjoyed plenty of possession but, apart from a couple of good saves from shots by Little, the visitors were kept at bay by the Lewes defence. How a penalty was not awarded when Dale Johnson was almost throttled by the keeper in the box in the closing minutes was a mystery, but Altrincham could not complain at the result.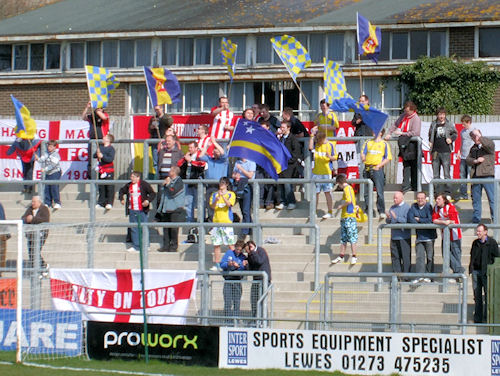 Left: There was a fine display of our away colours in the blue and yellow flags brought by Altrincham supporters to Lewes on Saturday, 4 April, 2009.

To make matters wose, Anthony Danylyk was sent off in added time for a second yellow card offence. Losing to an already relegated side which had lost all of its previous 18 games is not an easy pill to swallow.

Just 337 spectators attended the game.

ALTRINCHAM: 1. Stuart COBURN; 18. Michael WELCH, 4. Mark McGREGOR, 5. Greg YOUNG; 2.Chris LANE, 21. Shaun DENSMORE, 16. Anthony DANYLYK, 3. Matt DOUGHTY; 14. Dale JOHNSON, 9. Colin LITTLE, 12. Joe O'NEILL. Subs: 11. Warren PEYTON, 10. Chris DENHAM, 7. Robbie LAWTON, 17. Ben WILKINSON, 19. Chris SENIOR.

However, there were some positives. Not least was the fact that Alty were still seven points above the relegation places so survival remained firmly in their own hands. And, although The Robins had only taken 12 points from their last 15 games, just one defeat in their final six games of the season left them finishing a respectable fifteenth in the top-flight of non-League football.

Altrincham were to face their third Sussex club in a period of ten days when Eastbourne Borough visited Moss Lane the following Tuesday night and played out a 2-2 draw.
According to NL Daily "Gateshead forward Ruairí Keating has hailed the character and togetherness at the club. The Irishman made the move a long way north to join the Heed from Torquay back in January...

Keating spoke about the spirit in Mike Williamson's side... 'Definitely just an honest, hard-working, decent bunch of lads. There's no bad eggs, there's no big-time Charlies, we're all in the same boat. We're like a bunch of mates at school. Everybody's here to enjoy it, play football and just be happy.

'There's a bit of craic but there's no messing around. We're given the platform to just go and be happy and give all you can and showcase what you've got. It's a great group of lads and coaching staff.'".
At Chester FC "City Fans United can confirm that David Harrington-Wright has decided to stand down from his current role as Chairman as well as membership on the Board of City Fans United.

Formally elected to the Board in October 2017, before taking over the role as Chairman in April the following year, David oversaw a significant period of stability and revival for the Club which had been challenged through a financial crisis as well as subsequent flooding and the Covid-19 pandemic during his tenure.

In December 2019, David took the decision to temporarily step back from his role as Chairman to support and care for his wife Fiona who sadly passed away in January 2020. He has now decided to permanently stand down from his role which will allow him to focus on his own businesses and personal well-being during this difficult time.

David has agreed to kindly support the board through this period of transition...

David said 'I have been truly honoured to be the Chairman and a board member of my beloved Chester FC, and it's fair to say the almost three years on the board have been a roller coaster! I would like to think I leave the club in a better position than when I joined but it has not been solely down to me'...

At the City Fans United Board Meeting held on 30th March 2020 it was confirmed that current Vice-Chairman Andrew Morris would step up into the role of Chairman initially until the next AGM scheduled for 22nd October 2020".
According to the Eastern Daily Press, "Chris Smith's journey to King's Lynn Town via Ipswich is an education... He's a poster boy for how to handle a brutal industry.

Smith joined Ipswich Town at the age of eight. He captained the Under-23s. He spent three years on a professional contract... Released last summer after making just one brief senior appearance for his boyhood club, he ... was picked up by the Blues, and... quickly he decided that the further education which the club are duty bound to provide wasn't enough... 'I spoke to the club and said 'I want to do A Levels as well seeing as I don't know what's going to happen with the football'. They said that was fine, but there wasn't exactly a lot of support. It's something I had to do off my own back'...

Those initial A Levels were in maths and physics. The plan, if he got released at the end of his scholarship, was to go off to university. But he didn't get released... In his first year as a professional, Smith continued with his education, taking another A Level – this time in further maths. In his second year, after coming on in a League Cup game, Smith went out on loan to Chelmsford...

[AFter returning to Ipswich], 'I was an unused sub against Aston Villa... During the week though I slipped a disc in my back. My chance of making a league debut had gone and I spent the whole summer and start of next season rehabbing. Gary Waddock had seen me play before and said he would like to take me on loan to Aldershot (National League) on the basis of that.... I went there but I was still struggling with my back...

'When the time came for me to get released I wasn't too sad... It was nice to finally have some clarity and for my destiny to be in my own hands at last... So finally, after deferring three times, Smith started a mechanical engineering degree at Loughborough last summer. He also signed for the Linnets.

'Combining the two has been mentally and physically tiring,' he admits... 'I had a game clash with an exam at one stage and he said "university comes first"... That manager is Ian Culverhouse... 'e's such a calming influence, a real thinker,' said Smith. "There have been so many times where we've had a frustrating first half, then he's tweaked things around at half-time, given a great team talk and we've gone on to be brilliant and win the game...

'I'm just seeing what parts of the course I enjoy the most before deciding what sort of career I'll pursue... The studying will always come first, but I couldn't do without the football either. I need them both'...

Smith says 'It's important to have a back-up. I want people to understand that it's not the end of the world if you don't make it at an academy or as a young pro. There will always be a team to play for, no matter what the level. It's about enjoying football... A lot of lads didn't have a Plan B... and they're now doing jobs they hate just to get money'".
The chairman at AFC Telford United confirms to spectators that "Since our statement last week your response has been overwhelming thank you. Early bird season tickets reached 70% of last year's early bird sales, [plus] amazing donations and enquiries and purchases of shares...

The National league have now indefinitely suspended the 2019/20 season. Although this is disappointing, with the current pandemic there was no other option in my opinion. We do not have any further information regarding how the league will be settled or if the season will be null and void.

We do still have hard financial challenges in the coming months, having lost gate receipts, secondary match income, goalzone closed, non football events cancelled and delayed commercial income. We want to prepare for the 2020/21 season, we have stadium maintenance to be carried out to keep our stadium safe, we are still planning major pitch renovations which come at a large cost even with potential of grants and we want to be recruiting a playing squad to compete next season.

We do not like to come cap in hand, but you can continue to support us by purchasing a ticket for AFC Telford United v AFC Telford United All Stars XI game... making donations of any amount... or purchasing shares in your football club and renewing sponsorship".

Meanwhile, the Shropshire Star tells us that "AFC Telford United manager Gavin Cowan has been pitching in to help local communities amid the coronavirus crisis. Cowan has been working around the clock helping the vulnerable... The Bucks boss teamed up with volunteer-powered Shrewsbury Food Hub, who recycle food surplus to requirement from supermarkets and put it to good use.

Cowan was pictured with colleagues in front of his Crossbar Coaching van, which visited several community centres and schools across the region full of food and clothes ready to go to those in need. The relief packages were also delivered to the Prince Rupert Hotel in Shrewsbury, which is currently housing the homeless.

Cowan is managing director of sports coaching company Crossbar Coaching, who are based at Lilleshall. The businesses' four vehicles, two vans and two minibuses, are available to any organisations who are out helping the community during the Covid-19 crisis... Many of the companies' employees have been carrying out 'bitesize lessons' via a video on Crossbar's social media... The company have also released 'maths on the move' resources on their website for primary school children across all ages".
The NL Paper says that "Gloucester City have confirmed they have a back-up plan in place to groundshare with Bath City if their new Meadow Park home is delayed by the coronavirus.

The Tigers have not played in Gloucester since their home was destroyed by the floods of 2007 and were on course to kick off at their new stadium at Meadow Park for the first time this summer before the public health crisis and football's lockdown started to slow progress.

Work on the National League North club's new 3,208 capacity ground with a 3G pitch begun in January, with their current groundshare at BetVictor Southern League Evesham United's Jubilee Stadium due to expire in May and not up to new FA ground-grading stand[ard]s coming in next season.

Oxford City and Kidderminster Harriers have also been considered as temporary hosts by the Tigers who've also confirmed they used the government's Coronavirus Job Retention Scheme this week to furlough all their staff and players.

Gloucester City chairman Alex Petheram told fans that Bath's Twerton Park was their first choice as a fall-back option and fifth temporary home in 13 years of exile after spells at Forest Green, Cirencester Town, Cheltenham Town and current landlords Evesham despite being 45 miles away."
---
3 April, 2020 Altrincham FC announce that "Director, John Coyne, is reaching out to all supporters, sponsors, players past and present to talk about their favourite Alty memories; their first game, the goals that meant the most to them, games that live on in their memories, and their favourite players.

These anecdotes will form part of a commemorative book which will be compiled by John, available to purchase, with 100% of the proceeds going to Altrincham Football Club.

If you would like to take part in the project, and share your memories, please email John Coyne".

In the meantime, don't forget that you can help the club now, via its Go Fund Me page.

Five years ago today, 3 April 2015, Altrincham beat Kidderminster Harriers 3-2 at Moss Lane in a Blue Square Premier match.

The victory was only Altrincham's second win in eleven games and yet,amazingly, they finished this game in tenth place, one rung higher than they had been at the start of their winless run, thanks to having drawn seven matches in the winless sequence.

For the match against the Harriers, Altrincham were without Nicky Clee, who had missed the last couple of games with injury, to which was now added illness. In addition, long-term injured Matt Doughty and Dale Johnson were all missing. Anthony Danylyk and Adam Carden returned to the starting line up as Peter Doran and Michael Welch reverted to the bench.

Alty started brightly as Carden, McAliskey and Densmore all had early shots. But the visitors took the lead in the 15th minute when McPhee got to the by-line, left of goal. Matthews headed the former Gravesend and Torquay man's cut-back firmly past Coburn.

After 26 minutes, Chris Denham equalised, at the back post, from John McAliskey's knock down and, with Kidderminster still enjoying more of the possession, Denham broke away two minutes before the interval. He fed Carden, to his right, whose shot was beaten out but Denham headed the loose ball into the net. However, immediately, the Harriers levelled with a similar goal to their opener. This time McPhee cut the ball back from the right by-line for Matthews to bundle it home.

The scoring was completed four minutes after the interval when centre-back Greg Young ran 60 yards from his own half up the inside-left channel before beating the Kidderminster keeper. The Harriers had plenty of attacking possession but could not get an equalizer, though it took a Densmore clearance off the line in the last minute of normal time to make sure. Alty had now only lost twice in their last 12 matches.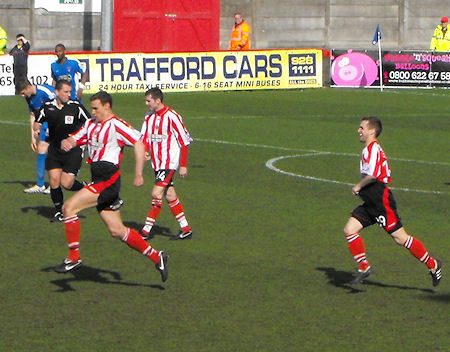 Right: Greg Young's strange goal celebration consisted of his pulling his shorts up to his waist and then running back to his own half, as shown!

Kidderminster Harriers had gone into this game lying tenth, a point ahead of Altrincham. The Harriers had beaten Alty 3-0 at Aggborough earlier this season. Following Mark Yates's departure, former Macclesfield striker Steve Burr was now the visitors' manager.

The gate was very disappointing, comprising just 889 spectators with 64 in the away end. The attendance was not helped by Manchester United being in action at lunchtime and Manchester City also having a fairly local away game. There was also a lower than normal away following reflecting the visitors' failure to secure a play-off place.

ALTRINCHAM: 1. Stuart COBURN, 6. Shaun DENSMORE, 12. Robbie WILLIAMS, 5. Greg YOUNG, 27. Ryan BROWN, 10. Chris DENHAM, 16. Anthony DANYLYK, 7. Robbie LAWTON, 24. Adam CARDEN; 19. Chris SENIOR, 17. John McALISKEY. Subs: 9. Colin LITTLE, 21. Peter DORAN, 18. Michael WELCH, 13. Russell SAUNDERS [gk], 2. James SMITH.

The visitors included three players who also wore the Alty strip during their careers; James Lawrie, Robbie Matthews and Brian Smikle.

KIDDERMINSTER HARRIERS: 30. Ross Atkins; 2. Duane Courtney; 6. Martin Riley, 33. Luke Prosser, 17. Tom Sharpe; 7. Chris McPhee, 8. Dean Bennett, 27. Jack Byrne, 14. Brian Smikle; 10. Darryl Knights, 21. Robbie Matthews. Subs: 12. Jasbir Singh [gk], 25. James Lawrie, 9. Marc Goodfellow, 11. David McDermott, 31. Lloyd Kerry .
Guiseley report that "Simon Bullock chatted to Guiseley Academy graduate and former Bournemouth, Port Vale and Yeovil Town midfielder Ben Whitfield about his time with The Lions, his early football career, move to the Premier League and life at Torquay United...

'I was on the bench quite a few times for league matches. I never actually came on but it was good to be involved. I didn't know that I was going to be involved against Selby, so I turned up to the game and then came on as a sub which was great...

Huddersfield offered me a deal and I was close to signing it. Then my agent got in contact with me and said that Bournemouth were interested. I didn't really know where that was because it was so far away. I went down there, having trained with Huddersfield for a while but I'd never met any of the first team players, management staff or anyone like that. I turned up at Bournemouth, where the Chief Scout and Assistant Manager Jason Tindall were waiting for me and they showed me around the stadium, the training ground and they pulled me into an office to talk about what they'd want from me which was a big thing for me...

The club didn't expect to go on the run they went on, getting promoted to the Premier League, which was why I never ended up being in the first team... Eddie Howe taught me loads. Just the way he trained his players, the intensity of the training sessions, how he worked with everyone and how long the sessions were'...

Q: Your first loan spell in the National League with Kidderminster Harriers ended with you winning the club's Player of the Year and Supporter's Player of the Year awards".....

'It was brilliant, I loved every minute of my time at Kidderminster... To win Player of the Year and Supporters' Player of the Year was a big thing for me because I was still quite young, so it was nice to receive that award... I signed for Kidderminster on an initial one-month loan, and it just got extended and extended...

Q: The season after that, you made the step up to League Two, signing a season long loan with Yeovil Town...

'Yeovil was really good as well. Darren Way was the manager and he worked a bit like Eddie Howe... Playing in League Two was great because playing professional football and playing at a higher level is what everybody wants to be doing...

Q: Another season was spent on loan, this time at Port Vale, followed by you signing for them permanently...

A: In the first six months at Port Vale I did really well and I had other teams interested in me. Lincoln City wanted me and they offered Bournemouth some money, then Port Vale showed interest and they offered Bournemouth some money. Because I was playing so well, I didn't really want to move so I just asked if I could sign on loan again at Port Vale and continue progressing. I didn't want to leave Bournemouth because I knew that they were a higher level club than Port Vale, but I didn't want to not sign on loan at Port Vale because I knew that I was playing regularly in my first six months there...

Q: After leaving Port Vale about a month into this season, you signed for Torquay United...

'The manager at Port Vale told me that I didn't score enough goals to be a part of his team, which I didn't agree with as I hadn't played under him much before and when I had done, I'd scored, so I didn't really understand that... I signed for Torquay and so far, I've played and started every single game, apart from my debut which I came off the bench and scored in...

'I wouldn't be where I am now if it wasn't for Guiseley. Dave Currie taking that chance on me has got me to where I am now. If it wasn't for him, I wouldn't have signed for Bournemouth'".
We learn from the Shropshire Star that "AFC Telford United have been 'overwhelmed' with the response to their financial appeal amid the Covid-19 breakout. The Bucks launched a gofundme page seven days ago to help preserve their longevity and [it] has passed the £1,000 mark – currently at £1,155 from 29 donors...

Football Operations Manager, Luke Shelley, said 'We have been overwhelmed with the generosity of supporters in this difficult time. With so much uncertainty with jobs and everyone's health we would like to thank those supporters who have donated towards our appeal, either by purchasing a season ticket, donating to the gofundme page, the club shop eBay store or even buying shares'".
At Hereford FC the website is taking "an alphabetical look at our all-time opponents". Part One of this series is the letter "A", which obviously includes Altrincham.

As well as a photo of their match at Moss Lane against Alty in 2019, the stats remind us that in four encounters Hereford FC have yet to beat Altrincham, having drawn twice and lost twice to The Robins. In the "current" season, Alty achieved a "double" over The Bulls, winning 5-1 at home and 2-0 at Edgar Street.
York Press reports that York City "have confirmed that they have placed their staff and players on furlough until further notice.

In a statement released yesterday, York said that they had decided to 'close the club for the foreseeable future' amid the financial impact caused by the coronavirus pandemic, which has prevented professional sport around the country from taking place...

In a statement on their club website, York City said 'The sudden onset of the Coronavirus pandemic, uncertainty around the conclusion to the 2019/2020 league and our inability to make plans with any real certainty, has had an immediate, unforeseen financial impact on the club.

'In line with the government's Coronavirus Job Retention Scheme, club staff and players have been placed on furlough until further notice. The chairman, who has personally supported the club financially since 2006, paid all wages in full to this point and will ensure that all staff receive 80 per cent of their wage during their time on furlough, irrespective of the government scheme's upper limit.'

York chairman Jason McGill added in a short statement 'This virus and the current crisis that surrounds us all, is bigger than the club and bigger than football'".
During the lull in football, Bradford (Park Avenue) are reminiscing about previous encounters. The club's Football League history means that they can boast no fewer than sixteen encounters with a club as famous as Chelsea, fourteen of those games being league matches and two more being in the FA Cup.

At Wrexham we learn from the Board of The Wrexham Supporters Trust that "We have communicated with all employees of the business, including the playing and coaching staff, to ask them to agree to move into the Government-organised Job Retention Scheme. The decision to furlough employees means we can pay them on an ongoing basis under the conditions announced by the Government...

Coronavirus is having a serious effect on the financial health of the Football Club. What has happened to Wrexham AFC due to coronavirus?
We have lost almost 25% of our home league fixtures (five games) of income from the season and our matchday revenue on the season will be down by in excess of £250,000 versus our budget
We have had only two home fixtures since January and, as we move into April, this will be a third month with minimal down to no income
All of our non-match day events at the stadium have had to be cancelled
We cannot sell season tickets for next season as the future of football is very unclear at this point in time
We are left with no way of generating any income to try and cover this period due to Government restrictions
This is the perfect storm at the very wrong time of the year and the majority of clubs in our division will be similarly impacted...

The Wrexham Supporters Trust has a track record of steering the club through crisis. Ten years ago, we took over a club that was losing £750,000 per year, with debts of £500,000, that had no assets. We are proud to have turned that into a sustainable business that doesn't spend more than it can bring in in revenue. However, coronavirus is the biggest impact on society in living memory and the effects of it are a threat to the continued existence of the Football Club.

The decision to furlough all employees of Wrexham AFC has been taken to protect the future of the Football Club. Had there been no coronavirus then Wrexham AFC would have continued as a financially stable football club".
---
2 April 2020
On 14 March, Altrincham should have been playing a National League North match at Bootham Crescent, York. York City have now announced that they have "added copies of the Altrincham matchday programme excusively on the online store, to be purchased with a donation to the NHS.

Earlier this month, we were scheduled to play the highly-anticipated league fixture but unfortunately, due to the Coronavirus (COVID-19) outbreak, the game was postponed.

With the programmes from the fixture unsold, we are now selling the limited number of copies for £3 with an added minimum £2 donation for the NHS Charities COVID-19 Urgent Appeal.

The price includes the cost of delivery when bought alone, and each purchase will be in with a chance of winning a home shirt signed by the players and management team.

Please click here to buy the programme through the online store. Thank you for your continued support during this uncertain peroid. Stay safe and we will see you soon".

York Press adds that "The match was the final scheduled game for York prior to the National League suspending fixtures in its three divisions...

Having donated the food prepared for the Altrincham game to Changing Lives, the club have now put the programmes published on sale in support of the NHS Charities COVID-19 Urgent Appeal. The appeal is helping staff and volunteers working in the NHS currently".

Altrincham's last fourteen attempts to win a match on today's date, 2nd April, have proved successful just once since 1951!

That one success came in 2005 with a 1-0 victory at The Northolme against Gainsborough Trinity in the Northern Premier League. Altrincham had already visited Gainsborough earlier in the 2004-05 season, for an FA Trophy game, which ended in a 1-1 draw, before Alty won the replay. In the reverse league match at Moss Lane, which was the first game of that campaign, Altrincham had won 4-1.
Left: Adam Brindle

On 2 April, Altrincham arrived in Lincolnshire in sixth place and were ultimately to finish fifth and win the play-off against Eastbourne Borough at The Britannia Stadium which earned them their place back in the top-flight of non-League football.

In the game at Gainsborough, after a disappointing first half from both sides, Alty were much improved after the break, especially after the introduction of Kieran Lugsden and Colin Potts. Indeed, Potts was announced as Alty's Man of the Match after 80 minutes, only 23 minutes after coming on!

Alty got the reward for their second-half improvement when it was Potts's corner, from the right, which was nodded on to Colin Little who scored at the back post (67 mins). Gainsborough's only second-half threat came in the closing stages but the Alty defence held firm.

For this game, Altrincham were without Steve Aspinall, who was watching the game with an ice-pack on his injured ankle, and both Colin Potts and Eddie Hussin were only fit to be on the bench. Both sides were without two players with broken legs, (Marcus Hallows and Stephen Rose for Alty; Caudwell and Bird for Trinity). Trinity also had Sherlock suspended.

Josh Mitten was again preferred to Kieran Lugsden up front for Altrincham whilst teenager Lewis Chalmers started his second game for the first team, on the left flank.

The squad for the match was 1. Stuart COBURN, 2. George MELLING, 3. Chris ADAMS, 4. Mark MADDOX, 5. Gary TALBOT (capt), 6. Richard NORRIS, 7. Gary SCOTT, 8. Val OWEN, 9. Colin LITTLE, 10. Jonathan MITTEN, 11. Lewis CHALMERS. Subs: 12. Eddie HUSSIN, 14. Adam BRINDLE, 15. Kieran LUGSDEN, 16. Colin POTTS, 17. Paul TILLEY.
Right: Paul Tilley

In addition to Lewis Chalmers and Kieran Lugsden, two other youngsters in the squad were Adam Brindle and Paul Tilley. Bridle, an Alty Reserves' defender who had been a junior at Manchester City, had the unfortunate distinction of being named on the bench no fewer than six times that season but never got onto the pitch at first-team level for Altrincham.

Paul Tilley was an Altrincham youth team midfielder, for whom he was captain in 2001-02. In the absence of a Reserves' side at Alty he moved on to Trafford and Leigh RMI before returning to join the re-formed Altrincham reserves in 2004. He went on to make his first-team debut as a sub on 6 November 2004 in the CSC against Chester City. In all, he made eight substitute appearamces for Altrincham, five of them being in league games in 2004-05.

The Telegraph & Argus reports that "Bradford-born Des Hazel has been involved in football for the best part of 40 years.

After making 274 Football League appearances for the likes of Sheffield Wednesday and Rotherham United, Hazel retired in 2000 to begin a career in developing young players. Roles at Bradford City and Leeds United followed, before he landed a job at one of the biggest clubs in the country, Manchester City.
Gareth Roberts then brought his expertise to Horsfall last October in an attempt to build a successful academy... Hazel said... 'You have to build a base where eventually you can produce players to step into the first team. It has to be a process, built over two or three years. Ideally you are looking to use Bradford (Park Avenue) as a community base. The attendances are very nominal, so you have to look at the community and try and get a new clientele which would help the first team and the youth team."

An example of the sort of player Hazel is aiming to bring through is young Jamie Lyons. The 17-year-old impressed immediately and has since made a number of first team appearances.

Hazel said... 'I realised this kid could play. He had the right ability and temperament. He still has to grow into his body but that will come... Mark (Bower) liked him and he has played in the first team. We are looking to attract those types of players.'

Elite Development Scout was the 52-year-old's title at current Premier League champions City... 'When you are recruiting for Manchester City, you have got to realise that these players have already been found. All you are doing is cherry picking all these players from other academies'...

Hazel has hosted a number of trials since he was appointed at Bradford and gave his assessment on what he looks for in a player... The former winger said 'He might not do anything for 90 minutes but it could be the way he trains or moves. Is he injured? Is he growing? Has he got that desire? There's a lot of factors you have to consider. The trials have not gone too badly. You look at the local community and you have got to be brutally honest; I have got to start looking at players outside Bradford as well that have been released from professional clubs.

'You have got to be a realist; the chances are that not a lot of them will become professional footballers. We are looking at players who can push on into the first team'".

And Bradford (Park Avenue) "announce the signing of twins, Willy Eckerslyke and Woody Eckerslyke from Earls Park F.C. Willy and Woody, aged 25, both join after making a phenomenal impact at the Sparks, both combining for 78 goals and 37 assists in just two seasons at the London-based club. Both proud Yorkshiremen, born and bred in the city of Bradford, they are excited about getting the opportunity to don the Red, Amber and Black...

Avenue manager, Mark Bower hopes the pair both continue what they have started, 'Very pleased to announce these two new signings. Although to be honest with you, I couldn't tell you which one is which. Called Woody Willy and Willy Woody earlier. But yeah, both scored plenty of goals and got good potential so I'm excited to see what they can bring to the team.'"
---
1 April 2020 On Tuesday afternoon, the National League announced that "The National League Board met earlier today and has reviewed its prior decision to suspend the competition until at least 3rd April 2020.

In consideration of the very serious and unprecedented national public health emergency caused by the coronavirus, the Board has taken the decision to suspend the National League, National League North and National League South competitions indefinitely.

The National League is currently obtaining specialist legal advice, is consulting regularly with The Football Association and other stakeholders, and is committed to involving its member clubs in a pending decision on how best to conclude the 2019/20 season".

2006: Coincidentally just as on yesterday's date, 31 March, it was exactly 13 years since Altrincham had hosted a game against Exeter City at Moss Lane, today's date (1 April) is the 14th anniversary of another fixture against Exeter City, this time in Devon, with Alty losing 3-1 in the Conference.
Above: Alty's day got off to a bad start after the players' coach broke down on the way to Exeter from their overnight stay at Taunton and the players eventually arrived at the ground just after 2.25pm, having been picked up from the M5 hardshoulder by the supporters' coach, which had returned to collect them after it had delivered the fans to the ground. Above the players cross the pitch after their arrival at the ground, with the supporters' coach just visible outside the ground, far left.

Things did not improve as Alty, trailing 2-1 but still in the game and looking forward to a second half with the wind behind them, had Mark Maddox sent off. Having been fouled, the Alty captain was red-carded for allegedly kicking the offender, as the game went into added time before the interval.

2008: In 2008, the CSC Final took place on a Tuesday night, 1 April at Wincham Park and the game ended Nantwich Town 3 Altrincham 3 but The Dabbers won 5-3 on penalties after extra time. Phil Parkinson was in the Nantwich side. Jake Sedgmore's missed spot kick was the ultimate determiner of the outcome.

Alty had been without seven of their first-team squad; Lynch, Tansey, Turnbull, Roca and Battersby were ineligible either because they had not signed before the semi-final stage or had played for another club in the competition, and both Liam King and Val Owen were injured, although Val warmed the bench. However, Alty started with many regular first-teamers (Coburn, Tinson, Lawton, Young, Peyton, Lane, Shotton, O'Neill) whilst recent fringe players such as Jake Sedgemore and Pat McFadden remained on the bench. Phil Parkinson featured for The Dabbers.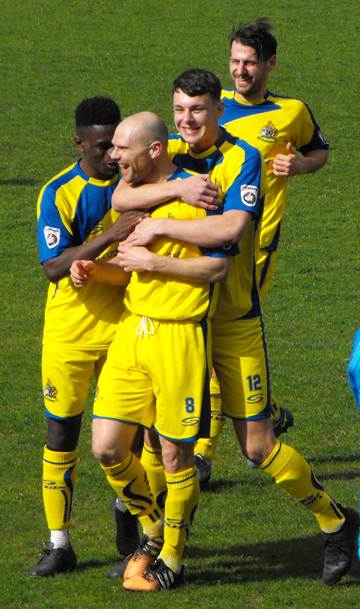 A hat-trick from the Dabber's Slovakian ex-Crewe and Stafford substitute, Pawel Suhaj, was the key to the Nantwich success, after Altrincham had taken the lead in the 33rd minute through Chris Senior, following good work from Colin Little. But Alty were second best for much of the game, with passes frequently misplaced and, though the surface was poor, that was no excuse for their defeat. The 6ft 4inch Suhaj came off the bench in the 68th minute and within three minutes had levelled the scores, converting a left-sided corner.

Three minutes from the end of normal time he put his side ahead only for Ryan Shotton, pushed up front for the final minutes, to equalize in the first of three added minutes. Alty twice could have snatched the Cup in the remaining minutes before extra time arrived.

Suhaj then was allowed an eternity to turn and score his hat-trick goal three minutes into the first period of extra-time, only for Shotton to grab another late equalizer, chesting down Lawton's cross before scoring, two minutes into the second period of extra-time.

In the penalty shoot-out Nantwich converted all five spot-kicks confidently but Alty's first, by substitute Jake Sedgemore, was saved, allowing the Dabbers to run out 5-3 winners from the penalty spot.

2013 & 2014: On April Fools' Day in 2013, Altrincham lost 2-0 at Chester FC and a year later they played a goalless draw against Boston on 1 April, a Tuesday night.

2017: Most recently, on 1 April 2017 they lost 1-2 at Salford City, a result which confirmed Altrincham's relegation but in that game they should have emerged with at least a point, if not all three, following a spirited performance.

Right: Gary Jones is mobbed by delighted team-mates after his fine goal.

Referee Marsden was the centre of controversy as he denied the visitors three very strong penalty appeals whilst granting Salford a more questionable spot-kick which got The Ammies back into game after they had trailed at the interval.

Altrincham had taken a deserved 38th minute lead when Gary Jones netted with a superb 30-yard strike. But thirteen minutes into the second half Sam Heathcote was penalised in his own box and Walker netted from the spot. The goal prompted the hosts' best spell of the afternoon and they took a 62nd minute lead when Simon Grand scored from close range after Tomlinson had saved well from King's shot.

Alty finished strongly; they hit the bar through Owens, and referee Marsden waved away appeals for penalties when Owens was bundled over and when a defender appeared to stop the ball on the line with his hands. But, in the end, even a win for Alty would only have delayed the inevitable relegation which has been beckoning for some weeks.

And to compound their woes, Alty, already lacking eight injured players at kick-off, lost Tom Hannigan to another injury during the first half.
Football might be on hold at present but the Shropshire Star reports that "AFC Telford United have confirmed their first pre-season friendly of the 2020/21 season...

Gavin Cowan's men will make the short trip to face Southern League Central side Nuneaton Borough at Liberty Way on Saturday, July 11. The Bucks have added that the friendly is subject to further coronavirus updates...

The Bucks sit 13th of 22 clubs in the standings having completed 34 of their scheduled 42 fixtures. An update from the National League is expected in the next few days."
Likewise at Boston United "manager Craig Elliott is continuing to plan for the future, despite uncertainty when football will resume.

The Pilgrims have not played in National League North since their 1-1 draw at Curzon Ashton on March 7 and have seen their last five fixtures postponed.

Elliott said... 'At the current time, I feel extremely proud of our club and of how efficiently and effectively we were able to act and ensure the safety of all stakeholders and I would like to extend my personal thanks to our chairman for making this happen.

'Obviously the current situation has meant that our league campaign has been suspended and that the players have had to train individually for nearly two weeks now. A decision regarding social distancing and training was made very early on in the process in that we felt that this was the safest decision for our players, which was then backed up by government advice.

'I am in regular contact with the playing squad and, as I am sure you can imagine, they are desperate to finish our season as soon as it is safe to do so. The playing squad have been keeping on top of their fitness with individual fitness plans that have been professionally put together by Hayden Clifton and, at this stage, I am absolutely confident that each player will follow the advice given and keep on top of their health, fitness and diet in this very challenging environment.

'I am also in regular contact with the rest of my management team and chief scout. Already, we have had regular dialogue and time to reflect and fine tune ideas from this season. It goes without saying that we are also taking time to look to the future and how we can continue to improve, although this is very much tentative as we await clarity on how this season will be concluded.

'On a personal level, I would like to see the season finished and, with the hard work and flexibility of all clubs, players and league officials, I believe that this can be achieved. I feel for the integrity of the competition with so many points still to play for and I feel that we must explore every option to ensure this can happen. However, I am also conscious that this decision is out of the hands of managers and players and as such, we eagerly await this decision.

'While football is a huge part of all our lives and all of us are awaiting a return to the normality of the highs and lows of matchday, I am sure that you, like myself, fully agree that the health and safety of everyone is of paramount importance at this time'.
The Chester Standard confirms that "Chester FC... together with Chester FC Community Trust, will be contacting older City Fans United members, season ticket holders and volunteers in an effort to reduce social isolation during the lockdown.

The Blues say the initiative is open to the whole community, not just Chester FC supporters, and is looking for volunteers who can help from home.

In a statement, Chester FC said... 'Whether it is a friendly chat, a chance to talk about the Blues or organising assistance with shopping, we will be available for a regular call to offer support and promote positive well-being during this difficult time. The response of communities across West Cheshire to this crisis has been inspiring and the club has offered its full support to Cheshire West and Chester Council.

'This new initiative is open to anyone in the local area in need of extra support or a chat, not just Chester FC supporters... We would also welcome help from supporters who can volunteer a couple of hours at home each week to be part of the new initiative'".

FromCheshire Live we learn that "For Simon Grand, football has always been his 'escape'... For the past 20 years as a professional footballer [he has] been able to rely on those 90 minutes to get him in the right frame of mind again.

Over 500 games as a professional which has seen him play in every division from League One to the National League North, the 36-year-old has solidified his reputation as a fearless competitor at the heart of defence. Up until the coronavirus outbreak put the breaks on football and normal life across the globe, Grand had played every minute of every league game for Chester FC. Quite some feat for someone closer to his 40s than his 20s...

'Whenever I have had tough times in life, bereavements or anything, I have always been able to rely on football as an escape and that 90 minutes where I can just get away from things and forget, just concentrate on my football,' said Grand. 'To not have that now is tough, especially as this is a time in life that none of us have ever experienced and I've got more on my plate right now than I ever have but no football'...

His partner is due to give birth in a week's time, something he does not yet know if he will be able to attend, like the rest of the UK his daughter is being home schooled and he and his partner have been forced to close their salon in the face of the pandemic and now have to go through the process of seeking available government funding to ensure that they can re-open when life returns to normal, whenever that may be.

'It's really hard at the moment,' Grand admitted. 'I'm not even sure if I'll be allowed in the birthing unit when the baby arrives and sorting out everything around the salon is a headache. Then there is the fact that my Chester contract is up in a month or two. Times are strange and they are difficult but they are for so many people'...

Last week Grand took to Twitter to say how disappointed he would be if this season were to be scrubbed from history and declared null and void, his goal of playing every minute of every match and playing his part in some success seemingly dashed. Some took it as a retirement announcement...

'I've always looked after myself, kept fit and been wanted by clubs and managers every single summer,' said Grand. 'I don't want a virus to force me into retirement, I wanted that to be a decision that I made when I was good and ready. I know that it is out of my hands now but the way I feel at the moment is that I don't think I'm done. If it goes on a couple of months and then we start to see where we are at, then I'd like to keep on I think. But that all depends on who wants you, if you can find somewhere that you enjoy and with a group of players and staff that you believe in. I have that at Chester.

'But if this is a longer term thing and we aren't seeing football for months on end then I might have no choice. I don't want that, though. I also don't want this season to be voided. What has happened to the leagues below is us absolutely ridiculous. We've got to try and finish the season but there will be contract issues, I know. You just don't want all that hard work to be for nothing, and that counts from the very top down'.

At Chester, Grand has been able to spend the twilight years of his career playing alongside someone who has been a constant throughout much of it, Danny Livesey. The two best friends have played together at Rochdale, Carlisle United, Barrow and Chester...

'Danny coming to Chester re-ignited his love for the game,' said Grand... 'When he was out for the season through injury, and I had left just before he arrived, he kind of fell out of love with it a bit... Then the Chester call came and from the first training session you could see that the old Danny was there, wanting to win everything and getting that competitive streak back... I hope it isn't the last time we've played together for Chester. It wouldn't be the right way to end it all'".

Chester FC themselves report that "To support the long-term sustainability of the Club through this difficult time financially we are actively exploring a number of steps to cover this Shortfall such as:
Taking advantage of the government's proposed business rates holiday and potentially the £25,000 grant available to organisations involved in the leisure industry given our Business Rates are payable to Flintshire Council.
Exploring opportunity to defer our rent payments to CWAC to support our current cashflow position.
Reviewing, cancelling or postponing monthly payments for services that are not currently required while the stadium is closed and footballing activity is suspended.
Actively monitoring and engaging the government's proposed Job Retention scheme and have taken the steps to Furlough all players and eligible staff at the earliest opportunity as per the scheme rules.
With 2 player wages cycles left to be paid before 2nd May when player contracts cease, and payment of Government support via the JRS not yet forthcoming , it is essential all fundraising activity be continued to ensure we can meet our short term financial obligations in full and on time.

We are currently linking in with our match related sponsors to discuss individual arrangements with them. In fact, so far a significant number have donated the money they would have paid for sponsoring either the Match, Ball or Programme to the Club in lieu of the sponsorship which the Club are truly thankful for.

Our principal sponsors are covered under a separate arrangement so not directly linked to the fixture list completion i.e. not dependent on the actual matches taking place. That said, dialogue continues to take place with them individually but again it should be noted that this is more focussed on how they can continue to support the Club rather than pulling money away via reimbursement".
NL Daily informs us that "Gloucester City could play their home games at Bath City's Twerton Park if their Meadow Park home is not ready for the start of next season.

Construction on their new 3,208-capacity ground has been taking place this year, with the club set to have a 3G pitch. It has been some 13 years since the club played in their home city, with their old ground on the Meadow Park site ruined by that year's floods.

In an update from co-chairman Alex Petherham, he said 'With the season still on pause, and we've no idea what or even when anything will happen on that front, we're very much in uncharted waters. We don't know when we'll be back to full speed ahead at MP and we don't know if we'll have to revert to our plan B.

'We have spoken to Bath City as an option if we're delayed but as we don't even know when this season will end and how long we'll be in 'lockdown', looking forward to next season would just be guessing.'"

Wrexham's Daily Post reports that "Maidenhead United owner Peter Griffin has made a fresh proposal on how to settle the football season... Different leagues and governing bodies are locked in talks over the best way to proceed with the season.

The FA have already opted to declare divisions below the National League null and void, sparking fears that the same may happen in professional football...

In an open letter to the FA, the owner of the Magpies, who sit 22nd in the National League two places below Wrexham, has proposed a solution that would both end the season now and also reward teams for their successful season. Griffin, along with CEO Jon Adams, has argued that a points-per-game average would be the best way to settle the season, rather than risk things dragging on during the current pandemic.

They propose that relegation should be scrapped this season, meaning that each league expands for next year. 'In times of great adversity we see football for what it is, a meaningless pastime that means everything to so many,' the letter said... 'We are currently... in the dark, without clear leadership and direction from the football authorities. We believe that there is an overwhelming consensus amongst National League clubs that the football season should be finished now...

'It is now time for the FA and the Premier League to show strong leadership by accepting the current season is over and that it is not practical to hope that it could be completed at an undefined future date. This message needs relaying to FIFA and other bodies. Quite simply put, it is abhorrent to stick our heads in the sand and insist "we will finish the season at all costs" when people are dying and the global crisis continues apace.

'The time for consistency of approach and a solution for the whole football family is now. So far the FA has come up with a variety of 'solutions' for different steps of football; voiding the season for non-league steps 3-6, no comment on the National League, and apparently everything must be completed for top level and European competitions. This must stop immediately; football needs to act as one.'
---