---
31 March 2020
Presss and media officer Brian Flynn's interview with manager Phil Parkinson can be heard on the
Altrincham FC
website. It was "the Altrincham manager's first interview since the National League supended matches on March 16th".
It is perhaps just as well that Altrincham have no game today as the last eight occasions on which they have played a match on this date they have lost on each occasion. This must make it one of, if not the, poorest day in the calendar for the Club!
The most recent encounter on 31 March was two years ago when Altrincham lost 2-0 at Rushall Olympic, their last defeat of that promotion season.
Typical of Alty's luck on the last day of March was the 2007 game on 31 March, at home to Exeter City in the Conference National, one of just two home matches in the losing sequence on that date. After a disappointing home defeat by Stafford Rangers in the preceding midweek, Alty were anxious to gain the points vital to keep them in the Conference whilst Exeter were anxious to regain a play-off place at the top.
Having taken the lead, Alty lost to a controversial late penalty awarded by referee Oliver Langford, who has since progressed to officiate in the EFL.
Indeed, it was the second time in a week that the outcome of a game at Moss Lane had been decided against Altrincham by a refereeing decision. This time, with no one appealing and no threat to the Alty goal, referee Langford, who was already unpopular at Moss Lane after he facilitated Burton Albion's victory over the Robins the previous season by allowing a handball in the build-up to the winning goal, now spotted an alleged push from Karl Munroe and awarded the Grecians a penalty.
Jones calmly sent Coburn the wrong way to make it 2-1 (80 mins). Earlier, Altrincham had taken the lead, on 19 minutes, when Warren Peyton's quickly taken freekick from half way was met by Lewis Chalmers's fine leap and his header looped over keeper Jones into the far corner of the net.
Above: Lewis Chalmers receives congratulations after scoring
In a game ruined as a spectacle by a gusty wind, Exeter levelled just after the break when Chalmers gave away possession and Stansfield got past Gary Talbot to the right of goal before laying the ball inside for Logan to sidefoot home (50 mins). Things got worse for Alty who had to take off Steve Bushell at half-time, then his replacement, Chris Senior, appeared to twist an ankle and had to be carried off only ten minutes into the second period. Finally, Gary Talbot also had to be replaced after 63 minutes as Alty rarely threatened the Exeter goal in the second half.
For this match Alty were again without the injured Val Owen and Gary Scott but also had Stephen Rose suspended. However, Rod Thornley had returned to the bench from England masseur duty. Andy Scott came into the starting line-up in centre-midfield whilst Gary Talbot came in to central defence as Karl Munroe shifted to right-back. Chris Senior was dropped to the bench.
Above: Billy Jones scores Exeter's late winner from the penalty spot.
ALTRINCHAM: 1. Stuart COBURN, 17. Karl MUNROE, 4. Peter BAND, 5. Gary TALBOT, 11. Warren PEYTON; 7. Robbie LAWTON, 6. Steve BUSHELL, 22. Andy SCOTT, 14. Lewis CHALMERS; 9. Colin LITTLE, 12. Joe O'NEILL. Subs: 19. Chris SENIOR, 13. Richard ACTON (gk), 2. Steve ASPINALL, 18. Pat McFADDEN, 10. Rod THORNLEY.
The 2006-07 season was to end in a 21st-place finish but Alty were saved from relegation by the demotion of Boston United from League Two to Conference North for financial reasons.
Hereford FC
"Chairman Andrew Graham says that he and his board 'are doing everything we can to minimise the impact of what is clearly an unsustainable situation. I am hoping that we get clarity from the National League in the next few days. As a Board, we are in discussions remotely with each other every day, I am in contact with Josh [Gowling, the manager] continuously and communication takes place through Josh, to the players and football staff.'
'Any priority has to be the health and well-being of all our employees, including football management and players, our fans and sponsors as well as our suppliers and contractors. We have already placed some members of staff on the government's job retention scheme, with the likelihood that other staff members may have to follow in the near future...
'This has been a horrible season financially and, at the present moment in time, it is difficult to know the exact impact this season will have financially when we don't know how or when the season will be determined. Plans for next season were in advanced stages before the Coronavirus pandemic took hold, but those plans will undoubtedly need to be reviewed and amended depending on how this season ends and what shape next season looks like taking...
'The club will announce significant losses for this season. However, having been born from the ashes of Hereford United, we are all too aware of the problems that financial issues can cause for the longevity of clubs like ours and we are all working hard to ensure as much as we can that similar issues do not materialise again'".
Cheshire Live confirms that "Chester FC have offered the use of their 1885 Arena home to the NHS to help tackle the coronavirus outbreak...
Chester are one of a number of football clubs trying to help in the fight against COVID-19,... The Blues have written to the Countess of Chester Hospital and Cheshire and Wirral Partnership NHS Foundation Trust, the community physical health and mental health provider for Cheshire West, to offer the stadium, offices and car park for whatever is needed to help combat the pandemic.
The club's lease allows for them to provide such things as car parking for key workers and storage of supplies. Should clinical services be set up then that would require approval from NHS England and Cheshire West & Chester Council.
Chester, like many football clubs in the face of the coronavirus crisis, are facing incredibly difficult times financially. The Blues are to furlough the majority of their staff, including players, under the Government's Coronavirus Job Retention Scheme which sees the Government pay 80% of wages, Chester making up the other 20%."
The Boston Standard tells us that "Boston United chairman David Newton has called for support to help struggling football clubs... The club continues to pay contracted players while not collecting income from matchday revenue.
'There is plenty of time to make decisions about how the leagues will (or will not) be concluded, however there is real urgency around playing contracts,' Mr Newton told bufc.co.uk. 'If the leagues are not to be terminated, some financial support will definitely be needed for clubs in the National League. We have no income but would still be forced to honour playing contacts for an undefined period.
'I understand that the football authorities are trying to find a way forward that is not open to challenge, but all the while we are trying to keep our clubs alive. I fully appreciate that all businesses are in a similar position and I do not want anyone to think that I am in any way implying that football clubs are more important than other businesses, they are not, but we do have a very specific challenge around player contracts, an issue that does not exist in other businesses but does need urgently addressing by the football authorities, if clubs are to find a way through this very difficult period.'
The club has currently postponed work on its Community Stadium, which is being built on the south of the town. Mr Newton, who runs property development company Chestnut Homes, added...'We took the decision to close all Chestnut Homes developments until further notice... This close down included the new Community Stadium site. The stadium is really taking shape now and work on the pitch is under way, so it is heart-breaking for all those who have worked so hard to keep the project on programme despite the wettest winter on record.
'Everyone was totally focused on the facility being ready for the new season, but the close down was absolutely essential for the safety of all... We will, however, make sure that measures are in place so football can resume when we are instructed to do so by the National League, regardless of the availability of the stadium'...
Mr Newton added 'In terms of the National League, I unfortunately do not know where this will go. As you can imagine, different clubs are looking for different outcomes based on their own financial and league positions. We have had a fantastic season which is a credit to the hard work of the first team management and staff; club staff; the players and, of course, the wonderful support of all our fans. 'We are well-placed in National League North and I would hate all that to go to waste. However, at the present time I think we need to accept that playing football matches is very secondary to saving lives and supporting our fantastic NHS'".
---
30 March 2020 Whilst football off the pitch in 2020 is in despair across the country, things were optimistic at Altrincham on the pitch before the current suspension of all football. However, on today's date back in 2002 it was gloom and doom at Moss Lane both on and off the pitch.

On 30 March in 2002, Alty were plying their trade in the UniBond Premier League, which was then the step immediately below the top level of non-League football. This was Alty's second season at that level after being relegated from the Football Conference in 2000.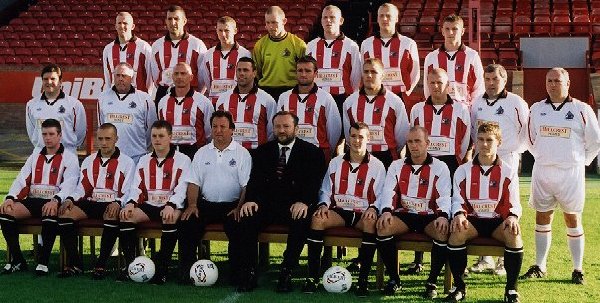 Above: The Altrincham squad in 2001-02 season. Back row L to R: Mark Maddox, Mark Sertori, Ian Craney, Stuart Coburn, Paul Taylor, Terry Bowker, Gary Scott; middle L to R: Gary Thompson (Physio), Keith Mairs Senior (Coaching Staff), Kevin Hulme, Jason Gallagher, Danny Murphy, Carl Furlong, Chris Adams, Graham Heathcote (Coach), Graham Wright (Reserves' Manager); front L to R: Dave Swannick, Keith Mairs, Steve Hawes (Captain), Bernard Taylor (Manager), Mark Harris (Chairman), Rod Thornley, Lee Poland, Jeremy Illingworth.

In the match played at Moss Lane on Saturday, 30th March, 2002, after a goalless first half, Altrincham lost 0-3 to Lancashire club Burscough in front of just 557 spectators.

Alty's squad that day comprised 1. Stuart COBURN 2. Neil RYAN 3. Barry SHUTTLEWORTH 4. Mark MADDOX 5. Mark SERTORI (capt.) 6. Steve HAWES 7. Kevin HULME 8. Ian CRANEY 9. Dave SWANICK 10. Rod THORNLEY 11. Gareth STRANGE Subs: 12. Lee POLAND 14. Marc WHITEMAN 15. Vernum ROWLAND
Left: Vernum Rowland pictured during the game.

At kick-off, both sides had been in much need of a win after poor recent runs. Indeed, before the match, Altrincham had held an open meeting about the Club's parlous financial state which was threatening the existing set-up both on and off the field. In that context, it had been indicated that there would be a substantial cut in the players' wage bill for next season. For their part, Burscough were coming to terms with a new managerial regime following the shock departure, after seven years, of manager John Davison, a former Moss Lane favourite in his playing days.

Alty, without a win in eight games before this match, played out a lacklustre and goal-less first half against a Burscough side who were themselves without a win in six matches. But things immediately got worse after the break when an error by Neil Ryan let in Lee Furlong for a straightforward goal a minute after the re-start. Altrincham played their best football after this but rarely looked like levelling against a Burscough side fielding five of their Youth team. Knowles knocked in number two when a throw-in was not cleared (75 mins).

Alty were poor from then onwards and, when Stuart Coburn was unable to gather a corner ball, Mason headed home after his first effort had come back to him off the upright (89 mins). This was Alty's heaviest home league defeat for five seasons.

A broken leg on his full debut for Andy Tunnicliffe had meant that Rod Thornley's return to the side after masseur-duty for England in midweek necessitated no further personnel changes from the squad beaten so disappointingly by Hyde in the CSC in the preceding midweek. However, Gareth Strange, on loan from Accrington Stanley, replaced Lee Poland in the starting line-up and Keith Mairs's place on the bench went to youth teamer Vernum Rowland, who was celebrating his 17th birthday on matchday.

Alty adopted a starting line-up which saw both Barry Shuttleworth and Dave Swannick, (oddly wearing number 9), playing in front of the back line, whilst Kevin Hulme was Rod Thornley's partner up front.

In advance of the Emergency General Meeting of the National League planned for the coming week, the Bet Victor NPL has an interview with Northern Premier League chairman Mark Harris about the voiding of their 2019-20 season.

In the Non-League Paper, it states that as a consequence, "There will be no relegation down from Step 2 [i.e. National League North and South], whatever the outcome of the National League's decision". If so,that means Bradford (Park Avenue) and Blyth Spartans would be reprieved. Also in the NLP, Mark Harris explains the difficulties in making that decision. Amongst the factors that the NPL considered were that there are "over 2000 players registered in the NPL, only 300 are contracted". It remains unclear whether government provisions announced last week would cover such players on "fixed-term short contracts".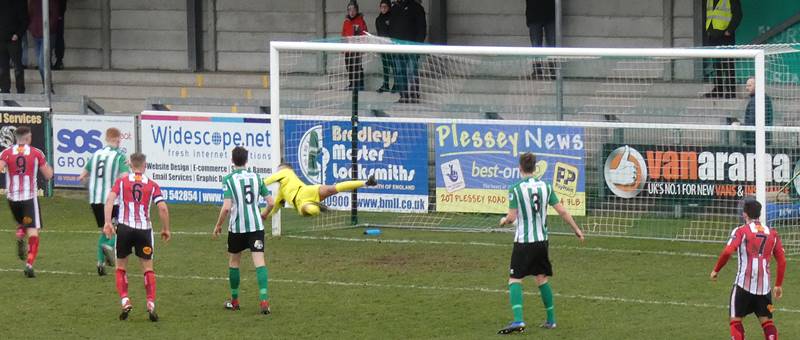 Alty could be going back to Croft Park next season, where Josh Hancock's freekick [above] was a feature of this February's 3-0 win for The Robins.

According to The Standard, "Worthing FC, the leaders of the Isthmian Premier Division, are the latest club to voice their disapproval at the Football Association's decision to cancel the non-league season... The decision has prompted a widespread backlash from a number of clubs, and at least three promotion hopefuls, South Shields, Maldon and Tiptree and Hastings, have already threatened the governing body with legal action.

The decision is still to be ratified by the FA Council, and Worthing chairman Barry Hunter claims 'a growing swathe of clubs' want to challenge the FA's call. Worthing were seven points clear at the top of the table and headed for promotion to the National League South, with eight fixtures outstanding.

In a statement, Hunter said, 'It has come to the club's attention in the past 24 hours that the league's decision to call our season null and void is not final and is subject to further process and appeal,... It's our intention to ensure our voice is heard. There are several ways we will do this, both individually as a club and collectively with a growing swathe of other clubs joining the cause...

'Our view as a management committee is that, had we had the ability to provide input, we would have strongly advised that the season should not have been declared null and void. Instead, we unanimously agree that it should be allowed to conclude whenever safe to do so. That way a number of things could be achieved.
1. It would be a fair way of concluding the season.
2. Any implications and impact could be pushed into next season, where any treatment can be applied equally to everyone on a level playing field.
3. To be treated equally with all clubs throughout the football pyramid, including the professional and National league competition."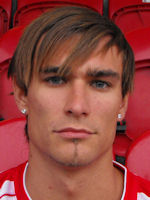 "Player movements registered with the BetVictor Northern Premier League from Sunday 22nd March to 5pm on Thursday 26th March, which was the registration deadline for the 2019/20 season" included:
Marcus Marshall from Matlock Town to Basford United. In March 2016, Marcus turned down a loan move to Alty from Grimsby Town.
Gregory Young [right] from Mickleover Sports to Grantham Town. Greg was a popular centre-half at Alty from 2008 to 2011.
In the NL Paper, Russ Penn, acting manager at Kidderminster Harriers, says of a tumultuous season at Aggborough that "I've had two managers, two owners and a corona vrus! I feel like I've had 20 years' experience in nine months". He believes the Premier League should help out the lower clubs, sayimg that "The grass roots make football. Non-league makes the Pyramid, it makes the FA Cup and it makes players" for the higher-level game.
---
29 March, 2020 Altrincham FC director Bill Wwaterson has thanked supporters for their help in the current times of uncertainty.

"The job of thanking our fans for their support is one I will never tire of, and at this time you are all making me more and more proud to be associated with Altrincham Football Club and to count myself as one of your number. Our request for funds, only one week ago, has seen an absolutely magnificent response from you all. The fund has just surged past £9000 after only having been set up 7 days ago. The board are frankly blown away by your response - cementing you reputation as the best fans in the business...

Many of the players and staff have stepped forward and contributed, following the lead of the inspirational Shaun Densmore. Phil Parkinson prides himself on building a tight squad – we have seen clear evidence of that over the last few days. We were quick to reassure the players that we would honour their contracts, and pay them in full for this season. We know loyalty works both ways and they have been magnificent for us again this season...

In more good news, we expect to announce that one of our major sponsors is renewing their support for another season, a massive help in planning for the next 12 months, whatever they may bring.

We would like to thank all of you for your continued support and we cannot stress how much of a difference your contributions are making at this time. The board will persevere with our task of moving this club forward and with the short term ambition to re-establish ourselves in the National League's top division...

If you wish to donate, but haven't yet had the chance, you can do so here

And if you would like to sign up to Alty Rewards the link is here".

Six years ago today (29 March), Altrincham played at Colwyn Bay in the Skrill North, in a season which ended with a memorable play-off win against Guiseley and promotion back to the top flight of non-League football.

In the game at Llanelian Road, Alty took a 2-0 lead but allowed Colwyn Bay back into the game and the hosts enjoyed plenty of the ball before a superb Nicky Clee freekick secured the points. ,P>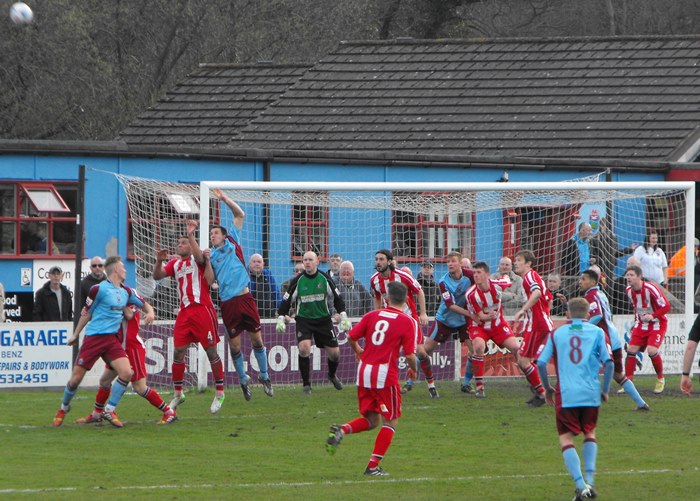 Above: Alty defend a late threat to their goal at Colwyn Bay on 29 March 2014.

Altrincham had taken a fifth-minute lead when a superb ball from Carl Rodgers found Shaun Densmore, who set up Damian Reeves for a close-range strike. When a patient build-up concluded with Clee feeding Walshaw, who scored from left of goal, it looked like the game was secure after just 26 minutes.

But, three minutes later, Marc Williams got past Scott Leather, who otherwise had an outstanding game, on the Bay's right byline. From his cross, Rob Hopley tapped in to make it 2-1. The Bay had most of the attacking play in the second half but seven minutes from time, Marc Williams lunged in on Lawrie in midfield and the referee instantly produced a red card for the Welshman.

Just three minutes later Nicky Clee put a 30-yard freekick into the top corner to make it 3-1 and prompt some minor crowd trouble behind the goal.

In the Bay line-up was current Alty midfielder, Sean Williams, whilst the Altrincham line-up that day comprised: 1. Stuart Coburn, 2. Shaun Densmore (capt), 3. Adam Griffin, 4. Carl Rodgers, 5. Gianluca Havern, 6. Scott Leather, 7. James Lawrie, 8. Simon Richman, 9. James Walshaw, 10. Damian Reeves, 11. Nicky Clee. Subs: 12. Tom Marshall, 14. Matt Doughty, 15. Jake Moult, 16. Kyle Perry, 17. Greg Wilkinson

Mike Garnett's records confirmed that this victory was Alty's seventh in twelve visits to Colwyn Bay, where they had lost just once. It had been Altrincham's third trip to Llanelian Road this season after the FA Trophy meeting had to be replayed because of the referee's injury. Coincidentally, Alty's most recent match at home before this game in Wales was also subject to a referee suffering an injury but, in that case, the game was completed with a substitute official running the line.
Lynn News reports that "Despite the enforced break from fixtures, King's Lynn Town have been proactive in preparing for life after the coronavirus. The club announced yesterday that they had signed defender Alex Brown from Buxton FC for an undisclosed fee.

King's Lynn Town add that "The 21 year old England ' C ' international began his career in the junior ranks at Sheffield United before spells at Hallam and Sheffield FC. He then joined Buxton where he has been a regular in the Northern Premier League side for the past two seasons. Alex made his England 'C' debut in 2018 and was also a member of the England representative squad that played two fixtures on the Falkland Islands in 2019.

Alex has agreed a two-year deal at The Walks and would be available to play for the Linnets if the present season were to recommence at any point...

Alex said, 'I have been watching events from afar for a few months now and it looks to be exciting times for the football club. I know Ross Barrows and he tells me that it's a great group of players to be amongst. I played for Buxton in the two FA Trophy ties against King's Lynn a couple of seasons back and was very impressed with the set up and stadium.

I began as a winger but converted to full back at 15 years of age so I like to get forward as well as defend, like most modern full backs do nowadays... I cannot wait to get started at the football club and to test myself at an excellent level of football'

Chairman Stephen Cleeve added ' Alex is a player that the manager has been looking at for a long time and, when it became clear that there could be an opportunity to agree something now and sign Alex for two seasons, it seemed a prudent step to take. There were lots of National League clubs looking at Alex and sometimes, even though it is not ideal timing from anyone's perspective at the moment, we think with the benefit of hindsight this will be seen as the right action in time'".
The Shropshire Star tells us that "AFC Telford United are welcoming donations to an online fundraising page as they aim to 'ensure the longevity' of the club amid the coronavirus pandemic.

The Bucks... asked for financial support from fans earlier this week. Now, a GoFundMe page has been set up on the request of fans and, at the time of writing, £155 has been raised. Our responsibility at this time is to ensure that we deal with the impact on AFC Telford United and to ensure the longevity of your football club,' reads a club statement on the page.

'With the future being very uncertain, the football club does need financial help in the coming days, weeks and months'".

According to the NL Paper, "Barrow boss Ian Evatt fears the league leaders will never recover if the season is eventually voided by the coronavirus crisis and they're denied the chance to win promotion back to the Football League.

The Bluebirds' manager insists the National League campaign cannot be allowed to be voided...

The former Blackpool defender believes the option of restarting the season should be kept open if the public health crisis can be brought under control...

'I don't think it [the club] would recover,' Evatt told the Press Association. 'That's being frank. I don't see how you can, in the interest of fairness, void the season when some teams in our league have only got seven games to play.'"

Elsewhere, the Hartlepool Mail reports that manager "Dave Challinor has given an insight into how the... the Hartlepool players are having to train independently and have agreed to take a 20 per-cent pay cut...

Challinor explained... 'They've got an app on their phones to do what we ask in terms of runs and exercises and they post it on the group whatsapp to let Hubs monitor and see where we're at. This week we've given the players a bit of a down week and that will continue for the next couple of weeks providing things stay the same.

'It's just about keeping things ticking over and not doing too much or too little because realistically, although there has been official no change in the dates we may end up playing football again, you have to be really reactive and make sure once that happens and, hopefully it's sooner rather than later, that the lads are in a position physically to do it and not cause themselves any damage more than anything else.'

Several non-playing staff members have been made redundant due to the financial implications of the suspension".
---
28 March 2020 Rob Esteva was interviewed on behalf of Altrincham FC on TalkSport this morning. It appears that Rob has now resumed his role as a Director of the football club after he had stepped down from the Board, owing to family and professional commitments, in January 2019.

He explained that the club was trying to "do the right thing" as regards its players and staff and was intending to honour its employees' contracts.

Asked about extending the season into May or beyond, he pointed out that player contracts, for the most part, are of 39 weeks' duration so they terminate at the end of April. Therefore, if football did resume in the summer months, it would be difficult for clubs at our level to deal with that situation. "Survival in the short term" is the priority of clubs at our level, he added.

Rob expressed the hope that the wider footballing community would come together after the crisis is over and suggested that if, for instance, Premier League clubs were to send their teams to play matches at lower-level clubs, it would make a "huge difference financially" to the hosts.

He reported that the Club's fundraising had already reached £7,000 [and now approaches £10,000] via its gofundme page and that the contributors included Premier League referee Anthony Taylor, who lives locally.

Click the following link to learn HOW TO HELP ALTRINCHAM FC.

Back in 2009 Altrincham's match on today's date, 28 March, was a memorable one, as it featured a goal from well inside his own half by Alty centre-back Michael Welch. And it was all the more pleasurable for being against Steve Evans's Crawley Town, in a Blue Square Premier match at Moss Lane which finished 2-2.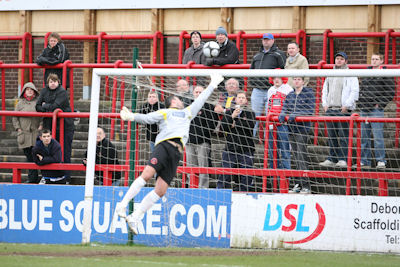 Right: Michael Welch's freekick from more than 60 yards beats Crawley keeper Rayner. Image courtesy of Gavin Rathbone of GR Photography.

After a traumatic 2-5 home defeat against Forest Green Rovers at Moss Lane the week before, a game in which Alty had led 2-0 at half-time, Altrincham fans would probably have settled for a point before kick off but, having led till two minutes before the end of the ninety, ultimately they were disappointed not to take all three. Crawley were looking to consolidate their claim to a play-off place, whilst Alty needed only a handful of points to secure their stay in the BSP for another season.

In blustery conditions Alty took the lead with a quite sensational goal. From a freekick, more than 60 yards out, Michael Welch beat Crawley keeper Rayner with a superb lob (27 mins). Four minutes later Isaiah Rankin levelled things. In the second half of an increasingly niggly match, Alty regained the lead when Rayner failed to deal with Lawton's cross from the left and Densmore arrived to lash the ball home at the back post (57 mins).

Alty withstood sustained pressure until Bulman's cross led to Wilson poking the ball home in the 88th minute to make it 2-2. Things got worse for Alty in the ninetieth minute when Welch landed badly from a challenge with Matthews and had to be stretchered off with his right leg in a brace. But despite the disappointment of Crawley's late equalizer, this was a performance to be proud of by the Robins.

With Alex Meechan having left the club, James Smith suspended and Chris Senior, Chris Denham and Kevin Street all injured, Alty included two new faces on the bench. Danny Heffernan made his first appearance on the bench for a BSP game and new loan signing Ben Wilkinson joined him there. The only change from Monday's CSC Final win was that Michael Welch had come in at the back with midfielder Warren Peyton dropping to the bench in a 4-4-2 formation in which Greg Young played at left-back.

ALTRINCHAM : 1. Stuart COBURN, 2.Chris LANE, 4. Mark McGREGOR, 5. Greg YOUNG, 21. Shaun DENSMORE, 7. Robbie LAWTON (capt), 3. Matt DOUGHTY, 16. Anthony DANYLYK, 18. Michael WELCH, 14. Dale JOHNSON, 9. Colin LITTLE. SUBS: 23 Richard ACTON, 12. Joe O'NEILL, 17. Ben WILKINSON, 11. Warren PEYTON, 20. Danny HEFFERNAN.
According to the Chester Standard "Chester boss Anthony Johnson feels the cancellation of the National League season is 'likely' but says finalising league positions will be a 'minefield'...

Johnson said 'I've only seen the statements circulating on social media and nothing official from the FA as yet. My personal stance is that if the season is stopped, as looks likely, then it shouldn't be null and void. All that does is compromise the integrity of the league. The best two teams should be promoted and the worst two should go down.

'The record books would still show how well teams have done up to this point and give the season some meaning.'

Skype meetings between National League board members have been convened already this week to discuss the current situation. The FA and other Non-League executives have also been consulted on how determination of promotion and relegation places should proceed if the season is halted.

Following the meetings, the National League's CEO Michael Tattersall said in a statement '"The National League is also working with the FA to define all reasonable and practical options for the determination of the 2019/20 season, and to provide guidance to clubs on dealing with player contracts, player registrations and the application of the Coronavirus Job Retention Scheme.

'We will continue to press for updates and will ensure that any further information is relayed to clubs as soon as it is received.

'The League is very aware that clubs are looking for answers and greater certainty, and we remain focused on delivering these in the most timely manner possible'

Several options are open to league officials if the season was ended prematurely. These include the possibility of the season being written off and voided, or the adoption of a points-per-game ratio deciding the final league standings. Johnson says the latter of those options could unfairly impact on clubs who had found form in the latter stages of the season.

He said 'Looking at our league, you'd say that the PPG system would see York and King's Lynn go up. Personally, I don't think either would have won the title this season. Brackley were in good form before the season got suspended and could realistically have caught them and gone on to win the league.

'On the flip-side, we've got two games in hand on Brackley and could have gone level with them by winning those two games. Then you've got teams like Fylde and Blyth playing at different levels of the National League. Both of those teams would go down as it stands and would question whether PPG is fair on them because they could both otherwise have stayed up.

'Whatever happens, this season needs a full-stop next to it. Players would have been moved on from clubs at the end of season regardless; whether that's players being told to move on by managers or retiring. Dragging the season out complicates things massively in terms of contracts at this level, so there needs to be a logical solution. Whether or not we get one, I don't know.'"

The North West Counties Football League reports that its Board of Directors "held an emergency meeting this evening following the announcement from The Football Association that Season 2019/20 has ended and that the campaign has been declared null and void with all playing records expunged and promotion and relegation being postponed.

The Board acknowledges that we are currently in a global crisis situation that is unprecedented in modern times, and that difficult decisions have to be made. That said, the Board is disappointed in the decision of The FA's League's Committee, both in relation to timing of the announcement, which appeared to be rushed, and the lack of clarity the announcement brings, leaving more questions than answers.

The League's Board understands that there is no ability to appeal this decision under the National League System Rules, however we will be writing to The FA to register our disappointment and to get further information on why they have made the decision and why they discounted other options that were suggested.

The League Chairman attended a meeting of Step 5 and 6 Leagues on Tuesday afternoon in which we were told the decision had already been taken to end the season immediately. This was done by the League's Committee and the Alliance Committee (Steps 1-4). We were also informed that ideally the NLS should be consistent on how this was implemented but this has not happened with The National League (Steps 1-2) looking to finish their campaign at a later date. The Chairman expressed concerns at that meeting on the unintended consequences of ending the season and subsequently wrote to The FA with further concerns, but no response was received.

It is his belief that the decision had already been made by other parties prior to that meeting, and the outcome of the discussions with the Step 5 & 6 Leagues was a Fait Accompli.

The League are now considering the financial implications of this decision and other important matters that need further clarification and will communicate to clubs in due course. The future stability of football at Step 5 and 6 is in severe doubt at this moment in time, and decisions need to be made which secure the future of the League and its member clubs as we experience one of the most difficult times in our history".

Also far from happy are Nantwich Town of the BetVictor Northern Premier League, who have issued a staement which says "Following weeks of uncertainty, we have learned, only via the FA and League web site and national news, that The FA has announced and confirmed that, for all clubs in the national league system steps 3 to 6, the current 2019/20 Season has now been brought to an end and all results will be expunged, with no promotions and no relegations.

Whilst everyone at Nantwich Town recognises that the health and well-being of everyone at this time is of prime importance and way beyond sport, it is, none the less, a devastating blow for the majority of Clubs within the NLS system and more importantly their supporters, players and volunteers, who have committed months of their time and hard earned money, to support their local clubs with the hope of seeing them achieve success, which now amounts to nothing!

And without financial support, many clubs, like a lot of businesses within their respective communities, will struggle to recover from this as, aside from investing in their playing squads and the associated costs that go with this, they also have the overheads and obligations of running their stadiums and with the season now curtailed two thirds of the way through, the non-league landscape could look a lot different in the immediate future.

It's clearly a difficult and challenging time for everyone throughout the world at this time and there are difficult and disappointing decisions having to be made in all areas of life on a daily basis, though to our knowledge none of the Clubs in our league were consulted as part of this decision making process, as we certainly weren't".

NL Daily reports that "AFC Fylde have confirmed that the club's players and staff have been asked to take a 50 percent wage cut for April and May.

The Coasters have been battling relegation all season in the Vanarama National League, following a significant drop-off from reaching last year's play-off final. With the uncertainty surrounding the fate of the current season continuing, in light of the COVID-19 pandemic, Steps 3-6 of non-league football had their seasons officially ended yesterday, with the results to be expunged.

All attention now falls upon what will happen with the top two tiers of non-league, with plenty of murmurs and indications, but no concrete decision as yet. Fylde have now joined various other clubs in announcing wage cuts, with chairman David Haythornthwaite explaining 'Unfortunately, we can't wait any longer for the league, FA or indeed government support, and therefore we must take drastic action to ensure the survival of the club. Until today, everybody has been paid in full, but this can no longer continue.

'This afternoon [Friday], we have asked all our players, along with the football and operational staff at the club, to take a 50% decrease in their wages for April and May with immediate effect. This was an immensely difficult decision, but we have been left with no other option.

'This situation will be constantly monitored and the recently-announced government job retention scheme will be fully explored once the details are known.'

Jim Bentley's team are four points from safety (with at least one game in hand on the other sides in the drop zone) with the 2019/20 National League campaign suspended.

Haythornthwaite's statement adds 'Regarding the club's Academy and Community Foundation, I can confirm that neither of these valuable entities are currently affected, as their external funding is still in place... The Fylde Women's team are being placed under a temporary suspension'"
---
27 March, 2020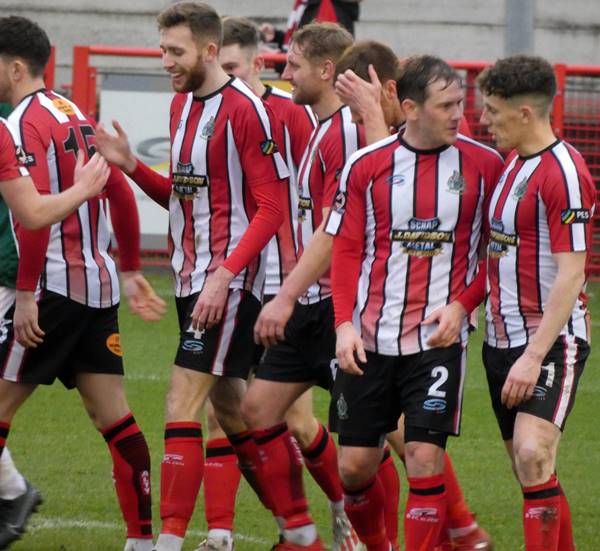 Director Bill Waterson reports on the Altrincham FC website that "If there was ever any doubt about Shaun Densmore's status as an Alty legend, then we can certainly say those have been cast aside. The veteran of a dozen seasons at The J.Davidson Stadium, with over 400 first team appearances has stepped forward to contribute to the club's Go Fund Me campaign.

Right: Shaun Densmore, (no. 2), and several of his team-mates have contributed to the club's fundraising in the wake of the Covid-19 pandemic.

Shaun says 'This club has always looked after its players, and that's why I am proud to be an Alty player. The reassurances the players have received at this time have been a great relief for all of us and this is massively welcomed by all the players and staff.

'The club stood by me when I missed 18 months through injury and I am really happy to be able to give something back to the club I love', he added.

'Dens' is not the only Alty player or staff to donate; a couple have followed his lead but have preferred to remain anonymous.

For the club Rob Esteva commented 'we like to believe we have created a strong sense of belonging at this club, and gestures like Shaun's show just how strong that feeling is. And our fans have been remarkable with over £4k given in just 4 days at a time when everyone is struggling.'

Our target of £10,000 looks more and more achievable thanks to your generosity. Remember you can donate here.

The board of directors would like to thank Shaun and everybody else who has donated to the club."

According to the BBC "All football in England below the three divisions that make up the National League will end immediately and all results will be expunged. It means there will be no promotion or relegation in these leagues... The same will happen in the women's game below the Women's Super League and Championship level.

However, the National League, National League North and South, WSL and Women's Championship will continue towards a conclusion 'as quickly as possible'.

The Football Association said it was 'reviewing all options' to complete the men's FA Cup... These are challenging circumstances for English football and all decisions taken are in the best interests of the game,' said an FA statement...

'Today's steps take into account the financial impact during this uncertain period, whilst considering the fairest method on how the sporting outcomes for the season will be decided, with the integrity of the leagues in mind.'

The decision applies to steps three to seven in men's non-league football, while all 'grassroots' divisions below these tiers have also finished. It has still yet to be decided whether these seasons are to be voided...

Some men's teams, such as Jersey Bulls and Vauxhall Motors, had already secured promotion to step five of the non-league pyramid, but their promotions will now be cancelled. Jersey Bulls had won all 27 of their matches in the Combined Counties Football League Division One and were 20 points clear at the top. Northern Premier League Premier Division leaders South Shields FC were set for promotion to National League North with a 13-point gap to second, but will now spend another campaign in tier seven.

Chairman Geoff Thompson vented his frustration on Twitter, saying they had been 'badly let down'. 'SSFC will be writing to the FA in the strongest possible terms and will seek an appeal or will take legal action,' he said... 'There is no denying this decision has a huge financial impact. We have invested heavily this year in a host of areas and the loss of promotion will also affect some of our revenue assumptions for next season. My message to all our SSFC fans and sponsors is; sorry a huge disappointment and we've all been badly let down.'"

The absence of promotion to Step 3 (e.g. to National League North) implies that there is unlikely to be relegation from Step 3 but this has yet to be confirmed.
On this subject, Blyth Spartans have stated that "The FA has confirmed that Leagues at Step 3-6 are set to be declared null and void, with all results expunged. We are led to believe the initial statement by The FA stated relegation from Step 2, i.e. National League North, would, as a result, not take place.

However, on current viewing, the official statement offers no confirmation on our National League North status, only that there will be no promotion from Step 3. We remain under the impression that relegation from National League North is still under review as the National League look for ways to complete the 2019/20 campaign.

It would be wrong of us to speculate or confirm without receiving full confirmation from the FA or National League. We appreciate this a very confusing time for supporters and ourselves and strive to provide updates when possible".
And Hereford FC add that "Chairman, Andrew Graham, says that a decision from the National League regarding the continuation or not of the current season is expected in the near future.

'The National League have been in discussions with every team across its three divisions with regards to how the current season will conclude,' Andrew Graham said. 'There are several options on the table, with clubs continuing to have an opportunity to express their concerns, ideas, and opinions. We are expecting a decision to be made in the near future, most likely at some point next week.'"

The funeral of James Surridge, whose untimely death was reported here recently, is scheduled for Monday, 30 March at Stockport Crematorium.

However, the current restrictions on gatherings mean that only ten persons are allowed to attend the ceremony and, therefore, attendance will be restricted to close family and friends.

James's father, Terry, well-known to Alty supporters for his volunteering at the Club, has said that "It is planned that there will be a celebration of James's life later in the year, when all will be welcome to attend".

It is two years today since Altrincham beat one-time title rivals Shaw Lane AFC on a Tuesday night at the J. Davidson Stadium. The match was also notable for being Damian Reeves's last appearance at Moss Lane, as he came on as a second-half substitute.

Above: Shaun Densmore nets Alty's penalty to make it 3-1 at The New Lawn in 2010.

The previous Alty match on 27 March was also high-scoring. It occurred back in 2010 and was an eventful 4-3 defeat for tenth-placed Alty at the New Lawn against Forest Green Rovers in the Blue Square Premier. Altrincham were weakened, with Anthony Danylyk (on the bench) and Nicky Clee both unfit to start. Adam Carden was replaced by Michael Welch in the starting eleven.

For the match, FGR had appealed to fans to double their normal gate for this game to help them out of their financial mess. But only just over a thousand turned up. The hosts were desperate for points to avoid relegation whilst Altrincham were keen to consolidate a mid-table finish.

In fact, FGR were to the season in a relegation spot but were reprieved by the demotion of Salisbury City. That was their second escape, also having been reprieved from relegation in 2005 by the demise of Northwich Victoria. The following season FGR only escaped relegation by one place, just as they had back in 2000 when Alty's failure to win their final game of that season saw the Robins relegated from the Conference and FGR stay up.

FGR's four close escapes, but subsequent promotion to the Football League, show just how narrow the margins of club success and failure can be.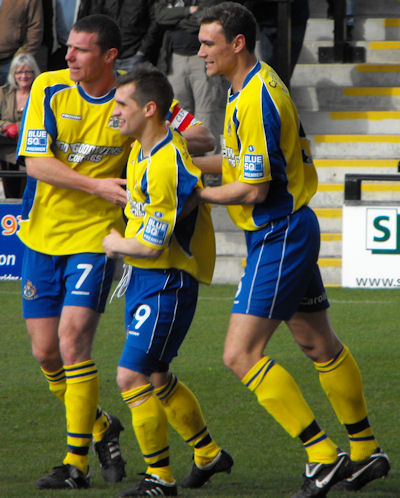 Right: Chris Senior is congratulated by Robbie Lawton and Greg Young after his goal at The New Lawn.

Cruising at 3-1 after more than an hour of this game, Altrincham went to pieces. Defender James Smith was brought on for striker John McAliskey and five minutes later Reece Styche made it 3-2. Five minutes after that Densmore fouled Mark Preece and Brown levelled the scores from the spot. With FGR pressing forward it came as no surprise when Jonathan Smith got the winner after 77 minutes.

In the closing minutes, FGR lost Brown to a sending-off, and also goalkeeper Ireland, to injury, and Alty had the ball in the net through Little, in added time. But the "goal" was ruled out for offside.

In the first half Senior had fired Alty ahead in the 12th minute before Smith had equalized in the 19th. A fine headed goal by Robbie Williams from a superb cross by Chris Denham made it 2-1 after 39 minutes. Shaun Densmore's penalty after Hodgkiss's handball made it 3-1 in first-half added time. But then came Alty's second-half collapse.

ALTRINCHAM: 1. Stuart COBURN, 6. Shaun DENSMORE, 12. Robbie WILLIAMS, 18. Michael WELCH, 5. Greg YOUNG, 27. Ryan BROWN, 10. Chris DENHAM, 7. Robbie LAWTON, 21. Peter DORAN, 19. Chris SENIOR, 17. John McALISKEY, SUBS: 4. Adam CARDEN, 9. Colin LITTLE, 13. Russell SAUNDERS, 16. Amthony DANYLYK, 2. James SMITH.

After the game, FGR's vice-chairman Colin Peake wrote "Believe it or not I am sending this email to Altrincham FC to say how sporting your fans were at the end of our match yesterday (Saturday 27th March). Despite the fact that the fans behind the goal thought they had equalised in injury time, we have to recognise and place on record the sporting reaction which then followed in their generous reception given to our goalkeeper,Danny Ireland having to be helped off the field with a facial injury. By the way we know it was actually one of our own players who caused the injury in the melee in the goalmouth".
We learn from NL Daily that "Alfreton Town say the club is 'creaking' under the strain of the current season suspension but they will make their stadium and facilities available at no cost to the NHS and town council, as well as assisting anyone in the community who requires it.

The National League North outfit are, like countless clubs, struggling to adjust to having their revenue streams taken away by the current COVID-19 pandemic and subsequent football shutdown. However... the club comment 'The football club is struggling, it is creaking and being tested way beyond any aspect of its past history. The club, however, is not going to ask the people of the community for financial assistance.

'We will, however, ask the individuals of our community for the identification of their needs. We will balance our financial books, we will, working within government guidelines, undertake a duty of care to our staff, we will find a way to remain in business.

'We therefore ask the community members of Alfreton and surrounding areas "how can we help you?". We have little finance, but what little we have, we will make available to assist any season ticket holders or members of the NHS who identifies to us their emergency needs.

'We are making our stadia and its limited facilities available at no cost to the NHS and Town Council for any use that they may have. We have a limited manpower who we will also, at no cost, make available to all members of the community, not just restricted to season ticket holders.

'The club offer help and assistance to vulnerable individuals that may require help with everyday essentials actions. We are struggling but the football club is nothing without its community and we recognise your struggle. We therefore offer our services to you the community freely, willingly and wholeheartedly.'"
The Yorkshire Post reports that "York City have confirmed that they have yet to receive any official information from the National League, with the governing body having asked the Football Association to end the season 'as soon as possible' due to the coronavirus outbreak...

How the final standings will be determined is yet to be decided with crunch talks being held between the league and the FA. York currently sit at the top of National League North with a two-point lead over second-placed King's Lynn, with the Norfolk side having two games in hand.

A club statement read 'Although the club doesn't typically comment on speculation, this is a unique situation. We want to clarify that we are yet to receive official information from the National League around completion of the season. However, we would like to take this opportunity to assure fans that the club has made a strong case regarding how the season may be brought to a close, in light of York City FC's position in the league.

'In the meantime, stay safe and we will wait for official news and keep fans up to date as and when we receive information.'

The fate of York's county neighbours Harrogate Town, in second place in the National League, is also up in the air along with play-off candidates Halifax Town."
Meanwhile the Eastern Daily Press reports that "King's Lynn Town owner Stephen Cleeve says he bears no ill feeling towards the Blue & Gold Trust supporters' organisation, despite failure to agree a financial aid package.

The Linnets are one of many non league clubs struggling to make ends meet during the suspension of all football because of the coronavirus.

Cleeve approached the Trust suggesting that, with more than £60,000 in their accounts, 'a donation of £15K to 20K would make a huge difference".

However, the response from chairman Phil Ellis was not acceptable, with the Trust saying a loan might be possible but with security of a change of the lease terms on The Walks ground, which is owned by the local authority.

Cleeve said 'Whilst I understand the Trust's position it seemed an ideal time for the Trust to be able to achieve some of their objectives. Taking a minority shareholding gives in general no shareholder any real power but the concept of achieving some of their aims was open for discussion. I note that Leyton Orient Supporters Club donated £20,000 to the club recently which when added to the £31,000 already donated to their club this season must be a huge help to their board and to their club.

'I fully understand that the Trust has its rules and constitutions to abide by, however other Trusts have donated funds to clubs without the needs for owning shares in their club. Clearly, whilst I understand their position and I thank Mr Ellis for taking the time to discuss the matter with other board members, it does not seem that we could move forward together with their proposal, I would always be looking over my shoulder to see what is coming my way.

'I have no idea how they will ever fulfil any of their aims without compromise which sadly does not seem possible from their side although I hold no ill feelings to those involved. I needed to ask the question and now I have the answer. We are setting up a Just Giving Page which will have a totaliser so fans can see what is being given...

'We have no idea at this stage what is going on and have been given no direction and so are in a very uncomfortable limbo land. However I have been working 15 hours a day to find solutions and I will continue to do the same until we come out the other side. Keep the faith, keep well and look after each other and thanks to every fan home and abroad who has helped and continues to help the club.'"
The Boston Standard point out that "Boston United currently hold three National League North records. The Pilgrims, at present the longest-serving consecutive members of the division, are currently in their their 10th straight campaign. Here are those - proud? - records...

Record Away Win: Redditch United 0 Boston United 9 on August 21, 2010. This was only the newly-promoted Pilgrims' third game back in the division, then called the Blue Square Conference North, but Rob Scott and Paul Hurst's Pilgrims showed no mercy...

Highest Scoring Game: AFC Fylde 9 Boston United 2 - November 19, 2016. You have to take the rough with the smooth! While Boston United can proudly boast the division's highest away win, they were also on the receiving end of a good thrashing as they played their part in the National League North's highest scoring game. AFC Fylde and the Pilgrims shared 11 goals in their clash at Mill Farm, although Dennis Greene's side could only muster two of them. United actually took the lead in this game, which turned out to be one to forget. A ferocious hail storm arrived midway through the first half, offering some sort of visual metaphor as to what was to follow for the away side, who trailed 6-1 at the interval.

Most Consecutive Clean Sheets: Boston United (10 games) - August 30-November 9, 2010... Boston collected 22 league points in that 10-game run, keeper James McKeown going a full 76 days without picking the ball out of his net once before a 4-0 reverse at Droylsden on November 13 "
---
26 March 2020 As reported below, the National League is looking to terminate the 2019-20 season rather than attempt to complete the outstanding fixtures.

One suggestion for terminating the 2019-20 season has been to determine league positions on the basis of points earned per game. On that basis, the National League North would look like this...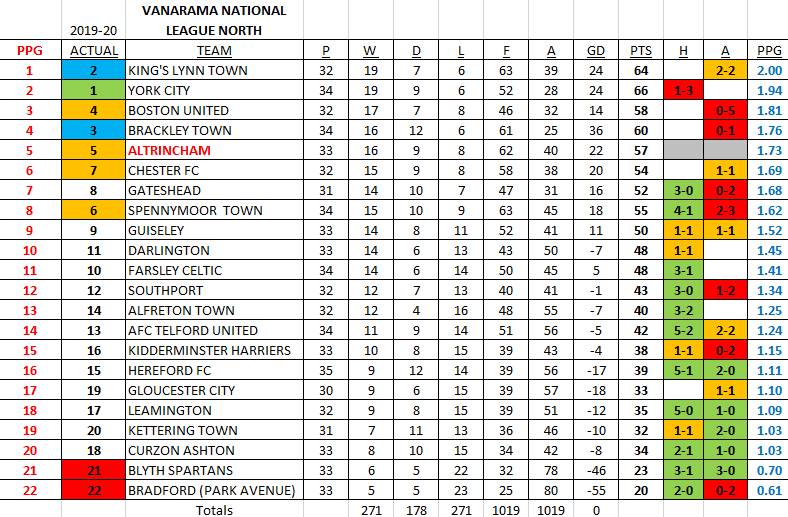 It is currently unclear whether this will be the approach selected and, even if it is, whether promotion and relegation would actually happen.

As can be seen, Altrincham would remain fifth on the basis of PPG. King's Lynn Town would be champions, despite currently lying second on the basis of games already played. Having completed fewer fixtures than current leaders York City, King's Lynn Town would have a higher tally of PPG (as shown in the right-hand column).

Boreham Wood FC report that "The National League board have met via three conference calls with each other, the FA and other Non-League executives. Those discussions have led to the National League's CEO Michael Tattersall to issue the following statement to all member Clubs.

'As many of you will know, The National League held a Board discussion yesterday (Monday), which was the third such meeting in 11 days. The broad consensus was that our Clubs wish for a decision to be made to close the season as soon as possible.

The National League attended a further meeting last night (by video conference) with The Football Association, and The FA have been asked to assist us with making the decisions to officially postpone all remaining National League fixtures and to end the season as soon as possible for the purposes of player contracts.

The National League is also working with the FA to define all reasonable and practical options for the determination of the 2019/20 season, and to provide guidance to Clubs on dealing with player contracts, player registrations and the application of the Coronavirus Job Retention Scheme. We will continue to press for updates and will ensure that any further information is relayed to Clubs as soon as it is received.

The League is very aware that Clubs are looking for answers and greater certainty, and we remain focused on delivering these in the most timely manner possible. Please keep the flow of information going with the League's Directors and staff, and be assured that we will respond as soon as we can when updates are available on the various issues.

Finally, thank you to all Clubs for submitting financial questionnaires. The data and comments have been reported to The Football Association, and we will continue to press for urgent additional assistance to be made available to National League and other non-league clubs.

Above all we wish everyone a safe and healthy passage through these turbulent times'.

Due to the nature of this statement and following its circulation to members clubs, we can confirm that Boreham Wood FC Chairman Danny Hunter, has had further detailed discussions with Michael Tattersall, in order to clarify the League's hopes and it's position going forward, and to ascertain exactly what this statement might mean to member clubs, to our staff, players, supporters and to our wider communities.

As such following that conversation, please expect a statement from the Chairman interpreting this statement's contents and his conversations with Michael, to clarify certain points to our supporters, players, staff and wider community in due course".

The BBC adds that "Barrow manager Ian Evatt believes if no further games are possible, then the current league positions should be allowed to stand.

'If you were to play a 90-minute football match and something was to happen in the last 15 minutes of a game, the result would stand if it was abandoned. So why is it not the same for a full season?' he said. [One can think of quite a few reasons why not].

'Now if this was halfway through the season or under, you can completely understand voiding a season. But we're talking about, from some clubs' perspective, seven games. Seven games away from completing the season. You cannot, you cannot, null and void it,' he said... 'From our perspective, the interest of fairness would be for us to be promoted and that is my view regardless of where I am right now because of how many games have been played and where we're at in the season'".

A contrary view comes from the Harrogate Advertiser which says that "Harrogate Town's managing director Garry Plant says that the club know nothing about the reported decision to scrap the National League season and promote them to League Two'....

He added 'We want the season to be played to our [a?] finish for the integrity of the league and of football'".
The Telegraph & Argus says that "Bradford (Park Avenue) chairman Gareth Roberts has said that plans to achieve a deal to develop Horsfall Stadium are still set to go ahead.

The Avenue chief also confirmed that the club have lost revenue but are trying to pay players and staff through government initiatives..

Roberts issued this statement on Avenue's website to reassure fans...

'Firstly we plan to take care of our staff and players and we are working through the initiatives that the government has proposed so that they can be paid...

Secondly there has been a tremendous effort behind the scenes to put together the new Horsfall Community Stadium project. Despite all the disruption from this virus we are still moving forward with our plans. It is still too soon to say that it is a done deal but we are very optimistic that it will get done...

'Finally. with improved facilities at our disposal, it will soon be time to turn to how we improve our football club. We are going to develop our youth teams and our Academy teams so that we have more participants and the quality of our play increases. The goal is to produce a quality first team that we can enjoy. This will take a little time but if we can build a solid pyramid of excellence, then our first team is going to provide results.'"
According to Gloucestershire Live "Gloucester City's season appears to be over as part of the fallout from the coronavirus outbreak.

The National League is expected to cancel all remaining fixtures and have informed clubs they are planning to end the season as soon as possible... There seems to be no appetite to extend the season beyond the arranged final day of Saturday, April 25 and they have asked the FA to cancel all remaining fixtures.

It means the Tigers are likely to have played their last game at Evesham's Jubilee Stadium, where they have been playing for the last three seasons..

The National League's decision not to extend their season could have an impact on the top four tiers of English football. It comes after leagues from steps three to six in the non-league announced they intended to finish the season immediately and decisions still have to be made about how the season will be resolved.

It could be declared null and void or they could use points per game to determine final finishing positions. Gloucester City are 19th in National League North, 10 points above the relegation zone, and they still had 12 games left to play".
On a lighter note,Hereford FC ask "Stuck at home and missing your football? Download our Hereford FC activity pack and help beat the boredom!

Contents:
Wordsearch
Design a badge
Design a kit
Design a shirt
Design a stand
Spot the Difference
Help the striker score!
Hereford FC Family Bingo!
Once you've completed some of the tasks, take a picture and share with us on social media, or email. Click here to download the activity pack.

You might also want to keep an eye out on our official social media channels for some daily footballing challenges that can be completed at home!

The first challenge can be found here".
---
25 March 2020 Altrincham can not only boast the greatest number of giantkillings, of any current non-league club, in terms of dismissing Football League clubs from the FA Cup. However, in league matches too, The Robins have also sent packing a number of other teams who are now well above them in the football pyramid.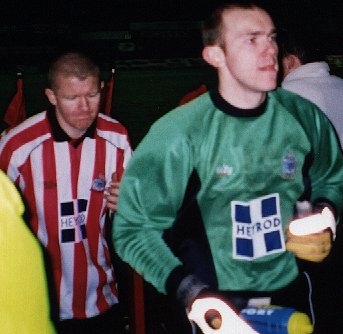 Left: Two Alty "legends", Mark Maddox and Stuart Coburn, in 2001.

A case in point is Accrington Stanley, who currently sit seventeenth in League One, three league rungs higher than Altrincham.

Things were a bit different in 2001. Accrington Stanley had folded in 1966, having dropoped out of the Football League in 1962, a competition they had been in since 1921. The club was reformed in 1968 but it was not until the new millennium that their revival really accelerated.

Nineteen years ago today, on 25 March 2001, the clash between Alty and Stanley was a Sunday fixture. The 2000-01 season had seen the two clubs arrive in the UniBond Northern Premier League from opposite directions.

Alty had just been relegated to the UniBond Northern Premier League from the Football Conference after just one season back at that level, following their original relegation in 1997. For their part, Stanley had just been promoted to the NPL, a level they had otherwise been at since 1991, after a single season back down in Division One of the NPL. They were to finish that season in ninth place, with Altrincham ending up seventh.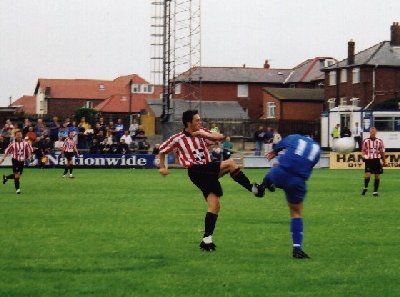 Later in the year 2001, Stanley received a large sum fron the selling-on of Brett Ormerod by Blackpool and this facilitated their climb through the leagues.

Right: Stuart Scheuber in action at Whitby.

When Stanley visited Alty back in 2001, the Robins won 5-2. The match was the first time that Bernard Taylor and Graham Heathcote had been in charge at Moss Lane since the sacking of manager Mark Ward, though they did signal continuity with their use of most of Mark Ward's first eleven who the new management had deployed in the previous Wednesday's Reserves' match.

In fact, apart from the enforced absence of the suspended Mark Maddox, only Stuart Scheuber was omitted from the last team selected by Mark Ward, local lad Keith Mairs being preferred as the midfield substitute. This was the first league or cup match in which Scheuber [right] had not played, having made 45 consecutive appearances before this match.

The unexpected face in the squad was the "super-sub" of the previous season, striker Dickie Landon, who had recently left Vauxhall Motors after just two games there. For Accrington, manager John Coleman named himself as a substitute. Accrington for their part had not won in their last four league games.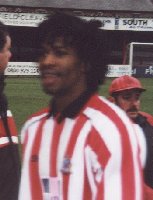 Altrincham went ahead after only 47 seconds and added a second after just 13 minutes. A third goal came just before the interval as Accrington posed little threat to Stuart Coburn's end. However, a double substitution at half-time, followed by the player-manager's appearance on the pitch saw Accrington enjoy a little more of the game, without looking too dangerous until recent signing Paul Edwards (left) was adjudged to have conceded a penalty after 68 minutes. This was converted and then Coleman pulled another one back nine minutes from the end.

However, Altrincham scored two goals, from Adam Farley and a spot kick by Rod Thornley, both in the last minute restored a more accurate margin to the scoreline.

ALTRINCHAM 1.Stuart COBURN, 2. Jason GALLAGHER, 3. Steve PORTER, 4. Terry BOWKER, 5. Adam FARLEY, 6. Steve HAWES (capt.), 7. Danny MURPHY, 8. Ian CRANEY, 9. Steve FINNEY, 10. Rod THORNLEY 11. Paul EDWARDS. Subs: 12. Gary SCOTT, 14. Richard LANDON, 15. Keith MAIRS

Chester FC has named a "Team of the Decade" in which recent arrival at Alty, Craig Mahon, is named on the wing.
"Craig Mahon is a record breaker and Chester FC legend; it is no surprise he makes your side! A tricky winger with skill, high energy and an eagerness to work hard for the team, Mahon joined the club in May 2013 from Vauxhall Motors. Upon arrival in CH1, Craig was initially sent out on loan to AFC Fylde, before making his mark on the Blues starting line up being recalled to score the winner in a 2-1 win at Hyde.

From that moment, 'Mahony' never looked back. Tearing up defences and making full backs dizzy, he was the shining light in the Blues FA Cup run to the Second Round in 2014/15. After setting up a fantastic goal in the 4-2 qualifier win at Stockport County, he went on to score the winner at Southend in Round One. Incredibly, this was just the day after he became father to twins!...

In 2017, Craig made his 150th Blues appearance when we faced Tranmere then, on Tuesday 12th September 2017, Mahon became the Blues all time appearance record holder, surpassing George Horan's 159 games in the Blue and White of Chester. Mahon broke yet another record in 2018/19, making his 200th Chester FC appearance.

An incredible 239 Blues games under his belt, making him our longest serving player since reformation and also the record appearance holder for the club, the Irishman joined Altrincham in January of this year. He will forever be loved by the Blues' faithful. Craig Mahon is in your team of the decade!"
Hereford FC report that "Hereford FC Chairman Andrew Graham has thanked Hereford United Supporters Trust for a further £10,000 donation.

'I'm extremely thankful to HUST for this sizeable donation to club funds,' Andrew Graham said. 'The donation will go towards the purchase of more shares for the Supporters' Trust, and comes at a crucial time for this football club,' the Chairman added.

'I have been really encouraged by the fantastic support of Hereford fans over the past days and weeks... to make sure that this wonderful Club of ours can get through these unprecedented and extremely difficult times.' The latest donation takes the total amount of shares purchased by HUST to 220,000 of their 289,000 target"

And the Hereford Times adds that "Hereford FC have made a dent in their reserves due to a combination of a drop in attendances this season, player's contracts and the coronavirus.

The Bulls have been without a home game for over a month [when they played Altrincham]... Hereford chairman Andrew Graham is currently self-isolating after exhibiting symptoms of Coronavirus...

When asked how the club was coping with limited income, Graham said 'The board have made several operational and other changes to try and limit losses. We are meeting remotely on a regular basis to try and ensure that we are making the best choices...

'We had already lost significant operating income through a drop in gates. That, combined with a number of playing contracts that we had been tied into, followed by this disaster, has made a dent in reserves that is unnacceptable! But we will pull through. Other Clubs may not be so fortunate.

'We are actively looking into whether the Government assistance will apply to us, the FA are talking directly to the government regarding this. We've appealed for support and donations from fans and have been delighted by the response from people who have purchased a virtual match ticket and / or items from the club shop'...

Graham added that players' contracts were set to end at the end of April/start of May for many teams at Hereford's level."
In the Shropshire Star we read that "Defiant AFC Telford United boss Gavin Cowan has hit back at criticism, insisting 'We have over-achieved.'

The Bucks have failed to hit the heights of Cowan's first season in charge, where they narrowly missed out on the National North play-offs and reached the semi-finals of the FA Trophy. Cowan's troops, beaten 2-1 at home by Darlington on Saturday, sit 14th after an inconsistent campaign.

There have been rumblings of discontent among supporters...

'I feel like we've had a little bit of second season syndrome,' said Cowan, who signed a new two-year deal as boss last summer. 'From day one I could feel the energy around the ground wasn't as it was last year. That's been very difficult to recapture but we'll be working very hard to do that. We've done it before and we'll do it again.

'I understand from being a player at Telford, where we had arguably the most successful season in the club's history, the following season was very difficult to replicate because it's an energy that is very difficult to go again. In terms of finance and resources, there's no doubt we have over-achieved as a football club.

'That might be difficult to understand for some supporters because they see our ground and we're a big town with about 200,000 people in it. The reality and the facts are that financially we shouldn't be competing with these people, so we are over-achieving...

'There's a lot of talks to be had at the club about budgets and what-not but, ultimately, I'm a big believer in the project we've got going,' he added. 'It takes everybody, the players, staff, club, supporters, community and businesses, to come together because ultimately we can't go and buy the league. We can't go and buy the top-end players...

'I still want to do more and go above and beyond. Going into next season I've got two years worth of knowledge to be able to go forth and try to achieve that dream that everybody has'".
The Boston Standard tells us that "Tyrell Warren has returned to Salford City, but Craig Elliott admits things could have been very different.

The former Manchester United under 23s defender's month-long loan spell at York Street concluded earlier this week. Warren impressed manager Elliott in the three matches he played for the club, and had football not been suspended the Pilgrims would have been keen to extend his loan.

However, after signing Matt Challoner, who also plays in Warren's right back position, and Jordan Nicholson, who are both yet to feature for the club, United chose not to add another player to the wage bill at a time when the club are inactive.

'He did a fantastic job for us,' Elliott said. 'If things were different then, to be honest, I would have liked to have kept him at the club'".
---
24 March 2020 In Monday's Manchester Evening News, Altrincham FC director, Bill Waterson, "has said the club are still hoping to play a role in supporting the community despite facing cash flow problems caused by the suspension of the National League North season. 'We're looking at making funds available for food parcels and the like, looking at how we can work with organizations like Altrincham Aid to get that food stuff and other essentials out to the population of Altrincham.

We're looking at using the ground, potentially, as a distribution point or collection point".

The article says that "Altrincham are in a healthy financial position compared to other non-league clubs. 'We're known for our financial prudence so we're probably in better shape than a number of other clubs. We, ourselves, are not a hand to mouth club, and we made a profit last financial year. We won't this year, that's for sure, with the cashflow not coming in.

'We're continuing to pay the players and some staff over this period and, therefore, that is going to drain our cash...

'The work the National League did was fairly robust in terms of gathering data' explained Waterson. 'The spreadsheets and information they asked from us was fairly meticulous ... I think the numbers they asked for are probably correct'...

Most immediately the Robins have set up a gofundme page in an attempt to raise £10,000 to pay part of their £100,000 commitments.

The club also plans to put season tickets for next season on sale early but with dates still unconfirmed, Waterson says it's difficult.

'You have to have faith that that there is something there that you can offer people. While, I'm certain things will get back to normal at some point, I don't think any of us believe football will be back on April 4'"
Blyth Spartans "Like all sports clubs in the United Kingdom, is facing an unprecedented situation.

The club has had no income since it's last home game on February 15th and will have no further income for the foreseeable future.

Wages were paid in full last week but we, therefore, have no other option than to suspend all wage payments to employees forthwith.

The government and the League have announced schemes to assist with this disaster but as of today, none of the schemes are operational. The club will pursue each funding initiative as it becomes operational and would hope to pay outstanding wages, if funds materialise.

The club's Executive Committee will do whatever it takes to ensure the survival of Blyth Spartans. The National League has been advised of this action."
From Lynn News we learn that "King's Lynn Town chairman Stephen Cleeve has taken to social media to thank fans for their continued support during the coronavirus outbreak.

The Linnets revealed last week that they are facing a £100,000 shortfall due to the pandemic which has led to a suspension of the National League fixtures.

Cleeve took to Twitter to say 'We have put the tickets for our cancelled games and a season ticket for the final four homes games on sale on the club's homepage. If the games go ahead, your donation will be turned into a ticket. If it doesn't, your help will play a big part in moving us through this nightmare. Finally, a big heartfelt thanks from me to everyone that has done what they were able to.

'I am well aware that many of you have many other issues to consider, so the fact that you helped the club in our hours of need means even more to me'..

The Lynn chief revealed that... 'All VAT and PAYE is up to date, I personally paid last month's on March 19. The players were paid on Friday and are up to date. We are trying to do a deal with the players, a kind of compromise agreement, but, with the government's announcement, it may not be needed and we await details.

'Most players are being very reasonable and supportive. Under my watch we have never been late once paying in four seasons so they understand the circumstances'...

A statement from the league yesterday said 'The National League will be holding a board update conference call on Monday morning. The board will review the League's position concerning the suspension of the competition, and the financial position of clubs following feedback submitted last week and in light of the Government's recently announced economic interventions to assist businesses and protect workers.

'The National League is currently in close dialogue with the Football Association, and we are discussing with them matters concerning season timings and the issues raised by clubs concerning player contracts and registrations. These matters will also be discussed by the board.'

Cleeve is calling for clear leadership from the National League... 'What everyone needs is a decisive quick plan so we know where we are', he said. 'I get the feeling that the league wants to finish this season but, logistically, if that happens it will also ruin the next season. We have to accept where we are. PPG (points per game) allows us all to move on.'

King's Lynn Town Football Club announced this morning that the Walks Stadium has been closed with immediate to all visitors and non essential staff members."
According to Cheshire Live, It's "No football, no problem for Chester FC as they get creative, and fans dig deep...

The Blues hosted an 'E-Matchday' on Saturday, a day when they should have been travelling to Altrincham in the National League North, as they looked to try and raise some much needed funds in the face of the coronavirus pandemic...

Chester are faced with having to use their near £100,000 cash reserve in order to keep themselves afloat and the Blues' virtual experience saw them raise £2,171.80.

Fans were encouraged to purchase virtual items online as they would do normally on a matchday, with things such as paying for a ticket, a pie, a pint and even the cost of car parking in order to raise funds.

A club statement read 'To every single person who donated, took part in the quiz or even spread the word, we would like to say thank you. Your fundraising efforts have been fantastic in such difficult circumstances. We aim to do another E-Matchday Fundraiser next Saturday, with a live stream of a classic match from 3pm.'"
The Yorkshire Post says that"Young Rotherham United defender Jake Cooper has signed a new deal with the Millers... until the summer of 2022. Cooper is currently on loan at National League outfit Gateshead, having initially joining the north-east outfit in December for an initial one-month period.

In January, the deal was extended for the rest of the season. The 19-year-old has made three appearances for the Millers this term in cup competitions...

Cooper said 'Coming into this season with only a one-year deal, I had a point to prove in order to earn a fresh one and I've managed to do that which is brilliant... It was good to get out on loan and get some more games under my belt. I'm really enjoying my time up at Gateshead and it's been a learning curve for me, having to adapt to men's football. Words can't describe how valuable the experience is, but I'm still only young with a lot to learn'".
The Northants Telegraph reports that "Kettering Town supporters have completed a big fundraising mission but now they are being asked for more as the club bids to keep turning over during the coronavirus crisis.

It was in December 2018 that the Kettering Town (Poppies) Supporters Trust launched a fundraising appeal to raise £25,000 to install a new covered terrace at Latimer Park... That target has now been hit.

Despite there being no action on the pitch, the club are still trying to push on with their ground improvements to bring Latimer Park up to the appropriate standard for the Vanarama National League North to ensure the Poppies can continue to play at the level should they avoid relegation when (and if) the season resumes.

That includes the installation of a new 250-seater stand and new turnstiles but a new terrace will now be added as the building work at the ground continues, even after the necessary improvements have been made.

The fundraising idea was the brainchild of Trust vice-chairman Richard Atkinson but, with no income now available from matchdays, the Trust and the club itself are hoping fans will be able to give a bit more over the next few weeks. The Trust have already launched a '300 Club' to help keep the club going".
In the Shropshire Star, "AFC Telford United chairman Andy Pryce has insisted the club await 'guidance' from the National League and government before they can look at their financial situation...

Much has been made of the financial impact the lack of games could have on lower league clubs, but Pryce believes Telford must wait for the authorities to act first before they can look at their own measures.

'We're taking advice from the government on the social side of things but, as a football club, we have to wait until the National League say anything,' he said. 'We have to wait for their guidance and we're hoping to hear off them in the coming days... At the minute it's the same as always, we live from day to day at the football club'...

He believes government intervention is 'inevitable... I know our finances and what we potentially might need but I don't know the finances of any other football club and wouldn't even start to think about any other football club. Our sole efforts and thoughts are keeping AFC Telford United afloat and in business. I had a staff meeting on Tuesday and we said we'd try and use this as an early pre-season.

'Looking at what jobs we can do around the club to make the ground looking better and any maintenance we can do. That's all we can do really, while keeping in touch with supporters and sponsors alike. But we can't do that until we know how the season is going to pan out'".
The Boston Standard reveals that at Boston United, manager Craig Elliott said 'We've decided to suspend training,' he said.

'The situation is difficult so we've had to come to a decision, myself and the chairman. Players are training individually... You have to have trust in your players to do their own work. Individual training, the correct diet, stuff like that. I trust my players to do the right things.

'These are extreme circumstances, but Hayden Clifton (sports rehabilitator) has worked out some individual plans and diets for the players at the moment'...

Elliott hopes WhatsApp group chats will help maintain morale in the camp".
---
23 March 2020 As Altrincham go into their third week without a fixture, this time last year, curiously Alty were in exactly the same boat, although for very different reasons.

On 23 March last year, which was a Saturday, seventh-placed Alty should have been travelling to play AFC Telford United in the Vanarama National League North but, instead, they had no fixture as the Bucks were involved still in the FA Trophy. The previous week's game against Brackley Town had also been ruled out, in that case by the weather, so the Robins were starting their third week of inactivity, just as they currently are in 2020.

Amongst the memorable matches played over the years on 23 March, courtesy of Howard Watts and Mike Garnett's information, we find Alty's first encounter with Portsmouth. As previously reported by Mike, we played away to Portsmouth Rovers in the Lancashire Combination and won 4-1 in 1912!

Historical results to gloss over on 23 March include a 4-1 defeat to Macclesfield Town in a Cheshire Senior Cup semi-final in 1935 and a 6-2 thrashing at Hyde United in the CSC in 1963.

Happier memories include a 4-1 win at home to Tranmere Rovers Reserves in another CSC semi-final and a 3-2 home win against Enfield in 1985.

In more recent times, 23 March 2009 fell on a Monday night and witnessed Altrincham lifting the Cheshire Senior Cup by beating Nantwich Town 3-0 at Witton Albion's ground.

The most recent game on 23 March came in 2013 against Worcester City at Moss Lane in the BSP, when Alty won 2-0.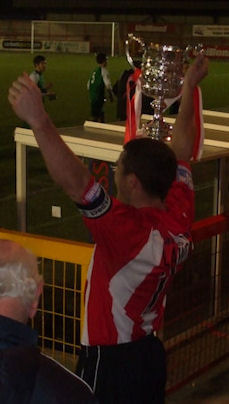 Right: Robbie Lawton receives the Cheshire Senior Cup.

In the 2009 CSC triumph, Nantwich Town's team featured none other than current Alty boss, Phil Parkinson, for what was a repeat of the previous season's final, which the Dabbers had won.

For the 2009 Final, however, Alty had been so short of players that Alex Meechan was the only first-team regular outfield player fit enough to be on the bench. Joe O'Neill and Chris Senior were both also named as subs but neither was fit to play and the other two substitute places went to keeper Richard Acton and Danny Heffernan, who had yet to play in the Blue Square Premier for the first team. Chris Lane was restored to the starting line-up in the absence of the suspended James Smith.

However, Altrincham's depleted squad worked hard to secure a comfortable win over the holders, Nantwich Town, at Wincham Park. In a game played in a difficult, strong wind blowing from one end of the pitch to the other, Colin Little netted his fourth goal in nine days to open the scoring, heading home from Johnson's flick from right of goal in the 18th minute. Chris Lane lashed home a second goal nine minutes later as Alty mastered the windy conditions and bobbly pitch more successfully than the Dabbers.

Dale Johnson was withdrawn as a precautionary measure at half-time, because of tightening hamstrings, Alex Meechan taking his place. A superbly struck 35-yard freekick from Shaun Densmore made it 3-0 (68 mins).

ALTRINCHAM: 1. Stuart COBURN 2.Chris LANE, 4. Mark McGREGOR, 5. Greg YOUNG, 3. Matt DOUGHTY, 21. Shaun DENSMORE, 7. Robbie LAWTON (capt), 16. Anthony DANYLYK, 11. Warren PEYTON,14. Dale JOHNSON, 9. Colin LITTLE. Subs: 23. Richard ACTON, 15. Alex MEECHAN, 20. Danny HEFFERNAN, 19. Chris SENIOR, 12. Joe O'NEILL

With Cheshire Football League, suspended like all other competitive football in the country, Altrincham are left lying eight in the Premier Division, with 27 points from 20 games.

Leading the table of fifteen clubs are Whaley Bridge Athletic with 37 points from nineteen fixtures.

On 18 March, the North West Womens Regional League stated that "With immediate effect,all games are suspended for the foreseeable future".

In the ten club Division One South, Alty Ladies had only completed six fixtures, winning four and drawing one of them. However, other teams had played as many as 16 games so the table is something of a jumble.

As things stand, Salford City FC Lionesses Women are top, having played 14 times and gained 37 points.

Altrincham lie seventh with 13 points from ten games fewer!

In the 12-strong North West Youth Alliance Premier Division, Altrincham lie seventh with 20 points from ten fixtures, which is the joint fewest number of games in the league. Indeed, second-placed Stockport County have completed almost twice as many matches (nineteen)!
At Kettering Town the Club President, Ken Samuel, has addressed supporters writing, "These are difficult times for us all, individuals, families, business owners, employers and employees.

As President of Kettering Town Football Club... I am in close contact with the club which I have supported for over 65 years.

The club is run on a sound, sensible financial basis. It has to be, and the lessons of bygone years have been well learned. However, it now finds itself in a situation where vital income from home games has been lost as has any income from the now closed Clubhouse...

The normal financial commitments incurred by the Club, including the major expenditure of wages, rent and other overheads, continue.

I am therefore appealing to our fans to again help in a time of need... The Trust have launched a 300 club which I fully support and will be buying tickets. The Club however does need large sums of cash now to meet existing and continued financial obligations, and all within the next month.

With no football being played fans cannot support the club in the usual way... However, would you consider a donation instead? Are you in a position financially to do so? I realise that some supporters are facing hard times and this is not for you. I also recognise that I'm calling on supporters to demonstrate their generosity yet again, receiving little in return other than the satisfaction of knowing we're all trying to support the club at such a difficult time. If you can, please look favourably in helping YOUR club to keep going.

The club has committed to complete the ground improvements, to maintain status and improve your matchday experience.

Please help me to help the club as soon as you can by donating... My target to raise initially is £10,000 and I'm hoping for more"
York Press "takes a look back at York City's time at Bootham Crescent from their move from Fulfordgate in 1932 to the present day ahead of their impending move to the LNER Community Stadium...

York City's time at Bootham Crescent began in 1932 when the then-Midlands League outfit moved to the city centre from their ground at Fulfordgate. At that time, Bootham Crescent was just a pitch with a main stand, embankment and crash barriers surrounding it. The Popular Stand would come around two years later. At the back of what was then the Shipton Street End was a muddy mound and a choice to make when nature called.

Born in 1920, Graham Munday is likely the oldest York City fan around. 'If you wanted a pee,' he explained candidly, 'you stood on top. Either that or you scrambled down to a tin tabernacle and scrambled back up'...

City's first-ever game at their new home was a 2-2 draw with Stockport County in the Third Division North. Outside-left Tom Mitchell christened the ground with its first home goal in front of a crowd of 8,106. City would go on to finish 20th of 22 teams that season, avoiding having to go up for re-election only because their goal ratio fractionally eclipsed that of New Brighton...

Over the subsequent seasons, City's league position fluctuated but was largely on the up, with the 1937/38 season seeing a theretofore peak of 11th.".

A reader has corrected the above and points out that in 1932, already "City had left the Midland League and joined the Football League in 1929".
Rangers' News has a rather odd report that tells us that "The joint-manager of English lower league outfit Chester FC, Anthony Johnson, has pledged his allegiance to Rangers when asked about the Old Firm divide...

The English manager didn't just pick Rangers over Celtic when asked, the Chester co-gaffer also waded into the debate over Alfredo Morelos and Odsonne Edouard... Johnson would pick the Colombian striker when posed the question over the two players during the question and answer session.

The outspoken coach would also discuss former Rangers' captain Barry Ferguson against current Celtic skipper Scott Brown... It's not the first time Andrew Johnson has taken to Twitter to pledge his allegiance to the blue side of Glasgow either... Months later it appears the Ibrox club still retains a special place in heart of the lower league English manager."
---
22 March, 2020 On Saturday, Altrincham FC issued an article by director, Bill Waterson...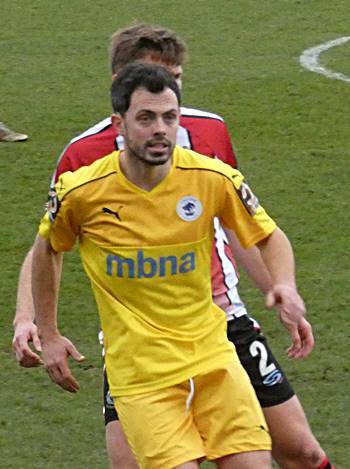 Right: Craig Mahon, now at Alty, playing for Chester FC at Moss Lane on 2 March, 2019.

"The football season should be building to an exciting climax... The players were peaking at the right time, comfortably dispatching playoff contenders Spennymoor Town in the last game. And today's visit of local rivals Chester was going to be spicy, the rivalry heightened through the dealings of a couple of months ago... Played just over a year ago, [Dan] Mooney and [Craig] Mahon (pictured, right) were busy early on for Chester before Alty took control.

The game [today] was to be our biggest home match of the season so far, eagerly anticipated by fans players and staff alike. The Manchester Glass Sponsors lounge was booked full to capacity and we were expecting a gate in excess of 2000... But it was not to be. Events, far more serious than the loss of a game of football, have put paid to our afternoon in the sunshine. As a consequence of losing just this game, Alty will miss out on more than £30,000 of revenue and the delay in the rest of the season takes us well into six figures.

And that's not even including the playoffs. We will do our best to do what we always do, and look after the players, the management team and the staff. We will look at our planned investments, on and off the field, and scale them back accordingly. But one thing is for sure, the profit we recorded last season will not be repeated this season. And we face significant uncertainty for next season too.

In short, we need your help. We know times are hard and we are doing our best to support the community where we can but we would massively welcome any contribution you can make to support the football club at this time.

To this end, we have set up a Go Fund Me page for your donations, with the target of raising £10,000 to alleviate the cash flow challenge we face. You can donate here.

Thank you for those of you who have signed up to Alty Rewards. This allows you to make contributions to us on a monthly basis in return for, as the name might suggest, rewards with a particular Alty spin. If you would like to contribute in this way you can sign up here.

Other ways you can contribute to the club include the Patrons' Scheme and the Monthly Draw

Thank you all, in advance, for any contribution you can make. We will more than make it up to you when football resumes. We know we have the best fans in the business and we will make sure we remember your support at this difficult time.

Stay healthy and take care, and we are looking forward to seeing you back at The J.Davidson Stadium.
The Northern Echo says that "There was something familiar about watching Jason Kennedy go to ground on Brewery Field, emerging with the ball and leaping to win headers, some 16 years after first appearing on the scene with a youthful Middlesbrough academy side.

Kennedy played his last game for Spennymoor Town last Saturday before the coronavirus crisis led to the postponement of National League North fixtures, and his performance in the 4-0 win over Hereford United earned him the man of the match award from sponsors. Whether or not Spennymoor fans will get to see him in action again will be determined by what happens over the next few months, given his loan deal is set to expire in May. Any delay would mean there would have to be a change to the rulebook in such scenarios.

Kennedy is also out of contract at his parent club Hartlepool United, so either way he will be heading into a summer of even greater uncertainty even if the action resumes when the coronavirus threat has eased.

The 33-year-old, who turns 34 in September, does not want to end his playing career just yet...

As Kennedy sat in the manager's office at Spennymoor reflecting on his playing career, the satisfaction was written across the face of the Stockton-born midfielder. 'I'm 33 now, so to be able to look back on all of those times shapes great memories of my career,' he said... 'I have had injuries too so now it is about enjoying every experience you get on the field'...

Kennedy still has the desire now to finish his career with a flourish... He was loving life at Spennymoor having been deemed surplus to requirements at Hartlepool following the appointment of Dave Challinor... Said Kennedy 'The last game I played for Pools I scored a last-minute winner. I got ill after that, missed the next game, and then didn't really get an opportunity. It's football, you get on with it, it's life'...

'I have loved every minute of it here,' he said. 'We have had great results and the gaffer Jason Ainsley and staff have been brilliant. Superb. We play really good football and I have enjoyed it. It's been a great place to be... I had not been to Spennymoor before I joined. When I came here I could see how professional the club is. It is a great outfit, with really good players. They will push on and hopefully it is just a matter of time before they get into the National League.'"
The Telegraph & Argus reports that "Mark Bower admits everyone is worried about the future of football and the economy due to the coronavirus pandemic at the moment, with Bradford (Park Avenue) facing two particular concerns if the season does restart.

One is next week's registration deadline which, combined with many players' contracts running out on April 26, the day after the season was originally scheduled to end, could leave them with not enough players to fulfil their fixtures.

The other is the new 3G pitch at Horsfall, which was due to be laid at the end of the season ready for August.

Bower said 'The deadline is next week and we won't have enough players. We've got three players on loan, whose time here would end before the end of the season anyway. Ryan Hall and Jake Hibbs are due to go back to Spennymoor at the end of March for example.

'It's all really uncertain and there's no answers on getting any players in. We thought we had two coming in on loan from the Football League before our game against Curzon last Saturday, but a lot of clubs put players into isolation after those leagues were stopped on Friday, so that didn't happen... If they're [PL and EFL] not playing until April 30, I can't see how the National League can go against that when we have our meeting on Tuesday.

'But most clubs at our level only have players committed until April 26, so it's difficult to come up with an end to the season that works.'

Bower added 'Clubs are committed to paying their players, but that will be difficult with no income coming in, and we're supposed to have our 3G pitch laid for next season. All the hospitality and around the ground work will be delayed but (owner) Gareth Roberts has been in touch to say he is still fully committed to that. But, if we're playing into the summer, that will affect the 3G pitch being laid, as it's a process that takes a while.

'What if the people who are contracted to do it now can't? And it was meant to be signed off by the Council in April but how will that happen? It's nobody's fault but there's so many questions...

'We've not been training and have no plans to at the moment, and we're trying to do our bit by distancing the players from one another'...

Bower felt a lack of numbers was the biggest factor in Avenue's 2-0 defeat to National League North relegation rivals Curzon Ashton last Saturday. As well as the loan players not arriving and Oli Johnson and Adam Nowakowski being absent through injury, Bower said having to bring his 38-year-old assistant manager Danny Boshell off the bench, for his first game in 18 months, shows how short they are in numbers.'"
At Chester FC, "This weekend sees the first of what will hopefully be a number of fundraising events for the Club...

The final financial implications of COVID-19 are in the process of being calculated but include a range of issues beyond the Clubs' control such as the postponement of our final league games, alongside the associated loss of matchday income these would generate, the cancellation of the end of season awards event, cancellation of scheduled Liverpool WSL Fixtures and several other income-generating initiatives which can no longer take place.

Once these calculations have been concluded they will be shared with the National League and with the CFU members at the earliest opportunity. What, however, is apparent even at this preliminary stage is that the current financial situation faced by the Club is every bit as serious as the financial challenge faced by the Club in 2018.

Whilst as a football club we are not unique in facing financial challenges at this time, it should be remembered that as a fan owned Club we are unable to enter into debt and remain reliant on our supporter base to fund the Club.

As Chester FC supporters might be aware, we operate with a limited cash reserve and the preliminary projections show that these reserves are likely to be spent in the foreseeable future and, without injection of capital prior to the 2020/21 season, we are left in a situation where the Club may not be able to fulfil its financial obligations.

As such, we ask all supporters to contribute generously to this weekend's fundraising event as well as all up coming fundraising initiatives to ensure that our Club can continue through this difficult time...

Footballing rivalry for this season in Non-League has become a battle for survival rather than success on the pitch".
From Darlington we have "the first of a series of weekly updates about what's happening behind the scenes at Darlington Football Club...

We can assure you that we are acting with the club's best interests during this difficult and unprecedented time. The boards of Darlington FC and Darlington FCSG are working very closely together and will meet by video conferencing each week to discuss the various issues presented by the Coronavirus outbreak and to rigorously plan for all eventualities.

It is uncertain when we will start playing again, and it could be as long as six months. We await further information about the current season from the FA and National League and we are planning to be able to respond to any scenario. We are uncertain as to whether this season will be concluded...

At this time, it is vital that you all continue to support us by taking out your Early Bird Season Tickets now and support the Boost the Budget and other fundraising schemes... This allied with the Club's robust and prudent financial management will ensure and protect our liquidity for some time to come. The Club is currently in a strong position...

Next week, our Chief Executive Officer David Johnston, is participating in a video conference call with all the other National League club chairmen."
Lincolnshire Live tells us that "Boston United chairman David Newton is backing the Pilgrims to defy the coronavirus pandemic despite generating no income in the current climate... Newton admitted being unsure about the outcome of the campaign, with the Pilgrims currently fourth in the table...

Non-league players are generally contracted until the first Saturday in May, automatically extended for the play-offs, meaning complications could arise should the season go on ever further.

'The Premier League can go on as long as they wish but that creates issues regarding contracts at our level,' said Newton, who is nearing the end of his 13th season in charge at The Jakemans Stadium. 'Presumably there will be some guidance around that... Our job is to make sure the club comes through it well and we will do everything we can to ensure that happens.

'The National League have asked for cashflow forecasts from all clubs moving through the next few months to try and establish exactly what impact it will have on us all. They will feed that back through the FA and to the Government'...

Newton is also responsible for the club's vast and varied Community Foundation and is confident that United's standing in the community will not be diminished during the current crisis. 'We employ a lot of people and are a big part of the local economy,' added Newton. 'We do a lot of good in the community. We should be valued and hopefully we will be valued over the coming weeks. I am pleased that the National League are taking everybody's concerns on board.'

Work continues unaffected, at this stage, on the club's brand-new Community Stadium at The Quadrant, with Newton confirming 'We are pressing on with the stadium with a view to having it ready for next season.'

Pitch contractors, Fineturf, have been on-site over recent days installing drainage and irrigation as works continue overall on the stadium's west and north stands, with the east and south stands to follow in phase two of construction."

NL Daily says that "The English football season will continue to be suspended until at least 30 April 2020, as part of measures to further combat the rising spread of COVID-19...

One major issue that clubs will need to deal with in these unprecedented circumstances is that the majority of player contracts have a natural expiry date of 30 June... It is now even more likely that the current season will go beyond 30 June 2020 and clubs face a real dilemma of having players out of contract during the season...

Unsurprisingly, clubs will be anxious about their ability to maintain the strength of their squads beyond 30 June 2020, where they have a number of players out of contract on 1 July 2020 and are unable to sign any new players. Perhaps those players that had previously been identified as having no future at the club beyond 30 June, may now be looked at in a different way.

If fixtures do continue past this date then any players out of contract are in effect 'free agents' and they would not be under a contractual obligation to attend training or play for the club. Ultimately, an out of contract player would not receive any remuneration and he would no longer be recognised as an employee of the football club...

Clubs may be moving quickly to activate any unilateral extension clauses (UEC) that were inserted into a player's contract at the time that it was entered into (often referred to as an 'option')... However, not every player contract contains an UEC and, therefore, clubs may not have the luxury of this option at their disposal...

The difficulties arise where the player does not have a long-term future at the club, but the club now needs that player as part of their squad for the remainder of the season. The player may feel aggrieved at the fact that his current club had not commenced contract negotiations with him and / or that they were willing to offer him a contract extension sooner...

It has also been reported that FIFA and the FA have been considering a temporary 'quick fix' and they have been exploring the possibility of granting special dispensation for short-term rolling contracts, should this season extend beyond 30 June. This would enable clubs to sign players, that they wish to keep (and of course players that wish to stay), for as long as they are needed to complete the current season..

Players whose contracts are due to expire on 30 June 2020 may have already been assessing their options with their agents and negotiating with potential future clubs since January 2020. Simply put, players and their agents are in the driving seat"

According to NL Daily "Mark Stott, the owner of Stockport County, has donated £75,000 to the Stockport NHS Foundation Trust Charitable Fund on behalf of the club to help towards the treatment of Coronavirus patients within the local community.

Stott said 'Unfortunately, many people within the Stockport area will be affected by Coronavirus, and we wish them a speedy recovery. The NHS do a phenomenal job and on behalf of myself, the club and the supporters, we would like to thank them for their selfless work during this unprecedented time.

'Stockport is a town and a club with enormous community spirit and we will pull together to support each other at this difficult time.'"

From NL Daily comes news that "Nantwich Town say they have had to lay off all of the club's full-time and part-time staff as a consequence of the current COVID-19 pandemic and football suspension...

Chairman Jon Gold has been updating supporters on the situation at the club, explaining 'We have sadly had to close all aspects of our operation, including football activities at every level and all functions and events, and also lay off all of our staff, both full and part-time, which has been done with great sadness and reluctance, but out of necessity and for the safety and welfare of everyone concerned.

'These actions still leave us with the immense overheads of maintaining and running a major stadium and business with no income whatsoever for the foreseeable future.

'Whilst not wishing to sound alarmist, which may lead to further panic and concern amongst the club's volunteering and playing community, it is sadly a stark reality facing many clubs and businesses during these unprecedented times and not exclusive to ourselves. It's important that during this period, we are as transparent as we can possibly be, with the knowledge that we have, and to this end, your continued faith, support and understanding are sincerely valued and needed.'

Gold did, however, add that he is 'hopeful that there will be a solution forthcoming'".
---
21 March 2020
Altrincham FC advises that "Training has taken a different path since the National League suspended activities and teams have been following government advice with regards to dealing with COVID-19.

Alty's Sports Science and Therapy duo Ryan Murray and Tommy Uda [right] have developed individual training plans mapped out for each of the players for the next two weeks to keep the team in shape.

All the lads have been putting the miles in individually in and around where they live in order to be ready for any eventuality."

Supporters will be saddended to hear that James Surridge, son of well-known Alty volunteer Terry, has died at the age of fifty, from a heart attack. Although James frequently worked in the south of England, he was often to be seen selling the Robins' Review matchday programme at Moss Lane, alongside his father, near turnstiles five and six of the J. Davidson Stadium.

Our condolences go to Terry, his wife Yvonne, and to James's elder brother. Last year, Terry was winner of the Manchester Evening News People's Champion accolade at the Manchester Sports Awards and is well known to ALtrincham fans as a very knowledgeable historian of the football club.

The last time Alty played on today's date, 21 March, was as recently as 2017 when, in that disastrous relegation season of 2016-17, Altrincham lost at home, 1-3 to Nuneaton Town in the Vanarama National League North.

It was a Tuesday night match at the J. Davidson Stadium, and Alty started the game bottom of the table, having also lost the reverse fixture 1-4 at Liberty Way after Charlie Joyce had been sent off early in the match.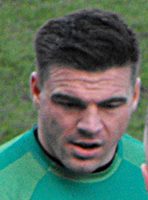 However the doomed Alty team went into the game after a decent run of form (eight points from six games) but they were brought down to earth with a very disappointing defeat by Nuneaton Town. The evening started badly with seven players out injured and it got worse. Before kick off, goalkeeper and former wrestler Stuart Tomlinson [left] had been added to the casualty roll-call, joining Shaun Densmore, Sean Miller, Craig Hobson, Tom Hannigan, Tim Deasy and Micah Evans on the list of those sidelined. And although Nicky Clee was fit to play tonight, Sam Heathcote was to be stretchered off before half-time.

Nuneaton took the lead in the 25th minute, against the run of play, when Exodus Geoghagon was allowed a free header from a corner but the goal was credited to Chambers amongst a melee on the goal-line. Two minutes later, Alty had a great chance to equalize when Simon Richman was put clear but he fired over the bar.

After 32 minutes, Alty's goalkeeper, Andrew Jones, making his first league start, came out to kick clear. The ball rebounded off the back of team-mate Sam Heathcote and left Billy Daniels with an open goal and he doubled the Boro's advantage.

Shortly before the break, Alty lost Heathcote to injury after he had apparently been fouled, off the ball.

Four minutes after the interval the Robins did get back in the game when Richman converted Nicky Clee's low cross from the left byline. But the outcome was settled in the 64th minute when Nuneaton, on the counter-attack, made it 3-1 thanks to a firm 20 yard shot from Ashley Chambers.

ALTRINCHAM: 1. Andrew Jones, 2. Chris Lynch, 3. Andy McWilliams, 4. Jake Moult (c) 5. Sam Heathcote, 6. John Cyrus, 7. Elliot Newby, 8. Gary Jones, 9. Simon Richman, 10. James Lawrie, 11. Nicky Clee. Subs 12. Kyle Brownhill, 14. Laurence Taylor, 15. Andy Owens, 16. Damian Reeves, 20. Alan Goodall.
Gateshead "announce the return of Ben Clark as an Academy Coach.

The former Heed captain and manager will take a coaching role within the academy setup, alongside current coach Matty Pattison, a position Clark held with the club before becoming first-team manager in January 2019.

The defender spent six years with Gateshead as a player, racking up 280 appearances and going on to captain the club in the 2014 Conference Play-Off Final at Wembley Stadium.

The 36-year-old, who has most recently worked with Newcastle United Foundation, will also be taking up a role as Community Officer with Gateshead FC Foundation.

'I've spoken to Busted[?] a lot since I left the football club and I just think it seems a lot more stable,' Clark told gateshead-fc.com. 'The affiliation I had with the club beforehand, I love the club. It was a project I did before I got the manager's job and I loved my job when I did it. That's the main reason I've come back, to try and produce more players for the first team.'

The Gateshead FC Academy programme is delivered in partnership with Gateshead College, with players training and playing as part of the club's under-19 squad whilst studying for nationally recognised qualifications at the college".
In the Shropshire Star "Boss Gavin Cowan says the financial implications of the coronavirus outbreak are a growing concern for AFC Telford United and everyone else in non-league football.

On Saturday, the Bucks secured a 3-1 home win over Kettering after fixtures in National League North were given the green light to go ahead...

On Monday, though, the National League fell in line and postponed all fixtures until April 3 at the earliest, with the FA since extending that to April 30. And Cowan admitted everyone at the club is growing increasingly concerned about the financial implications of the next few weeks.

'We are obviously disappointed the league has been suspended but understand why,' Cowan said. 'The club are very concerned about how this is going to impact us financially. We are not well off and suffer with resources and there are going to be plenty of others in the same position.'

Dagenham & Redbridge managing director Steve Thompson went as far yesterday to say the National League would require a government bail-out for clubs to survive. The National League is not in a position to offer a relief package to its members, as the EFL announced it would do on Wednesday. 'It is going to require government help," said Thompson, who estimated the National League's three divisions would need a combined £15-£20m.'"

Also, AFC Telford United announce that they "will be opening our Club Shop on Saturday 21st March for supporters to purchase their Early Bird Season Tickets for the 2020/21 Season.

Purchasing your early bird season ticket is the best possible value for next season's campaign and, with an additional two home league games next season, means the price per game is lower for next season.

For the 2020/21 campaign, Adult Early Bird Season Tickets will be £215, with concessions at £179 this covers 23 matches instead of 21, so reduces the per match price compared with the 2019/20 Early Bird.

This very attractive offer is available in this Early Bird offer only, season ticket prices after 31st March, will factor in the additional two matches... Of course, we will also be selling our 2019/20 home and away supporters' shirts as well as a selection of Joma leisurewear including travel polo and training tops.

There will also be the usual scarves, bobble hats, beanies, mugs, badges etc."
From Boston United we learn that "With the National League North campaign currently suspended, goalkeeper Peter Crook is leading the Boston United appearances chart for 2019-2020.

United's number one, who has kept 17 clean sheets to date, has made 42 appearances for Craig Elliott's side, ahead of Tom Platt and Alex Whittle on 40 and Luke Shiels and Brad Abbott on 39.

Jordan Thewlis (16) and Dominic Knowles (13) lead the United goalscoring charts, with Andi Thanoj next in line on seven.

Elliott has utilised 37 players so far this season, although five of those have made just one solitary Lincolnshire Senior Cup appearance. Newcomers Matt Challoner and Jordan Nicholson are still awaiting their first appearances in amber and black".
At Hereford FC "We would like to give supporters the opportunity to ask any Coronavirus related questions regarding Hereford FC.

If you have a question please email media@herefordfc.co.uk, or reply to our posts on social media. Chairman Andrew Graham will then respond giving as much clarification as possible.

Please send in your questions no later than 6pm Saturday 21st March. We will aim to publish the responses on Monday morning".
---
20 March, 2020 The Sale & Altrincham Messenger reports that "Altrincham's promotion push has been put on hold after the National League suspended its fixture list until the beginning of next month at the earliest.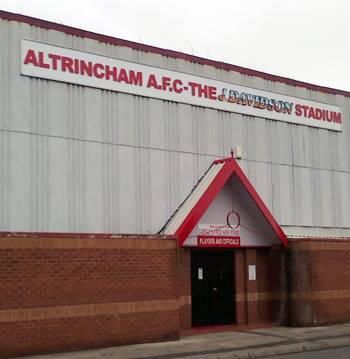 In-form Alty were hoping to make it four straight wins at York City on Saturday, only for the game to be called off late on Friday night following illness in both camps.

The postponement was followed by an announcement from the National League on Monday afternoon that, in view of Government measures over the coronavirus outbreak, it was 'not practical for fixtures to be fulfilled in the immediate future' and the competition would be suspended until at least April 3.

The best Alty could hope for would be to resume their programme against Gloucester City at The J.Davidson Stadium on Saturday, April 4, with a further eight fixtures to fit in, but that is looking unlikely, given the increasing disruption caused by the virus.

Acknowledging the league had little option but to suspend games, Alty's board issued a statement vowing to do everything they can to help the most vulnerable sections of the community.

It read 'We recognise there may be a serious impact on some members of the Altrincham FC family, and therefore the club and community are working hand-in-hand to see how we can support the most vulnerable of our neighbours and friends.

'We will be pulling together support packages for distribution to those most impacted and looking to provide more practical help where we can.'

Addressing the inevitable drop in income without gate receipts, the statement added 'There is no underestimating the impact of the loss of revenue... One way you can help us in the short term, is to join Alty Rewards. This scheme, which was launched earlier this year, allows you to donate an amount to the club every month, thus helping us with our cash flow.'"

According to Non-League Daily "The National League are reportedly set to ask The FA for £17 million to help keep its clubs in business during the current season suspension.

With the grassroots game currently on shutdown, and the elite levels now suspended until at least 30th April, due to the COVID-19 pandemic, The Athletic have reported that the National League will ask for the sum to cover its 68 clubs in the two tiers. It works out on average at just under £250,000 per club.

In a quote on the BBC website, Dagenham and Redbridge managing director Steve Thompson said 'The National League are trying to get figures together; this can't be set in stone but the sort of figures I am hearing at the moment will be £15m to £20m.'"
Cheshire Live adds that "According to The Athletic, League CEO Michael Tattersall will take the plan to FA chiefs in order to try and protect the 68 clubs in its three divisions who are facing a perilous situation after losing their main source of income - gate receipts.

'With social distancing measures only set to get tighter the notion that any football will be played at that time is incredibly remote and clubs are now planning for how they manage to get through to next season with little to no income and payroll and PAYE obligations to be met.

The plan has been hatched by Dulwich Hamlet chairman Ben Clasper... and with the League sending out financial forecast sheets to clubs this week to gauge how much money would be needed, the figure stands at around the £17million mark. Tattersall told The Athletic 'The airline industry has gone down 75%, which is very, very unfortunate for them. We are down 100%. We haven't got any matches. Our income is almost down to zero for the time being. But we've got a lot of employees to look after.

'If we're going to look after people, we need an intervention. We need to try to establish football, or at least non-League football, as one of the industries, the sectors, that the Government regards as being an acute case.'

Problems have already arisen from the suspension of competition as National League side Barnet announced on Tuesday that they would be making 60 of their non-playing staff at the football club redundant while Chester FC chairman David Harrington-Wright told Cheshire Live that fears among some National League North chairman were that there were 'five or six' clubs who are already on the brink.

Tattersall added 'We will take it to the FA this week. This is the focus of our league now. To communicate with Government and with the FA in order to make and economic case... We want football to return... but if it's sacked all of its players, and hit financial distress, we won't be able to switch it back on. If we want to switch it back on we need money now to preserve it.'

In Chester's case the Blues have payroll obligations to meet in the coming days but do have the buffer of a cash reserve of almost £100,000, built back up again by the hard work and generosity of fans who came out to back the fan-owned club when they went through a financial crisis back in January 2018, where the reserve was almost completely spent to cope with cash flow issues.

Financial forecasts are likely to mean that Chester will need to use almost all of that reserve again in order to ride this storm...

Chester's chairman, Mr Harrington-Wright... told Cheshire Live... 'We don't have the ability to loan [borrow] money or go into debt to meet obligations as the Society does not allow for that. We will probably have to use a good chunk of the reserve to see us through a worst case scenario... Speaking to some other chairman the other day there does seem the feeling that this could be catastrophic for some clubs.'

Chester's annual turnover stands at around £900,000, with almost 60% of that derived from matchday income. Vice-chairman Andrew Morris told The Athletic 'We have about £100,000 in reserves but once that is gone we would have to shut the club down. We think this is going to cost us £60,000 to £100,000.'"
The National League says that "With The National League in it's 41st season, we're revisiting some of the key seasons which have shaped the Competition.

Right: Altrincham FC in 1979-80

The inaugural season of the new Alliance Premier League, the forerunner of the current Vanarama National League, was 1979/80 and it created a lot of interest in the national press.

Up to that point, apart from FA Cup giantkillings, little was written in the national papers about Non-League football, although there was plenty in the regional and local papers of which there were certainly more in those days and, like me, many still mourn the passing of the Saturday night Pink 'Un or Green 'Un as it was in Nottingham.

But the new league drawn from teams from the Southern and Northern Premier League created a lot of attention."

The illustrated article includes Altrincham's title-winning exploits in the season in questiom.

The FA reports that "The FA, Premier League, EFL and women's professional game, together with the PFA and LMA, understand we are in unprecedented times and our thoughts are with everyone affected by COVID-19.

We're united in our commitment to finding ways of resuming the 2019-20 football season and ensuring all domestic and European club league and cup matches are played as soon as it is safe and possible to do so.

We've collectively supported UEFA in postponing Euro 2020 to create space in the calendar to ensure domestic and European club league and cup matches have an increased opportunity to be played and, in doing so, maintain the integrity of each competition.

The FA's Rules and Regulations state that 'the season shall terminate not later than the 1 June' and 'each competition shall, within the limit laid down by The FA, determine the length of its own playing season'.

However, our Board has agreed for this limit to be extended indefinitely for the 2019-20 season in relation to professional football. Additionally, we've collectively agreed that the professional game in England will be further postponed until no earlier than Thursday 30 April.

The progress of COVID-19 remains unclear and we can reassure everyone the health and welfare of players, staff and supporters are our priority.

We will continue to follow Government advice and work collaboratively to keep the situation under review and explore all options available to find ways of resuming the season when the conditions allow.

We would all like to re-emphasise that our thoughts are with everyone affected by COVID-19."
In York Press "York City boss Steve Watson has issued a message of support as the country braces for he coronavirus pandemic. The Minstermen number one's tone was one of cautious optimism for York's season but, above all, empathy and compassion for those enduring difficult circumstances...

'It's not a football message,' Watson emphasised. 'Stay safe, healthy and look after your loved ones. Football will be back at some stage and, when it is, we will be fully focused on the job we have started'...

York's home meeting with Altrincham was only called off late on Friday as staff from both sides had exhibited symptoms of the virus but they remain two points clear at the summit, with second-placed King's Lynn Town losing at home to Guiseley...

He said... 'I was probably surprised that last week went ahead because the same reasons apply to the National League as the leagues above. In the end, it was the right decision. Through all the tiers in English football, people are going to struggle financially, but for National League teams, not having home games is enormous'...

'The players have stood down for a week and they're doing things themselves at home,' Watson explained. 'The plan is to start training again on Monday but between now and Monday, a lot of things can happen. There seems to be new legislation and advice on a daily basis but, as we're talking, we'll start training and preparing for the game on the fourth of April'...

He said 'I've got the feeling we'll go into lockdown, virtually, as a nation. With no football and nothing live to watch, I'll be doing a fair bit of internet research, looking at clubs and transfers, putting plans together for next season when things are back on track. Apart from that, I'm not a big Xbox fan so I'll just be catching up on box-sets and movies.'"
Curzon Ashton says that "In light of recent events, and troubled times ahead, with football postponed across all levels we need your support more than ever!

It would be amazing if we could all stick together and support the club and our Curzon family, helping out where possible. Any help or donations would be gratefully received; if you think you can help our club please get in touch."

First of all, we'd like to make clear the club fully supports the decision to postpone all football...

Financial director, Harry Twamley had this to say, 'It's going to affect us all badly. With the league suspended there are not only no gate receipts but there are no bar receipts either,' he explained.. 'We're getting lots of calls cancelling parties in our function room. We're losing room rent because organisations have called off the meetings they hold at our ground during the week, and we're not receiving anything from the 3G pitch because youngsters have been told not to train'...

He added: "The full details haven't come out yet, but I understand that small businesses with a rateable value of less than £50,000, which I think we all are in Tameside, should qualify'">
At Kettering Town "Sadly >we don't know for sure when games will resume...

Kettering Town Football Club, like many grassroot teams, operates on a strict budget that is underpinned by match day revenues and without home fixtures we will obviously have some difficult decisions to make and some financially challenging times ahead. But we want you to rest assured that we remain committed to the club and that any decisions we do make will be for the club's long term benefit and protection... A number of initiatives will be launched in the coming days/weeks.

We would also like to confirm that we are in regular contact with the league's board and two way communication is very much open".
At Leamington the club >has addressed its shareholders, saying "The Board of Directors have decided to postpone the Club's AGM. The last thing we would wish to do is inadvertently put any shareholder or any proxy attending the AGM on their behalf at risk.

I will inform you of the new date for the AGM after the Government advises that it is safe for people to congregate in meetings again".
Meanwhile, Southport tell us that "Following the generosity of Paul Newnham and others, donations can continue to be made to the club online.

On Monday, Paul very kindly offered to donate a massive £10,000 to help the club through the next two months of uncertainty...

Like many clubs across the country, we live a hand-to-mouth existence with our main cashflow from home gate receipts being our main source income.

This is supplemented by income from events and midweek bar facilities, both of which are being severely impacted. With this in mind, we would encourage our fans and supporters to continue to support the club where necessary. On the back of Paul's fantastic donation we are launching a donations page via our partners, Kaizen Ticketing.

Club Secretary James Tedford said, 'There is no getting away that this may signal the end of many clubs across the pyramid. I am grateful for the endeavours of many at the club over the last 12 months to make the necessary cutbacks, without which this current pandemic could have brought an untimely end to our 139-year history'".
---
19 March 2020 With no live football on the horizon, from time to time we will look back at a game on today's date. The last time Alty had a match on 19 March was in 2016, when Altrincham beat Aldershot Town 4-0 at Moss Lane in a Vanarama National League match. Altrincham had gone into this game on the back of a run of just one win in their previous 14 games and this was their first home game since the departure of manager Lee Sinnott. Caretaker boss Neil Tolson was on the touchline with his new assistant, Matt Doughty.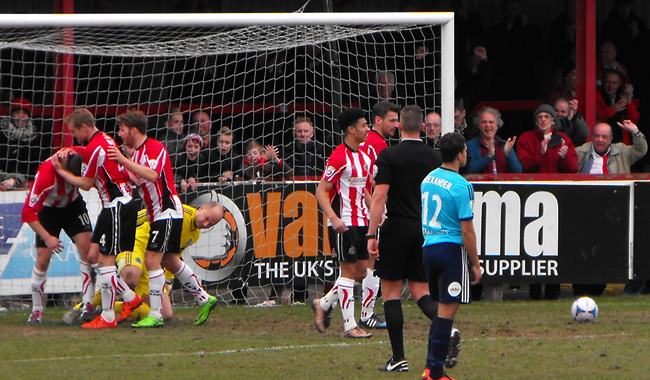 Above: Damian Reeves is mobbed by team mates after opening the scoring. The late Mike Garnett [far right] leads the celebrations behind the goal!

Altrincham lifted themselves out of the bottom four with this impressive 4-0 win over an Aldershot Town team.

Alty started with leading scorer Michael Rankine on the bench following injury but the team still netted four times, for the first time in the league since their 4-1 win against Chester on New Year's Day 2015. And you had to go back to April 2014 and a 5-0 away win at Histon to find a bigger margin of victory.

Aldershot started the game quite brightly but then Altrincham improved and deservedly took a 32nd minute lead. Following a Jordan Sinnott throw from the right, Lawrie lashed a low, left-footed ball into the box where Damian Reeves turned it into the net from close range.

Alty doubled their lead some 90 seconds into the second half when loanee Josh Ginnelly, nowadays plying his trade in the EFL, scored a superb goal. The on-loan Burnley man ran more than fifty yards up the left before slotting a low shot across goalkeeper Smith and into the net. The game was over for Aldershot when they conceded an unnecessary penalty on the hour mark. Lawrie was blatantly pushed over, as a high Sinnott cross sailed over the head of everyone in the box. Jake Moult blasted home the spot kick to make it 3-0 after 61 minutes.

Man of the Match Ginnelly got forward again in the 69th minute and, from his cross, Sinnott volleyed an excellent goal, his second in successive games. After the match Shots' captain and goalkeeper, Phil Smith, and a number of players seemed to apologize to the sizable away following, the same fans who had witnessed the Hampshire club's 8-2 thrashing at Chester on their previous visit to the North West.

The referee was Mr Robert Jones, nowadays to be seen at the Premier League level of officialdom.

ALTRINCHAM : 17. Tim DEASY, 6. Scott LEATHER, 5. Luca HAVERN, 28. Marcus HOLNESS, 3. Adam GRIFFIN, 2. Jordan SINNOTT, 4. Jake MOULT (capt), 8. Simon RICHMAN, 7. James LAWRIE, 15. Josh GINNELLY, 10. Damian REEVES. Subs: 12. Sam HEATHCOTE, 19. Ryan CROWTHER, 26. James PHILLIPS, 14. Josh O'KEEFE, 9. Michael RANKINE
According to the National League "Gateshead's Mike Williamson is the Vanarama National League North Manager of the Month for February...

The Heed have certainly been in promotion-winning form over the last ten games. After starting the month a point adrift of the top seven, Gateshead not only closed that gap, but also the gap on third. Williamson's men ended February with an 11-game unbeaten run, stretching back to December, still intact after wins against Leamington and Curzon Ashton. The Heed also saw off Boston United with ease, ending the Pilgrims' six-game winning streak in the process.

And while a goalless draw at Kidderminster Harriers won't have excited many, fighting back from two down to gain a point at Guiseley will have done the opposite.

Things are also looking rosy away from the pitch. Williamsom made Toby Lees's stay at the club a permanent one after he impressed on loan. With only two of their final games coming against current top seven sides, are the Heed going to end their stay in the National League North at the first time of asking?"
News of a former player at several National League North clubs comes from the NW Counties' Football League which confirms that Yorkshire club "Golcar United announced they had signed for[mer] Leeds United defender Ross Killock.

After a year out, Killock turned out for Ash Connor and Gavin Connor's side during their side's 5-3 win over Ashton Town. 25 year-old Killock has had a stop-start career so far, having played for Leeds United, FC Halifax Town, Alfreton Town and Chester...

Joint manager Ashley Connor was pleased with the signing, 'Ross... is a quality addition and brings a wealth of experience with him. He's been out for 12 months with an ACL injury... Ross is a real leader on the pitch and I think other players will benefit from having Ross in the team'".
From the National League we learn that "Kidderminster Harriers' Will Mannion is the Vanarama National League North's Player of the Month for February.

After arriving at Aggborough on loan from Hull City in early January, the goalkeeper has been a reassuring character between the sticks. During February, Harriers became the first side to defeat King's Lynn Town in their own stadium for 14 months, with Mannion keeping a clean sheet in the process.

Boss Jimmy Shan departed after a draw with Darlington, but the upturn in the Club's recent fortunes continued. The goalkeeper recorded back-to-back shutouts to help secure four points in trips to Farsley Celtic and Gateshead.

A one-goal defeat to high-flying York City put a slight dampener on what was a positive month for Kidderminster and their number one."
Also from the National League we learn that "Christine Classon of Southport has won February's Volunteer of the Month for the National League North.

Christine is the life and soul of The Pure Stadium, committing over 20 hours per week to the Club. She looks after all the volunteers, from recruitment to match-day roles. On matchdays, Christine manages the Club shop, [and] meets and greets both sets of fans as they purchase tickets and merchandise.

In midweek Christine looks after the Club accounts. Not only does this bring the accounts more in-house, it also saves the Club a substantial amount per year."
The Banbury Guardian informs us that "Brackley Town boss Kevin Wilkin says everyone in the non-league game has got their part to play in the crisis. Wilkin believes the Vanarama National League North should be completed but is aware there are calls for all non-league football to be cancelled.

If it resumes, then Wilkin says all the players have got to do their bit to help clubs fulfil fixtures.

He said 'Everyone is going to suffer, no matter what line of work you're in. I'm sure the National League games went ahead on Saturday because some clubs were concerned about their financial situation, so where do you draw the line? I couldn't see how fixtures in the EFL and ones in leagues below us like the Southern League and Hellenic League can be called off and not ours.

'We've got to fit eight games in between now and the end of April, that's not the worst position to be in. If we have to play Saturday and Tuesday, and even a Thursday like Spennymoor Town had to because of their pitch and postponements for an extra couple of weeks at the end of the season, then we'll have to do that.

'The league has got a difficult decision to make but there has to be some understanding from everybody. Players have also got to be more flexible, if it means them playing for less money for those extra couple of weeks. If we have to lock-down for a couple of weeks then so be it and then let's see where we are then.'"

Also from Brackley Town we learn that "After careful consideration it has been decided that Brackley Town Saints FC will be resigning from the Hellenic League at the end of the season.

The initial purpose of The Saints was to give opportunities to young players from Brackley Town to progress into men's football at a competitive level. This has, on the whole has been successful, however it has come at a cost, not only to Brackley Town Saints but also to our parent club Brackley Town. With the recent difficult circumstances surrounding the club house [which suffered a fire] and associated finances we feel that this is a cost we can no longer sustain moving forward.

This has not been an easy decision to make but after six successful seasons in the Hellenic League we feel that this decision is the correct decision at this time

Indeed, many clubs in the National League North have issued statements about the financial implications of the suspension of the season because of the Covid19 outbreak.
A case in point is King's Lynn Town which says that "With four home league games remaining to be played, and with no guarantee that these games will be completed in the near future, the club is facing a lack of income from gate money, match day hospitality and catering, programme and merchandise sales, along with numerous events in the Blue & Gold Clubroom which are being cancelled in wake of the latest advice from the government.

With all of this combined we estimate a total shortfall of around £100,000, which is required to pay wages and various other bills associated with running a business. Club chairman Stephen Cleeve has agreed to cover some of the shortfall himself but cannot commit to being able to cover the rest at this time.

It is with this in mind that we are asking that if people who have purchased tickets for the Brackley game, or coach travel to Kettering, are able to give this money to the club as a donation we would be most appreciative. Refunds are available by contacting... [the club].

We are also selling off the Southport match programmes for £3 inc P+P".
It is confirmed that "Following recent guidance from the Government and the National League, York City "will close until further notice.

The club will however, continue to support its players and staff remotely during these challenging circumstances.

Players have received electronic information and advice in relation to health, wellbeing and (if appropriate) keeping fit while in self-isolation. The manager, club doctor and coaching staff will remain contactable. The club... is offering ongoing support to staff, who are now working from home or self-isolating where necessary.

Our work in the community, via the YCFC Foundation, has also been suspended until further notice. However, their important social work will continue remotely as foundation staff continue to offer support to its vulnerable community members...

In advance of the club reopening, a date which we can't confirm currently, Bootham Crescent and our training ground will have a thorough deep clean".
For those who want a break from Covid19, Spennymoor Town has created an online quiz which asks participants "Can you remember who scored every Moors goal in 2019/20?" and gives them a score based on their answers!
At Leamington "Following the decision of the Vanarama National League to suspend all football until 3rd April, 2020, the Board of Directors has taken the decision to additionally suspend all football activities at Leamington FC..

The first team coaching staff and players will remain away from the club until 3rd April. The club office will also be closed during this period with volunteer staff working from home. We would ask for understanding from our loyal fan base, as our staff safety is paramount... In the short term there will be no arrangements made to reschedule [postponed] matches until we have the information required to do so.

The financial situation of the club is under urgent review as we seek to determine and understand our options in these difficult times".
Likewise, reacting to the pandemic are Hereford FC where "In times of crisis, such as this, we need to prioritise and ensure that above all, we consider the welfare, health, and well-being of our supporters, staff, volunteers, players, customers & sponsors...

We will be making the following operational changes.
The club office will be run on a skeleton staff, with employees continuing to work from home where possible. Therefore, the club office will be closed to fans, volunteers and the general public.
Due to the skeleton staff, it may take longer to contact the club by phone, therefore we advise supporters wishing to contact the club to email or contact us via our official social media channels.
The Club Shop will also be closed, although orders can continue to be placed online. We will continue to fulfil orders throughout the above period.
We have provided guidance for Players and Management and would welcome supporters and critics avoiding any unnecessary speculation on social media. The platforms that will provide clarity and accuracy on developments, will be the official Hereford FC club website and our official social media channels.

Our participation in sporting activity will be suspended with immediate effect. Training at all levels, including Academy and group activities will be suspended...

On the back of a disappointing season, until recently, we will, without a doubt feel the pinch financially and have held several meetings to discuss action to address this. We will be reviewing our position daily, as no doubt, at our level, there will be many financial casualties caused by this. We do not intend to be one of them!

We would urge supporters to engage in any future initiatives aimed at generating funds and helping to ensure that we remain in a competitive position to end this season and start the next. HUST are working with the Club to continue their purchasing of shares and any donations made will greatly assist"
Chester FC state that "Chester FC Awards Night – this has been postponed, and will be rescheduled for later in 2020, with an emphasis on celebrating our 10 years of reformation, twinned with the Awards.

Chester All Stars v Bury Legends match – this has been postponed, and will be rescheduled for later in 2020, with the emphasis on fundraising for both sets of clubs. Naturally refund requests will be honoured, but we would also appreciate those who have purchased tickets to hold on to them, given that the tickets will still be valid for the rescheduled date.

Of course, the current situation leaves the club in a position where we need to raise further funds whilst we have no matches taking place, and we will soon release details on how you can help the club with donations."
Boston United "chairman David Newton has backed the National League's decision to suspend the season... Mr Newton said... 'Clearly this will have implications around the actual competition, but I do not expect any further information around that at the present time as it is an evolving picture...

'This is a very challenging time for all clubs as we now have no income. We are seeking guidance about players' payments from the National League and FA, but understandably that information has not come forward yet as things are moving very quickly. We are managing the situation as best we can and are mindful that many other businesses find themselves in very similar circumstances, but the main thing is that we try to keep as many people as fit and healthy as possible, and try to avoid spreading the virus...

'The best advice I heard the other day was to "live like you have the virus and are trying not to pass it onto others, rather than trying not to catch it yourself"".
---
18 March 2020 Altrincham FC released the following statement on Monday night...

"In the light of today's announcements from the Government, and the subsequent suspension of the Vanarama National League until 3rd April, Altrincham Football Club & Altrincham Football Club Community Sports are updating our response to the COVID-19 in the light of recent developments.

The Community will be suspending with immediate effect all classes; including Senior Exercise, Disability & Sports Social, Yoga classes, Walking Football and Altrincham Mini Kickers. Our school coaching will continue as usual for now, and as long as schools remain open.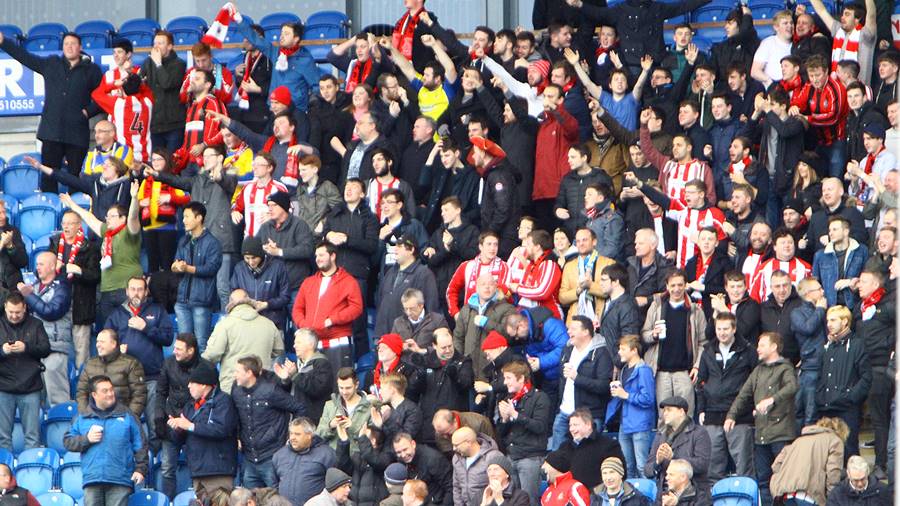 Above: Alty fans at Colchester, in happier times.

The hiatus in the National League will lead to the postponements of our fixtures at home to Chester and King's Lynn Town and our visit to Alfreton Town. There is no certainty the season will recommence in April, nor therefore are there any concrete plans from the league as to how this season will be concluded.

We recognise there may be a serious impact on some members of the Altrincham FC family, and therefore the Club and Community are working hand-in-hand to see how we can support the most vulnerable of our neighbours and friends. We will be pulling together support packages for distribution to those most impacted and looking to provide more practical help where we can.

This will also be a major disruption for our sponsors and partners, and we will be doing our bit to support them however we can. We will be featuring a small article on each of our sponsors over the coming weeks to remind you all of the services they provide and the corresponding benefits for the football club.

There is no underestimating the impact of the loss of revenue for both the Football Club and the Community Company. We have seen on the forum some suggestions for helping us out and we thank you very much for this gesture. One way you can help us in the short term, is to join Alty Rewards. This scheme, which was launched earlier this year, allows you to donate an amount to the club every month, thus helping us with our cash flow.

You can join the scheme here

And there is more information on the scheme here.

We apologise for any inconvenience caused and wish you all the best in health. We will be releasing a further update before the end of the week, or sooner if there are any major developments".
The Boston Standard reports that "Boston United chairman David Newton... admits that Boston United are heading for 'challenging times' but backs the National League's decision to suspend football until April 3.

The Pilgrims chairman admits that paying staff and player wages without the income from match days will be a tough test for the club, but stresses there is a bigger picture at present.

'We fully support the decision taken by the National League. It is incumbent on us all to take the difficult but necessary decisions to help prevent the spread of the Coronavirus,' Mr Newton told bufc.co.uk.

'Clearly this will have implications around the actual competition, but I do not expect any further information around that at the present time as it is an evolving picture and decisions cannot be made until there is some certainty around how the spread of the virus is progressing...

'This is a very challenging time for all clubs as we now have no income. We are seeking guidance about players' payments from the National League and FA but, understandably, that information has not come forward yet as things are moving very quickly. We are managing the situation as best we can... but the main thing is that we try to keep as many people as fit and healthy as possible, and try to avoid spreading the virus...

He added 'As always, the football family will come together but, unfortunately, this is spread much wider than football. The country has been through very difficult times in the past and come through. I am sure that if we all play our part, we will do the same and not only come through, but come through as a better and more caring society'".

Meanwhile, Boston United report that "Preparations are continuing ahead of Boston United's impending relocation to their new Community Stadium in the summer.

Construction is continuing at The Quadrant, with the aim of playing football at the new ground in time for the 2020-2021 season. The club are still appealing for donations towards 'completion and fit out of the Community Stadium' and you can get involved via a number of innovative methods.

As an individual...
Would you like to dedicate a brick to a lost loved one within the stadium's Memorial Wall?
Would you like to include a message of support from yourself via a brick in the Fans Wall?
Would you like to dedicate a seat in the impressive 2,055-capacity main stand?
Would you like to pledge an amount towards the installation of the club's brand-new playing surface?
Would you like to purchase a shrub or tree for planting around the stadium complex?
As a business (or bigger individual donation)...
Would you like to cover the cost of the stadium's imposing floodlight pylons?
Would you like to purchase the club's new pitch irrigation system?"
As reported by Guiseley yesterday, Non-League Daily has confirmed that "Harrogate Town have announced the signing of Guiseley striker Aaron Martin.

The 28 year-old signed for The Lions in the summer and took to National League North football like a duck to water. Double figures for goals by the end of August saw the Sheffield-born frontman named National League North Player of the Month. He went on to score 16 goals in under 20 appearances before injury disrupted his first season at Nethermoor.

Martin's move to Guiseley followed an eye-catching season under former Town coach Vil Powell at Brighouse Town, where the 6ft striker hit 30 goals and 11 assists in a campaign that saw him named the club's Player of the Year.

Town's newest arrival's former clubs include Staveley Miners Welfare, Worksop Parramore, Goole, and he had a five-year spell at Sheffield FC, following a youth career spent between Sheffield United and Barnsley."
According to Cheshire Live, "Chester FC chairman David Harrington-Wright says that the club can ride out the storm that the coronavirus pandemic has caused in football but believes some may not be so lucky...

A pause on football looks to continue for some time yet, the April 3 date for possible resumption seeming wildly ambitious at a time when the pandemic worsens. For football clubs, particularly in non-league, the pandemic threatens their very existence if it rumbles on for too long, the lack of match day income a crushing blow to some who depend on it as their main source of income.

For Chester, match day income is the lifeblood of the football club but Harrington-Wright says that the club is able to survive the challenges that are ahead, although it won't be easy.

'This is a situation that we would rather not be in and it's hard to put football at the front and centre of everything when people are dealing with a lot of worry at the moment health and jobs, but we will ride this out and we will survive,' said the chairman.

'You can't plan for things like this. We are in unchartered territory and it is a very worrying time for football clubs, particularly at our level. We budget for our home games and we don't know if we will have any this season, or when we will have them again. We've had to cancel the end of season awards presentation which usually brings in around £7,000 or so. It may not sound like a lot but when you are a club of our size it is massive.

'The Easter raffle draw helps us raise funds, that will struggle as people are in isolation and won't be keen to be out and about selling raffle tickets. Then there is season tickets which we usually get on sale at the end of April, start of May. We don't know what is happening with this season or next so people aren't going to buy them and we don't know what format the next season will take yet.

'There are so many things it affects but we still have to keep the lights on, meet payroll and meet our obligations.'

Chester have a cash reserve of upwards of £90,000 according to their most recently published accounts, a reserve that remains largely intact following the financial crisis of 2018...

'The fund is there for extraordinary circumstances and that is what we are facing,' he explained. 'We don't have the ability to loan money or go into debt to meet obligations as the Society does not allow for that. We will probably have to use a good chunk of the reserve to see us through a worst case scenario but, with that reserve, we have a facility that not all football clubs can call upon at our level. That shows how important the fans and fan ownership has been to making sure we are more resilient than some.

'We don't yet know if we will be compensated by the National League, should the worst happen and the season is finished. These are discussions that will need to take place and I've spoken to a number of other chairman who will also be pushing for these to happen as soon as is feasible...

'Speaking to some other chairmen the other day there does seem the feeling that this could be catastrophic for some clubs if it goes on for a while,' said the Chester chairman. 'A lot of clubs live hand to mouth and when you take away the major source of income for any business it will have a hugely damaging effect. This is why there will be a need for some kind of compensation moving forward from the League to make sure that we don't lose any clubs to this.'

Some Chester fans took to donating their entrance fee to the Blues over the weekend, something that have vowed to do for the remainder of the Blues' football calendar. 'We actually raised a staggering amount when you consider it was a gesture mentioned on social media and we can't thank fans enough for that,' said Harrington-Wright.

'We don't want to be scaring fans and painting an awful picture but any help like that helps us mitigate the challenges we are facing a little easier. It is times like this that people really need football and bit of escapism and to not have it is really tough. When all is said and done and normal life resumes, once more it is our duty to make sure the fans have a football club to come back and support to get that escapism. We'll make sure we achieve that.'"

And Cheshire Live also reports that "Anthony Johnson believes that declaring this season null and void wouldn't make sense... The National League will likely have a decision to make soon on what happens to the remainder of this season.

One option on the table will be declaring the season null and void, expunging results and going ahead with next season, whenever that may be, with the same teams in the same divisions. But should that approach be taken Chester FC joint-manager Johnson believes that it would render the last nine months or so a massive waste.

'My belief is that teams should be rewarded for what they have done,' said Johnson. 'Whether that be Liverpool, whether that be West Brom, whether that be King's Lynn. Teams should be rewarded for the work that they have done over the last eight or nine months. If that means stopping the season now and deciding that they don't play the play-offs, then you promote the top two. You don't want to have a season that never existed. What is the point in doing what we have done and expunging it all?

'Look, I'm a nobody but we are all in the same boat.... Let's use what we've done and, when the new season starts, whenever that may be, we have then got new leagues, new teams in new divisions. That is how I think is the fairest way. It sounds logical to me, just cancelling the season and expunging it all just doesn't make sense'...

With most non-league players having contracts that run out at the end of May and beginning of June then it causes a whole raft of problems for clubs".
There is optimism at Darlington where The Quakers invite their supporters to "Buy your Early Bird season ticket by the end of March

The sales of Early Bird season tickets have got off to a great start!

Hurry up and buy yours before the price increases...

Once again buying early locks in the best possible value for the coming campaign and with an additional two home games next season means the price per game is lower for next season."
From Rochdale we learn that their player "Fabio Tavares scored his first goal for Curzon Ashton on Saturday, as they ran out 2-0 winners at Bradford Park Avenue.

He came off the bench with the Nash a goal up to secure the win, finishing coolly with five minutes remaining...

Elsewhere, goalkeeper Brad Wade [also a loanee from Rochdale] kept another clean sheet as his Guiseley AFC side were 1-0 winners at second placed King's Lynn Town".
At AFC Telford United, before the suspension of the season, "Aaron Williams claims that team spirit has been key to their recent triumph over Kettering and, although he has registered ten goals this season, he still thinks there's much [many] more goals in him...

He said 'I should've scored a lot more, the chances I have had and the chances the boys have created for myself. I should be on a lot more, as ten goals near the end of the season is not good enough for myself. I scored twenty-one goals last time I was in this league before Christmas.

'I always have high expectations of myself to score goals. When the gaffer bought me in, he knew what expectations I had and I knew what he had for myself and the manager deserves credit.'

Team spirit is a significant advantage for the Bucks with the current crop of players seemingly looking to find the key to a winning formula, it looks as if all the foundations are there and the mix up of training drills have seemed to work well recently.

There have been a few incomings and outgoings this season. Nevertheless, having a team who all want to fight for the same cause is showing...

He said 'Training has been sharp for weeks and weeks... Wen you have a good group of lads who want to do achieve the same thing and want to do the same thing, it all clicks. The gaffer shipped a few out at the start of the season and the boys who he bought [brought] in have really gelled well and have been interactive. We have training on a Tuesday and Thursday and some the boys are in early for a coffee and that shows good team spirit'

He also believes that for most of this season the Bucks have performed to high standards where knacks [?knocks] and unwanted habits have affected the final result...

He said, '75% of this season we have been the better team, our performances have been top notch and we haven't put the ball in the back if [of] the net and they have'".
---
17 March 2020 Altrincham FC has "received the following statement from the National League...

'At its Board Meeting on Friday, The National League decided to use its best endeavours to keep its season going in the face of unprecedented adversity.

However, with the current coronavirus (COVID-19) reaching global pandemic levels it has to accept that the situation is now out of its own control.

In the knowledge of the government measures now announced including not to support sporting events with emergency services workers it is clearly not practical for its fixtures to be fulfilled in the immediate future.

In those circumstances, and in line with The Football Association and the Professional Game, at a Board Meeting today, The National League has decided that its competition is now suspended until at least 3rd April 2020.

The National League will continue to monitor the situation, but trusts that its loyal clubs, fans, players, officials, staff, volunteers and sponsors will accept that it has had no other choice but to reach this decision'".

As well as the National League, whose statement is recorded above, two other leagues with members in the North-West have likewise suspended their 2019-20 season.

The NW Counties Football League stated that "Following the Government's announcement that all non essential social contact should stop immediately due to the Coronavirus outbreak, the League Management Committee has agreed it has no alternative but to suspend all NWCFL fixtures until further notice with immediate effect.

Obviously none of us know what will happen next but we will keep monitoring the situation and report back when we receive guidance from the FA and other authorities".

And the Northern Premier League has "decided, reluctantly, to suspend all fixtures until further notice in light of the escalating Covid-19 outbreak.

The League would like to congratulate the players, officials, volunteers and fans of clubs able to stage games at the weekend and notes the excellent attendances at those fixtures. Whilst the primary responsibility of the League is to [?promote] the financial sustainability of its member clubs, the number of clubs reporting players or officials in self-isolation has now reached a point at which continuing to play games would severely undermine the integrity of the competition.

In consultation with the partners Eliteform, all NPL Football Academy fixtures have also been suspended until further notice.

The NPL is well aware that clubs and fans need clarity around whether the 2019/20 season is to be suspended temporarily or permanently, and the full implications of either eventuality. The NPL will be working with the other Alliance Leagues and the Football Association, to assess the various options and to agree a way forward. As soon as we are able to, we will share that information with member clubs and their supporters."
York City have confirmed that "The food which was prepared for [last Saturday's] game against Altrincham has been donated to Changing Lives York after the fixture was called off due to concerns over Coronavirus.

York City Club Chef Des Coulson, who prepares the food for players, staff and hospitality guests at Bootham Crescent, was on hand this afternoon to deliver to the health and wellbeing charity on Union Terrace near to the stadium.

The Changing Lives charity works with and houses ex-rough sleepers and those at risk of sleeping rough, most of whom have complex issues primarily connected with drug and alcohol misuse and mental ill-health.

As a Club we are proud to support this initiative and would like to commend our Chef Des for making this happen and his generosity during these times."
Also left in the lurch by postponements, Southport announce that "The programmes for the Southport v Gateshead game that was postponed on Saturday are available to buy online...

We also have copies available of the Southport v Spennymoor game which was postponed due to a waterlogged pitch.

The games may eventually get played but a new programme won't be issued, an insert into the original programme will be added".
King's Lynn Town "confirm they are investigating an alleged racist incident that occurred during the fixture with Guiseley on Saturday 14th March 2020.

As a result of this alleged incident we are also able to confirm that a person was spoken with and then ejected from the stadium by club stewards. The alleged incident will now be investigated by the football club and the result of these investigations will be released in due course.

This will be the only comment from the club on this matter at this time."
Farewells do not come more terse than that of Guiseley who simply state that "We can confirm that our leading scorer Aaron Martin has left the club to sign on a full time basis for Vanarama National League promotion chasers Harrogate Town."
Farsley Celtic report that "The Celt Army secured all three points in a six-goal thriller at Blackwell Meadows. Farsley Celtic went into the game looking to bounce back from two defeats in a row, but Darlington dominated the early stages as they pushed for the opener, with Jarrett Rivers's attempted flick being blocked before Terry Galbraith headed a corner just over the bar...

The hosts found the breakthrough. Omar Holness got the better of Josh Barnes, taking the ball around the goalkeeper before tapping home... Darlington gifted the visitors the lead [?] through a mistake from Elliott, leading to Dave Syers scoring into an empty net... The score remained 1-1 heading into half-time.

Alun Armstrong's side continued their dominance in the early stages of the second half, and they were awarded a penalty by referee Andy Sykes just five minutes in after Holness was brought down in the box. Campbell stepped up and scored from the spot to put Darlington back ahead... Despite the dominance from the hosts, it was Farsley who managed to score next. Syers lifted a ball over the top to Spencer who smashed in a stunning volley to equalise for the Celts with twenty minutes to go...

Later, it was Farsley who found themselves in front. Will Hayhurst delivered a free-kick into the box which goalkeeper Chris Elliott misjudged the flight of, Elliott then palmed the ball onto the crossbar and Syers was there to tap home the rebound to give Adam Lakeland's side a 3-2 lead.

The Celts pushed for the killer blow and came close when Spencer's header was cleared off the line. However, they managed to find a fourth goal five minutes from the end of normal time. Luke Parkin delivered in a free-kick which was met by captain Adam Clayton who headed home to secure the double over Darlington and a much-needed win for Farsley".
---
16 March 2020 With this Sunday's match postponed, in theory Alty Ladies' next match is on 22 March, at home to Liverpool Feds Reserves Women, who lie ninth. Alty are seventh, seven points ahead despite having no fewer than TEN games in hand. The Ladies have only completed six fixtures in the league this season On Sunday Alty Youth should have played an Open Cup tie, away to Chester FC Youth but the game was postponed. Should the game go ahead next Sunday (22nd) the lads will be away to Chorley FC who lie eighth, one place behind Alty. Chorley are a point behind despite having played two games more than Altrincham, who are seventh. In the Northern Premier League we learn that Astley Mulholland has moved from Radcliffe to Mossley and former Alty trialist, Thomas Schofield, has gone from Ramsbottom United to join Mulholland at Mossley. The National League reports that "The goals rained down on the National League North on Saturday.

Fans were treated to a goal fest across the division as some bold performances produced some big results. Goals from Wes York and Jimmy Armson had Brackley two goals to the good at the Impact Arena. Matt Lowe and Lee Ndlovu added another two after the break before Alfreton mounted a late revival, Bobby Johnson and Ben Tomlinson's goals proving to be consolation goals.

Farsley are doing their best to keep in touch with the top seven and showed their desire at Darlington. The Celts fell behind twice at Blackwell Meadows, but goals from Jimmy Spencer, Dave Syers and Adam Clayton saw them home and dry in the second half.

King's Lynn suffered another shock result, this time at the hands of Guiseley. Felix Kaine's goal after the half-hour mark was enough for the Lions. King's Lynn remain two points off the top.

Spennymoor made it 15 goals at home in their last four games with another convincing win. The victims this time were Hereford who fell behind through Glen Taylor's early penalty before Tyler Hornby-Forbes and Mark Anderson added more. Taylor finished it off with another late on.

Curzon Ashton pulled themselves clear of the bottom two with a big win away at fellow strugglers Bradford (Park Avenue). Mike Calveley hit the winner on the stroke of half-time with Fabio Taveres also notching six minutes from time.

Elsewhere, AFC Telford got their first win in four after putting three past Kettering Town... There was still time for a bit of magic from the visitors. Omari Sterling-James hit a rocket from 20-yards to give the travelling Poppies something to celebrate".
The Northants Telegraph tells us that "The Poppies claimed a fourth draw in a row as they battled out a goalless stalemate with Hereford on Tuesday night.

The result means Kettering are now nine points clear of the relegation zone... But, with his team now without a win in six matches, Cox believes he and his players must 'do something a bit different' in a bid to turn their draws into wins.

And Cox said 'When we first came in, the easy part was stopping the rot but now the players need to reinvent themselves a little bit because I am expecting us to beat clubs like Hereford. People might say I am crazy but I have to have high expectations. We asked questions of them but in the final third we are just missing that little bit of something and maybe even missing a bit of luck...

'We need to be getting wins against these big clubs if we are to establish ourselves. I am not getting ahead of myself. The job is still to stay in this league but the mentality has to be for expansion and to improve all the time.. They have to enjoy it, they need to go and embrace the remaining matches.

'Hereford's manager (Josh Gowling) said before the game that, after playing York and Farsley Celtic, his team were coming up against a different animal against us. People are starting to take notice of us and when that happens and they do that extra bit of homework on you, you have to reinvent yourselves and do something a bit different. That's what we have to do now.'"
From the Western Telegraph comes news that "Chief executive officer David Johnston is confident Darlington would survive a complete shutdown of football despite fearing some clubs could be plunged into major difficulties.

The Quakers' fixture against Farsley Celtic went ahead as planned at Blackwell Meadows on Saturday afternoon in front of a crowd of 1,318, up 135 on their last home outing... However, Johnston is expecting future matches to be postponed.

Asked if Darlington could survive a lengthy shutdown...he told the PA news agency 'Absolutely, 100 per cent. It's not a risk. The fans are fantastic here, I can support the club as well if need be. A lot of the clubs at our level have rich benefactors who are putting money in. We are a fan-owned club, so the funding that comes in from that comes from fans' donations every year.

'We boost the budget every year. The fans have done a fantastic job raising a seven-figure sum over the last five years in relation to supporting the club'... If part-timers Darlington, whose typical matchday revenue amounts to between £6,000 and £7,000, are hopeful of negotiating an enforced lay-off, Johnston admits many clubs... could find their resources stretched...

He said 'It's always tight for every club. Particularly at our level, cash is king. We set budgets at the start of the year and it's based on projected revenue. We have got players on contracts so these are very interesting times. Fortunately, our FA Cup run this year gave us some insulation against that, but it's how long does it go on for? Our players are normally contracted for 41 weeks, under contract to the end of April.

'We've got cash reserves that can see us through but if it continues for months and months and months up to Christmas, then it's going to be tight'.

On the pitch, Alun Armstrong's men may well have been forgiven for wishing the game had been postponed. They led 1-0 and 2-1 through Omar Holness' strike and an Adam Campbell penalty either side of Dave Syers' equaliser, but ultimately went down 4-2...

Armstrong was unhappy with both[?] the goals his side conceded and the chances they squandered, but more so that the game had been played in the first place after admitting he 'could not believe' it was on. He said 'The game being on today was probably a little bit of a daft thing to do, but I think the FA hung the National League out to dry, to be honest. I just think the FA should have made the decision full-stop. The Scottish FA made the decision, the Welsh FA, all the FAs in other countries have made the decision to stop it at all levels.

'The National League, if you look, it's been ever so silent, the Twitter feed, everything has gone silent. They said the games would go ahead and then everything went quiet and the clubs were left to make their own decisions.

'Unfortunately, clubs need the finances, so some want to play the games if there aren't any symptoms. But then integrity of the game comes into it because some have called it off and they've got a game on Tuesday. It is baffling. I feel for the National League, I think they were hung out to dry a little bit by the FA, but they probably should have just followed suit. We've got to think of people's health first and foremost, that's the most important thing.'"

The Northern Echo adds that "Disappointed Darlington fans trundled out of Blackwell Meadows. Given the manner of Quakers' collapse on Saturday, perhaps a break is needed...

The National League board meet again on Monday... There are plenty who believe they made a mistake in not suspending their season on Friday, including Darlington manager Alun Armstrong. Among those who probably now wish they had done is Quakers' Chris Elliott, who made major mistakes of his own on Saturday.

He had a stinker, Armstrong pointing to the goalkeeper's gaffs for Darlington's 4-2 defeat to Farsley Celtic... Heavily on top and creating chance after chance, Darlington were heading for victory, one which may ultimately prove academic given the bigger picture... Yet, for the umpteenth time this season their finishing let them down, Elliott then lent Farsley a hand and the Yorkshire club could not believe their luck.

'We did enough to win the game, but it was mistakes for all four goals,' lamented Armstrong. 'Put it this way, they've had three shots and scored four goals. Chris came in afterwards and apologised, great, but the lads are fuming and I left it to them to sort out.

'It's their team, it's their group. We've got a great group in there, they all look after each other, but today feels really disappointing because if you look at the game overall we were dominant.'

It was the same last week at AFC Telford, Quakers in control but squandering chances, though at least they won 2-1 on that occasion... Armstrong's side have now won only one of their last seven games.

'We should've won four or 5-0 and nobody would've complained. It was a dominant performance, but you look at their goals and we've given them four goals, literally given them four goals... The performance was really good, totally dominant, in control of the game and you end up not winning, it's baffling'...

Farsley have now done the double over Darlington, the first team to do so this season, while Quakers drop to 11th, six points off now distant play-offs."
The Hereford Times says that "The board of Hereford FC will be meeting in the coming days to discuss the possible impact of the coronavirus on the club...

Hereford FC chairman Andrew Graham said 'I do not wish to push a panic button regarding the obvious threats and dangers that coronavirus presents, especially to anyone with underlying health conditions, but feel that it is necessary to update you on what we, as a club, are doing...

'The Hereford FC board will be meeting very early next week, and determining our strategic response, which will be based on the very latest advice / directives, influenced by local conditions.

'We will also be evaluating how this will affect us internally and financially and acting accordingly. Of paramount importance to us, is the health and well-being of all connected to, or associated with Hereford Football Club'"
Meanwhile, Lynn News confirms that "King's Lynn Town's game at Gloucester City tomorrow night [Monday] has finally been postponed.

The Linnets had been in limbo as to whether tomorrow night's National League North fixture would go ahead with several Tigers' players and staff being in isolation with possible symptoms of Coronavirus.

Gloucester's fixture against Blyth Spartans was postponed on Saturday while Lynn suffered a 1-0 defeat at home to Guiseley, their second home reverse in the space of a few days. It is the second time this season that the game has been postponed after the original game fell foul of a waterlogged pitch last month.

A brief statement released by the club... read 'The National League has come under fire for letting games still go ahead at the weekend after the Premier League and EFL suspended games until at least April 3. It remains to be seen if they will follow suit with the Coronavirus taking a firm grip of the UK'".

More comes from the Pink 'Un that "King's Lynn will need to find a five figure cash sum just to get through a potential coronavirus shutdown.

The Linnets missed out on a chance to reclaim top spot on Saturday in a 1-0 home defeat to Guiseley that was one of the few games played across the country, following the suspension of professional football. The National League's top brass now look set to follow suit, with reports a decision to suspend all future games could come as early as Monday...

Linnets' chairman Stephen Cleeve admits the future is uncertain for clubs lower down the ladder. 'At the levels below, in the vast majority of cases, the players only get paid if they play. That is not the case for us,' he said. 'If they are legally contracted to be paid until the end of the season then they expect to be paid.

'What does one do? How do you pay those players with no matchday income coming in? We rely on that. I don't know the answer to that. I hope some help comes for clubs but how you work that out when certain non league clubs have higher wage budgets than others is difficult.

'I will have to find a way through it. There is always a way. We just have to find a solution. Other leagues have 24-month contracts. We have some players on two-year deals but others who will be out of contract in May. If you cannot play the games there are only two options. One is to cancel the league, which in my opinion would be a disgrace and an outrage and take away the league's integrity. The other option is to work it out on a points-per-game basis, which seems the sensible option.'

Lynn's decision to play the day after the Premier League and Football League announced a suspension drew inevitable criticism. 'The government advice, the league advice was contrary to that,' said Cleeve. 'You would have to ask other clubs in our league or other leagues what was the reason they chose to postpone games... Nothing is ever simple and easy in football. We don't want to undermine the severity of the virus but my argument was you could perhaps get this more easily in a supermarket.

'The rugby Super League went ahead, we had the Cheltenham festival last week unaffected, the Northern Premier league and National South were both on. For the fans and players we want to play football. That is what we do. We are a football club. There is no way you can fit in the number of games left, if there is a break...The reality is the games cannot be played.'"
According to the Boston Standard "Craig Elliott believes that football's authorities will need to help clubs that become financially impacted by possible postponements due to the Coronavirus outbreak...

Extending a season may also bring its own problems with player contracts coming to an end or non-contract players having other commitments...

'I understand it could be financially bad for non-league clubs', Elliott said. 'That's where I think the FA can help financially. They've got enough money to help grassroots football in special circumstances. Not playing games could be devastating for some clubs... I think the league should have taken the decision [to postpone games] out of the clubs' hands, to be honest,' Elliott added".
Back Page Football says that at the Horsfall Stadium "The songs, and clubhouse photos of Shackleton, reveal a historic hankering the new Avenue has tried to satisfy. The original club was voted out of the Football League in 1970, going bankrupt four years later, A reformed Bradford (Park Avenue), with brackets added to distinguish from neighbours City, re-entered Saturday football in 1987 in the West Riding County Amateur League; step 13 in the FA structure. Thirty three years on, Avenue are established at Horsfall athletics stadium, a mile from Odsal rugby ground, and on borrowed time in step 2 National League North...

Off the field. Avenue owner Gareth Roberts' mid-season message updated fans on the recently agreed stadium lease and a £500,000 project to share a new 3G pitch with West Bowling ARLFC.

Avenue manager Mark Bower, (in his second spell here), doubles as director of Shipley estate agents Hamilton Bower and played 241 games in Bradford City's defence. From 2016 to 2019, he kept Avenue up and achieved two play-off finishes, before a brief hiatus at Spennymoor. His successor, ex-City winger Gary Thompson, lasted just two games (both 5-0 defeats), and after Marcus Law's thankless interim stint, Bower returned last September...

Given the results, the drop in average crowds from last season, down 58 to 467, is understandable, squad strength and simple economics suggested a struggle (just three of last year's players featured in Bowers' first game back against Hereford), and so it has proved. Despite everything, Avenue retain a hardcore following of 300; and away support that can number 100 plus."
In the Banbury Guardian we learn that Brackley's "game at Alfreton Town survived a mid-morning pitch inspection and was one of a very few matches that went ahead.

Saints put in a superb performance to win 4-2... Lee Ndlovu's 20th goal of the season and another from Matt Lowe added to first half goals from Wes York and Jimmy Armson to give Saints an unassailable lead despite Alfreton scoring two very late goals..

'The players were excellent today from start to finish,' said boss Kevin Wilkin. 'We limited their opportunities, all of the four front players got a goal and, to a man, we were right on it. We put four goals on the board away from home and we'll take that.'"

The North-West Counties Football League issued a "Statement re: Corona Virus" before last weekend.

In it, it said that "The decision has been taken to continue to play matches on Saturday 14th March, subject to clubs being in a position to stage the games. The priority should be the safety of all staff members, players, match officials and spectators ahead of any game being played...

The North West Counties Football League strongly advises that those in high risk groups, as defined by Public Health England, no longer attend matches for the foreseeable future... [and] strongly advises that matches with projected attendances of over 500 spectators should not take place.

Clubs are being asked to increase hygiene provisions at all grounds for staff, players, match officials and spectators and to display Public Health England posters at all games.

We are aware of the fragile financial state of some Member Clubs and their reliance on income from home matches. We encourage Clubs to consider their Clubs ongoing viability when cancelling matches and advise, where possible, that arrangements are made to re-arrange such games. The League Management Committee will support any club requesting a postponement, although we would expect both clubs to act in a responsible manner and mutually agree...

We also advise a notice be placed outside the turnstiles/paybox, that spectators should not enter the ground if they have returned from an infective country, have a dry cough, high temperature, headache and/or aching limbs".
---
15 March, 2020
When and where Altrincham's next league match will take place is far from certain in the context of the Covid-19 pandemic.

In theory, Alty should be entertaining Chester FC next Saturday (21st) in a match which would have been likely to attract the biggest home attendance of the season.

Neither side played on Saturday but results elsewhere, in the six fixtures that did take place, did not greatly help either of the Cheshire sides as play-off competitors Brackley Town and Spennymoor Town both won convincingly (see below). With their wins, both the Moors and the Saints displaced Alty at the top of the form guide over the past five games. However, King's Lynn Town lost again and are now 17th in the form guide.

In the interim, Altrincham FC issued an updated statement about Covid19 on Saturday afternoon.

Altrincham Reserves were scheduled to play away at Poynton FC on Saturday, but the match was postponed> In theiry their next match is on Saturday, 21 March at gome to FC St. Helen's, who lie fifth in the Cheshire League, five points and three places ahead of Alty and with three games in hand. In what may have been the last live televised game from the English leagues for quite some time, the FC Halifax Town v Ebbsfleet United match on Saturday evening on BT Sport featured three ex-Altrincham players.

For the Shaymen, Jack Redshaw and Jeff King were in the starting eleven but they could not help their side to avoid a 0-1 defeat to the Kent side, for whom substitute Tomi Adeloye helped to create the goal.

The chances of the following games being played must be low. The National League says that it "is keeping the continuation of the season under constant review and will provide a further update in due course".

Monday, 16 March
Gloucester City v King's Lynn Town
Tuesday 17 March
Alfreton Town v Gateshead
Boston United v Darlington
Kettering Town v Guiseley
Leamington v Bradford (Park Avenue)
Saturday 21 March 2020

In the unlikely event of matches being played, next Saturday's league games are supposed to be:
Altrincham v Chester FC
Blyth Spartans v Spennymoor Town
Boston United v Alfreton Town
Brackley Town v Leamington
Curzon Ashton v Southport
Farsley Celtic v York City
Gateshead v Darlington
Guiseley v Bradford Park Avenue
Hereford FC v Gloucester City
Kettering Town v Kings Lynn Town
Kidderminster Harriers v AFC Telford United
AFC Telford United "have completed the loan signing of Ryan Sears from Shrewsbury Town.

The 21 year old has join[ed] on a month's loan until the 13th April.

The Bucks have also completed the signing of forward Jack Storer following his release from Leamington. Both Ryan and Jack are eligible to make their debut this afternoon [Saturday] when Kettering are the visitors."
According to the Boston Standard, "Boston United boss Craig Elliott says sport must come a distant second to people's health, after [their] fixture at Chester was postponed due to the Coronavirus outbreak.

Hosts Chester were one of the clubs to take measures into their own hands and call off the contest.

'People's health is the most important thing. Sport comes second to that,' said Elliott, whose players have been given the day off. 'We didn't train today, purely to try to minimise the risk'.

Elliott, however, is unsure whether any of his players have yet been affected by the virus. With squad members living in a number of densely populated areas, and coming from as far afield as Liverpool and Blackburn, Pontefract-based Elliott knows he cannot be sure if Coronavirus has reached his camp yet...

United also need to assess whether they can continue train to at Doncaster Rovers' Keepmoat Stadium facilities due to the club being among those in League One that have had their season suspended.

'With Doncaster Rovers being down I'm not sure how that will affect us yet, whether their facilities are being opened or not,' Elliott added".

Earlier the Boston Standard reported that "Boston United have added to their ranks by bringing in Jordan Nicholson and Matt Challoner. The duo, both 26, could make debuts at Chester, [since postponed]. Right back Challone won the National League North play-off final with Chorley last season, and joins from the Magpies until the end of the season.

'It is clear to see that we have had a few problems at right-back all season, with injuries, recalled loan players and losing Alex Penny unexpectedly like we did,' manager Craig Elliott said. 'It was important, as we come into the most crucial part of the season, to sign a permanent and proven right-back. We have got that in Matt, who brings a will to win and massive experience of playing in very strong Chorley teams over a number of seasons...

He... has played a lot of football in the National League this season so he should be a great addition to our squad'...

Nicholson has joined from Hereford FC and had experience with Darlington and Nuneaton. 'Jordan is a player I have tried to sign on a number of occasions since being Boston United manager,' Elliott added. 'He provides us with attacking threat and has a lot of quality in the final third that at the present time we lack. His goals-to-games ratio at this level for an attacking midfielder is very impressive.'"
In the Chester Standard, before Saturday's postponement, we read that "Anthony Johnson understands the frustration of fans after recent setbacks, but insists that poor results are not unique to Chester.

Last weekend's shock 2-1 defeat at Bradford Park Avenue was arguably the Blues' worst performance of the National League North campaign to date... Blues' joint-manager Johnson said 'I could understand the negative reaction of some fans to a point because we've been beaten by a bottom of the league club... There should have been a win-at-all costs mentality... Frustrations can spill over and I genuinely understand that, but we're not the only club this happens to...

'If you turn up and you're not 100 per cent at it - you get found out... Inconsistency doesn't just apply to us. Teams like Boston haven't won in four and have faltered recently. Yes, we can be inconsistent but we're still sixth in the league and four points off third.'

Blues' midfielder Gary Roberts denied rumours of disharmony in the Blues dressing room following last weekend's defeat in Yorkshire. On Twitter, he wrote 'The lads love each other and have just lost one game, please keep supporting us every week and we will give everything for you'...

Johnson added 'This is the best group of players me and Bernard have ever had. There's great camaraderie in that dressing room and everyone has a lot of respect for each other. If we can get ourselves into the play-offs at the end of the season, the next two games against Boston and Alty could be like dress-rehearsals...

'Boston have done really well this season but have had a rough patch in the last two or three weeks. I'm sure they'll look to exploit set-pieces where they can and use the width of the pitch. The likes of Jordan Thewlis and Jay Rollins are both big threats and we'll have to make sure we deal with them'.

The Blues expect to be at full-strength... with no serious injury concerns".
In advance of Saturday's match, according to Yorkshire's Telegraph & Argus "Bradford (Park Avenue)... looked to have no chance of beating the drop a week ago, but secured stunning wins over promotion chasing Chester (2-1) last Saturday and title favourites Lynn (1-0) in midweek. And a win at Horsfall would see Avenue move just eight points behind Curzon, with nine games left to play.

Manager Mark Bower said 'Curzon will just as hard, if not harder, than the last two games because they will come with a different mentality. The pressure was on the others (Chester and King's Lynn) to beat us, whereas Curzon are a small team whose aim is to try and survive in this league...

'It's a big, big game... All of a sudden we've had a couple of surprise results. If we can get another one against Curzon, it cranks it up again. But our next four games (including Curzon), the aggregate in the reverse fixtures was scored none, conceded 17, so improvement is needed there'...

No one will have more confidence than former Bradford City striker Tom Clare. He scored the opener against Chester and the winner against King's Lynn, taking his tally to five league goals for the season since joining in November. Bower gave his full backing to the youngster, saying... 'He's such a physical presence up there with his size, and yet he's only 20... and it's a really tough role, playing as the lone striker like he has been, although we have switched to two up front over the last couple of games...

'We're going in the right direction. You do need a bit of luck too, and a couple of deflected efforts that might have gone in against us over the last few months, that's not happened (against Chester and King's Lynn). Getting in front like we have in those two games just gives you something to hold on to.

'But we've played two free scoring teams in King's Lynn and Chester and neither was a smash and grab win. (Goalkeeper) Tom Nicholson has barely had a save to make. Mitch Lund has filled in brilliantly at centre half and Stelios (Demetriou, who made a brilliant goal line clearance at King's Lynn) has that experience at full-back'...

It hasn't all been positive over the past week, with Bower confirming that Adam Nowakowski and Oli Johnson, who both played a part against Chester and King's Lynn, will definitely miss out on the Curzon game with injury".
On Saturday, Alfreton Town "suffered a third defeat in a row as Brackley hit four at the Impact Arena...

The Saints took the lead after 15 when York led a counter attack and found Armson who returned the ball to him before York slotted into the corner past Jordan Wright.

Armson made it two on 31 after a penalty was awarded for holding in the box. Armson stepped up to convert into the bottom corner. It was three on 56 when Lowe finished into the corner after striding onto a cross from the right unmarked.

65 minutes presented a fourth for Brackley when Myles raced down the right as the Reds were carved open again and he found Ndlovu who finished well.

We grabbed two goals late on as Andy Kellett was brought down trying to connect with a Michael Freiter cross, a penalty was given and Bobby Johnson stepped up and finished past Lewis on 89 before Branson's cross was then touched home by a Saints player in stoppage time but the late rally came too little too late".
At Spennymoor Town "The Brewery Field's fortress status this season continued with a comfortable victory over mid-table Hereford.

An early penalty from Glen Taylor was followed up by another goal from right-back Tyler Forbes, before Mark Anderson's header and Taylor's clinical finish capped off a routine win.

Jason Ainsley made one change from the side who were well beaten by Altrincham a week previous, with Matt Gould being replaced by Dale Eve, with the goalkeeper making his league debut in the process..

It was normal service at a packed Brewery Field... The referee adjudged that Nathan Buddle was tripped inside the area, and after a moment's thought, pointed to the penalty spot. Taylor stepped up and converted a confident effort from 12-yards...

In an open contest, Hereford almost levelled the score-line immediately... The Brewery Field has proven to be a fortress this season with only Altrincham possessing a finer home record, and a dominant first half display saw Moors increase their lead shortly after the twenty-minute mark.

It was Forbes... who continued his superb run of form with an acrobatic strike... A signing from AFC Fylde in January, Forbes continued to prove his undeniable quality with another performance packed with flair and intensity...

The final nail in The Bulls' coffin was applied with one minute of normal time to go, with Taylor capitalising on a slip from Martin Riley to clinically bury a shot past Hall...

Moors swept down the other end to add to an already well-established advantage... The final nail in The Bulls' coffin was applied with one minute of normal time remaining".
---
14 March 2020 Saturday, 14 March
AFC Telford United 3-1 Kettering Town
Alfreton Town 2-4 Brackley Town
Bradford Park Avenue 0-2 Curzon Ashton
Chester FC P-P Boston United
Darlington 2-4 Farsley Celtic
Gloucester City P-P Blyth Spartans
King's Lynn Town 0-1 Guiseley
Leamington P-P Kidderminster Harriers
Southport P-P Gateshead
Spennymoor Town 4-0 Hereford FC
York City P-P Altrincham
Altrincham FC announced late on Friday evening that "York City and Altrincham have taken the joint decision to postpone their National League North fixture scheduled for tomorrow [Saturday].

This is due to employees of both teams recently self-isolating after showing potential symptoms of the COVID-19 virus.

Considering the circumstances and with the health of players, fans, volunteers and staff in mind, we would ask that anyone showing flu like symptoms please stay at home and seek guidance from the NHS 111 service during this time".

Altrincham's next scheduled match is on Saturday, 21 March, at home to Chester FC, though this must be in severe doubt now.

Several Saturday fixtures have now been called off with club employees in self-isolation. Blyth Spartans explained that their "trip to Gloucester City on Saturday has been postponed by the hosts due to 'suspected cases and players in isolation'. ..

And Southport add that "Our home fixture against Gateshead... has been called off due to the visitors having members of first-team staff who are self-isolating in line with Government advice following the Cvoid-19 outbreak. The National League have agreed to the postponement... The National League confirmed at 3.15pm on Friday that fixtures in its three divisions would be allowed to proceed, only for the club to subsequently learn of the situation at Gateshead".
Before Saturday's match was postponed, York City had announced that "City will be hoping to build on the 3-1 win over Alfreton last time out. Two goals from Sean Newton and one from Alex Kempster was enough to give City all three points.

Should results go their way, City could go five points clear at the top of the league.

Altrincham currently sit 5th after 33 games and are looking to consolidate a play-off place as the season nears its conclusion. They are on a run of three straight wins, having scored nine and conceding just one in wins over Spennymoor Town, Hereford, and Blyth Spartans...

Whilst the Premier League and EFL announced on Friday afternoon that they were suspending their fixtures in the contect of Covid19 virus, the National League stated that "Following a Board meeting held today [Friday], the National League has decided to allow matches in its three divisions to proceed as planned this weekend.
The National League will keep the operation of its competition under constant and diligent review, and will remain in compliance with government advice at all times.

The Football Association has offered its guidance, and made it clear the decision to continue or to suspend a competition is a matter for each league to make.

The National League places the welfare and well-being of all those involved in and connected to its competition as the highest priority".

Conversely, other leagues have suspended their fixtures as Hendon report that "Further to discussions this afternoon a decision has been taken that all Southern League matches will be postponed between Saturday 14th and Saturday 21st March inclusive.

Therefore there will be no matches taking place tomorrow (Saturday), next midweek or Saturday 21st March. A review of the situation will take place next Friday 20th March... The League currently has no plans to extend the season beyond Saturday 25th April, however this is subject to change".

Earlier the Green 'Un had reported that "Nick Robinson, chairman of the BetVictor Isthmian League, revealed that the leading officials from the leagues in Steps One to Four, headed by the National League and going down through the National League South and North, and into the Isthmian, Southern League and Northern Premier Leagues, will arrive at a joint decision late in the day.

'The situation is that Steps One to Four all want to be singing off the same hymn sheet,' explained Robinson. 'I know that the National League (officials) will be meeting at 1.30pm this lunchtime, and I'm sure that a statement will be released to all the clubs, at the same time.'"
Pulse 1 reports that "Bradford Park Avenue has been granted planning permission to create a new 3G pitch at its Horsfall Stadium grounds.

The club submitted plans for the pitch, which would be suitable for rugby as well as football, earlier this year. The plans call for a 3m high perimeter fence around the site.

It is part of the club's wider plan to turn the site into a community sports hub, which also includes improved lighting, fencing, roadways, parking and some building work.

The application has now been approved by Bradford Council.

Planning officers said 'The use of the 3 metre high weldmesh fence is supported and will provide a durable and robust outer perimeter which should reduce crime and antisocial behaviour within the grounds.'

The club has previously said the cost of the new pitch will be in the region of £500,000. The club has submitted another application for the site, for LED floodlighting around the pitch and the construction of a two-storey cabin building for hospitality and changing room facilities.

A decision on that application is expected later this month."
At Hereford FC "Bulls midfielder Jordan Nicholson has made a loan move to Boston United until the end of the season.

The 26-year-old arrived at Edgar Street from Darlington in the summer but has seen his first-team opportunities limited lately.

Nicholson will not be available for Boston when The Bulls travel to Jakemans Stadium on the final day of the season."
According to the Boston Standard, "Craig Elliott has challenged his Boston United squad to finish the National League North campaign in style.

The Pilgrims sit third in the table with 10 games to go and, following Saturday's draw at Curzon Ashton, manager Elliott is demanding his squad finish with a flurry.

'We all have to keep perspective. If you were to say with 10 games to go in this league we'd be third I think I'd have taken that,' he said. 'It's not all doom and gloom, but I'm looking for more from the players. I've got to do. We're going into the business end now and all these a games are going to be tight. We need their quality to shine now.'

Boston have only suffered one defeat in their past 11 league games. However, a six-game winning run has been followed up by two draws and a defeat in the past three matches.

Elliott believes that has killed his side's hopes of catching leaders York City and second-place King's Lynn. But with the top seven sides in with a chance of promotion courtesy of the play-offs, there is still all to play for.

But Elliott wants his attackers to be more clinical following Saturday's 1-1 draw with the Nash, which saw Jordan Thewlis rediscover his scoring touch, netting his 16th goal of the campaign and his first since December 16.

'We've got good players. Players who have dropped down and players who, at this level, are proven,' Elliott added. 'They're not showing that at the minute, but they've had enough chances. A point away from home in this league, I'm always going to be respectful about. Obviously, where we wanted to chase the teams above us, that's now dead, and it's points dropped from that perspective.'

United face a vitally-important league clash at Chester on Saturday".
Lynn News advises that "King's Lynn Town boss Ian Culverhouse said his side needs to 'come back stronger' for [Saturday's] home game with Guiseley after Tuesday night's shock single-goal loss to basement side Bradford Park Avenue.

The Linnets manager also issued a rallying cry for the immediate return to The Walks, which witnessed booing at the Bradford game in midweek, against Saturday's tenth-spot visitors. Culverhouse said about the title prospects of his troops... 'I'm not worried about buffers [?] or anything like that. It's just, if we carry on putting in performances like that, we won't do it.

'We have got to lift it, obviously the players go back to work and they have got to recover properly, then we turn up on Saturday and give it a really good go. We need everyone behind us, everyone from the stands to the fans all over the place, we need everyone pulling in the same direction. Like I said, while we are in the position, we will give it a good go'...

He added of the 1-0 Bradford loss 'From start to finish, I thought we were poor. Full credit to Bradford, I thought they were superb and you could see the willingness and throwing bodies in. They came and did a job on us.

'It's very rarely that they [Lynn] put in a performance like that. It's the first time they've done that since I've been here. You are looking for a bit of momentum and we conceded a really poor goal, no communication and they got through on that. I can't really remember us having a shot on target or testing the keeper so a really poor night for us.'

The boss added that the dressing room was very quiet after the game, and he described some of the players as 'leggy', especially in the final third... 'We have got no right to win any game. People still get carried away. I heard some booing at half-time. Don't come and boo, we are going to lose games so if you are going to come and boo, don't come... We have got to make this place a fortress'...

Ahead of Tuesday evening's fixture with Bradford Park Avenue the club was contacted by a supporter who has agreed to pay the balance of money required for the club to proceed and purchase the pitch cover that it has been collecting for since the turn of the year."
We learn from NL Daily that "New Alfreton man Andy Kellett looks to thrive again... One-time Wanderers first-teamer Andy Kellett, notably signed on loan by Manchester United in 2015, the ex-Wigan Athletic midfielder/full-back has found himself having to take the wheel in seeking out his very future in the game of late...

And it was Billy Heath's Alfreton Town he joined last week... 'I recently parted ways with my agent, so I was looking for clubs myself. I was messaging managers, speaking to managers, and to be fair, National League North wasn't really something that I'd looked at. I was speaking to one of my pals and he'd spoken to Nick Hawkins, who's at Alfreton (as sporting director), and he just said "why don't you listen to what he's got to say and just have a chat?" That's what I did, and I went and met Billy at a night match, and he kind of sold it to me. I just wanted to get back playing football and enjoying it again, because I've not played a lot this year..

'I had been training at Fylde prior to joining Alfreton, but I live in Nottingham with my missus. My mum and dad live back in Bolton, though, so my week was staying up north and then coming back to Nottingham at the weekend. It's worked out well for me really. I would have travelled anywhere, but it was nice that Alfreton fell in place...

'I've not been involved really at all this season, and it's my first real time out of football, in terms of not being with a club. I've found it hard'".
---
13 March, 2020
On Thursday, "Altrincham Football Club and Altrincham Football Club Community Sports confirm[ed] that we are currently BUSINESS AS USUAL.

All groups and classes will continue to be delivered until further directive legislation is advised by the Government.

In order to protect our user groups and other service users we ask you to please follow current guidelines:

If experiencing symptoms, OR having recently travelled, OR been in contact with anyone who has travelled' then please seek medical advice.

We will keep you apprised via social media and our website as and when there are any developments or changes. We thank you for your understanding."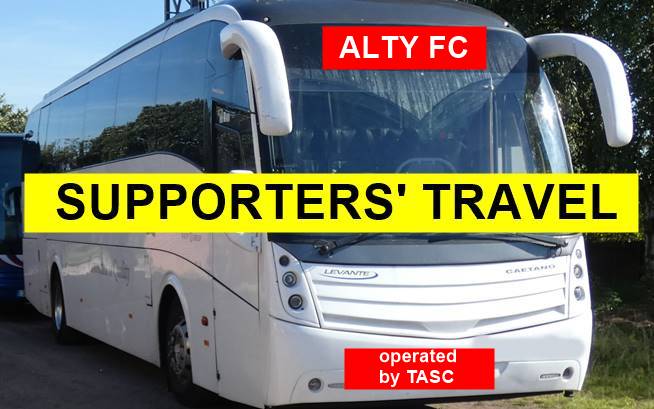 TASC Travel Coordinator, Mark Eckersall, writes that "Saturday 14th March is the date of what could be our last ever visit to Bootham Crescent in York before their move and TASC are running a coach to the match.

If you've considered coming to an away match before then we hope you might join us on this trip. We are continuing our offer to under 16s and full-time students which is going well.

We offer a smart, modern vehicle with a family friendly atmosphere suitable for all ages and we have travellers old and young come with us.

We don't allow alcohol, to make sure we preserve this, but always arrive in time for a drink before the game or to have a wander and see the local area if you prefer.

We'll be stopping at the services for 30 minutes on this trip on the way down, with a toilet stop on the way home to get you back for evening arrangements.

You can book by calling the club in the week on 0161 928-1045. We've had some enjoyable trips this season already so why not join us and support the coaches and team as we push on together".

Details of the coach timings and pick-up points are on the Away Travel page
York City has issued a statement which says "As a club, we have been closely monitoring the Coronavirus (Covid -19) outbreak and are aligned with the most recent Government, FA and National League guidance.

It's important that the club, players and fans do their bit to help to reduce the risk of the spread of the virus, in a calm and informed way.

Therefore, we have taken measures to improve hand-washing facilities at Bootham Crescent and ask that fans are mindful of the current situation, in relation to requesting handshakes, autographs and pictures with players.

With the health of players, fans and staff in mind, we would ask that anyone showing flu like symptoms please stay at home and seek guidance from the NHS 111 service".

Last time out, York City defeated Alfreton Town, after which match, Reds' manager Billy Heath, in a video interview, "gave his reaction as ATFC fell to a 3-1 defeat to leaders York at the Impact on Saturday.

A Newton brace which saw him convert two free kicks, as well as a Kempster finish saw the leaders ease to the points. Danny Clarke grabbed a late consolation for the Reds.

We were punished for a poor first half before improving in the second but the advantage for City was too much to claw back".
Altrincham FC has announced that the visit of King's Lynn Town to The J.Davidson Stadium, postponed from its original date (22 February), due to a waterlogged pitch, has been moved to Tuesday, 24 March. It was announced last week that the game would be played on 31 March but further fixture congestion for the Linnets means the league has moved the game forward by a week.
Billy Sass-Davies joined Alty on the eve of their trip to York on 8 March 2019 on a season-long loan and made his debut in that match as a substitute. Prior to joining Altrincham, Billy had just completed a loan spell at FC United of Manchester having previously had spells on loan at Colwyn Bay and Leek Town.

However, a three-week gap in Altrincham fixtures, an injury, as well as an early recall by Crewe on 13 April 2019, limited Billy to just two substitute appearances for Altrincham.

Now, according toNL Daily "Young Crewe Alexandra defender Billy Sass-Davies has extended his loan deal with Ashton United.

Sass-Davies will now be with the Robins until the end of the season.

He has spent the last month with the Northern Premier League side, most recently playing 90 minutes in a 2-0 win over Scarborough Athletic."
Blyth Spartans inform us that "Blyth Spartans' National League North game with Kettering Town has been re-arranged for Thursday, April 16.

Spartans were due to take on The Poppies at Croft Park on February 29, however was postponed due to the weather... A Thursday night game was necessary due to the number of outstanding matches the visitors have left to play".
At Southport "Jack Sanders has praised centre-back partner Ryan Astles for teaching him a lot in his time at the club so far.

Sanders, the Wigan Athletic loanee, made his home debut at the Pure Stadium in Saturday's 2-1 loss against Kidderminster Harriers.

The 20 year-old has impressed during his three appearances in a Port shirt having linked up with Liam Watson's side until the end of the season...

Sanders said 'I think we've developed a good understanding quite quickly. I'm only 20, whereas Ryan is more experienced, so I think I'm learning a lot from him. It's been easy to play alongside Ryan as I think our games complement each other quite well.

'Obviously we were playing in a three-man defence today, with Adam [Anson] as well, and that was quite different for myself but I'm learning all the time, growing into the role and long may that continue.'

Sanders played on the right of a back three alongside Astles and Anson but despite the result, the defender believes a play-off berth is still available to the Yellows saying 'We're really disappointed to not come away with anything, especially at home. The gaffer reiterated in the changing room that, in the last two games that we've lost, it's been close and we've probably deserved to get points from both but we know that's not an excuse and we need to start getting on the right side of these scorelines...

'To make the playoffs... is still ultimately our aim'".
Spennymoor Town "will be aiming to return to winning ways this weekend against a Hereford side who have profited from a recent strong run of away form.

The Bulls have collected seven points from a possible nine, building on a stunning 4-1 win at York with victory at Farsley Celtic and a goalless draw at Kettering.

A 4-1 defeat at Altrincham last Saturday saw Moors slip out of the play-off zone on goal difference despite Gateshead also tasting defeat at home to King's Lynn. Jason Ainsley bemoaned a slow start which saw Elliott Durrell score after just three minutes and, despite a much improved second half performance, The Robins deserved the three points on the overall balance of play.

James Curtis missed the defeat due to suspension after his red card against Telford in February, and the defender will be unavailable for Saturday's game and the trip to Blyth on 21st March.

Jamie Chandler and Ben McKenna both missed the trip to The J Davidson Stadium with injury, with the pair still recovering from knocks picked up against Brackley Town and Alfreton Town respectively.

Hereford claimed a 2-0 win at The Brewery Field last season courtesy of goals from Lance Smith and Tom Owen-Evans, meaning Moors will be looking to claim a home win over The Bulls for the first time in their history."
---
12 March 2020 Cheshire Live reports that "Altrincham striker Jordan Hulme says he spurned the chance to join Chester FC out of loyalty for Robins boss Phil Parkinson.
Striker Hulme [left], 29, was heavily linked with the Blues last month in the wake of winger John Johnston's switch from Moss Lane to the 1885 Arena but has stayed put with Parkinson's side, who are vying for a play-off place with Chester and face the Blues in 10 days time.

Hulme, a close friend of Chester managers Bernard Morley and Anthony Johnson, and who played for the duo at both Ramsbottom United and Salford City, was a target last season but a move never materialised and was also on the radar again after the turn of the New Year, although nothing was ever close to being done.

Speaking to the Non-League Lounge podcast, Hulme said, 'That Chester thing was a bit bonkers for a few weeks. When I was at my lowest in football it was Parky [Altrincham manager,Phil Parkinson] and it was Alty who helped me out so there is not enough loyalty in football anymore. He was very loyal to me and kept playing me even when I was crap. At some point you've got to repay that loyalty.

'I felt like it wasn't the right thing to do. You can't predict the future but if you go and Alty get promoted then you've f**ked up haven't you, and you're getting abuse off Alty fans.

'I'm happy where I am, the club has done a lot for me and still do a lot for me so you have to repay the favour.'

Hulme has been joined by a host of former Blues at Altrincham in recent weeks with Craig Mahon, Dan Mooney and Elliott Durrell all signing in at Moss Lane".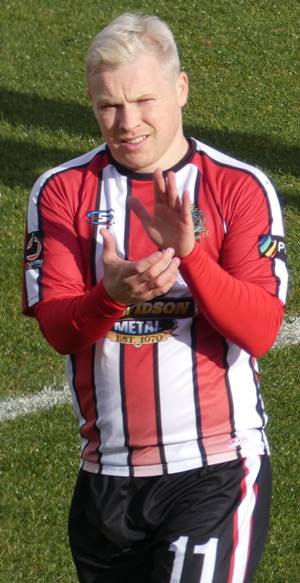 Ahead of Alty's trip on Saturday to league leaders York City, York Press reports that "York City defender Sean Newton... is ready to take on the task of keeping former team-mate Elliott Durrell [right] quiet on Saturday.

Attacking midfielder Durrell signed for the Minstermen in September of last year but did not really settle and was used just 10 times before he left for Altrincham in February.

He has enjoyed an instant impact at Alty, netting four times in four appearances but, with Altrincham the visitors to Bootham Crescent in the National League North at the weekend, Newton is keen to prevent him making it five in five.

When told Durrell had scored in Altrincham's 4-1 win over Spennymoor Town last weekend, Newton exclaimed 'Did he? He's on fire to be fair. I think the 4-3-3 and where he plays for them, not having to track back, suits him. He's a very good player but, if he's on mine and Fergy's side, it's up to us to keep him quiet.'

Centre-back Newton played a starring role for the Minstermen at the weekend, scoring two fine free-kicks in a largely comfortable 3-1 win at Alfreton Town and earned himself a spot in the National League North's team of the week.

It was particularly important York got a positive result in Derbyshire, having picked up just one point from the two home games the previous week. A last-minute equaliser earned a 1-1 draw against Curzon Ashton, while Hereford left Bootham Crescent with a 4-1 win.

'It was a great reaction from the two previous games,' he said. 'We weren't at our best. Everyone knows that and everyone let us know that. We just needed to make sure we got a reaction from them. It was a good performance... Away from home we seem to be a different team. We got the first two goals and it knocked everything out of them...

'The good thing about football is, as bad as you were in the last game, you've always got a game in the next couple of days to put it right'...

The Linnets [King's Lynn Town] still have three more games to play than York and sit two points off the top...Newton said of the Saturday results 'People were probably expecting us to take six points previously. It just shows that anyone at this level can beat anyone if you don't turn up... It's out of our hands in a way whether we finish top or not because they're in the driving seat.'

Another bright point for Newton is the burgeoning return to form of striker Alex Kempster, who was recalled to the starting 11... He rewarded boss Steve Watson with a goal against the Bulls and another at the Impact Arena. Kempster, who signed from Northern League outfit Whitley Bay two years ago, is York's second-highest goalscorer now, with 10 league goals... His tally hinged on a fantastic start to the season as he had not found the net since the early December meeting with Hereford.

'It's the highest level he's played at and his second year at full-time', Newton commented.... 'I think the gaffer's done the right thing taking him out for a couple of weeks. Look at him now. He's back flying'".

Altrincham FC announces that when Altrincham entertain Chester FC on Saturday, March 21st, "Entry... will be by ticket only for Chester fans."

There is more about the matchday arrangements Altrincham FC site. This includes "There is, unfortunately, a recent history of a small number of Chester fans causing trouble at this fixture, most recently in the FA Cup replay earlier this season. In light of this, we have decided to take significant steps to allow both home and away fans to watch this game in a secure environment, without fear of violence or intimidation.

Therefore, and to state the obvious, strict segregation will be in place, with Chester fans being housed in the Chequers End and in the Family Stand. No Chester fans will be given access to the Main Stand or to any part of the ground occupied by Alty fans.

Sponsors will be sat [sic] in the Main Stand for this game, leaving the Family Stand for away fans only".
King's Lynn Town visit Altrincham on 31 March.

The Eastern Daily Press reports harsh words from the King's Lynn Town manager. "Ian Culverhouse has urged King's Lynn Town fans to cut out the booing and get behind the team, or stay away from games.

The Linnets' boss was clearly upset at the half-time reaction of some of the 1,200-plus crowd who saw Lynn suffer an upset 1-0 home defeat to bottom club Bradford Park Avenue on Tuesday.

By Culverhouse's own admission, the Linnets weren't at the races, but off-days have been few and far between this season, when Lynn have defied the odds to move up to second spot, two points behind York City with three games in hand.

'I keep saying it; we have no right to win anyway. People get carried away. I heard some booing at half-time. Don't come and boo. We are still in the driving seat for the solitary automatic promotion spot into the National League', and get a chance to atone in front of their home fans on Saturday when they entertain Guiseley. The Yorkshire side gave Lynn a rude welcome to National League North football back in August, winning 3-0.

'And they will, again, if we are not on it, they will give us another lesson,' warned former Norwich City player and assistant manager Culverhouse. 'But this is why we are in this league. It is a hell of a league, a strong league with teams from top to bottom who can beat each other on any given day.'"

And the Eastern Daily Press adds that "There was a nod to the coronavirus, with the teams lining up in front of the main stand before kick-off, but not shaking hands. And then it was down to business, would-be table-toppers against bottom side. Sometimes, though, football can be confusing. An outsider would have thought Lynn would run away with it, but the opening 45 minutes proved to be far from easy.

Lynn showed flashes; Simon Power was always the main thrust of their best work, but that is pretty much all it was. Only once was visiting keeper Tom Nicholson really troubled...

Bradford were not here to park the bus and it didn't take long to see they were up for a game... Bradford had a few sighters from distance and the cliche is usually that they can do that all night but it paid off on 25 minutes after a lovely move that went down their right, across to the edge of the box where big centre forward Tom Clare was waiting, back to goal and criminally unmarked. All he had to do was turn and shoot, and he did, Alex Street diving to his right but unable to reach the shot.

It silenced the crowd, as it should: but they expect great things of their team nowadays. For once, they didn't deliver...

King's Lynn Town: Street, Jones, Barrows (Henderson 62), Jarvis, Smith, McAuley, Power (Southwell 70), Richards, Gash, Marriott, Carey (Kelly 62). Subs not used: Payne, Ward.
Bradford (Park Avenue)'s "long trip down to King's Lynn last night proved to be worthwhile, as they earned a shock 1-0 win to give themselves a glimmer of hope in their battle to avoid the drop from the Vanarama National League North.

Avenue looked down and out after a 2-1 home defeat to relegation rivals Gloucester City on February 8 but, after a month of postponements due to the bad weather that has swept across the country, they have come back with a bang. Their 2-1 win over Chester at Horsfall on Saturday, courtesy of goals from strikers Tom Clare and Oli Johnson, was impressive, but the challenge was to maintain those kind of results.

And there would have been long odds on doing so on their visit to Norfolk last night. King's Lynn went into the match second in the table... But belief is a powerful tool. Clare, who has struggled to find the net since joining Avenue in November, was seemingly inspired by his fourth goal of the season against Chester, and put away his fifth last night.

The hosts had the majority of possession in the opening quarter, without creating any big chances, and the big striker, who used to play for Bradford City, made them pay on 26 minutes. Clare fired in a shot which took a slight deflection and nestled perfectly in the bottom corner to give the visitors the lead.

Stung by that, King's Lynn struggled to break down a heroic Avenue defence all game.

Mark Bower's men were indebted to a brilliant goalline clearance from Cypriot full-back Stelios Demetriou on 76 minutes though, and were thankful that the normally deadly Adam Marriott fired a great injury-time opportunity over the crossbar. But Avenue held on, and 11 points from safety with 10 games to go, could the great escape really be on?"
Darlington FC "are pleased to provide a post-AGM update to all supporters.

Update on current trading from July 2019 to Feb 2020: Year to date operational revenues have increased due to growth in academy, retail & matchday income lines whilst on the cost side we expect playing staff costs to be broadly similar to last season. Exceptional football fortune income (cup runs & transfer fees) is £5,000 up on last year, with improved cup revenues offsetting the reduction in transfer fee income. Overall we expect to make an operational loss this year, albeit a potentially smaller one than in recent years.

This loss will be bridged by equity investment from the supporter-owners DFCSG via Boost The Budget and David Johnston's recently announced investment...

Overall the football club is in a stronger position than this time last season... The business has run operational losses consistently since 2012... This is not something that can continue indefinitely going forward and we are working hard to drive increases in revenues whilst carefully managing our costs".
From the Northants Telegraph we learn that "Paul Cox issued another timely reminder of how far Kettering Town have come in the past few months after they battled out a goalless draw with Hereford at Latimer Park.

Neither side could find a breakthrough in a tight encounter with Paul White making a fine save to deny Rowan Liburd in the second half before the Poppies almost won it late on when Dan Nti struck the post.

The stalemate was Kettering's fourth draw in a row and they are now without a win in six Vanarama National League North matches and have scored just two goals in the same period.

And while Cox knows his team need to be better in the final third, he was pleased with another point on the board which moved them nine clear of the relegation zone.

'We came up against a good team with some good players and Hereford are a big club who were on the back of two fabulous results by going away to York and hitting four and then winning at Farsley Celtic,' the Poppies' boss said. 'We shouldn't feel downbeat. I know people will point towards the goalscoring and say that's a problem but it can even be an issue for clubs who can afford the best goalscorers. We are going around with a cap in hand at the moment, asking to borrow players.

'For the forward boys, the more things go like that, the more it can affect your psychology and you start doubting yourself... We have to work harder in and around the box and we have got to be ruthless... I could moan because it's another game where you could look back and feel sorry for yourself but it's another point ticked off... People have to remember that when we came in, we were dead and buried.

'I don't think people realise how bad the situation was. The psychology of the team and the club was that of a relegation mindset'...

The clash was only given the go ahead following a lunchtime inspection of the Latimer Park pitch, which was once again very heavy for the match... 'We are having to play some percentage football on our own pitch and I don't think that suits a lot of our players,' he added. 'But when I look at the bigger picture, it makes me even prouder'".
Meanwhile, Lincolnshire Live reports that "Craig Elliott admitted he was embarrassed and accused his players of 'believing their own hype' after Boston United's County Cup final defeat to Cleethorpes Town.

A strong Pilgrims side were beaten 1-0 by a side who play two divisions below them. at Lincoln City's LNER Stadium. Jonathan Oglesby scored the only goal of the game just before the hour mark.

United are enjoying an excellent season and sit third in National League North ahead of Saturday's trip to promotion rivals Chester FC...

'I'm embarrassed to be honest,' said Elliott. 'I've got a big job on my hands, unexpectedly. Sometimes you see it coming, but we'd lost one game in nine or 10, then put a performance in like that, it's bordering on embarrassing. Some players are going through the motions and we're carrying some players, there's no doubt about that...

'We just thought we could turn up,' he added... 'We're at the stage of the season where players are talking about futures and they're believing their own hype... Some of them are way off what I expect... A player can't just go from the level they've been at to playing like that. I can accept losing games, but a large percentage of them are lacking effort and aggression.

'The reality is, and I've said it to them, you're a National North player, not a Football League player. Some of them are wanting all the pretty stuff, and that isn't what football's about. We've built our season around hard work and organisation. I like my teams to be organised and in the second half we were anything but that.'

More concerning than the defeat was the head injury suffered by Pilgrims' striker Jake Wright... Wright, who is on loan from York City, briefly lost conciseness [consciousness] following an accidental collision with a Cleethorpes player. After being treated on the pitch for around 10 minutes, Wright was stretchered off wearing a neck brace."
---
11 March 2020
Whilst Altrincham go into Saturday's match at York with the Minstermen top of the league table, it is Altrincham who arrive at Bootham Crescent top of the current form guide over both the last five matches and the last twenty league fixtures. For their part, City lie tenth in the form guide over the past five games, and sixth over the past 20 league matches.

Those changing statistics indicate that York's performances have dipped a little since they won 3-1 at Moss Lane on the opening day of the season, before going on to lead the National League North for several weeks. And they also tell us that Alty's performances have improved from a stuttering start to the campaign, in which they won just two of their first nine league games, but now arrive at Bootham with just two defeats in their last seventeen league games.

This comparative reversal in fortunes is also evidenced by the home defeat to York for Alty on the opening day of the season being followed by a brace of cup wins for Altrincham at York in the FA Cup and the FA Trophy.

Those two cup wins mean that Alty have now won their last three visits to Bootham, having completed a league double over the Minstermen last season. Those three successive away wins have all been by a 1-0 scoreline.

In a testing run-in, Saturday's match is one of five remaining fixtures for Altrincham against top six teams. However, it is the only such fixture which is away from home.

Tuesday, 10 March
Kettering Town 0-0 Hereford FC
King's Lynn Town 0-1 Bradford (Park Avenue)
In the game at King's Lynn, Nicky Clee was originally given as the scorer, but other sources attribute the winner to Tom Clare...
Lynn News reported that "King's Lynn Town's promotion hopes suffered a setback as they fell to defeat against bottom club Bradford Park Avenue.

Tom Clare's first half strike proved decisive as the Linnets missed the chance to return to the top of the table on a night to forget at the Walks.

The visitors enacted revenge for the chaotic 3-2 defeat to the Linnets in November as a first-half goal proved to be the difference between the two on a night where Lynn's attack failed to get going against stubborn defending.

And there were unsavoury scenes at the final whistle, as both sets of players got involved in a bout of pushing and shoving after a Bradford player fell to the floor...

Despite 47 points separating the two teams before kick-off, the visitors were not content to sit back and defend, as they restricted the Linnets to minimal chances in the opening 15 minutes and looked to get forward as much as possible themselves...

The majority inside The Walks were hoping to see Lynn move back to the top of the table, but they were silenced in the 25th minute as a Tom Clare strike nestled into the bottom corner via a slight deflection. Having beaten another promotion chaser in Chester at the weekend, the West Yorkshire side were playing like a team devoid of any pressure as the basement boys continued to frustrate Lynn...

Stubborn Bradford defending continued to restrict the Linnets to minimal chances as the crowd's groans became increasingly audible. With just over an hour played, Lynn reverted to three at the back as Chris Henderson and Sam Kelly replaced Ross Barrows and Sonny Carey. Culverhouse had changed the formation to a 3-4-3 formation in the hope of a breakthrough.

Despite the rejig, there appeared to be no way through the regimented opposition defence who stuck to their task with plenty of spirit. The final tactical throw of the dice was Dayle Southwell on for Power with 20 minutes left as chances remained at a premium... Adam Marriott fired an effort over, deep into stoppage time, on what was a rare off day for the usually prolific striker to the anguish of the vast majority of the 1,220 fans in the crowd".
At AFC Telford United "Marcus Dinanga believes that the Bucks need to cut down on any errors to ensure they end the season as well as possible; as well as seeing an improvement in his goal scoring record, where Dinanga feels Matthew Barnes-Homer has had a positive effect on his game.

Dinanga hasn't stopped scoring in recent weeks and is the Bucks' top goal scorer this season having netted eleven times in the league, having also scoring six in his previous five games.

He remains adamant though that it's the team performance that counts the most and understands that the Bucks were not at their best Saturday... with the 2-1 defeat at home to Darlington leaving the Bucks lying in mid-table.

'We went out there to get the three points and to at least come away with a draw. All the lads are gutted and so am I really because I can't go home and enjoy the night. To be fair we wasn't [sic] at our best today but we could've got something out of the game. I will play where the Gaffer wants me to play so, I will be enjoying my goals more if we were getting something out of the games but at the moment we were losing the game today so I don't enjoy the goal'.

Dinanga puts the recent goal scoring prowess down to hard work, by staying behind after training where working on his finishing with Barnes-Homer has seen a significant improvement in his end product... 'I'm just doing the right things, if I'm not training then I'm in the gym, doing things after training and Matthew has helped me out a lot with finishing and extra things after training...

'For me, to get praise out of doing my job it's a bonus. I see it as the gaffer brought me here to score goals and that's what I do as a striker'".

And the Shropshire Star adds that "Boss Gavin Cowan insists he is willing to throw in AFC Telford United's promising youngsters.

Under-18s defender Emem Jones has made the bench for the last two matchdays after an impressive season for the youth side. The Bucks reached the final of the Shropshire FA Youth Cup with a 3-1 win over Shawbury last Thursday...

'I've been hearing his name (Emem) quite a lot and I'm very big on youth and giving them an opportunity,' he said... 'I felt it was worth giving him an introduction. I drafted him into training and I felt he deserved a chance while we've got a slightly depleted squad.

'We'll try to work with him and develop him over the coming months'".
Hereford FC announce that their "Board of Directors are pleased to announce an agreement to extend the right for HUST [Supporters' Trust] to purchase shares in the club.

The original deadline is set to expire on 27th March 2020 but, with HUST needing a further 8% (£79,000) to reach their target of 50%, the current board of directors have made the decision to extend the timeframe for an additional 12-month period.

'We're very sympathetic to HUSTs situation, they've done extremely well to purchase the amount that they have so far but, with attendances having dropped this season and taking into account other factors, we are more than happy to extend the deadline,' said Hereford FC Chairman, Andrew Graham.

HUST currently own 210,000 (42%) shares in Hereford FC, and have the option to purchase up to 289,000 (50%)".
Before their midweek match, according to the Telegraph & Argus, "Bradford (Park Avenue)'s Mitch Lund has stressed that his side must build on their shock win over Chester when they visit Vanarama National League North favourites King's Lynn Town tonight [Tuesday].

The defender was man-of-the-match as Avenue beat the play-off contending Blues 2-1... Lund started at centre half, replacing the departed Liam Hughes, and seemed to form a solid partnership with the experienced Billy Priestley. The 23-year-old defended relentlessly to fend off a strong Chester attack who have netted a huge 62 goals already this campaign, the second highest in the division.

Lund is now confident that his team have a chance against second-placed Town... He said 'We are hoping to take the momentum on and keep it going to see how many points we can get. It is massive (the King's Lynn game). We have showed [sic] that we can do it so we just need to carry it on. I have played there before (at centre half)...

'It is the same tactic for each game; to try and get tight to my man. As a defender, my job is to make sure they don't score and that is what I try to do. I have been in and out. Sometimes because of injuries, other times because of the manager's choice. Every time I have played, I have done well so I have just got to get the games under my belt'...

Lund credits his teammates' great attitude for not letting Chester's equaliser faze them. He said 'It was a great performance from everyone. We had a couple of weeks off and we have been ticking over... They scored a corner, where we were sloppy, but we bounced back and scored another.'"
Meanwhile, the Eastern Daily Press reported that "King's Lynn Town boss Ian Culverhouse believes Norwich City loanee Simon Power has got a bright future...

The young Irishman's brace helped Lynn secure an impressive 2-1 win at Gateshead on Saturday and they have the chance to return to the top of the table if they can take all three points at The Walks tonight [Tuesday] against Bradford Park Avenue. Lynn are currently second, two points behind leaders York, who have played four games more...

'He's (Power) got a good future. He's got to learn the game and that's why he's with us,' said Culver[h]ouse. 'When you've got that weapon and you can carry the ball at the opposition it's a good one to have. His knock at the end was nothing serious. We had a few knocks and we were hanging on (at Gateshead) but we will recover well and go again Tuesday'...

Culverhouse urged a note of caution... 'Beating Chester is a hell of a win for them and they'll come to us with no fear,' said the Lynn chief. 'We need to get the crowd behind us and shout us through... We've got to deal with Bradford first and then we'll concentrate on Guiseley... We know it's going to be a tough game but it's now about us recovering and being ready'".
From Bristol Rovers we learn that "Development Squad goalkeeper, Alexis Andre-Jr has joined Gloucester City on one-month loan deal.

The 22-year-old has spent previous loan spells on at Yate Town, Salisbury and Truro and has featured for the Development Squad this campaign, as well as a number of the bench for the first-team.

Alexis will be looking to make his Gloucester debut this weekend as they face Kettering in the National League South [sic!]"
In Cheshire Live Dave Powell writes of Chester FC after their defeat at Bradford "I was foolish enough to turn up on Saturday thinking we'd get the job done, that we'd do what is supposed to be done and get three points, however ugly, and get out again. But no. That didn't happen...

It is absolutely pointless trying to defend Saturday. You cannot defend the indefensible.

Bernard Morley came out after the game and said how he and Anthony Johnson had got it wrong, how there were no excuses. And, to be fair, he didn't offer any... You can't fool people. I can't write a piece claiming that it was just a bad day at the office for the Blues. We've had four bad days at the office out of six now...

The managers... were left strung out a bit by those players on the pitch. The pitch was a disgrace, the conditions horrific but the set up of the side was reasonable, it was a side which was more than capable of getting a result. But from minute one the intensity wasn't there, and as soon as the opposition get a sniff that you're not ready to roll your sleeves up and battle then boom! The whole thing is a leveller.

To a man Chester had better players on Saturday. There was no BPA player that you would say 'wow, take him next season'. They worked, though. They worked harder than Chester, they ran further than Chester, they wanted it more than Chester. When a side 16 points from safety with 12 games remaining of their season is outworking a side who can still finish in the top three then questions have to be asked.

Some players are short on confidence, that much is evident. John Johnston's decision to square a ball to Danny Elliott, when one on one, smacked of a player who didn't want to be the guy to miss. But as the ball got held up in the turf and some kind of blooper reel played out it kind of summed up where this group is at the minute.

We've lost four of our last six and yet still remain in the hunt for the goal this season; the play-offs...

Morley and Johnson cop for more flak because they are visible, because they weren't afraid to make their bold ambitions known at the start of the season...

Chester chasing down the play-offs hasn't happened very often in my years supporting the Blues. The past month has been grim but there are some enormous games to come, some of them that we will lose. But this is the worst possible time to start undoing the stitching on what has been on the whole a pretty decent season.

Boston United and Altrincham are both teams who we tend to look at with envy now, but they are both teams who have lost the same amount of games as us, and Alty even lost at Bradford (Park Avenue) this season.

This squad of players is good enough, they have shown that. They need a winning mentality back again, a siege mentality".
---
10 March 2020 In advance of Altrincham's projected visit to York on Saturday, York Press tells us that "Assistant manager Micky Cummins has hailed the versatility loanee Adam Buxton gives to York City.

The 27-year-old Buxton has joined the Minstermen from Morecambe until the end of the season and made his first start in Saturday's 3-1 win at Alfreton Town.

Buxton was played in a defensive midfield role, sat [sic] in front of the back three which features former Tranmere Rovers team-mate and fellow double promotion winner Steve McNulty, but can also be deployed in the backline.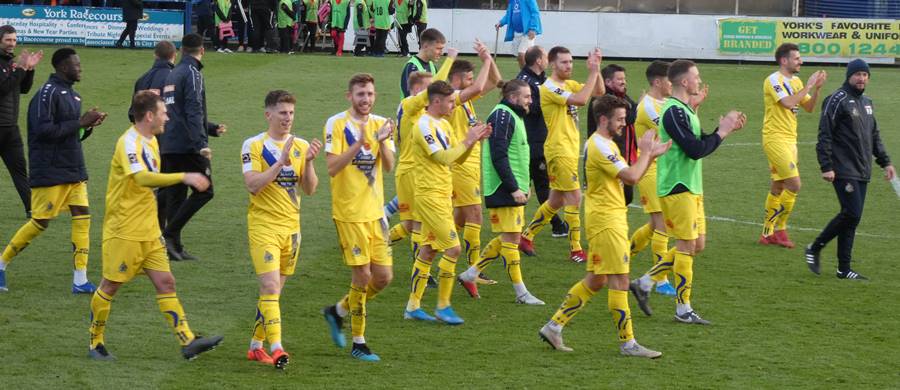 Above: Alty salute their supporters after the final whistle at York City on 10 November, having given their opponents a game... and knocked them out of the FA Cup.

And it was his presence in the side, Cummins revealed, that gave him and manager Steve Watson the confidence to travel to Derbyshire without an extra defender on the bench. Instead, York were able to name four midfielders; Sam Jones, Adriano Moke, Andy Bond and Paddy McLaughlin, and striker Macaulay Langstaff.

Asked if a central midfield role is where the City management pair see Buxton playing, Cummins said 'At the minute, yeah, but we didn't go with a defender on the bench because we knew we had the option of Bucko slotting in at centre-half, sweeper or right side. He gives us another dimension of having another attacking player on the bench. He was good, he communicated well with the lads around him and was vocal at half-time, like Macca is.

'They're experienced and will hopefully rub off on the others... He kept things ticking over and he switched the play nicely... He protects the back three and gives Kempy and Greeny the opportunity to go forward...

'I think in the last 15, 20 you could see he was blown a bit. We were contemplating taking him off but we thought it would do him good to get the fitness in his legs.'

Two Sean Newton free kicks and an Alex Kempster finish gave York their first win in three games. The previous Saturday, Curzon Ashton held City to a 1-1 draw and a Hereford came away from Bootham Crescent with a 4-1 win, after which the club reported two players were threatened outside the ground...

'I think things off the pitch weren't very helpful. The lads take things personally... They're out there doing their best and, understandably, they're going to have bad days but they'd like not to have that sort of response' added Cummins.

He added 'It's about putting a consistent run in now.... It's getting the scruffy one-nilers or the hard-fought wins. At times it was hard-fought but going home next week against an Altrincham team that plays some decent football, hopefully they'll give us a game and won't sit in like teams have in the past.

'We're hoping for a good response from the fans, they're probably due a decent home performance'".

Monday, 9 March
Gloucester City 2-1 Farsley Celtic
The BBC reports that "Southend United and Macclesfield Town have both been charged with misconduct by the English Football League for failing to pay their players on time...

Macclesfield have also been referred to an independent disciplinary commission, having already been charged for failing to fulfil two fixtures this season. The League Two side were docked six points by the EFL in December. If found guilty, the two clubs could face a fine, points deduction or even withdrawal of their league membership...

February was the fourth time this season Macclesfield have paid players' salaries late, resulting in the charge for failing to adhere to contracts. The Silkmen are eight points above bottom side Stevenage, with only League Two's bottom club to be relegated this season because of Bury's expulsion from the EFL.

Earlier this season their players went on strike over unpaid wages, leading to the club having to field six youth team players and five loanees in their 4-0 FA Cup first-round thrashing by seventh-tier side Kingstonian.

They later pleaded guilty to EFL charges over non-payment of wages and failing to fulfil their fixture with Crewe Alexandra on 7 December, a game their players refused to take part in citing concerns about their emotional wellbeing. That resulted in the six-point deduction, with a further four suspended.

Macclesfield were again charged with misconduct by the league when they failed to play their fixture against Plymouth Argyle on 21 December after the club were given a 'zero-capacity notice' by the local Safety Advisory Group".
King's Lynn Town state that "For the first time in over five long weeks King's Lynn Town are back in action at The Walks on Tuesday evening with the visit of Bradford Park Avenue for a rearranged fixture... with Guiseley also in town on Saturday afternoon.

First up though is Bradford, the league's bottom placed club, who have endured a difficult season to date. However, at the weekend they more than proved that they can mix it with the best when they pulled off an outstanding 2-1 victory over Chester FC, putting a big dent in their visitors' promotion hopes whilst giving themselves hope of putting together a run of results that could yet keep them in the league for next season.

Town though will also be aware of the threat posed by Avenue following the first meeting of the two teams back in November. Following a weather effected journey the Linnets arrived late at the Horsfall Stadium and needed a late goal from Sonny Carey to secure all three points following a tough battle in difficult conditions . Adam Marriott weighed in with a brace of goals in what has turned out to be a very important victory.

The Linnets will however be buoyed following a fine week on the road with a point being collected at Leamington and a fine 2-1 win at Gateshead on Saturday. That win now means that Town sit two points behind leaders York City with four games in hand, ensuring an exciting season ending [lies] ahead of the club and its supporters. Town have no fresh injury concerns following the weekend with Michael Clunan now the only long term injury casualty. Ryan Fryatt continued his comeback from injury with the reserves at the weekend."
Kidderminster Harriers "have completed another major signing for the future with the acquisition of midfielder Jim Kellermann.

Jim has established himself as a player in non-league football with a two-year spell at Aldershot Town, while also spending last season on loan at AFC Fylde. In truth, Jim is a hometown boy, having lived in Kidderminster from an early age and having attended matches at Aggborough back in the club's Football League days.

A former Kidderminster Lions and Stourport Swifts player as a junior, he was snapped up by Wolverhampton Wanderers, where he spent six years before his move to the Shots. After leaving The Recreation Ground, he journeyed to Scotland to sign for St Mirren but, with first team opportunities limited, signed for Fylde in August 2018.

The 24-year-old actually left St Mirren back in October of last year, from which point he has been involved with the squad at Aggborough, rehabbing from a problematic shoulder injury. Over the course of the last few months, he's reached full fitness and trained fully with the squad, with boss Russ Penn making the securing of his signature a priority.

With international clearance in the bag, Kellermann has signed a contract with Harriers until the end of next season and becomes immediately available to Penn ahead of this weekend's trip to Leamington, though all parties have admitted his return to competitive action will be a gradual one."
Gloucester City report that "Farsley Celtic travel to Evesham for the first time tonight. The Tigers drew one a piece in the reverse fixture back in November.

The newly promoted side have started the season off in relatively good form, currently sitting in 11th place and still in the hunt for the play-off race. The Celts were beaten 2-1 at home on Saturday by Hereford and come into this game having picked up one win (at home to Blyth) in their last four matches...

Following on from last season, a club takeover occurred with new chairman Paul Barthorpe taking control. As a consequence the playing colours changed from blue to green, there was a new club badge and the stadium was renamed to the Citadel.

For this campaign, manager Adam Lakeland added goalkeeper Elliott Wynne from Altrincham and right back Jordan Richards from Southport. Promising youngster and midfielder Tyler Walton joined from Frickley and wasted no time in making a good impression... Defenders Dylan Cogill and Tom Allan both arrived further into the season whilst midfielder Jack Earing was recently brought in on loan from Halifax. Wynne meanwhile has since headed out on loan to Droylsden with the number 1 slot being covered by another loanee; Josh Barnes who arrived from Derby.

Last season's main marksmen remain the danger. Hayhurst leads the way with nine goals whilst ex-Cheltenham striker Spencer has eight. Vastly experienced Farsley captain Danny Ellis is approaching the 650th appearance of his career and is likely to partner former York man Allan at the back.

The visitors expect to be without midfielder Jack Earing and defender Jack Higgins. Midfielder Callum Nicell and winger Ellis Hudson are doubts. City remain without defenders Spencer Hamilton and Jack Senior.
Brackley Town tell us that "At long last we can move forward and see the start of the shoots of recovery regarding the rebuild of our new clubhouse.

We are pleased to announce that Planning Permission for our new clubhouse has been lodged with the South Northamptonshire Council ... This marks an important step towards establishing again a full clubhouse facility for our supporters and the wider community.

On Tuesday 17 March we are holding an open day with full size drawings for all to see more easily and to ask questions regarding the building... We feel that we will have a facility that will cater for all events. We aim to become the Brackley Town Event Centre.

The resilience shown by all sections of the club over recent months has been heartening. Without the support of the Stand Together Campaign this would not have been possible... Together we will take the club forward".
Boston United "were pegged back late on in a match of two penalties at Curzon Ashton on Saturday. The Pilgrims led through Jordan Thewlis' 20th minute spot-kick following a foul on Martyn Woolford and their cause was boosted further after the break when home striker Owen Watkinson was sent off for elbowing Tyrell Warren.

Curzon levelled with six minutes to play when Andrew Halls converted from the spot following a foul on Mike Calveley.

United boss Craig Elliott had made five changes for the second match in succession, with fit-again Alex Whittle back in action at left-back. Frank Mulhern, Dominic Knowles and Martyn Woolford were also back in action".
---
9 March 2020
Connor Hampson sadly limped off on Saturday against Spennymoor Town but when he makes his next appearance he will join eleven other current players in the Altrincham squad in having made one hundred appearances, or more, for the club. The total for Connor currently comprises 86 starts, plus 13 appearances from the bench in which he has scored five goals.

Connor joined Altrincham, originally on a month's loan, from Stockport County on 2 November 2017. He had been at Edgeley Park since February 2017, when he joined from Curzon Ashton, but injury sidelined him before the end of the 2016-17 season at County. Connor had previously been at the Tameside Stadium since 2011. His impressive performances for Alty prompted an extension of his loan period into 2018.

At the start of 2019-20 he acted as captain in the injury absence of Jake Moult.

The 2019-20 season for Connor has been interrupted by injuries but he has, so far, made 24(+10) appearances in all competitions.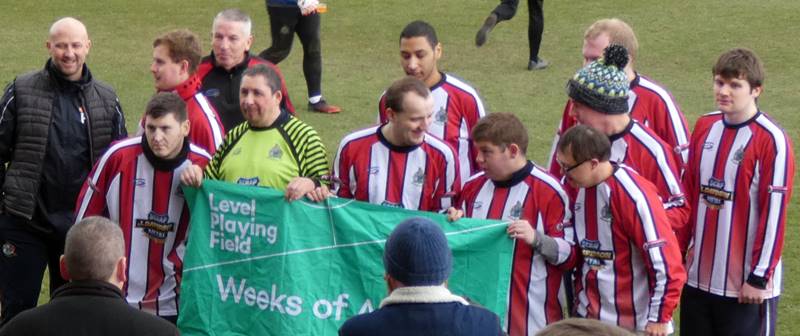 Before Saturday's match at the J. Davidson Stadium, the Altrincham FC Disabled football team [above] lined up for a photo with first-team boss Phil Parkinson as part of the day's Level Playing Field initiative.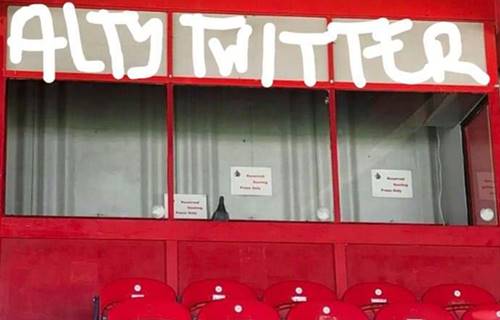 Altrincham FC's official caterer Richie Bentley spotted a feathered intruder in the Alty press box last week; it was spotted alongside a sign saying "Reserved Seating: Press Only". Richie adapted his adjacent image with the words "Alty Twitter"!

Perched, as Alty are, in the play-offs, the bird's presence may be interpreted as a signal to supporters to have a flutter on Alty beating York next Saturday. Indeed, a third win for Altrincham at Bootham Crescent this season, following FA Cup and Trophy victories there, would surely by a coo for the club.

Unfortunately, the avian interloper was unable to assist club tannoy announcer Ian Wilkinson on Saturday... as it only speaks pidgin English.

Press and Media Officer Brian Flynn interviewed assistant manager Neil Sorvel after Saturday's win over Spennymoor Town.Alty TVhas video of the interview. For the third time this season, Altrincham travel to Bootham Crescent to play York City, having won there already twice, 1-0, in the FA Cup and FA Trophy.

It had been expected that this game would take place at York's new stadium but its opening has been delayed.

Mike Garnett's data remind us of the previous history between the clubs.
At home: P9-W2-D4-L3-F11-A16
Away: P11-W4-D2-L5-F8-A16
All: P20-W6-D6-L8-F19-32
Howard Watts and Mike Garnett's Through the Years records remind us that the last time Alty played on next Saturday's date, 14 March, they lost 4-1 at home to Wrexham in the Vanarama Conference.
Alty travel to York next Saturday. Last Saturday, York City reported that "City breezed past Alfreton Town with a 3-1 win away from home thanks to a goal from Alex Kempster and a double from Sean Newton.

Steve Watson made two changes to his side from Tuesday night, bringing in recent loan signing Adam Buxton into the midfield three and Steve McNulty slotting back into his usual centre-half role.

City were looking for a reaction after the heavy defeat mid-week and certainly got that in the early stages with a dominant display... Sean Newton hit a pinpoint free kick into the bottom corner from the edge of the box, running straight over to the bench to celebrate as a team after going 1-0 up.

Just minutes later Alex Kempster made it two with his second goal of the week, Jordan Burrow heading on to the pacey frontman who ran at goal, then composed himself and slotted into the bottom corner giving City a two-goal cushion.

David Ferguson got a lot of the ball on the left and forced Alfreton to defend for their lives with an onslaught of crosses into the box... Adam Buxton was spraying balls left, right and centre in the heart of midfield...

Alfreton got more into the game in the second half, but some great defensive play by City halted any progress for the home side, Steve McNulty the general in the middle and putting in some vital tackles...

Newton finally got his just rewards as another free kick was hit from long range, deflected off the top of the wall, and looped over the goalkeeper into the back of the net. A deserved goal for City who had plugged away for a third for some time.

Alfreton then... scored a contentious goal through Danny Clarke, the offside flag staying down as the ball came over the top and the simple finish a mere consolation but robbing the City defence of a clean sheet... City picked up a vital three points backed by the fans who were in full voice all afternoon.

York City: Jameson, Tait, McNulty ©, Newton, Griffiths, Ferguson, Buxton, Green, Kempster (Jones 81'), Maguire (Moke 64'), Burrow. Unused substitutes: Bond, McLaughlin, Langstaff".

The youth team's match on Sunday at Atherton Town was postponed. Next Sunday, in the Open Cup 2019 they are away to Chester FC Youth. Alty Ladies' match against Northwich Vixens was postponed on Sunday. Next Sunday (15th) they are away to West Kirby Ladies.
According to the Hereford Times "Interim assistant manager Steve Burr said that he has a lot to consider if him [sic] and Josh Gowling are offered permanent roles at Hereford FC.

The Bulls completed back-to-back away wins at Farsley Celtic under the interim management team with Tom Owen-Evans and Kelsey Mooney scoring the goals. When asked about potentially being offered the job permanently, Burr said 'I'm sure they (the board) will make the decision when they think the time is right and we're only in here to try and turn things around and win matches,

'As soon as they make that decision we can all sit down and see where we are going. There's a few things that could be happening with me football-wise but I'm enjoying it here and we'll see what happens... It's a big club and a great club as well. The enjoyment of winning matches never loses that feeling.

'It's really been enjoyable and hopefully I can help Josh (Gowling) to succeed and become a manager and, with my experience, I think it would be a good foil yes but there's lots to consider yet from my part... Since I've come in with Josh (Gowling) the board have been very supportive in helping us in bringing lads in and helping to move one or two lads out, we couldn't have had any more support.'"
The Northern Echo says that "On what was a dreadful playing surface at AFC Telford, Darlington manager Alun Armstrong reckoned his players produced their best performance of the season.

Quakers expected the pitch at New Buck's Head wouldn't be at its best because of drainage problems... but Telford weren't prepared for what hit them from a rampant visiting side, who produced an excellent performance. The playing surface was described as 'dangerous' by Armstrong. It was heavily sanded down one side, and boggy in one large area near a corner...

'Overall, that was our best 90 minutes full performance of the season,' said Armstrong. 'The pitch was horrific, the worst I've seen in my time in football to be honest. There were three or four inches of sand, Louis Laing twisted his ankle in the sandpit. I told the lads that they couldn't use the conditions as an excuse and it was the same for both teams. They went on the field, and showed people that they could do the ugly side of the game. We out-battled, outfought, out-thought and outplayed them.

'I think some of the football was exceptional on a bad pitch. If we'd finished five or six, nobody would have complained. That's my only bugbear, we're not scoring enough goals. Adam Campbell was devastated at half time for missing a couple of chances, but I was delighted for him that he scored in the second half. I was frustrated that we conceded because we had possession of the ball again, and annoyed at half time that we weren't in front, but the lads rolled their sleeves up in the second half.

'We've got to put games to bed a lot earlier. Nobody could have argued if we had scored five or six because we had good chances. It's been one of my bugbears this season, but I'm sure we'll get it right. It will come, the dressing room is buzzing at the minute, and so it should be'.

Once again it was midfielder Will Hatfield who masterminded the victory... He gave Quakers took the lead on 12 minutes... It was his fourth goal of the season, all away from home, and Armstrong said 'You can't give Will Hatfield that much space on the edge of the box because we know what he's capable of; what a strike from him again'.

It was soon almost 2-0, Omar Holness hitting the bar with a dipping effort, then Campbell dragged an effort wide after a poor headed back pass put him in the clear.

Darlington were well on top, so it was a surprise when Telford equalised... Telford could not find an answer to Jarrett Rivers on Quakers' left in the second half...

Quakers deservedly went back in front on the hour, when Laing played a delightful 30-yard ball over the top of the Telford defence for Campbell to control and slot into the corner for his 14th league goal of the season..

Armstrong added 'Laingy has the ability to penetrate a defence with his passing quality when he has the time, and the weight on his pass for the second goal was different class... I decided to kill the game off and thought back to the previous game against Brackley when maybe I should have brought Atky on and seen the game through at 1-0. I learned from that, brought him on, and managed the game out. I think it was the first time that we've managed the last five minutes of a game ever so well.

'Everything is coming into place at the right time. I've been there before with Blyth, I know what it takes to get on these runs. Hopefully I've got these lads believing in it. All of a sudden, we've gone from five without a win to four unbeaten. The timing is good, last season at Blyth we went ten unbeaten and, if these lads can replicate that form, then I'm sure we'll be there or thereabouts.'"
Guiseley report that "Two goals either side of halftime from [ex-Alty loanee] Andrai Jones and Kaine Felix and a late penalty from Jamie Spencer finally saw Guiseley end their barren spell at Nethermoor as they racked up their first win on home turf since mid-January.

With Aaron Martin absent for personal reasons [ex-Alty loanee] Chris Sang led the line alongside Felix and it wasn't long before the Barnsley loanee was troubling the Brakes' defence... Leamington then suffered a major blow when central defender James Mace had to leave the field due to injury with eight minutes played and was replaced by Dan Meredith...

Having struggled in the first half playing into the stiff breeze blowing down the pitch from the car park end, the home side delivered a dominant second half performance that got off to a flying start as man-of-the-match Prince Ekpolo won a ball in midfield before progressing down the right hand channel and feeding Felix who hit a sublime rising shot beyond Weaver into the top corner...

Aram Soleman was next to leave the field and it was his replacement Spencer who put the icing on the cake with virtually the last kick of the match as the referee pointed to the spot for an off the ball incident and the former Avenue midfielder thundered home the spot kick. The result moves the Lions one place up the table to tenth...

There is the small matter of a West Riding County Cup Semi-Final against Harrogate Town at Wetherby Road on Monday"
"A valiant Blyth Spartans suffered a 5-2 defeat at promotion-chasing Brackley Town in Michael Nelson's first game in charge.

It was a result that certainly didn't reflect Spartans' overall performance having deservedly led at half-time, courtesy of Leighton McIntosh first goal for the club. Unfortunately, as the fourth-placed side ramped up the pressure, Blyth became a little too open and conceded five second-half goals.

Adam Wrightson had levelled the scores at 2-2 after the hosts hit a quick-fire double to lead before inflicting a scoreline harsh on Nelson's men.

Nelson named one change from the previous league meeting at Farsley Celtic, Ben Harmison replacing Macaulay Langstaff, who was recalled by York City during the week.

And Spartans carried out their gameplan ever so well in the opening 45 minutes, despite having just one training session under the new manager. Blyth were more than happy to soak up the pressure and counter on the break as Wrightson forced an early low save from Danny Lewis... The hosts barely threatened as the break approached...

Brackley caught Spartans off-guard just after the break and struck twice in four minutes to turn the game on its head... Ndlovu was made to pay for missing a sitter as Wrightson drew Spartans level with a kind deflected strike...

The fortune of a deflection went in favour of the home side as Lowe beat Hemming from the edge of the area after the ball hit off Jack Hunter's outstretched leg. Ndlovu added his second and Brackley fourth with 13 minutes... There was time for a fifth as substitute Wes York saw his shot parried by Hemming, which fell straight into the path of Byrne.

Overall, it was a disappointing second-half for Spartans but there were plenty of positives to take ahead of the crunch clash at Gloucester City next week".
In the Eastern Daily Press we learn that "King's Lynn Town boss Ian Culverhouse hailed his side's 'terrific"' win at Gateshead to set up a huge week of football at The Walks. Norwich City loanee Simon Power was the hero with a goal in either half as the Linnets ended the Heeds' long unbeaten run with a classy away day show.

'I thought we were excellent today,' said Culverhouse, 'In the first half we bossed the game, looked comfortable with the ball and looked very, very good. The wind was difficult out there but we were dominant and picked up a great goal from Simon. We knew what to expect from them in the second half and they came at us with all guns blazing and had a right go.

'I thought they were very good in that spell of the game. I was disappointed with the way we conceded the goal, that's not like us from a start in play, but we hung in there and it was a great relief when the ball trickled over the line for the second. That wasn't an easy finish... We came here to win and that's why we made the changes through the game as we did.

'They are a very good team make no mistake. They don't lose many and Mike (Williamson, manager) has them drilled well... There are some tired legs in the dressing room so we now have to rest up the best we can ahead of Tuesday'...

The Linnets were to claim a vital three points as the finish line of the National League North begins to come into view."
In the Telegraph & Argus we learn that "When Avenue fans woke up on Saturday morning, beating playoff contenders Chester was only a pipe dream with Mark Bower's side winless in 10 and almost condemned to relegation... However, a remarkable victory pushed those negatives aside to provide Bradford some cheer...

It turns out that just under a month without football can do your side some good, supplying the hosts a chance to recharge the batteries. During their 28-day absence, the bobbled Horsfall pitch has experienced more wear and tear thanks to the endeavours of the Bradford Bulls' reserves who will play the reminder of their season at Park Avenue's home...

The Seals travelled to West Yorkshire expecting to end their 50-year wait for an away win, having lost two and drew [drawn] the other on their three previous visits to Bradford in that period.

Surprisingly, Bower chose not to start the ever reliable Nicky Clee, later confirming that his skipper had only just recovered from a bout of tonsillitis. Up stepped experienced forward Oli Johnson who took to the armband with great success not only leading his team to an improbable three points but netting the valuable winner.

The Bradford manager made his intentions clear from the get-go, starting with a 4-4-2 formation for the first time in a while. Tom Clare partnered Johnson and did not disappoint, putting in a tireless shift to keep the Chester defence wary.

Worry was the feeling shared by the 525 spectators in attendance when Chester's Gary Stopforth had to be stretchered off, by the Bradford medical staff including manager Bower, mid-way through the first half. The midfielder made a great challenge to deny the poised Johnson. Thankfully, Stopforth returned to the bench to watch the rest of the action...

The deadlock was broken minutes short of the break. A stroke of luck was attached to Clare's near stick effort from a Ryan Toulson cross. The striker struck the post for the ball to then hit Simon Grand and roll over the line.

Avenue have chopped and changed their man between the sticks all season with Tom Nicholson Bower's current favourite. However, he did not look confident dealing with the wind all afternoon, flapping several times, before conceding directly from a Matty Waters corner.

Throughout this season, Bradford heads have dropped after conceding a leveller. This certainly was not the case this time out though as Johnson capitalised on poor defending to bury his header. Soon after, Bower exchanged Johnson with Clee and switched to a 4-5-1. It was all hands on deck for the home team...

The tension was so evident that boss Bower landed himself a booking for kicking the ball away as the Blues were awarded a last-minute free kick... The biggest question on Avenue fans lips is whether their team's taming of the Seals will spark a surprise survival run in the remaining 11 games".
Still in Yorkshire, Guiseley "announce that Reiss McNally has been named as a standby player for England C for their upcoming fixture with Wales C... and will be called up to play in the fixture at Caernarfon Town on 24th March should he be required by Paul Fairclough, the England C boss.

McNally is just one of four players to be named in the standby list who ply their trade in the Vanarama National League North with Kidderminster's Sam Austin and Gateshead's Greg Olley being the only two players to make the squad from our division.

The 16-man squad could see 11 players making their England C debut and that isn't including those named in the standby list. 19 year-old Reiss joined The Lions in the summer and has formed a key part of the squad that is currently chasing a play-off spot, making 32 appearances so far this season."

Meanwhile, the NL Paper reports that "England C chief Paul Fairclough believes Non-League's Lions will show they have technical talent when they take on Wales C this month...

Barrow... will have three representatives in Josh Kay, Lewis Hardcastle and Patrick Brough. Boreham Wood also have a treble tops with top scorer Kabongo Tshimanga, Sorba Thomas and highly-rated right-back Kane Smith. There are also first call-ups for Kidderminster Harriers' Sam Austin, Barnet striker Josh Walker, Chesterfield's Liam Mandeville, Harrogate's Will Smith, Sutton defender Ben Goodliffe and Oxford City goalkeeper Craig King...

'It's a very talented group of players', Fairclough told The NLP...'I've selected a group of technical players who will want to get the ball and play as much as we can'".
---
8 March, 2020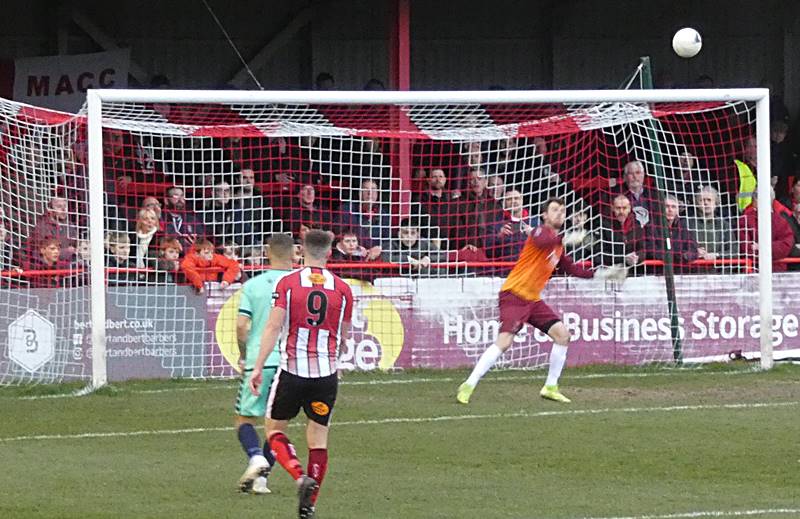 Above: Jordan Hulme (9) watches as his superb shot dips into the top corner of Spennymoor keeper Gould's net to make it 4-1.

This win restored Alty to fifth place on an afternoon when Alty's play-off cause was aided as rivals Chester FC and Gateshead lost, and Boston United only drew.

Match report here.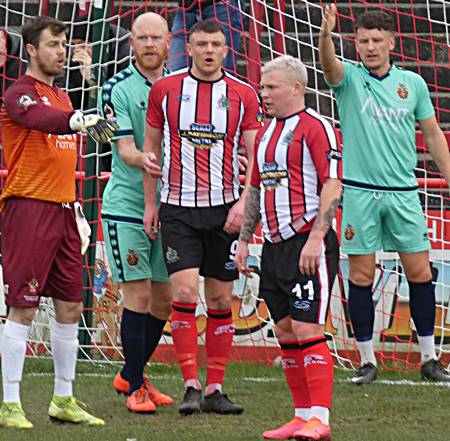 Right: Jordan Hulme and Elliott Durrell netted three of Alty's goals between them on Saturday against Spennymoor

Altrincham Reserves were scheduled to play away at Poynton FC on Saturday, but the match was postponed> In theiry their next match is on Saturday, 21 March at gome to FC St. Helen's, who lie fifth in the Cheshire League, five points and three places ahead of Alty and with three games in hand. Altrincham's next two league games see them face opponents who they have already faced six times and only lost once. First up is a third visit of the season to Bootham Crescent, where Alty have already won twice, in the FA Cup and Trophy. However, the Minstermen did defeat Alty at home on the opening day of the league season.

And after York, Alty welcome Chester FC to Moss Lane, having also played them three times this season and emerged with a win and two draws.
According to York Press, assistant manager "Micky Cummins said the message at half-time in York City's 3-1 win at Alfreton Town was to 'go for more'.

Thanks to a Sean Newton free kick and a composed Alex Kempster finish, York were cruising... inside quarter of an hour. Alfreton fought their way back into the contest but... they looked unlikely in front of goal. Town had better chances after the restart but York put the game out of reach with another Newton free kick, 10 minutes from time.

The only downside from a York perspective was Danny Clarke's consolation two minutes from the end.

Asked whether the instructions at half-time were to tighten up or look to score more, the assistant manager said 'Go for more. We want to rack the goals up... I thought we managed the game well and made the subs at the right time. It was a good performance,' he added. 'I thought it was professional and controlled for large parts of the game... Jordan played the number nine role perfectly. I'm pleased for Newts, he could have had a hat-trick today. He practises those in training'...

'[Kempster] looks like he's back it. He got in good areas and caused them problems. He tired towards the end, which is understandable'... Kempster scored his second goal from two consecutive starts after having begun the previous five games on the bench".

A week on Saturday (21st), Chester FC are the next visitors to the J. Davidson Stadium. Alty have already played them three times this season, drawing twice at the Swansway and winning an FA Cup replay at Moss Lane.
From Cheshire Live we read "Make no mistake about it, this was as bad as the result suggested. This Jekyll and Hyde Chester FC side served up a Frankenstein of a performance on a cow-field of a pitch as they fell to a 2-1 defeat at the division's bottom side, Bradford (Park Avenue).

Goals from Tom Clare and Oli Johnson sandwiched a Matty Waters leveller as Mark Bower's side handed a chastening defeat to a woeful Chester side completely out of sorts from minute one. Yes, the pitch was bad. Yes, the wind was strong. But to make any kind of excuse for this mess of a performance would be nonsense against a side without a win in 11.

It's hard to muster the enthusiasm for a play-off push when results of this manner are tossed up. We've all seen how good Chester can be this season but those performances are starting to get more blurry in the memory as the Blues stumble towards the end of the season.

Avenue, who had won just three times before today, and who could only name four substitutes, rolled up their sleeves and bullied a Chester side, leaving them with a bloody nose and their promotion aspirations looking out for the count.

It was a game Chester came into needing three points. While the Blues had been relatively stop/start in recent weeks in the National League North their play-off rivals had hit form and gained ground, Chester pushed down to fifth and nervously looking over their shoulder.

Avenue, the league's bottom side... had resigned themselves to relegation, 16 points from safety with just 12 games remaining of their campaign. But the Blues had been stung at the Horsfall Stadium in recent times and went down to a miserable 2-0 loss in the corresponding fixture last season in Yorkshire..

There were five changes from the side beaten 3-2 by Brackley Town with goalkeeper Louis Gray handed a league debut while there were starts for Matty Waters, Gary Stopforth, Gary Roberts and Danny Elliott, fresh from his successful loan spell at Alfreton Town...

In a swirling wind the conditions were not conducive to free flowing football, but that was no excuse for the 45 minutes that opened up for the Blues. Using the wind to their advantage the home side looked hungrier and put the Blues on the back foot from the off, winning a succession of corners and using the big frame of Clare as a focal point up front...

Stopforth... [was] forced off on a stretcher on 14 minutes after a bad collision, Scott Burton his replacement. While it was Bradford who dominated early doors the Blues were presented with a golden chance to take the lead on 20 minutes when Anthony Dudley played a ball through to John Johnston, the winger one on one with Avenue keeper Tom Nicholson only to inexplicably square it to Elliott, the ball caught up in the mud and the home stopper gathering. It should have been 1-0...

But the home side had the lead on 41 minutes in bizarre circumstances. Johnston failed to clear a ball in the right channel and that allowed Ryan Toulson to cross for Clare who pushed it goalwards from close range, a melee ensuing before the ball crept over the line. Chester felt it was a free kick, the linesman had other ideas and referee Kristian Silcock awarded the goal after some deliberation. A shambles of a goal from a shambles of a first half.

Chester... found themselves level on 51 minutes when Waters whipped in a fine corner ball which left Tom Nicholson scrambling and it found the back of the net directly from the left back... The league's bottom side, with just 14 points to their name before kick off, were back in front on 67 minutes when a long Knight throw was headed home by Johnson past Gray. A poor goal to concede...

The Blues continued to labour as the half wore on, disjointed from back to front, and failed to test an Avenue side who had lost 22 and conceded 78 goals this season... The full time whistle sounded and it's hard to muster the enthusiasm for a play-off push when displays like this are thrown up in games of this magnitude. Not good enough. Not by a long chalk...

Chester: Gray, Waters, K Roberts, Grand, Jones, Stopforth (Burton 14) , G Roberts, Jackson, Johnston, Elliott (Asante 66). Subs not used: Morgan, Ngwatala... Star man: No diamond in the mud here today".
According to the Telegraph & Argus, "Avenue boss Mark Bower was pleased with his side's dogged performance in their win over Chester... Bradford upset the odds by producing a shock 2-1 victory over their playoff chasing opponents at Horsfall thanks to an own goal and Oli Johnson's winner.

Gaining the three points halts a run of 10 matches without a win for the basement team who are now 13 points adrift. Despite believing his men have played better in matches they have lost this season, Bower still provides credit for overcoming such a strong Chester team.

He said 'I am relieved and pleased. I have sounded like a broken record over the last couple of months where our efforts have not got the rewards. I don't think we played that well today. We used the conditions well first half and dominated. We should have been further in front.

'Second half they had the wind behind them and some big guns to bring off the bench. We responded well from the goal they scored and put ourselves in front. They had maybe one half chance, we defended our box really well which we hadn't been doing over the course of the season. They had a strong, experienced squad and we went toe to toe with them today. On the balance of play we deserved the win.'

Bower was handed a yellow card in the dying embers after the Chester players were furious... [for] him kicking the ball away to try waste the final few minutes. The Bradford manager says... 'I was a bit daft. I shouldn't have done it. I was frustrated that he gave them a free-kick which should have gone our way 20 yards from goal with the last kick of the game.

'The ball came my way and I don't think I have kicked a ball so far with my right foot. I held my hands up but I might have played a little part in us getting the result (laughs). With us not playing, a few of the teams above us have not got results, so we thought let's try catch that next team. To get three points today is a really got start for us'".
In the Boston Standard "Craig Elliott has demanded his Boston United attackers become more clinical following a 1-1 draw at Curzon Ashton.

Andrew Halls's 84th-minute penalty secured a point for the Nash, ruling out Jordan Thewlis's first-half spot kick. But manager Elliott says... 'After really bright opening I thought we played well first half without being as clinical as we should have been. Second half, I think the attackers have got to take a lot of responsibility. There's no blame on the defence, keeper, they've been magnificent and kept us in a lot of games.

'We need our forwards to be more clinical, let's not beat around it. They're established forwards and they're not doing enough'... He added 'Your job as a forward is to make bad balls into good balls, none of them come out with any credit. The ball never stuck up there and that puts the rest of the team under pressure.'"
The Eastern Daily Press says that "Norwich City loanee Simon Power struck twice as King's Lynn Town won 2-1 at Gateshead.

Power put the Linnets ahead after 15 minutes and, although the hosts levelled six minutes into the second half, Power struck again with nine minutes remaining to give Lynn their first win since January 25.

The end of the three-game winless run means they remain two points behind leaders York, who won 3-1 away to Alfreton, but with four games in hand."
We glean from the Kidderminster Shuttle that "Harriers kept up their excellent away form with an important win at Southport.

Russ Penn's men came from behind at the Pure Stadium to seal a 2-1 victory, with Keith Lowe's first-half equaliser cancelling out the Port opener, before an Ashley Hemmings stunner wrapped up the success after the break in real style.

It means an improving Harriers side have been beaten just once in six matches, a considerable resurgence in comparison to the inconsistency that has plagued their season. Penn had opted to make just once change to the team that had been beaten at Aggborough last time out, two weeks prior; Ed Williams coming in for Ollie Shenton who dropped to the bench.

The game at Southport was dominated by the conditions, a blustery wind and a difficult playing surface combining to ensure this was anything other than a game for the purists... A half of few chances got its first goal on 20 minutes when, against the run of play, captain Morgan fired the home side into the lead, after Moyo could only head a clearance into his path. The response was good, though, and Harriers found themselves level not long after when Lowe nodded a long throw from Rhys Williams into the net for what was the first goal of his third spell at Aggborough...

It would be Southport who rued a missed chance when Astles headed wide on the angle on 67 minutes, just seconds before Hemmings drove from 20 yards, low and hard into the bottom corner to put the visitors ahead. Harriers shored up and defended excellently after taking the lead."
Although Darlington lie ninth from the top of the league, they have a negative goal difference which is only exceeded by eight teams in the division. On Saturday, Darlington reported on a 2-1 win at Telford, in which "Well taken goals by Will Hatfield and Adam Campbell gave Quakers a thoroughly deserved win...

Despite playing on a dreadful pitch, Quakers produced some excellent football and created several good chances. The first was another screamer by Will Hatfield, and the second a neatly placed shot by Adam Campbell from a terrific Louis Laing through ball.

But they could have scored more goals on top of those, as they played some great one-touch football. As manager Alun Armstrong said later, it was probably Quakers' best performance of the season.

The result means that Quakers have won a league game at Telford for the first time since 1990, and are... four points behind the play offs.

Defending the heavy end... Quakers took the lead on 12 minutes. Hatfield made a great run down the right, and his left foot shot was deflected wide for a corner... From Jarrett Rivers's corner, Joe Wheatley played the ball square for Hatfield, who took a touch, looked up, and hit a fierce low right foot shot past Griffiths into the net, his fourth of the season...

Quakers seemed to be in control and looking good for a second, but Telford levelled on 36 minutes. Quakers lost possession, and Telford made progress up the left where the ball was pulled back by Brendon Daniels for Marcus Dinanga to sidefoot in...

It was all Darlo... and it was no surprise when Quakers regained the lead on 58 minutes. Laing, with the ball inside his own half, played a great 40 yard diagonal ball over the Telford defence for Campbell to chest down, run on, and slot past the keeper, his 15th in total this season... Quakers comfortably saw the game out though for their sixth away win of the season".

The NW Counties' Football League reports that "An early goal is all that separated Wythenshawe Amateurs and West Didsbury & Chorlton in the early kick off of the Saturday Groundhop games in front of a crowd of five hundred and forty six.

Four minutes into the game and the hosts scored what would turn out to be the only goal of the game. Chrissy Howard converted a half-volley into the back of the net at the far post from close range.

An uneventful first half ended in controversy as West Didsbury and Chorlton felt they should have had a clear penalty.... Wythenshawe Amateurs created the clearer chances in the second half and came close on a couple occasions however some fantastic saves from visiting custodian Andrew Jones kept his side in the game.

The hosts held out for the three points as the hoppers now move across town to visit Wythenshawe Town."
---
7 March 2020 This game was not the one-sided affair suggested by the final score but, nevertheless, Altrincham were well-deserving winners.

The hosts got off to a great start as, in just the third minute, Elliott Durrell continued his run of scoring in every game for Altrincham with his fourth in four outings since joining the club. After Shaun Densmore had got forward and hooked the ball across the goalmouth from the right, Durrell fired the ball home, from left of goal, to make it 1-0.

Alty did not build on that lead and gradually Spennymoor got into the game and enjoyed a decent spell around the half-hour mark. But a superb cross-field ball from man of the match Josh Lundstram led to the second goal for Alty in the 39th minute. The pass having located Durrell on the left wing, the no.11's progress was checked but Alty kept possession. The ball was relayed, inside, to Hulme who fired home across the keeper to make it 2-0.

The Moors started the second half with a purpose and got back into the game in the 52nd minute. Right-back Forbes was allowed to advance in space before hitting a fine shot into the top left-corner of Thompson's net from nearly 30 yards.

In retrospect the turning point was a fine close-range save by Thompson from Roberts, six minutes later.

Midway through the half Alty regained their two-goal lead when Tom Hannigan's diving header converted Mooney's corner from the left (68 mins). It then took a superb save from Thompson to beat away Ramsdale's close-range header (75 mins).

Alty's fourth goal came in the last minute of normal time. Hulme was located in space, outside the box, left of goal. Almost nonchalantly he hit a superb dipping shot into the far, top corner of Gould's net.

The win restored Alty to fifth place on an afternoon when Alty's play-off cause was aided as rivals Chester FC and Gateshead lost, and Boston only drew.

Match report here.

Saturday 7 March, Vanarama National League North
AFC Telford United 1-2 Darlington
Alfreton Town 1-3 York City
Altrincham 4-1 Spennymoor Town
Brackley Town 5-2 Blyth Spartans
Bradford (Park Avenue) 2-1 Chester FC
Curzon Ashton 1-1 Boston United
Farsley Celtic 1-3 Hereford FC
Gateshead 1-2 King's Lynn Town
Guiseley 3-0 Leamington
Kettering Town 1-1 Gloucester City
Southport 1-2 Kidderminster Harriers
On Saturday, when Spennymoor Town visit the J. Davidson Stadium, it will be four weeks since Altrincham supporters last witnessed a home game and much has changed since then, even though the Robins remain in the same sixth position in which they finished on 8 February after a disappointing 1-1 draw against Kettering Town.

Since then, Altrincham have signed Elliott Durrell and, in each of his three games to date, he has scored an impressive goal. Also in that period, midfielder Josh Lundstram has extended his impressive loan spell from Crewe Alexandra. And, ahead of Alty in the table, York City, King's Lynn Town and Brackley Town have all hit an indifferent spell of form, with all three clubs still to face Alty in the remaining fixtures this season.
The first of those three recent away games was the 3-2 defeat at the Brewery Field against today's opponents, where the Moors have an impressive record. However, like Alty, the Moors have less impressive away form. And they will be hampered on Saturday by the suspension of experienced defender James Curtis, who was sent off last weekend.

For their part, Alty will hope to have midfielder Sean Williams (left) back in contention after injury, the midfielder having been involved in the warm-up at Hereford last weekend. Like Sean, defender Andy White has also missed recent games and must remain a doubt for Saturday.

Whilst results elsewhere could elevate Alty to third place should they beat Spennymoor, defeat to the visitors from County Durham could drop the Robins to eighth, outside the play-offs. with seven points currently separating eighth and ninth place, it is beginning to look as if eight teams are competing for the top seven places and, therefore, at least a play-off place.

"The National League has received communication from The Football Association in connection to the government's response to the Coronavirus (COVID-19).

In light of the government's campaign, and as a precaution, pre-match 'fair play' handshakes between players and match officials will not take place in The National League until further notice.

Similarly, customary handshakes between captains and match officials ahead of kick-off will not be required...

Hereford FC add that "In addition to the National League guidance that has seen the postponement of the pre-match handshakes at all National League matches, Hereford players have agreed to cut out spitting in training and during matches in a bid to stop the spread of the Coronavirus.

Hereford players agreed on a self-imposed fine system for anyone caught spitting during training sessions and matches...

'Football is a contact sport so we're never going to rule out all forms of contact between players,' said Bulls' boss Josh Gowling, 'spitting is one thing that we can cut out straight away'".
Gloucestershire Live reports that "Gloucester City have signed former Forest Green defender or midfielder Gavin Gunning on a deal to the end of the season.

The 29-year-old Dubliner started his career in England with Blackburn Rovers and had loan spells with Tranmere, Rotherham and Motherwell before switching to the Scottish Premier League with Dundee United in 2011... [where he] made 83 league appearances for The Tangerines before moving back to England with Birmingham City.

His stay at St Andrew's was cut short after a cruciate ligament injury kept him out for the 2014/15 season. After a return to Dundee United and a spell with Greenock Morton he returned to England with Grimsby Town in League Two. He made 14 appearances with The Mariners before signing for Port Vale, leaving in January 2018 to sign a two-year contract with Forest Green Rovers.

Gunning was a regular in Mark Cooper's side, helping Rovers avoid relegation in 2017/18 and he made 63 appearances in total over two seasons, his last game for Rovers seeing him sent off in the 1-0 League Two play-off semi-final first leg defeat by Tranmere Rovers in May 2019. After his release by Forest Green, he signed for Billericay Town in the National League South before he moved up a division with Solihull Moors, for whom [he] appeared 18 times.

His arrival will fill the gap left by Spencer Hamilton's injury, which has ended his season. Hamilton was forced off through injury against Southport on January 25, and scans confirmed that Hamilton has suffered a fracture in the top of his tibia and will be out for the remainder of the campaign".
Harriers Online reports that "The Harriers take on Southport... Last week our game at home to Guiseley was postponed as was Southport.s game at Kings Lynn.

We'll go into the game with Declan Weeks still sidelined with a toe injury and the latest update is that he's still some way off returning. No other injuries are known about.

On the eve of the ill-fated Guiseley game, fans' favourite Correy Davidson went on loan to Bromsgrove Sporting where he joined up with Harry Higginson. Another one on the move elsewhere is Brandon Diau who has now seen his loan at Stafford Rangers come to an end for another move. This time a bit further afield to Lewes FC and one that more or less confirms that he won't be with us next season.

Southport sit slightly above us in the table, in twelfth place. Recent games have seen them stutter from their early season form and they last won in mid-January at Gloucester City. Since then they've drawn three games and in their last game, at Leamington, they lost 1-0. They have no known injuries.

No doubt this will be a tough game as are all games up in windy Southport... Most Harriers fans would be happy to come away with a draw."

Kidderminster Harriers will be playing "after an enforced break last weekend. Rain had put paid to the game against Guiseley, set to be played at Aggborough...

They'll get back at it with the lengthy trip to one of their oldest rivals, Saturday's fixture being the 39th meeting between Harriers and Southport.

The most recent one, earlier this season, saw the Sandgrounders pick up a 1-0 victory at Aggborough at the end of November...

Russ Penn hopes to have a full squad to choose from, with Declan Weeks edging towards being able to take part in some semblance of match action in the imminent future. Weeks has been missing for several months with a toe injury...

Just as Harriers will be looking to get back to winning ways on Saturday after defeat to York City a fortnight ago, Southport are keen to get back on track themselves after a 1-0 reverse to Leamington. Prior to that, they'd secured successive score draws against Brackley, Hereford and Bradford (Park Avenue).
Hereford FC assert that "We'll be looking for a repeat performance from our last foray as we take on Farsley Celtic. Tuesday evening's 4-1 victory at high-flying York City was full of positives and now we head to the Citadel full of confidence...

We face opponents who had adapted well to life at this level following promotion at the end of last term and [they] sit just inside the top ten... It has to be said that their form since the turn of the year has not been great, with just two victories, although one of which came at Brackley Town at the start of February and the other came against Blyth Spartans in their last outing a fortnight ago.

For The Bulls, Tuesday's triumph was our first in seven games... 'Every single one of the lads played their part on Tuesday,' said proud skipper, Jared Hodgkiss. 'We changed our formation and, to be fair, York just couldn't live with us. As a group, we know what we are capable of and now we have to be able to do it on a more consistent basis. The Gaffer wants us to play football and express ourselves, working within a structure, and that is exactly what we did in our last game...

Farsley on Saturday, this will be a completely different kind of test but we'll take the belief from Tuesday'...

Lenell John-Lewis caused The Minstermen all sorts of problems on Tuesday and bagged a brace, whilst Martin Riley showed his sheer determination by battling on despite suffering another shoulder problem during the game".
Chester FC "confirm that goalkeeper Russ Griffiths has joined fellow National League North side AFC Telford United on loan for the remainder of the season.

The 23-year-old stopper has made 39 appearances this term in all competitions, after signing a one-year deal in the summer following a successful trial spell during pre-season.

Griffiths arrives at New Buck's Head in time for their game tomorrow at home to Darlington, and his loan move contains a 24-hour recall clause."
And AFC Telford United add that "AFC Telford United can this afternoon confirm we have completed the loan signing of goalkeeper Russell Griffiths... Griffiths began his career at Everton and had loan spells at Northwich Victoria, FC Halfax, Cheltenham Town and then Motherwell. His move to Scotland was then made permanent for the 2017/18 season.

In June 2018, Griffiths joined National League side A.F.C. Fylde on a one-year deal before joining Chester in July 2019 before going on to make 31 appearnces this season".
Kettering Town "confirm that striker Omari Sterling-James has signed on loan from Mansfield Town until 25th April. The Birmingham-born player has also played for Solihull Moors, Cheltenham Town and represented St Kitts & Nevis international side. Omari goes into the squad for tomorrow's game against Gloucester City."
AFC Telford United tell us that "Darlington will be the visitors to the New Buck's Head this Saturday. Telford drew 3-3 at the Quakers' County Durham neighbour's last weekend and will be eager for all three points this time around; despite some good recent performance, the Bucks have only picked up two wins so far in 2020.

Darlo, meanwhile, picked up four wins from their first six games of the new year, but are currently winless in five. That recent sequence has seen the Quakers slide to 10th, but they are just seven points behind 7th-placed Spennymoor and have a game in hand, so Alun Armstrong's side will still be focussed on a playoff push.

Armstrong arrived in May, having led Blyth Spartans to the playoffs last season. And Armstrong brought some of his former Spartans with him, including David Atkinson, Louis Laing and Jarrett Rivers. Up front, another new face, ex-Notts County and Morecambe striker Adam Campbell, has impressed with 13 goals so far this term.

The Bucks came from 2-0 down to win 3-2 at Blackwell Meadows earlier this campaign... Telford's last four games have all been on the road, so Cowan and his men will be looking to impress in the first game at the New Buck's Head in over a month."

Darlington add that they "are looking for our first league win at Telford since 1990 when we go to the New Buck's Head...

Victory on Saturday will maintain our play off hopes. We're also looking for revenge after losing 3-2 to Telford in the reverse fixture, after being 2-0 up at half time. We've drawn two and lost two of our last four league games at Telford, but we won 3-0 in the FA trophy quarter final in 2011."
Lynn News tells us that "Ross Barrows is hoping his defensive versatility will enhance Lynn's promotion push...

Having spent the vast majority of this season playing at centre-half, Barrows has been switched to left-back for the Linnets' last two outings. And the 22-year-old responded with an exemplary display as the title-chasing Linnets ended a run of back-to-back defeats with a goalless stalemate at Leamington on Tuesday night.

Barrows, who isn't fussed where he is deployed, said 'Obviously being back at full-back it is a bit different, doing a lot more running has taken its toll'...

The Linnets only played twice in February and tomorrow's trip to Gateshead will be Lynn's first weekend fixture for five weeks".
News of a former Alty loanee comes fromGuiseley where "Chris Sang's loan move from Barnsley has been extended.

The striker will now remain with The Lions until the end of the season after making 9 appearances so far.

Sang notched both his goals in the festive clashes with Farsley Celtic... Standing at 6ft 2 inches tall he has become a fans' favourite with his hold-up play and vital contributions to the side so far".
Farsley Celtic say that "Adam Lakeland's side face Hereford having lost just one of their last four games in all competitions, and just of their last five game league games as they put a disappointing January behind them.

A 2-0 victory over Blyth Spartans last time out saw Farsley move up to ninth in the National League North...

Josh Barnes has extended his loan deal until the end of the season, so is set to continue in goal, whilst Jack Higgins will be hoping to return having missed the victory over Blyth.

Ellis Hudson came off the bench to make his Farsley debut last time out, whilst Callum Nicell is still waiting to make his first appearance for the club after the weather put paid to the last two games."
Blyth Spartans' "player-manager Michael Nelson has described his appointment as a 'whirlwind'.

Nelson originally moved to Croft Park on a playing basis last week but will now take charge of first-team affairs following the departure of Lee Clark and Paul Stephenson.

It has been a somewhat crazy few weeks for Nelson, who was recently assistant manager to Graham Westley at League Two side Stevenage. Nelson explained 'Blyth Spartans has got a lot of history and very passionate supporters. It's something that I wasn't expecting so soon, even at all. Paul got in touch when I left Stevenage and asked me to come in and help out on a playing basis.

'I went down to Stevenage and was looking forward to that but it didn't last too long. Things have obviously developed massively since then so it's been a bit of a whirlwind... It has all been a bit of a surprise. I am delighted to be manager but obviously disappointed for Paul and Lee. They've had a tough run through the season. I'm disappointed that they've brought me in and I hadn't had a chance to play under them or reward them for showing faith in me'...

Nelson had a successful career in professional football with the likes of Bury, Hartlepool, Norwich City, Scunthorpe, Kilmarnock, Bradford City, Hibernian, Cambridge and Barnet. He spent six years of his career at Pools, where he made over 300 appearances ... Before moving to Stevenage at the turn of the year, Nelson was a player-coach at Gateshead...

He added 'I'm still registered as a player so it will basically be a case of if I think I need to play when I still can. If not, then I'll be in the dugout. We'll just take it as it comes... I worked at this level for the first half of the season reviewing games etc and trying to come up with a plan that tries to counteract the opposition. My time at Gateshead will be invaluable...

'I'll meet with the players on Thursday night ahead of Saturday and take it from there."
---
6 March, 2020 Spennymoor Town visit the J. Davidson Stadium on Saturday (7th) for the return fixture against the Durham club, who won the match at the Brewery Field, 3-2.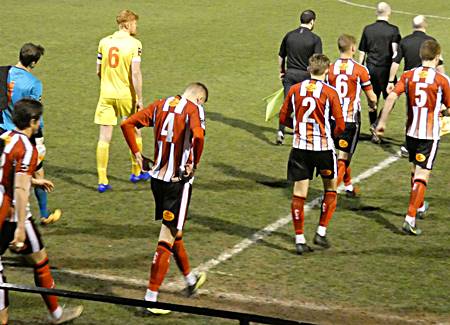 Right: James Curtis (no.6) leads out Spennymoor at Alty on 19 February 2019, when the Moors won 2-0. Curtis is suspended for this year's visit to the J. Davidson Stadium after picking up a red card last weekend.

In advance of Saturday's fixture, Spennymoor Town report that the "Moors face fellow play-off contenders Altrincham less than a month after a memorable meeting at The Brewery Field, with both sides possessing momentum after a strong month of results.

Spennymoor will begin the afternoon two points behind The Robins in 7th place, and know a win would see them leapfrog a side whose only defeat at home this campaign arrived on the first day of the season in August against York City.

The two teams have scored a combined total of 116 goals in the league this season, both netting 58 times, however, Moors have only netted on 17 occasions away from The Brewery Field, where a total of three wins from 15 has prevented a title challenge.

The clash will mark Altrincham's first home game in a month, with the 3-2 defeat against Moors proceeding [preceding] wins at Blyth and Hereford. A potentially season-defining three weeks lies on the immediate horizon for Phil Parkinson's side, with matches against York and Chester to follow.

A 3-3 draw with AFC Telford United may not have been a welcome scoreline before a ball was kicked at The Brewery Field last weekend but, in the circumstances, a point was welcomed like a win courtesy of Tyler Forbes's last gasp strike.

If ever a performance summed up Spennymoor's gutsy mentality, it was the second-half showing against a side who profited from James Curtis's controversial dismissal ten minutes before the interval".

Spennymoor Town also note that
Only King's Lynn Town (61) have scored more goals than Spennymoor and Altrincham this season (58).
Moors scored three times at home this season for the 11th occasion against AFC Telford United last Saturday/
Altrincham has recovered from a losing position at half-time on five occasions this season, more than another side. (W1,D4)
Glen Taylor (15), Rob Ramshaw (10) and James Roberts (10) have scored 35 of Moors' 58 league goals this season, 60% of the overall total.
The Robins have collected the most points from [of?] any side over the last 20 games, collecting 41 points from a possible 60.
By way of a gloss on the above, Alty have scored three or more at home in the league eight times this season. Also, Alty's recoveries from a half-time defecit were against Curzon Ashton (H), Guiseley (A), Kidderminster Harriers (A), AFC Telford United (A) and Kettering Town (H). Conversely, Alty have lost once after holding an interval lead, against York City (H) and they have drawn a match after leading at the interval twice; against Chester FC (A) and Gloucester City (A).

As mentioned above, just three Moors' players have scored 60% of their team's league goals. Altrincham's goals have been a little more widely spread. Josh Hancock has 14 league goals and Jordan Hulme 12, whilst five apiece have come from James Jones and Jake Moult meaning that 62% of Alty's goals have come from four players.

As Spenny point out, above, Alty "have collected the most points of any side over the last 20 games" in the league.
However, in terms of the form guide over the past five league fixtures, Spennymoor are top of the table with three wins and two draws. But Alty are just a point behind, in third place, with ten points from their last five matches.

Interestingly, the league's current leading duo, York City and King's Lynn Town, have dipped to tenth and eighth respectively in that five-match form guide. Other play-off contenders, Brackley Town and Chester FC are also exhibiting indifferent form, with Brackley's seven points only securing them ninth place in the form guide, whilst Chester FC's six-point haul from five fixtures leaves them in thirteenth place.

If you take the form guide back over ten matches, Alty and Spennymoor have each accumulated 18 points so Saturday's match should be a well-contested affair.

Altrincham FC quotes the club's Diversity and Inclusion Officer, Jordan Tyms, as saying that "Altrincham FC are delighted to announce that this Saturday's Vanarama National League North fixture with Spennymoor Town at The J.Davidson Stadium is being dedicated to Level Playing Field Weeks of Action campaign.

The 16th annual Level Playing Field (LPF) Weeks of Action is set to get underway with clubs, disabled supporters associations (DSAs) and fans joining together to celebrate the matchday experience for disabled fans.

As part of an ongoing commitment to ensuring the club are inclusive and accessible to all, Alty are launching their first-ever disabled supporters' survey, which is being backed by Paralympics gold medalists and world champion cyclists Neil Fachie MBE and Lora Fachie MBE. Neil and Lora will be in attendance at the match on Saturday, alongside guests from Stockdales and Better Things, two locally based learning disability charities, and Altrincham FC's disability football team, who are currently top of the Cheshire Ability Counts League (East) Championship...

Alty director Bill Waterson said: 'As a club, we are fully committed to providing a great matchday experience for all our supporters, and that includes making The J.Davidson Stadium as accessible and inclusive as we can'"

For more on the survey, please follow the above link.

The NW Counties' Football League reports that "A number of National League System leagues have contacted The FA to seek guidance on the pre/postmatch handshakes in order to control the potential spread of Coronavirus.

The FA is following Government advice which, at the time of writing, does not offer any advice to say that we should not be shaking hands, but highlights and emphasises the need for good hand hygiene at all times.

However, if teams feel happier not to shake hands (or to try an alternative method like fist-bumping) then that is absolutely their choice and Leagues are encouraged to be understanding of teams making this choice.

Should teams decide not to shake hands or opt for an alternative method this must be conveyed to the match referee before the teams enter the field of play.

The FA is actively monitoring and adopting Government advice, and as a matter of good practice would recommend that Leagues and Clubs adopt the same approach."
York City's next home match is against Altrincham on 14 March, when the sides meet at Bootham Crescent for the third time this season.

After their last home game, which they lost 1-4 to Hereford FC, the Minstermen were "disappointed to report that two York City players were threatened with physical violence outside the stadium after Tuesday night's defeat to Hereford.

York City Football Club will not tolerate physical violence or threats. We are liaising with local police and we ask that any witnesses please contact the club directly. We pride ourselves on being a family orientated and friendly club and believe that the individuals in question are not a true reflection of our supporter base.

Steve Watson spoke on his disappointment after the incident 'These lads go out and do their best every day in training and in every match. Do they really deserve to be confronted outside the car park and threatened? Absolutely not. The thousands of York City fans, who support us week in week out, will no doubt feel the same way as we do about this.

'It's really annoyed me but at the same time we are going to use it as a tool to drive forward and put all of that into Saturday's game'.

On a similar note we would also ask for restraint and respect in regards to social media posts. Please take a minute to think about the effects of what you are writing, especially in this current climate, where social media has proved to have such terrible consequences on people's mental health."
Although the club lies in Northamptonshire, Brackley Town's local media include titles from Oxfordshire' and Buckinghamshire. From the latter county, Buckingham Today reports that "If Brackley Town are to snatch that third spot they really need to see off struggling Blyth Spartans.

Kevin Wilkin's side go in[to] Saturday's clash at St James Park on the back of two draws. Last weekend's 1-1 draw at Darlington was followed by a stalemate with third-placed Boston United in midweek. A lack of goals has been Town's problem all season but the return of Wes York, on-loan from York City, will boost Wilkin's boys for the run-in.

York had been a key member of the Saints' side earlier in the season until his initial loan was cut short through injury. Now he's back and Wilkin will be hoping he can provide the goals at this crucial stage of the season. Wilkin said 'Blyth are struggling but we're finding it tough to break teams down at our place. Hopefully Wes [York] can give us pace in that final third which we're missing at the moment.

'Wes has that bit of zip about him. We've been relying too much on Lee Ndlovu and Thierry Audel and we've just not scored enough goals. Teams are coming to us and parking the bus so I suppose you have to take that as a compliment. We always look the dominant side so it's a situation we're just going to have to deal with and overcome.

'We're playing big clubs and pushing them all the way but, such is the expectancy here, that there is disappointment when we don't beat them. You have to keep evolving and we're probably at that point now.'"
News of another loanee comes from Leamington where "The club are pleased to confirm that agreement has been reached with Coventry City to further extend the loan spell of Dexter Walters to the end of the season.

Dexter initially linked up with us back in October, and so far has made 14 appearances in total, scoring one goal. He returned to the side for the win against Southport after missing several games through injury."
Meanwhile, Rochdale confirm that "Goalkeeper Brad Wade has extended his stay at Guiseley AFC.

The Dale Academy graduate joined The Lions on the January transfer deadline day and has made four appearances for them so far, keeping a clean sheet on his debut".

And, finally, Kettering Town confirm that "After a successful loan period at Grantham Town, Joel Carta has gone out on a further month's loan to Tamworth, until April 1st."
---
5 March 2020 An improved weather forecast for the next few days inspires hopes that this Saturday's match against Spennymoor Town will not meet the same fate this Saturday as the planned home game, a fortnight earlier, against King's Lynn Town.

That match became the third fixture at the ground to be postponed this season because of a waterlogged pitch. However, the playing surface has now dried out and has also been worked on by groundsman Neil Brown and his assistant Bryan Ford, so the outlook for Saturday is optimistic.

Indeed, the pitch was used on Monday as Altrincham FC held trials for its newly announced Academy.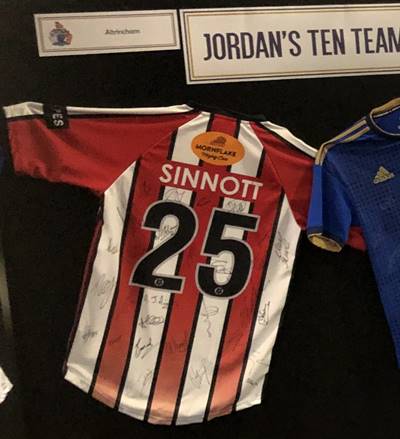 Alty's kit supplier and owner of SKkits, Ian Senior, has kindly supplied the adjacent image showing the Altrincham shirt which was one of the ten from Jordan Sinnott's former clubs, which was displayed at his funeral, along with others from the "Sinnott 25" initiative which reached the whole of the UK as well as abroad. Ian reports that "Those present from Alty were Neil Faulkner, John Skelhorn, Derek Wilshaw and myself. Also in attendance were Nicky Clee, Damian Reeves and Alan Ainsley. Was an amazing turnout of 1,200 plus and with 850 plus footy shirts on display".

The BBC reports that "Hundreds of people have gathered for the funeral of a footballer who died after being attacked on a night out. Jordan Sinnott, 25, was found with a suspected fractured skull in Market Place, Retford, Nottinghamshire, in January.

Mourners gathered at Bradford City Football Club, where more than 800 donated shirts decorated the venue...

Jordan Sinnott's brothers Tom and Justin said the response to their appeal for football shirts had been 'unbelievable'. Mr Sinnott played for Matlock Town and his previous clubs included Huddersfield Town, Altrincham, Halifax and Chesterfield.

Ahead of his funeral, football shirts were sent from clubs across the UK and abroad... Mr Sinnott's brother Tom said 'We have been absolutely blown away. We knew the response was amazing but to see it here now is unbelievable. Jordan lived and breathed football but was also the best brother you could ask for. We have been devastated by what has happened but this campaign has helped us through and given us a common goal.'

Signed shirts will be auctioned and others will be given to underprivileged children as part of Sport Relief.

Cameron Matthews, 21, of Denman Close, and Kai Denovan, 22, of Collins Walk, both of Retford, have been charged with manslaughter, affray and common assault in relation to the attack. They appeared at Nottingham Crown Court on Monday and have been remanded in custody until 22 May".

The home match for Altrincham against King's Lynn Town, postponed on 22 February, has now been rearranged for Tuesday, 31 March, at 7.45pm. A week on Saturday, Altrincham travel to Bootham Crescent for the third time this season, having beaten York City twice already this season on their own patch to eliminate them from both the FA Cup and the FA Trophy.
On Tuesday night, the league leaders crashed 1-4 at home to a Hereford FC side, who had been beaten on their own ground by Altrincham 72 hours earlier, and who had not won an away game for more than five months.

York Press reported that "City manager Steve Watson admitted Tuesday night's 4-1 defeat to Hereford left him 'gutted' and gives him a lot of thinking to do. Lenell John-Lewis scored a brace for the visitors either side of half-time, with Kelsey Mooney and Jevan Anderson also hitting the back of the net.

Alex Kempster struck the hosts' only reply on a night when Watson praised the amount they created and lamented the luck that followed most of them. York struck the woodwork... while Kieran Green thought his header had gone over the line before being collected, and there was a goal disallowed for offside...

'This is going to sound crazy but that's the most we've created and the best attacking performance we've put on in a while,' he said. 'I'll probably get criticised for it. You're asking me to give an assessment after a game like that. Maybe tomorrow would be a better time. A lot of times this season, we've found it difficult at times to break teams down. Today was the opposite. We created a hatful of chances and we were desperately unlucky with the amount of times we hit the bar...

'Fair play to them, they came and played. It was open at times. The goals we conceded were our own doing. We were in a situation where we wanted to win the game and have as many forward-thinking players on. What are usually four reliable defenders were defensively awful tonight.

'The first goal, it hit the post and lands at the striker's feet. The second goal, we don't need to give that foul away and somebody's lost their marker for a set play. Third goal, somebody's lost their man for the second phase of that. They both held their hands up but that's not going to help us.

'Don't get me wrong, I don't expect anything but criticism for a 4-1 home defeat and I dare say I'm every bit as gutted as any single person that came to the ground tonight. I won't be sleeping tonight and I'll have a lot of thinking to do. The other side of it is, we created so much and tested the keeper, everything that could have gone wrong at both ends went wrong tonight.

'It doesn't matter what system you play if you defend like that,' he added... 'If we defend the way we have for 90 per cent of the season and things drop differently in the box, we could be talking about the score the other way around but we're not.'"
The Hereford Times informs us that "Hereford skipper Jared Hodgkiss said that league leaders York City 'couldn't live' with his side during their 4-1 victory at Bootham Crescent.

A change of formation to a 4-4-2 saw the Bulls stun their opponents in the first 14 minutes, resulting in Kelsey Mooney opening the scoring and then Lenell John-Lewis headed home a second.

Despite Alex Kempster pulling a goal back, another change in tactics and the introduction of Tommy O'Sullivan impacted on the game and Jason Pope netted a third before John-Lewis completed the win.

'Gowling did a bit of a masterclass, I suppose, by changing the formation to 4-4-1-1 or 4-4-2 and I don't think they could really live with us,' said Hodgkiss.

'I don't want to be disrespectful because they are top of the league for a reason, but today they couldn't really live with us. We weren't that overjoyed because we know what we're capable of and I know we need to show it more often than what we have done. Every single man was very good even the lads who came off the bench.

'Tommy (O'Sullivan) gave us a little bit of control in midfield in the second half, which we needed. The lads are buzzing in there. We had a bit of luck tonight which we haven't had in the past few weeks but yes we scored at the right times... It was fairly comfortable...

'Gowling wants us to play football and go and express ourselves, obviously from a structure as well, which you obviously need coming to places like this'...

Hodgkiss won the toss prior to kick-off and turned the sides around denying York the chance to shoot towards their fans in the second half.

He added 'Gowling and Steve Burr, as well, said that if I won the toss to switch it around so they ended up shooting towards their fans, a bit like at home for us on Saturday [against Altrincham]. That worked as well, yes.'

John-Lewis scored a goal to remember in the 65th minute, rifling home from outside the box ... 'He was great and led the line on his own against two centre-halves and deserved his goals,' added Hodgkiss. 'He's been an absolute asset since he's come to this football club'".

The Hereford Times also alerts us to the fact that "Hereford defender Martin Riley played on, despite his shoulder popping out, during Hereford's 4-1 win over York City.

Riley has suffered the injury twice already this season and plans to have surgery in the summer. Despite his shoulder popping out against York in the 19th minute, the defender played on and saw out the match.

'It's not great, it's popped out again, but he was a soldier and carried on today,' said Hereford skipper Jarrod [sic] Hodgkiss. 'Fair play to him, he's got a big heart Martin Riley has. Sometimes adrenaline gets you through, so can we give him some adrenaline for Saturday?'

In recent weeks Riley has been strapping up his shoulder and hoping that it doesn't pop out again until the end of the season when he plans to have it operated on.

Speaking following Saturday's 2-0 defeat to Altrincham, Riley said 'It's one of them, it felt great again last time when I was back but it ended up popping out again... Georges (Berthonneau, sports rehabilitator) is giving us proper shoulder strapping to keep it locked into the socket.

'I need an operation to be honest but I've decided with (interim manager Josh) Gowling to wait until the end of the season to get an operation and risk it popping out again. It's one of them, it might not pop out again and might next week. I'll have the operation at the end of the season and the recovery time is two to three months...

'It's a bit of a gamble but if it pops out I've got the operation booked in anyway.'"
Blyth Spartans have announced that "It is with regret that Blyth Spartans announce that manager Lee Clark and assistant Paul Stephenson have left the club by mutual consent.

We would like to thank Lee and Paul for all their efforts and professionalism during their time at the club.

Michael Nelson will take charge of team affairs for the remainder of this season".

Nelson's arrival at the club, as a player, was only announced less than a week ago when the Spartans said that they had signed "the former Hartlepool United defender Michael Nelson on a deal until the end of the season. The experienced defender joins having left his assistant manager role at League Two side Stevenage earlier this month... Last season, he signed a one-year deal with National League side Chesterfield before joining Gateshead in the summer in a player-coach role.

Nelson appeared 14 times for The Heed and was an unused substitute in the Boxing Day and New Year fixtures with Blyth... Nelson has returned to the North East to join Blyth as a player ahead of the final 10 games of the campaign".

Manager Lee Clark said 'Michael obviously has a wealth of experience at all levels of the game. He is a standout leader in all aspects of the game'".
According to Lincolnshire Live "Boston United manager Craig Elliott was full of praise for his players after watching the Pilgrims claim a share of the spoils at promotion rivals Brackley Town.

Six weeks on from their fortuitous 1-0 home win over the Saints, the Pilgrims were full value for another point against the Northamptonshire outfit on Tuesday.

Jake Wright and Brad Abbott had the Pilgrims' best chances after the break, but United needed a crucial goal-line intervention from debutant loanee Tyrell Warren in the final minute to preserve a point.

'It's up there with one of the best results of the season,' said Elliott. 'Coming to Brackley is one of the harder games in this league and to have injuries and illnesses on the day, and a lot of changes to our regular team, I think the lads deserve a lot of credit for a battling 0-0. We could have won it in the end.

'We have got a good squad and it's not a case of players trying to prove themselves at this level. It's only fair after lads have not been great in the last two games and others have been patient and training well, it's time for them to show what they can do.

'It shows we have got a good squad, not just a good team.'

In addition to Salford City loanee Warren, with fellow defenders Luke Shiels (illness) and Alex Whittle (Achilles) sidelined, former York City midfielder Simon Heslop also made his full debut for the club. Heslop was out of action for almost a year prior to his arrival at The Jakemans Stadium but played 90 minutes at Brackley.

'He was superb,' added Elliott. 'It shows what a big heart he has and why I brought him here. He is a tremendous character in the dressing room and he was running on empty in the last 10 minutes. After a bad performance and result against Gateshead, to come and show the character we did with all the changes, I hope the players get all the credit they deserve.'

The only downside to United's evening was the loss of midfielder Andi Thanoj to a suspected knee ligament injury which added seven minutes to the end of the first half. He received attention from the medical staff of both clubs before travelling to A&E later in the evening for further assessment".

For a top of the table clash, there was a disappointing attendance of just 403.

The Boston Standard added, as regards Thanoj's injury, that Elliott had said, "He's just come in the dressing room now and there's no swelling. He can put a bit of weight on it so hopefully it's not as bad as first feared."
According to Cheshire Live "Chester FC remain in the hunt but it's the rest who are seen as credible candidates, never the Blues. Several times this season, after we've dropped points or results have gone against us I have thought 'well, that's us out of the race'...

History has shown, we don't really do success. It's quite funny really that we perceive our own wheels to have come off more than once and that our inconsistency will be what costs us when we've actually only shifted between third and fifth for the past few months.

I thought I'd be able to call this league some months back. King's Lynn Town were flying and seemingly unstoppable, York City seemed to have second boxed off because they were big and sold [solid] and wouldn't drop points. Altrincham, Spennymoor and Brackley were always going to make a run for it but then Gateshead and Boston United come and put a spanner in the works.

All of a sudden we're no longer nailed on for that top seven, the pessimism begins to creep in. But as the weeks go on it appears that the inconsistency that has hamstrung Chester has done so for pretty much every side gunning for promotion...

What about Alty, they're just everything we wish [we] were aren't they? And Spennymoor and Brackley? Well, they'll be there or there abouts. We're not mentioned. Not seriously anyway. Good...

Chester probably aren't going to win the National League North title... But it isn't total nonsense that they are in the picture still... The Blues are a good side, hot and cold but a good side nonetheless. The top sides all have to face each other during this run in and they can't all win.

Chester have Boston, Altrincham, Gateshead and Spennymoor to come. Three of those are at home. A decent points return from those allied with a solid haul from the other games would be a major boon for the Blues. Kettering Town, Alfreton Town, Gloucester City, Hereford, Farsley Celtic, Kidderminster Harriers and, this weekend, Bradford (Park Avenue). It's games among the latter that you feel have the potential to trip Chester up.

It doesn't feel like Chester have really had a run this season... Maybe the run won't come. Maybe we'll disappear and slide out of contention...

I still feel the winner lies outside of York and King's Lynn. Maybe that is errant [arrant] nonsense... What was a league sewn up by Christmas is now one that promises to be explosive for the run in. We're part of that. We should be excited about that.

After near seven years of absolutely nothing it's nice to be in the thick of it at the sharp end".

Meanwhile in the Cheshire Senior Cup on Tuesday, Cheshire Live reports how "Chester FC's fringe players did their cause no harm as they delivered an impressive display to see off a strong Tranmere Rovers side in the last eight of the Cheshire Senior Cup on Tuesday night.

League One strugglers Tranmere named a side stacked with EFL quality players... But it was a Chester side that included players in need of minutes and young players like 17-year-old Academy prospect Harrison Burke and 18-year-old winger Stuart Crilly that were the dominant force throughout.

The tie was separated by a well taken penalty from returning striker Danny Elliott on 21 minutes after Crilly had been bundled over in the box. Elliott stepping up to confidently find the bottom corner of Luke Pilling's goal to take his Senior Cup record to six goals in three games this campaign...

Anthony Johnson and Bernard Morley had a watching brief from the stands. The likes of Jamie Morgan, Elton Ngwatala, Gary Roberts, Gary Stopforth, Elliott and a fit again George Waring, complete with protective face mask, all started, as did new loan signing, goalkeeper Louis Gray...

Chester had the lead on 21 minutes when Crilly was felled and Italian referee Claudio Gavillucci, a former Serie A official, pointed to the spot. Up stepped a confident Elliott to fire the Blues into the lead, squeezing the ball into the corner past the despairing dive of Pilling. Tranmere were being dominated...

Chester made changes with the excellent Elliott and Waring, surely considered for the trip to Bradford (Park Avenue) on Saturday, replaced, followed soon after by Ngwatala through some tightness. It was a fine display from Ngwatala, a player who has had a tough start to life at Chester. It was one that showed why the Blues were keen to land him in the first place...

It was a welcome victory and a confidence boosting one for some of Chester's fringe men".
The Eastern Daily Press reports that "Versatile defender Ross Barrows says the weather postponements in recent weeks have disrupted King's Lynn Town's momentum as they look for an unlikely promotion.

Lynn's goalless draw at Leamington on Tuesday helped close the gap on leaders York to two points, with four games in hand but it was only their third game since the beginning of February.

'I think we have dominated the game from start to finish really,' said Barrows. 'In the end I think we were lacking that sort of sharpness in the final third. Obviously having not played for a while it was showing probably a little bit but we needed that game. It has been frustrating for everybody to be honest. Obviously we are wanting to play and get these games over and done with, get on a roll and get that momentum back that we have had all season...

'But we have been training, the lads have been putting shifts in at training and working hard and been getting put through it, so we have come back tonight and put in a good performance, we were just lacking that little bit of quality and that match sharpness.'

Lynn has surprised many this season, with long unbeaten runs prompted by squad unity and mental strength and, for Barrows in particular, the ability to switch positions. The 22-year-old has been deployed across the back line and on Tuesday played his second game in a row as left-back.

'Obviously being back at full back it is a bit different, doing a lot more running has taken its toll but it is good to get back out there and be a bit higher up the pitch,' said Barrows.

'I have played all across the back three, back two, back four and just getting so many touches on the ball and playing both feet. .. Obviously I know that players are coming back fit now, obviously Smudgy (Chris Smith) is back now and a lot bigger than me as a centre half.. The last few games are going to be horrible, it is going to be physical so I am just happy to be playing wherever I need to do a job.'"
In the Leamington Observer, "Paul Holleran says Leamington can be proud of their midweek performance after earning a point and a clean sheet against champions elect King's Lynn Town.

The goalless draw on Tuesday night helped the Brakes build on their previous result, a 1-0 win over Southport... It was, in fact, only the fourth time this season that a team has managed to prevent King's Lynn from scoring...

Holleran says his charges were more than a match, and were perhaps deserving of winning the encounter. 'It wasn't a game where we sat around on the edge of our box and defended for long periods,' said Leamington's manager. 'We tried to be brave and go up against them, I think sometimes you've got to take that approach. It was a tough night over there earlier on in the season [a 5-2 defeat] but, from our perspective, Tuesday night was a really good, solid performance.

'You have to be really compact against them because of how many players they commit forward and how quick and sharp their football is. You'd probably have to say that the best chance was ours when we hit the inside of the post. Both sides had two or three really good half-chances and neither of us have taken them'...

While Leamington were the side registering more attempts at goal, the visitors were unable to match the hosts for the number of openings created, but always looked a threat when spraying the ball across the pitch".
In the Northern Echo we read that "Michael Liddle stands out as being one of Darlington's best performers this season, though the player himself is dismissive of such accolades... The left-back has a couple of spells on the sidelines due to injury, restricting him to 18 league starts...

'It's been hit and miss,' said the straight-talking defender, who arrived at Darlington in the summer from Blyth Spartans. 'I like to think of myself as a consistent performer, solid most games, and the last couple of seasons I've hardly missed any games at all. But this season every time I seem to be getting into a rhythm again I've had a niggle.

'I didn't feel sharp in pre-season, got it going but then got a knee injury. Came back, I felt I got going again but then got a groin injury, came back and then got a hamstring injury. I'm back now and trying to get back to that real sharpness so that I can put good performances in week in, week out, but we're running out of games'...

Liddle added 'The target for the team has got to be stay unbeaten for the rest of the season, win our home games, and there's no reason why we can't... There's nothing there to scare us. There've been games when we've not played well and over the season that has been our downfall... But those games are untypical of the team because, when we're good, we're really good.'"
We learn from the NW Evening Mail that "Manager Ian Evatt has insisted the 'door is not closed' on striker Jack Hindle at Barrow AFC after he was allowed to join Gateshead on loan until the end of the season last week.

Hindle was the Bluebirds' top scorer in Evatt's first season with 12 goals, but the former Radcliffe and Colwyn Bay man struggled for opportunities in the current campaign after falling behind Scott Quigley and Dior Angus in the pecking order.

The 26-year-old had only three league starts by the time he left for the Heed and although his contract with AFC does have the option for a further year, it is currently set to expire at the end of the season.

Evatt said... 'In terms of Jack, he's suffered this year and he's suffered mostly because Quigs and Dior have been outstanding, but when he's got on and got games I just haven't seen the same spark from him that I saw last season, and in training as well. You can pick things up in training and he just hasn't looked the same this season, for whatever reason.

'He just needs to go out and play, get some confidence, get some goals and then we'll welcome him back with open arms, that's what we want for him. We want him to succeed and do well'".
The Banbury Guardian indicates that "Brackley Town boss Kevin Wilkin was left to reflect on two more dropped points. Saints and Boston United played out a dull stalemate in Tuesday's clash.

A game that never hit the heights delivered one point apiece to third placed Boston and Saints, in fourth... A turgid first half rarely stirred the spirits, Saints closest to finding an opening goal... An eight minute delay followed injury to Boston's Andy Thanoj but the sides went in at the break all square.

The second half was much livelier with both sides creating more goal chances but neither able to apply the finishing flourish... But substitute Wes York, on his loan return from The Minstermen, sparked Saints into life with a scintillating run from halfway earning a corner from which Lee Ndlovu spun [sic] and shot only for Crook to save well... as the home side put in a late burst...

'I am slightly disappointed,' admitted Wilkin. 'That bit of cutting edge in the final third was missing from us tonight and you see glimpses of it but not enough over the period of 90 minutes and that's been our Achilles heel for a little while now. We never really worked their goalie anywhere near enough especially at home.

'A positive is that we have kept another clean-sheet but you have to score goals and we haven't done that enough over a period now.'"
According to NL Daily "Alfreton Town have signed former Wigan Athletic and Notts County midfielder Andy Kellett.

The 26-year-old joins Billy Heath's side, who are currently 13th in the National League North, having recently spent time at AFC Fylde.

As a young player at Bolton Wanderers, Kellett notably joined Manchester United on loan in 2015, featuring for the club's Under-21s."
Kettering Town next face Gloucester City who "are managed by James Rowe and are in 20th position on 29 points, 1 behind the Poppies having played the same amount of games.

Kettering played the reverse fixture at Evesham's ground, a thrilling 2-2 draw in November... That was the first time the two clubs had met in a competitive game since the 1971-72 season.

Amazingly, because of the various named storms, this will be the Poppies' first game since 8th February (away at Altrincham) and first in the league at Latimer Park since the 0-0 draw against Curzon Ashton on 1st February, with just the Northants Senior Cup semi-final against Brackley Town in between."
---
4 March 2020 With ten games remaining of the league season, Altrincham have six home league fixtures and four away games to contest as they aim to stay in the play-off places.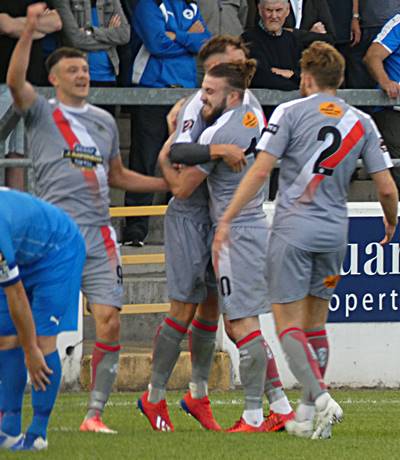 Right: Alty have met Chester FC three times this season, so far, and have yet to lose. Here we see Hulme, Johnston, Harrop and White celebrating Alty's goal in the 1-1 draw at Chester in the league match in August. Altrincham also drew there in the FA Cup before defeating Chester in a replay.

Five of the six remaining home matches are against teams currently in the top seven in the league; whilst one of the four away fixtures is at league-leaders York City! In the reverse fixtures against those six top-seven teams, Alty have yet to secure a win.

The remaining games are as follows, with the opposition's current place in the league in brackets.
Sat.7.3.20 H SPENNYMOOR TOWN (7th)
Sat.14.3.20 A York City (1st)
Sat.21.3.20 H CHESTER FC (5th)
Sat.28.3.20 A Alfreton Town (13th)
Sat.4.4.20 H GLOUCESTER CITY (20th)
Fri.10.4.20 H BOSTON UNITED (3rd)
Mon.13.4.20 A Darlington (10th)
Sat.18.4.19 H BRACKLEY TOWN (4th)
Sat.25.4.19 A Farsley Celtic (9th)
TBA H KING'S LYNN TOWN (2nd)
The reverse fixtures brought defeat at home to York City on the opening day of the season, and subsequent away defeats at Boston United, Brackley Town and Spennymoor Town as well as away draws at King's Lynn Town and Chester FC. That is a haul of just two points from the 18 available in those six fixtures.

Whilst facing six matches against top seven sides, none of which has lost the reverse league fixture with Altrincham, seems a formidable task, it should not be forgotten that Alty have twice beaten York City this season, despatching them from both the FA Cup and FA Trophy. And Alty also disposed of Chester FC in the FA Cup, having drawn with them at their ground before winning a replay at the J. Davidson Stadium.

Another pointer towards optimism is that no club has yet done the double over Altrincham this season!

Hereford FC's remarkable win at York City, the Bulls' first away win for more than five months, and draws for Boston United, Brackley Town and King's Lynn meant that none of those top-six clubs at kick off won on Tuesday night. However, Brackley's point meant Altrincham dropped to sixth on goal difference.

Vanarama National League North
Brackley Town 0-0 Boston United
Leamington 0-0 King's Lynn Town
York City 1-4 Hereford FC
Cheshire Senior Cup
Chester FC 1-0 Tranmere Rovers
Altrincham host Spennymoor Town on Saturday, 7 March.

Sadly, following the death of Mike Garnett, we do not have the complete Through the Years data for that date.

However, in the past thirty years, there have been three Altrincham league games on that date.
7 March 1992: Alty lost a Conference game 3-1 at Merthyr Tydfil in front of 317 spectators. Ken McKenna was the Alty scorer.
7 March, 1998: Alty defeated Accrington Stanley 1-0 at Moss Lane, thanks to a Jamie Taylor goal, in front of a gate of 612 in the UniBond Premier League.
7 March, 2009: Alty lost 2-1 away at Grays Athletic in front of a crowd of 710. An injury time penalty by Matt Doughty completed the scoring in a 2-1 defeat in Essex in a Conference game.
Spennymoor Town visit Altrincham on Saturday.

According to the Hartlepool Mail "Former Middlesbrough midfielder Jason Kennedy... has extended his loan at Spennymoor Town until the end of the season.

The 33-year-old midfielder has scored twice in 20 appearances for Pools this season but hasn't started a match since October with manager Dave Challinor keen to get him out on loan.

After a successful month loan at the Brewery Field, an agreement has been reached to allow Kennedy to remain with The Moors as they fight for promotion to the National League."

One Moors' player who will not be facing Alty on Saturday is former Gateshead defender, James Curtis, who was sent off last weekend.

Off the field, the FA reported recently on several "Incidents of Misconduct in Relation to Betting" relating to four Spennymoor Town players, Adam Boyes, Glen Taylor, Stephen Brogan and Ryan Hall.

The charges, made in December 2019 related to a "Breach of FA Rule E8". In Boyes's case this was "in respect of 2,768 bets placed on football matches between 08 March 2010 to 25 August 2019". For Taylor there were 162 bets placed on football matches between 30 August 2013 to 06 April 2019" and for Brogan "2,414 bets placed on football matches between 20 January 2015 to 24 February 2019". As for Hall, who is on loan at Bradford (Park Avenue), the charges are "in respect of 103 bets placed on football matches between 12 October 2013 to 06 October 2018".

What the FA terms the "participants" were given has until 18 December 2019 to respond.

The Northern Echo comments that "Spennymoor Town are facing a potential blow to their promotion hopes as four of their players have been charged by the Football Association with betting breaches, including top scorer Glen Taylor.

The others are striker Adam Boyes, left-back Stephen Brogan and Ryan Hall, who is on loan at Bradford Park Avenue. All four have admitted to misconduct in relation to betting, which is a breach of FA Rule E8... It is understood none of the players gambled on the outcome of matches involving Spennymoor Town. Players, managers and club officials in the top eight tiers of English football are prohibited from betting on any football worldwide and have been since 2014.

These charges are part of an FA crackdown across non-league football on betting in matches higher up the pyramid. In response to their players being charged, Spennymoor have worked with the authorities to remind their squad and officials of the strict regulations in place.

A spokesperson for Spennymoor Town said 'Neither Spennymoor Town nor its players are being specifically targeted and there are a large number of individuals from the top seven tiers of English football on the FA charges list for January. The charges in question are relating to time periods as wide as nine years, including periods before the players played for Spennymoor Town.

'Since being made aware, the club has completed a programme of education for all of its staff, volunteers and players with the support of the FA. These players had not received this level of engagement on these subjects at other clubs and are now educated on their responsibilities as part-time footballers.'

Depending on the severity of each occurrence there a range of sanctions available to the FA, with a fine and a suspension possible. Soham Town Rangers, members of the BetVictor Isthmian League North, have recently seen their management team and three players found guilty of betting breaches. Manager Robbie Mason and assistant Erkan Okay were given a £300 fine each, while striker Matthew Allan was given a six-month ban after placing 254 bets over a three-year period...

Both Brogan and Taylor started Saturday's match, a 3-3 draw with AFC Telford United, and Boyes was a substitute. Their next match is on Saturday at fifth-placed Altrincham".
Yorkshire's Telegraph & Argus adds that "(Park Avenue) loanee Ryan Hall is one of four Spennymoor players that have been charged by the Football Association with betting breaches.

The midfielder is two months into his three-month loan deal which expires at the end of March... Also on the list is striker Adam Boyes, who played a key role in Avenue's 2017-18 play-off run before moving onto the Moors. The former Guiseley frontman placed 2,768 bets from March 2010 to August 2019...

All four Spennymoor players admitted the charges and requested hearings...

Avenue boss Mark Bower said 'It shouldn't affect us and it will be good to have him for the tough run of games we have got coming up. I don't think it is a problem within football and it is not in our changing room. It has been going on for years with lads betting on the Premier League but the rules have changed so education needs to be there for the players. They can still do their betting on different sports like the cricket or horse racing but they will get caught if they bet on football.'"
Cheshire Live report that "While some of the teams around them may have clawed a little more ground on Chester FC in the National League North play-off race at the weekend, Blues' joint-manager Anthony Johnson wasn't too disappointed to see the clash with Gateshead fall victim to the wet weather.

The home encounter with the Heed was postponed on Friday evening after the pitch at the 1885 Arena suffered waterlogging owing to the heavy rain during the week and considerable usage over the past fortnight or so...

'We were quite lucky that the kids were off school last week which meant that we could get on the 3G pitches at the Cheshire Club because the pitches were all under water,' said Johnson. 'We all know how good of a job Mike Barrow does but if you would have seen the state of the pitch on the Friday, with us training on it the night before as well, it was unbelievable.

'So it gave the pitch a rest, as it has seen a lot of football. We're back there tonight, the Academy have got a game on it, we're back on there the following week so there is a lot of things to think about. But we have also got half a dozen players with niggles. Not season-ending injuries, no breaks or major concerns but Danny Livesey is at 60/40, Akwasi [Asante] is at 60/40, George Glendon is at 60/40, Joel Taylor is at 60/40 and there are a few others who are at 50/50.

'We've been quite lucky when you compare it to last year with injuries but we have just hit a patch where we have had a lot of Saturday/Tuesday games and lads are picking up that wear and tear so the postponement came at a good time and the Tranmere game has come at a good time to get minutes in some of the lads' legs.'

Tranmere are expected to hand minutes to a number of first teamers in the Cheshire Senior Cup quarter final clash at the 1885 Arena tonight with a number of experienced players currently on the fringes at Prenton Park. Rovers fielded a strong side in the last round against Crewe Alexandra."

And Chester FC add that "There's Cheshire Senior Cup action this evening [Tuesday] as we welcome League One side Tranmere Rovers to the 1885 Arena. This game is a last-eight tie in the competition, after the Blues have seen off Runcorn Town (0-7) and Stockport Town (1-0) in recent rounds.

A side similar to the one that defeated Stockport two months ago is expected, with a mixture of first team players in need of minutes, first year pros and academy players all likely to feature.

Danny Elliott has five goals in the first two games of the competition and could start again tonight after returning from a successful loan spell at Alfreton Town, where he bagged a hat-trick on debut. Blues' newest signing, goalkeeper Louis Gray, could be in line for a debut following his loan move from Carlisle United.

Rovers could also be strong this evening, both teams tonight having games postponed over the weekend, so minutes for senior players could be required for Micky Mellon's squad. The winner of this last eight game will host Hyde United in the Semis after their penalty shootout win over Vauxhall Motors".
Alty's next away game (14 March) will be a final visit to Bootham Crescent, their third trip there this season after putting the Minstermen out of both the FA Trophy and FA Cup on York's own patch.

From the North Riding York Press reports that "It is down to York City players to give fans happy memories tonight at Bootham Crescent, believes Micky Cummins, on what could be a significant occasion.

The Minstermen welcome Hereford this evening (Tuesday) for potentially the last night league game at their home of 88 years as the move to the LNER Community Stadium sits on the horizon.

City still have a North Riding County FA Senior Cup quarter-final scheduled for an evening kick off on March 18 but, barring postponements or involvement in the National League North play-offs, this is the final evening league game in the fixture list.

For fans, it will be a sentimental day when the move from Bootham Crescent happens, as it will for Cummins and manager Steve Watson, the assistant added. Cummins said 'Hopefully it won't be as windy as the other day. The fans stuck by us and were fantastic throughout. Again, you'll be getting numbers through the gate.

'I'm sure it's quite emotional and nostalgic for a few of them, as it is for us, and we've only been here a year. It is a special place... It's business for us and we've got to go out and put on a show to give them them happy memories'.

On Saturday, York needed a late Jordan Burrow goal to earn them a flat 1-1 draw at home to Curzon Ashton. Second-placed King's Lynn are slated to head to Leamington tonight [Tuesday] with a gap of three points to bridge to leaders York...

'We need to make sure we get a positive result [against Hereford]... We need to be more ruthless in the final third... [On Saturday] They [Curzon Ashton] defended well and they got men behind the ball but we need to move the ball quicker, move them out of position and get into pockets... They came with a game plan, stuck to it and frustrated us... We'll take things on board from the Curzon game. We've got to go out all-guns-blazing, on the front foot, and relentless and ruthless in the final third.'

Hereford are 17th in the table with just one league win to their name since the start of October. In his four games since taking charge, interim manager Josh Gowling has overseen two 2-2 draws and two 2-0 defeats, the most recent coming on Saturday at home to Altrincham.

'We had them watched a couple of weeks ago' Cummins said. 'They had nine changes from when we played them earlier in the season, and on Saturday they had five changes from then. They're trying to find a form. They're chopping and changing. The new manager is trying to put a marker down. It's difficult to do midway through the season when you're struggling.

'We have got to take advantage of that, go with that positive mindset and catch them cold early doors, try and finish the game off early.'"

Also from York Press we learn that "York City have brought in Adam Buxton on loan from Morecambe until the end of the season.

Noted for his delivery of the ball, right-sided defender Buxton, 27, can also play on the left or in the centre. Buxton started his career at Wigan Athletic before playing with Accrington Stanley, Portsmouth and the Shrimps, as well as featuring with the Minstermen's club captain Steve McNulty at Tranmere Rovers...

Assistant manager Micky Cummins said 'He'll add a bit of experience. He's found himself out in the cold at his parent club. We're hoping to bring him in to influence the changing room and matchday squad, and hopefully bring a bit of nous about him... He's an old team-mate of McNulty so that's someone he knows in the changing room.'"
There is still a quarter of the current season to be completed but the Shropshire Star reports that already "Early bird season tickets for AFC Telford United went on sale today [Tuesday] costing £215 for adults.

It means fans will be able to watch the 2020-21 action for £9.35 per game because there will be two extra home matches with the number of teams in the league increasing.

Early bird season tickets are £179 for over-65s, £89 for 16 to 19-year-olds and £45 for under-16s. They will be on sale to the end of the month".
The Boston Standard reports that "Ashley Jackson has described this season as a 'year of reflection' after finding a place in the Boston United starting XI hard to come by.

However, the 25-year-old defender, is determined to learn from his spell on the sidelines, using the experience to make him a better player. Jackson joined the Pilgrims from Ossett Town last summer and made the left back role his own, featuring in 42 of the club's 46 competitive matches. But this campaign he has found himself behind former Liverpool trainee Alex Whittle in the pecking order, making 21 appearances and just seven starts before Tuesday's contest against Brackley Town.

'I find it tough, really tough this season,' Jackson told The Standard. 'After coming in and doing well last year I wanted to build on that, but it's a bit of a reflection year, to be fair. Seeing what I can do, how he's performing, what I need to work on. It has given me a little space and time to work on what I needed, my crossing, going forwards....

'I can't complain... you don't change a winning team at the end of the day,' Jackson added. 'I don't want to be sour about it, it's not about that. It's about Boston getting into the Conference, getting promoted, especially this time of the season...

'All you want to do is go on and do your best, but you're not as sharp as you should be. You want to make an impact,' Jackson continued".
Altrincham travel to Darlington in the coming weeks and, from there, the Northern Echo tells us that the Quakers "are hoping to bring Tyrone O'Neill back to the club on loan from Middlesbrough.

The striker enjoyed a fruitful spell with Quakers earlier in the campaign during which time he became an increasingly important member of Alun Armstrong's first-choice XI and scored seven goals. He was due to be on loan to Quakers until January, but was recalled early when injuries hit hard at the Riverside...

'I've spoken to Boro,' confirmed Armstrong. 'Gaz Martin's loan is up on March 22nd so we'll be lighter in the front areas and everyone knows I love Tyrone. As a kid and as a player he is someone you want in this environment. He's keen so it's up to Middlesbrough, and hopefully he'll give us a nudge for the end of the season'...

The 20-year-old has played for Boro's under-23s regularly and been on the bench for the Championship strugglers on several occasions, making a solitary appearance as a late substitute in a 4-0 defeat away to Leeds United".
---
3 March 2020 Altrincham welcome Spennymoor Town to Moss Lane on Saturday, less than a month after losing 3-2 at the Brewery Field in difficult conditions.

In the Durham club's only previous visit (as Spennymoor Town) to Altrincham , the match ended in a 2-0 win for the Moors on 19 February 2019.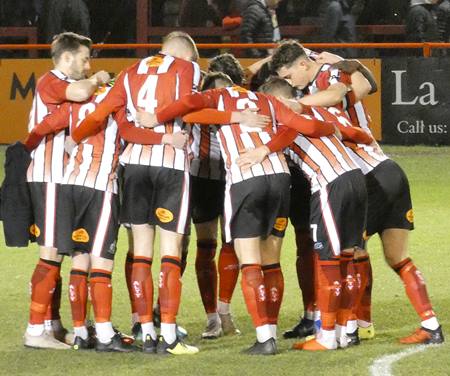 Right: Alty's pre-match huddle before the game in February, 2019.

In that game, Altrincham's play-off aspirations were struck a blow, despie enjoying the majority of possession throughout the game but were unable to convert it into meaningful chances. Efforts from Piggott and Johnson kissed the top of the crossbar in the second half but they were as good as it got against a well organized Moors' defence.

Spennymoor took the lead seven minutes before half-time when Altrincham stood off and allowed Anderson to fire home from just outside the box. The second half again saw the Moors happy to sit back and absorb Altrincham's probing before Ramshaw made it 2-0 from close range in the 63rd minute after Hancock had lost possession near half-way.

Disappointing freekicks and corners underlined Altrincham's absence of a goal-threat which meant that they had now won just three of their last eleven league games. For the match, Altrincham had been without the suspended Jordan Hulme, the injured Ben Harrison and the recuperating James Poole. Manager Phil Parkinson made three changes as Andy White, Sean Williams and Yusufi Ceesay started in place of Shaun Densmore, Max Harrop and Simon Richman.

ALTRINCHAM: 1. Steven Drench, 2. Andy White, 3. Connor Hampson, 4. James Jones, 5. Tom Hannigan, 6. Jake Moult (c), 7. John Johnston, 8. Sean Williams, 9. Joe Piggott, 10. Josh Hancock, 11. Yusufi Ceesay. Subs: 12. Max Harrop, 14. Simon Richman, 15. Mason Fawns, 16. Shaun Densmore, 20. Tony Thompson

SPENNYMOOR TOWN: 1. Matthew Gould, 2. Callum Williams, 3. Stephen Brogan, 4. Jamie Chandler, 5. Scott Harrison, 6. James Curtis (c), 7. Mark Anderson, 8. Shane Henry, 9. Glen Taylor, 10. Robert Ramshaw, 11. Andrew Johnson. Subs: 12. Kris Thackray, 13. Christopher Elliott, 14. Ryan Hall, 15. Liam Agnew, 16. Adam Boyes.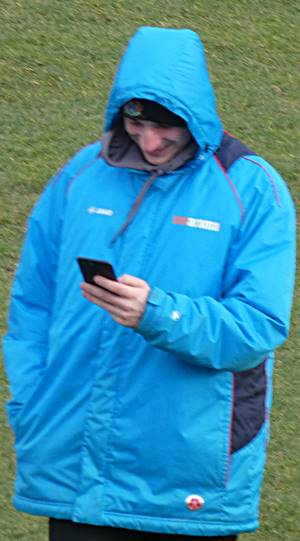 He's not yet been seen in an Altrincham shirt but the club's recent signing, James Hooper, was (subject to confirmation) the muffled player pictured (right), checking his mobile phone, during the half-time warm-up at Edgar Street on Saturday when Altrincham visited Hereford FC. James is on dual registration with Witton Albion, whose fixture was postponed on Saturday. Last Saturday's gate at Hereford FC to watch the game against Altrincham was 1,698. In fact, the average attendance at the four matches played in the National League North was over 1,500.

Despite Hereford FC struggling this season, and not having won at home since September, this attendance exceeded those at three higher level National League games (Solihull Moors v Dover Athletic 773, Ebbsfleet United v Stockport County 1,030 and Borehamwood v Hartlepool 932).

The gate at Hereford was also more than that at the all-National League FA Trophy tie at AFC Fylde (v Harrogate Town), which was watched by just 932.

All those four games involved teams who currently occupy promotion play-off places in the National League, suggesting that teams promoted from the National North cannot count on increaed gate revenue in quite a few instances.

Former Alty striker Lutel James has been appointed joint manager of Goole Town.

Ex-Alty loanee defender Billy Sass-Davies scored for Ashton United on Saturday, whilst former Alty striker Danny Mitchley has returned to Radcliffe FC after a loan spell with Witton Albion.

The most booked player in the National League this season, with eleven yellow cards, is Alty Youth graduate Jeff King of FC Halifax Town.
Guiseley confirm that "Nathan Newall's loan spell at Ossett United has been extended until the end of the season.

The academy graduate has started all three of their BetVictor North West Division games since making the move on 1st February... The Lions hold a 24 hour recall notice on Nathan should he be required to return to Nethermoor before the conclusion of his loan spell."
Meanwhile, Kidderminster Harriers say that "big" congratulations go to Sam Austin who has been selected by the FA to represent Harriers for England C this month.

Austin has been named in the England C squad for their game against Wales, which takes place at Caernarfon Town on 24th March."
The Shropshire Star tells us that "Boss Gavin Cowan accused his AFC Telford side of having a 'weak mentality' after they surrendered another winning position.

The Bucks saw a 3-1 half-time lead slip away at Spennymoor Town, who overcame the dismissal of captain James Curtis to deny the Bucks all three points with a 96th-minute equaliser from right-back Tyler Forbes.

Cowan struggled to contain his feelings after the game, and admitted that his patience had run thin. 'It's a little bit like the straw that broke the camel's back for me, in terms of the players and conceding late goals,' he said. 'Again, we have a chance from a yard out and one of our two top strikers just needs to side-foot it into the net from a yard out, which they don't. They then they go and equalise with the last kick of the game.

'It just shows a weak mentality, which is really disappointing, and it's one I've taken personally...

'People might get bored of me talking about it, because you'd like to think that people would learn,' he added. 'One thing we can't do is to stick it in the onion bag for them, and another is that we can't defend for them. I spoke to a friend of mine, who's an opposition manager, and he said "you need to be creating more chances" and I laughed, because we're creating four, five and six a game, but we just don't convert.

'It's not laughable, it's too raw for that. I've never seen it as a player, to concede so many late goals as we have this year, and to dominate games. It shows the players are good enough but, unfortunately, it also shows, perhaps not as individuals but as a group, that we have a soft underbelly, a weak mentality. That's just my honest opinion and I feel I have to voice that now.'

Cowan didn't go all out on his side, however. 'I thought the performance was good on the whole,' he insisted. 'We were the better side, against a form team. We've come to Spennymoor and been far and away the better side. They were celebrating like they'd won the World Cup. We dominated and they didn't like it, their behaviour showed they didn't like it, but they've nicked it at the end.'"

AFC Telford United "are proud to be supporting the Level Playing Field Week of Action at Saturday's home game against Darlington at the New Buck's Head.

This Saturday will see the players warm up in Level Playing Field t-shirts to help promote the inclusion and diversity work that Level Playing Field undertakes... The club provide accessible seating for supporters along with a carer champion who is on hand to aid those supporters who require that extra bit of assistance.

We pride ourselves on the help we give to disabled supporters and by working in conjunction with the Level Playing Field we are looking to continually improve facilities for disabled supporters in the future... Telford Supporters' Association have contributed towards a small number of sensory packs for those supporters with invisible disabilities such as autism, ADHD etc...

Football Operations Manager Luke Shelley said 'At Telford we're thrilled to be supporting the Level Playing Field week that many clubs up and down the country will be doing this weekend. We're proud and committed to the work that we do within our club which has now seen us create a disability team for the first team in the club's history. We also have a carer champion in Amanda White and a lot of our stewards and volunteers are some of the best in the country in assisting those supporters that require that bit of extra help on a match day".
Elsewhere, Rochdale report that their loaned player "Fabio Tavares made his debut for Curzon Ashton on Saturday, with the National League North side suffering late heartbreak against York City.

Tavares was called from the bench on the hour mark and had a big hand to play in Curzon's opener. The young attacker set himself up on the counter, with his shot parried by the York 'keeper to George Broadbent to give them the lead in the 74th minute.

But there was late agony as York grabbed a 92nd minute equaliser to share the spoils".
Cheshire Live tells us that "Anthony Johnson says he and Bernard Morley felt that goalkeeper Russ Griffiths needed time out of the spotlight at Chester FC.

The Blues bosses moved to bring in 24-year-old Carlisle United goalkeeper Louis Gray on a month's loan on Friday following criticism of Griffiths for his part in costing Chester the game against Brackley Town with a last minute gaffe.

Griffiths, who joined the club upon his release from AFC Fylde last summer, has played every minute of every game for Chester this season but has recently come in for criticism following a series of errors.

With second-choice keeper Theo Roberts, on loan at Mossley, out injured with a broken hand the Blues' bosses were keen to do something in the transfer market with a number of crucial games coming up and looked at several options before tying up an initial month-long deal with Gray and the Cumbrians.

'We felt that we needed to bring someone in to, first and foremost, push Russ,' said Johnson. 'He's played literally every minute of every game this season, played 39 games, and has had some very good performances but, in the last few games, has had performances where if it was any other position on the pitch we'd probably have made a change.

'We felt that it was starting to affect his confidence. It's easy with a forward as you take him off and bring another forward and take them out of the limelight. As much as Russ wants to stay in goal we didn't think that it was fair on him with the spotlight still on him. It was more to take him out of that a little bit.

'Louis is someone who we have been aware of for a while. He's been number two at Carlisle and played some first team games. We spoke to various references whether it be goalkeeping coaches, the gaffer there (Chris Beech), and one of two other people and everyone was saying that we would be mad not to take him for the month.

'It is a pivotal part for us coming up and with big players losing a bit of confidence it is important for us to bring someone in who is hungry to go and push on and who is high in confidence. That's why we have done what we have done.'

With Roberts out on loan Griffiths hasn't had a reserve goalkeeper pushing him for the number one jersey, although that isn't something of a concern to Johnson.

He said 'I'll be honest, I'm not a massive advocate of this competition thing for goalkeepers. It's not like having two forwards on the pitch, two centre-backs or whatever. Only one of them can play so one of them is always going to be down because he isn't playing. And if you are going to go and sign two goalkeepers who you believe are on an equal par then he is always going to want to be first choice somewhere else unless you play them every other game, and how many goalkeepers are going to want 21 games a season?

'It was a tough decision as we are big on trusting your goalkeepers as you saw last season. But when they make a mistake it is magnified, with a goalkeeper they have cost you a game. We felt that it was the perfect chance to take Russ out and bring in someone else, another player who is local to the area. He (Gray) is playing for a contract next season at Carlisle so he will have a point to prove; so, for us, it was a no brainer."

Gray could make his Chester debut in the Cheshire Senior Cup quarter final clash with Tranmere Rovers at the 1885 Arena tomorrow night."

Talking of which Chester FC report that "The Cheshire Senior Cup returns to the 1885 Arena tomorrow night [Tuesday], as Tranmere Rovers make the trip down the M53.

After victories against Runcorn Town and Stockport Town, the Quarter Final tie against Rovers is to be our toughest game in the competition thus far.

The winner of this last eight game will host Hyde United in the semis after their penalty shootout win over Vauxhall Motors."
---
2 March 2020 In a post-match interview with Press and Media Officer, Brian Flynn, manager Phil Parkinson expressed his delight with the 2-0 win at Hereford FC.

The National League has poor quality video highlights from the game at Hereford.

Less than a month after a 3-2 defeat at the Brewery Field, Altrincham welcome Spennymoor Town to the J. Davidson Stadium next Saturday (7th March).

Mike Garnett's data remind us of the previous history between the clubs.

Against Spennymoor Town:
At home: P1-W0-D0-L1-F0-A2
Away: P2-W0-D1-L1-F6-A7
All: P3-W0-D1-L2-F6-A9
Against the forerunner club, Spennymoor United:
At home: P5-W4-D1-L0-F15-A4
Away: P4-W2-D0-L2-F8-A4
All: P9-W6-D1-L2-F23-A8
So, for a second game running, (after Hereford FC), Alty face a team who have changed their identity since the Robins first met a club from their home town/city. In Spennymoor's case they have become Spennymoor Town after many years as Spennymoor United. And, again like Hereford FC, Alty kick off against the new manifesttaion of their opposition having never previously beaten them in that guise but having had a better record against the forerunner club.

On Saturday, Spennymoor Town reported on their 3-3 draw at the Brewery Field against AFC Telford United. "Tyler Forbes scored with the last kick of the game as the ten men of Moors gained a valuable and deserved point in a remarkable contest at The Brewery Field. With the game heading into its final seconds, Forbes collected the ball on his chest from 25 yards before unleashing a swerving shot which beat Telford goalkeeper Michael Luyambula.

Telford led 2-1 before James Curtis was shown a straight red card for an apparent high foot but, despite Brendon Daniels extending The Bucks' lead from the resulting free-kick, second-half goals from James Roberts and Forbes saw Moors recover from disastrous circumstances.

Jason Ainsley made one enforced change to the side who thumped Alfreton 5-0 last weekend, with Mark Anderson replacing the ill-stricken Ben McKenna.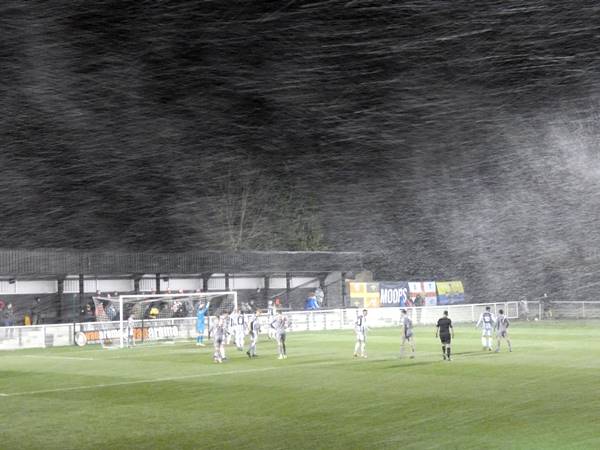 Left: Alty are not expecting a repeat of the atrocious weather conditions experienced last month in the reverse fixture at the Brewery Field!

There were also places on the bench for Carl Magnay, Gavin Cogdon and Andrew Johnson, all of whom missed out on the squad a week previous.

Telford were the brighter of the two sides in the opening exchanges... In a frantic opening spell, The Bucks, frequent conquered of Moors both home and away, took the lead from a Daniels corner. Makeshift left back Ellis Deeney powered a header which crashed against the underside of the bar and behind the line.

That goal shook Moors in to life and the game was level less than a minute later when a porous Bucks defence allowed Glen Taylor too much time in the box, with the striker clinically burying a low shot into the bottom corner...

Gavin Cowan's side grew back into an engrossing contest, re-taking the lead through a stunning effort from Marcus Dinanga, expertly curled into the top corner on the angle.

A tough task was made seismic ten minutes before the interval when the referee felt Curtis's stretch to clear a ball endangered Daniels but, despite the clear uncynical nature of the foul, a red card was immediately brandished. To add insult to injury, Daniels stepped up and bent the resulting free-kick past Gould into the top corner, leaving Moors two goals and a man behind.

With a sense of injustice coursing through the veins of Spennymoor's players and management team, Ainsley sent the side out early ahead of the second half. Within two minutes of the restart Moors halved the deficit. Roberts benefited from a wicked delivery by Stephen Brogan and flicked a header into the far corner... It was one way traffic for large parts of a dominant second half showing from Spennymoor, with The Bucks failing to make the most of their man advantage...

There was one final twist in a memorable tale. Telford, now camped in their box, cleared a cross which dropped as far as Forbes and, after cushioning the ball down with his chest, he struck a sweet shot which flew into the corner, sparking wild celebrations around the ground... What a time to score your first goal for the club! Forbes struck a stunning equaliser with the last kick of the game, backing up another solid display from the right back who is becoming a vital part of the Moors squad".

Moors head to Altrincham in a big play-off battle next Saturday afternoon".

The Moors' lineup on Saturday comprised, 1. Matt Gould, 2. Tyler Forbes, 3. Stephen Brogan, 4. Jason Kennedy, 5. Nathan Buddle, 6. James Curtis, 7. James Roberts, 8. Shane Henry, 9. Glen Taylor, 10. Rob Ramshaw, 11. Mark Anderson. Subs: 12. Magnay 13. Eve 14. Cogdon 15. Johnson 16. Boyes

The Altrincham Football Club Monthly Draw for February produced the following results:-
£500 cash | #500 | Simon Ellis
£75 cash | #33 | Jean Muir
£25 cash | #111 | Stan Riley
Match Hospitality for 2 | #492 | David Bowyer
Home Replica Shirt | #174 | Catherine Grace
Alty FC Polo Shirt | #319 | Martin Hamnett
Altrincham FC Youth's next fixture is on Sunday in the NWYA Open Cup, at home to Chester FC Youth. Altrincham FC Ladies' home match against Northwich Vixens was postponed on Sunday.

Their next match is on Sunday (8th) at home to Didsbury FC Ladies, who lie eighth, three points behind fifth-placed Alty who have two games in hand, having completed just six league fixtures this season.
King's Lynn Town report that "Following the recent heavy rain [the] scheduled fixture at The Walks with Southport has been postponed due to a waterlogged pitch. Despite the best efforts of groundsman Steve Curtis and a band of dedicated helpers the pitch was deemed unplayable... 'Steve had worked on the pitch throughout the week and early on Friday' explained general manager Mark Hearle...

'Friday afternoon saw heavy rain which cleared as predicted leaving a dry night, Rain was forecast again for Saturday morning but more has fallen than originally thought meaning the surface has again become unplayable. The club wishes to place on record its thanks to the volunteers who came to the ground this morning and assisted'".

The Lynn News reports that "Mark Hearle has made a passionate plea to King's Lynn Town supporters as the club look to get their National League North title hopes back on track... General manager Hearle wants supporters to continue their incredible home support with home crowds still well up compared to last season.

Hearle said 'There is now less than two months of the regular season remaining, so it's important, probably now more so than ever, that we have a united front as we chase down something that back in August which we could only dream about. The supporters have a massive role over the next few weeks as we enter the finishing straight of a long and trying season...

"They have been outstanding thus far and have carried the boys over the line on a few occasions".

The Linnets have suffered back-to-back losses against Chester and Kidderminster Harriers in a frustrating few weeks that has been blighted with postponements due to the wet weather. And although the enforced break has given the Linnets squad time to rest some niggling injuries, it has also threatened to derail the club's promotion push.

'It's been an extremely frustrating time for everyone just lately,' admitted Hearle. 'Having [four] blank Saturdays hasn't helped with any kind of momentum, both on and off the pitch'".
According to NL Daily "Gateshead have signed Barrow striker Jack Hindle on loan until the end of the season.

The 26-year-old arrives on Tyneside having made 22 appearances for The Bluebirds in the Vanarama National League this season, scoring one goal. Hindle was Barrow's top-scorer during the 2018/19 season, when he netted 12 league goals in 46 appearances.

The Warrington-born forward previously appeared for Radcliffe Borough, 1874 Northwich and Colwyn Bay before joining The Bluebirds in May 2018."
Alty's next away trip is to York City, and the Harrogate Advertiser reports that "Harrogate Town boss Simon Weaver is hoping that Sam Jones 'proves a point' during his loan spell at York City.

The 28-year-old attacker has made just two starts for the Wetherby Road outfit since arriving from Shrewsbury last summer and will see out the rest of 2019/20 in National League North with the Minstermen.

Jones has already been out on loan to Town's National League rivals Solihull Moors this term, but is yet to even be selected by Weaver in a match-day squad since his return in early January...

'It's a good move for Sam because he needs games of football and the chance to prove himself,' Weaver said. 'He's got great ability and pedigree and he is hungry to play. I know he will want to prove a point because he is the one who I've been leaving out. If he does that at York then I'll be happy for him. I want him to do well.

'Sam is under contract with us until the end of next season so, if he does the business for the York, then we'll have a real asset coming back to us in the summer.'

Sam Jones's most recent appearance in a Harrogate Town shirt came at Maidenhead United in September 2019. Indeed, the ex-Grimsby Town forward has only been included in a match-day 16 twice since then, though Weaver says that this is simply due to the fact that the players in front of him in the pecking order have done nothing to warrant dropping.

'There's been no fall-out. Sam's just been unlucky and not had much of a chance since he came here,' he added. 'He hasn't had many opportunities due to the form of the other lads, and that is just down to my opinion... Sam has looked bright and been training well, however Jack Muldoon and Jon Stead have been performing for us of late, and in Kian [Harratt] and Brendan [Kiernan] there are two more forwards on the bench pushing those two for a starting role.'

Jones scored one goal and made six appearances for Town after joining from League One Shrewsbury in the summer. Four of those outings were from the substitutes' bench. His loan deal does not include a clause that would allow Weaver to re-call him from York before the end of the season, should he wish to do so.

The NW Counties' Football League says "The end of the 2019/20 season will see the implementation of the second phase of the FA's National League System restructure designed to create a pure Non-League Pyramid.

This will see the creation of a new league at Step 4 [at which Trafford play], which will be run by the Northern Premier League, with two new divisions at Step 5, these being in the Midlands and the West London/Thames Valley areas.

The effect of this is that there are many extra promotion spots available at the end of the 2019/20 season, with usual relegation also affected...

We would take another look at how things stand across Step 5/6 at the end of February.

Step 4 Relegation: From a NWCFL perspective, we will only gain a club if they finish bottom of a Step 4 league, they lose their end of season play-off, and are in our geographical area. At present, the bottom four in the two Northern Premier League's are as follows...
NPL Div One N.W.: Droylsden, Ossett United, Kendal Town, Pickering Town
NPL Div One S.E.: Lincoln United, Chasetown, Wisbech Town, Market Drayton Town
Therefore as it stands, we would not appear to directly gain any club who would be relegated to us from Step 4". There is a lot more detail if you follow the above link top the NWCFL.
---
1 March 2020 After the win at Hereford yesterday, Phil Parkinson told the NL Paper, "To come here and win is no mean feat. But with the run of games that we have coming, it was imperative that we got the three points. The lads have been outstanding and have again stepped up to the plate".

Referring to Elliott Durrell's goal, he said "It was an outstanding finish. That's the reason we brought him to the club".

As Mark Simpson, one of the Radio Robins commentators, pointed out on the supporters' bus returning from the game, not only was Durrell's goal his third in the three matches in which he has played for Alty, but the match was also the fifth game in six fixtures that an Altrincham player has come off the bench to score, in this case Simon Richman was the scorer.

And in those five games, our statistics show that the time on the pitch needed for the sub to score has come down to a point where, in the last two games, it has taken no more than two minutes for a substitute to score!

The sequence, which occured entirely in the month of February, was...
Sat.1.2.20 Away to AFC Telford United: substitute Walters netted Alty's first in the 68th minute, after 50 minutes on the pitch
Sat.8.2.20 Home to Kettering Town: substitute Mullarkey scored in the 63rd minute, after 22 minutes on the pitch
Tue.11.2.20 Away to Spennymoor Town: substitute Durrell netted an 83rd minute penalty, which he had won, after 16 minutes on the pitch
Sat.15.2.20 Away to Blyth Spartans: substitute Durrell scored in the 57th minute, after less than 1 minute on the pitch
Sat.29.2.20 Away to Hereford FC: substitute Richman scored in the 84th minute, after 2 minutes on the pitch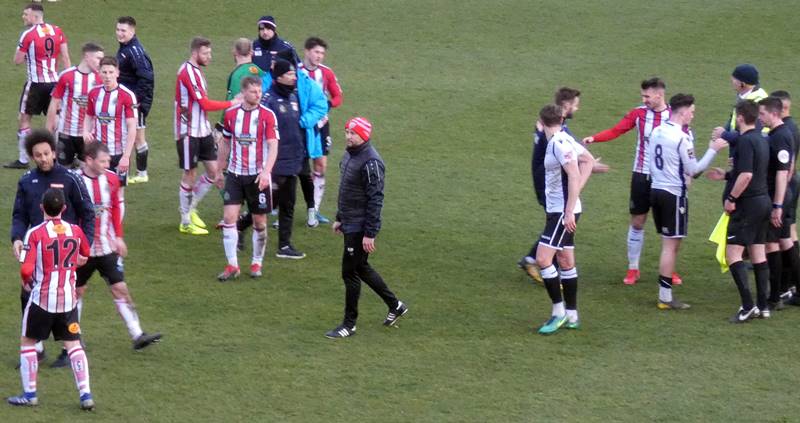 Above: Phil Parkinson and his players at the end of the game at Hereford. Far right, Simon Richman is saluted on his goal by Josh Hancock, whilst in the foreground, left, Bulls' manager, Josh Gowling takes time to congratulate Alty's Craig Mahon.

The one match in the above period in which an Alty sub did not score was...
Tue.4.2.20 Home to AFC Telford United
But that blip does not spoil the fact that against Altrincham's last five opponents, an Alty substitute has scored!

Sunday's Non-League Paper has a big interview with the Altrincham manager Phil Parkinson in which he says that in the early part of this season, "We weren't playing poorly, we weren't scoring as many goals as we did [last season".

Amongst the reasons that he cites for the slow start to the campaign were that Jordan Hulme was still recovering from his injury suffered in the play-offs and Josh Hancock was suspended for three matches. The Alty boss says "everyone was sort of writing us off" in September. "That kind of happened the season before as well", he added.

Since then things have improved and "We've got in a really good position... We don't think we should be a table-topping team because we haven't shown that consistency".

With much of the squad having been together for three seasons, Phil added that the players "buy into what we do unequivocally, they trust me and I trust them".

Referring again to the indifferent start to this season, Parkinson said, "People were even calling for my head in the first month". But, he continued, "I don't want to be at a comfortable club where people accept losing or drawing or really mediocre league finishes...

The big thing for us [is] we don't just want to turn up and win games... If people aren't enjoying what they're seeing, they're not going to pay to watch games.

"That's something I've always wanted to do, make sure my teams try to win a game, not try to not lose it... It's proved to be the right way to do things

"We've got to play all of the top eight [actually top seven]. Everyone is playing each other over the next month or so, so it's going to be really interesting...

"I'd like to say, the bigger the games, the better my players"

In one of just four fixtures to defy the weather, Alty consolidated their position in the play offs with this 2-0 win.

Whilst the pitch was in excellent condition, the wind made it difficult for the players.

Altrincham took the lead as the game went into first-half added time. On the left, Dan Mooney made space to get in a deep cross, which Durrell met with a superb volley from 12 yards.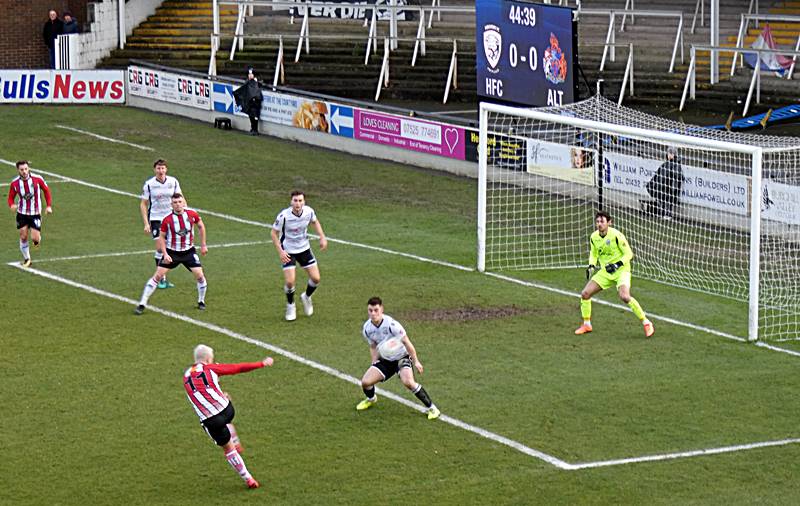 Above: With the clock ticking down to halftime in the background, Elliott Durrell (no.11), sporting a new blond look, volleys home Alty's opening goal at Hereford. It was his third goal in three appearances since joining the club, all in games away from Altrincham.

Hereford wasted three good chances to level in the second half, with Kelsey Mooney the culprit twice, poking an effort wide and later heading a corner over the bar. And Owen-Evans went close with a shot from the edge of the box.

Alty wrapped up the points when Richman, who had just come on as a substitute, reacted quickly to net a loose ball after a fine shot from Hulme had been parried out by Brandon Hall, with six minutes remaining.

Match report here.

Saturday, 29 February
Blyth Spartans P-P Kettering Town
Boston United P-P Farsley Celtic
Chester FC P-P Gateshead
Darlington 1-1 Brackley Town
Gloucester City P-P Alfreton Town
Hereford FC 0-2 Altrincham
Kidderminster Harriers P-P Guiseley
King's Lynn Town P-P Southport
Leamington P-P Bradford Park Avenue
Spennymoor Town 3-3 AFC Telford United
York City 1-1 Curzon Ashton
Altrincahm Reserves drew 2-2 away at Middlewich Town on Saturday, leaving Alty sixth, a place and a point behind Middlewich but with a game in hand.

Alty's next fixture is 7 March at home to Congleton Vale Royal.
The Boston Standard reported that "Boston United faced yet another blank Saturday as [their] scheduled fixture at home to Farsley Celtic was postponed due to a waterlogged pitch.

However, four National League North contests survived, and the results could well have an effect on the promotion race, which involves the Pilgrims.

Leaders York City needed a stoppage-time equaliser to draw 1-1 at home against relegation battlers Curzon Ashton, who Boston visit on Saturday. They now lead second placed King's Lynn by three points and third-placed United by seven points, the Pilgrims with two games in hand.

Altrincham moved up to fifth following their 2-0 win at Hereford. They trail United by two points but have played two games more.

Brackley Town, dropped a place to sixth following their 1-1 draw at Darlington. The Pilgrims travel to St James' Park on Tuesday evening.

The final game of the day saw Spennymoor Town, also in the promotion hunt, return to the top-seven following their 3-3 draw at home to AFC Telford United. The Moors were reduced to 10 men while Gateshead, who beat Boston 3-0 in midweek, dropped out the play-off spots".
---
---