---
31 October 2019
King's Lynn Town operate cashless turnstiles so to avoid queueing at the turnstiles, tickets are available online in advance,
here
.
When ordering, do make sure that you navigate down to the away supporters' section!
King's Lynn Town say that "The Linnets have had an amazing year and so has one of their men behind the scenes.
Ray Hall, is celebrating his first year as football consultant for the club.
He's been incredibly proud of their progress and has high hopes for the future. 'My vision here is, in five years, that we've got one of the best non-league youth programmes, if not the best. And finally, to see the first team in the league and I think that's what everyone's aims and wishes are for.'
He continued, 'The potential in a football club in this town is enormous. The nearest competition is Norwich and Ipswich. It puts a skip in everyone's stride because the first team are doing so well. I think that's important.
'If the first team are doing well it's a great showcase for youngsters who are watching the games, and you hope it inspires them to want to play here rather than elsewhere'".
As Saturday brings new opponents for Altrincham, a little history of King's Lynn Town may be helpful...
Like many other clubs in the National League North (Chester FC, Farsley Celtic, Hereford FC, Spennymoor Town, AFC Telford United, Leamington, Kettering Town, to name but a few), King's Lynn Town is a phoenix club, having been formed as recently as 2010 after the earlier King's Lynn FC had hit financial problems and gone under, part-way through 2009/10 season.
The original King's Lynn club had been finalists in the 1901 F.A. Amateur Cup and had joined the Eastern Counties League in 1935.
Spells in the United Counties, Midland and Southern League South Eastern followed before the club joined the Northern Premier League in 1980.
But, by 1983-84, they had moved to the Southern League, being relegated to its Midland Division in 1987 before gaining Premier Division status in 1996.
2002 saw them relegated to the Southern League Eastern Division of which they became the 2004 champions. By 2008 they were Southern League champions, at which point they joined Conference North for a season before rejoining the Northern Premier League briefly before having their record expunged having failed to complete the 2009-10 season.
The newly formed King's Lynn Town joined the Premier Division of the United Counties League and were twice runners up before being promoted to Division One South of the Northern Premier League, which they immediately won.
However they were then moved to the Southern League Premier. In 2018 they lost the promotion play-off final before finishing as runners-up in 2019 in the Premier Division Central. They earned promotion to National League North by defeating Warrington Town in the super play-off final.
Although the current club is very new, its stadium (The Walks) is very old, having been used by the original King's Lynn since 1879, though modernised since then, of course.
Altrincham enter the FA Trophy at the Third Qualifying Round on 23 November and plans have been made to try and ensure that the ties on that date go ahead, in spite of the weather disruption that has already affected the competition. The draw for the Second Round was posted here recently. However, the
BetVictor NPL
adds that "There are 36 [Second Round] ties scheduled, though many are undecided following the wet weather at the weekend that saw a raft of postponements.
All ties must be played on Saturday 9 November 2019, kick-off 3pm with replays on or before Thursday 14 November 2019, kick-off 7.45pm.
Matches that involve a club playing in the first round of the FA Cup must be scheduled on either Tuesday 12 or Wednesday 13 November with replays on or before Thursday 21 November. In the event that a Club is involved in a Buildbase FA Trophy Second Round Qualifying replay and also an Emirates FA Cup First Round Proper replay, the Buildbase FA Trophy Second Round Qualifying replay would move back to Saturday 23 November, which is the date of the Third Round Qualifying.
Clubs may mutually agree to extra time and penalties to determine the winner of a first match without having a replay and this must be confirmed on the Match Arrangement Form, in accordance with FA Trophy Rule 11(a).
Winners will receive £3,000 and losers £1,000".
As Alty prepare to travel to picturesque King's Lynn on Saturday, Howard Watts and Mike Garnett's
Through the Years
records remind us of our visit to a slightly different environment exactly 17 years ago on Saturday's date. Coincidentally, as in 2019 on 2 November, Alty lay in eighteenth place for their 2002 fixture whilst, also likewise, their hosts were in the top handful of the division.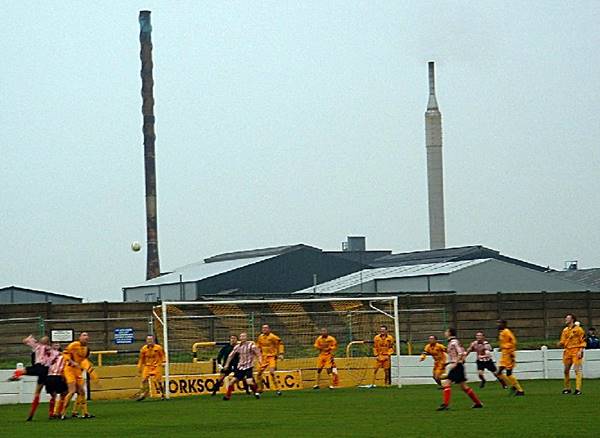 Above: Action from the 2002 game at Worksop's wet and overcast Sandy Lane.
On Saturday, 2 November, 2002 Altrincham travelled to a UniBond Premier League match at Worksop Town, where two goals in as many minutes from Rod Thornley put Alty 2-0 up just before the interval.
Andy Todd pulled a goal back for third-placed Worksop in the second half but Alty emerged 2-1 winners.
Alty's first goal had been a penalty, won by Ian Craney, when the home keeper tripped him. Then Thornley headed home a Craney cross after 42 minutes. After a fairly even first half Worksop enjoyed most of the second half territorial advantage but the Altrincham defence gave them few openings. It took a dubious penalty awarded against Scott for a foul on Roberts for them to get back into the game. Todd converted the spot-kick. In a match played in pouring rain Alty held on for their third win against top four opposition in their last four games.
With Gallagher and Murphy out injured, Alty welcomed back both Gary Scott and Gary Talbot from suspension. Peter Band was moved into midfield, with Ian Craney joining Rod Thornley up front. Stephen Rose and Vernum Rowland played in midfield, Rose in the centre and Rowland on the right. A familiar face for Alty fans was their ex-captain Steve Hawes, playing in the Worksop midfield. Worksop keeper Dave McCarthy was to become an Alty player the following season.
WORKSOP TOWN : 1. Dave McCARTHY, 2. Andy SMITH, 3. Ryan DAVIES, 4. Steve HAWES, 5. Brian LINIGHAN, 6. Darren BEESLEY, 7. Gavin SMITH, 8. Linden WHITEHEAD, 9. Darren ROBERTS, 10. Gary TOWNSEND, 11. Andy TODD. Subs: 12. Adam MULLER, 14. Richard PEACOCK, 15. Carl SMITH.
ALTRINCHAM : 1. Richard ACTON, 2. Gary SCOTT, 3. Chris ADAMS, 4. Mark MADDOX, 5. Gary TALBOT, 6. Stephen ROSE, 7. Vernum ROWLAND, 8. Peter BAND, 9. Ian CRANEY, 10. Rod THORNLEY (capt.), 11. Sean SMITH. Subs: 12. Andy McDONALD, 14. Andy TUNNICLIFFE, 15. Matthew DUFFY.
Tuesday 29 October
York City 2-1 Boston United
Wednesday 30 October
Darlington 1-0 Kidderminster Harriers
Wednesday 30th October 2019, Cheshire Senior Cup 1st Round
Barnton v Vauxhall Motors
Hereford FC
report that they "will set off for Saturday's game at Darlington with a new face amongst the ranks after Russell Slade completed the signing of Victor Sodeinde on a month-long loan deal from Nottingham Forest.
'Victor is a strong player' said Slade. 'He can play in any of the three positions up top, he's powerful, quick, effective and has a good physical presence. He's another player who is a bit different to what we've got here at the moment and I'm really looking forward to seeing what he can do for us.'
Victor, who signed his first professional contract with Forest in January 2018, said that the move has come at just the right time for him. 'I've had a good start to the season at Nottingham Forest, we're top of the U23 league, I scored recently so I'm in good form'...
The 19-year-old has experience of playing in the National League for Maidstone and feels that experience will help him fit in quickly to the demands of the National League North. 'I've played in the National League, so I know this sort of level. I adapted quickly whilst I was at Maidstone and I'm looking to adapt just as quickly here as well...
'I trained with the lads last night, it was freezing cold, but it was a good session! I think I fitted in well, it's a great group of lads...
Sodeinde said 'I like playing off the defender's shoulder, getting in behind the back four and I like to think I've got a knack of scoring goals'!"
In a very short statement, Bradford (Park Avenue) state that "the club can confirm that Ryan Cresswell has left the club by mutual consent. The club would like to thank Ryan for his efforts in an Avenue shirt, and wish him all the best for the future". More comes from NL Daily which adds that "Former Football League defender Ryan Cresswell has left Bradford (Park Avenue)...
The 31-year-old ex-Southend United and Northampton Town man joined the club in the summer, with Garry Thompson in charge as player-manager at the time. Thompson departed soon into the campaign, with Marcus Law placed in interim charge before the recent return of Mark Bower. Former Rotherham United player Cresswell has now left by mutual consent."
New Mills report that managers "Mike Norton and Dave Birch have added to their squad by bringing in 18 year-old full-back Elliott Cooke on a dual registration basis from Curzon Ashton.
Cooke, who can also play in midfield, progressed through the youth ranks at Curzon Ashton before making the break through into the senior squad".
According to the NL Paper, "New Kettering Town boss Paul Cox believes they will be a Non-League big-hitter again but insists the immediate target is nothing more than Step 2 survival.
Appointed last week to replace Nicky Eaden, the former Barrow, Eastwood Town and Mansfield Town boss officially takes charge for the first time on Saturday when his new side host Bradford Park Avenue at Latimer Park.
It's been a tough return to the National League North since promotion from Step 3 last season and the former Conference title winner is charged with reviving their fortunes. Cox played more than 100 times for the club over two spells and, after a year out of management where he has observed coaches in America and at St George's Park, is ready to dive back in.
'I need to learn very early what's happening because the club is rock bottom of the National League North at the minute,' Cox, 47, told The NLP on Sunday. 'There are good players there and some I've worked with in the past. I know Aaron O'Connor and Lindon Meikle. But there's obviously something that isn't quite right. That's why they are losing more games than they are winning and are rock bottom.
'So it's going to be a challenge, I knew that when I spoke to them. What appealed to me when speaking to the chairman and the board is there is a logical plan in place. I also played for Kettering. I think people have forgotten how big a club Kettering could be. I was there when we just missed out on promotion to the Football League.
'They've got a great fanbase, passionate supporters and, when I heard about the board's plans, it was something I wanted to get my teeth into. I'm not naïve that it's going to be plain sailing. There's hard work to be done. My remit is to keep the club in the division this year. The job is to get results to give us a platform to spring from.'
Cox believes he has joined a club filled with good people. 'There's a clarity and an honesty,' he said. 'That's what I craved. Speaking to the board, there's no smoke and mirrors. There's a clarity where they want the club to be and I found them very honest people. That was the main draw for me. I want to work with good people. I see longevity in working with good people.'"
The Shropshire Star informs us that ""Gavin Cowan is keen to ensure his AFC Telford United side continue their new-found momentum.
The Bucks returned to training where Cowan began the build up to Saturday's New Buck's Head clash against Boston United, who are one place and point ahead of Telford in National North. Telford were unable to build on the positives results recorded against leaders York and Guiseley as the clash at Altrincham fell foul to torrential rainfall.
But Cowan and striker Aaron Williams have remarked on a shift in mentality since Cowan made the move to bring in four new signings, while three have gone out in the opposite direction.
'The vibe is good for us,' said Cowan, whose side recovered from three straight defeats to pick up four points across two impressive displays. 'This week is all about hard work and trying to keep that momentum building. Having played so well in the two games we had against York and Guiseley for us it's just about keeping the momentum going forward'...
Cowan could have winger Chris Lait, who was brought in from Tamworth over the summer, to select from against the Pilgrims on Saturday if he comes through his return to training unscathed.
Left wing-back Riccardo Calder is also on the mend after pulling his quad moments before taking to the field for his Telford debut against York. Calder, signed from Bradford Park Avenue, is midway through his estimated four-week lay-off and has been treated during extra sessions with the club.
Skipper Shane Sutton is returning from a slight fracture in his ankle and will be assessed this week alongside midfielder Henry Cowans (ankle)."
York Press claims that "Steve Watson refused to be drawn into any managerial mind games when responding to comments by Chester joint-manager Anthony Johnson.
After York City won 1-0 at nearest title challengers Chester at the weekend, Johnson frankly told ChesterLive 'I think they (York) will win the league' before adding 'If you finish above them then you win the league, that's it. There's no ifs or buts about that.'
It was an assertion that seemed to gain in strength when York triumphed 2-1 over Boston United on Tuesday night to move eight points clear of Chester...
Watson laughed 'I hope he's right! As I've said lots of times before, I'm not going to get drawn into talking about anything other than the next game. Obviously, I'm very happy with where we are, that goes without saying. A lot of other managers' first port of call is to mention that we're a full-time side, but that's neither here nor there.
'The two teams that were promoted last season were part-time teams. One of the first things that managers seem to mention against us is that (full-time) status. York have been full-time for a long time and, in the past two seasons, we've finished in mid-table. I'm just going to let other people talk about whatever they want to talk about.
'My way of doing things is just focusing on our business. If people say nice things, then that's great. If they don't then, then my job remains the same, to worry about ourselves.'
York's position gained even more strength with the win over Boston...
'We're not going to get carried away with that lead at all,' he said... 'We've got lads like (Steve) McNulty and Andy Bond in the dressing room who have been promoted through these leagues before. They know that nothing is won in October. We've still got loads of work to do. We can't take our foot off the gas. Everyone in our dressing room is so proud of what we've done so far and it is a run that deserves credit.
'But we don't want it to end. We want to do everything that we possibly can to keep this run doing and keep this momentum going'...
York's win over Boston wasn't the Minstermen at their best... 'I stand there at times and think that if things aren't going absolutely perfectly, it's okay,' he said. 'At times this season, you're not going to play brilliantly... Luckily, I've not been low when we've been beat [sic] as that hasn't happened so far and long may that continue.'
Meanwhile, York have been drawn at home to Pickering Town in round one of the North Riding FA Senior Cup."
---
30 October 2019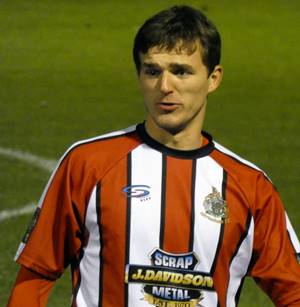 On a cold Tuesday night at the J. Davidson Stadium, Altrincham lifted the Cheshire Football League Memorial Cup after overcoming Whaley Bridge Athletic 4-1.
With a starting eleven that included Toby Mullarkey, Max Harrop and new signing Luke Wall (pictured right), Altrincham went ahead in the fourth minute. But James O'Hara paid a high price for netting the opening goal, at the back post from a corner, as he ended up in the back of the net and, after lengthy treatment, had to be stretchered off with a leg injury.
Max Harrop netted a second goal in the 16th minute when his 25 yard freekick evaded the visitors' keeper. A fine run and finish by Luke Wall made it 3-0 in the 24th minute.
The second half was a more even affair but Alty added a fourth goal in the 52nd minute when Curtis Miller finished smartly. Athletic's German scored a consolation goal following a Whaley Bridge corner in the 70th minute.
Match report here.
The home matches against Blyth Spartans and AFC Telford United have now been rearranged for 10th and 17th December respectively (7.45pm).
Altrincham's league fixture, away to Kettering Town, was postponed on 19 October owing to Altrincham's continuing involvement in the FA Cup. It was rescheduled for Tuesday, 12 November.
However, Altrincham FC has now announced that this rearranged away game has been moved again and will now be played two weeks later than planned. This change is due to Altrincham's FA Cup tie on the preceding weekend having been moved to a Sunday.
The fixture is now set for Tuesday, 26 November, but even that date is contingent on there being no replay need by either club following the Third Round Qualifying of the FA Trophy which takes place on 23 November. Should either club draw on the preceding Saturday, the league game between them would again have to be rescheduled.
With the recent rearrangement of the Stalybridge and Kettering games, Altrincham's current sequence of away games could reach as many twelve in a run of fifteen fixtures!
Sat. 14.9.19 AWAY Kidderminster Harriers
Sat. 21.9.19 AWAY Chester FC (FA Cup)
Tue. 24.9.19 HOME CHESTER FC (FA Cup replay)
Sat. 5.10.19 AWAY Halesowen Town (FA Cup)
Sat. 12.10.19 AWAY Guiseley
Sat. 19.10.19 AWAY Southport (FA Cup)
Sat. 2.11.19 AWAY King's Lynn Town
Sat. 9.11.19 AWAY York City (FA Cup)
Sat. 16.11.19 HOME HEREFORD FC
Tue. 19.11.19 HOME GATESHEAD
Sat. 23.11.19 AWAY or HOME FA Trophy
Tue. 26.11.19 AWAY Kettering Town
Sat. 30.11.19 AWAY Spennymoor Town (or FAC2)
Tue. 3.12.19 AWAY Stalybridge Celtic (CSC)
Sat. 7.12.19 AWAY Bradford (Park Avenue)
The silver lining comes over Christmas when Alty have five home games out of six league fixtures:
Tue.10.12.19 HOME BLYTH SPARTANS
Tue.17.12.19 HOME AFC TELFORD UNITED
Sat.21.12.19 HOME KIDDERMINSTER HARRIERS 3pm
Thu.26.12.19 AWAY Curzon Ashton
Sat.28.12.19 HOME SOUTHPORT
Wed.1.1.20 HOME CURZON ASHTON
It is not often in these days of out of town stadia, that away trips with Altrincham afford supporters the opportunity to combine a daytrip to watch football with an opportunity to visit an historic location. However, Altrincham have two such visits on the cards. This Saturday they travel to King's Lynn, and the following week, York is the destination.
With the arguable exceptions of Hereford, Boston (and, to a lesser degree, Brackley), Alty's next two trips are to the only grounds in the division which are close to nationally recognised historic city or town centres.
As well as sharing their tourist appeal, King's Lynn and York have something else in common, albeit coincidental. King's Lynn lies on the Great Ouse river, whilst York sits astride the River Ouse.
Other National League North opponents with potential historic associations, such as Chester FC and Gloucester City, have stadia which lie well away from their respective city centres.
The
Shropshire Star
says that "AFC Telford boss Gavin Cowan admits extra recovery time was the 'silver lining' to last weekend's cancellation at Altrincham.
The Bucks scheduled clash at Alty's Moss Lane fell foul to the torrential rain during the back end of last week and the beginning of the weekend... Cowan brought his troops in for a light training session in the morning before offering them some free time.
Cowan said 'It is what it is, having it off gave the players a bit of down time ready to hit the ground running this week ahead of Boston on Saturday. There aren't many opportunities for them to have time with family so we had them in in the morning to let them enjoy the rest of the day before going again this evening.'
Cowan took in the league clash between Chester and York which finished 1-0 to the Minstermen.
'The silver lining was the injured players being able to re-calibrate,' Cowan added. 'I'll know more after tonight's session.'
The Bucks are hopeful winger Chris Lait may return to full training this week, while Henry Cowans, Shane Sutton and Riccardo Calder are also on their way back."
Before the game last night, Boston United reported that they were "on the road on Tuesday evening to face unbeaten league leaders York City.
The floodlit encounter at Bootham Crescent will pit Craig Elliott's side against Steve Watson's undefeated table-toppers in what is set to be the Pilgrims' last-ever visit to Bootham Crescent. While United were inactive on Saturday due to a waterlogged pitch against Blyth Spartans, the Minstermen were winning 1-0 in a top-of-the-table clash at Chester FC.
Watson's side have won nine and drawn five of their opening 14 league fixtures this season, as well as progressing to the first round of the Emirates FA Cup.
Alex Whittle, Tom Platt and Martyn Woolford will all come up against their old side although City loanee Jake Wright is ineligible to feature against his parent club. The sides shared a 2-2 draw in last season's corresponding fixture".
According to Cheshire Live "Anthony Johnson was unable to confirm whether leading scorer, 12-goal Akwasi Asante, would be fit in time for this weekend's trip to fellow promotion chasers Brackley Town.
The Blues visit St James' Park looking to arrest a run of four games without a win in the National League North, three points very much needed in order to keep on the coat tails of league leaders York City, whose 1-0 win at Chester on Saturday opened up a five-point gap between them and Johnson and Bernard Morley's men.
Chester, for the second week running, had to do without Dutchman Asante, his absence felt keenly by the Blues...
'Akwasi has got a niggle on his groin and he did it just shooting in training', explained Johnson. 'He was coming back, he was cleared to play by the physios but then he's had a shot and he's felt it again. I don't want to get everyone's hopes up. All I read on social media for the game is "Is Akwasi not playing?" and everyone thinks we're going to lose and that's what happened. But it's not about Akwasi, we've got good players who will have to step up to the plate.'
Asante has been blighted by injury for much of his Chester career yet in the games he has managed to play he has hit 20 goals in 18 appearances.
His time at Grimsby Town also saw him struggle with injury but fans had hoped he had turned a corner after a run of games since coming back from an injury that curtailed his pre-season. Johnson said 'It's the reason he's at this level, he knows that, I know that and you (the media) know that. He's at this level of football because people don't want to take a chance on someone who gets injured every seven or eight games, and he knows that.
'It was a risk we took last year and a risk we believed in. We thought that when he was fit he would fire the goals in, which he has done. But the other players are good players too. We can't keep on having the conversation that if Akwasi isn't playing then we're not winning, they (the other strikers) know that's what people say. That's on them'".
York Press informs us that "Micky Cummins has praised striker Dan Maguire's attitude during his injury lay-off... Maguire... has just returned from a 10-week spell on the sidelines with a knee injury.
He got his first goal in City colours on Saturday at high-flying rivals Chester, his third appearance since a summer move to Bootham Crescent.
Cummins said 'Look at his work rate and his attitude. He's come from part-time football and embraced everything at full-time football. When he was injured, he was still dead buoyant around the place, he was still lively, he didn't let his character change and get down.
'To see him back in the team is good for us and fantastic for the team because his work rate and energy are fantastic. He's mates with Kempster. The North East boys are travelling together and they all celebrated with him.
'Obviously it was a crucial goal for us but they were happy for him. He brings that to the group. He's a character and he's well-liked. People were very pleased for him, none more so than the gaffer'".
---
29 October 2019
As previously reported, tonight (Tuesday, 29 October), at 7.45pm, Altrincham Reserves entertain Whaley Bridge Athletic in the Cheshire Football League Memorial Cup Final at the J. Davidson Stadium. It pits against each other the winners of the League's Premier Division league and its cup competition. Although Alty were pipped to the league title, the winner (Rylands) have since been promoted to the NW Counties Football League, so Altrincham are taking their place.
It would not be surprising to see some of the first team squad involved on Tuesday, given their enforced inactivity this weekend.
Entry to the match is free of charge.
The
Eastern Daily Press
reported before last Saturday's postponement that "The fact that King's Lynn Town want the person who has posted entire matches on YouTube to watch their games, rather than record them for all the world to see, shows how sensitive the information can be. Unless you want to pull the old double agent trick of course, in which case Lynn should perhaps post a rerun of their video horror at Nantwich last weekend.
A 1-0 defeat to a team below them in the football pyramid robbed them of some decent money from the FA pot, but it was the manner of it which will have left manager Ian Culverhouse seething.
How cross he was we can only assume, given the Lynn boss didn't want to speak to the media after the game. And for a manager who has been open with the press since his return to The Walks, that is quite a clue as to his feelings.
Should the scouts see that performance they could well be duped into thinking the Linnets are a pushover, which could of course work in Lynn's favour, because they are not. But they need to prove it, beginning on Saturday afternoon when they return to National League North action with a trip to Kidderminster Harriers.
The Linnets have slipped to fourth in the table, perfectly acceptable given their status as league new boys, but even though they may well be punching above their weight, Culverhouse is unlikely to be happy with anything but a hugely improved performance.
He is likely to have to do it without two of his centre-halves; Ryan Fryatt (knee) and long-term absentee Chris Smith (elbow), as well as midfielder Ryan Jarvis (groin).
A reflection of his disappointment might be that it was left to the club's media officer, Mark Hearle, to express a few views on the official web site 'Everyone was very disappointed with last weekend and how things went. However, we still hold an outstanding league position in a season to date where there has [sic] been so many positives... Going into November sitting in the position we do is a credit to the management and team to date'".
Altrincham's Cheshire Senior Cup tie at the Bower Fold against Stalybridge Celtic, postponed from today's date because of the hosts' delayed FA Trophy match against South Shields, has now been rearranged for Tuesday, 3 December at 7.45pm.
Following on from yesterday's note that Altrincham's trip to King's Lynn on Saturday will be the club's first ever visit to the County of Norfolk, Mike Garnett has kindly supplied some further details of Altrincham's UK meanderings.
he writes that "The list of historic counties we've yet to visit for competitive footballing purposes in fact runs to five, as far as I can tell, viz. Cornwall, Huntingdonshire, Norfolk, Rutland and Suffolk.
In the case of Huntingdonshire I suppose we might one day visit either St. Ives (though whether meeting a man with seven wives en route is questionable!) or St. Neots but a trip to Godmanchester Rovers seems improbable! Rutland would mean Oakham. I think there might be a football team there but its level I don't know about! As for Cornwall, the fabled trip to Truro City? Suffolk; we might conceivably have met Lowestoft Town a couple of years ago, but I suppose we can always dream of Ipswich in Round 2 of the Cup this time round?
I append the list of historic counties I used, along with one venue we've visited in each applicable case...
Below: All roads lead to - and from - Moss Lane!
Bedfordshire (Luton),
Berkshire (Slough),
Buckinghamshire (Aylesbury)
Cambridgeshire (Cambridge),
Cheshire (Macclesfield)
Cornwall
Cumberland (Workington)
Derbyshire (Buxton)
Devon (Torquay)
Dorset (Weymouth)
Co. Durham (Darlington)
Essex (Braintree)
Gloucestershire (Cheltenham)
Hampshire (Eastleigh)
Herefordshire (Hereford)
Hertfordshire (Stevenage)
Huntingdonshire
Kent (Dover)
Lancashire (Wigan)
Leicestershire (Coalville)
Lincolnshire (Boston)
Middlesex (Wealdstone)
Norfolk
Northamptonshire (Kettering)
Northumberland (Blyth)
Nottinghamshire (Eastwood)
Oxfordshire (Oxford)
Rutland
Shropshire (Oswestry), Somerset (Bath), Staffordshire (Stafford)
Suffolk
Surrey (Epsom)
Sussex (Eastbourne)
Warwickshire (Leamington)
Westmorland (Kendal)
Wiltshire (Trowbridge)
Worcestershire (Worcester)
Yorkshire (York)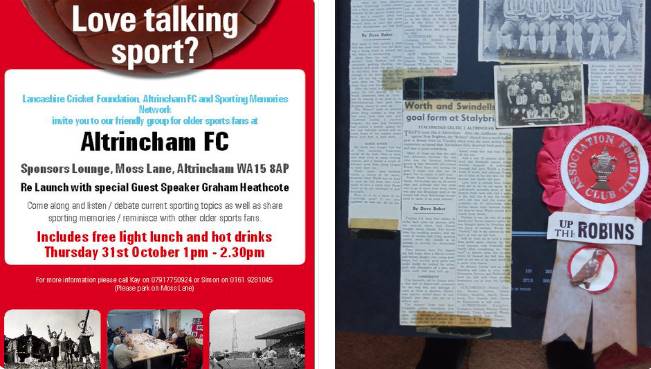 Altrincham FC announces that it is "Relaunching its Sporting Memories (@SportsMemNet) initiative at an event on Thursday, 31 October, at the Community Sports Hall at the J. Davidson Stadium. It starts at 1pm.
The guest speaker is former Altrincham player and manager, Graham Heathcote. A couple of scrapbooks have been donated and these will be on display. For more information see @AFC-Comm-Sports".
Southport
report that they "will be looking to continue their good form on Tuesday night as they prepare to take on Burscough in the Liverpool Senior Cup.
As the current holders, Liam Watson's side will want to build another solid run in this competition... Burscough, have been in a torrid run of form and currently sit in 18th place in the Hallmark Security North West Counties Football League Premier Division. In ten games, the Green Army have been able to pick up only six points...
Burscough make the short trip to the Pure Stadium after the venue of the tie was switched from Victoria Park.
Port fans will be hoping for no banana skins and a routine victory as they hope their side can produce another cup run in the hunt for more silverware".
Leamington confirm that "Paul Holleran has borrowed another promising youngster from our Sky Bet League One neighbours Coventry City, with midfielder Callum Maycock joining on loan in an agreement until January 4th.
The 21 year-old has already featured for the Sky Blues' first team in League One and Two, making his debut almost 3 years ago, and spent last season in League Two with Macclesfeld Town, making 30 appearances for the Silkmen.
'I'm delighted to get Callum on board,' said Holleran. 'He's very experienced for a player of his age and is a good character, and I think he will give us a different dimension to what we already have in the squad.'"
According to Cheshire Live "York City manager Steve Watson said that their weekend success [over Chester FC] was the hardest they have had to work for spoils this season...
Watson was pleased with his side's second half performance, less so the first, but acknowledged the test that Chester gave his team in front of a superb crowd of over 3,600.
'They're a good side, they're a really good side and that was the toughest three points that we've had to muster this season,' Watson told York City TV. 'They've got good movement, they've got good options and they play a forward thinking way. We were away from home and had to accept that we'd have to soak up a fair bit of pressure, which we did, and we countered well.
'We were a lot better second half, a lot more in control. There were a few harsh words, and not just from me, from themselves too, and that's the good thing about these lads, they police each other in the dressing room. They weren't happy at half time
'You can see teams on TV and videos but when you see them live you can see why they score so many goals as they're a tough team to play against. They pull people out of position then exploit it and everybody is comfortable on the ball. That was a huge clean sheet for us.'
Chester's defeat was their first at home this season, their second of the season. The Blues are currently winless in four league games and must now gather themselves and get set for another stern examination of their promotion credentials this weekend when they travel to a strong Brackley Town side".
Altrincham do not enter the FA Trophy till the Third Qualifying Round on 23 November but the previous Round has now been drawn. However, there are plenty of either/ors owing to the raft of postponements last weekend.
Buildbase FA Trophy Second Qualifying Round - northern section
Halesowen Town or Stamford v Grantham Town
Carlton Town or Matlock Town v Ashton United
Atherton Collieries or Scarborough Athletic v Morpeth Town
Sutton Coldfield Town v Stratford Town or Hednesford Town
Peterborough Sports or Alvechurch v Whitby Town or Worksop Town
Stalybridge Celtic or South Shields v AFC Rushden & Diamonds or Banbury United
Bromsgrove Sporting or Barwell v Redditch United
Kidsgrove Athletic or Colne v Buxton
Runcorn Linnets or Pontefract Collieries v Prescot Cables or Pickering Town
Radcliffe or FC United v Basford United
Nantwich Town or Bamber Bridge v Coalville Town
Leek Town or Chasetown v Brighouse Town or Workington
Tamworth v Dunston or Gainsborough Trinity
Stourbridge or Nuneaton Borough v Lancaster City
Former Alty players Kevin Ellison and Ken McKenna (right) are in the news...
The BBC reports that "Jim Bentley has resigned as manager of League Two's bottom club Morecambe to take charge of National League side AFC Fylde on a two-and-a-half-year deal. The 43-year-old was the longest-serving manager in England's top four divisions before his resignation on Monday.
Bentley had been Shrimps boss since May 2011, having previously spent nine years with the club as a player. The former centre-back has dropped a division to join Fylde, who sacked Dave Challinor on 12 October.
'It's been an emotional couple of days, but it's for the right reasons. I'm coming to a new venture now which I'm really excited about,' said Bentley, who will be joined at Mill Farm by his long-time assistant [former Alty striker and assistant manager] Ken McKenna and goalkeeper coach Lee Jones.
'I'm very proud of the job I've done there, but I want a CV that shows promotions as much as the survival. It's totally geared to go up here, it's a club going in the right direction and, hopefully, I can carry on the good work that David Challinor did here.'
Striker [ex-Alty winger] Kevin Ellison, 40, and goalkeeper Barry Roche, 37, will take temporary charge of Morecambe until a successor is found.
A Morecambe statement said Bentley's resignation had been accepted 'with great reluctance'.
It continued 'Jim has stated his desire to take on a new challenge and it is only right that we honour his wish after the service he has given this club. He has been an amazing servant for us as player, captain and manager and has deservedly gained a fantastic reputation throughout the game for what he has achieved with the club. We cannot thank him enough for his contribution to the club over the years'".
The
National League
announces "the next batch of games to be shown exclusively live on BT Sport". Apart from one brave venture as far north as Birmingham, the cameras otherwise remain resolutely in the south of England.
"With December and the festive period on the horizon- we've got three more games coming up, all available to view on BT Sport 1.
First up, the cameras head to The Hive London on December 7 for Barnet's fixture against managerless AFC Fylde as the Coasters look to plot their route to the right end of the table.
A fortnight later, high-flying Barrow head to the Midlands for a must-see clash with Solihull Moors, a side who know all about defying expectations.
Hoping for some late Christmas cheer on December 28 will be Sutton United, who welcome Yeovil Town to Gander Green Lane, with kick-off at the earlier time of 12.30pm.
16/11 – Yeovil Town v Dover Athletic (5.20pm)
23/11 – Maidenhead United v Woking (5.20pm)
7/12 – Barnet v AFC Fylde (5.20pm)
21/12 – Solihull Moors v Barrow (5.20pm)
28/12 – Sutton United v Yeovil Town (12.30pm)"
---
28 October 2019
On Saturday, 2 November, Alty undertake the 304-mile round trip to King's Lynn Town to face a club they have never previously played in a county they have never visited. It is Altrincham's second longest trip of the league season, with only the journey to Blyth being further. King's Lynn won the "super" promotion play-off at step three last summer, defeating Warrington Town.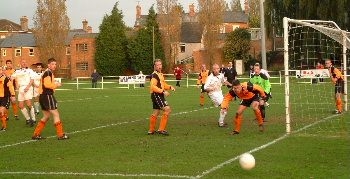 Right: Alty at a sunny Spalding in November 2001. Image courtesy of the late Alan Johnson.
It will be Altrincham's first competitive match in Norfolk; the nearest place geographically that they have visited is Spalding United (in Lincolnshire), who hosted the Robins almost exactly 18 years to the day on Saturday, 3 November, 2001 in an FA Trophy 1st Round Match, which ended in a goalless draw. Alty squeezed through in the replay at Moss Lane to win 3-2.
In the 2001 match at Spalding, "Altrincham began the game with a number of 'walking wounded' players. The injured-list grew worse during the game when Jason Gallagher, uncharacteristically playing as no.9, was carried off on a stretcher and Kevin Hulme limped off with an apparent hamstring injury. Altrincham's Sertori hit the bar from a second-half free-kick but overall this was a game of much effort but relatively little quality.
Altrincham had arrived with a long sick list. Apart from long-term absentees, Carl Furlong and Paul Taylor, other absentees were defenders Chris Adams and Stuart Locke. Into the Altrincham first-team squad for the first time came Patrick Claffey. Centre-back Pat was a mainstay of last season's double-winning Youth Team and, since then, had been a regular in the Reserves. As well as Lee Poland, joining Pat on the bench were another Reserves' player, Anthony Hargreaves, the Reserves' captain Keith Mairs and substitute keeper Kurt Edginton. On the field, Jason Gallagher was selected though clearly not fit and Steve Hawes took to the field with a black eye, sustained in the game against Accrington".
Alty's side that day was: 1. Stuart COBURN, 2. Gary SCOTT, 3. Dave SWANNICK, 4. Mark MADDOX, 5. Mark SERTORI, 6. Steve HAWES (capt.), 7. Kevin HULME, 8. Ian CRANEY, 9. Jason GALLAGHER, 10. Rod THORNLEY, 11. Danny MURPHY. Subs: 12. Lee POLAND, 13. Kurt EDGINTON (gk), 14. Patrick CLAFFEY, 15. Anthony HARGREAVES, 16. Keith MAIRS.
King's Lynn Town
report that "Armed Forces go free! King's Lynn Town FC are pleased to announce that for the home game against Altrincham on Saturday 2nd November (3pm), all Armed Forces Personnel will be admitted FREE on production of a valid ID card.
There will also be a collection on the day".
Whilst Altrincham may not be operating at the national level these days, at least there are no major financial concerns, unlike at a couple of our previous foes in the Football Conference.
Eastbourne Borough is a club which has played a significant role in Alty's history. Back in 2005, The Sports were Alty's opponents in the unique North v South play-off for a place in the Conference, with Alty winning 2-1 at the Britannia Stadium, Stoke.
Twelve years later in the Conference (2011), already relegated Eastbourne visted Moss Lane on the last day of the season and an abject first half from Alty saw the hosts trailing 0-3. Alty got the score back to 3-3 only to concede a fourth goal in added time and join their opponents in being relegated. A win for Alty that day would not only have saved them from relegation but would have relegated Forest Green Rovers, and look where they are now!
Since 2011, Alty have been back in the national level of football briefly but Eastbourne Borough have remained in the Conference South where, since then, their highest finish has been eleventh. Today, they lie seventeeenth in that division.
However, the Non-League Paper alerts us to the fact that "Eastbourne Borough are urgently appealing for help to plug a £40,000 gap in the finances, with boss Lee Bradbury departing because of the cuts.
Withdrawal of promised funds from an investor in the summer, combined with no home games in October and an early FA Cup exit, have left the outfit struggling". However, Borough say that "This is short term and that the longer future of the club is not in doubt". They expect cash flow to recover during the Christmas period.
Another ex-competitor with Alty in the Football Conference is Woking where the chairperson, Rosemary Johnson "has dismissed claims that the club 'will definitely go under' if the redevelopment of their Kingfield stadium falls through.

Above: Alty's last visit to Woking was in 2015. Before the teams exchanged handshakes, Alty's Michael Rankine shook hands with his team-mates.
"Initial plans to secure the Surrey side's future centred around a site containing a 10,000 capacity stadium plus 1,000 flats
However, the plans... are currently delayed" with concerns being expressed by local residents amongst others. A local councillor stated that the football club "would definitely go under" should the development not happen, not least because there is "A massive bill expected over health and safety issues at the current stadium". The Woking FC chairperson insists, however, that "The club will continue".
It seems that The Cards are hoping not to have to spend large sums to upgrade health and safety at the current Kingfield if they are shortly going redevelop the stadium as part of the creation of a new residential "neighbourhood" at Kingfield.
As previously reported, on Tuesday (29 October), at 7.45pm, Altrincham Reserves entertain Whaley Bridge Athletic in a CFL Memorial Cup game at the J. Davidson Stadium.
It would not be surprising to see some of the first team squad involved on Tuesday, given their enforced inactivity this weekend.
The Youth team's cup fixture on Sunday at Atherton Town was postponed.
In the NWYA Premier, Altrincham lie second, two points behind Curzon Ashton.
Their next match is next Sunday in the Open Cup at home to Daten FC.
Howard Watts and Mike Garnett's
Through the Years
records reveal that on 2 November, when Altrincham visit King's Lynn Town, it will be six years since Alty last played a game on 2 November. That was in 2013 when they lost 1-3 at home to Hednesford Town in the Skrill North dvision.
As previously reported the planned CSC tie at Stalybridge on Tuesday 29 October has been postponed owing to Celtic's FA Trophy tie against South Shields taking precedence.
Dave Johnson, Manager of Altrincham FC Ladies Development/Reserves team advises that "we are looking to recruit any talented local footballers to play in the Cheshire Women's Premier league.
We are an established successful team but, due to players going off to University etc., we are looking to add to our current squad. Looking for all positions such as goalkeeper and outfield positions.
Our facilities for training and matches are top quality so it's a great place to play your football.
Training is every Wednesday 7.00-8.30pm on 3G. Home and away games are on Sundays, 2pm kick off.
So, if you are 16+ and interested please get in touch with manager Dave Johnson to discuss further on 07500 897657".
On Sunday, Altrincham FC Ladies' first team fixture against Warrington Wolverines was postponed. The next game, on Sunday, 3 November, is away to West Kirby Ladies. The following week, 10 November, they host Wythenshawe Amateurs (Juniors) Women at Egerton Youth Club.
Despite having completed just two fixtures, the Ladies lie ninth in the ten-club division in which leaders Salford City FC Lionesses Women have completed seven fixtures.
The
Telegraph & Argus
reports that "Bradford (Park Avenue) remain second from bottom in the Vanarama National League North and they have now played two games more than some of the relegation rivals after their 3-0 home loss to promotion-chasing Southport was one of just three games in the division to beat the weather.
The ground staff at the Horsfall Stadium were joined by volunteers early in the morning and they worked on the pitch until the match referee arrived two hours before kick off and confirmed that the game was on.
For a long spell it looked as though the efforts would be rewarded by a positive result but Liam Watson's Southport are lethal and they took the few chances they created, which made it appear to be a comfortable victory.
It was far from that for the Sandgrounders and Avenue manager Mark Bower was pleased with much of the work his players put in. He said 'I thought we were the better side in the first half, and comfortably so.
'We weren't as good in the second half but we matched them for most of the game and it was just their extra bit of quality in both boxes that was the difference. There were also some big turning points. They took the lead from a free-kick that I still don't what it was given for, their (Southport's) bench were laughing when it was given.
'Lewis Knight has been penalised for doing nothing and he got booked for it, and then they score from the free-kick.
'In the second half we still got in good areas and Dan Sweeney had a great chance at one end and more or less straight away they go down the other end and make it 2-0 which kind of killed us off really.
'In the three games (since Bower's return) we have been in every one of them, we're getting in good areas and creating chances. If we weren't, it would be a worry but we have enough good players and experience in the squad to be competing with these sides.
'The two sides we've played at home have both been in the play-offs and Gloucester (who Park Avenue travelled to the previous Saturday) were on a good run and are mid-table because of that run. We have matched them all but we are where we are because of the lack of goals and we're working hard to put that right.;
When Knight picked up his harsh yellow card, for what looked to be a fair challenge 10 yards from the corner flag, Port forward Devarn Green went for goal with the free-kick. Avenue keeper Joe Green palmed it onto his bar but the rebound was headed in by Ryan Astles... The visitors doubled their lead... A sublime through ball from Port skipper Dave Morgan dissected the Avenue defence and set Devarn Green free. He maintained his composure and passed the ball into the net, through the legs of Joe Green...
A spectacular third wrapped the scoring up, and in some style, as Morgan lashed a shot from distance past the diving Joe Green and just inside the post".
According to Gloucestershire Live "Gloucester City ended their 5-1 defeat at Spennymoor Town with eight men after two red cards and an injury to their goalscorer Vincent Harper.
Jennison Myrie-Williams and Zack Kotwica were both dismissed in the National League North clash in County Durham.
Spennymoor opened the scoring within two minutes through Shane Henry... Rob Ramshaw set up Glen Taylor to make it 2-0 after nine minutes and Myrie-Williams was sent off 10 minutes before half-time. His first yellow was for a foul on Ramshaw and his second for dissent.
James Roberts added the third after an hour after being set up by substitute Mark Anderson... Anderson combined with Ramshaw, who crossed for Jamie Chandler to make it 4-0 with 20 minutes left.
Harper scored a consolation goal for Mike Cook's side six minutes later, but Kotwica was sent off after a high challenge on Jamie Curtis.
Anderson rounded off the scoring for Spennymoor and there was further misery for Gloucester in stoppage time as Harper tried to reach a Hanks cross but suffered a head injury and had to be carried off on a stretcher. Teenager Harper, who is on loan from Bristol City, was able to travel back with the rest of the squad".
At AFC Telford United "James McQuilkin says 'Now we can kick on', following the Bucks' recent turnaround in fortunes as the Bucks' midfielder is once again available for selection following a suspension from last week's game against Guiseley.
The midfielder, who scored in his last appearance for the Bucks against league leaders York City thinks that the squad has got the resources to continue to act upon their recent improvements. He believes the core foundations start from training with the principle of working hard been a key attribute.
McQuilkin has scored twice this season, however has only just recently started to be drafted back into the side. He will now be eyeing up a chance to cement his place in the team in the forthcoming games.
He said 'First of all you work hard in training and then show what you can do there, when you get your chance you work hard. It`s the minimum really; you give your all in the game and bring to the table to exactly what you have got.
'There`s been a few changes, we have bought a few players in and they have helped us massively... We haven`t let ourselves get too down. You want a feel good factor and as soon as that happened against York you could feel the lift within the squad'.
McQuilkin also claims that the future is bright with the results looking a lot more encouraging following more impressive displays by the Bucks recently. He also is desperate to regain a place in the starting eleven".
York City report that "The Minstermen went five points clear at the top of the National League North after a much-improved second half performance, coupled with a Dan Maguire goal, gave City the win over second-placed Chester.
Chester had drawn the previous three League games, which gave City a two-point cushion as well as a game in hand going into the highly anticipated fixture at the Deva Stadium.
It was a miracle the game went ahead, with overnight rainfall putting the contest into doubt, but the ground staff at Chester managed to maintain the pitch and get the go-ahead from the referees before 3pm.
The top-of-the-table clash kicked off with Chester coming across the more attacking side in the first few minutes...
City looked very dominant and after an onslaught on the Chester goal Maguire finally opened the scoring, latching onto a cross by Kempster from the left and slotting in under the goalkeeper from six yards to net his first competitive goal of the season...
The home side really pushed for an equaliser the latter stages of the game, notably Jamie Morgan beating the offside trap and nearly getting his head on a dinked ball over the City defence...
City ran down the clock in the four minutes of additional time and booming cheers followed from the away end when the whistle blew as City took all three points from the important encounter.
The team now go into Tuesday night's game with the prospect of going eight points clear if they can overcome Boston United".
---
27 October, 2019
Next Tuesday, five weeks after the last Alty action at the J. Davidson Stadium, supporters will be able to see one of the club's teams in action at the J. Davidson Stadium. On 29 October, at 7.45pm, Altrincham Reserves entertain Whaley Bridge Athletic in a CFL Memorial Cup game. The last game at the JDS was the FA Cup replay win over Chester FC on 24 September.
It would not be surprising to see some of the first team squad involved on Tuesday, given their enforced inactivity this weekend.
Altrincham Reserves' scheduled game on Saturday, at home to Eagle Sports, was postponed.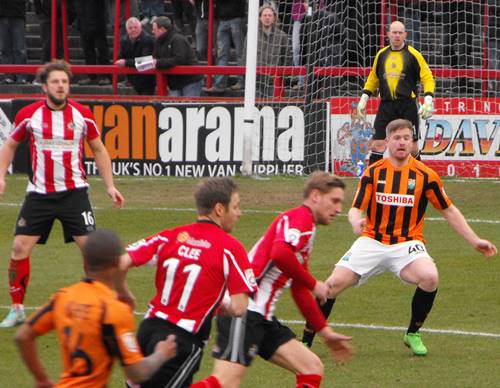 Altrincham's next game is their first visit ever to King's Lynn Town, who have started the season well.
King's Lynn lie fifth in the league with 25 points from 13 games, compared with Alty's eighteenth place and haul of 13 points from 12 fixtures.
Like Alty, Lynn's game on Saturday was postponed. They were supposed to be travelling to Kidderminster.
For Alty fans the best known face in the opponents' squad is forward Michael Gash. Gash has the distinction of scoring against Altrincham for three different clubs in 2014-15, when playing for Kidderminster Harriers, Nuneaton Town and Barnet!
In fact Gash is also a contender for the record for playing against Alty for the most clubs as he has also been named against the Robins for at least four other clubs, namely Cambridge United, Rushden & Diamonds, Ebbsfleet United and York City! So, assuming he plays, King's Lynn's shirt will be the eighth different club's shirt that he has donned against Alty.
Right: Michael Gash (no.40) playing for Barnet against Alty in 2015. The Alty players seen are Tom Marshall, Nicky Clee, Jake Moult and Stuart Coburn.
Bradford (Park Avenue)
"slipped to a second successive defeat as Southport ran out 3-0 winners at a damp Horsfall Stadium. Volunteers worked tirelessly all day to ensure the game went ahead, with only two other fixtures in the National League North taking place.
But goals from Ryan Astles, Devarn Green and David Morgan meant all the hard work was for nothing as the visitors took all three points home.
Avenue had a few sniffs at goal early on... But it was Southport who took the lead, following on from a questionable free kick on the left, as Jack Doyle appeared to slip, but the referee adjudged a foul by Knight.
Devarn Green took inspiration from the Bradford man, going for goal and almost catching out his namesake Joe, who tipped it onto the bar. Adam Nowakowski couldn't connect with the clearance though, and centre back Ryan Astles lashed home.
The goal did nothing to invigorate a scrappy half... Avenue were worried once more early in the second period... Later the visitors doubled their lead through Green, who latched onto the end of a fantastic Morgan ball through, and the winger had all the time in the world to slot through the legs of the Avenue stopper Green.
Morgan then capped a fine display with a spectacular goal of his own, taking aim from at least 30 yards and finding the bottom corner with aplomb.
Just minutes later, Avenue were left fuming with the referee once more as Jack Sampson flew into a challenge on Josh Heaton but received just a yellow card, the Avenue man forced to play on with a limp after his side had just made all three changes".
Before the game, Bradford (Park Avenue) reported that "Defender Cieron Keane and goalkeeper Steve Dickinson have joined... Former Guiseley man Dickinson rejoins Avenue as part of Mark Bower's coaching staff once more.
Dickinson, who has also lined up for Saturday's opponents Southport in the past, has also registered as a player, after youngster Jack Bennett was released.
Irishman Keane joins Avenue from Leamington, where he has made eight appearances this season. The left back is a familiar face in the National League North, having previously lined up for the likes of Alfreton, Worcester, Nuneaton and more.
Meanwhile, fellow left-sider Jaheim Headley has been recalled by parent club Huddersfield... Elliott Holmes is the third player to depart this week, with the young midfielder allowed to leave to join Pickering Town".
Meanwhile, Southport are up to fourth place after "A David Morgan stunner sealed a 3-0 win for Southport against Bradford Park Avenue.
After uncertainty over whether the game would go ahead; Liam Watson will now be pleased that it did after a solid result.
Morgan continued his excellent goal scoring form with another long-ranged strike, whilst Ryan Astles bagged his first of the season and Devarn Green made it two in two...
A 3-0 victory for the Port, as they eventually brushed their Yorkshire opponents beside to claim all three points" was the outcome.
According to Cheshire Live "If anyone finishes above York City then it's hard to imagine that they don't win the National League North this season.
If that team is to be Chester FC then they will have to make up some ground after being edged out in a tussle between the top two, the Yorkshiremen streetwise and taking the points thanks to Dan Maguire's 57th minute goal.
For long periods it looked like the two best sides in the division facing off, but Chester never asked enough questions of the away side's rearguard and know that, now winless in the league in four, they will need to get back to winning ways sooner rather than later to remain on their coat tails.
The torrential rain had put paid to all but three games in the National League North but thanks to the excellent efforts of groundsman Mike Barrow and volunteers, the pitch was in fine condition and this particular clash [was] never in doubt...
League leaders York arrived as one of only two sides in English football's top six divisions still unbeaten, the other being Premier League leaders Liverpool.
With the best defensive record in the league it was going to prove a tough nut to crack for Chester, but with the Blues the leading scorers in England's top six divisions they were well placed to do it. They would, though, have to do it without their leading scorer, 12-goal Akwasi Asante, the Dutchman sidelined for a second weekend running with a groin injury, aggravated in the final training session prior to the clash with Steve Watson's Minstermen.
George Waring and Danny Elliott, both starters in the draw at Blyth Spartans last weekend and on the scoresheet in the Cheshire Senior Cup 7-0 rout of Runcorn Town in midweek, dropped to the bench with Anthony Dudley returning to the forward line, Gary Stopforth coming in to augment the midfield.
Win and Chester would take over at the summit of the league, lose and it would be the first real blow landed in the race for the title. There was plenty at stake.
One of the biggest crowds at the Deva for quite sometime was in attendance, both sets of fans full of confidence after their teams' respective starts to the season.
It was Chester who started the livelier of the two... But York don't boast the meanest defence for a reason as the experienced rotund figure of Steve McNulty marshalled the back three alongside Joe Tait and Sean Newton, the wings backs of Kallum Griffiths and David Ferguson limiting the impact of the Blues' attacking outlets of Brad Jackson and Joel Taylor down the flanks...
Chances were at a premium but the standard of football did suggest that the two sides occupying the top slots were deserving of their place, two good sides cancelling each other out, limiting each others strengths...
The visitors emerged from the break with more vigour than their hosts and threatened early on... Chester looked like that had managed to ride the York pressure but fell behind on 57 minutes.
A lapse in concentration allowed Ferguson to chase down the ball to the byline and cross it low across goal, the Blues only able to watch as Maguire's scruffy effort managed to squeeze over the line to spark joyous scenes among the strong away following.
It was always going to be an uphill battle after that with York's miserly defence... York were content to shut the door on the home side, McNulty barely breaking sweat as he dominated the Blues' front line... It's hard to imagine too many teams getting the better of the Minstermen this season".
York City, who face Alty in the FA Cup in a fortnight, played 3-5-2: Jameson, Griffiths, Tait, McNulty, Newton, Ferguson, Moke, Bond, Kempster, Burrow, Maguire (Green 75). Subs not used: Spratt, Durrell, Langstaff, McFarlane.
Chester FC added that "Chester succumbed to their first home defeat of the season as league leaders York won their top-of-the-table clash 1-0.
A positive opening period for the Blues was cancelled out by a slow start to the second, the visitors both eventually and deservedly took the lead when Dan Maguire rolled the ball under Russ Griffiths after nearly an hour.
The hosts pressed and pressed in the last quarter of an hour with substitutes Danny Elliott and Jamie Morgan making a huge difference but this was to no avail... Attendance: 3,658".
From the visitors, York Press reports that "Dan Maguire, nicknamed 'Nipper', scored his first York City goal to pinch a precious three points at National League North promotion rivals Chester.
The former Blyth Spartans hot-shot would have expected to open his account long before the tail-end of October, but his decisive 57th-minute strike was worth the wait, settling a tight top-of-the-table clash that saw the Minstermen move five points clear of their nearest rivals having played a game less.
It also ensured Steve Watson's men extended their incredible undefeated run to a 19th contest.
Maguire rightly deserved the plaudits for taking the crucial chance in a game of very few clear-cut opportunities, but the foundation for the victory was another clean sheet, the ninth already of a miserly season.
City were marshalled in typically superb fashion by skipper Steve McNulty and Chester were restricted to just one shot on target all afternoon when they threw caution to the wind and attacked in numbers during the final 20 minutes of an intriguing encounter".
Spennymoor Town "cruised to a comfortable 5-1 victory against nine-man Gloucester City at the Brewery Field.
It was a dream start for Moors who took the lead within two minutes. Some great play down the right between Rob Ramshaw and James Roberts saw the latter pull the ball back to Shane Henry who smashed the ball beyond Josh Bradley-Hurst to make it 1-0...
Despite a slight resurgence from the visitors, Spennymoor doubled their advantage with just nine minutes on the clock thanks to some magic from Ramshaw. The ball was played into his feet and he produced a sublime backheel to send Glen Taylor through, and the in-form forward made no mistake in netting his 13th goal of the season.
Gloucester's first half got even worse when Myrie-Williams was sent off ten minutes before the break. The experienced winger had initially been booked for a tackle out of frustration on Ramshaw, however just seconds later referee John Matthews gave him his marching orders for dissent.
Spennymoor did manage to make it 3-0... thanks to a finish from Roberts on the hour mark. Substitute Mark Anderson made an immediate impact with a clever pass that carved open the Tigers' defence, allowing Roberts all the freedom to grab his second league goal of the season.
Gloucester rarely posed any threat to Spennymoor's backline all afternoon... Anderson caused Gloucester all sorts of problems following his introduction, and he was influential in the home side grabbing a fourth.
His delightful lofted ball found Ramshaw who squared across the centre of the box, leaving Jamie Chandler with the simple job of finishing past the keeper.
The visitors did manage to grab a consolation, with left-back Vincent Harper cutting in from the left before drilling the ball beyond the reach of Gould.
Any slim, slim chance of a comeback was reduced moments later when substitute Zack Kotwica was shown a straight red card for a high foot on James Curtis.
Anderson sealed the win late on with a deflected strike that wrongfooted Bradley-Hurst to make it five."
In the FA Trophy First Qualifying Round, Warrington Town lost 0-1 at home to Ashton United, with a Sam Sheridan goal the decider.
NL Daily tells us that "Mossley attacker Astley Mulholland has joined up with Cheadle Town on dual registration. The former Colwyn Bay favourite has been working his way back from a leg fracture.
Mulholland's Bay form earned him a move to Barrow in the Vanarama National League last year".
---
26 October, 2019
Saturday, 26 October
Altrincham P-P AFC Telford United
Boston United P-P Blyth Spartans
Bradford Park Avenue 0-3 Southport
Chester FC 0-1 York City
Curzon Ashton P-P Kettering Town
Farsley Celtic P-P Brackley Town
Guiseley P-P Darlington
Hereford FC P-P Alfreton Town
Kidderminster Harriers P-P King's Lynn Town
Leamington P-P Gateshead
Spennymoor Town 5-1 Gloucester City (Gloucester had two red cards)
York City go five points clear.
Today's fixture at home to AFC Telford United has been postponed after relentless rain in the last 24 hours, which has meant that more than an inch of rain has fallen in the Borough of Trafford in that period. This is the second successive Saturday home match at Altrincham to fall victim to rain after the fixture with Gateshead was called off on 28 September, also due to a waterlogged pitch.
This season Altrincham have already had to rearrange five fixtures. In addition to today's match and the Gateshead clash, the league games away at Kettering Town and at home to Blyth Spartans had to be postponed owing to Alty's continuing FA Cup involvement. Also, next Tuesday's visit to Stalybridge Celtic, for a Cheshire Senior Cup tie, has had to be called off as Celtic are having to reschedule this Saturday's FA Vase match against South Shields to Tuesday owing to the postponement of today's fixture.
Today's postponement at the J. Davidson Stadium extends to at least ten weeks the period of Saturday inactivity for Altrincham as regards home games. The last Saturday home fixture for Alty was on 7 September; the next planned game at home on a Saturday is 16 November against Hereford FC.
Recent signing Lewis Archer must feel cursed. His arrival was announced on 21 September but he has yet to step on the pitch for Altrincham. His six-week wait could end at King's Lynn next week... weather permitting!
Sat. 14.9.19 A Kidderminster Harriers
Sat. 21.9.19 A Chester FC (FA Cup)
Tue. 24.9.19 H CHESTER FC (FA Cup replay)
Sat. 5.10.19 A Halesowen Town (FA Cup)
Sat. 12.10.19 A Guiseley
Sat. 19.10.19 A Southport (FA Cup)
Sat. 2.11.19 A King's Lynn Town
Sat. 9.11.19 A York City (FA Cup)
Tue. 12.11.19 A Kettering Town
Sat. 16.11.19 H HEREFORD FC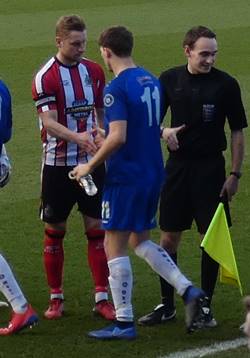 Altrincham FC
have announced the signing on non-contract terms of left-winger Luke Wall from Witton Albion.
Right: Luke Wall meets Jake Moult before the Curzon Ashton v Alty game last season.
The Northwich Guardian reports that "Luke Wall has been described by the manager who has signed him from Witton Albion as having a 'Beckham-esque' delivery.
The 22-year-old forward, who joined Albion earlier this month on non-contract terms, has moved to National League North side Altrincham FC. An instant hit with Witton fans, Wall caught the eye of Robins boss Phil Parkinson.
'I went to watch Lewis Walters play for Ashton United against Witton Albion last week and, I've got to be honest, Luke was the best player on the park,' Parkinson told the Altrincham FC official club website.
'He caught my eye, he has a kind of a Beckham-esque delivery, I mean that's a massive complement when describing players, but that's how I sort of fit him in terms of the way he can deliver a ball without having to beat a man. He was on the money every time and his work rate is second to none, which it has to be to be to play at this level, where he has played for Curzon Ashton'"
Born on 11 November, 1996, Luke was at Accrington Stanley (2016-17) before spending time at Bangor City from summer 2017 till October 2018, when he moved to Curzon Ashton, where he played against Altrincham in the Nash's 0-6 defeat at the Tameside Stadium last season.
Luke joins fellow forward, Lewis Archer, in awaiting his Alty debut. For those who like trivia, Luke Wall (LW) is the second Left-Winger (LW) signed by Alty this season, following the earlier arrival of Lewis Walters (LW) who is also a Left-Winger (LW)!
Altrincham's FA Cup tie at York City in Round One has been switched to Sunday, 10 November at 12.45pm to facilitate TV "highlights" coverage.
Before the tie was switched to Sunday, 10 November, at 12.45pm,
York Press
reported that "Steve Watson believes the FA Cup win over Stockport recalled the 'glory days' at Bootham Crescent, and hopes for a good crowd in the first round proper.
The FA Cup draw on Monday pitted York against fellow National League North outfit Altrincham, whom City beat 3-1 on the opening day of the season. And though a tier below Stockport, Watson reckons York will have to bring the same attitude to the Alty game at Bootham Crescent.
'We performed better against Stockport than we did against Irlam or Buxton,' Watson admitted. 'At home, under the lights... that was probably the closest the atmosphere has been to what you all remember it being in the glory days. That made a massive difference and, hopefully, the draw will also bring the crowds and it'll be another really good occasion.
'They're a team we've beaten this season but they're a team I watched in the summer, knowing that we were playing them first, and they are a dangerous side who play a system that is tough to play against. I thought it was a very hard start to the season. I know what they are capable of.
'It's going to be another tough game and we're going to have to approach it in the same way as we did Stockport.'"
Also from York Press we learn that "Steve Watson has hailed his 'well-balanced' York City side and insists he does not want to tinker with it unnecessarily.
The 3-5-2 formation employed this term has reaped plenty of rewards already. York are on a 22-game unbeaten run, through to the FA Cup first round and lead the National League North ahead of Saturday's trip to second-placed Chester.
With Dan Maguire, Kallum Griffiths and Steve McNulty all back in action, Watson's squad is now the most replete it has been since the first game of the season.
'We've got a system that's worked,' he said. 'We tried it last season but we didn't have the personnel to do it or the time to put the work in. We've worked all pre-season on it and I'm not going to put square pegs in round holes just to give people games. The team looks well-balanced and, now we've got everybody fit, we've got options and that's all I can ask for at this stage.'"
On Tuesday night (29th), Altrincham were scheduled to play at the Bower Fold against Stalybridge Celtic in the Cheshire Senior Cup.
As Celtic's game this Saturday in the FA Trophy against South Shields has already been postponed, it is now planned to play that match on Tuesday instead of the CSC fixture.
On Friday, the Shropshire Star informed us that "Resurgent AFC Telford United head to Altrincham tomorrow looking to continue their improved form after a home draw with National North leaders York and a 4-1 beating of Guiseley.
Aaron Williams hammered a hat-trick last weekend, but pays credit to the role played by Solihull Moors forward Stenson, who is on loan until January 11.
'I didn't know him but I've played against him as he's very good, both on and off the pitch,' said Williams. 'He's got that determination and arrogance we needed. He's happy to rough up defenders and putting them on the back foot helps put us on the front foot. His work-rate is massive for me. I'm doing less and he's running the channels so I can stay in the box where the goals are.
'I think he could go a long way and play higher than he was with Solihull and get into the league. You can tell with the way he is, he wants to work hard and hard work beats talent when talent doesn't work. He's a nice lad too and good to have around the place, he's not a bad egg and gets on with everyone.
'I hope it's a good partnership. We've got a good connection and that happened really quickly... Not saying it didn't with Marcus (Dinanga) or Dre (Andre Brown) but it's made a massive difference for my game. I've had eight shots in two games and before that I was not having the shots'...
'There has been a massive change in the mentality. The new signings have brought a new energy to the team and squad, especially in training. Even when we're having meetings with staff, it feels like it's all linking together. York were lucky to draw against us and the new lads were the difference...
'It's been a momentum shift and we're all on the same page. We were in a place we should not have been with the players we had.'"
Also, the Shropshire Star reports that "AFC Telford boss Gavin Cowan says Derby County have a hot prospect on their hands in his on-loan shot-stopper Matt Yates.
Cowan secured the services of 20-year-old Yates on a season-long youth loan from the Championship club at the start of this month. And the youngster has helped Telford to a 1-1 draw with National League North leaders York City and a 4-1 win over Guiseley 4-1 since making his bow. The Derby goalkeeper enjoyed loan spells at National League South side Gloucester and Telford's divisional rivals Hereford last term.
And Cowan said Yates's experience was why he was able to send 21-year-old Andy Wycherley to Hednesford until November 23.
The boss added 'Andy has gone out on-loan to Hednesford now. He is still in a very developmental period of a very young career.We plucked him from TNS where he had not really played a senior game. He was playing in the lower echelons of the Welsh League. He's got a lot of developing to do, but a lot of attributes that I believe he could be a good goalkeeper. He's not gone away to stay away.
'He's gone away to learn his trade because we felt at the moment playing for Telford might be too much of an ask for him. So we brought in Matty, who is proven at the level and a very hot prospect for a club like Derby County. He has come in and performed brilliantly well'.
Meanwhile, Cowan says skipper Shane Sutton will be out for a few more weeks. He said 'Shane Sutton has probably got a couple of weeks yet. There is a lot of soreness around the injury. The injury itself has healed, it is just about trying to eradicate that soreness now.'"
Still at AFC Telford United, "James McQuilkin says 'now we can kick on', following the Bucks' recent turnaround in fortunes as the Bucks midfielder is once again available for selection following a suspension...
The midfielder, who scored in his last appearance for the Bucks against league leaders York City thinks that the squad has got the resources to continue to act upon their recent improvements. He believes the core foundations start from training with the principle of working hard been [being] a key attribute.
McQuilkin has scored twice this season, however has only just recently started to be drafted back into the side...
He said 'When you get your chance you work hard. It`'s the minimum really; you give your all in the game and bring to the table exactly what you have got. There's been a few changes, we have bought a few players in and they have helped us massively. It was the case of believing in what we're doing and continue to do what we've been doing and continue to do the right things. We haven`t let ourselves get too down...
'A good draw against York, that started us off, now we can kick on... I was desperate to get back in and I managed to take my chance when I came back in'"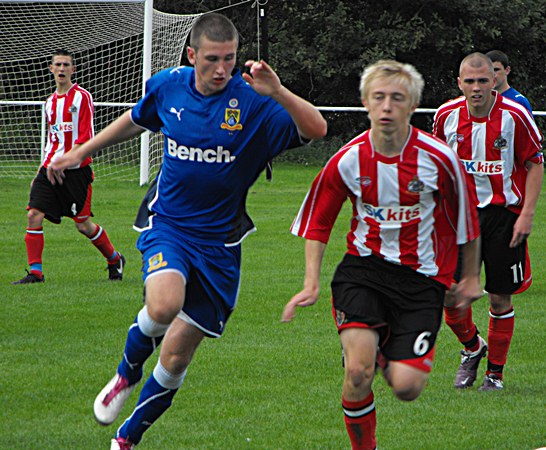 Altrincham FC
reports that "A group of friends are trying to raise money for Ryan Barry, our Reserve Team Player Coach, who just over three weeks ago was taken to hospital.
Right: Ryan is seen playing for the youth team in 2011.
Since then he has had two major, life-changing operations and has been informed that he won't be able to return to his profession as a personal trainer for some time. As he is self-employed, they are trying to raise money so that he doesn't feel the financial troubles as much during his recovery.
Ryan has been involved with the club for over seven years and has consistently represented and captained the Reserves throughout the seasons he has played. More recently, Ryan has undertaken the role of Player Coach due to his willingness to improve the younger players coming through into the Reserve set up.
The club will be hosting a fundraiser dinner on the 23rd November. It's £20 a ticket and tables of 10/12 are available. Please leave the club a message here to book in for this event.
If anyone has any material items, new or old that they wouldn't mind donating for a raffle/auction on the night to raise money, then that would also be much appreciated.
There is also a GoFundMe page where fans can donate if they wish.
Gloucester City
say that "Ahead of Saturday's game at Spennymoor Town we caught up with on loan Bristol Rovers midfielder Luke Russe to gather his thoughts on his time at the club so far...
'I got a bit of stick off the lads for celebrating a throw in but that's just the kind of person I am! I want to win at everything I do especially when three points are on the line. It always helps when you are at a club like Gloucester when the fans are so passionate as well and get right behind you. So to say I'm enjoying it would be a bit of an understatement...
'They are a great bunch of lads. I went on tour with them in the summer and know most of them meet up outside of football so I think the togetherness is really strong...
'We are all obviously disappointed with the FA Cup game (Whitby Town). However, when you look back at a few of the games in the league, we feel like we should have even more points than we currently do, the games against Kings Lynn and York have shown we can compete with the sides towards at the top and that there is no reason not to keep looking up...
On our day any team in the league will struggle to handle us'"
Gateshead announce that "Our upcoming Emirates FA Cup first round proper tie at home to Oldham Athletic has now been re-scheduled to take place on Sunday, November 10 due to the game's involvement on BBC Final Score.
The fixture will now kick-off at 12:45pm at the International Stadium."
Hereford tell us that "Taylor Allen has joined The Bulls on an initial one-month loan deal from Forest Green Rovers.
The 19-year-old left-sided attacking player will be available for tomorrow's game against Alfreton Town.
'He's got a lovely left-foot', says Hereford manager Russell Slade. 'He looks like he can get a goal or two as well, he likes taking players on and likes striding forwards that's for sure. I'm looking forward to seeing him play, hopefully, he can combine with the group quickly. I want him to settle in quickly and I think he could be an interesting little signing for us.'
Allen, who spent the second half of last season on loan at Nuneaton... said '"I like to work hard, I like to get on the ball as much as I can and try to make an impact. I don't really feel happy with myself if I haven't made an impact, say an assist or a goal or played half decent.
'You learn off different people in football, so I'm looking forward to learning whilst I'm here'".
The Northern Echo reports that "Will Hatfield joined Darlington in the summer and has been the team's best player this season believes Alun Armstrong, who was convinced to sign the midfielder after he had been 'an absolute nuisance' against Blyth Spartans.
In-form Darlington tomorrow take their five-match winning run to Guiseley, weather permitting; there is 10am pitch inspection, the club where Hatfield played for four years and made 163 appearances.
After the team suffered relegation in 2017-18, Hatfield's final season at Nethermoor was his first in the National League North when he twice faced Armstrong's Blyth, and the hardworking midfielder made a lasting impression.
'Guiseley used to have him on their right to try and stop Michael Liddle bombing on, but I always thought he was an absolute nuisance and someone that you hated to play against because he's non-stop. I thought if we had someone like that in our team who was constant it would go a long way to let the others play, especially your attacking players.
'He's been massive for us. There's been games when I've wanted to take him off to rest him because he's ran [sic] that much and he's an integral part of how we play. He's everything I want in a player; work ethic, energy, enthusiasm, quality. He can do both sides, defensive and attacking, he's a box-to-box midfielder. If you ask him to do a job, he will do it no questions asked. He's a key player and for me he has been the signing of the season.'
Only Hatfield and Adam Campbell have started all 16 Darlington matches, though the midfielder is yet to score.
Armstrong added 'He can do bits of everything and that's why I like him. The only thing that's missing is a goal, but that's probably because I've had him in more of a defensive role, but it's credit to him for accepting that no problem'...
For now 15th-placed Quakers have league commitments and next week they have two home matches; Kidderminster Harriers on Wednesday and Hereford on Saturday. Armstrong has kept changes to a minimum in recent weeks during a five-match winning run and is unlikely to alter his starting XI at Guiseley, but Louis Laing and Stephen Thompson will come into contention next week.
'I would imagine there'll be changes in the games next week to try and keep people fresh, otherwise I could end up with injuries again,' added Armstrong. 'In these three games I will have to rotate players, but I don't like changing things when it's going well. Nobody likes to change a winning team.
'I don't usually have a goalkeeper on the bench, but we have had recently because we haven't had enough fit outfield players, but we'll have a look at things before Saturday.'
Guiseley are eighth and have not won in four matches but are boosted by the return of Jamie Spencer and 14-goal striker Aaron Martin after suspension".
---
25 October 2019
On Tuesday night (29th), Altrincham were scheduled to play at the Bower Fold against Stalybridge Celtic in the Cheshire Senior Cup.
As Celtic's game this Saturday in the FA Trophy against South Shields has already been postponed, it is now planned to play that match on Tuesday instead of the CSC fixture.
As Altrincham prepare for what would be their first Saturday home fixture for seven weeks, sustained heavy rain has been forecast to persist today and overnight. Consequently,
Altrincham FC
has announced that "Ahead of tomorrow's scheduled game against AFC Telford United, a small band of volunteers have been putting the pitch covers on since 7.45 this morning, due to the huge amount of rain that is forecast from lunchtime today until lunchtime tomorrow.
We are now appealing for more volunteers to brush the water off tomorrow morning. To enable us to get these covers off tomorrow & hopefully get the match on, we will need a minimum of 20 volunteers to sweep the water off the covers & then remove them from the pitch.
If you can help, please come down to the J.Davidson Stadium at 10.30am or as soon as possible afterwards and please bring a brush with you, if you have one. We we will be very grateful for any helpers to try to get the game on!"
So far this season in the National League North, 146 games have been played and 111 of the fixtures have produced a winner whilst 35 matches have finished as draws. That means 76% of games have produced a winning side.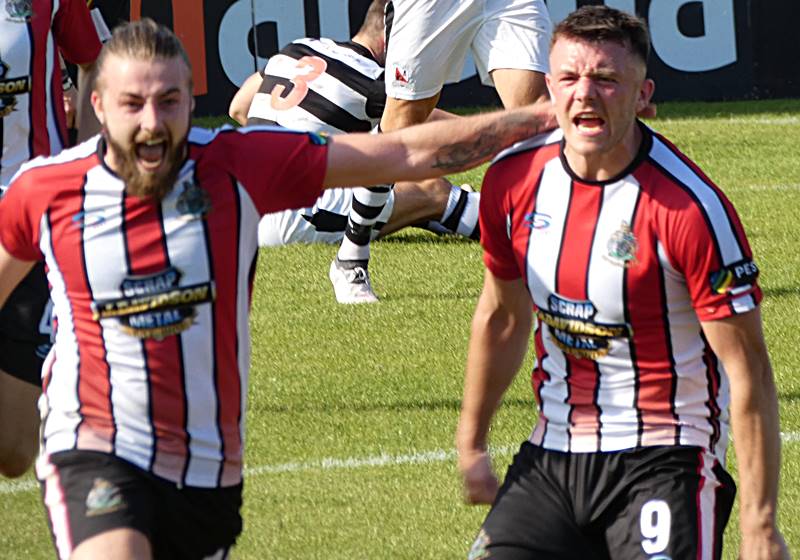 Alty's Max Harrop and Jordan Hulme celebrate one of their league goals this season, aginst Darlington.
424 goals have been scored at an average of 2.9 goals per game.
As for home advantage, the statistics show that almost a half of all matches (49.3%) ended in home wins (72), whilst just under 27% of games saw the visitors emerge victorious, so almost 24% of fixtures were draws (39 times). Eight of Altrincham's twelve matches have produced a winner for them or their opponents (67%).
For Altrincham, 60% of their five home league matches this season have been won, with 20% drawn and 20% lost. In their away fixtures, 0% have been won, 42.8% have been drawn and 57.2% have been lost.
37 goals have been scored in total in Altrincham's 12 league games, an average of just over three per match with Alty scoring 17 of them (1.42 per game).
Alty have scored 13 home goals (2.6 per game) and 4 away goals (0.57 per game).
They have conceded seven goals at home (1.4 per game) and 13 away (1.86 per game).
Altrincham were streamed live on the red button for their Third Qualifying Round tie at Halesowen Town but they received substantially less than those teams fortunate enough to be shown live in next month's First Round Proper as the
National League
informs us that "There's more FA Cup action on the way for our sides with no fewer than three National League teams selected for television coverage...
And now the MANarama National League are pleased to confirm three of our teams ties will be shown live on the box.
First up, it's a Friday night date for Dulwich Hamlet as they welcome League Two Carlisle United to Champion Hill, kick-off at 7.55pm on BBC Two.
Dover Athletic saw off Weymouth last time out and they've been rewarded with a Sunday lunchtime clash with Sol Campbell's Southend United, live on BT Sport 1 from midday.
But perhaps the biggest chance of an upset comes on Monday night when 2008 winners Portsmouth head to the CNG Stadium to face Harrogate Town. Simon Weaver's men have been in fine form recently and will no doubt fancy their chances against tough League One opposition.
Featured clubs will receive a broadcast fee of £75,000, with the winning side also netting £36,000 prize money.
FA Cup televised fixtures:
8/11 - Dulwich Hamlet v Carlisle United (7.55pm) – Live on BBC Two
10/11 - Dover Athletic v Southend United (12.00pm) – Live on BT Sport 1
11/11 - Harrogate Town v Portsmouth (7.45pm) – Live on BT Sport 1
At
Kettering Town
"The club is delighted to announce that Paul Cox has been appointed manager of Kettering Town Football Club. Paul has a fantastic pedigree within the non-league structure having managed Eastwood Town, Mansfield Town, Torquay United, Barrow and Guiseley. In addition, Paul also has a playing history with the Poppies having made 125 appearances in the 1990s...
The Board would also like to thank interim managers Steve Kinniburgh and Luke Graham for their continuing dedication and professionalism while an appointment has been made. Both will be in charge of the game at Curzon Ashton this coming Saturday.
Paul will take charge of the team prior to the Bradford Park Avenue game on Saturday 2nd November".
Altrincham travel to Kettering on 12 November.
Bradford (Park Avenue) "confirm that the loan agreement for Solihull forward Dan Sweeney has been extended for further month.
Sweeney initially joined on a month's loan but manager Mark Bower was keen to secure his services for longer after putting in some impressive performances.
The loan extension will secure Dan's services until at least the Leamington game on the 16th November".
News of Southport's long-throw specialist comes from Accrington Stanley who report that "defender Reagan Ogle has suffered an ankle injury playing on loan at Southport.
The Australian damaged his ankle ligaments in Southport's National League North game with Hereford on Tuesday night.
'I jumped up for a header and I landed on their guy's legs and turned my ankle. I heard a few pops and was unfortunately stretchered off,' said Ogle.
Ogle, whose loan finishes in January, has returned to the Wham Stadium and will go for a scan to find the extent of the injury."
News of another injury comes from Blyth Spartans who "confirm Scott Fenwick suffered significant ligament damage during the 4-0 win over Heaton Stannington last night.
The striker was stretchered off three minutes into his injury comeback after coming on as a half-time substitute, his first appearance since October 10.
Fenwick was swiftly taken to hospital after appearing in agony inside the Heaton Stan penalty. It is understood he got his foot locked in the turf.
An x-ray revealed there is NO fracture, however there is damage to the anterior talofibular ligament and a huge amount of swelling.
An initial assessment suggests Fenwick will be ruled out for two months but will be re-assessed once the swelling eases in around one week's time".
According to Cheshire Live "Anthony Johnson says games like this weekend's top of the table showdown with leaders York City are exactly the reason him [sic] and Bernard Morley wanted the Chester FC job.
The Blues and the Minstermen face off in the biggest game of the National League North season so far and, for Chester, what is arguably their biggest game for several seasons. A big crowd is expected at the Deva Stadium to see the two Roman cities do battle, a win for the second-placed Blues enough to take them to the top of the division while a York success would create a little bit of daylight between them.
York, stacked with experience with the likes of Steve McNulty, ex-Chester man Elliott Durrell and Blues' summer target Andy Bond, are unbeaten so far this season, conceding the fewest goals in the division, shipping just seven.
Chester, two points behind them, have lost just once, and just twice at home in the last 11 months. The Blues are also the highest scorers in the top six divisions of English football with 31. Something has to give somewhere.
'It's a massive game, the kind of game that me and Bernard made our name on and the kind of game that made us want this Chester job in the first place,' said Johnson. 'York have been the bookies' favourites since before the season and they are a massive club. They have got a frightening amount of experience in that squad and they've shown why they were fancied at the start of the season.
'They're unbeaten, but they can't stay like that forever. The pressure is on them to preserve that record this weekend but we know we have to deliver a good performance because we've had too many draws of late.
'Win and we go top, it's that simple. It won't define a season and it won't crown anyone champions but it is a yardstick as to where we are at and how we compare against a team people believe is the best in the division.
'We're confident because we're a good side and we've proved that already. We had a big game last season with Stockport and we let everyone down on that occasion. We want to deliver a good performance and a positive result this weekend.'
Chester are hopeful of having 12-goal Akwasi Asante available again for this weekend after the Dutchman was ruled out of the 2-2 draw at Blyth Spartans at the weekend with a groin injury picked up in training."
Lynn News reports that "Ian Culverhouse was too distraught to face the media, but his body language spoke fluently in fury as King's Lynn Town crashed out of the FA Cup with a whimper on Saturday.
It was a painful afternoon for Lynn's manager, coaching staff and fans alike as The Walks outfit were deservedly beaten by their lower-league hosts at the Weaver Stadium.
Lynn's early season form has been admired from afar but, for the first time this season, they failed to do their talking on the pitch as their cup dream came to a sudden and sobering end. Culverhouse has a winning mentality in abundance. His managerial career at Lynn is driven by it but on Saturday it was clear he felt let down by his players.
Lynn simply couldn't cope with Nantwich's physical presence with the home front pairing of Joe Malkin and the towering Valdemar Schousboe causing their defence countless problems throughout the 90 minutes. In the end, it was Troy Bourne's scrambled goal shortly before the break which decided a tie which was largely dominated by the hosts...
Malkin and Ben Harrison gave an early indication that Lynn were in for a tough afternoon as they fired wide of the target... Leading Linnets scorer Adam Marriott did hit the post in the first half and fellow strike partner Michael Gash also missed a great opportunity to find the back of the net before Bourne netted the only goal of the game.
After the break, Nantwich's Joe Mwasile almost set up a second after coming on as a substitute on the hour mark. The livewire dribbled past two or three King's Lynn defenders and found Webb, who curled an effort off the crossbar... Chris Henderson's header for the visitors was ruled out for offside 20 minutes from time.
Lynn created very little".
---
24 October 2019
In the Women's FA Cup Second Round Qualifying last Sunday (20 October), Altrincham FC Ladies lost 1-5 to Northwich Vixens LFC in a tie whose venue was reversed to Egerton Sports Club. Next Sunday the Ladies are at home to Warrington Wolverines.
As printed here earlier, courtesy of Mike Garnett, Altrincham's record against Saturday's visitors, AFC Telford United, is not good...
Mike has also kindly provided the record against the forerunners of todays Bucks, Wellington and Telford United. And that record is even less encouraging!
All games v the defunct Telford United: p. 75 w. 23 d. 13 l. 39 f. 96 a.129
All games v Wellington/ Telford United/ AFC Telford United: p.83 w. 24 d. 15 l. 44 f. 104 a. 142
AFC Telford United report that "Gavin Cowan and his men travel to Moss Lane this Saturday to face Altrincham.
Alty impressed on their return to the National League last season, finishing the regular season in fifth before defeat in the play-off semi-final to eventual winner Chorley. And the Robins also laid claim to the league's best attack last season, as they notched a whopping 85 goals in 42 games.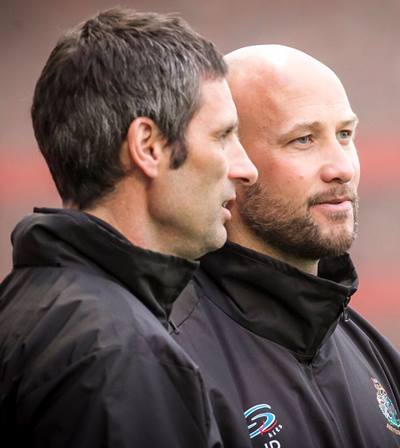 Right: Neil Sorvel and Phil Parkinson.
But this season hasn't begun so well for Phil Parkinson's side. Indeed, the Robins got off to a very slow start, winning just one of their opening seven games. Alty, who currently sit in 18th, have shown better form in the FA Cup though. Having already seen off Chester and Halesowen Town, the Robins won away at Southport last weekend to progress to the first round.
Parkinson's squad remains largely the same as last season. Among the new faces at the Greater Manchester club are former Boston striker Ash Hemmings, who joins on loan from AFC Fylde, while highly-rated midfielder Conor Branson arrived for a fee from Bradford (Park Avenue). [Both have since left!] Meanwhile, dangermen Josh Hancock, John Johnston and Jordan Hulme all sign[ed] up for another season at Moss Lane – [the] trio bagged over 40 goals between them last campaign, with plenty more assists to boot.
Parkinson's side ran out 3-1 winners when the sides met at Moss Lane last year, but Telford ground out a 1-1 draw at the New Bucks Head in April. Both sides will be looking to kick on up the table, so a tasty encounter should be in store this weekend.
AFC Telford United: Last five: L-L-L-D-W. Last result: AFC Telford United 4-1 Guiseley. League position: 15th. Top scorer: Aaron Williams (6)
Altrincham: Last five: D-W-W-D-W. Last result: Southport 1-3 Altrincham (FA Cup). League position: 18th. Top scorer: Jordan Hulme (7)
In the Shropshire Star we learn that "Hat-trick hero Aaron Williams has thanked AFC Telford United boss Gavin Cowan for sticking with him during a barren spell in front of goal.
Williams put Guiseley to the sword last Saturday with his second Telford treble, some six-and-a-half years after his first, to end a run of four games without a goal going back to the beginning of September. And the striker, a high-profile summer capture from Harrogate Town who turned 26 on Monday, was grateful that Cowan kept faith in him.
'It was a long time coming, it's been one of my toughest spells in front of goal,' said Williams. 'I'd not scored in five weeks and you can start to lack confidence. But the gaffer kept my confidence high. He's one of the best I've worked with for that.
'He's very loyal to his players. He was saying that I had did [sic] my bit for the team and that I had nothing to worry about. That definitely makes it easier as a player. And I've been working hard and doing extra training sessions to help'.
Williams has partnered new loan signing Matty Stenson twice as the Bucks managed an impressive draw against National North leaders York before Saturday's rout."
York Press
says that "Manager Steve Watson has admitted Altrincham is not the easiest FA Cup tie but insists York City will go into it positively.
The first round draw on Monday night pitted York against fellow National League North outfit Alty at Bootham Crescent, to be played over the weekend of November 9.
To get to this stage, York excelled in a 2-0 fourth qualifying round defeat of National League outfit Stockport County, while Altrincham won 3-1 at Southport. Altrincham sit 18th in the NLN. Their season-opening 3-1 home defeat to York was the first of five losses this campaign, which has seen just three wins.
Watson told the club's website 'There are a lot of easier draws out there but I'm just delighted to be at home again. The atmosphere and the occasion against Stockport was brilliant and, hopefully, we get a similar atmosphere and get a similar performance out of the players. If we do that then I'm confident about progressing even further.
'They haven't started the way they have wanted to, and I'm quite surprised at that, but I know what they are capable of and I've seen enough of them to know that they can cause a lot of problems the way they play. But we will be fully aware and will be well up for it, as much as we were for Stockport.
'We are in a good frame of mind at the moment and don't fear anybody. We would have gone into a game against a Sunderland or anybody like that still fancying our chances'".
Southport
report that "Despite the terrific victory last night [Tuesday] against Hereford, the match was marred by an unsavoury incident in the 36th minute when the match referee alerted club staff that objects were being thrown from a section of 'fans' in the Jack Carr Stand. To the credit of the genuine supporters of Southport Football Club, the perpetrators were identified and ejected within minutes.
The Club would like to put on record its thanks to those supporters who identified the small element responsible. Such behaviour will not be tolerated within The Pure Stadium and any fan seen throwing objects onto the pitch will be immediately ejected and possible prosecution sought."
At Gateshead "Paul Blackett admits hectic five-minute period cost Heed. The forward's hat-trick wasn't enough to prevent a Durham Challenge Cup exit against Consett on Tuesday night.
The youthful Heed side snatched an early lead through Paul Blackett before an almost immediate reply from the visitors, as the Steelmen grabbed four in a five-minute blitz.
Dale Pearson's third of the game in the second half for Consett was then responded to with a Luke Brown goal and another two Paul Blackett strikes, but that wasn't enough for Matty Pattison's side to prevent a Durham Challenge Cup exit.
Senior player Paul Blackett felt mixed emotions after the defeat. 'It's obviously disappointing. We took the lead in nine minutes but then suddenly we were 4-1 down so it was quite hectic and that let us down later in the game. It was new group in all fairness, the communication was a bit all over the place for the first few minutes you could say, but it was no excuse. We sorted it out in the second half and we tried our best.'
The 21-year-old striker was pleased however with being able to keep his momentum going from the weekend, making it four goals in a matter of days.
'It's a positive to take [the hat-trick]. Also, it's the first 90 minutes I've had in a while so that's good... Hopefully today is another impact that will help me to get more minutes and try to force a place in the first-team'".
Kidderminster Harriers report that "There was plenty for boss John Pemberton to be happy about in the wake of the win [on Tuesday] over Farsley Celtic.
The gaffer was impressed by his side's fight in the 2-0 win, and discussed new signing Ashley Hemmings, as well as the new owners and what it means for the club...
'I thought we played a really good team, a very strong team. I watched them on Saturday and they're very good at what they do so we knew we had a battle on our hands. I thought we started well, which gave us a little boost and then the goals came at a good time.
'Obviously, we haven't played for three weeks, which has been hard, but one or two of them were carrying knocks, so it's given them chance to recover. It was nice to have the break, because when we got the bodies back in we worked really hard in the three weeks we've had off, really hard'.
Of the debut of his new acquisition [Hemmings], Pemberton added 'Everyone knows he's a good player. When he came here with Altrincham, he was arguably their best player.'
Harriers confirmed a change of ownership over the course of the last week... 'The new owners have been really supportive of what we're trying to do', the manager went on to say. 'It is going to be a bit of process, it's not going to happen overnight but, hopefully, you can see where we're trying to take the team...
'The owners said this is a new start and we want it to be positive.'"
According to the Northants Telegraph "Kettering Town may be closing in on confirming their new permanent manager but that hasn't stopped the joint caretaker bosses from beginning the preparations for a crucial clash this weekend.
The Poppies had to make do with friendly action last Saturday as goals from James Brighton and Aaron O'Connor secured a 2-0 victory over BetVictor Southern League Premier Central side Stratford Town at Latimer Park.
Now it's back to the serious business of the Vanarama National League North and, with a new manager expected to be appointed before the weekend, they will be starting from rock-bottom.
Kettering dropped to the foot of the table after Blyth Spartans drew 2-2 with Chester last Saturday. The Poppies head to fourth-from-bottom Curzon Ashton this weekend, a fixture which kicks off a crucial run in which they will take on the likes of fellow strugglers Bradford (Park Avenue) and Blyth over the next three weeks.
Caretaker-managers Steve Kinniburgh and Luke Graham took training last night (Tuesday) and the former said 'The training session was just a continuation of the work we have been doing over the past three weeks. We have been building and installing some fresh ideas and we feel the players have really bought into it.
'I think we have had a positive impact on the squad over the last few weeks and I think it showed in the friendly last weekend. We had over 30 crosses into the box and we really attacked them. We were, perhaps, just lacking that finishing touch and that has been a problem throughout the season.
'We are just doing all we can to make sure the preparations are right for what is a very big game for the club at the weekend.'
O'Connor and captain Joe Skarz both returned from injury in the friendly against Stratford and both now look set to be fit for this weekend's crucial clash... Kinniburgh added 'There were some of them just doing some gym work on Tuesday but, as far as I can tell, everyone who can be available will be available for the weekend.'"
From Blyth Spartans comes the Chairman, Tony Platten's recent column. "I would like to place on record a huge thank you to crowd at Croft Park on Saturday versus Chester FC.
While the team battled and earned a point against one of the heavyweights in the division, you created a magnificent atmosphere and were right behind the team from the first whistle to the last. Croft Park is a brilliant place to watch football and can generate some noise...
Despite our difficult start to the season, the crowd have held up well and I thank you for sticking by us and playing your part in our upturn in form. As you have seen, the team have turned a corner over the last month and are playing good football with the help of some new additions.
I said that our new squad would take time to gel. We are starting to see that now and I thank Lee and his management for their continued hard work".
It's Round and It's White
carries a lengthy article, entitled "Can Altrincham sustain full time football?" written by Altrincham supporter Jonny Keen, now based in Glasgow, in which he states his personal views on the topic.
Runcorn Town 1-7 Chester FC
NL Daily
reports that "Mossley have confirmed that they have been expelled from the FA Trophy.
The expulsion is for an alleged breach of Rule 15(i)(i), which states 'A player on a temporary (loan) transfer is ineligible to compete in the Challenge Trophy Competition unless permission to do so is given by the lending club in writing and a copy is received by The Association by 12 noon on the Friday prior to the date fixed for playing the round'.
The Lilywhites had beaten Cleethorpes Town 4-2 in the preliminary round. They had subsequently drawn Morpeth Town away in first round qualifying. Mossley say the decision is subject to appeal."
---
23 October 2019
On Saturday, Altrincham host AFC Telford United at the J. Davidson Stadium.
On that date, 26 October, it will be seven weeks since Altrincham last played a home game on a Saturday and the sequence of away games for the club now stretches to nine matches on the road in a run of eleven fixtures...
Sat. 14.9.19 A Kidderminster Harriers
Sat. 21.9.19 A Chester FC (FA Cup)
Tue. 24.9.19 H CHESTER FC (FA Cup replay)
Sat. 5.10.19 A Halesowen Town (FA Cup)
Sat. 12.10.19 A Guiseley
Sat. 19.10.19 A Southport (FA Cup)
Sat. 26.10.19 H AFC TELFORD UNITED
Tue. 29.10.19 A Stalybridge Celtic (CSC)
Sat. 2.11.19 A King's Lynn Town
Sat. 9.11.19 A York City (FA Cup)
Tue. 12.11.19 A Kettering Town
Altrincham welcome AFC Telford United to the J. Davidson Stadium on Saturday. Like Altrincham, the Bucks have had a disappointing league campaign to date but, unlike The Robins, the Shropshire side have also exited the FA Cup.
When the sides met last December, Alty lay fourth in the league whilst Telford were fifth. This time around AFC Telford United lie thirteenth, compared with Alty's eighteenth position but the Bucks have played 14 games and amassed 18 points, whereas Alty have only played twelve league matches and earned thirteen points.
But Alty go into Saturday's game with confidence built on a run of five unbeaten games (three wins and a draw in the FA Cup and a draw in the league). Meanwhile, AFC Telford United have recovered from their FA Cup mauling by Nantwich Town (0-3 at home) and their last three matches have been a 3-1 win at Blyth, a 1-1 draw at home to York City and a 4-1 trouncing, also at home, of Guiseley.
Saturday will hopefully provide Alty's most recent signing, Lewis Archer, to make his much delayed debut. Although his signing was announced more than a month ago, he has yet to step on the pitch for Alty. This has largely been due to his being FA Cup-tied as Alty played three matches in that competition after his signing but an opportunity to see him in action went by when he was only an unused sub in the league game against Guiseley on 12 October.
Alty are expected to be still without goalkeeper Steven Drench and loanee winger Yusifu Ceesay, whilst left-back Connor Hampson has been restricted to the bench recently by a foot injury so is, presumably, a doubtful starter.
Although AFC Telford United visit Moss Lane on Saturday their website currently displays their next match as being against Tottenham Hotspur! This is because, on the same afternoon that they travel to Altrincham, "The New Buck's Head will host Wolverhampton Wanderers U23s v Tottenham Hotspur U23s in the Premier League 2".
However, the Bucks will be sending a supporters' coach to Altrincham.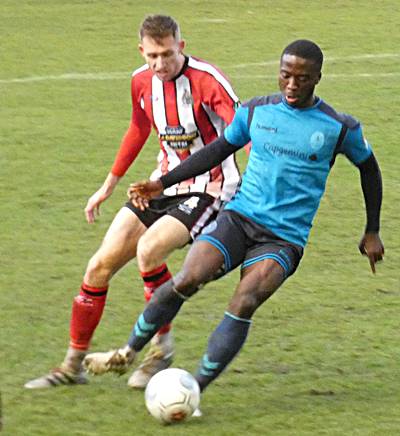 Right: James Jones in action against AFC Telford United on 8 December, 2018.
Mike Garnett's records reveal the historical record against the visitors, which does not make happy reading:
At home: P4-W1-D1-L2-F5-A6
Away: P4-W0-D1-L3-F3-A7
All: P8-W1-D2-L5-F8-A13
When Altrincham and AFC Telford United met at Moss Lane last season, Altrincham included, on the bench, their then new loan-signing from AFC Fylde, Ashley Hemmings. Meanwhile, the Bucks named on their bench the former Alty loanee Brendon Daniels who had gone on loan at Telford from Port Vale. Daniels will be in Telford's squad again, this time around. Also on the Bucks' bench was Blackpool loanee Yusifu Ceesay who, of course, is currently on another loan from the Seasiders at Altrincham, albeit injured for the 2019 match.
In the 2018 match, although Altrincham ultimately achieved a comfortable 3-1 margin of victory, for much of the afternoon AFC Telford United had looked as if they would not emerge from the game empty-handed. After the visitors had started well, it was Altrincham who took a nineteenth-minute lead in the match. Johnston took advantage of a defender's failure to cut out a through ball before getting into the box and feeding Hancock who netted.
But Udoh equalised for the Bucks in the 25th minute, when he converted a nod-down after Altrincham had failed to clear the ball in their own penalty area.
In a match played on a pitch which was sodden from the start, Altrincham regained the lead in the 74th minute. Densmore was chopped down on the front edge of the box as Mantack laid the ball off to him. From the freekick Connor Hampson curled a superb freekick into the net. The icing on the cake was Hancock's second, and Alty's third, goal in the 87th minute, which came from a corner. Hemmings, who made an impressive debut as a late Alty substitute, received the ball in the box and calmly laid it off to the unmarked Hancock who scored for the tenth time this season.
The win left Altrincham third in the league.
ALTRINCHAM: 1. Tony THOMPSON, 2. Andy WHITE, 3. Connor HAMPSON, 4. James JONES, 5. Tom HANNIGAN, 6. Jake MOULT (c), 7. John JOHNSTON, 8. Simon RICHMAN, 9. Jordan HULME, 10. Josh HANCOCK, 11. Kallum MANTACK. Subs: 12. Max HARROP, 14. Ashley HEMMINGS, 15. Josh LANGLEY, 16. Shaun DENSMORE, 20. Elliot WYNNE.
AFC TELFORD UNITED: 1. Andy Wycherley, 2. Ross White, 3. Ellis Deeney, 4. James McQuilkin, 5. Shane Sutton (c), 6. Theo Streete, 7. Harry Cowans, 8. Jonathon Royle, 9. Ryan Barnett, 10. Daniel Udoh, 11. Darryl Knights. Subs: 12. Brendon Daniels, 13. Dominic Smith, 14. Amari Morgan-Smith, 15. Andre Brown, 16. Yusifu Ceesay.
Tuesday, 22 October
Kidderminster Harriers 2-0 Farsley Celtic
Southport 3-2 Hereford FC
Duncan Watmore scored the opening goal as his Sunderland side won 5-0 over Tranmere Rovers on Tuesday night.
Gainsborough Trinity's manager's job is proving tough for incumbents who were formerly at Altrincam. Lee Sinnott had a spell there recently and following him, ex-Alty loanee Liam King likewise had a spell in the hot seat. But the BetVictor NPL now announces that "Gainsborough Trinity have appointed Curtis Woodhouse as first team manager.
He is joined by Martin Foster at the Holy Blues, who find themselves in the relegation zone in the BetVictor Premier Division. Former footballer-turned-boxer, Woodhouse joins after a brief spell at Tadcaster Albion leaving them second in the BetVictor N/West division.
He replaces Liam King, who will remain at the club in a coaching position, with Ross Hannah reverting to purely a playing role...
'We would like to place on record our gratitude to Liam & Ross for stepping into the breach last February and, though things haven't worked out for them this season in terms of results, feel that both can still contribute massively to the football club going forward,' the club wrote on their official website".
Tuesday 22 October 2019
Wrexham 1-0 Chesterfield
Woking 0-1 Ebbsfleet United
Eastleigh 4-2 Welling United
Wealdstone 0-2 Maidenhead United
Poole Town 1-3 Hayes & Yeading United
Barnet 3-1 Potters Bar Town
Billericay Town 5-2 Sutton United
Tuesday 29 October 2019
The following is a replayed match rather than a replay after the original tie had to be abandoned on Saturday:
Haringey Borough v Yeovil Town
Alty's next FA Cup opponents,
York City
report that "Tom Allan has re-joined fellow National League North club Farsley Celtic on a loan deal until 4 January 2020.
The left-sided centre-back was a regular in pre-season and had a spell starting in both FA Cup qualifying games recently but will now ply his trade in West Yorkshire until the new year".
According to the Royal Gazette, "Darlington's FA Cup first-round match away to Walsall will have a strong Bermudian flavour. The cup tie will pit Darlington and Bermuda players Justin Donawa and Osagi Bascome against national coach Kyle Lightbourne's former club Walsall at Bank's Stadium on the weekend of November 8 to 11.
'Walsall are two leagues above us in League Two, so it will be a tough game,' Donawa said. 'However, I believe if we continue our form we will surprise a lot of people.'
Darlington beat Tamworth 3-0 in the fourth qualifying round to advance to the tournament proper for the first time in nearly a decade. Donawa and Bascome came on as late substitutes.
'The club haven't had the best of luck in the cup over the past few years and to be a part of the team to make it into the first round is an honour,' Bascome said. 'It's a great chance for us to showcase our abilities playing against a league side.'
Lightbourne agrees. 'That's a great cup tie and opportunity for those guys to do well against a league opposition,' he said... 'Once they know that they [Darlington] have a couple of players from Bermuda I'm pretty sure my name will spring to mind for the Walsall supporters'... said Lightbourne, who scored 65 goals in 165 appearances for Walsall".
Boston United "have completed the loan signing of Huddersfield Town full-back Demeaco Duhaney. The 21-year-old, who started the Terriers' Premier League victory over Wolverhampton Wanderers last season, has linked up with the Pilgrims until January 2 initially.
He has been granted permission to feature in all cup competitions during his time at The Jakemans Stadium.
Reflecting on Duhaney's arrival, United manager Craig Elliott said, 'Demeaco comes here with a very impressive background. He has obviously been coached well and played a lot of football at Manchester City; winning the FA Youth Cup and being part of their first team squad. He then made his Premier League debut last season for Huddersfield Town.
'I have been looking for a fast, attacking full-back that can give us quality on the ball and Demeaco ticks all of the right boxes.'
Duhaney was on Manchester City's books before joining Huddersfield and was an unused substitute in a Champions' League fixture against Shakhtar Donetsk in December 2017".
Boston, like Altrincham, have been assigned a fourth successive away tie in the FA Cup. They will travel to Isthmian League Premier Division side Carshalton Athletic in the First Round.
Alfreton Town "confirm that the loan signing of goalkeeper Charlie Andrew from Hull City, has been extended until the end of the season.
Charlie has made five starts thus far, keeping one clean sheet in our 1-0 win at Leamington. Andrew signed a new one-year deal with the Tigers this summer and has had two previous loan spells at Bradford (Park Avenue).
Charlie impressed between the posts in a five-month temporary spell with BPA last season, making 15 appearances and keeping four clean sheets to help Park Avenue reach the National League North play-offs after securing a seventh-place finish.
The custodian has also previously experienced time on loan at Pickering Town, playing 60 times in two spells with the Pikes during the 2017/18 and 2018/19 campaigns."
The
NW Counties Football League
tells us that "As it stands there are 59 current managers in the NWCFL, with one vacancy at Barnoldswick Town, which is likely to be filled this coming week.
In the NWCFL Premier Division, the longest-serving managers Jay Foulds and Dougie Pitts at Ashton Athletic have been at the club since 11th June 2013 - 2,323 days.
Former AFC Darwen manager Luke Evans is the shortest-serving 'gaffer' as he took over at Squire's Gate just last month - 25 days ago.
No one can do anything but admire Brent Peters at Bacup Borough in the First Division North; he has been at the helm for a staggering 8,086 days - that is just over 22 years! Atherton LR's Mark Robinson has only been in charge at Crilly Park for nine days following Dave Jones stepping down.
In the First Division South, Sandbach United's Andrew Hockenhull has been at CW11 for over 6 years - 2,453 days - whilst Gary Moore and Liam Page have been in charge at Barnton for just ten days.
Overall, the average at the helm in the NWCFL is 856 days or just under two and a half years, whilst in terms of leagues:
NWCFL Premier Division - 744 days (Just over 2 years)
NWCFL First Division North - 1,442 days (Nearly 4 years)
NWCFL First Division South - 374 days (Just over 1 year)
---
22 October 2019
Altrincham's tie at York City on 9 November in Round One of the FA Cup will be the fourth successive away tie for them in this season's competition. They have already disposed of Chester FC (after a replay), Halesowen Town and Southport after being drawn away from home and now travel to meet league leaders York City, who are unbeaten this season and beat Alty 3-1 on the opening day of the league season.
Previous FA Cup meetings with York City are as follow...
1981-82 Round 2 away, 0-0 (gate 3,786)
1981-82 Round 2 replay, home, 4-3 (3,088). Alty scorers were Goulding, Rogers and Whitbread (2). In Round 3 Alty lost 6-1 at Turf Moor against Burnley.
1985-86 Round 4 away, 0-2 (8,834)
Overall, the record against York City is as follows, courtesy of Mike Garnett.
Home P10-W2-D4-L4-F12-A19
Away P9-W2-D2-L5-F6-A16
All P19-W4-D6-L9-F18-A35
The full draw is below.
As recently as 2012 Altrincham were also drawn away in four consecutive rounds of the FA Cup, in that case ultimately losing a replay at home to Burton Albion.
The only other occasion that a sequence of Altrincham being drawn away in four consecutive rounds of the FA Cup occurred was in 1985/86 when Alty won at Chorley, Blackpool and Birmingham City before the fourth away tie at... York City, with the outcome as detailed above.
On Saturday, AFC Telford play Altrincham in the first Saturday match at the J. Davidson Stadium for seven weeks.
The Shropshire Star informs us that "AFC Telford United manager Gavin Cowan praised the 'impeccable attitude' of striker Aaron Williams after his hat-trick powered the Bucks to a 4-1 victory over Guiseley.
Williams has established himself as a renowned sharpshooter at National League level, but the Bucks' biggest signing of the summer had yet to really show what he is capable of. However, Williams doubled his seasonal goal tally in just over an hour on Saturday.
'He's a phenomenal lad who just wants to wants to do well', said Cowan. 'I expect standards around the football club and Aaron certainly adheres to that. Whether he's scoring or not, his attitude is impeccable. He's been working extremely hard and that was the fruits of all his hard work.'
Williams played for the Bucks earlier in his career, and collected a hat-trick in that stay too, before working his way up to the Football League with Peterborough and Newport County. A record of 24 goals for Brackley Town in 2017/18 saw him join Harrogate Town. However, it was a move that didn't go to plan, as Cowan explained.
'Aaron came here off the back of a difficult season but, hopefully, this can really kick-start him and he'll show exactly why he's a player we wanted to bring to the club,' added the boss....
It was a win that had echoes of last season for the Bucks, who look to be getting back on track for a play-off push.
'The minimum requirement at this football club is that you work hard, show desire and do a job and a half. We went through a difficult couple of weeks but my positivity and optimism hasn't wavered. I don't change my messages; football is about peaks and troughs. We've gone back to basics, and if we do those basics well then the players' quality shines through like it did'".
And NL Daily reports that "AFC Telford United have addressed suggestions that captain Shane Sutton has been absent recently due to a car accident.
The Bucks, who were 4-1 winners over Guiseley in the National League North at the weekend, have said the following, 'Contrary to recent rumours, Shane Sutton is not missing from action due to recent car accident.
Although Shane was unable to reach one of our training sessions two weeks ago due to a collision in which he suffered some minor cuts to his arm, Shane has been missing due to a small fracture in his ankle which is very close to being cleared up.
We appreciate everybody's concerns but we are sure everyone will be glad to hear Shane is absolutely fine and is on the verge of being available to train again very soon.'"
The
Bet Victor NPL
reported before Monday's FA Cup draw that "There are two NPL clubs awaiting their fate in this evening's FA Cup first round draw; Nantwich Town are definitely through... In the hat are Whitby Town, who must navigate a tricky replay...
The Dabbers have already ensured that the NPL has gone one better than last season, when four teams bowed out in the fourth qualifying round meaning no representation in the first round draw".
Monday 21 October 2019
Stourbridge 3-2 Whitby Town (Whitby led 2-0 at one stage; winners at home to Welling United or Eastleigh)
The
NW Counties Football League
reports that "On Tuesday it was the Night of the Aarons. Wythenshawe Town won 9-0 at Abbey Hulton and Aaron Dwyer scored a hat-trick in the opening 16 minutes, actually just 11 minutes from first to third... At Sandbach United, Aaron Knight also scored three... as the home side beat Stockport Town 5-2. Aaron Dwyer has joined Winsford's [ex-Alty Youth and Reserve]
Sam Madeley
on three league hat-tricks. There have been 35 league hat-tricks across all three divisions."
Tuesday 22 October 2019
Witton Albion v 1874 Northwich
Southport
report that "Following Saturday's Emirates FA Cup elimination, Southport will be looking to respond as they prepare to face Hereford. The 3-1 defeat was not what Liam Watson would have hoped for and [he] will want his side to go on to make amends as they return to Vanarama National League North action.
Tuesday's opponents, Hereford, were not in action at the weekend after crashing out the FA Cup on penalties in a replay against Tamworth.
Meanwhile last week was also one to forget for Russell Slade's side, as they suffered a 3-2 defeat away to struggling Bradford (Park Avenue).
Despite that, the Bulls have been in decent form throughout the course of the opening months, accumulating 21 points in 13 games, and sit just outside the playoff places. Their last victory came at the beginning of October, as they beat Leamington 2-0.
A player Hereford will be hoping to get more from is Reece Styche, who joined the club in the summer. Last season the striker scored 15 goals whilst with Alfreton, but is still to get off the mark this time round. A victory for Southport on Tuesday night would see them leapfrog their opponents, with only two points separating them... Watson will be hoping his side can... bounce back from last Saturday's defeat."
Gloucester City report that "Following Tom Harrison's ankle injury sustained at Gateshead last Saturday, Gloucester City have added central defender Harvey Smith from Bristol City to the squad.
Smith was previously on loan at Bath City in the National League South earlier this season, scoring against Hungerford Town. He also spent time in the National North in the 2018/19 season with Hereford, making 21 appearances there whilst also being named as captain for several fixtures.
The 21-year-old joins on a one-month loan."
More comes from Gloucestershire Live which says that "Gloucester City manager Mike Cook praised his side for a brilliant start to the season after a 1-0 win over Bradford Park Avenue put them just one point outside the play-off places.
'I read in one of the non-league papers that we are still favourites to get relegated. Let them keep saying it,' said Cook. 'I don't care, it keeps my boys motivated'.
It was a very even game at the Jubilee Stadium and the first big chance of the game didn't come until the second half when Joe Hanks tapped in the only goal in the 50th minute...
Bradford's biggest chance to pull back level was in the 67th minute but a wonderful double save from Joseph Bradley-Hurst kept the Tigers in the lead.
Gloucester have surprised quite a few fans with their start to the campaign this season after their struggles last year and their 17th place finish in the National League South table.
Cook said 'For us to have 20 points on the 19 October is brilliant. When I first came in it was around the 8 January we only had 17 points at that stage. I'm just hoping all the fans, all the directors and the chairman can appreciate what we've done.'
There definitely was a positive atmosphere amongst supporters at the Jubilee Stadium before kick-off and that carried on throughout the game as Gloucester impressed once again on the pitch this season. Hanks's goal was his 10 in the league this season which is very impressive from a number eight.
'He wasn't a regular scorer when I first came in but we have rotated our plan and I think he individually has benefited most from that change', said Cook.
Gloucester only fielded four substitutes Saturday and after a string of injuries and suspensions, they also had to play players like Spencer Hamilton out of position.
Cook said 'We probably have one of the smallest squads in the league and with three or four injuries we had to field some players who were not fully fit but for them to come and put a shift in like they have is fantastic'... The fans started to get very agitated with the officials but 'I actually thought the referee did very well today, as did the linesman on our side of the pitch he always spoke to us with respect,' he said.
'We're making a conscious effort not to get onto the referee's backs because I think it's important as coaching staff just to concentrate on the game.'
Gloucester travel to Spennymoor Town, who sit in 15th place and just four points off the Tigers, on Saturday".
Hyperbole abounds as the National League claims that "Adam Lakeland always knew his Farsley Celtic players would respond to their first set-back of the season. The Yorkshire club, promoted to the National League North this summer, have shocked the whole division with their incredible start.
But in their last match a fortnight ago, the FA Cup third qualifying round game at Southport, they crashed and burned as they went down 5-0.
A tricky trip to Alfreton wasn't on the manager's wish list but his team answered some questions. The 4-2 win moves flying Farsley into third as they recovered from going a goal behind inside a minute.
'It wasn't exactly the start you want to a game, 46 seconds I think it was,' Lakeland said...
'We knew we were poor against Southport in our last game. We needed a reaction to that and the team certainly provided it.'"
The Northern Echo says that "For most teams in the fourth qualifying round of the FA Cup, victory meant everything. For Hartlepool United it was nothing to get excited about, just another game to tick off in a long meandering period.
If Pools had lost to Brackley, and they could quite easily have, their season wouldn't have been overly affected. Defeat would have merely become another stain in the history books.
Pools have been in the first round proper for 96 years now; the caveat being this is only the third season they have not automatically been put in at that stage...
Brackley gave Pools a right old test... Pools have been fortunate in beating both Aldershot and Brackley, results could quite easily have gone the other way...
Everyone was surprised at Craig Hignett's departure. It wasn't, however, something done in the spur of the moment after Pools lost at Stockport. Arriving at the decision was something the chairman had done in recent weeks... Do they become a proper National League side, one which is big and strong to match muscle for muscle?... The longer you are in this division the more of a National League club you become. But then again you have to become a proper National League club to get out of the National League...
Pools are stuck in this monstrous league. The pre-season hope and anticipation of success has, for the third season in a row, dissolved by the time the leaves fall off the autumn trees. The club's hierarchy are this week in the process of conducting interviews for the job. Dave Challinor, sacked last weekend by Flyde, is among the runners".
Alfreton Town report that "Farsley Celtic came from a goal down to seal a 4-2 win at the Impact Arena as the Reds stumbled to a second straight home league defeat as our recent sporadic form continued.
We took the lead after just 37 seconds when Bobby Johnson slid in Nyle Blake who finished past Trenerry in the box. But three unanswered goals from the visitors from former Red Tom Allan and two from James Spencer saw the Celts into the break 3-1 up.
Conor Branson would hit a beauty in the second half on 52 to reduce the arrears, before Syers reacted to a Charlie Andrew mistake on 66 to complete the scoring and hand Billy Heath's side... a second straight home league defeat. We were excellent in periods but the manner of the four goals conceded will frustrate Billy Heath in what proved to be a frustrating affair yet again with Alfreton taking an early lead, conceding three, grabbing one back and having the momentum again only to concede a killer fourth".
Cheshire Live states that "Chester FC are hopeful that leading scorer Akwasi Asante will be fit for this weekend's top-of-the-table clash with league leaders York City at the Deva Stadium.
The Dutchman, who has netted 12 times so far this season, wasn't part of Chester's matchday squad for the 2-2 draw at bottom side Blyth Spartans on Saturday after picking up a groin injury in training during the week... A decision was taken to hand George Waring and Danny Elliott a chance to shine, Elliott coming in for Anthony Dudley who dropped to the bench.
But Asante was a big miss for the Blues at the weekend, the visitors spurning a number of glorious chances to take all three points, three points that would have seen them draw level with York at the top of the league, albeit having played a game more.
This weekend's clash with the Minstermen now takes on even greater significance for Chester, winless in three league games and five in all competitions. The flip side of that is, though, that Chester are unbeaten in seven league games and the current highest scorers in English football, although their defences lapses will be causing concern for managment.
'To say we didn't want to risk him [Asante] makes it look disrespectful towards Blyth and that's not the case as we will always field our fittest and strongest team,' said Morley after the draw at Croft Park. 'Akwasi got a little nick in training on Tuesday and... it was a case of if we risked him he could have been another three of four weeks out instead of maybe a week... and, let's be honest, Akwasi hasn't been at the races in terms of his usual standard for the last two or three games'...
Morley added: "They've (Waring and Elliott) been knocking on the door and and doing it in training but there is no good doing it in training, you've got to do it on the pitch... They'll believe with the chances created that they have done enough to keep the shirt but collectively we've have to win the game, no two ways about it. I'm disappointed we conceded two goals but I'm also disappointed we only scored two, given the amount of chances we created.'"
For Guiseley, "It was an afternoon to forget in Shropshire for a depleted Lions side as AFC Telford United took full advantage and cruised to a 4-1 victory.
Marcus Bignot and Russ O'Neill were without the services of Aaron Martin, Jamie Spencer, Kennedy Digie and Lee Shaw who sat out that match through suspension or injury. They did however have Scott Smith back from his loan at Matlock, Aram Soleman recovered from his ankle injury and Brad Nicholson returned to the starting line-up after his one game suspension.
In a pretty even first half Marcus Dewhurst was the busiest of the keepers making several good stops to keep his side [Guiseley] in the contest... but he was helpless for the opening goal, Theo Streete's cross found Williams at the back post and he tapped the ball into the empty net...
The second half... got off to the worst possible start when Williams got his second from the spot, Hamza Bencherif was harshly adjudged to have handled the ball blocking Knights' shot... Fifteen minutes later though Bencherif finished off Nicholson's free kick by heading into the empty net after Matt Yates failed to collect the set-piece.
As soon as they were back in the contest though it was as good as over, Garner's mis-placed pass was taken full advantage of by Matt Stenson who curled past Dewhurst into the far corner, just a minute after Bencherif's header.
Six minutes later it was game over as Telford's quick free kick found Williams who quickly struck past Dewhurst for his hat-trick and the final goal of the afternoon".
The Northern Echo says "What a wonderful day Saturday was in the autumnal sunshine in Staffordshire.
I don't think it would be stretching things too far to suggest that was the best 90 minutes supporting Darlo since that amazing night at Whitby in 2016.... Although those two games were in different competitions, the prize was the same – progression.
Since becoming a fan-owned club in 2012 there has been a phenomenal amount of success, especially for a club that had previously been starved of it. And yet, there has always been something missing... There really is nothing quite like a good old fashioned run in the cup... Just look at our recent record in the cup. It has been atrocious.
First, we had a manager who wasn't too keen on it. Then we had a manager who couldn't win in it even if he really wanted too. Now, we have a guy who seems to have embraced the unique challenges of managing Darlo and he is beginning to thrive.
These wins in the FA Cup are the reward for his hard work over the past few months. He knows every last pound in our budget is a hostage that must be protected like it was his own money and it appears he has risen to that challenge. It makes this cup run every bit more important as the extra income is a chance for Alun Armstrong to tweak and strengthen what he already has. Based on the last month or so, those tweaks and improvements have made a significant difference.
You might be thinking I'm over-egging the manager's role in all of this. After all, he wasn't on the pitch on Saturday. He didn't personally deal with Tamworth's very tangible attacking threat. He certainly didn't save their penalty. It wasn't him who ruthlessly cut the home side apart when attacking. But what he did do was bring those players to the club.
No Alun Armstrong, then no Will Hatfield, no Michael Liddle, no Adam Campbell etc. The way the players celebrated at the end of the game and their connection with the fans in that celebration was reminiscent of that night in Whitby.
Yes, there wasn't [sic] 2,000 Darlo fans there and we certainly weren't on the pitch, but nonetheless there was a shared bond; an understanding of what the result meant for the club. That is down to the leadership of the manager".
Bulls' News reports that "Hereford FC travel to the Costa del Scouse on Tuesday evening for a tricky encounter with Southport... Hereford are proving to be pretty awful away from home, with the abject 3-2 loss to struggling Bradford last time looking to be more representative of where the club's at than the earlier 2-0 win at Leamington, which at the time suggested that the stars were aligning and that the new manager was going to turn the potential that's always been lurking in the squad into actual fun performances and actual consistent results. Well, that was a false dawn, with the Bulls getting unceremoniously dumped out of the Cup in the same week as the Bradford defeat...
The good news is that Southport seem to win alternate league games, and this time it's their turn to lose. They also lost on Saturday, 3-1 at home to league rivals Altrincham in the Cup, with the home team's goal coming merely as a consolation as the game dribbled to a finish. With Alty below Southport in the league, the result would have been a disappointment, but is symptomatic of the Port's mercurial start to the season. At home, they've beaten the likes of Guiseley and Brackley but lost to Telford and struggled to draw with Kettering, so they're difficult to assess.
One thing that's certain is that Russell Slade will be doing everything in his power to prevent another shipping of three goals away from home. This will presumably mean that the priority, Marc Richardsesque, is not to lose, and that in turn presumably means one big striker with lots of small midfielders trying to get up in support as a long clearance comes down out of the coastal mist, but to otherwise have men behind the ball at all times. It would be nice to line up in a more attack-minded fashion and play zippy, nippy football-on-the-floor, but while the defence is so utterly easy to breach a more low-risk strategy is understandable...
A win would see the Bulls jump to fifth in the table which, to anyone who has been to a match recently, will seem utterly baffling. It does, I suppose, demonstrate that this could be the season to sneak up and out of this division while it's undergoing an unusually uncompetitive year".
---
21 October 2019
In Monday evening's FA Cup draw, Altrincham were drawn away at York City.
The full draw is below...
Ipswich Town v Lincoln City
Oxford City v Solihull Moors
Crawley Town v Scunthorpe U.
Harrogate Town v Portsmouth
Colchester United v Coventry City
Sunderland v Gillingham
Dulwich Hamlet v Carlisle United
Bolton Wanderers v Plymouth Argyle
York City v Altrincham
Wrexham v Rochdale
Maidstone United v Torquay United
Leyton Orient v Maldon & Tiptree
Chippenham Town v Northampton Town
Haringey Borough / Yeovil Town v Hartlepool
Cambridge United v Exeter City
Stourbridge v Eastleigh
Salford City v Burton Albion
Forest Green Rovers v Billericay Town
Bristol Rovers v Bromley
Ebbsfleet United v Notts County
Walsall v Darlington
Nantwich Town v AFC Fylde
AFC Wimbledon v Doncaster Rovers
Hayes & Yeading v Oxford United
Shrewsbury Town v Bradford City
Grimsby Town v Newport County
Gateshead v Oldham Athletic
Mansfield Town v Chorley
Dover Athletic v Southend United
Tranmere Rovers v Wycombe Wanderers
Carshalton Athletic v Boston United
Cheltenham Town v Swindon Town
Accrington Stanley v Crewe Alexandra
Barnet v Fleetwood Town
Macclesfield Town v Kingstonian
Maidenhead Utd v Rotherham Utd
Blackpool v Morecambe
MK Dons v Port Vale
Stevenage v Peterborough United
BYE - Chichester Town (the lowest ranked team in the competition).
As chronicled yesterday, Altrincham already had three fixtures to re-arrange; home games against Gateshead and Blyth Spartans and a trip to Kettering.
Two of these have now been rearranged, as follows. Alty now travel to Burton Latimer to face Kettering on 12 November. On the following Tuesday (19th), Gateshead visit Altrincham. Both matches are 7.45pm kick offs. The Blyth fixture has yet to be rearranged.
There is a potential further rearrangement on the cards on Tuesday 29 October, when Alty are set to visit the Bower Fold to take on Stalybridge Celtic in the Cheshire Senior Cup. Should Celtic draw their Trophy game this Saturday against South Shields, the replay would presumably clash with the CSC date with Altrincham.
78 teams will contest the Emirates FA Cup Round One Proper on 26 October. With Bury's demise leaving the draw uneven, a 79th club (the last one left in the velvet bag) in the draw on Monday will receive a bye into Round Two, and pick up the £36,000 prize money as if they had won their Round One clash that never was.
The draw will be televised on BBC2 on Monday at 7pm.
Altrincham have been assigned ball no.55. Many clubs will be hoping to land a big fish from the non-League lake, such as Sunderland (ball 43), Portsmouth (35), Leyton Orient (22). A tie against Sunderland for Altrincham would feature Phil Parkinson against Phil Parkinson as well as reunion with Duncan Watmore! Alternatively, some clubs will be hoping for lower-ranked opposition which in Altrincham's case includes Cheshire neighbours Nantwich Town.
The last time Altrincham reached the First Round was on Bonfire Night 2016 when Alty lost narrowly, 2-1, against the Cowley brothers' Lincoln City at Sincil Bank.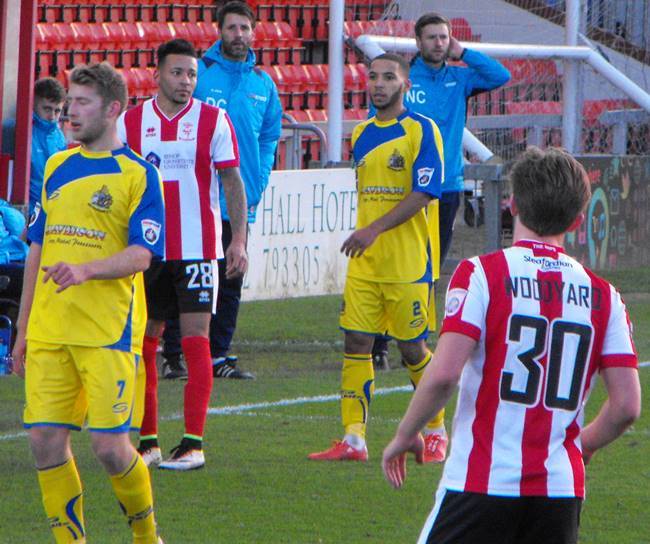 Right: November 5, 2016 and Lincoln City's management duo, the Cowley brothers, look on as Alty's James Lawrie and Curtis Obeng await a throw-in. Facing the camera, Lincoln's no.28 is Nathan Arnold, who of course played for Alty earlier this season.
It was a day when Alty both went out of the FA Cup and found themselves bottom of the league (as BPA had won that day at FCUM). Nevertheless, it was an encouraging second-half performance from Altrincham at Lincoln City, who lay second in the top level of the Vanarama National League.
Lincoln were pressing forward for most of the first half and deservedly led 1-0 at the interval, courtesy of former Dover defender Sean Raggett's headed goal from a corner after 21 minutes.
However, Altrincham put in an improved second half showing with Sean Miller, in particular, getting forward on the left. But a mistake by Jon Cyrus allowed City to double their lead on the hour mark, against the run of play.
Altrincham continued to get forward and, with fifteen minutes left, Cyrus made amends as he headed home a corner. But City were able to strangle the visitors' revival and emerge as 2-1 winners.
3,529 supporters watched the game, including 161 in the Altrincham section.
Altrincham were without suspended captain, Alan Goodall, but Tom Hannigan had returned after completing his three-match ban. On the eve of this match Altrincham had signed defender Curtis Obeng and midfielder Simon Lenighan, who both started. However, Kidderminster Harriers had not allowed recent loan signing, Wayne Thomas, to play.
Andrew Dawber replaced Tim Deasy in goal whilst Craig Hobson was out with a broken bone in his foot.
Only Tom Hannigan, Jake Moult and Simon Richman remain at Altrincham from the squad that day, which comprised 1. Andrew DAWBER, 2. Curtis OBENG, 3. Andy McWILLIAMS, 4. Jake MOULT, 5. John CYRUS, 6. Tom HANNIGAN, 7. James LAWRIE, 8. Simon LENIGHAN, 9. Greg WILKINSON. 10. Damian REEVES, 11. Sean MILLER. Subs 12. Phil MARSH, 14. Simon RICHMAN, 15. Sam HEATHCOTE, 16. Sam PATTERSON, 17. Billy HASLER-CREGG, 18. Danny HALL, 20. Tim DEASY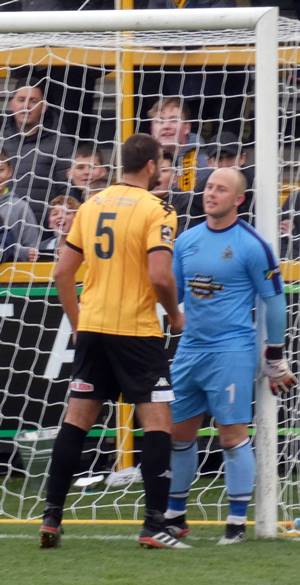 Southport have brief goal highlights from the game.
Right: Ryan Astles attempts but fails to intimidate Tony Thompson by childishly blocking his view as Port lined up a freekick. The Alty keeper comfortably saved the kick when Astles' antics finished.
The funeral of Altrincham supporter Martin Jordan will take place on Tuesday, 22 October, at Altrincham (Dunham Lawn) Crematorium, at 12.45pm. After the service, Martin will be interred alongside his late mother.
The family has requested that attendees at the funeral dress brightly. The funeral will be an occasion for family flowers only but donations may be made on the day to Christie's and Springhill Hospice, Rochdale.
As suspected
Kidderminster Harriers
"have landed a key signing with the acquisition of exciting winger Ashley Hemmings.
Comfortable out wide or up top, the 28-year-old arrives having most recently been playing for our league rivals, Altrincham, on loan from Fylde.
His impressive performances for the Robins have caught the eye, with Harriers swooping to sign Hemmings, his parent club [AFC Fylde] recalling him to allow his move to Aggborough.
Having progressed through the Wolves academy, Hemmings has clocked up just eight shy of 200 Football League appearances with the likes of Walsall, Dagenham & Redbridge and Mansfield Town.
He has excelled at non-league level, too, a Player of the Year showing at Boston two seasons ago seeing him finish as the Pilgrims' top scorer, with a move to Fylde, via Salford, then following...
Harriers' manager John Pemberton said 'I'm delighted to have that over the line, he's a player that I've admired for a while. I think he'll be an asset to us.
'When we played Altrincham earlier in the season, I know our supporters were talking about him because he played well. He's a ball carrier, he has good technique. I want to add more goals into our team and, hopefully, he will create and score. I want to bring in better players with experience at this level, and he certainly fits that bill.'
This key signing is the first addition secured by the club's new owners. It is hoped that more new faces will follow in the coming weeks to give the playing squad a further boost".
Following their 6-1 win last week, Altrincham Reserves went one better on Saturday with a 7-1 win away at their landlords, Egerton FC.
Next Saturday (26th) they are at home to Eagle Sports.
Bizarrely, Altrincham FC Ladies have played just two league fixtures this season whilst some of their opponents have played eight times! The next fixture listed on the league's official site is not till 27 October, at home to Warrington Wolverines.
Altrincham Youth's next scheduled game, on 27 October, is a cup match away to Atherton Town AFC at Butler Park M46 0PJ, next Sunday.
Altrincham return to the JDS for their first Saturday match at home in seven weeks with AFC Telford United the visitors. Alty's last league game on a Saturday at Moss Lane was the 5-0 win over Leamington on 7 September.
In the Shropshire Star we read that "It's been a long wait for a second hat-trick in Bucks' colours for striker Aaron Williams, some 2,380 days, to be precise; however, the Bucks' marquee signing of the summer will care less about that and more about the fact that he broke a goal drought that went back to the 3rd September to propel the Bucks to three well-deserved points.
Williams spent time on loan to the Bucks from Walsall early in his career, and notched a treble in a 3-1 win at Ebbsfleet United in April 2013. Fast forward five and a half years; Williams has established himself at National League level and higher, with prolific spells at both Nuneaton Town and Brackley Town, making his summer capture by manager Gavin Cowan a notable coup; however, with just three goals before Saturday, Williams hasn't as yet hit the heights that might have been expected, least of all by himself.
That appears to have changed with the arrival of Matty Stenson on loan from Solihull Moors. Stenson has given Williams a strike partner with whom he looks to be building a good understanding, and the two proved too much for Guiseley to cope with, Stenson also bagging his first goal for the club.
It was a fine all-round display from the Bucks, and a tough afternoon for Guiseley, who started the more brightly but ultimately were overpowered...
AFC Telford United: Yates, Lilly, Daniels, Deeney (c) (Royle 86), Sass-Davies, Streete, Birch, Walker Stenson (Dinanga 76), Williams (Barnes-Homer 80), Knights. Unused Substitutes: White, Martinez.
As previously announced, Altrincham FC supporter and volunteeer, Terry Surridge, was one of the candidates for the 2019
Manchester Sports Awards
. It has now been announced that Terry has won the vote and all at the J. Davidson Stadium will be delighted to hear the news of this well deserved recognition of his work. In addition to his voluntary work at Moss Lane, Terry is a coach for the Great Britain weightlifting squad.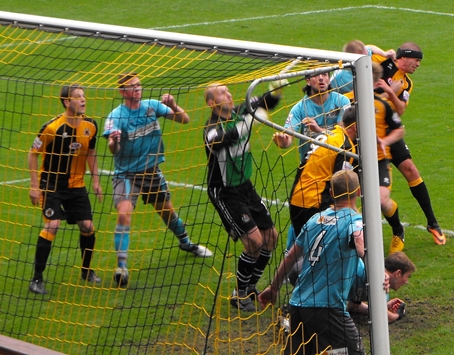 Howard Watts and Mike Garnett's
Through the Years
records reveal that on 26 October, when AFC Telford United visit Altrincham, it will be six years since Alty played on that date. Back in 2013 on 26 October, Alty lost 3-2 at Boston United.
Right: Alty defend their goal in the first half at Boston in 2013.
In that game, after an even start, Boston took the lead when Marshall's shot was deflected over Coburn, after a corner (8 mins). Boston then had the better of the game till Altrincham improved in the period before half time. Densmore struck a superb goal from a freekick to level scores after 42 minutes. But, in the fifth added minute before the interval, Boston scored again when the impressive Miller was allowed to get to the by-line and Weir Daley converted his cross.
In the second half, following a corner, Garner's shot was cleared near the line but the officials gave a goal to make the score 3-1 after 76 minutes. Eight minutes from time Walshaw headed home to make it 3-2 but Altrincham were not able to unlock the home defence again.
Altrincham's squad, who wore their aquamarine and grey kit, comprised 1. Stuart COBURN, 2. Shaun DENSMORE, (capt), 3. Matt DOUGHTY, 4. Jake MOULT, 5. Gianluca HAVERN, 6. Scott LEATHER, 7. James LAWRIE, 8. Simon RICHMAN, 9. James WALSHAW, 10. Damian REEVES, 11. Nicky CLEE. Subs: 12. Carl RODGERS, 14. Junior SMIKLE, 15. Greg WILKINSON, 16. Kyle PERRY, 17. Rob GILROY
First Round ties in the Cheshire Senior Cup will take place on the following dates according to the Cheshire County FA:
22/10/19 19:45 Witton Albion FC v 1874 Northwich FC
29/10/19 19:45 Hyde United FC v Cheadle Town
23/10/19 19:45 Runcorn Town v Chester FC
29/10/19 19:45 Tranmere Rovers FC v Macclesfield Town Postponed
29/10/19 19:45 Congleton Town v Cheadle Heath Nomads
29/10/19 19:45 Winsford United v Alsager Town FC
29/10/19 19:45 Stalybridge Celtic FC v Altrincham FC - Referee Daniel Bruce, Assistant Referee 1 Kyle Lines, Assistant Referee 2, Louis Smith
30/10/19 19:45 Barnton FC First Team v Vauxhall Motors FC
30/10/19 19:45 Runcorn Linnets FC v Crewe Alexandra FC
Gateshead
"came into Saturday's Emirates FA Cup fourth Qualifying Round following a 1-0 victory over Gloucester City, as the Heed's fine home form continued.
On the 26 minute mark, Josh Kayode found the net before second-half strikes from JJ O'Donnell, Greg Olley, Paul Blackett and Jordan Preston helped the Heed prevent an FA Cup shock.
Blackett [said]... 'Obviously, I haven't been getting as much game time as I would've liked recently so it's good for me to come on and have an impact'.
The 21-year-old came off the bench in the 82nd minute, before scoring his first Gateshead goal since pre-season as well as assisting the Heed's fifth of the afternoon in a fine display... 'I've been working hard in training to try and get into the team, the gaffer has put me on today and I've taken the chance well'", he concluded.
Gateshead add that "The Heed proved difficult for Colne to handle as a first-half goal from Josh Kayode, followed by strikes from JJ O'Donnell, Greg Olley, Paul Blackett and Jordan Preston meant the home side ran out 5-0 victors.
Gateshead captain Scott Barrow... [said] 'In the first half I don't think we deserved to be 1-0 up, we didn't really get going and we got a bit of a telling off at half-time. But we showed in the second-half the level we're at'...
The left-back, who celebrated his 31st birthday with the FA Cup win on Saturday".
The Telegraph & Argus reports that "Farsley Celtic scored four while Guiseley conceded four as the two clubs had vastly differing outcomes to their respective away games in the National North.
Adam Lakeland's Celts leapfrogged their hosts Alfreton Town in a battle of the promotion challengers at the Impact Arena. A 4-2 victory saw Farsley jump from fifth to third and it came after a fine first-half performance.
The Reds... had the best possible start as Nyle Blake netted after 40 seconds but they were soon pegged back. Farsley's on-loan York City defender Tom Allan headed the Celts level in the 17th minute and Allan headed down a corner midway through the first half for Jimmy Spencer to put the visitors into the lead.
Spencer netted his second ten minutes later and that all but ended the hopes of Heath's Reds. The home side cut the deficit ten minutes after the break with a pile-driver from former Bradford (Park Avenue) utility man Connor Branson but Farsley's former Bradford City midfielder Dave Syers restored the Celts' two-goal cushion.
Guiseley slumped to a 4-1 loss at AFC Telford United but many of their nearest challengers also lost so they held on to seventh place, just inside the play-off zone.
Joint Lions boss Marcus Bignot said 'It is a very disappointed dressing room but there is a lot to be learned from days like this. It was only 1-0 at half-time but the goal, from a restart, was very disappointing to concede. There was a lot we did right in the first half but in terms of understanding what it takes to win games, we could have been better...
'Players like Scott Garner (captain) and Hamza Bencharif are looking round and there are a lot of young players around them. They are good players but they still need to learn so we will be a good team but we've just got to find our way.'"
According to the Northern Echo "Alun Armstrong has only been in the job 153 days and already brought a feel-good factor to Darlington, a club that had been in the doldrums.
After missing out on the play-offs in 2016-17 due to not having enough covered seats, two unenjoyable seasons followed with mediocre teams producing underwhelming performances without a hint of a cup run.
While Armstrong's tenure remains in its early stages and he maintains this is a rebuilding year, after five wins in a row and three in the FA Cup supporters are jubilant and buzzing with anticipation ahead of this evening's draw on BBC2...
Armstrong has become the first Darlington manager to win three FA Cup ties in a season since Brian Little in 1989-90... His men have overcome Trafford, Leamington and on Saturday they saw off Tamworth 3-0 with clinical finishing crucial, Tyrone O'Neill (2) and Omar Holness with the goals while goalkeeper Liam Connell saved a penalty at 1-0.
'I'm delighted for the club and the whole of Darlington because this has been a long time coming,' said Armstrong. 'Hopefully we'll get the whole town on board now. I think the fans are starting to come back now and they're buying into what they're doing, they've seen the workrate of the lads, the work we're doing off the pitch.
'The atmosphere is changing at Darlington. I can feel it, the players can feel it, and I think the fans are grasping it. This is a rebuilding season, just because we've won five on the bounce there's still a lot of work to be done, but we're in good form at the minute so you've got to take it while you can'...
With every goal the 20-year-old [O'Neill] scores the likelihood of Middlesbrough sending him out on loan in January to a club in a higher division surely increases, though Armstrong is desperate to keep him."
The Boston Standard reports that "Andi Thanoj's first-half free kick was enough for the Pilgrims to move into the FA Cup's first round for the first time since before chairman Newton took control of the club.
'Unusual for us this, isn't it?' he said with a smile. 'We don't normally have a great cup run so it's just great for the fans. Fantastic... We thoroughly deserved it and I'm delighted for the fans.'
Boston have banked more than £36,000 in prize money from their three cup wins to date this term.
'The money's obviously important but, to me, it's more important we start to win games and get on a consistent run,' Newton added... 'A bye into the next round would be perfect. Then we'll have Lincoln City at home and, after that, away to Liverpool,' the chairman said."
The Eastern Daily Press believes that "Below-par King's Lynn were left to ponder what might have been as their FA Cup hopes were extinguished for another season by Northern Premier league Nantwich Town.
The Dabbers, who had already accounted for the Linnets' fellow National North side AFC Telford in a previous round, were sunk by a close-range goal minutes before the interval from full-back Troy Bourne to secure a place in the first round proper draw for only the third time in their history.
Lynn's cause was not helped by the absence of the two Ryans, Fryatt and Jarvis, who were joined on the sidelines by elbow injury victim Chris Smith. Town's week-long search for a centre back had proved fruitless, meaning Ross Barrows had to be deployed to partner Rory McAuley at the heart of the visiting defence...
The well-organised hosts were playing on the break and it was from one of these moves that the deciding goal arrived with 39 minutes on the clock. James Lawrie broke quickly down the Linnets' left with his low centre being diverted beyond Street close in by Bourne, who wriggled free of his marker to provide an easy finish...
The final whistle was greeted with wild home celebrations to the strains of the Ken Dodd classic Happiness over the stadium PA and Lynn and their supporters contemplating the less than happy prospect of an almost four-hour journey home".
---
20 October, 2019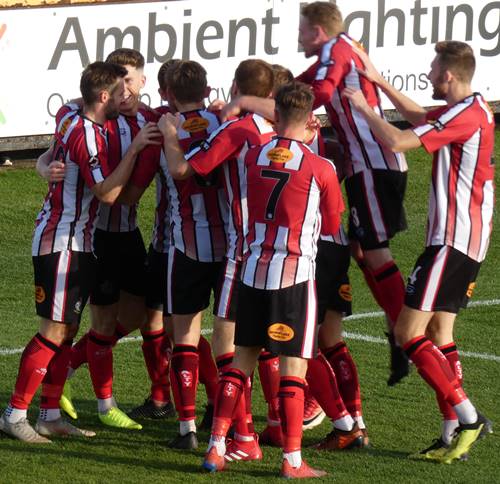 Altrincham secured a deserved place in Round One of the FA Cup on their second visit to Haig Avenue this season.
Alty took a 42nd minute lead when the ball was laid off by Johnston to Hulme who lashed the ball home from left of goal.
Right: Tom Peers, second left, is congratulated on his goal.
Seven minutes into the second half Tom Peers made it two-nil when he netted at the second attempt after goalkeeper Albinson had blocked his first attempt.
In the 61st minute, Hulme drove home a third goal from outside the box. He was then denied a clear penalty when the keeper hauled him down but the referee declined to point to the spot.
Alty absorbed some late Southport pressure but substitute Mohamed headed home a consolation in the 88th minute.
Match report here.
Southport report that they "suffered Emirates FA Cup elimination following a 3-1 defeat to Altrincham at the Pure Stadium.
Jordan Hulme was on target twice for the Robins, as Liam Watson's side were denied a spot in the first round of the England's oldest cup competition in front of a season high crowd of 1507...
The visitors had two very early chances to take the lead, with Thomas Hannigan and Josh Hancock both putting their efforts off target...
Devarn Green... felt he was entitled to a penalty, after he was clumsily pushed over in the box, but referee, Aaron Bannister, waved away the protests.
Down the other end, Charlie Albinson was called into action, stopping a good effort from Hancock with his fingertips.
Throughout the opening 45 minutes, the visitors looked the slicker in the final quarter, and finally broke the deadlock with three minutes of the half remaining, with Jordan Hulme firing a shot in the box past a helpless Albinson.
The Robins could've doubled their lead moments later, as the Port made hard of clearing a ball in the box.
Six minutes after the break, Altrincham did get their second, as Thomas Peers finished at the second time of asking after an initial save from Albinson.
Hulme... made no mistake with his next chance, neatly tucking a shot into the right corner to make it 3-0 on the hour mark.
A minute later Hulme could've got a hat trick following a poor touch from the keeper. Somehow Watson's side survived as the striker tumbled over and the ref waved away calls for a penalty...
Peers nearly bagged another goal, with a speculative effort hitting the crossbar. With two minutes remaining, Southport did pull one back, as substitute Zehn Mohammed headed in."
Following their 6-1 win last week, Altrincham Reserves went one better on Saturday with a 7-1 win away at their landlords, Egerton FC.
Next Saturday (26th) they are at home to Eagle Sports.
Altrincham's progress in the FA Cup means that there are now three of the club's league fixtures to be arranged. These are the home match v Blyth Spartans scheduled for First Round day, 9 November, the home game against Gateshead postponed by the weather and Kettering Town away, postponed because of yesterday's trip to Southport.
In the BetVictor NPL, Ashton United beat Gainsborough Trinity 3-1 with Gianluca Havern scoring the opener. Droylsden's Aaron Burns scored in a 3-1 victory over Pickering Town.
Alty's summer trialist Lewis Salmon scored twice, one from the spot, in Trafford's 4-3 win at Dunston. Darius Palma also scored for our neighbours.
Altrincham will be interested in the The Emirates FA Cup draw for the First Round Proper which will be broadcast live on BBC2 on Monday, October 21 from 7pm. The winners of Round One ties will receive £36,000 whilst losers get nothing as the practice of rewarding losers is bizarrely only applied to the Qualifying Rounds. Altrincham will be assigned ball number 55 in the draw.
Those drawing the balls will be Karen Carney and Jermaine Beckford. The demise of Bury means that one club will get a bye into the Second Round Proper and will nevertheless receive the prize money of £18,750 as if they had won a First Round tie.
Matches in the First Round Proper take place over the weekend incorporating Saturday 9 November.
York Press
report that "City boss Steve Watson has praised his players for 'stepping up' in the 2-0 win over higher-tier [but part-time] Stockport County.
After hard-fought wins at lower-level outfits Buxton and Irlam in the previous rounds, and a challenging 1-1 draw at Telford in the league, City were back to their best tonight.
Goalscorers Alex Kempster and man-of-the-match Sean Newton are the easiest players to single out for praise, but the performance across the board can scarcely be faulted.
Watson said 'Some of the lads who were maybe below-par at Buxton and Irlam, they went the other way tonight and really stepped up'...
A big positive from the game was the long-awaited return of livewire striker Dan Maguire, who looked no worse off for his two-month lay-off, and was every bit the harrying force he had been in pre-season...
Said Watson, 'Since he's come back, he looks free again. Despite the size of him, he's a real threat to defences in our league and the league above... At times, I thought some of the stuff we played was some of the best we have all season...
'Some crosses last week were too high or too long. The message tonight was to put them in low and make it hard for the keeper... With Macca in the centre, Newts adds another dimension to the team, as proved tonight,' Watson said.
'I've never seen a left-sided centre-half overlap so much, but we encourage it... We want to take that kind of performance into the league.'"
Farsley Celtic "made it five consecutive league victories after coming from behind away from home to defeat Alfreton Town 4-2.
Nyle Blake had put the hosts in front in around 40 seconds, however a goal from Tom Allan and a Jimmy Spencer brace saw Farsley turn the game around in the first-half.
Conor Branson gave the hosts hope in the second-half, however Dave Syers added a fourth for the Celt Army to secure all three points.
Farsley Celtic Manager Adam Lakeland was delighted with his side's performance, as he said, 'What an awful start to a game, 46 seconds I think it was, and you think "flipping heck, it's going to be a long old afternoon", because this is a very difficult place to come, against a side that are going very well at the moment.
'Once we got level, I thought we were outstanding for the rest of the game, I thought we were the better team and we wanted to go as big as we physically could today, because they're a big side themselves and they're very direct.'
On his return to the club, Tom Allan was involved in the first three goals, and Lakeland added, 'We took him for the month initially, we wanted to keep him, York needed him back. But as soon as we had the opportunity to get him again, we snapped it up, and you can see why today. He's a good footballer, he's a big lad, he's a danger in the opposition box, but he's very good in his own box as well, and he's a great lad'"
The Chester Standard informs us that "Promotion-chasing Chester were held to a third successive National League North stalemate as they drew 2-2 at Blyth Spartans.
The Blues, who would have moved level on points with league leaders York City with a victory, had to be content with a point in the north east.
All four goals came in an action-packed first half in which Danny Elliott put the visitors ahead after just three minutes with a well-struck free kick that deflected beyond Spartans keeper Mark Foden.
The advantage was shortlived, however, with Blyth striker Michael Sweet heading home from Lewis Hawkins's cross to restore parity just three minutes later.
Chances for both sides followed, but it was the visitors who seized control of the contest on 23 minutes when Adam Wrightson's shot found the net via a deflection off Blues' centre-back Danny Livesey.
Chester... were back on terms five minutes before the interval. George Glendon's ball found the on-running Brad Jackson, whose cut back was perfect for Matty Hughes to sweep the ball home...
Sustained late pressure proved fruitless for the visitors, who closed to within two points of York but will be concerned that their winless run has been extended".
Lynn News tells us that "King's Lynn Town's FA Cup dream came to a sobering end as lower-league outfit Nantwich Town triumphed at the Weaver Stadium.
Backed by their biggest home crowd of the season, the Northern Premier League minnows were good value for their place in Monday night's First Round Proper draw.
The only goal of the game arrived seven minutes before the interval when Lynn failed to deal with a cross from the left and Troy Bourne stabbed the ball home at the far post.
It was no more than the Dabbers deserved with the Linnets, who lacked any real quality or tempo, second best for long periods of the 90 minutes...
Since the club was reformed, it was the third time in ten years that Lynn have fallen at the Fourth Qualifying Round hurdle".
At Boston United "Andi Thanoj scored his first goal for Boston United as the Pilgrims booked their place in the first round of the Emirates FA Cup.
Thanoj's 38th minute free-kick, in his 76th appearance for the club, sealed United's progress to the competition proper for the first time as a non-league club since 1997.
The Pilgrims, who were hampered by injuries and illnesses ahead of kick-off, subsequently lost Mansfield Town loanee Lewis Gibbens to a groin injury after only seven minutes".
They beat Hednesford Town who included ex-Alty Youth player Osebi Abadaki.
---
19 October 2019
With up to 18 places available in the FA Cup match squad at Southport, Altrincham have at most only sixteen fit players with first-team experience to deploy. The sudden departure of loanee Ashley Hemmings has also reduced manager Phil Parkinson's starting-eleven options, as the squad currently comprises...
16 players who have made first-team appearances: Shaun DENSMORE, Connor HAMPSON (possibly still injured), Josh HANCOCK, Tom HANNIGAN, Max HARROP, Jordan HULME, John JOHNSTON, James JONES, Jake MOULT, Toby MULLARKEY, Tom PEERS, Simon RICHMAN, Anthony THOMPSON, Tom PEERS, Andy WHITE, Sean WILLIAMS
2 players who have been in a first-team squad but are yet to make their debuts: Lewis ARCHER (who is Cup-tied), Joel TORRANCE (youth team goalkeeper)
2 long-term injured players: Yusifu CEESAY (loanee from Blackpool), Steven DRENCH
1 player out on loan: Lewis WALTERS (on loan at Ashton United)
Altrincham's opponents,
Southport
announce that they "return to Emirates FA Cup action this weekend as they take on Altrincham with a place in the First Round at stake. Last week's 1-0 victory over Brackley Town will give Liam Watson's side momentum heading into this game, as they look to build a strong cup run.
To reach this stage of the competition, the Port have already overcome Scarborough Athletic 5-2 and Farsley Celtic 5-0, in two solid performances. Meanwhile this weekend's opponents, Altrincham, needed a replay in their second qualifying round tie against Chester, before beating Halesowen Town 2-0.
In the league, Phil Parkinson's side have experienced a slow start and currently sit in 18th place, winning three games. Their most conclusive victory came in a huge 5-0 win over Leamington at the start of September... Meanwhile the Robins have also been on the receiving end of a heavy defeat too, suffering a 5-0 loss at the hands of Boston.
The dangerman the Port will have to keep their eye on is Jordan Hulme, who is currently the club's top scorer with five goals. One of those strikes came against Watson's side when the pair met last month, but it was not enough for Alty to come away with anything.
The 2-1 victory will be best remembered for a superb strike from Kieran Glynn to get Southport's second goal.
However, on the two meetings last season, it was Parkinson's side who were victorious on both occasions with a 3-1 win at the Pure Stadium and 1-0 victory at Moss Lane.
Southport know how important an FA Cup run can be after the exploits last season and will be looking to make it into the competition proper again."
Contrary to what you may read elsewhere, you do NOT have to buy a ticket in advance for today's match as
Southport
themselves have announced that the "FA Cup game against Altrincham takes place on Saturday October 19th with a 3pm Kick Off.
Normal matchday prices will be in place and as it is an FA Cup fixture there are no discounts.
Seated:
Adults £15
Concessions Over 65, Armed Forces and Students £11
Juniors (12-17) £5
11s and under are free
Standing:
Adults £13.50
Concessions (as above) £10
Juniors £5
Tickets are available to buy online which we strongly recommend to avoid any queues on the day. Cash turnstiles will be available for home and away supporters. The Club Shop and 1881 Lounge will take card payments on the day but advance purchase is highly recommended".
Ties in Fourth Round Qualifying affecting northern clubs are as follow...
Southport v ALTRINCHAM
Hednesford T v Boston U
Gateshead v Colne
Barrow v Solihull Moors
Whitby T. v Stourbridge
Hartlepool U v Brackley T
Nantwich T. v King's Lynn T.
Chorley v Spennymoor T.
Tamworth v Darlington
York C. v Stockport County
Notts County v Belper Town
Chesterfield v Wrexham
FC Halifax Town v Harrogate T.
AFC Fylde v Peterborough Sports
Whilst Altrincham and a number of National League North teams are involved in the Emirates FA Cup on Saturday, eight of the eliminated teams are playing league games on 19 October.
AFC Telford United v Guiseley
Alfreton Town v Farsley Celtic
Blyth Spartans v Chester FC
Gloucester City v Bradford (Park Avenue)
As announced yesterday, Kidderminster Harriers have acquired new owners. The unofficial
Harriers Online
comments that "After months and months of waiting the announcement of new owners for Kidderminster Harriers Football Club was made yesterday afternoon. The new owner, Richard Lane, finally put his head above the parapet and allowed the statement to be published even though it had been known about for some time now.
It was way back in April, around the time that Mark Yates was relieved of his position as the manager, that talk started to grow of an imminent takeover after it was plain for all to see that the 'vision' that came to Colin Gordon in a dream was going to be just that. A vision and an unworkable one at that.
The pie in the sky of a new stadium to be built along the Stourport Road, combined with a world class University of Football, was going to remain as a faded glossy brochure given to the press and as a poorly drawn poster behind Colin's desk for all the world to see as he delivered yet again another bile-filled State of the Nation video.
It was Richard Lane who was to come along on his white charger to help CG with the financial mess, that he had gotten [sic] the club into, by paying the players wages as the vision slowly became forgotten. Since then work has been going on behind the scenes to remove Colin's G5 Sports Consulting Ltd from the club to be replaced with Richard's EBC Group along with, one presumes, one of the Gemini group of companies.
Now that we have seen the statement there are a couple of issues with it. One of those is the failure to mention where KHIST fit into all of this seeing as it is they that will be speaking up for the Harriers' fans. The division created by CG was one of the many disastrous events contrived under his ownership and we now need to put an end to this stand-off between the club and the fans.
There is also no 'real meat' contained within the statement. There is talk of developing Aggborough with generated income from local businesses but does that mean new facilities for supporters or does it mean selling parts of the ground off for development?
There is very little talk of the educational side of things although it does say they 'want to strengthen KHFC's position as one of the biggest exponents of football provision, education and employment opportunities in the Wyre Forest'. It doesn't specifically mention the Academy or the Stourport Road site so will that be disposed of to create the funding for an enhanced Aggborough?
There is also a lot of talk about the community and the part that Richard Lane's Harriers will play in it. To be honest it's the Harriers community that needs to be dealt with first and to get the disenchanted, dis-enfranchised and despondent fans back on board first by giving the manager, John Pemberton, the wherewithal and confidence to get our team back to winning ways and on the road to real recovery".
In the Telegraph & Argus we read that "Bradford (Park Avenue) manager Mark Bower hopes Lewis Knight's stunner against Hereford on Saturday is a sign that his players are getting their confidence back, as four solid signings made impressive debuts in the surprise 3-2 win at Horsfall.
Knight netted Bradford's second goal... Bower felt that Knight's confidence had been knocked, like most of the team, by poor results this season, but that a win and new players coming in should see things improve. He said 'Last season Lewis had some really good spells but his confidence has been affected, as it's difficult to be in a struggling team. But we've brought in a few new signings and it gives us a fresh start. I just want players to concentrate on their individual role and be more free.
'We were playing well, had a few good chances and maybe that's why Lewis took the shot on. It was a fantastic finish and it looks even better watching the footage back.'
Adam Nowakowski scored on his Avenue return, having played under Bower in the previous two seasons, Billy Priestley returned to the club after nearly four years away, and veteran striker Oli Johnson was spotted in the stands, ahead of a possible return. However, the manager insisted it was not as simple as 'getting the band back together'.
After four new players started for Bower against Hereford, he mused, 'Adam was the only one who had played under me before. Joe Green, Billy Priestley and Liam Hughes never had. We'd been conceding from set pieces so I wanted to bring in steel and physical presence. As long as we're solid, we can pick up points and maybe afford to be choosy over who else we bring in.'"
Bower has warned fans not to get carried away with one result, saying there needs to be no complacency from players or fans as consistency is required above all else. The road to consistency begins with tomorrow's league clash at Gloucester City... Bower said 'I have to catch up on my match preparation for all teams, but when I was out of the game earlier in the season, I was watching more local teams so I've not seen Gloucester live... We know what their players are like and as much as we can about the team'".
Darlington report that "We head to Tamworth looking to reach the first round proper of the FA Cup for the first time as a fan-owned club.
The last time we played at this stage of the competition was when we played Hinckley in season 2011-12, and we lost in a replay. The rest, as they say, is history... Quakers have won twice away in the competition so far this season, while opponents Tamworth won at Hereford on penalties in a replay in the last round.
Team News: Right back Luke Trotman is ruled out for the season with an achilles problem, while striker Jamie Holmes is out for some months with a cruciate injury; he could have an operation soon. Defender David Atkinson is out for at least another month with an ankle injury. Stephen Thompson is 50/50 with a groin injury. Defender Ben Hedley returns after a one-match ban. Justin Donawa and Osagi Bascome both return from international duty with Bermuda."
According to Lynn News "King's Lynn Town... travel to Nantwich Town in the Fourth Qualifying Round of the FA Cup tomorrow... looking to [earn] a place in the First Round Proper for the first time in 13 years...
Linnets boss Ian Culverhouse said 'It's going to be a hard game up there but we'll travel up with every confidence with the way we are playing and try to get through. They are not a bad side. We've had them looked at and we know what they're about but hopefully this group will stand up to the test.
'It's a game that is going to test our squad. We've got a very small squad and we're going to have to put square pegs in round holes, but I'm sure whoever comes in won't let the side down.'
Nantwich are flying high in the Northern Premier League, but a 1-0 home defeat to lowly Radcliffe Borough last Saturday ended a seven-game unbeaten run for the Dabbers...
At the time of going to press, Lynn had so far been left frustrated in their attempts to bring in a defender on loan ahead of tomorrow's tie. Despite being in contact with a host of clubs, including Norwich City, Peterborough, Notts County and Northampton, Lynn have been unable to bring in an extra body.
Director of football Robbie Back said 'We were very close to bringing in an ex-Manchester United Academy lad... but the player concerned didn't want all of the extra travelling. We haven't managed to bring anyone in but we've made some good contacts and it is all about building up good relationships with other clubs at this level.'
With both Chris Smith and Ryan Fryatt injured, Ross Barrows is likely to continue in an emergency centre-half role alongside Rory McAuley in the heart of the Lynn defence. But the news on Fryatt, who tweaked ligaments in his knee, is a little bit brighter with the long-serving defender set to return to action in the next fortnight."
In advance of one of Saturday's league matches, the Shropshire Star informs us that "Gavin Cowan has called on his AFC Telford side to draw on the confidence gained last time out as they welcome Guiseley tomorrow. The Bucks, 15th in National North, host the seventh-placed West Yorkshire visitors looking to build on the creditable point won against unbeaten leaders York last time out...
Cowan revealed Telford, who handed debuts to three new signings last weekend, took a lot of confidence from the draw against the Minstermen.
'Last Saturday gave us a lot of courage and belief and we want to use that going into the rest of the season. We are very focused on us and making sure of our performance. It's about sticking together at any level. Players thrive off that confidence and courage'...
Cowan revealed that the trio of Shane Sutton (ankle), Henry Cowans (ankle) and Chris Lait (quad) are 'close' to being in contention after injury. 'We can't take our foot off the gas,' the boss added ahead of going up against his old Solihull Moors manager Marcus Bignot, who is co-manager at Nethermoor Park alongside Russ O'Neill... 'It's a long season and we're on the up now. Marcus came in at a tough time but towards the end of last season and the summer they've changed things to how they want it now'".
From Gateshead we learn that they "are back in Emirates FA Cup action at the International Stadium on Saturday afternoon with Colne the visitors...
The Heed come into the game backed by strong home form, securing a fifth consecutive home win and clean sheet with a 1-0 victory over Gloucester City last weekend.
Mike Williamson's side have netted 13 goals and conceded none across the last five games at the GIS, dispatching opposition such as Brackley Town and Spennymoor Town in the National League North while recording a 6-0 win over Ramsbottom United in the FA Cup.
JJ O'Donnell's second-half strike was all that separated the Heed and Kidsgrove Athletic in the third qualifying round in what proved to be a tense cup tie at Hollinwood Road.
Colne meanwhile, have enjoyed a thrilling run to make the fourth qualifying round for the first time in the club's history...
Mike Williamson will have another selection headache on his hands tomorrow afternoon with a fully fit squad to choose from. Assistant manager Ian Watson expects Colne to arrive with plenty of confidence...
'It'll be massive for them', he said...
Colne manager Steve Cunningham admitted that he feels the pressure is on his side to perform... He said 'Some might say all the pressure is on Gateshead but I'm not having that. In fact, I have heaped all the pressure on my players. Some of them have dreams of playing at a better standard and this is a great opportunity for them to show what they can do and see if they can perform at this level. We are desperate to reach the first round proper so, in that respect, all the pressure is on us as well'".
---
18 October 2019
Altrincham FC
has anounced that loanee winger Ashley Hemmings [right] has left the club. His parent club, AFC Fylde, recently sacked manager Dave Challinor and they have now cancelled Hemmings's contract with the Coasters.
As Hemmings has now been offered a full-time contract elsewhere, he has left Altrincham.
Hemmings was in his second loan spell at Moss Lane, having made 4 (+1) appearances for the club last season when he netted two goals. This season he made a further 11 appearances and added one more goal to give a career total for Altrincham of 15(+1) games and three goals.
He is believed to be joining Kidderminster Harriers who have just acquired new owners, see below.
Hemmings becomes the seventh player to leave Altrincham since the summer, after the departures of
Nathan ARNOLD
Conor BRANSON
Matthew CHADWICK
Ben HARRISON
James POOLE
Elliot WYNNE
Kidderminster Harriers
"announce that the Club is under new ownership following its successful sale to a consortium of local business people, headed up by Kidderminster-born businessman Richard Lane.
Richard is the owner of a 30-year-old leading technology firm EBC Group which specialises in office Cloud technology encompassing multiple data centres across the UK. The new owners are committed to keeping the football club at Aggborough for the foreseeable future.
The plans are to further develop Aggborough by generating additional income from local businesses with the intentions of making the Club self-sustainable and achieving long-term success both on and off the field. They also want to strengthen KHFC's position as one of the biggest exponents of football provision, education and employment opportunities in the Wyre Forest....
Richard Lane said 'I grew up less than a mile from Aggborough, and started watching the club when I was two with my father, 'Rocky' Lane. His years of enthusiasm for the club concluded with him becoming a Director a few years later, to which I am very proud, especially when I reflect on what the Football Club achieved in his tenure. We can see the enormous potential here for the club to do something very special in the community.
'There are some immediate challenges ahead of us, namely ensuring that the club is stable and self-sufficient, not just for now, but for the future, so that the club's supporters have a team to watch and a club to support for many more years to come, that is our only immediate priority'...
The club wishes to place on record its thanks to previous owner, Colin Gordon. While Colin will no longer have a role at the football club, he will work as a consultant to the new owners.
'Before the year is out, we will bring together a new Board of Directors at the club; it will be made up of like-minded local business people with passion for football and the community'...
We are excited to say that considerable progress has been made towards making some important signings for the team, which we hope to be able to confirm shortly".
Altrincham face Southport on Saturday in the FA Cup. Last time out Tom Peers started up front and scored and one of manager Phil Parkinson's decisions will be whether to retain the same lone-striker choice or reinstate Jordan Hulme who came on as a substitute last week. Recent signing Lewis Archer is again cup-tied so he has yet to make an appearance after being an unused substitute at Guiseley last week.
Yusufi Ceesay remains sidelined by injury and Lewis Walters has gone on loan to Ashton United, whilst it remains to be seen if left-back Connor Hampson's foot injury will keep him out again.
Mike Garnett reminds us of the record in matches between Altrincham and Southport.
Home: P20-W11-D5-L4-F28-A22
Away: P16-4W-D3-L9-F20-A28
All: P36-W15-D8-L13-F48-A50
Meanwhile, Southport tell us that "Ryan Astles described the victory over Brackley Town as a 'massive' result, as the squad now prepare for Saturday's Emirates FA Cup tie against Altrincham.
The 25-year-old helped the Port to keep a clean sheet at the weekend, David Morgan's penalty just after the hour mark securing the three points last weekend.
The focus now turns to the cup, with fellow Vanarama National League North side Altrincham the opponents at the Pure Stadium in a crucial game for both clubs. Astles said 'We weren't at our best in the first half on Saturday but we came out after the break and pressed a bit more to get the reward we deserved. It was a massive result for us and showed that we are a good team...
'I haven't scored yet, which is frustrating but, as soon as I get one, I know that more will follow. I came close against Brackley so hopefully I can get off the mark in the next game.'
Astles was even more pleased to get the victory to mark Liam Watson's 500th game in charge with three points. 'We didn't want to end the day with a defeat so it was a good day all round, for the club and for Liam to get a massive result.'
Heading into this weekend's FA Cup tie against Altrincham, the defender is excited to take to the field. He added 'It's the biggest competition in England so, as a player, you want to get as far as you can and play the big teams. We are one round away from it, so hopefully we can get a win and get a decent draw.'"
Also Southport report on Earl Davis as "The former central defender was one of the ex-players who returned to celebrate Watson's milestone match...
'Liam has a knack for getting lads together as a team, his man management is just amazing', he said. 'I can't even put into words what he has done personally for me, he's just been unbelievable and I can't speak highly enough of him for what he has done for the club.'"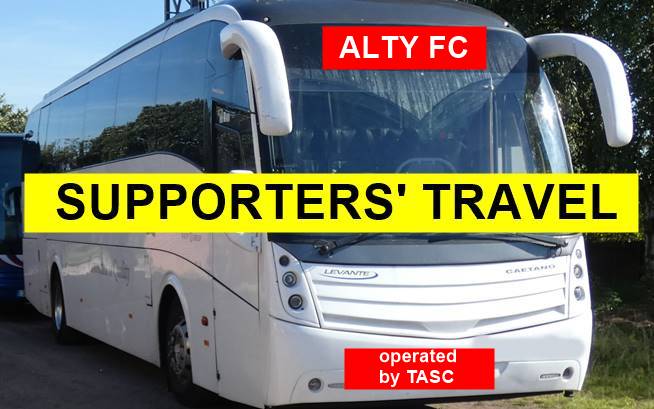 TASC Travel Coordinator, Mark Eckersall, writes...
"We're back on the cup trail next Saturday when we will be providing coach travel to our Emirates FA Cup 4th Qualifying Round tie at Southport. We expect to take a strong support to get behind the lads and hope you will consider joining us on the coach.
As ever we provide a family friendly atmosphere with travellers of all ages welcome. There is strictly no alcohol permitted on board without exception, please respect our volunteers by adhering to this rule.
Bookings will be taken via the club on 0161 928-1045. Please book early to allow us to gauge transport size and ensure we don't disappoint people later in the week. Thanks for your support".
Timings and fares can be found on the Away Travel page.
Brian Flynn, press and media officer at Altrincham, interviewed Shaun Densmore [right] after the Guiseley game for the
Altrincham FC
website.
As Howard Watts and Mike Garnett's
Through the Years
records confirm, Altrincham's last game on Saturday's date of 19 October was in 2013 when they beat Brackley Town 1-0 at Moss Lane in the Skrill North.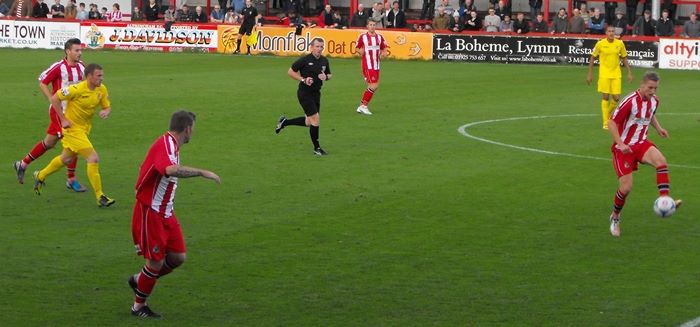 Above: James Lawrie won the Man of the Match award in 2013 against Brackley Town and here he watches as Matt Doughty waits to receive the ball from Jake Moult in the second half at the J. Davidson Stadium.
Whereas in 2019 the match on 19 October is Altrincham's fifth consecutive Saturday match away from home, the game on the same date in 2013 was Alty's seventh home fixture out of eleven league matches so far that season. Altrincham took the lead in first-half added time. The goal arrived when Densmore fed Walshaw who, from right of goal, drew Turley and slotted a left footed shot into the far corner of the net.
Before that, Brackley had had the better of the opening stages, without seriously threatening a goal. However, Altrincham enjoyed a good spell before the interval and, indeed, The Robins were denied two very strong penalty appeals before half-time.
Altrincham saw off plenty of pressure in the second half but held onto their lead reasonably comfortably to inflict on Brackley their first defeat of the league season, whilst for Alty it was 21 league games since they had last been beaten at home. After the game, the Robins stood second in the league, but only on goal difference, behind Hednesford Town.
ALTRINCHAM: 1. Stuart COBURN, 2. Shaun DENSMORE (capt), 3. Matt DOUGHTY, 4. Jake MOULT, 5. Gianluca HAVERN, 6. Scott LEATHER, 7. James LAWRIE, 8. Simon RICHMAN, 9. James WALSHAW, 10. Damian REEVES, 11. Nicky CLEE. Subs: 12. Carl RODGERS, 14. Brian SMIKLE, 15. Greg WILKINSON, 16. Kyle PERRY, 17. Danny BOSHELL.
York City are supposed to be moving into their new stadium before Alty travel there for their league fixture on 14 March 2020.
Minster FM
states "New pictures show the progress that is being made with the construction of the new Stadium for York.
The work is expected to be completed by the end of the year, and it will open early in 2020.
It will be home to York City and York City Knights.
The stadium complex, at Monks Cross, will also have a swimming pool and leisure centre for the public".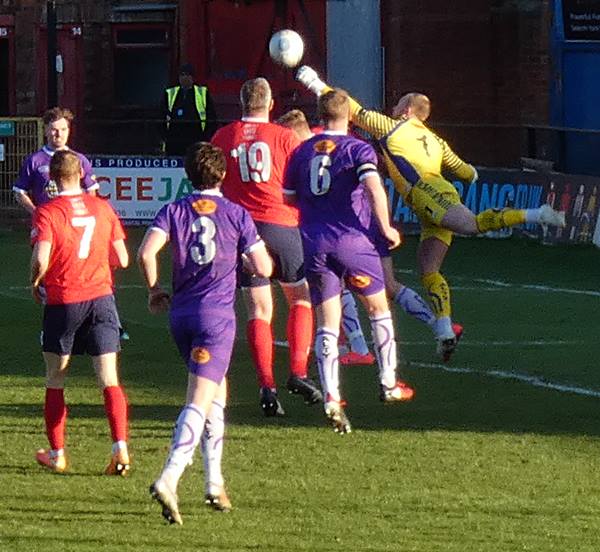 Right: Tony Thompson punches the ball clear during what may turn out to have been Alty's last-ever visit to Bootham Crescent, on 9 March 2019.
Monks Cross is just under four miles from the current ground at Bootham Crescent, to the north-east of the current ground and the city centre.
York Mix has some thirty images of the new stadium and adds that "York councillor Nigel Ayre said... the stadium was well on the way for a handover at the end of this year.
Cllr Ayre, executive member for finance and performance at City of York Council, answered some of our questions about the build.
[He responded] 'Of course, I share the disappointment of everyone that the stadium is not yet open, but everyone should be encouraged that real progress is happening now at pace... I was able to see all the full extent of the consultation rooms, which are now well advanced. These facilities will mark a significant change in what people will have experienced from the old hospital site.
The leisure facilities are also progressing well... Similarly, the hospitality areas are at an advanced stage and provide a real sense of what matchday experience will be like for fans. It was equally good to see the new concessions stands across the south and west stands installed, and crucially, these provide a real sense of what the atmosphere will be like at this fantastic stadium.
The match day experience will be massively improved, with fans being able to benefit from better seating, viewing angles, improved facilities and superior catering etc. Crucially, the new Community Stadium will provide superior disabled access than currently on offer.
Currently, we are aiming for a handover period to take place at the end of this year, allowing for mobilisation and test events to take place after. I believe that people will genuinely be surprised by the quality of the entire complex. From a football and rugby perspective, some fans will probably have some sense of what it will be like, but I still believe they will be amazed at the quality of the ground we have created in the city".
How long it will take from "handover" to actual opening of the stadium for York City fixtures is unstated.
The
BetVictor NPL
confirms that "Four NPL clubs are dreaming of reaching the FA Cup first round proper this weekend. More than 1,400 fans are expected to travel to see Belper Town take on Notts County at Meadow Lane.
It's a historic afternoon for the Nailers against a side who were the oldest Football League club in the country before their relegation at the end of last season. Belper's run in the competition has already earned them £11,250 in prize money and they have caused a number of upsets on their way, defeating Alvechurch, Witton Albion and Rushall Olympic.
Manager Grant Black told the Belper News 'It's fantastic for the club and for the town. It was probably the best draw we could have got. We're buzzing as a group and it's a fantastic achievement for the club...
'We'll try and set up a game plan that will help us get a positive result, whether that's a win or a draw. We know it will be an incredibly tough thing to do but we've got to go with the belief that we can do that and we will. If we perform well on the day then we'll make it difficult for them and hopefully keep the run going.'
The tie also carries significance as it is the first time since 1915 that a previous winner of the FA Cup has had to compete in the qualifying rounds. Notts County won the competition back in 1894.
Nantwich Town could make it through to the FA Cup first round proper for the third time in 10 years if they can beat King's Lynn Town. King's Lynn return to Cheshire for the first time since they beat Warrington Town in last season's infamous Super Play-off final, which secured their promotion to National League North.
One of their goalscorers that day, Adam Marriott, has notched 13 goals in 16 games this season and has been identified as the dangerman by the Dabbers. The former Cambridge, Stevenage and Lincoln City forward was the club's golden boot winner last campaign.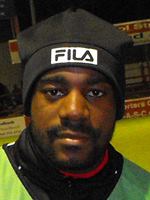 Young defender Troy Bourne, part of the [Nantwich] team that made it through to the first round two seasons ago, told the club's official website 'When we first realised we were in the first round of the FA Cup, it almost felt like a dream. The atmosphere straight after the game was immense'...
Nantwich beat Morpeth Town in the last round with a dramatic late Joe Mwasile [left] winner, while King's Lynn beat Leek Town 2-0.
Whitby Town are in the fourth qualifying round for the first time in 16 years, and have won their last three ties at this stage. They had to get through an arduous tie against Gloucester City in the last round, conceding an injury-time equaliser from the penalty spot, before taking the long trip south for the replay on the Monday night with an injury-hit squad that saw defender Kieran Weledji play as a makeshift forward and two goalkeepers named on the bench.
Opponents Stourbridge have a decent FA Cup pedigree, though have lost at this stage in each of the past two seasons. Manager Chris Hardy told the Whitby Gazette 'Without doubt this is the biggest game I have been involved with. This is the cup final for us, the prize being a place in the first round of the FA Cup and the obvious financial benefits that come with that.
'We know it's a 50/50 game. I genuinely believe that if we perform to our potential then we'll win it'.
Whitby are without striker Bradley Fewster, skipper Dale Hopson, Callum Patton, Greg Rutherford and Corey Roper for the game.
The other remaining NPL side is Colne, who travel to face Gateshead. A win would bank Colne £18,750, which chairman Ryan Haigh estimates could be about 20% of the club's turnover... This is the first time that Colne, formed in 1996, have reached this stage and they would be the first team from the town to ever appear in the FA Cup First Round proper, if they can pull off an unlikely win."
---
17 October 2019
Altrincham winger Lewis Walters (right), who was recently on loan at Buxton, has now joined Ashton United on a 28-day loan. He played for Ashton on Tuesday night at Witton Albion, where the hosts won 1-0.
As well as Lewis, there were several ex-Alty players on view as Witton Albion report that "Albion claimed another home victory but left it late to defeat Ashton United 1-0 at Wincham Park.
A 92nd minute strike from Cesaire Lingouba was the difference between the two sides after a competitive encounter...
Ashton had a good chance... [ex-Alty loanee] Liam Tomsett finding himself in a bit of space inside the penalty area but he sent a shot high over the bar...
There were opportunities to the visitors as the half drew to a close, Chris Renshaw saving well to deny Lewis Walters...
Deep into stoppage time, Albion struck their winner. A cross into the box was only half cleared, the ball falling at the feet of Lingouba who struck a fine low effort into the bottom corner of the net...
Witton Albion: 1 Chris Renshaw, 2 Cesaire Lingouba, 3 James Short (Tom Owens 46'), 4 Josh Wardle, 5 Adam Anson, 6 Liam Goulding, 7 Danny McKenna, 8 MJ Monaghan (Jack Byrne 68'), 9 Connor Heath, 10 Will Jones (Kyle Sambor 56'), 11 Luke Wall. Subs not used: 14 Stefan Sorensen, 17 Ryan Neild.
Ashton United: 1 Jon Worsnop, 2 John Lufudo, 3 Nicky Clee, 4 Gianluca Havern, 5 Jonathan Hunt, 6 Chris Rowney, 7 Casian Anghel (Aaron Smith 67'), 8 Florian Gonzalez (Sam Sheridan 72'), 9 Liam Tomsett, 10 Josh Wilson, 11 Lewis Walters (Steven Tames 56'). Subs not used: 14 Thomas Field, 16 Jordan Slew."
On Saturday, Altrincham visit Southport in the FA Cup, having lost there, 2-1, in the league in September.
The National League says that "They say you should never go back in football, so to go back not once but twice, you'd be mad, wouldn't you? That's what Southport boss Liam Watson did last year after two past successful spells.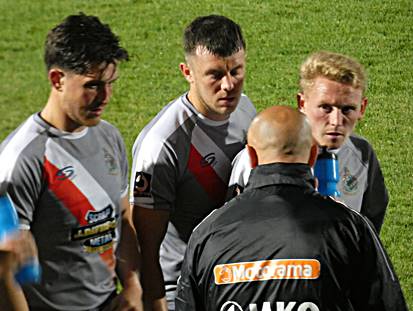 Left: Phil Parkinson discusses tactics with Conor Hampson, Jordan Hulme and Sean Williams during a break in play at Haig Avenue on 3 September 2019.
It's now almost 18 months after his third 'debut' in the dugout and the club is as strong as ever. Not only that, Saturday's win over Brackley Town took Watson to the 500-game mark in the Port dugout.
'It's making me feel old,' Watson told BBC Merseyside. 'But Southport have been my club since 2003, my kids have grown up with it. In the football world, I've always related to Southport but to actually get 500 games as their manager it probably is [a big achievement]. At times it's been classed as a poison chalice or a difficult club to manage so to have so many games in the hot seat is something to be proud of.
'At the moment my son is starting on the road to becoming a footballer and I say to him all the time, 95 per cent of your life is a down and five per cent is a high but that high weighs the 95 per cent down.'
Watson is one of the club's most successful managers ever having won the National League North title in 2005 and 2010.
'In Southport's history of 120 years, they've won four titles so it's something that doesn't come around often and I've been fortunate to have been in charge for two of them,' he said. 'You'll always go back to the days of winning at Harrogate and Eastwood, we had to win both games away from home on the last day. We were 5-0 up a Harrogate with 20 minutes to go and I was still convinced we were going to lose. They're memories that stay with you forever'".
Last weekend, Brackley Town reported that "Southport recorded a first ever win over Saints but are still yet to score from open play in the five meetings between the sides. Southport captain David Morgan neatly tucked away his 64th minute penalty kick after Ellis Myles handled, the easiest decision of the afternoon for the referee.
'To lose the game off the moment we did was disappointing,' Kevin Wilkin said. 'There was no lack of effort in the performance but a bit of a lack of quality and sometimes understanding in that final third. We had some good moments but when you come to places like Southport there are going to be times when you are under the cosh. We have been on the right side of the fine line before but today we weren't'...
The game overall, however, was stop-start and low on clear cut chances with neither side convincing and it needed the penalty award for an obvious but inexplicable handball to break the deadlock. The home side shot close through Ryan Astles and centre forward Raul Correia but rarely called Danny Lewis into action...
Southport: Albinson, Ogle, Parry, Winnard, Astles, Morgan, Green, Doyle (Benjamin 46), Correia (Newell 73 (Woods 85)), Sampson, Bauress. Subs unused: Mohammed, Hanford".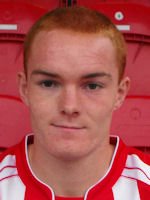 The Sale & Altrincham Messenger reported recently on a Lancashire & Cheshire Amateur Football League match in which Whalley Range defeated Salford Vics 9-2. The Range's goals included a hat-trick by former Altrincham forward Danny Heffernan, who is pictured in action.
Now 32, Danny Heffernan was originally signed on first-team forms by Altrincham on 30 August 2006, following impressive displays for the Reserves. However, he did not appear for the first-team before leaving when the Reserves were disbanded. He followed Reserves' manager Neil Brown, now Alty's groundsman, to Leek Town and then Abbey Hey. He was re-signed for Altrincham by Graham Heathcote in 2008 and made his debut as a substitute striker in a Setanta Shield match against Wrexham on 4th November 2008.
Prior to joining Altrincham Reserves, Danny had played in local South Manchester football for Fletcher Moss FC.
Danny made his Alty league debut when he started the Conference game at Barrow on 11 August 2009. After three starts and seven further sub appearances he was allowed to join New Mills in early October 2009, though his Conference registration remained at Moss Lane. Appearances for Altrincham: 3(+8) (0 goals).
According to
NL Daily
"Blyth Spartans say they have been warned they could face sanctions in future if there is a repeat of a pitch incursion that occurred during the weekend's game with Curzon Ashton.
The incident happened after Blyth scored their winner in the away game with the Nash on Saturday. Levi Amantchi struck the only goal of the match with around 15 minutes to go, giving Lee Clark's side only their second National League North win of the season.
Spartans have posted the following statement: 'The club have received a notification from the FA, following a report by the match referee in relation to a pitch incursion by a Blyth supporter following our goal at Curzon Ashton.
Whilst no action has been taken on this occasion, as the incursion was brief and non-threatening, we have been warned that penalties may occur should this happen again in the future.
Please can we remind all supporters that under no circumstances should they enter the field of play'".
Meanwhile, "Manager Lee Clark spoke of his utmost disappointment after Blyth Spartans exited the FA Cup to Hednesford Town on Saturday afternoon. The 46-year-old was brutally honest after his side's 4-2 defeat at Keys Park, conceding that the hosts were fully deserving of their progression into the Fourth Round Qualifying.
Clark alluded to Blyth's struggles in the set-piece department after three of The Pitmen's four goals followed from corner and free-kick deliveries...
'I just feel a big deal of disappointment. It was a great opportunity that we have missed and the result was a fair reflection of the game. We didn't play anywhere near where we have in the last few weeks. We didn't do the basics right. We spoke about Hednesford all week about where their threats were, which was being a bigger team than us.
'We didn't want to concede any cheap set-plays but, when we did, we had to be vigilant and defend it; we didn't do that. Three of the goals have come from set plays... You're always frustrated as a manager but when we have conceded three of the four goals from that, and the fourth goal being an error from ourselves, it makes it even worse.
'It's becoming too difficult. In the two away cup ties, we have had to score four goals in both games just to get replays. It shouldn't happen like that. When you go away from home and get two goals, there should be a chance of you winning the football match.'
Callum Roberts was on the scoresheet again with his brace clawing Spartans back to 1-1 and 2-2, however Clark believes his side threw the game away... after coming into the game after back-to-back victories against Curzon Ashton and AFC Telford United...
Clark said 'We're extremely disappointed... But ultimately, we didn't deserve to be in the hat and that is the be all and end all really. The performance took me by surprise, certainly the way we started. The only changes I have made in the previous four games has [sic] been through injuries. I kept the belief in the players who were getting results but for one reason or another, we delivered a below-par performance...
'We didn't stand up to the challenge... We got two lifelines to get back into the game and then we just threw the game away. We still have two cup competitions and we still have a massive fight on our hands in the league. We need the players to get back to the level they were at in the previous three games and take it from there.'"
Rushall Olympic "have secured the services of midfielder Reece Flanagan from Leamington.
Coming through the ranks at Walsall, he went on to make almost a half-century of senior appearances for The Saddlers where he became a popular figure amongst the fans for his determined attitude.
Injury halted his progress in 2016/17 and at the end of the following campaign he was released and joined Leamington on a permanent basis, having previously served them on loan during his formative years".
At Farsley Celtic, "Summer signing Jordan Richards has made the right back spot his own since his arrival from Southport in the summer, and has put in some astute defensive displays as well as contributing further up the field with a number of assists.
In a campaign that has so far seen the Celt Army hold their own among the play off contenders Jordan has started all 14 league and cup games this season, and opened his scoring account for the club in the 3-0 victory at Bradford (Park Avenue).
Jordan spoke ahead of this weekends' fixture away at Alfreton Town and started by discussing the disappointment of last week's FA Cup defeat to his former club,... 'Everyone was disappointed after the game, it would have been nice to have a run in the FA cup but it's gone now and, as a squad, everyone is positive and focused on the next game in the league at the weekend.
'Following the match week we had two tough training sessions, it was what everyone needed especially with us having no game on the weekend with the Kidderminster game being called off. The gaffer gave us Saturday off, but we will train hard again this week for Saturday'...
He added 'There are some months you're playing every Saturday (and) Tuesday which is tough, so to have a little break was nice I must say. But on the other hand, after the FA Cup game, I'd have perhaps preferred to have had a game because I think the best way to put that game to bed would have been to go out and put a performance on and get three points. It's given us chance to re group as a squad and we are ready for Saturday.
'Alfreton have had a great start to the season and have some good experienced players at this level but so have we'...
Following his summer move Jordan is clearly enjoying his move to the Citadel, commenting 'I love it. Since I've came (sic) in everyone at the club has been fantastic... I think it's been a fantastic start to the season, to be sat in the playoff positions is great, but there is a long way to go and we need to maintain these levels, consistently'".
Boston United inform us that "Contractors are continuing to make great strides on the new Community Stadium...
A timelapse video has been produced showing progress on-site [via above link] ranging from day one of the construction phase to the current picture which includes significant progress on the stadium's impressive main west stand".
Boston United have recalled goalkeeper George Willis from his loan spell at Gainsborough Trinity.
The 24-year-old, who has made 87 appearances for the club, is back in contention for the Pilgrims ahead of Saturday's Emirates FA Cup trip to Hednesford Town, following six outings for the BetVictor Northern Premier Division strugglers.
Willis kept one clean sheet and saved a penalty against Atherton Collieries during his loan spell at The Northolme."
The Shropshire Star reports that "Boss Gavin Cowan insists new striker Matt Stenson is ready to lead AFC Telford on the road to success.
The striker, brought in on an initial loan until Christmas from Solihull Moors, made a big impression on his new supporters with a bustling debut against leaders York... 'It was nothing I did not expect,' said Cowan of his new striker's impressive display. 'He was my main target in the summer and we weren't able to get him over the line, it's been a little later than we hoped.
'He did very well and we expect him to do so. Everybody has started to wake up and realise it's not going to be easy here and you have to work extremely hard. He's just laid down the gauntlet to the rest of the players by saying "I'm here now and you have to come along with me because I'm going to be successful"'.
The Bucks chief praised the 'old-school' character of former Barwell and Leamington man Stenson, whose rise through the divisions has been rapid.
'He's not only a good player, he's a brilliant old-school type of character,' added Cowan. 'He is very demanding of the players around him, he has that element of belief/arrogance and can win matches himself. That effort (that hit the bar) was completely outlandish and if it was in the Premier League it would be spoken about constantly'".
Off the field, AFC Telford United report that "The University of Wolverhampton has kicked off the third year of its sponsorship of AFC Telford United. The main stand at the New Bucks Head is named the University of Wolverhampton Stand as part of the deal.
Students also benefit from the relationship, gaining valuable work experience at the club in roles such as physiotherapy and photography...
Vice-Chancellor, Professor Geoff Layer, said 'The University is proud to support and sponsor teams in the towns and cities where it has a presence... As the University of Opportunity, we are keen to support our students to gain valuable life experiences that will enhance their employability'...
Chairman of AFC Telford United Andy Pryce said 'We are delighted that the University of Wolverhampton has continued its sponsorship of AFC Telford United into season 2019/20... Our partnership with them is very prestigious and hugely valued. We continue to offer work experience to students from the University, this is of immense value to the football club and we hope it continues to be beneficial to the students'".
Guiseley "announce that Nathan Newall has signed a new contract with the club.
It has been some weekend for the Academy Graduate who turned 18 on Friday and then made his First Team debut a day later coming off the bench in the 1-1 draw with Altrincham.
Baildon-born Newall plays at left-back but can also play on the wing and as a striker, Nathan showed his scoring talents in the academy's 3-2 win at York City a couple of weeks ago with two goals. Nathan featured in a few of our pre-season friendlies this campaign and has played for Frickley Athletic on a dual-registration deal... He replaced Dylan Barkers in the second half at Nethermoor on Saturday for his Lions debut...
Meanwhile we can confirm Tabish Hussain has joined Eccleshill United on loan. The winger has just completed a loan spell with Yorkshire Amateur and has now signed up with the Northern Counties East Premier Division side for a temporary spell. Tabish links up with former Lions players [and ex-Alty defender] Ryan Toulson, Nicky Boshell, Ryan Hargreaves and Talent Ndlovu in a side managed by our former midfielder [and ex-Alty winger} Lee Elam."
---
16 October 2019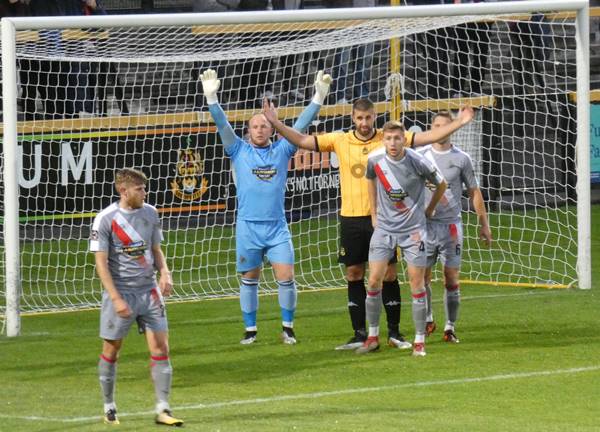 On Saturday, Altrincham travel to Haig Avenue for the second time this season, to face Southport in the Emirates FA Cup Fourth Qualifying Round.
It will be the fifth successive Saturday match for Altrincham away from home. And, if Alty win and get an away draw in the next round, it would be part of a sequence of seven away Saturdays in eight (as shown below).
Sat.14.9.19 A Kidderminster Harriers
Sat. 21.9.19 A Chester FC (FA Cup)
Sat. 5.10.19 A Halesowen Town
Sat. 12.10.19 A Guiseley
Sat. 19.10.19 A Southport
Sat. 26.10.19 H AFC TELFORD UNITED
Sat. 2.11.19 A King's Lynn Town
Sat. 9.11.19 ?A ...if still in FA Cup and drawn away.
Right: Alty had plenty of practice defending long throws at Haig Avenue, in the league match back in September. Here they prepare for another missile into their goalmouth.
As reported yesterday but now confirmed by Bradford Park Avenue "Following an official approach, Marcus Wood has opted to leave the club and join Southport.
Wood is no stranger to Southport after spending 6 months of last season on loan from Bolton".
The next scheduled match at the J. Davidson Stadium is a league clash with AFC Telford United, a week on Saturday. Assuming that there is no replay required after this Saturday's FA Cup game at Southport, this will be the first Saturday match at the J. Davidson Stadium for seven weeks.
From AFC Telford United we learn that "New signing Riccardo Calder will have to wait a month to make his AFC Telford United debut after a 'freakish' injury moments before Saturday's clash with York.
The left wing-back was due to make his Bucks' bow at home against the league leaders but pulled his quad muscle while kicking a ball goalwards as Gavin Cowan's men completed their warm-up.
The former Aston Villa youngster, 23, had joined Telford from rivals Bradford Park Avenue in the build-up to the York fixture as Cowan made several changes to his under-performing squad. But he is now unlikely to feature for the Bucks until into November after the bizarre setback.
'We're assessing Riccardo but it's going to be four weeks,' said Cowan, whose side picked up a creditable point in the 1-1 draw with the Minstermen. 'It was really unfortunate. We were jogging in as a group and he kicked the ball and pulled his quad, it's desperate for the lad to have something freakish like that. It's about how we manage him now. He was absolutely distraught but I had to tell him before the game it wasn't about him any more; he had to support the group.
'We'll get him get through the rehab and monitor him every day'.
Cowan confirmed that skipper Shane Sutton has missed the last two games with an injury to his ankle that showed up after scans. The boss insisted that stalwart Sutton would have work on his hands to get back into the side after the trio of Theo Streete, Zak Lilly and [ex-Alty loanee] Billy Sass-Davies [right] were given starts.
Cowan admitted it was a tough test for 19-year-old Crewe loanee Sass-Davies.
'He's an excellent player for his age,' the boss added. 'He was very solid and had his hands full on Saturday but it will be good learning for him. It's a balance because he's come from Crewe to learn and we understand that but we can't be accepting too many mistakes.'
Cowan praised the impact of wideman [former Alty loanee] Brendon Daniels [above left], who came in as a last-gasp replacement for the injured Calder.
'His attitude has been phenomenal,' said Cowan. 'He has a fantastic character. He is outspoken and has had bad press but wants his voice heard and I love that. He wants to be a part of and is fully on board.'"
Darlington
report that "Striker Brandon Morrison has gone out on loan to Northern League Division Two club Durham City for a month.
Brandon, who has been in the first team squad on several occasions this season and has been a used sub on one occasion, will be going for some much match experience".
[Also,] Darlington midfielder Harry Stansfield has gone out on loan to Northern League Division Two club Durham City for a month. Harry, who has been in the first team squad on several occasions this season, will be going for some much [needed] match experience".
According to Cheshire Live "A quick look around the National League North over the past couple of weeks would have shown one or two clubs adding to their group in a bid to either turn a season around or keep them on course.
York City added ex-Chester FC man Elliott Durrell a fortnight ago as they aim to keep themselves at the summit of the division, and AFC Telford United, so desperate to address a faltering season, have moved quickly over the past seven days or so to add to their group, Solihull Moors striker Matt Stenson among the new recruits.
For Chester, though, a side dogged by injuries for much of last season, they have for the first time since Anthony Johnson and Bernard Morley arrived, a near clean bill of health with experienced players now being left out of the squad. There is a battle to get into not only the starting 11 but the match day 16 as well, Craig Mahon, Matty Waters and Iwan Murray missing out against King's Lynn Town at the weekend.
Like any managers, Johnson and Morley are always on the lookout for anything that will improve the group, the signing and retention of George Glendon an example of that.
Morley revealed last week on Dee 106.3 that the Blues had come close to landing a wide player last week before he opted to join a team in the National League. But that doesn't mean now that the managers are actively looking to add, with Johnson stating his hope that the improvements needed in some areas being able to be addressed by members of the current group.
Johnson said 'If you look at who wasn't in the squad, Craig Mahon not injured, Matty Waters not injured, Iwan Murray not injured, Scott Burton 50/50. We've left them out of the squad, and that's some strong squad, that. We said when we were looking at the 16 (against King's Lynn) that it had a bit of everything in there. We've got good footballers but, if we can improve, then we'll always look to improve.
'There are so many areas that we can be better at, but we believe that this group can get better. If we can get better as a group but we need players to come in then we'll look to do that but, at this moment in time, the squad looks strong.'
Chester are back in action this weekend when they travel to a resurgent Blyth Spartans, the Blues looking to avenge the humiliating 8-1 defeat at Croft Park last season."
---
15 October 2019
According to
Cheshire Live
, "While Anthony Johnson admitted to not come away with all three points at King's Lynn Town on Saturday was 'a bit galling', the Chester FC joint-manager felt the result was a fair one.
On Non-League Day, the Blues and the Linnets played out a real cracker, 2-2 at The Walks, a game that was a fine advert for National League North football and one that the near 1,700 crowd who witnessed it would have felt was full value for money.
Second met third in Norfolk and, after Chester had gone a goal down on two minutes when Adam Marriott capitalised on a poor Russ Griffiths clearance, second half goals from Simon Grand and Akwasi Asante, his 12th of the season, had the Blues in front, only for Marriott to bag his brace with a fine finish 13 minutes from time.
Both sides went for the win in the closing stages and both sides displayed plenty of quality, particularly in the second half. And while the season is still young you would expect, on this showing, these two sides to be right up there with York City come the end of the season.
Johnson said 'I thought some of the performances, and as a team, was [sic] very good. On Non-League Day, with a big crowd it was a great game. It took us three days to get here on planes, trains and automobiles. Overnight stays, beef and ale pie for tea last night, it's been a long few days. To come to third in the league and get so close to winning, being 2-1 up after being 1-0 down, it's a bit galling but ultimately I think a point was a fair result.
'They were a typical team, like Alty last year, who have been promoted and have no fear whatsoever. But we never bought into the notion that they were underdogs, not when you've got those two (Michael Gash and Marriott) up top. They are a good side with good players and I fully expect them to be top three of four, definitely. All in all it was pretty pleasing.'
Johnson was particularly pleased with the second goal for Chester, a goal of real quality. George Glendon, superb in the centre of the park for the Blues at the weekend, played a stunning pass from inside his half that found the run of the lighting quick Brad Jackson, a thorn in the Linnets' side all afternoon, and the winger then played a delightful cross from the right to the far post where the deadly Asante was on hand to hammer home first time.
'It was unbelievable,' said Johnson. 'It's everything that we're about. The magician, George Glendon, plays a raking 60 or 70-yard pass, Brad's speed and guile to find Akwasi and then he hammers it in. It was a great goal and at that point we were well on top. We're tried to get Gary Stopforth on to pack the midfield before the (second King's Lynn) goal but the ball wouldn't go out. It was a great finish from Marriott to be fair but I think if we would have been able to get that body in and stifled that I think we would have won the game.'"
At Gateshead "The Heed came into their first league game in over three weeks as they welcomed Gloucester City to the International Stadium.
On the 17 minute mark, right-back Alex Nicholson pulled the ball back for Joshua Kayode who managed to find the net from close range.
[Full-back, Alex] Nicholson was delighted with his side's 1-0 victory, 'Everyone's pleased! We set out exactly what we wanted to do in the game... We said before the game to get back off from where we left off and try to get another run of form going. We've obviously got another break from the league next week but all we are focused on is winning.'
The former South Shields and Blyth Spartans man was also ecstatic following his assist in the first half. 'I like to get up the pitch as much as I can, I maybe haven't done that much recently so it's nice to get a reward for it.'
The 25-year-old now switches his attention to next Saturday's FA Cup fourth Qualifying Round at home against Colne... 'We've just got to make sure we're right mentality going into the game but I'm sure if we put in the performance like we did today we'll come out victorious'".
Lincolnshire Live tells us that "Boston United manager Craig Elliott was disappointed after seeing the Pilgrims beaten by Darlington on Saturday afternoon.
United failed to recover from falling 2-0 behind inside 10 minutes, despite Dominic Knowles's fourth goal of the campaign eight minutes later. It was United's third defeat of the National League North campaign to date and Elliott had no qualms in saying the Quakers deserved their victory.
'We were poor and it hurts me to say that,' reflected Elliott. 'I felt the lads let themselves down from start to finish. We did not get off to the best start and you cannot go 2-0 down after 10 minutes. Bizarrely we could have got a point at the end because we missed two good chances but it is disappointing because we did not deserve anything out of the game.
'We have been brilliant defensively this season but we looked shaky for the whole match. Their front three were lively and caused us endless problems. We never got to grips with them.'
Two of the front three, Tyrone O'Neill and Adam Campbell, were the men on target for the Quakers. Middlesbrough loanee O'Neill danced through the Boston defence in the seventh minute to score a well-taken goal and Campbell curled home a beauty from 12 yards three minutes later...
Knowles reduced the arrears in the 18th minute when he lifted home a fine left-footed effort... 'We carried far too many players,' added Elliott. 'I thought only Dom Knowles came out with any credit. I thought he was excellent for the whole 90 minutes... [And Woolford] will bring a lot of experience. I brought him and Andi (Thanoj) on to get a bit of control in the game, because we were going from back to front too quickly.'"
One Vale Fan reports that "It's been a good weekend for Alex Hurst as we round-up how Port Vale's players out on loan have fared.
The Valiants have five players out on loan at non-league clubs this season...
Bradford Park Avenue turned around their recent poor form with a 3-2 home win over Hereford FC. Port Vale midfielder Alex Hurst started the game and it was his cross which set up Avenue's second goal...
And Port Vale midfielder Dan Trickett-Smith played 86 minutes of Curzon Ashton's 1-0 home defeat to Blyth Spartans."
The draw has been made for the First Round Qualifying of the Buildbase FA Trophy. The matches involving northern clubs are as follow and the ties are taking place on 26 October. The winning clubs earn £2450 and losers receive £800.
Buxton v Hyde United
Prescot Cables v Pickering Town or Stocksbridge Park Steels
Whitby Town v Worksop Town
Lancaster City v Witton Albion
Nantwich Town v Bamber Bridge
Atherton Collieries v Scarborough Athletic
Morpeth Town v Mossley
Runcorn Linnets v Pontefract Collieries
Tadcaster Albion or Brighouse Town v Droylsden or Workington
Warrington Town v Ashton United
Dunston v Gainsborough Trinity
Radcliffe v FC United of Manchester
Kidsgrove Athletic v Colne
Stalybridge Celtic v South Shields
Leek Town v Chasetown
Carlton Town v Matlock Town
Sutton Coldfield Town v Stafford Rangers
Stratford Town v Hednesford Town
Barrow
have announced that "Following an approach for our manager Ian Evatt, Chairman Paul Hornby has released the following statement on behalf of the owners of Barrow AFC.
'Barrow AFC can confirm that over the weekend we received an approach from AFC Fylde for our manager Ian Evatt. The offer was rejected by the club and, after speaking with Ian, he is 100% committed to Barrow.
Ian is extremely loyal and honest and would like to put on record he had no interest in speaking with Fylde. Ian and his team have worked extremely hard over the last 15 months to get us in this position and in doing so has assembled a great group of players. He has the unequivocal support of the Board and we all believe we can achieve great success this year.
The numbers coming through the turnstiles has massively encouraged the Club as a whole, so let's now turn our attention to The FA Cup on Saturday and support our manager and his team."
---
14 October 2019
Match report here.
Altrincham manager Phil Parkinson was interviewed by press and media officer, John Edwards, after the game and his comments can be read on the AltrinchamFC site.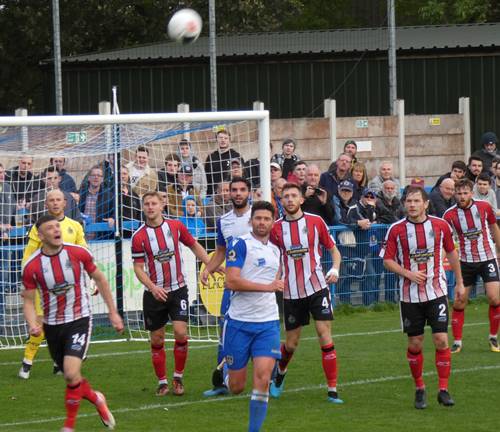 Right: Alty clear their lines at Guiseley.
Bradford's Telegraph & Argus says that "Promotion-chasing Guiseley laboured to a 1-1 home draw against lowly Altrincham in the Vanarama National North on Non-League Day but the Lions' joint manager Russ O'Neill felt it was a positive result.
Guiseley had lost their last league game 3-1 at Gloucester City and they were knocked out of the FA Cup by a side from lower down the non-league ladder last weekend as they were beaten by a stoppage-time winner at Peterborough Sports.
The Lions retained seventh place, the last play-off spot, with the draw while the Robins remained in 18th place, but the game at Nethermoor was overshadowed by a bad injury to Guiseley's on-loan Chesterfield striker Lee Shaw.
The forward crumpled to the floor after an awkward landing and was treated on the pitch before being stretchered off. The incident led to ten minutes being added on the first half but he was released from hospital later that evening.
O'Neill said 'We will have to see how Lee is on Monday and, fingers crossed, it won't be as bad as first thought. He went down badly and was taken off to hospital for x-rays so we'll have to wait but it didn't look good because of the pain he was in. In terms of the game I think it was a point gained rather than two lost in all honesty because of the overall situation. We've got two players out suspended and Jamie Spencer picked a card up so he'll be suspended now.
'Lee's injury is the latest in a long line and that'll hit us as well. I said we'd been lucky with injuries in the early part of the season but it has come to bite us now. So, all in all, I think we've earned a point because we'd lost our way a little bit in the last couple of weeks.
'We started well but once we lost Lee we had to change our game plan a little bit and we were against an Altrincham team who keep the ball really well. We created chances and, with a bit more composure, we could have been a few up before they equalised.'
It was a dream start for the home side as Kaine Felix gave them a fifth-minute lead as he drilled a shot into the bottom corner to beat Robins' keeper Tony Thompson. But Shaw went down in the 16th minute and the long stoppage disrupted the game.
The visitors began to get into the contest and by the break they were arguably the dominant side.
Alex Starcenko had replaced the unfortunate Shaw and the young Academy graduate conceded a penalty just before the hour mark. The Robins' midfielder Josh Hancock sent Lions' keeper Marcus Dewhurst the wrong way from the spot".
Altrincham travel to Southport next Saturday in the Emirates FA Cup. From
Southport
we learn that the club can "confirm that captain David Morgan has signed a contract extension with the club until 2022.
Morgan, who has played 85 times for the Port since joining from Harrogate Town in September 2017, marked his new deal by scoring the winning goal against Brackley Town on Saturday. It was Morgan's fifth goal of the current campaign taking his total tally to 13, as he continues to play an influential part in the Southport team.
'I didn't see myself wanting to go anywhere else and I'm delighted to sign the contract,' the 25-year-old Belfast-born player said. 'I'm really pleased to be part of things here and I want to go further with the club. I came here at a difficult period and, in that respect, I've ridden through the storm. Coming out of the other side of that, Liam Watson has given me the armband and the licence to influence the game in the areas that will hurt other teams. I'm really enjoying my football and I want to build on things."
The combative midfielder, who began his career at Nottingham Forest and has been capped by Northern Ireland in three age categories, was named Port captain last November. Since then, his performance levels have excelled further, with dominant displays in the centre of the pitch and some eye-catching goals scored.
'David has been a brilliant player for me and I'm really pleased that he's signed a new contract,' manager Watson said. 'He works hard, sets the tone for the team and has got a goal in him. He could easily be a Football League player. David is someone who the fans can relate to. He has been great for the football club and I know that he is proud to be captain'".
And Southport "Manager Liam Watson says Southport have completed a 'massive signing' with the addition of midfielder Marcus Wood.
Wood, who spent six months on loan with the Port last season from Bolton Wanderers, has penned a permanent contract at the Pure Stadium. The 21 year-old made a big impression with his strong midfield performances during 34 appearances last season before leaving Bolton in the summer.
He has spent part of the current season with Bradford (Park Avenue), having been at Bolton for a year, prior to which was a youth player at Manchester City, representing England at U18 and U19 level.
'Adding Marcus to the squad is a massive signing for us, especially to get someone like him at his age,' Watson said. 'Everyone knows the performance he put in for us last season and I didn't think there was any chance he would come back into Non-League football. He has done, and we need to help him like he needs to help us. I'd tip him to have a lot of success higher up the pyramid.'"
Wood played for Port in their one-nil defeat at Moss Lane last season.
Howard Watts and Mike Garnett's
Through the Years
records reveal that on 19 October, when Alty travel to Southport in the FA Cup 4th Qualifying Round, it will be the third time that the Robins have played a match at this stage of the competition on that date. But both of the previous matches were slightly curious occasions.
The first such match was in 1963 when the Robins met opposition from outside England in the form of Rhyl, who at that time were competing alongside Alty in the Cheshire County League. Alty won that game 3-1 at Moss Lane.
The only other Fourth Round Qualifying tie to be played by Altrincham on 19 October was a Fourth Qualifying Round replay, which took place in 1999 at the Bower Fold, Stalybridge. The original match on 16 October, at Moss Lane, had been a goalless draw watched by 1,186 souls.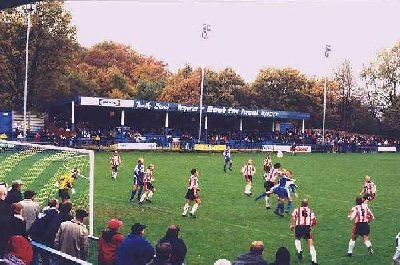 Right: Paul Ellender heads clear in the replay at the Bower Fold, 19 October 1999.
In the replay, despite a very late goal from Richard Landon, Stalybridge won 2-1 but, afterwards, it emerged that Celtic had played an ineligible player. As the Robins' Review subsequently reported, "It had come to the notice of the FA and Altrincham, via an anonymous letter, that Andy Mason had played for Stalybridge without international clearance. Thus it was decided that the original replay was null and void and the game was to be replayed". Mason had actually scored the goal which had put the hosts 2-0 up in the game.
In its inconsistent way the FA decreed that it would not remove the Tameside club from the competition, as has happened before and since to other clubs for similar offences. In the replayed replay match, Alty led 2-0 at the interval, thanks to goals goals from Paul Ellender and Kevin Ellison but lost again, this time 3-2 after extra time. This replayed replay was on a Saturday and was watched by 1,058, a major increase on the 791 who had seen the original Tuesday night tie on Tameside.
The defeat in the above match was the eighth successive defeat for Altrincham at the Bower Fold, an even worse run than Alty's current sequences at Kidderminster (no league win but 7 draws in 15 visits over the last 25 years), and Guiseley (no win ever, but five draws, over 23 years and 10 attempts in all competitions). Alty were to lose again at Stalybridge in 2000-01, 2002-03 and 2003-04 seasons before securing a draw there in 2004-05. There was a win in the Cheshire Senior Cup in 2008 but normal service resumed with a 1-5 defeat in the league in 2011/12, followed by a 2-2 draw in 2012/13, before Alty finally won a league match at the Bower Fold, 5-0, on New Year's Day 2014.
Alty's trip to Southport this Saturday will, therefore, be the first time Alty have played a (presumably) valid match in the Fourth Qualifying round of the FA Cup on October 19th against a club from England.
As previously reported here, this will be the fourth meeting of Altrincham and Southport in the FA Cup, with Alty having won twice at home (1978/79 and 1994/95) whilst Southport won the game at Haig Avenue in the 1921/22 season. Southport also won the league match this season at Haig Avenue, 2-1, on 3 September.
Last Saturday (5 October), Altrincham Reserves won 2-1 in the local derby at Broadheath Central. The Alty starting eleven included Lewis Walters, Sam Heathcote, Rhain Davis and Max Pouncey, who have all had first-team experience, whilst Ben Elliott (pictured, right) and Jack Ryan were amongst the substitutes.
Alty's goals came from Pouncey and substitute Daniel Lewis.
This Saturday (12th), in the Cheshire County FA Amateur Cup, Second Round, Altrincham FC Reserves beat Stoconians AFC 6-1 in a home match. Stoconians FC, formed in 1928, hail from Offerton, Stockport.
According to their Twitter account, Stoconians put in a "Great performance until the keeper got sent off. Poor decision by the assistant ref. The ball quite clearly hit him in the face".
Alty went ahead after two minutes of the game but Stoconians levelled three minutes later through Irwin.
On 17 minutes Altrincham were reduced to ten men for ten minutes as the new "sin bin" rule came into effect. The score remained 1-1 at the interval.
Four minutes into the second half the visitors' goalkeeper was sent off for handling outside the penalty area. Stoconians insisted the ball had hit the keeper in the face. From the resulting freekick, Altrincham regained the lead (50 mins).
It became 3-1 just after the hour mark and 4-1 in the 65th minute before two late goals wrapped up a 6-1 win.
The FA fixture list has the following games:
19/10/19 k.o. 15:00 Egerton FC v Altrincham FC Res. @ Egerton Youth Club
26/10/19 k.o. 14:00 Altrincham FC Res. v Eagle Sports @ Egerton Youth Club
Cup 29/10/19 k.o. 19:45 Altrincham FC Res. v Whaley Bridge Athletic @ Moss Lane
Altrincham FC Ladies game at home to Northwich Vixens First Women was postponed on Sunday. The next scheduled fixture (20th October) is at home to West Kirby Ladies at Egerton Youth Club. This fixture has been brought forward from 23 February.
West Kirby Ladies currently lie seventh in the league, with eight points from seven games. Although Alty are ninth they have only played two league fixtures to date!
Altrincham FC Youth beat Prescot Cables 3-0 in the only fixture in the NWYA Premier to escape the wet weather. The win took Alty to top of the table but they have played more games than others.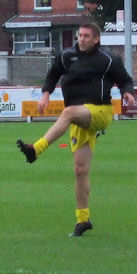 AFC Fylde's Dave Challinor became one of three National League bosses sacked this week when he was dismissed this weekend. After almost winning promotion to the EFL last season, the Coasters currently occupy a relegation position in the National League.
Challinor once played in the Alty colours, in a friendly match against Stockport County in 2008 and is pictured, right, on that occasion.
According to the
Telegraph & Argus
, "Just 90 minutes after Mark Bower returned to the dugout at the Horsfall Stadium, Bradford (Park Avenue) were out of the relegation zone after a deserved 3-2 victory over play-off hopefuls Hereford.
Bower led the club to back-to-back play-off finishes in his first spell but there was a parting of the ways at the end of last season. The board turned back to the former Bradford City centre-back after a disappointing beginning to 2019/20 under Garry Thompson and then interim manager Marcus Law.
Avenue were second bottom of the table and had not won at home all season but Bower brought the magic back and the crowd went wild as they celebrated. Two familiar faces had returned in the fortnight since Avenue's last game as utility player Adam Nowakowski and defender Billy Priestley were in the squad. They started alongside Joe Green, the former Guiseley keeper making his Avenue debut.
Nowakoski was deployed as a holding midfielder but he pounced to steer home the opening goal after the visitors failed to clear a ninth-minute free-kick. It was half-cleared but, as the ball back in caused confusion for the Bulls defenders, Nowakowski slotted in.
Keeper Brandon Hall was beaten again midway through the first half as a rejuvenated Avenue mounted a rapid counter-attack following a corner for the visitors... A deep cross to the far post picked out Lewis Knight, who netted a superb finish, hooking the ball on the volley over his shoulder past a stunned Hall.
Hereford halved the deficit soon after the half-hour from a questionable penalty after Mitch Lund was judged to have fouled Tom Owen-Evans... Hereford boss Russell Slade had seen enough and words were exchanged in the dressing room. Owen-Evans didn't reappear for the second half as Kelsey Mooney replaced the forward.
The change didn't bring the desired effect as Avenue increased their lead just six minutes into the second half when they were awarded a penalty. Bulls' right back Kieron Thomas bundled Avenue striker Dan Sweeney over and he got up to send Hall the wrong way from the spot before being mobbed in the celebrations.
It was a nail-biting last half-hour after Hereford cut the arrears for a second time... But Avenue held on as Bower said 'The players have responded well and having a couple back who know the club and know this level made a big difference. I thought they played well as did Joe Green on his debut. When we were under pressure late on you need a good keeper and Joe's handling was excellent. But from one to 11 everyone did well...
'The win has lifted everyone and to get it against a very good side who are in the play-off places is a massive boost. But there is a lot of hard work in front of us if we are to secure our place in this division. I hope no one is getting carried away because we've won one game; there is a long way to go and I'm sure there will be some difficult days along the way.'"
Bulls' News adds that... "[I was] 'delighted with it obviously,' Bower told the Avenue OS. 'We've been in for a couple of weeks now, we're not in a great position in the League and things have not been going too well. But we were a lot more solid and physically strong today in comparison to earlier this season.
'We got the first goal from a set-piece and a fantastic second goal. It's been about making them work a bit harder, we're a bit more resolute, a bit more experienced. We did have a period in the second half with a few tired legs but with that experience we could put ourselves in the right position and get that ball up the right end of the pitch to relieve that pressure. I thought we did that really well.
'For a team that lost 8-0 last game, to get that sort of reaction was a fantastic achievement'.
Bower mentioned the performance of keeper Joe Green. 'Towards the end of the game when a lot of balls were coming into the box, he was really dominant and it took a lot of pressure off the defence. He made a couple of good saves for us.'"
---
13 October, 2019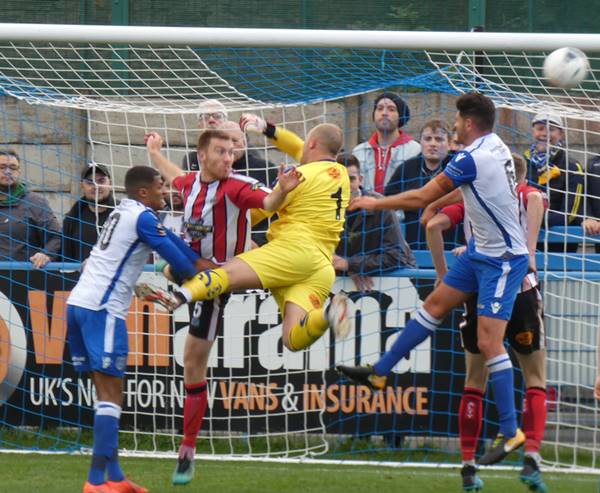 Above: Tony Thompson punches clear in the second half against Guiseley.
Another indifferent performance from Altrincham saw them fail to land a meaningful shot on target, apart from converting a penalty. They fell behind in just the sixth minute when a mistake by White saw him overhit a pass at, rather than to, Jones. The ball ran to Felix who beat Thompson.
Despite ten added minutes in the first half, caused by an injury to Guiseley's Shaw, Guiseley maintained their lead at the interval.
Altrincham improved in the second half but Guiseley almost scored again when Barkers missed a sitter.
In the second half Altrincham passed the ball about and enjoyed possession but they caused no threat to the home goal until Johnston was upended and a penalty was awarded. Hancock converted it, coolly, to level the score on the hour mark.
The game ended when substitute Hulme did well and Harrop was put free but a timely tackle halted him amidst Alty's adamant claims for a penalty. So Alty's twenty-year wait for a win at Nethermoor was extended after this tenth failure to emerge with a victory.
Match report here.
Guiseley
report that "Already down to the bare bones through injuries and suspensions Guiseley can consider themselves unlucky not to have taken all three points against Altrincham at Nethermoor this afternoon.
Having gone ahead early on through through Kaine Felix they then lost striker Lee Shaw to what looked like a bad shoulder injury and, despite creating several chances, they eventually had to settle for a draw after Josh Hancock had squared matters from the penalty spot midway through the second half.
Missing Aaron Martin and Brad Nicholson through suspension and Aram Soleman and Kenedy Digie through injury, Dylan Barker and Andrai Jones were in the starting eleven while Academy striker Nathan Newall was on the bench.
The Lions got off to the best possible start, after just five minutes, when a wayward pass meant for Altrincham keeper Anthony Thompson went straight to Felix who cooly slotted the ball past the stranded keeper for the opener.
Playing some slick football the home side's rhythm was cruelly interrupted when Shaw appeared to fall heavily and after a lengthy period of treatment from both physios he was carried off the field on a stretcher to be replaced by Aleks Starchencko on seventeen minutes.
The loss proved pivotal to the Lions' game plan which, up to that point, had seen Shaw, Johnson and Felix harrying the fragile looking Alty defence but, with his loss, they dropped back to defend wiht the intention of hitting the visitors on the counter.
As a result Alrincham had plenty of possession and got speedy wingers John Johnston and Ashley Hemmings down the flanks only for both of them to over-hit their crosses which more often than not went harmlessley behind or found the far touchline for a home throw-in.
In their occasional forays into enemy territory the home side forced several corners and, from one, they nearly doubled their lead but captain Scott Garner's powerful header came back of the bar with Thompson beaten and bounced to safety.
The Robins had the better of the early exchanges on the resumption but found the home defence in no mood to give anything away although, at times, it took a last ditch intervention to protect their lead.
Guiseley should have put the game beyond Alty ten minutes into the second period when Felix, who proved to be a constant thorn in the visitors side, did well to escape the attention of three defenders before putting the ball across the six-yard box where Barkers, at the far post, managd to miss the target from three yards out.
Newall replaced Barkers shortly after and the Lions went on the offensive and forced several corners that produced a couple of half-chances that the visitors managed to scramble away".
Altrincham travel to Haig Avenue next Saturday to take on Southport, who won the corresponding league game last month.
Mike Garnett reminds us of the record in matches between the clubs.
Home: P20-W11-D5-L4-F28-A22
Away: P16-4W-D3-L9-F20-A28
All: P36-W15-D8-L13-F48-A50
On Saturday, Southport reported that "A David Morgan penalty gave Southport a 1-0 victory over Brackley Town in Liam Watson's 500th game as manager.
After the two sides went into the break level, Morgan stepped up just after an hour of play to convert the spot kick. After walking out to a guard of honour prior to the game, Watson will be pleased to mark his milestone with three points...
The visitors should've gone into the break leading, as Gareth Dean headed the ball against the crossbar from a corner, and none of his teammates able to get the ball over the line from the rebound.
In the second half, the struggle to get the opening goal continued between the two sides. Southport seemed to come out fired up, as they took control of the match, putting the Brackley defence under pressure. Just after the hour mark, Watson's side were handed a golden opportunity, as Ellis Myles blatantly handled the ball in box to concede a penalty.
From the resulting spot kick, David Morgan stepped up and slotted it into the bottom left corner, sending the keeper the wrong way. After announcing a new deal with the club before the game kicked off, it was the perfect way for midfielder to celebrate...
In the final moments of the game Brackley had a key chance to equalise, but James Armson could only head over Glenn Walker's cross.
Southport FC: Charles Albinson, Reagan Ogle, Andy Parry (45'), Dean Winnard, Ryan Astles, David Morgan, Devarn Green, Jack Doyle, Raul Correia (71'), Jack Sampson, Brad Bauress Substitutes: Russell Benjamin (45'), George Newell (71'/ 85'), Connor Woods (85') Unused subs: Zehn Mohammed, Dan Hanford".
Before Saturday's win,
Bradford (Park Avenue)
reported that "Returning Bradford (Park Avenue) manager Mark Bower has added four names to his squad...
Goalkeeper Joe Green and winger Liam Hughes have both joined the club, while fans should recognise fellow signings Adam Nowakowski and Billy Priestley.
Central defender Priestley last played for Avenue a number of years ago, proving a popular figure under John Deacey and Martin Drury.
Meanwhile versatile Nowakowski left the club along with Bower in the summer, with the former Harrogate and Darlington rejoining ahead of Hereford's visit.
Green, who played under Bower and assistant Danny Boshell at Guiseley, arrives to replace Rhys Taylor, who left the club following Marcus Law's departure.
And winger Hughes has signed for the club to add some quality in the wide positions, last featuring for Stratford Town."
Bulls' News confirms that it has been an "Awful week for the Bulls. Hereford lost 3-2 to Bradford (Park Avenue) to complete a very disappointing week for the club.
It is the fourth time the Bulls have conceded three or more goals on the road this season and comes on the back of being knocked out of the FA Cup by lower-graded Tamworth on Tuesday.
Adam Nowakowkski opened the scoring in the ninth minute after a free-kick hit the wall, before Lewis Knight doubled the lead 13 minutes later when his hooked effort beat Brandon Hall in the Hereford goal.
Peter Vincenti reduced the arrears from the penalty spot 10 minutes before half-time after Tom Owen-Evans was fouled.
Bradford scored a penalty of their own through Dan Sweeney in the 51st minute to restore the home side's two-goal advantage.
Again, the Bulls pulled a goal back, this time through a fine Tommy O'Sullivan goal six minutes later, but Russell Slade's side couldn't force an equaliser.
Going into the game, Bradford (PA) had only scored six goals all season and had shipped 35".
Before the game, Hereford FC reported that "Experienced Football League midfielder Stephen Dawson has agreed a deal with The Bulls, subject to the relevant clearances being received by the English Football League (EFL) and FA.
'Unfortunately, due to the complex situation with Dawson's most recent club being Bury FC, the relevant paperwork hasn't been received in time for today's game at Bradford (PA),' said Slade. 'However, we fully expect to receive clearance shortly.'
33-year-old Dawson, the former captain at Bury, has a wealth of experience in the game having made close to 500 Football League appearances for Mansfield, Bury, Leyton Orient, Barnsley, Rochdale and Scunthorpe.
Slade said that he is excited by Dawson's arrival 'I've worked with Stephen before and he is someone who will bring a great deal of knowledge and experience into the team. He's a player who can really drive us forward during games, he's a leader out on the pitch, he's got a great tempo, fantastic attitude and can be a real influence on games.'"
Boston United "failed to recover from conceding twice within the opening 10 minutes as hosts Darlington claimed a 2-1 victory on Saturday afternoon.
The Quakers led through early goals from Tyrone O'Neill and Adam Campbell but United reduced the arrears within eight minutes through Dominic Knowles's fourth goal of the campaign.
United applied plenty of late pressure at Blackwell Meadows but were unable to find a way through."
From the Eastern Daily Press comes news that "King's Lynn Town were on the hunt for a replacement central defender before the dust had settled on an enthralling 2-2 draw at home to Chester in National League North.
The loss of Chris Smith after just 20 minutes took some of the gloss off an excellent performance against another of the league's big fish, leaving manager Ian Culverhouse with Rory McAuley as his only recognised centre-half.
Culverhouse is also without Ryan Fryatt so, within minutes of the final whistle, the search was on for reinforcements.
'We have put a phone call in already,' said Culverhouse. 'We have to see what comes available, but it has to be the right fit as well, we are not going to panic, and if it is not the right fit we won't go out and get him'.
Smith was taken to hospital during the game with what is a suspected dislocated elbow, while Fryatt watched from the sidelines because of a knee injury, the extent of which will be clearer after scans."
Chester FC report that"An absolute cracker ended all square at the Walks Stadium as a strong performance from Chester saw them take a point back to the North West.
Adam Marriott was at the double, with a seven-minute salvo sandwiched in between by Simon Grand and Akwasi Asante for the yellows in a four-goal thriller.
Anthony Johnson and Bernard Morley made three changes from the 3-3 draw with Leamington 14 days ago, with returns from injury for Kevin Roberts and Danny Livesey. Gary Roberts made his first start since recovery too, donning the armband after Scott Burton was forced to miss the game.
King's Lynn Town, unbeaten at home in over a year, took the lead inside the first seventy seconds. Russ Griffiths's left-footed kick out of his own box was tame and fell straight to Linnets top scorer Adam Marriott, who slotted home...
Chester saw a lot of the ball in the opening 45, but couldn't create a big opportunity...
But the game was on its head just after the hour mark after a superb double by the visiting side. First, on 56, Matty Hughes rifled a ball across the box after an extended spell of pressure for Simon Grand to find the net. Then the goal of the game came seven minutes later. Glendon switched a sublime 60 yard pass for the run of Jackson on the right, allowing the winger to fire into the area for the onrushing Asante to sweep home his 12th of the season.
Tired legs were creeping into the encounter... a cross from the right was brilliantly chested and fired home by Marriott... In the end a draw was a fair result in an electric encounter in Norfolk".
According to York Press, "York City missed a chance to extend their lead at the top of the National League North table, following a 1-1 draw at AFC Telford United...
After a largely uninspiring first half, Jordan Burrow broke the deadlock with a confident finish from an excellent team move. The lead lasted just a few minutes though before James McQuilkin headed home an equaliser.
This was again not York City at their best and, despite a mostly confident performance at the back, especially in the opening 45, there was not a lot to rave about going forward. That said, there were still some lovely passages of play in and around the area and, with better finishing, City could have taken all three points but the same could be said of Telford. In all, a draw was probably a fair result.
Bucks manager Gavin Cowan made five changes from the side that lost 3-1 at Blyth Spartans last week, with three new signings, Derby County loan keeper Matt Yates, former Everton Academy defender Arlen Birch and Matt Stenson, all making their debuts. Also in the starting 11 was Ellis Deeney, the younger brother of Watford striker Troy and Aaron Williams, the side's top scorer so far this term with three goals.
Two-goal strikers Darryl Knights and Marcus Dinanga started the day as substitutes, and were joined on the bench by the late addition of Jonathan Royle after recent signing from Bradford Park Avenue Riccardo Caulder pulled up in the warm-up...
Other changes from last week's FA Cup tie saw Peter Jameson return between the sticks and Alex Kempster regain his starting place, with Elliott Durrell and Kyle McFarlane dropping to the bench. But the big change was the reinstatement of club captain Steve McNulty's name in the back three after a month and a half out with a hamstring injury. McNulty's early involvement in the game bespoke the composure he is renowned for...
Burrow put York ahead from a fantastically-worked moved in the 58th minute. Starting out in the attacking third on the right, City worked the ball over the Ferguson on the opposite flank through McLaughlin, Bond and Moke. Ferguson played into the path of Newton on the overlap and he delivered onto the edge of the six-yard area for Burrow to dispatch...
No luck was needed with the equaliser though. James McQuilkin rose well in the area and headed beyond Jameson from a free kick".
Blyth Spartans inform us that "Levi Amantchi's tap in late in the second-half was enough to earn Blyth Spartans all three points against Curzon Ashton.
Lee Clark's side battled hard for 90 minutes and got the three points they deserved to secure their first away win of the season. Amantchi tapped home at the back post after 75 minutes...
The home side almost took the lead three minutes into the second half as Daniel Trickett-Smith tested Mark Foden from a free-kick...
[Finally, there was a] "fantastically worked goal as Roberts broke from midfield and fed Wrightson into the box who then gave it to Anthony Callaghan on the overlap before the full-back picked out Amantchi at the back-post for his first goal in a Spartans shirt."
The Northants Telegraph says that "Managerless Kettering Town dropped into the Vanarama National League North relegation zone with a 2-0 loss to Spennymoor Town at Latimer Park.
The Moors started brightly and took the lead within five minutes through Glen Taylor's header, following a cross from the left wing.
After 23 minutes, on loan Northampton Town centre-back Jay Williams was sent off for an elbow, a disappointing second involvement in the youngster's Poppies career.
In the last five minutes of the first half, Spennymoor created several chances... Kettering managed to make it to half-time only one goal down, however two minutes into the second half Taylor scored his second of the game, volleying in a cross from the left, virtually ending the Poppies' hopes of a fightback.
Interim joint-boss Steve Kinniburgh's team struggled to create in the second half, their only chance coming from James Brighton who was played in before he crossed straight into the gloves of Matthew Gould...
The Moors saw out the rest of the game and eased to a 2-0 victory, ending Kettering's misery after a very poor performance. The Poppies head into a friendly at home to Stamford next Saturday ahead of two huge matches away to Curzon Ashton and home to Bradford Park Avenue in their fight for survival. The hunt for a new manager continues".
---
12 October, 2019
AFC Telford United 1-1 York City
Bradford Park Avenue 3-2 Hereford FC
Curzon Ashton 0-1 Blyth Spartans
Darlington 2-1 Boston United
Gateshead 1-0 Gloucester City
Guiseley 1-1 Altrincham
Kettering Town 0-2 Spennymoor Town
Kidderminster Harriers P-P Farsley Celtic
Kings Lynn Town 2-2 Chester FC
Leamington 0-1 Alfreton Town
Southport 1=0 Brackley Town
Altrincham will be looking for their first away win in the National League North, this season, when they travel to Guiseley today (Saturday). Over the past twenty years Alty have failed to win on their previous nine visits to Nethermoor but, after securing an away win in the FA Cup last weekend at Halesowen, they will be optimistic of breaking that hoodoo.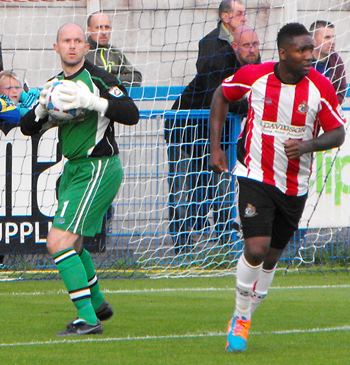 Right: Flashback to Alty's visit to Guiseley on 11 August 2015 as Stuart Coburn and Michael Rankine are seen in the 1-0 defeat for the visitors.
Manager Phil Parkinson will have to decide on his attacking options after Jordan Hulme limped off at Halesowen and his replacement, Tom Peers strenghtened his claim to start when he netted the opening goal. New signing Lewis Archer will also be available after the postponement of the league match against Gateshead and the subsequent FA Cup matches for which he was ineligible, left him still awaiting his debut for Altrincham.
For Guiseley, leading scorer Aaron Martin is suspended.
Guiseley have announced that "Prostate Cancer UK is once again the National League's official charity partner to help raise awareness of a disease which will affect one man in every eight.
For a second successive season, The National League has changed its competition name on a temporary basis in support of official charity partners Prostate Cancer UK. The League's sponsors and long-time supporters of Prostate Cancer UK, Vanarama, have again agreed to use their sponsorship in support of the leading men's health charity until November 9th. Last year, the MANarama campaign raised over £150,000 to help stop prostate cancer being a killer.
MANarama ambassador Vinnie Jones said 'I am beyond proud to back this MANarama campaign. It combines two things which are so important to me; grassroots football and fighting cancer. I started playing football in Non-League so I know that these clubs are at the heart of local communities. I don't need to explain why the fight against cancer is so important for me'...
Admission prices are: Adult £13, Concession (65+/student) £9, U18 £5, U11 £1 and tickets can be purchased online or on the day at the turnstiles".
Hereford FC
report that "Bulls' boss Russell Slade has been impressed by the attitude of his players following their FA Cup exit on Tuesday.
'I said after the game on Tuesday that I'll learn a lot from my players this coming weekend. We were all absolutely devasted at full-time on Tuesday but now we've got to pick ourselves up and put the Cup defeat behind us.
'We can't afford to dwell on Tuesday's game. It's imperative that we keep our good league form going', Slade said.
'I was pleased with the players' focus in training on Thursday evening. There has to be a real determination amongst ourselves to make sure we go to Bradford and get a positive result, and I was impressed by their positive response and attitude in training.'
With Tuesday night's Cup game going to extra-time, Slade says that this week has been all about making sure that the players have recovered. 'We've been focussing on managing the recovery of the players. There wasn't anything too strenuous on Thursday, but what we did ask of the players, they did well.
'We've prepared as we usually do in terms of looking at the opposition, identifying their strengths and weaknesses and making sure that the players are aware of what needs to be done. I am looking for the positive reaction that I have seen so far to be carried on into the game on Saturday. We have a good chance to consolidate our league position, to keep in touch with the top sides, and that has to be our focus now.'"
Off the field, Hereford FC "announce a new partnership with Sporting Pay Ltd who are a well-known merchant services provider that deliver bespoke payment solutions to the sports industry. As part of the partnership, Sporting Pay will see their brand appear across the club, delivering its services within the retail side of the business.
James Watts, General Manager at Hereford FC, said, 'We know this type of partnership has worked for several Football League clubs who are already enjoying the benefits from the partnership with Sporting Pay'...
As part of the agreement, Sporting Pay will be advertising on the club's digital screen and team sheet whilst also having advertising boards around the stadium. Sporting Pay will also become the club's Social Media Partner for the rest of the season".
Bradford's Telegraph & Argus reports that "Bradford (Park Avenue) boss Mark Bower is aware of the size of the task facing his side this season, saying that finishing 20th and surviving would be as good as coming seventh last year.
Avenue come into tomorrow's home game against Hereford on the back of a dreadful 8-0 defeat at Brackley Town a fortnight ago, with Bower admitting that restoring some pride this weekend is the priority....
He said 'Hereford are strong, with an experienced manager (Russell Slade), and they have a very healthy budget at this level. They come into the game as favourites, and their only target will be to win, whereas there's no pressure or expectation on us. It's a transitional period, but as long the players do the jobs we ask of them, we've got a chance'...
He mused 'We will have some dark days ahead but we've got to make sure we can get to 20th, which would be like seventh last season. We'll do what we can to stay here in this league. I've seen footage of all the games so far and the team have played well at times. They were unlucky not to win against Spennymoor, for example. We need to work on the positives and just eradicate the negatives.
'Young players learn by their mistakes. That's why I want to add experience in and around them, as they'll learn quicker like that than in any other way. I like having a settled squad of players but we do need to change things. I'm here to get the best out of the players we've already got but I think, no matter where you are in the league, you're always looking to improve your team.'
Bower added 'We're short of left-sided players. We only had two left-footed players when I arrived but one's gone and the other I've not seen. I feel we need a bit of experience in central midfield but really anything just to make us better. We're working hard to get the right people but we have to be patient and wait until they become available.'
For now, Bower's squad is largely the same as the one that was thumped at Brackley, but hopefully they can be inspired by a big crowd on Non-League Day. He enthused 'People might turn up to see me coming back and hopefully the weather holds. Horsfall's not always the best place to play football but with the fence finished and bringing the supporters close to the pitch, it creates a better atmosphere'".
York Press confirm that "York City midfielder Wes York has been sent out on loan to fellow National League North side Brackley Town.
The 26-year-old has made six appearances so far this campaign, five of those coming from the bench.
He is due to return to Bootham Crescent in January 2020".
From Burnley we learn that "Youth team goalkeeper Harry Allen has joined Curzon Ashton on a short-term loan.
The former Manchester United shot stopper has joined U23 goalkeeper Kai Calderbank-Park, who is also on loan at the Ashton-under-Lyne Club. Allen has played in all, but one league matches for Tony Philliskirk's side this season in the U18 Professional Development League.
Meanwhile, Calderbank-Park is currently away on international duty for Australia U19s, with the goalkeeper returning back to England on Tuesday."
Elsewhere, Boston United "are searching for their second away league win of the campaign when they make the trip to Blackwell Meadows to face Alun Armstrong's Quakers.
New recruit Martyn Woolford could make his United debut, having completed his move from Hyde United earlier in the week.
Manager Craig Elliott will check on the fitness of defender Simon Ainge, who limped out of last weekend's Emirates FA Cup win at Sutton Coldfield Town, and winger Jay Rollins, who sustained an ankle injury the week before against Southport.
York City loanee Jake Wright is still sidelined with a hamstring complaint".
According to the Northern Echo, "After three wins on the road, Darlington aim to bring their good away form home back to Blackwell Meadows as they make a return to their own patch. They have been away on six of the last seven Saturdays, with a defeat to York City the only home date in that sequence, though there have been Blackwell matches in midweek (against Bradford Park Avenue and Blyth).
They will not be at Blackwell for the next week two Saturdays either with trips to Tamworth and Guiseley to come. So beating Boston United tomorrow would give supporters something to cheer and maintain the momentum created by winning in successive weeks at Trafford, Alfreton and Leamington.
'We haven't had enough home games for the fans,' admitted manager Alun Armstrong. 'The last one, York, we played well but we couldn't put the ball in the net and we didn't get the result. York defended well and nicked it. That's what we did at Leamington, defended well and nicked it with two quality goals.
'One of the things I said when I came in is that we've got to get these fans back and start performing at home. I can't remember many bad performances at home but Bradford Park Avenue has stayed with me, that hurts still because we were slow and laboured. Other than that, performances at home haven't been bad.'
Beating Leamington last week led to Darlington being given a third successive away tie in the FA Cup, a visit to Tamworth.
Armstrong added 'We've not had much luck with the cup draws with getting away ties. I was desperate for a home draw for the fans. At least Tamworth isn't as far as Hereford, but it means moving a Saturday home game, Kidderminster, to a Wednesday, which is a bit of a blow.'
Stephen Thompson may be missing against Boston with a groin strain sustained a fortnight ago at Alfreton... Said the manager 'When you think what's at stake is it worth risking him? It'll be up to him, really, to see how he feels.'
Justin Donawa has scored after coming off the bench in each of the last three games, but is now on international duty with Bermuda alongside Osagi Bascome.
'It's a bit of a blow as we'll not have that impact, but we've got to deal with it and see what we can get out of the game,' added Armstrong... Also unavailable is Ben Hedley, who has slotted in at right-back recently but serves a one-match ban for reaching five cautions.
'Ben is suspended so we need to decided do we go with a back-three or a back-four... but I don't like changing too much, especially when we've had three good results on the bounce'...
Much has changed [at Darlington] with most of Tommy Wright's men having been moved on, Jonny Burn being the latest to head through the exit door after this week agreeing to cancel his contract in return for a pay-off".
---
11 October 2019
The Times
, on Thursday, had a list of the 17 players who are in Gareth Southgate's England squad for tonight's international match who have enjoyed loan spells during their careers.
Five of those 17 have spent loan periods at non-League clubs and four of those England players have previously played against Altrincham during those loan spells or in the formative stages of their professional careers.
The four in question are goalkeepers Dean Henderson and Nick Pope and outfield players Kieran Trippier and Callum Wilson.
Goalkeeper Dean Henderson, now enjoying life in the Premiership with Sheffield United, kept goal at Moss Lane for Manchester United in a pre-season game on Friday, 22 July 2016. United won 2-1 but Damian Reeves can look back on scoring against the England prospect to score Alty's goal in that game.
And, just a week later, another keeper who has played for England, Nick Pope, kept a clean sheet as his Burnley side played out a goalless draw with Altrincham in another pre-season fixture at Moss Lane.
Defender Kieran Trippier is now playing his trade with Atlético Madrid but, back on 16 July, 2011, he played for Manchester City against Alty.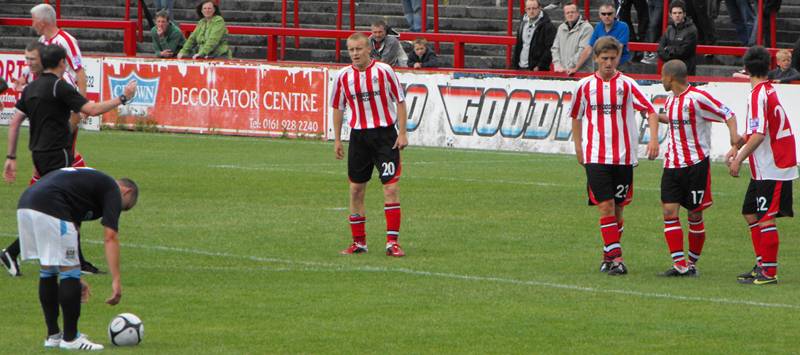 Above, an image from Altrincham's 2011 match against a Manchester City XI, which included Craig Bellamy and Michael Johnson. Here, Jake Barnabas, James Smart, Astley Mulholland and Sam Langford make up the four-man wall against a Manchester City freekick, being lined up by Kieran Trippier, who had played 35 first-team games for Championship side Barnsley in 2010-11 season.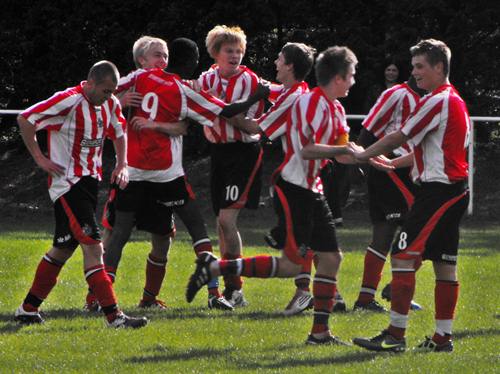 Right: August 2011, Duncan Watmore (no.10) is congratulated after scoring Altrincham Youth's late winner in a 5-4 win over FC United of Manchester.
A year later, Trippier was at Moss Lane again, this time as a substitute for Burnley as they beat Alty 4-1 in pre-season on Saturday, 21 July, 2012.
Earlier, Bournemouth's Callum Wilson was in the Kettering Town side which lost 3-2 at Moss Lane in a Blue Square Bet Premier match played on Saturday, 19 February, 2011. At the time he was on loan from Coventry City.
And, whilst none of the Alty players who have rubbed shoulders with the above four players has become an England first-team international, the club came close to achieving this with Duncan Watmore [above right]. As the Sunderland Echo reminded us in May 2015, Duncan outshone at least two players who have gone on to win first-team international caps. "Sunderland youngster Duncan Watmore has been named as Barclays Under-21 Premier League player of the year. Watmore was chosen by the Premier League Club Support Managers following an impressive 11 goals in 18 Barclays U21 Premier League matches this season.
Watmore has also been named in Sunderland's first team squad on two occasions this season after being selected for matches against Manchester United and West Ham United. He is currently away with England U20s, and scored in a 3-3 draw against Morocco yesterday. Watmore beat off competition from Chelsea striker Dominic Solanke-Mitchell and Liverpool winger Harry Wilson... who were shortlisted". Solanke has since played for England whilst Wilson is a full Welsh international.
One lesson to be learned from the above is that it is always worth attending the home pre-season games at the J. Davidson Stadium as you really will see some stars of the future!
Altrincham FC board member Bill Waterson reports on the healthy state of Altrincham's finances on the
Altrincham FC
website.
Altrincham FC
reports that "We are ecstatic to be the focus of a four-part documentary series on the trials and tribulations of Non-League football. The keenly-anticipated four-part documentary, taking you behind the scenes at Altrincham FC is... now live on the Footy Accumulators YouTube channel... as players and management open up in a first-of-its-kind for Non-League football".
By coincidence, when Altrincham visit Guiseley on Saturday (12 October) it will be 17 years to the day since the Robins made the identical trip in 2002 for an FA Cup Third Qualifying Round match, which they lost 1-2.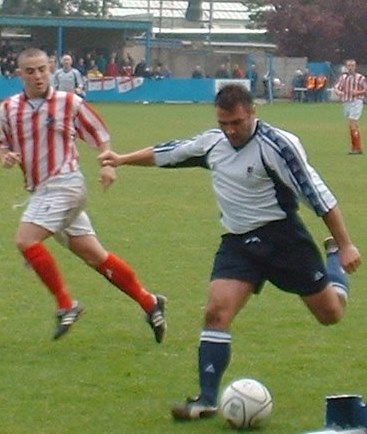 Back in 2002 Guiseley started the match in next to bottom position in the UniBond First whilst Alty were four off the bottom of the UniBond Premier Division. The Lions had won only one league game that season whilst for Alty it was four seasons since their last visit to Nethermoor.
Seen [right] in the 2002 match is former Alty star Clive Freeman, who played at left-back for Guiseley that day. Here he is being tracked by Chris Young with Stephen Rose in the background at a damp Nethermoor.
This site's report on the match said, "Any hope that the FA Cup would rescue Altrincham's faltering season disappeared against a more determined Guiseley side. A poor first-half performance from Altrincham saw them fall two goals behind due to defensive errors. The first came after Talbot missed a through ball and Acton hesitated, allowing Ryan Senior to lob the Alty keeper after just four minutes. The second came from a corner conceded after an error by Rose. The corner was headed out to ex-Southport man, Stuart, who drove it home.
Alty dominated the second half and Band headed home a McDonald cross after 67 minutes. Three minutes later Talbot headed home but the goal was ruled out for a foul on the keeper. Alty, without a recognised striker in their squad, spurned a number of other chances during the game. They have now won just 8 games in 43 league, cup and pre-season matches since last March and have yet to take anything from a game this season in which the opposition has scored first".
ALTRINCHAM: 1. Richard ACTON, 2. Neil MURPHY, 3. Gary SCOTT, 4. Stephen ROSE, 5. Gary TALBOT (capt.), 6. Neil RYAN, 7. Jason GALLAGHER, 8. Chris YOUNG, 9. Peter BAND, 10. Ian CRANEY, 11. Andy McDONALD. Subs: 12. Mark MADDOX, 14. Andy TUNNICLIFFE, 15. Chris BARTON, 16. Stuart FENNA.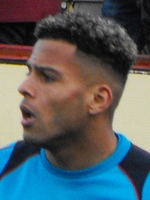 The
BetVictor NPL
reports that "Hyde United have added three new faces to their squad as they look to end a run of four league games without a win.
Goalkeeper Aidan Winterbottom, defender Luis Morrison [right] and Michael Elstone have all been brought in by manager Dave McGurk. Former Grays, Alfreton, Nuneaton and Stratford defender Morrison started in the 4-1 win over Glossop North End in the Manchester Premier Cup on Tuesday night.
McGurk told the club's official website... 'Luis joins us and is available for tomorrow evening. He is a player with a real presence and is another one who has impressed in training. He's vocal and will add strength and leadership down the spine of the team'".
Also from the BetVictor NPL we learn that "The 7-0 win over Grantham Town on Tuesday night was Buxton's first league win of the season. Meanwhile, Aaron Chalmers's loan from Ashton United has been made permanent".
The
BetVictor NPL
reports that "Whitby Town manager Chris Hardy hailed their FA Cup progress against Gloucester City as his best moment in charge of the club. The Seasiders travelled south for Monday night's third qualifying round replay with just 14 fit players, including three goalkeepers.
A brace from makeshift striker Kieran Weledji helped them win 3-1 and set up a tie at home to former NPL club Stourbridge for a place in the FA Cup first round proper.
Hardy told the club's official website 'That's the FA Cup for you.... What the lads did was unbelievable and the work ethic was flat out. That's my best moment as the Whitby manager.'".
We learn from the BetVictor NPL that "Bamber Bridge have signed Chester pair Matty Thomson and Louis Hayes on loan. Defender Thomson... made his senior debut in April 2018. He made 16 appearances last season, signing a one-year contract extension in the summer.
Midfielder Hayes is also an academy graduate, who joined the club from Blackburn in May 2017. Manager, Joey Collins said 'They are both held in high regard by all the Chester staff and have bright futures ahead of them.'"
According to Cheshire Live "King's Lynn Town assistant manager Paul Bastock insists that Chester FC are the ones that should be fearful this weekend. Second meets third in the National League North's standout match on Saturday as Anthony Johnson and Bernard Morley take their Chester side to Norfolk looking to do something that no team has managed in over a year, beat the Linnets at The Walks.
King's Lynn, promoted via the Northern Premier League play-offs last season, have been the surprise package in the division thus far and sit a place and a point behind second-placed Chester.
The Linnets boast a stunning home record and Johnson and Morley know their side will have to be at their very best to glean something from the contest, the Blues opting to stay over on Friday night in order to give themselves the best possible chance of a positive outcome at 5pm on Saturday...
Bastock, who at 49 is still registered as a reserve 'keeper at the Linnets and who has made a world record 1,280 appearances, says he and manager Ian Culverhouse know what to expect from Chester this weekend and are planning accordingly. 'They're very direct and we all know about the managers, so we know what we've got coming up against us,' Bastock told the Linnets' official YouTube channel. 'But while we have the gaffer with us he will be coming up with a few tricks for us this week.
'We have no fear, no fear. If the boys can stand up to long balls and the physical side and be brave with their passing and movement then I think they'll have more to fear than us.'
The Linnets are flying in the National League North so far, thanks in no small part to the goals of experienced striking duo Michael Gash and Adam Marriott...
Bastock says... 'First and foremost to stay in this league was the priority and that is still our priority. We've had a great start to say that we're staying in this league for next season, and then we can build and build and build. We don't want to get carried away because we are overachieving, but "he who dares" [wins]. We just have to maintain the standards that the gaffer sets and the belief in our football. We've already surprised everybody this year and I'm pretty sure that we can continue.'"
NL Daily tells us that "Attacking midfielder Ravi Shamsi has signed for Stratford Town.
Shamsi has just left Leamington, having previously been at Maidenhead United, and Banbury United, where he scored 16 goals in 37 appearances. He also spent two seasons at Fulham with their Under-18s squad."
This from BBC Midlands; 'Labour plans to give supporter trusts a greater say over their local football clubs has kicked off a debate about ownership in the beautiful game. Jeremy Corbyn wants to see supporters with seats on the board and the right to buy shares.
It's a model that's already being pursued at clubs like Hereford FC, which rose from the ashes of the collapsed Hereford United, but can it work in the game's upper echelons where money talks?
Rob Mayor's been speaking to fans, football experts and the former Chairman of a Premier League club to get their views...
BBC Sunday Politics Midlands, 10am BBC One".
---
10 October 2019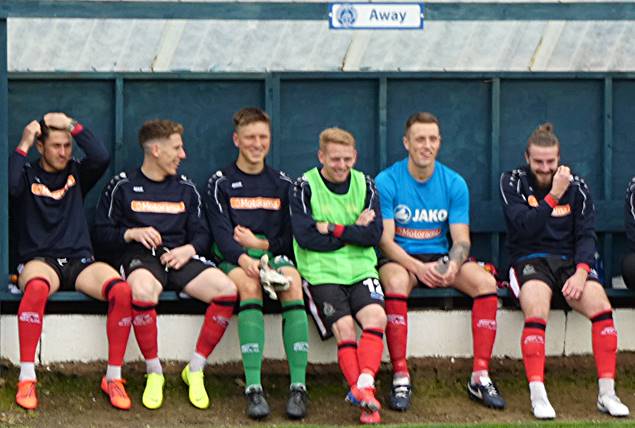 If a happy bench is the sign of good team spirit then the above image, captured at Halesowen on Saturday, bodes well for Altrincham. Pictured above are, left to right, Connor Hampson, Tom Peers, Joel Torrance, Sean Williams, Toby Mullarkey and Max Harrop. Alty also named Yusifu Ceesay on the bench but the injured wingman was nowhere to be seen.
Altrincham's most recent league game was back on 14 September when they lost at Kidderminster Harriers. At their fifteenth attempt in the past 25 years, Alty failed to win a league match at Aggborough. By an unfortunate quirk of the fixture list, this coming Saturday Alty travel to their next worst bogey team in the National League North, Guiseley.
In nine visits, Altrincham have never won and have secured just four draws in matches against the West Yorkshire club. All the matches against Guiseley have been in the league unless shown otherwise in the list below...

Above: Alty warm up at Nethermoor, 1 May 1999
10 February 1996, FA Trophy round 2: LOST Guiseley 4 Altrincham 0 The least said about this game the better.
8 November 1997: DREW Guiseley 2 Altrincham 2 Alty twice led through Niell Hardy and a Tony Kelly penalty.
1 May 1999: LOST Guiseley 2 Altrincham 0 Altrincham arrived as the already confirmed UniBond NPL champions but lost to a Guiseley side which finished third in the table. The Lions were to be relegated the following season.
12 October 2002, FA Cup 3Q: LOST Guiseley 2 Altrincham 1 Alty played poorly with former Robins' hero Clive Freeman deployed as the Lions' left-back. After this defeat Alty had won just 8 games in 43 league, cup and pre-season matches since the previous March!
9 April 2012: LOSTGuiseley 3 Altrincham 2 Goals from Yorkshiremen Nicky Clee and Damian Reeves were not enough to prevent defeat.
11 April 2013: DREW Guiseley 1 Altrincham 1 Ryan Brooke wasted a chance to win this game with a late penalty miss; it was Alty's eighth penalty miss of the season! Earlier, Alty had had the better of the first half but failed to score before Josh Wilson netted in the 37th minute. Already without the ill Nicky Clee from kick off, Alty lost both Watmore and Richman to injury before the second half started.

Guiseley had Kevin Holsgrove [who also played for Alty] sent off midway through the second half before Jake Moult levelled with a well struck 78th minute shot following a Lawrie corner.

21 December 2013: DREW Guiseley 2 Altrincham 2 This was almost an Alty win but Gavin Rothery equalised for the hosts in the 94th minute. Luca Havern and Carl Rodgers's goals had put Alty in front.
11 August 2015: LOST Guiseley 1 Altrincham 0 This was an evening meeting at national rather than regional level which Altrincham lost with a poor first-half performance. It was a failure to defend a corner which cost Alty the decisive goal as Atkinson's bullet header powered past Coburn, who was to be his side's Man of the Match. A bad night was made worse by the loss of Havern to a hamstring injury in the first half.
29 December 2018: DREW Guiseley 2 Altrincham 2 This time it was Alty who grabbed a late equalizer as Connor Hampson hetted in the 90th minute. Loanee Ashley Hemmings put Alty ahead before Guiseley scored twice in the final twenty minutes.
Guiseley
report that "Altrincham are the visitors to Nethermoor on Saturday as we return to league action on Non-League Day.
We have a couple of special offers on and hope to see a bumper crowd at Nethermoor for the MANarama National League North clash, it is just £5 entry for students, EFL and Premier League Season Ticket Holders, all you need to do is show your valid NUS card/student card or Season Ticket at the turnstiles to take advantage of the offer.
Why not bring down a friend, work colleague or a member of your family to give them that non league experience and show them what is on offer at Nethermoor Park.
It's been a good season so far in the league for Russ O'Neill and Marcus Bignot's side who sit in seventh after an Emirates FA Cup appearance last time out.
Altrincham are currently in 18th place in the league and have had a mixed September which saw two wins, two defeats and a draw before winning 2-0 at Halesowen last weekend live on the BBC Red Button.
Alty's squad includes a few familiar names in Steven Drench, Conor Branson and Lewis Walters all ready to line up against their former side.
The Lions meanwhile slipped to seventh place last week as Hereford took full advantage of their game in hand with a 2-0 win at Leamington.
Russ O'Neill will be looking for a return to winning ways on home soil after two defeats on the spin in Worcestershire and Cambridgeshire.
Speaking after the last gasp defeat to Peterborough Sports in the Emirates FA Cup last weekend the Joint Manager said 'It is a massively disappointing result and performance for us, we were a couple of minutes away from getting a replay, we have made a silly decision in the middle of the pitch and it has cost us.'
With top scorer Aaron Martin serving the second of game of his three match ban on Non-League Day, O'Neill said 'He is a huge loss, he has 14 goals in 12 games. That is no excuse, we only have ourselves to blame today, we knew what to expect. First half we hit the post and created a few chances, on another day we score them and go on to win, you know what the FA Cup means you get one chance and we have lost the chance today.'
Speaking of the travelling faithful who made the trip to Cambridgeshire in their numbers Russ couldn't praise them enough "Fantastic, they always do, they all hung around at the end, they applauded us off we know how disappointed they are, you could hear them all the way through so fair play to them, we have to recover now and let's see what this week brings'...
Finally looking ahead to Saturday O'Neill knows Altrincham will pose a tough test "They are a real tough team to play against, they are probably the best footballing team in the league, they will be coming to our place and seeing a nice pitch. We need to get back to that resilience and play with the energy we were at the beginning of the season, at the end of the day we are in the final play off place so we need to fight like mad to make sure we hang on to it.'"
Alty travel to Haig Avenue for the second time this season, on 19 October, to face
Southport
who announce that "Our FA Cup game against Altrincham will take place on Saturday October 19th with a 3pm Kick Off.
Normal matchday prices will be in place and as it is an FA Cup fixture there are no discounts.
Seated - Adults £15.00, Concessions Over 65, Armed Forces and Students £11.00, Juniors (12-17) £5.00, 11s and under are free
Standing - Adults £13.50, Concessions (as above)£10.00, Juniors £5.00
Tickets will be available to buy online (from 10am Thursday October 9th) which we strongly recommend to avoid any queues on the day. Cash turnstiles will be available for home and away supporters. The Club Shop and 1881 Lounge will take card payments on the day but advance purchase is highly recommended"..
After Tuesday's FA Cup replay defeat at Edgar Street by Tamworth,
Hereford FC
say that there "was penalty shoot-out agony as we fell to a 3-1 defeat on spot-kicks having played out a goalless draw after extra-time...
The visitors had a great chance to open the scoring in the sixth minute when a long ball played through Dan Creaney who was thwarted by an important save by the alert Brandon Hall... On 20 minutes, Tommy O'Sullivan showed good feet as he cut inside and his dipping effort from distance was well pushed over by Jasbir Singh...
We were starting to up the tempo at this stage...
The visitors made a bright start to the second half... As we started to get back on top, Jacob Jagger Cane was unlucky when his strike from just inside the area was cleared off the line... There was plenty of cut-and-thrust as the visitors hit us on the break...
On the hour-mark, [manager] Russell Slade was given a yellow card for his comments to the referee... Extra-time started... With the bit between their teeth, The Lambs came forward again as Gowling had to defend at the near post to deny Rhys Hoenes...
Still the teams could not be separated as it ended goalless after extra-time and so we went to a penalty shoot-out.
The penalty shoot-out saw us miss three times as we fell to a 3-1 defeat."
The Hereford Times adds that "Hereford manager Russell Slade is looking for an immediate response from his side at Bradford (Park Avenue) on Saturday... ,p. Slade said that his side were 'hurting' and urged for an immediate response... 'We have to recover, do things right and we have to respond in the best possible way,' said Slade. 'The game kicks you in the teeth sometimes and it hurts. I hope every single one of them in that changing room hurts tonight.
'I hurt, it's upset me losing that game tonight... I can't have anybody feeling sorry for themselves going into Saturday's game as it's absolutely huge. I will learn more about this group than I've learnt in the last five or six games on Saturday. We need to ensure on that long journey that we go up there and come back with all the spoils'...
'My success rate in penalty shootouts is not fantastic, I think I've won one in the Checkatrade Trophy to get to the final with Coventry but I've lost a play-off final on penalties and it's not nice... but we haven't quite done enough over the two games to nudge through into the next round really... but we've kept a clean sheet and it's in that final third where at times it didn't quite drop kindly for us'...
When asked how much the Bulls had practised penalties, Slade added 'I think if you're full-time you can get out on that training ground between Saturday's game and be practising them. "We're not and so it's up to players who have taken penalties in the past and have got that experience, some of ours have and some of them have got quite good records, but didn't quite show it tonight. It's a lesson learnt, a hard lesson and games are hard sometimes'".
According to York Press, "York City's FA Cup tie at Bootham Crescent against Stockport County has been picked for television. The fourth qualifying round match is set to be shown on BT Sport 1 on October 19, kick off 5.15pm...
This is the second of the Minstermen's 2019/20 FA Cup campaign to be broadcast live after their second qualifying trip to Irlam, which was shown by the BBC."
York City add that the club "been the target of theft and vandalism both at Bootham Crescent and the club's training ground, over the weekend 5th-8th October 2019.
Bootham Crescent was broken into, the medical room and kit room were targeted resulting in theft and damage.
The club's training ground was also broken into and vehicles driven over the training pitches, resulting in damage to the playing surface.
A club spokesman said 'It is very disappointing that individuals act in this way, trying to harm the club, rather than act in a positive way matching the on-field success'".
In the Northern Echo we read that "Simon Ainge is hoping to be fit to play against Darlington on Saturday for Boston United.
The 31-year-old is on loan from Darlington for the entire season, but there is no clause in the arrangement to prevent him playing against his parent club in the league.
Quakers' manager Alun Armstrong was keen for Ainge to leave the club in the summer due to financial reasons, as he believed there was greater value to be found elsewhere.
Armstrong explained 'He's a Boston player. Yes, we contribute a bit to his salary but it was the only way I could move him on and I had to agree to their terms. I needed him out for financial reasons.'
As Ainge's Quakers contract expires in the summer of 2020, he is effectively no longer a Darlington player, though they continue to make a contribution towards his wages with Boston footing most of the bill. Ainge has been an ever-present for Boston, not missing a minute of the action until last Saturday when he had to be substituted in an FA Cup tie against Sutton Coldfield Town.
'He got a kick on his calf, which tightened up', Boston boss Craig Elliott told the Boston Standard... 'But we've got a good replacement with Lewis Gibbens. It's only in the FA Cup he (Ainge) can't play (against Darlington). He can play in the league fixtures. The chances of drawing Darlington are slim so I agreed to that.'
Ainge has been playing as a defender for Boston, which is how he finished his year with Quakers having initially been signed in the summer of 2018 by Tommy Wright to play as a striker following a fruitful spell up front for Harrogate Town.
Wright, meanwhile, has lost his job at Stratford Town".
Meanwhile, Boston United "have secured the signature of vastly-experienced attacking midfielder Martyn Woolford.
The Pilgrims have snapped up the 33-year-old former Millwall, Sheffield United and Grimsby Town man, who has also appeared for the likes of York City, Scunthorpe United and Bristol City.
Woolford has arrived at The Jakemans Stadium following a short spell with Hyde United in the BetVictor Northern Premier Division and is eligible to make his Pilgrims' debut against Darlington on Saturday.
He did not feature for the Tigers in their solitary Emirates FA Cup appearance earlier in the campaign and is therefore free to play for the Pilgrims in the competition.
Reflecting on Woolford's arrival, United manager Craig Elliott said 'Martyn is versatile and left-footed and he played nearly 40 games in League 2 last season. He has played nearly 400 games in the Football League, for some big clubs, so he will give us vital experience that we are perhaps lacking at times. He's hungry to do well and he's a fit lad so I am sure he will be a big asset for us.'"
Alfreton Town "confirm that midfielder Dale Whitham has joined neighbours Buxton on a month's loan.
Dale joined us in the summer from Chorley after spending nine years at the Magpies and notching over 300 appearances and scoring 69 goals.
After impressing throughout pre-season and stamping his mark on the midfield, Dale started in our opening day defeat at Brackley, our second game against Boston before making just one further substitute appearance.
Dale's game time has since been limited after the Reds went on a four-game winning run with few changes to the line up and the recent arrival of Conor Branson from Altrincham.
Billy Heath said, 'Dale has been fantastic since he joined us, he's a good player and he had a great pre season. However his game time has been limited and we want him to stay sharp and stay fit so it's all about minutes and fitness for Dale'".
The
National League
reports that "A month ago, Stockport County were loving life back in the big time and were fifth in the fledgling MANarama National League table.
But who would've known the catastrophic effect defeat to old foes Chorley would have?
Since then, the Hatters have been winless and scored just once, their goalless draw with Sutton on Saturday afternoon adding their only point in six outings.
Signs of a shift in momentum? Maybe, feels boss Jim Gannon.
'It feels like we're getting back the team that can do something,' he said... 'The positive thing is that we've stopped the losing run. This game is the start of a massive week for us and I'd like to us to get back to winning ways. We've shown we're getting back to the team we used to be and there's no better place than Edgeley Park under the floodlights, live on BT Sport'...
Stockport County against Hartlepool United was live from Edgeley Park on Wednesday evening live on BT Sport 1." County won 2-1.
---
9 October 2019
Assuming that the Altrincham v AFC Telford United league match on Saturday 26 October goes ahead as scheduled, it will be the first Saturday match at the J. Davidson Stadium for seven weeks.
Altrincham's last Saturday match at home was on 7 September, when Leamington were beaten 5-0 at Moss Lane. The only scheduled home match since then was to have been on 28 September against Gateshead but that had to be postponed, owing to a waterlogged pitch.
The Robins did play at the JDS on Tuesday, 24 September in an FA Cup replay against Chester FC but, now, the FA Cup Fourth Qualifying Round draw has ensured that Alty do not return home till 26 October, 49 days after the Leamington fixture.
The Cup draw also means that, as well as the Gateshead fixture, Alty also now need to rearrange their league trip to Kettering Town which was supposed to happen on Saturday 19 October as that is now the date for the Cup match at Southport.
And it doesn't get much better after 26th October, as two more successive away games follow the visit of Telford; Alty travel to Stalybridge on 29th October in the CSC and are at King's Lynn Town on 2nd November. So that means that, potentially, seven of the nine fixtures between 7 September and 2 November (8 weeks) are away games. And if Alty make it to the FA Cup First Round they could be away again on 9 November! A rearranged home league match against Gateshead or a cup replay with Southport might change that.
Sat.14.9.19 A Kidderminster Harriers
Sat. 21.9.19 A Chester FC
Tue. 24.9.19 H CHESTER FC
Sat. 5.10.19 A Halesowen Town
Sat. 12.10.19 A Guiseley
Sat. 19.10.19 A Southport
Sat. 26.10.19 H AFC TELFORD UNITED
Tue. 29.10.19 A Stalybridge Celtic
Sat. 2.11.19 A King's Lynn Town
Sat. 9.11.19 ?A ...if still in FA Cup and drawn away.
Altrincham FC Monthly Draw winners for September were:
6th prize, Alty FC Polo Shirt: #404 Linda Jackett
5th prize, Alty FC Home Replica Shirt: #378 Gary Kenwright
4th prize, Hospitality for Two at Home Match: #247 I. Wiggins
3rd prize, £25 Cash: #514 T. Pendlebury
2nd prize, £75 Cash: #174 Catherine Grace
1st prize: £500 Cash: #244 P. Widdows
Duncan Watmore scored for Sunderland on Tuesday night agaist Grimsby Town.
Tuesday 8 October 2019
Hereford FC 0-0 Tamworth (after extra time, Hereford missed their first three penalties and Tamworth won the shoot-out 3-1. Tamworth now at home to Darlington)
Bowers & Pitsea 1-1 Canvey Island (aet, Bowers won penalty shoot out 5-3)
Wealdstone 4-0 Bristol Manor Farm
Weston Super Mare 1-4 Kingstonian
Slough Town 2-3 Chippenham Town
With unfortunate timing given Farsley's 0-5 humbling by Southport in the FA Cup on Saturday, The National League North Manager of the Month is Adam Lakeland (Farsley Celtic). The National League says, "The journey into the National League North can sometimes be a lot more enjoyable than the destination, history shows us. Life for those promoted into the division isn't often easy. Ask Hereford, who finished just a few places above the drop zone last time out. Or Ashton United, who finished inside it.
Nobody bothered telling Farsley Celtic, and their manager Adam Lakeland. But he told us something in the summer. Farsley had to stay in the league. However they did it, he wanted the club back again for another go this time next year. If they maintain their current form he risks failure on that front. There is every chance the Celts could be here just for one year but leaving via the other end.
Farsley are fourth and going very well indeed. September has seen them win four from four, putting Bradford (Park Avenue) Kettering Town, Leamington and Curzon Ashton in their place during a wonderful and spotless month. Lakeland has avoided what many do and not only kept his team from a battle at the wrong end, but has taken the Yorkshire club to within touching distance of the top.
The Player of the Month is James Armson (Brackley Town).
If Brackley Town are playing, chances are they'll win, and James Armson will be on the scoresheet. Well that's true for September, at least. The Saints bagged victories against Kidderminster Harriers, Curzon Ashton and an 8-0 humbling of strugglers Bradford (Park Avenue) with Armson registering in all three games.
The club's form has seen them mingle at the top for most of the season having lost just once in their last ten league games with an unbeaten home record to boot. This season is Armson's fourth with the club and he's seen more success than most with three top seven finishes and an FA Trophy on the roll of honour.
And the midfielder is once again proving to be a valuable asset to boss Kevin Wilkin, who will be more determined than ever to see Town scramble out of the MANarama National League North.
Volunteer of the Month is Jason Hatfield (Boston United)... Jason has worked voluntarily on a day-to-day basis for over 20 years, administering all of the first-team kit requirements in terms of matchdays and laundry. He travels to each first-team fixture on the coach and is the first port of call for any requirements the players have on matchdays. He also performs various other tasks around the club on a daily basis and is happy to help in any way he can. His help is invaluable and Jason's role at the club has enabled him to grow from a shy individual to a confident and hard-working member of the Pilgrims' behind-the-scenes team"
A common factor in the Manager and Player of the Month awards is that the teams involved have been playing lowly opposition. Farsley's fixtures in September included three against the current bottom three clubs and two of Brackley's three wins were also against bottom three clubs. Alty's Phil Parkinson had little chance; his side has yet to play any of the teams in the bottom seven of the division.
Darlington assess the season to date. "York City are still unbeaten and cruising at the summit, but Farsley Celtic's perfect month means they're well in touch. High-scoring Brackley Town aren't taking any prisoners either. At the other end, Kettering Town dismissed Nicky Eaden after a dismal first two months while Mark Bower returned to Bradford (Park Avenue).
The high point? With five minutes to go and trailing to Alfreton Town, the result looked done and dusted. But Tyrone O'Neill and Justin Donawa had different ideas. The pair snatched late goals to complete a two-minute turnaround and seal all three points at the Impact Arena.
Attendances are on the rise at Blackwell Meadows. The Quakers are already way ahead of last season's average of 1,391, with 1,588 coming through the gates this season, they boast the fourth-best numbers in the division.
Alun Armstrong admitted he needed to 'fathom out' their away form before heading to Alfreton and winning. He also declared his belief in his side despite their form. He said, 'When we cut out the daft mistakes, I think we're a difficult team to deal with'.
It was a month that won't live long in the memory with just one win coming in four outings as a turbulent start to the season continued".
Chester FC "confirm goalkeeper Theo Roberts has joined Mossley AFC on an initial 28-day loan deal.
Theo arrived at the Deva Stadium in July 2018. The promising young goalekeeper came through the youth ranks at Wigan Athletic, and made his debut for them in November 2017 in an EFL Trophy game against Accrington Stanley before having a loan spell at National League side AFC Fylde.
After impressing in pre season 2018, he earned a one-year deal with the Blues. Earlier on in the campaign, Theo had a loan spell with Atherton Colls. He now arrives at Seel Park with Mossley sitting 10th in the BetVictor North West Division."
"Manager Lee Clark has talked up the significance of A href="http://www.blythspartans.com/interview-clark-on-huge-curzon-clash/">Blyth Spartans' National League North trip to Curzon Ashton on Saturday.
Following two consecutive wins against The Nash and AFC Telford United, Blyth's dip in performance levels was punished by Hednesford Town in a 4-2 FA Cup exit at the weekend.
With a new management team and practically a new squad, Spartans feature in the early relegation places with five points from their opening 12 matches. However, a win at the Tameside Stadium will bring Clark's side closer to safety and the process, drag Curzon Ashton into danger.
Clark said 'It's a huge game for us at Curzon on Saturday. We have to be ready and we have got to prepare them on Tuesday and Thursday and make sure that we are right. We have made up some ground on the teams around us. We want to start catching them up even closer now.
'If we can go and beat Curzon, we'll bring them closer to us as well and bring another team into the equation. Equally, we have got to bounce back from a disappointing performance at Hednesford and the only way to do it is by going and getting a result on Saturday'.
The pair meet for the third time in a month after playing out two very closely-fought affairs in the FA Cup Second Round Qualifying stage. In the North West, a Callum Roberts hat-trick and a goal from Olly Scott forced a replay at Croft Park before Michael Sweet sent Blyth into the next round with a 1-0 win.
The former Kilmarnock manager added 'I'm hoping the players can use our previous performances against Curzon to go in with some confidence but we can't be overconfident. In football, you have got to stay humble. I hope the players can use it to our benefit that we have gone down there and scored four goals, put in a good performance and beat them in the replay.
'But if we think it is just going to be easy and just turn up, that won't be the case. We have got to deliver a very big performance next Saturday... Certainly we will look back at the Hednesford game and use it to say "Look, you can't turn up and expect to win a football match, you have got to be better in all departments."'"
And Curzon Ashton's poor run continued as their "defence of the Manchester FA Premier Cup ended at the first hurdle as they were shocked 2-1 by Wythenshawe Town.
Despite Isaac Sinclair giving the Nash a second-half lead, they never had control of the contest and the North West Counties Division One South side rallied commendably with goals from Aaron Dwyer and Connor Brotherton enough to see them into the next round.
The game, though, was overshadowed by what looked like a horrific injury suffered by Nash centre back Olly Thornley early in the second half after he was taken out from behind by Wythenshawe striker Brad Byrne, a challenge not even deemed worthy of a free kick in the eyes of referee Alex Kirtley. But to blame the referee would be to do disservice to a determined display from the visitors who fully merited the victory on the back of another disappointing Curzon performance who now boast a winless streak of 11 games and face a crucial match with Blyth Spartans on Saturday.
After a 10 day gap from their last game, Mark Bradshaw made five changes from the team that lost to Farsley Celtic with Josh Askew, Luke Merrill and Jack Banister recalled, Mark McCoy given a start in goal and James Baillie making his first Nash appearance in almost a year following his return from long-term injury...
Having already lost Askew, who was suffering back spasms in the first half, the second period began disastrously for the Nash thanks to Thornley's injury... The Nash looked a little rocked after that, but they did take the lead midway through the half when Calveley's shot was well blocked by Jakovlevs and Sinclair pounced on the rebound.
However, that advantage lasted only five minutes when Dean Warburton slid Dwyer in down the right channel. His first effort was saved by McCoy, but the ball bounced kindly back to the winger and he kept his composure to slot the ball home at the second attempt.
And a dream night for Wythenshawe was completed ten minutes from time when Curzon went to sleep from Wright's throw in, allowing Dwyer space to pick out substitute Brotherton whose header flew past McCoy at his near post".
Gloucestershire Live informs us that "Gloucester City bowed out of the FA Cup at the third qualifying round stage after a 3-1 replay defeat by Whitby Town at the Jubilee Stadium on Monday night.
The Tigers had levelled in the 92nd minute through Joe Hanks on Saturday to earn a second crack at Northern Premier League Premier Division side Whitby after a 1-1 draw. They fell behind again in the replay after 25 minutes through Kieran Weledji's strike and their hopes of progressing to face Stourbridge in the fourth qualifying round were severely dented by the dismissal of Josh Thomas before half-time.
City also lost Birmingham City loan goalkeeper Josh Bradley-Hurst to injury in the 29th minute, with veteran stopper Tom King going on in his place. Former Cheltenham Town youngster Thomas was shown a straight red card for a foul on Bradley Mills in the 40th minute of what was his comeback appearance after injury.
Defender Weledji, operating as an emergency forward, made it 2-0 in the 50th minute, but substitute Zack Kotwica restored hope for Mike Cook's side in the 72nd minute. An own goal in the 85th minute sealed the North Yorkshire club's progress and netted £11,250 in prize money.
Whitby finished with goalkeeper Dan Dixon up front due to only having 14 fit players, three of which were custodians.
Gloucester receive £3,750 as third qualifying round losers and they return to National League North action with a long trip to Gateshead on Saturday".
---
8 October 2019
Altrincham have yet to win at Nethermoor after nine attempts. Last season the sides drew 2-2 with Alty rescuing a point with an injury-time equalizer. The first half had been goalless and largely uneventful but the second half had an early goal which sparked the match into life. It came six minutes after the break from loanee Ashley Hemmings after Johnston and Hancock had been involved in the build up.
Alty spurned further chances to extend their lead and paid the price as Guiseley scored twice in the final twenty minutes. Heaton's header levelled things in the 73rd minute before Hatfield put the hosts ahead in the 85th minute.
Alty managed to get their equalizer as the game went into added time. Following a Johnston run, Hampson netted with a cross-shot to make it 2-2.
Altrincham have been drawn against Southport in the FA Cup Fourth Qualifying Round on 19 October. It is the fourth time that the clubs have met in the competition, with the home side winning on each occasion, meaning Alty have a 2-1 advantage as the details below clarify.
1921/22: Southport 3 Altrincham 0 in the Fifth Qualifying Round, a stage of the FA Cup that is no longer played. In the previous Round, Altrincham had ensured their first-ever win over Football League opposition, defeating Tranmere Rovers 4-2 in Birkenhead after a 4-4 draw at Moss Lane.

Southport were enjoying their first-ever season as a Football League club in 1921/22 and were plying their trade as founder members of the old Division Three North. They went on to finish ninth in the twenty-strong division in that campaign. That season was Altrincham's third in the Cheshire County League and they ended the season twelfth.

1978/79: Altrincham 4 Southport 3 on 25 November 1978 in Round One. This was the last season that Alty were in the Northern Premier League, their second-place finish ensuring that they became founder members in 1979/80 season of the Football Alliance, the embryonic Football Conference.

In this FA Cup tie with Southport Jeff Johnson netted a hat-trick with Mal Bailey scoring the other goal in front of 2,153 at Moss Lane. The win secured a trip to the Butcher's Arms to defeat Droylsden 2-0 and secure a trip to White Hart Lane in Round Three. After a 1-1 draw with Tottenham Hotspur in London, Alty lost 0-3 in the replay at Maine Road, then the Moss Side home of Manchester City.

1994/95: Altrincham 3 Southport 2 in Round One: France, Morton and Green were the Alty scorers in this win, watched by 2,523 spectators. This led to a Second Round victory at home to Wigan Athletic, thanks to a Sharratt goal. 3,020 spectators saw this match. Coincidentally, a trip to Tottenham Hotspur was again the Round Three reward, a match which Alty lost 3-0 in front of 25,057 spectators.
Emirates FA Cup Third Qualifying Round Replays:
Monday 7 October 2019
Gloucester City 1-3 Whitby Town. (Gloucester had a man sent off; Whitby now host Stourbridge in the next round).
The
Shropshire Star
informs us that "AFC Telford hope to add a new centre-forward to their ranks ahead of Saturday's visit of unbeaten table-toppers York City.
It is thought boss Gavin Cowan wants one more new face in before the New Bucks Head clash after undergoing a mini mid-season overhaul of his squad.
The latest new addition came over the weekend as Derby County goalkeeper Matt Yates, 20, checked in on loan until the end of the season. Former Gloucester and Hereford loanee Yates becomes Telford's third keeper of the season after Corey Addai and Andy Wycherley.
He follows recent signings of right-back Arlen Birch and left-back Riccardo Calder.
But Cowan, whose side lost three games on the bounce in National North and the FA Cup against Chester, Nantwich and Blyth Spartans, wishes to further boost his firepower. The Bucks allowed striker Andre Brown, who had managed one goal in six games this term, [to] leave on loan to Hednesford Town last week. Brown was the second player to depart Telford in a week after Steph Morley left on a permanent deal to Leamington.
Cowan admitted changes were needed in his squad with confidence lacking after a disappointing run of results."
And Derby County add that their "Under-23s' [player] Matt Yates has joined AFC Telford United on a youth loan until the end of the 2019/20 season.
The 20-year-old goalkeeper has made one appearance for Darren Wassall's side so far this season in Premier League 2, Division 1, keeping a clean sheet in their 2-0 home victory over Manchester City last month.
He will join the Bucks, who currently sit 16th in the National League North after 12 games, as he looks to add to the loan experiences he gained last season during loan spells with Hereford United and Gloucester City".
Yates kept goal against Altrincham in both the home and away fixtures with Hereford FC last season.
Meanwhile, another player who has faced Altrincham previously has moved in the opposition direction, leaving National League North for the next level down. Hednesford Town report that "Elliot Hodge joins from Kettering Town, becoming the latest addition to the Pitmen's promotion chasing squad.
23-year-old Elliot, a pacy forward, started his career as a trainee at Notts County before a two-year spell at Lincoln City which included loan spells with Stamford, Gainsborough Trinity, Stafford Rangers and AFC Telford. Elliot re-joined the Magpies for a year before moving onto Burton Albion. Elliot is cup-tied and will not play this weekend against Blyth Spartans in the FA Cup".
Hodge faced Alty in 2015 as a used sub for Lincoln City and in 2017 he featured for AFC Telford United against Alty at the New Buck's Head.
NL Daily confirms that "Chester striker Lloyd Marsh-Hughes has joined Marine on loan.
The forward signed a professional deal with the club in April after coming through the academy. With no action possible so far this season due to an injury picked up in pre-season, this move brings important minutes for the 18-year-old.
Marsh-Hughes has been around the first-team setup even prior to his pro deal, having made one start and 16 senior appearances".
Bermuda's Royal Gazette tells us that "Justin Donawa lived up to his reputation as Darlington's 'super sub' after leaping off the bench to score in his third straight game on Saturday.
Donawa came on in the 78th minute against Leamington in the FA Cup third qualifying round, scoring his side's second goal in the 88th to hand them a 2-0 away win.
The Bermuda forward also netted in the previous round away to Trafford before doubling his season's tally at home to Alfreton Town in the Vanarama National League North...
Alun Armstrong, the Darlington manager, said he expects Donawa to be 'knocking at my door wanting to start' such is the impact he has made coming off the bench. Donawa and team-mate Osagi Bascome, who was an unused substitute, will miss next weekend's league match at home to Boston as they will be on international duty for Bermuda against Mexico in the Concacaf Nations League.
'I wanted to bring Justin on a little bit earlier but then Tyrone [O'Neill] scores what I would describe as an outstanding goal,' Armstrong said. 'I told Justin to take a back seat and then it was backs to the wall. I thought if I take Omar [Holness] off, I'm going to lose that height, so I had to revert to a back five and use Justin's pace up top. It's a shame we're not going to have them next week. You can see the impact he makes and he just changes the game in an instant.'"
The Northern Echo reports that "Spennymoor will go to Chorley in the fourth and final qualifying round of the FA Cup, a repeat of last season's National League North play-off final.
Moors lost dramatically on penalties in Lancashire in May, as the home side took a place in the National League.
Darlington have to wait to see who they play; drawn away to the winners of the tie between Tamworth and Hereford United, who replay at Edgar Street tomorrow evening. The sides drew 0-0 on Saturday.
Hartlepool United have a home tie, they will face Brackley Town of National League North. They beat Warrington on Saturday and thumped Bradford PA 8-0 a week before. .
Gateshead play Colne, while National League North leaders York are at home to Stockport County".
---
7 October 2019
The draw for the Fourth Qualifying Round of the Emirates FA Cup was made today, conducted by John Motson and Danny Murphy.
Northern clubs have been drawn as follows and the ties will take place over the weekend of 19th October, with £18,750 prize money for each winning club.
Southport v ALTRINCHAM
Hednesford T v Boston U
Gateshead v Colne
Barrow v Solihull Moors
Whitby T. v Stourbridge
Hartlepool U v Brackley T
Nantwich T. v King's Lynn T.
Chorley v Spennymoor T.
Tamworth v Darlington
York C. v Stockport County
Notts County v Belper Town
Chesterfield v Wrexham
FC Halifax Town v Harrogate T.
AFC Fylde v Peterborough Sports
Altrincham are away for the third draw in succession. They have already been to Southport this season, losing at Haig Avenue in the league in September. In 1978-79 Alty beat Southport 4-3 in Round One and in 1994/95 they again beat Port, this time 3-2, at the same stage of the Cup, also at Moss Lane. However, on the only occasion that Alty have met Southport in the FA Cup at their ground, Alty lost 3-0 in a Fifth Qualifying Round tie in 1921-22 season.
So far, Altrincham have won £6,750 in the Second Round Qualifying and £11,250 in the Third Round Qualifying, making a total of £18,000 so far.
Should Alty win the £18,750 on offer in the Fourth Round Qualifying round, total earnings would amount to £36,750. Should they lose in the Fourth QR they would receive £6,250, giving a total of £24,250 for the Cup participation. Prize money for losers ceases in the First Round Proper, for reasons best known to the FA. In the First Round Proper winners receive £36,000 and losers get nothing.
Supporters of Altrincham FC will be saddened to hear of the premature death of supporter Martin Jordan. His father, Phil, wrote, "My son passed away peacefully this morning after a short but fruitless battle with the aggressive cancer that he battled so bravely in recent months".
In addition to his support of the Football Club, Martin was also a participant in the Alty Supporters' football team's matches.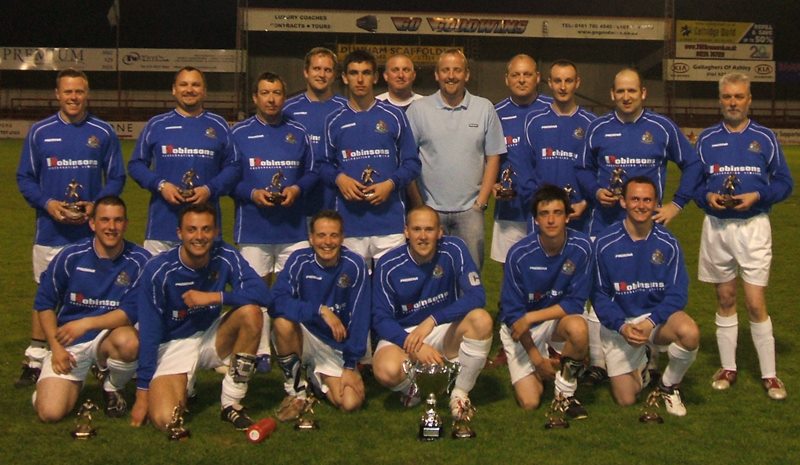 He is pictured, above, in a photo from May 2007 taken after a match against an Altrincham FC Staff XI at Moss Lane. Martin, who was jointly managing the side with Mark Eckersall, is in the centre of the back row, under the word "Go" in "Go Goodwins" on the advert above his head.
After a goalless draw, Martin and Mark masterminded a 4-3 victory for the supporters on penalties.
Condolences from all who knew Martin are extended to his wife and to the wider Jordan family.
Altrincham FC Press and Media Officer, Brian Flynn, interviewed manager Phil Parkinson after the win at Halesowen Town. It can be heard
here
.
On Saturday, Altrincham travel to Guiseley looking for a first win at Nethermoor on their tenth visit to the ground.
The Telegraph & Argus reports on Saturday's match which ended "Peterborough Sports 1 Guiseley 0.
There will be no repeat of last season's Emirates FA Cup heroics for Marcus Bignot and Russ O'Neill's Guiseley after they were knocked out of the competition as their hosts netted a last-gasp winner. The Lions roared through to the Second Round proper last term before they went out to Joey Barton's Fleetwood Town in a televised game at Nethermoor. Their exploits earned the club a sum that ran into the hundreds of thousands of pounds.
This season's third qualifying round handed the Lions a banana skin of a tie against Peterborough Sports that presented a long trip into Cambridgeshire and a tough game against a club from just one step lower on the football pyramid. The Southern League Premier Division Central club, nicknamed the Turbines, blew the Lions away with a dramatic stoppage time strike after a close contest...
The visitors, who play their football in the Vanarama National North and are riding high in that division... enjoyed a good spell in the second half. Jimmy Dean's side created some chances and put pressure on the Lions' defence.
Maniche Sani went close with one of those efforts. He had come off the bench late in the first half and had proved to be a handful. He was also Peterborough Sports' hero as he netted the late goal that put the Turbines into the fourth qualifying round for the first time.
Joint-manager O'Neill said 'We're massively disappointed with the result and the performance. Minutes before getting a replay, which we'd talked about at half time, resilient clubs hold on and take the tie back when they're not at their best. But then we made a silly decision in the middle of the pitch and it cost us a replay.
'We did miss Aaron (Martin, who is suspended); he's our leading scorer who wouldn't miss their leading scorer? But we've only got ourselves to blame. We knew what to expect and we knew it was the FA Cup and you only get one chance in the cup.'"
Howard Watts and Mike Garnett's
Through the Years
records reveal that when Alty travel to Guiseley next Saturday, 12 October, it will be eleven years to the day since the Robins beat Oxford United at Moss Lane, 1-0.
In the Cheshire County FA Amateur Cup, Second Round, next Sunday, 12 October, Altrincham FC Reserves host Stoconians AFC First
1: Alty away wins this season. Also 1 player has started all 14 games this campaign, James Jones.
2: Successive clean sheets (v Chester FC and Halesowen Town).
3: Succesive games without defeat (versus Chester FC twice, and versus Halesowen Town)
4: Debutants this season (Arnold, Branson, Mullarkey, Walters).
5: Wins and Defeats this season. Wins over Alfreton Town (H), Farsley Celtic (H), Leamington (H), Chester FC (H), Halesowen Town (A) and defeats versus York City at home and Brackley Town, Boston United, Southport and Kidderminster Harriers, away.
6: Six games without a win in first seven fixtures.
7: League goalscorers this season (Hampson, Hancock, Hemmings, Hulme, Johnston, Jones, Peers).
8: Alty goalscorers in all competitions (seven as above plus Moult).
9: Alty's games unbeaten out of 14 played to date.
The
National League
reports that "Dean Keates has made an emotional return to Wrexham as they confirmed their new manager on Sunday. It's a return for the club's former midfield[er], who left to join Walsall with the understanding of the club's fans in March 2018.
He left the Racecourse with the team in fourth place but now he is back with a different challenge on his hands. The Dragons are only outside the National League bottom four on goal difference and a quick turn around is required. Keates replaces Bryan Hughes who left following defeat to Aldershot Town late last month.
Dixie McNeil of the Wrexham Supporters' Trust told the club's website 'It's really nice that he wanted to come back to the club and I hope that the Wrexham supporters will get behind Dean. Together we can turn this season around and I believe Dean can push us up the league table, although we are behind the play-off places at the moment, there are still over 90 points to play for.
'We talked to a number of people about the position, which we narrowed down and then interviewed five people. Dean gave a very good interview and we decided he was by far the best person for the job.'"
The
Boston Standard
reports that "Craig Elliott confessed that Boston United's FA Cup victory over Sutton Coldfield Town felt that bit 'sweeter' after the two benches clashed late in the game.
The Pilgrims boss accused the Royals' managerial staff of attempting to get his players booked in the final throes of the contest. Fingers were wagged from both sides before a mass brawl broke out on the pitch in stoppage time. Town's Dersean Martin was dismissed for throwing a punch at Tom Platt, but Elliott believes behaviour from the home side's bench only made the situation escalate.
'I was disappointed with their bench,' Elliott said. 'In the last 20 minutes they were just trying to get our players booked all the time, appealing for things of the referee, really trying to get scraps off us. Then one of their coaching staff's ran [sic] on (during the brawl) and made the situation even bigger, which I don't think was right. These things happen and there was a lot of emotion from them as they were losing the game. So that's why it's even sweeter to win.'
Sutton Coldfield, two divisions below United in the pyramid, offered a potential banana skin on their 3G surface, but Elliott was delighted to see his side in the hat for Monday's fourth qualifying round draw following Luke Shiels' winner.
'The message was to get through whether that was playing well, bad or average,' he added. 'We got through, and they're good wins and another clean sheet. Really happy. The pitch played a part in that. It's lively pitch and, for forwards, you need the ball into you nice and quick and it was bouncing around a lot. I hate using excuses but it was fair to say that today.'"
Hednesford Town report that "The Pitmen faced National League North strugglers Blyth Spartans at the PRG Stadium, Keys Park in the Emirates FA Cup Third Qualifying Round. In-form Hednesford Town were through to the third round on the back of wins against Lutterworth and Barwell. The Spartans had progressed to this stage beating Curzon Ashton in a replay at Croft Park following a 4-4 draw.
The hosts got off to a flying start with Enoch Andoh and [ex-Alty youth graduate] Osebi Abadaki tearing down both wings. When an Abadaki run was abruptly ended 20 yards out, Tom Elliott stepped up to deliver a freekick to the far post for Reece King to give the Pitmen an early sixth minute lead...
Against the run of play Callum Roberts found himself in space on the left in the home area striking past Daniel Platt to equalise for the visitors. The frenetic closing to the half continued, as the Pitmen broke downfield with Elliott shooting from a tight angle, winning a corner for the Pitmen. Kieran Morris headed home to restore the Pitmen's lead...
Spartans, backed by a noisy away following, came out for the second half looking to get straight back into the game. During a period of pressure from the visitors a slip in the home area by Hurst allowed Robert Dale to square the loose ball for Roberts to equalise for the second time.
Another set piece restored Hednesford's lead; from wide on the left Sam Griffiths played an excellent ball through to Elliott whose shot was pushed behind by Mark Foden. The corner was cleared as far as Bailey who headed the ball back towards goal, with Kieran Morris rising highest to nod into the net for his second goal of the afternoon. Two minutes later, a long ball over the top put Danny Glover through on goal, rounding the Blyth keeper to put the result beyond doubt...
Despite a triple substitution the visitors could not find a way back into the game on a classic FA Cup afternoon at Keys Park".
According to the Hereford Times "Hereford FC will be without three players for the next week due to international call-ups.
Reece Styche has been selected to play for Gibraltor and missed Saturday's game at Tamworth.
Meanwhile Raheem Hanley and Rowan Liburd have both been selected in the St Kitt's squad.
Despite the absentees Tuesday night's FA Cup replay against Tamworth and next Saturday's trip to Bradford Park Avenue are scheduled to go ahead."
At Bradford (Park Avenue) "The club are pleased to announce the launch of our new supporter-led fund raising committee. It's no secret that running a club at this level is a costly business and as such we need to look at every avenue possible to raise funds.
Alongside this, the club feels it is important to provide supporters with a wide range of activities to engage in outside of the football calendar. As such, a new fund raising committee has been formed to plan and host a series of events through out the year, including speaker evenings, quizzes, sportsman's evenings, raffles and a wide range of other activities...
We would like to invite any supporters who would like to join on the committee to an initial meeting in the social club on Wednesday the 9th of October".
The Eastern Daily Press tells us that, against Leek Town, "Two second-half strikes, within 15 minutes of the re-start, from Sonny Carey and Jordan Richards secured the Linnets' passage into Monday's fourth qualifying round draw and £11,250 in prize money.
But assistant manager Paul Bastock admitted it hadn't been an afternoon of plain sailing for the Linnets.
'The gaffer (Ian Culverhouse) used his hair dryer at the break,' said a grinning Bastock. 'We weren't good enough in the first 45 minutes and he reminded the lads of that. We changed a few things and spoke about what we had to do and then you saw the results of that. We went out and got the job done, which means we now have a happy chairman and a happy set of supporters.
'We weren't at our best today and the lads are in the changing room now disappointed with their performances. However, we are through to the next round, complete with a clean sheet, which I'm very pleased with and that's all that matters.'
After Ross Barrows's early angled drive had been parried to safety by Danny Roberts the hosts, top of the level four Northern Premier, South Eastern Division, enjoyed a purple patch and could have been ahead... Despite all the pressure, Michael Gash almost gave Lynn the lead as his free-kick cannoned away from the post with Roberts well beaten.
The visitors began the second spell in a more confident mood and that confidence grew further with only three minutes of the half played when Carey lashed home a 25-yard drive that Roberts could only fingertip into his net...
And it came as no real surprise when the second goal of the afternoon arrived just short of the hour. Carey had seen another drive pushed away by Roberts for a corner. From the resulting flag-kick, Richards reacted first to a loose ball, hooking into the net to double the advantage and also break the resolve of the hard-working home team as Town saw out the last third of the game without further alarm.
The big hitters of the National League join the fray for the first time on Monday with the possibility of the Linnets entertaining the likes of Notts County, Barnet or renowned cup fighters Yeovil Town, a fact not lost on Bastock.
'A home draw would really be good for the club,' he said. 'Personally a smaller team at ours would do me just fine; at least we're in there for the draw."
The Daily Mail informs us that "For those looking to break the ice with a Darlington fan any time soon, be aware that the name 'George Reynolds' is a conversational killer. It's 16 years since the businessman ripped the heart out of the club, spending money they didn't have to build a preposterous 25,000-capacity Reynolds Stadium, a monument to his own narcissism that plunged them into administration.
Reynolds served six months in prison for tax evasion and was back in the pages of the Northern Echo a few weeks ago, convicted of harassing a councillor who'd opposed his latest leisure development.
Darlington beat Leamington 2-0 in the FA Cup third qualifying round on Saturday...
Reports describing Reynolds as 'the ex-Darlington chairman' went down very badly indeed. 'It was years ago but they're still associating him with us,' says one of the 50 or so fans who have made the 180-mile journey to Leamington's modest, immaculate stadium.
Darlington went into administration twice more before they were relegated four divisions on the FA's recommendation and started again in 2012 under fan ownership in the Northern League, sharing Bishop Auckland's ground. After three consecutive promotions, the Quakers have struggled to get beyond the sixth-tier National League North.
Their £300,000 annual playing budget, including 40-week contracts for most of their players, is nearly double that of Leamington, who have just a handful on contracts, but that kind of differential means little here. Darlo are a point behind the home team, another phoenix club, in the league.
'You need more than money to succeed where we are,' says John Vickerman, adviser to the Darlington board in a club run top to bottom by volunteers.
Leamington's little press box provides a graphic sense of the multiple sorrows that Bury will be experiencing when they re-form. Ray Simpson, who handles Darlington's media liaison, is reporting on the game for BBC radio and the North East papers. Both sent their own staff in the days before the fall from grace.
The field of play tells a story of diminishment, too. Darlo look every bit the struggling side, incapable of holding possession or securing a foothold as Paul Holleran's Leamington deploy target men Josh March and Jack Edwards to great effect, with Kaiman Anderson an effective provider... Leamington are a one-time automotive parts factory team, [they] seem more absorbed with the FA Cup third qualifying round than the visitors. Groundsman Idris Elms doesn't mind saying that his surface, tricky to maintain because of the Warwickshire blue clay beneath, would be good enough for Manchester City, should such an encounter come to pass...
Darlington manager Alun Armstrong has Tyrone O'Neill, a thin strip of a striker who turned 20 last week. He didn't know what hit him when he first arrived on a six-month loan from Middlesbrough in July and struggles as much as anyone in his team's poor first half. But on 64 minutes, his class tells. O'Neill takes a ball from Adam Campbell on his chest, swivels and shoots right-footed with minimal back-lift, burying the ball in the bottom left hand corner of the net...
William Hatfield, anchoring midfield, steadies Darlington, who score again. O'Neill initiates a move which sees the ball navigated through Jarrett Rivers to substitute Justin Donawa, who is travelling away from goal when he angles a shot back under Jack Weaver.
Donawa is one of two Bermudan internationals on Darlington's books. One of the club's directors has a link to that country. 'Connections,' says Vickerman after the final whistle sounds. 'They can make all the difference'...
'We've no major investor, which is fine after all we've been through,' says Chris Stockdale, chairman of the club's supporters group. 'So a Cup run would mean so much.' They had not won a single qualifying round in seven years under fan ownership before this season. Now they're looking to bury Reynolds even further into the past". 6 October, 2019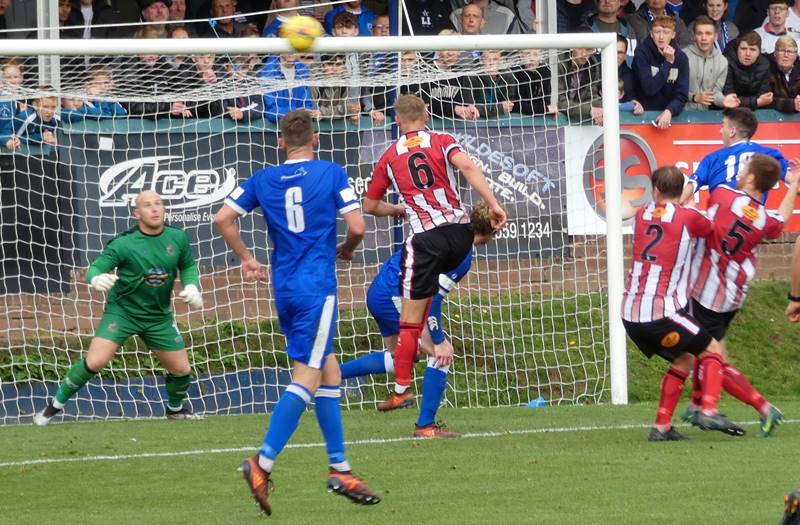 Above: As Luke Yates's header hits the woodwork, Alty defend their goal in the second half.
Match report here.
After the game, Phil Parkinson spoke to the Non-League Paper, saying of Tom Peers [left], who netted the opening goal, "I think he should have scored two; the one he scored was the harder of his chances but he's boxed clever with the goal. He was very unfortunate not to start because, I think, in most teams at our level he would play".
The Alty manager added, referring to Halesowen, "They had nothing to lose and threw big men into the box but I thought we defended well. We rode our luck at times but so did they and their keeper kept them in it at times. I thought we created the real clear-cut chances while they were happy to just lob it into the box and I thought we deserved the victory.
"We knew the reason the cameras have come here today is because they are a club on the up. We did our research and knew they were punching above their weight and we were on a hiding to nothing. Everyone expected us to win and we did so. It's job done."
Yeltz boss Paul Smith added "I don't think I could have asked for much more against a very good Altrincham side. If we'd had a bit of luck in the final third, we hit the woodwork a couple of times, then it might have been a different story".

Thanks go to all those Altrincham supporters who contributed to the acquisition of a commemorative plaque for Steve Murray. Steve was both a devoted supporter of the club, home and away, and also a longserving matchday steward at the J. Davidson Stadium. He sadly died on 30 July 2019 and his memorial plaque has now been added to the Wall of Memories at The J. Davidson Stadium, as shown (right).
Altrincham travel to Nethermoor next Saturday to take on Guiseley, who bowed out of the FA Cup on Saturday at Peterborough Sports, losing 1-0.
Mike Garnett reminds us of the record in matches between the clubs. Alty's record at Nethermoor is very poor; they have never won at Nethermoor in nine previous attempts.
Home: P8-W4-D3-L1-F14-A9
Away: P9-W0-D4-L5-F10-A19
All: P17-W4-D7-L6-F24-A28
The draw for the Fourth Qualifying Round of the Emirates FA Cup will be on Talksport on Monday afternoon, at 1.30pm. National League clubs enter at this stage. In this Round clubs are drawn from northern and southern sections.
In a league match, Trafford beat Prescot Cables 1-0 with Alty's summer trialist Lewis Salmon netting the goal from the penalty spot.
In the FA Cup on Saturday, Nantwich Town beat Morpeth Town 1-0, thanks to a goal by Joseph Mwasile.
Southport
"scored five goals for the second time in this season's Emirates FA Cup to progress into the Third Round Qualifying in style. The Port scored four times in the second half against Farsley Celtic after Ben Atkinson's own goal had given the visitors the lead at the interval.
It sealed Southport's third win at the Cidadel in just over a year, having won comfortably in last season's cup before collecting maximum points in the league in August. The Port started well and were in control throughout, although the important second goal came on the back of the home team's best period of the game.
Liam Watson's side went ahead on 18 minutes, Atkinson heading a cross from Brad Bauress into his own goal... Once ahead, the visitors were always in command...
Farsley introduced Dave Syres from the bench at half-time, as well as moving defender Danny Ellis into attack, and initially it caused problems for the visitors... The Port were always dangerous on the break and moments after David Morgan released Russell Benjamin, Sampson added the second with a strike from the edge of the box.
Soon it was three, Benjamin finishing off a slick break as Morgan released Green, who sent the midfielder through to score.
Green made it four with another quick-fire attack to finish off a pass from Morgan, who deservedly got into the scoresheet in the closing stages after substitute Connor Woods broke down the right before playing the ball inside.
Although the margin of victory was kind on Southport, it could have been more, as a shot from Bauress was blocked on the goal-line, before Woods and Sampson also went close".
Blyth Spartans report that "Right-back Rhys Evans admitted Blyth Spartans did not give the travelling fans the performance they deserved.
Supporters from Blyth, Cannock and elsewhere formed an excellent away end at the Keys Park as Lee Clark's side slipped to a 4-2 defeat to Hednesford Town. Callum Roberts's double wasn't enough for Blyth as a Kieran Morris' brace, plus goals from Reece King and Danny Glover, inflicted an FA Cup exit at the Third Round Qualifying stage.
'I think all the lads will agree it wasn't good enough,' said Evans. 'Cal has pulled us out of the gutter to equalise twice but we just sat off and invited pressure. It was three set pieces; that's extra frustrating given it is something we have been trying to work on since the start of the season.
'We all know it is not good enough, every single one of us. It needs sorting out, it's really poor. The past three games we have been excellent. We go back to Curzon next week. It's a chance to put today right and kick on the league."
On the visiting supporters, Evans added 'We haven't given the fans enough to shout about, who were excellent today, by the way'".
From York Press we learn that "Manager Steve Watson joked that York City might be better off drawing National League opposition in the next round after another tough win at a lower-league side.
Buxton sit bottom of the Northern Premier League premier division, the Step below York, but made life hard for the Minstermen, just as Step 5 side Irlam did a fortnight ago.
Word from the Buxton faithful prior to kick-off was that they are a capable collection of players who have not yet clicked. And that, coupled with something of a sub-par first-half City performance, looked like an ominous harbinger at the break.
Former York loanee forward Diego De Girolamo gave the Bucks a 10th-minute lead with a close-range finish and so it remained until the 50th minute, when pressure from right-back Nathan Dyer forced Alex Brown to turn a David Ferguson cross into his own net.
With 10 minutes remaining, a Ferguson ball in was again met by Dyer at the back post and he headed across goal, off the corner of the woodwork for Alex Kempster to play back into the six-yard box. Dyer lashed emphatically into the roof of the net.
'We're into the hat Monday,' Watson said. 'I'm not concerned about the performance because I know what I've seen all season. We haven't conceded a goal like that for a long time. We didn't defend the second ball well enough, but it's one of those things. If you've played 20 games in a season, you're going to get a goal you're not happy with...
'I said to the lads in the dressing room, a bit tongue-in-cheek, maybe it would be better if we got somebody in the National League. I wouldn't say we've dipped below our standards but we haven't dominated the two games'...
Asked if he makes a point of telling his players not to underestimate lower-tier sides, Watson said 'I do stress it but I don't think I need to. The performances against Irlam and Buxton were not down to a lack of preparation or not taking the opposition seriously. We're the highest-rated team in the competition and people lift their game for us. We have to be disciplined without the ball and dig in. They made us work really hard.
'They're a good side. I think they were a lot better than their league position suggests. They were a handful up front and their back three defended the box really well. We had however many corners and they were tremendous in defending. They were a tough nut to crack and it was a very tough day at the office.'"
Gateshead won 1-0 at Kidsgrove Athletic on Saturday. "JJ O'Donnell's fifth of the season proved enough for Gateshead to edge a close encounter with Kidsgrove Athletic...
After a goalless first half it was O'Donnell who struck first from close range to hand the Heed the advantage and ultimately the win...
The Heed came into the game with just one change from the second qualifying round win over Ramsbottom United, with Scott Barrow returning at left-back while Jordan Preston dropped to the bench.
Although the visitors dominated possession during the game's early spells, noteworthy chances proved to be in short supply with the Grove defending in numbers and closing off the spaces in behind... The hosts grew into the game the more the clock ticked on...
The second half began in similar fashion to the first with both sides not willing to throw too many men forward and risk being caught on the counter-attack.
Williamson found himself at the centre of a contentious decision early on in the half however when Anthony Malbon stole the ball on the edge of the penalty area before going down under pressure from the gaffer, who received a yellow card as a result to the dismay of Grove fans...
Just after the hour mark however, the deadlock was finally broken and it was the Heed's top scorer who was at it again. The ball was cleared only as far as Greg Olley inside the box and his cutback found Kayode, but with the striker unable to get his shot away he found O'Donnell who promptly smashed home from close range for his fifth of the season.
The remainder of the game continued to be a closely fought affair".
---
5 October, 2019
Altrincham gained their first away win of the season and a place in the Fourth Qualifying Round with this hard-earned victory. Halesowen twice hit the woodwork and Alty were indebted to goalkeeper Thompson for a couple of important saves.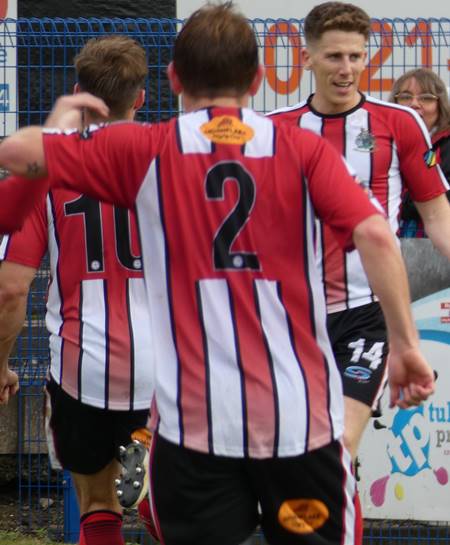 Right: Team-mates converge on Tom Peers after he had scored Altrincham's opening goal.
The breakthrough came in the 72nd minute when Tom Peers bundled the ball home at the near post from a cross from the right.
Eight minutes from time John Johnston made sure of the outcome with a low shot from just outside the box after the home keeper had punched away a Hemmings corner.
Match report here..
Emirates FA Cup Third Round Qualifying. Winners receive £11,250 and losers get £3,750.
Halesowen Town 0-2 ALTRINCHAM
Ashton United 2-6 Spennymoor Town
Hednesford Town 4-2 Blyth Spartans
Nantwich Town 1-0 Morpeth Town
Peterborough Sports 1-0 Guiseley
Leek Town 0-2 King's Lynn Town
Whitby Town 1-1 Gloucester City
Kidsgrove Athletic 0-1 Gateshead
Stourbridge 2-1 Stafford Rangers
Belper 2-1 Rushall Olympic
Buxton 1-2 York City
Tamworth 0-0 Hereford FC
Dunston 2-3 Colne
Farsley Celtic 0-5 Southport
Leamington 0-2 Darlington
Sutton Coldfield 0-1 Boston United
Brackley Town 2-0 Warrington Town
Altrincham will be in their red and white striped kit for Saturday's lunchtime kick-off at Halesowen Town today, a match which will be streamed on the BBC red button (12.30pm kick-off).
As previously reported Halesowen Town have announced that "The turnstiles will be open from 10.30am and turnstiles will be open at both the Old Hawne Lane and Stourbridge Road ends of the ground. We would recommend that you get to the ground early. The James Grove Lounge and café will be open inside the ground before and during the game with the lounge remaining open after the game for a post-match drink. Admission will be pay on the gate only; no tickets will be issued for this particular game and season tickets are not valid.
Admission prices are as follows: Adults £10, Concessions (60+) £7, 13-18 yrs. £4, U-12 free with paying adult / concession.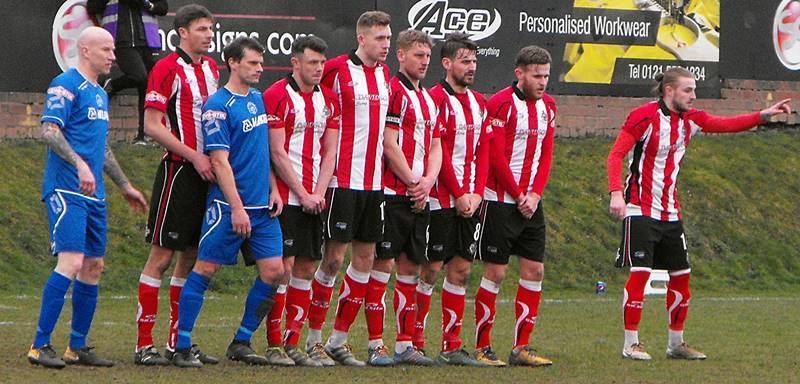 Above: Alty line up a defensive wall at Halesowen in March 2018, in a league match which the visitors won 2-0. Only Ben Harrison, of those Alty players pictured, will not be in their squad tomorrow. On the left is Lee Hughes, the former WBA striker, who played for The Yeltz that season. Apart from Harrison, the Alty players in the wall are Hulme, Jones, Moult, Richman, White and Harrop.
On the day there will be our usual stewards along with a number of stewards from a local Premier League team, there will also be a Police presence on the day for your protection. The stewards and police have the right to search anyone coming into the ground and reserve the right to eject or refuse entry to anyone who they feel has or will cause unsociable behaviour. Bringing a pyrotechnic device into any arena in England is a Criminal Offence, and we simply do not understand why any individual would choose to do so, given the potential dangers they possess; not only to other supporters within the ground, but also to the safety of ground infrastructure.
Anyone entering the ground who is found to be in possession of, or indeed discharging any pyrotechnic will be ejected from the ground and could find themselves subject to prosecution. This could also have serious implications for both clubs".
In advance of the game on Saturday, Halesowen Town announce that "The owner of Halesowen main sponsors Mapei, and owner of Serie A side Sassuolo has died aged 76. He took the Italian side from division 4 to Serie A in his time there."
The
Northern Echo
reported on Friday that "Darlington expect to have a new goalkeeper in the ranks for tomorrow's FA Cup tie at Leamington. With Chris Elliott carrying an injury, manager Alun Armstrong has moved to make an addition on loan from a North-East non-league club and he goes straight into Quakers' squad.
The experienced goalkeeper could start the third qualifying round tie if it is deemed Elliott needs a rest.
'He's got an infection in his leg and it's been such a strange one,' said Armstrong. 'His foot's been swelling up and he's been on antibiotics and playing through it for us. Sometimes you've just got to rest it and see what happens, but he doesn't want to rest, he still wants to play which is the attitude you want to hear'.
The formalities of the new addition's loan deal should be completed today, and Armstrong added 'He's on loan for a month to start off so that we can have a look at each other, and then we'll see where we go after that, but someone of his experience doesn't come along too often.'
Darlington have not named a goalkeeper among their substitutes recently, with youngster Cameron Hall having been sidelined with a toe problem and since recovering has been playing for Darlington Town in the Wearside League on a dual-registration basis. As well as Elliott carrying a knock, Stephen Thompson is doubtful after sustaining a groin injury in last weekend's win at Alfreton...
Said Armstrong 'He came off at Alfreton with his groin so he is struggling a bit and we will probably test him on Saturday. We'll wait and see, but he is 50/50 at the minute. Jordan Watson is back and probably Louis Laing as well, so it might be a case of two in and one out.
'Laingy did a lot of work on Tuesday, so hopefully we can get him back in the squad, that would be a big boost having someone like him back.'
Meanwhile, John Woolnough has stepped down as Darlington's finance director today. He was appointed in February and was integral to the signings of Justin Donawa, Osagi Bascome and Omar Holness... Darlington's chief executive David Johnston said 'We're sorry to lose John's skills and experience, but we understand the time commitments placed on volunteers'".
Later Darlington confirmed that the "Quakers have signed goalkeeper Liam Connell from South Shields on loan for a month. Liam, 33, has been at Shields since the summer of 2016, and helped them win two promotions in 2017 and 2018, as well as the FA Vase at Wembley, the Durham Challenge Cup and Northern League Cup in 2017.
Before his transfer to South Shields, he spent seven years at Dunston in the Northern League... Darlington manager Alun Armstrong said 'I've signed Liam to provide competition for Chris Elliott. He's got plenty of experience which hopefully will be of benefit to us. He will give us a boost.' Liam, who has been unable to force his way into the Shields' team on a regular basis this season, is not cuptied, and is therefore eligible for our FA Cup third qualifying round tie at Leamington on Saturday".
A player leaving a National North Club is the subject of a report from Hednesford Town who "announce the signing of AFC Telford striker Andre Brown on loan until January 1st 2020. Birmingham-born Andre came through the youth ranks at Crewe Alexandra gaining experience on loan at Worcester City in the National League North.
Another loan spell at Rushall Olympic, included a five goal debut, attracted the attention of Kidderminster Harriers who signed him following his release from Crewe. 24-year-old Andre scored 23 goals in two seasons at Aggborough before joining the Bucks in June 2018".
And another departure is reported by Alfreton Town as "winger Tyler Williams has left the club. Tyler's contract was cancelled by mutual consent.
Williams joined us in the summer ahead of the new campaign after impressing on trial and featured throughout the pre season schedule. However since the start of the regular season, Tyler has yet to feature for the Reds thus far.
Billy Heath said, 'He is a great lad with a great attitude. He is desperate to play and unfortunately he can't do that with us... It was decided that his departure would be best for both parties'".
According to Cheshire Live "Bernard Morley says Chester FC must use their break from action as a springboard back to form. The Blues have now gone three games without a win, and do not have a game this weekend after being knocked out of the FA Cup by Altrincham.
Joint-manager Morley admitted he would have ideally liked to have got back in action quickly in order to right some wrong. But he says they must instead use the break wisely to work on the training ground, get the squad back to full fitness and rediscover the methods which have taken them to second place in the Vanarama National League North.
Morley wants Chester firing on all cylinders by the time they visit third-placed King's Lynn Town in an important game on Saturday, October 12.
He said 'We want to go out and put things right but we can't do that so [the break] has negatives, but we must focus on the positives. We have had a taste of our own medicine and things haven't gone for us, so it's important we stick together...
'It's down to me and Johnno [Anthony Johnson] now to get everyone back on the training pitch and up for the next game. They will have five or six tough sessions to try to replicate what they will lose on the pitch and, hopefully, we'll have a 20-man squad to pick from... [Danny] Livesey will be back by the time we play King's Lynn, [Jamie] Morgan will be back, [Gary] Roberts will be back, [Gary] Stopforth is looking strong, so all of a sudden this break becomes a positive because of the squad we can field.'
Chester's flying start to the season stalled with a draw then a replay defeat in the FA Cup to Altrincham. Last time out they had to battle back to salvage a 3-3 draw at home to mid-table Leamington, and the trip to King's Lynn looks a daunting one... He added 'It's a tough game on paper, second against third, so it is all to play for. We have to eradicate silly mistakes, and the decision-making in the final third has to be better'".
At Hereford "Russell Slade says that he is excited by the chance of creating more FA Cup memories for The Bulls when they face Tamworth in the FA Cup.
'I've said before, but it's true, I love a little cup run! It's such a great competition! Anything can happen in the FA Cup and that's what makes it so special.'
Slade has warned that his side needs to remain focussed if they are to get a positive result from what he labels a 'difficult cup tie'. 'We've got to go into the game with the same intent and desire that we had at Leamington on Tuesday evening. Tamworth are having a good season and they will be looking to keep their cup run going, just as we are.'"
---
4 October 2019
The
Stourbridge News
reports that "Paul Smith says his Halesowen Town players have the self-belief to cause on FA Cup upset in front of the BBC cameras.
The Yeltz boss is preparing his troops for this Saturday's third qualifying round clash against Altrincham (12.30pm kick-off)...
Smith can't wait to take on the challenge at a packed Grove. He said 'We are all geared up for it now and had a good training session on Tuesday and will have another on Thursday. Having the BBC cameras here has really added real spice to it and it's brilliant for the club.
'The last few years haven't been great but this really is testament to the work that (directors) Keith McKenna and Karen Brookes have done off the field in the last 12 months to get us back on an even keel. Apart from our dressing room, everyone will consider us the underdogs.
'We are in the perfect place for a game like this after winning seven of the last eight games. We know that we will have to put in a near perfect performance to beat them but we have a steely determination about us and a confidence that we can do exactly that.
'I'm sure the fans will get behind us like they always do and we're all looking forward to it now'
Hales go into the clash in fine spirits after beating Dereham Town 2-1 in the FA Trophy last Saturday thanks to another strike from the in-form Montel Gibson and a late winner from substitute Lewis Wright.
'It was a tough place to go, the rain was lashing down and the pitch wasn't great but we finding ways to win at the moment,' added the boss. George Forsyth is back available for Saturday following an ankle injury and Rob Evans returns from suspension".
In the
Sale & Altrincham Messenger
John Edwards writes that "Altrincham are heading for national television exposure this weekend after the BBC selected their Emirates FA Cup clash with Halesowen Town as the tie of the third qualifying round...
The Robins' fabled knockout exploits have been captured on camera down the years, but there will be a role reversal when the BBC set up camp at The Grove on Saturday. Giantkilling has become a byword for Alty in the FA Cup, but the boot will be on the other foot when Halesowen, from the BetVictor Southern League Division One Central, set their sights on claiming the prized scalp of one of non-league football's most famous names.
Kick off has been brought forward from 3pm to 12.30pm and there are expected to be four cameras being operated by the BBC, who are showing the tie live on the red button and online.
While Alty will start as favourites, they will be wary of Halesowen's threat after the Yeltz steamrollered Lichfield 7-1 in the first qualifying round and followed up with a 4-1 win against Stratford Town in the last round...
Alty boss Parkinson reflected on the loss of on-loan winger Yusifu Ceesay to a hamstring injury and the recent acquisition of Alvechurch striker Lewis Archer [right], who is cup-tied after already playing in the competition this season.
'It could well be early November before Yusifu is back, and that is massively disappointing,' Parkinson said. 'But Lewis looks a really exciting proposition. He can play anywhere across the front four, but I particularly like him out wide. He wants to beat players and, if he has open space in front of him, I don't think anyone in this league will be able to stop him.
'It's just whether we can get the quality out of him, in terms of an end-product.'"
Howard Watts and Mike Garnett's
Through the Years
records show us that Alty's last game on Saturday's date, 5 October, was a 4-1 home win over Guiseley in 2013.

Above: James Walshaw nets from the spot to make it 1-1, 5 October 2013.
Altrincham started the game in third place, having lost just once in the Skrill North. In contrast, play-off contenders for the previous three seasons, Guiseley arrived for this match in 17th place in the league, with three players suspended and with new manager Mark Bower, seeking his first win in his fifth game in charge. Coincidentally, in 2019, Bower is again settling in as a new manager, this time at Bradford (Park Avenue).
Facing Guiseley in 2013 was an Altrincham squad still reeling from being knocked out of the FA Cup by Trafford but which included two former Guiseley players in James Walshaw and, on the bench, Danny Boshell, who was returning from injury.
The Altrincham line up was 1. Stuart COBURN, 2. Shaun DENSMORE (capt), 3. Matt DOUGHTY, 4. Jake MOULT, 5. Gianluca HAVERN, 6. Scott LEATHER, 7. Brian SMIKLE, 8. Simon RICHMAN, 9. James WALSHAW, 10. Damian REEVES, 11. Nicky CLEE. Subs: 12. Carl RODGERS, 14. James LAWRIE, 15. Danny BOSHELL, 16. Kyle PERRY, 18. Adam REID.
Michael Potts put the visitors ahead in the third minute before a quick-fire double from Walshaw (50 and 53 minutes) put Alty ahead, the first being a spot-kick. Just before the hour-mark, Damian Reeves made it 3-1 before Walshaw, in the 66th minute, completed his hat-trick with Alty's fourth goal in a sixteen-minute spell.
AFC Telford United
"welcome Riccardo Calder to the squad. The 23-year old left-back joins the Bucks on a permanent transfer until the end of the season from Bradford Park Avenue.
Calder is a product of the Aston Villa academy but did not break into their first team following loan spells at Dundee, Doncaster Rovers and Lincoln City. Calder represented England internationally at Under-17 level.
'We are extremely pleased to have Riccardo on board, a player who I know will add quality to the group. We look forward to welcoming him this week amongst this period of preparation'" said an unattributed source at the club.
---
3 October 2019
As well as Altrincham FC's matches at the J. Davidson Stadium, a number of other fixtures will also take place at the ground. These include a number of Manchester United Women U21s' matches, which are listed below. Entry is free.
9th October, 2019, 2pm v Arsenal
6th November, 2019, 7.30pm v Birmingham City
20th November, 2019, 7.30pm v Everton
4th December, 2019, 7.30pm v Everton
15th January, 2020, 7.30pm v Manchester City
19th February, 2020, 7.30pm v Liverpool
18th March, 2020, 7.30pm v Manchester City
1st April, 2020, 2pm v West Ham United
Please always check before travelling as matches can be changed or cancelled at short notice.
In addition the Macron Cup Final will again be held at the JDS...
2 May, 2020, Macron Cup Final.
On Saturday, Altrincham travel to Halesowen Town in the Emirates FA Cup.
Whilst newly signed striker Lewis Archer is cup-tied, having represented Alvechurch in an earlier round, and therefore unavailable on Saturday, another Lewis has returned to the Altrincham squad. Wingman Lewis Walters (right) has completed his month's loan at Buxton and, presumably, will be in contention for a place in the squad on Saturday.
The week's lay-off for the Robins, caused by last Saturday's postponement of the planned fixture against Gateshead, has given left-back Connor Hampson more time to recover from the injury that he suffered ten days ago in the replay against Chester FC. So, hopefully Phil Parkinson will have a full squad to choose from, apart from long-term injured goalkeeper Steven Drench.
The
Telegraph & Argus
comments on the reappointment of Mark Bower and Danny Boshell as managers at Bradford (PA). It reports that "Mark Bower says the existing Bradford (Park Avenue) squad will be given an opportunity to impress after he returned as manager... just five months after leaving the club after a three-year spell at the helm.
Since then Avenue have had two men in charge, Garry Thompson and then interim manager Marcus Law.
Recharged and refreshed, Bower is looking to shape his squad quickly as he targets survival for his side, who are second-from-bottom in the Vanarama National League North after just one win from their opening 12 games. The 39-year-old said: "I'm pleased to be back involved, but it's not the circumstances I would have wanted. I want to help the club and move it away from the bottom.
'It's a bigger challenge this time around because of all of the disruption in terms of recruitment and changing things around. I think the target to stay up is doable. That's why I'm here. It's going to be tough. There will be some difficult days. I have to make sure we have a team that's resilient, with a bit of experience in there that can ride the waves. There is a quarter of the season gone.
'It's more spread out now, so there is more time to work with the players. We need to get a system and get a way of working which allows our young players to flourish.'
He added 'Having a free weekend now gives me a chance to take a look at the players, their ability and their attitude, their discipline and desire to do well. I have to make a judgement about them pretty quickly. We need to build momentum and confidence as soon as possible. When I took over last time we were at the bottom of the league and everyone was saying we needed to get rid of the squad but, 18 months later, the same players were playing in a play-off semi-final.
'I want players who are committed to do well for the club. There is a chance in training this week for them to show me'...
He added 'The supporters have been suffering a bit this season. We want to put smiles on people's faces again. I want them to stay with us. We need to get the bond back between supporters and players'".
Another club struggling this season is AFC Telford United, from where the Shropshire Star reports that "Gavin Cowan insists he will not tear his AFC Telford United squad apart completely, even though he is keen to make changes
Steph Morley left the New Bucks Head on Monday, with more departures and arrivals expected before Telford return to action at home to York City on October 12. But boss Cowan is only searching for 'slight changes', with Bucks 'not too far away' from where they want to be, despite a poor start to the season.
'We're not ripping it up and starting again,' he said. 'We're very positive and optimistic about moving forward. I wouldn't have changed the recruitment in the summer, it was the right thing to do at the time. But we do have to make slight changes. It means the players that are in there at the moment have to work hard to keep their place.
'We've got to work hard to make sure we can help them and make us better. We stay united, we stay together. It's not so long ago we had seven points out of nine games. I think the nature of the defeats, losing at home to Chester, local rivals, losing to a team in a lower league and then losing to the bottom of the league, that's tough to take all in one go. It's a good punch to the stomach but the players' feeling is we're not too far away.
'You make your own luck. We've got to did really deep now, work hard to change the momentum and I fully believe we'll do that.'"
The Shropshire Star also informs us that "AFC Telford United have completed the signing of former Everton and Burnley youngster Arlen Birch on a short-term deal.
Right-back Birch, a 23-year-old who hails from Ellesmere, has been without a club since leaving AFC Fylde in the summer and joins until January. He was a schoolboy at Everton before leaving for Burnley's under-23s in 2015.
Boss Gavin Cowan is making changes to his struggling squad who have lost three games on the spin, including an FA Cup exit to lower-ranked Nantwich and a defeat at previously winless Blyth Spartans. And another signing is expected before the weekend, where Telford are without a game due to their Cup exit.
Birch, who attended Lakelands School in north Shropshire as a youngster, has an impressive pedigree having represented England at under-16 and under-18 level. He impressed with the National League Coasters last season, making 26 appearances as Fylde made two Wembley appearances in the play-off final and FA Trophy. He played 90 minutes, before coming off as an added-time sub, as his previous club beat Leyton Orient, who conquered Telford in the semi-final, 1-0 in the national stadium".
On Tuesday night Leamington reported that the "Brakes fell victim to what seems to have become a developing pattern in many of their recent games as they followed up a promising first half display with a disappointing second, ultimately falling to two goals from an efficient Hereford side who eased to their fourth successive win.
While Paul Holleran's men were arguably the better side in the opening forty five minutes without seriously testing Bulls keeper Brandon Hall they didn't seem to have the same cohesion to their play after the interval, and never really looked like threatening a solid Hereford defence led by Josh Gowling and former Brakes youth player Jordan Cullinane-Liburd.
There were several changes from Saturday, Stephan Morley slotting straight into the side following his return to the club while Callum Gittings, Kieran Dunbar and Reece Flanagan stepped up from the bench... Precious little had been seen of the visitors as an attacking force with just over twenty minutes played... They worked Jake Weaver... shortly afterwards however, Kieran Thomas sending the cross in from the right which was headed back by Peter Vincenti for Jacob Cane to thump in a powerful drive which the Brakes keeper pushed over the bar.This sudden turn of pressure seemed to spark Hereford into life and they began to see far more of the ball, the game becoming a more open affair...
In the second half... Leamington were behind. A contentious free kick was awarded just inside the Leamington half and floated into the box, Morley unfortunately heading the ball backwards which allowed Vincenti to direct a header into the corner to give Hereford the lead.
Gaining the advantage naturally galvanised Russell Slade's men, who seemed to gain an extra zip to their play, and they doubled their lead twenty minutes in, centre back Gowling lashing home the loose ball after Jordan Nicholson's shot had been blocked".
Hereford's Bulls' News reports that "In his post match interview after last night's game, Leamington manager Paul Holleran said that Josh Gowling was outstanding for Hereford.
'It was quite an advantage to be fair kicking towards the Harbury Lane End in the first half as there was quite a strong breeze which helps us pin teams in a little bit, but we were really bright and lively. With the suspensions and injuries we've got we've had to throw a few people in tonight and they've done well; Stephan in his first game for us was excellent and Reece, considering he hasn't played a lot of football, looked really bright and lively' said Holleran...
'Possibly the difference between the first half and the start of the second half is that on a night like tonight when there's decent quality set plays going in from both sides, we just haven't got that second or third phase, that little drop in the first half, and they did straight away in the second. So the disappointing thing then is that you could see that they stepped up the pitch a bit more in the second half and asked a few questions of us, but it's two set plays, that's what we'll ultimately be disappointed with...
'We put a really good side on the back foot for long periods as well, but like the Farsley game we've got to take our chances when they come along'".
York Press reports that "York City are the only team in the top seven divisions of English football that are still yet to lose a game this season.
There are four teams that have yet to lose a league game across the Premier League, Championship, League 1, League 2, National League, National League North and National League South. Liverpool, Ipswich Town, Coventry City and York City all have zero defeats thus far in their respective divisions. However, Liverpool lost 2-0 to Napoli in their first Championship League group stage game while Ipswich and Coventry have both suffered defeat in the EFL Cup, beaten by Luton Town and Watford respectively.
That means that York are the only team in the top seven divisions who are still unbeaten.
The Minstermen have played 12 league matches this season and sit at the top of the National League North table after eight wins and four draws. In their sole other match, they progressed through in the FA Cup after a 2-0 victory away to Irlam. Including the two wins that York produced at the end of last season, City are currently on an unbeaten run of 15 matches in all competitions.
They could make it 16 if they defeat Buxton in the next round of the FA Cup this Saturday."
Also from York Press we learn that at Bootham Crescent "'There is a different feel about the place this season'. That was the view of David Ferguson after Saturday's 3-0 win over King's Lynn moved York City three points clear at the top of the Vanarama National League North table...
Ferguson himself has been key to York's success, with his assists from the left wing-back position pivotal to the York frontline. The former England 'C' international was full of praise for the York coaching staff and the impact that both Steve Watson and Micky Cummins have had since arriving in January.
'There is a different feel about the place this season and I think you've got to give the credit to the staff for that, the gaffer and Micky,' said Ferguson. 'The whole attitude around the place and the standards that are set. I think there's been a whole change about the place. You would think that everyone had only come through the door at the start of this season...
'The gaffer said to us, "we want to win the league". Everyone's stuck to that and we've all been pushing each other. No one's spit [sic] their dummy out. Whoever's playing, we're backing them. There's plenty of people that are pushing to get into the starting 11. For the likes of myself and other players who are starting, you need to play well to make sure that you keep the shirt...
'There are obviously some lads that will be unhappy not to start but, at the end of the day, we all want the best for each other... The gaffer always says to us, 'If someone's training better than you, then they'll play'.
Ferguson already feels like Saturday's triumph was of particular significance... 'We kept a clean sheet again and that's six goals (conceded) in 12 games and it's another game that we've managed to stay unbeaten in. It's a massive win for us to beat the team who are third in the table. Chester dropped points too, they drew, and it opens the gap up for us at the top'...
For the first time this season, Ferguson found himself on the scoresheet... 'I think I've got something like 10 assists this season so far. It's about adding some goals to that as well... It is a tough role, because you are constantly up and down. I think that I've got the legs and the ability to do it. I'm a strong runner too... The job of the wing back is to help defensively and to try and help provide going forward'".
The 72 says that "Blyth Spartans forward Callum Roberts was set to head to Rotherham United for a trial this week, but his trial has been shelved for now due to illness...
After his release from Newcastle United in the summer, Roberts made a move to Blyth Spartans, with many fans of both Newcastle and Blyth expressing their surprise at the news. And, he has made an electric start to life with the club, scoring seven goals in eight games, including two hat-tricks...
Roberts was linked with a move to Greece earlier this summer with Panathinaikos before he joined Blyth Spartans, but a move to the Greek Super League outfit failed to materialise. The 22-year-old played in two Under-23s games for Middlesbrough, starting in games against Aston Villa and Stoke City.
Roberts played 87 times for Newcastle's Under-23s side and scored an impressive 34 goals from out wide, also providing 24 assists in the process. He has spent time on loan with the likes of Gateshead, Kilmarnock and Colchester United over the course of his career so far and having enjoyed a thoroughly successful start to life in non-league, Roberts could return to the Football League soon, with Rotherham United keen."
---
2 October 2019
Altrincham travel to Halesowen Town on Saturday for a Third Round Qualifying tie in the Emirates FA Cup.
NL Paper reports that "Halesowen Town are urging their fans to cheer them on to a famous giant-killing by turning out in numbers for their televised FA Cup clash with Altrincham.
The Yeltz are calling for a bumper gate at The Grove on Saturday after the BBC announced they'd be streaming the FA Cup third qualifying round clash live on the BBC Sport website, app, red button and iPlayer.
The Southern League Premier Division Central club's director of football Keith McKenna told supporters they were thrilled with the BBC's decision to broadcast the 12.30pm kick off as they bid to take another step toward their first appearance in the first round proper since 2004.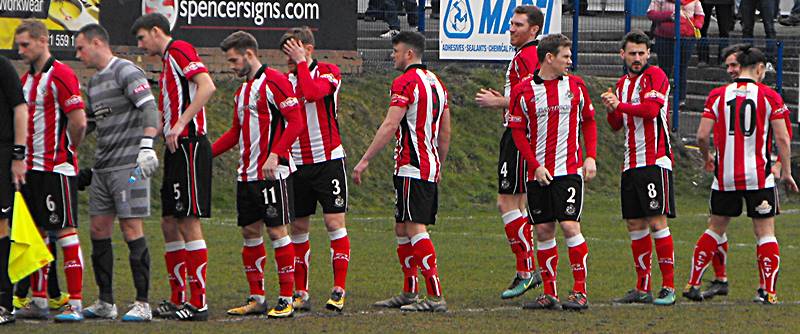 Above: Alty line up at Halesowen on their previous visit, March 2018.
McKenna said 'This is a great for everyone associated with Halesowen Town FC and helps raise the profile of the club and the Town of Halesowen itself...
'Can Halesowen Town cause an upset this weekend and keep our unbeaten run going in front of The Shed and the BBC cameras? Let's all get down to The Grove, make some noise and show the boys your great support again'.
Paul Smith and his Yeltz side set up this weekend's tie with a 3-1 replay victory over Step 4 Bedworth United, a 7-1 battering of Step 5 cup debutants Lichfield City and a 4-1 win over Step 3 Stratford Town in the last round.
Altrincham needed a replay to see off National League North rivals Chester 1-0. The Robins last reached the first round proper in 2016/17 season and last term were knocked out in the fourth qualifying round".
In the last round of the FA Trophy, the Pink'Un reported that "Dereham Town turned to cup action this weekend but could not change their recent run of results as they suffered defeat to a very good Halesowen Town side in the extra preliminary round of the Buildbase FA Trophy.

Dereham got off to a good start, opening the scoring in the sixth minute when a Rhys Logan corner from the left was kept around the box by Smith, finding its way back to Logan on the right. His cross was half blocked and fell to Matthews on the edge of the box who rifled his half volley back past Catlow.

From this moment Halesowen took more control of the game, with Sammons forcing a smart save from Pride after a short free-kick on 19 minutes. The equaliser the visitors deserved came a few minutes later, with Yates delivering a cross from deep on the right. The ball was allowed to bounce by the home defence and Gibson lifted the ball smartly over Pride.

The second half kicked off in a torrential downpour and it took a few minutes before either team could settle. Once the conditions abated Halesowen took a hold of the game, creating good chances...

It was the Halesowen subs that made the difference with five minutes to go. Josh Hawker turned on the left hand side and played fellow substitute Lewis Wright through on the right hand side. He rushed onto the through ball and finished smartly past Pride to give the visitors the lead...

Halesowen Town: Catlow, Ashmore, Bowen, Sammons (Hawker 78), Piggott, Parsons, Hewitt, R. Bunn, Gibson, Yates (Wright 83), Molyneux (Lucas 66). Subs not used: McCone, B.Bunn".

The Express & Star reported in mid-September that the "rebirth of Halesowen Town is almost complete.
Brought to the brink of disaster when former owner Steve Lynch was hit with a two-year ban by the Football Association, Karen Brookes and Keith McKenna have got the Yeltz heading in the right direction behind the scenes.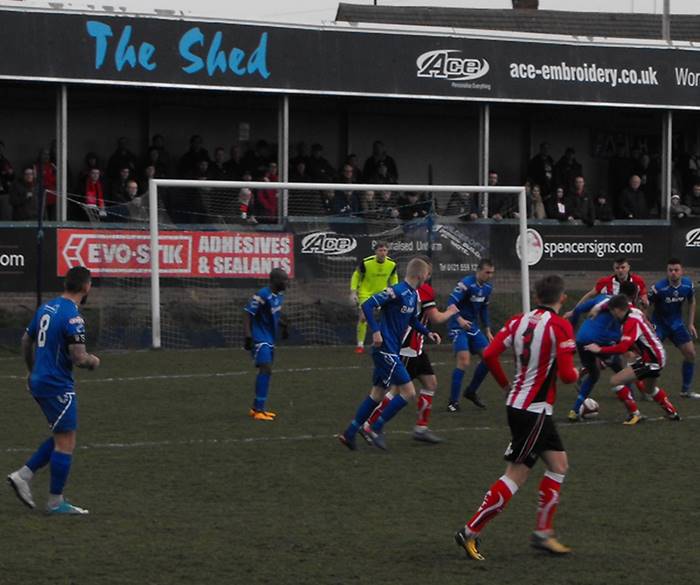 Above: More action from Alty's 2-0 win at Halesowen in March 2018.
The joy surrounding their £50,000 takeover of the club last season was dampened by relegation back to the fourth tier of the non-league pyramid but new manager Paul Smith has made an excellent start to bringing the good times back on the pitch.
'We are probably ahead of schedule,' said Smith. 'We removed pretty much the whole squad.It's a new group and a lot of them didn't know each other.'
The process of getting his new squad to gel was sped up by the addition of a core of players from Smith's former club, Redditch United. That has helped Halesowen [hit] the ground running, winning three of their opening four league games in Southern Central One and reaching the second qualifying round of the FA Cup.
Striker Montel Gibson, one of those signed from Redditch, has netted in each of the Yeltz's league victories so far and bagged himself a treble in Saturday's 7-1 triumph over lower-league Lichfield City in the FA Cup...
'I'm over the moon with the support so far; we had 640 for the game against Lichfield, who are two divisions below us,' he said. 'We are playing some great stuff and hopefully Halesowen fans new and old will come down to have a look...
'One hundred per cent my aim is to win the league,' he said. 'I spoke to Karen and Keith in the summer and explained to them what I would like to do and how I would like to do it. They have backed me and, off the pitch, we are in a really good position.'" In the last round, the Yeltz hammeredStratford Town 4-1 with the defeated side reporting that "Revan was impressing for Town; the elusive Yates for Halesowen. Taylor made great save diving to his left on 20 minutes to deny Bunn from a free kick. On 25 minutes Yates out-muscled and out-paced O'Keefe on the right before delivering a perfect cross for Montel Gibson to run onto for the simplest of finishes.
30 minutes and the scores were level... Clever use of the offside trap was frustrating the Yeltz. On 43 minutes Taylor cleared poorly from hand and the home team drove forward earning a corner on the right. Bunn's cross was converted with a glancing header from Parsons as the ball arced into the far corner of the net...
The second half saw Halesowen run riot. The wheels well and truly came off the bus as Halesowen's forward cut through the Town defence at will. 67 minutes and Gibson raced clear and with Taylor in 'no man's land.' the finish was simple... before Gibson wrapped things up and grabbed the match ball with his third goal and Halesowen's 4th on 88 minutes".
Tuesday 1 October 2019
Leamington 0-2 Hereford FC
Bradford (Park Avenue) have made their second managerial change of the season as the
NL Paper
reports that "Mark Bower is back at Bradford Park Avenue for a second spell as manager, less than six months after departing.
After leaving at the end of last season in May, the former Bradford City defender returned to the Horsfall on Monday night with his number two [ex-Alty midfielder] Danny Boshell to retake the reins.
His successors – Garry Thompson and Shaun Gardner, left after just two matches into the new season.
In a club statement announcing Bower's return, caretaker boss Marcus Law and his assistant Lee Fowler were thanked for their services since the duo's departure in August.
Bradford PA chairman Gareth Roberts said 'The club has endured a difficult time this year on and off the field but these issues have been dealt with and the club is ready to get back to winning ways. We obviously have a lot of confidence in Mark and Danny. I would also like to recognise and thank the interim management team of Marcus Law and Lee Fowler for stepping in at short notice and helping us out.'
The 39-year-old Bower, who led the Avenue to two successive National League North play-off places, returns at the start of a lull in league action with the first team not due to take to the field until they host Hereford on Saturday 12 October.
Bower said 'I'm really pleased to be coming back. There's no denying its a big job. We are where we are and have to be realistic, there's no magic wand. It's going to take a lot of hard work to turn it around. I've spoken to Gareth and, off the pitch, the club is going the right way and getting into a much better shape. To get it right on the pitch we need everyone pulling in the right direction, young players need supporting, led by a core of experience.
'It won't be easy. We will have some dark days but can't dwell on those. We have to get everyone together and work to get out of the bottom two. The target is to stay up.'
Bower, who's also managed Guiseley, also had a message for Avenue supporters, adding 'We need your support more than ever. We've had some great times as a club over the past few years, with good wins and hard fought points, often times that been down to the 'Twelfth Man' effect. But now we need everyone to come together and fight for the Avenue, both on the pitch and in the stands.'"
The Shropshire Star reiterates that "Steph Morley has left AFC Telford United after boss Gavin Cowan admitted the defender did not want to be at the club...
And left-sided defender Morley, 32, has exited the New Buck's Head after just over a season with the club to rejoin former club and National North rivals Leamington.
Boss Cowan has a two-week break to make changes to his squad...
'I just want people who want to be at the club,' Cowan said. 'Ultimately Steph has maybe orchestrated a move there because it suits his job and is closer to home. I want people who want to remain at the club and fight for the badge. If they don't want to then it doesn't matter how good a player they are.
'Form hasn't been overly brilliant for Steph. We obliged to let him move. We thought we could find better in that position and will hopefully make something happen this week'...
'The players have got to work hard in every training session now when you do get a time like this. Like me as a manager, I've got to try to get it right and the players have to perform. It's fight or flight. In these situations you either lay down and die or stay positive.
'There's no delusion here, these are the same players that took us a long way in the league and cup last year and we have to remember they don't turn into bad players. Our philosophy doesn't become a poor one. We're just going through a tough time. The table will turn and everybody should believe it will happen soon'...
Winger Chris Lait, midfielder Adam Walker and striker Aaron Williams were Cowan's only summer recruits. Keeper Corey Addai checked in on loan from Coventry, but did not see out his month stint. Attacker Lewis Reilly and defender Billy Sass-Davies [who was on loan with Alty, briefly, last season] have since joined on loan from Crewe."
Confirmation comes from the NL Paper that "Leamington boss Paul Holleran has bolstered his squad by securing the return of former captain Stephan Morley from AFC Telford United.
The return of the club's Southern League title winning skipper, pictured, on Monday was announced in a club statement, Holleran telling fans... 'We're delighted to be able to bring Stephan back to the club. The opportunity arose at the back end of last week...
'I think the location of Leamington and the fact that he enjoyed his time here before was a big pull for him in deciding to return... He was a big part of what we achieved while he was here and he only left due to a full time opportunity at another club.
'It certainly wasn't a football decision that led to him leaving before, it was the chance to work full time in football which I understood'...
The Brakes say the 32-year-old will go straight into Holleran's squad for Tuesday night's clash with Hereford... After leaving Leamington in February 2015 to join Corby Town and work within their coaching set-up, Morley went on to play for Brackley Town and Tamworth before signing for Telford in 2018...
Meanwhile, another former player returned last week for a third spell. Reece Flanagan signed in September last year having previously spent a productive spell on loan at Leamington while with Walsall back in 2014.
He'd returned to the Midlands recently after a spell playing in the north of the country before Holleran snapped him up last week on a short term agreement."
NL Daily informs us that "Blyth Spartans' manager Lee Clark has addressed the speculation surrounding Callum Roberts over the weekend.
Talk on social media suggested the former Newcastle United winger is to go on trial with League One outfit Rotherham United this week... after a remarkable start to his Blyth career with seven goals in eight matches.
However, Clark confirmed the 22-year-old has been unwell over the weekend and will be involved for Saturday's trip to Hednesford Town if he recovers in time.
He said 'I am aware of the interest from Rotherham United. But, he will be involved for us at the weekend if he recovers from illness.'"
BT Sport have announced another set of games to be broadcast live on TV. All are 5.20pm kick-offs unless shown otherwise.
October 5 – Harrogate Town vs Ebbsfleet United
October 9 – Stockport County vs Hartlepool United (7.45pm)
October 26 – Chesterfield vs Notts County
November 16 – Yeovil Town vs Dover Athletic
November 23 – Maidenhead United vs Woking
---
1 October 2019
Altrincham's opponents in the FA Cup on Saturday, Halesowen Town, have dropped a level since Altrincham met The Yeltz in the NPL two seasons ago.
However, Halesowen are going well at the moment, having won away at Dereham Town in the FA Trophy last Saturday, after two big wins (7-1 against Lichfield City and 4-1 against higher-level Stratford Town) in the FA Cup this season.
Their star man seems to be striker Montel Gibson who has scored seven times in their last four fixtures and 13 times this season.
The Yeltz have won their last four fixtures in league and cup and, indeed, have only lost twice in 13 outings this season, however both were home matches.
They are managed by Paul Smith. At the end of April, the Express & Star reported that "Halesowen Town have appointed former Bromsgrove Sporting boss Paul Smith as their new manager.
Smith, who has left Redditch United to take charge at the Grove, will be tasked with engineering an immediate return to the Evo-Stik Central Premier following this season's relegation. The Yeltz finished bottom but one in the table, winning just six matches in one of the most miserable campaigns in their history.
Smith replaces Lee Hughes and Asa Charlton in the hotseat, with the pair having finished the season in caretaker charge after last month's exit of Rob Smith and Larry Chambers.
Yeltz director of football Keith McKenna said... 'He is meticulous and communicates very well on and off the field and has a great understanding of all levels of the game and will bring an exciting brand of football to the Grove.'
Smith began his managerial career at Alvechurch where he made more than 250 appearances as a player. He then moved to Sporting, leading the Rouslers to the Midland League title in 2017.
After leaving Bromsgrove in March last year, Smith took charge of Redditch six months later and led the club to safety and a 15th-placed finish in the Evo-Stik Central Premier.
The Yeltz are aiming to bounce back after a disastrous campaign which also saw them part company with long-serving boss John Hill in November".
A familiar face on the playing staff at Halesowen is Paul McCone, who has previously faced Altrincham, and has played for Stourbridge, AFC Telford United, Hednesford Town and Leamington.
Their ground, The Grove, has been their home since the club was founded in 1873. Wikipedia advises that "The ground was used for a cricket pitch and was three-sided for many years. In the 1900s, a small wooden stand was constructed along the perimeter of the James Grove Button Factory (now housing). During the 1950s, the Old Hawne Lane end was constructed along with changing rooms, built on the site of former tennis courts.
In the 1980s, the three sided ground was converted to four with the addition of the uncovered terracing along the Recreation Park side of the ground. In 1987, the 420-seat Harry Rudge Stand was completed on the site of the 1001s wooden stand; it was extended in 1998 and again in 2000."
AFC Telford United
"confirm that defender Steph Morley has left the football club".
The Shropshire Star adds that "Manager Gavin Cowan had threatened a possible clearout of his Bucks' squad who have under-performed so far this season, the latest defeat a 3-1 reverse at previously winless Blyth Spartans on Saturday.
And left-sided defender Morley, 32, has exited the New Bucks Head after just over a season with the club.
He made 33 appearances for Telford, including eight this term, and scored four goals after joining in summer 2018. Morley was shown a red card in the recent Win Pryce Trophy fixture with Shifnal Town.
He was part of the majority of last season's squad rewarded for their efforts by staying at Telford for another campaign."
The News Post Leader reports that "Blyth Spartans got their first three points of the season with a 3-1 victory over AFC Telford, and in so doing made it back-to-back wins.
Following their first win of the season, a 1-0 FA Cup victory over Curzon Ashton, Spartans had hat-trick hero Callum Roberts to thank as his three stunning solo goals were the difference for Lee Clark's side.
Roberts opened the scoring after 10 minutes with the first shot of the game. It was the only goal of the first half, but he got his second on 65 minutes to double Spartans' lead.
AFC Telford cut the deficit with 15 minutes to go as Darryl Knight headed past Mark Foden. But Roberts completed his hat-trick and secured Blyth's first three points of the season smashing home on 87 minutes.
Meanwhile, Spartans have confirmed that Jake Orrell has left the club after his contract was cancelled by mutual consent. Orrell signed for Blyth in the summer, joining from Newcastle Benfield".
The Yorkshire Post tells us that "Ex-Newcastle United youth star Callum Roberts is set for a trial at Rotherham United following a blistering start to the season in the National League North.
It's understood Roberts, who plies his trade with Lee Clark-managed Blyth Spartans, will head down to the New York Stadium this week.
Roberts has scored seven goals in eight appearances for Spartans this season; that run has included two hat-tricks in a week against Curzon Ashton and AFC Telford United.
The 22-year-old started his career with United but only made a total of two appearances in black and white... Roberts has previously had loan spells with Gateshead, Kilmarnock and Colchester United. In the summer he was linked with a move to Panathinaikos, but that deal failed to materialise."
We learn from the Northern Echo that "Debutant Alex Storey slotted seamlessly into Darlington's defence in Saturday's 2-1 win and has given the manager some decisions to make.
Due to unavailability of Louis Laing and Jordan Watson for the trip to Alfreton, Storey joined last week on a dual-registration basis having recently been playing for Sunderland RCA in the Northern League.
He will be eligible for the FA Cup game this weekend at Leamington, while Watson and possibly Laing will be back in the squad, but Storey did his prospects no harm with a solid first outing in Quakers colours.
'He said it was a lot tougher than he thought it was going to be, but I don't think he did anything wrong', said Armstrong. 'He dealt with it well and Alfreton are physical lads, he'll not come up against a team more physical than that, so I was really pleased with the kid.
'For someone who hasn't played at this level before he did exceptionally well. He won his headers, he needs to be a bit braver and he knows that, but I couldn't really complain.
'He dealt with two physical forwards, his passing was good so, for a first game at this level and he'll admit it's a massive jump from the Northern League, he did exceptionally well and gives us food for thought going into the FA Cup game...
'He wants to stay, he wants a contract, so the opportunity will be there for him when he plays so we'll see what happens.'
Watson was attending a wedding while Laing is recovering from a hamstring problem and while Jonny Burn is available he is not, in Armstrong's view, worthy of a place in the squad due to a lack of fitness so has been training with the club's academy and not the first team.
Despite not being in contention to play for his hometown team, Burn has turned down opportunities to join other North-East non-league clubs, leaving fan-owned Darlington to pay his salary for the remainder of his contract which expires at the end of this season."
At Kidderminster Harriers, "Russ Penn admitted Harriers were victim of some self-inflicted wounds in falling to a late 2-1 defeat to Spennymoor on Saturday.
The Reds had been in front at The Brewery Field through an Ashley Chambers goal. Tow goals at either end of the second period, however, turned the game in the home side's favour and left the visitors empty-handed.
Speaking after the game, the Aggborough assistant boss [said]... 'You make your own luck in these games; it's extremely disappointing. I thought we were brilliant in the first half and managed the game well. We were up for the fight and were the only team playing football.
'The second half just shows you where we are as a group at the moment [with] our game management when the chips are down, and the pressure is on. I never felt in danger, but you can't switch off for one minute in this game. We know the level very well, and the 91st-minute is a real sickener.
'We put ourselves in that situation. We were on the attack in the final third and, then, ten seconds later we're 2-1 down. Our decision making in the second half was poor, and that's what effectively cost us the game'".
Bulls' News reports that "King's Lynn have been given a grant of £71,000 to help with the cost of segregation work at their ground, assuming the local council gives their approval.
Efforts to get a grant were started by chairman Stephen Cleeve after the club was promoted to National North last May...
'This work will be carried out at the Tennyson Road end of the ground as well as part of the covered terraced stand. The work includes fencing, turnstiles, toilets and refreshment areas. A planning application has been lodged with the council outlining the plans. Until such times as this permission is received the work cannot begin.
'We also wish to state that the grant will assist with some, but not all, of the cost involved in this development with the club meeting the balance of money required.'"
Meanwhile the Eastern Daily Press reports that "A football club has apologised after a coach carrying fans to an away game almost turned back half way to the match.
Some 17 King's Lynn Town FC fans had boarded the bus to travel to the Linnets' game at York FC on Saturday.
In a statement, Lynn said 'The club have been made aware of matters arising from a coach, chartered independently from King's Lynn Town FC, that yesterday travelled to York City carrying supporters for our National League North fixture.
'We have it on good authority that when the coach arrived at a motorway service station the organiser of the coach was approached for the balance of money to cover the cost of the coach hire which the person was unable to provide.
'It was made clear that if the monies were not provided the coach would be returning back to King's Lynn. It was at this point that a regular supporter, known to the club, paid the balance of the money (a large amount) so that the coach could continue on its journey, which it did. Clearly this is a very unsatisfactory and disturbing situation.'
The statement said the club wished to distance itself from the person who chartered the coach, who is not officially affiliated to it.
It added, 'We will be contacting the person responsible for the coach on Saturday for an explanation to the circumstances surrounding this incident and to also express our wishes that he runs no further coaches to King's Lynn Town Football Club fixtures.
'We offer our apologies to any supporters who were alarmed or upset by Saturday's events.'"
We are informed by the Boston Standard that "Jake Wright looks set to return to Boston United in the next few week.
The on-loan striker scored three times in four appearances before tearing his hamstring while training with parent club York City.
He hasn't featured for Boston since the 1-0 win over Leamington on August 13, but manager Craig Elliott hopes that will change soon.
'Fingers crossed, he's having a scan to make sure everything's ok, next week,' Elliott said after Saturday's 2-0 win against Southport... 'He's another very, very good player to have back'".
---