---
30 June 2019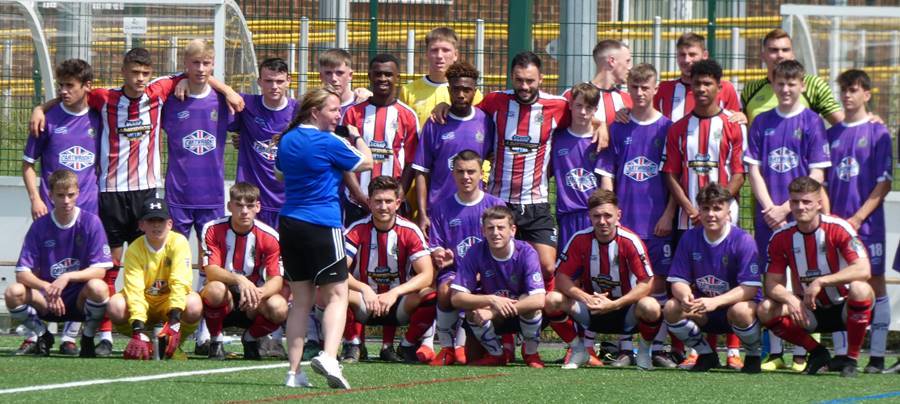 Above: The two teams mingle for a joint photo before kick-off.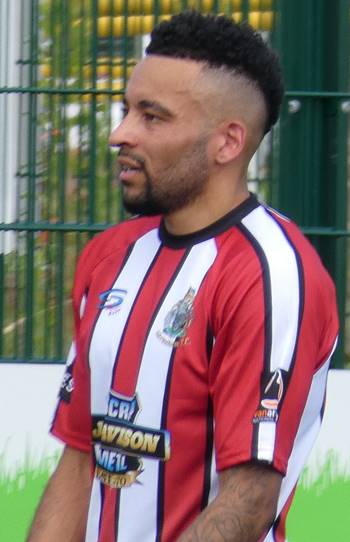 A team comprising first teamers and trialists overcame an Altrincham FC youth team 5-0 in sweltering heat in Baguley on Saturday afternoon.
In 30+ degree temperatures, which necessitated several drinks breaks, John Johnston opened the scoring after 15 minutes. Debutant midfielder Conor Branson doubled the lead, just before half-time, when he finished off a neat move, initiated by trialist Jamal Crawford and fed to the scorer by Connor Hampson.
Despite the first-team naturally dominating proceedings, the youth team worked hard and had several good moments themselves.
In the second half, after several changes of personnel, trialist Lewis Salmon made it 3-0. The fourth goal arrived midway through the half from another trialist, Zak Corbett. The scoring was completed by Max Harrop's well-taken goal as the game went into its final ten minutes.
First-teamers who took part for some or all of the game were Connor Hampson, who captained the team, Ben Harrison, John Johnston, Toby Mullarkey and Conor Branson, who all started the match, and Max Harrop who came on before the break. In the second half we also saw James Jones, Nathan Arnold (pictured, right) and Tony Thompson. Watching the game was Matt Chadwick.
The trialists included Hungarian goalkeeper Dan Gyollai (Stoke City), defender Zac Corbett (ex-Southport and FCUM), Ethan Cartwright (Newcastle Town), Lewis Salmon (Hanley Town, ex-Stafford Rangers and Leek Town), winger Jamal Crawford (ex-Chester FC) and Shakeel Jones (ex-Bolton Wanderers).
1. Dan Gyollai, 2. Harry Sheridan, 3. Connor Hampson (c), 15. Ben Harrison, 5, Zac Corbett, 6. Toby Mullarkey, 7. John Johnston, 8. Conor Branson, 9. TBC 10. Lewis Salmon, 11. Jamal Crawford. Subs: 4* Shakeel Jones, 10* Max Harrop, 14. Ethan Cartwright, 16. Nathan Arnold, 19. James Jones, 20. Tony Thompson.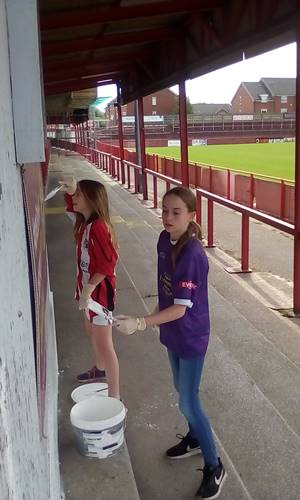 Their father is a dab-hand with a paintbrush (witness the #altyfc signage at the ground!) but Club caterer Richie Bentley also enlisted the help of his two daughters to join the team sprucing up the J Davidson Stadium on a sweltering Saturday (yesterday). As Richie says, he and his fellow volunteers "were treated to background music from the refurbished Alty stadium tannoy system. Thanks to the efforts of Stuart Buchan, this now sounds amazing all round the ground".
Richie adds that painting, trip-hazard removal, seat-cleaning and other safety matters were addressed by the volunteers under the expert guidance of safety officer, Nigel Bunce.
The adjacent photo shows Richie's eldest daughters, Hannah and Sophie, who are seen here applying white paint but also renewed yellow safety lines around the ground.
All Alty supporters will be grateful for all the volunteers' efforts.
Next Saturday, Alty travel to Shropshire to take on
Whitchurch Alport
who report that "Young Player Of The Year for 2018/19 Joe Minshall has re-signed ahead of the new campaign.
Minsh is the longest serving player in Luke Goddard's era and has improved with each season". Also, "Skipper Darren Campion is the first to re-sign for 2019/20!"
Off the field, the Hallmark Security League reports that "Whitchurch Alport this week confirmed the arrival of Gavin Pritchard to the club as lead analyst. Pritchard, who left Cefn Mawr Rangers for this role, will work closely with Luke Goddard and the management team at Yockings Park. The team also includes a fellow new recruit in the shape of chief scout Ian Parry.
So what does his role entail? He explains 'My role will be to work closely as a part of the management team and film all matches. This will include occasional training sessions to collect data, and evaluate potential strengths and areas to exploit opponents, whilst also identifying weaknesses to work on our own game and building on what we do best... Analysis is pivotal for helping the management see a bigger and clearer picture... in order to enchance performance on the pitch.'
His experience as a performance analyst spans less than a year, however during that time he has worked in some big roles. 'My university offered me the opportunity to work with the Welsh regional squads ahead of the Cymru cup. Alongside my work with the FAW, I have been fortunate enough to be working with Cefn Druids. Notably, during their Reserves & U19's double title winning season as a Lead Analyst.'
It's clearly a forward thinking appointment by a club obviously eager to continue developing... 'It's evident that everyone is massively determined to improve on last season both on and off the pitch. I believe that speaks volumes through the backroom staff and management team additions, alongside the improvements being made at Yockings Park'"
Whitchurch Alport will begin their pre-season campaign against Altrincham FC on July 6th."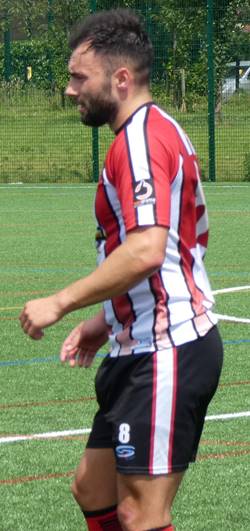 New signing from Bradford (Park Avenue), Conor Branson, made his Alty debut in Saturday's friendly, as shown (right).
The Football ManCave reports that "Altrincham has gone on to boost their squad even more by signing Conor Branson from Bradford.
It's been reported that Phil Parkinson has significantly strengthened his squad for another promotion push next season, as he has won a three-way battle for the midfielder. He was apparently signed for an undisclosed fee and it [is] understood that a National League North team and a top tier National League team, were beaten in the race to sign the 27 year-old.
Branson landed 12 goals last season for Bradford which will excite Alty fans and they will want to see him progress with them next season. The midfielder has said in regard to his move, 'Stockport won the title and Chorley went up via the play off's, but, for me, Alty were the best footballing side in the league last season'. He has also stated that he was flattered to have so much interest from other clubs.
A crowd favourite at Altrincham was James Poole, and it was a big blow when he revealed he was heading to Australia to take up a Melbourne-based coaching opportunity that would be with Manchester City. Fans and members of the club, including Parkinson himself, were all gutted to see Poole leave but wanted what was best for him. Now Parkinson has made such a good signing, that will hopefully make up for the departure of one of their main men.
In my opinion, 12 goals for a defender is pretty impressive and, with Alty finishing 5th last season, they will want to aim to finish higher and go for promotion. So a goal scorer of any kind will be a boost and step in the right direction."
The
National League
reports that "Mark Bradshaw had a decision to make just before Christmas... When close friend and Curzon Ashton manager John Flanagan left after seven successful seasons on the last day of November, the coach had a lot to consider...
'I had to weigh everything up,' Bradshaw told us in the latest of our special club focus features. 'I called John and Ian. I said I couldn't turn down such an opportunity purely because of loyalty. The offer came out of the blue. It was a shock at first. When any manager who has served somewhere for so long leaves, it takes quite a lot of getting used to...
'The Curzon job doesn't come up very often. John was here for seven years, and Gary Lowe, the manager he took over from, was here for 12. So since 2000, the club had had two managers. They give their managers time here. What if I said no? It may be another ten years until the chance came up again. It could never have happened for me because of that longevity. I had to grab it.'
He steadied the ship after a slower than hoped for first four months of the season. The Nash ended the campaign 18th, just two places but 14 points above the National League North drop zone. Now it's about progress... The 49-year-old isn't content to just avoid a scrap this time around. He has signed 12 new players and many of the old guard have left...
'This is the first summer that I have been in charge of the club's recruitment,' he told us. 'We never expected a few of the players to leave that have done, but they've left. It happens, people move on. They are players who have been central to the club's success for a few years...
'We sat down and decided maybe it's time to start again. We now have a young, hungry team who could all, at some point soon, go on to play at a higher level. A few levels higher. They are players who are on the fringe of establishing themselves in the game. Now they have a carrot to really go on. We will take risks. They may not all work, but I will do it my way'...
'We have our goals, we're ambitious like every other club, he told us. 'The highest points tally we have achieved at this level is 58. Can we beat that? I would love to think that's possible... It's going to be even more competitive now and I don't think there's a stand-out side like we have seen before with Fylde, Salford City and Stockport County really getting it right under Jim Gannon last year. We may be in for a few surprise teams doing well and if we are then I would love us to be one of them.'"
According to NL Daily midfielder "Ursene Mouanda has joined Blyth Spartans on loan for the entirety of the 2019-20 season. Mouanda, who signed for South Shields a year ago, made 26 appearances last term...
South Shields joint-manager Lee Picton said 'This is a brilliant opportunity for Ursene to get some much-needed experience and game-time at a very good level... He remains very much a South Shields player who we rate very highly'"
And the Shields Gazette adds that "Mike Williamson will ask his former Newcastle United team-mate Shola Ameobi for a helping hand as he looks to rebuild Gateshead. The club, relegated to National League North last season for breaking financial rules, is under new ownership.
And Williamson, appointed player-manager earlier this month, is looking to stabilise the club after a turbulent 12 months at the International Stadium. The 35-year-old, who was a player at Gateshead last season, knows the importance of the loan market to the club. Amoebi was appointed as the club's loan co-ordinator this month tasked with getting under-23 players the right loans at the right time.
Williamson, who spent six years at St James's Park, hopes to forge close relationships with Newcastle, Sunderland and Middlesbrough.
'Obviously, I've got a lot of friends there (at United),' said Williamson. 'Shola's gone in, he's head of loans. So I've got good relationships there, and we want to build on that. It's the same with Sunderland and Middlesbrough. We want to rebuild the relationships that were tarnished a little last season, because we do believe we can provide a fantastic platform for young players to come and learn their trade on.
'Historically, a lot of players have come here and had fantastic careers. That's what we're looking to do.'
Williamson, while at Southampton, benefited from loans at Torquay United, Doncaster Rovers and Wycombe Wanderers early in his playing career. 'When I was a young lad, the senior pros' main advice was "get out and play mens' football"', said Williamson. 'You'll find your level, eventually.'
'As good as academies and reserve-team football are for elements of your development, coming into real life where people are pushing to pay mortgages, and to win every game and be competitive, is also important.'
Williamson 'loved' his time on Tyneside with Newcastle and was happy to return to the North East and join Gateshead... He said, 'The people and the place; it's got everything. A lot of people who come up here feel the same.'"
Pre-season games have started in June this season and Nottingham Forest report that "Forest kicked off pre-season with a 2-1 victory against Alfreton Town at the Impact Arena. Goals in each half by Brennan Johnson and Karim Ansarifard ensured a positive start to their preparations for the new season, with new head coach Sabri Lamouchi watching on from the stands.
Played in sweltering heat, there was an expectedly slow tempo to the game to begin with as both sides tried to find their rhythm...
The opening goal was gifted to Alfreton on 16 minutes as Dec Bacon capitalised on a lapse in concentration by Joe Worrall at the back, with the forward calmly slotting past Costel Pantilimon... On 39 minutes they were level through the impressive Brennan Johnson... All square at the break and all change for Forest, with a whole new team taking to the field including new signing Sammy Ameobi... Forest went in search of the winner.
It came on 83 minutes as Ameobi ran with the ball to the byline and pulled it back for Karim Ansarifard to convert from close range and seal an opening pre-season win... Attendance: 1,799"
The Boston Standard claims that "The key to Boston United having a successful campaign is evolution, according to John McDermott. The former Grimsby Town legend and ex-Alfreton Town manager has joined the Pilgrims as Craig Elliott's number two...
'It's going to be an interesting season. Some clubs have good some good budgets and they're making good signings,' he said. 'Consistency is massive. To be successful you need to keep your best players fit. If they're playing together every week they get even more consistent. That's key. But recruitment is also massive if you want to be successful. You've got to get that right.'
McDermott is adamant that...'Budgets help but that doesn't guarantee anything. You need to get the right players, ones who are at the club for the right reason. You need players who are mentally tough, as well as physically, but who still want to be coached and want to improve. I was playing football until I was 38 and I was still learning.
'I've been a coach for 20 years and I'm still learning, you should always want to improve who you are.'"
---
29 June 2019
Following its Planning Day, the board of Altrincham FC has issued "all the answers" to those questions submitted by supporters; they can be read on the
Altrincham FC
website.
Sadly, former Altrincham player Gerry Casey has died at the age of 77.
By way of tribute, below we reproduce Terry Rowley's biography of Gerry, which is to be found in the Altrincham FC Legends section of this website.
Gerald H 'Gerry' Casey
Born: Moss Side, Birkenhead 25/8/1941
Position: Centre Half
"Gerry Casey was the original 'hard man' centre-half; or, at least he was to us as the editors of the Robins' Review programme. He came to Moss Lane, already into his thirties, with a reputation as a solid, no-nonsense defender. Today he probably wouldn't have stayed on field to finish many matches, as his uncompromising ruggedness was legendary. Powerful in the air and solid in the tackle, he took no prisoners. He arrived at Altrincham at the same time as team-mate Joey Pritchard and goalkeeper Peter Eales, (team mate Mickey Brooke had joined Altrincham a few weeks earlier).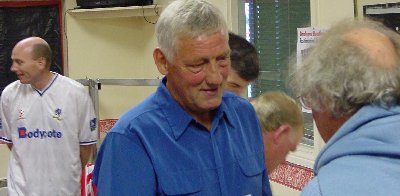 Left: Gerry Casey talks to Micky Brooke with John Timmons and Joey Pritchard in the background at Graham Heathcote's testimonial match, 26 July, 2001.
He started his football career with local club Holyhead Town, going on to join Tranmere Rovers in August 1967, aged 26. He was surprisingly signed and played as a midfield player. He spent three seasons at Prenton Park before returning to non-league football with Ellesmere Port Town for the 1970/71 season, a club that Joey Pritchard had joined and which already had local boy Mickey Brooke playing for them. Gerry joined Altrincham (along with Pritchard) at the very end of the 1972/73 season.
In fact, the league season was over but both played in the NWFL two-legged final against Buxton, winning 5-2 at home and losing 1-2 away, to take the tie 6-4. The following season Gerry was the rock on which Altrincham built their FA Cup run, culminating in a 0-2 defeat by Blackburn Rovers at Moss Lane. Altrincham also made the final on the NPL Cup, losing to Boston United after a replay. He was an ever-present that season, playing in 63 senior games.
The following season Gerry was part of the side that went to the Third Round of the FA Cup and played in both the ties against Everton at Goodison Park and Old Trafford.
As some compensation Altrincham did defeat Macclesfield in the NWFL final and reached the Cheshire Senior Cup final, losing 2-3 to Runcorn at Gresty Road. By the following season, age and injuries were beginning to catch up with Gerry and, although they made the FA Cup 1st Round (going down 1-3 to Halifax Town at The Shay) no other silverware was forthcoming and Tony Sanders was already rebuilding a side decimated by Les Rigby's disastrous reign. So, at the end of the season, Gerry left Moss Lane, a legend to anyone who saw him play".
Altrincham Career
| | | | | | | | |
| --- | --- | --- | --- | --- | --- | --- | --- |
| Gerry Casey | | | | | | | |
| GAMES | | | | | | | |
| Season | League | FAC | LC | CSC | FAT | NWFL | Totals |
| 1972/73 | 0 | 0 | 0 | 0 | 0 | 2 | 2 |
| 1973/74 | 46 | 8 | 6 | 1 | 1 | 2 | 64 |
| 1974/75 | 32 | 2(+1) | 2 | 4 | 1 | 6 | 47(+1) |
| 1975/76 | 38 | 1 | 4 | 1 | 2 | 2 | 48 |
| Totals | 116 | 11(+1) | 12 | 6 | 4 | 12 | 161(+1) |
| GOALS | | | | | | | |
| Season | League | FAC | LC | CSC | FAT | NWFL | |
| 1972/73 | 0 | 0 | 0 | 0 | 0 | 0 | 0 |
| 1973/74 | 2 | 0 | 1 | 0 | 0 | 0 | 3 |
| 1974/75 | 3 | 0 | 0 | 0 | 0 | 1 | 4 |
| 1975/76 | 1 | 0 | 0 | 0 | 0 | 0 | 1 |
| Totals | 6 | 0 | 1 | 0 | 0 | 1 | 8 |
And Andy Mitten in 4-4-2 magazine quoted Graham Heathcote as saying, "'We played Scunthorpe in the first round and went en masse to watch them two weeks before the game,' recalls Heathcote. Roy Rees, a university lecturer who doubled up as Altrincham manager, was a disciplinarian noted for his tactical acumen.
'Rees told us to watch the players we would be playing against but three or four of lads just went in the bar'. Their manager wasn't pleased and had strong words with one of the drinkers, the centre-half and full-time scaffolder, Gerry Casey. Casey's defence was simple. 'If the forward's brilliant, I don't want to shit myself for two weeks. And if he isn't, I don't want to know either, because there's only going to be one winner in that game'.
Casey came out on top as Altrincham drew at the Old Show Ground before beating Scunthorpe in the replay at Moss Lane. Everton, top of the first division, awaited in the third round".
At
Leamington
"The first team squad 'enjoyed' their first training session of pre-season on Thursday evening. Minus the holidaying Connor Taylor, the whole squad were present along with a trialist and former Brakes' midfield general Richard Batchelor, who was getting an early start on his team mates at his new club Mickleover Sports, who start their season in the Northern Premier League a little later in August.
Kieran Dunbar was also involved as he continues his rehabilitation following several months on the sidelines.
The first warm up fixture for the 2019/2020 campaign is this coming Tuesday evening at Redditch United, while the first home fixture is a bit of a marquee affair as we welcome Coventry City's first team to the Phillips 66 Community Stadium."
"Elsewhere, Kidderminster Harriers "have added powerful midfielder Alex Prosser to their squad for the forthcoming season. The 20-year-old comes to Aggborough having ended a 12-year spell with boyhood club Aston Villa.
6ft-plus and with a strong challenge, the youngster got a taste of National League North with a loan spell with Brackley Town last season, where he took part in the play-offs. Despite interest there and from one League 2 team, Alex has penned a one-year deal with Harriers, which begins on July 1".
Widnes
announce "the double signing of
Sam Heathcote
and Danny Shaw. Co-bosses Steve Akrigg and Kev Towey have stepped up their summer recruitment this week with the duo becoming Widnes' third and fourth new additions ahead of the upcoming Evo-Stik League season...
Defender Heathcote is an imposing centre-half who arrives from North West Counties Division One South side Wythenshawe Town. The 21-year-old began his career as a junior at Manchester United before moving on to Altrincham, making 51 appearances at Moss Lane. Sam has since turned out in the Evo-Stik League for Hyde United, Trafford and Ramsbottom United, scoring 11 goals in 29 games for the latter as a makeshift striker in the 2017-18 season...
Joint manager Towey... is pleased to have added both players to the squad... 'Sam had fallen out of love with the game and dropped down a couple of leagues to start enjoying his football again. But he's now very hungry to be a success at this level, and he'll be a very important player for us at both ends of the pitch'" he said.
---
28 June 2019
The
Shropshire Star
reports that "Marcus Dinanga cannot wait for the battle with his fellow strikers to get into the AFC Telford United starting line-up.
The 28-year-old is eager to repeat what he did for the Bucks two seasons ago, scoring 25 goals in all competitions. But new-boy Aaron Williams, snapped up on a two-year deal from Harrogate Town, and Andre Brown are also aiming to step up to the plate in the wake of last campaign's top scorer Daniel Udoh's departure for Shrewsbury.
And Dinanga said, 'With Dan going, it opens it up. Everyone has a good chance, so I'm going to do my best to secure my place. I don't know much about Aaron, but I'll see him soon in training and I'm sure he will bring a lot of quality. I obviously know about Andre and he can hold the ball up and score goals.
'I think we'll all bring different things, so it's just about who starts the best and who can claim that place.'
Also keeping Dinanga, Williams and Brown on their toes will be player-coach Matthew Barnes-Homer... Dinanga is excited... 'I'm looking forward to seeing all of the lads again, and all of the new lads as well. I have been keeping myself fit since the end of the season. Keeping yourself fit was a big thing when I was at Burton, so nothing has changed in that respect'".
The Boston Standard informs us that "The door remains open for Ben Davies at Boston United, but it looks as if Ryan Cresswell's days as a Pilgrim are over. The two free agents were invited back to train with the club in pre-season in a bid to secure a deal.
Central defender Cresswell, who ended the campaign at the Jakemans Stadium, has not shown an interest in returning. But Davies may yet be back with the Pilgrims, even if he is not the mystery defender United are hoping to land this week.
'I've not heard from Ryan and Ben's away at the minute,' manager Craig Elliott said. 'But there is still an opportunity for him to come back. I had a text from him saying he's still interested.'
However, with a number of trialists also catching Elliott's eye, he says there will be no sentimentality concerning the former Grimsby Town right back...
Elliott added, 'Football moves on and he'd be treated like everybody else.'"
Still at Boston, the Standard adds that "Craig Elliott is hoping to bolster his defence with a new arrival this week. The Boston United manager says one target could even be joining the club within the next 24 hours.
United currently have Ben Middleton, Alex Whittle, Ashley Jackson and Luke Shiels on the books, with Elliott looking to add a couple more options.
'I want a bit more defensive cover. Hopefully, I can get one sorted over the next 24 hours,' he told The Standard. 'I'm happy with what we've got, but I'd like to get a few more in.'
Elliott has also been impressed with the trialists currently training with the Pilgrims. There are currently 16 players on the books for the 2019-20 campaign, but scope to add to the numbers.
'I think a squad of 18 or 19 is about right,' Elliott added. 'Maybe a few on non-contract or dual contracts with other clubs. There are some good lads on trial with us but it's a bit early to make judgements until you've seen them play a few games.'"
From the Banbury Guardian comes news that "Brackley Town manager Kevin Wilkin has made his second signing ahead of the new campaign.
Versatile central defender Thierry Audel has joined Saints from Welling United. The 32-year-old French defender started out at Auxerre before moving to the Italian Serie B club US Triestina Calcio in 2007. He moved to San Marino and then on to AC Pisa 1909 before arriving in England and signing for Macclesfield Town.
He played 20 games for the Silkmen before signing for League One side Crewe Alexandra in 2013. He had two loan spells at Lincoln City before returning to Macclesfield Town in 2015. He spent two seasons at Notts County in League Two before he joined Barrow, moving to Welling United a year later.
Wilkin said 'We've know about Thierry for some time and he played against us for Barrow in the FA Trophy. He had a really strong season last term and we're delighted to get him on board. He's a versatile player who will give us options in different areas and can also score goals. He played in nearly every position across the back line last season, that will give us the option to change things if we need to.
'If Thierry has a strong a season as he did last time he will be a great addition for us.'"
And the Banbury Guardian adds that "It's business as usual, according to Brackley Town boss Kevin Wilkin. Despite the clubhouse at St James Park being irreparably damaged by last week's fire, Wilkin says it will not make any difference to his plans on the pitch.
'It won't make any difference to our pre-season preparations, we start training this weekend, and there is still time to get things in place to minimise the disruption before the season starts' said Saints' boss Kevin Wilkin
'It's very disappointing and an inconvenience but the most important thing was that no-one was seriously injured'...
The clubhouse will have to be demolished and rebuilt following an inspection by structural engineers this week.
Managing director Jan Butter said, 'Although this is devastating news for us all we do believe that we can work on plans to improve our facilities which will allow us to support the success that Kevin [Wilkin] brings to the club on the pitch and will allow us to strengthen our infrastructure.
'We are under no illusion that we will face a challenging 12 months but know it will be worth the hours and hard work we are prepared to put in to make our club stronger... The rest of the stadium has not been affected, the pitch is looking great, the all-weather pitch is in excellent condition, stands, turnstiles and changing rooms are all in good working order.'"
Cheshire Live informs us that "Chester FC were left with an unwanted bill that reached into the thousands after having to use bailiffs to remove Travellers from the car park at their Swansway Chester Stadium home.
Having been involved in a six-day dispute with the travellers after they arrived on private land on Wednesday, June 19, the club felt they were left with little alternative than to call in bailiffs, with the travellers departing on Monday evening.
It is not the first time that the Blues have encountered Travellers on the site but Chester chairman David Harrington-Wright said they were left with little alternative other than to call in outside help, citing anti-social behaviour over a number of days.
'It isn't ideal and it is a cost that we will have to take on the chin, but it is something that we had to do,' said Mr Harrington-Wright.
'We have Travellers on site from time to time and, in the main, they move on quite peacefully in good time and we haven't had any major issues. But we had real problems with anti-social behaviour during their time on site on this occasion and I know that other businesses in the vicinity have also experienced issues...
Being hit with a sizeable cost is obviously something that is not ideal for us. We're looking at ways of preventing this moving forward and we're exploring the possibility of installing a height barrier but, again, this comes at significant cost.'"
Cheshire Live adds that "In a difficult week for the football club they were also forced to deal with a break-in at the ground, with damage caused to the stand and numerous acts of mindless vandalism.
The club tractor, a key part of the equipment of groundsman Mike Barrow during a busy summer period with the season just weeks away, was completely written off owing to vandalism. The club have, through the help of a sponsor, been able to resolve the situation in the short term.
Graffiti was daubed on parts of the stadium's exterior, glass smashed and the club also has to foot the bill of specialist cleaners to clear up defecation in various areas of the stand...
Said Mr Harrington-Wright 'Thankfully it wasn't the mower as that would have caused us major headaches at this stage of the summer when we are planning for a new season in just a few weeks'".
On the field, Cheshire Live adds that "Gary Roberts has penned a new one-year deal with Chester FC after completing a training regime that had been put in place for him by Blues' bosses Anthony Johnson and Bernard Morley.
Central midfielder Roberts, 32, was one of the Blues' key men in the National League North last season, the former Crewe Alexandra, Rotherham United and Port Vale man playing some of his best football for a number of seasons.
There was some surprise when the Blues announced their retained list at the end of last season and Roberts hadn't been immediately offered new terms, instead given the carrot of a new contract should he commit to training sessions with the club's strength and conditioning coach throughout the summer .
It is something that Roberts has thrown himself into according to Johnson, and his reward is a new contract for the 2019/20 ...
'Last summer he didn't come back in the best shape but this summer he is one of a few players who has come back lighter and he looks ready to fly, he's the fittest I've seen him. He really wants this and he loves it at Chester...
'There isn't many in this league that can get near Robbo. We're delighted with him.'
Chester-born Roberts joined the Blues on a short-term deal in January 2018 but has gone on to make 53 appearances in all competitions for his home town club, scoring five times".
The Northern Echo advises that "Darlington's summer squad building continues and signing number seven will be the much-needed goalkeeper that Alun Armstrong has been looking for.
Chris Elliott trained on Tuesday evening as Quakers returned for pre-season training and the former Spennymoor Town 26-year-old will be Armstrong's first-choice between the sticks.
Without a goalkeeper on the books, Armstrong readily admits he wanted Peter Jameson until the former Blyth No 1 chose York instead, but he has no qualms about bringing in Elliott, a player he wanted to sign 12 months ago.
'I tried to sign him at Blyth when Pete nearly joined York City last year, but Chris went to Spennymoor instead,' said Armstrong. 'He will be first-choice and that was a big selling point for him because he spent the whole of last season on the bench.
'He is a very good goalkeeper; he kept two clean sheets when he played for Alfreton against Blyth. He looks after himself, he's a good pro, a good shot-stopper and he commands his area better than some goalkeepers at this level and his distribution is really good. He's quite vocal, and that's always beneficial.'
Wolsingham-based Elliott, who coaches in Leeds United's academy, came through the ranks at Bradford City and has previously played for a number of non-league teams, including Harrogate Town, Alfreton, South Shields and also had a two-year spell playing in Sweden.
Armstrong added, 'He contacted me as soon as I got the Darlington job and he was desperate to come. I had to wait and see what was happening with Pete'...
Elliott is Armstrong's first signing whose previous club is not Blyth Spartans, and his next recruits are not from Croft Park either.
The arrival of former Morecambe striker Adam Campbell is imminent, and Armstrong also expects to bring in a player on loan from a Championship club. There are likely to be more exits before the beginning of the season, with Mitchell Glover and Jonny Burn having been given permission to go on trial elsewhere".
We learn from York Press that "York City manager Steve Watson believes he has signed 'one of the best leaders in the business" following the arrival of experienced centre-back Steve McNulty from Tranmere.
The 35-year-old defender has won six promotions with four different clubs - Barrow, Fleetwood Town, Luton Town, and Tranmere – captaining all of them in the process and clocking up nearly 600 senior appearances.
He leaves Prenton Park, meanwhile, with back-to-back promotions... City chief Watson enthused, 'I'm not surprised by the positive response we have had to Steve's signing, because every club needs a leader and I think we have got one of the best in the business in and around this level.
'People might look at his age, but he's looked the same player for the last three seasons and is by no means finished yet. He didn't want to go to another club where he felt they wouldn't have a chance of challenging for promotion and he's very, very hungry to add to the success he has had during his career...
Watson added that McNulty might be handed a different workload to younger members of the squad, reasoning 'Similarily to David Mirfin, who we brought in last season, Macca knows how to manage his body at this stage of his career and that was the same with Mike Williamson, who we worked with at Gateshead'"
Hereford FC report that "Arriving at Edgar Street in time for return to pre-season training is former Peterborough United, Barnet and Darlington player, Jordan Nicholson.
The attack-minded 26-year-old is a player who can excite fans says Bulls' Head Coach, Marc Richards 'Jordan tied us up in knots when we played against him last season, he's a very exciting, attack minded player. He's got a good left foot and can play anywhere in that attacking midfield role'...
Gateshead "announce the signing of Toby Lees on a season-long loan from Harrogate Town. The defender's arrival takes the Heed's squad up to eight players, including player-manager Mike Williamson, and he becomes the second man to join on loan from the National League side after the arrival of Liam Agnew last week.
The 22-year-old made one National League appearance for the club last season, playing 90 minutes in their final day defeat to Wrexham.
Lees spent the early portion of the 2018/19 campaign out on brief loan spells, firstly with National League North side Boston United in August before later joining Northern Premier League Premier Division side Whitby at the end of September...
Lees revealed that the way the coaching staff are looking to set the side up was one of the deciding factors in the move.
'One of my main attributes is probably being comfortable on the ball and being able to play out from the back,' he said...
'He wants to get a good squad together that have the confidence to get on the ball and play with a high intensity, and that matches what my strengths are'".
According to the Telegraph & Argus "Having finished 19th last season, avoiding an exit from Vanarama National League North, Guiseley have made five pre-season signings.
Experienced central defender Hamza Bencherif, 31, joins strikers Aaron Martin, 27, and Gabriel Johnson, 22, who were both at Brighouse Town last season, midfielder Jamie Spencer, 21, and Andrai Jones - the 27-year-old defender, a former Everton youth player.
The new faces join winger Kaine Felix, 24, and youngsters Tabish Hussain, 18, fullback/mid-fielder George Cantrill, 19, winger Scott Smith, 20, and defender Will Thornton, who were all with Guiseley last season but have all signed new contracts with the club.
Manager Marcus Bignot, preparing for his second season in joint charge with Russ O'Neill at Nethermoor Park, said 'Hamza Bencherif is a former Algerian under-20, everyone can see the kind of recruits we're making. We had to deal with financial debt last season and weren't able to build last year. Now we have a few decent signings, a couple of them unproven...
'We have a few players from Sheffield United, who the club has a long-standing relationship with. Our new strategy is to go to clubs and help develop their players...
'We did the job last year and now it's something we want to build on and be at the right end of the table.'
Bignot emphasised the athleticism of these new signings, 'They will add a lot of power... We're putting in the building blocks to change the style of play, develop and get those results too...
'We've got to go to the professional clubs and ask if they need help bringing on players, we've got to go into the lower leagues and give players the opportunity to develop, and this way we'll be helping ourselves too.'"
---
27 June 2019
According to the
National League
"Altrincham have been shortlisted for an award for their fight against homophobia but face competition from Stockport County!

The National League North club have been nominated as the Cheshire FA pick their grass-roots heroes. Alty wore special one-off rainbow shirts during their match with Bradford PA last season back in February [pictured above]. The campaign to finance a major refurbishment of Manchester's LGBT+ centre was given a £2,500 boost by their groundbreaking initiative. They raised cash and awareness; the trademark colours are on display in the National Football Museum.
Now inclusive Alty could receive recognition from the Football Association. Stockport County, champions of course, have been put forward thanks to their fantastic community efforts. That is something manager Jim Gannon is proud of as the club pushed on both on and off the pitch last season."
Altrincham FC
is inviting supporters to volunteer to help with essential pre-season groundwork and maintenace at the J. Davidson Stadium this Saturday (29th). A number of the first-team squad are expected to be attending; details of how to assist can be found via the above link.
At
Hereford FC
"Jacob Jagger Cane and Jason Pope are the latest arrivals at Edgar Street, with the former Weston-super-Mare duo arriving in time for the return to pre-season training tomorrow evening.
Jacob Jagger Cane is a combative central midfielder, whilst Jason Pope brings versatility, being able to play across a number of positions in defence and midfield. Talking about the latest new arrivals, Bulls' Head Coach, Marc Richards, said 'Some people have referred to Jacob as one of the best pressers in the central midfield area, but he also comes with a lot of quality and pops up with goals.'
Talking about fellow new signing, Jason Pope, Richards added 'We've known about Jason for a few seasons, he's got a lot of versatility, he can play centre-back, right-back, centre-midfield, or even higher up the pitch.'
Both players are the product of a successful Exeter City Academy. Jacob Jagger Cane enjoyed loan spells with Poole Town and Weymouth before his departure from St James Park saw him arrive at Weston where he went on to become club captain and a firm fans' favourite. Jason Pope originally arrived at Weston Super Mare on loan from the Grecians, before making the move a permanent one at the start of the 2016/17 season.
Jacob Jagger Cane said that he was excited by the ambitions of Head of Football Tim Harris, and Head Coach Marc Richards... 'They want to get back to full-time football, back to the National League and go from there. For a club this size it's exactly what it should be... You get 100% from me week in week out that's guaranteed, but I want to add a few more goals to my game as well'...
Jason Pope was also impressed by the ambitions and infrastructure at the club. 'I met Rico [Richards] at the training ground at Hartpury, seeing the facilities, seeing what the club has to offer the players in terms of training facilities, I knew that I really wanted it [the move] to happen'...
Bulls' full-back Danny Greenslade also played a role in convincing Pope to move to Edgar Street. 'I spoke to Danny [Greenslade] quite a lot, he spoke about the fans, about how passionate they are and that's something that I'm absolutely buzzing to be a part of.'"
And Hereford FC added that Jacob Jagger Cane said that 'It looks like a massive club, I've heard about the Meadow End and apparently the atmosphere gets really good here, so hopefully we can put some performances in next year and get the place bouncing'...
'I've got that breaking-up-play side to me, but I want to get up the pitch and score some more goals this season... It was tough to leave Weston, I've made some really good friends there, but joining a massive club like this was a no brainer for me really'...
As for Jason Pope 'We both grew up at Exeter City. He's a couple of years younger than me, but we tend to play quite well together, I'm sure it will help us settle into the squad, getting the know the lads. He's a good player as well so the fans have got a lot to look forward to with him joining as well'...
He continued 'You can see the sort of players that Exeter have brought through, Matt Grimes (Swansea), Ollie Watkins (Brentford) and Ethan Ampadu (Chelsea). They do tend to bring quite a few young lads through and try them out, obviously it didn't quite work out for me and Jason there, but it did prepare us for men's football... I don't know much at all about the North, but that was why I was attracted here. It's a new challenge...
'I know Danny Greenslade and Alex Bray who were both at Weston and I know Tom Owen-Evans. I don't really know any others, but I'm all about meeting new people'".
Carlisle United "boss Steven Pressley confirmed that initial talks have been held with Gateshead's player-of-the-season Tom White about a possible return to Brunton Park for the potential play maker. Midfielder White, 22, came through the club's academy but joined the Heed as a teenager when he was released at the end of his scholarship period by the Blues.
He came to the fore last season with three goals in 44 appearances at the International Stadium and has indicated that the he has 'unfinished business' in this week's talks with the Carlisle boss.
'We spoke to Tom on Tuesday,' Pressley confirmed. 'He's a player that interests us. There's a situation where there's compensation needed for him, and that has to be agreed along with certain other aspects of the deal... I want to know what his needs and ambitions are before we go to the next phase. If there's no connection between me and the player then I won't bring him in. It's pleasing to say that I got a good feeling from Tom, and that's a big box ticked...
'I'd love to have him in the building tomorrow... He was Gateshead's player-of-the-season last year, he's 22, he's hungry and he's desperate to do well. He's another who said he felt he had unfinished business at this club and that excites me'".
York Press advises that "York City boss Steve Watson believes experienced campaigner Andy Bond still has the enthusiasm to complete a hat-trick of National League North promotions.
Bond, 33, played 41 league games as AFC Fylde clinched the 2017 sixth-tier title and also made the same number of appearances when Barrow were the division's play-off winners in 2008. At Fylde, meanwhile, he has gone on to play 85 times during the last two seasons, which have both seen the Lancashire coastal outfit reach the National League play-offs.
He also ended last season playing in two Wembley finals, with a 3-0 defeat against play-off winners Salford City followed by a 1-0 FA Trophy final triumph over Leyton Orient. Watson now feels that such a drive for success will inspire Bond's new team-mates as the Minstermen look to climb out of the realms of regionalised football at the third time of asking.
The City chief reasoned 'He's another player who was tasted promotion at this level and, whilst he is vastly experienced, he still has a lot of enthusiasm, which is great to see at the age of 33, because it will be infectious. He's desperate to get another couple of successful seasons under his belt and he's had good games and goals stats throughout his career.
'He'll be another leader on the pitch, and he doesn't just want to go through the motions. He's desperate to play every week.'
As Fylde's second-top scorer in the league with six goals behind the division's leading marksman Danny Rowe, the former England C international's ability to hit the target was also an attraction for Watson and perhaps an upgrade in that respect on previous target Scott Burgess. 'Bondy likes to get beyond defences and we didn't score enough goals last season,' Watson pointed out. 'I offered Burgy something contract-wise, but he decided to go a different way and, as well as he did coming in on loan last season, he only scored one goal for us.
'Goals are never guaranteed from anybody, but it does help if you've proved you can score goals before. Bondy has done that and Paddy (McLaughlin) was weighing in towards the end of last season, as Kieran Green did for Blyth. Seeing (Adriano) Moke score at Chester was also good for me to see as it shows that he can do that with a bit more confidence, which we will be looking to help him with over the summer, so he can chip in much more.'
Assuming City will start the season in either a 3-5-2 or 4-3-3 formation, then one of Bond, Green, McLaughlin or Moke [is] likely to miss out on the starting line-up for the 2019/20 curtain-raiser on August 3. But Watson intends to give each player their opportunity to impress, adding 'We've got four midfielders now, or five if you include Alex Kempster who could play there, vying for three places, so that brings healthy competition.
'You never really get three players in the same position who will be available to play all 42 league games either, so they will all get chances to show what they can do.'
Despite the number of midfield bodies, Watson reiterated that free agent Simon Heslop's invitation to return for pre-season training at Wigginton Road still stands. Heslop's three-year contract at Bootham Crescent expired at the end of last season, but knee surgery meant Watson was unable to see him in action following his appointment as manager in January.
On the York-born, 32-year-old's situation, the City boss said 'He needs to prove to himself, first and foremost, that he can get back into full-time training after quite a nasty, ongoing injury, because it took longer than expected for him to recover from it. If he can, then he will get some game time in pre-season, because I can't see anybody playing longer than 60 or 70 minutes during any of those first four friendlies. I'd never say never on anybody and I've seen him play against teams I've been involved with before, so I know he's a quality player, but I've got to see where he's at now before we can talk about whether he could be involved next season.'
Watson also remains hopeful that he can add another new signing to his squad tomorrow, declaring 'We're hoping to get another player over the line with the same kind of pedigree as Bondy. He's exactly the type I want and we need but, sometimes, they can take longer to get over the line.'"
Devon Live
reports that "Gary Johnson says that enforcing new football rules this season could be fraught with problems, and he and his fellow coaches will immediately try and find ways round them. Torquay United's promotion-winning manager has examined the wide range of new guidelines, covering areas like penalty-taking, handball, attacking players in defensive walls at free-kicks and speeding up substitutions.
Johnson, 63, who has won six promotions in a 30-year managerial career, admits 'These sort of changes seem to happen every year. Each time people get caught out, and you hope that some of the other teams haven't caught on completely. Straight away everyone thinks "How can we gain an advantage, if possible, and what is going to catch us out?"'
On handball, referees will be asked to rule whether a hand or arm breaks the 'natural silhouette' of a defender's body.
Attacking players will no longer be allowed to stand in or on the end of a defensive wall containing a minimum of three players, with a one-metre 'exclusion zone' around it.
Goalkeepers must have one foot on or, if they are jumping, above the goal line when a penalty is struck; that has already sparked VAR-aided arguments at the current Women's World Cup.
And substitutes will have to leave by the nearest touchline or goal line, in an effort to speed up those changes.
Johnson... asked 'So what is a 'natural silhouette' for handball? It's very much open to interpretation, so the referees will have to sort that out. Will players be allowed to run across a 'wall' at free-kicks?
'On substitutions, I know why they have done it. But if a player who's been involved in an incident is taken off and has to walk in front of opposition supporters, I would say that has a chance of inciting them; is that a good idea? And I can see players who are about to be taken off standing as near to the centre-spot as they can, and then going off as they did before. People will always try and find a way round these things.
'One thing I try and do is, when I referee training games, I put in a mistake or two, just to see players' reactions, so they can handle it better on a Saturday.'"
The
BBC
asks, "Have you heard about the Welsh club who will be representing England in a Scottish competition next season? Welsh club Wrexham will be one of the National League's representatives in next season's Scottish Challenge Cup.
The Dragons and Solihull Moors have been invited to take part in the competition as the two highest National League clubs not to have been promoted last season. Boreham Wood and Sutton United were the first National League clubs to compete in the Scottish Challenge Cup during 2018-19. Both National League clubs will enter at the third-round stage along with two teams each from the Welsh Premier, NIFL Premiership and League of Ireland.
Wrexham's fellow north Wales club Connah's Quay were the first non-Scottish side to reach the final, where they were beaten 3-1 by Ross County last season. Welsh Premier League champions New Saints will be playing in the competition for a fourth season. To add another twist to the tale, Saints are based over the Welsh border in Oswestry, England."
---
26 June 2019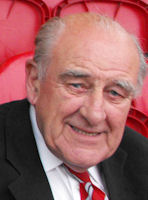 More than twenty years after retiring from his "day job", Derek Wilshaw [right] has announced his retirement as volunteer club secretary at Altrincham FC. A fitting tribute to Derek, by the club's press and media officer, John Edwards, is to be found on the
Altrincham FC
official website. Derek's successor will be former Stalybridge Celtic secretary, Paul Carter.
From a personal point of view, I should like to express my own gratitude to Derek. He was always extremely helpful to me throughout my years as the club webmaster. Despite his retirement from the club, like many others, I look forward to many more years of being on the end of Derek's dry wit at future Altrincham matches!
According to the
National League
, "There will certainly be no problem with the fitness of King's Lynn's players next season. The club are making their return to the National League North and they're determined to make the most of it.
Manager Ian Culverhouse sees no reason why the super play-off winners won't be competitive. He accepts they may see less of the ball in their new league but his team will be sharper than ever when they return.
'We'll be ready and the players will be fit. They have all been given a programme to stick to over the summer,' Culverhouse told the Lynn News. 'We needed mobility and legs in our squad and I think we've got that now. Although we like to keep the ball and boss possession, there will also be times next season when we don't have it and will need to get it back, but we now have the legs in abundance to do that.'
And King's Lynn Town add that "Defender Nathan Fox is ready to make his mark at The Walks after making a lasting impression with Linnets' boss Ian Culverhouse.
King's Lynn Town's new left-back caught the eye of Culverhouse, manager of Grantham Town at the time, during a Northern Premier League game against Hednesford last season. And the Leicester-based full-back had no hesitation in swapping Keys Park for The Walks once the call came from director of football Robbie Back early in the summer.
The versatile Fox said 'I'm delighted to be at a club this size and one going in the right direction and I can wait to get started. I'm 26 now, so I'm at an age when I'm at the peak of my career, so to sign for a club like Lynn and have the opportunity to play in the Conference North, is a good chance for me. First and foremost I'm a defender, but I'd like to class myself as a modern day full-back.
'I like to push on and provide assists and I will give my all everytime that I step out on the pitch. I know the way Ian Culverhouse likes to play and that was a big decision in me wanting to come. He sees me as an outlet going forward and that's the way I like to play.'"
Boston United inform us that "George Green has described his move to Boston United as a 'no-brainer' as he continues to get his life and career back on track. The talented midfielder has joined the Pilgrims ahead of the new season after leaving National League North rivals Chester FC earlier this summer.
Green worked with his new team-mates over the weekend as United kicked off pre-season training ahead of their opening friendly against Grimsby Town on July 11. The 23-year-old was joined by fellow new recruits Alex Whittle, a left-back, and striker Dominic Knowles, whose acquisitions have taken manager Craig Elliott's squad to a healthy 16 players.
'It's the right club for me at the present moment in my career," declared Green, who had spells at Oldham, Kilmarnock, Salford and Nuneaton before joining Chester last summer. From a personal point of view, I want to get as many games under my belt as possible and play consistently.
'From a team point of view, there's a lot of transformation going on at the club and they're moving to a new ground next year. I was excited by what Craig and John [McDermott, assistant manager] said to me. It was a no-brainer.'
It is a significant summer for another reason for Green, who is approaching one year clean having battled alcohol, drugs and depression in recent years. As a 15-year-old he was regarded as one of the brightest young talents in the country and signed for Everton from Bradford City in a big money deal in October 2011. Green signed a lucrative contract, but by his own admission it was too much too soon.
He was eventually let go by the Premier League club in 2015 as his life continued to unravel. However, after turning his life around, he is full of enthusiasm ahead of the new season and is keen to reward the people who have supported him.
'I'll be a year clean on July 25,' he said. 'For me, having that clean time behind is the most precious thing of all. As long as I'm doing the right things off the pitch, I know it will come together on the pitch. And for once I'm coming into a season injury-free and it's such a good feeling.
'In terms of my recovery, I've just grown up a bit and not associated with the people who dragged me down that path in the first place. I'm determined not to let anyone down. I've had so much backing from clubs and managers and I want to show people the best version of myself on and off the pitch and I think I've done that for the last year.'"
Kidderminster Harriers observe that "Harriers will once again face Gloucester City in league action during the 19/20 season... The Tigers previously played in the Northern half of tier six between 2009 and 2017, when they were switched to the South. Their most recent season in National League North, 2016/17, saw Harriers claim six points,...
Alongside switching leagues, the exiled club also switched stadium in 2017, moving to Evesham Untied's home, Jubilee Stadium, which is where they will begin the 19/20 season. Their days in exile could be nearing an end, though, as plans for a return to the site of City's former ground Meadow Park, which they departed in 2007 following extensive damage caused by flooding, were accepted by Gloucester City Council in May 2019.
On the pitch, Gloucester finished in 17th position in National League South during 18/19 and ended the season in fine form with four wins from their final five matches, Mike Cook and Fabien Robert collecting the National League South Manager and Player Of The Month awards for April 2019.
Finishing eight points clear of the relegation zone, The Tigers were transferred North due to an imbalance of northern and southern based clubs in England's sixth tier."
At Hereford FC/a> "With pre-season training commencing this week, Bulls' Head Coach Marc Richards has added to his squad, bringing in young left-back Rhys Davies following his departure from Shrewsbury Town...
Marc Richards said 'Rhys has got a great career in front of him, he's a young lad who has already amassed a decent amount of games at this level and he's really hungry to come and succeed. He showed a great attitude when I met with him a couple of weeks ago and he'll hopefully be a decent addition to the squad.'
Rhys, whose father Gareth was a formidable centre back at Edgar Street in the early 90s, is delighted to have signed for the side he supports. 'It's unbelievable', the youngster said... 'It'll be a dream come true the first time I walk out onto Edgar Street, I can't wait to get started.'
Rhys made close to 30 appearances in senior football last term for Nuneaton and Chippenham and says... 'I'm coming here to play, just because I'm a young boy, some people might think I'm not going to play every week, but my aim is to be the best player every single week, I want to be playing week in week out, I want to be having massive impacts on games.'"
Meanwhile, Bulls' News tells us that "Former Forest Green Rovers player Fabien Robert has been linked with a summer move to Hereford. The 30-year-old attacking midfielder was on loan at Gloucester City last season, scoring 10 goals in 23 games. His strike against Truro City was named 'Goal of the Season' at the National Game Awards. Robert was released by Forest Green at the end of last season."
---
25 June 2019
Crewe Alexandra
report that manager "David Artell says that the experience of playing non-league football has really helped Billy Sass-Davies come on over the last 12 months. The Wales Under-21 International made two league starts towards the end of the season, including the final game of the season away at Grimsby Town.
Sass-Davies, 19 [pictured, right], has impressed on loan spells with FC United, Leek and Altrincham and Artell says that playing in that competitive environment has only enhanced his development.
Dave told crewealex.net 'We wanted to prepare Billy as a centre-half and that meant going out on loan. It was a great opportunity for him and he had a good run of games and it has helped him. He is a big, tall boy, he has some skill as well and going on loan was a great experience for him. We stepped him up as much as we could and he did well for us when he came back.
'I gave him his debut against Newcastle in the Checkatrade and I have already apologised to him because it was too early. It was my fault and now going on loan and exposing him to competitive football has shown him that he can compete and he understands the harsh reality of football now. He went out of his comfort zone and the niceties of Academy football and Under-23s' football and he did ever so well out on loan then when he came back to us towards the end of the season.'
Sass-Davies made just two substitute appearances for Altrincham last season in a loan-spell curtailed by injury.
Supporters who have ordered their 2019-20 Altrincham FC season tickets can now collect them from the club office on weekdays between 9am and 2pm. In addition, the office is open on Tuesday and Thursday evenings from 4pm till 8pm, and we will be open on Sunday 16th June from 1pm till 5pm as a one off measure.
As previously announced, season tickets are priced as follows (a £10 discount applies if bought before 30 June 2019):
Adults £235
Concessionaries £185
Juniors (12-16) £55
Under 12s £25
As usual, season tickets cover ALL league games and pre-season friendlies played at the J. Davidson Stadium. They do NOT cover cup matches, play-offs or in-season friendlies.
According to the
Shropshire Star
"AFC Telford United are in the market for a goalkeeper and a defender... And it is thought the completion of those signings would wrap up the Bucks' summer business.
Telford chief Gavin Cowan said recently he wanted 'four or five' fresh faces in before the start of the new National League North season. Three have been brought in so far in winger Chris Lait, midfielder Adam Walker and striker Aaron Williams from Tamworth, Brackley and Harrogate Town respectively.
The majority of last campaign's squad, which reached the FA Trophy semi-finals and just missed out on the National North play-offs, has been retained too, with only Daniel Udoh, Dom Smith and Jud Ellis leaving the club.
Pre-season training begins on Saturday and Cowan wants to bolster an already-strong backline. Skipper Shane Sutton, Theo Streete, Ross White and Zak Lilly are his centre-back options if playing a back three, although White is also capable of playing as a wing-back or full-back on either side. Steph Morley has played as a left-back and left-wing-back under Cowan, and [former Alty loanee] Brendon Daniels has starred as a left-wing-back too.
Andy Wycherley is the one and only option between the sticks at the moment. He shone in the Trophy last term but Cowan likes to have two shot-stoppers at his disposal, with Stoke loanee Josef Bursik playing in the league in the second half of last season."
Guiseley "are delighted to announce the signing of centre-back Hamza Bencherif and the 31 year-old is looking forward to using his experience to help bring on the many talented young players we will have in our squad. The former Algerian Under-20 international joins a Guiseley squad with youngsters such as Scott Smith and Will Thornton, who have graduated from the club's Academy to become regulars in the squad, and Pakistan international Tabish Hussain, 18, and his fellow current Academy player Aleks Starcenko, who are looking to push on with their careers.
A number of the club's new signings are also youngsters.
Bencherif said 'Looking at the squad I will be one of the older heads, along with Scott Garner, and it is up to us to help develop these youngsters on the pitch and I will be doing everything I can to assist with that. It is quite an exciting prospect.'
The former FC Halifax Town and York City player has good knowledge of what Guiseley are about as a club having played against them in a number of derby games.
He said 'I was twice relegated after Guiseley got the better of teams I was in and I know how good their support is. A few of my friends from my previous clubs like John Rooney, Michael Rankine and Connor Brown have told me what a great club this is so I am looking forward to getting started.'
The Paris-born player, who can also play in midfield, added 'When I spoke to the managers Russ and Marcus, I bought in to what they were saying, it was exactly what I was looking for in a club and I believe in what they are wanting to achieve. I can't wait to get started, there are some great pre-season games lined up." Bencherif added "I have been following what has been going on at the club and they have signed some very good young players and it excites me that I can use my experience to help them and see them develop into better players. I think that I can be a strong character in the dressing room and help them.'
The former Nottingham Forest, Lincoln City, Macclesfield Town, Notts County and Plymouth Argyle player plied his trade mainly as a centre back and said 'I have also played many games in midfield and scored a few goals but predominantly I am a centre back who is dominant in the air. That is probably my strength and that is what I will bring to the team'...
Bencherif started his career in France with Guingamp before joining the youth system at Nottingham Forest in 2006. When his Football League career ended in 2014 he joined Algerian side JS Kabylie. He returned to England to play in the Conference Premier with Lincoln City playing 41 games for them before joining FC Halifax Town, for whom he also played 41 games. Bencherif left West Yorkshire in 2016 to join Wrexham but returned on a loan deal with York City later making it a permanent deal which expired recently.
In his time with The Minstermen he played 81 games".
News of yet another player moving from Blyth to The Quakers comes from Darlington who "have re-signed defender Jordan Watson. Jordan previously played for ourselves during the 2016/17 National League North season. Having been signed in the summer of 2016 by Martin Gray he made ten appearances before moving back to Blyth in February 2017.
Jordan started his career at Sunderland before moving to Blyth... He helped them win the Evo-Stik Premier title which saw them promoted into the National North.
Manager Alun Armstrong said 'Jordan is one of the mentally toughest lads I've ever met. To continue to play and perform at the standard he does after his three cruciate knee injuries is a credit to himself and tells you all you need to know about the lad. He gives us competition on the left hand side either as a fullback or a centre half where he was outstanding for me up at Blyth.'"
The National League adds that "Jordan Watson has signed for Alun Armstrong's Darlington side, the sixth to join the ex-Blyth Spartans boss at his new club... New Quakers boss Armstrong joined last month after the club parted with Tommy Wright.
Since then, David Atkinson, Louis Laing, Jarrett Rivers, Jamie Holmes and Michael Liddle have all made the same move... Blyth Spartans won't have long to learn their fixtures for the upcoming campaign - the full list is released next Wednesday."
Southport "confirm our first signing of the summer, with the arrival of Kieran Glynn on a season-long loan from Salford City. The 21-year-old midfield player joins Liam Watson's squad ahead of the new campaign, having signed for Salford on a two-year contract last May from FC United of Manchester.
A player with great potential, Kieran was involved with three clubs who gained promotion last season. While his parent club secured a place in the EFL, Kieran spent two months on loan at Chorley before finishing the campaign with Woking, both teams earning a place in the Vanarama National League.
'I'm delighted that we've been able to add Kieran to the squad and he'll be a really good addition for us. Kieran is a young lad who is a very exciting prospect. He's got great talent with the ability to play in several positions, so he will give us a number of options' said Liam Watson.
Born in Oldham, Kieran played four times for Salford in their promotion season last term. His move to the Peninsula Stadium came on the back of his impressive displays for FC United, progressing into the first team at the age of 18 and making over 50 appearances.
'I'm absolutely made up to be joining Southport. I'm looking forward to trying to help as much as I can and hopefully get the club back to where it belongs. I know a few of the lads already and there's a great set of players here. They can't speak highly enough of Liam and Jon McCarthy, so I really can't wait to get going'".
From Lincolnshire Live we learn that "Boston United have made two more eye-catching signings ahead of the new season.
Highly-rated midfielder George Green has linked up with the Pilgrims after leaving National League North rivals Chester FC.
Meanwhile, experienced left-back Alex Whittle, whose former clubs include Dunfermline Athletic, York City and Forest Green Rovers has also arrived. Both players joined up with their new teammates on Saturday as the Pilgrims kicked off pre-season training.
Following the arrival of striker Dominic Knowles last weekend, United's squad stands at a healthy 16 players, with manager Craig Elliott keen to work with a squad of around 18 this season.
Elliott has labelled Green 'an incredible talent', adding, 'He has come to this club for the right reasons, to be successful. My job is to unlock this potential and to get him to grow and be the player I think he can be'...
The arrival of Whittle, who played for Warrington Town last season, completes Elliott's long-term interest in the 26-year-old defender.
'Alex is a player I have tracked for a while,' said Elliott. 'He possesses all the attributes I want in my players this season with pace, enthusiasm and a will to be successful. He had a great year for Warrington Town last season and has shown a lot of hunger to come and be successful for Boston United.'"
---
24 June 2019
Altrincham FC
has announced a pre-pre-season friendly as the first team squad takes on the youth team squad on Saturday, June 29th, at 2pm, at the Manchester Health Academy in Baguley.
The first-team squad currently comprises the following who have signed up for the season (at least). Continuity has been the key this summer with only Nathan Arnold, Conor Branson and Toby Mullarkey being new to the club, although striker Tom Peers has rejoined after leaving during last season.
Nathan ARNOLD (0 Alty appearances to date)
Conor BRANSON (0 Alty appearances to date)
Shaun DENSMORE (360+27)
Steven DRENCH (3)
Connor HAMPSON (62+3)
Josh HANCOCK (88+10)
Tom HANNIGAN (96+5)
Ben HARRISON (49+6)
Max HARROP (54+26)
Jordan HULME (89+5)
John JOHNSTON (94+5)
James JONES (74+5)
Jake MOULT (309+27)
Toby MULLARKEY (0)
Tom PEERS (30+29)
Simon RICHMAN (252+69)
Anthony THOMPSON (86)
Andy WHITE (53+3)
Sean WILLIAMS (56+19)
Matthew CHADWICK is expected to be involved in pre-season, whilst Callum DOLAN is believed to be trialing at Burton Albion.

When Alty warmed up before the opening game of last season (above), on 4 August against Leamington, the starting eleven included nine of the players still at the club and thirteen of that day's squad are at the JDS for the start of this season:
1. Tony THOMPSON, 2. Andy WHITE, 3. Connor HAMPSON, 4. James JONES, 5. Liam GOULDING, 6. Jake MOULT (capt), 7. John JOHNSTON, 8. Max HARROP, 9. Jordan HULME, 10. Josh HANCOCK, 11. Brendon DANIELS. Subs: 12. Sean WILLIAMS, 14. Tom PEERS, 15. Ben HARRISON, 16. Simon RICHMAN, 20. Elliot WYNNE.
As the above image shows, James Poole was involved in the warm-up but was not in the squad against Leamington.
York Press
reported recently that "York City's new Community Stadium has been hit by fresh delays - with the shops and commercial units in the complex now not set to open until December at the earliest.
York Central MP Rachael Maskell said the delays are 'very disappointing' and she has called on City of York Council to be 'more transparent' about the struggles facing the project. A council report says the project is a minimum of 16 weeks behind schedule but there is a 'potential further delay which, as yet, is unquantified'.
It adds that the commercial side of the complex, which will have shops and restaurants, will not open until December or later. It says 'The commercial development has made a number of changes to the layout of the building for secured tenants. This has resulted in a four-month delay to the handover and opening of the commercial site. Completion and opening is now expected in autumn 2019. Cost of delay is subject to ongoing dispute. Full extent of the delay is still to be confirmed.'
The stadium was due to be finished in May but the scheme was hit by delays in February, when the council said it would not be ready in time for the start of York City's 2019-20 campaign. In April, outgoing council leader Ian Gillies said he hoped the stadium would be ready by October.
Ms Maskell said she is 'extremely concerned' about the delays, adding 'This project means so much to York's football and rugby fans and community at large and this news is very disappointing. The continued delays must also be very difficult for community organisations and businesses waiting to move into the stadium who will now face more uncertainty about when they can start trading. There is very little information about the nature of the changes that lead to the most recent delays or the cost dispute. What we do know though is that the Lib Dem council are struggling to get a grip on this showcase project'...
A spokesman for York City Football Club's board of directors said 'We are seeking clarity from City of York Council on the timescales for completion of the stadium. If the project is delayed further it will, inevitably, provide challenges for the club's board of directors, supporters, and the footballing authorities.'
Ian Floyd, director for corporate services at the council, said,'Significant progress has been made across the site, with the stadium pitch construction complete and the grass starting to grow. In addition, the seats are now installed in three of the stands, the three pools are nearing completion, the cinema is developing well, 3G pitches complete and the commercial units are taking shape.
'Although there is some delay on what is a very complex site, the incredible mix of community, sport and leisure facilities, once complete, will provide a site of real significance for our residents... It is important not to speculate at this stage' and there will be a further update at a council executive meeting on June 27.
On 31 May, York Press reported that "When the team moves to the Community Stadium, buying tickets on matchdays will cost between £2 and £5 more for adults, depending on the stands, although discounts are available using the pre-purchase option (24 hours prior to kick off)".
Meanwhile, York Press adds that "York City will play host to Championship neighbours Leeds United in pre-season... The Minstermen's current confirmed list of pre-season friendlies is: Wed, July 10 - Leeds United (H) 7pm; Wed, July 17 - Hartlepool United (H) 7pm; Sat, July 20 - Scarborough Athletic (H) 1pm; Tues, July 23 - South Shields (A) 7.30pm; Sat, July 27 - Notts County (H) 12.30pm; Tues, July 30: Pickering Town (A) 7.30pm.
At Alfreton Town, "The club are delighted to confirm that defender Josh Clackstone has signed a new deal for the 2019/20 campaign. Josh was a key figure in the Reds back-line who provided competition at full-back for both James Clifton and Josh Wilde. Various injuries throughout the season to both players allowed Josh to break into the starting line up where he showed improvement with more minutes on the pitch.
Josh was a main staple in defence before injury towards the end of the season ruled him out for the rest of the campaign. Clackstone missed the final six games of the season through injury, but made 25 appearances for Billy Heath's side with eight substitute appearances.
Billy Heath on Josh Clackstone staying with the club [said], 'Josh was a great player for us and did miss the back end of the season through injury. But the more minutes he had on the pitch the better he got. He came from full time football at Hull City to part-time here, so he had to adapt to this and he produced good performances. This season we want him to have a big season, he'll be more equipped with the football and the style of plays in this league so we are looking for Josh to kick on now.'"
---
23 June 2019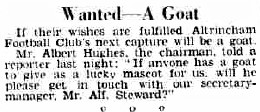 Altrincham FC supporter, Paul Burton, recently came across the adjacent short article from the Lancashire Evening Post newspaper of Thursday, 9 December, 1937. As Paul points out "Apparently Rocky Robin was originally a goat!"
History does not record whether the acquisition of the goat was intended to publicize a Kids Go Free initiative at Moss Lane!
However, courtesy of another Alty fan, Bob Warburton, we learn that a goat was procured but "This goat unfortunately got far too smelly and eventually it was decided to have him put down. But who should do the deed? Well my Dad Geoff (Mickey) Warburton was a regular for Alty in those days and my grandfather Hardy Warburton worked at the nearby slaughter house off Moss Lane. So it was decided that he should do the deed! After he had slaughtered the goat it was buried under the centre circle during the summer. So I suppose its remains may still be there!"
Results in pre-season games are generally considered to be a poor guide to subsequent league performance. This is for obvious reasons, which include the variable quality of the friendly opposition, the use of untried signings or trialists, tactical experimentation, and the level in the league pyramid in which the club was operating.
However, the following statistics do suggest that, over the past five seasons, there has been some very broad correlation between a successful pre-season and subsequent league performance.
Pre-season friendlies:
2018: P9 W5 D1 L3 = 1.78 'points' per game, subsequent league position: 5th
2017: P8 W6 D0 L2 = 2.25 'points' per game, subsequent league position: 1st
2016: P8 W2 D5 L1 = 1.37 'points' per game, subsequent league position: 22nd
2015: P9 W2 D3 L3 = 1.00 'points' per game, subsequent league position: 22nd
2014: P8 W4 D3 L1 = 1.87 'points' per game, subsequent league position: 17th
Chester FC
report that "Defender James Jones has agreed a deal to join Chester FC on loan from Salford City for the 2019/2020 campaign.
Jones is a familiar face at the Deva. He came through the Academy ranks and signed his first professional deal back in the summer of 2017. He departed the Blues last summer to join Salford City... In 2017-18, James made 15 appearances at the Deva in his breakthrough season and in March 2018 he was called up to the England C squad to face Wales.
The 20-year-old had this to say on his return... 'Obviously I had a good season here a couple of years ago and I was with the youth team for a fair few years, so I am familiar with the surroundings... I know some of the players here and have good relationships with them. It's a different management team but I just want to hit the ground running and play some football. The aim looks to be getting promoted which is exciting, and as a defender I want to contribute to as many clean sheets as possible and maybe chip in with some goals!'"
So, 2019-20 will see Chester's James Jones face his Alty namesake and fellow defender.
Meanhwile, at Alfreton Town "Goalkeeper Tom Nicholson will remain at the Impact Arena for the 2019/20 season. Tom who was largely used as cover for Sam Ramsbottom last season, was a first class professional who supported Sam throughout the season with his experience.
Nicholson was given his league opportunities towards the end of the 2018/19 season where he started away at Leamington in a 3-1 defeat and the final day of the season at home to Chester... Tom will be looking to compete with new arrival Jack Atkinson for the number one spot between the sticks this season.
Billy Heath [said] 'Tom was first class last season despite not playing very often; he provided great support and experience to Sam Ramsbottom. Tom has been a number two frequently but we aren't looking for him to be aiming for that this season, we want both Tom and Jack to be pushing for the number one spot. We're delighted to have Tom with us for the new season and we're looking for both goalkeepers to compete and it's down to them to push each other in a competitive environment.'"
The Hartlepool Mail reminds us that "Former Newcastle United midfielder Lee Clark was confirmed as Blyth's new manager at the start of June as part of a summer overhaul at Croft Park. Spartans lost their former manager Alun Armstrong as well as several players to National League North rivals Darlington following the end of the 2018-19 season.
But Clark's rebuild job has gathered some momentum this week with the arrivals of two ex-Hartlepool favourites in Fenwick and Stephenson.
Gateshead-born Fenwick scored 12 goals in 49 appearances for Pools between 2014 and 2016 and was keen on a return to the north east following his release from National League South side Chelmsford City. The striker netted 20 times in 50 matches for the Clarets and made history when he scored back to back hat-tricks in the sixth tier in April 2018 with all six goals remarkably coming from the penalty spot.
Stephenson made over 150 appearances as a midfielder for Hartlepool around the turn of the century and was named as the club's 1999-2000 player of the season. The former Newcastle man remained at Pools as a coach following his retirement as a player in 2003 and later went on to manage the club on a caretaker basis during the 2005-06 season.
Despite going unbeaten in his first five games in charge as manager, Stephenson couldn't save Pools from relegation as they dropped down to League Two. The 51-year-old coach has now joined Blyth as Clark's assistant ahead of the new season."
The Shropshire Star says that "Star signing Aaron Williams has revealed former FA Trophy-winning team-mates Theo Streete and Adam Walker played a 'massive part' in him joining AFC Telford United.
Striker Williams has joined the Bucks on a two-year deal from Harrogate Town having previously shone in non-league for Rushall Olympic, Nuneaton and Brackley.
He won the Trophy at Wembley with defender Streete and midfielder Walker, another of Telford's recruits this summer, last year...
'Theo and Adam said that if there was a chance of signing here, then I should take it,' said Williams. 'Theo was nothing but positive about Telford and the gaffer, and then Adam signed. He'd been at Brackley for a long time and was telling me about why he'd joined Telford. Everything they said really excited me and played a massive part in me coming here.'
Williams has also played for Walsall, Peterborough and Newport County in the Football League, and had a 10-game loan spell with the Bucks in 2013, scoring four goals in 10 games...
'I had a couple of meetings with the gaffer and everything he said drew me to the club,' said Williams. 'It made me so excited and I could not wait to sign. I played against Telford for Brackley a couple of years ago, when they were in the bottom half of the table. But then I saw what they were doing last year, and it was nice to see they were doing really well. Everyone is fully on board with what the gaffer wants to do, and that's exciting.
'The gaffer is a real motivator as well. He could talk you into anything, get you running through brick walls for him'".
---
22 June 2019
Altrincham FC
announces that "Fans and businesses alike are invited to sponsor their favourite player for the cost of £150, or two players for the discounted cost of £250".
For full details, please follow the above link.
Boston United
"have sealed a move for sought-after striker Dominic Knowles... Knowles (27) has linked up with the Pilgrims from Harrogate Town, having enjoyed a season in the National League with Simon Weaver's side.
He was on target 16 times in 2017-2018 as Harrogate clinched promotion from National League North and has also previously represented Burton Albion and Gainsborough Trinity.
Reflecting on Knowles's arrival, United manager Craig Elliott said, 'Dominic is a player who had teams in the league above keen to sign him, so it is a great coup for the club. He is a calm and clinical finisher and he can play both the number 9 and number 10 roles, so this signing gives us good options.
'He knows the league, a large majority of the players already signed and is hungry to get another promotion on his CV, so I am delighted to bring Dominic to Boston United and be able to work with him next season'".
At Leamington manager "Paul Holleran has announced that he has reluctantly agreed to let Ahmed Obeng leave the club, while making another new signing for the coming season in Cieron Keane.
'Sadly Ahmed's time at the club has come to an end,' said the Brakes boss. 'He lives in Wolverhampton, and he's got to the stage now where he's finding the commute difficult. He's got different circumstances at home and with his work; we had a chat last year but we managed to persuade him to stay again. Being honest he's done great for us and we've had a good three years out of him but he wants to be nearer home, so he'll sign for a club nearer to his home and maybe drop down a league but we wish him all the best, we've enjoyed working with him.
'I'm sad to see him go, but these things happen in football. He signed off on a great note with us. He's been a good squad player for us, had some good little runs in the team; we've had some important moments with him... and certainly his pace enabled us to stretch teams and get in behind. He's a good kid and we've enjoyed having him at Leamington.'
On his latest new arrival Keane, Holleran said 'Cieron is a lad that we've had a chat with before. He had a difficult time last season with one thing and another but he's been working very hard in the close season and is raring to go... He's a good age, 22, and can play in a number of positions and, with him being left-footed, he will be a good addition to the squad.'
Nottingham born, Cieron ended last season in the Northern Premier League with Basford United as he worked his way back to full fitness following an injury hit campaign that began at our National League North rivals Boston United. Beginning his career at Wolverhampton Wanderers, Cieron signed for Notts County prior to the beginning of the 2014/15 season where he was a team mate of Colby Bishop, and quickly made his league debut against Colchester United.
After County were relegated at the end of that season Cieron was released, and got his first taste of National League North football at Nuneaton Town the following season, moving on to Worcester City for 2016/17. A brief move to Kidderminster Harriers preceded a switch to Alfreton Town".
Blyth Spartans report that /A> "Former Newcastle United, Millwall, Brentford, York City and Hartlepool United midfielder Paul Stephenson has been appointed as Lee Clark's assistant manager at Croft Park.

Stephenson, 51, joins after leaving Middlesbrough U23's in the summer and joins Clark for a fourth time, having been a part of Lee's coaching staff at both Huddersfield Town, Kilmarnock and Blackpool. The midfielder enjoyed a fruitful career as a professional footballer, making over 500 appearances before turning his attention to coaching. After a brief spell as caretaker manager at Hartlepool after his playing days were over Stephenson moved to Carrow Road to join Glenn Roeder as first-team coach in 2007, leaving when Roeder departed in 2009."
In the Oxford Mail we learn that "Oxford United's pre-season fixture at Brackley Town will go ahead as planned. A fire destroyed the National League North side's clubhouse, bar area and other rooms yesterday. But a statement on Brackley's website says the 'changing rooms were untouched' and the U's friendly on Thursday, July 11 will still be played".

And MK Dons also advise that the "Dons' pre-season friendly with Brackley Town is scheduled to go ahead as planned despite a fire at St James Park earlier this week...

Despite this tragedy, the Saints anticipate their friendly with MK Dons, scheduled for Tuesday 16 July, [is] to go ahead as planned. The Dons urge as many supporters as possible to make the trip to Northamptonshire to show support for a local club... MK Dons, who have personally expressed their support for Brackley Town, have also offered to highlight and promote any fundraising activity undertaken by the National League North club and would ask Dons supporters to get involved in any which way they can'".
According to Cheshire Live "Anthony Johnson says he's 'never been more excited' about a pre-season as Chester prepare to return to full training... with the players due back on Monday...

Much of Chester's summer recruitment is already completed, with well-laid plans coming to fruition and only a handful of targets still a work in progress..

Johnson explained 'I've never been more excited about a pre-season in my life, that's the honest truth. I've missed it so much. Everything we've asked for we've got, including GPS vests for the players, a new analysis system and a little tour. Moving to the hybrid model is another massive positive and the squad is looking strong. It doesn't mean we'll win promotion, but it gives us the best possible chance.

'We are relaxed and there's no panic about anything. We've just got to start working with the players now and I can't wait.'

Johnson says he and Morley hope to add one midfielder and a centre half to their squad before Monday. Talks are advanced with a couple of striking targets, while a loan deal for a defender is agreed with a Football League club but the player is yet to give the thumbs up."
We learn from the Shropshire Star that "AFC Telford United are looking for a new first team performance analyst to report to Bucks boss Gavin Cowan.

The voluntary role mainly entails filming games in compliance of National League North rules and providing video footage for the use of Cowan and his coaches. Telford are looking to kick on after narrowly missing out on the play-offs last term, and the analyst is tasked with providing an extra edge.

Responsibilities also include producing team and individual clips for post-match review, managing player data and producing reports, and uploading all home games to an online scouting platform. The Bucks are on the hunt for candidates with a relevant sports degree... an understanding of performance analysis software, and a desire to learn and improve.

Meanwhile, the club have announced Telford-based firm Hamer Leisure as the new sponsor of the North Stand, also known as the David Hutchison Stand, at the New Buck's Head. Hamer Leisure provide static caravan sales, repairs and transport".
Making possibly the longest geographical move of the summer is Gateshead's Steven Rigg. Kent Online reports that eight new faces have arrived at Crabble, "The latest being striker Steven Rigg from Gateshead".

The EvoStik League advises that "Radcliffe FC are delighted the announce the signing of Danny Mitchley... Mitchley joins the Boro from Marine where he was club captain. The former Blackpool and Mansfield front man netted 81 goals in 178 games for the Mariners. He will bolster the Boro's attack ahead of the new season...
In addition... The Boro can confirm that Ben Wharton, Scott Metcalfe and Rick Smith have all extended their stay at the Neuven. All three were vital in the Boro's promotion last season and they will be looking to push the club forward in this next chapter."
---
21 June 2019
Altrincham FC
has announced seven pre-season games. They are as follows...
Sat. 6 July AWAY Whitchurch Alport 3pm
Sat. 13 July HOME Crewe Alexandra 3pm
Tue. 16 July AWAY Atherton Collieries 7.45pm
Sat. 20 July HOME Blackpool XI 3pm
Tue. 23 July HOME Stockport County 7.45pm
Sat. 27 July HOME AFC Fylde 3pm
Tue. 30 July AWAY Trafford 7.45pm
As usual, entry to the home friendlies is free to holders of valid Altrincham season tickets.
From St James Park,
Brackley Town
reported that "At around about 3am this morning [Thursday] a fire broke out at the club. We believe at this moment in time the main clubhouse building has been destroyed.
Obviously, this is a very traumatic time for everyone at the club and all involved. We do believe that the football side of the business will be able to operate without too much upheaval as we hope the changing room block has not been affected. Also we believe that the new build has not been damaged and this could be up and running within 6 to 8 weeks.
We will make a further statement once we have been able to gain access to the site to assess the situation" wrote Francis Oliver, Chairman.
The Banbury Guardian has photos of the scene. It adds that "Brackley Town FC's clubhouse is no more after an early morning fire destroyed the building. A fire crew from Daventry remain on the scene but say the fire has now been extinguished but the clubhouse is unsafe.
Fire crews are expected to remain on site throughout the day to prevent re-ignition and maintain safety. Most of the roof has been destroyed but the fire seems to have been contained within the clubhouse it self. Currently representatives from CID and SOC (Scenes of Crime) are at the scene, alongside a Fire Investigator to ascertain the cause of the fire and whether it's suspicious or not.
Almost all of the roof has been destroyed".
Happier news for The Saints is that "Following the signing of striker Dan Holman, Kevin Wilkin has been looking ahead to the new season". Brackley Town quotes manager Kevin Wilkin as saying, 'I've had a fantastic core group of players here at St James Park over the last few seasons. After successive 3rd placed finishes and the Wembley win in the Trophy we want to be challenging at the sharp end again next season. We got really good business done at the end of the season in retaining the majority of my squad, that was my priority, and that business puts us in a strong place. We have added a proven goal scorer in Dan [Holman] and I expect to announce further signings in the coming days...
'we have training which starts next weekend and we will get down to work with a clear view of the challenges ahead.'".
Earlier, Brackley Town had announced "the signing of striker Dan Holman. Dan, who celebrated his 29th birthday two weeks ago, has scored over 150 goals in his career which has predominantly been in League Two and The National League. He joins us after a brief stint at Kettering where, last season, he scored 15 goals in 25 appearances after leaving Aldershot Town mid-season.
'I've seen the way the club has performed over the past three seasons and how consistent the players have been so, when I was told Brackley were interested, I jumped at the chance to join,' Dan said. 'It's also great to link up again with Kevin after we were together at Wrexham and I am looking forward to meeting up with the squad. After the success I have had at other clubs this is a great opportunity to do something similar at Brackley Town.'
Announcing the signing, Kevin Wilkin said, 'When I found out Dan was available I made it my priority to bring him in. This is a player who has scored goals wherever he has been, for instance at Cheltenham Town, only three seasons ago, he scored the goals that got them promoted to the Football League, winning the Golden Boot in the same season. I am really pleased to get our first new signing of the season done.'"
According to the Hartlepool Mail "Gateshead manager Mike Williamson is continuing to work hard to add to his ranks ahead of the National League North season, and the appointment of Michael Nelson as a player-coach is on his agenda.
The 39-year-old was born in Gateshead, but has never represented his hometown club throughout a career that took him to the likes of Bury, Kilmarnock and Norwich City. But it was with Pools where he made his name, making over 250 appearances for the club during a six-year stay at Victoria Park.
Nelson was part of the Pools side that came within eight minutes of securing a place in the Championship in their 4-2 defeat against Sheffield Wednesday in the League One play-off final in 2005.
He spent last season as a player-coach at Chesterfield...
Meanwhile, Williamson is closing in on more signings and is hoping to add two new faces to his squad over the next couple of days.
He said 'I am enjoying the ups and downs but working in the transfer market like this, it's all new territory. I am confident that we can bring in players that will enjoy a similar environment to the one we created last season. Anything that I am finding new, I am relishing. That's what gets me up in the morning and that's what I have always been like when I have faced a challenge throughout my career.
'At the minute, it's frantic. We are trying to start the rebuild, so we are talking to as many people as we can and trying to get the right people in through the door.'".
---
20 June 2019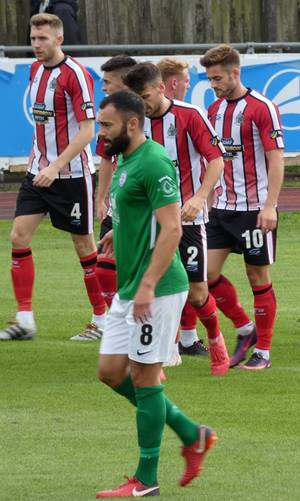 Conor Branson (27) has become the fourth arrival at the J. Davidson Stadium this season following the return of Tom Peers and the signings of Toby Mullarkey and Nathan Arnold.
Altrincham FC
announces his acquisition "for an undisclosed fee".
Right: Conor Branson walks out for the second half against Alty at the Horsfall Stadium, in September 2018.
Midfielder/defender Branson was at Bradford (Park Avenue) last season and he brings the squad numbers up to nineteen, following James Poole's departure (see below) and excluding Matt Chadwick and Callum Dolan, whose futures have yet to be determined this summer. Chadwick is expected to figure in pre-season whilst Dolan is reportedly spending pre-season with Burton Albion.
Conor was born on 14 November 1991 and made 40 appearances for BPA last season, netting twelve goals. His career started at Barnsley. After his release by The Tykes, he joined Guiseley, for whom he played eight times and, then, he joined the Nike Academy in 2011 before spending time in the USA (2015-18). In The States he played for Pittsburgh Riverhounds and he acted as assistant coach at Charleston Golden Eagles and Marshall Thundering Herd.
He then returned to the UK and joined Bradford (Park Avenue) for 2018-19 where he was Mark Bower's 'Manager's Player of the Season'.
Conor played for BPA against Altrincham in all four clashes last season.
Bradford (Park Avenue) "confirm that a transfer request of midfielder Conor Branson to Altrincham FC has been accepted for an undisclosed fee. The club would like to thank Conor and wish him the best with his move. Bradford (Park Avenue) would also like to thank Altrincham FC for their professional standards and business approach during these negotiations.
The club continues to be busy in the close season and will be announcing further squad recruitment news ahead of the pre-season campaign".
The
National League
states that "Altrincham have suffered a blow ahead of the new National League North season. Fans' favourite James Poole will be emigrating to Australia, he has announced.
Poole works for Manchester City and has been given a great chance to work closely with the club they own, Melbourne City... And manager Phil Parkinson knows the 29-year-old will be missed. The attacker played a big part in the club's Evo-Stik League title win [in 2018] and will be well remembered by the club's supporters.
Parkinson told the club's website... 'This is a great opportunity for him personally and one that it would have been very difficult to turn down. The belief that James showed in me to sign for Alty two years ago meant everything to me. I will always hold him in the highest regard for helping us lay the foundations of where we are today.'"

Above: James Poole (10) watches his freekick put Alty 1-0 ahead at Coalville in a 3-0 win on 30 December, 2017.
Poole joined Altrincham from Salford City on 16 May 2017, having started out at Macclesfield Town (2005) before spending five years on the books of Manchester City (2006-11) where he was in their FA Youth Cup winning side. Whilst at City he had loan spells at Bury (2010) and Hartlepool United before signing for the North East coast club who were then in League Two. He made almost a hundred appearances for Hartlepool (2011-14), which preceded a spell at Bury in 2014–2015 season.
Whilst at Gigg Lane, he made five appearances on loan in the Conference for Dover Athletic. James then joined Salford City, in September 2015, and scored regularly for the Ammies.
For Altrincham, he soon started to put in impressive performances but injury caused him to miss a few games in September 2017, before he re-established himself as an inventive number ten. However, a knee injury ruled him out for the closing month or so of the championship-winning campaign of 2017-18.
James was not fit to re-start the season 2018-19 but finally made a league start in the 13th league game of 2018-19 before missing the next ten fixtures. He then appeared as a late substitute at Boston on 5 January 2019 after which James went on loan to Hyde United, to regain match fitness. However, in January 2019, he picked up a hamstring injury which further delayed his return to action for Altrincham. As a consequence of his injuries, he was to just 3 league starts in 2018-19, plus 14 appearamces from the bench in all competitions.
In his two seasons at the club he made 37(+16) appearances and netted 14 goals.
Kidderminster Harriers
report that "young goalkeeper, Tom Palmer, will remain at Aggborough for the upcoming campaign. 19 year old Palmer, who turns 20 next week, has penned a new one deal for the 19/20 season.
A Harriers' Academy graduate, Palmer has made six appearances at first team level, the majority arriving in the latter part of the 18/19 season. He has been a regular in and around the first team since during the last three seasons, and has previously spent time out on loan with Stourport Swifts and Worcester City, as well as featuring at the 2018 V9 Academy.
Additionally, across the previous two seasons, Palmer has developed as a goalkeeping coach with Harriers Academy and Junior Academy... Palmer reflected on his first run of matches and looks forward to a 'massive' season...
'It was good for me to get a taste of it, and I know now what I've got to do to better myself and progress here,' said Palmer. 'I really enjoyed the run I had, albeit it wasn't a massive one. It was my first taste of a string of games. Whether that's here or elsewhere, I've got to be playing games next year; it's a big year for myself, I think'".
Further south, Gloucestershire Live informs us that "Tyreece Briscoe has been invited to train with Gloucester City during pre-season. The 18-year-old holding midfielder was released by Cheltenham Town after finishing his two year scholarship at the end of last term.
He spent time on loan at Hellenic League Premier Division Tuffley Rovers during the 2018/19 campaign, along with Robins youth team colleague Will Dawes. Defender Tom Handley is also due to report for pre-season with Mike Cook's Tigers after leaving Cheltenham and preparing to start a degree at Hartpury.
Briscoe started out at Abbeymead Rovers before being signed by West Bromwich Albion's academy at the age of nine, switching to Cheltenham five years later... Elder brother Errol Williams was once on the books of Gloucester City."
Bulls' News tells us that "Andrew Graham hopes that becoming chairman of Hereford FC will allow him to drive the club forwards.
'I saw it as a brilliant opportunity to try and make a bit of a difference and put my drive and determination into pushing Hereford forward,' he told the Hereford Times. 'We have to remember that it isn't just about the Saturday every fortnight, it is a community and I think that's where the hurt sometimes comes in a little bit more at Hereford when they perform the way everybody doesn't want us to perform.
'For me the fans are the strongest asset of the club, the infrastructure is strong enough to make us a sustainable force going forwards... The main responsibility is that I, along with the rest of the board, are responsible for making the people that turn up and watch the football club smile. I'm responsible for the exiles being able to listen on the radio and think "that's my club".
'I don't people not look forward to Saturday... Now it's my job to drive forward the brilliant strategy we have as a football club. The directors that have been involved since the start of this new entity Hereford FC have solid foundations in place and a brilliant business plan and they have got a strategy for the next five years. My job as chairman is make sure we don't deviate away from that strategy. If it fails ultimately it's not the other directors that will be at fault for that it will be me'", he told the Hereford Times.
The
EvoStik League
reports that "Following the AGM of the Company on Saturday 14th June 2019, we welcome the clubs joining The Northern Premier League for Season 2019/2020.
City of Liverpool, Dunston, Ilkeston Town and Worksop Town who were promoted from Step 5.
Ashton United and FC United of Manchester who suffered the heartbreak of relegation from the National League North but are back amongst friends, and Sutton Coldfield Town who return to us via FA lateral movement.
We look forward to working with you all in the coming months. To AFC Mansfield, Gresley and Skelmersdale United you leave us with all good wishes and we hope it isn't too long until you return to this level of the game. It has been a pleasure as all three clubs have been hard working and respectful members of the Northern Premier League.
To Colwyn Bay we hope the return to The FA of Wales is all you wish for. We congratulate Farsley Celtic on promotion to the National League. We wish you every success in the future at Step 2 and beyond.
And finally, our best wishes to our friends at Hednesford Town who move to the Southern League as a lateral transfer".
For those supporters who cannot wait till early August for the start of the National League Morth campaign, there is the customary early summer action in nearby North Wales as the
Welsh Premier
announces the Europa League qualifying round matches.
"Connah's Quay Nomads draw Kilmarnock as Saints [TNS], Barry and Cardiff Met also learn their potential QR1 opponents
The New Saints will face the winners of the UCL Preliminary Round mini-tournament, which takes place in Kosovo next week. In the two semi-finals next Tuesday (25th) Kosovan champions Feronikeli play Lincoln Red Imps of Gibraltar, while Tre Penne from San Marino meet Andorran side FC Santa Coloma. The two winners then meet in Friday's final, with the winner of that game meeting Saints. The thirteen-time JDWPL champions are at home for the first leg and away for the return leg.
In the UEFA Europa League QR1 draw, Connah's Quay Nomads were handed an all-Celtic tie against Scottish side Kilmarnock. Killie finished third in the Scottish Premiership last season, and will be out to impress as they return to European football for the first time since 2001.
Barry Town United will play FK Haugesund, should they beat Cliftonville in the Preliminary Round.... Cork City meanwhile are the prize for Cardiff Met if they win their Preliminary Round tie against Progres."
---
19 June 2019
On 30 July, Altrincham play their neighbours Trafford FC at Shawe View. And, once again, they can expect an excellent playing surface after the EvoStik League announced that the club had won the Greenfields Pitch of the Season Award for the EvoStik League West Division, 2018-19. Groundsman Graham Foxall is no stranger to such awards.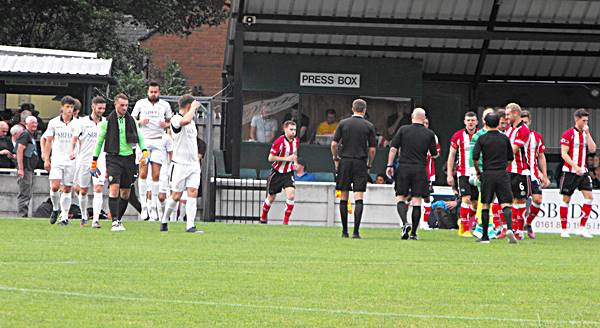 Watched by groundsman Graham Foxall, far left on the touchline, Trafford and Alty take to the pitch at Shawe View last August for their pre-season game.
And Trafford also report that "Manager Tom Baker has made two further additions to his squad this week. First up is centre midfielder Jordan Wynne whose last club was Prescot Cables.
Here is what Bakes says about him. 'Jordan is someone I've admired for a couple of seasons now! An all action midfield player with a real eye for goal. Hopefully we can help continue his development'...
Next up is another Jordan. It's experienced forward Jordan Johnson whose previous club was Leek Town and this is what Tom has to say 'Jordan is an experienced forward who has scored goals everywhere he's been. He showed a real hunger to come to the club and I'm excited to work with him. He can play anywhere across the front line which is great'".
Also, two other signings have been announced. One is "20 year old centre back Sam Baird. Sam's last club was FC United of Manchester". Manager Baker said "Sam fits the mould & profile of the type of player we're looking to recruit; young and hungry to be successful. He's really composed & comfortable in possession of the ball which is so important and, equally, he is a great defender"
And, "Secondly, and this is a tough one to announce because we don't know how the supporters are going to react, you're all going to have to forget [remember?] how to spell his name all over again. It's the return of Keil O'Brien!
From the Gaffer 'Keil phoned me yesterday to express his desire to change his decision to leave the club. It's brave for a player to pick the phone up and admit that maybe they made a mistake. Keil left with my best wishes but I'm over the moon that he has decided to stay. We both know each other inside out and I'm looking forward to working with him again'".
The Shawe View club has also announced that "The 2019/20 season will see us play our home games at The Home Estates Shawe View Stadium thanks to our new sponsor Home Estate Agents... a great, local, friendly firm based in Urmston Town Centre.
Here are a few words from Stephen Groves of Home Estates Urmston, 'The 'Trafford Family' enjoyed fantastic success last season winning The League Cup (an impressive achievement!) and I am certain that next season we will see the club grow & go further'".
Altrincham's pre-season opponents on 13 July,
Crewe Alexandra
report that "Jordan Bowery goes with the club's best wishes after recently completing a move to MK Dons. The former Aston Villa and Chesterfield forward has joined the newly promoted Dons after rejecting the chance to extend his stay at Gresty Road after two and half seasons.
The 27-year-old Nottingham-born forward scored 22 goal in 99 games for the Railwaymen in all competitions and boss David Artell was keen to keep him this summer. Bowery wanted to test himself again in League One and has joined Paul Tisdale's side following their promotion to League One".
Crewe also report that "manager David Artell has said that there has been 'bits and pieces' over the possibility of the available Shaun Miller leaving this summer... Artell believes that the transfer window remains quiet at the moment as players and their agents keep their options open and he understands that Miller is under no pressure to leave with 12 months of his contract still to run.
Miller, 31, only found his chances limited last season after Artell switched his formation more from 4-4-2 to 4-3-3 and the experienced striker is just three shy of 100 career goals... The boss added 'We would be happy to have him and fighting for a place and with this one it is just a watching brief at the moment.'"
According to the
Hereford Times
, "Striker James Roberts will come up against former club Hereford FC this coming season after signing for fellow National League North side Spennymoor Town.
The 22-year-old was released by Hereford in the summer after being signed in January and scoring five goals in 19 appearances. He was loaned out to Alvechurch towards the end of the season and then released by the Bulls."
Meanwhile the Hereford Times reports that "Andrew Graham was appointed as Hereford FC chairman at [a recent] board following a 'unanimous vote'.
Graham was appointed as a Hereford United Supporters' Trust (HUST) nominated director for a three-year period last year. As part of his role on the Hereford FC board Graham has previously been the club's nominated 'Respect' Director.
As part of [the] meeting George Webb was appointed as vice-chairman
'I am honoured and immensely proud to be appointed Chairman of this football club,' Graham told the club's website... Hereford Football Club has been created and funded by fans, and I believe it is owned by everyone who supports the club. It survives through the dedication and commitment of its supporters'...
Graham has urged fans to move on from last season and has promised to do 'everything within his power' to provide transparence from the boardroom. He added 'I also understand the significance of having the right, motivated management team, for prudent financial performance and most of all, for having a club that contributes significantly to the local community to ensure the enjoyment and sense of belonging that our fans richly deserve to experience...
'There has been much written across social media platforms since the start of the 2018/19, some of it not as pleasant as we would wish to see. However, as a board, we must always remember that, as a wise man once said, "Football is nothing without fans"...
'I would ask that, as supporters, we all move on from last season, remain constructive and supportive towards the club and its volunteers, get behind the team and the management, and continue to be the 12th man at Edgar Street and on our travels'".
There is also off the field news from Southport where "Following a meeting with the club board at the end of last season, the Trust in Yellow board put to members the proposal for the creation of a 'Fan Zone'.
At the recent Trust in Yellow AGM, the overwhelming majority of members voted in favour of the proposal. In the coming weeks the TIY board will work towards acquiring a facility to sit between the main stand and the club shop with a view to having the area in operation during the early period of the season.
The fan zone will be a blank canvas and it will be down to supporters to make it their area. During the course of the 2019/2020 season, the Trust will run a number of supporter-related fundraisers and gauge feedback as to how supporters want their area to look, appear and feel. The area will improve the experience for regular match goers, create a better environment to attract new supporters and assist the club in generating extra match day and non-match day income".
Chester Football Club "is pleased to confirm more than 50 local schools have taken up the offer of a free family season ticket. Each of the schools will receive a family season ticket to use as a reward or incentive for pupils, which will admit two children and two adults to every home league fixture during the 2019/20 season.
The club and Community Trust have worked together on the scheme, which aims to increase the number of families watching the Blues, engage new supporters and give more youngsters the opportunity to watch their local team.
The club is aiming to deliver a whole new matchday experience for the families attending games and is seeking volunteer matchday hosts who would like to be involved with this initiative from the outset... Jim Green, CEO of the Community Trust, said 'The response has been really positive and we've had schools from across Chester, North Wales and West Cheshire signing up'".
The
EvoStik League
looks back to last season when 2019-20 opponents of Altrincham "Farsley Celtic were crowned 2018/19 EVO-STIK Northern Premier League champions after prevailing in a thrilling three-way title race that went down to the final weekend of the season.
They finished with an impressive 90 points from 40 games that saw them finish ahead of South Shields and Warrington Town. Warrington would go on to win the play-offs, beating South Shields away 2-1 in the final, but would miss out on promotion to National League North with a heartbreaking extra time defeat to King's Lynn Town in the so-called super play-off with the Southern League Central play-off winners...
The Premier Division ended with one less team than it started with after North Ferriby United were liquidated in March, resulting in their records being expunged from the league table and their removal from the NPL. That meant two relegation spots, and Workington were the first to go after a disappointing campaign in the same season they announced plans for an exciting new stadium development at their Borough Park home.
The relegation battle went down to the wire, with Marine ending up going down on the final day courtesy of a late Mickleover Sports's winner against Bamber Bridge. It's the first relegation in Marine's 125-year history and ends a run of 40 consecutive seasons at the top level of the NPL...
Farsley were denied a league and cup double by Trafford, who were the Integro League Cup winners with a 2-1 triumph at Broadhurst Park, home of FC United.
Seven more NPL teams claimed silverware during the campaign as they won their respective county cup competitions - Nantwich Town (Cheshire), Cleethorpes Town (Lincolnshire), Scarborough (North Riding), Morpeth Town (Northumberland), Basford United (Nottinghamshire), Stafford (Staffordshire) and Ossett United (West Riding). Seven more NPL clubs reached the final of their competition before falling at the final hurdle.
In the FA Cup, no NPL side reached the first round proper, with Warrington coming closest, going down 2-0 to National League side Halifax Town in a fourth qualifying round replay.
Three other NPL sides reached the fourth qualifying round, Witton Albion went down 2-0 to National League high-fliers Solihull Moors, Marine bravely lost 2-1 to Salford City, who would go on to earn promotion to the Football League, while Kidsgrove Athletic lost 1-0 to Hartlepool United.
The top goalscorers in the three divisions all scored 25 goals, with Bamber Bridge's Alistair Waddecar and Scarborough Athletic's James Walshaw sharing the Premier Division golden boot... The NPL Player of the Year awards all went to players from championship-winning clubs; James Spencer from Farsley in the Premier, Morpeth's David Carson in the East and Atherton's Ben Hardcastle in the West...
Young Player of the Year award... went to Nantwich forward Joe Malkin".
---
18 June 2019
From the
Shropshire Star
we learn that "Boyhood fan Andy Wycherley is delighted so many have joined him in committing to AFC Telford United for next season.
Shot-stopper Wycherley, who is from The Rock and used to watch games at the New Buck's Head growing up, is one of 15 players from last term who are staying. Top scorer Daniel Udoh has left for Shrewsbury Town, but Gavin Cowan's Bucks, having also signed winger Chris Lait and midfielder Adam Walker, seem set up to do well again in National League North.
' 'I think it's great that so many of the squad from last season have stayed,' said Wycherley, who made 14 league appearances last term and was between the sticks throughout Telford's run to the FA Trophy semi-finals. 'I think it shows how much we all trust in each other, and how hungry we are to achieve the goals we set as a group.'
The group will be getting back together for pre-season training in the next few weeks, and then the first friendly is at Ellesmere Rangers on Saturday, July 6 (3pm). Wycherley is the only goalkeeper currently on the Bucks' books".
Also at AFC Telford United the Bucks "announce our latest new signing of the Summer, Aaron Williams from Harrogate Town. Aaron joins the Bucks on a two-year deal...
Despite being just 24 years old, Williams has scored over 100 career goals in a career that has included spells at Football League sides Walsall, Peterborough and Newport County. The striker has also been capped at England C level. Williams was part of the Brackley Town side that missed out on promotion to The National League during the 2017/18 season despite scoring 33 goals in all competitions, Aaron finished the season winning the FA Trophy at Wembley stadium.
The Sandwell-born forward began his career at Walsall, during which time he enjoyed loan spells at Redditch United, Romulus and AFC Telford United. After his release from Walsall, Williams signed for National League North side Worcester City; making a total of 49 appearances in his first season with the club.
It was at next club Rushall Olympic where Williams proved himself as a prolific goal scorer at senior level, netting 38 goals in all competitions and ending the season as NPL Premier Top Scorer.
A move back to the National League North with Nuneaton soon followed, before further impressive form in front of goal caught the attention of League One side Peterborough who captured the striker's services in January 2016.
A change in Manager at his new club saw Williams return to Nuneaton the following Summer, though it wasn't long before Aaron was recruited back in to The Football League as he joined Newport County. Williams joined Brackey Town on loan during the 2017/18 season, where he scored 15 goals in 20 appearances.
The forward signed for Harrogate Town in June 2018 before going onto make 32 appearances last season scoring 5 goals.
Boss Gavin Cowan spoke to the club website on his latest signing [saying that] 'Signing Aaron, shows how far we have come in such a short space of time. Understandably, lots of clubs were in pursuit of his services but, after numerous meetings between myself Aaron and his family, he has decided AFC Telford United is the place for him. Every player we bring in has a strategic element to it with Aaron's signing being an obvious one with goals. He's another piece of the jigsaw'".
Gloucester City report that "Young defender Tom Handley will report for pre-season training at Gloucester City following his release by Cheltenham Town. The 18-year-old is due to start a degree in sport business management at Hartpury University, which he plans to combine with semi-professional football.
'I have had quite a lot of offers both here and abroad,' Handley said. 'I have taken the time to decide what is best and I think I have narrowed it down to going to Hartpury and doing my degree there. At the moment, I am doing pre-season with Gloucester City so I'll see how things progress there.'
Handley joined Cheltenham at Under-eights and has just completed a two year scholarship with the Robins. He featured regularly for the reserve team and impressed during a loan spell in the Hellenic League Premier Division with Lydney Town. He can play at centre-half, right-back or in the centre of midfield.
Handley is also a promising match official and was named Young Referee of the Year for the Cheltenham Youth League in 2016/17.
'I throughly enjoyed my 10 years at Cheltenham,' he said... 'I was disappointed that I didn't achieve my goal of getting the professional contract with Cheltenham, but I've had time to think since the decision'".
At Kettering Town, "Versatile player Gary Stohrer adds his name to the retained list, having agreed terms with the club for the upcoming season.
Stohrer who has amassed 86 appearances for the Poppies, scoring 4 times, is another of the championship winning side to put pen to paper. Technical Director Alan Doyle had this to say, '"Gaz is a great asset to the club. You always know you're going to get 110% from Gary... He also gives us options and cover for a number of positions.
Another player committing from the squad that did the business last season shows the ambition not only of the club but also the players. Given the option to stay at a lower level or the chance to test yourself at a level higher shows the character of a player and their own belief in their ability'".
Also at Kettering Town "Goalkeeper Paul White, who has created numerous records for the club since his arrival, will again be between the sticks for the Poppies on our return to the National League North. Paul has already played over 120 games in his career, made some spectacular saves and played a pivotal role in our promotion winning campaign.
Vice Chairman Neil Griffin said 'In his time with us Paul has set numerous club records and was a key member of our promotion winning team. The National League North will be a new challenge for all of us... As well as pulling on the gloves come match day Paul is also our U19's manager and retains his role within the Kettering Town Academy'".
Further news from The Poppies is that "Club Captain and Hall of Fame member Brett Solkhon has put pen to paper and will be looking to add to the 569 appearances and 116 goals, that he's already achieved. Club owner Ritchie Jeune said, 'Having someone with so much experience in the squad is exactly what we need. Brett made numerous appearances from the bench last season and impacted so many matches, I think we've all lost count of how many late goals Brett was a part of'"
Also, "Academy director and first-team player Luke Graham is set to return to the Conference North, where he has already spent many seasons plying his trade. Another member of the 100 club, Luke will be combining his playing, with a coaching role this season and cannot wait to get started. Club Chairman David Mahoney said... 'Luke's knowledge and experience will be invaluable to other members of the squad and I am sure that he'll will have a major role to play, both on and off the pitch'".
York Press informs us that "York City are not believed to be in the running for Gateshead utility man Robbie Tinkler. The Minstermen were linked to Tinkler in a Hartlepool Mail report, but it is understood that the 22-year-old, former Middlesbrough reserve has offers from higher divisions than National League North.
Tinkler made 45 league starts and scored two goals for Gateshead last season in the National League after being recruited from the Riverside by Steve Watson last summer before the current City chief departed for Bootham Crescent in January.
Gateshead, who would have finished ninth rather than 17th in the fifth-tier standings prior to a points deduction, have since been demoted a division following financial problems and Tinkler is now a free agent. Watson is understood to be a big fan of the ex-North Ferriby loan defender but has always suggested that he expects Tinkler to be operating in a higher league during 2019/20 and it is not felt that situation has changed...
Aassistant-manager Micky Cummins said... 'I'd rather not comment on our recruitment plans. We like to keep our business private.'"
According to NL Daily "Blyth Spartans have signed former Hartlepool United defender Josh Nearney, [with him] becoming Lee Clark's 13th summer signing.
The 23-year-old began his career at Pools and went on to make one senior appearance in an EFL Trophy defeat to Sheffield United on penalties in 2015.
During his three years around the first-team set-up... Nearney had loan spells at Darlington, Whitby Town and Whitley Bay, before joining the latter permanently in 2017. After spending a season at Hillheads, Nearney returned to Whitby in August 2018 on an undisclosed fee, but mutually agreed to depart the Evo-Stik Premier outfit just three months later.
Nearney, after a brief third spell with Bay, spent the second half of last season at Northern League Division One side North Shields... As a youth player, he sported the colours of Wallsend Boys Club and Middlesbrough. Nearney can play either as a right-back or a central defender.
Nearney joins Robbie Dale, Ryan Hutchinson, Jack Butler, Lewis Horner, Joe Robson, Jake Orrell, Rhys Evans, Anthony Callaghan, Dale Pearson, James Martin and Tom Devitt in those to pen deals with Blyth for the upcoming campaign."
Also, Blyth Spartans "announce the signing of centre-back Tom Devitt who joins after a season with Gateshead in the National League. Devitt, who turns 23 tomorrow, is Lee Clark's latest addition the ranks...
'I am delighted we got him because his previous club made a huge push to keep him. He is a young ambitious player and I believe with the reputation I have for developing young talent helped buy in to our project here' [said Clarke].
Devitt, who joined Gateshead last summer, joined from US side Lionbridge and made 20 appearances for the Tynesiders last season.
Said Devitt, 'I know there has been a lot of ins and outs, but I genuinely cannot wait to get started. When someone with the pedigree of Lee gets in touch with you it is impossible to ignore'...
Devitt joins a defence which includes England 'C' International Ryan Hutchinson along with a host of new signings, and Devitt is keen to hit the ground running with his new club.
'I am someone who will always give 110% every single week. I am centre-half and I like to play football with the ball at my feet, but my main aim is to help the side get clean sheets, that's my job. It is going to be a young, energetic, exciting team and a side that will keep the fans on the edge of their seats.'
In addition, "Blyth Spartans are delighted to announce the signing of striker Michael Sweet from Northern League Division One side Consett AFC. Sweet, who turns 25 on Sunday, began his career at Gateshead, where he boasted an impressive goalscoring record for their under-19s... Similar to that of current Spartan Jack Butler, Sweet appeared for England Schoolboys in 2011/12...
While a first-team opportunity at Gateshead never arrived, Sweet made his senior debut for hometown club Darlington in 2012 but cruelly saw his loan spell abruptly cut short due to injury and was released by The Heed at the end of the season.
Billingham Synthonia quickly snapped up Sweet's signature and it didn't take long to see why when he was voted the club's Player of the Year with 32 goals in his debut season... Sweet ended his four seasons at Consett with a remarkable 128 goals in just 173 games...
Sweet said 'It was a very easy decision because of the level and the standard is high... I had to jump at this chance. I just want to play at the highest level I can. I like to play through the middle as a number 9, play in behind, run the channels and just get myself in the box as much as I can, and try my best to put the chances I get away.'
Sweet becomes Lee Clark's 12th signing of the summer, following Robbie Dale, Ryan Hutchinson, Jack Butler, Lewis Horner, Joe Robson, Jake Orrell, Rhys Evans, Anthony Callaghan, Dale Pearson, James Martin and Tom Devitt in those to pen deals with Blyth".
Also in the North East, Spennymoor Town reveal that manager "Jason Ainsley has bolstered his attack with the addition of former Chester wide-man Ben McKenna. The tricky 26-year-old is comfortable on either wing and signed for the Moors amid interest from several clubs.
But he is no stranger to Ainsley or to Spennymoor Town. McKenna discussed potentially joining the Moors in January, before eventually becoming a Chester player for the second half of 2018/19. But the Burnley native left Chester at the end of the season and interest was immediately reignited from the Spennymoor management team. He caught their eye when he scored the winner against the Moors in August whilst playing for Bradford Park Avenue, where he scored five goals in the first half of the season.
The second half of the campaign was less fruitful with the Blues, where he made nine appearances and scored one further goal...
Ainsley said 'We've come across Ben on numerous occasions and he has certainly caused us a few problems when he has played against us. He scored the winner against us for Bradford Park Avenue last August and was a constant thorn in our side. He is quick, direct and will be a real asset in the coming season.'
It's an assessment McKenna echoes himself. 'I love to get at full backs', he said... 'I'm probably best known for dribbling and crossing. I'm right-footed but can cross with either foot to keep defenders guessing. It's pretty easy to sum up Spennymoor Town; it's a club on the up. Just missing out on promotion last season in that manner must have been hard to take, so I'm just looking forward to doing as well as I can and helping us get promoted.
'I know most of the lads through playing against them over the years, but I know Stephen Brogan well from our time at Stalybridge together and Adam Boyes from Bradford Park Avenue. Everyone says it's a great group here. I met with Jason and Tommy at Scotch Corner and they set out an ambitious plan which excited me. We'd spoken in January, but I ended up going to Chester. When I left there I was pleased to hear they were still interested in me and I know I can be a success here.'
McKenna was loaned out to Annan Athletic from Carlisle in 2012, before spells for Workington, Stalybridge Celtic, Southport, Stockport and Curzon Ashton, as well as two spells with Bradford Park Avenue. As a regular starter throughout his career, he has strong experience at this level, which will put him in good stead for the promotion push in store."
At Leamington, The Brakes "welcome our third new arrival of the close season, Kaiman Anderson... The young striker began his career at home town club Shrewsbury Town, progressing through the ranks before signing his first professional contract in May 2015.
His first taste of Non League Football came in the National League North in a loan spell at AFC Telford United at the beginning of 2015/16 before Kaiman spent the first of two goal-filled spells at Halesowen Town in the Northern Premier League (26 in 56 games), finishing the season as the Yeltz's top scorer. He returned to the Black Country side on loan again in July 2016 before being recalled in January, finishing the season as top scorer once more.
A short loan spell in National League South with Oxford City followed before Kaiman was released by Shrewsbury at the end of the 16/17 campaign. He began the following season at Southport, and had a loan spell at Nantwich Town before signing on loan for Stourbridge towards the end of 2017.
Kaiman then signed permanently for Stourbridge the following March and remained at The War Memorial Ground for the duration of last season...
Paul Holleran was pleased to be able to bring the 22 year old to the Phillips 66 Community Stadium, saying 'He's had a good season or so at Stourbridge, and having had a taste of this level of football before at Telford and Oxford City he wants to make the step up again and test himself. He's a strong, energetic player who can operate in a couple of positions and like the other lads we have brought in, he is the right age. He is keen to make the step up and be a success at this level so he can try and get back into the professional game, which is key for us'".
Gateshead's "Versatile midfielder Connor Thomson has agreed a new one-year deal... Thomson is Mike Williamson's sixth recruit as Gateshead manager this week, following on from JJ O'Donnell, Elliot Forbes, Alex Nicholson, Connor Oliver and Williamson himself.
Thomson scored three times in 24 appearances for the Heed in all competitions last season...
'I'm over the moon to sign a new deal here. Obviously as soon as I saw the news on Twitter that the club was saved I was hoping for the phone call and especially to work with Mike and Busted (Ian Watson) again is very exciting I'm just keen to keep playing and get the club back to where it should be next season.'
Traditional winger Thomson featured regularly as a striker during the second half of last season in the National League as the Heed only had one recognised frontman in Steve Rigg...
'"I'm an attacking player and I just want to play anywhere where I can impact the game in the final third, whether that's as part of a front three, out wide or even a two,' Thomson added. 'I played up front quite a bit towards the end of last season and it was the first time in my career I'd ever played consecutive games as a striker so, anywhere I can contribute with some goals and assists, I'll be happy."
---
17 June 2019
Southport
have a video interview with manager Liam watson.
News of a former Altrincham loanee comes from the Telegraph & Argus which informs us that "Bradford (Park Avenue) manager Garry Thompson has secured highly-rated defender Jon Moran [below, right] for the 2019/2020 season.
The promising centre-half, who learned his trade with Crewe Alexandra, will bring experience and leadership to Thompson's squad, having enjoyed spells at Forest Green in League Two and loan periods with [Altrincham], Nantwich Town and Halesowen Town before joining Chester FC last season.
Thompson said 'We've had our eye on Jon and were pleased to attract him to the club despite there being quite a bit of interest elsewhere for his services. Jon is only 21 but has plenty of experience and his attitude and leadership qualities are what made us keen to bring him in.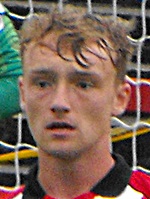 'We are building a group of players who want to play for this club, who want to forge reputations, and who are prepared to do the hard work to prove themselves. Jon has chosen to come here because he understands what we are doing and where we are going and he likes it and wants to be a part of it and we see in Jon a player who has the attributes and character to be a real leader for us on and off the pitch."
Moran says he is delighted to make the move to Horsfall Stadium. He said 'The club itself is a good attraction, it's a club that's moving forward and I think any young player wants to be a part of that kind of movement... It's a great opportunity for me here at Horsfall and I want to deliver for the club. I've had long discussions with Garry and the club about what they stand for and believe makes a strong and successful football club, and I agree with them.
'It's a very positive football club with good people involved going about things the right way'".
Jon made 5(+1) appearances for Altrincham in 2016-17 season, on loan from Forest Green Rovers, a club he had joined from Nantwich Town.
And also from the Telegraph & Argus comes news that "Bradford (Park Avenue) have signed former Bradford City stopper Alex Laird. The 20-year-old defender joins Garry Thompson's side ahead of the 2019/20 season having played twice before for the Bantams.
Bradford born-and-bred, Laird earned a professional contract at Avenue's local neighbours under Stuart McCall at 18 years-old, having impressed in the reserves... Laird's season was cruelly ended by an Achilles injury and was released while still recovering in May 2018. The youngster spent last season at Albion Sports in the North East Counties Premier Division, working hard to regain his fitness.
His reward is being welcome to Horsfall Stadium and Thompson was excited to secure Laird's signature. The manager said 'Alex typifies what we are looking for in our squad. He has obvious ability but has had some adversity in his young career and has shown the character to get himself fit and get match time at a lower level in order to prove himself and be ready for an opportunity when it arises.
'Alex has a good solid base of development behind him, he is a local lad and he has shown he has the talent to succeed'...
Laird himself expressed his delight at joining Avenue. He said 'Being a Bradford local, I know the club well and it will be an honour to pull on the shirt and represent such an historic club'".
A player leaving the National North is the subject of an announcement from Nantwich Town who confirm that Morpeth Town, known as "The Highwaymen, have been busy already in the transfer window, as they look to bolster the squad ahead of the upcoming season, bringing in towering centre-back Kris Thackray from Spennymoor Town, to give the side more defensive options. The side have also brought in more attack minded players, signing attacking midfielder Sean Reid from Blyth Spartans. "
The clear-out at Darlington continues as "Midfielder Tom Elliott has joined Hednesford Town. Tom made over 40 appearances for ourselves last season scoring three times".
---
16 and 15 June 2019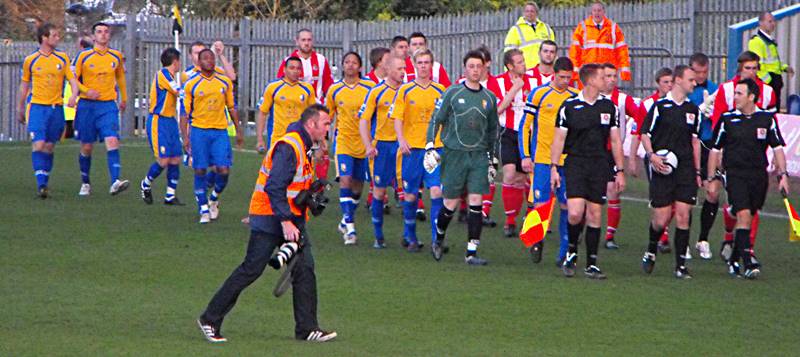 Above: Nathan Arnold (behind photographer) takes to the field against Altrincham whilst playing for Mansfield Town in April 2009. Nathan netted the second goal as The Stags won the match 2-0.
Following the signing of Nathan Arnold last weekend, Altrincham FC press and media officer John Edwards interviewed the former Lincoln City, Grimsby Town and Mansfield Town player. The interview can be read on the Altrincham FC official website.
And manager Phil Parkinson's views on Nathan Arnold's signing can also be found on the Altrincham FC official website.
Trafford
report "Good news! These lads have verbally committed to staying with the club next season
Matt Cooper (Super Cooper), Joel Amado, Sam Egerton, Jimmy Moore, Jack Dorney (Hes Dorney), Laurence Taylor (Lozzy T), Ross Davidson, Mike Jones, Declan Rydings (Crafty Cockney), Adam Farrell (Top Knot)!"
Chester FC
report
that
Friday "at 4pm marked the end of the Chester FC Early Bird Season Ticket offers and we are pleased to have 935 sold so far!"
And Chester FC joint manager Anthony Johnson says "We learned a lot about ourselves last season and more importantly we learned a lot about the club itself. The supporters are desperate for some sort of sustained success, we all are.
"It was a season of putting roots down in terms of what we are going to do moving forward. In terms of that, it was a successful season. When you break it down and look at what we achieved with how close we got to the play-offs; we had an OK season. We felt last season we weren't experienced enough so we put down a list of names and we've got all three of them; they're really exciting signings.
"To get them players in with the calibre of clubs they had after them shows what a pull this club still is to players."
Earlier Chester FC reported that "The Blues have fended off significant interest to sign Anthony Dudley on a permanent deal following his release from Salford City. Dudley is a familiar name to Chester FC supporters, as he was on loan from the Ammies during the 2018-19 National League North campaign.
Anthony impressed the Blues faithful and the management duo, Anthony Johnson and Bernard Morley, chipping in with 11 goals in 38 appearances. At our Annual End of Season Awards, the 22-year-old was the Golden Boot winner and also captured the Seals Live Player of the Season Award. Dudley joins Danny Livesey in signing up permanently at the Deva, as both were on loan from the EFL side last term. The forward is back at the Deva and once his contract at Salford expires".
Guiseley "are delighted to announce young winger Tabish Hussain has signed a one-year contract with the first team. He had an 18th birthday to remember, making his international debut for Pakistan in a World Cup qualifier against Cambodia.
When he returned to the UK on Wednesday, after visiting four countries in 19 days with the Pakistan team, he sat down to pen to paper on his deal. The academy product had his first team debut last season as a non contract player and he went on to make a handful of appearances from the bench before breaking his leg.
This put him out of action for much of the season but he battled back to fitness to be a part of the academy title winning side. Tabish then got the call up for the Pakistan men's squad for their two World Cup qualifying games against Cambodia and found himself the youngest player in action for the Green Shirts... After playing in front of a crowd of 36,800 in Cambodia for the first leg game Tabish admits he will no longer have nerves playing in front of crowds in National North.
He said 'I am happy to have signed for Guiseley, it is a great club and I am looking to kick on with them and develop with them'".
And The Lions also announce that "Prices have been held at last season's rates making it just £150 for adults, £130 for concessions, £30 for U18's and £10 for U11's for a whole season of Vanarama National League North Football!"
And the National League adds that "Guiseley's summer recruitment has been boosted by the news George Cantrill is now their player. The 19-year-old came on loan from Sheffield United last season. With his contract at the Premier League newboys up, the utility player decided to return to where he enjoyed a a fruitful few months".
Alfreton Town "confirm the signing of experienced midfielder Dale Whitham from Chorley. Dale, 27, joins the Reds ahead of the 2019/20 season and was the longest serving member of the first-team squad at the Magpies, where Whitham clocked up 364 appearances, scoring 69 goals.
Dale joined Chorley from Leigh Genesis in the summer of 2010 and is noted for his touch of elegance to the middle of the park through his technical ability and range of passing.
A loan spell last season at FC United in January provided Dale with valuable minutes after returning to fitness after a short illness. Whitham made ten appearances and one as a substitute at FC, scoring three times. Dale then returned to Chorley for the final month of the regular 2018/19 season where he was mainly used off the bench throughout the campaign, making four starts and 15 substitute appearances last season for the National League North play off winners, scoring once.
Billy Heath said, 'Chorley offered him a deal at the end of the season and we are thrilled he opted to move to the Impact Arena. Dale is a very mobile player, an engine in midfield and has lots of experience at this level.
'Dale is a big signing for us, he played a big part in Chorley's two play-off campaigns and has been a massive staple for them during his time there. He is an excellent character and that's what we are bringing to the club this season. His energy, work rate and desire is very important.'"
According to Gloucester City the Gladiators "have added a second new name to the 2019-20 squad with Jennison Myrie-Williams's arrival. Jennison, who plays as a winger, brings a wealth of Football League experience with him having appeared for clubs including Bristol City, Port Vale and Newport County. He also had spells with Torquay United and Hereford where he won the Southern League Premier title; before joining Weston-Super-Mare in the second half of the 2018-19 season.
On the signings of both Jennison and Marlon [Jackson], manager Mike Cook said 'They are fantastic signings for the club. It will give us options up front and improve competition for places. We identified these players that fitted our profile in forward positions. This has been a long drawn out process and we are delighted to secure their quality and experience. I would like to put on record my sincere thanks for the support that Alex Petheram has given me. Without his backing these signings would not have happened.
'We still need to go on and strengthen the squad and will be looking at a number of players during training and pre-season games'.
Co-Chairman Alex Petheram said 'Cookie highlighted three key players that he wanted us to sign at the end of last season. We've fully backed the management team and I'm delighted to have today secured both Marlon and Jenno. We've thrown the kitchen sink and more to secure the third also, we'll know in two or three weeks on that one I hope'.
Earlier the National League had reported that "Gloucester City have announced the signing of attacker Marlon Jackson. The forward ended last season at Weston-super-Mare where he scored ten goals in 14 matches...
Manager Mike Cook thinks the former Newport County and Hereford frontman will add a lot to the club's forward line. Jackson thinks the club is moving in the right direction after the new manager inspired a fantastic turnaround last season".
Meanwhile, at Darlington "striker Jordan Nicholson has been released by mutual agreement. Jordan was our top scorer last season with 11 goals in 43 appearances...
Manager Alun Armstrong said, 'Jordan asked to leave because he didn't want to do the travelling. He was in touch with me as soon as I started the job'".
The Northern Echo adds that "Dan [Jordan] Nicholson has left Darlington and Alun Armstrong has warned he will not be the last to leave the club this summer as he seeks to balance the books. The manager has inherited a squad that includes some players on large contracts, and he feels there is better value to be found elsewhere.
Furthermore, the former Blyth boss would prefer to construct a group of fundamentally North-East-based players, so allowing Nicholson to go, a player who commuted from the Peterborough area, suits all parties. Armstrong has signed five players so far, all from Blyth, and he said 'I could do with another four or five, but I've got to shift some out and that will be sorted in the next week or two. I've spoken to all of the lads and I can't name names, but it needs rectifying to balance the books, that's the big thing I need to keep an eye on.
'I'll stick by what the club want. It's a good enough budget to get the team in the top half. There's some I've got to move on. They know the situation, we can't afford to keep them, they know that but it's a case of them getting a club and it's got to be the right deal for them, because they are contracted still at the end of the day. They either take a little cut now to get a move somewhere and play games, or they sit tight here and get forgotten about.
'You do get the stubborn ones, but it is up to me to try and get them on the right path. They should be playing football.'
Nicholson, top scorer in his solitary season at Quakers with 11 goals, has left the club by 'mutual consent'. With him now gone, only seven players remain with Darlington from last season: Simon Ainge, Jonny Burn, Terry Galbraith, Mitchell Glover, Stephen Thompson, Luke Trotman and Joe Wheatley.
'All the players here have got something about them but, unfortunately, finances are dictating it,' added Armstrong. 'If I want to bring in people then I need to shift some because of the kind of money some of them lads were on last year. I've got to shift some to bring people in that I know will strengthen the squad. Effectively I could bring in two for one.'
Armstrong has missed out on bringing in another player from Blyth as Connor Oliver has opted to join Gateshead, but he hopes to make his sixth signing soon, with Whitby's Dale Hopson understood to be in his sights as is goalkeeper Peter Jameson."
The National League reports that "Marcus Law won't be leading Kettering Town in their first season back in the National League North. The Poppies' boss has this morning announced his resignation from the club after guiding them to the Southern League Central title last season.
A statement on the club's official website reads 'The football committee today have accepted the resignation of Marcus Law. Marcus oversaw the development of the first team squad during his 4 seasons at KTFC, culminating in promotion last season back into the National League North'...
Law's replacement was immediately announced as ex-player and former Nuneaton Borough manager Nicky Eaden...
'Nicky has the qualities we are looking for in a manager', club owner Ritchie Jeune said. 'A player who has played at the level and who has had the success that Nicky had during his playing career, including winning the league we are currently in, he knows what it means to win and more importantly what is needed from the top down to win. Nicky has had a challenging start to his managerial career, I believe that Kettering Town FC is the right club for Nicky to excel'".
From the National League comes news that "York City have won the race for Blyth Spartans' 25-goal Dan Maguire... He will remain in the National League North with York but become a full-time professional after the 26-year-old decided his future.
Minstermen boss Steve Watson says the move is a big one for the club. 't has taken a little while to do because he had a lot of options', Watson told the club's website. 'He has now made the decision to become a "full-time" footballer which is a big deal to him. He is a great character and a terrific striker, as most clubs who have played against him in this league will tell you!
'He can score all kinds of goals and is very lively. In the last two seasons, he has chalked up as many goals as anybody. We are really lucky to have him and I think it will work really well. It's a huge feather in the cap for the club and I think the fans will be excited by it.'"
Meanwhile, "Lee Clark has made another new signing but another of Blyth Spartans' stars of last season has been snapped up. Two players have pretty much swapped clubs after business was done with Gateshead.
Former Heed defender Tom Devitt will wear green and white next after Clark got his man. But Connor Oliver will be playing at the International Stadium after he became the club's fifth signing of the summer"
Meanwhile, also from the National League we learn that "Mike Williamson has been confirmed as Gateshead's new manager. The club have made a swift appointment following the news that Dave Dickson wouldn't remain at the club.
The club are gearing up for the National League North next season following Saturday's AGM outcome at Celtic Manor. Former Newcastle United defender Williamson believes the time is right for him to step up.
'I'm very excited to be the new manager of Gateshead,' he said. 'Last season was thoroughly enjoyable, I really loved it and got a good taste of the coaching side of things and it's something I have always wanted to do. I still get to be involved on the pitch as well so it will be fantastic for my personal development but also for the lads that we can bring in and create the same sort of environment that we did last season.'
He added 'I feel I know more than anybody just what football means to the people up here on Tyneside and that, for me is the biggest element because I want to try and grow the club as much as I can in the community. Having Ian on board is fantastic as well, we're looking to put together a squad of homegrown players that want to play for Gateshead Football Club and Ian is key to that with his contacts, passion and ambition for football in the area.
'Playing in the National League North is what it is and we accept that but with everything that has gone on we are just really pleased that the football club still exists and the fact that we're still a professional outfit operating at a good level is a miracle.'"
The
Soccer Club Swapshop
programme awards announces that in National North the following clubs submitted programmes for scrutiny:
Bradford Park Avenue, Hereford, Blyth Spartans, Leamington, Brackley Town, Ashton United, FC United of Manchester, Harrogate Town [er?], Stockport County, Telford United, Darlington, Chorley
The winners were 1st Stockport County, 2nd Leamington, 3rd Chorley.
---
14 June 2019
After a break of a few days, the normal daily updates of this website will resume tomorrow!
---
10 June 2019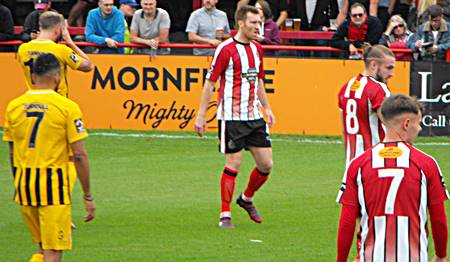 Altrincham FC
have announced the signing of 31 year-old winger Nathan Arnold. He becomes the nineteenth player to be announced as signing on for the club 2019-20.
Nathan scored one of the two goals which allowed Boston United to defeat Alty at Moss Lane last August but he has played against Altrincham numerous times. He is seen, right (no.7) in that game. As far back as 2009 he scored as Mansfield Town defeated Altrincham 2-0 and since then has faced The Robins several times for Grimsby Town as well as when he played at Lincoln City.
As reported here on 30 May, the National League indicated that "Nathan Arnold says he has unfinished business and a point to prove after declaring he's ready to return to football. The former Grimsby Town and Lincoln City winger left the dressing room behind last year aged only 30 but there was more to it than meets the eye after walking away due to personal reasons.
But now he wants to lace up his boots next season and has sent a come and get me plea to managers after alerting them of his availability. A three-time National League promotion winner, he also won the National League North title with Alfreton back in 2011...
'I am looking to make a return to football and I'm exactly where I'm supposed to be,' he said. 'Things happen in life and it is no secret that I had a difficult period in my career off the pitch. There is always more than what meets the eye and my situation was no different. Now is the perfect time to resurrect my career. Time away from football has given me the opportunity to recharge, rejuvenate and adopt a new fresh perspective. I'm 31 with a huge amount of experience, knowledge and wisdom and I'm very grateful for the lessons life's taught me.
'Behind the athlete is hours and hours of hard work, practice and a CV that I'm very proud of. I have missed being apart of something meaningful that football gives you and I'm glad to be back. The biggest challenge for me now is to find a new home where a manager believes in me again. Someone who is willing to give me an opportunity. I have never been more determined to prove a point than I am right now. It isn't surprising to me that there's question marks surrounding me coming back and, maybe, surrounding my motivation levels but this only motivates me even more to get back to the levels I know I'm capable of.
'People have doubted me my whole life. It isn't unfamiliar territory. It takes courage for a manager to believe in a player that has been there and done it. I'm not desperate for any club, it has to be something that inspires me and challenges me. I want the right fit. I'm a winner and highly ambitious. It wasn't an easy decision to come back to football as I've been involved in a great deal of giving service to others'".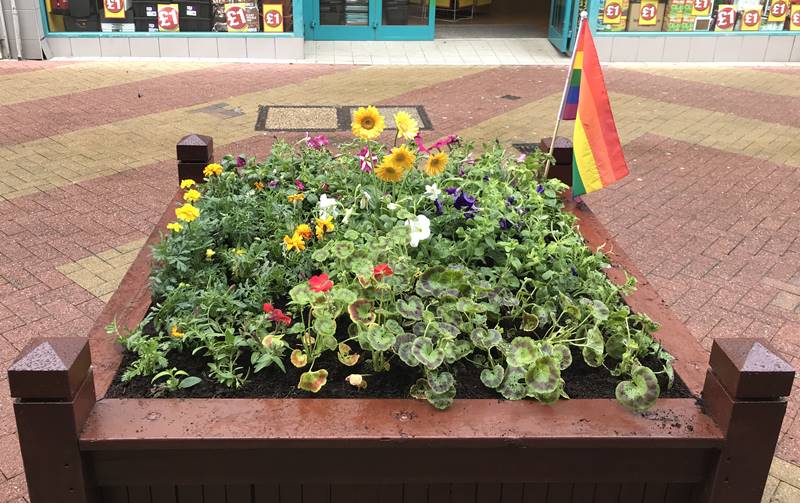 Altrincham FC has set up its dedicated planter [as shown above] for the Altrincham in Bloom initiative. It shows a yellow Gerbera, to represent the sun in the centre, and the colours of the rainbow around, once they all flower. It has been decorated with one of the flags from our recent 'Diversity' match. Responsible for looking after the planter is Phil Jones, a well-known face at the J. Davidson Stadium!
According to the
Football Mancave
, "After defeat in the Semi-Finals of the National League North Play-Offs last season, Altrincham will look to go one better this campaign and get promoted to the National League.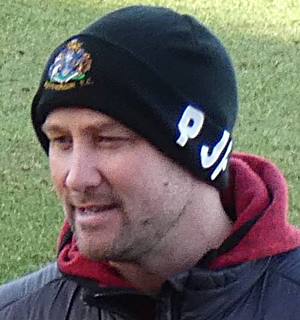 Last campaign there was [sic] very few people who would have tipped 'Alty' to be anywhere near the playoffs. However, with experienced manager Phil Parkinson [right] at the helm, the club finished 5th in the league 11 points behind title winners Stockport County.
The club has made it very clear they want to be up there again, if not winning the league during the 19/20 season, tying down their manager to a three-year deal and, securing the core of their squad for another assault on the title next season, including top scorer Jordan Hulme who finished on 20 goals and 11 assists in all competitions.
Last season Altrincham were the highest scoring team in the National League North, however defensively they conceded 20 more goals than title winners Stockport County. With how long manager Phil Parkinson has been in the game, he will know that this is the area that needs work early in the window with already making a signing to improve them defensively from Nantwich in Toby Mullarkey.
It seems like all the right things are happening at free-scoring Altrincham for them to once again compete around the top of National League North again next season, and we see no reasons why on paper they can't go one better and get themselves promoted. However, as everybody knows The National League North is a funny old league, and every team can go through bad spells or have an injury crisis. However, if they stay fit and keep their consistency from last year minus a couple of the draws and narrow losses, we could see 'Alty' in the top tier of Non-League very soon."
Altrincham FC
has announced seven pre-season games. They are as follows...
Sat. 6 July AWAY Whitchurch Alport 3pm
Sat. 13 July HOME Crewe Alexandra 3pm
Tue. 16 July AWAY Atherton Collieries 7.45pm
Sat. 20 July HOME Blackpool XI 3pm
Tue. 23 July HOME Stockport County 7.45pm
Sat. 27 July HOME AFC Fylde 3pm
Tue. 30 July AWAY Trafford 7.45pm
As usual, entry to the home friendlies is free to holders of valid Altrincham season tickets.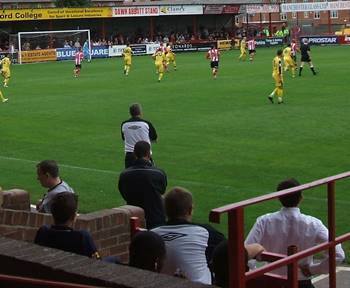 The football world has been saddened this weekend by the untimely death of Justin Edinburgh at the age of 49. The former Tottenham defender faced Altrincham on a number of occasions as a manager or assistant manager.
Right: Justin Edinburgh, in white shirt in the right foreground, watches his Grays Athletic side secure a 1-0 win at Moss Lane in a match in which Colin Little was sent off.
These encounters included games against Grays Athletic in 2007/8, Woking (assistant to manager Colin Lippiatt in 2008) and Rushden and Diamonds (2008-10), where he was initially assistant to Garry Hill and then manager in his own right.
Latterly he took both Newport County (2013) and Leyton Orient (2019) back into the Football League from the National League (Conference).
Saturday's news that Gateshead had been demoted to the National League North means that, in 2019-20, Altrincham will travel to the International Stadium for a league match for the first time since 2015.
The last visit ended in a 2-2 draw on Saturday, 17 October, 2015.
On that occasion, after a fairly even but goalless first half, an Alty side lacking five injured players, conceded in the fourth minute after the interval. A cross was allowed to come in from the Heed's left and Bowman rose, unchallenged, to head his side ahead.
The visitors remained on the back foot till after the simultaneous introduction of wingmen Clee and Bowerman, on 59 minutes. They changed the whole complexion of the match. Alty went from 0-1 to 2-1 up inside three minutes. First, Clee won, and took, a quick throw from the left corner. This led to a well struck effort from Moult which Russell pushed onto the bar. Rankine was on hand to nod home the loose ball (77 mins).
Alty's second was scored by Bowerman after Richman had attempted an overhead shot inside the box (79 mins). The visitors were not able to hold on and, in the second added minute, Gateshead equalised. A dubious freekick against Leather was half-cleared and substitute McLaughlin netted from just outside the box. A draw was probably a fair result and it kept Altrincham 19th in a season which was to end for them in relegation.
For Alty, Coburn, Marshall, Densmore, Crowther and Parry were all out, injured. However, Griffin and Richman returned to the side.
GATESHEAD: 1. Sam Russell, 4. Jamie Chandler, 5. James Curtis, 12. Gus Matufa,16. Jordan Cranston, 19. Ryan Bowman,6. Ben Clark 7. James Marwood, 20. Danny Johnson, 21 George Honeyman 22. Simon Ramsden, Subs: 11. Jimmy Phillips, 9. Jon Shaw, 13. Shaun MacDonald, 15. Nathan Buddle, 26. Patrick McLaughlin
ALTRINCHAM: 17. Tim DEASY, 6. Scott LEATHER, 5. Luca HAVERN (capt), 3. Adam GRIFFIN, 4. Jake MOULT, 8. Simon RICHMAN, 14. Josh O'KEEFE, 7. James LAWRIE, 10. Damian REEVES 9. Michael RANKINE, 20. Jordan SINNOTT Subs: 11. Nicky CLEE, 18. George BOWERMAN, 12. Sam HEATHCOTE, 23. Callum WILLIAMS, 24. Rhain DAVIS
Altrincham play at Atherton Collieries on 16 July and, from there, the
Bolton News
reports that "Michael Clegg hopes his upwardly mobile Atherton Colls can find an extra few quid in their transfer budget this summer. After gaining promotion from Evo-Stik North to the Premier for the first time in the club's history, the ambitious boss already fancies his chances against non-league big guns like FC United and South Shields.
Clegg has helped guide Colls out of obscurity in the last five years, watching crowds at the Skuna Stadium swell in the process. But despite a squad of talented young players signing on again for next season he is aware that there will be a financial challenge for the club to meet.
'The budget we had last season was low in comparison to the rest of the division but, next year, we're a mile off,' he told The Bolton News. 'I'm really pleased that lads have stayed with us. The likes of Ben Hardcastle could have gone to Chester, Chorley or Altrincham but he has stayed with us and not for a lot of money at this level of football. We get some great support from the local community but we'll need more if we are going to push on.
'That might mean sponsors, that might mean people who want to come on to the committee and offer something different. We have come such a long way as a club and I'm really excited about what we can do next year. We played four games against teams from the higher division last season and won them all. I look at my team on paper and think we don't have anything to fear but that isn't to say we won't need extra depth in the squad, or a bit more quality in certain areas'...
Recruitment has thus far been geared towards keeping their squad together, with Clive Smith, Danny Lafferty and last season's top-scorer Tom Bentham all signing on the dotted line...
Clegg said., 'Once we'd nailed the team down last season we were consistent and we weren't conceding many goals. We'd got that winning mentality and I want to take that into next season'.
Colls will also be travelling in style next season thanks to a new 17-seat branded mini-bus donated by Clean Reach North West, all part of an improving set-up off the pitch.
'Our video analysis is excellent', Clegg said. 'Me and the staff had a four-hour meeting in Leigh the other day to discuss all the sessions, how much fitness, how much football, and go through the pre-season schedule. We're mega professional off the pitch and that side of things really has improved in the years I have been here. But you look at the clubs across the north of England that we'll be coming up against next season and you realise, it's a big task.
'Some people say staying in the league would be success but I don't buy that. I want to win. I want to see one of the big guns like FC United at ours early in the season and we'll fill the place. I really think there's an appetite there. The attitude of the lads has been first class as well. Some of them have gone away and got themselves personal trainers knowing they need to get back leaner, meaner and hungrier'".
The
Football Mancave
reports that "More signings are set to walk through the door at Curzon Ashton and, so far this window, it has been set out very clearly that the club is taking a new approach and are focusing on younger players.
This strategy can have positive and negatives effects on a club depending on how well the club handle it. After finishing just above the relegation positions last year, I'm sure that Curzon will be hoping this influx of new exciting talent will propel them up the National League North table and into a more comfortable finish next campaign.
Curzon has already signed a number of players this transfer window, meaning it could be a brand new team that appears next season and that unpredictability could definitely work in their favour.
Last year the clubs under 18s won the quadruple, an amazing feat. With this influx of new young players and, academy players being moved up to the first team, it appears that the future of Curzon is very bright. I just hope their plans for long term success don't affect them in the short term... The potential in the team being assembled is scary and they could be in for a very successful few seasons".
According to Cheshire Live "Matty Kosylo, who was a target for Chester FC managers Bernard Morley and Anthony Johnson, has signed for National League side AFC Fylde. The dynamic winger, 26, was out of contract at FC Halifax Town, where he had been since 2016 after joining from Nantwich Town and had alerted a number of clubs, Solihull Moors among them.
The Crewe Alexandra graduate was subject of a speculative move by Morley and Johnson and he intimated he was open to talking over a possible move to the Blues next season as they look to mount a challenge for promotion from the National League North. It is understood Kosylo gave serious consideration to a switch to the Blues but ultimately decided that he wanted to remain in non-league football's top tier...
Chester had been close to landing Spennymoor Town winger Ryan Hall and Colne attacker Alex Curran, but Hall has penned a new deal with Moors while Curran has signed a two-year contract at Stockport County."
The
EvoStik League
reports that "Radcliffe FC have secured two EFL teams and a pre-season fixture against former Premier League champions Leicester City. Former Foxes player, now assistant to Jon Macken at Boro, Frank Sinclair, has helped engineer a match against Brendan Rogers's side for Tuesday 6th August.
Leicester's visit will certainly spark some local interest, with Radcliffe chairman Paul Hilton looking forward to welcoming such quality opposition.
'We're hopeful that they will bring along a couple of names on the night,' he told the Radcliffe Times. 'The game has been arranged through Frank and, whatever guise Leicester arrive in, even their Under-23s, will be a talented team. It's a great game for us as a club.'
Hilton is looking forward to having the renovated bar area at the stadium open for Oldham's visit and also hopeful that the traditional fixture against Bury can be salvaged despite their near-neighbours off field problems.
'It's a massive game for us, usually, and we have tried to contact their CEO but it has been radio silence so far,' he said. 'We have sent emails but, with everything that goes on,they are in an awful situation, it's understandable. I know we won't be top of their agenda at the moment, but we've only got a week spare and from our point of view we want to get the whole thing boxed off'".
---
S
9 June 2019
Altrincham will have an additional twelve miles to travel next season after the provisional listing of clubs who will compete in National League North was modified on Saturday. Altrincham will now travel to Gateshead (155 miles each way) rather than Oxford City (149 miles each way). The
National League
explains from its AGM at Celtic Manor, Newport that "The headlines are...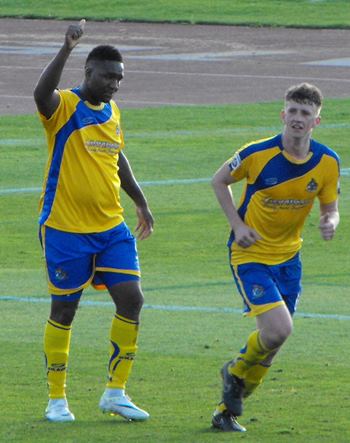 The National League will continue to be known as the Vanarama National League in 2019/20
"Motorama" will be the Official Car Leasing Partner
"LV Bet" is the new Official Betting Partner
The National League will celebrate its 40th anniversary in August 2019
Clubs have agreed to launch a new National League Football Academy System
Gateshead will remain in membership and have been relegated to the National League North. Aldershot Town retain their place in the National League and Oxford City are re-allocated to National League South.
Right: Michael Rankine salutes his goal in a 2-2 draw at Gateshead in 2015, with Scott Leather.
The key dates for the 2019/20 season are:
Fixtures released on Wednesday 3rd July 2019
Opening fixtures on Saturday 3rd August 2019
Season finishes on Saturday 25th April 2020
Vanarama North & South Promotion Finals on Saturday 9th May 2020
Vanarama Promotion Final at Wembley on Sunday 10th May 2020"
Oxford City
reacted as follows; "Oxford City will return to the National League South for the 2019/20 league campaign. This is due to Gateshead's appeal seeing them placed in the National League North, and with Aldershot Town being the first in line to receive a reprieve into the National League, it means there is a requirement for one team to make a sideways move back into the South.
The Hoops will therefore start a fifth consecutive season in the division, having made the initial move over from the North at the end of the 2013/14 season, and will continue rivalries with the Southern sides that they have got to know well in the past four seasons, as well as the newcomers to the division in Dorking Wanderers, Tonbridge Angels, Weymouth".
Meanwhile, Gateshead "issued the following statement following its demotion to the National League North.
After such an impressive National League campaign on the field during the 2018/19 season, we are obviously hugely disappointed to have to accept relegation from the National League. However, we understand that the integrity of the competition is paramount and therefore fully accept demotion to the National League North for the 2019/20 season and acknowledge the actions of the League and Football Association, who have remained supportive and sympathetic to our cause throughout.
Following this decision, our plans as a football club will remain unchanged and we will head into the new National League North season as a full-time professional outfit. As we head into this new era, we do so enthusiastically and with a willingness to succeed, and expect to make a number of exciting announcements in the coming days".
Earlier Gateshead announced "A consortium, headed by Neil Pinkerton and Trevor Clark, have undertaken and completed the necessary legal paperwork to purchase the club from Dr Ranjan Varghese, subject to ratification from the relevant authorities... Rest assured that all deadlines to the National League and the FA will be met, to ensure compliance and, to hopefully overturn the sanctions which were rightly imposed on the club. It is imperative that we safeguard our 10-year affinity at the top of the Non-League pyramid for at least the 2019/20 season.
We appreciate there will be many questions and not necessarily an abundance of answers in the coming days. However, rest assured that fellow fans have every right to be as excited as we are, as we head into a new era, with not only a club we can call our own, but one that has the stability and integrity it has been missing over the past year...
Transparency and honesty is key to what is, foremost, a community asset. We look forward to drawing a line under the past and hope to have some exciting announcements in the coming days".
Darlington
extend "Congratulations to our former player and manager Tommy Wright on his appointment as manager at Stratford Town FC. Tommy left ourselves at the end of the season after 18 months in charge.
Stratford competes in the Evostik South Premier League one tier below the National North".
Guiseley "announce academy graduate Will Thornton, who became a regular member of the first team squad last season, has signed a new contract with the club.
Thornton joined the club's Academy after representing the Wharfedale FA team which won the West Riding County FA Minor Cup. He made excellent progress with the Academy and played adult football out on loan with a number of clubs to gain experience, notably with Farsley Celtic.
The young prospect was named on the bench a number of times before making his National League debut for Guiseley as a substitute in 2016-17 at Boreham Wood.
Under the new management team of Russ O'Neill and Marcus Bignot Will was involved in the first team squad from the outset of the 2018-19 season and went on to make 26 starts and eight sub appearances and won the club's first-ever Young Player of the Year award.
Will said... 'I want to establish myself in the team and get more games after breaking through into the first team last season. I am looking for us to do a lot better than last season, I am hoping for us to do better as a team'".
Alfreton Town "confirm that midfielder Bobby Johnson has signed a new deal for the 2019/20 season. Bobby was a key player in the Reds' midfield last season and was a stand-out performer with his close control and dazzling free kicks catching the eye throughout the season. Bobby scored some sensational goals including a wonderful volley at Chorley and was noted for his cracking free kicks, including away at Chester and at home to Ashton United.
Johnson's season was cut short through several injuries sustained to his groin and knee which saw him miss several months and the final five games of the season. Bobby made 28 starts with two substitute appearances, scoring seven goals.
Billy Heath on Bobby signing on for 2019/20 [said] 'When Bobby played he was brilliant, he was so unlucky with injuries that had hampered his season in portions... He is still young and he had big influence for us last season. The level suited him last season and he had no problems adapting, he was consistent when he played and his attitude and desire was first class, a player that wants to play'".
---
8 June 2019
The dates for the Rounds of the Emirates FA Cup and the Buildbase FA Trophy for 2019-20 have been released. Altrincham enter the FA Cup at the Second Qualifying Round on 21 September and at the Third Qualifying Round of the FA Trophy on 23 November.
Above: In November 2007, before the clash with Millwall, Altrincham FC players got a close look at the FA Cup [a replica of] which was brought to Moss Lane by the competition sponsors, E-On. The face you may not recognise is Ryan Shotton's brother.
Emirates FA Cup
Sat 10 Aug 2019: The Emirates FA Cup Extra-Preliminary Round
Sat 24 Aug 2019: The Emirates FA Cup Preliminary Round
Sat 7 Sep 2019: First Qualifying Round
Sat 21 Sep 2019: The Emirates FA Cup Second Qualifying Round
Sat 5 Oct 2019: The Emirates FA Cup Third Qualifying Round
Sat 19 Oct 2019: The Emirates FA Cup Fourth Qualifying Round
Sat 9 Nov 2019: The Emirates FA Cup 1st Round Proper
Sat 30 Nov 2019: The Emirates FA Cup 2nd Round Proper
Sat 4 Jan 2020: The Emirates FA Cup 3rd Round Proper
Sat 25 Jan 2020: The Emirates FA Cup 4th Round Proper
Wed 4 Mar 2020: The Emirates FA Cup 5th Round Proper
Sat 21 Mar 2020: The Emirates FA Cup 6th Round Proper
Sat 18 Apr 2020: The Emirates FA Cup Semi-Finals
Sat 23 May 2020: The Emirates FA Cup Final
Buildbase FA Trophy
Sat 28 Sep 2019: The Buildbase FA Trophy EP
Sat 12 Oct 2019: The Buildbase FA Trophy P
Sat 26 Oct 2019: The Buildbase FA Trophy 1Q
Sat 9 Nov 2019: The Buildbase FA Trophy 2Q
Sat 23 Nov 2019: The Buildbase FA Trophy 3Q
Sat 14 Dec 2019: The Buildbase FA Trophy 1P
Sat 11 Jan 2020: The Buildbase FA Trophy 2P
Sat 8 Feb 2020: The Buildbase FA Trophy 3P
Sat 29 Feb 2020: The Buildbase FA Trophy 4P
Sat 21 Mar 2020: The Buildbase FA Trophy SF(1)
Sat 28 Mar 2020: The Buildbase FA Trophy SF(2)
Sun 17 May 2020: The Buildbase FA Trophy Final
Curzon Ashton
report "the signing of Callum Saunders and Liam Davies ahead of the 2019/20 campaign.
Mark Bradshaw has added two more players to a squad that is shaping up to have a fresh, dynamic feel about it. Saunders and Davies join us from Nantwich Town and Southport respectively and will further strength[en] the forward line and midfield.
Callum was a product of the Crewe Alexandra system, alongside Curzon's James Baillie, where he made his league debut before moving on to Notts County. During his spell in League football he made 30 senior appearances. He spent the 2018/19 season with Nantwich, scoring 10 goals in 36 appearances, 12 of which were from the bench. Saunders has also represented Wales at U19 and U21 level.
Liam Davies, meanwhile, is an all-action midfield player. He graduated from the Tranmere Rovers Academy and has subseuently spent time with fellow National League North sides, Chester and Southport... The lads were welcomed to the Club by Assistant Manager, Will Ryder, before being shown around the facilities at Village Ashton, our new Media & Hotel partner. Welcome to the increasingly youthful Curzon family, boys."
Meanwhile Bradford (Park Avenue) "have announced the signing of Ben Hedley from Morecambe as the first signing of Garry Thompson's tenure as manager. Hedley joins The Avenue from League 2 Morecambe where he was named Reserve Team Player of the year last season. A physical midfielder, 20 year old Hedley impressed Thompson during their time together at The Globe Arena.
Thompson said 'Ben was excellent last season at League 2 standard but lacked opportunities. When he was provided the chance to show his ability he excelled. Ben's character and attitude fit exactly what we are looking for and for him to show his commitment to the club to drop back and prove himself, is exactly the ethic and focus we admire and respect...
'I said when I started a few weeks ago that supporters of Bradford (Park Avenue) who support the club with a season ticket purchase and their time and commitment week in week out, should expect us to build a team that reflects their level of commitment. Ben will work hard and leave nothing on the pitch for the supporters who come to Horsfall to watch us and he has quality and youth on his side which makes him a really pleasing first signing for us'
Ben Hedley explained what attracted him to Bradford (Park Avenue) over rival options,'I... can't wait to start working with Gary who I know well from my time at Morecambe and know how professional he is... I had a few options higher up but, after discussing the club's plans with Gary and Shaun, I am really interested in what they're building here and I'm really excited about the upcoming season and can't wait to get going. It is a great opportunity and I plan to help the club challenge for promotion this season'"
Alfreton Town "confirm that forward Declan Bacon has signed a new deal ahead of the 2019/20 season. Dec made 11 starts last season for the Reds and ten substitute appearances, scoring four times including two outstanding strikes against Sutton Coldfield in the FA Cup.
Bacon had a spell on loan at Sheffield FC during the 2018/19 season where he gained valuable minutes and confidence as well as making a good impact before returning to the Reds towards the back end of the campaign, making a good impact with his electric pace and neat combination play".
Over at Guiseley the Lions "announce that young winger Scott Smith has signed a new contract with the club after making a big impact in the first team games he played last season. The 20 year-old is another Guiseley Academy product and he signed a first team contract in summer 2017 after impressing in pre-season training and warm-up games.
The Horsforth-based player joined the Academy Development Squad Under-16s after being released by Bradford City. He was a key player in the all-conquering Academy side. In the past season he made 15 starts for the first team along with five sub appearances and scored some vital goals...
He said 'Hopefully in the coming season I will be injury-free and get more game time. I got my chance earlier than I thought when Russ and Marcus gave me opportunities last season but all that has done is leave me wanting to play more and improve more. With the quality of players they brought in last season I did not think I would be involved very much but I was very happy to be play the games I did and maybe, without the injuries, I would have had a better chance to stake a claim for a regular place...
'Although I am happy to play anywhere I don't really see myself as a winger, I like to play more central.'"
---
7 June 2019
In the
Sale & Altrincham Messenger
John Edwards confirms that "John Johnston has signed an extension to his contract and will remain an Altrincham player for the next two years at least in a major breakthrough for Phil Parkinson's rebuilding plans.
Alty's flying winger was one of the first to be tied to a new deal when it was announced a fortnight ago that he and double player-of-the-year Tom Hannigan had signed on for next season.
But, in a move that reflects Alty boss Parkinson's determination to keep a highly-successful squad intact for the foreseeable future, he has now secured one of his top attacking threats until the end of the 2020/21 campaign...
The Alty manager has so far recruited just one new face this summer, after snapping up highly-rated young defender Toby Mullarkey, and another more familiar one in striker Tom Peers, who rejoins the Robins from FC United of Manchester. He has otherwise concentrated on retaining leading lights from last season".
Altrincham's first home game of pre-season is against a Crewe Alexandra XI on 13 July. The sides also met last summer when rewe ran out 3-0 winners on 20 July, 2018. The Railwaymen's squad that day included Billy Sass-Davies, who had a brief spell on loan at Alty last season, as well as Jordan Bowery, of whom more below...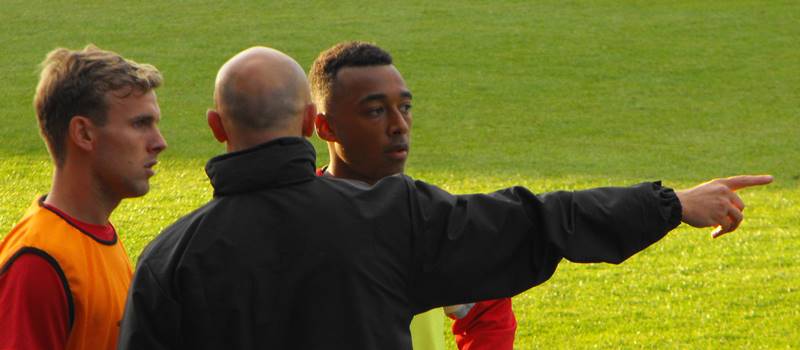 Above: Phil Parkinson gives instructions to Alty's two trialist substitutes, Bay Downing and Lloyd Bannister, before they joined the 2018 pre-season game against Crewe during the second half .
From Cheshire Live we learn that "Jordan Bowery risks finding he is 'too late' to sign Crewe Alex's offer of a new contract. Assistant manager Kenny Lunt has made it clear the Railwaymen are not at the whim of the striker, who was offered an extension weeks ago. While the offer remains extended to the 27-year-old, the club's position could change at any time should an opportunity arise to bring in a replacement.
Should that happen, Bowery could find himself in the same position as keeper Ben Garratt, who had a contract offer retracted after delaying too long last month.
Lunt said, 'We have offered Jordan a contract and, as time goes by, we'll be looking and Jordan will be looking. If it comes to it and it's too late, it's too late.
'Jordan could be waiting but end up coming back to us and saying he's going to sign, and we'd be delighted. But, if not, we have a list as we'll see what we can do.'
Bowery initially joined Crewe on loan from Leyton Orient in 2017 before penning a two-year permanent deal at Gresty Road. In total, he has scored 24 goals in 118 appearances, with nine strikes to his name in 2018-19. The former Chesterfield, Aston Villa and Rotherham United man been switched to a wide attacking role which seemed to suit him better partway through last season".
Blyth Spartans
report that manager "Lee Clark has had a busy afternoon holding several meetings with a number of last year's squad, securing the services of three.
Robert Dale, 34, returns to the club for the 15th consecutive season. Now the club's record holder for appearances, with 643, he'll look to add to the impressive mark. Joining him in the Spartans' dressing room will be central defender Ryan Hutchinson who returns after missing the entire 2018/19 season with a knee injury. 'Hutchy' will be keen to return to the form than earned him an England 'C' call up during the 2017/18 campaign at the heart of the Spartans defence.
Speaking of England internationals, Jack Butler, 18, has signed his first contract with the club after impressing over the last two seasons. The young forward represented England Schools before joining Blyth and enjoyed a successful loan spell at Northern League side Ashington."
According to the NL Paper "John Pemberton says it's time to change the mentality at Kidderminster Harriers and for everyone at the National League North [club] to stop feeling sorry for themselves. The 54-year-old has been appointed as Harriers' new manager and is charged with reviving a team that fell short of their promotion target last season.
Although this will be his first job as an outright manager, Pemberton brings a wealth of experience to Harriers. As a player he appeared in the FA Cup final with Crystal Palace in 1990 in a career that spanned more than 300 games in the Football League and Premier League with Crewe Alexandra, Sheffield United and Leeds United. He was a big part of the backroom staff at Nottingham Forest and Bristol City when they were promoted to the Championship and was in charge of Sheffield United's academy when it developed England international Harry Maguire.
Last season he had a caretaker spell in charge of Chesterfield following the exit of Martin Allen in January, where he was also in charge of the academy, before being enthused by the Kiddy challenge...
'If fans see players really having a go and they fall short, I think they'll accept that,' Pemberton told The NLP. 'I'll definitely accept that as a person. Because if we keep trying to do the right things and working as hard as we possibly can, it will turn around. But you can't just do it for a week or give it a whirl for two weeks. The whole mentality has to change around the club.
'My main priority at this football club from walking through the door... is to change mentalities as to how we're going to think of this football club and how we're going to take it forward... We are where we are. There's a reason for that. But we don't need to keep harping on about it. What we need to do is start going, "Right, this is where we are. How can we turn it around?"'...
'It's a club I know and I've known Colin (chairman Colin Gordon) a long time,' Pemberton said. 'He did try to bring me here a few years ago, but at the time I was committed to Bristol City... I'm looking forward to what I know will be a very hard job... I quite like a challenge, to be honest. I'm a bit daft like that sometimes'".
According to the Shropshire Star, "AFC Telford United attacker Darryl Knights is determined to make up for last season's disappointing goal return by breaking into double figures next term. Knights came up with five goals from 39 appearances in National League North for Gavin Cowan's side. That was considerably below the 31-year-old's expectations, and in the wake of 26-goal Daniel Udoh's departure for Shrewsbury Town, he is out to chip in more.
'When I sat down with the gaffer, I said I was disappointed in my goal return. He agreed with me as well,' said Knights. 'I wanted to get at least double figures last season, so it is the same aim this year'...
Knights joined the Bucks last summer on the back of striking 10 times for Tamworth in National North. Playing in the No.10 role for Telford, the last of his five goals came on January 5, so he ended the campaign having gone 14 games without finding the net.
'I was getting a bit concerned that I wasn't putting the chances away, but I would have been more concerned if I wasn't getting into the shooting positions,' added Knights".
Bulls' News confirms that "Joe Ironside has signed for Macclesfield Town after deciding to leave Kidderminster. It had been rumoured that Hereford may have been interested in the prolific marksman, who netted 48 goals in 96 appearances at Aggborough.
However, despite being offered a long-term deal to stay at Kiddy, the lure of the Football League and the chance to link up with former England player Sol Campbell was enough for Ironside to up sticks."
NL Daily reports on Spennymoor's recent signing, Gavin Cogdon.
"His move to Spennymoor Town last week wasn't just a prolific new signing, but the return of an emphatic club favourite... Gavin Cogdon bagged 132 goals in 289 games for the club, as well as winning two promotions in a silverware-packed seven years. He arrives back after three years at South Shields that brought 56 goals, five trophies... and a pair of promotions... It was a surprise for plenty to see him let go, but he will begin next season a league higher.
At 36, the ever-lively forward says he is feeling in optimum condition, and determined to puncture defences up and down the National League North in 2019/20...
He said of former club Sunderland, 'When I was there and got released, that was the time when Sunderland went through a really positive time, and I was like a Sunderland fan even though I'd got released. I started following them, I was a season ticket holder, so Kevin Phillips was the one that you looked at, but I'd sometimes play right-wing or left-wing. I was a centre-midfielder at 11; I think that's why I've got a bit of aggression about us, because I've played in harsher positions than up front...
'A typical day would be, I'll get up and train in the morning, an hour-and-a-half, breakfast after, usual day of work, then I've got my own facility, so on an evening I'm there as well. I do quite long days, and my two children are in sport, so my wife usually takes them on an evening, because I'm working...
'With Shields, they'd said that due to budget cuts and a few different stuff there wasn't a contract for us. That's the first time that's ever happened to me, other than being released at Sunderland, where I was younger and it didn't really mean anything, whereas now, the character that I am, I've took that as like a fuel. There was a couple of phone calls even before they'd released us, but as soon as Spennymoor came I didn't even bother speaking to anybody else, because for me now that's the chance to do everything that I wanted to do...
'If I put 100 percent in, I know I'm good enough, fit enough to have more than enough at that level to compete. At Conference/Conference North, the pitches are better, which suits me. Although I'm saying I've got a point to prove, I've got no issue thinking I can't do it...
'(Spennymoor Town boss) Jason Ainsley, I know he's kicked on as a manager, but I actually played with Jason on a Sunday morning side, which was Hetton Lyons. Grovesy (Bradley Groves, Spennymoor chief executive) managed and that's how I met Brad. I've shared a dressing room with Jason, he's now my manager...
'I would hate to think that anyone from the opposition hate us, because I'd like to think I'm a nice lad. On the pitch I probably just generally give out a different feeling. I can have that side where I forget myself and I get into the heat of the game really'"
---
6 June 2019
Altrincham FC's opening pre-season friendly at Whitchurch Alport, announced for Tuesday 9 July, has now been moved to Saturday, 6 July at 3pm, according to the host club's twitter account.
Kidderminster Harriers
announce that "Harriers have signed striker Richard Peniket on a one-year deal. The 26-year-old, born in Stourbridge, arrives at Aggborough having featured here early in his career whilst on loan at Fulham.
Since then, he's featured for the likes of Tamworth, FC Halifax Town, Gateshead and Alfreton, racking up a wealth of experience. He was a big part of the [Alfreton] Town side that achieved promotion to the National League in 2017, alongside fellow Aggborough summer signing, Cliff Moyo. Peniket, a former Wales U21 international, stands 6ft 3 and had earned a reputation as one of the most robust and difficult-to-handle forwards at this level."
Also from Kidderminster Harriers we read that "Joe Ironside has landed a move to the EFL, admitting League football is all that stopped him from linking back up with new Harriers boss John Pemberton. The popular front man ends a spell of just over two years at Harriers after joining League 2 side Macclesfield Town.
Joe netted 48 goals in 96 appearances for the Reds and had been offered a long-term contract to remain at Aggborough, the temptation to do so increased further by the appointment of Pemberton at the club. Ironside worked with the gaffer during their Sheffield United days, and the forward... said 'The new manager there [Aggborough] is hard-working, disciplined and committed and, on top of that, he's a top, top bloke.
'When he managed me at Sheffield United, I was just a boy. The things I was taught then are the things I am still improving on now, and a lot of what I know now is down to him... My time with Kidderminster has been the most enjoyable two-and-a-half years of my footballing career... Playing in the League has always been my aim but, in terms of non-league, it would always have been Kiddy'".
Meanwhile, the Telegraph & Argus reports that "Guiseley have continued their summer recruitment drive by signing Jaime Spencer from Bradford (Park Avenue). Spencer, 21, who has signed a one-year contract with The Lions, joined Avenue initially on loan from Huddersfield Town, where he had been a member of the Under-23 squad after captaining the Under-18s.
The central midfielder, who is equally comfortable in defence, joined Mark Bower's Avenue on loan in March 2017 before making the move permanent that summer. The Horsfall Stadium provided familiar surroundings for him as his mother Jayne was the club's community development manager. In each of the past two seasons he made 40 appearances for Avenue, finishing last season with four goals.
Spencer joins fellow new signing, striker Aaron Martin, who arrived at Nethermoor last week."
Guiseley themselves "announce our second new signing for the 2019/20 season with the acquisition of combative midfielder Jamie Spencer" and add that "We can confirm that Cliff Moyo has left the club and opted for full time football closer to home at Kidderminster Harriers. Cliff was offered good terms of re-engagement but he departs with our best wishes for his future career."
Alfreton Town "confirm that left back Josh Wilde has signed a new deal for the 2019/20 campaign. Josh was an outstanding performer for the Reds in defence and was a favourite with all at the club for his quality and consistent displays both going forward and in defence.
Technically brilliant and versatile, Wilde has been labelled as one of the best left-backs in the league and the club are delighted to have retained Josh who chipped in with three goals in 42 games last season.
Billy Heath on Josh Wilde... 'Josh doesn't get the credit he deserves; he's the best left-back in this league and is a solid all round defender. He chipped in with a few goals last season and was a really consistent performer for us. He slotted into the wingback role well when we moved him there and performed well going forward and not just at the back. He is another great character to have around and that's what we are looking for heading into the new season'".
The
Sutton & Croydon Guardian
indicates that "New football laws came in to play on June 1. These rule changes were approved at the 133rd AGM of The International FA Board and will be implemented in the 2019/20 season.
Three changes were approved following two years of experiments, these include:
The introduction of yellow and red cards for misconduct by team officials
A player being substituted leaving the field at the nearest point on the boundary line
At a goal kick and a free kick for the defending team in their own penalty area, the ball is in play as soon the kick is taken (it can be played before it leaves the penalty area)
Other significant changes include alterations to the 'dropped ball,' the 'wall' at a free-kick, and an attempt to clear up 'hand-ball.'
Dropped Ball:
If play is stopped inside the penalty area, the ball will be dropped for the goalkeeper.
If play is stopped outside the penalty area, the ball will be dropped for one player of the team that last touched the ball
In both cases, all other players must be at least 4m away. If the ball touches the referee and goes into the goal, team possession changes or a promising attack starts, a dropped ball is awarded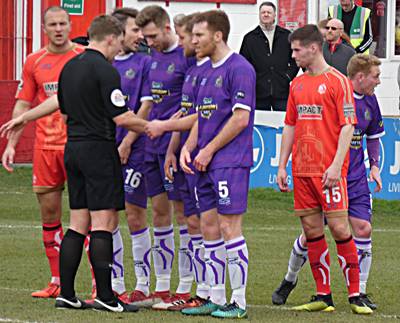 Right: Alty line up a defensive "wall" at Alfreton last April. Opponents won't be allowed within one metre of the "wall" at freekicks next season.
Free Kick:
When there is a 'wall' of three or more defenders, the attackers are not allowed within 1m of the wall; an attacker less than 1m from the 'wall' when the kick is taken will be penalised with an indirect free kick
When the defending team takes a free kick in their own penalty area, the ball is in play once the kick is taken; it does not have to leave the penalty area before it can be played
Hand Ball: Deliberate handball remains an offence. The following 'handball' situations, even if accidental, will be a free kick:
The ball goes into the goal after touching an attacking player's hand/arm
A player gains control/possession of the ball after it has touches their hand/arm and then scores, or creates a goal-scoring opportunity
The ball touches a player's hand/arm which has made their body unnaturally bigger
The ball touches a player's hand/arm when it is above their shoulder (unless the player has deliberately played the ball which then touches their hand/arm)
The following will not usually be a free kick, unless they are one of the above situations:
The ball touches a player's hand/arm directly from their own head/body/foot or the head/body/foot of another player who is close/near
The ball touches a player's hand/arm which is close to their body and has not made their body unnaturally bigger
If a player is falling and the ball touches their hand/arm when it is between their body and the ground to support the body (but not extended to make the body bigger)
If the goalkeeper attempts to 'clear' (release into play) a throw-in or deliberate kick from a team-mate but the 'clearance' fails, the goalkeeper can then handle the ball
Penalty Kick:
The team's penalty taker can have (quick) treatment/assessment and then take the kick.
The goalkeeper must not be touching the goalposts/crossbar/nets; they must not be moving. [Presumably "they" means the goalkeeper and not the "goalposts/crossbar/nets"!]
The goalkeeper must have at least part of one foot on/in line with the goal line when the kick is taken; cannot stand behind the line.
For a full list of law changes visit the Referees' Association".
Wrexham's
Daily Post
says that "The make up of next season's National League continues to remain unresolved. A winding up order against Notts County, one of Wrexham's National League opponents next season has been adjourned after more time was granted to complete the sale of the club. The Magpies, who were relegated from the Football League for the first time in their history last season, will be back in the High Court in London on July 10.
At the High Court on Wednesday, Lloyd Tamlyn, representing the club, told the court, negotiations are ongoing with two parties and the sale is expected to be completed within a month... Owner Alan Hardy has been in talks for several weeks to sell the club, who owe HM Revenue and Customs £200,000 in unpaid taxes. Hardy saved the Magpies from possible extinction in January 2017 when he bought out predecessor Ray Trew, but put the club up for sale in January this year.
Hardy's company Paragon Interiors went into administration...
Meanwhile, Gateshead have officially submitted an appeal against the sanctions placed upon them by the League. Nearly a fortnight ago the Heed were handed a nine-point deduction for last season, as well as a £3,500 fine for "multiple breaches" of financial regulations. But the most severe punishment saw the International Stadium based side denied a licence to compete in next season's National League.
Since that announcement, a supporter-led consortium has officially taken control of the club after agreeing a takeover deal with former owner Dr Ranjan Varghese and his financial advisor Joseph Cala, according to the Sunderland Echo... Should they be unsuccessful in their appeal Gateshead will be demoted out of the fifth tier, most likely handing Aldershot a reprieve."
---
5 June 2019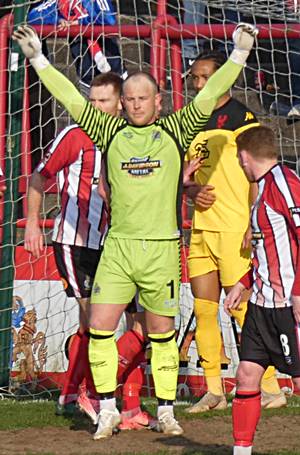 Altrincham FC
has announced that a further three of last season's squad will be remaining at the club for 2019-20 season. They are goalkeeper Tony Thompson [right], defender Ben Harrison and forward James Poole.
24 year-old Tony Thompson has racked up 86 appearances in his two seasons at Moss Lane.
Ben Harrison (28) was an ever-present in his first season at Altrincham before a knee injury sadly curtailed his 2017-18 season in April 2018. Recurrent injury robbed him of much of 2018-19 but by the end of the campaign. He was fit again. Ben has made 49(+6) appearances to date, and scored twice.
29 year-old James Poole, likewise, suffered an injury-ravaged 2018-19 which limited his appearances to 37(+16) over the two seasons he has spent at the club. He has netted 14 goals.
So far, the following 18 players have been confirmed as being at Altrincham next season.
Shaun DENSMORE, Steven DRENCH, Connor HAMPSON, Josh HANCOCK, Tom HANNIGAN, Ben HARRISON, Max HARROP, Jordan HULME, John JOHNSTON, James JONES, Jake MOULT, Toby MULLARKEY, Tom PEERS, James POOLE, Simon RICHMAN, Anthony THOMPSON, Andy WHITE, Sean WILLIAMS.
All except Tom Peers and Toby Mullarkey ended last season at the J. Davidson Stadium. However, one of last season's players who is unlikely to remain at Moss Lane is Callum Dolan. According to Sports Connexions he is "going back to Burton Albion for pre-season training to earn himself a professional contract with Nigel Clough's Division one side".
Altrincham entertain AFC Fylde on 27 July. The
Football Man Cave
says that "Despite playing for relegated FC United of Manchester last season, striker Kurt Willoughby has moved into full-time football with last season's beaten National League play-off finalists AFC Fylde.
On the back of having a very good season last year, scoring 19 goals for FC United. He had previously scored goals for fun in the North West Counties League for AFC Blackpool and Clitheroe, wherever Willoughby goes goals seem to follow. His form this season has also seen the 21-year-old called up to the England C squad, where he scored on his debut against Wales C.
With last season's joint National League top goalscorer Danny Rowe in the squad at Fylde, Willoughby has the perfect model to help develop his game and, this has led to his new manager Dave Challinor labelling his new striker 'Not a risk but definitely a project'...
You could compare Willoughby's game to that of Jamie Vardy in the Premier League, the man loves a ball over the top or a through ball that he can run on too from the shoulder of the last defender. This will definitely be something fresh for fans of Fylde as top scorer Danny Rowe isn't that type of player instead, he holds the ball up and creates chances from nothing".
At
Darlington
, "New signing Jarrett Rivers says that he is really looking forward to playing for Quakers after moving from Blyth...
Winger Jarrett started his career at Middlesbrough and worked his way through the youth system before being released in 2013 and joining Northern League club Whitley Bay. He moved up two divisions a year later and joined Blyth, who were then in the EvoStik Premier... He grabbed the spotlight when he scored the winner in the second round against Hartlepool at Victoria Park...
He said, 'Because I worked in my parents' newsagents at the time, I got loads of calls from the press and was labelled as the paperboy who scored the winner but I never went out delivering papers. I just helped behind the counter! I'll always remember the game in the third round at home to Birmingham. We led 2-0 at half time against a Championship side who didn't give us many problems, but then they scored three times in ten minutes straight after half time, and we couldn't get back into it. But for a club like us to reach the third round was fantastic, a great experience for us all.'
At the end of that season, Jarrett was transferred to Blackpool... 'I was chosen for England C for a game at the end of the season, but I had to pull out of it because of injury and couldn't go. Lee Clark signed me for Blackpool, but I only met him once and he quit within a week of me signing! Neil McDonald took over from him as manager and I played 13 games for them, but I didn't really get the chance to play regular football. They were after more experienced players.'
Jarrett returned to Blyth for the start of season 2016-17, and helped them win promotion to National League North under Alun... 'Alun knows what I'm about. He's a great man manager, and knows how to get the best out of players. He likes to play attacking, high-energy football. We were conceding a few goals at one point last season, but he shored things up at the back and that helped us a on a great unbeaten run near the end of the season.
'We were really unlucky against Altrincham in the play offs. We were 2-1 up going into the last minute of normal time, and then they equalised in the 94th minute. They beat us on penalties, which are always a lottery.
'I'm really looking forward to playing for Darlington, the fanbase here is brilliant... I'm also looking forward to playing in front of crowds of over 1300, it should be a great atmosphere. Anything in this division over 1,000 is really good.'"
And Darlington also report that they "have signed central defender Louis Laing from Blyth Spartans. Louis started his career at Sunderland, and made his debut in May 2011 in the Premiership against Wolves. He then had a loan spell at Wycombe, and was released by Sunderland in 2014. He joined Nottingham Forest for a season, before heading northwards to Motherwell and Inverness CT in the Scottish Premier League.
He returned to England and played for Hartlepool in League Two, before he left in October 2018 and joined Blyth, where he was a very consistent performer over the rest of the season in his 19 appearances, helping them into the play offs. He was a free agent at the end of the season.
Manager Alun Armstrong said 'There aren't many more players who are so composed and calm with the ball. He has a very good understanding of the game, and mops up so many times. He has a very good passing range, and can turn defence into attack very quickly with one pass.'"
Meanwhile, at Laing's and Rivers's old club, Blyth Spartans "announce a substantial sponsorship deal with the TEXO Group, who have become the club's new shirt and advertising sponsor. The TEXO name will be emblazoned on the green and white stripes, as well as the new change kit which will be announced in due course.
The sponsorship deal is one of the biggest in the club's long history... TEXO have a huge interest in football; they also sponsor Scottish Premier League side Aberdeen, and the new tenants in the Port of Blyth are keen to build on the community spirit in the town.
Blyth Spartans Chairman Tony Platten said 'I'm thinking about the future of the club and the town, TEXO are a really good company, a company that is investing heavily in the Port of Blyth... The town, the football club and the businesses situated here are all working together to bring the community together. TEXO want to be part of the community...
'They've done this in Aberdeen, and are a huge supporter of Aberdeen Football Club, they have a real interest in football.'"
By way of background, "Texo Group has been formed to meet the demand for integrated engineering services within critical infrastructure. With an unprecedented offering in turnkey services to both UK and global markets, Texo Group encompasses initial design, through to lifecycle management of critical assets".
According to the Shropshire Star, "AFC Telford United playmaker Darryl Knights is confident they can push for promotion next season despite the loss of top scorer Daniel Udoh. The Bucks had 26-goal Udoh leave for Shrewsbury on Friday, signing a two-year deal at Montgomery Waters Meadow.
But Knights believes they will find another source of regular goals... 'Losing Dan is a big blow, of course, but if we can replace and build on what we already have, then we have got a chance,' said Knights. 'I am sure the gaffer has something planned with it and will have had a back-up plan for losing Dan. If we have a good four strikers competing like last year, it will only be a good thing for us.'
Knights is one of the vast majority of last term's team to agree to stay under the guidance of Gavin Cowan... He thinks that continuity is vitally important.. 'I think that was the gaffer's thinking with it all too,' said Knights...
'We are stronger for what happened last season, the experience... We want to improve, so that's getting into the play-offs. We have kept hold of the experienced players, the ones to help the younger lads, like Marcus Dinanga, Andre Brown and Zak Lilly'".
Football League World adds that "Shrewsbury wrapped up a deal to take prolific non-league striker Daniel Udoh to the New Meadow this week, completing a move from near-neighbours Telford. Udoh grabbed 26 goals for the Bucks last season and his capture is one that could have big benefits for Salop...
Manager Sam Ricketts admitted he'll be scouring the non-league scene for other hidden gems, a message that was surely intended to give the fans hope of uncovering plenty of fresh talent. It could have the opposite effect though. Shrewsbury struggled to get a hold in the division last season after putting their faith in a mixture of non-league and League Two players. The method cost John Askey his job, but Sam Ricketts doesn't appear to have learned the lesson.
Supporters want to see talent plucked from the non-league scene, of course they do. Who doesn't want to see their side discover the next Jamie Vardy or Mo Eisa? However, they also want to see a side that is successful and that only comes from achieving the right blend...
Shrewsbury won't achieve a place in the top six by omitting to add quality and focusing on just potential. Supporters will see that, but a manager like Ricketts who comes out of the non-league scene himself may not... Shrewsbury fans might well be a little concerned that the club targeting rough diamonds means they forget to go after the polished article, a vital component in not just pushing the top six, but avoiding the bottom four."
As reported yesterday by Curzon Ashton "Adam Muir, captain of the quadruple winning U18 team, has become the latest player to sign up for senior football next season. Having had a taste of first team action in 2018/19, Adam will be looking to push on again next term. At just 17, he is the youngest of our senior signings to date...
Having grown up through the Curzon Junior system, joining when he was just 5 years old, he is a symbol of the talent that the club has throughout the age groups. Adam's previous coach and now Club Chairman, Wayne Salkeld, will no doubt lay claim to his progress."
From Leamington we learn that "Paul Holleran has allayed the fears of Brakes fans by announcing that the in demand Jack Edwards has agreed to remain at the club for the forthcoming season.
The popular midfielder has amassed 230 appearances and 40 goals in Leamington colours since arriving at the club in the summer of 2014 from Barwell and, save for a couple of months away at Solihull Moors, he has played a huge part in the successes of recent seasons...
Said the manager, 'Obviously there had been speculation about Jack, but throughout that I was quietly confident that he would stay with us. He's not the only player in the squad to receive interest, but the interest he has received is on the back of a couple of good seasons for us, and players like Jack who are versatile, experienced now, he chips in with goals, is good in both boxes and can play in a number of positions, are priceless really. I just feel that where Jack is, in himself, in his life, where we are as a football club; the geography of the football club, the way we run the football club, we're a good fit'".
From Alfreton Town "confirm that midfielder Danny Clarke has signed a new deal with the club for the 2019/20 campaign. Danny was a popular figure with Reds fans for his old school approach and his passionate and gritty displays towards the back end of the season. Clarke's performances were always with 100% effort with the midfielder making 14 starts with nine substitute appearances in the 2018/19 campaign.
Billy Heath on retaining Danny Clarke [said]... 'I've had him at numerous clubs, he played more towards the back end of the season for us but it was important to get him on board.'"
According to Cheshire Live "York City are joint favourites for the 2019/20 National League North season according to a leading bookmaker. BetVictor have released early odds for next season with York favourites at 5/1 with Chester FC next at 6/1, Altrincham, Brackley Town, Spennymoor Town and Southport all at 10/1.
Last year it was Stockport County who were deemed the bookies' favourites, something that came to pass at the end of the season with the Hatters winning the National League North title."
---
4 June 2019
For 2019-20 season Altrincham will be hoping to make a better start to the league campaign than has been the case over most of the last 15 seasons.
Even before that period, supporters may remember than when the club won the Northern Premier League in 1999, they had started that campaign with not a single win in their opening eight league fixtures.
And, likewise, when Alty once more gained promotion to the national division in 2005 (through the play-offs) they had again kicked off the season unspectacularly with just two wins from their opening five fixtures. But their respectable haul of 15 points from the first nine games of that season (2004-05) was to be better than anything achieved over the next eight seasons.
2005-06 produced just three Altrincham wins, curiously in successive games, from the Robins' first 13 league fixtures and 2006-07 saw just ten points gleaned from the opening ten matches. Even worse was to follow in 2007-08 when no wins were recorded until the eleventh game of the season, with just three points taken from the opening ten fixtures.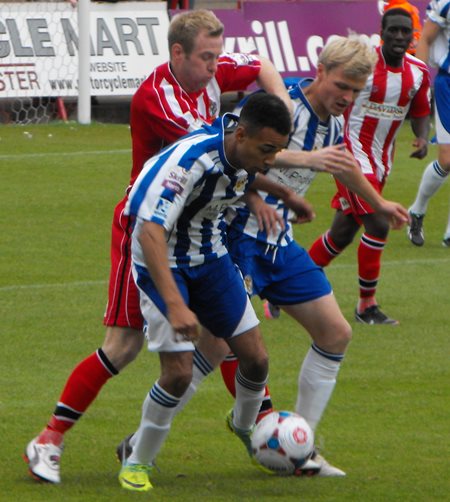 Right: Alty's last opening day victory was in August 2013. Here we see debutant James Walshaw in action in that game.
There was a slight improvement in 2008-09 as a single victory arrived in the first nine fixtures, a run which saw a meagre six points banked. 2009-10 was a bit like 2005-06 in that there was a run of three successive victories early in the season but these were the only wins in the first ten games.
It was not until game ten that Altrincham recorded a win in 2010-11, with just one point being on the board at that stage! 2011-12 saw one win in the opening seven matches before a better start in 2012-13. But three wins in the first seven matches of that season was hardly spectacular.
At last, Alty had a faultless start in 2013-14, winning all four of their opening fixtures and losing just once in the first eight matches.
But normal service was resumed the following season (2014-15) with only two wins from the first twelve contests and only eight points to show for that dozen games.
2015-16 started poorly too, with three straight defeats and just two wins from the first seven games. The less said about 2016-17 the better as Alty failed to win any of their opening twelve fixtures, recording just four draws in that lamentable sequence.
Although 2017-18 was to end in winning the championship, even that campaign started poorly with two defeats and a draw.
So, supporters will be looking for a more promising start in 2019-20 than has been the case for many a year!
2013 was the last time that Altrincham won their opening game of the season, a feat they had not previously achieved since 2008.
The win on Saturday, 17 August 2013 was at Kidderminster Harriers' Aggbrough Stadium but the opposition were their ground-sharers, Worcester City. For that match, Altrincham included four of their five new first-team faces for 2013-14, namely strikers James Walshaw and Kyle Perry, defender Mike Williams and winger Brian Smikle, (the latter two no strangers to Aggborough). In addition, Alty included midfielder Danny Boshell, who ended last season on loan to Alty from Guiseley.
The Alty line-up that day was 1. Stuart COBURN, 2. Shaun DENSMORE (capt), 3. Mike WILLIAMS, 4. Jake MOULT, 5. Gianluca HAVERN, 6. Scott LEATHER, 7. Brian SMIKLE, 8. Danny BOSHELL, 9. James WALSHAW, 10. Damian REEVES, 11. James LAWRIE. Subs 12. Matt DOUGHTY, 14. Carl RODGERS, 15. Nicky CLEE, 16. Kyle PERRY, 18. Adam REID.
And you have to go back to August 2006 to find the last time that Altrincham won an opening-day-of-the-season league match played at Moss Lane. That was a 2-1 win over Stevenage Borough on 12 August 2006, courtesy of two first-half goals; the first from Colin Little and the second a penalty converted by Steve Aspinall.
Altrincham FC have announced that "The first fundraiser of the season is a Q & A evening with Premiership referee Anthony Taylor on Friday, 14th June 2019 starting at 7.30pm. Tickets are priced at £25 each and include a 2 course dinner. Comedy, if not provided by Anthony, will be via Bill Wooland".
At
Leamington
, "Paul Holleran has announced his second new arrival of the summer with the signing of Reece King from Hednesford Town. The 24 year old midfielder joins Leamington having enjoyed a solid couple of seasons at Keys Park, (67 games, 6 goals), particularly in the one just gone, having picked up the Manager's Player of the Year, Players Player of the Year, along with two supporters' awards.
'He's a big, strong, powerful athletic midfield player who we're delighted to add to the squad,' said the Brakes manager. 'We feel he has got all the attributes to succeed at this level. He's had a good grounding and a couple of good seasons at Hednesford, which is always ideal using the Northern Premier League as a gauge. We are looking forward to working with him and seeing what he can bring to the team.'
Reece began his career at Malvern Town, making his first team debut in the 2011/12 season at the age of 16 and going on to make over 100 appearances for the club. During his final season at Malvern, Reece went on trial at Gloucester City and the Tigers agreed a deal until the end of the 2016-17 season with him making a number of appearances towards the end of the campaign. Gloucester were moved to the National League South and King agreed a deal to stay for the 2017-18 season. However, after making only 13 appearances for Gloucester, Reece joined Hednesford initially on loan in September 2017, returning on a permanent basis towards the end of that year.
Along with fellow new boy Josh March we would like to welcome Reece to Leamington Football Club".
"
Chester FC announce that former Trafford "Goalkeeper Grant Shenton will not be staying with the Blues for the 2019/2020 campaign... The 28-year-old played every minute of the 2018/19 season for Chester FC, ending with an excellent haul of 16 clean sheets in all competitions.
Blues' joint boss Anthony Johnson... [said], 'Not only did he play in every single league game for the club, he also had the second best clean sheet ratio in the league last season. He's a fantastic bloke who we're sure will be a success at his next club'".
Shenton explained that "With the club changing to a hybrid model, I couldn't commit to all the sessions, due to work commitments".
At Curzon Ashton "Youth quadruple-winner Elliot Cooke joins 1st team. Mark Bradshaw has continued to put his faith in youth with the most recent addition from the successful U18 side, Elliot Cooke.
Elliot, who joined the club from Oldham as a 15 year old, has been part of the Academy set up for the last 3 years, was 'lost for words' about being given the opportunity".
As reported here recently and now confirmed by the Halifax Courier "Former FC Halifax Town player Ben Tomlinson has been reunited with his ex-boss Billy Heath at Alfreton. Tomlinson, 29, was released by The Shaymen at the end of last season after two years with the club. He joined Alfreton from Macclesfield at the start of the 2012-13 season, scoring 14 goals in 39 games.
Alfreton, who also have former Shaymen Josh Wilde, Nathan Hotte, Richard Peniket and David Lynch among their ranks, finished 15th in the Conference North last season under Heath."
According to the Shropshire Star "AFC Telford United could be in for a future windfall after inserting a sell-on clause into Daniel Udoh's move to Shrewsbury... Udoh has swapped the New Buck's Head for Montgomery Waters Meadow, signing a two-year deal after his 26 goals for Gavin Cowan's side last season.
The fee paid by Town for the 22-year-old is undisclosed, so it is unclear whether it surpasses the Bucks' record £25,000 sales of Mike Phenix to Barnsley in 2014 and Duane Courtney to Burnley in 2005. The club will receive a cut if Salop sell the Nigeria-born striker. Udoh's transfer to Shrewsbury, becoming the first player to make the switch since Trevor Challis and Stuart Whitehead did together in 2004, leaves Telford with three centre-forwards on their books.
Marcus Dinanga was already contracted for next season, having signed an 18-month deal upon his return to the club in January from Burton Albion, while Andre Brown has put pen to paper on a new contract with the club and the experienced Matthew Barnes-Homer is staying on as a player-coach. Dinanga scored twice in the league last term, Brown six times and Barnes-Homer did not find the net.
Ten-goal forward Amari Morgan-Smith is yet to decide on his future. He is the only one of last term's squad whose future is yet to be determined. The Bucks have kept the vast majority of last season's stars, with only defender Dom Smith and sparingly-used midfielder Jud Ellis leaving.
Skipper Shane Sutton and defensive partner Ross White were the first to pen new deals, and then likes of midfielder James McQuilkin, goalkeeper Andy Wycherley and vice-skipper Ellis Deeney followed suit.
Cowan has also brought in a couple of new faces. Winger Chris Lait has arrived after a stellar season with Tamworth in the Southern League Central, the level below Telford, and Adam Walker has jumped over from National League North rivals Brackley. The Bucks are likely to swoop for another striker, especially if Morgan-Smith does not stay."
---
3 June 2019
On 27 July Altrincham welcome AFC Fylde to the J. Davidson Stadium for the hosts' final home fixture of pre-season. The Coasters narrowly missed out on promotion to the Football League this summer when they lost to Salford City in the play-off final. But they will arrive at Moss Lane as holders of the FA Trophy, having beaten Leyton Orient to lift the trophy.
On their only previous visit to Altrincham, Fylde won 6-0, on 16 August 2016, a result which came after Neil Young's much changed squad had drawn its first three matches in what was to become a disastrous league campaign, which culminated in relegation from National League North. Fylde also won the reverse fixture that season, 4-1, as they went on to win the championship and progress to the National League. In fact, Fylde finished with more than four times as many points as Altrincham gathered that season, 88 v 21!
The match in 2016 at Moss Lane could have been even worse as the Coasters led 6-0 as early as the 47th minute.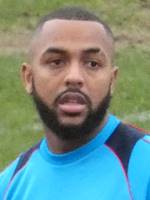 Right: Ashley Hemmings
The visitors' team included Josh Langley and Brendon Daniels, both later to be loanees at Altrincham. Jake Moult and Simon Richman are the only survivors of Altrincham's squad from that encounter. In this match Altrincham gave a debut to former Crawley Town goalkeeper Callum Preston and coach Simon Garner also started his first match for the Club, at left-back, after two appearances from the bench.
ALTRINCHAM 1. Callum PRESTON, 2. Sam PATTERSON, 3. David LYNCH, 4. John CYRUS, 5. Simon RICHMAN, 6. Alan GOODALL (capt), 7. James LAWRIE, 8. Jake MOULT, 9. Danny HATTERSLEY, 10. Damian REEVES, 11. Simon GARNER. Subs: 12. Jamie MENAGH, 14. Sean MILLER, 15. Charlie JOYCE, 16. Sam HEATHCOTE, 20. Andrew DAWBER
AFC FYLDE 1. Rhys TAYLOR, 2. Danny HOLMES, 3. Tom KENNEDY, 4. Josh LANGLEY, 5. Steve WILLIAMS, 6. Adam BOND, 7. James HARDY, 8. Caspar HUGHES, 9. Danny ROWE, 10. Bohan DIXON, 11. Brendon DANIELS. Subs: 12. Matty BLINKHORN, 14. Richie BAKER, 15. Dom COLLINS, 16. Matty HUGHES, 17. George NEWELL.
Current Alty players who have turned out for AFC Fylde include defender Tom Hannigan, who was The Coasters' captain and goalkeeper Tony Thompson. Also, Alty's recently departed keeper, Elliot Wynne was at Fylde, whilst loanee Ashley Hemmings enjoyed a successful spell at Moss Lane from AFC Fylde in December 2018.
Following a selection process,
Kidderminster Harriers
"confirm the appointment of John Pemberton as the club's new Manager. The 54-year-old takes charge at Aggborough having agreed a two-year contract.
Russ Penn has been appointed Assistant Manager and also commences that role immediately, while also retaining his availability as a player if required.
As a player, Pemberton made over 300 appearances as a player for the likes of Crewe and Crystal Palace and, in coaching and management, his career has already stretched the better part of two decades at Academy and senior level. After retiring as a player, Pemberton transitioned into coaching at Nottingham Forest, managing their championship-winning U18 side, taking over as caretaker manager of the first team at the City Ground in in 2008, steering Forest to a memorable FA Cup win at Manchester City.
In youth football, he has overseen successful periods at Sheffield United and Chesterfield the latter most recently, while also taking up senior roles at Bristol City, Crystal Palace and Northampton Town as assistant and caretaker manager. Pemberton was also caretaker boss at Chesterfield in the National League last season.
An astute and disciplined character, he is widely regarded in football circles".
From Chester FC we learn that they "have fought off interest from teams higher up the football pyramid to secure the services of Jamie Morgan. The highly rated full-back has joined the Blues from Nantwich Town, where he scooped three end of season awards...
> Joint boss Bernard Morley said 'He fits the profile of the kind of player we want at this football club; he's young, hungry and determined to climb the leagues.'
Morley's fellow joint boss, Anthony Johnson... tweeted 'Great signing for the club, lots of interest higher up the ladder in Jamie so we're absolutely delighted he's joined'".
Wrexham's Leader Live reports that "Former Wrexham duo Rob Evans and Martin Riley will be playing for new clubs in National League North next season.
Midfielder Evans, who came through the ranks at The Racecourse and also captained his hometown club, has joined Curzon Ashton. After leaving Wrexham in 2017, Evans has a spell at Billericay Town before spending the 2018-19 season with Warrington Town...
Centre-back Riley, who had two spells with Wrexham, most recently in 2016-17 when he won the Player of the Season award, has signed for Hereford United. The experienced 32-year-old, who has also played for the likes of Kidderminster Harriers, Cheltenham Town, Mansfield Town and Tranmere Rovers, spent last season playing for Alfreton Town in the National League North.
Riley told the official Hereford FC website 'I'm really pleased to have agreed a deal to come to Edgar Street and am excited about our prospects for next season. I've played here on several occasions over the years and have always found it a tough place to come and get a result.
'I'll bring a great deal of experience with me, mostly in the National League and League Two, and I'm looking forward to getting to know the other lads. Obviously, I already know Reece Styche and Josh Gowling which should certainly help me settle in'".
King's Lynn Town "are delighted to announce Sam Kelly, Sonny Carey and Nathan Fox as their first three signings of the summer.
Former Football League player Kelly was with Braintree and Billericay last season while Carey was at Wroxham and Fox arrives from Hednesford.
Kelly is a pacey left-winger who, after starting out at Cambridge United as a youth, played for the academies of both Norwich City and Everton. He had brief spells with both Port Vale and Grimsby Town in the league before a spell with Hamilton Academical in the Scottish Premier League.
Linnets director of football Robbie Back said, 'Sam has got Football League experience and has played at this level last season with both Braintree and Billericay. He is a real big coup for the football club and will fit in great with the rest of the squad. Ian (Culverhouse) is delighted to get him on board.'
Left-back Fox, who can also play in midfield, was named as Hednesford's Player of the Season and Sportsman of the Year at their end-of-season awards last month. The Leicester-based defender came through the ranks at Notts County as a youngster and made one first team appearance for the Magpies before leaving for pastures new...
Back said, 'Nathan is a player we watched several times towards the end of last season... He likes to bomb forward and possesses a wand of a left foot. After playing at Step 3 for a number of seasons, he is looking to prove himself at the level above.'
Hellesdon-based Carey, who has had trials with Norwich City, Cambridge United and Oxford United was part of the England Colleges FA national team for the 2018-19 season. The teenager... is part of NCFC Community Sports Foundation (CSF) shadow squad, who are coached by Linnets midfielder Ryan Jarvis...
Also agreeing terms with the club for a further campaign are: Michael Gash, Ryan Jarvis, Jordan Richards, Ryan Fryatt, Ryan Hawkins, Michael Clunan and Alex Street while the quintet of Adam Marriott, Rory McAuley, Harry Limb, Chris Henderson and Aaron Jones were already committed to another season.
The club remains in talks with Ross Barrows and winger Natty Stewart also returns to the fold after being loaned out to Wroxham last season. Back said, 'Ian and myself have spoken five or six times a day about possible signings while a number of players have also approached us. It has been non-stop since the end of last season'".
At Spennymoor Town "Midfielder Jake Hibbs has been placed on the transfer list. The 23-year-old, who played the majority of last season at right back following an injury to Callum Williams, made 31 appearances in all competitions, scoring once".
Ashton United>
"are looking to recruit a football analyst to be part of their management team for the 2019/20 season. We are looking to build a solid infrastructure within our backroom team. We have recently invested in Playertek vests for the players and will use this data to help us assess the player and team performance in more granular detail."
According to the Blackpool Gazette "Chorley boss Jamie Vermiglio is not surprised to see his coach Andy Preece linked with the vacant number two role at Blackpool but says a job offer would have to be 'something special' to tempt him away from Victory Park.
Preece, 52, was a key member of Vermiglio's management team along with Jonathan Smith as the Magpies clinched promotion to the National League. One of the first moves Vermiglio made when he took over as manager last summer was to bring his old Northwich Victoria boss Preece into his coaching team...
Vermiglio says ex-Bury, Worcester, Northwich, Airbus UK and Southport manager Preece has had approaches from teams in the Football League. League One Blackpool are the latest to be linked with a swoop for Preece. The 52-year-old ex-striker enjoyed three years at Bloomfield Road from 1995-98, scoring 35 goals in 129 league games.
Gary Brabin left his post as Terry McPhillips' number two at Blackpool for 'personal reasons' in March and was replaced by Tony Grant. Grant has since left that role as he is set to link up with ex-Liverpool forward Robbie Fowler at Australian side Brisbane Roar."
---
2 June 2019
On 16 July Altrincham make their first visit to the Skuna Stadium, Alder Street, Atherton to take on Evo-Stik Division One West champions, Atherton Collieries. That is the division in which our neighbours Trafford remain for 2019-20.
The club itself explains that "Atherton Collieries Football Club was formed in 1916, by miners from the six pits which were operative in the old urban district of the town. The club was created as a means of providing welfare for those at home during the war effort. When the pits were nationalised, the football club was gifted to the people of the town.
They have played at Alder House since their formation, making the ground one of the oldest in the division. You gain a sense of the history when you walk around the facility which keeps its identity and warmth despite being renovated gradually over the past few years.
Colls were founding members of the North West Counties Football League in 1982 and remained there until 2017, when earned promotion to the Northern Premier League for the first time in the club's history".
Also, Atherton Collieries announce that "Our pre-season will kick off on Saturday 6th July when we travel to NWCFL First Division North side Prestwich Heys. Three days later, on Tuesday 9th July, we host Chorley who have just gained promotion into the National League. A second home game in succession takes place a week later on Tuesday 16th July when National League North outfit Altrincham arrive in downtown 'Bent.
This year will be the 10th Jolly Boys Outing and it promises to be another memorable day out as we take the fun bus to NCEL Premier Division side Hemsworth Miners Welfare. This match will take place at Wakefield Road, in Fitzwilliam on Saturday 20th July. Our friends Ashton Athletic are our next opponents when we make the short journey to Brocstedes Park on Thursday 25th July.
Following last year's keenly contested Collieries Cup between ourselves and Pontefract Collieries, we are delighted to confirm that we will be hosting the annual fixture this time around. This match will take place at The Skuna Stadium on Saturday 3rd August.
On Tuesday 6th August we will face Trafford at their Shawe View ground before concluding our pre-season on Saturday 10th August with a home fixture against the 2018/19 NWCFL champions City of Liverpool FC.
Atherton Colieries have also announced that one of the many players from last season who has already signed up "for next season is our captain, Danny Lafferty, nearly 10 years since making his debut for Colls".
Blyth Spartans
"announce the appointment of former England International and Newcastle United midfielder Lee Clark as their new first team manager. Clark, 46, brings a wealth of Football League experience having previously managed Huddersfield Town, Birmingham City, Blackpool and Bury, whilst also managing Kilmarnock in Scotland
The midfielder made 528 appearances in his professional career, scoring 66 goals, most notably for Newcastle United, Sunderland and Fulham. Clark's first step into management was at Huddersfield Town in 2008 where... during his four-year spell, he set a Football League record of 43 consecutive games undefeated, which still stands today.
And Clark, who has not managed since parting company with Bury in October 2017, is honoured to join Blyth.
'First and foremost, it's football. I love it, I want to be on the grass,' said Blyth Spartans' new manager. 'I've been too long out the game and an opportunity to be at home around my family at a great club with great tradition. When they contacted me and I was honoured'...
The news was welcomed by new club sponsor Texo, we'll be making a further announcement on the details of our new sponsorship deal this coming Monday."
Crewe Vital Football confirms yesterday's news that "Shrewsbury Town have completed the signing of Telford United forward Daniel Udoh on a 2-year deal for an undisclosed fee...
Udoh, 22, started his career with Stevenage with spells [at] Worcester City, Hoddesdon Town and Ilkeston before moving to Crewe Alexandra in March 2016. After struggling to play regularly for the Alex where he made 15 appearances during Steve Davis's management, he was unable to get into Dave Artell's plans (being loaned out to 4 clubs in the process) and was released last May with the Bucks picking him up later in the summer...
He's a player that played fairly well for Alex Morris's Under-23 team but couldn't quite convince the management that he could make the step to do first-team level. He's a hard-working forward who is a decent finisher at non-league level but it'll be interesting to see whether he can make the jump required to succeed 3 leagues higher".
Alfreton Town "confirm the signing of forward Ben Tomlinson, most recently at FC Halifax Town. Ben, 29, joins the Reds for a second spell after joining from Macclesfield Town for an undisclosed fee at the start of the 2012/13 season.
Tomlinson joined Halifax in July 2017 on a one-year deal with his most recent club prior to his move to the Shaymen being Carlisle United. He signed for United on a non-contract basis towards the end of the 2016/17 season.
Ben came through the youth ranks at Nottinghamshire side Worksop Town, before breaking through into the first team picture. Tomlinson then joined Macclesfield in 2011 where he scored six goals in 25 appearances... Ben would move to the Impact from the Silkmen, for his first spell at the start of the 2012/13 season and was prolific in this time scoring 14 goals in 39 games. Other spells following his time at the Reds followed at Lincoln City, Barnet, Grimsby Town and Barrow.
Tomlinson then joined Halifax... ahead of the 2017/18 season and scored four goals in 21 starts before being released at the end of the 2018/19 campaign, a season which saw two big injuries set the forward back and resulted in him missing the final months of the 2018/19 season.
Billy Heath on bringing Ben back to the Reds said, 'It's a great signing to have Tommo back with us at the Impact, he is a man with bags of experience at higher levels, he is an excellent character with a great personality. He was plagued by injuries last season with two big set-backs... He knows the club and he's looking forward to playing games, a player who scores goals and always gives 100%. We will make sure we do everything right with him after his injury lay off and we are delighted, it's a very strong signing for us.'"
Meanwhile,/A>, at Leamington, "Paul Holleran has announced that he has reached agreement with James Mace, Jamie Hood and Jack Lane to remain at the club for the forthcoming season.
Mace is entering his ninth season at the club having initially joined on trial back in the summer of 2011, and is within 50 appearances of breaking the modern day club record set by Josh Blake back in 2009.
Hood signed in September 2010 and returned in 2015 after two seasons with Barwell, and is close to breaking the 300 appearance barrier himself. The manager was full of praise for two players who have helped form the backbone of his squads as he approaches ten years in charge of the club...
He said 'Neither player needs any introduction having played over 600 games for Leamington between them, which is an incredible achievement. They have been a big reason for our success over the years and have provided a solid foundation for us to build on... They are experienced, established defenders at the level we are at now and are an important part of the squad and the DNA of our club.'
Meanwhile Jack Lane did what many others have failed to over the years after signing from Alfreton last September, infiltrating the establishment in defence and giving the manager some food for thought as he filled in seamlessly at left-back and in centre-back. 'I am constantly reminded of the fact as the years go by that eventually I am going to need people to fill some very experienced boots and share the load a bit, and Jack stepped in and did that for us last season. He's a good, cultured player who did very well for us and gave us good balance. It worked well in the second half of last season when we needed to switch things around a bit and all being well it will do so again in what is going to be another very challenging season.'"
At Curzon Ashton, "The Club are delighted to extend a warm welcome to Danny O'Brien. Danny, from Worsley, came through the youth system at Aston Villa before moving back to the North West with Wigan Athletic... Whilst at Wigan he also had loan spells with Wrexham and Chester.
From Wigan Athletic, O'Brien then moved to Finland to spend spells with Kraft and SJK. He made 40 appearances in a year in Finnish football before moving back to the UK where he signed for fellow National League North outfit, Alfreton. An England U17 International, Danny was part of the same group that included Tottenham's Harry Winks."
---
1 June 2019
Farsley Celtic
"announce our first new summer signing as Adam Lakeland has added goalkeeper Elliot Wynne to the squad for the upcoming campaign. Elliot has made the switch from fellow National League North side Altrincham. The gaffer... said 'I'm delighted that Elliot has joined us, becoming our first signing of the close season. I sat down with the staff at the end of the season and we highlighted the need to strengthen our goalkeeper department to add further competition for places. Kyle was excellent for us last season and is a top young keeper, and in (Mark) Bowers we have a very experienced and popular individual albeit at the back end of his career.
'We spoke to several goalkeepers, as we do when looking to strengthen any area of the group, but the enthusiasm, hunger to play and desire to continue developing was evident to see in Elliot and I'm really pleased that he has joined us. He played a number of games for Altrincham at the beginning of last season so has some experience of the National North which is important, as well as a strong presence, agility and technical qualities which fit the attributes we look for in a goalkeeper...
'Having completed the signing of Elliot, we now have two top young goalkeepers who will be challenging for the number one shirt and that healthy competition will help both of them improve. Wynne made seven [league] appearances for the Robins in his debut season for the club following spells at Abbey Hey, Glossop North End and Lancaster. The shot stopper started his career with Oldham Athletic and...said 'I played at this level last season and thoroughly enjoyed it. The opportunity was offered to come to Farsley and I couldn't turn it down. I've heard only positive things about the changing room/ management and felt that this move would be only positive with regards to mine and also the team performance over the year to come.
'I believe I can bring enthusiasm and energy. I am excited to get to know the lads and to play alongside them. I like the style of play that the gaffer (Adam Lakeland) plays and I feel I can only contribute to that positively using the experience I already have. Looking ahead to this campaign, I just want us to do as well as possible... For myself it is about week in week out performances and keeping those clean sheets and doing everything I can to ensure we get the win at the end of every game, I cannot wait to get started at the club'".
Following the renewal of his contract at Altrincham, midfielder
Sean Williams
was interviewed by press and media officer Brian Flynn for Radio Robins.
Altrincham;s first pre-season game is scheduled to be in Shropshire, away to Whitchurch Alport on Tuesday, 9 July. Alty also played there two pre-seasons ago in a match which ended in a 1-1 draw. Since then Whitchurch have been promoted to the NW Counties Premier Division (Step 5), in which they finished fourteenth last season. They had joined the NW Counties League in 2015 after many years in the Mid-Cheshire (later renamed Cheshire) League.
When they met in July 2017, it was Altrincham's first game under Phil Parkinson's management. With Altrincham fielding two completely different starting elevens in each half, there was not a lot to set pulses racing but the friendly allowed the new management to run their eyes over six unnamed trialists, nine of this summer's signings and seven of last season's squad.
Both goals were scored in the first half. Altrincham took a 21st minute lead when James Poole's low shot from outside the box left Alport keeper Cooke motionless. Alport replied eleven minutes later when a smart dink over the Alty backline by former Robins' loanee Ben Mills set up Luke Walley for the equalizer.
The second half produced little in the way of goalmouth incident with two on-target shots from Sam Heathcote the nearest to breaking the deadlock. A large crowd of 550 witnessed the game.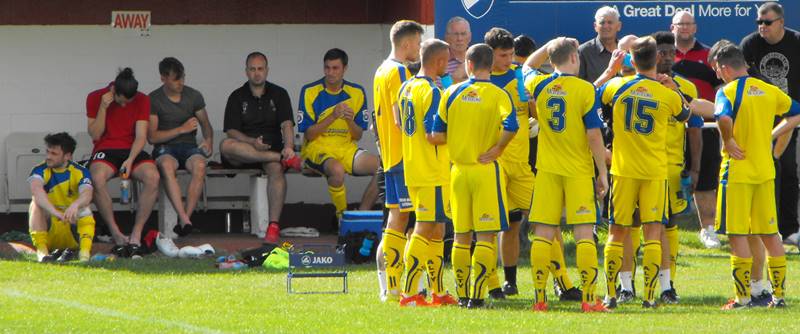 Above: Altrincham at Whitchurch in September 2017.
Altrincham's line-ups comrpised:
First Half: 1. Tim DEASY, 2. A TRIALIST, 3. A TRIALIST, 4. Chris LYNCH, 5. Clayton McDONALD, 6. Jake MOULT (capt), 7. John JOHNSTON, 8. Laurence TAYLOR, 9. Josh HANCOCK, 10. James POOLE, 11. Jerome WRIGHT.
Second Half: The team wore a mixture of unnumbered shirts and shirts with numbers which in many cases did not match the 1-11 listing so the following numbers may not be totally accurate. 1. Tony THOMPSON, 2. Lewis SHORT, No Number: Ben HARRISON, 4. Sam HEATHCOTE, 3. John DISNEY, 19. A TRIALIST 7. A TRIALIST, 18. Kyle BROWNHILL, No Number: Sam SHERIDAN, 9. A TRIALIST, 17. A TRIALIST
Just like Altrincham. Alport concluded last season with a penalty shoot-out. In Whitchurch's case it was a win on penalties against Market Drayton Town in the The Shropshire FA Huddersfield Cup Final at the New Buck's Head, Telford. In fact, Whitchurch had defeated Telford in the semi-final.
The Final itself had ended 3-3 before Whitchurch won the shoot-out 4-2. The Huddersfield Trophy was presented by Huddersfield Town to Shropshire's Wellington League in 1938. It marked the fact that Albert Price, a player for Wrockwardine Wood Juniors had been signed by The Terriers in 1937 for the princely sum of £15.
Amongst Whitchurch's famous former players are goalkeeper Willie Mailey (of Crewe Alexandra and Everton) and former Northwich boss Jimmy Quinn.
Altrincham FC monthly draw winners for May 2019:
6th, AFC Polo Shirt: 322 David Smith
5th, Replica AFC Shirt: 343 Ian Richards
3th, Hospitality Package: 440 J. Baldwin
3rd, £25: 8 Philip James
2nd, £75: 354 David Meadows
1st, £500: P. Jackson
Warrington Worldwide
tells us that "Warrington Town midfielder Robbie Evans has left the club to join Curzon Ashton. Evans, 23, joined the Yellows last summer from Billericay Town and previously made 120 appearances for hometown club Wrexham.
He conceded the late penalty in the super play-off against King's Lynn Town, which Warrington went on to lose in extra time denying them promotion to the sixth tier of English football... Captain Mark Roberts and top scorer Tony Gray joined [ex-Alty] Josh Amis, Tony McMillan, David Raven and Jack Dunn in committing their futures to the club recently."
Non-League Daily confirms that "Oxford City have signed winger Nana Owusu following a spell at Maidenhead United. The wide-man spent 18-months with the Berkshire-based side, having signed from Basingstoke Town in 2017, where he joined as a scholar from Reading...
City boss Mark Jones admitted Owusu is a player he has been tracking for a long time:
'He first came onto my radar when he was playing for Basingstoke Town; he scored a lot of good goals, particularly from direct free-kicks. Maidenhead then snapped him up and has been involved in the league above for the last 18 months. He hasn't perhaps played the games he would have liked to, but he's been around a good environment, and we're delighted to secure his signing. I think he gives us good options in the wide areas. I think he's an exciting player that the supporters will enjoy watching'".
From the Northern Echo comes confirmation that "Darlington's new boss Alun Armstrong has returned to former club Blyth to land two more new players, with another to follow.
Exciting winger Jarrett Rivers and defender David Atkinson have both moved to the Quakers and Louis Laing is set to join them. Both Jarrett and Atkinson have decided to head to Blackwell Meadows at the end of their contracts at Croft Park. Both men started out at Middlesbrough, where Armstrong also spent time as a coach.
Speaking about Atkinson, Armstrong said 'If he hadn't picked up a knee injury earlier in his career, then I think that he would have become a Premier League player. He can play in a variety of positions; right back, centre back and centre midfield, and is reliable wherever he plays. He is tough, strong and quick; he is one of the best players that I've ever worked with.'
Jarrett was released from Middlesbrough in 2013 when he joined Northern League club Whitley Bay... Atkinson is from Shildon and went to Blyth after a spell with Carlisle. Together with Jarrett and Laing, who is set to follow, they have helped Blyth to the play-offs this season. They follow Michael Liddle to Darlington.
And also at Darlington the procession from Blyth continues as "Darlington have signed forward Jamie Holmes from Blyth Spartans. Jamie, 21, started his career at Newcastle United and was a regular in their Under 18s and under 23s sides, and once scored a hat trick in 20 minutes against Arsenal.
He was released by the Magpies in the summer of 2017 and joined South Shields, being part of their squad that won promotion to the EvoStik Premier Division in season 2017-18. He left Shields a year ago and joined Blyth, where he played a key part in their march to the play offs, starting 37 matches (plus 12 as a sub) scoring five times.
Manager Alun Armstrong said; "We nicknamed him 'spaghetti legs' when he was at Blyth because of his ability to run with the ball in tight situations, and win it if necessary. He's very good at moving the ball on, and is an exciting player to watch.'"
According to the National League "Another National League starlet has been handed a big EFL chance. AFC Telford United striker Daniel Udoh has signed a two-year deal with Shrewsbury Town... He scored 19 goals as the Bucks missed out on the play-offs on goal difference.
The 22-year-old told the club's website 'I couldn't have asked for a better place to be. This is a really good club and has the feel of a place going somewhere. I want to be a part of something fresh and somewhere where I can get better... For me last season has gone, it's now about working hard with Shrewsbury and helping the team; hopefully, by god's grace, I can do that'".
Chester FC report that "Highly rated full back Jamie Morgan is the next to sign up for the Blues, joining from Nantwich Town. The 21-year-old scooped three awards this season with the Dabbers as they made the Evo-Stik Premier Division Play-Offs. Morgan won Nantwich's Player of the Season, Players' Player of the Season and Management Player of the Season.
Formerly of Crewe Alexandra and Sandbach United, Jamie joined Nantwich Town in 2017 and made 52 appearances in his first season, being named their Young Player of the Season. This season he has made a further 41 appearances and scored four goals... Joint Boss Bernard Morley said 'He fits the profile of the kind of player we want at this football club. He's young, hungry and determined to climb the leagues'".
At Kidderminster Harriers, "Russ Penn is relishing life in a new role with Harriers ahead of the new season. Russ was appointed assistant manager at Aggborough following the arrival of new manager John Pemberton this week.
While it doesn't signal the end of the midfielder's playing career, it certainly will see a greater focus on the coaching side of his duties... 'I have got to approach it that way because you can't do both,' said Russ. 'I've said to be people that I have hung one boot up! I have got to fully commit to coaching and assisting John, and that's the best way going forward.'
Penn and Pemberton have already been hard at work in trying to piece together the new season and its squad. The former Burton Albion man added '"I'd spoken to John a few times before we'd met. He's that little bit of old school, but he's also up to date with the modern trends... He's not just going to coach the players, he's going to teach me and I am going to learn a hell of a lot from him.'"
AFC Fylde visit Moss Lane in pre-season and the
NL Paper
informs us that "AFC Fylde have bolstered their squad with another two signings after announcing the arrivals of Matty Kosylo joining from Halifax Town and Jordan Williams from League Two side Rochdale.
Both players have put pen to paper on two year deals at Mill Farm...
Kosylo 26, has been a key part of the Halifax Town side over the last three years, finding the net 24 times in 76 appearences, where he also helped the Shaymen to promotion from the National League in 2017... Challinor said, 'He's a player who's attracted a lot of attention at this level, in a team that hasn't been up the top end but he's always been the standout player. Lots of boxes are ticked in terms of scoring goals, creating goals, and running in behind, as well as taking players on'...
Meanwhile, Williams joins following the expiration of his contract at Rochdale, where he made 24 appearances in League One this campaign. Rochdale signed Williams from Barrow back in June 2017, for a fee believed to be in the region of £100k, after a season where he netted 12 goals in 42 appearances for the Bluebirds. 'Jordan had a big jump from this league to League One, and for one reason or another it's not worked out for him,' added Challinor.
'From our perspective, he's a strong runner, powerful, and can play across the front three, or do a job as a left-wingback if we wanted to play with a three at the back.'"
---