---
30 June 2018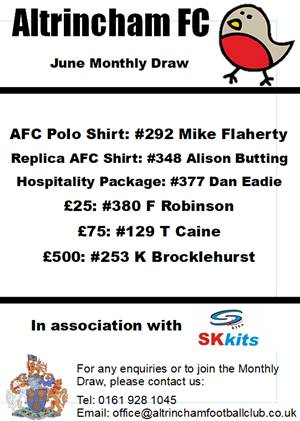 Why not join the Monthly Draw? Details here.
Altrincham FC director, Neil Faulkner, reminds supporters that there will be another "working weekend" this Saturday (30 June) and invites everyone who is available to come along. Neil would also like to thank those who worked very hard at the J Davidson Stadium last Saturday, despite the warm weather. He adds, "Hopefully, a few more helpers will enable us to get more done this Saturday".
Earlier, Neil had written that "As supporters will realise, there are always maintenance jobs that are required at the ground. Sometimes these have to be done professionally, however whenever possible we try to do the jobs ourselves as it reduces expenditure, and increases the playing budget.
In addition to the weekend work, for anybody that is available during the week, we regularly have volunteers at the ground on a Tuesday or Thursday. I would suggest that you either email or ring the club to let us know if you would like to come down.
We are hoping to complete remedial work including rubbish removal, woodworking, concrete repairs, oiling, painting, cleaning, weeding/strimming etc. If you have any time over these days, and/or if you have equipment, or a vehicle that is suitable for moving rubbish to the tip, please e-mail, or ring the Club on 0161 928 1045, and leave your name, and we will get back to you.
In addition to these jobs, there will be plenty of internal painting and decoration required to public and changing areas throughout the summer, and help with this work will be gratefully received at any time".
Club caterer, Richie Bentley, adds that there will free tea or coffee and bacon butties for all volunteers joining the working parties.
The
Chester Chronicle
reports on a former Altrincham player. "Former Chester City ace Kevin Ellison opens up on battle with depression. It was a period of his life that he didn't have any intention of revisiting until a Twitter exchange prompted him to speak out on his difficulties.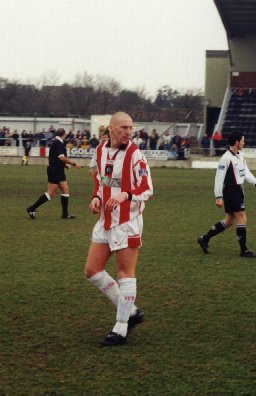 Former Chester City man Kevin Ellison [pictured, right playing for Alty at Hednesford in 1999/2000 season], who had two spells with the Blues between 2004 and 2009, turns 40 during the coming season, one he will spend at Morecambe, a club where he has been for the past seven years. A fine Football League career that has taken in spells at Stockport County, Hull City, Tranmere Rovers and Rotherham United, among others, shows no signs of slowing down.
But for the best part of a decade Ellison was plagued by a dark cloud that hung over his head, one that saw him push away those closest to him. For eight long years Ellison had battled depression. And like many who have been through it, he hid it as best he could from the rest of the world, facing his struggles alone. But last week he felt compelled to share his experiences having been touched by Crawley Town player Mark Connolly bravely sharing his own battles with depression on social media...
'I said how brave he had been to share what he had been through and I told him about my own story. He said that the best thing I could do would be to share my own experiences in the hope that it might help someone else. It was a part of my life I hadn't visited for a while but what he said struck a chord with me, so here we are. I've never been a shirker, I think anybody who has seen me play can tell you that. I've always thought of myself as a strong person, someone who didn't need help and who could always take care of things on their own. I suppose that ended up with me battling with depression for so long.
'I battled it for eight years and for most of that time I never told a soul, not even my family. I thought that they would see it as some kind of weakness and that they would think less of me for it. I just bottled it up and it manifested itself. I would become snappy and angry. I was never physical or violent but I wouldn't be a good person to be around. I would lash out and have a short fuse and I just didn't know why. There was that constant feeling of dread.
'I pushed away my loved ones and it ended up ending the relationship with the mother of my children. I was a difficult person to be around.'...
The 90 minutes on the football pitch was the only exception. 'That was the only time when I felt free from it, like it couldn't hit me,' he said...
'I would just sink. My mood would hit the floor and I would just feel this sense of sadness and despair and I didn't know why and there was nothing I could do and I didn't think I could tell anybody about it. It is a horrible feeling... It was around my 30s that I started to experience it for the first time. Things that go around in football, the lack of security and uncertainty over the future all played a part, and when you throw that into the mix with family life and kids then it can be a problem.
'I have two wonderful children. Sadly they don't live with me now but I have them two nights a week and see them every day. I take them to swimming lessons, piano lessons, the lot. I try and do as much as I possibly can with them now, but in a way I think it is my way of trying to make it up to them. The kids will say themselves that I was angry and shouty. I look back on some times and there were occasions when I would come home and my little lad would want to play football in the garden. I would go out there for 10 minutes or so and then just feel that awful cloud again. I felt horrible for feeling that way, for not wanting to spend that time with my children. I do everything I can to spend that time with them now, I want them to smile and be happy on the inside and out'...
'I was offered medication for it a few times but I always refused,' he said. 'I wanted to do it myself, not with the help of medication as I was worried that I would become reliant on it. For me it was something that I had to face head on... I received nothing but support and kindness and that is when things started to change for me. I started to trust in others again.... Hopefully sharing my own experiences will help others'".
"The latest
National League
player offered a Football League chance is Stockport County's Jason Oswell.
The striker, 25, has joined Morecambe and says it has been a privilege to play in blue and white. Oswell scored 29 goals in all competitions last season and the front man was County's Player of the Year. He is the second of Jim Gannon's squad to make the move into the EFL this summer.
Jimmy Ball joined League Two Stevenage back in May and will come up against his former team-mate next term.
Morecambe boss Jim Bentley said, 'Jason has had an impressive couple of seasons. He's proven to be a top goalscorer and now with full-time football we are confident he will do it at Football League level".
Another player moving upwards is the subject of another report by the National League which tells us that "Salford City have signed a player they think has a huge future as James Jones (19) moves from Chester... Despite being out of contract, the clubs have agreed a fee, something which needed to happen because of his age...
'We are delighted to announce the signing of central defender James Jones from Chester,' Salford said in a statement. 'James is a highly promising central defender who has been at Chester since he was 14. He was selected for Jamie Vardy's V9 Academy earlier this summer and looks set for a bright future. After his contract at Chester ended James was offered new terms. Understandably there was interest in the 19 year-old from elsewhere but he has opted to sign a two-year deal at the Peninsula Stadium'".
According to Lincolnshire Live, "Craig Elliott believes Boston United fans will warm to 'born winner' Spencer Harris after adding the former Shaw Lane captain to his squad. The combative midfielder was a vital cog in Elliott's Shaw Lane side which won two promotions...
'He did really well for me at Shaw Lane, and was my captain as well. He played a big part as we won two promotions,' said Elliott. 'He's an all-action midfielder, a born winner and is a bit different to the other midfielders we've got at the moment. He's quite aggressive and is full of energy. He's got a great work ethic and can also cover at centre-back as well. He's strong at set-pieces in both boxes...
'He's played in big games against teams in this league [National League North] and from the leagues above, and he's more than handled it... I think the fans will like him because of the way he plays.'
Meanwhile, Elliott has also snapped up left-back Ashley Jackson, who has previously played for Goole, Ossett Town and Leek Town. The 24-year-old will provide competition for another summer signing, Jordan Gough, who has won promotion with Solihull Moors in the past".
Elsewhere, the National League reports that "Reece Styche has announced he has signed a new two-year contract with Darlington. The striker, whose deal came to an end last month, says the positive feeling around the club this summer convinced him to stay.
Manager Tommy Wright is building a squad he hopes can challenge for promotion in August... 'Absolutely delighted to have signed a new two-year deal at Darlington,' he posted. 'It goes without saying when you're happy and settled you play your best football! It's an exciting time to be at this club and hopefully the coming season could be special!'"
York Press tells us that "Gary Mills and Darron Gee, the 2012 double-Wembley winning management team, will take charge of York City's Legends team in August's fundraising charity match against an All-Star XI. The pair will be able to choose from six of the squad... that helped Mills and Gee guide the Minstermen back into the Football League and lift the FA Trophy six years ago.
Along with Ingham, Kerr and McGurk, there will also be four other City players, [ex-Alty man] Steve Bushell (right), Barry Jones, Andy McMillan and Steve Tutill, who have been crowned Billy Fenton Memorial Trophy winners as past Clubmen of the Year on the Legends' roster... Also confirmed for the City side... [is former Alty defender] Greg Young".
At Haigh Avenue, Southport report that "Devarn Green joins the Sandgrounders on a two-year deal from Tranmere Rovers. The 21 year-old started his career at Burton Albion before a move up North to Blackburn Rovers as a 16 year-old... and later went on to have spells at Cardiff City and in non-league with Hednesford Town, Stourbridge and most recently Tranmere, who paid an undisclosed fee for his services back in October 2017.
On the capture, Manager Liam Watson said, 'Devarn was a key target of ours this summer and I'm delighted to secure his services. He's an attack-minded player who is effective in the centre or on the wing'".
The NL Paper tells us that "Bradford PA have raided their divisional rivals Curzon Ashton to bring in midfielder Ben McKenna. The 25-year-old is returning to the club for a second spell having made 21 appearances for Park Avenue during the 2016/17 season.
McKenna began his career with Burnley but moved on to Carlisle after failing to break into the first-team picture at Turf Moor. The former Northern Ireland youth international then went on to represent the likes of Workington, Stalybridge Celtic and Southport before he made the move to Stockport in February.... McKenna has become Bradford PA's 10th summer signing and will attempt to fill the void left by the departure of Wayne Brooksby".
At Guiseley, "Goalkeeping coach Steve Dickinson has departed the club. As a club we can't financially support a goalkeeping coach, alongside a second goalkeeper following relegation. The club would like to thank Steve for all of his efforts, both as a player and coach, over the last five years, having also made 503 appearances for the Lions with the last coming in October 2013, he will always be welcomed back."
In the Shropshire Star comes news that "Former fan favourite Dwayne Samuels and out-of-contract winger Elliot Newby have both reported for pre-season at AFC Telford United. Samuels, who has had a year-long break from the game, and last season's star man Newby were among those who trained at Telford College...
Bucks boss Gavin Cowan is willing to be patient with both players and on 27-year-old right-back Samuels...he said, 'He's here. I think he contacted the whole of Shropshire and then finally got round to me. When he finally got round to me, I was happy to have a discussion with him. He's been a great lad. He's been away for a year so there is nothing concrete, but I really like him... If anything comes of it, great. There's no loss, really.
Samuels made 41 appearances in his final season with the Bucks, the 2016/17 campaign, and 28 the season prior. The West Bromwich Albion youth product also played for Telford in the 2011/12 term.
[Ex-Alty loanee from Barrow], Newby grabbed a hat-trick of gongs at the Bucks' end-of-season awards in April including supporters' player of the year. The 22-year-old, who was at Bolton Wanderers as a teenager, scored seven goals in 38 games last campaign and is regarded as one of the best widemen in National League North... Said Cowan 'I've had a good chat with him and he seems to have had a nice break. I've just said to him to keep communicating with me. He's not a bad lad'".
We also learn from the Shropshire Star that "AFC Telford United boss Gavin Cowan has handed Market Drayton Town duo Jud Ellis and Joe Cuff a chance to impress over pre-season. Midfielders Ellis and Cuff were key players as Drayton survived in the Evo-Stik Northern League First Division South, two tiers below the Bucks, last term.
Cowan feels the club has a 'duty' to look at players who have impressed for other clubs in the county. 'There's a couple of local lads – Market Drayton, and other clubs as well,' he said. 'It'd be foolish and naive of me not to look locally and tap into local talent... I think that as a football club we have a duty to take a look, offer them a platform. There's an opportunity for them for the next week or two. If they take it, great. If they don't, it's been a great experience for them.
'Too many times there has been things where we hear players have gone to other clubs in our league and then we find out they're from Telford. I think it is our duty and our job to make sure that doesn't happen... They're going to have to do very well in each session because I'll take it session by session,' he said. 'There's been 26 players coming here and you can't have 26 coming to every pre-season session. So if they're not meeting the standards every session, then we'll have a discussion... We don't have an under-23s to rely on so I want to give them an opportunity'."
---
29 June 2018
Well-known non-League journalist, Steve Whitney, has launched a new website,
Non-League Today
, which reports that "Versatile defender Danny East has joined Bradford Park Avenue from new Vanarama National League North rivals Guiseley AFC. The 26-year-old follows Curzon Ashton midfielder Ben McKenna as a newcomer to the Horsfall Stadium.
Although primarily a full-back, East can operate in central midfield and has proved an asset in both positions throughout his career. He came through the ranks at Hull City but was released after just two senior outings for the Tigers. He did, however, play regular first-team football during a loan spell with Northampton Town in 2012. Portsmouth moved to secure his services in 2013, but injuries stunted his progress at Fratton Park and he made just 19 appearances in two seasons.
He left Pompey at the end of the 2014/15 season after spending time on loan at Aldershot Town and sealed a move to Grimsby Town, then in the National League, in June 2015... and he played a crucial role in helping the club gain promotion to League Two... Grimsby didn't hand East a new deal after the Wembley win, but Guiseley swooped to tie him to a deal at Nethermoor in July 2016.
Injuries blighted his two-year stint with the Lions, but the Yorkshire-born battler is keen to put the troubles behind him after signing for Avenue. He told Avenue`s official website... 'I've struggled with injuries recently but I'm keen to put those problems behind me and really get going again. I want to start enjoying my football again and I think this is the place for me to do that. I've seen how the team play and I think the style will suit me'".
And Non-League Today also has an interview with former Altrincham man Simon Woodford, now player-coach at Ashton United".
According to
Non-League Today
, "Darren Kelly, manager of Hyde United, has signed striker Chib Chilaka. Chilaka began his career with the sadly now defunct Rushden & Diamonds in 2002, spending two years in their academy. In 2004 he joined Notts County... Following his release in 2006 Chilaka decided to study at Hull University but returned to football with Bridlington Town in 2008...
He moved to Leeds Carnegie where he scored 20 goals in 29 games. After a successful trial, the big striker signed for Bradford City on non-contract terms and made his Football League debut... Following loan spells with Bradford Park Avenue and Harrogate Town, he joined Braintree Town in 2011 following his release. Another spell with Park Avenue was sandwiched between two spells with Harrogate and Chilaka spent time with Gainsborough Trinity in 2016/17.
He joined Shaw Lane AFC prior to the start of the 2017/18 season... He scored 13 goals in 43 games for the Ducks before their sad demise earlier this summer".
---
28 June 2018
The
National League
reports that "It's a good job Phil Parkinson's day job taps into the power of positive thinking. A year ago many people thought he needed more than a strong mindset to take on the challenge he [had] just agreed to.
Taking over double-relegation victims Altrincham, the Sports Science lecturer needed strength of character as well as strength of mind.
Twelve months on from saying yes, leaving behind a stable job at Nantwich Town, he has no regrets taking on the task of rebuilding a club which appeared to be crumbling.
'It was something I felt I had to do,' he told us. 'It was a challenge, I knew it would be and I want to challenge myself. I trusted my judgement, you've got to back yourself and your gut instinct. It's all about progression. This isn't a hobby - this is more than just a job on the side. It's a career and I want to go as far as I can.
'I knew if I got into the club early we had a chance to rebuild it and put it back in the right direction. Yes, there were times people may have thought "Blimey, he's bitten off more than he can chew here" but it's a wonderful club with great people attached to it.
'I had a feeling we could have a good season and get back into the National League, but I didn't think it would go as well as it did.'
It certainly did go well. Winning the Evo-Stik NPL Premier by 13 points, they developed a stylish game which had supporters cursing the season's close.
Altrincham powered back, their absence just one year and lessons well learned.
'I think the club became a little too comfortable,' he added. 'Players probably stayed longer than they should have and the I needed to clear the decks. Players have to look at themselves sometimes. I had no hesitation in moving many on, we needed a fresh start and we needed to start over. It's nothing personal, but when you come in to a club you need everything to be right and everyone heading in the right direction.
'We had a fantastic season, made a bit of history and now we can't wait for August.'
But what can Parkinson's side hope to achieve in the National League North?
'I think we could surprise a few people,' he added. 'As everyone knows, this is a division where every other week you are playing against big clubs. The number of former Football League sides in the North is incredible really. It's a big challenge each and every week.
'They say there are no easy games in football but sometimes there are. But not next season, and not in this league. What we have in our favour is that we are used to winning matches. It doesn't matter if you have the best players on your team sheet, if they aren't in the habit of winning games then sometimes it's very difficult.
'We have that, so it's all about carrying on from where we left off. It's exciting.'"
---
27 June 2018
Press and Media Officer John Edwards has submitted the following article for inclusion in the Sale and Altrincham Messenger.
"Fitness experts The Gym Group are utilising their partnership with Altrincham FC to ensure local youngsters get a kick out of the World Cup finals in Russia.
Football's showpiece occasion began in Moscow a couple of weeks ago and, by the time it finishes, children in the Altrincham area could be honing their ball skills in ever-growing numbers, thanks to an appeal by the work-out specialists for members, and even non-members, to donate balls during the tournament.
The initiative is running throughout the country, and at local level, The Gym have teamed up once more with Alty by joining forces with the club's community set-up, Altrincham Community Sports, to make certain the generosity of their members is put to best use.
Phillip Ravenscroft, manager of the Broadheath-based centre, forged close links with Alty after placing The Gym's state-of-the-art facilities at the disposal of manager Phil Parkinson and his players earlier this year, and he explained the latest link-up by saying, 'It is something we are running nationally and regionally as a company, so it is quite a big enterprise. For the duration of the World Cup, we are urging people to bring footballs into whichever centre they use and donate them, so they can be given to a charity to be distributed or used as they see fit.
'We have chosen Altrincham Sports Community, because we know how much work they do at schools and with children in general in the area. The more balls that are donated, the more they can use them for coaching sessions at schools or distribute them to kids who wouldn't otherwise have a ball of their own.
'We are promoting the scheme on our social media pages and in emails to members and there are posters all around the gym, so we are making people as aware of it as we possibly can. The hope is that members of the public who are not necessarily members of the club will get involved as well, and, as an incentive, we are offering a free one-day pass for The Gym for anyone who donates a ball. The World Cup runs for four weeks, and by the end of it, I'm hoping we'll have hundreds of balls to pass on.
'It's a great way of providing a benefit for youngsters in the area and of demonstrating the positive impact The Gym Group can have within the local community.'
The
National League
reports that "Popular former Chester, Kidderminster, Alfreton and Tamworth midfielder Tom Shaw has announced his retirement.
The 31-year-old is to hang up his boots after accepting a role running Lincoln City's academy.
Shaw, who also turned out for Rushden, Cambridge United and and Nuneaton, brings the curtain down on a 13-year career. Always a fierce opponent, he played more than 400 games and says the time is right to call it a day."
'I'd wondered what it would feel like once I hung up my boots and finished playing but, to be honest, I feel quite relieved,' he told the Chester Chronicle.
He says he was 'gutted' his time in football ended with relegation at Chester but their club's new managers are doing their best to get the club back up".
---
26 June 2018
According to
York Press
, "York City supporters will get the chance to watch the players train and pose for the official team photo at next month's Open Day.
An opportunity to snap selfies with your favourite player and get their autographs will also be possible at the Bootham Crescent event, which will be staged on Sunday, July 22 when the club's new kit will go on sale too. There will be a bouncy castle, face painting and other stalls, meanwhile, with a licensed bar...
Commenting on the fun day, City sporting director Dave Penney said, 'It's a free event and we're hoping it will be a chance for the supporters to get to know the players better. All of the players will be available for the fans to talk to, get their autographs and take selfies with, because we want to be more accessible to the public as a club".
The Chester Chronicle tells us that "Anthony Johnson and Bernard Morley have continued their Chester FC revolution by completing a double signing. Defenders Jon Moran and John Pritchard have both pen to paper on one-year deals with the Blues on Monday afternoon as the Blues squad rebuild continues.
Central defender Moran, 21, joins the Blues after leaving League Two side Forest Green Rovers. After starting his career in the youth system at Crewe Alexandra, Moran made the switch to Nantwich Town and received rave reviews with the Dabbers, prompting Forest Green to swoop in June 2016.
He struggled to break into the first team at the New Lawn and spent time out on loan at Altrincham, Halesowen Town and Weston-Super-Mare during the past 12 months and left Rovers at the end of his contract earlier this month.
Highly rated full-back Pritchard joins Chester having impressed for Ashton United last season... alongside another new Blues recruit, Dominic Smalley. The left-sided defender, who can also operate in midfield, has also taken in spells at Northwich Victoria and Ramsbottom United and drew plenty of plaudits for his displays for a successful Ashton side last season.
From Bradford (Park Avenue) we learn that "Utility man Adam Nowakowski has agreed a deal to enter his third season with the club...
Although primarily a central midfielder, he can operate anywhere across the backline as well as in forward roles. His tough tackling makes him an asset in defence but his combative style of play and imposing physical presence enables him to dominate midfields.
Nowakowski joined in October 2016 on an initial loan from league rivals Darlington but soon made the move permanent after impressing at the Horsfall Stadium. Prior to linking up with the Quakers, he plied his trade with Harrogate Town and made over 150 appearances for our Yorkshire counterparts...
'It's great that Mark (Bower) and Danny (Boshell) have managed to keep a lot of the squad together, it means that we can quickly pick up from where we left off last season'" said Nowakowski.
The Derbyshire Times reports that "The signing of defender James Clifton this week has edged Alfreton Town boss Billy Heath closer to his ideal squad of 18 quality players. New boss Heath made a decision to go with quality rather than quantity as he rebuilds the Reds' squad for their forthcoming National League North campaign...
Heath said, 'We have one or two we are hoping to get in this week and hopefully we can get them over the line. Talks are ongoing. We are almost there now. We have 15 signed so we are not far off where we want to be. Ideally you'd have a squad of 20 but that's not going to happen here. We will have 18, maybe 19, to fit in with the budget here.
'It is a small squad for the level but it will be full of quality. It was a conscious decision we made rather than having 20/21 players. I'd rather go with 18 quality players. We know we are going to have to be fortunate with injuries and if we have three or four out at once it would make life difficult but we're hoping that won't happen.'
Boston United right back Clifton is the latest to sign for the new season and Heath said 'I have known James for a few years now at Nuneaton and Boston and at this level he is very experienced, even though he's only 25 or 26. He is very solid and can defend really, really well but he also has a lot of quality on the ball'...
Heath said, 'We came back for pre-season training last Saturday as we are mindful our first game is next Tuesday. Thankfully everyone came back in good shape. They have all been given individual programmes to follow, both with gym work and nutrition. Being a part-time club, players have to do some [?work] themselves away from us. But not one of them came back in looking a bit heavy or out of shape.'"
---
25 June 2018
As previously announced, "Altrincham FC is looking for supporters to renew or join the Patrons' Scheme for next season which will be the 13th season that it has run. The Club thanks all those supporters who have signed up so far and invites others to join up.
For the cost of £50 your name will appear throughout the coming season in the matchday programme and on the website as a Patron of Altrincham Football Club.
At the start of the season, every member will be entered into a prize draw, with the winner being match sponsor for an appointed game along with nine guests. Second prize will be hospitality for five people and third prize hospitality for three people in the Manchester Glass Sponsors' Lounge.
If you are interested in becoming a Patron for next season, please forward a cheque, payable to Altrincham Football Club, for £50. Alternatively, you can pay by card by phoning the office (0161 928-1045). If you require any further information please do not hesitate to enquire by e-mail."
This website will be updated daily as usual during the coming week but its mobile version will not be updated until the weekend. Apologies for the invonvenience caused.
Pete Scotson, an ardent Altrincham supporter, is a local schoolmaster but is also an accomplished children's entertainer and video-maker. His lates video production is receiving national acclaim and it can be viewed
here
. "In this video Peter takes a journey through his home town of Altrincham and looks at the chaotic state of the local roads. Under-car camera footage is utilised to show how potholes affect everyday journeys. Shoddy workmanship and poorly maintained roads are there for all to see".
EvoStik League reports that "Nantwich Town have launched a ten thousand pound 'Secure Your Club' fund in the wake of raid on their home by thieves and vandals. The Dabbers, whose 3G pitch and facilities were already being routinely plagued by trespassers and vandals, lost thousands of pounds worth of equipment when raiders broke into the groundsman's store at the Weaver Stadium during the early hours of last Wednesday morning.
A ride-on John Deere mower, a Haytor mower and other pieces of expensive kit were stolen and, after being targeted for a second time in two years, the club's devastated officials are applying for grant funding to step up security at the ground, including the installation of CCTV to deter burglars. An online fundraising page has been set up to help bridge an expected funding gap and the Dabbers urged their supporters on Saturday to spread the word and get the campaign off to the best possible start.
Nantwich Town spokesman Steve Sharman said, 'Thousands of pounds of equipment was stolen, the second such break-in within the last two years. In addition, the club is routinely plagued with trespassing on the 3G pitch adjacent to the Weaver Stadium. We have had numerous occasions of broken beer bottles, empty Prosecco bottles and worse left strewn across the pitch. The frequency of such invasions has increased rapidly in recent weeks and we now have no option but to take action to prevent such behaviour destroying a fantastic community asset in Nantwich and endangering the safety and wellbeing of our young footballers. The club is therefore developing an improved security plan which will require significant investment aimed at keeping unwanted trespassers off the 3G and installing improved CCTV to deter burglars'".
At
Bradford PA
"Manager Mark Bower has moved to retain the services of midfield general Nicky Wroe for another season. The vastly-experienced Wroe served as captain last season, making a remarkable 48 appearances in all competitions. He joined in July 2016 from Yorkshire neighbours FC Halifax Town... A promotion-winner from non-league's top flight with Torquay United, Wroe has also represented Barnsley, York City, Preston North End, Shrewsbury Town and Notts County among others...
Wroe is the eighth confirmed member of the 2018/19 squad, joining Steven Drench, Mark Ross, Shane Killock, Luca Havern, Nicky Clee, Oli Johnson and Adam Boyes in committing his future to Avenue. The club's management team of Mark Bower and Danny Boshell have also agreed new deals in a promising start to the summer."
According to the Boston Standard, "Boston United's squad will have to be adaptable if they are to be successful. That is the opinion of manager Craig Elliott... Elliott has made no secret of the fact he is still looking to bring at least two strikers into his side... However, he won't be afraid to ask other players to fit into a role up top.
'I've said before about the importance of having a plan B and being able to change our shape to suit the game,' he said. 'We've got a lot of attacking options in the team and lads like Jay Rollins and Nathan Arnold can both play up there if we need them, sometimes as part of a three and maybe other times as a striker, if we need them at that time.'
It's the same story at the back for the Pilgrims. John McCombe and Ryan Qualter may be the recognised central defensive partnership on paper, but full-backs Ben Middleton and Jordan Gough can both move inside and offer cover if needed. 'We're not a full-time club,' Elliott added. 'We won't have a huge squad. So it's important for me to have players who can play in a few different positions.'"
The National League summarises "some of the top transfers from the past three days.
James McQuilkin – National League North side AFC Telford announced the signing of former Kidderminster Harriers midfielder James McQuilkin. The 29-year old is more of an attacking midfielder and lively in the box, and made over 100 appearances for the Kidderminster.
Declan Bacon – New Alfreton Town manager Billy Heath continues the signing spree, welcoming Bottersford Town striker Declan Bacon. The Scunthorpe United futsal coach netted 45 times last season as his former club finished in 8th position.
Ed Williams – Kidderminster Harriers completed the signing of the 22-year-old midfielder, who spent the previous three seasons playing for rivals Gloucester City, and netted nine goals during the previous campaign.
James Akintunde– Maidenhead United have signed Chester striker James Akintunde as they look to improve from last season's league finish. The 22-year old spent two years at the Deva Stadium and becomes the fourth new face at York Road, this summer.
Miles Addison – New Nuneaton boss Nicky Eaden has completed the signing of former Derby County defender who previously played in the Scottish Premier League for Kilmarnock.
James Bowen – Bowen has become the Brakes' fourth signing of the Summer after arriving from Hereford FC. The versatile player helped Hereford to the Southern League Premier Division title last season but will now look to help Leamington in the National League North.
James Clifton – Arguably, the busiest manager so far this summer has been Alfreton Town manager Billy Heath as continues to bolster his squad for the new season. This time it's defender James Clifton who has signed for Town from Boston United. The player who can play in midfield if required, has signed a one-year deal at the Impact Arena.
Curtis Obeng –Nuneaton have surprised everyone as they have managed to agree a deal to sign Curtis Obeng in the most surprising of circumstances after he has come out of retirement, last summer.
Ryan Crossdale – AFC Fylde broke their club record by signing the England C skipper from Kidderminster Harriers. The 23-year old defender has put pen to paper on a three-year deal at the Mill Farm.
Owain Jones – Nuneaton Borough welcome their latest new face this summer, in former Swansea City midfielder Owain Jones. The 33-year old had been based in Scotland since he left Norwich City in 2011.
---
24 June 2018
As previously announced the following admission prices at the J Davidson Stadium will apply for next season:
Adults £13
Concessions £10
Juniors (12-16) £5
Under 12s £1
Season tickets will be priced as follows:
Adults £220
Concessions £170
Juniors (12-16) £50
Under 12s £20
Following the surprise resignation of Matt Jansen,
Chorley
report that "Jamie Vermiglio has revealed his pride at being appointed Chorley FC manager and his resolve to build a winning side with a certain style and deep connection between team and fans.
The 36-year-old returned to Victory Park during the 2010/11 season and has been heavily involved in the Club's successes since. First as a player, then as a coach after retiring early due to injury, before spending the last three seasons as assistant manager, working closely with Matt Jansen and Jonathan Smith behind the scenes, reaching the play-offs in two consecutive years. He's hoping to go one better this time round...
'I'm absolutely delighted and it's a very proud moment for me,' Vermiglio said. 'After talking to Matt and him wishing me all the best I couldn't wait to get going. Over the three years we've continued our development in the National League North and improved every season. We worked well together but Janny felt he need to move on... The way it's come about wasn't ideal but it's an opportunity I couldn't turn down...
'This is an amazing club, built on tradition and the board of directors know what they're getting with me. Goals for the season are very simple. There's no point in playing football if you don't want to win. We'll win and lose gracefully. At the start of the new 2018/19 campaign our mindset is to win the league and to perform to the best of our ability. I'm focussed, driven and will do everything to make sure we get the best possible chance for promotion.
'It's no secret I've commitments elsewhere, being a head teacher, but at the same time I'll give everything to the job. It is a part-time role, with a full-time expectation and is something I'm going to relish....
'Ultimately it comes down to watching a team that is playing attractive football and winning games. As a club, that's what we'll all be aiming to do. We want the fans to know we'll be giving it absolutely everything, along with Jonathan Smith (assistant manager) and other people who'll be coming in. I just ask that fans are not personal'...
Chairman Ken Wright was as equally enthused... 'Jamie was a popular player and I'm sure he'll be just the same as manager. He's young, experienced and his knowledge of non-league football is second to none,' he said".
The National League tells us that "Jonny Burn says joining 'big team' Darlington feels like a homecoming and hopes the club can push for promotion to the National League and beyond. The 22-year-old was born in Darlington and made his name in the Middlesbrough academy, where he most notably captained their Under 21 side...
He told the club's official website, 'I've been speaking to Tommy [Wright] for a while now and when he gave me the opportunity to come and play for Darlington I couldn't turn it down really. It's an opportunity to play football week in week out and hopefully get my name out there and do well for the club.'
A defender, Burn joins from Bristol Rovers, having previously had spells at Oldham, Kilmarnock and most recently, York City and manager Tommy Wright thinks the player adds experience as well as ability to his squad.
He said... 'He's powerful, really good in the air and ticks a lot of boxes. He's got experience of the Scottish Premier League and Football League, and he's also a Darlington lad which means a lot'...
Burn believes the club are rightfully aiming for a return to the Football League in the future... 'Hopefully I can get Darlington back to where they belong, they don't belong in this league everyone knows that... They're a great team, a big team. We need to get back into the Football League.'"
---
23 June 2018
Altrincham FC extends its condolences to Jeff Johnson, his family and friends, on the sad news of the death of his wife, Jan, following a short illness. Longstanding Alty fans will not need reminding that Jeff was a key player in the successful Altrincham teams of the late 1970s and 1980s, as well as an England semi-pro international.
The
National League
reports that "York City are watching with interest as one of the club's former players is the subject of transfer speculation.
Norwich City's Ben Godfrey has been linked with summer moves away from Carrow Road after impressive last season. According to reports, he is valued around the £3m mark.
York inserted a sell-on clause when they sold the 20-year-old to Norwich in 2016 so they could win big should he seal a move. Premier League Crystal Palace have been rumoured with the defender heavily linked with manager Roy Hodgson a fan of the ex-Minsterman. Also said to be interested are two clubs new to the Championship, West Bromwich Albion and Swansea City.
Everyone at York will be keeping a close interest on things and a six-figure sum is almost certain to come their way if a deal is agreed".
Also from the National League comes news that "Wayne Bradley has 'total confidence' that his new-look Alfreton Town will gel quickly. The Reds chairman has seen new manager Billy Heath bring in 13 new players so far this summer.
Alfreton made right-back James Clifton their latest capture on Thursday. Bradley says... 'Billy knows what he's doing; he has had great success at this level with Halifax and with North Ferriby".
Chorley announce that "With regret, we have accepted Matt Jansen's resignation as manager of Chorley Football Club with immediate effect. We would like to put on record our appreciation for all that Matt has achieved in his eight years with the club as a player, coach and manager and will him all the best for the future." The National League comments that "The former Blackburn Rovers striker took over in 2015 and has brought success to the club. The announcement comes completely out of the blue for the Magpies as the club approach pre-season.
A host of new signings have already been announced for the coming campaign and Jansen told the club's website that he believes the squad he's assembled will go on to have a great season without him".
Elsewhere, the National League tells us that "It's the phone call every manager wants to pick up with pre-season training just around the corner... 'The £1m donation will be hitting the club's account soon!'...
For a club on the brink last season, it was more than music to their ears. For a manager? Suddenly that 25-goal a season striker that he couldn't afford last month comes back into his eye-line.
But [joint manager] Johnson has spoken to the Chester Chronicle about the development, and says... 'You won't see any super name signings where people think "Oh hello, Chester have come into a bit of money". That won't happen and it can't happen...
'What it will hopefully do is down the line, whether that be pre-season or during the season, there will be money left in the budget to make changes if and when we need it... We have got our target list. The recruitment that we wanted to get into the football club is the same group of players that it was at the start. It's a fresh start for everyone at the football club'".
Nuneaton Borough say that "Former Swansea City youth star Owain Jones is the latest new face at Liberty Way...
The electrifying attacker joins Devon Kelly-Evans and Miles Addison as newcomers to Nuneaton Borough in what has been an impressive week of summer signings...
The winger has represented Wales at Under 16, 17, 19 and 21 level after starting his career at his hometown club. 'It was a great experience to be around professionals like Àngel Rangel and Leon Britton, not only did they teach me about the game, but how to be a professional as well.'
More recently Owain has had a spell on loan at Yeovil Town before joining Merthyr Town midway through last season. In 12 appearances for The Martyrs, Jones found the back of the net four times...
'I was looking to get back in to full-time football and Nuneaton is too good an opportunity to turn down'.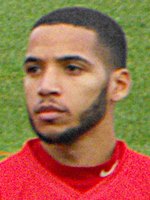 The 21 year old's arrival is a clear indication that new Boro' boss Nicky Eaden hopes to play an open, flowing, attacking style of football as he joins fellow flying forward Kelly-Evans on the new arrivals list at Liberty Way".
Also, "Nuneaton Borough has agreed a deal to sign Curtis Obeng (right). The former Manchester City youth player who spent time with Wrexham, Stevenage, Newport County, Fleetwood Town, York City and Swansea City is pleased to be joining the Boro'. The 29-year-old full back has made the decision to come out of retirement having initially called time on football last summer.
'Leaving Swansea was a very difficult time for me' explained Obeng... 'It was very frustrating and after that I signed for a couple of different clubs but just felt as though I was going through the motions. After a lot of consideration I decided to retire but knew pretty much straight away that I still had the desire to be out there playing'...
The former England Under 19 International becomes the fourth signing so far joining Devon-Kelly Evans, Miles Addison and Owain Jones".
[Obeng joined Altrincham and made his debut on 5 November 2016 in the FA Cup at Lincoln City. After one more appearance, from the bench, he left to join Solihull Moors on 22 November].
Off the field, Kidderminster Harriers "have been recognised as the top developer of footballing talent in a recent wide-ranging study...
Some of that work has now been recognised in a study by Scout 7, part of Opta Pro, which detailed movement from non-league to the Football League, Premier League and beyond. It revealed that, since 2014, no club has seen more of its talent secure move to Premier League and EFL clubs than Harriers with players making the step up from Aggborough Stadium to bigger stages, after making a big impression here in Worcestershire, that excluding the likes of Elton Ngwatala who also moved into top-flight football in Scotland".
---
22 Jun 2018
If you are interested in travelling to the Altrincham pre-season game on the Isle of Man on Saturday 14th July, you can use the attached Isle of Man Steam Packet
booking form
to arrange your trip and accommodation.
After a bright start in pre-season, Josh Amis's spell at Altrincham was blighted by injury and appendicitis, meaning that he made only one start and five substitute appearances. He ended the season at Marine but as the
Warrington Guardian
reports that "Warrington Town have secured three new signings and have also convinced one of last season's key players to stay put.
Manager Paul Carden has added midfielder Ben Garrity and strikers Richard Brodie and [ex-Alty man] Josh Amis to his squad, taking the number of new recruits so far this summer to five.
Yellows are also boosted by news of frontman Jamie McDonald, last season's 17-goal top scorer, committing to the club for next season.
Garrity, 20, has been spotted playing local league football in Liverpool... The vastly-experienced Brodie, 30, played in the Evo-Stik Premier Division for Rushall Olympic last season...
Amis (right), 23, finished last season with Marine having previously appeared for Northwich Victoria, Stockport County and Altrincham... Carden said, 'Josh is someone who hasn't quite hit his full potential yet. We want to be able to unlock that because we will have a good player on our hands if we do. He's mobile as well as powerful. He'll be a target man for us but he scores goals as well'".
Altrincham Today
reports that "Bill Speakman, Altrincham's great war hero who was the only living Victoria Cross holder from the Korean War, has died at the age of 90.
The Victoria Cross and George Cross Association has today released a statement confirming that Bill died yesterday surrounded by his family.
It read... 'He died peacefully yesterday (20th June) evening at the Royal Hospital Chelsea which he was proud to call his home. Members of his family were at his bedside'...
Altrincham-born Bill Speakman, who grew up on Moss Lane and was educated at Wellington Boys' School in Timperley, was just 24 in 1951 when he fought off a wave of attacks from 600 Chinese and North Korean solders for more than four hours. Speakman was the first man to receive a Victoria Cross from Queen Elizabeth II, and was one of only a handful of living holders of the award. He was given a hero's homecoming on the streets of Altrincham by thousands of people in 1952. He was a private in the King's Own Scottish Borderers (KOSB) when his section, seriously depleted by casualties, was over-run by the enemy on November 4th 1951.
Speakman, who was 6ft 6in, collected six men and a number of grenades and led a series of charges. He broke up several enemy attacks, causing heavy casualties and despite receiving a shrapnel wound in his leg, continued to lead charge after charge. He kept the enemy at bay long enough to enable his company to withdraw safely...
Press reports of the time reported that Private Speakman began throwing bottles at the enemy after running out of grenades. The bottles were in fact beer bottles sent to the line for consumption by the platoon".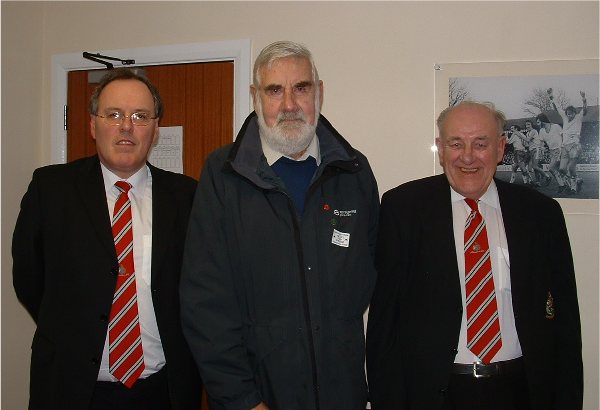 Bill is pictured above, with Alty vice-chairman Andrew Shaw and director Derek Wilshaw, in March 2008, when he was Altrincham's guest of honour at a midweek away game at Torquay, where he was staying with relatives at the time.
All at the Football Club send their condolences to Bill's family.
The
National League
reports that "Leamington have announced the signing of James Bowen from Hereford, who becomes the Brakes' fourth signing of pre season. The left sided midfielder or defender began his career at Cheltenham Town as a youngster, before spells at Solihull Moors, Evesham United and Gloucester City.
Manager Paul Holleran told the club's official website he felt that Bowen could be a key player for his side in the coming campaign. He said:... 'Being able to get another left footed player in the squad was important. He is a versatile, energetic player who like the majority of our squad is still at a young age with plenty of potential but I believe he will be a massive asset for us this season.'
Bowen helped Hereford to the Southern League Premier Division title last season".
The same source advises that "Nuneaton Borough's Nicky Eaden has announced his assistant, and it's another familiar face in the dugout for the coming campaign at Liberty Way, writes Tom Scott.
Lee Fowler will take on the role of Eaden's number two for next season and will be in familiar surroundings having played for the club in the 2014/15 campaign, playing 21 times and scoring three goals.
The pair have previously linked up at Kettering where Eaden was assistant manager when Fowler was playing, and speaking to the club's official website, Fowler was confident that the timing was right to move into a backroom role.
Fowler thinks the experience he's gained throughout his playing career coupled with the ambition he and Eaden have, will serve the club right this season. He said... 'Our core values will be straightforward hard work and honesty'".
More comes from Leader Live which tells us that "Lee Fowler is ready to 'start the next chapter' after being named assistant manager of Nuneaton Town.
The former Wrexham playmaker, who signed for Holywell Town at the back end of last season, will reunite with Nuneaton boss Nicky Eaden, who he knows from his time at Kettering Town".
Elsewhere, Alfreton Town "are delighted to confirm the signing of defender James Clifton, from Boston United. James signs a one year deal at the Impact Arena.
Clifton whose previous clubs include Brackley Town and Nuneaton Town before joining Boston in June 2017; made 38 appearances for the Pilgrims last season, scoring three times. Predominantly a right back, Clifton can also slot into midfield if required.
Manager Billy Heath [said] 'James is a fantastic right back for us; he can also play right midfield if needed. He is a player who has been around at this level. I came across him at Nuneaton Town and he was a standout performer during his time there. He is a tenacious defender, strong, composed and good on the ball. He had a fantastic season at Boston last season too and he provides huge experience at this level'".
21 June 2018

Altrincham FC director, Neil Faulkner, writes that "As supporters will realise, there are always maintenance jobs that are required at the ground. Sometimes these have to be done professionally, however whenever possible we try to do the jobs ourselves as it reduces expenditure, and increases the playing budget.
We have earmarked two Saturdays, 23rd and 30th June.
In addition to these dates, for anybody that is available during the week, we regularly have volunteers at the ground on a Tuesday or Thursday. I would suggest that you either email or ring the club to let us know if you would like to come down.
We are hoping to complete remedial work including rubbish removal, woodworking, concrete repairs, oiling, painting, cleaning, weeding/strimming etc. If you have any time over these days, and/or if you have equipment, or a vehicle that is suitable for moving rubbish to the tip, please e-mail, or ring the Club on 0161 928 1045, and leave your name, and we will get back to you.
In addition to these jobs, there will be plenty of internal painting and decoration required to public and changing areas throughout the summer, and help with this work will be gratefully received at any time".
Club caterer, Richie Bentley, adds that there will free tea or coffee and bacon butties for all volunteers joining the working parties.
Our neighbours,
Trafford
"welcome our new man between the sticks, goalkeeper James Coates, who joins us from Droylsden F.C. This is what [manager and ex-Alty man] Tom Baker says of his new shot stopper...
'James is a player that comes to the club with a good reputation and great pedigree. He has played at some top clubs but his hunger and desire to come to Trafford really impressed me. There aren't that many top keepers around but I'm confident that James will become a very important player for us next season.'"
As usual the football action starts early this summer in North Wales as
Welsh Premier
reports that "Connah's Quay face a trip to Belarus in the first qualifying round of the Europa League to face Shakhtyor Soligorsk.
Shakhtyor have competed in Europe since 2001...
Meanwhile, if Bala Town can progress past Tre Fiori they will face NK Rudar Velenje of Slovenia, while Cefn Druids would meet FC Irtysh Pavlodar of Kazakhstan in the next stage."
Darlington
have "signed winger Alex Henshall from Nuneaton Town. Alex, 24, began his career at Swindon Town, and turned down approaches from Manchester United and Liverpool in order to sign for Manchester City.
He had four years at City without breaking into the first team, and had loan spells at Chesterfield, Bristol Rovers and Ipswich before joining Ipswich on a permanent basis.
He then went on to play for Kilmarnock, Margate, and Braintree before joining Nuneaton in the summer of 2017, when he joined forces with then-manager Tommy Wright... Said Tommy, who is delighted to sign him for a second time, 'Because of the way he runs with the ball, he is lightning quick and unplayable at times... He'll put chances on a plate for our strikers.'"
Meanwhile, there is also an arrival at Liberty Way from where we learn that Nuneaton Town "boss Nicky Eaden has completed the signing of a vital piece of his rebuilding jigsaw...
Eaden sees ex-England Under 21 centre half Miles Addison as perhaps the most important signing he will make this season. The former Derby County and Bournemouth player moves to Liberty Way after a spell at Kilmarnock in the Scottish Premier League.
Eaden said, 'With only a handful of players under contract from last season, I'm starting with almost a blank canvas. It is vitally important that I build a strong spine to the side and Miles is probably the most important signing. Centre halves are vital to every side and I need to get mine right.
'I met with Miles only yesterday and he seemed very excited to join the Boro'. Some players like to take their time and to and fro before making the decision, but Miles was very confident in his own ability and wanted to showcase it with us. He has a good grounding from his time at Derby County and will bring vital experience to the whole team.'
Addison made his debut for the Rams, at the age of 17... Addison moved in to a midfield role and became a fixture in the first team. With rumours of a £2million move to the Premier League the imposing Londoner won Derby's Young Player of the Season award before breaking in to the Three Lions' Under 21s...
'We will probably have a few youngsters in the team next season' continued Eaden, 'So, having a player of Miles' experience will be a huge benefit to everyone." The 29 year-old has made more than 100 appearances for Football League clubs in his career for sides including Derby County, Bournemouth and Blackpool. He is the second player to put pen to paper since Eaden took the Boro hot seat last week, joining former Coventry City midfielder Devon Kelly-Evans."
And the National League adds that "Darlington have lost a second important player to ambitious South Shields this summer, writes Aidan Jones.
Josh Gillies has joined the club from the Quakers, making him the second big name to leave for the Evo-Stik NPL Premier club since the season finished. The versatile player spent two years at Darlington and made 60 appearances, netting 16 times for the National League North club.
Gillies has spent the last four years in the north east after moving to FC Halifax Town from Cambridge United in 2014. Gillies, speaking to the official Shields website, explained his decision to drop a league to join the Mariners. The 28-year old also shared his ambitions to win the league title with his new club...
'The plans the club have are amazing and hopefully I can help it on its way. It's something I want to be a part of'".
The Chester Chronicle announces that "Former Chester FC striker James Akintunde has joined National League side Maidenhead United. The 22-year-old was released by the Blues earlier this summer after new joint bosses Bernard Morley and Anthony Johnson were appointed at the Swansway Chester Stadium.
Akintunde spent two seasons with Chester where he made a total of 56 appearances... He is the latest ex-Blues player from last season's squad to move to pastures new in recent weeks. Ryan Astles joined National League North side Southport, while Myles Anderson penned a deal with Hartlepool United".
Hereford FC have lost a player before the 2018-19 season as Somerset Live confirms that "Prolific non-league goalscorer John Mills has put pen to paper with Bath City. Romans boss Jerry Gill made signing a new frontman one of his priorities this summer and succeeded in bringing in Mills from Hereford.
The 28-year-old's goals helped guide the Bulls to three consecutive promotions in a rapid rise through the ranks after rising from the ashes of famed Hereford United.
Playing across the Midland League Premier and two tiers of the Southern League, and while regularly stepping out in front of four-figure crowds at Edgar Street and huge followings on the road, Mills struck 140 goals for Hereford...
But the deadly hitman, who lives in Oxford, turned down a new contract with Hereford, and City came out top of the list of clubs vying for his services."
At the geographically opposite end of the division, Blyth Spartans "can now announce the departure of right-back Andrew Cartwright, who has taken on a full-time coaching role in Perth Australia. The 22-year-old made 85 appearances for Spartans over a three season spell with the club...
Cartwright was on the periphery of the squad for the majority of the 17/18 Vanarama National League North season but did star early, earning himself an England 'C' cap during the campaign. After a loan spell with EBAC Northern League side Ashington, Cartwright returned for the final month of the season".
Leamington report that "Paul Holleran has revealed that midfielders Joe Clarke and Kurtis Revan are the latest members of last season's squad to be retained ahead of the 2018/2019 campaign.
Clarke joined the club last summer from Tamworth and made 42 appearances in his maiden season for Brakes. Revan joined us part way through the 2016/17 campaign and made some very important contributions as we won promotion and the Birmingham Senior Cup. His 34 appearances last season came mainly from the substitutes' bench...
Holleran had this to say about the pair: 'Joe Clarke was a massive player for us last year after signing. Every team has a player of his ilk, that often goes unnoticed but he worked tirelessly for the team and played a big role for us.
'Kurtis stepped up with us last season, but we still feel he is yet to fulfill his full potential. He has a big pre season ahead of him now and he needs to use the experiences of last season to push on and cement a regular place in the starting eleven. I'm looking forward to seeing how he gets on, because he is super to work with and has so much raw talent.'
While Clarke and Revan are staying, one member of last season's squad has left the club. 'Sadly Stefan Moore's third spell with us has come to an end,' said Holleran. 'He was hoping to stay with us and maybe do more work in the community but things didn't work out unfortunately. He is looking for something more full time, and he has missed playing more regularly too'".
---
20 June 2018
NL Daily
tells us that "Macclesfield Town have announced the appointment of Mark Yates as new first-team manager. Yates joins the League Two newcomers from National League Solihull Moors and has signed a three-year deal with the Silkmen. 48-year-old Yates joins after an incredible season with Solihull Moors, which saw him pull off a great escape after arriving with the club adrift at the bottom of the National League in November."
According to
NL Daily
, "Returning York City striker Jake Wright turned down the chance to play a division higher with neighbours Harrogate Town because of their 3G pitch. Wright, who was part of Harrogate's promotion-winning National League North squad last season, feared the long-term impact continuing to train and play on an artificial surface might have on his body and career.
Reasoning that he didn't want to compromise his footballing longevity, the 21-year-old forward instead agreed a two-year contract with the Minstermen, who he also hopes to lead into the National League next season.
'It was a big and difficult decision for me, as I had a few options,' Wright said of his decision to stay in sixth-tier football. 'But, truthfully, the massive factor in my decision to come to York was to play on a grass pitch again. The artificial pitch at Harrogate suited my game a lot but, as a young lad, you don't want to be playing and training on them week in, week out. It was taking a toll on my body and people say they can shorten your career.'"
From the National League we learn that "Hereford are looking for their fourth promotion on the spin and they've added a couple of players they hope can help them achieve it. Gloucester City captain Keiran Thomas has signed after Peter Beadle ended his six-week chase for the player.
He is joined by Harry White, the striker putting pen to paper after leaving Chester... There has been even more good news; midfielder Eliot Richards has agreed a new contract.
'I've known Keiran since he was a youngster at Cheltenham Town,' said Hereford manager Beadle speaking to the club's website. 'He's a versatile player, he can play at right-back and in midfield, he's a strong, solid player who is very good technically. Harry is a great prospect who thrives on confidence, he's a great age, his gameplay is good and he know's how to score goals,' the Bulls' boss added... 'He's another player who comes to us with a lot of raw talent, a bit of a rough diamond, and it's up to us to help him grow into the player we know he can be'".
And Hereford also report that "Midfielder Eliot Richards is the latest player to agree a deal to remain at Edgar Street for the forthcoming National League North campaign. After joining The Bulls from Merthyr in November 2017, Richards went on to make 29 appearances for Hereford last season, scoring four goals."
Chester FC report that "Further to the statement dated 10th May 2018, the Board of City Fans United are delighted to announce that a Donation Agreement has been agreed between Chester City Supporters' Society and Mr Stuart Murphy...
There will be absolutely no dilution of the principles of fan ownership, nor control, as a result of this agreement. Stuart has committed to helping Chester Football Club for a period of three years, during which time he is to donate the sum of one million pounds, the majority of which will be allocated to infrastructure improvements that will enable the club to increase its overall sustainability.
Stuart has been invited to join the Operations Board for the duration of the agreement... Stuart added... 'This gives me a great opportunity to give something back to the City of Chester and to the football club that I care for so much. I have lots of ideas to move the club forward positively and I can't wait to get started'".
---
19 June 2018
Nantwich Town
report that they "are delighted to confirm the signings of attacking midfielder
James Lawrie
and striker Danny Glover ahead of the 2018/19 season.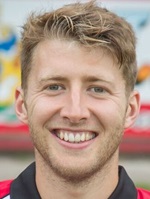 Lawrie (right) and Glover spent last season at Hednesford Town and are the first two signings for Dave Cooke as he looks to bolster the first-team squad after a fine first season in charge. Lawrie, who came through the ranks at Port Vale, scored 13 goals for the Pitmen last season and has spent time with AFC Telford United as well as Kidderminster Harriers. Lawrie also made over 200 appearances for Altrincham between 2011 and 2017.
Additionally, the striker has represented Northern Ireland, earning three caps for his country. As well as his senior accolades for Northern Ireland, he also appeared at the U17, U19 and U21 level... The club can also reveal it's hoping to confirm a further signing of a forward at the weekend."
Nuneaton Town
report that they "are pleased to confirm that the transition to Nuneaton Borough Football Club is underway, beginning with the official adoption of the club badge and all future press releases coming under the Borough name. Over the coming days fans will notice changes to the club's website and social media as they are brought inline with the new moniker.
The change comes about as the result of a fan survey that suggested an overwhelming percentage of the Boro' faithful were in favour of a return to the club's traditional name. Then Chairman, Lee Thorn, made it a point of emphasis for the 2017/18 season to undertake the work required for the application to fulfil the fans' wishes.
With the backing of the Nuneaton Town Supporters' Cooperative, who have helped fundraise, the club were granted permission by the Football Association and the National League to head back to the Borough.
In 1889, Nuneaton St. Nicholas were the first team to play senior football within Nuneaton. Five years later, they changed their name to Nuneaton Town, and played until 1937, when the club was disbanded. However, two days later, Nuneaton Borough F.C. were founded and played under that name until 2008, when the club was liquidated, and, due to an FA ruling, were reformed as Nuneaton Town.
The club's final game under the Borough name was on the 26th of April 2008... as they ended their Conference North season in 7th place. A decade later we're delighted to be 'back to the Borough'."
The National League has a guide to next season's Vanarama National League North clubs. It includes...
"AFC Telford United: (National League North: 14th) New manager, new hope. Bucks fans will hope they can play a part at the other end of the National League North next season. Gavin Cowan is going about his business well. Dom Smith is a fine addition.
Alfreton Town: (National League North: 17th)... New boss Billy Heath brings with him fresh ideas - and plenty of new players. He has managed many of them before and trusts his signings.
Altrincham: (Evo-Stik Premier: 1st) Back after just a year, Alty believe relegation has made them stronger. Phil Parkinson has produced a quick and passionate team, easy-on-the-eye and one who may fancy another dabble at promotion.
Ashton United: (Evo-Stik NPL Premier play-off winners) They could be next season's mystery package... Going under the radar is the perfect way to handle the step up and Jody Banim has a squad full of grafters.
Boston United: (National League North: 9th) Bigger things are expected next year with Craig Elliott not only improving the mood but having a good summer of business. Nathan Arnold has the potential to be the best deal of them all.
Blyth Spartans: (National League North: 10th) Comfortable last season... They probably weren't ready to go up but the experience will help.
Brackley Town: (National League North: 3rd) The loss of top scorer Aaron Williams will be felt, but with many of their FA Trophy winners vowing to return there's no reason why the Saints can't challenge again...
Bradford (Park Avenue): (National League North: 7th) New name, new badge and the great news... same manager, Mark Bower...
Chester FC: (National League: 23rd): It's certainly a big season for Chester and the pairing of Anthony Johnson and Bernard Morley after their Salford City exit.
Chorley: (National League North: 6th) Matt Jansen knows his team are improving season after season... Jansen is going for younger and fresher and Chorley should threaten again.
Curzon Ashton: (National League North: 18th) John Flanagan will want more next season. Despite limited resources, he thinks his team are better than the side who hovered around the bottom three for so much of last term. Defenders Max Cartwright and Danny Morton should make them harder to beat.
Darlington: (National League North: 12th) The Quakers fans will think they now have an attack to be reckoned with. Reece Styche and Simon Ainge will surely cause real damage, and with goalscoring midfielder Jordan Nicholson now on board they will be considered contenders.
FC United of Manchester: (National League North: 16th) After a season which saw unheard of change at FC United, all eyes will be on player-boss Tom Greaves and how he tackles his first summer in charge...
Guiseley: (National League: 24th) How do you recover from a torrid season to challenge at the top the next? Marcus Bignot and Russ O'Neill must come up with some answers. They've done some good deals so far and cleared the decks...
Hereford: (Bostik Premier: 1st) Three titles in a row, so can they make it four? Losing free-scoring John Mills won't helping Peter Beadle's rampaging Bulls but they have quality everywhere...
Kidderminster Harriers: (National League North: 4th) They've lost two of their top performers of last season but the signing of striker Ashley Chambers is huge. A new manager, too. Neil MacFarlane takes his first managerial job...
Leamington: (National League North: 19th) Objective accomplished in season one... without a great struggle. Now... Paul Holleran must wheel-and-deal again but he knows the market well.
Nuneaton Borough: (National League North: 13th) The announcement on Saturday that the club are under new management surprised many. Gary Charles was out and Nicky Eaden would take his place. Filling the goals void left by Ashley Chambers is the biggest job.
Southport: (National League North: 15th) Liam Watson is back... Good signings added to last year's improving squad should see Southport challenge.
Spennymoor Town: (National League North: 8th) After just missing out on the play-offs in the first ever season in the division, Jason Ainsley will have eyes on going one better... They've kept hold of their big names.
Stockport County: (National League North: 5th) The early bookies' favourites will have to do it without last year's top performer Jimmy Ball. Captures including [ex-Alty loanee] Nyal Bell, Ash Palmer and Jake Kirby, all giving fans belief...
York City: (National League North: 11th) Pressure will be on to perform next season... They will again be among the favourites and manager Martin Gray can't afford to let the 'disaster' of a final month run on into next season".
---
18 June 2018
Altrincham suppporters will not have forgotten our club's 18 points deduction in 2005/06 and will read with interest that one of our opponents, last season, Rushall Olympic, have suffered a similar fate. Last Thursday (14 June),
Rushall Olympic
reported that "Following a hearing at Wembley Stadium on Wednesday 13th April, Rushall Olympic FC's appeal against the Evo-Stik Northern Premier League decision under Rule 6.9 covering ineligible players to deduct our club the maximum 12 points, impose a minimum fine of £100 and apply costs of £120 was upheld for playing Dominic Dell in 17 league games when his contract registration was ruled not to have been approved in accordance with the league and FA rules.
Rushall Olympic FC's appeal centred on a key essential issue that the Evo-Stik Northern Premier League should have dealt with the issue as a Player Status matter, as detailed in Rule 6.9: 'The company may vary this decision in respect of the points gained only in circumstances where the ineligibility is due to the failure to obtain an International Transfer Certificate or where the ineligibility is related to the Player's status.'
The Evo-Stik Northern Premier League dealt with Rushall Olympic FC with an assertion that our charge in the view of the Evo-Stik Northern Premier League was not related to the Player's Status. The FA found that it is a Player Status matter and that our appeal was upheld. The FA documented: 'Therefore, the League should have considered their discretion as to whether or not to deduct the full 12 points and the League clearly failed to consider this'. 'In upholding that element of the appeal, the Board sets aside the decision made by the League in its entirety'.
In two well documented cases in 2016, the Evo-Stik Northern Premier League did not impose a points deduction in a case with irrefutable similarities and dealt with the ineligibility as being related to the Player's Status and also imposed a 12 point deduction in another case, but suspended the penalty due to the ineligibility being due to the failure to obtain an International Transfer Certificate.
In our case, with the FA Appeal Board upholding our appeal that our issue was a Player Status matter, we are disappointed that the 'Appeal Board went on to exercise their right under Regulation 3.3(2) to exercise any power which the body against whose decision the appeal was made could have exercised' and deducted 12 points from last season's playing record and fined our club £100.
Rushall Olympic FC have been playing since late January 2018 with this issue hanging over us and it has only come to a conclusion in all areas on 13th April, 2018. Dominic Dell played the vast majority of his games under our previous Manager, [ex-Alty defender] Wayne Thomas, and we discovered in late January 2018, when the player was going to move to another club and we required him to be removed from contract, that he wasn't listed as being registered on contract with the FA. The contract paperwork was accepted by the FA as being sent to them initially, but a one-line clause relating to the player having the right to have his fitness determined by an independent medical practitioner was to be inserted, as written by the FA and it is in this re-submission that the FA did not receive and confirm the amended paperwork to our club (there were another three contracts with the same clause to be inserted and the FA had received and confirmed them).
We pleaded guilty to a breach of FA Rule E1(b) and specifically, FA Rules C1(f)(i) and C1(f)(ii) as we felt we could not categorically prove that the contract paperwork had been received and confirmed as there had been a change in our administrative team and relevant documentation with the FA had been deleted. We were honest in regards to this from the beginning and the club was unaware of this issue. The FA issued a fine and costs and it was detailed that, 'There was no suggestion that the Club had attempted to cheat or mislead' and 'the Commission were clear that the club had not attempted to deceive'.
This breach was the start of a drawn-out series of related charges that have resulted in our club losing 12 points from last season's playing record plus a fine, being removed from the Walsall Senior Cup Final and being reinstated following a successful appeal to Staffordshire FA and being charged by the FA Cup and FA Trophy Committees, which has resulted in our club having to return all prize money gained from the competitions last season, totalling £6,250.
It has been a very difficult time for our club, alongside our recent devastating robbery and malicious damage inflicted at Dales Lane and we thank our Manager, Liam McDonald and his staff and our players for the fantastic run of form that has brought a real positivity and has ultimately helped us to avoid potential relegation and also for winning the Walsall Senior Cup and also sincerely thank our staff, volunteers and our fans for their loyal support. We are unhappy with several elements encountered along the way, but we blame no one individual and face both the good and bad times as a club and we accept our punishment. There will be no further comment regarding this statement and we look forward to next season in the Evo-Stik Southern League Central Division.
Nick Allen, Vice-Chairman, Rushall Olympic FC".
The
Northern Echo
reports that "Having signed forward Jordan Nicholson at the weekend, Darlington will now switch attention to their search for a goalkeeper. They currently do not have a No. 1 at the club but Tommy Wright intends to bring one in time to take part in pre-season training, which starts on Saturday.
The players will do double sessions on two consecutive Saturdays, with Wright eager to gauge his players' fitness as they begin preparing for 2018-19, with the first pre-season friendly being on Sunday, July 8, at home to Motherwell.
By then Wright will have signed a goalkeeper and he has a choice of two, both players currently with Championship clubs with the transfer being a loan arrangement.
Wright, meanwhile, is delighted to have recruited Nicholson, a pacey player who he describes as being a No. 10, though can also play on the left.
He previously worked with Nicholson at Nuneaton Town when on loan from Peterborough United, and in January 2017 the 24-year-old scored a well-taken late winner against Quakers at Blackwell Meadows.
Wright tried to bring him to Darlington from Peterborough in January, but instead the player joined Barnet in League Two.
He left the Bees at the end of the season, so comes to Quakers as a free agent, and Wright is pleased with his third summer signing.
'He's different to what we've got. He'll get the ball on the half-turn, he'll shoot from anywhere and he scores goals', he said.... 'The fans will love him because he works really hard and is a really likeable lad. He can play on the left-wing, but I think his best position is centre forward, or just behind. He's quick, he'll move just as quick with the ball as he does without it.'"
The Derby Telegraph informs us that manager "Gary Charles has left non-league side Nuneaton Town, and admitted he found out through social media. The former Derby County defender was appointed manager in March, and has seemingly been replaced by Nicky Eaden, formerly of Barnsley and Wigan Athletic.
Charles landed his first job in management at Nuneaton 16 years after hanging up his boots; he took over the National North League outfit after doing scouting work for Roy Keane and Sean Dyche. Bizarrely, he wrote on social media on Saturday that he had no knowledge of his departure and no contact with chairman Lee Thorn. He had previously tweeted fans to confirm he was still in charge at Liberty Way.
'Found out through Twitter that I am no longer manager at Nuneaton Borough FC,' he said. 'Not had any contact with the chairman to let me know'...
A statement posted by Nuneaton shortly after Charles' tweet , said that his position was only informal until the end of the campaign. 'In the light of the recent announcement of Nicky Eaden as the club's new Manager, Nuneaton Town have clarified the status of Gary Charles' position whilst with the club,' it read.
'Gary never had a contract and was working for the club on an informal basis to guide them through to the end of the season. We believed that the situation was clear and regret that it has led to such confusion'...
Charles had been the director of football at the University of Nottingham for the last four years and was assistant manager at Lincoln City, but was yet to take charge of a senior club, prior to his appointment at Nuneaton...
[Charles,] A former England international... has fought a long battle with alcoholism dating back to his playing days, but he now runs his own clinic - GCSports Care - for professionals with addiction problems and other off-field issues."
Meanwhile, we learn from the Boston Standard that "As Boston United continue their player recruitment, Craig Elliott says it is his turn to play hard ball... As deals fail to materialise, Elliott believes the ball is now firmly in his court.
'The next few weeks are about agents and players trying to get fixed up with clubs, the dynamics change,' he told The Standard. 'Suddenly players who thought they'd got a move somewhere else realise you made them a decent offer and they start calling you, instead of the other way round... If somebody didn't want to come here two or three weeks ago then I'm not that interested in them, to be honest. I want players who want to play for Boston, not somebody who calls because they've not got what they wanted.'
Elliott was also impressed with some of the talent on display when he recently attended the V9 Academy, England striker Jamie Vardy's set up which aims to help promising non-league players climb the footballing ladder get pro deals... 'But the thing is the academy brings in a lot of interest and there are clubs there from League Two and the National League, so you're fighting with them really.
'But it was a good experience and there are a few players I've got my eye on'".
From Lincolnshire Live comes confirmation that "New signing John McCombe will play a crucial role off the pitch as well as on it for Boston United next season. The experienced central defender has joined the Pilgrims on a one-year deal.
McCombe turned down other clubs, plus the side he ended last season with, National League new boys Harrogate Town, to join United...
'Craig's asked me to get involved with the coaching of the defenders and some other stuff,' said McCombe, who runs his own football academy, which has bases in Wakefield, Rotherham and Gateshead... I feel that I'll be able to offer quite a lot off the pitch'...
McCombe is the younger brother of Lincoln City player-coach Jamie, who has enjoyed great success working under the Cowley brothers at Sincil Bank over the last couple of years. 'We're quite boring as we talk about football quite a lot,' joked John...
'There are a lot of different things you can use in football to make your team one or two per cent better. That can make the difference between winning and losing and potentially be the difference between going up or not.'
McCombe is also impressed by the size of the club and the successful track record of Elliott...'It's a big club at this level,' added McCombe. 'That was a big thing for me. When I went there with Harrogate last season, it was a Tuesday night but there was still a good crowd of over 1,000 and they made a lot of noise. The manager has got plans and has a record of being successful [at Shaw Lane most recently]'".
According to the Telegraph & Argus, "It may seem like a minor change, but Bradford Park Avenue's club historian Tim Clapham has explained the importance of the club reverting back to its old name, and how it will persuade disgruntled former fans to return to the club.
The Vanarama National League North side will have brackets in their title again and be officially known as Bradford (Park Avenue) AFC. The old coat of arms crest has been restored in the club badge to complete their historical look for the 2018/19 season.
The club were founded as Bradford Football Club in 1907, but as Clapham explained, the club became a limited liability in 1909 and changed their name to Bradford (Park Avenue) AFC. This name remained until their liquidation in 1974, and returned when they were reformed as an amateur club in 1988.
A major change occurred a few seasons ago though, and Avenue became a community club. The brackets disappeared, along with some upset fans.
However, club owner Gareth Roberts is taking back control of the club, which had become community-owned in 2015.
Clapham said, 'Many fans decided that they wouldn't come and watch the team anymore when it became a community club. They said it wasn't what they'd been brought up with. The concept works for some clubs, like FC United of Manchester, because they have a big fan base. We don't have that here, so the idea was never really going to work.
'There was no need for the brackets to disappear when the club changed the way it was run either. It was a bizarre decision and upset a lot of people. Now it's changed back, many have said they want to return again next season.'
Clapham believes the brackets are an important and unique part of the club's history, and it seems the Football Association agree.
The historian explained, 'Funnily enough, in every FA Cup or FA Trophy draw since we dropped the brackets, the FA have still had us listed with them in our title!'"
Also from the Telegraph & Argus we learn that "Striker Dayle Southwell has become the latest player to leave Guiseley following their relegation from the Vanarama National League.
Southwell, who was five months into a two-and-a-half year deal with The Lions has joined Halifax Town after expressing his desire to continue playing in the top tier of non-league football. The former Boston United goal ace was signed from Wycombe Wanderers by former manager Paul Cox. Southwell played 18 games and scored seven goals after joining the club in January".
An arrival at Nethermoor is the subject of the NL Paper which says that "Following their relegation from the National League last season, Guiseley have continued to lay the foundations for an immediate return to Step One by signing experienced defender Scott Garner from Halifax Town.
The 28-year-old has experience in helping sides into the National League having been part of the Halifax team which gained promotion two seasons ago...
New managers Marcus Bignot and Russ O'Neil will hoping to inspire a turnaround in fortunes at Nethermoor Park next season."
York Press tells us that "Striker Macaulay Langstaff has become the fourth Gateshead player to join York City this summer. Langstaff, 21, has followed Russell Penn, Jordan Burrow and Wes York in making the switch from the International Stadium to Bootham Crescent, having also spent a large part of last season on loan at City's National League North rivals Blyth Spartans.
Starting out at Stockton Town having previously been on Middlesbrough's academy books, Lansgtaff signed for Gateshead in February 2017... He went on to spend the remainder of that season back at Synthonia and, last term, only managed four outings – three from the bench – in the National League with Gateshead.
Langstaff did not net in any of those matches and also failed to score in 17 appearances for Blyth, although 14 of those were again as a substitute".
Southport "have completed the signing of forward Mike Phenix for an undisclosed transfer fee. 28-year-old Mike, most recently of Salford City, has signed a two-year deal at the Merseyrail Community Stadium.
Mike made 80 appearances for Salford, scoring 27 goals, and also spent time at Hindsford, Droylsden, Skelmersdale United, AFC Telford United, Barnsley, Macclesfield Town (loan), and a spell at Southport in season 2015/2016.
Mike has played for manager Liam Watson previously at AFC Telford and he was integral in his sale to the Football League with Barnsley in 2014 for a record fee...
On joining Southport, Mike said...'I feel that I have unfinished business from my last spell here. The club is very ambitious and I'm looking forward to working with Liam again. I was part of the Salford team that won this division last season and my ambition is to help Southport do the same this coming season'. I can't wait to get started.'"
Wikipedia
rather than the FA website has...
THE EMIRATES FA CUP ROUND DATES SEASON 2018-2019
Second Round Qualifying Saturday 22 September 2018
Third Round Qualifying Saturday 6 October 2018
Fourth Round Qualifying Saturday 20 October 2018
First Round Proper Saturday 10 November 2018
Second Round Proper Saturday 1 December 2018
Third Round Proper Saturday 5 January 2019
Fourth Round Proper Saturday 26 January 2019
Fifth Round Proper Saturday 16 February 2019
Quarter Final Saturday 16 March 2019
Semi Final Saturday 6 April 2019
Final Saturday 18 May 2019
THE BUILDBASE FA TROPHY ROUND DATES SEASON 2018-2019
Third Round Qualifying Saturday 24 November 2018
First Round Proper Saturday 15 December 2018
Second Round Proper Saturday 12 January 2019
Third Round Proper Saturday 2 February 2019
Fourth Round Proper Saturday 23 February 2019
Semi Final 1 Saturday 16 March 2019
Semi Final 2 Saturday 23 March 2019
Final Sunday 19 May 2019
---
17 June 2018
Don't forget that a 2018-19 Altrincham FC season ticket will earn you free admission to the pre-season games at the J. Davidson Stadium. The full list of pre-season games is below...
Sat. 7.7.18 3pm A Rhyl
Tue. 10.7.18 7.45pm A Kidsgrove Athletic
Sat. 14.7.18 5pm A Isle of Man XI
Tue. 17.7.18 7.45pm H MACCLESFIELD TOWN XI
Fri. 20.7.18 7.45pm H CREWE ALEXANDRA XI
Tue. 24.7.18 7.45pm A Trafford
Sat. 28.7.18 3pm H SALFORD CITY
The
National League
reports that "Nicky Eaden has been named as Nuneaton Town's new manager. The club have opted for a change with many thinking Gary Charles would be in charge of the team next season.
He hopes to turn around the fortunes of the National League club ahead of the players' return to pre-season training. Eaden was at Nuneaton as assistant manager and he now takes over at Liberty Way in his own right.
He told the club's website, 'The time felt right to take the next step and become a manager, and this opportunity was perfect for me.
'I have known (chairman) Lee Thorn since we were at Kettering at the same time, so I have kept in touch with him and, due to my posts at Leicester and then Coventry, I have watched Nuneaton a lot over the years.
'With the changes this summer, including the club becoming Borough again, this is like a new start for everyone. I have about half a dozen players already under contract, which gives me a good start, and I have a list of targets we are hoping to bring to the club.'
The former Barnsley and Birmingham defender added, 'Hopefully I can hit the ground running and even get one or two signings over the line this weekend'".
From Non-League Daily comes news that "Chester FC joint-manager Anthony Johnson says he and Bernard Morley 'would love' to bring Jason Oswell to the Blues, report The Chester Chronicle.
The 25-year-old netted 25 times for Stockport County in the National League North last season but has been omitted from County's squad line-up for the new season and is a free agent. The former Crewe Alexandra youngster, who had a prolific spell in the Welsh Premier League with Newtown, has been linked with a switch to the Blues but is also understood to be attracting interest from Wrexham and Port Vale, among others.
But a switch to full-time football could prove problematic for Oswell, who lives in Chester and works as a physiotherapist at the Countess of Chester Hospital. And while no deal is close for the striker, Johnson says the Blues are very keen.
'We would love to sign Jason Oswell,' Johnson told the Chronicle. 'We didn't see any better than him last season in the National League North and he was banging the goals in and finished just behind Jason Gilchrist (Southport) I think. He's a top finisher and would be an asset to this football club.'"
The same source adds that "New signing John McCombe will play a crucial role off the pitch as well as on it for Boston United next season. The experienced central defender has joined the Pilgrims on a one-year deal. McCombe turned down other clubs, plus the side he ended last season with, National League new boys Harrogate Town, to join United.
The 33-year-old said the chance to get involved with coaching and video analysis under manager Craig Elliott played a part in his decision.
'Craig's asked me to get involved with the coaching of the defenders and some other stuff,' said McCombe, who runs his own football academy, which has bases in Wakefield, Rotherham and Gateshead. 'It will help with my career as I want to go into coaching when I finish playing. Hopefully this will be my first step on the ladder... I'm into video analysis and I've done a sports science degree which I can use as well.'"
Hednesford Town
relay the FA's statement on "Promotion and Relegation 2018/19 Season".
"The NLS [National League System] regulations for 2018/19 have been published and outline how promotion and relegation will apply at the end of next season.
The addition of an extra league at steps 3 and 4 of the non-league pyramid means that there have been certain adjustments made to the National League Systems regulations as to how promotion and relegation matters will apply at the end of the 2018/19 campaign and these are outlined below –
Between Step 2 and Step 3
The Clubs in the bottom three places in each of the two divisions (National League North & South) at Step 2 at the end of the Regular Season will be relegated to a feeder pool and placed in the most geographically appropriate division at Step 3 for the following Playing Season.
They will be replaced by the Clubs finishing in 1st position in each of the four divisions at Step 3 together with a further two Clubs determined by a series of Play-Off Matches.
Where a Club finishes in 1st position but does not meet the criteria for participation at the next Step, the Club finishing in 2nd position shall be promoted and the Club finishing in 3rd position (and so on) shall be the Club in the next eligible position to take part in the Play-Off Matches.
Where a Club finishes in a Play-Off Position but does not meet the Criteria for participation in Play Off Matches the Club finishing in the next eligible position shall take part in the Play-Off Matches.
In each division at Step 3, the Play-Off Matches shall be played so that the highest placed of the eligible Clubs plays against the lowest placed and the other two Clubs play each other (the "Step 3 Initial Play Off Matches").
The winners of each of the Step 3 Initial Play-Off Matches will play each other, resulting in one winner in each of the four Step 3 divisions (the "Step 3 Divisional Play Off Winners").
The Step 3 Divisional Play-Off Winners will play a further match against each other. The ties will be decided by the Committee pairing Clubs on the most suitable geographical basis.
The ties will be played on a single match basis with the home Club being the Club with the best points per match ratio in the Regular Season.
If there are only three eligible Clubs then the highest placed shall receive a bye to a second match where it will play the winner of the other Play-Off Match and the winner of that match will play in the further Play-Off Match described above. Clubs finishing below position 7 will not be considered for Play-Off Matches.
The promoted Clubs will be placed in a feeder pool and placed in the most geographically appropriate division at Step 2".
Following last week's announcement of the demise of Shaw Lane's senior teams, the
Barnsley Chronicle
reported that "Craig Wood is 'devastated' after closing down Shaw Lane AFC but says the only part of the 'great journey' over the last seven years which he regrets is sending a mocking tweet about Barnsley FC's relegation last month.
Wood, a self-made millionaire from his Barnsley-based plumbing business Aquaforce, founded the club from the ashes of Sunday League side Wilthorpe. They earned five promotions in six years from 2011, taking them to the Evo-Stik Premier Division which is the seventh tier of English football, while winning the last two Sheffield Senior Cups and becoming the first Barnsley non-league club to reach the FA Cup first round.
Wood, who put more than £1million into the club, had the aim of reaching the National League but, after missing out on the play-offs into the National League North, he has decided to fold it. He had hoped to move the Ducks out of Barnsley to Wakefield but talks with a consortium broke down.
He told the Chronicle, 'I am devastated. It's left a huge hole in my life, because the club was my life. I put my heart and soul into it. It's going to take some time to feel better and it will be really hard next month when other clubs start playing friendlies and the fixtures come out. I gave it the best possible shot but I had no other option in the end.'
The main factors in Wood's decision have been the club's inability to build a fanbase, the unsuccessful attempts to change the name to incorporate the word Barnsley, and Barnsley FC fans' animosity towards him. Wood, who supports Sheffield Wednesday and initially had his team playing in blue and white before changing to just blue, said: "A big factor is the bitterness from a large section of the Barnsley fans, which should be our catchment area. They have not wanted us since day one. People say it is because I am a Wednesday fan, which is heart-breaking because I am still Barnsley through and through.'
The recent application to become AFC Barnsley was rejected by the Football Association on the grounds that it would cause confusion with Barnsley FC, following opposition from Oakwell, the council and the Sheffield FA. Wood said, 'When we couldn't incorporate the town's name despite all the other clubs at our level being able to do so, I started to think: what am I doing? Is it worth it? I was in danger of falling out of love with football so I had to walk away.'
Shaw Lane's 2017/18 average attendance of 191 was the fourth lowest in their league. Wood said, 'I can't keep throwing good money after bad, we needed more fans and we just weren't getting them. I never thought we would get thousands of people but I hoped for a gradual increase, maybe 100 over a season, especially with the exposure we got from the FA Cup first round. But the attendances have stayed the same for five years and you can't go into the National League North with 200 fans. The away support would have been more than the home support, which can't be right. There was a small group of loyal fans who went to every home game and I feel gutted for them.'
Some Barnsley fans have delighted in the Ducks' demise, citing the tweet Wood sent after the Reds' relegation which read "Karma is a right bitch". He said, 'That tweet is regrettable. It was hard to take so much grief for so long from some Barnsley fans and board members past and present then not give anything back, but I should have kept it to myself. It wasn't directed at the majority of the Barnsley fanbase who I have no problem with at all.'
Other than that, he said 'I wouldn't do anything differently and I have no regrets. People say "build your own ground" but I didn't have a spare £10 million. We achieved more in a few years than most clubs have ever achieved. Five years ago I said I wanted to be knocking on the door of the Conference North and to play a Football League team in the FA Cup, and that's what we've done. I then wanted another five-year plan to go further but it's not to be.
'It's been a great journey with so many highs and very few lows. Most of the bad parts have been off the pitch and nothing to do with the actual football, which has been extremely successful. The highlight has to be the FA Cup first round game against Mansfield but there was also the FA Vase run when we played at Oakwell.'
The Ducks spent five years at Barnsley RUFC's Shaw Lane ground before leaving last season and agreeing a groundshare with Athersley Rec. The Ladies and junior teams, which have always been based at Shaw Lane, will continue. Wood, still chairman of the junior section, said 'There is a really good under-16s side there and maybe in a few years they will want to become a first team in the lower leagues. We will see. But I certainly won't be doing the same again.'
Wood will also continue to be a trustee of the Daniel Wilkinson Foundation, named after the Ducks player who died during a game in 2016, which he set up and has so far raised £16,000 towards providing health screenings and equipment for non-league clubs. The Ducks will not be able to continue their yearly friendlies with Brighouse, where Wilkinson died."
Last week, Hednesford Town were "informed that we have been moved from the Southern League Central to the Northern Premier League, following the resignation of Shaw Lane AFC from the league.
As soon as the football club received this news it was decided that an appeal will be submitted, with the management team having spent the last six weeks working hard to recruit a new squad
A club statement reads as follows:
'Hednesford Town Football Club will appeal this decision on the grounds that there are two clubs in the Southern League Central Division who are more northerly than us. These being Coalville Town and Kings Lynn Town'".
The National League confirms that "Jason Walker will continue his career in the Evo-Stik Northern Premier League he has decided. The former York City striker, 36, is playing on next season after being released by Chorley. He has agreed a deal at Workington, and the former National League North club are confident of a push for promotion".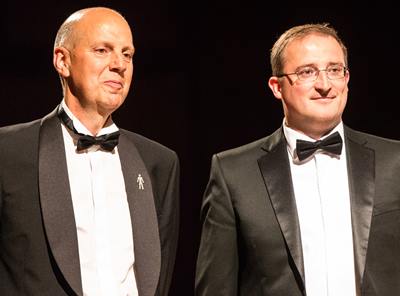 Press release:
"The National League are teaming up with Prostate Cancer UK this week in a gruelling '7 Marathons in 7 Business Days' challenge.
Chief Executive, Michael Tattersall (pictured, right), will be taking on over 180 miles of walking from today to support Kevin Webber (left), an Ambassador for Prostate Cancer UK, and raise awareness and funds for the charity.
The walks will be held in Newcastle, Leeds, Sheffield, Manchester (x2), Preston and Liverpool until 19th June. The walk in Leeds will include Alex Neary, Editor of The Non-League Paper, and Pitchero CEO Mark Fletcher.
They will be joined on each leg by representatives of partners of The National League, including Vanarama and UCFB, as well as friends from the football family. The National League raised over £4,000 in funds for the Prostate Cancer cause at its annual Gala Awards Night. For those wishing to donate, Michael Tattersall has created a JustGiving page, which can be found here".
The
National League
confirms that "Steve Watson has decided to stay on as manager of Gateshead after talks with the club's chairman Richard Bennett. The Heed made the decision to go part-time earlier this week in the wake of failed takeover talks.
They will cut their budget as well as the time the squad get to play together, and manager Watson has been considering his options... 'We've decided that we're going to have a crack at it,' Watson told the club's website... 'A lot of the work I've done so far over the summer has been catered toward a budget where we'd be able to have a really good go at it and challenge but obviously, things have changed quite a lot. I was always willing to stay on under the circumstances of a takeover and having a good budget but I'm still here, I enjoy it and I love being back in the North East.
'I'm ready to take the challenge on a much smaller scale but it's a different type of challenge with different types of players and different circumstances... It's a challenge I'm going to relish. It needs to be an effort and we're going to have to be one big strong unit next season which will include the staff, the players and most importantly, the fans.We need to have a siege mentality as we'll probably be working under the smallest budget in the league but there are teams that have done well under such circumstances and I hope we can be the same.'"
Meanwhile, "Barrow's long wait for a new manager is over; Ian Evatt is to take charge at Holker Street. Evatt replaced Ady Pennock, who left the club nearly a month ago having kept the club in the National League on the final day of the season. The former Derby County, QPR, Chesterfield and Blackpool defender is up to the challenge in his first job in management according to managing director Andrew Casson".
---
16 June 2018
The results of the latest Altrincham FC Monthly Draw are shown below. If you have not already joined the scheme, in which you could win £500, further details are
here
.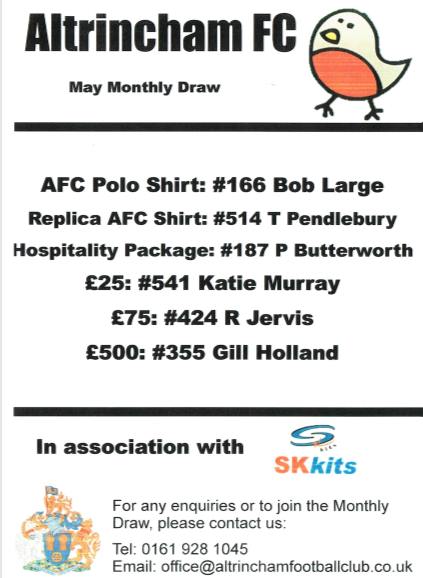 "Press release:
Vanarama, the award-winning commercial and personal vehicle-leasing company, has renewed its title sponsorship of The National League.
Vanarama originally signed to be the title sponsor back in 2014 and has now further extended its commitment to the competition and non-league football.
Live games and highlights will be aired on BT Sport with video clips available online, on mobile and across social media.
Vanarama, one of the UK's fastest-growing companies, has announced it has renewed its title sponsorship of The National League. This announcement comes after four successful years as title sponsor that began in 2014. Vanarama will continue to take the naming rights for the next three years across all National League divisions.
The Vanarama National League will receive great exposure with BT Sport continuing its excellent broadcasting of live matches and highlights for the next three years. Fans can also view video clips of all matches online, on mobile and across social media on the National League's portals. By extending their winning partnership, Vanarama and The National League will continue to innovate and grow the competition – it also signifies Vanarama's continued desire to be at the heart and soul of football.
Andy Alderson, CEO at Vanarama said, 'Since we decided to take title sponsorship of The National League back in 2014 we've seen growth as a company, but also growth in the popularity of non-league football. These leagues are formed of real, honest clubs with real honest fans and that resonates with us here at Vanarama and the services we offer.'
Brian Barwick, Chairman, The National League added, 'We're immensely proud and delighted to announce a further renewal of our title sponsorship with Vanarama. The last four years have proven to be transformational for both the National League and Vanarama, and we look forward to continuing our unique and highly rewarding partnership."
Vanarama, is an award-winning commercial and personal vehicle leasing company established by CEO Andy Alderson in 2004 with a team of just three people – the company now employs over 250 at its Hemel Hempstead main office.
The company is dedicated to providing industry-leading customer service and has found investing in that service, and the staff that provide it, to be a successful formula for success.
That success was reflected in 2015 when Vanarama won the prestigious Lloyds Bank National Business Award for Best Small to Medium Sized Business, an accolade that recognised the company's commitment to training, customer service and innovation.
The company has also been confirmed as a Sunday Times 100 Best Small Companies To Work For in the UK in 2016, 2017 and 2018, with Andy Alderson being named Best Leader at the 2017 awards ceremony.
Vanarama is also is a member of the Institute of Customer Service with a distinction grading.
The sponsorship extension follows hot on the heels of Vanarama's innovative partnership with Ball Street Network, which has seen the activation of fan-based engagements around the English FA Cup, Champions League, and soon the 2018 World Cup in Russia.
ABOUT THE NATIONAL LEAGUE
Established in 1979, The National League consists of 68 clubs in 3 divisions occupying the fifth and sixth tiers of English football known as the Vanarama National League, Vanarama National League North and Vanarama National League South.
The top division promotes two clubs directly each season into the English Football League and all 68 clubs participate annually in the FA Cup.
The National League Promotion Final is played annually at Wembley Stadium.
Our clubs play entertaining and competitive football in front of loyal and passionate fans.
Our clubs leading the development of football in 68 communities across England and Wales.
FOR MORE INFORMATION
Visit Vanarama and the National League
Facebook: www.facebook.com/vanarama/ and www.facebook.com/TheNationalLge/
Twitter: www.twitter.com/Vanarama and www.twitter.com/TheNationalLge/"
The website is back in operation after a summer break and further news will be added during the day.
---
8 June 2018
| | | |
| --- | --- | --- |
| Tommy Uda | Ryan Murray | Chris Parkes |
"Pre-season for 2018/19 commenced for Altrincham Football Club on Tuesday evening with an initial fitness session, designed and implemented by the Sports Therapy team of Tommy Uda and Ryan Murray, taking place at their base at 'Area51 Fitness' in Crewe.
Further fitness sessions are planned to be held at 'The Gym, Altrincham' , recently announced as Altrincham Football Club's new fitness partner.
Brian Flynn interviewed Tommy and Ryan ahead of this first session and discussed its content and objectives, as well as their roles at the football club and how they go about implementing the job.
Tommy provides a detailed individual fitness update on Tom Hannigan, Ben Harrison, James Poole, Shaun Densmore and James Jones.
Chris Parkes was working with the two sports therapists on the session and he talks about his increased coaching responsibilities for the upcoming campaign. Tommy, Ryan and Chris also discuss last season's great success and the challenges that lie ahead of the club's return to Vanarama National League North.
The interview can be heard here.
There will be no updates of this website over the next few days; in the interim please refer to the Club's social media outlets via the Twitter and Facebook icons towards the top of the page or via the following links...
If you are interested in travelling to the Altrincham pre-season game on the Isle of Man on Saturday 14th July, you can use the attached Isle of Man Steam Packet
booking form
to arrange your trip and accommodation.
Nuneaton Town
report that "As part of the preparations to revert 'Back to the Borough' Nuneaton Town have unveiled their new club badge. It's a familiar design for Boro' fans as the club will revert to the old badge to coincide with the traditional moniker.
'We made a conscious decision to close the door on the Town chapter, so moved away from simply changing the wording on the "Town" badge' said Lee Thorn, continuing 'The Borough name is an important part of the Club's heritage, and we wanted to reflect that with the traditional badge.' Plans continue to move towards the 2018/19 season, under the traditional Borough name, and will be revealed in due course."
Meanwhile, Blyth Spartans "are excited to announce the addition of forward Jamie Holmes... joining from Evo-Stik Northern Premier League side South Shields. Holmes, 20, is a product of the Newcastle United Academy, joining the Magpies during the 2010/11 season before progressing through the academy age groups.
After his release from the Premier League side, Holmes went on trial with South Shields, earning a contract with the Mariners... Holmes made 47 appearances and scored 13 times last season for the Mariners. He was part of the team which won the Evo-Stik North Division as champions. That's not his only connection to Spartans; his brother Dean previously played in the green and white during the 2013/14 season.
Manager Alun Armstrong [said], 'This is a fantastic signing for us, and he'll be a great addition to our forward line. He's capable of playing anywhere across the front four and that versatility is one of the reasons we have brought him into the club. He came off the bench during a pre-season friendly against us last season and posed a real threat, getting on the score-sheet. We've had eyes on him for a while, he's a young and talented player that will fit in nicely with the squad we've already assembled.'"
Near to home, we learn that Curzon Ashton "announce the signing of defender Michael Clarke from Stockport County. The 28-year-old made the decision to depart Edgeley Park at the end of last season after making 81 appearances at the heart of County's defence. Starting out as a striker with Woodley Sports, Michael scored 21 goals in 59 appearances for Northwich Victoria across a two-year spell before moving to Rushall Olympic for an undisclosed fee.
After returning to the Vics for a second term, Clarke was converted to a centre-half before attracting the attention of Stockport and making the step up to the National League North in 2016.
On the signing of Clarke, manager John Flanagan commented... 'He's a player I've known for quite a few years from back in his Woodley Sports days. He will help us add to the competition in the squad, which is something we will definitely benefit from. He's also got quite a lot of experience at centre-forward so we've got the flexibility of playing him in either position. He will bring lots of experience to the team and at 28 he's a great age for a centre-half. We have added another top player to the excellent group we have already."
---
7 June 2018
| | | |
| --- | --- | --- |
| Ryan Murray | Tommy Uda | Chris Parkes |
Altrincham FC Press and Media Officer, Brian Flynn, writes "And they're off! Pre-season for 2018/19 commenced for Altrincham Football Club on Tuesday evening with an initial fitness session, designed and implemented by the Sports Therapy team of Tommy Uda and Ryan Murray, taking place at their base at 'Area51 Fitness' in Crewe.
Further fitness sessions are planned to be held at 'The Gym, Altrincham' , recently announced as Altrincham Football Club's new fitness partner.
Brian Flynn interviewed Tommy and Ryan ahead of this first session and discussed its content and objectives, as well as their roles at the football club and how they go about implementing the job.
Tommy provides a detailed individual fitness update on Tom Hannigan, Ben Harrison, James Poole, Shaun Densmore and James Jones.
Chris Parkes was working with the two sports therapists on the session and he talks about his increased coaching responsibilities for the upcoming campaign. Tommy, Ryan and Chris also discuss last season's great success and the challenges that lie ahead of the club's return to Vanarama National League North.
The interview can be heard here.
The
NW Evening Mail
confirms that "Barrow AFC are open to bringing in more experienced summer signings when their new manager is in place. So far since the end of last season, the Bluebirds have signed four players up to contracts at Holker Street.
Nathan Waterston spent the final two months of the 2017/18 campaign with AFC, having moved to his hometown club from Workington, while Josh Granite, [ex-Alty man] Astley Mulholland and Jack Hindle have all arrived from teams in the Northern Premier League structure.
Mulholland has past experience in the National League with Altrincham, but the remaining recruits will be stepping into the unknown...
AFC managing director Andrew Casson says they fit in with the desire to bring in players who are looking to make the step up and have something to prove, following the successful template of the likes of Jordan Williams, Richie Bennett and Nick Anderton, who all left Barrow after securing moves to the Football League.
More of the same can be expected then Barrow announce their new manager, but Casson said there was also the chance to add those experienced heads who have been vital in the recent past at the club, such as Danny Livesey and Simon Grand, though there is a certain level of wariness after seeing some such signings fail to make an impact.
'We don't want to change too much, because if you eliminate last season and the mistakes we made in recruitment, a lot of the past success we have had has been in finding similar guys,' said Casson. 'These are guys who have gone on to better things, guys who have moved up in the world, who are hungry to test themselves at higher levels, who have maybe a chip on their shoulder. It's a whole new way of doing things, it refocusing on what we believe is right, building a team that people can watch and get behind and support because they are working hard.'
Asked if there could still be more former Football League and experienced National League players brought in this summer, Casson said, 'We're not opposed to that. At the end of the day, we're looking for attitude and work ethic more than anything else. I think we made a mistake in the past by assuming that just because a player has played in the Football League, they'll be a cut above at this level; that's not necessarily true. The budget means that there won't be as many of those guys this year as there were last year but, if there is value for money out there in terms of those guys and we can get a really good guy, a veteran leader who we need, then we would take them in a heartbeat.'
One factor Barrow will be focusing on for their recruitment when the new manager comes in will be the geographic location of players. Over the past two seasons, the club have brought in a number of players from London and the South, with two of those who were under contract and not transfer-listed after last season, Grant Holt and goalkeeper Steve Arnold, both fitting into that category. But going forward, Casson, echoing the thoughts of former boss Ady Pennock when he spoke about the potential policy for next season, wants to see a more regional North West focus, although exceptions could be made.
'Number one, it saves you money, because you're not paying guys to relocate or find accommodation, everything like that,' added Casson. 'It's also easier for them to travel up on a match-day or get to the pick-up points for the overnight games down south. We've said in the past that we were not going to keep doing those things. It's been a conscious decision. Unless we see a guy who we think could be the next Jamie Vardy, who happens to be living in London, that's what we look at.'"
According to the
Shropshire Star
, "AFC Telford United boss Gavin Cowan has ruled out a move for FA Trophy winner James Armson as they are not planning to pay fees for anyone. Armson played a big role in Brackley Town's run to Wembley, where they beat Bromley last month, and is a 'good friend' of Cowan's.
They were team-mates at both Nuneaton Town and Solihull Moors and currently work together; Armson is the Head of Education in Sport for Shropshire firm Crossbar Coaching, of which Cowan is managing director.
'James is a good friend and a former team-mate of mine, he was a young player coming through the ranks at the time,' said Cowan on the 28-year-old midfielder. 'Our work at Crossbar Coaching is separate to our football, though. He's a very good player and someone, if it was possible, we would definitely look to bring into the club. He's a top lad, but it would take an astronomical deal to take him away from Brackley.'
Thankfully for Cowan, the Bucks are already fairly well-stocked in the middle of the park as Ellis Deeney, Jon Royle and Henry Cowans are all staying for the upcoming campaign.
A priority, though, is getting a new goalkeeper in, to work under Darren Acton following his return to the club as goalkeeping coach,– as they do not currently have one on their books. Jas Singh announced his departure shortly after the season ended and has since signed for Tamworth, while Ben Wilson, who spent the second half of the campaign between the sticks, is out of contract at parent club Cardiff City.
Telford have made four new signings since Cowan took over as boss in playmaker Darryl Knights, defenders Theo Streete and Steph Morley and striker Daniel Udoh. They were all were snapped up for free after Knights and Morley left Tamworth, Streete left Brackley Town and Udoh was released by Crewe Alexandra. The Bucks have not spent large amounts to try to get out of the division in the past few years and do not plan to chuck money at it anytime soon.
'We won't be paying fees for anyone. We're not in a position to do so,' added Cowan."
The unofficial Burnley site, Up The Clarets says tha "Former Burnley striker Wes Fletcher joined Chorley yesterday as the National League North club announced the signing of three new players. Fletcher signed along with Louis Almond and Courtney Meppen-Walter who moved from York City and Glossop North End respectively with Fletcher ending two seasons with The New Saints in the Welsh Premier League.
Now 27, he's had a varied career but this will be Fletcher's first experienced of non-League football. He enjoyed loan spells at lower league clubs whilst with Burnley before moving to York on his release five years ago. He spent two years there before experiencing league football in Scotland and Wales with Motherwell and The New Saints.
Fletcher was part of Burnley's successful 2008/09 youth team and went on to make two League Cup appearances for the Clarets, both as a substitute for Jay Rodriguez... He joins a Chorley team managed by Matt Jansen for whom another former Claret, Stephen Jordan, plays and a team who ended last season in sixth place in National League North, reaching the play-offs where they beat Stockport before going out to eventual winners Harrogate Town for whom another former Claret Dominic Knowles scored both goals in a 2-1 win."
Over at Alfreton Town, "he Club are delighted to announce the signing of defender Jack Lane from Tamworth. Jack signs a one-year deal with the Reds. The towering central defender, who is 6' 3", started out by working his way through the youth set up at Macclesfield before earning a pro deal with the Silkmen.
After leaving there, he played for Salford City, Hinckley United and Oadby Town, before moving to the US to play for Sacramento Republic, in California, for a year. A move to Ilkeston then followed under Kevin Wilson and Steve Chettle before Jack would join Nuneaton Town summer of 2015. A switch to Tamworth followed in the summer of 2016 before Jack was released at the end of the 2017/18 season.
Billy Heath on signing Lane... 'Jack is a left-footed centre-half, which gives us good balance in the backline, and he can play too. He's good on the ball and has bags of quality, we are really pleased to have him on board and things are shaping up now. We are looking strong and, once our business is concluded, we will probably have a smaller squad than most in the league as we aim for around 18 players. But our team is a flexible one; a lot of the players can play more than one position. We have a great blend of experience at this level and youth.
'We have done really well to get the players we have and equally the players who we have brought in have wanted to come to Alfreton over other sides and other offers. We are building an excellent squad and a great atmosphere within the team, we are looking very strong.'"
From across the Pennines, the Telegraph & Argus reports that "Guiseley have strengthened their defence with the addition to their squad of former England Schools international Niall Heaton. The 21-year-old centre-back started his career with Bradford City before being transferred to Liverpool's youth team.
The Pudsey-born player later returned to City before joining Alfreton Town, where he played under new Guiseley joint manager Russ O'Neill. Last season Heaton played 42 games for Nuneaton Town in National League North."
Closer to home, the Chester Chronicle tells us that "The investment designed to inject donated funds from benefactor Stuart Murphy into Chester FC could be confirmed within the next fortnight, it has been revealed.
At a City Fans United (CFU) meeting held yesterday evening by the fans' group which runs the club in the Blues Bar at the Swansway Chester Stadium, an update was given on how the offer to invest money into the National League North outfit was progressing. Murphy was unveiled at a press conference held last month at the Grosvenor Hotel in Chester as the man who had offered the cash-strapped Blues financial assistance. The 64-year-old Chester fan has had previous involvement with the football club in a sponsorship role, when his city-based business rates firm Exacta Plc sponsored the home stadium for five years from 2010 to 2015.
He said last month that he wanted to 'give something back' to the city and stressed that his involvement was not a 'money making exercise', but did not entirely rule out using some of the funds to help aid the club's playing budget for the upcoming National League North campaign.
He said at the time, 'The situation requires some serious cash, some knowledge and some enthusiasm and I have got plenty and I can invest the money into the club. Every pound I invest I want to see £2 come back for the club to make it sustainable over many years. It should never need to look for cash again if we build it right and build it fast and get out of this league next season, that's the first priority. We want to improve all the facilities, everything about the match-day experience, everything. We have to do it by 100%, by 200%. Whatever we do we will get the rewards back next season, the season after and the season after that.'
And at the CFU meeting held yesterday evening, which included new joint managers Bernard Morley and Anthony Johnson addressing the Blues fans in attendance, non-executive director Richard Lynes said he expected confirmation of the investment within the next two weeks. CFU director Laurence Kirby also said at the meeting, 'As far as Stuart Murphy is concerned, due diligence has been done on club and things moving apace'".
---
6 June 2018

Ian Senior of SKkits advises that Altrincham's "new home kit is available from this weekend. Orders can be taken at the club on 0161 928-1045 or can be made using club shop
website
.
Pictured, right, is Jordan Hulme modelling the new shirt.
Ian adds that "All sizes are available from XSB to XXL, with other sizes available on request".
According to the
National League
"Boston United's squad is starting to take shape after dipping into the transfer market for a third time. Manager Craig Elliott has made Gainsborough Trinity winger Nicky Walker his latest capture. The 23-year-old links up with his former boss again after they enjoyed success together at Shaw Lane Aquaforce.
He will need no introduction to Boston fans after playing for the club under Dennis Greene is 2016... On Sunday the Pilgrims swooped to sign Nathan Arnold in a player-coach capacity.
But it's not just out wide where Elliott has decided improvements need to be made to his squad. Defender Ben Middleton, 23, returns to the club having spent two successful loan spells at York Street. He leaves Harrogate to sign a one-year deal."
More on this comes from Gainsborough Trinity who confirm that "Nicky Walker has signed for Boston United. Despite being offered terms of re-engagement, Nicky has opted to join Boston, as he looks to remain in the National League North. A deal has been struck between the two clubs for an undisclosed compensation deal for his registration and we thank Nicky for his time whilst at the club, where he quickly became a popular member of the team with his direct, aggressive running and eye for goal."
Related to the above, we read on Lincolnshire Live that "Nathan Arnold insists he will be forever thankful to Lincoln City after securing a move away from the club. The popular winger ended his two-year affiliation at Sincil Bank last week when the remaining year on his contract was terminated by mutual consent and he was quickly announced as Boston United's first summer signing.
While the move shocked a number of Imps supporters who felt the 30-year-old still had something to offer, Arnold insists he enjoyed every minute of his time with the club and is looking forward to a new challenge at the Pilgrims that will also involve some coaching duties.
'I have never been drawn by money,' he said. 'I could have stayed in the League but I have taken a pay-cut to come to Boston as it was a good move for me and my future. I think there is the chance of a good working relationship with Craig [Elliot] as he is an authentic and humble guy. I am only grateful to Danny and Nick [Cowley] for the experience they gave me. I joined the club three weeks before [the] season started. Before that I had been waiting for the phone to ring and it never did. Danny was the first person to call.
'Thousands of players are on the scrapheap looking for new clubs and, just a few months before, I had been scoring at Wembley so it is ruthless how it can be.'
Despite having a year left on his deal, Arnold admits it was highly unlikely he would have returned to play in the City red and white again. 'It wasn't something that we discussed [coming back for pre-season]. Going out on loan was my own choice and for one thing or another you look at things with a view of consciousness and can blame everyone else; it was a learning experience and I am grateful for that. There was a year left on my contract and... I could have been willing to see that out but I had to go with what I felt.
'I didn't want to return to pre-season in the wrong frame of mind. I had ongoing discussions with the chief executive and we decided to mutually terminate my contract'...
The former Grimsby Town player left the club earlier in the season on loan to go to Salford City but things didn't go to plan and the player left before seeing out the deal. Explaining what happened, Arnold said, 'I spoke with Chesterfield and Jack Lester but it didn't materialise. The window closed so I spoke with Gary Neville and Chris Caspar and everything was signed for a 93-day loan. Sometimes things don't work out. At that stage of my life I needed to make a decision and it didn't feel right... I have respect for everyone at Salford and I am grateful to them even though it was a short time...
'Boston are a fantastic football club... There are some good people behind the scenes, they showed interest early in the window and I wanted a quick resolution. I am very excited. This club has huge potential and I believe we can achieve something really special... I have my UEFA B licence. I always want to learn and under Danny and Nicky's culture I soaked everything up like a sponge'".
From NL Daily we learn that "AFC Telford United have announced the signing of young forward Daniel Udoh. The 21-year-old, who spent the final period of last season on loan at Leamington, has plenty of experience of the National League having previously enjoyed successful spells at Kidderminster, Worcester City, Halesowen, Chester and Ilkeston. Born in Nigeria, Udoh moved to England with his family at the age of 9 and spent time in the youth system at Luton Town and Stevenage. He was also called up to play for the Nigeria's Under-17 side.
It was at Ilkeston that his form came to the attention of Crewe, who signed him on a two-year contract. Last season he spent a successful loan spell at Halesowen Town, where he scored 7 goals, before going on to sign for Leamington. He then scored 5 goals in 9 appearances...
Boss Gavin Cowan said, 'Daniel has been courted by numerous clubs in our division having made an impact at Leamington last season. He is a real coup and one our fans should be really excited about as he's young, extremely talented and is eager to make an impact at the Bucks Head!'"
At Hereford the club "is pleased to announce that Lewis Hall has agreed to join the club for the 2018/19 season. The 22-year-old left sided player has spent the past three seasons with Gloucester City after being a young pro at Bristol City, racking up over 100 appearances in National North and South during his time with the Tigers.
Manager Peter Beadle said of his new signing, 'He's one we looked at last summer. He's left-sided, versatile in defence and midfield, and he's had a great schooling at Bristol City. He's got good experience at the level we're moving into and he's still young'".
The Stoke Sentinel reports that, "Port Vale owner Norman Smurthwaite is attempting to buy Nuneaton Town's ground, according to reports. The Coventry Telegraph reports Smurthwaite has applied to the EFL for permission to buy the stadium at Liberty Way, home of the National League North club.
The latest news comes after Nuneaton supporters expressed their fears for the future of their club at a meeting last week. That was after club chairman Lee Thorn announced he was stepping down as chairman and selling the club and the ground. He also said the club had yet to meet all the requirements for being in the National League North next season.
The League's AGM is on Friday when its clubs for next season should be confirmed.
The Nuneaton Borough Supporters' Co-operative have issued a statement saying, 'Earlier this afternoon, we had the pleasure of talking to Norman Smurthwaite and he has asked us to inform all Borough supporters as to the current situation and the rumours regarding the sale of the club and ground. Mr Smurthwaite is currently the owner of Port Vale FC, but is seeking to acquire, pending EFL approval, the stadium at Liberty Way. Should he be successful, Mr Smurthwaite would act as landlord to Nuneaton Borough FC.
'During our chat, Mr Smurthwaite enthused to us his belief that the football club should be a community owned asset. The sale of the stadium will at this point, allow for the club to meet the current liabilities required for it to retain its status within the division. Once this has been done, an interim person has been identified by Mr Thorn (club chairman Lee Thorn) to run the Borough, to enable the fans to get organised to take over in due course as a community asset. This represents a real chance for us to get what so many of you have been looking for, for so long. A football club that belongs to you.
'Without the fans backing this, this simply cannot happen, and the club could once again be in jeopardy. Whilst he is keen to help the club in any way he can, Mr Smurthwaite cannot become financially involved due to his ownership at Port Vale, and therefore this can only be an interim scenario and we have to act to ensure the long-term viability of this club'.
Nuneaton Borough was renamed Nuneaton Town in 2008 after the old club went into liquidation. However, the club has been given permission to revert to 'Nuneaton Borough' by the FA after fans voted overwhelmingly in favour. Coventry-born Smurthwaite, aged 57, has been owner of Port Vale since 2012 when he bought the club out of administration."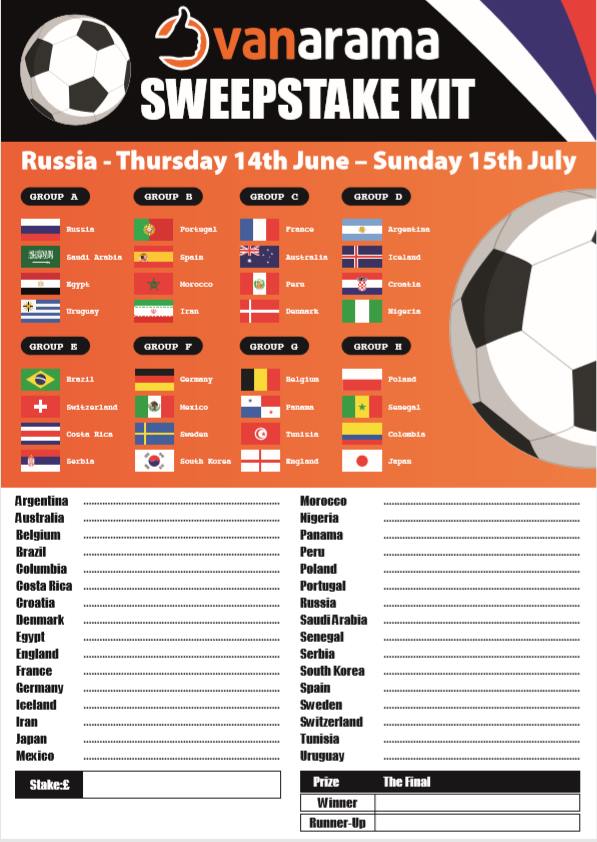 Vanarama press release: "Want more World Cup entertainment?
Download the Vanarama sweepstake kit for you to play with your co-workers, friends or family here.
#VanaramaSweepies #Sweepstakes #WorldCup2018 #FootballSweepstakes #Russia".
Vanarama explains further... "The Vanarama World Cup Sweepies. If the last few World Cups are anything to go by then England supporters need to have a backup plan when trying to enjoy the World Cup. It's common to pick a second team to support, so we've created a simple kit for you to play in the office with your co-workers, or with friends and family at home. Just follow these 3 simple steps…
Step 1: Download and print the PDF with the teams listed on it, then cut out the slips and put them in a hat, bowl, pot or whatever you want to use to draw teams.
Step 2: Select a stake, everyone pays the stake and picks one team (or more, depending on how many people you're playing with) at random. Then, use the other page to write down who has picked what team, so there's no confusion or arguments later on.
Step 3: Sit back, watch all the football unravel and wait to see which country comes out on top!
TOP-TIP: Make sure everyone pays beforehand because it's hard to get money off a losing punter. Don't forget to go to our Twitter page @Vanarama and RT the World Cup Sweepstakes kit, use #VanaramaSweepies and tell us who you drew".
---
5 June 2018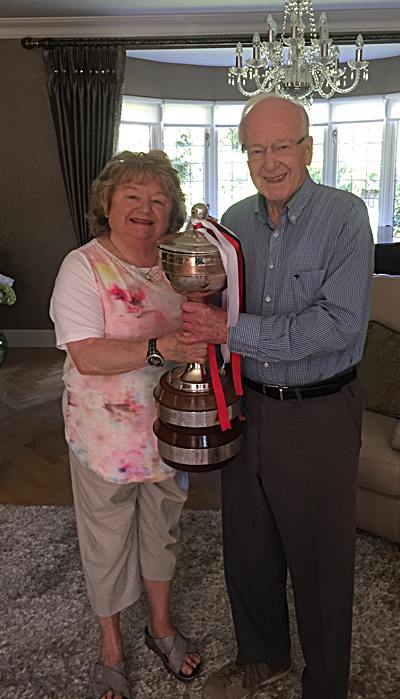 Altrincham FC Chairman Grahame Rowley recently took the Evostik Premier Division Trophy around to longstanding supporters and sponsors of the Club, Carole and Fred Nash. They were extremely pleased to be pictured (right) with the cup. Carole and Fred are also Board members of Altrincham FC Community Sports Company and everyone at Altrincham FC would like to thank them for their continued support of the Football Club.
Altrincham FC Press and Media Officer John Edwards writes that "No one could accuse recent arrival Anthony Dwyer of holding anything back in his quest to make a positive impact as an Altrincham player.
In his first interview since becoming manager Phil Parkinson's first summer signing, the former Telford and Hednesford attacker delivered an upbeat appraisal of Alty's Vanarama National League North prospects and was adamant nothing will stop him contributing to another promotion push.
In particular, not the M6 and its notorious traffic delays.
'I live in the Birmingham area, but I'm planning to move to the north-west, as near to Altrincham as possible,' he said. 'I want to feel part of the scene at Alty and to be able to focus on giving my best without any distractions or worries about travel. I want to get the best out of myself and give my all for the club, and that's the only way to make that happen.
'I'm absolutely buzzing to get cracking and get that shirt on. When the gaffer spoke to me after last season ended and asked me to join him, it was an option I couldn't say no to. Altrincham are a great club who want to be going places, and I want to be part of the journey.'
Dwyer's last competitive action began with a guard of honour, (pictured below, Anthony is third from left, facing the camera), for newly-crowned Evo-Stik Northern Premier League champions Alty at a packed J.Davidson Stadium on the final day of last season. As part of the Hednesford team soundly beaten 3-0, he remembers it well, and there was enough on show to convince him he is joining a team on the up.
'I remember our gaffer at Hednesford telling us we'd be giving the Altrincham players a guard of honour, as a mark of respect for what they had done in winning the league,' he said. 'They thoroughly deserved that respect, because they won it with a level of professionalism and ability no-one else could match.
'I had a couple of half-chances in the game, but they weren't easy ones. They were never going to be against a team with the strength and organisation they had. That Altrincham team looked the part, such a good footballing side, and I never imagined at the time that I'd be lining up alongside them next season.
'I'm absolutely over the moon, delighted to be able to pursue my aims and ambitions at a big club like this, with such a great history. I really believe we can deliver a lot and push on towards bringing the club back to the level where it belongs.'
Dwyer insists he's ready to fill any one of three positions and chuckles at mention of how some of the long-range specials he has scored are making for popular viewing on YouTube.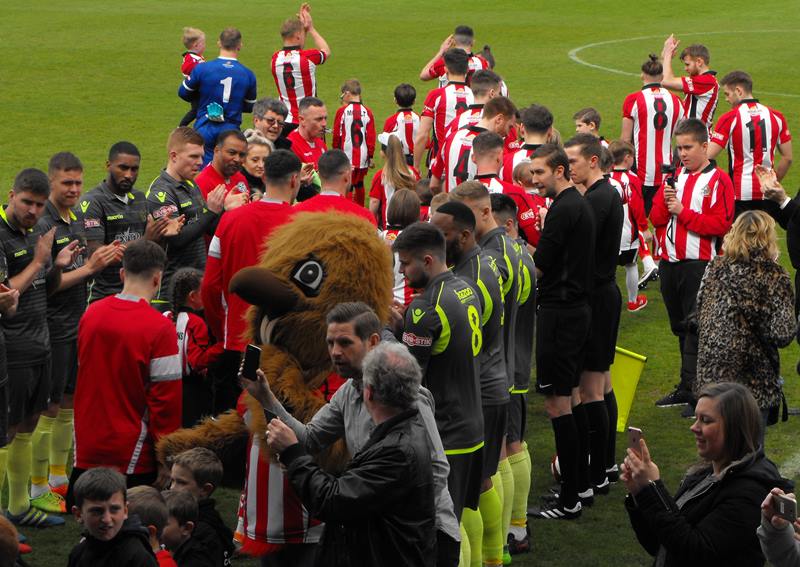 'They don't all go in the top corner, like those on YouTube,' he said. 'When I hit those balls from distance, I don't always know where they are going to end up. Most go over the bar, or even the stand roof!
'But I can hit a ball. I have got a strike on me, and I want to take that into next season and show the Altrincham fans what I'm about. I always back myself in that sort of situation. I'm not cocky, but I am the type who is not afraid to show I can be a good footballer. I also believe I will be able to express myself all the more next season, because I'll be playing with talented players able to put me into such good positions.
'I believe I can score a lot of goals next season and play a part in helping us push on towards winning the league. That is the aim.
'I played in the National League North for Telford last season, and I'd say about 80 per cent of the teams we faced didn't have the attributes or professionalism this Altrincham side have. That has to give us confidence for next season.
'I'm not making light of the task ahead, and I know once the season starts, we'll be looking no further than the next game. It's not going to be easy by any means, but I truly believe we can get something out of next season. It's not just Salford who can do it – we can as well.
'I'll happily play wherever the gaffer wants me to, and I know I've got a fight on my hands getting into the team. I can play out wide or up front, but I can also operate in the number 10 position. In fact, that's the role I had at the start of last season.
'I can do the tricky winger job, but when you look at JJ (John Johnston) and one or two others, it's clear there's some tough competition in that department! Not that I mind that. I'm extremely looking forward to competing for a place and pushing for the chance to express myself in Alty colours.'
Dwyer tweeted his thanks to Telford supporters when he left for Hednesford last season and is determined to establish a similar rapport with Alty followers.
'I think it is important to have a close relationship with the supporters,' he said. 'It helps in so many different ways, not least on the pitch, when you develop a bond. They pay good money to come and watch us, and it's our job to respond in a positive manner, in terms of performances and results.
'They are the root of the club. What we do on the pitch is for ourselves as players, as well as for the supporters and the club. We're all in it together, but they are at the centre of it all, turning up week after week, getting behind us and making a noise. That should never be underestimated.
'I'm really looking forward to playing in front of Altrincham's supporters and showing them what I'm about. The gaffer sold the club to me, the ambition they have and where they want to be going, and now I'm here, I can't wait to get started.'"
An Altrincham FC correspondent reports that "Over the weekend Adam Martell enyoyed his Alty themed stag do in the Lake District, organised by best man, brother, and Alty programme seller, Dan. Twenty-five friends, including some Moss Lane regulars, headed to the Lakes for a weekend of activities. Friday night started with a football match played in specially printed Alty shirts, (many thanks go to SK Kits), and in driving rain, which would have caused many refs to call it off.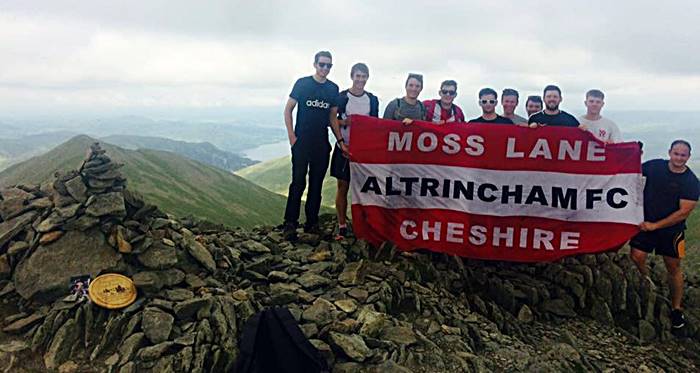 Saturday involved ghyll scrambling near Keswick and the cobwebs were blown off on Sunday morning with a challenging climb up Helvellyn. Never one to miss an opportunity to promote the club, the summit seemed the perfect place for a picture with an Alty flag (above).
Adam and fiancée Sarah are due to marry next month".
The
National League
reports that "Billy Heath and Alfreton Town don't appear to be hanging around this summer. The Reds have made their ninth new signing, and there's no indication if they're done there!
Left-back Josh Wilde in the club's latest new addition. Like a fair number of their signings, he has played for manager Heath at FC Halifax and North Ferriby United. Wilde signs two days after Nathan Hotte, also from FC Halifax, put pen to paper... Said Heath [of Wilde], 'He really is Mr dependable. He is the most consistent player I've ever worked with and we know what we are going to get with him. He performs at the top level week in and week out, he gives it everything in every game and he is a fantastic addition for us. He is a solid defender, reads the game well, intelligent and composed on the ball. He is a top left back and one of the best, if not the best when I worked with him at Halifax. It is another big signing for us and another quality addition to the team.'"
Meanwhile, the Chester Chronicle reports that "Derek Egan, who was part of Bernard Morley and Anthony Johnson's successful stint at Salford City, has joined the coaching staff at Chester FC. Egan will link up with the Blues managerial duo in a role as first-team coach... on a part-time basis, and his arrival falls within the staff budget.
Like Morley and Johnson, Egan has previously been in the hot seat at Ramsbottom United and worked successfully with the duo at Salford where he was part of the backroom team... A UEFA "A Licence" holder, Egan works full time for the Lancashire FA and has previously been on the coaching staff of the English Schools under-18s."
And the Chester Chronicle adds that "With summer recruitment now in full swing at the Swansway Chester Stadium, Blues fans might be wondering when the fixtures for the National League North will be released. And the league has confirmed the release date is currently set for Wednesday, July 4, in a month's time."
---
4 June 2018
At
Guiseley
we larn that the "New management team have moved quickly to hold talks with players and formulate a squad to battle in the National League North for the coming season. The retained list includes a mix of experience and youth as we bid to re-establish ourselves following relegation from the National League, taking up options on both Joe Green and Curtis Morrison, whilst agreeing a new deal with Will Thornton who enters his third season with the senior squad after graduating from the academy.
Players also under contract for the 2018/19 season include centre-back Harry Flowers, midfielders Alex Purver, Will Hatfield, John Rooney, Lee Molyneux and Alex-Ray Harvey and strikers Reece Thompson, Dayle Southwell and Rowan Liburd.
Players released by the club include defenders Ben Frempah, Danny Lowe, Elliot Green, Marcus Williams, Danny East, Rob Atkinson and Darren Holden. Also leaving Nethermoor are midfielders James Wesolowski, Jake Lawlor, Kevan Hurst, Callum McFadzean, Simon Lenighan and Andy Haworth along with striker Mike Fondop. Striker Frank Mulhern has also left the club to join Stockport County for an undisclosed fee.
Negotiations are continuing with other members of the squad from last season. Players from the club's very successful academy side will be invited to take part in pre-season training and friendly games. Among them will be goalkeeper Fletcher Paley, who signed first team forms last season, and midfielders George Gomersall and Scott Smith, both of whom spent last season out on loan to gain experience".
The National League adds that "New Guiseley manager Marcus Bignot has been getting down to work, with his first job releasing 14 players...
Let go is the club's former captain Danny Lowe, who performed heroics to keep the club up two seasons ago. Midfielders Andy Haworth, James Wesolowski, Jake Lawlor, Kevan Hurst, Callum McFadzean and [ex-Alty midfielder] Simon Lenighan have all been told they are free to find new clubs. Unsurprising[ly], a defensive reshuffle has taken place with the club preparing for the National League North. Ben Frempah, Danny East, Elliot Green, Marcus Williams need to find new teams ahead of pre-season. Rob Atkinson and Darren Holden have all been released. Striker Mike Fondop also won't be staying as Bignot begins work getting the club prepared for their return to Step 2."
At Stockport County "defender Stephen O'Halloran has opted not to take up the offer of a new contract at Edgeley Park... Stephen admitted he's had to think long and hard about the future but wants to be playing more football. He said, 'With the club and the squad going more full-time I feel it is the right time for me to move on, but I love County and I love the people at the club... But at my age I need to be playing regular first team football'...
Stephen represented the club on 122 occasions during his two spells at Edgeley Park, with two years at Salford City in between. He won two international caps for Ireland in 2007, after making his professional breakthrough as a youngster at Aston Villa. He went on to reach a League Cup semi final with Wycombe Wanderers before spells with Coventry City, Carlisle United and Nuneaton."
FC United confirm that they are "pleased to announce the signing of defender Stephen O'Halloran... O'Halloran most recently played for Salford City and Stockport County, having played 122 games for the latter in two spells.
FC United Manager, Tom Greaves, said 'I'm over the moon to capture the signing of Stephen, he's is a player who again comes in with bags of experience. He's had experience of the Premier League and also on the international stage. A defender who can play down the centre or the left side will be a huge asset to us both on and off the field'".
Spennymoor Town say that "There is no better place to experience the true feeling of non-league than at The Brewery Field. Here's the A-Z of why we think that is true". They go on to outline 26 reasons why...
From Southport we learn that "The Club Shop will no longer stock programmes apart from our current season editions... We will still take any Southport Football League programmes as donations or any Southport FC memorabilia. The SFC Football League programmes we have available will now be listed on this website and proceeds from all sales will continue to go to Trust in Yellow...
All of our Football League home programmes are available for sale for £1 each with all proceeds going to Trust In Yellow. We welcome all donations of Southport Football League programmes but can no longer take any other clubs' or non League programmes".
Meanwhile at Leamington, the "Brakes have completed a significant third signing of the summer with the arrival of striker Matt Stenson. The 24 year old was with Barwell in the Evostik Northern Premier League last season, scoring an impressive 20 goals in all competitions having joined the Canaries the previous summer from Hinckley based Midland League Division 1 side, Leicester Road.
Manager Paul Holleran was pleased to have snapped up a player who several other clubs had been keeping tabs on over the course of last season, saying... 'Matt is a striker in a similar mould to Danny Newton, who also joined us from Barwell, and we are confident that like Danny did, he will make the step up comfortably.' Coventry based, Matt played for his hometown club Coventry City for 8 years, leaving due to family reasons. As an 18 year old he came through the youth team alongside Liam Canavan, and made 23 appearances for Hinckley United in the Conference North and the Southern League Premier Division as a central midfielder before the Knitters sadly went into liquidation.
It was at Hinckley that he suffered a hip injury which put him out of action for two and a half years. After an operation Matt returned to the game with Leicester Road, where 42 goals in 25 games brought him to the attention of Jimmy Ginnelly at Barwell".
At Chorley, "Goalkeeper Cameron Belford is the first new face to sign on for The Magpies this offseason following his release from Forest Green Rovers at the beginning of May. The 29-year-old from Nuneaton started the 2017/18 campaign at Scottish League One side Stranraer, making 22 appearances for the Stair Park side before switching to a back-up role at The New Lawn in January.
'I'm really happy to have signed on to play for Chorley,' Belford told chorleyfc.com... After beginning his career at Coventry City, 'Belf' played for nine clubs in four different divisions over a decade, including an extended stay with League One Bury, before enjoying a nearly three-year spell in Scotland with The Blues.
'It was important we took our time to recruit a goalkeeper who we feel can give us confidence,' assistant manager Jamie Vermiglio said. 'With Matty Urwin going back to Fleetwood it was a priority position to sort... Cameron is a brilliant character, leader, shot stopper and his distribution is as good as we've seen. It was refreshing to meet someone whose prime concern was to put in good performances for Chorley FC, with the aim of helping us to promotion. Despite having a lot of interest from other club higher up the ladder, we are delighted that we have Cameron on board.
'As soon as Janny and I met Cameron he told us that he wanted to be our number one. He didn't want to continue speaking to other clubs. He wanted to commit to us and he wanted to help us push for promotion. That's the type of player we want at our club.'"
Across the Pennines, Bradford PA report that "After agreeing a new deal with the club, Avenue defender Shane Killock claimed that he 'jumped at the chance to stay' when the opportunity was handed to him by manager Mark Bower. He spent the summer of 2017 on the sidelines, leading to a loan spell at Boston United in the early stages of the season to help the former Scarborough Athletic man regain match fitness.
After completing his recovery, the robust centre-back made 27 appearances in all competitions for Avenue and was a key figure in the side's late burst into the play-offs...
'The new deal is a huge reflection on how much I've enjoyed my time with the club so far. I really enjoyed last season and jumped at the chance to stay... It's nice to have a few weeks off at the end of the season but after a few weeks, you find yourself missing it. I've missed going to training, being around the lads and playing matches. I'll be keeping myself ticking over during the off-season so that I can hopefully hit the ground running when we get back'".
At Boston United "Defender Ben Middleton has become United's second summer signing. The 23-year-old, who spent two successful loan spells with the Pilgrims in 2017-2018, will now be playing his football at The Jakemans Stadium on a permanent basis after leaving promotion final winners Harrogate Town. Middleton has put pen-to-paper on an initial one-year contract."
Further North, BLyth Spartans "are delighted to announce the return of defender Alex Nicholson – joining from South Shields. Nicholson, 24, is no stranger to Croft Park having spent a two and a year spell with the club between 2014 and 2016. Primarily a right-back but capable of playing in a multitude of positions Nicholson came through the Newcastle United academy before joining Preston North End.
After a loan spell at Chorley, the former Welsh U19 International joined Spartans, making 107 appearances in the green and white, netting seven times... He then joined South Shields in December 2016... In total Nicholson made 55 appearances for the Mariners, netting three times.
The
EvoStik League
reports that "Rushall Olympic have launched an appeal fund to clear up at the club's Dales Lane home after thieves used their minibus to batter their way inside. Shocked officials discovered a trail of devastation, pictured, during the early hours of Thursday morning before confirming a 'significant amount' of damage to their sponsors' lounge, boardroom, development room, club shop and bar area in a statement on Friday.
As well all being ransacked, a safe was broken in to, with the money taken, as was the cash from a charity box and sweet machine for kids. After being used to batter through two sets of gates, the club's liveried minibus was later found abandoned with extensive damage in the Pelsall area with the thieves thought to have fled the ground at around 4.15am.
Rushall Olympic vice-chairman Nick Allen said, 'We are devastated by this mindless vandalism, significant theft and damage. This is not just a case of taking something that we have worked hard to gain, but also damaging our club that works hard with a small, loyal band of people to provide a thriving, community-spirited non-League club and social space for our locality.'
Launching an urgent appeal to raise £1,000, with the Pics preparing to switch to the new Midlands Division in August, Allen added, 'A Crowdfunding page has been set up where all funds will go towards remedial works and ground improvements. It can be found at Just Giving.
The EvoStik League reports that "Norwich City legend Ian Culverhouse is the new manager of Grantham Town. The 53-year-old was named as the successor to Adam Stevens on Wednesday night, less than a month after stepping down at King's Lynn Town at the end of the season. Like his predecessor who left the Meres after guiding the Gingerbreads to promotion play-off final heartbreak at Ashton United, Culverhouse resigned at The Walks after losing out to Slough Town in the climax to the Southern League's campaign...
The former Spurs, Norwich, Swindon and Brighton defender beat 17 other candidates to the post".
---
3 June 2018
At least three of our pre-season opponents will be managed by new managers when we face them in July.
On 17 July we host Macclesfield Town, whose promotion-winning manager John Askey has moved on to Shrewsbury Town. Macclesfield chairman Mark Blower said "The challenge is to find somebody to continue the work that John has started. Already we have been inundated with applications and the calibre of the applicants shows that the job is an attractive one... We want to make the process of appointing a new manager a quick one."
Before the visit of the Silkmen, Altrincham kick off their pre-season friendlies with a trip to Rhyl on 7 July. Their new manager is Eddie Maurice-Jones. From Belle Vue, we learn that "Following the announcement of Rhyl's new management team for the 2018/19 last week, over the coming days we will take a more in-depth look at the members of the team charged with leading the Lilywhites.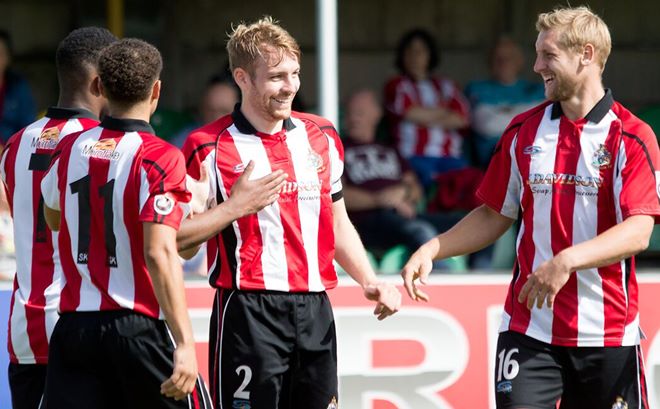 Above: In last year's game at Rhyl, John Disney (centre) is congratulated on his goal by Jake Moult (right), with Tolani Omotola (7) and Jerome Wright (11) also in attendance. Image courtesy of Mike Ripley.
To start with we take a closer look at the journey to Belle Vue for new Director of Football, Eddie Maurice Jones in his own words... 'By 8 years of age I was playing for Wrexham's Academy... I then progressed to the Liverpool Football Academy when I was 11 years old, I was managed by Steve Heighway for the 3 years I was there. During my time at Liverpool I began to play for Wales which was a great honour... Later in my teens I turned out for Gresford Athletic and it was here I revived my passion for the game. Following that I played for Caersws before going to Denbigh Town...
Unfortunately I suffered a serious knee injury which kept me out of the game and has meant that I can no longer play to my original potential. It was whilst at Denbigh that I met Richard Williams-Cooke who was then the Manager, we had a shared passion for the game and a mutual respect for one another... I put all my focus on management and took on the role of Manager of Gresford Athletic in the Welsh National League.
My time at Gresford was successful, winning the League and Cup in my first season and gaining promotion to the Huws Gray Alliance... I started to do my coaching badges before joining Denbigh Town mid-way through the following season... We slowly climbed to a respectable mid-way finish by the end of the season".
The third pre-season opponents for Altrincham who will be under new management are Salford City, who visit the J Davidson Stadium on 28 July.
Welsh Premier
reports that "John Disney has returned to Connah's Quay, a year after leaving to join Altrincham. The 26-year-old Cornish-born defender represented the Republic of Ireland at Under-17 level while with Stockport County. He then joined Northwich Victoria in the summer of 2010 but twice suffered a broken leg and, after helping the Vics to promotion, joined Hednesford Town.
Disney was again part of a promotion-winning side and attracted the interest of Chester but, after a loan spell with Nantwich Town, moved to AFC Telford United. He returned to Hednesford at the start of the 2015/16 season, joining the Nomads in January 2016. Released in the summer of 2017 he signed for Altrincham but, after a brief spell spoiled by injury, returned to the WPL with Bala Town and has made 41(+3) Welsh Premier appearances, scoring three times."
The
National League
reports that "It's next stop Boston United for Nathan Arnold, who will take his first steps into management at York Street. The winger, 30, has joined the Pilgrims on a player/coach role, the club have confirmed. Arnold leaves Lincoln City and Boston beat off competition from other clubs to get his signature.
United manager Craig Elliott says the former Salford and Grimsby man will bring a double boost as the club look to put up a fight for promotion in the National League North. Elliott told the club's website, 'Persuading Nathan to join us is a real coup for the football club given the other offers he had, but his enthusiasm to join Boston United was evident. Nathan will play a key role on and off the pitch for us and I have offered him the opportunity to become an integral part of my management staff".
Meanwhile, Alfreton Town "confirm the signing of midfielder Nathan Hotte from Halifax Town.. [on] a one year deal with the Reds. Hotte, although primarily a midfielder, can slot into the back line and even up front. Nathan spent spent four years at Bradford Park Avenue, making 183 appearances. His previous clubs include Scarborough Athletic, Farsley Celtic and, as a youngster, Hull City.
Hotte would join Halifax in the summer of 2016 and made 52 starts, scoring one goal during his time at the Shay. Nathan then left the Shaymen at the end of the season.
Billy Heath [said], 'Nathan is a lad with big experience... He is a flexible player who can play anywhere across the midfield and he can slot in at centre back if required. Hotty is a strong player, athletic and will provide yet another option around the park for us. We want to bring in as much quality as we can and really create a solid unit which we are doing'".
---
2 June 2018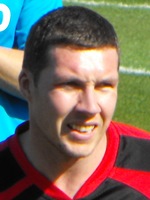 Phil Marsh (right) joined Altrincham in September 2016 but was released on 8 December 2016 and joined Runcorn Town after 2(+7) appearances.
The BBC reports that "Sir Alex Ferguson sat Phil Marsh down in 2007 and told him why he was being released by Manchester United. Marsh's latest club did it this week by text message... Marsh went on to play for Blackpool, Forest Green Rovers and Salford City during his 20-club career so far before spending last season with Welsh second division semi-professional side Rhyl, whose new boss sent the text.
'It's not the first time I've been released but it's certainly the first time in this way,' he told BBC Sport. 'It's about decency. It's bad when they can't even pick up the phone. I would have respected them more if they called me in face to face but to just get a text - I was shocked. It's pretty bad really.'
Marsh, who said other Rhyl players had received similar texts, replied to the message and published the exchange on social media... 'I texted Eddie [Maurice-Jones] back, tongue in cheek, and he didn't reply', he said...
'We had a good end to the season and, in the last five or six games I scored about six,' he said. 'But the manager resigned and the club brought in new people... Maurice-Jones and a spokesman for Rhyl FC declined to comment".
The
Coventry Telegraph
reports that "Fears are growing for the future of Nuneaton Town Football Club as a key league meeting looms. Anxious fans voiced their concerns for their beloved Boro at a Nuneaton Borough Supporters Co-operative (NBSC) meeting on Wednesday night.
According to the last public statement made by Lee Thorn, who announced he was stepping down as chairman and selling the club and ground, only two of the three requirements needed to meet the conditions of entrance into the Vanarama National League North had been fulfilled. 'The club must meet certain conditions to fulfil our licence to compete in the competition,' the statement said. 'We had three things to tick off to enable this to happen, we now have one item outstanding. It is not my intention, at this time, to re-enter the club, and I hope that a new owner is found as soon as possible, so that the work required to start the new season can commence.'
However, with the league's AGM set to take place on Friday, June 8, and the confirmation of all the clubs within it set to be made, a question mark hangs over the Boro's inclusion as it has not been publicly made known what the third requirement is and if it has been met... There has been no official word if a buyer has been found for the club or ground and, with consortium options dashed, the NBSC board said they were having to forge ahead with plan B to try and buy the club, via Supporters Direct, on behalf of the fans.
But that is not the only option being explored as the Co-operative board has also started discussions about potentially starting a new club from scratch, if needed".
Footnote: The forerunner club, Nuneaton Borough went into liquidation in June 2008. They reformed as Nuneaton Town but had to drop from Conference North to Southern League Division One before climbing back up the pyramid.
NL Daily reports that "With the return of Matty Hughes from Chorley confirmed last night, alongside new deals for Gary Roberts and Nathan Brown, Chester FC have now announced their retained list.
Having recently arrived as joint-bosses, former Salford City duo Anthony Johnson and Bernard Morley have opted to keep Jordan Archer, Ross Hannah, Kingsley James, Craig Mahon and Matty Waters. James Jones, meanwhile, has been offered a new contract and is considering his options. Several names from the squad have been released, however, with James Akintunde, Lucas Dawson, Jordan Gough, Andy Halls, Lathaniel Rowe-Turner and Harry White all let go."
More comes in the Chester Standard which adds that "Anthony Johnson admits Chester needed to 'sweep the decks clear' as he and Bernard Morley begin a major overhaul of the first-team squad.
The new management duo have announced their retained list which includes Jordan Archer, Ross Hannah, Kingsley James, Craig Mahon and Matty Waters, who all remain under contract for the next 12 months, while Gary Roberts and Nathan Brown have signed new one-year deals with the club. Matty Hughes has joined from Chorley on a one-year contract, but James Akintunde, Lucas Dawson, Jordan Gough, Andy Halls, Lathaniel Rowe-Turner and Harry White have all been released by the club, while Karl Cunningham and Dom Vose also depart.
Talented teenage defender James Jones has been offered fresh terms but will consider his options having been selected to take part in Jamie Vardy's V9 Academy.
The cull will come as no surprise to many Blues fans who witnessed 27 defeats in all competitions last season, during a dreadful campaign which culminated in relegation from the National League.
'It's never easy telling any players the news,' explained co-manager Johnson, who is hopeful of securing deals for two more players within 48 hours. 'However, we got relegated last season, they can't hide from that. There is a losing mentality in that team and it was time to get a big brush and sweep the decks clear, sweep out that mentality. We're going in a different direction and we want players with a winning mentality. We will bring in players who are established winners at this level.
'There's no need for a root and branch review here, it's just we needed to wipe the slate clean and start again. There's some good players who have been released and there's good players who have already found new clubs. Football moves on'.
Bringing in 25-year-old attacker Hughes is a 'real coup' according to Johnson, who targeted the forward previously when he and Morley were in charge at Salford City. Hughes is a familiar face to Blues fans, having impressed during two loan spells in the 2014/15 season. 'Matty Hughes is a winner and we're singing off the same hymn sheet with all three we got signed up,' he said. 'Matty has an affinity with the club and we've signed a young, hungry player from one of our promotion rivals. We want to sign winners who have been there and done it at this level and we know who we want to achieve what we want to here.'
Johnson was elated to get young winger Brown tied down for next season and feels 31-year-old Blacon-born midfielder Roberts could be 'unplayable' if recapturing his best form in National League North. 'Gary was one of the first and most important decisions we wanted to get over the line,' the 35-year-old boss continued. 'He's a Chester boy and if we can get Gary Roberts playing to his best, he'll be unplayable at this level... It was vitally important to get Nathan signed up. We saw what talent he has with that goal he scored against Bromley, it sums up what an incredible type of player he is.'"
At Alfreton Town, "The Club are delighted to confirm the signing of forward Richard Peniket from Gateshead. Richard signs a one year deal with the Reds.
Peniket started his career at Walsall and in 2009 joined Fulham, signing his first professional contract with the Cottagers in 2010. In 2011 Richard moved on loan to Hereford until the end of the season.
Richard would then have loan spells at Kidderminster, AFC Telford United and Farnborough during 2013 before being released by Fulham at the end of the 2012/13 season. A move to Tamworth followed in 2013 before switching to Halifax Town in June 2014, where Richard made 90 appearances from 2014-2017, scoring 17 goals. Peniket would then join Gateshead in May 2017 and made 50 appearances, scoring 11 goals during the 2017/18 season in the National League.
Billy Heath [said of Peniket]... 'He has been a regular at Gateshead and also played under me at Halifax during the promotion campaign. He is a strong player, very mobile and can hold the ball up well. He provides another dangerous option up front, scores important goals and adds strength in depth to us. We are bringing in strong, experienced and quality players here at the Reds'".
from the
National League
comes confirmation that "This season's National League's title-winning manager has earned himself a new job. Champion John Askey has been confirmed as the new manager of Shrewsbury Town. Askey... first arrived at Moss Rose as a player in 1984.
Askey replaces Paul Hurst at Greenhous Meadow after the ex-Grimsby Town boss was named as Ipswich Town's new manager earlier this week. He told his new club's website, 'It's all happened so quickly, but it's a great move for me. Last season you had a great season and it's whether we can reproduce that again. Obviously, we will be trying our best and I am looking forward to it. It's a big wrench to come and it had to be something special for me to come. I'm really looking forward to the challenge and testing myself.
'Everything's set-up to do well. Obviously you've got a great Chairman and everything I hear about the club is good, whether it's from players or whether it's been from managers, so that's the reason why I've come'. The League One Shrews missed out on promotion to the Championship on Sunday following play-off final defeat to Rotherham United at Wembley... He is the third member of the title winning Macc team to depart after players Shwan Jalal signed for Chesterfield and Salford City swooped for midfielder Danny Whitehead."
Across the Pennines, the
Halifax Courier
tells us that "Town boss Jamie Fullarton has welcomed the increase in contact time he will have with his players following the club's move to a full-time model. The Shaymen will be training around three or four mornings a week from next season instead of the two nights a week model they have had since reforming in 2008.
They will use the Weetwood Sports Park in Leeds as their main base, and are set to begin pre-season training in the week commencing June 25.
'We're working hard behind the scenes to rebuild the squad,' said Fullarton. 'As a manager with a history of being a developer of players, the most important aspect for me is being able to influence and develop players and work towards a game plan on a Saturday, and having that contact time with the players. We're in a league that is a full-time league now because of the amount of teams that are full-time. It's very much welcome by myself. It's an opportunity to work with the players for longer throughout the week'...
Fullarton said, 'It enables you to fish in a different pond. If you're a professional player, you want to be full-time... The hybrid version of full-time that we will have will improve our prospects (of attracting players).'
It has been reported that Halifax have made an offer for free agent Josh Kay, a midfielder who was released by Chesterfield at the end of last season. Kay made eight starts and three substitute appearances for Chesterfield last season after joining from Barnsley in January, but fell out of favour with former manager Jack Lester and didn't appear in the final month of the campaign".
---
1 June 2018

As usual, Altrincham FC will be arranging a couple of "working weekends" to get some maintenance jobs completed around the J. Davidson Stadium. The dates of these weekends will be confirmed in the near future. The tasks to be carried out include:
Weeding and a general tidy-up of the J. Davidson Stadium.
Painting in the home and away dressing rooms, corridors, Board Room and the Manchester Glass Sponsors' Lounge
If, however, anyone has a spare few hours during the week at any time and would like to help with any of these tasks, they would very welcome to do so. Please either ring the club (0161 928-1045) or just drop in.
The
National League
reports that "Leamington manager Paul Holleran has added competition for places between the posts. The club have made their second summer signing with teenage goalkeeper Brad Caswell coming on board. The 19-year-old impressed for Stafford Rangers last season and Holleran has seen enough to think he is capable of the step up.
The Brakes manager wants the young stopper to keep number one Tony Breeden on his toes. Two of last season's side have agreed to stay on as the Leamington squad starts to take shape. Connor Gudger and James Mace, the two defenders, have put pen to paper.
Paul Holleran has now secured the majority of his defensive unit from last season, which will provide a further boost as he looks to build a squad capable of consolidating in the Vanarama National League North once more".
---