---
30 April 2018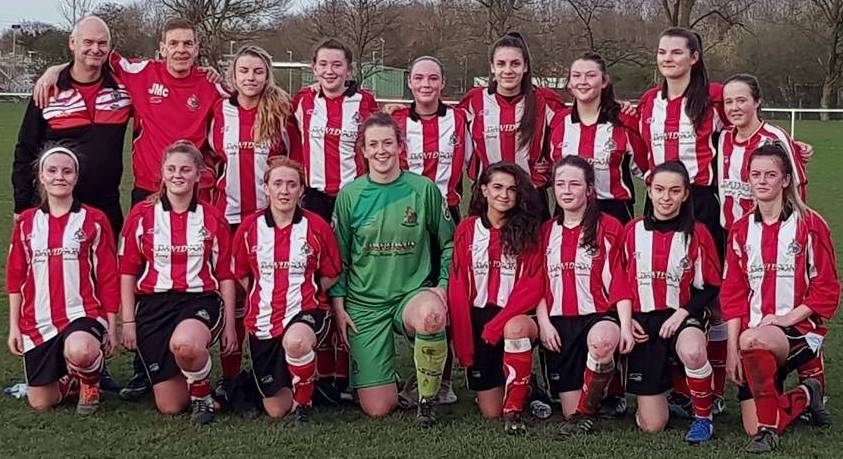 Above: Altrincham FC Ladies Development team. Image courtesy of Keith Edleston.
In its inaugural season, Altrincham FC Ladies Development team has lifted the league title. Keith Edleston, manager of Altrincham FC Ladies writes, "Well done to our Development Team who, following the news that rivals Earlestown had drawn their game on Sunday, had it confirmed that they are now Cheshire Women's Division Two champions. It has been a superb effort from all the girls in their first season. Also Dave and John deserve a huge 'well done' as they have guided the girls so well. The team will now progress into Division One".
Together with the men's first team receiving their EvoStik NPL title trophy on Saturday, it has been a great weekend for the Football Club.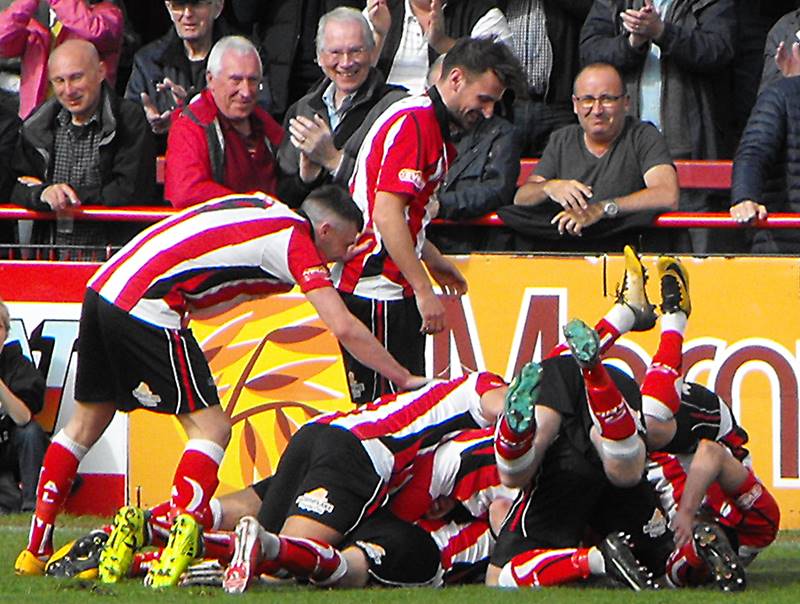 Above: Somewhere under the pile of bodies is Jake Moult, after scoring Alty's 100th league goal of the season on Saturday.
Altrincham FC director, Bill Waterson, penned the following "From the Boardroom" article for Saturday's Robins' Review, which encapsulates the Club's off-field ambition over the next twelve months...
"Today we welcome the board, players, officials and supporters of Hednesford to the J Davidson Stadium for the final game of the long but immensely satisfying Evo-Stik Northern Premier League season. In doing so we welcome back James Lawrie to Moss Lane, who gave us so many incredible memories in his time at Moss Lane.
So here we are, Champions of the Northern Premier League. We topped the table from early October with the most wins, fewest defeats, most goals scored (two more needed for a league century), fewest conceded, best supported team home and away. This is an incredible achievement and one which should not be undervalued. I hope to say more on this after the game, if appropriate.
Already the club are planning for next season. Our intent on the field is to selectively strengthen the squad so that we can mount a challenge in our first season back in the National League North. And this clearly defines our off-field priorities. We need to raise enough revenue to provide Phil Parkinson with a higher playing budget than this year.
Given we intentionally ran at a deficit this season, this means that the revenue we need to raise is significantly higher than the rise in the playing budget itself.We need to expand our commercial functions to give us every opportunity to achieve this. The board are meeting next week for a commercial planning day where we will put into effect our plans in this area. This includes our admission and season ticket pricing strategy and let me thank you for your input to this process. We only raise around 30% of our revenue from admission prices, and we have no plans to change that, except perhaps downwards over time.
In addition, we have plans to improve our infrastructure and therefore we will also be looking at ways of funding such activities. Thank you all for your contributions that allowed us to purchase the pitch covers, and in that context, we have also laid out our plans to improve the pitch drainage. We will also be looking at improvements to the media gantry and therefore to the Popular Side.
We announced the arrival of a new website and work continues building the platform. I would like to express our wholehearted thanks on behalf of the club, and on behalf of the fans to John Laidlar for his magnificent contribution over many years. The content of the website is so complete that it puts many others to shame. We do not intend to lose this content as we move to a new platform, instead we are opening ourselves to new commercial opportunities as we drive new revenue streams from Digital.
Finally, we lost another dear friend and extraordinary fan this week with the passing of Jacqui Forster, who lost her long battle with cancer. She has been a major actor in football across League and non-League clubs for many years and was our Honorary Head of Inclusivity and Diversity. It is amazing how much Jacqui and Jordan Tyms were able to achieve this season given Jacqui's declining health. She will be missed.
Thank you for your magnificent support this season, and I look forward to seeing you all in a couple of months.
Enjoy the game, Bill Waterson".
Saturday's
Robins' Review
annpounced the retirement of Alty goalkeeper Tim Deasy, at the age of 32. To allow supporters to honour Tim, manager Phil Parkinson brought him on as a substitute agains Hednesford Town on Saturday.
Tim won the Supporters' and Players' Player of the Season awards for 2015-16 but was then very unexpectedly released during summer 2016 by new manager Neil Young. Tim then joined Guiseley at the start of the 2016-17 season. However, following Neil Young's departure in late August 2016, Tim rejoined Altrincham on 2 September 2016.
He had originally joined Altrincham on 7 May 2015 from Northwich Victoria, having previously signed dual-registration Conference forms for Altrincham on 13 March 2014 whilst still playing for Northwich Victoria. However, he did not make an appearance for Altrincham before that season ended.
His career had begun at Macclesfield Town, where he made three first-team appearances before leaving in summer of 2006. From there, he signed for Stockport County but moved on on at the end of the 2006/07 season, without making a first-eleven appearance for The Hatters.
For 2007-08 he joined Barrow, where he gained promotion to the national level of the Football Conference. In all, he made 93 appearances for the Bluebirds before leaving Holker Street in summer 2010. He moved east to Gateshead, for whom he made 55 appearances before his release in April 2012. Next, came a spell with Bradford Park Avenue (19 appearances), a club he left at the end of the 2012-13 season. After that he joined Northwich Victoria.
In only his third game back at Alty, on 10 September 2016, Tim was injured against Gloucester City and had to be substituted but returned to action before he was struck by a more serious thigh injury on 1 March 2017 at Darlington. He returned to action before the end of the campaign. The early part of 2017/18 saw him sharing first-team duties with Tony Thompson before the latter established himself as first-choice for the remainder of the season. Tim's 2017-18 season was then curtailed by a knee injury in March.
In all he made 10 appearances this season, bringing his career total for Altrincham to 86. All at the Club thank him for his services and wish him happiness in his footballing retirement.
On Saturday evening, as well as the naming of the Altrincham FC Players of the Season, the annual award of the Tom Earley trophy to the Clubman of the Year was also made. The popular and very deserving recipient was Bryan Ford, the Club's volunteer assistant groundsman. Particularly during this extremely wet football season Bryan has spent many hours with groundsman Neil Brown, and on his own, tending the pitch at the J. Davidson Stadium in often foul weather. Without Brian's selfless work under Neil's guidance, we would have experienced many more postponements at Moss Lane than were the actual case.
Indeed, such has been Bryan's dedication to his groundwork that Neil has several times joked that he believes that Bryan has ambitions to take over his own job!
Playing their fourth game in a week, three of which have been away, Altrincham FC Ladies nevertheless secured a good away win on Sunday against Stockport County Blues. The Alty Ladies won 3-1. This win follows three successive draws...
27/04/18 2-2 v Northwich Vixens 2-2 - an away fixture played at the JDS
25/04/18 1-1 away to Warrington Wolverines
22/04/18 1-1 at home to Stockport County Blues
The Ladies are fifth in the league, with one game remaining on 6 May, away at West Didsbury & Chorlton.
Pictured below are the Ladies before their clash last Friday with Northwich Vixens.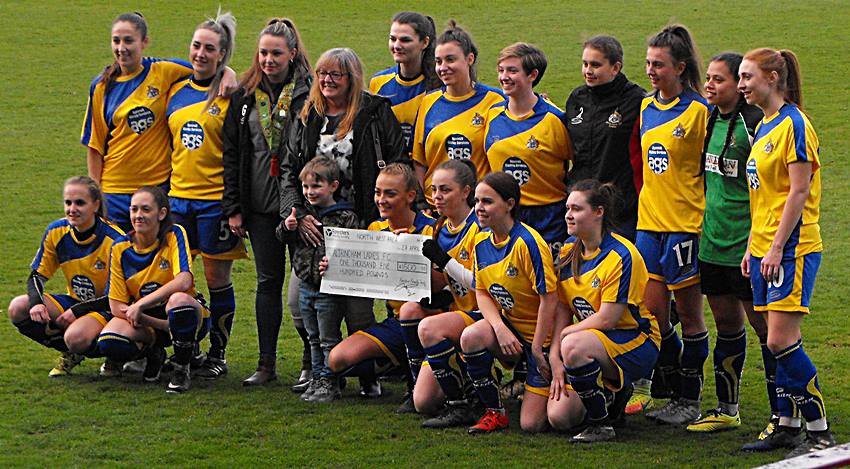 On Sunday Altrincham exited the NWYA Open Cup, losing 1-0 at Heswall FC. The only remaining fixture is a league game at home to Prescot Cables on 20 May.
Harry Sheridan, who made his first-team debut last week against Marine, has received a three-match ban for his red card in the Youth team match on 22 April.
Ashton United reached the NPL Play-offs on Saturday thanks to a goal from former Alty loanee Liam Tomsett, laid on by former Alty midfielder Sam Sheridan.
And congratulations go to our neighbours Trafford who reached the play-offs in th EvoStik First Division North yesterday. They are away to Prescot Cables in the play-offs on Tuesday. Alty loanees Sean Miller and Laurence Taylor both played for Trafford on Saturday, in a match in which ex-Alty striker Aaron Burns netted one of Trafford's four goals against Kendal Town.
Last Saturday's opponents,
Hednesford Town
reported that "Hednesford Town's league campaign came to an end with defeat at Evo-Stik Northern Premier League champions Altrincham.
The Pitmen made the worst possible start to the game when they went behind in just the third minute as a low shot was palmed out by Jose Veiga and Tom Hannigan was on hand to fire the ball home. Altrincham were well on top during the opening exchanges... As the half wore on the Pitmen came more into the game and created half a chance in the 29th minute when Tom Thorley picked out Anthony Dwyer and he cut inside before firing in a dipping effort that was blocked...
Altrincham virtually put the game beyond the Pitmen in the 51st minute when they added a second. The home side were awarded a freekick inside the area and, as the ball was flicked up, Jakes Moult volleyed home from 10 yards out.
Two minutes later it was almost three only for Veiga to make two superb saves and Gatter to make a fine block inside the six-yard area... The home side looked fairly comfortable as the game wore on and although they probed the Hednesford backline there weren't any clear-cut chances on goal... In the final minute of normal time the home side added a third goal when a ball through the middle caught everyone out and Hancock was able to control before sliding home past Veiga.
Hednesford now have one final game of the season left when they travel to St Andrews for the Birmingham Senior Cup final against Stourbridge on Tuesday 8th May".
Video highlights from Saturday's match are here.
At
Shaw Lane
, "After the game against Matlock Town yesterday four awards were handed out during the end of season celebrations. After the Chairman's words on the season and what lies ahead Craig Wood announced the first award of the evening. The Dan Wilkinson Memorial Trophy for services to the club went to Karen Parton. Karen does everything asked of her from printing the programme to preparing food to working on the turnstiles.
Next up was the Supporter's Player of the Season and, after an online poll last week, it was Kelvin Lugsden who won the award after receiving 34% of the votes.
The Players' Player of the Season was then announced and it went to the player who those in the dressing room respected the most. The award was given to experienced midfielder David Norris.
Players and club volunteers then heard from manager Chris Willcock ahead of his Manager's Player of the Season award. The final award of the evening also went to Kelvin Lugsden.
Remember the league season may be over, but we still have the Semi-Final of the Sheffield & Hallamshire Challenge Cup against Frickley Athletic to play... on Monday, 7th May."
Meanwhile, Shaw Lane's last opponents, Matlock Town report that "Dave Hoole's first game in permanent command ended in a controversial defeat with the Ducks' winner coming in the astonishing eighth minute of time added on at the end. Kieran Wallace put Matlock in front midway through the second half only for Ducks' skipper Spencer Harris to head in twice, firstly on 86 minutes to rob Matlock....
Shaw Lane needed a win from this final game of the Evo-Stik NPL campaign to have a chance of making the play-offs but wins for rivals Grantham Town and Farsley Celtic scuppered these hopes and in truth a place in the top five would not have been warranted on the evidence of this match.
Matlock outplayed them for long periods. A sharp contrast in styles was evident with Matlock's smooth and silky passing often opening up the home back line while Shaw Lane relied on brute force and a largely route one approach, plus some 'professionalism' in always being in and around the referee to influence his decision making.
Unfortunately, the referee fell for it, and how he found nine minutes of stoppage time is a mystery. The trainer was on only once, six substitutions at thirty seconds per substitute adds up to three minutes, so from somewhere five extra unaccountable minutes were found... It looked as if honours would finish even but the Ducks won a corner on the right taken again by Byrne and Harris was there again to head home and give Shaw Lane three undeserved but in the end meaningless points.
Matlock finished in fifteenth place, Shaw Lane in sixth but any neutral would have thought it was Matlock vying for a play off position on a cold day in Dickie Bird territory. A poor crowd of 219 was made up of over fifty per cent supporting the Gladiators".
The
BBC
confirms that "Eastleigh chairman Stewart Donald has put the club up for sale as he is involved in a buy-out of Sunderland. Donald has been chairman of the National League club since 2011.
'It is an emotional decision for me and one that I did not expect to have to make,' he said in a statement on the club website. 'However, with my potential involvement in Sunderland, it is a condition that I must relinquish control of Eastleigh. If the rules were different I would have loved to remain with the club for many years to come'...
Donald, who has invested £10 million in Eastleigh, is part of a consortium of investors set to buy the club, subject to English Football League approval... Earlier this month, he told BBC Radio Solent, 'It's widely known that Sunderland is on the market and there are a few consortiums in for it. I'm not sure how close any of them are and one of the groups has approached me to see if I could provide any funding. It will probably be a substantial investment if I do it. The attraction would be to be part of a team to restore Sunderland to where they should be, that sounds like a nice challenge...
'Eastleigh football club is in the strongest financial position it has ever been in,' Donald's statement continued. 'It is vital to ensure that the club continues to provide affordable football and progresses on the field whilst incurring absolutely no debt. I always ensured Eastleigh was run without debt and that any money provided was never going to create any debt. I would like to assure the fans that I will not charge for the sale of the club and do my very best to ensure that the club is passed to an individual or group that understands these principles and is committed to continuing them.'"
ALty exited the FA Cup disappointingly at Shildon earlier this season and, now, Pitchero Non-League reports that "Shildon's hopes of finishing in the top three in the Ebac Northern League First Division on Saturday were dealt a severe blow when they were beaten 4-2 at Newcastle Benfield after leading 2-0 at one stage... Their late collapse means that West will finish third behind promoted pair Morpeth Town and Marske United, if they win their last game of the season against Ryhope CW on Monday night".
---
29 April 2018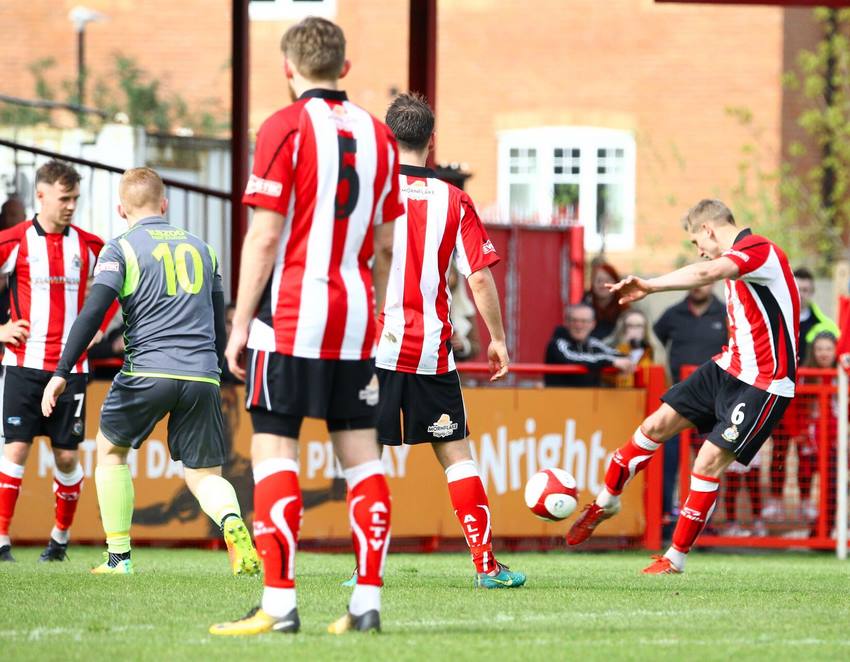 Above: Jake Moult's superb volley was Altrincham's 100th goal of the season. Image courtesy of Gavin Rathbone.
Interviewed in the Non-League Paper, Alty manager Phil Parkinson reflected on the EvoStik NPL championship. "We were close to doing it at Nantwich, with not a great budget", he said, "Then coming to Altrincham, where the resources are better, it's shown that doing exactly the same thing as we did at Nantwich works at another club.
"Altrincham was absolutely the right club, the right decision to go, and everything has panned out the way it was in my head.
"Also, the fact that it's never been done before was something I was aspiring to. We're the first team to come out of the Conference and bounce straight back up from the Northern Premier League".
Phil continued, "Next season will 100% be about consolidation, weighing up where we need to improve, and then the following season we will have a good go at it. There's a lot of full-time teams in the National League North. We need to weigh up the direction we're going as a football club".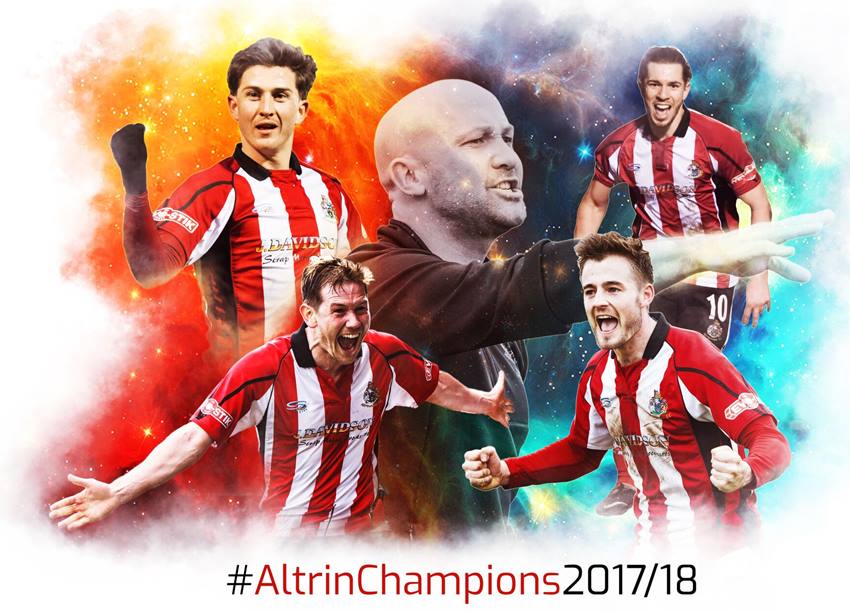 Match report here.
Image above, courtesy of Mike Ripley.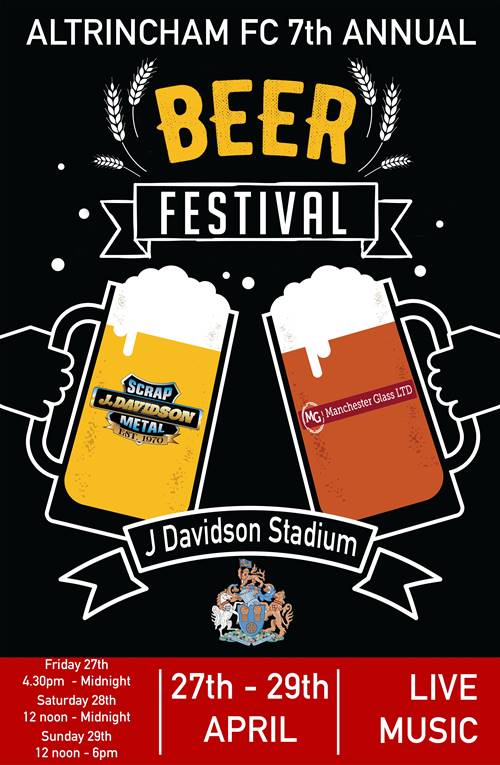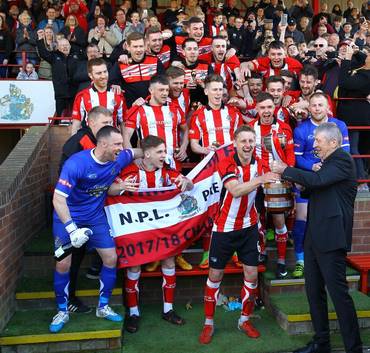 Image, right, courtesy of Gavin Rathbone, shows Altrincham receiving the EvoStik NPL trophy.
Altrincham were stronger at home in the first half of this season but better away from home in the second half. Overall they lost fewer away games (3) than at home (4).
Games 1-23
HOME P11 W 9 D1 L1 F32 A 7 PTS28
AWAY P12 W 6 D4 L2 F21 A10 PTS22
TOTAL P23 W15 D5 L3 F53 A17 PTS50
Games 23-46
HOME P12 W 6 D3 L3 F30 A17 PTS21
AWAY P11 W 7 D3 L1 F18 A 8 PTS24
TOTAL P23 W13 D6 L4 F48 A25 PTS45
Overall
TOTAL P46 W28 D11 L7 F101 A42 PTS95
POINTS
Altrincham accrued 95 points this season which is the highest total they have ever recorded (in the three-points for a win system) and immediately follows the 2016/17 season when the club accrued its lowest ever points total (21 pts). In the years when wins only accrued two points, Alty would have beaten this season's total with 106 points in 1965/66 and 99 points in 1966/67, had the three points for a win system been in place in those seasons.
This season's total of points in 46 matches exceeds by 30 that gained over the last two seasons combined (65 points over two seasons in 88 games).
With just seven defeats this season, Alty have recorded the lowest number of losses in a league season since 1984/85 when six matches were lost in a season of only 42 games. In 1965/66 Alty lost just twice in 42 league matches.
SEQUENCES
Longest run undefeated: 16 games (from game 9 to 24, comprising 12 wins and 4 draws)
Longest run of victories: 5 (games 20 to 24)
Right: Jordan Hulme
YELLOW AND RED CARDS
(Red =3 Yellow=1)
Max Harrop 10Y 1R (League 8Y + 1R)
Simon Richman 9Y 1R (League 8Y)
Jordan Hulme 11Y 0R (League 10Y)
Red cards: 5 (League: Hannigan, Harrop) (Cups: Moult, J. Jones, Walsh)
GATES
League Home: Highest 1856 v Hednesford Town; lowest: 482 v Marine - both in the same week!
League Away: Highest 952 v Warrington; lowest: 221 v Barwell
Cup Home: Highest 781 v Ramsbottom United (FAT); lowest 131 v Winsford United (CSC)
Cup Away: Highest 545 v Warrington Town (FAT); lowest 109 v Mossley (Integro)
APPEARANCES IN 2017-18
53+2: Jordan Hulme (45+1 in league)
53+1: Jake Moult (45 in league)
50+3: John Johnston (41+3 in league)
49+3: Josh Hancock (42+2 in league)
49: Tony Thompson (42 in league)
44: Ben Harrison (36 in league)
Apart from those players who were named in squads but did not get on the pitch at all, the least appearances of the season (0+1) were recorded by Chris Lynch, Tolani Omotola and Scott Smith.
GOALS
31: Jordan Hulme (26 in league)
21: Josh Hancock (17 in league)
20: John Johnston (14 in league)
13: James Poole (11 in league)
11: Tom Peers (7 in league)
CLEAN SHEETS
Altrincham kept 20 clean sheets in the league and a further five in cup competitions.
At the other end, they failed to score in six league games and two cup ties.
PLAYERS
40 players were named in league and/or cup matches with four (including three goalkeepers) not getting on the pitch - Andrew Jones, Josh Samberg, Dylan Scanlan and Cameron Terry.
30 players were used in league matches of whom five did not start a game but were used subs.
36 players were named in cup matches and all got some game time
THE JONES BOYS
Four players with the surname (or part-surname) of Jones, played for Altrincham this season; Andrew Jones, Callum Jones, James Jones, Theo Bailey-Jones.
On Saturday night the following awards were made in the Community Sports Hall...
Manager's Player of the Season: Jordan Hulme
Supporters' Player of the Season: Jordan Hulme
Players' Player of the Season: Jake Moult
Most Improved Player of the Season: Max Harrop
Young Player of the Season: John Johnston
Farsley Celtic
report how they "secured a playoff spot in their first season in the Evo-Stik Northern Premier Division with a 3-0 victory over Marine... and they will now travel to Ashton United on Tuesday.
After the game, a delighted Adam Lakeland said, 'I'm delighted that we've won, there was a bit of pressure on us today, like there has over the past couple of months with other sides having well documented games in hand. Nobody's given us a chance all season, but that suits us fine, we've shown over 46 games we're a good team. To get 80 points in this league takes some doing and, as a newly promoted side, we should be incredibly proud'...
The Barnsley Chronicle tells usthat "Shaw Lane AFC's application to be renamed AFC Barnsley for next season is set to be denied by the FA.
The Ducks will still be called Shaw Lane AFC next season despite moving away from that ground almost a year ago and signing a ten-year lease with Athersley Rec at Sheerien Park.
Barnsley FC objected to the namechange. Shaw Lane owner Craig Wood said, 'The FA's membership committee has recommended that our application to become AFC Barnsley be denied as the name could cause confusion with Barnsley FC. I don't know where we go from here if we cannot have Barnsley in our club's name.'"
Att. 1856 Altrincham 3 - 0 Hednesford Town
Att. 116 Coalville Town 2 - 5 Rushall Olympic
Att. 354 Farsley Celtic 3 - 0 Marine
Att. 446 Halesowen Town 2 - 0 Stalybridge Celtic
Att. 166 Mickleover Sports 3 - 3 Barwell
Att. 448 Nantwich Town 0 - 3 Stafford Rangers
Att. 219 Shaw Lane 2 - 1 Matlock Town
Att. 472 Stourbridge 2 - 1 Warrington Town
Att. 207 Sutton Coldfield Town 1 - 2 Grantham Town
Att. 272 Whitby Town 1 - 1 Buxton
Att. 323 Witton Albion 2 - 0 Lancaster City
Att. 398 Workington 1 - 2 Ashton Utd
28 April 2018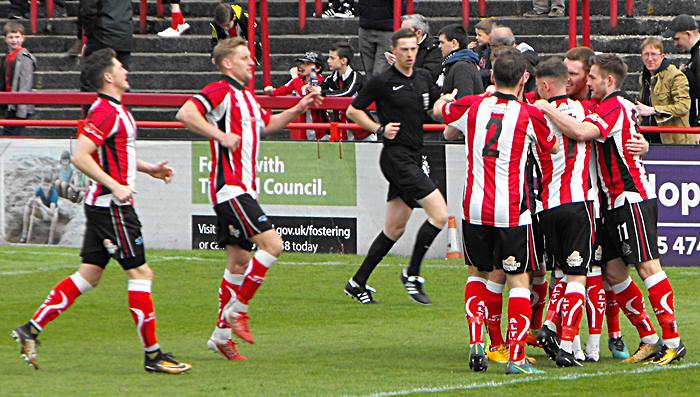 Alty celebrate Tom Hannigan's opening goal.
Altrincham cruised to a comfortable 3-0 win in their final match of their championship-winning season. On a bright afternoon, in front of a crowd of 1,856, they took a fourth-minute lead when Tom Hannigan slotted the ball home after a Harrop shot had been blocked. Alty slackened their intensity in the latter part of the first half but Hednesford were not able to take advantage.
The second Altrincham goal, their 100th of the campaign, arrived in the 53rd minute when goalkeeper Veiga handled a Hednesford back-pass. The freekick, from well inside the box, was teed up for Moult to volley superbly through the massed ranks of defending players.
And Moult's superb long ball forward for Hancock laid on the third goal in the first minute of added time, Alty's no.11 finishing calmly past Veiga. After the match there were massed celebrations on the pitch before the team received the EvoStik NPL championship trophy.
Report to follow
Saturday 28 April 2018
The final finishing places in the play-off positions were 2nd Ashton United, 3rd Warrington Town, 4th, Grantham Town and 5th Farsley Celtic. Shaw Lane missed out, their three-point deduction earlier this season having cost them a place in the play-offs. The final league table is here.
Altrincham 3-0 Hednesford Town
Coalville Town 2-5 Rushall Olympic
Farsley Celtic 3-0 Marine
Halesowen Town 2-0 Stalybridge Celtic
Mickleover Sports 3-3 Barwell
Nantwich Town 0-3 Stafford Rangers
Shaw Lane 2-1 Matlock Town
Stourbridge 2-1 Warrington Town
Sutton Coldfield Town 1-2 Grantham Town
Whitby Town 1-1 Buxton
Witton Albion 2-0 Lancaster City
Workington 1-2 Ashton United
Phil Parkinson's views on the last few games are recorded below by Brian Flynn for Altrincham Today.
"We won the title in Lincolnshire last Saturday in style with a fantastic second half performance at Grantham. It took a few days for me to digest the events of the day and the elation of getting over the line.
The pressure lifted when we scored the second goal and, to a degree, after the first goal. The performance in that last 45 minutes was sensational, which is remarkable really because the players had needed to show incredible resilience through a very tough week where we took ten points from four games, three of which were away from home, without conceding a goal from open play.
My lasting thoughts on the 2-0 win at Grantham were how special the fans were in outnumbering the home support. We must have had 350-400 people there, which is phenomenal when you consider that Grantham is a difficult journey of over 100 miles and takes almost three hours to reach.
Tuesday night's home game against Marine was postponed due to a waterlogged pitch and quickly re-arranged for 24 hours later. It was a strange match that we should have won but the point gained means that we can still hit our pre-season objectives of 95 points and 100 goals, if we can beat Hednesford Town and score at least twice this afternoon.
Today, really, should be a very special afternoon at the J.Davidson Stadium. We will be receiving the Evo-Stik Premier Champions' Trophy after the game and I hope that we can go out on a high on the pitch and send all our fans home very happy. Everyone should come to the game today with the mentality of enjoying and celebrating a really fantastic occasion.
After the trophy has been presented on the pitch, there will be the End of Season Awards which will take place in the Community Sports Hall and that will give us an opportunity to recognise some really special individual contributions made throughout what has been a momentous season, where everyone has pulled together for the cause of Altrincham Football Club. We have achieved what we set out to do a year ago and it's a great feeling to have done that.
So, let's celebrate today and then we can start thinking about planning for next season in the Vanarama National League North".
On Saturday, as a part of the Sporting Memories themed day at the match against Barwell, Altrincham FC showed a feature length film in the Community Sports Hall. As Anthony Dawson explains, the film was "showcasing some of Altrincham's most historic and most memorable moments over the last 35 years. Included was archive footage from both the win at Birmingham City and FA Trophy Final v Runcorn in 1986, the build up to the away day at White Hart Lane in 1995 as well as some more recent good times featuring the teenage sensation that stunned us all, none other than Duncan Watmore. The footage was approximately 45 minutes long".
Anthony now announces that "You may have seen the footage in the Community Sports Hall if you were at Saturday's Match and I would like to thank those who came up to me and said how much they enjoyed rolling back the years. Therefore I am currently working on an extended edition (75 minutes' worth) that will be available on DVD to purchase for a bargain £5 from the club shop at the Hednesford match on Saturday, 28th April. All proceeds will be going to the Sporting Memories Foundation".
Anthony advises those who have already pre-ordered that the copies will definitely be available to collect from the Club Shop on Saturday. Also there will be a limited supply available to purchase for those who have not pre-ordered.
Against a backdrop of the Altrincham FC Beer festival, Altrincham FC Ladies took on Northwich Vixens at the J. Davidson Stadium on Friday evening. The game ended 2-2. After the visitors had taken an early lead, Altrincham struck back to lead 2-1 at the interval. But the visitors levelled after 76 minutes.
More on this to follow...
Press and Media Officer John Edwards writes, "For any Altrincham supporter heading to the ground tomorrow and wondering about reading material to accompany a real ale or two, what better than the real thing among matchday programmes?
The final Robins' Review of a memorable season is on sale before kick-off against Hednesford, and it's packed with all the usual insights, updates and information about your title-winning team. Director and lifelong fan Bill Waterson casts an eye towards next season, in his boardroom notes, and reveals that plans are already underway for trying to ensure we make a positive impact on the Vanarama National League North.
Running away with the league with two games to spare may have exceeded expectations for some, but not Jake Moult. The skipper explains why in Captain's Chat, and, of course, there are the customary pearls of wisdom from manager Phil Parkinson in his column. More title action photos from Grantham feature prominently, including a front cover shot of the players, management and backroom staff celebrating soon after the final whistle, and all the facts and figures from a tale of triumph for Phil, his staff and squad of players are also included.
One thing missing, unfortunately, is Mark Simpson's ever-popular quiz, due to a mix-up over print deadlines. Apologies for that but, for those who enjoy pitting their sporting wits against our resident quiz maestro, here is his final offering, with the answers (all starting with the letter L, except the second bonus one) underneath.
1. Can you name the former Crewe forward who scored over 100 goals for Altrincham?
2. Who were the victims of Alty's first FA Trophy final win?
3. Who were Alty's FA Cup third-round opponents in 1980-81?
4. Who beat Alty on penalties in the 2008-09 FA Cup?
5. Can you name Ashton United's former Altrincham, Stalybridge and Stockport midfielder?
6. Where do Nuneaton Town play their home games?
7. And how about Tamworth - what is their ground called?
8. Which club paid Alty £50,000 for Kevin Ellison in 2001?
9. Can you name the 2016-17 Evo-Stik Southern Premier League winners?
10. Who were champions of the Evo-Stik Division One North in 2016-17?
Bonus questions for experts
1. Which 1998 World Cup winning full-back wore number 69 on his back?
2. What was his explanation for choosing that number?
(Answers - 1 Colin Little, 2 Leatherhead, 3 Liverpool, 4 Luton, 5 Mark Lees, 6 Liberty Way, 7 The Lamb, 8 Leicester City, 9 Leamington, 10 Lancaster City. Bonus - 1 Bixente Lizarazu, 2 He was born in 1969)
Hednesford Town
report on their 4-0 win over Nuneaton Town. "The Pitmen made a swift return to Keys Park to play Nuneaton Town with a place in the Birmingham Senior Cup Final for the winners.
The Pitmen started brightly and took an early lead when Tom Thorley, playing at right back, got to the byline and sent in a cross which Danny Glover finished smartly, driving his shot past Lyness in the Nuneaton goal... It was a ball delivered from the left by Reece King that Steele headed into his own net to extend the Pitmen's lead in the 27th minute...
The Pitmen continued to knock on the door in search of a third goal... Dwyer continued to torment the Nuneaton defence providing a cross which Glover rattled against the upright. Minutes later Anthony Dwyer went one better finishing Thorley's cross from the right. It was Dwyer again finding himself in acres of space before setting Danny Glover up for a cool finish in the 65th minute to effectively end the game as a meaningful contest.
Jose Veiga came on for Lawrie, with [goalkeeper] James Wren changing into an outfield shirt and playing up front for the last few minutes of the game. The Pitmen continued to dominate with the best chance falling to Wren who forced a save at full stretch from his fellow stopper Dean Lyness.
There would be no more goals as Hednesford put Tuesday night's disappointment behind them, booking a place against Stourbridge in the final to be played at St Andrews on May 8th.
Hednesford Town: Wren, Thorley, Mendez-Jones, Bailey, Gatter, Rea (Harris 58), Dwyer, King, (Fitzpatrick 68) , Butlin, Glover, Lawrie (Veiga 76) Sub not used: Fitzgibbon"
Our final guests of the season, Hednesford Town report that they "bring their league campaign to a close tomorrow afternoon with a trip to Evo-Stik Northern Premier League champions Altrincham. The Pitmen head into the fixture looking to end their mixed league campaign on a high note against an Altrincham side that were convincing winners at Keys Park earlier in the season...
Tomorrow will see them handed the trophy and, as such, a larger than average crowd is expected. Manager Rob Smith was looking for his side to continue where they left off against Nuneaton Town on Thursday evening.
He said,'It was great to be able to get through into another cup final on Thursday but we know that this game against Altrincham will be very difficult as after winning the league they will want to make sure they end the season on a high in front of their own supporters.
'Looking back at that Nuneaton game I just wanted to clarify the fact that we had no academy players signed up for this competition so we had what we had last night. James Lawrie picked up an injury during the game and we only had Jose Veiga left on bench who was fit. To show professionalism I told Nuneaton manager Gary Charles we had an injury and asked him if he would object if I put Wreny up top or else we would be playing with ten men. He had no issue with it. It was not a joke or bad sportsmanship, it was necessary, hence the ice on Jim Lawrie's leg at the end of the game'.
Smith will be without the services of Darren Campion, with Sam Oji, James Lawrie and James Fitzgibbon all expected to be fit after picking up knocks recently."
Press and Media Officer John Edwards writes, "Jake Moult has experienced plenty of ups and downs in his long, illustrious Altrincham career, so how highly does he rate this season's Evo-Stik Northern Premier League title success? The answer was provided in his column in Wednesday night's
Robins Review
against Marine. Here it is in full.
"It goes without saying any promotion is special, but Saturday's meant more to me than anything I've experienced in Altrincham colours, even the high drama of getting past Guiseley in the final seconds of that gripping play-off decider four years ago.
Who can forget those scenes, here at The J.Davidson Stadium, when Greg Wilkinson went on as substitute in the last minute of extra-time and sent over 4,000 Alty fans wild by putting his first touch into the back of the net?
What a day that was, but there are very clear reasons why Saturday at Grantham eclipsed it for me. Much as the exceptional circumstances of that play-off final will probably never be repeated, there was an element of redemption about this promotion, on a personal level, that puts it out on its own as the highlight of my Alty career.
Everyone knows the state we were in when Phil Parkinson and Neil Sorvel took over 12 months ago. We'd endured a tough couple of seasons, to say the least. Successive relegations, as everyone knows, and I'd been in the middle of it. I was partly responsible for it, and that weighed heavily on me.
All I could ask for was the chance to make amends and put things right, so to be given that opportunity and then see it come to fruition made Saturday very, very special. Winning the league, and doing it in such style with two games to spare, goes at least some way towards correcting what went before, and playing a part in the process is something I won't forget.
Conditions were difficult again on Saturday, particularly in a first half I felt we just shaded. The message at half-time was to keep doing the same things and our rewards would come, and didn't they just.
It's testimony to this group of lads that we came out absolutely determined to take matters into our own hands. That had been the talk amongst us throughout a really tough, demanding week – never mind about permutations and what might happen if others drop points, let's do it ourselves and take it away from everyone else. We were the ones who had to make it count, and I think a return of 10 points out of 12 from Saturday to Saturday can be considered job done.
If we are assessing what we've done this season, there has to be a huge mention, naturally enough, for the gaffer. It's one thing coming into a job when things are ticking over nicely, quite another when the team have been on a downward spiral for the best part of two seasons and you've got to find a way of stopping it.
I remember he had a few words with us all after the final game of last season, but it was when he called me soon after that I began to get a real insight into what he was about. We chatted for an hour or so, and he wanted to know everything about the club and what had been going on. There were a few more phone conversations after that, and it soon became clear that here was a guy who meant business and would leave no stone unturned to build a successful Altrincham team.
Never mind our renown as one of non-League's biggest names. Reputations don't put points on the board, and he also had to blend all the new players he'd recruited into a unit that would click straightaway. To do that and run away with the title at the first attempt is an unbelievable achievement.
As we prepare for our penultimate game, against Marine here tonight, I can't finish this first post-title column without saluting more phenomenal backing from our supporters on Saturday. Not for the first time, they actually outnumbered the home support, and to hear them singing throughout the game, from start to finish, was a topic of conversation among the lads afterwards.
Hundreds dug deep into their pockets once again to travel across the country and provide a level of encouragement that undoubtedly helped us over the line, and we can't thank you enough. I can assure you it makes a difference. When legs are tired and something extra is needed, that unbelievable support you provide helps the players find it. So thanks for your input into what has been a real team effort, and enjoy the final two games.
Jake".
According to
NL Pitchero
, "It's going to be 'squeaky bum' time for Grantham Town, Farsley Celtic and Shaw Lane AFC on Saturday after the latter edged a 3-2 win at Sheerien Park on Thursday night in the Evo-Stik League Premier.
The Ducks' win leaves them a point behind fifth-placed Farsley and two of fourth-placed Grantham with just tomorrow`s final games of 2017/18 to come.
A point will be enough for the Gingerbreads as they possess a far superior goal difference to the other two, but Shaw Lane must win at home to Matlock Town and hope Farsley don't at Throstle Nest against Marine AFC.
Shaw Lane, playing their tenth game of April, eventually broke the deadlock on the hour-mark through Alex Byrne. Ryan Baldwin equalised for the Canaries in the 76th minute, only for the Ducks to hit the visitors with two goals in 3 minutes, starting with Godwin Abadaki`s 83rd minute effort, swiftly followed by Chib Chilaka`s.
Jake Warmington made it a nervy finale when he reduced the deficit a minute from time, but the hosts held firm.
The remainder of Thursday's games were all about pride and final placings, with Witton Albion not giving manager Steve Burr the send-off he had hoped for as his Stalybridge Celtic side crumbled to a 5-0 defeat in their final game, and Burr's, at Bower Fold this season...
Another manager making his penultimate appearance in the dug-out was Stafford Rangers' Neil Kitching. He saw his side share a rather uninspiring 0-0 draw at the War Memorial Ground with Stourbridge.
Coalville Town made it three successive wins when they beat Workington AFC 3-0 at Owen Street in their penultimate home game of the campaign".
FromStourbridge we learn that the Glassboys this Saturday are hosting Warrington Town. "We do still, of course, have the Birmingham Senior Cup Final to look forward to, but our hopes of extending the Premier Division campaign into the play-off battle ended some time ago, and we go into the 46th match of a long season destined to finish in a mid-table position.
Thursday night's 0-0 draw at home to Stafford Rangers, a third successive stalemate, means that Stour come into the game in 14th place, with the possibility of finishing as high as 11th place or as low as 16th.
Meanwhile, our visitors from Cheshire find themselves in much the same position as Stour faced twelve months ago... assured of a play-off place, but not yet certain of their final position. Warrington sit second on the table... three points ahead of Ashton United in third. With the Robins boasting a superior goal difference, the Yellows know that they must avoid defeat to guarantee second place, whilst Ashton go to Workington looking for a win and a favour from the Glassboys.
Either way, with Grantham Town in fourth a further point back from Ashton, Warrington are guaranteed a home play-off tie next Tuesday evening...
The Yellows have built this time round on an impressive first season at this level following promotion from Division 1 North in 2016. Finishing 10th last time round, they have been in or close to the play-off zone for much of this season. With a strong defence (only Altrincham have conceded fewer goals) they have proved hard to beat, and have lost just nine League games. One of those, as fans of neither team will need reminding, came back in late September when Stourbridge travelled to Cantilever park and earned a stunning 5-1 win...
Since the New Year, Warrington have been particularly consistent, losing just three times in the League. Recent weeks have seen them perhaps draw a few more matches than they might have liked; four of their last six games have finished level... Tuesday night saw a goal-less draw at Grantham, following on from a 1-1 draw at home to Halesowen Town last Saturday, and a 2-1 home win against Shaw Lane the previous midweek. All told, they are currently unbeaten in six games".
the NL Paper reports that "Shaw Lane's victory in mid-week ensured that the race for the final two play-off positions in the Evo-Stik Premier would go down to the wire. The dramatic 3-2 win over Barwell was Shaw Lane's third straight victory and left Chris Willcock's side just a point adrift of the play-off positions. The Ducks face a home fixture against Matlock Town on Saturday as they attempt to force themselves into the play-off picture.
Farsley Celtic are currently occupying the final play-off spot. Adam Lakeland's side have won their last two league games and will be desperate to continue this winning streak to ensure an appearance in the end of season play-off lottery. The Villagers will go into Saturday's home game against 19th-placed Marine confident of success as Tommy Lawson's side are winless in their last three games.
Grantham are sitting a point ahead of Farsley Celtic in fourth position. The Gingerbreads have suffered a slight end of season wobble in recent weeks, winning just one of their last four league games. Farsley Celtic and Shaw Lane will be hoping that Adam Stevens' side make another slip up when they make the trip to already relegated Sutton Coldfield Town."
Bradford Park Avenue
have issued an Official Club Statement from Gareth Roberts which says, "As you are aware we are in the process of transferring the club back to my ownership and have, finally, received some guidance from the FCA that will enable us to move forward for FA approval.
When the transfer is complete this will leave me as the sole Director and shareholder but alongside our new charity which will take over much of the community work that we were doing under the old structure. Also after some thought we have decided that it will be best to keep the club at Horsfall next season along with some improvements to the ground.
The club will obviously require management and leadership in order to move forward in a sustainable manner and I have appointed Rob Stanley to take full control of the all club matters with immediate effect.
The club's current deficit is unsustainable, and it is unfortunate that we will have to make cuts, as well as looking at ways to increase revenue streams, in order to compete in the National League. Rob is tasked with these decisions...
Volunteers are the life blood of our club and we hope that those who have assisted the club in the past will continue to do so in the future... The intention is for the charity to take the long term lease of Horsfall and we are in discussions with the council to this end and hope to be able to reach an agreement in the next few months.
The academy, Horsfall College of Sport, will still be based at the stadium next season and we hope that this will develop and produce the stars of the future".
NL Pitchero confirms that "The FA have announced that the Evo-Stik League North have been awarded the third automatic promotion spot. As a result, the league can finally announce officially that Hyde United AND Scarborough Athletic have been promoted alongside South Shields. This also means that the seventh-placed side in the division will be awarded a play-off spot, meaning that Bamber Bridge and Prescot Cables have sealed a home play-off place [while] Trafford, Colwyn Bay, Tadcaster Albion and Colne FC are all in the play-off race."
---
27 April 2018
Tonight's Altrincham FC Ladies' match against Northwich Vixens has been confirmed as going ahead tonight at 7.30pm on the pitch at the J. Davidson Stadium.
This takes place alongside the Beer Festival at the ground (details below).
Altrincham FC's social media channels have been inviting fans to cast their votes for:
Supporters' Player of the Season
Young Player of the Season
Goal of the Season
Andrew Flynn advises that all of the votes "are going right down to the wire with over 500 votes collected already. If you haven't yet voted, you can find the Supporters' / Young Player poll here and a separate poll for Goal of the Season here. Alty TV have kindly produced a reference video for the Goal of the Season nominees.
Both polls will shut at 10.30pm tonight (Friday, April 27th) to allow for vote counting and graphic preparation. The results will be announced following the game tomorrow. Be sure to stay for a pint and enjoy the Beer Festival as we find out who came out on top, as well as the Players' Player of the Season and Clubman of the Year awards".
Mark Eckersall, coordinator of the TASC Supporters' Travel service writes...
"As the season draws to a close, there is just time to thank the people who supported the coach travel throughout the season. We achieved our aim of breaking even and even turned an unexpected small profit thanks to the numbers we had on some journeys. This will be carried forward to next season and used for the travel once again.
Even with a run at the end of 6 out of 7 games away games the support of the coaches stayed strong with a huge commitment being made financially, (eased a little by Grahame's kind donation), and time wise from the Altrincham away support, both on the coaches and by all other means. We believe the support from everyone made a difference and we got our rewards.
We have now completed negotiations with the coach company after Saturday's administration error left 49 people on a 35-seater coach. Mistakes happen and apologies and a suitable refund has been offered to put the matter to bed.
A huge thanks to Brian Rooney, Bill Morris and Mike Ripley for stepping in to drive, along with myself, to make sure everyone got to enjoy what turned out to be a great day at Grantham.
We remind travellers again that the supporters' coach is a family-friendly vehicle, we want to encourage supporters of all ages and, for that reason, we do not allow the consumption of alcohol on our coaches. With the mayhem of Saturday's incorrect vehicle, it seems a couple of people were unaware of the rule and will be spoken to, should they wish to travel again, in order to ensure that atmosphere is preserved at all times.
Enjoy Saturday and your summer and get ready to book on as we continue our road to recovery with your support.
Well done to the Phil and the lads, we will be have the same aim next year to get as many people as we can to the games for the cheapest price to break even and hope for another successful season.
Thanks again".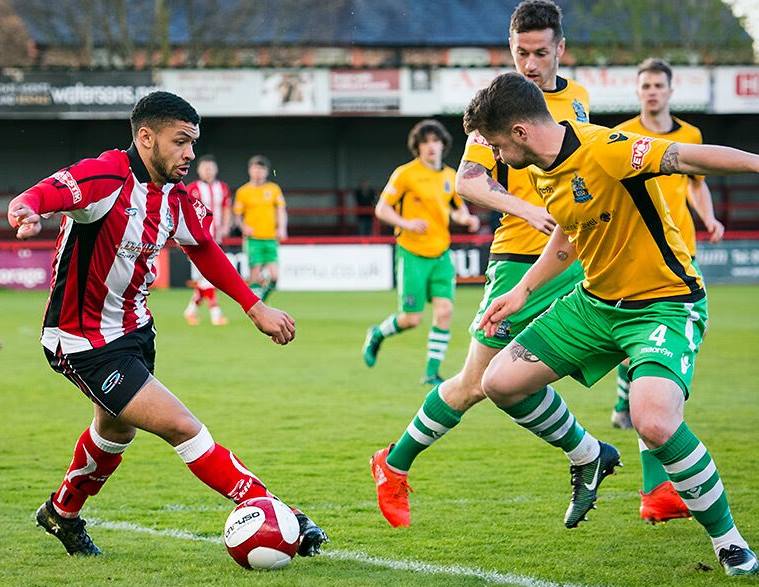 Above: Theo Bailey-Jones had a lively game against Marine on Wednesday evening. He is seen in action, here, courtesy of Mike Ripley.
Match report here.
The
Sale & Altrincham Messenger
reports that "The chairman of newly crowned Evo-Stik Northern Premier League champions is hoping promotion will bring a change of fortune to Altrincham Football Club.
Grahame Rowley was speaking exclusively to the Messenger after the club clinched the title with a 2-0 win at Grantham. Mr Rowley is hoping that the promotion back to the National League North(NLN) will turn the tide, which in the previous two seasons saw the team relegated from the National Conference and then from the NLN.
He said, 'We had two relegations and it was a catastrophe for the club, but it is how you deal with relegation, whether you continue to decline or you can work to arrest it and are resolute in getting back up there. We have a strong supporter base and a strong board and we have invested in a decent manager in Phil Parkinson, who knew what was needed and we gave him a budget and he has managed it superbly.'
Mr Rowley, who was vice-chairman from 2002 and chairman since 2010, spoke of the flak he took after the double relegation. He said, 'When we went down, everybody was hurting and the fans were devastated and I personally got a lot of abuse and I am essentially a volunteer like many at the club. When things are going badly, it's sometimes easy to get that loser mentality and it is a test to see how you deal with it and turn it round. We have brought in new people and there is now strength and optimism and it not only good for the club but also for the town.
'You only have to take a walk around Altrincham to see how important this title is and everybody has been talking about it.'
As champions, the club now faces the prospect next season of playing against teams including FC Utd, Blyth Spartans, York City and Chester. Mr Rowley said, 'We have a board meeting coming up at which we will discuss strategy and look at our income streams and, as a club, we have to capitalise on our fantastic success. Equally, it would be great if some of those people in the town could become involved in helping drive the club forward and anybody who would like to volunteer can come and talk to me.'
The leader of Trafford Council, Cllr Sean Anstee, added his congratulations to the team's success saying, 'Huge congratulations are due to Altrincham FC on their well-earned promotion and the whole town will be behind them when the new season starts. Altrincham is thriving with a revitalised town centre, excellent schools, a planned new leisure centre and was recently voted one of the best places to live in the north.
'This promotion adds to the feelgood factor around the town and will help support its continued renaissance'".
Ian Senior of SKkits writes that he has "Limited Edition Home replica shirts available as shwon above. To celebrate winning the league, I have printed my remaining stock of current replica shirts as shown in images, thanks to support from Club Caterer, Richie Bentley. Shirts will be available at Saturday's game at £10 in child sizes and £12 in adults. Sizes available: Child: 20/22 22/24 30/32 32/34. Adult: L XL XXL".
Thursday 26 April 2018
After Thursday's games, the remaining play-off places remain unclear as any three of Ashton United, Grantham Town, Farsley Celtic or Shaw Lane could join Warrington Town in the play-offs. In reality Ashton United are virtually certain of their place in the play-offs as their goal difference is much better than Shaw Lane's and the Ducks can only get level with them on points, at best.
Coalville Town 3-0 Workington (att 120)
Shaw Lane 3-2 Barwell
Stalybridge Celtic 0-5 Witton Albion (att 187)
Stourbridge 0-0 Stafford Rangers (att 368)
Liverpool County FA Senior Cup 17-18 - Final
Marine 0-4 Prescot Cables (att 750)
The manager of Altrincham FC Ladies, Keith Edleston, reports on his side's draw on Wednesday night. "Great result tonight up at Grappenhall Sports Club as the girls shared the points with Warrington Wolverines.
Every time we play Warrington you know you will get a tough, but fair, game with no quarter given and none asked but today the girls were superb.
The attitude and tactics were spot on and the girls gave everything to the cause. An even first half saw the scoreline 0-0 but the fireworks were lit with a superb run down the left by Kye Brown to the by-line where she pulled the ball back for Megan Rowley to open the scoring and make it 1-0 to Alty.
Warrington are a good team and all good teams will have periods of possession. With five minutes to go they pulled a goal back through their striker to make it 1-1 but we still had one more attack in us and, when Megan Rowley sprang the offside trap to beat the keeper and shoot, we thought that was the winner only to see the ball flash inches past the post.
Iam so proud of each and every girl tonight as we took the game to Warrington. Well, it wasn't to be and good luck to Warrington for the rest of the season.
Ont now to Friday, when we welcome Northwich Vixens to Moss Lane in a 7.30pm kick-off and we would love to see you all down there to support the girls.
Starting 11: Paula Alarcon Conde, Aimee Hopkinson, Bliss Molyneaux, Louise Edleston, Georgia Ashton, Kye Brown, Laura Dodds, Gail Simpson, Hannah Shufflebotham, Laura Kelly, Jess Hartopp. Subs: Megan Rowley, Melissa Williams, Beth Hayes".
Unusually on Wednesday all three of Altrincham's senior teams were in action. The first team drew with Marine, the Ladies drew at Warrington and the Reserves drew at Crewe, 4-4. The Reserves now lie eleventh in the league and on 1 May at the J. Davidson Stadium they take on Whaley Bridge Athletic. At the same venue on 4 May, they host Greenalls Padgate St Oswald's.
For the final match of the season, Hednesford Town are the visitors to the J. Davidson Stadium on Saturday (3pm).
Hednesford Town
report that "The Pitmen return home for the final time this season when our attentions once again focus on a cup game as Nuneaton Town visit us in the semi-final of the Birmingham Senior Cup. Following the disappointment of Tuesday evening's narrow 3-2 defeat against Stafford Rangers in the Staffordshire Senior Cup Final we shall be looking to progress into the last two of this competition with Stourbridge waiting for the victors.
It is again a case of facing higher league competition in this trophy, with us already having defeated Tamworth, Solihull Moors and Burton Albion to reach the last four. Nuneaton, who sit comfortably in mid-table in the National League North, arrive here have being forced to play last night following a postponement on Tuesday evening.
Manager Rob Smith will be without Darren Campion, Sam Oji and James Fitzgibbon due to injury. Louis Harris will be back in contention though after being forced to sit out Tuesday evening due to suspension".
Altrincham FC is grateful to all of those supporters who sponsored a player's shirt or shirts this season. These (except the goalkeepers' shirts) are now available for collection from the Club offices, either at tonight's game or subsquently, so please come along and collect yours!
Altrincham FC announces... "So that we can engage with the supporter base we are looking for their opinion on admission prices for next season. We have put together five options, as outlined below, please respond with your choice by
e-mail
or by notifying your choice to the Club office".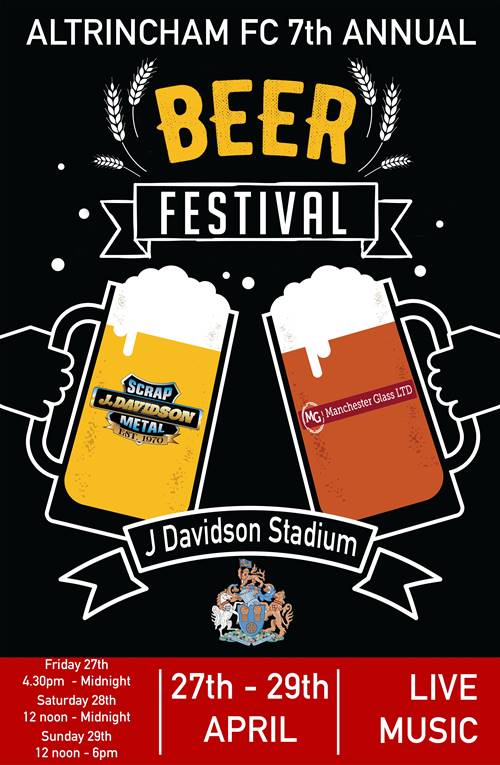 To make the Beer Festival a success, the Club needs volunteers to work on the Real Ale Bar. Available time-slots are:
Friday 4pm-12pm (three-hour shifts 4pm-6pm or 6pm to 9pm or 9pm to midnight)
Saturday 12 noon to 12 midnight ( 12 noon-3pm, or 3pm to 6pm or 6pm to 9pm or 9pm to midnight)
Sunday 12 noon to 6pm (12 noon to 3pm or 3pm to 6pm)
No experience necessary - on the job training provided!.
The
EvoStik League
has belatedly reported on Tuesday night's games, saying that "There was almost a full fixture list in the EVO-STIK League Premier on Tuesday night; almost, as the games at Altrincham and Stalybridge Celtic were postponed, writes Pitchero's Steve Whitney.
Warrington Town's chances of finishing second and a home play-off semi-final draw took a blow when they were held to a 0-0 draw at The Meres by fourth-placed Grantham Town, who could still miss out on the top five if Shaw Lane AFC win their two games and the Gingerbreads fail to at least pick up a point against already-relegated Sutton Coldfield Town on Saturday.
But that draw gave Ashton United an outside chance of pipping Warrington to second place after the Robins won 2-1 at Causeway Lane against Matlock Town. And they had to come back from being a 17th minute Ted Cribley goal down to win too, thanks to John Pritchard five minutes later and then Jack Dyche 13 minutes from time.
Ashton now have to beat Workington AFC on Saturday and hope Warrington lose at Stourbridge; there`s also a one-goal advantage to the Wire should it go to goal difference.
Farsley are fifth and three points ahead of Shaw Lane after a 4-1 success at Wincham Park against Witton Albion. They too had to [recover] from being a 15th minute Paul Williams goal down to win, courtesy of Luke Parkin after 28 minutes and then an Isaac Baldwin hat-trick in the 50th, 56th and 66th minutes.
Shaw Lane maintained their challenge with a best-of-five win at the Weaver Stadium against Nantwich Town. It was yet another game where the eventual winners fell behind, in this case 2-0 down to goals from Jordan Cole after 19 minutes and Matty Bell a minute before the break.
Former Harrogate Town favourite Chib Chilaka pulled the first back for the Ducks on the hour-mark and then Godwin Abadaki equalised 9 minutes later. Two minutes after that, Kelvin Lugsden grabbed the visitors' winner.
Elsewhere on Tuesday, Rushall Olympic also came from being 2-0 down to goals from Lewis Maloney after 34th minutes and Kyle Fryatt 3 minutes into the second half to win 3-2 at the Turnbull Ground against Whitby Town... It was a similar story at the Giant Axe, where visiting Buxton led through Liam Hardy`s 27th minute strike until time added on at the end of the game when Tom Kilifin levelled for the Dolly Blues."
The Yorkshire Post reports "From Bower Fold to his Barnsley debut, it is all in a month's work for Jack Walton. The rookie goalkeeper was the shock name in the Reds' line-up at Nottingham Forest, with his previous league appearance coming for Stalybridge Celtic in their Evo-Stik Premier home game with Warrington Town on March 24.
Recalled by his parent club from his loan after Nick Townsend injured his finger in a training-ground altercation with Dimitri Cavare, Walton found himself in the starting line-up ahead of first-choice goalkeeper Adam Davies in a proverbial baptism of fire.
His display was the sole positive to take from the Reds' poor 3-0 loss and despite a memorable time which saw him impress with some key saves, he would have preferred it if he had been less busy and the scoreline different.
Walton, told on Tuesday morning that he would be starting and now eyeing a home debut against Brentford, said, 'It was a good experience and a big moment to make my debut, although I am disappointed about the result. In the position that the team are in, we needed three points... Being out on loan at Bower Fold has given me some men's football and prepared me for this moment.'"
Altrincham will be members of the Vanarama National League North again next season and the
National League
reports that "There are still a few issues to settle on the final day of the regular Vanarama National League North season. Saturday will decide who makes the final play-off spot and positions for the semi-finals.
The relegation issues have already been settled, so for many it can be an afternoon to enjoy the game, hopefully in the sun!.
Depending upon the outcome of Spennymoor Town`s game in hand against already-relegated North Ferriby United tonight, Bradford Park Avenue may start Saturday`s game outside the top seven and needing a win to have a chance of making the play-offs. Whatever the outcome, Mark Bower has done a terrific job at the Horsfall Stadium, putting a positive chapter on his CV following his dismissal by Guiseley AFC in August 2016...
It`s been a really tough last few weeks for Jason Ainsley's Spennymoor side, who will complete a hugely-tiring ten-game sequence in the month of April with Saturday`s visit of Southport to the Brewery Field.... Victory in tonight`s game against North Ferriby... could see Moors back in the play-off places and maybe only needing a point from the game against a Southport side who dusted off any thoughts of a last-day scrap against the drop with a 4-2 win in the north-east at Darlington last night.
Depending upon tonight's result, Blyth Spartans could still go into Saturday`s game at Nuneaton Town with an outside chance of slipping into the top seven. Blyth completed a run of four home games in a week with a 2-1 win over Curzon Ashton on Tuesday night and travel to a Boro side who shared a 1-1 draw with Boston United last night to end the Pilgrims` hopes of going into the play-offs through the back door".
And the National League also reports that "AFC Telford United boss Rob Edwards hopes the club can go full-time next season to compete at the right end of the National League North. It has been a tough first campaign in charge for Edwards but their recent run of four wins in five games secured their status for next term...
He hopes they will be able to follow the lead of others in the National League North by moving to a full-time model and 'really having a go'. 'Consistently, throughout the season we've had 12 to 14 of the players, a good chunk of the players, in on a Monday and Friday as well,' Edwards told the Shropshire Star. 'We get an hour or so of training in on those afternoons, which is great. The ideal thing for me would be to go full-time and really have a go. Obviously that's a bit budget-dependant. Hopefully, we'll be sitting down and having some meetings in this next week, seeing where we're going to be at.
'I'd love that to be the case and I'd love to be able to announce it, but we're not there right now. What I will say is that there is a real nucleus, a tight group there, who have been getting results at this level under real pressure. I don't think we're a million miles away from a real half decent team.'"
One team with whom we will be swapping places is the subject of a report in the Birmingham Mail which tells us that "Connor Taylor reflected on one of the worst days in Tamworth FC's history and says the club must repay fans with an instant return to the National League North. Former Aston Villa youth Taylor was named Player of the Year by supporters prior to the 4-3 home defeat to Chorley which proved the final nail in the coffin for the Lambs relegation fight.
'I can't really find the words to talk about it really,' said Taylor after the defeat. 'I've been here for five years overall, once on loan and then for the past four seasons. I started here in the league above, the Conference Premier, so for us to be now going into the league below, it's just a dark, dark day for Tamworth FC. It's arguably the worst day in the club's history. It's the fans I feel most sorry for,' he added. 'They pay their money every week and they even pay some of the players through Team Builder.'
'We have let them down and so they have got the right to scream at us as much as they like after what has happened.'
Taylor expects big changes to the playing staff in the summer but hopes Mike Fowler will have the chance to turn things around. 'Mike has worked his socks off,' said Taylor. 'I can't say how much overtime he's put in, watching games, putting clips together, giving tactical information, trying to instil passion into the group. It's the lack of passion, quality and fight from the group that has let us down. For that reason, it's the squad which needs an overhaul. Some lads will escape and probably go onto better things that they don't deserve but the club needs to make a statement of intent in my opinion. We have to show ambition, go straight at it next year. We have to promise to give the fans special days in the future to shout and cheer about.'"
York City's status next season is not yet finalised as they could sneak into the play-offs but, lying tenth, they look likely to remain in National North. From there, York Press reports that "York City boss Martin Gray intends to transfer-list some of the 12 players that are contracted to the club beyond this summer. Adam Bartlett, Hamza Bencherif, David Ferguson, Simon Heslop, Josh Law, Adriano Moke, Sean Newton, Jon Parkin, Dan Parslow, Daniel Rowe, Vinny Steels and Ryan Whitley all have deals on the table to stay with the club next season.
Defensive trio Bencherif, Law and Parslow signed one-year deals last summer but it is understood that they now have the option of a second season after reaching an agreed number of appearances during 2017/18.
Ten players, Louis Almond, Connor Brown, Aidan Connolly, James Gray, Clovis Kamdjo, Alex Kempster, Michael Rankine, Luke Simpson, Connor Smith and Theo Wharton, have terms that expire at the end of this season, while injured on-loan midfielder Alex Pattison has returned to Middlesbrough.
Jonny Burn and Raul Correia will also go back to their respective parent clubs Bristol Rovers and Blackpool, following this weekend's final game of the regular National League North season at Brackley.
Second-year scholar Flynn McNaughton, meanwhile, will be among those hoping to be offered pro terms after making three first-team appearances from the bench during the last month. No announcements on players' futures will be made until next week, but Gray warned 'Some of those contracted players will be put on the list, because things have got to change. If you're honest with yourself, you know if you've done enough this season and the club needs to rebuild from the ground again. The fans are dying to be the 12th man here and some players don't know how lucky we are to have that fan base.
'I want a fantastic changing room next season full of honest players who will give everything and every player who comes back after the summer will be told what condition I expect them to be in and what weight they need to be, because we've got to have the fittest squad in the division next season.'
Gray went on to confirm that Kamdjo, who has only managed one substitute outing this term following his return from cruciate and anterior knee ligament damage in November 2016, would be handed an opportunity to prove his worth in pre-season and he also looks set to feature at Brackley. 'He's somebody I can trust and the one person at this club I'd want to go to war with, because he's an honest lad and that's what we want on Saturday,' Gray said of Kamdjo...
Gray is already in an advanced stage, meanwhile, with certain transfer targets and pointed out that recruiting a left-footed centre-back and boasting two potential 20-goal forwards in his squad are chief priorities for 2018/19."
And Lincolnshire Live tells us that former Shaw Lane manager and current "Boston United boss Craig Elliott praised his players for taking their play-off fight to the penultimate game of the season but admitted there was a sense of disappointment that their top seven hopes were all-but over. Only a mathematical miracle can now move the Pilgrims into the play-offs on the final day of the season following Wednesday evening's 1-1 draw against Nuneaton Town...
'It's a credit to the players to take it as far as we have done,' said Elliott... 'You have got to be honest and we have come up just short. That's about right really and I always felt we would... I think the players were believing their own hype. Just because they had beaten Harrogate and Salford did not mean they did not have to do all the dirty work, winning headers and tackles and moving the ball quickly. We were too laid back and it was a case of getting ourselves grounded again, which we did after half-time.'
Wednesday's match [v. Nuneaton] took place 24 hours later than scheduled, and at a different venue, following electricity problems affecting Boro's Liberty Way stadium. Alfreton Town played host to the fixture but, with just 154 fans watching on, Elliott was far from happy with the circumstances behind the re-arrangement. 'It's something that does not sit well at this level of football', added Elliott. 'It should not happen in my opinion. The atmosphere from the Boston fans was fantastic but it lacked something because it was not at Nuneaton's home ground and there was no intensity.'"
---
26 April 2018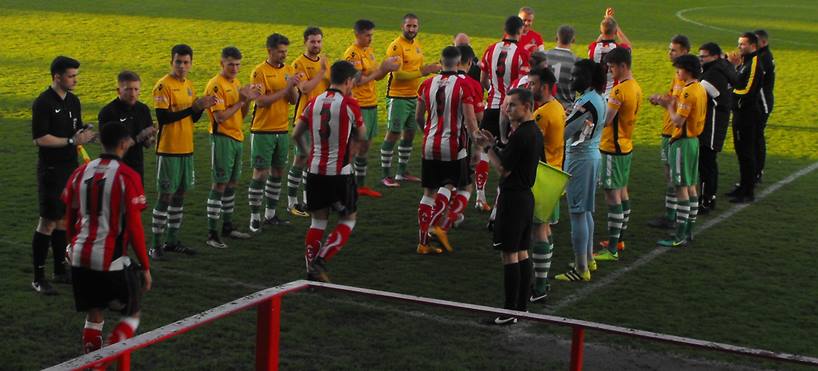 Above: Marine generously afforded Altrincham a guard of honour as they took to the field as champions of the EvoStik Northern Premier League.
After Altrincham had taken a tenth-minute lead through Jordan Hulme's smart conversion of a John Johnston feed, Alty failed to build on their advantage, despite dominating possession for most of the match. Marine equalised in the 53rd minute with a well-taken shot from Murray before Alty substitute Josh Hancock missed a penalty, awarded when he himself had been upended. His spot-kick hit the post and was cleared.
Match report here.
Wednesday 25 April 2018
Altrincham 1-1 Marine (att. 482)
Mickleover Sports 0-0 Halesowen Town (att. 175)
Stalybridge Celtic 1-3 Workington (att. just 93!)
Following tonight's scheduled match away to Warrington Wolverines, Altrincham FC Ladies have a fixture against Northwich Vixens which has been transferred to the J. Davidson Stadium, weather permitting. This is scheduled for 7.30pm on Friday 27 April.
Press release:
"On Saturday 14th April, Altrincham FC hosted Barwell in the Evostik Premier Division at the J.Davidson Stadium. Altrincham won the match 4-0 and secured a vital three points in their push for promotion as title winners, which was sealed at Grantham on Saturday 21st April.
This match was a designated Dementia Awareness fixture, as Altrincham FC Community Sports Lancashire Cricket Club and Sporting Memories Network promoted the work they do across Trafford. Altrincham FC Community Sports regularly promote discount tickets to families and school children. For this fixture, they encouraged children to attend with their grandparents, with the focus of the day being on sporting memories and encouraging older people to attend local sessions.
Volunteers from all three organisations spent the day handing out promotional leaflets, talking to fans about Dementia and raised an amazing £270.43 from donations. Altrincham and Barwell players wore SMN charity t-shirts to raise further awareness amongst the 880 fans in attendance.
Altrincham FC Community Manager, Judy Henson, said 'The day proved to be a massive success. As we do at every home game, we offer charities the opportunity to come along and showcase the work they do and raise awareness. Andy Tysoe (Sporting Memories), Kay Floyd (Lancashire Cricket Club Foundation) Stacey Rowley, Alan Ainsley and Peter Forster(AFC) have all been the driving force behind the set up of monthly Sporting Memories sessions here at the club since the start of the year and we wanted to make sure fans and local residents knew about the help and support that is on offer in Trafford, through schemes like this one.
We are really grateful to all the staff, volunteers, players and fans for their assistance, donations and participation on the day. If you want to find out more information about any of the work we do, please visit our websites, social media channels or visit us."
Sporting Memories "Unlock the power of sporting reminiscence to unite generations and to help tackle dementia, depression and loneliness. Sessions run throughout Trafford on a monthly basis. The Sporting Memories Foundation memory games are designed to create an opportunity for fans to recall their favourite moments from football – to help spark that memory. Whether that is of a favourite moment, player, or team, Sporting Memories want to highlight the importance of a footballing memory. The work the charity does is designed to embrace those memories and it uses sport to support people living with depression, dementia and loneliness.
By working with the clubs to create an awareness of this work on match days, Sporting Memories wants to speak to football fans round the country if they have a family member, friend, or colleague who may want to get involved in some of the work Sporting Memories is involved in. Fans can check out some of the exciting projects and #jointhesquad by visiting the website.
The
Grantham Journal
reports that "Warrington Town spent most of Tuesday night's match lying on the ground, feigning injury and complaining, much to the chagrin of the Gingerbreads and the home crowd.
Grantham Town held second placed Warrington Town to a 0-0 draw at The Meres last night, but the single point gained was not enough to secure a place in the play-offs. It would have been enough had play-off rivals Shaw Lane not managed to win 3-2 at Nantwich Town and close the gap to the Gingerbreads to five points. And so, the next deciding factor will be Shaw Lane's home game against Barwell on Thursday night. If Barwell win or it is a draw, Shaw Lane will be unable to catch Grantham.
Should Shaw Lane triumph, however, it will all go down to the final day on Saturday when the Gingerbreads travel to relegated Sutton Coldfield Town and Shaw Lane host Matlock Town, with everything to play for."
At Stalybridge Celtic "After it was announced Manager Steve Burr's contract was not being renewed, Steve spoke to Tony Bugby from 'Stalybridge Correspondent' about his time at the club since rejoining in February 2017...
'I would like to start by saying I have no regrets about coming back and it is still a wonderful club and will always hold fond memories... Things did not work out like I thought they would due to a lot of circumstances that have been well documented during the season, and I am disappointed not to have delivered the goods...
'The club has an absolutely smashing chairman Rob Gorski, vice-chairman Syd White, others on the board, backroom staff, supporters while the players' commitment, especially since the turn of the year when we have needed it, has been in abundance by the nature of how the fixtures turned out... You also have to remember we aren't full-time professionals and our players are part time and hold down jobs. I have always built sides with a good team spirit, but this is as good as any I have had while managing Chester, Southport, Kidderminster or Nuneaton'...
'I had a chat with Rob about three weekends ago and told him I would not be staying. I knew the club would have to make cutbacks and it was time for me to step down and allow the club to regroup and find a level what they can afford to pay and bring in players. The most important thing is that the football club keeps going. We had to cut back during the second half of the season due to there being no home games and therefore no revenue. It has been very difficult, but everyone dug deep.
When I assess the season, it has not been an easy one to manage and the supporters will probably have been as gobsmacked as myself. We have played some really good football, especially at home, and had some terrific performances against the top teams that we have beaten. But, there has also been some bad ones. I spoke to Rob today and there has been no fallout and I wished him all the best. Hopefully he can restructure the club to go in another direction. The club was in freefall when I arrived and I am proud to have turned it round and stopped it...
'I have a couple of offers on the table for next season which is nice, and I will look at them as I definitely want to carry on in management.'"
Nantwich Town report on "A strong second half comeback from Shaw Lane saw them claim a 3-2 win over Nantwich Town at the Weaver Stadium on a wet Tuesday evening... The Dabbers had gone into the break with a two-goal lead thanks to a fine individual effort from Jordan Cole and a Matt Bell goal just before half time.
However the visitors came out a different side in the second half as three goals in 11 minutes from Chib Chilaka, Godwin Abadaki and Kelvin Lugsden saw them come away with maximum points. After Shaw Lane arrived late due to traffic issues, the game was delayed by 20 minutes as Dave Cooke named a strong line up with Bell, Steve Jones and Harry Clayton returning to the starting line up...
The game had its first goal as a fine lofted ball from Danny Griggs found Cole just inside the visitors' box. The forward excellently controlled the ball on his chest before flicking it over the defender and calmly lobbing the stranded Wilczynski... The visitors looked for the long ball on many occasions but never troubled the Dabbers' backline...
The Dabbers doubled their lead as Bell struck a fine low shot from the edge of the box following Jones's blocked effort...
Chilaka came on for Jake Skelton. Chilaka then had an immediate impact as he pulled a goal back for his team... The Ducks [had] an equaliser as former Dabber Godwin Abadaki picked the ball up on the edge of the box before curling into the top corner with his left foot via a small deflection. Their comeback was completed two minutes later as defender Lugsden bundled home from a couple of yards after an in-swinging corner from the left hand side found its way into the six-yard box". The gate was just 121.
The Stoke Sentinel reports that "Neil Kitching says he knows he leaves Stafford Rangers in a better position than when he joined after securing a third piece of silverware last night. Boro beat fierce rivals Hednesford Town 3-2 in the final of the Staffordshire Senior Cup, the second time Kitching and assistant manager Nick Amos have lifted that trophy in their four years at Marston Road.
They have also won a league title, and could well finish this season in a higher league position than last year. The duo will depart after Saturday's final game of the season away to Nantwich Town, and Kitching said, 'It's been thoroughly enjoyable and we've loved every minute. I'll argue with anybody who says we haven't taken the club forward... Irrespective of where we finish this season, we've put a building block in place and the club is in a better position now. We're a better side, we can manage games better, as the results against the top sides show.'
In an end-to-end game last night, Boro took the lead through Jack Sherratt's long-range effort, before Hednesford responded with one of their own, courtesy of ex-Boro man Anthony Dwyer... It was Rangers who retook the lead thanks to Perry's header, and then extended it from a Robbie Thompson-Brown free-kick before Ben Bailey pulled one back to set up a thrilling finale".
The
Tameside Reporter
tells us that "Darren Kelly has described Saturday's promotion as the biggest moment of his managerial career. The Hyde boss watched on in delight as captain Paddy Miller headed home a dramatic 95th minute winner to secure a 2-1 victory at Mossley, thus confirming promotion to the Evo-Stik Premier Division.
Kelly, who initially joined the club towards the end of the 2015/16 season, has guided the Tigers to 26 league victories, 11 draws and just four losses, as well as an FA Cup First Round appearance against MK Dons on BBC Two.
Impressively, Hyde have yet to lose a league fixture at home this season and Kelly will aim to preserve this stat when Colwyn Bay visit Ewen Fields for the final game on Saturday...
The former Oldham Athletic and Halifax boss said it was amazing to secure promotion and reserved special praise for the board of directors particularly chief executive Mark Worthington... 'He's an amazing CEO who has backed me when other people wouldn't... On a personal level, it's my biggest and best moment... When I first came into the job a lot of people wrote me off, but I'm a fighter and the board have backed me and this is what it's all about'...
Miller popped up with the decisive goal to spark a mass pitch invasion... Having joined from Farsley Celtic in December 2016, Miller quickly became a fans' favourite and asserted himself as the team's leader... With interest in the club rising, Kelly sent out a clear message to potential future players. He said, 'When I'm chatting to players it's not about the budget; it's about the vision. I don't want players who come for money. I want players who buy into the vision and want to succeed as players. The players we have now aren't on a lot of money. They do this because they bought into the vision that I sold them'".
Confirmation comes from the NL Paper that "Chesterfield have been relegated from League Two after Morecambe drew 0-0 with Cambridge on Tuesday night. The Spireites, who parted company with manager Jack Lester at the weekend, have slipped out of the Football League for the first time since 1921. They were not in action last night but Morecambe's result has left them 10 points adrift of safety with three games to play. It is Chesterfield's second consecutive relegation after finishing bottom of League One last season, ending a 97-year stay in the EFL."
---
25 April 2018
The Altrincham v Marine match, postponed on Tuesday night, has now been rescheduled for today (Wednesday) at 7.45pm. There has been a pitch inspection (1.30pm) and the game has been given the go-ahead. Obviously, given yesterday's experience, this afternoon's weather will be the ultimate factor in the game going ahead.
Altrincham FC announces that "Thanks to your generous contributions, we have now transferred the money to pay for the new pitch covers. We are delighted to confirm that these will be delivered to the J Davidson Stadium on Friday May 4th."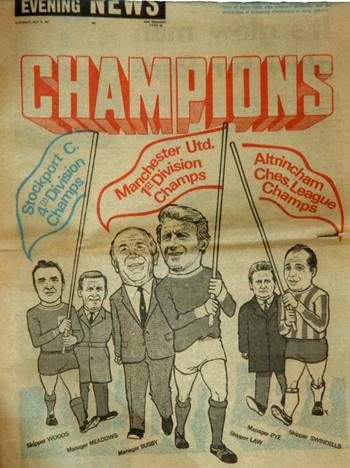 Although Altrincham clinched the EvoStik Northern Premier League championship on Saturday, Monday's
Manchester Evening News
had not a word about it. However, Terry Surridge reminds us that things were different back in 1967 when Alty, as champions of the Cheshire County League, were featured alongside two other local clubs on the front page of the Evening News, as shown in the adjacent image (courtesy of Terry Surridge).
The final day of the league season on Saturday sees Hednesford Town visit the J. Davidson Stadium. From the Midlands, the
Express & Star
reported on Tuesday that "Boss Rob Smith hopes his weary Hednesford Town side can dig deep to seal silverware over their old enemy. The Pitmen are not going into Tuesday's Staffordshire Senior Cup final against Stafford Rangers in the best of form.
They have played nine times in just over three weeks... and won just once, 2-0 against Stoke in the semi-finals of this Cup. Smith said, '"We have had that many games recently and, to be honest, it has absolutely killed us. It's shown in our results recently too. We've really struggled to get a team out at times and we've only got a small squad anyway. We've been running on empty a bit.
'We've managed to shuffle things around a bit more in the last few games and we've had one eye on this game for a while. I'm sure the lads will be full of adrenaline for this one and hopefully that will see us through.'
Smith won the competition in 2013, during his first spell in charge of the club... 'The games between us tend to be pretty close, very evenly-matched, and I don't see this one being any different,' said Smith. 'We have got a bit of experience in the squad, as well as youth, so they should be able to deal with the occasion, and rise to it.'
One player who could have a big say for Hednesford is striker Danny Glover. He recently passed 150 appearances for the club, and 50 goals. Winger Anthony Dwyer will be especially up for the clash too. Recently signed from AFC Telford United, the former Mansfield Town youngster had a spell with Rangers last campaign".
Monday 23 April 2018
Mickleover Sports 1-0 Stalybridge Celtic
Tuesday 24 April 2018
Altrincham P-P Marine
Barwell 1-1 Stourbridge
Grantham Town 0-0 Warrington Town
Lancaster City 1-1 Buxton
Matlock Town 1-2 Ashton United
Nantwich Town 2-3 Shaw Lane AFC (SLA were 2-0 down)
Stalybridge Celtic P-P Workington
Whitby Town 2-3 Rushall Olympic
Witton Albion 1-4 Farsley Celtic
Following the postponement of the Stalybridge Celtic v Workington game, the Reds and Celtic both still have three games to play this week.
Also following Tuesday's games, Ashton United have swapped places with Grantham Town and now lie third in the table. Shaw Lane came back from 2-0 down at Nantwich to win 3-2 and keep their play-off hopes alive.
Staffordshire Senior Cup 17-18 - Final
Stafford Rangers 3-2 Hednesford Town, at Stoke City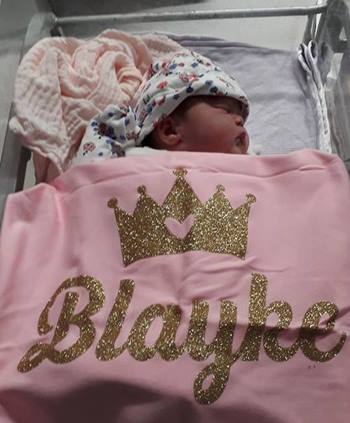 With excellent timing, Alty's own 'royalty', in the shape of official caterer Richie Bentley and, above all, his wife Kate, have upstaged Will and Kate by producing their fifth baby, who was born yesterday evening at Macclesfield Hospital.
Richie was expecting to miss only his second home match in more than a decade before last night's game with Marine was called off but the weather gods answered his prayers with a prolonged downpour.
The Bentleys' new daughter, their fourth, is to be called Blayke (image adjacent). Richie wishes to thank all Altrincham supporters for their good wishes.
The
EvoStik League
confirms that "Steve Burr is preparing to leave Stalybridge Celtic on Saturday after taking charge of the club's final game of the 2017-18 EVO-STIK League season.
Appointed for the second time in February 2017, the former Southport and Chester manager's reign will end at Halesowen Town after officials at the club confirmed his contract was not being renewed on Tuesday.
According to a statement released by officials at Bower Fold... on Tuesday night... the decision to part company was a mutual one...
A statement on the club's website read, 'Chairman Rob Gorski would like to confirm that Steve's contract will not be renewed. It was an amicable and mutual decision and Steve will always be welcomed back at Bower Fold. He has his class and dignity as a man and we wish him every success in the future.'
Gorski added, 'We thank Steve for his efforts and hard work since February 2017. He leaves with our best wishes, and personally I have enjoyed working with a high quality manager. The club will appoint a new manager as soon as possible and no further comment will be made.'
Burr was unable to save Celtic from relegation from National League North after returning towards the end of last season but last weekend collected the EVO-STIK League's Premier Division 'Club of the Month' accolade for March, pictured, after turning around their fortunes this term after an up and down campaign to finally secure their top flight status.
As well as managing Celtic between 2007 and 2010, the 58-year-old former striker and England C assistant manager has also guided Nuneaton, Hucknall, Northwich Victoria and Kidderminster Harriers as well as Chester and Southport".
---
24 April 2018
After incessant rain today tonight's match against Marine has been postponed. It is likely to be rescheduled for tomorrow.
Press and Media Officer John Edwards writes, "As with most rearranged fixtures, tonight's Robins Review contains some material from when the game was originally due to be played, in this case Easter Monday. However, there is still good reason for considering it an unmissable title souvenir issue.
Skipper Jake Moult is pictured on the front cover with a flag bearing the slogan Champions, while in his column inside, he describes what the title means to him personally. Does it rank above the dramatic play-off final win over Guiseley four years ago? Jake gives his verdict and explains why.
Also, Bill Waterson eulogises over the season in his boardroom column and all the key moments from Saturday's unforgettable game at Grantham are captured by club photographers Michael Ripley and Gavin Rathbone in the 'Match Action' section, renamed for this evening only 'Title Action'.
Get your Robins' Review inside the ground before kick-off".
John Edwards, Press & Media Officer at Altrincham FC, interviewed the management duo of Phil Parkinson and Neil Sorvel after the league title was clinched at Grantham last Saturday. The conversation can be heard
here
.
And John has also submitted the following article for inclusion in this week's Sale and Altrincham Messenger...
"Phil Parkinson hailed Altrincham's promotion from the Evo-Stik Northern Premier League as a triumph for unity after they clinched the title with two games to spare at Grantham on Saturday.
A scintillating second-half performance capped by goals from on-loan midfielder Chris Merrie (right) and winger John Johnston confirmed Alty as champions in the grand manner as they cruised to a 2-0 win over one of their main promotion rivals.
After celebrating with nearly 400 Alty fans who made the journey and provided non-stop vocal support, jubilant boss Parkinson, whose side will be presented with the trophy at Saturday's home game against Hednesford, said: 'The players have backed Neil Sorvel and myself, as has everyone - the supporters, the board, everyone associated with the club – and this is what you get when everyone pulls together and is going for the same aim.
'It's an unbelievable feeling to be able to call ourselves champions, so special. When we took over 12 months ago, we made a promise we would try to bring to this club attractive football but winning football, and we have done that.
'It's worth remembering there were two successive relegations prior to this and, historically, clubs dropping into the Northern Premier League have kept going in the same direction. We really did face a mammoth task trying to go straight back up, and no one should underestimate the fantastic effort put in by everyone associated with the club to make it happen. I'm so proud of that.
'Our fans were unbelievable. The hairs on the back of my neck were standing up all game, and I'm just delighted we have given them, and the town, something to be proud of. The jewel of Cheshire is back!'
Reflecting on the performance that secured the title, assistant-boss Sorvel said: 'We wanted to win it on our own terms, rather than relying on others slipping up, and it makes it all the better that we've done that. Some of our football in the second half was a delight to watch, and their management team said at the end we had taught them a lesson. That was great to hear.'"
Altrincham FC will be presented with the EvoStik NPL championship trophy after Saturday's home game with Hednesford Town.
This is the second time Altrincham have won the Northern Premier League, the first occasion being in 1999 when it meant that the club returned to the national level of Conference football. On that occasion it prompted an open-top bus tour of the town centre as seen below. And guess who got a front row spot on the bus, next to manager Bernard Taylor... none other than the late Kenny Palin!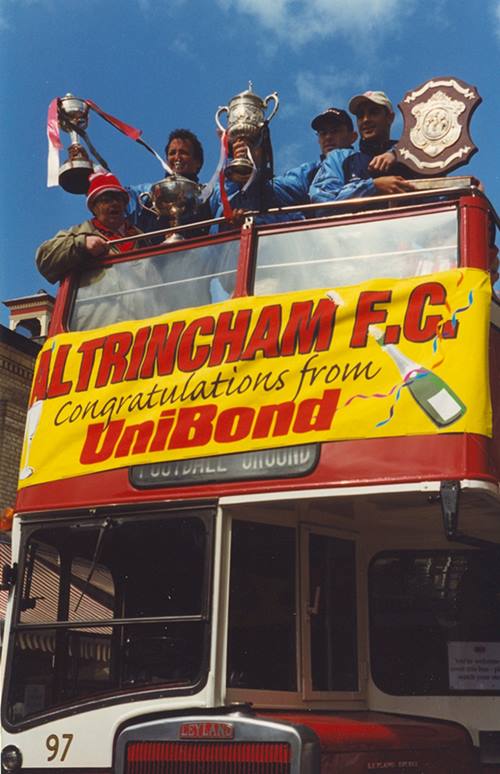 Keith Edleston, manager of Altrincham FC Ladies, reports on his side's 1-1 draw with Stockport County Blues last Sunday.
"Full-time at Mersey Valley saw the Ladies pickup a valuable point in their clash with Stockport County Blues. In a quite hectic game where quality was at a premium, a fantastic headed goal by Hannah Shufflebotham from a pinpoint Laura Dodds corner opened the scoring for the Lady Robins but a similar goal by the Blues in the second half tied the game up and it ended 1-1. It just wasn't to be, as our quality and cohesion let us down a tad but, on the plus point, we have played better and lost!
Pictured below is no.21 Hannah Shufflebotham rising to plant a firm header beyond the diving Blues keeper to open the scoring".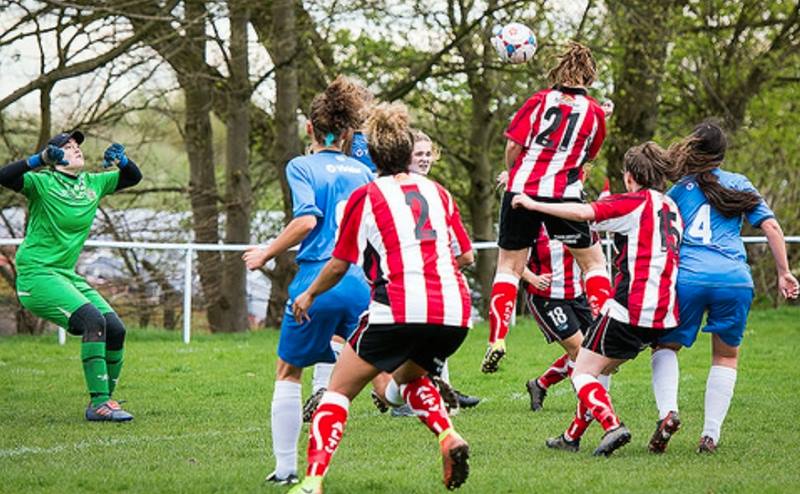 The Cheshire County League confirms that two of Altrincham FC Reserves' home fixtures have been switched from Egerton Sports Club to the J Davidson Stadium at Moss Lane. The games in question are...
Tues 1.5.18 versus Whaley Bridge, k.o. 7.45 p.m.
Fri 4.5.18 versus Greenalls Padgate St. Oswald's, k.o. 7.45 p.m.
Altrincham complete the league season next Saturday when Hednesford Town are the visitors to Altrincham.
Hednesford Town
report on their game last Saturday when "Town's last home league game of the season ended in defeat after Mickleover Sports eased to victory over the Pitmen... They would be ahead though when Pablo Mills sent in a looping header from a corner that deceived Town goalkeeper James Wren and found the back of the net.
In the 25th minute James Lawrie saw a header saved in front of goal by Lewis King in the Mickleover goal...
Although it was Hednesford who started the second half on the front foot it would be Sports that would double their lead in the 53rd minute. Some good football from the visitors saw William Norcross pick out Matthew Barnes-Homer who was able to slide the ball home from six yards out... In the 74th minute though when Barnes-Homer turned Mendez-Jones before unselfishly squaring the ball to Norcross who drilled a low effort into the goal.
Hednesford did reduce the arrears with ten minutes to go when some good play saw Dwyer drive a low cross into the box which Danny Glover was able to fire home into the top corner of the net...
The Pitmen now turn their attentions towards the Staffordshire Senior Cup final on Tuesday evening when we play Stafford Rangers at Stoke City's Bet365 Stadium.
Hednesford Town: Wren, Thorley, Curley, Bailey, Mendez-Jones, Rea (Glover 62), Dwyer, King, Butlin, Harris (Fitzpatrick 62), Lawrie. Subs not used: Campion, Fitzgibbon, Veiga".
According to
NL Pitchero
"Grantham Town have a chance to confirm their play-off place in the Evo-Stik League Premier in their final home game of the season against Warrington Town on Tuesday night.
Despite having the chance to confirm their place in the play-offs on Saturday, the Gingerbreads fell short, losing 2-0 at home to Altrincham, who became champions with the win. The result currently leaves Grantham third in the table, and seven points clear of sixth-placed Shaw Lane AFC, who have one game in hand on the Gingerbreads. This means Grantham need a win to confirm a play-off place. However, if Shaw Lane drop points tomorrow night then that will also be enough for Grantham to confirm a play-off place.
Opponents Warrington were the first side to assure themselves a place in the play-offs after a 1-1 draw at home to Halesowen Town on Saturday... The Yellows are unbeaten in their previous five games, winning two of them and drawing the other three.
Grantham boss Adam Stevens has said that his side want to get the job done for the fans on Tuesday, telling the club`s Pitchero website, 'Unfortunately for us, we came up against a very good side who showed why they deserved to be champions on Saturday. But Tuesday presents us with another opportunity to confirm our play-off place and we want to get the job done as soon as possible. We also want to put on a good performance for the fans whose incredible support never fails to impress me so to confirm the play-off place in front of them would be brilliant'".
There is sad news from Cumbria, where NL Daily reports that "The ground of Workington AFC has been broken into and some cash stolen. Police are investigating after Borough Park was raided overnight on April 18 into April 19".
Potential opponents of Alty next season are York City amd the National League reports that "York City boss Martin Gray says the side have simply not been good enough in recent weeks. The Minstermen look set to miss out on the play-off places, with a week to go, after a run of losses followed by a draw against Leamington.
'It is so frustrating not to see the game out, we have had some real strong, strong words down there,' Gray told the club's website. 'There will be changes. There will be massive changes next week. I want people to judge this football club on the players I bring in, I won't put my name to them [sic] performances. You will have a bunch of tough, horrible, people who will die for this club, work, and give every ounce to this club... I will pick a team that will go down there and not let me down.'"
NL Pitchero
reports that "The England C squad for the game against the Football Association of Ireland Amateur International XI has been announced.
The friendly will be played at Whitehall Stadium, Dublin on Sunday, 27th May, kicking-off at 2.15pm.
Paul Fairclough has named a new-look squad with only Dagenham & Redbridge striker Fejiri Okenabirhie and team-mate Charlee Adams, Kidderminster Harriers defender Fraser Horsfall, Leyton Orient's Sam Ling and Woking centre-back Josh Staunton having been capped before.
There is also a first full squad selection for Jersey-based goalkeeper Euan Van der Vliet, who plays for St Paul's.
Goalkeepers: Tom McHale (Truro City), Euan Van der Vliet (St Paul's)
Defenders: Kane Smith (Boreham Wood), Luke Pennell (Dagenham & Redbridge), Fraser Horsfall (Kidderminster Harriers), Sam Ling (Leyton Orient), Josh Staunton (Woking)
Midfielders: Tom Crawford (Chester FC), Charlee Adams (Dagenham & Redbridge), Josef Wheatley (Darlington), Cavaghn Miley (Eastleigh), Tom Walker (Salford City), Ky Marsh-Brown (Whitehawk)
Forwards: Fejiri Okenabirhie (Dagenham & Redbridge), Josh Koroma (Leyton Orient), Tommy Wright (Sutton United)"
---
23 April 2018
Above left, Jacqui Forster with former Alty player Nicky Clee. Above, right, Jacqui lifts the Cup! (Images courtesy of Pete Baker).
Altrincham FC is deeply saddened to learn of the premature death of Jacqui Forster, a longstanding supporter of the club and a national figure associated not only with organizations such as Supporters' Direct and Women at the Game but also many other initiatives to improve the experience for women, the disabled and minorities in the football environment. The Club's condolences go to her husband Pete Baker who supported Jacqui admirably, especially in the recent years of her terminal illness.
Jacqui was a Vice-President of Altrincham FC as well as its honorary Head of Diversity and Inclusion. An excellent article about Jacqui's work in encouraging female supporters' involvement in football appeared in The Guardian newspaper in 2017.
Jacqui's many achievements are all the more remarkable for her having to battle with terminal breast cancer for the last few years of her life but she refused to let her personal situation overcome her indomitable spirit.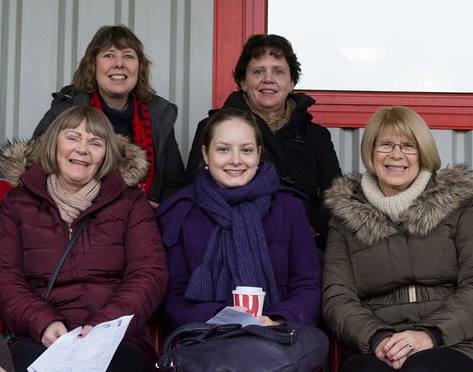 Above: Jacqui (back row, left) pictured with Women at the Game colleagues at Altrincham FC at the Alty v Gloucester City game in January 2017. Image courtesy of Michael Ripley.
In the early years of this millennium, Jacqui was heavily involved in the Altrincham FC supporters' organizations, SAFE and its successor STAR, and in the setting up of the Alty in Exile group for supporters of the club who lived away from Cheshire.
In March 2003, she was instrumental in the establishment of The STAR Supporters' Trust for Altrincham fans, with the involvement of Supporters Direct managing director and Altrincham supporter, Brian Lomax. Her organizational expertise was such that even local MP Graham Brady was in attendance at the launch, alongside the legendary Jackie Swindells and more recent Alty heroes.
One of Jacqui's most visible physical legacies to Altrincham is the disabled shelter at Moss Lane, which she was delighted to see doubled in size recently.
In recent years Jacqui and her husband Pete have lived directly opposite the J Davidson Stadium and Jacqui and Pete attended as many matches at home and away as her health permitted. It is particularly poignant that Jacqui's death comes on the same weekend that Altrincham clinched the EvoStik Northern Premier League title.
In addition to the players, there are many people at Altrincham FC who played important parts in the club's promotion. Not least, the management duo...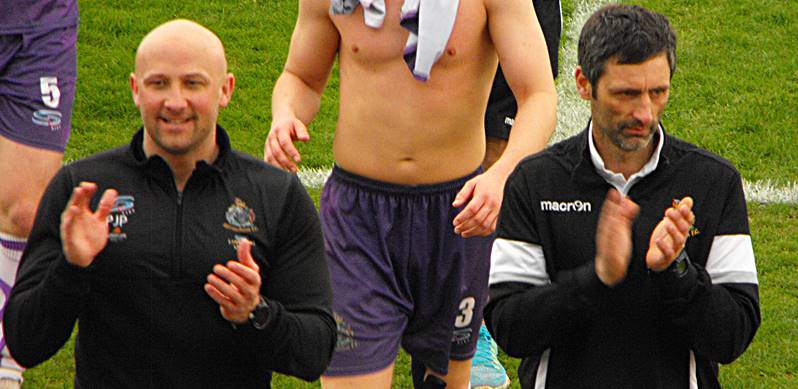 Above Alty manager Phil Parkinson and assistant Neil Sorvel leave the pitch at Grantham on Saturday.
Below, success on the pitch also owed much to hard work by backroom staff. Here, at Grantham, Gavin Rathbone pictures left to right Mark Bushell (sports analyst), Chris Parkes (coach). John Skelhorn and Steve Foster (kitmen), Ryan Murray and Tommy Uda (sports therapists)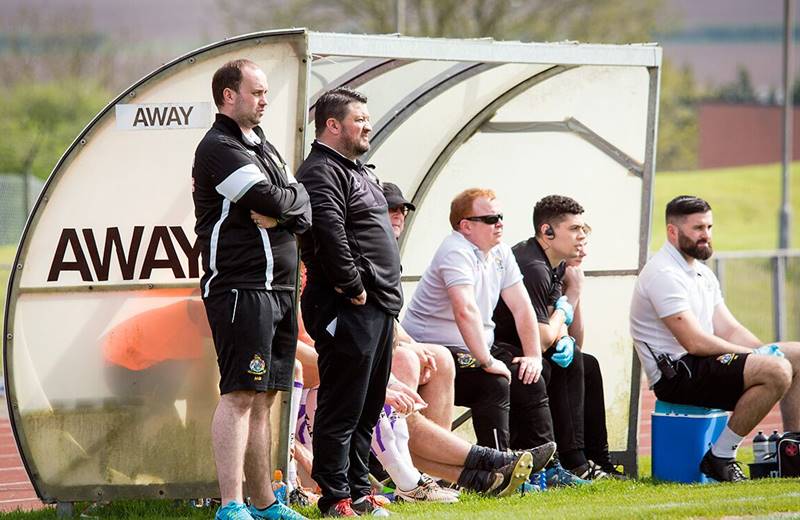 And, of course, the supporters also played a large part in helping the team win the championship after two years of disappointment...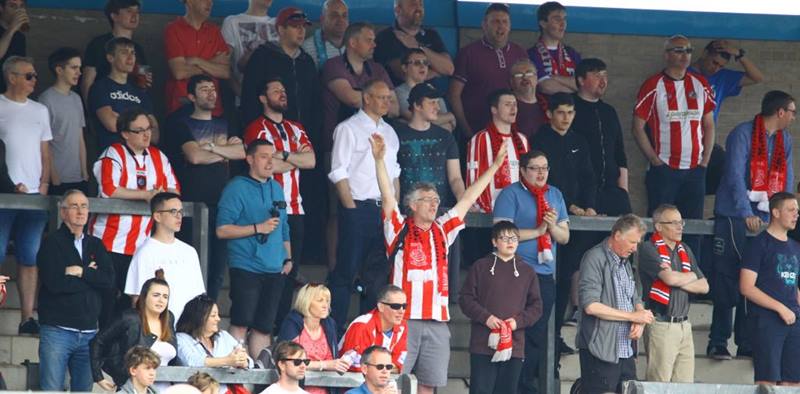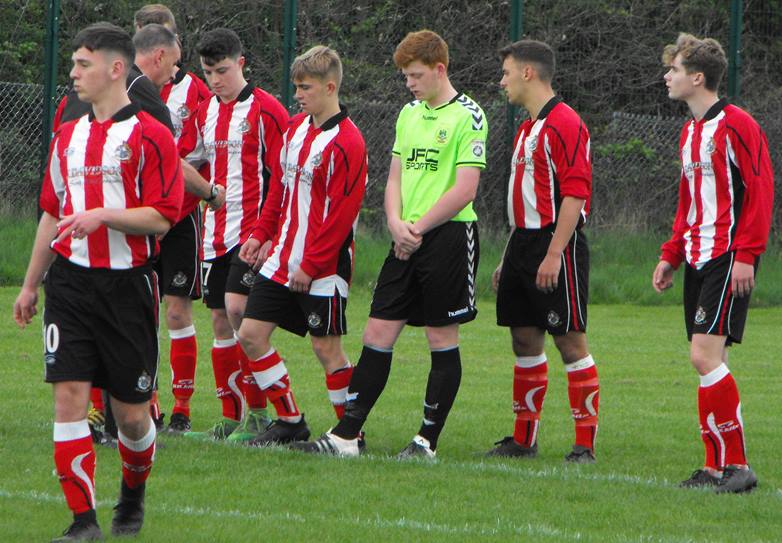 Above: Alty line up to defend a first-half freekick against Curzon Ashton.
In an eventful match which involved three pitches, three red cards and five goals, Altrincham bowed out of the Neil Thomason Trophy at the semi-final stage, having taken a 2-0 lead in the first half.
Match report here
In the other semi-final, Chester FC won 5-0 at Heswall.
Alty Youth's next match is on Sunday (29th) away to Heswall in the North West Youth Alliance Open Cup.
Match report here.
Alty TV goal highlights from the Grantham game on Saturday are here.
Fuller highlights can be found here.
Meanwhile the Grantham Journal reports that "Grantham Town were defeated by the league leaders at The Meres on Saturday, with the three points securing the Northern Premier League Premier Division title for Altrincham.
With the loss, the Gingerbreads are still not guaranteed a place in the play-offs after rivals Shaw Lane managed a draw. Saturday's match saw an expected bumper crowd at The Meres, bathed in spring sunshine with the usual strong wind, in what felt like a cup final atmosphere.
It was a well balanced first 45 minutes and 0-0 was a fair score going into half time. The visitors looked the fresher side after the break and Town were undone twice, with Grantham goalkeeper [Preston] still the hero as he made countless quality saves to spare his side's blushes... The game became an end-to-end encounter with successive counter-attacks as play swung to and fro...
The first of many great saves by Preston saw him tip Josh Hancock's 34th minute close range strike around the post... The game continued apace after the break and Altrincham went in front after just five minutes.
A minute previously, Preston pulled off a miraculous save to block Jordan Hulme's close range effort, followed by a couple more great stops, but he was unable to prevent Chris Merrie's left footer from flying in the net in an intense spell of pressure from Altrincham. This put the large travelling contingent in good voice and the atmosphere went up a further notch, despite the disappointment of the home crowd...
It was clear Altrincham had the upper hand and, despite Preston denying both impressive substitute Max Harrop and Hulme from close range, the visitors doubled their lead in the 79th minute, with Johnston running through the Town defence and slotting in for 2-0.
Preston continued to deny Altrincham any further goals with more impressive saves... Altrincham and their supporters celebrated the final whistle and their league title, but Grantham are still well and truly safe in with a chance of one of those play-off spots now. Next up is the visit of second placed Warrington Town to The Meres on Tuesday night"
On Sunday, Altrincham FC Ladies drew 1-1 at home to Stockport County Blues at Mersey Valley. Next Wednesday the Ladies are away to Warrington Wolverines.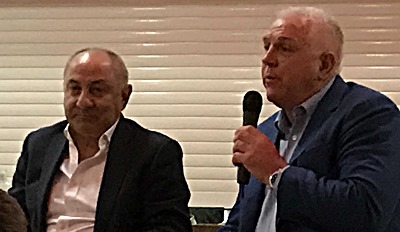 Pictured, right, are Tottenham Hotspur legends, Ossie Ardiles (left) and Graham Roberts, who were the star guests at last Friday's event in the Community Sports Hall to commemorate Altrincham's encounters with the North London club in the FA Cup. Alty met Spurs in 1978-79 drawing 1-1 away at White Hart Lane before losing the replay 3-0 at Maine Road. And, in 1994-95, there was the same outcome at White Hart Lane, all three matches having taken place in the Third Round of the FA Cup.
On Tuesday, Alty's last evening fixture of the season sees Marine as the visitors to the J. Davidson Stadium. This is a rearranged game, following the postponement of the fixture originally set for 2nd April. As we all know, it has been a season of rearranged games with ten of Altrincham's original league fixtures, as issued last summer, not actually taking place, so far, on the originally designated day or against the originally allocated opponents. Weather postponements, cup involvements of one side or the other, and the league's need to juggle fixtures to avoid backlogs all contributed to this situation.
Marine arrive at Altrincham on Tuesday night lying nineteenth in the 24-club division. Altrincham should be aware that the Crosby club is better away from home, with 29 of its 52 points having been accrued on their travels despite having played two games fewer, so far, away from home. For the record, Alty have also currently gathered more away points than at home, with 46 from their travels and 45 at home but they have played two fewer matches at the J. Davidson Stadium than away at present.
Alty's Josh Amis went to Marine mid-season to regain match fitness but he is not eligible to play against us on Tuesday, although he could legitimately be named in the squad.
In the reverse fixture, on Boxing Day, Altrincham won 3-0.
Marine have an interview with manager Tommy Lawson following their defeat to Whitby Town.
Howard Watts's and Mike Garnett's
Through the Years
files remind us that Tuesday's date is not the first time on which Altrincham have celebrated a promotion to the Conference North on 24 April. In a tense game on 24 April 2004 Alty needed to ensure their place in the newly created Conference North division. They did so with a 1-0 win over Runcorn, secured by a first-minute goal from Barry Shuttleworth.
This time, 24 April will be a less tense affair with promotion and the championship already secured.
NL Daily
reports that the "North Ferriby United's owner says he is looking into using the football club's ground as a travellers' site to boost revenue. Jamie Waltham, who bought the club late last year, claims the move could generate £2,461 a week, with the ground cleared for match days. But a member of North Ferriby Parish Council, which owns the Grange Lane ground, says this could not happen under the terms of the lease.
Mr Waltham claims the club, which plays its final home game of the season on Saturday, needs new forms of revenue.
He says, 'We are currently in talks with council and government officials to satisfy their demand for new travellers' sites within the East Riding, it's a real shame only around 1.5 per cent of residents of Ferriby and Swanland support the great level of football on their doorstep and, as a result, the club is forced to look at new ways to bring in revenue.
'The ground at Ferriby will accommodate 46 caravans at £53.50 a week, that's £2,461.00 a week which could be a great amount of money to the club, with shower and changing facilities already on site as well as a clubhouse Ferriby's ground is ideal and local travelling families are already scoping out the site and when we have a game they can just pull off for a few hours and maybe park on the Duke (of Cumberland) car park."
---
22 April 2018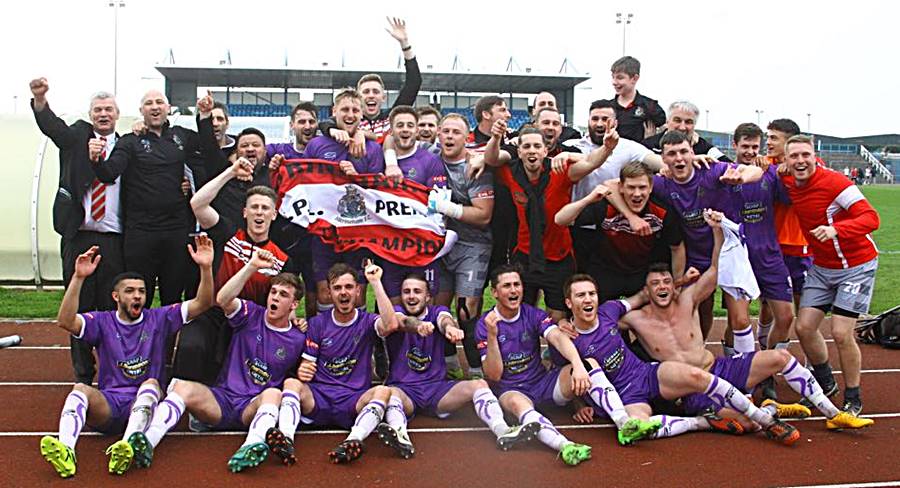 Above: Alty celebrate after the final whistle, image courtesy of Gavin Rathbone.
Despite the injury absences of Densmore, Poole, Jones, Harrison, Deasy and Peers, a strong second-half performance from Altrincham secured the league title and promotion back to the Vanarama North.
After a goalless first half played in a swirling wind, Altrincham dominated the second half. Loanee midfielder Chris Merrie put Alty ahead with a measured shot in the 51st minute and John Johnston beat keeper Preston in a one on one to double the lead (79 mins). But for Preston, the margin of victory would have been much greater for Altrincham.
Match report here.
Above, left, Chris Merrie, (watched by Tom Hannigan and Jake Moult), has proved an excellent loan signing by Phil Parkinson and his goal set Alty on the way to the title on Saturday. Chris was also able to celebrate his parent club, Wigan Athletic's promotion yesterday. Here he is seen by Gavin Rathbone's camera. Right, we see John Johnston and Max Harrop celebrating the second goal. Image courtesy of Mike Ripley.
In the last 22 seasons, few supporters of any club can have witnessed as many ups and downs as Altrincham's fans have experienced. On no fewer than 14 occasions in those 22 campaigns Altrincham have either won the league, reached promotion play-offs, or finished in the relegation places! And on many of those occasions, the club's status for the following season has been uncertain before (or, in three cases, after) the last game of the season.
The club's current promotion represents the club's ninth change of league in 22 seasons and that excludes the three other seasons when they finished in the relegation places but were reprieved and a further season when they qualified for the end of season promotion play-offs but lost out in the process. The litany of ups and downs is summarised below...
1996/97: DOWN Altrincham finished bottom of the Football Conference and were relegated to the Northern Premier League (then at Step Two of the non-League pyramid as we know it today).
1998/99: UP Altrincham won promotion from the Northern Premier League, as champions, and so regained their national status.
1999-2000: DOWN Although this season only saw the club lose in the league 14 times, they were relegated back to the NPL, largely as a consequence of drawing a phenomenal 19 games.
2003/04: UP, SORT OF In the fourth season at Step Two, Altrincham qualified in 12th place for the new Conference North which was introduced above the NPL at Step Two.
2004/05: UP This campaign saw Altrincham finish fifth but win three successive away games in the play-offs to regain their Conference status by beating Eastbourne Borough.
2005/06: REPRIEVED Altrincham would have finished comfortably safe (18th) in the Conference but for an 18 point deduction imposed on the club in 2005 for playing James Robinson when his former club, Accrington Stanley, had not gained international clearance for him before he joined the Robins. Relegation was avoided at the league AGM by demotion of Scarborough for financial reasons which affected recruitment for the following season.
2006/07: REPRIEVED Despite gaining 51 pts Altrincham dropped into the relegation places on the final day when they only drew with Aldershot Town. However, they retained their status because of the demotion of Boston United from League Two to Conference North for financial reasons.
2007/08: REPRIEVED For the second successive year Altrincham started their last game of the season safe but a draw on the final day (at Weymouth) put them back into the bottom four. For the third year running they were repreived, this time by the financial demise of Halifax Town.
2010/11: DOWN This season saw another bizarre last-day relegation and this tine there was no escape. After two lower-mid-table finishes in 2009 and 2010, Altrincham met the already relegated Eastbourne Borough at Moss Lane on the last day of the season. Alty fell 3-0 down before half time, then recovered to 3-3 only to lose 4-3. A win would have kept them up.
2012/13: PLAY-OFFS Alty reached the play-offs but failed to get through.
2013/14: UP Alty won promotion back to Step One by the play-offs thanks to Greg Wilkinson's 120th minute goal against Guiseley.
2015/16: DOWN Two seasons back at Step One ended when Alty were relegated in 2016 to National League North, finishing third from bottom.
2016/17: DOWN A second successive relegation, from National League North, menat that the club found itself back in the NPL for 2017-18 (now Step Two).
2017/18: UP Having led the table since mid-October 2017, Altrincham were promoted back to Step Two as champions in 2018.
Altrincham's strong away support helped Grantham to the day's highest gate...
Saturday 21 April 2018
The EVO-STIK Premier Division
Att. 205 Ashton United 2-1 Nantwich Town
Att. 151 Barwell 3 - 4 Farsley Celtic
Att. 341 Buxton 0 - 1 Sutton Coldfield Town
Att. 689 Grantham Town 0 - 2 Altrincham
Att. 216 Hednesford Town 1 - 3 Mickleover Sports
Att. 238 Lancaster City 0 - 0 Stourbridge
Att. 507 Marine 0 - 3 Whitby Town
Att. 320 Matlock Town 2 - 0 Workington
Att. 221 Rushall Olympic 0 - 0 Witton Albion
Att. 560 Stafford Rangers 1 - 2 Shaw Lane (Damian Reeves got both SLA goals and ex-Alty youth Osemi Abadaki was sent off for Stafford)
Att. 285 Stalybridge Celtic 0 - 3 Coalville Town
Att. 300 Warrington Town 1 - 1 Halesowen Town
On Saturday in the Cheshire Football League Premier Division, Altrincham Reserves lost 2-0 at Malpas. On Wednesday they entertain eighth-placed Crewe FC. Alty are currently eleventh.
NL Pitchero
confirms that "Altrincham secured the Evo-Stik League Premier title on Saturday and promotion back to the Vanarama National League North after just one season following a 2-0 win at play-off chasing Grantham Town at The Meres...
Although beaten on the day, Grantham are assured a top five spot and have two games to try and finish as high as possible to obtain a favourable draw.
Warrington Town, who chased the champions hard, could only manage a 1-1 draw at Cantilever Park against second-bottom Halesowen Town... The hosts have confirmed a play-off place and will now try for runners-up spot and home advantage in the semi-finals. And with a four-point advantage over Grantham and five of fourth-placed Ashton United, they should achieve that with two games remaining.
Ashton kept their chances going with a 2-1 win over Nantwich Town at Hurst Cross. [Ex-Alty loanee] Liam Tomsett gave the Robins an early 6th minute lead and then levelled that himself with an own goal on 39 minutes. [Ex-Alty midfielder] Sam Sheridan restored the home side`s lead...
The top five battle to join Warrington and Grantham is between Ashton, Farsley Celtic and Shaw Lane AFC, who have a game in hand on the two teams above them. Farsley maintained their challenge with a best-of-seven win at Kirkby Road against Barwell...
Hickey`s second after 74 minutes looked to have won it for Barwell, only for Paul Walker to grab an 88th minute leveller and then, 3 minutes into stoppage time, Turner to win it for the Yorkshire side.
Shaw Lane had a slightly less frenetic 2-1 win at Marston Road against Stafford Rangers, taking an early 6th minute lead from a Damian Reeves penalty. Rob Thompson-Brown levelled, also from the spot, on 64 minutes, but the Ducks sealed a crucial win through Reeves again 5 minutes later.
Elsewhere on Saturday, seventh-placed Witton Albion`s top five chances have gone after a run of five games without a win, a 0-0 draw at Dales Lane against Rushall Olympic being the fifth.
Coalville Town earned a good 3-0 win at Bower Fold against a Stalybridge Celtic side who, in contrast to champions Altrincham, have struggled since coming down with them last April...
Matlock Town won 2-0 at home to Workington AFC... while Whitby Town were 3-0 winners at the Marine Travel Arena against Marine AFC... Lancaster City and Stourbridge shared a goalless Giant Axe draw, and... Mickleover Sports won 3-1 at Keys Park against Hednesford Town."
The
National League
reports that "Lee Sinnott wants to be the man to get Gainsborough Trinity back on the up after their relegation was confirmed on Saturday.
Trinity were leading 2-0 at fellow strugglers AFC Telford United but the Bucks fought back to win and condemn Gainsborough to the drop.
It is the first time the club have suffered relegation in their 145-year history and they will kick off next season in the Northern Premier League. Sinnott has overseen an upturn in results since he took charge in mid-February but they haven't been enough.
'It's massively disappointing but to be 2-0 up and lose it; that's a snapshot of the season,' boss Sinnott said. 'I've only been here for two months but that bit of fragility has been there all season. I feel sorry for the supporters who have made the journey down but we have to be realistic; we're a relegated team.
'It's not a nice thing to digest but now begins the work for next season. I've been given the inclination that I'll be here next season and I haven't heard anything different. I'm looking forward to the job in hand. There will be change because when things like this happen, there has to be change.'"
---
21 April 2018
Saturday 21 April
The EVO-STIK Premier Division
Ashton United 2-1 Nantwich Town
Barwell 3-4 Farsley Celtic
Buxton 0-1 Sutton Coldfield Town
Grantham Town 0-2 Altrincham
Hednesford Town 1-3 Mickleover Sports
Lancaster City 0-0 Stourbridge
Marine 0-3 Whitby Town
Matlock Town 2-0 Workington
Rushall Olympic 0-0 Witton Albion
Stafford Rangers 1-2 Shaw Lane
Stalybridge Celtic 0-3 Coalville Town
Warrington Town 1-1 Halesowen Town
Altrincham need two points to be mathematically certain of winning the league title but one point would almost certainly suffice given that their goal difference of 54 is thirty goals better than that of their only remaining rivals for the title, Warrington Town. So, regardless of Alty's result at Grantham, if Warrington fail to win on Saturday, Altrincham would be champions.
As for Grantham, their goal difference is 12 better than Warrington's but they are three points behind the Yellows. A win for the Gingerbreads and defeat for Warrington would therefore leave Grantham in second place.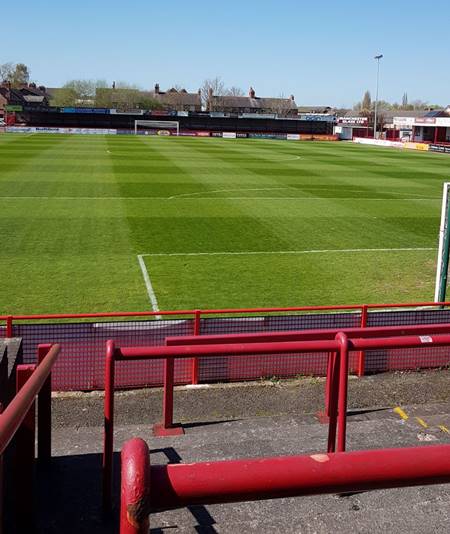 Right: Alty will complete the season with two matches at the J. Davidson Stadium next week. Pictured right is the ground on Friday, its excellent condition being a tribute to groundsman Neil Brown, his volunteer assistant Bryan Ford and other volunteers.
The run-in for the current top five clubs is as follows, though it should not be forgotten that several other clubs outside the current top five could still qualify for the play-offs.
ALTRINCHAM P43 PTS88 GD54
Sat.21.4.18 A Grantham Town
Tue.24.4.18 H MARINE
Sat.28.4.18 H HEDNESFORD TOWN
WARRINGTON TOWN P43 PTS80 GD24
Sat 21.4.18 H HALESOWEN TOWN
Tue 24.4.18 A Grantham Town
Sat 28.4.18 A Stourbridge
GRANTHAM TOWN P43 PTS77 GD36
Sat 21.4.18 H ALTRINCHAM
Tue 24.4.18 H WARRINGTON TOWN
Sat 28.4.18 A Sutton Coldfield Town
ASHTON UNITED P43 PTS73 GD23
Sat 21.4.18 H NANTWICH TOWN
Tue 24.4.18 A Matlock Town
Sat 28.4.18 A Workington
FARSLEY CELTIC P43 PTS71 GD11
Sat 21.4.18 A Barwell
Tue 24.4.18 A Witton Albion
Sat 28.4.18 H MARINE
The coach to Grantham on Saturday is now fully booked and TASC would like to thank everyone for supporting the TASC Supporters' Club throughout the season. Those travelling on the coach to Grantham are reminded that the prices are:
Adults £10
Concessions £8
Full time Students and U16s - £7
Th fares above represent a HALF PRICE trip, courtesy of a subsidy from the Club chairman, Grahame Rowley, in appreciation of the excellent away support that the team has enjoyed throughout this season.
Those who have not been regular TASC coach travellers are reminded that the supporters' coach is alcohol-free without exception and that the aim is to promote a family friendly atmosphere.
Details of the coach times and pick-up points are to be found on the Away Travel page. The coach returns promptly from Grantham after the final whistle.
Back in September, Alty beat Grantham 1-0 with a side depleted by the suspensions of Max Harrop and James Jones as well as the injury absences of John Disney, Sean Miller and Laurence Taylor. The winning goal arrived when Joel Bembo-Leta won a corner, after which Grantham keeper Preston juggled the ball three times, as he appeared to be jostled in the goalmouth. The ball dropped for Jordan Hulme, who netted from close range, to the understandable annoyance of the visitors.
Having used all their substitutes, Alty defender Ben Harrison suffered an injury and spent the last ten minutes hobbling as, first, a central midfielder and, then, further forward.
History repeats itself as Alty also go into this return fixture waith a depleted squad. Missing for sure will be Ben Harrison, James Poole, James Jones and Tim Deasy whilst Shaun Densmore is a major doubt after being injured at Shaw Lane on Thursday evening.
Saturday's match is a clash between the two highest-scoring sides in the division but, before we get accustomed to a goal-fest, we should also note that the Robins and Gingerbreads boast two of the best three defences in the division.
Mike Garnett provides the data on previous meetings between our clubs...
Home: P2-W2-D0-L0-F7-A3
Away: P2-W1-D1-L0-F4-A1
All: P4-W3-D1-L0-F11-A4
Grantham play at the South Kesteven Sports Stadium, Trent Road, Grantham, Lincolnshire NG31 7XQ, which accommodates 750 seated and 7,500 standing. There is a running track around the football pitch, as we have experienced previously at grounds such as the Horsfall Stadium, Bradford and the International Stadium at Gateshead.
After a run of five successive wins in March/April, the Gingerbreads' subsequent five matches have seen them lose twice and then acquire seven points from their most recent three fixtures, including away wins at Workington and Whitby Town. At home, they drew with Hednesford Town last Tuesday and, before that, they had lost 3-0 at home to Mickleover Sports after their keeper had been sent off early in the match.
On Thursday, The Gingerbreads had a fine 5-1 away win at Whitby Town. Grantham Town reported how they had "Returned to winning ways in emphatic style at Whitby... Tom Batchelor returned to the starting line up following his suspension, Jordan Hempenstall also started after being on the bench on Tuesday night.
The Gingerbreads took the lead after 12 minutes when Danny Meadows saw his shot loop into the back of the net. Stefan Galinski went off injured just before the 20 minute mark, meaning Rhys Lewis dropped back into defence again and Michael Hollingsworth came off the bench. Whitby levelled the match on 25 minutes through Junior Mondal's curling effort...
The Gingerbreads took the lead though on 50 minutes. Sam Osborne tricked down the left and pulled the ball back to Jordan Hempenstall in the centre of the box and he fired home... and with 17 minutes to go it was 3-1. Sam Osborne was played through on goal and slotted home. 4-1 came on 84 minutes, The Gingerbreads again got down the left and found Jordan Hempenstall who only had to tap the ball in.
And with the match in injury time, late substitute Andrew Wright made it 5-1 when he struck from the edge of the six-yard box. It's another quick turn around for The Gingerbreads, as on Saturday we host league leaders Altrincham. A point for them will clinch them the title.
From the other side we read that Whitby boss "Chris Hardy was left 'embarrassed' by his side's performance, particularly in the second half, against Grantham Town... His side put up a strong first half performance against the high-flying Gingerbreads but in the second half the Seasiders appeared to let their heads drop, eventually going down 5-1.
'Take nothing away from Grantham, they're one of the better sides we've faced this season. We were buoyant to go in 1-1 at half time and we were confident we could get something from the game. The second 45 was just a horror show. We didn't seem to do the basics. We seemed to get destroyed down both flanks time... which meant the centre-halves were getting isolated and it got progressively worse. I can only apologise'...
'They're not playing for places now, it's for futures. There's no way that I'll be signing on for another season of that. That's just not acceptable at any level. I've never been involved in this type of situation. This will not continue. If the players that we put out there cannot deliver a performance that we expect and are looking for, then Whitby Town is not the club for them'".
Grantham Town have issued "A reminder that we have our Academy trials on tomorrow [Saturday] so, if you are in currently in year 11 or 12 and interested in sports, get yourself down to the Meres 3G to see what we can offer. Times are 12:00 till 1:30 for coming along you will gain a free ticket to our first team game" against Altrincham.
The Grantham Journal adds that "A bumper crowd is expected at The Meres tomorrow, with Grantham Town keen to get a result to help secure their play-off berth. Numbers are also expected to be swelled by visiting fans from table-topping Altrincham who will be hoping to be crowned league champions if the game goes their way.
Town followed up an excellent away win at Workington on Saturday with a disappointing end to the midweek [Tuesday] fixture with Hednesford Town, who equalised in the dying seconds of added time to disappoint the home fans.
Gingerbreads manager Adam Stevens thought his team should have sewn the game up beforehand, 'We dominated the game to the extent that they probably had a couple of efforts on target and scored with one, whereas we had enough opportunities to close the game out well before the added time.'
In a hectic end to the season, both Altrincham and Grantham won on Thursday night. The Gingerbreads triumphed 5-1 at Whitby Town after a brace of goals from Jordan Hempenstall, with Danny Meadows, Sam Osborne and Andrew Wright adding the others... Town boss Stevens was upbeat about the finale to the season, 'Cramming matches into such a short timescale is not an ideal way of ending the season, but we have no option and all the top teams have to face the same scenario. The lads have responded well and we will do our best to use the whole squad where possible.'
Whatever happens tomorrow, there will be little time for reflection or rest as on Tuesday the visitors to The Meres will be second-placed Warrington Town. So, yet another big fixture as the Gingerbreads have not yet given up hope of achieving that position at the end of the season. Stevens relished the chance to compete at the top end of the league, 'If, in August, we could have anticipated that we would be battling for second place in the league come late April, I would have been delighted... and hopefully with the full squad now available again we can give it a good go.'
Last weekend, the Gingerbreads received acknowledgement of their progress over the last two seasons with both striker Lee Shaw and goalkeeper Kieran Preston being picked in the Northern Premier League Managers' Team of the Year... The combination of a sunny day and the visitors' strong following means a big crowd is expected tomorrow, so local fans are advised to arrive early to ensure they all get into the ground in time for the 3pm kick-off."
Meanwhile, Grantham Town add that "The Gingerbreads are just three points away from confirming a play-off place and could do so on Saturday, with a win over champions elect, Altrincham... The result left Grantham in 3rd place and now just three points away from sealing a play-off place after other results going in their favour during the week...
The previous encounter between the two sides earlier in the season saw the Gingerbreads fall to a controversial 1-0 defeat away from home and they will be looking to spoil Altrincham's promotion party.
Grantham boss Adam Stevens has said his side can't let the occasion get to them on Saturday as they prepare for a tough test. 'Sealing a play-off place would be the icing on the cake to a brilliant season but we have to make sure we win the game first. Altrincham will have a big support coming down and will want to wrap up the title for them so we must play as we have been all season and prepare ourselves for a very tough game this weekend.'
Captain Stefan Galinski could be doubtful for Saturday after picking up an injury on Thursday which saw him substituted for Michael Hollingsworth. Luke Shaw is still also unavailable due to injury [but he actually played on Thursday night according to the website's match updates]. The rest of the squad is available for selection."
Match report here.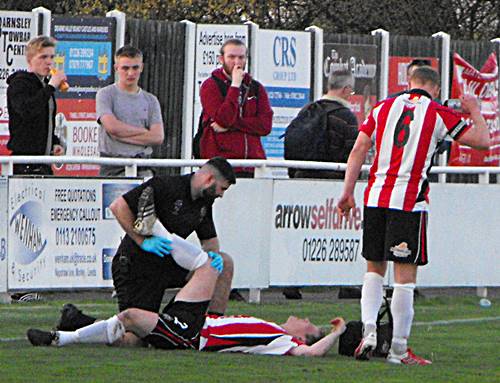 Shaw Lane AFC report that "It was a tough night for Shaw Lane who battled hard, only to concede a goal in the last seven minutes against the league leaders.
Visitors Altrincham will be breathing a sigh of relief after Josh Hancock came up with the winner on 83 minutes to put them one point away from winning the title. The striker hit his 17th of the league campaign after controlling the ball in the area, turning Jake Skelton, and tucking the ball away past Ed Wilczynski.
Right, Tommy Uda treats a prostrate Shaun Densmore in the early stages of the match at Athersley. Sadly, Shaun had to be substituted shortly afterwards.
The result could easily have gone the other way on 55 minutes when a Chib Chilaka header [following his unpunished foul on Hampson] was denied by Anthony Townsend [i.e. Thompson] from point blank range following a delivery into the box from the free-kick.
Shaw Lane had already battled back into the game on 43 minutes when lively Godwin Abadaki won a penalty for his hard work in the box. Former Altrincham striker Damian Reeves sent Townsend [Thompson] the wrong way to net his 21st of the season in all competitions.
The equaliser came just three minutes after the Robins took the lead for the first time. A ball from the right found John Johnston one on one with Wilczynski on the edge of the area. The Altrincham player was able to take it past the keeper before squeezing the ball home from a narrow angle with defender Kelvin Lugsden trying to block the goal line.
The result leaves Shaw Lane still chasing for a play-off spot. With four games left to play they are four points behind Farsley Celtic, but do have a solitary game in hand on their rivals".
Following the game, Shaw Lane confirmed that "Manager Chris Willcock and assistant Lee Donafee have extended their contracts and will be in charge for the 2018/19 season".
From the
Northwich News
we learn that "Witton Albion's players have promised to support Nick Ryan after he suffered a broken leg during Thursday night's game. The defender was taken to hospital by an ambulance summoned immediately after he had sustained the injury while challenging an opponent for the ball during a 2-2 draw at Marine.
His teammates, some of them visibly distressed, salvaged a share of the spoils after scoring an equaliser in the sixth minute of added time. Following the final whistle, they agreed to donate money they have collected over the course of the campaign, earmarked for a holiday they have planned together next month, to the 24-year-old.
'This is a special bunch of lads,' said Witton boss Carl Macauley. 'We all want to stick by Nick and make sure we give him our full backing. It's tough as a player to see your teammate get hurt like that. We talked about it after the game, and Paul Williams stood up before making a suggestion that they use what they've put into the kitty, for social stuff and their trip away at the end of the season, to help him get by. It's a great gesture, and we're all desperate for him to make a speedy recovery.'
Macauley paused more than once to compose himself while describing the scene in the dressing room after the game, his voice trembling with emotion. He added, 'Everybody was right behind it, and I think that's brilliant. It's all we can think about, forget about the result, because we know just how hard it is on him. He has had so much bad luck; he broke his jaw just before Christmas, and now this; it's another bad, bad injury. I'm gutted.'
Rob Hopley's goal established a lead for Witton shortly after Ryan had left the field on a stretcher before James Murray capitalised on a defensive error to restore parity. James Short appeared to have sealed a victory for Marine when he scored in added time. However Steve Tames bundled a loose ball over the line on 96 minutes to earn Albion a point they deserved.
Macauley said, 'A draw was fair and, while we weren't at our best, we improved enough in the second-half to take something from the game. I've talked about it previously, but the spirit this side has means they keep on pushing'".
Thursday 19 April
The EVO-STIK Premier Division
Att. 239: Buxton 3-0 Nantwich Town
Att. 229: Hednesford Town 1-1 Rushall Olympic
Att. 316: Marine 2-2 Witton Albion
Att. 261: Matlock Town 2-0 Stalybridge Celtic
Att. 292: Shaw Lane 1-2 Altrincham
Att. 223: Whitby Town 1-5 Grantham Town
From the
EvoStik League
we learn that "The Football Association have given Radcliffe Borough the green light to rebrand as Radcliffe FC from the start of the 2018-19 EVO-STIK League season. The club will be officially referred to as Radcliffe FC in all league and cup competitions after the request they made at the start of the current campaign to drop Borough was finally approved on Thursday...
Fans, players and officials at Stainton Park have already been informally referring to themselves as Radcliffe FC this season after chairman Paul Hilton launched an ongoing review to modernise every aspect of the club last summer. The drive included unveiling a new crest to better reflect their proud history and place in their local community since governmental changes back in 1974 saw Radcliffe absorbed into the Metropolitan Borough of Bury.
According to a statement from club officials, although they will always be happy to be known as 'The Boro', the move rendered the Borough in their official title 'outdated if not obsolete' as they rebrand to head into a 70th year during the second half of the 2018-19 campaign. In use since last August, the new design of the club's badge incorporates a number of Radcliffe icons including the River Irwell which runs through the town and put Radcliffe on the map by powering mills like the Grade II listed Mount Sion Mill Water Wheel which is also featured."
---
20 April 2018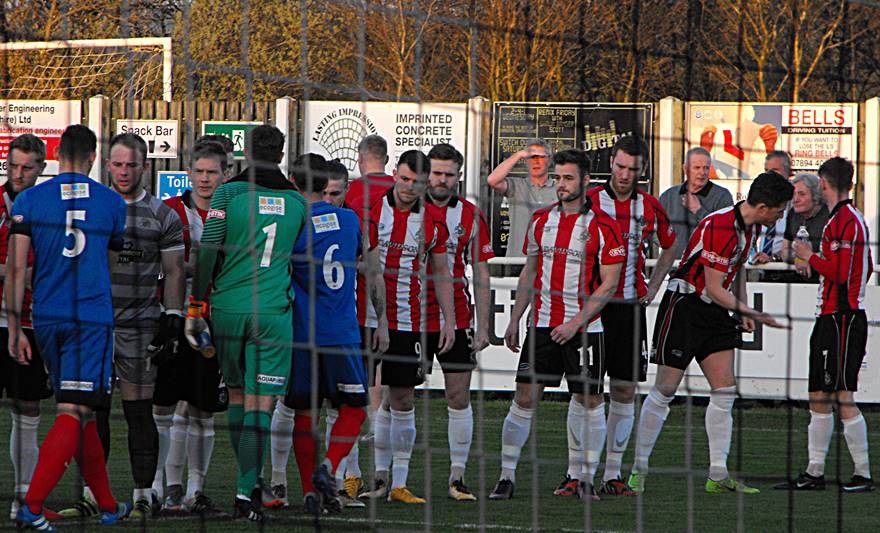 Above: Alty line up before kick off at Athersley.
Despite losing Shaun Densmore to injury in the first half, Altrincham took a giant stride towards the title with these three points at Shaw Lane. Altrincham took a deserved lead in the 40th minute when Johnston finished superbly at the back post.
But, as in the reverse fixture, Alty conceded just before half-time from the penalty spot, Reeves converting the spot-kick (43 mins).
In an often physical encounter, Alty kept out Shaw Lane in the second half without too many alarms before applying some pressure of their own. This culminated in a close range winner by Hancock after good work, left of goal, by Hulme (83 mins).
One more point should ensure the championship on goal difference regardless of all other results.
Match report here.
TASC Supporters' Travel Coordinator, Mark Eckersall, writes to supporters...
"Thanks for the support of the coach at Buxton. Due to demand, we have now upgraded our 35 seater for tonight's game at Shaw Lane and for Saturday's game at Grantham to full-size coaches. So, there is still time to join us on them; please call the club on 0161 928 1045 or if it's a very late please call me directly on 07837 658627. Let's help get the lads over the line."
Earlier Mark advised supporters that "A generous donation from club chairman Grahame Rowley means that TASC can offer a discounted rate for supporters' coach travel to Shaw Lane (Thursday) and Grantham Town (Saturday) for our final two away games of the season.
TASC Travel Coordinator Mark Eckersall explains that "Grahame was keen to express his thanks for the backing the team has received and we know this gesture will be appreciated by the fans who will travel with us".
Coaches to both destinations will be priced at:
Adults £10
Concessions £8
Full time Students and U16s - £7

This represents a saving of 33% off the expected fares for the Buxton and Shaw Lane games and a HALF PRICE trip to Grantham Town, one of our longest of the season. We've booked 35 seater coaches for all three games.
The coaches are open to all fans of all ages; we remind people that all TASC coaches are alcohol-free without exception and we promote a family friendly atmosphere.
Please book by calling the club offices from 10am on weekday mornings".
Details of the coach times and pick-up points are to be found on the Away Travel page.
Thursday 19 April
The EVO-STIK Premier Division
Buxton 3-0 Nantwich Town
Hednesford Town 1-1 Rushall Olympic
Marine 2-2 Witton Albion
Matlock Town 2-0 Stalybridge Celtic
Shaw Lane 1-2 Altrincham
Whitby Town 1-5 Grantham Town
---
19 April 2018
Altrincham FC would like to record its sincere thanks to all those, listed below, who contributed sums large or small to the recent appeal to acquire pitch covers for the J. Davidson Stadium.
Neil Faulkner
Matt Buchan
Josh Hancock
Derek & Ann Wilshaw
James Buchan
Andy White
Tim Ritchie
Patrick Air
Tony Thompson
John & Dana Laidlar
Noel Shield
Simon Richman
Diane Swindells
Terry Surridge
James Poole
Peter Ripley
Ian Senior
Tom Peers
Richard Impey
Chris Parkes
Tom Hannigan
Jane Carter / Jason King
Neil Sorvel
Ben Harrison

Phil Jordan
Phil Parkinson
Jake Moult
John Henderson
Ryan Murray
James Jones
David Lewis
Tommy Uda
John Johnston
Nigel Howarth
Theo Bailey-Jones
Jordan Hulme
Dennis Powell
Tim Deasy
Sam Heathcote
Paul Brady
Shaun Densmore
Max Harrop
Simon Duffy
Connor Hampson
Colin Mitchell
Bill Morris
Hazel Parker
The Rowleys

Anjan Trivedi
David Slack
Geoff Morris
Martin Gilley
Bernard Cotton
Dave Roberts
Bill Egan
Geoffrey Price
Stuart Buchan
Peter Baker
Bob and Claire Allan
Dave Johnson
Paul Raftery
John Cudlip
Ron / Jackie Gallimore
Oli Needham
Eric Robinson
Peter Scotson
Peter Hankinson
Nigel & May Davis
Nigel Bunce
Ian Foden
Thursday witnesses Altrincham's second away game in 48 hours and part five of a sequence of six away games in a seven-match spell. Alty won the reverse fixture 5-1 but they have never played at Shaw Lane previously. The Barnsley club has had a rapid rise through the divisions since their formation as a senior football club in 2012, although a junior side was founded in 1991 as an under-eleven outfit. They currently play on the ground of Athersley Recreation FC.
As Shaw Lane Community Sports Association they merged with nearby Worsbrough Common in 2011 and were initially known as Aquaforce Barnsley, taking the name of their owners's company. They progressed up the divisions in the Sheffield & Hallamshire County Senior League before merging with another local team, Barugh, and rebranding themselves as Shaw Lane Aquaforce.
Aquaforce progressed to and through the Northern Counties East League system before reaching the EvoStik Northern Premier League. In 2016 the club was required to delete the Aquaforce element from its name to meet the league's rules on commercial sponsorship and so became Shaw Lane Association FC. They were promoted to the Premier Division for 2017-18, a season in which they also reached the FA Cup First Round Proper.
The club has several Altrincham connections. In addition to striker Damian Reeves who left Altrincham for Shaw Lane last summer, the twins Kieran and Kelvin Lugsden progressed from 2003, through the Altrincham youth and reserve sides before reaching the first team. Kieran left Altrincham after taking part in the 2006-07 season by which time he had made nine first-team starts and seventy-five appearances from the bench, netting five goals. Both Kieran and Kelvin had a spell at Glossop North End. At Shaw Lane, Kieran has recently played at right-back rather than up front, whilst Kelvin is also a defender.
Altrincham will be without the injured James Poole, Ben Harrison, Tim Deasy and James Jones (above right), but it is hoped that Connor Hampson may be fit after his recent lay-off. Josh Hancock, who sat out Tuesday's game on the bench, is also expected to be available for Thursday's game.
Shaw Lane add that in the reverse fixture, "A Spencer Harris penalty levelled the game after Tom Peers had given the home side the lead. The second half was too much for the already tired Shaw Lane side and goals by Simon Richman, Jordan Hulme (2), and Jake Moult gave the home side an easy victory.
The game also saw Chris Willcock take charge for the first time but, with just hours to prepare and meet his players for the first time, it was always going to be a tall order...
While Altrincham edge closer to the league title game by game their aspirations took a minor dent on Tuesday with a 0-0 draw at Buxton. Since the 5-1 win against us Altrincham have lost once. A shock defeat at Rushall Olympic, but this was followed up with a win at Lancaster City, a draw with Stourbridge and a 4-0 win over Barwell... Their away record is also the best in the league with 11 wins, 7 draws and just three defeats.
Ticket prices are the usual:
£8 for adults
£5 for concessions and 17 -18 years
£2 for 12-16 years, with all children aged 11 and under FREE.
Matchday Programme £1.50
If you're visiting Sheerien Park for the first time our address is Ollerton Road, Barnsley, South Yorkshire, S71 3DP".
The Ducks add "After two forced home matches switching to the away team's ground Shaw Lane return to Sheerien Park tomorrow night! We face table toppers Altrincham FC who hope to take a step closer to the title. Shaw Lane will be looking to stop them as they continue their push for a play-off place.
The club would like to invite everyone to the game... What else is there do on a Thursday night in Barnsley?"

It was no wonder Altrincham did not win at Buxton on Tuesday night - they took to the field with only nine players as the image above shows! Alty later revealed their missing secret weapons in the shape of John Johnston and Chris Merrie.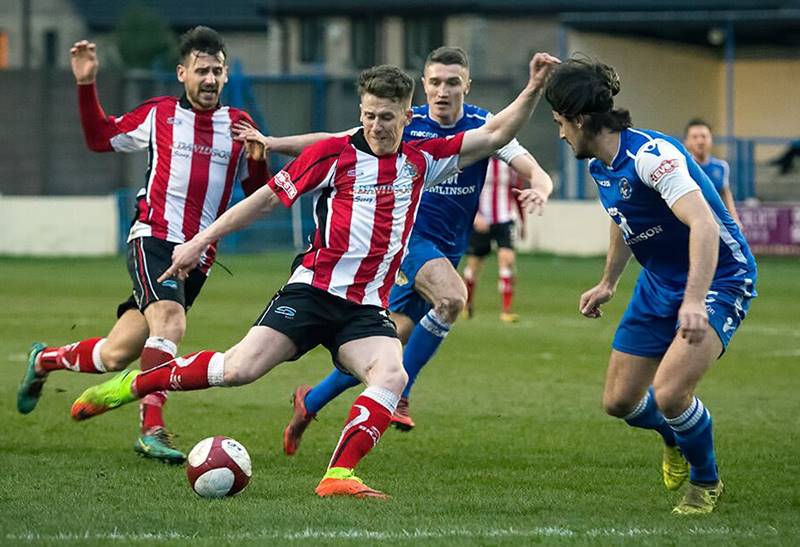 Above, we see through Mike Ripley's lens, Tom Peers and Simon Richman in action against Buxton on Tuesday night.
Match report here
whilst the first team was battling out a goalless draw at Buxton, Altrincham Reserves were involved in a high-scoring draw, 3-3, at home to Crewe FC. On Saturday, 21 April, the Reserves are away at Malpas.
Warrington Town certainly won't have given up on winning the championship but their local newspaper, the
Warrington Guardian
seems to be less optimistic as it reports that "Paul Carden was at a loss to explain referee Daniel Issawi's decision to send off Rory McKeown during Yellows' 2-1 win over Shaw Lane [on Tuesday].
Left-back McKeown was shown a straight red card for an innocuous-looking challenge on visiting defender Alex Byrne shortly after scoring what turned out to be the hosts' winning goal to secure their place in the Evo-Stik Premier Division play-offs. The Northern Irishman, ever-present in the Yellows defence this season, will now serve a three-game ban, thus ruling him out of their play-off semi-final in two weeks' time.
Carden was critical of Issawi's performance in general in a game that also saw Ducks midfielder Kieran Lugsden dismissed for a second bookable offence in the first half.
'I don't know what the referee sees for Rory's red card. It was a long way away from me,' he said. 'I actually thought he'd blown for a foul on Rory initially. He's said he's lunged, but Rory was on the floor. It's not the first time we've spoken about him. I thought he'd swallowed his whistle at one point. Everything that came out was a peep. Their lad's red card was a second yellow all day long. If he's only booked their lad for the second booking, then I honestly don't know how he sees Rory's as a straight red.
'I don't want to see red cards given out willy nilly, but this referee has a habit of giving cards out. We've got to focus on the positives and it's a great three points for us.'
Sean Williams had given Town an early lead from the penalty spot, but Chib Chilaka had equalised for the Yorkshiremen before Lugsden's red card. McKeown put the hosts back in front shortly after the interval and they held on for a key victory that gives them a six-point cushion in second place.
'We're delighted. We've beaten a strong side there,' Carden said. 'At times, it's been tight and niggly but we've deserved the three points. The first half was everything you'd expect from two teams that were in and around the play-offs for most of the season. It was tight, fast and had the odd glimpse of quality. Our first goal is a blatant penalty. The linesman is right behind it and their lad has clearly pulled Will back as he's made a run into the box.
'We were sloppy for their equaliser. We switched off and didn't do the right things... We came out in the second half and for the first 15-20 minutes, we used the extra man well. We worked the ball, we were patient on the ball and our second goal is a great goal. We've opened them up with good interplay and stood a good cross up for Rory to score.'
Town will secure a home play-off match if they beat struggling Halesowen Town at Cantilever Park on Saturday."
NL Daily reports that "Paul Carden admits Chester will always pull on his heartstrings but [he] won't be applying to become the club's new manager.
The 39-year-old is revered as a club legend at the Deva, having made over 200 first-team appearances for Chester City and captained the 2003-04 title-winning Conference team, and was installed as an early front-runner with bookmakers for the Blues vacancy, in the wake of Marcus Bignot's sacking last week.
However, Carden, currently boss at Northern Premier League promotion-hopefuls Warrington Town, confirmed he would not be applying for the Deva role and believes it could prove a thankless task when Chester do appoint their fifth permanent manager since reforming.
'Chester is one job that would always appeal to almost everyone,' said Carden, who has also managed Southport and had caretaker spells in charge of Cambridge United and Tranmere Rovers. 'I have a longstanding, strong affinity with the club.
'It's got real history and it is a fantastic opportunity for someone to go in there but whether that is now is up for debate, given Chester's off-field problems which have been well-documented in recent months. But it's not the right time for me to be applying for the job.'"
The EvoStik League confirms that "Ossett Albion have been rewarded for staving off relegation from the Northern Premier League by spectacularly turning around their season!... Named as one of the penultimate recipients of the monthly awards, alongside Stalybridge Celtic and Lincoln United in the top flight and EVO-STIK League South respectively, like all winners, the Unicorns were presented with an engraved glass trophy to mark their form and a bottle of spirits to celebrate with".
Alty's match next Saturday is at Grantham Town and their last match of the season is at home to Hednesford Town. There are highlights of the clash between the two sides, last night, which ended in a 1-1 draw.
Meanwhile, Grantham Town tell us that "Playing their second game in three days, Grantham will be hoping its fifth time lucky on Thursday night when they play Whitby away. It was heartbreak for the Gingerbreads on Tuesday night as they conceded a last minute goal at home to Hednesford Town, after captain Stefan Galinski had nodded home to give the Gingerbreads the lead.
Despite the result, Grantham remain third in the table with four games to play, including fixtures against top of the league Altrincham and second-placed Warrington.
The home side Whitby have not had the most successful of seasons, sitting towards the lower end of the table in 21st position. The Seasiders will also be looking to return to winning ways after losing 3-0 at home to Matlock Town on Saturday. The defeat was their third in the past five games and stretched their winless run to four...
Adam Stevens has said... 'Tuesday wasn't the result we wanted and we know we should have put our chances away and come away with all three points. We have a great opportunity to turn it around on Thursday and I am confident the lads will give 100% like they always do.' Tom Batchelor is back in contention as he served the final game of his four match suspension on Tuesday night. Whilst Luke Shaw still remains out injured as does Zayn Hakeem. The rest of the squad should be available for selection."
The EVO-STIK Northern Premier League announces that "The Integro Sport League Cup Final between Atherton Collieries and Coalville Town will take place on Wednesday, 2nd May at the Impact Arena, Alfreton Town, 19:45 kick-off".
---
18 April 2018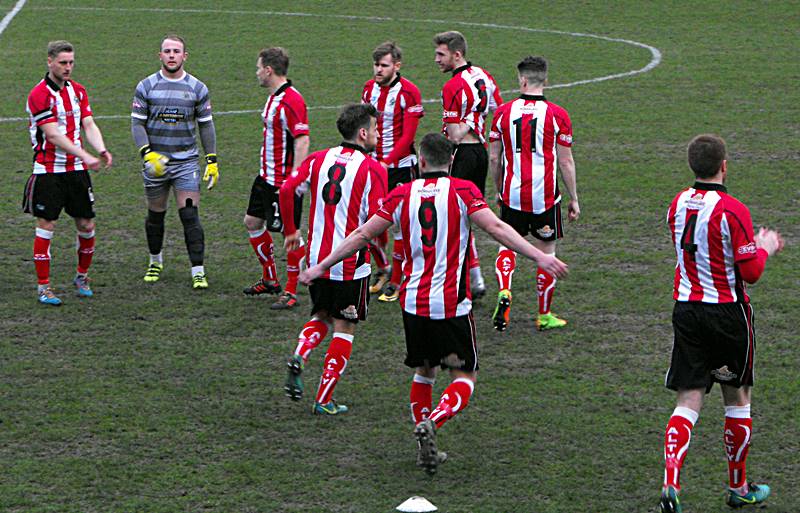 Above: Alty take to the field at Silverlands on Tuesday night.
Altrincham FC Press and Media Officer, John Edwards, has submitted the following article for inclusion in this week's Sale and Altrincham Messenger:
"Phil Parkinson 'couldn't have been prouder' of his Altrincham players after they inched closer to the Evo-Stik Northern Premier League title with a hard-fought goalless draw at Buxton on Tuesday night.
With 10th-placed Buxton again playing above themselves, as they did at The J.Davidson Stadium last November, Alty had to dig deep for a point that leaves them needing another five to be sure of promotion as champions.
'You could see how up for it Buxton were, and it was important we battled as well as we did,' said Alty boss Parkinson, whose side travel to Shaw Lane tonight (Thurs) and Grantham on Saturday before home games with Marine on Tuesday night and Hednesford a week on Saturday.
'It's always a big game for the opposition when Alty come to town, and credit to Buxton for the effort they put in. That's the pressure my lads face on a weekly basis, teams playing at a level Buxton did, but, once more, they took it in their stride. I thought they were superb, absolutely immense, and I'm delighted with the point.
'We had a fantastic following again, and we showed we can compete when it's a difficult surface and a dog of a game. There were some massive performances in the back ranks. I can't single anyone out, but it was so important we took a point, and I couldn't have been prouder of the players.
'We just need to keep turning the points over and turning the screw on everyone else. We still need to put points on the board with four games to go, and we know one thing, on the evidence of tonight, no one is going to give them us.'
Alty's defensive resources were further stretched after James Jones was carried off with a hamstring injury, but Parkinson is confident they can cope.
'We won't know the extent of the injury until we assess it tomorrow,' he said. 'It will be a shame if it keeps James out, because he has been absolutely fantastic for us, but Jake Moult showed he can slot in there and Connor Hampson is ready to come back in after recovering from injury.'"
Altrincham battled to a deserved point against a well-organised Buxton team. Defences dominated with Altrincham unable to land any telling shots on Budtz's goal.
Sadly, Alty's injury list grew with centre-back James Jones stretchered off in the second half.
With Warrington winning tonight, Altrincham travel to Shaw Lane in 48 hours still needing four points to claim the title on goal difference and five to be certain of it.
Match report here
Monday 16 April
The EVO-STIK Premier Division
Stourbridge 2-3 Workington
Cheshire Senior Cup 17-18 - Semi-Final
Nantwich Town 4-3 Stalybridge Celtic (after extra time, 3-3 after 90 mins)
Tuesday 17 April
The EVO-STIK Premier Division
Ashton United 1-2 Stalybridge Celtic
Barwell 1-0 Lancaster City
Buxton 0-0 Altrincham
Coalville Town 1-0 Halesowen Town
Grantham Town 1-1 Hednesford Town
Matlock Town 1-1 Rushall Olympic
Mickleover Sports 1-2 Marine
Warrington Town 2-1 Shaw Lane
The West Riding County Cup 17-18 - Final
Selby Town 1-4 Farsley Celtic. At West Riding FA County Ground
Staffordshire Senior Cup 17-18 - Semi-Final
Stafford Rangers 3-1 Wolverhampton Sporting
---
17 April 2018
It has been a big week for Jordan Hulme; as well as bagging his thirtieth goal of the season and lifting the Player of the Season award in the EvoStik Premier, his appearance against Barwell marked his fiftieth appearance for Altrincham, comprising 48 starts and two appearances from the bench. Both John Johnston (currently 45+3) and Josh Hancock (46+2) are two games away from the same 50-game landmark for the club. Meanwhile, Tom Hannigan passed the same landmark two matches ago, having now played 47+5 times for Altrincham since he joined in summer 2016.
It is expected that for the trio of away games this week, Altrincham will wear their red and white strip at Buxton and Shaw Lane (where a change from red socks will be necessary to avoid a clash), whilst the purple away kit will be worn at Grantham om Saturday.
Altrincham FC Ladies' next home fixture is at home to Stockport County Blues at 2pm on Sunday, 22 April at Mersey Valley (Banky Lane, Sale, M33 5SL). This is a league game in the North West Regional Women's Division 1 South.
Before that, on Wednesday, 18 April, Alty Ladies travel to play Northwich Vixens, k.o. 6.30pm.
John Edwards, Press & Media Officer at Altrincham FC, writes, "Real ale enthusiasts will descend on The J.Davidson Stadium next week to sample the widest range of beers yet compiled for Altrincham FC's annual celebration of the brewer's art.
A total of 24 barrels will be rolled into the ground next Friday for the start of the club's weekend-long beer festival, and Alty bosses are hoping the toast will be manager Phil Parkinson's table-topping team, as they close in on the Evo-Stik Northern Premier League title.
Reflecting on how local brewers have embraced the event by supplying their finest ales in record numbers, chairman Grahame Rowley explained, 'It has really taken off since we first came up with the idea of an annual festival seven years ago, and it's bigger than ever this year.
'That's partly because it has proved so successful but also because of the timing. It's normally May Bank Holiday but, this year, we're encompassing the final game of the season, against Hednesford on Saturday afternoon, and hoping it will be a celebration of winning the league.
'It would be great to have a bumper crowd, and we are certainly catering for that. I think we had 12 barrels at the first festival, but, with invaluable assistance from our main sponsors J.Davidson, there will be twice as many next weekend. There will be a marquee stretching from the catering block at the Golf Road end right across to the start of the terracing behind the goal, and that's where the bar will be.
'We've got live bands on Friday and Saturday night and a family fun day on Sunday, with a kids' entertainer and all sorts of attractions, and it's free admission, except between midday and 4pm on Saturday, when the turnstiles will operate for the game.
'It has proved over the years a great way of involving people in the local community and providing a sociable and enjoyable experience, and we really do cater for everyone. It's a real ale festival, but we'll have three or four ciders as well, and the Community Sports Hall bar will be open at the same time, providing the usual range of drinks. There'll also be pizzas, and an outside caterer is coming along to provide curries.
'So I hope as many as possible will visit us and help make it the best we've had so far. There's always a friendly, convivial atmosphere, and, of course, it's a great excuse for simply coming along to the game and having a few real ales.'"
Altrincham can expect to see a couple of familiar faces in the Buxton squad on Tuesday night; former Robins' defenders Greg Young and Andy McWilliams both play for the Bucks.
From Derbyshire, the Buxton Advertiser recently reported that "Steve Halford has urged Buxton's players to keep playing for their futures until the end of the season, wherever those futures may be.
The Bucks have been in good form since Halford and joint-manager Paul Phillips took over last month, although [they] suffered a blip with a 2-0 defeat at Rushall Olympic on Tuesday night...
He said, 'The lads deserve all the credit. They've now got to show us they want to stay for next season, or if they want to go they've got to show potential employers they're worthy enough. As a management team, we're sizing them up and assessing them and I think, as players, they're doing the same with us and I hope they like what is happening and that they'll want to stay.
'We want to keep all our best players but, inevitably, we'll have some lads [who] will leave so we'll aim to recruit well when required.'
Halford felt the Bucks were unlucky to lose at Rushall in a game where Joe Maguire was sent off just before half-time. 'I think we actually deserved to win the game if I'm honest,' he said. 'We only had three subs available due to injuries and suspensions so were up against it but we started well, just not able to test the keeper enough. We then conceded from a set piece which has become a bit of an Achilles heel at the moment, then the red card, which I felt was harsh, did us few favours.
'Even then, though, we did well in the second-half before the breakaway at the end sealed the game as we pushed for a point.'
Buxton now have four games in seven days as they go to Mickleover on Saturday, then host leaders Altrincham on Tuesday, Nantwich Town on Thursday and relegated Sutton Coldfield on April 21.
Halford said, 'It's tough on the legs but I want the lads to finish as strongly as we can and see where it gets us as you never know in football.'"
Altrincham now have three away games in five days, with the final of that trio being in Lincolnshire on Saturday. From there, our opponents
Grantham Town
report that "With just five games to go, Grantham are looking to continue the play-off push on Tuesday night when Hendesford Town visit the Meres.
After two defeats in the past week, the Gingerbreads prevented it from being three on the spin after a convincing 2-0 win over mid-table Workington, thanks to goals from Notts County loanee Sam Osbourne and the ever-prolific Lee Shaw. The Gingerbreads were also helped out after by a stand-out performance from debutant [goalkeeper], Rudolfs Soloha, who deputised in place of the suspended Kieran Preston.
The result moved the Gingerbreads back into third spot and four points off second-placed Warrington and leaving them with three wins in the past five games. The return to winning ways comes in good time for the Gingerbreads as Tuesday sees the start of the last five games, which includes visits from league leaders Altrincham and second-placed Warrington.
Hednesford travel to the Meres on Tuesday night with little to play for other than consolidating their position in the league. One thing the Staffordshire side will be hoping for is an improvement as they have currently gone five games without a win, including Saturday's heavy 4-1 defeat away to bottom of the table, Sutton Coldfield. The result left the Pitmen in 15th place and in no danger of relegation or a late challenge for the play-offs.
Grantham boss Adam Stevens has urged his side to continue the momentum as his side become ever closer to confirming a play-off place. 'Saturday was a huge confidence boost for the lads, especially after the little wobble we experienced with the previous two games. The big challenge for us now is to keep the momentum going. We have three tough games this week, starting on Tuesday against Hednesford who will be looking to come away with a result so we must be on top form to get the results we want'.
[Goalkeeper] Kieran Preston is expected to return to the starting eleven after he completed his suspension on Saturday whereas Tom Batchelor and Luke Shaw remain unavailable through suspension and injury respectively. Jordan Hempenstall and Zayn Hakeem could also return to the squad on Tuesday. The rest of the squad is fit for selection."
From the other side, the Cumbrian News & Star adds that "Workington Reds boss Lee Andrews admitted Saturday's loss to Grantham Town was a 'harsh result' after an improved showing from his patched-up team.
Tonight Reds have to go again at Stourbridge and, after adding to their injury woes, it is a tough call for the Workington outfit. Anthony Wright will probably miss the long trip to Stourbridge with an ankle problem, while Sam Smith came off against Grantham with a tight hamstring but Andrews was hoping he would be fit. Dan Wordsworth and Jamie Mellen will come back into contention but Scott Allison will sit this game out with his hernia problem.
'It was a harsh result on Saturday,' he said. 'It didn't do us justice as I thought we were better than that, especially in the first half. But if we had taken our chances, we could have put the game beyond them but we left ourselves open to a questionable decision from the referee.'
Grantham picked up a controversial opening goal with 10 minutes remaining of the first half. After a foul on Scott Allison, he initially played advantage. But, when Reds lost the ball immediately after, he did not stop play, and the visitors raced to the opposite end to score. Joint manager Andrews admitted that, and what looked to be a clear penalty call that was denied for the home side, had an effect on the outcome of the game.
'I think he had to bring the game back,' he added. 'It was a foul, everyone could see that and, once he hasn't given it, he can stop the game as Scotty was on the floor injured. He can stop it for him to get treatment, we were a man down trying to defend. He's held his hand up and said he should have stopped the game but I think it was a poor decision. Five minutes before that, he's missed a stonewall penalty on Steven Rigg in the box... Credit to the three young lads who came on for us, a 16-year-old and two 17-year-olds who came on and did a decent jobs for us,' added Andrews."
As well as Grantham, two teams pushing for promotion last Saturday were Farsley Celtic and Warrington, with the visitors wining 2-0 at the Throstle Nest ground. From there, the Telegraph & Argus tells us that "A goal in each half eased second-placed Warrington Town to victory but, crucially for Farsley Celtic, they remain in the top five, holding on to the last play-off place with just three games remaining. The top three clubs all won but the teams immediately above and below Farsley were both held to draws while seventh-placed Witton Albion lost at home to Stafford Rangers.
Like Farsley, the visitors had also played on the previous Thursday but they played the entire game in top gear, chasing down, running and challenging every second ball... The Yellows broke the deadlock midway through the first half as Celts' keeper Graeme McKibbin made a rare error. Will Hayhurst, who had signalled his intention to shoot on sight five minutes earlier, lashed in a 20 yard shot that went through the keeper's arms as he dived to his left.
Farsley boss Adam Lakeland changed his formation to go in search of an equaliser but his skipper Danny Ellis jarred his knee when landing after heading clear. After almost two minutes of treatment, the centre back was substituted. Kurt Harris came on, and Lakeland's plans were set for another overhaul.
The home side continued to compete but the visitors continued to press in every area of the pitch. They plundered a second goal nine minutes into the second half, yet again with a strike from distance.
Yellows' midfielder Sean Williams set himself before curling a shot from 25 yards that beat McKibbin on his right hand post. Farsley never gave up on the game and even had two good chances in stoppage time but to no avail.
Lakeland said, 'I didn't think there was much in the game to be honest but they were better than us on the day. The schedule the league has given us has been punishing and we have a small squad and have some players out injured and some playing with knocks. It's been the same for Warrington and they played on Thursday at Whitby so for them to come here and play as they did says a lot about them; fair play to both sets of players really. We've lost the game but I'm not going to criticise my players. To have played five games in such a short space of time and to have taken ten points has been a tremendous effort."
---
16 April 2018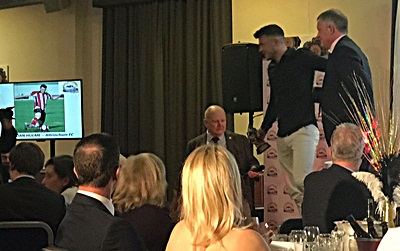 Above: Jordan Hulme (in black shirt) receives his Player of the Season Award.
Congratulations go to Altrincham FC's striker, Jordan Hulme, who has been named the EvoStik Northern Premier League Player of the Season at Sunday evening's awards ceremony in Barnsley. Jordan was also runner-up in the Supporters' Player of the Year voting which was won by Julio Arca of South Shields. Pictured, right, is Jordan at the awards event, after hearing of his runner-up award.
Jordan reached a 25-goal total for the league season on Saturday. Whilst Buxton's Liam Hardy has 31 goals, seven of his tally are penalties so only Grantham's Liam Shaw with 26 league goals is marginally ahead of Jordan. Ironically Jordan comes up against Buxton on Tuesday and Grantham next Saturday.
Also, in the NPL Team of the Season for the Premier Division, Altrincham's Ben Harrison and Jordan Hulme were selected by the voters.
Below: Jordan with his Supporters' Player of the Season runner-up's award.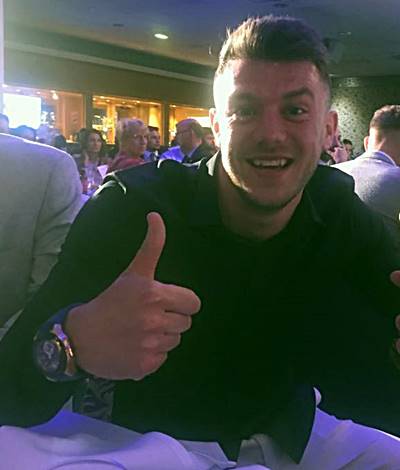 Images courtesy of our special correspondent!
Alty TV
has highlights of Saturday's 4-0 win over Barwell. There is also Brian Flynn's post-match interview with assistant manager, Neil Sorvel,
here
.
Mike Garnett reminds us of the historical record against Buxton...
At Home: P55-W39-D10-L6-F165-A57
Away: P53-W16-D13-L24-F89-A101
All: P108-W55-D23-L30-F254-A158
The reverse fixture at Altrincham ended in a 1-1 draw.
Buxton, who lie ninth in the table, are in good form with their last ten results comprising five wins, three draws and only two defeats, adding up to 18 points. This is slightly better than Alty's recent form which has seen five wins, two draws and three defeats (17 points) in their last ten outings.
However, the Bucks home form is weaker than their results on the road. At Silverlands they have played 20 games, where they have won six, drawn seven and lost seven (25pts), whilst on the road they have won ten of their 21 matches, drawing three and losing eight (33 pts). In Liam Hardy, Buxton have the league's highest scorer with 31 goals, but seven of those goals were penalties. So, in open play, he trails Alty's Jordan Hulme who has 25 league goals, none of which were from the penalty spot.
Buxton's last ten results are...
H Stourbridge 1-1 D
A Workington 2-1 W
H Ashton United 1-0 W
H Hednesford Town 2-2 D
A Marine 3-2 W
H Matlock Town 2-3 L
A Hednesford Town 2-1 W
H Workington 4-2 W
A Rushall Olympic 0-2 L
A Mickleover Sports 2-2 D
Altrincham's visit to Silverlands on Tuesday will be their first visit there for a league game for almost 40 years. On October 17th 1978 Altrincham won 4-0 (Rogers 3, Heathcote) in the Northern Premier League. After that Altrincham joined the Football Alliance which became the Conference and the two clubs' futures diverged, thereafter, until this season. Mike Garnett advises that our "last competitive visit to Silverlands was on January 14th 1989, in the FA Trophy 1st Rd, when Altrincham won 2-0 (Cook, Brown o.g.)".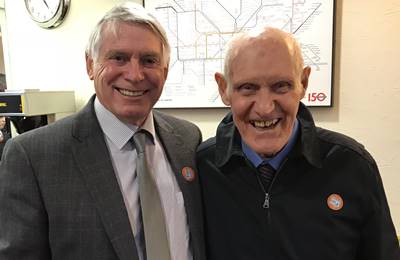 Pictured right are former Altrincham players Don Cooke and George Smith, who were visitors to the J. Davidson Stadium for the match against Barwell on Saturday. Goalkeeper George joined the club in the mid-1960s and was in the Cheshire County League championship-winning team twice whilst, unfortunately, Don's Alty career was adversely affected by injury.
Altrincham need six points from five games to be absolutely certain of winning the league title but five points are very likely to suffice, given that Alty's goal difference is 53, which is more than twenty goals better than any other team's.
There is a very unlikely scenario in which Alty could win the title on Tuesday night. That would require an Altrincham win at Buxton, as well as Warrington Town and Grantham Town failing to win in their home matches against Shaw Lane and Hednesford Town repectively. If Warrington only drew and Grantham did not win, Alty would be almost certainly the champions on goal difference if they defeat Buxton. The only scenario to confirm the title mathematically on Tuesday is for Alty to win and both Warrington to lose and Grantham to fail to win.
On Saturday, Altrincham Reserves lost 1-0 to Rylands. On Sunday, the NL Paper reported that Wayne Rooney's agent Paul Stretford is set to take over the Lymm-based club.
---
15 April 2018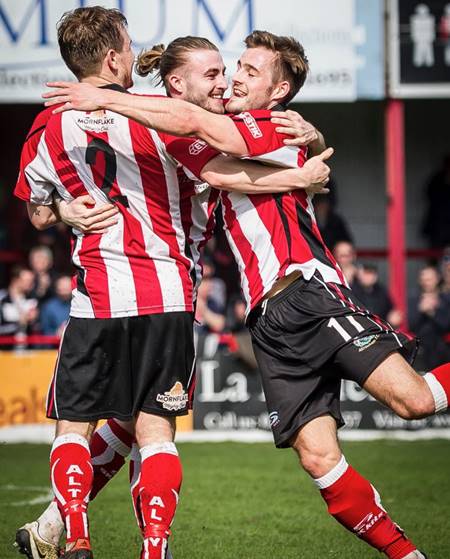 Above: Gavin Rathbone's image shows Josh Hancock embracing Shaun Densmore (left) and Max Harrop (centre).
Although Altrincham ran out comfortable winners in the end, for the first half-hour it was Barwell who were the better side, but they spurned three decent chances. Alty then switched Johnston from the left to the right and, after a short spell of pressure, they scored twice in two minutes to turn the match.
Man of the Match, Shaun Densmore, was instrumental in the scoring of both goals. The first came in the 38th minute when Hulme did well and Densmore burst through to drive the ball home. Two minutes after this, a fine Densmore run led to Hancock's low shot past Castle to make it 2-0.
The game was over three minutes after the interval with the goal of the game from Johnston. He ran from his own half, controlling the ball at pace despite a few bobbles, before driving a shot across Castle into the far corner of the net. The fourth goal was scored by Hulme from a Johnston feed following a corner.
Alty now need five points from five games to secure the title, assuming their far superior goal-difference is not eroded!
Match report here.
Below: Mike Ripley's image shows Shaun Densmore celebrating his goal at the Golf Road end..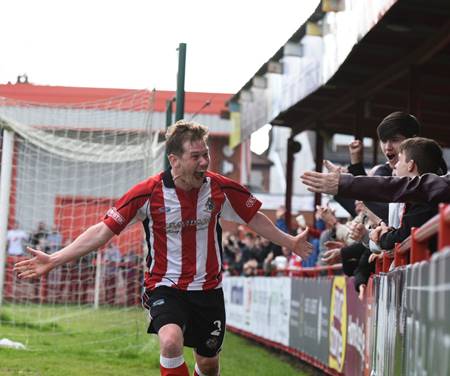 The EvoStik League confirms that today's results mean that Altrincham have (at least) a play-off spot at the end of the season!
Barring a catastrophic collapse of their positive goal difference, five more points would be enough for Altrincham to win the title this season.
The final games for the current top three sides are:
ALTRINCHAM
Tue.17.4.18 A Buxton
Thu.19.4.18 A Shaw Lane AFC
Sat.21.4.18 A Grantham Town
Tue.24.4.18 H MARINE
Sat.28.4.18 H HEDNESFORD TOWN
WARRINGTON TOWN
Tue 17.4.18 H SHAW LANE AFC
Sat 21.4.18 H HALESOWEN TOWN
Tue 24.4.18 A Grantham Town
Sat 28.4.18 A Stourbridge
GRANTHAM TOWN
Tue 17.4.18 H HEDNESFORD TOWN
Thu 19.4.18 A Whitby Town
Sat 21.4.18 H ALTRINCHAM
Tue 24.4.18 H WARRINGTON TOWN
Sat 28.4.18 A Sutton Coldfield Town
Jordan Hulme's goal on Saturday takes him to an excellent total of thirty goals for Alty this season. 25 have come in the league and all thirty have arrived in 48(+2) appearances this campaign.
Meanwhile Alty have a target of seven goals in five fixtures to reach 100 league goals scored this season.
Altrincham travel to Buxton on Tuesday night from where
Buxton
report that "The Bucks drew 2-2 at Mickleover Sports on Saturday. Andy Dales gave the hosts an early lead and it took until the 1st minute of the second half for the Bucks to equalise with Nico Degirolamo scoring his first for the club with a towering header from close range. Sports player-manager John McGrath restored their lead with a 20-yard free-kick on 56 minutes before Ant Wilson tied it up again on 82 mins.
The Bucks are next at home this coming Tuesday (17th at 7-45) against league leaders Altrincham. A victory for 'Alty' and correct scores elsewhere could see them being crowned champions".
On Saturday, Altrincham FC reserves lost 1-0 at Rylands. On Tuesday they are at home to Crewe FC.
Saturday 14 April 2018
Att. 880 Altrincham 4 - 0 Barwell
Att. 109 Coalville Town 2 - 3 Marine
Att. 252 Farsley Celtic 0 - 2 Warrington Town
Att. 375 Halesowen Town 1 - 1 Ashton United
Att. 232 Mickleover Sports 2 - 2 Buxton
Att. 264 Nantwich Town 1 - 2 Rushall Olympic
Att. 160 Shaw Lane 0 - 0 Lancaster City
Att. 520 Stourbridge 4 - 1 Stalybridge Celtic
Att. 185 Sutton Coldfield Town 4 - 1 Hednesford Town
Att. 314 Whitby Town 0 - 3 Matlock Town
Att. 316 Witton Albion 1 - 2 Stafford Rangers
Att. 228 Workington 0 - 2 Grantham Town
Next Saturday, Altrincham are away at Grantham. Cumbria's
Times and Star
reports that this Saturday "Promotion-chasing Grantham Town continued on their journey at the expense of Workington Reds. The visitors to Borough Park left with a 2-0 victory to their name despite a battling first half performance from the home side.
At half time Reds did not deserve to be a goal down with the effort from Sam Osbourne coming against the run of play. But the second half lacked the enthusiasm of the first and the visitors got a late second from a defensive mix-up and the result was sealed...
Into the 31st minute and it appeared that Steven Rigg was pulled down in the area but the ref waved away all calls for a penalty, much to the disgust of the Workington faithful. Grantham's first real chance came as Danny Meadows got the better of the Reds' defence and got a cross right across the face of the goal... Against the run of play it was the visitors who took the lead. First, Scott Allison was fouled as Reds attacked the Grantham goal, the ref waved play on but the pass went astray and Grantham went on the attack.
Aaran Taylor made an initial scrambling save at the feet of Lee Shaw and Reds' defenders got back but they could not halt the shot of Osbourne from short range that found the corner of the goal... Grantham bagged a second in time added on after a mix-up at the back. A ball over the top was missed by Taylor and Lee Shaw was there to hammer it into the back of the net...
Grantham: Soloha, Potts, Luto, Lewis, Galinski, McGovern, Meadows, Wright (Hollingsworth 83), Osbourne (McMenamy 80), Shaw, Burrows (Vince 89). Subs (not used): Bastos, Thompson".
---
14 April 2018
Saturday 14 April 2018
Altrincham 4-0 Barwell
Coalville Town 2-3 Marine
Farsley Celtic 0-2 Warrington Town
Halesowen Town 1-1 Ashton United
Mickleover Sports 2-2 Buxton
Nantwich Town 1-2 Rushall Olympic
Shaw Lane 0-0 Lancaster City (at Lancaster)
Stourbridge 4-1 Stalybridge Celtic
Sutton Coldfield Town 4-1 Hednesford Town
Whitby Town 0-3 Matlock Town
Witton Albion 1-2 Stafford Rangers
Workington 0-2 Grantham Town
Altrincham FC Press & Media Officer Brian Flynn's interview with Phil Parkinson included the following comments by the Altrincham manager...
"There are only 15 days left of the season and we have 6 games to play, like most teams in our division. It's a tough schedule, particularly this week. From today we have four games in eight days, three of which are away from home. After winning at Lancaster last Saturday and drawing at Stourbridge on Monday, the league table shows that we are in a very strong position, needing a further nine points to guarantee being Champions:.
The first of those games is at home to Barwell this afternoon and we are hoping for a big crowd at the J. Davidson Stadium by the time we kick off at 3pm. The support that we received at Lancaster and Stourbridge was phenomenal and we need that and more today against a very competitive Barwell side that have done well this season and still have an outside chance of making the play-offs.
Three points today would give us a massive boost ahead of our trips to Buxton (Tuesday), Shaw Lane (Thursday) and Grantham (next Saturday). That sort of punishing schedule is going to test our squad and we have suffered with injuries in recent weeks with Ben Harrison (right) and James Poole both being ruled out for the season with medial knee ligament injuries, which seem to be the order of the day, as that is what has kept Connor Hampson out since our game against Stalybridge in the middle of March.
Connor should be available today and we will check on Andy White before the game. Andy had to be substituted, during the first half, with a cut eye at Stourbridge on Monday, where I thought that a point was the very least that we deserved.
Josh Hancock (left) scored the important equaliser and, as he hasn't been on the scoresheet in 2018 but tends to get his goals in clutches, we are hoping that might be the start of a goal-scoring run for Josh between now and the end of the season.
We are all absolutely delighted that the fundraising effort to get us some new pitch covers has reached its target of £10,000. That's a fantastic effort and I was delighted with the response that I got from the players when I asked them to contribute and this is a great example of everyone pulling together at Altrincham Football Club to make improvements that will help everybody.
The number of postponements that we have had this season has done my head in at times but now we know that, even if the weather is as dreadful as it has been this winter, then we are going to be very well equipped to deal with it from next season onwards.
Today's game is our only home fixture, sandwiched between six away games, so we are all really looking forward to getting back to the J. Davidson Stadium and searching for a win that would keep us on track to reach our goal of winning the Evo-Stik Premier".
SKkits are kindly sponsoring the Altrincham FC Race Night, which is to take place after the game with Barwell on Saturday, 14 April.
Altrincham FC adds that all spectators entering the turnstiles for the Barwell game will receive a ticket (one per person only) bearing the the name of a horse running in the National. Ticket-holders should the go to the Community Sports Hall after the match and, if they wish, get themselves a drink whilst watching the televised race from Aintree (5.15pm). Potentially, many spectators will be winners and each will win five bottles of beer or cider, as well as a big Alty burger meal.
For everyone, burgers will be available for purchase throughout the evening, including Richie Bentley's new Alty chicken burger.
The Race Night is due to start as near to 6pm as possible and features eight races, with eight riders in each. Please consider sponsoring a horse for just £10 or a race for a bargain £25. All winning horse owners receive a replica shirt, donated by the sponsors, SKkits.
Please support this event and help to raise funds for the Club.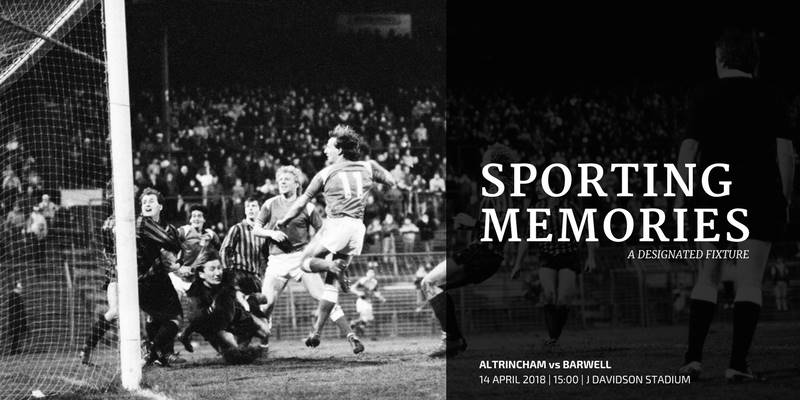 Judy Henson, manager of the Altrincham FC Community Sports announces that "Altrincham FC are hosting Barwell in the Evostik Premier Division on Saturday 14th April, 3.00pm kick off, with bar and catering facilities open from 1.00pm in the Altrincham FC Community Sports Hall.
Altrincham FC currently sit top of the table and are pushing for promotion. This is the penultimate Saturday home fixture of the season at the J.Davidson Stadium, so we encouraging as many fans to attend as possible.
This match is a designated Dementia Awareness fixture, as Altrincham FC Community Sports, Lancashire Cricket Club and the Sporting Memories Network will be promoting the work they do in Trafford. Altrincham FC Community Sports regularly promote discount tickets to families and school children. For this fixture, we are encouraging children to attend with their grandparents, with the focus of the day being on sporting memories and encouraging older people to attend local sessions.
Sporting Memories
Unlock the power of sporting reminiscence to unite generations and to help tackle dementia, depression and loneliness. Sessions run throughout Trafford on a monthly basis. The Sporting Memories Foundation memory games are designed to create an opportunity for fans to recall their favourite moments from football, to help spark that memory. Whether that is of a favourite moment, player, or team, Sporting Memories want to highlight the importance of a footballing memory. The work the charity does is designed to embrace those memories and it uses sport to support people living with depression, dementia and loneliness.
By working with the clubs to create an awareness of this work on match days, Sporting Memories wants to speak to football fans round the country if they have a family member, friend, or colleague who may want to get involved in some of the work Sporting Memories is involved in. Fans can check out some of the exciting projects and #jointhesquad by visiting the website.
Tickets
Book online in advance here and gain entry for just £5.00 (Under 15's accompanied by a grandparent - over 50)
Any ticket purchases made on the day of the fixture will be set at normal price. Only advance discount applies. The booking system closes Friday 13th April at 5.00pm
Adults MUST display ID to match the name on the ticket purchased (bank card, driving licence, passport, etc) when they enter the turnstile
Once purchased, no refunds can be given. If there is a match cancellation due to weather issues, this ticket will apply to the rearranged fixture against Barwell.
Further to Judy's announcement, Anthony Dawson advises that "As a part of the Sporting Memories themed day I would like to announce we will be showing a feature length film in the Community Sports Hall showcasing some of Altrincham's most historic and most memorable moments over the last 35 Years. Included is archive footage from both the win at Birmingham City and FA Trophy Final v Runcorn in 1986, the build up to the Away Day at White Hart Lane in 1995 as well as some more recent good time,s featuring the teenage sensation that stunned us all, none other than Duncan Watmore. The footage is approximately 45 minutes long and will be shown twice at 13:15 and 14:05. So why not come down a bit earlier and check it out?"
Further Information
Contact Judy on 0161 928 1045 or visit Facebook and Twitter for more information".
Brakspear Brewery:
Brakspear Oxford Gold is a remarkably zesty brew, with fresh, citrussy aromas and a firm, fruity flavour. Pale ale malts provide the beer with its gold-gilt shimmer, spruced by a hatful of crystal malts to give body, texture and a delicate honeyed wrap. The blend of hops delivers a shamelessly fresh perfume and fermentation by our Brakspear yeast gives Brakspear Oxford Gold a fabulous, fruity finish. Brewed to 4% ABV.
Jennings Brewery:
Cocker Hoop Launched in 1995 as 'September Ale', Jennings Cocker Hoop has become hugely popular, particularly with Lake District tourists in summer. The name is derived from 'Cock-a Hoop', an old custom of removing the cock (or spigot) from a barrel and resting it on the hoop of the cask before commencing a drinking bout, but was changed to reflect the brewery's location on the banks of the River Cocker - 4.2% ABV.
Jennings Bitter A distinctively darker bitter, with a really moreish taste and a very drinkable strength – it makes the ideal session beer. Brewed with English pale ale and amber malt, to give a nutty flavour that supports a subtle blend of English aromatic hops 3.5% ABV.
Marstons Brewery:
Saddle Tank An oldie but a goodie. The recipe's been around for yonks. Clear, bright and full flavoured with a malty, biscuit taste. We named it after the train that once brought hops and malts into the Brewery. And then shipped the beer out. All aboard - 3.8% ABV.
Brian Flynn confirms that the rearranged Evening with Ossie Ardiles and Micky Hazard will take place on Friday, 20th April.
He adds that "The evening has been of great interest to Altrincham and Spurs fans and the tickets were sold out within two weeks of being advertised.
We are all looking forward to this event and I will be compering proceedings. Joining us will be several Alty players who were involved in this memorable FA Cup tie 39 years ago, including John King, who is looking forward to his reunion with Ossie Ardiles... the feeling from the Argentinian World Cup winner is mutual!
To help raise funds for next season, we will be having a raffle and auction, therefore we would be grateful if anyone could make any donations for raffle or auction prizes for this event. Please contact the club office (0161 928 1045) or me, (by e-mail or phone 07860 561011), if you can help.
It should be a fantastic evening!"
Shaw Lane have again transferred a home fixture because of the poor state of their pitch at Athersley. Tomorrow's home fixture against Lancaster City will now be played at the Giant Axe. This follows last Thursday night's switch of a fixture to Stalybridge. Next up at Shaw Lane are Altrincham who are set to visit there on Thursday next week.
Shaw Lane AFC explain that "Our match tomorrow afternoon against Lancaster City will now be played at Lancaster City's Giant Axe stadium. Following the rain on Thursday night, on top of the rain between Monday afternoon to Wednesday morning, our pitch at Sheerien Park is unplayable.
The Ducks will host the game at the Giant Axe ground tomorrow afternoon and are offering free travel to ALL supporters. All Shaw Lane season ticket holders will be honoured also. We thank Lancaster City for their help."
Altrincham FC Ladies are in action next Wednesday (18th April) away to Northwich Vixens, who lie two places below Altrincham in eighth place, four points behind.
The
EvoStik League
reports that "Thursday night's three games in the EVO-STIK League Premier all had a bearing on the race for promotion, writes Pitchero's Steve Whitney.
Leaders Altrincham received a boost without playing as they saw second-placed Warrington Town drop two points at the Turnbull Ground against Whitby Town. And it could have been almost title race over for the Wire until they grabbed a last-gasp equaliser. Lewis Mahoney gave the Seasiders an early second-minute lead that Jack Higgins cancelled out within five minutes.
But Matty Tymon restored Whitby`s lead seconds before the half-time whistle. And they held that lead until four minutes into stoppage time at the end of the game when Higgins scrambled home his second of the game.
Farsley Celtic`s busy schedule saw them move back into fourth spot, five points above sixth-placed Shaw Lane AFC, who won 2-0 at Sheerien Park against Stalybridge Celtic to keep their top five hopes alive.
Celtic's fourth game in a week looked as though it had caught up with them, although they did go into the break in front, thanks to a 42nd minute Nathan Cartman goal. But Rob Hopley deservedly levelled for the visitors 11 minutes into the second half.
The Ducks recovered from last Monday`s defeat to Marine AFC with goals from Ollie Dyson after 15 minutes and then Damian Reeves 5 minutes into the second half.
The game between Stourbridge and Stafford Rangers was postponed with a waterlogged pitch."
Alty's final away game, next Saturday, is in Lincolnshire from where Grantham Town report that "Latvian under-19 goalkeeper Rudolfs Soloha has joined The Gingerbreads. He will take the place of the suspended Kieran Preston for tomorrow's trip to Workington. Rudolfs is part of the Nottingham Forest u18 squad and has taken part in this season's FA Youth Cup."
Grantham Town also report that "Having faced back to back defeats in the space of three days, Grantham are looking to return to winning ways on Saturday at Workington. Saturday's 3-0 defeat was also followed up with a 3-1 defeat away to Lancaster City on Tuesday, a result which saw the Gingerbreads slip to 4th in the table after Ashton United picked up a 1-0 win over Stafford Rangers on Tuesday night.
The Gingerbreads had previously been on a run of five successive wins before losing the two previous games and will be wanting to return to winning ways this weekend.
Home side Workington haven't had much more success in recent times, also losing their last two games, and three in their last five games. Tuesday night was the most recent defeat for the side, which saw them go down to a 2-1 defeat at home to Farsley Celtic. That result left Workington in 11th place with six games remaining...
Despite the Gingerbreads having to play Saturday without the suspended Kieran Preston, Grantham boss Adam Stevens is confident his side can bounce back this weekend. 'The game was always going to be tough, with or without Kieran, and although it isn't ideal, we are confident we have an adequate replacement for him just like we do for Tom (Batchelor). There's not long left and every game is crucial and I know the lads want to make up for the past two results and we are confident of doing so'.
Kieran Preston and Tom Batchelor are both suspended for the game whilst Luke Shaw still remains out of contention through injury. Jordan Hempenstall and Zayn Hakeem are expected to return to the side after both being unavailable on Tuesday night. The rest of the squad is available. "
From the Yorkshire Evening Post we learn that "As the race for a play-off place continues to hot up, fifth-placed Farsley Celtic end a tough week of fixtures with yet another big game against their play-off rivals.
Despite their high position in the league, tomorrow's visitors to Throstle Nest, Warrington, have been struggling for form and look to be heading for the play-offs after challenging for the title for most of the season. However, the form or position of any of Farsley's opponents will not matter too much to them at this stage, with Adam Lakeland's men purely focused on keeping their place in the play-offs as the margin for error continues to reach its lowest point".
"Nantwich Town Football Club can confirm reduced admission prices for the upcoming Cheshire Senior Cup semi-final clash with Stalybridge Celtic next Monday evening (7.45pm KO). The Dabbers take on Celtic for a place in the final, and with the season nearly at an end, the club would like to reward our supporters for their continuing support with the reduced prices and hope our supporters can cheer us onto a successive Senior Cup Final.
Admission prices have been set to:
Adults: £5
Concessions: £3
U16s: £1
Nantwich Town have made it to two successive semi-finals, after reaching the final last year before losing to Crewe Alexandra 3-2... The winners of the semi final will play against North West Counties Division One side Stockport Town, who shocked Winsford United 2-1 in the other semi-final on Monday night."
---
13 April 2018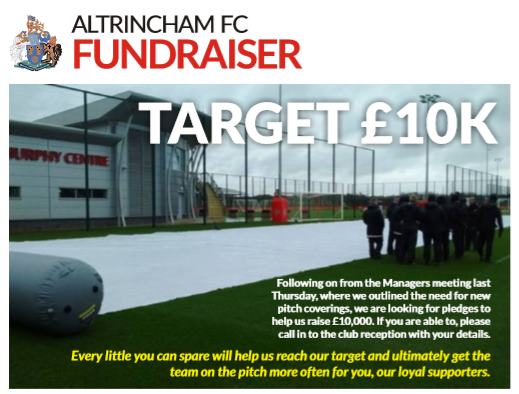 Altrincham FC Press and Media Officer, John Edwards, writes "It's 'Mission Accomplished' for Altrincham's campaign to raise funds for new pitch covers after another sizeable contribution took the amount generated beyond its £10,000 target.
The donation followed hard on the heels of yesterday's news that manager Phil Parkinson, his staff and squad had clubbed together and made their own substantial contribution after deciding they wanted to stand shoulder-to-shoulder with supporters in helping take the club forward.
Arrangements are now being made for delivery of the covers, and they should arrive at The J.Davidson Stadium imminently, according to chairman Grahame Rowley, who said 'What a fantastic effort by all concerned, and the board would like to thank everyone who responded so readily and generously. It's less than a fortnight since we launched the appeal, and to raise that much in such a short space of time is remarkable.
'Every single contribution, large or small, is valued greatly, and we intend publishing a list of all those who donated on the website over the weekend, as a mark of appreciation. It's great to see so many people wanting to play an active role in helping the club achieve its ambitions, and that's what they have done by helping finance the purchase of these covers.
'They can help combat light frost but, primarily, they protect the pitch from heavy downpours, and we all know how important that is after recent postponements. They really will make a difference.'
As a further measure to guard against postponements next season, the club have arranged for important drainage work to take place on May 15th. The repairs, on the Popular Side and Golf Road end, will enable surface water to drain away more effectively and, coupled with use of the new covers, should keep disruption from the weather to a minimum".

For their penultimate Saturday home game of the 46-game season, Altrincham welcome Leicestershire club Barwell to the J. Davidson Stadium. The reverse fixture back in September saw Altrincham win 3-1, although the third goal did not arrive till late into added time. The Altrincham scorers were Harrop 17, Hancock 40, Peers 90+5 minutes. Almost inevitably, it was ex-Alty man Kyle Perry who netted the Barwell goal, though he has since moved on.
The Canaries' last six league results have seen them win three and lose three...
H WORKINGTON 1-0
A Warrington Town 0-2
A Grantham Town 1-4
H STAFFORD RANGERS 1-2
H COALVILLE TOWN 2-1
H SUTTON COLDFIELD 2-1
Altrincham FC Press and Media Officer, John Edwards, writes:
"The campaign to raise £10,000 for new pitch covers at The J. Davidson Stadium has been given a timely boost by manager Phil Parkinson, his staff and his title-chasing squad of players.
After reading about the magnificent generosity of supporters in response to an appeal for funds, Phil contacted his backroom staff and players to discuss how they might play a part in realising the target.
As well as recognising the benefit they would derive from the covers helping eradicate postponements at The J.Davidson next season, there was a general consensus among the players that they wanted to buy into the club's objectives and demonstrate unity with supporters.
It came as no surprise to Phil or his staff that the sentiment was backed up by unanimous approval for a donation from the dressing room, and, as a result, the club have received a substantial contribution from Phil, his staff and all the players that has taken the running total beyond £9,000 and close to the overall target.
The board would like to express their gratitude for such a show of commitment to the club and add that they are extremely confident the target will be reached imminently".
Thursday 12 April 2018
Farsley Celtic 1-1 Witton Albion (att. 198)
Shaw Lane 2-0 Stalybridge Celtic (att. 136 at Stalybridge, Damian Reeves netted the second goal)
Stourbridge P-P Stafford Rangers (waterlogged)
Whitby Town 2-2 Warrington Town (att. 198 Warrington levelled in added time against 10-man Whitby)
Integro Cup Semi-Finals
Hednesford Town 1-4 Atherton Collieries
South Shields 2-3 Coalville Town
"Altrincham Football Club are holding a trials day on Saturday, May 5th at 3pm at the J. Davidson Stadium.
We are actively looking for players ahead of the 2018/19 season and our recruitment plans are well underway for our first team, reserves and youth team. We currently sit top of the Evo-Stik Northern Premier League and continue to target promotion to the National League North for next season.
Since the start of the 2017/18 season, we have focused heavily on building an infrastructure and environment to harness long term success and sustainability at the club which includes Stats (formerly ProZone) data (the only non-league club to have this) and various cutting edge technologies and facilities to provide for our players. While we are a semi-professional team at present, we have an excellent management team in place, and we have ambitious plans for 2018/19.
If you are a free agent and out of contract this summer and believe you have what it takes to play for the club at the top end of National League North and higher, you are invited to apply for a trial.
Should you wish to be considered for a trial, the following procedure will apply:
You are asked to send your CV or career history/profile to the club, including the following details:
Your name
Your age and date of birth
Your contact address and telephone number
The club(s) you played for in 2017/18
The position(s) you play
If you are unavailable to attend the trial, but would be interested in joining the club next season, you may get in touch with the details listed above.
Please email your details to Altrincham director Rob Esteva by Monday, April 30th at the latest.
All emails will be treated in the strictest confidence".
Altrincham FC Ladies' manager, Keith Edleston, reported on Wednesday on "A gutting end to tonight's first team game down at Mersey Valley as FC United take the three points in a pulsating game.
FC opened the scoring in the first half with a well-taken goal and held it till half time. A few words were said regarding how we could use the ball better and press more and the words must have gone in as the second half we flew at them. A superb run down our right saw Jess Hartopp get to the by-line and fired in a low hard cross for Nadine Sproule to come between two defenders to side foot the ball home... 1-1, game on!
Now the girls' tails were up and we were hunting and closing down the ball very quickly and causing the FC back line some problems. Unfortunately, the dark night set in and three quick goals made the scoreline look very flattering at the end. We have nothing but praise for the girls tonight as, on another night, that game could quite easily have ended 1-1.
Well, we dust ourselves down and we go again knowing how we are progressing and just how close tonight's game really was against a team who are running away with the league.
Altrincham starting eleven: Paula Alarcon-Conde, Aimee Hopkinson, Louise Edleston, Bliss Molyneaux, Georgia Ashton, Kye Brown, Gail Simpson, Beth Hayes, Jess Hartopp, Jade Hesketh, Megan Rowley. Subs: Kate Bryan, Melissa Williams, Nadine Sproule".
In advance of Thursday's fixtures, the
Warrington Guardian
announced that "Paul Carden admits Warrington Town are in 'a little rut' but has backed them to emerge from it a better side. Yellows have now gone five games without a win and collected a single point from two meetings with Nantwich Town over the past seven days.
Tuesday's goalless draw at Cantilever Park followed a 2-1 reverse at Weaver Stadium, but results elsewhere meant Carden's men hold onto second place in the Evo-Stik Premier Division. The Town boss admits his side are playing with anxiety but says they cannot allow themselves to fall deeper into their malaise.
'We're snatching at things and that's the little run we've had. That's coming out in our play,' he told the Guardian. 'You can't fault the effort and commitment. The lads are winning tackles and headers and there's work-rate there. Sometimes, you go through these little ruts and if you stop, you don't come out of them. It's important that we keep working and trying to do the right things. When we come through the other side of it, we need to be better for it. We just have to keep backing the lads and encouraging them to get there'...
Warrington have six games remaining as they try to secure their place in the play-offs and, more importantly, finish second or third to secure themselves a home semi-final tie. Three of those games come in the next five days, starting with a long trip to Whitby Town tonight, Thursday, kick-off 7.45pm. Town then face two clashes with play-off rivals as they travel to Farsley Celtic on Saturday, kick-off 3pm, before welcoming Shaw Lane to Cantilever Park on Tuesday, kick-off 7.45pm.
Carden admits the next week will be pivotal for their campaign and that it will be as big a test for himself and his coaching staff as it is for his players. 'I've said it for months, we can only accumulate as many points as we can and see where it leaves us,' he said. 'As it stands now, we've got to just get ourselves going and winning again. We've got to make sure that we as staff are good as well. It's not just about the players, we have to make sure we're right and on it. It is the collective that will get us results and get us back on track.'
Town will have to do without striker Tony Gray as he has been ruled out for the rest of the season with a medial knee ligament injury. Winger Devarn Green has also returned to parent club Tranmere Rovers following the expiry of his loan."
According to the EvoStik League, "Chris Hardy has started working on his promotion plans for Whitby Town next season after earning a new deal with the Seasiders.
The popular boss agreed a new contract to stay on until at least the end of the 2018-19 campaign at lunchtime on Wednesday only hours before his side were due to host Warrington Town at the Turnbull Ground in the Northern Premier League's top flight.
After guiding the Seasiders to safety last month and receiving the unanimous backing of the club's committee to carry on, the 42-year-old told fans he didn't have to think twice about signing on for another campaign.
'The signing of a new contract for myself was an easy decision and one that was never really in doubt for me when putting pen to paper,' Hardy told whitby-town.com. 'I don't mind going on record to say that this season has been the most challenging period I've ever had in nearly 900 competitive managed games. To have confirmed our involvement at EVO-STIK Premier level is a massive part of going forward as a football club. Our short-term aim remains a promotion season. This is something that both the management team and the playing staff will be working towards.
'I feel that season 2018-19 starts now and putting together positive results, along with securing new deals for existing players, will be a good starting point for what promises to be a very busy summer leading up to the new season.'
Last season's best behaved boss in his division, according to the marks of match officials, Hardy guided the Blues to survival in the EVO-STIK League's top flight after arriving from Guisborough Town in November 2015 before lifting the North Riding Senior Cup and securing a sixth-placed finish the the following season".
Alty played at Stourbridge last Monday in steady rain and on Thursday, Stourbridge announced that "Following a mid-afternoon pitch inspection, tonight's home league game with Stafford Rangers has been called off due to a waterlogged pitch. A heavy cloudburst between 11.30 am and 12.15 pm on an already damp and soft playing surface has left the pitch waterlogged in several areas, particularly in both penalty boxes".
On Thursday, Farsley Celtic reported that "Farsley Celtic and Witton Albion meet for the first time this season in a huge game in the battle for the playoffs.
Farsley will be looking to build on their excellent recent form by making it four consecutive wins. The Celts have lost just one of their last nine games, a 4-1 defeat to Stourbridge. Since then Farsley have gone four games unbeaten, drawing with Nantwich Town (1-1), before going on to defeat Whitby Town (4-0), Stalybridge Celtic (4-1), and Workington (2-1). The recent run has seen Farsley move into 5th place, and just three points cover second to fifth in the division.
Kurt Harris returned to action from the bench last night after recovering from injury, however Ryan Watson remains a doubt with a quad injury. Other than that, Adam Lakeland should have a full squad to select from heading into the remaining games, and if needed could call on Jake Boyd, who was an unused substitute in the 2-1 win over Workington.
Like the Celts, Witton also have enjoyed an excellent season after winning promotion last season. Albion are currently seventh in the division, nine points behind Farsley with two games in hand, and the sides are to meet again before the end of the season. Witton have won just one of their last four games, a 3-0 victory over Hednesford, with defeats against Ashton United (2-1) and Halesowen Town (3-1), and a draw with Warrington Town (2-2). Farsley have played three times since Witton earned an excellent point against Warrington, so the visitors will certainly be fresh heading into this game.
Witton also possess two of the league's leading marksmen in Steven Tames and Robert Hopley, who have scored 19 and 18 league goals respectively. Carl Macauley will be able to call on the returning Owen Dale and Prince Haywood, and Albion have no apparent injury concerns."
---
12 April 2018
Details of the March edition of the Altrincham FC Monthly Draw are below.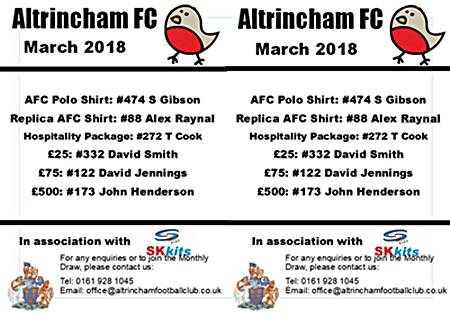 This month's first-prize winner, John Henderson, has donated his prize of £500 to the Pitch Covers appeal, which is very much appreciated. For details of the Pitch Cover appeal, see below...
You, too, can win £500 by joining the Monthly Draw ... details here
A
NL Daily
report is headed "Live wire revived – Hulme up and at 'em with Alty".
It reads "Jordan Hulme's memorable part in Salford City's well-documented recent rise meant that plenty outside of the North West's non-league scene became familiar with the lively striker. Despite the irrepressible personality he is associated with, his Ammies departure was not so easy to brush off but, at high-flying Altrincham this season, he has been kicking back into gear in emphatic fashion.
As April gets into full swing, Alty are the side towering above the rest in the Evo-Stik Premier, some eight points clear under ex-Nantwich Town manager Phil Parkinson with just six games to go. It is never down to individuals, though Jordan Hulme's 24 league goals (30 overall [?29]) have proved pivotal, with the 27-year-old adding the latest to his tally as the Robins won 2-1 at Lancaster City on Saturday (7th April).
While he has scored throughout the campaign up to now, the ex-Ramsbottom United man explains how the first steps of 2017/18 were actually in marked contrast to the current state of play.
'Personally, it wasn't a great start for me. My head wasn't right and I wasn't playing and then after a few games, I kind of got my head on things and things started to pick up for the team as well.
'If you're playing up top on your own, and you're not playing well, it's hard for the team to win games. I felt like I kind of let them down a bit and I still owe the team for those performances, but luckily I've been repaying them.'
Alty look well on their way to the National League North, the division Jordan (right) was fighting to help Salford City get out of this time last year. With the Ammies, he made an impression on the club, and then some. His scrambled play-off final winner in the 87th minute at Moor Lane against Workington to send them up to the sixth tier in May 2016 prompted mass celebrations on the far touchline and will be an enduring image in the club's history. It meant a second successive promotion for Jordan and the club after he had joined his former Ramsbottom managers Anthony Johnson and Bernard Morley at Salford in January 2015, while it also made it four in five seasons with their Rammy days included...
Jordan struck double figures in a rocky National League North season for the team that saw them come so agonisingly close to prising open the door to non-League's top tier. As it transpired, the play-off semi-final shootout heartache against FC Halifax Town was essentially a gut-wrenching farewell for Jordan. The ever-popular personality had signed a two-year professional contract as the club transitioned to a full-time model over the later months of the season, but he would leave... in July.
That departure, along with finding his feet amongst a new team and setup, were the factors behind him not hitting the ground running at Alty, he says. Nevertheless, the Robins' number nine is now firing on all cylinders, with Alty ultimately proving exactly the environment he needed. 'It's a great club, to be honest. It's not just the football; it's everything that's going on at the club. When I first joined I didn't have a job, because I'd left my job to go full-time and that didn't work out, so there were loads of people at the club throwing jobs at me, trying to help me out. Luckily, I got one and I've been doing plenty of work.'
Recently gaining jobs through casting agencies after going along to an advert shoot when he joined Alty, Jordan had been at university while playing for his hometown Ramsbottom United. A Physical Education and School Sport graduate, he recalls a short-lived attempt at teaching in a primary school but says he soon found that, for once, he didn't quite have the required enthusiasm!
His current gaffer, Phil Parkinson, is a sports science lecturer, as well as the manager who oversaw marked progression during his time in charge at Nantwich. Captain and winner of the 2006 FA Vase as a player, he took the Dabbers from the Evo-Stik Premier's relegation zone to 5th place, alongside the FA Trophy semis in 2016.
With Alty falling two divisions from the National League with successive relegations, Parkinson was appointed in April 2017 as the man to steer the ship back towards more agreeable waters. During his time working under 'no nonsense' bosses in Bernard Morley and Anthony Johnson, Jordan enjoyed great success, but he explains how Parkinson, who is assisted by former Crewe Alexandra midfielder Neil Sorvel, has exerted his own approach to help set him on his way to a stellar personal season.
'Well I've only ever had a couple of managers in non-League, but he just gives you the confidence to do whatever you want to do on the pitch. He doesn't hold you back, he just gives you your set jobs and says, 'Apart from that, go out and do what we all know you can do.'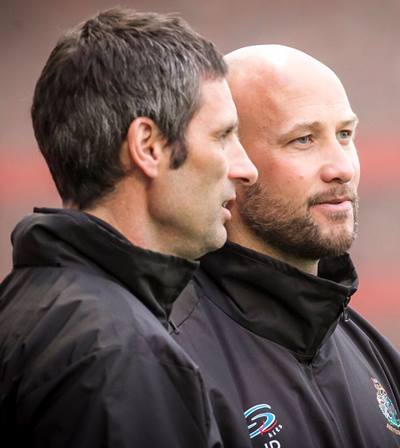 'I think Parky and Neil (left) are great managers and encourage you to play their style of football, which I'm benefitting from. Away from football and at training they are great lads who do whatever they can for you.'
Still based in Ramsbottom, Jordan joined his hometown club at the end of 2011 after stints at Clitheroe and Padiham. It meant continuing a pretty significant connection, with his dad Martin 'Tommy' Hulme a Rammy stalwart in the 90s on the wing, making over 500 appearances and becoming synonymous with the club... Jordan says he wanted to emulate what his dad did there but ultimately had to keep moving on in his own career. What some may not be aware of is that he tried his hand a little bit further afield, in the southeast, though not at Whitehawk or Eastbourne Borough.
This particular adventure played out in Louisiana, as he joined up with a team that could have almost been named with him in mind, New Orleans Jesters. The side were competing in the USL Premier Development League (PDL) at the time and Jordan fills in the details on how that one came to be.
'It was a bit random actually. I wasn't a regular at Rammy, and when they won the league (North West Counties Premier Division) I was on the bench, so I had to run on the pitch and dirty my knees for the picture so it looked like I'd played! I went to America to play over the summer for three months, trained every day and was treated like a king, pretty much. I came back and I was absolutely flying and that's when my non-league career sort of took off.
'Gary Stopforth, who's been at Stockport this season (now with Colne), he was at Rammy with me and he had a few connections out there and I said it was something I'd love to do. Within a month, he'd sorted it out for me and I was on the plane with my pal Phil Dean. We kind of didn't know what we were doing, we just turned up at the airport, some American guy picked us up and the next day we were in for training. You'd wake up about half six, seven in the morning, and you were living in a flat with eight other players, so there was never a dull moment!
'They'd pick you up in a truck and 20 minutes later you'd be at training. Obviously out there you had to train early in the morning because it's boiling hot in the middle of the day, so you'd train eight until ten or eleven, and then the rest of the day was yours.
'We'd go to the gym as a team but it wasn't really like a gym; they'd have their own outdoor pool and bar. Then just explore the city and do whatever 20-year-old lads do!'
On the inside of so much progression at Salford, Jordan's Ammies stats will tell you he scored 31 goals in 120 games, but the impact of the character he brought is not so easy to measure...
'Class of 92: Full-Time,' was shown on Sky Sports towards the end of 2017... Jordan was one of those whose backstory was delved into, with focus on him leaving home, his friendship with defender Steve Howson, and ultimately being one of the players to earn a professional deal. There was also his meeting with Ryan Giggs as he was offered some advice on what it takes to become a full-time player, which included him responding to Giggs's question of what his diet was like in typical fashion – 'Can't stop eating Chineses'...
'I think it was like everything: if you're winning and the cameras are there that's fine but, if you're losing, then people are saying 'no wonder we're losing with that pointing in our face.' That got said a few times but when you were winning, everyone was trying to get on camera!... To be honest, I loved the attention I got off it, I'm not gonna lie! I was in Manchester on a night out recently and people were taking selfies with me and stuff, so that's pretty weird, yeah. I'd say (the documentary) is a good thing.
'On the pitch, I'm a completely different animal and I've played against lads who said 'I didn't like you on the pitch but off it you're sound.' That's just what I have to do to play well, I don't know why that is... I was pretty heartbroken, to be honest, when they [Salford] said they didn't want me any more. When I play for a club, I'm not just there to play football, and I put two-and-a-half years of my life into it, so to hear they're moving on without you, it was pretty horrible.
'Looking back now, it might have been the right decision for everyone involved, so I've got no hard feelings. I'm at a great club now and the people involved are helping me as much as they can, and they're trying to get promotion, which is what I want, so it's working out quite well'...
'We were winning games and having a laugh and that's what it's like now at Alty. You've got 15 top lads who I'd never dislike ever, but they're all absolute idiots in their own way and that's what you need'...
When the music was blaring and the atmosphere was jumping in the dressing room after a Salford win, he was conductor-in-chief...
'I need to be around the lads, me, and involved in some sort of team, so when you can turn up on a Tuesday, Thursday night and have a good crack, just being part of the team is I think the best bit. Then the fact that you can just go in the bar after and have a chat with the fans; I was having a chat with them after a game recently and they were just saying "keep going" and everything. A little girl came up to me and John Johnston (right) and gave us both an Easter egg, so it's just stuff like that really'...
There is very much a driven edge behind Jordan's footballing exploits... 'I'd like to think I've matured a bit now. I was a bit of a mad 'un a few years ago and I've had to chill out... Because I've always wanted to do it, to be a pro, it's something I need to do, whether it's one year of my life, two, whatever. It's something that I've got to strive for instead of settling for mediocre. It's still a hope of mine that I can do that'..
Bern Morley said of his former frontman, 'I don't think we'll ever replace Jordan Hulme as a character. Great footballer, but as a character, just irreplaceable. I've met some good people in my nine years of managing and 15 years of playing, but Jordan Hulme, he's hard to explain. I think if you were to put that out – 'Jordan Hulme's a character' – there'll be thousands that vouch for it.'"
As reported yesterday the Shaw Lane v Stalybridge Celtic fixture tonight has been switched to the Bower Fold.
Shaw Lane
explained that "Our home tie against Stalybridge Celtic will now be played at Stalybridge Celtic's Bower Fold ground. Due to the rain we've encountered since half four Monday afternoon until the early hours of this morning [Wednesday] the pitch at Sheerien Park is unplayable and other arrangements have had to be made.
Our game against Stalybridge Celtic will now be played at their ground (Bower Fold) tomorrow (April 12th) with a 19:45 kick-off. We thank both the EVO-STIK Northern Premier League and Stalybridge Celtic in their understanding of the situation and agreeing to allow the switch tomorrow evening to our visitors' home. We apologise to any supporters who were hoping to watch the game tomorrow evening and are now unable to attend. The situation is not ideal, but unfortunately the weather has been against us yet again".
From the
Stourbridge News
we learn that "Boss Gary Hackett wants to find momentum at the War Memorial Ground in the build up to Stourbridge's Birmingham Senior Cup semi-final against West Bromwich Albion. The Glassboys now have three successive games at Amblecote before they welcome the Baggies on Wednesday, April 18.
Stafford Rangers will visit this Thursday before Stalybridge Celtic on Saturday (3pm) and Workington on Monday (7.45pm).
Stour go into the clash on the back of last Monday's battling draw with league leaders Altrincham... Hackett said, 'We have done a lot of travelling so it'll be good to play the games at home now. Even though non-league isn't as expensive as league football, we still appreciate that it puts people under pressure when there are a lot of games at home in close proximity. I want the fans to know that we're really grateful for their support. The Birmingham Senior Cup is a competition that we have reached the final of twice but not won. It would be great if we could get up a head of steam and then end the season on a high with some silverware...
On the dogged display against Altrincham, he added, 'I think we deserved a point out of the game because everyone put one hell of a shift in. They had a lot of the ball in the second half but never really troubled Matt Gould too much. We again had a lot of injuries but I thought we did really well. The fans appreciate when you are just dealing with the cards you are dealt'...
Meanwhile, club physio Richard Drewitt won't be on the sidelines for the run-in. However, Hackett was quick to play down rumours of a bust-up in the ranks. He explained, 'Richard has got a lot of work on a the moment and is having a bit of a break from Stourbridge. He has still come to our games to watch us and has offered to help out and I'm also still in tough with him'".
The
Evo Stik League
reports that "Tuesday night proved to be a good one for Premier leaders Altrincham, even though they didn`t play, writes Pitchero's Steve Whitney.
That's because their nearest challengers for the title, Warrington Town, were held to a 0-0 draw at Cantilever Park by a Nantwich Town side who had beaten them 2-1 last weekend. The Wire's winless run now stretches to five games just at the wrong time of the season for Paul Carden's side.
In contrast, Farsley Celtic made it three consecutive wins as they ground out a 2-1 victory over Workington AFC to move seven points clear of sixth-placed Shaw Lane AFC in the top five.
Nathan Turner found the back of the net twice after nine and 76 minutes to make it three goals in two games and extended the Celts' unbeaten away run to a dozen games. David Symington had given the hosts hope of a point when he reduced the deficit in the 86th minute, but Celtic held firm to move level on points with Grantham Town, who were beaten 3-1 at the Giant Axe by Lancaster City.
It`s back-to-back defeats for the Gingerbreads, who fell behind to a 21st minute Sam Bailey goal. Craig Carney eventually doubled the Dolly Blues' lead 11 minutes after the break and, after Curtis Burrows had reduced the deficit in the 64th minute, Tom Kilifin made the points safe for City five minutes from time.
Ashton United moved above Grantham into third, just a point now behind Warrington, after beating Stafford Rangers 1-0 at Hurst Cross, an early eighth minute Dean Smalley effort proving the difference in the end.
Rushall Olympic won the evening's other game at Dales Lane against fellow mid-table outfit Buxton, Sam Whittall`s early eighth minute opener for the Pics added to by Lewis Archer in stoppage time at the end of the game."
Alty complete this season on 28 April with a visit from the Hednesford Town and they confirm that "We have been informed that the Staffordshire FA Senior Cup Final will take place at the Bet365 Stadium, the home of Stoke City, on Tuesday 24 April. The Pitmen will face either Stafford Rangers or Wolverhampton Sporting Community in the final.
We hope that as many Hednesford Town supporters as possible can make the journey up to Stoke in order to cheer on Rob Smith's side."
---
11 April 2018
This Thursday's fixture between Shaw Lane and Stalybridge Celtic has been switched from Barnsley to Tameside. The EvoStik League confirms that "The Match between Shaw Lane and Stalybridge Celtic tomorrow will be played at Bower Fold, Stalybridge due to a waterlogged pitch at Sheerien Park".
Next Thursday, Alty are scheduled to play at Shaw Lane.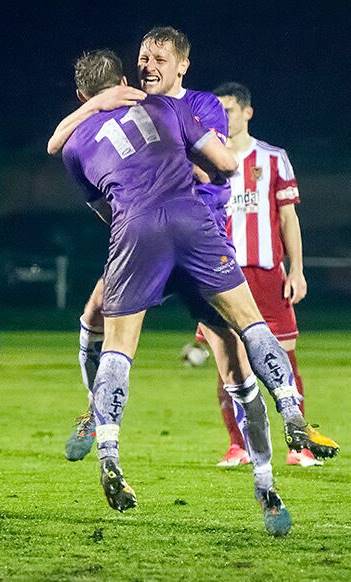 Altrincham FC Press and Media Officer, John Edwards, has submitted the following article for inclusion in this week's Sale and Altrincham Messenger...
"Phil Parkinson insisted a point was the least Altrincham deserved after a late Josh Hancock equaliser extended their lead at the top of the Evo-Stik Northern Premier League at Stourbridge on Tuesday night.
Hancock salvaged a 1-1 draw with a close-range finish, after John Johnston's 76th-minute penalty was parried by the Stourbridge keeper, but Parkinson saw it as scant reward for his side's dominance, particularly in a one-sided second half.
Right: Jake Moult and Josh Hancock (11) celebrate the latter's goal at Stourbridge.
'It was massively important we took something, and a point was the very least we were due after playing like that,' said the Alty boss. 'I actually thought we deserved all three, but I can take great heart from the fight my players showed - full credit to them for coming back and absolutely dominating the second half against a side who were one of the favourites, along with ourselves, to win this league at the start of the season.
'I don't know the percentage figures for possession in the second half, but it would be something ridiculous. I felt we dominated the game overall. They had a bit of possession in the first half, but not much, then it was all us after that, and it was a pleasure to watch.
'I actually enjoy watching us. That's why I come to football. It's not because I see it as a job. I want to enjoy seeing my team play, and anyone here tonight would see we were the ones trying to play football the way I think it should be played.
'Young Chris Merrie (left) went on and was a real influence, while Shaun Densmore really drove us forward with those overlapping runs, and Simon Richman did the same on the other flank. In fact, everyone stepped up to the mark and did an outstanding job, so this certainly wasn't a result to be frowned upon.'
As Alty brace themselves for a run of four games inside a week, starting with Barwell at home on Saturday, they received a welcome boost on the injury front, with fit-again Connor Hampson and Andy White, who needed stitches in a cut eye, hopeful of being available".
Tuesday 10 April 2018
Ashton United 1-0 Stafford Rangers
Lancaster City 3-1 Grantham Town
Rushall Olympic 2-0 Buxton
Warrington Town 0-0 Nantwich Town
Workington 1-2 Farsley Celtic
Staffordshire Senior Cup 17-18 - Semi-Final
Hednesford Town v Stoke City
Cheshire Senior Cup 17-18 - Quarter Final
Stalybridge Celtic 6-1 Barnton
On Tuesday night, Altrincham Reserves beat league leaders Knutsford 3-1.
If we think we have fixture congestion, spare a thought for our neighbours 1874 Northwich who still have fifteen league games to play, not to mention the Mid-Cheshire Senior Cup to contest. This week they have a sequence of three games on three successive days...
Thursday - Charnock Richard A
Friday - Winsford United A (MCSC SF)
Saturday - Widnes H
Meanwhile, the top three in the EvoStik Premier have the following relatively leisurely sequence of fixtures before the end of the season... ALTRINCHAM
Sat.14.4.18 H BARWELL
Tue.17.4.18 A Buxton
Thu.19.4.18 A Shaw Lane AFC
Sat.21.4.18 A Grantham Town
Tue.24.4.18 H MARINE
Sat.28.4.18 H HEDNESFORD TOWN
WARRINGTON TOWN
Thu 12.4.18 A Whitby Town 1-1
Sat 14.4.18 A Farsley Celtic
Tue 17.4.18 H SHAW LANE AFC
Sat 21.4.18 H HALESOWEN TOWN
Tue 24.4.18 A Grantham Town
Sat 28.4.18 A Stourbridge
GRANTHAM TOWN
Sat 14.4.18 A Workington
Tue 17.4.18 H HEDNESFORD TOWN
Thu 19.4.18 A Whitby Town
Sat 21.4.18 H ALTRINCHAM
Tue 24.4.18 H WARRINGTON TOWN
Sat 28.4.18 A Sutton Coldfield Town
On Saturday, for the second successive game, Alty's opponents have a cricket pitch adjacent to their stadium, though in Barwell's case it is self-contained and not forming part of the stadium itself.
Last time out the Canaries won 2-1 at home against Sutton Coldfield Town. Barwell report that "A Barwell victory confirmed Sutton Coldfield Town's relegation to step four... Increased Barwell attacking paid off eleven minutes before the break, when James Beresford turned the ball into his own net.
Six minutes later, Sutton Coldfield scrambled home an equaliser when Justin Richards turned in from close range... On the hour mark, Stenson got himself on the end of a long ball and kept his composure in the box to fire past Matthew Coton... Sutton Coldfield looked to have accepted their fate, showing no great desire to push for a late equaliser and the home side saw the game out comfortably".
Barwell: Castle, Whitmore, Nisevic, Stanley (c), Percival, Story (Baldwin 82'), Heath, Nesbitt (Warmington 86'), Reid (Piggon 67'), Hickey, Stenson. Unused subs: Bates, Towers".
Altrincham FC Youth's match against Heswall in the Quarter Final of the NWYA Open Cup was called off on Sunday as the Wirral club's pitch was waterlogged. The Youth Team has no game this weekend, with a home match against Curzon Ashton in the league cup semi final being their next fixture, at the Manchester Health Academy, on 22 April. However, the under-17s play Chester FC this Sunday (15th at 2.30pm) at the same venue in the semi-final of the North West Youth Alliance John Gardener Memorial Cup.
The names of a further batch of four beers have been unveiled for the Alty Beer Festival (27-29 April).
Banks Brewery:
Sunbeam Brewed with an exciting blend of Pilgrim, Citra and Nelson Sauvin hops Sunbeam is a gloriously zesty blonde beer. It has a vibrant citrus hop aroma and a shimmering blonde colour. The rich gooseberry and zesty grapefruit taste create an easy drinking beer with a clean, long aftertaste - 4.2% ABV.
Young's Brewery:
London Gold A light, golden and full-flavoured beer with a refreshing bite. 4.0% ABV
Young's Special 100% malt brew combining Maris Otter and Crystal malt with locally sourced British Fuggle and Goldings hops. 4.5% ABV
Brakspear Brewery:
Brakspear Bitter The quintessential Oxfordshire Bitter. Amber in colour with a good fruit, hop, and malt nose. The initial taste of malt and well hopped bitterness dissolves into a bitter-sweet and fruity finish. Brakspear Bitter is brewed using the famous Henley 'double-drop' fermentation system incorporating six Victorian square fermenting vessels - 3.4% ABV".
Att. 172: Shaw Lane 1 - 3 Marine.
Att. 426: Stourbridge 1 - 1 Altrincham
Pitchero Non-League
reports that "Leaders Altrincham ensured second and third-placed sides Warrington Town and Grantham Town maintained an interest in the title race after being held to a 1-1 draw at mid-table Stourbridge on Monday night.
Both play this evening [Tuesday] and the gap at the top could be down to just six points with six games remaining by the end of play.
At the War Memorial Ground in front of a decent crowd of 426 on a wet night, the Glassboys took an 11th minute lead through Luke Benbow`s free-kick. The leaders dominated the second half and eventually go themselves back on level terms in the 75th minute when Simon Richman won a penalty, but John Johnston failed to beat home 'keeper Matt Gould, only for Josh Hancock to net the rebound.
Despite pressure, the visitors weren't able to find a winner.
Shaw Lane AFC's play-off hopes took a nosedive as they were beaten 3-1 at Sheerien Park by a relaxed Marine AFC. The Ducks, appropriately-named on a very wet night, got back to winning ways on Saturday after an inconsistent spell which has seen them drop out of the play-off places. They had the lead as well as Kelvin Lugsden scored after 12 minutes. But goals from Adam Hughes after 23 minutes and Tom Field 11 minutes later took the Mariners into the break in front.
And a 65th minute Liam Tongue third confirmed the visitors' win to leave the Barnsley side four points adrift of the top five with two games in hand."
Before Tuesday's fixtures,
Farsley Celtic
reported that "Celtic travel to Workington looking to make it three consecutive wins and continue the push for the playoffs. When the sides met at Throstle Nest in November the game ended in a controversial 3-3 draw as Workington scored a 96th equaliser.
James Walshaw
hit a hat trick for the Celts...
Farsley enter this game firmly in the playoff hunt in fifth position, and this is the third game in a run of six games in 13 days. The Celts have lost just one of their last eight games, a 4-1 loss to Stourbridge... Forward Nathan Cartman has hit form just at the right time with five goals in his last two games, however on the injury front, Ryan Watson, Isaac Baldwin, Lewis Turner and Kurt Harris are all doubts.
Ahead of the game Farsley Manager Adam Lakeland commented, 'It's real testament to the players and staff to be in this position with six games to go and, although we know how difficult the upcoming games will be, we are relishing each and every one of them.' Workington have had a slip in form in recent times with just one win in their last five, and they now lie 10th in the division".
---
10 April 2018
After falling behind to Benbow's tenth-minute freekick, Alty dominated the second half and deservedly levelled in the 76th minute. Richman won a penalty but Johnston failed to beat keeper Gould, only for Hancock to net the rebound.
Match report here.
Monday 9 April 2018
Mickleover Sports P-P Stalybridge Celtic
Shaw Lane 1-3 Marine
Stourbridge 1-1 Altrincham
The latest four beers to be named as available at the Altrincham FC Beer festival (27-29 April) are listed below...
Downton Brewery
Malted Milk Malted Milk Chocolate Stout – 4.6% ABV
Tatton Gold A full tasting, satisfying deep golden special ale. This is a beer with a generous maltiness backed up by a robust hop character. 4.5% ABV
Shipyard Brewing Company
Melonhead Golden Ale A crisp, quenching wheat ale with the refreshing aroma of fresh watermelons. This medium bodied beer has a subtle, sweet watermelon note balanced by a light malty yet refreshing finish. 4.4% ABV
Eagle Brewery (Charles Wells Brewery)
Eagle IPA The aroma of freshly sliced, ripe apples. Its amber hue is emphasised by a tight, rich head. A complex finish of bitter hops, nuts and citrus fruit. 3.6% ABV
---
9 April 2018
You can follow this fixture via this website's minute by minute text updates by clicking on the icon below. Alternatively, Radio Robins' coverage of the game is outlined below as well.
Brian Flynn announces that "Radio Robins, sponsored by Ashley Mowers Garden Machinery, is providing full live commentary of Monday night's game. The match commentary sponsor is 'Kids' Disco Parties' whose website is here. The commentators are Ian Wilkinson and Mark Simpson and the match summariser is John Edwards.
Coverage starts at 7.25pm".
Guidance for Listening to Radio Robins
There will be 4 ways to listen to Radio Robins via Mixlr
a) The Radio Robins website. Open the page in any web browser and the broadcast should start automatically. Please note that the 4 Player Options (Windows Player | Real Player | Quick Time | Winamp ) will not work now.
b) Download and install the Mixlr app on Android devices from the Google Play Store - start the app and search for 'Radio Robins'.
c) Download and install the Mixlr app on Apple devices from the Apple Store - start the app and search for 'Radio Robins'.
d) There is a temporary WIX website here.
Jordan Hulme's next goal for Altrincham will be his 30th of the season, a landmark last reached for Altrincham by Damian Reeves in 2012-13. Jordan has scored 24 league goals and five in cup competitions.
On the subject of landmarks, Alty now have 80 league points. In the three-points-for-a-win era, Alty's best end of season total was 82 points in 1991. Alty amassed 81 points in 2014, when we finished third in Conference North, and the previous season we finished fourth on 80 points - all of the above totals were reached in 42-match seasons. In 2013 and 2014 we won 24 games out of 42, a total we have reached this season after 38 matches. As for goals scored, we netted 100 goals in 2013 and have to go back to our Cheshire League days of the 1960s to exceed that. So far, in 2017-18 we have scored 88 league goals.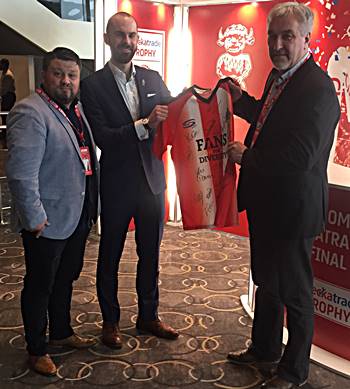 Pictured right, we see Alty FC goalkeeping coach and owner of SKkits, Alty's kit supplier, with coach Chris Parkes, presenting the special Alty shirt to prostate cancer charity representative Andy Brown at the Checkatrade Trophy final at Wembley on Sunday. Pictured, right are Chris Parkes, coach at Altrincham, Andy Brown and Ian Senior.
Our next opponents,
Stourbridge
, "welcome first-time visitors Altrincham to the War Memorial Ground on Monday for an Evo-Stik Premier fixture.. . Recent seasons have seen them suffer something of a downturn in fortunes and the current campaign is their first at Step 3 since the pyramid was formalised in 1979. However, at the time of writing they look very much determined to make their stint here as brief as possible with a five-point [now eight] lead at the top of the table.
Having taken the 'horses for courses' option in the summer when they tempted manager Phil Parkinson away from Nantwich Town, the Robins actually made a sluggish start to the campaign, taking only one point from their opening three matches to leave them next to bottom. Four successive wins got their campaign going, before a 2-5 reverse at Workington set them back. It was a temporary blip, however, and a run of 14 wins, four draws and just one defeat... saw them climb to the top of the table in mid-October, and there they have remained ever since.
The scale of the task facing the Glassboys on Monday can be summed up in three numbers. Altrincham boast the most prolific attack in the Division, the meanest defence, and consequently the biggest goal difference.
The Robins have suffered from some inconsistency in recent weeks, however, and their lead at the top [had] been cut to four points..
Stour and Altrincham met for the first time earlier this season with the Glassboys succumbing to a 4-1 defeat back in early March. Junior Smikle and George Bowerman have also featured for both clubs in recent years. Altrincham, meanwhile, should include some familiar names, including former Nantwich trio Josh Hancock, Andy White and Ben Harrison, as well as several members of Salford City's title-winning squad from two years ago in the form of Jordan Hulme, James Poole and John Johnston".
In their last game the Glassboys drew 1-1 with Hednesford Town who reported that "A goal in second half stoppage time saw Hednesford Town claim a point against Stourbridge in this battle between two mid-table teams...
The home side saw their injury worries increased once again in the 38th minute when centre-half Sam Oji was forced off with Tom Thorley coming on in his place as an emergency fullback...
A minute into the second half Hednesford broke forward with James Lawrie seeing a shot blocked inside the penalty area... Stourbridge took the lead... when Nicolae Carnet did well down the right-hand-side and his cross into the penalty area was met by Luke Benbow who planted a header into the corner of the net... Although Stourbridge looked lively going forward they failed to really plant any blows on the Pitmen backline.
Just when it looked as if they'd done enough to take home all three points Hednesford would equalise in the second minute of stoppage time when Joey Butlin saw his header hit the post before it fell to Glover who took his time before firing into the net...
Stourbridge: Gould, Westlake, Birch, McCone, Christophorou, Forde (Shearer 57), Tonks, Broadhurst, Benbow (Hague 83), Gallagher, Carnet. Subs not used: Timmins, Cooke, Hawk".
Brian Flynn's post-match interview with Phil Parkinson (right) after the game at Lancaster is
here
.
Altricham FC Ladies lost 2-1 at Liverpool Marshalls Feds on Sunday. The hosts are third in the table, whilst Alty lie sixth. Jess Hartopp netted the Altrincham goal. The Ladies' next game, on Sunday 11 April, is at home to FC United of Manchester, the league leaders.
Meanwhile, the Ladies' Development team beat Chester City LFC 9-0.
Four more beers have been unveiled for the Beer Festival at the J. Davidson Stadium, 27-29 April.
Brightside Brewery
B-Side Golden Ale Originally part of our 'Manchester Icon' range, this beer is our tribute to the Manchester music scene. Brewed as a refreshing session style ale, it's pale golden colour with a mild bitterness and a vibrant fruity hop flavour. 4.2% ABV

Brightside Best

This mid-amber coloured bitter is brewed using hops from our continental cousins to give it a slightly more modern feel. American Willamette and Slovenian Bobek are genetically related to Fuggles, but have a more pronounced character, showing subtle fruit and citrus flavours as well as the usual earthy and spicy notes you'd expect in a bitter.
Downton Brewery
Mad Hare

This auburn coloured speciality bitter is bursting with rich resinous hop flavours. Ginger and lemongrass add a spicy citrus bite to the spring favourite. 4.4% ABV
Tatton Brewery
White Queen

Our Spring seasonal beer – a Belgium white wheat beer and is spiced with coriander, curacao orange peel and cardamom- reputed to have aphrodisiac properties. 4.2% ABV
The
EvoStik League
claims that "Altrincham took a giant stride towards the EVO-STIK League Premier title on Saturday.
Their 2-1 win at the Giant Axe against Lancaster City and defeats for second and third-placed sides Warrington Town and Grantham Town allowed the Robins to extend their lead at the top of the table to eight points...
Warrington went down to a 2-1 defeat at the Weaver Stadium to in-form Nantwich Town, for whom this was a fifth game unbeaten. And the Dabbers had to come back from being a 28th minute Sean Williams penalty behind to win too. Toby Mullarkey equalised five minutes before the break and then a spot-kick of their own converted by Harry Clayton gave them the lead...
Grantham were shocked at The Meres by mid-table Mickleover Sports. And the afternoon couldn't have got off to a worst start for the Gingerbreads when they had keeper Kieran Preston sent-off after less than two minutes for hauling down Euan Garnett on the edge of the area. With no sub keeper on the bench, midfielder Jack McGovern had to don the gloves and he was beaten by Jimmy Phillips from the resulting free-kick. Jak Hickman doubled Sports' lead in the 19th minute and McGovern was beaten again a minute before the break through Garnett but kept a clean sheet in the second half!
Those defeats gave fresh hope to Ashton United of finishing runners-up as they coasted to a 4-0 Hurst Cross win over Whitby Town. The Robins raced into a 2-0 lead inside seven minutes through Dean Smalley and Lewis Baines. Josh Granite added a third with 27 minutes gone and Smalley his second and Ashton`s fourth 19 minutes from time.
Fifth-placed Farsley Celtic made it back-to-back four-goal wins after a 4-1 success at Bower Fold against Stalybridge Celtic... Shaw Lane AFC, with three games in hand on Farsley, are four points behind in sixth after a 3-1 win at Dales Lane against Rushall Olympic.
The crowd had to wait until 13 minutes from time to see the first goal, which came from the Pics' Richard Brodie. But three goals in the final six minutes from Paul Clayton and an Olly Dyson brace sealed the Ducks` win.
Sutton Coldfield Town are relegated after their 2-1 defeat at Kirkby Road against Barwell, coupled by a point gained by second-bottom Halesowen Town in a 0-0 draw at Marston Road against Stafford Rangers, finally condemned the Royals to the drop...
Elsewhere, Harry Limb bagged a brace as Matlock Town made it back-to-back wins in a 3-1 home verdict over Coalville Town... Liam Hardy topped and tailed goals from Anthony Wilson and Bradley Grayson as Buxton won 4-2 at Silverlands against Workington AFC... And Danny Glover grabbed a stoppage time equaliser for Hednesford Town as they shared a 1-1 draw with Stourbridge at Keys Park, Luke Benbow having given the Glassboys a 63rd minute lead".
Meanwhile, the EvoStik League adds that "Barwell sent their commiserations to Sutton Coldfield Town and backed them to bounce back on Saturday night after helping to relegate the Royals... The Royals, candidates to be playing in the new Midlands divisions being created next season, will be doing so at Step 4 after Halesowen Town's draw at Stafford Rangers coupled with their 2-1 reverse at Kirby Road sent them down...
Royals manager Neil Tooth and his squad were also backed by the club's fans who paid tribute to their counterparts around the Northern Premier League in a series of tweets after the defeat".
Warrington Town are one of Alty's chief rivals for the league title and their last opponents, Nantwich Town report on their 2-1 win over the Yellows on Saturday. "Despite going a goal down after half an hour, Nantwich recovered and scored two in the space of five minutes at the end of the first period and hung on throughout the second half to claim all three points over a good Warrington side at the Weaver Stadium. The win seemed even more impressive considering that the Dabbers were down to ten men during the second half after substitute Sam Wakefield was sent for an early bath with ten minutes to go...
After half an hour, the visitors were awarded a penalty when Jamie McDonald was brought down in the box. Sean Williams stepped up to take the spot-kick, and his low and driven shot beat goalkeeper Myles Boney, despite the on-loan Blackpool man guessing the right way... With ten minutes until the interval, the game had turned on its head as Nantwich were now in the driving seat... It wouldn't be long before Nantwich would equalise, when Steve Jones made a driving run into the box, before laying it off to Mullarkey. The midfielder's effort fired past Pilling, and rocketed into the back of the net.
Just six minutes later, Nantwich would take the lead, when Jones was cynically fouled in the area which left the referee with no choice but to point to the spot. Clayton stepped up to take the spot-kick, and fired down the middle, while Pilling went to his right, allowing the Dabbers to take the lead....
However, it would take a lot of defensive work from the Dabbers to hang on to the lead as Warrington had looked very positive offensively".
From the
Chester Stabdard
we learn that ""Marcus Bignot feels if Chester are 'not careful' they will suffer back-to-back relegations after their five-year stint in the National League came to an abrupt end. Saturday's 2-0 home defeat against rivals Tranmere Rovers, played out in front of just 1,300 Blues fans in a crowd of 3,103, saw Chester's inevitable relegation finally confirmed with four games of the season still remaining.
Bignot, who has been told his contract will not be renewed at the end of the current campaign, chose to address the club's off-field turmoil in a candid post-match interview, and believes the club's supporters, who own the football club, 'deserve to be told the truth' and feels another relegation next season is not out of the question.
'There's a complete lack of experience on the football-side of things. The fans deserve to be told the truth, shown the reality, the facts,' Bignot explained. 'The fans need answers. Even if I'm not here I've always worked in terms of how can I help the football club. I've presented to them, anytime their football working group wants to call on my experience, playing and management; that has never happened. I just want to help the football club. It's not about me, I'll be OK. It hurts though. I want to be the manager here and I won't get that opportunity. If they don't want me then that's fine, but when you have got Neil Young in the building, I am frustrated.
'I have been relegated as a player and if my management career can mirror my playing career then I will die a happy man. This club is at a crossroads and going into the (National League) North won't solve the problems, it will only magnify them. If you ask me, there will be another relegation on this club's CV if it is not careful. This is really a defining moment and it feels like it could go again. Altrincham and Hyde spring to mind.
'There has to be some real decisions made, not just good people but the right people. There's a load of good people and there's a lot of good work going on, the academy, the community. It's unbelievable and the volunteers every day are absolutely superb but, when it comes to first team, there is absolutely a lack, and I mean lack, of experience at first team level. My outcome has been decided. But how does it look moving forward? Those questions have to be answered'".
The EvoStik League reports that "Trafford striker Danny Frost is recovering in hospital after suffering a serious head injury in Saturday's abandoned EVO-STIK League North clash at Colwyn Bay.
The 29-year-old hot-shot was reported to be 'talkative and responsive' by relieved Trafford officials within an hour of being hurt before leaving Llanelian Road by ambulance... An air ambulance from Caernarfon had originally been called to ferry the player to hospital after he slid head first into a wall soon after the hour mark with the hosts leading 2-0. With Frost conscious but in a bad way, the clash was abandoned by referee Kristian Silcock soon afterwards while he was being treated on the pitch by the medics of both clubs...
Singling out out one of the match officials for special praise, Trafford said, 'We would like to say "thank you" to Assistant Ref Zharir Mustafa who, with his quick reaction to go to the aid of DannyFrost undoubtedly prevented an unthinkable outcome this afternoon. Words can't express the gratitude of us all.'
The Seagulls also praised match officials and their own staff... after wishing Frost a swift recovery, 'Thank you to the referee's assistant who reacted instantly to Danny Frost's terrible injury today - you were amazing! Also to Colwyn Bay juniors coach [former Alty forward] Danny McGoona and both medical teams for their superb help. Also big thanks to our stewards'".
Altrincham FC adds its best wishes to Danny for a speedy recovery.
---
8 April 2018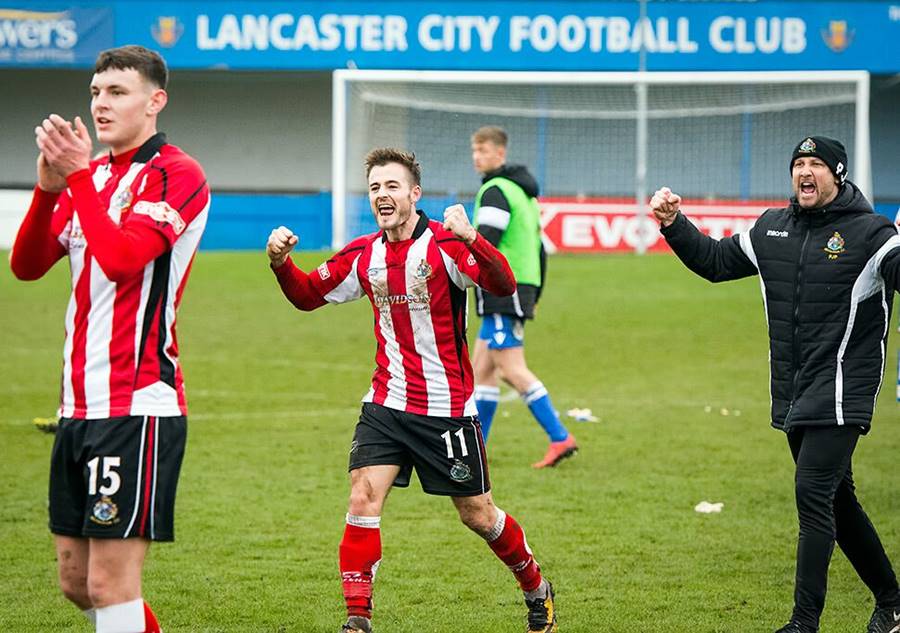 Courtesy of Mike Ripley, we see Sam Heathcote, Josh Hancock and manager Phil Parkinson celebrating at the end of Saturday's game at Lancaster.
This win and defeats for Warrington and Grantham allowed Alty to extend their lead to eight points at the top of the table. But after cruising to an early 2-0 lead, Lancaster got a goal back and kept the game tight till the end.
Alty took a tenth minute lead when Jordan Hulme's shot was fumbled over the line by goalkeeper Wynne, who was later named Man of the Match. Seven minutes later it was 2-0 as Hannigan powered a header into the net from Johnston's corner.
However the Dolly Blues pulled back a goal in the 24th minute when Simpson headed home an Akrigg cross from the right after a corner. Hulme missed a sitter before half-time and Altrincham were unable to convert a lot of second half pressure into a third goal.
Match report here.

Above: Tom Hannigan nets the opening goal, (his legs can just be seen, far right!), as he wheels away after heading home the goal.
TASC is running supporters' coaches to Stourbridge (Monday) - details are on the
Away Travel
page. You can book your seat by ringing the club on Monday morning (0161 928-1045).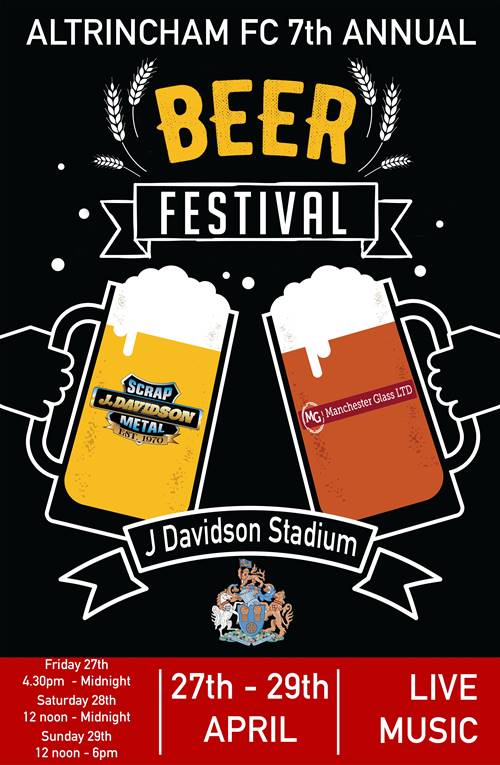 Stubborn Mule Brewery Limited
Single Hop Cascade IPA
Using one of our favourite beer bases, our single hop beers allow us the chance to showcase the best of the world's hops from the UK to the US Pacific Northwest from Germany to New Zealand and Australia. 5.7% ABV
Pre-Prohibition Cream Ale
This pilsner / pale ale hybrid is a refreshingly light and crisp beer. The liberty hops add a refreshing essence of citrus, grapes, peaches and vanilla. Crash-cooled for a clean finish, the perfectly timed drop of honey along with a double dose of hops makes this an interesting yet easy drinker for all. 5.5% ABV
Li'L Napoleon Pale Ale
An ambitious session Pale Ale with three US hops – Mosaic, Cascade and Crystal. Prepare for a tropical, citrus orange finish with a fruity mid-range bitterness. 3.9% ABV
Brightside Brewery
Odin Blonde Ale
Our best-selling beer in cask. It is a fresh, light-bodied, pale blonde ale brewed with European and New World hops. Expect a fruity, citrus flavour and moderately bitter finish. 3.8% ABV
Fewer than 48 hours after the end of the game at Lancaster, Altrincham head in the opposite direction for a second attemnpt to play Stourbridge. The original fixture, on 20 January, was postponed due to a waterlogged pitch but not before the players and supporters had arrived at the ground. In January, Altrincham played one of their best 45 minutes of the season to beat Stourbridge 4-1 at the J. Davidson Stadium.
As well as the first team at Lancaster, on Saturday Altrincham FC Reserves were also victorious, overcoming Poynton 2-0. Alty are now 11th in the table whilst Poynton are eighth.
The Reserves' next match is on Tuesday, 10 April at home to Knutsford FC at Egerton Sports Club.
Att. 172 Ashton United 4 - 0 Whitby Town
Att. 145 Barwell 2 - 1 Sutton Coldfield Town
Att. 305 Buxton 4 - 2 Workington
Att. 377 Grantham Town 0 - 3 Mickleover Sports
Att. 347 Hednesford Town 1 - 1 Stourbridge
Att. 313 Lancaster City 1 - 2 Altrincham
Att. 356 Matlock Town 3 - 1 Coalville Town
Att. 269 Nantwich Town 2 - 1 Warrington Town (Sean Williams netted a penalty for Warrington).
Att. 186 Rushall Olympic 1 - 3 Shaw Lane
Att. 475 Stafford Rangers 0 - 0 Halesowen Town
Att. 325 Stalybridge Celtic 1 - 4 Farsley Celtic
Altrincham have still to play Shaw Lane, away, but on Saturday the Ducks were away themselves.
Rushall Olympic
who beat us last week, report that their "unbeaten run came to an end against Shaw Lane thanks to a late comeback from the Barnsley side at Dales Lane...
A mix up between Josh Webb and Joe Slinn nearly played Damian Reeves in, but the Shaw Lane man couldn't get enough power on his shot and Slinn recovered.
The big talking point in the first half came when Ducks man Jake Picton was sent off after appearing to strike Richard Brodie after a tussle between the two.
Rushall made their numerical advantage count on 77 minutes, when Danny Waldron got in down the left to cross low to the front post. Brodie made the perfect run to tap home the opening goal.
The equaliser for Shaw Lane came on 84 minutes when a free kick was spilled by Joe Slinn. Paul Clayton reacted quickest to prod in the rebound. The Ducks got an unlikely winner in the 88th minute when Olly Dyson controlled the ball in the box before rifling past Slinn into the bottom corner. The three points were sealed in the dying moments when Olly Dyson went through one on one down the middle before sliding past the helpless Slinn to make it 3-1 to the visitors. "
Saturday's results confirmed the relegation of Sutton Coldfield Town
---
7 April 2018
Saturday 7 April 2018
Ashton United 4-0 Whitby Town
Barwell 2-1 Sutton Coldfield Town
Buxton 4-2 Workington
Grantham Town 0-3 Mickleover Sports
Hednesford Town 1-1 Stourbridge
Lancaster City 1-2 Altrincham
Marine P-P Witton Albion
Matlock Town 3-1 Coalville Town
Nantwich Town 2-1 Warrington Town
Rushall Olympic 1-3 Shaw Lane
Stafford Rangers 0-0 Halesowen Town
Stalybridge Celtic 1-4 Farsley Celtic
The
EvoStik League
confirms that "Altrincham, Tadcaster Albion and Basford United are celebrating their success as first-time winners of the Northern Premier League's Frank Whittle Partnership-sponsored Fair Play accolades!
Named on Friday as March's fair play kings in the EVO-STIK League Premier, League North and League South divisions respectively, the trio will all be honoured at upcoming fixtures over the final month of the campaign.
Thanks to the new sponsorship of the Frank Whittle Partnership (FWP) for the NPL's historic 50th anniversary season, the clubs are now in the running for a share of more than £5,000 in prize money the NPL hands out annually to the campaign's overall fair winners to promote sportsmanship and fair play while backing the Football Association's ongoing Respect campaign.
As in previous campaigns, the winners in each division will collect £1,000 with the runners-up banking £500 and the third placed clubs £250 each. The most sporting club with the lowest disciplinary score across the EVO-STIK League's three divisions will also be presented with the Peter Swales President's Cup by FWP representatives at June's annual awards night in Blackpool."
Mike Garnett reminds us of the record of previous encounters between Lancaster City and Altrincham.
P22-W12-D8-L2-F58-A21
P20-W5-D6-L9-F26-A30
P42-W17-D14-L11-F84-A51
The most memorable match in recent times came in a night match in November 2001 when Altrincham scored three in added time to win 4-1 at the Giant Axe in an FA Cup 1st Round replay. The sides had already drawn 1-1 this season both in the League, at the Giant Axe, and in the FA Cup at Moss Lane, so a tight game was in prospect. Only 477 spectators had watched the League game, but for this replay more than four times that number turned up and kick-off had to be delayed till 8pm to accommodate them.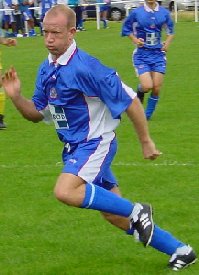 Both sides had perhaps had their eyes too much on the Cup last Saturday as they had both lost their weekend league games. Alty fans hoped that there was perhaps an omen as they entered the Giant Axe for the scoreboard at the covered end stated "Lancaster City 2 Opponents 5"! Despite torrential morning rain, the pitch was in good condition.
Five goals, six bookings, two sendings-off, two penalties, a brief punch-up and two hours of very entertaining football proved excellent value for the six pounds admission price in a match which was a fine advertisement for both the FA Cup and the UniBond League. The game was decided by a hat-trick from Alty substitute, Lee Poland (right). Lancaster were the better side in the first half and deservedly went ahead through Mayers (21 mins). Then, just eight minutes after replacing Jason Gallagher, who had surprisingly started the game despite injury, Lee Poland hit a superb left-foot equaliser from outside the box (40 mins).
Altrincham had slightly the better of the second half but the score remained 1-1 until the first minute of the second period of extra time. However, Lancaster had started to lose their discipline in the second half and had five men booked and two red-carded between the 46th and 120th minutes. Poland made them pay when he struck for a second time, after 106 minutes, rifling home after keeper Mark Thornley had erred. Alty's Rod Thornley netted the third from the spot after Hawes had been fouled when about to score (115 mins) and then a foul on Rod Thornley as he, too, was about to score allowed Poland to grab his hat-trick from the penalty spot with virtually the last kick of the game. Alty went on to meet Darlington in Round Two.
In the reverse league fixture with Lancaster this season, Altrincham won 4-0 thanks to goals from Poole 36 minutes, Hulme 74, Richman 83 and Johnston 87.
The
Lancashire Evening Post
says that "Lancaster City boss Phil Brown insists his side can still hit his target for the season if they put in more consistent performances.
The Dolly Blues' 2-0 defeat at Workington on Easter Monday leaves them 17th in Evo-Stik Premier Division ahead of hosting leaders Altrincham at Giant Axe on Saturday. Brown is still eyeing a top-10 finish however, despite City winning just one of their last six league games, the 2-1 victory over bottom side Sutton Coldfield Town on Saturday.
'The target set by the board at the start of the season was to keep this club in the division and we've done that,' said the Blues' boss. 'My own personal target was top 10 and that's still on. We're only four points off 10th but it's getting those points... but I need the players to believe that as well. They seem to believe at the start of games but then lose belief or focus. We can't play for 45 or 65 minutes, we've got to play for 90. We're playing against better players this year and we're getting punished like we did on Monday at Workington...
'When it comes to the point where a game can go either way we tend to be the team that drops off. It's a mental thing.'
Next up the league leaders are in town, the Robins five points clear at the top as they look to work their way back up the pyramid after back-to-back relegations.
'I still see no reason why my team can't get something against anyone we play in this league,' Brown said... 'I don't see Saturday being any different. We just need to sustain our level of performance... No disrespect to Altrincham, they are a good side and are top of the league for a very good reason, but this is about us and how we perform on the day.'
Hannu Tam will be missing due to a family commitment with Tom Kilifin also unavailable because of work.
Steve Williams picked up a toe injury in the Workington defeat."
In their recent game in Cumbria, Workington reported on "a deserved win on a wretched Bank Holiday afternoon... In a first half that won't linger long in the memory, there was precious little to warm-up the punters...
But two fine goals after the break secured the points and consigned another fixture to the record books. Only eight more to go now in a congested final three weeks of the season...
Aaran Taylor, apart from one brilliant reflex save which he deflected onto the bar, was rarely troubled as City struggled to find a way past a competent back four. Tom Kilifin, making his first return to Borough Park after a spell as a Red last term, did at least have two or three attempts at goal albeit of the wayward variety...
Lancaster City: Wynne, Hudson, Dugdale (Jarvis, 73), Anson, Steel, Mercer, Carney, Wills, Simpson, Williams (Kilifin, 60), Winder (Bailey C, 78). Substitutes – Akrigg, Bailey S (not used)".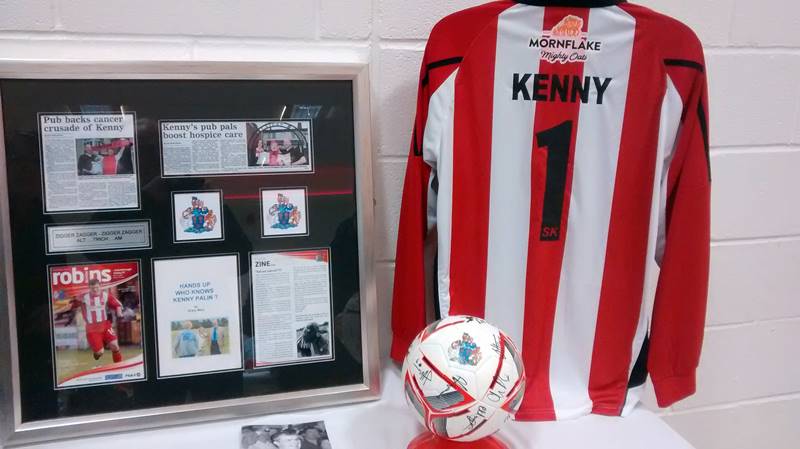 Above: Some mementoes of Kenny Palin at the post-funeral reception at Altrincham FC's Community Sports Hall.
Those who attended Kenny Palin's funeral on Friday afternoon won't forget it in a hurry!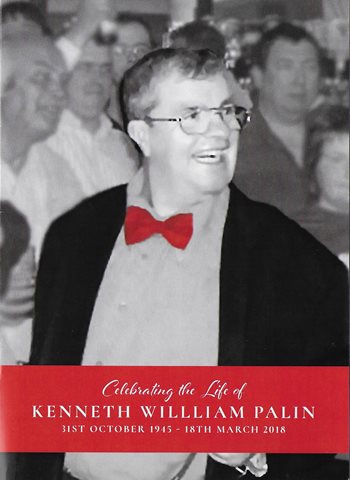 With the 200 seats at Altrincham Methodist Church all taken and probably another 100 people standing in the aisles and lobby, the congregation was treated to more than an hour's tribute to the best-known character in the town of Altrincham, a man who had a special affinity with Altrincham Football Club and Timperley Cricket Club. Countless humorous anecdotes were related about Kenny, who died on 18 March 2018.
After entertaining tributes to Kenny from the minister and the lay preacher at the Church, the Timperley Cricket Club captain, Nathan Brown, Altrincham FC chairman Grahame Rowley and the former manager of Altrincham FC, Graham Heathcote all paid their respects with more humorous recollections of Kenny's life.
The funeral service ended with a rousing version of one of Kenny's favourite songs, "Leaning on a lampost" by George Formby, a "first" at any funeral service in the experience of the minister!
After the church service everyone was invited back to the Community Sports Hall at Altrincham FC where food had been prepared by club caterer Richie Bentley and his team of helpers. The highlight of this reception was a lively rendition of another of Kenny's partty pieces, "Old McDonald Had a Farm" led by Graham Heathcote and a "choir" of volunteers (pictured above).
The first four beers to be on sale at the Altrincham FC Beer Festival 2018 are as follows...
Dunham Massey Brewing Company
Castle Hill – A quaffable session pale ale with aromas of grapefruit and tropical fruits. Straw coloured 3.5% ABV
Dunham Porter – An award-winning porter. Champion Winter Beer of Britain 2014. Classic old style English Porter. Dark, creamy, full bodied and packed with flavour. Dark coloured 5.2% ABV
Lymm Brewing Company
Heritage Trail Ale – An easy drinking, well balanced best bitter. Fruity with a light crisp hop. Brown / 4.5% ABV
Lymm Dam Strong Ale – A Belgian-style English strong ale. Malty and fruity with a dry finish. Brown / 7.2% ABV
Brian Flynn's article for Altrincham Today quotes manager Phil Parkinson as saying, "Our last two scheduled games, at home to Marine on Easter Monday and away to Shaw Lane on Thursday, were postponed due to waterlogged pitches, which means that there are now 22 days left in the season and we have 8 games to play, which is a tough schedule by any standards.
Today, we travel to the Giant Axe to take on Lancaster City, who have had quite an up and down season. On their day, they are a good side and, having had them watched recently by our chief scout, Bob McClement, we know what to expect this afternoon.
The weather forecast shows that a lot of rain is expected in Lancaster today and I am sure that if the conditions are wet during the game, that will suit us, although we really do need this game to go ahead with the number of games to play in the final three weeks of the campaign.
We are still awaiting results of knee scans on both Ben Harrison and James Poole, however I think that we all know that neither of them will be involved again this season, which is a big blow, as they have both made a huge contribution to the successful season to date.
Andy White is available again, having missed the defeat at Rushall Olympic last Saturday with a problem with his quads, but Connor Hampson is still probably a week away from returning.
Rhain Davis (left) will come into the squad today from the Reserves and we really want to put last Saturday's very disappointing performance at Rushall behind us. We could have no complaints with the 2-0 score-line as we were very poor in the first half and, whilst we improved after the interval and could have got an equaliser, you have to give credit to the 'Pics', who were better than us on the day. I can only apologies to the fans, who turned out in massive numbers and gave us fantastic vocal support throughout a difficult 90 minutes.
Despite that defeat, we are still in a great position at the top of the league, five points ahead of Warrington and seven points ahead of Grantham and we all have eight games to play. There is still a lot of football to be played but it's all completely in our own hands, which is all that any manager can ask for at this stage".
On Monday, Altrincham travel to
Stourbridge
where "Stourbridge FC have issued a statement in relation to an incident after their game against Halesowen Town...
'The Club is disappointed by a certain number of individuals who attach themselves to Stourbridge FC for certain games with the intention of acting in an anti-social manner. This resulted in a flare being thrown on to the pitch at the Grove at the end of Saturday's match, whilst the vast majority of fans gave their full support to the team. The Club is currently awaiting reports from the FA and Police who were recording the incident'".
Alty's final match of the season is at home to Hednesford Town who report that "It is a quick turnaround for Hednesford Town as we return home when Stourbridge visit Keys Park. This fixture will take place less than 48 hours after our most recent home game – the 2-1 defeat against Buxton...
It was all the way back at the start of September that we last crossed paths with Stourbridge when we suffered a 2-0 reverse at the Wall Memorial Ground... Manager Rob Smith was under no illusions that his squad would be in for another difficult afternoon tomorrow.
He said... 'As always when you play Stourbridge, it will be a fiercely contested game but one we will be looking to win. It was obviously disappointing to not get anything on Thursday evening against Buxton... We have given them two goals again and this is something which we need to try and eradicate'...
Although the injury crisis has eased a little in the last 48 hours, with Danny Glover being able to play the last quarter of the game on Thursday, defender Sam Oji and midfielder James Fitzgibbon are still struggling with knocks picked up in recent weeks".
The
Hallmark Security (NW Counties) League
reports that "The League Management Committee today received a response from The Football Association following our request to extend the season until 12th May following the unprecedented weather that has led to the postponement of 357 matches this season.
The FA has responded by stating that matches involving clubs in promotion or relegation positions must be completed by Monday 7th May, and other matches at Steps 5 and 6 that have no bearing on Promotion or Relegation must be completed by Saturday 12th May.
With the top seven sides still in contention for a promotion place in our Premier Division, and up to 13 sides still in relegation battle this season, and the top 10 sides in the First Division all in contention for automatic or play off places, it is likely that the League will be unable to schedule many matches beyond 7 May. However the decision taken by the League Management Committee on Wednesday evening to move the play-off semi-final matches to Saturday 12th May, with the final on Thursday 17th May will remain in place as this is an internal promotion matter that is not decided by the FA.
The League is disappointed with the FA's decision not to extend to Saturday 12th May given the recent poor weather, as this will impact the League, its clubs and the staff, players and volunteers".
---
6 April 2018
TASC is running supporters' transport to Lancaster on Saturday and Stourbridge (Monday). You can book your seat by calling the club (0161 928-1045).
Timings and fares are on the Away Travel page.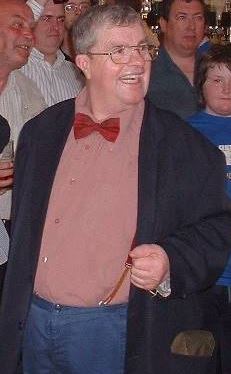 As previously announced, the funeral for well-known Altrincham FC supporter, Kenny Palin, takes place at Altrincham Methodist Church, Barrington Road, Altrincham WA14 1HF today (Friday, 6 April) at 2pm. Following the funeral all his relatives and friends are invited back to Altrincham Football Club, from 3pm, to celebrate Kenny's life. Kenny's family have requested that those attending the funeral should feel at liberty to wear bright colours, given Kenny's penchant for brightly coloured ties. Indeed, Kenny is pictured, right, wearing a colourful bow-tie.
Those wishing to make a donation to the family's chosen charity, Mencap, will be able to do so at the Football Club.
Thursday, 5 April 2018
Barwell 2-1 Coalville Town (att.237)
Farsley Celtic 4-0 Whitby Town (att.146)
Hednesford Town 1-2 Buxton (att.277)
Mickleover Sports P-P Stalybridge Celtic
Shaw Lane P-P Altrincham
Shaw Lane AFC has stated "Despite best efforts, our match against Altrincham has been postponed. The heavy snow on Easter Monday, followed by heavy rain throughout the last couple of days has caused the pitch to be waterlogged again. This leaves the club with 10 league fixtures and 1 cup game to play in 21 days".
Shaw Lane have also publicised a Barnsley Council statement that "All Barnsley Council football pitches will be closed this weekend (7/8 April 2018) due to poor ground conditions. All football matches to be held on Barnsley Council Parks Services land this weekend are cancelled".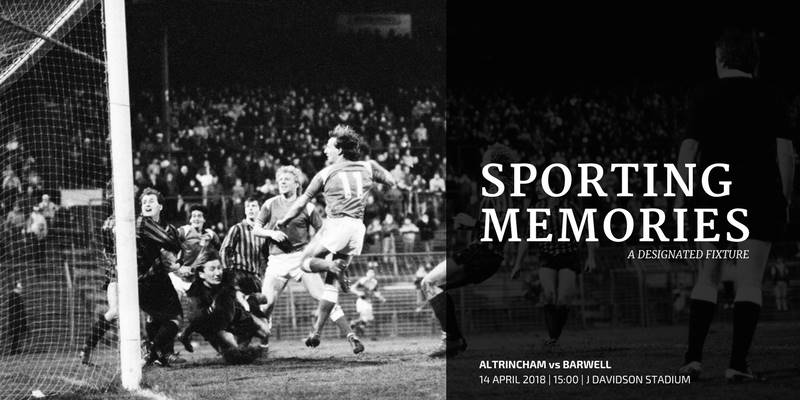 Judy Henson, manager of the Altrincham FC Community Sports announces that "Altrincham FC are hosting Barwell in the Evostik Premier Division on Saturday 14th April, 3.00pm kick off, with bar and catering facilities open from 1.00pm in the Altrincham FC Community Sports Hall.
Altrincham FC currently sit top of the table and are pushing for promotion. This is the penultimate Saturday home fixture of the season at the J.Davidson Stadium, so we encouraging as many fans to attend as possible.
This match is a designated Dementia Awareness fixture, as Altrincham FC Community Sports, Lancashire Cricket Club and the Sporting Memories Network will be promoting the work they do in Trafford. Altrincham FC Community Sports regularly promote discount tickets to families and school children. For this fixture, we are encouraging children to attend with their grandparents, with the focus of the day being on sporting memories and encouraging older people to attend local sessions.
Sporting Memories
Unlock the power of sporting reminiscence to unite generations and to help tackle dementia, depression and loneliness. Sessions run throughout Trafford on a monthly basis. The Sporting Memories Foundation memory games are designed to create an opportunity for fans to recall their favourite moments from football, to help spark that memory. Whether that is of a favourite moment, player, or team, Sporting Memories want to highlight the importance of a footballing memory. The work the charity does is designed to embrace those memories and it uses sport to support people living with depression, dementia and loneliness.
By working with the clubs to create an awareness of this work on match days, Sporting Memories wants to speak to football fans round the country if they have a family member, friend, or colleague who may want to get involved in some of the work Sporting Memories is involved in. Fans can check out some of the exciting projects and #jointhesquad by visiting the website.
Tickets
Book online in advance here and gain entry for just £5.00 (Under 15's accompanied by a grandparent - over 50)
Any ticket purchases made on the day of the fixture will be set at normal price. Only advance discount applies. The booking system closes Friday 13th April at 5.00pm
Adults MUST display ID to match the name on the ticket purchased (bank card, driving licence, passport, etc) when they enter the turnstile
Once purchased, no refunds can be given. If there is a match cancellation due to weather issues, this ticket will apply to the rearranged fixture against Barwell
Further Information
Contact Judy on 0161 928 1045 or visit Facebook and Twitter for more information".
Saturday 7 April 2018
Ashton United v Whitby Town
Barwell v Sutton Coldfield Town
Buxton v Workington
Grantham Town v Mickleover Sports
Hednesford Town v Stourbridge
Lancaster City v Altrincham
Marine v Witton Albion
Matlock Town v Coalville Town
Nantwich Town v Warrington Town
Rushall Olympic v Shaw Lane
Stafford Rangers v Halesowen Town
Stalybridge Celtic v Farsley Celtic
NL Pitchero
reports that "Chester FC have confirmed that Neil Young has left his advisory role at the Vanarama National League club. The club were informed of Young's decision via email to step down on Monday morning by then chairman Simon Olorenshaw. The former Blues manager, who won three league titles in a row, came back on a voluntary basis last month to assist manager Marcus Bignot."
During 2004-05 season, when they competed with Altrincham in the Nationwide North, Hinckley United left their ground at Middlefield Lane to move to a new stadium at De Montford Park. Sadly, United went bust in 2013. Now their successor club, Hinckley AFC, is also moving ground as
NL Pitchero
reports. "Total Motion Midland League Division One club Hinckley AFC have announced that they will be leaving St John's Park for a new home ground in 2018/19. The new venue will be announced once the paperwork is officially completed but brings to an end a four-year association with Heather St John's which have yielded great success for the club since its inception".
---
5 April 2018
The Shaw Lane AFC v Altrincham fixture, postponed tonight, has been re-scheduled for Thursday, 19 April at 7.45pm. It is now sandwiched between a Tuesday, 17th April, trip to Buxton and a Saturday 21st April fixture at Grantham Town. The game is one of six away games in a sequence of seven fixtures for Altrincham.
At midday, Shaw Lane announced that, following a pitch inspection before tonight's scheduled fixture with Altrincham, the match is postponed.
On Wednesday night, Shaw Lane had confirmed that "There will be a pitch inspection tomorrow [Thursday] morning. However, with the snow Sunday night/Monday morning, followed by rain all day Monday and then rain most of today we are 99.99% sure the game against Altrincham will be postponed tomorrow".
Earlier, Athersley Rec FC, who ground-share with Shaw Lane AFC, had their home game on Wednesday night against Pontefract Colieries postponed due to a waterlogged pitch.
Shaw Lane added that their April fixtures were: 5th - Altrincham (h) 7th - Rushall Olympic (a) 9th - Marine (h) 12th - Stalybridge Celtic (h) 14th - Lancaster C (h) 17th - Warrington (a) 21st - Stafford Rangers (a) 24th - Nantwich (a) 28th - Matlock (h) TBA - Barwell (h), Frickley (cup)(h).
Wednesday's Ladies' fixture at West Didsbury was postponed. Next Sunday the Ladies are away to Liverpool Marshalls Feds.
The
EvoStik Premier League
reports that "Stalybridge Celtic, Ossett Albion and Lincoln United are the Northern Premier League's penultimate performance kings of the 2017-18 campaign.
First-time winners this season after being crowned on Wednesday as March's 'Club of the Month' kings, the trio will be presented with engraved glass mementos to mark their form and a bottle of spirits to celebrate with by representatives of the EVO-STIK League at upcoming fixtures over the final weeks of the historic 2017-18 50th anniversary season.
Stalybridge Celtic under the guidance of manager Steve Burr banished any lingering fears of relegation to earn the top flight's accolade, winning four out of five of their league outings to bank 12 points and climb well clear of trouble into mid-table".
According to the Derbyshire Times, "A potentially idle and frustrating Easter turned into a happy one for Matlock Town when their Evo-Stik Premier Division status was finally confirmed on Easter Monday.
They celebrated with a dramatic 3-2 derby victory against old rivals Buxton at the Silverlands 24 hour later. More monsoon type weather saw their home clash with Stalybridge Celtic washed out last Saturday and then heavy overnight snow meant that the Easter Monday visit to Buxton was also put off.
But with a fixture pile up looking to be exacerbated , particularly for the Bucks, hasty arrangements were made to stage the fixture on Tuesday night with greatly improved weather forecast.
And Nantwich Town's 3-1 win at Sutton Coldfield meant that the Birmingham side could not overhaul Matlock and it is now a straight scrap between the Royals and Halesowen Town to see who finishes bottom in the sole relegation spot this term.
The Buxton win was Matlock's best performance of the season and caretaker boss David Hoole was understandably beaming with pride afterwards. 'I'm really really pleased, the lads showed everything they needed to be top class footballers,' he said. 'There was passion, creativity, heart, grit, desire right from the first minute. We didn't deserve to be 2-0 down but the boys have bought into my philosophy of the controlled build-up from the back and we have a formation that seems to suit us. We were the better side overall, it's difficult to dominate for ninety minutes and Buxton were always going to have that ten or fifteen minutes. They were strong and went direct but our pressure made them go long'... It looked to be one of those familiar nights watching Matlock when they failed to make their pressure count and losing a match they should have won but it all worked out okay in the end.
'Through our good build up play we scored three great goals. We're all delighted for Joe (Doyle-Charles) in getting his first goal and when it came, he's a top quality player... It's important that we play the way we should play and now the benchmark has been set... Keeping possession is so important, we lost possession for both Buxton goals and were punished... I must give a big shout out to Shaun Harrad and the rest of the staff who have played their part.'
Matlock have no injury concerns ahead of Saturday. Ted Cribley came off in stoppage time but Hoole believes that was down partly to fatigue. Meanwhile the Gladiators have received a good number of top quality applications for their vacant managerial position and interviews are to take place during the coming week. "
Our opponents on Thursday, Shaw Lane face a major backlog of fixtures (10 league games in 23 days) but they are not alone in Yorkshire as the
Yorkshire Post
tells us that "New dates have been announced for the quartet of matches that were called off on Easter Monday and it leaves some of our clubs with hefty fixture backlogs.In the Championship, Barnsley's trip to Nottingham Forest... was called off... That means the Reds, who are fighting to stay in the second tier, now face playing their seven remaining matches in a period of 30 days...
In League One, Bradford City's home game against Walsall was also called off on Monday and will now take place on Tuesday, May 1. That same evening will also see Doncaster Rovers at home to AFC Wimbledon... Both the Bantams and Rovers face squeezing their remaining eight games into just 29 days.
Spare a thought also for FC Halifax Town. The National League side saw their Easter Monday clash at home to Gateshead called off... meaning the Shaymen face a gruelling schedule of four games inside eight days".
---
4 April 2018
Press and Media Officer Brian Flynn's submission to Altrincham Today of Phil Parkinson's views on the Rushall game is below...
"Altrincham's long unbeaten away run came to an end at Rushall Olympic on Saturday and torrential rain put paid to the scheduled Easter Monday clash against Marine at the J. Davidson Stadium (now rearranged for Tuesday April 24th), yet the Robins are still in a very strong position to be crowned champions going into the last 8 games of their Evo-Stik Premier campaign.
Warrington Town, the nearest challengers to the Robins, have taken just two points from the last 9 and were thwarted by a late Witton Albion equaliser on Easter Monday, that leaves Alty five points clear and with a massively superior goal difference.
Grantham Town are closing in, on the rails, now just two points behind Warrington, having won five consecutive games and must be considered title contenders in what looks like a three-horse race.
Phil Parkinson did not pull any punches after Saturday's 2-0 reverse in the West Midlands. 'We weren't good enough and got ourselves into an arm-wrestle with Rushall, which played into their hands. We were so poor in the first half it was unbelievable and whilst we had a go after the break, it always had the feeling that it wasn't going to be our day.
We've got a few injuries, but we must deal with that and not enough players did. I must apologise to the fans, who were awe-inspiring with their absolutely outstanding support throughout the game'.
The Robins' supremo added that 'I am glad to see the back of March, which hasn't been a good month for us, but everyone has got a tough run in and we are still in a great position at the top of the league with our destiny very much in our own hands'.
Alty now face a gruelling sequence of three away games in five days, starting with a trip to Shaw Lane on Thursday before heading north on Saturday to face Lancaster and then south on Monday to play Stourbridge".
Tuesday, 3 April 2018
Buxton 2-3 Matlock Town (Att. 330. Three goals in the final 17 minutes won it for the Gladiators)
Stalybridge Celtic 2-2 Ashton United (Att. 360)
The Bank Holiday fixtures are reviewed by the
EvoStik League
, which says that "Warrington Town moved to within five points of leaders Altrincham in the EVO-STIK League Premier on a Bank Holiday Monday when only four fixtures survived the wet weather, writes Pitchero's Steve Whitney.
However, the Wire will be disappointed not to have narrowed that gap to just three points as they were pegged back by a late equaliser from visiting Witton Albion at Cantilever Park. In front of a crowd of 479, Steven Tames gave Albion a great start with a goal inside three minutes. Devarn Green equalised half-an-hour later and then Steven Jennings's penalty after 56 minutes looked as if it had won it for Warrington. But Tom Owens grabbed an 86th minute equaliser to lift Witton into the play-off places.
Third-placed Grantham Town came back from a goal down to beat play-off chasing Shaw Lane AFC 3-1 at The Meres. And the Gingerbreads also had to come back from a goal down...
Workington AFC`s outside play-off hopes are still alive after they won 2-0 at Borough Park against mid-table Lancaster City... Sutton Coldfield Town are almost down after a 3-1 Coles Lane defeat to Nantwich Town left them nine points adrift of second-bottom Halesowen Town with only twelve points to play for, the Yeltz possessing two games in hand."
Alty meet Lancaster City next Saturday amd, according to the Times and Star, "Delighted Workington Reds boss Lee Andrews praised his troops for grinding out a crucial victory over Lancaster City [on Monday]. The scrappy encounter was deadlocked until the 69th minute when a header from the free-scoring defender Matty Douglas edged the home side ahead.
And in the final minute of normal time, a half volley from Rob Wilson sealed the points that moved Reds up to eighth, five points off the final play-off place, with a game in hand over its occupants Witton.
'It won't live long in the memory, it was a scrappy game but we ground it out in the end,' admitted Andrews. 'At half time we said if we could get the ball wide and get it into the box we felt we could cause them problems and I think the first goal showed how simple it was. It was just a ball into the box and a great header from Dougie into the corner. And the same with the second goal, Dave Symington went one on one with his man.
'We keep saying we would always back him, going one-on-one with any defender in this league and he will get past them and get a ball into the box... Nine goals from full-back is not a bad return and he got his reward with a new contract'...
'It's all about consistency, which is a word we've been using a lot these past few weeks,' he said... 'We know we can squeeze in to the play-offs with the experience we have from the past few years'".
Alty travel to Silverlands later this month, from where Buxton report on their 3-2 win at Marine, who also meet Altrincham before the season ends.
"One of the glories of sport is its sheer unpredictability; who, for instance, among the travelling 'faithful' at Crosby on Saturday could have foreseen this magnificent outcome for the battling 'Bucks' when, after 27 minutes, they were 0-2 down and a man short following Ricky Ravenhill's dismissal 120 seconds earlier. Yet the visitors soon pulled a goal back, then went on to dominate for a spell in the second half and won the game with an 88th-minute strike by centre-back Joe Maguire with his second goal in the last four matches.
Nor was this an 'easy' fixture versus a struggling outfit as Marine, earlier in the season had a fine 'Trophy' run and had recently recorded three wins (scoring 10 goals) and a draw in their previous four home league matches. After a quiet, even opening they showed their ability by taking a 22nd-minute lead through ex-Stockport County striker and one-time Buxton target, Josh Amis. Situated at the near post, he skilfully flicked home a right-flank cross but five minutes later a pure 'fluke' made it 2-0. Far out on the left touch-line, ex-Stalybridge full-back Tongue swung over a lofted cross that eluded all, including 'keeper Jan Budtz, entering the net off the far post. In between the goals the visitors suffered a further setback when their combative midfielder, Ravenhill, lost self-discipline in a confrontation with counterpart, Field.
Yet out of this six-minute nightmare developed Buxton's finest recovery of the season and a performance to be set alongside those at Altrincham and Grantham. The joint-managers deserve the initial credit for introducing, almost at once, the fit-again [ex-Alty defender] Greg Young into a now three-man central defence and he proved an immense figure in the air at back and front. In attack, Liam Hardy and [ex-Alty ypouth] Jude Oyibo became irresistible, combining to reduce the arrears in the 34th minute. The pacy winger, the victim of any number of foul challenges throughout and with little protection from the referee, weaved into the heart of the home defence from the left and when his low shot was blocked, Hardy was on hand to net his 33rd goal from six yards...
Young's powerful downward header was blocked but the ball fell to Bradley Grayson, who replicated Hardy's earlier goal and from similar range for a 56th-minute equaliser... Still on top, 'the Bucks' continued to attack, pepped up by 2 further substitutions... There was to be no denying the visitors their late winner. Appropriately a partially-cleared McGee corner was worked out to Alastair Taylor, whose driven low cross was diverted to Joe Maguire, who, from 14 yards, curled the ball past Fearon with all the aplomb of an accomplished striker.
So Buxton achieved a third 'double' of the season and took the joint-managers' undefeated sequence to five in a fabulous sequel to last April's epic 5-5 draw at College Road. Team: Budtz, Meade, Amos (Young), Maguire, Degirolamo, Ravenhill, Oyibo (Doran), McGee, Grayson (Taylor), Hardy, Hinsley. Unused Subs: Baker, McWilliams".
According to the Warrington Guardian, "Paul Carden says opponents Witton Albion were 'let off the hook' by his Warrington Town side during the 2-2 draw at Cantilever Park.
Steve Jennings had put Yellows ahead from the penalty spot after Devarn Green cancelled out Steven Tames's opener, only for Albion's Tom Owens to score a late leveller to ensure the visitors left with a point. Town have now gone three games without a victory and Carden says his side were 'wasteful'. I think we let them off the hook. Our decision-making overall has cost us two points, he told the Guardian.
'We started slow and Witton did what they do. They hit the two front lads and played off them... We equalised and the momentum was with us, but it was unfortunate that we didn't get the half-time lead we deserved. Losing Tony Gray and Adam Carden at the break limited us to what we could do to affect the game. The second half was frustrating more than anything. I thought we were wasteful...
'We didn't take our chances in the first half and we didn't move the ball quick enough against a side that were sitting in... We took the easy option too many times and the players we have with pace didn't want to threaten enough.'
Both of Witton's goals came from set-pieces, something that was a particular annoyance to Carden... The visitors were incandescent at the decision by referee Dale Baines to award Town a penalty after he adjudged Anthony Gardner to have fouled Joe Piggott inside the area. Piggott had stooped to head the ball and Baines adjudged Gardner's foot to have made contact with the Yellows striker's head.
Carden admits he would have been 'aggrieved' had the decision been given in the opposite penalty area. 'The penalty was cheap. The referee said to me that it wasn't about the fact that Joe was stooping down but more that their lad kicked him', he said. 'When you put it that way, if you kick someone in the box it has to be a foul... At the time, I thought he'd kicked him in the face.'
Carden also confirmed that brother Adam was substituted as he was feeling the effects of tonsillitis, while Tony Gray came off with a suspected medial knee ligament injury. 'Adam shouldn't have played. He's had tonsillitis and he's on a second course of antibiotics,' he said. 'I know I shouldn't have played him, but he gives us a lot of composure in the back line. When he doesn't play, we certainly miss him. Tony looks like he's tweaked his medial ligament, which is never good'".
The Warrington Guardian also reports that "Mark Harris insists that allowing a rival team [1874 Northwich] to hire Wincham Park to host important cup games has helped Witton Albion to avoid financial trouble...
'It's been a godsend,' said the Witton chairman. 'I'm aware the arrangement has caused some controversy, but the truth is it has benefitted both parties. We've seen significant and valuable revenue come into the club, and I think it's important as well to pose the question, "Where else would that money have come from?"'
At a forum in November, Harris told Albion supporters the club needed to raise money quickly after raiding its cash reserves to help meet day-to-day costs since the start of the season....
'The signs have been very encouraging and fundraising has started again,' he added... 'The presentation I made was very much an early warning about what might happen if we didn't take corrective action. There are board members continuing to put money into the club, and that can't continue on a long-term basis. However things are moving in the right direction.'
He confirmed he plans to keep a promise to stand down at the end of the current campaign, and expects his successor to be unveiled shortly. However, a decision on whether he will resign as a director will be made later. Harris has still been involved in planning for the future, and hopes to finalise next season's budget for Carl Macauley before the end of the month. The manager can then start talks with players he wants to keep on...
'It's even more important than ever that the numbers we decide on strike that balance between being able to build on what has been achieved already and not putting the club at risk. We won't have as many contracted players. I agreed that it was something we would do this time around. However I don't think we've got it right'" said the chairman.
The EvoStik League announces that "The ground staff at nine Northern Premier League clubs are getting ready for special ground inspections after being named as finalists in the inaugural GreenFields Pitch of the Year Awards.
Judges from sports turf specialists and official pitch partners GreenFields are looking forward to unveiling the top surface in each of the EVO-STIK League's three divisions at this summer's annual end of season awards after visiting the homes of the finalists over the coming weeks.
Hednesford Town, Stourbridge and Whitby Town representing the top flight, Colwyn Bay, Tadcaster Albion and Trafford in EVO-STIK League North and Belper Town, Loughborough Dynamo and Stamford in EVO-STIK League South, could all be heading to Blackpool's Hilton Hotel on Saturday 16 June after the shortlist was announced on Easter Monday... GreenFields will take into account a number of factors including maintenance resources, geographic location, existing irrigation and the amount of pitch usage before choosing the winners... The winners will be presented with £500 vouchers to redeem against future maintenance materials or services from the EVO-STIK League's official pitch partners."
---
3 April 2018
Following the postponement of Monday's game against Marine, it has now been confirmed that it has been re-scheduled for Tuesday, 24 April at 7.45pm.
This fixture change was one of a series issued on Monday evening by the EvoStik Northern Premier League and includes some changes to this week's games (not affecting Altrincham), as shown below...
Tuesday 3rd April
ON Buxton v Matlock Town ex 02/04
ON Stalybridge Celtic v Ashton United ex 02/04
Thursday 05th April
OFF Whitby Town v Grantham Town to 19/04
ON Farsley Celtic v Whitby Town ex 02/04
SKkits are kindly sponsoring the Altrincham FC Race Night, which is to take place after the game with Barwell on Saturday, 14 April. There are just ten horses remaining to be purchased, for just £10 each. If you would like to become an "owner" of one of the runners, please either
e-mail
or ring 07720 606897.
Altrincham FC adds that all spectators entering the turnstiles for the Barwell game will receive a ticket (one per person only) bearing the the name of a horse running in the National. Ticket-holders should the go to the Community Sports Hall after the match and, if they wish, get themsleves a drink whilst watching the televised race from Aintree (5.15pm). Potentially, many spectators will be winners and each will win five bottles of beer or cider, as well as a big Alty burger meal.
For everyone, burgers will be available for purchase throughout the evening, including Richie Bentley's new Alty chicken burger.
The Race Night is due to start as near to 6pm as possible and features eight races, with eight riders in each. Please consider sponsoring a horse for just £10 or a race for a bargain £25. All winning horse owners receive a replica shirt, donated by the sponsors, SKkits
Please support this event and help to raise funds for the Club.
On Sunday, Altrincham FC beat the Crewe Alexandra Development team 4-1.
Here is a short report on the game by manager Keith Edleston...
"There was a great result for the Ladies' first team on Sunday in their game versus the Crewe Alexandra Development team.
We always look forward to this game as we all know a derby game can always have that extra bit of 'spice' involved.. After an even first ten minutes or so, The Robins were awarded a penalty for handball on the line by a Crewe defender from which Laura Dodds calmly placed the ball into the bottom corner, sending the Crewe goalkeeper the wrong way.
That goal seemed to bring out the best in the girls as we went on to dominate the rest of the first half with some superb football to entertain the crowd. Two goals from Jade Hesketh and a screamer from outside the box from Kye Brown made the halftime score a comfy 4-0. In the second half Crewe came out and brought the game to us after an obvious rocket from their manager in the dressing room. The game was becoming more even now and one good move ended up with Crewe scoring their goal.
Now the game was more lively, with both sides having periods of possession, but we always seemed to be in the right place to nullify any threat to Paula and her goal and the game petered out to its finish. The final score was 4-1.
Starting 11: Paula Alarcon-Conde, Aimee Hopkinson, Geo Ashton, Louise Edleston, Bliss Molyneaux, Kye Brown, Laura Dodds, Gail Simpson, Jade Hesketh, Laura Kelly. Subs: Megan Rowley, Megan Wright, Nadine Sproule, Sophie Carolan.
Thanks again to our supporters for their fantastic encouragement from the sidelines, we do appreciate it. Our next game is on Wednesday 4th April away at Brookburn Rd, Chorlton where we take on our friends at West Didsbury and Chorlton LFC, kick off 6-30pm.
Shaw Lane AFC
report on their next match, "Altrincham on Thursday night (5th March)
As the week progresses we will try to keep you up to date with the pitch conditions. With the game looming on Thursday night we hope there is no more snow or rain to postpone yet another match. We have lost count of how many we have had to re-arrange up till now".
On Easter Monday Shaw Lane AFC reported how "The Ducks slump to a defeat, despite taking the lead. Shaw Lane had the better of the opportunities in the opening exchanges... [and] soon took the lead. Kieran Lugsden hit home on the 13th minute when he found himself unmarked after running in the box...
Grantham steadily increased the pressure throughout the game. Ryan Serrant picked up an injury on 53 minutes and was replaced shortly after by Gavin Rothery. This moved the goal scorer to right back and it seemed to proved costly as the shape of the team became unbalanced.
The equaliser came from their top scorer, Lee Shaw, who was put clear into the box... Shaw gave the home side the lead on 73 minutes as he pounced onto a ball near the front post following a scramble in the box...
The scoring was rounded off on 83 when substitute Jordan Hempenstall put a third past Wilczynski following a free-kick.
The closest Shaw Lane came to a second shot at goal was a free-kick by Alex Byrne which flew just over sub Paul Clayton and into the arms of the mostly untroubled Kieran Preston.
Ducks line-up: Wilczynski, Serrant (Rothery 57), Gordon, Kel. Lugsden, Skelton, Norris, Byrne, Ki. Lugsden, Harris, Reeves (Clayton 77), Abadaki (77)."
Altrincham FC Reserves match at Whaley Bridge was postponed. The next fixture is on Saturday, 7 April, at home to Poynton at Egerton Youth Club.
Att. 484: Grantham Town 3 - 1 Shaw Lane (Kieran Lugsden scored the Ducks' goal).
Att. 221: Sutton Coldfield Town 1 - 3 Nantwich Town
Att. 479: Warrington Town 2 - 2 Witton Albion
Att. 358: Workington 2 - 0 Lancaster City
On Monday, the
The EVO-STIK Northern Premier League
announced that "In regards to fans awaiting fixture updates from today's postponements we are still working on dates and, once the games have been arranged and sent to secretaries, we will announce as well. Please be patient with us but, with County Cups etc to work around, it is not a easy task!"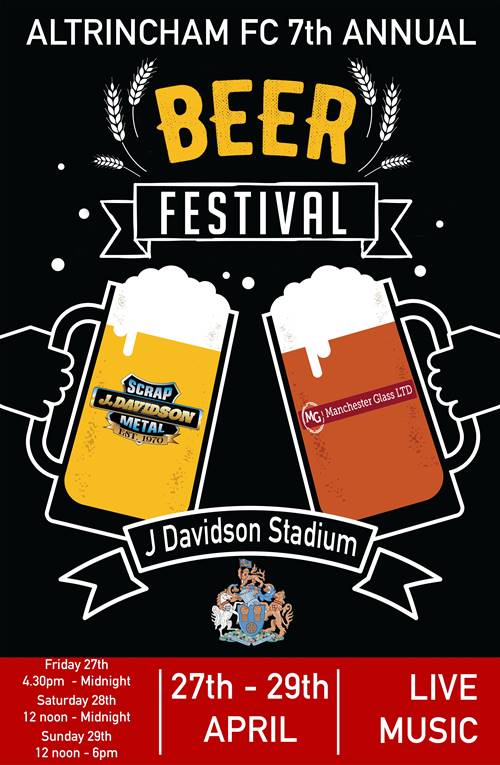 Stafford Rangers
have issued an "Announcement from the Board...
After a long and honest meeting with Manager Neil Kitching, his assistant Nick Amos and the Board of Directors, Neil and Nick have come to an amicable agreement that at the end of the current season 2017/18, both Neil and Nick have decided to leave the Football Club. We would like to thank them for all their hard work over the past four years in bringing stability back to the club through some very hard times, winning the league, the Staffs Senior Cup, reaching the final of the Walsall Senior Cup; a decent run in the FA Trophy and FA Cup, helping finances...
As we are still in the Staffs Senior Cup at the semi final stage could we ask all our fans to get behind Neil, Nick, his back room staff and the team through until the end of the season, thanking you all in anticipation."
The Grantham Journal tells us that "Grantham Town continued to march on in their quest for promotion with an ultimately exciting Easter Bank Holiday Monday clash with Barnsley-based upstarts Shaw Lane at The Meres.
After going a goal down in perhaps one of their worst 45-minute performances of the season in the first half, the Gingerbreads bounced back in style to record their fifth successive win.
The game began in quite a pedestrian fashion compared with usual, with the pitch soft underfoot after a fair amount of overnight rain... The visitors went in front in the 12th minute when Town's defence was again too easily undone and Kieran Lugsden knocked in from a ball squared across the face of goal.
Shaw Lane continued to look dangerous with the Gingerbreads seemingly had little answer as yet... With the sun now shining down on The Meres, the Gingerbreads began to up their efforts as half time approached, but still a goal was not on the horizon...
The sun may have gone in during half time, but the game and The Meres faithful came alight in the 68th minute when Town equalised. Sustained pressure and a good move saw Batchelor stab the ball up the right wing to Meadows. He played the ball into the centre where top striker Lee Shaw did his thing, beating defenders and keeper to slot home.
Wilczynski blocked Wright's 71st minute effort but the visiting keeper was unable to stop Grantham taking the lead two minutes later when Shaw knocked the ball in the net from close range, following a ball in from substitute Jordan Hempenstall...
Grantham's comeback was sealed with a third goal in the 84th minute. Luto's 25-yard free kick from out on the left was pinged back out to Hempenstall who fired in from the centre of the penalty area to the screams of the crowd... Town remain third in the league, two points behind Warrington Town and seven behind league leaders Altrincham.
The Gingerbreads are scheduled to travel to Whitby Town on Thursday night, but with nearly all of today's games off, there is probably unfortunately a good chance of yet another postponement at The Turnbull Ground.
Grantham Town: Preston, Potts, Luto, Wright, Galinski (c), Batchelor, Meadows, McGovern, Hakeem, Shaw, Burrows. Subs not used: McMenemy, Vince. Att: 484."
The
BBC
confirms that "Chester manager Marcus Bignot will leave the National League club when his contract runs out at the end of the season. The 43-year-old was appointed to the position in September, after former manager Jon McCarthy left the club.
Chester are second from bottom in the league and 10 points adrift of safety with six games left to play.
A statement said, 'This season has been an extremely tough one to endure for each and every Chester FC supporter. It has also been a challenging environment for Marcus to be involved with. The board wishes to emphasise that we understand the frustrations of all concerned'...
Former Solihull Moors and Grimsby Town boss Bignot has won just five of his 32 games in charge of Chester, losing 18 and drawing the other nine."
---
2 April 2018
After Witton's late equalizer at Warrington, Altrincham lead Warrington by five points, with Grantham Town, (top of the form table), two points further behind. All three clubs have played 38 games.
Meanwhile, Athersley Rec who ground-share with our next opponents (on Thursday), Shaw Lane, had their league match postponed today and still have seven home games to play in the league. Shaw Lane themselves have six home league games to play, so 13 matches are scheduled on the pitch in under four weeks.
Monday 2 April 2018
Altrincham P-P Marine (waterlogged)
Barwell P-P Coalville Town (waterlogged)
Buxton P-P Matlock Town (snow)
Farsley Celtic P-P Whitby Town (snow)
Grantham Town 3-1 Shaw Lane
Hednesford Town P-P Rushall Olympic (waterlogged)
Mickleover Sports P-P Halesowen Town (waterlogged)
Stalybridge Celtic P-P Ashton United (waterlogged)
Stourbridge P-P Stafford Rangers (waterlogged)
Sutton Coldfield Town 1-3 Nantwich Town
Warrington Town 2-2 Witton Albion
Workington 2-0 Lancaster City
Following hours of steady rain overnight and this morning, a pitch inspection has resulted in postponement of today's scheduled fixture at home to Marine.
Altrincham's next scheduled game is on Thursday, 5 April, away to Shaw Lane AFC (7.45pm).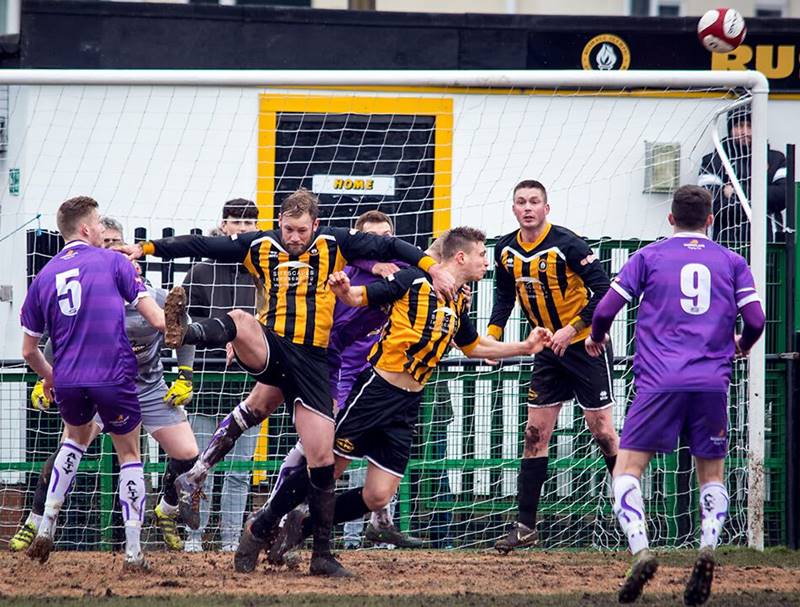 Above, Mike Ripley's image shows goalmouth action at Rushall on Saturday.
Match report here
Our opponents, Rushall Olympic report that "The Pics inflicted the first away defeat on League leaders, Altrincham, since September with another assured display to run out worthy 2-0 winners. It was a result that left manager, Liam McDonald, bursting with pride at the end.
'It was a great day for the club', he said. 'From early in the morning with the groundsman and his helpers, who got the pitch ready, to the players who went out there and did a job and the supporters who really got behind us throughout, everyone had a role to play.
'We were outstanding and carried on from where we left off in our last game. The lads are full of belief and it was also nice to see us keep a clean sheet as well as adding another three points to our tally. I am really proud of the lads; they are rolling their sleeves up, working hard and sticking to the game plan to get their reward.
'It's nice to have secured our status at this level with this result. It's a great achievement for the club, particularly [given] the position that we found ourselves in earlier in the season. We now want to make sure that we keep this kind of form up between now and the end of the season to end the campaign on a high.
'We've beaten a good team, who I think will go on to win the League. We were worthy winners, but we're not getting too carried away, We're in a good place right now but have to get ourselves ready for another massive test in our next game at Hednesford Town'".
On Sunday, Altrincham FC Ladies beat the Crewe Alexandra Development team 4-1 at Mersey Valley. The goal scorers were Laura Dodds, Jade Hesketh (2) and Kye Brown. Alty Ladies now lie sixth with games in hand on three clubs above them.
The next game is on 4 April away to West Didsbury and Chorlton.
Witton Albion have announced that "Wincham Park is to host the Cheshire FA Cup Final between Vauxhall Motors and Knutsford on 20th April, with a 7.30pm kick off."
---
1 April 2018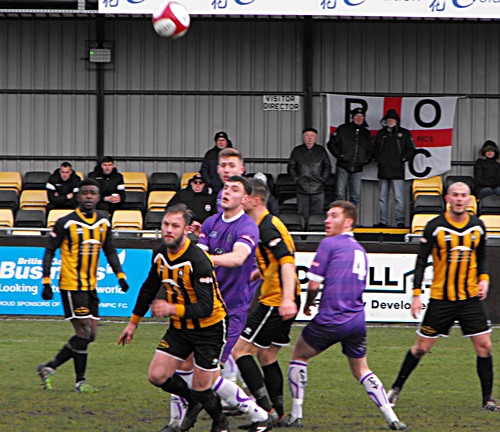 Altrincham could have no complaints as they lost away from home in the league for the first time since September. On a difficult surface, Altrincham struggled to create chances in the first half and fell behind on the stroke of half-time when Whittall headed home from a corner.
Without the injured Hampson, Poole and Harrison and with White also not fit enough to start, Altrincham improved a little in the second half and forced a couple of good saves from keeper Slinn.
But Olympic wrapped the game up in the 88th minute when Waldron got the better of the otherwise impressive Hannigan to make it 2-0
Right: Sam Heathcote and Tom Hannigan compete for an aerial ball at Rushall.
Match report here..
Saturday's defeat at Rushall was the first of five fixtures in ten days for Altrincham, with four of them being away from home.
Next up is the sole home fixture in this sequence, as Marine visit Altrincham on Monday.
Next Thursday, Alty are away at Shaw Lane, next Saturday they are at Lancaster City and the following Monday they head down the M6 to Stourbridge. Both James Poole and Ben Harrison are expected to miss those games with knee injuries but it is hoped that Connor Hampson may return from injury in the near future.
Recent form has seen Alty take just seven points from their last six games. The defeat by Rushall was Alty's first on the road, in the league, since the September reverse at Workington when the dismissal of Max Harrop was a significant factor. It was also the first time Alty had failed to score in a league game since October. They currently lead Warrington Town by six points but the Yellows have a game in hand.
Altrincham FC Reserves lost 0-2 at home to Wythenshawe Town on Saturday. On Monday they entertain Whaley Bridge at Egerton Sports Club (1pm).
News of Easter Monday's opponents comes from
Marine
who report that they "threw away a two-goal lead as old foes Buxton secured all three points in Crosby despite being reduced to ten men midway through the first half. Manager Tommy Lawson made two changes to the side which drew with Nantwich Town in midweek, Liam Tongue and Dominic Reid replacing Peter Wylie and Phil Baker as the Mariners were short-benched once again...
The in-form [Alty loanee] Josh Amis (right) was unable to hit the target with a header which dropped harmlessly over the Crosender Road crossbar from Reid's deep cross to the back post, before the game sparked into life midway through the opening period.
James Murray, deputising at right-back, whipped a cross in from the right flank and Amis made a fine run across his marker before producing a deft touch to find the bottom corner, the striker notching his fifth goal in four games in the process.
Tempers flared four minutes later as Tom Field and ex-Doncaster Rovers midfielder Ravenhill clashed on the halfway line. Ravenhill, certainly no stranger to a card throughout his career, appeared to use his head in somewhat ungentlemanly fashion, referee Swift quickly and correctly dismissing the Buxton skipper.
The Mariners capitalised on their numerical advantage just a minute later as Liam Tongue's... low delivery evaded Amis's attempt to connect but deceiving banana-bedecked Buxton custodian Budtz and nestling in the far corner to put the Mariners seemingly in control.
However the Bucks halved their deficit ten minutes before the break... The ball fell kindly to Hardy and the division's leading scorer made no mistake from eight yards... The Whites continued to press and [ex-Alty man] Danny Mitchley dispossessed Maguire on the right-hand touchline, the skipper's audacious chip over the giant Budtz drifting narrowly over the bar... This pressure counted for nought as the Bucks promptly forced a corner of their own in the 56th minute, the initial header was blocked but the rebound fell to former Mickleover striker Grayson who fired home from six yards to level matters...
The Mariners proved their own worst enemies for the remainder of the contest as they conceded possession to the ten men time after time... Having given the ball away cheaply in midfield for the umpteenth time only a tremendous last-ditch challenge from the diligent Strickland prevented Hardy from grabbing a late winner.
However the Derbyshire outfit were not to be denied and with two minutes remaining another set-piece proved the Mariners' undoing. A ball played in from the Buxton left was met by a scuffed clearance in the heart of the home defence, and Maguire duly fired home from 12 yards to give the visitors the lead.
The Whites... sank to a disappointing loss which leaves them firmly entrenched in the bottom four. The Mariners now face an Easter Monday trip to Moss Lane to face table-toppers Altrincham in a 3pm kick-off.
Marine: Martin Fearon, James Murray, Liam Tongue, Adam Hughes, Kenny Strickland, Billy Smart, Michael Brewster, Tom Field (Tony Donaldson 72), Danny Mitchley (c), Josh Amis, Dominic Reid. Unused subs: Phil Baker, Niall Watson, Germano Mendes. Cautions: Amis, Mitchley, Reid.
Buxton: Jan Budtz, Josh Meade, Danny Amos (Greg Young 30), Joe Maguire, Nico De Girolamo, Ricky Ravenhill (c), Jude Oyibo (Niall Doran 74), Joe McGee, Bradley Grayson (Alastair Taylor 60), Liam Hardy, Luke Hinsley. Unused subs: Matt Baker, Andy McWilliams. Cautions: Meade, Hardy, Maguire. Sent Off: Ravenhill".
Alty vist Stourbridge on Monday, 9 April. On Saturday Stourbridge reported that "Ten-man Stour fell to a narrow defeat at near-neighbours Halesowen Town. Stuart Pierpoint saw red in the second-half after Ahmed Ali had given the Yeltz the lead. It was another disappointing derby day for the Glassboys.
Stour lined up in a 4-3-2-1 formation with loanees Chris Gallagher and Nicu Carnat either side of Luke Benbow up top and Brad Birch moving into his usual position of central midfield... Both sides picked up bookings - Daniele Bragoli for Halesowen and Hayden for Stour - before Halesowen took the lead.
Paul McCone charged out of defence but lost the ball and a long pass over the top found Hughes who had just beat the offside trap. He cut inside and his low shot was parried by Gould but Ahmed Ali was here to tap home the loose ball.
Stour boss Gary Hackett made his first change in the 59th minute, introducing Josh Cooke for the limping Aaron Forde. Cooke joined Benbow up front following a quiet start to the second half but Stour's task got tougher in the 66th minute. Pierpoint was caught in possession by Ivor Lawton and the Halesowen man ran towards the Stour box. Pierpoint brought him down from behind on the edge of the penalty area and despite McCone being in the vicinity, the referee produced a red card for the Glassboys defender...
The Yeltz were happy to sit back with their advantage and the hosts defended well, making it difficult for Stour to create many meaningful chances...
Stourbridge (4-3-2-1): Gould; Hayden, McCone, Pierpoint, Westlake; Birch (Tonks 83), Forde (Cooke 59), Broadhurst; Gallagher (Shearer 75), Carnat; Benbow. Subs not used: Christophorou, Hawk (GK)".
Att. 204 Ashton United 1 - 1 Mickleover Sports
Att. 1753 Halesowen Town 1 - 0 Stourbridge
Att. 217 Lancaster City 2 - 1 Sutton Coldfield Town
Att. 398 Marine 2 - 3 Buxton (Alty loanee Josh Amis socred his fifth goal in four outings for Marine)
Att. 298 Nantwich Town 1 - 1 Farsley Celtic
Att. 382 Rushall Olympic 2 - 0 Altrincham
Att. 563 Stafford Rangers 1 - 2 Grantham Town
Att. 294 Witton Albion 3 - 0 Hednesford Town
---
FOR EARLIER NEWS, CLICK
HERE
---