---
28 February 2018
Altrincham have virtually a third of the season's league fixtures to complete, having played 31 of their 46 allotted matches. Of the 15 remaining games, eight are at home and seven are away. With the recent change to the Stourbridge fixture, Altrincham play four successive home matches after their planned visit to Shaw Lane this Saturday. In contrast their final six matches feature four away trips.
The only free Tuesdays at present are 20 March and 24 April, the latter being in the final week of the season. One of the vacant Tuesdays is expected to be assigned to the Altrincham v Winsford United Cheshire Senior Cup match and victory in that match would, of course, create a further fixture at some stage.
The current top six on a points basis are
Altrincham P 31 PTS 67 GD 43
Warrington Town P 31 PTS 60 GD 18
Shaw Lane AFC P 29 PTS 57 GD 27
Farsley Celtic P 35 PTS 57 GD 7
Ashton United P 31 PTS 55 GD 18
Grantham Town P 31 PTS 54 GD 26
On a points per game basis, the table would read...
2.16 Altrincham
1.96 Shaw Lane
1.93 Warrington Town
1.77 Ashton United
1.74 Grantham Town
1.63 Farsley Celtic
1.54 Witton Albion
1.48 Workington
And on a maximum points achievable basis, the running order would be
112 Altrincham
108 Shaw Lane
105 Warrington Town
100 Ashton United
96 Grantham Town
91 Workington
90 Farsley Celtic
90 Witton Albion
Tonight's postponed home match against Stourbridge has been rearranged for next Tuesday, 6th March, at 7.45pm.
All EvoStik Premier matches were postponed on Tuesday night; a measure of the severity of the weather is that for Grantham Town it was apparently a first home postponement since 2014.
The Evo-Stik North was also decimated and matches in the National League had to be postponed as well.
Tuesday 27 February 2018
The EVO-STIK Premier Division
Altrincham P-P Stourbridge
Ashton United P-P Stalybridge Celtic
Buxton P-P Workington
Grantham Town P-P Warrington Town
Nantwich Town P-P Shaw Lane
The
EvoStik League
announces that "The Northern Premier League's clubs will meet this weekend to decide the future geography of the competition after the Football Association published next season's draft boundaries at Steps 3 and 4 around the new Midlands divisions.
Taking place at the Holiday Inn, Wakefield at lunchtime on Sunday, the meeting of all 68 clubs was planned to coincide with the long-awaited publication of the results of the National League System Review on The Non League Paper's website at 9am on Wednesday.
Carried out by the FA Leagues' Committee to iron out geographical anomalies, cut down on travelling costs and time for fans, players and officials and encourage more Step 5 clubs to climb the pyramid, the biggest shake-up to the structure of Non-League in more than a decade since 2004 will see the creation of new Step 3 and 4 divisions covering the Midlands region.
In total, the 276 clubs currently playing in Steps 1 to 4 will increase by 20 to 296 when the two new divisions kick-off in August 2018. Across the board, the reshuffle will see the three current Step 3 divisions of 24 clubs increase to four divisions of 22 clubs while the six divisions at Step 4 currently run by the Northern Premier League, Southern League and Isthmian League will rise from 136 clubs playing in six divisions to seven 20 club divisions."
The NL Paper has more details of the plans and a map, and it adds that "The Northern Premier League is calling a meeting of its clubs to decide whether to remain with a north/south split or to change to an east/west allocation."
---
27 February 2018
Following a pitch inspection tonight's game at home to Stourbridge has had to be postponed because of a partly frozen playing surface. This decision comes despite hard work by the groundsman and volunteers to make the pitch playable. Our next scheduled game is at Shaw Lane AFC on Saturday.
After an abortive trip by Altrincham to Stourbridge where the game was called off at 1.50pm by the match referee, both sides will be hoping for better fortune on Tuesday night, despite the current cold spell. It will be the Glassboys first trip to Altrincham and also the first-ever meeting between our two clubs. Curiously, Stourbridge are the only team in the division yet to draw an away league match; they have won seven and lost seven of their away trips, so far.
On the eve of the match, Stourbridge reported that "The Glassboys travel to Altrincham on Tuesday night...
The postponement of Saturday's game at Buxton, the only Premier Division game to fall foul of the weather, denied Stour the chance to build on the previous weekend's win over the same opposition, and meant that we slipped a place to 15th in the League table. With 16 matches still to play, plus our ongoing involvement in the Birmingham Senior Cup, it looks set to be a busy final couple of months of the season, starting with a tough test at the home of the table-topping Robins.
Since losing two of their first three League games, Alty have been in magnificent form, with only two subsequent defeats in 28 matches. They last tasted defeat on New Year's Day when Witton Albion sprang something of a surprise with a 4-3 win at Moss Lane, not least as Alty had conceded just four goals in their previous 16 League fixtures.
Since then the Robins have won four and drawn two...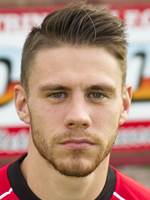 Saturday saw Altrincham pegged back by a late equaliser at Ashton United as the home side rallied from 1-3 down to salvage a point, whilst the previous Saturday saw Sutton Coldfield Town pushed them close at Moss Lane, before Alty ran out 2-1 winners.
Whilst Altrincham show no real signs of faltering, it is worth noting that they have conceded seven goals in their last four games after conceding only eight in the previous 19, including the four scored by Witton.
On home turf, Alty have won 11, drawn two and lost two...
The teams have never met before, with both of this season's fixtures delayed by a combination of Cup commitments and weather, and the Robins are due to visit the War Memorial Ground on Monday, 9th April for the reverse fixture.
Playing links are few and far between, but recent seasons have seen George Bowerman (above, right), Junior Smikle and Kyle Perry play for both clubs... A club coach is running to the match, departing from the War Memorial Ground at 4pm".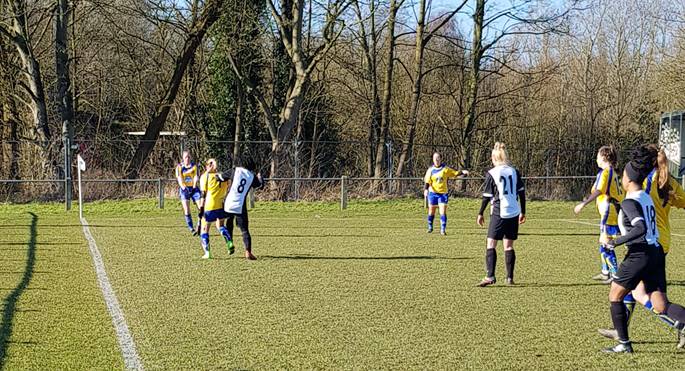 Manager of Altrincham FC Ladies, Keith Edleston reports how the team advanced into the quarter-finals of the Argyle Cup on Sunday.
He writes, "The first team advanced into the next round of the Argyle Cup with a 2-1 away victory against West Didsbury and Chorlton LFC. Two goals, (one in each half), from midfielder Laura Dodds settled a good game of football although a few nerves set in when West pulled a goal back with a few minutes to go. There were lots of positives to take from an impressive away win with all the team putting a shift in and showing quality on the ball when needed against what is a good West side.
There was a pleasing debut also from new signing Beth Hayes who got a good 20 minutes under her belt and will definitely improve the team in the coming games. Best wishes to Paul and his team at West for their hospitality and we wish them well for the rest of the season".
The starting eleven was: Paula Alarcon-Conde, Georgia Ashton, Louise Edleston, Bliss Molyneaux (capt) Aimee Hopkinson, Laura Dodds, Gail Simpson, Nadine Sproule, Jess Hartopp, Jade Hesketh, Kye Brown. Subs: Beth Hayes, Megan Rowley
Goals: Laura Dodds (x2).
Winsford United 3-0 Warrington Town, played at Warrington.
Winsford will now travel to Altrincham in the next round on a date to be confirmed.
Mike Garnett provides data on previous CSC encounters with Winsford United...
Home P9 W6 D1 L2 F18 A9
Away P5 W2 D2 L1 F5 A9
Neutral P3 W0 D1 L2 F2 A7
Overall P17 W8 D4 L5 F25 A25
From the
News & Star
we learn that the "Depleted Workington Reds have help coming with a Football League club midfielder set to join up on loan. Reds travelled to Barwell on Saturday, where they lost 1-0, with only two substitutes; Conor Tinnion, who was not fully fit, and joint-manager Lee Andrews.
'I'd been hoping to get two players on loan before Saturday's game and almost got one over the line,' said Andrews. 'That should be completed early in the week, although the second one might not happen.'
Reds have not won in the Evo-Stik Premier Division this year and conceding a quick double to Barwell was their fifth straight defeat, which has dropped them to 10th in the table. Injuries to Jordan Holt, Josh Calvert and Anthony Wright, with Dan Wordsworth unavailable, cut Reds' options, compounded by the fact that younger players used before, were involved with the Cumbria [county] side.
'Under the circumstances, I thought it was a very good effort,' added Andrews. 'It was a totally committed performance and I thought we deserved something out of it. One mistake cost us... We are still focused on making the play-offs'...
Workington should be in action again tomorrow [Tuesday] night at Buxton but there looks every chance of that falling foul of the weather... Reds are also away on Saturday when they travel to Stalybridge. And they will also be on the road the following Tuesday when they are due to take on Lancaster in the third round of the League Cup. The winners of that tie will be at home to either South Shields or Cleethorpes in the fourth round."
---
26 February 2018
Next Sunday, 4 March, Altrincham FC Youth are away to St Helens Town in the North West Youth Alliance Open Cup.
On Sunday in the Argyle Sports Cup, Altrincham FC Ladies won 2-1 at West Didsbury & Chorlton. Their next game is against league leaders FC United of Manchester at Mersey Valley.
---
25 February 2018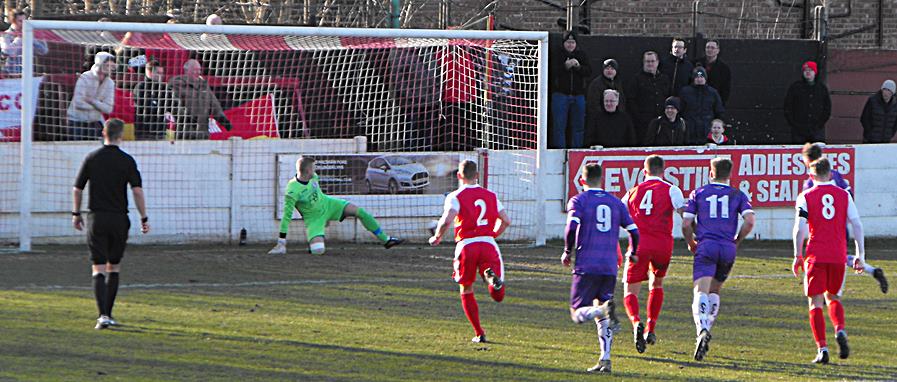 Above: John Johnston, far right, converted the penalty which opened the scoring.
Match report here
Below: Mike Ripley's camera shows James Jones heading Altrincham's third goal.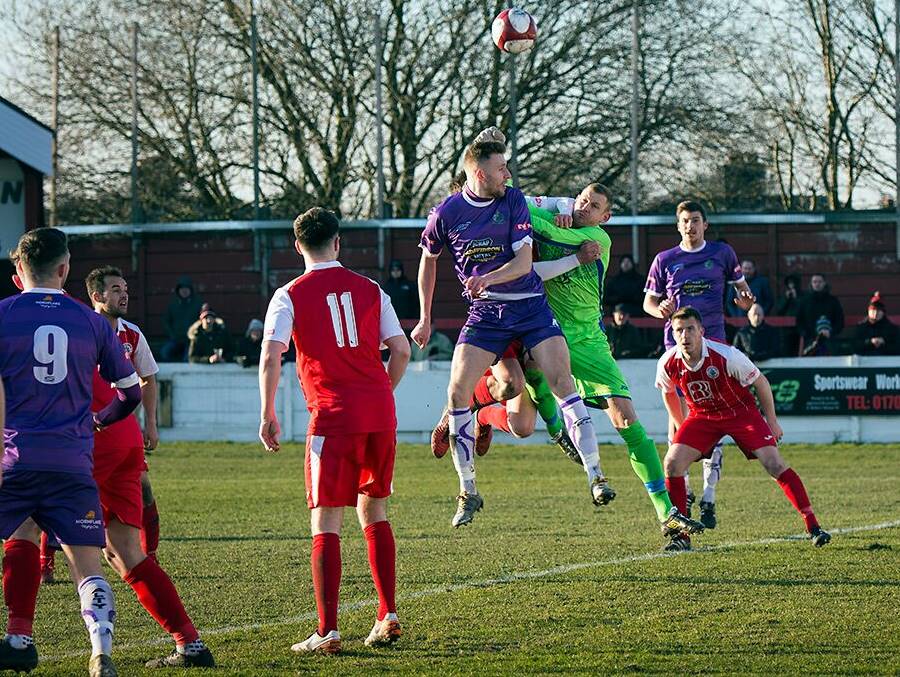 On Saturday, in The Cheshire Football League, Premier Division, Altrincham FC Reserves drew 1-1 at home to Congleton VR, The next two fixtures are also at home. Next Saturday (3 March) they play against league leaders Knutsford FC and the following Saturday (10 March) they entertain tenth-placed Crewe FC at Egerton Sports Club, Knutsford. Altrincham Reserves currently lie 13th in the table.
Saturday 24 February 2018: The EVO-STIK Premier Division
Att. 546 Ashton United 3 - 3 Altrincham
Att. 157 Barwell 1 - 0 Workington
Att. 326 Halesowen Town 3 - 2 Matlock Town
Att. 346 Hednesford Town 0 - 2 Warrington Town
Att. 209 Lancaster City 0 - 2 Rushall Olympic
Att. 323 Marine 1 - 3 Mickleover Sports
Att. 327 Nantwich Town 3 - 1 Grantham Town
Att. 193 Shaw Lane 2 - 0 Coalville Town Paul Clayton 46' Damian Reeves 50'
Att. 426 Stafford Rangers 2 - 0 Stalybridge Celtic
Att. 144 Sutton Coldfield Town 0 - 1 Farsley Celtic
Att. 229 Witton Albion 1 - 0 Whitby Town
Kevin Ellison
was 39 last week but he is still knocking the goals in for Morecambe. He hit a superb shot and then a header to record a brace on Saturday against Wycombe Wanderers in League Two.
NL Pitchero records the fact that, in midweek, "Trafford needed penalties to make the final of the Manchester Premier Cup at the Butcher's Arms against rivals Droylsden. The teams had shared a 2-2 draw in 90 minutes with Aaron Burns giving Trafford the lead after 35 minutes which Callum Bagshaw cancelled out 4 minutes later.
Sefton Gonzales's penalty, 14 minutes from time, gave the Bloods the lead, but Altrincham loanee Sean Miller took the game to spot-kicks with an 80th minute equaliser.
Trafford won the shoot-out 3-1.
Our opponents next Saturday,
Shaw Lane
report on Saturday's win against Coalville Town.
"Coalville will rue their chances missed in the first half as Shaw Lane continued their unbeaten run. The Ducks are now seven unbeaten as they keep pushing for a play-off place. But it was the Ravens who had the better of the play and chances in the first 45 minutes. A double save by Ed Wilczynski on 21 minutes kept the home side level...
After the break it was a different story and it didn't take long for the home side to find the back of the net. Paul Clayton tucked home from five yards after an Alex Byrne cross from the left was deflected in front of the target man, a minute after the restart.
Top-scorer Damian Reeves made it two nil on 54 minutes with a header inches out. A corner by Byrne was flicked on by James Pollard over keeper Elliott Taylor and Reeves couldn't miss.
Coalville still had chances and Watson smashed an effort onto the crossbar from a free-kick on 68 minutes. The Ducks could have put the game to bed but were also denied by the crossbar. Reeves headed against the frame from a Byrne cross on 78 minutes and then, heading into added time Byrne did the same with his shot from the left side of the box.
Coalville eventually became frustrated and a poor challenge on Byrne by Kyle Dixon a minute later saw the midfielder shown a straight red.
Full Time: Shaw Lane 2, Coalville Town 0.
Shaw Lane: Ed Wilczynski, Kieran Lugsden, Ben Gordon, Spencer Harris, James Pollard, David Norris, Alex Byrne, Godwin Abadaki, Paul Clayton (Chib Chilaka 77), Damian Reeves (Ryan Serrant 84), Gavin Rothery (Jake Picton 70). Subs Not Used: Nicky Walker, Niah Payne".
Last midweek, a "cup tie saw promotion-chasers Shaw Lane AFC take their place in the semi-finals of the Sheffield & Hallam Senior Cup after a comfortable 4-1 win against Sheffield County Senior League minnows North Gawber Colliery. Although the scoreline was comprehensive enough, the visitors didn't go down without a fight – literally!
Spencer Harris's penalty and a Damian Reeves brace had the Ducks three-up at the break.
Liam Marsden pulled one back from the spot 5 minutes after the restart, but Alex Byrne made it 4-1 just past the hour-mark for a stronger Shaw Lane side than would probably have been the case had it not been two weeks since they played due to the weather.
The scoreline could have been greater with Byrne and Reeves both hitting the woodwork in the second half, either side of the fourth goal but then the game went awry.
Firstly, Kieran Lugsden had to hobble off the pitch reducing the home side to ten-men for the final 6 minutes, but then the referee had a major decision to make. Following an awful lunge near the dug-outs a crowd of players had words. This resulted in not one, but three red cards! With the brawl at conclusion, the referee sent-off North Gawber`s Scott Chipchase for the initial tackle and Carl Woodhead for a punch.
After the two red cards and just a yellow to the Ducks' Godwin Abadaki, North Gawber`s Jake Senior was then sent for an early shower for abusive language. Shaw Lane await to see if they'll play either Swallownest or Frickley Athletic in the semi-final."
Before Saturday's matches, Sutton Coldfield Town reported that "With a crucial home game tomorrow against Farsley Celtic, Toothy has signed 3 players in time to make tomorrow's squad. We see goalkeeper Matt Cotton sign from Coalville, central midfielder Louis McGorry sign on loan from Telford and defender Sam Coulson sign from Tamworth".
Monday 26 February 2018
Cheshire Senior Cup First Round
Winsford United v Warrington Town, to be played at Warrington Town, to determine who visits Altrincham in the next round.
Quarter-Finals:
Stafford Rangers v Mickleover Sports
Bamber Bridge v Ramsbottom United
Hednesford_Town v Basford United
Lancaster City or Workington AFC v Clee Town or South Shields
---
24 February 2018
Three defensive lapses cost Altrincham two points. In 2018 they have now conceded 11 goals in seven league matches having only conceded ten in their previous 19 league games (and five of those ten were in one game at Workington, where they were reduced to ten men).
Altrincham started the game on a bobbly pitch at Ashton well but did not get the breakthrough till the 32nd minute when Johnston converted a penalty after a foul on Poole. But they fell asleep from the restart and Pritchard equalised a minute later.
After a lacklustre start to the second half, two goals in a five-minute spell around the hour mark seemed to have secured an away victory. A superb counter-attack was finished off by Johnston to make it 2-1 then a Jones header span into the net to make it 3-1 (62 mins).
But, five minutes later, a foul by Moult gave Ashton a freekick from the front edge of the box which Pritchard curled home and in the 89th minute Hampson failed to make a clearance. Posssession was lost, Ashton struck the bar and Chadwick nodded in the loose ball.
Match report here
Apologies for the slower than usual matchday updates today; for some reason the connection at Hurst Cross is extremely slow but the updates have worked fine in every other location we have visited this season.
Saturday 24 February 2018: The EVO-STIK Premier Division
Ashton United 3-3 Altrincham
Barwell 1-0 Workington
Buxton P-P Stourbridge
Halesowen Town 3-2 Matlock Town
Hednesford Town 0-2 Warrington Town
Lancaster City 0-2 Rushall Olympic
Marine 1-3 Mickleover Sports
Nantwich Town 3-1 Grantham Town
Shaw Lane 2-0 Coalville Town
Stafford Rangers 2-0 Stalybridge Celtic
Sutton Coldfield Town 0-1 Farsley Celtic
Witton Albion 1-0 Whitby Town
In advance of Saturday's game,
Ashton United
said that "It's another big game at the top end of the Evo-Stik Premier Division as Ashton welcome runaway leaders Altrincham to Hurst Cross. Banim's men have only lost one of their last 12 league games and that solitary loss came against the Ammies in a 3-2 defeat at Moss Lane last month.
The visitors will come into the game on the back of a 2-1 home in over Sutton Coldfield, thanks to Max Harrop's goal of the season contender, and John Johnson's penalty in the second half ensured that Altrincham increased their lead at the summit. Altrincham are in fine goal scoring form this season, finding the net 68 times in just 30 games. They also boast an impressive defensive record too, conceding only 25 goals so far this campaign.
Despite losing the reverse fixture, Ashton can go into the game encouraged with their home form as the Robins haven't lost at home since September in the league when Hednesford Town took all three points at Hurst Cross.
This week our one to watch is ex-Robin Max Harrop, the 24-year-old started his career at Bury in 2010 and, following numerous loan spells away, Harrop joined Nantwich Town in 2013. After his two-year stint he then went to Hurst Cross and joined Ashton United but, after only five appearances, he then joined Rammsbottom United for another short period. In August 2017, Harrop joined Altrincham and has scored five goals so far this term including a stunner vs Sutton Coldfield".
Admission prices:
Adults - £10
Concessions - £6
Saturday 24 February 2018: The EVO-STIK Premier Division
Ashton United v Altrincham
Barwell 1-0 Workington
Buxton P-P Stourbridge
Halesowen Town 3-2 Matlock Town
Hednesford Town 0-2 Warrington Town
Lancaster City 0-2 Rushall Olympic
Marine 1-3 Mickleover Sports
Nantwich Town 3-1 Grantham Town
Shaw Lane 2-0 Coalville Town
Stafford Rangers 2-0 Stalybridge Celtic
Sutton Coldfield Town 0-1 Farsley Celtic
Witton Albion 1-0 Whitby Town
---
23 February 2018
Altrincam FC Community Sports has vacancies for the roles of Casual Sports Coach and Caretaker. Details are on the CSSH
website
.
Alty's opponents next week, Shaw Lane, beat North Gawber Colliery on Thursday in the Sheffield & Hallam Senior Cup, quarter final. Their starting eleven comprised 1. Myles Wright 2. Kieran Lugsden 3. Ben Gordon 4. Spencer Harris 5. James Pollard 6. David Norris 7. Alex Byrne 8. Godwin Abadaki 9. Paul Clayton 10. Damian Reeves 11. Gavin Rothery
---
22 February 2018
Sutton Coldfield Town
have produced a report on last Saturday's game against Altrincham, headed "Late drama at Altrincham robs The Royals of a hard fought point".
Sutton traveled to top of the league Altrincham on the back of several improved performances since Neil Tooth to over as manager but it was always going to be a very tough ask...
An early move saw Sutton have the first chance almost from the kick off when Karl Hawley shot tamely at the keeper. Sutton continued their early pressure and a defender almost gifted them the opening goal when he cleared just over the bar. A good ball in the 13th minute to Tyler Little allowed him to cut in and beat the diving keeper and Sutton were ahead which was just reward for their early pressure.
Altrincham hit back and Max Harrop equalised with a great 30 yard shot, after the ball was given away in midfield, that gave Jon Brown in the Sutton goal no chance...
With the game heading towards a 1-1 draw, a foul by James Beresford in the 85th minute gave Altrincham a penalty which John Johnson converted.
Dominic Dell came on as a substitute but only lasted about 5 minutes before being red carded.
This was a very spirited performance against a very good team and was yet another much improved performance giving hope that Sutton can yet avoid relegation. It was significant that Sutton's Tyler Little was awarded Man of the Match by the Altrincham sponsors. [Tyler was named as Away Man of the Match and Max Harrop was named Alty Man of the Match].
The
Northwich Guardian
reports how "Witton Albion let a lead slip three times before bowing out of the Integro League Cup following a penalty shoot-out at Mickleover Sports on Tuesday.
Goalkeeper Lewis King was the home team's match-winner, saving four spot-kicks, two of those when Carl Macauley's men would have progressed had they been converted. His opposite number, Ryan Neild, also stopped three.
The visitors had led at the break through James Foley's goal after Will Jones and Owen Dale had combined in the build-up.
Pablo Mills levelled with a header shortly after the interval before substitute Steven Tames restored Witton's lead when he fired low into the corner from the edge of the penalty area.
Louis Briscoe's maiden strike for Sports hauled them level again before Tames made it 3-2 with six minutes left when he pounced on a rebound after Jones's shot had been parried.
However Mills netted a second time with a header for the hosts, who rode their luck when Jones's header hit the woodwork in added time.
Nick Ryan, Prince Haywood and Michael Wilson all scored for Witton in the shoot-out, but King stopped Danny McKenna's sudden-death effort before Andy Dales converted to send Mickleover through to the competition's last-eight".
​Halesowen Town "can confirm that, after lengthy discussions, they are in a position to name the investors that are in place to complete the purchase of the club. ​
Halesowen Chair, Karen Brookes, will be making the announcement exclusively on the pitch with Black Country Radio's Adam Parkes before the game against Matlock Town FC on Saturday 24th February. ​
This is an exciting chapter in the history of our great club."
---
21 February 2018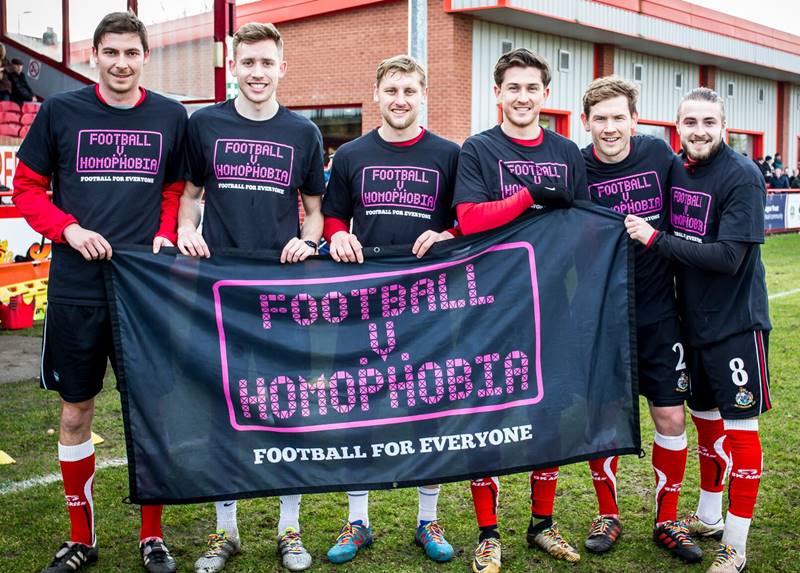 Above, courtesy of club photographer Gavin Rathbone, we see six of Alty's team in the "Football v Homophobia" t-shirts that the team wore before last Saturday's match against Sutton Coldfield Town. Pictured, left to right, are Ben Harrison, James Jones, Jake Moult, Connor Hampson, Shaun Densmore and Max Harrop. As can be seen, a number of the players also wore special rainbow laces to underline their support for the cause.
Altrincham FC Press and Media Officer John Edwards writes...
"Saturday will be remembered for poignancy as well as league points at The J.Davidson Stadium after the passing of another Altrincham supporter, as well as David Cameron, was marked with a heartfelt tribute.
Following the shock of David's untimely death at the age of just 32, a minute's applause rang round the ground in memory of him, shortly before the start of Alty's 2-1 win over Sutton Coldfield Town.
Now it has emerged there was another equally sincere but less public act of remembrance around 20 minutes after the final whistle. A knock at the main entrance was answered by doorman Peter Lewis, who was handed an envelope marked 'For the attention of Grahame Rowley'.
When Grahame opened it, he found banknotes and a simple but moving message that read, 'Please accept this donation in memory of my husband.'
Reflecting on a gesture that rounded off an emotional day for everyone connected with the club, the Alty chairman said, 'There was no name on the note, and the lady didn't say who she was when Peter answered the door. She just asked him to pass the envelope on to me.
'I was taken aback, to say the least, when I opened it. It was a generous donation and a lovely, kind way of marking her husband's support for the club, which we can only assume was the case.
'We would love the chance to meet her and express our gratitude, as well as condolences, if at all possible. If she would rather remain anonymous, we would, of course, fully respect her wishes, but it would be lovely to say hello, either in person at the club, where she would be made very welcome, or by phoning 0161 928 1045 or e-mailing me".
Alty TV
has a post-match interview with Phil Parkinson, Jordan Hulme and John Johnston, conducted after the game last Saturday, by Brian Flynn.
The EVO-STIK Premier Division
Rushall Olympic 1-2 Stafford Rangers (Kyle Perry netted the winner)
Whitby Town P-P Grantham Town
Altrincham have two strikers in the top ten scorers in the EVO-STIK Premier Division, as listed on the league website.
Liam Hardy 25 (Buxton, goals 20+5 penalties)
Lee Shaw 24 (Grantham Town 21+3)
Jordan Hulme 20 (Altrincham 20+0)
If penalties are discounted, Jordan lies second in the rankings behind Grantham's Shaw.
And, if you exclude James Walshaw, who is listed fourth on the league list, as he is now playing at a lower level for Scarborough Athletic, another Alty player, Josh Hancock is listed by the league in seventh place. However, the League has credited him with 14 league goals. As previously noted this is wrong; Josh has 13 goals, but the league wrongly attributes Tom Peers's goal against Nantwich to Josh. Nevertheless, the Alty duo are the leading strike duo in the division.
The
News & Star
reported that "A win in [Tuesday's] Integro League Cup tie against Marine could be the boost Workington Reds need says joint chairman John Mackay.
After a poor run of form in the league, Mackay is hoping that his side can turn things around...
'Yes we are having a bad spell in the league but it was always going to happen,' said Mackay... 'But that does not make us a bad team overnight. We have a genuine bunch of lads who are trying their best. They didn't play as well as normal on Saturday but days like that happen'...
Joint manager Lee Andrews has some tough calls to make this week as Reds will follow up tonight's clash with a Cumberland Cup game against Workington Athletic on Thursday night, before getting back to the league on Saturday. And all parties agree that the league has to take priority, so squad players and reserves will also be used to bolster the side, who are already missing Anthony Wright and Josh Calvert through injury.
'We will have to mix and match for both games I would have thought,' added Mackay... 'We can't afford to lose any more players or be too tired for Saturday... Hopefully these young lads will come in and give us a lift to keep some of our other players fresh for Saturday'"
The Stoke Sentinel reports that "Stafford Rangers need to 'change the mentality' to avoid getting sucked into a relegation scrap, says manager Neil Kitching. Saturday's 1-0 defeat at Farsley Celtic means Boro have won just two of their past 14 league games, and three of 19 in all competitions (though they have progressed on penalties after draws in two cup games).
That form has seen them slip to 19th in the Northern Premier League. They are still some 12 points off the bottom two teams, with games in hand...
'"We've got to start nicking some results or we're going to start getting dragged into some trouble,' he told the Newsletter... 'Perhaps we've got to change the mentality, because there's not enough in that dressing room that are scrapping at the minute. I get the feeling they think they did okay against Matlock or last weekend, and they can relax a bit. But they can't and I've warned them that there's five or six teams below us scrapping for points and putting their bodies on the line... I've put it on the line to them and said 'you need to start doing more'...
Boro travel to Rushall Olympic tonight before hosting Stalybridge Celtic at the weekend. Those are both teams around them in the table, which could look a lot different if the win them both. But Kitching says...'We've had a big chat, because we're just moseying along, nicking a point or the odd win in three,' he said. 'It's not good enough for me or a club of this size... I said to them "You're all thinking might nick a point at Rushall and win at home to Stalybridge", but we shouldn't be looking ahead and thinking "this might happen" or "that might happen".
'We're too interested in the intricates and final third stuff, but I want people that are going to turn up and scrap, battle, fight and put their bodies on the line'...
Boro have used 33 players this season, but do not have the resources to keep on bringing in new faces. 'We can't keep bringing new players in, we've got to get it out of the squad of players we've got,' said Kitching. 'We've got five or six key first-team players injured or suspended, but we can't use that as an excuse'".
Veteran midielder Tom Bates has joined Jimmy Ginnelly's touchline team at EVO-STIK League Barwell as a player-coach.
The Evo-Stik League reports that "Veteran midielder Tom Bates has joined Jimmy Ginnelly's touchline team at Barwell as a player-coach. A popular figure in the dressing room, who rejoined the Leicestershire club for a third spell four years ago, the 32-year-old midfielder started in his new role on Saturday when he gave a short team talk before the Canaries drew 1-1 at home with Ashton United.
As part of his new duties at Kirkby Road, the former Atherstone Unnited, Bedworth United, Coventry City, Daventry Town, Leamington, Hinckley United and Nuneaton Griff star will also be scouting potential signings for Ginnelly as well as the club's upcoming opponents".
---
20 February 2018
Altrincham FC have been advised that the away game at Stourbridge, which was recently rearranged to Monday, 5 March, after being postponed because of a waterlogged pitch, has been moved again. For reasons that are currently unknown, the match will now take place on Monday, 9 April. The change still gives Alty two away games in the space of three days, as we now travel to the Midlands after a Saturday match at Lancaster City.
In case you missed the new dates announced last week for Altrincham fixtures, here they are again, now incorporating the newly revised Stourbridge date.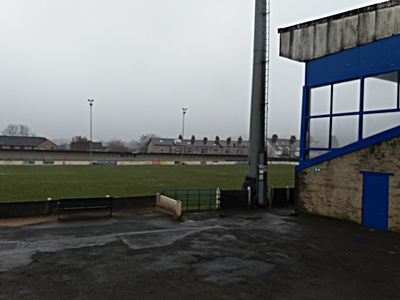 Right: A very damp Silverlands on the day that our match at Buxton was postponed. Image courtesy of Mick Taylor.
Saturday 10th March: Altrincham v Mickleover Sports, formerly 3/02
Tuesday 27th March: Altrincham v Shaw Lane, formerly 13/02
Monday, 9th April: Stourbridge v Altrincham, formerly 20/01 and 5/03
Tuesday 17th April: Buxton v Altrincham, formerly 10/02
Altrincham have 16 league fixtures remaining, plus at least one more in the Cheshire Senior Cup, in which our opponents have yet to be determined.
The remaining fixtures are...
Home (8): Stourbridge, Mickleover Sports, Workington, Stalybridge Celtic, Shaw Lane AFC, Marine, Barwell, Hednesford Town
Away (8): Ashton United, Shaw Lane AFC, Halesowen Town, Rushall Olympic, Lancaster City, Stourbridge, Buxton, Grantham Town
Neil Sorvel (right) hailed a Max Harrop-inspired Altrincham fightback that saw off a spirited Sutton Coldfield Town side and turned the screw on their title rivals at The J.Davidson Stadium on Saturday.
Belying their lowly position in the Evo-Stik Northern Premier League, Sutton Coldfield deservedly went in front early on before finally succumbing to Alty's never-say-die attitude, as Max Harrop equalised from long range and John Johnston converted a late penalty for a 2-1 win.
Reflecting on the likely impact on those looking for a chink in the Alty armour, assistant-manager Sorvel said, 'It wasn't our greatest performance, but it was important to get over the line, because it sends out a message to the teams chasing us.
'Everyone looks for results elsewhere when their game has finished, and it can have an effect on you. I remember at Nantwich last season, we were chasing Blyth for top spot, and it just demoralises you when you look to see how they've got on every time and find they've won again.
'We asked the players for a quick start, but, in fact, we made a terrible start. Max Harrop (left) was the only one really at it in the first 20 minutes, and that was another great strike from distance for the equaliser. Early on, when we were nowhere near, he was the one getting on the ball and trying to get us playing. Some of his switches of play were fantastic, and he has been near-enough perfect since moving into that central role.'
Shaun Densmore hobbled off with a knee injury in the first half, and Sorvel added, 'Dens just opened his knee out a bit in a tackle. He tried to persevere with it but had to come off. We'll see how he does during the week, but we hope he should be OK for Saturday's game at Ashton United.
'Tom Hannigan is getting there as well and was potentially fit enough to have been on the bench against Sutton Coldfield'".
NL Pitchero
reports that "Making his debut for Glossop North End in Saturday`s disappointing 5-0 defeat at Colne FC on Saturday was the experienced Cavell Coo. The 30-year-old defender had been in his second spell with Evo-Stik Premier side Ashton United. [He played against Alty recently].
His consistency and high-quality performances were rewarded as he won the Robins' Directors player of the year award in 2016. Coo has previously played for various clubs, including Crewe Alexandra, Altrincham, Witton Albion, FC Halifax Town, Mossley AFC, Curzon Ashton, Salford City and FC United of Manchester".
Also from NL Pitchero we learn that "Curzon Ashton have signed Jude Oyibo from Glossop North End. Oyibo is a winger who has previously played for Altrincham, Stockport Town and Stalybridge Celtic. His pace down the flank makes him into a crowd pleaser, and after joining Glossop from Stalybridge he has certainly showed some of that excitement in his twenty-seven games and 7 goals."
Shaw Lane AFC
report that manager "Paul Quinn names his new Assistant Manager. Rob Wilson will join the Ducks as new Assistant Manager and brings with him a wealth of experience.
Manager Paul Quinn and Chairman Craig Wood have moved quickly to replace John Reed who departed for Gainsborough Trinity at the end of last week. Wilson played over 300 football league games including over 200 for Fulham FC and was capped for the Republic of Ireland at under-21 level. The former midfielder also had spells with Huddersfield Town and Rotherham United before retiring from full time football in the early 90s.
After finishing his playing career Wilson completed his coaching qualifications before joining Huddersfield Town's academy staff where he coached for 7 years. Wilson later joined up with Paul Quinn at Brighouse and helped the club win promotion to the Evo Stik league in 2014 before taking a break from the game in 2016.
Wilson is now looking forward to the new challenge at Shaw Lane and said, 'I am delighted to be joining up with Paul, I'm really looking forward to working with the staff and players to help drive the club forward... As a team we are in a great position and we will all be doing everything we can to achieve the highest possible finish this season'.
Quinn commented...'His experience will be invaluable for players and staff alike'".
Also Shaw Lane "will host another cup tie if we beat North Gawber Colliery FC in the Quarter-Finals... If we beat North Gawber Colliery FC in the Quarter-Final, due to be played Wednesday 21st February, we will face either Swallownest FC or rivals Frickley Athletic FC. We beat Frickley in the final last season at Bramall Lane... The other tie saw Penistone Church drawn at home to Maltby Main FC."
At Warrington Town "Lee Andrews's squad options have been reduced following the announcement that midfielder James Earl has left the club. Originally with the club briefly in 2008, James returned to Borough Park in 2015 and, for the past two and a half seasons, has been an important member of the squad.
During that period he has made 79 starts for the team and been named as a substitute on a further 30 occasions. He has netted seven goals whilst on first team duty. In recent weeks, he hasn't had much field time".
Still at Borough Park, the News & Star reports that "Workington are still looking for their first league points of 2018 after slipping to a fourth successive defeat. After a splendid 17-match unbeaten run, Reds have only had FA Trophy progress to savour so far this year as play-off hopes have receded.
This was another game in which the Cumbrians should have had something to show for their efforts, even though they were short of their best. The rhythm and intensity which under-pinned that long unbeaten run is not there, with more uncertainty and less drive about their play these days. To add to the problems, as they face the prospect virtually of playing twice a week for the rest of the season, another injury added to the disappointment of the result.
Anthony Wright suffered a hamstring pull and had to be replaced after only 18 minutes. The only consolation from that unfortunate episode was that his replacement Rob Wilson, who has spent more time on the bench recently, emerged as one of Reds' best players.
Reds had looked more than comfortable in the first half, so it was a major disappointment when Rushall scored right at the end...
The second half never really came alive until the final quarter... Rushall were dangerous on the break, as Reds pushed for an equaliser. Once, they had four against one but Gari Rowntree got back to help out and block the shot...
Rushall: Slinn, Webb, Smikle, Maye, Hull, Whittall, Waldron, Hawker, Dubidat (Archer 78), Landell (Sarmento 66), Singh (Sangha 68). Subs (not used) Adelekan, Fonovich.
Workington: Taylor, McLuckie, Rowntree, Wordsworth, Douglas, Wright (Wilson 18), Symington, Holt, Allison, Waterston (Joel 75), Tinnion. Subs (not used) Smith, Mellen, Whitehead".
Across the country, Whitby Town say that "Andy Monkhouse could be in line to return to Chris Hardy's starting line-up after serving his one-match ban, as Grantham Town visit the Turnbull Ground. Monkhouse sat out of Saturday's 2-1 win over Nantwich Town, after picking up a red card in the draw at Stafford Rangers.
The midfielder's return gives Hardy a selection headache... 'We're looking for selection headaches because we had a late pull out with James Fairley [on Saturday],' Hardy said. 'He had to pull out of the squad, which was disappointing. We need bodies in there. Able bodies; fit bodies so Monks's return will only benefit us'...
Luke Bythway will also sit the visit of the Gingerbreads out with a knee injury, whilst captain Steven Snaith serves the second game of his suspension. Hardy will also have to do without the services of Matthew Tymon. The striker... misses out due to work commitments. Whitby go into the game on the back of a six-game unbeaten run...
The fixture will be Grantham's first outing since their 1-1 draw with Witton Albion on February 3, and they are still yet to lose in 2018, sitting third in the Evo-Stik Premier. The Gingerbreads also have the joint-best away record in the division, notching up eight wins on the road so far this term.
The visitors will have to do without defender Tom Batchelor, who is ruled out through suspension, whilst Luke Shaw continues his recovery from a long-term injury."
According to the Stoke Sentinel "Stafford Rangers chairman John Bromley says it is imperative that the club are not shifted to a southern division next season. New divisions at step three and four of non-league have been agreed in principle by the Football Association in a major shake-up of the National League system structure.
Step three, where Rangers play in the Northern Premier League, will run with a fourth division, while there will be an additional one at non-league's fourth tier as football's governing body look to reduce costs and travelling times.
Currently, the Isthmian Premier, Southern Premier and Northern Premier League premier divisions have 24 teams each. Under the new proposals that number is likely to be reduced to 22, with step four leagues lowered to 20. Rangers want to be placed into a centrally-based league, to reduce travel times and costs, but fear they may end up in a more southerly division.
'Stafford Rangers do not wish to become one of the most Southern-based clubs in the Northern Premier League next season,' said Boro chief Bromley. 'We are applying for the central league, our management team and most of our players are from the central region. Who knows if they will want to travel even further than they do now? Our mileage would increase by about 1,000 miles, which would lead to a 33 per cent increase in coach travel costs.
'Our supporters are fantastic but will they want the extra expense of the increased travelling? It will be a really important decision that will have to be made that will have a massive impact on our management team, players and supporters and on our finances. I hope the powers that be will have a duty of care for us or are they going to financially support us for the coming season?'"
---
19 February 2018
"On Friday 16th March 2018, the Altrincham FC Community Sports Hall at the J Davidson Stadium will be the venue for an exciting murder mystery evening, based on a fictional end-of-season Altrincham FC Awards Dinner, filled with intrigue, suspicion, and of course, MURDER!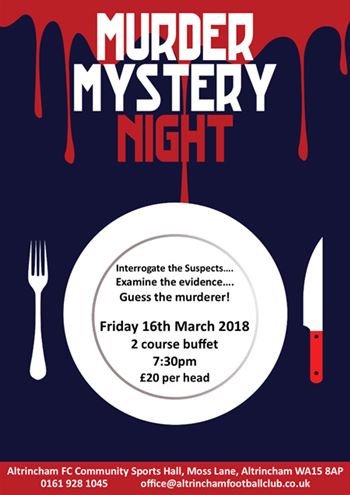 As well as enjoying a delicious two-course buffet, guests will be able to take part in a fully interactive murder mystery event, performed by eight professional actors. During the course of the evening, guests will have the opportunity to interrogate the suspects, examine the evidence, and ultimately guess the murderer, with the winner receiving a 'Star Detective' certificate and a special prize!
The event will start at 7.30pm, finishing at around 10.00pm, with the bar remaining open until around 11.30pm.
THE PLOT.....
Following a number of turbulent years at Moss Lane, chairman Terry Burpman has resurrected the club's fortunes, and under the guidance of manager Bernard Baker, Altrincham FC have secured promotion back to the Conference North.
The whole town is in party mode, and there's excitement in the air as supporters head to Moss Lane for the club's end-of-season Awards Dinner.
Terry will be at the top table, alongside his wife Marian, to present the awards, and supporters are invited to join club officials, staff and players for a very special evening.
Fans will get the chance to meet Jordy, the club's star striker and leading goalscorer, who is widely expected to pick up the club's Player of the Year trophy.
Everything seems to be running smoothly at Moss Lane, on and off the pitch, and everybody connected with the club is looking forward to a memorable evening.
But things aren't quite as they seem.
With cracks beginning to appear in Terry and Marian's marriage, a simmering of resentment and jealousy amongst certain people at the club, and rumours circulating that the club is in financial difficulties, a series of unfortunate events and revelations will ensure it is indeed a memorable evening, for all the wrong reasons.
Could you uncover the truth?.
Come along and find out. Tickets are £20 each including 2 course buffet meal. Please see Noel Shield, Neil Faulkner or Grahame Rowley for more information or contact by e-mail or by telephone on 0161-928-1045".
On Sunday, Altrincham FC Youth were beaten 5-0 at AFC Fylde. Next Sunday, in the NWYA Open Cup, Alty are away to St Helens Town.
Altrincham FC Ladies lost 1-2 to Crewe Alexandra in the Cheshire County Cup on Sunday.
Monday 19 February 2018: The EVO-STIK Premier Division
Shaw Lane P-P Stalybridge Celtic (waterlogged pitch)
Tuesday 20 February 2018:
The EVO-STIK Premier Division
Rushall Olympic v Stafford Rangers
Whitby Town v Grantham Town
The Integro League Cup 17-18 - Third Round
Mickleover Sports v Witton Albion
The Integro League Cup 17-18 - Second Round
Warrington Town 0-2 Lancaster City
Workington v Marine
Wednesday 21 February 2018
Sheffield & Hallam Senior Cup 17-18 - Quarter Final
Thursday 22 February 2018
Cumberland Senior Cup 17-18 - Quarter Final
Workington Athletic v Workington AFC, to be played at Borough Park, Workington AFC
Marine
"are pleased to announce the signing of 19 year-old midfielder Luke Griffiths from Warrington Town. He began his career at Bolton Wanderers, progressing through the youth set up before moving to Runcorn Linnets last season"
---
18 February 2018
Altrincham FC captain, Jake Moult (left), has a column entitled "Captain's Chat" in each issue of the
Robins' Review
matchday programme. Below is Jake's article from Saturday's game...
"After so many recent frustrations at the hands of the weather, it's good to be back in action this afternoon as we welcome Sutton Coldfield Town to The J.Davidson Stadium.
For all the best efforts of our ground staff, and Buxton's, we've had one postponement after another over the past couple of weeks, which has been hugely frustrating for all concerned.
Like so many of our supporters, we have travelled in hope and actually made it to the ground before hearing the game is off, though, as players, we have at least had the consolation of being able to train and put some useful work in before returning home.
That's no substitute for playing, of course, and it is being denied the chance to get out there and keep the momentum going that has been the biggest frustration for everyone in the changing room.
Such was our form, prior to the bad weather, and so intent we were on putting more points on the board, that every time a game finished, we couldn't wait for the next one to begin.
Right: James Poole.
At times, we've been kept waiting longer than we would have liked, though we did at least manage to dodge the downpours and stage a match a week last Tuesday, when Ashton United visited The J.Davidson.
We could hardly have wished for anything better than going 2-0 up inside 15 minutes, and though we were disappointed at letting Ashton in for a couple of goals near the end, no-one could dispute we were well worth the three points. Max Harrop got us off to a flyer with an exceptional strike from outside the area that seemed to settle him down for what was a superb performance at the heart of midfield. We've seen him do it on the training pitch many a time, so it came as no surprise when he set his sights from distance and arrowed a shot into the top corner.
James Poole's header for the second, from a superb cross by Connor Hampson, was all about reading the situation and timing his run to perfection. Once he'd done that, I always fancied him to win the header and stick it past the keeper, and it was well deserved for a player who's in a rich vein of form at the moment.
It was 3-0 in the second half after another reminder of how you can't keep Jordan Hulme out of the action. Overall, it might not have been his best night, but the great thing about Jordan is he never gives up. While others might let their heads drop and allow frustration to get the better of them, he channels it in the right way and redoubles his efforts to make a positive impact.
It was there again with another great individual goal that showed he's worth his weight in gold, especially when you consider Ashton's late fightback meant it was the one that kept our noses in front.
Away from events on the pitch, I was extremely sorry to hear about the death of Alty fan David Cameron at the age of just 32, and, on behalf of all the players and staff, I'd like to pass on our heartfelt condolences to David's family. I feel there is a real connection between this squad and our supporters, and we all share the sense of shock at such tragic news.
For me, that connection is pivotal to the success we've been having on the field. Some of the more experienced players who have been here a while have given a lot to the club but, at the same time, owe a lot to the club and the supporters. What we are striving for this season means a lot, and there will be no prouder man than me if we can get over the line and see the job through.
Jake".
Altrincham have no midweek match owing to the much delayed replay between Warrington Town and Winsford United to determine our next opponents in the Cheshire Senior Cup. So, Alty's next match is on Saturday 24 February whe w travel to Ashton United. As previously announced, it is uneconomic to run a supporters' coach for such a short journey, which can be made by car or public transport. The postcode for the ground at Hurst Cross is OL6 8DY.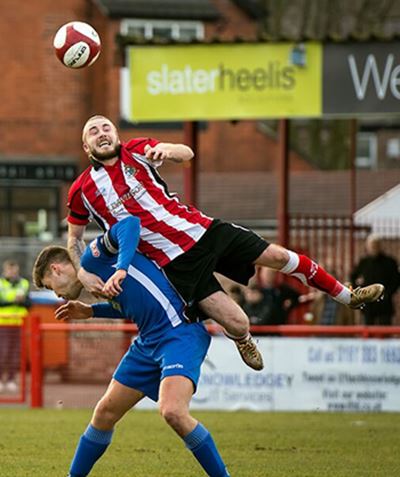 Right: Courtesy of Mike Ripley we see Man of the Match, Max Harrop, in action against Sutton Coldfield Town on Saturday.
Match report here.
On Saturday, Altrincham FC Reserves lost 1-0 away to Linotype Cheadle H.N. Next Saturday they are at home to Congleton Vale Royal.
The EVO-STIK Premier Division
Att. 905 Altrincham 2 - 1 Sutton Coldfield Town
Att. 192 Barwell 1 - 1 Ashton United
Att. 131 Coalville Town 1 - 4 Lancaster City
Att. 246 Farsley Celtic 1 - 0 Stafford Rangers
Att. 462 Marine 1 - 0 Halesowen Town
Att. 421 Matlock Town 2 - 3 Witton Albion
Att. 162 Rushall Olympic 1 - 0 Workington
Att. 389 Stalybridge Celtic 2 - 2 Hednesford Town
Att. 476 Stourbridge 2 - 1 Buxton
Att. 283 Warrington Town 3 - 1 Mickleover Sports Sean Williams 24'
Att. 301 Whitby Town 2 - 1 Nantwich Town
---
17 February 2018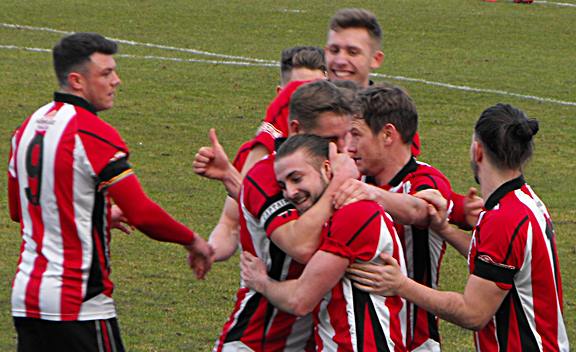 Above: Max Harrop is engulfed by his team-mates after scoring his goal.
Sutton Coldfield belied their bottom of the table position to make Altrincham work hard for the three points. The home side started poorly and had Hawley got in a better shot the hosts could have been behind inside forty seconds. Indeed, it was the Royals who took the lead, in the 13th minute, when Alty stood off Hawley and allowed the former Stafford man to feed the overlapping Lyttle. From right of goal he drove a fine, low shot past Thompson.
Altrincham slowly improved and they levelled the score eight minutes later. A superb 22 yard shot from Harrop gave keeper Brown no chance.
On a soft surface Altrincham found it hard to create clear openings and it took a penalty, ten minutes from time, to decide the outcome. Hancock got to a ball just inside the box fractionally ahead of a defender who tripped him to concede the spot-kick. Johnston coolly converted the penalty, having come on as a substitute during the second half after an injury lay-off.
The action was not over as Sutton Coldfield substitute Dell lasted just four minutes before punching Harrop in reaction to a foul by the Alty man and being shown a red card in the 89th minute.
Match report here.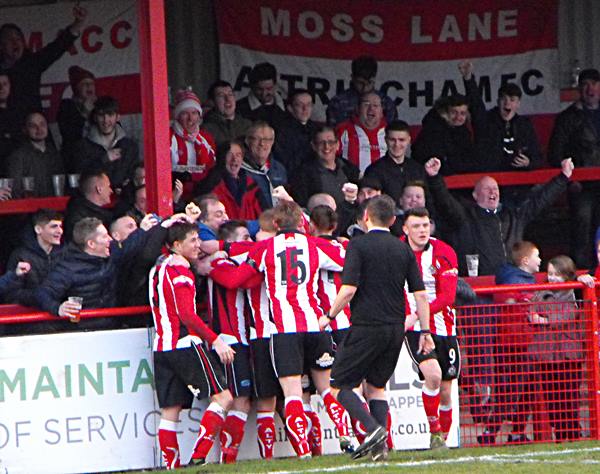 Above: John Johnston celebrates converting his penalty at the Golf Road end..
Saturday 17 February 2018
Altrincham 2-1 Sutton Coldfield Town
Barwell 1-1 Ashton United
Coalville Town 1-4 Lancaster City
Farsley Celtic 1-0 Stafford Rangers
Marine 1-0 Halesowen Town
Matlock Town 2-3 Witton Albion
Rushall Olympic 1-0 Workington
Stalybridge Celtic 2-2 Hednesford Town
Stourbridge 2-1 Buxton
Warrington Town 3-1 Mickleover Sports
Whitby Town 2-1 Nantwich Town
Hednesford Town
report that Altrincham winger "Mason Walsh has opted to return to Altrincham after the Northern Premier League leaders made an approach for his services again". Mason was sent off recently whilst playing for the Pitmen and, following his earlier red card in Altrincham colours in the Integro Cup, is believed to be facing a four-match ban.
However, midfielder Laurence Taylor's loan at our neighbours Trafford has been extended. And now joining Laurence (right), and fellow loanee Sean Miller, at Shawe View is Darius Palma. The 19 year-old forward had a recent loan spell at Kidsgrove Athletic.
Altrincham FC Press and Media Officer, Brian Flynn, has issued the following press release:
Altrincham FC Supporting the Football v Homophobia campaign
"Evo-Stik Premier Division leaders Altrincham FC are supporting the Football v Homophobia campaign.
The Robins are aiming to bounce back to the Vanarama National League North at the first time of asking, and Saturday's home encounter pits the league leaders against Sutton Coldfield Town who are currently bottom of the table, trailing West Midlands rivals, Halesowen Town, on goal difference, after both teams were deducted points this week for fielding ineligible players.
It's also an important fixture for the club's Diversity and Inclusion (D&I) team, who are gaining a reputation in non-league football for going the extra mile to ensure everyone feels welcome at the J.Davidson Stadium, where the club plays its home games.
This weekend's fixture will be dedicated to the Football v Homophobia campaign and is part of a series of steps undertaken by Alty to reach out to different parts of the community in and around South Manchester.
Jordan Tyms, the club's D&I officer, says there is a long-term strategy to make the 6,000 plus capacity stadium a place where football is accessible to all.
'The club took a service review with supporters and partners, and we are now in a five-year-plan, in which we want to be more inclusive, so that as many people as possible come and watch games here and enjoy being part of the club.'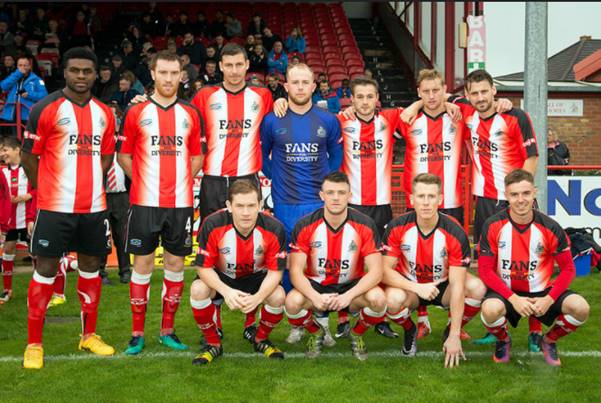 Above: Alty's 'Fans For Diversity' Shirts were worn against Rushall Olympic on Non-League Day.
'Last October, we were one of four clubs nationally that was selected as a "Fans for Diversity" club by the Football Supporters' Federation and Kick It Out. One element of our inclusion strategy is to welcome more LGBT (Lesbian, Gay, Bisexual & Transgender) supporters, and Saturday's game is an opportunity to make that more widely known.'
Altrincham wore a special 'Fans for Diversity' kit when they played Rushall Olympic in an Evo-Stik Premier Division game in October.
In addition to the important business of trying to beat Sutton Coldfield to maintain or extend the club's nine-point lead at the head of the table, there's another fixture being staged in the morning - an Alty Supporters' team is taking on LGBT-inclusive club Village Manchester FC in a friendly in nearby Bowdon for the Alty FC FvH Cup.
Before kick-off back at the J. Davidson Stadium later in the day, the first-team players will wear Football v Homophobia T-shirts, pairs of Rainbow Laces will be available, and all supporters will be given branded postcards which challenge stereotypes and provide education around how to report homophobic abuse.
Season-ticket holders and members of the two Manchester giants, United and City, neither of whom is playing at 3pm on Saturday, are able to attend at a reduced price of just £5.
Altrincham FC Ladies will also support the campaign at their important Cheshire County Cup Quarter Final tie against Crewe Alexandra on Sunday while at the end of February, the club and the FvH will convene special workshops for Alty's young teams and local schoolchildren.
Tyms says LGBT inclusion is still rarely discussed in non-league football circles, although there has been wider interest in the story of Liam Davis, who became the first openly gay male footballer to play at Wembley when he turned out for Cleethorpes Town in last year's Buildbase FA Vase final. Davis has since featured in a video for UEFA's #EqualGame campaign.
'I don't think it's on the radar for most non-league clubs. It seems to be just ourselves and Cleethorpes at the moment. We're now hoping to get back into the National League North and share our own experiences with others. There's no reason why any other club couldn't do what we do.'
There is equal focus on other elements of the D&I picture at Altrincham, with Tyms grateful to various partners, organisations and local businesses for their generous contributions.
'We wanted a new disabled shelter, and a company came and erected that for us free of charge,' he says. 'The board and the manager have been so supportive and full of ideas, and we have a designated director for D&I matters.
'In September, a vice-chair of the local Muslim Association was attacked on his way to evening prayers, a crime that attracted national attention. He accepted an invitation to our "Fans for Diversity" match in October, and from that we've forged a relationship to support the association's local boys' team with equipment and a summer tournament, with money from the FFD fund.'
'It's been one of several success stories from the D&I work we've done'".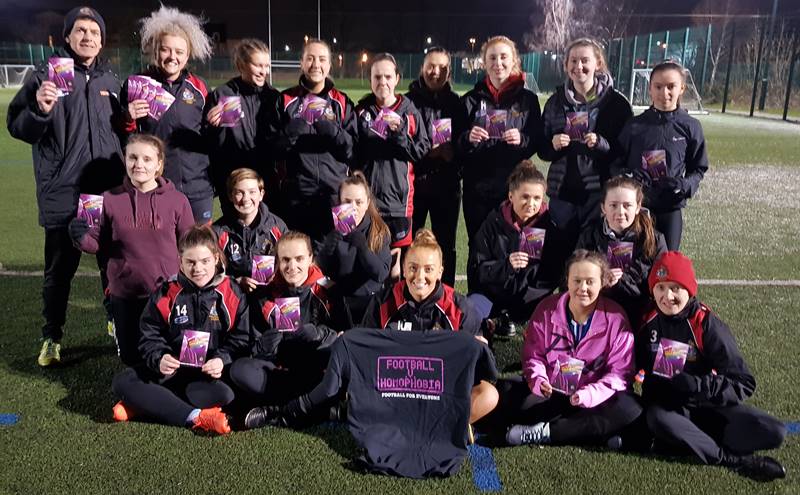 Pictured above, courtesy of manager Keith Edleston, are the Altrincham FC Ladies, with fitness coach John McManus, displaying the "Football v Homophobia" shirt that was brought down to their training session on Thursday night. Keith adds that "Everyone involved in the Ladies' section backs this initiative to the hilt".
The Ladies are in action at Mersey Valley on Sunday (1.30pm) when they entertain Crewe Alexandra in the quarter-final of the Cheshire County Cup. All spectators are very welcome.
At
Shaw Lane
, "Manager Paul Quinn has made several off-field appointments in recent weeks in what he has described as 'positive steps forward' for the football club.
The new management/coaching structure has included appointing a Head of Football Operations, Head Scout and an analysis team in an effort to support the short and long term aims of Shaw Lane.
Longstanding club official Doug O'Connor has taken on the role of Head of Club Operations. The role will see O'Connor lead on match day logistics and also link directly with new Head Scout Mark Duffy in terms of player identification. Duffy joined the club at the start of the year and the former Bolton Wanderers scout has already been tasked with opposition and individual scouting.
Quinn commented, 'Mark has made a real impact at the club already... This appointment not only helps us with information gathering on opponents, but also identifying talented players at all levels... This is a big job for just one person so Doug O'Connor will also assist Mark with this role and be the direct link between the Chairman and coaching staff.'
Luke Couchman and Liam Harrison have also joined the club to oversee the player analysis aspect of the game. Couchman, formerly of Silsden FC, will work directly on video analysis of games. Harrison, who formerly held a role at Brighouse Town FC, will lead on the use of Playertek, which uses GPS to track player movement on the pitch.
Quinn said, 'We are always looking for ways in which we can improve what we do and improve the support we give to the players'... The manager is also in the search for a new Assistant Manager, following the departure of John Reed to Gainsborough Trinity earlier this week."
Shaw Lane also lost their manager earlier this season when he moved to Grimsby Town and the Grimsby Telegraph reports that "Grimsby Town have been urged to shun the managerial merry-go-round and take a chance on a modern-thinking coach with fresh ideas... following the sacking of Russell Slade... Some believe Town should ignore the usual tired old names, and bosses on their way down, in favour of someone from the new breed.
One of the voices calling for that approach is Cleethorpes Town boss Marcus Newell... Newell believes Town could do a lot worse than take a close look at Boston United manager Craig Elliott, who has emerged as the bookies' favourite. Before taking over the Pilgrims' hotseat, Elliott was in charge at Barnsley-area side Shaw Lane, who enjoyed a meteoric rise up the non-league pyramid under his guidance...
'Craig knows how to build and pick a team which is the hardest thing in football', said Newell. 'Some can do it and some clearly can't. The level won't be a problem as he's adapted as he's come through the leagues... When I came up against him you always knew it would be an attacking game played in the right spirit. Town can always pick up a manager off the merry-go-round, or they can take a gamble on a lad who is fresh and knows how to win from the lower leagues!'...
Elliott guided Shaw Lane to three promotions in four seasons, before joining Boston United. He is currently presiding over an upturn in fortunes for the Pilgrims in National League North."
An "Official Statement: Proposed Club Re-Structure" has been issued by
Bradford Park Avenue
which says, "At the AGM of Bradford Park Avenue Community Benefit Society on Thursday, it was announced that the directors are proposing a change in the ownership structure of the club.
The club's first team currently plays in National League North, just two divisions below the Football League. The cost of surviving at this level has escalated to a level which the club cannot afford beyond the short term, under its current ownership structure. Operational costs are eating up capital which had been earmarked for off-the-field development, and new investment is needed.
Two years ago the club became a Community Benefit Society (a "CBS"), intending that its ownership should be spread amongst the local and regional community. However, very few new members have joined. As a CBS, the club is entitled to issue Community Shares to potential investors, but the law provides for a maximum of £100,000 in community shares for any individual, which is not enough to make a crucial difference. In addition the CBS is heavily indebted to its current benefactor, and as an investment opportunity the club in its current form is unattractive.
The directors have decided to face reality, and they propose to change the structure of the club so that it becomes a privately owned enterprise, from which investors can potentially earn dividends or at least look to recover their investment at some point in time.
Any change in structure is subject to the approval of the current members of the CBS, the FA and also to the approval of the Financial Conduct Authority, whose advice has already been sought. A further meeting of members will be held in the near future at which specific proposals will be put forward".
---
16 February 2018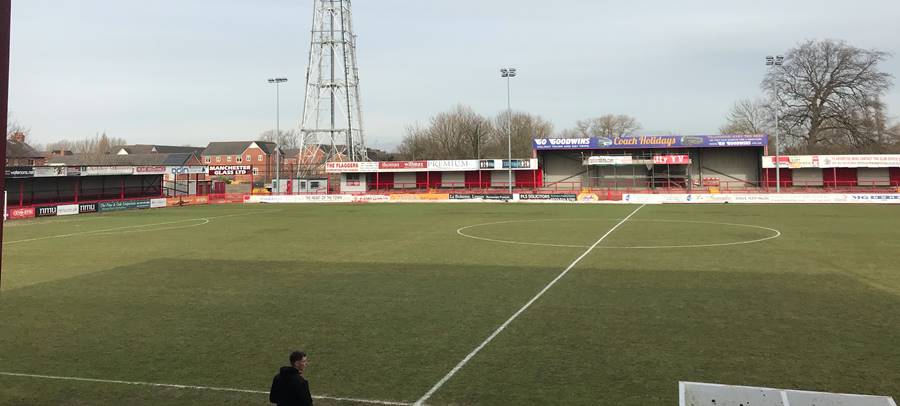 The pitch at the J Davidson Stadium is looking good on the eve of Saturday's match against Sutton Coldfield, thanks to the hard work of groundsman Neil Brown, as well as Bryan Ford and other volunteers who have worked on it.
The
Sale & Altrincham Messenger
reports that "Phil Parkinson suffered more fixture frustration at the hands of the weather on Tuesday night, but the rain clouds at least had a silver lining for the Altrincham manager as his injury worries continued to ease...
Disappointed though he was at the inevitable outcome of a lunchtime pitch inspection, Parkinson could at least reflect on the extra recovery time for key defenders Tom Hannigan and James Jones, who should both be fit for Saturday's home game against Sutton Coldfield Town. Hannigan has not featured since the 1-0 win at Farsley Celtic on January 6, while Jones was withdrawn with a slight hamstring twinge in the second half against Ashton United last week.
'The weather is certainly having a big impact at the moment,' said Alty boss Parkinson. 'We've only managed one of the last four Saturday games, after the Buxton match was called off, and now we've lost Tuesday's game with Shaw Lane, which is a big disappointment for everyone. We were really hoping it would go ahead, but, equally, it was important the right decision was made, as neither club wanted it on a pitch that was not really playable. We were hopeful James would have been available and Tom might have been as well.
'Also, Josh Amis (right) came through Saturday's reserve game okay and could have been on the bench. Clearly these lads now have a few extra days before we play again'...
There will be a minute's applause before kick-off against Sutton Coldfield on Saturday in the memory of David Cameron, the 32 year-old Altrincham supporter whose sudden death was reported earlier this week.
This Sunday, Altrincham FC Ladies are at home in the Cheshire County Cup, a competition in which they have reached the quarter-final. They entertain Crewe Alexandra Ladies at Mersey Valley, Banky Lane, Sale on Sunday with kick-off at 1.30pm. Spectators are very welcome; the clubhouse will be open as usual.
Altrincham's opponents on Saturday, Sutton Coldfield, have acquired two new loanees, reports
NL Pitchero
. "Neil Tooth, manager of Sutton Coldfield Town, has completed the loan signings of two players from neighbours Tamworth to boost his squad for the final phase of the season.
Regan Upton and Dexter Walters will train with the team... before making the trip to table-toppers Altrincham on Saturday. Upton is a highly-rated 21-year-old defender who joined The Lambs from Wolverhampton Wanderers at the start of the current season. Walters joined Tamworth from Sutton's current groundsharers Romulus and is an exciting 19-year-old forward who will give Tooth options in the wide areas with his pace and energy."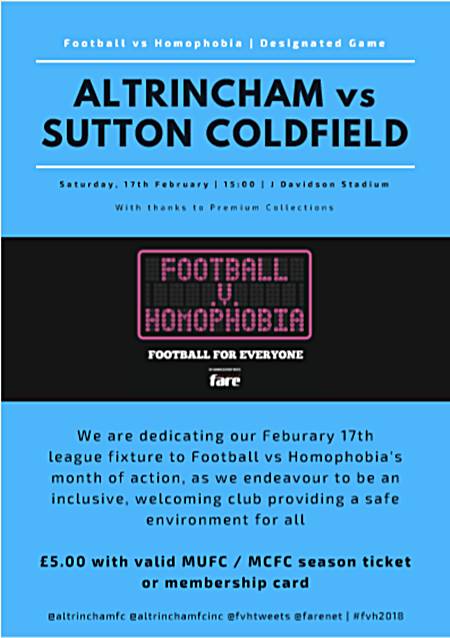 Sky Sports reports that "Altrincham FC [is] championing diversity and inclusion in non-league football... They're top of the table, with the league's most potent attack and the tightest defence, Altrincham FC's Northern Premier League season could hardly be going better, with a third of the Premier Division campaign left to play...
It's also an important fixture for the club's compact but influential Diversity and Inclusion (D&I) team, who are gaining renown in non-League football for going the extra mile to ensure everyone feels welcome at Altrincham. This weekend's fixture will be dedicated to the Football v Homophobia campaign, which is currently in its annual February activation, and is part of a series of steps undertaken by Alty to reach out to different parts of the community in and around south-west Manchester".
Altrincham FC caterer Richie Bentley adds that, for this match, a pint of Fosters or Wainwrights and a bacon or sausage butty will be available for £5 from 12.30 to 1.30pm with entry to the J Davidson Stadium being via turnstile 8.
Altrincham FC supporters travelling by train are advised that the RMT trade union is holding a strike on Northern Rail on Saturday 3 March when Altrincham are away at Shaw Lane AFC. For more on this, see the
Sheffield Star
.
Details of TASC supporters' coach transport to the game will be published in due course.
The Sale & Altrincham Messenger reports that "Altrincham director Neil Faulkner has pulled off a major coup for the club after securing the services of World Cup winner Ossie Ardiles and his former Tottenham team-mate Micky Hazard for a sporting dinner at The J.Davidson Stadium...
The event was originally pencilled in for Friday, March 16, until Sky decided to change Tottenham's home game with Newcastle to that date for live TV coverage. With Ardiles and Hazard both contracted to Tottenham for hospitality work, Alty were forced to alter their plans and reschedule for April 20.
With King and many of his fellow Alty Cup heroes on the guest list, there has been a scramble to snap up tickets at £35 each, and the function looks sure to be a sell-out...
Faulkner said... 'The idea is to fill a table with Alty players from that era, and we will be contacting them, to get as many along as possible. It is fantastic news for the club, a real coup, to have a World Cup winner and another exceptionally-skilful midfielder in Micky Hazard, who won two FA Cups with Tottenham... The original date was a sell-out, but we can't yet confirm the same for April 20 because we're still contacting people about the change. It's possible there may be the odd ticket or two left, so I'd urge anyone interested to check with the club on 0161 928 1045 or by e-mail.
"It's been training rather than playing for Matlock Town's squad as the wet weather put off their visit to Nantwich Town last Saturday and then Tuesday night's home meeting with Rushall Olympic" reports
NL Pitchero
.
"It might not have been such a bad thing as far as the Gladiators are concerned for it has given them time to work on the deficiencies which have cost them dear recently in time for this weekend's home clash with Witton Albion. The last three visiting sides to the DCJ Group Arena have each scored three goals and Albion also hit three against Matlock last November when the sides shared six goals in Cheshire.
Joint bosses Craig Hopkins and Glenn Kirkwood would no doubt have been concentrating on improving Matlock's defensive game in the hastily arranged training sessions held on Saturday and on Tuesday night.
'All ten outfield players have to play their part in helping out [goalkeeper] Phil Barnes,' said Hopkins. 'Eleven people have to defend properly. When we've done well in the past we've had energy and that energy and spark hasn't been there all of the time this season. Our teams have been athletic and played at a tempo and we've reminded the lads about this.'
Witton currently lie in tenth spot having picked up one more point on their travels than they have gained on home soil. Hopkins admitted... 'Yes, we're looking at next season, but the important thing is to get things right at the minute. We're making enquiries about players with next season in mind when we want to get back to having a young, hungry, athletic team. We're concentrating on getting a good result against Witton on Saturday. They're a good side with energy and good players, it'll be a hard game but we're looking forward to it.
'It was a cracking game up there that could have finished 6-6 when both sides looked threatening. The lads have worked hard in training and in all honesty we're not a million miles off and we're bursting to get going on Saturday.'
The Gladiators languish down in eighteenth position but with the reorganisation the non-League system taking place in the summer, they are comfortably clear of the one relegation spot this season. But Hopkins says the league position is a cause for concern, 'The league position we've been in has been a concern all year and we can't say we're better than we are. We have thirty-eight points from thirty-two games because it's what we've deserved and we've all got to work hard to improve on that'.
A fresh face is likely to be added to the squad before the weekend. Matlock have one or two injury and illness doubts as players will be assessed again at tonight's training session."
NL Pitchero
reports that "Guiseley AFC have confirmed that manager Paul Cox and his assistants Adam Murray and Ben Marvin have left the club with immediate effect. Experienced former Republic of Ireland international Sean St Ledger will oversee training until a suitable replacement is found".
---
15 February 2018
Altrincham's four outstanding postponed fixtures have now been allocated new dates, as follow....
MONDAY 5TH MARCH Stourbridge v Altrincham, formerly 20/01
SATURDAY 10TH MARCH Altrincham v Mickleover Sports, formerly 3/02
TUESDAY 27TH MARCH Altrincham v Shaw Lane, formerly 13/02
TUESDAY 17TH APRIL Buxton v Altrincham, formerly 10/02
Press release:
"Altrincham FC has dedicated this weekend's league fixture to Football vs Homophobia's month of action.
The game against Sutton Coldfield will highlight the club's commitment to be inclusive, welcoming and providing a safe environment for all. The occasion also provides an opportunity to encourage local United and City fans to once again come along, enjoy the football and support the day. Admission is £5 with a valid MUFC / MCFC season ticket or membership card.
Huddersfield Town v Manchester United (FA Cup 5th Round) will be shown on the big screen in the Community Sports Hall following the Alty v Sutton Coldfield game. Speaking about the initiative, chairman Grahame Rowley said '"We're delighted to support this great campaign. We're always keen to promote a "football for all" message which we believe is highlighted in our community work as well as on matchday'.
Jordan Tyms, Inclusion and Diversity Co-ordinator for Altrincham FC, added, 'It's great that the club is supporting FvH, one of many projects we have planned as part of our ongoing commitment to inclusion and ensuring football is accessible to all.'"
Altrincham FC caterer Richie Bentley adds that, for this match, a pint of Fosters or Wainwrights and a bacon or sausage butty will be available for £5 from 12.30 to 1.30pm with entry to the J Davidson Stadium being via turnstile 8.
Altrincham entertain Sutton Coldfield on Saturday, as The Royals make their first visit to the J. Davidson Stadium in their 139-year history. As
Sutton Coldfield Town
say "Things have changed a lot since 1879 and even since 2011. At the end of 2010 the then Assistant Manager Neil Tooth asked if the Club could use its Rotary connections to find somewhere they could train throughout the season. The Board undertook a survey and it was agreed with funding from within the Club to spend £400,000 on a 3G artificial pitch as the main stadium pitch. At that time ( and it still is) this was a massive project for a Club at that level.
The ground was levelled and a very efficient drainage system installed before the 3G carpet was placed on top. All of this was done in record time from early May when the season ended and work commenced, to mid July when it was completed, in time for pre season friendlies. The 3G pitch has completely changed the fortunes of the Club. On the playing side, no matches are ever postponed due to bad weather and the level pitch ensures good passing football can be played (by both sides).
On the commercial side, the pitch is hired out to other teams... The income generated is used to maintain the pitch (including money put aside for a fund to replace the pitch after 10 years approximately), staff the operation and put money into the Club to financially support the 1st team budget".
Following their one-point deduction this week, the Royals stated that they had "been charged with a breach of FA Rule C1 (g) (x) in relation to loan player Matt Waters. The player participated in 2 fixtures when on loan from Chester FC when the loan paperwork had not been received by the FA and thus making him ineligible to play.
The 2 matches were:-
v Nantwich (A) D 0-0
v Ashton (A) L 2-0
As a result (and following an NPL hearing, in which we were given an opportunity to explain what had happened ), Sutton Coldfield Town FC have been found guilty of a breach of NPL Rule 6.9 – playing an ineligible player. Consequently a fine of £100 has been imposed and the deduction of the point earned in the draw at Nantwich made. The Club has decided to accept this ruling and will not appeal against this decision.
In a season where it has proved difficult to gain points, this is obviously a blow to our chances of avoiding relegation and has arisen simply because the correct paperwork was not received at the FA although it was received by the NPL and Chester FC at this time. However we are bound by the rules and must move on".
The point deduction leaves Sutton Coldfield bottom of the EvoStik Premier but level on points with Halesowen Town. However, The Royals have been in good form recently, having picked up seven points from their last four games in which their only defeat was to Warrington Town.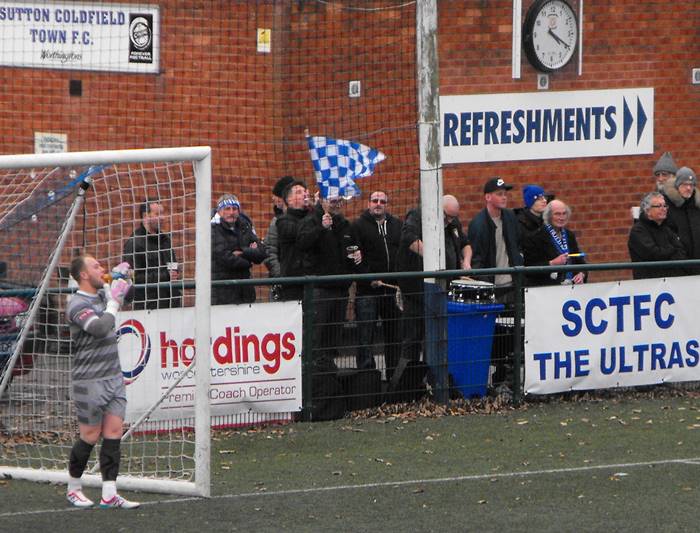 A novel and enjoyable feature of Alty's visit to Coles Lane was the performance of the home club's band, pictured above behind Tony Thompson's goal.
In the reverse fixture with Altrincham, at Coles Lane on 18 November, three early goals put Altrincham in a strong position and they went on to complete a 4-0 victory. But Alty will be aware that they will be facing much changed oposition, as only four of the sixteen players in the Royals' squad in the November game were also in the more recent squad against Warrington.
The Altrincham Supporters' Club (TASC) travel coordinator, Mark Eckersall, advises fans, as follows...
"The weather continues to play havoc with away travel plans after the wasted trip to Stourbridge and postponement of the game at Buxton. We had our largest turnout of the season booked on for Saturday so it was very frustrating not to be able to be part of what would have been a large number of Robins up in the Peak District.
Just a heads-up that, due to its close proximity, it will not be possible to provide transport to the next scheduled away game at Ashton United on Saturday, 24th February. With a journey time of 30 minutes door to door and a distance of just 18 miles, we expect another good following there.
Travel will be arranged for the Shaw Lane fixture on Saturday, 3rd March, so keep an eye on the website for details nearer the time."
Altrincham were set to play Shaw Lane on Tuesday night, until the match was postponed, and also on Tuesday we heard that former Alty boss Lee Sinnott had been appointed manager of Gainsborough Trinity. And now the two stories have come together as
NL Pitchero
confirms that "The experienced John Reed has left Shaw Lane AFC as assistant-manager to team up with new boss Lee Sinnott at Gainsborough Trinity.
As manager of Harrogate Town Reed won promotion from the Evo-Stik Northern Premier First Division in 2002 and won the West Riding County Cup in successive seasons before taking on the manager role at Stalybridge Celtic. After taking over part way through the 2005/06 season with Celtic eighteen points adrift, Reed oversaw a 'great escape'. The following seasons Stalybridge missed out on the play-off places on the final day of the season.
Later, at Buxton, Reed lead his team to win the Derbyshire Senior Cup. During six seasons there he also missed out on promotion from the NPL Premier Division, losing to Gateshead in the play-off final. Reed became assistant-manager at Scarborough before taking the reins at Ossett Town in 2014, replacing Craig Elliott, who left to join Shaw Lane.
Reed stayed on to assist Paul Quinn after Elliott departed for Boston United late last year. Head of football operations Doug O'Connor told the club`s official Pitchero website, 'We're sorry to see Reedy go. He's had three fantastic years with us and we wish him all the best at Gainsborough Trinity in their bid to save themselves from relegation from the National League North'.
On departing, Reed thanked everyone at Shaw Lane, 'It's been a tremendous three years at the club. There are so many nice people'".
Cantilever Catchup
reports that, on Tuesday, "Warrington suffered a frustrating 1-0 defeat at the hands of Stalybridge Celtic who record[ed] their first win away from home since April 2017. A mistake from Tony McMillan, when he was under pressure from Matthew Wolfenden after a cross, gave the visitors the lead with fifteen minutes to go and the Yellows' new boy, Joe Piggott missed from the penalty spot to draw level in the 84th minute.
Paul Carden's side looked to utilise the pace of their forwards early on by putting balls in behind Celtic's defence and, while they were unable to create anything significant, the home side were in the ascendancy... After the break, Stalybridge looked to trouble Warrington by getting the ball up to Liam Dickinson but, despite the tall striker causing problems, there was little in the way of chances for the side.
The Yellows faithful attempted to lift their team who hadn't reached the high standard of performance they have set for themselves over the course of the season so far... Carden made a double substitution in a bid to find a way through the stubborn defence of the visitors. McDonald and Hayhurst made way for Gerard Kinsella and Stephen Milne respectively but the deadlock remained...
Against the run of play the away side took the lead after McMillan suffered the misfortune of scoring an own-goal. The ball was played into the box and the Warrington keeper punched the ball under pressure from opposition forward Wolfenden. The ball looped up and trickled into the net with the referee deciding that there was no foul on the man between the sticks.
The Yellows increased the intensity and were awarded a penalty with five minutes remaining. Stalybridge manager Liam Walton [?Steve Burr] was furious with the decision but Piggott was unable to convert the spot kick, rounding off what was a very disappointing evening for the promotion contenders... Carden's men still sit in fourth position and will be confident of putting the performance behind them as they focus on cementing a place in the play-offs".
---
14 February 2018
Sean Miller (right) has gone to our neighbours, Trafford, on a one-month loan. This follows a loan at Colne earlier this season as Sean regains full match fitness after his long injury lay-off. So far this season Sean has made 3(+10) appearances from the bench for Altrincham, with all of his three starts being in cup competitions.
After the second postponement in a week for Altrincham, the Robins' next game is at home to Sutton Coldfield Town on Saturday (3pm).
On Saturday, 17 February, when Sutton Coldfield visit the J. Davidson Stadium for an Evo-Stik Premier league match, the game will be Altrincham FC's 'Football v Homophobia' designated match.
Admission to the game for holders of valid Manchester City or Manchester United season tickets will be just £5.
Altrincham FC caterer Richie Bentley adds that, for this match, a pint of Fosters or Wainwrights and a bacon or sausage butty will be available for £5 from 12.30 to 1.30pm with entry to the J Davidson Stadium being via turnstile 5 or 6 on Moss Lane.
"Shaw Lane have been deducted three points by the
EVO-STIK League
for playing an ineligible player. The club accepted a charge of breaching League Rule 6.9 after being found guilty at a disciplinary hearing of fielding a player while subject to an Football Association disciplinary suspension. The FA had previously found the club to be in breach of FA Rule E10 in this respect.
Club officials informed the EVO-STIK League on Monday 12 February that they were waiving the right to appeal and would accept the sanction. No costs were awarded and in addition to deducting the three points gained while fielding the player, the club was also fined £100 in accordance with the recommended minimum tariff after submitting a mitigating written statement to the panel.
The EVO-STIK League Premier Division table will be updated at 5pm on Tuesday 13 February 2018 to reflect the sanction and there will be no further statement from the Northern Premier League on this matter".
As reported here on 22 January "The Barnsley Chronicle reports that Shaw Lane face a fine and possible points deduction for fielding James Pollard in December against Warrington Town, a match which the Ducks won 5-0. The former Farsley player allegedly should have been serving a suspension at the time".
Halesowen Town and Sutton Coldfield have also had points deducted, four for the Yeltz and one for Sutton Coldfield. For Halesowen the offence was "breaching League Rule 6.9... for playing Kalern Thomas while he was registered under written contract with Solihull Moors. The Football Association had previously found the club to be in breach of FA Rules E1(b) and C1(i)(i)". The club is deducted "the points gained in the three matches" in which he played at the time.
For the Royals, the offence was "failing to get approval for a loan player from the FA in accordance with the requirements of League Rule 6.4.1. and subsequently fielding him in two fixtures".
Tuesday 13 February 2018
Altrincham P-P Shaw Lane
Lancaster City 0-3 Ashton United (att. 167)
Matlock Town P-P Rushall Olympic
Warrington Town 0-1 Stalybridge Celtic (att. 227)
Leicestershire Challenge Cup 17-18 - Semi-Final
Coalville Town 3-2 Barwell
Birmingham Senior Cup 17-18 - Quarter Final
Hednesford Town 4-1 Burton Albion
Liverpool County FA Senior Cup 17-18 - Semi-Final
NL Pitchero reports that "Gainsborough Trinity have announced the appointment of Lee Sinnott as their new manager following a successful round of interviews. Sinnott replaces Dave Frecklington, who was sacked last week with Trinity currently third-bottom of the table.
Sinnott was a vastly experienced player with over 500 Football League appearances with the likes of Walsall, Watford, Bradford City, Crystal Palace, Bradford City and Huddersfield Town and has since had over fifteen years in management with the likes of Farsley Celtic, Port Vale, Bradford Park Avenue and Altrincham,
The 52-year-old will oversee training this evening and admitted: "Gainsborough has always had a great deal of potential when I have visited with other clubs, but the hard work starts now, and I can't wait to turn that potential into reality."
Lee left Altrincham in early March, 2016 and all at the Club wish him well in his new role.
Gainsborough Trinity reported "Lee Sinnott has today agreed to become the manager of Gainsborough Trinity Football Club after an exciting round of interviews at the Martin & Co Arena. The new man at the helm declared, 'I can't wait to get started! I'm really looking forward to it. Things came about really quickly, I met the Chairman and three board members on Monday afternoon and recieved the phone call last night'.
Lee continued, 'I'm absolutely delighted to be at Gainsborough Trinity. It's a good project, it will be a challenge, but it's something to look forward to!' Of the task in hand Sinnott pointed out, 'There are a lot of clubs around us in the mix, but we know what's required. I've looked at the stats, I've seen what we have here and what is needed. Gainsborough has always had a great deal of potential when I have visited with other clubs, but the hard work starts now and I can't wait to turn that potential into reality'...
A short tenure at Bradford Park Avenue was followed by a largely successful period at Altrincham, where he spent five years, first stabilising the club after relegation from the Conference, before reaching the play-offs in each of the next two seasons. In the second of the play-off campaigns, his side overcame Guiseley, after extra time, to return to the Conference, steering the side comfortably to safety in the clubs' first season.
A period out of the game has seen Sinnott recharge his batteries and come back hungry for success...
Chairman, Richard Kane was noticeably delighted to have secured the signing of the experienced professional, stating, 'We had several candidates in mind when we relieved Dave Frecklington of his duties, but we wanted to give people the opportunity to state their cases. As it turns out, Lee's hunger, desire and professionalism stood out. He had a clear vision of what he wanted to achieve at the football club and we are confident that we are appointing the right man for the job. The fact that Lee is ready to quit his job, solely to focus on the football club is testament to the focus he has, on firstly guiding us to safety and then the onward journey we want to make together'".
Shaw Lane
have responded to yesterday's news, confirming that they"have been deducted three points for fielding an ineligible player. The points have been deducted following the debut of James Pollard against Warrington in the crushing 5-0 victory. Pollard should have served a suspension following a two-match ban received whilst still with Farsley Celtic.
The defender, who scored the winning goal in the 3-1 victory over Coalville last Tuesday, also played one game for Celtic while suspended, which they lost. Pollard has since served the suspension. The club will drop to third; behind Grantham Town on goal difference. The Ducks still have two games in hand on Grantham and one game in hand on Altrincham".
In addition to the postponements in our division, all of Tuesday's matches in the Evostik Division One North and South were postponed.
Stalybridge Celtic
report that "The Cheshire Senior Cup match between Stalybridge Celtic and Stockport County, originally scheduled for Wednesday 21 February, has been postponed. A new date will be announced shortly." The reason being that "Stockport have a rearranged game against Nuneaton on the Tuesday".
The
Hallmark Security League
tells us that "1874 Northwich have announced that they will be playing two home league games at Wincham Park, home of Witton Albion, in the coming weeks. The Greens have already played two FA Vase ties at the venue, and have now moved league games against Runcorn Town and Northwich Victoria, in an attempt to address their growing fixture backlog.
A statement said, 'The continued spell of wet weather and successive postponements has meant that the team will have to play a minimum of 31 and up to a maximum of 44 games between now and the end of the season – which is now just 12 weeks away! Your Board are acutely aware of the serious impact that such a congested fixture list is likely to have on both our fantastic playing and management staff, but also our brilliant band of volunteers, without whom we simply could not stage matches.
Hence, over the past week or so we have actively been looking at other venues where we might be able to stage some of our home fixtures and at which there is a greater level of certainty that they will be played. Therefore, with the full co-operation and approval of the NWCFL League Management Committee and the blessing of our great friends from Winsford United, we have come to an agreement with Witton Albion FC to switch the following league matches from the St Luke's Barton Stadium to Wincham Park.
Saturday 17 February 2018 v Runcorn Town KO 3.00pm
Thursday 1 March 2018 v Northwich Victoria KO 7.45pm
---
13 February 2018
Unfortunately a waterlogged pitch - it has rained steadily this morning on top of the accumulated water - means that tonight's match against Shaw Lane has been postponed.
Altrincham FC and its supporters have been stunned to hear of the sudden death of regular supporter David Cameron at the age of just 32.
The Club extends its condolences to David's family and friends. David was not only a regular spectator at the J. Davidson Stadium but attended many away games as well and he will be greatly missed.
Press & Media Officer Brian Flynn submitted the following views of Alty manager Phil Parkinson, before Tuesday's match was postponed, to Altrincham Today...
"The weather is certainly having a big impact on non-league football at the moment and Saturday's postponement of our scheduled Evo-Stik Premier Division game at Buxton meant that we have only managed to get a game on in 1 of the last 4 Saturdays.
We are really hoping that tonight's big top of the table clash against Shaw Lane at the J.Davidson Stadium goes ahead. There is a pitch inspection at lunchtime and hopefully the outcome of that will be positive.
Whilst this game is 1st v 2nd and a very important game for both teams, it's not a title decider; we still have to meet Shaw Lane at their place on the first Saturday in March and we still have 51 points to play for between now and the last Saturday in April.
James Jones tweaked his hamstring in our last game, a 3-2 home win over Ashton United, a week ago, but we are hopeful that he will be available tonight. He came through a tough session on Saturday and has also been undergoing testing in the clinic.
Tom Hannigan may also be available as well and Josh Amis came through Saturday's Reserves game OK and could be on the substitutes' bench.
Shaw Lane haven't changed much over the last couple of seasons and in Paul Clayton, they have a very dangerous target man, who puts himself about. Clayton was an England 'C' International and is certainly a player who can hurt opposition teams, as can Damian Reeves, who I expect to start tonight against his former club. Reeves did phenomenally well at Alty in his 7 year spell, scoring over 150 goals in more than 300 appearances. Those statistics speak for themselves.
Whilst we are very keen to get the game on, it's important that the right decision is made, as neither Shaw Lane nor us want the game to take place on a pitch that is not really playable. As of early this morning, the signs are hopeful, as there has not been a harsh overnight frost, nor too much rain this morning, so fingers crossed that we have a game on in front of a good midweek crowd and it would be great to be sitting on 66 points by 10pm tonight".
Monday 12 February 2018
Stourbridge 1-2 Farsley Celtic (att 492)
As Altrincham await the game to decide their opponents in the Cheshire Senior Cup,
Warrington Town
have issued a statement from Toby Macormac, Chairman & CEO, saying, "After the postponement of Wednesday's [CSC] fixture versus Winsford United, many people not even connected with the game in question chose to make accusations on social media that not only questioned the integrity of our club but me personally.
Due to our fixture backlog I personally selected the fixture date knowing full well we had a game only 24 hours before, that may also have been an FA Trophy replay, so a guaranteed fixture either way. I selected this date as I knew I would have no issue in raising a team with access to two academy teams and players dual-registered at other clubs and this date suited Winsford United as others that were offered, after numerous postponements, did not so we tried to assist there, knowing that they ground share with another club.
The day before the fixture we were informed by Winsford that the condition of the surface was unplayable in one area only and [was] extremely unlikely to go ahead to the point I offered a reschedule of the fixture at Warrington Town to ensure the game finally went ahead which was duly accepted as a way forward by Winsford if it was required.
The day of fixture our club secretary called Winsford and was told there was no possibility of the fixture going ahead and the inspection planned at 4pm will [sic] be a formality. At this point players and also parents were contacted, as some academy players do not drive, to inform them that their services were not required and the likely replay date would be the 26th February at Warrington which comes the day before a 3pm departure to Grantham Town so in effect nothing really changed from Matlock scenario.
Just after 4pm our secretary again rang Winsford to check on the formality of the inspection to be told the pitch has been passed which, after two days of stating "it's no chance of being played" came as a shock, to say the least, and after some deliberation by myself I deemed it impossible to gather everyone back together so informed Winsford we could not fulfil the fixture due to unforeseen circumstances which was the correspondence exchanged over the 48 hour period and, in no way, was a refusal to send a team made [sic], it was around the correspondence and timescale
People will be demanding to know as to why the fixture has been re-scheduled to Warrington Town on the 26th with no further action taken against either club and this is quite simple in the fact that Winsford United informed us the match was postponed so the formality of the match officials' attendance went the wrong way and he passed it fit. I personally believe the learning from this is that the rules of the competition are adhered to where only a match official can postpone a fixture and not the clubs.
It's my own personal view that Winsford United and Warrington Town actually tried to work together to get this fixture played, which is highlighted by agreeing a switch to our ground which, with our fixture pile up like Winsford (with [Northwich] 1874) is the last thing we need. I hope this clears the matter up and both clubs can get back to business and social media users can find it within themselves to now take a different view compared to Wednesday evening and within that I can fully understand people['s] frustrations, as I was also, but it was not the right time for me to comment".
The visitors to the J. Davidson Stadium on Saturday are
Sutton Coldfield
who report that "Sutton looked forward to continuing their revival and their fight for survival under new manager Neil Tooth when they entertained high flying Warrington Town at Coles Lane. Their two emphatic victories and a hard-earned draw in their last three games had begun to restore their confidence and football relies so much on confidence. But they were under no illusions that Warrington would be a stern test...
The opening 20 minutes were evenly matched... Right on half time Warrington broke from a Sutton corner and Tony Gray cut in and left the keeper with no chance.
The second half continued to be a hard fought contest with chances at both ends but it was Warrington who increased their lead when a well taken corner reached the far post and Jack Higgins headed home. Sutton went straight on the attack and James Beresford headed a Sutton corner just over the bar. Sutton worked hard in the last ten minutes but could not break down a resolute Warrington defence...
Although Sutton lost, it was against a very good team and they battled to the end. This sought [sort] of form will be rewarded as the season reaches the crucial stages.... Man of the Match James Beresford".
---
12 February 2018
Altrincham's next fixture is on Tuesday night when Shaw Lane AFC are the visitors. Kick off is at 7.45pm. Our visitors, who have never previously played Altrincham, lie second in the EvoStik Premier, six points behind Alty but with a game in hand. In one of the season's quicker turnarounds, the reverse fixture, in Barnsley, is little more than a fortnight later, on 3rd March.
On Sunday, Altrincham FC Youth lost 0-3 at home to NWYA Premier leaders, Chester FC. The lads drop to third as Curzon Ashton moved ahead of them following their 3-1 win at Nelson.
Next Sunday, Altrincham are away to AFC Fylde.
---
11 February 2018
Keith Edleston, manager of Altrincham FC Ladies, writes...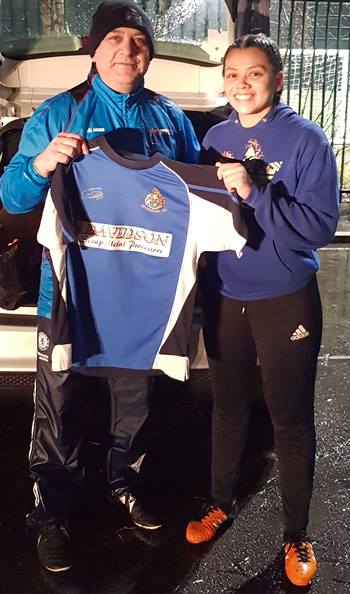 "On Thursday night, at Stretford, we welcomed new signing Paula Alarcon Conde (pictured with Keith, right) into the squad. Paula has joined us from neighbours Curzon Ashton LFC and is a young keeper with huge potential. Welcome to the club Paula".
Altrincham are scheduled to meet second-placed Shaw Lane on Tuesday night. Two of their squad are suspended for that game, one being former Alty Youth defender Kelvin Lugsden. The other suspended player is Jake Skelton.
This will be the first ever meeting between the two clubs. Barnsley based Shaw Lane, known as The Ducks, also have two other ex-Altrincham players in their squad in the shape of strikers Kieran Lugsden and Damian Reeves.
The
EvoStik League
confirms the following transfers involving ex-Altrincham players:
Andrew Keogh from Trafford to Mossley
Samuel Sheridan from Stalybridge Celtic to Ashton United [Sam was on loan at Stalybridge in December 2017/January 2018]
Adam Sumner from Ramsbottom United to Lancaster City
Wlesh Premier tells us that "Aberystwyth Town eased further away from the drop zone with a 3-1 home win over Llandudno... The visitors pulled a goal back soon after the break through Marc Williams, but Craig Hobson ensured the points stayed in Ceridigion with a last-minute third."
The
Warrington Guardian
reports that "Warrington Town made ground on their play-off rivals with a 2-0 win away at Sutton Coldfield Town [who visit Altrincham next Saturday].
With only four games played on the day due to the weather, Tony Gray and Jack Higgins fired the Yellows to victory on the artificial pitch at Coles Lane. The win pulls Paul Carden's men level on points with third placed Grantham Town and three points behind Shaw Lane and stretched their unbeaten league run to six games.
Missing Jamie McDonald and Shaun Beeley due to family bereavements, the Yellows were dealt a further blow when Scott Bakkor pulled out with food poisoning meaning the injured Dylan Vassallo had to step up on to the bench. Liam Goulding continued as captain in the absence of the injured James McCarten.
The Yellows played some nice football on the surface at Sutton Coldfield, just as they had on their last outing both here and at Tamworth... The Yellows went in at half time in front, off a Sutton Coldfield corner. Tony McMillan caught the ball under his crossbar and launched it forward for Gray, who chased it down, controlled well, cut inside and fired a low shot past the 'keeper.
After the break... Sutton Coldfield gradually enjoyed some greater field position... Substitutes broke the game up as it entered the final quarter and a second goal did come on 80 minutes. One of the replacements, Stephen Milne, forced a mistake that fed Barnes and though his shot was pushed wide by the 'keeper, from the resulting corner, Jack Higgins powered home a header at the back post for 2-0... Warrington Town are back in action on Tuesday night when Stalybridge Celtic visit Cantilever Park.
Sutton Coldfield Town: Brown, Lyttle, Green (Dell), Webb (Richards), Beresford, Probert, Steele, Smith, Hawley, O'Callaghan, Flint. Unused subs: Howarth, McNulty".
The A href="http://www.evostikleague.co.uk/sale-is-on-thanks-to-new-investor-46396">EvoStik League reports that "Halesowen Town could be in the hands of a new consortium, led by chairwoman Karen Brookes, before the end of the month. Brookes told Black Country Radio listeners on Friday that an agreement had been reached to buy the Yeltz from current owner and former chairman Steve Lynch earlier this week after the crowdfunding campaign she helped launch with fans in January to raise £30,000 to finance a takeover prompted a new investor to come forward...
The club said, 'Karen Brookes has some very exciting and important club news to convey to you all so we'd recommend you come to the Grove for the game against Rushall Olympic. ​Karen will be on hand before, after and even during the game to let you all know the news and answer any questions that she can. ​Karen held an interview on Black Country Radio... Karen mentioned that she has been in communication with the current owners and they had agreed to sell the club and the offer had been accepted. ​It is hoped now that everything will move at quite a pace '...
Yeltz fans have been backing the fundraising scheme led by Brookes and her father, club president Colin Brookes... Although the website appeal has raised only £3,000 towards the £30,000 target set, a delighted Brookes told the station's Friday Sportsview show that the actual figure was nearer £14,000 as many people had chosen not to use the JustGiving website to donate.
Brookes said, '[We've raised] around £13,500 to £14,000, so whilst it's some way off the £30,000 [target] I really appreciate everyone's efforts. Another investor, alongside myself, has come in and I made an offer on Sunday last week to the current owner. This afternoon I've had an email acceptance of that offer so'...
She added, 'I'm not able to disclose who it is, however it's someone I trust and respect. It is someone who has an association with Halesowen Town Football Club so I don't think our fans will have any issues. People will know who it is - they have a long association with the club'".
Ashton United report that they "are delighted to announce the signings of Sam Sheridan from Altrincham and Lewis Baines on a youth loan from Fleetwood Town until the end of the season.
Sam Sheridan is an experienced centre midfielder who has played for a host of clubs including Stockport County, FC United of Manchester and Altrincham to name a few. The box to box midfielder signs from fellow promotion rivals Altrincham and Jody Banim will be hoping he can help claw the gap to his former club.
Young centre back Lewis Baines joins the club on a youth loan until the end of the season from parent club Fleetwood Town. The 19 year old has featured for Fleetwood in this season's Checkatrade Trophy... We also have young striker Daniel Mooney on loan from Fleetwood".
According to the Stoke Sentinel "Two fine goals and three red cards lit up an otherwise-mundane game as Stafford Rangers were denied a return to winning ways by a last-minute equaliser at home to Whitby Town today. It was a tough result to take, as although there was not much in the game, from 2-0 up, and then 2-1 up against nine men, Boro really should have seen the game out.
However, after a double sending-off with 15 minutes to go, the hosts looked more nervous despite being a man up. The home goals came from Robert Thompson-Brown with a fine free-kick, and Joe Thomas' excellent strike from distance.
Whitby pulled one back from the penalty spot through Lewis Maloney after a foul by Levi Reid, before three red cards in quick succession, Steven Snaith and Andy Monkhouse for Whitby, Thompson-Brown for Boro, made the final 15 minutes rather open. And in the second minute of added time, with Rangers unable to clear their lines, Callum Patton's shot took a huge deflection to loop into the net.
Neil Kitching made three changes from the Stalybridge Celtic clash, as new signing Dan Vann came in at centre-half for the suspended Kieran Morris, Thomas replaced Osebi Abadaki and Izak Reid was up front in place of Dan Westwood...
On 23 minutes, Kyle Perry won a foul on the edge of the box after being tumbled over by Kevin Burgess, something the popular striker did a lot last season. And Robert Thompson-Brown netted the free-kick with a lovely strike straight off the training ground...
The hosts, who had not conceded in three games before that, almost replied [?] immediately, winning a free-kick of their own... A good ball through from Thompson-Brown then found an unmarked Perry in the centre of the area, but his first touch was poor and the chance went.
But on the stroke of half-time, Thomas made it 2-0 with his first goal since the opening day of the season...
The second half started slowly, but burst into life on the hour mark when the referee gave what appeared to be a soft penalty against Levi Reid... for a foul on Weledji and Maloney beat Whitehouse from the spot. And six minutes after that, Boro looked to have the result wrapped up as Snaith was shown a straight red card. He has been looking for trouble all game, and when he and Perry tussled for the ball, the Whitby skipper threw a hand in the face of the Boro striker and was sent off.
Nine minutes after that, it was 10 versus nine, as Monkhouse picked up a second yellow card for a foul on Thompson-Brown, who then reacted in a way that displeased the match official, who shown him a second booking as well. From then on, despite still having an extra man, Boro could not dominate the play, and Whitby looked the more likely to score next. And eventually they did, as they kept play alive around the box, and substitute Patton's strike took a generous deflection off a Boro leg and looped over Whitehouse."
Saturday 10 February 2018, The EVO-STIK Premier Division
Att. 420 Halesowen Town 2 - 0 Rushall Olympic
Att. 373 Hednesford Town 2 - 3 Barwell
Att TBC Stafford Rangers 2 - 2 Whitby Town
Att. 235 Sutton Coldfield Town 0 - 2 Warrington Town
10 February 2018
Saturday 10 February 2018
All the matches from Stafford northwards were postponed whilst all those south of there were played.
The EVO-STIK Premier Division
Ashton United P-P Coalville Town
Buxton P-P Altrincham
Halesowen Town 2-0 Rushall Olympic
Hednesford Town 2-3 Barwell
Lancaster City P-P Grantham Town
Mickleover Sports P-P Stalybridge Celtic
Nantwich Town P-P Matlock Town
Shaw Lane P-P Marine
Stafford Rangers 2-2 Whitby Town (Whitby equalised in injury time after having two men sent off; Rangers also had a red card)
Sutton Coldfield Town 0-2 Warrington Town
Witton Albion P-P Stourbridge
Workington P-P Farsley Celtic
Altrincham Reserves beat the weather and played their league game on Saturday on the 3G pitch at Egerton Sports Club, Knutsford. However, despite Rhain Davis putting them ahead, they lost 1-5 to Ashton Town.
First team squad players Josh Amis, Sean Miller and Darius Palma all played for the Reserves.
Keith Edleston, manager of Altrincham FC Ladies, advises us that his team's cup game on Sunday "has been postponed due to opponents West Didsbury and Chorlton LFC having to play a cup game (at the third attempt). Hopefully we will get to play W D & C next Sunday".
Following a pitch inspection at 10am this morning, today's match at Buxton, against Altrincham, has been postponed due to a waterlogged pitch.
Extended highlights of Altrincham's 3-2 win over Ashton United last Tuesday may be seen on
Alty TV
Lancaster City "confirm Elliott Wynne has joined us on dual registration from AFC Fylde."
And Nantwich Town "can confirm that Blackpool keeper Myles Boney has extended his loan with the Dabbers for a further month".
Altrincham will meet the winner of the much postponed Cheshire Senior Cup tie between Winsford United and Warrington Town. The
Cheshire FA
has now issued a statement concerning the most recent postponement of this CSC tie, "Winsford United vs Warrington Town, Wednesday 7th February.
We have received reports of numerous rumours surrounding the above named fixture and Cheshire FA would like to clarify the reason why this fixture did not take place as scheduled.
At 10:30am on the day of the fixture a Winsford United club official conducted a pitch inspection and deemed the pitch unplayable at that time. Winsford United then asked Cheshire FA to send a match official to the ground to carry out an official inspection. This inspection was completed by Cheshire FA at 16:15 and the match official declared the pitch playable at 16:30. In the time before the official inspection, Warrington Town players were told the match was postponed and so were stood down by Warrington Town club officials after receiving this information from the home team.
Both teams have been instructed to ensure the fixture is completed as soon as possible without delay and we will send a further update when this has been arranged".
---
9 February 2018
On Thursday Altrincham FC cancelled the contract of midfielder Sam Sheridan (right), preparatory to his expected signing for another club. Sam either started or was a used sub in all but one of the first fourteen league games of this season but his appearance in the second half of last Tuesday's game against Ashton United was his first since then as injury limited his appearances. Just before Christmas 2017 he went on a one-month loan to Stalybridge Celtic to regain match fitness.
Sam had previously had a loan at Altrincham from Bolton Wanderers in 2009-10 but it was not until May 2017 that he actually signed for the Club, from FC United of Manchester, a team he had joined in October 2015. Prior to that, he had had brief spells at Chorley and Southport whilst on loan from Stockport County, where he was on the books from 2011 to 2015.
All at the J. Davidson Stadium wish him well in his future career and thank him for his services. In all, he made 17(+9) appearances for Alty of which 13(+8) occurred this season.
Don't forget to book your seat on the TASC supporters' coach to the game at Buxton on Saturday (10th). You can do this by ringing the club on 0161 928-1045 during normal office hours. Fares and timings are on the
Away Travel
page.
Prices at Buxton are £10 for adults, £6 for concessionaries, £2 for juniors (or free if accompanied by an adult or concessionary).
Mike Garnett's statistics on previous games between Alty and Buxton are below...
Home: P55-W39-D10-L6-F165-A57
Away: P53-W16-D13-L24-F89-A101
All: P108-W55-D23-L30-F254-A158
Altrincham FC winger, Mason Walsh (right), who is on loan at Hednesford Town, was sent off, with a straight red card, on Tuesday night in the Staffordshire Senior Cup whilst playing for the Pitmen. He is expected to be suspended for at least three games as he had previously seen red this season for Altrincham in the Integro Cup. In the Pitmen's match on Tuesday, away to Newcastle Town, James Lawrie netted both goals for Hednesford in a 2-1 win.
Following Tuesday's game,
Ashton United
report that "Ashton's long unbeaten run came to an end as the league leaders ran out deserved winners at the J Davidson Stadium. With Matty Chadwick restored to the attack the visitors gave a debut to Daniel Mooney alongside him and also restored Cavell Coo in defence.
It was the Robins of Altrincham off to a flyer as ex-Ashton player Max Harrop was afforded far too much room and strode forward before firing home a swerving effort on 2 minutes... James Poole headed home Hampson's cross after Hancock had again been sent clear down the left-wing. Poole then tried an audacious attempt from the centre circle and Jake Moult hammered a loose ball just too high as the home side continued to dominate.
Matty Chadwick finally got a chance to run at the defence drawing a booking from Hampson with the free kick hitting the wall and Poole's clever pass then gave Hulme a clear run on Carnell who saved with his foot. With the interval approaching a free kick rebounded to Tom Peers who turned it home with Ashton saved by the offside flag and Chadwick brought a stinging save out of Thompson with Ashton's best effort.
Normal service resumed after the break as Hampson twisted his way into the box and fired just over... Alty could have moved further ahead as Hancock's mishit effort just evaded Poole at the far post and Hulme miscued his attempt from Densmore's overlapping cross... With 20 minutes left Hulme worked his way along the by line and fired home the third goal from a narrow angle. There was still time for Ashton to give the score line a slightly flattering look as Hampson brought down Evangelinos with Aaron Chalmers sliding home the penalty and right on full time Pritchard put a fine free kick against the bar with Mark Lees's follow up being blocked on the line amidst shouts for a penalty.
Pritchard had got his eye in by now and went one better curling home another dead ball from the opposite side of the area with almost the final kick".
For those of superstitious nature, Saturday's date, 10 February, when Alty travel to Buxton, is a worrying date. On that date, Altrincham have not won any of their last eight games. Indeed, they have lost all five of their most recent fixtures on that date. In fact, Alty's last win on 10 February was back in 1973 against Fleetwood.
The statistics are in the Through the Years data, provided by Howard Watts and updated by Mike Garnett.
Altrincham are away at Buxton this Saturday. According to
NL Daily
"Buxton FC have confirmed that Tim Ryan will be leading the first team on an interim basis". Ryan briefly played for Alty as a loanee. "This comes in the aftermath of manager Martin McIntosh's departure from the Bucks after six years at the helm. Ryan had been McIntosh's assistant and was a defender at Doncaster Rovers during their rise up the leagues in the early-to-mid-2000s.
The 43-year-old will take charge of the side until a new boss is confirmed, with the Silverlands club now inviting applications for the role. They have set a deadline of Wednesday 21st February."
Confirmation comes from Non-League Daily that "Marine have received planning approval from Sefton Council to carry out their stadium improvements which are scheduled to take place in the summer of 2019.
The club announced in December that upgrades to the Marine Travel Arena would commence at the end of the season but, a month later, the start date was put back a year due to the timing of the grant funding application and so the club can raise their portion of the cost.
The building work behind the main stand will take place in the same year as the club's 125th anniversary and consists of a match-day snack bar, stewards control room, spectator first aid treatment room, club shop, match day office, kit store and a new spectator hospitality room...
Marine Chairman Paul Leary said... 'Club officials worked very hard in communicating our stadium plans with local residents and shopkeepers in the last few months including the issue of a news release, a letter drop to 375 homes and holding an open meeting in the Clubrooms. Council officials have told us that there were no objections to the scheme...
'I intend to submit our application for grant support from the Football Foundation in July... This gives us more time to raise the £20-£25K balance of funds needed. So far we have raised £18K towards our portion of the scheme cost of about £40K... As a football club we work really hard with our community partners and I appeal to as many people as possible to help us make this scheme happen... Donations can be made securely on line by accessing www.groundappeal.co.uk".
Coalville Town "are pleased to announce that Brad Munn has signed registration forms for the remainder of the season. The ex-Mansfield Town and Burton Albion player snapped his anterior cruciate ligament in an FA Trophy game in October 2016. This came just months after battling back from the same injury... Although not ready to play yet it's hoped he will feature before the end of the season.
Departing the club are Blair Anderson, who has left by mutual consent, and Jamie Hannis, who has signed dual registration forms with Ilkeston Town."
From Cumbria, the News & Star tells us that "Lee Andrews is looking for an up-tempo start from his players as Workington Reds get back into the league groove on Saturday at home to Farsley Celtic... Reds have just dropped out of the Northern Premier League play-off slots and Andrews is keen to get right back up there...
And he says [of] Tuesday night's Trophy defeat at Bromley... 'I don't think the defeat will affect us, I think it could even help us,' said Andrews. 'We spoke in the dressing room after the match and said the cup's gone now, we've got the league to concentrate on... We need to go into it with the same tempo as we did last Saturday against Bromley. If we do that, then I have no doubt we can run over the top of Farsley and win that game.'
Reds will go into the clash without the injured Josh Calvert who faces a couple of weeks on the sidelines with a hamstring problem, picked up after the long midweek journey to Bromley... 'Sitting on the bus for that length of time didn't help and we had a quick turnaround in games,' said Andrews. 'But we have Dan Wordsworth and Phil McLuckie back, so that gives us options, if we want to play Matty Douglas at centre-half or right-back. Sam Smith did well at Bromley but I think you could tell in the last 20 minutes that he was missing a bit of match sharpness. He got through on adrenaline but I think Saturday might be a bit too much for Sam, so he might be one who drops out when we have Dan and Phil back in.'
Andrews did hail the small band of loyal fans who had made the long trip to Bromley... 'They are great for every away game to be honest, they are always there and always making themselves heard and they give us a massive lift'".
The
Chester Chronicle
reports that "A former Chester City assistant manager is among six men facing jail after scamming £5 million from schools and colleges using a bogus sports leadership scheme. Ex-Wales star Mark Aizlewood, 57, who played for clubs including Leeds United and Charlton Athletic, and Paul Sugrue, 56, whose past clubs include Manchester City, Middlesbrough and Cardiff City, promised to help struggling youngsters gain an NVQ in activity leadership.
They told colleges across the country they would provide full-time training in football coaching as well as work experience and a £95 weekly stipend to 3,800 students. But, in reality, hundreds of the students on their books didn't even exist, many lived at the opposite end of the country from the training scheme, while others were doing just two to three hours of study a week.
Yesterday Aizlewood was convicted of one count and Sugrue of two counts of conspiracy to commit fraud by false representation by offering the non-existent apprenticeships... Judge Michael Tomlinson described the case as "very serious" and adjourned sentencing until February 26... Aizlewood denied any wrongdoing, telling the jury he had been preoccupied by his late wife's spiralling mental health problems before her suicide in June last year... Following the verdict Aizlewood was sacked as manager of Carmarthen Town".
Elsewhere, West Yorkshire club, Ossett Town report on "Exciting times for Ossett football. We can confirm that both Ossett Town AFC and Ossett Albion FC have agreed outline terms on a merger of the two clubs subject to FA and league approval. Discussions are at an advanced stage. This course of action does not affect either clubs' junior programmes which will remain the same. We have had great support from the town as a whole so far and we will update everyone as soon as there are any further developments".
Both Ossett Clubs play in the EvoStik First Division North, in which Town lie 13th and Albion 21st.
---
8 February 2018
Altrincham FC Press & Media Officer, John Edwards, writes...
"Phil Parkinson admitted conducting a heated dressing room inquest after league leaders Altrincham almost relinquished a three-goal lead in a frantic finish against in-form title rivals Ashton United at The J.Davidson Stadium on Tuesday night.
Leading 3-0 and seemingly cruising to victory, Alty were left hanging on after Ashton hit back with an 82nd-minute penalty and injury-time free-kick. The comeback followed three second-half substitutions by Alty boss Parkinson, who pulled no punches as he said:
'I was massively disappointed with the way we finished the game, and I've expressed my feelings to the players about the last 10-15 minutes, where we lost control and made poor decisions.
'I'm going to have to take the brunt of that, because I made changes I didn't need to, and, without pinning any blame whatsoever on the players who went on, it disjointed us. But the point is, we should have managed the game far better and seen it out without any problems, and I just won't tolerate that.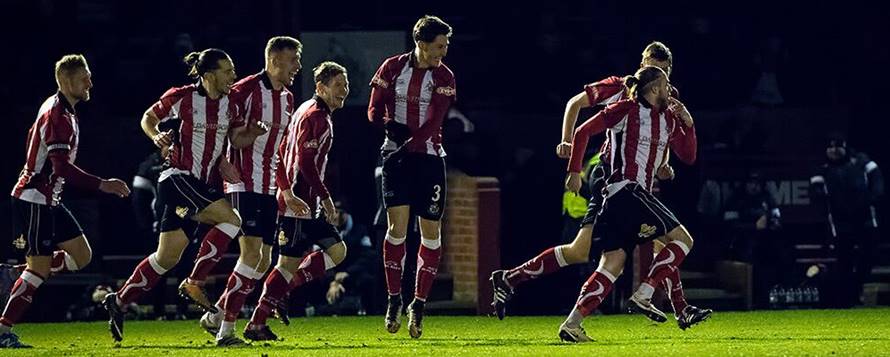 Above: Mike Ripley captures Max Harrop leading the celebrations after his second-minute goal on Tuesday night.
'It's not just me who was angry. The players were as well, and that's fantastic to see. We've had a right inquest in there about the whys and wherefores of what happened at the end, and that shows how conscientious they are about there performances which is great to see.'
Max Harrop and James Poole had given Alty a 2-0 half-time lead, while Jordan Hulme claimed his 20th league goal in the 72nd minute, and Parkinson added, 'I don't want my displeasure at the way we ended the game to detract from what went before, because for 75 minutes, the lads were absolutely superb.
'Max gave us the ideal start with a strike no keeper would have stopped, and you could call it an angry header by James for the second. He'd just been clattered twice, so when the cross came in, I just fancied he might win the aerial duel. Jordan again showed he's got great feet for the third goal, and with others around us winning, this was another big three points.'"
On Saturday, Altrincham are scheduled to play at Buxton. However,
Buxton
announce that they "Have today parted company with Martin McIntosh, the second longest-serving manager in the club's history. The chairman and directors wish to express their thanks and gratitude to Martin for the job he has done over the past six years, undoubtedly saving 'the Bucks' from relegation in the three months after his arrival in February 2012, developing young players and always acting in a thoroughly professional manner to enhance the club's profile. We wish him well for the future."
Buxton currently lie fifteenth in the table having played 30 games and acquired 40 points. At home they have W4 D5 L6 F19 A25 whilst their away record is better, W7 D2 L6 F27 A20.
On the same day that our next league opponents, Buxton, parted with their manager (see above), two other clubs who have been regular opponents of Altrincham in recent years were also reported to have parted ways with their managers in the past 24 hours.
The NL Paper reports that "Gainsborough Trinity have sacked manager Dave Frecklington and his assistant Terry Fleming with the club hovering one point above the National League North relegation zone.
Frecklington joined Trinity in February 2017 after impressing at Evo-Stik South side Spalding United. He kept the club up on the final day of last season but Gainsborough have experienced similar troubles again this time around, with a 5-0 defeat at Bradford Park Avenue on Monday night the tipping point for the Trinity hierarchy.
A club statement read, 'Manager, David Frecklington and his Assistant, Terry Fleming have today been relieved of their duties with immediate effect. The Board of Directors, led by Chairman Richard Kane have moved swiftly to give the Football Club the best possible opportunity of remaining in the Vanarama National League North. With thirteen games and 39 points up for grabs between now and the end of the season, it was felt that a change at the helm could have a similar impact to that of Craig Elliot at Boston; Tom Greaves at FC United or Chris Moyses at Alfreton, all who have hit the ground running and strung positive results together quickly. Results that look to have moved them away from danger.
The decision, however, has not been taken lightly due to some of the fantastic achievements Dave and Terry have overseen, keeping us up last season and winning the Lincolnshire County Cup... Added to that, reaching the First Round Proper of the FA Cup, the journey, the adventure we went on during that run will live long in the memory. Not to mention the funds that run has brought into the club being a valuable shot in the arm. Unfortunately, a mixed run of results and the club sitting just above the relegation zone, we felt we had no choice but to act quickly. An announcement on a replacement will be made in due course."
And also from the NL Paper we learn that "Tamworth have parted ways with manager Andy Morrell after three and a half years at the club. The Lambs rescued a late point at home to promotion hopefuls York City on Saturday which sees them sit seven points adrift of the play-offs and six above the relegation zone.
Morrell was appointed in September 2014 having previously been manager at Wrexham and led Tamworth to consecutive seventh placed finishes in the National League North and ninth place last season. Assistant manager Mike Fowler will take charge of the first team until further notice".
Yet another postponement on Wednesday evening at Winsford, means that Altrincham's opponents in the next round of the Cheshire Senior Cup are still to be determined.
Wednesday 7 February 2018
Cheshire Senior Cup 17-18 - First Round
Winsford United P-P Warrington Town
In its review of Tuesday's matches,
NL Pitchero
confirms that "Altrincham are six points clear at the top of the Evo-Stik League Premier table following Tuesday night's hard-fought 3-2 win against play-off chasing Ashton United at Moss Lane. The home Robins looked to be cruising as they led 3-0 with only 17 minutes to go...
Connor Hampson conceded an 82nd minute penalty for foul on Nic Evangelinos, which Aaron Chalmers converted to prompt the visitors' revival. Then, in added time, Harrop's foul led to John Pritchard hitting a superb free-kick against the underside of the bar before Alty then blocked a follow-up on the goal line. But, just a minute later, a Harrison foul on the front edge of the box, gave Pritchard another free-kick and this time he made it 3-2...
Shaw Lane AFC are second after winning 3-1 at Owen Street against lower mid-table Coalville Town... The game was settled in the last minute when the visitors were awarded a penalty after Coton was adjudged to have brought down Alex Byrne and Spencer Harris converted from the spot.
Warrington Town got back to league action following their Buildbase FA Trophy exploits to move into fourth place after a 3-1 win at Matlock Town... Lee Bennett opened the scoring in the 3rd minute. But recent signing Joe Piggott bagged a quickfire brace in the 6th and 7th minutes to put the visitors in control. And a third in the 50th minute from Bradley Barnes sealed Warrington`s win.
At the other end of the table, bottom-markers Sutton Coldfield Town's 3-1 Coles Lane victory over fourth-bottom Marine AFC has really closed things up, and the Royals are now level on points with second-bottom Halesowen Town, with only two points separating the bottom four, with fifth-bottom Whitby Town possessing a six-point advantage on them...
Stalybridge Celtic earned a vital 2-0 Bower Fold victory over inconsistent Stafford Rangers to move up to third-bottom. Connor Hughes was the Celtic hero, bagging both goals in the 58th and 63rd minutes.
Tuesday's other game saw Rushall Olympic ease to a 3-0 Dales Lane win over Lancaster City. Veteran striker Richard Brodie bagged two in the 15th and 32nd minutes, with Lewis Archer eventually adding a third with 10 minutes of the match remaining."
Hednesford Town "manager Rob Smith has bolstered his squad following the arrival of Jason Law on a one-month loan deal from Mansfield Town. The forward/winger signed for the Stags in December 2015, aged just 16 at the time, after scoring four times in three games for Carlton Town.
Law, 18, has since spent time in the Under 21 squad at Mansfield while this season he has appeared for Gresley Rovers on loan.
The Pitmen can also confirm that fellow Mansfield loanee Jordan Graham will stay at Keys Park until the end of the season after an option was to extend the loan was triggered".
Next Tuesday, Altrincham entertain second-placed Shaw Lane. The Barnsley club will be playing Alty for the first time in their history and include former Moss Lane favourites, Damian Reeves, Kieran and Kelvin Lugsden in their playing squad. Last Tuesday they won at Coalville Town and the
Shaw Lane
club reports on that game, saying "Second 45 minutes makes the difference. After a fairly quiet first half The Ducks burst into life and rustled some feathers to come away with three points.
On 12 minute, following an Alex Byrne corner, the ball was put in but a clear push saw the referee disallow the goal. The second half saw Shaw Lane come out on fire and it didn't take long for the visitors to take the [lead]. A Byrne corner was powerfully headed in by James Pollard, returning to the starting line-up, his first [goal] for the club on 48 minutes.
Another goal was disallowed, this time on 51 minutes, as Reeves was judged to be offside after a parry from a Byrne effort. It was 2-0 on 65 minutes. Byrne the creator yet again as his right-wing cross was flicked over the keeper by the head of David Norris.
Coalville pulled on[e] back 2 minutes later when a deflection saw the ball bounce in from a corner.
As the game went into added time, a run into the box by Byrne saw the ball collected by the keeper. The faintest of touches saw Byrne go down in agony. After thinking about making a decision the referee pointed to the spot. Returning captaining Spencer Harris netted his tenth goal of the season to make it 3-1 and finish the game more comfortably than it might have been.
Full Time: Coalville Town 1, Shaw Lane 3.
Ducks Line-up: Ed Wilczynski, Kieran Lugsden, Ben Gordon, Kelvin Lugsden, James Pollard, David Norris, Alex Byrne, Spencer Harris, Chib Chilaka (Jake Skelton 90), Damian Reeves (Godwin Abadaki 78), Gavin Rothery (Nicky Walker 78). Subs Not Used: Miles Wright, Jake Picton."
---
7 February 2018
3-0 up with eight minutes to play, Altrincham were on the verge of a comfortable and deserved three points. Jordan Hulme had cleverly netted the third Alty goal with a run along the byline in the 72nd minute only for him, and injured centre-back Jones, to be subbed a minute later.
So, left-back Connor Hampson, who had played well, was shifted to centre-back and it was he who conceded an 82nd minute penalty against Evangelinos, which Chalmers converted to prompt the visitors' revival.
Then, in added time, Harrop's foul led to Pritchard hitting a superb freekick against the underside of the bar before Alty then blocked a follow-up on the goal-line.
But, just a minute later, a Harrison foul on the front edge of the box, gave Pritchard another freekick and this time he beat Thompson and the crossbar to make it 3-2.
In the first half Altrincham had made an impressive start with Harrop scoring a fine 25-yard goal after just ninety seconds. The James Poole's header from a Hampson cross had made it 2-0 after just 15 minutes. Ashton came a little more into the game in the second half but Hulme's goal seemed to have wrapped up proceedings before Alty's lapses allowed Ashton to make the outcome much closer than it should have been.
Match report here.
After playing for Stafford Rangers, Barwell and Stourbridge this season, a former Alty striker has moved again as
Stourbridge
report that "Kyle Perry has left the Club and re-signed for Stafford Rangers. Kyle joined the Glassboys towards the end of October from ourrivals Barwell and made his debut in the FA Trophy victory over Basford United at Amblecote.
The forward made 15 appearances in total for Stour, including 12 starts, and scored three times. His final appearance, and goal, came at Grantham Town where he climbed off the bench to net a late consolation for Stour in the 4-2 defeat. On Kyle's departure, boss Gary Hackett said, 'I did say that there were going to be a couple of changes, it's not a knee-jerk reaction. Kyle Perry has moved on. Kyle is a great guy and I've got a lot of time for him. He chipped in with a couple of goals but it didn't quite work out and sometimes decisions have to be made.'"
Tuesday 6 February 2018
The EVO-STIK Premier Division
Altrincham 3-2 Ashton United (att 610)
Coalville Town 1-3 Shaw Lane (102)
Matlock Town 1-3 Warrington Town (191)
Rushall Olympic 3-0 Lancaster City (131)
Stalybridge Celtic 2-0 Stafford Rangers (173)
Sutton Coldfield Town 3-1 Marine (102)
The FA Trophy 17-18 - Third Round Replay
Bromley 7-1 Workington (att 604)
Cheshire Senior Cup 17-18 - Quarter Final
Nantwich Town 2-1 Crewe Alexandra
---
6 February 2018
Altrincham FC Press & Media Officer, Brian Flynn, writes "The pitch at the J.Davidson Stadium remains playable at 4pm and there are no plans for a pitch inspection. The areas of the pitch that have been protected will have the covers removed at 5pm. There has been some snow that has fallen during the day but not enough to jeopardise the game being played and the forecast is for a dry evening.
Temperature forecasts have dropped marginally during the day, with the temperature span between now and 10:00pm likely to be between 1 degree Celsius and minus 1 degree Celsius, however it is not expected that the pitch will freeze before 10pm".
Altrincham are set to entertain Ashton United tonight in an EvoStik Premier game in a clash between first and fourth in the division.
Although the two teams had not met previously in the league this season, they have clashed in the Integro Cup, when Altrincham won thanks to a penalty shoot-out following a 3-3 draw in normal time. Likewise, Ashton lost a penalty shoot-out to Warrington Town in the FA Trophy, which is their only defeat in their last ten cup and league fixtures. And they have conceded just once in their last five league fixtures.
Mike Garnett's statistics reveal the historical record between Altrincham and Ashton United;
Home: P33-W22-D4-L7-F100-A53
Away: P32-W10-D7-L15-F58-A80
All: P65-W32-D11-L22-F158-A133
Ashton have at least half a dozen players with Altrincham connections. Player-manager Jody Banim, player-coach Simon Woodford, ex-trialist Aaron Chalmers, keeper Josh Ollerenshaw and Mark Lees have all turned out for Altrincham previously as has Ryan Crowther who is, sadly, long-term injured.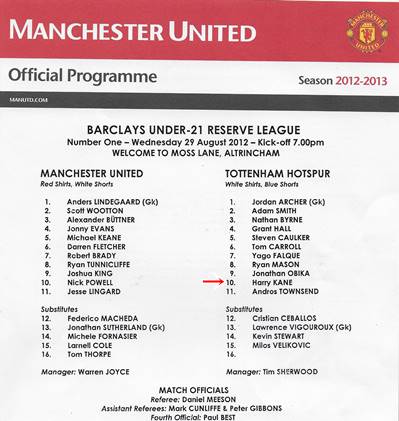 Tottenham Hotspur's Harry Kane has just become the second-fastest player to reach 100 goals in the Premier League. In fact, the truth is that he has never looked back since playing on the Moss Lane pitch at Altrincham in 2012 as the image, above, shows.
Just 11 days before his appearance at Alty, Harry had made his Premier League debut and, only two days after his game at Moss Lane, he went on loan to Norwich City. Kane did not score against United, (the start of a trend), at Moss Lane but Spurs won the match 2-1 with Andros Townsend and Cristian Ceballos the scorers.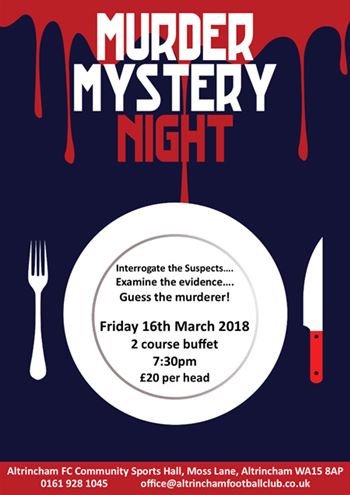 The J Davidson Stadium is the location for an exciting murder mystery in March; details are shown, above.
Tuesday: Cheshire Senior Cup 2nd Round
Stockport Town 1-1 Hyde United (Stockport Town won 4-3 on penalties)
Today is the sixtieth anniversary of the Munich air disaster in which 23 people died, including eight Manchester United players. Local resident and Manchester United goalkeeper Harry Gregg, of Sale, was hailed a hero after he rescued a baby from the burning wreckage.
Sutton Coldfield Town
say that "Following the news that Romulus will be moving to the Castle Vale Stadium from next season, we are delighted to announce new tenants at Coles Lane.
Paget Rangers will relocate from Boldmere St Michaels and operate from Coles Lane with effect from the start of the 2018/19 season.
Chairman Nick Thurston said, 'We are very pleased to secure a new arrangement for Paget to come back to Coles Lane. As soon as Romulus announced their move to Castle Vale, it was important for us to move quickly and find a replacement so that we continued to enjoy senior football at Coles Lane every week.
We met with Matt Dainty and his colleagues at Paget and we were impressed with their professionalism and ambition to continue to grow their club and work their way up the football pyramid. The deal was agreed and we look forward to seeing them in action on the 3G here at Coles Lane'.
Paget Rangers are currently playing their football in Division 1 of the Total Motion Midland Football League. They will continue to play at Boldmere for the remainder of this season and will then begin the new campaign at the home of the Royals."
NL Daily confirms that "Stafford Rangers have announced the signing of defender Richard Platt. Platt has previously played for Gloucester, Banbury United, North Leigh and Hednesford Town. He joins Neil Kitching's Stafford with the side 18th in the Evo-Stik Premier Division."
Also at Marston Road, "Karl Hawley has left the Football club [and] has been released from his registration".
More on this comes from the Stoke Sentinel which tells us that "Rangers have released striker Karl Hawley less than two months after signing him. The veteran striker joined the club at the start of December, but was let go at midday today. Hawley had got off the mark for Boro in last weekend's 2-0 win over Matlock Town, in which he scored both goals.
Rangers have also signed young defender Richard Platt after losing Kieran Morris to suspension. The influential Morris was sent off in Saturday's 1-1 draw with Marine in an incident which led to the hosts being awarded the penalty from which they equalised.
Morris will now face a suspension and with [ex-Alty man] Mat Bailey having picked up an injury in last Tuesday night's Staffordshire Senior Cup clash with Rocester, Boro were down to the bare bones in terms of central defenders to partner Jordaan Brown".
Up at The Giant Axe, Lancaster City announce that "Mamadou Djabi's loan, which was initially extended to the start of March, has now been extended further until the end of the season".
From
NL Daily
we learn that "Caretaker FC Halifax Town manager Neil Young has said 'Never say never' about a return to football management. Young was due to take temporary charge of The Shaymen on Saturday against Dagenham and Redbridge until the game was postponed due to a waterlogged pitch. But he is expected to be at the helm for this Saturday's trip to Wrexham.
The former Chester boss announced he had retired from management after leaving Altrincham in August 2016, and asked whether that was still the case, he said 'I have a job outside of football, and a young family, and a mortgage, like most working people, and I'm not prepared to put that at risk. I'd never say never in terms of management. For me to take another football manager's job I'd have to have a chance of being successful. I've always believed in my own ability but it would have to be something special. I don't mean financially, but a strategy, a plan that gives you time to build a club.
'I know time in football now is difficult. I'm a great believer in never say never. That buzz for three points is like an addiction and you do get that urge every now and again.'
Asked if he would be interested in the Halifax job, Young said, 'Not at the moment. That's down to the chairman and the board to decide how long they want me to do it. If I'm here a bit longer and it's working, you never know. It's not something I've considered. I'm just trying to help the club through the short-term while the guys upstairs make the decision on who they want to take the club forward'".
The
FA
states that "The quarter-final draws for the Buildbase FA Trophy and FA Vase were both made live on talkSPORT radio... [by] FA Trophy committee chairman Brian Barwick and journalist and non-League expert Tony Incenzo, with the Vase out first and quickly followed by the Trophy draw.
FA Vase Sixth Round draw
1 Bracknell Town v Marske United
2 Melksham Town v Thatcham Town
3 Stockton Town v Windsor
4 Wolverhampton SC or Leighton Town v 1874 Northwich
The ties will take place on Saturday 24 February and winning clubs will receive £4,125 with losers picking up £1,375 from the FA prize fund.
FA Trophy Fourth Round draw
1 Maidenhead United or Stockport County v Brackley Town
2 Harrogate Town or Billericay Town v Wealdstone
3 Leyton Orient v Maidstone United or Gateshead
4 Workington or Bromley v Spennymoor Town or East Thurrock United
Ties will take place on Saturday 24 February, with winning clubs will get £10,000 from the FA prize fund. Non-League Finals Day will see both the Trophy and Vase Finals held at Wembley Stadium on Sunday 27 May 2018. Tickets are already on sale for the big day."
---
5 Febuary 2018
At the start of the season, Altrincham faced 46 league games, of which 33 were to be played on Saturdays, three more were also 3pm kick-offs on bank holidays and the remaining ten fixtures were midweek, 7.45pm kick offs.
By today, 5 February 2018, we (like everyone else) should have completed 34 league games had the original fixture list proved to be playable. In reality, we have actually only played 28 league fixtures to date.
In fact, no team in the EvoStik Premier has played more than 33 games (Whitby Town) and two clubs have only played 26 matches (Stalybridge Celtic and Warrington Town). Owing to a combination of our (or our opponents') involvement in various cup competitions and recurrent bad weather, Altrincham's 28 completed games currently comprise the joint lowest total (with Stourbridge) of all teams except for four clubs; Stalybridge Celtic (26), Warrington Town (26), Shaw Lane (27) and Ashton United (27).
By 5 February, the original league fixture list had all of our scheduled 12 remaining games as being 3pm kick offs.
However, we currently have 18 games to play of which six are now potentially evening matches. Four are definitely Tuesday night matches, but two matches have still to be rearranged (i.e. Mickleover at home and Stourbridge away).
All of these actual and potential evening games are at home except for the trip to Stourbridge. We currently have a free Saturday on 10 March which could end up being a match day, should the league juggle with the schedules.
Of our 18 remaining games, six are against teams in the top five of the league at the moment; these are against Shaw Lane and Ashton United (both home and away), Grantham (away) and Hednesford (home). As things stand our last two matches of the season are the Grantham and Hednesford fixtures.
On Sunday, Altrincham FC Ladies' away game at Stockport County Blues was postponed. Their next scheduled match, on Sunday 11 February, is away to West Didsbury and Chorlton in the Argyle Sports Cup.
On Sunday, Altrincham FC Youth Under-17s played Heswell in the NWYA Open Cup and drew 3-3 at the end of normal time before losing 3-7 in extra-time. Following that game, the under-18s Youth team played Irlam FC in a friendly as their scheduled match had been postponed.
The
EvoStik League
announces that "Cleethorpes Town have been deducted twelve points by the League for playing an ineligible player. The EVO-STIK League South club accepted a charge of breaching League Rule 6.9 after being found guilty at a disciplinary hearing on Wednesday. The club was also fined £100 before officials informed the EVO-STIK League on Saturday that they were waiving the right to appeal and would accept the sanction for failing to get approval for a loan player from the Football Association in accordance with the requirements of League Rule 6.4.1. and subsequently fielding him in seven fixtures.
No costs were awarded against the club in the case, one of several heard by the panel in Barnsley. Details of the other cases will be released in due course with clubs having 14 days to appeal".
As for the previously reported case involving Farsley Celtic and Shaw Lane AFC, it appears that James Pollard was suspended whilst at Farsley and moved to Shaw Lane. Having not served his ban, he moved to Shaw Lane and, allegedly, played whilst suspended for the Ducks. Whether this is one of the "other cases" referred to by the League remains to be seen.
Meanwhile, Halesowen Town have issued a club statement which says that they "have been charged under a breach of FA rule E1 (b) where the club failed to comply with FA rule C1 (i)(i) by playing Kalern Thomas whilst he was registered with Solihull Moors FC. The games and dates were: Halesowen Town v Workington FC (30th September 2017), Barwell FC v Halesowen Town Fc (3rd October 2017) and Stourbridge FC v Halesowen Town FC (7th October 2017)
The charge was admitted and, after a personal hearing, the club was fined £600. Further to this charge The Evo-Stik League met on 31st January 2018 to discuss how this breaches league rules and the club were further charged with a breach of rule 6.9 for fielding an ineligible player. As a consequence the league ruled that the four points gained from these fixtures should be deducted from the club's playing record. In addition the club has been fined £100. Halesowen Town Football Club are considering an appeal against the league charges and as a consequence will not be making any further comment at this time."
Sam Heathcote netted a 90th minute equalizer for Ramsbottom Town on Saturday. Alty loanee Mason Walsh was a second-half substitute for Hednesford Town on Saturday, whilst Tolani Omotola scored for Loughborough.
According to
NL Daily
, "Curzon Ashton have announced that the Football Foundation FSIF grant for their 3G pitch has been approved. The 3G pitch at the Tameside Stadium is currently used by the club, the EMJFL and the wider community. The Vanarama National League North club have said they are delighted that, thanks to the Football Foundation, these facilities can continue to improve and benefit the community.
Work is due to start at the end of the 2017/18 season with the aim of being completed in time for the new 2018/19 season."
---
4 February 2018
Today's Youth team game against Ashton Athletic has been postponed. Instead, the under-18s have arranged a friendly match at noon at their home ground (Manchester Health Academy, Baguley), which will be followed by an under-17s fixture at the same venue.
Altrincham Reserves' match at Malpas was postponed on Saturday. Next up is a home match against Ashton Town on Saturday next (10th).
Att. 139 Barwell 2 - 1 Buxton
Att. 110 Coalville Town 0 - 3 Nantwich Town (Joe Mwasile scored one of the Dabbers' goals)
Att. 204 Farsley Celtic 1 - 3 Hednesford Town (James Lawrie scored Hednesford's third goal)
Att. 239 Grantham Town 1 - 1 Witton Albion
Att. 445 Marine 1 - 1 Stafford Rangers (Marine's goal came from Danny Mitchley)
Att. 311 Matlock Town 4 - 3 Lancaster City
Att. 310 Stalybridge Celtic 1 - 1 Sutton Coldfield Town
Att. 514 Stourbridge 1 - 1 Shaw Lane (Shaw Lane's goal was a third-minute own goal)
Att. 202 Whitby Town 5 - 0 Halesowen Town
The FA Trophy 17-18 - Third Round
Att. 601 Wealdstone 2 - 1 Warrington Town
Att. 890 Workington 1 - 1 Bromley
In the game which finished Trafford 1 Scarborough Athletic 2, James Walshaw netted Scarborough's opener.
The
EvoStik League
announces the following transfers...
Lee Bennett from Shaw Lane to Matlock Town
Ex-Alty reserve keeper Craig Ellison from Witton Albion to Mossley
Christopher Lait from Solihull Moors to Stourbridge (loan)
Jack McGovern from Gainsborough Trinity to Grantham Town
Daniel Mooney from Fleetwood Town to Ashton United (youth loan)
Warrington Worldwide
reports that "It was late heartbreak once again for Warrington Town as their FA Trophy campaign was ended by a 2-1 defeat at Wealdstone. Daniel Green's goal three minutes from time fired the National League South side through after Yellows debutant Joe Piggott looked to have secured a replay with his first touch barely five minutes prior.
Warrington would have been good value for a draw after putting in another assured performance and enjoyed the better chances before Wealdstone had took [sic] the lead through a contentious Green penalty on the hour mark. In what was the Yellows' tenth game in the competition this season, they started brightly keeping the ball well...
The hosts gradually grabbed control of proceedings...
[Warrington] will have been disappointed by the manner Wealdstone broke the deadlock. A poor clearance from Hayhurst, the villain last week for the injury time equaliser at Altrincham, kept the hosts alive and with Edward Oshodi causing problems in the box, he went down under a challenge from Higgins and the referee pointed to the spot, amidst protests from the men in yellow. Up stepped Daniel Green and he sent McMillan the wrong way for 1-0...
Debutant Joe Piggott, signed from Dundee United, was thrown on by Paul Carden on 81 minutes. McKeown's ball forward was flicked on by Higgins and Piggott found himself through on goal and with his first touch in a Yellows shirt, coolly slid the ball home in to the left corner. But just as it looked destined for a fifth consecutive replay in the competition for Warrington, their hearts were broken.
Former Charlton midfielder Green got a shot away from the edge and though it looked like McMillan had it covered, the ball somehow squirmed out of his grasp and trickled over the line for 2-1 to cruelly end Warrington's Wembley dream. The Yellows are scheduled to be in action again on Tuesday night, when they travel to face Matlock Town in the league, before the re-arranged Cheshire Senior Cup game at Winsford United on Wednesday."
Meanwhile the News & Star tells us that "Workington Reds have forced National League Bromley to a replay in the last 16 of the FA Trophy. For a while it looked as though it would be a fairytale ending for the home side as Phil McLuckie put them 1-0 ahead just minutes into the second half. But, agonisingly, with just 11 minutes remaining, Bromley equalised...
Reds can be proud of their efforts against a full time outfit as they hustled their way through the game and they never looked out of place...
As the rain began to beat down on Borough Park... Reds continued to push as the clock ticked down to half time... But the teams went in at the break all square...
Just minutes after the restart Reds got the just rewards for all their efforts. Symington put a long ball into the path of Waterston and he raced down the right hand side and got in a great cross into the packed goalmouth. And waiting for it was the free-scoring Phil McLuckie who hammered it into the back of the net, much to the delight of the crowd...
Then came a blow for Reds as a miskick from Wright put the ball out for the corner. It was whipped in and Bromley captain Jack Holland put the header away to level the scores... It was a frenetic last few minutes with both sides looking for that crucial goal to avoid the midweek replay. But it wasn't to be as the score remained 1-1 and Reds will now have to travel to Kent on Tuesday night."
Stourbridge
say that "The Glassboys showed great spirit to fight back from an early goal and get a point against Shaw Lane. It was the Ducks' first ever visit to Amblecote and they took a fourth-minute lead through Alexander Byrne [later attributed to an own goal].
Stour recovered and were the better side for much of the game, equalising just after half-time through Luke Benbow, but were forced to settle for a point. Shaw Lane came out of the blocks quickly and Gavin Rothery tested new Stour keeper Harry Beasley with the loanee stopper doing well to push his effort away. But the Ducks took the lead in the fourth minute. Byrne found a yard of space on the edge of the area and his shot took a deflection off Stuart Pierpoint before going into the far corner of the net...
Stour weren't to be denied... when Benbow's ball in from the right seemed to deceive Wilczynski - who perhaps had an eye on the advancing Luke Shearer - and the ball bounced into the corner of the net.
The visitors were reduced to ten men in the 78th minute when Skelton received his second yellow for scything down Benbow as he raced clear. The Glassboys went extremely close with ten minutes to go as Anderson broke before feeding Benbow. The striker's low shot was saved by Wilczynski's foot before looping up and just trickling wide... It just wasn't to be for Stour but the players were clapped off at the full time whistle following a much-improved performance.
Alty travel to Buxton next Saturday. This Saturday Buxton striker Ant Wilson was sent off for violent conduct against Barwell.
And our opponents this Tuesday, Ashton United are the subject of a report from NL Pitchero which says that they "have welcomed a couple of players... Adding to their striker options is Welsh under-19 international forward Daniel Mooney, who joins on loan from Fleetwood Town. The 18-year-old spent the first half of the season on loan at Bamber Bridge and was more recently with Chorley for a month.
Mooney is joined by forward Deane Smalley. The 29-year-old began his career at Oldham Athletic, making his Football League debut back in 2007. From Oldham, he had loan spells at both Rochdale and Chesterfield, before eventually deciding on a move to Oxford United at the conclusion of the 2010/11 season. While at Oxford, Smalley teamed up with Bradford City, making just over ten appearances during a loan spell at Valley Parade.
He made the switch to Plymouth Argyle in the summer of 2014 and suffered a cruciate ligament injury that ruled him out for eleven months. He returned to the first-team fold at Plymouth in November and had a spell on loan with Newport County in January 2016".
---
3 February 2018
Despite strenuous efforts by the groundsman and volunteers the incessant rain overnight and this morning has resulted in a waterlogged pitch, causing the postponement of today's match against Mickleover Sports.
Saturday 3 February 2018.
The EVO-STIK Premier Division
Altrincham P-P Mickleover Sports (waterlogged pitch)
Barwell 2-1 Buxton
Coalville Town 0-3 Nantwich Town
Farsley Celtic 1-3 Hednesford Town
Grantham Town 1-1 Witton Albion
Marine 1-1 Stafford Rangers
Matlock Town 4-3 Lancaster City
Rushall Olympic P-P Ashton United (waterlogged pitch)
Stalybridge Celtic 1-1 Sutton Coldfield Town
Stourbridge 1-1 Shaw Lane
Whitby Town 5-0 Halesowen Town
The FA Trophy 17-18 - Third Round
Wealdstone 2-1 Warrington Town
Workington 1-1 Bromley
Press and Media Officer Brian Flynn's interview with Phil Parkinson resulted in the following comments from the manager...
"We have got eighteen Evo-Stik Premier games to play and five of those are scheduled in the next fifteen days, so it's a very important phase of the season.
Four of those five games are at home, starting with Mickleover Sports today. We won the game played in Derbyshire in early December by the odd goal in three but we need to be mindful that John McGrath's side have picked up more points on their travels than at home, having only been beaten five times in away league games from the fifteen played.
There were lots of positives to take from last Saturday's 1-1 draw with Warrington Town. The tactical changes that Neil and I made during the second half paid off with a fully deserved equaliser from James Poole in added time and there were some fantastic celebrations both on the pitch and the terraces. The crowd of over fourteen hundred was more than three times higher than any other attendance in our league on the day and there was a fantastic atmosphere created.
The downside from last Saturday's game was that John Johnston was hurt by a very bad challenge from the Warrington skipper, James McCarten, in the second half. JJ had to be substituted and will not be fit today, which means that Tom Peers (left) will get a well deserved start. Tom scored the first goal at Mickleover in December and has made a good contribution to our season, scoring eight goals and he was one of the players who was involved in the build up to James Poole's equaliser last Saturday, winning the ball on the edge of the penalty area and then putting a couple of Warrington players under pressure which produced an error that allowed Shaun Densmore to set up James to score.
Tom Hannigan has had a setback this week in his recovery and could be out for another fortnight or so. Everyone is devastated for Tom as he had been making massive steps towards being able to start a game. Tim Deasy and Josh Amis are also still injured, although Josh continues to make great strides and is not too far away from a return, following his hamstring injury sustained on loan at Trafford.
We have had a couple of dry sunny days on Thursday and Friday which will have helped the pitch and the most vulnerable areas have been covered overnight to protect against the rain that is forecast to continue on and off throughout today. There is no pitch inspection planned at present and we are very hopeful that the game will go ahead".
"On Friday 16th March 2018, the Altrincham FC Community Sports Hall at the J Davidson Stadium will be the venue for an exciting murder mystery evening, based on a fictional end-of-season Altrincham FC Awards Dinner, filled with intrigue, suspicion, and of course, MURDER!
As well as enjoying a delicious two-course buffet, guests will be able to take part in a fully interactive murder mystery event, performed by eight professional actors. During the course of the evening, guests will have the opportunity to interrogate the suspects, examine the evidence, and ultimately guess the murderer, with the winner receiving a 'Star Detective' certificate and a special prize!
The event will start at 7.30pm, finishing at around 10.00pm, with the bar remaining open until around 11.30pm.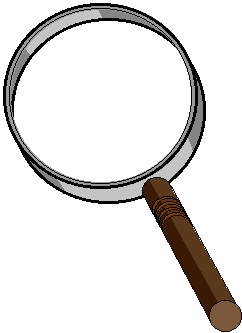 THE PLOT.....
Following a number of turbulent years at Moss Lane, chairman Terry Burpman has resurrected the club's fortunes, and under the guidance of manager Bernard Baker, Altrincham FC have secured promotion back to the Conference North.
The whole town is in party mode, and there's excitement in the air as supporters head to Moss Lane for the club's end-of-season Awards Dinner.
Terry will be at the top table, alongside his wife Marian, to present the awards, and supporters are invited to join club officials, staff and players for a very special evening.
Fans will get the chance to meet Jordy, the club's star striker and leading goalscorer, who is widely expected to pick up the club's Player of the Year trophy.
Everything seems to be running smoothly at Moss Lane, on and off the pitch, and everybody connected with the club is looking forward to a memorable evening.
But things aren't quite as they seem.
With cracks beginning to appear in Terry and Marian's marriage, a simmering of resentment and jealousy amongst certain people at the club, and rumours circulating that the club is in financial difficulties, a series of unfortunate events and revelations will ensure it is indeed a memorable evening, for all the wrong reasons.
Could you uncover the truth?.
Come along and find out. Tickets are £20 each including 2 course buffet meal. Please see Noel Shield, Neil Faulkner or Grahame Rowley for more information or contact by e-mail or by telephone on 0161-928-1045".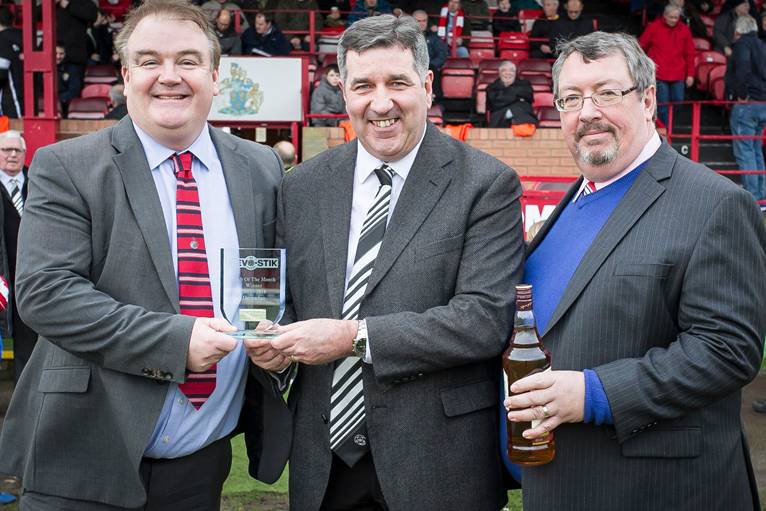 Last Saturday at the game against Warrington Town, former Altrincham player Mark Ogley, representing the EvoStik Northern Premier League, presented Altrincham with the Club of the Month award for December. Pictured above, left to right, are Alty director Bill Waterson, Mark Ogley and, right, Alty director Neil Faulkner. Image courtesy of Gavin Rathbone of GR Photography.
The winners for January have just been announced and they are:
Premier Division: Grantham Town
North Division: Scarborough Athletic
South Division: Frickley Athletic
Judy Henson, Community Manager at Altrincham FC, writes, "For those of you who aren't aware, Altrincham Unlimited is a local business hub essentially, who do all the marketing of Altrincham town centre and network with most businesses. We are partnering with them over a few projects in the future, hopefully, as they have some great ideas and can put us in touch with a lot of businesses and events in the nearby area.
We are joining their 'Active Altrincham' campaign to boost fitness in February. Eight companies are offering free/reduced taster sessions (e.g. gym passes, fitness classes, etc), including ourselves. I've added yoga, walking football, senior exercise and disability sports to our offers on the website. This is a month-long scheme and will hopefully drive new business our way. It may appeal to some of you also, who may want to try out local gyms/studios for your own well-being, check the link below.
For people to claim ONE free taster session this month, they have to email their details here. I will then add the person to the appropriate class register so that coaches know not to charge them. Of course, our current customers are welcome to take up this offer themselves, so long as they do it online, so I can keep track of usage.
Here's our webpage with the offers and also Altrincham Unlimited's webpage, with other offers".
The
EvoStik League
reports that "Hednesford Town, Scarborough Athletic and Peterborough Sports are the first winners of the EVO-STIK League's Frank Whittle Partnership-sponsored Fair Play accolades of 2018!
The trio were named on Friday as January's fair play kings in the EVO-STIK League Premier, EVO-STIK League North and EVO-STIK League South divisions respectively.
Thanks to the new sponsorship of the Frank Whittle Partnership (FWP) for the NPL's historic 50th anniversary season, the clubs are now in the running for a share of more than £5,000 in prize money the Northern Premier League hands out annually to the campaign's overall fair winners to promote sportsmanship and fair play and back the Football Association's ongoing Respect campaign.
As in previous campaigns, the winners in each division will collect £1,000 with the runners-up banking £500 and the third placed clubs £250 each. The most sporting club with the lowest disciplinary score across the EVO-STIK League's three divisions will also be presented with the Peter Swales President's Cup by FWP representatives at next June's annual awards night in Blackpool.
The first winners of 2018 and first time winners this season, all topped the fair tables generated by a totting up of red and yellow cards divided by the number of fixtures clubs have played each month. Clubs must play at least four league games to be eligible for the monthly honours and where tied on points, marks awarded by referees for behaviour in the technical area by managers and coaches are taken into account.
Hednesford Town under the guidance of manager Rob Smith are chasing a play-off spot and went about their work in the right way in January, collecting five cautions in five outings to post a disciplinary score of 1.00.
In the top flight's overall fair play table, Lancaster City still lead the way with a score of 0.87 with Witton Albion second and Nantwich Town close behind in third.
Scarborough Athletic and Steve Kittrick showed their sporting side while battling with South Shields for top spot in EVO-STIK League North, the Seadogs posting the lowest score among the EVO-STIK League's 68 clubs last month of 0.50 for their two cautions in four fixtures...
James Dean and his Peterborough Sports side are battling to preserve the hard-won EVO-STIK League status they secured last season at the wrong end of the EVO-STIK League South table. Despite the pressure, they were the division's best behaved club with a disciplinary score of 0.75 for the three cautions they collected in four matches.
Leek Town still lead the way as the best behaved side in the division and across the NPL so far this season with a current total of 0.89. Newcastle United and Lincoln United are still their biggest rivals in second and third spots respectively.
Preston-based FWP stepped up their support for the EVO-STIK League for the milestone anniversary season to build on their 10 years of work as existing sponsors and partners. As well as backing the EVO-STIK League's fair play mission on the pitch, the sponsors are rolling out a series of initiatives off it for all 68 clubs. Focusing on stadium development, they include an online survey of the needs of clubs and regular updates on the latest industry news and schemes. Representatives from member clubs are also getting the chance to meet up with FWP's experts throughout the campaign at regional meetings and other events including June's annual showcase for sponsors and partners before the end of season awards night at Blackpool's Hilton Hotel."
The
Warrington Guardian
reports that "Paul Carden says his Warrington Town side must not approach Saturday's FA Trophy trip to Wealdstone with any fear... Wealdstone boast a formidable home record in the National League South...
'We'll go down there and set up, like we always do, to get a win,' Yellows' boss Carden said. 'I had a scout report done on Wealdstone from their game on Saturday. We've got a bit of information on them. I'll be speaking to a few people I know from down south who have been to watch them a few times. We won't have any actual footage, but plenty of information. We've come up against teams whose home records are up there, so it's important we take our own form and strengths into the game.
'We can't go in there fearing them. They are in the league above, it's not like they are in the Premier League. That's not being disrespectful, that's just honest. We've beaten a team from the league above in this tournament and one from the league above that, as well as two teams from our league who are currently above us. We're certainly not fearing anybody, that's for sure.'
Skipper Jay McCarten will be missing for Town, but top scorer Jamie McDonald, strike partner Tony Gray and winger Devarn Green all look set to play a part at Grosvenor Vale. Yellows also face the prospect of two games in as many days during next week.
Should the Wealdstone clash not be decided on Saturday, the tie will go to a replay at Cantilever Park on Tuesday. If that is not the case, they will travel to Matlock Town in the Evo-Stik Premier Division. Town's Cheshire Senior Cup tie at Winsford United has also been rearranged for Wednesday evening after being postponed for a fourth time on Monday.
Carden says whichever game is played on Tuesday will take priority, meaning fringe players are likely to feature at Winsford. 'It just dilutes everything you're trying to do,' he said. 'You want to do well in every competition, but this situation forces your hand and makes you decide what your priority is. The priority is the league and that's where we have to divert most of our resources.'"
From the
Northwich Guardian
we read about Witton's game at Grantham this weekend. "Why should I watch..? To see if Witton Albion can pick up in February where they left off last month after collecting seven points from three Premier Division matches.
Carl Macauley's men enter the weekend four points adrift of a promotion play-offs position, and buoyed by beating table-toppers Altrincham on their previous away trip. However Grantham have won the past three league meetings between the teams, including a 3-2 success in Northwich earlier this term. Adam Stevens' in-form side thrashed Stourbridge last weekend, and have lost only one of their past 14 matches in the Northern Premier League's top-flight...
Grantham haven't shut out an opponent since November 18, while Witton's most recent clean-sheet was 10 games ago. Carl Macauley, Witton Albion manager said, 'We'll need to keep a close eye on their front two, and make sure we shackle them as best we can... We're more than capable of matching them'".
Alty's guests on Tuesday night are Ashton United, who "are delighted to announce the signing of Deane Smalley and the loan signing of Daniel Mooney from Fleetwood Town.
Stourbridge "say farewell to Josh Green who has rejoined Sutton Coldfield Town... Not one, not two, but three new additions to the squad! Welcome (back) to Chris Lait, Harry Beasley and Eddy Antonio".
At Shaw Lane "Kelvin Lugsden signs for next season. Kelvin throughly deserves the recognition of a contract at Shaw Lane. He has not only been an outstanding player for the club but also had led by example with his professionalism and winning mentality".
From
Welsh Premier
we learn that "A powerful drive from Lewis Short on the hour rescued a point for Bala Town against Connah's Quay, the club he left at the start of the January transfer window.
An 18-yarder from Michael Bakare had given Nomads the lead after 23 minutes but the Lakesiders missed a golden opportunity to level on the stroke of half time... After Short's goal, neither side could force a winner in a result which leaves the Nomads in second place and moved Bala into third."
Bulls' News
tells us that "The number of National League sides suffering financial struggles continues to grow, with Macclesfield and Dagenham and Redbridge the latest to join the list. They join Chester and Hartlepool.
Macclesfield's players told Sky Sports News that they are yet to receive their January wages and have received no communication from the board... A statement from the playing squad read, 'As a team, we would like to make people aware that we have not been paid our January wages. Whilst this is alarming, what disappoints us most is that we were not notified by the owner or the chairman of the situation and have not been contacted since. All despite numerous attempts for clarity from the players and management.
'It has been well publicised that we have one of, if not the smallest budgets in the division and yet despite this, we are top of the National League. Throughout this season the team, management and staff have always and will always be 100 per cent committed to the hard work and endeavour of promotion to the Football League.'
Meanwhile down south, Glyn Hopkin has resigned as a director of Dagenham and Redbridge. Hopkin fronts a consortium that owns 74% of the club and he had been covering losses, but stopped doing so at the end of last year. The Barking and Dagenham Post reports, 'Whilst £1.3 million was raised by the initial allocation of shares this has not been sufficient to cover the losses incurred last season. So far this season and whilst Glyn Hopkin has funded this overspend this funding ceased on the 31st December 2017. He also advised that he would no longer fund any further shortfall in the running of the company and it was agreed by the four members of the consortium to try and find a new buyer for the club as soon as possible'"
---
2 February 2018
Mickleover Sports are Saturday's visitors to the J Davidson Stadium. It will be their first ever visit to Altrincham.
On the outskirts of Derby, they were first established as Mickleover Old Boys in 1948 in the Derby & District Senior League, where they remained for 44 years. They then spent ten years building up the club and started work on a new stadium in 1992, with the ground opening in 1993.
After joining the Central Midlands Football League they won promotion to the Northern Counties East League in 1999/2000 and then graduated into the UniBond (now EvoStik) League. In 2010-11 Sports were promoted to the EvoStik Premier but they were relegated in 2011-12 and just avoided a second relegation in the following season. However, 2014-15 saw them regain Premier status.
Alty supporters will remember from our visit in December that the Sports' first team coach is Clinton Morrison, the former Republic of Ireland forward, who is a lively presence in (and out of!) their technical area. Both Clinton and manager John McGrath are also registered players for the Club.

The EvoStik League announces...
"Fancy your chances winning millions of pounds while helping to fund EVO-STIK League clubs and Sports Traider, the official charity of the Northern Premier League? To celebrate the competition's historic 50th anniversary season, the EVO-STIK League have launched NPL Lotto, an exciting online game giving fans the chance to win life-changing jackpots.
With NPL Lotto, supporters can win huge cash prizes and at the same time contribute directly to the development of the NPL's clubs and Sports Traider during the milestone 2017-18 campaign.
Unlike traditional lotteries, where the prize pool is distributed from the sale of tickets, when you purchase a 'ticket' for NPL Lotto you are placing a bet on the outcome of a non-UK lottery. This means you can expect on average jackpots of £7.5m with rollovers of up to £30m!
With lotto draws every Saturday and Wednesday, and at just £1.50 a bet, supporters aged 18 and over can get involved and play their part. To place a lotto bet all you need to do is select six numbers from 1 to 49 and one 'Legend' number from 0 to 9.
NPL Lotto is operated in partnership with Lotto Network, who fund and pay all cash prizes in full, so it's a win-win situation for fans, the NPL's clubs and Sports Traider's mission to help disadvantaged youngsters in the UK through sport.
The scheme is entirely optional for clubs and NPL chairman Mark Harris said, 'The income generated from NPL Lotto will be shared amongst NPL clubs, although a percentage will be donated to the league's official charity, which is currently Sports Traider. Sports Traider helps disadvantaged youngsters by making kit and equipment affordable. Sports Traider also provides bursaries to enable students to take part in the NPLFA Academy project.
'NPL Lotto is a great way to help raise funds for these good causes, while having a bit of fun and the opportunity to win a fortune at the same time. We have a proud tradition of getting players to progress through the ranks and you never know when the next Jamie Vardy is going to come along. We are excited to see which NPL legends will be on your lotto list!"
For more details on how to join NPL Lotto visit the website".
Lancaster City didn't park the bus when they visited Alty earlier this season but the club is now using its car park to generate revenue. They announce, "Parking at Giant Axe while you shop this weekend? We're partnering up with @Parkonomyweb so you can pay by mobile. As part of the pre-launch, you can already pay for your parking via mobile... Full details to follow on Monday". The operators add, "Why not park @LancasterCityFC, their car park is convenient & only a short walk into the center [sic] of the city".
There are only two clubs that Alty have not met in the league this season and they clash this Saturday as Stourbridge report that "The Glassboys welcome second-placed Shaw Lane to the War Memorial Ground on Saturday... It will be a vital game for Gary Hackett's men after the last three League matches have seen them take just one point, resulting in a slide down the table to 15th place after successive defeats at Ashton United and Grantham Town.
'Home, sweet home' has not always been the case for the Glassboys this season, but now is the time that they need to make home advantage count in order to climb back into the top half of the table. Our visitors on Saturday have been enjoying a fine debut campaign at this level, after gaining promotion as champions of Division One South last season... just seven points behind leaders Altrincham with two games in hand, in their first season at this level.
Shaw Lane's rise over recent seasons has been dramatic, including five promotions in six seasons... The Glassboys travelled to Shaw Lane's home ground in Barnsley, where they are tenants of Athersley Rec FC, back in November. The Ducks were 3-1 winners that day, with only a late consolation from Luke Benbow to cheer the travelling Stour supporters".
Cumbria's News & Star reports that "We need Workington Reds fans to be our 12th man on Saturday', declared joint chairman John Mackay as the club gears up for the big FA Trophy clash with Bromley.
Mackay said he would love to see 1,000 supporters flock to the ground and provide the boost the team need to get them into the quarter-finals. Reds face a tough challenge as Vanarama National League high-fliers Bromley land at Borough Park on Saturday, ko 3pm...
'This is like a cup final to us on Saturday,' said Mackay. 'And hopefully that will pull in a big crowd. We need the fans to be our 12th man, it would be a massive boost for us if we can get 700/800 or even 1,000 there encouraging the lads. It might be the catalyst that gets us over the line... If we can get the roars and chants going around Borough Park it can help our lads and affect the opposition as well.'
Reds will be without central defender Dan Wordsworth for the game, after he picked up his 10th yellow card in the defeat at Sutton Coldfield at the weekend which rules him out for two matches. Mackay is confident his team can still go all the way, despite a run of poor form recently. 'We are one match from the quarter-finals and three away from Wembley,' he said... 'We are the last team standing in the area, which is something to be proud of. I think we are the lowest ranked team left in the competition, or at least in the north and we have knocked out two teams in higher leagues already. So nobody can say we have had an easy passage'"
FC Halifax Town
report that "Following last night's defeat to Leyton Orient it has been mutually agreed that FC Halifax Town and manager Billy Heath will part company. The decision has not been taken lightly. The Board would like to place on record their sincere gratitude to Billy for achieving promotion at the end of the 2016-17 campaign". Later the Club announced that "Our current Head of Scouting, Neil Young [ex-Alty boss] has kindly agreed to take tonight's training and the team for Saturday's game against Dagenham and Redbridge. The position of manager or interim will be advertised shortly".
---
1 February 2018

Five Norwegian Football fans called in at The J Davidson Stadium this week, as part of their ten-day tour of Great Britain. Staying in Nottingham they have already visited the Sheffield clubs and were due at Shaw Lane last night but, because of that game's postponement, they were not allowed in at the ground.
Grahame and Karen Rowley along with kitman John Skelhorn gave the visitors a tour around the ground before they left with Alty scarves and pin badges to commemorate their visit. They were heading to The Etihad Stadium on Wednesday night and will be guests at Mansfield Town on Saturday.
Pictured above at the J. Davidson Stadium are, left to right, Stian Nufsfjord, Nils Skjelstad, Magnus Lien, Depends Fosse and Odd Eric Resve.
Following their visit, Stian Nufsfjord said, "What an amazing footballclub!!!! The friendliest community I have ever encountered. We were welcomed with open arms by chairman Grahame Rowley and kitman John Skelhorn and got a world class tour by the lads. This was truly beyoned our imagination. Hat's off lads".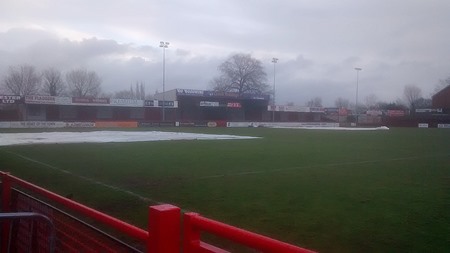 Pictured right, covers are seen in place on the most vulnerable parts of the pitch at the J.Davidson Stadium in advance of Saturday's game against Mickleover Sports. Heavy showers have not helped the pitch during Wednesday but Thursday and Friday are forecast to bring some generally dry weather.
Cantilever Catchup
reports that "Warrington Town chairman, Toby Macormac, has revealed that the club will have to start prioritising competitions for the remainder of the season, given the fact that the Yellows have a huge pile of rearranged games to play.
The Town still have a play-off place, the FA Trophy, the Cheshire Senior Cup and the Doodson Sport Cup to play for at this stage of the season.
However, it has been well publicised that a spot in the top five come the end of April has been the club's priority target since the start of the season and, up to this point, it seemingly remains that way.
Following the fifth rearrangement of the Yellows' Cheshire Senior Cup tie against Winsford United, it has forced Warrington's hand and they will now play on Tuesday and Wednesday next week.
The club chairman has reacted to the aforementioned news on the supporters' group Facebook page and, as a result of four postponed fixtures vs the Blues, he has dismissed the importance of the competition.
His statement read, 'Two games in two days next week, Matlock or the FA Trophy replay will be followed by this (Winsford United away). It is not everyone's cup of tea, but we need to start prioritising if we are to achieve anything this season. I am not writing this competition off, but I am sure we'll all agree that we have bigger things to play for at press.'
In addition to the Yellows' Cheshire Senior Cup postponements, only Stalybridge Celtic (25) have played less games in the league than Warrington (26), although Shaw Lane have played the same amount.
Furthermore, the Town still haven't played the next round of the Doodson Cup following their 3-2 away victory over Colwyn Bay in October.
Remarkably, this weekend will be the club's 10th FA Trophy game of the season, as they have had to play a replay in four of the five rounds they have featured in.
Despite the fixture difficulties, the club will no doubt be purely focused on Wealdstone away in the FA Trophy this weekend for a chance to progress into the last eight of the prestigious non-league competition."
---
FOR EARLIER NEWS, CLICK
HERE
---