---
31 January 2018
On Saturday, Mickleover Sports pay their first ever visit to Altrincham (3pm). The sides only met a couple of months ago, in early December, with Alty emerging the 2-1 winners in Derbyshire. After taking a 2-0 lead inside half an hour, the Robins ended the match defending in depth and conceded an 86th minute goal. Peers and Hulme were the Altrincham scorers.
Following the clash with Warrington Town at the J Davidson Stadium last Saturday, the Mickleover game will be the second in a sequence of five home matches in six league fixtures for Altrincham. Saturday's game is followed by the visit of Ashton United to the J Davidson Stadium on Tuesday night (7.45pm) before Alty travel to Buxton on the following Saturday (10th). Home games with Shaw Lane (13th) and Sutton Coldfield Town (17th) follow that trip.
Cantilever Catchup
reports that "Warrington Town's 1-1 draw away to league leaders Altrincham was enough to keep the Yellows in a play-off position, as all three teams that are hot on their tail drop points...
They looked as though they were about to return to Warrington with all three points until James Poole struck an equaliser in the 92nd minute. Farsley Celtic, Hednesford Town and Workington all could have [overtaken] the Town if results went differently on Saturday, however the Villagers and the Pitmen drew while Worky suffered a defeat...
Sutton Coldfield pulled off the shock result of the weekend as they put four past Workington to beat them 4-1 at the Central Ground, the Royals' win takes them one point from safety.
Looking above the Yellows, Shaw Lane experienced a nervy afternoon against fellow promotion contenders Ashton United, the Ducks drew 0-0 with the Robins. Grantham Town moved back up to second...
The Yellows will not be in league action this coming weekend as their focus will turn to the FA Trophy once again, Carden's men will travel down south to take on Wealdstone. There is a key clash in the division that will be of interest to Warrington as Farsley Celtic are set to go up against Hednesford Town.
Other fixtures that a Town eye will be cast over involve Stourbridge vs Shaw Lane, Rushall Olympic vs Ashton United and Grantham Town vs Witton Albion. Top of the pile Altrincham will play Mickleover Sports at home while Workington will not be involved in this weekend's league proceedings."
From Warrington Town we also learn that "The fifth attempt to play the Cheshire Senior Cup fixture between the Yellows and Winsford United is scheduled for the 7th February 2018... It is now confirmed that the Yellows will play two games in two days next week.
Tuesday, Feb 6th: Matlock Town (A) in Evo-Stik NPL or Wealdstone (H) in FA Trophy replay
Wednesday, Feb 7th: Winsford United (A) in Cheshire Senior Cup
Tuesday 30 January 2018: The Integro League Cup 17-18 - Third Round
Matlock Town 1 - 3 Hednesford Town att.223
The Integro League Cup 17-18 - Second Round
Warrington Town P-P Lancaster City
Workington P-P Marine
Derbyshire Senior Challenge Cup Semi-Final
Mickleover Sports 1 - 3 Buxton att.69 - match switched to Buxton
Lancaster City
"confirm that defender Gavin Clark has been released. Clark has been a part of the club since he signed in the summer of 2012. This season, he made 17 appearances for the club, scoring 2 goals.
'Gav' informed the management team that at this stage of his career he wanted guaranteed football. At this point in time, the club could not meet this request and therefore had to release the defender".
From the Warrington Guardian we learn that "Warrington Town skipper Jay McCarten looks like being out for around three weeks with an ankle injury, manager Paul Carden says. Centre-half McCarten, who has been ever-present for Yellows this season, limped off during Saturday's 1-1 draw at Altrincham. Early indications were that McCarten had broken a bone in his foot and, while Carden says an initial x-ray proved that was not the case, he may need a second one to be certain.
'Jay's struggling, to be honest,' he told the Guardian. 'He went for an x-ray and that shows he hasn't broken anything but his ankle is pretty swollen so there's every chance he'll have to have another one. He's on crutches at the moment and it looks like he's going to be out for a bit. I don't think it's going to be a week or 10 days. He's in pain with it and he couldn't walk on it yesterday so I'm pretty sure it's going to be closer to three weeks than anything else'...
Yellows have been handed better news at the other end of the field. Top scorer Jamie McDonald, who has scored nine FA Trophy goals this season, and strike partner Tony Gray are set to overcome ankle injuries of their own to make the trip south [to Wealdstone in the FA Trophy]... 'I'm hoping Devarn Green will be back for Saturday as well. Everyone else is okay'" concluded Carden.
And from Cumbria, the News & Star we learn that "Workington Reds' Integro League Cup clash with Marine tonight has been postponed due to a waterlogged pitch... The two clubs will now have to wait and see what date the league gives them for the re-arranged game."
The Northern Echo reports that "Darlington will not be signing Richard Brodie. The Gateshead-born 30-year-old, now with Rushall Olympic, has been linked with a move back to the North-East, but he will not be joining Quakers. Brodie was on trial with Darlington last summer, Martin Gray deciding against offering him a contract, since when the player has played for Skelmersdale United and Solihull Moors as well as Rushall Olympic
---
30 January 2018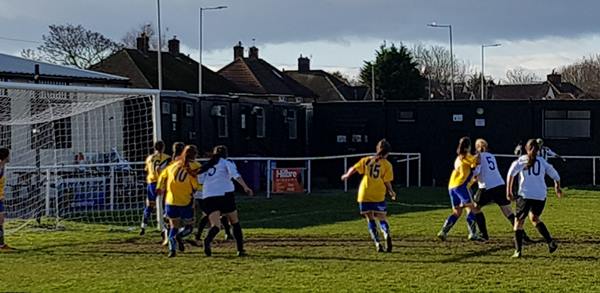 Keith Edleston, manager of Altrincham FC Ladies, has kindly sent a brief report of his team's fine 5-1 away win at West Kirby...
"It was a great result yesterday for the Ladies' first team as they went on their travels up The Wirral in Cheshire County Cup 2nd round action.
This game had been postponed once already and the groundsman at Marine Park had done his best over the weekend to get a surface that was 'playable' for both teams. The pitch, sadly, had been badly affected by the recent bad weather but the girls seemed to adapt better from the off and goals from Nadine Sproule, Bliss Molyneaux, Jess Hartopp, Laura Dodds and Laura Kelly sealed a hard fought victory. Special mention and thanks go to two players who stood in in each half as goalkeeper (Megan Wright and Aimee Hopkinson).
The Manager's Player of the Match was Geo Ashton, for her outstanding display at left back. We now reach the quarter finals of the Cheshire County Cup for the second year running, and the draw now pits us against Premier League side Crewe Alexandra LFC at Mersey Valley Sports Club on the 18th February with a 1pm kick-off".
Final score: West Kirby LFC 1 Altrincham FC Ladies 5
Altrincham FC announces that "Over the weekend we were made aware of the fact that Sky TV have moved the Spurs game against Newcastle United to Friday, 16th March, which is the date of our proposed Sporting Dinner with Ossie Ardiles and Micky Hazard.
Because Ossie and Micky are contracted to work for Spurs on matchdays they will now not be available on that date. They have, however, given us an alternative date of Friday, 20th April when they will be available.
We are in the process of contacting all existing bookings to ascertain whether they wish to transfer to the new date before we know whether there are any places available for the new date. We hope to be in a position to update the situation in the next 7-10 days".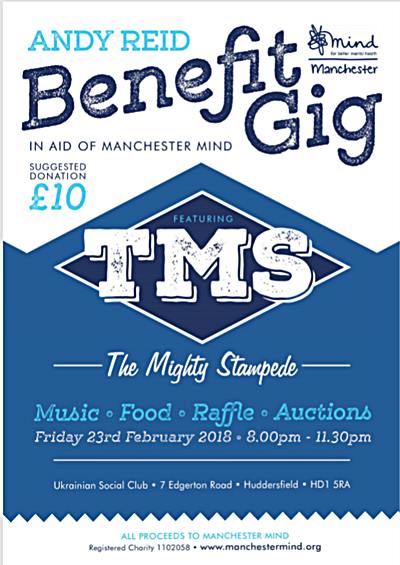 A fundraising event in the memory of Andy Reid has been arranged (see adjacent poster). All proceeds will go to Andy's family's chosen charity,
Mind Manchester
. The organizers write, "We would like to invite everyone involved with Altrincham FC to this as Andy spent many a happy year with the club.
It will be held in Huddersfield on Friday the 21st February and will feature live music as well as food and drink. We will also be having a raffle for prizes and an auction with some cracking prizes being donated. If you would like to donate anything for the raffle/auction, all contributions will be gratefully received".
Monday 29 January 2018: The EVO-STIK Premier Division
Shaw Lane P-P Grantham Town (waterlogged pitch)
Cheshire Senior Cup 17-18 - First Round
Winsford United P-P Warrington Town (waterlogged pitch)
The
EvoStik Northern Premier League
announces that it "is getting ready to mark its historic fiftieth anniversary season with three of the biggest boosts to coaching in the competition's proud history.
The initiatives to demonstrate the NPL's future commitment to raising standards of excellence and producing even better players for the next fifty years through direct investment in clubs and coaches were unveiled on Saturday by NPL chairman Mark Harris.
Kicking off at the West Riding County FA's HQ near Leeds on Sunday 11 February with a first ever Coaching Development Day for all 68 clubs featuring coaching and refereeing workshops, an inaugural Coaching Performance Day follows in July at the same venue before the NPL stages another first for Non-League, a stand-alone subsidised UEFA B course this summer for 24 ambitious coaches and managers who've already attained their FA Level 2 badges.
The West Riding's senior football development officer Steve Dorey is hosting the first two events at their HQ with the staff and players of Guiseley and Shaw Lane set to be the stars of the Coaching Development Day when they'll meet in a practice match before their performances and tactics are analysed afterwards.
Clubs and coaches will find out how to take up the UEFA B offer at the first of the initiatives on Sunday week and Harris said, 'The Northern Premier League has always been proud to take a lead and even prouder during an historic season to be investing in the future of the clubs and people who make up our great competition.
'The UEFA B course in particular is a great opportunity for our coaches and managers to progress their qualifications alongside NPL colleagues. I'm looking forward to sharing the full details with everybody when we meet up for the first of these three fantastic initiatives to continue raising standards of excellence for the future while celebrating such an important season and milestone in our history.'"
---
29 January 2018
Alty TV has Brian Flynn's excellent interview (right) with Shaun Densmore following his 350th appearance for the Club on Saturday.
And highlights of the game against Warrington Town are here.
Following Saturday's 1-1 draw with Warrington Town, manager Phil Parkinson spoke to Press and Media Officer, John Edwards, and a reporter from the Non-League Paper. The NLP reporter asked the first four questions, then left to submit his report to the paper. Here is the Q&A session in full.
NLP: Congratulations on the point, it looked like you enjoyed that.
PP: Yeah, I thought we thoroughly deserved it. A point was the minimum we deserved. I thought we were brave. We took our defensive midfielders off and really went for them. I felt they defended resolutely for about 50-60 minutes, but for what we did in the final 25 minutes, we thoroughly deserved to get at least a draw out of it. We were the only ones who looked like we wanted to go on and win the game. We certainly went for that.
NLP: They're a bit of a bogey team, by the look of it, aren't they? I don't know whether it's because they are so good at the back.
PP: They are very dogged at the back, aren't they? Very resolute, but they've got a bit of quality going forward as well, and you've always got to be aware of that. I've got to give Warrington full credit. They always give as good as they get, so it's always a tough game against them. But, as I said, I felt we got our reward for bravery, because it could have gone the other way, with so many forward-thinking players on. I've got about six forwards on there towards the end, and we really went for it.
NLP: The surface didn't help, and it was a bit physical at times, wasn't it?
PP: You're always going to get that in top-of-the-table clashes between two teams going for the title. They are going for it, as well as us, and you will get lads going in for strong tackles. You've got to accept that. We came a bit worse off, with John Johnston getting a knock and having to go off, but their centre-half got the same, as a result of going in like that. They are full-blooded lads going into tackles, so you can't knock that. All you ask for is a bit of consistency from the referee. If he is going to give bookings out, it needs to be consistent. But it's always a tough game when two top teams are going toe to toe.
NLP: What about James Poole as well? Another outstanding performance by him in the middle. He always looks like he has an extra yard, doesn't he? He takes it down one touch and does that little spin that he does and looks at what is available.
PP: With James (left), he has that yard upstairs in his head. That is what he brings to the team in terms of foresight on the pitch. His vision is second to none. I'm not quite sure who has got the goal. He is claiming it, but so is Jordan Hulme. I will have to have a look at the video. Pooley has given Jordan the hard stare, so I don't think he is having that. (Note: Alty TV clearly shows it is James's goal).
JE: What one quality would you put it down to, Phil, pulling it out of the bag so late on, especially after Warrington had proved so difficult to break down?
PP: Being brave, simple as that. I thought we were exceptionally brave. I felt we really went for them. They were happy with the draw, but we wanted to go on and get the win. That can leave you a bit exposed, but I have always lived by fortune favours the brave, and that brought its rewards. Taking Jake Moult off was a huge risk. He is such a good player for us. He is like the insurance, and taking him off was a big risk. But it paid off, with the attacking players we were able to bring on and Max Harrop's freshness as well.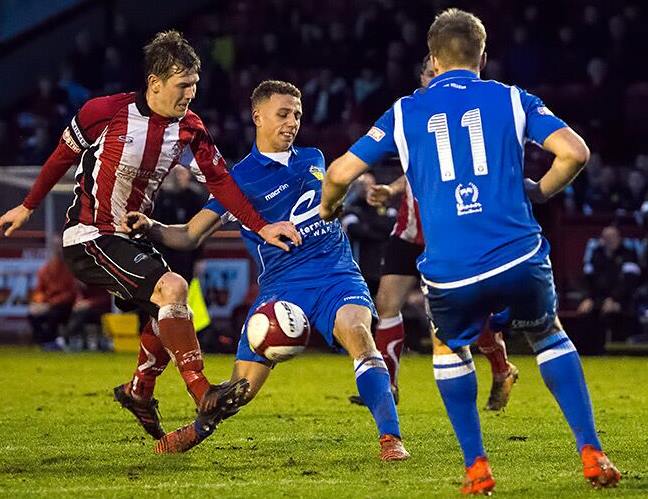 Above: Courtesy of Mike Ripley, we see Shaun Densmore in action against Warrington Town.
Jake is more than able to spray the ball, but I just felt Max's fresh legs and ability on the ball really allowed us to push on their back line. Tom Peers was breaking lines and Josh Hancock was getting in some good areas, and that really allowed us to play against a team who were basically defending the edge of their 18-yard box. They did that for a long, long period of time, which showed how dominant we were. Then again, they are 1-0 up, so they are probably not going to go stupid but, in the same breath, we were the ones who were brave enough, and that is why we got the point. I felt, the way the game was going, we could easily have gone on and won it.
JE: Hand on heart, could you see the equaliser coming, because, much as we were pounding their goal, they seemed to be standing firm?
PP: Yes, I could see it coming. I had that feeling as soon as we made the change, because the front lads looked like they were going to break lines, whereas we didn't look like doing that previously. Neil Sorvel and I have been talking about doing that for a while, with regards to the attacking centre-mid, with Josh Hancock and James Poole in there, and it certainly paid off.
JE: I'm not sure what can be done about it, but have you got concerns about the state of the pitch?
PP: Yes, massively, because it's no secret we play football on the ground, and it is hampering us down one of the flanks when we are attacking that side. It slows down the play, there is no question about that. But it hampers the opposition as well, so we won't change the way we play or what we do best. We will stick to what we believe in. It has got us the result today, just as it has done all season. Ideally, it would be a bowling green out there, but it's probably as good as it's going to be until the end of February, then it might firm up a bit, hopefully, and we can turn the sprinklers on again!
If we could do something with it, fantastic, but we are where we are, and we are not going to start making excuses about the pitch. We just need to get on with it. I'm not going to change the way we do things. That would work against us, because the lads know what we want them to do and are executing it. They were superb today. We looked a bit ring-rusty in the first half, but they didn't look amazingly good, either. They got their goal, but I can't remember Tony Thompson having much else to do, whereas Jordan Hulme tested their keeper twice. It was a scrappy half overall, but when we made the change in the second half, I always felt we were going to get a goal back. We looked far more dangerous.
JE: On their goal, was Tony (left) slightly unsighted?
PP: I think it took a bit of a deflection and, on top of that, he slipped in the mud, so the pitch has probably hurt us again there. When you get one back in the final minute like that, it feels more like a win than a draw, and obviously our fans going away happy was great to see as well. It was a fantastic turnout, and they will be going away knowing we have come back against a team who are notoriously difficult to beat when they've got their noses in front. We were the only ones who looked like they were going to win at the end, and you could see how happy the fans were, so I'm hoping they can take heart from that performance. The players certainly will, and it has set us up nicely now, going into the next game. Yes, we would have loved all three points, but it was so important not to lose.
JE: We've said a couple of times recently 'that was a massive three points' after a win, but that was a massive one point today, wasn't it?
PP: Yes, it keeps that distance between us the same as it was before. If they win, they see it as game on again. If we win, it feels a bit like we've removed them from the picture. As things stand, they haven't gained anything. We haven't, either, but we are in a stronger position.
JE: For the equaliser, it was great composure from Shaun Densmore (right), wasn't it? The temptation must have been to lash it, in space on the right of the area but, instead, he looked up and picked out James Poole in the middle.
PP: Fantastic. Mr 350 (appearances for Alty)! He has done well, hasn't he? We work on that. We work on lads doing that and showing a bit of composure in those areas, rather than just hitting a space. It's something we try to do in training, and fortunately it paid off for us there.
JE: What did you make of the challenge on John Johnston that forced him to hobble off soon after, and do you think it should even be described as a challenge, because, from where we were on the gantry, it looked more like a blatant kick?
PP: I agree with you, and it did look a bad one from where we were, over on the other side of the pitch. It is a very competitive match between two physically able teams. These young lads are going to go in like that, and you just hope the referee is able to deal with situations appropriately. If I see it back, and it is late and reckless, I will be disappointed the ref hasn't done more. I can't really comment further until I've seen it back.
JE: Was it just an impact injury for JJ, and will it clear up quickly?
PP: We need to check on him, but it's basically a dead leg. Normally, it's a week or so, but it depends on how big it is and whether the bruising is inside the muscle or outside. We'll have to have a look at that.
The
Warrington Guardian
tells us that "An injury-time equaliser denied Warrington Town a second victory away at Altrincham this season... It was an opportunity missed for Town, who had looked set to close the gap on the league leaders and take advantage of teams dropping points around them.... It will have felt like a defeat for Yellows, who must now dust themselves off for a Cheshire Senior Cup tie at Winsford on Monday before the FA Trophy clash at Wealdstone on Saturday".
In the Cheshire FA Ladies' Cup Second Round, Altrincham FC Ladies won 5-1 away to West Kirby Ladies on Sunday. In the next round, the quarter-final, they are at home om 18 February to Crewe Alexandra Ladies.
In the interim, their next fixture on 4 February is shown by the league to be a cup match away to West Didbsury and Chorlton but as the league also shows West Didsbury having a league game that day, we await conformation of the fixture.
Before Saturday's games, the
Lancaster Guardian
reported that "Phil Brown is ready to shuffle the pack in a bid to get his Lancaster City side firing again. The Dolly Blues have won just one of their last seven games in the Evo-Stik Premier Division ahead of struggling Halesowen Town visiting Giant Axe on Saturday.
Having lost twice in a week to Nantwich Town, 3-0 at the Weaver Stadium on Saturday and 2-1 in the reverse fixture on Tuesday night, the City boss believes now is the time to give some players a chance, while intensifying his hunt for new recruits. 'It might be that a few need to come out and few need to come in whether that's externally or players who have been waiting for their chance,' Brown said.
'I can't question the endeavour at all but some players are struggling for form and one or two might need a breather. The time has come for some lads to have a rest... The bottom line is we're under-performing at this moment in time. It's time to blood a few players and see what they can do.'
Amongst those who could come into the reckoning are versatile attacker Danny Shearwood, who has returned to the club after a spell in Singapore, and former Preston North End youngster Leon Creech, who has been on the fringes for large parts of the campaign...
'Danny Shearwood's come back from Singapore and has been training with us and now has international clearance,' said the Blues' boss. 'Leon Creech has also been waiting patiently and Hannu Tam is back available. We're looking at bringing players in to breath life into a tired changing room as well. It would be unfair on Danny, Leon and others to bring players of a similar ilk, but it would be good to add some experience'...
Ricky Mercer will begin a three-game ban after his red card for violent conduct on Tuesday night."
---
28 January 2018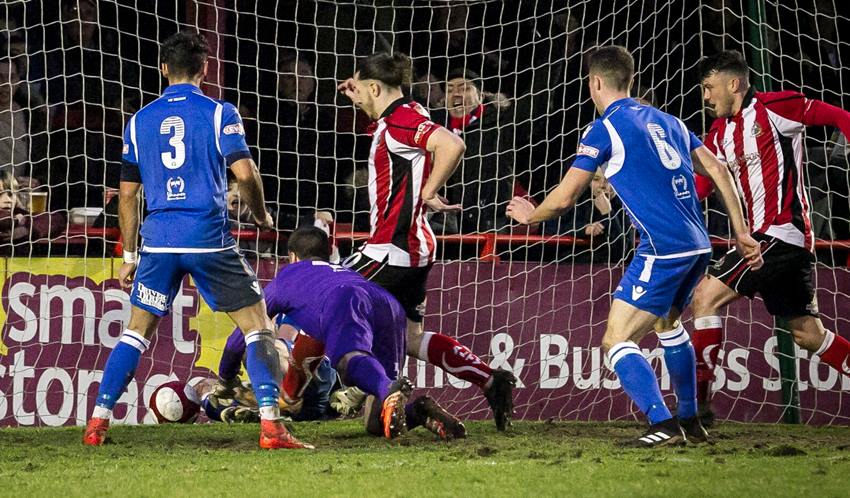 Above: James Poole sees his shot squirm through the hands of keeper Tony McMillan for Alty's late equalizer. Image courtesy of Gavin Rathbone of GR Photography
Match report here.
There are clips of the game's two goals on Alty TV.
After the match manager Phil Parkinson told the NL Paper's Andrew Marshall, "You're always going to get a physical game when you have two top teams going at it. I thought the ref did well to handle it".
Warrington boss Paul Carden added, "We've got games in hand at the top, we win them and we're right up there. And we've still got the FA Trophy".
Warrington Worldwide
reports that "An injury-time equaliser denied Warrington Town a second victory away at Altrincham this season.
Josh [James] Poole squeezed the ball home in the 93rd minute after the Yellows had failed to clear a corner to cancel out Dylan Vassallo's first half strike. It was an opportunity missed for the Yellows... As it was, in just their seventh league game in three months, the Yellows had to settle for a point which may have a come at a cost, with captain James McCarten forced off in the second half with a foot injury...
On a rough pitch, the game started in lively fashion with Jamie McDonald going close with what would have been a goal of the season contender... At the other end, Jordan Hulme latched on to Poole's reverse ball and forced a smart stop from Tony McMillan.
But it was Warrington who would break the deadlock on 18 minutes, Gerard Kinsella's cross headed out to Vassallo and, while he didn't hit it well, it would fade away from the 'keeper in almost slow motion and find the corner. Altrincham were very fortunate to keep their full complement of players on 23 minutes when the already booked Simon Richman hacked down Vassallo on half way as the Yellows launched a counter attack.
That would trigger a niggly remainder of the first half where the referee was kept busy with plenty of cards dished out. There were four [five] yellows handed out before half time, which saw Richman dragged off for Altrincham as well as McDonald, both on yellow cards.
Altrincham started the second half well and forced a smart stop from McMillan off Connor Hampson's shot, before the yellow card was out again when Shaun Densmore wiped out Gray, who hobbled on to continue but would eventually be forced off with his knock. Vassallo got his name in the referee's notebook before McCarten did likewise on the hour mark, with a challenge that would force him off injured, with early suspicions he may have broken a bone in his foot.
With their captain and backbone of the defence off the field, the Yellows dropped deep and the last 10 minutes they would be clinging on. And just as it looked like they had done enough, Altrincham gained revenge for the late show Warrington handed to them in the FA Trophy replay. Will Hayhurst failed to clear a corner and as the ball was played back across, Poole got just enough on it to fire the ball over the line, despite the best efforts of Adam Carden and McMillan".
Today's Neil Thomason Trophy match against Hyde, at Ewen Fields, is off as the Tigers cannot raise a team. Therefore, Altrincham have been awarded a walkover and now meet the winners of Curzon Ashton or Southport in the semi-final Alty Youth's next scheduled match is away at Ashton Town next Sunday but, as with all NWYA fixtures, it may be subject to change.
On Saturday, Altrincham FC Reserves lost 0-1 at home to Billinge. Alty lie 13th in the 15-strong Cheshire County League Premier Division. Next Saturday, 3 February, they are away at Malpas.
Saturday 3 February 2018: The EVO-STIK Premier Division
Altrincham v Mickleover Sports
Barwell v Buxton
Coalville Town v Nantwich Town
Farsley Celtic v Hednesford Town
Grantham Town v Witton Albion
Marine v Stafford Rangers
Matlock Town v Lancaster City
Rushall Olympic v Ashton United
Stalybridge Celtic v Sutton Coldfield Town
Stourbridge v Shaw Lane
Whitby Town v Halesowen Town
The FA Trophy 17-18 - Third Round
Wealdstone v Warrington Town
Workington v Bromley
---
27 January 2018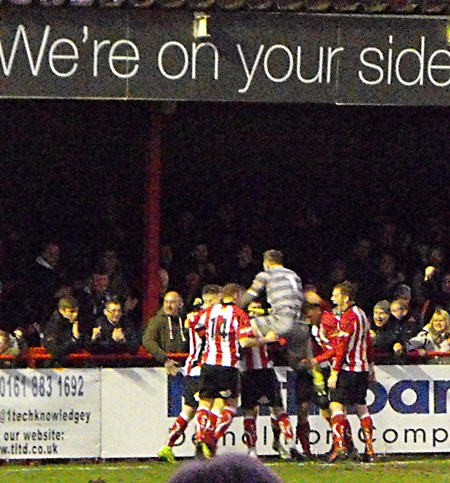 For the fourth time this season Altrincham were unable to put Warrington Town to the sword and, indeed, left it very late to salvage a draw after the visitors had snatched a 19th minute lead when Vassallo's slightly mishit shot squirmed past Tony Thompson. Thereafter the visitors showed little attacking ambition but they closed down Alty efficiently and withstood almost constant second-half pressing from the Robins until the second minute of added time. Then Poole's shot seemed to have been stopped by keeper McMillan but somehow it crossed the line for a much deserved equalizer.
As a spectacle this was far from pretty and referee Swallow produced nine yellow cards including one for Town captain McCarten whose crude and late challenge put Alty's John Johnston out of the game.
Match report here
Right: Under an appropriate advertising hoarding at the Golf Road end, Alty's Tony Thompson has raced a hundred yards to join in the celebrations at Alty's late equalizer.
Saturday 27 January 2018: The EVO-STIK Premier Division
Altrincham 1-1 Warrington Town (att 1419)
Barwell 1-0 Stalybridge Celtic (171)
Buxton 2-2 Coalville Town (271)
Grantham Town 4-2 Stourbridge (256)
Hednesford Town 0-0 Whitby Town (393)
Lancaster City 2-0 Halesowen Town (259)
Marine 2-2 Rushall Olympic (400)
Mickleover Sports 2-2 Farsley Celtic (236)
Shaw Lane 0-0 Ashton United (185 for a clash between second and fourth)
Stafford Rangers 2-0 Matlock Town (468)
Sutton Coldfield Town 4-1 Workington (234)
Witton Albion 4-1 Nantwich Town (394)
Today's match referee has journeyed this morning from Blackpool to make an early pitch inspection at the J. Davidson Stadium and his decision is that the game against Warrington Town can go ahead at 3pm.
Press release:
"Altrincham FC is hosting a special discount day for the home match with Warrington Town in a bid to attract fans from the 'big two'. The match on Saturday, 27 January (3pm) against the Robins' promotion rivals coincides with the fourth round of the FA Cup. United are playing at Yeovil on Friday night, with City in action at Cardiff on Sunday – a perfect opportunity, then, for all to enjoy the unique hospitality of the J. Davidson Stadium.
United and City fans are being urged to support their local community club and they can gain half-price entry on display of their season ticket or membership card".
Speaking to Altrincham Today, manager Phil Parkinson said "It felt like a waste of time, for everyone involved, after travelling almost a hundred miles to Stourbridge last Saturday, only for the match to be called off just before two o'clock. There must have been about fifty Alty fans already at the ground when the referee decided that the pitch wasn't playable and I understand that there were plenty more fans already in the town, so it was particularly disappointing that we couldn't get a game on that we were very keen to play.
That's gone now and all thoughts are on today's Evo-Stik Premier match with Warrington Town. It's the first game that we have had at the J.Davidson Stadium since New Year's Day and we are all very hopeful that the game will go ahead.
The pitch was in a very bad way after the game against Witton but a lot of work has gone in, from Neil Brown and his groundstaff, to try to get it back in shape and we are very grateful to both Manchester United and Lancashire County Cricket Club for their respective help in verti-draining the whole pitch and providing covers to protect the worst parts of the playing surface.
The weather was perfect yesterday, although there is rain forecast for this morning, which we are hoping will have cleared by noon, at which point it is planned to remove the covers. The match referee is coming down to the ground early to conduct a precautionary pitch inspection at 11.15am and I know that everyone connected with the club is desperate for today's game to take place.
This is our fourth game against Warrington in just over three months and, whilst we have yet to beat them, it's worth noting how tight all three games have been. It took more than two and a half games for a goal to be scored by either side and Warrington have been ahead for just a couple of minutes throughout, scoring twice late in the Buildbase F.A. Trophy First Round Replay to snatch the tie in added time and, even then, we should have equalised when Joel Bembo-Leta hit the post from a position that I would have expected him to have scored from.
In Jamie McDonald and Tony Gray, they have two in-form strikers and Paul Carden's team are very sound defensively, so it's a tough challenge, but one that we are more than capable of meeting.
Tom Hannigan will be missing today, although he is making good progress and will start training again during the week. Tim Deasy (above left) took a knock to his knee in training and will not be involved and there is better news regarding Josh Amis's hamstring injury as he has been able to do some jogging this week and it looks like he may be out for less than the six weeks that we initially thought.
It's £5 entry for Manchester United and Manchester City season ticket holders today, so we are hoping for a big crowd and three more points to continue the excellent momentum that we have at the top of the table".
Altrincham FC Community Sports Trust has a vacancy for a caretaker. The job description is
here
.
The
NL Paper
reports that "Derby County have swooped for impressive Matlock Town defender Max Hunt on an 18-month deal with an option for a further year. The 18-year-old centre-back will link up with the Championship club's under-23 side and as part of the transfer, a Derby County XI will travel to Causeway Lane to face the Gladiators in a pre-season friendly this summer.
Hunt has spent the last 18 months with the Evo-Stik Premier side, playing for their academy and reserve teams and then signing a first-team contract last summer. He made his debut for the club in December following a loan spell at Belper Town and his form led to a trial at West Bromwich Albion.
Speaking on the move, Hunt said 'This is a dream come true and is what I have wanted since I was a young kid. I want to be a professional footballer but, in truth, the hard work just starts now. I'm happy to be here. I want to progress as much as possible and I have ambitions to just better myself every day and just work hard. At the same time, this is a great opportunity to work with some top-quality coaches every day... I want to say a big thank you to Matlock too. Justin Tellus and the all the people in the development system have helped me as a young lad and gave me my first taste of men's football, which was a big moment for me. I can't thank them enough for everything they have done for me'".
Meanwhile, Buxton report that "Winger Curtis Morrison's youth loan has been cut short and he has returned to Guiseley. On the plus side we have signed defender Nico Degirolamo. The former Mickleover Sports captain had recently departed Matlock Town".
Chasing Alty at the top of the EvoStik Premier are Ashton United and Shaw Lane, who meet in Yorkshire, weather permitting. Ashton United report that they have "another tough game, this time at fellow promotion rivals, Shaw Lane. The home side have only lost one of their last eleven games and boast an impressive home record with only losing the once at Sheerien Park. Shaw Lane have won their last two games, getting a narrow home win against Halesowen 3-2 before picking up all three points in midweek at Marine as the Ducks ran out 2-1 winners.
However the Robins can also go into the game full of confidence after another battling performance at to Stourbridge as Ashton picked up all three points with a 1-0 win at Hurst Cross courtesy of Aaron Chalmers's first half penalty. Gaffer Jody Banim was delighted with Ashton's performance as they proved there is more than one way to win a football match.
'We defended a little bit too deep at times which invited balls into the box but the way we defended them, it was like real men. We put bodies on the line, clearing balls with our heads and feet and we got blocks in the way and we looked a threat on the break. I just said to the lads that there is more than one way to win a football match and we are proving that tonight.'
Bamin also praised the grit and determination despite not performing to their best in the second half as Ashton broke into the play-off places. 'We could have played a little bit better in the second half, but we showed grit and determination and that's what it's going to take to potentially get into the play-offs and who knows and take us a little bit further. We're on a really good run at this moment in time, we don't know when we're beaten and nobody in the league will want to face us with the form we're in.'"
The two sides last met in October and the game ended in a six goal thriller with the Robins scoring a dramatic last-minute penalty to salvage a point at Hurst Cross".
However, Shaw Lane indicate that "We have a pitch inspection at 10am Saturday morning ahead of our fixture v Ashton United".
Stalybridge Celtic "announce the departure of General Manager and Football Secretary, Michael Beech, who will move to join Barnsley Football Club, as Assistant Club Secretary. Michael (21) has been involved with the club since a young age, attending games with his grandmother and former Vice-Chairman, Dorothy Norton.
Starting out by helping on match days, before becoming Assistant Football Secretary in 2014 and then full Football Secretary following John Hall's retirement in May 2016, Michael ultimately became General Manager of the Football Club in January 2017. Michael was tasked with professionalising the club off the field as well as dealing with day to day duties, coupled with the Football Secretary's role".
---
26 January 2018
Altrincham FC director, Bill Waterson is being interviewed on Manchester Sport at Six tomorrow between 6.40pm and 7pm tonight (Friday) on the Club's Share Issue and on our offer to City and United fans for the match against Warrington Town. Bill says, "I am also looking to cover Rob Esteva's joining the main board and the Football v Homophobia game on 17th February, time permitting".
Press release:
"After the club's latest announcement with regards to the shareholding available in Altrincham Football Club, we have received various enquiries from individuals interested in purchasing small quantities of shares. The board have therefore decided to make a limited number of shares available for purchase.
Recently appointed Director, Rob Esteva said, 'It is vital we continue to support our management team and playing staff for the remainder of this season and get the wheels in motion for planning next season, regardless of the division we are in. Any monies raised from this will help us ensure we continue to provide a competitive playing budget.'
Shares are available in batches of ten at a cost of £5 per share. Please contact the club via phone (0161 928-1045) or email to express your interest.
Any investors interested in a more significant shareholding, should still contact the Sport Business for more information, i.e. Paul Smith on 07805 664064 or Dominic McGuinness on 07968 326541".
The
Sale & Altrincham Messenger
tells us that "Phil Parkinson has backed his table-topping Altrincham team to show steel as well as style in their quest for an instant return to National League North.
Alty's slick passing game has made them firm favourites for promotion from the Evo-Stik Premier but has not prevented doubts being expressed in some quarters about their ability to cope with heavier pitches, as winter bites, or opponents who favour a more physical approach. Parkinson was having none of it, though, and had the perfect response, in the form of 14 clean sheets from Alty's last 19 games.
'The amount of times we have stood firm and seen games out surely speaks for itself,' said the Alty boss. 'How many clean sheets have we had this season? You don't do that if you are physically weak, so that goes against what some people seem to think. It's very frustrating from my point of view, but it's great as well, because it just gives me the fire I need to motivate my players. We don't always win the way we want to, because we want to play the perfect game every week. That is what we strive for.
'We are not always going to achieve that, but it's nice to see my players are able to use their initiative and game-manage things out. It's good they can play ugly when they need to, because those are the qualities winners have. We need to continue that. It will get more difficult as we go along, but we need to maintain that momentum and keep showing the resolve that has served us so well up to now'".
In advance of Saturday's match,
Cantilever Catchup
says "This weekend, Warrington Town will face league leaders Altrincham for the fourth time this season. Having met in the league in October at Cantilever Park, and then needing two matches to separate the two sides in the FA Trophy, the Yellows will be hoping to remain unbeaten against the Robins when they make the short trip to Moss Lane on Saturday.
On Saturday 21 October, the heavily anticipated league match at Cantilever Park saw the sides meet with nothing separating them at the top of the league table. However, on a wet and windy day in Warrington the match would finish up goalless in quite a timid affair. Despite that draw though, both sides remained joint league leaders.
Altrincham have remained top of the table, and Warrington are now 12 points behind the Robins though they have played two games less due to postponements and the Yellows' continued participation in the FA Trophy.
It was in the first round proper that the draw gave out a Cheshire derby between Warrington and Altrincham, with Town looking to continue their best run in the competition for 24 years. Having gone to replays against both Ashton and Tamworth in previous rounds, this run continued for Paul Carden's side as they were held to a 0-0 draw at Cantilever Park again on Saturday 16 December... and the two sides had to go and do it all again at Moss Lane on Tuesday 19 December.
After the first half in Altrincham, there was still nothing to choose between the two sides... when Jordan Hulme put the home side in front 53 minutes, and left Warrington chasing the game. They were still chasing in the 87th minute when Liam Goulding eventually found the equaliser as Tony Thompson in the Alty goal could hold on no longer. Like buses, Warrington's second goal took just a matter of minutes as McDonald was able to find a winner in added time and put the visitors into the second round.
It all means that when the Yellows return to the scene of their triumph on Saturday afternoon, they will be unbeaten against the Robins, who will be seeking revenge after their FA Trophy exit in December....
Another victory in Altrincham would help to put a little bit more distance between Town and the sides chasing top five places. Meanwhile, defeat will put extra pressure on Carden's side to perform in the games in hand that are growing in number all the time... Currently, Town are fifth in the table with 47 points, in the final play-off place, but the sides are starting to pile up behind Warrington and could soon leave them chasing...
One thing that the Yellows will have is confidence coming into this tie, given the fact that they have beaten Altrincham away this season and have been the better side across the three games. Warrington have certainly stepped up in the big cup ties, and given what is on the line here, as well as the fact that the players have had extra time off with recent postponements, I fully expect the side to step up again."
According to the
Coventry Telegraph
"Brady Hickey has left Nuneaton Town to re-join former club Barwell on a permanent deal. Hickey joined the Boro back in July and was tipped to be one of their men to watch in the upcoming Vanarama National League campaign. But things did not go to plan for the midfield man, who was being watched by Leicester City earlier in his career, as he saw his place in the team disappear when former Boro boss Tommy Wright moved to Darlington.
For the new Nuneaton manager Dino Maamria, the decision to release Hickey was one that did not give him sleepless nights. He said, 'I just did not know the boy. He never really stepped up when I took over and he has spent most of that time out on loan at Barwell. When we had a couple of suspensions over Christmas I did try and get him back, but he wanted to stay and play some football. It was easy then to allow him to stay there and do that'...
Hickey's spell in the Vanarama National League North lasted less than four months... Speaking after his initial loan deal back to Barwell, Hickey said, 'Things started well for me but things have been a different around the place of late. I wasn't getting a look-in then and I am a young lad and just want to play if I am being honest. When the chance for me to come on loan came up I was delighted. I want to do well at Barwell, I've set myself a target of ten goals in the three months I am there. The main aim, though, is just to play football again and get back to enjoying myself on the pitch.'"
Cumbria's News & Star reports that "Workington Reds' joint-chairman John Mackay says they are not worrying about slipping out of the play-off places. Mackay admitted, [after a home defat by Barwell that] 'It is always disappointing to lose. We did our best and silly mistakes cost us both goals but that's a fact of football,' said Mackay. 'If we played perfect every week, we would win every week and that doesn't happen in football at any level. But promotion is still our goal...
'There's lots of games to go and lots of points to be won or lost'... Reds are currently in seventh position but there are only six points between them and second-placed Shaw Lane. And they can put things right immediately, as they face the trip to bottom side Sutton Coldfield this Saturday. Checks were due to be made on captain Gari Rowntree ahead of the game after he suffered from a tight hamstring and had to come off at half-time on Saturday. But Dan Wordsworth won't be available as he is suspended for two matches after receiving his 10th yellow card".
---
25 January 2018
The following announcement from the Board of Altrincham FC is provided courtesy of Press & Media Officer, John Edwards...
"Following our recent board meeting, we are delighted to announce that Rob Esteva has been appointed a full member of the Altrincham FC board of directors. Rob joined the board as an Associate Director last year and brings a wealth of football knowledge through his business, The Stats Zone, and his prior directorship at Brentford FC. His involvement, and the use of his resources in scouting players, tracking the opposition and analysing our own performances are greatly valued by manager Phil Parkinson and his staff and give us capabilities that would be the envy of many clubs in leagues above us.
Rob's appointment specifically addresses one of the improvement areas identified in the strategic plan – a director with substantial football experience. He has been a powerful addition to the team as Associate Director and we look forward to his contribution as a main board director.
We continue to look for individual investors to bring additional funds into the club and to strengthen the board. We are committed to delivering results on and off the pitch, enabling delivery of the recommendations of the strategic review. The board intends to pursue an unabated strategy of significantly increasing our bandwidth and broadening our skillset through new additions to the board. We are still open to a buyer but recognise that we cannot afford to sit passively waiting for such a transaction to take place. Therefore, we are proactively planning the future, and we will take all necessary steps to deliver on our vision, with an immediate focus on delivering a successful next 18 months on and off the field".
Press release: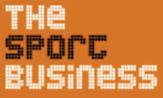 "These are exciting times for Alty. The first team is top of the table and on course for a return to National League football; a partnership has been agreed with Altrincham Unlimited, the organisation responsible for promoting and driving business in the town, while the club's share offer is attracting interest both locally and from further afield.
Last year the Board called an Extraordinary General Meeting to pass a motion allowing the club to bring in significant investment by making further shares available for purchase. Following approval, the club acquired 117,000 non-voting shares – roughly 51% - which have been converted to voting shares and are now held in Treasury.
The club is now able to sell the shares to a suitable investor, or investors, who share the Board's ambitions. For more information contact the Sport Business: Paul Smith: 07805 664064 Dominic McGuinness: 07968 326541"
Altrincham FC Youth beat Southport 3-1 in the North West Youth Alliance Open Cup on Sunday. Their next fixture, on 28 January, is home to Hyde United in the Neil Thomason Cup (2.30pm).
Lancaster City
"can confirm that Lawrence Looney and Mark Knight have resigned from their positions at the club... Lawrence Looney will be resigning from his role of Chief Executive at the club.
Lawrence has sent the following message, 'I have decided to resign from my Director position. I decided earlier in the season that it was going to be difficult for me to take the club strategy forward from the Isle of Man without more travel, which is not possible with a small family. I came on board to support with the strategy and get us promoted. We have achieved both. We have gained promotion, have a clear strategy and done well financially considering that we are in a new league.
We have a great platform to go forward and just need more people on the ground to support... I will not be leaving overnight and have been agreeing a handover plan with Stuart...
Club Vice-Chairman, Mark Knight, has also stepped down. Mark, along with his wife Carole, has been an important member of the club for a number of years... The recent renovation of the Dolly's Diner and the bar is the latest piece in a string of projects that Mark has managed and been 'hands on' with Carole. Without Mark, the club would not be in a position to drive our further development forward".
The Halesowen News reports that "Yeltz boss John Hill must take heart from their showing at title-chasing Shaw Lane. Third-from-bottom Halesowen lost 3-2 away last Saturday despite Jordan Goddard and Enoch Ekongo finding the net.
However, it was the manner of the performance that offered Hill the biggest sign yet that they can start to push away from the Northern Premier League's dangerzone... He said, 'We've gone to one of the league's big hitters, who have a massive budget, with just a skeleton squad and a couple of academy kids on the bench. We've then put in one hell of a performance and I would honestly have been seriously disappointed even if we'd have come away with a draw, so to lose was a massive sickener.
'We missed a few good openings to go 3-1 ahead and you just know at the time that you need to take them. When you're down at the bottom you can't afford not to have that cushion. We also lost Jordan Goddard with a hamstring injury and that did weaken us. When they made changes it won the game for them, that was the difference.
'But we'll have another two sessions this week and the lads are looking sharp so we just need to try and mirror that performance this weekend'...
The Yeltz will also be boosted by the return of Ethan Jones and Roland Agbor as well as key midfielder Ivor Lawton, who has now served his three-game suspension. Shaw Lane [match] goalscorer Jordan Goddard is likely to remain sidelined though... Hill says he is hopeful of adding another midfielder before the weekend. Another forward player remain high on his wishlist but the right man may not be found in time."
On Tuesday night, Ashton United beat Stourbridge 1-0 at Hurst Cross. The Tameside Reporter tells us that this "hard-fought win over one of the pre-season favourites for the Premier Division title saw Ashton move into the top four.... The Robins were back in action minus the suspended Lanre Olapede in defence and handed a full debut to Jamie Hinchliffe on the left wing...
Ryan Makhosini had to be replaced after pulling his hamstring... Aaron Chalmers's pass picked out Hinchliffe whose cross saw Evangelinos fouled by McCone with Chalmers confidently tucking the penalty away... As the visitors continued to monopolise possession Connor Gater's volley was held low down by Carnell... As time ran out [Kyle] Perry won a free kick for the Glassboys which saw Anderson's effort blocked as the hosts held on for a vital win.
Team: Carnell, Smalley, Makhosini (Pritchard 11), Granite, Chalmers, Roberts (Platt 35), Smith, Lees, Evangelinos, Tomsett, Hinchliffe. SNU: Banim, Woodford, Bondswell."
We learn from the Stoke Sentinel that "Neil Kitching is delighted to have turned Stafford Rangers around over the past three-and-a-half years, and is 'hungry' for more success. The Boro boss took charge of his 200th game last night, and his time at Marston Road has guided the club through three seasons of upward trajectory.
In his first campaign, he lifted the Staffordshire Senior Cup. In his second, the league title. And last season, the club established themselves back in the Northern Premier League Premier Division, as well as reaching the Walsall Senior Cup final. And while the club may have hit a rocky patch in recent weeks, Kitching can still look back at his record with pride...
'Up until now, we've had nothing but progress, and it's only in the past month or so we've gone through this sticky patch', [he said]... 'I have lots of great memories, but the highlight is being at this football club. It's a massive club with a big fanbase, and I am pleased we have played a massive part in turning the club around.'
When Kitching took over in the summer of 2014, the club had just suffered a third relegation in six years, and the club was not in the best financial shape either. 'The club has taken massive strides on and off the pitch over the past four years,' said Kitching. 'When I was interviewed for the job, they were a step away from turning the lights off on this club, literally... It's a long way from where we were... You're only as good as your last game and at the moment we are not as good as we should be', he said. 'I'm looking forward and I'm hungry to turn things around'".
And Michael Townsend (at Barwell and Sutton Coldfield earlier this season) has signed for Rushall Olympic.
NL Pitchero
reports that "The FA have now confirmed the full list of National League System promotion applications, that were received by the deadline of the 31st December.
The list is published below and includes two groups of applications: Applications for promotion from clubs in independent Step 6 leagues to Step 5 i.e. clubs playing in leagues that have no Step 5 division. Applications for promotion from clubs at Step 7 to a Step 6 league.
Step 7 to 6 (excludes where internal promotion exists)... includes
Ashton Town FC (Cheshire League)
Eastwood Community FC (Central Midlands League)
Hucknall Town FC (Central Midlands League)
Vauxhall Motors FC (West Cheshire League)
Wythenshawe Amateurs FC (Manchester League)
Wythenshawe Town FC (Cheshire League)
---
24 January 2018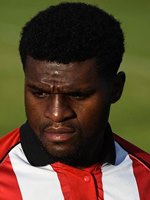 Witton Albion
confirm that former Altrincham "Central defender Joel Bembo-Leta has been released by the club and will join Welsh Premier League Bangor City."
Tuesday 23 January 2018: The EVO-STIK Premier Division
Ashton United 1-0 Stourbridge att. 148
Barwell 1-1 Grantham Town att. 202
Coalville Town 0-0 Stafford Rangers att. 118
Farsley Celtic 1-2 Matlock Town att. 141
Lancaster City 1-2 Nantwich Town att. 214
Marine 1-2 Shaw Lane att. 284 (Damian Reeves netted the Ducks' first goal)
Warrington Town announce that their "seemingly cursed Cheshire Senior Cup tie with Winsford United has been finalised. It will now take place at Winsford on Monday, January 29.
---
23 January 2018
The
EvoStik League
reports that "League leaders Altrincham are backing next month's international efforts to kick homophobia out of football.
The community-minded Robins are supporting Football v Homophobia's 2018 global Month of Action when they kick off against Sutton Coldfield Town on Saturday 17 February after dedicating the top-flight fixture at Moss Lane to worldwide efforts to tackle the issue at all levels of the game.
Organised by the FARE Network, the umbrella organisation of more than 150 groups and organisations in over 40 countries combating all forms of discrimination, this season's campaign is also being supported by the EVO-STIK League Premier Division club's Inclusivity & Diversity team to coincide with nationwide efforts to promote LGBT History Month in the UK during February.
In partnership with Kick It Out, football's equality and inclusion organisation, they are inviting local individuals, groups and organisations to run activities or stalls on the day at the J Davidson Stadium and over the weekend [they] used their Twitter account to get the message out, @AltrinchamFCInc tweeting, 'We are proud to be supported by @farenet & @FvHtweets to celebrate Football v Homophobia month. Why not join us for @FvHtweets match against @sctfc on Saturday 17th February and join our cause to make football an enjoyable and safe environment for all.'
FARE's commitment to tackle discrimination through football's inclusive power is based on the principle that the game, as the most popular sport in the world, belongs to everyone. FARE combats all forms of discrimination, including racism, far-right nationalism, sexism, trans- and homophobia and discrimination against disabled people. For more information visit: farenet.org
For more information on Football v Homophobia's international initiatives visit their website.
Altrincham FC's Inclusivity & Diversity team was set up to make the club inclusive to all members of the community and last year hosted a designated fixture to back the work of Kick It Out. For more information on their upcoming initiative, email them.
The Northern Premier League is a supporter of UEFA's #EqualGame initiative and before Christmas was congratulated by Europe's governing body for helping to promote the contribution of Cleethorpes Town midfielder Liam Davis after he became the only openly gay player in English senior football and agreed to front the campaign in a video message telling his story."
Although their away cup fixture was postponed on Sunday, Altrincham FC Ladies managed to play a friendly at another venue. Alty Ladies' manager Keith Edleston informs us that "It was a good workout yesterday as the first team took on Stockport County Development team at Stockport Sports Village. In a hastily arranged friendly, and in some not very nice weather, both teams played some great football.
Stockport opened the scoring early on but goals from Kye, Jade, Sadie and an own goal meant the lady Robins ran out 4-1 winners. Good luck for the rest of the season to Jay Astley and his Stockport Development team and thanks again for accommodating us at such short notice".
Monday 22 January 2018: Cheshire Senior Cup 17-18 - First Round
Winsford United P-P Warrington Town (waterlogged pitch)
According to
NL Pitchero
, "Sutton Coldfield Town may not have kicked a ball at the weekend, but it's still been a busy time for the club`s new manager Neil Tooth. Progress has been made with the management team and both Phil Male and Andy Ling will be re-joining Tooth with immediate effect. Tooth will continue to consider his options regarding an additional coach to his management team.
Meanwhile, on the player front, it's one in, two out. Jacob Wedderburn joins from league rivals Rushall Olympic. Wedderburn is a young and versatile defender, accomplished at centre-half, full-back or in a defensive midfield role. The two departing players are Michael Townsend and Louis Briscoe. Townsend has brought his second spell with the Royals to an end and has joined Rushall Olympic and Briscoe has joined Mickleover Sports after a brief spell at Coles Lane."
On Monday, Grantham Town reported that "The play-off race for Grantham is still on as they face a Tuesday night trip to Leicestershire to play Barwell. With Saturday's fixture against Stalybridge Celtic being postponed due to a waterlogged pitch, Grantham managed to remain second in the table after teams around failed to capitalise.
The Gingerbreads could also close the gap to just seven points at the top should top of the table Altrincham lose. [Alty are not actually playing this midweek]. Currently, Town boast just one defeat in their past five games, with the most recent result being a 2-2 draw at home to Farsley Celtic.
Leicestershire outfit Barwell are also enjoying a similar run of form, registering just one defeat in their past five games. Furthermore, Barwell were able to secure an impressive 2-0 away win at Workington, leaving them in 12th place and ten points off Grantham.
Grantham boss Adam Stevens has been preparing his team well for Tuesday night's game and believes his side are good enough to get the three points... 'With our excellent support behind us, we will give it our all so that we come away with the three points.'
Tom Batchelor (suspension) and Luke Shaw (long term injury) are the only confirmed absences for Tuesday night. Zayn Hakeem could make his first start for the club since signing on loan from Mansfield Town. The rest of the squad is available to play."
Over at Crosby, NL Pitchero says that "Marine AFC have confirmed a bit of an overhaul of their squad with five players arriving and two leaving the club. Tony Donaldson, 19, is a central midfielder who began his career at Skelmersdale United under current Mariners boss Tommy Lawson. He joined Doncaster Rovers on a professional contract in January 2017 and has also had spells at AFC Telford United, Runcorn Linnets and Widnes.
John McGrath is a 20-year-old winger who joins the club after impressing at City of Liverpool in the Hallmark Security League Premier Division. Spencer Myers is a highly-rated young player who started his career with Everton. The Torquay born 20-year-old can play as a left-sided defender or midfielder and has previously been with Fleetwood Town and had a loan spell at Vanarama National League North outfit Southport.
Samuel Razavet, 27, is a defender who has most recently been with Evi-Stik League North side Radcliffe FC. He has played previously for a number of lower league clubs in his native France, most notably Marignane.
And finally, the Mariners have signed young striker Niall Watson on loan from Accrington Stanley. Watson, 17, is the son of Marine championship winner and former Southport boss Liam Watson and has already made his first-team debut for Accrington. He is an attacking player who can play anywhere across the front three.
Meanwhile, Michael Grogan and Max Hazeldine have both left the club."
---
22 January 2018
On Saturday, Altrincham start a sequence of six league games, of which five are at home. First up is the visit of Warrington Town, for what is already our fourth meeting with our near neighbours this season. Following two grim 0-0 draws in the league and the FA Trophy, both at Cantilever Park, Alty conceded two late goals which allowed Warrington to knock us out of the FA Trophy in a replay. In the Trophy, Town went on to beat Ebbsfleet Town, also after another replay, and now face a further lengthy trip, to Wealdstone, in the next Round.
Like Alty, Warrington were unable to play a fixture last Saturday. They are now twelve points behind Altrincham with two matches in hand.
The Barnsley Chronicle reports that Shaw Lane face a fine and possible points deduction for fielding James Pollard in December against Warrington Town, a match which the Ducks won 5-0. The former Farsley player allegedly should have been serving a suspension at the time.
Marine
"are pleased to announce the youth loan signing of Accrington Stanley striker Niall Watson. Niall, 17, is the son of Marine championship winner Liam Watson and has already made his first team debut for League Two side Accrington. He is an attacking player who can play anywhere across the front three".
At Nantwich Town "Boss Dave Cooke says he was 'over the moon' with his team's win over Lancaster City on Saturday after seeing his side claim a convincing 3-0 victory. Harry Clayton's first half header and a brace from Sean Cooke in two second half minutes made it three wins in a week for the Dabbers, and one that Cooke was delighted with.
He said, 'I'm really made up, we've carried on from last week, three wins and three clean sheets, I can't ask for anymore from the players. They were absolutely superb. I'm over the moon, because the last time we played at home we lost 5-1 in one of those games where everything that could have gone wrong, went wrong'...
The victory was the first home success since the 2-0 win over Stourbridge in December having lost the last two against Mickleover and Hednesford... 'We said to the lads at half time that this was the eighth game we hadn't conceded a goal in the first half. However we've committed 'harry carry' in the last two home games. Nigel (Deeley) said at the break "I'm going to say one word, 'Mickleover'". We told the lads although we aren't conceding goals we've gone out second half sloppy in the last two games and we don't need to. If we end up winning this game 1-0 then I'll be more than happy.'
Clayton's first half strike saw the forward net his fifth goal in six games and score his tenth of the season... 'Harry was one of the first lads I wanted to bring back because I've known him since he was a kid at Crewe and he's a great lad. His work rate is second to none, and even when things aren't going for him he will still put a shift in and you can't buy that, and he deserves the ten goals he has'".
From over the Pennines, This is Futbol states that "Former Leeds United midfielder Billy Whitehouse has joined non-league oufit Tadcaster Albion, it has been announced. The Northern Premier League side confirmed that Whitehouse, 21, had agreed to join from seventh tier side Shaw Lane as he completed yet another move to a Yorkshire club.
Whitehouse joined Leeds from Doncaster in the summer of 2016 after signing a one-year contract. But the creative midfielder was not given a new deal that would have enabled him to return for a second year at Elland Road and was released when his contract expired last June. He then joined non-league outfit Alfreton Town, before heading to Shaw Lane last September."
---
21 January 2018
Today's scheduled Ladies' Cheshire County Cup (first team) match at West Kirby has been postponed because of a waterlogged pitch. The tie will now be rescheduled for next Sunday at the same time, 1pm.
However, the Ladies Development Team have arranged a friendly today (4pm) at Stockport Sports Village.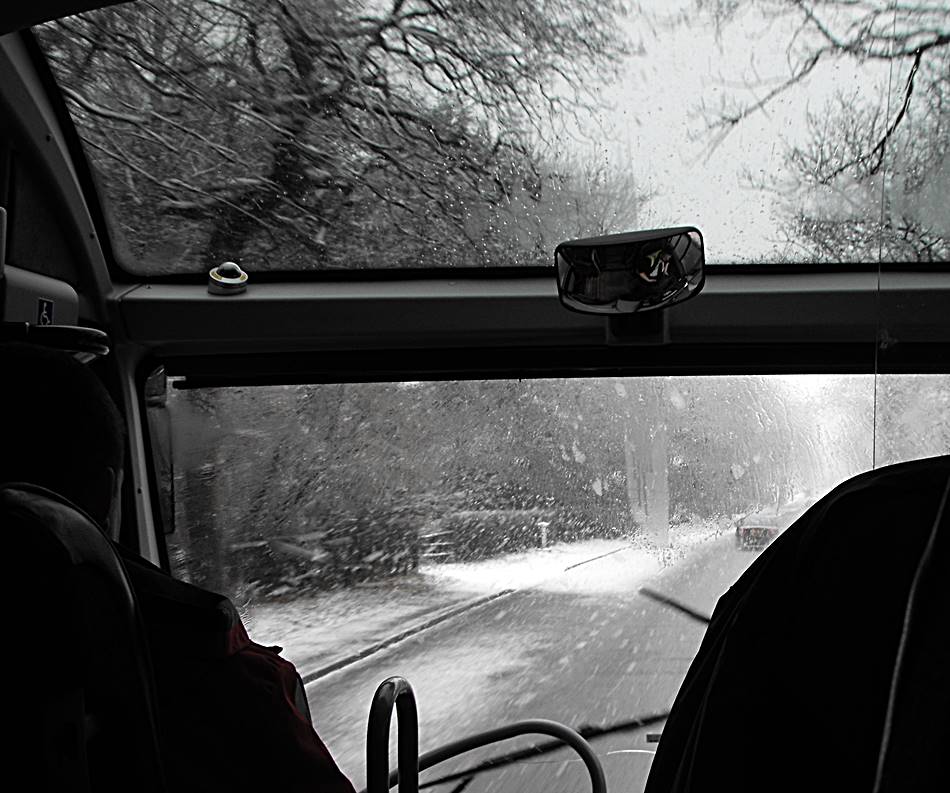 Altrincham spent a disappointing day cruising up and down the M6 and M5 yesterday as a combination of snow, sleet and rain put paid to their planned game at Stourbridge. The above image from the supporters' coach shows the snow falling near Stourbridge on the way to the game.

Above, one of the sodden goalmouths at Stourbridge which led to the postponement of Saturday's game.
Below: Like Barwell, Stourbridge's ground is adjacent to a cricket pitch but, in this case, there is no structure, other than a fence, between each sport's playing areas.

Sean Densmore was robbed, by the bad weather, of the chance to make his 350th appearance for Alty. Meanwhile, former Alty striker Kyle Perry, spotted in the bar after the match had been postponed, missed his chance to be named against Altrincham for a third different club this season on Saturday. He had been an unused substitute for Stafford Rangers against Altrincham back in August, he then scored for Barwell against us in September and is now on the Glassboys' books.
Alty reserves' fixture away to Linotype Cheadle was postponed on Saturday. Next Saturday they are set to entertain Billinge.
Barwell
"made it seven away games without defeat when they picked up a 2-0 win away at Workington AFC. The game took a little while to settle, with Workington restricted to the amount of chances they could create. They could not cause any trouble for the Barwell defence. The game burst into life on 32 minutes, when Canaries midfielder Brady Hickey was brought down in the box and the referee pointed to the spot. Matt Stenson stepped up, but Aaran Taylor got down well to save to his left-hand side.
Barwell reacted well and opened the scoring ten minutes later. Brady Hickey won the ball and smashed it into the top corner from 15 yards... With fifteen to play, Barwell winger Owen Story sealed three points when Jamie Mellen played a short pass and Story intercepted to fire past Taylor."
NL Pitchero reports that "Coalville Town have confirmed that former favourite Ant Carney has re-signed for the club. The 28-year-old has been away for almost four years after departing for local neighbours Barwell, who at the time were a level higher. He enjoyed a successful time there before picking up a serious knee injury that has kept him out from football for over a year.
The club and Carney himself are keen to stress that from now until the end of the season he will complete his comeback from the injury and be an impact substitute, with next season very much the plan for a starting spot. He described the move back as 'the right choice' due to his relationship with the fans and chairman and it was a no brainer after a discussion with manager Tommy Brookbanks that Coalville was the place he wanted to come too".
On Saturday, the News and Star reported that "It appeared that Workington Reds were still nursing a hangover from their FA Trophy success in midweek and it was Barwell who benefited from the league points on offer. It is a hit to the club's promotion aspirations as they fell out of the play-off places following the result.
Reds struggled to get going in this game, which was in total contrast to the efforts of Tuesday night. Barwell, who have a good away record, looked the better side for the majority of the game and caused a lot of problems for the home defence. Both goals for the visitors came from defensive errors as Reds appeared a little sluggish in their actions...
In reality this game will have to be written off as they look to regain their footing in the league campaign".
The EVO-STIK Premier Division
Att. 231: Farsley Celtic 3 - 0 Buxton
Att. 255: Nantwich Town 3 - 0 Lancaster City
Att. 162: Rushall Olympic 3 - 3 Whitby Town
Att. 175: Shaw Lane 3 - 2 Halesowen Town
Att. 472: Workington 0 - 2 Barwell
---
20 January 2018
Today's match at Stourbridge was called off around 1.55pm after rain, sleet and snow had been falling all morning.
Saturday 20 January 2018
The EVO-STIK Premier Division
Ashton United P-P Stafford Rangers
Farsley Celtic 3-0 Buxton
Mickleover Sports P-P Marine
Nantwich Town 3-0 Lancaster City
Rushall Olympic 3-3 Whitby Town (Rushall led 3-0 after 11 mins)
Shaw Lane 3-2 Halesowen Town (SLA came from 1-2 down and won with an own goal)
Stalybridge Celtic P-P Grantham Town
Stourbridge P-P Altrincham
Warrington Town P-P Hednesford Town
Workington 0-2 Barwell
Alty's next opponents,
Stourbridge
"welcome first-time visitors ALTRINCHAM to the War Memorial Ground this Saturday... Alty will be known to many supporters as one of Non-League football's biggest names, but recent seasons have seen them suffer something of a downturn in fortunes and the current campaign is their first at Step 3 since the pyramid was formalised in 1979. However, at the time of writing they look very much determined to make their stint here as brief as possible, with last Saturday's 2-0 win at Stafford Rangers extending their lead at the top to ten points.
Having taken the 'horses for courses' option in the summer when they tempted manager Phil Parkinson away from Nantwich Town, the Robins actually made a sluggish start to the campaign, taking only one point from their opening three matches to leave them next to bottom. Four successive wins got their campaign going, before a 2-5 reverse at Workington set them back. It was a temporary blip, however, and a run of 14 wins, four draws and just one defeat since then, 3-4 at home to Witton Albion on New Year's Day, saw them climb to the top of the table in mid-October, and there they have remained ever since.
The scale of the task facing the Glassboys on Saturday can be summed up in three numbers. Altrincham boast the most prolific attack in the Division (62 goals scored), the meanest defence (21 conceded), and consequently the biggest goal difference (41 – more than double any other team with the exception of second-placed Grantham Town and fourth-placed Shaw Lane)... The 19 League games played since the defeat at Workington have seen just eight goals conceded...
Alty will no doubt see their current upturn in fortunes as long overdue after two successive relegations from the National League in 2015/16... Their 11 seasons in the NPL saw them finish outside the top half only once, but they were never quite able to secure the Championship, with a best finish of second in 1978/79... The national challenge brought by the APL seemed to suit them better, though, and they were to lift the title in each of the first two seasons, and finished in the top five each season between 1983/84 and 1986/87.
Thereafter, Alty's record tailed off, despite finishing 3rd in 1991 and 4th in 1995, and they were eventually relegated back to the NPL in 1997, to all intents and purposes their first time outside the top tier of Non-League football. Since then Alty have 'yo-yoed' somewhat between Steps 1 and 2, with three promotions in 1999, 2005 & 2014, and three relegations in 2000, 2011 & 2015, before the cycle was broken last summer as they dropped again into the NPL...
Stour and Altrincham have never previously met in any competition, and playing links are few and far between. However, the Glassboys squad is likely to include former Robin, Kyle Perry, on Saturday, whilst Junior Smikle and George Bowerman have also featured for both clubs in recent years...
There will be a minute's silence before kick-off on Saturday in memory of former Stourbridge player and coach Archie Styles, who passed away recently".
Brian Flynn has forwarded pre-match comments from Phil Parkinson to appear in Altrincham Today..
"We are on the road for the fourth consecutive game today as we travel down to Worcestershire to take on Stourbridge, hoping to make it seven consecutive away league wins, a run that started back in the middle of November on the 3G pitch at Sutton Coldfield.
Stourbridge were one of the pre-season favourites to win the league but, following a decent start, they hit a bit of a bad patch, before recovering well during the last month.
They are currently eleventh in the table, but with games in hand, I fully expect them to be pushing for a play-off place from now on and wouldn't be surprised to see Gary Hackett's side in the top five come the last Saturday in April.
The game may well be a very tight affair with two very good defences that, between them, have conceded just forty-eight goals in fifty-two league games played by the two sides.
Stourbridge are a direct and physical side but we have shown that we are more than capable of dealing with that during the season.In Luke Benbow and Kaiman Anderson, who is on loan from Southport, they have two very dangerous forwards and, like us, they are a strong all-round team.
Tom Hannigan will not be involved today. He has seen a specialist to assess his thigh injury and both Tommy Uda and Ryan Murray have been doing a lot of strength conditioning work with him to try to correct a muscular imbalance. James Jones came in at Stafford last week and had a very good game and we are very fortunate to have three high quality centre backs at the club in James, Tom and Ben Harrison.
We have played on some terrible pitches recently, but the playing surface at the War Memorial Athletic Ground is usually very good, therefore I am hoping that the playing conditions suit our passing game today.
It's a longish trip, being the best part of a hundred miles, but I'm sure that we will once again have very good travelling support, as we did in the 2-0 win at Stafford last week when, once again, the numbers and vocal support were fantastic and the singers certainly seemed to enjoy gaining revenge on Stafford for that opening day defeat in August".
Goole
"are delighted to announce the signing of forward Emile Sinclair, who joins us from Ossett Town."
Recent registrations in the Hallmark Security league include Cavel Coo at West Didsbury & Chorlton, and former reserves Daniel Grimshaw (Abbey Hey) and at Padiham, Josef Faux.
From the
Lancashire Evening Post
we learn that "Lancaster City need to get themselves in the mix sooner rather than later according to boss Phil Brown. The Dolly Blues drew 1-1 against Barwell at Giant Axe on Saturday meaning they sit 13th in the Evo-Stik Premier Division, eight points shy of the play-off places with games in hand on the majority of sides around them.
Fixtures being juggled around means City travel to Nantwich Town on Saturday before the teams immediately play the return fixture at Giant Axe next Tuesday night. Brown has always targeted a top-10... 'I think we are on track for the top 10,' the Blues boss said. 'But if we have any aspirations to finish higher than that then we need to make our move now and show more consistency. We need to stop putting in performances that get us just one point or no points... We've got 20 games left which is one or two more than other teams. We're in there and we've got a good chance getting in and around the play-offs and the top eight which would be a good achievement... We're just lacking a bit of consistency'.
[As for] the Nantwich double-header... 'It's a bit of a quirk of the fixtures but these things happen,' said Brown... 'We'll have a little bit more information on them come Tuesday but we look at things one game at a time and Saturday is all I'm thinking about.'
Brown has plenty of numbers to choose from this weekend with Rob Henry's knee problem set to be assessed. Steve Williams is seven to 10 days away from a return as the defender-turned-striker battles to overcome a hamstring problem...
'We have a relatively healthy squad at the moment,' Brown said... 'We're still looking to bring players in'...
On the out-going front, [ex-Alty man] Adam Sumner has joined Evo-Stik First Division North side Ramsbottom United on loan. The left-footer will be looking to get games under his belt having just recovered from shoulder surgery. Rammy are currently 16th in the league below Lancaster".
NL Daily reports that "Stafford Rangers have completed the signing of Tyrell Waite from Boston United on a loan until the end of the season."
On Friday, Grantham Town reported that there would be "a pitch inspection at Stalybridge Celtic on Saturday morning at 9am."
Barwell announce the "signing of Craig Reid from Coventry United. Reid, who has played as high as League One with Cheltenham and Stevenage, is a 32-year-old striker. The Coventry-born front man was in the Football League as recently as last year, when he played for Newport County under Graham Westley.
Following his release at the end of the season, he signed for local club Coventry United. So far this season, he has scored 14 goals in the Midland Football League Premier Division. Reid also boasts the likes of Aldershot Town, Kidderminster Harriers, Lincoln City and Gloucester City (to name a few) on his impressive CV."
In the Yorkshire Evening Post we learn that "After a highly encouraging performance in their 2-2 draw against promotion-chasing Grantham last week, Farsley Celtic manager Adam Lakeland has expressed plenty of optimism ahead of another tough outing at home to Buxton...
The Celts had to come from behind three times to rescue a 3-3 draw when they last played Buxton in November, but Lakeland feels... 'We've improved a great deal [since we last played Buxton],' said Lakeland. 'A lot was made of us losing James Walshaw and obviously the goals that he scored speak for themselves. But I feel like we've become a better all-round team since he left. We've also got quite a lot of lads who haven't played at this level before, but now they're 20-odd games into the season and are much more experienced. So, providing we all stick together and continue to put work in on the training pitch then I'm sure we can continue to get some more good results'".
---
19 January 2018
The draw for the
Cheshire Senior Cup
Round Two has dealt Altrincham a home tie against either Winsford United and Warrington Town who are due to play their First Round match on Monday 22 January.
Whoever wins that First Round tie, it will be a case of deja vu as Alty have already met both clubs in 2017. They played away at Winsford in a pre-season friendly on 1 August, (as well as visiting the Barnton Stadium for their recent match with 1874 Northwich).
And, if Alty are to meet Warrington, it could be the fifth encounter between the two clubs this season. Alty have already played Town away in the league and in a Trophy tie and also met in the home replay. They are also set to entertain Warrington in the league on 27 January.
The full Second Round draw is:
Week ending 10/02/18 Stalybridge Celtic v Stockport County
w/e 10/02/18 Stockport Town v Hyde United
06/02/18 Nantwich Town v Crewe Alexandra
w/e 10/02/18 Altrincham v Winsford United / Warrington Town
Mike Garnett adds Altrincham's record in this round of the CSC against the two clubs...
v Winsford United
1925-6 (a) 1-1 (h) 1-1 (n) 1-1 (n) 0-2 The venues for the third & fourth games are unknown and assumed to be on neutral grounds.
1949-50 (a) 0-6 Altrincham ran a railway excursion to this game!
1974-5 (a) 2-1
1981-2 (h) 1-0
1989-90 (h) 2-0
v Warrington Town
All of our CSC games v Warrington have been at this stage of the competition and all were at Moss Lane because, in the 1980s, Warrington did not have floodlights.
1983-4 (h) 2-3
1986-7 (h) 2-1
1987-8 (h) 2-2 (h) 2-2 (8p7)
1995-6 (h) 4-0
Times and fares for the TASC supporters' coach to Stourbridge on Saturday (20th) are on the
Away Travel
page. The trip includes a service stop (traffic permitting).
Altrincham are away at Stourbridge on Saturday, 20 January. Their stadium is the War Memorial Athletic Ground, High Street, Amblecote, Stourbridge DY8 4HN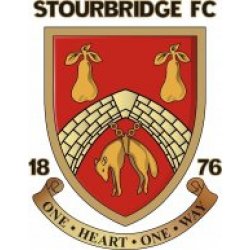 Admission prices for the fixture are:
£10 Adults
£7 OAPs (over 65s)
£5.00 (aged 13 to 18)
Free for those under 13 accompanied by a paying adult
Stourbridge FC add, "Please take note of the alternative routes to the ground, given the major M5 roadworks. Fortunately, West Bromwich Albion are away that Saturday so there won't be any extra 'football traffic', but the M5 roadworks are a major nightmare!
ALL supporters now enter the ground via the turnstile block behind the Church End goal (on the main road passing the ground), there is no cash admission through the old Archway entrance; this is solely for Players and officials only...
There is also NO supporter parking on site although any disabled supporter will, of course, be allocated a space. If this is the case, then please email the club secretary directly, at least 24 hours before kick-off, with name and vehicle registration number.
Stourbridge FC – Alternative Routes to avoid roadworks on M5 between Junctions 1 & 2.
There are major roadworks on the above section of the M5, which are due to last until October 2018. As a club, we strongly recommend that this section of the elevated M5 is avoided if at all possible, as delays are likely to be severe, and Highways England are recommending avoiding the section if at all possible. The roadworks have very narrow contraflow lanes and a restricted 30mph speed limit over the 2 mile stretch of works being carried out.
Some possible alternative routes are detailed below...
For supporters, Stourbridge Town Railway Station is a 15 minute walk from the ground.
From North West:
Leave the M6 south at either Junction 13 (taking either the A449 to and through Wolverhampton), or Junction 12 (and take the A5 west to join the A449). Follow the A449 through Wolverhampton (this will take you right past Molineux) but note that Wolverhampton Wanderers are at home Saturday).
Keep following the A449 around Wolverhampton's ring road (will now be signposted Kidderminster), and then branch left onto the A491 at the traffic island where the A491 meets the A449 (signposted Stourbridge). Keep following this road and the ground will then be seen on the right hand side of the road, just as you pass the Stourbridge Motor House Vauxhall Garage / Magnet Kitchen Showroom – (you will see the floodlights as you drive up the hill).
From North East / Yorkshire / East Midlands
If travelling down the M42, we recommend staying on this and following this around to join the M5 northbound at Junction 4A, leaving this at Junction 4 and following the A491 towards Hagley, where you can pick up the route as supplied in the league handbook. It is further than joining the M6 North, but you will avoid the roadworks on the M5.
From A38 Southbound – this is difficult as any alternative route will add time to your journey – you could look to travel west on the A5 to cross over the M6 at Junction 12 and follow the A449 as detailed above, or you could travel east on the A5, to join the M42 at Junction 10, and follow the alternative route immediately above.
From the M6 North – again, join the M42 southbound at Junction 4A of the M6 north and follow this around as detailed above".
The
Evostik League
tells us that "Stopper Ed Wilczynski has signed for Shaw Lane on a permanent basis after impressing Ducks' boss Paul Quinn. The 21-year-old signed on Thursday from Darlington for an undisclosed fee after initially arriving at Sheerien Park in December on a month's loan from the Quakers.
The Yorkshire-born keeper, of Polish and Irish ancestry, kicked off his career as a youngster at Huddersfield Town, working his way up... to U21 level before being released in the summer of 2016. Wilczynski, who joined the Quakers from Bishop Auckland in the middle of last season and made a dozen appearances, has also enjoyed loan spells at Trafford, FC United of Manchester and AFC Fylde.
Quinn said, 'Ed has impressed since coming to Shaw Lane, both in terms of his on field performances and his professionalism off the field'".
Alty's next opponents, Stourbridge announce that they "will now host Shaw Lane on Saturday, 3rd February as part of some changes made to our league schedule for next month. With Workington progressing to the F A Trophy 3rd Round, our scheduled home league game with the Cumbrian side on February 3rd is now off. The NPL have now brought our home league match with Shaw Lane forward a couple of weeks from February 17th to Saturday, 3rd February as a replacement. The Ducks had also been left without a fixture on this date because of Warrington Town's FA Trophy success.
In addition, our home league game against Buxton that had been re-arranged initially for Monday, 5th February has been put back and will now take place on Saturday, 17 February".
Meanwhile, there is already a pitch inspection scheduled at Workington for 7.30am on Saturday morning ahead of the visit of Barwell.
From the EvoStik League we learn that "Mickleover Sports have signed two of the most well-travelled and experienced strikers in Non-League football. Sports manager John McGrath will be able to call on the services of forwards Matthew Barnes-Homer and Louis Briscoe when his side host Marine after snapping the pair up on Tuesday.
Briscoe, 29, arrived at Station Road from Sutton Coldfield Town. His most notable spell since kicking off his career at Port Vale in 2005 came at Mansfield Town where he made 175 appearances and scored 34 goals while helping the Stags win promotion to the Football League.
AFC Telford United and former England C striker Barnes-Homer,switched to the Don Amott Arena after playing on dual-registration with Halesowen Town. As well as spells in the United States and Sweden since starting out at Wolverhampton Wanderers, he has scored goals for a host of clubs including Aldershot Town, Brackley Town, Bromsgrove Rovers, Cambridge United, Farnborough, Forest Green Rovers, Hednesford Town, Kettering, Kidderminster Harriers, Luton Town, Macclesfield Town and Whitehawk."
---
18 January 2018
Alty Press & Media Officer, Brian Flynn, spoke to Ben Harrison (with musical accompaniment) after Altrincham's 2-0 victory at Stafford Rangers. You can listen to the interview
here
.
Alty travel to Stourbridge on Saturday. The
Glassboys
report that they "are disappointed to announce that midfielder Richard Batchelor has left the Club without making an appearance. We confirmed Richard's signing from Stafford Rangers after the recent 1-1 home draw with Mickleover Sports. Unfortunately, Richard is unable to commit to the travelling required in the Evo-Stik NPL Premier at the moment and subsequently informed boss Gary Hackett. Richard has now signed for Midland League Premier side Highgate United, a club much nearer to his family home."
Wednesday 17 January 2018
Cheshire Senior Cup 17-18 - First Round
Sandbach United 0-2 Nantwich Town
Matlock Town
report that "Following the recent release of Nathan Whitehead, who has joined Leek Town after 3 months with Matlock, two further players Rhys Sharpe and Nico Degirolamo have also been released. Nico has been with the club for almost two years and turned in some very good performances in his central defender role but over the last few months has not been able to retain a regular starting role and is therefore allowed to seek regular football within the NPL.
Rhys Sharpe joined Matlock for the second part of last season playing both as full-back, central midfield and also wide-left and, after some good performances, was retained for 2017/18. Rhys has been a regular in the squad, whilst not having a starting role in every match, but his versatility will I am sure enable him to find a suitable role with a new club."
In fact, the Derbyshire Times reports that "It's been three in and three out at Matlock Town during the last week as joint bosses Glenn Kirkwood and Craig Hopkins freshen up their squad in the midst of a winless six-game run in league and cup.
The Gladiators' 2-0 defeat at Mickleover was their third on the bounce when a trio of loanees made their debuts. Full back Jan Yeomans and midfielder Harry Vince came in from Boston United while striker Harry Limb arrived from Burnley. Leaving the DCJ Group Arena is midfielder Nathan Whitehead who has joined Leek Town for a second time, [as well as] Nico Degirolamo and Rhys Sharpe.
'We want to thank Nathan, Nico and Rhys for their efforts in their time with us', said Kirkwood. 'The Nico one is particularly tough as he's been with me and Hoppo for the last eight or nine years but he's found it hard to get in particularly with Adam Yates and Dwayne Wiley there.' Kirkwood... despite the disappointment of defeat against Sports, who he and Hopkins managed before making the switch to Matlock 18 months ago, [said] 'There were one or two positives from the day, the two lads from Boston were excellent and Harry up top has definitely got something, that 90 minutes will do him the power of good,' he said...
'It was the same old story, we left ourselves too much to do as we've done a lot this season. We were lucky only to be one goal down at half time, Mickleover played really, really well,' said Kirkwood. 'Andy Dales is a massive player for them. We knew that but knowing it and actually stopping him isn't easy. We tried to bring him here when we first came and again last summer but his loyalties are with Mickleover, he should be playing at a far higher level..
'We looked like getting back into it after half time, but we switched off and gave an experienced former Football League player with 500 games under his belt a free header from a corner, you simply cannot do that for he'll punish you. We missed Joe Doyle-Charles who'd had the flu all week, he still wanted to play but he was walking about looking really off it, so there was no way we could have included him, and also Willo (Michael Williams), but you just have to get on with it. Ted Cribley was excellent in the the second half so we're hoping it's a sign of better things for him'...
'We've still got lads not playing as well as we know they can, so that's disappointing... We've got to learn to shut up shop in the first half, get to half time level or even in front but, in short ,we've got to defend better as a team... We're doing nothing different to last year, but we're not getting the results,' he said...
While Matlock remain comfortably clear of the one relegation place this season with a league reorganisation imminent in the summer, they need to halt their bad run as soon as possible. Further arrivals look likely following the departures of Whitehead, Degirolamo and Sharpe... 'We're making loads of phone calls and with the best part of a week before the Farsley game, there'll probably be one or two coming in.'
Walsall report that their "midfielders Jordon Sangha and Milan Butterfield have extended their loan deals with Rushall Olympic until the end of the season. Sangha has made 12 appearances for the Pics, while Butterfield has featured on 14 occasions...
Said Sangha, 'I started playing in central defensive midfield but then I got moved into the number ten role. It's very different, as you don't work back as much and you've got to find ways to get on the ball. Playing senior football toughens you up, coming up against men week in week out. At first it was hard because I'm used to playing football on the ground and you come up against some teams who just lump it forward. I feel I've learned both sides of the game, where you need to do the ugly side and the pretty side. I've enjoyed my time there and I want to score more goals during the second half of the season.'
Butterfield commented, 'I've enjoyed being around the players and I've enjoyed playing... It's much harder than reserves football, there's more pressing and it's more physical. The standard is good and I feel I'm progressing a lot'...
There is a 24-hour recall option in the Saddlers' favour".
---
17 January 2018
Right: Mason Walsh
Brian Flynn, Press & Media Officer, writes that "In addition to Laurence Taylor's loan move to Trafford, announced last night, Mason Walsh's loan spell at Hednesford has been extended for a further month. Mason has been a key factor in Hednesford's continued recent improvement, that has seen the Staffordshire side move to within one point of the play-off positions.
Sam Sheridan has returned from his one month loan spell at Stalybridge Celtic, where, despite a number of postponements, he made three appearances, including the impressive 5-2 victory over Lancaster City on New Year's Day and last Saturday's creditable 2-2 draw at Buxton.
Josh Amis sustained a hamstring injury during the first half of Trafford's 1-1 draw at Glossop North End on Saturday and is likely to be out of action for six weeks. During Josh's time at Trafford, the Evo-Stik North outfit were unbeaten, winning four and drawing two games."
After returning to Altrincham from a month's loan spell at Hednesford Town, midfielder Laurence Taylor (right) is now going on a 28-day loan to our neighbours Trafford. After starting, or being a used substitute, in Alty's first six league fixtures of this season, Laurence was injured and, since his recovery, has been unable to command a regular place in the matchday squad. A spell at Shawe View should give him the chance to push for a return to first-team action at the J. Davidson Stadium.
Monday 15th January 2018 - Cheshire Senior Cup 1st Round
Stockport Town 4-0 Cammell Laird 1907 (Att. 45)
Tuesday 16th January 2018 - Cheshire Senior Cup 1st Round
Alsager Town 0-3 Stalybridge Celtic
Derbyshire Senior Cup 17-18 - Quarter Final
Mickleover Sports P-P Buxton (waterlogged pitch)
Tuesday 16 January 2018 - Walsall Senior Cup 17-18 - Quarter Final
Stafford Rangers 2-3 Rushall Olympic (att. 112)
The FA Trophy 17-18 - Second Round Replays
Warrington Town 2-0 Ebbsfleet United (att. 334)
Workington 2-1 Weston Super Mare
Ties are to be played on February 3rd with £8,000 prize money for the winners. Following replays the draw is now...
Maidenhead United v Stockport County
Harrogate Town v Billericay Town
Brackley Town v Sutton United
Wealdstone v Warrington Town
Maidstone United v Gateshead
Workington AFC v Bromley
Dover Athletic v Leyton Orient
Spennymoor Town v East Thurrock United
Nantwich Town
"confirm that captain Sam Hall has left the club by mutual consent to pursue new opportunities elsewhere... The midfielder signed for the Dabbers at the start of the 2015/16 season from Leek Town, and ends his time at the club with 128 appearances scoring four goals. Sam has been a major presence around the club, a consummate professional and a great captain and in this role, he led the Dabbers to some great success that will live long in the memory and for this he has our sincere thanks."
Still in Cheshire, Witton Albion announce that "As we don't have a game this Saturday, we are going to be fitting a new drain into the pitch, but we need your help! Come down to Wincham Park this Saturday. Tea and coffee available ".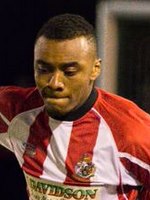 Barnsley
report that their "Lightning paced winger is rewarded with new deal after impressive performances. Barnsley Football Club are delighted to announce that 20 year-old Dylan Mottley-Henry [seen, right, in his time as an Alty loanee] has extended his contract at Oakwell until 2020.
After joining the Reds in the summer of 2016, Mottley-Henry has shown consistent upward progression whilst with Paul Harsley's U23s side, as well as more recently out on loan with National League side Tranmere Rovers where he made 14 appearances, scoring one goal whilst also contributing multiple assists. A tricky and direct winger, with bags of skill and pace, the 20-year-old likes to get the ball out-wide and attack fullbacks before beating them and putting a ball into the box. His exciting forward thinking nature has seen him gain numerous plaudits and the Reds were keen to make sure he remained at the Club for the foreseeable future.
Paul Heckingbottom has involved Mottley-Henry in and around his first team squad on various occasions as well, although he is yet to make an appearance. Dylan returned to the Reds in January and has now been rewarded for his progression with a new contract".
Back in November, Alty won at Alfreton Town in the FA Trophy and now
NL Pitchero
reports that "Alfreton Town have confirmed that they have parted ways with manager John McDermott with immediate effect. The club can also confirm that assistant-manager Karl Lenighan and first-team coach Chris Millington have also left the club.
McDermott was appointed Reds boss in May 2017, following his departure from the position as director of football with Cleethorpes Town. As a player, he was a right-back from 1987 to 2007, spending his entire twenty-year playing career at Grimsby Town, and holds the club's all-time appearance record...
McDermott began coaching at the Grimsby Institute Academy before being appointed assistant-manager at Harrogate Town in 2010... However results this season have contributed to a difficult campaign thus far and have left the Reds in eighteenth place in the National League North, a point clear of the drop zone".
BT Sport
says that "National League chief executive Michael Tattersall has warned Bromley, Maidstone United and Sutton United he will relegate them to the sixth tier if they choose their artificial pitches over promotion to the English Football League.
The National League decided to let teams to play on 3G pitches last season but asked each club to sign an 'irrevocable undertaking' that they would be willing to rip them up if promoted to League Two, which does not allow artificial pitches, or face relegation. With Sutton third in the table and Bromley just a point off the play-offs in ninth, the prospect of that dilemma presenting itself has grown, and in August the three clubs wrote an open letter to the EFL calling on it to 'show leadership' by making 3G legal.
EFL chief executive Shaun Harvey responded in December by telling the league's 72 teams he was 'mindful of the commercial and financial opportunities clubs could gain access to by operating dual-use stadiums which may otherwise remain empty outside of match days'. In a statement, Harvey said the potential use of 'synthetic or artificial grass surfaces' would be discussed as part of an ongoing review of stadium criteria but noted that any change to the rules would need the backing of a majority of EFL clubs at June's annual general meeting and would not come into force until the season after next, 2019/20.
The last time EFL clubs held a full vote on whether to allow 3G pitches in Leagues One and Two in November 2014, the vote was tied 34-34, with four abstentions. Three months later, a follow-up meeting shelved the issue without a vote when it became clear that opposition had hardened. Press Association Sport understands the situation has not significantly changed, as Championship clubs remain keen to align themselves with the Premier League's insistence on grass and even many League One clubs are unconvinced of the economic arguments.
There is interest in League Two, where a potential new revenue stream of £100,000 a season could make a difference (as well as the benefits associated with bringing the reserves, youth and women's teams to one site), but allowing League Two clubs to install 3G would only see the current National League/EFL issue replicated one tier higher.
The Football Association is in favour of clubs installing modern artificial pitches, which can be used for up to 50 hours a week, but the old stereotypes about 'plastic pitches' causing carpet burns and injuries to joints mean the Professional Footballers' Association is against the idea. Speaking to Press Association Sport, Tattersall said the National League 'had crossed that Rubicon' and was supporting clubs that wanted to play on 3G but the issue of promotion/relegation was more important.
'If we don't send the EFL two eligible clubs they will reprieve the 91st club and we will have undermined our raison d'etre,' Tattersall said. He explained the league was founded in 1979 to settle the issue of which team was best qualified to replace the 92nd club in the pyramid, on merit. Before that, the champions of regional leagues had to convince the EFL they were the most deserving, which often led to the 92nd club being re-elected.
'Why else are we playing games on a national basis at this level? That is fundamental to what we're about and 3G is not as fundamental as that,' Tattersall said. 'I don't want to relegate a club on this basis, nobody wants to do that. But the irrevocable undertaking was not a work of fiction. You have to bloody mean it and, if you fail to live up to it, we're not just going to tickle your tummy. It sounds draconian but it's necessary. Should we hold a play-off final if one team isn't going to accept promotion? (The relegation rule) is the least bad solution.'"
---
16 January 2018
Altrincham pay their first ever visit to Stourbridge on Saturday. "The Glassboys" are one of just three clubs in the EvoStik Premier who Altrincham have yet to play this season; (Ashton United and Shaw Lane are the other two).
The club was founded in 1876 as Stourbridge Standard. Under their current name, Stourbridge only joined the Northern Premier League (EvoStik Premier) in 2014/15 when a geographical reorganization moved them from the Southern League.
After finishing 16th in their inaugural NPL season, in 2015-16 they reached the FA Cup Second Round Proper for the third time in five years but they lost, at home, to Eastleigh. They finished that season in sixth place in the NPL.
In 2016-17 they did even better, reaching the FA Cup Third Round, after beating Northampton Town in the previous round. They went out of the competition 2-1 at Wycombe Wanderers. In the league they finished third and beat Workington in the play-off semi-finals before losing 1-0 at Spennymoor Town in the play-off final.
Their manager Gary Hackett has now been in charge for fifteen seasons and, after losing several key players over the summer to higher-placed clubs, he has steered the Glassboys to eleventh place currently.
On Monday night, Stourbridge defeated Wolverhampton Wanderers in the Birmingham Senior Cup.
Admission prices are:
Adults £10
Senior Citizens £7 (65 and over)
13-18 year olds £5
Children aged 12 and under are FREE with a paying adult, senior citizen or 16-18 year-old
The matchday programme costs £2.50 and is available from the hut immediately adjacent to the Church End turnstiles as you enter the ground, and also from the Club Shop.
The Glassboys Bar is located at the Church End of the ground, to your right as you enter through the turnstiles. The Bar is open before, during and after every home game and offers "a warm welcome to all visiting supporters and, indeed, neutrals".
As previously reported here, there are major roadworks at the north end of the M5 so Stourbridge recommend travelling via Wolverhampton instead of staying on the M6.
Next Sunday Altrincham FC Ladies will not be away in the Argyle Sports Cup to West Didsbury and Chorlton Ladies as originally planned but, instead, will be away to West Kirby in the Cheshire County Cup. Kick off is at 1pm.
Monday 15 January 2018
Birmingham Senior Cup 17-18 - Second Round
Stourbridge 2-1 Wolverhampton Wanderers
News of a popular former Alty loanee comes from
NL Daily
which reports that "Tranmere Rovers have completed the signing of young winger Josh Ginnelly on loan until the end of the season from Burnley. The 20-year-old was in the youth ranks at Aston Villa before going on to do a two-year scholarship with Shrewsbury Town. Then-Shrews' manager Micky Mellon handed Ginnelly his Football League debut at the age of 17 when he came on as a substitute against Luton Town, before making a further two appearances for the club.
In August 2015, he joined Burnley for an undisclosed fee and has been a part of the Clarets' development squad. To gain further senior experience, Ginnelly first went out on loan to National League Altrincham in 2015-16 where he played 21 games and scored five goals.
At the beginning of the following season, he made a temporary move to League One Walsall before spending the second half of the campaign with Lincoln City, helping the club to the National League title and promotion into the Football League. He rejoined the Red Imps on loan at the beginning of this season and made 19 appearances, scoring three goals for the League Two outfit."
NL Daily
reports that "A last-gasp equaliser was perhaps worthy of marking a special milestone for Hednesford Town manager Rob Smith after he clocked up 300 games in charge of the Pitmen during their home match against Coalville Town...
'I'm just really proud. I think in this day and age it is an achievement. I have got to say that barring the first few weeks of being back this time I have enjoyed every single minute of it. I do feel as though it is a perfect fit for me being here. I'm really at my most relaxed here and I'm enjoying the journey again. It is a great place to be', [he said].
Smith's first game at the helm came all the way back on 2nd October 2010... Smith returned to Keys Park in September 2017 and oversaw a comprehensive 3-0 victory over Sutton Coldfield Town in his first game back at the club, resulting in a progressive rise up the table leaving the team on the fringe of the top five."
Also on the managerial front, the EvoStik League tells us that "Neil Tooth has swapped one EVO-STIK League relegation battle for another after leaving Romulus to make a sensational return to Sutton Coldfield Town. Tooth accepted an offer to return as Royals boss on Monday with immediate effect to succeed his own successor Richard Sneekes less than 48 hours after the Dutchman's departure on Saturday night.
The former West Bromwich Albion midfielder and legend was relieved of his duties after just over two years at the helm at Coles Lane after a late penalty saw the rock-bottom Royals lose 4-3 at home to Rushall Olympic.
Tooth, who led the club to promotion to the Northern Premier League, is now looking forward to maintaining their hard-won status as [he] starts putting his back room together in preparation for his first game back in charge, Workington at home on Saturday 27 January."
Shaw Lane AFC report that on "Saturday the Ducks took on Whitby Town here at Sheerien Park. Despite some long range efforts from Spencer Harris and the visitor's penalty appeal, neither side could find the back of the net.
One of the key talking points was a double first half penalty appeal from Whitby following a free kick into the box. One appeal was for an alleged elbow by Kelvin Lugsden on their striker Matty Tymon, while a second was waved away for handball. It truly was a tale where both defences swallowed up every attack and limited efforts on goal. Ed Wilczynski and his counterpart Ryan Whitley had to make just two saves each. Debutant Jake Picton showed the experience required for his new team with a solid performance at the back.
Plenty of shots missed their target, including an acrobatic volley by Chib Chilaka, before new captain, Harris, finally forced a save from Whitley. The long range effort from the midfielder on 39 minutes was the best of the first half action. The pace picked up in the second half with a change in formation which saw Alex Bryne playing more centrally. Again shots were peppered wide, but not even regular super-sub Damian Reeves could impact on the score line following his introduction 15 minutes from time...
Whether it was the weather, the pitch or rustiness from not having played since New Year's Day manager Paul Quinn was happy...
'I think in hindsight, with a makeshift four and with the conditions, it's another point in the right direction,' said manager Paul Quinn after the game. 'We huffed and puffed in the first half but we picked up the pace in the second half and I thought we were pretty much on top. Obviously disappointed not to get the maximum three points but, with things happening behind the scenes with signings and things, I thought it was going to be one of those days.
'I'm really pleased with Jake Picton. We only signed him Friday night about six o'clock once we found out Jimmy [Pollard] was suspended. Players will be back next week, including Paul Clayton and we'll start getting back to where we want to be. Credit to Whitby. I can't take anything away from them as they worked hard. They set themselves up to frustrate us and they did that.
'Kieran Lugsden came in at right back and I thought he did a cracking job for us there. We spoke midweek and said we had a couple of lads lined up [as signings] but we probably couldn't get them through in time and would Kieran be happy doing the job and, without hesitation, he said yes. We went with Chib Chilaka today with a midfield five or two wingers with Chib to try and give us some physicality up front. We've got three good strikers at the club and when we play this system someone has to miss out.'
Duck's Line-up: Wilczynski, Kieran Lugsden, Gordon, Kelvin Lugsden, Picton, Norris, Byrne, Harris, Chilaka (Reeves 75), Abadaki, Walker (Payne 89). Unused Subs: Rothery, Orlando-Young, Serrant".
From the Midlands, the Halesowen News reports that "Halesowen Town fans, led by chairman Karen Brookes and president Colin Brookes, have launched a fundraising scheme to help finance a takeover of the club. Around 200 supporters attended a meeting on Sunday to hear about the current financial situation at The Grove and how the Brookes family plan to acquire the club from its current owners.
The Yeltz are currently owned by the Lynch family, which took over in 2011 and helped save the club from collapse. However, continued anger and frustration at how the club is being run has led to takeover plans gathering pace in recent months. The situation was made worse at the start of the season when former chairman and owner Steve Lynch was banned from football activity for two years by the Football Association. The Yeltz were fined and Lynch banned following an investigation into rule breaches.
The charges, three for Lynch and nine of the club, include issues surrounding Lynch's former involvement with Eastwood Town and his alleged failure to disclose his interest in the Yeltz at the same time. Other charges for the club included breaches of rules regarding a loan in 2012 and problems with the reporting of accounts covering from October 2011 to March 2013.
Now, Karen Brookes and father Colin have called on fans to help raise £30,000 towards the cost of buying the club. Karen Brookes explained, 'Initially, it's all about claiming the club from the present owners. I've seen from my time at the club that things need to change. There is potential for the club to be self-sufficient but you have to have everything in place for that to happen. It's now about the long-term sustainability of the club. We eventually want to return it to the fans.
'We've put money into the club and will have to do that again for the rest of the season but we now need the fans to support us to get their club back. We need fans through the gates and we need fans to support the fundraising too. The majority of fans want the ownership to change, that is our main reason for this. It's a club with a long and rich history since 1873, including a lot of ups and downs over the last 10 years, and we want to put it back on an even keel once more.
'Financially it probably isn't worth the money we will pay but it's worth it to be able to secure it for the fans'...
Brookes also added that there are still a number of options available even if a deal can't be done, including dropping down in level by forming a new club and using the money raised to start again".
---
.
15 January 2018
Shaun Densmore's next appearance for Altrincham will be his 350th since initially joining Altrincham on a month's contract on 12 September 2008, following his release by Everton. His appearances would have been many more but for his injury-blighted seasons in 2015/16 and 2016/17 but he has battled back to fitness and is currently on his longest consecutive run of league matches since the start of the 2015-16 season, having started seven of the last eight EvoStik Premier games and been a used substitute in the eighth match when manager Phil Parkinson rotated the squad on New Year's Day.
2008/9: 40 starts and 6 goals
2009/10: 46(+1), 4 goals
2010/11: 35(+2), 3 goals
2011/12: 40(+1), 2 goals
2012/13: 48, 6 goals
2013/14: 45(+2) 3 goals
2014/15: 33(+1) 1 goal
2015/16: 12(+2) 0 goals
2016/17: 5(+6) 0 goals
2017/18: 24(+6) 0 goals
Total: 328(+21), 25 goals
In addition, Mike Garnett advises that "Shaun has been an unused substitute as follows, 2008/9 (1), 2010/1 (2), 2011/2 (1), 2013/4 (1), 2017/8 (6 thus far), so he has actually been on the team-sheet 360 times as of now (or 361 if you include the away game against Chester City in 2009/10,in which he played from the start, but which was removed from official records when Chester were removed from the League)".
Manager Phil Parkinson reflected on Saturday's 2-0 win at Stafford Rangers in a post-match interview with Press and Media Officer, John Edwards. Here is the interview in full.
Q: Another massive three points, in much the same way as the win at Farsley, would you say, Phil?
A: Yes, but there was more control today, wasn't there? I thought we showed far more control than at Farsley, though it does definitely belong in the same category, coming to a really difficult venue, keeping a clean sheet and running out deserved winners. They were unlucky in the first half and were only denied by two great saves by Tony Thompson.
But, again, we are away from home and you have to weather the storm. You can't expect just to come here and roll them over just like that. We knew it was going to be hard. Listen, they are not doing anything like as well as they should be. They are desperate for a win, and what a great result it would have been for them to beat Altrincham, top of the table. But my lads showed great determination and grit, and just because Tony has made two great saves .. that is what he is there to do. He has kept clean sheets before when the defence have been superb, but he has bailed them out today.
In the same breath, though, I thought in the second half we never looked in any danger of losing it. I thought we were superb. Jordan Hulme keeps his streak going, and I thought we looked far more in control than we did at Farsley. I felt we kept it better, and that is the key to our success, the way we passed round them, got into holes and switched the play. I thought that was superb on a very tricky pitch. It was bobbly, and they are obviously very direct, so all we had to do was make sure we dealt with the long balls and then recycle it well.
Si Richman (right) was the catalyst for that, in terms of the energy he gave us after going on in the second half. That's not saying Max Harrop and Jake Moult didn't do well, but I thought Simon changed the game for us, and obviously the quality we've got up front is always going to hurt opponents if they get opportunities. That's another one v one Jordan has put away, and that got us firmly on our way again.
Q: Did Stafford surprise you a bit in the first half, with the way they went at us?
A: No, not at all. They are in a position they shouldn't be in, with regard to the size of the club. They should be pushing for the play-offs. They are a big, big team, so I can feel the pain. I know they are not happy. It's a difficult one, because coming to Stafford with Altrincham, you've got two massive non-League teams, and it's always going to be a close encounter. Both sets of fans are fiercely proud of their club, and they were at each other from the off. It was a great occasion, and I really enjoyed every moment of it.
I was having a bit of banter with their fans, who were on my case, and that's part and parcel of football. We celebrated like we did at the end because it meant so much to us. We knew this was a big win for us. Any win away from home is huge, and this one keeps our unbeaten away record going. We are very proud of that and fiercely protective of it. The key to the win was the fact we were brave and stuck to what we do best. We did not panic and just hoof it long. We played, we turned them round when we needed to and we got into really good positions with our positive play.
Q: You said at Farsley about the work Neil Sorvel has done with Jordan on one v ones, and it paid off again, didn't it?
A: It just shows the fine margins. When you work on something that's not exactly a weakness but there's room for improvement, it pays dividends, and it has again. That's another clean sheet as well, let's not forget. It's so difficult to do that in this league, so credit to the lads for achieving as many as they have so far this season. It was always going to be a really tough challenge here, hence why it meant so much to get the win.
Q: When you consider Tom Hannigan wasn't quite fit, and Andy White had to make way for Connor Hampson's return, we're not short of options at the back, are we?
A: Absolutely right. I just had a little joke with Shaun Densmore at the end and said how he's keeping those young whippersnappers at bay with his performances. He is playing out of his skin, so at the moment I can't not play Dens. Connor has been superb for us, so he rightly came back in after recovering from injury, and while Tom Hannigan has played his part in so many clean sheets, I would say James Jones (left) and Ben Harrison have had a few as well.It would be interesting to find out how many.
[Answer: In 10 league games where JJ and BH started, they kept 6 clean sheets ; in 16 games where TH and BH started, they kept 9 clean sheets; in 1 match where TH and JJ started, they kept 1 clean sheet.]
Jake Moult, in front of them, is a bit of an unsung hero. He does so much of the dirty work, wins headers that people sometimes miss, tracks runners and makes key tackles. It isn't always noticed, but it is ever so important Jake gives us that platform. He is a footballer, too, and I would say one of the keys to our success is we have got a lot of good footballers, but they all work exceptionally hard as well. There is a really good team spirit and camaraderie in that changing room, and that will take you a long, long way.
Q: Ben Harrison (right) scored the second goal, and it just illustrated that while we all know his defensive attributes, he's also very comfortable with the ball at his feet, isn't he?
A: He is very composed, as they all are at the back. You can say just the same about James and Tom. We have employed footballers, defenders who can play football. You can't always play pretty football, but you can play positive football and progressive football, and that's what we did today. We played the pitch well. Our keeper has made two good saves, but apart from that, I can't remember them hurting us too much. Their keeper has made a couple of really good saves as well, and Jordan has crashed a header against the post, so it could have been more.
But just winning is a fantastic response to what happened at our place on the opening day of the season. I just hope the fans enjoyed it. I think they did at the end, and I certainly did as well. It just shows how far we have come since that first game, and it is a fantastic feeling at the moment. We just need to keep it going. I know the lads are enjoying the positivity. I certainly am – I just can't wait for the next game at the moment.
Q: I suppose the only problem is settling on a starting XI, especially when you look at how strong the bench was today?
A: You need strength in depth, and we have got that, especially when you remember there are also lads out on loan. Laurence Taylor didn't make the bench today, but I have spoken to him. You've got Josh Amis chomping at the bit to get back. I'm going to check if he scored today. He just needs to start scoring, then I'm sure he will be coming back in very shortly. I'm sure we will need him, and Mason Walsh is absolutely ripping it up at Hednesford.
The thing is, though, the lads in the front line are doing it, so they are making it very easy for me. It's not a difficult decision. It's very easy at the moment. It becomes difficult when you are losing and you have to make tough decisions, in terms of rotation. Do you stick with lads or do you not stick with them? Do you be fair to other lads? At the moment, they are easy decisions and good decisions that are easily justifiable, because they are playing so well.
Q: With others dropping points, we are in an increasingly strong position at the top – what's the message for the remainder of the campaign?
A: Stay positive. We've got to keep playing well and trust that our football will do the talking. That is what we will do. We won't focus on anything else, any external factors. We are just going to keep everything in the changing room focused on us and go out on the pitch and do the business for Altrincham".
Altrincham FC suffered a narrow home defeat, 1-2 to Warrington Wolverines on Sunday.
However, the Altrincham FC Ladies Development Team were 8-0 winners against AFC Stockport. The Dev. team remains top of its league.
Altrincham FC Youth team drew 1-1 on Sunday, at home to Curzon Ashton FC Youth, leaving Alty second in the table though third-placed Curzon have games in hand.
Next Sunday, the Alty lads are at home to Southport in the NWYA Open Cup second round.
Stafford Rangers
report that they "slipped to their fifth home defeat in six league games, going down to league leaders, Altrincham. It could have been a different outcome but the all too familiar story of not taking their chances was to prove costly once more.
Rangers enjoyed the better of the first half and had a chance as early as the third minute when Massiah McDonald got behind the Alty defence only to be denied by the left boot of Anthony Thompson. Both Jack Sherratt and Kieran Morris had shots blocked from the resultant corner...
Karl Hawley failed to make the most of a Stafford counter, seemingly undecided which route to take past the last visiting defender, and his hesitation saw the Alty player come out on top..
The start of the second half was evenly contested... Then came the breakthrough. There seemed little threat with Poole in possession midway inside the Stafford half but his through ball found its way through the defence to Jordan Hulme and he calmly went round Whitehouse to give Alty a 61st minute lead.
From then on, Alty were in charge and Ben Harrison doubled the lead on 77 mins, firing home from close range following a corner. Rangers' challenge faded away. Hulme could have added a third only for his header to come back of the post".
The
EvoStik League
reports that "Sutton Coldfield Town expect to name their new manager within days after sacking Richard Sneekes on Saturday night. The former Romulus and Rushall Olympic boss and his number two, Steve Hinks ,were relieved of their duties at Coles Lane after a late penalty saw the rock-bottom Royals lose 4-3 at home to the Pics.
Appointed in November 2016 as the successor to Neil Tooth, former Ajax, Bolton and West Bromwich Albion midfielder Sneekes and Hinks were thanked by the Royals for their work at the club in a statement announcing their departures after just over two years at the helm. Hinks is set to stay on as the club's academy manager...
@SCTFC tweeted...'We hope to make an announcement about a new manager in the next few days.'"
At Farsley Celtic we learn that "Following the sad news that Celts' midfielder Richard Marshall had to retire at the back end of 2017 with a hip problem, Farsley have been hit with a second retirement this season as young 'keeper Jake Lofthouse has now had to hang up his gloves.
Jake joined Farsley in 2014 as understudy to then first-choice goalkeeper Tom Taylor, having previously been part of the Academy and youth sections of Bradford City, Guiseley AFC and Harrogate Town... He made his debut for the Celts in April 2015... and in the following season contested the number one jersey with now Scarborough stopper Tom Taylor.
At the start of 2016/17 campaign he signed dual registration with Harrogate Railway Athletic. Then with a change of management at Station View, Jake returned to Throstle Nest at the back end of 2016. However, that season was cut-short for him as Jake underwent surgery on the hip that has ultimately forced him to retire. Jake did though battle back at the start of this current campaign to play for the Celts in their friendly fixtures against York City and Eccleshill United, before signing on dual-registration with Farsley tenants, Albion Sports...
Jake said, 'I saw the specialist on Tuesday and from the scan nothing had changed and that the next thing they advised would be a hip replacement, which isn't ideal. I've spoken to lads in the game who I respect and trust and they all said the same thing, that long term health is more important than playing and therefore retirement was realistically the only decision... I've agreed to play until the end of January so that Albion can sort out another keeper. After then I'm not too sure what the future holds to be honest'...
Celts' current first-team 'keeper Graeme McKibbin said of his former training partner, 'He always put 100%.
---
14 January 2018

Above: Jordan Hulme gives the thumbs-up as Alty line up before kick off at Stafford.
After a first half in which Rangers could have led but for a couple of superb blocks by goalkeeper Thompson, Alty upped their game after the interval to record a sixth successive away win in the league. Jordan Hulme rounded the keeper to open the scoring in the 61st minute, making this the eighth successive league game in which he has scored.
Centre-back Ben Harrison settled the match in the 77th minute with a low shot following a corner. Results elsewhere improved Alty's position at the top of the table and they are now ten points ahead of second-placed Grantham, though fourth-placed Shaw Lane have four games in hand but are now 13 points behind.
Match report here.
Jordan Hulme's record of scoring in eight consecutive league games so far this season is the best sequence for the club since Damian Reeves scored in ten successive league encounters in 2011-12 season. In fact Damian netted in 16 of 17 consecutive games that season.
Back in 1990/91, Ken McKenna scored in ten successive games but four of those were cup matches. He went on to score in seven successive league matches.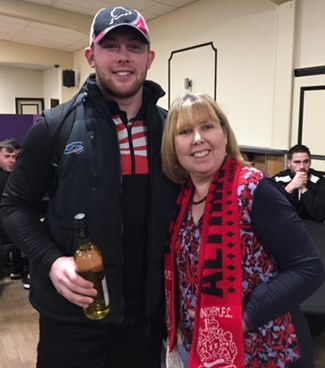 On Saturday, Altrincham FC's Hon. Head of Diversity & Inclusion, was the guest of the match sponsor, STRIPES, the supporters trust at Stafford as thanks for her role in helping to establish them 14 years ago and working with them since. Jacqui's responsibility was to award the Altrincham Man of the Match and she gave the bottle of Pinot Grigio to goalkeeper Tony Thompson who Jacqui desribed as "totally delighted" to be chosen.
Jacqui is pictured, right, with Tony and his award, after the match. Stafford's matchday programme also included an article outlining Jacqui's role in helping Rangers to form their supporters' trust.
On Saturday, Altrincham FC Reserves lost 5-0 to Malpas FC. Their next fixture is away to Linotype Cheadle H.N. next Saturday.
Att. 375 Buxton 2 - 2 Stalybridge Celtic
Att. 287 Grantham Town 2 - 2 Farsley Celtic
Att. 318 Halesowen Town 0 - 1 Nantwich Town (Goal scored by Joe Mwasile)
Att. 398 Hednesford Town 1 -1 Coalville Town (Goal in 90th minute for Pitmen by James Lawrie)
Att. 237 Lancaster City 1 - 1 Barwell
Att. 412 Mickleover Sports 2 - 0 Matlock Town
Att. 185 Shaw Lane 0 - 0 Whitby Town
Att. 599 Stafford Rangers 0 - 2 Altrincham
Att. 205 Sutton Coldfield Town 3 - 4 Rushall Olympic
Att. 326 Witton Albion 1 - 1 Ashton United (Ashton goal netted by Mark Lees)
The FA Trophy 17-18 - Second Round
Att. 1100 Billericay Town 3 - 2 Stourbridge
Att. 565 Dover Athletic 4 - 3 Marine (Two penalties for Danny Mitchley for Marine)
Att. 911 Ebbsfleet United 1 - 1 Warrington Town
Att. TBA Weston Super Mare 1 - 1 Workington
Grantham Town
report how "The Gingerbreads raced to a two-goal lead but a strong Farsley side pegged them back.
Adam Stevens had to shuffle the defence, as along with the suspended Tom Batchelor, Rhys Lewis had a family emergency and although named on the bench was not available. Tom Potts moved into central defence to partner Stefan Galinski and Danny Meadows went to right back.
The Gingerbreads took the lead on 5 minutes, when Curtis Burrows fired in after his initial shot was saved.
Just 10 minutes later the lead was doubled, Lee Shaw battled down the left, played the ball to Curtis Burrows who found Jordan Hempenstall to slot home.
Farsley found a way through on 26 minutes, when they attacked down the left. Kieran Preston got his hands to Danny Ellis shot but couldn't turn it round the post... On 34 minutes the match was level. Farsley somehow scrambled the ball over the line from a cross...
The Gingerbreads stay second and travel to Stalybridge next Saturday."
Bottom club Sutton Coldfield tweeted that they "have parted company with the management team".
The Warrington Guardian reports that manager "Paul Carden heaped praise upon his Warrington Town side despite the agonising nature of their 1-1 FA Trophy draw with Ebbsfleet United. Gerard Kinsella had put Yellows in front with seven minutes remaining at Stonebridge Road, but Sean Shields equalised in injury time to save the National League side from embarassment...
'To a man, we were brilliant today,' he said. 'If they are honest with themselves, they didn't deserve that equaliser. They've thrown the big centre-half up front and smashed long balls up. They've got a flick on, the lad's got in round the back of us and it's a good finish to be fair...
'We've used the ball well, but we had a good shape about us. When we had the ball, we used it well and caused them a lot of problems... We had an opportunity to run the ball into the corner and kill the game but we went across the pitch. From that, they launch it forward and score...
'We deserved to win today. We'll see how much they want it on Tuesday night now up north in Warrington'.
Town lost goalkeeper Tony McMillan to a calf injury in the warm-up, with youngster Ascroft drafted in as a late replacement. Carden said McMillan's injury was not worth the risk and that he had 'no qualms' about bringing Ascroft, who has only played for the side once previously, into the team...
'While this was a big game for us, it's not season-defining so I didn't want to jeopardise him being out for six or eight weeks...
'The fans were brilliant... All credit to them, they've come down in numbers and we heard them from minute one'".
---
13 January 2018
Saturday 13 January 2018, The EVO-STIK Premier Division
Buxton 2-2 Stalybridge Celtic
Grantham Town 2-2 Farsley Celtic
Halesowen Town 0-1 Nantwich Town
Hednesford Town 1-1 Coalville Town
Lancaster City 1-1 Barwell
Mickleover Sports 2-0 Matlock Town
Shaw Lane 0-0 Whitby Town
Stafford Rangers 0-2 Altrincham
Sutton Coldfield Town 3-4 Rushall Olympic
Witton Albion 1-1 Ashton United
Billericay Town 3-2 Stourbridge (Injury time winner for Billericay)
Dover Athletic 4-3 Marine (Two penalties for Marine's ex-Alty striker Danny Mitchley)
Ebbsfleet United 1-1 Warrington Town (Injury time leveller for Ebbsfleet)
Weston Super Mare 1-1 Workington
Before today's match at Stafford, manager Phil Parkinson told
Altrincham Today
, "We made a lot of changes for Tuesday night's Cheshire Senior Cup game against 1874 Northwich, who play at Winsford United's ground and the lads gave me exactly what I asked for, a professional performance in a fairly comfortable 2-0 victory that sees us make progress into the Quarter Finals of the County Cup.
I was very unhappy with the horrific first half tackle by Kyle Riley on Shaun Densmore and he was rightly shown a red card. I played JJ (John Johnston) as he has found the pitches difficult in recent matches and I was very pleased that he got the confidence boost of scoring with a terrific strike to set us on our way early in the second half and Tom Peers chipped in with another goal to seal the game with about a quarter of an hour to go.
Today, it's back to the main goal of trying to win the Evo-Stik Premier and we travel down the M6 to take on Stafford Rangers, who beat us 3-0 at our place on the opening day of the season. I wasn't happy with that at all and we certainly have a score to settle with a club that, like Altrincham, is a big name in non-league football.
Stafford Rangers versus Altrincham is a game that grabs the imagination and I can't wait for three o'clock this afternoon. I am sure that we will have another big following, like we did last Saturday, when the fans were immense and really helped get us over the line at Farsley Celtic in a tight encounter where Jordan Hulme's goal turned out to be the only one of the game.
I was delighted with the performance of the players and the magnificent vocal support of the fans. Our away form has been excellent in recent times and we will be looking to make it six wins on the bounce on our travels in the league!
We need to check on Connor Hampson (groin strain) and Tom Hannigan (above, right) ahead of today's game but we will definitely have the personnel available to field a very strong side this afternoon and I'd like to think that we can maintain our strong lead at the top of the table".
The
Whitby Gazette
quotes manager Chris Hardy... "I'd have to say that Saturday's 5-0 drubbing against Lancaster was my worst moment as manager of Whitby Town. After taking a superb win at Workington to end our dismal run of games without a win, I'd really hoped that would act as a springboard to us going on a bit of a run of form. To turn that kind of performance in on the back of such a great win leaves me scratching my head. We didn't do the basics right and were found wanting in every department of the game.
It was embarrassing on behalf of the players and embarrassing on my behalf too. This is a team game and everyone has to take the blame as a collective. I have watched the game back and it was truly shocking, a real horror show and there's no getting away from that. I have to apologise to the fans of the club. I'm not going to be making any excuses for it, losing 5-0 at home isn't a nice feeling and isn't acceptable in the slightest.
I speak with Graham (Manser), Andrew (Spenceley), regularly and we are all as disappointed with what is going on as each other. We now go into a very tough away game at Shaw Lane and, perhaps, the fact that we will be such huge underdogs will work in our favour. We are in a dog fight and must retain our status in this league, and we need to start picking up more points very soon if we are to do just that.
I'm working on getting another player through the door in time for Saturday's game, I feel we need extra bodies to create more competition for places." Whitby later tweeted that the club "is delighted to announce the signing of attacker, Callum Patton from Whitley Bay".
Elsewhere, Grantham Town FC "are delighted to announce the signing of striker Zayn Hakeem on a month's loan from Mansfield Town."
NL Pitchero reports that "Matlock Town have signed young midfielder Harry Vince and full-back Jan Yeomans on loan from Boston United for the rest of the season. Vince celebrated his 18th birthday in March 2017 by signing his first senior contract with the Pilgrims...
Vince progressed through the club's youth system... The Three Lions soon came knocking with a call-up to Paul Fairclough's England C squad this summer...Yeomans joined the Pilgrims in February 2017 and marked his full debut for the club by scoring... He had previously played for Ilkeston FC and Radcliffe Olympic [sic]. He has also played nineteen times for Boston this season".
Hednesford Town "are pleased to confirm that they have today extended the loan deal of Charlie Gatter until the end of the season. The defender/midfielder joined the Pitmen on loan from Gainsborough Trinity in November before the deal moved into a second month in early December".
Up at Workington "Jordan Holt is making a swift return to Borough Park... The teenage midfielder spent a successful three-month loan with Reds from the end of August, making twenty-two appearances and scoring two goals... and was a prominent figure in the side until returning to Brunton Park [Carlisle United] towards the end of November.
Jordan will be eligible to play in all of Reds remaining fixtures with the exception of the Cumberland Cup".
---
12 January 2018
If you believe in such things, this Saturday is an unlucky date for Altrincham FC as they have not won on a January 13th date for 50 years! Howard Watts's
Through the Years
records, provided by Mike Garnett confirm the grim record, although it is tempered by our only having played five matches on that date since our 1968 win over Ellesmere Port Town.
Right: L. to R. It's Boxing Day, 2004 and Alty's Gary Talbot, Colin Little, Val Owen, Steve Aspinall, Eddie Hussin and Gary Scott await a throw-in at Marston Road, whilst Stuart Coburn appears to be exchanging pleasantries with Stafford fans behind the goal. Colin Little's goal won the match for Altrincham, 1-0, on a snow-covered pitch. Alty's side that day was 1. Stuart COBURN, 2. Steve ASPINALL, 3. Chris ADAMS, 4. Mark MADDOX, 5. Gary TALBOT, 6. Eddie HUSSIN, 7. Colin POTTS, 8. Val OWEN, 9. Colin LITTLE, 10. Rod THORNLEY, 11. Gary SCOTT. Subs: 12. Kieran LUGSDEN, 14. Peter WRIGHT, 15. Steve TORPEY, 16. Sean SMITH, 17. George MELLING.
The return match on New Year's Day, 2005, was even more adversely affected by the weather as it had to be abandoned after 27 minutes following a torrential downpour at Moss Lane.
Alty lost 0-3 at home to Rangers on the opening day of this season but, to counter any pessimism, Mike Garnett reminds us of the historical record of matches between Altrincham and Saturday's hosts, Stafford Rangers. This shows that we have won more of our games at Marston Road than we have lost.
Home: P50-W26-D9-L15-F95-A59
Away: P45-W18-D13-L14-F65-A56
All: P95-W44-D22-L29-F160-A115
After making six changes on Tuesday for their Cheshire Senior Cup tie, Alty are expected to revert to much the same line-up that beat Farsley the previous Saturday. Curiously, both clubs' captains previously played for the opposition. Jake Moult is a former Rangers player while Rangers' Mat Bailey was a striker when he played for Alty but is nowadays a centre-back. Stafford also have Osebi Abadaki in their squad; he is a graduate of the Altrincham FC Youth team.
In the
Stoke Sentinel
the chairman of our next opponents, Stafford Rangers, says "It was a disappointing end to 2017, and I was hoping for a change in fortune for 2018 but with a loss at Hednesford and then a postponement at Rushall we haven't had the chance to really get going yet.
The derby game against Hednesford seemed really flat this time, neither team seemed to have that spark which gets the fans going. Obviously, we lost so that might have had something to do with it. Louis Briscoe and Richard Batchelor have recently left Stafford Rangers...
We have a good management team and now it's up to them to find the right players to bring in, if they deem this necessary. It's not ideal to keep changing the team but sometimes it has to be done and sometimes it can be a good thing to freshen up the squad...
Now is the time to stick together and give all our support to Kitch and the team. This Saturday we look forward to the visit of the league leaders, Altrincham. We played them away in the first game of the season when we came away with a great victory. Let's hope we can start our 2018 home campaign with another great victory. We still have nine home league games left and we are still in three cups so there is plenty to play for yet".
TASC is running a supporters' coach to both Stafford and Stourbridge for our next two away games. Details are on the
Away Travel
page.
Results on Wednesday night in the CSC 1st Round were...
Runcorn Linnets 0-2 Crewe Alexandra (Att: 316)
Sandbach United v Nantwich Town (Match abandoned at half-time because of fog)
Fixtures:
Monday, 15th January 2018: Stockport Town v Cammell Laird 1907 at Lambeth Grove
Wednesday, 17 January 2018: Sandbach United v Nantwich Town
From
NL Pitchero
we learn that "Joint Matlock Town boss Craig Hopkins says players are playing for their futures at the DCJ Group Arena following another disappointing result last weekend in the Evo-Stik League Premier when the Gladiators lost 2-0 at home to Barwell in a mid-table 'six pointer'.
Matlock have a meagre return of one point from their last four games ahead of the visit to Hopkins and fellow joint boss Glenn Kirkwood's old club, Mickleover Sports on Saturday.
'The players as well as me and Kirky have to take responsibility for what's happened, there'll be no passing the buck. There'll be a turnover of players imminently and in the close season, so now the lads are playing for their places at the club,' said Hopkins. Matlock were booed off by a section of the crowd on Saturday and with the Gladiators in the top five in the division for average home attendances, the poor results are all the more frustrating for everyone. 402 were in attendance, with only ten or so visiting spectators.
'It was a brilliant crowd and seeing how many were there surprised us a little', Hopkins admitted. 'We got fantastic support but were poor again although over the ninety minutes we thought we were the better side. Our biggest problem again was being unable to find the net, poor finishing cost us although our general play wasn't great. It's a massive problem for us, we can't butter it up, it's not just good enough, too many players are underperforming. We're where we deserve to be after twenty-odd games and it's a reality check for people.'
Matlock seem unable to keep a clean sheet at present, the last occasion being eight league and cup games ago in the 2-0 home win over Halesowen Town on November 25th.
'We gifted Barwell both of their goals to allow them to come and win,' Hopkins moaned... Hopkins confirmed what most knowledgeable Gladiators fans know in needing more forward options.
'We were gazumped on a couple of forwards last week when we thought we'd got them. We need to have four forwards in the squad but, at the moment, we have only two, so we have a lack of attacking options on the bench. We're hoping to resolve that very quickly for we've had to try and get the best out of what we've got and to be honest the players we have now need to take a look at themselves.'
Matlock brought in ex-Barnsley full-back Matty Templeton from Worksop Town on a dual registration basis with the Gladiators having first call on him over the Tigers. Templeton made a debut as a second half substitute against Barwell. 'Matty will benefit from a really good pre-season in the summer because since he left Barnsley it's been tough for him. He needs to get fitter and then we'll see what a good player he is.'
Another full-back, Micky Harcourt, will not be in the picture "for the foreseeable future". Harcourt returned to the Gladiators following an eighteen-month absence when he was at Toolstation Northern Counties East League outfit Handsworth Parramore. But work commitments, which affected him in his previous spell, have again come into play. 'He's here, there and everywhere with work at present and feels he can't give the commitment to playing and training that's required. It's a big shame for he's done well for us,' Hopkins added.
Reinforcements might arrive before the trip to Mickleover,on a ground where Matlock have lost in every competitive fixture they have played against Sports".
Over on Merseyside, the NL Paper reports that "Chairman Paul Leary is preparing a 'a great adventure' as his Marine side embark on their biggest FA Trophy fixture for 25 years when they lock horns with National League high-fliers Dover Athletic on Saturday.
Leary believes the two-time FA Trophy semi-finalists can look ahead to their 610-mile round trip to Dover Athletic with 'optimism' having previously knocked out higher-ranked opposition in FC United and Chorley... The Mariners' chief said, 'It's a massive step up for us, they're two leagues above us and it will be a heck of a challenge for our players'.
The FA Trophy has become a welcome distraction for the Crosby-based side, who are trying to protect a proud league record of never having been relegated in the club's 124-year existence. Tommy Lawson's men have picked up just one point in their last four matches, without scoring, and currently lie fourth-bottom in the Evo-Stik Northern Premier table, seven points clear of basement club Sutton Coldfield Town...
'The manager has had them [Dover] watched and we've watched many match highlights so we feel and think we are well prepared'" added Leary.
The Warrington Guardian reports that "Warrington Town are assessing their options with regards to upgrading their ground. Thanks to Yellows' good form on the pitch, they sit third in the Evo-Stik Premier Division, the club are looking at ways to bring their Cantilever Park home up to the standards required to play in the National League North.
Improved press facilities are currently under construction, while extra turnstiles will also be added to bring the number of entrances up from three to six, the minimum required by the league. However, as chairman Toby Macormac explains, the biggest and most expensive issue is the upgrading of the ground's floodlights. Given the financial cost of carrying out the necessary work to meet the FA's required Grade B criteria, Macormac says the playing budget would be impacted, making any potential National League North campaign 'a long, hard season.'
'My biggest concern is the lights, because of the financial implications,' he said 'The floodlights read at 120 lux at the minute, but we need it to be at 180 for Conference North and 240 for Conference National. We have to look at the lamp upgrade first, which can be done during the season, but if we need a pylon upgrade it would have to happen during the summer. With the amount of money we'd need for ground improvements if we did get to the Conference North, every point would be a prisoner. It would be a long, hard season'...
Other improvements include making both changing rooms larger...
'We're at 2,500 capacity right now, but we're not looking to extend that at the minute,' he said. 'The stand running down the left touchline can take 160 seats, so we could look to put more seats in. There will come a point in time where you need to have 500 seats in two locations, within three years of being in the Conference North. If you go out and come back in, the clock resets. We've got the locations, it's just a case of getting the seats and fitting them.'
Manager Paul Carden was rewarded for a successful first year in charge of Yellows with a new two-and-a-half year contract recently. Macormac says... 'When I had the conversation with Cards and we hammered out the agreement, the main reason I did a two-and-a-half year deal is that if we went up, we will have a real tough season next year,' he said. 'If he managed to keep us in it, it wouldn't be fair for his deal to end then. He'll have deserved another crack at it.'"
Over the Pennines, Shaw Lane "have signed centre back Jake Skelton from North Ferriby United. Jake signed for North Ferriby after leaving Leeds United back in 2016 and has now signed for Paul Quinn. This is what our manager had to say about his recent signing... 'We have been tracking Jake for a number of weeks... Jake has had interest from a number of clubs and he will no doubt be a great addition to our squad'"
---
11 January 2018
Statement on behalf of the Board of Altrincham FC:
"We advised you in November that we were, under a Non-Disclosure Agreement, exploring a formal offer for the club. This update is to confirm the Board have unanimously decided not to proceed further with the offer and have informed the potential buyers accordingly.
There were material questions arising from the original submission from the interested party, in terms of achievability, clarity and relevance. We posed these questions to them and indicated our willingness to provide further information, should it be needed. We also offered to meet them face to face for further discussions, both here in the UK and in the USA. Having received no further information or clarification from them, we issued a deadline in mid-December in an attempt to elicit the required response. It has not been forthcoming, and with the deadline having now passed, we have informed the other party that we are no longer interested in pursuing their offer.
The board are committed to continue to strengthen the management structure of the club, including at board level. Good progress is being made in this area, and we will ensure all our stakeholders are kept informed of developments.
Bill Waterson".
Alty are at Marston Road on Saturday from where
Stafford Rangers
report on their New Year's Day game. "Rangers opened up the new year with defeat at local rivals Hednesford in a game that failed to live up to expectations.
As matches go between these two sides, this one lacked the passion and drama needed and it took an over-zealous challenge from Boro captain [ex-Alty man] Mat Bailey to ignite any sort of spark into the afternoon's proceedings. But that was with a little over five minutes remaining and too late for Rangers to salvage a point. It took until the 14th minute for either side to produce an effort on target but Bailey's header was blocked by Joey Butlin.
And, when the home side created their first opening, in the 29th minute, it was Butlin who was there to head Hednesford in front. The chance came after [Alty loanee] Mason Walsh had got the better of Kai Davis to cross from the right and the unmarked Butlin had time to pick his spot. Rangers had a great chance to get back on level terms soon after when Richard Batchelor put [ex-Alty youth] Osebi Abadaki in but he lacked conviction and home keeper James Wren did just enough to concede the corner.
Hednesford extended their lead two minutes into added time at the end of the first half. A corner from [ex-Alty man] James Lawrie looked unthreatening, as did Charlie Gatter's miscued shot but the ball looped over Adam Whitehouse. Not for the first, second or even third time in Staffordshire derbies, Hednesford fans tarnished their image by throwing flares onto the pitch to celebrate their goals.
Abadaki missed out on another opening for Rangers early in the second half as Wren denied him... Another Abadaki shot flew across the face of the Hednesford goal and with the lack of quality finishing on display it was perhaps fitting that Rangers got back in to the game via an own goal when Callam Mendez-Jones' attempt to cut out Abadaki's centre ended in the back of the Hednesford net with 16 minutes remaining.
But though sub Joe Thomas had a shot charged down, Rangers never really threatened to get level...
Hednesford: 1 James Wren, 2 Callam Mendez-Jones, 3 Matt Curley, 4 Joe Fitzpatrick (14 Laurence Taylor 89m), 5 Sam Oji, 6 Charlie Gatter, 7 Mason Walsh (15 Reece King 64m), 8 Tom Thorley, 9 Joey Butlin (12 Danny Glover 73m), 10 James Lawrie, 11 James Fitzgibbon. Unused subs 16 Jordan Graham, 17 James Mutton
Rangers: 1 Adam Whitehouse, 2 Sam Griffiths, 3 Kai Davis, 4 Josh Craddock, 5 Mat Bailey, 6 Jordaan Brown, 7 Osebi Abadaki (14 Karl Hawley 90+1m), 8 Jack Sherratt (12 Dan Westwood 57m), 9 Massiah McDonald, 10 Robert Thompson-Brown (15 Joe Thomas 77m), 11 Richard Batchelor. Unused subs: 16 Izak Reid, 17 Levi Reid".
The
Lancashire Evening Post
tells us that "Lancaster City boss Phil Brown is looking to strengthen his squad further after the arrival of Fleetwood Town youngster Mamadou Djabi. The 19-year-old striker made an immediate impact as he scored on his debut in the 5-0 win at Whitby Town on Saturday.
Winger Paul Jarvis is also a recent signing from Chorley with Brown now looking at other areas of the pitch.
'I've still got irons in the fire,' he said. 'We're speaking to clubs about players in other areas of the pitch. We're a bit short defensively with Ricky Mercer and Steve Williams injured and Gavin Clark and Rob Henry not match fit after a while out. We're looking right through the team though. A more experienced midfielder would help us as well and we're talking to clubs about one or two players.'
Djabi has signed a one-month youth loan at Giant Axe with Brown excited by what the prospect offers... 'He had a bad knee injury which kept him for a year but we've kept an eye on him... We put him straight in on Saturday. He took his goal well and could have had another one. He's strong, powerful, can hold the ball up well and has plenty of quality'".
"He's certainly going to add competition."
Wednesday 10th January 2018, Cheshire Senior Cup 1st Round
Runcorn Linnets v Crewe Alexandra
Sandbach United v Nantwich Town
Rearranged fixtures:
15/01/18 20:00 Stockport Town v Cammell Laird 1907
16/01/18 19:45 Alsager Town FC v Stalybridge Celtic
The
EvoStik League
reports that "Altrincham manager Phil Parkinson has an online rival for the attentions of fans at the EVO-STIK League leaders, star YouTuber Loki Doki! The EVO-STIK League Premier Division's official 'Football Manager' manager and his virtual side might not be eight points clear at the top of the table like Parkinson and his team in the real world, but they were a point ahead with a game in hand on Tuesday night as thousands of fans around the world logged on to see him take on Whitby Town and then second-placed Warrington Town in top flight action at Moss Lane.
Veteran YouTuber Loki Doki has had more than 35,000 fans watching his 'Rise of the Robins' series since kicking off his campaign on New Year's Day and getting through three of four games a day. And with thousands watching his progress and listening in to his blow-by-blow commentary on the news and action in the hit game, impressed Altrincham officials have even sent their online manager a club beanie hat to wear on the videos of him playing.
Like all bosses, the YouTuber has had a bogey side in the shape of National League Aldershot, the Robins losing twice to the Shots since the start of the season in the fourth qualifying round of the Emirates FA Cup and the second round of the Buildbase FA Trophy!
It hasn't all gone wrong in cup competitions in Altrincham's virtual 2017-18 campaign. After slipping down the table but reaching the EVO-STIK League Premier Division play-offs, Loki Doki was looking forward to a global audience logging on to see his Robins in action in the final of the Integro League Cup on Wednesday night after knocking out promotion rivals Warrington in the semi-finals!"
---
10 January 2018
Both sides were much changed from their last outings for this Cheshire Senior Cup First Round tie. Towards the end of a first half which Alty largely dominated, the hosts' striker Kyle Riley was sent off for a lunge on Shaun Densmore. Altrincham made their extra man tell with John Johnston striking a superb goal from the left in the 53rd minute. Tom Peers added a second after 73 minutes to secure Alty's place in the Second Round whilst the Alty backline secured another clean sheet with keeper Tim Deasy barely troubled throughout the game.
Match report here.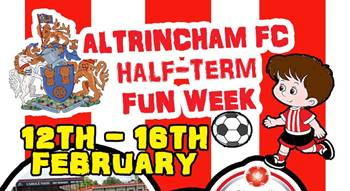 Details of the February Fun Week at Altrincham FC are to be found by clicking on the adjacent image.
Nantwich Town
"can confirm the signing of Blackpool goalkeeper Myles Boney on a one-month loan deal. Boney arrives at the club after recent injuries to first team goalkeepers Fabian Spiess and Krystian Burzynski. The 19-year old stopper signed professional terms with the League Two club in 2016, and made his first team debut against Wigan Athletic as a second half substitute in the Johnstone Paint Trophy back in November 2015.
He made three more appearances for the first team during the 2016/17 season, one of them in the league in a 1-1 draw at home to Cambridge United".
News of Alty's next league opponents comes from the Stoke Sentinel which tells us that "Stafford Rangers' involvement in various cup competitions has taken on added importance due to their poor league form, says manager Neil Kitching. Boro were due to travel to neighbours Rocester in the Staffordshire Senior Cup, but that game was postponed due to a waterlogged pitch.
Rangers also still have an interest in the Walsall Senior Cup and the Integro League Cup. However, they have won just one of their last seven games in the Northern Premier League, and a season which started with the target of pushing for the play-offs looks like it might end in mid-table.
'With us not being brilliant in the league, it's important we do well in the cups,' said Kitching. 'If it's going to be a season where we finish in mid-table, then we need to have cup runs to get some form and also get some silverware.'
Meanwhile, one positive of the weekend's postponed game against Rushall Olympic was that some of Boro's walking wounded could be fit for the visit of Altrincham on Saturday. Kieren Westwood had been pencilled in for a return against Rushall after being out with a persistent back problem, and the extra week could be good news for fellow defender Kieran Morris.
'Keiren Westwood was fit for the game. He came through training, so that's a bonus,' said Kitching. 'He has had no ill effects there and he has seen a specialist about his back who said there was no danger of making it worse by playing football. So that's just something we'll need to monitor. But I suppose the one silver lining is that it gives us just over a week to try and get Kieran Morris fit. He'll have a training session on Tuesday and Thursday and hopefully he will be fit to face Altrincham.'"
NL Pitchero
reports that "The Football Association has today announced a series of new initiatives and investments which will have a significant impact, both on the organisation itself, and for all of English football. Today's announcements include a range of measures aimed at improving the culture of the FA and considerable new investment into every level of the game. These include:
New policies, procedures and changes to the support structure around England teams at St. George's Park
A significant new commitment to making The FA a more inclusive and diverse organisation
An increase to the contribution and leadership from The FA in supporting inclusion and anti-discrimination across all of English football
A new initiative to ensure a greater level of engagement from senior ex-professionals and managers in The FA's work
Increased independence and transparency in the FA's decision-making process
The announcement also includes a range of substantial new strategic investments in the game which will be made from the 2018/19 season. This will total around £180m per year going directly back into football, which is up from £123m in the previous year, representing a 38% increase.
The FA is a not-for-profit organisation that is now able to make this new investment due to increased revenue from the sale of the Emirates FA Cup and England broadcast deals, a new long-term partnership with Nike and the consequence of the corporate re-structure in 2015. This has enabled The FA to operate more efficiently.
The new investments include more than double the Emirates FA Cup prize fund from the 2018/19 season. This will benefit all participating clubs at every stage of the competition"
---
9 January 2018
Following a pitch inspection, the CSC tie between 1874 Northwich and Altrincham, at the home of Winsford United, will go ahead at 7.45pm tonight.
Mike Garnett reminds us that this will be our first competitive fixture against 1874 Northwich, although we did play them in a friendly at Moss Lane on 12 October, 2013, which Alty won 2-1, the scorers being Perry and Lawrie, and the gate was 188.
We did visit Winsford United, of course, in pre-season for a friendly on 1 August, 2017, which Alty won 4-0. Josh Hancock and Tom Peers each netted twice.
Subject to confirmation, our last competitive visit to Winsford came on 13 October, 1998 in a UniBond League President's Cup 1st Round replay, when we beat Winsford United 1-0, the goal being scored by Paul Ellender in front of a crowd numbering 228.
TASC Travel Coordinator, Mark Eckersall writes "Thanks to all who came with us on the coach to Farsley. The away trips continue with two more away Saturdays to Stafford (13 Jan) and Stourbridge (20 Jan). We hope you can join us again to both games. Times and fares are on the
Away Travel
page and the Stourbridge trip includes a service stop (traffic permitting) so please consider joining us for a good day out to follow the team."
You can follow this fixture via this website's minute by minute text updates by clicking on the icon below. Alternatively, Radio Robins' coverage of the game is outlined below as well.
Brian Flynn announces that "Radio Robins, sponsored by Ashley Mowers Garden Machinery, is providing full live commentary of Tuesday night's game. The commentators are Mark Simpson and Brian Flynn and the match summariser is Mark Eckersall. Coverage starts at 7.25pm.
Guidance for Listening to Radio Robins
There will be 4 ways to listen to Radio Robins via Mixlr
a) The Radio Robins website. Open the page in any web browser and the broadcast should start automatically. Please note that the 4 Player Options (Windows Player | Real Player | Quick Time | Winamp ) will not work now.
b) Download and install the Mixlr app on Android devices from the Google Play Store - start the app and search for 'Radio Robins'.
c) Download and install the Mixlr app on Apple devices from the Apple Store - start the app and search for 'Radio Robins'.
d) There is a temporary WIX website here.
On Tuesday night, Alty meet 1874 Northwich in the Cheshire Senior Cup, at Winsford United, where they are the tenants. The
Hallmark Security League
reports that "The draw for the Fifth Round of the FA Vase was made at lunchtime this afternoon [Monday], with 1874 Northwich our sole surviving team in the Last 16 of the competition. They will face Chichester City at home, with 1874 looking to move to the Quarter Final and just two rounds away from a Wembley appearance.
It's been a record-breaking season for 1874, who progressed through to this stage for the first time yesterday after overcoming Northern Counties East League side Pontefract Collieries 3-1, with Scott McGowan scoring twice... Chichester play in the Southern Combination and are currently in fifth place in the league table."
Monday 8 January 2018, Cheshire Senior Cup First Round
Winsford United P-P Warrington Town
Tuesday 9 January 2018, Cheshire Senior Cup First Round
1874 Northwich 0-2 Altrincham (@ Winsford United FC) Gate 178
Alsager P-P Stalybridge Celtic (now to be played on 16th January)
Stockport County 4-2 Barnton
Witton Albion 1-3 Hyde United
Tuesday 9 January 2018, Integro League Cup
Wednesday 10 January 2018, Cheshire Senior Cup First Round
Sandbach United v Nantwich Town
Farsley Celtic
have issued a statement which says that "Farsley Celtic Football Club are aware of an unsavory incident that involved one of our supporters allegedly spitting at a member of the Altrincham playing staff following the game on Saturday'
'The Club are currently completing a full investigation into the incident and I would like to put on record that we do not condone this behavior whatsoever. We are in the process of contacting the alleged perpetrator who will be banned from attending football at Throstle Nest. There is no place for this kind of behavior in or out of football'
'I would like to thank the club stewards and officials of both sides who dispersed the situation in a quick and professional matter. It is a shame that this incident has had to put a bit of a negative on what was a great game of football played in a good atmosphere'
'I would like to thank all those supporters who attend matches home and away and get behind the side in the correct way. I would also like to thank Altrincham supporters for the part they played on Saturday'
Joshua Greaves - Chief Executive Officer"
Highlights of the game on Saturday at Farsley against Altrincham are
here
courtesy of the Yorkshire club.
Altrincham travel to Marston Road to meet Stafford Rangers on Saturday. In the opening match of this season, Stafford defeated Altrincham 3-0.
The Stoke Sentinel reports that "Stafford Rangers are actively looking to make new signings after losing two players last week. Midfielders Louis Briscoe and Richard Batchelor both left the club to join other Northern Premier League sides, Sutton Coldfield Town and Stourbridge respectively.
While Briscoe had been on the fringe's of Boro's starting XI since arriving at the start of the season, Batchelor has been a mainstay of the team over the past 16 months. But Kitching said that Stourbridge's greater financial draw was impossible to compete with.
'When you receive seven days notice from a club who are financially better off, you know it's going to be difficult to hold onto a player,' he told the Newsletter. 'We always knew he might leave as we can't compete financially with other clubs. We wish him well as he's done well for us, especially last season when he helped us stay in the league. Now we've got to replace him, and we will be looking to bring someone in, especially after losing two midfielders...
'We knew Louis was looking to leave to get more regular football,' said Kitching. 'There will be opportunities for players who have been around the fringes to get into the team as well.'"
The
Barnsley Chronicle
recently reported that "Shaw Lane AFC have applied to the Football Association to change their club's name to AFC Barnsley. The Ducks have wanted to change their name since summer this year [2017] when they moved from Barnsley Rugby Union Club's Shaw Lane base, where they had been tenants, and agreed a groundshare deal at Sheerien Park with Athersley Rec.
They are now expecting to be called AFC Barnsley from the 2017/18 [?2018/19] season unless there are any objections from the FA or from Barnsley FC, who have also been informed of the namechange. The Oakwell club's solicitors previously objected to the non-league club's plan to become Barnsley Town, saying that there would be confusion as Reds fans refer to their club as 'town' or 'tarn.'
The application had to be submitted before the end of the month. AFC Barnsley was previously used as a name for a breakaway club formed during Barnsley FC's financial troubles in the early 2000s. They played in the Sheffield County Senior League and Central Midlands League before folding. Shaw Lane owner Craig Wood, who also runs plumbing business Aquaforce, had to drop the name of his company from the club's name last year due to FA rules. He now wants to go forward as AFC Barnsley with the ultimate goal of reaching the National League, formerly the Conference, which is two promotions away.
Wood told the Chronicle, 'We wanted to have the word Barnsley in the name because we are proud to be from this town and, with where we are in the football pyramid, it felt right to let people know where we are from. The Shaw Lane name got a lot of attention after we got to the FA Cup first round this season and played on BT Sport but we don't play at Shaw Lane anymore and we want people to know who we are. We thought about Barnsley United or Barnsley Borough and some other names but none of them sounded right. AFC Barnsley just feels right.
'The original name of the club was Aquaforce Football Club so being called AFC keeps that going. We're certainly not trying to muscle in on Barnsley FC's territory. We have kept them informed of our plans to change the name and we hope we can have a good relationship with them. There are AFC Mansfield (formed in 2012) and Mansfield Town, so we feel we can do the same with AFC Barnsley and Barnsley FC.'
Shaw Lane are hoping to reach the National League North, formerly the Conference North, this season and secure a sixth promotion in seven years since joining the Saturday football league structure from the Barnsley Sunday League in 2011...
The Ducks are managed by Paul Quinn, who took over in November after Craig Elliott moved to Boston United. Owner Wood said, 'Paul is doing really well. He has brought his own ways to the club with more attention to detail. Training is more intense and regular and he uses video footage to prepare for the opposition. There is a sports science element as well and the lads are monitoring their own fitness.'"
Crewe Alexandra confirm that "youngster Owen Dale has extended his loan stay at Witton Albion by a further month. The 19-year-old will now remain with Albion until February 12 2018. He has impressed with Witton since joining in November, with the side very keen to keep him on".
The Stourbridge News tells us that "Chairman Andy Pountney says Stourbridge FC may have to leave the War Memorial Ground to realise its potential. The Glassboys' chief also warned he could be forced to walk away if ground development issues can't be resolved with landlords Dudley Council sooner rather than later. The new year has sparked Pountney to push for a solution to the on-going issue over their lease at the Amblecote site. Any future promotions would mean having to improve a ground owned by the council.
While the club would be prepared to develop the War Memorial Ground, Pountney is pushing for greater control of the site, including a potential plan to buy the freehold and bring in further investment. However, that option is further complicated with the fact that Stourbridge Cricket Club also share the land. It means that Pountney is also open to finding a new home for the club if necessary, but again wants more help from the local authority.
He explains, 'We are now close to the limit of where we can take the club. If we got promoted we'd have to invest potentially £80,000 to stay in the league. If we then got in the play-offs of the league above we'd be looking at £150,000-£200,000. While we are willing to do that, we need a commitment of some description to allow us to have full control of the site, or even another site that we can progress. We don't particularly want to leave the War Memorial Ground. It would be great to get the freehold as we have the financial support to develop.
'Ideally the council has a plot of land and a solution for us because we have people willing to invest to move the club on for the community. We've had loads of dialogue with the council on this issue over the years but we're no further forward. The support from the council has been embarrassing. When we have a big cup game they all come out in support of us and call up wanting tickets but I can't think of anyone at the very top of the council who has followed through with their promises to support us.
'It's frustrating to the point where we're considering our position at the club due to the council's refusal to listen to us. Around 23,000 people come to the site each year, not including the function room, and the money that generates for the town must also be a big positive. But it feels like the only choice at the moment is that we make do with what we have and accept we can go no higher than one more level, or we walk away and leave it to someone else.'
Councillor Ian Kettle, cabinet member responsible for planning and economic development, said 'In recent years we have worked closely with Stourbridge Football Club and Stourbridge Cricket Club regarding their respective leases of the War Memorial Ground in Stourbridge. Towards the end of last year we met with the football club to discuss their aspirations moving forward and we will continue to work with them to explore all possible options, this unfortunately currently doesn't include the club's relocation as we are unable to identify an alternative site big enough to accommodate a football ground.'"
From Lincolnshire, the Boston Standard tells us that "Ryan Qualter admits he had no doubts about joining Boston United. The former Bradford Park Avenue defender has returned to the National League North after he and keeper Jon Stewart arrived from manager Craig Elliott's former club, Shaw Lane, on Friday....
'You look around the place and you know what a great club it is,' he said. 'It wants to be back in the Conference and the Football League in the future, so we're going to try to do that... We're on a bit of a run right now and hopefully it will continue... As soon as Jon and me knew there was a chance of coming here we were happy,' he added".
---
8 December 2017
Manager Phil Parkinson gave his thoughts on a 1-0 win at Farsley Celtic that reinforced Altrincham's hold on top spot in the Evo-Stik Northern Premier League in a post-match interview with Press and Media Officer, John Edwards. Here is the interview in full:
Q: That was the ideal response to our long unbeaten league run finally coming to an end on Monday, wasn't it?
A: This was always going to be a massive, tricky game for us, especially with the result they had against Shaw Lane. I hope people recognise that as well. Farsley beat Shaw Lane 4-2, and that is no mean feat. When we played Farsley at home, we were exceptional. Maybe people looked at that and thought today would be a walk in the park, but I was under no illusions about what we were up against today. This was always going to be a very difficult game for us.
They are a very strong team, very well managed. I've got a lot of time for their management team. They try to do things the right way, so coming here, it was always going to be a mammoth task trying to take all three points. I would have taken a draw before the game, just to get back to basics in terms of keeping that clean sheet after shipping four goals, which we have not done for a long time. Probably not since the Workington game, in fact, so it was massive for us to show the solidity that was so evident today.
We also showed we can score in a very tight game away from home. People will look at the sending off, but I would suggest that did them a favour, rather than us, because it gave them the impetus to really come at us. They had nothing to lose, whereas we had everything to lose in terms of our one-goal lead. People keep questioning my teams but, yet again, they have responded in the perfect way. This was not an easy pitch to play on. It might look OK, but it is really bobbly and not conducive to our style of football, but again the team have proved one or two doubters wrong.
Q: Just to back up the point about handling the physical side of things, when they threw everything at us near the end, we stood firm, didn't we?
A: The amount of times we do that surely speaks for itself. How many clean sheets have we had this season? You don't do that if you are physically weak, so that goes against what some people seem to think. It's very frustrating from my point of view, but it's great as well, because it just gives me the fire I need to motivate my players. It wasn't the way we wanted to win today, because we want to play the perfect game every week. That is what we strive for. We are not always going to achieve that, but it's nice to see my players are able to use their initiative and game-manage things out. It's good they can play ugly when they need to, because those are all the qualities winners have. We need to continue that.
It will get more difficult, and we've got another tricky month coming up when you look at the fixtures, but we need to maintain that momentum. With Tuesday fast approaching, I've got lads who desperately need a game, so I will rotate. Those lads need to come in and show they are ready to step into the fray when called upon. That's what James Jones (right) did today. It was so difficult for him, coming on for the last 10 minutes or so when they were chucking everything except the kitchen sink at us, but he did ever so well under extreme pressure. He was coming cold into the lions' den, so full credit to him, as a young lad, for sticking to his task and doing what he needed to do.
I was really made up with the performance in all areas. Up front, we worked their back three or four, we looked really solid in midfield, where I thought Max Harrop (left) was outstanding. Special mention for him. He controlled the game for us, and his passing was superb. That is why he is in the team. When I brought him off, one of their fans actually said it was a pleasure watching him and why had I taken him off? He had a bit of a knock, and we wanted to protect him, but that said everything about what Max contributes. There were some fantastic performances today. That is a six-point haul against Farsley, and the players deserve a lot of credit for that. They know they have to keep it going, though. There can be no let-up.
Q: It sounds like they may have exceeded expectations, in terms of the response to losing against Witton?
A: Absolutely they have, yes. Farsley were on the back of a huge, morale-boosting win, while we were on the back of a 4-3 home defeat which was not expected, though Witton played exceptionally well, to be fair, and thoroughly deserved it. So it was great we could get straight back to winning ways. We will play much better than that, so we can take great heart from still coming out on top and claiming such an important win when we haven't played particularly fantastic football. The players did the hard yards really well, and credit to them for that.
Q: Funnily enough, we thought, on Radio Robins, there were spells where we played some decent stuff, particularly allowing for the pitch and opposition.
A: Well, we always try to do that, but one thing you will notice is that a lot of teams change against us. Farsley's formation today, for instance. They don't normally play 4-3-3, but they changed because it was against us. We stick to what we do well, and I think that is one of the keys to our success. We back our system to beat other teams' systems, but I notice week-in week-out opposing sides change their formation against us, which is great credit to our players because it shows they are more concerned about what we can do than what they can. We always concentrate on what we can do to other teams, rather than the other way round.
Q: We certainly brought the best out of the Farsley keeper in the first half, didn't we?
A: That was the worry for me, but I said to the lads at half-time that, if we create as many chances again, we will surely score one, so can they keep the back door shut? We didn't create as many openings in the second half, but we had the goal and the door stayed firmly shut. The two saves their keeper made from James Poole in the first half were out of this world. The way James swivelled and hit it for the second chance, he must have felt he had hit the back of the net as soon as it left his foot, but the keeper reacted brilliantly.
I don't remember our keeper having too many saves to make, so that reflects well on the way we defended when we had to. I have always said to the players that performances will lead to results, and we have had a really positive performance from them today.
Q: For the goal, Jordan Hulme looked a striker brimming with confidence, didn't he, the way he was able to bide his time and wait for the keeper to commit himself before rolling it in?
A: It was a meticulous finish. Believe it or not, we have been working with Jordan on his one-on-ones, and it is paying dividends. Full credit to Neil Sorvel (right) for that. He does ever such a lot of good work on the training field. I can't take any credit for that. Some of the stuff he does with the lads is fantastic, and you are seeing the fruits of his labour, where he has pulled Jordan and the other strikers to one side and worked with them on situations like that. We recognised we had been a bit wasteful in one-on-ones, but I can't remember Jordan missing one since Sorvs has done that work with him, so full credit to Neil and full credit to Jordan for buying in to what we are asking him to do. He has been the difference in so many games this season and he needs to continue that if we are to achieve our goals.
Q: The red card looked a shocking late tackle on Tom Hannigan – were you concerned Tom might have been seriously injured?
A: Yes, for sure. It was a very late tackle. From where I was, it was difficult to judge whether it merited red or yellow, but it was late. The referee has obviously seen it as reckless and dangerous. I can't comment on that, but it did look a bad one from where I was, and we were worried about Tom. I thought Tom was superb again today, and I'm hoping it was just a precautionary measure that he came off not so long after. It was a bad tackle, and if the lad was off the ground and reckless, he deserved to go.
Q: There appeared to be some unseemly scenes in the tunnel as the players made their way off at the end, with home supporters appearing to target Tom?
A: A few things happened, unfortunately. Sour grapes from some of their supporters, I think. It did seem to be aimed at Tom, but I have just said to the lads in the changing room we are going to get that, the more success we have. People are not going to like you, they are going to hate you. You just need to rise above it and be professional, and I was so proud of the lads, the way they walked off in exactly the right manner. People were doing things they shouldn't have been doing and it's not something we are going to get embroiled in. Passions run high in football, but there is no place for that kind of behaviour as players are walking off the pitch, and I'm sure Farsley will address it appropriately, because they are a well-run club.
Q: Just to wrap it up, Phil, it was the perfect response to losing on Monday, so the aim now must be to march on in the same vein, presumably?
A: I couldn't have asked for a better response than to come away from home, keep a clean sheet and win. It's a good result for us, and it should not be underestimated. I hope people give it the credit it deserves. I'm sure a small minority will find fault, as usual, but we'll keep going and keep doing our best for the majority who are behind us week in week out. I have said all the way through, since I arrived at the club, that at some point we might hit a rocky patch. When we lose a game, it feels like a rocky patch, but I just need people to remain focused on the fact it's a long season and points will be dropped, not just by us but other teams as well. We are not going to keep a 100 per cent record between now and the end of the season. The message is just to keep behind the players. That's all I ever ask of anyone who wants to associate themselves with the club in any capacity.
The fans who travelled today were immense again and definitely got us over the finish line. All the players need and appreciate their support. They clapped us off Monday when we lost and clapped us off today when we won. It's just shows how close the relationship has become over the course of the season between the players and fans, it's great to be part of that evolution and a pleasure to see it happening".
According to the
Telegraph & Argus
"Farsley battled long and hard against high-flying Altrincham but the visitors snatched all three points to extend their lead at the top of the Evo-Stik League Premier Division.
The turning point in a close game came two minutes after the hour when Farsley's Dan Cockerline was shown a straight red card for a late challenge on Tom Hannigan. The Robins made the most of the man advantage by breaking the deadlock three minutes later.
Jordan Hulme won the ball deep inside the Celts' half and rounded keeper Graeme McKibbin before coolly slotting in. McKibbin had been the busier of the two keepers as Alty dominated long periods of play, but Farsley, who beat the Robins' title rivals Shaw Lane 4-2 last time out, came close to grabbing a share of the spoils.
With a little over three minutes remaining, Isaac Baldwin set off on a run from the Celts' half before drilling in a shot that clipped the outside of a post".
Altrincham FC Ladies' next game is on Sunday 14 January at home to Warrington Wolverines.
Altrincham FC Youth won 4-2 at Chorley on Sunday and are second in the NWYA Premier, although they have played more games than their rivals. Next up on Sunday (14th) is a home match against Curzon Ashton FC Youth at Manchester Health Academy M23 9BP.
Hednesford Town
"manager Rob Smith has moved to extend Jordan Graham's loan at Keys Park into a fourth month. The Mansfield Town forward will now stop with the Pitmen until the first week of February.
Graham, 18, came off the bench on Saturday to set-up a goal for fellow striker Danny Glover... The club are also working on trying to extend Charlie Gatter's stay after the defender's loan from Gainsborough Trinity expired today."
A week on Saturday, Alty are away at Stourbridge who "are delighted to confirm the signing of midfielder Richard Batchelor from our Evo-Stik Premier rivals Stafford Rangers...
A combative midfielder, who has mostly played centrally but has also filled in out wide and up front in the past, Richard joins us after a successful spell at Stafford. He joined Rangers in October 2016 from Worcester City and went on to make 61 appearances, scoring six goals.
Richard also played a couple of times for Leamington at the end of last season, helping them to promotion to the National League North. He has also previously turned out for Brackley Town, Hednesford Town, Chasetown and Romulus.
Stour boss Gary Hackett said, 'He's got a real winning, competitive streak in him. I think we're in a strong position. There will be a team coming through the pack and our form over the past three games has been very good.'"
On Tuesday, Alty are away to `874 Northwich in the CSC. The
Hallmark Security League
reports that "1874 Northwich booked a place in the last 16 of the Buildbase FA Vase for the first time in their history with a 3-1 win over Pontefract Collieries of the Northern Counties East League.
Two goals in the final 12 minutes from Scott McGowan, taking his total to 20 for the season, turned the game into 1874's favour, after Pontefract's Mark Whitehouse had cancelled out Mark Jones's opener for the Greens.
The game, played at Witton Albion's Wincham Park, was always destined to be an emotional occasion as it was 1874's first game since the death of Chairman Paul Stockton, and a record crowd for an 1874 game of 625 spectators turned to up to pay their respects with a minute's applause, before cheering the side on to victory.
1874 joint manager Paul Bowyer said that it had been a memorable afternoon for everyone involved... 'The turn out was brilliant, we broke our record for the number of people who came to watch, and everybody stuck together... Defensively I thought the whole team and the back five in particular just soaked up everything they chucked at us, and that was a real positive from the day...
'We said we'd try to stay in as many cup competitions as we can after Christmas, and now we have managed to go one step further (in the FA Vase). And now in the last 16, you just never know...
1874's next opponents will be known on Monday lunchtime, and whoever they are will take note that they will be facing a team bang in form, with the win over Pontefract being the Greens' tenth in succession."
Witton Albion "are delighted to announce that the following Reserve Team & Development Squad members are to join up with the first team squad.
[Ex-Alty Youth] Daniel Havern (GK), Ben Bardsley, Luke Whitney & Michael Higginson".
Rushall Olympic report that "Gurjit Singh has rejoined The Pics from Sutton Coldfield Town. A dynamic and pacy front-man with a keen eye for goal, he was a regular on the scoresheet for Smethwick and Tipton Town before landing a move into the full-time game with Kidderminster Harriers in the summer of 2015.
During his time at Aggborough he did well at National League level before moving on to Hednesford Town and Redditch United prior to his arrival at Dales Lane last term. He has been a regular on the scoresheet for Sutton Coldfield Town this season despite their struggles and is a player that has worked with manager, Liam McDonald, previously."
In the Welsh Premier on Saturday, Llandudno FC drew 1-1 with Bala Town, with John Disney netting Bala's goal.
Bala Town
report on a "Tale of two halves at Maesdu Park!...
New Dudno signing [ex-Alty man] Wes Baynes tested Morris who pushed away his effort but with 21 minutes on the clock they took a deserved lead. A break down the right saw a cross headed into the net by Marc Williams at the backpost...
Improvement was needed by the Lakesiders in the second half and thankfully it came. Lewis Short was introduced shortly into the second half and it kick started things for the Lakesiders. Our two new Lakesiders Disney and Short combined down the wing and the attack led to a corner showing Town's fresh second half intentions...
Bala were really taking the game to Llandudno with Lewis Short's opportunity blocked on the line prior to Hayes' shot toe-poked away by Dix. With 78 minutes on the clock, Town were level. Evan Horwood's corner picked out Les Davies who's header was flicked towards the far post which Disney got to the end of to ensure the ball went into the net!"
---
7 January 2018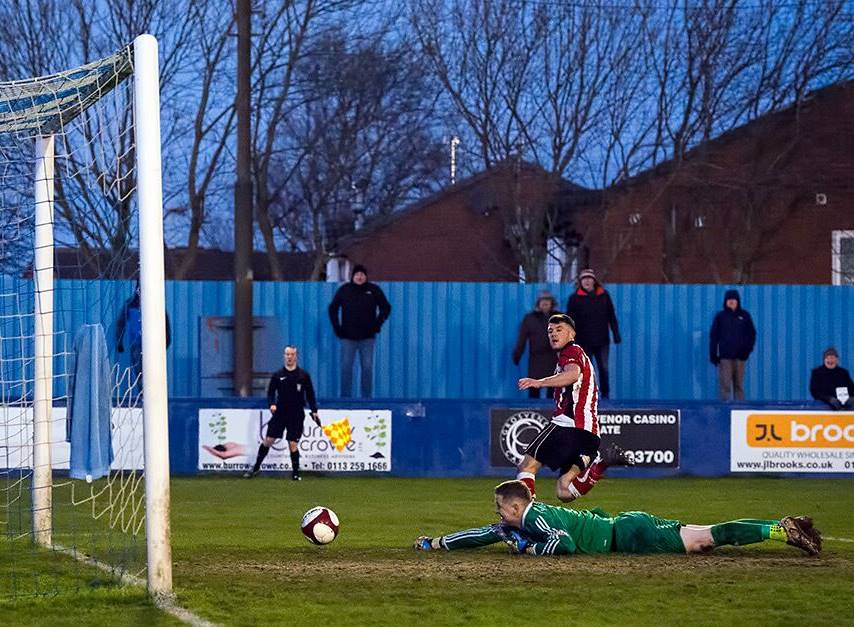 Above: Jordan Hulme nets the winning goal, as seen by Michael Ripley's camera.
After Altrincham had enjoyed some pressure which featured a sequence of corners, Farsley came into the match before the interval. Alty also started the second half brightly but, just after the hour-mark, Farsley striker Cockerline committed a very late challenge on Tom Hannigan. After consulting her linesman, referee Helen Conley showed the offender a red card.
Four minutes later, Hulme put Alty ahead when he impressively rounded the keeper before calmly netting. It was the seventh consecutive league match in which he has scored.
In the closing stages the home side pushed forward but Altrincham defended solidly to retain their lead against the ten men.
Match report here.
Farsley Celtic
report that "Altrincham bounced back from their defeat at Witton as they ground out a 1-0 victory against a battling Farsley side. The Celts had to play the final 30 minutes with ten men, and it was left to Jordan Hulme to score the decisive goal...
Altrincham soon started to move onto the front foot, and James Poole was denied by an excellent Graeme McKibbin save... Poole came close again just a minute later as he let fly from the edge of the box on the turn, but McKibbin produced an outstanding save to prevent the Robins from taking the lead. The visitors continued to dominate...
Just after the half hour mark Farsley should have taken the lead, as Isaac Baldwin made a great run before pulling back to a wide-open Dan Cockerline, but he failed to hit the target from 15-yards.
Graeme McKibbin had to be alert once more to deny Altrincham's creative spark James Poole, who cleverly flicked the ball up before unleashing a volley, only for McKibbin to make the save.
Altrincham started the second-half quickly, with John Johnston heading just over from James Poole's cross. The critical moment in the match came just after the hour, as Dan Cockerline was shown a straight red-card after a late but fairly innocuous challenge on Tom Hannigan. And within three minutes Jordan Hulme had given Altrincham the lead, winning the ball off Kurt Harris and rounding McKibbin for a simple finish...
Farsley pushed hard for an equaliser in the closing minutes and their best chance fell to Isaac Baldwin. Baldwin made a terrific, bursting run through the Altrincham side from inside his own half before firing his effort into the outside of the post, and Farsley were ultimately unable to breakdown Altrincham who returned to winning ways".
The
EvoStik League
's most recent list of player moves in our division includes, Lee Neville from Stalybridge Celtic to Trafford (on long loan) and Louis Briscoe from Boston United to Sutton Coldfield Town
The EVO-STIK Premier Division
Att. 208 Ashton United 3 - 0 Marine. (Former Alty loanee Liam Tomsett netted one of Ashton's goals)
Att. 128 Coalville Town 4 - 2 Sutton Coldfield Town
Att. 380 Farsley Celtic 0 - 1 Altrincham
Att. 338 Halesowen Town 1 - 3 Grantham Town
Att. 402 Matlock Town 0 - 2 Barwell
Att. 404 Nantwich Town 1 - 5 Hednesford Town (Two goals for James Lawrie for the Pitmen)
Att. 529 Stourbridge 1 - 1 Mickleover Sports
Att. 271 Warrington Town 1 - 0 Buxton
Att. 247 Whitby Town 0 - 5 Lancaster City
Saturday 13 January 2018, The EVO-STIK Premier Division
Buxton v Stalybridge Celtic
Grantham Town v Farsley Celtic
Halesowen Town v Nantwich Town
Hednesford Town v Coalville Town
Lancaster City v Barwell
Mickleover Sports v Matlock Town
Shaw Lane v Whitby Town
Stafford Rangers v Altrincham
Sutton Coldfield Town v Rushall Olympic
Witton Albion v Ashton United
News of our next opponents comes from the
Stoke Sentinel
which says that "It has been a week to forget for Stafford Rangers, with defeat on Monday, two players leaving on Friday and today's game at Rushall Olympic being postponed.
Boro were hoping to pick up their first points of the new year at Dales Lane today, but pitch conditions saw the game postponed around lunchtime. That news followed on the heels of the double announcement yesterday that midfielder Richard Batchelor, one of the longer-serving players at Marston Road, and forward Louis Briscoe had left the club. Briscoe has joined league rivals Sutton Coldfield Town, and started today's 4-2 defeat at Coalville Town. Batchelor, meanwhile, a popular figure in his 15 months with Rangers, has opted to sign for another Northern Premier League side in Stourbridge.
Stour, who beat Boro on Boxing Day, put in seven days' notice of approach for the combative midfielder, who said it was a tough decision to leave the club. He posted on Facebook to say... 'Last week Stourbridge put seven days in for me and since then I've thought nothing more about it... They have offered me a deal and incentives that for me and my family was hard to turn down. To say I'm gutted to go is an understatement as everyone associated with the club have made me and my family welcome. But I feel it's right thing for me at this time'".
According to the Warrington Guardian, "Paul Carden was impressed by his Warrington Town side's resilience in their win over Buxton. Steve Jennings's penalty was the difference between the two sides at Cantilever Park as Yellows moved up to third...
Despite the visitors boasting the league's top goalscorer, 23-goal Liam Hardy, Town kept their second consecutive clean sheet...
'It's a crucial win against a good, strong team who have a lot of experience in this league,' he said. 'Sometimes winning football matches isn't about nice play, it's about doing the right things in the right areas. It was a tight game and it took a penalty to win it, but we were resilient. The two centre-halves and the centre midfielders were outstanding. We've put a shift in right through the spine of the team... Our goals against column probably doesn't ring true because we've had a couple of spankings. If you take them out, we're as mean as anyone'...
The game saw winger Devarn Green make his debut for Yellows after signing on loan from Tranmere Rovers... Carden says he has been after Green's signature for a while. 'He went to Tranmere and he's not had a chance yet,' he said. 'I'm just really pleased we've eventually been able to get it done... You can see what he's got. He's very smooth with the ball and can go past people'".
In the Hallmark Security (NW Counties) League, Premier Division, Congleton Town won 5-1 against Barnton with Billy Hasler-Cregg netting twice.
On Saturday 13 January all four of the NPL survivors face lengthy trips to FA Trophy ties...
Billericay Town v Stourbridge
Dover Athletic v Marine
Ebbsfleet United v Warrington Town
Weston Super Mare v Workington
---
6 January 2018
Saturday 6 January 2018, The EVO-STIK Premier Division
Ashton United 3-0 Marine
Coalville Town 4-2 Sutton Coldfield Town
Farsley Celtic 0-1 Altrincham
Halesowen Town 1-3 Grantham Town
Matlock Town 0-2 Barwell
Nantwich Town 1-5 Hednesford Town
Rushall Olympic P-P Stafford Rangers
Stalybridge Celtic P-P Witton Albion
Stourbridge 1-1 Mickleover Sports
Warrington Town 1-0 Buxton
Whitby Town 0-5 Lancaster City
Workington P-P Shaw Lane
Alty boss Phil Parkinson reported on Monday that Max Harrop missed the New Year's Day game through a hamstring injury, but he is expected to be available at Farsley. The Altrincham starting eleven on New Year's Day saw defenders James Jones and Andy White replace Tom Hannigan and Shaun Densmore in a planned rotation of the squad but whether Alty now revert to the previous starting eleven or continue with the New Year's Day selection remains to be seen.
Farsley Celtic report that they "will be looking to continue their fine recent form as league leaders Altrincham make the trip across the Pennines to Throstle Nest...
Farsley head into the game on a four game unbeaten run, rising up to 6th in the Evo-Stik Premier Division just three points behind second placed Workington. Farsley drew with Rushall Olympic (1-1), whilst defeating Campion (3-2), Whitby Town (2-0) and most recently title challengers and Yorkshire rivals Shaw Lane (4-2). The Celts will be without the services of Adam Clayton who limped off injured against Shaw Lane, and could miss up to three weeks. Lewis Turner will also serve a one-match suspension following his dismissal against Whitby, whilst Chris Atkinson will play his last game before a two-match suspension.
Ahead of the game Celts' manager Adam Lakeland said, 'I'm incredibly proud of the way the team has played not just on Monday coming back against a good side but over the past week or so in general. We now look forward to welcoming Altrincham to the Nest at the weekend in what will be a difficult game, but one in which we have no pressure and nothing to lose.'
The visitors Altrincham... have no apparent injury concerns, and new signing Andy White will be available after making his debut against Witton".
Farsley Celtic
write that "The Celts take on the league leaders Saturday at Throstle Nest, kick off 3pm, looking to follow up on Monday's dramatic comeback victory against promotion chasing Shaw Lane AFC... The Celts squad look to build on the positive run of games over the Festive Period, which saw wins against Whitby Town and Shaw Lane and a draw against Rushall Olympic..
Admission prices...
Adults £8
Concessionaries £5
Accompanied Children (Under 16) £1
Admission to Throstle Nest is by cash payment at the turnstiles only, which are located at the main entrance to the ground adjacent to the club car park. The turnstiles open at 1.30pm. The clubhouse is open from 12 noon, so why not get yourself down early, grab a drink and a bite to eat and watch the live televised games from BT Sport and Sky on our big screen in the bar?
Pick up a copy of 'The Celts' match day programme... available from inside the ground and at the club shop, priced at £2.00....
The food kiosk provides a variety of hot and cold snacks and drinks. It is located next to the main entrance and is open from 1.30pm and continues to serve until shortly after the half time interval. The club bar is open from midday on a Saturday and remains open throughout and after the match. There is a large selection of non-alcoholic and alcoholic options including hand-pulled real ale.
Customers are permitted to take their drinks into the ground using one of the plastic glasses supplied...
500 seats are available in the main stand at the ground. Seats are available on a first come first served basis. Standing is available in all other areas of the ground. Covered standing is available behind the goal at the entrance end of Throstle Nest. Toilets are located next to the main stand and there are alternative facilities within the club house.
The club postcode is LS28 5BE... There is a large car park located at the main entrance of the ground. Car parking is free to all supporters on match days. Please avoid parking on the streets around the ground. Coaches of visiting teams will also be parked in the main club car park...
New Pudsey station, on the Cross Pennine Line, is a fifteen-minute walk away from Throstle Nest. When leaving the station follow the station road to the junction and turn right. Pass the police station on the left and continue for around 500 yards until you reach New Street (the junction cornered by "Go Outdoors") and turn left. Turn right at Newlands which is approximately 300 yards (signposted to Farsley AFC). Throstle Nest is situated at the end of Newlands. Trains leave Leeds City Station and Bradford Interchange approximately every 15 minutes. Trains from Bradford take 8 minutes and from 11 minutes from Leeds.
Farsley is situated on a number of bus routes: From Leeds or Bradford, the 508 and 72 all stop at "Go Outdoors" on Stanningley Road (see above for directions to the ground)".
Alty TV has Brian Flynn's interview with new signing Andy White, recorded after the New Year's Day game. It can be seen
here
.
The Alty highlights of the game against Witton Albion can be viewed via the following link...
Anyone travelling northwards from Altrincham should be aware that from 15 January the A56 road is to be closed for twelve nights from 1930 to 0600 hours for resurfacing works. The closure will be on the stretch between Park Road, West Timperley and Eastway, Sale. Fortunately, Alty have no home games currently scheduled in that period.
Boston United
"have bolstered their defensive ranks with the acquisition of goalkeeper Jon Stewart and defender Ryan Qualter. Stewart (28) and Qualter (26) both arrive from manager Craig Elliott's former club Shaw Lane following the completion of an agreement between the two clubs.
Both players have previous experience of National League North following spells with Bradford Park Avenue, while Stewart has appeared for Alfreton Town too. Stewart has also played under Eddie Howe at Bournemouth and Burnley. Qualter, meanwhile, is a centre-half by trade".
The Northwich Guardian reports that "Carl Macauley has ruled out Owen Dale for a fortnight after the winger was injured during Witton Albion's success on New Year's Day against Altrincham... A groin strain will keep him on the side-lines. He is currently on loan to the Northwich club from Crewe Alexandra, and has scored three times in 11 appearances.
'I can't believe it,' said the Witton boss. 'We're having a terrible run of luck with injuries, and it's testing the strength of our squad.' Dale, 19, has played for Albion the past two months...
His is the latest name on a lengthy injury list at Wincham Park. Anthony Gardner (ankle) is hoping he can return to training next week... However Anthony Brown (knee) and Paul Williams (ankle) will not be able to join him until later this month. Nick Ryan, a defender that suffered a fracture to his jaw during a 6-2 victory at Sutton Coldfield before Christmas, is out for an indefinite period while doctors decide how best to treat him.
On a more positive note, Macauley expects Prince Haywood and Danny McKenna to be fit enough to play at Stalybridge Celtic tomorrow after they both suffered minor injuries on Monday."
Elsewhere, it is reported that River Humphreys has signed for Witton Albion from Widnes Football Club.
Meanwhile the Warrington Guardian reports that "Isolating striker Liam Hardy will be key to a Warrington Town victory in Saturday's game against Buxton, manager Paul Carden says. The Bucks' hitman Hardy is the Evo-Stik Premier Division's leading scorer and will arrive at Cantilever Park keen to increase his 23-goal tally for the campaign.
Carden says Yellows know all about Hardy's threat after he scored during a 2-1 defeat in the reverse fixture back in October and he says his side need to be 'at their best' to gain all three points. 'With the front-line they've got, they're always going to cause problems,' he said. 'Liam Hardy's got two hat-tricks in the past two games he's played. He's always up at the top end of the goal-scoring charts... We've got to isolate him. They've got good players, a good manager and they always recruit well'...
Yellows wrapped up their festive schedule with a 0-0 draw with Marine on New Year's Day, meaning they took four points from nine available over Christmas. Jack Higgins was sent off in the second half of the stalemate, meaning Town had to hang on for a point with 10 men at Cantilever Park... Carden admits... 'It wasn't a great start to the year, but it could have been worse... We've just got to make sure we're firing in the second-half of the season'.
Carden gave a debut to defender Tom Hamer against Marine after he joined on a work experience loan from Oldham Athletic... 'At times, it looked like the pace of the game was catching up with him as he's come from youth team football,' he said. 'He's a full-back who can play on the wing and fill in as a makeshift centre-half as well. You saw when he came on against Marine that he's got good energy and good athleticism'..
Yellows are also scheduled to play on Monday when they visit North West Counties League Premier Division side Winsford United in the Cheshire FA Senior Cup, kick off 7.45pm." The following night on the same pitch Alty are due to play 1874 Northwich in the same competition!
---
5 February 2018
The Altrincham FC sporting dinner, on Friday, March 16, featuring Tottenham Hotspur stars Ossie Ardiles and Mickey Hazard is now almost sold out. So, if you are thinking of attending, please get in touch with the club a.s.a.p. Please either
e-mail
or ring 07720 606897 to secure your place(s).
More details of the Dinner are on the Events Page.
There are currently almost 400 members of the Altrincham FC Monthly Draw so why not make it your New Year Resolution for 2018 to join the competition and win a big prize... and help Phil Parkinson's push for promotion at the same time? It costs just £5 per month to join and you could win £500 in cash or other prizes, whilst
the Club has announced that all additional proceeds raised by new members joining the scheme will be ring-fenced for team strengthening
. If 110 new members join, lifting the membership to 500, that would translate into an additional £6,600 for Phil to invest in his squad.
Full details of the Monthly Draw scheme can be found by clicking on the adjacent icon and a standing order form is also to be found here. Once completed, please send the form to your bank for action.
Following an incident at the New Year's Day home match, when a spectator assaulted our Chief Steward, and after further investigation by the Club, the person concerned has been issued with a lifetime ban from the J. Davidson Stadium. Altrincham Football Club wishes to make clear that it will not tolerate any actions of this nature towards its staff or other spectators.
Above: Alty's only previous visit to Farsley was in November 2007. Above we see Farsley's Ryan Serrant preparing to take a first-half throw-in as Alty's Robbie Lawton and Gary Scott keep an eye on Celtic's Stamer and Darren Tinson marshalls the Robins' defence.
TASC is running a supporters' coach to the Throstle Nest on Saturday (6 January) and details are here.
Please book your seat by ringing the Club (0161 928-1045) during normal office hours.
Altrincham fans will all remember how resilient the Borough Park pitch is to incessant rain but even on Thursday, the
News & Star
was reporting that "Workington Reds' clash with Shaw Lane on Saturday is in doubt after the Borough Park pitch took a hammering from the weather. It was touch and go as to whether Monday's game against Whitby Town would go ahead after heavy rain before kick-off. But, after the game, the pitch was a quagmire and recent downpours have not helped matters.
'It is doubtful if Saturday goes ahead,' admitted Reds' joint chairman John Mackay. 'It was very heavy on Saturday and we have had more rain since then and we are forecast even more for the rest of the week. We just have to keep an eye on the weather and hold a pitch inspection later in the week.'
Reds' joint manager Lee Andrews has given his players a couple of days off after Saturday's 3-1 loss to Whitby. He admitted that his squad were both mentally and physically tired after a tough festive schedule. And the clash against fourth-placed Shaw Lane is set to be another tough encounter.
'They won't train tonight to give them a rest, they need a night off,' said Andrews. 'We have a couple of little niggles but, hopefully, we should have the same squad available for Saturday. We will just have to see how the pitch holds up as at the moment I think it is 50/50'".
Skelmersdale United
tell us about the "Andy Owens situation. Firstly, answering the report from the Champion [newspaper], Dave Powell's words in Monday's interview that a deal for Andy to move to another club had been on the cards was a quote that had been recorded in anticipation of the transfer being completed prior to today.
The details of such [a] deal will be left at the discretion of his new club Connah's Quay and, after the registration is complete and announced, we will post our final interview with Andy which was filmed on Saturday.
This also leads me to quell the notion that Andy was 'omitted' from the Monday's matchday squad. Andy informed us prior to playing at Glossop on Saturday that he had agreed and signed forms with Quay and, as such, was not eligible for selection on Monday. He did however attend the game to support his team-mates and management and of course, when he departs the club does so with the best wishes of all of us at SUFC...
Work to recruit for Andy's replacement and to boost the squad ahead of a hectic set of fixtures in the next month or so, is well underway".
And at Atherton Collieries, former Alty goalkeeper Adam Reid has asked to be released and the club tweeted "The best of luck to stopper Reidy, as he looks to move on from the Kensite Stadium. Reidy has played a vital part in some unforgettable moments for the club over the last year and a half". Earlier Adam had written, "I have asked to be released from Colls today... Colls is a great club and I have really enjoyed my time with Colls".
---
4 January 2018
As reported yesterday and now confirmed by the
EvoStik League
, "Premier Division leaders Altrincham and South Division pace-setters Basford are both looking forward to collecting their second Northern Premier League 'Club of the Month' accolades of the historic 2017-18 season after being named on Tuesday as December's top performers alongside first-time winners Droylsden.
Like all winners of the monthly honours, the trio will be presented with engraved glass mementos to mark their form and results over the last four weeks and bottles of spirits to celebrate with at upcoming fixtures by representatives of the Northern Premier League.
Altrincham suffered a set-back to their title ambitions on New Year's Day but are still flying high at the top of the Premier Division table and seven points clear thanks to their form in December when Phil Parkinson and his side secured maximum points from four league outings while conceding a solitary goal and scoring 11 times.
The Robins, honoured for the first time this season as one of October's performance kings, will collect their second accolade from representatives of the EVO-STIK League on Saturday 27 January when they host Workington at Moss Lane."
From our next opponents' manager we learn that at
Farsley Celtic
"'The spirit, togetherness and character we have shown time and again this season, means we can never be written off'.
The Christmas and New Year period is a busy time in the football calendar which this season saw the Celts make away trips to Whitby Town and Rushall Olympic and host Shaw Lane AFC, all in the space of a week. For Farsley it has been a positive run of games with two wins and a draw and manager Adam Lakeland was full of praise for his squad following the three fixtures...
'It's been a great effort by the players over the busy Christmas period and to pick up seven out of the possible nine points is excellent. We had a long trip to Whitby on Boxing Day and got the job done, and then another long journey on Saturday to Rushall where we collected a credible point followed by the derby at the Nest on New Year's Day with Shaw Lane, so every credit to the lads.'
Looking at the game in the West Midlands at Rushall Olympic the Celts' boss said, 'It was mixed emotions on Saturday really. When you are behind away from home for so long and equalise late on, you have to see it as a good point, which it was, but I felt we were the better team for the majority of the game and deserved all three... We go and concede a poor goal from an individual error and Rushall take the lead against the run of play. I'd watched them away at Stafford where they won 4-0 and at Stalybridge where they won 2-1 and they are a team who prefer to defend deep and in numbers and counter attack where they pose a threat, so going ahead gives them the opportunity to play to their strengths.
'That meant that we had to be disciplined, play with control and be patient which I felt we did in the second half after we re-grouped at half-time... However, second half we were by far the better side... so overall it was a decent point and kept our momentum going into the Shaw Lane game.'
Moving onto the New Year's Day derby against Shaw Lane, the Farsley boss said, 'We anticipated a fast start by them for numerous reasons really; it's a derby, both teams are going well but, more so, because they hadn't played on the Saturday whilst we'd travelled to Rushall. As a result, we did expect a frantic opening 15-20 minutes and I have to be honest and say they completely dominated us in the opening period and deservedly went ahead two-nil...
'I was always confident that once the game settled down we would create chances against them. We also lost Adam Clayton and had to re-organise at the back, with Kurt (Harris) going in at centre-back alongside Danny (Ellis) and I have to say the pair of them were outstanding... After the first fifteen minutes... in all honestly we could have been level at the break.
'One thing I am always guaranteed from my players is 110%... In the second half we were much better than them, more cohesive, better quality, fitter, and I think we wanted it more than them overall. Credit to the forwards Nathan (Cartman) and Dan Cockerline whose finishing was excellent and the pair of them were a threat all afternoon'...
Finally looking ahead to Saturday and the visit of league leaders Altrincham, the Celts boss said 'I'm incredibly proud of the way the team has played not just on Monday coming back against a good side, but over the past week or so in general and we now look forward to welcoming Altrincham to the Nest at the weekend in what will be a difficult game, but one in which we have no pressure and nothing to lose.'"
There are video highlights of the Farsley Celtic v Shaw Lane game here.
In their draw at Rushall Olympic, the West Leeds Dispatch reports that "Farsley made it three games unbeaten with a hard-fought 1-1 draw away to Rushall Olympic. Daniel Waldren scored a fine goal early on to give Rushall the lead, before a late error by the Pics' goalkeeper Jahquil Hill allowed Danny Ellis to score the crucial equaliser...
With 20 minutes remaining Rushall had a chance to secure the three points as Jordan Sangha's free-kick found Brodie, but he headed just wide from six-yards out. Adam Lakeland then made the decision to send centre-half Danny Ellis up front... With just minutes remaining Farsley came agonisingly close once more as Ryan Watson flicked the ball on to Ellis who let fly with a screaming volley from the edge of the box, and Hill somehow made a wonderful save...
But in the final minute of normal time Jahquil Hill undid his good work as he failed to hold onto a long, hopeful ball from Kurt Harris, the ball falling kindly to Ellis who tapped home".
The
EvoStik League
reports that "Buxton boss Martin McIntosh is expecting to add more new faces to his squad for Saturday's trip to Warrington... after signing Jack Broadhead on a season-long loan from Boston United. The midfielder completed his move from the Pilgrims on Wednesday after spending the last month on loan at Silverlands.
The Bucks, told supporters they could expect more arrivals in a statement on Twitter announcing the deal for the 23-year-old who's scored once in 27 appearances for the Pilgrims since switching from Mickleover Sports in March 2017... 'There will be further player news announced tomorrow once paperwork is completed'".
At Mickleover Sports, Olly Mulders has joined on loan from Birmingham City for the remainder of the season.
Over at Whitby Town, "Striker John Campbell has departed the Turnbull Ground, signing for Northern League side Jarrow Roofing for an undisclosed fee. The forward joined the Blues in September from Newcastle Benfield, but found himself unable to make travel commitments as his time with the club went on and sought a transfer as a result".
---
3 January 2018
The EvoStik League has informed us that "Altrincham FC are confirmed as the EVO-STIK Premier Division 'Club of the Month' for December 2017. The award will comprise the presentation of an engraved permanent memento and a 1 litre bottle of spirit. The date of the presentation will be Saturday 27th January (Altrincham v Warrington Town)".
Phil Parkinson (right) reflected on Altrincham's 4-3 home defeat to Witton Albion on Monday in a post-match interview with Press and Media Officer John Edwards. Here are the manager's thoughts.
Q: The long unbeaten League run had to end at some stage, Phil – any complaints?
A: I was really disappointed with the fact we got back in the game, then let it slip. At 3-2 up, we should have been able to see it out. We made bad decisions throughout, which we haven't been doing previously. I think we have conceded more today than in the previous 16 games, or something like that. It is extremely frustrating that we have conceded so many when we have been so tight at the back and so strong for so long. I'm really frustrated with the lack of know-how we showed, particularly after we got our noses back in front.
Q: It was the same for both sides, but nevertheless the conditions must have been a factor?
A: Of course they played a part. That's why we have seen so many goals. Witton may have had a couple of big wins earlier, but generally I don't think they have been scoring too many, so conditions have played a part for sure. It must have been very entertaining for the neutral, but it's sickening and frustrating from our point of view. We came from behind, and it was great to see us do that.
I said to the players at half-time: 'Can you show the character to come back and turn it round? Make sure that if our opponents take anything, they've had to give everything to do it.' To be fair, they have given everything and were on their knees at the end.
I've got to give my lads a bit of credit as well, though. We have been on a great run. We are there to be shot at and knocked down, and every team we have faced in my time here seems to have had that approach and wanted to do that to us. It is a bitter pill to swallow when you lose a game, but it's something we need to look at, in terms of game management near the end. It has been such a long time since I have had to say that.
Certainly, in the league, I can't have too many complaints. It's very rare I have been able to point a finger at the lads, because they have been so good for so long, so I will have to give them the benefit of the doubt today and say it was just a bad day for us. We can't afford too many of them, mind you.
Q: You have said before about us being up there to be shot at, and Witton certainly seemed to raise their game, didn't they?
A: They played like their lives depended on it. They looked very hungry for the win. They had great legs in the team, which wasn't so evident last time we played them. We were very aware of counter attacks and their strengths, but we didn't come up to requirements and did not use that information well enough.
Physically, maybe, the short turnaround in games took its toll. Witton had exactly the same turnaround, but for some reason we didn't have the ability to stay with them on the counter attack at times. At least we've got a nice little break now before heading to Farsley on Saturday. We are away from here for about a month now, so that will give the pitch time to replenish itself and hopefully be back in a fit state when we next play on it.
That is important, because if the pitch is like it was today, it becomes a leveller. That's not an excuse, it is a fact. It doesn't matter how good we are, it gives the opposition a chance to get back at us when we are trying to play our game but the ball gets stuck in mud or surface water. In those circumstances, we've got to go a bit more direct, and the bit of joy I can take from today is that when we did go direct, which I very rarely ask my players to do, we were scoring goals. It was nice to see we could do that, but it was just very frustrating and disappointing that we were not strong enough mentally and physically to see the game out at the end.
Q: It was a shame for Andy White (left), wasn't it, when you consider he could have been the matchwinner on his full debut?
A: You felt the writing was on the wall when he scored to put us 3-2 up, didn't you? That's just how football can go. You can never predict the outcome. I know everyone is getting a bit like we only have to turn up to get the points, but it's not going to be like that. I said when I came to this club the league is extremely difficult in terms of anyone can beat anyone on their day, and we have seen that today.
Q: Jordan Hulme added another goal to his prodigious tally, but he showed he's more than just a finisher with the way he set up James Poole's equaliser, didn't he?
A: He did really well with that. He's on fire and scoring every week, so we can't really ask any more of him at the moment.
Farsley may have done us a favour by beating Shaw Lane, but equally it just underlines the test awaiting us on Saturday, doesn't it?
A: Shaw Lane were 2-0 up as well, so it just goes to show that if you don't see the game through right to the very end, it may well come back and bite you. All the teams are fighting for points, whether it's us trying to safeguard our advantage at the top, sides at the bottom needing something to stay up or those in the middle thinking they might catch us up with a few wins. It's like a real war of attrition. Every point is vital to everyone and means so much.
My players are tearing shreds off each other in the changing room. They are fuming over the fact they got themselves into such a good position and ended up with nothing, but the message I've said to them and will say to everyone else is we stick together. I said throughout the good run we will hit a rut at some stage, and losing a game is a bit of a rut for us. I said that when that happens, it is vitally important we all stick together and show the camaraderie and team spirit that got us to where we are.
The big plus point for me today was the sight of our fans clapping us off at the end. I feel that shows how far this club has come since I first arrived. After the Stafford game on the opening day, it was like the end of the world, but today I think the fans could see the lads haven't just turned up and accepted defeat. They have at least had a right go in really difficult conditions right to the end. We have lost, and we have to take that on the chin, but the fans could see we were going at it right to the bitter end, and it's a credit to them that they reacted as they did. That was appreciated.
Q: When you suffer a rare defeat, the response is all-important. Do you sense the players want to put matters right?
A: Absolutely. It was very heated in the changing room, probably more so than I've ever seen before, but that is because I've got a bunch of winners in there. They don't like the taste of defeat, and I think that is why we do win so many games. They don't like that feeling. I'm the same. I know which I prefer. This will definitely ruin my week, until Saturday comes round.
I know those lads in there will be reeling from it as well, so that is the bit of heart I can take from the run ending. We didn't just bow out meekly. At the same time, you have to give full credit to Witton. They have come to Altrincham, top of the league, and they have deserved what was a very hard-fought victory. I thought they were superb, especially with the injuries they've had. I said to the lads sometimes when teams face that sort of adversity, it brings them together, and that was certainly the case with them.
Q: Finally, can you bring us up to date on the fitness front?
A: I will have to check with Connor Hampson (left). I'm not 100 per cent sure what he has done, except he seems to have tweaked something and had to come off. Laurence Taylor's loan comes to an end, so that will boost our numbers. Max Harrop has been struggling with his hamstring but should be back for Saturday, which will strengthen us. I felt we missed his quality today.
Even though the pitch was heavy, he has that ability to stretch the play, and he has excellent vision, which maybe we were lacking a bit. The energy he brings is another factor. He has great legs and gets round the park really well. That is something I will be looking at, but overall I'm not too concerned, because I know we will bounce back and I know what this group are all about.
I have faith in my ability and faith in every single one of those players. We will certainly be going all guns blazing to get a positive result on Saturday".
Press & Media Officer, Brian Flynn, reports that "John Disney (left) and Lewis Short have joined JD Welsh Premier League side, Bala Town, subject to receiving international clearance.
Both full backs joined Altrincham during the close season from Connahs Quay Nomads and now return to the Welsh Premier League.
John Disney featured regularly during pre-season but sustained what transpired to be a bad ankle injury, following a dreadful challenge by former Altrincham midfielder, Brian Summerskill, in the final pre-season game at Trafford on August 5th. Disney did make his competitive debut at Nantwich ten days later and subsequently made a further substitute appearance against Coalville Town, before having to be withdrawn with a re-occurrence of the same injury, that has kept him out of action for more than four months.
Lewis Short (right) made thirteen starts and three substitute appearances for the Robins, before sustaining a leg injury in his final appearance, in the rain at Warrington Town in October, when he was cleaned out by Josh Hine.
Altrincham Football club thanks John and Lewis for their services at The J.Davidson Stadium and wishes both players better fortune with injuries in their new careers with the Lakesiders, who are currently in third place in the League, with every chance of qualifying for Europe in 2018".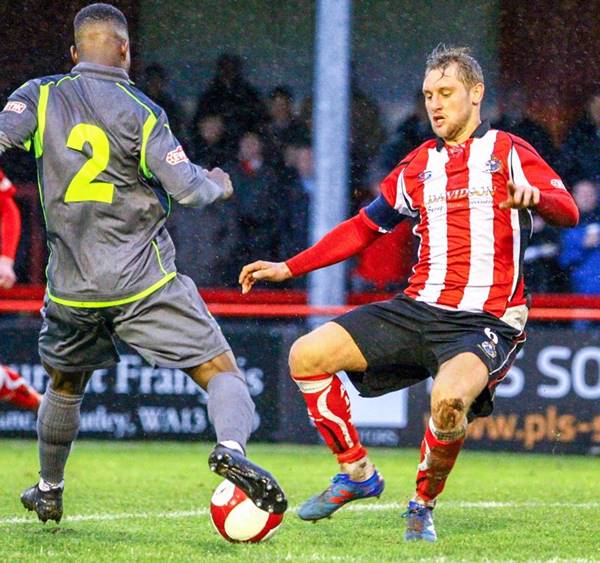 Above: Gavin Rathbone's camera portrays Alty captain Jake Moult in action against Witton Albion on New Year's Day.
Match report here.
Twitter has video of the goals from the match from Alty TV.
After the game on New Year's Day, the
Northwich Guardian
reported that "Witton Albion's hopes in the build-up were defined by who wouldn't be playing for them. However, those that did deserve the attention now. They delivered for Carl Macauley arguably the best result of his tenure as manager, and in thrilling fashion.
When Alty overturned an interval deficit to establish a 3-2 lead midway through the second-half, even the most ardent Albion supporter will have wondered if their chance had gone... Alty hadn't lost a league game at Moss Lane since the season's opening day, and no side had prevailed against them in any of their past 16 Premier Division fixtures.
Not that Witton's players cared. They conjured another equaliser with nine minutes left when Tom Owens steered in off an upright after Will Jones and Steven Tames had combined to cut open the hosts' defence. Settle for 3-3? No chance. Will Jones's decisive strike, with two minutes left, was worthy of winning any game.
He still had work to do when former Albion favourite Ben Harrison, under no pressure, skewed a clearing header skywards. The front man steadied himself by controlling the ball on his chest before thumping a volley where goalkeeper Tony Thompson had no chance of stopping it. Alty, stunned, could not react.
The Robins had struggled throughout for fluency in fast-deteriorating conditions that left the pitch sodden.
Macauley, because of those absences, was forced to improvise. He stationed striker Rob Hopley in the centre of defence, and swapped left-back Danny McKenna to the opposite flank to accommodate Matty Devine. Prince Haywood was tasked with smothering James Poole, and made sure the table-toppers' creative spark only occasionally flickered...
[At 1-2] Alty adjusted better after the interval, and Poole prodded in a leveller from Hulme's cut-back. They edged in front when debutant full-back Andy White stroked low into the corner from outside of the penalty area, apparently catching Hare by surprise... Owens timed his run perfectly from midfield to reach Tames' pass before Thompson, hauling his side level at 3-3. Jones almost punished the Robins' custodian for a sloppy clearance, only to shoot straight at the recovering net-minder. However the striker's next contribution was worth the wait".
And the newspaper adds that "Carl Macauley claimed Witton Albion's stunning victory on New Year's Day is one of his favourite moments as a manager... 'It's definitely up there with my biggest highs,' said Macauley, back on the touchline after missing the past two games through illness. 'Of course it's our best result of this season when you consider the circumstances. We had four lads out injured and another who couldn't play, and within the team I had to change players' positions as well as in terms of personnel. But we got it right didn't we?
'I'm so glad we got something from the game after going 3-2 down because we deserved it, and I hope they acknowledge that too. We've come here and scored four times against the best team in the league, remember'...
" Macauley admitted he was worried that referee Daniel Hitchell would be forced to consider calling off the game after heavy rainfall left standing water on parts of the pitch. He added, 'I think it was the right call to continue, but I confess I did expect him to come into our dressing room at half-time and ask us how we felt about it. When he didn't, I thought he just planned to give it 10 minutes in the second-half before making a decision. Once we got past that point, I was confident we'd reach the finish.
'It would have been tough to take had it been stopped, particularly after we'd done so well and worked so hard.'"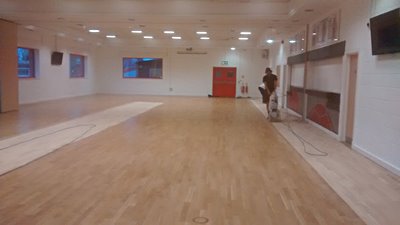 Above: Work in progress to sand and then repolish the flooring of the Community Sports Hall at the J. Davidson Stadium started on Tuesday. The brighter strips of flooring are those which have been sanded, whilst the darker areas remain to be worked upon. Work is expected to take the rest of the week.
Below: Most of the surface had been removed by lunchtime by the hardworking contractors.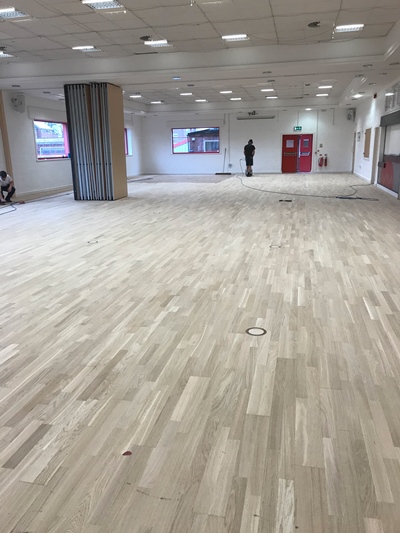 The website's
fixture list
is currently correct and remains unaltered since before Christmas. However, a number of the fixtures printed in the "Robins' Review" on New Year's Day did not reflect changes announced by the EvoStik League in December, which have been previously reported here on the website. This was because of a printer's error.
So, for the benefit of those relying on the Robins' Review, please note tha Altrincham are NOT at home to Workington on Saturday, 13 January but, instead, are away at Stafford Rangers (3pm). Also, on Tuesday 9 January, Altrincham have a Cheshire Senior Cup tie, away to 1874 Northwich, at Winsford United FC.
Also, please note that on Tuesday 6 February we are now at home in the league to Ashton United (7.45pm) and on Tuesday, 13 February we entertain Shaw Lane at the J Davidson Stadium (7.45pm).
Finally, on 10 March we are not now away at Stafford Rangers and currently have no fixture on that date. Altrincham FC apologizes for any confusion caused by the erroneous publication of information in the programme.
Altrincham travel to Farsley Celtic on Saturday, their first encounter with the Yorkshire club since its reformation. Financial problems caused Farsley Celtic Football Club, founded in 1908, to re-group as Farsley AFC in 2010 but they were later (2015) allowed to return to their previous Farsley Celtic name.
Altrincham's record against the original Farsley Celtic is kindly provided by Mike Garnett...
Home p.3 w.1 d.2 l.0 f.5 a.2
Away p.1 w.0 d.1 l.0 f.1 a.1
Overall p.4 w.1 d.3 l.0 f.6 a.3
When the "new" Farsley Celtic played at the J. Davidson Stadium earlier this season, Alty ran out 6-0 winners, thanks to goals from Hancock (2), Peers, Johnston, Hulme and Hannigan. However, Farsley's impressive 4-2 victory over Shaw Lane on New Year's Day indicates that the return fixture will be a much more even contest.
In its review of the New Year's Day fixtures, the
EvoStik League
says that "When Altrincham's sixteen-game unbeaten run in the EVO-STIK League Premier came to an end... the Robins would have expected to have had their lead at the top cut, writes Pitchero's Steve Whitney.
However, second-placed Workington AFC were also beaten, so the gap is still seven points.... Workington were surprisingly beaten 3-1 at Borough Park by lowly Whitby Town. Nathan Waterson had the Reds in front from the 26th minute and it wasn't until the hour-mark that the Seasiders levelled through new signing James Fairley. Then, 11 minutes from time, Junior Mondal put the visitors ahead and a third from Lewis Maloney in stoppage time killed any hopes of a home comeback.
Grantham Town are now third, just a point behind Workington, after they beat Matlock Town 2-1 at The Meres... Grantham moved above Shaw Lane AFC, who were beaten 4-2 at Throstle Nest by sixth-placed Farsley Celtic. The visitors had a great start when Damian Reeves scored inside the opening minute. And when Paul Clayton made it 2-0 with only 12 minutes gone on the clock, it looked ominous for the home side.
But Farsley produced a stunning comeback. Danny Ellis reduced the deficit in the 21st minute and then Nathan Cartman equalised 11 minutes into the second half. Dan Cockerline put the home side in front for the first time with 20 minutes to go, and a second for Cartman four minutes into stoppage time saw Farsley complete the turnaround.
Farsley pulled two points back on fifth-placed Warrington Town after they were held to a 0-0 draw at Cantilever Park by fourth-bottom Marine AFC. Ashton United`s hopes of getting into the top five were halted by damaged floodlights at Buxton after the match at Silverlands was abandoned with less than 20 minutes played.
Hednesford Town are eighth but only three points behind Warrington after they beat neighbours Stafford Rangers 2-1 at Keys Park...
At the other end of the table, Sutton Coldfield Town are three points adrift of second-bottom Stalybridge Celtic after the Royals lost 1-0 at Coles Lane to third-bottom Halesowen Town, while Celtic hammered Lancaster City 5-2 at Bower Fold. A goal from Jordan Goddard 10 minutes into the second half earned Halesowen their vital win...
Nantwich Town gained a much-needed 2-0 win at Kirkby Road against Barwell... The day's other game saw Mickleover Sports and Coalville Town share a 2-2 draw".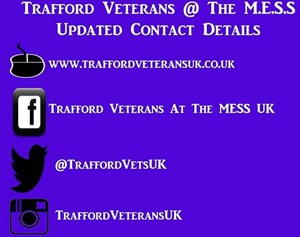 Altrincham FC has worked in the past with the Trafford Veterans organization, which is launching a new venture on Saturday. They write, "Served in the Armed Forces or have a family member who has? Why not come and join us for a brew and a chat, search your family military history or just speak to us about our peer support activities in Trafford. We will be trying a new outreach at Altrincham Tesco Community Room on Saturday 6th January, 9am to 11am".
---
2 January 2018
Press & Media Officer, Brian Flynn, reports that "John Disney (left) and Lewis Short have joined JD Welsh Premier League side, Bala Town, subject to receiving international clearance.
Both full backs joined Altrincham during the close season from Connahs Quay Nomads and now return to the Welsh Premier League.
John Disney featured regularly during pre-season but sustained what transpired to be a bad ankle injury, following a dreadful challenge by former Altrincham midfielder, Brian Summerskill, in the final pre-season game at Trafford on August 5th. Disney did make his competitive debut at Nantwich ten days later and subsequently made a further substitute appearance against Coalville Town, before having to be withdrawn with a re-occurrence of the same injury, that has kept him out of action for more than four months.
Lewis Short (right) made thirteen starts and three substitute appearances for the Robins, before sustaining a leg injury in his final appearance, in the rain at Warrington Town in October, when he was cleaned out by Josh Hine.
Altrincham Football club thanks John and Lewis for their services at The J.Davidson Stadium and wishes both players better fortune with injuries in their new careers with the Lakesiders, who are currently in third place in the League, with every chance of qualifying for Europe in 2018".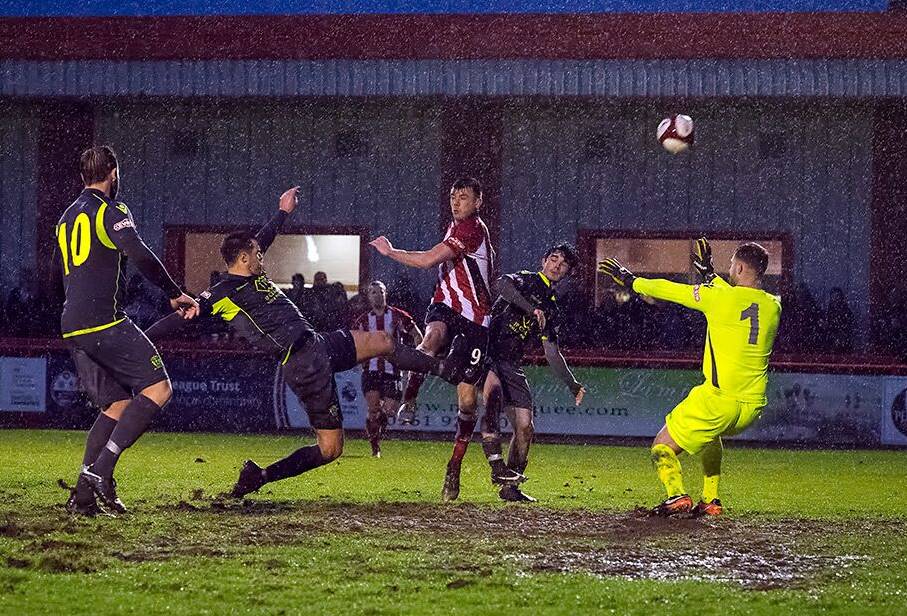 Match report here.
Above: Jordan Hulme in the thick of the action in atrocious weather on New Year's Day. Image courtesy of Mike Ripley.
Following the New Year's Day game at home to Witton Albion, Alty face three successive away trips, the first of which will be on Saturday, 6 January 2018, to Farsley Celtic.
TASC is running a supporters' coach to the Throstle Nest and details are here.
Please book your seat at the New Year's Day game or by ringing the Club (0161 928-1045) after the offices reopen in the New Year.
The EVO-STIK Premier Division
Att. 1013 Altrincham 3 - 4 Witton Albion
Att. 163 Barwell 0 - 2 Nantwich Town
Buxton A - A Ashton United - [after safety concerns about the floodlights]
Att. 226 Farsley Celtic 4 - 2 Shaw Lane. Damian Reeves netted in the first minute and Shaw Lane were 2-0 up soon afterwards.
Att. 270 Grantham Town 2 - 1 Matlock Town
Att. 892 Hednesford Town 2 - 1 Stafford Rangers
Att. 149 Mickleover Sports 2 - 2 Coalville Town
Att. 281 Stalybridge Celtic 5 - 2 Lancaster City
Att. 767 Stourbridge 5 - 0 Rushall Olympic
Att. 287 Sutton Coldfield Town 0 - 1 Halesowen Town
Att. 255 Warrington Town 0 - 0 Marine
Att. 520 Workington 1 - 3 Whitby Town
---
1 January 2018
Altrincham's 16-game unbeaten run in the league came to an end in a match played in atrocious weather, in which they led twice but succumbed to two late goals. It was their first league defeat since a loss in equally atrocious weather at Workington in September.
On an already soft pitch, heavy and increasingly squally rain fell from the kick-off but Alty took a sixth-minute lead when the visitors' keeper was unable to hold a Poole shot and Hulme netted the loose ball. However, Albion levelled just three minutes later when Owens made space on the edge of the box and scored a fine goal with a rising shot which went in, off the post.
Witton then took a deserved lead as Foley slotted home from close range after Witton had struck the crossbar in the 24th minute. After their disappointing first-half showing, Alty improved in the second period with Johnston looking more dangerous on the less sodden side of the pitch. They levelled after 54 minutes when Poole poked the ball home after good work in the box from Hulme.
Next, debutant full-back Andy White's low 25 yarder gave Altrincham a 3-2 lead after 67 minutes.
Altrincham looked to have the game in their hands at that stage but eight minutes from time a good Witton move up the right allowed Owens to net his second and Albion's third goal. The outcome was decided when an uncharacteristic misheader by Ben Harrison fell to Jones who volleyed past Thompson to clinch the game for the visitors in the 88th minute.
Match report here.
The damage from Alty's loss was made less severe by defeats for Shaw Lane and Workington.
Altrincham 3-4 Witton Albion
Barwell 0-2 Nantwich Town
Buxton A-A Ashton United
Farsley Celtic 4-2 Shaw Lane
Grantham Town 2-1 Matlock Town
Hednesford Town 2-1 Stafford Rangers
Mickleover Sports 2-2 Coalville Town
Stalybridge Celtic 5-2 Lancaster City
Stourbridge 5-0 Rushall Olympic
Sutton Coldfield Town 0-1 Halesowen Town
Warrington Town 0-0 Marine
Workington 1-3 Whitby Town
All at Altrincham FC send their best wishes to the club's supporters who have followed the club both at the J. Davidson Stadium and across the geographical spread of the EvoStik Premier division during 2017.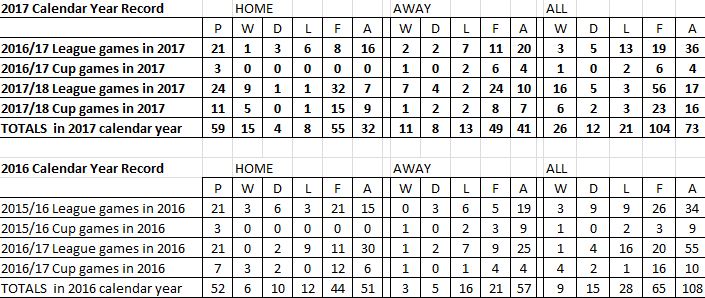 As we all know, and the above statistics confirm, there has been a marked improvement in Altrincham results in calendar year 2017 compared with 2016, with the vast majority of the improved results occurring since August (2017-18 season). Perhaps the most striking contrast is that in season 2016-17 we had 16 losses in the league up to the end of the calendar year 2016; currently we have 16 victories in the league in 2017-18 season to the end of the calendar year 2017.
You can follow this fixture via this website's minute by minute text updates by clicking on the icon below. Alternatively, Radio Robins' coverage of the game is outlined below as well.
Brian Flynn announces that "Radio Robins, sponsored by Ashley Mowers Garden Machinery, is providing full live commentary of the New Year's Day game at The J.Davidson Stadium.
The commentators are Alex Sarwar and Brian Flynn and the match summariser is John Edwards. Coverage starts at 2.40pm.
Guidance for Listening to Radio Robins
There will be 4 ways to listen to Radio Robins via Mixlr
a) The Radio Robins website. Open the page in any web browser and the broadcast should start automatically. Please note that the 4 Player Options (Windows Player | Real Player | Quick Time | Winamp ) will not work now.
b) Download and install the Mixlr app on Android devices from the Google Play Store - start the app and search for 'Radio Robins'.
c) Download and install the Mixlr app on Apple devices from the Apple Store - start the app and search for 'Radio Robins'.
d) There is a temporary WIX website here.
For the second time this seasonm a match against Coalville Town is immediately followed by a fixture against Witton Albion. In our meeting earlier this season, Alty won 2-0 at Wincham Park, thanks to goals by Poole and Hancock.
Of all the teams in the EvoStik Premier, Witton Albion is the one which has played against us on the most occasions, as Mike Garnett's data reflect.
Home: P83-W48-D17-L18-F185-A126
Away: P78-W18-D16-L44-F94-A164
Neutral: P4-W1-D0-L3-F4-A5
All: P165-W67-D33-L65-F283-A295
Albion currently lie tenth in the league with 37 points from 27 games. They are, however, the joint fourth highest goal scorers in the divison. On Saturday they drew 2-2 at home with Barwell despite losing ex-Alty defender Joel Bembo-Leta to a second yellow card, midway through the first half.
On that match, the Northwich Guardian reports that "This time Witton Albion were happy for history to repeat [itself]. Thwarted by a stoppage-time goal on Boxing Day, they savoured scoring one of their own to pinch a point that appeared out of their reach.
They played for more than an hour with 10 men following Joel Bembo-Leta's dismissal, and fell behind twice. However an equaliser by Rob Hopley, swept past goalkeeper Michael Turner from James Foley's cross, was a worthy reward for their resilience. It was heartening for Gary Martindale, again standing in for manager Carl Macauley while he recovers from a virus, to see spirit from a side far from their fluid best. There was stamina, too, and with four senior players ruled out by an injury, Albion's small squad is being tested.
They were tepid in the first-half on Saturday, although referee Connor Brown didn't help. He was right to caution Bembo-Leta for handball after quarter of an hour, although a decision to repeat the trick less than five minutes later was unduly harsh. The ball squirted unexpectedly off an opponent before striking the defender's arm, and he had no time to react. To rub it in, Matt Stenson bent the resulting free-kick into the bottom-corner to put the visitors in front.
Hopley switched to a role in defence, alongside Michael Wilson, when Witton reshuffled. They were invisible in attack, save for when Barwell gifted them an opportunity... Albion, perhaps conscious their guests were reluctant to risk much despite having an extra man, improved after the interval.
They drew level on 61 minutes when Steven Tames's penalty squirmed into the net after Dale had been felled by Castle in the area. Barwell's net-minder was concussed by the contact, and suffered a cut above his eye too, and stand-in Turner almost stopped the spot-kick...
Barwell's spell of pressure did bring a dividend when Heath arced a shot out of Hare's reach when a free-kick was cleared in his direction. Albion did not wilt though... Witton levelled from their best move of the match. Tames threaded a pass into space behind Nisevic, and Foley picked out Hopley with a precise cross from the right. The striker did the rest.
Witton | 4-4-2 | Hare (GK), Haywood, Bembo-Leta, Wilson, McKenna, Tames, Foley, Owens, Dale, Hopley, Jones. Subs not used Evans, Devine, Cesaire, Neild (GK) Booked Bembo-Leta (handball) Sent off Bembo-Leta (second caution for handball) Goals Tames 61 (penalty), Hopley 90 (+3)".
Monday 1 January 2018 will be the 65th time that Altrincham have played a game on New Year's Day, but only the fifth time against Witton on that date, according to Howard Watts's
Through the Years
data, update by Mike Garnett.
Coalville Town
report that they "ended 2017 in disappointment as they fell to a second consecutive 3-0 defeat at the Mander Cruickshank Stadium. After initially matching the table topping visitors in the early exchanges, Altrincham slowly took control of proceedings...
The visitors, unbeaten in the league since early September, initially found themselves on the back foot as Coalville made a bright start, with Daniel Creaney having a goal ruled out for offside after converting Dean Freeman's flick following a corner. Joshua Hancock then had a half chance... The Ravens then returned with two big chances of their own. In the 10th minute, Nathan Watson picked up the ball in space just outside the area before sliding Tom McGlinchey through with a reverse pass, unfortunately the Ravens winger could only hit the side netting from close range.
Creaney also spurned a good opportunity minutes later, lifting the ball over the goalkeeper and bar after McGlinchey blocked a clearance, forcing the ball into Creaney's path. McGlinchey and Watson combined again in 21st minute, playing a slick one two which saw McGlinchey cut the ball back to Alex Howes on the edge of the area, who directed his shot straight down the throat of Anthony Thompson...
As the game wore on, the Robins began to crank up the pressure. Jake Moult volleyed over and Poole's driven effort hit the side netting as they looked for a breakthrough. And it came right on the brink of half time courtesy of a Poole free-kick. Lee Torr brought down Simon Richman on the edge of the box after Taylor had initially given the ball away. The 20-yard set-piece was then dispatched accurately by Poole, who side footed the ball into the bottom left corner.
The away side then jumped into the driving seat in the second half, with the majority of play being one-way traffic... Seemingly growing more in confidence as the game progressed, Altrincham created further opportunities... Hulme netted his 16th league goal of the season, firing into the bottom left after receiving a pass from Richman inside the box.....
Altrincham cemented their superiority with a third minutes later. Sean Miller latched onto a Shaun Densmore cross-field ball before nodding past an indecisive Coton".
The
EvoStik League
reports that "Given the weather over the last two or three days, a surprising number of games in the EVO-STIK League's Premier Division survived on the last Saturday of 2017, writes Pitchero's Steve Whitney.
Leaders Altrincham secured a third successive 3-0 league win at Owen Street against Coalville Town to leave them eight points clear at the top of the table... Workington AFC moved into second place after Shaw Lane AFC`s game was one of three to be postponed.
The Reds' game at Marston Road against Stafford Rangers survived though and the encounter saw Conor Tinnion break the deadlock to give the visitors a 64th minute lead. London buses and all that – as Rangers had to wait only five minutes to respond through new signing Rob Thompson-Brown. But the visitors won it in the 77th minute through a Phil McLuckie effort.
With all the other top five contenders idle on Saturday, Ashton United moved into sixth, level on points with fifth-placed Grantham Town, after winning 2-0 at Hurst Cross against bottom-markers Sutton Coldfield Town... Farsley Celtic are seventh after making it three games unbeaten with a hard-fought 1-1 draw away to Rushall Olympic... An error from home 'keeper Jahquil Hill allowed Danny Ellis to tap home an equaliser less than a minute from time.
Buxton are eighth after recording a 3-1 win at The Grove against third-bottom Halesowen Town... Hednesford Town are level on points with Buxton and a place further back after recording a 1-0 win at the Giant Axe against mid-table Lancaster City, Sam Oji`s goal 15 minutes from time proving to be enough for the Pitmen.
It was a day of milestones for Stourbridge as they tasted victory for the first time in seven matches after an emphatic 4-0 win at the Marine Travel Arena against fifth-bottom Marine AFC... to make it a good day for Stourbridge skipper Paul McCone, who was making his 200th appearance for the club.
It's only one win in six now for Nantwich Town after they suffered a 2-1 Weaver Stadium defeat to Mickleover Sports...
The other game to receive the referee's nod took place at Wincham Park as Witton Albion and Barwell shared a 2-2 draw. The Canaries led through Matt Stenson's 22nd minute effort. Steven Tames pulled Albion level from the spot just past the hour-mark, only for Jake Heath to restore Barwell`s lead in the 71st minute. But Rob Hopley popped up with the home side's equaliser in stoppage time.
Whitby Town "is delighted to announce the signing of James Fairley from Marske United. The midfielder has been a regular feature for the Northern League side, also known as the Seasiders, and has a keen eye for goals, netting nine times in all competitions so far this season".
According to Cumbria's News & Star "Workington Reds' boss Lee Andrews may have to shuffle the pack for [Monday]'s home game against Whitby Town at Borough Park.
And this comes after he praised the fitness of his players as they ended a successful 2017 by extending their unbeaten sequence to 17 games in all competitions.
'Considering that this was their third game in eight days, they showed remarkable levels of fitness as we were the stronger side over the 90 minutes,' said Andrews following the impressive 2-1 win at Stafford Rangers. The victory lifted Reds to a seasonal high second place in the Evo-Stik Premier, although they have played more games than all their promotion rivals...
Whitby will go into [the] encounter slightly the fresher as their home game on Saturday was also a victim of the weather. The major concern for Andrews today is the fitness of Conor Tinnion who limped away from the Marston Road ground nursing a hamstring problem. Tinnion had given the Cumbrians a 64th minute lead with a wonderful 25-yard volley, a sweet moment following his dismissal on the same ground earlier in 2017. But it was left to Phil McLuckie to net Workington's winner after Rangers had equalised through Robert Thompson-Brown...
Skipper Gari Rowntree will come back into the squad after missing Saturday's trip and, apart from Tinnion, the remainder of the squad is ready for a fourth game in 10 days."
---
FOR EARLIER NEWS, CLICK
HERE
---