---
30 September 2017
Saturday 30 September 2017, The EVO-STIK Premier Division
Ashton United 1-2 Hednesford Town
Coalville Town 2-3 Farsley Celtic
Halesowen Town 1-5 Workington
Marine 1-1 Grantham Town
Matlock Town 5-0 Sutton Coldfield Town
Rushall Olympic 1-2 Warrington Town
Stalybridge Celtic 0-0 Altrincham
Whitby Town 1-0 Barwell
Witton Albion 0-2 Mickleover Sports
Saturday 30 September 2017, The Emirates FA Cup 17-18 - Third Round Qualifying.
Buxton 2-1 Alvechurch
Nantwich Town 3-1 Nuneaton Town
Shaw Lane 2-1 Lancaster City
Stafford Rangers 1-1 AFC Telford United
Stourbridge 3-1 Alfreton Town
You can follow this fixture via this website's minute by minute text updates by clicking on the icon below. Alternatively, Radio Robins' coverage of the game is outlined below as well.
Brian Flynn announces that "Radio Robins, sponsored by Ashley Mowers Garden Machinery, is providing full live commentary of Saturday's game.
The commentators are Mark Simpson and Ian Wilkinson and the match summariser is Dave Stringer.
Coverage starts at 2.40pm and the Altrincham Football Club September Monthly Draw will take place during the half-time interval.
Guidance for Listening to Radio Robins
There will be 4 ways to listen to Radio Robins via Mixlr
a) The Radio Robins website. Open the page in any web browser and the broadcast should start automatically. Please note that the 4 Player Options (Windows Player | Real Player | Quick Time | Winamp ) will not work now.
b) Download and install the Mixlr app on Android devices from the Google Play Store - start the app and search for 'Radio Robins'.
c) Download and install the Mixlr app on Apple devices from the Apple Store - start the app and search for 'Radio Robins'.
d) There is a temporary WIX website here.
Altrincham FC is looking to recruit a volunteer Newsletter Editor to produce a weekly e-newsletter for the club. This role requires a commitment of around 3-4 hours per week.
This will include reviewing the club's media platforms to ensure that content can be linked back to the appropriate official sources. The applicant should be comfortable with using e-platforms such as Mailchimp, although training can be given if required.
This role involves a regularly weekly commitment to ensure that the newsletter is produced and published.
Role details:
Draw up a timetable for the year
Email draft to appropriate members of the club.
Edit where necessary or appropriate.
Produce the e-newsletter
Proofreading
Produce, update and upload an email contacts list
Experience/Skills
Interest in Football
Knowledge of the club's current media outlets
Good standard of written English
Experience of using Mailchimp is advantageous.
All roles have the following Code of Conduct associated with them:
Anyone working or volunteering for Altrincham Football Club will be expected to adhere to the following Code of conduct.
Passion – we are driven by a commitment to achieving the best possible service for Altrincham Football Club, and its supporters.
Quality – we are driven by a commitment to achieving excellence in everything that we do.
Integrity – we are honest, transparent, and accountable in all of our dealings with colleagues and with the general public.
Mutual Respect – We work together to create an environment in which our employees and volunteers treat each other with respect and dignity.
Conflict of interest - We expect employees and volunteers to avoid any personal, financial or other interests that might hinder their capability or willingness to perform their duties.
Collaboration – Employees and volunteers should be friendly and collaborative and should not present obstacles to their colleagues' work.
Communication - All employees and volunteers must be open for communication with their colleagues, supervisors or team members.
Loyalty – our first loyalty is to Altrincham FC.
If you are interested in this voluntary role please send your CV and cover letter by email by Sunday, 8th October 2017".
This vacancy will also be found on the website's Vacancies page.
Altrincham FC's PR and Promotions Manager, Peter Foster, writes that "TalkSport will be broadcasting their Sunday breakfast programme from the J. Davidson Stadium on Sunday, 8th October. The programme will feature representatives from the club, and other local luminaries. As a prelude to this, TalkSport will be broadcasting a brief live interview with Jordan Hulme this Sunday. We anticipate this will go out at about 9.30am.
We will provide more information during the next week".
Our opponents today (Saturday),
Stalybridge Celtic
"have announced the signing of striker Edmilson Neves de Celta. Edmilson (25) has been training with our reserves since moving to England from Portugal, where his previous club was Bobadelense. He is a native of Sao Tome & Principe, and goes straight into the squad for tomorrow's home game with Altrincham".
Bobadelense play in the First Division of the District Championship of the Associação de Futebol de Lisboa, the third level of football in the Lisbon district.
As already announced there is a Meet the Manager and Players event in the Community Sports Hall on Saturday, 4 November, following our home match against Buxton.
Further details have now been released. As well as manager Phil Parkinson, players Jake Moult, John Johnston, Tom Peers, James Poole will be in attendance and all will be happy to answer questions posed by supporters. The event starts at 6pm and includes a buffet meal provided by Club Caterer, Richie Bentley... all for the bargain price of £10.
Tickets can be obtained by visiting or contacting the club offices by e-mail or phone (0161 928-1045). So, why not come along and get to know the team and management!
Press & Media Officer Brian Flynn's article for
Altrincham Today
is below. In it manager Phil Parkinson says, "Tuesday night's 3-0 win at Hednesford confirmed that we are developing as a team. The clean sheet was the most pleasing thing for me in what was an all-round superb team performance.
The work rate and intensity of the performance were the key as we closed down everything and chased every ball. I thought that Joel Bembo-Leta was outstanding, really giving us an outlet down the right hand side... He was a sight to behold and was a big threat for us.
Everyone made a big contribution but I also would also like to pick out my captain, Jake Moult, who I feel has been a bit of an unsung hero. He was a colossus in midfield but all the players' performances were really good, including those who came on in the second half as a substitute and that has made me a very happy Altrincham manager.
That's three consecutive clean sheets now, which is so pleasing, particularly as some people were branding us as being a bit naïve, a bit nice defensively. We are learning how to play with each other after things didn't go our way in the first three games of the season. Goals were going in that had no right to and there were a few refereeing decisions that were made that I wasn't very happy with, but I knew that the tide would turn as the players are too good for that not to have happened.
Also, the backroom staff have been working so hard to get players fit to play and then perform when they are out on the pitch. Tommy Uda, Ryan Murray, Chris Parkes, Ian Senior and Neil Sorvel have all done a terrific job and we are now seeing the results of their efforts.
We have moved into a play-off position with seven wins from our last eight league games and with the top two (Shaw Lane and Stourbridge) involved in the Emirates FA Cup today and third and fourth playing each other (Coalville Town v Farsley Celtic) we have an opportunity to get right amongst things at the top if we can overcome Stalybridge Celtic at Bower Fold this afternoon.
Like us, Stalybridge are a big club and in Steve Burr they have a top manager, who has achieved a lot in the game. He will be hurting after their poor start to the season but will be looking to capitalise on their win on Tuesday night and we know that we are in for an extremely difficult assignment in Tameside".
The
Hallmark Security (NW Counties) League
reports that Abbey Hey have signed Liam Brownhill, a former Alty trialist whilst Billy Hasler-Cregg has joined Congleton Town where goalkeeper Andrew Jones is also playing.
The
EvoStik League
has news from Warrington Town where, "With the signings of Jamie McDonald and James Barrigan (loan), the club have released Ruben Jerome and
Joe Mwasile
".
---
29 September 2017
Altrincham are currently the leading scorers per game in the EvoStik Premier this season with 23 goals from 11 matches. Shaw Lane and Farsley Celtic have the same number but have played, respectively, one and two more matches than Altrincham.
Also, Alty's 23 points from 11 league matches this campaign already exceeds the 21 points gleaned from 42 matches throughout last season.
As for goalscorers, Josh Hancock, with eight goals in all competitions to date is just one behind James Lawrie's total as the highest scorer in all competitions last season.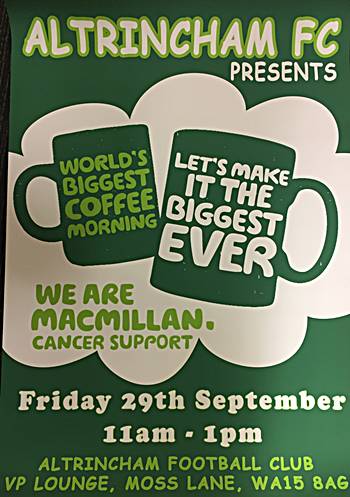 Once again, Altrincham FC is hosting Macmillan Cancer Support's local event in the World's Largest Coffee Morning event. Details are shown in the adjacent poster. Everyone is invited to come along and support this very worthwhile cause.
Alty visit the Bower Fold on Saturday for a rearranged game between two of last season's relegated clubs. Mike Garnett's records reveal the statistical record of matches between the two clubs...
Home: P66-W36-D16-L14-F129-A80
Away: P71-W20-D12-L39-F112-A148
Neutral: P5-W1-D1-L3-F5-A7
All: P142-W57-D29-L56-F246-A235
Our opponents, Stalybridge Celtic report that "On Saturday Celtic face neighbours Altrincham in this league re-arranged game. Altrincham are currently fifth in the league on twenty-two points, eighteen places and thirteen points ahead of Celtic, though they have a game in hand.
Altrincham are capable of getting to second place in the league with a win... so they will be looking to build on their excellent start to life in the EvoStik Premier that has seen them lose only three games, and win seven of their eleven so far...
They are scoring at a rate of 2.1 goals per game (1.8 away), whilst conceding their thirteen goals at a rate of 1.2 per game (1.3 away). They've kept two clean sheets on the road and five in total, whilst failing to score in only one away game (two overall). In their last three matches, they have scored nine and conceded none...
Over the years, we've met Altrincham a lot. In the last thirty years in the league, we've met twenty-eight times. Of their fourteen visits to Bower Fold in the league, Celtic have won ten of them and Altrincham three. Our most recent win in the league at Bower Fold was back in 2011 when we beat them 5-1.
They've had their revenge since, putting ten past us home and away in the 13/14 season, with two 5-0 wins and Altrincham have won their last two league visits here; the most recent encounter being a 2-0 win for Altrincham. The last time the two teams met was in the Conference North at Altrincham, which was a draw...
In Celtic's last match, the 1-0 home win over Halesowen, Celtic lined up as: 1. Jack Watson 2. Oliver Crowley 3. Alex Honeyball 4. Tom Brown 5. Luke Ashworth 6. Ross Killock 7. Aidan Chippendale 8. Oliver Roberts 9. Liam Dickinson 10. Jake Charles 11. Sebastian Julien
It's been a long time since Celtic strung two wins together, and there is no doubt that Saturday will be a far tougher ask than Tuesday night, but if Celtic are to get their spluttering season started, they will have to overcome a rampant and high flying Robins, but if they do then we could rise two places".
Witton Albion
"are pleased to announce that midfielder Tom Owens, has rejoined the club and will be available for selection for Saturday's home fixture with Mickleover Sports."
And Albion "are also pleased to announce that Isaac [Prince] Haywood has signed a contract until the end of the season with the option of a further season".
In the Warrington Guardian we learn that "Warrington Town have boosted their attack with the signing of striker Jamie McDonald.
The Guardian can reveal that Yellows have moved to bring in the 24 year-old from North West Counties Premier Division side City of Liverpool, for whom he has scored eight goals already this season. McDonald's arrival supplements a Warrington strike force that is without injured top scorer Tony Gray and the departed Ruben Jerome...
Yellows' boss Paul Carden is confident McDonald can make the step up... and says he has 'something they need. We haven't had that attacking edge in the past few games and hopefully Jamie can give us that,' he said. 'He is somebody who has been floating about the lower leagues for a few years. He's got something we need. We've watched him a few times and he'll give us hunger and work rate. He's quick, wiry and he's got a bit of a nasty streak in him.
'He's got all the attributes and he knows where the back of the net is'".
NL Daily
report that "Radcliffe FC have announced the appointment of former Chelsea defender Frank Sinclair as their new assistant manager.
The former Jamaican international, who also represented Leicester City and Burnley during his professional career, has had stints in charge of Colwyn Bay and Hednesford Town in the last few years. The 45 year-old joins up with new Boro boss Jon Macken, himself a long-time professional with the likes of Manchester City and Preston North End."
---
28 September 2017
Altrincham FC Youth travel to Bootle in the F.A. Youth Cup, 2nd Round Qualifying.
Contrary to information received by the website yesterday the match is now set for Thursday, 5 October at 7.45pm
. All support for the lads will be greatly appreciated.
Altrincham FC have received an attractive, but tough, draw in the First Round of the prestigious Argyle Cup. They have been drawn at home to Preston North End in a match to be played on 22 October at 2pm. The venue is to be confirmed but is likely to be at the J Davidson Stadium, where all supporters will be very welcome.
Press & Media Officer, Brian Flynn, advises that "The Radio Robins' commentary from Hednesford is available on Mixlr. To listen, download the Mixlr App, search for 'Radio Robins' & the recording is available under 'Showreel'".
And Brian Flynn's post-match article for the Sale & Altrincham Messenger is reproduced below...
Rampant Robins Ease Into Play-Off Spot
"Altrincham moved into the top five of the Evo-Stik Premier Division, on Tuesday night, inflicting a first home defeat of the season on Hednesford Town, as they swept the Staffordshire side away with consummate ease in a 3-0 victory that would have been even more comprehensive, had it not been for the heroics of the Pitmen's goalkeeper, James Wren, who made a number of outstanding saves to keep the score line respectable from the host's perspective.
Josh Hancock set Phil Parkinson's side on its way, just after the half hour mark, with a sweet drive from just outside the area and Jordan Hulme doubled the lead before the interval, acrobatically finishing off one of several fine moves put together in a very impressive first half performance.
Hulme completed the scoring in the second half and there was plenty for manager Phil Parkinson to be enthusiastic about in his post-match comments...
'We made our qualities tell at key moments, with some really well taken goals, but the most pleasing thing is another clean sheet. Work rate and intensity was the key and it was an impressive all round team display but the performance of Joel Bembo-Leta really caught the eye and Jake Moult, who I think is a bit of an unsung hero, was a colossus'.
Following on from Saturday's hard-earned 1-0 home win against Grantham Town, Altrincham have now won seven of their last eight league games and are within five points of the leaders, Shaw Lane, with a game in hand.
On Saturday, Parkinson takes his team to Tameside to take on Stalybridge Celtic for a re-arranged Evo-Stik Premier Division game between two clubs that were relegated from the National League North in April. Steve Burr's men have had a surprisingly poor start to the campaign, but secured a vital 1-0 victory at home to Halesowen Town on Tuesday, to swop places with their Midlands opponents and move off the foot of the table".
Hednesford Town have highlights of Tuesday's defeat by Altrincham
here
.
And Hednesford Town report that their "unbeaten home start to the season came unstuck against a rampant Altrincham side on Tuesday evening...
The Pitmen handed home debuts to Reece King and Edjidja Mbunga who had joined the club from Gloucester City on a one-month loan and dual registration deals respectively earlier in the day.
It was the visitors who started the game very much on the front foot and had it not been for Pitmen goalkeeper James Wren they could've been at least two goals up in the opening ten minutes. First the shot stopper denied Josh Hancock in the sixth minute before a cutback from the right found Jordan Hulme who forced Wren into another smart save.
After a quiet spell in the game the visitors forced another save from Wren as James Poole burst through into the penalty area. Wren was in the thick of the action again in the 28th minute as he made two fine saves in a matter of seconds to deny former Pitmen frontman Tom Peers. From this the home side broke and, after a cross into the box was half cleared, the ball found its way to Tom Thorley who fired wide.
The deadlock was eventually broken in the 32nd minute though out of nowhere when Josh Hancock fired in a low effort from 20 yards that beat Wren and found the back of the net.
Six minutes later the visitors doubled their lead when a ball to the back post eventually found its way to Jordan Hulme who fired home. In the 43rd minute things almost went from bad to worse for the Pitmen as Peers broke clear but Wren made a fine save before seeing the rebound fired well over the crossbar.
Although Hednesford made a better start to the second half it was Wren who was once again in action in the 54th minute as he again denied Peers, this time from a corner... They grabbed a third goal in the 64th minute when a corner wasn't cleared and Hulme was able to smash home inside the six-yard box.
The final quarter of the game played out to be a bit of an anti-climax as both teams accepted their relative fate with the Pitmen being well beaten on the night".
Steven Mackay reports on the match between Altrincham Ladies' Development team and Stockport HNR Ladies, which he entitles...
Bruising Encounter
"Going into today's game Alty players were feeling confident, given the solid start they've made. However, from the start, Stockport gave the young Alty players a lesson in open-age football. The opposition used their experience to impose themselves. With Alty feathers ruffled, we battled through the half while still creating good chances to score but just unable to convert.
The opposition meanwhile seldom troubled our keeper. Alty made some changes at the break which gave us a different balance to the team and, not long into the second half, one of these changes, Maddy, latched onto a loose ball and headed it over the keeper.
Alty now started to dominate and soon found ourselves two-up with a goal from Natalie.
Into the last ten minutes Stockport once again imposed themselves putting Alty under a lot of pressure. This led to a clumsy challenge, and a penalty was awarded to the opposition. Alty's keeper stood firm and saved the penalty.
Despite this outcome, Stockport kept pushing and we struggled to clear our lines. With all this sustained pressure, it didn't take long for Stockport to score. As the game entered into added time Alty were awarded a corner and, at last, some respite for our weary defenders.
However, due to a mix up, we gave the ball away too cheaply, which allowed Stockport to advance and score the equaliser.
At the final whistle it felt a crushing blow to lose two points, especially given how the young Alty players battled. But, possibly as a team, we were at times slightly naïve. This was only due to the lack of open-age experience and as the season continues we will only get better. We still haven't lost any games this season but we just need to convert our chances".
Don't forget that you can obtain the team shirt worn by your chosen player by sponsoring him for the 2017-18 season. For just £150 you will not only receive the signed shirt bearing the number most worn by your chosen player but your name will also appear under the player's photo in every Robins' Review for 2017-18 season as well as in the Manchester Glass Sponsors' Lounge. For only £250 you can sponsor two shirts - either the home and away of one player or a home or away shirt of two different players.
Please email the club with your choices!
The current sponsorship list follows...
Tim DEASY Home: Derek Wilshaw Away:
ShaunDENSMORE Home: Andrew Shaw Away:
Jake MOULT Home: Peter Smith Away: Lucy & Matthew Walton
Tom HANNIGAN Home: Daisy & Penny Rowley Away
Ben HARRISON Home: Nigel Bunce Away:
John JOHNSTON Home: Paul Daine Away: Chloe Rowley-Jones
Simon RICHMAN Home: Dawn Abbott Away:
Tony THOMPSON Home: Away:
James POOLE Home: Terry Surridge Away: Thomas Murray
Josh HANCOCK Home:The Fosters Away:
Tom PEERS Home: Away:
Jordan HULME Home: Richard Impey Away:
Max HARROP Home: May Davis Away:
Sean MILLER Home: Away: Katie Murray
Josh AMIS Home: Mark Embury Away:
Sam SHERIDAN Home: Away:
Lewis SHORT Home: V Away:
James JONES Home: Johnny & Danny Away:
John DISNEY Home: Away: Andy Mein
Laurence TAYLOR Home: Ian Watmore Away: Neil Faulkner
Altrincham FC Commercial Manager, Noel Shield, has unveiled a new commercial presentation, outlining sponsorship opportunities at the club, which can be seen on the
desktop
and
mobile site
.
Att. 133 Ashton United 0 - 1 Workington
Att. 138 Barwell 2 - 1 Mickleover Sports
Att. 218 Buxton 0 - 2 Whitby Town
Att. 164 Grantham Town 6 - 1 Sutton Coldfield Town
Att. 378 Hednesford Town 0 - 3 Altrincham
Att. 206 Lancaster City 4 - 0 Witton Albion
Att. 255 Marine 1 - 2 Farsley Celtic
Att. 320 Matlock Town 0 - 1 Shaw Lane
Att. 211 Rushall Olympic 1 - 1 Coalville Town
Att. 412 Stafford Rangers 3 - 0 Nantwich Town
Att. 191 Stalybridge Celtic 1 - 0 Halesowen Town
Att. 200 Warrington Town 1 - 5 Stourbridge
Matlock Town
report that "League leaders Shaw Lane made it eleven wins out of the last twelve played thanks to a lone goal from Spencer Harris six minutes into the second half. It was tough on Matlock who deserved a share of the spoils but the hosts were punished from one lapse, nobody picking up Harris who headed Alex Byrne's free kick from the left past home goalkeeper Phil Barnes.
Shaw Lane will probably finish as champions, but they will make few friends along the way. Matlock fans, who had paid good money to watch what promised to be an exciting game, must have felt short-changed by the visitors' antics as fouls, play acting and time wasting were all part of the formula to ensure the three points. Add to that, they appeared to have an inexperienced referee in their pocket by constant chirping and complaining, despite four yellow cards coming their way.
A draw would have been a fair outcome with neither goalkeeper being stretched. Matlock failed to create anything of note but deserve credit for their passion and battling qualities. Shaw Lane made the most of their one chance and were then content to close the game out...
Frustration was starting to creep in both on and off the field as Matlock followers showed their displeasure with the visiting tactics.... Byrne cynically brought down Waite and was booked, goalkeeper John Stewart following him for timewasting and then feigning injury by falling dramatically to the floor. It really was unnecessary. Matlock fans were hoping for more punishment for Stewart from a free kick when the wall was no more than eight yards from taker Williams. But it was an anti-climax as Williams floated his shot a yard too high. The match appeared to have the inevitability of an unpopular Shaw Lane win...
SHAW LANE: 1 John Stewart 2 Neil Austin 3 Ryan Serrant 4 David Norris 5 Kelvin Lugsden 6 Ryan Qualter 7 Alex Byrne (14 Kieran Lugsden 81) 8 Spencer Harris 9 Paul Clayton 10 Damian Reeves (12 Chib Chiluka 75) 11 Sam Osborne (16 Nicky Walker 64) Other subs: 15 Cameron Hough 17 Niah Payne".
After Tuesday night's games the Stourbridge News told us that "Gary Hackett hailed Stourbridge's 'most complete performance of the season' after they put five past Warrington Town on Tuesday night.
A brace from Jordan Archer and goals from Stuart Pierpoint, Paul McCone and Leon Broadhurst moved Stour up to second place in the Northern Premier League. They had been left frustrated by last Saturday's goalless stalemate with Lancaster City but quickly showed their firepower two days later.
The ruthless 5-1 away success also hands the Glassboys the perfect confidence boost heading into this Saturday's FA Cup third qualifying round clash with National League North side Alfreton Town.
Hackett said, 'It was fantastic and our most complete performance of the season so far. We were good in all areas. We have played in pockets this season but not for the entire 90 minutes. That changed against Warrington, which can be a really tough place to go. The win was in contrast to Saturday's game with Lancaster when they put everyone behind the ball and came looking for a point. If we could have got that first goal then the game would have been completely different. It was frustrating but we probably took that out on Warrington.'
The clash also saw a debut for new arrival Devarn Green. The 21-year-old former Blackburn Rovers youngster signed from Hednesford Town and slotted in on the left wing.
'He offers us some natural width and helps us stretch teams. He hasn't played for a month but he showed enough to tell you that he could be a big player for us. Tom Tonks has filled in on the left brilliantly in the last few weeks but his best position in central.'
Hackett can now look forward to another FA Cup encounter at the War Memorial Ground this weekend. 'It's going to be a very difficult game because they are a Conference North side and doing well this season,' added the boss... 'We always fancy our chances at home in this competition'"
Meanwhile the Non-League Paper reported that "There was one team in particular who earned the result of the night. Going into last night's fixture with Stourbridge it appeared that Warrington were one of the teams to beat this season, with Paul Carden's side three points behind the leaders Shaw Lane with a game in hand. However, they have now slipped to sixth in the table after they were demolished 5-1 by the Glassboys, who are up to second...
There was a vital victory for Stalybridge Celtic who moved off the bottom of the table with a 1-0 win over Halesowen Town, who took their place at the foot of the Evo-Stik Premier. Kick off was delayed by the visitors' late arrival to Bower Fold, and Steve Burr's men were clearly in a rush as Liam Dickinson's ninth minute strike secured the spoils for Stalybridge.
Lancaster City put a beating on Witton Albion at Giant Axe last night, with the win moving them to within a point of their opponents having played two fewer games. A Tom Kilifin hat-trick and a Paul Dugdale goal proved more than enough to dispose of the Albs.
Leaders Shaw Lane moved three points clear at the top of the table as they won a hard-fought encounter at Matlock Town, as Spencer Harris's strike proved the difference. Coalville Town are in third after a 1-1 draw with struggling Rushall Olympic, as Dean Freeman and Andre Landell scored for their respective teams.
Workington moved up to 13th as they claimed their first away win of the season at Ashton United, Scott Allison's goal securing the points for Dave Hewson's men...
The night's goal-fest could be found at the South Kesteven Sports Stadium, where Grantham Town thumped Sutton Coldfield Town 6-1. Four of the host's goals were scored by Lee Shaw, with Luke Shaw and Andrew Wright also on target... Farsley Celtic are up in fourth after a 2-1 win at Marine last night. Isaac Baldwin and a James Walshaw penalty cancelled out George Lomax's goal for the hosts. Whitby Town won 2-0 at Buxton, and Barwell beat Mickleover Sports 2-1 at Kirkby Road.
Stafford Rangers claimed an important 3-0 victory over Nantwich Town, goals from Mat Bailey, Osebi Abadaki and Richard Gregory doing the business for Neil Kitching's men."
From Nantwich Town we learn that "Goals from former players Mat Bailey and Osebi Abadaki ensured Nantwich were beaten 3-0 by Stafford Rangers as the Dabbers suffered their third league defeat in a row... a night to forget for the Dabbers.
Boss Dave Cooke made several changes to his line up from Saturday's defeat to Ashton, as Clayton McDonald, Fabian Spiess, Sam Hall, Jordan Davies and Harry Clayton made the starting eleven with Toby Mullarkey, Krystian Burzynski and Troy Bourne dropping to the bench. Alongside them was forward Sam Phillips who was signed in time for the game having previously played for Haughmond and Wolves.
Stafford were coming into the game on the back of a 5-2 defeat to Shaw Lane and they certainly put that behind them... On the half hour mark, the Dabbers had a chance to pull level as Harry Clayton was bundled to the floor by Jordaan Brown, with referee Simon Brown pointing to the spot. Up stepped Cooke whose powerful strike smashed off the underside of the crossbar, before bouncing down and was subsequently cleared by the home defence...
Dave Cooke brought on Troy Bourne for Clayton McDonald early on in the second half".
Stafford's view comes from the Stoke Sentinel as it reports that manager Neil Kitching "the Boro boss, tweaked the shape and personnel in the wake of last Saturday's 5-2 defeat at Shaw Lane, and was rewarded with a better performance from all his players...
'It's far, far better than Saturday. We've won, got three points, and we've played okay', said Kitching... 'We played with more desire and more heart and in the end, we got what we deserved. They have had a lot of the ball, and that's what Nantwich do, but they've not really hurt us'...
And Kitching was full of praise for all of his front three, 'We perhaps should have come away with six or seven goals, Westwood could have had two or three. He gets in positions, Westy, and but for a couple of good saves, he's on the scoresheet. We started with two up, and I thought Greggsy (Gregory) was excellent, and Westy looks more of a threat because he's got someone up there with him. Ozzy did really well in the first half, and the plan was to get him on the ball as much as possible. The home games he's had, he's done really well, although we haven't seen that as much away from home, probably because of the way we set up..
Gregory put a right shift in, and did a lot of the dirty work that goes unnoticed, tracking the full-backs and turning us into more of a 4-5-1. But that's what you want from players; being willing to put a shift in and sometimes sacrifice themselves'".
Elsewhere, Farsley Celtic's Jordan Deacey has left to join Ossett Town.
Over on the East coast, the Whitby Gazette tells us that "In light of correspondence from the North Riding County Football Association, the committee of Whitby Town Football Club has taken the decision to alter its match day admission policy. The correspondence comes in light of the behaviour of some young Whitby Town supporters at last season's North Riding Senior Cup final at the Riverside Stadium, and at other games in the past.
Following this, the club has sought advice on health and safety, and its duty of care to unaccompanied minors, and has had to make some tough choices. Therefore, from October 1, 2017, admission at the Turnbull Ground will be:
Supporters 16 and over: £10
Old Aged Pensioners: £6
Under 16: FREE but MUST be accompanied by a responsible adult"
From the Warrington Guardian we learn that manager "Paul Carden says he 'takes the blame' for Yellows' 5-1 hammering at home to Stourbridge. Town fell to their heaviest defeat under Carden's stewardship...
Carden changed to a 3-5-2 formation for the game but were found wanting aerially, with four of their five goals against coming from set-pieces. Before tonight's game, Yellows had only conceded seven league goals in 10 games but Carden admits his side were 'bullied' at Cantilever Park.
'When you give a team who are strong in the air set-pieces, and you're not as aggressive as they are in the box, you're likely to concede,' he said. 'I think they've had six or seven set-pieces in and around the box and its led to four goals. We've been very good defensively, we've been really strong at the back but that's the first time we've looked weak and second best. I have to take the blame, I've changed the system to try and get us something else further up the pitch.
'I don't think the system has cost us, I just think we've been bullied in our own box and that is what's cost us'...
Carden says... 'I thought [ex-Alty midfielder] Sean Williams was very good tonight and Josh Hine gave everything on one of his first games back,' he said. 'We did some okay things, but nothing productive...
'We've been very naïve tonight, we've played against a team that are renowned for the way they play. They help things on, put the ball in areas and don't overcomplicate the game. Either side of the goals, we've looked okay'".
The Barnsley Chronicle reports that "David Norris played more games against his 'bogey team' Barnsley than any other club in a long professional career but is now plying his trade in the town, with Shaw Lane AFC in the Evo-Stik Premier.
The 36-year-old, who played 324 Championship matches and was once sold for £2.7million, is hoping to help the Ducks secure a sixth promotion in seven years and reach the National League North, formerly the Conference North. They are also two wins from the FA Cup first round. Norris said, 'I wanted to play for an ambitious club and one where I could potentially win trophies.
'They have done so well in the last few seasons and hopefully I can help them carry it on. It's a bit too early to tell how well we will do this season but I think we've got a chance of promotion. It's a good pitch (at Athersley Rec where Shaw Lane groundshare) and, hopefully, the club will start building up the fanbase which would be good.'
Norris began his career with Boston United and Bolton Wanderers before spending six years at Plymouth Argyle then moving to Ipswich for £2.7million in 2008. He then played for Portsmouth as well as Leeds United, Peterborough, Yeovil and Blackpool before dropping into non-league football last year.
He runs a gym in Bolton, where he lives, and one in Wakefield. He heard about Shaw Lane through a colleague who knows the manager Craig Elliott. He said, 'It's different to the football I was playing a few years ago but I still enjoy it and get that buzz when we win. I started off in non-league so it's not a huge culture shock to come back to it. It's still just football'...
The Ducks won in the second FA Cup qualifying round 2-1 at National League North side Blyth Spartans, with the 90th-minute winner coming from Damian Reeves who netted an FA Cup winner for Altrincham against Barnsley in 2015. They will now play Lancaster, who beat them away in the league earlier this month, at home in the third qualifying round on September 30...
Shaw Lane then won 3-2 at home to Workington in the Evo-Stik Premier on Monday. Clayton put the Ducks ahead but Workington levelled just before half-time. Reeves made it 2-1 then, after the visitors levelled again, Alex Byrne got the winner".
In the Buxton Advertiser we read that "Buxton boss Martin McIntosh was keen to keep a sense of perspective this week despite his side falling to two defeats in four days. A 2-1 loss at Sutton Coldfield on Saturday was followed by a 2-0 defeat to Whitby Town at the Tarmac Silverlands Stadium on Tuesday.
That leaves Buxton 14th in the table with 11 games played... He said, 'It's obviously been frustrating because, in some games, we've been magnificent and in others we've been about as far from what I expect from my teams as we can be. But we've only played 11 games and have matches in hand on teams too and in a tight division it doesn't take too much to climb up the table.
'Our home form is my biggest frustration, particularly having been so outstanding at home last season. Despite having largely the same squad, things aren't clicking like they are on the road. Perhaps teams are coming with a different mentality towards us now but it's something we need to put right...
'You've got very good sides that are sitting around us in mid-table and who you'd expect to push on before long, and others who are in the top four or five who are probably amazed they're where they are. Expectations need to be managed. Because we had a good year last year it's easy for people to expect us to be at the top end straight away but it's far from that simple. The fans have every right to be upset at the moment but I won't be making wholesale changes. I picked this squad and I stand by them...
Attention now turns to the FA Cup and a home clash with Evo-Stik Division One South side Alvechurch on Saturday. The visitors... won at Grantham Town in the last round. McIntosh said, 'Any team that scores four at Grantham is clearly going to be a threat so we'll be very wary... Teams often struggle to settle early on due to the sheer number of games being played and only Shaw Lane appear to have had any consistency up to now, so there's lots of time for us to ensure we push up the table, and progress in the FA Cup would be fantastic too.'"
---
27 September 2017
In a very one-sided match, an impressive Altrincham team, lacking Saturday's outstanding player, John Johnston, as well as three long-term injured team mates, deservedly overcame a disappointing Hednesford side.
Alty dominated from the kick off but Hednesford's loan keeper Wren's heroics combined with some wasted Alty chances kept it goalless till the 33rd minute. Then Josh Hancock made space clverely and scored with a well-placed low shot from outside the box.
Six minutes later, Jordan Hulme doubled the lead. This goal came when Poole played a ball left to Densmore, before Hancock crossed the ball and Poole found Hulme. He netted from six yards.
The Pitmen improved brifely in the second half but Alty reasserted themselves with a third goal in the 66th minute when Hulme netted from 12 yards after the ball had been cleared off the line following an Alty corner.
Match report here
Tuesday 26 September 2017, The EVO-STIK Premier Division
Ashton United 0-1 Workington
Barwell 2-1 Mickleover Sports
Buxton 0-2 Whitby Town
Grantham Town 6-1 Sutton Coldfield Town
Hednesford Town 0-3 Altrincham
Lancaster City 4-0 Witton Albion
Marine 1-2 Farsley Celtic
Matlock Town 0-1 Shaw Lane
Rushall Olympic 1-1 Coalville Town
Stafford Rangers 3-0 Nantwich Town
Stalybridge Celtic 1-0 Halesowen Town
Warrington Town 1-5 Stourbridge
---
26 September 2017
On 7 October, Altrincham welcome Rushall Olympic to the J. Davidson Stadium, which coincides with the Non-League Day initiative.
Altrincham FC announces that the Club has "been selected as one of only four clubs, nationally, to be promoted and funded by Fans for Diversity, an organisation supported by Kick it Out and The Football Supporters' Federation to have special status as a non-league football club on Non-League Day to showcase the Inclusion & Diversity of their favourite football club.
We want to take advantage of the day to showcase all the work we have been doing to improve the match day experience in general, and how we are taking steps to specifically cater for audiences outside of our 'core demographic'.
Meetings have taken place over many weeks with the Football Supporters' Federation, Kick It Out and Level Playing Field (the charity for disabled football supporters) to use this event to launch the Club on its journey to become the most Inclusive & Diverse non-league football club in England. This work has been very much boosted by the appointment of a small Inclusion & Diversity team (Jacqui Forster and Jordan Tyms) and the joint Supporters' Liaision Officers (Mike Reeves and Alison Corser). So the Club have set the foundations on this exciting ambition which we hope can be achieved very quickly.
This team is focused on delivering a great off-field experience for you for the Rushall game and, so far, the off-field activities include;
Attendance at the game by a number of legendary former players, including Stuart Coburn, Val Owen, Gary Scott and Colin Potts
A complimentary drink for those supporters that attend the Nantwich game
Live music in the CSH (mini Trafford Pride concert)
Children's Face Painting
Non-League Day merchandising from Fans for Diversity
Richie Bentley's special Non-League Day menu
Subbuteo demonstrations
Primary School Art competition
We are targeting the official opening of our new larger pitch-side disabled shelter for on NLD.
Both teams to be assigned a mascot from the Mini Kickers/Junior teams to lead out the teams
We are supported in this initiative by:
Women at the Game, for whom this match is a designated event
Prostate Cancer UK, the Evostik League chosen charity who will be collecting funds for their work at the game
National Football V homophobia and Trafford Pride
This will include Football v Homophobia training for our stewards
Football Supporters' Federation and Kick it Out, who are both funding our production of a four-page document showcasing our commitment to Inclusion and Diversity, our current position and our future plans
All players to wear Fans for Diversity/Non-League Day T-Shirts during the warm up (League approval pending)
Mass social media coverage
The Board will be formally signing up to our 'Promise', taking the form of a large printed graphic stating the Club's commitment to become the leading non-league football club for Inclusion & Diversity.
Watch the press, the web and our excellent social media for more details on our forthcoming plans as they come to fruition".
Altrincham FC has issued the following Club statement:
"Altrincham Football Club were shocked and saddened to hear about the attack on Mr Nasser Kurdy, Vice-Chair of Altrincham and Hale Muslim Association, on Sunday evening. We were delighted to hear that he was duly released from hospital, and is said to be recovering well.
Attacks of this nature have no place in our town and we stand shoulder to shoulder with the Altrincham community in condemning it.
The Fans For Diversity event that we have planned for our upcoming Non-League Day is now more relevant than ever. We hope that our involvement with Kick It Out and The Football Supporters' Federation can demonstrate how football unites all. We are in discussions with the local community on what format the day will now take, and we will announce further plans when they are finalised".
Altrincham are away to Hednesford Town on Tuesday. TASC Travel Coordinator Mark Eckersall advises supprters that "The 16-seater to Hednesford is now full for Tuesday's match. Hopefully we will not have to disappoint any latecomers but we do ask if people can let us know as soon as possible so we can try and accommodate everyone who wishes to travel with us.
On Saturday, as with previous visits, it is not viable to run travel to the rearranged fixture at Stalybridge. We always have a good number of supporters there, via the various travel alternatives, and hope that Saturday will be no exception as we look to keep pushing Phil and the team onwards up the league.
We're hoping to provide travel for Whitby Town on Tuesday 10th October, look out for details later in the week on plans for that one."
Altrincham travel to Hednesford Town tonight. YouTube has highlights from Hednesford's last outing, a 5-0 defeat at Mickleover Sports,
here
.
The visitors to the J Davidson Stadium on Saturday week (7 October) are Rushall Olympic, who beat Witton Albion last Saturday. The
Northwich Guardian
reports how "Witton Albion came crashing back down to earth on Saturday. Three days after taking over the Evo-Stik Premier Division top spot with a 4-1 success against basement side Stalybridge Celtic, Carl Macauley's men succumbed to third from bottom Rushall Olympic. And there is no denying the visitors deservedly left Wincham Park with all three points.
Rushall led twice, with the winner arriving in the 82nd minute courtesy of Stan Mugisha to cap a battling team performance. A Steven Tames penalty 12 minutes earlier had given Witton fresh hope. The league leaders struggled to find any rhythm, with too many passes going astray, especially in midfield.
Andre Landell, Kristian Scott and Majed Osman gave the home side a torrid time and could easily have been further ahead at the interval. The one-goal advantage they held from the 33rd minute came thanks to Landell's far-post finish with the Witton defence all at sea. Witton rallied after the break, but found centre backs Joe Hull and AJ Adelekan in resolute mood.
The penalty earned when substitute Micah Evans was felled by a last-gasp challenge, gave Witton hope. Tames rifled home the spot kick... The winning goal arrived with the visitors' bench screaming for their team to close the game down. A loose ball in midfield was worked to Mugisha, who outpaced Anthony Gardner to curl a superb finish past home custodian Ryan Nield. The goal seemed to inspire Rushall, who had the home side penned back for the remainder of the match.
It is a win that will have given Rushall manager Wayne Thomas much to build on in the coming weeks".
---
25 September 2017
Altrincham are away to Hednesford Town on Tuesday. TASC Travel Coordinator Mark Eckersall advises supprters that "The 16-seater to Hednesford is now full for Tuesday's match. Hopefully we will not have to disappoint any latecomers but we do ask if people can let us know as soon as possible so we can try and accommodate everyone who wishes to travel with us.
On Saturday, as with previous visits, it is not viable to run travel to the rearranged fixture at Stalybridge. We always have a good number of supporters there, via the various travel alternatives, and hope that Saturday will be no exception as we look to keep pushing Phil and the team onwards up the league.
We're hoping to provide travel for Whitby Town on Tuesday 10th October, look out for details later in the week on plans for that one."
Alty TV has a post-match interview with Phil Parkinson,
here
.
Keith Edleston, manager of the Altrincham Ladies reports on his side's 1-3 defeat on Sunday away to Crewe Alexandra Ladies.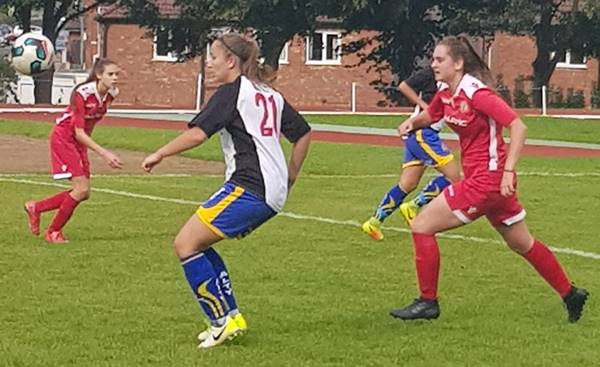 Above: Hannah Shufflebotham in action in the game.
He writes, "In a game where we played really well, with plenty of positives, it's the same old adage 'If you don't take your chances (and we had many many chances) you won't win a game!'
We started well and took the lead when Hannah Shufflebotham won a 50/50 ball in midfield and laid the ball to Meg Rowley, who instantly squared for Laura Kelly to slide the ball under the advancing keeper to give us the lead. A lead that, to be fair, we looked comfortable with, although Crewe, to be fair, are a good side who play the game well and caused us some concern at times.
Approaching half-time a needless foul gave Crewe a direct shot on goal, which debutant keeper Esther Henandez pushed onto the bar but a Crewe player reacted fastest and put it in the goal.
Halftime 1-1.
The second half was going much the same way, with us having possesion and Crewe relying on the breakaway. Unfortunately, twice they capitalised to make it 1-3. We still kept going and more chances were missed by us and it just wasn't to be and the game ended with a loss.
However, the save of the game was left to the end, when a Crewe player let fly from 20 yards out, to which Esther flew to her right and tipped the ball over the bar. Well done to Crewe and good luck for the season.
For us, it's shooting practice at training on Thursday girls.
Full time at The Cumberland Arena: Crewe Alexandra Development 3 Altrincham FC Ladies 1 (Laura Kelly)
Starting 11: Esther Hernandez Rodriguez, Bliss Molyneaux, Louise Edleston, Aimee Hopkinson, Kye Brown, Gail Simpson, Hannah Shufflebotham, Jess Hartop, Megan Rowley, Laura Kelly, Kate Bryan. Subs: Georgia Ashton, Melissa Williams, Sadie Powell"
The Ladies are sixth in the league table. Their next fixture is at home (Mersey Valley) to West Didsbury & Chorlton Ladies on Sunday, 1 October.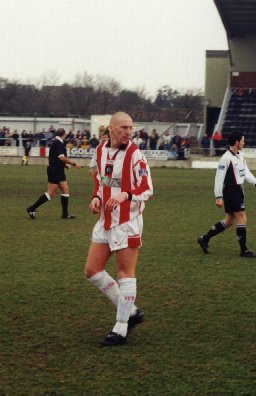 Altrincham travel to Hednesford Town on Tuesday, scene of a fateful trip on 5 February 2000. That season, Alty were just back in the Conference after a two-year absence and they arrived at Hednesford in a respectable 16th position, on the back of a remarkable run of 14 league matches without defeat. But just three of those games had been victories! In the Alty side that day was Kevin Ellison, still scoring for Morecambe in League Two. He is shown, right, during the game. But Alty lost heavily that day to the Pitmen, 5-0, and went on to win just three of the remaining 16 fixtures, culminating in relegation on the last day of that season.
The two sides, now both relegated, next met in a 1-1 draw in a pre-season friendly match, played on Tuesday, 2 August, 2005.
In 2013-14 the clubs were back in the same division (Conference North) and they met four times; twice in the regular league programme and then in a two-legged promotion play-off. In the home league match Alty lost 3-1 but drew 1-1 in the away fixture three months later.
In the play-off first leg, the game at Keys Park ended 2-2 before almost 2,000 spectators witnessed a 2-1 home win for Altrincham with the winner, ironically, netted by James Lawrie, now a Hednesford player.
Overall Mike Garnett confirms the statistical record as...
Home: P5-W2-D1-L2-F6-A7
Away: P6-W1-D3-L2-F8-A13
All: P11-W3-D4-L4-F14-A20
Admission details at Hednesford are as follows;
Adult Main Stand £12
Adult Terrace £11
Concessions Main Stand £8
Concessions Terrace £7
Adult/1 Child* Terrace Ticket £12
Adult/2 Children* Terrace Ticket £13
Family** Terrace Ticket £22
* Child under 16, ** 2 Adults & 2 Children (under 16)
The postcode is WS12 2DZ.
Hednesford Town are unbeaten at home this season but on Saturday they lost 5-0 away to Mickleover Sports.
Hednesford Town
reported that the Pitmen "were handed a lesson in finishing after being put to the sword by Mickleover Sports to suffer their sixth defeat out of seven on the road this season.
The Pitmen were on the back foot from the start and fell behind in the sixth minute when Ben Turner was given a free header in the penalty area... Hednesford should really have been level in the 24th minute after James Lawrie picked out Glover but he planted his headed effort straight at King...
Three minutes later the home side doubled their lead when a freekick was played into Clinton Morrison who let the ball roll into Garnett and he finished smartly past James Wren. Things went from bad to worse in the 38th minute for Hednesford as Andy Dales got to the touchline and he picked out Garnett who tapped home from six yards...
Two minutes into the second period it was 4-0 as, despite the initial freekick being blocked, the ball fell to Lewis Belgrave and he fired a low effort into the corner of the net from the edge of the box. Things got worse for Hednesford in the 54th minute when Mickleover played it around the Pitmen backline before Dales saw his shot from 18 yards beat Wren and find the back of the net...
In the 83rd minute Mickleover could have added a sixth goal when they were awarded a penalty but Garnett missed his chance for a hat-trick as he fired his effort well over the goal. The Pitmen now turn their attentions towards Tuesday evening's home game against Altrincham...
Hednesford Town: Wren, Platt (Oji 46), Weir, Bailey, Mutton, Fitzpatrick, Bullock (Lyttle 66), Thorley, Glover, Lawrie, Davies (Levingston 46) Subs not used: Melbourne, Steele".
Hednesford's home league matches so far this season have ebded as follows...
v Ashton United 1-1 gate 383
Halesowen Town 2-0 gate 404
Lancaster City 1-1 gate 412
Sutton Coldfield Town 3-0 gate 410
Nantwich Town 1-0 gate 319
Altrincham FC Youth lost 2-1 away to Curzon Ashton on Sunday and lie ninth in the NWYA Premier Division with games in hand. Their next league fixture is on Sunday, 1 October, at home (Flixton) to AFC Fylde who, like Alty, are looking for their first points of the season.
Next Saturday (30th), Altrincham have a rearranged match at Stalybridge Celtic, who lost 4-0 on Saturday to Coalville Town.
Stalybridge Celtic
report that "When every mistake is punished you have to cut out the mistakes, when you cannot get luck, you have to make your own. Neither happened today, and Celtic again succumbed to simple, preventable goals without providing anything up front.
The score-line would suggest Celtic were massively outplayed but, apart from the goals, there was nothing between the teams. Celtic opened the chances with Dickinson flicking Danny Morton's inch perfect cross wide of the mark, Luke Ashworth headed a corner over and Dickinson's wicked angled drive took a deflection that took all the sting out of it. A handball from Steve Towers should have been a penalty, but Celtic got a corner instead.
Jermaine Hollis tested stand-in keeper Jack Walton but the young loan keeper was up to it. There was nothing he could do after Morton slid in and missed Blair Anderson, who went on to pull back the ball along the line to Daniel Creaney who had the simplest of tap ins. Celtic collapsed a little, allowing Coalville to pressure more...
The second half saw Celtic continue to get nothing from what they created... To show Honeyball how to convert a free header, Coalville got a corner and Daniel Creaney nodded the ball unhindered into the back of the net. Moments after Bailey-Jones had shot wide, Coalville added a third with what has to be classed as a really good goal...
Watson added his second and Coalville's fourth, when a good tackle in the box from Luke Ashworth saw the ball spin to Watson who drilled the ball into the back of the net.
Celtic were beaten, and although Greg Wilkinson had a chance and Jake Charles finally got a shot off from a very narrow angle that still required a great save from Coton, it was Coalville that came closer to adding a fifth, when Creaney's shot hit the crossbar.
Although there's still thirty plus games left, Celtic's position is looking very precarious. Anything but a win on Tuesday against Halesowen who are the only other team on single figures will mean serious questions need to be asked."
Manager Steve Burr's comments are here
The Stalybridge team comprised 1 Walton, Jack 2 Morton, Danny 3 Killock, Ross 4 Brown, Tom 5 Ashworth, Luke 6 Honeyball, Alex 7 Chippendale, Aidan 8 Roberts, Oliver, 9 Dickinson, Liam 10 Charles, Jake 11 Tongue, Liam 12 Cofie, John 14 Bailey-Jones, Theo 15 Wilkinson, Greg 16 Crowley, Oliver 17 Julien, Sebastian.
---
24 September 2017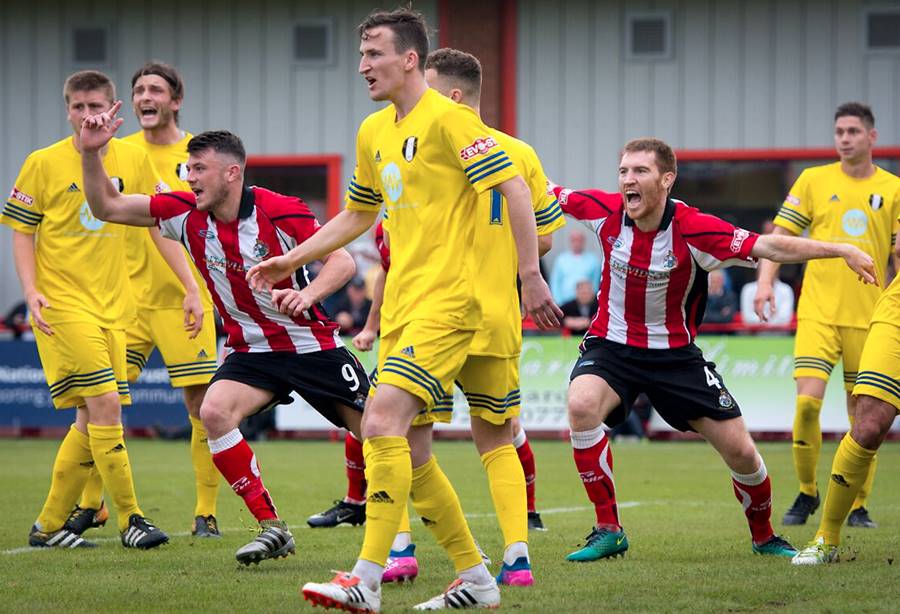 Match report here.
Above: Jordan Hulme and Tom Hannigan celebrate Alty's goal whilst the Grantham defenders appeal to the referee for a freekick. Image courtesy of Michael Ripley.
On Saturday, a late switch of venue, saw Altrincham Reserves travel to Wythenshawe Town, rather than host the opposition as originally decreed by the fixture list. They lost, however, 3-1. Sean Miller played for the Reserves as he seeks to regain match fitness after his long injury lay-off.
Wythenshawe Town reported that alty's goal came in the 86th minute from Dylan Scanlan. In the final minute there was "A red card for Altrincham's Tom Westall and WTFC's Ben Pond and then the ref sent off [former Alty Youth captain] Richard Gresty" of Wythenshawe Town.
Alty Reserves' next fixture is on Saturday (30th) at home (Egerton) to Rudheath Social FC .
Att. 736 Altrincham 1 - 0 Grantham Town
Att. 159 Coalville Town 4 - 0 Stalybridge Celtic
Att. 179 Farsley Celtic 1-2 Barwell (Farsley's goal was a James Walshaw penalty).
Att. 280 Halesowen Town 1 - 1 Warrington Town
Att. 200 Mickleover Sports 5 - 0 Hednesford Town
Att. 291 Nantwich Town 2 - 3 Ashton United (Mark Lees netted on eof Ashton's goals)
Att. 261 Shaw Lane 5 - 2 Stafford Rangers (Damian Reeves scored for Shaw Lane)
Att. 899 Stourbridge 0 - 0 Lancaster City
Att. 177 Sutton Coldfield Town 2 - 1 Buxton
Att. 253 Whitby Town 3 - 2 Marine
Att. 286 Witton Albion 1 - 2 Rushall Olympic
Att. 429 Workington 0 - 1 Matlock Town
This week's
EvoStik League
transfer list incluides...
Max Povey from AFC Fylde to Ashton United
Daniel Crane from Rushall Olympic to Bedworth United
Daniel Burns from Gateshead to Buxton (loan)
Jed Davies from Tamworth to Hednesford Town (loan)
Tyler Weir from Worcester City to Hednesford Town
Adam Etches from Stockport County to Matlock Town (loan)
Tyrell Waite from Boston United to Matlock Town (loan)
Rory Middleton from Marine to Oldham Athletic
Matthew Williams from Buxton to Radcliffe Borough
Chris Spencer from Barwell to Romulus
Majed Osman from FC Tucson (USA) to Rushall Olympic
Paul Ennis from Curzon Ashton to Shaw Lane
Samuel Osbourne from Notts County to Shaw Lane (work experience)
Niah Payne from Bradford City to Shaw Lane
Craig Ellison from Witton Albion to Stalybridge Celtic
Oliver Crowley from New Orleans (USA) to Stalybridge Celtic
Ross Killock from Chester FC to Stalybridge Celtic
Jack Walton from Barnsley to Stalybridge Celtic (youth loan)
Devarn Green from Blackburn Rovers to Stourbridge
Joseph Moore from Walsall to Sutton Coldfield Town
Jack Nardello from Nuneaton Town to Sutton Coldfield Town
Sam Reuben from West Bromwich Albion to Sutton Coldfield Town
Simon Ramsden from Gateshead to Whitby Town
---
23 September 2017
Above: Alty clear their lines in the second half.
Altrincham, without the suspended Harrop and Jones and the recuperating Disney, Miller and Taylor neverthless secured a narrow victory against a Grantham side which carried a threat going forward, especially through Lee Shaw. Despite the three points gained, Alty remain eighth in the table.
Match report here.
Saturday 23 September 2017, The EVO-STIK Premier Division
Altrincham 1-0 Grantham Town
Coalville Town 4-0 Stalybridge Celtic
Farsley Celtic 1-2 Barwell
Halesowen Town 1-1 Warrington Town
Mickleover Sports 5-0 Hednesford Town
Nantwich Town 2-3 Ashton United
Shaw Lane 5-2 Stafford Rangers
Stourbridge 0-0 Lancaster City
Sutton Coldfield Town 2-1 Buxton
Whitby Town 3-2 Marine
Witton Albion 1-2 Rushall Olympic
Workington 0-1 Matlock Town
Catering Officer, Richie Bentley, advises supporters that "Following the match against Grantham Town the Club has a function so the main bar in the Community Sports Hall will be closing for 6.30pm. A few cheeky drinks may be available in the Vice-President's Lounge for those wishing for a few drinks longer!".
TASC is running a coach to Hednesford Town for Alty's game next Tuesday. Details of the times and fares are on the
Away Travel
page. Please book, as usual, either in the Community Sports Hall at Saturday's match with Grantham Town or by ringing the club offices during weekday office hours.
Altrincham FC Youth have been drawn away to Bootle in the F.A. Youth Cup, 2nd Round Qualifying, with the game scheduled to be played during the week commencing October 2nd, unless mutually agreed otherwise.
Our opponents today,
Grantham Town
report that they "will be looking to stop the rot of three successive defeats when they travel to recently relegated Altrincham on Saturday.
After Tuesday's 2-1 defeat at home to bottom of the league Halesowen, the Gingerbreads have found themselves winless in their last three games, seeing them drop down to 10th in the table. Home side Altrincham meanwhile will have confidence coming into the game after their emphatic 6-0 win over Farsley Celtic, propelling them to 8th in the league, just four points off a play-off spot.
Altrincham, also known as the Alty, are in excellent form going into the game having won four of their last five games, with their only defeat being a 5-2 loss away to Workington.
Grantham will also be looking to pick up their first points on the road since Bank Holiday Monday where they managed to see off Matlock Town in a 3-2 win for the Gingerbreads.
Gingerbreads boss Adam Stevens says the poor form needs to stop soon if they want to have any chance of improving on last season, 'We know we aren't in the best form right now and only we can address that. The best way to do that is to go out on the pitch and win football games. We shall turn up with a game plan in the hope we can walk off the pitch at the end of the 90 minutes knowing we have all three points in the bag.
In terms of team selection, all players are available for selection on Saturday. "
Courtesy of Brain Flynn, Press and Media Oficer, are the following comments from Alty assistant manager, Neil Sorvel...
"Last Saturday's Emirates F.A. Cup exit at Shildon was a bitter disappointment for everyone and the players had a lot to prove on Tuesday night at home to Farsley Celtic, who would have gone top of the league with a win. There was never any real chance of that happening as our lads were at it from the word go. It could have been a frustrating evening for us, but scoring inside ten minutes from a well worked free kick helped enormously. Josh Hancock stooped to glance a header home from John Johnston's perfectly delivered free kick and we were on our way.
To score six goals and keep a clean sheet was really pleasing for Phil Parkinson and me and there were so many positives right throughout the team, as well as the lads who came on in the second half.
We have to take that on now today as we welcome Grantham Town to the J.Davidson Stadium. They have hit a bit of a poor patch after a good start to the season and will be fired up to redress the disappointments of two home defeats in their last two outings, going out of the F.A. Cup against Alvechurch, before a surprise defeat on Tuesday night against Halesowen Town.
They started poorly last season but eventually finished just outside the play-off places. They are a well organised high-energy team and in Lee Shaw, they have a very dangerous striker who scored almost thirty goals last season.
On the injury front, things are definitely improving. Josh Amis came on at Shildon and again against Farsley, setting up Tom Hannigan's goal that put us five-nil up by winning the header from a corner……he had a good pre-season before being struck down with appendicitis just before the first league game and gives the team an added dimension up front.
Sean Miller had a full session in training on Thursday and will play for the reserves against Wythenshawe Town today, having not played any football in 2017. He needs game minutes to build match fitness, but it shouldn't be too long before Alty fans see him play again.
Simon Richman returned to action in the second half on Tuesday night and Tim Deasy has recovered from his groin strain and is available today.
James Poole was able to join in training on Thursday and should be available, whilst Jordan Hulme and John Johnston (above right) both had niggles from Tuesday's win and will be assessed by Tommy Uda ahead of today's encounter. Lewis Short also didn't train on Thursday but that was just a precautionary measure and we expect him to be OK for today.
The league table looks pretty tight at the top, but we have the opportunity to get towards the play-off places and if we can show the sort of form that took Farsley apart in midweek, there's no reason why we can't be challenging all of the leading teams in the coming weeks".
Altrincham fans should settle down in an armchair to watch seventeen minutes of Alty TV's high quality highlights (above) from Tuesday night's game against Farsley Celtic. And then there is a post-match interview with assistant manager, Neil Sorvel.
NL Pitchero
reports that "Barwell have confirmed that midfielder Nathan Edgington has put pen-to-paper at Kirkby Road. The midfielder re-joins the club on contract following a spell on the sidelines with injury. Edgington originally joined the club from Midland League side Highgate United back in March 2016. He was previously with Stratford Town and Racing Club Warwick."
Meanwhile Barwell striker Ryan Robbins has joined Gresley.
Stalybridge Celtic "are pleased to welcome back 2014 Young Player of the Year, Oliver Crowley. Oliver, now 21, started the season with FC United of Manchester, but before that was playing in America with New Orleans Jesters...
In player departures, Gary Gee has left the club".
Buxton have tweeted that they "have signed youngster Aidan Nagi from junior football in Sheffield" and that "Danny Burns has re-joined The Bucks on a month's loan from Gateshead".
Bradford's Telegraph & Argus says that "Farsley Celtic manager Adam Lakeland faces his biggest test of the season as he looks to lift his players following the club's biggest defeat in more than ten years. Lakeland has only been in the job since the close-season but has already established his side as credible Evo-Stik League promotion contenders in their first season back in the Premier Division, even though they were thumped 6-0 at Altrincham in midweek.
The Celts' boss said, 'It was a bitterly disappointing night for us. We were second-best in every department against the best side we've played this season. We need a big reaction tomorrow. Jimmy Pollard missed that game through suspension but is back in the squad but we'll be missing Adam Clayton after his sending off in last Saturday's win against Halesowen.
'These red cards are costing us. Sometimes players are unlucky but we have to stop putting ourselves in these positions'. The Celts host mid-table Barwell, who only trail them by six points and have a game in hand. They will be on the up after beating Matlock Town in midweek but Farsley are still only a point off the summit, although three of the four clubs above them now have games in hand".
---
22 September 2017
TASC is running a coach to Hednesford Town for Alty's game next Tuesday. Details of the times and fares are on the
Away Travel
page. Please book, as usual, either in the Community Sports Hall at Saturday's match with Grantham Town or by ringing the club offices during weekday office hours.
Altrincham FC Youth have been drawn away to Bootle in the F.A. Youth Cup, 2nd Round Qualifying, with the game scheduled to be played during week commencing October 2nd, unless mutually agreed otherwise
Altrincham FC's Board has issued the following statement...
"We know that our supporters and our shareholders have had many questions around the share issue and the potential for new investment. However in these circumstances, there are constraints about what we can say and to whom we can say it. We are pleased to advise that there has been interest in acquiring the 51% new share issue, and detailed discussions are underway under a Non-Disclosure Agreement (NDA). This NDA limits what the information we can share, but be assured that we will keep you updated where we can on developments in what could be a very important progression for the club".
The
Sale & Altrincham Messenger
reports that "Neil Sorvel [left] hailed the perfect response to Altrincham's shock FA Cup defeat after they demolished Farsley Celtic 6-0. On a night when sixes filled the air down the road at Emirates Old Trafford, in England's one-day cricket win against the West Indies, Alty produced one of their own with an attacking masterclass that eased the pain of a 1-0 FA Cup exit at Shildon three days earlier.
Josh Hancock scored twice and flying winger John Johnston ran Farsley's defence ragged, as Alty turned on the style in a way they hope will attract a bumper crowd for Saturday's home game with Grantham (3pm) as they bid to close in further on the promotion places.
'We asked the lads for a reaction after the disappointment of Saturday, and they were at it from the word go,' said assistant-manager Sorvel. When the opposition set up to defend and counter-attack, it's really important the first goal goes your way, so it was ideal to score so early. We pushed on from there, and it was an outstanding performance all round.
'We moved the ball around really well and were able to break them down, so much so that we could have had double figures. It would not have been an injustice if we had scored 10, we were that good. We were having a little laugh to ourselves when one of our centre-halves (Tom Hannigan, right) got Man of the Match after we scored six goals, but really that just illustrated how everyone contributed.
'It was nice to see all the front players on the scoresheet, but there's no doubt the lads at the back played their part as well in restricting Farsley's chances to an absolute minimum and keeping a clean sheet. The table is looking more positive, now we are up to eighth with games in hand.
'It's about getting into the play-off places and showing the consistency to stay there, and we will need more of the same against Grantham. They will be a decent test for us'".
NL Pitchero
reports that "Following last week's wins against Grantham Town and Halesowen Town, Farsley Celtic travelled to Altrincham in the Evo-Stik League Premier on Tuesday night in good heart, but came away on the receiving end of a 6-0 beating.
The Celts' manager Adam Lakeland said, 'It was a very difficult evening for us against an impressive Altrincham side that was, by a distance, the best team we've played so far this season. I can accept losing to a team which is better than us on any given day, but there is a way to lose and I felt in the final 30 minutes we lost our discipline, had no organisation with or without the ball and made the scoreline become a bit embarrassing to be honest.
'It was just a bad night from start to finish where individually and collectively we were nowhere near our capabilities and as a result we were second best in every department.
'It was always going to be a tough game and with the result they had in the Emirates FA Cup last Saturday (losing to Northern League Division One Shildon) and the manager quite publicly calling out his players for a reaction, I knew it was going to make the game even more testing for us.
'We expected a fast start from them so we had a game plan to try and frustrate them, slow their momentum and try to create chances on the break. We wanted to break the game down into three stages of thirty minutes, with the plan to be in the game in the last half an hour and give ourselves the chance of getting a result, but to concede from a free kick after eight minutes and then, again, on twenty-two minutes from a quickly taken free-kick tossed the plan out of the window.
'At the break, we tried to re-group and said if we could all raise our levels and get the next goal, somehow, we would be back in the game, so to then go and concede so quickly in the second half killed us again. The remainder of the game was extremely poor and, had we dug in and lost it 3-0 or 4-0, to a point I could have taken that, but 6-0 is unacceptable.
'lost our discipline, clocked off after 70 minutes and allowed for the scoreline to become ridiculous. We must learn from this and make a commitment to one another that no matter how hard it gets we don't fold like we did.
'I'm disappointed that we didn't give a better account of ourselves as the lads have been fantastic so far this season and even when we have been beaten previously we have fought till the end and been a difficult team to beat. On Tuesday we were just miles off it and sometimes you get performances like that and as a manager it's frustrating as you can't quite put your finger on why.
'In saying that, we have a great group of lads who are hurting from this result and it's up to us now to bounce back when we take on Barwell at the Throstle Nest on Saturday. Finally, I would like to apologise to the supporters who travelled to the game and, as manager, I take full responsibility for the result'".
The local Telegraph & Argus reported that "Farsley Celtic had a night to forget as they blew their opportunity to claim the leadership of the Evo-Stik League Premier Division after a heavy defeat at mid-table Altrincham. Instead of climbing to the summit, the Celts suffered a drubbing as they were hit for six of the best".
Courtesy of Alty Ladies' manager Keith Edleston, we have his Ladies' Development Team colleague, Steve Mackay's report on last Sunday's Chester City v Altrincham Ladies' Development Team match.
"Going in to today's game we were missing four key players due to recent injuries and, more importantly, this included our keeper. A reshuffle was needed prior to kick off, which would test the team.
It was a scrappy opening affair with neither team really testing the keepers and this theme continued throughout the half. Midway through, Chester were awarded a corner. As the ball was played in, several Alty players including the stand-in keeper lost the flight of the ball, due to the glaring sunshine, this simply allowed an easy tap-in for Chester.
Alty regrouped at the break and, right from the kick-off, we started to dominate the game but Chester's defence held strong. Alty continued to keep the pressure on and, not long into the second half, we made the breakthrough, thanks to Sabrina. As the game continued, it was plain to see Chester were tiring after being put under a lot of pressure from Alty. We continued to push forward to find the winner when there was a rare attack from Chester, which caught us out and they scored.
Alty's players never gave up and, once again, they kept pushing and pushing but, once again, Chester's defence held strong. As the game entered into added time, Alty were awarded a corner Initially, the set piece came to nothing but Chester defended it poorly, which allowed the loose ball to land near Natalie who blasted it in the top corner", 2-2.
Grantham Town, "The Gingerbreads" are the next visitors to the J. Davidson Stadium, this Saturday.
Mike Garnett provides us with the historical statistics on games between our two clubs.
Home: P2-W2-D0-L0-F7-A3
Away: P2-W1-D1-L0-F4-A1
All: P4-W3-D1-L0-F11-A4
Alty supporters will recall that some years ago we suffered an occupation of the then Chequers car park by a group of travellers. And Grantham have recently experienced the same problem. However, on Thursday it was reported that the travellers had moved on.
Lincolnshire Live reported earlier that "A group of travellers have set up camp in a field usually used as a car park by Grantham Town fans. Gingerbreads supporters were advised by the club to consider alternative parking arrangements after travellers unlawfully set up base at the South Kesteven sports stadium.
Fans travelling to the ground ahead of the match with Halesowen Town were informed that there would be limited car park spaces available in the stadium's main car park and asked to park elsewhere".
On the pitch, the Grantham Journal reports that "Grantham Town suffered their second embarrassment this week, losing to the bottom-of-the-table side. To be fair to the West Midlands outfit, they played better football than their lowly league position would suggest and improved as the match went on.
The game started at a frenetic pace with Grantham having the first shot on goal...Halesowen's on-loan Nigerian striker Daniel Udoh first made his presence known on 10 minutes when his close range shot was charged down.
But, in general, it remained all Grantham going forward, with further chances going awry through Hempenstall, Michael Hollingsworth, Stefan Galinski and Rhys Lewis, together with a succession of corner kicks which bore no fruit.
The visitors' first corner of the game resulted in them taking the lead in the 36th minute. Cameron Steele's flag kick was headed goalward by Dominic Smith. Grantham keeper Kieran Preston punched the ball out to Udoh who put it back in to Luke Shearer for a poke home.
But the Gingerbreads levelled two minutes later. Andrew Wright broke down the right and looked to have ran too far. However, he still managed to beat Platt and slotted acutely into the far bottom corner of the net...
Preston did well to stand up to block Halesowen substitute Roland Agbor's close range shot following a quick break in the 79th minute. But a minute later, the Grantham custodian was beaten by Udoh after a perfect set-up from Agbor...
The always dangerous looking Udoh was through on the Grantham goal two minutes later and Tom Potts brought him down in the box. Referee Mr Tinsley pointed to the spot but Preston got the biggest cheer of the night when he saved Udoh's penalty kick...
Grantham Town: Preston, Potts, Luto, Lewis, Galinski (McMenemy 90), Hollingsworth, Meadows, Wright, Hempenstall, Lee Shaw, Luke Shaw. Subs not used: Burrows, Dasaolu, Baker, Purcicoe".
From
NL Pitchero
we learn that "Marcus Bignot is the new manager of Chester FC... The former Solihull Moors and Grimsby Town boss takes over the club who are currently 21st in the Vanarama National League table.
Bignot guided Solihull Moors to the Vanarama National League and enjoyed a successful start to last season, that led to him moving to League Two side Grimsby Town, where he only lasted a few months in the role. As of Saturday he was helping out Micky Moore at Barrow in a temporary assistants role.
The Blues have only won one game so far during the season out of their first eleven, with their form at the Deva Stadium being a concern since the start of 2017".
---
21 September 2017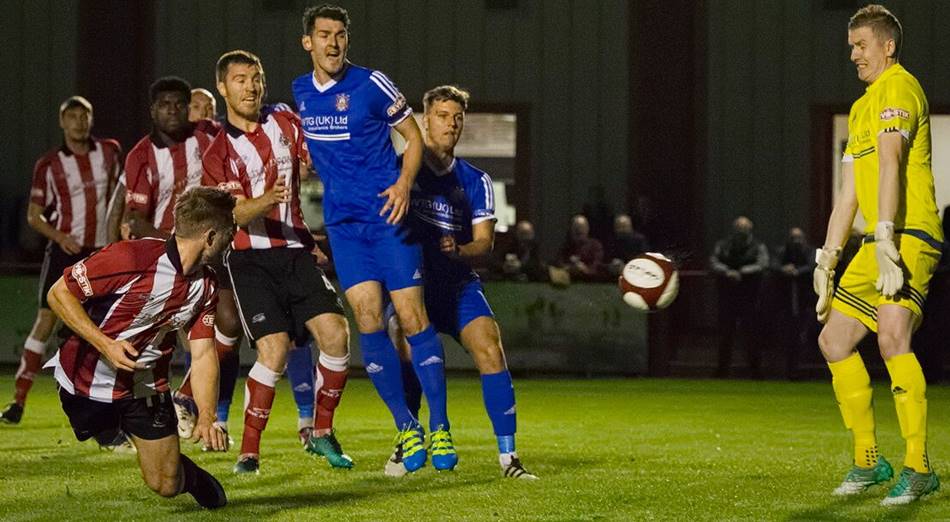 Above, Michael Ripley's camera captured Josh Hancock's headed goal against Farsley Celtic last Tuesday and, below, the celebrations following John Johnston's goal.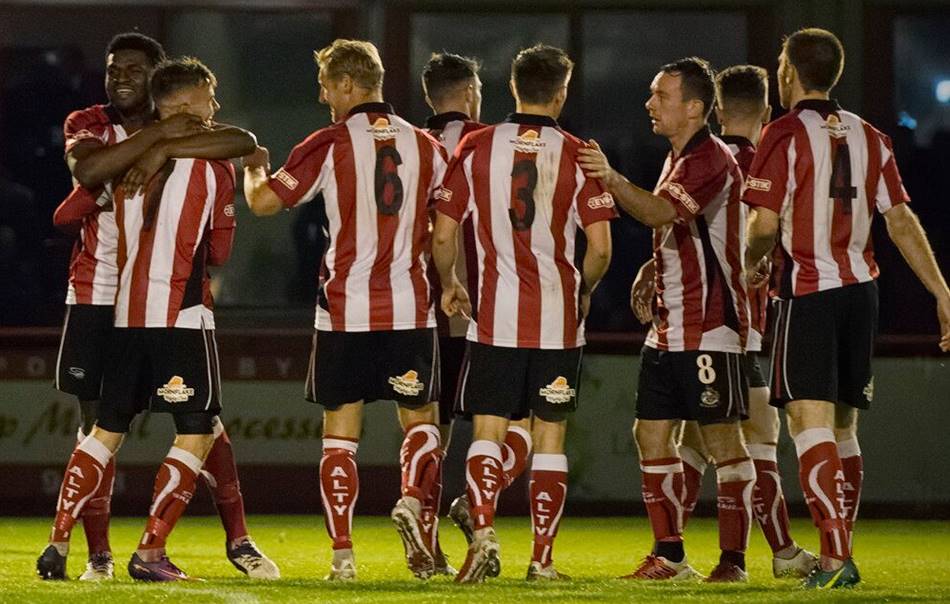 Tuesday's
Robins' Review
announced a "Meet the Manager/Players event, to be held after the home match against Buxton on 4 November in the Community Sports Hall. Along with our management there will be a select number of players in attendance, who will be available to answer questions from the floor. Tickets for the event, including food, will be just £10. Tickets are available from Saturday.
Please support this event and get to know the players outside their football environment".
As reported recently, Altrincham's league fixtures at Stafford Rangers, (originally set for 30 September), and at Shaw Lane AFC, (originally set for 30 October), have had to be postponed. In the case of Stafford this was due to Rangers' continuing involvement in the FA Cup. As for the Shaw Lane match, the change was necessary because our Cheshire Senior Cup tie had to be played in the same midweek. The EvoStik League has now notified Altrincham of new dates for these games as well as a replacement fixture for 30 September.
The new fixtures are:
Saturday, 30 September: Altrincham are now away to Stalybridge Celtic (3pm), a match originally set for 16 December, 2017.
Monday, 6 November 2017: Altrincham are now away to Shaw Lane AFC (7.45pm)
Saturday, 10 March 2018: Altrincham are now away to Stafford Rangers (3pm)
In the 'From the Medical Room' article in Tuesday's
Robins' Review
Tommy Uda informed supporters that "Simon Richman injured his ankle quite severely during the Witton game and had to come off after a nasty looking challenge. he has made good progress". Simon returned as a used sub against Farsley on Tuesday night.
"John Disney (right) has had his MRI [scan] results back... and there is good and bad news.
He struggled to recover from the horrific tackle he received at Trafford in pre-season on his ankle and myself and Ryan decided to refer him for a scan...
The positive is that there are no complete ruptures (grade 3) of any ankle ligaments. However, he has torn two ankle ligements quite severely and is facing a long spell on the sidelines. I'm afraid exactly how long is hard to say at this moment in time..
Laurence Taylor had to be carried off during the Abbey Hey game after, frankly, a shocking tackle that left stud marks halfway up the poor lad's shin and a severely sprained ankle. Laurence was stretchered off and sent straight to hospital for an x-ray which, fortunately, ruled out any fractures.
Nevertheless, Taylor sustained a nasty sprained ankle and has been out for a couple of weeks already. He has returned to light jogging and is making progress but he is unlikely to feature for another week or two...
James Poole has been suffering from a hamstring issue of late. We are taking a very cautious approach with it...
James has not been complaining of anything during training and fitness tests but when it come to competitive play he suddenly feels something and that's enough for us to hold him back but we are expecting him to be back very soon.
Myself and Ryan are working overtime to try and rehabilitate the players back to match fitness".
Farsley Celtic
report that they "suffered their biggest defeat in over a decade after an abysmal performance led to a 6-0 drubbing at Altrincham on Tuesday night. The Celts came into the game seven points above their hosts [having played two games more] but there was a gulf in class on the night as Alty produced their best performance of the season, and Farsley found, by far, their worst.
It took the Manchester side just nine minutes to open their account as Josh Hancock stooped low to divert a free kick into the Farsley goal. A 12th minute free kick from Isaac Baldwin straight at goalkeeper Anthony Thompson was the only shot on target Farsley could muster in the first half as things went from bad to worse shortly after.
The hosts doubled their advantage on 22 minutes when a long free kick was pumped into the Celts' box and Thomas Peters fired home. At 2-0 down at the break, Farsley were still in with a shout but John Johnston's 48th minute goal all but put the game to bed as the Reds put their foot on the gas... They fired in a fourth on 55 minutes as poor defending allowed Jordan Hulme to tap home from close range.
Four became five on 71 minutes as Thomas Hannigan netted... And the Robins rounded off their clinical performance four minutes from time as the ball was played in from the right, allowing Hancock to bag his second of the night.
The result could have been even more embarrassing for Farsley had Graeme McKibbin not pulled off a number of top saves in the closing stages on what was a night to forget in a hurry".
Press & Media Officer, Brian Flynn, writes that "The Radio Robins broadcast from Tuesday night's demolition of Farsley Celtic is available on Mixlr. To listen, search for 'Radio Robins' on the Mixlr App and the recording is available under 'Showreel'".
On Saturday, Altrincham entertain
Grantham Town
who report that "Despite dominating possession and chances The Gingerbreads fail[ed] to win again on a Tuesday night." against Halesowen Town
"Rhys Lewis, Jordan Hempenstall and Michael Hollingsworth all had long range efforts, which didn't trouble the keeper. Luke Shaw and Lee Shaw were working their full backs well but any cross could not be met by a Gingerbread.
On 36 minutes, though, Halesowen took the lead. From their first corner, the ball was hit long. Kieran Preston could only tip the ball towards the Halesowen attacker.
The Gingerbreads were level 3 minutes later. Michael Hollingsworth played to Jordan Hempenstall, his reverse pass found Andrew Wright who gave himself room and fired home... Chances came and went. Then came the sucker punch... Halesowen broke down the right and cut in, the shot taking a slight deflection passed Kieran Preston.
The Gingerbreads looked for an equaliser but it wasn't to be".
By way of context, before Tuesday's match Town reported that "Grantham welcome bottom of the table Halesowen Town to the Meres. Grantham will be wanting to forget the disappointment of being knocked out of the FA Cup after losing 4-3 at home to Alvechurch on Saturday, by trying to return to winning ways.
Bottom of the league Halesowen will also be looking to return to winning ways, and in doing so, look to pick up their first points away from home after losing 3-1 away to Farsley Celtic in the league on Saturday.
As previously mentioned, Halesowen have yet to pick up a point on the road making them and Stalybridge Celtic the only teams not to have picked up a point away from home this season. The Gingerbreads meanwhile have only won one of their last four games in all competitions with their only win coming against Workington Town [sic].
Grantham manager Adam Stevens says his side are aware of their poor form and that they need to stop the rot quickly... 'Recently some of our performances haven't been up to the standard we set for ourselves'... In terms of team selection, everybody remains available for selection. "
Stalybridge Celtic
report that "Steve Burr has added his squad with two signings. Former Chester man Ross Killock has signed forms... The centre back, 23, also lists Halifax and Leeds amongst his former clubs.
Also joining the squad is goalkeeper, [ex-Alty reserve] Craig Ellison. Craig, 30, joins as cover for goalkeeper Joe Slinn, who picked up an injury in the FA Cup tie against Chorley. Craig did have a spell with Celtic under manager Keith Briggs four years ago.
Moving on from the club is Charlie Ennis, who has opted to join Shaw Lane, following an approach. Also leaving the club is left back, Lee Neville".
In its midweek review, the EvoStik League reports that "Farsley Celtic could have gone top of the EVO-STIK League Premier table on Tuesday night had they won their game at Moss Lane against relegated Altrincham, writes Pitchero's Steve Whitney.
Instead, Farsley suffered their biggest defeat in over a decade after a 6-0 drubbing...
Instead it's Witton Albion, who came up with Farsley at the end of last season, who top the early table after they beat the side who came down with Altrincham, Stalybridge Celtic, 4-1 at Wincham Park. Nick Ryan gave Albion a 14th minute lead that Will Jones doubled six minutes later. Oli Roberts reduced the arrears seven minutes after the break but a brace of penalties from Steven Tames in the 66th and 74th minutes killed off Celtic's challenge.
Another promoted side, Lancaster City, lost their unbeaten league start last midweek, but bounced back to win 4-1 at the Giant Axe against Whitby Town...
Halesowen Town ended a run of seven games without a win by securing a 2-1 victory at The Meres against Grantham Town... Stourbridge moved up to fourth after winning 2-1 at Mickleover Sports. The Derbyshire side led through Bradley Grayson`s 24th minute opener. Aaron Forde eventually pulled the Glassboys back on level terms 11 minutes into the second half, and almost straight from the restart, Jack Duggan put the visitors in front, a lead they held on to.
Elsewhere, a dramatic comeback saw Ashton United recover from a two-goal deficit to grab all three points with a last-minute winner at the Marine Travel Arena against Marine AFC. The Mariners led through efforts from Danny Mitchley on 20 minutes... Only for Mark Lees to pop up with Ashton`s winner in stoppage time.
A 19th minute own goal from Nantwich Town`s Joel Stair halted Hednesford Town`s two-game losing streak at Keys Park, while Owen Story grabbed an 87th minute winner for Barwell at Kirkby Road against Matlock Town...
The evening`s other game saw Sutton Coldfield Town and Coalville Town share a 1-1 Coles Lane draw".
Altrincham had the biggest gate on Tuesday night...
The EVO-STIK Premier Division
Att. 497: Altrincham 6 - 0 Farsley Celtic
Att. 148 Barwell 2 - 1 Matlock Town
Att. 175 Grantham Town 1 - 2 Halesowen Town
Att. 319 Hednesford Town 1 - 0 Nantwich Town
Att. 240 Lancaster City v 4 - 1 Whitby Town
Att. 239 Marine 3 - 4 Ashton United (Mark Lees 90')
Att. 188 Mickleover Sports 1 - 2 Stourbridge
Att. 126 Sutton Coldfield Town 1 - 1 Coalville Town
Att. 244 Witton Albion 4 - 1 Stalybridge Celtic
The Emirates FA Cup Second Round Qualifying Replays
Att. 433: Hyde United 2-0 Warrington Town
Att. 114: Rushall Olympic 1-2 AFC Mansfield
---
20 September 2017
TASC Travel Co-ordinator Mark Eckersall advises "We're pleased to confirm that we will be able to run transport to the Hednesford Town fixture on Tuesday 26th September. We are just confirming prices and expect to have details by Thursday afternoon on the Away Travel page and updated here. Bookings will then be taken via the club or at the Grantham game in the CSH on Saturday. Thanks to all who have expressed an interest and we hope to get a few more joining us when details are released".
Altrincham, with five players out injured or suspended, took an inept Farsley Celtic side apart in a match that they dominated from start to finish. The visitors were fortunate to escape with a six-goal defeat and, equally so, to finish the game with all eleven men on the pitch after a series of agricultural challenges earned them six yellow cards.
Hancock opened the scoring when he converted a Johnston freekick from the right edge of the box. The second goal also came from a freekick, which was quickly taken, before the ball found Peers. He drifted to the left and drew the keeper before converting the chance.
Johnston ran Farsley ragged and he deservedly scored the third, three minutes after half time, converting Hulme's low cross from the right. Hulme added the fourth in the 55th minute after some poor defending before Hannigan poked home the fifth from Amis's excellent header.
Number six was scored by Hancock from a low Johnston cross, four minutes from the end.
Match report here.
Monday 18 September 2017
Tuesday 19 September 2017
Altrincham 6-0 Farsley Celtic
Barwell 2-1 Matlock Town
Grantham Town 1-2 Halesowen Town
Hednesford Town 1-0 Nantwich Town
Lancaster City 4-1 Whitby Town
Marine 3-4 Ashton United
Mickleover Sports 1-2 Stourbridge
Sutton Coldfield Town 1-1 Coalville Town
Witton Albion 4-1 Stalybridge Celtic
Second Round Qualifying, Tuesday 19 September...
Ties affecting the EvoStik Premier are as follow.
Hyde United 2-0 Warrington Town
Rushall Olympic 1-2 AFC Mansfield
Altrincham FC Youth have been awarded a walkover and so will not now play Ashton United in the FA Youth Cup on Wednesday evening. The Tameside club was unable to raise a team.
Altrincham's Cheshire Senior Cup Preliminary Round game with Chester FC has been arranged at the J. Davidson Stadium for Tuesday 31st October at 7.45pm. As a consequence, our league game at Shaw Lane, scheduled for Monday 30th October has had to be postponed. The rearranged date for this fixture will be announced when known.
In the meantime, as supporters are already aware, Alty's away match at Stafford Rangers on 30th September has also been postponed, due to the continuing involvement of Stafford in the FA Cup on that date. Unlike in the National League, rearranged games in this division are arranged by the EvoStik (Northern Premier) League and not between the clubs (followed by approval from the League). As yet, no notification has been received from the EvoStik League of any replacement league fixture for Altrincham on that date.
Club statement:
"We are always looking for ways to help expand the club's communication and marketing strategy. So, it is with pleasure that we can announce the launch of an official Altrincham FC WhatsApp news service.
Those who remember the days of Club Call will be no stranger to this sort of idea. It acts to provide short, snappy bulletins of information straight to your phone. Free of charge. Another way of keeping you connected by bringing the news directly to you.
The initiative is a collaboration between the club's social media volunteers Andrew Flynn and Jack Jolly, plus recently-appointed Supporter Liaison Officer, Mike Reeves, who ran a successful fortnight trial period for a selection of Altrincham fans.
The trio will be manning the service, and this opens an easy channel of communication between the fans and an SLO as we invite you to message the account with any queries you may have. They can then be addressed accordingly.
To sign up:
Download WhatsApp from your phone's App Store
Add 07849 328460 to your phone contacts
Save the number as Altrincham FC, or similar
Text NEWS to your new WhatsApp contact
We'll do the rest!
Tonight's match programme sees Bill Waterson provide further comments on the launch of the WhatsApp service".
Alty travel to Hednesford next tuesday and the
Worcester News
informs us that "Worcester City captain Tyler Weir has left for Hednesford Town. The former Hereford full-back, 26, moves back up two levels to join the Northern Premier League Premier Division club.
Weir decided to stay with City after their three-division demotion from National League North to the Midland League Premier Division. But Hednesford have since submitted a seven-day request to speak to the Ledbury-based player who has opted to leave for the Staffordshire outfit. Weir, who can also play in midfield, said, 'I have loved my time at this club and it has been a very difficult decision to make. After having discussions, I felt that at this point in my life this is an opportunity I couldn't turn down'.
He thanked the fans, club and joint managers John Snape and Lee Hughes for their support... Weir said, 'It has been an honour to have worn the blue and white strip and, also this season, the captain's armband. The fans all have been brilliant to me. I'll always remember that and I hope they have appreciated what I've done. It's time for a fresh challenge and I'm looking forward to it'".
Meanwhile, at Hednesford Town, the Pitmen "return home this evening [Tuesday] as we host Nantwich Town at Keys Park. After suffering back-to-back defeats on the road the Pitmen will be looking to put things right this evening as we aim to keep our unbeaten home start to the season intact...
Manager Rob Smith was expecting another tough game for his side this evening. He said, 'We are determined to put in a strong performance after a very long trek to Workington on Saturday. We could and should have won the game with the chances we created; we were really disappointed to come away with nothing. They had one shot, and we got punished for not picking up the player.
'On another day we would have had all three points but, for me, the positive was we really penned them in for most of the second half, the fitness levels were excellent, and we now have to build on that performance. All that was missing was taking the chances we created. Again it will be difficult tonight, it always is against Nantwich who, year after year, are challenging for promotion, but I am confident we can give them a real tough game'"
Over at Whitby Town, the club "is delighted to announce the signing of experienced ex-Football League centre-half Simon Ramsden. The defender joins the Seasiders after a spell out of the game, his last club being National League side Gateshead.
Ramsden adds yet more versatility to Chris Hardy's squad, with the ability to play in midfield and on the left-hand side of the defence. The 35-year old has made over 300 professional appearances, bringing a wealth of experience to the Blues' defence, having turned out for Bradford City, Grimsby Town, Notts County and Motherwell."
Whilst Hednesford felt the Reds were fortunate in Cumbria on Saturday, Workington themselves felt they were the unfortunate team on Monday at Shaw Lane. The News & Star reports that "For the second away game in a row, Workington Reds were on the wrong end of a controversial goal. They had deserved something from an entertaining game in Barnsley but an 'offside' goal on 64 minutes proved crucial. Damian Reeves was well offside but was allowed to go on and slide the ball past Aaran Taylor.
Although Reds forced their way back with a second equaliser, they were undone by a 72nd-minute winner direct from a free-kick. Shaw Lane were cock-a-hoop after a late winner in the FA Cup at Blyth on Saturday, so much so they were able to start with experienced striker Reeves, who got the winner at Croft Park, on the bench. But Reds went into the game on the back of their best sequence of results so far, two successive victories.
Sam Joel was unavailable, so Jack Ryan started... It was a wet night in Barnsley for the first-ever clash between the two sides but the Sheerien Park pitch looked in good condition...
There were two lengthy injury stoppages, Alex Byrne for Shaw Lane and Ryan for Reds. After the second, Reds were forced into making a change and had to reorganise. Ryan had twisted his ankle and was unable to continue, so Sam Smith came into defence; Josh Calvert into midfield and Holt up front... Reds were playing the football but Shaw Lane favoured the long ball, quite a contrast in styles.
Shaw Lane took the lead on 21 minutes from their second corner. The ball was whipped in and the experienced Paul Clayton flicked a near-post header into the far corner... It was all Reds as the break approached and they deservedly drew level just as three minutes of added time was announced...
On 62 minutes, Shaw Lane replaced Paul Ennis with Reeves. Two minutes later, the hosts took the lead again under very controversial circumstances. The player was clearly offside but was allowed to go on and it was fired home by Hough. That sparked lengthy arguments with the referee from almost all the Workington players but his only response was to book Earl. Five minutes later, Reds drew level...
Joy was short-lived as, on 72 minutes, Shaw Lane were back in front. Byrne scored with a free-kick over the Reds wall from just outside the area...
Shaw Lane: Stewart, Austin, Serrant, Norris, Lugsden, Qualter, Byrne, Harris, Clayton (Osborne 80), Ennis (Reeves 62), Walker (Hough 90). Subs (not used): Payne, Bacon.
Workington: Taylor, Simpson, Symington, Wordsworth, Calvert, Wright, Earl, Holt, Allison, Ryan (Smith 16), Tinnion. Subs (not used) – Douglas, Rowntree, Mellen".
---
19 September 2017
You can follow this fixture via this website's minute by minute text updates by clicking on the icon below. Alternatively, Radio Robins' coverage of the game is outlined below as well.
Brian Flynn announces that "Radio Robins, sponsored by Ashley Mowers Garden Machinery, is providing full live commentary of Tuesday night's game. The commentators are Alex Sarwar and Brian Flynn and the match summariser is Dave Stringer.
Coverage starts at 7.25pm with the game kicking off at 7.45pm.
Press & Media Officer, Brian Flynn, reports that "The Radio Robins broadcast from Saturday's FA Cup exit at Shildon is available on Mixlr. To listen search for 'Radio Robins' on the Mixlr App and the recording is available under 'Showreel'".
Farsley Celtic
report that "The 3-1 win on Saturday over Halesowen Town saw the Celts complete a highly satisfactory week at Throstle Nest, following as it did on from the 3-0 win on Tuesday night over Grantham Town....
The Celts [moved] up to second-spot level on points with leaders Warrington Town... A rightly proud Farsley boss Adam Lakeland looked back on the week and said, '"At the start of the week we set ourselves the challenge of getting six points from these two home games so for the players to have delivered that is great and exactly what they've deserved...
'We started the second half well... We had further opportunities to extend our lead and I felt if we had made it 3-0 we would have won the game by a bigger margin. The sending off evened the contest up and meant we had to play the final twenty-five minutes with 10 men for the second time this week. Shortly afterwards they scored, a poor goal for us to concede, and that gave Halesowen a chance of getting a result. We had to re-organise and compose ourselves again, which we did, and when Wally [James Walshaw] scored to make it 3-1 we finally put the game beyond them and got the result we thoroughly deserved.'
On the sending-off of Adam Clayton in the second-half, the Celts' manager said, 'At the time I wasn't sure if the referee had got it right as it was quite a distance from us in the technical area but, having watched it again, he made the correct decision. Overall I thought the referee was very poor on the day, but it was the one big decision and he did get it right. It's disappointing from our side as we now have Jimmy (Pollard) unavailable on Tuesday and Adam (Clayton) unavailable against Barwell, but on the positive it was a major boost for Danny (Ellis) to get through 90 minutes...
'It's great to see the midfielders weighing in with goals in recent games, with Ryan, Ben (Atkinson), Scooby and Wakka (Paul Walker) all contributing, which gives us goals from all areas, making us a real threat to teams. I think we should all be pleased with our work in the opening ten games of the season and to have accumulated 20 points gives us a great platform to build on. We have another difficult game at Altrincham on Tuesday'".
The Telegraph & Argus adds that "Celtic overcame a controversial sending off to bank three points that took them joint top of the Evo-Stik League Premier Division... There was no doubt that he [Clayton] fouled substitute Daniel Udoh, but there was a doubt as to whether initial contact was inside or outside the area, and there were conflicting opinions as to whether it denied a goal-scoring opportunity.
Referee Wade Smith was surrounded by Halesowen players as he backed away considering his next move and, after giving himself time to think, he pulled out a red card and awarded a free-kick on the edge area. Even Celts boss Adam Lakeland was non committal... 'It looked as though there was plenty of cover and Adam wasn't last man but we had a man on the other side (injured striker Adam Priestley sitting in the main stand) and he said the ref's got it right'"
The
Chester Chronicle
says, "Make no mistake about it the appointment of the next Chester FC manager is one that the club can ill afford to get wrong. The 4-0 loss at Dover Athletic on Saturday laid bare the challenge facing whoever is chosen to succeed Jon McCarthy in the Blues' hotseat.
The club are understood to be interviewing eight candidates for the role and could make a decision as early as Wednesday, with the new man expected to be in charge for Saturday's visit of Maidenhead United. While the identity of the full eight-man shortlist is unclear here's names who could very well feature.
MARCUS BIGNOT Told the Chronicle of his interest in the role and the former Solihull Moors and Grimsby Town manager has applied and is understood to have an interview.
RONNIE MOORE Another to have confirmed his interest in the job via the local press...
DERMOT DRUMMY Slightly leftfield candidate, the former Crawley Town head coach is believed to have applied...
GRAHAM BARROW The Chester legend will leave Chesterfield following the sacking of Gary Caldwell on Saturday and his name has been heavily linked since McCarthy's sacking. Has never publicly declared interest but he hasn't ruled it out. Don't be surprised to see him in the mix.
PAUL CARDEN The ex-Chester City midfielder was interviewed for the post last time and applied again this time around. Currently boss of Warrington Town...
KEVIN NICHOLSON Nicholson was the first managerial casualty of the National League season when he was sacked as Torquay United boss last month. Kept the Gulls up against the odds last season and understood to have applied for Blues role.
RICHARD MONEY A strong candidate with a hugely impressive track record, the former Luton Town and Cambridge United boss is believed to have thrown his hat into the ring....
KEVIN DAVIES The former Southampton and Bolton Wanderers striker confirmed his interest in the position to the Chronicle but does he have the necessary experience...
STEVE WATSON Watson impressed when interviewed for the job in 2016 and has since spent a year at Macclesfield Town as assistant to John Askey...
NEIL REDFEARN ...Understood to have applied for the job".
Alty's victors on Saturday, Shildon, face a long trip in the next round of the FA Cup...
The FA reports that "The draw for the Emirates FA Cup third round qualifying took place at Wembley Stadium on Monday afternoon. Following the weekend's ties in the second round qualifying, which featured 16 draws and one postponed game, there were 97 clubs still involved in the draw.
One tie which immediately catches is the eye is the pairing of two clubs who have recent history of winning at Wembley, as last season's Buildbase FA Vase winners South Shields have been paired with the 2017 Buildbase FA Trophy winners York City.
Third round qualifying ties will be played across the weekend of Saturday 30 September 2017, with winning clubs receiving £7000 from The FA's prize fund".
The northern portion of the draw is below...
1 1874 Northwich v Ossett Town
2 AFC Mansfield or Rushall Olympic v Boston United or Haughmond
3 Stafford Rangers v AFC Telford United
4 Newcastle Benfield v Kidderminster Harriers
5 Nantwich Town v Nuneaton Town
6 Boston Town v Warrington Town or Hyde United
7 Banbury United v Shildon
8 Scarborough Athletic v Stratford Town
9 Basford United v Kettering Town
10 Shaw Lane Association v Lancaster City
11 Buxton v Alvechurch
12 Stockport County v Handsworth Parramore or FC United Of Manchester
13 Ashton Athletic v Chorley
14 Leamington v Gainsborough Trinity
15 Stourbridge v Alfreton Town or AFC Rushden & Diamonds
16 South Shields v York City
17 Harrogate Town v Bradford (Park Avenue)
---
18 September 2017
Following Saturday's 1-0 FA Cup defeat at Shildon, Altrincham manager Phil Parkinson delivered a heartfelt apology to supporters and a blunt warning to his players in a post-match interview with Press and Media Officer John Edwards. Here is the interview in full.
Q: Not too many positives there, I wouldn't have thought, Phil?
A: There were none. You won't get me sugar-coating this. It's a really hard one to take. I can't defend the lads today. I normally try to find a positive, but, for me, we were never going to score in the second half, and we were extremely naive with regard to leaving the back door open and letting them get a last-minute winner. I've got no complaints about the referee. I thought he was superb. The only thing I would question is why he let them have a shot on goal and then pulled it back for a penalty.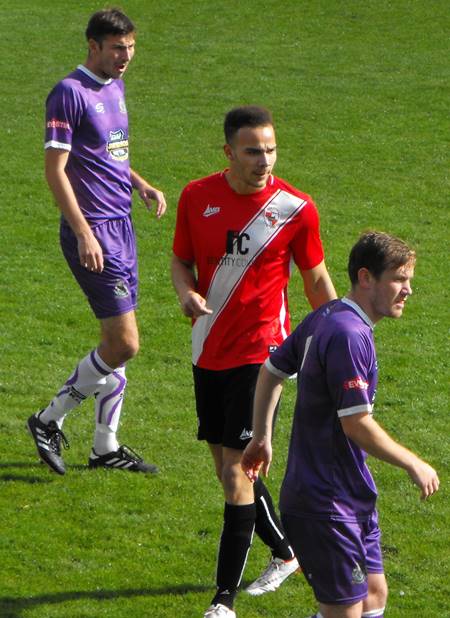 Left: Alty defenders Ben Harrison and Shaun Densmore flank Shildon's Billy Greulich-Smith during the first-half at Shildon.
I'm not sure how that one works. He has played the advantage then given them a pen, but that doesn't change the fact we got our just desserts, because it was a sub-standard performance from us. There were flashes of what we can do, but overall it was really naive. There are some players who are going to get a massive wake-up call after that. The only saving grace, which it isn't really, because we do prize the FA Cup really highly, is that it isn't the league, so now our attention turns to that and making sure we are ready to start picking up points again.
I'm extremely disappointed, frustrated and angry with what I've just seen, and I'm devastated for the Altrincham fans, who expect a lot better than what they have witnessed today. I can only thank those who have travelled up and apologise sincerely for the loss and the performance. For the last 30 minutes, we were nowhere near the standard required to get anywhere in any competition against any level of football. I have to take the brunt of the blame. I send those players out there. I pick the team, so it falls on my head. I can't keep making the same mistakes, so I need to look at the lads I'm sending out and assess whether they can take the pressure that comes with playing for Altrincham.
I think that comes into it a little bit. Can they wear that shirt with the pride it demands and deserves? If not, they have been told they can come and ask to leave, because I can't accept that again. There have been a couple of times we have played well and it has not quite gone for us, but today was nowhere near what is required of an Altrincham team, an Altrincham player or an Altrincham manager. I feel I have let the club down, and I hope my players feel as bad as I do.
I feel physically sick after that. We can only look forward to kicking on in the league now, but if we don't improve very quickly, that will fizzle out as well. That will not be acceptable, and the players have been made fully aware of it. The only way I can describe how I feel is I'm devastated for everyone associated with the club, because we shouldn't be coming here and losing. It should not happen.
Q: On the penalty, could it have been that the linesman spotted the handball, and the ref only reacted after that initial shot had gone in?
A: Maybe, I'm not sure. But, for me, he has let him go through on goal and the lad has missed, so to then pull it back was something I wasn't too sure about. I'm not going to blame the ref today, though. He got pretty much everything right. We were never going to score in a month of Sundays in the second half.
We had little flashes here and there, but it wasn't going to happen for us. That being the case, we needed to show we could consolidate and at least keep that clean sheet, but even that was beyond us. We have done that in previous games, so that's the real frustration. I'm dumbfounded at times when players make mistakes like they have done today, because they are better than that. You can't legislate for sending players out you have every confidence in, only for them to make fundamental errors. That is what has cost us here.
Q: When we had one or two decent spells of pressure, the decision-making seemed to let us down, didn't it?
A: It did. That is going to happen every now and then. I said to the lads, the front players have been firing in the last couple of games so, when it's not happening for them, can we not bail them out? Can't we, as a team, do it for them? Clearly, we couldn't today, and it's just devastating when you pay the price we did in the last minute.
It's very hard to take, but that's football. It is here to test us, and we are going through a testing time at the moment. It is devastating to lose a game, but particularly in the FA Cup, given this club's proud tradition in the competition.
Q: For all the shortcomings on the day, we were seconds away from a replay, which makes it all the more galling, I guess?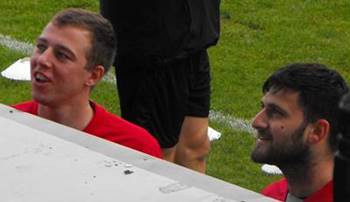 Right: Unused substitutes Sean Miller and Josh Samberg at Shildon.
A: Exactly. I'm a bit flabbergasted the players couldn't recognise that if they could just hold out for the final few minutes, we can take them back to our place. I sometimes feel like a lunatic shouting from the side, but I need those leaders on the pitch to do that for me, to organise, drag people round and tell them where they need to be and when they need to clear it. We are asking them to make good decisions, when to play short and when to go long, etc.
Maybe some of them are not up to the pressure of wearing that shirt. I have thrown the gauntlet down to them, and they have to make that decision over the next week or so, because if they don't turn it round in the next game, I'm going to start making decisions for them. I will defend my players to the hilt, as you have seen, but that is not acceptable.
Q: James Poole was again named in the starting line-up but was on the bench at kick-off. What happened, and how is he?
A: He was absolutely fine. He got right to the end of the warm-up but then he came in and, once again, said he was feeling it a bit. James is an honest player. He knows if the hamstring is not quite right, and that was the case. We've still got enough in there to have won the tie, so that is no excuse. Congratulations to Shildon. They have just gone and beaten Altrincham FC, so you have got to give them full credit for getting the victory. I wish them all the best in the next round.
Q: Is it still the case that a bit more rest should see James back to 100 per cent fitness?
A: It's a difficult one to judge. It's just a matter of making sure his hamstring is OK to go full pelt, because the worst case scenario is he pulls it completely and is out for six weeks, so we have to tread carefully. He is a massive player for us but, equally, we have enough in that dressing room to get positive results, so we have to turn it round as a group and kick on.
Q: It was good to see one or two of the long-term injured back on the bench today, like Sean Miller and Josh Amis, and Simon Richman (right) as well. How are they all?
A: They are just chasing their fitness now, so hopefully Ringo (Richman) will be somewhere near for Tuesday night. I think we have missed him in the last couple of games, where we have really needed to slug it out in that midfield. That's what he is all about. I've not wanted to rush him back, because he is so valuable to us, winning those second balls and doing things that people take for granted. It's not easy doing that job, as we saw today. It's an art form, but he is definitely someone who can do it, so to have him back on Tuesday night would be a big bonus for us. I am hoping he will be available for selection.
Josh just needs fitness, as does Sean, who will be with the Reserves for the next couple of games to build up his levels. The other one is Laurence Taylor, and it's probably going to be another two weeks before he is back. These are players who are going to massively add to us, but that doesn't alter the fact we should be coming here and doing a lot better than we have done".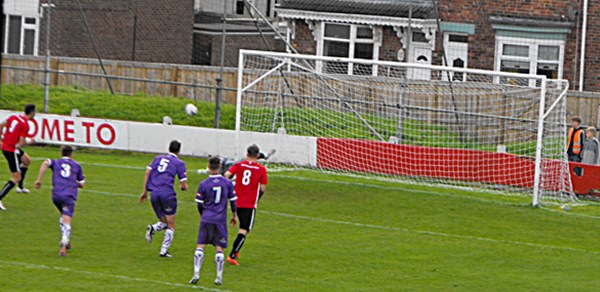 Above: A prostrate Tony Thompson saves the penalty from Greulich-Smith but Fenton was to steal in and head the rebound into the net for the winning goal at Shildon.
A ninetieth-minute penalty settled this match - goalkeeper Thompson saved it but Fenton headed home the rebound. The spot kick came when Jones handled the ball and was sent off.
Match report here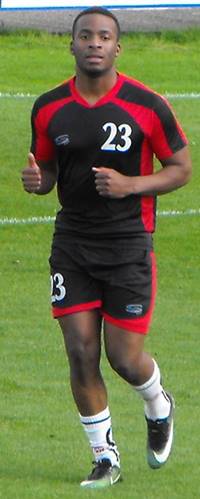 Whilst the match at Shildon proved a huge disappointment for Altrincham, it was good to see the return of three players (Simon Richman, Sean Miller and Josh Amis), albeit on the substitutes' bench, after their respective lay-offs. In addition, Shildon also witnessed the return to the Club of two players (Josh Samberg and Tolani Omotola).
Whilst only Josh Amis got onto the pitch up in County Durham, coming on for his debut as a substitute ten minutes from time, manager Phil Parkinson is hopeful that Simon Richman will be involved this Tuesday against Farsley Celtic.
Goalkeeper Josh Samberg (aged 22), whose Alty career began in George Heslop's youth team, returned to Altrincham with three Cheshire senior Cup appearances already under his belt in seasons 2013-14 and 2014-15.
In summer 2013, he was in the Team GB Under-18s line-up which won a medal in Israel in the 19th Maccabiah Games. In March 2015 he went on loan to Radcliffe Borough and Bamber Bridge and in autumn 2015 he joined Trafford but soon moved on to Ashton United.
Not in the squad at Shildon but, nevertheless, involved in the warm-up beforehand (pictured, right) was striker Tolani Omotola, who joined Alty after his release from Tramere Rovers in the summer. He was loaned out to Ramsbottom United before the start of the 2017-18 season. The 19 year-old previously had loan spells with Burscough and Witton Albion, whilst a Tranmere employee.
Meanwhile, Alty's other injured absentee from the squad on Saturday, Laurence Taylor, continues his rehabilitation but he is still a couple of weeks away from a return to action.
Altrincham FC Reserves beat Helsby 3-1 in the Cheshire County FA Amateur Cup 1st Round on Saturday. Next Saturday (23 September) they are at home to local rivals Wythenshawe Town in a league match.
On Sunday, Altrincham FC Youth lost 5-2 away to Hyde United.
On Wednesday 20 September 2017 in the First Round Qualifying of the FA Youth Cup, Altrincham are away to Ashton United at Hurst Cross.
The youth team's next league match is on Sunday 24/09/17 away to Curzon Ashton FC Youth at Curzon Ashton FC OL7 9HG.
Altrincham FC Ladies had no fixture on Sunday but their manager Keith Edleston reports that the Ladies' Development team drew 2-2 at Chester FC The scorers were Sabrina Hoysted and Natalie Thornley.
The Ladies' senior team plays next Sunday against Crewe Alexandra (away).
The
Sale & Altrincham Messenger
reports that "A medal has been found dating back to the 1903/04, Cheshire Amateur Cup.
The 62-year-old has listed the medal on ebay for £274.99. He said, 'The medal is really rare, there were only 11 given out at the time and most medals get scrapped and melted or lost. I have had a few people interested in the medal and watching it on ebay, but I want to make sure it goes back to the right person, someone who will really appreciate and value it.'
Altrincham FC won the cup after a match against Congleton where they won 4-1. Altrincham FC was previously known as Broadheath FC and it is thought that Cockram took part in the team's first competitive game under their new name, a Manchester League game at Hyde on September 5, 1903 where Altrincham won 2-0.
The player also competed in the Cheshire Senior Cup, home quarter-final, against Sale Holmfield where they won 1-0, and the semi-final at Nantwich which they lost 0-3. The medal can be found on eBay.
Altrincham FC's Community Sports Hall announces two new vacancies, making three in all...
Community Sports Development Officer
Sales & Marketing Officer
Cleaner
Details are on the CSH website.
Sunday, 18 September:
Att. 765: Stourbridge 2-0 St. Ives Town
---
17 September 2017
NL Pitchero
reports that "With the Emirates FA Cup taking centre stage on Saturday, there were five fixtures in the Evo-Stik League Premier. And they saw newly-promoted Witton Albion suffer their first [not so?] defeat of the season to date, going down 2-1 at Owen Street against Coalville Town. Albion could have gone to the top of the table had they won...
Another Premier newcomer, Farsley Celtic, moved into fourth spot after beating bottom-markers Halesowen Town 3-1 at Throstle Nest... Workington AFC earned only their second three-point haul to date when Conor Tinnion`s 38th minute effort eventually proved enough at Borough Park against Hednesford Tow.
The two other matches both ended two apiece. Matlock Town found themselves a goal down in the 10th minute to Danny Mitchley for visiting Marine AFC...
Dave Carson put Whitby Town ahead at the Turnbull Ground against Sutton Coldfield Town after 20 minutes. Lee Smith levelled just before the break, only for Carson to net his second to restore the Seasiders` lead just shy of the hour-mark. But the Royals' stellar signing, former Sheffield Wednesday, Nottingham Forest and Coventry star Marcus Tudgay, equalised in the 84th minute."
Duncan Watmore scored a penalty for Sunderland U23s as he regains fitness after his long injury layoff.
In the FA Cup Greg Young scored for Buxton and at Blyth, Damian Reeves netted a last-minute winner for Shaw Lane.
Amongst the transfers recorded by the
EvoStik League
are...
Joshua Samberg from Ashton United to Altrincham
Jake Heath from Stourbridge to Barwell
Ross Haig from TSV Victoria Clarholz (Germany) to Barwell
Alexander Newby from Witton Albion to Clitheroe (loan)
Joshua Brizell from Marine to Colwyn Bay
Simon Lenighan from Shaw Lane to Glossop North End
Luke Foster from Coalville Town to Goole AFC
Callum Bullock from Chorley to Hednesford Town
Richard Plant from Gloucester City to Hednesford Town
Niall Flint from Scarborough Athletic to Matlock Town
Alex Lingard from Wigan Athletic to Rushall Olympic
Kristian Scott from Nuneaton Town to Rushall Olympic
Wesley Atkinson from Notts County to Rushall Olympic
Raekwon Smith from Orebro Syrianska (Sweden) to Rushall Olympic
Morgan Bacon from Carlisle United to Shaw Lane (loan)
Osebi Abadaki from Nantwich Town to Stafford Rangers
Kieren Westwood from Stourbridge to Stafford Rangers
John Cofie from Chorley to Stalybridge Celtic
Thomas Tonks from Solihull Moors to Stourbridge
Joseph Sinton from Barwell to Sutton Coldfield Town
Marcus Tudgay from Coventry City to Sutton Coldfield Town
Jamie Davis from Witton Albion to Warrington Town "
The Emirates FA Cup 17-18 - Second Round Qualifying
Stourbridge v St. Ives Town
Saturday 23 September 2017
Altrincham v Grantham Town
Coalville Town v Stalybridge Celtic
Farsley Celtic v Barwell
Halesowen Town v Warrington Town
Mickleover Sports v Hednesford Town
Nantwich Town v Ashton United
Shaw Lane v Stafford Rangers
Stourbridge v Lancaster City
Sutton Coldfield Town v Buxton
Whitby Town v Marine
Witton Albion v Rushall Olympic
Workington v Matlock Town
---
16 September 2017
Att. 159: Coalville Town 2-1 Witton Albion
Att. 218: Farsley Celtic 3-1 Halesowen Town (James Walshaw scored one of the Celtic goals)
Att. 305: Matlock Town 2-2 Marine (Danny Mitchley scored one of the Marine goals)
Att. 197: Whitby Town 2-2 Sutton Coldfield Town
Att. 379: Workington 1-0 Hednesford Town
Scores in the Emirates FA Cup 2nd Qualifying Round for clubs in our division and selected others were as follows. Stafford's win means their home league match against Altrincham on 20 September will be postponed.
Deeping Rangers 2 - 4 Kidderminster Harriers
Salford City 1 - 2 York City
Darlington 1883 0 - 3 South Shields
Southport 0 - 3 Bradford (Park Avenue)
Ossett Town 1 - 0 Atherton Colleries
Newcastle Benfield 2 - 1 Ashton United (att 149)
Warrington Town 1 - 1 Hyde United (att 429)
Harrogate Town 3 - 0 Penistone Church
Spennymoor Town 1 - 2 Gainsborough Trinity
Handsworth Parramore 1 - 1 United Of Manchester
Shildon 1 - 0 Altrincham (att 345)
Scarborough Athletic 2 - 0 Sunderland RCA
Blyth Spartans 1 - 2 Shaw Lane Association (att 543)
Stockport County 1 - 0 Curzon Ashton
Stalybridge Celtic 1 - 3 Chorley (att 551)
Lancaster City 4 - 0 Droylsden (att 303)
Stafford Rangers 1 - 0 Tamworth (att 782)
Boston United 1 - 1 Haughmond
Shepshed Dynamo 0 - 1 Nantwich Town (att 318)
AFC Mansfield 0 - 0 Rushall Olympic (att 110)
AFC Telford United 2 - 0 Barwell (att 541)
Basford United 1 - 0 Mickleover Sports (att 217)
Grantham Town 3 - 4 Alvechurch (a77 332
Buxton 4 - 1 Chasetown FC (att 314)

Above: Alty line up at Shildon in 2012. Left to right: Havern, Rodgers, Reeves, Lawrie, Moult, Hall, Clee, Richman, Coburn, Doughty, Densmore.
The EvoStik League reminds us that when Alty travel to Shildon on Saturday there has been just "One previous FA Cup meeting won 3-0 by Altrincham, five seasons ago. It is four years since Altrincham last exited the FA Cup in the 2nd Qualifying Round whilst it is three years since Shildon last progressed beyond the 2nd Qualifying Round."
Solihull Moors
"announce that they have been selected by the Football Supporters' Federation and Kick It Out to recognise the work of both organisations on Non-League Day 2017... Kick It Out will partner with Non-League Day for the sixth consecutive year on Saturday 7 October, as Solihull Moors,
Altrincham
, Metropolitan Police and Slimbridge all dedicate fixtures to football's equality and inclusion organisation.
The planned activity at the four clubs on Non-League Day will seek to encourage greater engagement with a diverse range of communities, including local residents, young people and more. In addition, players from all teams involved will wear t-shirts recognising Kick It Out and Fans For Diversity during the pre-match warm up.
Fans who go to a game on Non-League Day can get involved with Kick It Out`s work around the initiative by using the hashtag #OurNLD and including a picture of themselves at their respective stadium. Supporters are particularly encouraged to take images they feel celebrate the diversity of non-League support, whether that's related to age, disability, faith, gender, gender reassignment, race or sexual orientation.
Anwar Uddin, who leads on the Fans For Diversity campaign, is delighted to continue supporting Non League Day and believes this year's partnership work will be the most impressive so far.
'It's vital for the Fans For Diversity campaign to engage with supporters at all levels of the football, not just the professional leagues, and that's why I'm so pleased that we are able to continue promoting our messages of diversity and inclusion in non-League football. As someone who's played and managed in non-League, I firmly believe we have to keep working hard to tackle discrimination at this level and ensure it`s an environment that is welcome to everyone.'
Roisin Wood, Chief Executive of Kick It Out, is equally pleased... 'The Fans For Diversity campaign has been a powerful tool to encourage supporters to celebrate the diversity we have in football and I look forward to this year`s activities emphasising the message that our game is inclusive, we should all feel excited about supporting our local club.'"
According to the
Lancashire Evening Post
"Preston North End loanee Melle Meulensteen will be a big asset to Lancaster City according to boss Phil Brown. The midfielder, a first-year professional, has linked up with the Giant Axe side until January...
The Dutchman received quite the introduction to non-League football when he came off the bench for his debut in the 2-0 win over Shaw Lane last Saturday. Meulensteen was on the receiving end of an elbow that saw [ex-Alty striker] Kieran Ludgsden pick up a straight red card. The PNE man then played the first 75 minutes of the 2-1 defeat at Ashton United on Tuesday night.
'He brings composure to the team in possession,' said Brown, who also had Josh Earl at Giant Axe last season. 'He's got a lot of technical qualities and excellent game management. On Saturday he worked hard and took a few knocks but got up and got on with it. He made his full debut on Tuesday and we knew it was going to be physicality first and football second. He met the intensity of the game and his passing was positive and incisive and helped us go forward...
'The thing about moving up from youth football is the hustle and bustle of trying to get three points is different,' he said. 'He'll get his chance with us and then hopefully he'll go back to Preston a better player. In the meantime he can help us move up the table'".
Over at Witton Albion, "The Club are very pleased to announce that Morecambe F.C. have agreed to extend Ben Hedley's loan period with us for a further month. To date, Ben has made 8 league appearances in the initial month and, despite him living in Newcastle-upon-Tyne, settled in to his central midfield role'".
The
National League
tells us that "Chester have had over 120 'serious' CVs through the post as interest grows in their vacant managerial position... The Blues parted company with Jon McCarthy last week. The club had failed to win in 14 home matches.
Player/coach Tom Shaw has taken interim charge and has already spoken of his desire to return to his original role. Shaw hasn't applied but plenty of others have...
Chester chief executive Mark Maguire has been 'impressed' by the quality of the the candidates and told the Chronicle that they now have a shortlist. 'It's been a hectic few days,' said Maguire.... 'The quantity and the quality have made it harder work, but that's a positive.. We received 120 what we would call serious applications and then there probably were about 300-odd not so serious', he added. 'We've started the process of shortlisting the candidates. Then it will be a case of scheduling interviews for the first part of next week... We will then interview with the view to making a decision by the middle of next week.'"
---
15 September 2017
Altrincham FC Ladies' manager, Keith Edelston's headline for his brief report on his side's game last Sunday is "Super Rowley on fire as she nets FOUR for the Lady Robins!". Keith continues...
"Last Sunday saw the Ladies' first team welcome local rivals Northwich Vixens down to Mersey Valley in a fixture that had to be reversed due to their Lostock Gralam pitch having to have remedial repairs in one goalmouth.
On an inclement day, where we had sunshine, drizzle then heavy rain the game was entertaining, to say the least, for the sizeable crowd that had come down to watch our first league game of the season.
We started with a 3-4-1-2 formation with the emphasis for the players to take the game to the Vixens. This game also had some extra spice as we had signed right-back Aimee Hopkinson from them in the close season.
Some great football was on show throughout the team and we created plenty of chances for the forwards but they were saved or just missing the target. Just as we thought 'maybe one of those games', Megan Rowley scored the first goal of the match. She was on fire, and with prompting from the midfield and her partner up front Laura Kelly, they pulled Vixens everywhere and Megan scored two more for her hat-trick to make the half-time score 3-0.
The second half started much the same and, within five minutes, that girl Rowley latched on to another fine ball and scored the goal of the game that belied her young age. As she approached the onrushing Vixens keeper, she calmly lifted the ball over the keeper's head and into the goal to make it FOUR goals.
On 70 minutes we brought Megan off to rousing support from the home fans and Kate Bryan replaced her. On 75 minutes there was a superb mazy run by Georgia Plant, beating three players, before she squared the ball for Kate to run on, round the keeper and slot home to make it five.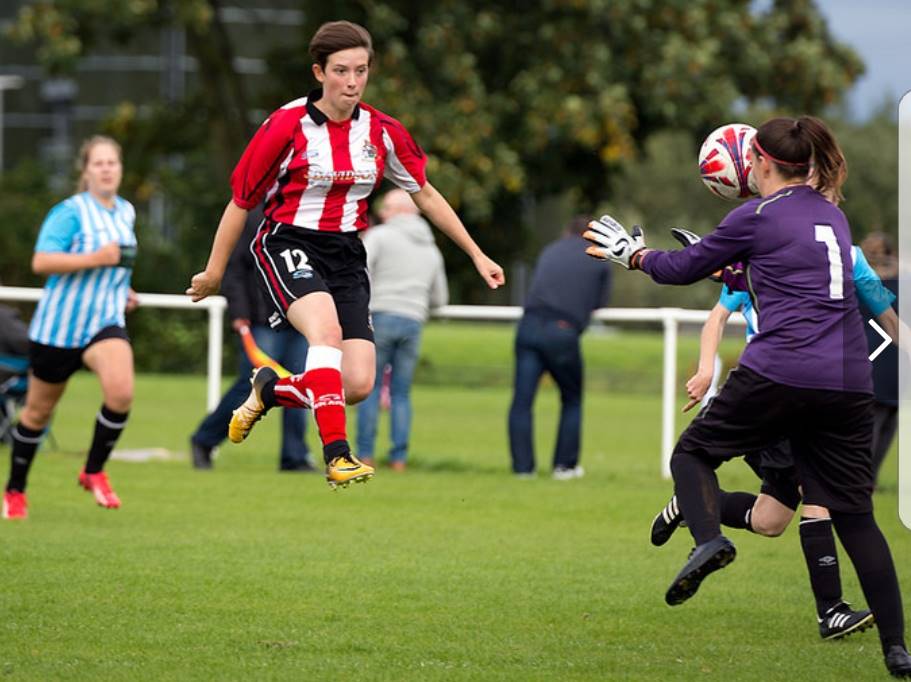 Above: Megan Rowley nets her fourth goal. Image courtesy of Mike Ripley
The game itself was a good one to watch as, although we scored five, Vixens contributed a lot to the game and we wish them good luck for the rest of the season.
Player of the Match had to be young Megan who had an outstanding game but she was quick to heap praise on the rest of the team which she said 'made her job easy'.
Final score was...
Altrincham FC Ladies 5 Northwich Vixens 0
Thanks go to all the supporters who came to support us on Sunday, we loved seeing you there. There is no game for the girls this Sunday (unless the league throw a surprise in), so it's back to action a week on Sunday as we travel over Cheshire to face Crewe Alexandra LFC.
The Gaffer".
TASC reports that "We're now taking bookings for the FA Cup game at Shildon on Saturday 16th September and have a 28 seater coach booked for the trip. With an expensive week of travel for many fans, the board have kindly agreed to personally subsidise fares for the trip to help as many people as possible make the journey, which is a great gesture. Fares are just £10 for adults, £8 for concessions and £5 for U16s, which is under half the usual fare for the journey.
All supporters are welcome on the trip, but a reminder that we don't allow alcohol on any TASC transport and promote a family friendly atmosphere for all our passengers, as we welcome fans of all ages. Full details are on the away Away Travel page and seats can be booked in office hours on 0161 928 1045".
For Alty fans arriving early or staying over at Shildon for our FA Cup tie, the National Railway Museum there is hosting the legendary Flying Scotsman locomotive on Saturday.
NL Pitchero
reports that "FC Halifax Town have confirmed the appointment of Neil Young as head of scouting. Young is a former manager with the likes of Colwyn Bay, Chester FC, Stockport County and Altrincham.
It's an exciting role for an ambitious club, with the opportunity of enhancing the already strong reputation that FC Halifax has for developing players and progressing careers in to the Football League, Premier League and international football.
Young said, 'I have had a few battles over the years competing against FC Halifax Town in management roles but football management is now behind me. It will now be really nice to be working on the same side with such a progressive club and, personally, I am really looking forward to getting started and playing my part in bringing future success."
The Derbyshire Times reports on former Alty player and assistant manager Graham Barrow, who is now assistant boss at League Two Chesterfield. Barrow has been linked with the vacant managership of Chester FC, where he has also played and managed in the past.
Spireites' boss Gary Caldwell commented "I've heard he's linked and he keeps telling me he's a Chester legend, so I'm not surprised by that. He's fully committed to what we are doing here... I wouldn't think there's a great deal of truth in it".
Rushall Olympic
confirm that "The Pics have made a double swoop by bringing in Alex Lingard and Raekwon Smith.
Lingard was the sponsors' Man of the Match on his debut on Tuesday evening. He is a 19 year-old left-back who was a professional at Wigan Athletic before being released at the end of last season. He joins us from Nantwich Town, where he moved to following his release.
Lingard joined the Latics as a nine-year-old and was a ball boy at the DW Stadium, progressing through their Youth system and featuring regularly for their U18 and Development sides, where he worked with our current Assistant Manager, Will Ryder.
Smith was on the bench on Tuesday as we have been waiting for International Clearance as he been playing for Örebro Syrianska in Sweden, following his release from Walsall FC as a two-year scholar. He is a powerful, ball playing defender, 19, who featured at Tamworth in their U21s, following his release from Walsall, before moving to Sweden."
---
---
14 September 2017
Admission at Shildon FC on Saturday will be £7 for adults, £4 for concessionaries and under 12s go free with a paying adult. The match programme costs £2.00.
A report in the Northern Echo on their match in the previous round appeared before the draw pitted them against Altrincham. It stated "Shildon player-manager Danny Moore says that the Railwaymen would like 'anyone at home' after they beat Bottesford in the first qualifying round of the FA Cup on Saturday.
Moore's main aim has been to reach the Second Qualifying Round, and hopefully pick up a lucrative tie against one of the big teams from the Vanarama National League North, such as Darlington, Spennymoor, York City or Stockport County.
'We don't mind who we play, as long as we get a home draw,' he said. 'To consider that we have played three times to get to this stage, one of them away from home in difficult conditions on Saturday, has been a very good achievement. As a manager, I can't ask for much more. Bottesford played a long ball game on a tricky pitch, but we stuck at it well. We battled hard, and I thought we deserved it in the end.
'We're looking for a good draw now, and hopefully we'll go into the next round with an unbeaten record still. We'll be in the right mood for the game'...
Shildon got on top as the first half went on, and they went close through Matty Robson and Billy Greulich-Smith. They took the lead just after half time, when Greulich-Smith rose unchallenged to head in a Sam Hodgson corner from the right, and he was denied another on two occasions by the Bottesford keeper. Anthony Peacock then hit the post from close range, but Shildon held on for a place in the next round".
Reflecting on two penalties conceded and a straight red card for Max Harrop, in Tuesday night's 5-2 defeat at Workington, Altrincham manager Phil Parkinson had to choose his words carefully in a post-match interview with Press and Media Officer John Edwards. He was, however, full of praise for the way the travelling Alty fans acknowledged the players' endeavour by applauding them at the end. Here is the interview in full.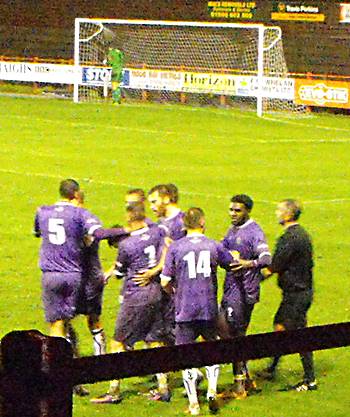 Left: Alty celebrate Jordan Hulme's goal.
Q: Contentious refereeing decisions have been a constant theme this season, unfortunately, and tonight was no different, was it?
A: I'm a bit lost for words, and if I comment on the referee's performance tonight, I'll end up getting into trouble, so I think that says everything about it, really.
Q: Some of the decisions changed the game, didn't they?
A: Yes, massively. I felt it went from him giving nothing for us to about five of my players picking up yellow cards for nothing [Shaun Densmore and Jordan Hulme were booked]. That's how it felt. Then Max Harrop gets sent off because the ref is pressured by their players. Max has slipped, which wasn't surprising, given the conditions. He has left the ground and he has made contact, but he was trying to turn. Everyone could see that.
The referee, on reflection, knows there was no intent there, but he is saying it was dangerous play. Now, the thing with that is, when I spoke to the ref at our previous game, that is apparently only a yellow card, so I'm just extremely frustrated that Max should be shown a red. It did change the game massively, it swung it in their favour. It just felt like everything went Workington's way tonight.
Hey, listen, Workington worked really hard for the result, and I don't want to take anything away from them. They are a very tough team to beat at home, and their frontline were lethal. Maybe they've not been doing that of late, because they've had a few indifferent results, but you couldn't fault the way they performed tonight. As devastated as I am, I've got to put it into perspective a little bit. We've come three hours on a Tuesday night, which I think is ridiculous for lads at this level. It makes it even more of a tough place to come, and when you get decisions that ruin the game, it becomes even more of a bitter pill to swallow.
Even so, the lads gave everything they had, right to the very end, against all the adversity, and I was ever so proud of them. I was disappointed with some of the mistakes we made, in terms of getting back in the game and then switching off against a lad who scores 25 goals a season. We gave him too much time in the box, and you can't do that.
That was the only bit of the game where I could criticise my players. The endeavour, work-rate and willingness to keep going to the end was fantastic. Also, I just want to thank the fans who made the journey. I really was so pleased they stayed behind at the end and congratulated the players on their efforts. I think they could see the lads had worked ever so hard to get something out of it, and the players really appreciated that. That will go so far, with regards to the feel these players have for Altrincham. It made them feel wanted and loved, and that is important for them.
I know people will look at the scoreline and think we have been absolutely walloped, but that is not the case at all. There were two penalties, and I'm not arguing whether they should have been or not, because I need to have another look at them. But we seemed to be fighting everything tonight, the travel, the conditions, decisions going against us, plus a very good Workington team who worked really hard and got their reward by beating Altrincham, which everyone wants to do, it seems.
I have said that to my players. Everyone wants to beat us, everyone wants to knock us off our perch. I find that strange, considering the tough couple of seasons we've had, but everyone sees us as the big boys, the big scalp. We have embraced that so far, but it is still extremely frustrating when a game goes the way this one has, with regard to decisions. At the moment, we are just not getting the rub of the green.
Q: Have you spoken to the ref, and if so, what sort of response did you get?
A: I tried to but didn't get very far. It's frustrating, because there's not a lot you can do. There are some very good referees at this level. We just don't seem to have had them yet, and it is a sad state of affairs when most of our post-match interviews are focusing on the standard of officiating. Some people will say sour grapes, but the fact is I have been complaining along the same lines after we've won.
Q: One other point on the red card, should there have been some allowance for the conditions?
A: Of course, yes. Max has held his hand up over making contact, but he was trying to turn, and it should have been a yellow and a warning not to do it again. I don't know what the ref was thinking, but he was pressurised by their players massively. We try to encourage our lads to do things the right way, but it seems that doesn't get you anywhere, so you will notice me shouting quite a lot from the sidelines, because it feels like that is the only way you can have any kind of influence over the officials.
They don't seem to want to listen to reasoning from players who want to ask them a basic question. They would rather be screamed at and pressured into a decision, which is very frustrating.
Q: Presumably it will be a three-match ban for Max?
A: I need to see what the referee is putting in his report, but a straight red will mean three games, I imagine.
Q: On a brighter note, what an incredible goal by Max, the way he controlled the ball waist-high and flicked it past his marker in one movement before rifling it into the roof of the net?
A: That is what he can do. He is devastated in there, nearly in tears. He has come to us after sort of being in the abyss for the past year, because he has had some issues outside football he has had to contend with. I have always kept tabs on him, and I know he wants to do well for me. He is busting a gut to do well for Altrincham, and you can see in glimpses what he can do. He finished well at Barwell, and that turn he did for the goal tonight was something else.
I have no idea how he did it, it was ridiculous. He reminds me a bit of James Poole with some of the things he does and the way he can manipulate a ball. He is obviously a different type to Pooley, but he has got absolutely magical feet, and that is why it's so frustrating the ref couldn't use a bit of common sense. The lad had been twisting and turning all game, and that's what he was trying to do when he was sent off.
Q: What was said at half-time, because we came out for the second half a goal down and a man down yet controlled it for 20 minutes or so?
A: It was superb, the way we stuck to the game plan. I'm not going to divulge exactly what I said, because I don't want to put it in the public domain, but we gave them a bit of tactical information, and the lads were able to do it and put it into practice. We got ourselves right back in it, and my only complaint would be the goal we conceded after getting back on terms again. We let them off the hook after getting back to 2-2.
We didn't give ourselves the chance to get to that last 10-15 minutes, where we could maybe have consolidated. That's the only bit I could have a go at them about. For 20 minutes at the start of the second half, we footballed them off the pitch, but it doesn't count for anything if you switch off like we did for a split-second for the little ball over the top to the lad who's notorious for scoring goals. It's scandalous we gave him that much time, but that would be my only criticism.
We have travelled all this way and kept going at Workington right to the end, with a man short. That is what I ask of my players week-in, week-out, and I think the Altrincham fans who made the journey, as gutted as they will be and upset as they are going to be with the result, can see and appreciate that. I think the scoreline massively flatters Workington.
Q: The journey and heavy conditions will have taken its toll on the players, and the unbeaten run has gone as well, but will we still be good to go when we arrive at Shildon for Saturday's FA Cup tie?
A: 100 per cent, we will. It does take a lot out of them, and it's another six-hour round trip coming up, so that's something we need to take into consideration. We will look at giving them Thursday off or just having a light session, because there are going to be a lot of tired legs, and there are still injured players who will be touch and go.
I could have put James Poole on tonight, but if he pulls up in those heavy conditions, it would be ridiculous. We will see how he is for Saturday, and hopefully a fully recuperated James Poole will give us a big lift. James Jones didn't play tonight, so he will be fresh and will come back in.
Lewis Short (left) didn't play as long as he might have done. I wasn't planning on playing him at all tonight, but needs must with regards to how the game was going, and it nearly worked, putting him on. He should be fresher than some of the others. Maybe others might be ready to return, like Josh Amis. We will have to see how he is. We will regroup and see how players are. We will look after them, and the fitness guys will be in at the ground, giving rehab and recuperation to the lads who need it, and then we will go again on Saturday".
Following his red card at Workington, Max Harrop will be banned for three games from next Tuesday.
Cumbria's
News & Star
reports that "A hat-trick from Scott Allison aided Workington Reds to just their second win of the season at home over Altrincham last night. The visitors played all the second half with just 10 men after they lost Max Harrop to a red card for a foul on Anthony Wright.
But it was an action-packed game that had a bit of everything despite the torrential rain that regularly increased in frequency throughout. There was still plenty of good football on show from both sides but Reds will be relieved and delighted to get the three points in the bag. Reds proved that they can be extremely clinical in front of goal and this time they put their chances away...
Reds had been on top for the majority of the early exchanges but Altrincham looked dangerous on occasion... But into the 24th minute and it was Reds who took the lead. Sam Joel saw his shot come back off a defender but it only went as far as Scott Allison who thumped the ball home to score in spectacular fashion....
But the visitors were not finished and Max Harrop stepped inside the defence and unleashed another superb shot which shot past Aaran Taylor and into the Workington goal to make it 1-1... It was getting increasingly lively with both sides causing problems in worsening conditions at Borough Park. A shot from Jake Simpson was blocked by the Altrincham keeper Tim Deasy but in the rain, it slipped from his grasp and went out for a corner. The ball was swept into the goalmouth but in the scramble, Calvert was hauled down and the referee pointed straight to the spot.
Up stepped Conor Tinnion and he put an end to Reds' poor run of spot kicks as he sent the keeper the wrong way and slid the ball into the back of the net.
Then a bad tackle from goalscorer Harrop on Anthony Wright saw Altrincham reduced to 10 men as the referee showed a red card with just three minutes of the half remaining... A mistake from the usually reliable Dan Wordsworth saw the ball skim into the path of Jordan Hulme. He just had the keeper to beat and despite Taylor coming out to narrow the angle of the shot, Hulme slid the ball past the keeper and into the net to level.
But Reds had the perfect answer as Tinnion took on the defence and brought the ball to the edge of the box where he lofted the ball over the visiting defence and left Allison with an easy ball to poke home from close range to take the lead back.
Workington saw some daylight in the scoreline when Sam Joel was played in by Scott Allison and he slotted home past the keeper... Joel was on the hunt in the box when he was brought down and the referee pointed to the spot for the second time. And with five minutes remaining, Tinnion stepped up looking for his second but this time Deasy went the right way and got a hand to the ball. But that man Allison was there again to slot home the rebound for his hat-trick and put Reds in the clear at 5-2".
After the match, the News & Star interviewed the Reds' manager. "A delighted Dave Hewson hopes his Workington Reds side has turned a corner with victory over Altrincham at Borough Park last night... It was a great win for Reds to secure just their second victory of the season...
Hewson said, 'This win will give us confidence and that little lift that you need. We were looking to turn a corner tonight and hopefully this is it... It's been a difficult time the past few weeks. We told the lads to stick together and believe and they did that tonight and went out there and from 1-17 were magnificent.
'Altrincham are a great footballing side, they try and get the ball down and play and that gave us the licence to do the same. The game plan was to match them and more and we kept possession well. And, for once, I'm not saying we didn't make the most of our chances because we did'
Scott Allison proved his worth with a superb hat-trick... Hewson added, 'Scott never loses his quality but maybe he was lacking a little in confidence. But his first was a wonder goal... Once we took care in possession and attacked with pace, we finished the game off'".
Brian Flynn advises that "The Radio Robins broadcast from Tuesday night's defeat in Cumbria is available on Mixlr. To listen search for 'Radio Robins' on the Mixlr App & the recording is available under 'Showreel'.
Guidance for Listening to Radio Robins
There will be 4 ways to listen to Radio Robins via Mixlr
a) The Radio Robins website. Open the page in any web browser and the broadcast should start automatically. Please note that the 4 Player Options (Windows Player | Real Player | Quick Time | Winamp ) will not work now.
b) Download and install the Mixlr app on Android devices from the Google Play Store - start the app and search for 'Radio Robins'.
c) Download and install the Mixlr app on Apple devices from the Apple Store - start the app and search for 'Radio Robins'.
d) There is a temporary WIX website here.
At least three teams from our region had long away trips on Tuesday and they all lost, which may or may not be coincidence. In addition to Altrincham's defeat at Workington, our neighbours Trafford were also in Cumbria, at Kendal Town, where just 78 spectators braved the monsoon conditions and the crashes on the M6 to see the home side win 4-1. And, in the Vanarama North, Chorley likewise had a long midweek trip, to Blyth Spartans, where they lost 2-0.
Despite the hideous weather up in Cumbria and en route on Tuesday night, Workington v Altrincham attracted the highest gate in the division on Tuesday night...
Att. 116: Ashton United 2-1 Lancaster City
Att. 217: Coalville Town 5-2 Hednesford Town
Att. 172: Farsley Celtic 3-0 Grantham Town (James Walshaw scored one of Farsley's goals).
Att. 208: Halesowen Town 1-3 Witton Albion
Att. 315: Matlock Town 1-0 Mickleover Sports
Att. 204: Nantwich Town 1-1 Marine (Danny Mitchley scored for Marine)
Att. 192: Rushall Olympic 5-1 Sutton Coldfield Town
Att. 206: Stalybridge Celtic 0-1 Buxton
Att. 201: Warrington Town 1-0 Stafford Rangers
Att. 241: Whitby Town 0-3 Shaw Lane
Att. 339: Workington 5-2 Altrincham
Mike Garnett's statistics tell us that since 2000, Altrincham have played nine times (before this Saturday) in the Second Qualifying Round with five wins and four defeats being the outcome.
2000-1 MOSSLEY (H) 0-3
2001-2 FRICKLEY ATHLETIC (H) 4-1
2002-3 KENDAL TOWN (H) 1-0
2003-4 Lancaster City (A) 0-2
2004-5 FARSLEY CELTIC (H) 4-1
2011-2 WITTON ALBION (H) 0-2
2012-3 Shildon (A) 3-0
2013-4 Trafford (A) 1-2
2016-7 GAINSBOROUGH TRINITY (H) 3-2
Our neighbours
Trafford
"have secured the return to the club of last season's leading goal scorer, [ex-Alty striker] Aaron Burns, after a brief spell at Stalybridge Celtic"
On 28 October, Altrincham entertain either Clitheroe or Colne in the FA Trophy. This week
NL Pitchero
reported that, at Skelmersdale, "Clitheroe scored four away from home at the appropriately-named Stormy Corner where veteran striker Richard Brodie gave the home side a 6th minute lead from the spot. But Ollie Crankshaw, Kurt Willoughby and Ryan Ellison replied to put the Blues 3-1 up by half-time, and a second for Willoughby on 54 minutes added the icing on the cake for the visitors."
---
13 September 2017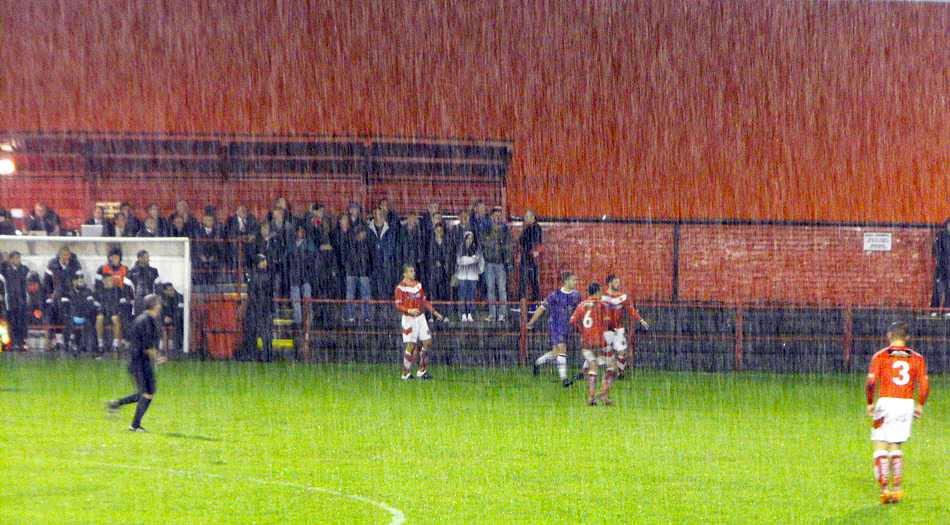 Altrincham suffered a heavy defeat at a rain sodden Workington. Alty started the game weakened by injury, as Poole and Short were unfit to start whilst Amis, Miller, Richman and Taylor remained injured.
But the Robins made life even harder for themselves as they conceded two penalties and had Harrop sent off, forcing them to play with ten men for more than half of the game...
Match report here
Tuesday 12 September 2017
Ashton United 2-1 Lancaster City
Coalville Town 5-2 Hednesford Town
Farsley Celtic 3-0 Grantham Town
Halesowen Town 1-3 Witton Albion
Matlock Town 1-0 Mickleover Sports
Nantwich Town 1-1 Marine
Rushall Olympic 5-1 Sutton Coldfield Town
Stalybridge Celtic 0-1 Buxton
Warrington Town 1-0 Stafford Rangers
Whitby Town 0-3 Shaw Lane
Workington 5-2 Altrincham
Three of the winners of Alty merchandise in the recent Altrincham FC Monthly Draw are requested to contact the Club to confirm the size and colour of their prizes. They are Caroline Wragg and J. Clancy who are requested, please, to ring (0161) 928-1045 or
e-mail
the Club at their convenience?
Likewise, would D. Hulme also contact the Club to arrange his/here hospitality package? Many thanks.
The full list of winners is below...
6th: No.21 C Wragg (AFC Polo Shirt)
5th: 219: C Clancy (AFC Replica Shirt)
4th: 254: D Hulme (Hospitality Package)
3rd: 205: P Ripley (£25)
2nd: 59: J Skelhorn (£75)
1st: 476: J Robertson (£500)
---
13 September 2017
Altrincham are away at Shildon in the FA Cup Second Qualifying Round on Saturday, 16 September. TASC Travel Coordinator Mark Eckersall writes..
"We are pleased to announce that thanks to individual contributions from all members of the Club's Board, the supporters' coach to Shildon will run and we are able to offer our passengers much discounted rates for the trip. Both TASC and the Board were aware of the financial impact of this third long trip in seven days and are delighted to be able to offer travel at a flat rate of £10 for adults, £8 concessions and £5 for U16s and those in full time education. The support at Barwell made a real difference to the players and we want to repeat it up in the North East. Times and fares are here
To book your place, please contact the Club on (0161) 928-1045, during normal office hours.
Altrincham will be hoping that there is no repeat of history as they travel to Workington tonight (Tuesday). When the clubs last met, in 2013-14 in the Skrill (Conference) North, the original fixture was postponed just an hour before kick off. Alty had better fortunes when the game was actually played on Tuesday, 8 April 2014, winning 6-1 thanks to goals from Densmore, Walshaw (2), Perry (2) and Moult.
At the end of that season Altrincham were promoted via the play-offs whilst The Reds were relegated.
The Workington side that night was 1. Jonny Jamieson, 2. Valter Fernandes, 3. Kyle Brownhill, 4. Gavin Skelton. 5. Darcy O'Connor, 6. Stephen Hindmarch, 7. Phil McLuckie, 8. David Lynch, 9. Godwin Abadaki, 10. Anthony Wright, 11. Ben McKenna. Subs: 12. Joe Jackson, 14. Ben Hoskin, 15. Sam Smith, 16. Scott Allison, 17. Jamie Street
Altrincham's team comprised 1. Stuart Coburn, 2. Shaun Densmore (capt), 3. Adam Griffin, 4. Carl Rodgers, 5. Gianluca Havern, 6. Scott Leather, 7. James Lawrie, 8. Jake Moult, 9. Kyle Perry, 10. James Walshaw, 11. Nicky Clee. Subs: 12. Simon Richman, 14. Matt Doughty, 15. Greg Wilkinson, 16. Tom Marshall, 18. Russ Saunders. Of that squad, only Jake Moult was involved in Alty's game, last Saturday, at Barwell.
Mike Garnett's data reminds us of the full historical record of matches between the clubs:
At home: P6-W4-D1-L1-F16-A6
Away: P7-W3-D2-L2-F14-A6
All: P13-W7-D3-L3-F30-A12
Before the meeting with Altrincham on Tuesday night,
Workington
reported on their most recent fixture, a narrow defeat at Grantham Town.
"In a match interrupted by a thunderstorm and eventually completed in three sections Reds twice took the lead, were pegged back each time by Jordan Hempenstall only to concede a controversial winner deep into stoppage time. It left joint boss, David Hewson, angry and frustrated after a great opportunity to register that elusive first away win was frittered away. How we can go from being in control and leading 2-1 to throwing it all away so late in the game is beyond me,' he said.
'The manner in which we conceded those late goals is worrying and things have got to change. We put our trust in the squad and take full responsibility for the results but players have to learn not to switch off.' Reds were well on top in the early stages, second best for a spell, took the lead for a second time only to collapse late in the game conceding two costly goals in the process.
When referee Ed Pidduck suspended play in the thirty-seventh minute, due to thunder and lightning, Grantham's players couldn't get back to the dressing rooms quick enough whilst Reds questioned the decision and seemed more reluctant to come off. Understandable, considering their dominance up until then. They were not quite the same when play eventually restarted, with the early half time break clearly disrupting their rhythm.
They had taken a thirteenth minute lead and carved out enough openings to double or even treble the advantage. James Earl headed them in front via one of eight first half corners... Simpson's set pieces were causing Town all sorts of problems but, somehow, they survived further damage...
Grantham won their first corner in the fiftieth minute... Hempenstall headed a fifty-sixth minute equaliser for 'The Gingerbreads' when he met Meadows's cross from the right... It was against the run of play, somewhat, when Reds restored their lead after seventy minutes. The ball fell to Allison just outside the area and a crisp left-foot strike skimmed past Preston and into the net... The home side were awarded what appeared a soft penalty. Douglas was adjudged to have tripped Lee Shaw but there was [sic] no audible appeals from the hosts as Mr. Pidduck pointed to the spot.
Luke Shaw, no relation incidentally, stepped up but blasted his penalty high and wide, a welcome reprieve for Reds and a sense of justice for Douglas. But Town did level matters four minutes from time when Reds were caught day dreaming following a free-kick. The ball was headed back across goal and Hempenstall crashed the ball into the roof of the net from a yard out... Grantham sensed a victory. And, sure enough it came, two minutes into the four added for stoppages.
Top scorer, Lee Shaw, was clearly offside when he received the ball but there was no flag from the assistant. With Reds defenders appealing in vain for the decision, the Grantham striker made the best of his good fortune, advanced towards goal and guided the ball past Taylor for the late, late winner. The result left Reds languishing in 20th spot and without a win since the opening day...
Workington Taylor, Simpson, Symington, Wordsworth, Douglas, Calvert, Earl (Holt, 67), Wright, Ryan (Joel, 90), Allison, Tinnion. Substitutes – Smith, Mellen, Holliday (not used)".
Monday 11 September 2017
Stourbridge 2-1 Barwell, attendance 595. Kyle Perry scored Barwell's goal from the penalty spot
NL Pitchero
reports that "Shaw Lane AFC, who have made a decent start to the highest level of football in the club's history, made three new signings ahead of Saturday's defeat to unbeaten Lancaster City.
[Goalkeeper] Morgan Bacon joins Shaw Lane on a month's loan from SkyBet League Two side Carlisle United. Bacon, 19 last week, came through the Carlisle ranks to earn a one-year professional development contract in May this year. He's previously spent time out on loan at Penrith... Dominic Brown-Hill has also joined the Ducks on a month's loan from Notts County. An 18-year-old versatile attacking midfielder, Brown-Hill also joins on a month's loan.
Shaw Lane also confirmed the signing of right winger Billy Whitehouse. The former Leeds United and Doncaster Rovers winger, who has also played for Alfreton Town, has had loan spells with FC Halifax Town and Guiseley AFC and made eleven first-team appearances for Doncaster before his move to Leeds."
In the Midlands, "Rob Smith, the new manager of Hednesford Town, moved to bolster his squad with the signing of two new players, with another heading to Keys Park this week. Joining the club are Joe Fitzpatrick and Conor Levingston... Fitzpatrick, 20, began his career at Wolverhampton Wanderers before moving to Mansfield Town. The Oldbury-born central midfielder spent time on loan at Sutton Coldfield before linking up with Worcester City and Boston United. He was most recently with AFC Telford United under Rob Smith and Larry Chambers's management.
Levingston joins on a month's youth loan from Wolves... having earned a new one-year deal at Molineux earlier this year. Born in Ireland, Levingston was snapped up by Wolves at the age of 15 some four years ago.
Midfielder Jed Davies is joining Hednesford on loan from Tamworth for an initial period of one month... The Pitmen can also confirm that Phil Male and Andy Ling have departed the club following the change in management, but Smith has brought in Mark Swann to join the coaching staff."
---
11 September 2017
Altrincham are away at Shildon in the FA Cup Second Qualifying Round on Saturday, 16 September. TASC Travel Coordinator Mark Eckersall writes..
"We are pleased to announce that thanks to individual contributions from all members of the Club's Board, the supporters' coach to Shildon will run and we are able to offer our passengers much discounted rates for the trip. Both TASC and the Board were aware of the financial impact of this third long trip in seven days and are delighted to be able to offer travel at a flat rate of £10 for adults, £8 concessions and £5 for U16s and those in full time education. The support at Barwell made a real difference to the players and we want to repeat it up in the North East. We will have details of how to book on the website later today".
Brian Flynn's post-match interview with Phil Parkinson, after yesterday's win at Barwell is
here
. Phil is outspoken about the treatment dished out to his players during the game.
Brian apologizes for the poor sound quality of short sections of this interview, in which Phil also reveals that Sam Sheridan's nose was broken during yesterday's game.
Also, the Radio Robins broadcast from the win at Barwell is available on Mixlr. Brian advises, "To listen, search for 'Radio Robins' on the Mixlr App and the recording is available under 'Showreel'".
Right: Sam Sheridan
Barwell
report that the "Canaries [were] beaten by the better side on the day. On the back of 2-0 and 6-0 victories last week, Barwell suffered a painful 3-1 defeat at home to Altrincham on Saturday.
The game started evenly, with the visitors disappointed about the start they made to the game. Altrincham grew into the game quickly and were on top for most of the first half. Their first goal came on 17 minutes, when Max Harrop, who replaced James Poole in the starting line up at the last minute, swept home a rebound at the back post.
Altrincham's 100-or-so-travelling supporters made a difference to the game, and will certainly have given them a boost. The visitors' class was clear to see and they doubled their advantage five minutes before the break when Josh Hancock tucked home a great free-kick to double their lead.
Barwell made a double change at half time and fought back into the game well. This was rewarded shortly after the hour mark, when Kyle Perry slotted the ball home at the back post to reduce the deficit".
Barton manager Jimmy Ginnelly gave his views on YouTube.
Alty Ladies beat Northwich Vixens 5-0 on Sunday afternoon and mow lie third in the North West Women's Regional League Division One South. And at the same time the newly formed development Team were winning their inaugural home fixture 3-1 against Chester City Ladies. More on these matches to follow...
CREWE ALEXANDRA DEVELOPMENT 0 - 9 CURZON ASHTON FC (TAMESIDE) WOMEN
FC UNITED OF MANCHESTER 17 - 0 CITY OF LIVERPOOL
LIVERPOOL MARSHALLS FEDS RESERVES 3 - 1 WARRINGTON WOLVERINES
Upcoming matches for Alty Ladies are...
24/09/17 CREWE ALEXANDRA DEVELOPMENT v ALTRINCHAM FC LADIES
1/10/17 ALTRINCHAM FC LADIES v WEST DIDSBURY AND CHORLTON
According to the
FA
Altrincham FC Youth's next game is on 17/09/17 away to Hyde United.
The
EvoStik League
says that "It`s only September and the EVO-STIK League Premier has had a first weather postponement with a waterlogged pitch, writes Pitchero's Steve Whitney.
It came at Hurst Cross as heavy showers overnight and early morning put paid to Ashton United's home game with Halesowen Town.
The action continued elsewhere though with Lancaster City still unbeaten since winning promotion at the end of last season. Saturday saw them beat fellow newcomers Shaw Lane AFC 2-0 at the Giant Axe... Warrington Town top the early table after they beat another of the newcomers, Farsley Celtic, 4-2 at Cantilever Park.
Experienced forward Tony Gray gave the Wire a 27th minute lead that another well-travelled striker, James Walshaw, levelled from the penalty spot six minutes later. Connor Hughes's goal right on half-time restored the home side`s lead and 10 minutes into the second period, Gray made it 3-1 with his second. Paul Walker gave Celtic hope of a point when he pulled a second back with 68 minutes gone on the clock but a stoppage time penalty from Sean Williams sealed the Wire`s victory.
Grantham Town are second and they won by the odd goal in five at The Meres against Workington AFC. And the Gingerbreads had to come back from being a 14th minute James Earl goal down to win. Jordan Hempenstall eventually equalised 11 minutes into the second half, only for Scott Allison to restore the Reds lead with 20 minutes to go. But a second for Hempenstall in the 86th minute made it 2-2 and Lee Shaw popped up with a winner four minutes into time added on for the hosts.
Another promoted side, Witton Albion, are in the top three after a good 4-0 win at Marston Road against Stafford Rangers in front of a crowd of 445... Relegated Stalybridge Celtic pulled themselves up a couple of places in the lower reaches of the table after beating Stourbridge 3-1 at Bower Fold... Rushall Olympic find themselves bottom of the pile after a 4-1 home thumping by Nantwich Town...
The game between Matlock Town and Whitby Town looked to be drifting towards a 1-1 draw after Luis Rose's 73rd minute effort had cancelled out the Seasiders` 27th minute opener from Kieran Weledji before Mikey Roberts popped up with an 88th minute winner for Whitby.
Coalville Town were also away winners, 1-0 at Marine AFC, thanks to a 35th minute Nathan Watson effort. And Altrincham continued their climb up the table as they also earned an away victory. The Robins won 3-1 at Kirkby Road against Barwell, taking a 2-0 lead through James Poole [Max Harrop] after 17 minutes and Josh Hancock five minutes before the break. Former Alty striker Kyle Perry reduced the deficit after 64 minutes but a late stoppage time third from Tom Peers confirmed the Robins' win.
Hednesford Town sealed a 3-0 Keys Park success for returning bosses Rob Smith and Larry Chambers".
Also from the EvoStik League we read that "Match officials were taking no chances with the safety of players on Saturday as stormy weather and lightning hit the EVO-STIK League. Grantham Town's 3-2 home win over Workington at the Meres in Lincolnshire was one of the worst affected fixtures, lightning strikes forcing the players off the field for approximately 30 minutes either side of the break with the score at 0-0...
The EVO-STIK League also recorded its first weather related postponements of the the 2017-18 campaign when Ashton United's clash with Halesowen Town in the EVO-STIK League's top flight".
The
News and Star
has a report on Saturday's match for Alty's midweek opponents, Workington.
---
10 September 2017
Match report here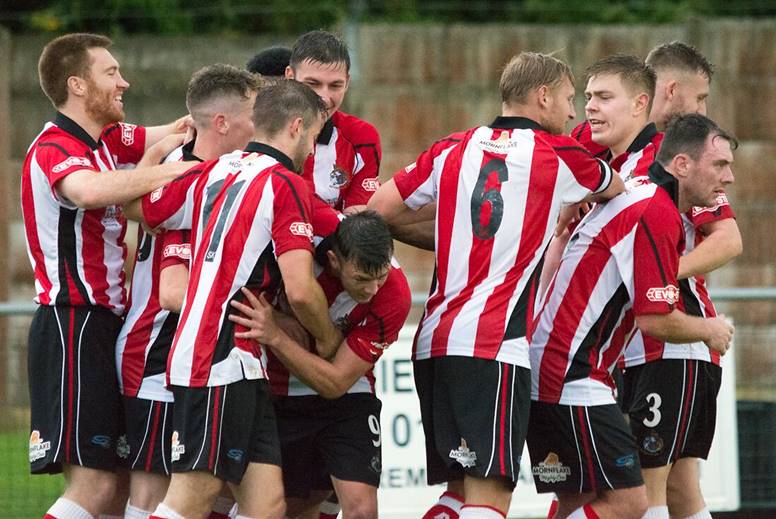 Above: Mike Ripley's camera shows Jordan Hulme (no. 9) just about escaping with his life after he and goalscorer Tom Peers (second from left) are congratulated by team-mates following Alty's third goal at Barwell.
Below: And Jordan is still on the receiving end as the team salutes the sizeable contingent of away supporters at the end of the game. Image courtesy of Mike Ripley.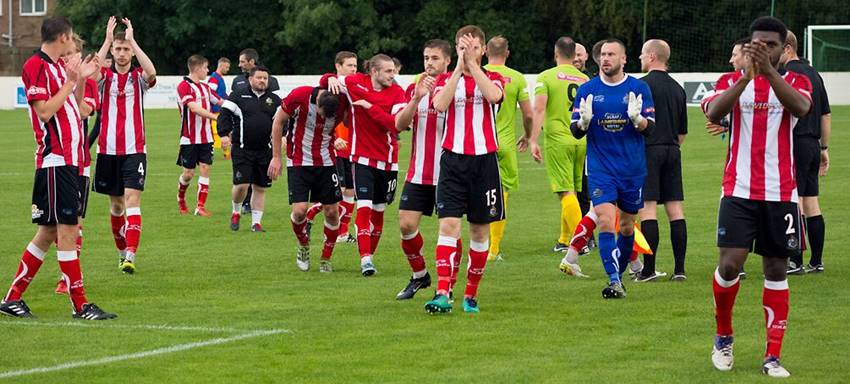 Att. 221 Barwell 1 - 3 Altrincham
Att. 236 Grantham Town 3 - 2 Workington (James Earl, Scott Allison)
Att. 410 Hednesford Town 3 - 0 Sutton Coldfield Town
Att. 221 Lancaster City 2 - 0 Shaw Lane
Att. 237 Marine 0 - 1 Coalville Town
Att. 372 Matlock Town 1 - 2 Whitby Town
Att. 181 Rushall Olympic 1 - 4 Nantwich Town
Att. 445 Stafford Rangers 0 - 4 Witton Albion
Att. 306 Stalybridge Celtic 3 - 1 Stourbridge
Att. 251 Warrington Town 4 - 2 Farsley Celtic (Sean Williams 90' penalty for Town and James Walshaw 33' penalty for Celtic)
Saturday 16 September 2017: EvoStik Premier
Coalville Town v Witton Albion
Farsley Celtic v Halesowen Town
Matlock Town v Marine
Whitby Town v Sutton Coldfield Town
Workington v Hednesford Town
The Emirates FA Cup 17-18 - Second Round Qualifying
AFC Mansfield v Rushall Olympic
AFC Telford United v Barwell
Basford United v Mickleover Sports
Blyth Spartans v Shaw Lane
Buxton v Chasetown
Grantham Town v Alvechurch
Lancaster City v Droylsden
Newcastle Benfield v Ashton United
Shepshed Dynamo v Nantwich Town
Shildon v Altrincham
Stafford Rangers v Tamworth
Stalybridge Celtic v Chorley
Warrington Town v Hyde United
Sunday 17 September 2017
Stourbridge v St. Ives Town
The
EvoStik League
reports recent transfers...
Jake Heath from Stourbridge to Barwell
Ross Haig from TSV Victoria Clarholz (Germany) to Barwell
Luke Foster from Coalville Town to Brighouse Town
Alexander Newby from Witton Albion to Clitheroe (loan)
William Mellors-Blair from Carlton Town to Coalville Town
Dylan Forth from Ashton United to Glossop North End
Joe Fitzpatrick AFC Telford to Hednesford Town
Conor Levingston from Wolverhampton Wanderers to Hednesford Town (youth loan)
Checkaine Steele from AFC Telford to Hednesford Town
Melle Meulensteen from Preston North End to Lancaster City (youth loan)
George Hassall from Shrewsbury Town to Marine (youth loan)
Thomas Field from Gap Connahs Quay (Wales) to Marine
Niall Flint from Scarborough Athletic to Matlock Town
Callum Hawkins from Burton Albion to Matlock Town (work experience)
Porya Ahmadi from Stalybridge Celtic to Mossley
James Sloane from Witton Albion to Prescot Cables
Wesley Atkinson from Notts County to Rushall Olympic
Raekwon Smith from Orebro Syrianska (Sweden) to Rushall Olympic
Morgan Bacon from Carlisle United to Shaw Lane (loan)
Dominic Brown-Hill from Notts County to Shaw Lane (work experience)
Billy Whitehouse from Alfreton Town to Shaw Lane
Osebi Abadaki from Nantwich Town to Stafford Rangers
Keith Briggs from Ashton United to Stalybridge Celtic
Henry Eze from Rushall Olympic to Stamford
Matthew Dodd from Hednesford Town to Stourbridge
Lee Smith from Rushall Olympic to Sutton Coldfield Town
Myles Mason from Preston North End to Sutton Coldfield Town (work experience)
Luis Morrison Derbyshire from Alfreton to Sutton Coldfield Town (loan)
Marcus Tudgay from Coventry City to Sutton Coldfield Town
---
9 September 2017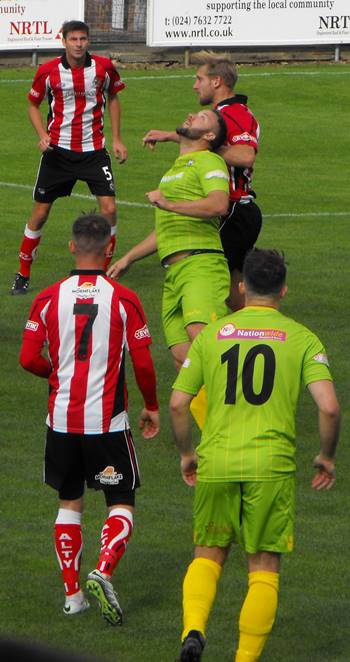 Altrincham, with both Joel Bembo-Leta and Max Harrop making their first starts, were deserved winners against a physical Barwell side which, with another referee, might have finished with fewer than eleven men.
And it was Harrop who put Altrincham ahead in the seventeenth minute when quick thinking by Short led to his throw giving Johnston a chance, which the keeper beat out towards the goalscorer.
After Stanley had brought down Hancock, the Alty man got up to hit a superb freekick into the net from 20 yards, five minutes before the interval.
Barwell made a double change at the break and got back into the game when Kyle Perry poked the ball home after 64 minutes, against his former employers.
However, after seeing off a brief period of home pressure, Altrincham finished the game well, with the hardworking Hulme manufacturing a goal for Peers in the fifth minute of added time.
Match report here
Right: Jake Moult outjumps Kyle Perry at Barwell.
Friday 8 September 2017
Buxton 0-2 Mickleover Sports att. 359
Saturday 9 September 2017
Ashton United P-P Halesowen Town
Barwell 1-3 Altrincham
Grantham Town 3-2 Workington
Hednesford Town 3-0 Sutton Coldfield Town
Lancaster City 2-0 Shaw Lane
Marine 0-1 Coalville Town
Matlock Town 1-2 Whitby Town
Rushall Olympic 1-4 Nantwich Town
Stafford Rangers 0-4 Witton Albion
Stalybridge Celtic 3-1 Stourbridge
Warrington Town 4-2 Farsley Celtic
In advance of today's match at Barwell, Press & Media Officer, Brian Flynn, submitted the following comments from manager Phil Parkinson to
Altrincham Today
.
"It's back to Evo-Stik Premier Division action today as we travel to Leicestershire to take on Barwell, which is the first of three long trips that we have to undertake in eight days.
Barwell are a physical, competitive, very workmanlike, high-energy team, similar in many ways to Coalville, who we played a couple of weeks ago….this will be a difficult assignment. The manager, Jimmy Ginnelly, has been there a number of years and he has built a strong stable team, with a low turnover of players. They know how to use the pitch at the Kirkby Road Sports Ground to their advantage and have made a good start to the season, gaining eleven points from seven games, which puts them in eighth place, four points behind the leaders, Shaw Lane.
They are the joint-leading goal scorers in the division, having thumped Sutton Coldfield 6-0 on Tuesday night, that was their second trip there in four days as they beat the Birmingham side 2-0 in the Emirates F.A. Cup on the artificial surface at Coles Lane last Saturday, earning them a draw at National League North AFC Telford United next Saturday.
Kyle Perry has just joined the Canaries from Stafford Rangers. We all know what he is all about and he scored a terrific free kick on Tuesday night to get his goal tally for his new club up and running.
I was pleased to make F.A. Cup progress on Tuesday night against a very spirited Abbey Hey side. We really were quite shambolic in losing a three goal lead in the first game last Saturday, but we went about our job very well in the replay, playing at a high tempo from the off and if it hadn't been for a wonderful display by their young goalkeeper, we could easily have had five or six.
On the injury front, John Disney had his ankle scan yesterday, so we are awaiting the results of that. Laurence Taylor and Simon Richman will both be missing today, they also have ankle injuries, so with a depleted group, Joel Bembo-Leta comes in to the squad for his first game. Joel played in the pre-season games against Stockport and Winsford, before joining Shaw Lane…he will be a very useful acquisition for us, having done well at Buxton last season.
Josh Amis (recovering from appendicitis) [pictured, right] could possibly be involved today. He has trained well this week and we will have a look at him before the game, before making a decision.
We are unbeaten in five league and FA Cup games and need a good haul of points from today's trip and Tuesday night's away game at Workington, to keep us in touch with the top end of the table. We are currently five points behind the leaders, Shaw Lane, with a game in hand".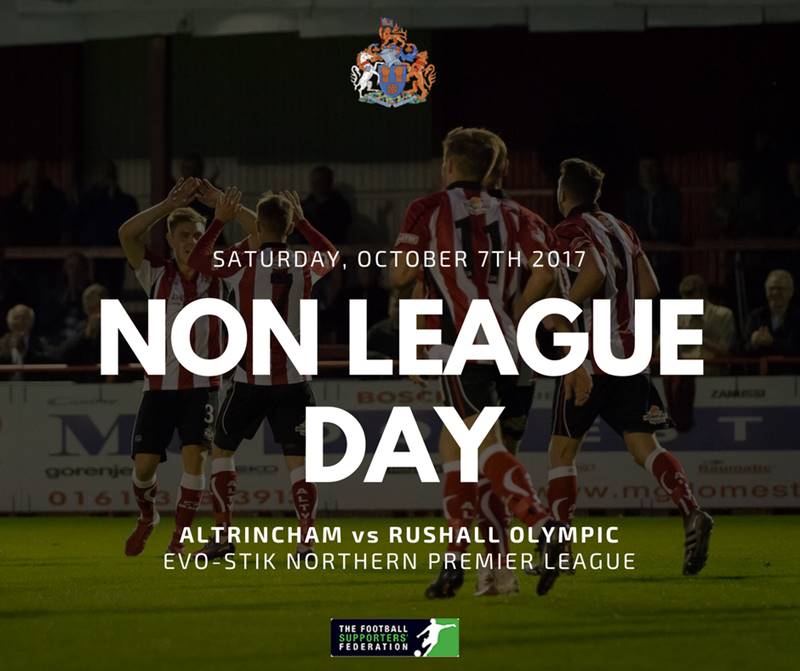 Jacqui Forster, Hon. Head of Diversity and Inclusion at Altrincham FC, writes that the "Football Club can announce with pleasure that, on this coming Non-League Day, Altrincham Football Club have been selected by The Football Supporters' Federation as one of five non-league clubs, nationally, to promote and celebrate inclusion and diversity in non-league football by showcasing the Fans For Diversity initiative. Further, we will be supporting Non-League Day's preferred charity, Prostate Cancer UK. This year's designated Non-League Day is scheduled to be held on International Weekend, Saturday, 7th October, when we entertain Rushall Olympic at the J. Davidson Stadium. Further details regarding the initiatives and attractions will be announced over the course of this month".
Alty travel to Barwell on Saturday where the hosts will be confident following their 6-0 away win in midweek at
Sutton Coldfield Town
who report how "The Royals go down to 6 goals at home in a game to forget. In a match that will be looked back on as one of the most abject in the club's recent history, Sutton Coldfield Town were hammered 6-0 by a Barwell side that had three days earlier knocked out The Royals in the FA Cup. The defeat was compounded by the dismissal of Richard Sneekes for an aggressive outburst towards the match referee. It's a loss that sees Sutton fall into the (traditionally four-place) relegation zone for the first time this season.
The opening exchanges were fragmented and nothing really between the teams. Gurjit Singh had been benched and new signing Lee Smith came straight into the team in central midfield. Barwell broke the deadlock when, in the 21st minute, Kyle Perry's cross was turned in by George Cleet.
With the match meandering along, we then had the big turning point. Sutton centre-back Jak Barnes was red-carded for a challenge that the referee deemed a foul and, as he was last man, the red card was inevitable. Salt was rubbed into the wound when Kyle Perry beautifully curled in from the resultant free-kick.
Apart from the odd half-chance, Sutton failed to create any significant opportunities to this point but were at least competing in a bitty contest... An already seething Sneekes ran onto the pitch quicker than former Sunderland manager Bob Stokoe did all those years ago... to angrily question the referee over his performance. Sneekes was in the face of the arbiter and certainly not holding back in his criticisms. Although initially the referee looked willing to let it pass, the outburst continued and the Dutchman was ordered to the stands for the second half.
The second half witnessed a Sutton implosion. Maybe not surprising given the club were a man down and rocked by seeing their manager sent off, but it was still a chastening experience for all connected with The Royals...
I gave Sneekes a bit of time to compose himself and he came back with a display of contrition, 'I let myself, the players and the club down by approaching the ref in the way I did. It just shows the frustrations I'm feeling at the moment'...
Brannon's Reflections:... Ten goals conceded over the three games is bad enough but the lack of clearcut openings is arguably an even bigger concern. We have had one shot on target in the last three second halves played at Coles Lane. A pity to see Hednesford, our next opponents, lose faith with our old boss Neil Tooth ahead of Saturday's game. We do, however, still get a chance to lock horns with formers players such as James Wren, Luke Rodgers and Jordan Nadat. The expectancy is high at Keys Park and players will need to impress the new regime".
Carlisle United
confirm that "Goalkeeper Morgan Bacon has joined Shaw Lane FC on a one-month loan deal. Bacon, 19 last week, came through the United ranks to earn a one-year professional development contract in May this year. He's previously spent time out on loan at Penrith...
Manager Keith Curle said, 'Part of Morgan's development is that he needs game time and we're hoping this move will bring that for him. He's working hard but there's nothing better than being in a competitive environment, where results matter, to help you to really start to push on'".
On the East Coast, Whitby Town "are delighted to announce the signing of Connor Dunlavey from Billingham Town. The left-sided attacker has been tracked by Chris Hardy for a number of weeks, who has finally landed the former Spennymoor Town man. He is renowned for his attacking play and running at players, going on a run of scoring excellent goals towards the back end of last season. The 22-year old, however, is not expected to feature for up to three weeks yet, after picking up a knock."
At Hednesford Town "The Pitmen return home tomorrow after three consecutive away games as we play host to Sutton Coldfield Town... The match has taken on extra significance in the last week following the re-appointment of Rob Smith as manager. He, along with Larry Chambers, will tomorrow have their second debut, almost seven years on from their first...
After suffering two defeats on the bounce, Smith will be looking to get his second era underway with a victory tomorrow. He said, 'I'm really looking forward to the game, especially with it being at home'...
The manager does however have injury concerns over Lewis Wright, Joe Ballinger, Kris Taylor and Devarn Green, all of whom will face late fitness tests to see if they can be involved."
Elsewhere in the Midlands, Rushall Olympic announce that "The Pics have added to our squad with the capture of Wes Atkinson. The 22 year-old hails from West Bromwich and is a versatile and athletic full-back or midfielder... His former clubs include West Bromwich Albion, where he came through the ranks, and Notts County, where he made 20 appearances in League 2. He can also count clubs such as Cambridge United, Eastleigh, Gateshead and Alfreton Town amongst his non-League experience."
Closer to home, the Warrington Guardian report that "Paul Carden says his Warrington Town side's defensive work has been one of the most pleasing parts of their solid start to the season. Having only conceded four goals in seven games, Yellows have the best defensive record in the Evo-Stik Premier Division.
Furthermore, none of the efforts to have beaten [ex-Alty] goalkeeper Tony McMillan this campaign have come from inside the 18-yard box. Carden says it is not just the defenders in his team that deserve credit for their miserly record. 'We're defending really well as a team,' he said. 'The back five have defended our area brilliantly, but the rest of the team are back there putting in blocks as well. If you look at the goals that have gone in against us, they are all great strikes'...
One player to come in for particular praise is Blackpool loanee Caleb Richards. The 18-year-old has played in several positions since arriving at Cantilever Park and Carden has hailed his attitude... 'Caleb has been outstanding since he's come in. He works hard and there is a tenacity about him,' he said. 'He just gets on with things and that is what is most refreshing about him. The biggest compliment I can give him is that he just wants to play football. There aren't many like that at his age who come from Football League academies. He's played at right back, in central midfield and on the left wing since he's been here, but he just gets on with it.'"
Welsh Premier
informs us that "For the second year running, The New Saints will receive €800,000 for their participation in the Champions' League. In addition to €220,000 and €320,000 respectively for appearing in the first and second qualifying rounds, TNS receive €260,000 as a domestic champion club that failed to reach the group stages.
Bala Town, Bangor City and Connah's Quay each receive €215,000 for reaching the First Qualifying Round of the Europa League. Of the estimated €2.65 billion gross revenue generated by the competitions, UEFA will distribute €1.718.7m, with €1,318.9m going to clubs in the Champions' League and the UEFA Super Cup and €399.8m to clubs in the Europa League."
The
BBC
"will broadcast the FA Cup tie between Deeping Rangers and Kidderminster Harriers. Deeping will host the Second Qualifying Round fixture, which takes place on Saturday, 16 September at 12:30pm. The Peterborough-based side play in the ninth tier of English football, while Kidderminster are in the sixth tier. A game from every stage of the 2017-18 tournament will be streamed live across BBC Sport's digital platforms.
This will allow audiences to watch the game live on their PC, mobile, tablet or connected TV. Matches will also be available live and on demand on BBC iPlayer".
---
8 September, 2017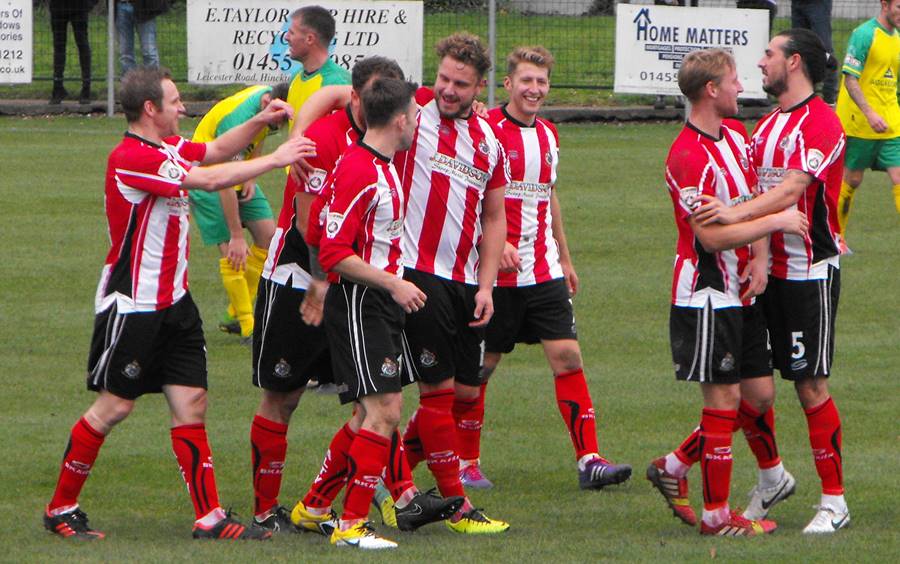 Above: Kyle Perry is congratulated on his goal at Barwell in October, 2014.
Altrincham play their first ever league game against Barwell on Saturday. Alty's only revious encounter with the Leicestership club came almost three years ago in the FA Cup 4th Qualifying Round. On that occasion the Robins secured a 3-0 win with a goal in first-half injury time by James Lawrie being followed by second-half goals from Kyle Perry and Damian Reeves. Ironically, Kyle will be facing Alty on Saturday, having recently joined Barwell.
Alty's team that day was: 1 Stuart Coburn, 2. Shaun Densmore (c), 5. Gianluca Havern 16. Tom Marshall, 6. Scott Leather; 4. Jake Moult; 8. Simon Richman, 25. Peter Cavanagh, 11. Nicky Clee, 7. James Lawrie, 10. Damian Reeves. Subs: 9. Steven Gillespie, 14. Kyle Perry, 15. Greg Wilkinson, 17. Dave Parton 18. Sean Williams. 20. Joel Swift.
Of the 2014 team, only Jake Moult and Shaun Densmore are likely to be involved in Saturday's match, with the sole other Alty survivor of that match, Simon Richman, an injury doubt.
Altrincham manager Phil Parkinson was interviewed by Press and Media Officer, John Edwards, after Tuesday night's 2-1 FA Cup replay win over Abbey Hey at The J.Davidson Stadium. Here is the interview in full.
Q: We played well again, with some really good passing moves at times, but ended up hanging on a bit, didn't we?
A: I wouldn't say hanging on exactly, but I know what you mean. It felt tense at the end because it was only 2-1. I was really disappointed we didn't score more goals, but you have to say their keeper was absolutely outstanding. Abbey Hey have got a very special lad on their hands there, and he was the big reason we were maybe in that position where there was a bit on tension in the final few after he made so many saves. What a contrast to the other end, where our keeper had nothing to do except pick the ball out of the net once, which has happened to us before.
I was frustrated at times with our end-product, but you've got to give Abbey Hey full credit for coming here and working their socks off to stay in the game. Their endeavour and willingness to throw themselves in the way of goalbound shots was something they can be proud of. If the keeper kept the score down with two or three outstanding saves, so did outfield players with some of the blocks they made.
Q: That was John Johnston (right) at his best, wasn't it - unstoppable on the night and two well-taken goals?
A: JJ has got everything you would want out of a winger and, as I've said before about my other front players, I have brought players here I would want to watch, and I hope the fans are enjoying watching them. You could see his confidence is high. His end-product was a lot better when he got to the by-line, and he looked a real threat all night. He took his goals exceptionally well, and he always looked like he was going to beat his man in a one-on-one, and that is what I want to see from our wingers. I ask them to look dangerous, deliver a final ball that's going to hurt the opposition and chip in with goals, and JJ certainly did all that tonight.
Q: The perfect scenario would have been a clean sheet to go with our attacking play, but then a deflection sends the ball spinning in the air and it drops for one of their players. Not only that, he looked offside, didn't he?
A: Yeah, you've just hit the nail on the head there. These things are going against us massively. It sounds like I'm making excuses, but I'm not. It happens in football where it doesn't go for you, but the good thing for us at the moment is, when it's not going for us, we are still winning games. This sort of thing has been happening since the opening day against Stafford, one shot out of nowhere and it's in the net. I don't remember Tim Deasy having a single save to make, but from a comfortable position at 2-0, there's suddenly only one goal in it.
I was disappointed the lead wasn't more than two, and I've told the boys that, but I still felt we were in complete control. Your opponents are always going to have a little spell, but that doesn't mean it was a close game. It wasn't. What it means is we have to be uber tight at the back with regard to minimising chances, but, again, I really didn't think they hurt us all game. Ultimately, it's about the result, and we have won 2-1. It should have been more, in fact, we should have scored five or six, but full credit to the lads for getting the job done and getting us through to the next round.
Q: On their goal, it was one of those where, as the ball dropped, you instinctively expected to see an offside flag, didn't you?
A: Yeah, you did, but as soon as it deflected up in the air, I just knew it was going to fall for one of their players, because of the way it has been going for us in those situations. My defenders did everything right. They squeezed the box high, but then it spins up and over them. The only question mark is over whether we could have reacted to it quicker, but the lads at the back were otherwise superb all night and didn't give them a sniff up to then. Neither should they, by the way, against that level of opposition, so I'm not saying they have done anything extra special. It is just so frustrating to have conceded after looking so comfortable.
Q: Overall, was it the reaction you were hoping for after your anger at Saturday's performance?
A: Yes, I'd say so. I expected to beat Abbey Hey, just as I did on Saturday. We were devastated at giving them a second bite at the cherry, and you could tell we wanted to make amends from the way we went at them. I'm sure coming here was a big event for the Abbey Hey players, something they'd be looking forward to, and people come to FA Cup ties because they want to see the minnows beating the giants. I hope it doesn't sound too far-fetched, saying giants, but compared to Abbey Hey we probably are. We are Altrincham, and everyone knows our history in this competition. I bet they wanted to spoil the party, but my boys have done a really professional job. That's five games unbeaten now, and it is all positive for me.
Q: Can you give us an update on the injury front?
A: That's the only thing that is sticking in my throat a bit, the amount of impact injuries we are getting. I keep going on about the officiating, but I am sick and tired of referees allowing heavy tackles on my players, then when one of ours barely touches one of theirs, it's a free-kick. I don't understand how some decisions are made and how other things are not punished. If things were dealt with properly, it would reduce the number of bad tackles in a game.
We are getting players stretchered off or helped off in nearly every game at the moment. On a brighter note, I thought Max Harrop (left) did exceptionally well when he came on. I thought he was a real threat. He's all about scoring spectacular goals, which he tried to do with that bicycle kick that flew over. He is very creative like JJ, but in a different way.
On the injured lads, with Laurence Taylor, we initially feared it could have been a break, because his ankle swelled up that badly so quickly, but thankfully it's not. It's a really heavy sprain, so it's probably going to be a couple of weeks minimum, unless he makes a miraculous recovery. Hopefully, Simon Richman is just another week away, while Josh Amis should be returning to training if a fitness test goes OK on Thursday (the 7th). Sean Miller is maybe two-three weeks away in terms of training, and we are going to be so much stronger for it when they all come back.
We are going to need that, because we've got a really tough programme coming up. This next month is going to be as tough as it gets, and we are really going to need our fans behind us, creating that special atmosphere for us. That would make such a difference for the lads and would help us cope with the demands of a really testing few weeks. It isn't going to be easy, so we need as much help as possible moving forward.
The other injuries from Saturday were James Poole and Ben Harrison, who were both on the bench tonight. James was probably 90 per cent, but I wasn't going to risk him. Ben said he was fit, but again I wasn't going to take a risk. I'm not willing to gamble on lads and risk losing them for five or six weeks. Saturday is a possibility for both, but we will have to check on them later in the week.
Q: Jake Moult was flattened by what looked a bad challenge late on, is he all right?
A: He's fine. I thought he was a hero tonight, just superb. I thought he hit the same levels he reached at Witton. He did the ugly things really well and won the majority of headers against a lad he had no right to win headers against. He was picking balls up and getting us going. It was a really good, solid performance from Jake again, he really held us together in there at times".
Altrincham now have two away trips in the league; to Barwell on Saturday 8th and, on Tuesday 11th, they visit Workington.
TASC's Mark Eckersall advises "We now have the details for the Barwell trip on the Away Travel page. We're also really pleased to confirm that we have the numbers to put a coach on to Workington on the following Tuesday and even more so in that these games are two of our furthest fixtures, back to back, meaning two of our most expensive trips.
Our aim on all coaches is to break even at the end of the season. Your support of the travel is vital and the more who travel the lower we can price. We've managed to keep the Workington prices to just £2 more than they were on our trip there four years ago in 2013 and really appreciate all the names who have committed so far, still spaces left for both so book at the club from Monday lunchtime or at the Abbey Hey game on Tuesday."
Brain Flynn advises that you can hear the Radio Robins commentary from the replay against Abbey Hey on Mixlr.
If you have not already done so, you can:
Download and install the Mixlr app on Android devices from the Google Play Store - start the app and search for 'Radio Robins'.
Download and install the Mixlr app on Apple devices from the Apple Store - start the app and search for 'Radio Robins'.
In last Tuesday's
Robins' Review
, Mike Garnett's article featured the FA Cup and Abbey Hey...
"THE BACKGROUND
This is the first time Alty have entered the FA Cup at this stage since 1992, when we met Curzon Ashton on this ground and won 3-0 in front of a crowd of 594, beginning a run which saw the Robins defeat Chester City in a 1st Round Proper replay, featuring that goal by Clive Freeman, before bowing out to Port Vale. Prior to 1998 the stage at which a particular club entered the competition was determined by a very different set of criteria compared to the present system. Briefly, then as now clubs in the top two tiers (Premier League & Division 1 as then called, I believe) entered at Round 3; remaining Football League clubs entered at Round 1, along with the FA Trophy winners and runners-up from the preceding season and the two clubs judged most appropriate by the FA (which for example in 1995-6 included Alty, basically on the strength of having reached Round 3 the previous season).
Twenty clubs were exempt to the 4th Qualifying Round, essentially on the basis of their record in the previous few seasons, and most of the rest entered at the start of the competition. GM Vauxhall Conference clubs never took part in the preliminary rounds, being effectively exempt until the 1st Qualifying Round, and the same was to a degree true of the feeder divisions (NPL, Isthmian Premier & Southern Premier). These days it is of course league status which determines entry level – which makes fixture planning a good deal easier for League secretaries! We haven't often staged replays at this stage of the competition. I can only find five such games in my records; the good news is that on each occasion the Robins have emerged victorious; once or twice it's been tight – a 5-4 win over Glossop in 1919 and a 1-0 second replay victory against Marine in 1961 – but wins over Salford United in 1909, Hyde United (1935) and Buxton (1972) were more comfortable.
ABBEY HEY
THE COMPETITIVE RECORD: Played 1, Drawn 1, Goals For 3, Goals Against 3
Head out of Manchester on Hyde Road, past Belle Vue to Gorton and a signposted right turn just short of Debdale Park will lead you to Abbey Hey's Goredale Avenue ground. The railway line at the far end leads to Marple and New Mills; Ryder Brow station is the closest to the ground. Although last Saturday's encounter was our first competitive meeting we have a long history of pre-season friendlies dating back to 1999 (see the programme cover image kindly provided by Barry Pikesley); our guests managed a couple of draws along the way but most of the time Alty have been comfortable enough winners.
The comfortable clubhouse and changing rooms are to the left as you enter the ground; opposite is a covered area, a mixture of seats and standing accommodation. The rest of the ground is open flat standing, with ample parking available on the sunken grass area near the entrance and plenty of other space available.
The cycle path on the elevated but disused railway line behind the clubhouse side of the ground is of interest to railway buffs as it was formerly part of the Fallowfield Loop, which carried the old Harwich Boat Trains among others from Central Station (as it then was) to link up to the Sheffield line at Fairfield."
Hednesford Town
"confirm that manager Neil Tooth has parted company with the football club. This comes following two days of discussions between the relevant parties".
On Thursday the Pitmen announced that they were "delighted to announce the return of manager Rob Smith and his assistant Larry Chambers to Keys Park. Following the departure of Neil Tooth yesterday, the football club have moved quickly to bring back the popular former manager who was previously in charge of the Pitmen between 2010 and 2015.
Smith will be fondly remembered by Pitmen supporters as the manager who led the club back to the second tier of the non-league pyramid and bringing with it Conference football in 2013 following an eight-year absence. During his 271 games in-charge of Hednesford, Smith recorded a total of 151 victories with him guiding the club to Southern League Cup, Birmingham Senior Cup, Staffordshire Senior Cup and Northern Premier League play-off final titles.
Following his return to the club Smith had the following to say, 'It is obviously a massive surprise for us how quickly this has all happened. I still have a lot of feelings for this football club, even when I wasn't involved, and when the chance came to return I couldn't turn it down. I really can't wait to get going now and we will be working towards Saturday's game straight away.'"
For ex-Altrincham forward James Lawrie this will be his seventh managerial regime in just over a year after playing under three bosses and two interim managements at Altrincham last season.
The local Shropshire Star adds that the new managers "Smith and Chambers left the Bucks (AFC Telford Utd) in June, in a shake-up which also saw club chairman Ian Dosser leave... Hednesford parted ways with Tooth only seven games into the season". The Pitmen currently lie seventeenth in the table with eight points from seven games.
Altrincham's opponents next Tuesday, Workington "found draws hard to come by last season and it took them until their final home match to register the first. The problem then was not being able to convert a defeat into a draw. Now they are emerging as the league's draw specialists and they cannot convert a string of 'one pointers' into wins.
Manager David Hewson is confident that will change and his upbeat mood [on Tuesday] suggested how pleased he was with the effort, commitment and good football produced against a very capable Warrington side. It was a tonic of a performance and a great response to Saturday's disappointing Cup exit. But Warrington displayed great resilience when under constant Reds' pressure and took the lead with their first attack of note, very much against the run of play. It took a sublime James Earl (pictured) equaliser early in the second half to salvage a well-deserved draw.
It is sometimes worrying when a team has nothing to show for a dominant performance and Reds' supporters must have been concerned over their half time cuppa or pint. Town had survived a first half battering and were a goal in front. It was probably Reds' only defensive lapse of the evening when they allowed, of all people, Tony Gray time and space to collect a cross from the right and send a superbly struck low shot into Aaran Taylor's net...
But Reds were back on terms eight minutes after the break. Allison touched the ball into Earl's path and he delightfully clipped the ball over [ex-Alty keeper] McMillan and into the top corner of the net from the edge of the area... Both teams survived a late scare. Taylor, keen to launch a quick counter attack, saw his clearance hit former Red, Joe Mwasile, with the ball rebounding towards goal. Taylor and Gray chased the loose ball with the 'keeper making amends for what could have been an embarrassing blunder.
And Taylor was relieved when Gerard Kinsella's late effort crashed into the side netting from an acute angle. Ryan, Calvert, Simpson and Douglas all made outstanding contributions for Reds but the sponsors nominated Tinnion as a deserved man-of-the match. His timely return to form coincided with Reds' best ninety minutes of the season.
Workington Taylor, Simpson, Symington, Wordsworth, Douglas, Calvert, Holt (Joel, 66), Earl (Mellen, 74), Ryan, Allison, Tinnion. Substitutes – Rowntree, MacDonald and Williams (not used)".
---
7 September 2017
According to the
EvoStik League
, "Tuesday night produced two standout results in the EVO-STIK League Premier; Barwell`s 6-0 victory at Sutton Coldfield Town and Farsley Celtic coming back from 3-0 down to win 5-4 at home to Stalybridge Celtic, writes Pitchero's Steve Whitney.
Barwell had a helping hand at Coles Lane, or foot to be precise, when George Cleet beat his own keeper to give the visitors a 21st minute lead. Eight minutes before the break, Jak Barnes was the last man as he fouled Kyle Perry just outside the edge of the box and Perry got up to whip his free-kick into the top corner to double Barwell's lead.
Just 2 minutes into the second half, Eddy Nisevic ran down the left-hand side – in plenty of space – and fired the ball across the goalkeeper to make it 3-0. Eight minutes later, it was four. Ryan Seal bursting through on goal and scoring with a neat finish. The floodgates were well and truly open at this point, as Dec Towers made it a nap hand from close range on 58 minutes. Substitute Ryan Robbins finished off by slotting the ball through the goalkeeper's legs with a few minutes to go, extending the lead to six and capping off a fantastic result for Jimmy Ginnelly's men.
Stalybridge boss Steve Burr had hoped his team had turned the corner following success in the Emirates FA Cup last weekend but they suffered an amazing defeat, their sixth in seven league games, as Farsley Celtic produced a stunning comeback to gain revenge on the visitors for their cup exit. Celtic played some scintillating football in the opening 25 minutes to lead 3-0 with goals from Theo Bailey-Jones with two and Alex Honeyball. Farsley fought back with goals from Ben Atkinson after 24 minutes and James Walshaw 12 minutes later. But Liam Dickinson made it 4-2 to Celtic seven minutes into the second half.
However, Isaac Baldwin on 61 minutes and Walshaw again five minutes later pulled Farsley back on level terms and they eventually claimed the three points, thanks to Kurt Harris' winner on 73 minutes.
Experienced striker Liam Hardy bagged another brace to help his Buxton side to a 3-1 win at the Weaver Stadium against Nantwich Town. The Dabbers led through a Joe Maguire own goal but Joel Stair did likewise at the other end to pull the Bucks back on level terms after 32 minutes. Hardy's first came four minutes later to send the visitors into half-time in front and he added his second and Buxton`s third just shy of the hour-mark.
Whitby Town managed to secure a last-gasp second win of the season to date at the Turnbull Ground against Ashton United. The visitors got off to a great start when Liam Tomsett put them in the lead inside the opening three minutes. Kieran Weledji equalised nine minutes before half-time and then Matty Tymon put the Seasiders ahead 20 minutes from time. A Niall McGoldrick own goal in the 87th minute had seemingly earned Ashton a point, until they conceded a stoppage time penalty which Dave Carson duly converted.
Warrington Town were looking to top the early table with victory at Borough Park against Workington AFC. But the Wire had to make do with a point from a 1-1 draw in which they led through Tony Gray`s 33rd minute opener until eight minutes into the second half when James Earl equalised.
Coalville Town recorded a third success of the new campaign, beating Matlock Town 2-1 at Owen Street. The Ravens led through Blair Anderson's 10th minute effort and added a second, thanks to Adam Yates's 33rd minute own goal. Shaun Harrad reduced the deficit four minutes after the break from the spot but the hosts held firm.
Bradley Grayson`s 28th minute goal earned Mickleover Sports their second win to date at home to Grantham Town while Halesowen Town looked on course to do likewise, leading Stafford Rangers through Oliver Finney`s 62nd minute breakthrough until seven minutes from time when Jack Sherratt earned Rangers a point.
It also finished 1-1 at Wincham Park between promoted Witton Albion and Marine AFC, whose James Edgar put them in front after 12 minutes, Will Jones levelling for the hosts four minutes after the break."
The EvoStik League reports that "Cup kings Stourbridge will be the last of the EVO-STIK League's flag-bearers to kick off in the next round of the Emirates FA Cup thanks to their cricketing neighbours.
The Glassboys have been forced to put back hosting St Ives Town in the Emirates FA Cup Second Qualifying Round by 24 hours to Sunday 17 September as the Saturday is the last day of the season for Stourbridge Cricket Club who share the War Memorial Athletic Ground with Gary Hackett's side.
Officials say any potential replay will be a 7.45pm kick-off on Tuesday 19 September... Hackett's side, who reached the Third Round proper of the world's oldest cup competition last term before going out at Wycombe Wanderers, were forced to kick off 24 hours after the rest of the EVO-STIK League's top flight on the opening weekend of the 2017-18 campaign after their cricketing neighbours were also playing at home that weekend.
He played against Alty in our first away game this season but now Matlock Town report that "goalkeeper Phil Barnes has retired at the age of 38. Barnes, a fans' favourite, was named as both fans and players' player of the season last term after signing from local rivals Buxton in the summer of 2016 and leaves a big void for the Gladiators' management duo to fill...
'It happened really quickly so we didn't want to shout it from the rooftops,' said Kirkwood. 'Phil's had to call it a day, physically it's been getting a harder challenge for him at 38. He's also been asked to do more hours at work, he's got increased family commitments with a lad at an age when he wants to play and family must come first...
He's a fans' favourite, so popular with the lads, we'll really have our work cut out to find a suitable replacement."
Alty's next opponents, Barwell tell us that "The Canaries swooped to a stunning 6-0 victory away at Sutton Coldfield Town this evening.... [At 4-0]... The floodgates were well and truly open at this point, as Dec Towers made it five from close range on 58 minutes...
Substitute Ryan Robbins slotted the ball through the goalkeeper's legs with a few minutes to go, extending the lead to six and capping off a fantastic evening's work for Jimmy Ginnelly's men.
BarwellFC Starting XI: Castle; Kay (Gilchrist 83'), Stanley, Townsend (c), Percival; Whitmore (Baldwin 70'), Julien, Towers, Nisevic; Seal (Robbins 70'); Perry. Unused subs: Story, Bates".
Tuesday 5 September 2017
Att. 137: Coalville Town 2-1 Matlock Town
215: Farsley Celtic 5 - 4 Stalybridge Celtic.
261: Halesowen Town 1 - 1 Stafford Rangers
235: Mickleover Sports 1 - 0 Grantham Town
TBA: Nantwich Town 1 - 3 Buxton
103: Sutton Coldfield Town 0 - 6 Barwell
207: Whitby Town 3 - 2 Ashton United
267: Witton Albion 1 - 1 Marine
351: Workington 1 - 1 Warrington Town
NL Pitchero
confirms that "Chester FC have announced that they have terminated the contract of manager Jon McCarthy with immediate effect. Chester have lost two of their last three games, taking one point from fixtures against Torquay United and Solihull Moors, who are below them. McCarthy took over as caretaker-manager in 2016 and guided the club to safety with three wins in their final four games before signing a one-year contract as permanent manager.
In January this year, he signed a new two-and-a-half year contract. The club have placed on record their sincere thanks to McCarthy, a thoroughly decent man who could not have worked harder to try and deliver success, and could not have shown more commitment to the community and the club. Tom Shaw, Dave Felgate and Calum McIntyre have been asked to prepare the team for the forthcoming fixtures."
Elsewhere, NL Daily tells us that "Guiseley have confirmed that Paul Cox is the successor to Adam Lockwood as the club's first-team manager. Cox left fellow Vanarama National League side Barrow last month. A club statement confirmed that "Once discussions had taken place with Paul it was obvious that he was our first choice to take over from Adam Lockwood. Paul is rightly regarded as one of the top managers at this level and we look forward to a long and successful period with him at the helm as we embark on our three to five-year plan where we intend to make sure that the club continues to thrive".
In the EVO-STIK North as Glossop North End beat Brighouse Town 5-2, two ex-Alty players Jude Oyibo and Benjamin Deegan scored for Glossop. Ex-Alty reserve Josef Faux scored for Prescot Cables as they defeated Atherton Collieries 3-1.
Emile Sinclair hit a hat-trick for Scarborough Athletic in their 5-0 win.
Wednesday 6 September 2017: The Integro League Cup 17-18 - Preliminary Round
Lincoln United 4-4 Corby Town. Lincoln won on penalties.
In the Integro League Cup Preliminary Round, results on Tuesday night were:
Chasetown 0-3 Market Drayton Town
Colne 2-0 Clitheroe
---
6 September 2017
Altrincham's rearranged league match at home to Lancaster City, the original fixture having been postponed on Tuesday night owing to the Abbey Hey FA Cup replay, will now be played on Tuesday, 24 October at 7.45pm.
Altrincham FC enter the FA Youth Cup at the First Qualifying Round on Wednesday, 20 September with an away tie at Hurst Cross against Ashton United Youth. Kick off is at 7.45pm and prices are £3 for adults, £1 for concessionaries.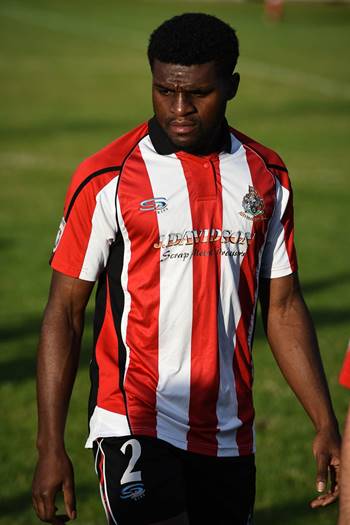 Altrincham's Press and Media Officer, John Edwards, writes "Phil Parkinson has moved to counter the effects of a growing injury crisis by signing versatile defender Joel Bembo-Leta (pictured, right, by Mike Ripley).
The Altrincham manager promised reinforcements after seeing his squad further depleted by injuries to James Poole, Ben Harrison and Laurence Taylor in Saturday's 3-3 FA Cup draw at Abbey Hey.
He admitted numbers needed to be bolstered, after Poole and Harrison were withdrawn with slight hamstring concerns in the first half and Taylor was stretchered off with a damaged ankle in the second half, and the breakthrough came when Bembo-Leta signed forms at The J.Davidson Stadium shortly after Tuesday night's 2-1 replay win.
The 25-year old, who featured as a trialist in the pre-season games against Stockport County and Winsford, goes straight into contention for a competitive debut on Alty's return to league action at Barwell on Saturday.
Equally at home at right-back or in the centre of defence, the 25-year old can also operate up front, and his adaptability is exactly what Parkinson needs, as Alty bid to extend their current five-match unbeaten run.
'He is a versatile lad who can cover a number of positions, and that will give us the extra strength in depth we need,' said the Alty boss. 'Everyone knows the injury problems we've had, particularly among the full-backs, so it's good to have Joel on board.
'He will strengthen the squad, because apart from being a good defender, he can play centre-forward as well, as he demonstrated last season by scoring a good few goals for Buxton.
'On the injury front, we initially feared Laurence may have broken his ankle at Abbey Hey, because it swelled up that badly so quickly but, fortunately, he hasn't. It's a really heavy sprain, so it's probably going to be a couple of weeks minimum for him, unless he somehow makes a miraculous recovery.
'Simon Richman is hopefully just another week away, while Josh Amis should be returning to training if a fitness test goes ok on Thursday and Sean Miller is maybe two-three weeks away in terms of training, so isn't far off. We will be so much stronger for it when they are all back.
'We had James Poole and Ben Harrison on the bench tonight, but I wasn't going to risk them. James is probably 90 per cent, while Ben said he was fit. Even so, I'm not willing to gamble on lads and risk losing them for five or six weeks. Saturday is a possibility for them, but we will need to check on them later in the week.'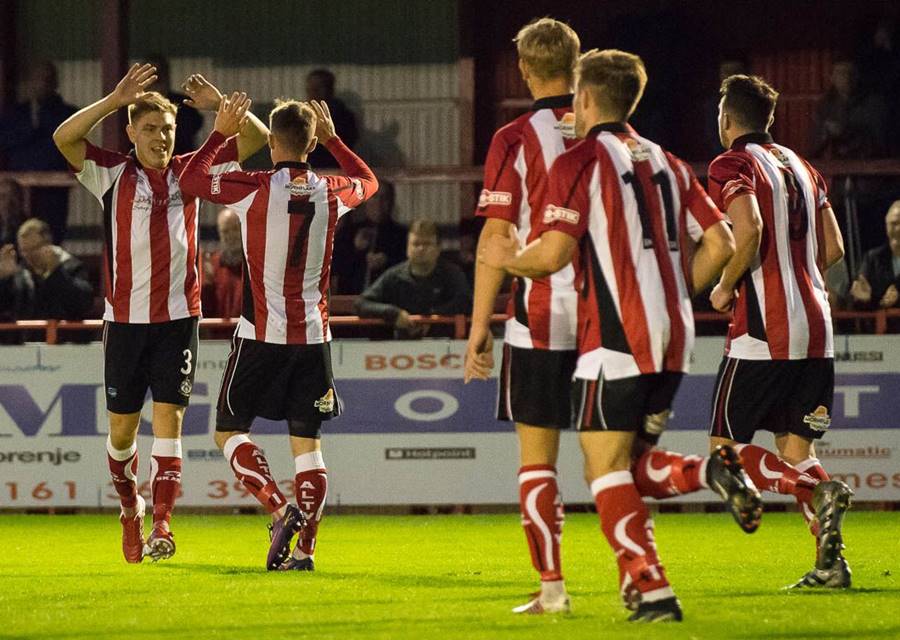 Above: Lewis Short, facing camera, congratulates John Johnston after his opening goal against Abbey Hey. Image courtesy of Mike Ripley.
Once again Altrincham were unable to convert their dominance of possession and attacking momentum into a convincing scoreline but their much weakened side nevertheless won through to meet Shildon in the Second Qualifying round of the Emirates FA Cup. Altrincham's starting eleven was without Poole, Harrison, Taylor, Amis, Richman, Miller and Disney. Although Poole and Harrison were on the bench, they took no part in the match.
As on Saturday in the original tie, John Johnston was Alty's stand-out attacking player and he netted both goals in this replay. His first came from just outside the box in the 24th minute and his second was another low shot from outside the box, which made it 2-0 in the 65th minute. But, nine minutes later, Abbey Hey got back into the game when a Freakes shot hit a defender and looped towards the goalmouth where Blake, unmarked, scored from close range past the otherwise barely employed Tim Deasy, who had been restored to the Alty goal tonight.
Match report here.
Keith Edleston, manager of Altrincham FC Ladies, informs us that "This Sunday's away game has been reversed ,as requested by our opponents Northwich Vixens, due to repairs on their pitch. The game is now to be played at Mersey Valley Sports Club, k.o. 2pm and all the usual facilities (food & drink) will be available from the clubhouse.
An added bonus is that our new Development Team has its first game at Mersey Valley at the same time on Pitch 2, so you get TWO games at the same time! Come down and support the girls in red and white!
Any thoughts that relegation to the EvoStik League would mean comfortable trips to local away matches are dispelled by the itinerary facing Altrincham in a week's time. Not only does the club have three successive away fixtures but these comprise visits to clubs that are not exactly around the corner...
Saturday 8th: To Barwell (188 miles return) - our fourth longest away league fixture this season.
Tuesday 11th: To Workington (294 miles return) - our longest away fixture of the season.
Saturday 15th: To Shildon (265 miles return) - our FA Cup opponents.
That is a total of 747 miles of "Jumbo" journeys in a week!
Tuesday 5 September 2017
Altrincham v Lancaster City POSTPONED due to Alty's FA Cup replay v Abbey Hey
Coalville Town 2-1 Matlock Town
Farsley Celtic 5-4 Stalybridge Celtic
Halesowen Town 1-0 Stafford Rangers
Mickleover Sports 1-0 Grantham Town
Nantwich Town 1-3 Buxton
Sutton Coldfield Town 0-6 Barwell
Whitby Town 3-2 Ashton United
Witton Albion 1-1 Marine
Workington 1-1 Warrington Town
Altrincham narrowly avoided their lowest home gate for an FA Cup match when 520 spectators watched the game against Abbey Hey. Mike Garnett's records tell us that the lowest Alty home gates in the FA Cup before Tuesday night were:
In 2002: 2Q v Kendal Town 513
In 2016 2Q v Gainsborough Trinity 516
In 1992 1Q v Curzon Ashton 594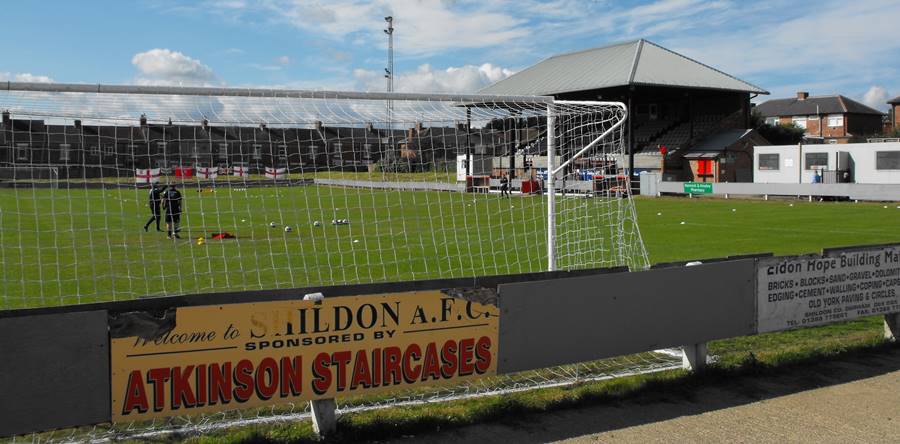 Alty's next opponents, Shildon, compete in the EBAC Northern League Division One which is classed as level 5 of the Non-League Pyramid, the same as the Hallmark Security League Premier Division in our area.
Currently, Shildon lie sixth in the division, unbeaten after four wins and two draws in their six games. All four wins have come away from home whilst, at Dean Street, both league games to date have ended in draws.
Their ground address is Dean Street, Shildon, County Durham, DL4 1EZ. The stadium is pictured, above, before our game there in September 2012.
For FA Cup matches, their admission prices are higher than their league charges and are £7 for adults and £5 for concessionary spectators. Under-12s are free with a paying adult. The match programme costs £2.
According to
NL Pitchero
, "Sutton Coldfield Town have moved quickly to sign Lee Smith following his departure from rivals Hednesford Town. Smith first came to prominence at Romulus in the 2013/14 season, captaining the club and attracting interest from a number of clubs further up the pyramid.
After spending time at Tamworth in pre-season, the Lambs signed Smith on a one-year deal. His progress was halted in the cruelest of ways at Gainsborough Trinity in September 2015; an off-the ball clash saw him stretchered-off and taken to hospital, where he was placed in intensive care and underwent an operation to have his spleen removed. He returned to action two months later, but struggled to work his way back into Andy Morrell's plans and was allowed to join Sutton Coldfield on loan in September 2016 to gain first-team football.
A month later, he was re-called by Tamworth, but allowed to leave on a dual registration deal to join Rushall Olympic a month later. He left the Lambs at the end of the 2016/17 season and was swiftly snapped up by new Hednesford manager Neil Tooth, who had been impressed by Smith when he had taken him on loan at Sutton Coldfield the previous season.
Current Royals' manager Richard Sneekes said, 'Lee has been a long-term target for us and we thought we would see him with us for the start of the season but we couldn't quite get the deal done and Lee joined Hednesford. It's not worked out for him there with a limited amount of pitch time so we are delighted to get him on board now'".
Another player called Smith is in the news as Hinckley report that "Central defender Dominic Smith has today stepped up three levels to join Halesowen Town. Dom re-joined Hinckley in the summer after suffering injury problems following his initial departure, and quickly slotted back into the backline. Over the course of his two spells at the club, he made 49 appearances and scored six goals...
He said, 'It's a chance I can't turn down and, if I don't take it, I may never know if I can play at a higher level or not'... He follows Lee Thomas, Ryan Seal, Javia Roberts, Chad Degville-Cross and Bekir Halil in joining a club at least two steps higher in the last few months, evidence of the club making great strides in moving players on to higher levels. In that time, Alex Penny has also become the first former AFC player to play in the Football League."
From the Yeltz we learn that "Halesowen Town have "moved to strengthen their squad by bringing in two new players. Dominic Smith Joins us from Hinckley, Dominic has a strong commanding presence as a central defender and has previously played for Wolves Sporting, Black Country Rangers, Leamington, Lye Town and Willenhall Town before joining Hinckley in 2014.
Walsall-born striker Matthew Hearsey joins us from Dudley Sports, Matt has played previously for Newtown and scored the historic goal that took them into the Europa League, he moved to Rushall Olympic in 2015 and since then moved on to Dudley Sports."
Our neighbours at Trafford FC "have made two signings. Firstly, Andy Langford makes a welcome return to the club after a short stay at Stalybridge Celtic. He is joined by winger, Jason St Juste on dual registration from FC United". 5 September 2017
The
Hallmark Security League
reported before Tuesday's replay that "Abbey Hey manager Luke Gibson is hoping that his young squad will take confidence from their amazing comeback in a 3-3 draw against Altrincham in their FA Cup tie at the Abbey Stadium on Saturday... Luke admits it wasn't an outcome that looked possible after his side were under the cosh in the opening 25 minutes.
'The way started it looked like we could lose six or seven, but when we got the second goal I think that gave the lads the boost to think "hang on we can do something here"', he said. 'We spoke at half time about how we weren't doing our job high up the pitch. The front line weren't pressing in the right areas and we were exposed at the back. But we sorted it out a little bit and, once we started pushing on to their centre backs, we got into the game a little bit more.
'I can't fault the lads for the way they came back, there are a lot of young players in that team and they did well'.
Now, with the replay at Moss Lane, Luke says that everyone at the club will enjoy the game. 'It's a massive result for us and for the club as well. For the lads to have the experience of going to somewhere like Moss Lane in an FA Cup tie is brilliant. We can go and enjoy it, and take the game to them a bit more. It's a great game for the whole club, and for the guys on the committee who have been here for years, I'm made up for them as well. It will be fantastic to go there and it will be a great occasion for everyone'.
Luke is also hoping that the confidence gained from the good comeback on Saturday will now translate into league points, as Abbey's start to the season has been a bit inconsistent. 'You can pick apart certain games. At home to Widnes we weren't at the races, but it's been difficult because over the early games we were chopping and changing with injuries and people being away, and it was hard to get a settled side. We knew exactly where we wanted to strengthen in the summer, and we got Rhys Webb in from Cheadle, who was scoring for fun in the league below last season, and he's been a big plus for us, along with Rob Swallow from New Mills and Sam Freakes coming from Hyde.
'So we have had these lads coming in which is a plus for us, and we now we have a settled back four back like we had for the first game at Irlam. They've had four games together now and that familiarity at the back, you can't buy that. Keeping that solid base will give us half a chance, and the challenge now is to replicate the way we played in the second half (against Altrincham). The lads need to be aware now of what they have achieved over that 90 minutes, and also why they have achieved it as well.
'They can do it, it's just a case of making sure they are on it all the time'".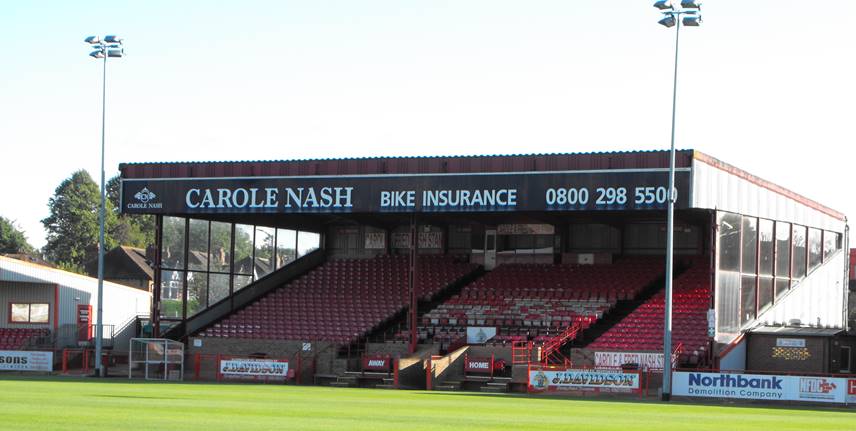 On Tuesday night (7.45pm), Altrincham entertain Abbey Hey for the replay of their Emirates FA Cup First Qualifying Round tie, which ended 3-3 in Saturday's original meeting at Goredale Avenue. It was agreed between the clubs, prior to the playing of the original tie, that normal admission prices would apply, both for the original game and for a replay, should one be necessary. Accordingly, admission prices for the game at the J Davidson Stadium are as follows.
Turnstile prices:
Adults: £10
Full-Time Students & Concessionaries: £7
Aged 12 to 16 inclusive: £4
Under-12: £1
Season ticket holders are reminded that in accordance with FA Cup practice, season tickets are not valid for this match.
The Hallmark Security League reports that "The draw for the Second Qualifying Round of the Emirates FA Cup was made at Wembley Stadium, and the ties affecting our teams are as follows:
Albion Sports v Ashton Athletic
Mossley or 1874 Northwich v North Ferriby United
Shildon v Abbey Hey or Altrincham
Ashton Athletic are the only one of our sides through at present and they will travel to Northern Counties East League side Albion Sports... 1874 Northwich will get a home tie if they beat Mossley in tomorrow's replay against North Ferriby United...
Abbey Hey are also involved in a Tuesday night replay and they will travel to Northern League side Shildon if they win that. Shildon reached the Second Qualifying Round last season, and last faced one of our sides in the FA Cup in 2014/15 when they beat Padiham. Their last meeting though against a Hallmark Security League side was last season when they were beaten in the Fourth Round of the FA Vase by Atherton Collieries".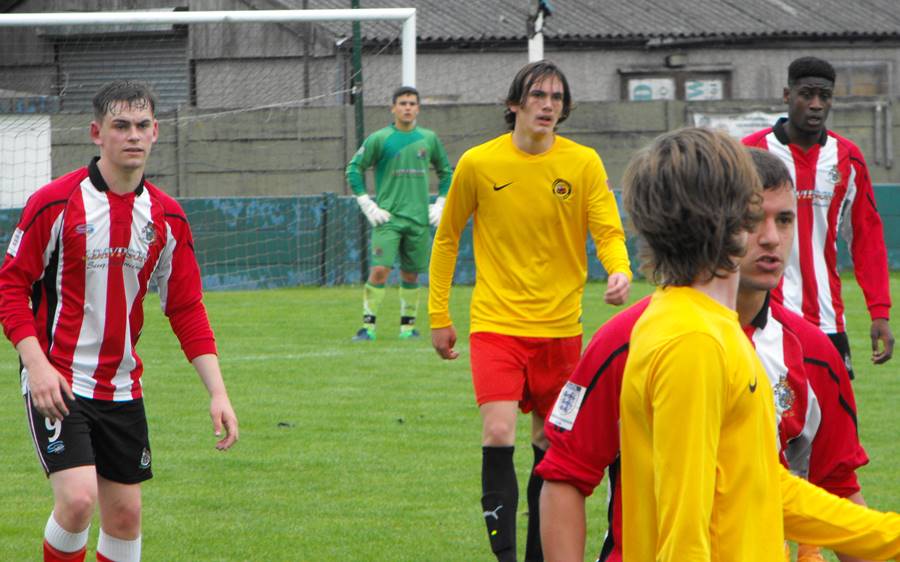 Above: With keeper Matt Loizou in the background, left to right we see Alty defenders Connor Tolan, Will Hall and Ollie Okwundu during the first half against Prescot Cables.
There is a report on Sunday's abandoned Altrincham FC Youth match, here.
Shaw Lane have gone to the top of the table with Stourbridge now second after Monday's games. However, both have played an additional game to everyone else.
Monday 4 September 2017
Shaw Lane 2-0 Rushall Olympic
Stourbridge 2-0 Hednesford Town
---
4 September 2017
The Emirates FA Cup Second Round Qualifying draw took place today (Monday). The winners of Tuesday's Altrincham v Abbey Hey replay will be away at Shildon. The same draw for Altrincham was made at this stage of the competition in 2012 and on 22 September 2012, Altrincham won 3-0 at Shildon. Very friendly ties were established between supporters of the two clubs on that occasion, which may now be renewed if Alty can win the replay tomorrow. Ironically, given last Saturday's match at Abbey Hey, Alty led 3-0 after 12 minutes at Shildon but did not concede...
The northern and Midlands draw, for 16 September, is
1 Salford City v York City
2 Darlington v South Shields
3 Southport v Bradford (Park Avenue)
4 Ossett Town v Atherton Collieries
5 Newcastle Benfield v Ashton United
6 Warrington Town v Hyde United
7 Harrogate Town v Penistone Church
8 Spennymoor Town v Gainsborough Trinity
9 Handsworth Parramore v FC United Of Manchester
10 Albion Sports v Ashton Athletic
11 Shildon v Abbey Hey or Altrincham
12 Scarborough Athletic v Sunderland RCA or Liversedge
13 Blyth Spartans v Shaw Lane Association
14 Mossley or 1874 Northwich v North Ferriby United
15 Stockport County v Curzon Ashton
16 Stalybridge Celtic v Chorley
17 Lancaster City v Droylsden
18 Stafford Rangers v Tamworth
19 Boston United v Haughmond
20 Shepshed Dynamo v Nantwich Town
21 Deeping Rangers v Kidderminster Harriers
22 AFC Mansfield v Rushall Olympic
23 Kempston Rovers v Hereford
24 Stratford Town v Redditch United
25 AFC Telford United v Barwell
26 Nuneaton Town v King's Lynn Town
27 Kettering Town v Kidsgrove Athletic
28 Basford United v Mickleover Sports
29 Alfreton Town v AFC Rushden & Diamonds
30 Soham Town Rangers or Westfields v Leamington
31 Grantham Town v Alvechurch
32 Buxton v Chasetown
33 Stourbridge v St Ives Town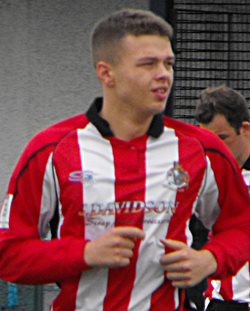 Altrincham Youth's first home game of the season today at the former Flixton FC ground in Valley Road ended on a sad note as the game had to be abandoned following a broken leg suffered by Alty winger Joe Mather (right). Altrincham were trailing 0-2 in the 54th minute when Joe went in determinedly for a 50-50 ball and it was immediately obvious that he had suffered a serious injury. Joe was not moved from the pitch and, after half an hour, an ambulance arrived. A further half an hour later he was inside the ambulance awaiting departure to hospital. At that point it was agreed that the match be abandoned and replayed at a later date.
All at Altrincham FC wish Joe a full recovery from his injury.
In an interview conducted before Saturday's match, Phil Parkinson told the NL Paper, "I think we [himself and his management team] were the only ones who weren't alarmed by the first three matches of the season. Yes, the results weren't good... You can understand why peopke were worrying after the last few years here. But I would like to think we weren't ever in trouble of relegation again!
I thought we would react to a poor first few results and we did... We worked hard to put right where we went wrong and we didn't panic. We desreved those three victories... Hopefully, we've turned a corner"
Of the fans he added, "I can feel them getting behind the management and the players and I'm so delighted with that".
FC United of Manchester
report on their 13-1 victory over Altrincham FC Ladies in the SSE Women's FA Cup on Sunday.
Ex-Alty players on the mark on Saturday included Kyle Brownhill for Ramsbottom, and loanee Elliot Newby for AFC Telford United. Jordan Sinnott was an unused substitute for League Two Chesterfield.
Before Saturday's FA Cup tie,
NL Daily
says "What a difference a week has made to Matlock Town's fortunes in the EVO-STIK League after the Gladiators missed out on the chance to go top...
Had they not conceded a late equaliser at Sutton Coldfield on Tuesday week, Craig Hopkins and joint boss Glen Kirkwood would have reached the summit of the EVO-STIK League's top flight. Instead, they went into their August Bank Holiday programme in fourth spot but ended it down in 16th after a 2-0 defeat at Warrington Town on Saturday before suffering a 3-2 reverse at home to Grantham Town on Monday.
Hopkins isn't too despondent despite the blows but acknowledged that a return to winning ways is vital this weekend when they travel to Shropshire to meet Haughmond from the Midland Football League Premier Division in the First Qualifying Round of the Emirates FA Cup.
Hopkins said, 'It's still early days, we're six games in and there's still nothing in it. We've had a really tough start and over the weekend played the two teams who are now in the top two. Up until Monday we've been pretty good, even at Warrington we were on top during the first half before being hit by those two quick goals before half time.
At Sutton Coldfield we were guilty of not putting the game to bed and also conceding two very poor goals in the first half...
Hopkins conceded that it was a below par display for the opening third of the contest against Grantham but insisted they quickly improved. 'For the first half hour nobody played well, everyone had a bad time of it but for the last fifty or sixty minutes we were the better side,' declared Hopkins. 'The damage had been done but we feel we should still have got something from our second half chances. Everyone was very disappointed afterwards, the lads were told about it but didn't need to be told. We take it as a group, players, staff, Kirky and me, Coxy [Danny Cox], Soll [Adam Sollitt] and Mugga [Mark Mullins], we stand together as a group.'
Hopkins was also complimentary about Grantham, adding, 'We played against a very good side, probably the hardest working side in the league. We did that in the first five games but Grantham outworked us, their decision making was good and their finishing spot on.'
Hopkins told fans on Thursday that they will be striving to go one round further on Saturday than last season's final qualifying round exit at Altrincham".
The Evo-Stik NPL Show for August is here.
"Player movements registered with the EVO-STIK League from Sunday 27 August to 11am on Saturday 2 September 2017...
James Jones from The New Saints (Wales) to Altrincham
Jonathan Diba-Musangu from Rochdale to Ashton United
Ashley Frith from FC United of Manchester to Ashton United
Christopher Lynch from Altrincham to Atherton Collieries
George West from Stockport County to Atherton Collieries
Kyle Perry from Stafford Rangers to Barwell
Elliot Percival from Sheffield Wednesday to Barwell
Ashley Jackson from Romulus to Bedworth United
Christopher Budrys from Leek Town to Belper Town
Anthony Danylyk from Leek Town to Belper Town
Michael Samson from Morecambe to Clitheroe
Lee Beeson from Spalding United to Corby Town
Callum Chippendale from Boston United to Glossop North End
Joe Wilcox from Frickley Athletic to Goole AFC
Oliver Finney from Crewe Alexandra to Halesowen Town (youth loan)
Cecil Nyoni from Alfreton Town to Halesowen Town
Daniel Udoh from Crewe Alexandra to Halesowen Town
Jonathan Beaumont from Leek Town to Kidsgrove Athletic
Michael Conlon from Port Vale to Leek Town
Lewis King from Mickleover Sports to Mickleover Sports
Henoc Mukendi from Atherton Collieries to Mossley
Justin Pickering from Curzon Ashton to Mossley
Jonathan Higham from Leek Town to Newcastle Town
Jordan Snodin from Alfreton Town to Ossett Albion (loan)
Alex Ashby from Chester FC to Prescot Cables
Elie Akobeto from Mansfield Town to Radcliffe Borough
Marcus Poscha from Crewe Alexandra to Ramsbottom United
Liam Sharpe from Loughborough Dynamo to Romulus
Billy Spink from Toledo Villa (USA) to Romulus
Khaellen Bailey-Nicholls from Wrexham (Wales) to Rushall Olympic
Andre Landell from Michagan Bucks (USA) to Rushall Olympic
David Norris from Salford City to Shaw Lane
Bradley Masllan-Jones from Hull City to Spalding United
Devante Reittie from Coalville Town to Spalding United
Aidan Chippendale from Bradford Park Avenue to Stalybridge Celtic
Thomas Brown from FC United of Manchester to Stalybridge Celtic
Liam Dickinson from Bradford Park Avenue to Stalybridge Celtic
Max Smith-Varnam from Barwell to Stamford
Todd Jordan from Alfreton Town to Stocksbridge Park Steels
Luyindula Kiembi from Chasetown to Stourbridge
Bobby Moseley from Birmingham City to Sutton Coldfield Town
Enock Likoy-Elumba from Chorley to Trafford
---
3 September 2017
Manager Phil Parkinson did not hold back as he reflected on Altrincham's 3-3 FA Cup draw at Abbey Hey in a post-match interview with Press and Media Officer, John Edwards.
Angered at the way his players surrendered a 3-0 first-half lead, the Alty boss demanded a marked improvement in Tuesday night's replay at The J.Davidson Stadium and revealed he plans to strengthen his injury-depleted squad in the next few days. Here is the interview in full.
Q: How did we allow that to happen after being in such complete control?
A: It was shambolic, and I've told them in there it is completely unacceptable. From about the half-hour mark onwards, I thought Abbey Hey were the better team. It sticks in my throat saying that, but they just worked that much harder. I have told the lads it is completely unacceptable, and it has opened my eyes to one or two of them, with regards to how they performed today. It won't be accepted here. There is no way in this world we should be going three up and then allowing the other team to come back at us, particularly considering the difference in league status.
In the same breath, it is the FA Cup, and these things happen. As disappointed, frustrated and angry as I am, maybe we have to accept that's football, and people love football because these results have a habit of happening. You just don't want to be the ones on the receiving end, so it is essential now we come flying out of the traps on Tuesday and are absolutely at it.
Q: We were playing some great stuff, to be fair, up to and just after our third goal going in, so it must have come as a shock, presumably, that the whole pattern of the game could change so abruptly?
A: Listen, you can't keep legislating for one ball into the box and someone scoring off it. It's so frustrating. The second goal is preventable as well, and then suddenly you are up against it, and they could even have nicked it at the end. It is not acceptable for an Altrincham team, and we will take any flak that comes our way. The lads are fully aware they must improve in certain areas. We pointed out to them what they need to do better, but fundamentally it is individual errors that have cost us goals.
There was a lack of quality as well, because even though we have scored three goals, we could have had more. I'm not saying we should be coming here and winning five, six or seven, but if we had finished off more of the chances we created, it would have taken the pressure off. Really, though, it wasn't down to that. We scored enough to have won the game, but we need to defend better than that. There wasn't any great pressure, apart from a brief spell at the end, but when it was on us earlier, we didn't deal with it very well.
Much as I praised them the other day, and talked about some of the young lads at the back, they got found out a little bit today. They need to grow up very quickly if they want to play in this team, because I won't be accepting performances like that moving forward.
Q: How can the switch be flicked so easily to go from bossing the game completely to being pegged back and ultimately hanging on for a draw?
A: The goals gave them a lift, and we didn't react well at all to conceding. We were still in complete control when the first one went in, then the second came out of nothing, and suddenly there's only one in it. But we should still be able to see that game out, and it is extremely frustrating. I feel for everyone who has come to support us today, because they haven't come to see that. They expect better from us. We will put it down to a bad day at the office, but I won't be allowing that luxury again for too many of them. I will be looking to reinforce the squad, because injuries are affecting us a little bit, as you saw today, with key players going off. They are mostly niggly injuries, but they are all coming at once, so I'm going to have to strengthen.
I can't keep waiting, so people will be coming in at some point over the next week or so. Not masses, but the odd one or two to give us more strength in certain positions, because as well as lads have done shuffling into certain positions, that's maybe where we are getting found out a little bit. Maybe I need to react to that. In fact, there's no maybe about it - I will.
Q: Is there scope for bringing more players in?
A: Yes, of course there is. People keep questioning about whether players are on contracts or are non-contract, but I will be looking to do something. Unfortunately, when people come in, it doesn't mean others have to leave, but it does affect other things. People will come in, and we will strengthen, because I'm not accepting what I saw today.
Q: It's the life of a goalkeeper, I suppose, that any mistake is highlighted, but Tony Thompson (left) has presumably held his hand up over the second goal?
A: Yes. I mean, you could say that about any of them today, really. It's easy to point to Tony, because he makes one mistake or makes a bad decision or has a bad touch, and it ends up in the back of the net, but pretty much all of them today had bad touches or didn't do as well as they should have, but they had the luxury of as team-mate rescuing it for them. Tony knows he needs to do better, but so do 10, 11, 12, 13 others who played today. It's a big feather in Abbey Hey's cap, and full credit to them, because they absolutely worked their socks off to get something from the game.
It should have been dead and buried, but we gave them a lifeline before half-time, and they grabbed it.
Q: How galling was it to be hauled back to level terms by a penalty, considering we were denied at least one at the other end that looked clear-cut?
A: I feel like a broken record, answering questions about the officiating. Nothing will get done about it, so we've just got to get on with it. It's the level of football we are at, and it is extremely annoying. It certainly looked a pen for the equaliser, so there are no arguments from me on that one, but I thought Tom Peers should have had one as well when he was taken down from behind. All we can do now is move forward and make sure we finish the job at he second attempt.
I know this group of players. When they had a setback at the start of the season, they showed they have the character to respond in the right way, and I will be expecting the same again. At least we didn't fold when we were below-par in the second half, but let's be fair, we are saying that against a North-West Counties team, and without being disrespectful to Abbey Hey, we should be doing a lot better against them. Even so, full credit to them. I thought they were outstanding today.
Q: A manager always demands a reaction after a performance like that, but that goes double for you, I imagine, after the way we surrendered such a position of strength?
A: Yes, without a doubt. The biggest thing now is making sure we have a fully-fit squad to make the impact required. We also need to show more composure, because we should have scored more than three, while defensively, as a team not just individuals, we need to be a lot stronger mentally and physically. It was too easy at times for lads to get the wrong side or just shove one or two of our players off. It hurts me that we only drew, but there is no panic. I do believe in this group, but I am going to strengthen because I feel we are just a little bit weak in one or two areas, due to injuries.
Q: Finally, can you give us an injury update on those who picked up knocks today and those still on their way back?
A: They are all niggly little injuries, so it's hard to say. I would like to think the majority of them will be all right for Tuesday. I haven't had the chance to speak properly with James Poole yet, but he came off because he felt I slight hamstring twinge. It's nothing major, but he just felt it a little bit, and you have to be so careful with things like that. Ben Harrison was the same, the hamstring hasn't gone, but he just felt it a bit. The challenge on Laurence Taylor (right) didn't look good, but we need to assess him properly to get a clearer idea of how he is.
John Disney has had a scan, and we need to see how that went. Simon Richman may hopefully be only a week away, but it could be two, because it was a sprain, and you need the swelling to go down to see where he is up to, in terms of how much pressure he can put on the ankle.
When major players have to come off, regardless of the level you are playing at, it is bound to affect you. Coming in to the game, I gave Abbey Hey all the respect they were due by putting out a full-strength team, given what was available to me, so it wasn't a case of me or the players taking it lightly. We just didn't perform to the level we needed to. Injuries do play a part in that, but there is no way we are going to use that as an excuse. It just wasn't good enough, and it has to be better next time".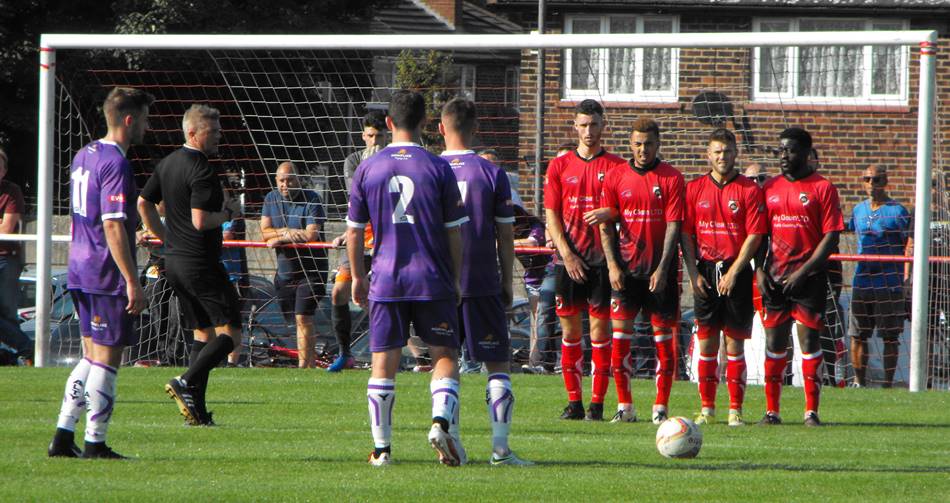 Above: Alty line up a second-half freekick.
After 23 minutes Altrincham were leading 3-0 and in almost complete control of the match but by the end of the afternoon they were grateful for an Abbey Hey miss which would have dumped them out of the Emirates FA Cup at the first hurdle. And, to compound Alty's misfortunes, their already depleted squad lost another three players to injury; James Poole and Ben Harrison had to be subbed in the first half and, more seriously, Laurence Taylor was stretchered off in the closing stages.
Match report here
The teams will replay on Tuesday night at the J. Davidson Stadium (7.45pm) which now replaces the league fixture against Lancaster City scheduled for that night.
The official EvoStik site last night gave the gate at Abbey Hey v Altrincham as 381 whilst the Hallmark Security League quoted 371!
Altrincham Reserves went down to a fourth successive defeat with a 3-0 reverse on Saturday away to Rudheath Social. Next Saturday, (9th) they are at home to Helsby.
Farsley Celtic
report that "An injury time goal from Theo Bailey-Jones put Stalybridge Celtic through to the FA Cup 2nd Qualifying Round at the expense of Farsley Celtic, as Stalybridge ran out 2-1 winners. Heading in to the game bottom of the Evo-Stik Premier Division, Stalybridge earned a morale-boosting win whilst Farsley slumped to back-to-back defeats.
Earlier new signing Liam Dickinson had given Stalybridge the lead before Farsley captain James Walshaw equalised just moments later with a superb finish."
Former Alty striker Danny Mitchley was sent off for two cautions playing for Marine against Ashton United in an FA Cup tie on Saturday. Marine lost 1-3 at home.
The following Integro League Cup Preliminary Round matches, on Tuesday, 2 September, are subject to teams not being involved in FA Cup replays
Chasetown v Market Drayton Town
Colne vs Clitheroe
Scarborough Athletic v Sheffield FC
---
2 September 2017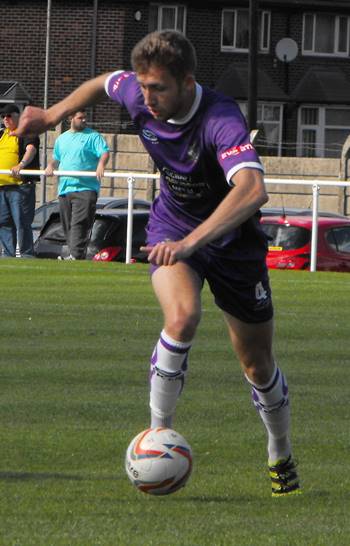 Right: James Jones is pictured at Abbey Hey.
Below are selected northern and Midlands fixtures only.
Friday 2 September 2017
City of Liverpool 1-2 Nantwich Town
Saturday 2 September 2017
Abbey Hey 3-3 Altrincham att 371 (NWCFL website) or 381 (NPL website)
Albion Sports 3-2 Barnoldswick Town
Ashton Athletic 2-1 Bamber Bridge
Boldmere St Michaels 0-3 Chasetown
Boston Town 2-0 Hednesford Town
Buxton 3-2 Frickley Athletic att 242
Cleethorpes Town 1-2 Atherton Collieries
Colne 0-1 Lancaster City att 301
Droylsden 4-3 Colwyn Bay
Grantham Town 2-1 Holbeach United
Halesowen Town 0-3 Basford United att 359
Haughmond 3-2 Matlock Town att 236
Hyde United 1-0 Kendal Town
Kidsgrove Athletic 3-2 Clitheroe
Lincoln United v Redditch United
Loughborough Dynamo 1-3 Stourbridge att 262
Marine 1-3 Ashton United att 324
Market Drayton Town 1-5 Alvechurch (at Nantwich Town)
Mickleover Sports 2-1 Hinkley
Mossley 2-2 1874 Northwich
Ossett Town 2-1 Consett
Penistone Church 3-2 Whitby Town att 496
Peterborough Sports 3-4 Stafford Rangers att 284
Rushall Olympic 1-0 Potton United
St Ives Town 1-0 Coalville Town att 203
Scarborough Athletic v Workington
Shaw Lane 3-1 Radcliffe Borough
Shepshed Dynamo 6-1 Leek Town
Skelmersdale United 1-2 Handsworth Parramore
Stalybridge Celtic 2-1 Farsley Celtic
Stratford Town 4-0 Newcastle Town
Sutton Coldfield Town 0-2 Barwell
Warrington Town 1-0 Grimsby Borough att 297
Witton Albion 0-2 South Shieldsatt 534
Talking to Brian Flynn for Altrincham Today, manager Phil Parkinson said that "Two victories over the August bank holiday weekend meant that we finished the opening month of the season on a high with three straight league wins. I have always been very confident in the players, even after the disappointment of gaining just a single point from our opening three league games. Building a team takes time but I have been delighted with the way the team have set about getting us up the league table and we are now just three points behind the early leaders, Warrington Town, going into September.
Monday's win at Witton, who were unbeaten to that point, was a marvellous display. The quality of our play in the first half and two wonderful strikes from outside the area from James Poole and Josh Hancock, were the obvious highlights but the performance in the second half, whilst not as eye-catching from an entertainment point of view, was just as pleasing to Neil [Sorvel] and me as the lads defended as if their lives depended on getting a clean sheet, which was richly deserved for a thoroughly professional display.
Tomorrow, we enter the Emirates FA Cup, with a First Qualifying Round tie at Abbey Hey, who finally saw off Maine Road on Monday night, after the original replay had been abandoned in extra-time due to a bad neck injury to one of their players, who thankfully is well on the way to a full recovery.
Incredibly, we had to replace four players playing at full-back during the two bank holiday games against Coalville Town and Witton Albion as Lewis Short, John Disney, Simon Richman and Shaun Densmore all came off injured. John Disney's ankle injury is the most concerning. He is due to have a scan early next week, so we should know more then.
Lewis Short (tight hamstring), Simon Richman (ankle sprain) and Shaun Densmore (knee) must all be rated as doubtful for Saturday and, with seven substitutes in the FA Cup, I will be calling on a couple of the reserves, who I watched against Congleton Vale on Tuesday night. Max Harrop scored twice in that game and he is set to take some part tomorrow as well.
Sean Miller will start full training next week and Josh Amis is recovering well from his appendicitis, so hopefully, we will have greater strength in numbers to call on for what will be a big month, with nine games scheduled, starting tomorrow. Abbey Hey play in the Hallmark Security League, Premier Division and have also won at Irlam, as well as eventually overcoming Maine Road, to reach this stage. It's a massive game for them and we will need to be at it to progress to Monday's draw".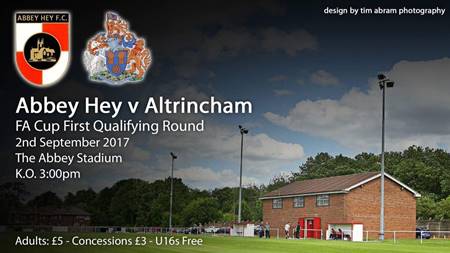 Prize money of £3,000 goes to the winners of First Qualifying Round matches in the FA Cup.
Altrincham have never met Abbey Hey in a competitive game before today, despite the two clubs' proximity to each other and both being more than 100 years old, (Abbey Hey were founded in 1902).
However, no fewer than twelve pre-season friendlies have been played between the clubs since 2000, all at Goredale Avenue. Of these, Altrincham have won ten and drawn two. The most recent match, in 2015, ended goalless.
In their six league and cup matches this season, Abbey Hey have won all three away fixtures but have yet to win at home. They lie 20th in the 23-team Hallmark Security League (NW Counties) Premier Division.
In addition to former Alty physio Alan Ainsley, who performs that role for Abbey Hey, other links between the clubs include Sam Freakes, an ex-FCUM player who was an Alty pre-season trialist in 2013. Two other Abbey Hey players, the twins Fabrice Bembo-Leta and Djenny Bembo, are elder siblings of Joel Bembo-Leta, who was an Alty trialist this summer.
The Hallmark Security League adds that "Of all non-league teams playing in the FA Cup, none strike fear into Football League sides as much as Altrincham. They hold the record knocking out more Football League sides than any other club in history with 17 'giant killings', however they are the giants in this encounter... They are entering the FA Cup at the First Qualifying Round for the first time [see below], so there is no real history in the competition to go off.
In the league, they currently sit in 10th place having won three of their six games... They have won their last three games... Josh Hancock has scored in all of those wins, and one weird stat is that of their eight goals scored this season, seven have been scored by a player whose name starts with the letter J! James Poole is another to look out for, as he has scored in their last two games also.
As for Abbey Hey, they have had a weird campaign so far. In the FA Cup they are great, winning at Irlam in the Extra Preliminary Round before beating Maine Road after both a replay and an abandoned game! In the league they have lost to Runcorn Linnets and Widnes at home, both without scoring, but a 2-0 win at Northwich Victoria on Saturday not only gave them a clean sheet, but also meant that they come into this game three games unbeaten themselves. Rhys Webb is leading scorer for Abbey Hey, including the winner on Monday in their win over Maine Road.
Abbey Hey have been the last remaining Hallmark Security League side in the FA Cup in two of the last five years having reached the Second Qualifying Round on both occasions. That is the best that they have managed in 16 previous campaigns. As for Alty, what do we say? Their best is the Fourth Round Proper, which came about in 1985/86 when they won away at top flight club Birmingham City 2-1. They have even earned replays against Tottenham Hotspur and Everton in the past. Even struggling in recent years as they have, they have still done great in the FA Cup, reaching the First Round Proper in four of their last five FA Cup campaigns."
However, FA Cup Factfile corrects Alty's FA Cup record by stating that "Altrincham hasn't gone out of the FA Cup as early as the 1st Qualifying Round for 57 years, although it is 14 years since the club last entered the FA Cup this early".
On Sunday (3rd), Altrincham FC Ladies' 2017-18 season kicks off. Rather than the originally scheduled league match against Liverpool Marshalls Feds, Alty Ladies will now be travelling to Broadhurst Park for their debut match in the SSE Women's FA Cup against FC United of Manchester Ladies (k.o. 2pm). Alty manager Keith Edleston says "This is our first-ever entry into this prestigous competition since we started up as a club and we are all looking forward to it". He added, "If you can make it over there, to cheer the girls on, that would be fantastic".
Atherton Collieries
have "signed former Salford City captain
Chris Lynch
. The experienced defender arrives from Altrincham.... Salford`s then-boss Phil Power brought Lynch to Moor Lane in June 2014 and immediately installed him as captain...
Manager Michael Clegg has been working hard behind the scenes to sign Lynch and as he explains it's a great addition to the squad. 'Chris is a massive signing for us. He is a lad with loads of experience; a true leader and someone who can really help us adapt to life in the Evo-Stik,' he explained. 'I go back a long way with Lynchy and he is the fiercest competitor there is. There was a lot of competition for his signature but he is coming to the stage in his career where he can't really commit to loads of travelling but still wants to be in a side that's wanting to achieve things. He lives two miles from the ground so this move suits both us and himself. I think it shows that this year we are looking to compete and enjoy ourselves and we are definitely doing that'".
Elsewhere, "On Thursday evening (31 August), Barwell Football Club "confirmed the signings of experienced striker Kyle Perry and young defender Elliot Percival... Perry, a 31-year-old striker, has played for a whole host of clubs - most notably AFC Telford United, Mansfield Town, Tamworth and Altrincham. He joins Barwell after spending last season at Stafford Rangers. Perry is a big number 9 who will certainly bolster Jimmy Ginnelly's options in the attacking third.
He is joined at Kirkby Road by 19-year-old full back Elliot Percival. The Leicester-born youngster came through the ranks at Leicester City, before signing for Sheffield Wednesday on a one-year professional contract and then deciding to make the step into men's football by signing for Barwell."
The Birmingham Mail reports that former Alty loanee "Ryan Shotton's move from Birmingham City to Middlesbrough has brought to an end one of the transfer sagas of the summer. Middlesbrough first made their interest known in Shotton in July and lodged a bid of over £1 million that was knocked back by Blues, who have commanded double that fee for the 28-year-old central defender. Shotton hadn't agitated for a move away from St Andrew's and returned to pre-season training at the beginning of July optimistic about what Blues might achieve following the tests of the previous campaign.
Shotton had joined Blues permanently from Derby County for around £300,000 last summer and become a mainstay in the side under Gary Rowett, Gianfranco Zola and Harry Redknapp. Having started 43 of Blues' 46 Championship games, Shotton had hoped his performances would be recognised with a new contract but that wasn't forthcoming. There was interest from Bristol City in Shotton in June but the defender had no desire to trade the second city for the West Country and rebuffed their advances.
But Middlesbrough's bid captured his attention, particularly when Redknapp told him he would be allowed to leave if Boro improved their initial offer to meet Blues' valuation. Shotton understood the club's reasons for not allowing him to leave once the bid was accepted in mid-August and waited for Blues to find a replacement. In the meantime, Shotton and his representatives agreed personal terms on a lucrative three-year contract at The Riverside.
Towards the end of his time at St Andrew's, the defender understandably became frustrated. He was keen to play in matches against Burton Albion and Reading and was disappointed to be left out, disappointment that only increased as he watched his team-mates stutter to two defeats. Both Blues and Shotton wanted the deal to be done sooner and the outcome suits both parties. Blues have made a whopping profit on their outlay to sign Shotton from Derby and the player gets the opportunity to test himself under Garry Monk at one of the Championship's promotion favourites.
Rarely are a club happy to lose a player to one of their rivals, but Blues are quite content with how this one has played out".
The Hallmark Security League new registrations include, at Charnock Richard, Andrew Dawber and at Sandbach United, Clayton McDonald, who recently played against us for Nantwich Town.
At
Stourbridge
the club is "delighted to announce that winger Matt Dodd has re-signed for Stourbridge after a brief spell with Hednesford Town. Matt moved to Hednesford in the summer after spending the previous two seasons with the Glassboys.
He made a total of 85 appearances for the Club, scoring nine goals... Matt made just six appearances for Hednesford in his stint at Keys Park, scoring twice... Manager Gary Hackett told us, 'I'm absolutely delighted to have Matt back, and he's delighted to be back himself. He gives us something extra that we've perhaps been lacking so far this season.'
Although Matt is not Cup-tied, his signing was not completed in time to be eligible for Saturday's Emirates FA Cup tie at Loughborough Dynamo...
We are also pleased to announce the signings of wide man Pierce Kiembi and midfielder Alex Solomon. Pierce, who had a run-out for us in pre-season two seasons ago, has most recently been with Chasetown, and numbers Bedworth United, Worcester City, Daventry Town and Bayer Leverkusen amongst his former clubs. He can play on either flank...
Alex can play in any position across midfield and appeared in a number of pre-season friendlies for the Glassboys, where he impressed with his work-rate. Both players will provide additional depth for the squad with the current injuries to Kayelden Brown, Connor Gater and Chris Knight restricting Gary's options."
Witton Albion announce that they are "inaugural winners of the EVO-STIK League's newly sponsored FWP Architecture Fair Play Awards...
Witton Albion in the top flight, Colwyn Bay in EVO-STIK League North and four clubs in EVO-STIK League South with identical records, Cleethorpes Town, Corby Town, Gresley and Lincoln United, were unveiled at lunchtime on Friday as the best behaved clubs over the opening weeks of the season in August.
Thanks to the sponsorship of the Frank Whittle Partnership (FWP), the clubs are now in the running for a share of more than £5,000 in prize money the EVO-STIK League now hands out annually to the season's best behaved sides to promote sportsmanship and fair play and back the Football Association's Respect campaign.
As in previous years, the overall winners in each division will collect £1000 with the runners-up banking £500 and the third-placed clubs £250 each. The best behaved club across the EVO-STIK League's three divisions will also be presented with the Peter Swales President's Cup by FWP at next June's annual awards night in Blackpool.
Preston-based FWP stepped up their support for the EVO-STIK League for the 2017-18 season to build on their 10 years of work as existing sponsors and partners. As well as backing the EVO-STIK League's fair play mission on the pitch, the sponsors are set to roll out a series of initiatives off it for all 68 clubs. Focusing on stadium development, they are set to include an online survey of the needs of clubs and regular updates on the latest industry news and schemes. Members will also get the chance to meet with FWP's experts throughout the campaign at regional meetings and other events led by the next annual showcase at Blackpool's Hilton Hotel in June 2018. Depending on the results of the upcoming survey, FWP are also considering laying on specialist seminars on stadium development for club officials.
August's winners topped the fair tables which are generated by a totting up of red and yellow cards divided by the number of fixtures clubs have played each month. Clubs must play at least four league games to be eligible for the monthly honours and where tied on points, marks awarded by referees for behaviour in the technical area by managers and coaches are taken into account...
Witton Albion needed their technical area marks to beat Farsley Celtic to first place in the EVO-STIK League Premier after the rivals both posted disciplinary scores of 0.83 for their five cautions in six outings since the season kicked off. With records of six cautions from six outings, Coalville Towns, Lancaster City, Stourbridge and Whitby Town are level-pegging in third spot."
[Altrincham actually had the lowest number of yellow cards in the opening six matches, with just four cautions - three of them being shown to Simon Richman! But Tom Hannigan's red card counted as three points, giving Alty a total of seven compared wuth Witton's six].
According to the Burton Mail, "Burton Albion's Jayden Cotterill has joined Matlock Town on a one-month youth loan. Under the terms of a youth-loan a player is permitted to train with his parent club, but turn out on matchdays for his loan club, in Cotterill's case Matlock...
Cotterill, who signed his first professional contract with the Brewers in May along with fellow academy graduate Jack Hallahan in May earlier this year, featured throughout pre-season campaign for Nigel Clough's men. The youngster now makes his first steps into senior football with Matlock Town, and will be hoping to hit the same heights that Dinanga did last term when he notched 34 goals. Cotterill impressed when Albion played Matlock at Causeway Lane in pre-season, slotting in at right-back in the 2-2 draw with the Gladiators".
---
1 September 2017
In its Non-League show, Radio Manchester has a piece on Saturday's FA Cup ties which includes a representative from our opponents, Abbey Hey. The programme starts at 7pm on 95.1 FM.
The
NL Paper
reports that "Part of the reason Phil Parkinson (right) and his management team came to Altrincham was to again make the club's name in the FA Cup, but his first job is to stop that happening for the wrong reasons!
The Robins are a Non-League heavyweight in the famous competition and after holding Everton and Tottenham to draws in the 70s, they famously went one better and beat Birmingham City in 1986. But FA Cup joy, and league cheer for that matter, have been in short supply in recent years.
Parkinson hopes this could be their season but first they must ensure they are not the story of the First Qualifying Round this weekend. The club travel to Abbey Hey and, after they beat Maine Road 2-1 on Monday, there's hope ahead of North West Counties League side's biggest game in years. Parkinson doesn't want to be reading about a massive upset when he picks up his paper on Sunday morning.
He said, 'There were a few reasons that we came to Altrincham in the summer and one of them was the challenge of doing something special in the FA Cup. The 70s and the 80s were great years for the club and people still talk about how incredible those Cup runs were. I would like to create our own little bit of history, if it's this season or next. That would be fantastic.'
Parkinson, who agreed to take over after leaving Nantwich Town in May, will give Abbey Hey and the competition every ounce of respect on Saturday. He said, 'There is absolutely no way we'll be resting players. It's too big a thing for us to even consider giving anyone an afternoon off. 'We'll only be making enforced changes. The last thing we want is to be on the wrong end of a cup upset; there's just too much riding on it to take any chances'".
Brian Flynn's interview with James Poole (right) following last Monday's game is
here
.
The
EvoStik League
reports that "Stalybridge Celtic are inviting servicemen and women to watch them in league action for free until the end of the season. The club have teamed up with 'Tickets for Troops' to provide ten tickets per league game for former and serving members of the Army, RAF and Royal Navy.
'Tickets for Troops' provides free tickets to members of the armed forces for a variety of sporting, musical and cultural events, offering serving personnel and those medically discharged from the forces since 2001 the opportunity to enjoy an event of their choice with friends and families.
In a statement announcing the initiative ahead of their next home game in the league against Stourbridge on Saturday 9 September, officials at Bower Fold said the free tickets must be booked through www.ticketsfortroops.org.uk with a requirement for fans to register their military details.
Stalybridge Celtic Community Development Officer, Mike Smith, said, 'It's great that we can make these tickets available for members of our armed services who work so hard to keep us all safe. We look forward to seeing some of them throughout the season and hope they all enjoy their visit to Bower Fold.'
'Tickets for Troops' spokesman Robert Lupton said, 'Firstly, many thanks for the kind offer of tickets for our servicemen and women. The Evo-Stik League looks to be a very exciting league this season. The North West has a large percentage of current and ex-service personnel and we hope that Stalybridge Celtic FC can benefit from this kind gesture within their local community.'"
---
FOR EARLIER NEWS, CLICK
HERE
---