---
30 June 2017
Alty director Neil Faulkner writes that "As supporters will realise, there are always maintenance jobs that are required at the ground. Sometimes these have to be done professionally. However, whenever possible, we try to do the jobs ourselves as it reduces expenditure, and increases the playing budget.
We have earmarked three Saturdays for volunteer work at the J. Davidson Stadium, Saturdays, June 17th, 24th and July 1st.
In addition to these dates, for anybody who is available during the week, we regularly have volunteers at the ground on a Tuesday or Thursday. I would suggest that you either email or ring the club (0161 928-1045) to let us know if you would like to come down.
We are hoping to complete remedial work including: rubbish removal, woodworking, concrete repairs, oiling, painting, welding, cleaning, weeding/strimming etc. If you have any time over these days, and/or if you have equipment, or a vehicle that is suitable for moving rubbish to the tip, please email or ring the club (0161 928-1045) and leave your name, and we will get back to you.
In addition to these jobs, there will be plenty of internal painting and decoration required to public and changing areas throughout the summer, and help with this work will be gratefully received at any time."
Following last week's Meet the Management event, the
Sale & Altrincham Messenger
reports that "Altrincham fans had the chance to meet new manager Phil Parkinson last week... After two tumultuous and tortuous seasons that have seen Alty plummet from the National League to the Evo-Stik Premier Division, there is a new wave of optimism sweeping through the J.Davidson Stadium, as preparations start for the new campaign that begins on Saturday, August 12.
Parkinson has assembled a very strong looking squad that commenced pre-season training on Tuesday night at their new training centre within the Wright Robinson Sports Village in Gorton. And last Thursday evening, fans had the opportunity to attend a 'meet the manager' event with a difference. A healthy number of supporters turned up at the community sports hall at The J.Davidson Stadium to see Parkinson introduce himself and his coaching and sports science backroom team, as well as 20 players.
Following a question-and-answer session with the new manager, Parkinson split his squad into groups of three, who sat and chatted with supporters at individual tables, before rotating every few minutes so that each fan present was able to gain an introduction to a good proportion of this season's playing squad.
Parkinson was clearly delighted with the group of players that has been assembled, and said, 'We have done our business early and the shop is now closed. There may be one or two trialists during the pre-season schedule, which covers nine games in a seven-week preparation period for the new season'.
Things are progressing within the J.Davidson Stadium as well with the replacement of the pitch perimeter fencing, which has been been facilitated by a Football Foundation Stadium Improvement grant, providing 50 per cent of the funding, while the project has also benefited from £10,000 of funding from the Budweiser Dream Goal competition.
Altrincham's pre-season schedule includes three home games and six away matches, commencing with a trip to Hallmark Security League First Division outfit, Whitchurch Alport, on Saturday, July 8".
So far 111 Altrincham supporters have joined the Altrincham FC Patrons' scheme. The updated list is
here
.
All supporters are welcome to join the scheme. "It is all the more important to continue your support as we look to build as competitive a budget as possible for next season. Thus we are looking for supporters to renew or join the Patrons' Scheme for the forthcoming 2017-18 season, the 12th season that it has been run.
For the cost of £50 your name will appear throughout the coming season in the matchday programme as a Patron of Altrincham Football Club.
At the beginning of the season, every member will be entered into a prize draw, with the winner being match sponsor for an appointed game along with 9 guests. Second prize will be hospitality for 5 people and third prize hospitality for 3 people in the Manchester Glass Sponsors' Lounge.
If you are interested in becoming a Patron for next season, please forward a cheque, payable to Altrincham Football Club, for £50. Alternatively, you can pay by card by phoning the office. If you require any further information please do not hesitate to enquire by e-mail.
Thank you once again for your support – it's very much appreciated.
Thank you to the following people who have already joined the Scheme for the forthcoming season".
The
Warrington Guardian
tells us that "Winger Connor Hughes has become Warrington Town's third signing of the summer. The 24-year-old, who has experience of playing in the Football League with Oldham Athletic, arrives at Cantilever Park from Worcester City.
After fully recovering from a knee injury that ended his 2016-17 season early, Hughes will join the squad for their first day of pre-season training on Saturday.
'After signing two strikers, we were keen to strengthen on the flanks and Connor is a player that can play on both the left and right side,' Yellows' chairman Toby Macormac said. 'He clearly has decent pedigree, having moved clubs for a fee less than a year ago, and his injury wasn't as bad as first feared. Our pre-season starts this weekend, and Cards (manager Paul Carden) is looking forward to welcoming the three new signings, players invited back from last season and a few trialists as we gear up for the pre-season games'.
After making eight appearances in League One for Oldham, Hughes scored eight goals in 44 games during a two-year spell at Hyde before stints at Halifax and Bradford Park Avenue. He joined Worcester for an undisclosed fee late last year but suffered a knee injury on New Year's Day. Hughes joins strikers Josh Hine and Tony Gray as new editions for Yellows, whose first pre-season test is a trip to Barnton on Tuesday, July 11".
Over at Farsley Celtic "Farsley Celtic are delighted to announce that Richard Marshall has become the latest of last season's play-off and County Cup double-winning squad to agree terms for the upcoming campaign. Marshall signed for the Celts from Bradford Park Avenue at the start of last season and was influential in the club gaining promotion to the Evo-Stik Premier Division. He made 57 appearances for the club in the campaign and weighed in with an impressive 20 goals, making him the club's second-top scorer.
Upon signing Marshall commented, 'I'm really happy at staying for another year with Farsley Celtic. I had a few offers, but after speaking with the new Manager I liked what he had to stay so I decided to stay at the club. Speaking with Adam, he was really clear on how he wants to play and how he wants to push for promotion and challenging in the league, so I was really impressed by that.
'The squad that has been put together is looking strong. It's almost the squad we had last year and most of the boys have played Conference North or higher anyway so I think we should be looking to push for play-offs without a doubt. The league is a tough one this year with a lot of travelling but with a bigger squad I think we should have the strength in depth to deal with it'".
In its feature on its opponents, Farsley Celtic reports on Matlock Town where "An episode of the Sky One TV series Starlings was filmed at their ground and screened during the summer. It featured players, officials and supporters acting as extras. In the 1974/75 season Matlock won the FA Trophy beating Scarborough 4-0. The Matlock team featured three brothers - Mick, Nick and Tom Fenoughty".
News of Alty opponents from 2015-16 comes from
Devon Live
, which tells us that "Torquay United lost £337,000 in 2015/16 despite £3m from lottery winner Thea Bristow. Former owner Thea Bristow wrote off more than £3 million worth of investment but Torquay United still lost £337,000 during the 2015-2016 season. The Gulls' latest accounts, for the year ended June 30, 2016, show an 'extraordinary item' of £3,064,964, a loan to then parent company Plainmoor Ltd, which was 'written off as mutually agreed to be irrecoverable'.
It was in the Spring of 2015 that Mrs. Bristow, who had continued to back United after the death of her husband Paul five years before, announced that she was stepping down as chairwoman and owner. An attempt to find new investors with the help of former Oxford United and now Northampton Town chairman Kelvin Thomas, who reported that Mrs. Bristow's generosity had left the club 'debt free', failed.
But United was eventually taken over in the summer of 2015 by a consortium assembled by former commercial manager Dean Edwards and led by chairman David Phillips. The latest set of accounts covers their first year in charge. They show that United's trading loss on 2015-2016 was £337,456, a sizeable reduction on the previous year's deficit of £646,453. The figures do confirm that GI loaned United £120,000 during the year. The money helped the club and player-manager Kevin Nicholson to pull off the 2016 'Great Escape' from National League relegation.
Loans to Plainmoor Ltd and Mrs Bristow totalling £366,000 were also written after the year end. The accounts will go before shareholders at United's annual meeting at Plainmoor on Monday, July 17".
---
29 June 2017
Brian Flynn, chairman of TASC, informs us that "The Altrincham FC Monthly Draw for June was made at the 'Meet The Manager' event on June 22nd. This month's winners are:-
6th place - Number 97: Alison Pennycook- Club Polo Shirt
5th place -Number 254: David Hulme - Replica Shirt
4th place - Number 28: Jackie McLay- Hospitality for two in the Manchester Glass Sponsors' Lounge
3rd place - Number 481: K.Handford - £25
2nd place - Number 245: Anthony Ainsworth- £75 and ...
1st place - Number 267: D.Brookes - £500
Congratulations to each of the winners and especially to D. Brookes, who wins the top prize of £500".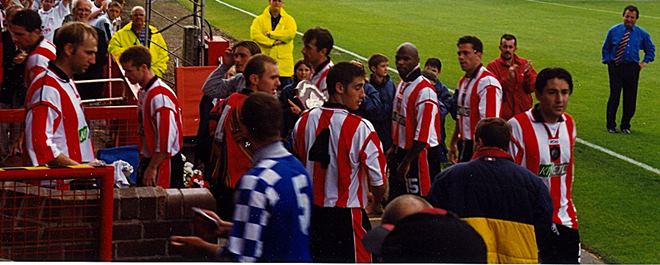 Above: Chris Timons (no.4) with the Altrincham team after winning the UniBond Shield against Stalybridge Celtic in August 1999. To Chris's right is Paul Ellender with ballboy/girl coordinator Ray Armstrong and manager Bernard Taylor in the background. Following Chris to receive their medals are Stuart Coburn, Danny Adams, Brendan Burke, Ged Kielty, Keith Russell, Dickie Landon, Tony Hemmings and Jason Gallagher.
NL Pitchero reports that "Toolstation Northern Counties East League Premier Division club AFC Mansfield have announced the departure of two of their longest-serving players. Danny Naylor and [former Alty captain] Chris Timons have been with the club since its formation and have taken the team through two promotions, four trophies, five runners-up spots, the last sixteen and last thirty-two of the FA Vase and Third Qualifying Round of the FA Cup. All this in just five seasons...
Although Timons played in AFC Mansfield`s first ever game, a friendly against Rainworth Miners Welfare, he didn't officially join the club until February 2013. He went on to captain the side through two promotions and in the club`s NCEL promotion year he played forty-eight games and eventually made 169 appearances for The Bulls. He has left to join his home-town club Shirebrook Town where he has been installed as club captain."
"Winger Ted Cribley has given Matlock Town a big signing a one-year extension to his contract" confirms that
Derbyshire Times
. "Cribley's silky skills thrilled management and supporters alike last season and the contract extension is one of numerous encouraging signs ahead of Matlock's 2017/18 campaign...
'We're delighted Ted has signed the one-year contract extension', said joint boss Glenn Kirkwood. 'He was outstanding last year, a real, dangerous creative player for us. Me and Hoppo love him, the rest of the lads love him and I'm sure the fans will be really pleased with this news. What he can do with a football can only benefit us'...
Kirkwood said, 'All our attention is focused on that opening league game on August 12 and making sure we're fit and ready for then. Our aim when we start the season is to be better than we were at the end of last season. Pre-season is all about fitness, people getting game time and to get used to playing again. We've had two really good training sessions, the lads have done really well, they've come back in excellent shape, better than we expected. They've come through these sessions with flying colours and we couldn't have asked any more of them and hopefully it'll lead to a really good season'.
Matlock expect to announce more player news in the next one or two weeks... Fans will also see the new floodlights and goalposts for the first time at the [pre-season] Chesterfield match. Although the new lights have been budgeted for, Chairman Tom Wright has appealed to fans and local businesses for donations to help cover the cost...
Meanwhile Kirkwood also praised the work behind the scenes in preparation for the new campaign. He said, 'We believe we're at a club that want to go places, the work that goes on behind the scenes on the pitch, on the ground and in general is tremendous and it's something we can use in selling the club to potential new players'".
At Mickleover Sports "First-team player-manager John McGrath has announced that a deal has been agreed to keep full-back Ben Turner at Mickleover. McGrath said, 'I am delighted to keep hold of one of our most consistent performers from last year's campaign. 'Turns' had an excellent season and I am looking forward to working closely with him again in 2017/18. He is an attacking full-back who offers the team loads of quality down our left side and he plays a vital and essential role with in our changing room.'
Ben Turner had the following to say, 'I'm delighted to re sign for club that is going in the right direction and has great potential with everyone behind it pushing it forward. Looking forward to this year on the field and hopefully surprising a few along the way and playing for a manager I trust and plays the way football should be played in my eyes'".
From Farsley Celtic's latest review of its opposition clubs, it is the turn of Marine. Celtic remind us that "Marine is notable for having the longest serving manager in post-war English football. Roly Howard occupied the post from 1972 to 2005 and a total of 1,975 games. His final match, in May 2005, was a 1–0 defeat against Everton in the Liverpool Senior Cup final.
The Club was formed in 1894 by a group of local businessmen and former college students, taking its name from the hotel on the River Mersey sea front at Waterloo, seven miles to the north of Liverpool, where the founders met".
From
NL Daily
We learn that "AFC Telford United manager Rob Smith and assistant manager Larry Chambers have left the club on a day of major change at the New Buck's Head Stadium. Chairman Ian Dosser has also confirmed his decision to depart after thirteen years with the club.
Smith and Chambers were in their second spell with the Bucks, after taking charge between 2006 and 2010. They returned to the club in August 2015 after leaving Hednesford Town...
The club also confirmed the departure of chairman Dosser and revealed that he will hand over control of the club to their major shareholders...
A club statement said... 'Ian feels this is the right time to hand over the reins to the majority shareholding family. Therefore, Andy Pryce has been appointed as interim Chairman'"
The Shropshire Star explains that "Reports claim that the Bucks are set to receive a substantial investment that will secure its future, which was the catalyst for the change in management...
The former Hednesford Town boss was in the process of rebuilding his squad, recently securing a number of signings including the likes of [ex-Alty loanee] Elliot Newby, Ross White, Jordan Gough and Jasbir Singh. In April, he confirmed his commitment to staying with Telford despite financial struggles last season. 'I love the club. I want to stay and try to make it better, I don't want to quit on them. I think they need us as much as we need them', he said".
But arriving at Telford is someone who has resigned from another club that we played against last season as the Worcester News tells us that "Worcester City Football Secretary and director Joe Murphy has resigned to join AFC Telford United.
Murphy will be replaced as football secretary by Kevin Preece who will combine the role with Safety Officer on matchdays and working on gaining sponsorship for the club.
A City statement said... 'Joe will be sorely missed and we are naturally extremely grateful for the exceptional work he has carried out on behalf of the club with what is an onerous, detailed and technical role within any organisation. Joe will be joining Telford...
Murphy said, 'I am delighted to be joining Telford and I look forward to working with the management team and club officials. Leaving Worcester after eight memorable years was a really tough decision but I feel the time is right for a new challenge'".
---
28 June 2017
Altrincham kick off their pre-season at Shropshire club
Whitchurch Alport
on Saturday, 8 July, 3pm.
The club announces that "Whitchurch Alport will certainly look the part next season with three sponsorship deals recently announced. The brand new Macron home kit, which will be revealed next month, is again sponsored by Highgate Garage, but there are two brand new sponsors on board who are getting involved with the club for the first time.
Buildbase, sponsors of the FA Vases will provide Macron branded training kit, and TT Commercial Services are taking care of the club's official travel wear.
Joint manager Carl Everall was delighted to secure the sponsorship from three separate businesses, 'The club would like to thank both Buildbase and TT Commercial Services for their sponsorship and this will help make sure that our first team are thoroughly looked after. Without the support of such sponsorship deals, Whitchurch Alport would not be able to run as effectively and attractively as it does on a day to day business. Gary at Highgate has once again put his hand in his pocket to put his company on the front of the new red and white jerseys so our thanks go out to him also.
'Buildbase are a huge company and the key partner to the FA Vase competition. To have them on board is fantastic. After speaking with John at Buildbase, we are excited to see how this partnership can evolve and ensure the staff and connections at their Market Drayton store always have a venue where they feel welcome, and hopefully enjoy football on a Saturday afternoon.
'Tim Talbot who runs TT Commercial Services is a good friend of Luke's (Luke Goddard - co-Manager). To support us with a generous amount of money is overwhelming and the club, management and players would like to express their sincere gratitude. Like Buildbase, I am sure the sponsorship deal is a two-way thing and we look forward to Tim becoming a regular and a friend of the club at Yockings Park."
Directions to the club, whose address is Yockings Park, Black Park Road, Whitchurch, Shropshire SY13 1PG are here. The ground is just over half a mile from Whitchurch railway station.
As previously announced, for the purchase of Altrincham FC season tickets for 2017-18 season, "A flat rate will now apply, with season tickets costing £180 for adults, a reduction of 28 per cent on the 2016-17 standing price and 38 per cent on seating, and £125 for students and concessions, a drop of 14 per cent and 19 per cent respectively.
There is a 17 per cent cut to £50 for 12-16 year olds, while the cost for under-11s has been halved at just £15. In keeping with most Evo-Stik League Premier teams, matchday entry for adults has been set at £10, a 28.5 per cent reduction, with concessionaries and students paying £7 (22 per cent less), 12-16 year olds £4 (20 per cent less) and under-11s £1 (50 per cent less).
Furthermore, at just £1 for under-11s, it is also hoped parents with young children will be encouraged to come along to sample the matchday experience at The J.Davidson Stadium and turn it into a family day out".
You can order your season ticket by visiting the Club offices during weekday working hours, by e-mail, by post (AFC, J Davidson Stadium, Moss Lane, Altrincham WA15 8AP), or by telephone (0161 928-1045).
The Altrincham FC Patrons scheme for 2017-18 has passed the hundred mark and the Football Club would like to thank everyone who has signed up so far.
Under the Patrons' Scheme, for the cost of £50 your name will appear throughout the coming season in the matchday programme as a Patron of Altrincham Football Club.
At the beginning of the season, every member will be entered into a prize draw, with the winner being match sponsor for an appointed game along with 9 guests. Second prize will be hospitality for 5 people and third prize hospitality for 3 people in the Manchester Glass Sponsors' Lounge.
If you are interested in becoming a Patron for next season, please forward a cheque, payable to Altrincham Football Club, for £50. Alternatively, you can pay by card by phoning the office. If you require any further information please do not hesitate to enquire by e-mail.
An updated list of Patrons is here.
In its continuing series on opposition clubs,
Farsley Celtic
report on Lancaster City. They remind us that "Lancaster's ground, Giant Axe was given its name as it was the centre-piece of a sports club, the exterior wall of which was, when viewed from above, the same shape as an axe head.
At the end of the 2012/13 season, City appointed former Newcastle United, Blackburn Rovers and Queens Park Rangers defender Darren Peacock as their new manager. He along with ex-Blackpool, Queen's Park Rangers, West Ham United, Manchester City and England winger Trevor Sinclair, who was assistant manager, left the club in September 2015."
---
27 June 2017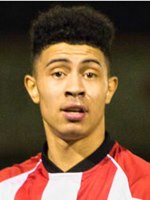 According to the
Burnley Express
, "Clarets' winger [and former Alty loanee] Josh Ginnelly (left) has rejoined League Two new-boys Lincoln City on a season-long loan.
The midfielder initially linked up with the Imps in January, following previous loan spells with Altrincham and Walsall. Ginnelly went on to make 13 league appearances as Lincoln, conquerors of Burnley in last season's FA Cup fifth round, went on to land the National League title and return to the Football League. Ginnelly joined the Clarets' Development Squad from Shrewsbury Town in August, 2015, agreeing a three-year deal for an undisclosed fee."
From the Hallmark Security (NW Counties) League second division comes news of two players with Alty connections as "Prestwich Heys began training on Saturday in readiness for the new season which begins on August 12th. They will do so with a new face on the Management team, after Jon Lyons appointed Ryan Hutchinson [pictured right in his Alty days 2004] to his team following the departure of [ex-Alty trialist] Chris Baguley last weekend.
The Heys boss moved quickly to secure the services of Hutchinson who will work alongside Ian Hutchinson in an Assistant Manager's role. Ryan joins the club from Irlam FC having last season led their Under 21's side to a Cheshire FA Under 21's League treble of Premier Division title, League Cup and Premier Division Cup. He started his football career at Manchester United as a schoolboy, spending three years there before moving onto Stoke City where he spent three years doing a scholarship and two years as a professional.
After that he had spells at Altrincham, Chorley and Salford City before finishing his playing career at Irlam FC. After hanging up his boots he then became Manager at Irlam Steel playing in the Cheshire League, winning the League in his 1st season whilst going undefeated all year. The following season he moved back to Irlam FC as coach of the 1st team for a couple of seasons before becoming U21s' manager and achieving last season's treble.
Speaking of his move to Heys, Ryan said, 'When I received the call from the Manager Joffy (Jon Lyons), a very good friend of mine who I've known for at least 15 years, I didn't have to think twice about joining Heys'...
Baguley has left Heys for Glossop. After joining Heys shortly after Christmas, the midfielder was set to join Heys' management team for the forthcoming season as Assistant to Lyons. However, after receiving an offer from Glossop North End, the 30 year-old, after much soul searching and several chats with Lyons, has decided he wishes to prolong his playing career at the highest level possible whilst he can".
A player moving from the Evo-Stik to the Vanarama National League is the subject of a report by
NL Pitchero
which tells us that "Blyth Spartans have signalled a real statement of intent for next season after splashing the cash to sign prolific Whitby Town midfielder Dale Hopson. The 24-year-old, who was third in the Evo-Stik League Premier top scorer standings for last season, just behind second-placed Spartans striker Daniel Maguire, had a number of clubs chasing his signature after an impressive season for the Seasiders, but has opted to make the step up into the National League North by signing for Blyth for an undisclosed fee".
Meanwhile a player moving up to our league next season is Hinckley AFC captain Ryan Seal who, according to NL Daily "has agreed a deal to step up and join Leicestershire rivals Barwell for the 2017-18 season. Having broken both the club's leading appearance and goalscorer records in 2016-17, the captain netted a remarkable 56 times in all competitions in AFC's record breaking season.
That understandably led to great interest in his signature from higher level clubs, but it is the Northern Premier League Canaries who have tempted Ryan into a move away from St John's Park. Speaking after the move, Seal said the opportunity to play three levels higher was one that he simply couldn't turn down. He said, 'I feel that I need to try and play and test myself at as high a level as possible, so this is an opportunity I can't miss... The fans have been fantastic ever since I walked in and that's why it's been the hardest decision of my footballing life to leave'...
Hinckley boss Carl Abbott said... 'Ryan has been a brilliant captain and ambassador, and will be sorely missed, but it is a short playing career which players must not look back on with regret. When faced with the task of talking him out of it, I could not come up with a single plausible reason other than his affinity with the club, but quite simply he has to take this chance'... In total, Seal made 89 appearances for Hinckley, netting 93 goals over his season and a half at the club".
In its review of opposition in the coming season, Farsley Celtic reminds us that at Hednesford Town, "back in January 2017, Arsenal paid £40,000 for Town left-back Cohen Bramall".
---
26 June 2017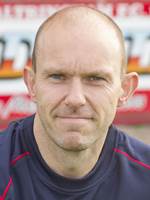 In Sunday's
Non-League Paper
, Stuart Coburn (right) is asked about Altrincham's current plight. He said, "Where they are now, they are under their level. But you are where you are. I don't know [the new manager] Phil Parkinson but what I'm hearing is positive.
"Altrincham is a massive name and it's a big job but they should win the league. However, there are 46 games in the Evo-Stik and every time they step onto the pitch, it's going to be a cup final.
"When teams come to Alty they are going to come thinking it's a nice pitch and a good place to play. The club are making the right noises and they are going to have one of the best budgets. They've said, 'We need to get back up straightaway'. If not, anything could happen".
Referring to last season, Stuart added that "You could see their heads dropped when they went a goal down. Losing is a habit that's difficult to break. When Neil Young and Jim Harvey came in, you thought 'What an appointment' but even he couldn't turn it around. It was going from bad to worse.
"I played with Matt Doughty and Robbie Lawton [who succededed Jim Harvey] and the club is in their hearts. They tried to change things but it was just really difficult. They did their best but the problems had set in too deeply".
Stuart continued, "The chairman has got the club at heart and he just wants what's best for Altrincham. Some of the abuse last season became personal and nasty and non-League shouldn't be like that".
Stuart, who had to retire from football after an injury suffered at Dover in 2015-16 season, said of playing "I miss it so much. I did it for 22 years and I wasn't wanting to retire. It was forced due to my Achilles injury. When you turn up at five to three and the players are in the tunnel you think, 'I would love to have one more game'".
According to
NL Pitchero
, "Stalybridge Celtic have added two more players to their squad. Midfielder
Greg Wilkinson
and defender Lee Neville have signed ahead of the 2017/18 season as manager Steve Burr adds more depth to his squad.
Twenty-seven-year-old Wilkinson re-joins Celtic after being with FC United of Manchester towards the end of last season. Wilkinson originally signed for Stalybridge from local club East Manchester in February 2008. He spent some time at Chorley during the 2010/11 season on loan, before returning a vastly improved player, who went on to become a regular, making 165 appearances and scoring 17 times for the club.
But, after six seasons, he decided his future lay elsewhere and joined Altrincham in October 2013. He had a spell on loan with Stockport County during 2014/15 and then moved to AFC Telford United in August 2015. He re-joined Altrincham in September 2016 before joining FC United in February.
Left-back Lee Neville, striker [ex-Alty striker] Aaron Burns and midfielder Andrew Langford [are] joining from...Trafford. Neville, 29, signed for Trafford in January 2016 from Hyde United. His other clubs include Salford City and FC United of Manchester."
And from Stalybridge Celtic themselves comes news that "Defender Alex Honeyball became Celtic's fifth signing in the space of a week as he completed his moved to Bower Fold. The 19 year-old, who was previously on work experience at Celtic from Bolton Wanderers last year, will look to continue his development under the guidance of manager Steve Burr.
Burr... said, 'we're delighted that we have signed Alex here on a one-year contract. Everything that has gone on has ticked the right boxes for both us and the player. I feel that this lad is the type of lad who can go on again and build on the potential which is there to help himself and the club... I am hoping we can tie up another signing by the end of the weekend... As things have gone so far, I am delighted with the lads we have brought in as the recruitment is crucial. But I would say so far so good.'".
Barwell have announced their squad, to date, for 2017-18. It composes Liam Castle, Max Smith-Varnham, Owen Story, Michael Townsend, Liam Kay, Declan Towers, Craig Stanley, Eddie Nisevic, Nigel Julian, Lee Hildreth, Alex Tomlinson, Ryan Baldwin, Luke Barlone, Courtney Meade, Ryan Seal and Ethan Delaney.
Sutton Coldfield Town "The Royals are delighted to announce the signing of Gurjit 'Gaz' Singh for the new season. Gaz is a striker of rich pedigree and lists Smethwick, Tipton, Kidderminster, Redditch, Hednesford and Rushall as former clubs. His goal record at Smethwick of 21 in 25 and at Tipton of 13 in 14 soon attracted interest of Kidderminster. Gaz has continued to score regularly and Royal supporters will remember him being instrumental in our thumping at Keys Park last season...

As well as all the new faces in the squad, Richard Sneekes has now added Gary Moore to his management team. Richard Sneekes said, 'He has enjoyed success with Mere Green and brings great levels of energy and enthusiasm to our bench as well as very good knowledge of the exceptional young prospects in the area'".

Closer to home, Ashton United "are delighted to announce that the club has signed striker Yaw Gyimah for the upcoming 2017/18 season...

Gyimah, who has previously represented rivals Curzon Ashton, has natural finishing instincts in front of goal...

'I'm really excited to be in a great club like Ashton United. It's a dream come true for me and I'm going to give 100% support to my team mates so we can move the club forward,' commented the forward. The ex-Northwich Victoria forward will add firepower up front for the Robins... The energetic forward has a habit of creating a chance from nothing. He has the ability to turn a game around within moments and is hoping to fire the Robins to a high finish in the league.

'I am going to go all out to help the club go up. I can't do that alone but, with the help of my team mates, hopefully we can go up,' he concluded."
---
25 June 2017 On Friday evening Altrincham FC hosted a Volunteers' Evening for those who had given their services to the Club over the previous year. Before the guests were treated to an excellent meal, prepared by club caterer Richie Bentley, the evening began with chairman Grahame Rowley expresssing his gratitude to all those who did voluntary work for the Football Club.

This was followed by an announcement that a Volunteer Coordinator had now been appointed at Altrincham FC. He is Roger Goodwin, who fittingly approached the Club to volunteer his services. After working for the FA in Herefordshire and Gloucestershire area, as well as for Hereford FC, Roger has relocated to Eccles. Indeed, Roger has football in his blood as, for the last 15 years or more, his father has run the legendary Bulls' News website, which is an invaluable source of news across the non-League spectrum.

Roger gave a brief presentation about his role at Altrincham which should result in more efficient utlisation of volunteers' efforts. Attendees each completed a brief form outlining their volunteering roles at the club and together with further information, this will lead, amongst other things, to job descriptions. These will not only clarify who does what and what needs doing, but will also ensure that, when more volunteers are needed, (which is pretty well always!), the appropriate roles can be advertised and prospective volunteers will have a clear idea of what is required.

Another of Roger's priorities is to produce a Volunteers' Handbook which will be available to all concerned.

The Club is very grateful to Roger for coming forward and wishes him every success in this vital role at the J. Davidson Stadium.

The evening was wrapped up with a light-hearted quiz conducted by Richie Bentley. The question which stumped everyone was "Which players, named after a fruit, have played for Altrincham in recent years?" The answer, according to Alty's kitchen maestro was that "Plenty of lemons turned out for us last season".

The MS Powerpoint slides from the Club's introductory thank-you to its volunteers are here. As one of the slides says, "Volunteers are not paid - not because they are worthless, but because they are priceless"

It is hoped to have fuller details of Roger Goodwin's presentation in the near future.

Manager of Altrincham FC Ladies, Keith Edleston, reports that "New signing Aimee Hopkinson put pen to paper yesterday and will join up with her new teamates for the coming preseason. Aimee, who is a two-footed versatile defender can play anywhere across the back four, joins us from Northwich Vixens where she was an ever present in the side. Her playing career has previously been at Macclesfield Town LFC  and Stockport County LFC.  I'm sure she will be a great aquisition to the squad. Welcome to the club, Aimee!" The EvoStik League reports that "Stourbridge have thanked their volunteers and fans for playing a key role in winning the 2017 EVO-STIK League Community Club of the Year accolade.

After a season that saw them go on a record-breaking run to the third round of the Emirates FA Cup, the Glassboys had more silverware than most to take home from the EVO-STIK League's annual awards after Gary Hackett's side collected the top flight's fair play award and golden boot in successive seasons, Luke Benbow's 32 goals also earning the striker a share of the overall golden boot with Farsley Celtic's James Walshaw.

EVO-STIK League treasurer and director Paul Leary, on stage at the Blackpool Hilton Hotel on Saturday night, presented the Glassboys secretary Clive Eades with the Peter Swales Trophy, named in honour of the former Northern Premier League president and [Altrincham and] Manchester City chairman.

Officials at the EVO-STIK League Premier Division club, who won international acclaim on their cup run to put the War Memorial Ground firmly on football's map, sent their thanks after being back in the spotlight at the awards which pulled in more than half a million views and shares on social media and also saw £1,100 raised for the victims of the Grenfell Tower tragedy.

After hailing the performance of Benbow in following in the footsteps of 2015-16 golden boot winner Karl Hawley, a club statement read, 'The award is recognition for the hard work that goes on throughout the club, not just on first team matchdays but with our youth team, ladies, juniors and girls' teams, and we are honoured to accept it on behalf of every one of the volunteers who help to keep the club functioning every season. We could not do it without your help and we thank each and every one of you!'"

Over at Buxton, the EvoStik League confirms that "A host of Manchester United legends are kicking off the EVO-STIK League's preseason programme at Buxton's Silverlands on Sunday.

Clayton Blackmore, Frank Stapleton, Peter Barnes, Peter Davenport, Sammy McIlroy and European Cup winner David May are among the former Reds' stars taking on a Buxton Legends XI in a 2pm kick-off at the Tarmac Silverlands Stadium.

The Buxton side will feature all-time leading appearance and goals scored record holders David Bainbridge and Mark Reed plus manager Martin McIntosh, his staff and the management teams of the club's development sides.

In total, the Reds squad includes players who've made more than 1200 appearances for the Premier League giants. The visitors will be managed by Scottish defender Arthur Albiston who went on to play for Witton Albion and Droylsden and also managed the latter.

The Bucks will be guided at the by Mike Davis and Robin Hughes, two of the club's 1973 Cheshire League winners. Davis made nearly 600 appearances in goal during a 16 year career that included a two-year stint as manager from 1982 to 1984".

From Crosby, the EvoStik League tells us that "Marine have unveiled a new club badge to mark their upcoming 125th anniversary...

Designed by Neil McAdam for the club's 2017-18 top flight campaign and beyond, the new crest incorporates the main features from the old badge including the two seahorses, the old Crosby Council badge and 1894, the year the Mariners were founded.

Although the new design also continues to display the club's motto 'Vis Unita Fortior', 'United In Strength' when translated, the colours have changed to black and white to reflect Marine's home kit and be more distinctive, clear and sharper for modern printing processes.

Marine chairman Paul Leary told supporters that officials at the Marine Travel Arena were delighted with the work of freelance graphic designer McAdam after he was commissioned to give the club's branding a major makeover to mark their milestone season.

Leary said... 'Whilst retaining the main characteristics of the old crest the new badge is a much sharper and modern image that also meets today's printing technology and processes... The new crest forms the basis of the design for our 125th anniversary celebrations in two years-time in which we shall modify slightly this crest for the 2019-20 season to incorporate in some way that very special anniversary'".
---
24 June 2017 Altrincham FC held a well-attended Meet the Management and Players event in the Community Sports Hall on Thursday evening.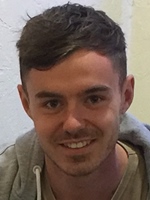 Left: John Johnston.
The evening was compered by Altrincham FC Press & Media Officer, Brian Flynn. Phil Parkinson stated that his move to manage Altrincham from Nantwich Town was "A huge step for me and a brave decision by the Board to appoint someone of my age". He explained that, at Nantwich, he had an almost "bullet-proof job" as he was local, had played for the club and the team had done well under his management. But he saw Altrincham as an opportunity to make his mark on a club which had a great tradition.
Phil introduced his back-room team, starting with his assistant Neil Sorvel, who formerly played for Macclesfield Town as many Alty fans will recall. In a previously unannounced appointment, Phil also introduced his new Head Coach, Chris Parkes who, like Neil, had worked with Phil at Nantwich.
The new medical team of Tommy Uda and Ryan Murray was also introduced and Tommy explained that one of his major objectives was "to improve the baseline" so far as injuries were concerned. He alluded to the club having suffered a large number of injuries in recent seasons and he and Ryan aimed to improve player availabilty for the management.
Tommy also explained that there would be pre-season testing to identify any "weaknesses in the players". One of the measures to address such problems would be to use the internet to make available videos and other material to assist players in their rehabilitation.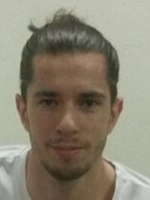 Right: James Poole.
Phil now went on to outline his approach to the job. "I will make decisions and not procrastinate" he said. He added that good recruitment was vital to success and he was pleased to have got together an excellent squad at an early stage of pre-season. As regards playing style, he went on to say that his team would "play from the back and get the ball down on the deck" and would aim to play "attractive, free-flowing football".
He indicated that nearly all of the new players had "dropped down from a higher level" to join Alty and he assured supporters that his players "will give you everything".
Phil went on to confirm that his objective for 2017-18 was to win promotion. To that end he confirmed that he had twelve players currently on contract. Asked about goalkeeping back-up for Tim Deasy, Phil indicated that he was talking with a second keeper, who was present at this meeting.
All but five of the current squad were present at the meeting, the five exceptions being on holiday (Sean Miller, Shaun Densmore, Chris Lynch, Josh Hancock and Tom Hannigan - the last named actually being on honeymoon). Those present were Kyle Brownhill, Tim Deasy, John Disney, Sefton Gonzales, Ben Harrison, Sam Heathcote, John Johnston, Clayton McDonald, Jake Moult, Tomoli Omotola, Tom Peers, James Poole, Simon Richman, Sam Sheridan, Lewis Short, Laurence Taylor, Jerome Wright and a potential goalkeeper signing).
Phil explained that winger Joe Mwasile, who had been announced as rejoining Altrincham, was now not going to be doing so.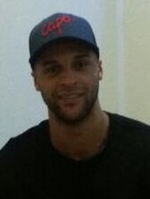 Left: Sefton Gonzales.

In response to a question about his approach to playing in a league cup competition, Phil said that in all competitions that his teams entered he aimed to win. However, he had learned at Nantwich that he needed to rotate players when playing on multiple fronts and with the squad that he had now assembled he was confident of competing on more than one front.

Nevertheless, he expected the league to be a difficult one in 2017-18, especially as Altrincham will be viewed by many opponents as a big scalp. Although he had a "healthy budget" at Altrincham he believed that "five or six other clubs have at least as much" in terms of their playing budget.

Phil reiterated that he was a very "demanding manager" towards his players. He carried on to explain that Neil and Chris would do the bulk of the coaching and that this would include "very technical drills". He would also aim to make the J Davidson Stadium a "cauldron" and he viewed supporters to be integral to that goal and to the general success of the Club. He wanted to created a "we" culture embracing everyone at the club.

The manager next stated that player recruitment was basically complete and that players who had contacted the club recently were being told that "The shop is closed now". However, he did not rule out having one or two trialists in pre-season. But, he added, "I don't believe in a revolving door" as regards players coming and going".

Asked about statistics, Phil explained that Rob Ester's player-analysis work for the Club would be very important in his planning.

As for players moving up to the first-team from the Reserves, Phil said that they would have to be "very, very good" to do so. He explained that "I've gone for more experience than I usually do in my recruitment" this summer because his objective was promotion.

Next, the players were invited in groups of three or four to join the tables of the spectators in the audience. Then, after five minutes or so of chatting between players and spectators, the players moved on to another table. This proved a welcome innovation and certainly those players with whom your correspondent spoke all came across as committed to the manager and the club as well as very personable young men.

The National League confirms that "AFC Telford United have completed the... signing of... Elliot Newby... Former Barrow AFC winger Elliot Newby played junior football locally at a young age before he joined the aecademy at Bolton Wanderers. He was released by the Trotters in the summer of 2015 and joined Barrow after impressing in pre-season games.

The young winger experienced loan spells at Burscough and Altrincham and joins the Bucks as their seventeenth signing of the summer. Discussing the new signings, manager Rob Smith said... 'Elliot is a player I have been keen on for a while. He is an exciting winger with pace and is a player who can get us a few goals throughout the season as well. Elliot is really excited over the move to the club and can't wait to get started... [He has] the ability to go higher'".

By way of background, the NW Evening Mail reported that "Winger Elliot Newby has rejected the offer of a new contract with Barrow AFC, and has joined National League North side AFC Telford United. Newby found himself unable to break into the first team at Barrow last season, and instead spent loan spells with Workington and Altrincham.

However, AFC boss Paul Cox was impressed with what he saw from the youngster and offered him the chance to remain at Holker Street. Newby has chosen to turn down that opportunity and will be part of the set-up at the Bucks next season".

The Warrington Guardian reports that manager "Paul Carden says Warrington Town's signing of striker Josh Hine is 'a massive statement of intent.' The 26-year-old frontman became Yellows' second summer signing when he joined from Salford City. Hine, who enjoyed a brief loan spell at Cantilever Park in the 2012-13 season, has been prolific in spells at Skelmersdale United, Clitheroe and Chorley earlier in his career.

Carden says the striker was offered the chance to turn professional with Salford, but circumstances have worked in Yellows' favour. 'It is a great signing for us and it's a massive statement of intent. It shows where we want to take the club,' he said. 'We sold the club to him and told him our ambitions of where we want to be and he's really keen to be a part of it. Josh was offered the chance to turn professional with Salford, but he's just set up his own business and he has invested a lot of time into that. Even with that, he still could have gone to clubs in the league above ours, such is his goalscoring record.

'I think Josh felt it was important that he played for a team that was challenging at the top end of the league, which is what we want to do, rather than just floating around in mid-table. He still has ambitions to play professionally, but coming to us suits him at this time and we're delighted to have him with us.'

Hine is the second striker to have signed for Warrington during the off-season after Tony Gray arrived from Airbus UK last week. Carden has not ruled out adding another attacking option to his squad but says he is happy with the way his side is shaping up going forward...

'With Josh, Tony Gray and Ruben Jerome in place, and the likes of Dylan Vassallo in there as well, I think we will have plenty of goals and creativity,' he said. 'We could add another striker, but it is all about quality for me... I neeed players who will improve upon what we already have. We've missed out on a couple already, but that's what happens when you go for players from higher leagues. That is the kind of player we want to bring in. If that means we have to wait to get the right people in, so be it.'

The arrivals of Hine and Gray offset the departure of [ex-Altrincham] striker Dan Hattersley, who looks set to take up an offer to play in Australia. 'Dan has had a great offer and good luck to him,' Carden said. 'He's found work and a good level of football in Australia so it's a great opportunity for him.' Midfielder Michael Monaghan has also decided to leave Cantilever Park to join Trafford."

Across the Pennines, Farsley Celtic tell us that "In what has been a busy few days in terms of players coming and going at Throstle Nest, the Club is delighted to announce that centre-half Jimmy Pollard has joined the Celts. He links up with Kurt Harris and Luke Parkin as the third player to come to the Club with recent league experience at Brighouse Town, to sign this week.

As a youngster Jimmy joined the Huddersfield Town Academy and represented the Club up until the age of 16. He then made the move to Bradford City until 2014, when Jimmy joined Brighouse Town. Celts boss Adam Lakeland said... 'Jimmy has been one of Brighouse Town's standout performers for the past couple of seasons following his departure from Bradford City. He is a centre-back who likes to attack the ball, but is equally comfortable in possession and distributing from the back, which fits in with our philosophy. He adds additional competition for places with Adam Clayton and Danny Ellis giving us cover at centre-back, plus the option to play with a third centre back. I feel that with these three we have excellent options, good quality and a nice blend of experience and youth.

'Jimmy will continue to develop here and will certainly learn off Danny and Adam which will help improve him further. He again adds additional physical presence to the squad and is another ambitious young player with an excellent attitude'...

On putting pen to paper, Jimmy said, 'Amongst the factors in coming to the Club, was firstly the management staff, in terms of the style of play and the ambitions they have for the Club, and secondly, I feel I am ready to step up into a higher league'".

Altrincham will meet quite a few clubs for the first time during 2017-18 season, one of these new opponents Sutton Coldfield Town.

"The football club associated with Sutton Coldfield was formed in 1879... The club moved to its present ground in Coles Lane in 1920. From just after the Second World War until the early 1980s, the club played its football in regional leagues in the area...

In 1982-83 we joined the Southern League following the introduction of the revised football pyramid. We secured promotion to the Premier League after finishing runners up to Cheltenham Town. [We were] relegated the following season and then remained in the Southern League at step 4 until 2010-11... In season 2010-11 we were moved by the FA into the Evostik Northern Premier League Div 1 South...

2011 saw the installation of the 3g artificial pitch at Coles Lane. In September 2012, Chris Keogh stepped down as manager after 12 years and joined the Board, his assistant Neil Tooth taking over as manager. In 2014-5, the Club took the big step of changing the status of the club from a Members' Club to a Company Limited by Guarantee. In the same season... Sutton... [got] promoted to the Northern Premier League Premier Division. The last time we had played at level 3 was some 30 odd years ago in the Southern League...

Many people were saying we would immediately get relegated but the team proved them all wrong... Following a number of injuries, we slipped down the league to finish a creditable 12th...

After a poor start to season 2016-17, Sutton struggled to pick up points and were knocked out of the FA Cup and Trophy in the early rounds. A difficult decision was made and the club parted company with manager Neil Tooth and Richard Sneekes was appointed in his place... We remained in the bottom four, almost entirely throughout the season and went into the last game needing to better Corby's result. With Corby losing at Coalville, one point from the trip to Workington was enough and we avoided the drop".

Meanwhile at Mickleover Sports, "First-team player manager John McGrath has fought off a number of other clubs to keep midfielder Jake Scott at Mickleover Sports Football Club. Scott was signed by McGrath during the 2016/17 season and made 23 league appearances for the club, mostly in midfield.

McGrath said, 'He is a vital part of my team and someone who had a big impact on the squad and how we played when he signed last season. A combative midfielder but very good with the ball at his feet, Jake adds quality to our ever growing squad. We fought off a lot of competition to keep hold of him'".
---
23 June 2017
Former Altrincham goalkeeper Adam Reid (right in 2012) has been named Hallmark Security NW Counties Football League Premier Division goalkeeper of the season. Adam now plays for Premier Division champions Atherton Collieries.

Back in February he was "awarded the Goalkeeper of the Month Award for February by the Hallmark Security League. The following is taken from the Hallmark Security League website...

'In a month which Colls played four games, winning all four without conceding a goal, young shot stopper Adam Reid was integral to this fine run of form. Reidy has grown in stature as the campaign has progressed, as he marshalls his defence with increasing confidence. When he has to come for a ball he commits himself fully and his is not afraid to clear everything out including his own defenders'".

Adam was Altrincham Youth's goalkeeper, from 2010 to 2012, and signed Conference forms in August 2011. Merseyside-based, Adam made his first-team Altrincham debut in the Cheshire Senior Cup in November, 2011 and his first league start, in the BSBN, came against Harrogate Town on 21 January 2012.

At Nantwich Town "Having spoken to Manager Dave Cooke, the club would like to confirm...

The re-signing of goalkeeper Krystian Burzynski, who made 16 appearances last season, and defender Joel Stair, who was part of, in my opinion, 'the best defensive unit in the league'. Both strong players and the club are pleased to be keeping them both at the Weaver stadium.

Alongside new striker Harry Clayton from Kidsgrove Athletic is fellow ex Crewe Alex player Toby Mullarkey from Leek Town. Toby is a central defender who has played on loan for Witton Albion in the past, having impressed for Leek Town last season as they reached the Play-Off final.

Dave Cooke [said] 'Toby is another one I'm pleased with. I watched him during his time at Crewe, and I know Nantwich thought about him last season. But this is the right time for him to come in, he's still only 21 so he's got bags of time'.

Another new signing the club are pleased to confirm is former Notts County keeper Fabian Spiess, who has joined the Dabbers from Alfreton Town. Fabian made 13 appearances for Notts County and has also played for Bristol Rovers, Torquay United and Boston United. Dave Cooke [added that] 'Fabian has got experience in the Football League so I'm pleased to have got him, and we've also got Krystian Burzynski coming back so we've got good competition for the keeper's shirt'".

Over at Matlock Town the club is "inviting donations to help cover the cost of the club's new floodlights. The lights and pylons are in the process of being erected, ahead of the new campaign, and are expected to be fully operational for the opening pre-season friendly against Chesterfield on July 6. And, while the full cost of the lights has been budgeted for, chairman Tom Wright says any donations towards it would be welcomed.

He said, 'We need to raise around £50,000 to fund the floodlights. We hope to get a grant of 50 per cent of the cost and donations, up to date, amount to £10,000 which leaves us with a shortfall of £20,000 [sic]. We can cover this amount but it could impact on the playing budget so any contribution will be gratefully received no matter how small".

In their series on opposition clubs, Farsley Celtic remind us that Buxton's ground is "situated 1000 feet above sea level. The Silverlands is the highest ground within the football pyramid, and substantially higher than the highest Football League ground, The Hawthorns, home of WBA." (Buxton is officially recorded as 304 metres or 997ft above sea level.)

On this topic, other elevated non-League grounds in the locality include
Seal Park, Mossley, 682ft
Bower Fold, Stalybridge Celtic, 558ft, which is claimed to be the highest ground to have hosted a Football League club, past or present.
Midfield Dynamo reminds us of the highest and lowest venues in the Football League, many of which Altrincham have played at...

"The 10 Highest Grounds in England and Wales (in 2008)
The Hawthorns, West Bromwich Albion 552 ft
Boundary Park, Oldham Athletic 526
Vale Park, Port Vale 520
The Crown Ground, Accrington Stanley 516
Moss Rose, Macclesfield Town 513
Spotland, Rochdale 498
Molineux, Wolverhampton Wanderers 483
St Andrews, Birmingham City 432
The Britannia Stadium Stoke City 431
Adams Park, Wycombe Wanderers 413
The 10 Lowest Grounds in England and Wales (2008)
Blundell Park, Grimsby Town 2 ft
St Mary's, Southampton 3
KC Stadium, Hull City 6
The Deva Stadium, Chester City 16
Portman Road, Ipswich Town 17
Carrow Road, Norwich City 17
York Street, Boston United 18
The New Den, Millwall 19
Fratton Park, Portsmouth 20
Glanford Park,Scunthorpe United 20
According to the Lancaster Guardian, "Billy Akrigg insists Lancaster City won't just make up the numbers in the Evo-Stik Premier Division. The First Division North title winners already have six new faces in their ranks...
For many players the higher tier will represent a step up but midfielder Akrigg believes it is a challenge Phil Brown's young squad will relish when the season kicks off on August 12. 'In the FA Cup we've played teams from even higher and done well,' said the 24-year-old. 'It's going to be difficult but we want to be fighting for something. We won't be happy to go along in mid-table, the play-offs has got to be the aim. We've got a good enough side to do that. After winning the league last year Phil won't let us let up at all either. He'll be at us from day one'...
Like many of the title-winners, Akrigg committed to the cause just weeks after the end of the season meaning, with the new recruits signed up, the core of the squad is already in place well in advance of pre-season training getting underway on July 1. The Lancaster-born Bailey brothers Sam and Charlie have arrived from Kendal Town with Colne striker Oliver Wood, Warrington winger Scott Harries, Glossop North End defender Paul Dugdale and Southport goalkeeper Chris Cheetham also snapped up by Brown.
'It was an easy decision to make,' said Akrigg, who has established himself as a key man in his four seasons at Giant Axe. 'Phil came to us really early and said he wanted to keep everyone together and then add a few. The signings he's made have been really good as well. There's a few local lads too. We haven't got the biggest budget and have got to make the most of what we've got. A lot of the lads in our group haven't gone up to this level before but we're ready for it'".
---
22 June 2017 Altrincham supporters will have the chance to meet and put questions to new manager Phil Parkinson at a Meet the Management event in the Community Sports Hall at the J. Davidson Stadium. This will take start at 8pm on Thursday 22 June (today).

The event will be attended not only by Phil and his assistant, Neil Sorvel, but also by coaching staff and as many of the playing squad as are available. The event will be compered by TASC chairman and Press & Media Officer, Brian Flynn. Phil, Neil and staff will occupy the main table, whilst the players will be seated at four or five other tables, broadly divided into their playing roles i.e. defenders, midfielders, strikers, etc.

Following an initial Q&A session with Phil and Neil, supporters will be invited to mix and talk directly with the players at the various tables. Also, during the evening, the July Monthly Draw will be held so you could be leaving with more money than you arrived with!

Everyone is welcome and the bar will be open from 7.15pm for liquid refreshment, so please come along!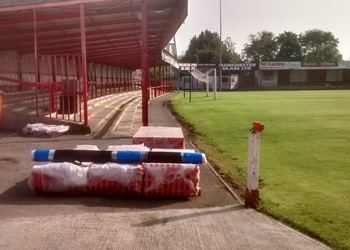 As seen, right, the first batch of the new perimeter fencing for the J Davidson Stadium was delivered on Wednesday morning. It should be all erected in time for the pre-season games at Moss Lane.

As Matlock Town prepared for a return to pre-season training this Saturday, joint boss Craig Hopkins said patience was the key to replacing top scorer Marcus Dinanga. Loanee Dinanga has returned to Burton Albion after his 34 goals helped the Gladiators to a ninth-place finish...

'Marcus did really well for us but only because the players around him created so many chances,' said Hopkins. 'We scored 111 goals and he scored 34 which is about 30 per cent of them. We need someone now to replace that 30 per cent and we are quite confident we can do that. If it was 50 per cent then I think we'd have a problem.'

Hopkins said the club were in no rush... 'We won't be able to do anything until the start of the season as that is when the professional clubs have had their young players in for pre-season training, watched them in pre-season games and decide if they are available to go out on loan. Then we will make a few phone calls and see who is available. It is on a bit of a backburner right now and we have to be patient.'

The Gladiators have already secured two new players and are talking to another six or seven with two or three of those expected to sign. 'If we can sign five new players over this summer we will be quite happy,' said Hopkins. 'We are being patient as you get more bang for your buck later in pre-season. At the start of the summer you get players playing clubs against each other and we don't want to get involved in that. You get better value if you are patient.'

On the two players already secured, he added, 'We are not releasing names yet as we can't sign them until July 1st, though they will be training with us from this Saturday. They are both good, young lads, young and hungry, which is what we look for... Our main priority was to keep what we had and add to it and, although a couple have left, we have managed to keep 90 per cent of the squad...

'I still get the same buzz for pre-season but it's not quite the same for a manager as a player. 'As a player you are dreading the running, I certainly did, but as a manager you are just trying to make sure you cover all your bases and have got what you need. It will be non-stop for the next six weeks'".

Down at Stourbridge, "Accomplished midfielder Connor Gater has become the latest player to agree terms... The 24-year old had attracted interest from other clubs over the summer after leaving Worcester City, but Stourbridge are delighted to have landed his services after he impressed in a three-month loan stint from Worcester at the War Memorial Ground last season, despite suffering from a troublesome toe injury at the time. He has since undergone surgery and has been undertaking rehab.

He linked up with Gary Hackett's men towards the end of October 2016... The former England schoolboys under 18 international joined Worcester in 2014 after previous spells at Halesowen Town, Sporting Khalsa and Gornal Athletic and settled in well at National League North level".

NL Pitchero says that "Two automatic promotion places will be available to sides in the Evo-Stik League South due to restructuring. This means it has doubled for next season as a result of new plans for the re-organisation of Non-League football...

This is due to the FA's decision to introduce a new league at Step three level to add to the Southern Premier, Northern Premier and Isthmian Premier leagues for 2018/19. As a result of that, 19 clubs will be promoted from Step 4 at the end of the forthcoming season, as opposed to the usual 12. That means each of the six regional divisions of Southern, Northern and Isthmian leagues will see two clubs promoted automatically, along with the third-placed team with the best points-per-game ratio across the six divisions.

The other six places will then go to the winners of the play-offs, which will be for clubs who finish between third and sixth, or seventh in the case of the league with the best third-placed team."

Back in the Premier, Stalybridge Celtic report that "Lewis King has returned to Bower Fold for his second spell of the club. The 24 year-old goalkeeper is already looking to replicate his good form in his previous spell and spoke positively about once again teaming up with the Celtic coaching staff..

King said, 'I am delighted to be given the opportunity to return to the club and would like to thank the manager, Fearny and Briggsy for making it happen. I feel I played the best football in my career here last time and I am looking forward to re-producing that form this season. I have unfinished business here at Stalybridge and I want to help the club get back into the National League North at the first time of asking'".

From Mickleover Sports we learn that "First-team captain Tom Burgin has signed a new contract, news that has delighted player-manager John McGrath.

McGrath said.. 'Burgs had a tremendous season last year and forged a formidable partnership with fellow centre-back Pablo Mills. Burgs is not only a leader on the pitch but he also takes his role as skipper off the pitch and is a constant source of advice to myself as manager and all the players in the squad . I believe a manager/captain relationship is vitally important.'"

There is off the field news at Halesowen Town where the club "can confirm that [owner] Steve Lynch has attended an appeal hearing with the FA on Monday 19 June 2017 and this appeal has been unsuccessful. Therefore, this means that Steve has received a suspension from football activities which means he cannot continue as an officer for the club for two years from July 1st 2017. The Chairman, Karen Brookes will take overall responsibility for the day to day operations at the Club supported by the Committee and very able volunteers... The club will be making no further comment on this matter."

By way of background, the local Express & Star reported in April that "Following a hearing at Wembley, FA bosses banned Lynch for two years from May 1 this year until May 1, 2019. Yeltz have also been fined £5,000, with half of that total suspended for three years.

Lynch said he was 'extremely disappointed' with the decision and intended to appeal the ruling.

The majority of the 12 total charges, three for Lynch and nine for the club, reportedly surrounded the owner's involvement at the now defunct Eastwood Town and an alleged failure to disclose an interest in Yeltz at the same time.

Other charges allegedly centred on a breach of player loan rules in 2012 and issues concerning the reporting of the club's accounts between 2011 and 2013. Lynch told the Express & Star... 'A committee run the place [Halesowen Town] anyway and it is a family business. When I took over, the first target was to make the business self-funded.'

A statement on the club's website read... 'Steve and the club have always worked closely with the FA during their investigation and have always been forthcoming in the information requested'...

Mr Lynch was a key player in saving Yeltz from financial meltdown back in May 2011. He took over following the regimes of Morell Maison and the Ingram brothers, during which the club had faced financial ruin. The former coach operator took over at Eastwood, then in National League North, in October of that year, claiming he had relinquished his position with Yeltz in order to comply with FA rules. Eastwood subsequently went out of business in 2014. The FA were unavailable for comment."

Altrincham's first pre-season game is on 8th July at Whitchurch Alport but, as usual, before then there is European action in nearby North Wales if anyone cannot wait for their football action.

Europa League First Qualifying Round (matches 29 June & 6 July)
Bala Town (WAL) v Vaduz (LIE)
Connah's Quay Nomads (WAL) v HJK Helsinki (FIN)
Lyngby (DEN) v Bangor City (WAL)
Second Qualifying Round (matches 13 & 20 July)
Slovan Bratislava (SVK) or Pyunik (ARM) v Lyngby (DEN) or Bangor City (WAL)
Bala Town (WAL) or Vaduz (LIE) v Odd (NOR) or Ballymena United (NIR)
Dacia Chisinau (MDA) or Shkëndija (MKD) v Connah's Quay Nomads (WAL) or HJK Helsinki (FIN)
Champions' League First Qualifying Round, 1st leg,
TNS v Europa [Gibraltar] @ Park Hall, Oswestry 27/06/2017, 19:00
Champions' League Second Qualifying Round
HNK Rijeka (Croatia) v TNS/ Europa
Off the pitch, Welsh Premier reports that "Duscussions have started which could see Welsh Premier champions The New Saints move to a new 8,000-seater football and rugby stadium close to Oswestry town centre. If the venture between TNS, FC Oswestry Town and Oswestry Rugby Club gets the go-ahead, WPL football would move to the new ground, with Park Hall being used for community and academy sides.
TNS owner Mike Harris told Jonny Drury of the Shropshire Star... 'It could be up to 8,000 seats, and that would allow us to hold our Champions' League games in the town, and for FC Oswestry to potentially have FA Cup games in the town when it comes to it, which would be massive. The details of everything aren't 100 per cent clear yet, but it would be a superb development, it would create jobs for the town.'
Land has been identified and discussions have already taken place with the owner, Oswestry Town Council. Harris says that having two clubs playing within the town is a 'fantastic opportunity' for Oswestry, which has not seen football played in the town centre since Oswestry Town were forced to sell their Victoria Road ground for housing development in 1988 to pay-off debts. After a period of inactivity, they played at Park Hall until being taken over by TNS in 2003.
Subsequently, Park Hall was redeveloped and Welsh Premier football returned in 2007 when TNS relocated from Llansantffraid."
---
21 June 2017 Altrincham FC has announced the turnstile admission prices for pre-season friendlies at the J. Davidson Stadium. These will be as follows:
Adults £7
Concessionaries £5
12-16 year-olds £2
Under 12s FREE
Holders of Altrincham FC season tickets for 2017-18 will also be admitted FREE of charge.

The pre-season fixture list is here.

The Evo-Stik League reports that "Farsley Celtic have announced the signing of midfielder Ben Atkinson, who will join his brother Chris at Throstle Nest. Ben Atkinson spent twelve years at Huddersfield Town academy as a youth player before signing for Curzon Ashton prior to the 2015/16 campaign.

Whilst with Curzon, the young midfielder also had a spell at Brighouse Town on loan. On signing with the Celts, Atkinson said, 'I'm delighted to join the club. Farsley are a side on the up with great ambitions and I can't wait to get started... Stepping up a league was certainly a key factor in signing. Also, I've worked with Adam Lakeland for a short period when I was at Curzon Ashton and he is a top coach, so I'm looking forward to working under him as a manager, as I'm sure he will help me improve and progress as a player. And obviously my older brother Chris being at the club was a factor in joining, as he said so many positive things about the set-up at Throstle Nest.'

Looking ahead to the new campaign, the young midfielder added: "The club has great ambitions and my personal ones match those. Obviously, the play-off win last year was an outstanding achievement and there's no reason why we can't be fighting for promotion again in the coming season. I played against a few of the lads last year and there are some top players here and I'm really looking forward to being part of the squad.'

On joining brother Chris at Farsley, Ben revealed, 'We've never played in the same team before, and I've only played against him once when I was at Huddersfield and he was at Crewe, which to be honest was strange. So, I'm really looking forward to being on the same team as him and I'm sure our mum and dad will be happy as [they] won't have to alternate each week to watch us both!'

Lakeland said of the club's latest signing, 'Ben is technically very capable... I worked with him for several weeks when he came to Curzon Ashton after leaving Huddersfield and whilst you could see his potential, it was evident he needed to play regular first-team football to gain experience of the men's game. He got that at Brighouse where I saw him play several times and he always impressed. He knows that by stepping up he will have his work cut out to get into the starting eleven as we have such a strong squad, but he wanted that challenge and felt it was the right time. I'm certain with the environment we create and the way we will work on the training ground, that he will continue his development and push for a regular place in the team'".

News of an Alty former player comes from Ashton United, where "The club are delighted to confirm that last seasons Player's Player of the Season, Ryan Crowther, has been retained to play for the Robins in the upcoming 2017/18 season.

The 28-year-old is in his second spell with the club after making 22 appearances and scoring 3 times in 2011. He rejoined in 2016 from Altrincham and has been in scintillating form for Jody Banim's side".

Also "We are delighted to announce that Matthew Chadwick has chosen to stay at Hurst Cross for the coming season... Chadwick was simply on fire last season. Chadwick, who is a natural winger but can play in the 'number ten' position, grabbed an impressive 23 goals in all competitions in a season that saw him finish top scorer for the club.

Jody Banim made no secret in his recent interview that keeping Chadwick was crucial to his plans for next season. Chadwick's pace and link up play with Ryan Crowther was integral to the club finishing mid-table and not getting dragged into a relegation dogfight. Chadwick was certainly a hit amongst the fans as he was named Fans' Player of the Season and also presented with the prestigious 'Rear of the Year' award.

With the retained players and the new players that are soon to be announced we can see that Jody is sticking to what he said in his interview by creating a fast, free-flowing team that can be in the hunt for the play-offs. With Chadwick's announcement that rounds off the retained players list and we hope that you enjoyed the set up and the suspense."

Over at Stalybridge Celtic "Lassana Nalatche Mendes is the latest signing to join up to Steve Burr's restructure at Bower Fold. Mendes, 24, who plied his trade at Radcliffe Borough in the Evo-Stik First Division North last season is Celtic's fifth summer singing ahead of the new campaign.

The versatile midfielder received high praise for his performances last season, filling in a variety of positions. He even captained Boro for a number of games throughout the year and was duly recognised at the club's end of season awards as he received the Players' Player of the Season [award]".
---
20 June 2017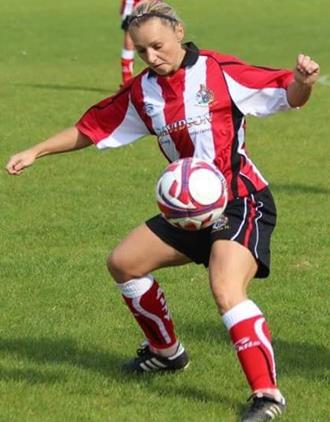 Keith Edleston, manager of the Altrincham FC Ladies, tells us that "All the squad would like to wish good luck to our midfielder, Anna Dillon (right), who has been selected to represent the Isle of Man in the Island Games in Gotland this coming weekend. Anna has just returned to action from an operation on a serious shoulder injury and we wish her and all her team well in this prestigious competition. (The Island Games are basically all the small islands around the world competing in Olympic-style competitions). We'll be following her and the results closely via our Manx roving reporter Paul Hatton.

Good luck Anna, go smash it!"

Farsley Celtic's series of articles on the theme of "We've Met Before" recalls that "The Celts and Altrincham faced each other in the 2007/08 season, when they competed in the Conference Premier Division, then sponsored by Blue Square.

Newly promote[d] Farsley hosted Alty at Throstle Nest in November 2007 in a game which ended 1-1. BBC reported the game as follows... 'Farsley goalkeeper Tom Morgan produced a superb display as 10-man Celtic held on for a 1-1 draw against Altrincham. Damian Reeves opened the scoring for the hosts when he volleyed home from the edge of the area from Simeon Bambrook's knock down.

But his game was brought to a premature end on 35th minutes for a second booking after his foul on Chris Lane. Morgan then made a string of saves to deny the visitors, and was only beaten when Colin Little smashed home.

Farsley Celtic: Morgan, Jackson, Crossley, Iqbal, Stamer (Whitman 70), Downes, Knowles (Billy 55), Ryan Serrant, Pearson, Bambrook (Grant 46), Reeves.

Altrincham: Coburn, Lane (Logan 41), Tinson, Munroe, Scott, Lawton, Owen (O'Neill 46), Sedgemore, Peyton, Little, Senior. Subs Not Used: Acton, Aspinall, McFadden...

The return game at Moss Lane in mid-February had a crowd of 4,154 [actually 1,454] watch a 0-0 draw, a result which did nothing to get either side away from the relegation spots. The Celts suffered relegation on the last day of the campaign, with Altrincham only escaping the same fate after Halifax Town resigned from the league due to financial issues.

Did you know? [Current Farsley player] James Walshaw will have fond memories of his time at Moss Lane, as he scored 32 goals league goals in 2013/14 as Alty gained promotion from the Conference North. Lee Sinnott had great success managing the Celts between 2003 and 2007 in their meteoric rise through the divisions and was also in charge of Alty between 2011 and 2016, securing them promotion from the Conference North in the Play-Offs in 2013/14."

From the Nantwich News we learn that "Nantwich Town have announced the signing of Crewe-born striker Harry Clayton... after being released by former boss Phil Parkinson in November 2015 to join Newcastle Town.

The 24-year-old originally joined the Dabbers on loan from Crewe Alexandra in February 2013... Having spent two seasons with the club he left the Weaver Stadium in the summer of 2015 to join Colwyn Bay, but soon returned to the Weaver Stadium at the start of September 2015.

Dave Vickers, spokesman for Nantwich Town, said, 'I am looking forward to watch him play. In the words of my son 'He is quality'. He joins a small core of other quality players who have already committed from last season's first team.' New manager Dave Cooke looks set to announce a number of other new signings soon as pre-season preparations are well underway".
---
19 June 2017 Ashton United "are delighted to announce that the club has re-signed first team defender Cavell Coo for the upcoming season! On his second spell at the club, the fullback has been very impressive and been on the receiving end of a lot of praise from fans. His consistency and high-quality performances were rewarded as he won the Robins' Directors' Player of the Year in 2016.

He's comfortable in right-back or left-back and adds pace to the side when getting forward. Coo has previously played for various clubs, including rivals Curzon Ashton, Salford City and FC United of Manchester" as well as Altrincham.

And still at Hurst Cross is another Alty "old boy" as "The club has re-signed first team captain Mark Lees for the upcoming season. the local hero extends his second spell at the club after making his Robins' debut as a teenager. The ex-Stockport County player's versatility is highly valuable as he can play in defence as well as his favoured position, midfield. When operating in the middle of the park, Lees controls the tempo of the game and spreads the play well, taking the pressure off the defence. His composure on the ball is a huge asset for this Ashton United side as he dominates the midfield."

According to NL Pitchero, "Worcester City FC will have their application to have a new ground build on Perdiswell heard on Thursday. The proposal has been drawn up by the Midland Football League Premier club and the WCFC Supporters' Trust, with the application being heard at The Guildhall in Worcester.

A statement on the club's website said... 'We are confident that the application will be successful which will enable us to move forward with our aim to bring Worcester City FC home... The new ground would have a 4,400 capacity, the scheme was first drawn up as far back as April 2014. Worcester have not played in the city since 2013."

The BBC reports that "A proposal to scrap 45-minute halves is to be looked at by football's lawmakers to deter time-wasting. Instead, there could be two periods of 30 minutes with the clock stopped whenever the ball goes out of play.

Lawmaking body the International Football Association Board (IFAB) says matches only see about 60 minutes of 'effective playing time' out of 90. The idea is one of several put forward in a new strategy document designed to address football's 'negativities'.

Another proposal would see players not being allowed to follow up and score if a penalty is saved; if the spot-kick 'is not successful', play would stop and a goal-kick awarded.

Other ideas include a stadium clock linked to a referee's watch and a new rule allowing players to effectively pass to themselves or dribble the ball when taking a free-kick.

Former Chelsea striker Gianfranco Zola is in favour of the proposal to cut matches to 60 minutes. 'I personally like this rule because there are so many teams who try to take advantage of it because they are winning and wasting time, so I think it is not a bad rule,' he told the BBC. 'Football is fast enough. Some of the changes I don't like very much, but this is a good one.'

Arsenal keeper Petr Cech echoed Zola's sentiments as he discussed the proposal on social media and wrote that at present there are '25 minutes of effective playing time per half so you would actually see more football'.

The ideas have been put forward to IFAB by stakeholders in the game to tackle 'on-field issues' and form part of what it calls its 'Play Fair strategy'...

The document has put forward a number of radical ideas for discussion, but suggests some proposals can be implemented immediately without the need for law changes... The document says match officials should be stricter on the rule which allows keepers to hold the ball for six seconds and be more stringent when calculating additional time.

Additionally, it suggests match officials stop their watch:
From a penalty being awarded to the spot-kick being taken
From a goal being scored until the match resumes from the kick-off
From asking an injured player if he requires treatment to play restarting
From the referee showing a yellow or red card to play resuming
From the signal of a substitution to play restarting
From a referee starting to pace a free-kick to when it is taken
Some of the proposals are already being tested. The idea of only allowing captains to speak to referees, to prevent match officials being mobbeds will be trialled at this summer's Confederations Cup, which starts on Saturday. Another proposal involves changing the order of kick-taking in penalty shoot-outs, known as 'ABBA'. It is similar to a tie-break in tennis, with team A taking the first kick, then team B taking two, then team A taking two. That is a change from the traditional 'team A, team B, team A, team B' pattern.
New suggestions also include players who are being substituted leaving at the closest part of the touchline to them instead of at the halfway line... One of the proposals would allow being able to dribble straight from a free-kick to 'encourage attacking play as the player who is fouled can stop the ball and then immediately continue their dribble/attacking move'. Other measures include:
Passing to yourself at a free-kick, corner and goal-kick
A stadium clock which stops and starts along with the referee's watch
Allowing the goal-kick to be taken even if the ball is moving
A goal-kick being taken on the same side that the ball went out on
A "'clearer and more consistent definition' of handball
A player who scores a goal or stops a goal with his hands gets a red card
A keeper who handles a backpass or throw-in from a team-mate concedes a penalty
The referee can award a goal if a player stops a goal being scored by handling on or close to the goal-line
Referees can only blow for half-time or full-time when the ball goes out of play
A penalty kick is either scored or missed/saved and players cannot follow up to score to stop encroachment into the penalty area
IFAB is made up of FIFA and the four British home football associations of England, Scotland, Wales and Northern Ireland and is responsible for making the final decision on law changes. Former English referee David Elleray is Ifab's technical director and has overseen the document... The next stage would involve the ideas being discussed at various meetings before decisions are taken on whether to develop them further or discard them."

The Evo-Stik League reports that "The Northern Premier League will continue to be sponsored by the EVO-STIK brand of the Bostik organisation, it was announced today at the league's Annual General Meeting in Blackpool. The deal takes the partnership between the two into an eighth season and could chalk up double figures, making this another long-standing sponsorship for the NPL.

'We have a proud track record of retaining sponsors and working closely with them to drive return on investment,' said NPL chairman Mark Harris. 'The league and our clubs devote a great deal of time and energy to promoting the sponsorship through our website, social media and, this season, our NPLTV match highlights programme. The best form of recognition we could have is the financial input from major sponsorships like this, so we are delighted to be continuing to work with EVO-STIK."

The new deal will bring a slight name change to all three NPL divisions. The competition's branding is simplified to The EVO-STIK League, with the individual divisions named the EVO-STIK League Premier, EVO-STIK North and EVO-STIK South.

Commenting on the deal, Dale Poulton, commercial director of Bostik UK, said, 'We have a proven relationship with this tier of football and believe it is an ideal platform to generate awareness for EVO-STIK. This is a very important part of our marketing activity, and the extension of the deal shows our continued investment in the brand'".
---
18 June 2017 NL Pitchero reports that "Altrincham forward James Poole is expecting the Robins to be challenging for the Evo-Stik Northern Premier League Premier Division title.

Poole joined Phil Parkinson's team last month following the club's relegation to step 3 and he is expecting the club to make an instant return to the Vanamara National League North.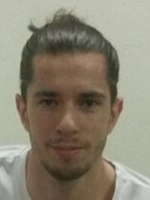 He said, 'I wouldn't have joined them or even entertain[ed] the idea of joining anyone if they didn't think they could get the best possible outcome that they could get and that, for Altrincham, is winning this league. I've won promotion out of this league before with Salford City and I like to think that I know what it takes to get out of this league and it's a serious level of football and we all know what is expected of us.

'I've had that sort of level of expectation on me for two years at Salford City, every single game you are expected to win and, if you haven't, then you have failed. I'm expecting the same thing at Altrincham and that is what gets the best out of me'.

Following a double relegation, many people would expect the mood in the Altrincham camp to be a bit downbeat. But the former Hartlepool United man says it's the opposite and he is feeling really happy for the new season following a meeting with the new manager and the rest of the squad.

He said: "We had a meeting last week, the gaffer got everybody in and did a little presentation. He had a chat with us and we got to know him, his staff and the other new lads.

'I came away from it even more excited than I was before. I can see where the club is going, the vision the manager has got and it lines up with my philosophies in football, my aims and what I want to do in football. It all married up and that was really positive and, since then, I've had nothing but positivity around the place and I would like to think that the negativity of two relegations has kind of gone away.'

The 27-year-old has left Moor Lane after two years with the club... He explains why he left the club, 'The decision was made for me because of my work situation. It was tough to leave and it something that I didn't want to do. But I had to keep my job and I couldn't go full time with the club. I've known about Salford going full time for a long time now. I'm sad to be leaving the club but it's given me the chance for a fresh start.'"

According to NL Pitchero, "New Shaw Lane AFC striker Damian Reeves says the momentum the club has and the way they spoke to him made it an easy decision to join.

The forward has joined after successful spells at Farsley Celtic and most recently Altrincham. He will [?play against?] Phil Parkinson's side this season in [the] Evo-Stik Northern Premier League Premier Division.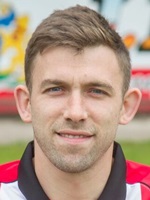 After the signing was announced Reeves [right] admits he can't wait to get going.

'I am very pleased to be joining as they are a club on the up who are geared towards success. The main factor is the one goal the club has is promotion and that's a big positive for me. They are used to winning and that in itself gives momentum. It started as a small club with a big ambition and, if I can help that on its way and be a part of it' then that's great. I like the way Shaw Lane put themselves across and had a clear vision of where they want to go. The decision to drop down a level was to help them go up a level and that's something I felt I could help them with.

'My personal aims are, as always, to score as many goals as I can. I want to help the team achieve its own aim of getting promoted'.

Reeves admitted that there was plenty of interest in him. Those clubs have been from a number of leagues. 'I was in the fortunate position of having a few offered [offers] from different clubs. The vast majority in the Vanarama National North as well as one club in the Vanarama National League. I had a bit of a luxury to be able to listen to them all and make my decision from there.'

Reeves had been at Altrincham and his goal scoring exploits led to him being looked at by Football League sides. He admitted that it was time for a change but he loved his time there. 'If I'm being brutally honest, as I always am, it was the right time for me to leave. I actually decided at Christmas that it would be my last season. Sometimes, among all the affection and good memories you have for a certain club, you have to sit back and think it's time to try something different and this was that time.

'There's been far too many good moments to try and name but, in terms of the club itself, I would say the promotion and the play-off final. The dramatic way it happened is a story in itself. If I have to pick a personal one I would put the goal against Barnsley to win the FA Cup tie [is] right up there, as that was a great personal moment but also a great one for the club as well'".

"Dan Crane says he is pleased to be joining Rushall Olympic after hearing good things about the club" states NL Pitchero.

The experienced keeper left rivals Hednesford Town but was quickly snapped up by Wayne Thomas's team. Speaking about his thoughts on the move Crane said, 'I am really pleased. It's obviously a club I know well from playing against them. I have spoken to a few people and they have all told me what a great club it is, run by good people. Once I had spoke[n] to the management team it was a very easy decision. I was looking for a new challenge and this was perfect.

'I'm not big on setting individual goals; it's all about the team. I will be looking to keep as many clean sheets as possible and helping the team in any way [I] can'.

Crane has been at clubs including West Bromwich Albion, Burton Albion, Corby Town, Solihull Moors as well and speaking about his experience the keeper said, 'Experience is always important at any level of football. You always need experienced players in your squad.

The manager brings a massive amount of experience too. I will just be looking to help any younger players that may have not played at this level. This can be done in lots of different ways... It was strange leaving Hednesford after playing nearly 350 games. The new manager had a different view on my position at the club. I'm only 33 and still have a massive desire to play. I left looking for a new exciting challenge and that's exactly what I have found at Rushall, I am very really looking forward to getting started'".

And at Hednesford Town, the club "can confirm a new arrival at Keys Park, although one player has also departed.

The Pitmen are pleased to welcome goalkeeper Jose Veiga to the football club as he takes up a player/goalkeeping coach role at Keys Park. The 40-year-old has a wealth of experience having started his career in Portugal with Benfica in 1995 before arriving in England at Tamworth, 11 years later. After playing for a host of Football League and non-league teams the Cape Verde international was most recently with Rushall Olympic.

Manager Neil Tooth said, 'Jose will work closely with James Wren and the young goalkeepers at the club, and also push James by competing for the number one shirt. As well as being a very competent goalkeeper at this level Jose is also a fantastic goalkeeper coach, having worked with James when they were both at Tamworth. The goalkeeper position needs specialist coaching and Jose has bags of real experience that he can pass on and I'm really looking forward to working with him. He will be a valuable member of my staff as well as a key member of the playing squad.'

Departing the club is left-back Darren Campion who will not be returning next season due to a recent change in his work situation which would mean that he couldn't commit to the time required for this level. Tooth added, 'Camps is gutted and it is a blow for our preparations, but he let me know at the earliest possible opportunity in order for us to get someone else in'".

Elsewhere in the Midlands, Halesowen Town "are delighted to announce another new signing for the 2017-18 season. Midfielder Jordan Goddard returns to the Yeltz having left midway through last season to join Leamington. Jordan was a hit with the Halesowen faithful with his set piece ability and creativity in the final third providing many assists as well as goals".

Over at Farsley Celtic, "Highly experienced goalkeeper Tom Morgan has returned to Scarborough Athletic, where he will be battling with another ex-Celts 'keeper, Tom Taylor, for the Number One jersey in 2017/18. In addition, Morgs will become part of the Seadogs' managerial team, as the Club returns to the town and a new purpose-built stadium.

Tom came back to the Celts in mid-March 2017 from Scarborough having spent 2015/16 at Shaw Lane AFC. He was on the bench in nine league and cup Games, as well as making an emergency appearance up-front... Morgs was a great 'keeper during his spells with Farsley between 2003-2008 and 2010-2014...

Morgs said, 'Unfortunately myself and Adam couldn't come to an agreement for a deal this upcoming season. However, I do feel the Club is in safe hands moving forward and I wish Adam all the best. I know he will succeed. Tom said, 'Farsley has a big place in my heart and I feel very privileged to be the only player to be part of every promotion winning side over the past 14 seasons'...

Manager Adam Lakeland said of the departing stopper, 'Tom has become the third player to leave this summer and sign for Scarborough. He is a great lad and is extremely well thought of at the Club... Whilst Tom knows I would have liked him to stay, his playing opportunities would be limited here and he has a real hunger and desire to go into the coaching side of the game, which I believe is included in a combined opportunity presented to him by Scarborough'".
---
S 17 June 2017 Kick-off times for the pre-season friendlies have now been confirmed and can be found here.

As previously announced, the home pre-season games are free for holders of Altrincham FC 2017-18 season tickets. The deadline for the £10 discount is today (Saturday, 17th June).

Details of the ticket categories are below and further information may be had from the club on (0161) 928-1045 or by e-mail.

As previously announced, "Altrincham's board have decided to make substantial cuts to admission prices for next season in the hope of encouraging supporters to turn out in numbers for a concerted push for promotion back to the Vanarama National League North.

In the wake of relegation to the Evo-Stik League, the club have announced significant savings for season ticket holders and those who pay at the gate, and scrapped their policy of charging extra for a seat in the main stand. A flat rate will now apply, with season tickets costing £180 for adults, a reduction of 28 per cent on the current standing price and 38 per cent on seating, and £125 for students and concessions, a drop of 14 per cent and 19 per cent respectively.

There is a 17 per cent cut to £50 for 12-16 year olds, while the cost for under-11s has been halved at just £15. In keeping with most Evo-Stik top-flight teams, matchday entry for adults has been set at £10, a 28.5 per cent reduction, with concessions and students paying £7 (22 per cent less), 12-16 year olds £4 (20 per cent less) and under-11s £1 (50 per cent less). Additionally, there is an early bird scheme, offering a further £10 saving on any adult or student/concession season ticket bought by the end of May.

Explaining their stance, the club's directors jointly formulated a message, saying 'We felt it was important to give something back to supporters after all they have been through this season, whilst also encouraging them to keep turning out in numbers. Promotion is the aim next season, and a vibrant atmosphere at games can only increase the chances of it happening.

'There have been so many instances down the years of our crowd being like a 12th man out on the pitch, so it was imperative we set a price structure that would be seen as fair and would not deter people from attending. We have made reductions across the board that we hope will be welcomed by all and lead to a level of support conducive to making next season a success.

'Furthermore, at just £1 for under-11s, it is also hoped parents with young children will be encouraged to come along to sample the matchday experience at The J.Davidson Stadium and turn it into a family day out.'"

In the Sale & Altrincham Messenger, John Edwards reports that "Teenage frontrunner Tolani Omotola has become the latest new arrival at The J.Davidson Stadium – to the delight of former Altrincham favourite Josh Ginnelly.

Omotola accepted an offer from Alty boss Phil Parkinson following his release from Tranmere Rovers and was immediately backed to provide an extra cutting edge up front by 20-year old Burnley winger Ginnelly.

Taking to Twitter moments after the signing was confirmed, Ginnelly tweeted, 'Welcome to the #AltyFamily. Goalscorer, people trust me! Good luck Bro'...

His friend Omotola will be looking to challenge Alty's other new attackers for a starting place after playing a prominent role in Witton Albion's promotion campaign as a loanee last season.

After lining up against Alty in a pre-season friendly, he went on to contribute 16 goals overall in 42 outings as Witton went up to the Evo-Stik Premier Division via the play-offs.

Parkinson's transfer dealings have created an air of hope among Alty fans, after the misery of relegation two seasons running. And the new sense of optimism has been further reflected in season ticket sales figures.

Alty's board slashed season ticket prices after dropping into the Evo-Stik League, but have done such a brisk trade in recent weeks that income from sales, up to the end of last month, was four per cent higher than at the same time last year".

From NL Pitchero, "York City have revealed the return of experienced striker Michael Rankine... Having made almost 100 appearances for City already, Rankine is a familiar face to most fans, and he joins on a one-year deal.

Rankine, 32, played last season at Guiseley AFC having taken in spells at Gateshead, Hereford United, Altrincham and Aldershot Town, among others. The striker already has 20 league goals to his name with the Minstermen, something which he will be hoping to add to this season. "

Unconfirmed reports say that former Alty physio Sean Riley is leaving Barrow to join AFC Fylde.

Stourbridge "have agreed terms to snap up Aris Christophorou from Rushall Olympic and bring Ryan Rowe back to the club.

Aris is a versatile, no-nonsense player, capable of playing anywhere down the right or also in the centre of defence. He has the pace and trickery to get forward and trouble opposition defenders. Aris progressed through the youth ranks and into the reserve side at Walsall before being released in the summer of 2014. He had previously on the radar of the Cypriot international youth set-up.

Aris duly signed for Rushall for the start of the 2014-15 campaign and has since chalked up over 150 appearances in his three seasons at Dales Lane.

Striker Ryan Rowe will be a familiar face to many of our supporters as he prepares to embark on what amounts to his 4th spell with the Glassboys! Ryan, who has just turned 29, ended last season with Lye Town after notching 15 goals in 34 appearances for Leamington earlier in the 2016-17 campaign and Stourbridge boss Gary Hackett is looking for the front-man to show that he is still a force to be reckoned with in the higher levels of the non-league game.

He made his Stourbridge debut early in the 2007-08 season before moving on briefly to Bewdley Town. A switch to Cradley Town saw him develop his all-round game and a prolific 2008-09 season saw him win the Midland Alliance Golden Boot award for his goalscoring exploits with Cradley. Ryan returned to us for the 2009-10 campaign and enjoyed tremendous success leading the line as he netted 73 goals in 146 appearances before joining Kidderminster Harriers for a five-figure fee in February 2012. The start of the 2013-14 season saw Ryan return to the War Memorial Ground on loan...

After returning to Kidderminster in January 2014, he subsequently linked up with Brackley Town two months later, initially on loan, before making the move more permanent that summer. He then joined Worcester for the start of the 2015-16 season before soon transferring to AFC Telford, however he spent the final two months of that season with Lye Town before signing for Leamington last summer.

The club are also in advanced talks with another forward as efforts intensify to bolster our attacking strength in the wake of the recent departures".

Derbyshire club Mickleover Sports "player-manager John McGrath has appointed Sports-legend Liam Walsh as his assistant manager and Clinton Morrison as the first team coach going into the 17/18 season.

These appointments once again underline the ambition of the football club and are seen to be major appointments.

On Liam Walsh, John said 'I am delighted to announce Liam Walshe as my new assistant manager. He is a face that will be very familiar with everyone involved at Mickleover Sports... He has vast experience playing the game and I am looking forward to working closely with him. He is a born winner and a natural leader'...

Liam Walsh said 'This is an opportunity I simply couldn't turn down. Its great to be given a chance to return to a club where I had some of the most enjoyable years of my career...

McGrath has also secured the signing of former Republic of Ireland striker Clinton Morrison as first team coach (and player) following Morrison joining Sports as a player last season. McGrath made the following statement...

'Clinton will still be available to play so has loads to offer not only as a player but now as my first team coach. I thought long and hard about my back-room staff appointments and my relationship with Clinton has grown over the last 12 months and he is someone I admire greatly in the game and trust 100% and I am glad he accepted my offer to join the back-room staff as first team coach.'

Morrison said, 'I am delighted to have been asked to take the responsibility of first team coach and I am looking forward to helping the team and the rest of the management staff to utilise my experience to hopefully guide Mickleover Sports to a successful season'... We have some exceptional talent and attacking options at our disposal and the gaffer has assembled a really good squad not just at the attacking end but throughout the whole side.'

These appointments should serve to excite Sports' loyal fanbase who already know what both signings will bring to the table. With the recent signings of Bradley Grayson and Evan Garnett, and many more announcements on the way, 2017/18 promises to be an exciting season down at the Don Amott Arena."
---
16 June 2017 Press release issued by The Sport Business on behalf of Altrincham FC...

"Four Resolutions were passed at Altrincham FC's Extraordinary General Meeting which allow the club to seek new investors via new voting shares which are now available.

A show of hands from shareholders assembled at the club's Community Sports Hall gave a unanimous green light to the move. The club converted the 51% of non-voting shares to voting shares via the resolutions to create a means to generate finance.

Chairman Grahame Rowley said, 'It was great to see such a positive reaction to the motion – not one hand against. It now opens the door for the right investor or investors to get involved with this fantastic club.

'We've been working hard on the football side with the new manager and we've made some very good player signings. We're determined to move up the leagues quickly, so a financial boost will obviously help us with our ambitions both on and off the pitch.'

The club's board has appointed The Sport Business to help and support communications and commercial activities at the J Davidson Stadium.

For more information regarding Altrincham's plans and investment opportunities, contact The Sport Business by e-mail".

On Thursday evening in the Community Sports Hall, an Extraordinary General Meeting of Altrincham Football Club took place, attended by several dozen shareholders.

The Meeting was hosted by a panel comprising chairman, Grahame Rowley, directors Neil Faulkner and Bill Waterson, associate director Mike Adams and two representatives of MLP Law, Stephen Attree and Michelle Craven.

Before the meeting got under way, Grahame Rowley [GR] stated that the purpose of the evening was to convert 117,000 non-voting shares into voting shares. This move would facilitate investment in the Club.

Questions were asked from the floor, in response to which GR confirmed that the Club was not in any financial difficulty and that the 117,000 shares represented 51% of the voting shares. Although this meant that a new investor could gain a majority shareholding, the Board would be the means through which those shares were allocated and they would ensure that due diligence was performed to ensure that any such majority shareholder had the best interests of the Club at heart.

GR was asked if there was a potential investor in mind, to which he answered "No, no one at all". The aim of the resolutions to be discussed was to be a "vehicle" to facilitate such investment should the situation arise. GR indicated that he expected the price of the 117,000 shares was likely to be in the region of £4 to £5 each.

It was also stated that the shareholders' list would be updated and that the vacant role of vice-Chairman of the Club would be addressed, in the medium rather than short term.

GR also said that other shares were available insofar as Carole Nash had indicated her willingness to sell her shares with the proceeds devolving to the Club.

When asked how the Club would prevent an undesirable individual getting 100% control of the Club, GR pointed out that the Board itself held c30% of the shares which precluded such a situation arising without the Club's agreement.

The recently announced involvement in the Club of The Sport Business was explained as being a vehicle to improve the Club's profile and its external contacts.

Bill Waterson then underlined that any future investment would assist in implementation of the Club's Five-Year Plan.

The formal meeting finally voted on the four resolutions, all of which were passed without any votes against.

Those resolutions were:
To approve the Share Buyback Agreement
To approve the Variation of Class Rights [i.e. to convert the non-voting shares to voting shares]
To adopt New Articles of Association
To authorise the allotment and issue of the 117,000 voting shares.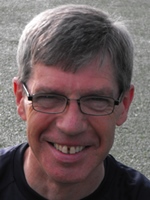 In addition to those players who have departed the J Davidson Stadium since the end of last season, Altrincham FC's popular sports therapist/physio Alan Ainsley (right) has also left the club.

Alan made a welcome return to Moss Lane as first-team physio for the 2012-13 season, after a spell away at Abbey Hey FC. Alan had originally come to Moss Lane in 2003 as part of the then new Reserves' team set-up under Neil Brown. In the intervening years he had regularly helped out with physiotherapy and rehabilitation work at Moss Lane.

All at the J Davidson Stadium thank Alan for his services and wish him good fortune in his future career. However, Alan will continue to run his Senior Exercise classes in the CSH on Tuesdays and Thursdays which have become extremely successful since he initiated them last year.

Altrincham FC is pleased to announce that the Club Shop is selling off a number of items of Alty merchandise at just £10 per item. The sale is being operated on a first-come first-served basis, so when they're gone, they're gone! Contact the club on (0161) 928-1045 or by e-mail.

Details of the items for sale are here.

Salford City report that amongst "players who have agreed terms to join the club" is former Alty loanee defender Carl Piergianni. The double-page "Nostalgia" section in Wednesday's Manchester Evening News was dedicated to Altrincham and featured the "glory days" of Altrincham FC with images from the memmorable FA Cup away win in 1986 at Birmingham City and the clash with Tottenham Hotspur in 1979. Altrincham will enter the FA Cup this year in the First Qualifying Round, which is scheduled to take place on Saturday 2nd September.

Dates for subsequent rounds are...
2Q - Sep 16th
3Q - Sep 30th
4Q - Oct 14th
R1 - Nov 4th
R2 - Dec 2nd
R3 - Jan 6th
R4 - Jan 27th
R5 - Feb 17th
QF - Mar 17th
SF - Apr 21/22
FINAL May 19
Evo-Stik League fixtures will be issued on July 13th (not 12th as previously announced). The 2017-18 season will run from August 12th to April 28th, with playoffs on April 30 and May 2nd and 5th. The league cup competition, the Integro Cup, will have its Final on April 10th

The Warrington Guardian reports that "Warrington Town have made experienced striker Tony Gray their first signing of the summer. The 33-year-old hitman arrives at Cantilever Park from Airbus UK, for whom he scored 10 goals in the Welsh Premier League last season...

Before his time in Wales, Gray scored 42 goals in 92 appearances in the National League... Gray has twice commanded a transfer fee when moving clubs, with Droylsden paying Southport £7,000 for his services in 2008 before he moved from Chester to Telford for £9,000 in 2013. In other news from Cantilever Park, [ex-Altrincham] midfielder Sean Williams has become the latest player to commit his future to Paul Carden's side. The 25-year-old joined Yellows in November and has gone on to establish himself as a key part of Carden's midfield.

Warrington chairman Toby Macormac gave his reaction to both pieces of news. 'Tony comes with a good goal-scoring record and brings plenty of experience to the squad,' he said. 'Willo has been around the club for a good few months now and he will be an important part of the midfield set-up next season'.

Carden's squad for his first full season in charge of Yellows is beginning to take shape, with the commitments of Gray and Williams coming hot on the heels of Dylan Vassallo's decision to sign a contract with the club. However, midfielder Lewis Codling has left Warrington to join Skelmersdale United."

According to the Evo-Stik League, "Workington veteran Kyle May has left the Reds after more than a decade of service to sign for Shildon. The 34-year-old centre-back brought an end to his 12-year career at Borough Park on Tuesday... After turning out in more than 650 competitive and non-competitive games for the Cumbrians, the defender signed off in style last month with Cumberland Cup success over Penrith...

The Reds staged a testimonial match and dinner last season to mark May's loyal service. Joint Reds managers Lee Andrews and David Hewson will miss May when the 2017-18 season kicks off in August but will be able to call on the services of top scorer David Symington after he put pen-to-paper on a new deal this week."

In Barnsley, Shaw Lane AFC announce that striker "Chib Chilaka has signed from Harrogate Town".

Meanwhile, Mickleover Sports confirm that "boss John McGrath has completed the signing of midfielder Danny Gordon from Ilkeston FC. Danny was Ilkeston captain and has a good level of experience given he is still just 23 years old.

John McGrath said... 'He is a player with loads of experience but still only 23 years old. He is someone who I have monitored for some time now and know we beat a host of clubs to get his signature. He captained Ilkeston through a difficult time at their club and that maturity and level of commitment is something I admire greatly in him'....

This signing further signals the intent of the football club and underlines the desire to contest for promotion in the 2017/18 season."

Elsewhere, last season's NPL play-off club, Stourbridge, confirm that their "midweek home fixtures next season will once again be played on Monday evenings".
---
15 June 2017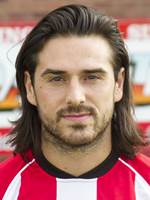 Bradford Park Avenue "have signed talented defender Luca Havern [right] from AFC Telford United. The 28-year-old arrives at the Horsfall Stadium with a wealth of experience in the top two tiers of non-league, after four years with Altrincham prior to last season.

Telford's reigning Player of the Year made 174 appearances at Moss Lane... Havern's Altrincham gained promotion with a play-off final victory over Mark Bower's Guiseley, and the Avenue manager was thrilled to complete the signing of the central defender.

'Luca is a player that I've admired for a few years now and he has an impressive CV in non league football,' Bower said. 'He has achieved two promotions in the last five years from our division and has National League experience. Last year he was captain and Player of the Year at Telford, so when we found out he was looking for a move to be closer to home we felt he would be a great addition for us, so we moved quickly to secure his services for next season'..

Two years in the Conference North at Moss Lane culminated in a thrilling play-off final victory, in which Bower's Guiseley were defeated by a 119th minute Greg Wilkinson strike. The centre-back spent the next two years in the National League with Altrincham, but left the club as they were relegated in 2016. During his time at Altrincham, Havern in fact found the net at the Horsfall Stadium, scoring the Robins' first goal in a 2-2 draw in April 2013".

He joins ex-Robin Nicky Clee at the Horsfall Stadium.

Another ex-Alty man on the move is striker Aaron Burns who has moved from Trafford to Stalybridge Celtic.

Halesowen Town "boss John Hill has started work to build next season's squad. The Yeltz have brought in three new arrivals to the Grove as well as signing up a host of last season's players for the 2017/18 campaign.

Defender Jack Kelly, a former Nottingham Forest left back, comes in after playing for Hayes & Yeading and Kettering Town last term. He was known as a set-piece specialist for the Forest under-21 side. Kelly is joined by forwards James Spray and Luke Shearer. Halesowen-born Spray started his career at Wolverhampton Wanderers and has most recently been at Midland Football League neighbours Lye Town.

Shearer, can play on the wing as well as up front, started his career as a trainee at Torquay United, before returning to the Midlands to sign for Tamworth. He joined Barwell on-loan followed by spells at Hednesford Town, Romulus and Bromsgrove Sporting before joining Alvechurch. Most recently he has played for Redditch United and Sporting Khalsa where he scored six goals in 10 games.

​The club has also secured the services of six members of last season's squad. Goalkeeper Daniel Platt, defender Bradley Lewis and midfielders Cameron Steele, Lee Chilton, Daniel Bragoli and Nathan Walker have all committed".

Elsewhere, Halesowen Town confirm that "Manager John Hill is also in discussion with other members to put pen to paper for 2017-18.

Meanwhile, at Farsley Celtic the club has "announced the coup signing of Danny Ellis... The defender has left Harrogate Town to join Celts, and manager Adam Lakeland could not be more delighted with the signing, stating 'I am so happy that he has joined, and I think it sends out a real statement of intent'.

Ellis, who has been with Harrogate for the last two seasons, explained his decision to join the new set-up at Throstle Nest. 'I had a few things to consider when I left Harrogate. The age I am now and the fact that they are going full time meant that there wasn't going to be a future for me there. So that meant looking for a new club and a new challenge. I met with Adam and Mark Bett who completely sold Farsley Celtic to me. They made me feel so welcome and I knew it was a club I wanted to sign for straight away. There was also the fact of living local and that helped too, but that was only a small part of it.

'I wanted a new challenge and this is one I really want to get into. I have won this League twice before and I want to do it again. I have joined this football club to get promoted. I really wouldn't have joined if I didn't think we were going to be up there challenging. I also know a couple of the lads here already and James Walshaw especially. He was a factor in convincing me to come here. The team did great last season, and I really think we can push on again. What I have seen behind the scenes already is great, and I cannot wait to get going next season'.

Ellis was part of the Guiseley AFC side that won the Conference (National League) North play-offs in 2014/15. The defender spent ten years at Guiseley after leaving Bradford City without making a senior appearance...

Lakeland added, 'To get a player of the quality of Danny is fantastic.... 'There were other clubs that may have offered him a better package financially than we have been able to do so, but Danny has bought into what we are trying to do here at Farsley. He can see the progression we have planned for the football club and he has completely bought into it. The type of footballer that Danny is are a dying breed. He will give you everything on the pitch and win at all costs'".

Over at Matlock Town, "Joint-manager Craig Hopkins says he's keen to explore the possibility of bringing in another striker on loan next season.. Burton Albion star Marcus Dinanga proved one of the finds of the last campaign as he scored 34 goals and helped the Gladiators to a ninth-place finish...

He said, 'Marcus was a great example of how the loan system can work in your favour if you find the right player and I think it's something we have to look at again. We have plenty of match-winners in the squad already but sometimes if you can find someone like that and who can give you that extra bit of pace and energy it can work wonders. We had Marcus at Mickleover towards the end of the previous season and he struggled to get in the team, so it showed how much he came on in that short space of time.'

Hopkins and Kirkwood look set to tie up deals with all of last season's players when they return for pre-season training next week, all having agreed to stay on for another season at least. But Hopkins also wants to bring in some fresh faces...

He said, 'You always need some fresh faces I think, just to give the team that lift and to freshen things up... We have a very young squad with the exception of players like Phil Barnes, Marc Newsham and Adam Yates who are that bit more experienced. Young players improve year-on-year anyway by and large so by virtue of that alone the squad will be stronger. But we'll keep a keen eye out for new faces and are considering the options at the moment'...

Hopkins says he is confident the Gladiators squad will return from their pre-season break in good shape and with their batteries fully recharged after a long season that saw them play 64 matches... 'They're a disciplined bunch so I don't have too many worries that they'll get too out of shape in the time they have off. I'd say we were in the top three fittest sides in our division last season which is so important'".

At Grantham Town, "Adam Stevens confirmed that Jordan Hempenstall has agreed terms for the Gingerbreads... Hempenstall finished last season with Brackley Town... He first joined The Gingerbreads towards the end of the 2013/14 season...

Manager Adam Stevens [said], 'I'm delighted to get Jordan with us. He's someone who we know well and will fit in with the ethos we have'".
---
14 June 2017 According to NL Pitchero "Northwich Victoria need to raise another £5,000 in the next two days to save the club from folding. The team were relegated last season and are due to compete in the North West Counties League Premier Division this season...

A statement on the club website said, 'Over the past 12 months our amazing fans have contributed a staggering £66,000. This has been to repay debt off from previous management and to also run the club efficiently and properly as a community club.

'As part of the agreement to take the club out of administration it became apparent that the final £15,000 was required by the FA to settle all debts off from previous ownership to stop the club from folding. After another generous amount of donations the supporters have raised a further £11,000. This leaves us just £5,000 short of our target.

'Our appeal to anyone footballing loving friend or colleague however big or small the donation is that we simply have 48 hours to meet this financial deadline with the FA or all our efforts will be in vain'".

More comes from the Northwich Guardian which says that "Northwich Victoria have launched an appeal to raise a four-figure sum ...

'We owe £15,000 to creditors', said Dave Thomas, Vics' general manager... A meeting of supporters, who have been in talks to buy the club from Martin Rushe since he put it into administration before Christmas, resulted in pledges for two-thirds of that sum on Monday night".

NL Daily reports "Whitby Town midfielder Dale Hopson has requested to leave the club. The former Darlington man had been negotiating an extension to his contract with the Seasiders but after prolonged discussions, he has decided to turn down the offer made by the club.

Last season Hopson enjoyed a successful season scoring 30 goals in all competitions... but the 25-year-old wants to test himself at a higher level and believes the time is right to do. The club doesn't wish to stand in his way of progressing to a higher level".

At Stalybridge Celtic, "Ex-Stalybridge Celtic player and manager Keith Briggs has returned after two years away to help the rebuilding process under current manager Steve Burr. Having joined as a player back in 2008 under Burr, he went on to play and captain the club for two seasons.

After successfully making the transition from player to staff member, Briggs was appointed manager of Celtic from 2013 to 2015. Now he joins up for his third spell with the club and reunites with Steve Burr after he was his assistant at Southport. He joins Andy Fearn as part of the backroom staff that will assist the manager for the forthcoming season.

He will work closely with Academy Director David Sullivan in a coaching role to further strengthen the bridge between the academy and the first team.

On his appointment as Assistant Manager [in succession to Neil Tolson], Briggs said... 'I've worked with Steve in various roles over the course of my career as a player and manager, so we have a strong working relationship. When he returned to Celtic this was always a possibility so I am pleased this has worked out'".

Derbyshire club Mickleover Sports the club is "excited to announce that first team player-manager John McGrath has put pen to paper in a new 2-year deal, keeping him at Mickleover Sports until 2019.

McGrath lead Sports to a mid-table finish in the NPL Premier Division following a relegation battle in the season before he arrived, spelling excellent progress...

McGrath added... 'With everything happening off the pitch with our new development going ahead and with the support of the chairman Don Amott, the board and club committee members, Mickleover Sports is a club that has an exciting future ahead and I am privileged to be a part of it all'.

McGrath has already made progress during this close-season with the signing of highly-rated strikers Bradley Grayson, and Evan Garnett signalling his intent to continue to build an attractive brand of attacking football."

Over at Farsley Celtic, "The Club is delighted to announce the signing of midfielder Chris Atkinson for the new campaign. Chris came on loan to the Celts at the end of January last season from Salford City, having had Football League experience with the likes of Huddersfield Town, Chesterfield , Tranmere Rovers, Bradford City and Crewe Alexandra...

Chris said on putting pen to paper... 'I met Adam a few days after he got appointed and really liked what he had to say and is very professional in the way he goes about things. He wants his teams to get the ball down and play good football which suits me down to the ground'...

The Celts' manager Adam Lakeland said of the returning midfielder... '2016/17 was a disappointing one for him on a personal level and it's clear to me that he is absolutely determined to make up for it in the coming campaign'".
---
13 June 2017 Altrincham FC is pleased to announce that, despite a significant reduction in prices, the sale of season tickets has shown a marked increase in revenue. Despite revenue per season ticket being markedly less than least season, the income from sales (as at 31 May) was 4% higher than in 2016. The Club would like to thank everyone who has bought a season ticket for their support and also to invites those supporters who have not yet done so, to take advantage of the discount offer and purchase their season tickets by 17 June.

Details of the prices are given below.

According to the Barnsley Chronicle, "Shaw Lane AFC could make a major coup by signing former Reds striker Kayode Odejayi. The club has been in talks with Odejayi, 35, for a fortnight and are hopeful of securing his signature but manager Craig Elliott says he has other options.

He said, 'Talks between us have been quite positive. He is a really nice lad and still lives in the area. He is looking to set up a fitness business and a move to us could suit him. We are under no illusions and there is another club interested in signing him. We are expecting an answer by the weekend. I think he has been interested in Shaw Lane's story and journey.'

Odejayi...recently left Stockport. Elliott... said, 'It's a no brainer for us in terms of what he can do on the pitch. But also he has a history with Barnsley FC and hopefully that would generate a bit more interest in the club'".
---
12 June 2017 Altrincham FC is again running its Patrons' Club...

"Altrincham FC Patrons' Scheme thanks you for your support over the past season(s). Your support is much appreciated and, although we have had an extremely disappointing season, it is all the more important to continue your support as we look to build as competitive a budget as possible for next season. Thus we are looking for supporters to renew or join the Patrons' Scheme for the forthcoming 2017-18 season, the 12th season that it has been run.

For the cost of £50 your name will appear throughout the coming season in the matchday programme as a Patron of Altrincham Football Club.

At the beginning of the season, every member will be entered into a prize draw, with the winner being match sponsor for an appointed game along with 9 guests. Second prize will be hospitality for 5 people and third prize hospitality for 3 people in the Manchester Glass Sponsors' Lounge.

If you are interested in becoming a Patron for next season, please forward a cheque, payable to Altrincham Football Club, for £50. Alternatively, you can pay by card by phoning the office. If you require any further information please do not hesitate to enquire by e-mail

The Staffordshire Newsletter reports that "Stafford Rangers have made their fourth signing of the summer in bringing back former player Joe Thomas.

The winger was part of Boro's 2015/16 promotion campaign, but made just two substitute appearances last season, and joined Conference side Nuneaton Town and Chasetown on dual registration.

A forward or wide player, Thomas signs a one-year contract with Neil Kitching's side, joining Louis Briscoe, Jack Langston and Rich Gregory as the club's new recruits".

Stourbridge report that Reiss Jeavons is "Delighted to be signing again for the coming season".

Buxton report that "We have today signed 6 foot 3 striker Sam Smith from Alfreton Town despite interest from other clubs".

At Sutton Coldfield "The Royals are delighted to announce that Aaron Farrell with be joining us for the new season. Aaron will spend his second spell at Coles Lane having been with us in 2012/3. The 31 year old striker lists Tamworth, Worcester, Kidderminster and Rushall among former clubs."
---
11 June 2017 Altrincham FC is pleased to announce that the Club Shop is selling off a number of Alty merchandise at just £10 per item. The sale is being operated on a first-come first-served basis, so when they're gone, they're gone! Contact the club on (0161) 928-1045 or by e-mail.

Details of the items for sale are here.

According to NL Pitchero, "Stourbridge have announced that terms have been agreed with defender Brandon Ball, who joins the club from Wolverhampton Wanderers.

Ball has come through the academy at Wolves, having also been with Aston Villa as a youngster. And, as previously reported on this site, winger Matt Dodd has accepted an offer to join rivals Hednesford Town.

Dodd joined Stourbridge towards the end of the 2014/15 season and made a total of eighty-five appearances for the Glassboys, scoring 9 goals.

Meanwhile, manager Gary Hackett has been busy agreeing terms with several of last season's squad, and the following players have committed themselves to Stourbridge for the 2017/18 season: Jordan Archer, Leon Broadhurst, Kayelden Brown, Josh Cooke, Josh Green, Brandon Hague, Reiss Jeavons, Chris Knight, Stuart Pierpoint, Dan Preston, Liam Slade and Jacob Wedderburn. They join Matt Gould, Jack Duggan, Aaron Forde, Bobby Moseley, Danny O'Callaghan and Darryl Westlake, who have already signed or agreed terms for next season".

And the Evo-Stik League tells us that "Matlock Town's management duo have been hailing their touchline team as they prepare for the 2017-18 EVO-STIK Northern Premier League season.

Joint Gladiators bosses Craig Hopkins and Glenn Kirkwood heaped praise on first team coach Danny Cox, goalkeeping coach Adam Sollitt and physio Mark Mullins this week ahead of the club's return for preseason training on Saturday 24 June.

Hopkins led the tributes to the trio for their roles in helping the Gladiators lift the Derbyshire Senior Cup with a 5-0 win over Gresley FC in the final and secure a ninth-placed finish to the 2016-17 EVO-STIK NPL Premier Division campaign.

Hopkins said, 'We have a management team of five as far as Kirky and me are concerned. They've all played and will continue to play vital roles at Matlock Town. We've known Coxy for years, everyone loves him, his enthusiasm and commitment know no bounds.

Soll[itt] was with me at Kettering and has a huge knowledge of the game. He sees things that sometimes Kirky and me don't see and has been brilliant in coaching Phil Barnes knowing when to push him and when to give him a rest.

Mugga [Mullins] is a fantastic physio who has played professionally and at a high level in Non-League...

Looking ahead to their squad's return, he said, 'The summer goes so quick, Grantham actually were back for pre-season training last Saturday. Adam Stevens did a tremendous job there last season so, if that works for them, why change it? We're still talking to players, some have opted for Conference North clubs but we'll still keep a close eye on them.

'For us it's about getting the right players and the right balance and, for us, that means young hungry players. Loan players will no doubt be included but that's more when the season's started, we'll be looking to get a couple in and we've spoken to a number of Football League managers who say they'll be able to help us out.

'We're presently looking at three or four forwards. Obviously Nangs [Marcus Dinanga] has gone back to Burton but everyone else seems keen to stay. It seems very quiet as opposed to last season when we were scrambling about for players and were looking to bring fourteen or fifteen in. This year it's important to keep what we've got and then build and expand on it.'

Hopkins is happy with Matlock's pre-season programme... He added, 'Nine games is just right and is always what we aim for. Nobody does nine times ninety minutes, we build their fitness up and we keep records of how many minutes each player has had during those matches, we've done this for nine years now. It's a matter of building up slowly, everyone also having a fair opportunity ahead of the new season'".

And the Evo-Stik League also reports that "Marine are auctioning off their away kit from the 2016-17 season to raise money for the sister club they helped to set up in Thailand.

The Mariners are hoping to make another donation to support Marine Thatphanom FC this summer by selling their squad's freshly laundered yellow Macron kit to the highest bidder ahead of a June 30 deadline for submissions.

Based in the poor Isan region of north east Thailand, Marine Thatphanom FC was set up at the end of last year by Mariners' committee man Dave Thompson. Also the managing director of the EVO-STIK NPL Premier Division club's main sponsors Marine Travel, he was moved to take action after visiting the impoverished area and seeing the desperate need for basic football provision for the well-being and development of children from the poorest families".

NL Pitchero confirms that "The Vanarama National League AGM has seen the play-off places expanded and will now include teams that finish 6th and 7th.

It will remain that the winners of course go up automatically but then the next six sides will now compete in the new look playoffs.

This will happen across the Vanarama National League, plus the National League North and South. There will be a qualifying round, semi-final and then the promotion final itself.

In total 18 Vanarama National League clubs approved the changes, four rejected it and two did not vote. Speaking about the plans when they were first put forward as a proposal Vanarama National League Chief executive Michael Tattersall said, 'The format involves the same amount of matches as now. With six clubs competing, it will increase the interest levels.

'The same format will also apply in the North and South competitions with finals being played at a club ground.'

It has also been confirmed that fixtures will be released on Wednesday 5th July".
---
10 June 2017 "Altrincham FC Press & Media Officer, Brian Flynn, advises that new manager Phil Parkinson has signed 19 year old striker, Tolani Omotola, following his release from Tranmere Rovers.

Omotola, played against the Robins in last year's final pre-season friendly at Witton Albion and spent the whole of the 2016/17 campaign on a Youth Loan at Wincham Park, making 42 appearances and scoring 16 goals in all competitions to help Witton secure promotion, via the play-offs, to the Evo-Stik League Premier Division.

He had previously played in Tranmere's final match in the Football League in May 2015 and featured for Rovers on a number of occasions during the 2015/16 season.

Parkinson's latest capture is Nigerian, but was born in Germany and everyone at the J.Davidson Stadium welcomes Tolani to Altrincham Football Club".

The Evo-Stik League reports that "Northern Premier League's fans and clubs can start pencilling in the date of next season's Non-League Day in their football diaries.

The brainchild of James Doe, a lifelong fan of both QPR and the Ryman League's Harrow Borough, and taking place for an eighth consecutive season, Non-League Day 2017 is kicking off around the country on Saturday 7 October after being announced on Thursday as the nation went to the polls.

NLD was launched in 2010 as a social media experiment to give Non-League clubs a chance to promote themselves by running free or discounted entry to season tickets holders at Premier League and EFL Championship clubs with the weekend off for one of the season's international breaks.

This year's annual celebration of Non-League football was chosen with England taking on Slovenia in a World Cup qualifier at Wembley on Thursday 5 October before travelling to Lithuania on Sunday 8 October.

To qualify for free or heavily discounted admission all supporters need to do is produce a valid season ticket at turnstiles. In many cases, EVO-STIK NPL clubs also use NLD to extend admission offers to new fans who can prove they live locally as well as members of the armed forces and emergency services.

As in previous seasons, thousands of pounds are expected to be raised by fundraising fans for good causes led by NLD's official charity, Prostate Cancer UK. For information on fundraising ideas and other tools for clubs supporting Non League Day 2017, visit the website.

Farsley Celtic confirm that "Aiden Savory has left the Celts to join Scarborough Athletic.

Although his time with the Celts will predominantly be remembered for his striking role, during last season Aiden fitted seamlessly into the back four for the majority of the campaign. He made 53 league and cup starts and one appearance off the bench last season and despite a change in playing role still contributed 8 goals...

Aiden said, 'Having been at the club since 2013 and presented with a new challenge by Scarborough, I felt it was the right time to move on... I'm sure with the new management team in place and the great squad that is being assembled, the Club will continue to be successful'...

Manager Adam Lakeland said of the departing player, 'I'm disappointed to learn that Aiden has decided to leave the Club... We would have liked him to stay with us for the coming campaign, but I respect his reasons for leaving and wish him all the best for the future.'"

"Goalkeeper Tom Taylor has become the latest new signing at Scarborough Athletic

Steve Kittrick has moved to bring in the 24-year-old stopper ahead of the first season back in town. Taylor joins Boro from fellow Brighouse Town. The 6ft 4ins stopper has enjoyed previous spells at [NPL side] Farsley Celtic as well as FC Halifax Town and Ossett Town".

Welsh Premier says that "Manager Colin Caton has added a second singing of the summer to his Bala Town squad with the arrival of journeyman Eddie Toner from Marine.

A 24-year-old central midfielder, Toner has already done the rounds of the northern non-league circuit, staring out at Barrow until 2011, when he joined Northwich Victoria. In 2013, Toner moved to Stafford Rangers, then Burscough, before joining Ashton United in the 2014/15 campaign and scoring on his debut.

His next port of call was AFC Telford United in December 2015 and he has also had spells with Stafford Rangers, Stalybridge Celtic, Skelmersdale United and Warrington Town, joining Marine in February this year."

Bradford PA confirm that "manager Mark Bower has begun reshaping his squad with the news that six players have been released. Jon Worsnop, Sanchez Payne, Aidan Chippendale, Liam Dickinson, Emile Sinclair and Chris Sharp have all been made free to find new clubs...

Sinclair scored four goals in 33 appearances across all competitions last season".

Scarborough Athletic have since signed Emile Sinclair.
---
9 June 2017 Why not join the Altrincham FC Monthly Draw and give yourself the chance to win cash and other prizes, whilst helping Altrincham FC. Details of the scheme are here.

If you would like to check your Monthly Draw number, there is a full list here.

News of a two ex-Alty loanees comes from the The BBC, which reports that "Chester have signed Paul Turnbull on a two-year contract from Barrow. Turnbull, 28, made 31 appearances for Barrow last season, but turned down a new contract. The midfielder previously played for Stockport County, Northampton Town, Lincoln City and Macclesfield Town before joining Barrow in June 2016.

He becomes manager Jon McCarthy's sixth summer signing following the arrivals of Harry White, Nyal Bell, Andy Halls, Ross Hannah and John McCombe."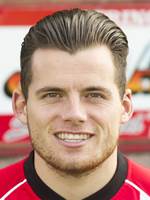 According to the Derbyshire Times, "Chesterfield transfer target Jordan Sinnott (left) is expected to leave his current club, FC Halifax. The chairman of the Shaymen, David Bosomworth, has spoken to the Halifax Courier and confirmed that the midfielder is likely to depart.

Sinnott hit the net 10 times in 44 games last season for the National League North play-off winners. The Derbyshire Times reported earlier this week that a fee had been agreed between the two clubs.

Bosomworth said, 'Jordan is out of contract with us and he's allowed to speak to other clubs. Our understanding is that a League Two club is in fairly advanced talks with him, although I don't think there's anything concrete as yet. We've made an offer to him but I'm sure the lure of full-time football with a League Two club would be quite appealing for him. If I was a betting man, which I'm not, I think it'd be likely he will go.'

Sinnott earned his first-team debut under Steve Eyre, current Chesterfield assistant manager, during their time at Huddersfield Town. Spireites boss Gary Caldwell has confirmed the 23-year-old is someone he's keen to bring to the Proact, having watched him in the play-offs."

The Shropshire Star tells us that "Luca Havern has left the Bucks. The 28-year-old was one of the Bucks' stand out performers in a tough season, but will not be carrying on with the club in the 2017/18 campaign.

The club confirmed the decision in a statement online. 'AFC Telford United can confirm Luca Havern has left the club and will not be staying with the Bucks next season.' read the statement. 'After discussions with management duo Rob Smith and Larry Chambers both parties felt it was best the player moved on. Luca found traveling very difficult towards the end of last season with working in Manchester so will be looking for a club closer to home.'

Rob Smith was full of praise regarding his Skipper, wishing him all the best as he continues his career. 'Luca has been an excellent captain on and off the field and more importantly was a great lad to have at the club', said Smith. 'As skipper, he was a pleasure to work with and he will be a player I will keep in contact with in the future.'

The captain posted a message to fans on Twitter following the news... Said Havern, 'I enjoyed every minute of last season and, although we had ups and downs on the pitch, I hold my time with the club in the highest regard'".

Former Alty player Bobby Jeffrey (74), who played for the Robins in 1964-65, has sadly died in Cambridge. Altrincham FC expresses its condolences to his family and friends.

At Frickley Athletic, John Cyrus was aksed "How does it feel to be back? 'It feels great to be back at Frickley because i really enjoyed my time here last time round, the fans are brilliant and they have always supported the team through thick and thin... I did have a few decent offers but, ultimately for me, it was important to get back to enjoying my football which is why I chose Frickley'".

On Merseyside, Skelmersdale United report that "Skelmersdale United are delighted to announce... the double contract signing of Danny Ventre and Steven Gillespie from Warrington Town. Both players... put pen to paper on 12 month deals which will see... Steven as a player/coach...

Steven begins his second spell at the club after joining on loan from the Yellows back in February making 11 appearances but also as part of Alan Rogers' coaching staff, a role which he will continue next season. He has played at the likes of Bristol City, Cheltenham Town, Colchester United, Fleetwood Town, Bristol City, and more recently Altrincham, which saw him reach 300 career appearances while also coaching at Wigan Athletic."

Shaw Lane AFC have issued a joint statement with Barnsley RUFC. It says that "Barnsley RUFC will focus solely on rugby following an in-depth review of its current ground-sharing strategy. The ground-sharing arrangement with football team Shaw Lane AFC has been reviewed by both parties and the conclusion has been reached that the best interests of both clubs would be served by an amicable parting of the ways.

The rugby club, having listened to substantial feedback, has decided that it now needs to focus more on the needs of its nineteen senior, junior, ladies and children's teams... At a senior team level the ground share meant that last season the club was only able to play 10 of its 20 fixtures at its home venue on the main pitch and, for the junior teams, they have not been able to use that facility at all.

Commenting on the decision, rugby manager Paul Matthews said, 'It would have been wonderful if the ground share agreement had worked for us all but, partly due to Shaw Lane AFC's continued success, their needs have become more than we are able to support and, sadly, in trying our best to support them we have run the risk of alienating our loyal fan base'...

Dave Exley, Shaw Lane AFC secretary said, 'The rapid progress that the club has made in recent years has no doubt been helped by the co-operation that we have received from Barnsley RUFC. We fully understand their position and the review has made our club look at its future needs with emphasis on continued growth. As we rise up the leagues the agreement with Barnsley RUFC would be more difficult to maintain, therefore we must look elsewhere for a facility with potential to develop. Negotiations with all parties on timescales and potential partners are moving quickly and once a decision has been agreed we will of course notify our loyal fans'".

On this side of the Pennines, the Lancaster Guardian affirms that "It may only be the start of June but Lancaster City boss Phil Brown is content that his squad is just about done for the new season.

The Dolly Blues' manager has added six new faces...

Goalkeeper Chris Cheetham and former Morecambe youngster Charlie Bailey were the latest new arrivals this week, the latter following his brother Sam from Kendal Town. Five players have also now left the club with Jacob Gregory announcing his departure, the winger or full-back electing to try and secure full-time football.

Brown however has been busy when it comes to incomings having also added Glossop North End defender Paul Dugdale, Colne striker Oliver Wood and Warrington winger Scott Harries. The majority of those who fired the Dollies to promotion are also signed up...

'I think that's me about done,' said Brown. 'We've had five go out and brought six in. We've lost Mike Hale, Jordan Connerton and Jacob Gregory and Charlie Waters is off to Canada and Danny Shearwood to Singapore... I'm happy with the balance we've got. If I look at my defensive options I'm happy with what I've got, we've got a lot of flexibility in midfield and our strikers are in position. With Chris and Luke Raybould we've got competition when it comes to the goalkeepers as well. You never say never because you don't know what might happen and a player we can't ignore might become available...

'What I can do now is look at more specifics,' he said. 'Don't get me wrong, I've thought about tactics and the shape of the team when signing players but now I've got more time to focus on that... The players are back on July 1 and that gives us six weeks until the first game of the new season'".

At Coalville Town "The club can confirm forward Massiah McDonald has yesterday signed a new one year deal. The striker had an indifferent first year at the club but is keen to improve on his goal tally of twelve recorded in the 16/17 season and it was nothing but a formality that a deal would be reached from both sides.

Chairman Glyn Rennocks commented..'He has signed until the end of the season. Although not everything went to plan in his first year we believe in his pedigree and think that he will play a massive part in what we can achieve at this level'".

Unconfirmed reports state that "Rushall Olympic have signed goalkeeper Dan Crane from Hednesford Town".

From Farsley Celtic we learn that next season"Admission prices will see a small increase. This will be the first rise in prices for seven seasons...

Come August, Farsley will come up against Yorkshire rivals, Shaw Lane AFC and Whitby Town, with other familiar faces such as Altrincham, Lancaster City and Workington...

Prices for the upcoming season are as follows:
Adults: £8.00
Concessions: £5.00
Accompanied Children (under 14): £1.00".
Also "Farsley Celtic are delighted to announce that Graeme McKibbin has signed for a second season with the Club. The 'keeper who was... the Supporters' Club Player of the Year runner-up, said, 'I'm absolutely delighted to be staying with the Club. I spoke to Adam a couple of weeks ago, I liked what he had to say and I can't wait to get the shirt back on and get out on the pitch in the new season. I got a call from Stokesy (goalkeeping coach Gaz Stokes) to say that he was staying and, with what Adam had to say, it was an easy decision to resign. I had a couple of other offers, but ultimately I wanted to stay at Farsley'...
Manager Adam Lakeland said on signing the ex-Crusaders 'keeper...'It's taken a couple of weeks for him to make the decision, which I believe is the right one and I can't wait to work with him. It's clear we have got one of the best keepers in the competition, as his place in the League team showed, so it was very important we kept Graeme.... Going into the Premier Division, I know the team's average height is a bit bigger and set plays will be more and more important, so it's vital you have a keeper who is physically capable and confident to come and deal with balls into the box, which takes the pressure off the outfield players."
'Not only that, but going up a division, I expect sides to be a touch more organised and therefore we might not get as many chances to score goals, so games will be tighter and in Graeme we have somebody who can make 'big' saves when we need him to. For me that's the sign of a very good goalkeeper. The 'keepers who are making 10-15 saves a game are good goalkeepers, but personally the best ones are those who don't have a lot to do, stay focused and pull off the important saves when you need them and get you the points and in Graeme we have that'".
And at Sutton Coldfield, there is "Good news re David Howarth. Further to the previous news that David was moving on, we are delighted to confirm that he will after all be with us for the new season. This is very welcome news for the management team as they look at their striking options for new campaign."
---
8 June 2017 Belper Town "are pleased to announce the appointment of Anthony Danylyk as the new first team manager of the club with Paul Donnelley... Danylyk was previously manager at Leek Town during 2016/17 season before parting company with the club at the end of the season.

He was originally appointed as the assistant manager at Leek in 2015, but after the depature of then manager Lee Casswell he was promoted to the managerial role. He guided Leek Town to a 9th place finish, just seven points below the play-off places, but the Leek Town board decided to part company with Danylyk. The former midfielder will be in familiar settings during the 2017/18 season as he played for the Nailers in the 2004/05 season, also playing for Leek Town, Witton Albion and Altrincham during his playing career".

The Vanarama National League reports that "Southport's head of development Mark Wright has confirmed the signings of 24-year-old left-back Andy White and 20-year-old central midfielder Alex Fletcher. Both players have joined the club on free transfers.

Wright said, 'We knew both players were attracting interest from other clubs so we're very happy that Andy and Alex wanted to be a part of what we're doing here at Southport.' White, most recently with Evo-Stik Northern Premier League Premier Division side Nantwich Town, was named in the NPL`s team of the year for the second consecutive season in an outstanding campaign that saw him make his 200th appearance for the Dabbers, netting 5 goals in the process...

On Andy White, Wright said, 'Alan Lewer and I both know Andy extremely well. We've watched him for some time now so we're delighted to get the deal done. He can play at left-back or left wing back and he'll bring some real balance to the side.' Unconfirmed reports add that another EvoStik NPL player has left his club, in this case to join Barrow. The player in question is Bradley Bauress from Witton Albion.
---
7 Jun 2017 The EvoStik League reports that "At a meeting of the FA Leagues' Committee held this morning, club allocations to Step 3 and 4 were finalised that resulted in the following implications for the Northern Premier League.

Ilkeston FC having been refused a licence to operate at Step 4 to where they had been relegated at the end of Season 2016/17, were removed from the Northern Premier League.

Goole AFC are reprieved to NPL Division 1 North and Frickley Athletic are moved to Division 1 South having been relegated from the Premier Division.

AFC Rushden and Diamonds are transferred to the Southern League and Rugby Town have been placed with the Midlands League. Both Burscough and Northwich Victoria will feature in the North West Counties League.

The Northern Premier League refused Ilkeston FC a licence following repeated breaches of the previously issued Conditional Licence applied last season. The League is aware of the separate proceedings against Ilkeston FC heard yesterday (Monday 5 June) at Liverpool Crown Court, the outcome of which will determine the future of Ilkeston Football Club and the level at which it plays in the future.

The NPL shares the frustrations of clubs, officials and supporters of member clubs at the length of time taken in finalising club allocations. The League continues to press The Football Association to have in place more stringent deadlines in the future."

John Cyrus has reportedly re-joined Frickley Athletic.
Sutton Coldfield Town report "Great news for the Royals with Brian Smikle [right] agreeing terms to join us for the new season. Brian has a very good pedigree and the demand for his services was high so we are very pleased to have him on board.
He started his career with West Bromwich Albion and went on to have spells with Kidderminster, Cheltenham, Altrincham, Stourbridge and last season with Rushall. Now 31, he is a versatile, normally left sided player who will add class and experience to the ranks of the squad."
Brian, who likes to be known as "Junior", first appeared for Altrincham in a pre-season friendly in August 2013, later making his full debut on the right-wing on 17 August 2013. Having been unable to command a regular starting place, Junior was released on 14 January 2014. Altrincham appearances: 8(+6), goals 1.
---
6 June 2017 NL Daily confirms that "the sad news that Evo-Stik Northern Premier League club Ilkeston have been wound up in the High Court. The news came just hours after a proposed takeover of the Robins seemed to be moving closer to completion. The club, who were only formed in 2010 after the demise of Ilkeston Town, confirmed that they would be appealing the decision.

It is understood that players and staff have not been paid since December and were wound-up over a debt of £14,438. There was genuine hope that the club could survive, with the news that a sports management company called 'All Eight' were set to complete a takeover. A statement was released on the Robins website... It said 'Chairman Nigel Harrop is pleased to confirm that he has reached an agreement in principle for the take over of Ilkeston Football Club subject to final agreement by ALL EIGHT SPORTS.

A spokesman for ALL EIGHT gave the following statement earlier.... 'The minute the deal is confirmed officially we will immediately be in contact with creditors, players and fan groups to discuss our proposals and to arrange a Q & A session where we will talk directly to supporters'.

However, a High Court judge has ruled that the takeover has come too late in the day to help save the club from being wound up. The 2016/17 season has been a nightmare one for the Robins, as they started the season two weeks later than the rest of the Evo-Stik Northern Premier League clubs after they were suspended by the league for a failure to provide evidence of payment to creditors. The Robins finished the season in twenty third place, twenty points from safety.

Their relegation in the Evo-Stik Northern Premier League's second tier was confirmed... Now, unless an appeal is successful, it looks as if Ilkeston FC is no more."

Meanwhile at Sutton Coldfield Town, "We are pleased to confirm that both Aaron Birch and George Cleet have agreed terms to stay with the club for the new season. Discussions continue with other members of the squad and more news will follow as soon as any deals are agreed".
---
5 June 2017 The full list of pre-season friendlies, so far, is as follows:
Saturday 8th July: Whitchurch Alport (A)
Tuesday 11th July: Stockport County (H)
Saturday 15th July: Kidsgrove Athletic (A)
Tuesday 18th July: Chester FC (H)
Saturday 22nd July: Rhyl (A)
Tuesday 25th July: Wrexham (H)
Saturday 29th July: Bradford Park Avenue (A)
Tuesday 1st August: Winsford United (A)
Saturday 5th August: Trafford (A)
The Evo-Stik League reports that "Sports turf specialist GreenFields was today unveiled as the new official pitch partner to the EVO-STIK Northern Premier League. The deal, initially for the 2017-18 football season, was announced at a meeting of the league's 68 clubs on Sunday, with an introductory presentation from GreenFields.

GreenFields will provide EVO-STIK NPL clubs with surface solutions to meet the growing demand for 3G and hybrid turf pitches, as well as advice on maintaining grass surfaces. As a result, the league hopes to reduce the number of fixture postponements, especially during the winter months.

NPL club Hyde United have already been working with Greenfields for a year having laid a 3G woven pitch and officials at the EVO-STIK NPL First Division North club are delighted with their choice of surface.

General manager Pete Ainger said, 'The feedback has been excellent. Players and officials alike have commented that it is amongst the best surfaces they have experienced. The technology is massively different from other 3Gs, it performs like a grass pitch with increased durability. The woven technology enables the grass to stay upright and it's an obvious difference to standard 3G pitches'.

EVO-STIK NPL chairman Mark Harris... said, 'We've been looking for a pitch partner for some time to meet the information needs and growing demand from clubs looking to artificial turf pitches to generate additional revenues as well as providing a surface to play good football on'...

Over the coming season the EVO-STIK NPL will be working with GreenFields to provide clubs with exclusive pitch installation and maintenance information and advice with a presence from the company at league events including the launch of a new 'Pitch of the Year Award', set to be selected and presented by GreenFields at next June's annual awards in Blackpool".

NL Pitchero tells us that "Stourbridge manager Gary Hackett has been busy again, this time agreeing terms to bring in Danny O'Callaghan from Evo-Stik rivals Sutton Coldfield. O'Callaghan is an energetic, attack-minded midfielder who can also play the 'number 10' role in behind the main striker. He progressed through the ranks into the first-team at Sutton Coldfield... before linking up with AFC Telford United... That move didn't work out, though, with the Shropshire club undergoing a change of manager early in the season after a poor start.

He returned to Sutton Coldfield at the end of August 2015... He went on to captain the side last season before a serious injury sustained in January ended his season prematurely. He made 133 appearances over his two spells at Coles Lane".

Elsewhere, Grantham Town report that "Former Ilkeston Captain Matt Baker, has joined The Gingerbreads, signing a one-year contract... Adam Stevens has once again been busy adding to his 2017/18 squad, by renewing two more of last season's squad and the addition of crisis club Ilkeston's captain.

Talking about his latest signing Adam Stevens said 'Matt's season with Ilkeston was tough for him, but his qualities stood out. He's a leader and a great talker'...

The Gingerbreads returned to some light pre-season training yesterday, with around 20 players in attendance. [Two] of those were Danny Meadows and Jeremiah Dasaolu who have both been rewarded for the efforts last season with a one-year contract. With being unable to register players with the league until next month, Stevens will be keeping quiet on who he is looking to join his squad."
---
4 June 2017 Altrincham's first pre-season match is at Whitchurch Alport, where they are likely to face a 27 year-old former Robins' loanee.
NL Pitchero tells us that "Whitchurch Alport's first summer signing Ben Mills (right) says he can't wait to get started for the Hallmark Security First Division side.

The former Macclesfield and Chester forward has chosen to ply his trade for the 2017/18 season at Yockings Park after being impressed with the setup and the way the club is going.

He explained how the move came about, 'I phone[d] Carl Everall at the end of last season, just before the club's playoff push and I said I'm hearing a lot of good things about Whitchurch, the fans and the project.

'I really wanted to get involved with the club and he was really excited, got a little bit giddy on the phone.

'I went down to training a few times at the back of end last season as well as watching some of the games and then met up with the managers at the ground and was told what they wanted and I agreed that I would initially play and then get involved with the coaching side of things.'

The Stoke-on-Trent man went on to tell the club's YouTube account, 'I went to training first and, from what Carl said, it was a young team and they listened and I like the way they approached the lads and their management style.

'They talk a lot of sense and you can tell they have had a good football upbringing. You could tell the lads were hungry and there was a good team spirit.

'Then I went to watch the game against Prestwich Heys, travelled up there and was impressed, then I watched the City of Liverpool game before meeting Carl down at the ground with Luke. Carl explained the progress they have had in the last 18 months around the ground and that attracted me to the club.'

Over the last few years Mills has drifted in and out of teams and many people have wondered if he was committed to the beautiful game. However, he explains why his work life has got in the way of the game.

He said, 'I've had offers and people ringing asking what am I doing next year and stuff, but people have come to the conclusion that my commitment has been intermittent in the last few years.

'I set my own company up (Bee Active) and that has been the main focus and has been doing well.

'So I can look more at the weekends to do what I want to do and I was missing the football especially when it was coming towards the end of the season and towards the promotion push, playoff and final, you miss the glory and the hard work that goes into it.'"

Footnote: Ben signed at Altrincham for a one-month loan period from Chester FC on 21 February 2013. Unfortunately Ben's loan ended in a serious knee ligament injury against Droylsden on 5 March 2013 and he returned to his parent club. Ironically he had just scored his first goal for the club before the foul that ended his season. He made four Altrincham career appearances.

Lancaster City "are delighted to announce... City boss Phil Brown has secured his latest signing for the Dolly Blues, with 'keeper Chris Cheetham signing from National League side Southport.

Cheetham, 24, came through the Everton academy before gaining a football scholarship at Bradford City. The 6 foot 2 goalie, like many academy players has worked his since worked his way through the non-league pyramid. The stopper notably spent several seasons at Radcliffe Borough, putting in some then-annoyingly fantastic performances against City during that time.

Last season saw him pick up an unfortunate injury midway through his final spell with Radcliffe. His 2016/17 campaign finished strongly, however, as he was signed by National League side Southport. Chris featured in their final 6 games...

Phil Brown... [said], 'I'm delighted to have Chris on board. He is a very good keeper at our level... With Chris signing and Luke Raybould signing I'm happy to be able to say we've got two very good keepers.'

Raybould was amongst the latest group of players from last season's squad to re-sign for the Dolly Blues this week. First choice 'keeper in previous years Mike Hale left the club this season after being unable to commit to the increased travelling and time needed for the Dollies' step up into the NPL Premier Division."

At Sutton Coldfield, "We are very pleased to have agreed terms with three players from the last campaign. Nathan Fox, Nat Kelly and James Beresford will continue to wear the royal blue kit in the new season. Negotiations continue with other members of the squad...

Another new addition to the squad is Jack Barnes, a very highly rated young centre back who played for Wolverhampton Sporting last season. At 21 years of age, Jack is definitely a star in the making.

Matt Curley will be with Tamworth for pre-season and will be looking to secure his place in their squad to play in the National League North division so our best wishes go to Matt.

David Howarth will not be with us next season as he is looking to play for a team that is more local to his Shrewsbury home...

We are delighted to have agreed terms with Sam Arnold for the new season. Sam, aged 21, is a highly rated young keeper who played for Rushall and Walsall Wood last season".

also, "The Royals are delighted to announce the signing of Marlon Walters. Marlon is a great addition to the ranks of the new squad being assembled by Richard Sneekes and Steve Hinks.

Marlon is a central midfield player who loves a tackle and leads by example. He is an experienced player at this level and lists Rushall, Bedworth, Hednesford, and Chasetown amongst his former clubs having started his career with Wolverhampton Wanderers where he was skipper of the reserve side."

Over at Farsley Celtic, "Midfielder Ross Daly has left the Celts to join Scarborough Athletic after playing an important role in Farsley's successes. He made 37 starts and 19 appearances from the bench last term.

Dales had a brief loan spell at Farsley during the 2012/13 season, but moved permanently in October 2013 after leaving Bradford Park Avenue...

Celts boss Adam Lakeland said, 'It's disappointing that Ross has chosen to leave Farsley. He has been a great servant to the Club for a number of years and despite making him an offer to be part of the group again for the coming season, he has chosen Scarborough... but the offer he was made by Scarborough was considerably more than his deal here last season and was something we refused to match'".
---
3 June 2017
Pictured above, courtesy of Ian Senior, is the new Altrincham FC away strip for 2017-18.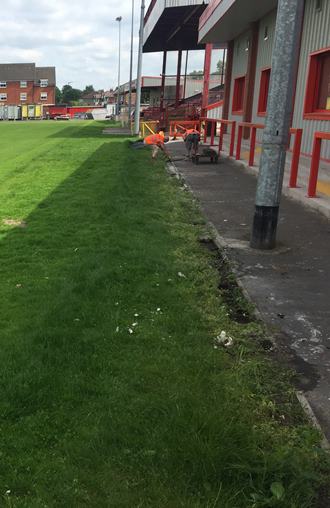 As the image, right, shows, work has begun on replacing the perimeter fencing at the J Davidson Staium. The existing barrier is now being removed and its replacement arrives on June 18th. It should then take 10-14 days to install. The work has been facilitated by a Football Foundation Stadia Improvement Fund, which has provided 50% of the funding. The project also benefits from a £10,000 allocation from the Budweiser Dream Goal competition. According to the Warrington Guardian "Paul Carden says the calibre of opponents facing his Warrington Town side next season excites him. Yellows will have games against Altrincham and Stalybridge Celtic as part of their 2017/18 campaign after they were relegated from the National League North along with Worcester City.

Town's near neighbours Witton Albion will also join them in the Evo-Stik Premier Division after their promotion from the First Division South. Shaw Lane, Farsley Celtic and Lancaster City also enter the fray, but Carden was pretty clear about who would be the big favourites for the title.

'Altrincham look like they are going to be the team throwing the money around to try and get back up,' he said. 'They've done some business early and brought in players I wouldn't have thought would come to this level, so good luck to them. It's all good for the region to have more games between teams locally at this level. When we're playing teams like Altrincham and Stalybridge, there will be bigger crowds and it's obviously less travelling involved for the players. "It definitely makes more sense that it has happened this way.'"

Hednesford Town announce that In a move to strengthen the Pitmen back line young defender J'Cee Abraham has been added to the squad. Released by Championship side Rotherham United at the end of last season, Abraham is comfortable played at centre-half or left-back and will provide good competition in those positions.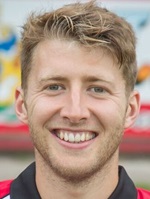 Also arriving at Keys Park is central midfielder Lee Smith with him having skippered Romulus before playing a number of games in the National League North for Tamworth after being snapped up by the Lambs.
The third new arrival sees Northern Irish international Jamie Lawrie (left) having agreed to join the club from Altrincham. The 26-year-old played almost 250 games for Alty after originally starting his career with Port Vale before spending time with Kidderminster Harriers and AFC Telford United. Lawrie will be a familiar face to Pitmen supporters with him having scored the winning goal against Town in our 2013/14 play-off semi-final defeat.
Striker Ryan Wynter has also agreed a deal at Keys Park with the front man having most recently played for Chasetown. The former Stafford Rangers man is another player who will sit in the minds of Hednesford supporters having scored the first goal in our Staffordshire Senior Cup semi-final defeat.
The final new arrival today sees the vastly experienced striker Luke Rodgers joining the club. The 35-year-old made his name with Shrewsbury Town before continuing to enjoy a Football League career with Crewe Alexandra, Port Vale, Yeovil Town and Notts County before spending a season with New York Red Bulls. After dropping into non-league in 2014 he has most recently been with Stourbridge.
Manager Neil Tooth, said... 'Jamie [Lawrie] and Luke both bring bags of ability and a wealth of experience from playing professional football. It is great to get both players on-board as they could have both signed for clubs in the league above...
'We are still talking to three or four more players that I would like to add to the squad but overall I'm really happy with how things are shaping up.'
Earlier this week we received news that striker Tony Clarke had decided to not return to the club for pre-season training and instead sign for Walsall Wood. He will be joined there by Jordan Fitzpatrick... Of the remaining players from last season's squad, Dan Brenan has moved to the USA in order to take up a football scholarship, Blake Thompson, Kyle Haynes and Gavin Caines have all been released, Lewis Wright has been offered terms on a new deal while Jake Webb and Reece Wagstaff will undertake pre-season training with the club."
The BBC says that "Solihull Moors have signed Jack Edwards from Leamington on a one-year contract. Edwards, 27, can play in defence or midfield and played before for Barwell".
---
2 June 2017 Elvin Priestley's 'Elvis' tribute night in the Community Sports Hall, set for today (2nd), has been cancelled. According to Thursday's News & Star, "Workington Reds' open meeting to hear an update on developments at Borough Park will go ahead as planned... A statement from the directors has explained the situation, and emphasised that the purpose of the meeting is purely to update all interested parties of the position of Workington AFC and Borough Park.

It read, 'There will be no votes taken or resolutions passed at the meeting, as this can only be undertaken in the correct way at a formally constituted shareholders meeting, which this is not. Although it is an open meeting, to which all fans are invited, all shareholders were informed of the meeting out of common courtesy, as many live out of town and would not be aware of the meeting through the local media.... This is not a formal shareholders' meeting as any proposal/resolution would have needed to have been sent with any invitation to the meeting.'

The directors have invited representatives of Allerdale Borough Council to the meeting so that their position can also be indicated to the fans. The statement concluded... 'The presentation will be clear and informative, and conducted in an orderly manner with an opportunity for fans to ask questions at the end'.

Last month, more than 100 fans attended a meeting called by former chairman Dale Brotherton to hear his proposals to buy the ground and give the club a long lease. Since then, the board have been criticised for their non-attendance and lack of response".

At Stourbridge "Darryl Westlake has become the latest player to commit his future to the Glassboys after agreeing a contract deal for the 2017/18 campaign... The 26-year old former Walsall, Sheffield United and Kilmarnock full-back joined Stourbridge in September 2016 and was one of our most consistent performers throughout the season just gone, chalking up 49 appearances in the process. As our squad begins to take shape, Darryl joins Matt Gould, Jack Duggan and new signings Aaron Forde and Bobby Moseley on board for 2017/18."

Over at Barwell, "With only 72 days until the first match of the league season, preparations for the 2017/18 campaign are well underway at Kirkby Road. Jimmy Ginnelly has already spoken to several players about the possibility of joining Barwell next season, but is delighted to welcome back the majority of the squad who ended the season with County Cup success at the King Power Stadium last week.

When asked about his plans for next season, Ginnelly said, 'It's great that ten to twelve of the lads have already agreed to stay... Myself and Guy (Hadland) have already spoken to six to eight players who are interested in coming to us. It will be competition for places, as it always is at the start of the season. The lads and the people at the club need to trust my judgement on who I decide to bring in'.

After a disappointing end to the season, which saw the Canaries slip out of the top half of the table, the Barwell boss is confident of put things right this time around. 'We finished 14th so, in my eyes, we weren't good enough,' Ginnelly admitted. 'Maybe bad luck accounted for a few places, but that may only take us into tenth. We need to improve and I believe the personnel with bring in will help us achieve what we're looking to next season'. Full details of the squad will be announced at a later date."
---
1 June 2017 Brian Flynn, chairman of TASC, announces that "The Altrincham FC Monthly Draw for May and the draw for two FA Cup Final Tickets was made on Facebook Live on May 23rd.

This month's winners are:-
6th place - Number 31-Paul Brady - Club Polo Shirt
5th place -Number 76 - Clare Brennan - Replica Shirt
4th place - Number 456 - P.Kennedy- Hospitality for two in the Manchester Glass Sponsors' Lounge
3rd place - Number 316 - E. Cucksey - £25
2nd place - Number 461 - Andy Holt- £75 and ...
1st place - Number 317 - Catherine Lockyer - £500
Congratulations to each of the winners and especially to Catherine Lockyer who wins the top prize of £500.

The winner of the two FA Cup Final Tickets was Nick Kelly, who was number 1 in a draw which had 31 draw entries. Nick is an Arsenal fan, therefore we are sure that he had a great day on Saturday".

Farsley Celtic report that "Attacking midfielder Paul Walker has put pen to paper on a new deal for the coming season. Walker who made 57 appearances for the club in 2016/17 signed a new deal with the club on Tuesday evening.

'Wakka' has been virtually ever-present in the stating eleven since joining from Bradford Park Avenue, initially on loan, early in the 2015/16 season. He weighed in with ten goals last campaign as well as numerous vital assists.

Upon signing Walker commented, 'It was an easy decision to stay here at Farsley Celtic. We have a great bunch of lads in the squad and the people around club are all class, so it's a great place to play football... For me it's always about just playing every week and trying to score or create as many goals as possible. As a group I feel we have a team who can step up to next level and compete with most teams and play the brand football we like to play...

I am already looking forward to pre-season and the friendlies and seeing how the new management team operate and implement their ideas'"

In Cumbria's News & Star, we read that "Former Workington Reds striker Tom Kilifin will line up against them next season, after he agreed a new deal with Lancaster City.

Kilifin, who asked to be released by Reds after a brief spell at Borough Park last year, has committed himself to the division's newcomers... Their manager Phil Brown has been prolific in his recruitment drive.

Kilifin joined Reds from the Giant Axe ahead of the 2016/17 season but said the commute for home matches and training from Lancaster left him feeling jaded and he departed in October.

Kilifin progressed through the City youth teams and arrived back at Lancaster late on in the season after a spell at Kendal Town. But he is not the only striker to be snapped up by Brown as he looks to make an impact on the league.

Brown has also secured the signature of highly-rated striker Oliver Wood from last season's promotion rivals Colne FC.

The highly-rated forward, who scored no less than 20 times last season for Colne, moves in to shore up the Dollies' front-line after the departure of Jordan Connerton to Australia.

Brown said, 'Oliver is a strong and athletic forward with excellent awareness in and around the penalty box'...

Meanwhile, Lancaster's club captain Ricky Mercer, defender Josh Westwood, and striker Hannu Tam have all agreed new deals to stay at the club."

Closer to home, the Warrington Guardian reports that "Warrington Town boss Paul Carden says his phone has not stopped ringing as he tries to assemble a squad for next season. Carden is set to embark on his first full season in charge of Yellows after taking over in October of last year and steering them to a 10th-placed finish... P> The Town boss has previously stated that he is aiming to push for the title next season and says getting players in to achieve that means he has not had much of a break. 'It's been pretty non-stop. I don't think my phone has stopped ringing since the season ended,' he said...

'I've been talking to our original players as well and have made decisions on whether I'd like to keep them. Some of them have made those decisions for themselves as well'...

Midfielder Danny Ventre and [ex-Alty] striker Steven Gillespie have both left Cantilever Park after their contracts expired... Players such as Josh Askew, Evan Gumbs and Mitchell Duggan have also left following the expiry of their loan deals.

Carden says the squad needs fairly major surgery to make sure it is ready for the rigours of another season. 'If you look at our regular back four last season, three of them were loan players,' he said. 'Danny Ventre has also left, so we're left with just [ex-Alty man] Sean Williams and Billy Smart in centre midfield.

'Further up the field, scoring goals was a bit of an issue for us last season so that's another thing we need to address... It adds up to a lot of recruitment'...

Yellows have confirmed a programme of eight friendly matches before their league campaign gets underway... The highlights of Town's pre-season programme are home games against National League side Wrexham and Carden's former club Southport.

The Yellows... admits there will be parts of pre-season training his players will not like. 'The lads have got close-season programmes to stick to. If they do that, they will come back in good shape,' he said. 'People always say pre-season is hard and there will be fitness work involved that they won't be doing with a smile on their face. Ultimately, though, the fitter the lads are when they come back, the less of that we'll have to do and the more time we can spend on implementing the way we want to play.

'We don't want to flog the lads just for the sake of it'".

We glean from the Buxton Advertiser that "Buxton boss Martin McIntosh will have strikers at the top of his shopping list after three left the club this week... Two experienced players, Jan Budtz and [ex-Alty defender] Greg Young have already put pen to paper to stay at the club.

But striker Brad Grayson has elected to join Mickleover while fellow forwards Jamie Jackson and Nicky Walker have been released.

'It is still pretty early,' said McIntosh. 'I am speaking to a lot of players but I am sure they're speaking to other clubs too. Last year we signed 10 new players but this year it won't be as many. We need to know who else is staying and who is going so we know what we need. But I am not too concerned at the moment as there is plenty of time between now and the start of the season. Last year we signed four in the week before the season started.'

The manager was delighted to see Budtz and Young stay with the Bucks, saying, 'These are experienced lads and they have enjoyed their time here. They love it at Buxton so were happy to sign. We have a few others we've retained, so I think we are ahead of the game at the moment.'

On releasing Jackson and Walker, he said, 'Both of them towards the second half of the season never really featured a lot for us so we've let them go. I have spoken to the two players and told them I expected more from them over the course of the season...

'I was slightly disappointed with them and, being honest lads, I am sure they'd agree and say they should have chipped in with more goals and been playing a lot more than they were'.

On Grayson's move to Mickleover, he added, 'He did well for us. He was another one couldn't get a club last year and we signed him a week before the season started. After jumping round three or four different clubs he settled with us and did really well. But we will replace him and hopefully they will do the same as he did'".
---
FOR EARLIER NEWS, CLICK HERE
---