---
30 April 2017
Altrincham's Press and Media Officer, John Edwards, caught up with new manager Phil Parkinson moments after Saturday's 2-1 defeat at Tamworth. It is hoped to arrange a supporters' Q&A with Phil at the Comnunity Sports Hall a little nearer the start of next season, but, in the meantime, here is a full transcript of his first interview as Alty manager.
Q: Congratulations on the appointment, Phil, and welcome to The J.Davidson Stadium. How does it feel to be Altrincham manager?
A: It is a massive privilege, an absolute honour. It's such an historical, huge club. To be manager here is something I have always aspired to, in terms of kicking on in management. This is a massive, massive step for me to take. I am really looking forward to it and relishing the challenge. I just can't wait for it to begin now.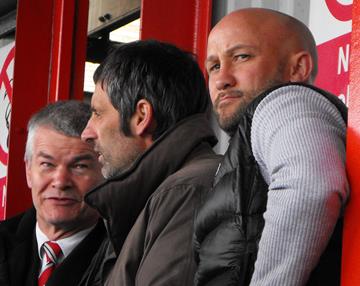 Right: New Alty boss Phil Parkinson (far right) watches the game at Tamworth, with his assistant Neil Sorvel and chairman Grahame Rowley.
Q: When you heard Altrincham were looking for a manager, did it interest you straightaway?
A: Of course, yes. I think it would be worrying, from an Altrincham point of view, if they didn't get a lot of interest in the job from managers in and around the level, and probably above as well. It's such a big club and just an honour to be able to say I am manager of Altrincham.
Q: What do you make of the challenge ahead, because expectations are undoubtedly high yet it would appear a lot needs doing?
A: I have just spoken to the players, and it is baffling what has happened when you look at the squad. They have had a lot of injuries, and you have to factor in as well how easy it is for losing to become a habit. Just as winning becomes natural when you are doing it every week, so does losing. We need to change that very quickly.
The team are in freefall after two successive relegations, but, for me, next season is going to be all about positives, nothing else. We are going to have a promotion push. We are going to be a team pushing at the top end of the table.
Myself and Neil (Sorvel) know how to do that, with regards to setting up teams at this level. We know how to win games at this level and, hopefully, that will breed through to the players.
I only see good things moving forward for Altrincham, otherwise I would not be here. If I didn't realistically think I could make that happen, I wouldn't have taken the job.
Q: How much needs doing, do you think, based on what you already knew and what you have seen today?
A: The process starts with speaking to the current group of players, and I have just made initial contact with them in the changing room and told them what my aspirations are for next season. I would love as many of them as possible to be part of that, because they are good, proven players. There will obviously be one or two who will drop off because of financial reasons, a lot who will be on Conference money. There is no point hiding away from that fact, and it will depend on whether they feel they owe the club something and want to be part of something special moving forward, in terms of a promotion push.
There is no point hiding behind the fact that finance will come into it. We will reassess where we are at with certain individuals. I would like to think all the squad feel they owe the football club something, with regard to a really good season, a successful season, and for me, one of the big reasons I am here is that a successful season is all I see happening at Altrincham.
I think we are at the point now where they must turn the corner, and they will. I feel when this club gets a bit of momentum, it is going to be a juggernaut, and I want to be at the head of that and really push it forward.
Q: There's an expectation in some quarters that there will be wholesale changes - have you decided yet whether that will be needed?
A: I think continuity is key in any football team. I'm not a big believer in a revolving door. If players don't want to be here any more, there will be that side of it but, if we add one or two players to this vastly-experienced squad, allied to me knowing this level, we will have every chance of doing ever so well next season.
But, listen, there is a long way to go yet. I have literally just come through the door, so I need to speak to the players, get them into the club for a proper conversation, and then if changes are needed, we will do it.
If we need to bring in bits of quality that we feel, at our level, will do a good job for us, we will do it. But we need to have initial conversations with all the players before we take any forward steps.
Q: How did it go in the changing room just now - any feedback from the players?
A: It was just me talking to them, really. They probably don't know me, and I don't know a few of them. I know of them, and I hope they know of me, but what matters is having players who are on board with what we are doing.
It's like in any walk of life, if you get people to buy in to what you are doing, it's half the battle. Then it's a case of executing what needs doing on the pitch, and that is winning games week in, week out.
There is an expectation with regard to how I want my team to play. We do play. We get it down and play, but looking at the way the lads played today, especially in the first half, it seems that fundamentally it is there, so it is not going to be a big culture shift.
But there will be the expectation to win games, which has probably gone. In fact, it has gone. There's no getting away from that when you consider we've won four games all season. If you are an Altrincham player sitting in there, it's not something you are going to take a great deal of pride in. You would hope they are going to want to right those wrongs, but ultimately if I have got players who have forgotten how to win games, then changes are going to happen.
I don't think that is the case, though.
When I went in at Nantwich, I think we had 32 points from 32 games, so the players were in a losing habit, but we ended up finishing 15th. The next season, we reached the semi-finals of the FA Trophy and finished higher in the league than we had for eight years and then we kicked on again this season by making the play-offs, so you don't always need to make lots of changes.
Some players need motivating, some need tactical awareness bringing into their game. We will find out what it is. If it turns out they've got no appetite for it any more, they certainly won't be here.
We will have irons in the fire moving forward, in case that's the situation. Pre-season is a long old time, and it gives me an opportunity to really assess where the players are up to.
Q: You transformed Nantwich with largely the same group of players, did you? They were in relegation trouble when you took over, as you say, but you didn't feel a clear-out was needed?
A: When I first walked in, they were so used to players coming and going that the joke was they would turn up to the changing room expecting to see five or six new faces every time.
We stopped that straightaway. We encouraged, rather than criticise, and so created a positive environment and a very together group, and the training we put on worked for them, because it got the best out of their abilities.
Obviously, you can favour playing a certain way, but if it doesn't suit the players at your disposal, it would be naive to continue playing that way. We have to quickly assess what we have got, and I would like to think, looking at them, they are footballers who like to have the ball at their feet. They were superb in the first half, but then we got the goalkeeper injury that changed the shape a bit, and we lost control of midfield.
I do like my teams to dominate the midfield. We like to get our full-backs pushing on, and we like to use our wingers quite a lot, getting balls in the box with quality, so I can see a lot of the fundamentals we believe in happening here.
I'm sure that after two really poor seasons, these players will want to be part of a promotion push, rather than a relegation battle, and will be relishing the chance to make it happen. If I was a player, I know I would want that.
I'll find out a bit more about these lads this coming week, then I'll know what I need to bring in and what I'll be retaining.
Q: What's the plan for the next few days exactly?
A: I will be contacting as many of the players as possible. I'm not one of those managers who looks at footage of a player and makes a decision based on that. I don't care about reputations or what a player has done in the past. I've always been a forward thinker, so I will be focused solely on what these players can bring to the table immediately, rather than how many goals they have scored in the past or how long they have played in the Conference.
It's what they can do for us moving forward, because it's about winning games on a regular basis from the start of the season and playing the brand of football we want to play.
Q: Your stance seems to be, then, that if you get the right response from players, you would prefer continuity to chopping and changing?
A: Yes, I think so. These players should be hurting. I know I would be after what has happened this season. I would want the opportunity to show the fans I am good enough to play for Altrincham. It's either that, or do they want to walk away? We will see, but, again, I can't answer that question until I've spoken to them.
Based on what I have seen and speaking to people, after doing plenty of research, they are certainly good enough to go to the level below and win the league. But if they haven't got the appetite or hunger for it, or don't want to be here any more, it will be a very simple conversation, as I have just said to them in there.
I will be asking them if they want to be here, because that is really important. If they don't want to be, or are umming and aahing, then there will be changes. But it is very difficult to answer that question until I have spoken to them.
Q: A losing mentality has been evident for quite a while - are you confident that is something you can eradicate?
A: I am, yes. Winning games will soon sort that out, because it breeds confidence. How will I do that? There is no magic wand. I'm not going to come in and wave a wand, and we start winning games. It is going to be through hard work in training, and, by hard work, I don't mean running round a running track. It's down to putting the hours in on tactical stuff and the technical work we put into place, and it's also them trusting me.
It's a mutual thing. Players need to feel they are trusted and wanted. If those things aren't in place, it doesn't work, so I have to get my side of it right, in terms of managing the group. Neil does the lion's share of the coaching, so he has to get that right. We talk about tactics and what we are going to do in terms of how we are going to play and who is going to play. If the players can't do what we ask, then changes will have to be made, but fundamentally it is a talented group.
We have had injuries, so is that a factor? It is something I need to look at, as is whether the same injury problems are recurring. That might be something I have to deal with as well, in terms of bringing players in because we've got lads unable to complete 90 minutes or see out 30-40 games over the course of a season.
A lot of my players at Nantwich have racked up 100 games over the last two seasons. We don't change it too much, once we get players in. As I keep saying, the big thing for me is continuity. If you don't have that, it is very difficult to win games.
Q: We've certainly been short of goals this season - might that be a priority?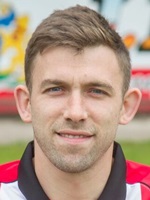 A: Yes, that is something I have noticed. Everyone needs a top, top striker to win the league. Just hearing the reaction of the fans this afternoon, it is obvious Mr.Reeves (right) is still very popular. He looked really sharp in the first half, and you don't look to let goals go. You don't want to lose that.
Can he produce the form he has shown previously would be the question, but obviously we will be looking to bring in one or two who are proven at our level as well. Last season, my striker scored 14 goals, but my centre-halves were chipping in with 10 or 11, and my midfielders were contributing as well. You need goals all round the team. You don't want to be dependent on one person, and that is something we focus on in training, in terms of how we can get the best out of the whole squad.
What I need to do is analyse the players very quickly, with regards to pre-season. I have, in my mind, players who would strengthen us, but I would like to think there is a lot of strength in that squad already. I know people will be expecting wholesale changes because of the decline, but, again, there might be simplistic reasons behind that which I can sort out.
If not, if I don't think they can be resolved, there will be changes, without a shadow of a doubt, but we will see what happens over the next few days.
Q: Before managing Nantwich, you lifted the FA Vase as captain. Does that suggest you've always had leadership qualities?
A: I would like to think so. I have been captain at most of the clubs I have played for. I always relished that kind of role. I like the position of manager. I like leading people. I like the organisational and motivational side of it, but, above all, I like winning games. I have always been that way, and I don't mind admitting I have sleepless nights if we lose. It seems to affect me more as a manager than it did as a player.
You can put it right on the pitch next time out as a player, but there's only so much you can do as a manager. You send the players out and hope they take your instructions with them. I am quite vocal, so the fans will soon get used to hearing my voice.
It's about getting your message over and the players acting on it, so once that happens, perhaps I won't have to shout quite so much. Looking at the current squad, one of the things I noticed was the level of experience. There is a lot of experience, so we should be putting that to good effect. I can't wait to get started. I'm really, really looking forward to it.
Q: Any thoughts yet on pre-season?
A: I'm speaking to Grahame Rowley about what has already been pencilled in, because I'm sure plans were being drawn up as I was appointed. I need to look at who we have got and when and factor in training around that. There are exciting times ahead. If I were an Altrincham fan, I'd say I've been through a really tough time of late, but I know the future is looking really bright now.
Getting off to a good start would be brilliant, but it is a long old season and we will 100 per cent be up there.
Equally, we will 100 per cent be a big scalp for every team we play against, so we have to have the understanding that, every game we go into, Altrincham are going to be someone's FA Cup final. We have to be ready for that, and we have to have players who are tough enough mentally and physically to deal with it.
Q: Just to wrap it up, Phil, you didn't leave just any club to take this job. You've had a close affinity with Nantwich for some time, so how tough a decision was it?
A: I have been very successful there as a player and successful to an extent as a manager, without actually winning anything, admittedly, but hugely turning the club round.
Some people would say coming to Altrincham at this time is something of a risk because of the decline in fortunes here, but I don't see it as a risk at all. I am a very positive, forward-thinking person. I see it as something I can fix, something that can help me progress as a manager and grow as a person, because it is going to be a phenomenal experience for me.
I'm really looking forward to getting my teeth into it".
Match report here.
TASC's Travel Co-ordinator Mark Eckersall writes, "TASC would like to thank all who travelled with us yesterday and everyone who used our service throughout the season.
We would also like to thank Grahame Rowley for his kind gesture of covering the cost of the yesterday's hire. meaning that passengers that had booked on were rewarded with a complimentary journey to Tamworth.
In the most trying of seasons we have managed to run transport to all the games we had planned, thanks to the support of the regular travellers.
As we look forward to next season and better times we will once again aim to run a family-friendly service, open to all, for as many games as possible and welcome passengers old and new.
Thanks must go to John Laidlar for his sterling work in organising things on the day amongst the other match day tasks he serves so well. Enjoy your summer."
Following Saturday's game,
Tamworth
report that "It had been announced that Lambs boss Andy Morrell had signed a new 2 year deal in the week and the squad played their final fixture in the new 2017-18 Macron kit, sponsored by Bradley Scott Windows. Morrell made two changes to the side that ran out winners at Stalybridge with Jack Lane out injured and Brandon Fox on the bench, Paul Green came in alongside Callum Powell, both influential subs at Bower Fold.
Tamworth got the game underway attacking the Meadow Street end... At the other end Reeves forced Jezeph in a good one handed parry to keep the game goalless on 10... Jezeph made another fine stop on 19 when Altrincham forced a corner and the ball came back out to Taylor whose low shot made its way through the crowded box and the keeper pushed it away to safety.
On 32 Newton forced Deasy into a save at his near post and, from the corner, Jones shot was cleared off the line allowing The Robins to break, and they took full advantage with Lawrie firing home from 18 yards. (0-1 33 mins) Jezeph prevented a second shortly after with a reflex save following a combination of Reeves and Moult turned the ball goalward at the keeper's left hand post..
When the unspecified amount of injury time ran down the Lambs retired to the changing rooms with the fans looking for better things in the second half...
The Lambs looked to get back into the game quickly and they did just that when Powell hit the back of the net on 52 with an angled drive from the left of the box that nestled inside the far post (1-1, 52 mins). There were shouts for a penalty for The Lambs on 58 when the visiting defence appeared to climb all over Jones but nothing was given...
On 68 Deasy was unable to continue so Clee went in goal... A fine chipped pass through ball from Newton nearly paid off for Styche but Clee was quickly out and cleared the danger on 73...
Newton bagged his 29th of the season on 74 with a far post volley from Morley's deep ball from the left into the box to give The Lambs the lead (2-1, 74 mins)... Hobson's long range drive on 79 struck the top of the cross bar and the same player headed off target on 81...
Hobson escaped a red card after lashing out on 93".
The
National League
announces that "The following are officially confirmed following the end of the regular season of matches in the Vanarama National League North.
Wednesday 3rd May: 1st leg: Chorley v Kidderminster Harriers and Salford City v FC Halifax Town (both at 7.45pm)
Sunday 7th May: 2nd leg: Kidderminster Harriers v Chorley and FC Halifax Town v Salford City (both at 3pm)
Chorley qualify for the play-offs in 6th place due to the ineligibility of Darlington 1883 FC"
In its weekend review, the National League adds that "AFC Fylde`s Mill Farm was going to be rocking at the final whistle on Saturday... However, visiting Worcester City needed at least a point to avoid relegation. In front of a crowd of 2,684 who had come to celebrate the Coasters' title success at the final whistle, City started well, taking the lead through Ebby Nelson-Addy in the first minute...
[At 3-2] "as Worcester pressed, looking for an equaliser to give them a valuable point, Richie Baker made sure all three points went to the hosts on 85 minutes...
Stockport County fell agonisingly short, by a single point, of involvement in the play-offs, after a draw with Gloucester City at Edgeley Park left the Hatters in a final position of eighth. To make matters all the more difficult to bear, victory would have definitely secured a play-off place following Chorley's home defeat against FC Halifax. In front of a record-breaking attendance for the National League North/South divisions of 5,783, the Hatters broke the deadlock...
Gainsborough Trinity must have feared the worst at the final whistle at Broadhurst Park as they had been hammered 5-1 by FC United of Manchester in front of a bumper crowd of 4,064. However, news from Mill Farm meant that they were safe – just!...
Salford hammered a dispirited Darlington side 5-1 at Moor Lane in front of a crowd of 2,069... to take Salford into the play-offs in form.
Kidderminster too will take on Chorley in decent nick after beating Bradford Park Avenue 3-1 at Aggborough...
Brackley Town finished a so-near-yet-so-far season in seventh place after a 5-2 win over already-relegated Stalybridge Celtic at St James's Park...
Elsewhere on Saturday, Liam Hearn netted a hat-trick for Alfreton Town at the Impact Arena against Nuneaton Town, but it was only enough to earn the Reds a point...
Matty Warburton bagged a brace for Curzon Ashton as they ended a decent campaign in fourteenth – a place above their visitors Boston United – after a 4-2 Tameside Stadium victory... AFC Telford United and Harrogate Town shared a 0-0 draw at the New Buck`s Head in the day`s other game." and also
Att: 2684 AFC Fylde 4 v 2 Worcester City
Att: 1047: AFC Telford Utd 0 v 0 Harrogate Town
Att: 580: Alfreton Town 3 v 3 Nuneaton Town
Att: 463: Brackley Town 5 v 2 Stalybridge Celtic
Att: 2462: Chorley 0 v 2 FC Halifax Town
Att: 390: Curzon Ashton 4 v 2 Boston United
Att: 4064: FC United Of Manchester 5 v 1 Gainsborough Trinity
Att: 1890: Kidderminster Harriers 3 v 1 Bradford Park Avenue
Att: 2069: Salford City 5 v 1 Darlington 1883
Att: 5783: Stockport County 1 v 1 Gloucester City
Att: 902: Tamworth 2 v 1 Altrincham
The
Evo-Stik League
First Division North Promotion Play-Off Final determined who would play in the same NPL division as Alty next season
Att. 829: Farsley Celtic 4 Ossett Town 2 AET - James Walshaw netted the fourth Farsley goal.
Likewise, the First Division South Promotion Play-Off Final means that we will play our neighbours Witton Albion next season...
Att. 811: Witton Albion 2 Spalding United 1
And the Premier Division Promotion Play-Off Final confirmed that Stourbridge would remain in the NPL and be one of Alty's opponents next season.
Att. 1699: Spennymoor Town 1 Stourbridge 0
Depending on which division Worcster City are to play in, the list of 24 teams competing in the EvoStik NPL for 2017-18 is likely to be:
Altrincham (relegated), Stalybridge Celtic (relegated), Stourbridge, Workington, Nantwich Town, Whitby Town, Buxton, Grantham Town, Matlock Town, Warrington Town, Ashton United, Rushall Olympic, Stafford Rangers, Barwell, Hednesford Town, Mickleover Sports, Coalville Town, Marine, Halesowen Town, Sutton Coldfield Town, Lancaster City (promoted), Shaw Lane Association (promoted), Farsley Celtic (promoted), Witton Albion (promoted).
---
29 April 2017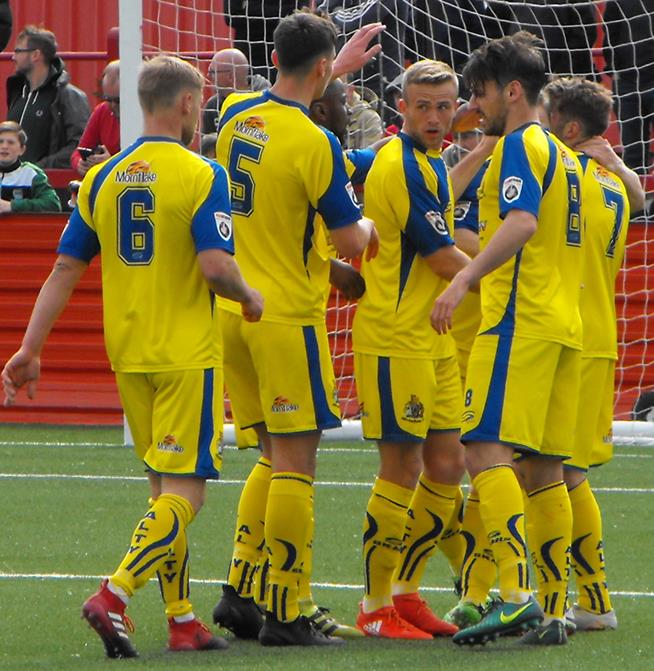 Above: James Lawrie is congratulated on his goal.
A good first-half showing by Altrincham had them 1-0 up at the interval and it could have been more but for saves by home keeper Jezeph.
Watched by new manager Phil Parkinson, Alty took a 34th minute lead when Clee fed Lawrie through the middle and Alty's leading league goalscorer, James Lawrie, scored with a well-struck, low shot.
Tamworth improved after the interval and levelled the score seven minutes into the second period. Powell was allowed to drift in from the left before he drove a firm shot past Deasy.
Misfortune struck Alty when keeper Deasy went down injured, off the ball, and had to be replaced in goal by midfielder Nicky Clee in the 69th minute. Five minutes later, from a freekick conceded by Heathcote, the ball found Newton who scored at the back post.
Alty almost levelled when Hobson's fine 25 -yard effort hit the woodwork but there was to be no way back.
Match report here.
Sat. 29 April
Worcester City join Altrincham and Stalybridge Celtic in being relegated.
AFC Fylde 4-2 Worcester City
AFC Telford Utd 0-0 Harrogate Town
Alfreton Town 3-3 Nuneaton Town
Brackley Town 5-2 Stalybridge Celtic
Chorley 0-2 FC Halifax Town
Curzon Ashton 4-2 Boston United
FC United of Manchester 5-1 Gainsborough Trinity
Kidderminster Harriers 3-1 Bradford Park Avenue
Salford City 5-1 Darlington 1883
Stockport County 1-1 Gloucester City
Tamworth 2-1 Altrincham
The following matches all take place at 3pm on Saturday 29 April.
Premier Division Promotion Play-Off Final
Spennymoor Town 1-0 Stourbridge
First Division North Promotion Play-Off Final
Farsley Celtic 4-2 Ossett Town a.e.t.
First Division South Promotion Play-Off Final
Witton Albion 2-1 Spalding United
So, Witton Albion, Farsley Celtic and Stourbridge will be in Alty's division next season.
The Club has learnt that Tony Sanders, who is arguably Altrincham's most successful manager of all-time has sadly suffered a heart attack. This has necessitated a triple-bypass operation and Tony is now recovering in hospital on Merseyside. All at Altrincham FC wish him a full and speedy recovery.
Under his management, (from 1976-84), Altrincham established themselves as FA Cup giantkillers and he also led the club to become twice winners of the top-flight division of non-League football.
It was announced on Friday (28th) that "Altrincham Football Club have appointed Phil Parkinson as the man to turn the club's footballing fortunes around, following successive relegations that have seen the club fall from the Vanarama National League to the Evo-Stik League Premier Division.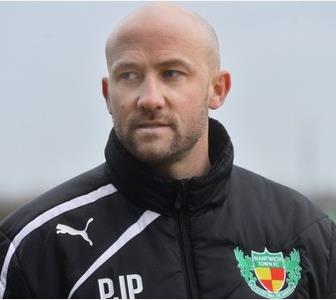 The thirty-six year-old Sports Science Lecturer has been in charge at Nantwich for just over two years, achieving a consistent track record of improvement throughout his tenure. The Dabbers were in the relegation zone of the Evo-Stik League Premier Division when he took over in February 2015, but went on to finish fifteenth, with a fifty per cent win ratio in the remaining two and a half months of that season. In Parkinson's first full campaign in charge, Nantwich finished in eighth position, whilst grabbing national attention with an FA Trophy run to the semi-finals. Having progressed through seven rounds, including victories over Salford City, Stockport County, Bradford Park Avenue and Dover Athletic, they were eventually knocked out, over two legs, by FC Halifax Town, who went on to lift the Trophy at Wembley.
The campaign that has just ended saw Nantwich qualify for the play-offs, where they were beaten 2-0 in the semi-finals by a very impressive and experienced Spennymoor Town side on Tuesday night.
Parkinson's playing career started as a junior at Crewe Alexandra, followed by a spell as a YTS at Reading, before spending a year at Port Vale. He went on to make two hundred appearances for Nantwich as a player, where he captained the team that won the FA Vase in 2006, as well as leading the Dabbers to promotion from the North West Counties League and UniBond League First Division.
Parkinson brings the Nantwich coach and former Macclesfield Town and Crewe Alexandra midfielder, Neil Sorvel, with him to the J.Davidson Stadium. Sorvel is also a work colleague of Parkinson.
The board were very pleased with both the number and calibre of applicants for the job and from a shortlist of five interviewees, we were unanimous in coming to the conclusion that Phil Parkinson is the right man to turn things around at Altrincham, following the massive blow of relegation in each of the last two seasons. This has been one of the most important decisions we have ever had to make and our supporters should know we have not taken it lightly. We feel that we are appointing a manager with a proven track record of improvement over a statistically significant period, both in terms of results and player development.
The Robins' new supremo is likely to take a watching brief as his new team play their final game of the season at Tamworth on Saturday and he will then set his sights on putting together a squad capable of gaining promotion from the Evo-Stik League Premier Division back to the Vanarama National League North at the first attempt".
You can follow this fixture via this website's minute by minute text updates by clicking on the icon below. Alternatively, Radio Robins' coverage of the game is outlined below as well.
Brian Flynn announces that "Radio Robins, sponsored by Ashley Mowers Garden Machinery, is providing full live commentary of Saturday's game.
The match commentary sponsor is 'Ivy Feckett is Looking for Love: A Birmingham Romance' by award-winning novelist Jay Spencer Green.'
The commentators are Mark Simpson and Brian Flynn and the match summariser is John Edwards.
Coverage starts at 2.55pm and you can listen to Radio Robins on the internet at http://www.radiorobins.com/".
Altrincham's final game this season takes them to Tamworth. Altrincham last visited The Lamb on 18 January 2011 for a game under floodlights in the Blue Square Bet Premier (Football Conference). Playing in all white, Alty's line up was 21. James COATES, 2. James SMITH, 4. Marc JOSEPH, 5. Robbie WILLIAMS, 19. Mark BEESLEY, 6. Shaun DENSMORE, 7. Robbie LAWTON, 8. Damian REEVES, 9. Michael TWISS, 17. Wes BAYNES, 20. Sam HEWSON, Subs: 11. Nicky CLEE, 1. Stuart COBURN, 15. Ryan BROWN, 16. Anthony DANYLYK, 10. Chris DENHAM.
Damian Reeves headed Alty ahead in the seventh minute, the fifth successive game in which he had scored. But in the second half, Alty defender Marc Joseph was sent off after being provoked by Kyle Perry, who later joined Alty. And then Perry netted a late equalizer for The Lambs. In a parallel with today, Alty were to be relegated at the end of that season.
Above Alty line-up before the game at The Lamb in January 2011.
According to NL Pitchero, "Tamworth have announced that manager Andy Morrell has signed a new contract. The new two-year deal comes into effect immediately, and replaces the manager's existing contract, which was due to expire at the end of this month...
Chairman Bob Andrews said... 'During his time here, there has been clear progress both on and off the field. We are keen to keep moving forwards, and continuity is key at the moment. It was very important that everything was agreed before the end of this season, so we are delighted everything has been signed'.
Morrell added, 'I'm delighted to have signed a new two-year deal. I want to continue and see the benefits of all of the hard work put in by myself and the rest of the staff during my time here so far. Thanks to the chairman's investment, we now have a fantastic facility. We are equally as proud of our growing youth development structure, which is now a proven pathway for first team football. We have been very close to achieving our aim in the last three seasons, and I strongly believe that with a few adjustments and improvements, the club can become even more successful on and off the pitch'".
The
Evo-Stik League
reports that "Mickleover Sports star Lewis Belgrave has signed a new contract to play in the EVO-STIK Northern Premier League next season only weeks after being named 2017 NPLFA Player of the Year...
In his second year at the club's NPLFA academy, the teenager made history back in October when he stepped up to skipper John McGrath's first team to victory in the Buildbase FA Trophy victory over... Leamington.
Founded with the backing of the Football Association at five pilot clubs in September 2014 to provide career pathways into the football industry, and still the only league wide academy in English football combining sport with education, the NPLFA is expanding to 13 clubs catering to more than 400 students for the 2017-18 season in September.
The NPLFA's tutors and coaches are currently recruiting their third intake of students after recent trials at all 12 NPLFA clubs for ambitious students either leaving school this summer or coming to the end of their first year in college".
Confirmation comes from the
National League
that "Danny Rowe has been voted as Player of the Year for the Vanarama National League North. Votes were cast in mid-April from each North club, with Rowe claiming the prize in convincing style. Rowe, 27, scored twice last week as AFC Fylde were confirmed as champions... with a game to spare. The striker will be presented with the Player of the Year trophy before tomorrow's final match at home to Worcester City."
---
28 April 2017
For their part, Nantwich Town announced "that following an approach from fellow Evo-Stik Northern Premier Division side Altrincham, manager Phil Parkinson has decided to take up the vacant position of first team manager with the Robins.
The Robins were recently relegated from the Conference North but, following their decision not to extend the interim spell of Matt Doughty, they have been seeking a replacement as manager. Phil Parkinson was approached by them and has elected to take up their offer to become manager.
Everyone at the club would like to thank Phil for the tireless work he has put in over the two and a half years he has been manager with the Dabbers. He has helped turn the club into a promotion contender in a very short space of time, guiding us to our highest position in eight years, not to mention making the it to the 4th Qualifying Round of the FA Cup, the final of the Cheshire Senior Cup and the semi-finals of the FA Trophy. We wish him all the best in his new role with the Robins".
Above: Altrincham FC official caterer, Richie Bentley prepares his wide range of pizzas for the Food and Drink Festival which started at the J Davidson Stadium on Thursday evening. You can even design your own Margherita!
The Altrincham FC Food and Drink Festival got under way on Thursday evening and runs over the weekend till Monday.
TASC will be operating supporters' transport to Altrincham's final game of the season. This is away at Tamworth on Saturday, 29 April (3pm). Details of fares and times are on the
Away Travel
page. You can book your seat by ringing the Club during weekday office hours on (0161) 928-1045.
Altrincham Youth drew 0-0 at home To Chorley on Tuesday evening. Next Sunday they travel to Chester FC for their next league fixture.
Altrincham are away at Tamworth on Saturday. According to the
Tamworth Herald
, "Tamworth FC boss Andy Morrell says it was vital the Lambs got the 'monkey off their back' after recording an emphatic 4-0 win at Stalybridge Celtic on Saturday. Victory was Tamworth's first on the road in 2017, coming courtesy of a hat-trick from Danny Newton and one from Ben Fox.
'Looking back over the season, that away form is where we have fallen short,' said Morrell. 'We stressed to the lads it was vital we got the monkey off our backs before the end of the season. We didn't want to be going into August with no away win this year. You don't want that kind of thing to be playing on your mind so I was delighted to get the result.'
Morrell felt his side had been impressive in their victory over Stalybridge, who were relegated from the National League North as a result. 'It was a hard pitch but the lads showed a great attitude,' said Morrell. 'They had a right go. It obviously helps to score a couple of early goals but... we defended well when we needed to as well. It was a great win.'
Morrell admitted that striker Newton's hat-trick will again have caught the attention of clubs looking for a new striker over the summer. 'He's not going under the radar is he!?' said Morrell, who expects to sign a new Lambs' deal shortly. 'He was fantastic to be fair. It was the perfect hat-trick. Every time the ball goes into the box at the moment, Danny is threatening to score. He is on fire. He has got 12 goals in ten, or something like that, which is phenomenal.
'He's unlucky that this season Danny Rowe has scored 40 plus goals. In any other year, 28 would put him in line for the Golden Boot'.
Whether Newton remains with the club next season remains to be seen as the striker prepares for Jamie Vardy's V9 Academy. 'We just have to wish him all the best and have our fingers crossed that, if things don't work out in terms of the academy, we can bring him back,' said Morrell".
Meanwhile, "Jack Lane has expressed his desire to remain with Tamworth next season and continue his developing defensive partnership with Luke Jones. Ex-Mansfield Town defender Jones is already signed up for the 2017-18 campaign. And ex-Nuneaton Town defender Lane admits he would like to follow suit.
'I have really enjoyed my time at the club,' Lane said. 'There's a great set-up here and I get on with Mike (Fowler) and the gaffer (Andy Morrell). It's near to my home, so it's ideal and I think we have done okay this season. We have tried to play the right way and, although we are disappointed not to make the play-offs, we have challenged towards the top. So I would like to be a part of things next season and see if we can push on further.
'The National League North is a very competitive league and is constantly improving. Each year now, I'd say there are ten teams who have ambitions of the play-offs. I'd like to think next year, Tamworth could be in that top five... I missed a couple of games midway through which gave me a kick up the backside because you can get comfortable. But I got back into the team, got in the right frame of mind and I feel I have done well.
'It's been good working alongside Jonah (Luke Jones). As a defender, it's nice to have someone alongside you who is a steadying influence. You know what you are going to get with him and I think, the more we have played, we have started to get to know each other and understand what we are both going to do. It gets to a point where you can become almost telepathic and I'd like us to build on that'.
'We have won a lot of games this season,' he said. 'I think the key for us is to try and turn some of the last-minute defeats into draws. You look at some of the games recently, FC United of Manchester, Stockport and Kidderminster. We lost those games late on and, had we picked up draws, it could have been different'".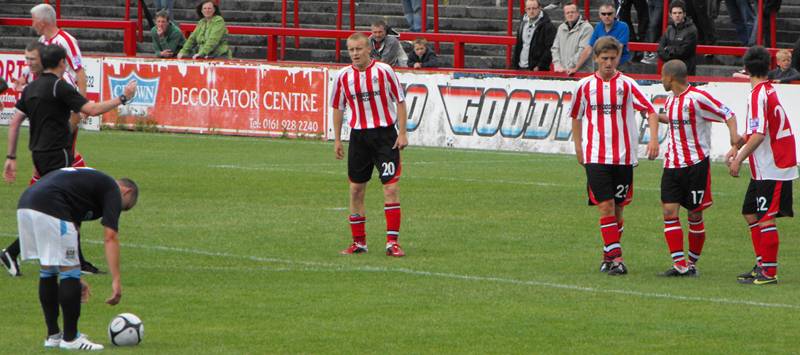 Altrincham FC youth graduate Jake Barnabas, a team-mate of Duncan Watmore's at Alty, is now making good in the music world. He tells us that "I played under George Heslop in the youth team and came through to the first team at the same time as Duncan Watmore, playing under Lee Sinnott. I injured my knee which forced me to retire at 19. I'm in a band now called the Luka State. Our song 'Bring this all together' was played on the Europa League highlight show and has been named Radio X 'track of the week'".
Above we see Jake, far left, in the first-team match in July 2011 against a Manchester City XI which included Craig Bellamy and Michael Johnson. With Jake are, left to righ, James Smart, Astley Mulholland and Sam Langford making up the wall against a Manchester City freekick, which is being lined up by Kieran Trippier.
---
27 April 2017
As previously announced the Premier League "derby" between Manchester City and Manchester United is being screened "live" in the Community Sports Hall at the J Davidson Stadium tonight. Kick off at The Etihad is at 8pm.
Before that televised game, Altrincham's first team will be training on the pitch so why not come along for the opening of the Food & Drink Festival (7pm) and enjoy a drink and some food whilst the lads prepare for the fixture at Tamworth on Saturday?
During the Food & Drink Festival there will be matches on the pitch at Moss Lane including...
Altrincham Ladies will play a friendly against an Altrincham & Hale XI at 7.30pm on Friday evening.
An Independent Schools' international match between England and Scotland kicks off at 2pm on Sunday.
Monday sees the Juniors' annual football tournament involving sixty teams (8.45am to 6.30pm). Ten of the teams are Altrincham FC Juniors' teams, in U9/U10/U11 age groups, and the games are aranged in three sessions kicking off at 8:45am, 12 noon and 3:15 pm.
"This weekend, Altrincham FC is holding its annual 'Food & Drink Festival' at the J.Davidson Stadium, from Thursday, 27th April to Monday, 1st May.
We have arranged for some children's entertainment to take part in the Community Sports Hall on Saturday 29th April, between 12.00 and 4.00pm. This includes local entertainer, Spikey Mike, along with various characters from children's TV and films (Spiderman, Else & Anna - Frozen, Marshall - Paw Patrol).
Altrincham FC thanks everyone who sponsored one or more players' shirts this season. The shirts will be available for collection from the Club from next Tuesday. By then both the home and away shirts will have been signed by the players concerned.
If you need the shirt(s) posting to you, please contact Karen Rowley at the Club (0161 928-1045), or via e-mail, to arrange this.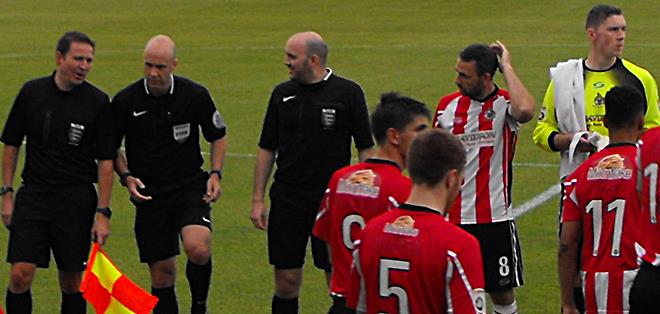 Probably the first match that Altrincham supporter and Premiership referee, Anthony Taylor, refereed this season was the Altrincham v Manchester United XI friendly at the J. Davidson Stadium, Moss Lane on 22 July, 2016 (pictured above). And the last of his season may well be the Emirates FA Cup Final between Arsenal and Chelsea, on 27 May, which the Altrincham-based referee has been selected to referee.
All at Altrincham FC send their congratulations to Anthony who for a number of years has refereed friendly games at his local club Moss Lane as well as supporting other events at the Football Club.
Alty's hosts on Saturday,
Tamworth
report that the "The 2016/17 season will end this Saturday, as we prepare to welcome Altrincham to The GST Gas Services Stadium at The Lamb. Players from our U7 to U21 age groups are all invited to the game, so we are hoping for a large crowd, and a positive result to end on.
The Lambs have collected seven points from the last nine available, after securing a first away win of 2017 against Stalybridge Celtic last time out. The reverse fixture back in December was in fact the last away victory before the recent Stalybridge game, as Louis Briscoe's first half double was enough to secure a 2-1 win at Moss Lane.
Boss Andy Morrell has a fully fit squad to choose from as it stands and, with contracts still up for grabs ahead of next season, competition for places is likely to be fierce.
As always, tickets start from as little as £12 for adults, £7 for concessions, and just £2 for juniors. We need as much support as possible to help us try and secure the victory, and end 2016/17 in style!"
The
National League
reports that "At a hearing of an FA Board of Appeal held today (26th April), appeals lodged by the following clubs against exclusion by The National League to participate in 'End of Season Play Offs' were rejected.
Darlington 1883
Hungerford Town
Poole Town
Wealdstone"
This means that in our division, Chorley, in fifth place, now occupy a play-off place ahead of the final round of fixtures on Saturday.
The National League also confirms that "The final day of the Vanarama National League regular season draws to a conclusion this coming Saturday (29th April), with all [national level] matches kicking off at 12.15pm. With the championship trophy already safely lifted by Lincoln City, there is still much to play for, particularly at the bottom of the table.
The BT Sport cameras will be arriving at Bootham Crescent for relegation-threatened York City's all-important clash with Forest Green Rovers. The Minstermen, who will be looking to avoid back-to-back relegations, are one of six sides who could potentially join Southport and North Ferriby United out of the Vanarama National League. Manager Gary Mills must encourage players and fans to rise to the challenge facing them as York City currently occupy one of the two remaining places in the relegation zone with Braintree Town, and sit just one point behind Guiseley and Torquay United.
There is also plenty at stake for visiting Forest Green Rovers. A win for Mark Cooper's men would confirm third spot, which secures a home second leg in the play-off semi-finals. It is going to be a tough afternoon for the losing sides in the battle to avoid the drop, so make sure you join Matt Smith and the rest of his team from 11.45am on BT Sport 1. They will also provide goal updates from the other key matches on what promises to be a nail-biting afternoon."
Also from the National League we read that "There wasn't much riding on Tuesday night's Vanarama National League North encounter between Stalybridge Celtic and Harrogate Town at Bower Fold. However, despite the fact that Celtic have already been confirmed as plying their trade back in the Evo-Stik Northern Premier League next season and that Town are to finish in mid-table after flirting with the top five for long periods of the season, this was an entertaining match.
The visitors took the lead after 11 minutes through Danny Ellis's powerful header. But Stalybridge were level just past the half-hour mark as Luke Shiels diverted the ball into his own net. Twenty minutes from time, the hosts went ahead as Gary Gee finished at the far post. Nine minutes later, sub Dominic Knowles equalised when he took advantage of keeper Grant Shenton's poor clearance to head into an empty net. Knowles then made it 3-2 with just 3 minutes to go as he ran clear of the defence and rounded Shenton to score. Simon Ainge made it 4-2 with a header 3 minutes into stoppage time to earn Simon Weaver`s side a first win in seven games."
---
26 April 2017
There is a report on Altrincham FC Reserves' win over Congleton Vale on Monday night,
here
.
The Club's thanks go to those who gave £38.61 to the half-time bucket collection on Saturday and thanks are also due to the collectors.
In the Vanarama National League North...
Stalybridge Celtic 2-4 Brackley Town
On Monday night, Stourbridge beat Workington 3-2 to reach the EvoStik Premier promotion play-off final, for a place in the Vanarama National League North. Should they be unsuccessful, they will be one of Altrincham's opponents in 2017-18. They share their three-sided ground with Stourbridge Cricket Club who have the primary rights, which means that the Football Club do not have home games on Saturdays until late September.
From the other side, the Cumbrian News & Star tells us that Workington "Boss Dave Hewson pays tribute to Reds squad after play-off defeat...
'It was just really hard to take, and the dressing room is hurting at the moment,' said Hewson.... 'I just don't think we deserved that. We've dug in and come back so many times and never stopped believing... But we can take credit from the fact that we have come down here and put on such a good show..
'I just thought in the second half we were on top, once we settled we started to believe in ourselves'...
Goals from Dave Symington and Dan Wordsworth brought Reds level twice and forced extra-time. But, despite a superb showing, they could not get past a battling Stourbridge. Hewson said they would be back to fight again next season and use this experience as motivation".
In Tuesday night's First Division play-offs, the results were...
First Division North Promotion Play Off Semi-Final, Farsley Celtic 4-0 Colne
First Division North Promotion Play Off Semi-Final Scarborough Athletic 1-3 Ossett Town
First Division South Promotion Play Off Semi-Final, Spalding United 3-2 Stocksbridge Park Steels
First Division South Promotion Play Off Semi-Final, Witton Albion 1-0 AFC Rushden and Diamonds - Hopley goal after 58 minutes; Rushden reduced to ten men by a red card shortly afterwards
Premier Division Promotion Play Off Semi-Final, Spennymoor Town 2-0 Nantwich Town - Spennymoor meet Stourbridge in final; Nantwich play in same division as Altrincham next season
The
National League
reports that "Boston United manager Adam Murray has started shaping his squad for next season by informing four players that they will not be offered new contracts.
Goalkeeper Michael Emery, wingers Marcus Marshall and Jason St Juste and striker Waide Fairhurst are all free to find new clubs. Emery has made only four first-team appearances since joining his home-town club last summer following spells with Heanor Town, Skegness Town and Gainsborough Trinity. The experienced former Blackburn, Rotherham, Bury and Grimsby Town man Marshall has made thirty-one appearances but only managed one goal.
St Kitts & Nevis international St Juste leaves the Jakemans Stadium after appearing twenty-four times this season, also scoring just the once, having arrived in June 2016 following spells with AFC Fylde and North Ferriby United. Fairhurst arrived as the Pilgrims' star summer signing after spells with Torquay United and FC Halifax Town. But he managed just eighteen games for Boston, scoring once, and had a spell out on loan with Frickley Athletic in the Evo-Stik Northern Premier League Premier Division".
The Worcester News tells us that "Chairman Anthony Hampson praised caretaker manager John Snape and his players for 'putting the pride back' into Worcester City. Hampson admitted Snape stepped up to take temporary charge of the Vanarama National League North strugglers in a 'very difficult situation' following Carl Heeley's decision to end his seven-year reign as manager.
Shortly after Heeley's departure in late January all the players were put up for transfer as part of the club's bid to 'protect the remaining funds'.
Leading scorer Lee Hughes left for AFC Telford United before striker Colby Bishop, winger Connor Hughes, forward Micah Evans [now at Alty] and experienced frontman Steven Craig followed him through the exit door. Worcester have struggled for results, registering only one win in more than five months, and dropped into the bottom three following Saturday's 2-1 defeat to Salford City.
But Hampson, speaking at the club's end-of-season awards, insists... 'We call him Snapper. He has motivated the team back from a very difficult situation and I am very grateful to the players for the work they have done to put the pride back into Worcester City'...
Snape said it had been a 'pleasure' managing his crop of players and insisted he was determined to finish what he described as a 'horrible season' on a high. City are one point adrift of safety and need to better Gainsborough Trinity's result at FC United of Manchester on Saturday to stay up. 'When I came in, I think there were a lot more outgoings than incomings which probably didn't help but had to happen', Snape said.
'I have had the pleasure of being the caretaker manager of this football club. It was lonely and still is lonely as I do miss Carl. But, after a rocky couple of weeks, every player has given their all, never given up and I would like to thank them all for that. It has been a tough, horrible season but I want the supporters and the players to realise that together we can go to Fylde and get something'.
Snape also hailed the work of... captain and caretaker assistant boss Danny Jackman... 'It has been frustrating for him as he wants to play all the time and I keep leaving him out. But, on and off the pitch, he has always been positive and gives his lot'".
At the other end of the table, the Daily Mail confirms that "Leicester City have looked to non-league for talent once again by giving a trial to Kidderminster Harriers' striker Andre Brown [who scored against Alty recently]. The 20-year-old started for Leicester's U23 side at Reading on Monday night, but failed to score in their 2-2 draw.
Brown, who hails from Walsall, started his career with Crewe Alexandra but was released a year ago. He has now returned to Kidderminster ahead of their weekend game against Bradford Park Avenue."
In the
Hallmark Security League
, (NW Counties), "Atherton Collieries clinched the Premier Division title with a 1-0 win over Abbey Hey at the Kensite Stadium.
Founder members of our League in 1982, Colls have experieced some tough times over the years and only won promotion back to the Premier Division two years ago after a six year spell in Division One, but now they can look forward to competing in the Evo-Stik League Division One North next season.
Before the game began, Colls knew that they needed two points from their last two games to top the table, and in the end they picked up the trophy with one game to spare.
In front of an expectant crowd of 545 spectators, Colls had to work for their victory against a stubborn and determined Abbey Hey side, who proved to be tough opponents...
Colls' manager Michael Clegg said, 'In pre-season we set out to have the best defence in the league, we really worked on that, and that is what has seen us through... A lot of people have compared us to Jono and Bernard's Rammy (Ramsbottom United, who won the League title in 2012). They did similar to what we did in terms of team spirit and people who want to play for you, and that's the great thing about this team. I've got a group of lads who I believe in, and they believe in me, and our fans are like our family. We are all in this together, and we all want to play for one another'...
Colls' captain Brad Cooke, 'To get to 100 points is brilliant. Fair play to Bootle, Joe Doran is a top manager, they've got some great lads and they have pushed us all the way...
Colls' Secretary Emil Anderson added, 'I'm gobsmacked, I don't know what to say. What a three years it's been... a crowd of over 500 here to watch Atherton Collieries win the league, it's unbelievable'".
Elsewhere, "1874 Northwich are looking to end the season on a high by capturing some silverware, as they prepare to face Northwich Victoria in the final of the Mid-Cheshire Cup at the St Luke's Barton Stadium on Tuesday night. The Greens are the present holders of the trophy, winning it for the first time last season with a memorable 3-0 win over Witton Albion at Wincham Park... Now, they have the chance to retain the trophy at the expense of their old rivals, having already struck a psychological blow earlier in the season when they beat Vics 2-0 in the Cheshire Senior Cup, [ex-Alty youth and reserve] Tom Bailey scoring both goals".
---
25 April 2017

Above: Alty line-up before kick-off against Congleton Vale.
Altrincham Reserves, including six players from the first-team squad (Andrew Jones, Sam Heathcote, Laurence Taylor, Harry Cain, Darius Palma and Andy Owens) defeated Congleton Vale 3-0 at the J Davidson Stadium on Monday evening. Trailing 0-1 to a fine Sam Heathcote freekick, the visitors' left-back was shown a straight red card just after the hour mark to leave them with ten men. Harry Cain netted the second Alty goal after Callum Jones's excellent long-range shot had come back off the post and Heathcote completed the scoring with another impressive freekick in the closing stages.
Brief match report to follow...
After Saturday's draw at Altrincham,
Alfreton Town
report that "Everyone at Alfreton Town FC breathed a collective sigh of relief at the final whistle after drawing 1-1 with already relegated Altrincham on Saturday and, although the draw in itself wasn't enough to guarantee National League North survival, the failure of both Gainsborough Trinity and Worcester City to win certainly was.
Furthermore the awful run of defeats, amidst an ever increasing injury list, ground to a halt and the Reds can now look forward to another season at step two of the Pyramid, which will be their tenth at that level including that memorable four year adventure in the Conference National.
The game itself shoud have been wrapped up by Alfreton, who had taken a 39th minute lead through Andy Monkhouse after a concerted spell of pressure, typified by amassing five corners in the opening thirteen minutes...
Altrincham's first corner on 30 minutes led to former Alfreton midfielder Jake Moult's effort being saved by Fabian Spiess. Another ex-Red Damian Reeves shot tamely at Spiess before heading over from a left wing cross...
Four minutes later Altrincham failed twice to clear a Westcarr corner, allowing Callum McFadzean to return the ball to Westcarr with his subsequent cross headed home firmly by Monkhouse six yards out at the near post...
The second half began... [and] the hosts made notable inroads into contention. However they were gifted a 59th minute equaliser when sub Shaun Densmore sent an innocuous curling cross towards goal from 25 yards that Spiess fumbled and allowed to squirm through his legs, once again cancelling out all the good work that he had done in much the same way that he had at Tamworth five days earlier.
With the wind in their sails Altrincham threatened to score again, but Clee wasted a great run with an overhit cross, Laurence Taylor's header was held by Spiess and Micah Evans blazed over when a goal looked inevitable".
Altrincham Ladies' next fixture is on Thursday, 27 April, away to Merseyrail Bootle at the Delta Taxis Stadium of Bootle FC.
Darlington 1883
confirm that "Darlington FC Supporters' Group (DFCSG) have launched their fundraising drive to upgrade the Blackwell Meadows facilities to enable promotion to the National League when the opportunity should arise.
The plans include the installation of 224 covered seats adjacent to the existing seated stand which will raise the overall seated capacity to over 500 together with a brand new pitch and drainage. Both of these works were intended to have taken place during the initial move to Blackwell Meadows but weren't viable due to the increased cost of the move home.
The total cost needed to push forward with the developments stands at £193,000 and is structured into four phases:
1) Pitch and drainage: £42,000 by 15th May 2017.
2) 224 additional covered seats: £150,000...
The above timelines, if met, will allow the Club to have the infrastructure in place to fit the criteria for promotion. In the event of promotion the Club would then have until 31st March in the year after promotion to bring the ground up to Category A which would mean additional demands in order to raise the capacity to 4,000 from the current 3,299. It is envisaged a terrace built part way across the West End would achieve this although design and planning are not yet finalised...
The fundraising will be targeted using the previously successful Community Share scheme which allows supporters of the Club and local community to invest into the project by way of a long-term loan. Community Shares can be cashed out provided funds are available from year 5 onwards and also attract a small investment payment. The first Community Share offer which raised £100,000 towards the move back to Darlington is currently being accrued for at £5,000 per year — year one funds are in place.
In addition to upgrading Blackwell Meadows the Group have launched a 'Boost The Budget' scheme designed to allow manager Martin Gray to retain the squad which has performed well this season... as income for the 2016/17 season has fallen short of the required amount to sustain the playing budget set unless there is additional non-operational revenue... 500 fans committing to £3 a week would raise £75,000 over the course of the season and ensure that Martin could be given a similar budget to this season".
From the Brighouse Echo, we learn that "'Sickening' violence at FC Halifax Town matches must stop before someone is killed, said the club's chairman in a desperate plea to fans.
David Bosomworth's comments follow an incident at the Shaymen's home defeat to AFC Fylde on Good Friday when a brick and bottle smashed the windows of an away supporters' coach and minibus... Mr Bosomworth said, 'Words cannot describe the frustration and disbelief that anyone or a group of people associated with Halifax can be so less caring towards other people. We have some mindless souls who think that it is acceptable to come to a football match and use a game hosted by FC Halifax Town to be their focus for causing serious vandalism and not least damage to property but, worse still, risking serious injury to adults, children, ladies, elderly or disabled. This cannot be right.
'Throwing items at people or transport is mindless thuggery and creating such a risk, which is just not on. It has got to be stopped before someone loses an eye, is seriously hurt or even killed by such action'...
He said the recent violence, which also included an attack on an away supporters' coach at Town's home game against Gloucester and a brawl at the away match at Bradford Park Avenue, was damaging the reputation of the club and discouraging away supporters from coming to games at The Shay...
He reiterated a comment made last month that home fans could be kept behind after matches if the behaviour continues... Two Town fans have been issued with banning orders and several more are currently under investigation".
In the Gainsborough Standard, we read that "Nathan Jarman's goals could be enough to keep Gainsborough Trinity in National League North. His finish on Saturday earned a point against Kidderminster Harriers to take Trinity out of the bottom three. On Good Friday he hit the only goal as Trinity won their first match under manager Dave Frecklington.
The boss said after the Kidderminster draw... 'When everything you have worked on in the week comes to fruition it pleases you even more. Nathan is sharper as the training we do is quite intense. He has been brilliant for us and the reason he has played in the last couple of games is because he can bring quality out of nowhere...
'Since the Chorley game (a 4-0 defeat on 1st April) these boys have worked tirelessly on shape out of possession. We needed to be better in possession today and we were, we were superb'".
From fellow relegation contenders, the Worcester News tells us that "Veteran defender James Chambers has been ruled out of Worcester City's final day survival showdown with AFC Fylde at Mill Farm... The former Leicester City, Watford and West Brom star was forced off with a hamstring injury in Worcester's 2-1 defeat to Salford City at the weekend.
Caretaker assistant boss Danny Jackman said it was a 'big blow' to lose the 36-year-old... Chambers has struggled with injuries since coming out of retirement to play for City this season...
'I think it is a bad hamstring injury,' Jackman said. 'He may have torn it so that's a big blow for us as he is a big player... Injuries are mounting up, but that's the way it goes when you are down there'.
Tom Sharpe is expected to replace Chambers at right-back... The experienced Junior English's right leg was heavily strapped for the game against Salford as he continues to 'nurse' a hamstring problem... Attacking midfielder Ebby Nelson-Addy also has an issue with his knee... But Jackman insists it is case of 'patching people up' as they aim to make one final effort to avoid relegation.
Worcester are third from bottom, one point behind Gainsborough Trinity who travel to FC United".
Monday 24 April, Premier Division Promotion Play Off Semi-Final, 7.45pm Stourbridge 3-2 Workington after extra time, so Workington will be one of Alty's opponents next season..
---
24 April 2017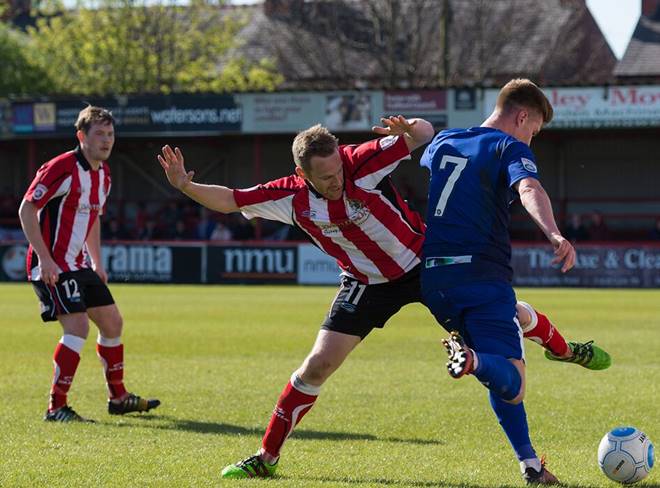 Above: Nicky Clee in action against Alfreton, courtesy of Michael Ripley Photography.
Altrincham FC Press & Media Officer, John Edwards, writes...
"After due consideration, the Board of Altrincham Football Club have concluded a fresh start is required for next season and decided, therefore, not to retain Matt Doughty and Robbie Lawton as manager and assistant-manager.
Both Matt and Robbie have been made aware of the decision, and the club thanks them for their efforts after they were appointed in exceptionally difficult circumstances, initially in a caretaker capacity at the start of December, then for the rest of the season at the turn of the year.
While performances showed a marked improvement, results unfortunately failed to keep pace, and it was felt the prudent course of action would be to seek a more experienced manager to provide stability and know-how for what will be one of the most critical seasons in the club's history.
It was a decision that was not taken lightly, given the way Matt and Robbie replicated the same drive and determination they always showed as Altrincham players, but there was general consent among the board that next season was too important for anything to be left to chance and that a candidate with a record of success was needed to spearhead a push for promotion.
The process of identifying and installing that candidate is well advanced, and the club hope to be in a position to announce an appointment in the next few days. In the meantime, everyone at The J.Davidson Stadium wishes Matt and Robbie all the very best in their future careers".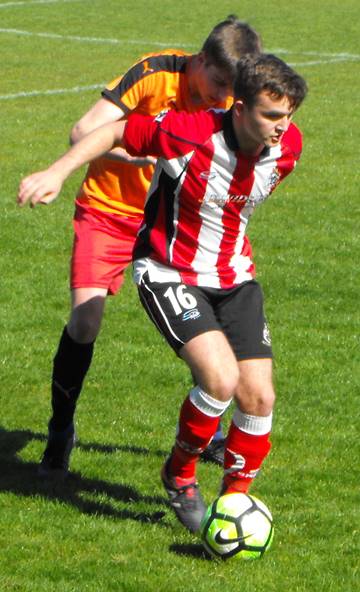 Pictured, right, Alty's Joe Mather holds off a challenge from a Prescot Cables player.
Altrincham Youth lost 5-2 on Sunday, at home to Prescot Cables. Having fought back from 4-0 down to get the score to 4-2, an injury-time Prescot goal settled the encounter. Next Tuesday the youth team is at home (at the former home of Flixton FC) at 6.30pm against Chorley.
A match report on Sunday's game is here.
TASC's Paul Slat reports that "Saturday's match v Alfreton Town saw Altrincham reach a total of 60 goals for the current season with just one league game to play.
As this was the last home game of the season, draws were conducted after the match for the 60-goal benchmark and the two additional end of season draws for a signed shirt and signed match ball for the participants in the TASC Goal Rush scheme.
The lucky winners were
60 Goal Draw - No 32 - Theo Langveld
Signed Shirt - No 11 - Bob & Clare Allen
Signed Match Ball - No 22 - Steve Foster
Thank you to everyone who has taken part this season, and we hope to run the scheme again next season. All current participants will be contacted after next week's final game away at Tamworth, once the final goal total for the season is known".
Altrincham and Stalybridge Celtic are not the only ex-Conference (national) teams to suffer relegation this month. Northwich Victoria have finished bottom of EvoStik 1 South, Grays Athletic are bottom of the Ryman Premier, with Canvey Island also relegated from that division. Elsewhere, Frickley Athletic have been relegated from the EvoStik NPL Premier and Hayes & Yeading have gone down from the Southern League Premier. In addition, Histon finished bottom of the Southern League Division One Central.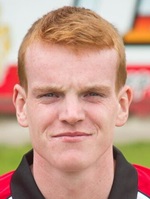 In Saturday's remarkable EvoStik Premier match which ended Marine 5 Buxton 5, Jamie Menagh and Danny Mitchley scored for the Crosby-based side. And in the NL Paper we learn that for last week's game at Skelmersdale, Marine staff and players funded ten seats on their supporters' coach. And Jamie Menagh (right) stepped in to fund all 39 remaining places on the coach at a cost of more than £300!
Alty's recent loanee from Barrow, Elliot Newby, came on as an injury-time substitute for his parent club on Saturday.
Former Alty winger, Kevin Ellison, scored a goal that is contender for League Two goal of the season for Morecambe on Saturday.
In the
EvoStik League
"There was plenty to play for at the top end of the Northern Premier League First Division North table on Saturday – not least the title itself, writes Pitchero's Steve Whitney.
The scenario was that Lancaster City needed to better Farsley Celtic's result to claim the championship but the Dolly Blues had a tough test at Glossop North End... Despite a flawless performance from Farsley as they defeated Kendal Town 5-0, it wasn't enough to earn promotion as Lancaster lifted the trophy after a 5-2 success.
City blew the Hillmen away in the opening 45 minutes when they scored all of their goals, including a Jordan Connerton hat-trick...
The Celts will have to battle their way through the play-offs now and will take on Colne... Ossett will travel to Queensgate to play Scarborough Athletic in the semi-finals after they finished above their Yorkshire rivals on goal difference...
The relegation situation was sorted over Easter, with Goole AFC joining Burscough back into Step 5".
---
23 April 2017
Match report here.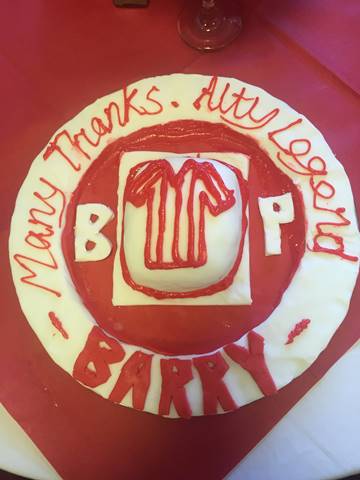 When Altrincham FC Associate Director, Barry Pond, took early retirement from his full-time job with oil company, Esso, little did he realise that 21 years later he would still be working hard... as Associate Director responsible for commercial initiatives at Altrincham F.C.
But on Saturday, at the last home game of the season, Barry was honoured in the Manchester Glass Sponsors' Lounge as he oversaw his final match in his leading role at the Football Club. To mark the occasion, Neil Dawson, who himself has volunteered as a hospitality officer in the Sponsors' Lounge for 13 years, gave a brief speech thanking Barry for his tremendous service to the Football Club.
Barry's success in raising funds through sponsorship, advertising hoardings and other important commercial initiatives has been outstanding and all at the J Davidson Stadium thank him sincerely for his dedication.
Despite stepping down from his role as the club's director of commercial affairs, Barry will continue to work for Altrincham FC and his experience, knowledge and contacts will be vital in assisting whoever is named as his successor.
To mark the occasion, Club caterer Ritchie Bentley baked a special cake (pictured) to Barry's favourite recipe!
Saturday's
Robins' Review
confirmed that Alan Goodall has decided to retire after being diagnosed with a long-term injury from which it would take him a year to recover.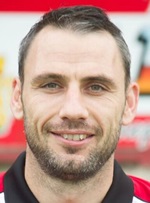 The 35 year-old has had an eventful season at the J Davidson Stadium, after joining the club from Morecambe at the start of the 2016-17 campaign. He was immediately installed as captain by manager Neil Young and, later, with Shaun Densmore and Jake Moult he also experienced a brief spell as joint caretaker-manager before the appointment of Jim Harvey.
Formerly a midfielder, Alan moved to play regularly at centre-back before a sending off, away to Worcester City in game 16 of the season, followed by injuries, meant that he was only to start one more league match, at Stockport.
The second half of the league season saw him make only four league appearances, all from the bench. In all he made 21(+5) appearances for Altrincham and the Club wishes him success in whichever direction his career may now take him.
With the EvoStik League completing its regular season on Saturday, we now have a better idea of who will face us next season in the 24-club Northern Premier League in 2017-18.
We will definitely play 15 teams who remain in the NPL for 2017-18, namely Whitby Town, Buxton, Grantham Town, Matlock Town, Warrington Town, Ashton United, Rushall Olympic, Stafford Rangers, Barwell, Hednesford Town, Mickleover Sports, Coalville Town, Marine, Halesowen Town, Sutton Coldfield Town.
We will also play fellow relegated teams Stalybridge Celtic and either Worcester City or Gainsborough Trinity
We will face two promoted teams, Lancaster City promoted from EvoStik 1N and Shaw Lane Association from EvoStik 1S.
In addition, we will face three of the following four current NPL clubs who are in promotion play-offs: Spennymoor Town, Stourbridge, Workington, Nantwich Town.
As for clubs who might be promoted from divisions 1N and 1S, we will play one of Farsley Celtic, Scarborough Athletic, Ossett Town or Colne, who are in 1N playoffs, and one of Witton Albion, Spalding United, Stocksbridge Park Steels and AFC Rushden & Diamonds, who are from 1S.
The
National League
reports that "AFC Fylde are the Vanarama National League North champions following their 3-0 victory over Boston United at the Jakemans Stadium on Saturday... This was a fifth straight defeat for United at their expense...
Harriers' chances of taking the title race to the final weekend disappeared when they were held to a 1-1 draw at the Northolme by relegation battlers Gainsborough Trinity... It was Gainsborough who took the lead through Nathan Jarman after 19 minutes. Within 5 minutes of the break Harriers were level through Andre Brown...
Third-placed FC Halifax Town secured their play-off place by beating mid-table Curzon Ashton 3-0 at The Shay...
AFC Telford United have secured safety, despite a 1-0 defeat against Darlington 1883 at Blackwell Meadows... The Bucks sealed survival due to Worcester losing 2-1 to Salford City.
The Ammies took a 37th minute lead at the Victoria Ground when Mike Phenix volleyed home following a long ball into the box. However, the visitors were reduced to ten-men right on the stroke of half-time when Jamie Poole received a second yellow card for time-wasting as he kicked the ball away... City drew level on the hour-mark when Jordan Murphy headed in... but 5 minutes from time, Salford won a crucial three points when Nick Haughton slotted the ball past Nathan Vaughan.
Chorley and Stockport County are the other two sides in top five contention, with the Magpies holding a two-point advantage in sixth. They shared a 2-2 draw with tenth-placed Gloucester City at Whaddon Road, but had to play the whole second half with ten-men... After 34 minutes Jack Sampson was red-carded for an alleged elbow incident. However, right on the stroke of half-time, Matt Jansen`s side equalised...
That became even more important after news of Stockport`s 2-0 win at the Horsfall Stadium against Bradford Park Avenue filtered through...
Harrogate Town couldn`t end their home campaign on a high as Brackley Town recorded a fourth straight away victory...
Stalybridge Celtic, who are also down, lost 4-0 at Bower Fold to Tamworth. It was all over bar the shouting by the 17th minute with the Lambs leading 3-0 through Dan Newton`s quickfire brace in the 5th and 7th minutes and an effort from youngster Ben Fox. Newton eventually completed his hat-trick in the 67th minute.
And Nuneaton Town ended their home campaign disappointingly, losing 4-1 to FC United of Manchester".
Att: 801 Altrincham 1 v 1 Alfreton Town
Att: 1255 Boston United 0 v 3 AFC Fylde
Att: 1280 Bradford Park Avenue 0 v 2 Stockport County
Att: 1800 Darlington 1883 1 v 0 AFC Telford Utd
Att: 1818 FC Halifax Town 3 v 0 Curzon Ashton
Att: 902 Gainsborough Trinity 1 v 1 Kidderminster Harriers
Att: 526 Gloucester City 2 v 2 Chorley
Att: 660 Harrogate Town 1 v 2 Brackley Town
Att: 777 Nuneaton Town 1 v 4 FC United of Manchester
Att: 388 Stalybridge Celtic 0 v 4 Tamworth
Att: 743 Worcester City 1 v 2 Salford City
On Monday night (24th) at 7.45pm, the Reserves play Congleton Vale at the J Davidson Stadium, Moss Lane, and entry is free of charge. The Reserves drew 3-3 at home to Malpas on Saturday.
The dates and kick-off times for the Vanarama National League play-offs are as follows:
Wednesday 3 May, 7pm - Aldershot Town/Dover Athletic v Tranmere Rovers
Thursday 4 May - Forest Green Rovers v Dagenham and Redbridge (or vice versa depending on results)
Saturday 6 May, 12:15pm - Tranmere Rovers v Aldershot Town/Dover Athletic
Sunday 7 May - Dagenham and Redbridge v Forest Green Rovers (or vice versa depending on results)
The promotion final is at Wembley Stadium on Sunday 14 May, 3pm.
---
22 April 2017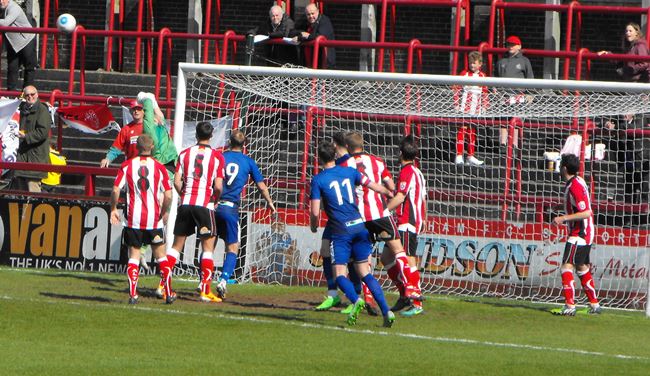 Above: Tim Deasy deals with a corner in the first half against Alfreton Town.
A draw was ultimately a fair outcome in this battle between the division's two most porous defences. The visitors had the better of the first half against an Alty side wich had recurrent difficulty in clearing its defensive lines. Alfreton took a deserved lead in the 39th minute when Westcarr's cross was met by Monkhouse's header past Deasy.
The goal had arrived just minutes after Altrincham had made a tactical change, replacing left-back McWilliams with Shaun Densmore. Densmore initially slotted into a left-sided midfield position but, after the break, he assumed a central role and he was a significant factor in the improved second-half performance by the hosts.
But, although Densmore was instrumental in scoring the 56th minute equalizer, the goal might well be credited to Alfreton keeper Spiess. The keeper fumbled the Alty midfielder's whipped-in cross from the left and, in attempting to retrieve the situation, only succeeded in carrying the ball over the goal-line.
Until the closing stages, when Alfreton got forward again, it was Altrincham who had the better of the second half but the final whistle left the hosts with just one home win in their league campaign this season.
Match report here.
Sat. 22 April
Stalybridge Celtic are relegated; AFC Fylde are promoted as champions.
Altrincham 1-1 Alfreton Town
Boston United 0-3 AFC Fylde
Bradford Park Avenue 0-2 Stockport County
Darlington 1883 1-0 AFC Telford Utd
FC Halifax Town 3-0 Curzon Ashton
Gainsborough Trinity 1-1 Kidderminster Harriers
Gloucester City 2-2 Chorley
Harrogate Town 1-2 Brackley Town
Nuneaton Town 1-4 FC United Of Manchester
Stalybridge Celtic 0-4 Tamworth
Worcester City 1-2 Salford City
You can follow this fixture via this website's minute by minute text updates by clicking on the icon below. Alternatively, Radio Robins' coverage of the game is outlined below as well.
Brian Flynn announces that "Radio Robins, sponsored by Ashley Mowers Garden Machinery, is providing full live commentary of Saturday's game. The match commentary sponsor is Chris Furlong.
The commentary team is Tim Ainsworth and Aiden Beswick with match summaries from Dave Stringer. Coverage starts at 2.55pm with the game kicking off at 3pm and you can listen to Radio Robins on the internet at http://www.radiorobins.com/
Altrincham FC Press & Media Officer, Brian Flynn, has forwarded the following interview with Nicky Clee by Aiden Beswick. Brian informs us that "Aiden is studying Journalism at the University of Central Lancashire (UCLAN) and is getting involved with our media team. He conducted the Alty TV interview with Robbie Lawton on Easter Monday and he makes his Radio Robins debut on Saturday".
With relegation confirmed to the Evo-Stik Premier Division after defeat to promotion-chasers Salford City FC earlier this month, the Robins are now certain to finish bottom of the Conference North table. With emotions from fans, board members and players still fresh in their minds, I spoke to one of the Altrincham's longest-serving players and fan-favourite Nicky Clee, about the club's future, his future and more.
AB=Aiden Beswick, NC=Nicky Clee
AB: How do you feel now relegation has been confirmed and are you one of the players who, with this confirmation, is going to be here next season?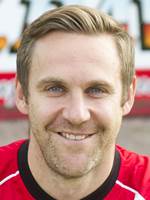 Left: Nicky Clee
NC: It's disappointing, obviously. When I re-joined in December, we were a good way adrift, so it was looking like we were going to go down then. But now its confirmed, I think it's finally like a nail in the coffin that's been shut all season. I only left for four months, I've been here for about 7/8-years, so this club is part of me. Who knows what's going to happen next year, or what the management situation is, so who knows on that aspect of things?
AB: When you originally joined Altrincham, did you see the potential for this club to make it to the Football League or did you see the National League as the level for this club?
NC: It's hard, like you said, I joined when the club were in the Conference National and, at that point, it's the same now, as a part-time team in the Conference, you're struggling to get out of the bottom 8 or 9. If you look at the top 15 teams in the Conference, a handful of them might be part-time, the rest of them will be full-time, and that's the way it is in that league now. It's like a 5th division.
The club needs to bounce back from a double-relegation. When we do get back into the Conference, it will happen eventually, we just need a bit of time to turn this blip around. When we do get back up there, it possibly might be full-time, but then you'd look at investment for full-time wages and that's a different question. But, the club's there, the ground's there, and it just needs a bit more investment, to get the club into full-time and look at league football.
AB: How much of a factor are the Alty fans on the team's overall performance and are they really one of the main factors to push you on, in order to progress back up the leagues?
NC: They're really important. What's a football club without its fans? It's probably the main reason I came back, the fans here are brilliant, they get behind you. Looking at the last 2-years they've had, it has been horrible, about 18months of football has been 'disgusting', and they're still coming. I was there when we played the Guiseley game, with four and a half thousand here. I played a[gains]t Brackley at home in the play-off semi-final, when there was a flare that was lit off once Moulty scored the last-minute winner.
Things like that, you want to see back and hopefully, next year, we are under no illusions it's going to be hard but hopefully, we can build on the last 10 games. We've played well but just not got our rewards. Hopefully we can build on that and go straight back up.
AB: Is it going to be the team's main goal, to go straight back up?
NC: It's got to be your aim to try and bounce back up, but that's what we said last year. The aim was to go straight back up. I was released anyway so it didn't affect me at the start of the season. But you can't just say let's go straight back up, its tougher than that, it takes hard work, it takes team spirit, you've got to be together, and I'm under no illusions, that it's going to be hard, but this club, this team can bounce back up. It just needs the correct manager, it needs the fans' support and, hopefully, the fans will come back with a few wins and, hopefully next year, we can give them that and give them something to smile about again.
AB: What is your preferred position on the pitch?
NC: I don't care, I just want to play, hence why I moved on a couple of times this year because, I just want to play football. I've played left-back one week, then right-wing the next, I don't think there is many people who would probably do that. I'm comfortable at left-back and I'm comfortable on the wing, but I also like playing in little pockets.
When you're playing the number 10 role, you can get really directly involved, whereas, on the left sometimes the ball has 10 minutes on the right side, you're just isolated a bit. But I've enjoyed it, against Salford I played up there as well and I thought I did well. I enjoy playing up there, working hard and trying to create chances.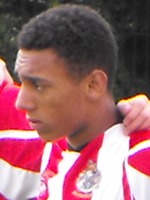 AB: As a senior member of the squad, does your experience rub off on the younger players coming through, such as Darius Palma [right]?
NC: I don't know, he's a young lad, I remember being his age coming through, and you've got no fear, you do what you do playing with your mates and he looks like me 15-years ago to be fair. When I saw him get the ball he turned his full-back and he drove. I said to him, just drive, drive, drive, get the ball in and past your man.
I'll always talk to the young lads, I'll always try and help them out and, like you said, I'm one of the 'old boys' now. He's done well, it's difficult coming into that sort of football because, I know they play [for the] reserves but the tempo difference, between the reserves and first-team is massive, and if you ask Laurence (Taylor), he came in and is doing really well in that position he plays. He's come straight in from the reserves and, after half-time, he is blowing. They do need a bit of guidance, and I'll give them that, I'll always talk to them, especially the attacking players because, I know more about attacking than defending.
AB: Do you think that you might go into coaching or management when you have finished playing?
I don't think it's for me to be honest, I've done coming on 15 seasons of playing and god knows how many games, but I don't know, who knows? Because, I've never come through a YTS or anything like that, I've got no coaching badges. I've only done bits of coaching, I've picked up things from experience really, so I could. I know what I'm doing and I know what to talk about, I could coach people but, on paper, I don't have a badge or anything like that to look at. I've got three young kids as well and I'm sure they'll want me to coach their junior side, so I don't know.
I still enjoy playing and as soon as that moment comes, where I don't enjoy playing then I'll think about that. But missing the majority of last year, has probably done me the world of good because, it's given me a new lease of life. I've probably lost a half a yard of pace from having operations, but I've not had enough of football and I still want to play.
AB: How much of an impact do your specially made boot insoles have on your game?
NC: I got them from one of my good friends. He is a podiatrist and in my first season, when I was about 19, I had chronic hip pains, I couldn't run properly at all. He was at Uni doing podiatry. I went to see the physio and no one could understand what it was. I went in front of him and walked, my knees go in when I walk which puts pressure on my ankles, knees and my hips. He made me some insoles at Uni, I put them in my boots and after a few weeks of getting used to them I could run again. Ever since then, I've used them. They last a while but if he gets a new batch, he lets me know and I trial them. Its proper stuff, I go there and he moulds them to my feet, it's not like going to a shop and buying a pair. They're good and I'd recommend them to anyone who's having trouble with the issues in question.
AB: Who do you feel is the right man to take the manager's hot seat next season?
NC: It's difficult, you don't know who's applied for the job so you don't know who wants it. We've been in every game bar the Stockport one, we've been better defensively, the record isn't great, I don't think we've done enough as players for Matt and Robbie to get them the job but chop and changing the manager hasn't worked. We've done it three or four times and it hasn't worked, getting loads of players in hasn't worked, so I don't know. I suppose that's up to the board and that's what they do. That the difficult part of running a football club.
AB: Have the board ever come to the players and asked what effect Matt and Robbie have had on you?
NC: No but it's a good idea, I've not spoken to anyone about it. I've got a good relationship with the Chairman, I've been here as long as he's done the job. It's a tough one, they want to do the right thing, but what is the right thing? In hindsight, the last three appointments before Matt, weren't the right thing. I'm just glad I'm not making the decision.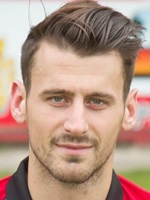 Left: Simon Richman
AB: Which players have impressed you most since returning to the club?
NC: The last few weeks, Laurence Taylor has come in and he's done every job that has been asked of him from Matt and Rob. He might not be the most attractive footballer in the world, but he can do a job and he'll stick to someone like glue. Simon Richman's energy is unreal and without him in the team, we look a different team. It was the same when we were in the Conference, his energy won us games sometimes. There are some decent lads in that dressing room and although we've not been tearing up trees this year, there is now a positive dressing room.
We don't go in thinking not football again, we want to win, we listen, we take stuff on board, everyone gets on. I don't know what it was like before, there's been 50-odd players in the dressing room, so I can't comment on who's been in and out but in the group, they're all good lads and the biggest disappointment for me is that I haven't had the chance to play with Sean Miller, as soon as I came, he got injured. He's a similar player to me and hopefully, we are both here next year.
AB: Who's the best player you have played against so far in your career?
NC: I've played against a lot. I remember playing against Manchester City reserves in a friendly here at Alty, it was when they just got all the money. It was when they went on tour abroad and whoever they didn't want, they kept in England, I think Craig Bellamy was up front, Onuoha was centre-half and Kieran Trippier at right-back. Although I megged him and I told him about it, he was decent, he was something else. His energy up and down that pitch was unreal, he was on another level. The toughest payer I've probably played against is Chris Lynch, his manager at the time literally told him to boot me all game and he did. Lynchy doesn't shy away from anything.
AB: Who is your favourite player that you have played alongside?
When I was at Hyde, we had Dale Johnson and Gareth Seddon up front. Dale ended up coming here and on his day, he is unreal, he's a big, strong lad who was a unit. Seds though used to score for fun, he was class.
Here, there is Reeves, when Reeves was on form for those three or four years, everything he touched, he scored. It was mad because, you knew if he had the chance, that was it. All he needed was a chance. We just know, it hasn't quite clicked this year. I know he's had a hard time since I've come back but the last few games he's had some chances and I suppose if you don't have the chances as a forward, you start to worry. But he's not really played that much since I've come back but with chances, he'll get there. He has told me he has some new boots, so hopefully that will work. I'm a bit like that, if I have a good game, I won't wash my boots."
Southport
have issued a Club Statement, which says...
"At yesterday's Board Meeting the first item on the agenda was the future position of the Club going forward. It was confirmed by Charlie Clapham that Sam Shrouder, Haydn Preece and David Barron would stand down as Directors at the end of the Club's Financial year end, the 30th June 2017.
As Chairman I confirmed that I would step down with immediate effect (21st April 2017) Sam Shrouder will also step down with immediate effect. Whilst both Sam and I have personal reasons for resigning our positions, the recent attacks that have appeared on social media and in the press and media following the open meeting of the Trust in Yellow and supporters has meant our position is untenable. Therefore we take our decisions with heavy hearts but in the best interests of Southport Football Club in the short and, hopefully, long term.
Haydn Preece shares the same views in regards to the vitriol and ridicule that has been aimed at the club and himself personally; David Barron has been shocked by a section of the supporters, by the behaviour towards myself and the Board.
Nigel Allen and Liam Watson are considering their positions. Nigel has agreed to act as Interim Chairman until the 30th June 2017 during which time the Board will seek a meeting with the Trust in Yellow Board to establish their views for the future as the call for change has come from them following the Open Meeting.
The Board will urgently seek to establish any level of interest in bringing in investors who may wish to take a controlling interest in the ownership of the Club.
I would like to place on record my thanks to Sam, Haydn and David and my family for their support towards me over the many years they have worked with me. I would also like to thank Ken Hilton along with all volunteers and supporters who over the last 35 years have treated me with respect.
The Board will work diligently over the coming weeks to find an outcome that will ensure the security and sustainability of your football club.
On behalf of the Board, Charlie Clapham MBE"
NL Pitchero adds that "Charlie Clapham has resigned as chairman of Southport with immediate effect after 35 years along with three other directors due to supporter unrest.
The already relegated Sandgrounders have had four managers during their season of turmoil and some fans were due to be holding a protest against the board at their final home game against Lincoln City in a week's time".
From the
Evo-Stik League
we learn that "Tommy Lawson will lead Marine into the 2017-18 Northern Premier League season after securing the club's top flight status. The former Skelmersdale United boss, appointed in February as the successor to Sean Hessey with the Mariners facing the real threat of losing their top flight status in the EVO-STIK NPL for the first time in their history, was rewarded on Thursday for quickly turning around the club's fortunes.
Lawson, who earned legendary status guiding Skem for nearly a decade before leaving in January, was rewarded with a new deal after his side took 14 points from the last 21 on offer to climb clear of trouble at the wrong end of the table."
---
21 April 2017
On Saturday, the J. Davidson Stadium will witness a clash between the division's two most leaky defences. Alty have let in 88 league goals, only surpassed by Alfreton's 91. And "The Reds" from Derbyshire arrive at Moss Lane needing two points to be mathematically certain of avoiding relegation, alongside us. Although they have lost more league games on the road (15) this season than any other club in the division, they have won four times on their travels, the most of any side in the bottom six.
Alty supporters will not have forgotten our most recent encounter with Saturday's visitors, Alfreton Town.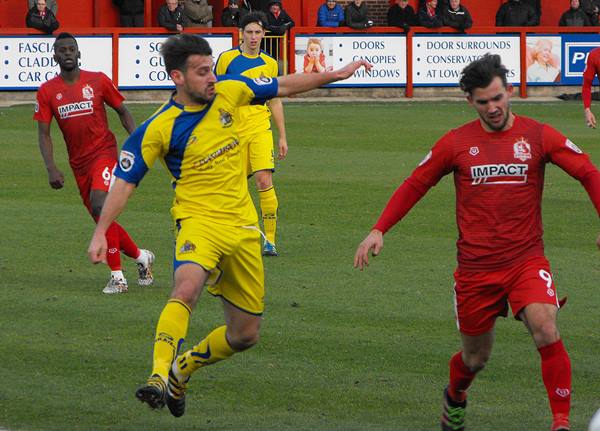 Above: Simon Richman in action at Alfreton in November 2016.
On 19 November 2016, Alty led twice against the Derbyshire team. The Robins led 1-0 through a Greg Wilkinson goal, when manager Jim Harvey brought on Phil Marsh for Damian Reeves (68 mins) and then Curtis Obeng for James Lawrie on 75 minutes. A minute later, Alfreton's Monkhouse poked the ball home, much against the run of play, to make it 1-1.
An excellent Moult header from a Miller cross made it 2-1 to Alty and a second league victory of the season looked on the cards with eight minutes remaining. Alty then made a further change as Alan Goodall replaced Andy McWilliams at left-back. Then two scrambled goals, in the 86th and 90th minutes from balls played into the Alty goalmouth, stole the points for Alfreton.
Alty's team that day included six of the same starters who played against Kidderminster last Monday; the squad comprised 1. Andrew DAWBER, 2. Sam PATTERSON, 3. Andy McWILLIAMS, 4. Jake MOULT (capt), 5. John CYRUS, 6. Tom HANNIGAN, 7. James LAWRIE, 8. Simon RICHMAN, 9. Greg WILKINSON 10. Damian REEVES, 11. Sean MILLER. Subs: 12. Phil MARSH, 14. Curtis OBENG, 15. Alan GOODALL, 16. Simon LENIGHAN, 20. Tim DEASY.
Alfreton have a good record at Moss Lane, having won on three of their four previous visits.
Mike Garnett reminds us of the overall record between the two clubs.
At Altrincham: P4-W1-D0-L3-F6-A4
Away: P5-W2-D2-L1-8-A4
All: P9-W3-D2-L4-F14-A8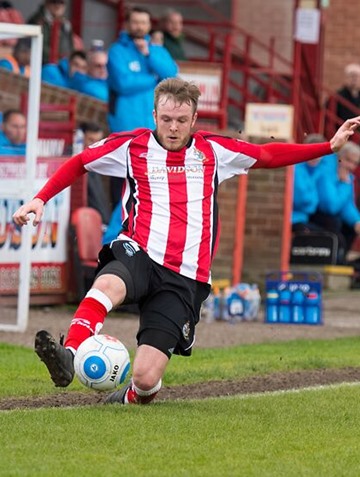 Right: Right-back Sam Patterson keeps the ball in play against Kidderminster on Easter Monday, as seen through the lens of Michael Ripley.
The Lambs entertain Altrincham on the last day of the sason (29th), and the
Vanarama National League
tells us that "There were many highlights in Tamworth's 4-1 home victory against Alfreton Town on Easter Monday. However, there was a particularly special moment for all connected with the Lambs' academy set up, as current under-16 squad member Chandler Pegg made his first-team debut at 16 years and 2 days old, becoming the youngest first-team player in Lambs history. Pegg, who is a current year 11 student at Landau Forte Academy, was also an unused substitute on his 16th birthday away against Bradford Park Avenue.
Manager Andy Morrell said, 'He has been absolutely terrific. All the lads were like "Who is this character?" and, a few weeks later, they found out he was 15 turning 16 and they couldn't believe it. He has a good stature about him, a good attitude and he has taken it all in his stride'. Morrell continued, 'I bet he was nervous going on against Alfreton but it will have done him the world of good and it's great for us. I know there's nothing on the game but we have to be brave enough to give them a go and see. He has every chance if he keeps his feet on the ground. He has something.'
The game was the thirtieth consecutive first-team fixture where a youth product featured in the squad, as Pegg was joined by ex-under-21 player Dan Jezeph who started."
From Lincolnshire Live we learn that "When Dave Frecklington took on the manager's role at Gainsborough Trinity he expected the club's battle against relegation to go right down to the wire. It seems the Blues boss was correct with his side now having two National League North fixtures in which to save themselves from the drop.
Trinity's date with destiny begins on Saturday with title-chasing Kidderminster Harriers due to visit the Northolme...
'I think it will go right down to the wire', said the Blues' boss. 'But I believed that when myself and Terry Fleming [assistant boss] took over the job. Saturday will be the toughest game of our season not just because of the magnitude of the fixture, but also because the Kidderminster side are a team that most people rate as the best footballing side in this division. If you go by the form book, they will need to have an off day and we will have to play out of our skins to get a result. But we are all 100 per cent sure that we can get out of this.'
The Blues' last two fixtures have brought four priceless points after a win over Salford City last Friday and a battling point following a 0-0 draw away at Brackley Town on Easter Monday....
'I haven't been shocked at all after taking these points over the Easter period,' said Frecklington. 'The lads have put in so much work on the training ground in recent weeks and their performances have actually been good. We just haven't had the results, or the luck, that we probably deserved from those games. We have cut out those individual errors and maybe we have, at last, seen things go for us a bit more in games. That has been the difference...
'We are hoping Greg Tempest will be available to us again after recovering from injury,' said Frecklington. 'That means we have a fully fit squad for the final two games, but we will need them'".
The
EvoStik League
reports that "Burscough are hoping to bounce back into the EVO-STIK Northern Premier League in a new stadium after their proposal for a new home was referred to the Secretary of State. The relegated Linnets were lifted by the decision of West Lancashire Borough Council's planning committee on Wednesday to refer their plans with Chequer Properties to build a new stadium next to their current home at Victoria Park.
If given the green light, the proposed community facility, pictured, will include a main covered stand with 480 seats, a two-storey clubhouse and a secondary covered stand.
Burscough chairman Mike Swift welcomed the decision... 'It's a very positive milestone in the proud heritage of Burscough Football Club and for contemporary developments in the village, especially football at many levels'".
---
20 April 2017
Altrincham's last two opponents this season met each other last Monday.
Alfreton Town
report that "Despite recording their sixth straight loss on Tamworth's 4G pitch, Alfreton Town are probably safer now than at any other point of the season with teams below them failing to win.
They are five points above the drop-zone with just two games to play, with both Altrincham and Stalybridge Celtic unable to catch the Red's current total of 40 points. With just one remaining relegation spot, even if the Reds fail to pick up the two points that would guarantee National League North survival for next season, Gainsborough Trinity and Worcester City would have to win each of their remaining games.
Manager Russ O'Neill's injury list meant that he was again forced to play Tom Allan in central defence alongside Niall Heaton, but there was the opportunity for Academy skipper Ellis Evans to make a confident first start in midfield. Adam Priestley was also included in the starting line-up... The hosts led in the 22nd minute after Allan had impeeded Reece Styche and Newton slotted home from the penalty spot...
Tamworth doubled their advantage in the 37th minute when Newton headed home from a Morley cross...
Ten minutes from time Spiess blotted his copybook by letting an innocuous 30 yarder from Styche slip through his fingers and in off the post for 3-0, but Monkhouse found the net from Liam Hearn's 87th minute lay-off after Paul Marshall had played the ball through. The goal brought an end to Alfreton's miserable goal drought that had seen them endure 550 minutes without scoring but worse was to follow with Shelton shown a red card after a reckless challenge on Newton before Jed Davies cut in from the right to fire home from 18 yards in added time to complete the rout.
Alfreton Town Team: Spiess, Richards, Allan ( Shelton h/t ), Heaton, Wilson, McFadzean, Monkhouse, Evans ( Marshall 63), Atkinson, Westcarr ( Hearn 77), Priestley. Subs not used : Cox, Wright".
The
EvoStik League
reports that "Carl Macaulay and his number two Gary Martindale will be leading Witton Albion in the EVO-STIK Northern Premier League next season whatever happens in the promotion play-offs. The club's decision to accept a three point penalty on Tuesday for playing an ineligible player handed the title to Shaw Lane AFC, [but] officials at the NetDec Stadium announced that the duo, pictured, had signed new contracts running until May 2019.
Witton Albion chairman Mark Harris told supporters he was delighted to agree new deals with the pair who arrived in November 2015 before overseeing a dramatic improvement in playing fortunes and masterminding this season's run in the Buildbase FA Trophy and bid for promotion with a play-off spot already guaranteed despite their decision not to appeal against the sanction.
The Witton Albion chairman said, 'It's fantastic news for the club that Carl and Gary have committed themselves to this project. We first agreed the principle of contracts before Christmas but, since then, the focus has been on mounting a promotion challenge. We've now nailed down terms and contracts are signed'".
---
19 April 2017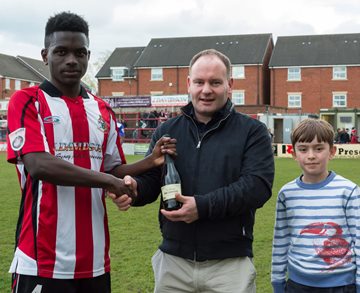 Pictured right after Monday's game is Alty's Man of the Match against Kidderminster Harriers, Laurence Taylor. Laurence has made a great impression since joining the first-team squad and the former Altrincham FC youth and reserve player is pictured receiving his award by Mike Ripley. Twenty year-old Laurence has now made 13(+2) first-team appearances this season.
A further testimonial to Laurence came from the pen of Shaun Densmore in Monday's Robins' Review". Shaun wrote, "Laurence continues to go from strength to strength in central midfield.
"I've been saying, ever since he got in the team, that he looks a genuine prospect, particularly as he hasn't had any real coaching, as far as I'm aware. I don't know what he was doing as a kid, from 10-16 or whatever, but, for the past few years, he's had no real coaching or anything, which means that what you are seeing is natural talent.
"He is a natural athlete, with so much ability... and he just seems to be getting better with each game...
"He is so calm and composed on the ball and that is maybe an extension of his personality because, off the pitch, he is relatively quiet and doesn't say a great deal. On it, he has proved a massive plus-point at a time when those have been few and far between".
Altrincham's Press and Media Officer, John Edwards, has submitted the following article for inclusion in this week's
Sale and Altrincham Messenger
.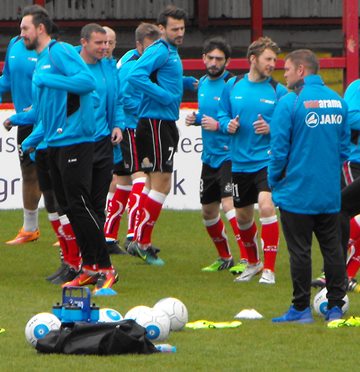 "Robbie Lawton admitted a failure to convert better performances into wins may cost him and Matt Doughty their Altrincham futures but insisted he would be 'gutted' if they are not kept on next season.
Alty's board are currently interviewing candidates to spearhead a push for promotion back to the Vanarama National League North, after their recent relegation, and current boss Doughty and his assistant Lawton are on the shortlist.
Right: Robbie Lawton and Matt Doughty oversee the pre-match warm-up against Kidderminster on Easter Monday.
Despite instilling fight in a squad bereft of it before they took over from Jim Harvey in December, the absence of a similar upturn in results has left Alty rooted to the foot of the table and jeopardised their hopes of remaining in charge.
Speaking after Easter Monday's 3-1 home defeat by Kidderminster, former Alty skipper Lawton said, 'The opportunity to come back to the club, through Matt's invitation, took about half-a-second to decide on, and I have loved it. I know there has been turbulence, but I enjoy working with the players, as does Matt.
'We had the opportunity to try and cement a permanent position, without going through due process, but the board felt there had not been enough consistency in outcomes. Performances, largely across the season, have improved, but I accept outcomes have not.
'We have done our best to convince the board, through a presentation we made, to give us a go next year. We would love to stay. I will be gutted, we will be gutted, if we are not still here, just as I was when it came to leaving as a player. I know I am biased but the infrastructure and tradition of this club appears far superior to many non-league set-ups.'
A clinical finish from Damian Reeves briefly gave hope to an Alty side who wrap up their home programme against Alfreton on Saturday.
'Damian has had game time lately and looked more threatening, and he took his goal phenomenally well,' added Lawton. 'Whether we are sliding balls in to him early or he's getting in better areas, I'm, not sure. It's probably a combination of both.'"
In Monday's Robins' Review, manager Matt Doughty wrote that "Robbie [Lawton] and I have already completed our interviews for the management roles so it now remains to be seen which direction the Club wants to go and we'll continue to prepare the players until or unless we hear any different".
Thanks go to the collectors and to those who contributed to the bucket collection of £40.86 at Monday's game.
The AFC Monthly draw for April took place in the Community Sports Hall before the match against Kidderminster. The winners were
1...£500...Jim Thompson (546)
2...£75....Dana Laidlar (550)
3...£25...Malcolm Jackson (124)
4...Matchday Hospitality in the Manchester Glass Sponsors' Lounge...Mrs Shelmerdine (232)
5...Replica AFC shirt...D Reddy (419)
6...AFC Polo shirt...D Marshall (358)
Alty Ladies' manager, Keith Edleston, has kindly forwarded the latest match report on his team, from Manx correspondent Paul Hatton...
Northwich Vixens 0 Altrincham 2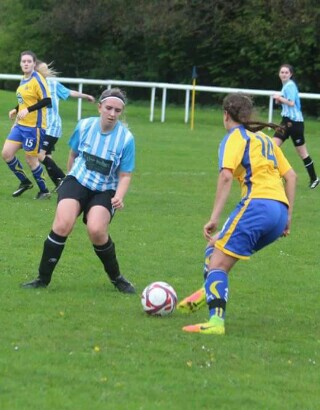 Two well-taken second half goals not only secured Altrincham FC Ladies' eighth league win of the season, but also completed their second league double, defeating Northwich Vixens 2-0 at Lostock Gralam FC.
The first-half performance saw Alty, yet again, dominate but unable to convert a host of chances. Megan Rowley had an effort rebound off the crossbar, Megan Wright fashioned an opening, only to steer her shot agonisingly wide. Jade Hesketh also worked a shooting chance; her acute-angled shot was well saved when there were better options with a cut-back in the penalty area, as the match finished goal-less come the interval.
Right: Megan Wright taking on a Vixens defender.
Half-Time 0-0
On resumption, Vixens were quicker out of the blocks, Alty goalkeeper Lizzie Brereton was forced into making an impressive save and, moments later, the Robins were caught out defensively and saw the hosts narrowly steer a chance off target.
Undeterred, Altrincham worked their way back into the match, kept on pushing and probing, and they were rewarded with the opening goal on 68 minutes. Wright intercepted a free-kick, she passed to Hesketh who, with her back to goal, released an angled pass to Rowley, a player who has made her way through the youth ranks. She ran into space, unleashed an angled shot across goal and saw it nestle inside the far post for her first ever senior goal.
Alty kept on pouring forward and their second goal duly arrived on 88 minutes. Georgia Vernardakis dinked the ball into space on the right, releasing Rowley. Cutting inside, her by-line effort was pushed out by the Vixens' goalkeeper. Kate Bryan reacted the quickest to smash her shot into the top right to secure victory.
With only two league fixtures left and results pending, Altrincham FC Ladies will finish in their highest ever league position since they were formed back in 2011.
From Monday's
Robins' Review
comes Mike Garnett's guide to Kidderminster Harriers...
THE TOWN
Kidderminster to me means two things above all else – carpets, which were first made in the town towards the end of the 18th century, and the Severn Valley Railway.
The latter abuts the Harriers' ground and the SVR station provides the transport buff with a very pleasant stop en route thereto. I have a favourite 'chippy' just across the road from the station which satisfies the inner man at moderate cost! The town, which lies about halfway between Birmingham and Worcester, is mentioned in the Domesday Book and, before the carpet industry arrived, cloth had played an important part in its economy.
THE GROUND
Visiting Aggborough has been one of the things this writer has most looked forward to, of recent years, and to miss out on such a day out will be one of the great regrets of next season. The main problem with railway access tends to be Wolverhampton Station; the information system there isn't exactly geared to giving the traveller the necessary data at speed, but eventually one finds one's way to Smethwick Galton Bridge (an experience not to be missed!) and thence to Kidderminster. The walk to the ground is uphill but short.
The view from the seats on the far side of the ground is good; sometimes an SVR train can be seen behind the stand, either arriving from or heading for Bridgnorth, before kick-off; should the occasion warrant it, a sizeable end terrace can be opened for visiting fans' use; and the Kidderminster cottage pie, I am told, is worthy of its reputation (I've never indulged myself, having usually visited the chippy earlier!). The welcome is normally very friendly, the match programme always a good read and the overall experience most enjoyable, irrespective of the football!
THE MEMORIES
We first met our guests from Worcestershire in an Alliance Premier League fixture on Saturday October 15th 1983, when the Robins came away from an Aggborough ground which of course looked totally different in those days with a 2-0 win, courtesy of a Leo Skeete brace in front of a crowd of 414.
Of the 49 subsequent encounters over the years seven have taken place in this calendar month. One hesitates to tempt fate, particularly in so disastrous a season as the present one, but only the first of those matches, which took place here on April 2nd 1984, has seen a Harriers win (1-0 on that occasion, with a gate of 924). Alty have recorded one win and one draw here and two wins and two draws at Aggborough in April games since then.
From the Robins' point of view there may only be pride to play for this afternoon while the Harriers' season is of course far from over, but let's hope for an enjoyable and competitive game. May the better side win!"
Bradford Park Avenue
confirm that "management team of Mark Bower and [ex-Alty midfielder] Danny Boshell have signed contracts keeping them at the club until January 2019.
The pair, who took over the reins with Bradford rock-bottom in September, have guided the club to safety with an impressive record of 12 wins and four draws from their 28 league games in charge.
Contracts were signed immediately after Avenue's dramatic draw with champions-elect AFC Fylde, a result which secured the club's National League North status for next term.
'We want to go on and finish what we've started, and not have the club in the position it's been in this season,' Bower said. 'Danny and I are confident that we will have the resources to improve on the squad and build on the results we've achieved.
'If the season had started when we got our first win of the season at Altrincham, we'd be well inside the top half of the table. We've already started recruiting for next season and that will continue and, now we're safe, that just allows us to put a lot more concentrated effort into that. I'm not here to be in a relegation battle, I'm here to compete with the best in the league, and that's what we're going to do.'
The management team joined the club from Guiseley in September last year, after an impressive three years in charge at Nethermoor. They earned promotion to the National League before even more impressively keeping Guiseley in non-league's top flight last term.
Bower, a former Bradford City defender, first took charge of Guiseley in September 2013, leading the club to two successive fifth-placed finishes in the National League North. Boshell... joined with Bower as player-assistant, having held the same role at Nethermoor. The central midfielder had been at Guiseley for six years prior to the move to Avenue, and has featured in the Football League for Grimsby Town and Oldham Athletic among others".
One team Altrincham will face for the first time next season in the NPL is Barnsley club Shaw Lane Association (formerly Aquaforce, established in 1991), who have now been promoted from the EvoStik Division One (South) today.
Heading the opposite way from that division are our old rivals Northwich Victoria, who have been relegated to the North West Counties League following a 5-0 defeat to Witton Albion.
Like Vics, Witton have now been hit by a points deduction, albeit of only three points. Nevertheless, Albion are certainties for the play-offs.
The EvoStik League confirms that "Witton Albion... confirmed on Tuesday morning that they would not appeal against the sanction and minimum £100 fine levied for playing Tolani Omatola... at Stocksbridge Park Steels on Saturday 12 February.
As a youth loan player from Tranmere Rovers, Omatola should be re-registered with both the Football Association and Northern Premier League every month. Although correctly re-registered in previous months, the required written acknowledgement from the FA and EVO-STIK NPL was not obtained before the match took place, breaching FA Rule 6.4.1...
Despite the administrative error emerging within 24 hours of being made, the mistake led to the club 'reluctantly' accepting the decision of their former secretary to resign after she took responsibility for the mistake. Having been notified of the decision by the EVO-STIK NPL's disciplinary panel on Wednesday 12 April, Witton Albion chairman Mark Harris told fans they decided to wait until after their Easter games against Stamford and Northwich before making a public statement to avoid distracting manager Carl Macaulay and his squad.
Harris, also the chairman of the EVO-STIK NPL, said, 'The deduction is obviously a blow to everyone at the club and the board would like to wholeheartedly apologise to the players and supporters. Football administration is an increasingly challenging job in which mistakes are punished, especially at this level, and this situation shows what happens when errors arise.
'We play by the same rules as every other club so we have to take the penalties on the chin although we are all frustrated that it takes so long for these cases to be settled. However, we cannot allow this setback to define what has been an excellent season which may still end with promotion. With that in mind the club has obtained approval from the Northern Premier League to offer free admission to all fans for Saturday's game against Sheffield. We hope that this will encourage as many local people as possible to roar the team on and set things up for the play-off semi-final on Tuesday.'"
Teams already relegated from EvoStik (Northern) Premier League for next season are Frickley Athletic, Ilkeston and Skelmersdale United, with another relegation place to be determined between Corby Town and Sutton Coldfield Town.
Moving up automatically from EvoStik One North to the division in which Alty will play in 2017-18 are either Lancaster City or Farsley Celtic with another place to be determined by the play-offs.
The
EvoStik League
reports that "Will Haining is standing down as joint manager of Ashton United after the club's final fixture of the EVO-STIK Northern Premier League campaign on Saturday.
Appointed alongside [ex-Alty man] Jody Banim in September 2016 to steady the ship following the sudden departure of Paul Phillips and Steve Halford to Stalybridge Celtic, Haining, pictured, will be on touchline at Hurst Cross for the last time on Saturday for the visit of Ilkeston before stepping aside to recharge his football batteries and spend more time with his young family...
Ashton United chairman Terry Hollis said, 'His hard work has given us the platform to kick on for the new season'...
Hollis added, 'We are more than satisfied that Jody has the ability to carry on the role and he has agreed to continue as manager himself for the foreseeable future. He will be assisted by [former Alty player] Simon Woodford in a player-assistant manager capacity."
Possible promotion platy-off contenders, who might therefore join Alty in the NPL next season, EvoStik First Division North club, are Scarborough Athletic. According to NL Pitchero, "Scarborough Athletic's first game back in the town will see the side face a Sheffield United XI.
The Seadogs will take on the recently promoted team who will be in the Championship next season at the new Scarborough Leisure Village on Saturday 15th July with a 3pm kick-off.... Steve Kittrick's squad may be in either the Evo-Stik Division One North or the Premier division. As they are currently in the play-off places with just one more match to go in the regular league season".
NL Pitchero adds that in Division One North, "The teams head into Saturday`s final games of the season with only the relegation issues settled. That was due to Goole AFC being confirmed as joining Burscough in bowing out of the division...
The title race swung in Lancaster City`s favour after overnight leaders Farsley Celtic were beaten 2-0 at Throstle Nest by an Ossett Town side who are now favourites to grab a top-five spot... The Dolly Blues are now a point ahead of Farsley after Jordan Connerton`s hat-trick in the 7th, 51st and 63rd minutes earned a 3-0 Giant Axe win over Kendal Town in front of 369.
Who joins either Lancaster or Farsley in the play-offs, however, is going right to Saturday`s final matches, with seven sides still in with a chance, albeit a slim one in Clitheroe`s case. Ossett Town are joined by Colne and Scarborough Athletic as holding a top five spot at the moment...
Trafford and Glossop North End are just a point behind Scarborough...Trafford won 2-1 at home to Colwyn Bay to go above Glossop on goal difference. An Aaron Burns penalty and Jack Dorney on 68 minutes sealed the hosts' win"
---
18 April 2017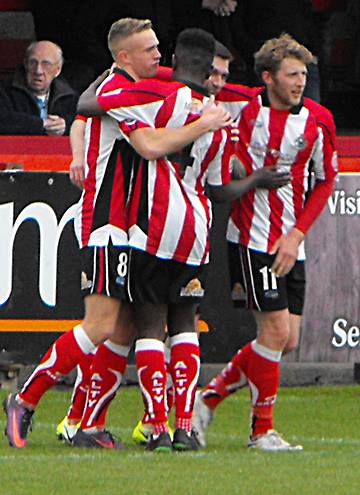 Before the match, manager Matt Doughty had told the
Robins' Review
, "We will make changes... as I dip into our reserve and youth team squads to see who may be up to the challenges the club will face next season" and for this game goalkeeper Stuart Tomlinson, right-back Sam Patterson, centre-back Sam Heathcote and striker Damian Reeves all came into the starting line-up, whilst Harry Cain and Craig Hobson joined the bench.
But Kidderminster demonstrated their clear superiority with a comfortable win. The visitors dominated from the start and took a fifth-minute lead when a rehearsed freekick routine, involving a simulated mix-up between their players, produced a superb strike into the top corner by James McQuilkin.
Right: Damian Reeves is congratulated on his goal.
Altrincham slowly improved and snatched a 38th minute equalizer when Damian Reeves finished superbly from the edge of the box after a long ball had set him free up the middle.
However, Kidderminster started the second half just as strongly as they had commenced the first 45 minutes and, in the 51st minute, went ahead again when former Harrogate Town forward Joe Ironside scored after Jordan Tunnicliffe had had a free header from a Harriers' corner.
Substitute Andre Brown made it 3-1, thirteen minutes from time after fellow sub, Emmanuel Sonupe, had crashed a thunderbolt against the crossbar. And Sonupe himself netted the fourth in the 86th minute when Tomlinson spilt a shot, leaving the impressive substitute with a tap-in.
Match report here.
TASC is pleased to announce that it will be operating supporters' transport to Altrincham's final game of the season. This is away at Tamworth on Saturday, 29 April (3pm). Details of fares and times are on the
Away Travel
page. You can book your seat by ringing the Club during weekday office hours on (0161) 928-1045.
TASC wishes to thank all supporters who have made use of the coaches during this season.
Meanwhile those using the TASC coaches are grateful to travel co-ordinator Mark Eckersall for his hard work in arranging the trips and ensuring that the service remained financially viable.
Altrincham FC Youth secured three points without kicking a ball on Easter Sunday when their opponents, Morecambe, were unable to raise a team to fulfil the NWYA Premier division fixture.
Next up for the Youth team is another home match next Sunday, against Prescot Cables (k.o. 2.30pm). The Youth team's home matches are now being staged at the former Flixton FC's Valley Road ground.
Brain Flynn, Press & Media Officer at Altrincham FC, has provided a link to manager Matt Doughty's post-match interview following the defeat to Brackley on 18 April. It can be found
here
.
Keithe Edleston, manager of Altrincham FC Ladies, reports on his team's 2-0 away win in the Cheshire derby against Northwich Vixens.
"A tough Cheshire derby saw the girls record a much needed win over Northwich Vixens; goals from Megan Rowley and Kate Bryan secured the points. A late call-off from left-back Kye Brown meant a quick starting reshuffle into a 3-4-3, where Megan Wright slotted in to left midfield and there was a starting front-two of Jade Hesketh and Megan Rowley, with Laura Dodds in a no.10 role.
The first half was cagey with both teams probing different angles and having quite differing styles of play. It took a bit of Rowley magic to nearly break the deadlock when she burst through and chipped the outcoming keeper. With us all thinking this was her first goal for the seniors, it struck the crossbar and bounced down onto the line and into a very grateful keeper's arms.
The half finished 0-0 but with plenty of positives, and with a half-time chat still ringing in the players' ears we set about the second half with renewed enthusiasm.
The game continued with us playing the way we do, with great link up from our midfield to the strikers and also spreading the play from side to side when possible.
Then the moment we have been waiting for arrived when, on 65 minutes, the deadlock was broken. A ball was played through to Megan Rowley, who then took it on past a defender, drew the keeper, then buried it in the bottom corner... GOAL 1-0.
It was her first goal since making the step up from juniors to seniors. A second goal arrived, near the end, from another Megan Rowley shot. The keeper parried the ball out, only for Kate Bryan to run onto it and slam it into the top corner to make it 2-0... and that is how it ended.
It was a gutsy, gritty performance from the girls that secured us the bragging rights in Cheshire for this season. Thank you to Northwich Vixens for their great hospitality and we wish them good luck for their remaining games".
Kidderminster Harriers
report that they "secured a National League North play-off spot as they comfortably saw off relegated Altrincham 4-1 at Moss Lane...
By the time they broke the deadlock with six minutes gone, they'd already made plenty of advance[s] on the home goal... Eight before the break the already-relegated Robins found themselves level in fairly routine fashion; a direct, long ball up field from Evans found the run of Damian Reeves, the accomplished striker who drilled a finish beyond Hornby.
Harriers turned the screw, though, and barely a minute or so after Croasdale had struck a firm shot off the inside of the far post, the team were back in front from a corner as Joe Ironside swept the ball calmly into the back of the net after Tunnicliffe's initial header.
Just as with the first goal, that strike put Harriers comfortably in the ascendency... Harriers kept on top and really dominated the game in every respect, finding a third goal with a little over a quarter of an hour left to play – Sonupe seeing his well-taken drive crash off the bar and straight to fellow sub Brown who swivelled excellently as he turned the ball beyond Tomlinson.
Still the away side worked and worked and their endeavour was rewarded with a fourth goal in the final minutes; Ironside turning and shooting superbly, Sonupe tidying up the damage from close range as Tomlinson spilled the ball".
After the game,
Kidderminster Harriers
reported that head coach "Matt Gardiner was pleased with the professional performance that saw Harriers secure a play-off place by beating Altrincham 4-1 on Easter Monday...
[It was] an ultimately comfortable and thoroughly-deserved victory for the team... Gardiner had words of praise for the Robins who ensured Harriers needed to more than up their game after the break.
'We knew it was going to be tough and credit to Altrincham,' he said. 'They are already relegated but there are a lot of things they're still looking at for next season and they made it very difficult. We had to go and take the game to them. At half time we tweaked a few things and credit to our players for carrying that out. They had to create their own tempo within the game as you can sense the atmosphere and what it was like today.
'I thought they were clinical, stuck to their guns and were very patient... now we prepare for Gainsborough...
'They have done very well today and I thought it was a very professional performance'...
Of the play-offs, Gardiner added, 'We have got to make sure we finish has high as we can'".
Att: 2326 AFC Fylde 1 vs 1 Bradford Park Avenue (Danny Boshell netted the BPA goal.).
Att: 1246 AFC Telford Utd 2 vs 4 Nuneaton Town
Att: 826 Altrincham 1 vs 4 Kidderminster Harriers
Att: 1094 Boston United 2 vs 2 Gloucester City
Att: 390 Brackley Town 0 vs 0 Gainsborough Trinity
Att: 2147 Darlington 1883 4 vs 2 FC United of Manchester (Tomi Adeloye netted for FCUM)
Att: 1335 Harrogate Town 0 vs 3 FC Halifax Town
Att: 1349 Salford City 1 vs 0 Curzon Ashton
Att: 761 Stalybridge Celtic 0 vs 1 Chorley
Att: 711 Tamworth 4 vs 1 Alfreton Town
Att: 922 Worcester City 0 vs 0 Stockport County
In its review of Monday's games, the
National League
says that "Leaders AFC Fylde are keeping second-placed Kidderminster Harriers interested in the title after the Coasters dropped two home points on Easter Monday to Bradford Park Avenue, whose fourth successive game without defeat has taken them to safety.
It was the visitors who broke the deadlock right on the stroke of half-time when Fylde keeper Rhys Taylor saved well from Chris Sharp, but Danny Boshell was on hand to tap in the rebound.
The hosts` chances of getting back into the game late on were bolstered when Avenue were reduced to ten-men 4 minutes from the end of normal time when Jake Hibbs received a second yellow card in quick succession.
An amazing 11 minutes of stoppage time was shown on the board and with 3 of them left, the Coasters equalised when Andy Bond sent in a cross for Matty Blinkhorn to head powerfully into the bottom corner past Jon Worsnop...
Third-placed FC Halifax Town earned three points at The CNG Stadium with a 3-0 victory against Yorkshire rivals Harrogate Town...
Darlington 1883 put their off-field woes behind them to secure a 4-2 win over mid-table FC United of Manchester at Blackwell Meadows. The Quakers just have to keep winning and maintain a top five spot and allow their appeal to take its course... FC United`s goals came from Tom Brown after 34 minutes and Tomi Adeloye a minute from time...
Chorley hammered another nail in second-bottom Stalybridge Celtic`s relegation coffin after a 1-0 win at Bower Fold, thanks to a 31st minute Andy Teague effort.
The Ammies also won by the only goal at Moor Lane against neighbours Curzon Ashton, with Sam Walker`s goal coming just 5 minutes from time.
Stockport, however, were held to a goalless draw at the Victoria Ground by relegation-threatened Worcester City, leaving the Hatters the outsiders, being four points behind Chorley and two off Salford.
As for City, with two games left, only goal difference keeps them out of the drop zone as they are level on points with third-bottom Gainsborough Trinity, who also drew a blank at St James's Park against a Brackley Town side who would have been level on points with Stockport had they won.
The Reds were 4-1 losers at The Lamb against Tamworth...
Relegation still remains a slim possibility also for AFC Telford United following a 4-2 defeat at the New Buck's Head against mid-table Nuneaton Town...
Elsewhere on Monday, Boston United and Gloucester City shared a 2-2 Jakemans Stadium draw".
---
17 April 2017
Monday 17 April, 3pm
AFC Fylde 1-1 Bradford Park Avenue
AFC Telford Utd 2-4 Nuneaton Town
Altrincham 1-4 Kidderminster Harriers
Boston United 2-2 Gloucester City
Brackley Town 0-0 Gainsborough Trinity
Darlington 1883 4-2 FC United of Manchester
Harrogate Town 0-3 FC Halifax Town
Salford City 1-0 Curzon Ashton
Stalybridge Celtic 0-1 Chorley
Tamworth 4-1 Alfreton Town
Worcester City 0-0 Stockport County
TASC is pleased to announce that it will be operating supporters' transport to Altrincham's final game of the season. This is away at Tamworth on Saturday, 29 April (3pm). Details of fares and times are on the
Away Travel
page. You can book at the TASC table in the Community Sports Hall at today's match or by ringing the Club during weekday office hours on (0161) 928-1045. TASC wishes to thank all supporters who have made use of the coaches during this season.
Altrincham FC Ladies won 2-0 away to Northwich Vixens on Sunday. Next Sunday they are away again, against Merseyrail Bootle.
Altrincham were without Miller, Owens, Densmore, Cyrus, Goodall, Hannigan and Jones on Good Friday but hope to have centre-back John Cyrus available for Monday's game as well as winger, Harry Cain, who is back from his loan spell on Merseyside.
In advance of Monday's game at the J. Davidson Stadium, Kidderminster Harriers report that "John Esutace expects to continue getting the best use out of his talent[ed] Harriers squad as they travel to Altrincham on Bank Holiday Monday.
The Easter weekend got off to a great start on Saturday as the Reds picked up an important 1-0 win at home to Boston United. Now, with just three games left of the campaign, the team prepare for their penultimate away league match of the term as they head for already-relegated Alty.
Despite their position, the Robins picked up a fine 3-2 win over Curzon Ashton on Saturday and are looking to end what has been a disappointing season in fine style. Harriers will need to keep their wits about them to take anything away from Moss Lane, and the gaffer is insistent that anything earned will be done so via a collective effort...
He praised the input of the likes of Saturday's substitutes Tyrone Williams and Manny Sonupe among others. The former came on for the injured Josh Ezewele, who himself had only just returned to the starting line-up.
'I think it showed on Friday that it is a squad game and the lads coming in and the lads coming off the bench made a difference,' he commented. 'We're disappointed for Josh but Tyrone came in and has never let us down. His attitude and the way he trains every day is fantastic. Manny did great and that's what we brought him in. We have a quality squad; although it's young...
'All we can do is win games and we've got a very tough game on Monday and we'll prepare properly for that'.
Eustace admitted it was 'too soon' to know whether or not Ezewele would recover from his injury to keep his place in the side on Monday. Arthur Gnahoua, meanwhile, wasn't fit enough to return from injury against Gloucester; he'll again be assessed ahead of this one. There were weekend returns to the squad for other recent absentees Liam Trulsove and Elton Ngwatala".
The unofficial Harriers Online add that "The Harriers head for already relegated Altrincham tomorrow, Easter Monday, knowing that they won't be facing a team that are going to go down without a fight. Although they now have little to play for, apart from honour, they put three past Curzon Ashton on Friday to record their third away win of the season. Luckily for us they don't quite have as good a record at Moss Lane having only won once there and that came against basket case Worcester City in February when they beat them 2-0.
We still can't go there expecting the formality of a win though because our away form is nothing short of shocking as shown when we lost at Stalybridge last week. We can go there comforted in the knowledge that a draw would leave us needing just one more point from the final two games to guarantee a play-off place, while a win would see us home and dry.
We could be without defender Josh Ezewele for the game after he was injured early in the first half against Boston and went straight down the tunnel for treatment. Tyrone Williams replaced him and could be in there again tomorrow with Jared Hodgkiss also mysteriously missing on Friday (hence Ezewele playing) and no news as to why...
Altrincham were one of the four teams to come down with us from the Conference National, Halifax and Welling being the other two, and have fared the worst. Both Halifax and ourselves are battling to get promoted back while in the National South Welling sit just below halfway. Sadly, Alty's highest placing this season was on the opening day when they were in eighth place but then drifted into the relegation places from the end of August onwards and have been rock bottom since the end of October when Worcester City (them again) beat them 3-0 at the Vic.
In the win against Curzon on Friday it was the former Harrier Jake Moult that scored the first two of their three goals with the third coming from Simon Richman... With a day off work for most people, and a comparatively short journey, we should take a decent following to Moss Lane so we need to get behind the lads and roar them on to victory and the play-offs".
For Alty's game, last week, against Brackley Town, Mike Garnett wrote the following article for the
Robins' Review
...
"Brackley is a small market town in Northamptonshire, on that county's border with Oxfordshire (some jaundiced souls might argue that the county name is the most Northern thing about the town) which was at one time known for its connections with the wool trade and lace-making. It lies about 20 miles north of Oxford, was home to a short-lived Norman castle and has a Parish Church which features an 11th century doorway. The 17th century poet and clergyman John Donne (of 'no man is an island' fame) was at one point the town's M.P. Silverstone motor racing circuit is not far away to the north-east and it is therefore not surprising that the town now has links with Formula 1, principally through the Mercedes team, whose headquarters are in Brackley. One other claim to fame is an antiques centre which has featured on daytime television!
THE GROUND
Arriving at our guests' St. James' Park ground in May 2013, through a modern housing development off Bridge Street, the main stand and social club had been joined by a new building, probably intended as changing rooms. Behind the goal to the right was a seated stand flanked by recently constructed open terracing; at the other end a covered terrace was flanked by hard standing; the town cricket club adjoins this part of the ground. The far side was relatively undeveloped, but given work on drainage seemed to offer the prospect of further modern spectator accommodation. As I was unable to attend the away game earlier this year I can give no update!
THE MEMORIES
Only one of our seven previous meetings took place in this calendar month, namely the first leg play-off semi-final here on the last evening of April 2013. The visitors should have been ahead by half-time, despite a frantic ten seconds when the Robins hit the woodwork three times but when they eventually did take the lead twenty minutes from time thanks to big Jefferson Louis' header it was somewhat against the run of play, as Alty had enjoyed the bulk of the pressure and had once again hit the woodwork. Seven minutes later Simon Richman headed home the equaliser from a Duncan Watmore cross. The latter stages were at times very much end-to-end, but in the third minute of stoppage time Jake Moult hammered home a shot from the edge of the area to send the home supporters among the 1,618 crowd home in ecstasy. Brackley, and Louis in particular, dominated the second leg the following Saturday as they progressed to the final, where they met Halifax. This afternoon's encounter will not have the same feel as that April evening, but here's hoping for an enjoyable game".
---
16 April 2017
Altrincham manager Matt Doughty reflected on a dramatic but deserved 3-2 win at Curzon Ashton on Saturday in a post-match interview with Press and Media Officer, John Edwards. Here is the interview in full.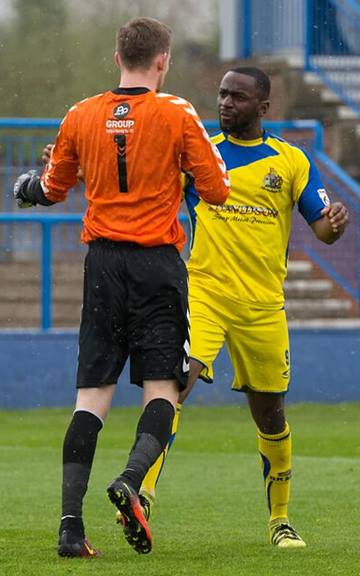 Q: There was no shortage of incident, and we left it late in the end, but it was a deserved win, wasn't it?
Right: Micah Evans exchanges views with the Curzon keeper. Image courtesy of Michael Ripley.
A: Before the game, I was asking for consistency over 90 minutes, because against Brackley last week, I thought we were brilliant for 45 minutes then really poor for the second 45 minutes, when we let them back in it. Today, we maintained that first-half level from last week for 75-80 minutes, which was much more like it. We got a bit tired near the end, and that's probably why we went a bit longer than we would have liked, but generally we passed the ball well and controlled the game. Even in the last five minutes, we came again, changed it to 4-1-4-1 and got it out to the wide men to stretch them and get crosses in. That worked perfectly, and we were good value for the points.
Q: After being in no trouble whatsoever for most of the first half, we went behind after a Chris Lynch pass was intercepted and they broke away. Did you begin to wonder whether the breaks were going to go against us again?
A: To be fair to Lynchie, their left-back gambled to cut out that pass, but it worked for him. We still had numbers to get back, and Laurence Taylor did get back and looked to have saved the day with a great tackle but, unfortunatel,y it ricocheted to their player and he scored. You do wonder at that point how we've managed to go 1-0 down and whether it's going to be our day, but the midfield three made sure it was. I thought Simon Richman, Kyle Brownhill and Laurence Taylor were fantastic, absolutely fantastic. If ever we lost possession, they ratted and got it back, and that is why we had so much control. In fact, that's why we won the game, because they ran it.
Q: The first of our two penalties, presumably for a push as James Lawrie swung a corner over, is the sort of thing referees seem to be clamping down on. Did you see what happened?
A: Not really, but I did see Lynchie go down, and, from his reaction, it looked like he got a push. There weren't too many complaints from their guys, either, so I'm guessing it was the right decision. Overall, I'm just really pleased we got such a positive performance out of them, one along the lines of what me and Robbie wanted from them. You could see there was more freedom in the way they played, which was important, because if we do get the job, that is what we want to see next season. We want to get the ball down, get it out wide at every opportunity and use pace to good effect.
I thought Micah Evans (right) was outstanding in that respect today. He has got that in his locker. He was really positive and always looked to take people on and get past them. That was good to see, and it caused them real problems.
Q: Nicky Clee seems to relish being given licence to go wherever he can cause damage, rather than sticking to the left flank, doesn't he?
A: He's not getting any younger, and when you're getting on a bit, you naturally lose a bit of pace, and he has probably lost half a yard. But what he is still good at is finding space and exploiting it with a pass that puts someone through or getting a shot away himself. I don't want him running back to our goal. I want him fresh for when he gets the ball, so he can make maximum use of it and make things happen for us. There was no really bad individual performance out there. I took Lynchie off early in the second half, because he has had an emotional week (after the death of his father) and it has left him drained.
He said at half-time he was feeling it, so it was the right thing to do. I thought Clayton McDonald was very calm but also very vocal in everything he did. He defended well and always looked to use the ball, but he just tired a bit, and that's why he made way for Sam Heathcote.
Q: For a moment or two, no one could quite work out what had happened when they made it 2-2. It wasn't at all clear the referee had awarded a goal, on the advice of the linesman. What did you make of it?
A: Tim Deasy is adamant he caught the ball and it wasn't over the line, but the linesman said it was, so what do you do? I will have to have a look at it to get a better idea, but to be honest I'm not really fussed, because we still went on to win the game. Anything less, from our point of view, would have been a travesty. It showed great character to come back again and score a third. Heads could easily have gone down, or we could have settled for a point away from home, but I didn't want that and neither did the players.
It was a case of let's go again and carry on playing the way we have been, and we got what we deserved with a great goal. Micah deserved to get his name on the scoresheet and couldn't have caught his header much better, only for it to hit the keeper on the line, but there was Ringo following up and doing what he does with his energy levels to finish it off. I'm made up that we have something to show for the effort we put in. There has been an overall improvement for a while now, but it was important we added a bit of consistency to our play to secure the right result.
As I said, the second half last week wasn't good enough, and it cost us, but today it was more like 80 minutes at the required level, which is a step in the right direction.
Q: How are things looking for Kidderminster on Monday?
A: We should have John Cyrus back, Craig Hobson might get a few minutes and Harry Cain will as well. As has been said before, there are decisions to be made about players. We need to look at lads who may be kept on next season to see if they are good enough".
Alty Reserves drew 2-2 away at Poynton on Saturday. Next Saturday the Reserves are at home against Egerton Youth Club FC at... Egerton Youth Club!
Att: 1393: Chorley 1 v 0 Worcester City.
Att: 423: Curzon Ashton 2 v 3 Altrincham
Att: 2368: FC Halifax Town 0 v 1 AFC Fylde
Att: 890: Gainsborough Trinity 1 v 0 Salford City
Att: 2056: Kidderminster Harriers 1 v 0 Boston United
Att: 4261: Stockport County 1 v 1 AFC Telford Utd
On Monday, Alty entertain second-placed Kidderminster Harriers at the J. Davidson Stadium.
Mike Garnett reminds us of the previous record between the two clubs.
At Altrincham: P24-W11-D5-L8-F34-A27
Away: P26-W9-D7-L10-F27-A41
All: P50-W20-D12-L18-F61-A68
From the Kidderminster Shuttle, we learn that "Harriers' boss John Eustace praised the way his players persevered against determined Boston United. Reds picked up a hard-fought 1-0 win thanks to Elton Ngwatala's 87th minute header..
Eustace said, 'We've got a very tough game on Monday [at Altrincham] now so we have to prepare properly for that. I've said all season that it's a squad game and the lads coming in and coming off the bench made a difference today'".
With Altrincham all but mathmematically confirmed as finishing bottom of the Vanarama National League North, they will be playing in the Northern Premier League next season...
From that division we learn, in the News & Star, that"Workington Reds remain on the play-off trail after they ground out a victory over Halesowen Town. A lone volley from Conor Tinnion near the end of the first half proved the only difference between the two sides.
Reds had their chances in the opening two minutes with a penalty but Dave Symington found his effort saved by Halesowen keeper Daniel Platt who was in fine form throughout. Reds move up to sixth after today's results and now head to Nantwich on Monday."
According to the Whitby Gazette, "Whitby Town's play-off hopes remain alive, though it will make for a nervy final two games, after the Blues came from behind twice to gain a point at home to Warrington Town.
Chris Hardy named an unchanged starting XI, with local lad Elliott Anderson returning to the bench... It was the Seasiders who went a goal behind, on ten minutes. Whitby's usual defensive woes from set pieces continued, with Dylan Vassallo's inswinging free-kick finding the Yellows' Daniel Hattersley, who headed home...
The Seasiders were undeterred, however, and fashioned an equaliser through some usual Hopson class. A ball in from Tymon found the Blues' top goalscorer, who beat two men and left Anthony McMillan with no chance with his curling effort into the top corner.
The scores were level for a matter of just three minutes though. The Yellows used an advantage from the referee Derric Wade, with the ball finding its way to Hattersley, whose bicycle kick against Andrew May snuck [sneaked] through the legs of Shane Bland... Another equaliser was always on the cards and it was special for more reasons than one. A flick on from Anthony Hume found Hopson, who attempted a smart chip over McMillan, finding only the post, but birthday boy Tymon followed up, to level matters".
As well as Danny Hattersley, other ex-Alty men in action this weekend included Ryan Crowther who netted the goal for Ashton United in their 1 - 1 draw with Blyth Spartans. As Marine beat Hednesford Town 3-0, Danny Mitchley scord one of the goals. Also on the mark was Ryan Brooke for Nantwich Town as they beat Ilkeston FC. Former youth teamer Osebi Abadaki also scored for the Dabbers.
Accross the Pennines, Shaw Lane AFC beat Chasetown, 2-0, with one goal netted by Kieran Lugsden.
NL Pitchero
reports that "It may have been more of a wake than a celebration, but Darlington beat Alfreton 3-0 to at least give their fans something to cheer. The supporters are still angry that Darlo can't compete in the play-offs after their ground was deemed to not have enough seats for promotion into the National League.
They put their woes to one side and easily beat Alfreton [one of Alty's opponents later this month], who have now lost their last five league matches. Nathan Cartman put Darlington ahead before Josh Gillies scored another just before the hour mark. Terry Galbraith added [ended] the game as a contest".
---
15 April 2017
Saturday, 15 April, 3pm
Alfreton Town 0-3 Darlington 1883
Bradford Park Avenue 0-0 Tamworth
FC United of Manchester 1-2 Brackley Town
Gloucester City 2-1 Stalybridge Celtic
Nuneaton Town 2-1 Harrogate Town
In its review, the
National League
reports that "AFC Fylde moved a step closer to promotion to the National League, after a hard-fought game away at FC Halifax Town ended in the Coasters moving six points clear at the top, thanks to a 1-0 victory... After breaking the deadlock, things turned scrappy and after a number of yellow cards, midfielder Sam Finley was shown red with seven minutes to go.... [Fylde] could find themselves promoted on Easter Monday if results go their way...
Despite being second placed to the Coasters for most of the season, Kidderminster Harriers again kept up the pressure with a 1-0 victory at home to Boston United... As the game came to a close, Elton Ngwatala popped up with four minutes to go, and despite getting a booking for his celebrations, the passion and togetherness shown at the death by the Harriers will surely hold them in good stead for their inevitable play-off semi-final.
A team who will now be worrying about their place in the top five is Salford City, after the Ammies lost by a single goal on the road to Gainsborough Trinity....
Play-off hopefuls Chorley were another side who were made to work for their victory, and in a day of minimal chances and goals throughout the division... Scott Leather's goal in the 62nd minute was enough to move Matt Jansen's men up to fourth in the table.
At the other end of the table, it was all little too late for Altrincham, as they turned on the style at Curzon Ashton, despite being already relegated. The game of the day in the National League North, Curzon's Matthew Warburton broke the deadlock before half-time, before Jake Moult scored from the spot... Moult then scored from the spot again to put Altrincham into the driving seat, until Jonathan Hunt made it 2-2, with just 13 minutes to play...
The biggest moment of the game was still to come though, and it was Altrincham who stole all three points at the death, as Simon Richman popped up on the 90th minute to send the travelling Robins fans into dreamland."
More on Alty's next opponents comes from the
Boston Standard
which says that "Elton Ngwatala's late header ended Boston United's clean sheet record. The Pilgrims looked to be holding out for their fourth-straight shut-out, only for the Kidderminster striker to grab an 87th-minute winner and keep the Harriers' title hopes alive...
Boston showed their promotion-chasing hosts plenty of respect in the opening exchanges as they defended deep and looked to the pace of Jay Rollins and Simmons to offer opportunities on the break. Indeed, Harriers' first sight of goal didn't arrive until the 29th minute... With three minutes left they finally managed their breakthrough.
KIDDERMINSTER: Hornby, Ezewele (Williams 33), Francis-Angol, Croasdale, Lowe, Tunnicliffe, Nti, McQuilkin, Ironside (Brown 76), Ngwatala, Austin (Sonupe 61); Subs (not used): Knights, Truslove".
From the other side, Kidderminster Harriers report that manager "John Eustace says he felt Harriers deserved their late, late win over Boston United on Good Friday after refusing to give in at Aggborough...
The 1-0 win got Harriers back to winning ways after a frustrating night at Stalybridge on Tuesday, and was hard-earned after they downed a Boston United that boasted arguably the best recent defence in the division. Speaking after the game, Eustace commented, 'The lads really stuck to the task well against a good team; Adam has them set up really well. They're very well organised and he's a very good manager with a lot of experience... I couldn't be more pleased with how the lads kept at it and I think we got what we deserved in the end...
'The most important thing today was to get a reaction after Tuesday night, which we did. Other teams don't interest me really. All I care about is Kidderminster and watching this young team develop and progress, which they're doing'...
Harriers are next in action when they travel to Altrincham on Easter Monday (3pm.)".
---
14 April 2017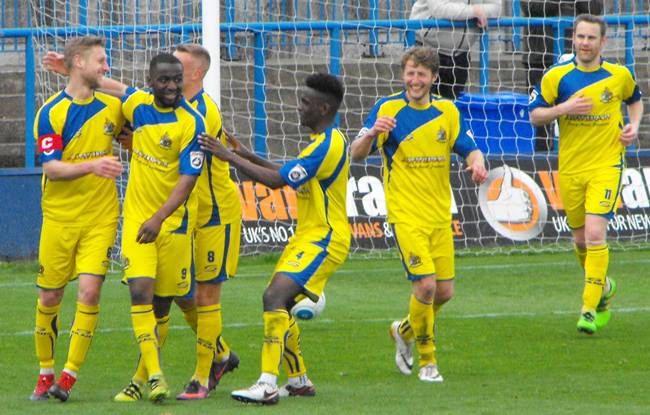 Above: Jake Moult celebrates with team-mates after putting Alty 2-1 ahead.
Altrincham snatched an injury-time winner after all their efforts seemed to have been denied by the controversial award of a Curzon equalizer, when Tim Deasy was deemed, by an assistant referee, to have collected the ball after it had crossed his own goal-line following a corner.
In the first half, Altrincham were the better side but fell behind after 42 minutes from a counter-attack, after Lynch had lost possession in the Curzon half. Guest broke forward and Warburton netted despite a last-ditch tackle from the retreating Laurence Taylor. But Alty equalized in the 45th minute when a push gave the visitors a spot kick which Jake Moult converted confidently.
Alty then took the lead with another penalty from Moult after James Lawrie had been brought down as he jinked across the penalty area (62 mins). But then came the controversial equalizer, awarded to Curzon's Hunt, fourteen minutes from time.
However, the hard-working Robins had the final say as Simon Richman bundled the ball home after good work on the left from Clee and Evans, in the first added minute at the end of the ninety.
Match report here.
Howard Watts's
Through the Years
...
Friday, 14 April, 3pm
Chorley 1-0 Worcester City
Curzon Ashton 2-3 Altrincham
FC Halifax Town 0-1 AFC Fylde
Gainsborough Trinity 1-0 Salford City
Kidderminster Harriers 1-0 Boston United
Stockport County 1-1 AFC Telford Utd (7.45pm)
According to
NL Pitchero
, "Premier Division Burnley are the highest profiled club that have been watching Vanarama National League North club Curzon Ashton`s Ryan Hall.
The 22-year-old former Brighouse Town goalscoring right-winger, who works as a skilled engineer for a Brighouse company, was encouraged to take his chance by Town's astute manager Paul Quinn and so far he has done just that with forty-three appearances for Curzon Ashton in which he has scored 8 goals and made many more assists.
His pace, skill and determination [have] won him over with their fans and also obviously alerted the head scout at Turf Moor. Stockport County in the same division have also made their interest known but, while still living the dream, as he refers to it, Hall will just take it all in his stride and, come the end of the season, see what is on offer".
The
BBC
reports that "Darlington will appeal [against] the National League's decision to deny the club a play-off place because their ground does not meet seating requirements. The Quakers... do not have the 500 covered seats needed across two stands at their Blackwell Meadows home.
Clubs were previously able to install temporary seating with conditions, but the rules changed in May 2016. Now, permanent seating must be in place for clubs to meet the criteria.
The club said it would liaise with National League South side Poole Town, also fifth in their league, who have similar issues with their ground.
'This change in the requirement for permanent covered seating was only brought to the board's attention in the past couple of months', a statement from Darlington said. 'By the time the board was fully aware of the requirement, it was not able to act because of the timescales involved and the lack of funds available. In order to be able to meet the seated stand requirements, an additional round of fundraising through the Community Share route has a lead time of at least six weeks to prepare the offer and then an unknown amount of time to raise the estimated requirement of £150K, plus the actual construction time for the additional seats.
'We understand that an absolute minimum of 12 weeks would be needed, time that just wasn't available once the club had finally moved into Blackwell Meadows'.
The decision comes as a blow to Darlington, particularly given the optimism which followed their return to the town in December after a spell at Bishop Auckland's Heritage Park, the first time since the old Darlington club had been liquidated in 2012...
'Understandably, our manager, Martin Gray, is very frustrated at this situation, as the incredible efforts of the players and coaching staff will not give us the chance of promotion this year unless the appeal is successful and we are allowed to participate in the play offs', the statement continued.
'We are as disappointed as everyone else that our success on the field is not reflected in our ability to move to a higher level at this time. But we would remind everyone that had we thought that we would be playing back in our home town, in the second tier of the non-league pyramid, under our original name, and all within five years of that fateful day in 2012, not many would have had faith in that dream.
'The board is now working with the Supporters' Group to set a five-year-plan to develop the ground at Blackwell Meadows'".
At the other end of the table, Lincolnshire Live reports that "Richard Kane insists he remains confident Gainsborough Trinity can still avoid the despair of relegation. The Blues chairman accepts the situation looks bleak as Trinity occupy the third relegation spot...
Trinity welcome high-flying Salford City on Friday, followed by a trip to Brackley Town on Easter Monday. Their final two games see them taking on promotion-chasing Kidderminster Harriers at home before a final-day trip to FC United of Manchester.
'It is not all over yet,' said Kane. 'We are trying to stay as positive as we can ahead of this weekend's fixtures. I still believe we have the players and the manager to get us the points we need'...
The club (then called Trinity Recreationists) were first established in 1873 and, while they have moved leagues due to restructuring over the years, they have never suffered relegation in their 144-year existence. Kane admits to having sleepless nights at the thought of being at the helm if the worse happens and the Blues slip out of National League North...
'I have lost so much sleep over this situation and the possibilities that face us,' he said. 'Last Saturday [when the Blues lost 1-0 against Stockport County], I just don't think I could feel any lower,' said Kane. 'The performances haven't been bad though. I don't think the lads are playing badly or that Dave Frecklington has done anything wrong. But, looking at the games he has been in charge, to take just two points from them doesn't look good enough.'
Kane, though, has faith in his manager and says he wants to see Frecklington in charge next season, no matter what league Trinity find themselves in.
'I think he [Frecklington] has the right approach and I would love to see him have a full campaign at this level next season,' added Kane. 'I don't think the timing of the departure of the previous manager [Dom Roma] has done us any favours. We weren't in the relegation places at the time, but it came just before we had some winnable fixtures. A new manager coming in and new players trying to settle into a team didn't help and we ended up losing games we could otherwise have won'".
Alty fans will remember our protracted FA Trophy tie with Leamington last season; The Brakes currently lie second in the Southern League Premier Division and the
Coventry Telegraph
reports that "Warwick District Council have approved plans for a new 5,000 seater football stadium in Leamington.
At a full council meeting yesterday, councillors backed the purchasing of land in Europa Way and Gallows Hill for the development of the stadium, which will become the new home of Leamington FC. Plans for the council to acquire the club's current home in Harbury Lane were also approved. The site has been identified as a possible travellers site.
The council will now undertake a detailed study of the delivery options for a new sports and community hub for the area which could include a new primary school, community hall and medical centre.
The leader of Warwick District Council, Cllr Andrew Mobbs said... 'These exciting and ambitious plans, will not only help to secure the future of our local football club, but have the potential to bring a new focal point for the community with huge benefits for the health, fitness and well-being of our residents'".
And from a few years earlier, we read of another former opponent who are moving back to their home town as NL Pitchero reports that "Grays Athletic are set to open talks about returning to the town after a seven-year absence. Following relegation from the National League in 2010, the lease on their Recreation Ground expired, having played there for 114 years.
Since then, The Blues have been on the road and currently playing home games at Aveley FC's Mill Field. They've already suffered relegation from the Ryman Premier Division this season but have received a welcome boost today following news that there's a chance of a homecoming after the approval of a new free school.
The South West Essex Community Education Trust's application was given the green light to build the Orsett Heath Academy which included plans for sporting facilities to potentially house Grays. The school is expected to open in September 2019.
A statement on the club's website read, 'The possibility of Grays Athletic Football Club being part of the development at the proposed site, as part of a sports hub, has been discussed... The Club looks forward to meeting with the key people involved after the Easter break to further those discussions'".
---
13 April 2017
Altrincham FC announces that "Over the next few weeks, the board will be making a number of decisions that will, to a large extent, determine our course for next season and beyond. We know the weight of responsibility that lies on our collective shoulders, and we are only too aware of how much rests on the consequences of these decisions.
We want to keep you all in the loop as much as possible, so this message sets the scene as to what you can expect in the coming days and weeks. You will have seen the good news about our training base for next season, and there is much more to come.
Firstly, here is an update on the managerial situation. The application process has closed, and we were surprised by the quality of those who have thrown their hat in the ring. It is a salient reminder, even after the trials and tribulations of the last two seasons, of our status. We have drawn up a short list and are now arranging interviews.
Secondly, we are now in a position to announce admission prices for next season, including season tickets and an early bird offer, and details are outlined in a press release, below. Setting the price required us to make a tough decision - balancing the need to maximise the playing budget with our strong desire to give something back to the fans. We hope you think we have got the balance right, and that you will back us up with your fantastic support.
We have made sure that we will have a very competitive playing budget for next year, as we are acutely aware of the need to hit the ground running with a squad equipped for the challenge of delivering promotion. We will do this by using some of our cash reserves, which, in turn, will put greater pressure on the commercial engine to deliver even more for us next season. To avoid always returning to the same old sources, we will have to bring innovation to our commercial activities. In the commercial sphere, we also need your support in terms of bringing new ideas and potential sponsors to the party. More on this important subject in the near future.
All in all, the current focus of the five-year plan is on the critical next few weeks. Our immediate ambition is that these activities set us up well for the challenges ahead, and that we can build on this new momentum as the springboard for success in 2017-8 season".
"Altrincham's board have decided to make substantial cuts to admission prices for next season in the hope of encouraging supporters to turn out in numbers for a concerted push for promotion back to the Vanarama National League North.
In the wake of relegation to the Evo-Stik League, the club have announced significant savings for season ticket holders and those who pay at the gate and scrapped their policy of charging extra for a seat in the main stand. A flat rate will now apply, with season tickets costing £180 for adults, a reduction of 28 per cent on the current standing price and 38 per cent on seating, and £125 for students and concessions, a drop of 14 per cent and 19 per cent respectively.
There is a 17 per cent cut to £50 for 12-16 year olds, while the cost for under-11s has been halved at just £15. In keeping with most Evo-Stik top-flight teams, matchday entry for adults has been set at £10, a 28.5 per cent reduction, with concessions and students paying £7 (22 per cent less), 12-16 year olds £4 (20 per cent less) and under-11s £1 (50 per cent less). Additionally, there is an early bird scheme, offering a further £10 saving on any adult or student/concession season ticket bought by the end of May.
Explaining their stance, the club's directors jointly formulated a message, saying 'We felt it was important to give something back to supporters after all they have been through this season, whilst also encouraging them to keep turning out in numbers. Promotion is the aim next season, and a vibrant atmosphere at games can only increase the chances of it happening.
'There have been so many instances down the years of our crowd being like a 12th man out on the pitch, so it was imperative we set a price structure that would be seen as fair and would not deter people from attending. We have made reductions across the board that we hope will be welcomed by all and lead to a level of support conducive to making next season a success.
'Furthermore, at just £1 for under-11s, it is also hoped parents with young children will be encouraged to come along to sample the matchday experience at The J.Davidson Stadium and turn it into a family day out.'"
Paul Hatton reports on Sunday's game which ended, Altrincham FC Ladies 2, Liverpool City Ladies 2...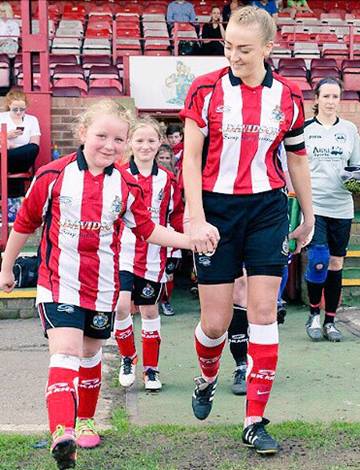 "Jade Hesketh's last gasp strike against Liverpool City was enough to see a share of the spoils on a pulsating second half encounter in a 2-2 draw at Moss Lane. Alty women would be perfect for the pools coupons, now drawing three out of their last four consecutive fixtures.
Right: Captain Bliss Molyneux leads the team out with mascot, 8 year-old Lucy from Altrincham JFC Robins.
Over 200 came to watch as, yet again, the Robins couldn't make a number of chances count in the first half. Megan Wright and Georgia Vernadakis also posed the main attacking threat in the opening forty-five. However, Liverpool City, positioned at the base of the table, had their chances too. Direct in their approach play, launching it to attacker Sophie Hughes, on one occasion, her shot forced Alty goalkeeper Lizzie Brereton into making an impressive save as half-time arrived goal-less.
On resumption, the Robins were made to count for not taking their chances with Liverpool taking the lead on 52 minutes with an exceptional goal. Hughes found a yard of space and unleashed a long-range shot that flew into the top right from an acute angle.
Although Altrincham continued to press, they still couldn't force an opening. Liverpool doubled their lead on 80 minutes. Hughes broke away along the right and cut inside to chip home.
Alty pulled a goal back in the 86th minute, Vernadakis dinked a ball over the top for Laura Kelly to run onto and expertly place home a diagonal shot.
With the last attack of the match, the Robins levelled the scoreline. Brogan Walsh slipped a through-ball to Hesketh who made a pocket of space, kept her composure and rounded the goalkeeper to slip a left-footed shot into the net to send the Moss Lane crowd into raptures".
Altrincham entertain Kidderminster Harriers a week on Saturday. The unofficial
Kidderminster Harriers
reports that "The Harriers more or less conceded the title to Fylde when they lost by the only goal at relegation threatened Stalybridge Celtic. In a game that was being played at the third time of asking, due to the poor condition of the Bower Fold pitch, it was the home side that adapted the better and it was now easy to see why they also beat Fylde themselves on Saturday. The pitch is not one for a team that likes to play their football on the ground but then again it's the same for both sides and we had also experienced similar conditions at Gloucester three days before and won.
The win for Celtic, now managed by the former Harriers chief Steve Burr, gives them a better but still slender chance of avoiding the drop and ourselves now needing to do our utmost to finish in second place. We started with just the one change to Saturday with Sam Austin replacing Tyrell Waite out wide... Maybe it would be better to dispense with wingers in games like this.
We started the game at a whirlwind pace and could have gone three up within the first ten minutes... With Celtic on the back foot we then eased off a little, understandably given the frenetic start...
As is usual with us we have one good forty five minutes and one bad forty five minutes. This [second] forty five was the bad version... The pitch was now taking its toll on us and we were resorting to suicidal back passes that were doing neither ourselves or Sam Hornby any favours.
We weren't doing ourselves any favours either when Daniel Nti brought down Danny Wisdom in full flight in an area of the pitch that normally wouldn't cause any problems some thirty yards from goal. Another former Red, Danny Pilkington, took the free kick and curled it goalwards where it landed a few yards in front of Hornby then skewed off at an angle into the net. A cruel way to concede the goal but Hornby should really have come out to meet the ball rather than wait on his line for it to meet him.
We began to send on substitutes in an effort to get back into the game and Emmanuel Sonupè came on in place of Nti for his debut after signing on loan for us three weeks ago from Northampton and then a few minutes later Josh Ezewele replaced Jared Hodgkiss at full back although the reasoning behind that one was lost on many people...
[We were] left wondering why we had twice lost both of our games in hand after also losing at Brackley a few weeks back".
According to
NL Daily
, "Play-off challengers Salford City have confirmed that... 'We were informed by letter today that Moor Lane has been awarded Category B grading, the standard required in order to compete at National League North level. It has been a huge task to redevelop Moor Lane safely and quickly, staging games at the same time. Ongoing work should ensure that the A grade should be achievable when it becomes necessary...
The Ammies march on, both on and off the pitch; next season is already a mouthwatering prospect".
"Hednesford Town have joined forces with Wolves to launch a new academy at Keys Park which will launch in September" reports the
Express & Star
. "Wolves will provide coaches to lead the academy with the joint venture aimed at producing local football talent as well as studying for a BTEC in Sports Studies.
Hednesford Town general manager Carl Cooper said, 'I am really excited about the academy coming to Keys Park and with the strong link we will gain with Wolverhampton Wanderers. We already host Wolves' Women matches here at the club... Also, this will give us a chance to grow our own youth development locally with coaches and managers taking more of an involvement with the whole setup'.
First team manager Gary Birch, added... 'The students will have the opportunity to develop under FA qualified coaches... Here at Hednesford we pride ourselves on producing young talent through the ranks with the club having helped develop players like Ashley Williams, Elliot Durrell, Chris Clements, Jamey Osborne and most recently Cohen Bramall who moved to Arsenal in the January transfer window'".
From the Royal Gazette we learn that "The future of Shaun Goater's Ilkeston is in doubt after the debt-ridden club were relegated from the Evo-Stik Premier Division over the weekend. Goater, who took over as manager in February, could not save the club from relegation...
Now there is talk that the club face an uncertain future after it was reported that some players in their squad, which contains several Bermudians, had not been paid since Christmas. The club had been expecting a sell-on fee after a former player, Che Adams, was sold by Sheffield United to Birmingham City. That cash was caught up in a dispute between former owners and present chairman Nigel Harrop, according to an article on the Nottingham Post website.
Players also refused to travel to Workington for a league match earlier this month, after which Harrop met them and they agreed to complete the season without pay. On Saturday, they were relegated after a 2-1 loss to Stourbridge. There is talk of a takeover at the club.
'It's disappointing, but it has been coming, with the situation with the club,' captain Matt Baker told the Nottingham Post... 'We met the chairman who said the takeover will take time and when the takeover happens you will get paid. Until then, there is no possible way of getting paid. Basically, if we didn't play, the club would be in a bad position. The players didn't want anything bad to happen to the club and, in the next two weeks, we will be playing and turning up. We will see the season out'...
The Post reported that former employee Craig Lamont is owed six months wages after handling media, driving teams to games, looking after training pitches and the boardroom. 'Going without six months' wages was a massive hit and put me on the back foot', Lamont, who still compiles the match programme as a volunteer, told the newspaper".
Welsh Premier
states that "Flint Town United have had an application for a 3G pitch rejected, revealing a strategic change in the FAW's policy towards synthetic surfaces... The Silkmen's chairman Darryl Williams wrote, 'The Welsh FA confirmed that they have had a strategic change in their policy and that they are no longer looking to financially support clubs in having a 3G facility on their main pitch.
'Rather the thinking is now to support partnership arrangements which include the football club, the local authority including leisure services, schools and Education. Whilst this initially would seem to be really disappointing news they did confirm that those 3G facilities at the football grounds fall under the governance of FIFA which require the carpet is replaced every six years at a cost in excess of £100K.
'Consequently, whilst the idea of the 3G at our stadium would seem on the surface to be something of a money spinner we would in effect have to save nearly £20k a year towards its replacement. Rest assured Flint Town FC will work tirelessly to ensure we have a 3G facility somewhere in the town to allow us to continue to grow as the area's premier community-based football club'.
The FAW has funded 3G pitches at the Welsh Premier stadiums of Aberystwyth, Airbus, Bala, Cefn Druids Llandudno and Newtown in recent years... Bangor City have also received funding for a pitch adjacent to their main grass surface at Nantporth."
---
12 April 2017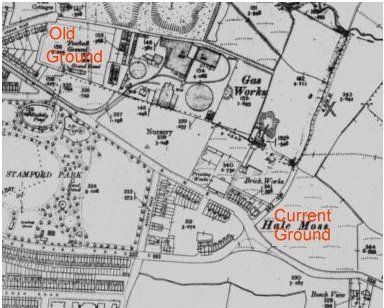 Terry Surridge, an expert on the history of Altrincham FC, spread the word about the Robins to Tuesday night's meeting of the
Altrincham History Society
with a talk on the club's emergence from its foundation as the Rigby Memorial Sunday School team in Broadheath. Amongst the lesser known aspects of the Club's history which Terry covered was its links with Manchester City immediately before and after World War II. These extended to a fixture list being drawn up for Manchester City's "A" team to play its home matches on alternate Saturdays at Moss Lane, although this did not come to pass as City, instead, adopted Droylsden as its feeder club. City also loaned Alty £1,250 which had to be paid back after the War.
This and many other fascinating facts were the fruits of many years of research by Terry who, along with Terry Rowley, is one of the two best-informed historians of Altrincham Football Club.
Pictured, right, is a 1910 map showing Altrincham's former ground at Pollitt's Field and the present stadium on Moss Lane.
Tuesday, 11 April
Stalybridge Celtic 1-0 Kidderminster Harriers
The
Northern Echo
reports that "Darlington FC could be refused a place in the National League North play-offs due to concerns over facilities at Blackwell Meadows... The Quakers sit in fifth place in the division, the final play-off spot, with just four games remaining. A top five finish would give the club the chance to achieve a fourth promotion in just five seasons.
However, The Northern Echo understands Darlington FC could be refused entry to the play-offs due to ground regulations set by the Football Association (FA). To qualify for promotion to the National League and to participate in the South and North divisional play-offs, clubs must have 500 seats under cover. Currently, Blackwell Meadows only has around 280 covered seats.
Such a ruling would be a hammer blow to the Quakers, who only months ago returned to the town after a four-and-a half year absence. In a statement published on Darlington FC's website, the club said, 'The Board of Darlington FC is aware of rumours concerning whether Blackwell Meadows meets the grading requirements to allow the club to complete in the National League playoffs. Discussions are continuing with the National League and fans will be informed as soon as a decision is taken by the League'...
Last week, manager Martin Gray told supporters, 'We're going for promotion and nobody wants it more than me'".
---
11 April 2017
Altrincham's next game is on Good Friday (3pm) at Curzon Ashton. Mike Garnett reminds us of the previous record between the two clubs. They had not met in a league fixture until earlier this season when the visitors won 4-2 at the J Davidson Stadium, their previous encounters being cup ties.
At Altrincham: P2-W1-D0-L1-F5-A4
Away: P1-W1-D0-L0-F2-A0
All: P3-W2-D0-L1-F7-A4
Right: Shaun Densmore, James Smith and Robbie Williams in action in the replayed tie at Curzon in December 2010.
The cup encounters with Curzon Ashton were, respectively, in the FA Cup and FA Trophy. In 1992-93 in the FA Cup 1Q, Alty defeated Curzon Ashton 3-0 at Moss Lane in front of 594 spectators. Freeman, Hayde and Harris were the scorers.
The clash in the FA Trophy occurred in 2010-11 at the Tameside Stadium and proved eventful. The original First Round match had to be abandoned at half time with Alty losing 1-2, because of floodlight failure. But the Robins won the re-match 2-0, thanks to late goals from Robbie Williams and a penalty from Chris Denham.
As it would be uneconomic for TASC to run transport to this match, given its proximity to Altrincham, there will be no supporters' coach to this match. The game will be played at The Tameside Stadium, Richmond Street, Ashton-under-Lyne OL7 9HG. For those using public transport, the nearest tram stop is Ashton West on the Eccles-Ashton line; on exiting the station, turn left and the ground should be visible. So, passengers from Altrincham will need to change trams at Cornbrook.
Admission prices are...
Adults £12
Concessionaries £6 (over-65)
Students £3
Under 16s £3
Curzon Ashton state that the stadium "has been the home of Curzon Ashton football Club since 2005. The ground has two covered stands and is fully terraced on all four sides. It currently holds the FA 'B' Grading Total Capacity - 4000, Seated Capacity - 527 (seats available in the covered Main Stand), Standing Capacity - 3673, Covered Accommodation - 1100 (standing cover available opposite the Main Seated Stand.
A variety of hot and cold food and drink is available from the Snack Bar before, during and after each game. The Sports Bar serves a wide variety of alcoholic beverages and soft drinks and is open to all visitors before, during and after games...The club shop is also open on match-days and sells a wide range of league and non-league programmes, replica shirts, scarves, pin badges and other club merchandise".
Well-known Altrincham supporter, Terry Surridge, will be giving a talk on the history of Altrincham FC to the Altrincham History Society on Tuesday, 11 April at 7.30pm. The talk will be held in Old Council Chamber of Altrincham Town Hall in Market Street. Admission for non-members is just £2.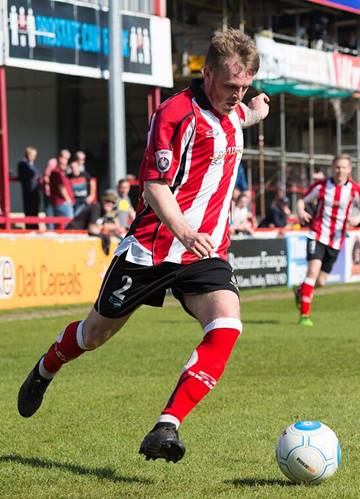 The
Banbury Guardian
tells us that "Brackley Town comfortably extended their unbeaten run to five games at already relegated Altrincham. In a game that never hit the heights, Saints recorded a ninth away victory...
The home side could not turn good opportunities into goals in a lively first-half performance. But Saints needed a fine save by Laurie Walker, pawing away Nicky Clee's shot, and a stunning one-handed reaction save to thwart Damian Reeves. Saints went in at the break one goal to the good after Steve Diggin tapped in from Glenn Walker's low cross...
Right: Sam Patterson in action against Brackley, courtesy of Mike Ripley's camera.
Saints were brighter in the second period going close to extending the lead three times in just the first few minutes after the restart... A delightful chip over Tomlinson by substitute Jordan Hempenstall doubled his side's lead in the 78th minute as Altrincham offered little offensively in a disappointing second half for the home side. Lee Ndlovu and Micah Evans grabbed stoppage-time goals to complete the score-line".
According to the
Shropshire Star
, "The Information Commissioner has ordered Telford & Wrekin Council to hand over all written correspondence it has had with AFC Telford United in the past three years, including details of a £45,000 loan agreement. AFC Telford was loaned £45,000 by Telford & Wrekin Council to meet critical stadium safety checks
The Council refused to provide some of the requested information it held when a freedom of information request was made to the authority. It stated several reasons for the refusal including health and safety, commercial sensitivity and that information was provided in confidence, according to a report from the Information Commissioner. A complaint was made to the Information Commissioner about how the FOI request had been handled and a decision notice, upholding the complaint, has now been issued...
The council could choose to appeal the decision. It emerged last year that Telford & Wrekin Council had written off nearly £30,000 of business rates for AFC Telford United. The authority also loaned the club £45,000 to meet critical stadium safety checks. It said Councillor Lee Carter, finance chief at the authority and former managing director of AFC Telford, 'played no part' in either decision."
News of a club already promoted to the Vanarama National league North for next season comes from Sky Sports. It says that "Middlesbrough have re-signed striker Luke Armstrong from Blyth Spartans. The 20-year-old, who was released from a youth contract by Boro in 2014, will join the Premier League side at the end of the season. Armstrong has scored 23 goals this season for Blyth who have secured promotion from the Northern Premier League Premier Division, the seventh tier of English football, following his move last summer from Birmingham City."
---
10 April 2017
Click on the above image for Mark Bennett's excellent Alty TV highlights from last Saturday's match against Brackley Town.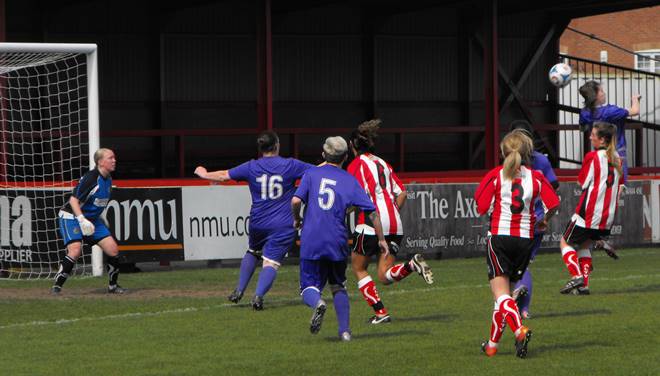 Above: Alty defend their goal in the first half.
Altrincham FC Ladies came back from two goals down to draw 2-2 with Liverpool City Ladies in Sunday's league match at the J Davidson Stadium. More on this match to follow...
Next week the Alty Ladies are away to Northwich Vixens.
Altrincham FC Youth lost 2-1 at Coppull FC against Chorley on Sunday. Next Sunday, Alty are at home (at Flixton FC) to Morecambe (k.o. 2.30pm).
Last week, Salford City bosses were relieved that none of the three strong penalty appeals by Altrincham against The Ammies was granted by the referee but, just a week later,
NL Daily
reports how City did have three penalties given against them!
"Salford City's joint-boss Bernard Morley slammed the way his side threw away a 3-1 lead after drawing 3-3 at Harrogate Town. It looked like The Ammies were set for another crucial three points as with 85 minutes on the clock they had the advantage. But three Simon Ainge penalties saw the side drop two points. They are now just a point inside the top five places. Morley told the club's YouTube account he was displeased with what he had witnessed.
'It's an absolute car crash, I just can't defend it, we just don't learn, it's the same individuals, they are good players but they are not learning, all three penalties, see us go to ground, it means the referee has a decision to make. We've played to a game plan, we've scored three good goals, we are chasing a play-off spot. We can't be three one up and then give them a penalty or two more...
'We can't work on this in training, it's decision making it needs to change quickly'".
Another promotion-seeking side rueing a result last Saturday are AFC Fylde. The Coasters report that "AFC Fylde's title hopes suffered a set-back after slipping to a disappointing 2-1 defeat at relegation-threatened Stalybridge Celtic... The Coasters are now just six points clear of second-placed Kidderminster Harriers, who travel to Stalybridge themselves on Tuesday night for their game in hand...
Missed opportunities were to prove costly when the hosts took a shock lead on 23 minutes. A corner from the left was prodded goalwards at the back post and Danny Wisdom got his head to the loose ball and guided it into the bottom corner...
Less than ten minutes after the restart, Pilkington beat the offside trap and rounded Taylor before sliding the ball into the open net... The Coasters were struggling to get a foothold in the game after the break... Fylde were being restricted to long range efforts".
In the Community Sports Hall at the J Davidson Stadium on Sunday a world record was set as the charity, Alzheimer's Research, displayed 1,019 knitted snakes! As
Alzheimer's Research
explained beforehand, "A collection of charitable crafters are knitting, crocheting and sewing snakes in an attempt to break a world record and raise money for Alzheimer's Research UK.
The campaign is being organised by Libby Swindells, a Sheltered Scheme Manager at Wellgreen Lodge in Hale, part of Trafford Housing Trust. She hopes that people will get crafting all over the world and send their snakes back to be sold to raise funds for the UK's leading dementia research charity.

Above: The 1,019 snakes laid out in the Community Sports Hall.
She hopes to break the world record for the longest line of soft toys, which currently stands at 1,000, and is looking for others to join her.
Everyone is welcome to get involved, no matter where they are. There are free knitting, crochet and sewing patterns available, which can be obtained via post or email. Local crafters can also pick one up at Hobbycraft at Altrincham Retail Park, or people can use their own patterns, as long as the resulting snake is no longer than 20 inches long.
This is not the first time Libby has organised such an undertaking. With the help of crafters from all over the world, she raised over £10,000 for dementia charities three years ago by overseeing the creation of 14,000 knitted mice. She has also managed smaller projects to help other charities.
Libby, 59, has worked at Wellgreen Lodge for over 20 years and the residents are enjoying getting involved with the challenge. The oldest crafter so far is a 91-year-old who is living with Alzheimer's.
Libby, who knits herself, said 'I'm really excited about this new challenge. I hope people everywhere will join in and help us make as many snakes as possible.
'The money we raise will all go to Alzheimer's Research UK to help find a way to stop dementia. Having worked with older people for 30 years, I know the impact that this awful condition can have."
'The world record attempt will take place on 9 April 2017, where the snakes will be displayed in a mandala shape in the Altrincham Football Club sports hall. Crafters will raise funds through sponsorship and their creations will also be sold at the end.
For further information about the charity, call 0300 111-5555 or visit the website.
---
9 April 2017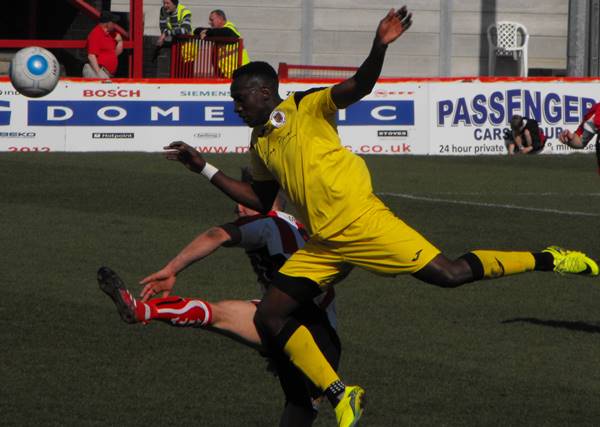 Above: Jake Moult battles for possession against Brackley Town.
Match report here
On Saturday, Denton Town beat Altrincham FC Reserves 2-0. Next Saturday, they are away at Poynton FC.
One team that Altrincham will not meet next season in the
EvoStik Premier Division
is Blyth Spartans, "The runaway leaders put the title beyond doubt with a 3-0 win over Halesowen Town, Luke Armstrong, Sean Reid and Adam Wrightson scoring the goals for Alun Armstrong's side to kick off the celebrations at Croft Park".
Promotion was secured by Saturday's result, Blyth Spartans 3 Halesowen Town 0.
Former Altrincham striker Tomi Adeloye, now at FC United of Manchester, was named Man of the Match in the NL Paper for his performance on Saturday.
There was yet another draw for our neighbours Trafford, 2-2 at home to Kendal Town. Both home goals came from ex-Alty players, Andrew Keogh and Aaron Burns.
The
National League
Saturday Review tells us that "AFC Fylde fell to a surprise 2-1 defeat at Bower Fold against second-bottom Stalybridge Celtic. Despite still looking like relegation certainties, Celtic`s third game without defeat and second successive win has given them an outside chance. But it was a frustrating day for the Coasters, who fell behind to a 23rd minute header from Danny Wisdom. The lead lasted barely 4 minutes though as a superbly taken goal from Danny Rowe made it 100 goals for the Coasters in the league. However, a controversial goal 8 minutes into the second half eventually proved to be Celtic`s winner when Danny Pilkington seemed to be well offside when he went through to beat the keeper and score.
That defeat and Kidderminster Harriers` 2-1 win at Whaddon Road against Gloucester City means the gap at the top is now six points with Harriers possessing a game in hand...
FC Halifax Town secured another victory following a 1-0 win at The Shay against fifth-bottom Alfreton Town. The only goal of the game came from big Tom Denton, who notched his 16th goal of the season with a 61st minute header from a Jordan Sinnott corner. The Reds defended well in a game that the Shaymen dominated...
Simon Ainge scored three late penalties as Harrogate Town came back from two goals down to rescue a late point against fourth-placed Salford City. The visitors were awarded the first spot kick of the afternoon which Sam Walker converted just 20 minutes in, before a John Johnston 25-yarder made it 2-0 after 73 minutes. Few could foresee what was to come though, as Harrogate were awarded three penalties inside the final 6 minutes, all of which Ainge converted, with Nick Haughton's neat finish squeezed in between to make for a memorable finish at The CNG Stadium and a point apiece.
The race for a top five spot is still wide open, with Darlington 1883 holding the final place at the moment after they won 3-2 at home against Tamworth, but with Brackley Town, Stockport County and Chorley all separated by just four points. The Lambs could have been included in that scenario had they got something from the game at Blackwell Meadows instead of being on the wrong end of a five-goal thriller in the sun...
It was the turn of Chorley to drop points against Boro this time as they came from 1-0 down to share the spoils at the Coombe Abbey Arena. Dale Witham`s fine strike gave Chorley an 11th minute lead. But Ashley Chambers earned Tommy Wright`s side a share of the spoils...
Stockport battled their way to a crucial 1-0 win at the Northolme against third-bottom Gainsborough Trinity. It was far from vintage County, who won in the end, thanks to a 56th minute penalty converted by Danny Lloyd...
Gainsborough fell three points behind fourth-bottom Worcester City after they drew 1-1 with mid-table Curzon Ashton at the Victoria Ground. Jordan Murphy gave City the lead on 5 minutes, pouncing on a mistake to finish coolly. The lead only lasted 5 minutes though as Niall Cummins pulled Curzon back level with a neatly-placed header.
Boston United banished any lingering relegation fears following a 3-0 win over AFC Telford United at The Jakemans Stadium... Bradford Park Avenue picked up a point from a goalless Horsfall Stadium draw with FC united of Manchester and are ten points clear of the drop zone."
Alty have yet to host Alfreton Town, who lost 1-0 at The Shay on Saturday. FC Halifax Town "secured yet another victory following a 1-0 win, as Tom Denton notched his sixteenth goal of the season... His header from Jordan Sinnott's corner was to be the only goal of the game despite displaying what can be described as an onslaught of Shaymen attacks in the second half...
The first half saw very little excitement from both sides despite the glorious conditions. David Lynch had the best chance of the opening ten minutes as his sliding shot sailed over Fabian Spiess' crossbar.
As for the away side, it was a different story as they struggled to mount any form of attack against a resilient Shaymen back line...
Finally though, there was a breakthrough. One of the numerous corners managed to provide a goal as Denton was the man leaping above the rest to meet Sinnott's ball in. The resulting header rippled the back of the net, sending the MBi Shay Stadium into rapturous applause. A well-deserved lead for Town.
Despite going a goal down, the Reds were not down and out just yet... As the final whistle drew ever closer, the game become more scrappy as Alfreton looked to take away a point. Substitute Liam Hearn was sent through by Adam Priestley, although he struggled to get a decent shot away as he was forced out wide...
Alfreton Town: 1 Fabian Spiess, 2 Jordan Richards, 3 Andrew Monkhouse, 4 Niall Heaton, 5 Todd Jordan, 6 Paul Marshall, 7 Mark Shelton (Evans 80'), 8 Wesley Atkinson, 9 Samuel Smith (Hearn 68')10 Craig Westcarr (Priestley 68'), 11 Callum McFadzean. Subs not used: 14 Jordan Wright... Attendance: 1,634 (36 away fans)".
---
8 April 2017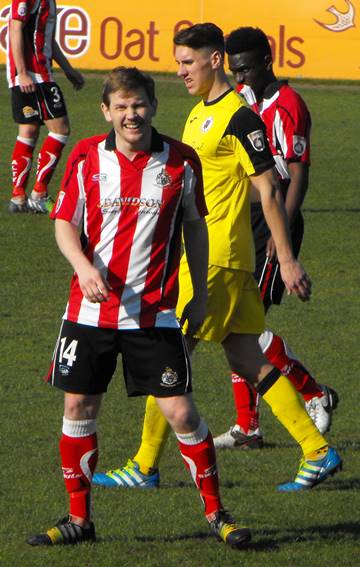 Brackley secured an ultimately comfortable victory in the Altrincham sunshine. But the home side, with six out injured and Chris Lynch unavailable following his father's death, started quite promisingly, with their best effort being a rasping Clee shot, which Laurie Walker tipped round post for a corner in the 24th minute.
But, just after the half-hour mark, when McWilliams was stranded in the opposition half, Glenn Walker got free on the right. His low cross was easily converted from close range by Diggin. Altrincham almost levelled six minutes later when a fine move ended as Lawrie played in Reeves but keeper Walker made a superb one-handed save.
The second half was a disappointing affair for Altrincham. Twelve minutes from time, Evans misheaded a Tomlinson kick and the ball ran free for unmarked substitute Hempenstall who beat Tomlinson with a well-judged lob from left of goal. In added time Ndlovu drove a 20-yarder past Tomlinson to make it 3-0 before Evans netted a consolation goal in the third added minute. He tapped in when Owens relayed a McWilliams cross to him from the left.
Match report here
Right: Shaun Densmore made a welcome return to action after his long injury lay-off.
Saturday, 8 April:
Altrincham 1-3 Brackley Town
Boston United 3-0 AFC Telford Utd
Bradford Park Avenue 0-0 FC United of Manchester
Darlington 1883 3-2 Tamworth
FC Halifax Town 1-0 Alfreton Town
Gainsborough Trinity 0-1 Stockport County
Gloucester City 1-2 Kidderminster Harriers
Harrogate Town 3-3 Salford City
Nuneaton Town 1-1 Chorley
Stalybridge Celtic 2-1 AFC Fylde
Worcester City 1-1 Curzon Ashton
Howard Watts's Through the Years for Saturday's date reminds the more "senior" amongst us of some memorable fixtures in 1978 and 1982.
Steve Foster writes that "TASC and Altrincham Football Club will be holding our Annual Race Night, as well as holding a sweepstake for the Grand National on Saturday. The Grand National which is due to start at 5.15pm will also be shown in the Sports Hall, and then the Race Night will begin. We hope to start the race night at about 6.
Horses for the Race Night have sold out, however, there are a couple of races left. They are priced at £20, and can be bought by sending me an e-mail. Please can everyone who has bought a horse, and not named it yet also email me (via the above link) with their names?
Horses in the sweepstake will be priced at £10, and the winner will win £100. Second place £50 and 3rd and 4th £25 each".
Before their game at the J. Davidson Stadium,
Brackley Town
reported that "With five games of the season remaining Brackley have three more long away trips to navigate, including Saturday's visit to Altrincham.
Kevin Wilkin acknowledged after Tuesday evening's goal-less draw with high-flying FC Halifax Town that Saints' play-off hopes were all but over...
'A draw against Halifax isn't a bad result but we needed to win the game to have any chance of making the play-offs,' said Wilkin. 'Even if we win our remaining five games I don't think it will be enough now. It's disappointing, given our position at the turn of the year, not to be in contention for the play-offs. We haven't scored enough goals and that has cost us points.'
Wilkin made four changes to his starting line-up against The Shaymen after the 0-0 against Boston United on Saturday. Steve Diggin came into attack alongside Lee Ndlovu while Jimmy Armson made a first start since 11 March. James Clifton replaced Ellis Myles at right wing-back and Luke Graham returned having missed four games.
After relegation last season Altrincham will drop down again this season, a second successive relegation confirmed on Saturday. Attendances are still averaging above 1000 however and it can only be time before one of non-League football's big clubs is back at the top.
Of course Brackley Town supporters hold 'Alty' forever in their hearts as the venue of Saints' first ever game at Conference North level, the memory cemented by the 4-1 win. The clubs met again later in that 2012/13 season in the play-offs when Saints won through over two legs to reach the play-off final losing out only at the death to FC Halifax."
On Wednesday evening, Altrincham FC Youth lost 3-1 in a NWYA premier match at Curzon Ashton. On Sunday (9th) they are away again, this time to Chorley at Coppull United FC, k.o. 2.30pm.
The
Sale & Altrincham Messenger
reports that "It was an afternoon of frustration for Altrincham FC women's team, drawing a second successive blank in a 0-0 draw against Chorlitans [Chorltonians] at Mersey Valley.
Although the Robins are unbeaten in three matches, conceding only once, it is a lack of goals up front that is of concern. It was a promising start for Alty, Kyeshia Brown seeing a long-range effort well claimed by the visiting goalkeeper. The Robins' best chance came on nine minutes, Megan Wright collecting a ball over the top but her low effort was denied by an outstretched keeper's leg.
The visitors did have a spell where they came close on a couple of occasions, while Megan Rowley saw her shot parried by the visiting goalkeeper. It looked destined to go in before the danger was cleared by a defender.
Chorlitans[Chorltonians] also came close themselves following a corner, a diving header cleared off the line, however neither side did enough to find a way through as the points were shared".
The
Sale & Altrincham Messenger
says that "Rival boss Anthony Johnson threw his weight behind Matt Doughty's claims to continue as Altrincham manager after admitting luck had played a part in the game that finally relegated the Robins at Moor Lane on Saturday.
Johnson readily conceded his Salford City promotion hopefuls could easily have been trailing 2-0 after surviving the first of three strong Alty penalty appeals in first-half stoppage time. To add insult to injury, Salford equalised with a hotly-disputed spot-kick early in the second half and went on to complete a 2-1 win that sealed The Robins' fate.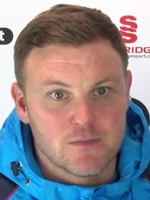 With Alty inviting applications for the manager's job Doughty must now wait to see if he is kept on but Johnson spoke up for him. He said, 'When you look at the chances Alty had in the first half and their shout for a penalty just before half time, we were lucky to come in only 1-0 down. If the Alty lads had played like that all season and put that much effort in, there's not a chance they'd have been relegated. The way they battled, picked second balls up and did the basics and the way they were set up by their management team, they would have had no problems whatsoever.'
Doughty (right), whose side face Brackley Town at The J.Davidson Stadium on Saturday (3pm), explained why he still hopes to get the nod from Alty's board. He said, 'The main feeling is one of immense sadness for everyone connected with the club. It's not nice being part of something like this, and it is a really sad day. But I know I am good enough to do the job, especially with the response I've had from the players since taking over. Anyone who has watched our games will have seen signs of improvement, signs of fight from the players and signs of something positive starting to take shape. The likes of Shaun Densmore, Jake Moult, Gary Jones and Simon Richman are right behind me and I am convinced we can recover and come back stronger'".
---
7 April 2017
Altrincham FC Press and Media Officer, John Edwards, writes, "Altrincham's hopes of making a positive start next season, and sustaining it, have been given a significant boost after the club secured new, improved training facilities.
Following years of dividing their time between venues in Stretford and Wythenshawe, Alty's players and coaching staff can now look forward to making use of a training centre that can only enhance their prospects of an instant return to the Vanarama National League North.
After striking an agreement with Wright Robinson College in Gorton, Manchester, the club are delighted to announce that preparations for next season, and Tuesday and Thursday night training sessions throughout the campaign, will be held at their multi-facility complex.
Apart from having a traditional grass pitch, the centre also boasts the latest in state-of-the-art 3G technology, enabling the players to familiarise themselves with the different surface, should they face such a challenge in the league or one of the cup competitions next season.
It has a running track that is likely to be used extensively for building up stamina when the players report back for pre-season training and a well-equipped gymnasium and weights room for the sort of strength work Shaun Densmore has needed during a lengthy rehabilitation programme this season.
As a further aid to recovery from injury, a swimming pool will also be at Alty's disposal. Aquatic exercise is increasingly being favoured by Premier League clubs for speeding the recovery process, with Manchester City forward Gabriel Jesus one of the latest, and Alty can now do the same.
The superb range of facilities also includes tennis courts, and the club are grateful to lifelong Alty fan and programme distributor Terry Surridge, who has a long association with the College, for alerting them to the venue's availability.
It promises to give the squad every chance of hitting the ground running when they attempt to make amends for this season's relegation with a concerted promotion push and, as an added bonus, the deal the club have struck will bring them a marked saving on the amount they have had to pay for training over the past nine months.
*The club's pricing structure for matchday admission and season tickets for 2017-18 will be announced on the website next week".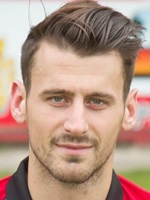 Mike Garnett reminds us that congratulations are due to Altrincham midfielder Simon Richman, whose next start for Altrincham will be his 200th for the Club.
A product of the Bolton Wanderers' academy and the Port Vale youth system, Simon became Lee Sinnott's first signing at Altrincham in summer 2011
Summer 2013 saw him as an integral part of the Great Britain Universities' team which won the silver medal in the World Games in Kazan, Russia. Outside football, Simon studied chemical engineering at the University of Manchester.
Simon's appearances to date comprise 199 starts, and 36 from the bench. He has netted 17 goals. Simon becomes the sixth member of the current squad to top the 200-start target, following Damian Reeves, Shaun Densmore, Nicky Clee, James Lawrie and Jake Moult
The
National League
reports that "Central defender Jamie Stott has been re-called from his loan spell with Curzon Ashton from neighbours Oldham Athletic. Stott has been an impressive figure at the Tameside Stadium and has played thirty-two games overall...
Curzon manager John Flanagan said, 'I'd like to congratulate Jamie on his progression to the Oldham Athletic first-team squad. We're of course disappointed that he won't be with us on Saturday... Hopefully we've contributed to the progress he's made this season... He's got a great chance of establishing himself in Latics first team'".
Also from the National League we learn that "Following the recent deals with Scott Burton and Mike Phenix, Salford City can now announce that two more of the squad have committed themselves to the club. Midfielder or defender Billy Priestley and forward Jordan Hulme have joined Burton and Phenix in committing themselves to the Ammies for the next two seasons.
According to NL Daily "Aston Villa will travel to Aggborough to face Kidderminster Harriers as part of the club's preparations for the 2017/18 season.The Harriers will hope to be a National League club by the time they entertain the former European Cup winners.
They... look set to secure a play-off spot. The pre-season friendly with Villa will be on Wednesday 12th July 2017... Prices for the game will be £12 adults, £6 concessions and £1 for U16s".
Nuneaton Town report in NL Daily that "Goalkeeper Tyrell Belford is hoping that Boro can take points off another of the leading sides on Saturday as they lock horns with play-off hopefuls, Chorley...
Recent weeks have seen the club beat leaders, AFC Fylde, 4-1 and earn a draw at Stockport County. 'There is enough quality at the club for us to be able to end the season with some momentum and give us something to build upon for next season. We're settling some high standards...
'Obviously conceding so late on Tuesday evening to draw 1-1 with Gloucester City was disappointing and a real sucker-punch, but there were plenty of positives to come out of the game... As a group we're fearless and know that we can beat anyone in this League on our day. We're getting into the habit of spoiling the party for high-flying clubs and hopefully we can do the same to Chorley'".
Across the Pennines, NL Daily tells us that "Bradford Park Avenue manager Mark Bower praised his side's grit and determination as they recorded a third win in four games at Alfreton on Saturday...
The Avenue boss said, 'I think we've certainly earned our luck over the last couple of weeks with things that have gone against us... We were deserving of the win because of how hard we worked...
'It wasn't a classic performance, but a really good gritty, determined one that you've got to do to be successful in this league. And ultimately, success for us now is staying up, and we've given ourselves a fantastic opportunity now to finish the job off...
'But we're not safe yet. We've got a hard run-in and some tough games to come, and in this league you see crazy results every week... We don't just want to scrape clear, we want to do it with a bit of style and do it comfortably...
Bower sais, 'Emile Sinclair was ill as well on Saturday which didn't help, but Oli Johnson has put in a great shift up front...
'Everyone said the last six games look tough, yet three of those six games are against teams we have already beaten this season. So we can have confidence in taking on any team that we've got left to play'".
---
6 April 2017
Alty Ladies' manager, Keith Edleston, informs us that "Our next NWWRFL Div 1 game is to be held at The J Davidson Stadium, Moss Lane this coming Sunday 9th April v Liverpool City LFC. It is a 2pm kick-off with free entry to all. We have invited all the Altrincham Junior girls' teams down to see how the new pathway works, from our junior set-up, from 4 years old all the way to the first team adult set up. We would love to see as many people come down to Moss Lane as possible to have a look at the set-up, watch a bit of women's football and cheer your Ladies' team on to a big three points. We look forward to seeing you down there".
On Sunday, at Stockport Sports Village, Altrincham FC Ladies lost 1-3 in their home fixture against Merseyrail Bootle
The
Sale & Altrincham Messenger
reports that "A receptionist at Altrincham Leisure Centre has celebrated 45 years' service. A surprise celebration was held for Dianne Swindell at the leisure centre, including a surprise visit from Trafford Council's chief executive, Theresa Grant.
Dianne started working at Altrincham Leisure Centre on April 3, 1972, but prior to that at the Altrincham old public baths... Dianne has been a receptionist at Altrincham Leisure Centre for an incredible 45 years and head receptionist for around 8 years.
She is a lifelong resident of Altrincham and an avid fan and season ticket holder of Altrincham Football Club. She is a big fundraiser for charities... Ms Grant thanked Dianne for her loyal service. Dianne will retire later in the year".
Altrincham FC will be honouring Dianne with a memento of her achievement and as a thank-you for her prolonged support for the Club.
Alty have still to welcome Alfreton Town to the J. Davidson Stadium this season and the
Derbyshire Times
reports that "It was another disappointing outcome for Alfreton Town when relegation-haunted Stalybridge Celtic won rather too easily at the Impact Arena on Tuesday night.
The Reds were unfortunate enough to have a Liam Hearn goal ruled out for off-side, two good penalty appeals ignored and struck the upright on a couple of occasions, but the visitors produced some slick moves on occasions to make a mockery of their precarious plight. Despite their win Stalybridge remain 17 points adrift of Alfreton with survival in the National League North highly unlikely, but goals from Danny Wisdom and Andy Bishop seven minutes either side of half-time were enough to earn them maximum points.
Reds' manager Russ O'Neill had been forced to change his starting line-up as Ryan Wilson was injured during the warm-up, Niall Heaton coming off the bench whilst the only other change from the Bradford Park Avenue defeat had seen Liam Hearn replace Craig Westcarr...
The visitors led on 38 minutes when Danny Pilkington's free-kick was firmly headed home at the back post by Wisdom... With 52 minutes on the clock Roberts advanced down the inside-left channel before teeing up Bishop to stroke the ball past Spiess from an angle with the aid of the back post, and Alfreton were staring at a 0-2 deficit... Attendance: 347."
The next visitors to Altrincham are Brackley Town and FC Halifax Town report that, after Tuesday's goalless draw in Northamptonshire, "Daniel Hone felt that on the balance it was a good result in the end, with the Shaymen earning a point against Brackley. It wasn't the greatest spectacle at St James Park...
The home side dominated the chances in the first-half... The Shaymen came out for the second half and were seemingly the better side...
Hone was happy... 'Once we got sorted in the second half, moved a few people about and we cancelled them out. We had the ascendancy and were a bit unlucky'...
This was Halifax's game in hand over the sides around them in the promotion race which could have seen them leapfrog second placed Kidderminster Harriers but Hone believes... 'It was a physical game'...
The next game for the Shaymen comes on Saturday against an Alfreton Town side who beat Billy's side 1-0 at North Street back at the start of March".
From Brackley Town themselves, we learn that "A second goal-less draw in four days saw Brackley remain in 8th place in the league table... in a game that produced few chances but was absorbing from beginning to end...
Some of Brackley's attacking play was exciting with James Clifton and Walker exploiting the channels and Steve Diggin and Lee Ndlovu seeing plenty of the ball as the front pairing. The half ended with some robust challenges from the visitors... but a change of formation by Halifax effectively shut down the opportunities for Brackley's wing backs and closed the game down so that much of the play was concentrated in the middle of the pitch...
Both sides defended stubbornly... Goal-less and frustrating as it was, this was nevertheless a fine contest of high quality between well-matched sides...
Brackley Town: L.Walker, Clifton, Gudger, Byrne, Graham (Lowe 77), Dean, G.Walker, Armson, Ndlovu (Hempenstall 78), Diggin (Moyo 78), A.Walker. Subs not used: Myles, Gough."
Cheshire Senior Cup Final
Crewe Alexandra 3-2 Nantwich Town (at Crewe Alex FC)
---
5 April 2017
Altrincham FC Chairman, Grahame Rowley, writes:
"As many of you will be aware, on Tuesday I met with some of the supporters who protested at the recent game with Stalybridge. The details of what was a very frank and honest meeting are detailed below and it resulted in what I believe to be a very positive outcome for the future of our Club. What became clear to me in the course of our discussions was the dedication, focus and determination of the Group to achieve the best for Altrincham FC and indeed to protect its good name. This is something upon which we are both firmly aligned.
Which brings me to the purpose of my note. I completely accept I didn't handle the accusations made against our supporters surrounding the reasons for Neil Young's resignation properly. Clearly in hindsight, I should've backed our fans not to have been involved in cyber bullying and treated such accusations with the contempt they deserved. Whilst under pressure from a reporter, I've given him a quote he could use without thinking through the ramifications. Worse still, I took his word as truth, in so doing going against my own instincts as to who I know our fans to be.
Furthermore, I hadn't realised the upset and hurt this had caused within the wider fan base at the time, and with hindsight I could have utilised the various communication channels we have put in place to clarify my comments and clear up any misunderstanding.
I can only say I'm sorry – it definitely won't happen again.
The most important thing continues to be to listen to your customers. The most important customers at the J Davidson Stadium are and will always be, the supporters of Altrincham FC, of which I remain one and, for that, I make no apology. I sincerely hope that we can all put this episode behind us and put all of our joint energies into supporting the Club, and the team. We have exciting plans and with your help we want to regain our position as one of the top non-league sides in the country".
"On Tuesday, representatives of the supporters who protested at Altrincham FC's recent fixture with Stalybridge Celtic met with Robins' Chairman, Grahame Rowley [GR], at his invitation. The meeting discussed an agenda based on that outlined in the group's recent post on the Club's Fans' Forum. At the conclusion of the meeting the following statement was jointly issued:-
1. Both parties welcomed the opportunity to clear the air and have a full and frank discussion over the events that have lead up to the protests and how they could be resolved.
2. GR agreed to address the issues surrounding the departure of Neil Young by way of an article to be published on the Club's website and match programme.
3. In the course of discussions we realised that the Club's Board and the Group had very similar goals in terms of moving the Club forward. Furthermore, GR outlined work currently underway that, if successful, would create significant opportunities for the Club to attract new investment and expertise into the Club. The details are currently being finalised and will be reviewed at the next Board meeting held in May 2017. Following approval these plans will immediately be made public.
4. The plans require a considerable level of 'stewardship' as they involve negotiations with a third party, the co-ordination of a number of professional services and consultation with Club stakeholders. With this in mind we believe that it is essential to maintain a level of company continuity at this crucial stage in the process.
5. The Group agreed that, given these potential major developments, it is appropriate that GR should remain as Chairman to see this process through to a successful conclusion. As a result the Group agreed to cancel any further protests it was planning.
6. Both GR and the Group agree this should not be seen as a return to 'Business as Usual'. Far from it, as the plans would be a significant new chapter in its modern history. As per the above Chairman's Statement, GR admitted mistakes had been made both individually and collectively at Board level, but lessons have been learned and all are determined to set the Club on a successful new course with the help of the group and indeed all the club's supporters.
7. The supporters' group would again like to acknowledge the vast improvement in the Club's infrastructure during the time that GR has been chairman. It was felt that this has significantly improved the standing of the Club within the local community, and therefore the attractiveness of the Club to outside investment.
8. Despite a double-relegation on the field, both parties, as Altrincham supporters, felt the impending changes represented an exciting future for the Football Club, as we rebuild on the pitch in line with the objectives and targets set out at the recent Strategic Review.
9. Both parties also agreed that it would be helpful for a supporters' representative to be available to be present at Board meetings, and to act as a conduit for queries and concerns that supporters may have. This should be an urgent objective for a newly formed, wholly independent Supporters' Group".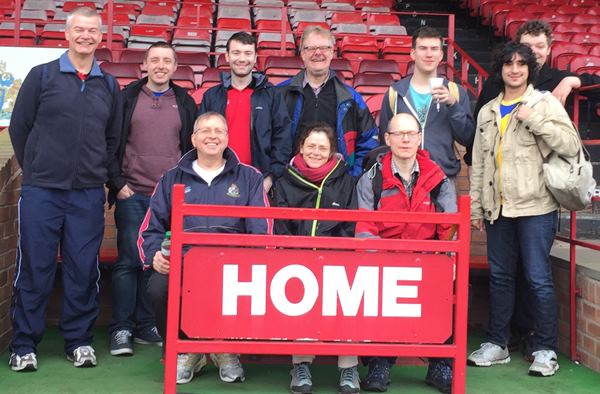 Altrincham FC reports that "On Saturday 1st April, ten intrepid walkers set off from Altrincham FC on a 12 mile walk to Salford City FC to raise funds for the Football Club.
The wonderful Manchester rain greeted the walkers at 9am and, after a bacon barm and tea kindly prepared by Richie Bentley, they set off over Altrincham Golf Course towards Timperley Met station, onto the canal pathway to Stretford, past old Trafford Football Ground and through Media City before arriving at Salford city three and three-quarter hours later - in time for a well deserved pint.
Many thanks to Andrew Giblin, the Salford City Secretary for allowing free entrance to the walkers - a superb gesture from a fellow non-league club.
The 10 walkers were:- Mark Simpson, David Lewis, Helen Randle, Dan Jones, Michael Ford, Richard Impey, Grahame Rowley, Johny Keen, Dan Mohammed and Gareth Curzon.
Well done to all the walkers - a credit to Altrincham Football Club".
Tuesday, 5 April:
Alfreton Town 0-2 Stalybridge Celtic
Brackley Town 0-0 FC Halifax Town
Nuneaton Town 1-1 Gloucester City
The
Hallmark Security League
reports that "The FA has given notice that the opening round of the The Emirates FA Cup in season 2017-2018 will be held on Saturday 5th August 2017...
Chris Darnell, FA Competitions Manager, said, 'Whilst we are unable to provide confirmation of all Round dates for next season at this stage, we wanted to give Leagues and clubs as early notice as possible that in order to retain the current format of the Competition, and without reducing numbers; the Competition will start on Saturday 5 August 2017.
"This provides for a necessary two-week gap between each of the Preliminary and Qualifying Rounds, and also a three-week gap between the Fourth Round Qualifying and First Round Proper, which is vitally important to assist with the planning and preparation for the delivery of matches in the First Round Proper. As soon as the full fixture schedule has been confirmed, details will be circulated to all Leagues. This will hopefully be sometime before the end of April. In the meantime we hope that providing early notice of this information is helpful towards your planning arrangements for next season".
Alty entertain Brackley Town on Saturday. Before their Tuesday fixture,
Brackley Town
reported that "In-form FC Halifax Town come to SJP for Tuesday night's National League North fixture. With Brackley currently 8th in the table...
Despite bumps and bruises from Saturday's game against Boston United, the full squad is available for selection on Tuesday evening, a luxury rarely afforded the manager this season...
Three points for Brackley and the Saints can close in on 6th and 7th placed Darlington and Stockport County. Brackley have been boosted this week by the news of captain Gaz Dean signing a new contract for next season as Wilkin shapes his squad for next season's challenge."
The
EvoStik League
reports that "Ilkeston FC have provided a written undertaking to fulfill all their remaining fixtures of the 2016-17 EVO-STIK Northern Premier League season. After failing to play at Workington on Saturday 1 April and subsequently being charged under Rule 8.6 for failing to fulfill the fixture, the club's assurances in writing were accepted by the EVO-STIK NPL's board of directors on Monday...
The club understands that a second failure will result in further charges being levied which could have serious consequences. Ilkeston FC, who have eight games to play, asked for their EVO-STIK NPL Premier Division match at Borough Park to be postponed on Saturday morning after confirming they were unable to field a side in Cumbria and apologising for the disruption caused."
---
4 April 2017
"As we all know only too well, relegation to the Evo-Stik League became a reality at Salford City on Saturday in circumstances that scarcely made it any easier to bear.
When the opposition's manager and their in-house TV commentary team readily concur they were fortunate not to concede two, possibly three, penalties, you know you have been hard done by. One contentious refereeing decision after another went against us and, as a consequence, a position of promise at the midway point was overturned in the second half, and we went down 2-1.
However, while our fate was officially sealed at 5pm on Saturday, we recognise the bigger picture. The damage was done long before and, as a board, we hold our hands up and apologise for mistakes made.
Equally, while accepting our responsibility for what has happened, we feel it is imperative now there is no delay in planning as thoroughly and meticulously as possible to try and ensure our stay in the Evo-Stik League is as brief as possible and we reclaim our place in the Vanarama League at the first time of asking.
It goes without saying the last year or so has not been enjoyable for anyone connected with the club. The pain has been felt by all of us, but a sense of unity and all pulling in the same direction can be a key factor in kick-starting a journey back up the non-league pyramid. Let's move forward as one and channel all our efforts and resources into getting this club back to where it belongs.
The position of manager for next season will be resolved shortly and whoever is appointed will waste no time addressing the areas of the squad that still need strengthening, despite clear signs of improvement in recent weeks. We want a squad that ticks all the boxes for a concerted promotion push, and that means putting the building blocks in place now, in terms of the finance it will require.
With central funding from the Vanarama League coming to an end, a reduction in income from gate receipts and season tickets and the subsequent pressure this will exert on the playing budget, it is essential we generate as much as we can from other initiatives. One of these is the popular and successful Patrons' Scheme, which will enter its twelfth, and probably most important, season in 2017-18.
It really is a vital fund-raiser for the club, and this is how it works. For the cost of £50, your name will appear throughout the coming season in the Robins Review matchday programme as a Patron of Altrincham Football Club.
At the beginning of the season, every member will be entered into a prize draw, with the winner acting as match sponsor, with all the attendant hospitality benefits, for an appointed game, along with nine guests, in the Manchester Glass Sponsors' Lounge. Second prize will be hospitality for five people and third prize hospitality for three.
If you are interested in offering invaluable support in this way and becoming a Patron for next season, please forward a cheque for £50, payable to Altrincham Football Club, for the attention of Grahame Rowley. Alternatively you can pay by card by phoning the office on 0161 928 1045. If you require any further information please do not hesitate to contact Grahame on 07720-606897 or by e-mail.
Thank you once again for your support – it is very much appreciated".
Altrincham's next visitors (Saturday, 8th, 3pm) are Brackley Town of whom the
Halifax Courier
reports that "Brackley are eighth in the table and could go within four points of the top-five if they win on Tuesday, which is their game in hand on the teams above them... Only Chorley and Kidderminster have conceded fewer goals than Brackley in the division, but they have only scored four goals in their last six games since thrashing Telford 6-0 last month. James Armson is their top scorer with 21 goals but he has not scored in Brackley's previous six and has only one in the club's last 10 games."
FC Halifax Town add that
Brackley Town have never being in a league higher than the Vanarama National League North. The highest position the club has ever achieved was 3rd in the then-called Conference North in the 2012/13 season. The Saints defeated Altrincham in the playoff semis, but then lost 1-0 to a certain FC Halifax Town.
That game also conjured the record attendance for Brackley. 2,604 people flooded to St. James Park on May 12 2013...
The season after missing out on promotion was a memorable on for Saints' fans. The club reached the Second Round of the FA Cup after beating Gillingham 1-0 in a first round replay. Macclesfield defeated Brackley in the next round but the club, once again, defeated Gillingham in the First Round this season, before bowing out to Blackpool.
Former Middlesbrough, Bournemouth and current Bristol City man Lee Tomlin is a former Saint. The attacking midfielder only spent two games at the club whilst on loan from Rusden & Diamonds in 2007... Another well known name to grace the pitch of Brackley Town is former Chelsea and Leicester City defender Frank Sinclair... Sinclair made 13 appearances for Brackley in 2015 before retiring".
In the reverse fixture on 24 January 2017, Altrincham drew 1-1 at Brackley. Mike Garnett's records tell us that our full record against Brackley Town is...
At home: P3-W2-D0-L1-F4-A5
Away: P4-W2-D1-L1-F4-A5
All: P7-W4-D1-L2-F8-A10
Darlington 1883
"has been informed by the FA Council that they have approved our name change from Darlington 1883 to Darlington for the start of the 2017-18 season. We must continue to use the Darlington 1883 name until the end of this season.
The club has satisfied the criteria laid down by the FA, and director Jonathan Jowett, who has been liaising on a regular basis with the FA in recent months, said, 'This is fantastic news for our fans and formally re-establishes our historic connection. I would like to thank the FA for accepting our application and the arguments we made in favour of reverting to our traditional playing name of Darlington FC'".
As Wikipedia confirms "In May 2012, the club was bought out of a period of administration without entering into a Creditors' Voluntary Agreement (CVA). The Football Association ruled that it should be treated as a new club, which required a change of playing name. The name chosen was Darlington 1883".
According to the Gainsborough Standard, "Determined defender Greg Tempest insisted Gainsborough Trinity can win their relegation fight, despite a four-goal defeat at promotion-chasing Chorley. Tempest, one of several new signings brought in by new manager Dave Frecklington, said, 'Everyone thinks and knows we are going to stay in this league. Against Chorley was disappointing and, at times, we weren't at the races but we are still fighting to stay in this league and, with the lads we have got in the changing room, I think we will.
'The lads are gutted after a defeat but... our minds are on the next game now... I have got a good feeling we can pick up points from the last games. It looks like it is between us and Worcester City. Hopefully we can come out on top'...
With five games remaining Trinity are three points from safety. After a fairly even first 30 minutes at Chorley, manager Frecklington said his side fell apart... Tempest added, 'It is not like we are not trying, we are putting in everything, our hearts and souls, into it. No one has given up'".
---
3 April 2017
Salford City have
highlights
from Saturday's game against Altrincham. They show all the "penalty" incidents as well as the goals.

Moor Lane has changed dramatically over the past few months as the image above shows. A new terrace and an all-seater stand have been erected, although the latter is yet to be completed by the addition of private boxes and other facilties. Behind the other goal, which is not shown in the image, another stand is about to be constructed whilst the old concrete stand, from which the photo was taken, will be demoilshed and replaced by a new structure to match the other three sides of the ground.
In a post-match interview with Press and Media Officer, John Edwards, at Salford City on Saturday, Altrincham manager Matt Doughty reflected on the team's relegation to the Evo-Stik League and revealed he has the backing of several key senior players to continue in charge and lead a bid for promotion next season. Here is the interview in full.
We needed to win to have any chance of at least delaying relegation, and we might well have done but for yet more contentious refereeing decisions. They all went against us, didn't they?
A: We should have had three penalties, and there was a shout for a fourth, but we got none. On top of that, they equalised with a penalty that should never have been given. That kind of officiating shouldn't be allowed. When you are fighting for your job and fighting to get away from the bottom of the table, you just want a fair crack of the whip. That's all you ask.
I was trying to work out why every single one went against us, and you start wondering whether it's because you're at the bottom and the thinking is that was a dive or whatever, they're trying it on. I don't know if that is the reason, but it's not fair to be treated like that. He (the referee) said it was a foul by Sam Heathcote for their pen, but it was clear as day that when Sam made the tackle, the ball changed direction. The lad was going for a shot, Sam tackled him and the ball went the other way. Sam got the ball. It was a clean, fair tackle.
That was hard to take, particularly after the way we played. Collectively, the way we moved the ball, our movement off it and our defending made it the best we have played by a country mile. Salford are in the play-offs for a reason. They have been up there all season, yet you could argue we deserved to win. Certainly, we didn't deserve to lose. Once again, Stuart Tomlinson has come off after hardly having a save to make. Both their goals were from set-pieces, a penalty and a long throw, whereas we've had an assault on their goal. I didn't blame the referee last week. I said it had an effect on the game, that's all. But there's no getting away from how much decisions cost us today.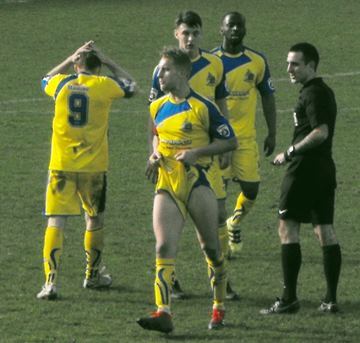 Right: Pants? Jake Moult's response to one of Saturday's controversial decisions!
Did you have a word with the referee afterwards?
A: I spoke to him but can't really say what was said. He said the incident where Andy Owens was blatantly pushed over inside the area was just normal contact yet, just 30 seconds after that, he gave a foul against Laurence Taylor for exactly the same thing. Loz wasn't inside the box, so he gave it, no problem. A foul's a foul wherever it is, and that was a clear penalty.
It just gets you so frustrated when you can see they are such obvious decisions. The lads were convinced there was a handball when they cleared off their line right at the end but I didn't have a great view of that one, so can't really comment. I can only comment on the ones I saw clearly and, for the one just before half-time, it was a case of not only seeing it, you could actually hear the slap of ball on hand from the dug-out. It wasn't as if it was point-blank and he couldn't get out of the way, either. He was a good five yards away, so I don't know how that one wasn't given.
But, to add a positive note, I couldn't have been prouder of the way the lads came here and took the game to Salford and were the better side for long spells. They are a big, strong, physical team, but we have forced the pace and taken the game to them. For me, we deserved to win, but I'm sure anyone here would agree we certainly didn't deserve to lose.
Now our fate is sealed, will you be making changes in the remaining games?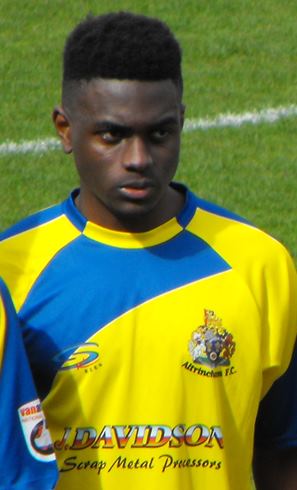 A: We have to carry on doing our utmost to keep improving and try and win games. Laurence Taylor (right) will get more game time, so he can gain more experience, which should stand him in good stead for next season. For me, he and Chris Lynch were the best players on the pitch today.
You have increasingly been getting the right response from the players, haven't you?
A: As a manager, you want a positive response from your players. It's a starting point that gives you something to build on. It helps when you know them anyway, but I had to make a bit of an adjustment, because I was a big character in that changing room as a player. I had to step aside from that and demand more from them, because they were not giving enough to previous managers. They are giving it to me, though, and that shows out on the pitch.
Firepower wins you leagues, and it can also get you away from relegation trouble, but it's something we haven't had. That was evident again today. We have had an assault on their goal but have only scored once. Clearly, we should have had more. I'm not being funny but the Damian Reeves of four years ago would probably have had a hat-trick today, with the pressure we exerted on them. It's something that needs addressing as a matter of urgency before next season.
What about the goal by Gary Jones, top corner on the volley from all of 30 yards?
A: He has been doing that for 25 years, don't worry about that! Every single one of them in the top corner! He said to me 'Remember Bristol Rovers away in 2000?' He did exactly the same thing then.
The bottom line, of course, is that we are relegated - what are your feelings?
A: The main feeling is one of immense sadness for everyone connected with the club. It's not nice being part of something like this, and there's no getting away from it - this is a really sad day. I have tried my best. I have treated it as a full-time job and thrown everything into it, and I'll continue the same way until I'm told otherwise. If they don't think I'm good enough to take the team on next season, that's fine. But I know I am good enough to do it, especially with the response I've had from the players since taking over.
I was appointed at the start of January, but that's no time to build a team or work on a team. We've had nine players out injured as well, so it has been tough, but anyone who has watched our games will have seen signs of improvement, signs of fight from the players and signs of something positive starting to take shape. It is a sad day, and it hurts that we are down, but I'm proud of what the players put in today. So much has gone wrong this season, and I'm not hiding from that, but the question is whether we can recover and come back stronger. I'm convinced we can.
The likes of Shaun Densmore, Jake Moult, Gary Jones and Simon Richman are right behind me so, if someone else is brought in, would they want to play for them in the Evo-Stik? I'm not so sure, but they do want to play for me and they want to continue doing. They showed that again out on the pitch today. It is a big decision for the board. I get that. It's their club and their decision, and I will respect whatever they decide".
Salford City
has an excellent report on Saturday's game saying, "In the end the result went the way the league table suggested it might but on a day when Salford revived their play-off push and Altrincham's relegation was confirmed, the scoreline doesn't tell the whole story. Apart from perhaps a 20 minute spell at the start of the second half the Ammies never really hit their stride all afternoon, but after going behind before the interval they scored twice in the second half then endured a nervous finish to a match they pretty much had to win...
Reeves had netted 165 times for the Robins before today and must have fancied number 166 was on the cards but Michael Nottingham had spotted the danger and got across to make a timely blocking challenge... Alty looked the more likely side in front of goal and just before the quarter hour Simon Richman tested Jay Lynch with a 20 yard stinger that the Salford keeper managed to parry.
The game got a little bit scrappy for a while but what attacking play there was seemed to be in Salford's half of the pitch. Alty were using the flanks pretty well...
Alty were still looking decent going forward... A Lawrie corner from the left was headed clear at the near post, only for the ball to drop into the path of Jones. The midfielder is now firmly in the 'veteran' stage of his long career but his ability to strike a ball remains undiminished. A rising thunderbolt of an effort, from 25 yards and right-of-centre, gave Jay Lynch no chance at all as it zipped inside his left-hand post and Alty had in spectacular fashion taken the lead they probably deserved...
Another frustrating first half for Salford, who haven't managed to score before the break in any of their last 9 games, but it could have been even worse. As we entered time added on Lawrie's picked up Laurence Taylor's cross-field pass and his run on the left run took him into the box. The subsequent shot struck the outstretched hand of Sam Walker and despite the assistant flagging, presumably for the penalty, the referee ignored him and Alty's players as he waved play on. It was a case of ball to hand, with no real intent on the Salford midfielder's part but we've seen those given plenty of times before.
.. After the restart... A pull-back was aimed towards Panayioutou, on the nearside of the 6-yard box but he hit the turf under a combined challenge from Chris Lynch and Heathcote, with the referee deciding enough unfair contact had been made to warrant a penalty. Alty's protests were waved away before Walker stepped up and kept his nerve to place a low finish to Tomlinson's left with the keeper committed the other way...
Nottingham's long throw from the right was a good one and Priestley was there yards out to take the ball down and hook an effort towards goal. Tomlinson made a good save, moving quickly to his right to push the ball away but luck was to be against him on this occasion. Alty's defence was stretched and Grand reacted more quickly than Jones at the far post, slotting into the net from a few yards out...
Altrincham had made 2 substitutions of their own and the pair combined to almost very good effect in the 72nd minute. A blistering turn of pace from Micah Evans took him away from King on Alty's right and the cross from the line was a good one. Andy Owens had to twist and stoop to meet it and was unluckly to see his 8 yard header drop just wide...
Close for the Robins and they had another penalty shout a minute later as Owens chased a long ball into the Salford penalty area. Grand had gone with him and after contact was made Owens hit the turf only for his claims for a penalty to be dismissed. It looked like a decent shout but once again the referee was unconvinced... Nerves in the home ranks were jangling again in the 85th minute as Heathcote's free-kick from the right was headed back inside from the far side of the area by Chris Lynch for Owens to try a 12 yard overhead kick that struck the bar...
With two minutes left the visitors were piling pressure on and after Jay Lynch failed to get much distance on a punched clearance Richman lofted the ball back into the box. A scramble ensued and Moult's shot was blocked by Grand on the line with the rebound being diverted back towards goal. Salford's grounded skipper managed to get his head to the ball, virtually at ground level to prevent the equaliser, although there was a suspicion that the touch had come off his arm... Alty's bench made their disappointment at another penalty shout being rejected pretty apparent.
The match highlights later suggested that Alty were unlucky not to have been awarded a penalty or two of their own but they didn't get any of those decisions. They continued to throw everything at their opponents as the clock ran down but Salford just about held firm to hold on to their one goal advantage...
For Altrincham a season that has been marked by constant struggle has ended in the relegation that has haunted them all through the campaign. They gave a good account of themselves today and in truth did enough to earn a share of the spoils".
---
2 April 2017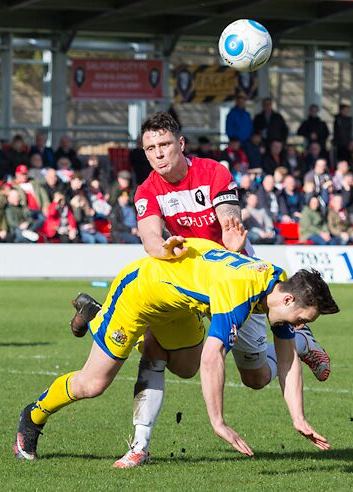 Right: Alty's Andy Owens clashes with Simon Grand inside the Salford penalty area. Image courtesy of Mike Ripley.
Match report here.
As supporters know only too well, Saturday's defeat at Salford City confirmed Altrincham's relegation to the EvoStik Northern Premier League for 2017-18. Indeed, the past two decades have witnessed numerous changes and near-changes of status...
The Club's relegation from the Conference (national) in 1997 presaged a remarkable series of ups, downs and reprieves over the next twenty years. Over the 21 seasons from 1996-97 to 2016-17, the end of the campaign has rarely been uneventful. In that period.the club has finished in either the relegation or promotion or play-off places of its respective league on new fewer than twelve occasions...
These were:
1996-97 RELEGATED from (what is now) the national division of the Football Conference to the Northern Premier League
1998-99 PROMOTED as champions from the Northern Premier League to (what is now) the national division of the Football Conference
1999-00 RELEGATED from (what is now) the national division of the Football Conference to the Northern Premier League
2004-05 QUALIFIED by finishing in 14th place of the Northern Premier League for the newly created Football Conference North division
2005-06 REPRIEVED from relegation from the national division of the Football Conference after being deducted 18 pts for fielding a player for whom his previous club had not got international clearance. Officially placed 22nd but reprieved from relegation by the demotion of Scarborough for financial reasons
2006-07 REPRIEVED from relegation from the the national division of the Football Conference by knock-on from demotion of Boston United from League Two to Conference North for financial reasons.
2007-08 REPRIEVED from relegation from the the national division of the Football Conference by the financial demise of Halifax Town.
2010-11 RELEGATED from the national division of the Football Conference to the northern division of the Football Conference
2012-13 QUALIFIED for promotion play-Offs of northern division of the Football Conference but lost
2013-14 PROMOTED via play-offs from the northern division of the Football Conference to the national division of the Football Conference
2015-16 RELEGATED from the national division of the Football Conference to the northern division of the Football Conference
2016-17 RELEGATED from the northern division of the Football Conference to the Northern Premier League
Att: 2365: AFC Fylde 4 v 1 Darlington 1883
Att: 1139: AFC Telford Utd 1 v 0 Worcester City
Att: 459: Alfreton Town 0 v 1 Bradford Park Avenue
Att: 333: Brackley Town 0 v 0 Boston United
Att: 1030: Chorley 4 v 0 Gainsborough Trinity
Att: 246: Curzon Ashton 0 v 0 Gloucester City
Att: 2375: FC United Of Manchester 2 v 2 Stalybridge Celtic
Att: 2025: Kidderminster Harriers 1 v 2 FC Halifax Town
Att: 1442: Salford City 2 v 1 Altrincham
Att: 3416: Stockport County 1 v 1 Nuneaton Town
Att: 1096: Tamworth 3 v 2 Harrogate Town
On Saturday, Altrincham FC Reserves defeated Greenalls Padgate St Oswalds 4-0. The win lifts them to fourth place in the The Hallmark Security Cheshire Football League Premier Division.
Their next match, on Saturday, 8th April is away to sixth-placed Denton Town who are three points behind Alty but with four games in hand.
NL Pitchero
reports on AFC Fylde that "The Coasters brushed aside play-off chasing Darlington 1883 at Mill Farm and then returned to the dressing room to discover that second-placed Kidderminster Harriers had been beaten at home by third-placed FC Halifax Town.
And Salford City`s win over Altrincham at Moor Lane – which relegated their neighbours – and Chorley`s win against another struggler, Gainsborough Trinity, means that just three points separate the others in the top five.
But Dave Challinor`s side moved nine points clear of Harriers after recording a 4-1 against the Quakers...
FC Halifax ended Kidderminster's thirteen-game home winning run with a 2-1 win at Aggborough in front of 2,025...
And it was the Shaymen who got [the winner] 7 minutes from time when Jordan Sinnott sent keeper Sam Hornby the wrong way from the spot after substitute Cliff Moyo had been tripped in the box.
Altrincham`s long tenure in the National League ended for the time being after neighbours Salford put them out of their misery with a 2-1 defeat at Moor Lane...
Gainsborough's relegation fears deepened following a 4-0 defeat at high-flying Chorley... Trinity were reduced to ten-men in the second half when Matty Wilson was sent-off after receiving a second yellow card.
Stockport County were held to a 1-1 Edgeley Park draw by Nuneaton Town... in front of a crowd of 3,416...
Two sides who have fallen out the play-off race, Tamworth and Harrogate Town, met at The Lamb, with the hosts running out 3-2 winners...
Eighth-placed Brackley Town [who visit Alty next Saturday] were held to a goalless draw at St James`s Park by Boston United...
Gloucester City are tenth but could also only manage a 0-0 draw at the Tameside Stadium against fellow mid-table side Curzon Ashton.
Following last week`s victory at Stalybridge Celtic, Worcester City came up against fellow strugglers, AFC Telford United at The New Buck's Head.
In a game that was void of much quality, it took until deep in to the second half for any breakthrough and it came the way of the hosts...
Bradford Park Avenue beat Alfreton Town 1-0... The win lifts Avenue level on points with the Reds and nine in front of third-bottom Gainsborough.
Second-bottom Stalybridge Celtic earned a good away point at Broadhurst Park against FC United of Manchester, but still looked doomed... [At 1-1] Danny Wilkins looked to have given Celtic an outside chance of pulling off a miraculous recovery when he made it 2-1 with 18 minutes to go. But they couldn`t hang on and George Thomson equalised two minutes from time for a point that mathematically ensures National League North football for FC united next season!"
As well as Jordan Sinnott, who netted from the penalty spot for FC Halifax Town, in the Vanarama National league North, his former team-mate at Moss Lane, Ryan Crowther netted twice as 143 spectators saw Ashton United defeat Corby Town 3-1.
Glossop North End drew 1-1 with Bamber Bridge, with Dale Johnson netting the North End goal.
---
1 April 2017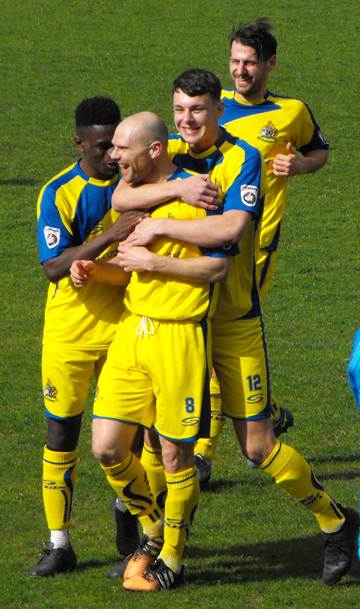 This result confirmed Altrincham's relegation but they should have emerged with at least a point, if not all three, following a spirited performance. Referee Marsden was the centre of controversy as he denied the visitors three very strong penalty appeals whilst granting Salford a more questionable spot-kick which got The Ammies back into game after they had trailed at the interval.
Altrincham had taken a deserved 38th minute lead when Gary Jones netted with a superb 30-yard strike. But thirteen minutes into the second half Sam Heathcote was penalised in his own box and Walker netted from the spot. The goal prompted the hosts best spell of the afternoon and they took a 62nd minute lead when Simon Grand scored from close range after Tomlinson had saved well from King's shot.
Alty finished strongly; they hit the bar through Owens, and referee Marsden waved away appeals for penalties when Owens was bundled over and when a defender appeared to stop the ball on the line with his hands. But, in the end, even a win for Alty would only have delayed the inevitable relegation which has been beckoning for some weeks.
And to compound their woes, Alty, already lacking eight injured players at kick-off, lost Tom Hannigan to another injury during the first half.
Match report here
Right: Gary Jones is mobbed by delighted team-mates after his fine goal.
Apologies for the lack of live updates from this match. With no wifi available in the pressbox and without a dongle, transmission was not possible.
Sat 1 April
AFC Fylde 4-1 Darlington 1883
AFC Telford Utd 1-0 Worcester City
Alfreton Town 0-1 Bradford Park Avenue
Brackley Town 0-0 Boston United
Chorley 4-0 Gainsborough Trinity
Curzon Ashton 0-0 Gloucester City
FC United of Manchester 2-2 Stalybridge Celtic
Kidderminster Harriers 1-2 FC Halifax Town
Salford City 2-1 Altrincham
Stockport County 1-1 Nuneaton Town
Tamworth 3-2 Harrogate Town
Altrincham travel to Moor Lane on Saturday for their first competitive match against The Ammies - and what will almost certainly be their last such visit for at least one season. This is because if Alty lose today they are mathematically relegated from the Vanarama National League North and, even if Alty win, a victory elsewhere for Worcester City would also seal The Robins' fate. Should Salford be the team to deliver the coup de grace to Altrincham it would mirror the reverse fixture at the J Davidson Stadium in game 17 of the campaign on 12 November, 2016 when City's 2-0 win sent Altrincham to bottom place in the league table for the first time this season.
At Bradford last Saturday, Altrincham were without nine players (Stuart Tomlinson, Shaun Densmore, Alan Goodall, Sean Miller, Craig Hobson, Gary Jones, Laurence Taylor, Clayton McDonald and John Cyrus) whilst Kyle Brownhill had been unable to complete that game after taking a knock. Since then, Elliot Newby, Alty's leading scorer in recent weeks, has returned to Barrow.
In midweek, Laurence Taylor and Clayton McDonald turned out for the Reserves to give Alty's management a slightly increased number of players from whom to select their team today.
Supporters should enter the stadium via the Nevile Road turnstiles. Admission prices have been reduced and now are:
Adults £7
Concessionaries (over 60s, students with ID and under-16s) £3
Match day programmes will be available from just inside each of the turnstiles for £1.50. At the match there will be a bucket collection for The Studio Dance Academy, who are a local dance academy trying to raise money to put towards kitting out their new studio.
Salford City
report that they "look to bounce back from last week's defeat at Boston United. With six games of the season remaining in the final month, a win is vital for The Ammies who are one of three teams in the four play-off places with 64 points, with Stockport and Chorley both loitering just outside with one point less a piece.
Visitors Altrincham, meanwhile, have a different kind of battle themselves and nothing less than a win for them will do to put off their relegation by another week, although if Worcester City win at Telford United the result will not matter. After relegation from the National League last season, this season has been a bit of a disaster for The Robins who have won just three games this season...
In Matt Doughty they are also on their third manager this season after Neil Young resigned six games in, and his replacement Jim Harvey was sacked in December. Doughty's haul of 10 points is more than his experienced predecessors could accumulate, but Alty still find themselves in peril and only a miraculous turn in fortunes will save them from dropping into the Northern Premier League.
Back in February The Robins signed former Ammies' skipper Chris Lynch and it is surely no coincidence that in his eight games so far they have kept four clean sheets and stemmed the flow of goals against them, but for all his heroics from his time at Moor Lane there will be a lot of people wanting him to avoid playing the villain on his return.
Saturday will be The Robins' first competitive visit to Moor Lane... Salford will be glad to be back on home turf where they haven't lost since the defeat to Tamworth in October, which remains their only defeat at Moor Lane in the league this season. However it is not a statistic to be taken for granted and a performance to resemble the Lion which is so synonymous with both the club and the City will be needed to prevent The Robins from flying back down to Altrincham with anything more than zero points."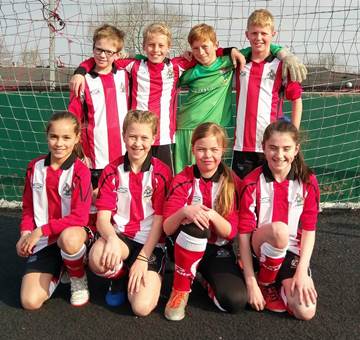 Altrincham school, St Vincent's, represented Altrincham FC this week at the National League Trust Regional Primary School Finals (pictured, right).
Details of how they got on, (they beat Macclesfield Town!) are here.
Altrincham FC Community Sports have started a quarterly Newsletter and the first edition is available,
here
. You can sign up to receive the Newsletter via the above link.
The
National League
reports that "Stockport County`s Danny Lloyd is the Player of the Month for the Vanarama National League North. The nippy and creative winger has been instrumental in the club`s rise to become serious play-off contenders...
Having joined from AFC Flyde... he has been a match-winner on a number of occasions with some quality goals amongst his 18 in total so far. But importantly he has created for others too. Catching the eye of many other clubs, the question is whether he will be at Edgeley Park next season, irrespective of promotion or not."
And news of another award is confirmed by Gloucester City who "announce that Tim Harris has won the Vanarama National League North Manager of the Month award for March. The Tigers have been on red hot form as the season draws to a close and in the four games his side played this month, Harris saw the team pick up 10 points out of a possible 12 and going undefeated."
Video highlights of Altrincham's game at Bradford PA, last Saturday, are
here
.
---
FOR EARLIER NEWS, CLICK
HERE
---