---
31 January 2017
Although there will be a post-match report here on the website, there will be no live coverage (by the website or Radio Robins) of Tuesday's friendly match between Altrincham and Manchester United's under-18 team at the J. Davidson Stadium (k.o. 7pm).
Spectators are reminded that entry is free.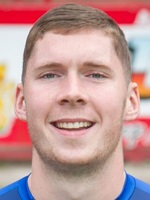 Altrincham's Press and Media Officer John Edwards writes, "Reserve goalkeeper Andrew Dawber (right) has left Altrincham, eight months after arriving at The J.Davidson Stadium as one of then-manager Neil Young's early signings.
The 22 year-old was hoping to fill the vacancy created by Stuart Coburn's retirement and Young's decision not to retain last season's Supporters' and Players' Player-of-the-Year Tim Deasy but he has found starting opportunities hard to come by since Deasy returned to the club at the beginning of September.
Following talks with manager Matt Doughty, it was mutually agreed Andrew should be released with immediate effect, and he leaves with the best wishes of everyone at the club".
In a frank post-match interview with Press and Media Officer, John Edwards, at Fylde on Saturday, Matt Doughty delivered a blunt warning to his players and admitted his own future as Altrincham manager could hinge on how they respond. Here is the interview in full.
Q: Andy Owens had a great chance to make it 3-2 in the second half and put us right back in it, but the damage had already been done, hadn't it?
A: The damage had been done, 3-0 down in the first half, game over, simple as that. We just weren't at the races. We started well in the first five minutes but, out of four goals they scored, we have gifted them two. For the first, the lad has put it in the top corner, but we could have been a bit tighter. We had 15 minutes to change it at half-time, and I had a go at every single one of them.
We came out in the second half and did well for half-an-hour, but then we gifted them a goal again. They didn't have to work for that one at all. It was gifted to them. Even though they are full-time and kick a ball about every single day, we have gifted them goals and were poor, and that's the first time I've said that about us, that we were poor.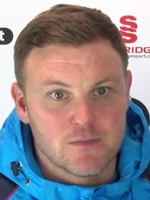 Q: Was it just individual mistakes that cost us?
A: The first goal, we could have pressed the ball better. The lad turned once and then twice before shooting, so we should have been tighter. For the second, whether the free-kick has gone round the wall or what, I don't know. I'll have to look at the video. Third goal, we left a 36-goal striker free in the box. Now, how can that happen?
If you are a clever person or clever defender and you are alive, which you should be, and concentrating, which you should be, then you should be tight, like an inch away. They are top of the table and at home, so you can't give them a sniff.
To be fair, they had one chance in the second half and scored. But in the first half, it was... I'm not being funny, and this isn't me patting myself on the back, but I stopped that being seven or eight goals, because it could easily have been seven or eight nil if I hadn't shaken them up at half-time. The fact is, we shouldn't have to do that. We're coming in behind every game, and that shouldn't be happening with the quality we've got. We have got quality, but collectively we're nowhere near.
When me and Robbie (Lawton) took over, there were so many things wrong at this club, not just inside the four walls of the changing room, but in training, out on the pitch, individual mentality and so on. Before you can get performances and results, you've got to stop all that.
So that's done, and we start getting performances, and we got to Brackley and pick up a well-earned point, then we come here and do that. It's unacceptable and it has to stop. If I want to be manager here next season, I have to start winning games. I'm not saying it has to be six or seven, but we need to start winning.
Looking at it selfishly, I'm looking out for myself as well. The players understand where I'm coming from. We just had a chat in there. They need to understand that they have to start showing up every week from the start or you don't play, because I can't afford to put my trust in you guys if you are going to keep losing games.
Q: It must be all the harder to take after such an encouraging performance at Brackley on Tuesday night?
A: It kills you, it absolutely kills you, because, I'm not being funny, but I'm working something like 90-100 hours a week at this job. It's taking over my life. I'm putting my heart and soul into it, and I'm getting players who leave me wondering are they interested? I don't know. I don't know, but I will find out for certain in the next couple of weeks, and if they're not, they won't be at this club.
Q: Nicky Clee came off early on and Gary Jones stayed off at half-time; will they be all right for the Halifax game on Saturday?
A: Nicky said he got a whack in the face and was feeling a bit dizzy, so that was that. Jonah got a dead leg, but I would imagine they should both be OK for the weekend.
We knew the difficulty of the task facing us here, because they are full-time and top of the league for a reason, just as we are bottom for a reason. But it is so frustrating to come here off the back of such a good performance at Brackley and make it all the harder for ourselves by gifting them goals.
Have they opened us up? I can't remember that happening.
Q: It could make all the difference and give us a bit of momentum if we could get a win under our belts, perhaps?
A: That's a big 'if' at the moment, isn't it? Maybe that is all the players need for their own sake and their own sanity. It's certainly what I need for my sanity, because it is killing me, not getting a win'".
Mon. 30 Jan.
Curzon Ashton 0-0 Stalybridge Celtic (att. 422)
Saturday's visitors to Altrincham,
FC Halifax Town
reported on Monday that they "travel to the Impact Arena in Alfreton on Tuesday night, looking to make it four wins from five, after gaining 10 points against fellow top 8 sides. The 0-0 draw against Stockport on Saturday ended Town's three match winning run in which they dispatched of Chorley, Tamworth, and Salford.
Alfreton... are winless in four games, having lost last time out to league leaders AFC Fylde... The Derbyshire side have had contrasting seasons when it comes to their defence and their attack, having shipped 65 goals, yet scored a respectable 49...
Form guide: FC Halifax Town: DLWWWD".
The Halifax Courier adds that "Town boss Billy Heath felt his side did enough to win after they were held to a 0-0 draw at home by Stockport County. Halifax are now seventh in the National League North after the draw, in which they kept their first clean sheet in 14 games...
Heath said, 'I think we deserved three points. They might say different. It was a competitive first-half but second-half we definitely deserved to win the game. We've got three wins and a draw in the last four fixtures and we'd have been pleased with that before those games... In the second-half there was only really one team in it; Stockport haven't had a shot on goal in the second-half...
Heath also praised the impact of substitute Tom Denton, adding, 'He gave us more of a target. He probably won 95 per cent of the aerial balls. When he's up there we sometimes get a bit lazy and go back-to-front too quickly because it's an easy ball. We spoke about it in the week that we just wanted to keep playing and passing the ball when he did come on. I thought we mixed it up really well and sometimes we didn't put it in that area enough for him. We had a couple of opportunities when we got behind them and we were looking to slot it along the ground when you just need to stand it up for him'".
News of an Alty loanee in 2015-16 comes from
NL Pitchero
, which tells us that "Burnley`s young winger Josh Ginnelly, having returned from a half-season loan with League One Walsall, has now signed a loan deal with Lincoln City until the end of the season. He goes to Sincil Bank at an exciting time for the club. They are currently top of the National League and looking to win a return to the Football League...
To add to that, they are one of two non-League clubs to have reached the Fifth Round of the Emirates FA Cup along with Sutton United. However, Ginnelly won't be eligible to play in the Cup having played in Walsall's First Round defeat at home to Macclesfield Town."
From Welsh Premier, we learn that "The Welsh Premier's first-ever young player of the season in 2008, [former Alty reserve] Ashley Stott is still banging-in the goals, although he's dropped down to a lower level in the English pyramid.
And the chart-topping goalscorer says happiness is the key to his career revival at Daisy Hill in the Hallmark Security [NW Counties] League First Division. The 28 year-old striker had scored 32 goals in 29 appearances ahead of Saturday's trip to Cheadle Town to lead the league's goalscoring list and his prolific form in front of goal since his move from Rhyl in the summer has also kept the threat of relegation at bay for the Westhoughton, Bolton-based outfit...
The Withington-born hit man has played in the Europa League with Bangor City and can count Altrincham, Halifax Town, Aberystwyth Town, Northwich Victoria, Ramsbottom United, Trafford, Curzon Ashton and Witton Albion among his former clubs. And with him being at the peak of his playing career age-wise it is quite a coup for a modest-sized club like Daisy Hill to acquire his services. But he says it is all down to him enjoying his football.
'I need to feel loved and I get that from everyone here', he told the Bolton News. 'In terms of enjoyment this has been one of my best seasons and the manager [Craig Thomas] has been great... After Rhyl I wasn't interested in playing football and didn't want to play anymore. I'd fallen out of love with football, had my son and I wasn't enjoying the game...
'I said no to [Daisy Hill to] begin with but he [Thomas] persisted and talked me round', said Stott, a freelance Primary School PE teacher who started his football career in Preston North End's academy. 'If I was going to play again I wanted it to be somewhere I felt appreciated, and I am here'...
Stott was spotted by then Bangor manager Clayton Blackmore and signed for City in July 2006, heading the goal charts at Farrar Road in 2007/8 before leaving to join Halifax Town. He was leading scorer for the Shaymen in 2008/9 with 24 goals, but left mid-way through a two-year contract to rejoin the Citizens.
After one season at Farrar Road he left again in August 2010 to join Hyde but, after a brief spell at Witton Albion in 2010 he was back in the Welsh Premier League with Aberystwyth in January 2011. After a season at Park Avenue and spells with Witton Albion and Northwich Victoria, he top-scored with Vauxhall in 2012/13, joining Rhyl in June 2014".
The
National League
reports that "Steve Burr has been relieved of his managerial responsibilities at Southport with immediate effect. In a statement issued on Monday, Southport said, 'Following a disappointing series of results, the Board have taken the above decision in the best interests of Southport Football Club to move forward in a different direction.
'With nineteen players recruited during Steve Burr's tenure and significant financial backing to strengthen the squad, the performances and results recently have not shown signs that confirm the club can get to a position in the League that provides the security as required. Director of football Liam Watson will take interim charge of the squad as for the forthcoming fixtures with the aim of ensuring the club retains its National League status. Keith Briggs will continue as assistant-manager".
AFC Fylde
"manager Dave Challinor admits... 'It was massively important to get two home wins in the last few days, especially after losing last Saturday. Am I overly happy with the manner of the two performances? No, because I think we can be a lot better, but at the end of the day it's two wins.
'I'd have taken that before the game on Tuesday, we just needed the six points and we've done that. I'll be critical and try to be a perfectionist and ask a bit more of them but they've done exactly what we needed. I'd rather we didn't concede in the last minute of the first-half [to Altrincham] because that then makes a bit of a game of it. If someone came here not knowing who was top and who was bottom, there wasn't much in the game.
'Once Rowey chops onto his wrong foot and sticks it in from 25 yards, you're maybe thinking that we are the team at the top because we've got someone who can do that. That gave us a boost and then one becomes two and that becomes three. We can now move on and prepare for Salford next weekend. It was a close game here earlier in the season, a game that had everything really. I'm sure it will be another battle between two decent teams.'"
According to the Shropshire Star, "AFC Telford United goalkeeper James Montgomery has completed a move to National League side Gateshead. The 22-year-old shot-stopper has stepped up a division to join the full-time Tynesiders on a one-and-a-half year deal for an undisclosed fee.
Although it is unclear how much money the Bucks will receive, they are understood to have inserted a sell-on clause into the deal. Montgomery... said 'My aim has always been to play higher and get back into full-time football and Gateshead have given me that opportunity'. Montgomery will be much closer to his north-east home with a move to the Heed...
Since being signed from the Nike Academy in March 2015, he has made 66 league appearances for the Bucks – 26 of those coming this campaign...
Bucks' boss Rob Smith added, 'It has been with a heavy heart and reluctance that we have had to agree the sale of Monty to Gateshead'".
Montgomery was one of the first signings to Jamie Vardy's "V9 Academy`" in November 2016.
In another move away from the New Buck's Head, NL Pitchero confirms that "AFC Telford United have announced that Danny Reynolds is joining Witton Albion on a month's loan".
There are two departures from Liberty Way as NUneaton Town "confirm that both Kristian Scott and David Moli have departed the club. Scott has since signed for our rivals, AFC Fylde".
---
30 January 2017
On Tuesday, Altrincham's first team takes on Manchester United's Under-18s (free entry, kick off 7pm).
United
report on their most recent game, which ended Sunderland 2 Manchester United 5.
"Manchester United's Under-18s claimed a first victory of the calendar year in impressive style on Saturday, with five different players finding the net against Sunderland. Kieran McKenna's lads were hoping to get their title challenge back on track... It was an important victory for the young Reds, who had been leapfrogged last weekend when Liverpool won 1-0 at home to Newcastle United whilst Manchester City had maintained their grip on pole position..
Unbeaten in 11 matches, United players had every reason to approach the fixture with a spring in their step. Sunderland had only avoided defeat twice in nine games on their own patch this season, while the Reds had only failed on three occasions to get some reward from their eight games on the road...
Sunderland certainly defied their position at the foot of the table as the game unfolded and might have claimed a couple of early goals. However, United soon settled down and scored the game's first goal in the 19th minute when Nishan Burkart set up Joshua Bohui to fire home from close range.
The Black Cats were quick to reply and within seven minutes they had equalised through Benji Kimpioka... The Reds regained the lead ten minutes before the break thanks to Aidan Barlow's well-struck shot...
Within six minutes of the restart there was little doubt of the outcome. First it was Nishan Burkart who planted one in the Sunderland net from distance and soon after Ethan Hamilton made it 4-1 to United with an angled drive. McKenna sent on Tom Sang and Zachary Dearnley in the 64th minute and this double substitution proved inspirational three minutes later. Sang's raking pass found Dearnley wide on the left and the latter raced forward to claim United's fifth goal...
United: Fojtíček; Tanner, Barrett, O'Connor, Spratt; Whelan (Sang 64), Hamilton (Ercolani 70); Boonen, Barlow, Bohui; Burkart (Dearnley 64). Substitutes not used: M. Johnstone, Gomes."
On Sunday, Altrincham FC Ladies lost 1-5 at home to Bolton Wanderers in the Argyle Sports Plate.
Their next scheduled match is away to Northwich Vixens next Sunday, 5 February.
Altrincham's U18 Youth team lost 0-1 at home to Chester FC in a game played in east Manchester. Chester now meet Curzon Ashton. For Alty the next fixture on Sunday, 5 February, is a league match at home to Skelmersdale United.
Confirmation comes from
NL Pitchero
that "Worcester City have announced that long-serving Carl Heeley has stepped down from his position as manager. Disappointed in the manner of Saturday's defeat, Heeley met with chairman Anthony Hampson, football secretary/director Joe Murphy and assistant-manager John Snape to explain his decision. Heeley felt it was time for a change for both himself and the club. In particular, after more than twenty years` involvement in the game, Heeley would like to change the focus in his life from football to spend more time with his young family.
The club fully respect and appreciate Heeley's decision... A true City legend, 'King Carl` has amassed almost 1,000 matches with City since first joining as a wholehearted player, back in 1994. He went on to become assistant-manager, before taking over the role of manager in January 2010,...
Despite his managerial tenure coinciding with continual difficult circumstances behind the scenes, with the club becoming homeless with an uncertain future, and having limited playing budgets in comparison to most other clubs in the division, Heeley continued to defy the odds to keep City at National League North level...
Heeley always wears his heart on his sleeve, and his honesty in deciding it was time to step down is reflective of the man he is. The club have thanked him for all his hard work and have wished him all the best for the future... John Snape will aid the club in the short-term, assisted by club captain Danny Jackman whilst a replacement is sought".
Stockport Vital Football
says of Saturday's goalless draw at Halifax that "The recorded visiting support at the MBI Shay stadium for the visit of Stockport County was 992... The County faithful were allocated four blocks of 300 seat stands and in fact ended up with around 100 having to stand in the gangways or at the back of the stand, so, by my reckoning around 1300 of the blue army were in attendance. Perhaps Halifax employs the same bean counters as Harrogate.
Another point of ire was that the eminently more suitable standing terrace behind the north stand would have been ideal, but of course Halifax would not have been able to charge £16 for that privilege, an amount that would cause the Neville brothers to choke on their designer burgers and probably did so last week... Aside from the gents toilets circa 1923, this is a decent place to watch football...
This I have to say, was something of a damp squib. An enjoyable enough game but devoid of much incident or action really until the last 10 minutes or so when AFC Halifax stepped up a gear...
Despite having most of the ball, certainly for the first hour and the majority of all the corner kicks, the Hatters created very little and the two best chances of the game fell to Halifax who looked a different side with Denton and will probably consider this two points dropped...
FC Halifax Town:1 Sam Johnson, 2 Kevin Roberts ©, 3 Josh Wilde, 4 Liam King, 5 Scott Garner, 6 Nathan Hotte, 7 Matty Kosylo, 8 David Lynch, 9 Daniel Nti (Macdonald 71`), 10 Adam Morgan, 11 Richard Peniket (Denton 60`). Subs:12 Steven Drench, 14 Jordan Sinnott, 15 Cliff Moyo, 16 Tom Denton, 17 Josh Macdonald...
From the other side, FC Halifax Town report that "Kevin Roberts believes the fans left the MBi Shay knowing the victory should have been theirs against Stockport County. The home side certainly had the better of the chances...
'We definitely deserved it, especially in the second half', said Roberts who spoke to Shaymen Player after the game... After the fabulous display against Salford City last weekend, optimism around the stadium before the game was high, with many expecting 'more of the same' from the attacking front four of Kosylo, Morgan, Peniket and new signing Nti. However, the game proved to be a different affair...
Long balls up to the striker either bobbled off him or was intercepted instantly after Peniket could bring the ball down. Yesterday it was just the case of things not falling for the striker and [he] was replaced by Tom Denton, who proved to be more effective when Billy Heath opted for a more direct approach in the second half...
Said Roberts. 'The gaffer spoke to us at half-time and told us to calm down and don't show them too much respect... It's still a good point just disappointing that it we couldn't get all three for our supporters', Roberts added...
A huge credit to Billy and the players for their attitude to dust off the criticism and show a real determination to fight for the play-offs – in a run which has seen us pick up 10 points out of a maximum of 12 against surrounding opposition, equally in pursuit of the chance of promotion... From a defensive point of view, the result marks the end of Town's hunt for a league clean sheet – the first since November, and Roberts now sets his eyes on keeping it that way".
---
29 January 2017
Today's Altrincham FC Ladies' match at home to Bolton Wanderers goes ahead after a pitch inspection passed the surface as playable. Kick off is at Mersey Valley FC, Banky Lane, Sale at 2pm.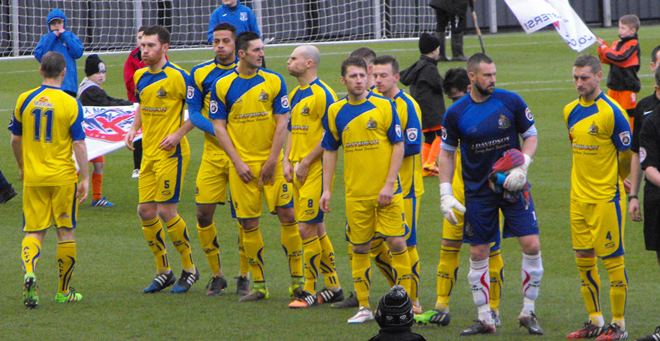 Above: Alty line up at a sodden Mill Farm for Saturday's clash with AFC Fylde.
Match report here
AFC Fylde has a report on Saturday's game against Altrincham.
"A brace from top scorer Danny Rowe sealed a second home win in five days as AFC Fylde saw off basement club Altrincham to remain nine points clear...
The visitors almost took a shock lead inside the second minute when a hopeful ball across the box found Elliott Newby, who struck a curling first time strike against the far post.
A poor back pass at the other end of the field played in Dan Bradley, but the goalkeeper recovered well to flick the ball away from the midfielder's feet with the goal at his mercy...
A goal was coming and it duly arrived in the 10th minute. Rowe received the ball on the edge of the Altrincham penalty area and, after twisting and turning into space, unleashed a sublime left-footed strike into the top corner.
The frontman doubled his tally just eight minutes later with an equally stunning effort. Bond was felled 20 yards from goal and up stepped Rowe to whip the ball over the wall and past the helpless stopper.
The goals continued to flow for the league leaders as Wilson added a third. Bradley swung a cross in from the right that found Rowe and although the striker was denied his hat-trick by Tim Deasy, Wilson was on hand to lap up the loose ball from a yard out.
The Fylde front line were causing havoc and Deasy had to pull off a great save to deny Bradley after he had sneaked into the box from the left.
Fylde looked content to sit back on their three goal lead, however, inviting pressure [which] was to prove costly a moment before the break when Altrincham striker James Lawrie tucked away with ease from Andy McWilliams's dangerous left-wing cross.
Fylde were almost made to rue not putting the game to bed when the visitors were presented with a glorious chance shortly after the break. Andy Owens was played through by Newby but the forward's well-struck effort across goal was agonisingly wide of the far post.
There was nothing between the two sides during the opening stages of the second period, with both teams looking nervous of conceding again... If anything, it was Altrincham that looked the more dangerous and Lawrie fired narrowly over from the angle...
However, the prospect of any potential comeback was ended with a fourth goal of the game 15 minutes from time. Brendon Daniels broke down the left and squared for Bradley in the box and whilst the defence intervened, super-sub Hughes lashed home the rebound from close range...
Robins' captain Jake Moult summed up the day for the visitors when he ballooned a set-piece a mile over the bar from the edge of the box.
Substitute Simon Richman almost found a consolation goal in the final seconds when he met Moult's cross from the right but Rhys Taylor pulled off a fantastic stop at point-blank range".
Altrincham FC Youth's Open Cup game (k.o. 2pm) against Chester FC on Sunday has been switched to Ten Acres Lane, Newton Heath, M40 2SP (close to the Etihad Stadium)
Altrincham FC's first-team squad will be taking on Manchester United under-18s next Tuesday, 31 January, at 7pm in a friendly match. Entry is free.
Chorley have highlights of the game at Victory Park against Altrincham, last week. They can be viewed
here
.
Gates in Vanarama National League North were more than twice as high as those in the South division.
Att: 1735 AFC Fylde 4 v 1 Altrincham
Att: 1761 Darlington 1883 1 v 3 Curzon Ashton
Att: 2925 FC Halifax Town 0 v 0 Stockport County
Att: 4158 FC United Of Manchester 0 v 3 Salford City
Att: 575 Gloucester City 3 v 0 Worcester City
Att: 892 Harrogate Town 1 v 3 Gainsborough Trinity
Att: 1764 Kidderminster Harriers 4 v 0 Nuneaton Town
Att: 805 Tamworth 1 v 0 Boston United
The
EvoStik League
reports on new registrations for three ex-Alty names.
Benjamin Deegan from Warrington Town to Droylsden
William Hasler-Cregg from Buxton to Droylsden
Scott Metcalfe from Warrington Town to Droylsden
Altrincham Reserves's fixture on Saturday, at Denton Town was postponed. The next scheduled match is on Saturday 4 February away to Crewe.
According to the
Worcester News
"Carl Heeley is considering ending his seven-year reign as Worcester City manager.
City's long-serving boss, who took over in January 2010, has revealed he will hold talks with chairman Anthony Hampson over his future. His decision comes after he was left 'embarrassed' by his side's display in their 3-0 defeat at local rivals Gloucester City.
The Blue and Whites sit five points above the drop zone in 18th place and are on a run of 10 matches without a win ...
'I am going to have a meeting with the chairman and the rest of the directors,' he said. 'I am seriously questioning whether it is time for me to step aside.'
Since replacing Richard Dryden, Heeley has kept Worcester in the sixth tier for seven successive seasons... However, City's former skipper admits the position has 'taken over' his life and says he wants to spend more time with his family.
'It's non-stop,' he said. 'I have got a young family and it is maybe time to reassess because I am a little bit embarrassed by that performance. The chairman of this football club is a lovely man and he doesn't get any thanks for anything he does.
'He gets continually criticised and I am starting to get continually criticised and quite frankly I have got far better thing to do with my life, like look after my family and spend quality time with my daughters.
'Out of respect for the chairman I am going to sit down with him this evening, get his thoughts on it and then I will make a decision.'
He added, 'It is hard work getting up on at 6am on a Sunday morning to wash kit for a Monday night game. But that's what me and my wife do. I have got lots of other things I could fill my time with and when you get criticised sometimes you feel like stepping aside and letting somebody else step into the breach.
'Maybe I can get my garage back because it has been full of Worcester City stuff for years. It is a tough task managing a club as Tim Harris will justify at Gloucester... I will make a decision on what is best for me'".
In its summary of Saturday's fixtures, the National League reports that at Kidderminster "Nuneaton's good run was ended by another play-off contender, Salford City, in midweek, and they fell behind on Saturday to a 35th minute Andre Brown effort.
Boro gave a good account of themselves until falling two behind in the 72nd minute to a goal from Elton Ngwatala. And he added his second in stoppage time after Ryan Croasdale had made it 3-0 in the 82nd minute.
Salford followed up that win over Nuneaton with a 3-0 success against neighbours FC United of Manchester in front of a terrific crowd of 4,158 at Broadhurst Park...
There was a shock for fifth-placed Darlington 1883, who suffered a 3-1 home defeat by a Curzon Ashton side who beat leaders AFC Fylde last weekend... Tamworth moved level on points with Darlington after beating Boston United 1-0 at The Lamb...
FC Halifax Town are a place and a point further back after being held to a goalless draw by eighth-placed Stockport County at The Shay.
Harrogate Town's unbeaten start to 2017 came to an abrupt end as Gainsborough Trinity ran out 3-1 winners at The CNG Stadium. Town took the lead in the 22nd minute when Lloyd Kerry flicked in Joe Leesley's cross, although the lead lasted just 3 minutes before Matt Thornhill slid into an empty net.
Former Harrogate player Jordan Thewlis then put his side ahead just past the hour-mark ... Tom Davie then sealed a first Trinity win at The CNG Stadium since 2008 to move his club up three places in the table...
Gloucester City are eleventh after increasing Worcester City's relegation worries after a 3-0 win at Whaddon Road".
From the Tamworth Herald The 23-year-old put pen to paper on Friday night, having previously had a loan spell at Airbus in August 2012".
The Halifax Courier tells us that "FC Halifax Town were held to a 0-0 draw at home by play-off rivals Stockport County in a game of few chances.
Town did keep their first clean sheet in 14 games, but as far as major positives go, that and the fact that they denied a promotion rival three points, is about it.
The match had the potential to be another cracker after Town's 4-2 win over Salford a week ago, but never got going... Halifax came into the game as third highest scorers in the National League North, while Stockport had only failed to score in four of their 33 games all season.
But neither team did enough to earn the win... Stockport seemed happier to take a point as the second-half wore on, and wear on it did".
---
28 January 2017
Alty made changes with Newby, Hannigan and McWilliams starting and Richman, Brownhill and Heathcote moving to the bench. Sean Miller, Shaun Densmore, Craig Hobson and Alan Goodall were missing through injury and Reeves was absent through illness.
In this clash between top and bottom, Alty almost grabbed an early lead as, with barely a minute having elapsed, Lawrie's pass from inside left went behind Owens but fell to Newby who hit the outside of the post.
But, after Dixon had advanced on the right, Rowe curled his shot into the top corner of the net from inside the "D" to Deasy's right to give Fylde a 10th minute lead.
On a very wet pitch Fylde made it 2-0 eight minutes later when Jones let the ball go but then fouled his opponent as the Fylde man got free behind him. Rowe lashed home the resulting freekick from a central position.
Alty's misfortunes continued as Clee, who had been clattered just after the first goal, had to be subbed with only twenty minutes on the clock.
It became 3-0 when a Bradley cross led to Rowe's shot being saved but the loose ball was tapped in by Wilson (28 mins).
Alty gained some hope when Lawrie completed a fine move on the left, converting McWilliams's cross with a half volley to make it 3-1 just before the interval.
Altrincham saw a lot of the ball in the second half but could not break down the home defence and, against the run of play. Fylde made it 4-1 after 74 minutes through substitute Matty Hughes's close-range goal.
Match report here
Sat 28 Jan.
AFC Fylde 4-1 Altrincham
Alfreton Town P-P Brackley Town
Darlington 1883 1-3 Curzon Ashton
FC Halifax Town 0-0 Stockport County
FC United of Manchester 0-3 Salford City
Gloucester City 3-0 Worcester City
Harrogate Town 1-3 Gainsborough Trinity
Kidderminster Harriers 4-0 Nuneaton Town
Stalybridge Celtic P-P AFC Telford Utd
Tamworth 1-0 Boston United
On the eve of the match against Altrincham,
AFC Fylde
"have completed the signing of 21-year-old versatile midfielder Kristian Scott from Nuneaton Town. The former USA youth international began his career with Stoke City before he was scouted by Swansea City at the age of 18. He then moved on to Leicester City before joining Nuneaton towards the end of last season.
Coasters boss Dave Challinor said, 'The opportunity arose to bring in Kristian at a time when we are struggling with a few injuries. He is technically very good and gives us more options in a variety of positions and strengthens the squad further still'. Kristian is available for selection for tomorrow's National League North fixture against Altrincham."
According to
NL Pitchero
, "Young defender Jamie Stott will remain with Curzon Ashton on loan from Oldham Athletic for the remainder of the season. Stott has impressed on loan for the Nash this season, scoring one goal and helping the club to the Emirates FA Cup Second Round."
Across the Pennines, "Harrogate Town's Head of Youth Development assumes his new role as Assistant-Manager with immediate effect. Fans' favourite [Paul] Thirlwell joined the club in July 2015, after an eight-year stint with Carlisle United. The former Sunderland, Derby County and Sheffield United midfielder has since made 36 appearances for Town, and led Town`s under-21 side to league success in 2015/16.
Despite his new role, the veteran midfielder will continue to be available for selection in Simon Weaver's playing squad... The 37-year-old has experienced the managerial hot-seat for himself in the past...
'I had a brief spell as player-caretaker-manager at Carlisle, but it was only ever going to be a temporary arrangement. I enjoyed that experience, as I have done with the under-21s here, but I feel the chance to assist Simon with the first-team is definitely a progression for me'...
Sunderland-born Thirlwell replaces former assistant John McDermott, who stepped down from the role he had held for six years earlier this month...
'We really are a close group here and John McDermott was a huge part of that... However, I want to make sure that I carry on in the same vain as Macca, in respect of getting the best out of the lads and working together with the manager'...
Thirlwell will assume his new role with immediate effect, as well as continuing his duties as manager of Town's under-21 side".
---
27 January 2017
Ahead of Saturday's fixture with Altrincham,
AFC Fylde
state that the club "restored their nine-point lead at the top of the National League North following a midweek victory over Alfreton Town. The lead had been temporarily reduced to six after a disappointing defeat at Curzon Ashton a week ago, but Tuesday night goals from Dan Bradley and Caspar Hughes put the Coasters back into a commanding position in the league standings.
Whilst the Coasters have been enjoying the dizzy heights of top spot, Saturday's visitors Altrincham have endured a miserable campaign. After suffering relegation last season, many expected Alty to challenge at the top end of the table but they currently find themselves stranded at the bottom of the division. They kicked off the season with three impressive 2-2 draws against Darlington, Halifax and Harrogate, but a 6-0 drubbing on their home turf, inflicted by ourselves, set the tone for a wretched run of form.
Alty's last success in the league was way back in October when they saw off local rivals Stalybridge Celtic and they are now 13 games without a win in the league... Their leaky defence has contributed to their downfall, having conceded 63 times in 26 games so far...
Dave Challinor is again waiting on the fitness of defenders Josh Langley and Macauley Wilson after they picked up injuries against Curzon Ashton last weekend."
Altrincham are away at AFC Fylde's new stadium on Saturday and
TASC is pleased to announce that it is providing supporters' transport to the match
.
Details of the TASC supporters' coach travel to Fylde are on the Away Travel page. The trip can be booked by contacting the Club offices on 0161 928-1045 during normal weekday office hours.
Alty are away at AFC Fylde this Saturday and the Lancashire club says that "With the opening of AFC Fylde's new stadium this season, the club have launched a revolutionary way for travelling supporters to purchase tickets in advance.
Courtesy of their new state-of-the-art ticketing system, away supporters will now be able to buy tickets online in what is a footballing first.
No more waiting around in adverse weather conditions or queueing at a ticket office, away fans will now be able to purchase their tickets online, print off at home and go straight to the turnstile on the day!
Fylde are keen to make it as easy as possible for away supporters to follow their team on the road and are currently the only club in the country offering this service.
To purchase tickets for AFC Fylde vs Altrincham on Saturday 28th January, visit www.afcfylde.co.uk, click on the tickets tab and follow the simple process. You will see there is also the option to receive your tickets by post, however these must be purchased before 3pm on Wednesday 25th January to guarantee delivery.
Please note that free onsite parking at the stadium is extremely limited. Once the free parking is full, there is an additional overflow carpark, which is charged at £5 per car. Alternatively, there is parking on surrounding streets, approximately a 5-10 minute walk from the ground.
For those supporters wanting to watch the match in style, for just £65 you can enjoy your day in the President's Club, a five-star facility, which includes a four-course meal, parking, match programme and padded seats in the stand?
Or why not really push the boat out with the prestigious 2022 matchday package in Milano's Mediterranean restaurant for £80.00 where you can choose from a full à la carte menu? It also includes reserved parking, match programme and great padded seats behind the dugout – the perfect gift or treat for any away supporter.
Whatever you choose, don't miss the opportunity to have a drink in Bradley's Sports Bar beforehand, recently voted the best sports bar in the UK, where food and drinks are very competitively priced. See www.bradleyssportsbar.com for more information.
With limited parking at the ground and just a 10 minute walk from Kirkham train station, supporting your team away from home has never been easier. For hospitality or any other enquiries please call the club on 01772 598855".
According to
Gloucestershire Live
, "The door is always open to third party involvement to speed up Gloucester City's long-awaited return home. Until then, owner Eamonn McGurk says he will continue... working towards a new, debt-free stadium at Meadow Park in Hempsted.
The club this week announced they have agreed a groundshare with Evesham United for next season, ending a seven year stay at Cheltenham Town... and there is still no firm date on when they are likely to be able to return to the city.
The Tigers' exile means they are running at a loss of around £100,000 a year, a figure which was often more than twice that early on in McGurk's involvement with the club, due to decisions made by prior owners, but they continue to defy the odds on and off the pitch. Tim Harris' team lie mid-table in National League North with one of the smallest playing budgets in the division.
The patience of many fans is wearing thin, with a seemingly endless list of requirements delaying them being able to watch football on home soil again. But McGurk, who has been what he describes as the 'custodian' of the club for 21 years, remains steadfast and defiant that a new Meadow Park will become reality as soon as it is financially viable...
McGurk said, 'It is extremely tough to build a new stadium without having an old one to sell first, which happened when the club moved from Horton Road... The fact is that our income is exceeded by our outgoings and we cannot build a stadium out of debt... We will work towards a stadium which is 'future proof' and keep building and adding to it so we have a sustainable club, which has not been the case since it left Horton Road...
'The day we flooded could have been the day we went out of business entirely. We could have shut up shop there and then because the club had no money and no ground. We were also unable to obtain insurance due to the club being on the flood plain, the time before that we flooded the insurance company went into liquidation (Independent Insurance) and we were left with no money to repair... but we have planning permission and we own the ground. We will build it, but I don't have the money to do it all immediately and we have to be real to our income...
'Name another club who has been through what we have and is still fighting', he said.... 'The site is done and prepared ready for the next phase. If we don't have the money we will carry on at a slower pace and build no debts. We can work wonders, but we can't work miracles'...
McGurk praised manager Harris... He said, 'There is no better man for the club than him and he has worked his socks off for the little or nothing'".
The BBC tells us that "Torquay United have signed defenders Aarran Racine and Jared Hodgkiss on loan from Forest Green and Kidderminster respectively... Hodgkiss, 30, is a former West Brom trainee and played with Torquay player-boss Kevin Nicholson at Harriers. The right-back has had spells at Aberdeen, Northampton and Forest Green".
From NL Pitchero we learn that "Boston United's full-back Courtney Wildin has joined Evo-Stik Northern Premier League Premier Division strugglers Corby Town on a month's loan. The former Aston Villa and Sheffield Wednesday youngster became the Pilgrims' first signing of the summer in 2016 when he signed an initial one-year deal following his release from Hillsborough.
He enjoyed short loan spells last season with Gainsborough Trinity and Lincoln City. The 20-year-old will remain at Steel Park until February 25th initially. Wildin completed a month-long loan spell with Corby's league rivals Hednesford Town on January 14th."
Elsewhere, "Bradford Park Avenue have signed former loanee Oli Johnson on a permanent transfer from neighbours Guiseley AFC... The striker had a month-long loan spell at the Horsfall Stadium earlier this season, making four appearances and helping the club to three of their six wins all campaign. However, since returning to Nethermoor, Johnson has made just one substitute appearance...
Johnson is well-known to Avenue boss Mark Bower, as he was part of his Guiseley side that gained promotion from the National League North... While coming through as a striker, the 28-year-old has often featured in a `number 10` role for the Lions in behind a main front man. Born in Wakefield, the 6′ tall attacker started his career with Nostell Miners' Welfare... before attracting the attentions of Stockport County in 2008. Johnson spent just over twelve months at Edgeley Park, netting 7 goals in thirty-eight League One appearances before joining Norwich City in January 2010 for an undisclosed fee, signing a two-and-a-half-year deal.
Starts were limited at Norwich however, and despite netting four times in four starts and thirteen short substitute appearances as City earned promotion to the Championship, Johnson... left Carrow Road... His spell at Norwich in fact saw him score once every 140 minutes... Johnson joined Guiseley in 2013... In four years at Nethermoor, and across two divisions, Johnson has netted 14 goals in forty-four starts.
Meanwhile, young attacker Jack Dyche has been recalled from his loan spell at Avenue by parent club Scunthorpe United. Dyche made six substitute appearances in the league... failing to score".
---
26 January 2017
Altrincham's Press and Media Officer, John Edwards, interviewed manager Matt Doughty after Tuesday night's 1-1 draw with Brackley at St James Park. Here are Matt's thoughts on a battling performance that made light of not only the freezing, foggy conditions but injuries to Tom Hannigan, in the pre-match warm-up, Sam Patterson and Sam Heathcote. He also reveals how, when the fog became particularly dense late on, it was the home manager Kevin Wilkin who began lobbying the referee to abandon the game.
Q: What were your thoughts overall, Matt? You must be pleased with the way the players coped with a long journey, difficult conditions and opponents who are pushing for the play-offs?
A: I've just told them it has been a worthwhile trip, because it was a thoroughly deserved point. In the first half, we caused Brackley all sorts of problems, especially down their right. Andy Owens caused all sorts of problems, we got in good situations, Jake Moult put some great balls into their box and we scored a great goal through Nicky Clee. Second half, they pushed on a bit, as you would expect from a team near the top and at home, but we defended heroically.
Jake slipped in there (to central defence) because Tom hurt his hip during the warm-up, and he defended brilliantly. I have just told them if we can come to Brackley and get a point, why can't we go to Fylde, Boston, Telford and so on and do it there? We have proved we can do it. We have proved we can defend.
Now, their equaliser was a poor goal to concede, and they did have a few instances like that in the first half, where they got the ball in the box and there was a free header for someone. That shouldn't happen, especially when we've got three centre-halves in there. But, second half, we defended brilliantly and deserved a point.
Q: Can you clear up one point about Tom not playing after his name was on the team sheet? We assumed that Simon Richman stepping up from the bench and replacing him in the starting line-up would count as one of our substitutions, especially as Simon was wearing 14, rather than Tom's number six. But you made three substitutions in the second half, so presumably that wasn't the case?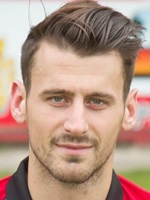 A: Graham Heathcote asked the question, after we decided Simon had to start in place of Tom, but the ref said no, it wouldn't count as one of our substitutions, but it did mean being one short on the bench. We wanted to use Andy McWilliams to fill the gap left by Simon (right), so we would have a full complement of subs, but the ref said, 'You can't do that, you've got to go into it with four subs, but you can use three of them.' That was news to me, but there you are.
Q: It was just as well clarification was sought, wasn't it, because you needed those subs in the second half, with injuries and fatigue playing a part?
A: Yes, we ended up using all three. Everyone grafted, and it was a great, committed performance. James Lawrie worked really hard, and I only brought him off because he looked a bit tired. I was going to bring Nicky off, but then I thought 'No, he still looks quite effective.' Kyle Brownhill had a brilliant game in central midfield, and, to be fair, he has looked better in midfield than he has at left-back at times. It wasn't ideal at the start to lose Tom like that, but we dealt with it well. We deserved the point, and they just have to get confidence from that result.
Brackley are a very good team and will be there or thereabouts at the end of the season, so to come here and match them for a point has to do us some good.
Q: How difficult was it coping with the rapidly deteriorating fog in the last 15-20 minutes?
A: Well, I was over there on the other side of the pitch, and every time the ball came over this side, where we are talking now, I couldn't see it. In fact, I couldn't see a thing. To be fair, we had them on the ropes, and their manager wanted the game off. With 10-15 minutes left, he said, 'Ref, I can't see over there, and the linesman can't either.' He was desperate to get the game off, because he knew we were a danger on the counter-attack, and they could have ended up with nothing. That was credit to us, and that's what I said to Robbie Lawton at the time.
I just said, 'Look, Rob, at what he's doing there.' I have got every confidence in every single one of our players as individuals but, collectively, we've got to do better. We have shown what we can do in glimpses before, especially against Gainsborough and in the second half against Gloucester, but that was the full 90 minutes tonight, and I'm really proud of the fellers.
Of course it's about doing it on a consistent basis, and that has to be the aim. When you are bottom of the league and go behind early on, your confidence saps, and we've seen that with the likes of - and no disrespect to them, because they have been brilliant - Sam Patterson, John Cyrus and Tom Hannigan, who have played so many games over the course of the season and seen 60-odd goals go in. That has got to sap you. Confidence has to go, so it was good to get a solid performance in tonight, and, to be fair, John and Tom have been brilliant for a few games now.
Q: Was the ref right to ignore Kevin Wilkin and see the game out, do you think?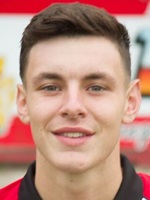 A: When I said to Robbie I couldn't see the other side of the pitch, we asked the ref how long was left, and he said four minutes of normal time. I knew there was going to be a lengthy amount of stoppage time, because of the treatment to Sam Heathcote (left), but we had to see it out at that late stage. It was common sense.
Had he called it off then, it would have been hard on the players, after putting so much in to securing an excellent and thoroughly deserved point, and those supporters who did us proud by making the journey and getting behind the lads so brilliantly. As it is, it's a massive reward for us, and I'm just glad we've all got something to show for our efforts.
The long hold-up over Sam was because he took a whack in his throat and wanted his inhaler. He couldn't breathe and was really struggling. He was nearly in tears, the kid, because I think he panicked a bit. But his dad came over and sorted him out, and thank God he is OK. I had to take him off. He could probably have played on, but his health is the most important thing. His dad didn't know he used an inhaler! Apparently he hasn't used it for five years, but I think it was just a coping mechanism for his brain when he was struggling to breathe.
He was thinking, 'I'd better get it, I'd better get it.' I don't know what he needed it for previously, but he felt better after using it this time. I have just spoken to him about the weekend, and he says he will be fine for that. As for Tom, he will be in on Thursday, and we will assess him then.
The other one was Sam Patterson, who tumbled over near where we were, on the far side, on an area that was rock hard. He fell on his back and said he felt it go into a spasm. But he carried on, and, fair play to him, he was good tonight. He should be all right for Fylde as well'".
Altrincham FC Ladies' next game is an Argyle Plate tie on Sunday, 29 January versus Bolton Wanderers LFC. It takes place at Mersey Valley Sports Club, Banky Lane, Sale, M33 5SL, with kick off at 2pm. The social club will be open throughout the day from 12.30pm.
Last Sunday, the Ladies also had a cup match, when they won 1-0 away to Birkenhead in the Cheshire County Cup match. Courtesy of Paul Hatton and Keith Edleston we have a report on that fine victory...
Robins advance into Quarter Final of The County Cup
"Great result today in our Cheshire County Cup game away at Premier League opposition Birkenhead. Every time you go to Merseyside/Wirral you are assured of a very tough game and today was no exception. In a first half, which the girls took the game to their opponents and with a more than a few chances to take the lead, especially a superb Laura Dodds surge into the box which finished with her hitting the bar, it ended 0-0. With a bit more care and attention with the ball we knew we could break them down.
The second half continued the way of the first, with us having most of the play but the occasional foray into our box from Birkenhead meant we had to stay switched on. After running herself into the ground we let Jess Hartop have a rest with Laura Kelly entering the field of play. And it was her mazy run down the right-hand side that saw a quality ball into the box for Sadie Powell to notch her first (and ultimately the winning) goal for the club.
There was even time for a couple more chances and a Megan Wright shot on goal, which we all thought had crossed the line, before the last few minutes when Birkenhead threw everything, including the kitchen sink, at us but we held out.
We now take on Tranmere Rovers Ladies (away) in the quarter final of The Cheshire County Cup on the 19th February.
The final score was Birkenhead LFC 0 Altrincham FCL 1 (Sadie Powell 79 mins).
Well done to all".
On Tuesday night in the Cheshire Senior Cup First Round, the results were...
Warrington Town 2-0 Tranmere Rovers. Attendance 143.
Crewe Alexandra 1-0 Stalybridge Celtic, after extra time (0 - 0 after 90 mins)
The second Round ties are now:
8/02/17 Crewe Alexandra v Stockport County
14/02/17 Hyde United v Altrincham
14/02/17 Nantwich Town v 1874 Northwich
11/02/17 Witton Albion v Warrington Town
According to
NL Pitchero
, "Following the cancellation of his existing contract with Gateshead yesterday, Tamworth have completed the signing of forward Reece Styche until the end of the season... He spent a period at Tamworth on loan in the 2014/15 season..
Tamworth manager Andy Morrell said, 'We are bringing in somebody who we know and trust, and [who] has been in great form at Nuneaton. He is fit, feisty and energises others around him. We hope he can hit the ground running and help us kick on again towards the play-offs'. Styche joined Gateshead this summer from Macclesfield Town, and has also represented the likes of Kidderminster Harriers and Wycombe Wanderers. His longest spell at a club was with Forest Green Rovers, who he represented 108 times, scoring 35 goals."
Meanwhile "Gloucester City have... confirmed that they have agreed a groundshare with Evesham United for next season. The deal is for one season, but City have agreed an option for a second year should that be necessary. Whilst the club would have liked to break this news to fans, they have always held a strict policy that they don't negotiate in public, only releasing information once a deal is signed, all signatures were only in place on Monday. Evesham have been in lock-step with us on that approach.
The statement continues, 'We fully appreciate that this is a longer distance for fans to travel, but must stress that there are no options closer to home with the required grading. Even taking voluntary relegation (which we do not believe is in the best interests of the club) would not open other suitably graded options within the City. We believe that this club, which has represented the City for over 130 years, is worth fighting for and we will fight tooth and nail to keep it playing at as high a level as possible.
'We will, of course, look at ways to help fans with transport to and from games...
'With regards to the building of our new ground, we are seeking details of timelines from our owner, and will look to share that as soon as we can'...
Chairman Mike Dunstan said... 'Evesham will now embark on the relatively small schedule of works required to bring their ground up to the required standard for National League North football... ahead of 31st March, which is the deadline for reaching the relevant standard'".
NL Pitchero also confirms that "Alfreton Town manager Nicky Law is set to leave the club to join Burnley as their Head of National Recruitment for the under 17-23s at the start of February. Law leaves after nearly ten years in charge of the Reds. Law has not been relieved of his duties but this is an amicable parting due to the Clarets' offer... being too good for him to turn down. Law's last outing will be the trip to Gainsborough Trinity on the 4th February and he leaves with the best wishes of chairman Wayne Bradley and all at Alfreton Town...
This season has been heavily based on re-building the club... He had kept the club at the top table of non-league football for four seasons after winning the Conference North title in 2010/11... Law was appointed in May 2007, after resigning his position at Buxton... He has experience in abundance having also managed Grimsby Town, Bradford City and Chesterfield in the Football League...
Law said, 'I've been allowed to stay with Alfreton until February 4th to allow a smooth transition. It's been an extremely tough decision for me, this club means a heck of a lot... I've had such a great relationship with chairman Wayne Bradley, who has been a great boss and a great friend to me outside football. I had a three-hour conversation with Wayne explaining the situation and the offer from this club and in honesty I needed to think about the next ten years and where I want to be. Being able to move to a club like Burnley and deal with recruitment and in turn develop young players was a great challenge for me and one I wanted to take on...
Law's departure from the Reds after the Gainsborough Trinity match will see [assistant manager, Russ] O'Neill take charge of the first-team and he has freedom to choose his assistant... [He has] worked with Law at Alfreton Town since 2007."
The National League reviews Tuesday night's matches... "AFC Fylde regained their nine-point lead at the top of the table after a 2-0 victory over struggling Alfreton Town at Mill Farm... In front of a crowd of 1,503, the visiting Reds managed to frustrate the Coasters until the 69th minute when Dan Bradley broke the deadlock... It was game over after 77 minutes when Fylde were awarded a free-kick 30 yards out and Caspar Hughes bent a superb strike into the top corner."
Elsewhere, "Nuneaton Town`s nine-game unbeaten run came to an end at Moor Lane against an impressive Salford City side... A back-pass was seized upon by Mike Phenix who glided past the on-rushing Christian Dibble before stroking the ball into the net... They managed to double their advantage on 57 minutes when a strike from distance into a crowd of bodies was deflected into the net... and 5 minutes later it was 3-0 when a high ball into the area saw Michael Nottingham alert to beat Dibble with a header...
They managed to add further gloss to the scoreline with a fourth goal 5 minutes from time when Simon Grand found the net from a free-kick...
News of an Alty 'old boy' also comes from the National League which tells us that "Former Salford City captain Chris Lynch is back with the club after leaving in May for Australia. Lynch left the Ammies after two successful years at Moor Lane to join Australian National Premier League Victoria 2 division side Murray United.
Lynch signed for Salford during the summer of 2014 having previously been club captain at neighbours Ashton United. He had started his career with Wigan Athletic before moving into non-League football with Altrincham and Hyde United, followed by a spell in Australia with Sorrento. Upon his return to the UK, Lynch signed for Ashton... Salford`s then-boss Phil Power brought Lynch to Moor Lane in June 2014 and immediately installed him as captain... The skipper went on to make a total of forty-six league and cup appearances during that season and in total would make eighty-four league appearances, scoring 9 goals, along with thirteen games in Salford's headline-grabbing FA Cup campaigns."
---
25 January 2017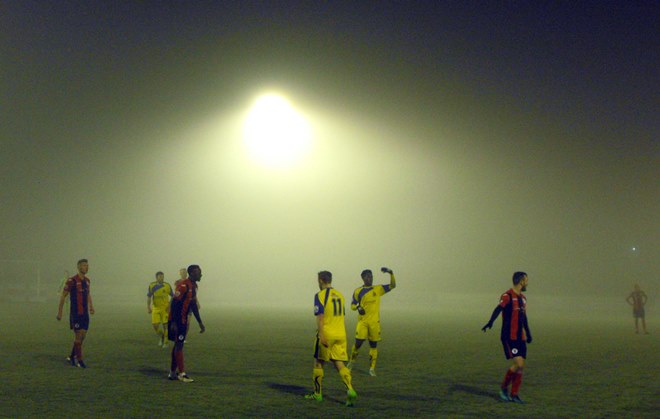 Above: The fog descends at Brackley.
Altrincham lost two centre-backs to injury but put in a battling performance to secure an away point at promotion chasing Brackley. Tom Hannigan was on the team sheet but had to replaced for the match by Simon Richman owing to a hip injury. And, in the second half, they lost Sam Heathcote too when he got elbowed in the throat.
Nicky Clee's fine chip gave Altrincham a sixth-minute lead after keeper Walker had elected to punch the ball away when he could have gathered it.
Following a Moult foul, Armson's penalty smacked the bar but four minutes later he atoned for his miss when he headed home Glen Walker's cross from the left to make it 1-1.
As fog swirled around St James Park, particularly in the second half, it was difficult to see what was happening on the far side of the pitch.
Brackley had the better of the second period but Alty defended well to secure a point. The hosts lost their captain, Dean, when he was sent off for a second yellow-card offence in the dying moments of injury time.
Match report here
 Whilst the Altrincham fans who made the lengthy midweek trip to Northamptonshire credited their team with a battling performance, the hosts,
Brackley Town
, felt the match was a "Farce in the fog... Fog threatened the kick-off and, as it descended further in the second half, made a farce of this re-arranged National League North fixture.
Saints conceded an early goal through a defensive mix up, missed a penalty and numerous chances, had Adam Walker limp off with injury and saw captain Gareth Dean sent off in the final minute on an evening to forget at SJP as bottom-placed Altrincham claimed a point...
But Brackley were creating chances at will, so open was the game, and found the equaliser just minutes later as Armson headed in Glenn Walker's cross before creating a battery of further chances, none of which were converted.
As the second half got underway the fog crept in, blanketing St James Park. Altrincham's Sam Heathcote's injury brought a lengthy stoppage by which time it had become difficult for spectators to distinguish players in red and black from those in all yellow so thick was the fog.
With nobody too sure of quite what was taking place on the pitch, Brackley pressed for a second goal... In the last minute of added time a rare Altrincham attack brought a free-kick as substitute Tomi Adeloye was brought down and Gareth Dean received a second yellow card and his marching orders to cap a thoroughly miserable night for Brackley".
 Tue 24 Jan.
AFC Fylde 2-0 Alfreton Town
Brackley Town 1-1 Altrincham
Salford City 4-0 Nuneaton Town
---
24 January 2017
You can follow this fixture via this website's minute by minute text updates by clicking on the icon below. Alternatively, Radio Robins' coverage of the game is outlined below as well.
Brian Flynn announces that "Radio Robins, sponsored by Ashley Mowers Garden Machinery, is providing full live commentary of Tuesday night's game. The commentators are Ian Wilkinson and Laurence Howarth and the match summariser is John Edwards. Coverage starts at 7.40pm with the game kicking off at 7.45pm.
You can listen to Radio Robins on the internet at www.radiorobins.com.
Press release:
"On Saturday 14th January, Altrincham FC welcomed Trafford Mencap to The J.Davidson Stadium for the home fixture against Gainborough Trinity.
As part of Altrincham FC In The Community (AITC) work, a recent initiative was started to help local charities raise awareness of their causes. AITC are inviting local charity organisations to come along on a home matchdays and promote their work by holding an information stall in the Sports Hall, before and during the game They can also have a child mascot lead the AFC team onto the pitch, talk with fans, write a programme article and access free match tickets.
Community Co-ordinator, Judy Henson, says, 'We invited Trafford Mencap along to the first of these awareness days, as we know how much incredible work they do across South Manchester. We are aiming to forge stronger links with more local charities like Trafford Mencap and we feel this is a perfect opportunity to gain access to on average 800-1000 fans at the ground on a matchday.
Noeleen and her associates from Trafford Mencap received an Altrincham FC plaque as a souvenir of their day (pictured, above left). Local Altrincham FC fan, Nathan O'Connor (11), proudly walked the team out of the tunnel as a mascot and joined the team in greeting the opposition, wearing his Mencap kit, (as seen above, right). Click on above images to enlarge.
If you're part of a local charity and would like to know more about coming to one of our home fixtures, please send us an e-mail with your details".
Altrincham FC extends its best wishes for a full and speedy recovery to Ryan Bishop of Eagle Sports who suffered a broken leg in an accidental collision during Saturday's match against our Reserves.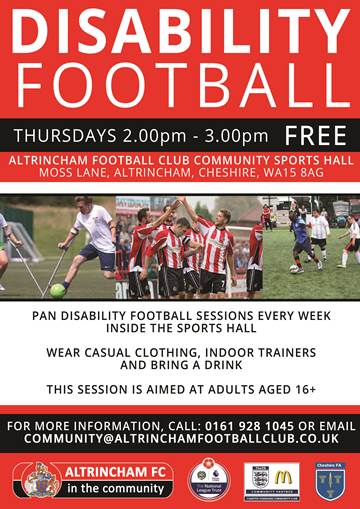 New sessions of Disability Football are starting again in the Community Sports Hall at the J. Davidson Stadium, from February 23rd. For further details, please see the adjacent poster.
Tue 24 Jan
Warrington Town v Tranmere Rovers
Crewe v Stalybridge
The
National League
reports that "Nuneaton Town have completed the signing of midfielder Al Bangura. The 28-year-old joined the Watford youth set-up in 2004 and progressed to make over seventy-five senior appearances for the Hornets... Making sixteen Premier League appearances, he was a popular figure amongst the supporters at Vicarage Road.
Having had a loan spell with Brighton & Hove Albion, he eventually joined Blackpool on a non-contract basis and spent a season with the club. He then joined Forest Green Rovers in readiness for the 2011/12 season after spending some time in Azerbaijan with Tony Adams's Gabala. Injury halted his early progress at with Rovers and it was during this time that he became a team-mate of Nuneaton boss Tommy Wright.
Leaving the club in August 2014, his next port of call was Coventry City where he stayed for the second half of the 2014/15 campaign before having a spell out of the game and returning at the turn of 2016 with St. Albans City.
'I am delighted to be able to bring Al to the club,' said Wright. 'I had a spell playing alongside him at Forest Green and quite simply he was a class above. He should never have been playing at that level but sometimes things like injuries and a change of management can dictate situations. If we can get him fit and playing regularly, he can be a big asset to us both on and off the pitch.
'He is professional, experienced and alongside the likes of Exodus and Langers, he will provide calmness on the field and a wise voice in the dressing room. Al is a leader and a fighter; he is hungry to be successful and isn't afraid to roll his sleeves up and get stuck in'".
---
23 January 2017
On Sunday, Altrincham FC ladies had an excellent 1-0 away win against Birkenhead Youth Club in the Cheshire County FA Ladies' Cup, "the premier competition for women's football in Cheshire".
Next Sunday, in the Argyle Sports Kit Plate, 2nd Round, Altrincham FC Ladies entertain Bolton Wanderers.
On Sunday, Altrincham's under-18 youth team won 5-1 away at Hyde Unitd.
Next Sunday at 1.30pm they play an Open Cup tie against Chester FC at Hale Country Club.
Altrincham's youth education prgramme team lost to the odd goal in seven on Wednesday, at home to Hyde United. Next week, like the first team, they are away to AFC Fylde.
Brackley Town
report that "Next up at St James Park is the re-arranged fixture with Altrincham on Tuesday evening (24 January, 7.45pm)...
Tuesday's match is one of Brackley's games in hand and an opportunity to add to the point earned on Saturday in the draw at Nuneaton, coming back from a two goal half-time deficit with goals from Lee Ndlovu and Alex Gudger...
All in all it is a busy time for Brackley which explains in part why Wilkin has brought in additional defensive cover to his small squad in the form of Jordan Gough. Gough, 26, was at National League Solihull Moors until being released at Christmas and, having considered a number of options, has joined up with former team-mates from last season Gareth Dean, Jimmy Armson and Adam Walker. Signed on Friday, Gough was named on the bench on Saturday but not called upon.
David Moyo has stood in for the injured Ellis Myles in the last two matches and has done well. His crosses in the second half at Nuneaton were a real threat. Myles may soon be available again for selection as he resumes light training.
Another player overcoming injury is Jack Bowen who endured several months on the side-lines. Bowen made a fourth successive appearance from the bench at Nuneaton and was immediately in the thick of the action.
Brackley and Altrincham have enjoyed some big games against each other in the few seasons when they have come together in Conference North as in Brackley's first ever match at Step Two with Saints' fine 4-1 away win on a memorable opening day of the season and in the semi-final of the play-offs that season when again Brackley ran out winners over two legs. Altrincham then made it back up a level to the National League beating Guiseley in the 2014-15 season play-off final before tumbling back down last season...
These are difficult times at Moss Lane but Altrincham are a big club with great non-league traditions".
Chorley
report how they "got back to winning ways with a comfortable victory over bottom placed Altrincham...
At no stage was Ritchie Branagan's goal was threatened and the team secured our fifteenth league clean sheet this season...
When the game kicked off it was a cagey encounter for the opening ten minutes, but a cynical foul on Will Beesley proved costly for the visitors as, from this free-kick, a corner was awarded th[at] gifted Sampson an easy header for his debut goal.
Adam Blakeman's 12th minute delivery from the right corner was perfect for the new striker, who rose unchallenged to divert the ball goalward to kick-off his Chorley career with a goal...
The second goal wasn't long coming, just three minutes after Whitham's effort, and capped a spell of Magpie pressure. Teague delivered a superb deep cross into the box and Cottrell dived to meet the cross and superbly nodded a looping header over Deasy and under the bar for his fourth goal of the season...
At the end of a scrappy and mainly uneventful second half, the three points pushed the season's tally onto 50 points".
---
22 January 2017

Match report here.
Above Alty players greet their Chorley counterparts before kick off on Saturday at Victory Park.
Altrincham now have two more away games in the Vanarama National League North and
TASC is pleased to announce that it is providing supporters' transport to both of these fixtures
.
On Tuesday 24 January, Brackley Town is the destination, and on Saturday, January 28 Alty are at league leaders AFC Fylde's new stadium.
Details of the TASC supporters' coach travel to these venues are now on the Away Travel page. These trips can be booked by contacting the Club offices on 0161 928-1045 during normal weekday office hours.
Manager Keith Edleston is pleased to report a new signing for his Altrincham FC Ladies' team.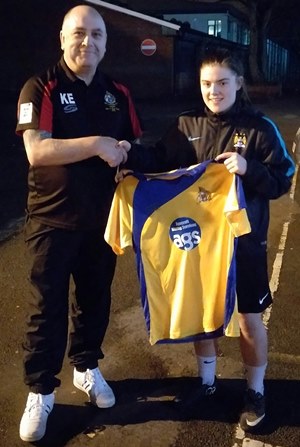 Referring to the image (right), Keith says, "Our new signing Sophie Carolan shakes hands with the gaffer after Thursday night's training. Sophie, who is a young, pacy right-sided midfielder/forward, has been at Stoke City FC until the constant travelling two or three times a week from Altrincham was getting too much to do.
More recently Sophie has been playing for Wythenshawe Amateurs under-18s to keep herself fit and sharp. She has been allocated the squad number 20 shirt. Welcome to the club, Sophie".
In Saturday's game, played at the J Davidson Stadium, Altrincham FC Reserves lost 0-1 to Eagle Sports.
Their next game is away at Denton Town next Saturday.
"Robins no match for Magpies" say
Chorley
after Saturday's "two-nil win over basement club Altrincham.
A debut goal from Jack Sampson and a delightful header by Jake Cottrell secured three points...
Sampson netted with a close ranger header off an Adam Blakeman corner while Cottrell's effort was a super diving header to float the ball over the Robins' keeper off a great deep cross from captain Andy Teague".
Altrincham FC announces a new fundraising event - a sponsored walk to our match against Salford City on 1 April.
"In short, what is involved is...
A sponsored walk of 11 miles from AFC to Salford City on Saturday, 1st April.
The duration should be approx 3.5 hours, so we will be setting off around 9.30am for a 1.30pm arrival.
Hot baps and refreshments will be available at AFC from 9.00am (in the Vice-Presidents' Lounge).
Each walker who raises £50 prior to the walk gets free entry to the match".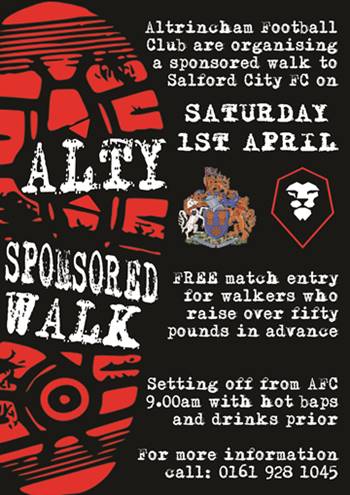 Please contact the club office by e-mail or on 0161 928-1045 for further information or if you need a copy of the sponsorship form to be printed for you.
Alty travel to Brackley Town on Tuesday. On Saturday, the
Nuneaton News
reported that "All good things come to an end as Nuneaton Town conceded two goals in the last 20 minutes at home to Brackley to bring an end to their eight-game winning run...
? Late efforts from Lee Ndlovu and Alex Gudger ensured the spoils were shared...
Fresh from a 6-1 drubbing of Guiseley last week the Boro were not short of confidence going into this game and it showed as 1-0 soon became 2-0 as Mills grabbed a debut goal to double the lead...
The Boro were guilty of wasting the final ball early on as they continued to hit the visitors on the break... a cross into the box found Lee Ndlovu unmarked, the Brackley number nine sending a sensational header looping into the back of the net...
The all-important goal came with less than five minutes remaining and it was scrappy to say the least...
BRACKLEY TOWN: Walker, Moyo, Gudger, Byrne, Graham (Bowen 80), Walker, Dean, Armson, Ndlovu, Diggin (Lowe 58), Walker Adam. Subs not used: Lowe, Gough, Cox, Pitt, Bowen."
Alty travel to AFC Fylde next Saturday. In their defeat by Curzon Ashton on Saturday, the Coasters' team comprised: Taylor, Wilson, Langley (Baker 46), Collins, Kennedy, Bond, C. Hughes, Hardy, Bradley, Daniels (M. Hughes 77), Rowe. Subs not used: Thompson, Dixon, Williams. According to
NL Pitchero
Zach Adekoya has moved from AFC Fylde to Skelmersdale Utd...
Boston United have signed vastly experienced forward Karl Hawley... having been employed by current Pilgrims boss Adam Murray as his first-team coach at Mansfield Town last summer.
Brackley Town have signed defender Jordan Gough, who was recently released by Solihull Moors. He joined Gresley Rovers in 2008...and made the left-back slot his own...
Gough signed for Solihull in the summer of 2013, but the attacking left-back missed most of last season through injury".
Michael Rankine netted twice from the spot for Guiseley in their win at Macclesfield Town yesterday.
For our neighbours, Trafford, who lie second in the EvoStik First Division North, former Alty Youth captain Alex Frost netted the winning goal in a 1-0 away win at league leaders Lancaster City.
The EvoStik League reports that George Bowerman has signed forms for Rushall Olympic.
He started the season at Altrincham but Welsh Premier reports that "Wingman Jamie Menagh has left Airbus UK Broughton after being offered employment in Spain.
The Liverpool-born 23-year-old was a summer signing for manager Andy Thomas and made 18 (+2) Welsh Premier appearances for the Wingmakers, scoring three goals".
The
National League
tells us that "AFC Fylde still head the table by six points, despite suffering a second defeat in four matches on Saturday at the Tameside Stadium against lowly Curzon Ashton.
It started well enough for the Coasters as they took the lead after 10 minutes when Brendon Daniels curled a cracking effort past Curzon `keeper Hakan Burton.
The on 38 minutes, the home side equalised when a fine move was finished off by Niall Cummins from close range. And then 3 minutes later, Matty Warburton, who has only recently returned to the club, slotted past visiting keeper Rhys Taylor to give Curzon the lead.
Fylde pulled back on level terms after 68 minutes with a long-range Danny Rowe effort over Burton. But Curzon weren`t to be denied and 11 minutes from time, Ryan Hall capitalised on a short back pass and slotted the winner past Taylor.
Second-placed Kidderminster Harriers met old rivals AFC Telford United at Aggborough... Telford were indebted to keeper James Montgomery for several fine saves, mostly from long-range efforts as it looked as though the struggling visitors were going to hang on for a more-than-useful point.
But the majority in the 1,752 crowd were rewarded with a winning goal less than 5 minutes from time when Darryl Knights tapped in from close range...
Fourth-placed Darlington 1883 trailed seventh-placed hosts Stockport County three times but equalised on each occasion to earn a 3-3 draw in a thriller in front of a terrific crowd of 3,649 at Edgeley Park...
Brackley Town are still in top five contention after picking up a point from a 2-2 draw at in-form Nuneaton Town. Nuneaton came into the game protecting an eight-game winning run.
And goals from Jordan Nicholson after 18 minutes and new signing Greg Mills on 27 minutes looked like they were heading for a ninth straight victory.
But Lee Ndlovu reduced the arrears after 73 minutes and then 3 minutes from time, ensured the spoils were shared with his second, although Alex Gudger was also claiming it.
Harrogate Town are a point and a place behind Brackley in tenth, but they too had to settle for a point from a 2-2 draw at the team immediately below them in the table, FC United of Manchester...
Third-bottom Bradford Park Avenue went down to a 2-0 defeat at the Horsfall Stadium to Boston United...
Four other teams in the bottom end of the table did battle against each other on Saturday. At the Impact Arena, fifth-bottom Alfreton Town and sixteenth-placed Worcester City shared a goalless draw...
And at the Northolme, fourth-bottom Gainsborough Trinity hosted second-bottom Stalybridge Celtic, with the hosts grabbing a late leveller to earn a 2-2 draw".
Att: 451 Alfreton Town v Worcester City
Att: 329 Bradford Park Avenue 0 vs 2 Boston United
Att: 1127 Chorley v Altrincham
Att: 341 Curzon Ashton v AFC Fylde
Att: 2157 FC Halifax Town v Salford City
Att: 2367 FC United of Manchester v Harrogate Town
Att: 547 Gainsborough Trinity v Stalybridge Celtic
Att: 1752 Kidderminster Harriers v AFC Telford Utd
Att: 661 Nuneaton Town v Brackley Town
Att: 3649 Stockport County v Darlington 1883
---
21 January 2017
With leading scorer, Sean Miller now sidelined for 6 or 7 weeks, Altrincham also had midfielder Jake Moult suspended and Shaun Densmore, Craig Hobson and Alan Goodall were all missing through injury.
Two first-half goals from Chorley left Altrincham chasing the game. After 12 minutes a Whitham freekick from the left won a corner off Heathcote. Sampson, making his debut on loan from Macclesfield, headed this home.
The score became 2-0 in the 26th minute when Cottrell headed in from 12 yards.
Alty improved after the break with Newby being brought on at the interval. Though they had much more of the attacking play, they were unable to conjure a consolation goal.
Match report here.
Sat. 21 January:
Alfreton Town 0-0 Worcester City
Bradford Park Avenue 0-2 Boston United
Chorley 2-0 Altrincham
Curzon Ashton 3-2 AFC Fylde
FC Halifax Town 4-2 Salford City
FC United of Manchester 2-2 Harrogate Town
Gainsborough Trinity 2-2 Stalybridge Celtic
Kidderminster Harriers 1-0 AFC Telford Utd
Nuneaton Town 2-2 Brackley Town
Stockport County 3-3 Darlington 1883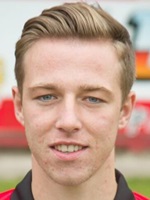 On the morning of Altrincham's trip to Chorley comes news that leading scorer, Sean Miller (left), has damaged his ankle ligaments in training and is set to be out for six or seven weeks. Sean had already been sidelined with another injury since Christmas. His last appearance was in the FA Trophy tie against Macclesfield Town on 20 December 2016. In 19 (+5) games he has netted ten times since joining the club over the summer.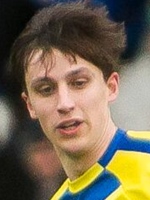 Also, Altrincham FC announces that midfielder Greg Wilkinson (right) has been released. 27 year-old Greg was in his second spell at Altrincham, which had started in mid-September 2016. He had originally joined Altrincham on 18 October 2013 from Stalybridge Celtic, where he had made 165 appearances and scored 21 times.
Greg established himself in Altrincham FC folklore when he scored the goal which won the Skrill North promotion final against Guiseley in May 2014, just 22 seconds after joining the game from the bench in the final minute of extra time.
Prior to his memorable goal against Guiseley, in the latter part of the 2013-14 season Greg had featured exclusively from the bench and this continued to be the case in 2014-15. Consequently, Greg went on loan to Stockport County at the start of 2015 and remained there till the end of the season when he moved on to AFC Telford United. In total he made 50 appearances for Altrincham (25 starts and 25 from the bench) and scored eight times.
The Club thanks Greg for his services and wishes him well in his continuing career.
You can follow this fixture via this website's minute by minute text updates by clicking on the icon below. Alternatively, Radio Robins' coverage of the game is outlined below as well.
Brian Flynn announces that "Radio Robins, sponsored by Ashley Mowers Garden Machinery, is providing full live commentary of Saturday's game. The commentators are Mark Simpson & Brian Flynn and the match summariser is John Edwards
Coverage starts at 2.55pm with the game kicking off at 3.00pm.
You can listen to Radio Robins on the internet at www.radiorobins.com".
Celebrate St Valentine's Day this year with a trip to Ewen Fields to watch Altrincham take on Hyde United in the Second Round of the Cheshire Senior Cup! Kick off will be at 7.45pm.
Altrincham FC Reserves will be playing their home fixture against Eagle Sports at the J. Davidson Stadium on Saturday, with a 2pm kick off. Entry is free so, if you cannot get to the first-team match at Chorley, you can still watch some Alty action by coming along to Moss Lane.
Altrincham travel to Brackley Town next Tuesday from where the
Banbury Guardian
tells us that "It's back to the bread and butter of Vanarama National League points for Brackley Town with two games in four days.
Saints travel to in-form Nuneaton Town on Saturday before entertaining lowly Altrincham on Tuesday. Ellis Myles is likely to be out for several weeks but Aidan Hawtin has been training with the club since his return from Norway where he picked up an injury.
Boss Kevin Wilkin thinks the former Oxford United player, who was on-loan at Saints last season, could be near to full fitness. David Moyo deputised on Tuesday and could retain his place at Nuneaton.
Wilkin said, 'Nuneaton are on a terrific run, winning seven or eight games on the bounce. We have a lot of connections with the club but we will have to put them to one side until after the game.
'There are so many teams around Manchester in our division and one club in that area was always going to suffer, that appears to be Altrincham. But we haven't done so well against teams in the lower half of the table and we need to start doing that'".
From
NL Pitchero
we learn that "Simon Weaver, manager of Harrogate Town, has secured the services of Callum Rzonca and Kuda Muskwe ahead of the visit to FC United of Manchester.
Twenty-year-old Rzonca has signed on loan from York City for an initial one-month period. Leeds-born Rzonca started his career with the youth systems of Huddersfield Town and Barnsley. However, he signed a one-year professional contract with York in May 2015...
Rotherham United academy graduate Kuda Muskwe has also signed a short-term contract with the club... The striker enjoyed a productive loan stint with Stockbridge Park Steels earlier this season, before shorter spells with Grantham Town and Frickley Athletic.
Weaver's squad was dealt a slice of bad luck, with the news that Dominic Knowles will be sidelined for another ten or twelve weeks. The striker, who had returned to full training in January, has suffered a setback in his recovery and will now require surgery on a broken foot.
Weaver commented... 'Being told he needs surgery is a cruel blow for him'...
Weaver continued, 'We've brought both lads in as we believe they offer something extra to the side. Callum can play in a variety of attacking positions and operate in the hole, up-front, or on either wing. Kuda has the potential to be a real handful up front and is a great athlete too'...
In addition to the arrival of Rzonca and Muskwe, Town's recent addition Ruben Jerome, who featured for Paul Thirlwell's under-21s earlier in the week, is set to join Warrington Town on dual-registration in order to gain immediate first-team action."
Elsewhere, "Nuneaton Town have followed up the signing of winger Greg Mills from Tamworth with the loan signing of Ben O'Hanlon from Wolverhampton Wanderers. The 20-year-old, who played under manager Tommy Wright on loan at Corby Town, has had loan spells this term both at Boro and at AFC Telford United, and will remain at The Coombe Abbey Arena for the rest of the season.
'Ben is an extremely talented left-back,' said Wright. 'He was with me at Corby and I recommended him to Nuneaton earlier this season. He loves to attack and is tenacious in the tackle. He fits perfectly into what we are doing here...The chairman has backed me and I am most grateful'".
Further north, "Darlington 1883 have signed former Blackpool skipper David Ferguson from neighbours Shildon. Ferguson began his career with the old Darlington club in early 2012, making six League appearances in his five months with the Quakers.
In June 2012, he signed for Sunderland, but did not make any first-team appearances for the Black Cats. He went out on loan to Boston United, and then joined Blackpool on an eighteen-month contract in January 2015... He went on to make forty appearances for the Seasiders, many as skipper, before being released at the end of last season."
Next weekend, Alty visit Fylde where "AFC Fylde have reached an agreement with neighbours Blackpool to extend Macauley Wilson's loan deal until the end of the season. The teenage right-back initially signed on loan in November before extending his stay until the 21st January...
Wilson has played all seven league games since joining the Coasters".
Back in the Midlands, "Reece Styche has been recalled from his loan spell with Nuneaton Town by Gateshead to allow him to join another club on a permanent basis.
Nuneaton boss Tommy Wright said... 'It's all happened pretty quickly and I would like to wish him well. His new club will gain a player close to where he was at in his peak and I know that he leaves us reluctantly'".
Stockport County "have signed Winsford United midfielder Harry Brazel on non-contract terms. Harry impressed the County management team during the recent Cheshire Senior Cup tie between the two sides.
Manager Jim Gannon said, 'He's one we feel can step up to the demands of this level. We like his style of play and attitude to the game... Harry will remain on dual registration with Winsford to allow him potential opportunities to play when County don't have a game'".
Over the Pennines, "FC Halifax Town have confirmed the paperwork has been completed for the loan signing of striker Daniel Nti from York City. The former Worcester City frontman has joined the Shaymen on a month's loan. Meanwhile loanee Alex Simmons has returned to Lincoln City after the National League side recalled him."
Closer to home, the Northwich Guardian says that "Steven Tames will play for Witton until the end of the season after the club extended a loan arrangement with Stalybridge. The front man, who turned 25 this week, made his first start in Tuesday's 3-2 defeat at Market Drayton Town since injuring an ankle more than a month ago.
He has scored four goals in nine starts since switching from Bower Fold on a temporary deal back in October".
---
20 January 2017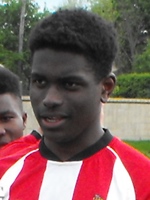 Brian Flynn interviewed Laurence Taylor (right) on Tuesday night before training and you can hear what the young midfielder had to say
here
. Laurence recently signed a contract for the club which runs to the end of 2017-18 season.
Altrincham's next opponents,
Chorley
"are delighted to announce double signing of attackers Jack Sampson and Robbie McDaid. Both players have signed on loan until the end of the season and go straight into the squad for Saturday's game against Altrincham... with Jack arriving from Macclesfield Town while Robbie comes in from York City.
Jack, a 6' 2" 23-year-old striker started his football career in Wigan Athletic's youth setup but switched to Bolton Wanderers at the age of 15 and earned his first pro-contract at the Trotters three years later... He had loan spells with both Southend United and Accrington Stanley. In 2013 he moved to Morecambe and was a regular in their match day squad before moving to Macclesfield Town, initially on loan in March 2015, then making the move permanent during that summer.
To date he has played 65 league games for Macc including one where he recorded a clean sheet after replacing the sent-off Ritchie Branagan in goal in the fifth minute!
Meanwhile, 20-year-old Robbie, started his footballing career with Glenavon in his native Northern Ireland before being snapped up by Leeds United in 2014. He spent a large part of 2015/16 on loan at Lincoln City before joining the Minstermen in the summer of 2016. To date he's netted 4 times in 8 starts and is a real talent.
Meanwhile, midfielder Paul Jarvis is set to join his hometown club Lancaster City on a month's loan".
Sampson was in Macclesfield Town's side in our recent FA Trophy tie with The Silkmen.
The
BBC World Service
on Saturday (c.10.30am) will feature Altrincham supporter, Jacqui Forster who "In December 2015 was given just months to live. Her breast cancer had spread to her lungs and the prognosis was terminal. A passionate football fan Jacqui decided she was going to spend whatever time she had left campaigning to encourage women to attend football matches by reducing the intimidating atmosphere that often prevails.
This month she launched the latest part of 'Women at the Game' and says the campaign has helped in her fight against cancer". There is a trailer here.
According to
NL Pitchero
, former Alty winger "Simon Woodford and Andy Watson have both departed Curzon Ashton.
Both players joined the Nash in 2011 during manager John Flanagan's debut season at the Tameside Stadium... Woodford scored arguably the most important goal in the club's history during his time at Curzon, netting the only goal of the game in the Evo-Stik Northern Premier League Premier Division play-off final against Ilkeston FC in 2015.
Watson is a firm fan favourite with the Nash faithful, as he assisted the club's rise-up two levels of football during his time at the Tameside Stadium.
Woodford is heading off to play the rest of the season on a dual registration deal, while Watson is signing for league rivals FC United of Manchester.
Manager John Flanagan said, 'I just want to say a thank you to them both for the fantastic loyalty, consistent high level of performance and commitment they've provided'".
From Blackpool we learn that "Right-back Macauley Wilson will remain on loan at AFC Fylde until the end of the season. The 19 year-old, who first joined the club in November, has put in a number of impressive performances for The Coasters. He'll now look to build on the seven league appearances he's made so far in the Vanarama National League North".
---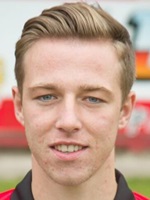 19 January 2017
Altrincham FC's leading scorer, Sean Miller (right), was interviewed by Brian Flynn before Tuesday night's training session. You can hear the interview
here
.
alty travel to Brackley next Tuesday. Last Tuesday, Brackley beat Stockport County 2-0 in the FA Trophy.
Stockport County concede that "two second-half Brackley goals saw the 'Saints' deservedly win...
It was a first defeat in 11 matches for the Hatters...
County's starting line-up featured a trio of changes from the team that had taken to the field for the original tie at Edgeley Park three days earlier. Kaine Felix, Josh Amis and Courtney Meppen-Walters replaced Mark Ross, Kay Odejayi and the injured Jimmy Ball in a 3-1-4-2 formation...
The second half saw County struggle... as their hosts took control. Ten minutes after the resumption, Brackley broke through Lee Ndlovu, who picked out Jimmy Armson, and the latter's left-footed shot from 15 yards out put the Saints ahead... another was to follow just 12 minutes later.
Ndlovu was the architect again, squaring from the right for Glenn Walker to side-foot home... The Hatters, for their part...did not register an attempt on goal after the break".
NL Pitchero
says that "Fans' favourite Matty Warburton has returned to Curzon Ashton.
Warburton left the Nash in the summer to take on pastures new with league rivals Salford City, but he mutually agreed to terminate his contract at Moor Lane...
Warburton joined Curzon in the summer of 2013 from Maine Road and... scored 54 goals in his 118 Curzon appearances".
Elsewhere, "Boston United striker Lamin Colley has departed... afer cancelling his contract with the club by mutual consent. P> The 23-year-old, who scored once in fourteen appearances for the Pilgrims, enjoyed a brief loan spell with Scarborough Athletic earlier in the campaign".
Bulls' News
reports that "Some grassroot referees are considering striking on March 4th in protest against continuing verbal and physical abuse.
It comes after a young official, Ryan Hampson, set up a Facebook group called 'Referee strike campaign'.
'I am hoping to change things but, if there is no change, referees will walk away and I'll be one of them,' said Hampson as reported by the Daily Telegraph...
Hampson said he had no support from anyone until the chief executive of Manchester FA, Colin Bridgford took up his case...Whether the FA will follow remains to be seen."
Altrincham fans and their coach drivers will recall the constricted approach to Braintree Town's stadium and the
Braintree & Witham Times
now reports that "A club may regrettably have to leave town if they cannot find a new home. Braintree Town's current home is in Cressing Road, but they have been after a new ground since 2004.
They believed they were included in Braintree Council's Town Plan to be a part of the proposed development at Panfield Lane, however club chairman Lee Harding said it has collapsed.
The chairman of 13 years said they suggested moving the stadium to their five-acre training pitch next door as a short term solution. However he said Braintree Council was not keen on the idea...
He said, 'The land is owned by the council but leased out to us until 2030. It would be made up of transportable structures and would allow us more time to make better facilities.
'It seemed to tick all the boxes, it was a deliverable site under our control and could give us a solution to move forward. If they aren't going to let us build on land we control, do we accept the fact Braintree Council doesn't want us?'
Mr Harding said... 'We were offered a place in Bishops Stortford but we don't want to move out... We want to be wanted in Braintree, we bring a bit of success and profile'"...
C ouncillor Lady Patricia Newton said, 'None of the options we have explored with the club have been realistic or viable'".
---
---
18 January 2017
At a date to be announced in w/e 11 February 2017, Altrincham travel to Ewen Fields in the Cheshire Senior Cup to play Hyde United.
Below is Mike Garnett's record of previous Altrincham v Hyde United encounters in the Cheshire Senior Cup.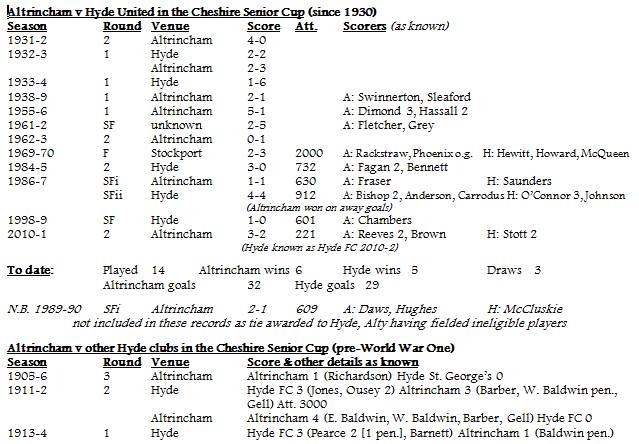 And Mike's full record of matches between the clubs, in MS Word format, is to be found here.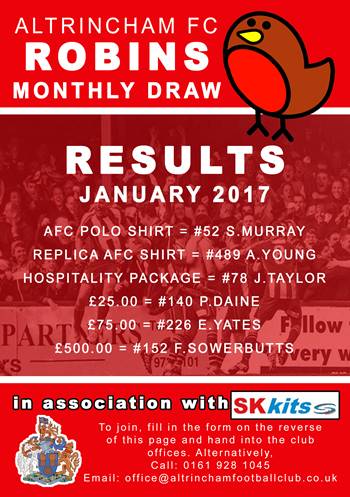 Shown, right, are the latest winners in the Altrincham FC Robins' Monthly Draw. You can give your self a chance of winning by joining the competition. Details are here.
On Saturday, Altrincham visit Chorley, who had a midweek match at home to Worcester City, with whom they drew 1-1.
Likely to face Alty on Saturday are former players Scott Leather and Josh O'Keefe. The Magpies boast the tightest defence in the Vanarama National League North. They are third in the table, with only goal difference separating them from second-placed Kidderminster Harriers.
Howard Watts's records remind us of Altrincham matches on the same date as Saturday, Through the Years.
NL Pitchero
reports that "Defender Sam Minihan has signed a new deal to remain with Stockport County until the end of next season. Twenty-two-year-old Minihan joined the Hatters at the end of June after playing a key role in keeping Worcester City in the National League North last year.
Having played in the Football League with Rochdale, highly-rated Minihan was a big favourite at Worcester and swept the board in their end-of-season awards. He's scored three goals and made thirty-one appearances for County's first-team since making the move to Cheshire last summer.
Stockport boss Jim Gannon said, 'Sam can play full-back, wing-back or act as a hard working wide or 'side' midfielder in a three or four-man midfield. He gives us great options down the right side defensively and offensively'".
Our opponents next Tuesday, Brackley Town, had a Buildbase FA Trophy replay on Tuesday evening...
Brackley Town 2-0 Stockport County
---
17 January 2017
In the Second Round of the Cheshire Senior Cup, Altrincham have been drawn away to Hyde United in the week ending 11 February 2017.
The Cheshire FA provides the full draw...
Crewe Alexandra / Stalybridge Celtic v Stockport County
Hyde United v Altrincham
Nantwich Town v 1874 Northwich
Witton Albion v Warrington Town / Tranmere Rovers
Alty's hosts on Saturday were also at home on Tuesday night..
Curzon Ashton 1-1 Worcester City. Attendance 181
Mike Garnett's records reveal the record of previous encounters between Alty and Chorley:
At home: 15-10-2-3-45-20
Away: 15-3-5-7-16-19
All: 30-13-7-10-61-39
Chorley offer "Many thanks to the many supporters who backed our online Crowdfunder initiative 'Let's Cover The Pitch'. The four-week campaign ended at 9am this morning with £2,050 raised online. This money has paid for the purchase of frost protection pitch covers which will be used for the first time this week when The Chorley Group Victory Park Stadium playing surface will be covered ahead of our game with Altrincham this Saturday.
We are looking for volunteers to help deploy and remove the covers".
Gainsborough Trinity has post-match interviews with
Ashley Worsfold
and player/manager
Dom Roma
.
And the Gainsborough STandard report that "Dom Roma was happy with Gainsborough Trinity's display as they won 3-2 at Altrincham last weekend, despite the result perhaps being a little closer than it needed to be.
Trinity were coasting at 3-0 before a red card for skipper Matt Thornhill gave the hosts the impetus to get two late goals and put pressure on Roma's men...
He said, 'It wasn't as comfortable as it should have been in the end. Obviously the sending off changed the game, as we were probably on cruise control for about 70 minutes, but then a daft sending off altered things. It gave them a lift as it would any team. However, I was really pleased with how we played for the first 70 minutes. We played some really good football, we were clinical when we needed to be and the stuff we worked on in training all week paid off'...
Gainsborough were two up inside ten minutes thanks to goals from Ash Worsfold, the first of his brace, and Noel Burdett. Worsfold had been a late addition to the starting line-up after an injury to Nathan Jarman in the warm-up left him unable to take part.
Roma said, 'We didn't want to start slowly because, if we did that, they could have got on top of the game and it would have made it more difficult for us. We got the goals and then defended well as a team for the rest of the first-half, keeping that up in the second and maintaining our shape. Once we got the third goal I thought we'd go on and kill the game off which didn't happen, but all I care about is getting the three points'".
"Northwich Victoria have added four new players to their squad. John Bennett signs from NPL First Division North side Mossley AFC... Bennett is a versatile midfield player or left-back who came through Altrincham's successful youth system before spending the 2012/13 season with Winsford United".
According to the
Worcester News
, "Manager Carl Heeley says he feels 'The world is against' Worcester City as they look set to travel to Curzon Ashton with just 12 fit outfield players tonight (Tuesday).
The Blue and Whites were without seven first-team regulars due to injuries and suspensions for Saturday'sclash against FC United of Manchester... Heeley says he fears the club's woes may 'get worse' as midfielder Junior English appeared to pick up a groin injury. However, City's boss insisted his players cannot afford to 'feel sorry' for themselves as they aim to end their seven-match winless streak in the league.
'I think the situation may get worse as Junior may be struggling,' said Heeley who had just 15 players, including two keepers, at his disposal at the weekend... 'It feels like the world is against us at the moment but you have just got to keep going... We will deal with the players we have got... They have got to go again against Curzon which will be a big test'...
Defender Tom Sharpe and winger Connor Hughes are sidelined with knee injuries, while striker Lee Hughes and centre-back Sam Oji continue to serve their bans. And Heeley admitted there was 'no chance' captain Danny Jackman (back), attacking midfielder Micah Evans (calf) and the experienced James Chambers (hamstring) would be fit to face Curzon...
'It is a tough situation and is probably as bad as I have known it since I have been in charge at the club. If you take Kidderminster Harriers as an example, they have probably used not many more than 14 or 15 players all season and hardly had any injuries. And we have got seven players unavailable at the same time. That is nothing to do with anything other than bad luck'...
City managed to get midfielder Kennedy Digie on loan from Kidderminster Harriers ahead of their match against FC United. And Heeley said he would 'see what's about' in a bid to bolster his depleted ranks...
Curzon are one place above City and will be looking to return to winning ways after back-to-back defeats. 'They are a very good footballing side and keep the ball well, especially at home,' Heeley added".
NL PItchero conforms that "David Taylor and Derry Robson, joint-managers of Goole AFC, have captured the loan signing of midfielder Sanchez Payne from Bradford Park Avenue... He signed for Park Avenue at the beginning of the season."
Elsewhere, "York City`s winger Kaine Felix has extended his loan stay with Stockport County until the end of the season. The 21-year-old moved to the Hatters in November having seen restricted opportunities at Bootham Crescent. Felix had managed just a handful of starts and seven appearances from the bench since joining the Minstermen from Boston United in the summer".
On the Conference Forum a Nuneaton supporter, lists the recent curious developments at Liberty Way, Nuneaton where the Rugby Club placed an industrial skip which hindered access to the Football Club...
Rugby Club block away section entrance and exit
Rugby Club block main section entrance.
Football Club position Football Club's mini-bus to prevent main section exit being blocked.
Rugby Club block in Football Club's mini-bus.
Another supporter adds, "Its a long story., but basically... Circa 2007 the football club bought the Rugby Club ground at a knock-down price with agreement of basically free use of the stadium when Football Club not playing. Suited both as saved football some money on purchase of the land, and 'Nuns' [rugby club] could pay back debt.
One season later the Football Club went bust; liquidated. The person who bought the club off liquidator effectively ripped up the agreement saying it was null-and-void and nothing to do with him. Many tries to resolve have been attempted, but non lasted. Latest is the football club have cancelled rugby games this season at short notice".
Games to be played on Saturday 4 February 2017.
Welling United v Lincoln City
Braintree Town v Dulwich Hamlet
Barrow AFC v Kidderminster Harriers
Tranmere Rovers v Chelmsford City
Macclesfield Town v Forest Green Rovers
Wealdstone v Stockport C / Brackley
Nuneaton Town v York City
Worthing / Sutton U v Boreham Wood
---
16 January 2017
In the Second Round of the Cheshire Senior Cup, Altrincham have been drawn away to Hyde United in the week of 11 February 2017.
Altrincham FC Youth's game on sunday was postponed owing to a waterlogged pitch at Hale Country Club. The lads are scheduled to be away to Hyde United next Sunday (22nd).
Meanwhile the club's youth education programme team also take on Hyde this coming week as they entertain the Tameside club on Wednesday.
The
Lancashire Evening Post
reports that "Chorley manager Matt Jansen expressed his frustration after their game at Boston was called off at short notice.
His Chorley team party and their supporters made a fruitless three hours plus trek to Lincolnshire, only to have Saturday's match against Boston United called off by the referee less than an hour before the scheduled 3pm kick-off.
The pitch had passed a precautionary early inspection by a local referee. But, on closer inspection, the official match referee took a different view and 
was not satisfied that the game could safely go 
ahead.
Jansen said that while the players were wearing trainers, underfoot conditions were manageable but, once boots were worn, the surface was 'treacherous'. He said, 'It was the right decision but it should have been made by ten o'clock. It's obviously very disappointing for everyone concerned, players and fans, to have come all this way for nothing'"
According to the National League, "The weather and the Buildbase FA Trophy meant only six matches in the Vanarama National League North on Saturday, but Darlington 1883 took advantage to move into fourth place after a 2-0 win against mid-table Gloucester City at Blackwell Meadows.
In front of a crowd of 1,837, the Quakers took a long while to break the Tigers down... Nathan Cartman finally dashed their hopes with the opener in the 82nd minute and then Phil Turnbull made sure with number two in the second minute of stoppage time.
Tamworth could have gone above Darlington had they won at The Lamb against fellow top five hopefuls FC Halifax Town. But it was Lambs to the slaughter as the Shaymen won 6-2. The game was all-but over in 5 first-half minutes as the visitors stormed into a 3-0 lead...
The Shaymen are now back up to eighth, just two points behind sixth-placed Tamworth.
Harrogate Town are also back in the mix after a 1-0 win in the Yorkshire derby with third-bottom Bradford Park Avenue at the CNG Stadium. Simon Ainge headed Harrogate into the lead after 10 minutes, but the hosts hopes took a blow on the stroke of half-time as John-Paul Pittman was shown a straight red card.
Worcester City and FC United of Manchester shared a goalless draw at Bromsgrove. City... were awarded a penalty. But Steven Craig`s spot-kick was saved by Adriano Basso.
AFC Telford United moved above City after beating another side in the lower reaches, Curzon Ashton".
The National League reports that "In the Buildbase FA Trophy Second Round... only four teams managed to overcome Vanarama National League sides, and only Ryman League Premier Division Dulwich Hamlet [did so] from the feeder leagues.
Hamlet, in the play-off positions in their league, enjoyed a comprehensive 4-1 win at the Enclosed Ground against National League South strugglers Whitehawk, whose day was compounded when they discovered that they had dropped into the relegation places as well!
Welling United caused a minor upset by winning 2-1 at Hayes Lane against National League outfit Bromley...
Another National League side to bow out against a lower division outfit were Guiseley AFC, hammered 6-1 at the Coombe Abbey Arena by in-form hosts Nuneaton Town... A five-goal haul from Peterborough loanee Jordan Nicholson saw them book their place in the last sixteen...
The other `lower league` side to progress were former winners Wealdstone, the National League South outfit triumphing 2-1 at National League strugglers Southport...
Ryman Premier Division side Worthing have a second chance of knocking out National League Sutton United, but this time they will have to attempt it away from home after sharing a 2-2 Woodside Road draw...
Macclesfield Town ensured they weren't to be victims of a shock as they won 3-1 at Ryman Premier side AFC Sudbury...
Former winners Kidderminster Harriers progressed with a comfoetable 3-0 win at Aggborough against National League South outfit Ebbsfleet Town [i.e. United]... Stockport County and Brackley Town, will have to try again though after a 1-1 draw at Edgeley Park.
And it was so nearly FA Cup heroes Brackley`s day as they led through top scorer Steve Diggin`s 51st minute opener until the 4th minute of stoppage time when a screamer from Danny Lloyd earned them replay".
---
15 January 2017
Above left, Sean Miller extends his stay at Altrincham FC and, right, Laurence Taylor pens his contract. With the players are manager Matt Doughty, club secretary Derek Wilshaw and chairman, Grahame Rowley. Laurence was named Man of the Match for Altrincham on his league debut for the club on Saturday. Images courtesy of Michael Ripley Photography.
Although events on the pitch were again hugely disappointing on Saturday, there was some good news in that leading scorer Sean Miller has signed an extended contract which takes him to the end of 2017-18 season, while Laurence Taylor has also penned a contract of the same duration.
Despite missing some games through injury, Sean (aged 21) has netted ten goals this campaign from nineteen starts and five substitute appearances.
Laurence made his first-team bow last season in the Cheshire Senior Cup but the 20 year-old former captain of Altrincham's Youth team and reserve player, has built on that single game and has already made 4(+2) appearances this season.
Altrincham FC Ladies' game today at Birkenhead has been postponed. As manager Keith Edleston says, "With heavy rain throughout the night and it continuing this morning the ref has deemed the pitch 'unplayable'. We try again with the fixture next Sunday".
Alty TV
has an excellent post-match interview with Assistant Manager, Robbie Lawton, in which he discusses, with great honesty, Alty's plight and plans for the future.
In Saturday's "Robins' Review", chairman Grahame Rowley wrote in his "Edlines" article...
Good afternoon and a warm welcome to The J.Davidson Stadium for today's Vanarama National League North game against Gainsborough Trinity. After such high expectations that results were about to change for the better against Gloucester City last Saturday, it was incredibly frustrating to lose 1-0, especially after a second-half performance that deserved better.
We go again today, and the aim must be to start on the front foot, in the same way as we ended last week's second half, only this time turning chances into goals. For all the disappointment at finishing empty-handed, the spirit around the dressing room is good, and optimism amongst the management team is there for all to see. Let's hope that leads to a show of self-belief from the team this afternoon, playing their natural game, dominating the opposition and securing the points.
The management team have been working hard to add extra firepower to the squad, but, as you might expect, finding a proven goal scorer has been difficult. It is our hope, however, as I write these notes, that a breakthrough is imminent and a positive signing may even have been completed ahead of today's game.
On Tuesday, the Board met with Nicky Watmore and Peter Foster and had the results of the strategic review presented to them. The strengths and weaknesses of the club were explained and a set of recommendations outlined. The Board now need to reconvene to discuss the contents of this excellent document and then schedule a meeting to deliver a presentation to supporters, hopefully before the end of February. In excess of 100 responses were received and correlated for this review, so it is to be hoped the findings will broadly represent the thoughts of our fan base. Changes to all aspects of the club are outlined, and if we are to deliver on our five-year proposal, it is essential they are implemented. Details of the fans' presentation will be released as soon as a date is confirmed.
See you in the bar, Grahame.
A disastrous spell of defending at the start of the match saw Altrincham concede twice inside nine minutes after the kick off. Although Alty dominated the second half they failed to deal with a ball up the middle and Worsfold made it 3-0 just after the hour mark.
Altrincham produced a grandstand finish as they got the game back to 2-3. Eight minutes from time Owens netted after Reeves had twice hit the bar, firstly with a shot and then a header. And four minutes later a long ball from Heathcote glanced off Cyrus to make it 2-3.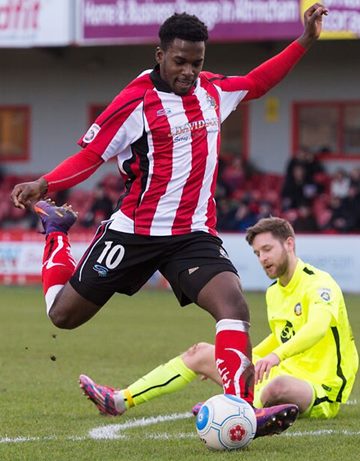 Right: Mike Ripley's image shows Timo Adeloye taking a shot at goal on his debut in Saturday's match against Gainsborough Trinity.
Despite some hairy moments in the Trinity defence the visitors held on.
Match report here.
Altrincham FC is pleased to announce the winners of The Robins' monthly draw for January which took place on Radio Robins on Saturday. The lucky winners are-
1st £500 ...number 152...Fred Sowerbutts
2nd £75 ...number 226...E Yates
3rd £25 ...number 140...P Daine
4th Hospitality for 2 in the Manchester Glass Sponsors' Lounge...number 78...Jamie Taylor
5th AFC Replica shirt ...number 489...Miss A Young
6th Club polo shirt ...number 52...Stephen Murray
Att: 1002: AFC Telford Utd 3 v 1 Curzon Ashton
Att: 996: Altrincham 2 v 3 Gainsborough Trinity
Att: 1837: Darlington 1883 2 v 0 Gloucester City
Att: 995: Harrogate Town 1 v 0 Bradford Park Avenue
Att: 793: Tamworth 2 v 6 FC Halifax Town
Att: 803: Worcester City 0 v 0 FC United Of Manchester
---
14 January 2017
Saturday 14 January
AFC Telford Utd 3-1 Curzon Ashton
Altrincham 2-3 Gainsborough Trinity
Boston United P-P Chorley
Darlington 1883 2-0 Gloucester City
Harrogate Town v1-0 Bradford Park Avenue
Tamworth 2-6 FC Halifax Town
Worcester City 0-0 FC United Of Manchester
Saturday 14 January
AFC Sudbury 1-3 Macclesfield Town
Barrow 3-2 Matlock Town
Boreham Wood 2-1 Alfreton Town
Bromley 1-2 Welling United
Chester FC 0-2 Forest Green Rovers
Dartford 0-1 Chelmsford City
East Thurrock United 2-5 Braintree Town
Gateshead 1-3 Lincoln City
Harlow Town 1-2 York City
Kidderminster Harriers 3-0 Ebbsfleet United
Nuneaton Town 6-1 Guiseley
Southport 1-2 Wealdstone
Stockport County 1-1 Brackley Town
Tranmere Rovers 4-1 South Park
Worthing 2-2 Sutton United
Keith Edleston, manager of Altrincham FC Ladies has kindly provided the following report from his team's most recent game, by his "roving Isle of Man reporter" Paul Hatton...
FC UTD OF MANCHESTER LADIES 1 ALTRINCHAM FC LADIES 0
It's evolution, not revolution at Altrincham FC women's team. If there was further evidence of that, it was last Sunday when they narrowly lost 1-0 to title chasing FC Utd of Manchester at Lightbowne Road.
Despite losing, it was a performance from which the Robins can take a number of positives. It was their first match of the 2017 calendar year and, when the two teams met in the same fixture last season they lost 6-1. It is also further proof of the massive strides the Altrincham have taken since they were formed back in 2011.
Although the hosts were at times smarter and slicker and the Robins were on the defensive back foot, every player put in a shift, doing the Alty shirt and club proud. FC Utd did carve out the opportunities but they were either off target at straight at the goalkeeper Lizzie Brereton.
However, the first real strike worthy of note came via Megan Wright.Her long range strike was pushed wide of danger by the alert FC Utd goalkeeper. Jade Hesketh also had a chance, dropping her shot just over the goal. However, the hosts again came close to scoring when they struck the upright as both goals remained intact come the interval.
After the break, FC Utd kept pouring forward. Twice they struck the framework whilst defender Heather Scott headed clear off the line. Despite defending magnificently, the only goal came on 70th minute when Jess McCarrick was the recipient of a through-ball and dispatched an angled shot across goal.
Altrincham did come close to equalising when Laura Dodds had a long range free-kick which the goalkeeper did well to push wide but, despite pushing forward in the closing stages, they could not force a much-needed equaliser".
Altrincham FC Ladies are away to Birkenhead LFC in the 1st Round of the Cheshire County Cup, k.o. 1pm, this Sunday (15th January). The game is at Port Sunlight Rugby Club, Leverhulme Sports Field, Warren Lane, off Old Hall Road, Bromborough CH62 3QQ
~After that...
22nd Jan: H v Bolton Wanderers 2pm
29th Jan: H v Merseyrail Bootle 2pm
The above fixtures are subject to games going ahead with no postponements as Birkenhead and Bolton are cup games.
All Nigeria Soccer
confirms that "Altrincham have announced the signing of former Dream Team VI trainee Tomi Adeloye...
Just before Christmas, the Sidcup-born striker tried his luck with Chester and scored against Liverpool U23 in a 2-1 loss suffered by the Blues in a friendly " He could make his debut against Gainsborough Trinity at The J.Davidson Stadium on Saturday."
The
Hallmark Security League
reports that Boris Melingui has signed for Sandbach United
According to
NL Pitchero
, "Darlington 1883 have announced the signing of forward Lewis Walker from Derby County.
Walker, 18, is the son of former England and Nottingham Forest legend Des Walker, and was previously at Ilkeston FC...
He was a regular in Derby's under-18s... and this season has stepped up to the under-23s.
The Quakers have also [signed] goalkeeper Ed Wilczynski from Bishop Auckland. Wilczynski is a 6`2", 22-year-old, who joined Huddersfield Town's academy... until he was released last summer. He was born in Yorkshire of Polish and Irish ancestry.
He has had loan spells at Trafford, FC United of Manchester and Bishop Auckland, and at the start of this season was on the bench for Fylde against AFC Telford United."
Elsewhere, "Boston United have completed the eye-catching signing of experienced striker Richard Brodie. The 29-year-old parted company with York City on Wednesday...
The much-travelled frontman has netted more than 100 goals in the National League and made big money moves to Crawley Town and Fleetwood Town earlier in his career".
In the COventry Telegraph we learn that "A feud between Nuneaton's two biggest sports clubs is still raging on as more skips have been dumped outside Nuneaton Town Football Club's entrance.
There are now five skips at the Coombe Abbey Stadium and Nuneaton Rugby Football Club has admitted they put them there.
An important game for Nuneaton's football club is due to be held on Saturday and the Boro has said the skips will not stop it going ahead. The club has said it is doing 'everything in its power' to fix the problem and is determined that the FA Trophy tie game against Guiseley and other matches will not be affected.
In a statement on the club's website, chairman Lee Thorn, said, 'Nuneaton Town Football Club would like to confirm to supporters in and around the town that we are doing everything in our power to try and rectify the current situation around the Coombe Abbey Arena.
'As has been reported in the media this week, there are now as of 2pm on January 12, five skips currently blocking the turnstiles at the ground, but no impact has been made on our home matches moving forward as confirmed by the safety advisory group.
'We would like to place on the record that as a football club we are considering all options available to us but to do nothing is not one of them.'
The rugby club has claimed full responsibility for the placement of the skips, stating that it has been forced to take the severe measures. Chairman of the Nuns, Mark Mitchell said that the skips had been placed to restrict access across the land following disagreements over the use of the ground.
The rugby club claims that the ground was sold to the football club in 2006 on the basis of a ground sharing agreement.
Mr Mitchell said, 'Since 2008 the Rugby Club has had no permanent first team pitch from which to promote itself, and whilst we have shown a tremendous amount of patience and goodwill towards the football club over the years this has simply not been replicated [reciprocated].
'Whilst we appreciate there may be an impact on the fans we can assure you we have tried our best to avoid taking such actions and have worked with the local authorities to minimise the impact such as the recent Tamworth game. However, there comes a time when you have to stand up for the people you represent and the community at large'.
Now, the football club has hit back stating that it has offered the same terms as the previous ground share agreement that was in place from 2009 to 2015, but the rugby club has declined it stating that they see 'no commercial value' in it. Football club chairman Lee Thorn said: ", 'This would be on the basis that they remove all the current obstacles and both parties seek to repair the differences brought about by recent actions between the town's two major sporting clubs.'
Mr Thorn has said that the original ground share agreement was null and void following the liquidation of Nuneaton Boro Football Club in 2008. He added, 'The original 2006 document cancelled this ground share agreement and not the newly formed NTFC under the T&Cs of the 2006 document.
'As most parties are aware the original ground share was heavily weighted in favour of the rugby club and after the football club purchased the stadium for £420,000, a further figure of £1.7million was spent on the stadium development, and in fact since 2007 a further 600k has been spent on the stadium.
'The original agreement included a pitch usage fee of £33 per game up to 30 games per year index linked for a period of 125 years from 2006 in favour of NRFC.'
The football club has said the rugby club has sent over a proposed agreement. Mr Thorn has said that 'All inter club correspondence has been answered within two days of receipt by NTFC, apart from an offer of a new ground share agreement sent by the rugby club.
'In the meantime, our games will be going ahead as per our league and cup fixture list, and we are planning and implementing the re-configuration of the stadiums access and egress points to elevate [?alleviate] this dispute on a permanent basis," said Mr Thorn".
According to the Telegraph & Argus "Bradford Park Avenue will have new signing Aidan Chippendale in their squad for tomorrow's game at Harrogate Town – and manager Mark Bower is also hoping to welcome another new player.
The National North fixture is the second of back-to-back derby games between the two clubs after they met in the West Riding FA County Cup on Tuesday. Avenue won that clash, also at Wetherby Road, 3-1 but Bower knows this weekend's meeting will be a different prospect.
'They played a side with a majority of lads from their Academy side with just a few first-teamers in there', said the Horsfall chief. 'There ws nothing to be gained from a technical point of view from that win but what it did was give our players a game on their 3G pitch'...
Simon Weaver's hosts spent the early part of the season in the thick of the promotion-chasing pack but they have tumbled to tenth after a poor run....
Bower feels... 'Form-wise they had a bit of a bad run up until Christmas but they are a good club with a fine squad. They've got massive resources and a squad brimming with talent. They've had a few injuries but they're still in the top ten...
We've brought Aidan in from Stalybridge Celtic and I hope to have another forward player signed in time for him to be involved tomorrow." Bradford-born Chippendale is a 24-year-old win'"
NL Pitchero adds that "There will be a pitch inspection at 10am tomorrow to see if our Manchester Premier Cup Semi-Final tie can go ahead. Recent snowfall, on top of a wet pitch, with freezing temperatures forecast for tonight have necessitated an early pitch inspection at Stalybridge Celtic's Bower Fold ground".
---
13 January 2017
Altrincham's Press and Media Officer, John Edwards, writes that "Matt Doughty has further strengthened his attacking options by snapping up one-time Stoke City youth striker Tomi Adeloye.
Sidcup-born Adeloye, who turns 21 next month, came through the Academy ranks at Charlton and Millwall before joining Stoke, where he made his mark as a prolific finisher for the under-18 team.
A YouTube compilation of his goals includes a spectacular 25-yard drive into the top corner in Stoke's 1-1 draw with an Everton under-18 side who were joint league leaders at the time.
He had a loan spell with Macclesfield during his time at Stoke, and when he moved on to Chelmsford in September, 2015, he marked his debut with two goals in a 5-2 win over Concord Rangers in the Vanarama National League South, one a poacher's finish from close range and the other a free-kick from distance.
He made a scoring start for Leatherhead against Grays Athletic last August, after being signed by then-manager Jimmy Bullard a few weeks earlier, but was more recently training with Chester, prior to Alty boss Doughty stepping in and bringing him to The J.Davidson Stadium.
Provided the signing receives FA and league approval, Adeloye will be available for Saturday's Vanarama National League North game against Gainsborough Trinity at The J.Davidson Stadium".
Whilst the Cheshire Senior Cup is not the best attended of competitions these days, it still produces some enjoyable evenings. On Wednesday, Altrincham's win at The Pavilions over Runcorn Town was a pleasure in itself, given our lack of success in the league in recent weeks. But, in addition to the 4-0 win for Altrincham, it was a pleasure to visit such a friendly club, with a small but welcoming club house, and which had also gone to the trouble of producing an excellent 52-page colour match programme for just £2.
No doubt the Altrincham supporters, who attended on a cold and blustery evening, will all wish Runcorn Town every success as they fight for the title in the Hallmark Security (North West Counties) Premier Division this season.
The visitors to the J. Davidson Stadium on Saturday (3pm) are Gainborough Trinity, who will be seeking a league double after Altrincham slumped to defeat at The Northolme earlier this season, a result which gave Trinity their first win of the season.
Lincolnshire Live reports that Trinity's "Player/manager Dom Roma took part in his first game of the season on Saturday to clock up his 200th league appearance for Gainsborough Trinity. The Blues boss played his part in a useful 1-1 draw at AFC Telford United and says he could be part of the Blues' line-up for the foreseeable future.
Roma has not featured on the pitch at all during his first full season as team manager. But following an injury to defender Matty Wilson in training last Thursday, the former Harrogate Town man included his own name on the team sheet. Roma accepts this Saturday's trip to Altrincham could be described as a relegation six-pointer, with both teams facing a battle for survival.
'It is a relegation battle', said Roma. 'We must do our best to take points from them. Our season will not hinge on the outcome of Saturday's game, but we have to look at this one as a game to get points from. Altrincham are a team in a false position. They have real quality, Nicky Clee is there, who I tried to bring to Gainsborough, as is Damian Reeves, who has been the subject of approaches from bigger clubs.
'They have real quality but, for one reason or another, they are where they are in the league'...
And, he says, he intends to play a bigger role on the pitch for the remainder of the season. 'I really enjoyed it,' said Roma. 'Obviously being back on the pitch meant it was difficult for me to see what I usually see on the sidelines. But myself and Fozzy [assistant boss Martin Foster] talked about everything before the game and it went quite smoothly in the end. Obviously, I let Martin do most of the talking at half-time because I was busy trying to get my breath back,' he joked.
Roma believes he has improved his side's prospects after securing the loan of a pacey forward from a League One club. 'We are confident this player will help us going into the next few weeks,' said Roma. 'We are also close to welcoming back Darnelle Bailey-King from Rotherham. He is expected to return to full training this week and then play in a training game or two before he comes back to us. The two of them will certainly beef up our firepower and give me some real options up front'".
Altrincham FC's youth education programme team (often called our"BTEC team") had an excellent 2-1 win away to a higher-placed Stockport County team on Wednesday in the National League U19 Alliance Dvision J. Next up, on Wednesday 18 January is a home match against Hyde United.
The
Shropshire Star
reports that "AFC Telford United are set to sign former Blackpool defender Joel Dielna, boss Rob Smith has confirmed. The 26-year-old Frenchman, who has also played for Spanish club CD Gerona and Solihull Moors, figured for the Bucks in a behind-closed-doors friendly against Birmingham City Under-23s on Tuesday night...
Smith said, 'We are going to take Joel. He can play as a centre-half and on the left-hand side as well'...
Dielna's arrival comes at a good time as both skipper Luca Havern and Ben Bailey are suspended for the visit of Curzon Ashton, which left just Paul McCone as a recognised central defender. Born in Paris, Dielna played for SM Caen from the age of 14 until he was 21. He then signed a one-year contract at Guingamp and went on to spend two years with Vannes OC in the third tier. In 2014, he followed his older brother Claude, who is contracted at Sheffield Wednesday, to England. He played twice for the Tangerines...
Dielna last played for the Moors in the National League, signing in October and playing three times before the club announced his departure on Boxing Day.
Smith said, 'He is a decent lad. He fits the bill and, with him coming in, that is six players we have managed to get in the last two weeks. We can let it gel now and hopefully get some points on the board.'
The Bucks lost 1-0 to Blues at the New Bucks Head through a late goal from a trialist. The game gave Smith a chance to have an in-depth look at Eddie Jones, Lewis Hayden, Luke Higham, Henry Cameron and Tony Donaldson – who all joined last week. 'It was a good game and much better than having a normal training session,' added Smith."
According to the Tamworth Herald, "Tamworth FC boss Andy Morrell could be forced to dip into the loan market this week as his troops prepare for Saturday's home clash with FC Halifax...
Defender Luke Jones is ruled out through suspension while Burton Albion midfielder Ben Fox has a heel injury. Connor Taylor is still struggling with a knee problem and Paul Green (also knee) is unlikely to be fit. Morrell hopes to have leading scorer Danny Newton available after he was forced to sit out the 3-2 win over Curzon Ashton.
But even that is not guaranteed and Morrell said, 'He jarred his knee ten minutes into the Nuneaton game. It really ballooned up and we have struggled to get the swelling down... He did some bike work on Tuesday and had a bit of a reaction to it. It is fair to say we are low on numbers at the minute...
We are putting in a couple of calls this week to see if we can get anyone to help us through until we have bodies back'".
As for their next fixture, against FC Halifax Town, he said, 'It's a big challenge and we are out for a bit of revenge after losing 4-0 at their place. They are a big club in our league with ambitions to get out of it. They are strong, experienced with a lot of good players. They play to their strengths and we will have to stand up to them physically... If we are right, and at it, we can beat anyone in this league'".
From the Worcester News we learn that "Worcester City look set to be dealt a double blow after it emerged centre-back Tom Sharpe and winger Connor Hughes may require knee surgery. Sharpe has not played for the Blue and Whites since being forced off in City's 1-1 draw at Gainsborough Trinity last month... as a 'precaution' after the 28-year-old experienced 'clicking' in his knee.
However, he revealed Sharpe had sustained 'cartilage damage' and could be out for 'six weeks' if he goes under the knife.
To add to Heeley's woes, Hughes has 'damaged' medial collateral ligaments, meaning he could also need an operation on his injured knee. City paid an undisclosed fee to sign the 23-year-old from FC Halifax Town on an 18-month deal in November. But after six appearances and one goal Hughes appears to be preparing himself for a lengthy spell on the sidelines...
Heeley said, 'I think Tom has got cartilage damage. Generally speaking, if they have not settled down for seven to 10 days they need surgery... Connor has damaged medial knee ligaments so that is the deck of cards we have been dealt with'.
Heeley was also without captain Danny Jackman (back) and winger Micah Evans (calf) due to injury and the suspended Sam Oji last Saturday as 17th-placed City suffered a 1-0 loss to Bradford Park Avenue...
'I am confident that if I have got all my players available we would be better than we were on Saturday,' Heeley said 'But, as for when they would be available, I don't know because some of them have got injuries that may need surgery., Heeley said 34-year-old Jackman was 'still very sore' after getting a knee in the back against Harriers on Boxing Day...
With striker Lee Hughes beginning his four-match ban, Heeley said he was pleased to see Colby Bishop back on the pitch. The 20-year-old frontman, who injured his knee at York City last month, was a second-half substitute against Avenue. 'I didn't want to have to use Colby on Saturday,' Heeley added. 'But I just felt we had to make a change to try to keep the ball because it kept coming back. He is woefully short of training and conditioning so it was a needs-must substitution but it was one of the few positives from the game as he hasn't got a serious injury and is back out on the pitch'".
---
12 January 2017

Above: Alty line-up before kick-off.
Altrincham progressed to Round Two of the Cheshire Senior CUp with this win at a breezy Runcorn Town. Town gave a spirited performance but were two down at the interval thanks to two superbly struck goals by Andy Owens (21 mins) and James Lawrie (39 mins).
Altrincham got the upper hand in the closing stages and added two goals in three minutes. First, Owens tapped home a Patterson cross (76 mins) before John Cyrus headed home a Lawrie corner to complete the scoring.
The Robins fielded a strong side with midfielder Laurence Taylor the only player from the Reserves. He played the full ninety minutes and again made a good impression on the 114 spectators.
Match report here.
Wednesday's other CSC tie was:
Barnton 1 Witton Albion 3 (att. 72).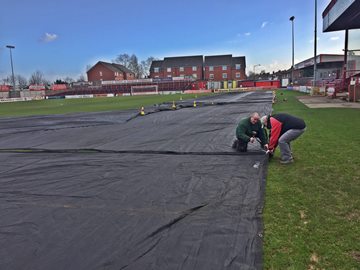 Pictured on Wednesday, right, Altrincham FC groundsman Neil Brown, assisted by volunteer Bryan Ford, lays covers on the pitch at the J. Davidson Stadium to protect against any adverse weather that may occur before Saturday's league match against Gainsborough Trinity (3pm).
The Altrincham FC Monthly Draw takes place this Saturday, during the interval of our match against Gainsborough Trinity. Why not start 2017 by joining this important fundraiser for the Club, with a £500 top prize each month and six prizes to be won, in all, each month?
Details of the scheme and an application form are here.
In the Cheshire Senior Cup on Tuesday, the scores were:
1874 Northwich 2 Northwich Victoria 0 Both goals came from ex-Alty Youth and Reserves player Tom Bailey. Att: 358
Runcorn Linnets 1 Nantwich Town 2 Former Alty trialist Steve Foster scored for Linnets whilst ex- Alty winger Joe Mwasile netted the Dabbers' first goal. Att: 215
Stockport County 4 Winsford United 4 AET, 3-3 after 90 mins, Stockport County won 5-4 on penalties. Att: 336
Chester FC 3 Hyde United 3 AET, Hyde United win 5-4 on penalties.
In the National League North on Tuesday night, the only fixture was...
Att: 1389: FC Halifax Town 2 Chorley 1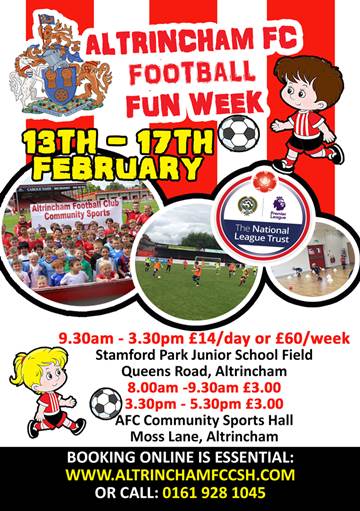 Details of the Club's latest Half-Term Fun Week are shown, right. You can book your places here.
NL Pitchero
says that "Stockport County have announced that goalkeeper Ben Hinchliffe and centre-half Michael Clarke have both agreed new contracts which will keep them at Edgeley park until the summer of 2018.
The Hatters have also extended midfielder Gary Stopforth's deal until January 21st, whilst defender Max Cartwright has signed until the end of the season. Stopforth was originally due to head off to Australia last week but has delayed his departure until the end of this month.
Manager Jim Gannon said, 'Obviously there's been a lot of negotiating behind the scenes with the Board regarding my own contract but, now that has been settled, I'm starting to visualise how the team will progress this season and into next season.
'We've extended Gary Stopforth's contract to January 21 so he can play in the Darlington game; if his departure is delayed for any reason, we can just continue it as long as we need, so that was the first bit of business we needed to do for January because it's a big month. We've also secured Max Cartwright for the rest of the season. He's done a good job since coming on non-contract terms so we want to reward him for what he's done and keep the defence and defensive midfield lines really secure with the players we've got.
'Looking ahead, the only player we're going to lose is Gary Stopforth, so obviously John Marsden and Kaine Felix will give us opportunities in and around the attacking third if we move Jimmy Ball back.
'With that all settled, we then started to look towards next season. We want to secure this group of players because I think they're growing, so we have taken a really positive step. With Ben Hinchliffe we've got one of the best keepers in non-League, whilst Michael Clarke was a great servant to me at Northwich; he was my captain and he's come into the team and grown into the role. He's desperate to be part of this going forward so Ben and Michael were easy ones in the sense that it was a simple decision for them in terms of the offers we made.
'The other contracts will take a little bit more work to make sure everything is right, but I'm really pleased that we've started the process now because we're looking forward to the rest of this season in confidence, but we can also look forward to next season knowing that a strong core and backbone of players will still be here from this team.'
Gannon revealed that his previous coaching experience has helped him to shape his squad this season. 'I like to work with players over a long period of time and I don't give up on players', he said. 'Even going back to Liam Dickinson and Ashley Williams, players of that ilk, you just keep working with them, keep helping them to improve, and that patience and perseverance will pay off and it builds confidence between both parties and I think we've seen this current group of players grow together as a team and I'm looking forward to seeing how they evolve.
'We've got some great people on a great journey, but I'm conscious we've got to keep working hard if we're to continue that journey'".
---
11 January 2017
Altrincham will be fielding a strong starting eleven tonight when they travel to Runcorn Town in the Cheshire Senior Cup (7.45pm). The tie will be played to a a conclusion tonight, with extra time and penalties, if required.
You can follow this fixture via this website's minute by minute text updates here, assuming that a suitable connection is available.
Brian Flynn advises that "Radio Robins is not covering Wednesday night's Cheshire Senior Cup tie at Runcorn Town. There will be match updates on Periscope as well as the normal twitter service. Periscope updates can be viewed by downloading the Periscope App or via Altrincham FC twitter".
Runcorn Town are producing a 52-page programme, on sale at £2, for this match. Admission is £6 for adults, £3 for concessionaries and free for accompanied under-16s.
When Altrincham visited the Northolme earlier this season, their hosts were bottom of the table. Now the roles are reversed as 19th-placed Trinity play at the J. Davidson Stadium this Saturday.
The Gainsborough Standard informs us that "Gainsborough Trinity manager Dom Roma celebrated his 200th league appearance for the club in Saturday's 1-1 draw with AFC Telford.
Long servant Roma made a rare start for the Blues, crossing over the white line to help his young side claim a point at the home of one of their Conference North rivals. And, while pleased with the reaction of his players after a New Year's Day defeat at home to Boston United, Roma said reaching the landmark 'meant the world' to him.
Roma said, 'It was my first game for about six months. I felt fine after the first 20 minutes, I needed to get the cobwebs out of the way, but I feel good. I've been itching to get back in because this club means a lot to me. This is my sixth season here now, (Saturday) was my 200th league appearance; it means the world to me. I've shown a lot of loyalty to this Football Club. I want to make sure we kick on up the league. A few years ago I could have followed other players out the door for a lot more money.
'You probably get to a stage in your career where you have a lot of affection for [a club], this is that club for me. It's the longest I've ever stayed at a football club. If I can keep playing and improving on my performance and give some organisation to the team then that's what I'm going to do because I'm not going to let us get dragged in to anything.'
Trinity travel to rock-bottom Altrincham this coming Saturday (January 14), who have won just once all season and picked up only two points from a possible 36 at home. 'There are plenty of positives for us. We've got players who can hurt teams,' said Roma."
According to
NL Daily
, "Bradford Park Avenue have signed goalkeeper Ashley Onitiri from Albion Sports. The signing comes after the club received permission that Onitiri would be allowed to play in Tuesday's County Cup tie at Harrogate Town.
Regular number one Jon Worsnop picked up an injury in Saturday's victory at Worcester City, and his deputy Ed Hall is cup-tied, having played for Brighouse in an earlier round of the competition. Avenue have also moved to recall defender Harry Coates from his loan spell at Hyde United. Coates, a former Harrogate Town player, was initially loaned to Hyde in October and has made 17 appearances for them during his time at Ewen Fields.
He is another expected to go straight in for the County Cup tie on Tuesday, after an injury to Matt Hill forced him to be substituted in the first half at Worcester."
The Coventry Telegraph reports on Nuneaton Town "Fans' concern after huge skip dumped outside Nuneaton Town FC turnstiles. The skip is believed to be part of a row between the club and Nuneaton RFC who share the same ground.
The main turnstiles into Nuneaton Town FC have been blocked by a huge skip. The appearance of the large industrial skip sparked concerns among fans over whether the match against Guiseley, set for Saturday, would still go ahead, but club bosses have vowed that the match will continue. The skip is believed to be the latest development in a long-running row between the Football Club and Nuneaton Rugby Football Club, who share the same ground.
It is no secret that there has been a stormy relationship between the Nuns and the Borough since the groundshare between the town's two premier sporting clubs first started over a decade ago.
Legal action has been threatened by both clubs in the past, but the appearance of the skip on Saturday, while Nuneaton played away at Darlington, is believed to be a new chapter in the decade-long row.
A meeting with Boro officials and Health and Safety officers this afternoon has ended any speculation over this weekend's game, with the FA Trophy match confirmed to be going ahead at the Coombe Abbey Arena as planned.
A spokesperson for the Football Club said, 'Our match against Guiesley will be going ahead as planned on Saturday after a meeting with health officials. The Football Club will be releasing a statement later this week in regard to the matter'.
Nuneaton Rugby Football Club has been contacted for a comment in regards to the appearance of the skip. A club meeting is due to be held this evening (January 10)."
Meanwhile, the same source adds that "Two bidders have tabled offers for Nuneaton Town. Talks over the offers are ongoing according to chairman Lee Thorn, with both prospective buyers looking at different aspects of the club. The purchase price for the club, land, stadium and other assets is believed to be in the region of £600,000.
Thorn said, 'I have had interest from one group who are looking at the Club and the ground and another group who are interested in taking on the Club only, with a yearly site rent to be paid on a fixed-term lease for the stadium etc. Ideally, I would like to sell to someone who wanted both, but we will see what happens'.
One group which seems to have ruled themselves out of the running is the Nuneaton Town supporters' Co-operative, which Thorn admitted had disappointed him. He said, 'I have read what they have said online and to their members in regard to their interest and it does not add up to what I have been receiving in email correspondence. I have received emails saying as much. In those emails I have continually made it clear that I cannot accept a vague statement or promise that the finance may or may not be available from grants, business contributions etc., going forward.
'I have told every party that 'When you can show me a viable proof of funding or, a structured business plan to raise funds' then I will gladly move the process to the next stage. 'That is the case for anyone who is interested in buying the club. They all know that all the details, for the land holdings are available on the land registry website, all planning permissions are available via the NBBC planning portal'.
Thorn added, 'The other interested parties also know this and have followed the requests of a signed NDA (which is a legally enforceable contract between the parties that creates a confidential relationship) and in the case of one of the parties they have also provided proof of funding.'
But Thorn stressed that he had to be certain that any potential purchaser had the means to fund the club and continue to be able to honour the club's liabilities and contractual obligations. He said, 'If this wasn't the case then I am happy to stay and would welcome the Co-op into the fold whilst embracing all the great ideas and concepts they are planning, to engage with the community and local business. Maybe they should be doing this for the club right now, after all, we are all fans of the same club and extra financial input either through the turnstiles, or sponsorship are [is] always thankfully received.
'We are operating on a skeleton staff in the back office as all the available monies are being channelled into the playing budget to support the turnaround in the club's fortunes'".
The National League announces that "The Vanarama National League season is building towards a tremendous finish with a number of clubs vying for the outright title and March will focus squarely on the credentials of a number of those challengers who want to ultimately lift the championship trophy.
As part of our #BTWeekend which has been well received this season by football fans, BTSport's LIVE coverage from the Vanarama National will concentrate on the following two selections in March, which will feature each being scheduled for lunchtime viewing to get the respective weekends off to a great start.
The first match will be the eagerly anticipated local derby encounter on Saturday March 4 between Chester FC and near neighbours Tranmere Rovers. When they met earlier in the season at Prenton Park the clubs played out a 2-2 draw with The Blues of Chester coming back from 2-0 down. That match was also in front of the largest attendance seen in the Vanarama National League so far this season of 7790.
Whilst The Blues will be unable to reach that capacity for the return, it is expected the Deva Stadium will be nearly full to its current capacity of around 5,500. With less than 20 road miles separating the two clubs the atmosphere will be electric for sure. The match will kick off at 12.15pm.
Later in the month on Saturday March 25, the BTSport cameras will hope that another reverse fixture will stir much excitement and interest along with a big crowd turning out to watch the action unfold at Sincil Bank. If this encounter rivals the previous meeting in the season between Lincoln City and Forest Green Rovers then it is one not to be missed.
In November it seemed Rovers would be extending their lead in the title race over The Red Imps, as with just two minutes left to play they led 2-1 but City scored twice to unbelievably win 3-2. This return therefore could be defining in the ambitions of both clubs to earn promotion come the end of the season. Once again as part of the standard #BTWeekend package this will be a 12.15pm kick off.
#BTWeekend incorporates a LIVE lunchtime Saturday match on BTSport, with the option to watch any other match being played later that same afternoon and then finishing off with the 'Highlights Show' of all goals and action from the fixtures played over the weekend in the Vanarama National League. #TrueValueFootball".
The
EvoStik NPL
reports that "Northwich Victoria have been deducted ten points for entering into administration during the 2016-17 season. The sanction was imposed on Monday after Northwich Victoria appointed an administrator in December 2016, breaching Rule 14.A.1 which states that 'If an Insolvency Event shall occur in relation to any Club, that Club shall be deducted ten points'.
As the 'Insolvency Event' occurred during the playing season, the points deduction applied immediately under Rule 14.A.2.1 and the expiration of the notice, giving the club seven days to appeal to the Football Association. The EVO-STIK NPL First Division South table has been updated to reflect the sanction and there will be no further statement from the EVO-STIK NPL on this matter."
Vics are consequently bottom of the EvoStik League's Division One South".
---
10 January 2017
In Sunday's
NL Paper
, Alty boss Matt Doughty "says it's time to move on from a torrid 2016. 'I'm very proud. Neil Young has won leagues, including this one, but it didn't work out. They [the Club] went for experience and they don't come any more experienced than Jim Harvey. That didn't work out. So, why not go for a young, hungry manager who loves this club? Why not?
That's why I've got Robbie Lawton in and Graham [Heathcote] is there to help me as well. Everyone pulls in the same direction at Altrincham.
'The first thing I said was "I don't want any negativity around the club". It's the last thing I need and the last thing the club and the players need.
'We'll give everything. It won't be without, commitment, desire or pride to wear the badge.
'It's my job to get the belief back in the dressing room, which I've done. Everyone I played with, or under, will tell you the same; the dressing room is my domain.
'My main aim was to get people motivated. The changing room is a totally different place to when Jim and Neil were here.
'The club have given me time now. I know what we've got to do. I've told the lads that 2016 has gone, we don't want it back. The season starts now'".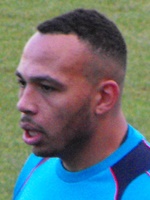 Droylsden have signed Altrincham centre-back Clayton McDonald (right) on dual contract, to maintain match fitness. Clayton was signed by Alty from Redditch United four days before the end of Jim Harvey's tenure as manager.
To date, he has made two appearances from the bench for Altrincham. He is in the Bloods' squad to face Ramsbottom on Tuesday night.
At
FC United of Manchester
, there was "New Year cheer for FC's Women with Victory over Altrincham. Luke Podmore's first home game in charge was rewarded with a hard fought, narrow 1-0 victory over Altrincham FC Ladies; Jess McCarrick scoring the only goal of the game midway through the second half.
As early as the first minute when Beth Tattersall delivered excellent consecutive crosses with no end product, the general pattern of the game was established; United would strive forward in persistent red waves looking for the elusive, decisive strike whilst Altrincham would absorb the pressure, stifle their hosts and look to hit on the break...
Five minutes remained of a frustrating half as Chambers floated a fee kick into the danger zone causing panic in the Altrincham defence as Fran Davies fired the loose ball back in for Parker to beat Brereton who was saved by the woodwork as the ball cannoned harmlessly away....
The second half continued in much the same vein with United on the front foot from the restart... On 55 minutes first Wolstencroft, surging beyond Altrincham's back line, struck the post from 20 yards with Parker doing the same within a minute.
With FC pressure and momentum building by the minute the breakthrough finally came midway through the half. McCarrick anticipated a forward pass from Altrincham's defence to midfield and her well timed interception was played short and forward to Mia Holden who helped the ball through to McCarrick who had continued her run. Suddenly the defender-cum-midfielder was beyond the Altrincham rearguard one on one with Brereton and her abundance of calm, typical of her all round play, saw McCarrick stroke the ball past the excellent keeper to an outpouring of congratulations matched by relief on and off the pitch.
Further chances were spurned and as the game neared its end United protected their precious lead, nervously at times, giving away a dangerous free kick from which Laura Dodds drew a fine save from Gillingham. The United keeper, a spectator for large intervals, was injured with a couple of minutes to go as she bravely cleared from the edge of her area under pressure from Jessica Hartopp but United held the visitors' late charge at bay...
FC United of Manchester Women: 1. Amy Gillingham, 18. Morgan McWhirter, 2. Fran Davies, 5. Chelsea Patient, 3. Abbie Carrington, 17. Jess McCarrick, 6. Mia Holden, 15. Jade Parker, 10. Beth Tattersall, 11. Kirsty Chambers (Capt), 9. Shellby Wolstencroft. Subs: 4. Olivia Greenhalgh, 8. Adora Yau, 14. Leah Dolan, 16. Charlie Evans, 19. Allisha Marsh.
Altrincham FC Ladies: 1. Lizzie Brereton, 4. Kyesha Brown, 3. Heather Scott, 14. Megan Wright, 5. Louise Edleston, 6. Letitia Collins, 15. Jade Hesketh, 8. Gail Simpson, 16. Bliss Molyneux (Captain), 10. Laura Dodds, 11. Georgia Plant, Subs: 7. Jessica Hartopp, 9. Laura Kelly, 18. Lucy Smith, 21. Marcia Sacharewicz, 23. Brogan Walsh".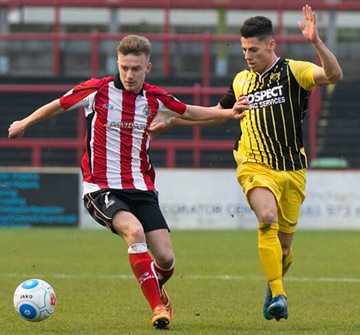 Right: Altrincham's loanee from Barrow, Elliot Newby, takes on a Gloucester City opponent last Saturday, as pictured by Mike Ripley of Michael Ripley Photography.
Altrincham travel to The Pavilions, Sandy Lane, Runcorn on Wednesday evening for their Hallmark Security Cheshire Senior Cup tie against Runcorn Town (7.45pm).
Tuesday 10 January
1874 Northwich v Northwich Victoria
Chester v Hyde United
Runcorn Linnets v Nantwich Town
Stockport County v Winsford United
Wednesday 10 January
Barnton v Witton Albion
Runcorn Town v Altrincham
Runcorn Town's league match on Saturday, away at Nelson, was postponed.
The
National League
says that "Kidderminster Harriers have signed versatile defender Josh Ezewele on loan from Yeovil Town. The 19-year-old, who is comfortable in either full-back berth, joins us from the Glovers on a one-month spell.
Ezeweke rose through the ranks at West Bromwich Albion and was a regular feature in last season's under-21 side, making almost thirty appearances... and will play some part in Tuesday night's friendly match at Halesowen Town".
The National League adds more detail on Telford's signing of four players, as reported earlier. "AFC Telford United manager Rob Smith... completed a double loan swoop from National League side Solihull Moors for Eddie Jones and Lewis Hayden. The versatile midfielder Jones, has been a product of the Forest Green Rovers' academy where he went onto captain the under-18 team... which helped earn a move to Gloucester City. The opportunity to play football in America proved too good to turn down and he moved to play for Major League Soccer side DC United in 2011, where he was a regular for their under-23 side.
After his time at Dayton, Jones played for Ottawa Fury and FC London in Canada, both professional North American Soccer League sides, before short spells at the Evergreen Diplomats and IFK Maryland in the recently formed American Soccer League during 2015.
Hayden joins the club as an attacking midfielder. He has progressed through the Moors' youth ranks and skippered the under-18 side before moving into the first-team scene.
The Bucks also announced the double signing of Henry Cameron and Luke Higham from Blackpool. Cameron is an English-born New Zealand right-sided midfielder... The young midfielder scored his first goal for the club in April 2015 against Cardiff City before going onto make twenty-five appearance for the Seasiders. After suffering an anterior cruciate ligament injury that left him out for the whole 2016/16 season, Cameron joins the Bucks...
Higham also joins the Bucks from Blackpool on a one-month loan deal. Higham, who plays as a left-back, signed his first professional contact at Blackpool in May 2015 after a ten-year association with the club. He made his first-team debut for the Seasiders in October".
According to the Halifax Courier, "Under pressure Town boss Billy Heath faces arguably the biggest game of his FC Halifax reign on Tuesday, when The Shaymen host high-flying Chorley at The Shay. Halifax are without a win in the last nine games, not including the West Riding County Cup, and are eight points adrift of the play-offs with two games in hand.
Their defeat at Stalybridge on Saturday increased the pressure on Heath from some Town supporters, with Halifax's last league win coming nearly two months ago. Chorley have won eight of their last 11 games and have the best defensive record in the National League North, conceding just 18 goals in their 24 league matches, keeping 16 clean sheets in 31 games in all competitions. They have lost just one of their 12 away league games this season, with only leaders Fylde losing fewer league games.
Striker Jason Walker is their top-scorer with 10 goals, while ex-Halifax loanee Marcus Carver has six. Scott Garner is available after serving a three-game suspension, while fellow centre-back Danny Hone's suspension for his sending-off at Stalybridge will not kick in until seven days after the offence, meaning he is also available. Injury victims Jordan Sinnott and Steve Drench are not expected to be available, the latter meaning Tom Nicholson will again be between the posts if Sam Johnson does not recover from the ankle injury that ruled him out on Saturday."
---
9 January 2017
With his next appearance for Altrincham, midfielder Greg Wilkinson will chalk up his fiftieth game in an Altrincham shirt, having started 24 times and been a used sub on 25 occasions to date. He has scored eight times so far ... including THAT memorable goal against Guiseley!

Above: Substitute Jordan Henry (no.18) converts the penalty which made the score 2-2.
In Sunday's NWYA League match at Hale Country Club on Sunday, Altrincham FC Youth fought back from 0-2 down at the interval to level the scores, with goals from Palma and Henry, only for opponents Chester FC to net a last-minute freekick to clinch the game 3-2.
Match report here.
Below, we see the team before the kick-off.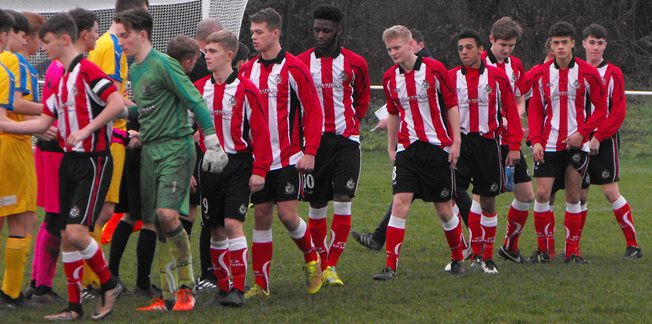 Altrincham's Press and Media Officer, John Edwards, writes, "In his 'Captain's Chat' column in Saturday's Robins' Review, Shaun Densmore explains why Matt Doughty's appointment for the rest of the season, along with Robbie Lawton and Graham Heathcote, has been favourably received in the dressing room and why he'll be spending the next couple of weeks in the gym, rather than on the pitch. Here, it is reproduced in full.
CAPTAIN'S CHAT
After a season where good news items have been thin on the ground, it has made a welcome change this week to be able to reflect on positive developments on and off the pitch.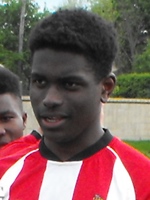 The decision to make Matt Doughty manager for the rest of the season, with Robbie Lawton and Graham Heathcote continuing to assist him, has been widely hailed as the right move by the club, and it has certainly gone down well in the changing room.
The announcement was made shortly after a battling New Year's Day draw at FC United of Manchester, which, in turn, was followed by news of Gary Jones' initial one-month loan from Southport being extended to the end of the season. We may have gone out of the Buildbase FA Trophy at Macclesfield 24 hours after that, but there were even positives there, not least an outstanding performance from midfield prospect Laurence Taylor (left).
So, all in all, forgettable though 2016 was, perhaps there are signs that the coming year bodes better for everyone connected with our club. Let's hope so. Buzz is the man to take us forward, particularly with Robbie and Graham, at his side, and as he said this week, the last thing we need at the moment is a new set of eyes and ears implementing yet another different approach after all the upheaval we've already had.
We would have liked results to have been slightly better, but the positive impact they've had is showing in performances. We have been more solid and organised, and there has been a greater level of professionalism about everything they've done.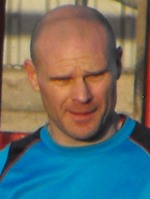 For instance, we've been coming in early for the recent holiday games to ensure we're prepared as thoroughly as possible. On Boxing Day and again on New Year's Day, we all reported at 11 am to go through set-pieces and work on shape before having a pre-match meal together.
Those are the sort of details that can make a difference, and it certainly shows how seriously they are taking the task of getting us up the table. Buzz has also been quick to strengthen the squad with five new signings who have all hit the ground running. Andy Owens and Elliot Newby were arguably our two best players on their debuts at FC United, while Nicky Clee is getting back to his old self with each game and Kyle Brownhill looks bright and confident.
The other one, of course, is Gary Jones (right), and confirmation the other day that he's with us for the season was a massive boost. It could potentially be huge for us. Over the years, he has amassed more experience than anyone at the club, and during that time, he's probably been in a similar situation to our current one, so that driving force and leadership he provides is going to be invaluable. I've said before that his fitness levels at 39 put us all to shame, and he really does drive people on from midfield. There's a case for saying it's as big a piece of news as we've had all week, right up there with Buzz, Robbie and Graham staying in charge.
I don't think the senior players who turned out at Macc will mind me saying that probably the best performances came from the younger lads. They all acquitted themselves really well, with Harry Cain opening his account with a great goal that will do him the world of good and Laurence Taylor again showing fantastic composure. It's not the first time Laurence has taken my eye. I played for the Reserves a couple of weeks ago and came back and said straightaway we've got a lad there in central midfield who really looks the part.
Finally, on myself, I've got to step back and spend a couple of weeks getting more strength in my legs in the gym. I've probably done a bit more on the pitch than I should have done, because I was eager to try and help our situation, and I have felt it during and after games. The answer is to do more conditioning work for the next couple of weeks, so hopefully that will have the desired effect".
In
The Hallmark Security Cheshire Football League
, Premier Division, on Saturday, Altrincham FC Reserves won 3-1 away at Styal. First-team midfielder Simon Richman was in the squad, which comprised Marcus Dibble, Andrew Jones (gk), Ryan Barry, Tom Clarke, William Foster, Callum Jones, Rob Kennerley,
, Joel Swift, Laurence Taylor, Tom Westall.
Next Saturday, the Reserves are at home to Wythenshawe Town at Egerton Youth Club FC, Knutsford.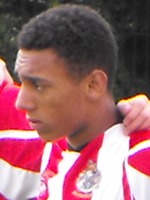 Eighteen year-old Darius Palma (right) outstripped the feat of former Alty goalkeeper Ashley Timms in playing in three different competitions for the Club inside a week. Darius has done even better than the erstwhile Alty keeper as he has now played at three different levels for the club inside four days! On Wednesday, Darius was a used sub for the first team at Macclesfield Town; on Saturday he played for the Reserves at Styal and, on Sunday, he played for the Youth Team against Chester FC!
For the record, Timms's first three Alty games were in three different competitions inside 11 days. He made his Alty debut at Vauxhall Motors on 9 September in the UniBond Premier. He then played in the Cheshire Senior Cup against Stalybridge six days later and on 19 September he kept goal for Alty in the FA Youth Cup.
With Altrincham playing at Runcorn Town in the Cheshire Senior Cup this Wednesday, Darius could add another competition to his CV!
However, one of Ashley's accomplishments has, so far, evaded Darius - that is, keeping goal and scoring in the same match. Ashley, when playing in goal for Atherton LR, scored from a corner in an amazing 6-5 defeat by Nantwich in the NW Counties League. LR trailed 5-1 with less than 10 mins to go before Timms levelled it to 5-5 before they lost to a late goal. LR won a corner kick and Timms ran up-field to hit a perfect, low, hard drive past Simon Pay in the Nantwich goal.
The
FA
confirms that Altrincham FC Ladies lost 1-0 away to FC United of Manchester on Sunday. FCUM are second in the league whilst Alty ladies are now sixth but with games in hand.
Coming up for Alty Ladies is an Argyle Sports Plate cup match at home to Bolton Wanderers on 22 January (2pm).
The
Youth Education
team lost in midweek, 0-4, at home to FC Halifax Town. Next Wednesday they are away, again, this time to Stockport County.
---
8 January 2017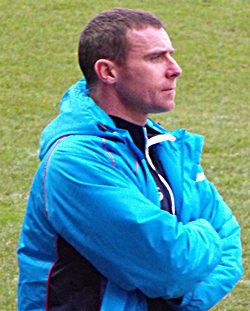 Alty TV has Brian Flynn's post-match
interview
, following the match with Gloucester City. In it, Robbie gives a frank assessment of the team's performance.
Right: Robbie Lawton on the touchline during the game on Saturday.
Match report here
Gloucestershire Live reports that "Ten-man Gloucester City stopped the rot of six league games [five and a Trophy match] lost in a row by grinding out a well-deserved three points at Altrincham...
Altrincham weren't really in the game all that much but the Tigers defence had to stay alert... The home side then began to find their stride and were given two free kicks in quick succession within shooting distance, however they over complicated their routine and failed to muster a meaningful effort on goal.
City were struggling to turn their pressure into clear cut chances, but they found their way through eventually and took the lead.
With the hosts making a complete hash of clearing the ball on the edge of their own area, Ed Williams found Parker with a threaded through ball and the City front man duly gave his side the lead with a thumping finish into the roof of the net...
Nicky Clee hadn't been in the game all that much but he produced a moment of brilliance as he teed himself up for a dipping volley that just went over the top.
With City inviting pressure, it was inevitable that needless fouls were going to start creeping into their game and they did, with full backs Lewis Hall and Keiran Thomas both going into the referee's book for late clips.
That would come back to bite the Tigers though as Thomas was then shown a second yellow card for more of a collision than anything with Heathcote, but the referee judged there was enough in it to send the City right back for an early bath...
Then, right at the death, City switched off and James Lawrie burst through, striking a vicious shot goalwards but Singh did what he is paid to do and secured the Tigers all three points with a magnificent save".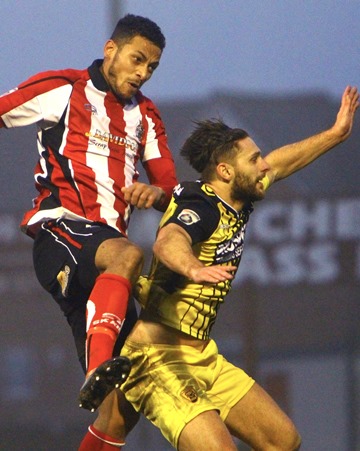 Right; In the adjacent image from Gavin Rathbone of GR Photography, we see John Cyrus heading clear against Gloucester City.
Mike Ripley's images from the match are here.
Att: 2821 AFC Fylde 3 v 1 FC United Of Manchester
Att: 1081: AFC Telford Utd 1 v 1 Gainsborough Trinity
Att: 915: Altrincham 0 v 1 Gloucester City
Att: 1360: Boston United 0 v 2 Stockport County
Att: 525: Brackley Town 0 v 1 Chorley
Att: 2313: Darlington 1883 1 v 2 Nuneaton Town
Att: 735: Harrogate Town 6 v 3 Alfreton Town
Att: 1298: Salford City 3 v 0 Kidderminster Harriers
Att: 851: Stalybridge Celtic 1 v 0 FC Halifax Town
Att: 568: Tamworth 3 v 2 Curzon Ashton
Att: 451: Worcester City 0 v 1 Bradford Park Avenue
The
Hallmark Security (NW Counties) League
reports its "League Awards..
Player of the Month, Division One: Ashley Stott Eight goals in four starts, including a hat trick in the win at Stockport, a brace at Chadderton and Holker and a goal against high flying Chorley in the Lancashire FA Challenge Trophy have only further enhanced his reputation. He also won two man of the match nominations. Standing alone now on 31 goals at the top of the Division One charts, 'Stotty'has shown what a quality player and finisher he is, with the variety of different goals he scores".
From the EvoStik League we learn that Sam Madeley of Macclesfield Town has signed forms back at Nantwich Town, one of his former clubs.
James Walshaw hit four on Saturday at Radcliffe Borough, as his Farsley Celtic side won 5-0.
In its Saturday review, the
National League
tells us that "AFC Fylde increased their lead at the top of the table to nine points after the Coasters beat FC United of Manchester and second-placed Kidderminster Harriers were beaten by Salford City.
In front of a crowd of 2,821 at Mill Farm, Brendon Daniels gave the hosts a 28th minute lead that Dan Bradley doubled 10 minutes later.
Harry Winter gave the Reds a chance when he reduced the deficit with 11 minutes to go. However, just when it looked like FC United might have a chance of finding an equaliser, Fylde netted a third goal 4 minutes later via Matty Hughes.
Salford netted three times in the second half to see off Kidderminster at Moor Lane...
Brackley Town came into their game at St James`s Park against third-placed Chorley on the back of two successive wins. However... a crowd of 525 saw Dale Whitham give the visitors the lead 2 minutes before half-time. And they held onto that lead to earn three crucial points in their promotion quest.
Tamworth moved into the top five after edging out Curzon Ashton at The Lamb and seeing Darlington 1883 beaten at home by Nuneaton Town...
In-form Nuneaton Town made it seven wins in succession at Blackwell Meadows in a dramatic finale... It was Nuneaton who took the lead on 58 minutes when Reece Styche was brought down for a penalty, and the the National League North`s player of the month for December, Joe Ironside, slotted home the resulting spot-kick.
As the hosts searched for a leveller, Harvey Saunders saw a low strike pushed wide by Christian Dibble before they were finally rewarded for their endeavours in the final minute when David Syers headed home... but Boro shocked home fans when they won it in stoppage time...
Stockport County boss James Gannon celebrated his manager of the month award after his side inflicted a first defeat on Boston United's recently-appointed boss Adam Murray after a 2-0 win at the Jakemans Stadium...
FC Halifax Town are falling away from the top five, however, as they went down to a 1-0 defeat at Bower Fold to second-bottom Stalybridge Celtic. Adam Morgan missed a penalty which was brilliantly saved by Grant Shenton and Danny Hone was sent-off for bringing down Florian da Silva as he was through on goal. The winner came from new signing Chris Baguley, on as a 69th minute sub. He prodded home after a low cross from the left found him unmarked a minute from time.
A four-goal display from defender-turned-striker Simon Ainge helped Harrogate Town to a 6-3 victory over Alfreton Town at the CNG Stadium. Ainge was pushed up front in an emergency and it paid off as Harrogate ended their poor recent run...
The two teams hovering just above the drop zone, AFC Telford United and Gainsborough Trinity, shared a 1-1 draw at the New Buck's Head... Worcester City have been pulled back into the relegation dog fight after losing 1-0 at the Victoria Ground to third-bottom Bradford Park Avenue, who are now level on points with Gainsborough. In a scrappy game, Bradford stole all three points through a Nicky Boshell strike in the 96th minute".
In the Shropshire Star we learn that "A sending-off was the turning point as AFC Telford United were pegged back late on to draw 1-1 with Gainsborough Trinity...
Bucks' skipper Luca Havern was given his marching orders shortly into the second period for a second bookable offence...
Telford announced a quartet of signings just an hour prior to kick-off; Luke Higham and Dominic Henry arriving on one-month loans from Blackpool, and Jones and Lewis Hayden coming in from Solihull Moors.
Higham and Jones made the starting line-up, while Henry and Hayden were on the bench along with Tony Donaldson, who signed from Doncaster Rovers on loan on Friday, and Jonathan Royle, back after a groin injury".
Also, AFC Telford United "would like to make the following press release...
As has previously been documented, AFC Telford United were subject to an erroneous winding up order brought by HMRC, this was dismissed by the court. The winding up order was brought by HMRC in 2015 as the football club was late in paying part of a VAT liability to HMRC, the football club had paid part of the VAT liability on time.
As some of the liability was paid a few days' late HMRC issued penalty notices for late payment. The football club appealed against those penalties and eventually this appeal was heard by HMRC Court & Tribunal service. Although the Court & Tribunal service expressed sympathy to the football club it advised that it was tied by the legislation that stated if VAT was paid late and outside a 'time to pay scheme' then the penalties could not be cancelled.
The amount of the penalties total £2,570. The only amount owing by the football club to HMRC are these penalties of £2,570. The football club will take advice from its advisors who have stated that there is a case to appeal the Court & Tribunal decision."
Harrogate Town report that "It is with regret that we announce John McDermott is to step down as assistant manager with immediate effect.
Over the Christmas period, John spent some time recovering from a short illness, and as the club has recently revealed our intention to become a full-time outfit as of 2017/18, Simon Weaver's long standing assistant has decided to pursue new opportunities, closer to his home.
McDermott commented... 'A new opportunity has arisen for me, which coincides with my current employment and is a lot closer to home'".
The Halifax Courier reports that "More pressure was piled on to boss Billy Heath as FC Halifax Town slumped to a dire 1-0 defeat at strugglers Stalybridge.
Adam Morgan missed a penalty and Danny Hone was sent-off as The Shaymen's season reached a new low point.
Town could hardly have hand-picked a better opponent against which to break out of their wretched run of form, with Stalybridge winning just three of their 23 league games this season, scoring fewer goals than any team in the division and conceding the most...
Defeat certainly gives [chairman] David Bosomworth something to think about... [Heath's] team's performance was poor, lacking in quality and cohesion.
Town's injury problems this season were encapsulated by the fact that Tom Nicholson replaced Sam Johnson, who injured his ankle against Darlington after replacing hamstring injury victim Steve Drench...
Halifax had been the better side, but that wasn't really saying much; Stalybridge offered commitment and hard work, but not much else... Town's third different keeper in three games, having a quiet league debut...
Last-man Hone was sent-off for flooring Da Silva... Heath reacted by substituting Morgan for Cliff Moyo, which prompted boos and cries of 'You don't know what you're doing' from some of the travelling contingent".
---
7 January 2017
There was plenty of effort but a lack of incisiveness in front of goal from an Altrincham side which dominated the second half against a Gloucester side whose constant timewasting should have been more firmly dealt with by the referee.
On a dismal, damp afternoon at the J. Davidson Stadium, Altrincham fell behind in the 31st minute after three times failing to clear the ball from the front edge of their penalty area. City took advantage, slipped the ball left of goal, from where a rising shot by Parker beat Deasy to secure the points.
Numerous Alty shots either flew wide or over the bar but their most threatening shot did not come till deep into added time from substitute James Lawrie, whose effort was well saved by Singh. Gloucester were reduced to ten men in the 83rd minute when Thomas hacked down Clee once too often and was deservedly shown a second yellow card.
Alty were without Simon Richman, Craig Hobson, Alan Goodall, Sean Miller and Shaun Densmore as they sought a first home league win of the season. They were the only side in the bottom five at kick off who did not get a point today so they are now 14 points from safety.
Match report here
Saturday 7 January
AFC Fylde 3-1 FC United Of Manchester
AFC Telford Utd 1-1 Gainsborough Trinity
Altrincham 0-1 Gloucester City
Boston United 0-2 Stockport County
Brackley Town 0-1 Chorley
Darlington 1883 1-2 Nuneaton Town
Harrogate Town 6-3 Alfreton Town
Salford City 3-0 Kidderminster Harriers
Stalybridge Celtic 1-0 FC Halifax Town
Tamworth 1-1 Curzon Ashton
Worcester City 0-1 Bradford Park Avenue
Why not come down early for the match tomorrow and watch the Manchester United v Reading FA Cup tie in the Community Sports Hall at the J Davidson Stadium from 12.30pm, before Alty take on Gloucester City at 3pm. The usual bar and refreshment facilities will be available.
Our opponents on Saturday,
Gloucester City
report that "City are currently in our worst spell of the season having lost our last five matches on the spin. City come into the game on the back of a disappointing 3-0 loss to Brackley Town on Boxing Day, our sixth defeat in a row. [Their return fixture on New Year's Day was postponed]. Our last win came on November 8th away to Alfreton Town...
Altrincham are in some dire form having not won any of their last nine games in the Vanarama National League North... They'll be hoping to turn their season around starting against the Tigers, as they find themselves with just eight points at the bottom of the table and without victory at home.
City's new signing Ross Finnie could make his debut on Saturday having signed for the club from Wolverhampton Wanderers on loan. The Scottish born midfielder has been at Wolves since since the age of eight and has played international football at youth level for Scotland in the Victory Shield and Under-19 European Championships...
We've met seven times since 2011 with the Tigers taking maximum points on three occasions, with Altrincham winning twice. Earlier this season City were in dreamland as Luke Hopper's hatrick helped us to a 5-0 hammering of the Robins when they came down to Gloucestershire. It was the first meeting in three years where we'd met at Whaddon Road, City recording a 2-0 win. Altrincham's last win over ourselves came in September 2013, another 2-0 score line.
Chris Knowles is continuing his return from injury which has kept him out whilst Joe Hanks should be back to full-fitness as will Spencer Hamilton".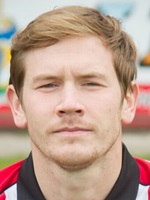 Altrincham's Press and Media Officer, John Edwards, writes "In his Captain's Column in Saturday's Robins Review, Shaun Densmore (right) delivers a dressing room view on this week's big news that Matt Doughty will remain as manager for the rest of the season, assisted by Robbie Lawton and Graham Heathcote.
There's an illustration by Shaun of how Buzz has taken a more professional approach to match preparations, while the Alty skipper also provides an update on his own battle to get back to his old fitness levels. The Robins Review will be on sale inside the ground before kick-off against Gloucester City".
Next Wednesday, Altrincham travel to Runcorn Town for a Cheshire Senior Cup tie. Town players include well-known ex-Alty faces in the form of Carl Rodgers and Phil Marsh, whilst another former Alty man, Marc McGregor, is their assistant manager. As supporters who have watched Town before will know, Runcorn Town play at The Pavilions, Sandy Lane, Weston Point, Runcorn, WA7 4EX.
Town are currently top of the Hallmark Security (NW Counties) League Premier Division who report that "Runcorn Town Manager Chris Herbert has really grabbed the Premier Division with both hands in his first season in charge and is relishing the strong run in. However he is quick to acknowledge the hard work by his new look squad and coaching staff.
Whilst many have raised an eyebrow at Runcorn Town's table topping position, they currently sit five points clear of second placed Bootle with 51 points on the board, and the Manager is happy to be at the top, Chris has spoken about the club's upwardly mobile position, the challenge ahead and how he has adapted to managerial life in the Hallmark Security League.
'I wouldn't say we have done better than expected because every manager and his team sets out at the start of the season to aim for the top of the table or to be at least challenging at the top. I would say though that we have done better than expected given the fact we are running with a new squad, and where we are is a reflection on how we have played up to now. With regards to our early arrival at the summit, I'm maybe a little surprised to be at the top so early but the lads have been very professional about the way we have set out to play and they have gone about their business on the park, and done what they have needed to do.
'Yes, we have taken a couple of defeats along the way, and what myself and Mark McGregor have done is look more into the defeats than some of the victories, as when you win you are largely doing things right. However in defeat you want to know what hasn't gone our way, why and what we can do to learn from that to avoid it happening in the next game. What we know is that if we can repeat what we have done so far in the first half of the season we will win the league and go up, but as things stand with the squad so far, we won't win it if we keep everything the same.
'We want competition for all positions, for example we have only played one keeper all season and we will want him at some point to have a rest but, in order to do that, we need another keeper to challenge him for the shirt. In effect we need the same across the squad, we need options to freshen up and strengthen. All clubs will get stronger for the second half of the season and we cannot sit back and see what they do, we need to return the pressure they will put on us'...
Chris is optimistic about his club's chances in the run in... 'I have five or six players that have really stood out up to now, that takes nothing away from any of the squad but players like Joe Holt, Craig Cairns, Carl Rodgers, Simon Thelwell and Joe Heath have been part of our backbone this season. At the outset we were faced with the question of do we bring in young players and develop a squad to challenge in a couple of seasons or go with an experienced side and challenge from the word go? We went with the latter and I'm so glad we did. Young players you can spend a lot of time on developing but, as soon as they start to show real promise, you can end up losing them to bigger clubs, whereas our experience with some youthful touches has really shone.
'A lot of attention has been on Craig Cairns and he has rightfully received it with a number of suitors on his tail but Craig is a very level headed lad and is enjoying playing in a team with friends who know his game strengths'"
NL Pitchero
reports that "Joe Ironside from Nuneaton Town wins the Vanarama National League North player of the month award. The Boro have had an outstanding December and four wins have propelled them up the table... and also into the next round of the FA Trophy.
Twenty-three-year-old Ironside has weighed in with a good haul of goals which included four against Alfreton Town at the start of the month and ironically it was from Alfreton that he was signed earlier in the year".
Meanwhile, "Jim Gannon of Stockport County receives the Vanarama National League North manager of the month award. A number of managers were contenders for the award and some can consider themselves unfortunate.
The Hatters were unbeaten throughout December in the Vanarama North and FA Trophy and under the experienced hands of County fans favourite Gannon, he has given the club some belief that they could start to rise again to be a force and genuine promotional [i.e. promotion] material".
"Youngster Tony Donaldson has joined AFC Telford United on a month`s loan from Doncaster Rovers" reports NL Pitchero. The highly-rated young 18-year-old signed for Doncaster on Wednesday having trained with the club from the start of the season and joins the Bucks to gain some valuable first-team experience.
He had previously been playing his football with Runcorn Linnets, having spent the large amount of his career at Wigan Athletic from a young age. Donaldson, who signed an eighteen-month deal with Rovers, will remain with the Bucks until February 4th".
---
6 January 2017

Above: Altrincham's players and management salute the 101 travelling fans in the gate of 548 at Macclesfield on a freezing Wednesday night for the FA Trophy replay.
You Tube has the goals from Macclesfield Town v Altrincham on Wednesday.
Alty entertain Gloucester City on Saturday hoping to reverse their defeat (5-0) by the Gladiators earlier this season. That was Jim Harvey's first match in charge of Altrincham and the side that day was...
1. Tim DEASY, 2. Sam PATTERSON, 3. Jon MORAN, 4. Sam HEATHCOTE, 5. Danny HATTERSLEY, 6. Adam GOODALL (capt), 7. James LAWRIE, 8. Jake MOULT, 9. Craig HOBSON, 10. Damian REEVES, 11. David LYNCH. Subs: 12. Simon RICHMAN, 14. Charlie JOYCE, 15. Harry CAIN, 16. Sean MILLER, 13. Andrew DAWBER
Compared with the starting eleven for Alty's most recent league game, on New Year's Day at FCUM, only Deasy, Moult and Reeves figured in both line-ups at kick-off.
Gloucester have lost their last five games whilst Altrincham have not won in their last nine league matches.
Mike Garnett's record of previous encounters between the teams is below:
At home: P3-W2-D0-L1-F5-A2
Away: P4-W0-D2-L2-F1-A8
All: P7-W2-D2-L3-F6-A10
Howard Watts's
Through the Years
chart reminds us that Saturday is the second anniversary of that bonkers 5-4 defeat at Gainsborough in 2014, as well as of the memorable 3-0 loss to Tottenham in the FA Cup in 1995 and of the 2-0 loss, 20 years previously, to Everton in the same competition at Old Trafford.
Why not start the New Year by joining the Altrincham FC Bonus Ball competition? For £1 a week you have the chance to win £25 if your number matches the Bonus Ball drawn in the Lotto weekly draw. All proceeds from the Bonus Ball competition go towards the Football Club's funds. To join the scheme, please contact the Club by
e-mail
or, from 4 January, the Club Offices on 0161 928-1045. Thank you for your support.
Nuneaton Town
report that "There is more good news coming out of The Coombe Abbey Arena today after we were able to extend Jordan Nicholson's loan from Peterborough United for the remainder of the season.
The 23 year-old has showed his quality during his time with Boro so far, putting in some impressive displays and helping us pick up six consecutive victories.
'I have to thank the Chairman for making this happen,' said a delighted Tommy Wright... 'Jordan has been superb and there is much more to come from him; he is well liked within the group and extending this loan until the end of the season shows ambition from the Chairman in backing me to succeed.'" Nicholson joined The Posh in December 2015 following an impressive spell with Histon and is highly-rated by the League One outfit."
According to Buckingham Today "Brackley Town manager Kevin Wilkin knows his side face a tough examination in Saturday's clash with Chorley...
But Saints have three games in hand on every team above them and most of the chasing pack. However, a fixture pile-up is the last thing Wilkin wants with his side chasing a play-off place and a good run in the Buildbase FA Trophy.
Saints' scheduled return with Gloucester City was postponed on Sunday with Cheltenham Town's Whaddon Road pitch failing to pass a pitch inspection.
Wilkin said, 'It will be a massive game for us. I know Chorley lost against AFC Fylde in their last game and only drew with Tamworth. But in between they beat Fylde and any team which can do that must be useful...
'We could have played on Sunday but the referee had already made the pitch inspection before we arrived at the ground. There was only a small amount of standing water in one corner and the rest of the pitch looked playable...
'I would have certainly settled for where we are now back in August. There has been a massive transformation at the club and I couldn't have asked anymore of the players. We've had another good run in the FA Cup and earned some more money for the club, we're still in the FA Trophy and have a fighting chance of making the play-offs.'"
One of Brackley's rearranged games is their home match against Altrincham, later this month.
We read in the Halifax Courier that "Assistant manager Mark Carroll still believes FC Halifax Town can turn their season around after reaching the halfway stage in the National League North... They are six points off the play-off places, but with two games in hand.
Asked how he would rate Town's season so far, Carroll said, 'Could do better... We haven't been consistent enough. We haven't played a good full 90 minutes enough times. There's been too many good 20 or 25 minute spells...
'Until we start playing for 90 minutes and defend better as a team, we'll stay where we are. But we've got enough time to put it right... We need to stop conceding so many goals', he said.
'If you look back through the season so far, we've scored two at Fylde and lost, two at Gainsborough and lost, two at Curzon Ashton and lost, two at Darlington and lost, and three at Eastleigh and drew...
'It's a lack of concentration and decision making. Teams aren't necessarily cutting us open... It's about concentration and making the right decisions... We do defensive drills in training and speak to the boys about it, but we can't keep scoring two goals and not coming away with anything. It's criminal'...
Carroll believes there are mitigating factors for Town's inconsistent form, such as the loss of key players through injury and suspension. 'Scott Garner has been a big miss', he added. 'He's probably our players of the season so far and our most consistent performer. Jordan Sinnott has also been a big loss, not just because of his quality on the ball but his set-pieces and long-throws, because they're such a big part of the game and they can win or lose you matches.
'We need more luck with injuries. But you have to get on with it - it happens to other clubs too'".
And The Courier adds that "Town defender Scott McManus has been ruled out for the rest of the season through injury. The full-back scored the winning goal in Halifax's historic 1-0 win over Grimsby in the FA Trophy final at Wembley last May.
But he sustained a cruciate ligament injury later in the same game".
The Gainsborough Standard reports that "A former Gainsborough Trinity footballer has been given a suspended prison sentence after defrauding a major high street chain out of more than £22,000.
Adam Smith, who currently plays for Alfreton Town, used a 'sophisticated plan of deception' while targeting a number of TK Maxx stores. His offending came to light when he was confronted by a suspicious security guard after a seven-week spell in which he bought goods from stores in locations including Chesterfield, Sheffield, Leeds, Harrogate and Manchester.
In total, Smith, who has also played for Chesterfield, Gainsborough Trinity Lincoln City, York City, Wrexham and Halifax Town, admitted fraudulently claiming £22,278.27 from TK Maxx between November 18 and December 22, 2015, Derby Crown Court heard.
The 31-year-old – who made 13 appearances for Trinity from 2008 to 2009 – would spend hundreds of pounds on items on a credit card and then tell the cashier he had paid on the wrong card. He would then be refunded and pay again with a second card, but retain the original receipt which he used to claim the cash back. Sarah Slater, prosecuting, said sometimes that original receipt would be used 'two or three times' to illegally claim back money...
Handing Smith a two-year jail term, suspended for two years, Judge Robert Egbuna said... 'You think you are someone who can charm your way out of everything...
Bob Sastry, defending, said... 'He was under considerable financial strain after no longer being given a full-time contract as a footballer... He now earns £350 per week and has a contract (with Alfreton) until the end of May'"
The Derby Telegraph adds that "Alfreton Town said they would support its winger Adam Smith who this week was sentenced for fraud at Derby Crown Court... [The club said] 'Adam made clear that the events were far behind him and he has been grateful for a second chance at redeeming his career'".
According to the Shropshire Star "Boss Rob Smith is happy to be moving on as James Hurst's AFC Telford United exile came to an end with a move to Dover Athletic.
The 24-year-old had not played for the Bucks following a spat with supporters on social media after the side's 2-0 loss to Salford City on October 29. Hurst was sent off in that game and wrote a series of posts on Twitter that night featuring comments like, 'I feel like a surgeon stacking shelfs in this league (sic).'
Hurst had returned to training with the Bucks to keep up his fitness and his contract with the club was terminated to free up a move to Dover...
Smith said, 'It is in the best interests of everyone here that he moves on... It also gives us the chance to move on as well and bring in somebody who will be playing regular games'...
Smith's comments led to an internal investigation, carried out by Bucks chairman Ian Dosser and general manager Sharon Bowyer, and his subsequent placement on the transfer list.
Meanwhile, Smith has rubbished online speculation linking the club with a move for Tamworth striker Danny Newton... Although a move for Newton has been ruled out, the Telford chief is keen on adding to his squad in time for the visit of Gainsborough Trinity on Saturday."
Reports from NL Pitchero say that "Chorley have announced the signing of goalkeeper Ritchie Branagan following his release from Macclesfield Town. The 25-year-old arrives as loanee Shaun Rowley returns to Shrewsbury Town following the completion of his three-month spell.
Twenty-year-old Rowley played nine games for the Magpies as emergency cover following the loss of Sam Ashton to a season-ending injury... The club did have the option of extending Rowley's loan but any new deal with Shrewsbury would have included a 24-hour recall clause... so the management team opted to make a permanent signing and welcome Branagan back to Victory Park.
The experienced custodian returns having played for the Magpies during a loan spell from Bury in March 2010...
During his [sic] majority of his three-and-a-half years with the Silkmen he [Branagan] has been a regular in the first-team squad and was given the number one shirt at the start of this season and played a total of nineteen first team games for the club".
---
5 January 2017
For this FA Trophy replay, Altrincham lacked no fewer than fourteen first-team players; seven were out through ineligibility (Kyle Brownhill, Gary Jones, Elliot Newby, Andy Owens, Clayton McDonald, Sam Heathcote and Nicky Clee), five through injury (Simon Richman, albeit he was an unused sub., Sam Patterson, Craig Hobson, Alan Goodall and Sean Miller) and two more were rested (keeper Tim Deasy and captain Shaun Densmore). Nevertheless, a team in which six graduates from the youth team and reserves (Cain, Foster, Taylor, Palma, Graham and Callum Jones) were all given significant game time did Altrincham FC credit against a strong Macclesfield side who, discounting Man of the Match, Danny Rowe, were generally unimpressive.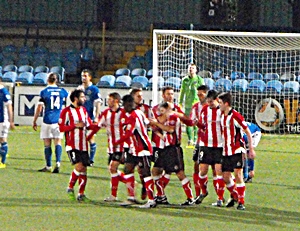 Right: Harry Cain is congratulated by team-mates after his goal.
So, just four players who had begun Saturday's league match also started tonight (Cyrus, Hannigan, Moult and Reeves). And it was the underdogs, Altrincham, who took a 25th minute lead with a fine goal, fired into the top corner from 20 yards or so by Harry Cain.
Macc equalised early in the second half through substitute Whitaker before the Silkmen earned an away tie at AFC Sudbury with a goal seven minutes from time from Rowe.
Match report here
Macclesfield Town report that "Macc had much the better of the game but trailed 1-0 at the break however they turned the game around in the second half...
Boss John Askey made two changes from the side that beat Tranmere on New Year's Day with Ryan Boot coming in to side for Craig Ross in goal and Dan Cowan getting a start in place of Andy Halls...
At the other end, Ryan Boot had to be alert to smother a Damian Reeves effort as Alty had their first chance and moments later the visitors were ahead.
Boot was once again alert to smother an effort but when the ball fell to Harry Cain on the edge of the box he made no mistake in looping the ball home. There may have been a deflection but the visitors certainly didn't care...
But it didn't long for Macclesfield to get level after the break. Rowe burst in down the left flank and when his cross was only half cleared, Whitaker was on hand to loop the ball home and bring Macc level....
Rowe was now causing all kinds of problems for Altrincham right-back William Foster and soon after he cut inside on to his right to curl an effort wide.
Minutes later Rowe once again had the Altrincham defence in trouble and after steaming past Foster he crossed for Whitaker who blazed over...
In the 83rd minute Rowe did get his reward. He once again found space down the left and this time cut back inside and rolled the ball through a crowded penalty area in to the corner of the goal to give Macclesfield the lead.
From there Macclesfield saw out the game relatively comfortably and despite a late corner from Altrincham that set hearts racing it was Macclesfield that got the win".
NL Pitchero
confirms that "Harrogate Town have announced that the club will operate on a full-time basis from the start of the 2017/18 season... The decision has been made that going full-time will help the club achieve its ambitions...
Boss Simon Weaver believes the decision gives his side the best opportunity of progressing, regardless of what division we are in next season, 'We are moving into a new era for the club and we strongly believe that now is the right moment to announce our intention to go full-time. We have spoken about if for a while, but now we have the infrastructure in place to make this step up. We already have a professional mindset here, and I want every player to also have that mentality of being a full-time footballer.
'As a club, we have been preparing for this transition for a while and as such it is important for us to be honest and open with everyone involved as early as we possibly can. Making our intentions known now gives our players, staff and supporters the best possible opportunity to adapt and prepare for the exciting change that is ahead of us. All the players have reacted positively to the news, and we are confident that each and every member of the squad will remain 100% committed to the cause for the duration of this season. We're a close-knit, ambitious group right across the club and this further signals our intent to do things the right way.
'Ultimately, there are a number of clubs at this level that are already full-time, professional clubs, and you can clearly see the benefit of working with players on a daily basis. For me, you can't underestimate how much of a massive leap in the right direction this is for our football club'".
Brackley Town report that "Further to the success of the Community and Player Development Academy this season we are further enhancing the structure of both sides of the business. With immediate effect Kevin Wilkin will also be involved in overseeing both sections and will add his experiences from when he was Manager at Wrexham in a similar role and bring them to the fore here. This will allow Eddie to further the development of the coaching in the schools where we have made an initial impact...
This is seen as another step in the progress for the Club and the wider community".
At Kidderminster Harriers, the chairman, Colin Gordon, tells supporters "The way you've supported the team and the club throughout the last 12 months has been fantastic... That was reflected in the 1,000-plus that supported us at Bromsgrove and it was great to see. I know that the vast majority behaved impeccably throughout and were a credit to the club. What is unfortunate is that a very small number of our fans felt it necessary to behave ridiculously on the day in a manner that is in serious danger of having a very bad impact on us as a club.
Let me be clear. There is absolutely no point in the club and hundreds of fans working tirelessly to raise thousands of pounds through projects like Give It 100%, to then have to pay that money back in fines. Actions like the ones we saw on Boxing Day aren't fun, they aren't amusing and they aren't supported by the rest of the fan base. Please don't harm the team or the club by behaving in this way.
This year, our first calendar year working as a group since I took charge of the club, has been a challenge but it has also been very rewarding. The hard work goes on – the club had eased into a dangerous habit of losing about £250,000 each year, and turning this around doesn't happen overnight or indeed in the space of a year. But you can make some progress, and that's what we've done. We're still operating within very tight margins but we're working and operating far more efficiently and intelligently than before.
Just over a year ago this club had no philosophy and very little identity, so changing that has meant a lot of work for a lot of people. We know who and what we are; we base our philosophy on an open, attractive and winning style of football, from the ages of 4 to 40 and beyond, no matter what age or gender. That will be the way forward. We will continue to be open and inclusive. Taking our community programme as an example; this has been tremendously successful for many years, but it has been very poorly supported by the club in previous seasons and this will change in the future.
I'll be looking to hold another Chairman's surgery this month, so it will be really good to see more of you and discuss the future of our club... This is where you can come to me directly and ask me whatever you want to. I read so much about which players we're selling, which deals are already done and which legend we're supposedly re-signing. There's no need for any of that and no need for whispering in the corridors or in corners, or posting uncorroborated opinion on social media at this football club. Just come and speak to me... Colin Gordon, Chairman".
We learn from Tamworth that "After starting all 4 fixtures during his initial loan spell, Lambs' Boss Andy Morrell has secured the services of 18 year-old midfielder Ben Fox for an additional month. The Burton Albion player... who made his Tamworth debut in the 2-1 away victory against Altrincham at the start of December... will be available for selection against Curzon Ashton on Saturday, and his loan period will expire immediately after the Worcester City away game on February 4th".
Our neighbours, Stockport County report that "The latest edition of the Stockport Express, which is out now, continues where last week's left off, with five back pages once again devoted to the Hatters. Reports and reactions following the New Year's Day Harrogate game are supplemented by two further full-page historical features, written with the full co-operation of the club, by our live match-tweeter Gareth Evans.
These features about the Hatters are the third and fourth in Gareth's collection covering the club's full story, entitled 'From Chorlton's Farm to Chorley, Chelsea, China… and Chorley Again'. One piece covers the roller-coaster decade between 2001 and 2011... The other charts the last five years, in which the Hatters have been playing non-league football. Two further feature-length articles, including a look ahead at County's plans for the future, will appear in the next issue of the Express a week today".
AFC Telford United confirm that "James Hurst's contract has been cancelled, subject to confirmation from the FA & National League. Rob & Larry are looking at potential players to bring in this week".
According to
NL Pitchero
, "MAcclesfield Town can confirm that goalkeeper Ritchie Branagan has left the club by mutual consent. Branagan has been with the Silkmen since 2013 after previous spells with Bury and Bolton Wanderers. Over his time with the club, he would feature for Macclesfield thirteen times in the National League and make a total of nineteen appearances for the Silkmen. He found himself limited to just one appearance for John Askey's men this term, with [the] likeable shot-stopper recently making a loan move to Ashton United".
---
4 January 2017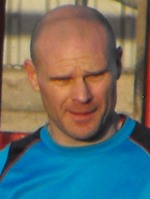 Altrincham's Press and Media Officer, John Edwards, writes that "Matt Doughty's bid to steer Altrincham away from relegation trouble has been given a major boost after Southport agreed to extend influential midfielder Gary Jones's loan until the end of the season.
The former Bradford City captain (right) has made a positive impact on Alty's fortunes, driving the team on from central midfield, but was due to return to Southport in the next few days after arriving at The J.Davidson Stadium on an initial one-month deal on December 9.
Just 24 hours after having his own managerial agreement extended, however, Doughty has succeeded in securing Jones's services for the remainder of the campaign.
While there was jubilation in the Alty camp at Southport sanctioning the season-long move, there was never any doubt Jones himself would readily go along with it.
Speaking after the Boxing Day home game with FC United of Manchester, he made it clear he was fully committed to the Alty cause and wanted to stay for the rest of the battle for Vanarama National League North safety.
Doughty, who was confirmed yesterday as manager for the rest of the season, with Robbie Lawton and Graham Heathcote continuing to assist him, was full of praise for the Birkenhead-born midfielder after the New Year's Day 1-1 draw at FC United.
'He took a whack in the second half and will have a couple of scars to show for it, because there was some bleeding through the ankle,' he said. 'But you know with Jonah that's not going to stop him. He had to carry on for the rest of the game, and he did, and he'll be fine for the weekend. I thought he was immense. For a 39-year old bloke, he's fantastic.'"
Whilst Altrincham have Clayton McDonald, Kyle Brownhill, Nicky Clee, Andy Owens and Elliot Newby all ineligible for tonight's match and injuries to Simon Richman, Sam Patterson, Craig Hobson, Alan Goodall and Sean Miller,
Macclesfield Town
report that manager "John Askey has hinted that he will field a strong side for the Silkmen's Buildbase FA Trophy replay against Altrincham...
The winners will face Isthmian Premier Division side AFC Sudbury and the gaffer is hoping that his side will progress in the competition. He said, 'We've had a bit of rest and we've got a bit of a rest until the following game [next Tuesday] so obviously we want to win it.
'We'll try to put a strong side without risking anyone who might have a bit of a niggle and hopefully we'll progress in the competition'".
The Manchester Evening News adds that Askey "doesn't think he will get the opportunity to reinvest the money from Jack Mackreth's move to Bury...'because of other things that have gone on'". "It's up to other people at the club to decide if they want to progress or stay as we are, so we will see what people are made of... We do need reinvestment if we are to do anything in this league" said the manager.
NL Pitchero
reports that "Having lost Jack Mackreth to Bury yesterday, Macclesfield Town have taken the Shakers' young forward Anthony Dudley on loan for the rest of the season.
Dudley is a product of the Bury youth team. The leading scorer for the youth team last season, he finished the campaign with over 20 goals as the Shakers youngsters won the Youth Alliance North West Championship and was rewarded with his first professional deal over the summer months. Although initially Dudley struggled with the pace of the professional game, a couple of loan spells at Guiseley AFC brought success with 7 goals in sixteen games, including the goal that staved off relegation for the Lions.
He returned to Gigg Lane a very different player and now leaves to gain more experienced with the Silkmen."
He will not be eligible to play against Altrincham.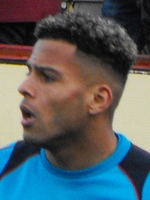 NL Pitchero
reports that "Buxton have bolstered their squad with the...arrival of defender Luis Morrison-Derbyshire (right)... Tall, 6`3" Morrison-Derbyshire`s last club was Vanarama National League North strugglers Altrincham. He joined the Robins on 11th November 2016, his previous club being Ryman League Division One South outfit Greenwich Borough... But after just one appearance for Alty, he was released last month".
Nuneaton Town
confirm that they "have been handed a New Year boost with the news that Reece Styche has extended his loan spell from Gateshead until up to and including February 11th.
The 27 year-old has played a prominent role in our recent impressive form and has become a popular figure both on and off-the-field...
Said boss, Tommy Wright, 'He's brought plenty of know-how and experience to us and I know that Joe [Ironside] has a lot to thank him for because the pair have linked up really well. He is a great lad to have around the place and when you have a group of players who have been successful, you want to keep them together and Reece has been an instrumental figure in our winning run. e needed this move; he's not the sort of lad who wants to sit around and be a bit-part player. He came to us with a hunger to be out there playing regularly and he is enjoying his football again.
'It's been noticeable during his time here that he has been getting fitter and better with each game, so it's great to have him with us for what will be such a crucial month for the club with some big games'".
It is reported by NL Pitchero that "Goalkeeper Ethan Ross will remain with Worcester City until the end of the campaign afterWest Bromwich Albion agreed to let him stay on loan. And manager Carl Heeley believes the 19-year-old stopper has 'grown in confidence' after a 'shaky' start this season. Ross played the final game of his previous agreement on New Year's Day as ten-man City suffered a 2-1 defeat at Kidderminster Harriers.
But Heeley confirmed the West Brom youngster, who has made fourteen appearances this season, had penned a new deal... After a spell at City last season, Ross re-joined the club in the summer, hoping to nail down the number one spot. But he failed to hit the ground running with two costly mistakes in Worcester's opening-day 2-2 draw against Harrogate Town. With Nick Draper also struggling in between the sticks, Heeley turned to the more experienced Ryan Boot [now at Macclesfield Town] who was key to turning around City's fortunes.
But after Boot returned to Port Vale in November following his loan spell Ross did well... Heeley described Ross's first half of the campaign as a 'learning curve'... 'I think he started off a little shakily and was in and out of the team for the first month or so,' Heeley said. 'But since he has got in, after Ryan went back to Port Vale, he has done extremely well'...
Junior English gave Worcester the lead on 23 minutes but Harriers hit back in the second half with a James McQuilkin strike and an own goal from Sam Oji. City also finished the match with ten-men after Lee Hughes saw red against his former club.
"I'm gutted with the result. We were unlucky', Ross said."
Meanwhile, it has been confirmed that "Boston United`s striker Gregg Smith has suffered a dislocation and fracture to his right ankle. The 26-year-old sustained the injury during New Year's Day's 2-1 victory over Gainsborough Trinity at The Northolme".
---
3 January 2017
Here are Matt Doughty's thoughts on Altrincham's 1-1 New Year's Day draw at FC United of Manchester in a post-match interview with Press and Media Officer, John Edwards.
"Q: Does it feel like more than a point in a way, given how important it was to end the losing run in the league and the late bombardment we had to withstand?
A: For the last 20 minutes, it was like a basketball game; we attack, then you attack. I thought Andy Owens and the young lad (Elliot Newby) put absolutely everything in. Andy had to come off with cramp, and the kid couldn't run towards the end. That's why I had to put Andy McWilliams on near the end, for more energy and legs. I had a go at them at half-time, because I thought we were really poor in the first half, apart from Andy and the young kid, who was very bright. Andy caused a hell of a lot of problems for their defence, but apart from that, we were poor. I thought we were miles better last week, but we got trounced 3-0. I thought we were poor today, but we got a point. That's how crazy this league is.
They are not a bad team, FC United. They passed it a bit better than they did last week, and their movement off the ball was very good. We had to concentrate on runners and stick with them, which we did, to be fair. Again, I can't fault the players. They wanted to play for me, you could tell. They put every ounce of blood, sweat and tears into it. They wanted something out of it, and I think the point was deserved.
Q: What particularly displeased you in the first half, because after conceding so early, I thought we came back into it quite strongly?
A: I don't think we were bright enough with the ball. Every time we attacked, I thought they looked like scoring through the middle of us, and that's not like us, because I have got the organisation side of things right; i.e. if you want to go through us, it's out wide and then we deal with the cross. Today they were getting through the middle of us quite a few times, and Tim Deasy was having to leave his line and come out and save us by reading situations and getting there first. He read the game well, but I didn't like it. I didn't like seeing that. I thought we were poor in that regard in the first half. The effort was there, but the organisation on the pitch was not what I wanted.
Q: Were you pleased to see Andy cap an encouraging debut with a goal?
A: Yeah, that was great. He was a handful all game, wasn't he? He was a threat, and that's something we have lacked all season. I noticed you put on the website I was bringing in a proven finisher, and some people took you to task over his record, but maybe you were right all along! The point about him is he causes so many problems for defenders. They are two decent centre-halves he was up against today, but I don't think they will have enjoyed trying to keep Andy in check. They know they have been in a game, and that's down to pure desire and willingness to run in behind them and close people down. It was great to see him on the scoresheet, and he deserved his goal, but he has so much more to offer than just that.
He's very mobile, as well as physically strong and good in the air. Yeah, he's mobile, all right. I wouldn't like to play against him; you'd never get a minute's peace.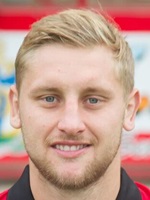 Q: What did you make of Jake Moult's sending-off, when he went into a 50-50 tackle that was followed by a melee that ended with an FC United defender also getting a red card?
A: To be honest, when Moulty (left) got tackled, or did the tackle, whichever way round it was, the ref pointed towards their goal, so I thought it was going to be a free-kick to us. But he has then told Shaun Densmore, when Densy went over to ask him what was going on, that 'Your player's going for the tackle.' Then, when he actually sent Jake off, he said it was violent conduct for reacting, not for the tackle. I've just been in to see him to try and clarify what really happened, and he said it was violent conduct for reacting to getting the ball booted at his head in the aftermath of the tackle.
He said Jake reacted with a head butt, but Jake is saying he didn't, so we need to have a look at the video and decide whether we want to take it any further with an appeal. I can understand some reaction to having the ball booted at your head. It's not nice, and I'd get up and be furious, if it happened to me. If Jake has butted him, he's a silly boy and deserves to be sent off. If he hasn't, we will see about appealing. We need to have a look at it, because there was a lot of confusion. From where I was, I thought it was their lad who fouled Jake, but either way, the tackle certainly didn't merit a red card.
Q: Even if you thought we might have done better in the first half, it's still a positive start to the New Year, isn't it?
A: Of course it is, yes, and that's how we need to look at it, because 2016 was a miserable, miserable year for the players, the fans and everyone associated with the club, and we have to do better in 2017. It is a positive start, and we've got two home games now and will be looking for maximum points from those. We need some momentum, and that can provide it.
I've told them 2016 has gone now. We can't bring it back, not that we'd want to. Let's focus on the year ahead and make sure it's a whole lot better than the last one. We have got the squad to do it. There are some great lads in that changing room, some talented ones as well. Andy Owens is going to play and is going to cause mayhem, like he did today. We have got two proper wingers now, with Nicky Clee and young Elliot, so the balance is there. We've also got people playing for places, because there are options on the bench for who we can bring on in any given situation, so I am quite optimistic about 2017.
Q: The Macclesfield replay is going to be a big ask for tired legs, isn't it?
A: It is, yes. We're giving them Tuesday off, because they were dead on their feet out there, there's the game on Wednesday night, then we'll train on Thursday to build up to the Gloucester game. At the moment, I can't tell you who will be playing at Macc, because I haven't got a clue myself. There will be Reserves coming in and young lads like Harry Cain and Laurence Taylor. They'll be getting a run-out, but I don't know exactly who else yet.
Q: How is the injury situation looking overall?
A: Gary Jones got a whack on the ankle in the second half, but he had to carry on and, of course, he did. He was immense today. For a 39-year old bloke, he is fantastic. He will have a couple of scars on his ankle, but he'll be fine for next Saturday. He can't play on Wednesday, so he'll have a rest and get that sorted.
Sean Miller and Simon Richman should both be back for the Gloucester game, so that's good. For one thing, it means if Jake does have to serve a three-match ban, Ringo (Richman) can step straight in and fill the gap"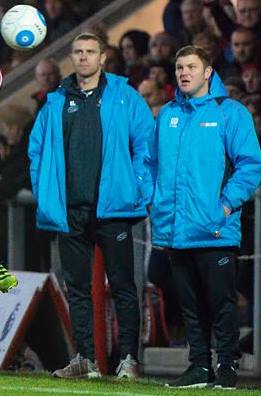 Altrincham's Press and Media Officer, John Edwards, writes "Matt Doughty has been placed in charge of team affairs at Altrincham for the rest of the season, with Robbie Lawton and Graham Heathcote continuing to assist him.
The decision was taken prior to the New Year's Day draw at FC United of Manchester and followed a meeting between Matt, who was appointed interim manager after Jim Harvey's sacking a month ago, and chairman Grahame Rowley.
Since taking over and recruiting Robbie and Graham, with Alty rooted to the foot of the Vanarama National League North table, Matt has led the side to two draws and a win in the Buildbase FA Trophy and two defeats and a draw in the league.
Right: Robbie Lawton and Matt Doughty on the touchline at Broadhurst Park on New Year's Day. Image courtesy of Michael Ripley Photography
Explaining the move, Grahame Rowley said, 'Matt and Robbie came to see me to ask where they stood, and quite right, too, because they've got to be able to plan for the next week, the next month or even beyond. They have got to be given the chance to shine. We are in a perilous position, as we all know, but if anyone is going to turn it round, they are.
'A decision had to be made for the sake of everyone. It needed clearing up, and I'm glad we are able to do that now by announcing that they will be in charge for the rest of the season. They have made a positive impact and lifted spirits and morale, which is exactly what we needed'.
Doughty, widely known as Buzz, welcomed the opportunity and explained why being assistant to Harvey should not count against him.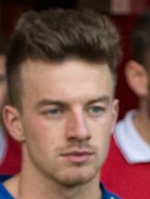 'For me, it's the right decision, not because I want the job but because the revolving door of managers coming in has to stop,' he said. 'It has to stop. People look at this club from the outside and think it's a circus, and that can't happen. This is a proper football club, and I will make sure we are right on the pitch now.
'I have done the job for nearly a month, and it has taken over my life, but in a good way. My phone is always going, and I'm always speaking to different managers and agents. But I have proved I can do the job, because I have brought in five players (Gary Jones, Kyle Brownhill, Nicky Clee, Elliot Newby [left] and Andy Owens [right]) and all five were magnificent in the draw at FC United.
'Three of them (Jones, Brownhill and Clee) were magnificent in the Boxing Day game at our place, and there's a case for saying the other two, Elliot and Andy, were our two best players in the return.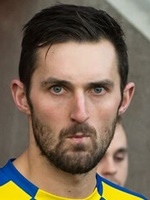 'It's my job now to make sure we get considerably more than seven points on the board in this half-season, and I know we can do that. We've got one in the bag, and hopefully there will be plenty more to come.
'I know I've been assistant to Jim when we've been losing games, but that is completely different to what is happening at the moment. The buck stops with me now. No disrespect to Jim, he brought me in, which I was grateful for, but it was his team. He wanted to instil things into his team, which was fine, but the fact is, I had little-to-zero input on matchdays.
'I never really spoke to the players. I did bits of the warm-up, but that was it. That's why I brought Robbie in, because he will have more of an input than I had under Jim, and the same applies to Graham. That's what you need to have. You need to trust people around you, and I trust Robbie and I trust Graham.
'I don't know if Jim trusted me. I don't know that, but I felt I warranted more input than I had. I will give you an example. I said a few weeks ago I could get Gary Jones to the club. I told Jim that Gary's a friend, I can get him to the club and he'll do you a job at this level, but he said, 'No, it's OK thanks, I'm bringing Simon Lenighan in.'
'I'm not having a go at Jim, just illustrating how little input I was allowed and how different the roles are. That was his decision, but now it's down to me. If people come to me with this player or that, it's up to me to say yes or no.'
Doughty revealed Alty may consider an appeal against the straight red card shown to Jake Moult, who otherwise faces a three-match ban.
'There is some confusion over the sending off,' he said. 'To begin with, when Shaun Densmore, as skipper, went to ask what was going on, the referee told him Moulty was going for the tackle, but then when he showed the card he said it was violent conduct for reacting.
'I went in to see the ref afterwards to try and clarify it, and he said that, in the aftermath of the tackle, Jake reacted to having the ball booted in his face by getting up and head-butting one of their players. Jake says that didn't happen, so we need to look at the video and decide whether we want to take it any further.'
*A full post-match interview with Matt, including more on the first-half flashpoint that led to Alty and FC United both being reduced to 10 men, will appear on the website tomorrow".
According to the
Football Conference
"Stalybridge Celtic have raided Tameside neighbours Ashton United once more to sign midfielder Chris Baguley. The experienced 29-year-old re-joins several former Ashton team-mates at Bower Fold as well as his ex-bosses Steve Halford and Paul Phillips.
Originally with Oldham Athletic and went on to have spells with Australian side Mandurah City, Leigh Genesis, FC United of Manchester, Salford City, Rossendale United, New Mills and Ramsbottom United before re-joining Ashton for a second spell. Thirteen goals last season represented the best goalscoring return he achieved in Ashton colours.
He leaves the Evo-Stik Northern Premier League Premier Division side having made over 130 appearances in two spells at the club." Baguley was a trialist at Altrincham in 2007 but opted not to sign for the Club.
Across the Pennines, "Bradford Park Avenue have signed midfielder Wayne Brooksby on loan from rivals Harrogate Town. The 26-year-old has joined on a month-long loan deal... The tricky winger has gained two promotions in the last two seasons, scoring in North Ferriby United's play-off final win over AFC Fylde at the end of the last campaign.
Previously Brooksby had a prolonged spell at Guiseley AFC, where he helped them to promotion in 2015 under the management of current Avenue boss Mark Bower. He played twenty times for the Nethermoor outfit in the National League last term, before re-joining former club North Ferriby midway through the season.
Having originally moved to Guiseley in 2012, he scored an impressive 26 goals in three years in the National League North. Brooksby has played just nine times in the league since joining Harrogate in the summer".
An NL Pitchero adds that "Kidderminster Harriers have re-signed young goalkeeper Alex Palmer on loan from West Bromwich Albion for the rest of the season. The 20-year-old penned a new and improved contract at The Hawthorns a couple of weeks ago... until June 2019, with a further twelve-month option in the club's favour.
Palmer is yet to make a first-team outing but has appeared on the bench in the last three Premier League matches as cover for the injured Boaz Myhill... The Baggies' stopper, who spent six months on loan at Kidderminster in 2015/16, expressed his delight... He said, 'I want to keep improving and keep moving up the chain, whether that means going out on loan or being on the bench'".
From the Boston Standard comes news that "Boston United boss Adam Murray described striker Gregg Smith as 'superhuman' for the way he is coping with his fractured ankle. The 26-year-old target man is set for a lengthy spell on the sidelines after suffering a fracture and dislocation to his right ankle after landing badly during the second half of yesterday's 2-1 win at Gainsborough Trinity.
With no ambulance available to take him to hospital, Smith was left with a two-hour wait inside the Northolme medical room before being transported to Lincoln County Hospital by car. 'It sums the bloke up that he's in the physio room, his ankle's not pointing in the right direction, to put it nicely, and he's chatting as if he's just opening his Christmas presents,' said manager Murray. 'He's had no medication. The guy's a monster. I've only known him three weeks and he's a superhuman being, it's obviously a big blow to us.'
Murray, who remains unbeaten since taking over the Pilgrims' dug-out job, praised his squad for keeping their cool as Josh Robinson snatched a 90th-minute winner. But he also vowed to give Smith the best chance of recovery.
He added, 'I've got very good contacts in physio departments, as well as our own, so we'll get him the best treatment we can. To lose your captain and such an inspirational figure at that point in the game made us have to change our shape and the way we played... We got the three points for Gregg. He's made himself a hero at the club in a short amount of time, and that's credit to him. He wears his heart on the sleeve. You come across blokes in life, but there's not many blokes left in football.
'He's somebody I've only known for a short amount of time, but he's an absolute warrior'...
The Pilgrims have suffered a bizarrely long list of injuries this season with Smith joining Nat Brown, Shane Clarke, Joe Maguire, Joe Burgess, Liam Agnew, Herve Pepe-Ngoma and Grant Roberts among others who have been out for long spells."
According to the
Southport Visiter
"Operations Director Liam Watson has revealed that the club have had a major transfer offer accepted by a League One club. Speaking after the 3-2 win against Wrexham on New Year's Day, Watson described the offer as the biggest he has been involved with at Southport and also revealed that the club are planning to move to full time next season."
---
2 January 2017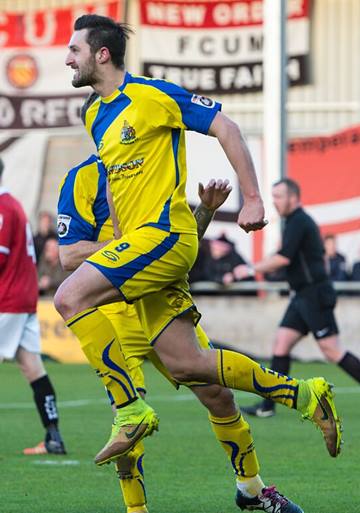 Altrincham took a deserved point at Broadhurst Park despite the worst possible start. They fell behind after just 38 seconds when an FC United advance, on their right, led to a goal from Jason Gilchrist. But after their jittery start Altrincham settled and equalised in the twentieth minute when Andy Owens, making his full debut for the club, netted after his first attempt had been blocked.
Right: Mike Ripley's image from Sunday shows Andy Owens celebrating his goal.
Owens was a menace to the United central defence and fellow debutant Elliot Newby also impressed as Alty enjoyed the better of the twenty minutes or so before half time. Then, just before the end of the half, a strong tackle by former Trafford man Harry Winter on Alty's Jake Moult led to a mass melee, from which the outcome was a red card for Moult as well as for United's Ashworth.
United had the better of the second half but Altrincham had their moments, too, but there was to be no further scoring.
Match report here
On Wednesday, Altrincham travel to the Moss Rose for the re-arranged FA Trophy First Round replay against Macclesfield Town (7.45pm). For Altrincham, ineligibility rules out Clayton McDonald, Kyle Brownhill, Nicky Clee, Andy Owens and Elliot Newby.
However, interim manager Matt Doughty will be hoping that at least some of his injured players may be fit enough for selection. Simon Richman, Sam Patterson, Craig Hobson, Alan Goodall and Sean Miller all missed the New Year game at FC United and Gary Jones also took a knock during that match.
As for Jake Moult's suspension following his dismissal at FCUM, the FA states that for "Clubs at Step 2 and below: Red cards in first team competitive matches result in suspensions commencing on the 7th day following the match in which the player was sent off."
On Sunday, Macclesfield beat title-chasing Tranmere Rovers 4-2 at the Moss Rose.
Off the field ,Macclesfield Town can confirm the signing of midfielder Laurence Bell... The 24-year-old who was with the likes of Manchester City and Rochdale as a youngster spent time in America and played college football for Millwaukee Panthers before spells with Ventura County Fusion and Tulsa Roughnecks.
After leaving the US he had a spell in Sweden with Karlslunds IF HFK before joining Macclesfield." He will not be eligible for Wednesday's FA Trophy game.
Also ,"Macclesfield Town can announce that winger Jack Mackreth has signed for Bury for an undisclosed fee. 24-year-old Mackreth rejoined the Silkmen in the summer after leaving Tranmere Rovers and made 26 appearances during the first-half of the season, scoring one goal for the Club".
Att: 601: Alfreton Town 3 v 2 AFC Telford Utd
Att: 539: Bradford Park Avenue 0 v 2 Salford City
Att: 3128: Chorley 1 v 3 AFC Fylde
Att: 2511: FC Halifax Town 2 v 2 Darlington 1883
Att: 3030: FC United Of Manchester 1 v 1 Altrincham
Att: 1005: Gainsborough Trinity 1 v 2 Boston United
Att: 2762: Kidderminster Harriers 2 v 1 Worcester City
Att: 1002: Nuneaton Town 1 v 0 Tamworth
Att: 3725: Stockport County 1 v 1 Harrogate Town
Monday, 2 January
Curzon Ashton v Stalybridge Celtic POSTPONED
NL Pitchero
summarised the New Year's Day matches saying that "AFC Fylde maintained their six-point lead at the top of the table following a crucial 3-1 win at third-placed Chorley.
In front of a Chorley Group Victory Park Stadium crowd of 3,128, the first half was a tight affair...
But, virtually straight from the kick-off at the start of the second half, Chorley went ahead when Adam Blakeman calmly slotted past Rhys Taylor in the Fylde goal. Just 5 minutes later though th Coasters were back on level terms when Brendon Daniels whipped in the corner and Dom Collins thumped a header into the bottom corner.
Then on 64 minutes, Fylde had the lead when a cross from Macauley Wilson found Dan Bradley who sent a perfect header into the top corner past Shaun Rowley.
A few minutes later though the teams were led off the pitch by the referee after Chorley striker Marcus Carver suffered a serious head injury that required an ambulance. There was a delay of over 15 minutes before play started again... The fourth official held the board up at the 90-minute mark and is showed a minimum of 16 minutes of stoppage time.
And in the 18th minute of time added on, the Coasters added a third when Danny Rowe and Bradley set-up Andy Bond for a tap-in.
In front of a New Year`s Day crowd of 2,762 at Aggborough, second-placed Kidderminster Harriers and Worcester City battled out an entertaining encounter which the home side just edged in the end...
In front of a crowd of 2,511, a second half header by skipper Kevin Burgess gave fourth-placed Darlington 1883 a point at the Shay Stadium against ninth-placed FC Halifax Town. The Shaymen took a 14th minute lead with another goal from new signing from Curzon Ashton, Adam Morgan. Josh Gillies cleverly pulled the Quakers level 8 minutes later and they were denied the half-time lead by two good saves from Halifax`s new loan keeper Sam Johnson.
Halifax regained the lead through Adam Morgan, his fourth goal against Darlington this festive week, after 65 minutes, but Burgess equalised with a header 5 minutes later.
Salford City are now occupying fifth spot after a 2-0 win at the Horsfall Stadium against third-bottom Bradford Park Avenue...
In-form Nuneaton Town made a winning start to 2017 as they completed the 'double' over local rivals Tamworth at The Coombe Abbey Arena – a result that saw the Lambs drop out of the play-off places... A red card for visiting defender Luke Jones, who was dismissed for an off-the-ball incident, virtually ended their hopes of getting back into the game.
Stockport County's run of victories, which had extended back to late November, came to an end at Edgeley Park against Harrogate Town. In front of another terrific crowd of 3,725, having broken the deadlock through Michael Clarke just after the hour-mark, the Hatters looked good value for a sixth successive win in all competitions.
But, with just a minute of normal time remaining, goalkeeper Ben Hinchliffe allowed a pass back from distance by Gary Stopforth to roll under his foot, and could only watch in horror as the ball rolled into the back of his net to hand the visitors a point...
The Lincolnshire derby between Gainsborough Trinity and Boston United at the Northolme ended with the visitors earning all three points to the one gained on Boxing Day in the reverse fixture... Boston`s Josh Robinson grabbed a 90th minute winner from Callum Chippendale's free-kick.
AFC Telford United have been pushed back towards trouble and are now only two points above fourth-bottom Gainsborough and four above the drop zone after losing 3-2 at the Impact Arena against Alfreton Town".
---
1 January 2017
Sunday, 1st January 2017
Alfreton Town 3-2 AFC Telford Utd
Bradford Park Avenue 0-2 Salford City
Chorley 1-3 AFC Fylde
FC Halifax Town 2-2 Darlington 1883
FC United of Manchester 1-1 ALTRINCHAM
Gainsborough Trinity 1-2 Boston United
Gloucester City P-P Brackley Town
Kidderminster Harriers 2-1 Worcester City
Nuneaton Town 1-0 Tamworth
Stockport County 1-1 Harrogate Town
Monday, 2nd January 2017
Curzon Ashton v Stalybridge Celtic
Altrincham FC wishes all of the Club's supporters a Happy New Year in 2017 and thanks everyone for their support during the past twelve months.
You can follow this fixture via this website's minute by minute text updates by clicking on the icon below. Alternatively, Radio Robins' coverage of the game is outlined below as well.
Brian Flynn announces that "Radio Robins, sponsored by Ashley Mowers Garden Machinery, is providing full live commentary of of Sunday's game. The commentators are Alex Sarwar and Ian Watmore and the match summariser is John Edwards.
Coverage starts at 2.55pm with the game kicking off at 3.00pm. You can listen to Radio Robins on the internet at www.radiorobins.com".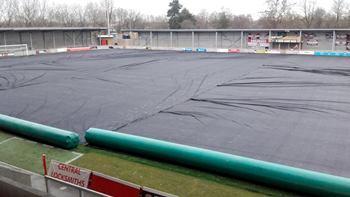 As the adjacent image from Ian Senior shows, FC United of Manchester have been protecting their pitch against frost and rain by covering the playing surface in advance of Altrincham's visit to Broadhurst Park on New Year's Day.
Elliot Newby signed on loan from Barrow for Altrincham last week. From Cumbria, the
News & Star
told us before his loan move to Alty that "Barrow AFC have recalled winger Elliot Newby before the end of his three-month loan spell with county neighbours Workington Reds. It means Newby will miss Monday's tough clash with old rivals Blyth Spartans in the north east, as well as an even bigger test the following Saturday at home to leaders Rushall Olympic...
But Newby, apparently, is not going back to boost numbers as Barrow have announced that he is joining struggling National North side Altrincham on loan. Reds' general manager Derek Townsley said, 'It's a blow for us because Elliot has done really well and only had two matches left in his final loan spell with us. There's no doubt that we would have taken him back, although that would have required his release from Barrow as we had used him for the maximum three months. We now have a vacancy in the squad'...
Newby, whose twin Alex spent time on loan with Reds two years ago, has played 19 times in his loan spell, of which, Reds have won ten and drawn two. He has scored six goals and been credited with two assists. It looks like a tough assignment at Altrincham for Newby as they are bottom of the National North table... and already look doomed".
Elliot is set to make his Altrincham debut, away at FC United of Manchester on New Year's Day. But he has played competitively at the J Davidson Stadium previously, albeit briefly as an 89th minute substitute for The Bluebirds in Alty's 1-0 victory on Saturday, 3 October 2015.
NL Pitchero
confirms that "Curzon Ashton are delighted to announce that their chairman Harry Twamley has been included on the New Year`s honours list. Twamley, who is also one of the founders of Curzon Ashton, has been named as one of the public servants being honoured in 2017.
Harry will be receiving a British Empire Medal (BEM) for all of his hard work and dedication to Curzon Ashton from when he helped found the club as a church team when he was just 12 years old. The medal will be presented to him at a ceremony at Manchester Town Hall in the early stages of the year and he will be invited down to Buckingham Palace for the Royal Garden Party in the summer.
'I am very proud, but not only for myself,' a delighted Twamley said. 'I think this is an honour for all of the volunteers who, over the years, have given their services to the club, with no financial compensation, completely voluntarily. They are just as responsible as me for where Curzon are today and how we had progressed.' He adde... 'I have been at the forefront of it, but it is a recognition of everyone, both past and present'...
Twamley has remained one of the prominent figures of Curzon Ashton Football Club since their formation in 1963. Fifty-four years on, he remains as active as ever... He said, 'I was 12 when I first started on the admin for the Sunday School club that we derived from. We just kept going and going, into a better youth league and then we became young men, so we said we would have a go at the men's league. We won it, so we thought we would have a go at a higher league. And then we thought "Let's see if we can get our own ground". It just carried on like that.
'We never thought "That's our target". Eventually, we just kept improving every year. At the moment, we have stepped up to the National League North division so we have to prove that we can compete in that and then look at stepping up, see if we can have a go at another level!'"
According to the Shropshire Star, "Skipper Luca Havern is keen to forget AFC Telford United's poor away record in 2016 and get the New Year off to a fine start. The Bucks, who have won just three of their 22 National League North games on the road this year, kick off 2017 with a trip to Alfreton Town.
The sides met on Boxing Day at the New Bucks Head, drawing 1-1...
'The manager has spoke[n] to us about that, we obviously wanted to pick up more results on the road,' said Havern. 'Those away wins are what help you climb up the table, so the aim is to get a lot more of them. Alfreton are a big and physical side but we know we are capable of going there and getting all three points. Hopefully we can start the year with a win and then build on that for the rest of the season.'
Havern has been one of Telford's most consistent performers since arriving from Altrincham over the summer and becoming captain. The 28-year-old central defender... helped the side keep eight clean sheets this term. He has featured in both a back four and back five – both of which were deployed on Boxing Day – and when asked which he prefers, he said 'I'm happy to do either, really... We have shown our quality in patches but we need to start games better and finish better'".
---
FOR EARLIER NEWS, CLICK
HERE
---