---
30 April 2016
You can follow this fixture via this website's minute by minute text updates by clicking on the icon below. Alternatively, Radio Robins' coverage of the game is outlined below as well.
Brian Flynn announces that "Radio Robins, sponsored by Ashley Mowers Garden Machinery, is providing full live commentary of Saturday's game. The commentators are Laurence Howarth and Ian Wilkinson and the match summariser is Brian Flynn. Coverage starts at 5.25pm with the game kicking off at 5.30pm.
And Howard Watts's Through the Years records show us that 30 April has been a key date for Altrincham several times in the last few years...
Mike Garnett's data summarise previous encounters with The Iron; the last two meetings have each seen us conceded four goals so we are aiming for much better this time around!
Home: P2-W1-D0-L1-F1-A4
Away: P1-W0-D0-L1-F2-A4
All: P3-W1-D0-L2-F3-A8
As Alty fans will be aware, we have to win this match to have any chance of staying in the Vanarama National League and, in addition, FC Halifax Town have to lose their game and Guiseley have to do no better than drawing their fixture.
Ryan Crowther is unlikely to figure in the game and so is likely to join long-term absentees Stuart Coburn, Luca Havern, Tom Marshall and Nicky Clee on the sidelines.
Altrincham FC supporters are reminded that the revised times for the TASC supporters' coach are as follows...
The Vine, Sale 11.10 am
The Hare & Hounds, Timperley, 11.20am
Altrincham Leisure Centre, 11.25am
Altrincham FC, Moss Lane, 11.30am
As previously announced, the BT Sport transmission of the Braintree Town v Altrincham game will be shown in the Community Sports Hall on Saturday. The Hall will open at 4.30pm and the game kicks off at 5.30pm. Food and drink will be available so if you cannot get down to Essex, do come along and support Alty alongside fellow supporters and in comfortable surroundings!
The
Braintree & Witham Times
announces that "Braintree Town will be keeping an eye on Alex Woodyard ahead of tomorrow's game against Altrincham as he has a sore ankle after taking a knock to it at Wrexham last weekend.
However, manager Danny Cowley was hoping that Sean Marks may be back involved after recovering from a hamstring injury. He added that Chez Isaac was also battling to be fit, after also having a hamstring problem, while Remy Clerima is now back with the squad after his groin injury".
And the Braintree & Witham Times adds that "Danny Cowley will make sure there are no stones left unturned to make sure there is no pressure on him or his Braintree Town team when they face Altrincham tomorrow... Danny and his brother Nicky, who is assistant manager at the Iron, are no strangers to the tensions of play-off pushes, having successfully steered their previous club, Concord Rangers, through a number before coming to Braintree...
'The over-riding emotion we have is pride, not fear,' said Danny. 'We are proud of what we have been able to do. But we have to be non-emotional, as being emotional is a waste of energy. We just have to focus on getting to our levels of performance. We have a game plan clearly set out and we have been working towards that all week.
'Nicky and I have been in this position before, though, at the business end of the season. Coming up to big games like this one, we make sure we work so hard and are so detailed so that, when we get to Saturday, there has been nothing left and we know we have done everything in our power to achieve success.
'By making sure there are no stones unturned, when Saturday comes around there is no pressure, as you know you couldn't have done anything more'".
On Friday,
Braintree Town
announced that "Ticket Office open tomorrow lunchtime. After the success of early ticket sales for tomorrow (Saturday's) Vanarama National League clash at home to Altrincham, the Club have decided to extend the sale of tickets and will now be selling tickets for cash only purchase from the Club Ticket Office from 12.30pm to 2pm prior to the match tomorrow (Saturday) lunchtime. Ticket holders will be able to avoid the queues to pay on the day and use the ticket holders turnstiles 5 & 6. For those wishing to pay thereafter, admission will be through turnstiles 1-4, as usual, which will be open from 3.30pm."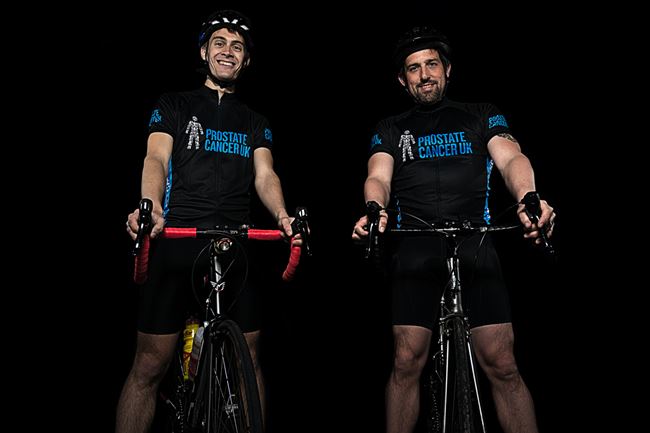 Press release:
"Whilst Altrincham Football Club is providing a free coach to take supporters to their final and crucial Vanarama National League game of the season at Braintree Town on Saturday, two fans will be cycling the 225 miles to raise funds for Prostate Cancer UK and Altrincham Football Club Community Sports.
Dan Martell and Mike Ripley (above, left and right respectively) will set off very early on Friday morning and are aiming to complete 140 miles on Day 1, which is Mike's 38th Birthday, with 85 miles to be completed on Saturday. The intrepid duo have targeted a 4pm arrival at the Avanti Stadium, with the match, which is being televised live on BT Sport 2, kicking off at 5.30pm.
En-route, they will be passing through Stoke, Leicester, Market Harborough and Cambridge and they are also planning to fit in a five-kilometre park run on Saturday morning!
Prostate Cancer UK is a charity that both Dan and Mike are both keen to support and to raise awareness for an illness that affects so many people.
You can support directly at the following links:-
BT Sport will be filming Dan and Mike's arrival at Braintree and using the recording in their broadcast of the pre-match build-up from 4.45p.m.
Phil Taylor advises Alty supporters that "Altrincham FC Ladies will set off for the Isle of Man on Saturday to participate in a four-team tournament. After the success of the game last year at Clay Lane, when we took on the Isle of Man Representative Team the IoM FA were so impressed by both the Ladies and the Club as a whole that they have invited us to travel over, together with Chester City Ladies.
This is a major coup for the Ladies, the Community Company and the Club. It is hoped to be able to provide updates via Social Media and an account of the tour when we return."
According to
NL Pitchero
, "The entire Board of Directors of crisis-hit FC United of Manchester has offered to stand down after weeks of turmoil at the fan-owned club. Bosses have told members an extraordinary general meeting will be held 'as soon as possible', where remaining Board members will either resign permanently or stand down and seek re-election.
The Board told more than 5,000 members it 'recognised the unrest and upset' felt by many following weeks of discontent and rows about the state of democracy at the club. Many members have expressed frustration at the club, founded in 2005 to protest [at] the Glazer family's ownership of Manchester United, and have questioned its direction. General manager Andy Walsh has already announced he is stepping down after eleven years at the helm. And two Board members, Adam Brown and Alison Watt, last week resigned saying an 'orchestrated campaign' was being waged against the leadership.
A statement confirmed Board member Richard Searle has now also stood down with 'immediate effect'. The rest of the Board will stand down at the extraordinary general meeting as the club looks to wipe the slate clean. A date for that is yet to be announced.
The statement read... 'The EGM will elect a new Board for the club. This will provide members with the opportunity to vote for a newly-formed Board, with a fresh mandate to represent the club's best interests and best serve the club going forward... Board members recognise the unrest and upset felt by many members currently and are collectively committed to ensuring that the co-owners of FC United of Manchester can find a way through the challenges we face at this stage of our history.'
The club has also apologised to fans after a general meeting at the club's new £6m Broadhurst Park stadium, where a number of 'key decisions' were due to be made, was postponed. The sheer number of people wanting to attend, coupled with issues around voting, meant it had to be adjourned. The meeting is now due to be held on May 15th at the Longfield Suite in Prestwich.
The statement added, 'The Board recognises that there were a number of issues at the adjourned meeting, relating to the venue and the registration of proxies and postal ballots that were unsatisfactory and fell below the standards that members expect'. Bosses insist an issue with the administration of postal votes and proxies has been sorted after a 'small number' of members' votes were not recorded as cast. The missing few have now been accounted for."
---
29 April 2016

Ian Senior has kindly supplied the above image of Altrincham players training on Thursday evening in snowy conditions!
Alty's opponents on Saturday are the subject of news in the
Braintree & Witham Times
to the effect that "Mitch Brundle knows Braintree Town will need their 12th man on Saturday. The 21-year-old Iron midfielder has scored what has turned out to be the winning goal in both of their last two Vanarama National League games to set up a potentially history-making day this weekend.
They face Altrincham at the Avanti Stadium, knowing just a point will seal a top-five finish and a coveted berth in the end-of-season play-offs. However, Brundle and his team-mates are under no illusion that Altrincham, who will be fighting for survival at the other end of the table, will make things tough for the hosts and he has called on a vociferous home crowd to roar them on.
'The fans are our 12th man', said Brundle, whose goal at Wrexham last weekend sealed a 3-2 victory. 'Playing at Wrexham, they were fantastic and even though there was less than 100 of them, you could hear them over the four and a half thousand home fans. That makes you feel so proud and keeps you going. Sometimes, in games, you feel that your body has had enough but, when you hear support like that, it kicks you on to another level. I know for sure that we're going to need that again on Saturday'".
Meanwhile "Braintree Town manager Danny Cowley feels that there will be plenty of people backing his team... The Iron are battling big-spending giants of non-league football, such as Tranmere Rovers, Grimsby and Eastleigh, for a spot in the top five... and Cowley feels there will be a lot of fans around the country behind their bid.
'We are still the smallest club in and around the play-offs when you compare ours to the resources that the likes of Eastleigh and Tranmere have,' he said. 'So, 100 per cent, we are still the underdogs and we are really proud of the players and what they have achieved this year. I like to think that we have given every small club hope. We have had a lot of support from the non-League fraternity this year and the amount of good wishes we have had from people outside the club has been overwhelming.
'I think we've given everyone in football hope. We feel we are fighting for small clubs. In a world of football that can governed by money, we are fighting for all small clubs who don't have the financial support that clubs who are normally in this position have'".
And the Green Un adds that "The small-budget Essex part-timers head into their final match of the regular National League season on Saturday needing just a draw... to confirm a play-off place. If they went on to secure promotion via a play-off final at Wembley then they would join already-relegated Essex neighbours Colchester United in League Two next season.
This is a club that was playing in the Eastern Counties League at the start of the 1990s alongside the likes of Cornard, Felixstowe and Stowmarket. Now they are beating the likes of Tranmere, Grimbsy and Wrexham, the players still managing to fit in jobs which include taxi driver, support worker and personal trainer. Danny Cowling's squad have covered more than 2,500 miles on the road in the last month. When they got back from a midweek match at Barrow recently, the majority of players got off the coach at 6am and went straight to work.
'We are on the verge of something truly remarkable,' enthused [chairman] Harding. 'Just like Leicester in the Premier League, ours is such a refreshing tale. We have no prima donnas, no sugar daddies backing us, but an incredible unity and togetherness. When we won the Ryman League in 2006 everyone said "Braintree are punching above their weight, they'll go back down". It was the same when we won the Conference South. We started this season, once again, as many people's favourites for relegation. How wrong were they?'
Harding, who took over at Cressing Road in 2003, said, 'We've shown that the non-league pyramid system does work and that you don't have to get hundreds of thousands of pounds into debt to make progress. As a business we turn over around £350,000 a year. Cheltenham received twice that amount as a one-off parachute payment after being relegated from League Two. Forest Green Rovers made a £2.9m loss last year which is more than 10 times our entire playing budget! We have players on £150/200 a week, sensible amounts.
'Our overriding principle has been to try and play at the highest sustainable level. We have never pretended to be something that we're not. We are a reasonable sized market town in Essex, but we believe that this town could sustain a Football League club.'"
The referee at Braintree is Mr Oliver Yates of Staffordshire. His previous matches involving Altrincham include...
Lincoln City 1 Altrincham 1, 22 September, 2015
Altrincham 1 Boreham Wood 0, 21 November, 2015
Eastwood Town 1 Altrincham 6, Saturday, 21 April, 2012
To ensure arrival at the ground in good time for the Braintree Town v Altrincham match this Saturday, for what is expected to be a well-attended game,
it has become necessary to bring forward the previously published departure times. The revised times are now as follows...
The Vine, Sale 11.10 am
The Hare & Hounds, Timperley, 11.20am
Altrincham Leisure Centre, 11.25am
Altrincham FC, Moss Lane, 11.30am
These times and other details are also to be found on the Away Travel page.
Earlier, Altrincham FC announced that "As a gesture to our supporters and a way to maximise our support down in Essex, chairman Grahame Rowley has kindly offered to cover the cost of the coach hire to Saturdays game at Braintree.
Altrincham FC is pleased to announce that "As a gesture to our supporters and a way to maximise our support down in Essex, chairman Grahame Rowley has kindly offered to cover the cost of the coach hire to Saturdays game at Braintree.
A larger 49-seater executive coach has been booked. This means that Robin's fans can travel for free to the game to get behind the team as they have so well all season. If you haven't already booked on then please contact the club office with your name and contact details to be added to the list (subject to availability).
As with all official TASC travel, the coach is family friendly and conveys passengers of all ages. By law, and policy of TASC, alcohol is not permitted on the vehicle without exception. Please only book your place if you are certain of travelling.
We look forward to seeing as many Robins' fans down there as possible as we look to the players to complete their part of the equation for Saturday with your support.
Please contact the club on 0161 928-1045, after 10am, to book a place".
Timings are on the Away Travel page.
According to the
BBC
"Forest Green Rovers' chairman and owner, Dale Vince, has said former manager Ady Pennock was sacked because the team 'were likely to fail in the play-offs'. Pennock, who guided the club to second in the table, was dismissed one week before the National League play-offs, after seven matches without a win.
'It was in order to give us our best possible chance in the play-offs, given our form in the last seven or eight games', Vince told BBC Points West. 'It's the opposite of a gamble.' Vince continued, 'In a way, I see it as giving us a chance, because I felt we didn't really have a chance the way that we were heading into the play-offs. Our feeling was that we were likely to fail and our manager couldn't turn it around, wouldn't be able to. It was a big decision but we feel it is the right thing to do. Our form has been poor. At another part of the season it would have been different.'
Caretaker manager Scott Bartlett admitted it was a 'shock' to take the reigns of the Gloucestershire club 'out of the blue'. 'It is a unique situation that we're in,' said Bartlett. 'It's about asking (the players) to give us an extra 10-15% on what we've seen in the last three or four weeks. If we can get that, then we're looking in good shape.'
Vince added that the club had already received expressions of interest regarding the vacant managerial post but would not be drawn on whether or not an appointment would be made before the end of the season".
The Macclesfield Express "John Askey has expressed his concern for Macclesfield Town's future after suggesting the club could go bust if they don't receive investment soon. The Silkmen have operated on a limited budget dwarfed by some of their National League rivals over the last few seasons.
So far, under Askey, the club has managed to hold their own in the division, though their ambitions of challenging for a play-off place have fallen short two years running. The manager believes the squad is over-achieving but asking them to do that year in, year out is a dangerous ploy. And Askey believes relying on such a small budget could catch up with Macc next year and he suggested the club could seriously struggle unless investment is found soon.
'My worry is that one of these seasons it's going to take its toll. We won't get the results and people will blame me for it so I'll get the sack and the club will probably go under,' he said. 'In the last three seasons we've done really well but it can't keep happening. It's like trying to plug a dam, you can't keep doing it time after time, one year it will tell.'
The Silkmen overspent during Steve King's spell in charge, which started in the summer of 2012. His ill-fated tenure ended in April 2013 and Askey took the reins. However, he has never been given the same financial backing King enjoyed. Former vice chairman Andy Scott attempted to buy out owner Amar Alkadhi in the summer of 2014 but Mr Alkadhi, conscious of the Conference's deadline for the deal to go through and concerned the club could be expelled from its Premier and regional divisions, retained control...
'The budget next season will be the lowest in the league and it probably was this season as well, so take from that whatever. People might think I'm joking about that and making things up, but it is the lowest in the league. It's as simple as that and until we get either a few local businessmen who would be prepared to support the football club and put a decent amount of money in, or we get somebody with a lot of money coming in and taking the club over, then it's going to be a struggle...
'I've spoken to the players and they all want to re-sign but until we start talking to them properly about money then we won't know what will happen. Obviously we want to try to keep them together and add to the squad with better quality but we're just waiting around to see who is left and trying to take from the leftovers'".
---
28 April 2016
The
Football Conference
reports that "Obi Anoruo's 118th minute header fired Stockport County to a 2-1 victory over National League play-off hopefuls Tranmere Rovers to secure the Cheshire Senior Cup for the Hatters for the first time in fifty years.
Earlier in the match John Marsden [had] opened the scoring after firing in from close range, but Tranmere equalised to take the game into extra-time. It was County boss Jim Gannon's third Cheshire Senior Cup final in three years, and his second win".
Tranmere Rovers add that "A young Tranmere side battled resolutely throughout, with Luke Pilling, Liam Hogan, Matt Hill, Jack Mackreth and Liam Davies included in the starting line-up. After a goalless first half, Stockport took the lead early into the second half... The lead was short-lived as Rovers equalised when a deep cross from the right by Davies was fumbled by the County goalkeeper and Sam Ilesanmi took a touch, swivelled and fired home from six yards.
No further goals before the end of the 90 minutes meant extra time. Hogan and Hill were replaced by Tom Williams and Jay Galloway and Ilesanmi had a chance to give Tranmere the lead in the first additional period. County pressed hard for a winner, and that pressure finally told with a minute remaining as Obi Anoruo turned the ball home from close range.
Tranmere's squad included none of the squad which played in last Saturday's National League game and comprised, Pilling, Hulley, Hunter, Lucy, Hogan (Williams), Hill (Galloway), Mackreth, Askew, Omotola, Davies, Ilesanmi. Subs: Ramsbottom, Akpan, Medlen."
A surprise announcement from
Forest Green Rovers
states that "Rovers have made the 'difficult decision' to part company with manager Ady Pennock ahead of the National League play-offs after a run of seven games without a win.
Despite finishing the regular season in second place, Rovers missed out on automatic promotion after recording just one win during the final two months of the season leading up to Saturday's remaining fixture against Dover Athletic.
Forest Green Rovers' chairman Dale Vince said, 'it was a difficult decision just a week out from the play-offs after Ady had taken us to our highest placed finish in the National League. However, as a club, we felt we needed to make this change, in order to give us the best chance of succeeding in the play offs. We thank Ady for his efforts while at the club and wish him well in the future.'
Forest Green Rovers' Academy manager and former first team captain Scott Bartlett will take over as caretaker manager. Pennock joined Forest Green in November 2013, replacing previous manager David Hockaday who had been at The New Lawn for over four years. He guided FGR to a fifth -placed finish last season, before losing 1-0 and 2-0 in the play-off semi finals against eventual promotion winners Bristol Rovers".
Earlier news from the Gloucester Citizen told us that "Forest Green midfielder [and ex-Alty loanee] Sam Wedgbury is not expected to play again in 2016 after snapping his anterior cruciate ligament.
The 27-year-old went straight to hospital after suffering the injury in the 1-0 defeat at home to FC Halifax Town on Saturday and a scan today revealed the extent of the damage, which means he will now have to go for an operation on his knee and will be out for around seven to eight months. Wedgbury has been a regular in the side since joining Rovers from Stevenage two years ago, making 33 starts to help them achieve a second-place finish in the National League this season, and the news comes as a bitter blow with the play-offs looming.
'It's terrible for us and terrible for him as well,' said Rovers' manager Ady Pennock. 'I'm devastated for him. Sam's been great for two years. Even on Saturday I got emotional because I knew at the time it was similar to what I did. I had to sit down for a bit and unfortunately it's been confirmed. This is the worst part of football. He will be missed as a player and in the changing room but he's still a part of what we want to do this season and hopefully he'll still be around.'
It brought back painful memories for Pennock from when he suffered the same injury while he was at Bournemouth... Pennock said, 'He will have to be mentally strong. Mine was a long time ago, I was 23, and operations are much better now and recovery times are much quicker.'...
Pennock is confident that his side will be able to cope without Wedgbury with the first leg of the play-off semi-final coming up next Wednesday. 'Sam has done that role for two years so he will be a loss,' said Pennock".
Contrasting managerial news comes from Southport where "Andy Bishop is the new Southport Football Club manager. The ex-Wrexham, York City and Walsall striker takes up his full time appointment at the Merseyrail Community Stadium after a highly impressive tenure as caretaker boss, navigating the Port to 15th place safety in the Vanarama National League. Bishop's immediate success, style and demeanour put his stamp on the role and he had to fight off a very competitive field of external applicants striving for the Southport hot seat.
Chairman Charlie Clapham said, 'We have all been impressed with the professional way that Andy has grasped the opportunity. He is hungry and determined and I am looking to work with Andy over the long term. I want him to take us forward from a good base. Andy will be one of the youngest managers in senior professional football and I am very pleased that he has taken the opportunity. We are craving for stability and Andy can supply us with that and I firmly believe we will have success ahead.'
Andy Bishop stated, 'I am delighted to have been given this opportunity. I told the Chairman I wanted the job a couple of weeks ago and he has been great to work with. All the players have been very positive at a crucial time in the season. I can now build for next season and aim to take us forward. I've really enjoyed every aspect of management so far. My target is to improve on this season and let's see where it takes us. I've played a lot at this level so I know what it takes. Southport is a club with real potential and ambition.'
Andy Bishop will be introduced onto the Merseyrail Community Stadium pitch to the club's supporters before kick off on Saturday".
In "The Integro Doodson League Cup Semi Final" for EvoStik League clubs, Marine beat Colwyn Bay 4-1 with one of the scorers for Marine being Andy Owens.
---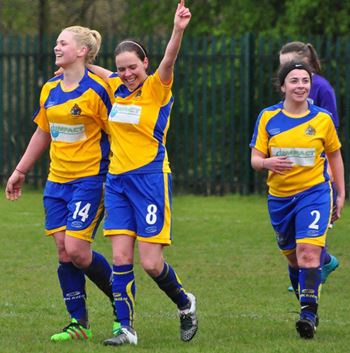 Altrincham FC Ladies' manager Keith Edleston writes about his team's 6-0 win over Liverpol City Ladies last Sunday. "A great afternoon of football down at Mersey Valley yesterday as both teams put in a shift and a half in pouring rain to make it a very entertaining match. Pre-match saw our junior team play Didsbury in the FA Girls' Football Week exhibition game and both teams were superb with the way they played the game. Afterwards the two team joined us to be mascots Alty were ours and Didsbury were Liverpool City's. Thanks go to Harriet,Anne and the girls from Liverpool who agreed to do this and I know it made both sets of girls very happy.
The final score was Altrincham FCL 6 Liverpool City 0, with goals from Liss Taylor, Kate Bryan, Laura Dodds (x2), Gail Simpson and Kye Brown. The Players' Player of the Match was Gail Simpson and the Manager's Player of the Match was Laura Dodds.
Thanks go to all our support, who have made it down to watch and cheer the girls on throughout a season in which, at times, it has been a tough one in our new league. But it has made us all a lot wiser and stronger for next season. Bring on 2016/17!"
Pictured, right, Gail Simpson celebrates her goal. Image courtesy of Keith Edleston.
Phil Taylor adds that "Altrincham FC Ladies ensured that we would not finish in a relegation position by beating Liverpool City Ladies. Many thanks to everyone who has supported us in any way this season and particularly to our hardy bunch of parents, partners etc. However, very special mention has to be made of our now regular supporters, especially Bill and Roger. Everyone connected with the Ladies is extremely grateful to you; your support, appreciation and encouragement are hugely appreciated".
Following the announcement that the Braintree Town v Altrincham match, which kicks off at 5.30pm next Saturday, will be televised by BT Sport, Altrincham FC confirms that the match will be shown on the multiple screens of the Community Sports Hall. Further details of the arrangements are to follow.
Alty snapper Mike Ripley writes that "Dan Martell and I are cycling the 225 miles to Braintree for our last game of the season, in order to raise money for Prostate Cancer UK and Altrincham Football Club Community Sports. We will be doing this over two days, starting with 140 miles on Friday 29th April (my birthday, of all days!) and completing the ride on Saturday 30th, after Dan (and possibly I...) have also taken part in a 5km park run, hopefully arriving in time for the later kick off.
For information on what we are doing, and why, and to show your support please visit our Just Giving page here.
The
Sale & Altrincham Messenger
informs us that "A bumper crowd turned out for a charity football match in memory of a little boy from Bowdon Vale. There were around 3,000 spectators at Altrincham's J. Davidson Stadium at Moss Lane on Sunday, eight months after 10-year-old Isaac Maley died, after suffering a severe asthma attack.
Former Bowdon Church School [boy] Isaac was a keen football player and so his parents and friends organised the fundraising day, called 'There's Only One Isaac Maley', as a tribute to him. The celebrity match and fun day raised £34,000 for the charity 'Once Upon a Smile', which has helped to support Isaac's parents, Vicky and Andrew.
Football stars Denis Irwin, Paul Dickov and Bryan Robson turned out for a team led by Isaaac's dad, Andrew, against a celebrity team that included Emmerdale star Anthony Quinlan and Nico Mirallegro, from the TV series 'My Mad Fat Diary'. Isaac's mum, Vicky, said, 'Andrew and I are completely overwhelmed by the generosity and support from our community. The day meant the world to us. Standing on the football pitch and looking in to the crowds of people filled my heart with pride. Thank you'.
The match ended with Andrew's team taking the 'There's Only One Isaac Maley' trophy after a 5-4 win. There was also a junior match between Altrincham FC Tigers, Isaac's team, and Bowdon C of E, his school, which Bowdon won 2-1. To support the charity go to Once Upon a Smile.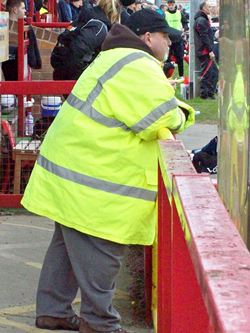 Altrincham FC salutes steward Steve Jameson, who is retiring after some 35 years of service to the Club. All at the J Davidson Stadium thank him for his magnificent effort. Steve is seen, right, at his customary location near the home players' gate onto the pitch, in an image courtesy of Ian Senior.
Jack Jolly, organizer of the Supporters' team for the annual clash with the Altrincham FC Staff writes that "We'll be doing the annual pre-match training session at Walton Park, Sale this year (where the supporters play their home games) on 27th April (next Wednesday) meeting at 6:15 and starting at 6:30. Changing facilties are available at the park.
Would those who are coming please drop me an email with your name age and playing position. You must have have be atleast 17 to play, and watch Altrincham FC, to be considered.
The actual game itself is on Friday 6th May, kick off will be around 7pm. It's £25".
In advance of their final day of the season clash with Altrincham, the
Braintree & Witham Times
says that "Danny Cowley is determined that he and his Braintree Town players will enjoy their time in the limelight this week. The Iron's 3-2 win at Wrexham on Saturday... means they need just a point from their final game of the regular campaign, against Altrincham at home on Saturday, to seal a top-five spot and stay in the race for promotion to the Football League.
A big crowd is expected for the live televised game, which kicks off at the Avanti Stadium at 5.30pm, and Cowley wants his players to embrace the occasion rather than be intimidated by any thoughts of what is at stake. However, he isn't underestimating the size of the task still ahead of his team as Altrincham will be desperate for points themselves as they battle against relegation.
'It will be our toughest game of the season, no doubt about it,' said Cowley. 'It will be and we've had a few tough ones this year, I can tell you. But this will be the toughest. Altrincham are a good team and they'll be in there fighting for their lives. We will dust ourselves down.
'It was important to enjoy the win at Wrexham, not too much, but we did enjoy it and we've now got our focus on Saturday. We'll enjoy it. We have to because we've worked so hard for it. If you can't enjoy these moments, then what do you do it for? So I'm determined that we will embrace it and really enjoy it.'
One concern for Cowley ahead of the game against Altrincham is the fitness of midfielder Alex Woodyard, who went off at Wrexham after taking a knock to his ankle. Cowley added, 'Woody has got an ankle injury that doesn't look great and we're having to monitor that one. We're waiting until it settles down.'"
The J Davidson Stadium hosted the Cheshire County Under-21s League cup final on Tuesday night. Curiously the game was between non-Cheshire sides, Irlam and Southport, and the prize for the winners was the Richie Bentley Catering League Cup, sponsored by the Alty FC official caterer.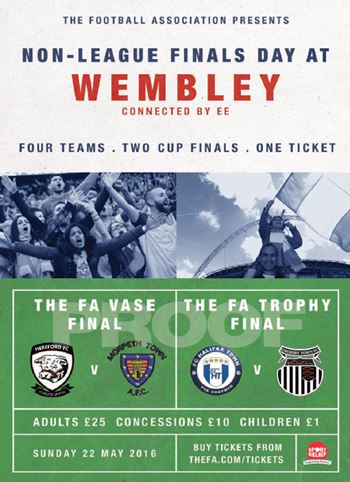 The FA Vase Final is Hereford FC v Morpeth Town and The FA Trophy Final is FC Halifax Town v Grimsby Town. Details are shown, right..
In the Evostik League Premier Division Promotion Play Offs, Semi Finals, the results were...
Blyth Spartans 3-4 Workington
Salford City 3-1 Ashton United
From the EvoStik League we learn that "Hyde United are inviting potential candidates to come forward and formally apply for the hot-seat at Ewen Fields. The supporter-owned Tigers are looking for a manager with the right 'experience and resolve' after caretaker boss Darren Kelly stood down after Saturday's final day of the season.
Despite slipping to a third successive relegation under former Oldham Athletic and FC Halifax Town boss Kelly, who replaced Gary Lowe at Easter, officials say the successful candidate will benefit from exciting plans currently being put in place to transform the club's financial position, integrate their successful academy and develop a community programme to increase supporter involvement and boost attendances next season.
The Tigers have set a closing date of 7pm this Friday (29 April) for potential candidates to contact them and express their interest in the post via e-mail.
---
26 April 2016
Ian Senior confirms that the "Final figure raised from auction/selling of the purple Cancer shirts, produced for the game against Bromley, is £2,420. Now all donations have been received from those who bid and those who bought replicas, We (Altrincham FC) have raised £2420 for a local children's cancer charity; a figure all can be proud of I think. Thanks to all who supported the event."
The April winners in the AFC Friends' monthly draw, which took place on Saturday were-
*32 G & J Muir £100
*37 D Jones £50
*105 Andy Howe £35
*107 L R Wilkinson £15
Details of the annual Altrincham FC Beer festival are shown, right...
The
BBC
reports that "Aldershot Town manager Barry Smith will leave the club at the end of the season after deciding to not renew his contract. The 42-year-old Scot joined the Shots last April and guided the side to safety this season.
'I had to make a decision for my family,' he said. 'The board have given me their full backing throughout the season but also have understood why I needed to make this decision to return to Scotland.'
The former Dundee and Alloa boss has won 15 of his 45 league games at Aldershot and will take charge of the side for the last time at Bromley on Saturday. The Hampshire side are 16th in the table...
In contrast, a manager who hopes to be remaining for the coming season is the subject of another piece from the BBC, which states "Torquay United manager Kevin Nicholson hopes he will be able to stay in charge of the club when it is taken over. A deal is set to be finalised between the current board and entertainment firm Gaming International to sell the National League club.
Nicholson took over in September and has kept the team in the division, despite being 12 points from safety in the middle of February. 'I would like to be the manager here next year', Nicholson told BBC Devon. 'I would like to be given the chance to move forward. But new owners may have new ideas and, if they have, then I'll carry on being a Torquay fan and hope my chance comes again.'
Nicholson paid tribute to chairman David Phillips and his team, who took over the club in June 2015 after millionaire former owner Thea Bristow sold her stake. 'They're coming into a club that's on the up, they're coming into a club with a solid foundation now,' said Nicholson. 'The chairman and the board that have taken over and given this club life-support for the past year have done a fantastic job. We've been fortunate enough to make sure that the club is in the league it needs to be in for now, because this is a League football club, but they're coming into a club now that they can do with as they wish'".
Boreham Wood announce that "As we now enter the most important week in Boreham Wood Football Club's 68-year history, the club, the players and everyone associated with us are full of expectation and excitement. We are so thankful for the messages of support and good luck from our supporters from all round the world in the last 24 hours. We are gobsmacked by how many Wood supporters are following us from afar, from Australia to the USA, from South Korea to the Middle East across Europe and all around the UK.
We're also happy that you all understand that we are still very much the underdog club in this division, hugely overachieving. That said, our belief is strong, our players' belief is stronger than ever and the squad is fully fit and raring to go. We have ensured throughout that our dressing room and our supporters have stood together especially in the last few months. We have re-focused ourselves and side-lined distractions and we have now given ourselves a chance of survival.
So we have the same repeating message to our supporters. We really are going to need your continued support for the final league game at Welling next Saturday and we are urging you all to find a way to get there. TRY, TRY, TRY to get yourself, your friends and your family, down to Welling United for this incredibly important relegation battle. We know we need a performance on the pitch and we need your vocal support on the terraces".
Elsewhere, the Daily Post tells us that "The hunt for a play-off place, and also the race to avoid relegation from the National League will go to the final day of the season. While Wrexham's race to finish in the top five ended following a heartbreaking 3-2 loss at home to Braintree Town on Saturday, the results means the Iron are all but guaranteed a place in the play-offs.
Danny Cowley's side need only a point in their final game of the season at home to Altrincham to ensure a fifth place, while even a defeat may be enough as long as Tranmere don't win or Eastleigh don't win with a scoreline of more than three goals.
Tranmere gave themselves a chance of the play-offs with a late 1-0 win at top five rivals Eastleigh, James Norwood scoring in the 87th minute. The result sees them three points behind Braintree, but with a better goal difference meaning a victory for them on Saturday at home to Grimsby and a defeat for the Iron would see them overhaul Cowley's side.
Eastleigh meanwhile need both Tranmere and Braintre to lose, but must beat Woking at Kingfield Stadium with a healthy scoreline as they have the lowest goal difference.
The battle to avoid the drop is also heading into the final day of the campaign with any two of four teams still in with a chance of the drop. Altrincham... are the lowest of the four sides still in danger, and need to beat Braintree at the Avanti Stadium on Saturday if they are to stand any chance of avoiding the drop... Guiseley host a Torquay United side already safe from the drop after an end of season revival...
Halifax remain in danger despite beating second placed Forest Green Rovers on Saturday, Josh MacDonald on target. The win means Halifax, who entertain Macclesfield on Saturday, are one point outside the bottom four, but could still be caught by both Alty and Guiseley on the final day".
Over the Pennines, the Yorkshire Evening Post reports that "Guiseley plummeted into the National League drop zone after Saturday's 1-0 loss at relegation rivals Boreham Wood was made even worse by a crucial win for FC Halifax Town.
The Lions now need at least a point at home to Torquay on the final game of the season and even a win might not be enough if results do not go their way. Guiseley knew that victory against fellow drop battlers Boreham would have guaranteed survival and began brightly... It was [Wood's] Sam-Yorke who opened the scoring after 23 minutes... Guiseley started the second half well with Adam Boyes putting pressure on the hosts' defence but Boreham Wood were able to deal with the danger...
Guiseley are now fourth bottom, and one point behind both fifth-bottom Halifax and sixth-bottom Boreham Wood who also have a far superior goal difference. Boreham visit relegated basement club Welling on the final day while Halifax, whose goal difference is marginally worse than Guiseley's, are at home to 10th-placed Altrincham [!!It is Torquay United actually]...
Halifax jumped out of the drop zone with a fine 1-0 win at second-placed Forest Green Rovers as Shaquille McDonald's 70th-minute winner ended a seven-hour Shaymen goal drought.
In National League North, Harrogate Town failed to guarantee their play-off spot after a 2-1 loss at AFC Fylde who now sit second... Fourth-placed Town host relegated bottom club Corby Town on the final day. Mid-table Bradford Park Avenue drew 0-0 at second-bottom Hednesford Town and host sixth-placed Nuneaton on Wednesday. Nuneaton are the only team who can take Town out of the play-offs and need two wins from their last two games to stand any chance."
Stockport County
remind us that "County's Cheshire Senior Cup final against Tranmere Rovers take[s] plac[e] tomorrow night (Tuesday April 26). Kick-off will be at 7.45pm. The final, which will still be played at Nantwich Town, was originally scheduled for Thursday April 28, but this would have given both teams just 48 hours' recovery before their weekend league fixtures."
News of The Vics' former chairman came recently in the Runcorn & Widnes World, which reported that "A jury has found the former owner of Northwich Victoria guilty of conspiring to supply class A drugs. James Rushe, 54, of Runcorn Road, Moore, was standing trial accused of conspiracy to supply cocaine, a Class A drug. He was in the dock alongside co-defendants Mark Fishwick... and Andrew Fetherston... All three men denied the charge. But Fishwick and Rushe were found guilty by the jury... after three hours of deliberation...
Rushe and Fishwick will be sentenced on May 6 with the judge telling the pair they would face a custodial sentence. Recorder Simon Medland QC said... 'I will send you both to prison for a long time. As an act of mercy I am extending bail to allow you to put your family and business affairs in order.'
Recorder Medland reminded the jury that the case against the three men was part of a wider investigation by the North West Organised Crime Unit (Titan) into the large scale supply of cocaine and other controlled drugs in the region and beyond... Medland said... 'They're not interested in drugs themselves but attracted by the substantial amounts of money available by being in this trade'... Rushe and Fishwick have been granted bail until they are sentenced on the condition that they each reside at their home address, that they will be electronically tagged, that they abide by a 9am to 6am curfew, that they surrender their passports and do not apply for any documents that may enable them to leave the UK and that they report to their nearest police station between noon and 1pm on Mondays, Wednesdays and Fridays". According to the Vics' website the current owner (100%) of The Vics is Martin Rushe, son of Jim.
---
25 April 2016
The highlights of the Alty v Welling United game have been made available by
Alty TV
.
From Welling United we learn that "Mark Goldberg's first game under his new regime ended in the Wings' heaviest defeat of the season. With just one training session with the squad ahead of the game, Goldberg after the game said he had 'learnt a hell of a lot about the squad from this defeat' and urged The Wings' faithful to 'come on this journey with us'.
Welling started brightly and Ade Yusuff had a few half-chances, the first of which taking a deflection enabling an easy save for Tim Deasy. Yusuff then shot straight at Deasy when perhaps he should have done better.
Altrincham, needing a win to avoid relegation themselves, slowly got into stride and Michael Rankine saw a shot blocked by captain Kevin Lokko. Rankine was then played clean through from a lovely ball by James Lawrie but fired over. Mid way through the half though the home side took the lead, Josh Ginnelly wriggling through the Welling defence before cooling poking the ball home [?].
This calmed the Robins nerves and shortly after they were rewarded a dubious penalty. Sinnott firing a cross at Ian Gayle. The ball striking his arm but whether this was intentional was very harsh. Rankine stepped up and somehow managed to beat Rodak with a scuffed effort that went through the body of Rodak.
Straight after half time James Lawrie put the game beyond Welling making it 3 nil. After breaking the offside trap his effort scuffed into the ground beating Rodak via the post. It was all Altrincham as The Wings disintegrated and they made it 4-0 when Damian Reeves headed home Sinnott's cross after a lovely move.
Ibrahim Kargbo struck a fierce effort just over from 25 yards. But in the last minute of injury time, Altrincham made it 5-0 when Rankine lobbed Rodak after being played clean through.
So a difficult start for new man Mark Goldberg, but the long term future looks a lot brighter for The Wings heading into next season".
The BBC Possession Alty 54% Welling 46%
Shots: 19 v 8
Shots on Target: 7 v 3
Corners: 2 v 5
Fouls: 12 v 14
Thanks are due to Steve Foster and his TASC colleagues for all their work in organizing the annual TASC Race Night at the Football Club, which took place after Saturday's match against welling United. This raised important funds for the Club and thanks are also due to those who supported the event.
During the TASC Race Night, which took place in the Community Sports Hall, time was set aside for a "Fans' Forum" at which supporters were invited to put their questions and comments to the Board of the Football Club. The Board members who fielded the questions comprised chairman Grahame Rowley (GR), deputy chairman Andrew Shaw (AS) and Board members, Paul Daine (PD), Derek Wilshaw (DW) and Neil Faulkner (NF). Brian Flynn (BF), chairman of TASC, compered the session.
GR opened the event with a brief statement. He paid tribute to departed manager Lee Sinnott (LS) describing him as "One of the best managers we have ever had here". Lee had shown great dedication and, not least, had spent five years driving across the Pennines to and from Altrincham from his Hull home several times a week to manage the side. GR explained that LS's departure had arisen because "Lee had had enough". He confirmed that LS was not sacked but that it was an amicable parting of the ways.
GR went on to say that he and his family had since suffered "six weeks of abuse and slander" from certain parties on the "Fans' Forum" and other social media and that he had found this behaviour understandably "disgusting". "I love Altrincham FC but I love my family more", a clearly upset Altrincham FC chairman added. GR revealed that, as a result of the abuse, he had tendered his resignation at the Board meeting last Wednesday but that the Board had asked him to continue.
GR also corrected the misinformation put out on social media about Altrincham FC Reserves and the role of Chris Rowley in that team's operation. GR explained that Chris and Craig Malbon had set up the Reserves "at no cost to the Football Club, not a penny". The worth of the Reserves had been shown, he continued, by the emergence into the first-team squad of players such as Callum Williams, Sam Heathcote, Adam Savill and Joel Swift.
GR then moved on to address ill-informed criticism of the Community Sports Hall (CSH). After underlining his pride in the building of the CSH facility, GR stated that "The Football Club has put no money into the CSH this season".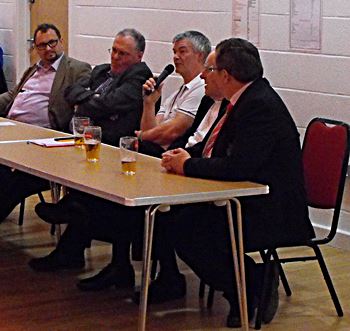 Right: The Altrincham FC Board answers questions at the Fans' Forum.
The chairman went on to say that "This year's playing budget has exceeded last season's". This was largely due to the need to cover for four serious and long-term player injuries. All four players had been paid throughout the season so covering for them was a significant extra cost. There had also been the loss incurred by the Anthony Griffith debacle.
Before handing the discussion to the floor, GR paid tribute to Peter Foster and the colleagues who had brought about the successful completion of the CSH. To mark this, Stacey Rowley, joint manager of the CSH, made a presentation to Peter, which was accompanied by generous applause from the floor.
QUESTIONS
In response to the first composite question, which asked about medicals for new signings, crowd segregation arrangements and the perceived need for an e-mail newsletter for supporters, GR agreed that the Anthony Griffith signing had been a "rushed job" and "a big mistake". [Griffith signed for the club and was then declared unfit to play football at this level and, following PFA intervention, had had to be paid off with a substantial sum which ate into the player budget]. As for crowd arrangements GR stated that the Club had learnt its lesson and errors of early season had not been repeated in terms of home supporters' accommodation on the Popular Side. He was also happy to initiate an e-mail newsletter.
The next question asked for details of plans to attract investment to the Club. GR explained that a lot of hard work went on to this end and it was only through the efforts of Barry Pond and others on the Board and elsewhere that we had sponsorship for the Club.
GR explained that in 2014-15 only 28% of the Club's income came through the turnstiles; 22% derived from commercial activity and 24% in total came from donations. As for publicity for donations, many donors wished to remain anonymous but Bill Waterson had agreed to publicize his recent donation, in the hope of encoraging others to follow suit.
The Board was then criticised for "not making much effort to stay up" by allegedly not boosting the budget in 2015-16. As had already been stated, it was repeated that there had been significant extra expenditure to cover the injured players and their loanee replacements.
Questioned about the appointment of Neil Tolson (NT) as caretaker after LS's departure, AS said that, when LS left, there were "Not 25 Jose Mourinhos out there waiting for his job". As was later explained, the Board took a collective decision that the playing staff was of a standard that could keep us in the division and that appointing the acting assistant manager as caretaker manager was considered the best option. AS pointed out that Chester FC had done the same after Steve Burr's departure, i.e. made an internal caretaker arrangement.
AS added that bringing in a new manager and his entourage at that stage of the season could have seriously disrupted the existing dressing room. A questioner criticised the club for putting loyalty above a "hard-headed business call" in going for an internal caretaker appointment. GR explained that, as soon as LS had left, the Club had received calls from people seeking his job but the Board concluded that the standard was not adequate to justify a "knee-jerk response" at that point. The Board preferred to make a measured assessment and seek an appointment for the longer, rather than short, term.
After DW had underlined that it was a collective Board decision to appoint NT, GR revealed that the Club was going to interview prospective managers during the coming week.
Further questioners repeated the earlier expression of concern in some quarters about the caretaker appointment. AS accepted that the Board "is fallible" but insisted that it was by no means definite that a new face would have done any better than the team has done to date. [For comparison: Alty had 35 points from 35 games before the caretaker appointment and has taken 9 points from 10 games since. They had conceded 58 goals from the first 35 games and have conceded 12 from the subsequent 10 fixtures. They scored 34 goals in their first 35 matches and 14 in the ten games since then].
A questioner returned to the subject of the announcement of the caretaker appointment. GR conceded that he had written the announcement text and that, in hindsight, he should have consulted with his Press Officers. He explained that "I wanted to issue a statement that LS agreed with. I had a lot of respect for him". PD reiterated that the Board acted collectively and that it was not GR's decision alone. "We made the best decision we could" added Paul. AS added that "There was no hidden agenda".
Asked if the club would go "all out" for promotion if relegated next week, GR responded that "We certainly will".
When, once more, a questioner queried the caretaker appointment, GR stated that "Neil has taken on the job and has done his best with a lot of hard work". This was met with applause from the majority in the CSH.
Returning to the subject of a permanent managerial appointment, GR said that he hoped to have a decision "at the end of the season or very soon afterwards". He confirmed that four players remain contracted for 2016-17. These are Sam Heathcote, Jake Moult, Simon Richman and Shaun Densmore.
It was then suggested by a questioner that the Club should not dwell on its "Part-time and we are proud of it" status but should, instead, proclaim "We are Altrincham FC and have won the Conference twice, been to Wembley three times" and shout out its successes. There was repeated criticism of the club for advertising for second-hand mowers and similar items on the website.
Queries about the Club's shareholders elicited a response from GR who explained that the diversity of the Club's shareholding made it more difficult for those seeking to take over the club to get their hands on its assets to do so. GR reminded the audience that Carole Nash had put up 4,000+ plus shares for sale and that some 3,000 remained available.
When a questioner referred to Forest Green as being "in dreamland" after attracting a millionaire through an advert in the Financial Times, AS queried that term. He reminded people that it only takes a single large shareholder to withdraw or move on for an apparently wealthy Club to find itself in trouble. PD also pointed out that adverts in the Financial Times cost £10K which we cannot afford. He went on to explain that in his role as Chair of the Altrincham Chamber of Commerce, he, like other Board members, works to raise the profile of the Club and to attract new investment.
Asked about the Club's finances, DW explained that "We've got no debts. We pay our bills, we have no bank or brewery loans. We are completely solvent" despite having to increase our playing budget this season because of the injuries.
DW added that loanee players do not come cheap, even though we generally negotiate to pay them less than their parent club's full wages. He also said that, "Come 31 May 2016, we will be in the black"
GR told the gathering that there was a "worrying trend in fundraising income". In 2008-09 the Club raised £28K from fundraising but this is now down to £15K. People are not attending functions like they used to do. He made a plea both for supporters to attend these events and also to help run them.
In response to questioning about the absence of free tickets for juniors being offered in the local press, it was explained that the Sale & Altrincham Messenger is no longer produced in the town and that it will no longer run offers such as these.
In conclusion everyone was invited to support the team in its final game at Braintree. There will be an announcement about travel arrangements for this game in the near future.
Altrincham FC Reserves are on course for promotion as the
FA
reports on Saturday's result, Altrincham FC Reserves 4 Daten 1.
Their next game is on 27 April in the MCFA Saturday Trophy Final against Maine Road Reserves, followed on Saturday 30 April by an away league match at Egerton. Following that on 7 May at the J Davidson Stadium (3pm) Altrincham FC Reserves entertain Middlewich Town in a match which coincides with the Alty Beer Festival.
And it was also a good weekend for the ALtrincham FC Ladies who beat Liverpool City Ladies' Community FC 6-0 on Sunday at Mersey Valley. Their final fixture is next Sunday, 8 May, at home to Mersey Girls.
Altrincham FC Youth's remaining games are...
1/5/16 2.30pm away to AFC Fylde
3/5/16 6.30pm home to AFC Fylde at Hale Country Club
5/5/16 6.30pm home to Chester FC Youth at Hale Country Club
Braintree Town
announce "Reduced admission prices for Altrincham match.
For our final Vanarama National League fixture against Altrincham on Saturday, 30th April, segregation will NOT be in force. This game will NOT be all ticket. All spectators are reminded that this match kicks-off at 5.30pm.
However, with both sides needing points from the game, a larger than usual attendance is expected for the match.
Adult admission prices for the ground for this match have been reduced to just £15 and this game will therefore be a Category C fixture.
The Club will be opening additional turnstiles from 3.30pm on Saturday. For those wishing to avoid the queues to pay on the day (and use the ticket holders turnstiles 5 & 6) tickets will be available for cash only purchase in advance on Thursday evening from 7.30pm - 9pm in the Clubhouse at the Avanti Stadium.
Anyone wishing to sit should purchase their seat ticket either on Thursday evening or at the turnstile when they enter the ground, there will be no cash transactions within the ground for upgrades to seats.
Those spectators wishing to pay on the day should use the four turnstiles to the left of the clubhouse, numbered 1, 2, 3 and 4.
The Club are mindful of the limited parking we have available at the ground. Following the advice received from Essex Police, the Club have decided to charge for entry into the car park, with a flat rate of just £2 for all users. Essex Police have also suggested that the car park be closed prior to kick-off to ensure that there is no congestion between pedestrian spectators and vehicles. As a result, no vehicles will be allowed entry into the car park after 5pm.
The Clubhouse at the Avanti Stadium will be open to all spectators and access is from inside the ground.
For further information, please contact the Club on 01376 345617 or 01376 330976 or via e-mail.
Braintree add that on Saturday their win at Wrexham was "with a team performance that manager Dan Cowley described as 'Incredible, where every player worked their socks off for 90 minutes'...
Iron still need a point from their final game at home to Altrincham on Saturday to reach the play-offs.
'We know what we have to do, nobody is getting carried away,' said Cowley. 'This game against a top quality full-time side was really hard and we knew we would have to weather their pressure when they came back strongly against us. But, despite going behind after taking such an early first half lead, I know this group of players and that they would come back again and keep their composure,' said Cowley...
'To come to such an imposing former Football League ground in front of a decent crowd of fervent fans with vocal support, the players put in a fantastic performance', he continued... 'It was also good to hear our supporters in such vocal support, particularly in the second half when we were defending hard yet pushing hard for a winner and the players really appreciated it'...
So it's all down to next Saturday's final home game of the season again Altrincham (note the kick off is 5.30pm like all National League games on the day).
Braintree Town: King; Long, Fry, Phillips, Habgerham; Brundle, Miles (Paine 60), Davis, Woodyard (Sparkes 68); Akinola, Cheek (Cardwell 74). Unused subs: Clerima, Edgar. Attendance: 4,507 (including 79 from Braintree). Referee: Adrian Holmes."
More news of our next opponents comes from the BBC, which reports that "Mitch Brundle put Braintree on the brink of the National League play-offs with a late winner that ended Wrexham's promotion hopes. The visitors stayed fifth, three points clear of Eastleigh and Tranmere after Rovers won at the Spitfires. Michael Cheek scored Braintree's opener before Simon Heslop levelled and Lee Fowler put the hosts ahead.
Cheek added a second before the break and Brundle struck to keep Braintree's promotion hopes alive.
Wrexham manager Gary Mills told BBC Radio Wales, 'We always knew we were rank outsiders to do it (make the play-offs), but it's disappointing to not win the game and go into it with a chance next week. When we went 2-1 up we started to dominate the game a little bit, but then we go and give away a stupid goal again and it changes the whole mental state of the players. It was a tough afternoon. We've given away some sloppy goals, which I've said too many times this season'".
The Braintree & Witham Times adds that "Danny Cowley believes what his Braintree Town team have achieved this season is 'nothing short of a miracle' as they stand on the verge of securing a place in the Vanarana National League play-offs...
The Iron need just one point from their final game of the season, against Altrincham at home next Saturday, to seal a top-five finish and a place in the play-offs for promotion to the Football League. It is a phenomenal achievement by Cowley's part-time team amidst big-spending full-time opponents...
He said, 'It was a great win for us – an unbelievable win. It was a tough game (at Wrexham) and a bit of a rollercoaster of a football match but it was nice to get on the right side of it. We had a fantastic start, which was really beyond our wildest dreams. It was a great goal from Michael (Cheek) and I thought we did really well early on, but we conceded a poor goal...
'Wrexham are a terrific side. They pose so many questions of you defensively and they make the pitch so big. They caused us a lot of problems and hurt us by getting in behind us in the first half... We were pleased with the equaliser just before half-time, but we were pleased to hear the half-time whistle.
'We managed to re-organise at half-time and I thought we were much better in the second half. We were much more in control of it. To a man, I thought we were magnificent.. We should be mightily proud that we are sitting nine points ahead of Wrexham. That's an unbelievable achievement for our football club... What we have done this season has been nothing short of a miracle'".
Also from the Braintree & Witham Times we read that "Mitch Brundle once again scored a decisive Braintree Town goal as the Iron took a huge step towards a finish in the Vanarama National League play-offs. Having scored what turned out to be the winner at Gateshead seven days previously, the 21-year-old former Bristol City trainee fired in an 81st-minute goal to wrap up a 3-2 victory at Wrexham...
Braintree manager Danny Cowley was able to name an unchanged side from the one that started the 3-2 win at Gateshead the week before and his team repaid him with an excellent start... With a win being equally important to both sides' hopes, both pushed for a third goal after the break, but while Wrexham were disappointed, Braintree were jubilant. It didn't come until nine minutes from the end, but it was worth waiting for for the small contingent of Iron fans among the crowd of 4,507.
And it was Brundle who proved to be the hero once again as he drilled the ball into the top corner to leave Braintree's fans dreaming of a place in the play-offs."
The final two relegation places are between Altrincham, Guiseley, FC Halifax Town and Boreham wood, though Alty cannot reach the Wood due to their much superior goal difference. The
Telegraph & Argus
reports that "Guiseley will have to beat Torquay United at Nethermoor next Saturday and hope other results go their way to salvage their status after a slender defeat at fellow strugglers Boreham Wood dumped them into the relegation places for the first time this season...
Delano Sam-Yorke's 23rd-minute strike into the top corner was enough to see Boreham Wood leapfrog the Lions, and a surprise 1-0 win for FC Halifax Town at high-flying Forest Green Rovers led to the Shaymen hauling themselves out of the drop zone at Guiseley's expense... The Lions looked nervous and lacked energy and drive in the first half. Whatever manager Mark Bower and his coaching staff said to the players at half-time worked wonders.
Guiseley dominated the second half and created chances but found home keeper James Russell in tip-top form....
A dejected Bower said, 'I'm disappointed on so many different levels but I've been saying for the last few weeks that we can't rely on other results and that we had to win games. In that second half, we had so many chances to come back and not just draw but win it. We could have been three or four nil up but again we've had an absolutely scandalous refereeing decision on the penalty. Everybody in the ground has seen their lad handball it and how he cannot give that is beyond me.
'But again we should have scored goals and, if you don't take your chances, you find yourself in a situation like we are. We are in the bottom four and we've not been there all season so it's a hard one to take. The only thing we can do is go and win next Saturday and hope things go our way elsewhere....
'We had a few words at half-time and came out much better. We could have been 2-1 up within a few minutes of the second half kicking off. We have just got to take our chances though. Their keeper has pulled off a couple of 'worldy' saves and we've hit the bar and had a penalty denied. If we can start like that against Torquay and play as well as we did in that second half at Boreham Wood then we will be able to win'".
From Wales, the Daily Post supplies "Rob Griffiths's verdict as the Dragons' promotion campaign comes to an end at the Racecourse. Wrexham's play-off bid came to a faltering end, a disappointing defeat at the hands of a stubborn and gritty Braintree Town side their ultimate undoing. Fans, players and staff alike will have woken up the morning after the game facing the grim reality of another season in the fifth tier...
Yet again the Dragons were victims of their own downfall, giving away sloppy goals, all three of which very avoidable, even if the actual finishes themselves deadly. And that is the difference between a side, Braintree, who look to have all but ensured their place in the end of season play-offs and Wrexham, who will... potentially have thoughts turning to a summer of recuperation.
All three of the Irons goals were put away with devastating effect, Michael Cheek twice on target with Mitch Brundle adding the third late on to kill off the Dragons hopes... Essentially it was all Cheek did all afternoon, even being replaced with more than 15 minutes remaining...
Wrexham's goalscoring record collectively isn't bad, only three sides have found the back of the net more than the Dragons this term...
Cheek, Braintree's leading scorer, has less goals this season than the Dragons' top marksman, Connor Jennings, yet it is the way he took his efforts at the Racecourse that left the home crowd looking on somewhat enviously. Snap shots or half chances taken clinically and with ruthless efficiency. Cheek did very little else throughout, he was marshalled well by the Dragons defence otherwise...
Robbie Evans failed to get close enough to Davis in the midfield, the Iron skipper playing in Brundle who still with a lot to do, beat the covering defence, and unleashed an unstoppable effort into the top corner... Braintree sat in deep, dared the Dragons to break them down and held out for the remaining minutes of the game to ensure the double over Gary Mills's men".
---
24 April 2016
| | |
| --- | --- |
| After Saturday's match, the annual end of season awards were made in the Main Stand to the winning players and to the Clubman of the Year. | Stuart Coburn, Special Recognition Trophy |
| Scott Leather, Young Player of the Season | Josh Ginnelly, Goal of the Season |
| Tim Deasy, Players' Player of the Season, presented by Shaun Densmore | Dave Johnson, Tom Earley Clubman of the Season, presented by Neil Tolson |
| Jake Moult, runner-up of Supporters' Player of the Season with Brian Flynn, chairman of TASC | Tim Deasy, winner of Supporters' Player of the Season with Brian Flynn, chairman of TASC |
The annual Altrincham FC End of Season awards were as follows...
Young Player of the Season:
Goal of the Season:
3rd: Jake Moult v Colchester United
2nd: Jake Moult v Torquay United
1st: Josh Ginnelly v Aldershot Town
Players' Player of the Season:
Clubman of the Season:
Supporters' Player of the Season:
3rd: Josh Ginnelly
2nd: Jake Moult
1st: Tim Deasy
Special Recognition Trophy:
The National League reports that "BT Sport has announced that they have selected Braintree Town v Altrincham for their final regular season screening from the Vanarama National League on Saturday 30th April. 5.30pm kick off. All the live action will come from Cressing Road as The Iron seek the one point required to cement their Play Off place. But Altrincham need a win in their endeavours to avoid relegation and they will make the fixture even more testing with that in mind.
Should there be a slip up by the Essex club then Tranmere Rovers lie in wait to steal that last and most important 5th place. They face a home fixture against Grimsby Town and with the Mariners already assured of their Play Off spot then Prenton Park will be rocking, so BTSport will have a camera crew at the match ready to cover any twists and turns which may arise.
And, to add to the spice, Eastleigh who are away to Woking could even snatch that final place if both Braintree and Tranmere lose. So once again the ingredients are in the mix for a tremendous serving of tea time excitement.
Whatever the outcome all the last-day highlights including Cheltenham Town receiving the Championship Trophy will be included in the weekly Highlights Show on Sunday 1st May.
It certainly will be a long wait for the final day of the season and what a cracker is on the cards".
"Here is joint Press and Media Officer, John Edwards's post-match interview with caretaker-manager Neil Tolson after a resounding 5-0 win over Welling United in our final Vanarama National League home game of the season.
Q: We couldn't have rounded off the home programme much better, could we?
A: No, it was a great team performance. We looked solid. They had a few half-chances from 25 yards, which we'll take all day long. I don't think Tim Deasy has been worked too much, and Callum Williams had nothing to do when he went on, so it was pleasing. We took our chances, with some excellent goals, and if you do that, you are going to win games. I'll reiterate what I've been saying for the past few weeks; there's not a lot wrong with where we're at.
Q: The fourth goal was the pick of the bunch, wasn't it?
A: It was the goal of the season. If it was Barcelona, they'd be replaying it on telly for the next 15 years, it was that good. I wasn't counting, but it looked a good 10-15-20 passes from one end of the pitch to the other. It was at a good tempo as well, and it completely opened them up, culminating in a fantastic finish by Damian Reeves. It started on the edge of our own area, with Scott Leather and Jordan Sinnott working it down the line, then a great cross and clinical header by Damian. Great stuff.
Right: Relive Damian Reeves's superb "team" goal aganst Welling on Alty TV!
Q: What can it do for confidence, going into next Saturday's game at Braintree
A: It's going to be a tough task for us, but my view is it's a great game to be going into. They still need a point to confirm their place in the play-offs, so they are going to be on edge. There is going to be a team very disappointed come next Saturday. We know what we need to do. Me and Matt said before today's game 'give yourselves a chance', and we've done that. We go to Braintree next Saturday still in with a chance. We were hoping other results might have gone a bit differently, but you get these freak scorelines every so often, don't you? The Halifax score was very surprising, because Forest Green Rovers are normally solid at home. But if the worst happens and we go down, it won't be because of one result at Braintree. It will be down to not accumulating enough points over 46 games. That is the simple reality of it.
Q: There was a bit of pressure on today, because anything less than three points would have meant signing off at home with relegation confirmed. You must have been pleased with how the players handled it?
A: Training has been upbeat. I have said this from day one, and it still applies, 100 per cent I have got the backing of the dressing room. They have given us their all yet again, and I keep going back to the same point, there is not a lot wrong with how we have set up. But if you don't convert chances, and that is a collective issue, rather than aimed at the forwards, you don't get the points you need. You are not going to win enough games.
Q: There was a fantastically enthusiastic response from supporters on the Popular Side at the end, prolonged applause for the players that they seemed to appreciate. Did you see that?
A: I don't read the forum, but I have to say the majority of people I have spoken to genuinely want me and this football club to do well. I don't get too carried away with negatives, just as I don't get too carried away with positives, because I know I've got a job to do. I knew six weeks ago it was not going to be easy. I was brave enough to sit in this chair and give it a right good go.
I genuinely haven't heard anything negative. People can see what we are trying to do. We are trying to play football, trying to get the ball down and pass it, trying to stick to the ethos of this football club. We just haven't taken our chances.
Think of Kidderminster, conceding an equaliser in the last minute, or Southport here, going in front then conceding a minute later. There's four points thrown away, which would make an absolutely massive difference going into next week's game. That's me just picking two games out off the top of my head. If you look through the rest of the season, more will come to mind, such as Dover away when they scored in the last minute to win the game. It's not something that has just started happening recently.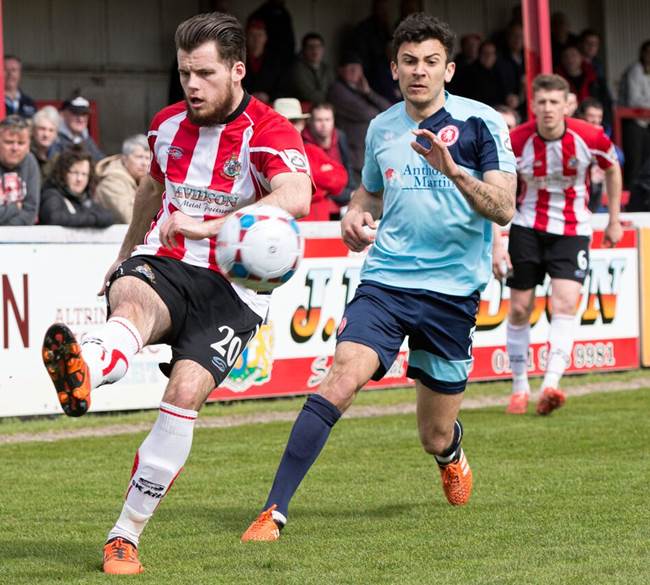 Above: Jordan Sinnott and Scott Leather (in background) played a major part in Damian Reeves's goal on Saturday against Welling. Here Mike Ripley captures Jordan in action during the match. More of Mike's images are here.
Q: Will anything be done differently this week in the build-up to Braintree?
A: We will prepare as if it was a normal game. There will be pressure on both teams. There was a strange result at Forest Green today; there might be a strange result next week, a strange turn of events. The message to the players will be 'give yourselves a chance'.
Q: Did Tim Deasy need a painkilling injection today?
A: I don't think he had one in the end, but he has been struggling with a thigh problem and it was clear he was having difficulty kicking the ball. But I don't think it's any worse than before, so hopefully another seven days and he'll be back to 100 per cent. Callum went on to protect Tim a bit, to be on the safe side before it got any worse. Sometimes it can seem a bit disrespectful to the opposition when you sub your keeper with a scoreline like that, but I explained to their manager why I was doing it, and that it was a genuine injury, and he understood.
Jake Moult came through fine. It just seemed sensible to bring him off, because he was on a booking and he's had a problem with his ankle. Damian Reeves was disappointed to be subbed near the end, but he has scored 120 goals for this club and deserved a round of applause from the supporters all to himself. I explained that to him. Not only that, it's a big game next week, and we need Damian Reeves fit and ready to go for that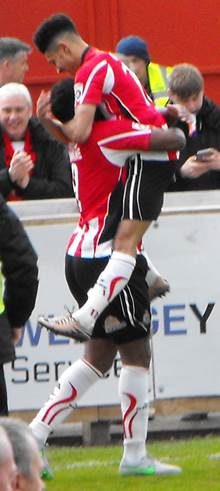 Despite their biggest win of the season against relegated Welling United, Altrincham go into next Saturday's final game of the season, at Braintree Town, needing not only to win but also for FC Halifax Town to lose and Guiseley to do no more than draw for The Robins to stay up.
After a nervous opening in which Rankine missed two good chances, Altrincham went ahead out of nothing in the 33rd minute. The ball broke to Sinnott who slotted home calmly in the 33rd minute. As the first half ended, Welling conceded a penalty for handball which Rankine converted.
It became 3-0 five minutes after the break when James Lawrie's shot into the ground beat goalkeeper Rodak. Alty scored a superb fourth with a one-touch move up the right which featured a magnificent exchange of passes by Leather and Sinnott before Reeves headed in Sinnott's cross from the right. That was after 66 minutes and, in added time, Rankine added a fifth as he lobbed the exposed Rodak.
Match report here
Right: Josh Ginnelly and Michael Rankine celebrate Alty's second goal.
---
23 April 2016
Saturday 23 April
Aldershot Town 1-2 Southport
Altrincham 5-0 Welling United
Boreham Wood 1-0 Guiseley
Eastleigh 0-1 Tranmere Rovers
Forest Green Rovers 0-1 FC Halifax Town
Gateshead 3-1 Bromley
Grimsby Town 1-2 Chester FC
Kidderminster Harriers 1-1 Dover Athletic
Lincoln City 2-3 Woking
Macclesfield Town 0-1 Cheltenham Town
Torquay United 2-2 Barrow
Wrexham 2-3 Braintree Town
"As stated on the front cover of today's
Robins' Review
, it's the end of an era at The J.Davidson Stadium after Stuart Coburn reluctantly decided to call time on his illustrious, record-breaking Altrincham career. After making more Alty appearances than any other player in the club's history, 'England's number one', as he is affectionately known on the terraces, announced he will be retiring at the end of this season and shared his reasons why with
Robins' Review
readers, ahead of this afternoon's final Vanarama National League home game of the campaign against Welling United. His interview with Alty's joint press and media officer John Edwards is reproduced in full here.
There's a decision I've been agonising over for weeks, and it could hardly be more important. I've been turning it over in my mind and discussing it with those closest to me. Have I got another comeback in me? Can I get back to the level of fitness and conditioning needed to reclaim the jersey and do myself justice as Altrincham's number one?
Much as I appreciate all the advice and encouragement I've received, the decision had to be mine, and I've made it. I'm gutted, totally and absolutely gutted, to have to say I'm hanging up my boots, and gloves, and calling time on a career that has been more rewarding than I dared hope when it started nearly 20 years ago.
I can't believe I won't be turning out in Alty colours again, though there's an outside chance I might get one more opportunity, depending what happens today and next Saturday.
Right: Stuart in action against Tamworth.
Neil Tolson has touched on the possibility of me being on the bench, so I can go on one last time, maybe when the board goes up for however many added minutes at Braintree. From a selfish point of view, a little cameo and thanks very much sounds appealing, but it's the club's interests, not mine, that come first.
The plain fact is, while your reactions never leave you, jumping is a problem. I can't take off properly on my left foot. It's not strong enough, so if we head down to Essex still in with a chance of staying up, I wouldn't dream of jeopardising it by going on. I'd much rather be cheering the lads on from the sidelines, if it means we're still in with a shout of beating the drop.
That's still all up in the air but what's for sure is that, after the final whistle at Braintree, I'll no longer be an Altrincham player, following the toughest decision I've ever had to make. I meant it when I returned from Dover last August and vowed to bounce back from a ruptured Achilles, so you may wonder what's changed. Basically, I've got a bit older!
People are always quick to jump on the age thing. Make a mistake, and it's because you're getting on a bit. That always use to annoy me, but I have to admit, hovering around the 40-mark, I've been finding it harder to motivate myself for all that's needed to get fit again.
To be fair, the Achilles has healed. That's not an issue. But my calf is not as strong as it should be, and there's still a lot of hard work needed to build it up. Even if I did all that and got back to something like 100 per cent, there are still other factors to take into account.
Not least the standards I've set myself and whether I could maintain them. The reputation I've built up among Alty fans over the years means a great deal to me, and I wouldn't want to put that at risk by coming back and being found wanting. 'Ah yes, Stuey, he was good in his day, but he just went on too long in the end, didn't he?' I'd hate to hear anyone say that in the Community Sports Hall bar.
The questions have been nagging away at me throughout the weeks I've been mulling things over. Can I get back to the level I want to be at? Not sure. What if I'm back in the team and really pushing to reach a ball, and the Achilles goes again? That fills me with dread, because it's been horrible since I did it. I've been a real grouch at home.
Basically, there's been doubt in my mind at every turn, and it's massively the case that I don't want to get back playing again only to let myself down.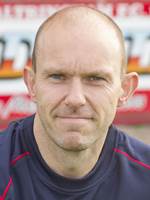 Another consequence of advancing years is that other parts of me are starting to ache as well, though it's not just age that helped make my mind up. There is clearly uncertainty over which division we will be in and who will be in charge. If a new manager comes in, he may well look at me and say: 'You know what, Stuart? Your time has come, mate, off you go.'
If I was kept on, would I want to be second choice? Tim Deasy has done brilliantly and rightly holds all the aces, but I can't imagine completing a long, hard comeback trail just so I can keep getting paid without contributing. I've seen people do that, and it always riles me. I've far too much respect for Altrincham to sit on my backside while taking money off the club.
There's also growing family and work demands to consider. My older son Finn is coming up to nine and has just been offered a contract for next year by Manchester United. He signs it at The Cliff tomorrow, and I think I'm as excited about it as he is. There'll be no prouder dad, but it's going to involve a lot of driving in the months ahead, and fitting that in with the demands of playing would be a difficult balancing act, if I carried on.
It's been on my mind since the start of March, and I've had plenty of thinking time during the hours I've clocked up visiting the gym three times a week. It's often been down to what day you've caught me on. I've been up for getting back again one minute, resigned to the cold, hard logic of packing in the next.
Finally I decided, and the chairman Grahame Rowley was always going to be the first to know. I remember telling him in the Community Sports Hall, explaining why and, all the time, gazing beyond him out on to the pitch. The realisation I wasn't going to be playing on it again hit me hard. The club has been such a big part of my life, but I understand everything comes to an end at some point, and I consider myself lucky.
If someone had said, back in 1998, I would play nearly 700 games for Altrincham in two spells spread over 18 years, I would have given them a look and said: 'Are you stupid?' It would have been nice for the career total to reach the 1,000-mark, but if having to call a halt at around 970 is the worst that's going to happen, I'll gladly take it.
Especially as I'm the proud holder of the record number of Alty appearances. I remember approaching 300 games and thinking it was special, then 500 and it was 'wow, I'm still going strong, I can do this.' To actually go past John Davison's record was something I'll never forget.
I can imagine having a beer in the bar, reflecting on some of the names who turned out for this great club and thinking, 'You know what? You played more games than any of them. You did all right, mate.'
AND FINALLY ...
I can't sign off without thanking a few people. My wife Eve and two boys Finn and Jack. While I had the career, travelling the length and breadth of the country, Eve had all the mither. She's got the patience of a saint. Even when I said I was finishing, she said,'Are you sure? It's up to you.' Grahame, his family and the board. Huge thanks to my goalkeeping coach Ian Senior and physio Alan Ainsley. Without Super Al, I wouldn't have played so many games. Many a time, I've phoned him on a Sunday morning and said, 'I'm struggling for Tuesday night's game, Al.' He's met me at the ground the following day, worked his magic and, sure enough, I've been fit. All my team-mates and managers down the years who've helped create brilliant memories, from the special set of lads in the 2005 promotion team to the ones who went up, courtesy of Greg Wilkinson's unbelievable last-second winner against Guiseley.
Last but not least, all the supporters I've enjoyed such a special bond with. I'll miss the chants of 'England's number one' and the victory salute we shared at the end of so many games, but I can't tell you how much I appreciated them. Of course, I'm about to join your ranks and become a full-time Alty fan myself, but in the meantime, thanks for all the great times".
Footnote: Stuart made 687 starts plus two substitute appearances for Altrincham, one of them being as an outfield player! He also scored a goal for the club, away at Runcorn. All at the Football Club admire the honesty of his decision and wish him all the best for the future.
You can follow this fixture via this website's minute by minute text updates by clicking on the icon below. Alternatively, Radio Robins' coverage of the game is outlined below as well.
Brian Flynn announces that "Radio Robins, sponsored by Ashley Mowers Garden Machinery, is providing full live commentary of Saturday's game. The match commentary sponsor is Chris Furlong. The commentary team is Ian Wilkinson and Brian Flynn, with match summaries from John Edwards.
Coverage starts at 2.50pm with the game kicking off at 3pm. You can listen to Radio Robins on the internet at www.radiorobins.com.
Brian Flynn, chairman of TASC announces the revised schedule for the above events which will take place today (Saturday 23rd April).
"I am pleased to confirm Saturday's post-match schedule as follows:-
4.50pm: Following the conclusion of Saturday's game against Welling United, the 'End of Season Awards' will take place in the main stand.
5.15pm: FA Cup Semi-Final: Everton v Manchester United, will be shown in the Community Sports Hall.
7.10pm: Race Night begins.
8.15pm: Fans' Forum with the Board of Directors.
9.15pm: Race Night continues.
10.30pm: Finish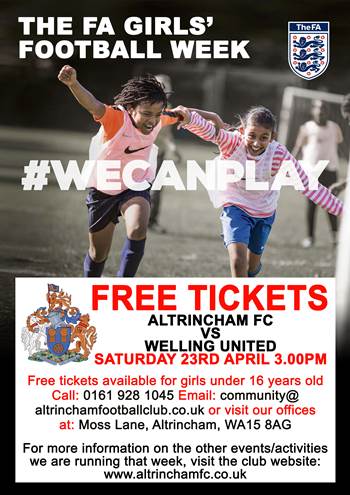 Please note that should the televised game go to extra-time or extra-time and penalties, then the Fans' Forum and the second part of the Race Night will start 45 minutes later than scheduled i.e.
9.00pm: Fans Forum with the Board of Directors.
10.00pm: Race night continues.
11.15pm: Finish
If required, there is flexibility for the Fans' Forum to continue for a further 15 minutes.
Food will be available during the evening and the bar will be open from the end of the game until 11pm".
It is bad enough trying to work out permutations of how we might survive in the National League without the League itself giving us mis-information. According to the National League's official "National Scene" publication, "Altrincham need to win their final two games and hope Boreham Wood and or Guiseley AFC lose theirs to have any hope of avoiding the drop". This, of course, is rubbish. Firstly, it fails to bring FC Halifax Town into the equation and, secondly, a win and a draw could be sufficient to keep Altrincham in the division if two of Guiseley, FC Halifax Town and Boreham Wood lose both of their remaining games.
Alty's maximum points' haul is 47, whilst currently FC Halifax and Boreham Wood have 44 and Guiseley 46. To complicate matters, Boreham Wood play Guiseley today.
Before kick off, with two fixtures to be played, Altrincham could finish anywhere from 19th to bottom of the league. However, a win today for Altrincham is the only way of ensuring that the club's fight for National League survival goes to the final game of the season, irrespective of results elsewhere.
In 2000 both Alty and Welling were relegated at the same time from the Conference. So, with Welling already having already been relegated this season, Alty will not be wanting a repeat of that season's conclusion. Indeed, the only certainty before kick off is that this will be the last time Alty and Welling meet in a league match for at least one season.
Saturday 23 April
Aldershot Town v Southport
Altrincham v Welling United
Boreham Wood v Guiseley
Eastleigh v Tranmere Rovers
Forest Green Rovers v FC Halifax Town
Gateshead v Bromley
Grimsby Town v Chester FC
Kidderminster Harriers v Dover Athletic
Lincoln City v Woking
Macclesfield Town v Cheltenham Town
Torquay United v Barrow
Wrexham v Braintree Town
Altrincham's last game of the season is at Braintree Town next Saturday (30 April) with a 5.30pm kick off. TASC is running supporters' transport, the details of which are
here
. You can book your seat in the Community Sports Hall at today's game or by ringing the club on 0161 928-1045 during normal weekday office hours. The transport is family friendly with supporters of all ages making use of it and there is a strict no alcohol policy on the vehicle.
Any players seeking a trial for next season for the Altrincham FC under-17s or under-18s are invited to send their background and contact details to the Club by
e-mail
.
John Edwards, joint Press & Media Officer at Altrincham FC, writes that "The final
Robins' Review
of the season, for the Vanarama National League fixture with Welling United, is one not to be missed. Apart from the usual Boardroom, Dugout and Captain's columns, there's an in-depth interview with Stuart Coburn and an absolute cliffhanger of a Fingers on the Buzzer quiz final between Stuart and James Lawrie. It literally could not have been any closer.
Find out what Stuart has to say about his season-long fight for fitness, after an Achilles injury, and see who prevailed to be crowned Brain of Moss Lane in the Robins Review, on sale inside the ground, priced £2.50".
Forest Green Rovers
tell us that "The New Lawn plays host to Forest Green one final time before a massively important play-off campaign on Saturday as relegation-threatened FC Halifax Town visit Nailsworth.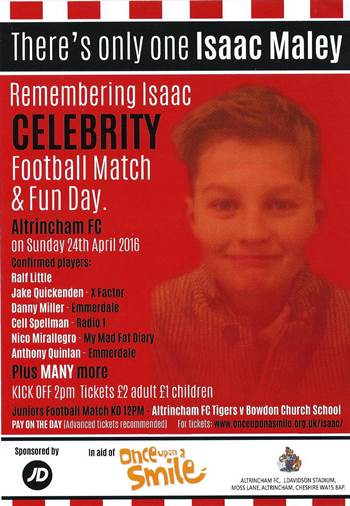 It's FGR's final home league outing of the season this weekend before Ady Pennock's charges contest a play-off semi-final double header in the first week of May. Two games remain for Rovers this season with the league campaign ending at Dover Athletic next weekend, and although the team know they're already in the play-offs, there's still a single point required for FGR to guarantee second place.
FC Halifax themselves have an enormous amount to play for. They currently find themselves in the relegation zone on goal difference and will be desperate to pick up a result this weekend. Saturday's game sees the club celebrating Youth Development Day, and all of the youth teams will be taking part in a parade before kick-off.
And the winners of FGR's end of season awards will be presented with their prizes in the Carol Embrey Suite after the game".
Meanwhile, Guiseley report that "Since gaining promotion, the Lions have been adjusting to life at the top level of non-league, and in what has been a defining season both on and off the field they now find themselves travelling to Boreham Wood for a winner-takes-all contest.
Boreham Wood, like the Lions, are experiencing life in the top echelon for the first time and they sit just above the final relegation slot, one place and two points below Guiseley, so tomorrow's game is must win-for both clubs.
Victory for Guiseley would ensure National League football again next season, leaving the home side to scrap it out with FC Halifax Town [and hopefully Altrincham] on the last day of the season to avoid the drop. A draw would leave the Lions needing a result in their final league game at home to Torquay United next Saturday.
Manager Mark Bower knows the stakes are high. 'For both teams, the prize is there. If they win, they will probably fancy their chances of being able to secure safety, playing Welling in their last game. While if we win, we know it will all but finish the job'".
Programme Monthly & Football Collectable magazine has announced that the winners of its Programme of the Season competition in the Vanarama National League are Grimsby Town, with Gateshead and Tranmere Rovers joint runners-up.
---
22 April 2016
The referee for Altrincham v Welling United this Saturday is Mr J Busby of Oxfordshire. He was in charge of the Altrincham v Wrexham draw earlier this season. Mr Busby has also overseen two previous away games for Welling United, this season. Those matches were at Bromley and Lincoln City. In 17 Vanarama National League games this season he has shown 41 yellow and 8 red cards.
And, once again this season, Altrincham will be playing against a newly installed manager when Welling United visit the J Davidson Stadium. Welling reported on Thursday that "The club wishes to announce that first team manager Dean Frost has left the club by mutual consent. Mark Goldberg will take first team management responsibilities for the remainder of the season with a view to Mark also potentially taking on ownership of the club in the near future. The club wishes to express its gratitude to Dean and his assistants Barry Ashby and Jamie Turner who have also decided to leave.
Dean took on the position with the club under a serious threat of relegation, regrettably results have not been what either Dean or the club would have hoped for and with relegation now confirmed the club want to start making preparations as early as possible for what we aim to be a successful season in the National South."
More details come from Kent Online which tells us that "Mark Goldberg is expected to complete a deal to become the new majority owner of Welling United, having been named their caretaker manager. The Wings, who were relegated from the Vanarama National League, announced on Thursday night that they have also parted company with manager Dean Frost as Goldberg's takeover is set to be completed shortly.
It means Goldberg will take over the majority shareholding, currently owned by Barrie and Barry Hobbins, the former having been involved with the club since it was formed in 1963... Goldberg's plans are believed to include a redevelopment of Welling's Park View Road ground and the neighbouring cricket club. No timescale has been put on the completion of the takeover.
Goldberg ended his third spell as manager of Bromley in February this year, when he agreed to step down after a poor run of results. He masterminded their promotion to the top flight of non-League football the previous season from Conference South, where Bromley won the title ahead of Boreham Wood."
On Thursday evening, Altrincham FC Youth beat Skelmersdale United 2-1 at home in the NWYA Premier League.
As well as at welling, there is a new manager, too, at the other already relegated club in the National League as we learn that "John Eustace has today [Thursday] been confirmed as the new Manager of
Kidderminster Harriers Football Club
. The 36 year-old former Watford and Derby County midfielder has already started work in assessing the squad here at Aggborough going into the final games of the season, and is expected to be present in time for the campaign's final fixture at Southport next weekend.
Born in Solihull, Eustace has enjoyed stellar playing career, amassing almost 500 senior appearances in the Premier League, Championship and Scottish Premier for the likes of the Hornets [Watford] and the Rams [Derby], playing a big part in Derby's fortunes as recently as last season.
Harriers' Chief Executive, Colin Gordon, hailed John's arrival at the football club, saying, 'In choosing John we have made an appointment for the long-term and I know full well what we are getting. I've known him for over ten years; he is an astute professional with an incredible understanding of the game. He has had a great career as a player at the highest level and it's very clear that he is going to be a fantastic coach and Manager.
'John has watched a lot of our games this season, especially recently, and knows exactly the direction he wants to go in.'
John has penned an initial one-year contract with the club that will see him in the hot-seat for the 2016/2017 [season], most likely in the National League North. Harriers can also confirm that John will be joined at Aggborough by a Head of Coaching, with Chairman Rod Brown confirming that the club have been given permission to discuss the vacancy with Matt Gardiner, currently joint-manager at Worcester City.
'We always knew that John wouldn't be able to do this job alone and that experience within the management team of the level we'd be playing at was crucial,' Rod added. 'We're currently in discussions with Matt about fulfilling the role as there's little doubt that he'd be a huge asset to us. We're grateful to Worcester for giving us permission to speak with Matt and are hopeful of being able to come to an agreement with him soon.'".
Alty's last match of the season on 30 April is at Braintree Town who, this weekend, play Wrexham. In advance of that game, Wrexham report that The Iron "currently sit in 5th place on 75 points. If Wrexham are to gain a play-off place, we must beat Braintree... Of their last five league matches they have won two, lost two and drawn once... Last time out on Saturday 16th April Braintree made a trip north east to face Gateshead at The International Stadium. Mills scored two and Mitch Brundle made sure of things in a 2-3 win".
The Braintree & Witham Times adds that "Braintree Town manager Danny Cowley admits he may still [have] some injury concerns ahead of his team's trip to Wrexham on Saturday...
Cowley said Dan Sparkes is still struggling with a sinus infection and has another viral illness so may be missing, while Sean Marks is still a doubt due to the hamstring problem that he has. Chez Isaac is another with a hamstring injury... and Taylor Miles has an ankle problem that he picked up in the game at Gateshead last weekend that will need a test ahead of the game at Wrexham.
However, Cowley was more positive over the fitness of Matt Paine after his comeback from ankle ligament damage. He came on as a second-half substitute at Gateshead and the Iron boss was pleased with how the experienced defender had come through the game, although he said his rehabilitation would have to continue to be monitored properly due to the nature of the original injury.
Cowley said... 'Ligaments lose their memory when they are ruptured, as Matt's were, and you have to retrain them to stabilise the ankle or you run the risk of rolling the foot again'".
The Chester Chronicle interviews an Altrincham old boy. It says that "Graham Barrow is a man that needs little introduction to Chester FC fans. An eight-year spell as a player that yielded 248 Football League appearances... and two spells as Blues manager have underlined his legendary status at the club.
A combative midfield general, the likes of which haven't really been seen at the club since, Barrow was the embodiment of... absolute commitment to the cause, of giving their everything for the badge. It's 30 years since Barrow first arrived at Sealand Road, signed by McNally from Wigan Athletic... Since then he has held the Blues hotseat twice and also returned for a stint as assistant manager to Mark Wright during the 2006/2007 season...
Barrow currently serves as assistant manager to Gary Caldwell at Wigan... Barrow took on the role of player-manager [at Chester] but was unable to stave off relegation to Division Three. But Barrow proved his managerial credentials the following season when he led Chester back to Division Two, finishing as runners-up... with Barrow resigning in the summer of 1994 owing to frustrations with the Blues' board under Morrison Shand over their sale of key players... and lack of funds being made available...
'I didn't like the direction that the club was heading and I had a duty to let the fans know. It wasn't a move done because I wanted to go somewhere else, I loved Chester'...
Barrow wasn't out of work long, though, and was installed as Wigan manager in time for the 1994/95 season... Barrow left the Latics 14 months later. He was, though, the man responsible for bringing current Everton boss and ex-Chester City midfielder Roberto Martinez to the English game, signing him along with two other Spaniards... A three-years' spell as manager at Rochdale followed between 1996 and 1999 before Barrow would return to the Deva Stadium hotseat, this time under the chairmanship of the controversial Terry Smith, with the club still reeling from their Football League relegation the previous season and facing non-league football.
Despite a tight budget and working under Smith, Barrow achieved remarkable success during the 2000/2001 season, leading the club to an eighth-placed finish in the Conference... 'It didn't end well during that season and the club wasn't being run well at all', he said...
After leaving Chester for a second time, Barrow took up an assistant manager role with Bury... taking over the hotseat following Andy Preece's dismissal in January 2004. Barrow was sacked in September 2005 from Bury and returned to Chester in 2006 as assistant to Wright...
Martinez left to take up the Swansea City manager's job in February 2007 and wanted to take Barrow with him to South Wales as his number two. But Barrow decided his loyalties lied [lay] with Chester and he rebuffed the offer...
A brief spell as assistant to Graham Heathcote at Altrincham followed but Barrow's career was to take an unexpected turn for the better as his old friend Martinez finally got his wish and appointed Barrow as his number two at Premier League side Wigan in 2009...
'I've been at Wigan for seven years now and feel very lucky to have been a part of that success,' said Barrow...
With Chester currently searching for the next incumbent of the managerial hot-seat, it seemed apt to ask Barrow whether he would fancy one last crack at the top job...
'Look, you can never say never in football,' he said. 'But I am enjoying my time at Wigan and working under Gary (Caldwell)... Chester has a very special place in my heart and they always will have', said Barrow".
---
21 April 2016
Welling United are our visitors this Saturday for our final home game of the season. Nothing less than a win will guarantee Altrincham taking their quest for survival in this division to the final fixture, next Saturday, so please come along and lend your support!
Mike Garnett reminds us of the historical record of matches between The Robins and The Wings...
At home: P13-W6-D3-L4-F17-A12
Away: P15-W4-D8-L3-F15-A15
All: P27-W10-D10-L7-F31-A26
On Saturday, Alty will be looking to catch FC Halifax Town (and others) as they try to ensure safety in the Vanarama National league. Coincidentally the last time Alty played a game on Saturday's date, 23 April, was in 2013 when we beat FC Halifax Town 2-0 in Blue Square North, as is confirmed by Howard Watts's Through the Years d+ata.
With local elections and the European referendum approaching, many local schools will be closed to allow their premises to serve as polling stations. So why not take advantage of Altrincham FC's childcare scheme, as detailed below?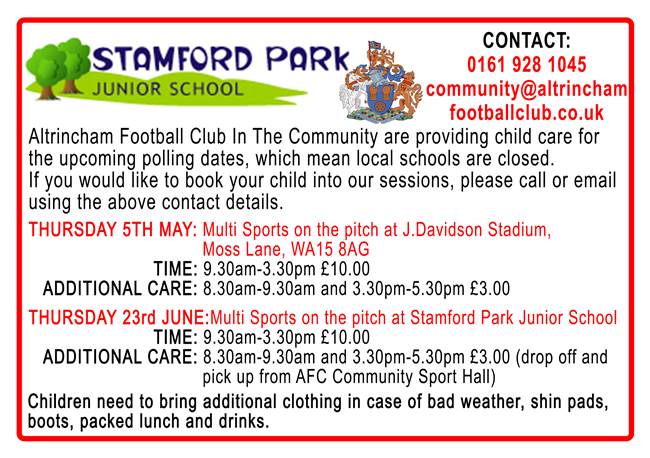 At least twelve volunteers are taking part in the Morrisons Great Manchester Run on 22 May 2016 - Alan Ainsley, Judy Henson, Phil Taylor, Richard Parris, Mike Ripley, Neil Tolson, Stacey Rowley, Grahame Rowley, Barry Woodyatt, Richard Impey, Steven Foster and Steven Crane. They are raising funds for the Altrincham FC Community Sports Hall to help pay off the outstanding building costs.
Please help to raise this sum by pledging sponsorship on the venture's Just Giving page. JustGiving sends your donation straight to Altrincham Football Club Community Sports and automatically reclaims Gift Aid if you are a UK taxpayer, so your donation is worth even more. Thank you for your support!
Altrincham FC Youth's match last Sunday at home to Skelmersdale United was postponed and will now be played today, Thursday, 21 April, (venue to be confirmed) at 6.30pm.
Altrincham FC thanks all those supporters who have supported the Patrons' scheme during the current season. Chairman Grahame Rowley adds that "Although we have had a disappointing season this time around, I am looking to you to re-new your Patron membership for the forthcoming 2016-17 season, the eleventh season that it has been run.
In addition new members are very welcome. For the cost of £50 your name will appear throughout the coming season in the matchday programme as a Patron of Altrincham Football Club.
At the beginning of the season, every member will be entered into a prize draw, with the winner being match sponsor for an appointed game along with 9 guests. Second prize will be hospitality for 5 people and third prize hospitality for 3 people in the Sponsors' Lounge.
If you are interested in becoming a Patron for next season, please forward a cheque, payable to Altrincham Football Club, for £50 for my attention. If you require any further information please do not hesitate to contact me on 07720-606897 or by e-mail".
According to the
Chester Chronicle
, "Chester FC have formally begun the process of recruiting a new manager with the National League club 'inviting applications' for the post. The Blues sacked Steve Burr on April 7 after more than two years in charge and named first-team coach Jon McCarthy and Ian Sharps as caretakers for the final four games of the 2015-16 season.
Although the the recruitment pack for the role was published on Tuesday evening, the club has already received significant interest in the managerial vacancy. Chairman Simon Olorenshaw told The Chronicle last week he was 'very impressed' with the calibre of managers interested in succeeding Burr. Those known to have applied include ex-Chester midfielders Paul Carden and Shaun Reid while McCarthy has confirmed his desire to become a permanent appointment.
Ex-Tranmere Rovers' manager Ronnie Moore has expressed his interest in the position, so too has ex-Blues striker Ryan Lowe, currently playing for League One side Bury.
Others understood to be keen include former Eastleigh boss Richard Hill and Martin Foyle, whose former clubs include Southport and Hereford United, while AFC Fylde's Dave Challinor and Craig Harrison of Welsh Premier League champions The New Saints could also be in the frame.
The latest names to be linked to the post include former Everton defender Steve Watson, now part of the coaching staff at Macclesfield Town, and former Manchester City favourite and Bermuda international Shaun Goater.
The club has set a closing date of Monday, April 25 for applications with interviews expected to take place later that week in line with Olorenshaw's aim to have the new manager ready to start work as soon as the season ends.
According to the advert, applicants will be required to demonstrate the following: a working knowledge of National League football or its equivalent; success in ability to manage a playing budget; excellent contacts within the football community; a commitment to the local community; a proven leader with a suitable track record and a pleasing and willing personality."
Meanwhile, the Leader reports that "Gary Mils will remain in charge of Wrexham next season, chief executive Don Bircham has confirmed. Former York City and Gateshead manager Mills was appointed Reds boss on April 28 last year with the 54-year-old signing a one-year rolling contract. Chief executive Bircham believes Wrexham are heading in the right direction under Mills and he will lead the Racecourse outfit for the 2016/17 campaign".
In the Halifax Courier we read that "Town boss Jim Harvey still believes his team can avoid relegation after their 0-0 draw at home to Eastleigh kept them in the bottom four. Halifax were the better side on Tuesday night but have now gone six hours without a goal after wasting several good chances...
'I thought we were excellent,' he said. 'It's the same problem though of not putting the ball in the net... The effort and the commitment from the boys is tremendous. At this time of the year, to play like that and put the energy in was terrific, and there was a lot of good football as well. It's very disappointing not to get the three points.'
Richard Peniket spurned arguably Town's best chance of the night when he chose to cross rather than shoot six yards out. 'It looked a tap-in from where I was,' said Harvey, 'But this has been the way for a period of time now that we haven't been able to take the chances that have come our way... It's very difficult to correct. The effort is there, the commitment is there, the football, but to win the game you need to score and that's four games now without a goal.
'We've had a few injuries and we're down to the bare bones on the bench but you wouldn't recognise that from the performance, which was excellent... If we play like that I'm sure we can get the results we need to stay up,' he said. 'I'd love the opportunity to take this club forward next year and the way these boys are playing and the effort they're putting in, they deserve it. The crowd were excellent tonight as well. They supported the boys all the way through, and that's terrific, that's such a help for us. The effort and the commitment's there.
'For a team struggling at the bottom you'd normally find the spirit has gone a bit, the morale's low, but it's not the case here. They're fighting and giving everything so, if they continue like that, I believe they've got a great chance of getting six points which would keep them safe in my mind.'
---
20 April 2016
Tuesday, 19 April
FC Halifax Town 0-0 Eastleigh
Woking 1-3 Grimsby Town

As the above table shows, with two games to go, Altrincham can achieve a maximum of 47 points. That means that, following the confirmed relegations of Kidderminster Harriers and Welling United, the remaining two relegation slots lie between Altrincham and three other clubs; Guiseley, Boreham Wood and FC Halifax Town.
Alty's goal difference is currently one goal better than FC Halifax Town's but worse than Guiseley's and far worse than Boreham Wood's.
The remaining fixtures are:
Guiseley
Boreham Wood (A)
Torquay United (H)
Boreham Wood
Guiseley (H)
Welling United (A)
FC Halifax Town
Forest Green Rovers (A)
Macclesfield Town (H)
ALTRINCHAM
Welling United (H)
Braintree Town (A)
Writing before Tuesday's Vanarama National League games, John Edwards, joint Press and Media Officer at Altrincham FC wrote...
"Neil Tolson provided an insight into the spirit he believes could yet haul Altrincham back from the brink and safeguard their place in the Vanarama National League.
Alty have to beat doomed Welling United at The J.Davidson Stadium on Saturday and hope other results go their way to head into the final game of the season, at Braintree seven days later, with The Great Escape still a possibility.
As he conducted a roll call of fit players, following a 2-0 defeat at Eastleigh, caretaker-boss Tolson backed his squad to rise to the challenge.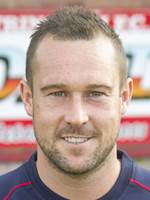 'Tim Deasy (right) suffered a slight tear in his thigh at Eastleigh but phoned me up on Sunday to say he would pay for a painkilling injection himself to ensure he could play on Saturday,' he said. 'I'm hoping it won't come to that, but it just shows how desperate these players are to pull things round and get us out of trouble.
'They are not players on the point of giving up. Jake Moult is another example. If you had seen the size of his ankle a week ago, you would have said he won't play again this season. But he put a full 90 minutes in at Eastleigh and has since told me he wants to play against Welling.
'That is the mood among the players, and of course we are in with a shout of staying up, if we can win on Saturday. I remember, as a player, going to Rotherham with York, needing to win and another team to lose, and it panned out that way.
'We stayed up against the odds on the final day, and it can happen again. The frustration for me is we are creating chances but not taking them. But if we keep doing that, keep knocking on the door, it can still turn for us. The worry would be if we weren't creating.
'The players are desperate to play for me and the football club. There has never been an issue on that front. Confidence is the issue, but it is part and parcel of being a footballer that you have to deal with that.' James Phillips is again ruled out with a knee injury, while fellow-winger Ryan Crowther is '90 per cent' likely to miss out with a hamstring problem".
Don't forget that, after the home match with Welling United next Saturday (23rd), there will be a TASC Race Night. This will be attended by the players, management and Board of the Football Club.
So please come along and support this event in the Community Sports Hall!
Brian Flynn, chairman of TASC, adds that "The FA Cup Semi-Final between Everton and Manchester United will be shown in the Community Sports Hall on Saturday (kick Off at 5.15pm) following our final home game against Welling United. This means that we need to adjust our schedule for the Race Night, End of Season Awards and Fans' Forum. A new schedule, including timings, will be agreed at tonight's TASC meeting and published tomorrow".
NL Pitchero
has surprising news that "Basingstoke Town have announced that, despite suffering relegation from the Vanarama National League South, the club have announced that the first-team will be going full-time from next season. Manager Terry Brown is to start the process of recruitment with immediate effect.
Brown said, 'We are creating a different approach with the philosophy of building a young side, based around investing and recruiting the best young players released by League clubs in the south, alongside a number of experienced individuals'".
---
19 April 2016
Brian Flynn, chairman of TASC (The Altrincham Supporters' Club), confirms that all of its committee meetings are open to all Altrincham FC supporters and that the next such meeting is tonight "At the Tatton Arms, 3-5 Tipping St, Altrincham WA14 2EZ at 7.30pm.
All Altrincham fans welcome:-
TASC Meeting Agenda: Tuesday April 19th 2016
Membership
Goal Rush
Coach Travel
2016 Draw
Question of Sport
Altrincham Festival
Football Buster
Race Night | End of Season Awards | Fans' Forum
Any Other Business".
TASC remind you that you can vote for the Player of the Season by
email
naming your top 3 players in 1/2/3/ order.
TASC chairman, Brian Flynn says that "Alty fans may not have seen as many goals scored as we would have liked this season, but the quality has been very high and we have some great contenders for this year's 'Goal of The Season' which are as follows:-
Michael Rankine: Wrexham v Altrincham, 12 September 2015
James Lawrie: Altrincham v Eastleigh, 15 September 2015
Jake Moult: Altrincham v Torquay United, 31 October 2015
Damian Reeves: Bromley v Altrincham, 14 November 2015
Nicky Clee: Altrincham v Boreham Wood, 21 November 2015
Jake Moult: Colchester United v Altrincham, 06 December 2015
Michael Rankine: Leamington v Altrincham, 16 January 2016
Damian Reeves: Altrincham v Lincoln City, 13 February 2016
Michael Rankine: Altrincham v Guiseley, 20 February 2016
Jordan Sinnott: Barrow v Altrincham, 12 March 2016
James Lawrie: Barrow v Altrincham, 12 March 2016
Josh Ginnelly: Altrincham v Aldershot Town, 19 March 2016
Jordan Sinnott: Altrincham v Aldershot Town, 19 March 2016
Michael Rankine: Altrincham v Dover Athletic, 5 April 2016
You can vote by picking your top 3 goals in 1/2/3 order by filling in a voting form at the Bromley game or by
e-mail
.
The deadline for voting is April 18th.
Eastleigh
report on a "Dominant display against Altrincham... Second half goals from Jai Reason and Luke Coulson topped off a good display from the Spitfires that saw them have most of the attacking possession.
Ross Flitney was barely called into action until the final minute in a comfortable day for the Eastleigh back line, with Altrincham offering very little. The first half... gave a good account of the promising Spitfires, missing top scorer James Constable, who is spending time in hospital at the moment. It looked like Tim Deasy might be joining him too after a couple of minutes, when he went down holding a muscle in his leg, the sub goalie was sent out to warm up, but Deasy carried on, albeit with outfield players kicking for him.
The Robins had a couple of early half-chances but Ross Flitney lapped up everything they had to throw at him... For all their control of the game the story for most of the first half was getting into good positions before over-hitting the killer ball. But in the dying moments of the first half the Spitfires had two fantastic chances, the first was a dreadful miss by fans' hero Yemi Odubade, who was presented with the ball in the middle of an open box but with the goal gaping Yemi managed to fire high and wide.
But the best chance came from a trademark Joe Partington ball from the deep wing, which Matt Tubbs threw himself at, but his diving header was just short and the ball sailed wide. Any sort of contact would have been a sure goal. The Spitfires were as much on top in the second half as they were the first...
Matt Tubbs did well to hit the by-line and keep the ball in play on the right before pulling the ball back to Jai Reason. Open in the middle of the box Reason happily obliged at the Shed End to open the scoring.
After the day he had, Deasy must have struggled to get to sleep. He was a busy boy again with the Spitfire onslaught still coming, he caught Reason's deflected effort and kept Tubbs out after an awful defensive error... And it took something special to beat Deasy for a second time. Luke Coulson, head and shoulders above everyone else on the field, picked the ball up on the left, ran into space in the middle, and launched a devastatingly sweet strike that flew into the far side of the net, Deasy had no chance.
The Spitfires kept coming, but the best their opponents had to offer didn't come until the 93rd minute, Josh Ginnelly slipped a delightful ball through to Damian Reeves running alone in the middle but the bored Ross Flitney came out to make a decent save, making himself big to stop the one-on-one effort. An easy three points, on to Halifax for Tuesday's game in hand."
NL Pitchero
reports that "Salford City captain Chris Lynch picked up three awards during Saturday afternoon's presentations at Moor Lane Lynch joined the play-off chasers during the summer of 2015 from Ashton United and made his 100th competitive appearance for the Ammies during Saturday's game against Nantwich Town.
An inspirational figure and great favourite with the fans, Lynch has also chipped in with 9 goals, including a hat-trick against Workington AFC... The club's annual awards were presented in the bar and Lynch picked up the supporters' Player of the Season and Players' Player of the Season awards, as well as a special award to mark his 100th appearance.
Determination and commitment to the cause allied with a fiercely competitive nature combine in Salford's skipper and he is widely respected at this level of the game and beyond."
The
Lincolnshire Echo
says that "Lincoln City's South African-based director Clive Nates is due to arrive in the country this week as the club steps up its search for Chris Moyses's successor.
Interviews are expected to take place this week, with rumours that North Ferriby United manager Billy Heath will be among those to be grilled by the Imps board. Heath has guided Ferriby to FA Trophy glory last season and this year his side are in the play-off mix in the National League North. Moyses is due to step down at the end of this season...
The Echo understands that the club have had their strongest set of applications since they appointed David Holdsworth in 2011. Chairman Bob Dorrian's appeal for an up-and-coming manager has seen a host of younger candidates put their name forward. Names linked to the post have included Marcus Bignot, who has just led Solihull Moors to the National League North title.
Meanwhile, former Chelsea and Imps defender Frank Sinclair is believed to have applied for the job. The former Colwyn Bay manager has recently left National League North outfit Hednesford for the second time. Sinclair played for the Imps under Peter Jackson in the 2008/09 season. Two other names that have been mentioned are Ashton United joint-managers Steve Halford and Paul Phillips. The pair have led the Manchester-based club to fifth in the Evo-Stik League Premier Division.
Also, Braintree Town boss Danny Cowley continues to be linked to the post. The only person to openly stake a claim for the job is City's current goalkeeping coach David Preece. Meanwhile, Boston United manager Dennis Greene says he is flattered to have been linked with the role, but says he is focused on guiding the Pilgrims to promotion to the National League."
FC Halifax Town report that they "are back in action on Tuesday night, with a tough home fixture against Eastleigh. The Shaymen fell to defeat on Saturday to champions of the National League Cheltenham Town... Jim Harvey thought his side did well on Saturday, but the lack of goal threat is a worry for him.
'Once again we don't look like scoring and that's a concern, we're just firing blanks at the moment. We're creating chances but we're just not scoring. "For a team that has won the league I thought we did really against them, we played a lot better when the pressure was off certainly in the second, and I want more of that when we're under pressure...
'They are all must win games at this time of the season, but it's been pressure since I took over and we were 10 points adrift. The last couple of couple [?games] we haven't scored and haven't looked like scoring but the Cheltenham performance was encouraging again. We have to rest up over the weekend and come back fired up and put a performance like we did on Saturday in the second half... and hopefully we get a bit of luck in front of goal.'
Hamza Bencherif picked up a knock at the Weekend and Harvey is going to wait and see if he will be fit for Tuesday. 'We will see how Hamza settles down. He thought it was a strain on his hamstring but it looks more like a groin he might have strained. He just over stretched for one so we will just see how it settles'".
Alty's last match of the season is at Braintree Town from where the Sudbury Mercury announces that "The Iron pushed themselves back up into the play-off places with [a] grafting performance which gave them a deserved win at the International Athletic Stadium on Saturday, after which manager Dan Cowley admitted his side were 'Dead on their feet at the end'.
Taylor Miles netted twice and Mitch Brundle once, as Iron saw off 10-man Gateshead to pick up six points on the road in five days, after their superb win at Grimsby on Tuesday night.
'I have to be honest and say, although we deserved our win, it was a really hard game for the players who, in the second half, were clearly tired and suffering from our exhaustive recent schedule of games,' he explained. 'We're not complaining but, as a part-time outfit, it has caught up with them and, in reality, at least five of our players were only about 70% on their game on the day. But again they all showed so much determination and sheer guts to get us a result which was so important and is why we are where we are,'
Cowley continued, 'The players are all dead on their feet but nobody is moaning because we knew it was going to be tough coming here and getting a result... Although we had a great start scoring in the fourth minute... I wasn't happy with the way we were allowing them to get crosses in when we normally close down so well,' he said. 'Which is why I was disappointed with the way we gave the equalising goal away and, again, in the second half when we allowed them to score again which was down to an individual mistake...
'I knew it would be harder for our players in the latter half of the second half because they were simply too tired'...
The Iron hero on the day was young Miles, starting the game in place of the injured Chez Isaac, who produced two stunning strikes that set the Iron on their way to victory. He opened the scoring on four minutes with one of his now customary trademark free-kicks from outside the area which sailed over the wall into the top right corner of the net. But the 46 Irons fans in the 588 crowd were soon shocked when the home side equalised on 13 minute...
Three minutes later the Iron were back in front when Miles again found space to drive home a right-foot shot low in the bottom corner of the net... Cheek raced through and was clear on goal with a one-on-one with Russell when he was brought down from behind crashing to the ground by James Curtis just inside the area. Sadly, for the Iron referee Steven Rushton, rightly showed a red card to Curtis but, although it seemed a penalty, the man in the middle declared it was on the line and the resultant Miles free-kick this time just dropped over the bar.
The second half saw the ideal start for the Iron with Brundle charging through the home defence on the right before delivering a low right-foot shot into the net.
The home side rallied and they pulled a goal back on 64 minutes... But any hope the home side, who are full-time players, had to salvage something from the game quickly eroded with some fresh legs coming on as substitutes for the Iron, most notably the influential Matt Paine, who immediately slotted into his customary midfield role bringing much needed stability to the his side".
According to the Western Daily Press, "Forest Green's Ady Pennock brands own club 'unprofessional'... after his side's defeat to Woking on Saturday. Rovers' home form has stuttered at the business end of the season, taking just two points from the last four games and scoring only one goal in the process, as their National League hopes evaporated.
The club have not had a groundsman since Matt Rainey's sudden departure last month with Pennock himself getting on the mower to maintain the pitch along with a volunteer. 'The pitch is a disgrace here, whatever happens, I don't care what anyone says,' said Pennock. 'We haven't had a groundsman for the last month or five weeks now and it does affect us'.
Rovers still have two more games left to play at the New Lawn with Halifax Town visiting on Saturday before the play-off semi-final second leg. It is understood the club have found a replacement for Rainey with their start date yet to be confirmed, but Pennock admitted it was 'very unprofessional' to go so long without a groundsman, adding, 'That was the decision [?that] is made so we have to get on with it and play with it. I think they're working hard off the pitch, but I don't really know what's going on. What I'm going to have to do next week is get on there and actually roll it better. We haven't really got a heavy roller to do it because they worry about compacting all the grass and the dirt together. It had a good cut when I went out on it a couple of weeks ago, but it's very bumpy'.
Rovers took the lead early on when Kieffer Moore fired Sam Wedgbury's cross in from close range, but they were punished for several missed chances. Danny Carr's penalty drew the visitors level after the break... And Cameron Norman powered a shot past goalkeeper Steve Arnold in injury-time to secure the win for Woking...
With a lack of goals posing a problem in recent weeks, Pennock had put more emphasis on getting in good forward positions in training...
'We were getting more people in the box where, previously in the last two or three weeks, we weren't really getting decent balls into our centre forward's feet or getting good balls in the box using Keanu (Marsh-Brown) and Elliott (Frear) but we did it better, more in the first half. In the first half we should have been three or 4-0 up, it's just being ruthless in front of goal and then we concede two poor goals so that I think summed up the game really....
We didn't really come out in the second half'" admitted the FGR manager."
---
18 April 2016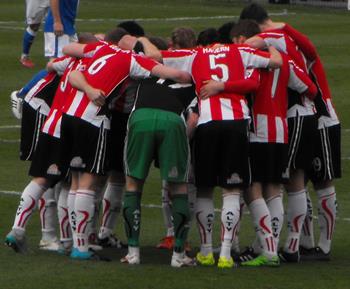 From the
Hampshire Echo
we learn that "Eastleigh can catapult themselves into the Vanarama National League play-off zone with victory at FC Halifax Town on Tuesday (7.45pm). But they will be travelling to West Yorkshire without top gun James Constable, who had his appendix removed yesterday while the Spitfires marched into sixth place with a 2-0 home win over relegation-haunted Altrincham.
Right: Altrincham formed a pre-match huddle at Eastleigh.
All manager Chris Todd knew at five o'clock yesterday afternoon was that star striker Constable, scorer of 15 VNL goals, was in hospital with an abdominal problem. It later emerged that it was appendicitis which, more than likely, means his season is over...
Constable's operation aside, it was an almost perfect weekend for the Spitfires who saw Tranmere Rovers drop out of the play-off frame with a 2-1 home defeat by Wrexham. Fifth spot is now occupied by Braintree Town, 3-2 winners at Gateshead, who are a point above Eastleigh having played one game more.
'We've got three games left, some teams have got two and it's going to go to the wire by the looks of it,' said Eastleigh boss Chris Todd. 'But that's what it's like in this league. We're looking forward to Halifax. If we dig in and make a big effort, hopefully we can get where we want to be.'
One lesson Eastleigh will hopefully have learned from yesterday is not to try too hard to force the issue. With the half-time scoreline goalless against third-to-bottom Altrincham and frustration growing, Todd's dressing message to his players was to relax and be patient and wait for their chances to come. The Spitfires took that on board and, when they finally hit top gear after a stuttering first-half performance, their football, not to mention their finishing, was stunning.
With the hour mark approaching, Portsmouth loanee Matt Tubbs cut the ball back from the right bye-line for Jai Reason to rifle a first-time shot into the top corner. Not to be outdone, Luke Coulson showed why Football League scouts are sitting up and taking notice, with a brilliant individual second. With 70 minutes gone, he cut inside menacingly from the left before unleashing a thunderous strike into the far netting from 25 yards, the 22-year-old's second goal in as many games.
'They're not easy games,' said Todd. 'They (Altrincham) are fighting for their lives and we just had to stay patient today. We got a bit frustrated with ourselves at half-time, but we can't do that. No team will just roll over and give you three points. We had chances in the first half but didn't take them and that puts you on edge then. But I told them at half-time just relax and be patient, we don't want to force things. We did that a bit first-half trying to force things to get the goal, but sometimes you have to wait for it to come, which we did second half.
'We got the goal we deserved and then the free-flowing football came, which was brilliant to watch from the sidelines. There's quality in depth in my squad. They do the hard side right and the quality comes through.'
Coulson... again caught the eye, bringing a knowing smile to the face of his manager. 'He's a player, that boy!' grinned Todd".
Altrincham FC Reserves beat Middlewich Town 4-2 on Saturday. More details
here
. The next match is on 23 April at home to Daten.
The Altrincham FC Ladies play in the North West Women's Regional League Division One North. On Sunday they lost at home, 1-3, to Warrington Wolverines. Their next game is on 24 April at home to Liverpool City Ladies.
News of Alty's next opponents comes from the
News Shopper
. It says that "Realising that only a win and results going in their favour elsewhere would give them a distant hope of survival, Welling fielded an attacking line up. Unfortunately, another meek performance meant they surrendered their National League status with barely a whimper.
Once again, Welling manager Dean Frost made changes, one enforced. Barney Williams' injury incurred a week earlier meant that Joey Taylor resumed at left back. Ibrahim Kargbo returned from illness and Michael Bakare from suspension to strengthen the team...
James Alabi was brought down just inside the area by Michael Chambers... John Rooney stepped up to take the spot kick but Marek Rodak read his intentions correctly made a good save. After 17 minutes, Rooney made up for his indiscretion by putting Chester ahead...
Reece Harris chased an over-hit Chambers through ball and strained a hamstring that finished his afternoon. George Porter replaced him with just 25 minutes on the clock... They went in at the break without having registered a single shot. Immediately after the break, the hosts gave themselves some breathing space with a crucial second goal...
Seventeen second half minutes had passed before Welling finally registered a shot. Bakare was pushed over on the edge of the area but Kadell Daniel's free kick was straight at Thompson. Any hope that Welling might have had for a comeback ended when Richards chased a long Rooney punt and got clear before finishing clinically... Welling looked increasingly dispirited.
More weak refereeing from an official out of his depth [Ian Hussin] followed when Welling substitute Sahr Kabba slid in on Thompson. The tackle warranted a yellow card however Thompson hurling the ball as hard as he could into Kabba's head should have seen him dismissed. After a long talk, neither received further sanction.
Shaw added a fourth goal with six minutes remaining... When the final whistle sounded Welling were left to mull over their heaviest defeat of the season on the day their relegation was confirmed."
Att: 1389 Aldershot Town v Boreham Wood
Att: 2088 Bromley v Torquay United
Att: 5245 Cheltenham Town v FC Halifax Town
Att: 2247 Chester FC v Welling United
Att: 1957 Dover Athletic v Grimsby Town
Att: 2054 Eastleigh v Altrincham
Att: 1605 Forest Green Rovers v Woking
Att: 588 Gateshead v Braintree Town
Att: 1517 Kidderminster Harriers v Barrow
Att: 1408 Macclesfield Town v Guisele
FC Halifax Town
"manager Jim Harvey felt his side started well against Cheltenham Town, but ultimately the lack of finishing let them down.... He said, 'I thought we started really well, the first goal was disappointing to allow Holman back in on his right foot when we had four defenders against their two attackers, and that should have been stopped. We started brightly, but then the penalty, Bolts believes he's been pushed in the back, and there is no reason for him to handle like he did, and it's not like him.'
Goal scoring is now becoming a problem for Town, making it three games without goal, and Harvey admits it is becoming a concern. 'Once again we don't look like scoring and that's a concern, we're just firing blanks at the moment. We're creating chances but we're just not scoring. For a team that has won the league I thought we did really against them, we played a lot better when the pressure was off certainly in the second, and I want more of that when we're under pressure'".
From the National League we learn that "Gary Johnson`s Cheltenham Town have secured promotion back to the Football League at the first attempt. The Robins' 2-0 win against FC Halifax Town on Saturday and Forest Green Rovers' surprise home defeat at the hands of Woking means Cheltenham hold an unassailable lead...
In front of a terrific crowd of 5,245 at the World of Smiles Stadium, a Dan Holman brace after 24 minutes and then a 33rd minute penalty after a foul by Nicky Wroe on James Dayton, eventually sealed the Robins` second fifth tier title.
Forest Green's title hopes were officially ended as they crashed to a shock home defeat against a previously out-of-form Woking at the New Lawn...
The other three top five spots are still yet to be decided, although Dover Athletic look favourite to clinch one of those places... The point leaves Dover two ahead of Grimsby and five clear of sixth-placed Eastleigh, who both have a game in hand. Braintree Town kept their play-offs hopes alive with a 3-2 win at the International Stadium against Gateshead... Losing James Curtis to a 35th minute red card didn't help Gateshead's cause... Some of the results elsewhere went their [Braintree's] way.
That included Tranmere Rovers' 2-1 defeat at Prenton Park to Wrexham...
Two teams had relegation confirmed on Saturday. Chester FC took a big step towards securing their own safety by condemning Welling United to relegation... And Kidderminster Harriers' brave efforts to avoid the drop finally came to an end after a goalless draw at Aggborough against Barrow AFC... A Boreham Wood win at Aldershot Town ensured they could not be caught by the Worcestershire side.
Wood moved out of the drop zone as a consequence of a battling win at the EBB Stadium... The tide turned on the 76th minute dismissal of Aldershot`s Chris Barker for deliberate handball which led to Conor Clifford putting Wood in front again from the resulting penalty...
Guiseley AFC are just two points better off than Boreham Wood now after they went down to a 1-0 defeat at the Moss Rose to an in-form Macclesfield Town side who extended their unbeaten run to nine games... Torquay United may not be mathematically safe yet, but a fine 2-0 win at Bromley has given them a seven-point advantage over FC Halifax...
Southport thought they had scored the winner when substitute Jamie Allen netted to finish off a sweeping counter attack on 87 minutes. However, [Lincoln's] Wood headed home a minute later to level the scores. Earlier on, Robbie McDaid had scored just before the half-time whistle to cancel out Andy Bishop's 44th minute opener for the hosts."
---
17 April 2016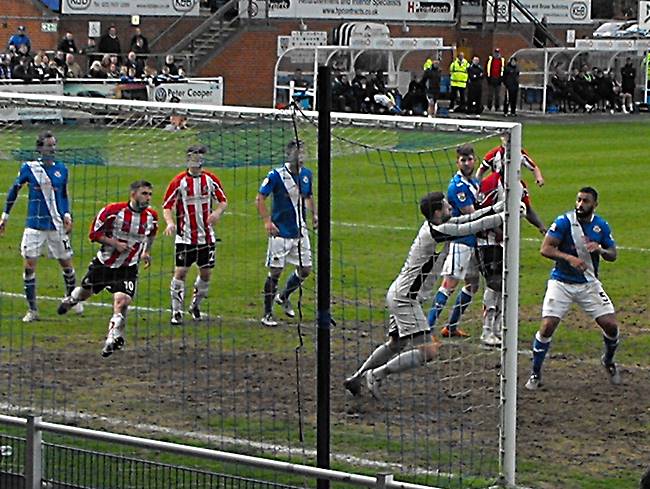 Above: Eastleigh keeper, Ross Flitney, punches clear in the second half.
Altrincham played well in the first half without seriously threatening, but conceded twice midway through the second half. Keeper Deasy was injured early on but completed the game.
Match report here
After the game, Neil Tolson was quoted in the NL Paper... "I'm a bit disappointed as I felt we competed for large parts of it. I can't ask any more of the players. They've worked hard, they've given their all but, unfortunately again, it's not good enough".
Sat 16 April
Aldershot Town 1-2 Boreham Wood
Bromley 0-2 Torquay United
Cheltenham Town 2-0 FC Halifax Town
Chester FC 4-0 Welling United
Dover Athletic 1-1 Grimsby Town
Eastleigh 2-0 Altrincham
Forest Green Rovers 1-2Woking
Gateshead 2-3 Braintree Town
Kidderminster Harriers 0-0 Barrow
Macclesfield Town 1-0 Guiseley
Southport 2-2 Lincoln City
Tranmere Rovers 1-2 Wrexham
---
16 April 2016
Don't forget that, after the home match with Welling United next Saturday (23rd), there will be a TASC Race Night, starting at 6pm. This will be attended by the players, management and Board of the Football Club. After three races the end of season player presentations will be made and, after a further couple of further races, there will be a fans' forum at which you can ask your questions about the Club.
So please come along and support this event in the Community Sports Hall!
Don't forget the Altrincham FC Beer Festival dates, details on adjacent image...
Brian Flynn writes...
"Hopefully, we will get a winner this weekend, with 10 players currently on 16 or more goals... Surely at least one of them will land on 21 over the next couple of days! Full details of current individual standings can be seen here
Remember that you can join the Alty Football Buster competition at any time, as you will inherit the goals scored by your two teams since the start of the game... so you could join now and have every chance of winning this game over the weekend!
Details of how to join this game are as follows:-
1.Entry is just £5 per game and 40% of funds raised go to the winner.
2. Register to choose 2 lucky numbers and get 2 teams from The Premier League, Championship and Football League. Registration is via an SSL secure payment gateway.
3. Goals scored by your 2 teams are tallied daily, from all league games.
4. The Football Buster Player League updates daily for our game. Land exactly on 21 goals to win, bust and drop to the bottom, but remain in the game.
5. You can join at ANYTIME - each of your 2 lucky numbers allocates a team to you and the goals scored by those 2 teams are backdated immediately from the start of the game, to give you a league position and join in.
6. Winnings are paid directly by the club to you.
You can join online here.
Go to the 'HOW TO PLAY' tab and register via the 'REGISTRATION' button. Join the game via the 'GAME ID NUMBER' button (Our Game ID is 515). You will need to deposit a minimum of £10 (which allows entry to 2 games).
You will receive an email confirming that you have joined the game and advising you of your 2 teams, generated by the lucky numbers that you have chosen. If you have any problems, please call Nathan Griffin for help on 07595 520449.
Good luck... Have fun playing Football Buster and help support the mighty Alty!"
---
15 April 2016
Howard Watts's reminds us of Alty's record on previous April 16ths, in his
Through the Years
data.
Mike Garnett has the statistics of previous meetings between Altrincham and Eastleigh.
Home: P2-W0-D2-L0-F4-A4
Away: P1-W1-D0-L0-F2-A0
All: P3-W1-D2-L0-6-A4
Saturday's referee is Nigel Lugg of Surrey. He has issued 52 yellows and 2 reds in 15 National League matches this season. Both reds were in the Braintree v Eastleigh game in March, when the Spitfires' James Turley was one of the men dismissed. He also officiated at Alty's 5-0 defeat at Barnet last season.
Eastleigh go into the game on a run of 11 home games without defeat in the league whilst Altrincham have not won any of their last ten away matches.
Hampshire's Daily Echo says that "January's capture, Luke Coulson, has been quick to make his mark at Eastleigh. Professional clubs, from as high as the Championship, are already keeping tabs on the versatile wideman, just 12 weeks after his club record signing from Oxford City.
The 22-year-old, who penned a two-a-half-year deal in late January, grabbed his first goal for the Spitfires on Tuesday as they closed in on the Vanarama National League play-off zone with a 3-1 defeat of Barrow. It leaves them tantalisingly poised a point behind Tranmere (fifth) and Braintree (sixth) with a game in hand.
Thankfully, Coulson got through the whole 90 minutes with no ill effects following an ankle injury...And with another crucial home game coming up against relegation-haunted Altrincham on Saturday (3pm), the Spitfires are looking forward to another big performance from the newest, and youngest, jewel in their crown.
'Luke's absolutely shining at the minute,' said Todd. 'We took a bit of a risk playing him on Tuesday. It's always a bit of a worry when a player's been injured, but he came through it fine, which was pleasing.' Coulson's dynamic combination of skill, strength, vision and industry has quickly won over the Eastleigh faithful in his short time at the club.
And, says Todd... 'Luke's new to this level but he looks capable, to say the least, and there have been rumours of Championship clubs coming to have a look at him... I knew he had clubs watching him before we brought him in. But he was playing for Oxford City and, no disrespect to the Conference South, but it's a gamble for a League club to take him. They were monitoring him and two League clubs had talked to him, but nothing materialised - and then we came calling'.
With fans let in free of charge, Tuesday's game attracted a bumper 3,292 crowd and Todd is hoping a fair percentage of those will be tempted back this weekend. 'The crowd were absolutely superb and the boys really respected that,' he said. 'They were all buzzing in the changing room afterwards, saying what a great atmosphere it was. Calling the crowd the twelfth man is a cliché, but it's the truth. It inspires people, it really does'...
Midfielder Josh Payne still has another two matches to sit out suspended, ruling him out on Saturday and for Tuesday's game in hand at FC Halifax. But the up side is having player/assistant boss Ben Strevens back to his influential best after a seven-match ban. 'Strevs was outstanding on Tuesday,' said Todd".
Details of the TASC supporters' transport to Eastleigh on Saturday are
here
.
Eastleigh report that "Away fans can buy tickets from turnstiles 10 & 11 on the day of game. Away tickets can be purchased in advance [at a discount] by calling the ticket office on 02380 613361 or through the online ticket system... Away fans which are collection [sic] their tickets, they will be in turnstiles 10 & 11.
Under 7 tickets are FREE in all areas of the stadium, though we would like to remind supporters that children under 4 years of age, whilst still admitted free, will not be allocated a specific seat... All away fans please enter through turnstiles 10 and 11 in the South East corner of the ground, accessing by walking behind the Mackoy Community stand.
Please note NO away fans will be able [to] enter... until their designated turnstile opens at 1:30pm".

Above: Gavin Rathbone's image shows this week's participants in the Fun Week at the Community Sports Hall.
FC United of Manchester
report that "With title favourites, Woolton Ladies, not playing, United took the opportunity to leapfrog them into top spot in their penultimate game of the season with a comprehensive 6-1 victory over Altrincham FC Ladies last Sunday.
First half goals from Shellby Wolstencroft, Beth Hayes and Kirsty Chambers with a reply from Altrincham's Georgia Plant saw the Reds take a 3-1 lead into the break...
[Earlier,], despite United's early dominance Altrincham earned a free kick 25 yards from the Reds' goal, looking for a swift equaliser. Up stepped Plant to curl her effort over the wall and into the top corner beyond the despairing dive of Mary Priestner just three minutes after going behind.
United responded in robust fashion and Wolstencroft came close at the near post from a dangerous Chambers cross. The partnership was thwarted once again but this time at the expense of a penalty as... Wolstencroft... was tripped and referee Moore pointed to the spot. Hayes stepped up and calmly slotted the ball to O'Dwyer's right as the keeper guessed the wrong side and United were deservedly back in front...
Altrincham were quickly out of the blocks from the restart and almost capitalised on a complacent back pass within 10 seconds... [At 4-1] Chambers, completely unmarked and with the goal at her mercy, was denied by a fantastic save by O'Dwyer at the expense of a corner...
[At 5-1] Wolstencroft tackled the last defender 20 yards from goal and chipped the keeper who leapt and got a hand to the effort taking enough off the shot to allow a covering defender to clear. However, O'Dwyer landed awkwardly sparking a medical incident resulting in a 15 minute stoppage. All at FC United wish Lucy a swift and complete recovery from her injury...
After the enforced break... Scholey slotted a pass through the centre to Parker whose shot was well held by replacement keeper Lizzie Brereton as the game ticked into a lengthy period of stoppage time."
National League press release: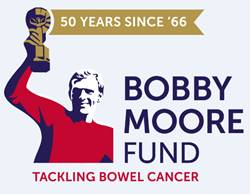 "The National League are delighted that Stephanie Moore, the widow of the legendary Bobby Moore and founder of the Bobby Moore Fund, is to be the Chief Guest at the 2016 Vanarama National Promotion Final.
The match is to be played at Wembley Stadium on Sunday 15th May and will be screened LIVE by BTSport. It is the League's major showpiece, as two of their top clubs vie for the prize of earning a place in the Football League. Last season the match drew a record crowd in excess of 47,000.
2016 is a special year because it is the 50th anniversary of England winning the World Cup. Those iconic images of England captain Bobby Moore lifting the World Cup have lived long in the memory.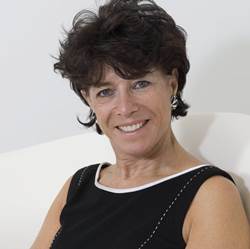 Stephanie (right) founded the Bobby Moore Fund to raise money to help fund Cancer Research UK's life-saving research into bowel cancer, the disease from which Bobby Moore died.
The 68 member clubs of The National League have been requested to select a home match in April to make a collection for the Bobby Moore Fund and these, together with monies donated at the League's Annual Gala at Celtic Manor in June, will be put towards assisting the Fund with its charitable and research objectives.
Brian Barwick, Chairman of The National League, said 'The work Stephanie has tirelessly undertaken in aid of the Bobby Moore Fund has been nothing short of phenomenal. As part of Cancer Research UK, the fund does immense work to raise money for bowel cancer research and the support it receives demonstrates the affection this nation still holds for the sporting hero that was Bobby Moore.'
Stephanie Moore added: "2016 is a poignant year as it marks 50 years since Bobby and his teammates lifted the World Cup. We're determined to raise as much money as possible this year in the hope that we can bring forward the day we beat bowel cancer. I'm honoured to be invited to this year's final as Chief Guest and extremely grateful to The National League for their incredible support of the Bobby Moore Fund".
Tranmere Rovers
say that "The final of this season's Cheshire Senior Cup between Tranmere and Stockport County will be played on Tuesday 26 April, 7:45pm kick-off at the Weaver Stadium, home of Nantwich Town...
Admission prices have been set by the Cheshire FA as follows: Adults - £10, Concessions (65+ & Under 16s) - £7".
---
14 April 2016
Chairman Grahame Rowley has announced that "A Fans' Forum is being planned to take place at half-time of the "Race Night" on Saturday 23rd April (after the home match against Welling United). This will be to answer any questions from the floor regarding this season and plans for the 2016-17 season. All of the Board will be in attendance". The Race Night event will be in the Community Sports' Hall.
The
BBC
reported on Alty's defeat at Torquay, saying "Luke Young scored his first league goal since October 2014 as Torquay eased to victory over Altrincham at Plainmoor... Keeper Brendan Moore was forced into action to keep out Altrincham forward Damian Reeves as the home side picked up three vital points. The Gulls are now six points clear of the National League relegation places, while the Robins remain two points from safety with just three matches remaining.
Possession: Torquay 52%, Alty 48%
Shots: 14 v 11
Shots on Target: 4 v 2
Corners: 4 v 6
Fouls: 10 v 9".
News of Altrincham's last opponents this season comes from the BBC, which quotes Grimsby Town boss Paul Hurst after his side lost at home to Braintree Town on Tuesday night. "Braintree came to frustrate us and they did that. We lost the game and it was a bad goal on our part. We were looking to see the ball out in desperation to try to launch an attack ourselves, rather than just dealing with the ball and the lad finished it well. We found it difficult to create chances against what we knew beforehand. They're a very organised team that have frustrated a lot of teams this season and we're just the latest."
Saturday's bucket collection during the Bromley match raised £72.50 for which the Club thanks both the donors and collectors.
On Tuesday a memorial service was held for the victims of the terrorist shooting on the beaches in Tunisia. As reported at the time, Philip Heathcote, brother of ex-Alty player, manager and Secretary, Graham Heathcote, was one of the victims. The
BBC
has video of the commemoratory service in London.
Altrincham's next game is in Hampshire, from where
Eastleigh
themselves say that they "bullied their way to a 3-1 win over Barrow to continue their play-off push. Luke Coulson, James Constable and Ben Strevens made it a happy night for the packed Silverlake Stadium's free game.
Barrow looked like they were going to spoil the party when they pulled a goal back but the Spitfires held firm. Luke Coulson gave Eastleigh the lead early on, heading home from point blank range after being set-up by a selfless Matt Tubbs, who had already seen his own effort saved. The move had started when James Constable produced a magic pass in midfield, with his back to goal, to set Tubbs free in the open space behind the back line.
Before the half hour mark it was two, thanks to a beautifully simple Eastleigh goal. Michael Green's cross met the open[?] Constable in the box, and the Spitfires' top scorer glanced his header past the helpless Joel Dixon in the Bluebirds' goal.
Barrow were not without their chances however. The three Andy's – Cook, Haworth and Parry all had good first half chances and had Ben Tomlinson got any contact on Cook's low cross then the away side would have been back in the game before the break...
The Spitfires' wake-up call came in the form of Andy Cook's disappointingly easy header at the near post from a corner. Game on. From that point, the previously confident home side faded away with Barrow looking to capitalise... Yemi Odubade was fresh off the bench and was causing issues of his own, Joe Partington found the fan-favourite in the box but he couldn't get the ball from under his feet to get the shot away and eventually he was smothered [!].
He was off again down the left wing after some good vision from Jai Reason, Yemi doesn't often lose in a foot race, but this time Dixon rushed out of his goal to send the ball into the car park... Added time is always an interesting few minutes at the Silverlake and this game was no exception.
Ross Flitney had a relatively quiet game, but the weekend's Blundell Park hero was in the same fine form when he was called into action... Having turned away earlier appeals for a penalty, Mr. Martin was left with no choice but to point to the spot when Coulson was sent to the floor by a clumsy challenge on the edge of the box. Ben Strevens stepped up, took a weak penalty that was saved, but had no problem stroking the rebound into the opposite corner to wrap up the points and keep the Spitfires on their road to the play-offs".
Afterwards, the BBC reported that "Eastleigh manager Chris Todd has urged his players to focus on their own results after moving within a point of the National League play-off places... Eastleigh have a game in hand on fifth-placed Tranmere...
'You can't control other results. We have to keep concentrating on ourselves,' Todd told BBC Radio Solent... Eastleigh host fellow promotion chasers Tranmere in their final home game on 23 April and have taken four points from an available six from their last two games at Grimsby and against Barrow.
'We've got what we wanted from those games,' said Todd. 'The boys believe in themselves and they're really tight and working for each other'".
Eastleigh's team comprised: 1. Flitney, 2. Partington, 5. Turley, 18. Drury, 3. Green, 4. Evans, 31. Coulson, 10. Reason, 14. Strevens, 32. Tubbs, 9. Constable. Substitutes: 6. Reid, 7. Odubade, 12. Midson, 17. Cook, 19.Poke.
Att: 3292 Eastleigh v Barrow (free entry for spectators)
Att: 3010 Grimsby Town v Braintree Town
Att: 1046 Guiseley v Wrexham
Att: 1340 Kidderminster Harriers v FC Halifax Town
Att: 1022 Macclesfield Town v Dover Athletic
Att: 1995 Torquay United v Altrincham
The
News Shopper
reports that "Bromley boss Neil Smith admitted his side were 'down to their bare bones' after the goalless draw at Altrincham on Saturday. It has been a long season for the Ravens, who have struggled with reoccurring injuries throughout the campaign.
The club had several youngsters on the bench at the weekend as several first-team regulars have been sidelined. Smith admitted the situation is not ideal but insists the future looks bright with an impressive crop of talent emerging at Hayes Lane.
'It's difficult for us, we've got a lot of injuries,' he said. 'On the bench we had a 16-year-old keeper who is signing up for the academy next year. We had a couple of other teenagers, too. The future is looking bright but we are down to out bare bones. It would be nice if we could finish the season on a high with all our first-team players, but I have no problem bringing the youngsters on because I rate them highly.'
Bromley have enjoyed a revival under Smith, who replaced long-term manager Mark Goldberg at the helm in February. The Lilywhites currently occupy a mid-table position in the National League but were unable to defeat relegation-strugglers Altrincham.
Smith said, 'We had chances and didn't take them, but so did they. I've got players out there who were taking painkillers. We had three kids on the bench and players out of position. We're really down to our bare bones but we never gave up. It wasn't a great game but we have come away with something which is a positive.'
Next up for Smith's side is a home clash with Torquay; the boss hopes to put on a show for the Hayes Lane faithful. 'I want to be in the top 10 and especially at home, we want to put on a display for the supporters,' Smith added. 'But we have to take it day-to-day because of the injuries. But I know whoever I put in will put a shift in and that's all I ask for.'"
Barrow report that "Football has a way of bringing out the best, and the worst in us all. Emotional highs and lows derive from the very tribal nature of our support for our chosen team.
A massive high came out of the praise for the team at Eastleigh on Tuesday night following a seven hour journey there, and back. After a slow start where we were definitely second best, the lads almost got back for a draw before conceding a sucker goal late in the game. Among the outstanding performers was Joel Dixon who seems to be growing in confidence with every game.
The most noteworthy recognition on the evening though, was from the Eastleigh fan base for the incredible support made by Barrow fans who had made the long journey to cheer on their team. Very seldom do I recall such a rousing round of applause given to opposition fans. Over sixty five went to support the team, which is greatly appreciated by us all...
Barrow AFC recognises that the experience of some of our fans, at the Macclesfield Town fixture, some of them visiting for the first time, was marred by the unpleasant stand off involving about a dozen of their supporters and our stewards and police. Whilst segregation, which had been discussed, would have probably removed the likelihood of such behaviour it is a sad indictment of our sport that it remains one of the few team games that feels the need to separate rival groups.
Before and during the game on Saturday Macclesfield Town fans were well received in the local bars and in the main stand, but the reprehensible motives of the small group have led to an investigation by Macclesfield into identifying the culprits with a view to banning them from future games...
On another pleasing note for us all, the club has been notified that the local police will be closing their investigations into an earlier alleged incident of racial abuse against an opposition player [Alty's Josh Ginnelly]. No evidence has come to light from the efforts of the police and the club to suggest that there is any reason to continue proceedings...
Hopefully now we can all move on and get back to the business of talking about the football. Onwards and Upwards."
---
13 April 2016
John Edwards, Altrincham's joint Press & Media Officer, writes that "Neil Tolson pulled no punches after an 'unacceptable' first-half performance cost Altrincham a damaging 2-0 defeat at Torquay on Tuesday night.
Alty's caretaker-manager ordered his players back on to the pitch barely five minutes into the half-time interval, but, despite a marked improvement, they still slid nearer relegation from the National League.
'I've absolutely no complaints whatsoever about the result,' said Tolson whose side face a testing trip to Eastleigh on Saturday. 'The first half was not acceptable for those who travelled down, for myself or anyone else connected with the club.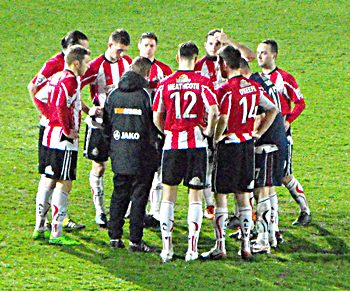 Right: Altrincham players gather round acting coach Matt Doughty during the interval at Plainmoor.
'They were back out early at half-time because I didn't want them anywhere near the dressing room. We were awful in the first half and paint was stripped off the wall in the few minutes they were in there.
'I just told them they had got us into this hole, go out there and dig us out of it. Everything we had worked on in training was missing, but at least we had a go in the second half. If we had started the first half the same way, we might have got something out of the game.
'We created a few openings but were undone by a hopeful long ball for their second goal. It's particularly frustrating that Tim Deasy had just three things to do and two of them involved picking the ball out of the back of the net.
'But from the moment I took over, it was never going to be easy, and I'm not going to make excuses now.
'We are where we are, and at the end of the season, the league table doesn't lie. If we stay up, we've been good enough. If we don't, we haven't been.'
After being sent out with 10 minutes of half-time still remaining, Alty's players went into a huddle before having an exchange of views among themselves and with coach Matt Doughty.
'If that happened, then I'm pleased to hear it,' added Tolson. 'We are not here to argue with each other but to get the best out of each other. Sometimes you have to dig out your best mate to do that.
'Matt is my best mate, but I will ask him questions at times to get the best out of him, and it is the same with the players. I have no issue with that, and if it had the desired effect, then fine.'
With Eastleigh chasing a place in the promotion play-offs, Alty could have done without injuries continuing to pile up. Key midfielder Jake Moult will again be missing with an ankle injury, while Simon Richman is rated only 50-50 after going off with a painful bang on the hip.
Sam Heathcote is hopeful of shaking off a slight calf problem".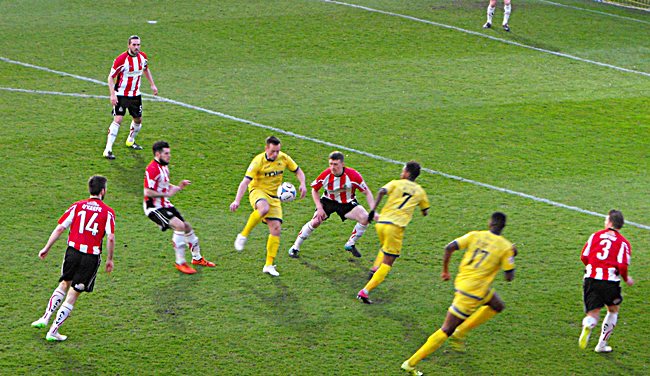 Alty defend in the first half at Torquay.
Altrincham were without injured captain Jake Moult, the suspended Marcus Holness and injured fellow-loanee Jimmy Phillips and opted to start with Josh Ginnelly and Damian Reeves on a bench which, otherwise, had no first-team league experience.
They fell behind after 18 minutes when Luke Young fired home from 30 yards and suffered a further blow when Simon Richman limped off ten minutes later, to be replaced by Reeves
After a poor first half, Alty were sent out for the second half barely five minutes into the interval. The introduction of Ginnelly for the second half lifted Alty but as they appealed justifiably for Gerring's foul on Reeves, United broke forward for Harrad to poke the ball through Deasy's legs to make it 1-0 on the hour mark.
Alty kept going but could not get back into the game, the closest to a goal being O'Keefe's effort which was cleared off the line.
Match report here.
Eastleigh 3-1 Barrow
Grimsby Town 0-1 Braintree Town
Guiseley 3-1 Wrexham
Kidderminster Harriers 1-0 FC Halifax Town
Macclesfield Town 0-0 Dover Athletic
Torquay United 2-0 Altrincham
---
12 April 2016
Following confirmation by chairman Grahame Rowley that J Davidsons are set to renew their shirt and ground sponsorship of Altrincham FC came the news last night that supporter Bill Waterson has made a significant donation to the Club. Full details of Bill's generosity are
below
.
Earlier, in the Robins' Review, Grahame wrote "I have been in negotiations with J Davidsons over the last few weeks and am pleased to report that we have agreed an extension to our existing shirt and Ground sponsorship deal... details will be available in the coming weeks".
Hopefully, this excellent news from off the pitch will be matched by equally good news on the pitch before the end of the season!
Alty's joint Press and Media Officer, John Edwards, has submitted the following story to the Sale and Altrincham Messenger and Manchester Evening News. All the quotes are from an interview John did with Alty fan Bill Waterson after last week's home defeat by Dover. A link to the interview in its entirety can be found lower down.
Altrincham's finances have been given a significant boost after a lifelong fan made a £10,000 donation and promised more would follow.
IT specialist Bill Waterson, who grew up marvelling at the prolific scoring exploits off Jack Swindells in the late 1960s before moving south to attend university, handed a cheque for £10,000 to chairman Grahame Rowley after last week's home defeat by Dover.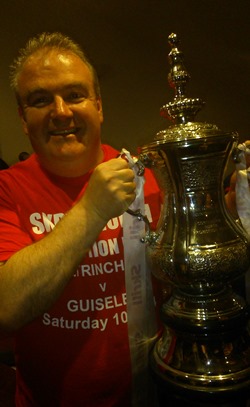 Left: Bill Waterson with the play-off trophy.
After pledging further financial support, in a stance that looks likely to bring him a place on the board, Mr.Waterson called on others to follow his lead and help Alty become a force in the Vanarama National League.
'I've been supporting Alty since their Cheshire League days in the late-60s, when my dad brought me to games at three or four years of age,' he said. 'I moved to London in 1980 to go to university, and I've been down south ever since, but I never lost any feeling for the club.
'It's much more of a community club than it used to be. It has a much broader base in the community, and I felt an injection of money from myself might help us evolve into a club that stays and even thrives in the top division. Even if we go down this season, let's build a platform that enables us to come back up and be resilient at this level.
Based on the solid foundations we have and the progress we've made in recent years, we should be looking in the next three to five years to be mid-to-upper-mid-table. That is the trajectory we must look to be on.
Personally, I would love to be on the board, because I have experience of business and Alty are close to my heart. I believe there are a few tweaks we need to make to the business model, and I would welcome the chance to be part of that.
'My love for this club is deep. I was at Blyth Spartans for our FA Cup exit last season and I get to between 15 and 20 games each year, which is a lot of miles from where I live in Beaconsfield.
'It's easy to stand there and snipe. I wanted to actually make a difference with a positive contribution, and the amount involved is not insignificant for me. It is basically my entire annual bonus. I'm not an IT billionaire, but I have been successful working for a successful IT company, and I just thought the club needed it more than me.
'I hope to donate a similar amount towards the start of next season, then more at a later date and so on, but the main aim is to find others to contribute enough for us to make up the budget deficiency we have against clubs like Woking, who we ought to be on a par with.
'I'm hoping others will see what I'm doing and want to do the same. We are a community club attracting well over 1,000 supporters even down near the foot of the table, so surely local business people can see the potential for tapping into their customer base if they get involved.
'To my mind, there are plenty of reasons why even people who are not exactly Alty diehards would feel the benefit of investing. Who wouldn't get swept along by the excitement of beating Guiseley with virtually the last kick of the play- off final or toppling Barnsley and creating a bit more FA Cup magic?
'Reviving those third-round "days out" at the big clubs has got to be a major attraction for anyone. I remember a press description of the Alty board being like "school boys let loose in a sweet shop" after the draw with Tottenham in '79. They were evidently "dancing round the Spurs board room taking photos of each other". In short what we invest in is the experience - the sheer euphoria attached to Alty over- achieving.'
Alty chairman Rowley said: 'We are always on the look-out for extra revenue streams, and it's great that a true fan like Bill has got behind the club in such a positive and beneficial way.'
John Edwards's full interview with Bill Waterson can be read here.
For the match at Torquay, Altrincham will be without captain Jake Moult after he twisted his ankle last Saturday. With Marcus Holness suspended and their four long-term injured abstentees (Coburn, Densmore, Marshall, Clee), Altrincham will again have limited scope in their team selection.
Mike Garnett provides the statistics of previous encounters between Altrincham and Torquay United...
Home: P4-W1-D2-L1-F4-A4
Away: 3-0-1-2-2-6 x
All: 7-1-3-3-6-10
The BBC reports that "Torquay United player-manager Kevin Nicholson has hinted he will look to keep Iffy Allen beyond this season if the winger maintains his work-rate. Allen joined from Yeovil in February and has scored twice in his last three games. 'If he can show me the attitude to sprint back in the 91st minute and make a tackle, he's definitely got a future with me,' Nicholson told BBC Devon. I'll give him some credit there because I've given him a bit of stick'.
The Gulls are 18th, three points clear of the relegation zone, ahead of their crunch match at home to fellow strugglers Altrincham on Tuesday. Allen, 22, had only appeared as a substitute in the league for Torquay before this month, but has started their last two games.
'The other exciting stuff that he does is great, and he's had his goals and that's great, but that bit at the end is really what I'd like all my players to be all about,' added Nicholson. 'He needs to make sure now he can do it for a third game running, because that kind of thing goes a long way.'"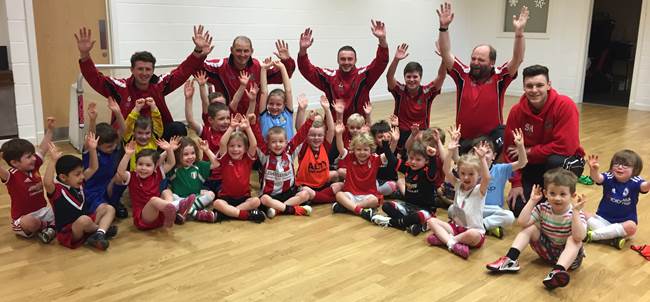 Above, Scott Leather, Neil Tolson, Callum Williams, Judy Henson, Phil Taylor and Sam Heathcote with a happy group of children in the Community Sports Hall. The following article by Judy Henson recently appeared in the Robins' Review matchday programme.
"As some supporters will know, the Altrincham FC Community Sports Co was set up in March 2012, and became a Registered Charity from October 2013. The Community activities have been consistently supported by the Football Conference Trust. This is a charity that offers grant aid to National League clubs to support and develop their community projects. Funding is made possible by the generous support of the Premier League and the Professional Footballers Association. Each has contributed to a fund of £5.2m, and as a result over 59 National League clubs are currently running projects after receiving funding from the Trust.
We would like to thank the Football Conference Trust, The Premier League and The PFA for their continued support.
At the end of 2014 we completed the building of the Community Sports Hall (CSH), which was open to users from January 2015, so we have been going now for 15 months, and what a fantastic time it has been! Here is a brief summary of all the great events and functions we have held here and in the community over that period.
In February 2015, we welcomed Sir Alex Ferguson to officially open the hall. Sir Alex's visit helped raise the profile of the CSH massively and attracted a lot more people to the facility in the early months.
On a weekly basis in the hall, we now have regular user groups such as: Yoga, Pilates, mini football, After School clubs, BTEC studies, Senior Exercise, Walking Football, Toddler play groups, Karate, Zumba, Slimming World, Herbalife and Scouts. So in a typical week we attract over 440 people of all ages to the football club, many of whom would otherwise not come into contact with the club.
Each weekend we have had multiple functions such as christenings, birthdays, meetings, funerals and even two wedding receptions so far this year. The hall really is multi-use and open to a wide range of community activities and events. Being able to offer a larger bar and catering facility, and being able to show live football before and after our games has made a huge difference to the football club and especially makes matchdays a more enjoyable and family friendly experience.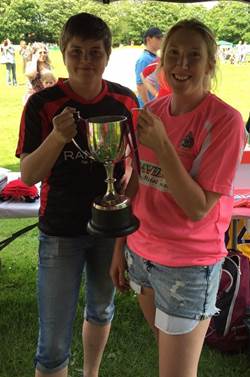 Right: Judy Henson and Stacey Rowley with one of the trophies won in the past year.
We have hosted various Sportsman's dinners over the year. Two major events which helped raised thousands of pounds for the CSH project were Danny Higginbotham (February) and Roy Keane (September), both of whom offered their time free to the Community Charity. Over 200 guests attended on both evenings and enjoyed a three course meal, with fantastic auction/raffle prizes on offer.
July saw us win the 'Best Newcomer' award at the Altrincham Annual Festival. Our parade float design reflected the various user groups and activities we run at the Community Sports Hall and in the local community. It was a fantastic day which saw us hand out 500 goody bags along the streets of Timperley and Altrincham.
We also won a runner up trophy in the Altrincham and Sale Chamber of Commerce business awards this year, for 'Charity Of The Year'.
In October, the AFC Community Company received a 'symbolic' cheque for £69,500 from the Football Conference Trust (FCT), which is an accumulative total of the money we have received over the last four years. The ceremony involved year 6 children from Stamford Park Junior School playing football on the pitch at Moss Lane in front of match day fans. The funding we receive from the FCT goes towards coaching in local schools, including Stamford Park. It also helps fund ladies football, holiday fun weeks, youth football and community sports hall activities. We estimate that over the year we provide over 850 hours of coaching to young children in the Altrincham area, mainly via Schools coaching or Fun weeks.
Having a warm and dry indoor space has proven to be essential this year during our school holiday fun weeks based on the football pitch and in the hall. Hundreds of children from the local areas have participated in football, multi-sports and crafts during February, Easter, Whit, Summer and October holidays. We have been able to offer wrap around care, including breakfast clubs, which makes it easier for parents and more sociable for children attending our courses.
As well as all of the activities in the Community, and the CSH, we typically distribute hundreds of free match day tickets for home games to children with accompanied adults at reduced price. If your school or club would like to receive tickets please contact us on the number below.
2016 will be another big year for the community company. Building on the first year success of the Community Sports Hall will be an exciting challenge for all involved. We are looking at expanding our community activities beyond school curriculum work, to include disability groups, adult sports and forging more links with other charities and sports clubs.
If anyone would like more information regarding our Community activities, please ring the club on 0161 928 1045, and ask for either Stacey or Judy".
In addition to the four long-term injuries to Altrincham's first-team, the Ladies' team has also had more than its fair share of misfortune as regards injuries. Goalkeeper Lizze Brereton was sidelined earlier this season with a broken arm and in last Sunday's fixture, her replacement, Lucy O'Dwyer, suffered a dislocated knee. All at the Club wish her a speedy recovery.
The
BBC
reports that "Kidderminster Harriers chief executive Colin Gordon says that the idea of bringing back former manager Steve Burr to Aggborough on the same budget would simply not be affordable. Burr, 56, was sacked by Chester on 7 April...
'When Steve was here we had a completely different budget, five times what we've got now', said Gordon. Burr had four successful years as Kidderminster manager, leading them to the National League play-offs in 2013, but was sacked in January 2014. Within 11 days he had taken over at Chester, where he spent more than two seasons operating on a strict budget at the reborn supporters-run club.
'It's easy to go back in time and remember when things were really sweet and smelling nicely,' continued Gordon. 'I like Steve. He's a great guy. I love the fact that he wants to play open football. But we are past the time when we had the wage bill to attract top players who can affect results. The fact of the matter is that what we need now is a different type. We know where we want to go and how we want to take things forward. We're not going backwards. We know what we want to do and people have got to trust us'...
Ex-footballer turned players' agent Gordon, who initially joined the Harriers' board as Football Development Director in April 2015, has run the first team at Aggborough for the majority of the season. But, having invested his own money into the troubled club, he has stated that he does not want to carry on picking the team".
Off the field at Aggborough, the Worcester News reports that "Chief executive Colin Gordon says education is key to increasing Kidderminster Harriers' turnover as he revealed his plans at the club's AGM... to increase the club's turnover in order to bolster their playing budget for the 2017-18 season.
A key part of his plan is their relationship with Birmingham Metropolitan College. Gordon revealed they were close to announcing an agreement which will see Harriers receive a larger cut of the cash that the College obtains for each student from the Government. He also said [there are] plans to set up a university in Kidderminster beginning in the 2017-18 campaign. It would be similar to the UCFB scheme in Wembley and Burnley FC, which teaches courses specific to football including media and physiotherapy.
These plans represent a significant change to how the club funds itself and are part of a plan not to rely on season ticket sales or benefactors. Gordon, 'We have a very good relationship with Birmingham Metropolitan College but I want to expand that into higher education. I want to create a university of football in the town. I lectured at University College Football Business (UCFB) in London and looked at their model, it's quite successful. Football is a huge industry now and we can be the hub of a very successful university because we can provide practical experience.
'There is no next level for kids when they hit 18 and we've got to be able to provide that and also for the other colleges in the area'...
Despite the club set to be relegated to the National North they have set a top-six budget in a bid to bounce back with promotion next season. Gordon stated that when they return to the Vanarama National League they must aim for the SkyBet Football League. But to do that, he insists the club must increase their turnover to £2 million...
He said, 'We need to build up the club's turnover so that we can get our playing budget towards £1 million. To get out of the Vanarama National League that is what we're going to have to do. We will have a year to work and develop the business of Kidderminster Harriers. The business has to sustain the club. What's happened before is that we've relied on the odd player sale or an investor has backed the club and we get to a stage where we can't afford it have a black hole of £300,000 that never gets filled.
'Going forward our budget for next season will be top six but we've got to spend the whole year driving the turnover up to £1.5 and then £2 millon, so we can put more money in the playing budget. That is sustainable because we're growing the business. Football is the only business I know and I will be doing everything I can to drive a sustainable football club that gets to the Football League.'
Shareholders were informed that plans to lease the council car park adjacent to ground for next season are close to being finalised with Wyre Forest District Council.
Next year's home kit will also have a red back, rather than a white one, in a nod to a more traditional shirts. Meanwhile, the chief executive said the deal for West Bromwich Albion under-21s to play at Aggborough will offset the loss of Worcester City. City are believed to have paid £45,000 to play at Hoo Road this season. The Baggies are set to pay a fee for each game at Harriers' home, while the hosts will keep bar takings and gate receipts. Albion will also assist groundsman Ade Ganderton in pitch maintenance."
Meanwhile the Chester Standard tells us that "Shaun Reid wants the Chester manager's job after the sacking of Steve Burr. The former Blues' midfielder left the Warrington Town hot-seat two months ago after leading them to the top of the Northern Premier League Division One table.
'I need a new challenge and, yes, I would love to manage Chester,' said Reid, who made 62 appearances for The Blues in Kevin Ratcliffe's play-off chasing side from the late Nineties. 'I played for the club and the fans will know that I'll always give 110 per cent. I feel I've cut my teeth in management with Prescot Cables and Warrington. I've scouted and coached at Swindon and Plymouth and my contacts are massive in the game'.
The Blues sacked boss Burr last Thursday and the board can expect a glut of applicants for the post... Meanwhile, Chester chairman Steve Olorenshaw explained the reasons for dismissing Burr.
'I think it's been a combination of things and certainly wasn't a knee-jerk reaction,' he said. 'If you look at the last five months we've had four wins in that period of time and I think, as a board, we all thought with the fixtures we had coming up over the Easter period that we could get through and we'd have the points that would secure us so there wouldn't be this sort of issue. But we've been talking to Steve now over a couple of months, we've had him in on the board and I've been having a few conversations with him on the phone and I think we'd just come to the point where we felt he'd taken the club as far as he could this season and it just wasn't working and we weren't getting the turnaround.
'We felt we had to do something to give that bit of a boost and I think we've got four games now and hopefully with bringing Macca and Ian in it'll just give them enough of a boost to get the three or four points we need to keep us up. We were playing all of the teams that were around us and down below us so we didn't want to knee-jerk and react too quickly because we thought we were going to get through it but I think we've got to the point now where that's not going to happen and we've got to inject that little bit of a boost.'"
---
11 April 2016
Mark Bennett has produced his usual high-quality highlights of Alty's last games, at home to Dover Athletic and to Bromley. Highlights of the Dover game last Tuesday are
here
. The Bromley match highlights can be viewed
here
. Alty TV also has Brian Flynn's post-match interview with acting manager Neil Tolson
here
.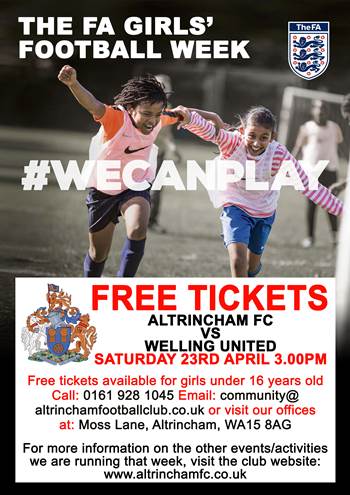 The Sale & Altrincham Messenger reports that "One of the outstanding successes of the past year at Altrincham FC has been the rise in popularity of the girls' junior section, in particular the growth of the 'Development' section (Under 7s - 10s).
This section has increased from just a handful of girls turning up for training at the start of last summer, to the point where there are now have 30-plus girls turning up weekly.
Rachel Davies, Girls' Football Development Officer, said, 'I've waited years for girls' football to take off, it is growing weekly, It's fantastic to see so many girls wanting to join the sport, with the enthusiasm and passion they have for it. We train on Wednesdays 6pm to 7pm at Altrincham Boys' Grammar, and are recruiting players."
For more information contact Rachel on 07495027507 or by e-mail. To celebrate this success the girls have been invited by the club to attend Altrincham's final home game of the season versus Welling United on April 23. (See adjacent poster).
On Sunday, the Altrincham FC Youth team won 4-1 away at Warrington Town. Upcoming matches are:
12/04/16 v CURZON ASHTON (Home)
17/04/16 v WEST DIDSBURY & CHORLTON AFC (Home)
Altrincham FC Ladies who play in the North West Womens Regional League, lost 6-1 away to FC United of Manchester. Their next game is on Sunday 17 April at home (Mersey Valley) to Warrington wolverines.
Altrincham Reserves had a 7-0 home win over Litherland Remyca in the J A Walton Challenge Cup.
Their next scheduled matches, according to the The Hallmark Security Cheshire Football League are:
Cup 12/04/16 18:30 v Golborne Sports (home at Egerton Youth Club) in the J A Walton Challenge Cup Pitch clash - Northern Cup
League 1 16/04/16 15:00 v Middlewich Town (home at Egerton Youth Club)
The TASC supporters' transport to Torquay United next Tuesday (12th) is currently fully subscribed. However, a list of "reserve" passengers is being compiled. For the trip to Eastleigh on Saturday 16 April, there are still some places. So please ring the club (0161 928-1045) with your details if you wish to be added to either or both of the respective lists. Timings and fares are on the
Away Travel
page.
Ian Senior, Altrincham FC's goalkeeping coach and the owner of kit supplier, SKkits, is pleased to announce that Saturday's match raised at least £2,250 from the sponsorship and sale of replicas of the Altrincham player's purple "Cancer Awareness" shirts. Ian would like to thank everyone who helped to make this initiative a success.
And the Manchester Evening News reports that "A young girl's courageous battle against cancer, which captured the hearts of top flight footballers, has been recognised with a special award. Elle Tierney, seven, from Prestwich was diagnosed with B-Cell lymphoma in January last year.
During her treatment parents Paul, a former Manchester United youth player, and Stephanie launched a fundraising campaign to help their daughter and received backing from footballers... And now Elle has the support of another player after dad Paul nominated her for a Cancer Research UK Kids and Teens' Star Award, which is backed by Wayne Rooney.
Paul, 33, who was United's young player of the year in 2002 and also had stints at Crewe, Blackpool and Stockport before hanging up his boots with Altrincham in 2008, said, 'I cannot believe how Elle coped with what she went through last year spending around eight months in Royal Manchester Children's Hospital. She could often not open her mouth due to severe mucositis and was in so much pain a lot of the time that she spent weeks on end lying in the same position and suffered major nosebleeds.
Left: Paul is pictured, left in his Alty days. Paul made his Altrincham debut as a sub at Histon on 2 September 2008 but was released on 26 September after making one start in the CSC and three sub appearances.
'She was also so brave when she was suffering from infections caught as a result of her reduced immune system. She also lost all her hair as a result of the treatment but this did not faze her! She's still not back to full strength but is improving all the time. We're so grateful for the treatment that saved her life. Success stories like ours would not be possible without life-saving research, which in turn relies on everyone who raises vital funds.'"
Elle... has now finished her treatment and is having four to six weekly check-ups at Royal Manchester Children's Hospital. Her family are now backing a campaign to encourage people in Greater Manchester to organise their own fundraising events in aid of Cancer Research UK Kids and Teens. For more information visit here.

Altrincham FC supporter, Dan Martell (right), deserves congratulations after he completed the Manchester Marathon on Sunday in the superb time of 2 hours 59 minutes and 58 seconds.
Never one to sit idly by, Dan's next venture (with "Alty Snapper" Mike Ripley) is, as Mike explains, "cycling the 225 miles to Braintree for our last game of the season, in order to raise money for Prostate Cancer UK and Altrincham Football Club Community Sports. We will be doing this over two days, starting with 140 miles on Friday 29th April (my birthday, of all days!) and completing the ride on Saturday 30th, after Dan (and possibly I...) have also taken part in a 5km park run, hopefully arriving in time for the later kick off.
For information on what we are doing, and why, and to show your support please visit our Just Giving page here."
The
Grimsby Telegraph
reports on Eastleigh, who are Alty's opponents next Saturday. It states, "Here are positives to take from yesterday's draw at home to Eastleigh, according to Grimsby Town boss Paul Hurst.
He told the Telegraph, 'When people see it, and see that we were playing against ten-men for quite a lot of the second half, it's quite easy to go away disappointed. I'm not trying to kid anyone, genuinely, but I'm not feeling that way; there were a lot of positives for me... To keep the clean sheet, on the back of the goals we've conceded of late, was a positive.
'[Goalkeeper] James (McKeown)... wasn't overly troubled. It was a decent point for us. Their keeper was man-of-the-match and I think that says a lot. I thought we were the better team, even when it was 11 v 11."
From the other side, the Hampshire Telegraph reports that "Goalkeeper Ross Flitney took the plaudits as Eastleigh finally broke their Grimsby Town hoodoo with a 0-0 draw at Blundell Park. The Spitfires No.1 played out of his skin on an afternoon when, for the second year running, Eastleigh were reduced to ten men on Humberside...
This time the Spitfires had to battle through almost the entire second half undermanned after Josh Payne had got his 48th-minute marching orders... Payne went into a tackle on Richard Tait at full stretch, sparking a melee near the touchline as Grimsby's bench sprang to their feet in protest. He was shown a straight red by referee Michael Salisbury, making it the eighth Spitfires dismissal this season, cementing the club's unwelcome place at the top of the VNL 'card count' league.
It was a decision that manager Chris Todd clearly disagreed with... He said, 'I don't want to get myself into trouble but I'm not happy with the red card, no. I've gone to see the referee. Everyone makes decisions, sometimes they're wrong and sometimes they're right. But I'm not happy, no'...
Payne's dismissal aside, Todd was chuffed to finally prise a point out of a Grimsby side who beat them four times times last season, including twice in the play-off semi-finals, and again at the Silverlake in November. Not only that, they kept a sixth clean sheet in nine games...
'The boys have been working extremely hard on the training ground and that sort of resilience and attitude can only be good for the run-in, knowing we can keep clean sheets', he said...
Eastleigh, now unbeaten in seven, remain optimistic of reaching the play-offs... Eastleigh remain seventh, but are now four points shy of fifth spot following Tranmere's 1-0 win at Torquay. They have, however, got two games in hand, starting with Tuesday's (7.45pm) hugely important free-entry showdown with mid-table Barrow at the Silverlake.
Eastleigh: Ross Flitney, Joe Partington, Michael Green, Jamie Turley, Paul Reid, Ben Strevens, Josh Payne, Andy Drury, James Constable, Matt Tubbs (Yemi Odubade, 66), Jai Reason. Subs (not used): Will Evans, Jack Midson, Dan Harding, Matty Fanimo".
The last team to visit the J. Davidson Stadium this league season will be Welling United who admit that "United's three-year stay in the National League is all but over. The shattering defeat against basement side Kidderminster Harriers left the Wings needing a mathematical miracle in order to stay up, yet it had been going so well for Dean Frost and his men on Saturday.
Still down to bare bones due to injuries and suspensions, Welling started the game brightly and they were rewarded for this start in the 7th minute when they took the lead... It was all Welling and they should have extended the lead just after... However Kidderminster started to see more of the ball... and they started to win the midfield battle...
Unfortunately for The Wings the second half saw them go into complete free fall, with the side lacking energy and little idea and they were made to pay for this. In truth it was a half of very little opportunities... Welling went in search of the 2nd and what would have proved the match winner but they paid the ultimate price for not getting this and 8 minutes from time got hit on the break... Just three minutes later Harriers left Park View Road stunned. Chasing the winner again, Caicedo saw his low shot blocked and Kidderminster once again counter attacked.
The Harriers sensing an unlikely winner broke at pace as the energetic Whitfield crossed the ball for McQuilkin to head past Rodak. From being in a winning position to conceding two goals in three minutes left Welling and an eerie silence descended around Park View Road and the home side could not find a way back into the game.
After the game Manager Dean Frost urged his side to play out the final three National league games with pride for the shirt as the extreme likelihood of relegation slowly sets in.
Welling United: Rodak, Gayle, Williams (Taylor 57), Nortey, Chambers, Lokko, Wanadio (Porter 89), Corne, Yusuff (Caicedo 63), Daniel, Harris. Unused substitutes: McEntegart, Saggers."
On Tyneside, Gateshead "manager Neil Aspin felt a draw was a fair result as his side hit back to earn a point at Woking. The Heed fell behind to Matt Robinson's deflected strike for the home side, only for Ryan Bowman to restore parity with a spot-kick deep into first-half stoppage time.
Prior to drawing level, the Tynesiders lost both Jon Shaw and Alex Whitmore to injury, the latter taken to hospital after a clash of heads with Woking's Joey Jones... Aspin was not dissatisfied with the outcome at Kingfield. He said, 'It'd be unfair to say we deserved to win the game on the balance of play. It was a scrappy game, and neither side really deserved to win it. The game summed up where the two sides are in the league, neither is going to go up or down. From where I was stood, it had an end-of-season feel to it."
---
10 April 2016
Following the 0-0 draw with Bromley, "Caretaker-manager Neil Tolson spoke to joint Press and Media Officer, John Edwards. Here's what he had to say...
"Only one team were ever going to win that game, and that was us, but we just couldn't find a way to break them down. We had a couple of clear-cut chances that would have gone in on another day and one absolute stonewall penalty for a push on Michael Rankine in the second half.
It was like a continuation of Tuesday night, when Michael was fouled repeatedly without being given anything. They (referees) are scared to make a decision. It's a penalty, because anywhere else on the pitch, he gives a free-kick. No doubt about that. They have to be brave, but unfortunately they are not brave enough, because that was 100 per cent a penalty.
The other side of the coin is other teams around us have lost so, technically, it's a point gained. We've got to stay positive and focused, because Tuesday's game at Torquay is massive, a real biggy. These are games you want to play in. As a kid, you dream of being involved in games where there's so much riding on the outcome. That's the approach we need on Tuesday. We've got to dream big and go into it with a positive attitude towards getting the result we need.
We won't be lacking mental strength. We needed that today and showed it in abundance. The lads are disappointed at only getting a clean sheet and not three points to go with it. We could easily be sitting here, having climbed out of the relegation zone with an extra two points, but we keep saying the same thing. We've got to keep going and keep believing we will get another chance and then another and they will start going in, because there's not a lot wrong with the way we are playing. We've got to keep that mindset.
We said from day one it wasn't going to be easy. It never is with this club. We never seem to make things easy for ourselves so, by hook or by crook, we are going to have to do it the difficult way. That means going to Torquay and getting something, going to Eastleigh and getting something, possibly going to Braintree and getting something.
You can't question the spirit among the players. It has been good, the work-rate superb, organisation fine, hence keeping a clean sheet. The only area we have fallen down on is capitalising on goalscoring opportunities.
We sent on Damian Reeves because we thought he might get on the end of something, and he nearly did. If you put extra attacking players on, you can leave yourselves a bit short at the back and vulnerable to counter-attacks, but that's a risk you sometimes have to take. It didn't help when Jake Moult had to come off, because he does a great job for us, sitting in there.
It was particularly pleasing that some of our best spells of pressure came from us playing some really good one-touch football, especially down the left. But it still comes down to the same thing, we have to start sticking chances away. We won't start feeling sorry for ourselves. The first sign of that, and you may as well pack in.
On the injury front, Jake twisted his ankle and it is looking quite swollen. He's got to be struggling for the Torquay game, and I'd say, as we speak, his chances don't look good. But, if he doesn't make it, that opens up a chance for Josh O'Keefe. He has to step up to the mark.
Adam Griffin is fine, while Ryan Crowther felt a bit of cramp but will be OK to go again. Tom Marshall has had an operation on his groin. He has had a problem there for a while and, after being out for some time then coming back, it flared up again. The operation went well, and he's here today walking round OK but it will be another week to 10 days before he can start doing anything. We will assess him over the next week or two, but it's going to be difficult getting him back playing before the end of the season".
And Neil told Dave Stringer of the NL Paper, "I don't like to criticise refs but he awarded a freekick outside the area for the same foul but he seemed to bottle it when in the area. Even their lads have said it was a definitie penalty.
"We rarely looked in trouble but didn't capitalise on our chances. Realistically, we need a result at Torquay [on Tuesday] and we need two positive results before the end of the season ".
Bromley have a post-match interview with their manager Paul Smith.
The BBC says that "Altrincham's National League survival hopes took a blow after a goalless draw at home to Bromley. The Robins created pressure in the first half but no clear chances, with Jake Moult and Michael Rankine testing Bromley's Alan Julian.
Alty thought they had scored a crucial goal in their relegation battle, but Rankine's effort was ruled offside.
The Ravens came close to an away win through Moses Emmanuel, but the forward put the ball wide late in the game.
The result leaves Altrincham two points from safety, while Bromley, who are 12th, cannot finish in either the play-offs or the relegation zone.
Possession, Home 51%, Away 49%
Shots, Home 13, Away 14
Shots on Target, Home 3, Away 5
Corners, Home 7, Away 2
Fouls, Home 13, Away 5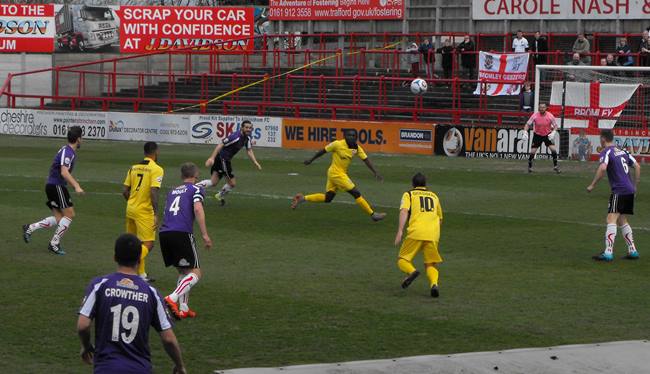 Above: It was a colourful afternoon as Alty wore their purple Cancer Awareness shirts, keeper Tim Deasy was in pink, and Bromley played in bright yellow.
On an afternoon when all of the main contenders for relegation lost, except bottom club Kidderminster Harriers, Altrincham were unable to take advantage to lift themselves out of the bottom four. The best chance fell to Josh Ginnelly but he put the ball the wrong side of the post when put clear.
Referee Rushton did not help the cause as, twice, he failed to agree with strong penalty appeals as Altrincham dominated the second half without getting the vital breakthrough. Bromley remained dangerous on the counter attack and, but for wasteful shooting, especially by Ademola, they could have snatched a win.
Match report here.
Alty's next game is away at Torquay United on Tuesday night, followed by a trip to Eastleigh.
News of our next opponents, Torquay United, comes from
Tranmere Rovers
who tell us that "A Michael Higdon header was enough to give Tranmere all three points from the English Riviera against Torquay United...
Nathan Blissett started for the hosts against the side he spent a month on loan with earlier this season... Torquay had their first sight of goal on 18 minutes when a ball forward was chested down nicely by Blissett and Sam Chaney volleyed over the bar from 25 yards.
The hosts had another good chance midway through the first half when a right wing free kick was headed across goal by Angus MacDonald but his effort ended wide of the goal...
Rovers took the lead on 59 minutes when a terrific right wing cross by Vaughan was headed home by Higdon...
Torquay: Moore, Butler, Rees, MacDonald, Allen, Racchi (Young 58), Ajala (Harrad 59), Blissett, Smith, Chaney (Wright 70), Verma. Substitutes:Richards, Gerring".
Torquay United report that "Player-manager, Kevin Nicholson, went with an unchanged side from our last game... As the half went on, United started to get a foot-hold in the game and pose a few questions of our visitors...
It was a pretty evenly-matched opening period with United creating the better of what few chances there had been...
It was the visitors who took the lead with their first chance of the second half just before the hour-mark when Vaughan's teasing cross was powerfully headed home by Higdon.
Shaun Harrad came on for Toby Ajala in the wake of the goal as we looked to make an instant response to falling behind... A third and final change saw Andre Wright come on for Chaney.
As United started to get back into the game, some positive play from Allen saw him force a corner which flashed across the face of goal... There was a great chance for United in stoppage time when Allen was brought down by Harris and the resulting free-kick from Young went all the way through and somehow stayed out...
It ended in a 1-0 defeat in a game in which we deserved to take something from."
After the game player-manager Kevin Nicholson "We played okay, but that's not enough against a side like Tranmere," he admitted. "We huffed-and-puffed and created chances, but it's fine margins. I would have liked us to have gone at them a bit more; we didn't play badly, but it feels like an opportunity missed.
"We know that we have to be at it in every game, and if we can do that we fancy ourselves against anyone at this level. We've got good characters here and things are still very much in our hands. It's up to us to brush ourselves off and be ready to go again on Tuesday.
"The next game becomes the most important now and we will prepare right so that we can take another step closer to getting the job done. We've got options and decisions to make, but if the lads continue to give me their all, we'll get to where we want to be."
Sat 9th April
Att: 1035 Altrincham v Bromley
1526 Barrow v Macclesfield Town
434 Boreham Wood v Southport
740 Braintree Town v Forest Green Rovers
1714 FC Halifax Town v Aldershot Town
4011 Grimsby Town v Eastleigh
1058 Guiseley v Cheltenham Town
2001 Lincoln City v Chester FC
2264 Torquay United v Tranmere Rovers
n/a Welling United v Kidderminster Harriers
1005 Woking v Gateshead
4931 Wrexham v Dover Athletic
In its Saturday review, the
National League
reports that "Cheltenham Town could end up pointing to Saturday, April 9th as the date when their immediate return to the Football League as champions of the Vanarama National League was sealed.
Gary Johnson`s Robins earned a hard-fought 2-0 win at Nethermoor against relegation-threatened Guiseley AFC, while second-placed Forest Green Rovers could only manage a 1-1 draw at Braintree Town.
Cheltenham... left it late, with Rob Dickie eventually breaking the deadlock with 10 minutes remaining... Then in the 89th minute Dickie turned provider this time for Dan Holman to strike home from close range.
Harry Pell was sent-off in the final minute, picking up a quick second yellow card for his part in a scuffle...
The Robins are now six points clear at the top and could seal the title with a win against FC Halifax Town next weekend.
The Lions, meanwhile, are just two points above the drop zone, although results elsewhere generally went their way.
It was a fifth successive draw for Forest Green and that could ultimately cost them the title. A Kenny Davis penalty gave Braintree a 34th minute lead but Darren Carter equalised just 3 minutes later...
Grimsby Town, who just a couple of weeks ago were still in with a shout of pipping the top two for the title, have now slipped to fourth in the table after being held to a goalless draw by ten-man Eastleigh, whose could have done with a win to boost their own top five hopes.
The Mariners dominated an entertaining clash but couldn`t turn their superiority into goals, even after the Spitfires had Josh Payne dismissed for a reckless challenge on Richard Tait in the 49th minute...
Part-timers Dover Athletic are now third after denting hosts Wrexham`s own play-off hopes with a 1-0 win at the Racecourse Ground...
Tranmere Rovers moved four points clear of sixth-placed Braintree after a hard-earned 1-0 win at the Launa Windows Stadium against a still-not-safe Torquay United... They now face a nervy finale to the season...
Woking's winless run extended past three months as they were held 1-1 at Kingfield by another side out of form, Gateshead...
Managerless Chester FC remain in trouble after losing 2-1 at Sincil Bank to Lincoln City... The visitors were left with ten-men with 14 minutes to go when striker Ross Hannah had to go off with a groin injury after they had used all of their substitutes.
On an afternoon when all of the main contenders for relegation lost, except bottom club Kidderminster Harriers, Altrincham were unable to take advantage to lift themselves out of the bottom four when they were held to a goalless draw at Moss Lane by mid-table Bromley...
Two goals in 3 minutes ensured that Kidderminster lived to fight another day and delayed their relegation with a stirring win at their bottom four rivals Welling United... They trailed to Kadell Daniel`s early 7th minute strike. But Kelvin Langmead after 82 minutes and James McQuilkin 5 minutes later sealed a stirring fight back...
Fourth-bottom Boreham Wood suffered a disappointing 2-0 defeat at Meadow Park to a Southport outfit whose fourth game without defeat has lifted them to virtual safety...
Another side at the bottom end of the table to suffer a disappointing 2-0 home defeat were FA Trophy finalists FC Halifax Town... Despite 8 minutes of time added on at the end of the game, the Shaymen were unable to find a response and remain just a couple of points above the bottom four, although they do possess games in hand on all below them.
Mid-table sides Barrow AFC and Macclesfield Town shared a 1-1 draw at the Furness Building Society Stadium".
---
9 April 2016
Sat 9 April:
Altrincham 0-0 Bromley
Barrow 1-1 Macclesfield Town
Boreham Wood 0-2 Southport
Braintree Town 1-1 Forest Green Rovers
FC Halifax Town 0-2 Aldershot Town
Grimsby Town 0-0 Eastleigh
Guiseley 0-2 Cheltenham Town
Lincoln City 2-1 Chester FC
Torquay United 0-1 Tranmere Rovers
Welling United 1-2 Kidderminster Harriers
Woking 1-1 Gateshead
Wrexham 0-1 Dover Athletic
Saturday's referee is Mr S. Rushton of Staffordshire. He oversaw the Forest Green v Alty match earlier this season in which Josh O'Keefe and Luca Havern were both sent off, as well as an FGR player who later had his dismissal rescinded.
The TASC supporters' transport to Torquay United next Tuesday (12th) is currently fully subscribed. However, a list of "reserve" passengers is being compiled. For the trip to Eastleigh on Saturday 16 April, there are still some places. So please ring the club with your details if you wish to be added to either or both of the respective lists. Timings and fares are on the
Away Travel
page.
The National League has issued a press release, reproduced verbatim below...
"The National League has released further ticket information following the end of the Early Bird Offer period with regards to the Vanarama National Promotion Final to be played at Wembley on Sunday 15th May with a 4.00pm kick off.
Though the Early Bird Offer has now closed we remind anyone still wishing to acquire a ticket that up to the 9th May, until the two finalist clubs are known, tickets may still be purchased on line directly from Wembley Stadium and available with an option for 'Print at Home' (PAH).
Tickets available until 9th May can ONLY be purchased for Category 1 seating, where there are no concessions.
GENERAL ADMISSION SALE – up to Monday 9th May: Category 1: £41 (no concessions). These ticket sales will be subject to a booking fee. Postage will be charged at: £2.50 per order or £1 for all PAH sales.
WEMBLEY TICKET PORTAL here.
Disabled seated allocation is available directly through Wembley Stadium and details are also available on-line.
Note: During this next period of sales when on-line transactions are made the purchaser will be required to nominate which National League member club they align themselves to or they may indicate a 'Neutral' option. Supporters of the two clubs reaching the Promotion Final will still be allocated their tickets for the correct area of the stadium allotted to each finalist club".
A
National League
announcement is reproduced verbatim...
"The National League has comissioned Thomas Lyte as designers and makers of three brand new trophies for the respective winners of The National League championships. Each one will be lifted by National, North and South respective champions later this month as the 2015/16 season draws to its climax.
Made in the Thomas Lyte London Workshop, the three trophies are each made from Silver Plate with 24 carat gold plating, with the North and South standing at 50cm tall, and the National standing an impressive 60cm tall. Each is an imposing award in its own right, though designed to create the new brand behind The National League.
The trophies are created from flat sheets of metal, which are first cut into the required size. By a means of hammering, these are then moulded into a cone shape, and soldered at the seams to secure. After which the process of spinning occurs; drawing the cone on to the chucks shaped to a lathe, which finalises the shape of the trophy. The decorative handles are then forged by hand and hammer by the master silversmith.
All components are pre-polished prior to the assembly, but once together as a piece the trophy is returned to the polisher to re-polish to a bright finish. Finally, it is silver-plated with pure silver, and the finer details are picked out in 24ct gold. From design to finish, each trophy takes around 110 craft hours to complete.
Brian Barwick, chairman of the league stated, 'We have worked closely with Thomas Lyte to ensure that the creative image of our League is continued into the actual trophies which each Championship club will receive as winners in a few weeks. It was so important to embody into the design the modern day thinking of the League and this has been admirably achieved through great craftsmanship.'
Kevin Baker, Founder and CEO of Thomas Lyte, said, 'Having crafted some of football's most iconic trophies, it is an honour to be the official designers and makers of the new trophies for The National League. These trophies are a masterpiece of British silversmithing, handcrafted by our elite crafts people at our London Workshop. Thomas Lyte prides itself on the skills of its expert silversmiths and this iconic symbol of competitive sportsmanship couldn't be in better hands.'
The trophies have been designed incorporating the rose flower throughout, a symbolic icon of The National League. graved upon the trophy, the rose is also featured at the tip of the handles, remaining at the heart of The National League.
The Thomas Lyte designer describes the conception of the trophies: "The design embodies a youthful and contemporary appeal in synergy with the look and feel of The National League. A hand spun design, it features stylised handles capped with branded medallions, accentuated by a few elements highlighted in 24 carat Gold Gilding. Crafted to perfection to create an iconic new trophy, each winning club will have tremendous pride in showing off to their fans and communities".
The National League reports that, regardless of the outcome to their season, "Boreham Wood have announced that they have completed the signings of three very important players in readiness for next season's league campaign. They are experienced left-back Danny Woodards, long-serving right-back Ben Nunn and midfield powerhouse Ricky Shakes, having already secured the services of the ex-Barnet and Portsmouth centre-half Joe Devera and the young former Chelsea and Southend United midfielder Connor Clifford for next season.
The club is already very happy with [its] business to date and the way that next season's squad is shaping up. Manager Luke Garrard said, 'We are going about our business with the minimum of fuss and we're obviously planning on being in the National League next season. As such I'm more than happy to get these deals done now. We have, as you can see by our record, had a great defensive unit all season. The mood is very positive going into the last four games as we are now scoring goals.
These signings signal our intent to compete at this level and its shows that we are still ambitious, not only to avoid relegation but to continue our progress."
---
8 April 2016
Press release:
"Altrincham Football Club's players will throw their weight behind the battle against cancer on Saturday by wearing cancer awareness shirts for their Vanarama National League game with Bromley at The J.Davidson Stadium (3pm).
It is the second successive season Alty have set aside a day to raise funds for cancer charities after kit supplier Ian Senior produced a set of pink shirts against FC Halifax Town last March in an initiative that generated nearly £2,500 for St. Ann's Hospice, Cheadle.
The club are already well on their way to at least matching that figure, following a positive response to news that the League have sanctioned SKkits owner and Alty goalkeeping coach Senior's request for the players to wear special purple shirts against Bromley.
Over £1,500 has already been pledged or raised, in the form of bids for individual players' shirts and orders for replicas, and Senior said, 'There are still a few players' shirts remaining, and bids for them or orders for replicas can still be made via the club (0161 928 1045).
'It was great to generate so much for St.Ann's Hospice in Cheadle, which covers the Altrincham area, and it struck me it would be worth staging another fund-raising day, because quite a few people connected with the club are either suffering or have suffered from the disease.
'Daft as it may sound, I Iost my pet dog to cancer just before Christmas. She was like my baby, so it has affected me personally. She was a massive part of my life.
'I just thought it would be a good idea to replicate last year's venture and raise as much as we possibly can for the battle against an illness that seems to affect so many people. This time, the money will go to the Teenage Cancer Trust, and it would be great to see as many people as possible at the ground on Saturday, offering their support.'"
And Ian informs the website that "After confirmation from Bromley regarding colour of their kit, I have had to put together alternative goalkeeper shirts, so a version of last year's shirt will be used by Tim Deasy and Callum Williams for the game. I'm still looking for bidders for both; please contact me as outlined above to make a bid".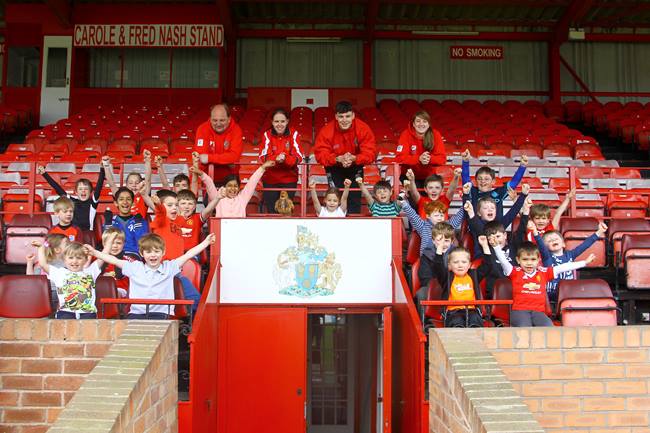 Pictured above by Gavin Rathbone of GR Photography are the happy participants and coaches involved in this week's "Fun Week" at Altrincham FC, which once again was enjoyed by all.
According to the league
website
Altrincham FC's EDP (BTEC) team lost on Wednsday at Farsley Celtic and with one match remaining will finish tenth in the twelve-club division of the Football Conference Youth Alliance.
Chester FC
announced on Thursday that "Following a meeting earlier this afternoon the Board of Chester FC has decided to terminate the contract of First Team Manager, Steve Burr, with immediate effect.
We are sure that all our supporters and followers will appreciate that as a fan-owned club this has not been an easy decision for us to make. However, given the recent, extended run of poor form and results we believe this to be in the club's best interests given our current situation.
The Board have asked First Team Coach Jon McCarthy to take the remaining four games alongside our captain Ian Sharps, given their knowledge of our players. Naturally, as a Club, we thank Steve for his contribution over the last two years and wish him well for the future.
We will announce arrangements for the appointment of Steve's replacement in due course."
Chester currently lie 17th, five points ahead of Alty and four points above the bottom four. They have played one game more than Altrincham.
The
Worcester News
reports that "Chairman Rod Brown has revealed that Kidderminster Harriers will break even at the end of this season after directors dealt with a £300,000 black hole.
Brown addressed shareholders at the the club's AGM on Wednesday night and in his opening statement address the board of director's work to alleviate their financial worries.
The club made a loss of £277,168 for the 2014-15 season, which had increased from £263,502 the year before. More worryingly, Harriers Kidderminster's gross profit had reduced from £207,768 to £106,367 for last season.
'There was no sugar coating the seriousness of Kidderminster Harriers' situation at the end of May 2015,' said Brown. 'I became involved in March 2015 and I did six weeks due diligence before I joined the board. There has been a black hole of losses at this club from between £250,000 and £300,000 for a number of years now.
'We had a turnover of £1.34 million which was down from the previous year of £1.66 million and made losses of £277,000. There was a gross profit of 7.89 per cent and therein lies the problem. You should really be looking for any business to be generating 30 per cent in gross profit. The cost of sales was £1.24 million of which 50 per cent was players' wages.
'When I did my due diligence it became very obvious to me that Kidderminster Harriers had no cost centre analysis, an over inflated playing budget and unacceptable costs such as agent fees, relocation fees and mismanaged contractual arrangements as well as unrealistic staff overheads.'
In recent weeks, the club released a state of the nation address to highlight some of the financial problems they have had to deal with during the current campaign. The playing budget was set as £260,000 this summer before rising to £380,000.
The club's work to reduce costs and move off higher earners like Craig Reid and Reece Styche, has seen it reduced to £230,000. But Brown said chief executive Colin Gordon's investment of £100,000 had helped the club avoid liquidation in November.
Gordon became [? and?] paid a nominal fee to Barry Norgrove, Neil Savery and Jane Murrant for their shares and own over half the club.
'My colleagues on the board and myself set about putting in a foundation of cost governance to stabilise the club because it was a sinking ship,' continued the chairman. 'We radically overhauled the playing budget by 50 per cent although it did alleviate after that. That had a massive impact on the field and impacted on the management changes as well. I think the management struggled to work within the constraints of those finances we had.
'We had to improve the commerciality and revenue streams and did that by bringing Dave Pountney in to work closely with Helen MacDonald. We have had a great success with the match day commerciality. We've had Colin Gordon coming in and working on the Birmingham Metropolitan College side and revenue streams throughout the year.
'We had [???] install with day-to-day governance and we did that by making Dave managing director.
'Colin Gordon, who was on the board in a football capacity, had managed to acquire the majority shareholding with a much-needed capital investment in excess of £100,000 in November. This has allowed us to micro manage the business, all of which allow us to break even at the end of this season for the first time in well over 15 years.
'It creates a stable platform and avoided what could have been inevitable liquidation in 2015.'"
At Forest Green Rovers "More than 100 architects from around the world have already responded to a competition launched by Forest Green Rovers to design its new stadium.
Architectural firms from as far afield as Chicago, Perth, Singapore, Venice, Barcelona, Berlin and Helsinki, as well as many leading and up-and-coming firms from around Britain, have expressed an interest in designing the stadium, with less than a month left before the competition entry deadline.
Dale Vince, FGR chairman, said, 'We're looking for innovation and originality, a stadium the like of which has never been seen before (and sustainable to its core). This incredible amount of interest, so quickly and from all over the world, is a very exciting start to the competition.'
The new FGR stadium will be the centrepiece of the £100 million development dubbed Eco Park, a 100 acre sports and green technology business park proposal beside junction 13 of the M5 in Gloucestershire. Half of Eco Park will consist of state-of-the-art sporting facilities, including the new stadium, grass and all-weather training pitches, publicly accessible multi-disciplinary facilities, and a sports science hub.
The other half will comprise a green technology business park with sustainably built commercial offices and light industrial units, giving Eco Park the potential to create up to 4,000 jobs, including room for the continued expansion of green energy company Ecotricity, who have submitted the overall proposal and who are already the biggest employer in Stroud with 700 people located across four sites.
The proposal will also see the development of a nature reserve on the site, a potential public transport hub, including a Stroud Park and Ride, as well as help with the restoration of the Stroudwater canal.
The club has appointed Frank Whittle Partnership (FWP), one of the UK's leading sports stadia experts, to oversee the competition. The brief challenges architects to design a winning entry that will be 'bold and innovative and designed to the highest architectural and sustainability standards,' as well as 'sustainable and future proof'...
FGR will select two finalists, who will be paid an honorarium, and they will workup their ideas in further detail, including the production of a scale model. The winning design will be unveiled in September".
---
7 April 2016
Following the bizarre circumstances of Marcus Holness's "red card" on Tuesday night, the FA suspensions list shows him as Holness suspended for three games, after being "sent off for serious foul play". Altrincham's loanee centre-back from Tranmere is set to miss the home game against Bromley and away trips to Torquay and Eastleigh.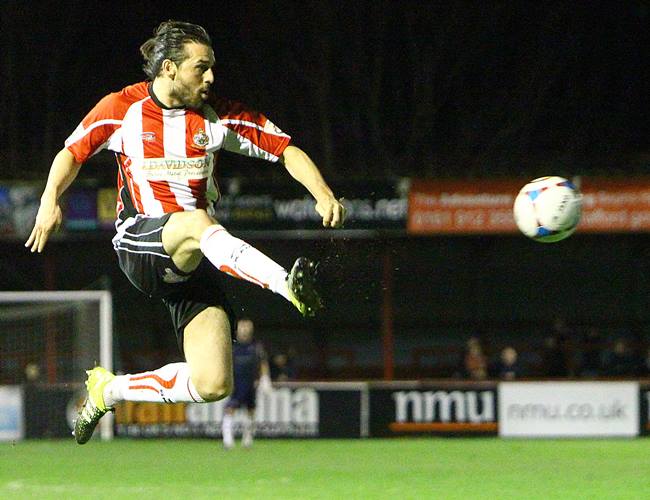 Above: Alty's defence worked hard against Dover on Tuesday night. Here Gavin Rathbone of GR Photography shows Luca Havern in action during that game.
More of Gavin's images from the game are here.
The Sale & Altrincham Messenger reports that "Neil Tolson vowed to lift his 'devastated' players after Altrincham suffered a damaging defeat and lost defender Marcus Holness to a straight red card...
They surrendered a lead for a third successive time against 2-1 winners Dover and then had in-form centre-back Holness sent off for a last-second foul. Referee Martin Coy blew the final whistle a split-second later and appeared not to produce a card, though he later revealed Holness had been dismissed for an offence that seems certain to carry a three-match ban.
Alty now face a must-win home game with Bromley on Saturday, and caretaker-manager Tolson said, 'I don't know how many times I've gone into the changing room and said one mistake has cost us the game, and it has happened again. We have played well, looked comfortable, created chances and scored a great goal to go in front but still lost, and the players are devastated.
'They are distraught in there, but it's the job of myself and Matt Doughty to pick them up, because there are still 15 points to play for.
'I will pick myself up. I have been in football long enough to deal with this and be ready for the next game. Sometimes you go away and question yourself, but I'm thinking "No, there's not a lot wrong".
'If there was, I'm a big enough and brave enough person to go and have a chat with the chairman and say "You know what? I'm out of my depth here". But I'm not, and I know for a fact I'm not. I know for a fact we are not a million miles away. We are a good footballing team who just need a bit of luck here and there and we'll be fine.
'We are going to need three wins at least, starting on Saturday. I love this club and I love what I'm doing, and the job now is to get the players buzzing and flying in training, so they're ready to go again on Saturday'"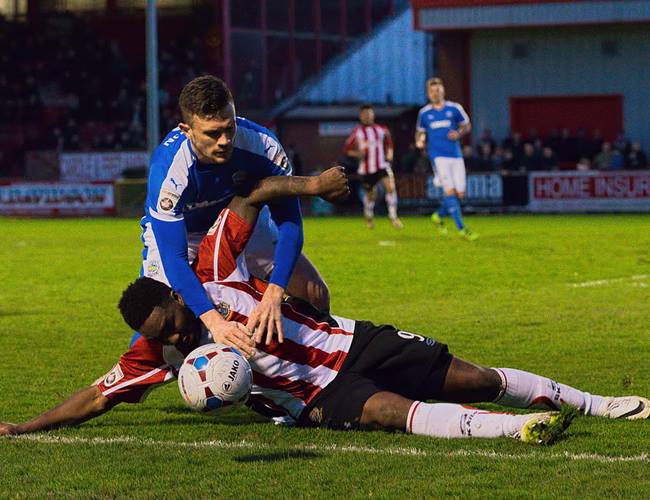 Above: Alty's goalscorer, Michael Rankine, hits the deck in the match against Dover. Image courtesy of Mike Ripley, who has more here
Following Tuesday's clash with Altrincham, Dover Athletic state that "Second-half strikes from marksmen Ricky Miller and Stefan Payne, their 20th and 23rd goals of the season respectively, completed an impressive Dover Athletic comeback at Altrincham, giving the side a six-point cushion in the playoffs.
Whites trailed at half-time thanks to a powerful free-kick from Michael Rankine, but a spirited display after the interval showed the side's determination to achieve a top-five finish.
Chris Kinnear had named an unchanged line-up from the side that started Saturday's 1-0 win over FC Halifax Town, with Liam Bellamy keeping his place in the XI over the injured Ricky Modeste...
It was Altrincham who started to shade the early exchanges, winning a series of corners, with their first half-chance on goal coming in the 18th minute from Ginnelly. He troubled Mitch Walker again five minutes later...
Liam Bellamy struck the post on 31 minutes, shooting from outside of the area... On 37 minutes, Altrincham took the lead. A free-kick saw Michael Rankine step up and fizz an unstoppable effort past Walker in the Dover goal, and the Robins' frontman probably deserved that reward for a good first-half individual performance.
Whatever Chris Kinnear said to his playoff hopefuls at half-time, it worked. Whites raced out of the blocks in the second half... but as time ticked by, it looked like it would be a frustrating evening for Dover...
Whites' pressure paid dividends. A ball in from captain Nicky Deverdics eventually found Ricky Miller, who fired home from ten yards to level the scores... Seven minutes after Miller's leveller, Stefan Payne... completed the turnaround. Excellent interplay between Whites players saw Payne score from the angle...
Altrincham began to push forward in desperation, likely regretting their earlier running down of the clock, but failed to test Mitch Walker with any real degree of trouble... Six minutes of injury time were professionally seen out by Dover, who would have been buoyed to hear of Braintree's 2-0 defeat at Barrow after the whistle".
Phil Taylor has kindly provided a
match report
on Altrincham FC Ladies' game with Ellesmere Port Town last Sunday. Altrincham FC Ladies came back from 0-2 to draw 2-2, thanks to goals by Georgia Plant and Alisha Palmer.
After a match also officiated by Martin Coy who oversaw the Alty-Dover match,
Cheltenham Town
report that "Town striker Danny Wright has been given a three match suspension by the Football Association. Danny was charged with misconduct in relation to an incident during the recent home match against Grimsby Town when he ran over the opposition goalkeeper in order to join in the celebrations following the second Cheltenham goal.
Having provided the assist for the goal, Danny ran towards goal-scorer Harry Pell but placed his foot upon goalkeeper James McKeown as he lay on the ground in front of him. The incident was not seen by any of the match officials, who took no action at the time despite vociferous protests from McKeown that earned him a yellow card.
However, the incident was reported to the FA by the match observer (a former referee who compiles a report on the match from the stand and was previously known as the referee's assessor) and Danny received the charge on Monday this week.
Both Danny and Cheltenham Town FC responded in detail to claim that the intended punishment of a three match ban was excessive, believing Danny's actions to be clumsy and careless rather than a deliberate stamp designed to injure an opponent. Unfortunately an FA Disciplinary Commission considered the case on Wednesday afternoon and concluded that the incident did constitute violent conduct and should have resulted in a red card and three-match suspension".
In the National League "Grimsby Town boosted their play-off hopes after edging a seven-goal thriller at the EBB Stadium against mid-table Aldershot Town on Tuesday night...
However, the Mariners turned a two-goal deficit into a 3-2 lead with goals from Padraig Amond 8 minutes after the restart, Omar Bogle 3 minutes later and then Nathan Arnold on 67 minutes. Rhys Browne netted in an equaliser just 2 minutes later.
But Jon Nolan's cross-cum-shot went over the head of home `keeper Phil Smith and into the net with less than 3 minutes remaining to earn the Mariners the points...
Braintree Town`s top five hopes took a blow after they fell to a 2-0 defeat at... mid-table Barrow AFC. The Iron`s long midweek trek north saw them suffer a third successive defeat that leaves them a point behind fifth-placed Tranmere Rovers with a game in hand...
A `six-pointer` at the other end of the table saw FC Halifax Town triumph by the odd goal in five at The Shay against fellow strugglers Boreham Wood. The Shaymen struck twice in quick succession in the first half... Wood's comeback began with Harry White's header 12 minutes after the break before Jamie Lucas levelled with a neat curling effort with just 7 minutes left to play.
But Conor Hughes' last-gasp goal 3 minutes into stoppage time saw Halifax swap places with Wood now in fourth-bottom spot.
Chester FC are falling like a stone and they too were involved in a crucial game at the Launa Windows Stadium against another side still in trouble, Torquay United. But the Gulls moved three points clear of the relegation zone after a 2-0 success that leaved [left!] them just a point behind their visitors and three above FC Halifax... P> Chester`s poor run has seen them win just twice in sixteen games."
NL Pitchero says that "Tranmere Rovers midfielder Jay Harris has signed a new two-year contract to extend his stay... until the end of the 2017/18 season. " <> Meanwhile, "Kidderminster Harriers have confirmed that one of the emerging stars of the Harriers'Academy, Ben Clarke, has been signed on an eighteen-month professional contract."
According to the BBC "Truro City will become a fully professional side if they gain promotion to the National League. The club need just three more wins to guarantee a play-off place in National League South...
'If we do happen to get promoted, then National League will mean full-time football,' chairman Peter Masters said. 'That comes with its own problems financially as well as we're talking about doubling up on the budget, but we'll see where that takes us', he told BBC Radio Cornwall.
Truro, who gained promotion from the Southern League last season via the play-offs, have three games in hand on the sides immediately above and below them in the table. 'We did it last season against all the odds', added Masters, who bought the club when it was in administration in 2012".
Still in the South West, "Torquay United manager Kevin Nicholson says his side must not allow themselves to get distracted as they look to avoid relegation from the National League. Tuesday's 2-0 win over Chester put the Gulls three points clear of the drop zone, having been 12 points from safety less then two months ago.
'It is a bit harder not to get carried away when you start reading and hearing nice things about yourself,' he said. 'But they also realise there's a job to be done and we haven't done it yet.' Torquay have only been beaten twice in their last 12 league games, having lost 17 of their previous 29. <> The club have been affected by a number of off-field issues, but are set to be taken over by Gaming International Ltd after the current board agreed a deal in principle last week... 'The last thing you need to see is a manager over the moon one minute and absolutely full-on depressed the next, but there's work to do'" added Nicholson.
Still with The Gulls, the Torquay Herald Express reports that "Kevin Nicholson has a major decision to make on the future of loan goalkeeper Brendan Moore after fit-again teenager Dan Lavercombe returned from Wigan Athletic this week and resumed training with Torquay United.
American Moore's initial one-month deal from Fleetwood Town is due to run out after Saturday's home game against play-off chasing Tranmere Rovers. Moore, 23, has been a hit with Gulls fans since he replaced Lavercombe seven games ago.
The pressure is on, because former Academy graduate Lavercombe, 19, is also on loan to the end of the season, having being sold to Wigan Athletic in January.
So the Gulls' boss must decide whether to try and extend Moore's stay to cover the vital last four matches of the season. United also suffered a frustrating absentee, albeit temporarily, against Chester FC... Striker Wright, 19, who scored his fifth Torquay goal after going on as a sub in Saturday's key 2-1 win at Gateshead, is on loan to the end of the campaign. But WBA called him back to play in a Barclays Under-21 Premier League Division Two match against local rivals Aston Villa on Monday night...
Nicholson explained... 'He will be back with us for our game with Tranmere on Saturday'"
The Torquay Herald Express says that "Torquay United have clawed themselves further out of relegation trouble at Plainmoor where they beat Chester FC 2-0 to even draw their opponents in the dogfight.
Torquay are up to 18th, one place and one point below Chester, and it's getting crowded down there at the bottom of the National League...
all over the park, they were tireless, even if they were a little shot shy at times. 'I don't think we have started well lately; we have done well as games have gone on, and we have shown how fit physically and mentally we are, and we can take teams late on.
'But we haven't yet set out and really blown anybody away and for 15 minutes tonight I thought we were going to. Credit to Chester, they took an early hit like that and I thought they might cave in, but they stood up to it'"
In the Worcester News we learn that "Kidderminster Harriers have agreed a deal which sees West Bromwich under-21s playing at Aggborough next season... In addition, Aggborough could also host matches featuring Albion's U18 side, including the prestigious FA Youth Cup.
Albion are set to pay Harriers a fee for each match staged and the Reds will also keep the gate receipts from games... Chief Executive, Colin Gordon, commented, 'The pitch at Aggborough has held up magnificently this season thanks to the work of our own groundsman but from next season the wear and tear will be significantly less and we'll be able to tap into some of their expertise in that area as well. <> 'There is a financial aspect to the deal that suits us as a club but, more importantly, we're looking forward to hosting some exciting games with some of the brightest young talent in the country.' In an extra cash boost,Albion will be bringing their first-team Premier League squad to Aggborough this summer for a pre-season friendly".
We learn from the LIncolnshire Echo that "Lincoln City chairman Bob Dorrian wants a young dynamic manager who is out to stamp his authority on the game, and on board by the end of the season.
Dorrian is seeking a successor to Chris Moyses who is stepping down as Imps boss at the end of the campaign... It means he has just four weeks to find his new man and... he is determined to appoint someone who is full of ambition.
'What I don't want is a "stereotypical" manager,' said Dorrian. 'I don't want a person who has been there, seen it, got the t-shirt and failed. As a club, we need someone who is young, has done their bit in the game and most of all is ambitious and wants to take the team forward...
'I am not adverse to it being someone who might be a number two at present, or a coach. They don't have to be a manager at this moment in time. Experience is an asset, but we have seen in this division that there are teams who are being very successful with first-time managers at this level. Look at Braintree, with Danny Cowley, and Eastleigh, with Chris Todd, as cases in point.'
Whoever comes in will have a budget and crucially will be paid. When Lincoln were last looking for a new manager following the decision to put previous boss Gary Simpson on gardening leave, Dorrian said the club did not have enough cash to pay for one.
It meant that when Moyses was appointed, there was a backlash from a section of the fans who claimed the former youth team coach was a cheap option. After 18 months in charge, Dorrian believes that Moyses has excelled in the role and is sad to see him leave.
'I wanted Chris to stay on and see out the job he had started', said Dorrian... 'I feel we have seen better performances on the pitch and behind the scenes, Chris has put in place an infrastructure which is the best we have had in the past five years'...
Dorrian revealed he has already fielded a number of calls from prospective candidates. He refused to name any, but did explain that whoever comes in will also have money to spend on signings... 'There are players which are coming to the end of their contract and we need to look at it all and assess it,' said Dorrian.
In the Chester Standard we learn that "Steve Burr provided a few home truths to his Chester players after his team's 2-0 loss at Torquay United. The Chester boss kept his side locked in the Plainmoor dressing room for 30 minutes post-match, and reflected on a defeat which leaves the Blues four points above the relegation places.
'We got off to the worst possible start and that was really disappointing,' Burr said. 'We then got ourselves going again and it looked pretty even up to half time... I had a few words with the players in the dressing room. We've got four games to go and we've got to stick together and get ourselves out of this predicament.
'I've been trying to keep everybody's spirits up all season, but you could see that our final ball and our passing was poor. You could just see the confidence draining out of the team'.
'I decided to leave Ryan Higgins out and we missed Ben Heneghan because of his injury, and he has been a big player for us since he has been here and hopefully he'll be back for Saturday. But a big plus was to see Luke George back and playing 85 minutes to give us a bit of bite in the middle of the park'".
"The National League is pleased to announce clarification of the dates of this season's Play Off Semi Finals and the respective Promotion Finals for the Vanarama National, Vanarama National North and Vanarama National South.
Please note....in the Vanarama National each of the four semi finals and the Promotion Final itself will be screened exclusively live by BTSport, our broadcast partner.
VANARAMA NATIONAL
Play Off Semi Finals:
Wednesday, 4th May, 7.00pm kick-off, 5th place vs 2nd place.
Thursday, 5th May, 7.00pm kick-off, 4th place vs 3rd place.
Saturday, 7th May, 7.30pm kick-off, 2nd place vs 5th place.
Sunday, 8th May, 3.00pm kick-off, 3rd place vs 4th place.
Promotion Final: Sunday 15th May at Wembley Stadium 4.00pm kick off.
VANARAMA NORTH
Play Off Semi Finals;
Wednesday, 4th May, 7.45pm kick-off, 5th place vs 2nd place and 4th place v 3rd place.
Sunday, 8th May, 3.00pm kick-off, 2nd place vs 5th place and 3rd place v 4th place.
Promotion Final: Saturday 14th May 3.00pm kick off on the ground of the club finishing highest in the League.
VANARAMA SOUTH
Play Off Semi Finals;
Wednesday, 4th May, 7.45pm kick-off, 5th place vs 2nd place and 4th place v 3rd place.
Sunday 8th May, 3.00pm kick-off, 2nd place vs 5th place and 3rd place v 4th place.
Promotion Final: Saturday 14th May 3.00pm kick off on the ground of the club finishing highest in the League".
---
6 April 2016
Altrincham dropped to 22nd in the Vanarama National League as they again let a 1-0 lead slip... And there was post-match confusion as it emerged that Marcus Holness was red-carded after the final whistle...
Match report here.
Aldershot Town 3-4 Grimsby Town
Altrincham 1-2 Dover Athletic
Barrow 2-0 Braintree Town
FC Halifax Town 3-2 Boreham Wood
Torquay United 2-0 Chester FC
The
National League
reports that "Bromley`s Board of Directors have announced the appointment of Neil Smith as first-team manager. Smith has agreed a two-year contract with immediate effect.
Chairman Jerry Dolke said, 'We have taken time to assess our position and the Board have unanimously concluded that Neil and his team have the capability to match the ambitions of the club'. Smith added, 'I'm delighted to have been given this opportunity and would like to thank the Board for their backing. I'd also like to thank the fans for their continued support which home and away has been amazing all season'". Bromley are the visitors to Altrincham this coming Saturday.
However, a change is in the offing at another club as the National League also reports that "After discussions with chairman Bob Dorrian, Chris Moyses has announced that... 'It is my intention to stand down at the end of the season. I made this decision last week and it's not one I've made lightly but managing a football club, as well as running my own business, has led to me working over 80 hours a week and that is simply not sustainable.
'The club is in a good place and there has been a complete overhaul of the playing side. Like the foundations of a house, you can't see where the strength is and whoever takes the reins will inherit a strong, decent group of players ready to challenge next season'".
Next Tuesday, Alty face a 500-mile round-trip to Devon from where the NL Daily reports that "Torquay United are back on home soil on Tuesday evening (5th) with the visit of Chester. This rearranged fixture will be their first of three home games in a week, [Alty are the visitors for the last of these], as they face a Chester side who sit in 17th place in the table, just four points above Torquay.
The Gulls will be looking to build on our excellent win at Gateshead on Saturday and gain revenge for the heavy defeat that we suffered at Deva Stadium just before Christmas. Luke Young misses out with a badly gashed leg that he sustained at the weekend.
'Youngy didn't know how bad the cut was', revealed player-manager, Kevin Nicholson. 'It was only a little bit of blood on his sock and a bruised feeling. It was only when he took off his sock off that the extent of the damage was apparent. We had already used three subs so I'm glad he didn't look under his sock as he may have had to come off! He should be available in a week or so; it looks worse than it is.
'I'm happy for him as he's worked very hard to be part of our run in after his knee injury'... There is better news as Dan Lavercombe and Nathan Smith have returned to training."
In the NW Evening Mail we read that "Top goal-scorer Andy Cook is one of the main men Paul Cox wants to keep at Barrow AFC next season.
The Holker Street hot-shot took his tally for the season to 20 on Saturday... as the team have stretched their unbeaten run to eight games and climbed to within touching distance of the top half of the table.
Cook has the chance to improve on that record still further as Barrow host play-off contenders Braintree Town tonight, with Cox full of praise for the former Grimsby Town striker, whose two-year deal expires at the end of this season. 'He's been excellent', said Cox of a player who is joint-seventh in the National League scoring charts... 'When I came in, I had a few chats with him. I wouldn't say he was disillusioned, but he wasn't playing with a smile on his face. Between myself, the coaching staff and the players, we've got him smiling again. The banter is there again in the dressing room and on the training ground and the kid is a dream to work with, he really is.
'We've come up against each other in the past, but this is the first time I have worked with him and it has been excellent. He's not only a good player, but he's a really good guy to work with'...
Cook is one man the Holker Street boss has no qualms about admitting he wants to remain part of the Bluebirds set-up for at least another year, though he realises his striker's form means there is likely to be interest from elsewhere for the 25-year-old north-easterner. 'He's absolutely one of the main players to keep on for next year,' said Cox. 'Goal-scorers win you football matches. We've got to remember we are Barrow AFC and we've got to be realistic in terms of our wage structure. I know a lot of people have said that because we have Paul Casson at the club, there is a lot of money, but he is a very shrewd chairman and I'm going to be very careful with his money.
'As much as we have got Paul Casson, there are a lot of clubs not just with wealthy backers, but with extraordinary fan-bases and great histories and all these clubs are going to be looking for an Andy Cook. I've spoken to the lad and said we want to keep him and how much we enjoy working with him. Hopefully he is with us next season'".
---
5 April 2016
You can follow this fixture via this website's minute by minute text updates by clicking on the icon below. Alternatively, Radio Robins' coverage of the game is outlined below as well.
Brian Flynn announces that "Radio Robins, sponsored by Ashley Mowers Garden Machinery, is providing full live commentary of Tuesday night's game at The J.Davidson Stadium.
The commentators are Paul Salt and Brian Flynn; the match summariser is John Edwards. Coverage starts at 7.40pm with the game kicking off at 7.45pm and you can listen to Radio Robins on the internet at http://www.radiorobins.com/
TASC Travel Coordinator, Mark Eckersall, announces that "Details of away travel to Torquay and Eastleigh will be available on Wednesday or Thursday of this week. If you require any details in the meantime please contact me by
e-mail
".
Before Tuesday's game at Altrincham, the
Dover Express
told us that "The big games keep on coming for Dover Athletic as they head to the outskirts of Manchester to take on Altrincham. Saturday's nervy 1-0 win over Halifax Town... meant they secured a three-point cushion in the National League play-off race, sitting in fourth spot with six games to go.
The Robins are currently embroiled in another [sic] battle with relegation... Whites have picked up six wins in their last eight games, hitting form at the right time aside from the 3-0 defeat to Boreham Wood on Easter Monday. Altrincham - with their one win in 12 - have picked up four draws from their last eight games under caretaker boss Neil Tolson". [Neil has actually only been in charge for the last five games].
Alty also haven't beaten Dover since Whites came back into the National League, Dover winning one and drawing one against them last season and beating Alty 2-1 earlier this campaign.
For Whites, Ricky Modeste is back in contention after recovering from a hamstring problem which caused him to miss the win over Halifax. If he is fit to start, expect the winger to replace Liam Bellamy who will drop to the bench. Tyrone Sterling has also recovered fully from his hamstring injury he suffered a month ago."
Alty have six matches left this season, three each at home and away. As two of the home matches take place this week, Alty will finish the campaign with three of their last four matches being away from home. All of Alty's remaining games, apart from the home match against Bromley, are against teams either fighting for the play-offs (Dover Athletic, Eastleigh, Braintree Town) or to avoid relegation (Torquay United, Welling United).
Martin Coy is the referee when Altrincham and Dover Athletic meet tonight (Tuesday). He has previously overseen some painful moments for The Robins, including...
9 November 2014 BLYTH SPARTANS (1) 4 ALTRINCHAM (0) 1 FA Cup
28 February, 2015 ALTRINCHAM (0) 1 BARNET (2) 3
31 August, 2015 SOUTHPORT (2) 3 ALTRINCHAM (0) 0
On a happier note Mr Coy reffed...
11 April 2013 GUISELEY (1) 1 ALTRINCHAM (0) 1
1 January, 2015 ALTRINCHAM (2) 4 CHESTER FC (1) 1
Mr Coy was an innocent party in a bizarre incident on 4 September, 2007 when Alty drew 2-2 at York City. as the website reported at the time... "Altrincham had a third goal ruled out by a quite bizarre refereeing decision... After 73 minutes, Mr Coy. the linesman with the red and yellow flag... raised his flag for offside. Referee David Webb very clearly waved play-on before York's debutant keeper Henderson inexplicably picked up the ball, handled it outside his box and dropped it down for a freekick. Alty's Senior, playing to the non-existent whistle, took the ball and drove it into the empty net. Mr Webb completely lost the plot, disallowed the goal and restarted the game with a freekick to York".
With each team having a lot to play for. Dover lie fourth from the top of the Vanarama National League while Altrincham occupy the fourth from bottom spot.
Meanwhile,
Dover Athletic
report that "A hard-fought 1-0 victory over FC Halifax Town at Crabble on Saturday put the disappointment over Easter Monday's defeat at Boreham Wood well out of Whites' system... Whites climbed back up to fourth place in the Vanarama National League with the win, which came courtesy of an early Nicky Deverdics strike...
With just six matches remaining, every point is crucial. Looking at previous seasons, ten more points should almost certainly be enough for Whites to finish in the top five this time around and a good opportunity to deduct three from that tally presents itself with a trip to struggling Altrincham on Tuesday night.
The Robins have not sat higher than 16th place all season, and their continued inability to pick up wins in vital matches could well cost them relegation back to the National League North. At the start of play, they are in 21st place - just one point from safety, but they have a tricky run-in... They have won just one of their last twelve matches, a surprise 4-0 home win against Aldershot Town last month, and are up against it if they want to maintain their status in this division for next season...
Coming into the game, Whites have a record of six wins, one draw and one defeat in their last eight Vanarama National League matches. Wins were picked up against Woking (1-0), Welling United (2-1), Lincoln City (4-1), Guiseley (1-0), Torquay United (5-0) and FC Halifax Town (1-0), with a draw against Tranmere Rovers (0-0) and the defeat to Boreham Wood (0-3).
Altrincham's record over the same number of matches shows one win, four draws and three defeats... Away from home this season, Dover have the eighth best record in the division... At home this season, Altrincham have the fifteenth best record in the division, with seven wins and eight draws accumulated from twenty matches at Moss Lane.
RECENT MEETINGS
22/08/15: Dover Athletic 2-1 Altrincham
17/03/15: Dover Athletic 2-1 Altrincham
20/12/14: Altrincham 2-2 Dover Athletic
Ricky Modeste will be hoping to have recovered from the hamstring injury which saw him miss Saturday's match against FC Halifax Town, but if the winger is not judged to be ready then Liam Bellamy can be expected to deputise. Tyrone Sterling has recovered from an injury and should be available for selection. Whites' top scorer in the league is Ricky Miller with eighteen, one goal ahead of Stefan Payne and four more than Nicky Deverdics".
NL Pitchero
reports that Sam Grimshaw has signed for Stockport County from Southport.
NL Pitchero
reports that "Neil Aspin, manager of Gateshead, rued his side's recent bad luck as they fell to a 2-1 defeat against relegation strugglers Torquay United on Saturday. The Heed were the better team throughout the first half and led 1-0 at the break, thanks to Jon Shaw's third goal of the season.
But the hosts hit the woodwork three times throughout the first period... And Torquay made the Tynesiders pay after the restart with substitutes Iffy Allen and Andre Wright both netting for the Gulls...
Aspin said, 'We've had some bad luck. I think we've had a couple that have hit the bar and the post. We were very unfortunate and, on another day, we would have scored three or four goals before half-time... For me, it's frustrating at the moment. I'm not enjoying it at all because you don't know what you are going to get... because the first-half was really good and the second-half was really poor.
'You can't, as a manager, sit back and expect the level of performance which we need because the level of performance at the moment is so up and down'. Gateshead ended the match with ten men after substitute Andre Bennett went off injured in the closing stages to compound a miserable afternoon for Aspin's men.
Aspin said, 'We've been down with our luck this season and you are hoping that you can get the season over with and start again. Hopefully, we can have an injury-free run next season'...
Aspin also provided the latest on the fitness of top scorer Ryan Bowman, who made a surprise return to the squad... He said, 'At the start of the week, I was told he would need to rest his knee. But then he trained on Thursday. He was available for the game. He came off the bench and I don't think he's had a problem. It's tendonitis, so it can flare up. He could feel all right one day and be uncomfortable the next'".
---
4 April 2016
On Sunday, Altrincham FC Ladies came back from 0-2 to draw 2-2 with Ellesmere Port Town Ladies, thanks to goals by Georgia Plant and Alisha Palmer.
Our visitors on Tuesday are the subject of a report from
Kent Online
which tells us that "Dover have announced that defender Sam Magri and goalkeeper Mitch Walker have extended their deals with the club. Both players have signed up until the end of next season and manager Chris Kinnear is keen to keep the majority of his squad together.
He said, 'The lads have done really well, why would you want to change them? They know how we want to play, they're happy to do that, they're a very close bunch. Obviously one or two will go, one or two will come in, but that's the way football is. We're making sure that we can push on from where we are, we've done better than last year'"
Also on Kent Online we read that "Dover boss Chris Kinnear praised his side's resilience as they moved up to fourth in the National League with a 1-0 win against Halifax at Crabble. Despite controlling most of the game following Nicky Deverdics' eighth-minute strike, they were put under pressure from the visitors in the second half. However the Whites held out, showing how far they have come this season.
Kinnear said, 'We've got to be resilient, maybe with naivety earlier on in the season we might have gave [sic] one away, but we didn't look like letting one in really, they had a couple of half chances, but we are pleased with it, without getting carried away. We needed that win, we managed the game well and could have won by more. We've just got to worry about Altrincham on Tuesday night'.
Goal scorer Deverdics notched his 14th league goal of the season and controlled the midfield in the first half, however Kinnear was quick to also praise his defenders. He said, 'Everyone's in there (the side) for a reason. The front lads have scored goals because the lads at the back have defended well'...
With three tough away games to come next, starting at Altrincham on Tuesday night, Kinnear added that whatever happens in the run-in, it's been a great season for the club. 'If you look at the top of the table there are some big clubs in there and we don't really seem like we're in the same league as that. But we're playing against them, holding our own and getting good results against them.
'As a club we are overachieving at the moment, but why shouldn't you? Everyone wants to achieve, if you look at the big clubs they are bigger than us, but I don't think the players are over-achieving they are doing what we expect of all of them. People forget that this is only our second year (in the National League). Grimsby, they have been six years trying to get into the Football League, I mean how you can compare Dover to Grimsby as a club, but that doesn't mean we can't try and finish above them.
'Who would have believed that we would have been nearly all season in the top six, amazing really, so whatever happens the lads have done really well'".
Last Saturday's opponents are the subject of an article in the
Kidderminster Shuttle
, which says that "Colin Gordon has said the hard work to start recruiting players for next season has already begun after yesterday's disappointing 1-1 draw with relegation rivals Altrincham. Harriers could be relegated next week after being held by the bottom four rivals in the Vanarama National League...
Chief executive and caretaker boss Gordon lamented his side's lack of a goal-scorer and then revealed that the plans to strengthen had already started... He said, 'We don't have a had [sic] a 20 goal a season man. If we could get that type of player into the club, and I know that's what we need, we would have a great platform to go forward. Our top scorer had five goals and really you need somebody do his on 20-25 goals at this tags [sic] of the season.
He added, 'We are already talking to other players, we know what we want for next season. We know what we are looking to build. This is great experience for all of us because no one has out played us. But we are not ruthless enough in each box'.
Gordon was frustrated by the mistakes that led to Reeves's striker [sic], when he beat keeper Max O'Leary with a deft lob. 'It was a ridiculous goal we conceded,' he said. 'It was a long ball punt and we should have dealt with it. The keeper is coming and going and Damian Reeves has got the wrong side of us. It was a horrible goal to concede and it took the confidence out of us. We have not put two halves of football together since Eastleigh. We are a good one half team'.
Whitfield payed [sic] all game despite only just recovering from a stomach bug and suffering from stomach cramps before kick-off".
In the Yorkshire Post we learn that "FC Halifax Town dropped back into the relegation zone as they lost 1-0 at Dover despite a battling display against the promotion-contenders. A long trip to a side in fifth-place was hardly where Halifax would have chosen as their next destination in their battle to beat the drop, but they made a good fist of a difficult task, especially after falling behind to Nicky Deverdics' eighth minute goal.
Halifax got better as the game went on, and after a disappointing first-half, could have taken a share of the spoils with a bit more luck, with Jordan Burrow heading against the bar. Jim Harvey admitted three points against Boreham Wood on Tuesday was of more importance than a win here, and that's even more vital now.
The excellent Deverdics, along with Ricky Miller, Stefan Payne and the injured Ricky Modeste, was one of Dover's fab four Harvey identified before the game, and with good reason as it turned out. Harvey felt a point would be a good return from the game, and that view was only reinforced when Deverdics put the hosts ahead... That took the tally of goals Deverdics had either scored or created in the league this season to 30, with 14 goals and 16 assists...
It wasn't difficult to see why Dover had only failed to score once in their last 17 home outings as Town just about contained the three starters of that quartet, with Payne and Miller offering a dangerous combination of movement and pace... Deverdics was able to control proceedings from midfield, helping to restrict the supply to Richard Peniket and Burrow up-front...
Halifax were mostly reliant on feeding off lofted balls forward, most of which were easily dealt with by the Dover defence... Even when Halifax won their first corner just before half-time, Dover ended up breaking forward from it and forced Connor Hughes into a crucial clearance to deny Payne a clear chance at goal.
Town finally had their first shot when Kingsley James sent the ball flying straight at keeper Mitch Walker five minutes after the restart, shortly before Payne registered only Dover's second effort on goal".
FC Halifax Town add that "Town defender James Bolton felt his side played well in yesterday's 1-0 defeat at Dover Athletic... 'We started slowly to be honest', expressed Bolton speaking after the game to Shaymen Player HD. 'The first ten minutes they were on top and it was to be expected the way they play. They are a tough side and they do go very direct but, once we got hold of that, I thought we played quite well, and we looked like the side that wanted to go and win'.
Dover seemed happy to defend and sit back once Deverdics smashed home their only goal of the game,... 'I think as soon as they got their goal they sat off and we attacked them'...
This result puts further emphasis on Tuesday's night massive 6 pointer with Boreham Wood, and Bolton expressed that it is now a must win match."
---
3 April 2016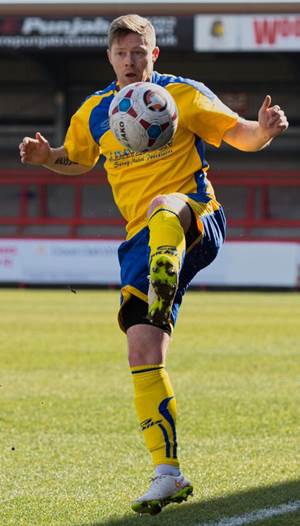 John Edwards, joint Press & Media Officer at Altrincham FC, spoke to Neil Tolson after the 1-1 draw at Aggborough...
"Neil Tolson urged his players not to dwell on the bodyblow of a late Kidderminster equaliser after Altrincham saw two precious survival points slip away for the second game running at Aggborough on Saturday.
Pegged back by Southport on Easter Monday, Alty again had to settle for a 1-1 draw after seemingly-doomed Kidderminster hauled themselves level in the 89th minute.
But with home games against Dover on Tuesday night and Bromley on Saturday, caretaker-manager Tolson insisted his players should be looking forward, rather than bemoaning their misfortune.
'It's going to be tough against Dover, because they are very good at what they do,' he said. 'They are well organised, and they will smash it forward and bombard us. They will be relentless about it, so we have to be ready for that.
'We have to stand up and be counted. We have to go again, so there can be no feeling sorry for ourselves over conceding so late at Kidderminster.
Adam Griffin in action at Kidderminster as seen by Michael Ripley
'Of course the lads are disappointed, because we are giving ourselves good opportunities to win games but not taking them. It's probably the nature of where we are at the moment that we are down there scrapping but nothing is going our way.
'They had a lot more possession than us, but I don't have an issue with that because we were coping. We were solid, and they didn't look like scoring, yet we've walked away with one point, rather than three.
'I'll admit we dropped too deep as the second half wore on, and found it difficult to get out, but the biggest disappointment for me was we didn't pass the ball anywhere near the level we are capable of.
'Everything else was OK but, if only we had been a bit better at keeping the ball, their late goal would have been no more than a consolation for them. We'd have been well clear.
'The pitch may have been bobbly but we can't blame that. We didn't look after the ball and should have done a lot better in that regard. A lot of the pressure we had to deal with came from us giving the ball away, and that's the main thing we need to work on.'
On the injury front, Tolson added: 'Tim Deasy got a bang on his knee early on but should be fine for the Dover game. Josh O'Keefe felt a bit of tightness in his calf, so we'll see how that settles down.'"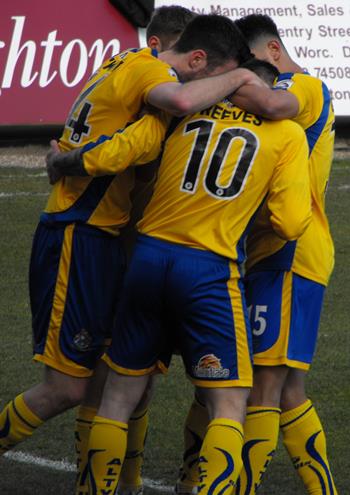 Whilst an 89th minute equalizer was a cruel way for Altrincham to lose two points, Kidderminster were deserving of their point. Despite their precarious position at the bottom of the table, it was the Harriers who played the better football, particularly in the second half, when Altrincham were largely on the back foot and unable to link their midfield effectively with their lone striker.
Altrincham had got off to a good start with a superbly taken tenth-minute goal by Reeves. Right, we see him being congratulated by team-mates.
Match report here.
At half-time, Alty sat 18th in the table, by the end of the afternoon they were 21st!
The
BBC
says that "Kidderminster prevented Altrincham from climbing out of the National League drop zone with a late equaliser. Damian Reeves fired Altrincham ahead early on, finding the top corner from Adam Griffin's pass.
But Gary Whild's side were stunned when Ben Whitfield's left-footed effort found the top corner to earn the home side a point. [Whild was the manager of Harriers, not Alty and that was some time ago]".
Kidderminster Harriers have statistics which include Possession: 50% / 50%. Shots on target: 2 / 3. Shots off target: 2 / 1...
A late equaliser from Ben Whitfield earned hard-working Harriers a deserved share of the spoils... As early as the first minute, midfield man Elton Ngwatala strode forward into the penalty area and angled a shot that Tim Deasy did well to stop with his legs with the hosts searching for an early breakthrough.
Deasy was injured in that build-up and that resulted in a break in play, from which Altrincham restarted far the better, taking the lead on ten minutes when a grounded pass from Griffin through to Reeves had O'Leary back-peddling; the chip was always coming and it was beautifully executed as the ball lofted over the stopper and into the bottom corner.
Despite the deficit, Harriers had dominated the ball and continued to do so after the goal... With two to go, Harriers got what was a deserved equaliser - more patient build-up ending as Kinsella's pass found Whitfield inside the area who took a touch before powering it into the top corner."
Colin Gordon praised the heart and spirit of goalscorer Ben Whitfield... The on-loan Bournemouth youngster ended his personal goal drought by scoring his fifth goal of the campaign... It was revealed after the game that he played despite feeling unwell both before and during the 90 minutes.
Speaking after the match, Colin Gordon said, 'It was a very good finish; he's worked his socks off and was running on empty. He was absolutely drained and how we got 90 minutes out of him I'll never know, but that's just Ben, he's so honest... He was ill before the game and had stomach cramps... he said "I'm going to keep going".
I was thinking of taking him off but you can't, and he's proved why you can't at the end there'".
The
National League
reports that "It`s very much advantage Cheltenham Town now in the race for the Vanarama National League title after Forest Green Rovers` inability to beat play-off chasing Wrexham at The New Lawn on Saturday...
Rovers spent the last 15 minutes playing against nine players after the visitors had Blaine Hudson and skipper Connor Jennings sent-off in the space of 4 minutes. But they hung on bravely to take a crucial point back to North Wales...
Dover Athletic moved three points clear of sixth-place and into fourth spot after increasing FC Halifax Town`s relegation fears with a 1-0 Crabble success. However, the FA Trophy finalists will feel a little hard done by after another long trip south proved point-less.
The Shaymen fell behind to Nicky Deverdics' early 8th minute goal... But Halifax got better as the game went on, and ... could have taken a share of the spoils, with Jordan Burrow heading against the bar.
Jim Harvey`s men now face a `six-pointer` against fellow strugglers Boreham Wood on Tuesday. And they`ll face a Wood side buoyed from a last-gasp point at a Chester FC outfit still not clear of the drop zone themselves.. It looked as though Chester were going to hold on for three vital points, until the very last minute of normal time when Harry White pulled Wood level with a right-footed effort from 20 yards.
Welling United`s slim hopes of avoiding the drop were given a massive lift when they earned a surprise 2-1 win at Prenton Park against play-off chasing Tranmere Rovers. Tranmere took the lead on 18 minutes... Welling got themselves back in the game just 2 minutes later as a free-kick wasn't cleared properly and Ian Gayle`s poke towards goal hit Vaughan and trickled into Scott Davies' goal.
Welling then shocked their hosts by taking a 72nd minute lead as they broke through the Rovers` defence and the ball was set up for Kadell Daniel to knock the ball home... Sxth-placed Braintree Town were beaten 3-1 at the Moss Rose by Macclesfield Town.
The Silkmen made it three successive wins... Eastleigh`s top five hopes also stalled at the Silverlake Stadium against another side looking to move away from the bottom end of the table, Guiseley AFC...
The game couldn`t have started much worse for the visitors though as they fell behind inside the opening 2 minutes to an Adam Lockwood own goal... 10 minutes into the second half Guiseley pulled back on level terms when, following a foul by Jai Reason on Oliver Norburn, James Hurst's free-kick beat Flitney from the edge of the box...
Gateshead`s top five hopes took a massive hit as they were beaten 2-1 at the International Stadium by another of the relegation battlers, Torquay United... The Gulls rose to twentieth in the table, leapfrogging FC Halifax Town and Altrincham...
Southport are eight points clear of the bottom four but had to make do with just a point from a 2-2 home draw with Woking. However, after coming back from 2-0 down, it will seem almost like a win for interim boss Andy Bishop...
Lincoln City's disappointing end to the season continued as they were beaten 2-0 at Bromley...
Barrow AFC made the long journey south to the EBB Stadium well worthwhile with a 1-0 win against fellow mid-table outfit Aldershot Town".
Att: 1488 Aldershot Town v Barrow
Att: 1202 Bromley v Lincoln City
Att: 1444 Chester FC v Boreham Wood
Att: 1027 Dover Athletic v FC Halifax Town
Att: 1790 Eastleigh v Guiseley
Att: 2246 Forest Green Rovers v Wrexham
Att: 785 Gateshead v Torquay United
Att: 1402 Kidderminster Harriers v Altrincham
Att: 1222 Macclesfield Town v Braintree Town
Att: 825 Southport v Woking
Att: 5173 Tranmere Rovers v Welling United
Altrincham's George Bowerman was on the mark as his loan club Stourbridge won 3-2 at HUrst Cross against Ashton United.
Alty's neighbours Trafford beat Farsley Celtic 3-0, with Aaron Burns netting two late goals. And Steven Gillespie scored as Warrington Town beat Brighouse Town 2-0.
---
2 April 2016
Fri. 1 April:
Cheltenham Town 3-1 Grimsby Town
Sat. 2 April:
Aldershot Town 0-1 Barrow
Bromley 2-0 Lincoln City
Chester FC 2-2 Boreham Wood
Dover Athletic 1-0 FC Halifax Town
Eastleigh 1-1 Guiseley
Forest Green Rovers 0-0 Wrexham
Gateshead 1-2 Torquay United
Kidderminster Harriers 1-1 Altrincham
Macclesfield Town 3-1 Braintree Town
Southport 2-2 Woking
Tranmere Rovers 1-2 Welling United
According to the
Worcester News
, "Kevin Langmead has vowed the players are not ready to throw in the towel as Kidderminster Harriers' relegation-battling hopes of survival hang by a thread... With six matches left, Kidderminster are bottom and 12 points from safety.
But there is still a very slim chance of escaping the drop as the Reds face three of their relegation rivals in a row, starting with the visit of fourth from bottom Altrincham to Kidderminster (3pm ko). That is followed by Welling away and Halifax at home. The Reds were denied a rare away win in Greater Manchester in November when a last-gasp goal saw them settle for a 2-2 draw...
Langmead said, 'We're in a very tough position but by no means have we thrown in the towel. There's been no drop off of intensity in training and for us there's still six games to be won. It would take a huge turn around in fortunes but we have to believe'.
Harriers are set to welcome back Ben Whitfield, who has recovered from the sickness bug that kept him out of Monday's loss to Tranmere. Gurjit Singh has also recovered from the same illness and could be available, while Arthur Gnahoua is 50/50 to shake off his ankle knock. Altrincham have won [none] away from home in the league in nine games.
Kiddy chief executive Colin Gordon has said he's interesting in retaining Langmead's services for next season. Langmead said, 'As a professional this has not been an easy season and no player likes to lose games. But I really enjoy playing for Kidderminster Harriers. There has been a lot of hard work behind the scenes and I genuinely believe that there is something exciting happening at this club and I want to be part of it'"
And Kidderminster Harriers say that "Harriers will hope to have a full complement to pick from when they host Altrincham at Aggborough on Saturday... The team went in to their most recent contest, against Tranmere Rovers on Easter Monday, with a depleted side to choose from thanks to injury and a sickness bug in the camp. Ben Whitfield, Arthur Gnahoua, Lewis Kinsella and Gurjit Singh were all impacted to some degree, and only Kinsella managed to feature at all on the day.
However, after two days off, the squad reported to Aggborough in much brighter shape on Thursday and it's hoped the issue is now well behind them. It remains to be seen whether the attacking trio will be passed fit to feature but it's hoped they may be able to at least play some part...
It's no surprise that Colin Gordon and his back room staff have done their homework on the Robins. However he says that while that'll be kept in mind, he's confident his players are capable of getting a result."
'Nobody on this run-in has really worried me; we just need to do what we do and do it well. We need to finish the season strongly; we've got six winnable games and that's how we need to approach it. Altrincham will be competitive, but we went there earlier in the season and it was a game we should have won. We threw it away in the last couple of seconds. We know what to expect and have done a lot of homework on them. We'll be prepared, but we'll play – we'll play our football'.
Harriers no further injury, illness or suspension worries about from those already mentioned, with Zaine Francis-Angol also back in the fold after he missed the last two games while on International duty with Antigua and Barbuda."
The unofficial Harriers Online adds that "The next two games for Kidderminster Harriers are vital if we wish to avoid the drop. Defeat at home to Altrincham tomorrow and away at Welling next week will see the Harriers time in the Conference Premier come to an end with fifth from bottom un-attainable...
Last Monday at home to Tranmere we learnt that there had been a virus going round and that had left us without the services of Ben Whitfield and Gurjit Singh with Lewis Kinsella playing on even though he was under the weather. That meant a change to the line-up and formation of the team and it showed as they looked an absolute shambles at a time when confidence was needed most. Add in the loss of Arthur Gnahoua and we lacked any semblance of being an attacking force whatsoever with defender Kelvin Langmead playing as a lone striker without pace or shooting ability...
Tomorrow we should have all of those players back, including Zaine Francis-Angol following his stint with Antigua, with the only doubt being Gnahoua who will face an assessment before the game.
Like us, Altrincham have been struggling at the bottom of the table most of the season and in recent weeks have changed their manager in an effort to get out of the same mess that we are in. Neil Tolson is now the new guy in charge there, as caretaker manager, and the feeling is that they are looking better as a team but without the all important results...
On paper we should win this important game, a game worth the proverbial six points, but if we do, what difference would it make?"
"Ant Danylyk says the opportunity to replace Lee Casswell as manager of Leek Town was just too good to turn down. Casswell resigned as manager of the Blues on Thursday after five years at the club... Tuesday's 4-1 home defeat to local rivals Newcastle Town left them seven points adrift of the top five and Casswell decided it was time to step down.
His assistant Danylyk, 33, was asked to take the reins and duly accepted and the new boss reckons his side can still creep into the play-off places. He told The Sentinel, 'When the board approached me and asked if I would like to take over, it didn't take me long to make a decision. I have been with Leek Town for a long time and I love the place, so it was an easy decision for me. Lee has put a good squad together and now it's my job to pick the players up and have a strong finish to the season. We are not out of it by any means and that's the message I will be getting across to the players before tomorrow's game'".
According to the
National League
, "The recipient of the March Player of the Month award in the Vanarama National League is admired throughout the division and further afield... Mariners' captain Craig Disley has led by example and scored two important winning goals against Forest Green Rovers and Wrexham... He has been superb throughout March and the driving force behind his team."
"The winner of the Manager of the Month is Paul Cox of Barrow AFC... March has been the icing on a cake with four wins and two draws. Paul is a worthy winner".
In the NL Paper we learn that "Former Oldham Athletic and FC Halifax Town boss Darren Kelly has been tasked with keeping Hyde United in the Evo-Stik NPL Premier. The Northern Irishman was appointed on Thursday evening just hours after Gary Lowe had departed the struggling Tigers...
The Tigers could be set for a third successive demotion having lost four of their last six games. They currently sit one place and three points above the relegation zone... Kelly started the season as boss of Oldham before being dismissed after just nine games. His spell in charge of the Shaymen was just as miserable as he was sacked 47 days and ten games into his tenure after losing 6-3 to Braintree".
---
1 April 2016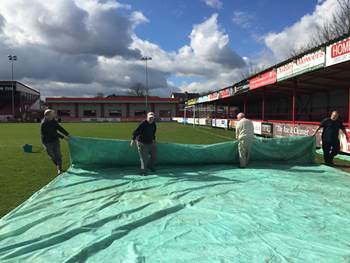 Pictured, right, we see volunteers Peter Foster, Bryan Ford and Alan assisting groundsman Neil Brown in cleaning and folding the pitch covers prior to their return to Lancashire County Cricket Club. Altrincham FC is grateful to its cricketing neighbours for the loan of the covers which have certainly help to get games played despite the heavy rain over recent weeks.
Altrincham travel to Kidderminster Harriers for a vital game next Saturday (2 April) and strong support can only help the team perform well. TASC is providing supporters' transport and details are
here
. Please note that all TASC coaches are strictly alcohol free and provide a family friendly atmosphere without exception.
Bookings can be made by phoning the club on 0161 928-1045 during weekday office hours.
In advance of our match on Saturday, the
Kidderminster Shuttle
reports that "Colin Gordon has revealed he's hoping to retain a trio of Kidderminster Harriers defenders for next season. The club's chief executive has said he's keen to try and resign centre backs Kelvin Langmead, Jordan Tunnicliffe and Keith Lowe.
Langmead, currently on a season-long loan from Ebbsfleet, has been consistent in a difficult season. Lowe has stiffened a leaky defence since joining in January, while youngster Tunnicliffe impressed Gordon with his committed display against Tranmere, despite just returning from three months sidelined with a hamstring injury.
Captain Jared Hodgkiss, who has made 42 appearances this season, could also stay and has played enough games to trigger being offered an extension to his current deal. Harriers have already secured Tyrone Williams, Kennedy Digie, Zaine Francis-Angol, Ousmane Fane, Elton Ngwatala and Arthur Gnahoua on new deals for the 2016-17 campaign.
While Kidderminster look certain to be relegated from the Vanarama National League, the club are keen to have the foundations of next season's squad in place. 'We have six games left and there's still a chance to impress', said Gordon. 'There are still one or two players we're talking to about keeping for next season. I like Jordan Tunnicliffe a lot, he did very well on Monday and we're talking to him. I am also talking to Kelvin Langmead and Keith Lowe about next season, so we shall see what happens'.
Gordon also revealed plans to find a new manager continue and that the club has four targets in mind, several of those currently working elsewhere. Meanwhile, Harriers are hoping influential on-loan Bournemouth man Ben Whitfield has recovered from the sickness bug which kept him out of Monday's loss to Tranmere. Fingers are crossed he will be available for Saturday's bottom-four home clash against Altrincham.
Gurjit Singh has recovered from the same illness and Arthur Gnahoua (ankle) may also be fit... While Kidderminster seem to be inexorably being sucked towards the drop, a win over fellow strugglers Altrincham may well cause a stir.
Gordon said [of Gnahoua]... 'There's a 50/50 chance he will be fit for Altrincham. He's been carrying a knock on his ankle and it flared up when he was playing against Woking... Ben has told me he's feeling better and he's managed to keep down some food, so hopefully we'll have him back. Gaz Singh is also feeling better and he'll be back in training'"
Meanwhile, Altrincham hope to have injured duo Marcus Holness and Sam Heathcote available on Saturday.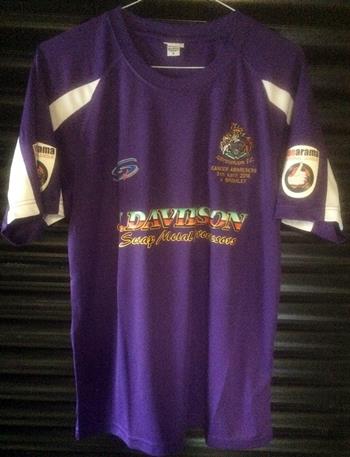 Ian Senior reported recently that the National League had given approval for Alty to wear their special Cancer Awareness shirts in the match against Bromley on 9th April. Bids can now be made for the players' shirts, up to a maximum of £100. So far, Ian advises that those for Jake Moult, Damian Reeves, Scott Leather, Michael Rankine, Adam Griffin, Sam Heathcote, Harry Cain and Josh Ginnelly have already been reserved. All other squad players, including the injured Nicky Clee, Shaun Densmore, Tom Marshall and Stuart Coburn remain available.
Altrincham FC goalkeeping coach and owner of SKkits, Ian says that all funds generated will be donated to local cancer charities.
Ian adds that "Replicas will be available at £20. Orders should be sent to Ian Senior. The players' shirts will be auctioned after the game".
Our opponents on Saturday,
Kidderminster Harriers
confirm that "John Brooks of Leicestershire will be the man in the middle when Harriers host Altrincham this weekend... He was also in charge for our home clash against Cheltenham Town on Boxing Day. In total thus far this season, he has issued 38 yellow cards in 18 National League outings."
Alty fans may recall that Mr Brooks was in charge of that memorable promotion play-off win over Guiseley on 10 May, 2014. Other Alty matches that he has reffed include:
Altrincham 0 FC Halifax Town 0 21 March, 2015
Altrincham 2 Grimsby Town 1 18 August, 2015
Altrincham 0 Gateshead 1, 25 August 2014
Nuneaton Town 2 Altrincham 1, 31 March, 2012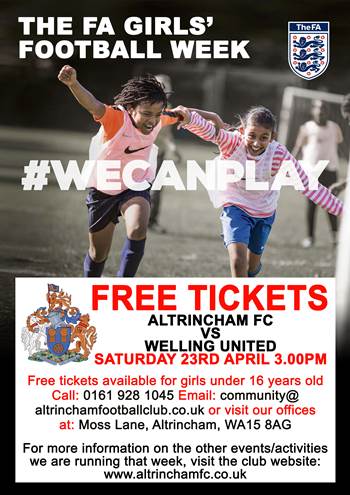 Details of Altrincham FC's involvement in the F.A.'s Girls' Week are shown in the poster, left.
The
BBC
reports that "Eastleigh's Paul Reid says playing through the pain barrier is part of his job as club captain, after breaking his nose for the 11th time. The 34-year-old ex-Barnsley defender sustained his latest break during the 1-0 win over Torquay on Easter Monday.
'I've had three operations on it but I think I'll leave the fourth one until I hang up my boots because I'm likely to do it again', he told BBC Radio Solent. 'I'll have to start wearing a crash helmet'. He added, 'You cannot be leading the lads sat on the touchline. I see it as part of a centre-back's job and as part of my job as captain'. Reid, who began his career with Carlisle and has also had spells at Northampton, Colchester and Scunthorpe, has made 22 appearances for Eastleigh this term.
The Spitfires are unbeaten in their last five matches and sit two points outside the National League play-off places, having won just once in the 10 league games prior to their recent upturn. 'It was well documented that we went on a bit of a poor run. We could not buy a win at one point but our form has turned at the right time', said Reid.
Still at Eastleigh we learn that "As the Eastleigh FC name continues to grow on and off the pitch, we're delighted to confirm another new venture at the club. Introducing 'LIVE at The Hangar', a new events project right here at the Silverlake Stadium. Our aim is simple; to create a welcoming, purpose built venue, which is versatile enough to accommodate a wide range of entertainment and attract the biggest of acts.
The current clubhouse facility, as you know it, will transform in to 'The Hangar' on events nights. A hub for music/entertainment lovers, drinkers and social enthusiasts; with a wide variation of live music, tribute acts, comedy nights, open mic nights and themed evenings. With extremely competitive bar and ticket prices, our primary goal is to keep the venue accessible to the broader market and affordable for all.
A brand new stage area and professional PA System have been installed in our 300 capacity venue. It will be portable, thus allowing us to have the option move events outside in the summer months and whenever necessary. This means there really is no limit to what events can be held at Eastleigh FC, the potential is massive and indeed very exciting...
We feel there is absolutely no reason why The Hangar cannot and will not be the 'go to' place in Eastleigh for all things entertainment. Eastleigh's newest and most versatile new venue".
The
NW Counties Football League
report from Irlam that "The club's Under-21 side clinched a place in the final of the Richie Bentley Cup, competed for by teams in the Cheshire Under 21s' Premier League. They beat Stockport Town 8-2 in a game played at the Cheshire FA headquarters, and now face Southport Youth in the final at Altrincham's Moss Lane on Tuesday 26th April."
---
FOR EARLIER NEWS, CLICK
HERE
---