---
31 March 2016
Alty's next opponents,
Kidderminster Harriers
report that "Colin Gordon has revealed that the Harriers squad have been kept apart in the wake of the defeat to Tranmere Rovers due to a sickness bug in the camp. The Reds were missing a number of players against the Prenton Park outfit and to prevent the problem worsening, the squad have been told to stay away.
Ben Whitfield and Gurjit Singh were missing from the squad on Monday; Lewis Kinsella played while feeling unwell; youngster Nathan Millichamp is also out of action...
'We've given them all a couple of days off because we want to get the sickness bug out of the camp, so it doesn't mix and run through us,' Colin said... 'We wanted them [the sick players] in on Wednesday to do some work with them but we need them out of the way and hopefully we can contain it'"
Mike Garnett provides the data on previous clashes between Altrincham and our hosts, this Saturday, Kidderminster Harriers.
At home: P24-W11-D5-L8-F34-A27
Away: P24-W9-D6-L9-F26-A39
All: P48-W20-D11-L17-F60-A66
Whilst, overall, Alty's record is quite good against the Harriers, you would struggle to invent the tales of woe that have afflicted Altrincham at Aggborough over recent years. But they really happened, as the following extracts from the website's match reports record...
1-1 26.12.05 "After the supporters' coach had suffered a puncture near Hilton Park services on the M6, many Alty fans arrived at Aggborough just as the home side were taking the lead with a dubious penalty awarded against Maddox for handball when a ball was driven against him from close range (23 mins). But, with their vocal support in place, Altrincham enjoyed the better of the second half and deservedly equalised after 80 minutes when Lugsden was brought down by Jackson in the box and Aspinall, making his first ever Conference start, drove the resulting penalty home".
2-3 9.12.06 "Altrincham lost their second successive game 3-2 and are still without an away win this season but it was a very controversial penalty award by referee Vaughan which ultimately cost Altrincham the points"
1-1 5.4.08 "Kidderminster's goal depended on a refereeing decision as Mr Creighton awarded them a questionable penalty just before the interval from which Christie scored. It was the third successive time that a spot-kick had been won against Alty at Aggborough - and all three have been converted by Christie. Alty had held a deserved lead from the eighth minute "
0-4 23.8.08 "It was referee Simpson from Middlesex who determined the outcome of this game by adjudging Chris Lane to have deliberately handled the ball on the line after 33 minutes, when the defender had been hit on the body from point blank range by a Harriers shot" Lane was sent off and Richards converted the penalty.
0-3 29.8.09 "For the second year running, Altrincham had the better of the opening stages only to fall behind after having an early goal disallowed for offside... When Johnson was tripped by last man Riley, the Harriers' man saw a red card... After 36 mins Densmore was sent off ... It got even worse for Alty when Chris Senior was stretchered off with ankle ligament damage".
1-2 12.2.11 "Altrincham were very unlucky to take nothing from this game which they finished with eight fit players on the pitch... Just before the break Piergianni was controversially sent off when he made a fine covering tackle which the referee judged to be a foul. It seemed that Piergianni had been dismissed for denying a goalscoring opportunity but it later emerged that the reason given by the referee was "foul and abusive language". Dootson made a fine save from the penalty kick, however... Smith got himself sent off for a petulant spat in injury time - again the reason given was "foul and abusive language". To cap the afternoon Densmore finished the game lame after being fouled, leaving Alty with eight fit men at the final whistle".
0-4 16.9.14 Simon Richman sent off, a decision later rescinded.
Alty TV's highlights of Monday's game against Southport are available, right.
After Saturday's draw, the Southport Visiter stated that "Southport sent Altrincham into the relegation zone after the visitors were able to grab a point away from home.
Andy Bishop... told Neil Turner, 'I want to get another win sooner rather than later to secure we're mathematically safe', he said. 'But I think the win will come. We've got Woking coming up on the weekend and the lads are up for the game... If you'd said before going into Easter I could take four points, I would [have],' he added. 'I'm slightly disappointed we weren't able to win on Monday but it's been difficult having so many games in such a short space of time. We needed more tempo to our play and we could've attacked better. We defended well apart from the sloppy goal we conceded'...
Ahead of Southport's clash with 14th placed Woking on Saturday, Bishop emphasised the need for his side to produce attacking football and is hoping injuries don't hamper their chances... 'We're hoping to have a full squad available on Saturday'" said the manager.
Altrincham FC Youth's next two fixtures are at home, versus Skelmersdale United, this Sunday, and Chester, the following Tuesday evening.
The BTEC team, which plays in the Football Conference Youth Alliance lost 3-2 at FC UNited of Manchester on Wednesday. Next Wednesday they are away to Farsley Celtic.
NL Pitchero
reports that "David Phillips, chairman of Torquay United, has announced he has signed a memorandum of understanding for a takeover of the club by Gaming International Ltd... and are currently in the process of completing due diligence.
Phillips said, 'If and when a deal is completed, this will be wonderful news for Torquay United FC. There will be significant finance put into the club. It is common knowledge that since the current Board of Directors saved the club from oblivion last June, we have lacked the finance to move forward. Unfortunately, this has indirectly reflected in the results on the pitch. Among many things proposed by the new investors would be to resurrect the Youth Academy, which would be fantastic news for the club.
'The next month is a critical period in the club's history. Any distractions, however well-meaning, will have a negative impact. Any unrest would not help Kevin Nicholson and his team in the great battle to avoid relegation. Therefore, I ask our wonderful supporters to remain patient. The Board of Directors and I have never stopped working in our quest to take this club forward and re-establish our League status. Any other organisations, i.e. Torquay United Fans Ltd., have no direct connection to the club."
Bloomberg reports that "Gaming International Ltd. operates in the gaming and leisure industry in the United Kingdom. The company, through its subsidiary, Stadia UK, manages and operates greyhound racing tracks with stadiums in Swindon, Poole, Reading, and Milton Keynes. These stadiums are multifunctional with motorsports promotions, indoor and outdoor markets, and sporting and leisure facilities. It also manages stadiums and greyhound tracks in Japan. In addition, the company operates National Bowl in Milton Keynes, which hosts live events. The company was incorporated in 1932 and is based in Swindon, United Kingdom. Gaming International Ltd. operates as a subsidiary of Toklon Ltd."
Meanwhile, the Torquay Herald Express adds that "Planned drainage work at the Launa Windows Stadium will now have to be carried out, and paid for, by the new regime poised to take over at Torquay United after the collapse of a £50,000 ground-share deal with Truro City. The Gulls had announced that around £30,000 of the Truro 'rent' would be spent on the Plainmoor pitch this summer, in an effort to handle more than 50 matches next season.
The share-agreement is now off, after Truro revealed that they were pulling out and staying at their Treyew Road ground for at least another year. But improvement still needs to be carried out on the pitch and, although the prospective new owners are not unhappy that they will have Plainmoor to themselves, I understand that they will have to fund the work instead.
Takeover negotiations, which have been continuing for several months, are close to the finish-line. The 'preferred bidder' is understood to be a West Country-based businessman with connections in Torbay... At least two sets of people are undoubtedly happy that the Truro deal is off, the fans of both clubs...
Meanwhile, United must overcome a goalscoring crisis if they are to have a chance of keeping their 'Great Escape' on track... The Gulls, who had gone eight games without defeat before losing to Dover (5-0) and Eastleigh (1-0), may also have to take at least ten points from their last seven matches after a point-less Easter to forget... The biggest worry now is that they have scored only once in more than nine hours (548 minutes) of football. United's leading scorers this season are still James Hurst, who joined Guiseley in November, and Tyrone Marsh, who signed for Dover in January – both on seven goals.
Nathan Blissett has scored five times since moving from Bristol Rovers in the New Year... Player-manager Kevin Nicholson insisted after the Eastleigh defeat, 'We've got plenty of players in the dressing-room who can score goals'. United tackle their longest trip of the season, to mid-table Gateshead, this Saturday... Conceding five goals at Dover was a rude awakening after 387 minutes of 'clean sheet' football. But what made the Easter weekend a worse one, on top of Durrell Berry's broken leg at Dover, was the news that fellow strugglers Boreham Wood had shocked Dover (fourth) 3-0 on Monday...
If United could beat Gateshead on Saturday, it might be a great time to do it, because relegation rivals Guiseley, Boreham Wood, Halifax and Altrincham are all away... And after the 770-mile round-trip to Tyneside, Torquay face three crucial home games in succession, against Chester FC next Tuesday night, Tranmere and Altrincham."
At Guiseley The Lions "are delighted to announce that our Nethermoor Park home has been recommended for Grade A status following an inspection this afternoon (Wednesday). The successful inspection... paves the way for our club to remain in the National League...
Recent work at the ground has increased terraced standing capacity and added essential improvements such as emergency lighting and additional turnstiles and convenience facilities. Chairman Phil Rogerson says, 'It's taken an enormous effort to achieve this grading in such a short space of time... I'd like to ask as many of our fans as possible to come and cheer the team on to help make the end of the season equally successful on the pitch as off it!'"
Gateshead have announced that "Midfielder Jamie Chandler will be leaving the club upon expiration of his current contract this summer. The 27-year-old has racked up over 150 appearances for Gateshead since joining from Darlington in January 2012, and has found the net 20 times...
Chandler's campaign has been hampered by successive injury setbacks, restricted to just 16 starts in total. All told, he has made 24 appearances this term...
Chairman Richard Bennett paid tribute to Chandler's accomplishments... He said, 'Jamie has been a loyal and dedicated servant to Gateshead in his four-and-a-half years at the club.'"
In the Daily Echo we read that "Eastleigh are lining up another free entry game, hoping a packed house will help roar them towards the finish line in the Vanarama National League play-off chase. For the home showdown against Barrow AFC on Tuesday week (April 12, 7.45pm), everyone will get in FREE of charge.
It's yet another example of how chairman Stewart Donald is delivering on his promise to make football affordable for all at the Silverlake.
Earlier in the season, the Spitfires drew in a bumper Tuesday night crowd of 2,884 for their free entry game against Forest Green Rovers and they are aiming to break the 3,000 mark this time round. Donald said, 'We would love to try and get a record league midweek attendance. I feel confident that, if we have something to play for and with the game under lights, it could be a super opportunity and great atmosphere for us to show off the club to some potential new fans.'
Tickets can be obtained in advance from the Silverlake Stadium or fans can simply turn up at the turnstiles on the evening of the match".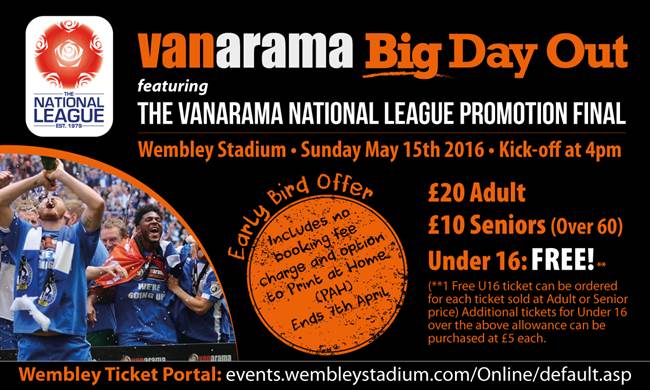 The National League announces that "The League has decided that, due to Easter holidays cutting across our original deadline date (31st March) for our Early Bird offer for the VBDO and the Promotion Final, this will now be extended to 7th April, so we possibly capture those families returning [from holiday] after 31st March...
An updated circular and poster style advert (above) have been produced. the circular is here.
Remember for a family of four booking now it will cost £41 in total for Print At Home tickets, [which is] a massive saving [compared with] if you leave it to when tickets go on General Sale".
---
30 March 2016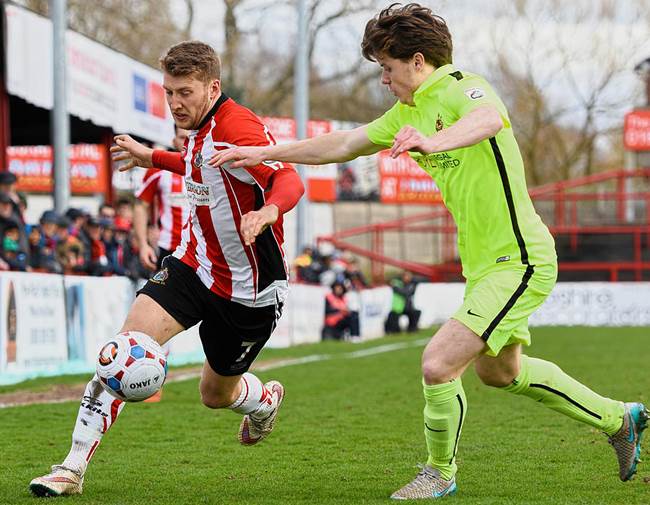 James Lawrie had some outstanding moments in the game against Southport on Monday. He is pictured above, during the game, by Mike Ripley, who has more images here
After the game on Monday, "Here are caretaker-manager Neil Tolson's thoughts on Monday's 1-1 draw with Southport, in a post-match interview with joint Press and Media Officer, John Edwards.
Q: It was a strange game in many ways, wasn't it, given it was so flat in the first half, but then livened up considerably in the second
A: Very strange. I'm bitterly disappointed for the players that they haven't got more to show for their efforts, but I can't tell you how happy I am with the way we've been defensively. We've gone from a team conceding 10-12 chances to the opposition every game to one conceding hardly any. Over the past three games, you could probably count them on one hand. So I'm pleased with the defensive side of things, with the exception of 10 seconds at Halifax and 10 seconds today. Unfortunately, when you're in the position in the table we are, you are punished for every single mistake. But the lads are sticking to what we are asking them to do, and we can't ask any more of them.
Q: How frustrating was it to concede within a minute of going in front
A: It was 10 seconds, wasn't it? That's how it seemed. We could have done better with that. I'm not here to have a go at individual players, but there were players in certain areas who could and should have done better. Yes, there was a deflection on the shot, but we should have dealt with it better before that. There were similar situations in the game where we defended properly and a chance didn't materialise.
Q: There wasn't much to shout about in the first half, was there, apart from a bit of quality from Adam Griffin to set up a chance for Damian Reeves
A: It was a great ball in from Adam, but it was just too far in front of Reevesie and he couldn't quite reach it. Jordan Sinnott whipped in a great ball from the right that their defender dealt with superbly, but, other than that, there wasn't too much happening in the first half. I want to play open football as much as anyone, but you have to accept that if we are open, we are going to concede. To be fair, although we have gone a bit more defence-orientated, we are still creating chances. We are still having opportunities to win games, so, apart from the result, I'm pleased with how it went. We wanted to win and should have done, but, come the end of the season, this could still prove a very important point.
Q: Reevesie didn't have much luck, did he, given the second-half chance that was blocked by the last defender
A: I pulled him into the office this morning for a chat. We had a good chat. Over the last three or four games, he has been superb. It's a difficult role, on your own up front, but he has worked tirelessly. I tried to freshen it up a bit today, with two or three changes, and I did contemplate starting Michael (Rankine). But I couldn't see how it would be possible to leave Reevesie out after what he's done in recent weeks. He did begin to tire towards the end today, but that was understandable after two games in 48 hours and all the legwork he'd put in.
It's about being on the scoresheet with him, and he looks like he's going to score again. He said, when we sat down this morning, that he felt great and was enjoying his football, and that's good, because a happy Damian Reeves is someone who will get in positions to stick chances away.
Q: We all know about James Lawrie's versatility, but he seems most effective just behind the striker.
A: I think he's at his most creative there. He gets himself into really good areas and makes it difficult for defenders to actually mark him. I've been fortunate enough to play at quite a high level, but I don't think I've seen anyone so naturally gifted when it comes to being comfortable going left or right. He can go either way and be equally effective with either foot.
If we can keep him involved in games, it can only be good for Reevesie. Which is his stronger foot? I think he favours the right, but I wouldn't put money on it. I've seen him take penalties with his left as well as right - as well as corners, of course - so it's difficult to be sure.
Q: It was good to see Josh Ginnelly back on the scoresheet, wasn't it
A: People may say their keeper should have done better, but I thought it was a really well struck shot by Josh, and I was pleased for him, because he beat himself up a bit about the Halifax game. I thought he worked hard at Halifax and gave everything he had, but he was a bit down. I was delighted for him today.
Q: It was agonising to go so close to a winner, wasn't it, when James shot just wide of the far post then had another effort tipped over
A: That's how it goes when you are down there, scrapping for points. If you're in mid-table and completely safe, those go in. It was a brilliant turn by James to open up space for the first, and a pity it didn't go in, but when you're not getting the breaks, you have to work your way through it.
Q: Do you think 1-1 was about right
A: No, we should have taken all three points, without a doubt. On the balance of the game, and when you look at chances, we should have won. We didn't deserve all three at Halifax, but should certainly have taken one, so we've not had what we deserved in either game. Southport didn't trouble us. They had maybe one other shot in the game, other than their goal, whereas we had six or seven half-decent chances. It was two points dropped.
Q: What will it take to stay up, do you think? I don't mean points-wise, because you never know how many other teams might get, but in terms of character, self-belief, etc.
A: Well, I'd never question the character of this dressing room. They will keep going, they will pick themselves up quickly and dust themselves down quickly. We have slipped back into the relegation zone today because of Boreham Wood winning, but there are going to be ups and downs between now and the end of the season. Someone is going to get a freak result here and there. Someone is going to lose a game they are expected to win or vice-versa.
We will probably have one like that. It's the nature of football. It is in our hands and up to us to make the most of the opportunity in front of us, but I do think it's important not get carried away with who we might be playing further down the line and how we might get on against them. We need all our focus to be on the next game, which is Kidderminster away next Saturday.
If we limit their chances the way we have our previous two opponents, we will pick up points. In my personal opinion, we are better organised defensively now than a week ago, and that's not having a pop at Lee (Sinnott) or anyone else. We just look a harder team to beat, and that's despite being without Marcus Holness, who has been so influential for us.
Marcus has had a bit of a stomach strain, but it's looking good for Kidderminster. Potentially, he could be ready for that one. Same with Sam Heathcote. He's had a bang on his ankle, but he should be available".
Keith Edleston, manager of the Altrincham FC Ladies, has kindly provided us with the recently released fixtures for his team. They can be found
here
. The Ladies are always keen to have supporters so please come along if you possibly can.
The Ladies' rearranged match at Winsford last Sunday was postponed at the last minute.
Brian Flynn, chsirman of TASC, announces the Easter Draw winners.
"The Altrincham Football Club 'Easter 'Draw 2016 took place on Monday in the Community Sports Hall after the game against Southport. The winning tickets were drawn by Matt Doughty and the winners are as follows:-
Amazon Fire 7 Tablet Computer: Stuart Lees
The Complete James Bond DVD Box Set: Helen Lunn
Hudl 2 Tablet Computer: Joanne Johnson
Multi-Function Printer/Scanner: Alan Dawson
Amazon Fire TV Stick: Tony Clegg
2 Tickets for an England International Match at Wembley Stadium: Myrianne Sellick
Matchday Hospitality for four people at an Altrincham F.C. Home game & a signed home shirt: Gallimore
Dolce & Gabbana, The One, for Men, Eau de Toilette: Theo Songho
Remington Grooming Kit: Ann Wilshaw
Four Ball Round of Golf at Davyhulme Golf Club: Calum Thomson
Congratulations to all of the winners and thanks to everyone who bought tickets. Brian Flynn will contact those winners who weren't present at the draw to arrange for them to receive their prizes and there will be an update on the value of ticket sales by the end of the week".
Southport
report that "Gary Jones' second-half equaliser earned Southport their fourth point of the Bank Holiday weekend as they claimed a draw at Altrincham. Jones struck midway through the second half as the Sandgrounders came from behind to earn a deserved point against one of their rivals near the foot of the Vanarama National League.
This result, on the back of Saturday's win over Guiseley, means Andy Bishop's team remain eight points above the relegation zone with five games remaining and one point off the interim manager's target of 48 points... In a match low on quality, it was Southport who were responsible for the more forward-thinking football, Jonny Margetts cutting the ball back to Gary Jones, whose first-time shot was always going wide...
After an hour of fairly sedate football, the match came to life with two goals in as many minutes. Perhaps against the run of play, Altrincham went ahead on 61 minutes, Josh Ginnelly fastening onto a James Lawrie through-ball as the Southport defence parted before he sent a shot under the dive of Jon Viscosi when the goalkeeper ought to have done better.
Yet no sooner were they behind than Southport drew level, Gary Jones equalising in spectacular fashion as his blockbuster of a shot nestled into the top right-hand corner from 20 yards. Suddenly, there was an urgency about the proceedings, Lawrie sending an angled shot across the face of the Southport goal after working his way into space with a delightful show of footwork.
Lawrie also brought an acrobatic save from Viscosi but neither team was able to force a winner".
Monday's half-time bucket collection raised £61.16. Thanks go to all concerned, whether donors or collectors.
News of an Alty loanee from ealier this season comes from the
Yorkshire Evening Post
which says that "Harrogate Town's promotion bid suffered another jolt in a 3-1 loss at Bradford Park Avenue.... [At 2-0 to BPA] Dylan Mottley-Henry grabbed his first Avenue goal with two minutes to go before a stunning consolation from Harrogate top scorer Brendan Daniels deep into injury time."
News of Alty's next opponents comes from the
worcester News
which tells us that "Harriers' boss Colin Gordon lamented his side's huge absentee list after yesterday's 2-0 defeat to play-off chasing Tranmere Rovers.
Kidderminster were a shadow of their selves and missed Ben Whitfield and Gurjitt Singh (illness) and Arthur Gnahoua (ankle). Substitute Evan Garnett also carried a knock and could not start, so centre-back Kelvin Langmead was selected up front. Despite a hardworking display, goals in each half for James Norwood sank lacklustre Harriers, despite an improved second half display.
He said, 'We have a centre-half playing up front and we've got two young kids who are hoping to be good enough at this level... These boys have put everything in but today was a bridge too far, considering we have injuries and a bug that has wiped half the team out. We huffed and puffed but that wasn't going to amount to much'.
Last Monday Alty were likewise weakened by the absence of their four long-term injured players plus a less serious injury to Sam Heathcote.
Meanwhile, NL Daily reports that "Kidderminster Harriers' chief executive Colin Gordon says the National League's bottom club will not progress properly off the field if he becomes head coach on a permanent basis next season. The 53 year-old has been in temporary control of the first team since January and is not keen to carry on next term.
'I know what I want this club to look like and me as the main man is not what this club needs', Gordon said. 'It's not for me, but I'm not going to make a decision that'll wreck us'. Gordon, who is the club's major shareholder, is in interim charge for the second time, having first stepped up following Gary Whild's exit in September. Despite a ringing endorsement from chairman Rod Brown, Gordon has his mind firmly on rebuilding the finances at Aggborough as the club heads towards relegation from the National League.
'I've no interest, me as head coach is not the way this club progresses', he told BBC Hereford and Worcester. 'I need to be involved in every aspect of player development and football development. We might have to take a step back to move forward and, if we're going to compete, we need to generate more revenue off the pitch that we can invest into the first team. If we go down, it won't be because we're bankrupt or have had points deducted - we're in a great position to go forward'.
Easter Monday's defeat by Tranmere left Harriers 12 points from safety with only six games left to play."
Off the field comes news of the Harriers' current tenants as we learn that "Worcester City are closing in on agreeing a ground-share for next season, with Bromsgrove Sporting's Victoria Ground expected to be the new venue. Talks are being held this week to finalise the deal, which should be revealed by Friday.
City director Mike Davis admitted the process had taken 'longer than expected' after announcing on March 1 they would be leaving Aggborough at the end of the season. However, he has assured supporters the ground-share agreement was 'almost in place' ahead of the deadline on Thursday. 'It is a matter of days now (before it can be made public)', Davis said. 'There is a restriction on any public announcement because of the approval of the league and the FA, which are absolutely vital... It has been a longer-than-expected process — both finalising the agreement and getting the required (ground) grading.
'When we went to Kidderminster, we did not have any of that trouble at all because they're graded well above anything we needed for National League North. So we didn't have the same problems but, with any luck, they have been solved and we should have it all in place, certainly this week'.
Bromsgrove's Victoria Ground, which is situated 14 miles away from the city centre, is understood to be where the Vanarama National League North club are poised to move their home games to.
Davis added, 'If we had pots of money, we would stay at Kidderminster because we had the option to stay. But we haven't, for obvious financial reasons, so we had a look elsewhere. Much as we have enjoyed being at Aggborough you have to be realistic about it because we are certainly two years off from coming back to Worcester'. Davis admitted it was difficult to attract sponsors while the club were in exile...
'We really need people to get stuck in and give us a hand,' he said. 'But what has amazed me is there have been one or two more people helping out on a Saturday. We had five people selling 50/50 draw tickets at the weekend. It was a better crowd, admittedly, but the takings doubled on the previous Saturday (against Harrogate Town), which just shows what you can do if you get people out there with draw tickets in their hands'".
In the
Halifax Courier
we read that "Jim Harvey pulled no punches after watching his FC Halifax Town side lose 4-1 at Barrow on Easter Monday. The Shaymen now sit just one point and one place above the relegation zone in the Conference after a disappointing display at Holker Street...
Harvey said, 'It was pretty awful really. I was disappointed with most of it, it wasn't a good performance. We just need to put this one to bed. There's not really a lot I want to say about it... We didn't play at all today, our passing was shocking... We played Saturday, then we came here and we had a couple of our regular players out', he said. 'Everybody's tired, under pressure, jaded. But it just didn't go for us today... There were too many bad decisions and things just didn't go for us'.
Sam Walker left Holker Street on crutches as a precautionary measure after suffering a suspected knee ligament problem in the defeat. 'It went from bad to worse,' said Harvey. 'Sam's gone off and we've had to change formation... but we'll live to fight another day... We conceded again straightaway from a cross that we've let come in'... he said...
Harvey said the main positive was the performance of defenders Kevin Roberts and Hamza Bencherif, but felt overall... 'All over the pitch we weren't good enough. We didn't create enough, didn't play enough, didn't keep possession for long enough, all over the park it was just a poor one... There were a couple of good performances, I thought Kevin Roberts and Hamza battled away and did a good job... But the boys are tired after Saturday and it just didn't happen for us'.
---
29 March 2016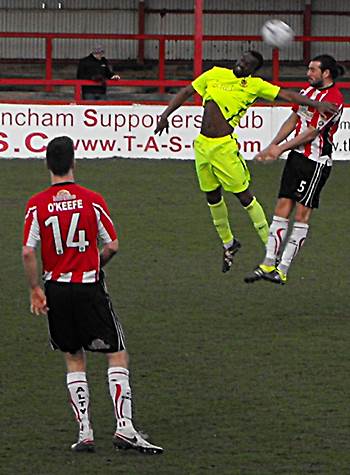 Altrincham dropped back into the bottom four following this draw, as Boreham Wood's victory over Dover lifted them above the Robins.
Match report here.
Right: Luca Havern was named Alty's Man of the Match; here he heads clear against Southport.
Kidderminster Harriers
report that "Colin Gordon rued absent personnel as Harriers slipped to a disappointing 2-0 defeat to Tranmere Rovers... The match saw Harriers without Arthur Gnahoua through injury as well as Gurjit Singh and Ben Whitfield through illness, meaning it was a patched-up side that faced the promotion chasers.
In truth the hosts never got close to truly hurting Gary Brabin's men and, not for the first time this season, Colin was cursing the lack of an equivalent to some of the divisions' big hitters.
He said, 'We haven't had a [James] Norwood, a [James] Constable or a [Matt] Rhead, and we haven't had that all season. And therein lies the difference. We have a centre-half playing up front and we've got two young kids who are hoping to be good enough at this level but Tranmere have got a budget that's six or seven times' ours, and you could see that. They've got great game intelligence, great experience and they were always a threat.
'We missed Ben a great deal today and [Tranmere] also had an extra day's rest and you could see that. These boys have put everything in but today was a bridge too far... considering we have injuries and a bug that has wiped half the team out'".
Kidderminster Harriers's unofficial website, adds that "The Harriers took a further step towards relegation today with this, frankly, abysmal showing at home to play off chasing Tranmere Rovers. Granted we had a few injuries in the camp, and star player Ben Whitfield phoned in sick, but to hope to compete in this league with no back up players is shocking. Playing Kelvin Langmead as a make shift centre forward while leaving wide open spaces at the back was inexcusable and shows that we have no strength in depth and what we do have will never be good enough.
Next season in the Conference North half this team will no longer be with us due to the good ones wanting to better themselves and the bad ones not being good enough for that division either.
Other changes to the side at the start of the game was Tyrone Williams dropping to the back in place of the dropped Jared Hodgkiss. Arthur Gnahoua out injured giving Jordan Jones a start out wide, or was he defending?. Omari Patrick came in for Whitfield while Luke Maxwell also dropped to the bench to allow Jordan Tunnicliffe his first start in months as was Elton N'Gwatala.
We ended up with a dis-jointed looking team with players being played out of position and two of our better players stuck on the bench... The slow exodus of Harriers fans turned into a rush for the exits when Lee Vaughan fed Norwood the ball to flick over the top of Keith Lowe. He ran around the Harriers defender, made his way towards goal beckoning O'Leary to come out to him and then placed the ball under him and into the net. With Welling winning at home to Woking all hope has been lost".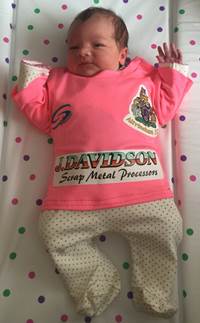 Ian Senior reported recently that the National League had given approval for Alty to wear their special Cancer Awareness shirts in the match against Bromley on 9th April. Bids can now be made for the players' shirts, up to a maximum of £100. So far those for Jake Moult, Damian Reeves and Josh Ginnelly have already been reserved.
Altrincham FC goalkeeping coach and owner of SKkits, Ian says that all funds generated will be donated to local cancer charities.
Ian adds that "Replicas will be available at £20. Orders should be sent to Ian Senior. The players' shirts will be auctioned after the game".
And proving that Alty shirts come in all shapes and sizes, at Monday's game Alty's youngest supporter was Chloe Rowley-Jones (right), sporting her Robins' kit, barely a week after her birth.
The
BBC
reports that "Colwyn Bay have sacked manager Kevin Lynch following Easter Monday's 3-0 home defeat to Marine... Captain
Carl Rodgers
and Luke Denson will be in charge for Thursday's home game against Mickleover Sports".
The
National League
reports that "Forest Green Rovers had the opportunity to put pressure on their neighbours when they travelled to mid-table Bromley... However, the Ravens came back from two goals down to earn a draw, despite being down to ten-men... They had Paul Rodgers dismissed for a second bookable offence in the 86th minute. But despite that, Jack Holland equalised in the 3rd minute of stoppage time...
The title race now looks to be between the top two after Grimsby Town`s faint hopes of catching them virtually disappeared after losing 2-1 at the Moss Rose against Macclesfield Town...
Tranmere Rovers maintained their top five hopes with a 2-0 win at virtually-doomed bottom-markers Kidderminster Harriers at Aggborough... Harriers had their opportunities, most notably through Lewis Kinsella and Elton Ngwatala, but were punished when Norwood grabbed his and Macc`s second in the 3rd minute of injury-time...
Dover were beaten 3-0 at Meadow Park by a Boreham Wood side who moved out of the relegation places as a consequence... Braintree suffering a 2-1 defeat at the EBB Stadium against Aldershot Town... Aldershot finally ended a barren run which had seen them win just once since January when Nathan Ralph netted a second on 69 minutes.
Eastleigh are back in the play-off race after winning 1-0 at the Launa Windows Stadium against relegation-threatened Torquay United... This was a second successive defeat which has left them back in the mire, two points from safety...
Second-bottom Welling United finally put an end to a twenty-three-match run without a win after beating mid-table Woking 2-1 at Park View Road... Welling still face an almost impossible task of avoiding the drop, being eight points behind fifth-bottom FC Halifax Town with only five games remaining.
The Shaymen though could have done without a 4-1 drubbing at the Furness Building Society Stadium by mid-table Barrow AFC... Altrincham dropped back into the bottom four following a 1-1 draw at Moss Lane against Southport....
Guiseley AFC and Chester FC could both have done with three points to keep them well clear of the drop zone, but a 3-3 thriller at Nethermoor means both are still in danger... Sinclair looked to have won it for the home side after converting James Hurst's cross in the 90th minute before Tom Shaw equalised again 2 minutes into 5 added on at the end of the match.
Lincoln City ended a run of three defeats after a 1-1 draw with Gateshead at Sincil Bank".
According to the Telegraph & Argus "Distraught Guiseley boss Mark Bower sai, 'It's difficult to put into words but I feel that we've completely let them out of jail. We've won that game twice really and ended with one point. The goals we've given away are from balls just lobbed into our box that we've not defended properly. We had some really good chances in the first half and if we could have got in front then, against the conditions, then it could have been a completely different game.
'With the wind in our favour in the second half, we have created chances and scored three goals but it hasn't been enough and that epitomises our season. We've had to score great goals to come from behind and then we've given poor goals away'".
From the other side the Chester Chronicle says that "Tom Shaw celebrates his last-gasp equaliser as Chester rescued a point at Guiseley. Chester FC salvaged a point... but they remain firmly in a relegation battle... With seconds left, pandemonium in the Lions area saw Hannah and Heneghan both scuff efforts before Shaw scrambled home a leveller to spark joyous scenes in the away end.
But nothing could mask a second half where the Blues proved the architects of their own downfall once again. They are not out of the woods yet, not by a long way... Chester shot themselves in the foot with an abject second-half showing. Unless they can put together a 90-minute shift, they will be nervously looking over their shoulder on the last day of the season".
As for Welling, the News Shopper tells us that "Having won a hard fought point playing the majority of the game with ten men at Eastleigh they claimed three excellent points at home to Woking... After 28 minutes Welling went ahead...
For the third time in the first half, Woking struck the woodwork... Nine minutes after the break, Woking levelled... Things didn't look great for Welling when the impressive Kabba limped off but replacement Kadell Daniel was eager to get on and make an impression. Within minutes, he broke away and was taken out by Jones with a challenge that bordered on a straight red. Incredibly, he wasn't even shown a second yellow. However, whilst the Welling supporters were again berating the official, the free kick was taken and met by a Nortei Nortey flick that left Cole beaten".
Torquay United "player-manager, Kevin Nicholson, has given his verdict on our 1-0 home defeat at the hands of Eastleigh. 'Our performance was actually very good', he said. 'We certainly didn't deserve to lose. In the end it was a sloppy bit of play early on that cost us... we out-played them for most of the game so it was frustrating to come out of it with nothing to show for our efforts.
'We moved the ball better and got more balls into the box, but there was no one on the end of them to make it count'".
Att: 1539 Aldershot Town v Braintree Town
Att: 1480 Altrincham v Southport
Att: 1466 Barrow v FC Halifax Town
Att: TBC Boreham Wood v Dover Athletic
Att: 1455 Bromley v Forest Green Rovers
Att: 1186 Guiseley v Chester FC
Att: 2744 Kidderminster Harriers v Tranmere Rovers
Att: 2142 Lincoln City v Gateshead
Att: 2326 Macclesfield Town v Grimsby Town
Att: 2081 Torquay United v Eastleigh
Att: 550 Welling United v Woking
Att: 4463 Wrexham v Cheltenham Town
---
28 March 2016
Mon 28 March:
Aldershot Town 2-1 Braintree Town
Altrincham 1-1 Southport
Barrow 4-1 FC Halifax Town
Boreham Wood 3-0 Dover Athletic
Bromley 2-2 Forest Green Rovers
Guiseley 3-3 Chester FC 0-2 Tranmere Rovers
Lincoln City 1-1 Gateshead
Macclesfield Town 2-1 Grimsby Town
Torquay United 0-1 Eastleigh
Welling United 2-1 Woking
Wrexham v Cheltenham Town BT SPORT ko 5.45pm
You can follow this fixture via this website's minute by minute text updates by clicking on the icon below. Alternatively, Radio Robins' coverage of the game is outlined below as well.
Brian Flynn announces that "Radio Robins, sponsored by Ashley Mowers Garden Machinery, is providing full live commentary of the Easter Monday game against Southport. The commentary team is Paul Salt and Tim Ainsworth with match summaries from John Edwards."
Coverage starts at 2.55pm with the game kicking off at 3pm and you can listen to Radio Robins on the internet at http://www.radiorobins.com/
Brian Flynn reminds that tickets for the Altrincham FC Easter Draw for 2016 are now available...
"The Altrincham Football Club 'Easter' Draw 2016 takes place in the Community Sports Hall on Easter Monday after the game against Southport. Tickets will be on sale before the game (50p each or a book of 4 for £2) and the prizes are as follows:-
Amazon Fire 7 Tablet Computer
The Complete James Bond DVD Box Set
Hudl 2 Tablet Computer
Multi-Function Printer/Scanner
Any item from the Altrincham F.C. Merchandise/Clothing Range
Amazon Fire TV Stick
2 Tickets for an England International Match at Wembley Stadium
Matchday Hospitality for 4 People at an Altrincham F.C. Home game & a signed home shirt.
Dolce & Gabbana, The One, for Men, Eau de Toilette.
Four Ball Round of Golf at Davyhulme Golf Club
PLUS MANY MORE!
Tickets are 50p each or a book of four for £2. The draw will take place on Easter Monday (March 28th) 2016 in the Community Sports Hall after the game with Southport".
106 years ago today (Monday) Altrincham were playing Newton Heath in the Manchester League, and beating them 1-0! For Howard Watts's data on all Alty games played on 28 March Through the years, click
here
Mike Garnett's records give us the statistics of previous Altrincham games against Southport...
Home: P18-W10-D4-L4-F26-A21
Away: P14-W3-D3-L8-F16-A25
All: P32-W13-D7-L12-F42-A46
From Southport, we learn that "Andy Bishop will be checking his Port players on Sunday morning before finalising his squad for the Easter Monday trip to local rivals Altrincham. Goalscorer [and ex-Alty loanee] Jonny Margetts is the biggest doubt having limped off on Saturday with a hamstring problem. The Sandgrounders are seeking an Easter winning double as they can get up to 49 points on Easter Monday and very close to virtual safety."
In its report on their last game, a 2-0 win over Guiseley, the Telegraph & Argus reports that "Guiseley face a relegation battle against Chester FC at Nethermoor today after both clubs lost on Saturday... Mark Bower is aware that a home win would see his Lions leapfrog Chester, while another defeat could possibly see them in the drop zone.
He said, 'It was a damaging defeat at Southport and, yes, the conditions were tough, but it was one of those that you have to grind out, and we didn't. We have got to go into this game and, quite simply, we have to win it. We can take confidence from some of our previous performances at home but I'd take a scrappy 1-0 because this is all about the points, not the display. We're not in the position we are because of Saturday but a quick turnaround gives us the chance to do something about it.
'There will be changes to the side, that's for sure, and there is no point moping about. We have to grasp any opportunity to take points'. Guiseley remain 18th after their defeat at Southport... but they are now just three points above the trapdoor and have played a game more than Torquay United, who dropped into the relegation zone following a 5-0 defeat at Dover Athletic.
One goal in each half won Saturday's game for Andy Bishop's Southport. Jonny Margetts netted in the 36th minute and his second-half replacement Craig Westcarr who chipped Lions keeper Dan Atkinson for the Port's second five minutes after the hour.
The Guiseley boss was very disappointed with both strikes, and said, 'In the first half we were playing into a very strong wind and were lucky not go behind in the first ten minutes. Then, ten minutes before half-time, we were reasonably content and thinking we will have the better of the conditions in the second half. Then we gave such a poor goal away. Both of the goals came from us having possession... and within minutes of that [second goal] going in, Danny Lowe pulled his groin and we're playing with ten fit men. There was no real way back after that. We just never got out of that rut we found ourselves in during the first ten minutes'".
Southport add that "Interim manager Andy Bishop spoke to BBC Merseyside's Phil Kinsella after the 2-0 win against Guiseley on Saturday. The interview featured on the Non-League Show on BBC 5Live and can be accessed here, starting at 27 minutes".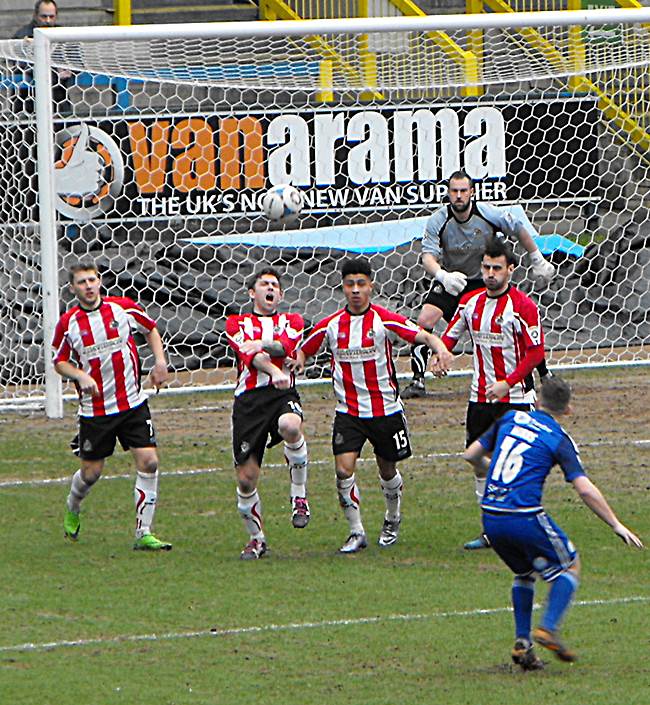 Above: Damian Reeves feels the pain as Connor Hughes's freekick strikes the wall. TV footage clearly showed that the freekick was wrongly awarded against Luca Havern following a dive by Josh MacDonald. Also seen are James Lawrie, Josh Ginnelly, Simon Richman and keeper Tim Deasy.
Following FC Halifax Town's 1-0 win against Alty, the Halifax Courier reports that "Jim Harvey described FC Halifax Town's 1-0 win over Altrincham as 'vitally important' as Connor Hughes' second-half goal lifted The Shaymen out of the National League relegation zone...
He said, 'They were two teams who were desperate for something out of the game. Both teams gave everything and it was a battle. I'm not saying it was pretty but two teams really committed to getting something for their clubs. Fortunately for us, it fell our way. At the start of the day we were a couple of games behind everyone else and to pick up three points at home and against one of our rivals is vitally important. The performance takes a bad [?back] seat, it's just a case of coming out with something and we did.'
Harvey says Matty Brown, who went off injured in the game, will be assessed over the weekend, while James Bolton will now miss Monday's game at Barrow after his red card against Altrincham, although he had no complaints over the decision. The Town boss felt his side didn't kick into gear until after Bolton's dismissal.
He said, 'I don't think we were fluent but we had one or two problems. Browny (Matty Brown) has come off with an injury, perhaps he shouldn't have started, and we had to juggle things round a bit. We wanted to win but we didn't want to lose it so we had to accommodate what they were trying to do as well and maybe the balance wasn't quite right at the start but, as the game went on, we tampered with it a bit.
'Then we did get it right but, it's funny, not until we go down to 10-men do we up the spirit and then we kick into gear and then there was a game on. From almost losing it, Jake'.
Harvey praised substitute Hughes' impact, and felt he played an important role in the win. 'Connor has that ability. He's got good legs and he can score goals,' Harvey added. 'It was a time when we were down to 10-men and we needed those legs to get us from end of the pitch to the other, and Connor provided that, he came up with the goods, got a goal, which is terrific. I'm pleased for him'".
According to
FA
, Alty Youth's next fixture is on Sunday, 3 April at home to Skelmersdale United Youth.
Altrincham's BTEC Education team played on the J Davidson Stadium pitch last Wednesday and defeated Crewe Alexandra 2-1. The FA has the updated league table for The Football Conference Youth Alliance
On Wednesday 30 March, the lads are away to FC United of Manchester.
Next Saturday, Alty travel to Aggbrough, from where the
Worcester News
says that "Relegation-battling Kidderminster Harriers look set to be without striker Arthur Gnahoua after he injured his ankle in Saturday 1-1 draw at Woking. The French striker had to come off at the end of the first half after he took a knock and he will miss tomorrow's home clash against Tranmere Rovers. Kidderminster will be looking to build on Saturday's battling display in which they came from behind to earn a point... James McQuilkin's third goal in two games ensured a share of the spoils".
---
27 March 2016
Altrincham threw away a potential three-point haul against a side which played with ten men from the 52nd minute, with a poor performance at The Shay...
Match report here
FC Halifax Town
report that"Connor Hughes proved that a game of football can change in seconds when he slotted home the winner despite a red card to James Bolton, as Town beat Altrincham 1-0.
Bolton was sent off for a last-man foul just before the hour mark, leaving Halifax with a potentially troublesome half an hour ahead. They almost went behind when Jake Hibbs cleared off the line from Josh Ginnelly, before Hughes went straight up the other end and scored 15 seconds later.
Michael Salisbury also refereed Jim Harvey's first game in charge, a game that Town won 4-1 despite being down to 10 men, though nobody would have predicted that was to be repeated after a drab first 45...
Jim Harvey made just one change with Sam Walker missing out, Waide Fairhurst replacing him for a more conventional 4-4-2 formation. The visitors had the better of the opening exchanges...
It was a slow start by both sides, neither side giving too much away, though Town were looking dangerous down the left through Josh MacDonald. Harvey was dealt a huge blow midway through the first half with Matty Brown forced off the field, Jake Hibbs replacing him. That meant a formation reshuffle, with James Bolton slotting into the middle and Kevin Roberts to the right.
It took half an hour for the Shaymen to send anything towards Tim Deasy's goal... Town performed far better at the end of the first 45...
Bolton, who was on England C duty in the week, was forced into a foul on Damian Reeves right on the edge of the box, and with nobody else around the referee was forced to show Bolton the red card. Altrincham couldn't take advantage from the free-kick...
Johnson was called into action again to deny Ginnelly, with the game livening up following the red card. The introduction of Michael Rankine gave the Robins another dimension going forward, with Town's makeshift back line put under real pressure against the extra man.
But if you thought the tempo was high then, it went up a notch with 20 to play as Town took the lead after a remarkable 20 second spell. Ginnelly was played through but after passing beyond Johnson, Hibbs somehow got back to clear off the line when a goal looked inevitable. And not even 20 seconds later, his hard work was justified when the 10 men took the lead against all expectations. Connor Hughes was played through by James and slotted underneath Deasy to leave The Shay rocking.
Town didn't look like they were a man short after the red card, with Altrincham offering very little in terms of attacks...
Jake Moult had a big chance to level from a corner, but fired high into back of the stand after controlling on his chest. Moult and his side were throwing everything forward to desperately try and claim something from the game, Reeves almost levelling from six yards only to see his touch go inches wide".
Saturday 26th March:
Att: 2020 Chester FC v Barrow
1367 Dover Athletic v Torquay United
1747 FC Halifax Town v Altrincham
4581 Grimsby Town v Wrexham
983 Southport v Guiseley
1730 Woking v Kidderminster Harriers
Fri. 1 April:
Cheltenham Town v Grimsby Town BT SPORT 7.45pm
Sat. 2 April:
Aldershot Town v Barrow
Bromley v Lincoln City
Chester FC v Boreham Wood
Dover Athletic v FC Halifax Town
Eastleigh v Guiseley
Forest Green Rovers v Wrexham
Gateshead v Torquay United
Kidderminster Harriers v Altrincham
Macclesfield Town v Braintree Town
Southport v Woking
Tranmere Rovers v Welling United
---
26 March 2016
Sat 26 March
FC Halifax Town 1-0 Altrincham
Chester FC 1-2 Barrow
Dover Athletic 5-0 Torquay United
Grimsby Town 1-0 Wrexham
Southport 2-0 Guiseley
Woking 1-1 Kidderminster Harriers
Alty's next away game is the televised match at FC Halifax Town on Saturday, 26 March, when kick off is at 12.45pm. TASC is providing supporters' transport, details of which are
here
.
There is all the more reason to go to the match and support Altrincham as the Shaymen have confirmed that admission prices on Saturday have been reduced. Prices are now: £15 for adults, £12 for concessionaries, £5 for under-16s and £1 for under-12s.
And, don't forget that if you cannot get to The Shay, the game (k.o. 12.45pm) is being shown live on BT Sport and will be on the screens in the Community Sports Hall where Richie Bentley's food offering (below) is an added inducement...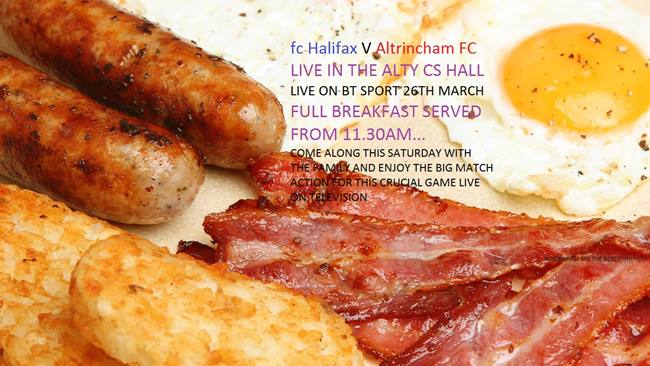 Mike Garnett's records show the historical statistics of Altrincham games with FC Halifax Town...
At home: P4-W1-D2-L1-F4-A4
Away: P4-W3-D0-L1-F13-A11
All: P8-W4-D2-L2-F17-A15
The Halifax Courier says that "FC Halifax Town and Altrincham go head-to-head in a relegation six-pointer on Saturday (12.45pm) in front of the BT Sport cameras. The Shaymen are one point behind Altrincham in the table so will move above them if they win.
Town beat them 3-1 in the return fixture at Moss Lane and face a trip to Barrow on Bank Holiday Monday. Altrincham are under the temporary charge of former Halifax striker Neil Tolson, who is being assisted by ex-Town defender Matt Doughty. They secured their first win in nine games last time out by beating Aldershot 4-0, which was only their second win since November.
Altrincham's last away win in the league was a 3-1 victory at Bromley back on November 14, with only one win in their last 10 away games. They have kept just one clean sheet away from home all season, with only three teams conceding more on the road than them in the Conference. Michael Rankine is Altrincham's top scorer with 10 goals, but only has one in his last five matches. [He has missed the last couple of matches through injury].
Only Boreham Wood have won fewer home games than Halifax in the division, but only Welling have scored fewer away goals than Altrincham. Halifax have not won at The Shay since beating Grimsby 4-2 on February 20 and have the worst defensive record on their own patch in the National League."
FC Halifax Town report that "The Shaymen come in to the game on the back of a 2-2 draw against Nantwich Town and booking themselves a place in the FA Trophy final... Saturday's game against 20th placed Altrincham is a huge game for both clubs...
'If you could tell me that I was safe, that is my goal. I have to keep the club up. Now that we have achieved Wembley, that's for everyone to enjoy but we need to focus on the league results. But what getting to Wembley will do is fill the team with confidence and belief' said Jim Harvey...
The Shaymen have had a free week for fixtures and a full week of training, and Harvey believes the squad will be ready to go against Altrincham. 'We are in a good position and we are ready to take the game on. We have a free week now and that gives us the chance to sharpen up in training and work on one or two things'. After the game on Saturday there were great scenes at the Shay and Harvey would like to see more of the same in the upcoming weeks. 'It was brilliant; we would like that every week. We will probably need that every week to climb the table'" said the Shaymen's manager.
Meanwhile "FC Halifax Town forward Shaquille McDonald is proud of the way the side have turned their form around under Jim Harvey and hopes they can finish the season on a high... 'It was a bad start to the season but I think the lads have just stepped up since I've come in, in September. We've gone on an unbelievable run'...
McDonald, who has this week been on a mid-season camp in Portugal with Derby County Under-21s, also spoke on the terms of his loan deal. 'We've sorted the loan deals out already. Me and Sam Johnson can play that game [Trophy Final] and we sorted that out back at the quarter-final. I'm here until the end of the season with league games and because it's out of season in May, I'll still be here and can play the game.' McDonald played a part in Derby's 2-0 victory over Portugese giants Sporting Lisbon".
The
National League
confirms that "As a mark of respect to those that lost their lives in Brussels earlier this week, all clubs in the National League will observe a minute's silence ahead of all matches held on Saturday, 26th March 2016. The National League sends its condolences to all the relatives, friends and loved ones of those who lost their lives in such tragic circumstances."
Congratulations go to Sarah and Dan Rowley-Jones on the birth this week of their first child, a daughter, who is to be called Chloe Anna Rowley-Jones. As well as the proud parents, grandparents Grahame and Karen Rowley, and Phil Jones are all also reported to be doing well! Baby Chloe's first Alty match will be on Monday, at home to Southport.
NL Pitchero
reports that "Worcester City have added another striker to their squad... with the signing of experienced centre forward Kyle Perry from rivals Hednesford Town. The 30-year-old has scored seven times for the Pitmen after joining from Altrincham last summer.... The player goes straight into the squad for Saturday's fixture at home to leaders Solihull Moors. The transfer agreement includes a clause that Kyle will not be named in City's squad for Monday's match at Keys Park" [against Hednesford].
In the
Gloucester Citizen
we learn that "Manager Ady Pennock refused to speak to the media after Forest Green were held to a 0-0 draw by Aldershot Town at the New Lawn today. It was the second home game in a row that Rovers have failed to find the net following their 0-0 draw against Grimsby Town earlier this month and left them trailing National League leaders Cheltenham Town by three points.
Rovers lacked ideas and creativity and it could have been worse if it wasn't for some fine saves in the first half by Steve Arnold, who was able to spare some time to give his thoughts after the game. 'We got a point and a clean sheet but it's not ideal when you're at home', said Arnold. 'We started very well, we had a few chances in the first half that, perhaps, we should have put away but we didn't and, as the game went on, they sat back and made it harder for us.
'On another day maybe we would've scored two or three but it didn't happen today'.
Arnold... said, 'Every game's a winnable game now for both teams and we've got to go there and put things right and I'm confident the boys, as soon as we score, the floodgates are going to open. We go on now, we've got six games and we'll need to win every game to give ourselves hope'".
Meanwhile, the Chester Chronicle reports that "Chester FC boss Steve Burr thinks three more wins will be enough to keep his side in the National League. The Blues will be out to erase memories of last weekend's cross-border derby defeat to Wrexham when Barrow visit the Lookers Vauxhall Stadium on Saturday.
Chester, who have a six point cushion over the bottom four, then travel to Guiseley on Easter Monday and two wins will probably ensure relegation is not on the agenda... Burr said, '"I would say three wins we need but obviously we want to get as many wins as we can but, with how this season has gone, there's going to be ups and downs between now and the end of the season but I believe over 50 points should be a safe target for us
'There's two tough games coming up with Barrow and Guiseley so we know how difficult it's going to be but we've got to get ourselves going again, which we will do and we'll have a right go at Barrow this weekend'. Chester will be without Ryan Astles (suspended) and Jordan Chapell (ankle) while Luke George (hamstring) is unlikely to feature despite returning to training this week. Ian Sharps will replace Astles in central defence with John Rooney and Tom Shaw in contention for midfield recalls.
Barrow, who are unbeaten in five games, have climbed 10 points clear of the relagtion places since Paul Cox replaced the sacked Darren Edmondson. Cox has been able to add to his squad with the loan signings of Ben Tomlinson and Ritchie Sutton, two players Burr was unable to lure to Chester for financial reasons, and this week brought in ex-Blues' midfielder Brad Abbott on loan from Barnsley.
'Barrow are a side that invested heavily in the squad and have aspirations of getting into the Football League and an owner with big ambitions', said Burr, whose side lost 3-2 to the Bluebirds back in October.'It didn't work out for Darren Edmondson and, probably with that change of manager, they probably felt with the money that's being spent there they needed to be higher up the table and, with the investment that's going in, I'm sure they will achieve that at some point.
'We've chased a couple of lads who have gone there on loan who we would have liked at our club but we couldn't compete with what Barrow are paying. We will get everything out of our boys and concentrate on what we can do but we know that Barrow are an experienced side and they'll be coming here with a lot of confidence and we look to bounce back'".
Meanwhile, Edmondson has a a new recruit at his new club as Guiseley report that "The club can confirm that striker Liam Dickinson has joined neighbours Bradford Park Avenue on loan for the remainder of the season. Dickinson has scored six goals in all competitions this term but will spend the rest of the campaign with Darren Edmondson's side".
According to the Leader Live "Wrexham head into a tough run of fixtures but boss Gary Mills insists his in-form side have nothing to fear and that they can win them all!
The next four games are against teams who currently sit in the top four of the National League table, starting with tomorrow's clash against third placed Grimsby Town at Blundell Park. Wrexham, who also face Cheltenham Town, Forest Green Rovers and Dover Athletic, are back in the promotion picture following a nine-game unbeaten run, which leaves the Reds three points away from the play-offs...
'It is great to be playing these sides because, as manager, I know we can go and win all those games', said Mills. 'But we can only do that if we go and perform and show the same drive, desire and work rate that we have shown in the last nine games. I don't see any reason why we are not going to do that.... And if the top sides look at it at this moment and say which team don't they want to play, I think they'd all say Wrexham. We have got to make sure we show why they are thinking that'".
Fri 25th March 2016
Att: 1321 Braintree Town v Bromley
Att: 3243 Cheltenham Town v Boreham Wood
Att: 2037 Eastleigh v Welling United
Att: 2272 Forest Green Rovers v Aldershot Town
Att: 948 Gateshead v Macclesfield Town
Att: 5366 Tranmere Rovers v Lincoln City
---
25 March 2016
Fri 25 March
Braintree Town 1-0 Bromley
Cheltenham Town 4-1 Boreham Wood
Eastleigh 0-0 Welling United
Forest Green Rovers 0-0 Aldershot Town
Gateshead 0-3 Macclesfield Town
Tranmere Rovers 3-2 Lincoln City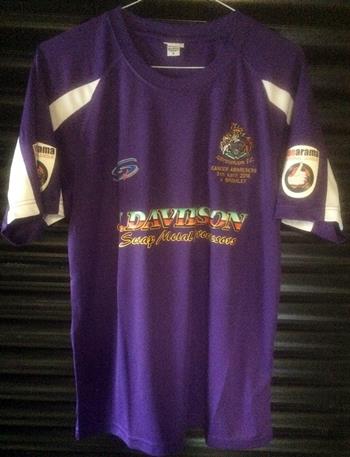 Ian Senior reports that the National League has given approval for Alty to wear their special Cancer Awareness shirts in the match against Bromley on 9th April. Bids can now be made for the players' shirts, up to a maximum of £100. So far those for Jake Moult, Damian Reeves and Josh Ginnelly have already been reserved.

Altrincham FC goalkeeping coach and owner of SKkits, Ian Senior, says that all funds generated will be donated to local cancer charities.

The shirt is pictured, right. Ian adds that "Replicas will be available at £20. Orders should be sent to Ian Senior. The players' shirts will be auctioned after the game".

The referee at Halifax for the game against Altrincham on Saturday is Mr M Salisbury. His previous matches involving Alty include Guiseley 1 Altrincham 0 on 11 August, 2015. He was also the referee who sent off Simon Richman in the 3-1 home defeat against Hednesford Town on 2 November 2013. Groundsman Neil Brown would like to thank Alty supporter James Fallon who responded to his recent appeal for a pressure washer. He is very grateful as the washer will help greatly to clean the pitch mowing machine.

Neil would also be grateful if anyone has a twin-blade sit-on rotary mower that they no longer need, which they would be kind enough to donate to the Club. This would be used to 'hoover' the debris off the pitch after matches have been played.

Should you be able to help with this request, please contact the Club on 0161 928-1045 or by e-mail. Thank you.

In the Sale & Altrincham Messenger we read that "Neil Tolson hailed a flash of Duncan Watmore-style brilliance from Josh Ginnelly that helped Altrincham seal a morale-boosting 4-0 win over Aldershot at The J.Davidson Stadium.

Fresh from extending his loan until the end of the season, Burnley winger Ginnelly further endeared himself to the home crowd with a run that started deep inside his own half and ended with a shot through the keeper's legs...

'There was a touch of Watmore about it,' said caretaker-boss Tolson. 'Josh is one of those players where, when he's on the ball, you find yourself saying "keep going, keep going". He certainly did that, and hopefully what happened with Duncan will happen with him, and we will see him playing in the Premier League very soon. He has a real rapport with the fans, but that has to be earned. He works hard, puts a tackle in and can light up a stadium.

'He is a genuine, lovely lad who listens to what you tell him and is an absolute pleasure to work with'.

Tolson called for more of the same at Halifax this weekend and revealed how former Stoke centre-back Danny Higginbotham contributed to Alty's defensive solidity against Aldershot... 'Danny came to training after phoning to offer his services. He has played under a manager who is possibly the best in the world when it comes to organising defences, in Tony Pulis, and his input was invaluable... It's not long-term or permanent, but he'll help if and when he can. It just shows how much he has the club at heart'".

The BBC reports that "Gateshead have signed midfielder Michael Onovwigun on loan from Chesterfield until the end of the season. Onovwigun, 19, has made four senior appearances for the Spirites since his July 2014 move from Brentford. He had spells at Sheffield FC and Stalybridge last term, scoring two goals in 10 games in total.

Boss Neil Aspin made the approach after a knee injury ended midfielder Matty Pattison's season. 'It's an opportunity for us to have a look at him until the end of the season', Aspin said."

Elsewhere, "Barrow have signed midfielder Brad Abbott on a month-long loan from Barnsley. Abbott, 21, progressed from the Tykes' academy to make his senior debut and has since made nine first-team appearances, including one this term. He had two loan spells at rivals Chester last season, scoring a total of two goals in 33 games".

Another player arrriving in the National League from Barnsley is "youngster Matty Templeton [who] has joined Macclesfield Town on loan. The 19-year-old came through the ranks at the Club's Academy and has impressed for both the Under 18s and Under 21s... This Season he has made three appearances off the bench for the First Team, scoring on his home debut against Blackpool back in December. Templeton will team up with the Silkmen until 30th April 2016."

Title contenders "Forest Green Rovers have signed goalkeeper Lenny Pidgeley until the end of the season. The 32-year-old had been playing in the Isthmian Premier Division with Leatherhead following his release by Newport at the end of last season. Pidgeley has made 260 appearances in spells with nine clubs, including Chelsea, Watford and Millwall [for whom he played against Alty in the FA Cup in 2007]".

Also from the BBC we learn that "Truro City have cancelled plans to share Torquay's Plainmoor ground next season while they construct their new Silver Bow stadium. Truro will stay at their Treyew Road home until Silver Bow is built, with construction due to start in October.

The club has also confirmed that ground improvements at Treyew Road to allow them to compete in the play-offs will be finished by a 31 March deadline. Truro are currently fourth in the National League South table.

'Staying in Cornwall next season was always the preferred option but the club had to be realistic and accept that this looked to be unachievable,' the club said in a statement. 'However, after a lot of hard bargaining with a number of parties, a compromise has been reached which will allow the club to remain at Treyew Road. The club would like to extend its thanks to Torquay United for the offer to share its facilities with Truro City.'

Despite plans to move into a new stadium, Truro were forced to spend £50,000 upgrading Treyew Road to meet the FA's 'Grade B' standard for grounds, or they could have been removed from the division next season. The construction of Silver Bow is expected to take eight months and be finished in around June 2017."

Also looking towards promotion, the Braintree & Witham Times reports that "Lee Harding says work is well under way to position Braintree Town for a move into the Football League 'should the unthinkable happen'.

With the team fifth in the Vanarama National League with just nine games remaining, the Iron chairman said the club had been looking at ground upgrades they would have to make if the team's amazing form on the pitch continued and promotion became a reality. While the Avanti Stadium meets National League ground requirements it will need about £500,000 of work to satisfy Football League criteria.

But Harding says they are looking at the work should it be required and has praised Braintree Council and Essex County Council for the support they are giving them. Harding said, 'There is a lot of work going on behind the scenes with a lot of correspondence and negotiations with our friends at the Football League. We know the ground, as it stands, meets the Football League's entry requirements because we would have been allowed to take part had we reached the play-offs two years ago. What was pivotal then two years ago was support from Braintree Council.

'Things that really did make a difference [were] personal support from (Council leader) Graham Butland and chief executive Nicola Beech. They wrote a very strong letter of support for the football club, which I think made the difference. 'I've spoken to both recently and they are both 110 per cent behind the club again now and that is very reassuring. As things stand at the moment, we have one eye on what we have got and it's likely that we'll have to start thinking about a planning application over the coming weeks for things we may have to do at Cressing Road should the unthinkable happen.

'As things stand at the moment, we know we meet the entry requirements. But, within the first year of membership (of the Football League), promoted clubs have to meet the entry requirements, which we do, and also their admission requirements. There are three tiers of entry requirements to get in and remain in the Football League; entry, admission and membership.

'First is toe in the door, next is foot in the door and then they say "All right, we'll let you stay". We have the toe in as we know we meet the entry requirements but the Football League are now asking how we plan to meet the admission requirements. That means here that we need more seating and more capacity. It has to go to 5,000 capacity including 1,000 seats, so it's not an enormous jump but it has to be done. We now have 4,200, with 553 seats.

'That means the size of the stand has to be increased and we'll increase the size of the Quag End (terrace) at the far end of the ground. So there is a fair amount of work to be done and we're talking to Braintree Council about that. They are helping in every way that they can with regards to planning works and we have already run our upgraded stadium plan past Essex County Council. Even though the work has not been done, they have said that, in the event that the works were done, they would support it and issue us with a safety certificate.

'That's the maximum support they can give us at this point so they have been 110 per cent behind us and Braintree Council are working hard with us to meet the requirements put in place by the Football League. We are not there yet and we don't have a guarantee that we tick all the boxes but work is ongoing and we're very hopeful...

'The improvements we are looking to make will be designed as we have in the past with the terracing at the Quag End and the Clubhouse End and seating in the main stand. It's not temporary but it is designed to be transportable. So we can take things with us to a new stadium. We probably won't be taking the portacabins or the pitch, though.'

However, the Iron chairman said a ground share with an established local Football League club, such as Cambridge United or Colchester United, wasn't an option open to the Iron. 'You can't offer up a ground share to get around ground grading issues', he said. 'It's not a way round it at Football League level. The only way that would be acceptable would be if we were in a position where we had a new stadium currently being built'".
---
24 March 2016 FC Halifax Town report that "It's back down to earth for FC Halifax Town this weekend after the jubilation of reaching the FA Trophy final last weekend, all focuses now return to the Vanarama National League as Altrincham travel to the MBi Shay Stadium.

Winter signing Waide Fairhurst admits it's important to move on and focus on picking up as many points as possible now from the remaining ten games, the first of which is in front of the BT Sport cameras. 'We need to pick points up urgently,' said Fairhurst. 'We have great ability in the squad and great depth, some players can come out and have a rest and we can still carry on pushing up the league. We are back in the relegation zone now even though we have games in hand, we have to take the momentum from the Trophy into the league and get our points and wins'.

Not only do Town have an FA Trophy final to content with, but it's important to view the final ten games of the season as cup finals, and the former Doncaster Rovers forward feels it's important to not get beat[en] in any of the remaining games. 'The final is a long way away now, and we have to concentrate on the league. It's very important to try and get maximum points from every game now, obviously if we can't win the game we can't get beat'.

It's been tough for Fairhurst since signing for the Shaymen, but now the 26-year-old can see the light at the end of the tunnel, and he admitted he's just happy to be back playing.

'For me, personally, I played in the first leg of the semi-final and got a goal and also I played against Torquay and it's great to be back playing and in and around the squad again, obviously after my injury, and for such a great club like FC Halifax Town.'

Fairhurst's goal in the first leg of the semifinal against Nantwich sent Town on their way to the victory and achieving a trip to the home of football, however he expressed he never thought it would be possible when he first signed in February.

'I wouldn't, to be fair, I never thought that but, at the end of the day, that's done and dusted and now we're going to Wembley no matter what. But now we have to focus on Saturday against Altrincham, which is very important for us at the minute. I've been at Wembley before with Doncaster and had a great time there, I have got experience there but playing at Wembley is a different story where you never know what can happen, but it's a long way away yet'"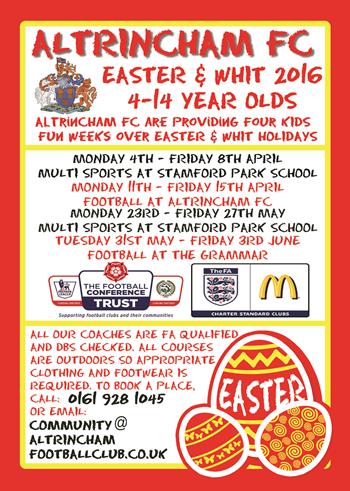 Sign up now for Altrincham FC's Easter and Whitsun activities for children; details are shown, right. NL Pitchero says that "Southport have signed former Liverpool defender Alex Whittle from AFC Fylde. Whittle started his career at Liverpool and spent eleven years at Anfield before being released in early 2011.

The left-back joined Dunfermline Athletic on a pre-contract in April 2012... Whittle was signed as a winger and made sporadic appearances, often as a substitute, but got his break in the first-team at left-back... After leaving Dunfermline at the end of the 2014/15 season, Whittle had a trial with Hartlepool United before joining AFC Fylde in September 2015."

Further south "Dover Athletic have confirmed that former captain Connor Essam has re-joined the club on loan from Leyton Orient until the end of the season. The 23-year-old centre-back left Crabble in July 2015, having joined the previous November, and made forty-two appearances for Whites last season...

In this campaign, Essam has made twenty-six first-team appearances for the "O"s. With just nine matches of the regular season remaining, plus the possibility of play-off matches, manager Chris Kinnear has moved to bring the fans' favourite back to Crabble for the exciting run-in."

The Sale & Altrincham Messenger reports that "Motorists who use the A556 and Bowdon roundabout will be facing five weeks of overnight closures after the Easter holidays.

Work on Highways England's new £192 million A556 link road will require overnight closures along the existing route and Bowdon roundabout from Tuesday March 29. The project, to build a 4.5 mile new dual carriageway between Knutsford and Bowdon, is entering a new phase with re-routing of utility services around Bowdon roundabout and traffic management re-alignment along the existing A556 between the roundabout and Bucklow Hill.

From Tuesday, the roads will close from 9pm and 5am each night, except Friday nights, when closures will begin at 9pm but end at 6am. No closures are planned on Saturday or Sunday nights... Full details and diversion information for work on specific dates will be published on the project website.
---
23 March 2016 Those unable to go to Halifax to watch the match (Saturday, k.o. 12.45pm) can follow the game live on BT Sport and support the Club locally by coming to the Community Sports Hall. The match will be shown on the screens in the Hall and club caterer, Richie Bentley, will be providing his excellent food to go along with the liquid offerings from the bar.

Richie writes... "The bar will be open on Saturday, with great prices. After the success of our previous televised games in the Community Sports Hall, which drew great crowds enjoying breakfast and footy, once again we'll be offering all the Big Match action live in the Community Sports Hall from 11.30am on Saturday.

Full breakfast will be served, with chips for the health conscious!"

The half-time bucket collection last Saturday raised £54.10, for which the Club thanks all concerned. Altrincham FC goalkeeping coach and owner of SKkits, Ian Senior, has announced that, subject to National League approval, Altrincham will wear the special "Cancer Awareness" shirt, shown right. The game, against Bromley, is on 9th April at the J Davidson Stadium. All funds generated will be donated to local cancer charities.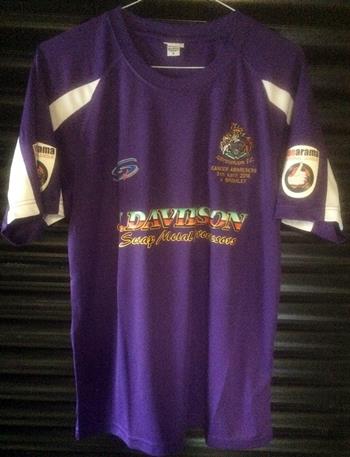 The shirt is pictured, right. Ian adds that "Replicas will be available at £20. Orders should be sent to Ian Senior. The players' shirts will be auctioned after the game".

At Southport "Andy Bishop has made his first signing with the news, after training on Tuesday afternoon, with [ex-Alty loanee] Jonathan Margetts joining the Port squad on loan from Tranmere Rovers. Andy Bishop said 'Jonathan will bring pace and an attacking style that gives us an added threat. I am delighted to have brought Jonathan into our squad and I believe he will make an impact'...

New Caretaker Manager Andy Bishop, alongside Assistants Craig Madden and senior player Gary Jones, takes charge of the Port squad for the first time at the Merseyrail Community Stadium for Saturday's Vanarama National League vital six point fixture against Guiseley."

The Macclesfield Express reports that "Macclesfield Town created their own tongue-in-cheek match highlights after being asked to pay for footage of their 0-0 draw with Boreham Wood. The Silkmen usually show their match highlights on their website, but were unimpressed by demands to fork out for a video of Vanarama National League game.

Instead they posted a video of 40-second match with fingers for players on a cardboard pitch, complete with crowd noise. As with the real game, which was watched by 306 people at Boreham's ground at Meadow Park, very little happens.

The club posted a video on its YouTube channel which begins, 'The following is a dramatic reconstruction of Boreham Wood vs. Macclesfield Town. We were told we would have to pay for use of video footage for highlights packages, so this reconstruction will help tell the story of the game.' The 'highlights' have been watched by 11,000 people so far. It is the latest stunt by the club to hit the headlines. In June last year the club mounted a spoof bid to host the football World Cup in 2026 in reaction to Fifa's current woes with corruption claims.

James Beckett, the communications manager, said, 'We were asked to pay a fee for use of match footage on our post-match highlights package so, instead of paying the fee, we decided to create our own enactment instead. The reaction has been brilliant, our fans and the wider public seem to have really enjoyed the package! Hopefully we will be able to show some actual footage of some good results over the Easter period against Gateshead and then at home to Grimsby on Easter Monday'".

More seriously, Macclesfield Town add that "Macclesfield Town's Andy Halls helped England's C team to an impressive 2-0 win over Ukraine's under 20s [on Tuesday]. With the game being played away in Ukraine and conditions reportedly freezing and snowy, many predicted a tough game for England in the build up to the game.

Despite the travelling and conditions however, England's C team put on a thoroughly professional performance... England opened the scoring in the 35th minute, through Forest Green Rovers' Kurtis Guthrie, before Kayden Jackson of Wrexham added a second only 9 minutes later... Andy Halls came on with five minutes to go, helping England maintain an impressive clean sheet and see out the win in Kiev.

England C... have won their last three games across all competitions, having previously beaten Ireland's U21's 2-1, and Estonia's U23's 4-2."

We learn from the Grimsby Telegraph that "Paul Hurst will have the final chance to bolster their Grimsby Town squad with emergency loanees for the final time on Thursday before the much-discussed system is finally scrapped. While Town aren't expected to do any last-minute deals, Hurst could always spring a surprise...

The deadline for deals is at 5pm on Thursday and once that has passed, the 'emergency' window, which is a stop-gap between the summer and winter transfer windows, will be closed for good.

Introduced in 2002/03, the window gives clubs at Football League level and below the opportunity to bring in players on 'short-term' deals between 28 and 93 days. No overseas players can be brought in during the window... The window closes on Thursday at 5pm. After that, Town will not be able to do any further business until the summer transfer window opens at the end of the season.

FIFA had threatened to scrap the window system, in order to, as the beleaguered organisation put it, 'protect the sporting integrity of competitions'. After opposition from the Football League, the game's governing body gave the system one year's grace, but it WILL be scrapped for good on Thursday. Many clubs in the lower leagues have grown dependent on the system in order to get through the season and the end of the system will come as a blow... It could mean that Town will rely more heavily on the youth system over the course of the season to cover for injuries and suspensions". 22 March 2016

Hardworking Altrincham FC groundsman Neil Brown has made the following appeal for help to supporters...

If anyone has a pressure washer/steam cleaner which they no longer want, would he or she be kind enough to donate it to the Club? This is to help with cleaning the mower.

If anyone has a twin-blade rotary mower that they no longer need, would he or she be kind enough to donate it to the Club? This would be used to 'hoover' the debris off the pitch after matches have been played.

Should you be able to help with either request, please contact the Club on 0161 928-1045 or by e-mail. Thank you.

Alty's next away game is the televised match at FC Halifax Town on Saturday, 26 March, when kick off is at 12.45pm. TASC is providing supporters' transport, details of which are here. As usual pleasse book by ringing the club on normal weekday office hours (0161 928-1045).

Those unable to go to Halifax to watch the match (k.o. 12.45pm) can follow the game live on BT Sport and support the Club locally by coming to the Community Sports Hall. The match will be shown on the screens in the Hall and club caterer, Richie Bentley, will be providing his excellent food to go along with the liquid offerings from the bar.

Richie writes... "The bar will be open on Saturday, with great prices. After the success of our previous televised games in the Community Sports Hall, which drew great crowds enjoying breakfast and footy, once again we'll be offering all the Big Match action live in the Community Sports Hall from 11.30am on Saturday.

Full breakfast will be served, with chips for the health conscious!"

And FC Halifax Town announce that they "are cooking up The Big Breakfast next Saturday when we entertain Altrincham FC in the Vanarama National League. Full English Breakfast will be served at 11am and entrance into the game.

Adults only £39.00 and Juniors only £20.00. Contact Ben Bottomley on 07967 949777 or email benbottomley@fchalifaxtown.com to book"

Alty travel to The Shay on Saturday (k.o. 12.45pm) from where the Halifax Courier tells us that manager"Jim Harvey admitted to a rollercoaster of emotions after seeing his FC Halifax Town side reach the final of the FA Trophy. The Shaymen looked set for a comfortable passage to their first ever Wembley final when Jordan Burrow put them ahead after four minutes. But by half-time they were behind after goals by Liam Shotton and [ex-Alty] Matt Bailey.

An Andy White own goal in the 90th minute finally settled the nerves at The Shay, with Harvey admitting then and only then could he relax about the result.

He said, 'We scored first and you think "Terrific, now we're on a run" but then the next half-hour was shocking. They equalised, then they go ahead. We got a [missed] penalty kick and a goal disallowed and your emotions are up and down. From virtually having won the game it looked more likely we were going to lose it. "It was highs and lows all afternoon and it wasn't until eventually we got the equaliser that we secured the result.'

Harvey praised the visitors from the Evo-Stik Premier Division, who outplayed their hosts for long periods before finally succumbing...

Harvey said, 'Although we were 2-0 up it was never over in my mind'. Harvey insists his first thoughts are still on avoiding relegation from the National League, despite being the first manager in Halifax's history to reach a Wembley final.

'Personally it doesn't mean a lot to me,' he said.'If you could tell me we would be safe in the league, then that's my goal, I've got to keep the club up. Now we've achieved Wembley, that's for everyone else to enjoy. I want to focus on getting league results. What this result will do for the team is fill them full of confidence, everybody will want to play at Wembley so they'll have to maintain their level of performance to stay in the team. From my point of view that's good, that'll help me...

'It's unbelievable. The run of results we've had and the way we've turned it around', he reflected. 'It's been a tremendous two or three months and you've got to look at the players for the effort they've put in. The defence in particular, the goals we were conceding were just ridiculous. There were people in there that didn't look like players. Now we look like a team and their performances have been unbelievable...

'The supporters weren't happy with what they'd had over the past year and things weren't good. Before I came the word was Halifax were already doomed, there was no hope for them. I believe they've restored a lot of pride to the supporters'".

Aston Villa confirm that "Lewis Kinsella is staying at Kidderminster Harriers until the end of the season. The left-back joined Harriers in February on a one month loan but this has now been extended for the remainder of the 2015/16 campaign. So far, he's made six starts for the men from Aggborough, playing 90 minutes in each and providing one assist...

Kinsella penned a new one-year claret and blue deal in June 2015 after enjoying a breakthrough 2014/15 campaign. He trained with the first team and was in and around the squad for the games against Newcastle and West Brom... He joined Villa from Arsenal as a young academy graduate in 2011 and has progressed through the youth levels".

From the Plymouth Herald we learn that "Plymouth-born midfielder Luke Young is set to give Torquay United's improving chances of avoiding the drop from the National League an even bigger boost. The 23-year-old is nearing a return to action for the Gulls after suffering a serious knee injury in pre-season... It is hoped he could play as soon as the start of next month.

The imminent return of the former Argyle midfielder comes at a time when Torquay have made an incredible turnaround in their season... The Gulls are now unbeaten in their eight games, winning five of them... Young could be back in time for the long trip to Tyneside to play Gateshead on April 2. There is one problem, though, as Nicholson explained, 'We would like to get some game-time into him and it's difficult for us to organise any friendlies at the moment'".

The National League reports that "The England C squad flew into a snow-covered Kiev with the squad showing three late changes following injuries incurred in Saturday's games. The Grimsby Town due of Omar Bogle and Jon Nolan each picked up knocks during their FA Trophy Semi-Final clash with Bognor Regis Town. They were replaced by Grimsby's Craig Clay and Braintree Town's Chez Isaac.

Bromley defender Jack Holland was travelling back from Barrow AFC when he received his call-up, replacing Dover Athletic's Sean Raggett who picked up a foot injury at Guiseley AFC".
---
21 March 2016 Alty TV has a video interview with Neil Tolson here, and...

"Here are caretaker-manager Neil Tolson's thoughts on Saturday's 4-0 win over Aldershot in a post-match interview with joint Press and Media Officer, John Edwards.

Q: The talk beforehand was we needed a win, any sort of win, so it must have been pleasing to do it so emphatically?

A: I'm delighted. I'm particularly happy with the clean sheet, because everything we have worked on in training during the week has been about not conceding goals. If we can be one of those teams not conceding and hard to beat, I'm so confident we have the players who will create and score at the other end. Are we going to win 4-0 every week? No, we are not. We know that, but it's a nice start and a confidence-builder for the lads.

Q: It must have been nice to be able to relax and feel comfortable for the last 20 minutes, knowing the points were in the bag?

A: Yeah, it's not often we can do that, and it must have felt good for our supporters. But it was a bit different for me, because I was standing there thinking 'OK, 4-0's all right but I don't want us to concede.' Was I confident with 20 minutes to go? Of course I was, but I was still thinking don't concede, keep that clean sheet. Credit to them for doing that, but I have already told them that it is a great start, and it has given us a chance, but this game has gone now. What we have to focus on is backing it up. It will count for nothing, that performance and result, if we don't back it up at Halifax next weekend and home to Southport a couple of days later. The players have shown the effort and commitment required, but we need that every week.

Q: That level of concentration was evident in the last minute, wasn't it, when an Aldershot player had a free header that flashed across the goal. We could have shrugged our shoulders and said '4-0 up, it doesn't really matter', but, instead, there was an immediate inquest into what had gone wrong.

A: I noticed that, and it was a result of something we have worked on in training. We have changed certain things in certain areas defensively because, before, there was never anyone to blame. If a goal went in, it was like a collective problem. I want a situation where individuals have to look at themselves if something goes wrong. So if, for instance, it's Jake Moult's man who has got free, he's asked a question. Or, if it's Luca Havern's, the question is 'why has your man scored, Luca?'

That's why there was a mini-inquest after that late chance. You don't sweep it under the carpet, you address it head-on. Others had done their job, but someone hadn't, and people wanted to know why. It's a collective responsibility, in as much as the players aren't going to get us out of this, I'm not, Buzz (Matt Doughty) isn't, the supporters aren't. We're going to do it together, as a collective unit, but it's also vital we have individual responsibility, with each and every one of us being accountable for our own actions. Seeing the lads wanting answers about a free header, even though we were 4-0 up, was a great sign.

Q: How different are you finding your role, after so long as assistant?

A: Decision-making is probably the biggest difference. It feels like I've gone from working 40 hours a week to 100, because I'm constantly looking at things and thinking of how improvements can be made and thinking 'is this going to be the right decision?' Jordan Sinnott's role in the team is a prime example. He has been as good a right-back as I've seen at this level this season, but I just felt it was right to get Scott Leather back in the team. That meant pushing Jordan forward to right midfield, and he has responded with two goals in as many games. You are constantly searching and pondering whether something would be the right thing to do, and I'd say that's been the biggest change for me personally.

Q: Scott has certainly justified his inclusion, hasn't he?

A: He has. He's looked solid, and his decision-making about going forward has been good, too. First and foremost, the lads across the back four are all defenders. They defend. If they can get forward as well, then fine, but their first priority is defending. That's what I want from my back four.

Q: There looked to be a foul of James Lawrie inside the area at 0-0. Should it have been a penalty and red card?

A: It could have gone either way. Had it been given, and there's a red card, they might have ended up putting men behind the ball, and it becomes a frustrating game, who knows? These days, I tend to say it is what it is and it was what it was. He didn't give it, and the main thing is we carried on and didn't let our heads drop.

Q: For the first goal, do you think James Lawrie was trying to replicate his spectacular left-foot volley against Macclesfield, here last season?

A: Possibly so, but I was just delighted for Damian Reeves that he was on hand to finish it off. I thought he put a right shift in at Barrow last week for no reward. We ask him to be the lone striker, and it's difficult battling away on your own. But what we always urge him to do is get across the front man. The Damian Reeves who scores 30 goals a season is always getting past the front man, and that's exactly what he did for his goal here.

James has tried to put it in the top corner, but Reevesie is on the shoulder, reading the situation and reacting first, and I was delighted for him.

Q: There was a touch of Duncan Watmore about the second by Josh Ginnelly, wasn't there?

A: Josh is one of those who runs with the ball, and you find yourself saying, 'Keep going, keep going'. I'm delighted for him. He's such a lovely lad. He works hard and he listens. He could quite easily have come here and thought 'I'm only going to be a few minutes at this place'. But he's not like that. He is one of the lads and is an absolute pleasure to work with. He loves being here, and that comes across in his approach to playing and the way he celebrates goals.

He is a genuine good lad and, hopefully, what has happened with Duncan will happen with him, and we will see him playing in the Premier League very soon. He has a real rapport with the fans, which is good. But you have to earn that. It isn't a given. Josh has earned it by the way he works hard, is happy to put a tackle in and can light up a stadium. It was a special goal.

Q: No doubt about the penalty for the third goal, was there?

A: None at all, it was a certain pen. The referee was in an ideal position. Would James Lawrie have got on the end of the cross? Perhaps not, but it was a clear push and a clear penalty, and it was well despatched. I've said all along to Jake that if he's comfortable taking them, then carry on.

One thing you can't do as a penalty taker is change your mind. Decide what you want to do and be confident about doing it. To be fair, Jake isn't fazed by much, and I thought he was superb today. We asked him to do something slightly different. Not reinventing the wheel, just slightly different, and he was magnificent.

Q: The fourth was a great way of rounding it off, wasn't it?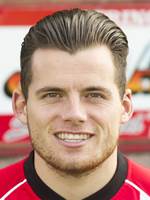 A: I was delighted for Jordan (right). It has been a difficult 10 days for everyone, but slightly more so for Jordan, so to see him score twice in as many games has been great. It was great technique as well, head over the ball after Josh played it back to him, and by the time the keeper had set himself, it was nestling in the top corner.

It was pleasing, too, that he got such a great ovation when he went off near the end. Decision making again. There were any number of players I could have taken off or left on, but I just thought there were a couple who, a week down the line, might just benefit from hearing applause ring round the ground in appreciation of their efforts today. Perhaps there was a little bit of method in the madness there.

Q: Confidence seemed to shine through generally, as the second half wore on, didn't it?

A: We kept playing, which was good. But for the last 30 minutes, I was focusing increasingly on the back four and looking for them to keep our goal intact. It was so important we didn't concede, because everything we have done in training during the week has been geared towards that. We know we are going to concede at some stage. A goal is going to go in, but we want to delay it happening as long as possible. The aim is to make sure teams have to work very, very hard for their openings.

Q: Danny Higginbotham has played a part in that, hasn't he?

A: He phoned me up last Sunday and said if he could help, he'd be happy to. I had a good chat with him, and really it was a no-brainer. He has worked alongside players of the highest calibre and under a manager who is possibly the best in the world at organising defences, in Tony Pulis. If he identified just one thing that needed putting right, it was going to be beneficial.

I'm not one of those coaches or managers who says 'no, I'm not having anyone coming in'. It was more a case of 'why not?' Me and Buzz still took most of the session, but Danny chipped in and said the odd few words. It was brilliant. It was his idea, joining us last Tuesday, something he volunteered to do. It's not going to be long term or permanent, not least because he's got so many commitments of his own. But he's a great lad who's got the club's interests at heart, and it was very much appreciated that he offered his services.

It was a case of voicing his opinion when he spotted something. For instance, there were a couple of times in the session when he noticed the centre-backs were pressurising forwards when they were in midfield areas, which was leaving space behind them that could have been exploited. If they're doing that, they can't be doing their defensive duties. If it's in midfield, it's Moulty's job. Basically, it was little things like that, and I did think we looked tighter today.

Aldershot didn't create much, and that was pleasing, because it's what we've been doing on the training pitch, and it seems to be working. Of course the opposition are going to have chances in games, but what we are saying is, let's restrict them to 25 yards or that sort of range. If someone scores a worldy from that far out, there's not much you can do, except hold your hands up. But what we want to avoid is giving away silly goals in and around the six-yard box.

Q: Finally, is that it for incomings?

A: Not necessarily. We will keep looking and keep trying. It would be foolish not to, because we can't do anything, once the deadline passes on Thursday".

In Saturday's Robins' Review, Jake Moult's "Captain's Chat" column paid tribute to Lee Sinnott...

We face a 10-game mini-season to try and safeguard our place in the Vanarama National League but, before we embark on it, I'd like to offer a few thoughts on Lee Sinnott's five years in charge at The J.Davidson Stadium.

I know I speak on behalf of all the lads in saying I won't hear a bad word against Lee, as a manager or man, and I'd like to thank him for all he's done for me personally, the group in general and Altrincham Football Club as a whole. I've spoken to the vast majority of the lads in the few days since his departure, and we all appreciate the way he went about managing us, just as as we understand his reasons for calling time on what has been a successful and rewarding spell for the club.

I chatted to him the other day, and it came across what a good man he is, as well as top manager who did a magnificent job here and advanced the club in a way that shouldn't be forgotten. Personally, I'm gutted he's gone, while fully appreciating and accepting the circumstances involved, and I'm not the only one.

Talking to the other lads, it was a common theme that his fairness and honesty with us all will be missed. There aren't too many managers out there you can say that about. In fact, it's very rare for players to talk about a manager like that, but, echoing what Shaun Densmore said, I can't speak highly enough of what he did for the team and the club.

Opinions sometimes vary, but there can be no doubting the gaffer delivered what he set out to, not least the promotion play-off win over Guiseley that, for sheer drama, excitement and elation, comfortably tops the list of great memories from his time in charge.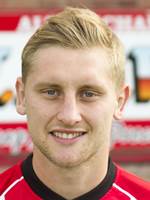 Left: Jake Moult

He always stood firm over his football beliefs and was also loyal to his players. It may just be that we let him down on one or two occasions by allowing standards to slip, but that's football. It can happen but was never meant. Now, with Lee gone and Neil Tolson taking the reins, it's essential we focus all our attention on securing the points we need to stay up.

After assuming the role of caretaker-manager, Neil has tried to implement his own ways and ideas, though sensibly it's been a case of slow and steady as you go, rather than risking disruption with anything too drastic. Neil knows all that counts is getting points on the board, and he has drummed it into us that we need to be more resolute and harder to beat. He has also brought in Matt Doughty to assist him, which, to my mind, is a great bit of recruitment.

While some new arrivals may need a bedding-in period, Buzz has hit the ground running. He has a feel for the club and knows our situation and the players, and his input can prove invaluable.

As has been the case too often of late, we really should have taken something from last Saturday's game at Barrow, and it was frustrating and annoying to come away empty-handed. After Jordan Sinnott put us in front with a brilliant free-kick, we weren't in the slightest trouble, until conceding from a corner just before half-time. When the ball lands in your six-yard box, and someone is given a free run to bundle it over the line, it's bad defending, no two ways about it. It was a rubbish goal to concede, and it didn't get much better in the second half when we let in two soft, stupid goals to leave ourselves facing a real uphill battle.

The third, so soon after the second, was particularly hard to take. If we stay strong and keep things tight at 2-1, we're in with a chance of rescuing a point, which may well have happened, given Jimmy Lawrie's great finish near the end.

Now it's on to Aldershot today, and while we want our supporters to get behind us as much as possible, we all know the emphasis is on us to give you something to shout about. As I said at the outset, it's a mini-season of 10 games, and with half of them being against sides around us, our fate is in our own hands.

We need to start on the front foot and stay there, build some momentum and instil the sort of confidence and freedom to play that comes from winning games. Three points are on the table - let's lift some of the weight off our shoulders by grabbing them.

Jake".

On Saturday, Altrincham FC Reserves won 3-0 against Daten in the J A Walton Challenge Cup at Egerton Sports Club.

On Sunday Altrincham FC Youth lost 2-0 in the league at Ashton Athletic. Next Sunday they are at home to AFC Fylde.

Last Wednesday in the Football Conference Youth Alliance, Division 'I', Altrincham won 2 - 1 against FC Halifax Town. Next week they entertain Crewe Alexandra".

According to Get Hampshire, "Aldershot boss Barry Smith said the team 'never defended well enough'.

Aldershot Town endured another chastening afternoon in Cheshire as Altrincham were allowed to earn their first win in nine games with worrying ease. In their first away trip since the 8-2 thrashing at Chester, Barry Smith accused his side of 'not putting in a challenge' as the struggling Robins cruised to victory.

'Against Torquay we saw fighting spirit and hard work, today we never got that', criticised Smith. 'The guys have to hold their hands up and say they never defended well enough'...

Altrincham had just six shots on target all afternoon but found the visiting defence in compliant mood."

There are an enjoyable twelve minutes of highlights from the Aldershot game here

Mike Ripley has his photos of the game here.

According to the Southport Visiter, "Nathan Blissett's 80th-minute breakaway tap-in goal proved a real sickener for a spirited Southport FC side on the south coast yesterday afternoon.

Following the surprise midweek resignation of manager Dino Maamria due to travel and family reasons, after less than four months in charge at Haig Avenue, Port travelled south with player Andy Bishop overseeing team affairs until the end of the season.

Football can be a very cruel game and at Plainmoor it certainly was for new caretaker manager Bishop and assistant coaches Craig Madden alongside senior player Gary Jones.

The Sandgrounders dominated this six-pointer in possession terms but failed to return with a result due to a lack of finishing... Collectively, Southport were well organised, defending stoutly until Toby Ajala in central midfield made a piercing central run before laying off left.

The resulting, zipping low centre was met by goal poacher Blissett, who ghosted in on the far post to pocket three vital survival points for the Gulls".

In the Kidderminster Shuttle, "Colin Gordon hailed Harriers' bravery as they came from behind to beat Lincoln 2-1... 'We absolutely controlled the game and showed we are a good team. Lincoln are near the play-offs but they play like many teams in this division but you have to be brave and play...

'We are in an absolute false position with this group of players, I have absolutely no doubt. If the season was to start again we'd not be in this position but we are where we are'".
---
20 March 2016

Mark Bennett of Alty TV has kindly provided a clip of Josh Ginnelly's wonder goal at Altrincham today; you can view it above...

Above left, Gavin Rathbone of GR Photography captures James Lawrie in action against Aldershot Town. Right: Mike Ripley's image shows Damian Reeves's delight at scoring the opening goal.

Altrincham lifted themselves out of the bottom four with an impressive 4-0 win over an Aldershot Town team which has now conceded twelve goals in two visits to Cheshire this month.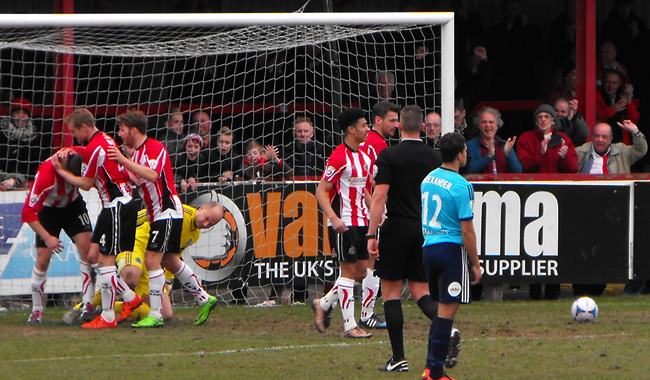 Above: Damian Reeves is mobbed by team mates after opening the scoring.

Match report here.

Neil Tolson told the NL Paper, "I am pleased for the players and so happy with a clean sheet. We have worked really hard on not conceding. We have shown today that we have the players to win games if we stop letting in silly goals.

"It is really important that we stay in this league and I am already thinking about the Halifax game [next Saturday]. If we lose that, then today's result means nothing".

After Saturday's fixtures, the BBC reported that "Altrincham moved out of the National League relegation zone with an impressive victory over Aldershot...

Possession: Home55% Away 45%

Shots: Home 10 Away 6

Shots on Target: Home 6 Away 2

Corners: Home 4 Away 3

Fouls: Home 11 Away 17"

Aldershot Town have a video of their manager Barry Smith's reaction.

The BBC reported on Saturday that "rivals Halifax and Grimsby will contest the FA Trophy final at Wembley on Sunday, 22 May.

Halifax beat seventh-tier side Nantwich Town 6-4 on aggregate to secure a first trip to Wembley in the club's history. Jordan Burrow scored both goals as they drew Saturday's semi-final second leg 2-2 in front of 3,009 fans at The Shay.

Padraig Amond scored both of Grimsby's goals as they beat Bognor Regis 2-1 in their second leg at Blundell Park to complete a 3-1 aggregate success.

Meanwhile, Hereford will meet Morpeth Town in the FA Vase final, which is to be staged on the same day. Hereford won 2-1 at Salisbury in their second leg, the Bulls going through 3-1 on aggregate, while Morpeth's Luke Carr scored an injury-time goal to earn a 4-3 aggregate win over Bowers & Pitsea."

Quote of the season comes from FGR manager Ady Pennock after their draw at Prenton Park. He told the NL Paper, "We're that little village team on top of the hill and to get a point at a club like Tranmere with all their history is fantastic".

In its weekly review, the BBC reported that "Nathan Blissett's late winner against Southport saw Torquay move out of the National League relegation zone for the first time in six months.

The striker, whose absence over the past three matches coincided with the Gulls failing to score in those games, tapped in from close range. Managerless Southport deserved a point as Louis Almond and Josh Thompson went close before Blissett's winner.

The win extended the Gulls' unbeaten run to eight league games.

Experienced striker Andy Bishop took caretaker charge of the visitors following Dino Maamria's exit earlier in the week."

The BBC adds that "Southport have confirmed striker Andy Bishop as caretaker player-manager after the departure of Dino Maamria. Bishop, 33, joined the Sandgrounders from Halifax last August and has scored twice in 20 games for the club.

He took charge for the first time against Torquay on Saturday, having named himself among the substitutes, with team-mate Gary Jones and coach Craig Madden as his assistants."

Meanwhile, Kidderminster Harriers report that "Colin Gordon says his Harriers' side 'overcame fear' in the second half of their victory at Lincoln City on Saturday.

The Aggborough outfit trailed 1-0 at the break at Sincil Bank and a fine showing saw them deservedly come from behind to win - the first time this season they've done so. James McQuilkin's brace did the damage and secured all three points for the side and, speaking after the game, Colin was full of praise for the character his players displayed.

He reflected, 'I said to them at half time that I don't know what they fear - I believe in them absolutely, so why have they got this fear about them? I know that if we played Lincoln on our training ground [during the week], we would beat them comfortably.

'But it's Saturday that counts, so the message was to get out there and make Saturday count... We controlled the game and we showed that we are a good team... We overcame fear at half time, absolute fear, and we have nothing to fear. We are standing on the precipice, we know that; it's either going to happen or its not but there is nothing to fear'".

From the National League we learn that "Cheltenham Town lost for only the fourth time this season in the Vanarama National League at the Avanti Stadium against play-off chasing Braintree Town on Saturday.

However, second-placed Forest Green Rovers weren`t able to take full advantage as they were held to a 1-1 draw at another top five contender, Tranmere Rovers. In front of a crowd of 1,138 – Braintree`s second highest of the season so far in the league – the Iron became only the fourth side to take three points off Cheltenham this season...

Forest Green's hopes of reaching the top of the table were dashed in Birkenhead as they had a man sent-off and were held by Tranmere in a feisty encounter at Prenton Park. The visitors lead through Darren Carter in the 5th minute, but Jay Harris pulled Gary Brabin's men level 3 minutes into the second half before Carter was sent-off on the hour-mark after bringing down Jay Harris, picking up a second yellow

Tranmere laid siege for the final half-an-hour but could not find a winner...

Dover Athletic are fourth after a 1-0 win at Nethermoor against a Guiseley AFC outfit who are just four points off the relegation zone... The game was all-but over for the Lions 15 minutes from time when they were reduced to ten-men when Hurst was shown a straight red card for a bad challenge on Jack Parkinson...

Wrexham moved into seventh place, three behind the top five, after avenging their defeat to neighbours Chester FC back in October with a convincing 3-0 win second cross-border derby at the Racecourse Ground. In front of a crowd of 6,459, Wrexham extended their recent good run to nine matches, although it took the dismissal of Chester`s Ryan Astles for the breakthrough to arrive in the 63rd minute.

Connor Jennings converted the resulting penalty after Astles had brought down Kayden Jackson. It was Jackson who doubled the Dragons` lead... Robbie Evans slammed home the third with 84 minutes gone...

Kidderminster's chances of escaping relegation are still slim, being eleven points behind fifth-bottom Altrincham, who also possess a game in hand.

Second-bottom Welling United are similarly looking doomed after going down to a 1-0 defeat at Park View Road against a Gateshead side who are now only three points behind fifth-placed Braintree...

Boreham Wood held on at Meadow Park against mid-table Macclesfield Town to earn a point that leaves them a point behind the safety-mark. The match ended goalless, but it was the visiting Silkmen who bossed possession and had the better of the few clear-cut chances in the game".

And, finally, Kaid Mohamed has gone from Eastleigh to Tamworth on a loan for the rest of the season.
Att: 1292 Altrincham v Aldershot Town
Att: 1123 Barrow v Bromley
Att: 306 Boreham Wood v Macclesfield Town
Att: 1138 Braintree Town v Cheltenham Town
Att: 690 Guiseley v Dover Athletic
Att: 2178 Lincoln City v Kidderminster Harriers
Att: 1783 Torquay United v Southport
Att: 5073 Tranmere Rovers v Forest Green Rovers
Att: 500 Welling United v Gateshead
Att: 6459 Wrexham v Chester FC
The EvoStik League reports that former Alty loanee James Dean has movedfrom Chorley to Ashton United (loan) and reserve Ryan Goodwin has signed forms for Stafford Rangers. Also Jeff King has moved from Ashton United to Witton Albion, whilst George Melling has gone from Nelson to Colne.
---
19 March 2016 Saturday 19th March.
Altrincham 4-0 Aldershot Town
Barrow 1-1 Bromley
Boreham Wood 0-0 Macclesfield Town
Braintree Town 1-0 Cheltenham Town
Guiseley 0-1 Dover Athletic
Lincoln City 1-2 Kidderminster Harriers
Torquay United 1-0 Southport
Tranmere Rovers 1-1 Forest Green Rovers
Welling United 0-1 Gateshead
Wrexham 3-0 Chester
Brian Flynn writes, "Are You Joining Our 'Football Buster' game?

The second 'Football Buster' game is now up & running and 'Number 23' has taken an early lead with 9 goals on the board.

Full details of current individual standings can be seen here. Remember that you can join at any time, as you will inherit the goals scored by your two teams since the start of the game.

Details of how to join this game are as follows:-
1.Entry is just £5 per game and 40% of funds raised go to the winner.
2. Register to choose 2 lucky numbers and get 2 teams from The Premier League, Championship and Football League. Registration is via an SSL secure payment gateway.
3. Goals scored by your 2 teams are tallied daily, from all league games.
4. The Football Buster Player League updates daily for our game. Land exactly on 21 goals to win, bust and drop to the bottom, but remain in the game.
5. You can join at ANYTIME - each of your 2 lucky numbers allocates a team to you and the goals scored by those 2 teams are backdated immediately from the start of the game, to give you a league position and join in.
6. Winnings are paid directly by the club to you.
You can join online here.

Go to the 'HOW TO PLAY' tab and register via the 'REGISTRATION' button. Join the game via the 'GAME ID NUMBER' button (Our Game ID is 515). You will need to deposit a minimum of £10 (which allows entry to 2 games).

You will receive an email confirming that you have joined the game and advising you of your 2 teams, generated by the lucky numbers that you have chosen. If you have any problems, please call Nathan Griffin for help on 07595 520449.

Good luck... Have fun playing Football Buster and help support the mighty Alty!"

Brian Flynn reminds that tickets for the Altrincham FC Easter Draw for 2016 are now available...

"Tickets will be on sale at Saturday's game for the Altrincham Football Club 'Easter' Draw 2016, for which the prizes are as follows:-
Amazon Fire 7 Tablet Computer
The Complete James Bond DVD Box Set
Hudl 2 Tablet Computer
Multi-Function Printer/Scanner
Any item from the Altrincham F.C. Merchandise/Clothing Range
Amazon Fire TV Stick
2 Tickets for an England International Match at Wembley Stadium
Matchday Hospitality for 4 People at an Altrincham F.C. Home game & a signed home shirt.
Dolce & Gabbana, The One, for Men, Eau de Toilette.
Four Ball Round of Golf at Davyhulme Golf Club
PLUS MANY MORE!
Tickets are 50p each or a book of four for £2. The draw will take place on Easter Monday (March 28th) 2016 in the Community Sports Hall after the game with Southport".

As announced on Friday afternoon, Altrincham have acquired the services, on loan, of Jimmy Phillips. His parent club, Gateshead confirm that "Phillips, 26, has just completed a month-long spell with another Vanarama National League side, Macclesfield Town, where he made three appearances.

He joined the Heed from Burton Albion last summer, and struck one of his two goals for the club against the Robins at the International Stadium in October. Phillips could feature for Altrincham against Aldershot Town at Moss Lane

The Southport Visiter reports that "Everton have revealed plans to build a mini-stadium for the club's academy teams, meaning the Toffees' Under-21 side would be moving away from Southport FC's Merseyrail Community Stadium.

The Premier League side have encountered difficulties with the pitch at the home of the non-league Sandgrounders and now plan to have their own purpose-built facilities in the near future. The new mini-stadium is the next stage of a planned re-vamp of Everton's Finch Farm training complex in Halewood, with a new 'recuperation block' also in the offing."
---
18 March 2016 Altrincham FC welcomes Gateshead winger James (Jimmy) Phillips to the J. Davidson Stadium on loan till the end of the current season. Jimmy (born 20 September 1989) has recently been on loan at Macclesfield.

He has made more than 120 appearances in the Football League for Burton Albion, after he had started his career with Stoke City. The Potters loaned him to Alfreton Town and Stafford Rangers before his release from the Britannia Stadium in summer 2009. It was then that he joined Burton.

In March 2014 he had another loan spell with Alfreton Town, in the Conference. In summer 2015 he signed for Gateshead and in February 2016, he went to Macclesfield Town on loan.

Also signing National League forms for Altrincham is youth team amd Alty Reserves' graduate Tom Westall. Tom currently plays at left-back for the Reserves but formerly operated on the wing for Altrincham's youth team. Tom has impressed caretaker manager Neil Tolson in training, having made his first-team debut earlier this year in the Cheshire Senior Cup.

Altrincham winger, George Bowerman (24) has moved to Stourbridge for the rest of the 2015-16 season, on loan. George recently completed a loan to AFC Telford United during which he also had trials in the USA.

He made an explosive start to his Alty career in August 2015, netting in three successive matches but, since mid-September, he has largely started from the substitutes' bench. In all, George has made 32 appearances this season, 17 from the bench, and netted four goals for The Robins.

TASC would like to remind all supporters that the 'Question of Sport Quiz Night' will be taking place in the Community Sports Hall after Saturday's home game with Aldershot.

Based on the popular BBC Quiz the round include, Guess the Year, Mystery Guest, the Picture Board and One Minute rounds and What Happened Next? Entry is open to all, and there is no limit on the number of team members.

The entry fee on the night is £6.00 which includes food and we hope to see as many supporters as possible supporting the event.

Mike Garnett provides the historical record between Altrincham and Aldershot Town...
Home: P4-W2-D1-L1-F7-A3
Away: P6-W2-D1-L3-F6-8
All: P10-W4-D2-L4-F13-A11
There is a video preview of Saturday's match at Altrincham with the Aldershot Town manager, Barry Smith. It can be seen here.

Aldershot Town report that "Town bounced back from their drubbing at Chester the previous week with a battling goalless home draw against Torquay United last Saturday. Results elsewhere saw them drop to 15th in the table as they look to end a three-game winless streak with a trip to relegation-threatened Altrincham this weekend. BBC Surrey's Gavin Denison previews the action.

Defensive solidity and organisation, rather than gung-ho adventure, was always going to be the order of the day at the EBB Stadium at the weekend... The recent defensive record of Barry Smith's side highlights the inconsistent nature of their campaign. The clean sheet at the weekend was their fifth in their last eight games, but they've conceded thirteen goals in the other three outings, including the eight at Chester. That also relates to their away form as well, which is the eleventh-best in the division, but quite lop-sided over the course of the season. Their first ten league games away from the EBB Stadium saw five wins and seventeen points, whilst the next nine have garnered two wins, six defeats and seven points. Only Barrow and Bromley (both 39) have conceded more away goals in 2015-16 than Aldershot Town's 36...

Altrincham... They're struggling this season, however, sitting 22nd with 35 points from their 36 league games. They haven't won any of their last eight league games (five draws, three defeats) since a 3-1 home win over Woking at the end of January, whilst they've only managed four points out of a possible eighteen at Moss Lane since the win over Woking. Only Torquay United, Barrow and FC Halifax Town have conceded more than Altrincham's 61 league goals in 2015-16, with their last sextet of league fixtures seeing them ship thirteen goals...

Unsurprisingly, Barry Smith made five changes from the side that started against Chester at the weekend. Jack Saville (making his first start since 5 December) and Tom Richards (his first start since the loss at Woking on 2 January) came into the back four in place of Joe Oastler and Sean McGinty, with both contributing to a disciplined and solid defensive display. Wingers Dan Walker and Rhys Browne, plus central midfielder Jim Stevenson, were dropped to the bench, along with McGinty, with Alfie Pavey, Nathan Ralph and Sam Hatton returning to the starting eleven. Aldershot Town struggled to create chances against Torquay United, so Smith may make changes to his front six this weekend.

The Shots boss will be without Damon Lathrope, who suffered a fractured foot last month, for the rest of the campaign, whilst the trip to Altrincham may come a week too soon for top scorer Charlie Walker, who's missed the last three games with an ankle problem. Joe Oastler picked up a knee injury at Chester and was due to be assessed further this week...

Arguably, Sinnott's most important summer capture was the former Aldershot Town forward Michael Rankine (seven goals in 58 games between 2011 and 2013), who is the club's top scorer with thirteen goals since joining from Gateshead... Altrincham have been hit by a number of long-term injuries this season, with Stuart Coburn (calf) and Tom Marshall (dislocated ankle and broken fibula) being out since August, whilst captain Shaun Densmore went off in the first game against Aldershot Town and hasn't played since that fixture. Rankine also missed the game at Barrow last weekend and must be considered a doubt to face his former club.

Saturday afternoon sees the eleventh meeting between Aldershot Town and Altrincham, with the Shots winning four, drawing two and losing four of the previous fixtures. Earlier this season, the hosts played out a comfortable 2-0 win at the EBB Stadium...

Saturday afternoon's referee is Robert Jones from the Wirral, who took charge of the Shots' 3-1 victory at Barrow in September. This season he's officiated in fifteen National League fixtures, showing 42 yellow cards and one red card".

The Bristol Post reports that "Bristol City's Max O'Leary has joined Kidderminster Harriers on loan. The 19-year-old goalkeeper made his Robins debut in the FA Cup against West Bromwich Albion earlier in the season after coming on for the injured Frank Fielding. The former Beechen Cliff schoolboy then started in the replay match at Ashton Gate where the Premier League side triumphed 1-0".
---
17 March 2016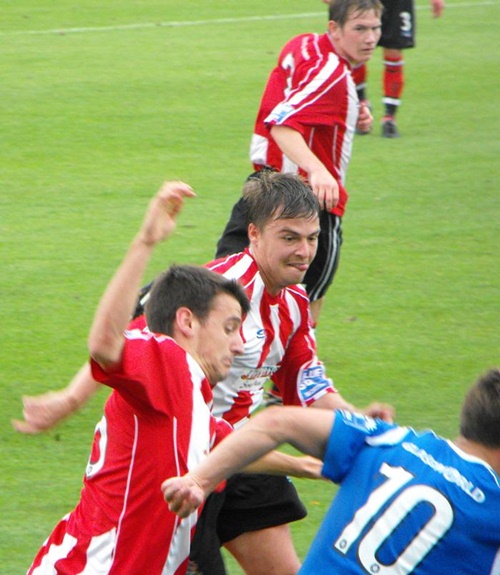 The Evostik League reports that "Leek Town have paid tribute to Ant Danylyk after the midfielder made his 400th appearance for the Blues in Saturday's 1-0 win over Ev0-Stik Northern Premier League rivals Sheffield FC.

First signed by the First Division South play-off chasers in February 2002 from Stone Dominoes and now number two to manager Lee Casswell, Danylyk quickly established himself as a midfield dynamo in exactly one hundred appearances before switching to Belper Town for the 2004-05 campaign.

After returning via Witton Albion, the 33-year-old spent the best part of three seasons with the Blues, making another 114 appearances in the process before deciding to test himself at a higher level with a move to Conference outfit Altrincham.

A popular player at Alty, he stepped up with ease over 151 games before coming 'home' to Harrison Park in December 2011 and later skipper the Blues after signing for Casswell".

Right: Anthony Danylyk (centre) in action August 2011 in a 3-0 home win over Histon in August 2011. He is seen here with Simon Richman (foreground), and Shaun Densmore (background) in the late stages of the game.

All at Altrincham FC send Anthony their congratulations on his achievement. Anthony, who will be 34 in June, opted to leave Alty just before Christmas 2011, despite having started every league game for Altrincham that season, except one, for which he had been suspended.

According to the BBC, "Boreham Wood have signed striker Harry White on loan from Barnsley for the rest of the season. The 21-year-old made two appearances for the Tykes this season in the Football League Trophy.

He went on loan to Kidderminster last month and scored three goals in seven games after making his debut against the Wood. 'Harry really impressed me with his work ethic, strength and commitment', manager Luke Garrard said. 'We all know we need goals, we all know our defence is not a problem and, with the strike force I now have fit and at my disposal, I'm hoping that they will get the goals that will fire us to survival'".

And at Aggbrough, "Kidderminster chairman Rod Brown says he wants interim head coach Colin Gordon to take the job permanently. Gordon, 53, is also the National League club's major shareholder and chief executive, and has been in charge of the first team since Dave Hockaday left the role in January.

'I think what he's done with the players he's had has been amazing,' Brown told BBC Hereford and Worcester. 'We haven't always had results, but the football's been the best I've seen.'

Harriers have struggled all season in the aftermath of major financial problems and look certain to be relegated as they are 12 points adrift of safety at the bottom of the National League table with only nine games to play. Gordon, who has stated that he does not want the head coach's job full-time, previously had a four-game spell in charge following Gary Whild's departure in September.

'Colin has a lot of interests in the football club and has a lot of skills,' Brown continued. 'He is not sure whether his skill-sets are right to be head coach, but I think he should be part of it. I can see his vision and the brand of football he wants to play and if I don't get him to do it, then second best thing would be that he's part of a team managing the club.'

Brown admitted Harriers were effectively 'bust' last November before Gordon bought a majority stake in the club but, over the last 12 months, have filled a financial 'black hole' of £300,000 and reduced the playing budget from a peak of £800,000 two seasons ago to £260,000 at the start of this term. With the club now on the way to becoming self-sufficient, he is adamant they will remain a full-time outfit.

'We will break even this year, the first time in 15 years and that's very gratifying,' Brown added. 'Full-time football can be sustainable and I've got no doubt the future is bright'".

At another club near the wrong end of the table, we learn that "Torquay United are in 'advanced' talks about a possible takeover, according to chairman David Phillips. Last summer the club was taken over by a consortium of local businessmen led by Phillips after millionaire owner Thea Bristow left Plainmoor. That takeover led to budget cuts that have seen the Gulls struggle near the bottom of the National League.

'We're talking to people and it's at a reasonably advanced stage, and that's all I can say,' Phillips said... 'When it's all gone through then the fans will be the first to know,' he added to BBC Radio Devon.

Torquay's financial problems have been well-documented this season, with the club closing its youth academy, manager Kevin Nicholson claiming that some of his players were contracts that were worth 'less than the minimum wage' and the Gulls boss having to double-up as the team's bus driver".

Meanwhile at Southport acting manager "Craig Madden started the Port's prep for next weekend's trip to Torquay this morning at the JMO Sports Park. Craig Madden will be assisted with experienced players Gary Jones and Andy Bishop."
---
16 March 2016 Altrincham dropped to 22nd after Torquay gained a point on Tuesday night...
Braintree Town 0 Gateshead 0 att.572
Dover Athletic 4 Lincoln City 1 att.743
Eastleigh 2 Bromley 0 att.1520
Guiseley 2 Grimsby Town 2 att.1843
Torquay United 0 FC Halifax Town 0 att.1664
From NL Pitchero we learn that "FC United of Manchester have made another new signing as manager Karl Marginson strengthens his squad further for the run-in to the end of the season. Experienced forward Dale Johnson has signed from Ashton United. Johnson has significant experience of National League level, with Altrincham, Hyde United, Droylsden, Halifax Town and Barrow AFC.

Johnson originally joined Ashton in November 2013 and played a major part in the club reaching the 2014 play-off final. He re-joined them in November 2014 after a short spell with Salford City.

Marginson said, 'Dale is a player that we have been aware of for some time and is a proven goalscorer in the non-League game'...

Meanwhile, defender [and former Alty Youth player] Liam Brownhill has moved in the opposite direction, joining Ashton United on loan. Brownhill has been 'Mr Dependable` for FC United at right-back since joining two years ago".

Barrow have a video interview with manager Paul Cox after they had defeated Altrincham last Saturday. The Braintree & Witham Times reports that "Braintree Town manager Danny Cowley feels he has added real quality to his squad with the loan signing of Reading defender Sean Long.

Cowley is delighted to have the 20-year-old Royals' full-back on board... He is a player that the Iron boss has had his eye on for a while and said Long would be with his team until the end of the season as he needs cover for the injured Remy Clerima.

Cowley said, 'We have Remy (Clerima) who is struggling with a groin problem and that has left us a bit light. Mitch Brundle has filled the gap and done a great job, but we just wanted more cover there. We have know about Sean for a long time as we have watched Reading's under-21s a lot... We were surprised he was available but were really pleased we could get him.

'He has already been at Luton on loan this season and has made 15 Republic of Ireland Under-21 appearances so he has good experience already'".

From Gateshead we learn that the Heed's "clash at home to Macclesfield Town will now take place on Friday March 25, with kick-off at 3pm. The game had originally been scheduled to take place on Saturday March 26."

From Torquay United we learn that "Saturday's goalless draw made it six League games unbeaten for Kevin Nicholson's side and a second successive clean sheet. There was an impressive debut for American goalkeeper, Brendan Moore, who joined the club on loan from Fleetwood Town on Friday. He will make his home bow against The Shaymen [on Tuesday night] with Dan Lavercombe ruled out with a groin problem.

Our visitors FC Halifax Town... were in FA Trophy action at the weekend, winning 4-2 at Nantwich Town... with Waide Fairhurst amongst the goalscorers. Another ex-Gull, Nicky Wroe, has been in good form for the Yorkshire club whose fortunes have improved since the experienced Jim Harvey took over at the helm... This will be their fifth away game in a row".
---
15 March 2016 News of Alty's next opponents is to be found in Get Hampshire. "Saturday's 0-0 draw with Torquay United means that Barry Smith's Shots have scored just eight goals in their last 13 games, without scoring at all in the first half during that time

They may have redemption from the Deva Demolition, but Aldershot Town still failed to deliver some long-awaited cheer to their home supporters after another under-whelming performance at the EBB Stadium.

Boss Barry Smith admitted keeping a clean sheet was his number one priority after Tuesday night's humiliating 8-2 defeat at Chester, the heaviest in the club's 25-year history.

But while the Shots comfortably shut-out the relegation-threatened Gulls with a workmanlike display, they offered precious little at the other end as they were forced to settle for a second successive goalless draw on home soil.

With mid-table respectability all but assured for this season, it could be argued that Smith's men have nothing but pride to play for in the remaining nine matches of the campaign. But, try telling that to an increasing number of disillusioned home supporters, who are becoming restless by a lack of goalmouth action at the EBB.

Smith's men have netted just eight goals in their last 13 home encounters...

Smith admitted, 'We were all very disappointed with the result on Tuesday but the players took responsibility, held their hands up and said it wasn't good enough... Changes were necessary and the team showed what they are capable of'.

Indeed, Smith's dissatisfaction from the Chester debacle led him to make five changes with Sam Hatton, Jack Saville, Tom Richards, Nathan Ralph and Pavey all coming back into the side at the expense of captain Sean McGinty, Jim Stevenson, Rhys Browne, Dan Walker and Joe Oastler, who was out with a knee injury...

Aldershot: Smith; Alexander, Beckles, Saville, Richards; Ralph (D Walker 78), Gallagher, Hatton, Rasulo (Browne 69); Lafayette, Pavey. Subs: McGinty, Stevenson, Thomas".

The Friends of AFC monthly draw for March has taken place and the winners are
*88 Alex Raynor £100
*18 Brian Topping £50
*79 Mark Dickinson £35
*87 Alex Raynor £15.
The FA incorrectly reported the Altrincham FC Ladies' results from Sunday as two 3-0 victories in a"double header" against Woolton. In fact, the results were two 3-0 defeats. The "double header" comprised two half-hour games played on the same day, as a means of dealing with a fixture backlog. There are highlights of Alty's game at Barrow here.

After the match the Sale & Altrincham Messenger confirmed that "An allegation of racist abuse against an Altrincham FC player has sparked a police investigation. It has been alleged that during yesterday's Altrincham FC V Barrow AFC match, a racist remark was directed at Altrincham FC midfielder Josh Ginnelly.

Anybody with information on any racial abuse towards @altrinchamfc player Josh Ginnelly at @BarrowAFC today, please contact us on 101 Barrow Police (@barrowpolice) March 12, 2016

It is thought that the alleged abusive remark came from the Ray Wilkie stand at the Holker Street stadium".

The BBC adds that "Altrincham caretaker boss Neil Tolson says alleged racist comments directed at midfielder Josh Ginnelly in their defeat at Barrow were 'unacceptable'.

Ginnelly claims the incident happened as he was substituted in the latter stages of their 3-2 defeat. 'It's not acceptable in the game and it's not acceptable to be spoken to in that way by anyone,' said Tolson.

The Football Association are conducting an investigation after match officials reported the 18-year-old's complaint.

'The biggest concern for me as a manager; how is Josh and how is it affecting him?', Tolson told BBC Sport...

Ginnelly... reported the incident to fourth official Natalie Aspinall and later made a statement in the presence of representatives from Altrincham and the police. Barrow chief executive Austin Straker said the club was also carrying out a review of available video footage.

'The club have no recent history of such behaviour and are appalled by the possibility that it may have occurred,' he added. 'There can be no place in any community for any form of discrimination, and every effort is made at the ground and in the local affiliations to educate fans to this end'".

Jonny Margetts, who recently completed a loan spell aiwith Altrincham, scored the only goal on Monday night as Tranmere Rovers beat Chester FC to reach the Cheshire Senior Cup FInal. Their opponents will be Stockport County. Surprising news comes from Southport where the "Club confirm that manager Dino Maamria has left his post due to family and travel reasons. We would like to thank Dino for his efforts during his successful spell in charge and wish him the best in the future."

From the BBC we learn that "Eastleigh boss Chris Todd has appointed striker Ben Strevens as his assistant to replace Shaun North... North joined the Spitfires to work alongside Todd in October 2015.

Strevens, who is serving a seven-game suspension for spitting, takes on a player-coach role...

'I'm doing it for the best of the club, myself and the players,' said Todd. Todd, who previously played for North while he was an assistant manager at Torquay United, told BBC Radio Solent, 'It just wasn't working and I decided to let him go. I thank him for his effort and time at the football club but you move on because that's football'"

Also from the BBC we learn that "Wrexham striker James Gray has resumed full training following a month on the sidelines after he was bitten by a false-widow spider.

Gray was at home when he was bitten on his right arm, but thought nothing of the spot which appeared. But the 23-year-old had to have surgery after a bite by Britain's most venomous spider left him with a gaping hole in his arm.

'At first it [appeared] a harmless sort of spot you would get', Gray said. Gray also believed he was feeling run down because of training and travel commitments with the National League side.

'I didn't think anything of it until the following Tuesday when I went to see the club doctor,' Gray told BBC Radio Wales's Jason Mohammad programme. 'Then it got worse and worse and I think that's when the doctor realised the infection was spreading to my upper arm and my whole arm was flaring up and getting red. That's when it got quite serious and I got rushed into hospital'...

He had surgery to cut out the infection and was put on an IV drip before he was released two days later. 'They cut the infection out of my arm and that why I had the hole in my arm,' Gray added. 'When I got out of theatre they said it was a spider bite. I had to keep going back to the clinic to get it packed so it would heal the correct way. Because I was getting it wrapped up and protected, that's why I couldn't have any contact with other players. The doctors frowned upon me sweating as well because the infection could come up again but I'm back now.

'The lads had a bit of a joke about it. I've been called Spiderman and all sorts'".
---
14 March 2016 "Here are caretaker-manager Neil Tolson's thoughts on Saturday's 3-2 defeat at Barrow, in a post-match interview with joint press and media officer John Edwards.

Q: We didn't look in any bother at all, prior to their equaliser on the stroke of half-time, did we?

A: That goal was particularly disappointing, because it shouldn't have stood and it came when we were down to 10 men (after Marcus Holness went off). But overall I don't think we could have asked any more of the players. Effort-wise and commitment-wise, they've put in a proper shift. It just never looked like Barrow would trouble us at all. We knew what their strength was going to be. We knew they would be a big 'ugly' side who would smash it forward. We would have to defend that, and we did. We coped with that threat really well, apart from those three occasions that cost us, particularly the second and third goals. We have to regroup now, make sure we stick together and put all our concentration into getting a positive result next week.

Q: When the equaliser went in, I said on Radio Robins it looked like Tim Deasy had been impeded. Was that your view?

A: It was a definite foul. Their lad had hold of him. Tim said he couldn't move, because the lad had hold of him. It was that clear. It's easy to stand here and have a go at the referee. You've known me long enough to know I'm not the kind of guy to do that, but, honestly, on this occasion. You've got to be careful what you say or it can land you in trouble. Let's just say he was below the standard expected at this level. I have seen him before and thought he was brilliant, but today he was below the standard required for this league. And that's putting it nicely.

Q: The positives would include both our goals, I guess?

A: Absolutely. Brilliant free-kick by Jordan (Sinnott) for the first, but that's something he does in training on a regular basis. There's been many a free-kick in games this season where he's been unlucky, but that one was perfect, and I was so pleased for him. It has been a difficult week for everyone connected with the club, but probably a bit more so for Jordan, so I'm delighted for him.

Q: He was always going to be OK to play, was he, given it's only three days since Lee left the club?

A: I spoke to him personally on Wednesday, after the announcement about Lee, and had a good conversation with him on the phone. I sat down with him at training on Thursday and even spoke to him again today, and each time he was absolutely fine and fully focused on doing his best for Altrincham. That was evident from the way he played. I thought he was superb.

Q: The one significant change you made was to bring Scott Leather in at right-back and push Jordan forward to right midfield, which is where he played when he first joined us. What was the thinking there?

A: If I'm being totally honest, Jordan is a right-back. I know that and, moving forward, I see him as a right-back. But, equally, I knew exactly how Barrow were going to play. We are not the biggest side in the world, and I just thought we needed a bit of extra height in there. Scott provided that, and I thought it worked perfectly, apart from two minutes of madness in the second half. On Jordan, I think he gives you that bit of extra quality at right-back, as opposed to midfield. He probably sees a lot more of the game from there and has a bit more time to utilise his qualities. Don't get me wrong, I'd rather be standing here saying we were terrible but won 1-0, because we need the points, but there were positives. We just need to turn these performances into positive results.

Q: The negatives would have to be their second and third goals, wouldn't they?

A: Without a doubt. We gave them too much space and didn't mark properly. We've got to defend better than that. It's no good defending well for 89 minutes. It has to be for 90. That minute we switched off has cost us three points. We've done everything right for 89 minutes, but that one minute where we've lacked concentration has punished us and made all the difference. I just couldn't see a threat from them up to that point. The way we set up was absolutely spot-on for this particular game.

We just never looked in any trouble in the first half, and even when Marcus Holness had to go off for six or seven stitches in a cut over his left eye, it didn't make any difference. He was off for 10 minutes or so, but we still looked comfortable with 10 men, until they equalise with a goal that should have been a free-kick to us. Suddenly, we go in a bit deflated, while they go in all jubilant. That was hard to take.

Q: Towards the end, you threw Luca Havern forward. What was the thinking there?

A: It was just a case of shaking the tree and seeing if something would fall for us. In hindsight, and I'm still learning and will continue to learn, I should probably have sent Sam Heathcote on. Nothing against Luca, because he's a lad who will always work hard for you and give you everything he's got, but Sam used to be a forward and has played there often enough.

Q: As you said, it has been a difficult week, with the news about Lee's departure. Are you happy with the way the players have responded?

A: The response from the lads was evident in the performance. They have given it a right go. In terms of commitment and effort, you can't ask any more. It was just concentration that let us down, and that's the message that has to be hammered home, that we have to stay switched on for the full 90 minutes. It's no good doing it from minute one to minute 67, then starting again from 69 to 90. It's too late, the damage is done.

Q: Looking at the overall picture, Neil, how confident are you we can stay up?

A: Very, because the ability is there. Even the top teams in the Premier League will tell you there'll be times when it's not going your way but you must stick to what you believe in. What we believe in is passing the ball and being a good, hard-working side. I'm very confident that, with the players we've got, we can get enough positive results to turn it round.

Q: On that subject, can you just clear up one talking point that arose from your interview on Radio Manchester? I didn't hear it, but there was some reference to not being able to guarantee an immediate change in results.

A: What I meant was you could have Jose Mourinho standing here as Altrincham manager and he wouldn't be able to guarantee you results. No one can. But one thing I can guarantee is an Altrincham side giving everything they've got in terms of effort and commitment, and I think they have shown that in abundance today. Is it going to be easy getting out of this? No. Can we do it? Yes, of course we can.

Q: Will it make a difference having Matt Doughty alongside you?

A: Yes, Buzz has been brilliant already. He's good round the dressing room and keeps everyone lively and on their toes. He's a good guy, and I'm really pleased he's here. He's a breath of fresh air round the place."

After Saturday's match the NW Evening Mail reported that "An allegation of racist abuse during Barrow AFC's home match has been made. It has been alleged that Altrincham FC midfielder Josh Ginnelly was subject to a racist remark directed at him from the Ray Wilkie stand at Holker Street yesterday.

The Evening Mail understands Mr Ginnelly made the complaint to fourth official Natalie Aspinall, who informed other match and club officials in the debrief. Investigations by Cumbria Police and Barrow AFC have been launched.

Russ Dodd, secretary at Barrow AFC, said, 'The clubs obviously will be investigating seriously. There's no place for this in football. It's something that we deplore'. Mr Dodd said there would be a 'three-pronged investigation-, with police, the club and the Football Association all looking at the alleged incident.

PC Craig Barrass, football intelligence officer for Barrow AFC, was at Holker Street on Saturday and spoke with Mr Ginnelly. PC Barrass said, 'He reported it to the officials so they have reported it to the FA. We take [allegations] seriously as does the club.' Anyone with information about the alleged incident should call police on 101, asking to speak to PC Barrass."

Successful at the weekend were the Altrincham FC Ladies. They won a "double-header" as the FA confirms they beat MSB Woolton "home" and "away" 3-0 on Sunday. They now lie 14th in the table.

However, the youth team lost their league match in the NWYA Premier, 3-0 at West Didsbury & Chorlton. They remain second but Chester are now nine points ahead of them.

The Daily Echo reports that manager "Chris Todd emerged from a week of change at Eastleigh delighted with a second win in five days and insisting he never doubted his side would re-ignite their Vanarama National League play-off charge. The Spitfires yesterday rounded off a busy few days at the Silverlake Stadium by beating Chester 1-0, a result that didn't do justice to the home team's utter dominance of their doughty visitors, writes Paul McNamara.

Assistant manager Shaun North left the club on Friday, the same day that Eastleigh initiated their move to full-time status and 24 hours before Matt Tubbs's penalty earned Todd's men their third win in four outings.

'Shaun North left the football club on Friday,' said Todd. 'It was my decision. I thank him for his enormous effort during his time here'...

On the shift to becoming a full-time operation the Eastleigh boss explained, 'We train on a Friday now, which we've never done before. But that's what we need to do. We need to be successful and you have to work hard to do that. They've done that this week and deserved the results they've had.'

Following the drama of Will Evans' 95th-minute winner against Woking last Tuesday, the Spitfires had to wait 70 minutes for their breakthrough against Chester. But while some of the 1,831 people inside the Silverlake might have been wondering if Eastleigh would live to regret passing up a series of scoring chances, Todd wasn't one of them. He said, 'They deserved that goal and I always knew it would come....A lot of things have happened at the club in the last couple of weeks and the manner in which the lads have reacted has been extremely pleasing.'

Todd was also delighted with the identity of the scorer, Tubbs, who impudently chipped a penalty down the middle of goal, after Chester defender Ryan Astles had tugged Yemi Odubade to the floor inside the box...

'It was a cheeky goal, a real Matt Tubbs goal. Not many people have the nerve to chip a penalty over the 'keeper', said Todd. Todd also suggested that Luke Coulson's second virtuoso, all-action display in a week was validation for Eastleigh's ambition in breaking the club's transfer record to recruit the versatile 22-year-old from Oxford City in January.

He said, 'We pushed the boat out to get him in, when lots and lots of people were looking at him and trying to get his signature... It just shows that this club wants to keep progressing. Bringing players like Luke Coulson to this club is massive'...

Todd also had positive words for Joe Partington, who responded to being handed the captain's armband by turning in his latest cavalier performance at right-back... Enthused Todd, 'Even when I was a coach I used to tell him that. I'm not sure he believed it'...

Todd doesn't expect key midfielder Andy Drury to recover from injury in time for Tuesday night, when Eastleigh host Bromley... while striker James Constable has only an outside chance of being fit...

Said Todd, '"I was always confident we would turn it around and we have done that. We've got three wins from four and we're starting to build again'".

According to the Telegraph & Argus when the result was Bromley 2 Guiseley 0. "Bromley substitute Bradley Goldberg came on late in the second half to transform a dull game, his brace inside the last 20 minutes meaning that the home side banked all three points...But there was no consolation for the Lions as a whole as they hover dangerously close to the drop zone...

Disappointed Guiseley boss Mark Bower said, 'It was a bobbly pitch and both sides struggled to create anything. There was nothing of note in the first half. We spoke about Dicko (Liam Dickinson) being up there on his own and talked about getting players up in support after the break but we didn't come out of the traps in the second half... We then conceded a poor goal. It was a great header to be fair but we let their lad have three or four goes at getting the cross in. They picked us off after that and it was a poor, poor performance by us'".

In the Southport Visiter we learn that "Manager Dino Maamria says Southport's home form must improve after watching them surrender a three-goal lead against second-bottom Welling United... From seemingly a position of control, Maamria's team capitulated, as Ian Gayle scored a minute from time to complete an unlikely turnaround for the visitors.

Southport remain eight points above the relegation zone and probably require at least another two wins from their remaining eight matches to be sure of survival.

'When you go 3-0 ahead, you think the game is over,' said Maamria. 'We had a chance to make it four but for some reason, we're very hesitant as a team at home. That has been happening even before I arrived and we've got to get to the bottom of that... The goals we conceded were individual errors, two from man-marking situations at corners. We got some of the basic things wrong... We've been very jittery at home and we've seen that again in the last 15 minutes...

'I've got be critical of myself and the team but at the same time we've got to be constructive in trying to address these issues'".
---
13 March 2016 In the Non-League Paper, following the departure of manager Lee Sinnott which was announced on Wednesday, chairman Grahame Rowley says "It's honestly been my privilege to have Lee at the club as our manager. He is a man of integrity and, when a man of integrity tells you it is his time to go, then you have to respect that.

'Not that I didn't ask him to stay. I tried to talk him around because we wanted to keep him here but, when someone's mind is made up, it's made up.

'He felt it was better for the club to make a change and that's a measure of the man.

'I was disappointed that certain media reported he was sacked. He certainly wasn't. Lee resigned and that is an absolute fact. It was a decision made by himself and it was regrettable from our point of view...

'Neil [Tolson] knows the club, the players and what makes us work. He's loyal and has been here a number of years.

'He will be given the chance to prove he is the man to keep us in the league. Importantly, he has Lee's backing to take it forward. I think that was important to Neil as they have worked together for a long time and are good friends.

'Usually, in this situation, when a manager leaves, his coaching staff leave with him. But we are a different kind of club and we like to look after people.

'This is an opportunity for him to carry on Lee's wonderful work. He's going to be missed at Altrincham'"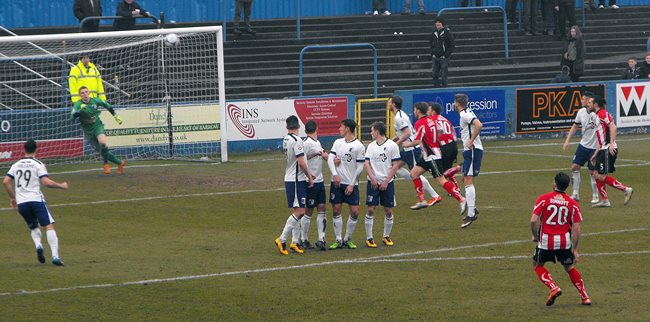 For the second time in a week, Altrincham went down to a 3-2 defeat in their quest to improve on a run which has now witnessed a single win in fourteen league games.

Match report here

Above: Jordan Sinnott's second-half freekick almost gave Alty a 2-1 lead but it was saved by keeper Joel Dixon.

In the NL Paper, Neil Tolson said of the defeat at Barrow, "Effort-wise and performance-wise, they [the Alty players] put in a proper shift and I honestly thought they [Barrow] never looked like they would trouble us.

"We knew they would be a big, 'ugly' side who would smash the ball forward and we had to defend. We defended really well apart from on four occasions and on three of those they scored.

"We've got to regroup now, stay together and get a positive result next week".

The NW Evening Mail reports on Barrow v Altrincham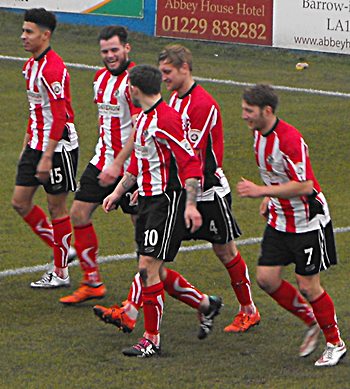 Right: Jordan Sinnott smiles broadly after netting his first goal of the season, a superb freekick, to put Alty ahead at Holker Street.

"Barrow AFC made it four games unbeaten as they overcame a sluggish start to defeat Altrincham at Holker Street... improving in the second half after the introduction of Alex-Ray Harvey.

Altrincham took the lead 19 minutes in after Andy Parry brought down one of the visitors on the 18-yard line as he ran across field. It proved a key foul as Jordan Sinnott fired it in right-footed over the wall and beyond Joel Dixon in the Barrow goal before he had a chance to react...

The Robins were within inches of being two up as a Joshua Ginnelly corner was headed down by Gianluca Havern to Scott Leather, who reacted instinctively and redirected the ball on to the post from three yards out.

Cook headed a Jordan Williams cross back across goal and wide of the far post for the home side and Williams was the man who helped set up the equaliser.

With the visitors down to 10 men as Marcus Holness received treatment to a cut on his head, Williams...shot again, from 18 yards, looping his effort near-perfectly and forcing the retreating Tim Deasy to stretch and tip the ball over for a corner.

Deasy was not so good from Williams' corner, failing to take it as it came across his line and watching as Livesey came in and poked home near the far post.

Dixon denied Sinnott a second goal early in the second half, getting across his goal to turn a free-kick from a similar position round the post as it looked to be sneaking in.

Barrow looked better for the most part after the introduction of Alex-Ray Harvey in midfield and they went ahead as Cook was played in 30 yards from goal. He held off three defenders with his strength and worked into the area before slotting past Deasy from 15 yards with aplomb.

Deasy kept his side in the game with a superb double save just minutes later... But he could only parry an effort from the same man minutes later and it looped up to Tomlinson, who headed home at the far post.

That could have been it, but the Robins flew back into the tie as James Lawrie fired home a stunning effort across the face of goal and beyond Dixon for the game's third goal in eight minutes.

After the flurry of scoring, the game settled, though Altrincham became more aggravated towards the officials and there was certainly bite".

After the game the local police revealed they were investigating alleged racial abuse from the crowd of Alty's Josh Ginnelly which may have been a factor in some of the behviour on the pitch.

If you want cheering up after Saturday's defeat, look at the Football Webpages prediction of the final table for the National League. Saturday 19th March.
Altrincham v Aldershot Town
Barrow v Bromley
Boreham Wood v Macclesfield Town
Braintree Town v Cheltenham Town
Guiseley v Dover Athletic
Lincoln City v Kidderminster Harriers
Torquay United v Southport
Tranmere Rovers v Forest Green Rovers
Welling United v Gateshead
Wrexham v Chester k.o. 2pm
FAT SemiFinal 1st Leg
Nantwich Town 2-4 FC Halifax Town (Att 2078)
Bognor Regis Town 0 - 1 Grimsby Town (Att 2629)
Saturday 12 March.
Att: 1771 Aldershot Town v Torquay United
Att: 1019 Barrow v Altrincham
Att: 1044 Bromley v Guiseley
Att: 2951 Cheltenham Town v Woking
Att: 1460 Dover Athletic v Tranmere Rovers
Att: 1831 Eastleigh v Chester FC
Att: 887 Gateshead v Forest Green Rovers
Att: 1676 Macclesfield Town v Lincoln City
Att: 746 Southport v Welling United
Att: 3470 Wrexham v Boreham Wood
---
12 March 2016 Saturday 12 March
Aldershot Town 0-0 Torquay United
Barrow 3-2 Altrincham
Bromley 2-0 Guiseley
Cheltenham Town 4-0 Woking
Dover Athletic 0-0 Tranmere Rovers
Eastleigh 1-0 Chester FC
Gateshead 0-1 Forest Green Rovers
Macclesfield Town 1-1 Lincoln City
Southport 3-3 Welling United
Wrexham 1-0 Boreham Wood
Saturday 12 March: FA Trophy Semi Final
Nantwich Town 2-4 FC Halifax Town
Bognor Regis Town 0-1 Grimsby Town
Altrincham FC cartetaker manager Neil Tolson confirmed in a radio interview on Friday evening that he had brought in former Alty defender Matt Doughty to act as his assistant till the end of the season.

A left-back, Matt first joined Alty from Halifax Town in mid-June 2008, having been with the Shaymen since July 2004, a club he had joined from Rochdale. He had previously also played for Chester City, for whom he signed professionally when just 16.

In 2001, he had moved to Rochdale and had a trial with Southampton but a broken leg halted the prospects of a move to Hampshire. At Rochdale he made 93(+12) appearances in the League. Another broken leg sadly hampered the 5ft 8inch defender's career at The Shay but he still managed 119(+12) league appearances for the club.

Matt made his Alty league debut on 9 August 2008 and he became one of the team's most consistent players, as well as its penalty taker, but he sadly suffered cruciate ligament damage against Salisbury City in February 2010. This injury effectively ended his initial spell at Moss Lane. After leaving Altrincham, Matt joined Witton Albion before moving on, in March 2011, to Hyde.

In 2012/13, having returned to Moss Lane, Matt played regularly at left-back, as well as making some appearances on the left side of midfield. In 2013-14 Matt figured in most of the first 17 league games but, thereafter, made only sporadic appearances. A knee injury curtailed his involvement and he left the club at the end of the 2013-14 season. Altrincham appearances: 137 (+18), 6 goals

Mike Garnett provides the historical record between Altrincham and Barrow...
Home: P39-W21-D14-L4-F80-A39
Away: P35-W14-D9-L12-F54-A45
All: P74-W35-D23-L16-F134-A84
The Holker Street Newsletter includes a piece by Mark McCarthy on Barrow's recent match against Boreham Wood, "They came to spoil and frustrate, but it was the referee that managed to do that for the most part! One of most abject referee performances in some time and we looked a little leg weary for the first time in a while.

Boreham Wood played the referee well and were probably unlucky to go in at half-time scoreless after squandering two good chances.... The injury to Rowe looked serious and will be a real blow as he looks the part. I also think that was the end of Michael Donohue's month loan but hopefully that can be extended, but if we play as narrow as we did tonight again he's somewhat wasted.

This was a frustrating evening for player and supporters alike, expecting another one on Saturday when Altrincham visit us".

Alty TV has the Gateshead match highlights from last Tuesday, here. Brian Flynn writes, "Are You Joining Our 'Football Buster' game?

The second 'Football Buster' game is now up & running and 'Number 23' has taken an early lead with 9 goals on the board.

Full details of current individual standings can be seen here. Remember that you can join at any time, as you will inherit the goals scored by your two teams since the start of the game.

Details of how to join this game are as follows:-
1.Entry is just £5 per game and 40% of funds raised go to the winner.
2. Register to choose 2 lucky numbers and get 2 teams from The Premier League, Championship and Football League. Registration is via an SSL secure payment gateway.
3. Goals scored by your 2 teams are tallied daily, from all league games.
4. The Football Buster Player League updates daily for our game. Land exactly on 21 goals to win, bust and drop to the bottom, but remain in the game.
5. You can join at ANYTIME - each of your 2 lucky numbers allocates a team to you and the goals scored by those 2 teams are backdated immediately from the start of the game, to give you a league position and join in.
6. Winnings are paid directly by the club to you.
You can join online here.
Go to the 'HOW TO PLAY' tab and register via the 'REGISTRATION' button. Join the game via the 'GAME ID NUMBER' button (Our Game ID is 515). You will need to deposit a minimum of £10 (which allows entry to 2 games).
You will receive an email confirming that you have joined the game and advising you of your 2 teams, generated by the lucky numbers that you have chosen. If you have any problems, please call Nathan Griffin for help on 07595 520449.
Good luck... Have fun playing Football Buster and help support the mighty Alty!"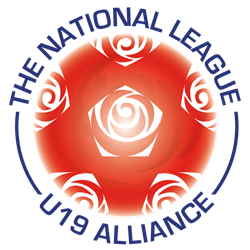 The National League has issued a Press Release... "It is announced that, as of June 23rd (AGM) this year, the Football Conference Youth Alliance will rebrand as "The National League U19 Alliance'.

This new name will bring the competition into line with its parent competition The National League with the rebrand having received the assent of The National League itself and The Football Association.

Chairman of the FCYA, Wayne Allen, commented 'The forthcoming name change will allow the competition to seize the opportunity to reframe a new set of dedicated rules as opposed to the previous Youth standardised rules which have caused a number of issues over the preceding years. It has been clear the League needs more clarity for its day to day operations and we sincerely hope the proposed key changes to our regulations will assist greatly with this.

'The League will now be able to demonstrate that with the age-group focused more at Under-19 level and with a full membership of 108 clubs for next season, not only will it determine that new applicants need to be of the highest quality, as defined by our membership criteria, it also places existing members on notice that the competition will continue to strive to enhance its unique position and reputation in the game and prevent any slippage in standards from those demanded by a national competition'".

Barry Pikesley latest offering concerns 1990s' Alty legend Danny McGoona. It can be found here.
---
11 March 2016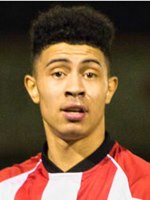 Burnley have confirmed that "Development Squad winger Josh Ginnelly (right) has extended his youth loan at Altrincham until the 30th April, subject to paperwork. The former Shrewsbury Town winger, 18, has made nine appearances for Alty, scoring three times in the process".

Josh has made a good impression at the J. Davidson Stadium and has found the net three times in his ten appearances since joining Alty on 8 January.

At least twelve volunteers are taking part in the Morrisons Great Manchester Run on 22 May 2016 - Alan Ainsley, Judy Henson, Phil Taylor, Richard Parris, Mike Ripley, Neil Tolson, Stacey Rowley, Grahame Rowley, Barry Woodyatt, Richard Impey, Steven Foster and Steven Crane. They are raising funds for the Altrincham FC Community Sports Hall to help pay off the outstanding building costs.

Please help to raise this sum by pledging sponsorship on the venture's Just Giving page.

Neil Tolson's first match as caretaker manager of Altrincham FC is at Holker Street on Saturday, when Barrow are our hosts.

From Cumbria, the NW Evening Mail reports that "Crocked Barrow AFC midfielder Niall Cowperthwaite is making a good recovery after knee surgery. The 24-year-old suffered ruptured anterior cruciate ligaments in his knee during the 2-2 draw at Woking in January, ending his season and ruling him out of action for six months.

Cowperthwaite has now undergone an operation on the knee and AFC [and ex-Alty] physio Sean Riley was able to work with him for the first time this week on his long road back to fitness. Riley reported all signs were positive for the utility man, who made 27 appearances for Barrow this season.

He said, 'He's had his operation and I've had him with me for the first time. He's doing really well and he is where I would expect him to be. Niall is happy with it and we are just working on the early stages, regaining his bending and stretching. He has come off his crutches already and is walking without them. You can still tell when he walks that he has an issue but, in a few weeks, you wouldn't know any different.

'It will be six months still. This is my 19th ACL I've had to rehab with. The same consultant has done all 19 for me and we have always had good results. He is making good progress and he is where he should be. There should be no reason why he doesn't carry on like that'".

Mike Garnett provides the historical record between Altrincham and Barrow...
Home: P39-W21-D14-L4-F80-A39
Away: P35-W14-D9-L12-F54-A45
All: P74-W35-D23-L16-F134-A84
TASC is providing transport for supporters attending Altrincham's match at Barrow on Saturday, 12 March (3pm). Times, fares and other details are on the Away Supporters' page. TASC's Paul Salt tells us that "Following the success of last year's event, TASC will be running another 'Question Of Sport' Quiz Night on Saturday 19th March 2016, following the home game with Aldershot Town.

The quiz will be based on the popular BBC programme with teams from the Players, The Management, TASC Supporters and Radio Robins/Alty TV competing against each other for bragging rights on who has the best sporting knowledge. In addition the quiz is open to all other supporters and friends teams. Entry is either £5 per person in advance or £6 on the night which includes a hotpot supper.

The quiz will start at approximately 6pm. Get your team sorted now for what promises to be a highly entertaining evening. Tickets will be on sale on Tuesday evening before the game v Gateshead from the TASC Desk which will be located in the bar area of the Community Sports Hall".

In the Halifax Courier we learn that "The FA have confirmed Town manager Jim Harvey was warned over his future conduct and fined £500 as part of his punishment for his actions after the game against Forest Green Rovers last month.

The FA ruled that Harvey's conduct after the match on February 13 was severe enough to warrant a stadium ban and a touchline ban, which were served against Southport and Bromley respectively. It was deemed that Harvey had breached FA Rule E3 and that his "language and/or behaviour after the end of the fixture amounts to improper conduct". The charge was denied and a non-personal hearing was requested. But the charge was subsequently proven, with Harvey being fined £500 and warned as to his future conduct."

NL Pitchero reports that "Striker Tom Peers has made his move from Chester FC to Hednesford Town a permanent one. The 20-year-old has spent three separate loan spells with the Pitmen this season; this followed a short time at Keys Park at the start of the last campaign."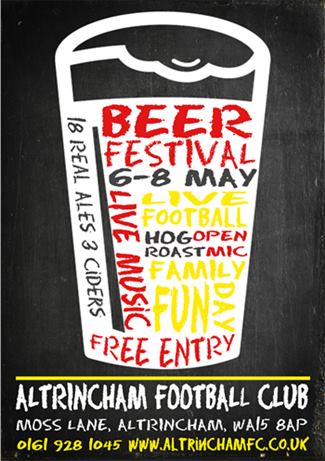 Make a date (or three) in your diary for the Alty Beer Festival... right. The NW Counties Football League conforms that "Following a meeting of the Management Committee of the North West Counties Football League last night (9 March), the decision was made to extend the league season until Saturday 7 May, for both the Premier and First Divisions...

After an unprecedented winter of wet weather, the League fixture programme has been severely impacted throughout the winter months, with some clubs being unable to complete a home fixture since October. As a result, the Management Committee decided that an extra week's fixtures would help fixture secretary John Reid complete the programme fully.

The decision to move the fixtures back a week will now mean there will be fixtures scheduled for Bank Holiday Monday, 2nd May, the proceeding midweek as well as the final Saturday of the League season.

The extension of the season means that the First Division play off matches will now be put back a week, and will take place on Wednesday 11th May to avoid clashing with the Men United Cup Final on Tuesday 10th May. The Play off final will take place on Saturday 14th May at the home of the highest placed club".
---
10 March 2016 Courtesy of John Edwards, joint Press Officer at Altrincham FC, we have "A message from skipper Shaun Densmore (below, left) on the departure of manager Lee Sinnott.

On behalf of all the players, and certainly from a personal point of view, I'd like to say how sorry I am that Lee Sinnott has left the club but grateful for all he has done. On a personal level, there's no doubt I owe him a great deal, not least for making me captain when I was still in my early 20s. Even though I'd already been at the club a while, it was a massive confidence-booster, as well as a matter of immense pride, when he turned to me and told me I was replacing Robbie Lawton as skipper.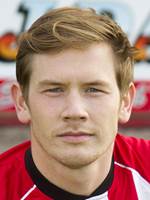 I always looked up to Robbie and admired the way he led the team, so it was somewhat out of the blue when he left and I suddenly found myself wearing the armband. It was a great show of faith by the manager, though, and it had a real character-building effect when he took me aside, explained captains didn't need to bawl and shout and that he had every confidence I could do it my way by playing my normal game and trying to lead by example.

He liked the way I played, never shirking anything whether it be in midfield or at the back. I'd like to think I've continued in the same vein, but there's no doubt in my mind that making me captain had a hugely beneficial effect in helping me develop as a player and person.

I tended to be a bit hot-headed in those early days. My disciplinary record wasn't great. I'll admit I've made a couple of mistakes since being made captain, but nothing like as many as I would have done. It changed the way I approached games and made me far more responsible. I owe you for that, Lee, and will always be grateful.

There's certainly no shortage of great memories from Lee's time in charge, the outstanding one being a play-off final against Guiseley none of us will ever forget. Again from a personal standpoint, being captain of a promotion-winning side counts as a massive honour and privilege, but to do it in such dramatic circumstances, winning it in the final few seconds of extra-time and then celebrating with thousands of our supporters, made it even more special.

There was plenty to admire about the way Lee had us playing, too, passing the ball and building attacks in a manner that was pleasing to the eye. Taking us up to the Vanarama National League and then consolidating our position in such impressive style last season was what he set out to achieve, and credit to him for that, but the hand we've been dealt this season would have scuppered the most carefully-laid plans.

If you think of long-term injuries to the likes of Stuart Coburn, Tom Marshall, myself and Nicky Clee, as well as a lengthy absence for Luca Havern, you are talking about nearly half a side and a vast amount of experience. Any side would have struggled under those circumstances, and it's impossible not to feel sorry for Lee at suffering that level of disruption.

Equally, I'm quite certain that if he wishes to continue in management, we'll see him back at the helm somewhere. I've played under Graham Heathcote and Ken McKenna, who were quite similar in terms of passion and wearing their emotions on their sleeve. Lee certainly doesn't lack passion, but he's pretty laidback as a person and a bit more analytical and methodical as a manager.

All of us found him easy to deal with, and none of us could say he was anything less than fair in his dealings with us. There were no raw deals, you knew where you stood with him. On the back of what he has done in his time as Altrincham manager, I would imagine he'll find it pretty easy to land another post, whenever he feels ready for it.

While registering appreciation for what he has done, none of us has the slightest intention of taking our eye off the ball, in terms of what needs doing now. As we head to Barrow on Saturday, Neil Tolson can count on the full support of all of us. There's a mini-season now that comprises 11 games. Plenty of points to play for, and it's up to all of us to give 100 per cent to the cause of securing enough to safeguard our place in this league.

Shaun".

Above, left: Josh Ginnelly in action against Gateshead, as seen by Mike Ripley and, right, Gavin Rathbone's camera shows Luca Havern in equally energetic action during the same game.

Match report here

"Here are Lee Sinnott's thoughts on Tuesday night's 3-2 defeat to Gateshead, in a post-match interview with joint Press and Media Officer, John Edwards.

'I thought all three goals knocked the stuffing out of us to a degree, including the third, even though it came late on when we were trying to push. No-one likes a sob story, do they? The supporters saw what they saw with the goals conceded. Did either team totally dominate? I would say not, so it's coming down to fine margins again, as we have been saying for quite a few games now. There are 11 games left, starting with an extremely tough one in Cumbria on Saturday, so we simply have to respond.

When you look at the key moments, you have to say Gateshead are riding high enough as it is in the table, without us doing their job for them in both areas. I've mentioned the goals we conceded, and, at the other end, Marcus Holness makes the most of poor defending from Gateshead with a great header, but it hits Damian Reeves on their goal-line. You make mistakes when you are on a (good) run and they don't matter, but you make them when you are finding it a bit hard and it costs you. That's football. What is the remedy? You have to work a damn sight harder, and I told them that afterwards.

There's no beating about the bush. Football is for 90-plus minutes. Lose concentration for just one minute, and you pay a heavy price. Physically and mentally, we have to work harder to turn things round in our favour. I'd say we didn't do any more or any less than Gateshead, but they have won 3-2. That's how football works sometimes, so we have to do more than Gateshead, because the breaks don't always go your way and you have to compensate for that by stepping things up an extra gear.

The first goal took a bit of the stuffing out of us for 10-15 minutes, and the second certainly did. What you have to ask yourself as a manager is whether it should be an arm round the shoulder or kick up the backside. It wasn't tea cups flying at half-time. The message was to move the ball quicker, as it was before kick-off, because when you are playing against full-time teams, and their play breaks down, they always re-organise themselves extremely quickly. You have to move the ball swiftly and sharply if you are going to find gaps and exploit them.

Their number three doubled up on Josh Ginnelly time and again, and Josh got frustrated, which is something he will learn from. He got smothered, but you have to give credit where it's due and say the work-rate to do that was first class. We were not moving the ball out quickly enough to Josh, and when it did reach him, he wasn't aggressive enough in his initial actions.

Of course I feel sorry for Tim Deasy (over the second goal), but I feel sorry for his team-mates as well. It was a lapse of concentration. Either we can pretend it's something it's not, like a mole putting its head up and diverting the ball past him, or we can say what it was, which was a lack of concentration. In that one instance, allowing concentration levels to drop cost us. To be fair, I'd say it's the most ballsy position on the pitch. You mess up and everyone sees it. A centre-forward misses a chance then sticks one away and everyone forgets about the first one. No-one forgets what a keeper does in that situation. It was a mistake, end of. Of course I feel sorry for him, as I do for his team-mates and the supporters. But let's get it right. With 11 games to go, it's not going to do me or any of us any good feeling sorry.

That's what I said to Tim afterwards. You are going to Barrow on Saturday, do you think they are going to feel sorry for you? No, no, of course they're not. It's a man's game, grow some f****** b****. I trust he'll put it out of his mind. He'll have to.

Everything is needed (to get out of the bottom four), concentration, work-rate, everything has to be at a greater level. They are working hard now, but what do you do? Say that's enough? It's clearly not enough for us at the moment, because things are not falling for us, meaning we have to work even harder to overcome that. That is the key. You make your own luck. No-one is going to give it you. Barrow are not going to give us any luck on Saturday. The players have worked hard tonight, but they have to extract even more out of themselves. That's how it has to be. Are we getting the rub of the green? No, we're not, but who wants a sob story?

We gave Gateshead the second goal. It can't be dressed up any other way, but it is the sort of thing that has happened to us all. I have done that in my playing career. I have gifted the opposition goals. It happens, and when it does, you simply have to get on with it. With 11 games to go, we either roll our sleeves up and be steely determined or suffer the consequences. To be fair to the players, they are really trying but just not getting the rub of the green. They need a win for confidence levels as much as anything, so we'll see.

On the injury front, Ryan Crowther was on the bench because he had a sore hamstring from Saturday. Josh Ginnelly jarred his knee slightly and is having a bit of ice on it, but he should be ok.

On possible new arrivals, we are looking into that and are fully aware of how long is left to bring someone in before the window shuts. Marcus Marshall* won't happen, though. We wanted him to come here, but he decided he wanted to stay and fight for his place at Grimsby. That's unfortunate, but it certainly doesn't lessen our resolve to find the right candidate to come in and help us out".

* Footnote: As Grahame Rowley wrote in Saturday's "Robins' Review", the club had hoped to sign Marcus Marshall on loan from Grimsby last week.

As reported yesterday, Altrincham FC Ladies' next game is this coming Sunday, 13th March, away at MSB Woolton LF. Kick off is 1pm and this is classed as a 'double header'. Manager Keith Edleston explains that the fixture comprises "two 60 minute games with a half hour break between games. Each game is worth three points for a win and one for a draw. The address of the ground is Admiral Park, Admiral Street, L8 8JN and we would love to see as many supporters as possible down to cheer us on." According to the National League, "Aldershot Town players and management will refund the price of admission for all supporters who attended Tuesday's 8-2 defeat at Chester FC. Manager Barry Smith apologised to fans at the final whistle, and now the entire first-team squad, including Smith and assistant-manager Chris Barker, have offered to re-imburse the travelling fans the cost of their match ticket."

Aldershot Town add that manager"Barry Smith apologised to The Shots' travelling supporters on the final whistle at the Deva Stadium last night and reiterated his apology to ShotsTV.

'I'm embarrassed by that performance,' admitted Barry after the 8-2 defeat by Chester. 'These guys have paid a lot of money to come up here and that's not a performance that we are proud of, so I went over and apologised. I take full responsibility. It was me that put that team out on the pitch and it's not one that I'm proud of. We were outclassed today and that's a sad thing to say.

'We've got to give credit to Chester for, as much as we were poor ,their movement was excellent. But defensively we were all over the place, we didn't match runners, we got done by strength and pace down the sides. If you defend like that you get everything that comes to you, you'll never have any chance in a game. It's unacceptable.

'Generally we play quite a high defensive line but you've got to react to the situation and, if it's happened once, it shouldn't happen again. But we didn't adjust and we allowed them to just keep knocking the ball down the channel and it caused us problems all night...

'At 2-1 we think we've actually got a chance in the game, because we were creating chances,' he stressed. 'Ross Lafayette is the only plus point tonight, I thought he was excellent and we took him off to give him a wee bit of respite so that he's fully fit for Saturday.'Attention immediately turned to that game, against Torquay United at the EBB Stadium, with Barry scheduling an extra training session on Wednesday to help the team bounce back in our first home game for a month.

'The boys will be in tomorrow. We'll definitely be watching that video again to make sure that they know it's not acceptable.'"
---
9 March 2016
Altrincham FC announces that "It is with regret that Altrincham Football Club have parted company with Manager Lee Sinnott after five years at the helm. Lee, the second longest serving manager in the National League, joined the club after Altrincham suffered relegation in 2011 and, after a season of consolidation, the side pushed for promotion which was eventually achieved in 2014 with a play-off win against Guiseley. Finishing 17th in our first season back in the National League was a great achievement and we looked to push on this year. Unfortunately, due to an unprecedented number of long-term injuries this has not been possible and, at present, the club find themselves in the relegation zone with 11 games to play.

Chairman Grahame Rowley said 'It has been a privilege to work with Lee, a man of integrity and honesty. I am extremely sorry to see him go, his shoes will be hard to fill. Altrincham Football Club are proud to have had him as their manager'.

Neil Tolson will act as caretaker manager for the game at Barrow on Saturday".

Altrincham slipped further into the relegation fight as they completed a run of six successive home league fixtures, none of which they have won.

Despite having more of the attacking play, Altrincham were undone by a freak goal...

Match report here

Tuesday 8 March.
Altrincham 2-3 Gateshead
Barrow 0-0 Boreham Wood
Bromley 1-0 FC Halifax Town
Chester FC 8-2 Aldershot Town
Dover Athletic 2-1 Welling United
Eastleigh 2-1 Woking
Grimsby Town 1-0 Southport
Guiseley 2-2 Tranmere Rovers
Torquay United 0-0 Braintree Town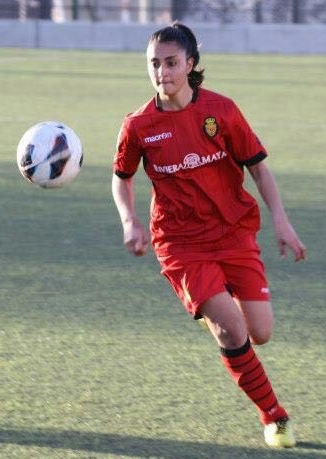 Altrincham FC Ladies' manager, Keith Edleston, informs us that "Our next game is this coming Sunday, 13th March, away at MSB Woolton LF. Kick off is 1pm and this is classed as a 'double header' due to the poor weather we have had, which has caused a major fixture pile-up. The address of the ground is Admiral Park, Admiral Street, L8 8JN and we would love to see as many supporters as possible down to cheer us on.

Also we have a new signing, Estefania Lillo Munoz, a 21 year-old Spanish girl, who has joined us while she is over here working as an au-pair and studying English. Steffi has played for Granada and Real Mallorca before coming to England and has slotted in very well with the girls and is looking forward to her debut very much. Steffi's position is as a forward and we have seen already in training her quick feet and eye for goal. Steffi's picture (right) shows her in her last game for Real Mallorca".

TASC's Paul Salt tells us that "Following the success of last year's event, TASC will be running another 'Question Of Sport' Quiz Night on Saturday 19th March 2016, following the home game with Aldershot Town.

The quiz will be based on the popular BBC programme with teams from the Players, The Management, TASC Supporters and Radio Robins/Alty TV competing against each other for bragging rights on who has the best sporting knowledge. In addition the quiz is open to all other supporters and friends teams. Entry is either £5 per person in advance or £6 on the night which includes a hotpot supper.

The quiz will start at approximately 6pm. Get your team sorted now for what promises to be a highly entertaining evening. Tickets will be on sale on Tuesday evening before the game v Gateshead from the TASC Desk which will be located in the bar area of the Community Sports Hall".

The BBC confirms that "MK Dons youngster Giorgio Rasulo has rejoined Aldershot Town on loan until the end of the season. The 19-year-old attacking midfielder made four appearances for the Shots, all as a substitute, during a month on loan towards the end of last season.

Rasulo spent two months on loan at Oldham this season and previously had a spell at Oxford United. He has so far made 15 first-team appearances for MK Dons, nine of them in the league".

According to NL Pitchero "The FA has launched an £8 million commitment to improve natural turf (grass) football pitches across the country. Over four years, The FA will implement the Pitch Improvement Programme (PIP) which will deliver improvements to more than 2,000 pitches, a central pillar of the organisation's 2015-19 Strategy for Participation and Development.

PIP will provide a range of support services to grassroots clubs, club volunteers and groundsmen including on-site evaluations with practical advice and recommendations. It will also include a range of measures to help develop the skills and knowledge of the volunteers and groundsmen including seminars and workshops. In partnership with Sport England and other governing bodies, The FA has also developed a dedicated website, where details of how clubs can access help can be found.

To support the programme The FA has appointed two industry partners, Redexim Charterhouse and Rigby Taylor who will assist in the roll out by supplying FA affiliated grassroots clubs with discounted product and materials and also support the training workshops...

In addition to the commitment to improve grass pitches, The FA has also pledged to spend £36 million on facility improvements and new developments directly through the Premier League and FA Facilities Fund managed by the Football Foundation. Further large scale funding has also been dedicated to building a series of football hubs across 25 key cities, a pilot scheme is currently being constructed in Sheffield ahead of the next grassroots football season, with discussions in progress with the Government and Premier League for similar contributions for the wider roll-out.

Kelly Simmons, FA Director for Participation and Development said, 'Last winter we asked people from across grassroots football what they felt would make playing football better. Nearly 30,000 people gave us their view, yet among the vast majority the answer was remarkably similar – supporting clubs to improve their pitches. We have committed to investing a total of £260 million in addressing the problem of poor quality facilities and improving grassroots coaching by 2019'".

8/03/16 : Stockport County v Northwich Victoria

14/03/16 : Tranmere Rovers v Chester FC
---
8 March 2016 You can follow this fixture via this website's minute by minute text updates by clicking on the icon below. Alternatively, Radio Robins' coverage of the game is outlined below as well.

Brian Flynn announces that "Radio Robins, sponsored by Ashley Mowers Garden Machinery, is providing full live commentary of Tuesday night's game at The J.Davidson Stadium. The commentators are Alex Sarwar and Simon Ellis. The match summariser is Mike Reeves.

Coverage starts at 7.35pm and you can listen to Radio Robins on the internet at http://www.radiorobins.com/

Howard Watts's "Through the Years" information is here.

Mike Garnett provides the historical record between Altrincham and Gateshead...
Home: P23-W11-D5-L7-F39-A27
Away: P22-W9-D3-L10-F26-A30
All: P45-W20-D8-L17-F65-A57
Gateshead say that their manager, "Neil Aspin has challenged his Gateshead side to take the game to the opposition on Tuesday night as they go looking for a first win on the road since mid-January... They can ill-afford another slip-up against relegation-threatened Altrincham.

Lee Sinnott's Robins are winless in their last six outings...

48 hours on from his side's defeat at Prenton Park, boss Aspin again spoke of his disbelief as two key decisions went against his side in the first-half. However, the 50-year-old is keen for the Heed to serve up the perfect tonic at Moss Lane as they aim for a first away win in six attempts. He said, 'I've watched the two incidents back, and neither of them were penalties... but now we have to move on. I would say we have to be positive on Tuesday night. We have to gamble more in terms of getting personnel forward, taking more of a risk with our full-backs.

'That's what we have to do. We have to try and pick up as many three-point hauls as possible between now and the end of the season'.

Aspin is hopeful of welcoming Gus Mafuta back into the fray at Moss Lane, the midfielder having sat out Saturday's defeat at Prenton Park because of a head injury. The participation of top scorer Ryan Bowman (knee) remains in doubt, while Adam Wrightson (shoulder), James Marwood (ankle) and Simon Ramsden (groin) will all miss out again".

Barry Pikesley's "Joy Division" from Saturday's Robins' Review can be read here. Can you spot all the allusions to Joy Division contained within it?

Details of the Vanarama Big Day Out, along with a link to the Wembley Stadium ticketing portal were published in full on this website on 3 March. Apparently, some people have been unable to locate them so, for their benefit, the details are now also available here. The above banner also takes you to that information.

Greater Manchester Police have issued the following Press Release about a former Alty player...

"A Police Community Support Officer (PCSO) will be honoured by Greater Manchester Police's Chief Constable for rescuing an 86-year-old former England footballer who was stranded for six hours while walking his dog in Bolton... Tommy Banks, who made 250 appearances for Bolton Wanderers, winning the FA Cup with Lancashire club in 1958. He went on to play in every game for England in the 1958 FIFA World Cup in Sweden. He was also club captain at Altrincham FC during his career.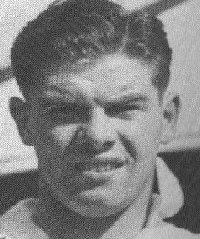 Mr Banks was reported missing at 5:30pm on Friday 12th February after he went out walking his 10-year-old Welsh border collie, Susie, before falling and becoming trapped in Blackleach Country Park. Tommy followed his dog off into a wooded area before he slipped and became stuck in the boggy undergrowth in freezing conditions.

Spotting a tree around 20 metres away, he dragged himself towards it hoping to use the branches to pull himself up, but he only managed to move 10 metres in six hours. Local PCSO Derek Thomas, who knew the layout of the park, was tied up on another job at the time but was released by his Sergeant to join the search. PCSO Thomas, who knows the FA Cup winner from his Farnworth beat, was searching the park when he saw Susie barking and shone his torch towards Tommy, who called out for help.

The former Bolton MRT (Mountain Rescue Team) Honorary Support Group Chairman found Tommy collapsed but conscious, being comforted by his dog. It then took an hour to complete his rescue by stretcher, which was carried out by Mountain Rescue, police officers and paramedics.

Tommy was taken to the Royal Bolton Hospital with hypothermia at 7.30pm and kept in overnight but has no serious injuries.

Chief Constable Ian Hopkins said, 'This is a great example of community policing and highlights the importance of our neighbourhood officers and their extensive local knowledge. Derek's dedication saved the life of a popular local character and I am delighted that Tommy is now safe and well.

'His actions that night deserve to be recognised and I am proud to be able to award him with a Chief Constable's Commendation'.

During the incident Tommy lost a handkerchief that he had kept in his shorts' pocket when he first played for England and PCSO Thomas returned to the country park days later to find it, returning it to its rightful owner. PCSO Thomas said:, 'At the end of the day, I knew that I would be able to find him. I don't know why but I just had a feeling that if I could be released from my duties I had the ability and the knowledge of the area to locate him. It's fantastic to be nominated. The best reward was seeing Tommy safe and well the next day. He's a great character and a cracking bloke.

The rescue was a brilliant team effort and I'm grateful to my colleagues for their help in getting Tommy to safety. I'm over the moon to be nominated.'

Tommy, who was a member of England's 1958 World Cup squad, said, 'Susie ran off into the woods and off over a ridge. I followed her but I slipped and couldn't get up. I saw this tree in a few yards away but I couldn't move through the undergrowth, I was physically drained. I was in there for six or seven hours.

'Then, all of a sudden, I heard Susie barking and saw this torchlight. I picked my head up, I was so relieved. It was so close but it felt a million miles away. Then they all started swarming round me with blankets. They were wonderful, absolutely marvellous. I am so grateful. They saved my life'".

All at Altrincham FC are delighted to hear of the happy outcome to this story and wish Tommy well.

Following Saturday's goalless draw with Macclefield Town, manager Lee Sinnott told the NL Paper, "This was a local derby where we cancelled each other out. Neither keeper was overworked and there rarely looked like being a goal. I really cannot sit here and say we should have won.

'There's a quarter of the season still to go. We have the players to win enough points to ensure safety but the players have go and prove it. Other clubs have had little runs and there is no reason why we cannot go on a run of our own. But we do have to increase output in the final third and turn our draws into wins'".

Macclesfield Town "captain, Paul Turnbull, believes his side did well to show their work rate and pick up a point in the 0-0 encounter away at Altrincham on Saturday. The Silkmen had their chances to snatch a win but conditions were tough on the day and Turnbull admitted that it had an impact on their ability to move the ball on the deck.

Turnbull told Silkmen Player HD, 'I thought we worked a lot harder and we've been working hard in training, the idea was to try and get the ball down but the pitch was a bit heavy so it ended up being a long ball game. We were coming for all three points, we weren't going for a draw, but coming to Altrincham and away from home, we will probably take the point... We're still going for the play-offs, all the boys still want it and we're working hard on the pitch now. We had a few games where we took our foot off the gas a bit, but I think we're getting back to where we were.'"

At Boreham Wood the club is "delighted to announce the signing of the speedy Danny Haynes on a loan deal from Ebbsfleet United until the end of the season. The experienced Haynes can operate either out in the wide positions or as a striker. Haynes made a name for himself at Ipswich Town where he came through their Academy system winning the FA Youth cup, before he clocked up 115 games in their first team over four seasons.

In 2009 Bristol City paid an undisclosed fee for his services although in 2010 he moved to Barnsley again for an undisclosed fee. Thereafter he moved back to Charlton Athletic where he was first scouted before moving to Ipswich Town.. After a season at Charlton he then signed a two year deal with Notts County in 2013 before signing for Ebbsfleet in the Summer of 2015.

On Haynes's arrival gaffer Luke Garrard said 'We wanted to sign Danny in the summer but at the time couldn't compete with the spending power of Ebbsfleet. With Anthony Jeffrey off to Forest Green imminently, this was a signing I felt that I could get over the line and the Chairman has backed me on it. I'd also like to thank the Ebbsfleet manager Daryl McMahon for his help on this and I'm hoping Danny can hit the ground running and give us an added goal threat down the sides'".

A player leaving the National League is the subject of a report from NL Pitchero which tells us that "Skelmersdale United... [have] signed midfielder Mike Brewster from Southport. The 21 year old central midfield player is joining Skelmersdale on loan until the end of the season. Locally born Mike has been full-time with both Oldham Athletic and St. Mirren before he was signed up by then Sandgrounders manager Paul Carden in the close season, he has found himself unable to grab a regular first team shirt at Haig Avenue and the move the Stormy Corner represents a good opportunity for him to reignite his career."

Reports from our next away opponents, Barrow, confirm that they "have signed 29 year old Tranmere full back Ritchie Sutton on emergency loan until the end of the season. Sutton has been at Prenton Park since leaving Mansfield last summer and has made 25 appearances this term. Paul Cox took the player to Field Mill in 2011 and the player was part of the championship winning side the next season. Sutton comes in as emergency loan cover for Niall Cowperthwaite, who had ACL reconstruction surgery last week, and will wear the number 28 shirt."

And the NW Evening Mail says that "Barrow moved seven points clear of the National League relegation zone with a comfortable victory away to fellow strugglers Boreham Wood. First-half goals from Ben Tomlinson and Andy Cook sealed the victory in which the Bluebirds never looked like losing.

Manager Paul Cox declared himself 'over the moon' at the result and was full of praise for the many fans who made the long trip south to Hertfordshire. 'The fans were absolutely magnificent today', he said. 'They gave us such fantastic vocal support and the players responded to that and put in a real shift out there'.

The Bluebirds couldn't have wished for a better start, taking the lead after just 13 minutes when Tomlinson rose brilliantly above Wood full-back Danny Woodards to meet Jordan Williams' deep searching cross from the left with a thumping header to give them an early lead. The second goal came on the stroke of half-time when striker Cook... was able to head in at the back post from a corner...

Cook was a constant menace to the Wood defence throughout, leaving his manager delighted... He said, 'I love him to bits because you know what you're going to get from [him]. His work ethic, desire and hunger for the club are excellent and he's always got a goal in him'... Wood looked a shadow of the side that had beaten Southport so clinically just the previous week...

Both centre backs, captain Simon Grand and Danny Livesey, looked rock solid at the back and it was a strong debut for on-loan Ritchie Sutton at right full back... It was another promising performance from Everton loanee Michael Donohue, who was a constant threat on the wings. Cox beamed at the youngster's performance, 'He's been fabulous for us since he's been here. He's just a breath of fresh air and a dream when he's in possession. I can understand why Everton have really high hopes that he's going to come through play in their first team'...

The Bluebirds now prepare for the return fixture, with Wood travelling to Cumbria tomorrow night looking to settle the score."

In the Torquay Herald Express we learn that "Torquay United's stirring fight to beat relegation from the Vanarama National League is about to receive a major boost with the impending return to fitness of their former captain and midfield playmaker Luke Young.

Young, who has been out for the whole campaign so far after knee ligament surgery, is due to resume full training today. After it seemed that the former Plymouth Argyle favourite had little chance of playing again this season, 23-year-old Young could now be back for at least half-a-dozen of the most important matches in the Gulls' history...

Physio Gareth Law... stressed that United will not push Young's return to match-action, but to have him available for a final month of the season which includes seven matches would be a huge fillip. A dramatic turnaround in form has seen Kevin Nicholson's rebuilt squad go from bottom of the table 14 days ago, and 1/20 shots to go down, to having a real chance of staying up... United still have 13 games to go, eight of them at home, ahead of tomorrow night's visit of fourth-placed Braintree Town...

Altrincham, one place above Torquay (22nd), plus bottom-half sides Halifax, Chester, Southport and Barrow all still have to come to Plainmoor. 'We are in control of what we do', said Nicholson. 'But it will be tough on Tuesday against a good Braintree side, when we go back to being the underdogs, which suits us fine. We've not achieved anything yet. It's not a "great escape" until it's done'"

Further along the South Coast, Portsmouth report that "Eastleigh are keen to recruit Jack Whatmough on loan. And Pompey are weighing up whether to send the defender to the Silverlake Stadium to build his fitness. Eastleigh have registered their interest in Whatmough... but sit 10th in the National League table after the weekend's results.

That's off the back of a dreadful run of one win in their past 13 games. Boss Chris Todd has now earmarked Whatmough to plug a defence which has been steadily leaking goals of late. The 19-year-old is building momentum after making his return from a cruciate knee injury in January. That kept him out for 10 months after a clash with striker Shaun Harrad against Cheltenham last March. Whatmough had been building his momentum in the National South with the Hawks...

Pompey will be looking for assurances Whatmough will pick up the game time he needs to continue his comeback successfully. That could then free him up to join some familiar faces currently playing with Eastleigh. Matt Tubbs has failed to score in five appearances since moving to the club on loan. Keeper Michael Poke is also with the outfit after being released by Pompey in January."

According to NL |Daily, "Witton Albion have announced that they will end their groundshare agreement with local rivals Northwich Victoria at the end of the season. The news is the latest blow for the Vics, coming days after news broke that they were to be deducted nine points by the Evo-Stik League for fielding an ineligible player.

The Albs confirmed the news with a statement on their website on Monday morning... 'The ground sharing agreement with Northwich Victoria FC is not being renewed for season 2016/17. Matches will continue to be played at the NetDec stadium for the rest of the 2015/16 season subject to all contract terms being met. The club will not be making any further comment at this time'"

Meanwhle "The Vics released a statement on Sunday confirming that deduction had been applied after they fielded on-loan AFC Telford United goalkeeper Mason Springthorpe in four Division One North matches, despite the fact that he wasn't properly registered. An appeal against the deduction was unsuccessful, but now they plan to take the fight one step further.

The statement read, 'On 2 March, 2016 the Appeal Hearing was held in Manchester. The Club appealed against the penalty being excessive and that the League could have applied discretion in regards to points deduction because it was a "Player Status" issue. The F.A Appeal Board agreed with the Club and upheld the appeal stating that the League misdirected itself over the issue of Player Status and should have considered the discretion allowed under the Rules. Having considered the matter further though the F.A considered that the penalty should be the deduction of nine points and a small financial penalty.

The Club considers the finding in its favour but then to issue a similar penalty as irrational in the circumstances particularly as on the same day as the original League disciplinary hearing the Evo-Stik League issued a suspended points deduction against another club. Furthermore the irrationality of the decision is further compounded by the fact that one other F.A panel had seen fit to allow discretion in the F.A Cup competition despite the circumstances of the ineligibility of the player being the same.

The Club now intends to proceed to Arbitration under F.A Rule K to seek to overturn the decision to deduct points and due to the length of time that such proceedings can take this may unfortunately have an adverse effect on the seasons completion but the Club considers it has to pursue this matter".
---
7 March 2016 Our next away trip, on Saturday (12th) is to Holker Street. The NW Evening Mail reports that "Barrow AFC eased their relegation fears with a convincing 2-0 win at Boreham Wood. First half goals from Ben Tomlinson and Andy Cook did the damage as Paul Cox's side moved up to 15th place in the National League table.

The Bluebirds started brightly at Meadow Park and were ahead after just 13 minutes. Tomlinson rose brilliantly above Wood full-back Danny Woodards to meet Jordan Williams' deep searching cross from the left with a thumping header to give the away side the lead...

The away fans thought Wood should have been reduced to ten men when Anthony Jeffrey caught scorer Tomlinson with a late challenge, but the referee gave the winger just a yellow card. Barrow doubled their lead on the stroke of half-time, striker Cook rising high to head in at the far post from a Michael Donohue corner...

Barrow: Dixon, Sutton, Livesey, Grand, Wilmer-Anderton, Parry, Donohue, Rowe, Williams, Tomlinson, Cook. Subs: Lacey, Harvey, Pilkington, Williams, Grimes."

Above: Left, Simon Richman returned to the Alty team after injury. Here he is seen by the camera of Gavin Rathbone of GR Photography. Right: Josh Ginnelly was named Man of the Match and is here seen through the lens of Mike Ripley's camera. Click to enlarge the images.

Match report here.

There were few real highlights on Saturday but Alty TV has the better bits from the ninety minutes.

And Alty TV also has Lee Sinnott's post-match interview (right).

Collectors and donors are thanked for Saturday's half-time bucket collection which raised £63.10.

Alty snapper Mike Ripley writes that "Dan Martell and I are cycling the 225 miles to Braintree for our last game of the season, in order to raise money for Prostate Cancer UK and Altrincham Football Club Community Sports. We will be doing this over two days, starting with 140 miles on Friday 29th April (my birthday, of all days!) and completing the ride on Saturday 30th, after Dan (and possibly I...) have also taken part in a 5km park run, hopefully arriving in time for the later kick off.

For information on what we are doing, and why, and to show your support please visit our Just Giving page here.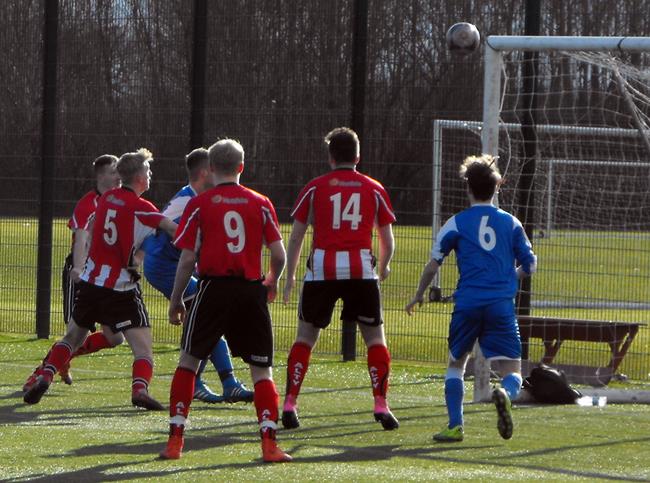 Above: Alty Youth go close in the second half against Skelmersdale United.

Altrincham FC Youth went down 2-3 in the Neil Thomason Cup at home to Skelmersdale United in a match played on the 3G pitch at Partington Sports Village. There is a match report here.

In the NWYA league Chester beat Morecambe 3-1 to extend their lead over Alty to six points. The league table is here.

The next fixture in the league is on Sunday, 13th March away to West Didsbury & Chorlton.

After Saturday's match, Macclesfield Town report that "Macclesfield Town were held to a 0-0 draw in their derby match away at Altrincham at Moss Lane as neither of the sides could find a goal during the close-fought encounter. The visitors started better leaving the Robins on the back-foot during a fast-paced opening 20 minutes, several chances were created by Jack Sampson and David Fitzpatrick on the left, however no one could tuck away their crosses.

Macc came closest to opening the scoring 20 minutes in, after a foul on the edge of the area, captain Paul Turnbull stepped up and his effort crashed into the crossbar leaving it 0-0...

After Turnbull came closest to breaking the deadlock in the first half with the only good chance created, the second half started off just as scrappy with both sides struggling to play smart football under the unfavourable conditions. Altrincham nearly opened the scoring 63 minutes in. Damian Reeves who [had come] on just one minute before he nearly made an instant impact after his chipped effort just fell wide of Jalal's goal...

As the Silkmen continued to press they struggled to create another real chance on goal and had to settle for just one point at Moss Lane".

The next visitors to the J. Davidson Stadium are Gateshead whose "manager Neil Aspin felt his side failed to recover from a damaging 20-minute spell following a 3-1 defeat to Tranmere Rovers at Prenton Park. Midway through the first-half, Jon Shaw was adjudged to have handled an Adam Mekki cross, allowing the hosts' James Norwood the chance to score from the spot.

Then, on the stroke of half-time, the in-form frontman converted a second penalty, Mekki having been felled by James Curtis after a marauding run. Another drubbing looked to be on the cards as Michael Higdon nodded in a third for Tranmere early into the second-half, but Danny Johnson reduced the arrears with a close-range finish on 67 minutes.

The visitors then ended the game the brighter, Matty Pattison and Josh Gillies both coming close as Gary Brabin's side began to retreat...

They travel to lowly Altrincham on Tuesday night, ahead of back-to-back fixtures against top-five opposition.... Boss Aspin... said, 'I thought the first penalty was very harsh... The second penalty just before half-time was a real killer, and we've lost the game in the first-half, there's no doubt about that. The third goal was disappointing...

'At 3-0 down we could have gone under, but I thought we showed some character by sticking at it, and in the second-half we played some better football and were unfortunate not to get another goal'.

Defeat on the Wirral rounded off a miserable week for Gateshead, having suffered FA Trophy heartache against FC Halifax Town on Wednesday night... Aspin refused to attribute his side's latest setback to their midweek exertions. He said, 'It isn't an excuse. The players are professional and have to cope with playing a lot of games... There was an opportunity for us on Wednesday and we should have won the game, but we didn't and we can't dwell on it'".

The EvoStik League reports that "Following a NPL hearing held on 9th December 2015, Northwich Victoria Football Club were found guilty of playing an ineligible player in 4 league fixtures, 3 of which they had won, gaining 9 points. The club lodged an appeal with the FA against the decision to deduct the 9 points gained and at a hearing held on 2nd March 2016 The Football Association appeal Board determined that the club will be deducted the 9 points gained and this will now be reflected in the NPL Division 1 North table". From Hampshire's Daily Echo we learn that "Chris Todd was left rueing Jamie Turley's second-half dismissal at Braintree as the moment that Eastleigh's hopes of securing back-to-back National League victories went up in smoke. The Spitfires already trailed to Simeon Akinola's first-half strike, which Todd also felt should have been avoided, when Turley's 48th-minute foul on the goalscorer earned the Eastleigh man a second yellow card, writes Paul McNamara.

Despite the spirited attempts of the visitors' ten men to draw level, and the late sending off of the home team's centre-half Matt Fry, Todd's team were eventually sunk by Akinola's second goal of the game, with five minutes to play.

Said Todd, 'There were some big moments that changed the match: the goal in the first half, and then the sending off in the second half which has cost us the game... I'll stick with the players. They're the footballers on the pitch. But I'll stick by them because they're my players... We believe we've let ourselves down a little bit today... We've got 12 games to go now, eight of those at home, and we've got to go and win some football matches...

'The performance, at times, was there. It was three bad decisions, really. That's the league it is. It's a mistake league. You try to stay solid, not make those mistakes and give yourself a chance'...

While Braintree manager Danny Cowley savoured what he believed was his side's best performance of their remarkable season, his Eastleigh counterpart was left to focus on Woking's visit to the Silverlake Stadium on Tuesday night... 'There will be one or two changes to the team on Tuesday. There will have to be, with the sending off and a couple of injuries'...

And with Turley now due a ban and the experienced Ben Strevens two games into a seven-match suspension, Todd admits his need for new players has become more pressing. He said, 'I'm going to have to get players in now because of the situation with the injuries. There will hopefully be one or two coming in soon'".

At FC Halifax Town, "Kevin Roberts praised substitutes Shaquille McDonald and Josh MacDonald after they both combined to score the vital winner which lifts The Shaymen out of the relegation zone. He said, 'To have Shaquille (McDonald) and Josh (MacDonald) who set up the goal, it's brilliant to have a bit of pace coming off the bench when the legs are tired. I know myself, when I see a quick lad come on, I don't enjoy it and my legs are tired. Obviously it paid for us at the end there because Josh came on and he was lively, put a good few crosses in and Shaq got us the winner.

'The lads dug in, few tired legs obviously from the Gateshead game which went to extra time, as you could see the pitch was nothing special, it was heavy on the legs but, as we said before the game, we wanted a clean sheet and we thought we could nick a goal... We were looking to the fresh legs that come on with Shaq (McDonald) and he nicked us the winner'.

The 1-0 win comes after Town's FA Trophy quarter final victory on penalties against Gateshead on Wednesday night which also saw Shaquille McDonald come off the bench to grab a goal for Town and Roberts believes the result is vital to the league position, he added, 'It just gives the lads a bit of confidence and a bit of belief, we have two FA Trophy games coming up so we are going to be games behind so we wanted to push out of their (relegation zone) so when we go back to the league we are still out there or still within a point or two so it's just nice to get the three points on board'".

From the other side, the Southport Visiter reported that "Manager Dino Maamria said his Southport FC team need to be more clinical after seeing them suffer a stoppage-time defeat at home to Halifax Town.... to consign the Sandgrounders to a third defeat in four home matches.

An important week for Maamria's team had started with an excellent win at Dover Athletic, but they slipped back to within seven points of the relegation zone after defeat to one of their rivals at the foot of the table. Despite dominating the play and applying heavy pressure at times, Southport lacked the quality to breakdown a stubborn Halifax rearguard...

Said Maamria, 'It's tough to take but we've got look at why we didn't convert the chances we created and improve our quality in the attacking third. I didn't see them scoring a goal but when you are on top and don't score yourself, you risk conceding like we did. In the end, we were hit on the break'...

Halifax's win owed much to a doughty defensive performance, and in particular the efforts of Hamza Bencherif and Matty Brown... as the visitors' three-man back-line stood strong".
---
6 March 2016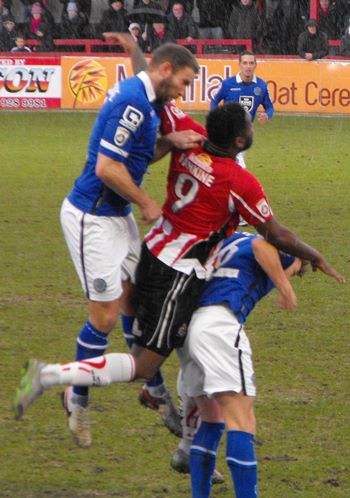 With five draws from their last six games and just one win in the last twelve league fixtures, Altrincham have dropped into the relegation places following this goalless draw against neighbours Macclesfield Town.

There was plenty of effort from both sides but not much in the way of goalmouth action. Arguably the best chance of the afternoon fell to Damian Reeves, just after he had come on as a 62nd minute substitute for Ryan Crowther. Put through by Jake Moult, Reeves put his effort wide.

For their part, Macclesfield hit the crossbar from a first-half freekick by former Alty loanee Turnbull.

With FC Halifax Town winning at Southport, Altrincham dropped to 21st in the league, albeit with a game in hand on 20th placed Boreham Wood.

Match report here.

Right: Michael Rankine competes for an aerial ball in the pouring rain on Saturday.

According to the BBC "Altrincham fell into the National League relegation zone after a goalless draw against Macclesfield at Moss Lane. With both sides having failed to win a league game since early January, there were few chances on show...

Possession: Home 50% Away 50%

Shots: Home 6 Away 5

Shots on Target: Home 1 Away 1

Corners: Home 4 Away 6

Fouls: Home 10 Away 10

Brian Flynn writes that "The first Football Buster game has now been completed and there were two winners who both landed on 21 points on the same day. The winners were Nigel Davis and Brian Flynn, who won £8 each. The game raised £24 for Altrincham Football Club.

The second game has now started and the people who played in the first game have been allocated their teams. The system uses the same numbers but teams are randomly allocated for each game, so it is highly likely that each participant will have different teams.

The new game can be seen here.

Details about Football Buster and how to join this game are as follows:-
1. Entry is just £5 per game and 40% of funds raised go to the winner.
2. Register to choose 2 lucky numbers and get 2 teams from The Premier League, Championship and Football League. Registration is via an SSL secure payment gateway.
3. Goals scored by your 2 teams are tallied daily, from all league games.
4. The Football Buster Player League updates daily for our game. Land exactly on 21 goals to win, bust and drop to the bottom, but remain in the game.
5. You can join at ANYTIME - each of your 2 lucky numbers allocates a team to you and the goals scored by those 2 teams are backdated immediately from the start of the game, to give you a league position and join in.
6. Winnings are paid directly by the club to you.
You can join online here.

Go to the 'HOW TO PLAY' tab and register via the 'REGISTRATION' button.

Join the game via the 'GAME ID NUMBER' button (Our Game ID is 515). You will need to deposit a minimum of £10 (which allows entry to 2 games). You will receive an email confirming that you have joined the game and advising you of your 2 teams, generated by the lucky numbers that you have chosen.

If you have any problems, please call Nathan Griffin for help on 07595 520449.

Good luck... have fun playing Football Buster and help support the mighty Alty!"

In its Saturday review, the National League says that "Cheltenham Town could only manage one point from their trip to relegation-threatened Welling United on Saturday so now lead the Vanarama National League table by just two points. The point, although decent on paper, was less than the Wings were hoping for as they attempt to narrow an eight-point gap on them and the safety-mark...

It was Welling who finally broke the deadlock in the first minute of injury-time when Luke Wanadio converted Sahr Kabba`s cross from 12 yards. A shock win looked on the cards, only for Gary Johnson`s side to salvage a late, late point when a free-kick was loaded into the box and Holman fired home in the 5th minute of stoppage time.

Fourth-placed Braintree Town took another significant step towards the play-offs with a 2-0 win against fellow contenders Eastleigh... Eastleigh`s chances of getting back into the game took a massive blow when they had Jamie Turley sent-off for a second bookable offence for a foul on Akinola... Ten minutes from time the teams were level in numbers on the pitch when Matt Fry also saw red for a second booking.

But 5 minutes later the Iron won it with a second for Akinola from close range following a corner.

Tranmere stay level on points with Braintree in fifth after a 3-1 Prenton Park victory over another top five hopeful, Gateshead... The visitors pulled a goal back on 67 minutes when Paddy McLaughlin broke forward and his 20-yard shot was parried by Davies as far as Danny Johnson, who steered into an empty net.

Dover Athletic got back to winning ways at Kingfield against Woking to maintain their top five challenge. The only goal of the game came after 35 minutes when a Ricky Modeste free-kick was back-headed past Jake Cole by former Card, Jack Parkinson. The second half was an entirely different story as Dover were forced to defend for majority of it... Lncoln City are level on points with Chris Kinnear`s side after a 2-0 win against Aldershot Town at Sincil Bank...

Chester FC and mid-table Bromley shared the spoils after a 1-1 draw at the Deva Stadium... FC Halifax Town moved out of that bottom four after a crucial win at a Southport side who sit two points and a place in front of Chester. The Shaymen had Tommy Miller in charge of the team after Jim Harvey was suspended after the referee's report from the recent game against Forest Green Rovers... As the clocked ticked into the first of 5 added minutes at the end of the game, Josh MacDonald`s cross was converted by Shaquille McDonald's to earn FC Halifax what could be a precious three points.

With five draws from their last six games and just one win in the last twelve league fixtures, Altrincham have now dropped into the relegation places following a goalless derby draw against Cheshire neighbours Macclesfield Town... With FC Halifax Town winning, Altrincham dropped to twenty-first in the table, albeit with a game in hand on twentieth-placed Boreham Wood, who lost a vital game at Meadow Park against mid-table Barrow AFC...

Kidderminster Harriers are all-but doomed after losing a relegation `six-pointer` with Torquay United at Plainmoor... Smith poked in an 82nd-minute winner after a goalmouth scramble to earn Torquay's fourth successive win and move them to within three points of the safety-mark."
2014 Altrincham v Macclesfield Town
332 Boreham Wood v Barrow
666 Braintree Town v Eastleigh
2058 Chester FC v Bromley
2398 Lincoln City v Aldershot Town
1148 Southport v FC Halifax Town
2021 Torquay United v Kidderminster Harriers
4668 Tranmere Rovers v Gateshead
604 Welling United v Cheltenham Town
News of our next opponents comes from Gateshead. "James Norwood struck two first-half penalties as Tranmere Rovers compounded Gateshead's miserable week with a comfortable victory at Prenton Park. The in-form frontman twice got the better of ex-Forest Green Rovers teammate Sam Russell to leave the Heed with a mountain to climb heading into the break.

Michael Higdon then nodded in a soft third for the home side, before Danny Johnson pulled one back midway through the second-half.

Though the Tynesiders enjoyed more of the ball in the closing stages, they rarely looked capable of setting up a grandstand finish.

On the back of an agonising FA Trophy exit to FC Halifax Town in midweek, Gateshead's task at Prenton Park was made harder by the absence of leading scorer Ryan Bowman and midfield battler Gus Mafuta. They began sluggishly, and Norwood called Russell into action just eight minutes in,...

[At 3-0 down] Out of nothing, Gateshead reduced the deficit. Shaw looked to follow up after Paddy McLaughlin's 20-yard strike was parried by Davies but, despite another decent stop from the 'keeper,Johnson was on hand to lash into an empty net. Neil Aspin's side then enjoyed their best spell of the afternoon, retaining the ball in the Tranmere half for long spells, but unable to make their pressure count...

Gateshead: Russell, Bennett, Curtis, Clark, Whitmore, Gillies, Ramshaw (Chandler, 58), McLaughlin, Hamilton (Pattison, 66), Shaw, Johnson".
---
5 March 2016
Fri 4 Mar. Vanarama National League
Forest Green Rovers 0-1 Grimsby Town
Sat 5 Mar. Vanarama National League
Altrincham 0-0 Macclesfield Town
Boreham Wood 0-2 Barrow
Braintree Town 2-0 Eastleigh
Chester FC 1-1 Bromley
Guiseley P-P Wrexham Waterlogged pitch
Lincoln City 2-0 Aldershot Town
Southport 0-1 FC Halifax Town
Torquay United 3-2 Kidderminster Harriers
Tranmere Rovers 3-1 Gateshead
Welling United 1-1 Cheltenham Town
Woking 0-1 Diver Athletic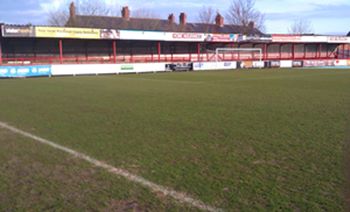 Altrincham FC has announced this morning that today's match against Macclesfield Town (3pm) will go ahead as planned. There will be no further pitch inspection and it is not expected that the match referee will identify any problems when he arrives.

The pitch covers have now been removed and groundsman Neil Brown would like to thank everyone for their help. And thanks, of course, also go to Neil himself for his hard work in getting the pitch playable despite the recent atrocious weather.

Above, right: Courtesy of Club Caterer, Richie Bentley, we see the pitch this morning. Richie says he has "Been here since early this morning with my fork" - hopefully a garden version rather than the dinner-fork we normally associate with him!.

In advance of Saturday's fixture, Macclesfield Town reported that "Manager John Askey is looking for his team to show their fighting spirit on the pitch following the loss against Torquay United earlier this week. Results have not fell [fallen] kindly for the Silkmen as of late and Askey is hopeful that he can help his players stand together and get back on the winning track.

Askey told Silkmen Player HD, 'When things are going against you, you will find out who will stand and fight with you, but that's something I've got to sort out. The first person I look at is myself and I will see if I can do anymore, and hopefully the players will do that as well.'

One of the positives to take away from the game against the Gulls was the introduction of the former Huddersfield Town centre back, John McCombe, who Askey is looking forward to seeing more of... 'He's not trained much since leaving York so that's why I couldn't start him yet'" said Askey.

"Ahead of this weekend's trip to Altrincham, the boss spoke about the stakes of the game and what Macc need to do to start winning again. 'Whoever we play it's the same but there's something extra to this game, our supporters will be there in numbers. It's a very important game for Altrincham too as teams are catching them, so there's a lot on the game. We need to start winning quickly, we're working hard enough but we can't afford to make the same mistakes'".

The FA announces that "England C team manager, Paul Fairclough has named a 16-man squad for the opening International Challenge Trophy fixture against the Ukraine which will be played in Kiev on Tuesday 22 March (kick-off 3.00pm local time).

Commenting on the match, Fairclough said 'This is an interesting game against new opponents who will, no doubt, be technically good. I am excited about the squad, which is one of the strongest we have had for some time'. The Squad includes 7 players new to the England set-up. The fixture in Kiev is followed by a home game with the Tournament holders, Slovakia on Sunday 5 June at a venue to be confirmed. The third group fixture will be in Estonia in November.

The full England C squad is: Brandon Hall (Ebbsfleet United), Peter Crook (Harrogate Town), Sam Habergham (Braintree Town), James Bolton (FC Halifax Town), Ben Heneghan (Chester), Sean Raggett (Dover Athletic), Jack Barthram (Cheltenham Town), Jake Gallagher (Aldershot Town), Alex Woodyard (Braintree Town), Jon Nolan (Grimsby Town), Anthony Jeffrey (Forest Green Rovers), John Goddard (Woking), Billy Waters (Cheltenham Town), Keanu marsh-Brown (Forest Green Rovers), Omar Bogle (Grimsby Town), Kayden Jackson (Wrexham)

Scott Leather (Altrincham), Jack Holland (Bromley), Andy Halls (Macclesfield Town), Chez Isaac (Braintree Town), Craig Clay (Grimsby Town), Daniel Sweeney (Maidstone United), Jack Munns (Cheltenham Town), Brandan Daniels (Harrogate Town), Dion Charles (AFC Fylde), Dayle Southwell (Boston United), Jordan Burrow (FC Halifax Town), Kurtis Guthrie (Forest Green Rovers), Daniel Johnson (Gateshead), Jamie Allen (Southport) "

The FA reports that Altrincham FC's Football Careers, Scholarship & Education Programme team, who play in the The Football Conference Youth Alliance Division I, had an excellent 2-1 away win against Crewe Alexandra on Wednesday. Next Wednesday they are at home to Macclesfield Town Blues. The National League reports that "Barrow AFC have announced that they have agreed to goalkeeper Aaran Taylor's request to cancel his contract at the club. Taylor has had few opportunities this season and Barrow release him so he can maximise his chances of finding a club for next season. As a consequence of this, Danny Eccles has been recalled early from his loan with neighbours Penrith.

Taylor played a key part in the second half of the National North championship-winning season after deposing Tony McMillan in the New Year of 2015. After signing full-time in the summer his appearances this season total just a Lancashire Senior Cup game against Blackburn Rovers under-21s.

Meanwhile, defender Ritchie Sutton has joined the Bluebirds on loan from league rivals Tranmere Rovers until the end of the season. The 29-year-old has made twenty-five appearances for Rovers this season but has seen action hard to come by in recent weeks with the form of Steve McNulty and Michael Ihiekwe".

Elsewhere, "Cheltenham Town boss Gary Johnson has led his squad to the longest sequence of unbeaten matches ever in the history of the club. With four wins and a draw this month, it makes a total of 22 matches unbeaten in the Vanarama National League... Quite rightly the month belongs to Gary Johnson in his quest to take the club back into the Football League at the first attempt."

As for Player of the Month "During a six-match unbeaten run in February, Wrexham moved into the play-off positions of the Vanarama National League. The drive around this has been the commitment of team with hard work and their solid pattern of play. While most of this can be due to the application of management plans, there must be an on field leader and team captain Connor Jennings has been inspirational. Two vital goals have also been included with his leadership".

From NL Pitchero we learn that "Vanarama National League North play-off contenders North Ferriby United has been put up for sale. A statement from owners and co-chairs Eman and Steve Forster reads, 'It is with much sadness that we announce that North Ferriby United is for sale with immediate effect. The last three and half years have been a wonderful journey with our day out at Wembley last March being one of our proudest achievements and a day that will live with us forever. Unfortunately, Steve has undergone neurosurgery recently and, whilst it has been successful, he has a long period of treatment and recovery ahead of him and therefore we feel that we can no longer invest time into the club as we focus on Steve's recovery as well as looking after our children during this period.

'Our hope is that in the coming weeks and months we will be able to find new owners who can continue to take the club forward'".

At Welling United, "Former captain Ricky Wellard has left the club after coming to an agreement to terminate his contract early. Wellard joined the Wings at the start of the season but scored just three goals in 34 games during his eight month spell at Park View Road."
---
4 March 2016 There will be a pitch inspection at the J. Davidson Stadium on Saturday. A local referee will inspect the ground at 9.30am and then, if necessary, the match referee will do a further inspection at noon. As soon as the outcomes are known, they will be posted here.

If the initial inspection is favourable, there will be a need for volunteers to assist in moving the pitch covers at around 11.30am. So please do come along then if the cirumstances require it!

Altrincham FC is pleased to announce that agreement has been reached with Tranmere Rovers for the extension of the loan to Altrincham of centre-back Marcus Holness till the end of the season. So far, Marcus has played six times for Alty, a spell which has seen the Club lose just once. Sunday's Altrincham FC Youth match at home to Skelmersdale United has been moved to Partington Sports Village and, being a cup match, will kick off at 2pm. Mike Garnett provides us with the historical record between Altrincham and our next opponents, Macclesfield Town.
Home: P110-W52-D27-L31-F232-A172
Away: P99-W29-D26-L44-F142-A193
Neutral: P8-W5-D0-L3-F16-A15
All: P217-W86-D53-L78-F390-A380
From NL Pitchero we learn that "Braintree Town have boosted their play-off hopes with the signing of young Tottenham Hotspur striker Ryan Loft. The 18-year-old is expected to be in the Iron's squad for their home game against top five rivals Eastleigh on Saturday after joining on a `work experience` loan from the Barclays Premier League giants.

Loft is a towering striker whose tally of 13 goals made him Spurs' second highest scorer in the Barclays Under-18 Premier League last season... He was previously on the books at Dartford and Ebbsfleet United as a youngster and was a high jump champion while at school."

Elsewhere, "Aldershot Town have extended the loan of striker Alfie Pavey from Millwall until Wednesday, 30th March. The 20-year-old has made six appearances since joining the Shots on January 8th, and scored two goals. He will now be eligible for a further six matches."

At the top of the table, "Cheltenham Town have completed the signing of goalkeeper Jonathon Flatt on a month's loan deal from Wolverhampton Wanderers. The 21-year-old has joined the Robins after Dillon Phillips injured his knee ligament during Tuesday's defeat at Eastleigh. The full extent of Dillon's injury is still unclear but he could be set for at least six weeks out.

Flatt is a graduate of the Wolves academy and spent time on loan at Cheltenham`s league rivals Wrexham last season, making five appearances".

From Southport we learn that "Dino Maamria has confirmed the loan signing of highly experienced striker Craig Westcarr... The 31 year old arrives at the Merseyrail Community Stadium on loan from Mansfield Town. The former England Under-21 international started his career at Nottingham Forest, having experience at Championship and Division One level, having also played for Lincoln, Cambridge United, Kettering, Notts County, Chesterfield, Walsall and Portsmouth. Dino Maamria added we may have more news on incomings after training on Friday morning."

After going out of the FA Trophy on Wednesday, Gateshead "paid the price for an exhibition in wasteful finishing as FC Halifax Town progressed to the semi-finals of the FA Trophy following an engrossing evening on Tyneside.

Moments away from a two-legged tie with Evo-Stik Northern Premier Division side Nantwich Town in the last-four, the Heed shipped an injury-time equaliser having had chance after chance to put the opposition to bed. Then, in a frenetic first-half of extra-time, substitute Shaquille McDonald put the Shaymen on the front foot with a well-taken strike, only for the impressive Josh Gillies to restore parity.

Spot-kicks followed. McDonald squandered the chance to win it for the visitors after Danny Johnson's attempt was saved, but it was to matter little, as Matty Brown capitalised on a miss from Ben Clark to break the hearts of the Heed Army...

The Heed's profligacy was to cost them dear. Halifax had barely threatened at all in the second-half, but – two minutes into additional time – Bolton's hopeful punt forward was allowed to bounce between James Curtis and Andre Bennett, and substitute Connor Hughes made no mistake with a deft chip over Sam Russell. A bolt from the blue for the home side, who looked to be still reeling as extra-time got underway.

They were undone again three minutes in, McDonald slamming into the far corner from just inside the area following a cross from the left. Shaw nodded wide from a Gillies corner as the 100-minute mark approached, before the latter came to the Tynesiders' rescue. After gathering the ball from Ramshaw, the winger drove on before lashing into the far corner from 20 yards...

And so, the shootout began. Hamilton, Gillies and McLaughlin all found the net for the Heed, but a miss from Johnson allowed the visitors in. McManus gave the Shaymen a 4-3 advantage in confident fashion, before Shaw kept the home side hanging on. Up stepped McDonald, who saw his right-footed attempt turned onto the post by Russell to prolong the drama further still.

Skipper Clark was next in line for Gateshead, but the defender failed to test 'keeper Johnson and presented the visitors with another opportunity to win it. And this time, they took full advantage, Brown smashing home to send Halifax into the semi-finals of the competition for the first time since their reformation".

Alty play both sides over the next few weeks. Their line-ups were...

Gateshead: Russell, Bennett, Curtis, Clark, Whitmore, Gillies, Mafuta (Ramshaw, 14), McLaughlin, Pattison (Johnson, 81), Hamilton, Bowman (Shaw, 70).

FC Halifax Town: Johnson, Bolton, McManus, James, Bencherif, Burrow, Peniket (McDonald, 57), Brown, Roberts (Hughes, 61), Hibbs (MacDonald, 61), Wroe".

Kidderminster Harriers confirm that they "have lost the services of loan striker, Harry White. The Barnsley hit-man has spent the last month here at Aggborough and notched three goals for the club. With his one-month spell up, however, he's now back at Oakwell".
---
3 March 2016 News of our next opponents comes from the Macclesfield Express which says that "Macclesfield Town first team coach Byron James has urged his players to build on their hard fought point against Wrexham and stay in touching distance of the play-offs. The home side stopped the rot of four consecutive defeats on Saturday and earned their first clean sheet since their 1-0 away win at Tranmere on January 2.

James pointed out how the team is now turning its attention to some difficult upcoming away fixtures, starting with Altrincham on Saturday. 'The work ethic from the team was a lot better against Wrexham and along with that we had a lot more energy', he said. 'We did a little bit less in training and it showed on the field as we played with more energy. "The introductions of Danny Whitehead back into the side made a big difference as he is a naturally energetic player. He wasgreat and George Pilkington played out of his skin at the back. There were a few others who did really well like Jack Sampson and Andy Hall. The whole team lifted the bar to get back to what we expect.

'It's a foundation for us to build on, we desperately wanted to win but the result of a draw was ideal as a lot of teams drew also. We haven't lost any ground on anyone and if anything, we've gained a point on a few teams above us'.

Altrincham have lost just one of their last six league matches, and James knows they will be hard to break down. 'We are going to try and achieve the best we can achieve and Altrincham are a team we know well and they are a team we owe', he said. 'The lads are really up for it and think it's a game we can win and if we play there like we played against Wrexham then there is no reason why we can't pick up a result. If we have a bit of luck and quality in front of goal then I'm confident that we can beat them'".

Also, the Football Conference confirms yesterday's news that "Centre-back John McCombe has joined Macclesfield Town until the end of the season. The 30-year-old was recently released by York City having previously featured sixty-one times and scored 4 goals since arriving from Mansfield Town in January 2014. But he was limited to just six games and a single goal for York this season... McCombe, who has also scored 20 goals throughout his career, will now link up with John Askey's side for the remainder of the season."

However, after Tuesday's home defeat by Torquay, the mood was less upbeat as Macclesfield Town reported that "Boss John Askey couldn't hide his disappointment after his Macclesfield Town side suffered a narrow home defeat against Torquay United last night... Askey was left frustrated by the manner with the goals that the Silkmen conceded.

Speaking after the game, John said, 'We can't legislate for goals like that. It was poor defending for them both. We can work and work on things but if you give away goals like that then there is nothing you can do. The first goal changes the game. I thought we were in control up until that point and even after we went a goal down we kept playing and got a goal back. In the second-half you are thinking that we are going to come out and have a right go but then we concede from a corner.

'It's just not good enough. We obviously work on set pieces but if people aren't prepared to get hurt and be brave then it obviously down to personnel. It is something we have to address... The players have got to roll their sleeves and fight. At the minute I am finding out more about the players than I have all season'".

Also, Macc have a match report which tells us that at 2-1 down, "Macc looked to change things and Theo Bailey-Jones and Reece Styche came on for Paul Lewis and Danny Whitaker and Styche made an instant impact with a shot from distance which was well saved... Macc continued to push up until the last minute... but the Silkmen were unable to get the equaliser.

Macclesfield: Jalal, Halls, Pilkington, Turnbull, Lewis (Styche 57), Dennis, Diagne (McCombe), Whitehead, Fitzpatrick, Whitaker (Bailey-Jones), Phillips. Subs: Branagan, McCombe, Bailey-Jones, Cowan, Styche"
Gateshead 3 FC Halifax Town 3 FC Halifax won 5-4 on penalties. Att. 724.
The winners will play Nantwich Town in the semi-finals.

National League Press release:
"The National League (in association with sponsors Vanarama) has released details of ticket information for its annual flagship final at Wembley Stadium connected by EE which will kick off at 4pm on Sunday 15th May 2016.
This year ALL ticket sales will be handled directly by Wembley Stadium and will be available for the first time with an option for 'Print at Home' (PAH).
Tickets will ONLY be available to purchase on-line and are priced as follows:
EARLY BIRD - up to and including 31st March:
Adults: £20
Seniors (Over 60): £10
Under 16: FREE ** (** 1 free U16 ticket can be ordered for each ticket sold at Adult or Senior price). Additional tickets for Under 16 over the above allowance can be purchased at £5 each.
Early Bird sales are made even more attractive as no booking fee is charged. Please be advised no ticket is refundable once purchased. Disabled seated allocation is available directly through Wembley Stadium and details are also available on-line.
GENERAL ADMISSION SALE - date available to be announced:
Category 1: £41 (no concessions)
Category 2: £36 and £18 (Under 16s)#
These ticket sales will be subject to a booking fee.

For both General Admission and Early Bird sales, postage will be charged at: £2.50 per order or £1 for all PAH sales.

WEMBLEY TICKET PORTAL here.

Note:

Early Bird tickets will NOT be available to purchasers either by post or available via PAH until the two competing finalist clubs are confirmed. This will allow for seated allocation to be made in blocks for any group of supporters of a club wishing to be in the same area.

In order for this to be offered, when on-line transactions are made the purchaser will be required to nominate which National League member club they align themselves to or they may indicate a 'No Preference' option.

Supporters of the two clubs reaching the Promotion Final will be allocated their tickets for the correct area of the stadium allotted to each finalist club".

The Dover Express reports that "Dover Athletic chairman Jim Parmenter has threatened to walk away from the club if he doesn't see attendances at Crabble improve dramatically in the next six months. Speaking after Whites' 2-1 defeat to Southport at Crabble, Parmenter said he has been given a £400,000 grant and also close to £500,000 of his own money to rebuild the Family Stand and to install Football League dressing rooms.

But, the chairman has said he won't do it if the support doesn't increase after a measly 588 fans came through the turnstiles at Crabble tonight. Parmenter said, 'With crowds of 588 I am not going to take this club anywhere near the Football League. I am not going to invest the money. So, it's up to the Dover public and district to ask "Do they want a Football League club, or not?". Because if they won't turn up, then I am going to walk away from trying to get us into the League.

'The supporters need to get behind the club because there is no point in me investing hundreds of thousands of pounds, taking grants from the Stadium Improvement Club. I have spent 11 years and £3million getting this club where it is, pushing for promotion, close to the top five, and getting a crowd of less than 600, it's not do-able. I am not criticising anybody, either they want to come up to the games or they don't. I have done everything I can do. It's ready for us, we are ready for the League, but I won't do it unless the people want it. I will walk away, I have had enough.'

The grant should be finalised within the next week and Dover have six months to get the process underway or the money goes, and Parmenter walks."

And the Dover Express reporter Sam Inkersole adds "Driving back home from Crabble on Tuesday night gave me time to digest Jim Parmenter's comments after the game. Was it a knee jerk reaction to two damaging defeats? I don't think so.

Make no bones about it, Saturday's FA Trophy exit to Nantwich Town was bad but, in my eyes, Tuesday's defeat to Southport in the National League, a side that hadn't won in seven games previously, was the worst result of the season by a country mile for Dover. Not just because Braintree and Eastleigh both won to gain or cement ground in the play-off chase with Dover, but the manner of the display was concerning. I expected a backlash from Saturday from the players but got nothing of the sort.

Then came the chairman after the game. To cut a long story short, he has said he will quit the club and take his financial clout with him if attendances don't improve. 588 supporters came through the turnstiles in midweek. This is a man who brought the club off its knees 11 years ago, on the brink of going bust and gone forever. There would be no Dover Athletic were it not for Jim Parmenter.

I knew something was up when I tweeted that the chairman had come down from the directors' box to watch the second half from right in front of me in the press box. He was surveying the scene, looking angry, and then came what he said afterwards. I have never seen Jim so emotional. He honestly looked like he had really had enough and who can blame him? Eleven years, £3 million later and, from a business perspective, he's not getting the return in his view. The chairman loves the club, he wouldn't have stuck around for so long if he didn't but he is entitled to see some return. Why would he acquire and invest the best part of a million quid in the new stand if no one is going to sit in it?

What are the reasons for the poor attendances? Average wise, Dover have the fourth worst home crowd in the National League – 858. Woking – Whites' next opponents – average 1650. Are they a bigger club than Dover? I don't think so, not at all. Kidderminster Harriers average 1950, for goodness sake, Eastleigh get 1,800 or so as well and they are just a bankrolled club.

Is it the style of football? Everyone knows Dover don't play an attractive game, some fans stay away because of it. Anyone who saw the first 20 minutes of the game last night will agree. Is it the pricing? £15 every home game is a lot for anyone to afford but it's a similar price to others in the National League. Is it the location? Up in River, away from the town centre, a fair walk from both Kearsney and definitely Dover Priory train stations and a fair drive from anywhere.

Needless to say, the last two seasons have been a success for Dover, by a long way. Eighth last year, pushing the top five this season, two FA Trophy quarter finals, an FA Cup third round tie with Crystal Palace. Before that, promotion from the Conference South, a trip to MK Dons in the FA Cup, play-off final appearance the season before. It's been a brilliant few years for the club I have supported for the best part of 15 years.

It does dishearten me to see such low attendance at Crabble. This is the best squad the club has had for many, many years. How do they feel when they walk out to a quarter-full stadium? Let's be clear, I'm not knocking the paying public who do go, Whites fans are brilliant and are fully entitled to vote with their feet. Should we have expected more than 588 on a mid-winter night at Crabble with Premier League football on TV? Maybe, maybe not".

From NL Pitchero we learn that "FC Halifax Town have confirmed that striker Shaquille McDonald has extended his loan deal with the club from Derby County. McDonald, 20, originally joined the Shaymen in November but the weather affected his appearances and his debut was delayed until December 15th. The former Birmingham City, Chasetown, Peterborough and York striker joined the Rams in August 2014. The deal will keep him with Town until the final day of the season".

The BBC confirms that "Eastleigh have signed Swansea midfielder Tom Holland on loan until the end of the season. Republic of Ireland under-19 international Holland has yet to feature for Swansea since signing from Manchester City in July 2015. The 18-year-old started his career at Bradford City, and also had a spell at Leeds United".

The NW Evening Mail tells us that "Barrow AFC face another game packed into an already bulging end of season after Tuesday night's match against Boreham Wood was postponed. Heavy rain on Monday evening into Tuesday morning left large areas of the Holker Street pitch underwater, forcing a fourth home cancellation of the season for the Bluebirds.

AFC chief executive Austin Straker bemoaned the wettest winter on record for battering the fixture list, ruling out any chance the work carried out on the pitch last summer had resulted in adverse effects... The inspection was timed to allow Boreham Wood to be notified before they left their Hertfordshire base, the National League battlers having already seen one trip north cut short when the original fixture was called off in December...

Strker said, 'These are exceptional circumstances. People will say that we have had rain like this before but I don't think we have had it over such a long, extended period of time. The pitch look immaculate yesterday and, if anything, it needed just a light dressing of water, because it was so dry. Forest Green thought it was fantastic on Saturday... It has been verti-drained twice in the last month to try and aerate the soil. It's clear that the water table is high. Last year it certainly seemed to be sunny every time we came across, but this year it hasn't been sunny so many times. It's the worst winter in terms of rain. I know it's the Lake District, but it's the worst on record. You can't work with that'.

He added, 'There is absolutely no connection whatsoever with the work that was done last summer... I think the measure is probably the goal-mouths. Where you get heavy wear is where most pitches suffer and yet the goal-mouths are fine. There are just pockets underground elsewhere which are causing us problems – they are filling up and have nowhere to go'...

Fingers are now crossed that last night's scheduled opponents' own ground is fit to host the reverse fixture on Saturday, or else another game will have to be rescheduled... Barrow's next home game is now against Altrincham on Saturday, March 12."

The Torquay Herald Express tells us that "Bouncing back from their FA Trophy flop at Bognor Regis Town, Torquay United gave their National League relegation battle another huge boost when two goals by striker Nathan Blissett beat Macclesfield Town at Moss Rose and gave them for their third league win on the trot.

Blissett punished a dreadful mistake in the home defence to fire Kevin Nicholson's Gulls ahead in the 20th minute, only for Town's Kristian Dennis to equalise just before half-time with his 29th goal of the season in all competitions. But the Gulls were not to be denied a third successive league victory, and they hit back to regain the lead when Blissett powered home Danny Racchi's 48th minute corner for his third goal in three games.

It was no more than United deserved, for they played with great spirit throughout in wet and windy conditions... After the weekend reverse at Bognor, Nicholson reverted to the same starting XI which beat Welling United 2-0 at home last midweek, recalling Shaun Harrad, Blissett and Toby Ajala in attack.

The Gulls' boss left himself off the bench entirely to concentrate on his managerial responsibilities... Macclesfield threw themselves into attack in the closing stages, with United manning the barricades. At one point there must have been 15 players in the Gulls' penalty area as Town piled on the pressure. But they held on for another precious three points, delighting their 84 travelling fans."
---
2 March 2016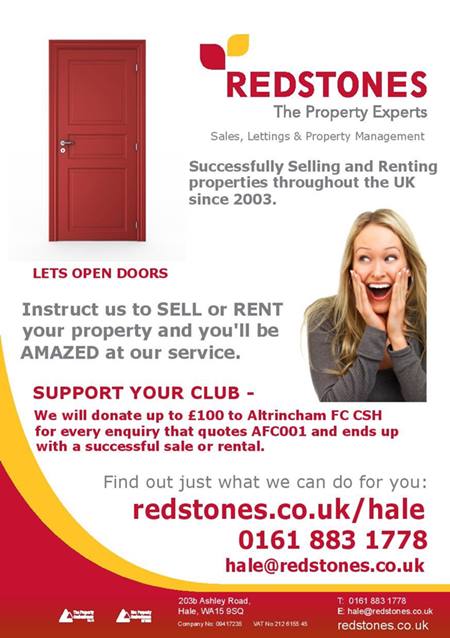 Local estate agents Redstones of 203b Ashley Road, Hale are generously offering to donate £100 to Altrincham FC for every house sold (or £50 for every house rented) by any client who quotes reference code AFC0001 (see adjacent image). Chairman of Altrincham FC, Grahame Rowley, urges all supporters and their friends to use the scheme, saying "This is fantastic support from a local agent".

Altrincham FC official caterer, Richie Bentley, writes that he is looking for matchday chefs and catering staff to assist at the J. Davidson Stadium. A good rate of pay and a great work atmosphere are offered. He has a few roles available in both the food and beverage areas. "We have vacancies for our growing number of functions in the Community Sports Hall. Also, if you have a passion for feeding and quenching the thirst of hungry football fans from Altrincham, Manchester United and some of the country's top clubs, please contact me a.s.a.p. to arrange a chat or a tour of the ground".

You will find him on Facebook as rich.bentley.16 or you can e-mail him or call the Club on 0161 928-1045.

Wins for Torquay United and Southport did not help Altrincham's cause...

Tue 1 Mar. Vanarama National League
Barrow P-P Boreham Wood (Waterlogged pitch).
Braintree Town 2-1 Kidderminster Harriers att.502
Bromley 2-0 Welling United att.1110
Dover Athletic 1-2 Southport att.588
Eastleigh 1-0 Cheltenham Town att.1982
Macclesfield Town 1-2 Torquay United att.1082
From NL Pitchero we learn that "Ramsbottom United have turned to two experienced strikers to help them in their mammoth task in avoiding relegation from the Evo-Stik Northern Premier League Premier Division. Rammy find themselves eleven points behind fifth-bottom Stamford AFC and at the foot of the table but have signed prolific marksmen Steve Foster [who made one appearance for Alty] and [former Alty Reserve] Ashley Stott.

Foster is a vastly experienced striker... AFC Telford United paid Boro £5,000 for his services in May 2006 and he went on to score goals regularly for Fleetwood Town, Curzon Ashton, Salford City, Witton Albion, Chorley, Nantwich Town and Warrington Town.

Stott joins from NPL First Divison North side Trafford... where he has made six appearances and scored one goal... He originally came through the Preston North End youth and reserves set-up before joining Altrincham, where he was spotted by Clayton Blackmore and signed for Bangor City in July 2006, leaving two years later to join Halifax Town... He was leading scorer for the Shaymen in 2008/09 with 24 goals, but left midway through a two-year contract to re-join the Citizens".

Steve Foster signed for Alty on 25 January 2011, whilst remaining registered at Salford City... After a promising substitute appearance against Hayes in late January 2011, he rejected the chance of joining Alty on a more sustained basis.

According to the NL Daily "Under the terms of its existing groundshare agreement, Worcester City has formally advised Kidderminster Harriers that it will not be taking up its option for an extension to the current arrangement. City will therefore leave Aggborough at the end of the current season.

Chairman Anthony Hampson said, 'Worcester City Football Club has thoroughly enjoyed its stay at Aggborough and is extremely grateful to the Directors (and former Directors) at Kidderminster Harriers for the assistance they have given to us as a football club... However, as a Board we have to look at the long-term viability of the Worcester City Football Club. It is clear that with on-going delays surrounding our return to Worcester, remaining at Aggborough is unaffordable to us in the long-term. We must therefore pursue other alternatives'.

Worcester City will keep supporters advised of arrangements to be put in place for next (and future) seasons but at this point will be making no further comment".

Macclesfield Town report that they "are pleased to announce the signing of experienced defender John McCombe on a deal until the end of the season. The 30-year-old has racked up over 300 appearances during his career so far and recently left York City. McCombe began his with Huddersfield Town and after 20 appearances left the club for Hereford in the summer of 2007. He was a regular in the side and his performances earned him a move to Port Vale in the following summer.

Over the next five seasons, he would make 211 appearances for the Staffordshire club before a switch to Mansfield. After only a few months with Mansfield he moved on to York in January 2014 and made 61 appearances before leaving the club by mutual consent last month... He will wear the number three shirt whilst he is with us at the Moss Rose."

With around a quarter of the season still to play, Macc have already announced their season ticket arrangements for next season, here.

We played Oxford City during our Conference North days and now the Oxford Mail reports that "Former Oxford City director Thomas Guerriero has pleaded guilty to running a $6.6 million telemarketing and investment fraud conspiracy. Guerriero, 39, of Hillsboro Beach, South Florida, resigned from his role as director of Oxford City FC in December due to 'ill health', just before he was indicted on Federal charges in December.

The club said at the time it had no knowledge of Guerriero's business dealings in the United States... The maximum penalty for the offence is 20 years in federal prison. He has agreed to pay $6.6 million in restitution and forfeit homes he owns on the Hillsboro Mile, in Boca Raton and Deerfield Beach, as part of the plea agreement. Prosecutors are expected to dismiss the other charges, including witness-tampering and obstruction of justice, after United States District Judge Beth Bloom sentences him on May 13.

Investigators said Guerriero was the ringleader of the fraud, based in Deerfield Beach... Guerriero... said he has a graduate degree in business studies from Harvard University, came up with the idea for the fraud and wrote scripts his sales team used to get about 150 people from all over the United States to invest, prosecutors said... He has been jailed since December and his assets have been frozen... Investigators said the fraud operated from July 2013 to July 2015 and affected more than 150 victims from all over the United States who bought stock...

Telemarketing sales agents claimed the company owned $90 million worth of real estate, the Oxford City Football Club team in Texas and an online university with 10,000 students that would bring in as much as $100 million."
---
1 March 2016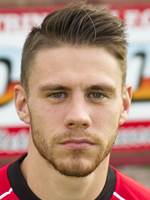 Following his one-month loan to AFC Telford United, which included a trial period in the USA, Altrincham FC's George Bowerman (right) has returned to the J Davidson Stadium. George has made 30 appearances for Alty so far this season and has scored four goals. Phil Taylor has kindly provided two match reports on recent Altrincham FC Ladies' games, one of which comes courtesy of Ladies' captain Heather Scott. These were a league fixture away at Merseyrail Bootle and a cup match at home to Ellesmore Port Town. By coincidence, this Sunday at 2pm, Ellesmere Port are again the visitors to the Mersey Valley FC ground on Banky Lane, Ashton on Mersey, this time for a league match. All support is very welcome and as manager Keith Edleston reminds us, "Bar and refreshments from the social club are available from 11am. If the last game is anything to go by it should be a cracker. Both teams love to play football the right way and will definitely put on a performance. Looking forward to seeing a big crowd to cheer the girls on to three points".

Phil Taylor adds that "Last Sunday's scheduled game at Winsford was postponed as a result of the condition of the pitch following Winsford United's fixture on Saturday and, taking into account their scheduled fixture on Tuesday".

The BBC confirms "The FA Trophy Semi-Final draw. Winners receive £16,000 from prize fund. The first legs will take place on Saturday 12 March, with the return fixtures a week later on Saturday 19 March.
Nantwich Town v FC Halifax or Gateshead
Bognor Regis Town v Grimsby Town
The FA Trophy Final will be staged at Wembley Stadium on Sunday 22 May and tickets are already on sale, priced at £25 for adults, £10 for concessions and £1 for Under-16s. This game takes place on Non-League Finals Day, so the ticket price also includes entry to The FA Vase Final. Call 0844 826 2010 to buy tickets".

After his team scored a controversial equalizer Guiseley "Club Chairman Phil Rogerson would like to make the following statement following Saturday's home match against Braintree Town.

'Having had time to sleep (or not) on the incident on Saturday, myself, Mark and the Club find the situation most regrettable and not in line with the general ethos of Guiseley AFC. Fair play is, and always has been, at the heart of the club. The decision to continue playing as normal after the goal was taken on the spur of the moment and under extreme pressure, not helped at all by the heated atmosphere.

We were advised by the referee after the the game that the aftermath to the goal would have to be reported to the FA as an exceptional incident. This investigation is ongoing and, as such, it would be inappropriate to comment further until the outcome is known."

Meanwhile, the Braintree & Witham Times states that "Braintree Town manager Danny Cowley said he has had no contact from any staff or club officials from Guiseley in the aftermath of his team's controversial trip to Nethermoor on Saturday... Cowley was critical of Guiseley's stance in his post-match interviews and there has since been a flood of support for the Essex side on social media.

The Braintree boss admitted that he hoped Guiseley manager Mark Bower or someone from the club would have made contact after reviewing footage of the incident, but as of Monday lunchtime, he had received none. Cowley said, 'We were disappointed with their reactions on the day and the decisions that they made, but then more so since as they have not apologised or said anything to us since. I think it was pretty conclusive that there had been an error of judgement in the heat of the moment and, while we were disappointed with that, you can understand it a bit because it was in the heat of the moment.

'But we've had no contact from them since and that has left us a little disappointed. However, it's important that we draw a line under it now while still carrying on the emotion to fire us up for coming games. We have to make sure that the emotion and strength we gain from any sense of injustice is worth more to us than the two points that we dropped from that game... I've been overwhelmed by the support we've had from the footballing community. It has been unbelieveable...

'We are a small club with a small fanbase, but hopefully we can attract a few more with the goodwill we've been shown'".

According to NL Daily, "The National League has now approved the proposal for Truro City to ground-share with Torquay United for the 2016-17 season. The approval is for one year only.

A statement on the Truro City website confirmed the decision, as the club also announced 'While it is a big step to move out of Cornwall for a season, as has been explained previously, there are no other practical options open to Truro City. The important word here is 'practical'. While a multitude of opinions will no doubt be bandied about on internet forums on what the club "should" do, unfortunately the real world in which which Truro City must operate is considerably more complex. And it is [in] that real world that this decision has been taken.

The Truro City Supporters' Club understands the situation and is fully behind the decision. Both they and the club appreciate that this will be inconvenient for supporters next season and the two will be working together to find ways to make it easier for fans to attend matches... Meanwhile, plans for the new stadium at Silver Bow continue to progress and Truro City looks forward to returning to Cornwall for the start of the 2017 season".

Truro City are currently in the play-off positions in the National League South.

The BBC reports that "Eastleigh striker James Constable admits the side have allowed their standards to slip since the start of the year. They have not won since beating Kidderminster on 19 December and they are now 10th in the table. But Constable, 31, is hoping fortunes will change at home to National League leaders Cheltenham on Tuesday.

'We should not be going four or five games on the bounce without getting a win', he told BBC Radio Solent. 'We have let our standards drop slightly. It's hard to put your finger on it but, as a group, we are more than good enough to pick up results'...

Constable is confident recent Spitfires' signing Matt Tubbs will find his scoring boots. Tubbs has failed to find the net in any of his three appearances since joining on loan from Portsmouth... Said Constable, 'He is the sort of player you want in your squad and he is definitely one who can go out there and get us some goals'".

In the Chester Chronicle we learn that "Former Chester City FC captain Stephen Vaughan Junior faces jail after admitting helping a policeman's killer. The ex-Blues player provided Timmy Donovan with his Mercedes, which Donovan used to escape to Germany in the hours after PC Neil Doyle was killed in Liverpool city centre in December 2014.

The 31-year-old, now a boxing promoter, appeared in the dock at Liverpool Crown Court today (Monday, February 29), ahead of a trial on allegations of assisting an offender and two counts of perverting the course of justice. But Vaughan, of Tower Way, Woolton, Merseyside, pleaded guilty to perverting the course of justice on December 19, 2014, by permitting Donovan to use his vehicle. He accepted he did this knowing Donovan had been involved in an incident that led to the death of PC Doyle...

Judge Steven Everett adjourned sentencing until March 31 for reports to be obtained, and told him, 'Custody is well and truly at the top of the menu'... Licensed boxing promoter Vaughan – who was once on the books at Liverpool FC and is a former president of Maltese club Floriana FC – is the son of Liverpool businessman and former Chester City owner Stephen Vaughan snr... Vaughan junior played for the Blues when the club was known as Chester City, before their rebirth as Chester FC. He had two spells with the club, from 2004-2007 and from 2008-2010, and played more than 50 league games, many as captain. Vaughan's father, also named Stephen, was the owner and chairman of the Blues for much of the time his son was playing".

A report from Kent Online says that "Former Welling captain Ricky Wellard looks set to leave the club. The midfielder has not featured under new boss Dean Frost since the start of February and looks set to depart Park View Road after just eight months at the club.

Welling manager Frost confirmed, 'He is in and out of the squad at the moment. I think he maybe in the process of moving on but that hasn't been finalised'. Wellard was named club captain in the summer by former boss Loui Fazakerley but has scored just three times in 34 appearances. The 27-year-old former Sutton and AFC Wimbledon midfielder has not started a game under Frost at Welling, coming off the bench just twice. He has not made the matchday squad for the last three games.

Frost also confirmed that forward Michael Bakare had left Park View Road while he is keen on experienced midfielder Ibrahim Kargbo, who made his debut in Saturday's defeat to Aldershot. 'He has trained with us for four or five sessions,' said Frost. 'He has trained well and is more enthusiastic than some of the young lads. he brings a lot of experience to the side and has played at a good level. He was part of the reason why we looked strong and organised in the first half'.

Welling travel to Bromley on Tuesday night looking to end a winless run of 17 matches in the National League.Defenders Michael Chambers and Ian Gayle could return from injury but forward Ade Yusuff and Sam Corne are not likely to feature."
---
FOR EARLIER NEWS, CLICK HERE
---