---
31 December 2014
Altrincham Today
has an interview with Lee Sinnott. "After putting in a great performance at Chester on Boxing Day to win 2-0 in difficult conditions, it was really frustrating to lose at home to Nuneaton on Sunday in a game where we had four gilt-edged chances on a silver salver but didn't taken any of them.
When that happens, you are always susceptible to concede and that's what happened as Nuneaton took an opportunity that came their way to score the only goal of the game. We weren't too harsh on the players after the game as they are not going far wrong. The general performance on Sunday was OK on a surface that was tricky under foot for both teams.
At the higher level that we are playing at now, we need to convert a greater proportion of our chances. We are pretty good at creating opportunities but we must be more clinical when they present themselves and we just didn't against Nuneaton and paid the price.
Converting one chance in four may have been good enough in Conference North but in the higher league, we need to be converting one in every two to achieve results that match our performances. Too many times this season, particularly against the teams that are below us in the league, we have dominated but ended up losing or drawing; Telford away and both games against Alfreton immediately spring to mind.
We were without three players for Sunday's game but, hopefully, all of them (Shaun Densmore, Simon Richman and Peter Cavanagh (right)) will be available for the return game against Chester at our place on New Year's Day (kick off 3pm) when a big crowd is expected.
We picked up a couple of injuries late on against Nuneaton, with Nicky Clee getting a kick on his calf and James Lawrie suffering with a tight hamstring, so we will just have to wait and see how they go this week.
After the New Year's Day game, we face a long trip down to Eastleigh in Hampshire on Sunday for another very tough looking fixture against a side who are now in a play-off position.
Despite the fact that we have lost our final match of the year, 2014 has been a great one. The dramatic promotion via the play-offs was the obvious highlight but the way the players have acquitted themselves in the Vanarama Conference has been pleasing, particularly the improvements shown in the last three months.
I think that there is more to come from this group of players in 2015 and hopefully we can progress further in terms of our league position and have a good run in the FA Trophy, both of which would make for a very Happy New Year for all Alty fans".
Altrincham FC is now selling half-season tickets as an ideal Christmas present for Alty fans. They are valid from the game against Nuneaton Borough on 28 December and cover all subsequent league games (excluding play-offs!).
Standing - Adults £110, Concessionaries £65
Seating - Adults £125, Concessionaries £70
Ring the club on 0161 928-1045 or e-mail to secure your ticket.
Details of the TASC supporters' transport to Kidderminster Harriers for the FA Trophy clash on 10 January are now on the
Away Travel
page.
Alty TV has highlights frpm Alty v Nuneaton Town in the adjacent frame.
As we approach New Year it is timely to compare our league record this season compared with or record at the same stage of the last campaign (2014-15).
One of the most obvious features of Altrincham's current end of year league situation is that, compared with recent years, we have played far more games. So far this season we have played 28 league matches compared with a mere 18 in 2012 and 20 in 2013. Also, being at a higher level this season, it is not surprising that we have scored fewer goals...
2012-13: P 18, W 8, D3, L 7, F 43, A 31, PTS 27, POS 9th
2013-14: P 20, W 11, D 4, L 5, F 41, A 26, PTS 37, POS 6th
2014-15: P 28, W 9, D 6, L 13, F 31 A 47, PTS 33, POS 19th
As regards discipline we have had 44 yellow cards and 4 reds in our 28 league games this season, whereas by New Year 2014, we had amassed just 21 yellows and no reds in our 20 league matches.
In terms of our home record, last season we had won 7, drawn 2 and lost 1 at home (i.e. 23 pts from 10 games). In 2014 we have 5 drawn 3 and lost 6 (18 pts from 14 games) and have scored 15 and conceded 21.
By the end of 2013 our leading scorer in Conference North was James Walshaw (15+4 apps) with 12 goals and Damian Reeves (17+3 apps) with 10. For New Year 2014, Damian leads the way with 11 goals frpom 23(+4) league appearances.
According to the
Lincolnshire Echo
, "Delano Sam-Yorke is to remain at Lincoln City until the end of the season. The striker is currently on loan from Cambridge United, but will now stay with the Imps until May 31, 2015... The striker has found the net five times so far this season... It is his second spell at the Imps, having impressed while on loan at the end of last season"
We learn from the Times Series that "Barnet boss Martin Allen says the Bees will not sell top-scorer John Akinde or any other players unless a ridiculous offer is made for their services... After hitting 23 goals in all competitions, Akinde is one of Bees' prized assets.
However speaking on the BBC's Non-League Show, Allen... said, 'We have had a chat with the chairman and there is no need for the club to sell anybody, unless it is a ridiculous offer. There is more and more people coming to watch him (Akinde) and I think he needs to spend more time with me. I do work him hard, I do push him hard and in the future he has got plenty of time for his rewards to come'".
The Comet says that "Ryan Brunt could be out for up to eight weeks after picking up an ankle injury... The striker, who is currently on loan from Bristol Rovers, was starting his third successive game for Boro... Brunt's loan deal with Stevenage is set to expire on January 4."
In the Essex Chronicle we learn that "Iron manager Alan Devonshire was left disappointed but not downhearted after seeing his side's recent mini winning run come to an abrupt end... after... Eastleigh scored four second-half goals to seal a 5-1 victory. 'Anyone seeing the final scoreline will think we were hammered but nothing could be further from the truth', he declared.
'They simply finished better than us. They had six goalscoring chances and scored five and we had just as many but didn't and, as the old saying goes, it's goals that change matches'. Devonshire went on... 'It could well have been 2-1 to us but they immediately broke away down the other end and their striker [James Constable] drives the ball in from the right and it takes a wicked deflection and ends up in the back of the net. A minute later they counterattack and our defender Sam Habergham makes a mistake with a poor headed back-pass and Constable is on goal and we're 3-1 down and the game is effectively over'.
Devonshire explained, 'We know they are a quality side full of experienced Football League players and they have a big budget to attract such class players, and we don't, so it's as easy as that. They punished us when they attacked but their keeper certainly kept them in the game even in the first half when we had more clearcut chances than them'...
The other difference on the day was in midfield, where the Iron lacked their usual penetration and where ex-Iron midfielder Jai Reason had a field day. 'Yes, the scoreline perhaps flatters us on the day but I thought we played well and took our chances', claimed Reason. 'I still think Braintree are a good side and will continue to hold their own in the league and on another day things could have been much different'...
Devonshire said, 'It wasn't a poor performance despite the scoreline and I went into our dressing room afterwards and told the lads that. I didn't ruck them because they did their best but they know we weren't clinical in front of goal like Eastleigh were. And their keeper certainly kept them in the game. But we will dust ourselves down and look to do better against Dartford on New Year's Day', he said. 'I've had to swop players around to try and keep them fresh and I already know what my side will be against Dartford'".
The Grimsby Telegraph reports that "Grimsby Town skipper Craig Disley admits their struggles against lower ranked opponents needs addressing if they are to stand any chance of promotion this season. Sunday's 3-1 defeat to rivals Lincoln City compounded Town's nasty habit of dropping points against teams towards the lower reaches of the Conference.
From their 14 games against clubs currently in the bottom half of the table, Paul Hurst's side have won six, picking up 24 points from a possible 42. Add the Imps, who went into the weekend's derby in 14th place, into the equation and the record looks worse... Town have fared better against sides in the current top half, winning seven of their 13 meetings...
'Since I've been at the club, four seasons now, it's been a problem,' he said. 'We've struggled when teams come and sit behind the ball but, in fairness, Lincoln didn't do that to us on Sunday... I think we're top of the league in terms of our results against the top-half teams. So that makes it doubly frustrating because it shows we're a good side that can pick up wins. It's something that we're working on and that needs fixing fast'...
After the high of a Boxing Day victory at Moss Rose... the 33-year-old is keen to complete the double against John Askey's side" Macclesfield Town, next time out."
Chester First states that "STeve Burr has thrown down the gauntlet to Jamie Menagh as the Blues prepare for their next game at Altrincham on New Year's Day. The Chester boss selected the 21-year-old Liverpool-born winger in place of Craig Mahon in Sunday's 2-0 league victory at FC Halifax Town on Sunday.
Menagh made only his second appearance this season in a Chester starting line-up having previously been introduced as a substitute on nine occasions. And Burr revealed he had told Menagh to be more consistent with his performances after providing an inch perfect right wing cross for Tom Peers' headed goal which wrapped up three valuable league points at The Shay.
'Craig needed a bit of a rest and that's why we changed things. He had been struggling with his form a little bit, so we brought Jamie in and it was good to see Jamie contribute at Halifax', Burr said. 'But I told Jamie that he has now got to do that on a regular basis because it's all about consistency. I think we had got away from the fact that you've got to work hard and earn the right to win games, but we were at it against Halifax and that was a given...
'I thought that Matty Brown and Kieran Charnock were immense for us at the back, but I was also impressed with Ibou Touray at left back, and all the lads worked hard. I also thought that Kingsley James was on his game after being a bit off his game in recent weeks, and John Rooney and Sean McConville played well'...
Burr added, 'We will have dips further down the line but we are now going to try and win as many points as we can'".
And player news comes from KIdderminster Harriers where "The loan deals of Michael Gash at Nuneaton Town and Jasbir Singh at Gloucester City are both due to end on January 4th. Josh O'Keefe is currently recovering from an ankle injury, sustained on loan at Chester, at Aggborough with Harriers physio Gavin Crowe. His spell at the Deva Stadium was scheduled to end on January 1st.
Meanwhile Sam Long, who joined on loan from Oxford United in November, was recalled by his parent club before Christmas... Manager Gary Whild... explained, 'Sam's loan was included in the deal with Chey Dunkley; it was a good gesture by Oxford. But he is a young lad who doesn't drive and was having to travel in from where he lived in Oxford on the train. We weren't using him at the time so we weren't going to keep dragging the lad in. He wasn't going to break into the team over Josh Gowling or Jamie Grimes, and with us bringing Jordan Tunnicliffe in, we had plenty to cover that position'...
Harriers fans will be aware that two Academy players, Kennedy Digie and Luke Maxwell, have made their first-team debuts over the past fortnight. Digie has taken shirt number 6, while Maxwell wears number 24".
---
30 December 2014
Details of the TASC supporters' transport to Kidderminster Harriers for the FA Trophy clash on 10 January are now on the
Away Travel
page.
As usual at New Year, Altrincham FC will be recalling its supporters, former players and officials who have passed away in the preceding twelve months. If you have a friend or relative with Altrincham FC connections whom you would like to have included in the roll-call before the match against Chester, please
e-mail
the name and, if possible, date of death.
On New Year's Day, before the Altrincham FC v Chester FC game (3pm), the Stoke City v Manchester United game (k.o. 12.45pm) will be shown, live, on BT Sport in the new Community Sports Hall at the J. Davidson Stadium. As the Alty v Chester game will be segregated, those wishing to watch the televised match must enter via turnstiles 5 and 6 as the external entrance to the Hall will not be open.
An entry charge of £14 (concessionaries £9), will be made up to 1.30pm, at which point the normal turnstiles will be opened. From 1.30pm the normal main Stand (seating) admission price of £15, (concessionaries £10), will apply.
Altrincham are lying ten points above the relegation spots which is testament to some great results this season. However, the Conference's official statistics reveal that it could have been so much better still, had we been composed in our finishing.
First the good news, Altrincham are the fifth most prolific team in terms of getting shots on target, at 147, a total bettered only by Grimsby Town (188), Torquay United (167), Woking and Bristol Rovers (160 each). However, less impressively, for off-target shots we are second in the table, with 161, one behind Torquay United. (Mental note; do not stand behind the goals at Plainmoor when our two sides meet there).
As previously mentioned, we actually head the division's charts for the highest number of shots per goals scored with 9.94; i.e. for every goal we score, we need to have almost 10 shots!
After Sunday's 0-1 defeat by Nuneaton Town, Lee Sinnott underlined the above statistics as he told Dave Stringer of the NL Paper, "If you can't take at least one of four gilt-edged chances, you are going to lose".
In terms of when we score league goals, we have netted only eight first-half goals this season, yet have conceded 23 before the interval. In the second half of games, scoring is much more even, as we have scored 23 times and conceded 24. According to the Conference, Altrincham's goals have come from the following sources; open play 26 [36 for our opponents], crosses 1 [1], corners 2 [2], penalties 0 [2], direct from free-kick 0 [0], free-kicks 1 [5].
As for players used in the league we are joint lowest, having used only 19 players, the same total as Dartford and FGR. 33 players have been used by Nuneaton Town, who top the chart in this category.
Michael Ripley's excellent images from Sunday's game are on his
website
.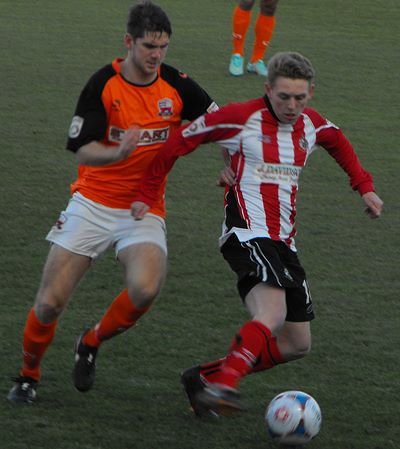 Right, Sean Williams had an impressive first-half for Altrincham against Nuneaton.
Altrincham were without Shaun Densmore, Peter Cavanagh and Simon Richman for Sunday's game. Both Shaun (stomach bug) and Simon (flu-like symptoms) were ill, while Peter had a knee problem. It is hoped that all three will be available for the New Year's Day visit of Chester. James Lawrie finished Sunday's game with a limp and his fitness will be reviewed.
Sunday saw Reserves' striker Joel Swift make his first appearance in a Conference matchday squad as an unnused substitute against Nuneaton Town. Joel had previously been named in two FA Cup squads this season and has forced his way into contention by leading the Alty Reserves' goalscoring charts.
Thanks go to the donors and collectors who raised £61.91 for the Club through Sunday's half-time bucket collection.
"Southport manager Gary Brabin has released non-contract defender Clayton McDonald" reports the
Football Conference
. "The defender graduated out of the Manchester City youth academy in 2008... He joined Bristol Rovers on loan in January 2013 but after Port Vale secured promotion out of League Two in 2012/13, McDonald was released. McDonald signed a one-year deal with Grimsby Town in the summer of 2013 and made seventeen appearances for the Mariners before being released by manager Paul Hurst.
In August 2014, McDonald joined newly-relegated League Two outfit Tranmere Rovers on non-contract terms. However, he left Prenton Park later in the month after making just one first-team appearance. He signed for the Sandgrounders in September."
And the BBC adds that manager Gary Brabin stated , "I am looking to build the squad and have informed Clayton that he isn't in my plans".
According to NL Pitchero, "Midfielder David Gonzalez has revealed that he has enjoyed his spell with Macclesfield Town, despite having a request to return to Spain accepted by the club. Gonzalez, who began his career at Barcelona, has had his contract at Moss Rose cancelled by mutual consent...
The 24-year-old said, 'I wouldn't like to leave Macc without saying thanks to all my team-mates and to all Silkmen fans for their support to me. It has been a great experience for me these last six months at Macc'. The former Spanish under-17 international made eleven appearances during the first half of the campaign."
In the Chester Chronicle we read that "Hard work was central to Chester FC beating FC Halifax Town 2-0, according to manager Steve Burr. A performance vastly superior to that of the Boxing Day defeat to Altrincham brought the Blues winless run to an end at The Shay on Sunday.
Matty Brown headed them into the lead after seven minutes and 19-year-old academy product Tom Peers sealed the points with his first senior goal six minutes from the end... Burr said following the game... Burr was pleased to take an early lead... 'It was a well worked goal and nice to see your centre half getting on the end of it', said the manager... 'There's a bit more to football than a long throw in and we did what we had to do. Part of football is defending and we've done that well I thought. I know what Neil's like and I know he'll have had a go at them at half time but I think for me when they came to our place we were miles off it and we've improved a lot'...
Peers, a prolific scorer at youth level, broke his senior duck on his 20th appearance and the manager was delighted to see the Warrington-born forward on the scoresheet... Burr said he had been concerned about a section of the pitch but was grateful the conditions did not lead to any injuries. He said, '"The bottom end, where the Halifax supporters were, right across from the six yard box was rock hard. Putting sand on it, I think the referee felt that was enough to soften that area of the frozen pitch'".
Meanwhile, FC Halifax Town report that "Town ended the Christmas period and 2014 with a disappointing 2-0 home defeat to Chester. It was a game of missed chances for the Shaymen and ultimately they were made to pay... Will Hatfield was once again brilliant in the Halifax midfield, as he tried to drive the team forward and get them going after a slow start.
Said Hatfield, 'In this league it's always backs against the wall once you lose that early goal. I thought we kept going and dug deep and at times we played some good football, especially in the second half, as we had the better of the chances and if we took them, it could've been a completely different score line... We were chasing the game towards the end and committed a few men forward and they caught us on the break. It's a good goal to be fair'...
The match was Hatfield's final game for the Shaymen unless they come to an agreement with the midfielder's parent club Accrington Stanley, but Hatfield is hoping to stay at Town for a little longer... 'I've been playing and I've really enjoyed it... Town now have a small break before their next game, which is at home against Alfreton Town in the FA Trophy. Hopefully, Hatfield will have extended his loan by then and will still be wearing the no.36 shirt".
From the Lincolnshire Echo we learn that "Attacking midfielder Karl Ledsham has left Lincoln City by mutual consent. The former Southport ace was snapped up by former Imps' boss Gary Simpson last summer, but has struggled to make an impact at Sincil Bank.... Ledsham was sent out on loan to rivals Telford United in November and since returning has been deemed surplus to requirements by Chris Moyses."
The Kidderminster Shuttle tells us that "Benefactors Kath and Ernie Lane have called on Harriers' supporters to stick with the club as it copes with its cash flow crisis. The pair are currently keeping the club afloat by paying the wages each month and made an impassioned plea to fellow supporters to back the club during this testing period. Supporters are unhappy with the board of directors over the club's finances, which they blame on poor management.
Harriers' predicament is despite last season's run to the FA Cup Fourth Round and the sale of Joe Lolley to Huddersfield for £250,000. The cup run generated £125,000 in prize money but the replay at Peterborough actually cost Kidderminster because of stewarding costs.
The Fourth Round clash at Sunderland, which was played in front of a 25,000 strong crowd at the Stadium of Light, yielded a less than predicted £60,000 because of hefty policing and stewarding bills. Harriers have completed paying off former boss Steve Burr as well as Jamie Tolley, Lee Fowler and James Dance. Ex-manager Andy Thorn is still being compensated, while the club are due the final £50,000 instalment for Lolley in January.
The backers also revealed Kidderminster lost the investment of former chairman Mark Serrell and wife Ruth when they departed in February. The Lanes also resigned as directors this summer and only returned to back Harriers when the situation became dire, while financial director Jo Hancox also left.
'My husband and I are no longer board members but we do support the club financially', confirmed Kath Lane. 'I can tell you five directors have stepped down. Last season, my husband and I and two others were financially supporting the club. We are now left with only five directors, of which only two are putting money into the club at all, which is a very small amount. We need the fans coming into the club because your support, along with my husband's and mine, is keeping the club going'.
However, Serrell defended his time as chairman and running of the club. He said, 'I am more than happy for an investigation into the club's finances. It should be remembered that minutes were taken at every board meeting when I was involved, so every decision was documented'".
Still at Aggborough, Kidderminster Harriers report that "Player-coach Josh Gowling admitted both manager Gary Whild and assistant boss Mark Creighton felt Harriers' display against Southport was unacceptable.... But Gowling, currently sidelined with a knee injury, refused to blame the current state of the Aggborough pitch for the loss.
Speaking post-match, Gowling said, 'They [Whild and Creighton] are not happy with the performance, especially as we've gone four games unbeaten and the lads have been doing well. In terms of the pitch, I know the groundsman; he's a great guy and he's got to work with what he's got to work with. We go away from home to Grimsby and Forest Green and the pitches are better - we play good football and we get the result. It's disappointing to come home and not be able to play the football that people expect us to. Southport are quite direct and maybe the pitch has played into their strengths, whereas we couldn't really get the ball down and play...
We didn't match their intensity and that was the disappointing thing'. Gowling also talked through his own knee problem and explained the absences of Aman Verma and Callum Gittings. Meanwhile Luke Maxwell, who played a big part in the Academy's historic FA Youth Cup run this season, stepped up to make his first-team debut, and Gowling was full of praise for the youngster. 'Verms had a problem with his back and Gitto had a problem with his calf. They hadn't trained and the gaffer had to make a decision', the 31-year-old said. 'Luke Maxwell came in for his debut and he was fantastic... Kennedy Digie is another lad who is coming through... When you've got injuries, someone has to step up and take their chance, and I think Maxwell did that'.
Gowling continued, 'We were worried that I had done my ACL [Anterior Cruciate Ligament] which would have put me out for a very long time. Luckily the scan showed that although I've stressed my ACL, I've actually done my medial ligament - I've got a grade two tear in that. I'm looking at being out for four to six weeks but I'll be back quicker than that!'
The skipper will continue to watch on from the sidelines on Thursday as Harriers face their second match against Forest Green Rovers in the space of a week... 'Forest Green... like to play football, they like to pass it out from the back. We've just got to get in their faces. With two teams that play football, on this pitch, there are going to be mistakes, so we've got to make sure we capitalise and get a result'".
In the Watford Observer, "Barnet head coach Martin Allen has confirmed his intention to extend the loan deal of Watford's Bernard Mensah when it expires at the beginning of January. The Hornets' striker is currently on loan at The Hive until January 5 and has scored twice in eight outings for the Bees...
Allen has expressed his desire to tie Mensah and fellow loanee David Hunt to new deals with the Bees ahead of the January transfer window, which opens in 48 hours' time... Mensah, who impressed on loan at Braintree Town last season, has made one start and seven substitute outings for the Bees".
The Southport Visiter adds that "Southport ended 2014 with a victory at Aggborough to continue their fine away form on the road.... Paul Smith came back into the side at right back, Clayton McDonald who was subsequently released after the match went out the side with Dominic Collins shift[ed] to centre half. Mitchell Austin was selected at left-wing, John Marsden was recalled at centre forward in place of Bakayoko and Hattersley respectively...
The squalid conditions set the tone for a very scrappy first half on a pudding of a pitch... The second half was again marred by the poor playing surface. Luke George scored the only goal of the game. He sweetly struck an effort into the top corner on the half volley from 25 yards... Southport held firm to claim a fifth away victory in eight matches".
A report in the Bristol Post says that "Bristol Rovers boss Darrell Clarke is facing competition in a bid to land top January transfer target Matt Tubbs. Clarke has made the Bournemouth striker his number one transfer window target and is hoping that their time together at Salisbury City will help him persuade Tubbs, 30, to become part of Rovers' bid to return to the Football League at the first time of asking.
But, after scoring 15 goals on loan at AFC Wimbledon since the start of the season, Tubbs has become hot property and is attracting the interest of four or five other clubs. Putting together a financial package to persuade Tubbs, who is believed to be earning in excess of £5,000 per week at Bournemouth, could also prove to be another stumbling block for Rovers.
The security of a long-term permanent contract could help Clarke sway a deal in Rovers' favour for a player who is set to return to Bournemouth at the start of January to consider his options before becoming a free agent in the summer. Wimbledon boss Neal Ardley .... [said] 'We'd love to have Matt Tubbs for the season but it is impossible to lock down the loan, 'Matt is enjoying himself, but he is 30, his contract is up with Bournemouth in the summer and he will do what is right for him... When they are someone else's players and you're only paying 25 per cent of their salary you can't call the shots. We're looking at other options but he wouldn't be easy to replace'...
Clarke, meanwhile, has yet to publicly declare an interest in Tubbs, but has confirmed that he would like to sign 'two or three' new faces during the upcoming transfer window."
Alty's next away trip is to Eastleigh, who are unbeaten at home this season. The Braintree & Witham Times tells us that "Braintree Town's winning run was brought to an abrupt run by Eastleigh at the Miles Smith Stadium. The Iron came into this game on the back of three wins when they hadn't conceded a single goal. However, Eastleigh put five past them on a day to forget... Ryan Peters was out with a thigh injury as Mitch Brundle came in and Charlie Strutton was rested as Dan Sparkes made his first start since early November...
The visitors' pressure finally told in the 31st minute when Craig Stanley worked a yard of space on the edge of the box and curled a shot past Hamman to take the lead... but Braintree were handed a lifeline in the 43rd minute. Akinola's jinking run into the box saw his heels clipped and, with the referee pointing to the spot, Brundle stepped forward to put the penalty home to pull his team level at the break...
Two goals in two minutes put Eastleigh in full control. It was Constable on both occasions who did the damage... but [Braintree] looked vulnerable to breaks and a fourth Eastleigh goal showed that as a cross from the left was headed in by Jack Midson. It was then quickly five as Constable completed his hat-trick".
In Stroud Life, "Chairman Dale Vince has declared himself happy with Forest Green's season so far and pledged to strengthen the squad in next month's transfer window. Rovers have slipped to 12th following back-to-back defeats against Grimsby Town and Kidderminster Harriers, while their promotion hopes have been badly hit by a three-point deduction for fielding an ineligible player...
But Vince said, 'I'd say our season so far has been a good one... We're not badly placed. We've certainly been hard to beat and I feel we have a shot at the play-offs. We'll make a signing or two in the January window if we can, to give us that extra push'. Pennock is known to be in the market for a striker but told The Citizen last week that the club were not prepared to pay 'ridiculous money' for additional firepower.
Rovers missed out on the deadline-day signing of Barnet winger Keanu Marsh-Brown during the summer window and are not expected to renew their interest... Meanwhile, the club have appointed James Mooney to the role of club secretary. An employee of Vince's green energy firm Ecotricity, Mooney replaces interim secretary Mark Giaquinto and is the long-term successor to Michelle McDonald after she stepped down in August".
---
29 December 2014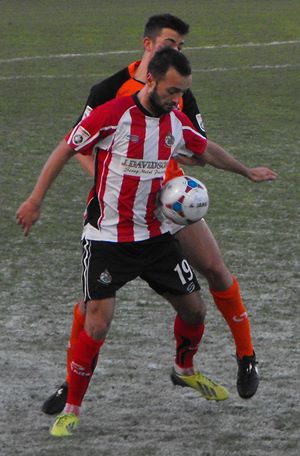 Nuneaton Town completed a double over Altrincham who lost for the seventh time in nine matches against teams below them in the league table at kick off.
Right: Ryan Crowther protects the ball against Nuneaton.
Match report here.
Nuneaton Town
report that "Boro put their awful away form to bed as they made it four points out of six over the festive period with a hard-earned 1-0 win over Altrincham. Not since the beginning of February have Boro managed to bring back three points from their travels but they did so in dramatic circumstances as Callum Burton produced a man-of-the-match performance to deny the home side.
Nuneaton ended their Boxing Day clash at home to Telford by conceding two goals in the last 30 seconds to throw away a 4-2 lead – but there was no sign of any hangover. Boro lined-up with the same starting 11 that began the Telford match, they looked solid and began with some composed play. They nearly conceded early on, however, but Callum Burton pulled off a dramatic double save, stopping Damian Reeves not once but twice to deny the Altrincham frontman...
Altrincham came closest to taking the lead though, as Tom Marshall saw his effort ruled out by the off-side flag after the defender found space following a free-kick on the edge of the box. It wasn't the officials who stopped Boro from enjoying a dream start to the second period, but the woodwork. Ryan Smith produced some fancy footwork on the edge of the box but had to watch as his looping effort cannoned back of the crossbar and bounced away to safety...
The on-loan Shrewsbury man had already denied Reeves twice in the first half and 15 minutes into the second he did so again, getting up high to punch over a close-range header from the frontman, one that the Boro stopper had no right to get to...
Michael Gash joined the club earlier in the season with a reputation for goals, and he showed a glimpse of why that was as he tapped home a Gavin Cowan volleyed effort from four yards out, the striker was in the right place at the right time to net his first for the Boro.
Under normal circumstances Gash would be the hero with a goal as important as that, but Burton was taking all the plaudits after he continued to deny Altrincham – and most notably Reeves – all on his own. The stopper showed he was good on the deck this time as Reeves shot low and true with five minutes remaining, Burton was again up to the task though, and tipped the ball wide for a corner. The keeper was not finished their though, far from it, as he denied Reeves once again in the last of six minutes of stoppage time to ensure the Boro took all three points back home".
The BBC's match statistics show:
Possession 61% Altrincham 39% Nuneaton
Shots 18 Altrincham 7 Nuneaton
On target 7 Altrincham 3 Nuneaton
Fouls 8 Altrincham 7 Nuneaton
The
Blue & White Fanzine
reports that "Chester turned around their fortunes, after a dismal performance just two days ago, to beat Halifax. A Matty Brown header and a Tom Peers diving header secured the points for the Blues who thoroughly deserved to win. Halifax did come close twice to scoring but two good saves from Worsnop denied them and Chester had the better of the play and the chances. Here are some thoughts…
Peers. What a great header and it is really nice to see one of youth products getting their first goal for the club. Took it really well and it is good to see him getting a fair few chances off the bench. Came on for Hobson, who I thought played well today – bullying their defenders and holding it up well, and took his chance from a great cross from Menagh...
Menagh was my MOM today. Ran his socks off... A proper chalk-on-his-toes winger who has looked lively off the bench recently...
To me, today we looked more direct than usual. We were looking for the head of Hobson a bit more than normal but he had more support than he did against Altricham. It worked in reliving the pressure on our back line which has been a problem in recent weeks and gave our defenders more time to regroup".
And Chester First adds that "Steve Burr praised the energy and workrate of his players after a 2-0 victory at FC Halifax Town...
'I was glad to see us getting back to winning ways and getting the points after a bit of a dip', Burr said. 'I think the players now realise that they have work hard to earn a result and it was great to see... The most pleasing thing for me was to see the energy back because that was missing against Altrincham on Boxing Day... I didn't think the playing surface was playable, but a lot of people put a lot of hard work in to get the game on and I have to applaud them for that because a lot of them have been up since 7am'".
According to Harriers Online, "The Harriers had high hopes of a fifth successive three points against Southport this afternoon but a pitch in shocking condition helped to put paid to those hopes. The preceding game here on Boxing Day between Worcester and Hednesford had been a disaster in terms of pitch quality and, even after some emergency repairs in the past two days, it didn't look any better than it did then. Just less water standing on it. It had passed an inspection early this morning but that was just to ensure the ground wasn't too hard to play on due to the severe overnight frost.
As it was the game got underway on a pitch that was already cutting up badly during the pre-match warm up. From the start the tone of the game was set with continuous hoofball from both sets of teams and there wasn't much football on show. We now have the return game against Forest Green at Aggborough to look forward to but if the pitch hasn't improved by then we will almost certainly be hoping that it gets called off if that was the way we play on it".
In the Daily Echo, we read that "James Constable plundered a second half hat-trick as Eastleigh caned Braintree 5-1... The Spitfires are now fifth in the elite league of English non-league football, with at least two games in hand on all the teams above them... Craig Stanley opened the scoring for Eastleigh in Essex with a 25-yard effort.
Mitch Brundle equalised with a penalty after defender Paul Reid was punished for a foul on Simeon Akinola. Into the second half and former Oxford United ace Constable struck twice in two minutes... Jack Midson made it 4-1 from another McAllister cross before Constable completed his treble and Eastleigh's biggest win in their short Conference Premier life. Richard Hill's men have now scored nine goals in their last two away league games, with Constable having grabbed five of them.
After only scoring five in his opening 19 league games for the Spitfires, he has now scored the same amount in his last three games".
From Chester on Boxing Day, Michael Ripley has photos of Altrincham's win,
here
.
Gates on Sunday:
Altrincham 0-1 Nuneaton Town (1025)
Barnet 2-2 Dover Athletic (2048)
Braintree Town 1-5 Eastleigh (748)
Bristol Rovers 4-0 Macclesfield Town (6943)
FC Halifax Town 0-2 Chester FC (1901)
Grimsby Town 1-3 Lincoln City (7136)
Kidderminster Harriers 0-1 Southport (1883)
Welling United 0-0 Torquay United (808)
Woking 1-2 Aldershot Town (3559)
Saturday, 3 January 2015
West Bromwich Albion v Gateshead
Derby County v Southport
Sunday, 4 January 2015
Dover Athletic v Crystal Palace ko. 1pm, BT Sport
Stoke City v Wrexham
---
28 December 2014
Sunday, 28 December
AFC Telford Utd v Gateshead OFF
Alfreton Town v Dartford OFF
Altrincham 0-1 Nuneaton Town
Barnet 2-2 Dover Athletic
Braintree Town 1-5 Eastleigh
Bristol Rovers 4-0 Macclesfield Town
FC Halifax Town 0-2 Chester FC
Grimsby Town 1-3 Lincoln City
Kidderminster Harriers 0-1 Southport
Welling United 0-0 Torquay United
Woking 1-2 Aldershot Town
Wrexham v Forest Green Rovers OFF
You can follow the Altrincham v Nuneaton Town match (Sunday, 3pm) via this website's minute by minute updates or via Radio Robins. Click on the appropriate icon below to go to your preferred means of following the game. For Twitter and Facebook links see the icons on the side panel, right.
Brian Flynn adds that "Radio Robins, sponsored by Ashley Mowers Garden Machinery, will be broadcasting full live coverage of Sunday's game with Nuneaton Town.
The match commentary sponsor is John Green Professional Editing Services. For all your editing and proofreading needs. Anything from novels, to essays, to football programmes. Contact John by e-mail.
The commentators are Niall Finnegan and Niall Flynn with match summaries from Joe Barry. Coverage starts at 2.50pm with the game kicking off at 3pm. You can listen to Radio Robins on the internet at www.radiorobins.com.
Leah and Simon Brotherton will be providing regular updates on Twitter (@altrinchamfc) as well as half-time & full time updates on facebook (Altrincham FC)".
Mike Garnett's records show the record in previous games between our two clubs:
At Altrincham: P1-W1-D0-L0-F2-A0
At Nuneaton: P2-W0-D0-L2-F2-A4
All: P3-W1-D0-L2-F4-A4
Hereford United's Bulls' News tells us that "It is understood that Jon Taylor has contacted several of his former Edgar Street squad to play a trial game at Nuneaton in early January. With the Conference side facing a blank Saturday on January 10th, having dipped out of the FA Trophy, Liam Daish is seeking new recruits with his side second bottom in the table having lost all five of their matches so far in December".
TASC chairman Brian Flynn advises us of "The Altrincham Football Club 'Easter' Draw 2015. Tickets will be on sale before the Nuneaton game for the Altrincham Football Club 'Easter' Draw 2015, for which the prizes are as follows:-
Jazzy Blue hudl 2 Tablet Computer
Brother Multi-Function Printer/Scanner
VIP Hospitality Package for 4 People at Manchester Phoenix Ice Hockey
Four-Ball Round of Golf at Heyrose Golf Club
Any item from the Altrincham F.C. Merchandise/Clothing Range
2 Tickets for an England International Match at Wembley Stadium
Matchday Hospitality for Four People at an Altrincham F C. Home game and a signed home shirt
Hugo Boss Man Aftershave
Four-Ball Round of Golf at Davyhulme Golf Club
George Foreman Grill - PLUS MANY MORE!
Tickets are 50p each or a book of 4 for £2 and the draw will take place on Easter Saturday (April 4th) 2015 in the Community Sports Hall after the game with Southport".
According to the
Chester Chronicle
"Steve Burr said his Chester FC side are struggling for form and confidence after watching them fall to a limp 2-0 defeat at home to Altrincham on Boxing Day. Goals in either half from Tom Marshall and Gianluca Havern made it six games without a win for the Blues, who have dropped to 16th in the Conference Premier table.
Both of the Robins goals came from defensive mistakes at set pieces but of more concern to the manager will be the lack of chances his side, who have not won in six games, created. Burr said afterwards, 'It was disappointing, very disappointing. We were poor and there are several lads that have just dipped in a bit of confidence and a bit of form, hence leading to the fact that we haven't come out with the win. I thought the first one had gone straight in from the free kick but apparently Marshall got a touch to it, but again that's something we should deal with.
We came out with a quite bright start to the second half and the first time they got in out box they got a corner and they scored and again we give people jobs to do at corners to mark and that wasn't being carried out, and that's disappointing'. Losing Matty Hughes and Rhys Oates, whose arrivals on loan coincided with an upturn in form, has left the Blues worryingly short of pace in forward areas.
Altrincham keeper Stuart Coburn was rarely troubled and the manager recognises the need for improvement. 'That's something that's been said afterwards and at half time', said Burr. 'From a side that looked like we were going to score a lot of goals and creating a lot of chances, it's like somebody has switched the tap off and we've not do enough at all to work Stuart in the Altrincham goal and that's disappointing. It's difficult because we know what the lads are capable of but it's just over that period of time and the consistency levels that you need in this league and maybe one or two have just lost a bit of form and a bit of confidence but we can't put confidence into them and they've got to find that themselves
At the minute we've just gone off the boil compared to what we were, which is disappointing'. Chester are back in action on Sunday with a trip to FC Halifax Town and Burr suggested he will consider changing both personnel and tactics. He said, 'It will be another late night for me and Jon because, like it was after the Telford game, I don't think we left here until about 1am racking our brains on the best way to go about things but we'll do it again. You've got to change things around if things are working and with the squad that we've got there'll obviously be lads who'll get another opportunity but we've got to see a lot better consistency levels and get these lads back at it'".
Alfreton Town have announced that "Town's home game against Dartford has been postponed after the Impact Arena playing surface failed a pitch inspection on Saturday. A new date for the fixture will be issued once confirmed."
Meanwhile, Wrexham told us on Saturday that "Following overnight snow and then heavy rain since, the Racecourse pitch is giving cause for concern, ahead of Sunday's game with Forest Green Rovers. With a gentle thaw throughout the day, the snow has been melting, but only adding more water to an already sodden pitch.
Those who attended the FA Trophy replay with Southport will understand the problems we faced that night. The pitch has been vertidrained since, with thousands of 12-inch deep holes punched into the surface to aid drainage, but many of those are currently full of standing water. More heavy rain has also been falling onto the surface this afternoon.
With temperatures forecast to dip below freezing overnight and then hardly climb back into positive figures tomorrow, we have consulted with the both the match official and the Football Conference. It had been decided to ask a local referee to call at the Racecourse for about 9.30am tomorrow to make a preliminary inspection and for him to then consult with the match referee about any further action".
Bulls' News
report that "Torquay have released former loanee Dan Sullivan. The 20 year-old striker, who was due to have remained at Edgar Street [Hereford] until January, netted Hereford United's final goal in their 1-1 draw with Dunstable Town."
In the South China Morning Post we read that "Peter Simpson is a China-UK based journalist and the SCMP's former Beijing 2008 Olympics news editor... He writes, "Could there be a better time of year to enjoy a visit from the ghost of football's past? The Boxing Day clash between non-league Torquay United and Bristol Rovers (it was 2-1 to Rovers) was a sobering yuletide football fix as well as a welcome opportunity to escape the relatives. The game is real and wholesome, the atmosphere spontaneous and free of corporate control...
Such spirited contests, viewed by a few thousand turkey-stuffed souls, are also quintessential heart-warming Christmas stories, each loaded with messages of hope, good cheer and even Christian redemption from EPL indulgence. On such threadbare terraces can be found the true value of football and a reminder from whence all that glitters at the top of the tree came.
And utilitarian grounds, like Torquay's Plainmoor, are the perfect places to blood young fans-cum-budding players with non-league football... The stadium rafters groan in the wind and the advertising is old school (local haulage companies, hairdressers, butchers and hardware stores); the banter-filled terrace is standing only... The football is muddy and pedestrian, and some of the players are patently best suited to occupations using their hands rather than their feet.
But the game is real and wholesome, the atmosphere spontaneous and free of corporate control. There's no paid-for flag-wavers and large LCD prompting screens telling you when to cheer and when to cry. The speculative suits are absent. Instead, families in hand-knitted scarves pour soup from thermos flasks. The often intense coarseness of the top leagues is replaced with pantomime guffaws, silly hats and jumpers, ironic cheers and good-natured fun-poking, win or lose.
Tickets are far cheaper and you can watch a game and not worry about paying the mortgage on the final whistle. You have the right to stand where you want - you can wonder around and chat with travelling fans at half-time - rather than be squeezed on to a ridiculously small piece of numbered plastic seating, and ordered like a dog to sit and stay by severe looking platoons of day-glo jacketed stewards..
The apparent poverty of non-league football makes... for a far richer experience because expectations are modest; you get what you pay for, after all...
Perhaps those other EPL stars paid vast amounts per week not to play - Manchester City's Scott Sinclair and Matija Nastasic, paid £45,000 and £70,000 per week respectively, QPR's Shaun Wright-Phillips, £70,000, and Manchester United's £75,000 Anderson spring to mind - could offer themselves to struggling non-league clubs for discounted hire. Perhaps they could embrace the Christmas-giving spirit and donate a slice of their vast pie to present-day Tiny Tims, like Hereford United... Of course, there's a fat goose's chance of the overpaid EPL stars discovering football's soul on a windswept non-league pitch this Christmas".
---
27 December 2014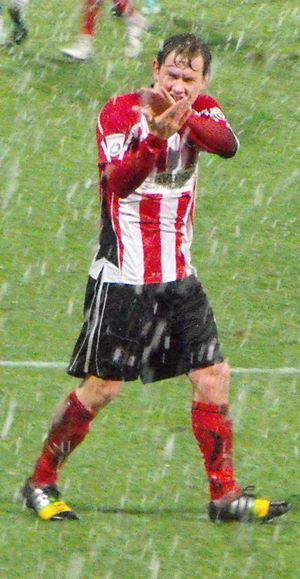 Right: A soaked Shaun Densmore salutes the Alty supporters after the game, underlining the tough conditions under which the game at Chester was played.
Following yesterday's game, the Chester Chronicle said that "Steve Burr has plenty to ponder after the the Blues lost 2-0 at home to Altrincham. Heavy-legged, weary and misfiring in attack, the Blues wretched end to 2014 continued with a 2-0 defeat at home to Altrincham.
A hard working and well organised Robins side made it six games without a win for Chester, who are in dire need of a rest and reinforcements... This was a world away from the quick tempo passing and high energy pressing the Blues have produced at times, and the transfer window cannot come soon enough.
December had been disappointing for the Blues, whose interest in the FA Cup and the FA Trophy had been ended during a five match winless run. Four games in 10 days meant Chester, who were unbeaten in eight home league games, had no time to dwell and needed to start winning again, or end up dropping down the table.
Altrincham, on the other hand, had put together a decent run with one defeat in seven games, and a win would take them level on points with the Blues. Steve Burr made one change with Kane Richards returning to make his home debut having been ineligible for the FA Trophy replay...
Chester started with the look of a side that had over indulged on Christmas Day; slow to react, wasting passes and unable to settle into the game. Alty were not much better and the opening 10 minutes were as depressing as the cold and miserable as the conditions...
Alty took the lead on 25 minutes when Shaun Densmore's free kick caught out Kieran Charnock and Tom Marshall headed down and past the diving Worsnop. Chester should have been two down when Worsnop denied Kyle Perry from close range, the keeper redeeming himself after failing to clean up Jake Moult's shot...
Chester came out with far more purpose in the second half... Alty had been second best but doubled the lead against the run of play on 59 minutes, again taking advantage of a defensive lapse. Lawrie sent over a corner that was allowed to fly across the face of goal and Gianluca Havern had the simple task of nodding into the net from a couple of yards out...
There was a lot of huff and puff but it was a performance worryingly short on quality with the Robins finding things far too easy".
Chester's Blue & White Fanzine adds, "Full-time or not, we've played a lot of games this month. We really need to get one or two more quality players in to give us the opportunity to rotate the squad a little more. Not having enough quality on the bench is fine when your first eleven is fully fit and playing well, but we've suffered this month because of the thin nature of the quality in the squad. Hopefully the cup run will have given us enough money to sort this out".
Friday, 26 December
Aldershot Town 1-3 Barnet (att. 1940)
Chester FC 0-2 Altrincham (2569)
Dartford 0-2 Braintree Town (1201)
Dover Athletic 4-0 Welling United (1509)
Eastleigh 2-2 Woking (1752)
Forest Green Rovers 2-3 Kidderminster Harriers (2044)
Gateshead 2-2 FC Halifax Town (1216)
Lincoln City 3-2 Alfreton Town (2685)
Macclesfield Town 0-1 Grimsby Town (2786)
Nuneaton Town 4-4 AFC Telford Utd (1017)
Southport 0-1 Wrexham (1912)
Torquay United 1-2 Bristol Rovers (3755)
Alty's next opponents were involved in an eight-goal match on Boxing Day as they drew 4-4 against Telford. The
Shrosphire Star
tells us that "AFC Telford United struck twice in stoppage time to rescue a point from their basement battle at Nuneaton. The Bucks had been 4-2 entering stoppage time but two late, late strikes from Sam Smith and substitute Sean Cooke ensured they took a share of the spoils.
The Bucks had earlier enjoyed the perfect start when Smith hammered them in front with a dipping, swerving 20 yard drive. But Nuneaton... levelled from the penalty spot when James Armson slotted past Hedge on 41 minutes. The spot kick was correctly awarded by referee Stephen Ross after Kyle Brownhill had upended striker Michael Gash in the area, and the kicker placed his effort straight down the middle.
The Bucks retook the lead six minutes after the re-start when Boro goalkeeper Callum Burton, who is on an emergency loan from Shrewsbury Town, spilled Farrell's low cross into the net from a tight angle. But Telford goalkeeper Jonathan Hedge handed the hosts the softest of equalisers when he dropped a routine catch from an Adam Dawson free-kick on the hour. The shot was straight at him but he somehow dropped the ball over his own goalline.
The game looked to be over when first Armson put the hosts in front with 15 minutes left and then Onome Sodje netted a fourth five minutes later. When Sam Smith headed home in stoppage time from a Cooke cross it looked like nothing more than a consolation. But then Cooke unleashed a terrific long range effort just a minute later to snatch the unlikliest of points for the visitors".
Elsewhere, NL PItchero says that"John Akinde's third hat-trick of the season earned Vanarama Conference leaders Barnet a 3-1 win away... against an Aldershot Town side who are now dangerously close to the drop zone...
Bristol Rovers got their festive schedule off to a winning start after goals from Matty Taylor and Neal Trotman helped to secure a victory over Torquay United at Plainmoor... Torquay... managed to reduce the deficit with a goal that goalkeeper Fabian Spiess will not want to see again. Somehow, the on-loan Notts County man managed to punch the ball into his own net... Rovers missed a hatful of good chances that would have made life a little easier for themselves.
Macclesfield Town's unbeaten home run finally came to an end as play-off rivals Grimsby Town took the three points on Boxing Day. It was the Silkmen's first loss on home turf since the back end of last season, and means they drop a place and lose ground on leaders Barnet...
Eastleigh completed the year unbeaten in the league at the Silverlake Stadium after an entertaining 2-2 draw with fellow play-off contenders Woking... Eastleigh will be pleased with the point after surviving a couple of late chances for the Cards.
Two goals from Aman Verma helped Kidderminster Harriers record a 3-2 victory over Forest Green Rovers... Honours were shared at the International Stadium between Gateshead and FC Halifax Town in a game that both sides will feel they could have won... Halifax were the better team and will feel aggrieved to not have gone in [at half-time] ahead. The second half was a totally different story, as substitute Michael Rankine caused Halifax all sorts of problems along with Oster...
Wrexham recorded a first win in the league since November with a 1-0 away win against strugglers Southport. Midfielder Jay Harris fired a low shot in off the post from 25-yards out to give the Dragons the lead just a minute into the second half... Defeat leaves the Sandgrounders one place and four points above the relegation zone.
Dover Athletic extended their unbeaten run to nine league games with a comfortable victory over Kent rivals Welling United... Welling goalkeeper Ben Buchel was sent-off in stoppage time for a foul on James Poole, who subsequently got up and sealed victory from resulting penalty.
Lincoln City earned a 3-2 win over third-bottom Alfreton Town at Sincil Bank... A third consecutive clean sheet and another three points made it a very happy Christmas for Braintree Town at Princes Park against fourth-bottom Dartford... The bottom two in the table, Nuneaton Town and AFC Telford United, shared an eight-goal thriller at Liberty Way".
---
26 December 2014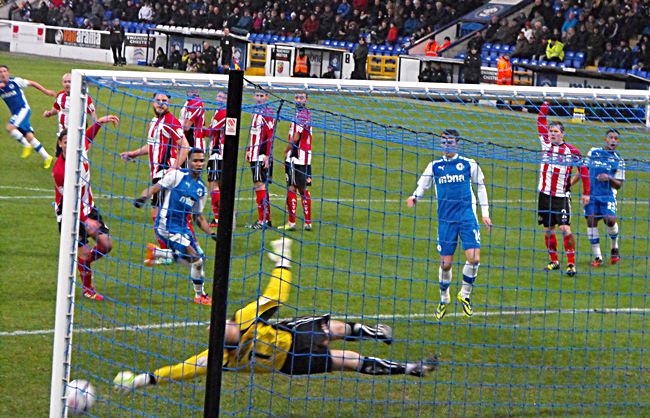 Above: Stuart Coburn's magnificent save from John Rooney's first-half freekick helped Altrincham as they beat Chester 2-0 on Boxing Day.
Goals from both of Alty's central defenders, Tom Marshall and Gianluca Havern, secured Altrincham a deserved win...
Friday, 26 December
Aldershot Town 1-3 Barnet
Chester FC 0-2 Altrincham
Dartford 0-2 Braintree Town
Dover Athletic 4-0 Welling United
Eastleigh 2-2 Woking
Forest Green Rovers 2-3 Kidderminster Harriers
Gateshead 2-2 FC Halifax Town
Lincoln City 3-2 Alfreton Town
Macclesfield Town 0-1 Grimsby Town
Nuneaton Town 4-4 AFC Telford Utd
Southport 0-1 Wrexham
Torquay United 1-2 Bristol Rovers
You can follow the Chester FC v Altrincham match (Boxing Day, 3pm) via this website's minute by minute updates or via Radio Robins. Click on the appropriate icon below to go to your preferred means of following the game. For Twitter and Facebook links see the icons on the side panel, right.
Brian Flynn adds that "Radio Robins, sponsored by Ashley Mowers Garden Machinery, will be broadcasting full live coverage of the game at Chester. The match commentary sponsor is SKkits, a major independent sports brand in the North West, supplying Altrincham and a further 8 leading semi-pro clubs including Warrington Town, Buxton, Kendal Town and Lancaster City. SKkits is a well established company, owned and run by Ian Senior, with a reputation for supplying high class products at unbelievably low prices to sports clubs the length and breadth of the UK, and due to their unique relationship with their suppliers they guarantee that they will not be beaten on price and service. All products delivered within 14 days of order FREE OF CHARGE to mainland UK. Have a look at their website or call Ian Senior directly on 07960 137232.
The commentators are Ian Wilkinson and Brian Flynn with Mike Reeves as match summariser. Coverage starts at 2.50pm with the game kicking off at 3.00pm and you can listen to Radio Robins on the internet at www.radiorobins.com.
Leah & Simon Brotherton will be providing regular updates on Twitter (@altrinchamfc) as well as half-time and full time updates on facebook (Altrincham FC)".
---
25 December 2014
Everyone at Altrincham FC extends good wishes for Christmas, New Year - and the rest of the season - to all individual supporters as well as to the sponsors of the football club. Don't forget that you can now enjoy a festive drink in the new bar in the Community Sports Hall at the J. Davidson Stadium both on Sunday 28th December, when Nuneaton Town are our guests and on New Year's Day when Chester FC come to Moss Lane.
Mike Garnett reminds us that the record between Altrincham and their Boxing Day opponents, Chester FC, is as follows:
At Altrincham: P1-W0-D0-L1-F2-A4
At Chester P1-W0-D0-L1-F0-A2
Overall: P2-W0-D0-L2-F2-A6
The Boxing Day match kicks off at 3pm at Chester FC's Swansway Stadium
The
Football Conference
reports on the "FA Trophy First Round tie between Welling United and Ebbsfleet United at Park View Road on Tuesday night.
The original tie had to be called off before kick-off due to electrical problems at the ground. But since then, Fleet have taken Jamie Day away from the managerial helm at Welling and then yesterday signed goalkeeper Jamie Turner, who was acting as one of the Wings' caretaker bosses.
Jody Brown had been appointed as Day`s successor, but Loui Fazakerley took charge of the team with the former Grays Athletic and Heybridge Swifts boss watching from the stands... The hosts gradually got into the match and it was they who took a 27th minute lead from the penalty spot after a foul by Anthony Acheampong on loanee Aristide Bassele, Kieron St Aimie converting the resulting spot-kick...
It was the home side who doubled their lead just before the break when a clever back-heel from Malachi Hudson allowed Ty Marsh to finish past Brandon Hall... Alex Osborn set-up Brendan Kiernan to reduce the arrears. Then, with 8 minutes remaining... Anthony Cook, on as a second half substitute, fired home the equaliser from the edge of the box...
An extra half-hour was required to separate these Kent rivals... Shortly after the start of the second period of extra-time Fleet`s Acheampong was shown a second yellow card. But that seemed to motivate the visitors further and, seconds after Bassele had gone close to winning it for Welling, McMahon broke away and crossed for Godden to finish neatly and win the tie for the visitors".
---
24 December 2014
The latest Altrincham FC
Saturday Yankee
results show that the jackpot has now risen to £4,750.
TASC's Geoff Morris tells us that "The 'Friends of Altrincham FC' December draw took place during half-time of the match against Dover at the J Davidson Stadium. The winners are:
1 *93 Nigel Davies £100
2 *84 David Lewis £50
3 *31 Paul Brady £35
4 *65 Dave Tracey £15
The next draw will take place on January 1 2015 at half-time during the match against Chester at the J.Davidson stadium. Details of the draw, including how to join, can be found elsewhere on the website".
Welling United 2-3 Ebbsfleet L (2-2 after 90 mins)
Worcester City 0 FC Halifax Town 1
Our next opponents,
Chester FC
report that "Steve Burr witnessed his side get knocked out of the FA Trophy on Monday evening as their First Round Replay ended 1-1, forcing extra time and penalties.
Despite the defeat, it was Chester who took the lead first. Craig Mahon played a short corner to John Rooney, who in-turn picked out Ben Heneghan at the far post. The defender positioned himself well and was in the right place to simply tap the ball over the line.
AFC Telford grabbed an equiliser after the Blues were left open at the back... As the 90 minutes played out both teams were level, which resulted in a further 30 minutes of extra time being played...
Telford continued to dominate in the extra period and had a glorious chance to seal the win after Tony Gray was picked out in the area and played the ball across the box, leaving the Blues' goal gaping. After Extra Time, the match was still level...
Sadly for the Blues, it was Telford who came away victors, winning the shootout 4-3. Chester FC: Worsnop, Heneghan, Kay, Brown ©, Charnock, Touray, Rooney, James, McConville, Mahon, Hobson. Subs: Harrison, Menagh, Winn, Greenop, Peers"
And the Chester Chronicle reports that "Jon McCarthy has explained the reasons for Chester FC not appealing Gareth Roberts's controversial red card in the 3-0 defeat at Barnet on Saturday.
Ex-Wales international Roberts has started an automatic three match ban after being shown a straight red card in the 52nd minute for an alleged elbow on Bees winger Luisma. Roberts's arm was raised but the Spaniard looked to have made the most of the contact.
Blues' boss Steve Burr said after the game referee Dean Treleaven had initially told Roberts he was going book him but the official then dismissed the 36-year-old fullback after consulting assistant Anthony Serrano.
Burr and first team coach Jon McCarthy had hoped to appeal the red card but the match video was not sufficient to do so. McCarthy said, 'If you'd have seen the quality of the DVD that we got from Barnet, they might be top of the league but they need to spend some money on the DVD. It was a shambles because it's the narrowest picture and from the side where the camera is there's no way you could tell what happened so there's no way we could appeal.
If you read the referee's report and the linesman's report then I'm surprised he hasn't gone down for 10 years for it with the way they are talking about violent conduct and saying he brought his arm forward and swung it back'.
Roberts... will be available again for the trip to Altrincham on New Years' Day. Meanwhile, winger Peter Winn faces another spell on the sidelines after he had to be replaced having come on as a substitute... Winn, 26, has had an awful run of injuries since his arrival from Macclesfield Town in the summer...
The ex-Scunthorpe midfielder injured his knee in the FA Cup win at Southend United. He missed the next eight games but had been on the bench for the last three matches, coming on for Ibou Touray with 17 minutes to go on Monday. Winn then damaged his calf in the eighth minute of extra time and limped off to be replaced with Jamie Menagh, and McCarthy hopes Winn will not be out for too long".
Chester FC add that after their Trophy exit, first-team coach McCarthy said, 'It's massively disappointing. We had a good performance at Telford to get them back here and a good first half performance here when we played some football like we wanted to... We had to make some forced changes which messed us about a bit and we conceded a goal.
It was a strange night but we knew what to expect and we told the players about that; there'd be less of a crowd, less of an atmosphere and we've been used to having a lot of bigger games at the moment... It became just a really unstructured game didn't it? There were a lot of changes and the game was all over the place...
Chester are now without a win in five games, although four of those have been cup fixtures so the league position remains relatively healthy. There have been signs of tiredness in the past few games and McCarthy admits the small squad are feeling the strain, particularly with the likes of Danny Harrison, John Disney and Wayne Riley out of the first team picture.
Losing loan forwards Matty Hughes and Rhys Oates has left the Blues lightweight up front but Kane Richards will return for the home game with Altrincham on Boxing Day (3pm) and there are plans to strengthen in the transfer window.
McCarthy said manager Burr hoped the FA Cup revenue would enable him make permanent additions and was looking at possible loan signings too. Said McCarthy, 'In terms of the budget we've had, it feels like we're quite solid at the back, we've got us a style and system of play that's playing through the middle and when we've had that cutting edge it's helped us get a lot of good results in the cup and more importantly in the league.
The cup run might allow us to own[?] that quality and that threat. Kane Richards has come in and looked exciting with some pace that might add to it and that's the next phase... The gaffer knows how to build a team and it feels like we've got some bits right. We can play some football in the middle of the park and we look quite solid'".
Nuneaton Town
visit Alty on 28 December and they confirm that "The red card awarded to James Armson against Halifax has today been overturned. Nuneaton Town manager Liam Daish opted to appeal the midfielder's dismissal for a second-half collision, and James is now available...
Armson said, 'I believed it at the time and I've looked at the video, his arm is as high as mine and there's nothing in it, I'm just climbing to head the ball. I only had eyes for the ball'.
More good news for The Boro is that "The Football Conference have granted permission for Boro to sign an emergency loan goalkeeper. Subject to clearance, Shrewsbury Town keeper Callum Burton will join Boro. The Shropshire-born goalkeeper joined Shrewsbury direct from school and quickly found himself elevated to... England youth honours"
According to the Shropshire Star, "Shrewsbury Town goalkeeper Callum Burton could make his senior debut, against AFC Telford United, after joining Nuneaton.
The 18-year-old has joined Boro on an emergency loan ahead, of their Boxing Day clash at home to the Bucks... Nuneaton have seen first choice shot-stopper Christian Dibble was recalled from his loan by Barnsley. Fellow custodian James Wren is out injured...
Nuneaton boss Liam Daish said, 'Callum is highly thought of and I nearly got him in before Christian Dibble came in... I have no qualms about bringing the lad in'".
In the
Gloucester Citizen
, we learn that "A former Forest Green Rovers player has appeared in court today, alongside another ex-footballer, charged with the murder of an off-duty police constable in Liverpool.
Andrew Taylor, 28, is jointly charged with Christopher Spendlove, 30, of murdering Merseyside PC Neil Doyle in Liverpool city centre in the early hours of Friday morning...
The defendants are well known in the non-league football circuit and played together under scholarships in America... Taylor returned to the UK to sign for Forest Green Rovers in 2009 before moving to Burscough FC and Vauxhall Motors".
The BBC says that "Torquay United are unlikely to sign any players in January, according to manager Chris Hargreaves. The Gulls have released winger Niall Thompson after he came to the end of his six-month contract at Plainmoor.
Hargreaves has brought in former Plymouth Argyle defender Durrell Berry and ex-Walsall midfielder James McQuilkin on non-contract terms.
'I don't see us moving in any way to get any players. There's simply no money', said Hargreaves... 'The only possibility is players moving out on loan or if they would like to play for another club'.
And Hargreaves feels his squad, who have not won back-to-back games in the Conference since a six-game winning run in September, have the talent within their squad to challenge at the top of the table... He continued, 'The players have got to find it in themselves to react in the right way, I still back them'".
In the Principality, "Midfielder Dean Keates and winger Theo Bailey-Jones have resumed full training with Wrexham and could feature over the Christmas period. Club captain Keates, 36, has been hampered by a hamstring injury this season, restricting him to only nine appearances.
Bailey-Jones, 20, broke a metatarsal during training in October but has returned to training ahead of schedule...
Wilkin has added Carl Darlington to his backroom team with The New Saints head coach joining as first team coach".
---
23 December 2014
Alty TV has Brian Flynn's interview with Lee Sinnott after Saturday's draw with Dover Athletic.
Mike Garnett reminds us that the record between Altrincham and their Boxing Day opponents is as follows:
At Altrincham: P1-W0-D0-L1-F2-A4
At Chester P1-W0-D0-L1-F0-A2
Overall: P2-W0-D0-L2-F2-A6
The Boxing Day match kicks off at 3pm at Chester FC's Swansway Stadium. Alty are next at home on Sunday 28 December when Nuneaton Town are the visitors (3pm). Then Chester FC make the return trip to Altrincham on New Year's Day (3pm).
Details of the TASC supporters' coaches to the away games at Chester (Boxing Day) and Eastleigh (Sunday, 4 January) are now
here
. Please book early to avoid disappointment by ringing 0161 928-1045.
Midweek FA Carlsberg Trophy games:
Mon 22 Dec. Chester FC 1-1 AFC Telford Utd Telford won 4-3 on pens.
Tue 23 Dec. Worcester City v FC Halifax Town
Last Saturday's half-time bucket collection raised £53.77 for the Club. The Club thanks everyone who contributed or collected and wishes them all a very Happy Christmas and New Year.
AFC Telford United
"are delighted to announce the appointment of Steve Kittrick as the new first-team Manager. The former Guiseley boss joins the club on an 18 month deal. He will retain Andy Todd as his assistant.
Kittrick was manager of the Guiseley for six years and took them to the play offs three times during that spell. His team were renowned for the style of football played, which was one of the key factors in the Club's decision.
Chairman Ian Dosser said, 'We conducted a thorough process and we were impressed with the quality of candidates interviewed. Steve demonstrated a real passion for, and knowledge of, the club. He has an excellent track record and clearly likes his teams to play with an eye-catching style. He's hungry to succeed, we're hungry to succeed. We are delighted with his appointment'.
Andy Pryce will also remain at the club in a coaching capacity. As part of a longer term strategy developed by the Board, a new head scout will be appointed in the New Year with the task of scouting the Midlands for up and coming talent. Steve Kittrick will be part of the process of recruiting this individual.
Managing Director Lee Carter said, 'We want to set in place a new longer term strategy in relation to our football recruitment. Very often it's been the last few pounds of the Budget we allocate. It now will be a priority'".
And the Conference reports on another club recruiting staff as "Wrexham have appointed The New Saints head coach Carl Darlington as first-team coach. Darlington leaves the Welsh Premier League champions after four years to become part of manager Kevin Wilkin's coaching team. 'I've been a Wrexham supporter all my life and know what this club means to the fans', Darlington said",
From the BBC we learn that "Lincoln City have extended the loan of midfielder Charlee Adams from Birmingham City until the end of February. The 19-year-old joined in November and was due to return in January. He has played four times for the Imps and also spent time on loan at Sincil Bank during the second half of last season, making 14 appearances. Adams has played just one first-team game for Blues but was a regular in their Under-21 side".
According to Kent Online, "Jamie Turner has left Welling United and is expected to sign for Ebbsfleet United. The goalkeeper was put in caretaker charge of the Wings, alongside captain Jake Gallagher, when they played away to the Fleet in the FA Trophy first round on December 13. That followed Jamie Day's departure from Welling to become Ebbsfleet's new manager.
But now Turner has left the Vanarama Conference club after Welling announced he had been the subject of a seven-day approach from Fleet on Sunday evening. A club statement said, 'After talks between the club and Turner on Monday, the necessary paperwork was completed at Park View Road to enable Turner to leave the club... Jake Gallagher will take charge for Tuesday's FA Trophy replay against Ebbsfleet with Loui Fazakerley again part of the management team as he was on Saturday in the league win over Aldershot at Park View Road'".
A report in the NUneaton News says that "Liam Daish has admitted it is down to the Conference chiefs whether his side have to play a youngster in goal against Telford or not. Daish was dealt a major blow today as on-loan Barnsley man Christian Dibble was recalled to the League One club. The move leaves the Boro with just 16-year-old Liam Richards as a fit goalkeeping option...
Daish said, 'It is simply non-stop. We go from one thing to another and I have never seen anything like this before in my management career. It is just ridiculous in a way. We have had to work against so much. We have only got Liam at the moment and we cannot realistically shove a 16-year-old into that kind of game in a man's league. It is not just because of his age. It is because of the position he plays. Sometimes with a winger you can get away with it. With a keeper, though, that is different. You are talking about a real position of responsibility. You cannot make any mistakes playing there.
We are hoping that the Conference can see that. We have put our case to them and we are waiting to hear back now'.
Nuneaton are also waiting to hear back on the case of James Armson. The club have appealed to the Conference after the midfielder was shown a straight red on Saturday. They hope to hear back tomorrow as to whether he can play on Boxing Day against Telford."
More comes from the Nuneaton News to the effect that "Liam Daish has hit-out at the referee after a red card to midfielder James Armson at the weekend put-paid to the Boro's chances of getting anything from their venture north to Halifax.
The former England C man was sent-off with more than 20 minutes to go when the score was perfectly poised at 0-0... The Boro boss said, 'Nobody jumps with their hands in their pockets do they? He only had eyes for the ball, there was no flapping arm, there was no intent to hurt the guy. To me it was a wrong decision. It came at a crucial time as well. It cost us after that...
Hopefully it will be as clear to everyone as it was to us at the time. Hopefully we will be able to get the card overturned... I did say to the boys at the break, actually, that we needed to show more belief to go on and win the game... I tried to warn the lads and unfortunately I was right. A mistake by the referee was what cost us. I am not blaming the defeat on just the red card, though. We did have enough players on the pitch to defend better after the dismissal – especially from the corner. When you are down where we are, though, things like that just go against us'".
According to Get Hampshire, "Six games without a win sees the Shots slip to 18th in the table. Glenn Wilson pulled a goal back for Aldershot but couldn't prevent defeat at Welling. Playing well and losing is one of football's most unfortunate habits, but Aldershot Town are currently masters of this particularly dark art.
The Shots succumbed to three sucker-punch goals at Park View Road as Welling United rode their luck and capitalised upon yet more weak finishing from Andy Scott's side... Welling took full advantage of their opponents' profligacy, with two goals, in the 45 and 81minutes, for Oxford United loanee Tyrone Marsh, who also provided the assist for Keiron St Aimie on 52 minutes.
Scott refused to speak to the media after the match, but Assistant Manager, Matt Gray, asserted, 'Like a few games in recent weeks, I think we deserved more than the result shows. We've dominated for long periods and had numerous chances. We could have scored more than one goal. The loss of Mark Phillips affected our shape and our momentum. We've been hit on the break a couple of times and, unfortunately, not got a result'".
We read in the Gloucester Citizen that "Manager Ady Pennock is adamant Forest Green will not be held to ransom by 'ridiculous" player demands' during the January transfer window. The Rovers' boss has made no secret of his desire to add to the New Lawn squad in the new year, with a striker thought to be top of his wish list.
Despite receiving generous backing from chairman Dale Vince throughout his time in charge, Pennock is keen that the club no longer be perceived as lavish spenders when it comes to player wages. He said, 'I know what I want in January and I'll definitely be busy. I've enquired about three or four players, who want absolutely ridiculous money, and I've said before that we have to get the right kind of people in. There will be no panic buying. I'm happy with the squad I've got but I would like to freshen things up.'
Rovers missed out on the deadline-day signing of Barnet winger Keanu Marsh-Brown during the summer window and are not expected to renew their interest in the 22-year-old, who had a trial at Peterborough United last month. Jon Parkin, Lee Hughes and Magno Vieira are currently the only senior out-and-out strikers at Pennock's disposal, having sanctioned the departure of Luke Rodgers last month and opted not to extend Christian Jolley's loan from Newport County.
Though normally a fan of experience, Pennock has proved willing to give youth a chance this season by including academy duo Louis McGrory and James Fisher in his first-team plans...Three further members of the Rovers academy squad were part of the Gloucestershire Under-18s side knocked out of the FA County Youth Cup... Forest Green defensive duo Jack Holmes and Liam Wright, as well as wide midfield player Ollie Knight, all started and played the whole 90 minutes".
---
22 December 2014
The best wishes of all at Altrincham go to Duncan Watmore as
Sunderland
report that "Robbie Stockdale was unable to hide his disappointment following the U21s' 2-1 defeat to Celtic at the Stadium of Light... Duncan Watmore missed Thursday's defeat through injury and Stockdale revealed the forward is set to miss four to six weeks with a fractured fibula.
'The absence of Duncan is a big blow and, although we're not a one-man team, we certainly miss him because he gives you that little bit of pace and direct play. We're looking at maybe four to six weeks if everything goes well due to a fractured fibula but it is not as bad as we initially thought so, on the bright side, it could have been a lot worse'. He added, 'It is a shame for him because [he] was on form but he will come back stronger'".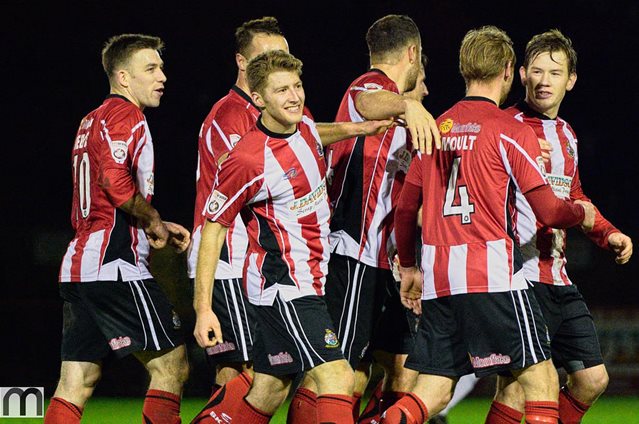 Above Mike Ripley captures James Lawrie receiving the congratulations of his team-mates after Alty's added-time equalizer against Dover Athletic on Saturday. More of his images are here.
Alty TV has highlights of the game (above).
Gateshead
report that "Winger Alex Rodman has called on his teammates to follow the lead of last year's Conference champions Luton Town... Midway through the campaign, the Tynesiders are currently three points shy of a play-off place, and suffered a third defeat in six league games at Bristol Rovers on Friday night. Despite leading twice at the Memorial Stadium, the Heed came out on the wrong end of a 3-2 scoreline...
But Rodman believes that Gateshead can draw inspiration from the Hatters' exploits last season, when John Still's side embarked on a 27-match unbeaten run... He said, 'You can always go on a run in this league. Just look at what Luton did last year, and what the likes of Stevenage have done in the past. There's always a team that kicks on in the second-half of the season, and hopefully this year, we can be the team to turn in win after win. Once you get on a roll, the confidence starts flowing... It's only a matter of time before we start turning these performances into wins, and climb the table'.
News of our next opponents comes from the Chester Chronicle which tells us that "An aggrieved Steve Burr felt two pivotal refereeing decisions conspired against his side in the 3-0 defeat at Barnet on Saturday. Chester would have taken the lead had Kane Richards not had what looked a valid goal chalked off when assistant Anthony Serrano flagged him offside and had Gareth Roberts sent off for violent conduct in the second half when trailing 1-0.
Roberts's arm did connect with Luisma and referee Dean Treleaven gave him a straight red card after consulting Serrano, despite the contact seeming accidental and apparently telling Roberts he was going to be booked for the clash... Chester matched the Vanarama Conference leaders, underlining the strides made since the Bees hammered them 5-0 back in August... Roberts's dismissal handed the initiative to the home side and Charlie MacDonald doubled the lead seven minutes later from close range.
Barnet were able to relax and see out the remainder of the game with relative ease... Burr agreed afterwards the contentious decisions had influenced the outcome of the game. 'That's probably an understatement', said the Chester boss. 'He (the referee) told everybody around, even Gareth, it was a yellow card and then he got his red card out. I didn't think there was anything to choose between the two teams to be honest. The sending off has had a big impact on the game'...
Burr was pleased with how his team started at The Hive but disappointed the first goal came via an error from James, who has been excellent all season. 'It's a bad mistake isn't it,' said Burr".
---
21 December 2014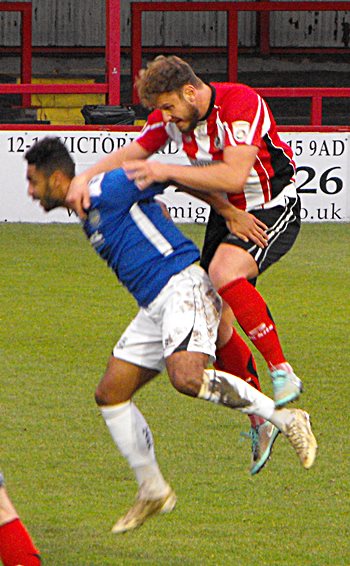 A disappointing performance from Altrincham saw them fortunate to take a point against a well-organised Dover Athletic.
Match report here
Right: Tom Marshall in action against Dover; he was named Man of the Match.
Kent Online
reports that "In-form Dover were denied victory by a late Altrincham equaliser on Saturday. But Whites still extended their unbeaten run to 10 games after second-half goals from Stefan Payne and a Shaun Densmore own goal. Dover defender Sean Francis said it was frustrating to come away with only a point rather than three. He said, 'It was so annoying to concede so late in the game. We could have defended better as a team for it though. Saying that, we are still unbeaten so that's an exceptional statistic'.
With keeper Andy Rafferty suspended following his red card at Lowestoft last weekend, back-up Lee Hook came into the side. Few chances were created at either end in the first half but Whites broke the deadlock five minutes after the interval when Nicky Deverdics was challenged as he shaped to shoot and the ball deflected off Densmore and looped over keeper Dave Parton. Altrincham levelled with 76 minutes left when substitute Ryan Crowther produced an unstoppable shot from 25 yards to make it 1-1.
But their joy was short-lived as Chris Kinnear's men hit back immediately when another deflected goal, this time credited to Stefan Payne, put Dover 2-1 ahead. However, there was still time for another late twist as James Lawrie fired home from 25 yards to snatch a point."
Curiously in more than a century, Howard Watts's
Through the Years
reveal that only once before on a Boxing Day have Altrincham played a Chester team - Chester Reserves in 1964.
The Football Conference reports that on Saturday "Chester began the second half on the front foot with Craig Hobson striking the bar from distance but the visitors were dealt a blow 7 minutes after the restart when Gareth Roberts was sent-off for the use of an elbow on Luisma Villa".
The Conference reports that "FC Halifax Town secured all three points in a 2-0 win over Nuneaton Town at the Shay. Goals in the second half from James Bolton and Lois Maynard were enough to secure the win, as James Armson saw red for Nuneaton".
Gates on Saturday were:
Att: 1265 AFC Telford Utd v Eastleigh
664 Alfreton Town v Macclesfield Town
870 Altrincham v Dover Athletic
1946 Barnet v Chester FC
818 Braintree Town v Torquay United
1227 FC Halifax Town v Nuneaton Town
1784 Kidderminster Harriers v Lincoln City
756 Welling United v Aldershot Town
1688 Woking v Southport
2662 Wrexham v Dartford
According to NL Daily "The board of Conference club Welling United have announced the appointment of Jody Brown as their new manager on a permanent basis. Brown joins having previously been manager of Ryman League Premier Division side Grays Athletic this season.
Having lost the services of Jamie Day and his backroom staff, the club has embarked on an extensive search for a suitable replacement. The position has attracted a large number of applications from which the club drew up a shortlist and having completed interviews earlier this week the board reached the decision that Brown was best suited to deliver the progression that the club seek, being to ultimately challenge for promotion to the Football League.
Despite his young age, Brown has extensive coaching and managerial experience within both the professional game and at non-league level. He has coached at Arsenal, Norwich City and Colchester United's Academies, during which time he has built up a wealth of contacts, so vital in this day and age and at our level in the football pyramid. Crucially though, the board were impressed by this determination and year on year success plying his trade the hard way in non-league football.
Following a successful spell at Heybridge Swifts, Brown was appointed by Grays Athletic in the summer of 2014 where having taken over at the helm with the club which had won only one game in thirteen at the end of the 2013-14 season. And without a permanent ground, he has steered them to mid-table safety this campaign.
Chief executive Barrie Hobbins commented, 'In Jody, the board were unanimous in their view that we have an ambitious, young and hungry manager who has earned his spurs over the last ten years plus coaching and managing both at Academies and steadily rising through the non-leagues. He impressed us with his desire and passion to manage at this level, and he shares our belief that whilst the realities of Welling United are that we do not have a big budget, this need not be a bar to organic progression.
We have carried out extensive due diligence, and sought input from a number of people in the game whose opinions we respect, and players who Jody has managed, and we are confident that we have attracted a top up-and-coming manager in Jody. We are delighted he has accepted our offer to join Welling United'".
NL Pitchero
says that "Following the signings earlier this week
Phil Power
, manager of ambitious Salford City, has recruited defender
Robbie Williams
...
Central defender Williams, 27, joins the Ammies from Barrow AFC on a three-month loan deal. Blackpool-born Williams started out with Lytham Football Academy and Blackpool Wren Rovers before joining prominent Welsh Premier side Total Network Solutions in 2005... A move to Altrincham followed at the start of the 2009/10 season and he soon established himself at Moss Lane, winning three Wales semi-professional caps.
In the summer of 2011 he moved to AFC Telford United but was soon loaned back to Alty and also had a spell with Lincoln City. Has since played for Hyde United and Colwyn Bay before joining current club Barrow in June 2013. He spent a period on loan with Ashton United earlier this season, turning out against Salford in the recent Doodson Sports Cup tie".
---
20 December 2014
Saturday, 20 December, 3pm
AFC Telford Utd 3-4 Eastleigh
Alfreton Town 1-5 Macclesfield Town
Altrincham 2-2 Dover Athletic
Barnet 3-0 Chester FC
Braintree Town 2-0 Torquay United
FC Halifax Town 2-0 Nuneaton Town
Kidderminster Harriers 2-1 Lincoln City
Welling United 3-1 Aldershot Town
Woking 1-2 Southport
Wrexham 1-3 Dartford
Don't forget that Manchester City v. Crystal Palace will be shown in the new Community Sports Hall this Saturday. Doors open at 12.30pm for a 12.45 kick off. The bar will be open and food will be available.
Altrincham's main doubt before the game against Dover Athletic concerns Ryan Crowther. What was thought originally to be a hamstring problem is now believed to be a back problem for the wingman. Goalkeeper Stuart Coburn has recovered from his groin injury so should be available for selection again, though Dave Parton kept a clean sheet in his absence last Saturday. Nicky Clee gained some pitch time last Saturday following his injury absence and he, too, should again be available for selection.
Mike Garnett informs us of the record in matches between the two clubs.
At Altrincham: P5-W3-D1-L1-F11-A4
Away: P5-W2-D2-L1-F11-A7
All: P10-W5-D3-L2-F22-A11
Graham Houghton advises that the commemorative match (details, right) has had to move to the Astro pitch at Altrincham Grammar School for Boys, Marlborough Road, Hale. Kick off remains at 11am. Everybody welcome!
TASC's Paul Salt writes that "To commemorate the opening of the new Community Sports Hall, TASC will be running a 'Question Of Sport' Quiz Night on Saturday 17th January 2015 following the home game with Torquay United.
The quiz will be based on the popular BBC programme with teams from the Players, The Management, TASC Supporters and Radio Robins/Alty TV competing against each other for bragging rights on who has the best sporting knowledge. In addition, the quiz is open to all other supporters' and friends' teams. Entry is either £5.00 per person in advance or £6.00 on the night, which includes a hotpot supper.
The quiz will start at approximately 6.00pm. Get your team sorted now for what promises to be a highly entertaining evening. Tickets will be on sale on Saturday before the game v Dover Athletic and all other home matches over the Christmas period from the TASC Desk, which will be located in the bar area of the Community Sports Hall".
You can follow the Altrincham v Dover Athletic match (Saturday, 3pm) via this website's minute by minute updates or via Radio Robins. Click on the appropriate icon below to go to your preferred means of following the game. For Twitter and Facebook links see the icons on the side panel, right.
Brian Flynn adds that "Radio Robins, sponsored by Ashley Mowers Garden Machinery, will be broadcasting full live coverage of Saturday's game against Dover Athletic at The J.Davidson Stadium. The match commentary sponsor is 'E-Cignature' a locally based company supplying a full range of high quality E-Cigarettes & E-Liquids. E-Cignature offer you the perfect way to assist you with your New Year's resolution! The stylish yet practical EVO D gives you the latest in vaping technology which helps you adhere to stopping smoking conventional cigarettes.
This Kit Includes: 1 x EVO D Electronic Cigarette with GSH3 Clearomiser, 1 x USB Cable, 1 x ID E Liquid of your choice, starter kit. Also have a look at the special gift pack offers.
Altrincham fans can get a fantastic deal on both kits by using the special voucher code 'radiorobins'. Unfortunately, E-Cignature are unable to offer delivery on the kits before Christmas. However they can offer a pay and collect service for collection from Altrincham Football Club during the week. E-Cignature's website is here.
The commentators are Ian Wikinson and Paul Salt with match summaries from John Edwards. Coverage starts at 2.50pm with the game kicking off at 3.00pm. You can listen to Radio Robins on the internet at www.radiorobins.com. Leah and Simon Brotherton will be providing regular updates on Twitter (@altrinchamfc) as well as half-time and full-time updates on facebook (Altrincham FC).
The
Vanarama Conference
announce that BT Sport has selected the following game for LIVE screening on Saturday, 17th January 2015, with a kick-off time of 12.45pm.
The programme will commence at 12.15pm on BT Sport2".
Sunday's Altrincham FC Youth match at home to Morecambe has been postponed owing to a drainage problem at the Hale Country Club ground on Clay Lane.
Friday 19 December, 7.45pm
Bristol Rovers 3-2 Gateshead
Grimsby Town 2-1 Forest Green Rovers
The
BBC
has sad news of a former Conference club. It says that "Hereford United has been wound up by a High Court judge. The winding-up petition was brought by HM Revenue and Customs, which is thought to be owed £116,000. Owner Andy Lonsdale had promised to invest £1m in the club, which was expelled from the Football Conference in June after failing to pay creditors.
But he was late to court and the judge was not satisfied there were sufficient funds.
Mr Lonsdale's barristers said they had a statement that the money was in the bank but Mr Lonsdale said he was stuck in traffic and could not get to the court in time. It was the tenth time he had been ordered to appear at the High Court in London. The winding-up order was issued moments after he was due, at just after 16:30 GMT.
Supporters have gathered at the club's ground at Edgar Street, where one man said 'We will come back. It may take 10 years, but we will be back'. Herefordshire Council said, 'As Hereford United Football Club (1939) Limited is in the process of being wound up and a liquidator will be appointed, this action triggers the council's right as landlord to forfeit the leases. The council will now pursue this and seek to gain formal repossession of all three sites leased to the club. "Once the ground has been secured, the council will consider the appropriate process for procuring a new tenant to ensure the continuation of football'".
FC Halifax Town "would like to explain the situation and resultant huge disappointment for all, of our game on New Year's Day being cancelled. This matter was not under the control of FC Halifax Town.
As it turns out, we are the only Club directly affected by the ruling issued by the Football Conference at 4.54pm on 16th December...
Southport, who are also drawn away to Derby County in the FA Cup 3rd Round, would have been away to Wrexham in a league fixture on New Year's Day, but as Wrexham are themselves involved in the FA Cup with an away tie at Stoke City, they were both happy to have the game postponed on 1st January. An option open to us was to swap the Gateshead fixture from New Year's Day to Boxing Day, but Gateshead were reluctant to do this as they had all their arrangements in place for our game (we are only eight days away at a particularly difficult time of year). That said, we also enquired as to the possibility of having the game at the Shay Stadium on Boxing Day, but we were unable to use the stadium due to stadium staff holidays being booked, in view of plans for our two arranged home games against Chester (28th December) and Gateshead (1st January), the latter now aborted.
Having talked around options, Gateshead were specifically asked the question 'If the game was to remain on 1st January would it go ahead?' The reply was 'No, we would need the best possible preparation for the FA Cup third round tie, as permitted within the Conference communication to our Club on the 16th December'. Upon that and from that point on, we had no alternative but to reluctantly accept the situation and set about agreeing terms for financial compensation that would be fair to the football club, given that the Football Conference Board had unanimously agreed to apply board minute 1143b of 8th May 2014.
In no way does the financial compensation agreement, designed to cover the shortfall for when the re-arranged game is played in midweek during January or December, make up for the disappointment of losing the holiday fixture. New Year's Day, as is Boxing Day, is a real sporting day and there is something special about the atmosphere surrounding the fixture. Families attend, many who don't really watch football at any other time of the year and on this occasion we have lost it.
We can only abide by the rules and options that are presented and available to us and hope, that if we had been in the same position, the same circumstances would have applied. We can only apologise for any potential inconvenience caused by the cancellation of this fixture and for the disappointment of such a fixture not taking place. Be assured, all of us who work in the Football Club are as disappointed as everyone else at not having the game! To make matters worse, we also lose our next away league game away at Southport on 4th January as, previously mentioned, Southport are in the FA Cup third round. On that basis, we may not play again in the New Year until the re-arranged game against Dartford on 13th January, unless we progress to play Alfreton at home in the next round of the FA Trophy on Saturday 10th January. We need a good result at Worcester!!
We can do no more, let us get on and celebrate the New Year early by making the Chester game on 28th December a really special atmosphere and get us in a positive position in readiness for 2015".
---
19 December 2014
Brian Flynn, chairmam of TASC, writes. "I am absolutely delighted to advise that The Altrincham Supporters' Club (TASC) appeal to raise £10,000 for a high quality audio-visual system in the new Community Sports Hall has now reached a figure of £11,020 and therefore the target has been achieved.
A further 11 people have donated since Saturday, including a fan in Australia and a further significant donation from a long standing supporter and sponsor. In total, more than 80 supporters have now contributed and we have been genuinely overwhelmed by the generosity of Altrincham fans in supporting this appeal over the last four weeks.
The Audio-Visual system has now been installed and was in operation for the Community Sports Hall Open Day on Sunday, when the Manchester United v Liverpool game was shown. It's a fantastic facility made possible by your contributions! The glass-fronted list of names detailing those people who have made this happen will be situated above the bar area, which is perfect!
Whilst the target has been achieved, it is still possible for your name to be added to this list, as we are still accepting contributions and any donations above the cost of the Audio-Visual system will go straight to the overall Community Sports Hall Fundraising, which still needs more that £50,000 to cover the cost of the project, which is in excess of £750,000.
If you would like to get your name on the list and support this fundraising effort, you can contact me to get payment/standing order details by email (brianflynn59@hotmail.com) or phone (0161 610 1193/07860 561011). Alternatively, you can telephone Altrincham Football Club on 0161 928 1045, e-mail or call in at the ground from 9.30am-4.30pm between Monday and Friday".
Altrincham FC Youth team manager George Heslop tells us that one of his strikers, "Aaron Goldman on Wednesday played for the England Independent Schools when they beat Wales 2 - 1 and, on Thursday, they beat Crystal Palace 4-0 and Aaron was one of the scorers".
The
Sale & Altrincham Mesenger
says that "Altrincham are daring to dream of Wembley after registering a derby double over local rivals Macclesfield at The J. Davidson Stadium on Saturday. Damian Reeves's second-minute finish gave Alty a second successive 1-0 home win over Macc and raised hopes that overdue success in the FA Trophy could at last be on the horizon.
They will have their work cut out in the second round, after Kidderminster hammered Bradford Park Avenue in Monday night's replay to land a home tie with Lee Sinnott's side, but assistant manager Neil Tolson (left) remained upbeat about their prospects. 'The message to the boys before the game was to make sure we were in the hat on Monday, and I'm delighted we managed that,' he said.
'I know our record in the Trophy isn't good but I can assure everyone the things we say to the players are no different to what we tell them before league fixtures. We are striving to go as far as we can in this competition, and our foot will stay firmly on the pedal in our efforts to try and get to Wembley. It's not just a good day out for the players and officials, if you reach the final, it's a great day out for the supporters. You need a bit of luck along the way, but let's go for it. That will be the message from the gaffer and myself.
We weren't overly happy with the performance against Macclesfield, because we felt we could have passed the ball better. But a fantastic finish from the fox-in-the-box got us off to a perfect start, and when you consider that's not only twice we've beaten Macc but twice we've stopped them scoring, there are positives to be taken'.
Alty were given an injury scare when Ryan Crowther limped off with a recurrence of hamstring trouble, but the winger could yet be fit to face Dover at The J. Davidson Stadium on Saturday (3pm). 'Ryan just slightly felt it, so we brought him off more as a precaution than anything,' said Tolson. 'You can't take risks with hamstrings, and hopefully it's not as bad as it might initially have seemed'".
Alty last met Dover Athletic in 1999-2000. The games that season were as follows:
4/09/99 Altrincham 3-0 Dover Athletic, gate 938, scorers Talbot 27, Ellison 32,54
4/12/99 Dover Athletic 2-2 Altrincham, gate 1,015, Alty scorers Kielty 15, Power 40.
News of Saturday's visitors comes from
Kent Online
. "With Dover goalkeeper Andy Rafferty banned for Saturday's Vanarama Conference clash at Altrincham, Mitch Walker admits he would love to replace him. But no matter how keen the England C representative is to do so, he knows that won't be happening as he's still a couple of weeks away from playing again.
He has been sidelined with injury since tearing the ligaments in an elbow during the 2-1 league defeat at Dartford on September 16. Walker, who was named in the Conference South Team of the Year last season, said it was frustrating he wasn't ready yet. He said, 'It would have been great to be able to tell the gaffer (Chris Kinnear) that I was good to go, and he did ask, but I am still not right. There is no point taking a risk when I am not 100%. It's been a long road back to get to this stage so I don't want to jeopardise all that work. I would have loved to have played'.
Walker, who signed for Whites from Brighton & Hove Albion in May, 2012, said his long stint on the sidelines had been 'boring'. 'I thought I'd only miss a month or so. It's dragged on, as there was nothing I could do except rest it. I wasn't able to drive, either'".
So "Lee Hook is the only one of three goalkeepers in Dover's squad available to play in Saturday's clash at Altrincham. Andy Rafferty is banned following his red card in last weekend's FA Trophy first round win at Lowestoft while Mitch Walker is still a couple of weeks away from returning from injury.
That leaves Hook, Whites' goalkeeping coach, as the last man standing but, whether he plays or not remains to be seen. When Walker got injured at Dartford, boss Chris Kinnear brought in former Hartlepool keeper Rafferty as cover. Could Kinnear be planning to do the same as his side attempt to extend their 12-game unbeaten run in all competitions, including seven in the league?
The manager admitted he wasn't certain about who would be in goal. He said, '[oufield player]Tom (Wynter) may even keep his place in goal after his effort at Lowestoft. He keeps on telling me how good he did. But, seriously, I just don't know who will play yet. I am having a look around'.
But Kinnear is certain of one thing ahead of Saturday's clash; he won't be missing the train from London, something he did for the trip to Lowestoft. Kinnear said, 'That was the first time that I've ever missed a train or a coach to a game in my long career and I've got no intention of doing it again. I am sure the lads will fine me for it!'
But how did he come to miss it? He said, 'Jake (his assistant manager Jake Leberl) and I had dropped the players off at the station in the club's mini bus but we couldn't find a parking spot. The train went without us so we ended up driving there'.
Chris Kinnear jnr is facing a spell on the sidelines as the result of a knee injury while Callum Davies's loan spell has ended with the Gillingham defender to undergo an operation on his ankle early next week. Davies made three starts before limping off in the 1-0 FA Cup win at Cheltenham."
However, Kent Online adds that "Tom Wynter has no intention of playing in goal for Dover again after coming off the bench to replace the sent-off Andy Rafferty at Lowestoft Town on Saturday. The defender, who is known as the joker in Whites' squad, said, 'I always thought keepers had it easy and know that for sure now. I had nothing to do apart from catching one cross and kicking the ball out a couple of times; it was boring. I had so little to do that I was glad Raffers (Andy Rafferty) gave me his long sleeved compression shirt to wear under the keeper's shirt because I would have frozen had he not.'
But did he feel comfortable out there? He said, 'Real comfortable. I felt that could have saved anything that came my way but the boys in front of me didn't let me do anything'. How did the former Gills man come to find himself playing between the posts for the first time ever in his life? He said, 'I said to the gaffer (Chris Kinnear) I'd go on and, besides, I knew I could do a better job than the other bloke on the bench in the running to do it, Sean Raggett. He (Raggett) didn't impress me when he came on at Dartford earlier this season after Mitch (Walker) went off injured and we lost the game. I come on and we win; that sounds pretty impressive to me'.
But it seems not all of Wynter's team-mates were impressed with his performance, after the game. Wynter said, 'I threw the gloves I'd worn, Rafferty's, into the crowd in celebration like all quality keepers do. He (Rafferty) was having none of it and told me to go and get them back so I did. They are mad this lot (goalkeepers). I mean, what's a pair of gloves?'"
Crystal Palace's fanzine, the Five-Year Plan reports that "When Alan Shearer pulled ball number 14 out of the hat, it handed non-league Dover Athletic as big a 3rd round tie as they dared dream of and gave James Allison and Lee Bowman, a couple of Palace supporting Dovorians, a huge headache. Here are their thoughts ahead of the cup tie at Crabble.
South East Kent is not exactly what you would class as a hotbed of footballing talent. Growing up in Dover, there are essentially two footballing choices: pick whoever is doing well in the top flight, or follow the mighty Whites and support Palace on the side - it's not like they're ever going to play each other, is it? In the early 90s, Dover Athletic were the undisputed non-league Kings of Kent football. After twice winning the Southern League, Dover established themselves in the Conference, finishing as high as 6th place.
After nine consecutive seasons in non-league's top flight, the wheels well and truly came off. The club suffered two relegations in three years, followed by a further virtual relegation when the Conference North/South tier was added to the non-league pyramid. Massive financial problems threatened the future of the club before a new board took over, cleared the huge debts and turned Dover Athletic into a family focused club which can now operate within in its own financial means. Sound familiar?
Under Andy Hessenthaler, the club achieved back to back promotions to get into Conference South where they remained for five seasons before an unlikely promotion back to the Conference last term via the playoffs, having creeped [sic] into them in the last five minutes of the season. After a poor start this season, the team has transformed itself into a solid, mid-table unit turning in some impressive performances, especially at home with Crabble once again becoming a difficult place for visiting teams to take points away from.
Chris Kinnear, Dover's most successful manager of all time, returned to the club last year 2013 and took them to the brink of Conference football in his first 4 months back before last season's promotion. His transfer market dealings have gone a long way to supporting Dover's resurgence.
The shrewd addition of ex-Hartlepool 'keeper Andy Rafferty has paid dividends and he has looked an assured presence between the sticks, particularly in front of the home fans, having kept eight consecutive clean sheets between September and December, including the Cup win against Morecambe.
Former Croydon, Fulham & Gillingham Striker Stefan Payne, a summer acquisition from AFC Hornchurch, has found his goal scoring boots in bagging nine goals so far this season. Christian Nanetti, at 2ft short, is a skilful player who can beat defenders and deliver quality balls in the final third. In defence, Richard 'Janitor' Orlu is Dover's Scott Dann and the former caretaker is fast becoming a Crabble cult hero.
Add in ex-League players Nicky Deverdics and Conor Essam, and Dover look like a team who are more than capable of a high finish in the Conference in a season where survival would be regarded as a success. The two clubs can also name a certain Peter Taylor in their list of former managers...
The Dover support is loyal and vocal. Dover took more fans on their recent away fixture at Gateshead - a 672 mile round trip -, than Brighton managed on a 342 mile round trip to Derby. So what can travelling Eagles look forward to? The majority of Crabble is terraced so look forward to standing up without getting told off. Don't expect a beer inside though; when the ground is segregated only home fans have access to The Centre Spot bar. The Cricketers pub just outside the ground will however be a great pre- and post-match destination, with a garden...
There is a real feel-good factor at Crabble right now, and this magic-of-the-cup tie is very much what Dover deserve. Beating League Two opposition in rounds one and two has set up arguably the biggest game in the club's history. As perennial 4th qualifying round stumblers, the Whites have only previously reached the heady heights of the third round on one occasion".
According to the
BBC
, "Wrexham's Conference game at home to Southport on New Year's Day has been postponed. Both clubs had requested the game be called off to allow them to prepare for FA Cup third round ties. Southport are away to Championship side Derby County on Saturday, 3 January, with Wrexham travelling to Stoke City a day later. The Football Conference have confirmed the game will now be played at the Racecourse on Tuesday, 17 February. Wrexham will travel to Southport in the Conference on Boxing Day having beaten the Sandgrounders in the FA Trophy. "
The BBC also says that "AFC Telford United chairman Ian Dosser says the club are unlikely to appoint a new manager before their next game. After Liam Watson was sacked by the Conference club, managing director Lee Carter said he wanted a swift decision.
However, in a statement on the club website, Dosser said, 'We have a shortlist of impressive candidates, who we have already started interviewing. It was our original intention to complete this process in time for Saturday's game. This is now unlikely'. Telford, who currently lie bottom of the Conference, and host Eastleigh on Saturday, are 10 points behind 20th-placed Southport, the team immediately above the relegation places.
Dosser also confirmed that player-coaches Andy Todd and Andy Pryce will prepare the team for the game".
Bristol Rovers "have extended the loan deal of Bradley Goldberg. The Dagenham & Redbridge striker arrived at the Memorial Stadium on 20th November, initially for a month, and will now remain with us until 24th January. Bradley has, to date, made one start and three substitute appearances for the club...
Manager Darrell Clarke said, 'He has shown that he is an exciting young footballer and will be a valuable member of our squad over the busy festive schedule."
First Round fixtures:
Monday 22 December>
Chester FC v AFC Telford United
Tuesday 23 December
Worcester City v FC Halifax Town
Welling United v Ebbsfleet United
---
18 December 2014
News of Saturday's visitors to the J. Davidson Stadium comes from the
Dover Express
to the effect that "Dover Athletic played with ten men for 50 minutes and had a left-back in goal for the same amount of time but still beat Conference North outfit Lowestoft Town 3-1 to progress to round two of the FA Trophy on Saturday.
Whites took the lead on 26 minutes... Lowestoft pulled one back from the penalty spot in the 42nd minute in a move which saw Dover number one Andrew Rafferty sent off. Whites manager Chris Kinnear rarely names a substitute keeper on the bench and didn't do on Saturday, so left-back Tom Wynter replaced Nicky Deverdics and then went between the sticks.
But, Wynter was superbly protected by the Whites defenders and the visitors went on the offensive, regaining the lead on 65 minutes. The hard-working Tom Murphy was rewarded when he drove the ball across goal and into the net in the far corner.
And the win was wrapped up in injury time when on-loan striker James Poole netted his first Dover goal since joining from Bury Town. Murphy burst down the right and crossed for Poole, who turned a defender and fired home. Up next for Whites is a trip to Altrincham in the Conference Premier".
On Dover FC's forum it says "Sad news as mentioned elsewhere about Callum Davies ending his loan spell, with Taiwo gone, that does leave us light in midfield... I am assuming the team for Altrincham will stay the same with two exceptions, Lee Hook going in goal and a player in midfield to fill in what was the former Taiwo, and then intended to be, the Davies role.
Cheltenham was out first game without Taiwo for sometime and [manager] Chris Kinnear played Davies who then went off injured to be replaced by Wynter who did a good job, then I suppose we have Cogan and Bellamy. Who do people want to see lineup in that last midfield spot alongside what I presume to be a 3 alongside CK Junior and Deverdics?...
CKJ is doubtful for Saturday. I spoke to him at Lowestoft and he said he took 20 painkillers to nurse a knee problem, whilst stating he was unsure when he would return. Therefore, I would imagine the only change on Saturday from Lowestoft will be Hook in for Rafferty in goal".
Mike Garnett informs us of the record in matches between the two clubs.
At Altrincham: P5-W3-D1-L1-F11-A4
Away: P5-W2-D2-L1-F11-A7
All: P10-W5-D3-L2-F22-A11
As can be seen from the banner above, you will be able to watch live Sky Sports on all Alty matchdays in the new Community Sports Hall at the J. Davidson Stadium.
Judy Henson, deputy manager of the Hall confirms that the next match to be shown is Manchester City v. Crystal Palace, this Saturday. Doors open at 12.30pm for a 12.45 kick off. The bar will be open and food will be available.
General Manager of the Community Sports Hall, Stacey Rowley, writes that "The Community Hall is looking for volunteers to help on match days with the bar and new catering facilities. We would be looking for people to be at the ground from 12pm and help until kick-off time, then also help during half-time. They would receive free entry to the match on the days they are helping. Previous experience is desirable. Anyone who is interested should please
e-mail
me".
Altrincham FC is now selling half-season tickets as an ideal Christmas present for Alty fans. They are valid from the game against Nuneaton Borough on 28 December and cover all subsequent league games (excluding play-offs!).
Standing - Adults £110, Concessionaries £65
Seating - Adults £125, Concessionaries £70
Ring the club on 0161 928-1045 or e-mail to secure your ticket.
The
Football Conference
tells us that "Welling United have extended the loan of forward Aristide Bassele from AFC Bournemouth for a further month. The 20-year-old, who enjoyed a spell on loan with the Wings last season, originally linked-up with club in September.
Bassele, who operates mainly in wide areas, ended last season on loan with Havant & Waterlooville but signed a new deal at Bournemouth after impressing his parent club. The extension will keep Bassele at Park View Road until January 14th 2015."
Elsewhere, "Steve Burr, manager of Chester FC, has confirmed that Rhys Oates had been recalled to Oakwell by parent club Barnsley. However, Burr confirmed that Kane Richards has signed from Ilkeston FC and will be in the squad for the trip to Barnet on Saturday, subject to paperwork clearing.
Richards, 19, had attracted the eyes of the Chester boss last season and has followed his progress since and is happy to have the striker coming into the club at a time when the likes of both Oates and Matty Hughes having returned to Barnsley and Fleetwood Town respectively. Richards is renowned as one of the quickest players in the NPL, Burr said, 'Kane is a striker who will be hungry to do well here at Chester. He's got an excellent pedigree...
Burr also paid tribute to Oates' time at the club, 'Rhys will have gone back to Barnsley a better player given the time he has spent playing matches here'".
Our FA Trophy opponents, "Kidderminster Harriers have secured the signings of both Jamie Spencer and Akwasi Asante. Twenty-one-year-old Spencer joins from neighbours Redditch United until the end of the season. The striker is a product of the Coventry City academy and has previously played for Alvechurch and Rushall Olympic.
Former Birmingham City striker Asante has also signed until the end of the season. The 22-year-old Dutchman, who moved to England as a youngster, made his first-team debut for Blues in a Europa League play-off game against Nacional in 2011. Asante also went out on loan to Northampton Town in January 2012 and Shrewsbury Town in March and July 2013... He was released by Birmingham at the end of last season.
Kidderminster manager Gary Whild was on hand to give his thoughts... 'Jamie is a young lad who we've been aware of for a while', Whild said. 'He's a goalscorer and has played a lot at local level, similar to some of the lads who we've brought here before. Jamie has got a little bit about him too. He understands the game well for a young lad... He hasn't featured too much for Redditch this season but every time he's got on the pitch he's scored'...
On Asante, Whild continued, 'Akwasi is in a different situation. He was highly thought-of at the Blues and in and around their first-team, but he has had a poor time with niggling injuries and has found himself out of the game... He's got the hunger and desire to come in and try and rediscover where he was eighteen months ago, when he was on the edge of a Championship club's first team... We could have a good find on our hands... For him it's not about the money... He hasn't come here for his wage, he's come here to roll his sleeves up and have a go'".
According to the Gloucester Citizen, "Plans for Forest Green Rovers to move to a new stadium away from Nailsworth have been criticised by fans. The club's chairman Dale Vince is hoping to build a new football stadium and eco-business park near Stonehouse.
Mr Vince, who is also the founder of green energy firm Ecotricity, told staff last week about ambitious plans to buy land close to Junction 13 of the M5 within the next five years, due to what he says is a lack of resources in Stroud. It comes after he recently bought Q Park in South Woodchester to go with his growing portfolio of business sites. It is understood that the eco-business park would be a hub for green firms including Ecotricity and would be home to a new stadium for the Conference team.
Mr Vince has previously said a move to a new stadium 'needs to be done' if the club secures league status because of where the New Lawn is at the top of a hill, in a corner of Nailsworth... but fans are not so sure it is needed... Fan Russell Flagg said, 'The sooner the chairman realises [he is] a custodian of a football club the better. You can only maintain a fan base if fans care and feel part of a club. How are you going to do that when there is no community, no identity? When the team is struggling crowds will drop. Stay in Forest Green'...
FGR moved from The Lawn, where it played from 1889, to the New Lawn a few hundred yards up the road in 2006. Mr Vince has led the way in fitting it out with green innovations including solar panels, rainwater collection points, a layer of insulating vegetation on the roof which helps it blend in with the landscape, and an organic pitch... Red meat was swiftly banned... The ground can only be reached by coming through Nailsworth town centre, or via the narrow single carriageway of Tinkley Lane from Nympsfield...
Ecotricity confirmed the plans but declined to comment."
Chester First tells us that "The gaffer turned to a packet of biscuits in a bid to give Chester FC a boost during their FA Cup replay against Barnsley. Steve Burr, threw Jaffa Cakes on to the pitch as an energy boost for his players in Tuesday night's second round tie...
He said, 'We got a message from Sean McConville saying Gareth Roberts was struggling, feeling light headed. He was groggy so we needed to get chocolate to him to boost his sugar levels. That's why I did the javelin throw with a full packet on to the pitch. He probably didn't need that many but he shared them out. It is amazing really that the BBC have put it on their website as part of the coverage. Hopefully we can boost Jaffa Cakes sales a bit.'
Despite the intervention, the Blues couldn't overcome Barnsley in their FA Cup Second Round replay and crashed to a 3-0 defeat... Burr praised his player, 'Gareth was outstanding last night and he epitomises why he is still playing at 36 because of his dedication to playing and being fit'".
The Chester Chronicle adds that "Steve Burr had no complaints after Chester FC exited the FA Cup... Chester managed only one shot on target...
Burr said, 'I think you could see the distance the two teams were apart. I was disappointed a little bit with our performance in that one or two that we know can do better... but we've earned the club some money this season which is good and that helps everybody to make the club a bit stronge...
Their four games in the competition have been rewarding... The run has brought in over £100,000. Some of that has been allocated for squad strengthening and Burr, who has signed 20-year-old forward Kane Richards from Ilkeston, plans to bring in more new faces when the transfer window reopens".
---
17 December 2014
The
Football Conference
has news of our FA Trophy opponents in January. "Kidderminster Harriers safely made it through to the Second Round of the FA Trophy on Monday night after comfortably beating Bradford PA 4-1 at the Horsfall Stadium. First half goals from Marvin Johnson after just 8 minutes and Josh Gowling after 18 minutes for Harriers were followed up in the second period by the killer third goal from Callum Gittings after 57 minutes. Craig Reid made it 4-0 with 69 minutes gone on the clock.
Avenue grabbed a late consolation 5 minutes from time through Danny Frost".
According to the
BBC
, "Former Mansfield Town manager Paul Cox has been earmarked as a leading contender for the managerial vacancy at AFC Telford United. Cox, who led the Stags to promotion back into the Football League in 2013, was fired by Mansfield on 21 November following a poor start to the season. Sources close to the ex-Stags boss have told BBC Radio Shropshire he would not rule out talking to the Bucks.
Telford are bottom of the Conference and sacked Liam Watson on Saturday... They are 10 points adrift of safety and have won just three of the 24 league games they have played this season. Former Port Vale, York City, Hereford United and Southport manager Martin Foyle, another former Hereford boss John Trewick, former Shrewsbury coach John McMahon and ex-Chester boss Neil Young have all applied, as has Rapid Bucharest assistant manager Mario Marinica.
Two former Telford favourites, Birmingham City Ladies' coach Marcus Bignot and ex-Cheltenham Town assistant Neil Howarth, have been linked with the role. And Worcester City manager Carl Heeley, whose Conference North side made the FA Cup second round along with Telford, is another expected contender, having been in the frame for the Telford job during the round of interviewing when Watson was appointed in May 2013".
The Harriers report that "Jake Green has vowed to step up when called upon as he performed admirably in an unfamiliar role for Harriers in their 4-1 FA Trophy victory over Bradford Park Avenue on Monday. The full-back featured in midfield for boss Gary Whild in only his second start for the club and his solid display earned praise from his manager.
'The gaffer told me before the game that they were going to throw me in, with there being injuries, and put me in a different holding midfield role', Green said. 'They gave me a job to do and I stuck to it. I'm happy to play anywhere the gaffer wants me to play and I've told him I'll give him 100% no matter where I play on the pitch. It's difficult to get into the team when the boys are doing well and we've got a great set of lads but, when I do get my opportunities, I want to make sure I take them.
If the gaffer wants to change it for Saturday, chances are he will do, due to the experience of other players. But I'm happy to take my opportunities any time they come... and aim for a bit of a run in the team... We knew it was going to be a battle, so we did the basics and the hard work, put the ball in the right areas and ground out a result', he said.
'The only way they could really match us was physically, so we made sure the first thing was to work hard and then let our quality shine through with four great goals... We've got a good home record and we'll try and do the same again against Lincoln... The pitch at Bradford was one of the worst I've ever played on but we showed that we can do both sides of the game; if we need to dig in, be tough and do the horrible things, we can do that'".
We also learn from Kidderminster Harriers that "A thoroughly professional performance from Harriers saw them ease through the rescheduled FA Trophy tie at Bradford...
The home team started brightly and went close to opening the scoring in the first few minutes... After the break Harriers continued to dominate and increased their lead further on 59 minute... With the game now looking won Harriers were able to introduce youth-teamer Digie for his debut, the first to come through from Steve Guinan's Academy squad and get onto the pitch. The home team pulled a goal back with five minutes left to spoil the clean sheet".
The Kingston Guardian says that "Harry Pell has joined Grimsby Town on loan to prove his worth to AFC Wimbledon boss Neal Ardley. The 24-year-old has struggled to get a foot-hold in the new-look Dons midfield this season, playing a bit-part role from the bench. When his chance to impress did come in the Johnstone's Paint Trophy clash against Southend in September, it lasted only 20 minutes before he was sent off.
After eight games in the wilderness, Pell had regained his place on the bench, but it is game-time he so desperately wants, and with it the chance to prove a few things... In came the Mariners, who are pushing for promotion out of the Vanarama Conference Premier, and Pell has moved north on a one-month loan deal".
Macclesfield Town "can confirm that they have formally appealed the red card that Danny Whitaker received in the FA Trophy defeat at Altrincham at the weekend. After reviewing video footage of the incident the club submitted an appeal to the FA which will be reviewed shortly."
Tuesday 16 December, 7.45pm
Chester FC 0-3 Barnsley
Rochdale 4-1 Aldershot Town
Wednesday 17 December, 7.45pm
Worcester City v Scunthorpe United - Live on BT Sport
Monday 15 December, 7.45pm: Round 1
Bradford PA 1-4 Kidderminster Harriers
Tuesday 16 December, 7.45pm: Round 1 Replays
Barnet 2-6 Concord Rangers
Boston U. 0-2 N Ferriby U,
Didcot T. 0-3 Forest Green R.
Gosport B. 2-1 Basingstoke T. (Extra time - 1-1 after 90 mins)
Havant & W. 5-0 Weymouth
Welling U. P-P Ebbsfleet U.
Wrexham 2-0 Southport
---
>
16 December 2014
Alty TV has a post-match interview, by Brian Flynn, with Neil Tolson, following the win over Macclesfield Town on Saturday. It can be viewed by clicking on the adjacent frame.
Following Monday's FA Trophy Round 2 draw, the first round replay on Monday night between Bradford PA and Kidderminster Harriers determined that it would be Aggborough that Altrincham would visit on Saturday, 10 January. The Harriers beat BPA 4-1 at the Horsfall Stadium.
Mike Garnett reminds us of previous FA Trophy encounters with Kidderminster Harriers.
Alty 0 Kidderminster Harriers 2 on 14.1.1984 (Rd.1), attendance 668.
Kidderminster Harriers 5 ALtrincham 0 on 25.3.1995 (Rd.4), attendance 2660.
Altrincham last won at Aggborough on May 7th 1994 (a Conference game, won 1-0) but since then it has been a litany of draws, defeats and sendings-off for us. Mike's records reveal the grim record so we are well overdue a good result there!
19.11.94 Lge D 2-2
25.3.95 FAT4 L 0-5
21.10.95 Lge D 1-1
15.2.97 Lge D 1-1
11.3.2000 Lge D 1-1
26.12.05 Lge D 1-1
9.12.06 Lge L 2-3
5.4.08 Lge D 1-1
23.8.08 Lge L 0-4
29.8.09 Lge L 0-3
12.2.11 Lge L 1-2
16.9.14 Lge L 0-4
On Saturday, Altrincham welcome Dover Athletic to the J. Davidson Stadium. After a poor start to the season, Dover are currently one of the form teams, having gone 7 league matches without defeat; only Bristol Rovers (8) have done better. However, for their trip to Altrincham they will be without keeper Andy Rafferty, who was sent off last weekend. Their leading scorer is Stefan Payne with 8 league goals
Dover are still in the FA Cup and entertain Crystal Palace in Round Three.
Mike Garnett informs us of the record in matches between the two clubs.
At Altrincham: P5-W3-D1-L1-F11-A4
Away: P5-W2-D2-L1-F11-A7
All: P10-W5-D3-L2-F22-A11
At 6pm, after the game against Torquay United, there will be a quiz night featuring teams of:
Altrincham FC Players and Management
TASC
Radio Robins/Alty TV
Supporters' teams will also be welcome (no limit on team size)
The entry fee is £5 per person (in advance) or £6 (on the night) - payment includes food.
The quiz features a 'One Minute Round', 'Mystery Guest Round' 'Picture Board Round' and others...
Everyone welcome; bring a friend!
Saturday's bucket collection raised £53.41. The Club thanks the donors and collectors alike.
Graham Houghton, Chairman of Altrincham Junior Football Club, writes that "The event is an idea I had a few weeks ago after reading about the Christmas Truce project established by the British Council, Premier League, Football League and the FA.
Principally the idea was for Schools to recreate the famous Christmas truce by teams playing matches and uploading a photograph onto Twitter, given we are in the Centenary year. However, I thought we could take this idea and use it to raise some extra money for the Royal British Legion. The match would also give the opportunity for both local Junior Clubs to come together and mark such a poignant event in history as a tribute who laid down their arms during the front line ceasefire 100 years ago.
The game will be played between the Managers and Coaches of Altrincham Juniors (part of Altrincham FC) and Unicorn Athletic Juniors FC, at Unicorn's home ground.
There has always been a healthy rivalry between the two Clubs, who both play in the same local Junior football and are two of the biggest junior clubs in the area. Despite their numerous teams playing each other on a numerous occasions at various age groups, boys and girls for many years, the Managers rarely have the chance to get together.
In other words, this is a social event with a serious message and a great opportunity to raise some vital funds for the RBL.
We hope that our Junior players and parents will come along and support this event. Each player will be contributing £10 to the charity. News of this match has been circulated within the local area. Everyone is welcome to attend or just send a donation by contacting myself".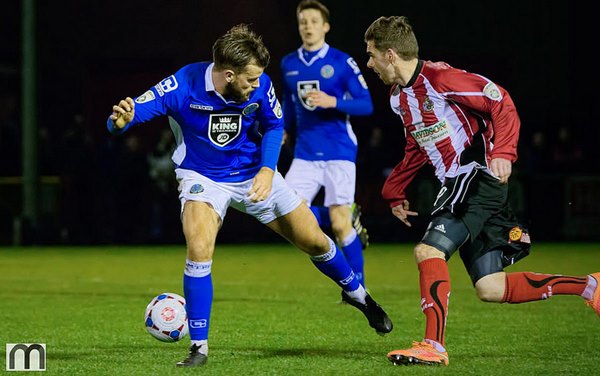 Above: Mike Ripley captures Steven Gillespie gliding past a Macclesfield player in the game on Saturday. More of Mike's pictures are on his website.
The
BBC
reports that "Wrexham and Southport want their Conference game on New Year's Day postponed to allow them to prepare for FA Cup third round ties. Kevin Wilkin's side are scheduled to host Southport on Thursday, 1 January. Southport are away to Championship side Derby County on Saturday, 3 January, with Wrexham travelling to Stoke City a day later.
The Football Conference are due to consider the request during a board meeting on Monday. 'Both clubs would ideally prefer the game to be called off so we can prepare for massive games,' Wilkin said. 'The Conference will decide whether that can or can't be the case'. Wrexham will travel to Southport in the Conference on Boxing Day".
According to the Lincolnshire Echo, "Lincoln City have released striker Sahr Kabba following a fruitless spell at the club. Kabba was signed by then Imps boss Gary Simpson last summer for an undisclosed fee, but has failed to make an impact and has been let go by Simpson's successor Chris Moyses. The former Havant & Waterlooville forward was loaned out to Whitehawk earlier this season in a bid to improve his fitness and returned at the start of last month. Overall, he made just two substitute appearances for the Imps."
From Coventry City we learn that "Former Coventry City defender Liam Daish is maintaining that he is the right man to lead Nuneaton Town. Nuneaton are in big trouble in the Conference relegation zone and results have not improved since Daish replaced Brian Reid.
Speaking to Nuneaton News, Daish said... 'I am the man to succeed here. I know what I am doing. I have been dealt a tough hand, but I have not given up on it. But there things happening that I cannot legislate for. I am man enough to take responsibility for what is going on but the players need to take responsibility at the same time. I can do all the work with them in the world but I cannot legislate for what happened on Saturday.
I cannot legislate for us giving away goals or players not playing simple passes or passing it at the right time. I cannot make a player make the right decision at the right time. It is not coaching what they are doing, it is just knowing what to do at the right time. As I said, these are things I cannot control. I am confident that I can push us forward, though'",
According to the Halifax Courier "FC Halifax Town and Forest Green Rovers have both been charged by the FA with mass confrontation following their Conference Premier game at the Shay on December 2. Both clubs are accused of failing to ensure their players and/or officials conducted themselves in an orderly fashion and/or refrained from provocative and/or violent behaviour, contrary to FA Rule E20[a].
Forest Green have admitted the charge but FC Halifax have denied the charge. Both clubs have requested a non-personal hearing. No date has been set for these hearings. A three-person Independent Regulatory Commission will decide whether the charge against Halifax should stand and will be reviewing video and written evidence.
Meanwhile, Forest Green's James Norwood has also been charged in relation to the same game after it was alleged his language and/or behaviour following his dismissal amounted to improper conduct. Norwood has admitted the charge and requested a non-personal hearing".
---
15 December 2014
In the FA Trophy second round, Altrincham have been draw away to the winners of the Bradford PA and Kidderminster Harriers first round tie.
The full draw is:
1 Chorley v FC United of Manchester
2 Grimsby Town v Gateshead
3 Stockport County v Wrexham
4 Worcester City or FC Halifax Town v Alfreton Town
5 North Ferriby United or Boston United v Hyde
6 AFC Fylde v AFC Telford United or Chester
7 Kidderminster Harriers v Altrincham
8 Wealdstone v Bath City
9 Ebbsfleet United or Welling United v Forest Green Rovers
10 Havant & Waterlooville v Dover Athletic
11 Maidenhead United v Farnborough
12 Basingstoke Town or Gosport Borough v Braintree Town
13 Oxford City v Woking
14 Hemel Hempstead Town v Concord Rangers
15 Torquay United v Bromley
16 Burgess Hill Town v Dartford
MIchael Ripley
's images from the Alty v Macclesfield Town game are at the above link.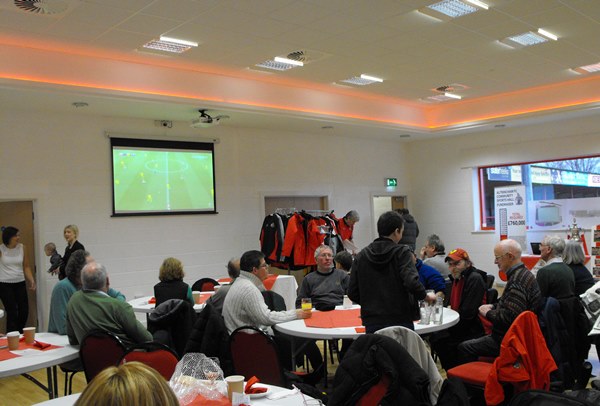 At Sunday's successful Open Day in the new Community Sports Hall at the J. Davidson Stadium there was a good attendance and plenty of potential bookings for the new facilities. Amongst those attending was Alty keeper Stuart Coburn and his two children, Finn and baby Jake (seen right). In addition to display tables representing the Club's community operations as well as various local organizations, visitors were able to watch the Manchester United v Liverpool game on the numerous new TV screens.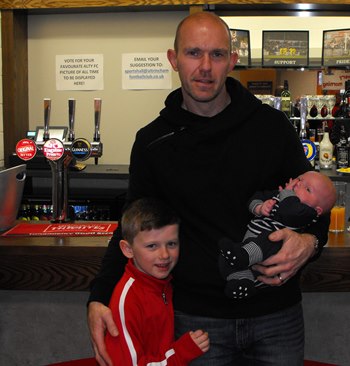 Club caterer Richie Bentley provided refreshments whilst Jenny Heslop was behind the bar. The facility will be open to all at the next home game, against Dover Athletic on Saturday 20 December.
The Club is aiming to decorate the panels behind the bar with supporters' favourite Altrincham FC pictures of all time. These can be action shots, poirtraits or whatever takes your fancy. Supporters are invited to nominate their chosen image(s) to the Club. This can be done by sending your nominations by e-mail.
Geoff Morris writes that "The 'Friends of Altrincham FC' November draw was made at half-time on Saturday on Radio Robins. The winners are:
*92 John Edwards £100
*25 Allison Lewis £50
*106 Ian Gordon £35
*68 Mike Jones £15
The December draw will take place during half-time of the match against Dover on Saturday at the J Davidson stadium. Details of the draw, including how to join, can be found
here
".
Alty's next game is at home to Dover Athletic on Saturday, 20 December (3pm). The Dover club's forum confirms that the clb will not be running a supporters' coach to the game. Dover had their keeper sent off on Saturday so he will miss the trip to Alty.
Howard Watts provides us with details of previous Alty matches on Saturday's date in his Through the Years files.
Coming up soon are several notable landmarks for Alty players...
Nicky Clee's 200th Altrincham start arrives in 2 games' time.
Damian Reeves's 200th start arrives in 6 games' time.
Scott Leather's 100th start is in 3 games' time.
Jake Moult's 100th start comes in 7 games' time.
Alty Youth's fixture on Sunday, away to Hyde FC, was postponed as the pitch was unfit. Next up is an away game at Morecambe, next Sunday.
Following Saturday's game, Lee sinnott told the NL Paper, "It was a poor game that started well and then degenerated. We put in a strong defensive display and won with a superb goal".
Match report here.
Alty TV has highlights of the match here.
According to Macclesfield Town, "The Macclesfield manager isn't worried ahead of Alfreton. Macclesfield's defeat at the hands of Altrincham may have left fans disappointed, but manager John Askey is confident that the result can be nothing but a blip...
'We didn't get the result we wanted and now we concentrate on the league. There was one or two that we had to rest after playing on Wednesday. We didn't get back until about quarter to four in the morning. I didn't want anyone to get injured and that's why we had to rest Danny Whitaker and Paul Turnbull. Turnbull felt his groin in training, so he couldn't play.
We didn't play well in the game today but I can't criticise the players. Games like this have only been blips this season and I'm hoping this will be the same'.
Despite losing the early goal, Macclesfield continued to press but couldn't break down the Altrincham defence... 'I thought we could get back into it, I put one or two players on towards the end to give us that extra impetus but it just never really happened for us. We were unlucky not to score but, just like last time we were here, it's one game and we won't get carried away.'
The
Chester Chronicle
tells us that a "replay means Blues face six games in 16 days over festive period. Steve Burr said his team were below their best following the 1-1 draw at AFC Telford United in the FA Trophy first round...
Neither side did enough to win the game so a draw and a replay was the fair outcome, although that did not save Telford manager Liam Watson, who was sacked after the game... Telford did merit something from the game on balance without creating too much, and the draw means the teams will meet for a fourth time this season.
A provisional date of Tuesday, December 23 was announced for the replay which would mean Chester have to play six games in 16 days...
Up next for the Blues is the FA Cup second round replay with Barnsley at the Swansway Chester Stadium on Tuesday (7.45pm)."
We learn from the Shropshire Star that "AFC Telford United managing director Lee Carter has confirmed it was the club's decision to end Liam Watson's reign as manager.
Watson's departure from the New Buck's Head, along with that of assistant Dominic Morley, was announced at around 6pm yesterday evening... The Bucks have endured a dismal campaign so far and are lying rock bottom of the Conference Premier with 24 games gone, 10 points from safety.
And Carter said, 'It was the board of directors' (decision). We try and take the decisions in as collective a manner as possible so, of course, we talk to the (supporters') trust and the trust chairman has been involved in all the discussions. But, ultimately, it is our name on the contract or on the agreement in this instance so it is us that had to make the final decision.'
Carter added... 'The driving factors were our form, particularly our form against teams 13th in the table and below. We have taken five points [three from Alty!] out of a possible 36 from teams below that, and the impact that was having on us. We had 1,000 people here on Tuesday against Welling, which we can sustain for a while, but we will be issuing a rallying call in January if that continues'...
He said, 'It s not an easy decision to make, because Liam Watson is a fantastic individual. Dominic is a fantastic individual. They are quite possibly the two best individuals I have worked with but we are determined to retain our Conference Premier status so that is why we have made the decision.'
Midfielder and player-coach Andy Todd and goalkeeping coach Andy Pryce will take team training on Tuesday, in the meantime."
---
14 December 2014
Everyone is invited to the Altrincham FC Community Sports Hall Open Day at the J. Davidson Stadium this Sunday (14th) between 11am and 4pm. Come along and see the new facilities and please spread the word to people and groups who might be interested in making bookings to use the Hall.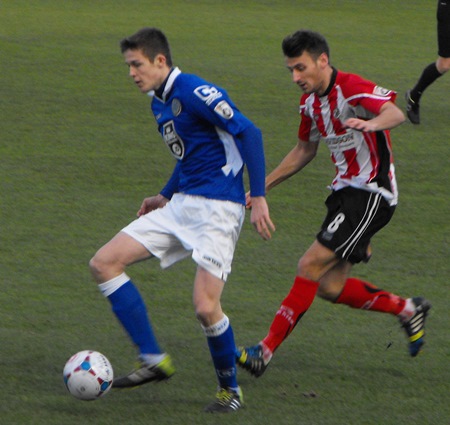 Altrincham repeated their league win over the Silkmen with another 1-0 win in their FA Trophy clash. The deciding goal arrived after just one minute and fifty seconds...
Match report here.
Right: Simon Richman closes down an opponent.
Macclesfield Town report that "Local rivals Altrincham end Macc's chances of success in the FA Trophy after an early goal from Damian Reeves was enough to win the tie. The Silkmen made a slow start to the match and Altrincham punished them when their early pressure led to the only goal of the afternoon.
Reeves struck in the second minute when he turned smartly on the edge of the box before firing the ball into the top right corner past Ritchie Branagan. Alex Grant denied the Robins a second goal in the eighth minute... Grant then came close for Macc 22 minutes in ... John Askey's men then began to dominate possession but struggled to find the killer pass in the final third...
Within the first 10 minutes of the second period both Holroyd and Scott Barrow had chances to make the game level... The home side almost doubled their lead on 62 minutes when a free kick was flicked just past the post by Macc defender George Pilkington.
The Silkmen were beginning to assert their authority on the game as it entered the final 15 minutes but disaster struck when Reeves [Richman] was adjudged to have been fouled on his way through to the Macc penalty area. Whitaker was seen to have caught Reeves not the ball and was shown a red card for being the last man. The decision looked very controversial though as Whitaker didn't look to be the last man.
With Macc down to 10 men for the last part of the game Altrincham almost took advantage immediately through Tom Marshall. The defender latched onto a cross and his acrobatic effort hit the crossbar before being cleared away. Altrincham saw another chance come and go minutes later when Simon Richman only had Branagan to beat but his shot flew over the bar from inside the box.
Despite being down to 10 men the Silkmen began to dominate the final minutes of the game and began to put a lot of pressure on the Altrincham goal... Macc's best opportunity of the game came in the 88th minute and it fell to Grant once again. Matthew Barnes-Homer knocked the ball down in the penalty area but the defender could only steer his header wide of the post".
The
Football Conference
says that "AFC Telford United have issued the following statement immediately after their FA Trophy draw with Chester FC on Saturday. The statement reads, 'It is with regret that the club and Trust Board announce the departure of manager Liam Watson and his assistant Dominic Morley with immediate effect. We would like to thank them both for their effort and commitment since joining the club in May 2012, and more importantly their unique achievements on winning the club's first ever championship in 62 years, and for taking the club to the Second Round of the FA Cup for the first time ever. The club and Trust Board will now work quickly to appoint a permanent successor whose main task will be to fulfil the club's main objective of retaining Vanarama Conference status this season."
The BBC confirms that "The Football Conference have rejected an appeal from Forest Green Rovers to replay a match in which the club fielded an ineligible player. A three-point deduction, handed out when Rovers pleaded guilty to the offence, will now take effect, seeing them drop from sixth to ninth in the table. Rovers won the match in question, their first of the league season, 1-0 away to Southport on 9 August. A Conference statement also confirmed that a fine of £500 would also stand. "
FA Trophy prize Money is as follows:
First Round Proper winners - (32) - £5,000
Second Round Proper winners - (16) - £6,000
Third Round Proper winners - (8) - £7,000
Fourth Round Proper winners - (4) - £8,000
Semi-Final winners - (2) - £16,000
Final runners-up - (1) - £25,000
Final winners - (1) - £50,000
Att: 215 AFC Fylde 3-0 Gainsborough Trinity
Att: 776 AFC Telford Utd 1-1 Chester FC
Att: 870 Aldershot Town 0-1 Burgess Hill Town
Att: 1276 Altrincham 1-0Macclesfield Town
Att: 290 Basingstoke Town 2-2 Gosport Borough
Att: 428 Bishops Stortford 0-5 Torquay United
Att: ? Bradford Park Avenue P-P Kidderminster Harriers
Att: 547 Braintree Town 1-0 AFC Sudbury
Att: 3505 Bristol Rovers 0-2 Bath City
Att: 413 Bromley 2-0 Leiston
Att: 318 Concord Rangers 0-0 Barnet
Att: 513 Dartford 2-0 Solihull Moors
Att: 876 Ebbsfleet United 1-1 Welling United
Att: 907 FC United Of Manchester 4-0 Harrogate Town
Att: 517 Forest Green Rovers 2-2 Didcot Town
Att: 538 Gateshead 2-0 Halesowen Town
Att: 498 Guiseley 0-2 Chorley
Att: ? Hemel Hempstead Town 1-0 Sutton United
Att: 280 Hyde 4-2 Spennymoor Town
Att: 1243 Lincoln City 0-2 Alfreton Town
Att: 575 Lowestoft Town 1-3 Dover Athletic
Att: 255 Maidenhead United 2-1 Poole Town
Att: 321 North Ferriby United 1-1 Boston United
Att: 654 Southport 1-1 Wrexham
Att: 454 Wealdstone 1-0 Hayes & Yeading Utd
Att: 0 Weston-Super-Mare 1-3 Farnborough
Att: 612 Weymouth 1-1 Havant & Waterlooville
Att: 235 Wimborne Town 0-3 Oxford City
Att: 693 Woking 2-0 Eastleigh
Att: ? Worcester City P-P FC Halifax Town
Att: 344 Nuneaton Town 0-2 Grimsby Town
Att. 907 Ramsbottom United 0-3 Stockport County
---
13 December 2014
Everyone is invited to the Altrincham FC Community Sports Hall Open Day at the J. Davidson Stadium this Sunday (14th) between 11am and 4pm. Come along and see the new facilities and please spread the word to people and groups who might be interested in booking the Hall, whether for sports events or other functions.
Brain Flynn writes: "I am very pleased to advise that The Altrincham Supporters Club (TASC) appeal to raise £10,000 for a high quality audio-visual system in the new Community Sports Hall has now reached a figure of £9020. A further 11 people have donated this week, including a fan who lives in Austria, the first donation from outside the UK.
This means that almost 90% of the target has been achieved in 3 weeks from more than 70 supporters who have now contributed to this project -.a magnificent effort!
The audio-visual system has now been installed and will be making its debut on Sunday at The Community Sports Hall Open Day from 11am-4pm, with the Manchester United v Liverpool game being shown from 1.30pm. To complete this project, we are now looking for 10 more people to make a contribution of £100 or commit to setting up a standing order of £10 per month for 10 months, with the first payment being made this month.
If you would like to support this mission, you can contact me to get payment/standing order details by e-mail or phone (0161 610 1193/07860 561011). Alternatively, you can telephone Altrincham Football Club on 0161 928 1045, or e-mail or call in at the ground from 9.30am-4.30pm between Monday-Friday next week.
Brian Flynn, Chairman, TASC (The Altrincham Supporters' Club)".
Following training on Thursday, manager Lee Sinnott confirmed that defender Scott Leather will be available after completing his suspension. Nicky Clee took part in training so should also be available for selection. However, goalkeeper Stuart Coburn is likely to be rested to ensure that he fully recovers from the groin injury which caused him to miss last week's game at Forest Green. Dave Parton is therefore expected to continue between the sticks having put in a good performance last Saturday.
The Football Conference says that "Liam Hogan's loan deal with Macclesfield Town has been extended until the 10th January 2015. The defender has impressed in recent weeks whilst with the Cheshire outfit, and has featured seven times so far".
The Macclesfield Express says that "Macclesfield have without a doubt been the Vanarama Conference's surprise package so far this season. John Askey's men have put on some swashbuckling football, ground out results when things haven't gone completely to plan and shown an apparent invincibility on home ground.
They're sitting pretty in the play-off mix, occupying second place, seven points behind Barnet, as the festive season draws ever nearer. Danny Whitaker hit the only goal of Wednesday night's tough assignment at Aldershot to make the table a delightful read for the Moss Rose faithful. Against All Odds. The three words sum up just what the Silkmen are all about; cash-strapped yet resolutely determined. And successful so far.
And now, as it's the time for miracles, manager John Askey is hoping he'll be pleasantly surprised by what the new year brings him and his cut-price charges. 'There's been no investment, despite what people think, just because we've brought in Barnesy (Matthew Barnes-Homer) and Denny (Johnstone)," he told the Express ahead of their victory at Aldershot. "I think it's a miracle how well we're doing, and it's all down to the players. I'd hate to see it all fall apart now, everybody wants to stick together and I want to try to build something but we need some input from the powers that be'.
Macclesfield Town owner Amar Alkadhi told supporters at an off-season fans' forum that he would be prepared to invest in the club if there was a threat of relegation or of missing out on the play-offs. The second of those eventualities was dismissed as wildly optimistic by all quarters at the time, and even as the campaign got going. But with a brand of entertaining football Askey and Efe Sodje have taken the club almost to the summit in the Conference.
And it's time for Amar to make good on his vow. If the management aren't given the investment needed to keep this squad together then all of their hard work this term could, and most probably would, go to waste; a crying shame given the situation the Silkmen find themselves in ahead of the turn of the year. Askey has recruited well with a youthful, vibrant squad of players, but he's heavily reliant on non-contract bargains, loan men and those playing for peanuts, or less.
Macc's feelgood factor is sky high. But the cash flow is through the floor. And it's clear that the club can't survive, let alone thrive, without essential input from its owner".
The Macclesfield Express claims that "Altrincham await Macclesfield and there's unfinished business for Askey's men... John Askey... knows it's another tricky away-day in a tough festive fixture list. The draw handed them a short trip to Moss Lane, and a chance to avenge their league defeat in September... That night was a rare low point for Askey and his men...
'The Altrincham game will be a pleasant change, it's a nice distraction from the league,' said Askey. 'I've never concerned myself with cups that much in the past to be honest but it's a draw that will create interest and probably a decent gate. And there aren't that many games in the FA Trophy to get through, if you get a decent draw you can find yourself in the semi-finals and not always against the absolute best opposition'.
Macc have more lengthy travels to come after they go to Alty, with league games at Alfreton Town, Bristol Rovers, Grimsby Town and Kidderminster Harriers taking them through to mid-January. Their only home assignment in that time is the Boxing Day hosting of the Mariners, currently in fifth place...
'I don't think setting a points target for runs of games works, we just put everything into the next game. That's the only mindset we can have,' he said. 'We know we can beat everybody in this league but, if we're not at our best, then everybody in the league can beat us.'
Meanwhile, Askey's been pleased with the influence of free agent and Malian international Mamady Sidibe on his squad's strike force. The former Stoke City forward has been training with the Silkmen and, although it's unlikely he'll be seen in a Macc shirt, he's given the attackers a welcome boost on the training pitch. 'He's just training with us, I think he's got one or two irons in the fire so we'll see what happens but there's nothing imminent,' Askey admitted. 'I think he still needs to get his international clearance sorted out too... It's improved training for everybody. He trains well and he does everything right so those looking to cut corners can realise what it takes to get to play at the top level'".
Ian Senior has indicated that during the Open Day at the new Community Spirts Hall at the J. Davidson Stadium, he will be taking Chrsitmas Xmas orders and will have many stock items as well.
Altrincham Youth's fine 4-1 away win against Skelmersdale United is the subject of a report from George Heslop,
here
.
In a friendly match, Altrincham FC Ladies overcame a strong Llandudno Junction team. Phil Taylor's match report is
here
.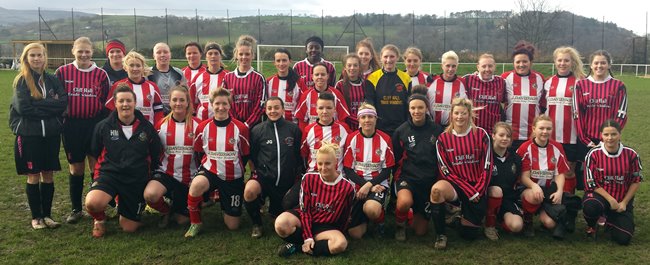 Pictured above are the two teams posing as part of the weekend's World War I truce commemoration.
FA Trophy 1st Round ties:
Saturday 13 December
Through the Years by Howard Watts.
Nuneaton Town v Grimsby Town
Hyde FC v Spennymoor Town
Altrincham v Macclesfield Town
AFC Fylde v Gainsborough Trinity
Guiseley AFC v Chorley
Lincoln City v Alfreton Town
North Ferriby United v Boston United
Gateshead v Halesowen Town
Worcester City v FC Halifax Town
Southport v Wrexham
Ramsbottom United v Stockport County
Bradford Park Avenue v Kidderminster Harriers
AFC Telford United v Chester
FC United Of Manchester v Harrogate Town
Aldershot Town v Burgess Hill Town
Weymouth v Havant & Waterlooville
Bishop's Stortford v Torquay United
Lowestoft Town v Dover Athletic
Ebbsfleet United v Welling United
Wealdstone v Hayes & Yeading United
Wimborne Town v Oxford City
Weston Super Mare v Farnborough
Dartford v Solihull Moors
Woking v Eastleigh
Hemel Hempstead Town v Sutton United
Basingstoke Town v Gosport Borough
Tonbridge Angels or Bromley v Leiston
Forest Green Rovers v Didcot Town
Bristol Rovers v Bath City
Maidenhead United v Poole Town
Braintree Town v AFC Sudbury
Concord Rangers v Barnet
In the FA Cup 3rd Round, to be played over the weekend of January 2nd, 3rd and 4th January 2015, non-League clubs were drawn as follows...
Stoke City v Wrexham
Dover Athletic v Crystal Palace
Aldershot Town or Rochdale v Nottingham Forest
WBA v Gateshead
Blyth Spartans v Birmingham City
Derby County v Southport
Barnsley or Chester FC v Middlesbrough <.li>
Scunthorpe or Worcester City v Chesterfield
The Football Conference adds that "A dramatic weekend of FA Cup Second Round action will run into next week after two replays were selected for live coverage by BT Sport. Chester FC...came close to shocking Barnsley at Oakwell... Their replay kicks off at 7.45pm on Tuesday, December 15th.
Then, on Wednesday, December 16th, Worcester City host third-tier Scunthorpe United at their Aggborough home after holding The Iron to a 1-1 draw on Sunday, thanks to Daniel Nti's second half equaliser. That one kicks off at 7.45pm, too.
Televised FA Cup matches include:
Sun 4th Jan.
Dover v Crystal Palace, 1pm BT Sport
Accrington/Yeovil v Man Utd 3.30pm BT Sport
Lincoln City
confirm that "A new manager has been appointed by Lincoln City Football Club, after its previous manager was placed on gardening leave. The Board of Directors gave the role to Chris Moyses, who is now the club's new first-team manager. Moyses has been appointed on a 12-month rolling contract and will be assisted by Grant Brown.
Moyses was previously the assistant manager to Gary Simpson, and was acting manager during his 'gardening leave' from the club. In a statement online, the Board said, 'We urge all fans to back the management team, as they have done so admirably in the last few weeks, and support their ideas on how to take the Club forward'".
According to the Shropshire Star, "AFC Telford United manager Liam Watson today extended the loans of Lincoln City midfielder Karl Ledsham and Hyde defender Kyle Brown for a month. But Luton Town defender Andy Parry has returned to his parent club, after picking up a groin injury.
Regarding Ledsham and Brownhill, Watson said, 'Their loans have been extended for a month. I spoke to them before the game on Tuesday and they were all happy to extend'. He added that Parry had also been keen to stay at the New Bucks Head, but a groin injury against Welling on Tuesday put paid to that. Watson said, 'Andy Parry has also done his groin so he is going to be out for a month now, so he has gone back to Luton'...
Parry's injury had added to Telford's injury concerns ahead of Saturday's home clash with Chester in the FA Trophy. Defender Steve Akrigg suffered suspected knee ligament damage in the Welling game, while Rod McDonald injured his groin in the warm-up. But utility man Andy Owens, who has been out on loan at Barrow and then Stockport County after a falling out with Watson, returns to his parent club at the end of his latter spell."
Get Hampshire reports that "It was another case of 'After the Lord Mayor's Show' for Aldershot Town after they slipped to a disappointing 1-0 home defeat to Macclesfield Town in a low-key affair on Wednesday night. Andy Scott was furious with his Aldershot Town players... Scott accused his players of believing their own hype as Aldershot Town's FA Cup heroes lost in rather meek fashion to a workmanlike Macclesfield Town...
'It's not good enough and I'm absolutely furious', he said after Danny Whitaker's 57th-minute goal condemned the Shots to defeat in front of a paltry crowd of just 966 on a cold Wednesday night. 'We've played against a bang average side and got beat because we didn't do the basics right. Some of the basics were horrendous. We're making things too easy for teams, and I'm saying the same things over and over again. People think it's too easy to turn it on and off but you've got to do it every week. They've had a bit of publicity and we're going well in the Cups, but the League is our bread and butter.
I'm not here to just do well in the FA Cup; we've beaten Torquay and Portsmouth. So what? We're not playing Manchester United in the sixth round. Standards have got to be maintained but they've been allowed to drop'...Scott's 4-3-3 formation gave the Shots a one-man advantage in midfield which Macclesfield overcame simply with an impressive workrate... The game was largely scrappy, and that suited the visitors better as they looked to earn a first away win since mid-September...
The Shots lacked conviction and ultimately it was a toothless storm...
Att: 966 (inc 33 away)".

In contrast, Macc's boss was a happy man, as Macclesfield Town reported that "John Askey is pleased with the efforts of the players... and Askey wants to build up the momentum even more ahead of Saturday's trip to Altrincham in the FA Trophy.

'We're obviously pleased, it's a nice place to be coming up to Christmas. Nobody would have foreseen what we've done, so we just have to carry on with the same attitude and hope it brings us the same rewards.'

The FA Trophy is a popular competition, and Askey was keen to address that going in to Saturday's local rivalry. He said, 'We just want to keep the momentum going, it's a great opportunity to play at Wembley, which is something everyone wants to do. No matter who plays on Saturday, we know they'll give it their all'".

And "Macclesfield defender Andy Halls has returned to action over the last week after suffering an injury against Alfreton at the Moss Rose last month... 'It's good to be back and straight into a winning team. In the last couple of games we've all done really well, Wednesday was a difficult game for us. Sometimes when you go to places like that, it's not pretty, but we came away with a good 1-0 win.... The Torquay and Barnet games were ones that I wanted to be a part of. I had just come back in training, but the Barnet game was just a little too early for me.'

The Silkmen have won both games since Halls returned and face a trip to local rivals Altrincham in the FA Trophy tomorrow. The defender knows that this game means a little bit more to supporters and was disappointed with their result there earlier in the season. 'It's going to be a great derby. We have a nice little run going and we want to keep that. It's special for the supporters and we got beaten there this season, so we'd love to give the fans something to cheer about and get some revenge. It's nice to see Liam [Hogan] stay, we have a good relationship now and he can only help us do well'".

The Football Conference tells us that "Weling United have released the following statement regarding their managerial situation. 'We wish to confirm that Jamie Turner and Jake Gallagher have been appointed as joint caretaker-managers and will take the side for tomorrow`s fixture at Ebbsfleet United. The recruitment process for a permanent manager is already well under way and any further interested parties are invited to apply by email...

We will look to finalise the appointment as soon as is possible".

The Conference confirms that "Aldershot Town's Christmas Vanarama Conference fixtures against Barnet and Woking have both been brought forward to 1pm kick-offs".

The latest Football Conference statistics are now available.

At Barnet a "Coach leaves to become Assistant Manager at Pompey. Barnet FC can confirm that Gary Waddock has left the club with immediate effect in order to join Portsmouth as their Assistant Manager. After working with the Bees on a casual basis since pre-season, Waddock was offered a rolling month-to-month contract as a full-time coach at the start of November...

Commenting on the news, Barnet manager Martin Allen [said]... 'We will continue with the same staff that we have had for the previous five months that have got us into such a great position. No doubt, nothing will change. We are on our way'".

From NL Pitchero we hear that "Kidderminster Harriers have signed Keyon Reffell from Port Talbot Town on a pre-contract deal. Reffell will be available to play for Harriers in the New Year subject to international clearance. Reffell joined Port Talbot in June from Carmarthen Town having signed for them in January 2014 from Afan Lido... The 24-year-old, who can play up front or on the wing, is thought to be one of the most exciting prospects from the Welsh leagues".

In the Shropshire Star we leran that "AFC Telford United manager Liam Watson is facing the 'worst injury crisis' of his managerial career ahead of tomorrow's FA Trophy clash at home to Chester.

Defender Steve Akrigg could be out for the rest of the season after suffering a suspected cruciate knee ligament injury in Tuesday's defeat to Welling. And fellow centre-half Andy Parry has returned to parent club Luton Town, after suffering a groin injury which looks set to keep him out for a month. On top of that defender Rod McDonald is also a doubt after picking up a groin injury in the warm up on Tuesday. They will join an injury list which already included vice-captain Sean Clancy (broken collarbone).

And with Lincoln midfielder Karl Ledsham ineligible for the game under the terms of his loan, and striker Sam Smith struggling to overcome a sickness bug, Watson has a major selection headache for Saturday. He said, 'It is the worst injury crisis I have ever had. Steve's injury won't be confirmed yet, because there is too much swelling, but it's suspected he has ruptured his cruciate knee ligament. At our level, you are probably out for eight or nine months, so his participation in the rest of the season is in doubt now.

Rod got injured in the warm-up so he is a doubt and Andy Parry has also done his groin so he is going to be out for a month now, so he has gone back to Luton'... Watson has not ruled out a return to contention for centre-half Neill Byrne, who was due to be assessed at training last night".
---
12 December 2014 Lee Sinnott aired his views on last Saturday's 1-1 draw at Forest Green Rovers in an interview with joint press and media officer John Edwards. Here's how the conversation went.

Q: On the face of it, another decent result against one of the top teams?

A: It was pleasing to come away with a point, because it's not the easiest of places to go to. Even if they had slipped down the table a place or two, they are a quality side, and it was always going to be difficult, especially after the week we'd had. A lot of effort went in to turning things around against Kidderminster, and winning the game, and then it was a case of heading down to Woking on the Tuesday night. Some of the lads only got to bed at about 4.30 the following morning, and they were up again for work two or three hours later.

Q: How much of a problem is that?

A: It has a knock-on effect. Naturally enough, after getting home in the early hours, they are tired throughout that day, and the following day, and probably even Friday as well. There is mental and physical fatigue – the amount of each determined by the job they are doing – and the rigours of the game means they will be feeling some soreness and stiffness as well. It all goes into the melting pot, but full credit to them for responding the way they have. We are a different animal from the full-time boys, and you just have to deal with it accordingly. So taking all that into account, I'd say our passing game was OK, without quite reaching the levels we are capable of, but looking at the big picture, with all the travelling involved, there could be no faulting the players for character. They showed it in abundance.

Q: Is it encouraging that we are not folding if we come under early pressure or concede an early goal?
A: In a way, there are comparisons to be drawn from the two away games. Both Woking and Forest Green started very brightly, and we had to stand firm. Forest Green's tails were really up, but we didn't let the deficit get to two or three. We didn't let the game get away from us. We grew into the game both times, and though it wasn't exactly a classic from either team's point of view down at The New Lawn, we were good value for a point. We did enough to be able to say we deserved it.
Q: Justice for Tom Marshall (above, right) as well, perhaps, that his goal earned the draw after he was somewhat harshly denied one by the referee at Woking?
A: Yeah, no one was going to take that one off him. Certainly not their keeper, he couldn't get near it! We were right in line with it on the bench, and when he connected, it went straight as an arrow. It didn't deviate at all. That's how sweetly he caught it, and on his weaker foot. It was a good ball floated in and a quality finish. We had to deal with a lot of balls into the box late on, and they do have some big guys, but we dealt with it well. The only negative was that you don't really want that much coming into your area, but we did show character to stand up to it all in the last 10-15 minutes.
Q: How do you think Dave Parton (left) did, in place of the injured Stuart Coburn?
A: I thought he stepped in and did well. Different positions bring different responsibilities, and when a keeper hasn't played for a while, it is a bit different suddenly coming back into the team, compared to an outfield player. But he made a wonderful save just before half-time, and that was crucial. If you are going in 2-0 down, you've got a lot to do to get back in to it, so that was a key moment. I thought Dave did well.
Q: The focus switches to the FA Trophy on Saturday and another derby with Macclesfield. How's the mood in the camp?
A: We are all relishing it, and it should be quite an occasion. The league game here at the end of September could have gone either way, and they have certainly picked up again and produced some good form and results since we beat them. It is going to be eagerly contested again, and I can tell you the players are looking forward to it. On the availability front, we could just be back to having a full squad to choose from. Scott Leather is back from suspension, Nicky Clee is progressing and could possibly be included, and the same applies to Stuart Coburn. If there is any doubt about Nicky, we won't push him, but both he and Stuart are certainly not out of the frame".
---
11 December 2014 A more detailed and earlier update of this website's news had been planned for today but, unfortunately, a family bereavement has curtailed this and may affect coverage over the next few days. The BBC tells us that "Manager Jamie Day has left Welling United to take over at their Kent rivals Ebbsfleet United. He replaces former Charlton defender Steve Brown, who was recently sacked. Day, 35, has been in charge of Conference club Welling for five-and-a-half years but Ebbsfleet's greater resources meant he opted to drop down a division.

He told BBC Radio Kent, 'Welling is a fantastic club but has limited funds. It's an opportunity I can't turn down'. Day also believes that moving on will help him achieve his ambition of managing in the Football League. 'They want to be a league club and I want to be a league manager', he said. 'Welling gave me an opportunity at 29 and I'm sad to leave but I feel it's the right time to move on. I've had a fantastic time at Welling but there's an opportunity at Ebbsfleet to take the club higher and there's the backing to do that. The first job is to get out of Conference South. Hopefully we can do that and then move on from there. I'm dropping down a league but I feel this club [Ebbsfleet] has got everything put in place and the plans are exciting'".

Ironically Ebbsfleet and Welling meet in the FA Trophy this Saturday.

Macclesfield Town report that "New signing Denny Johnstone was given his first start for the Silkmen last night in the win over Aldershot Town. Macc's top scorer Waide Fairhurst started on the bench but John Askey explained he needed to freshen up the team and give Johnstone a run out.

Askey said, 'We've had Denny Johnstone come in and it just needed freshening up. Waide's played every game this season so it was a chance to give Denny a go and I thought he did well. It's more competition which we need'. The on loan Birmingham City striker played 83 minutes against Aldershot before being replaced by Fairhurst and with a busy Christmas period of games to come it is clear why some players needed to be rested...

The Silkmen face a trip to local rivals Altrincham in the FA trophy on Saturday where they will look to make amends after losing 1-0 to them in the league earlier this season."

Midweek results...

Wednesday 10th December
Aldershot Town 0-1 Macclesfield Town (att 966) Macc's team comprised: 1. Rhys Taylor, 2. Andy Halls, 3.Scott Barrow, 3. Liam Hogan, 5. George Pilkington, 6. Paul Turnbull, 11. Adriano Moke, 23. Danny Whitaker, 9. Chris Holroyd, 32. Denny Johnstone, 29. Matthew Barnes-Homer, 20. Ritchie Branagan, 10. Waide Fairhurst, 12. Dan Cowan, 27 Adam Thomas, 28. Alex Grant.
Alfreton Town 3-2 Eastleigh (att 442)
Gateshead 1-1 Southport (808)
Tuesday 10th December
AFC Telford United 1-2 Welling United (1,011)
Forest Green Rovers 2-1 Woking (970)
Lincoln City 3-1 Nuneaton Town (1,421)
Torquay United 2-1 FC Halifax Town (1,470)
---
8 December 2014 Altrincham's next match is at home to Macclesfield Town on Saturday (13th) in the FA Trophy. Mike Garnett provides the record of matches between Altrincham and Macclesfield Town.
Home P109 W51 D27 L31 F231 A172
Away P97 W29 D26 L42 F141 A188
Neutral P8 W5 D0 L3 F16 A15
Overall P214 W85 D53 L76 F388 A375
Kick off is at 3pm at the J. Davidson Stadium and admission for all is by payment at the turnstiles. (Season tickets are NOT valid for cup games).
Admission prices are:
Standing: Adults £14 Concessions £9
Seating: Adults £15 Concessions £10
Disabled with Helper: Combined price £14
12-16 year olds: £5
Under 12: £2
Please bring the correct money if you possibly can as this will speed up admission. Highlights of the Forest Green v Altrincham match are here.

In the Stroud News and Journal, "Fuming Forest Green boss Ady Pennock agreed the fans were right to boo his team off after they served up a shocker. In truth, this draw felt like a defeat, as Rovers once again started brightly, but failed to put a dogged Altrincham to the sword.

Pennock even jokingly even invited one frustrated fan to join him in the dugout just before the break as Rovers huffed and puffed. Pennock said, 'I totally understand the frustration of the supporters and we deserved to get booed off. Take the first 25 minutes out of the game and it wasn't a good performance'.

Big-spending Rovers, with aspirations of League Two, looked way off it against part-time Altrincham, and this fact wasn't lost on Pennock...

Rovers needed a positive start and they got it... In a rare Altrincham first half attacking foray, the under-employed Sam Russell showed good hands to glove away Gianluca Havern's strike from outside the box, which clipped off Sam Wedgbury. Rovers took their foot off the gas and a succession of Altrincham corners saw Simon Richman a whisker away from netting parity on the half- hour mark...

Rovers were caught cold and gifted Alty an early Christmas present just two minutes after the restart. Shaun Densmore tossed in a free-kick for the unmarked Tom Marshall to escape Oliver and volley beyond the helpless Russell...

Sub Lee Hughes added some fresh impetus and came close to snatching a victory with five minutes to go... Plenty more inept performances like this and the New Lawn outfit will be suffering a long winter of discontent".

There are photos from the game here.

The next update of this website will be on Thursday. Stacey Rowley, manager of the Community Sports Hall advises us that there is a perfect Christmas gift idea for the Alty Fan who has everything.

With only a couple of weeks until Christmas you should be getting most of your final Christmas shopping done, but is there one person on your list who already has everything? We have a solution to your problem..

You can buy shares in the Football Club, the proceeds of which will go directly to the Community Sports Hall fund. They cost £5 each, with a minimum of 5 to be purchased (unfortunately we can't sell these to Under 18s). For more information, or to buy, please send an e-mail.

TASC chairman, Brian Flynn, writes, "I am very pleased to advise that The Altrincham Supporters Club (TASC) appeal to raise £10,000 to install a high quality audio-visual system in the new Community Sports Hall has now reached a figure of £7,920.

A further 20 people have donated this week, including another significant contribution of £500 from a longstanding supporter.

This means that almost 80% of the target has been achieved in 2 weeks, which represents a phenomenal effort from more than 60 supporters who have now contributed to this project. With such a great response, Stacey Rowley (Community Sports Hall General Manager) has advised, this afternoon, that an Audio Visual company has now been commissioned to do the necessary work & it is hoped that the installation will be completed in time for the Open Day on Sunday December 14th (11am to 4pm).

As a reminder, we are asking people to make a contribution of £100 or commit to setting up a standing order of £10 per month for 10 months, with the first payment being made in December.

If you would like to support this mission, you can contact me to get payment/standing order details by e-mail or phone (0161 610 1193/07860 561011). Alternatively, you can telephone Altrincham Football Club on 0161 928 1045, or e-mail or call in at the ground from 9.30am-4.30pm between Monday and Friday.

21 further donations of £100 would see us home.. We aren't quite in the final furlong but it's certainly in sight!

Brian Flynn, Chairman".

An excellent display from Altrincham Youth saw them win 4-1 away at Skelmersdale United on Sunday, with new striker Boris Melingui netting two headers and Jimi Folagbade scoring the other two goals. Report to follow... Phil Taylor advises that "The Ladies today travelled to North Wales to take on Llandudno Junction Ladies in a friendly. The hosts play in the Welsh Premier League so a tough game was expected and forthcoming. After an excellent performance, however, the Alty Ladies came home victorious by 4-3. The goals came from Emma Booth (2) Lizzie Brereton and Tracey Blanchard Webb". Match report to follow. Non-League clubs in Sunday's FA Cup ties fared as follows:
Aldershot Town 0 Rochdale 0
Barnsley 0 Chester FC 0
Bradford City 4 Dartford 1
Bristol City 1 AFC Telford Utd 0
Cheltenham Town 0 Dover Athletic 1
Gateshead 2 Warrington T. 0
Scunthorpe United 1 Worcester City 1
Southport 2 Eastleigh 1
Saturday's Vanarama Conference gates were:
Forest Green Rovers 1-1 Altrincham (gate 1,261)
Macclesfield Town 2-1 Woking (1,383)
Nuneaton Town 0-1 Alfreton Town (727)
Torquay United 1-2 Barnet (1,933)
Welling United 0-0 Bristol Rovers (1,176)
TASC chairman Brian Flynn advises that "This year's Altrincham FC Pensioners' Christmas Lunch will take place in The Manchester Glass Limited Sponsors' Lounge at 12.30pm on Wednesday December 10th. Our Christmas Chef is Dave 'The Doorman' Johnson and the menu is as follows:-
Cream of Fresh Vegetable Soup
Roast Cheshire Turkey (Chipolata Sausages/Chestnut Stuffing) with Sprouts, Carrots and Roast Potatoes
Christmas Pudding & Cream
Traditional Mince Pies
Tea or Coffee
Red or white wine and soft drinks will be served with the meal. All this for just £10!
To reserve your place at this festive culinary extravaganza simply pick up the phone and call the Football Club on 0161 928 1045 or send an e-mail."
---
7 December 2014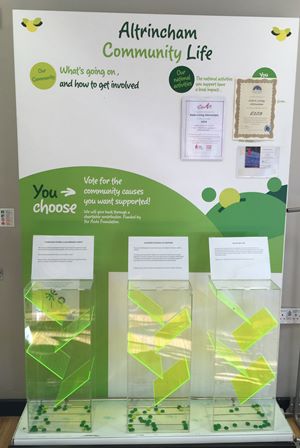 Sarah Rowley writes that "Altrincham FC Community Sports are one of the chosen charities for the Asda Altrincham Community Life scheme for November and December. All customers can ask at the checkout for a green token and then place it in one of the chosen charity slots. There is no purchase necessary, you can simply ask for a token. Adjacent is a photo of the display and our slot. Everyone's support would be greatly appreciated!" Asda's local premises are at Altrincham Retail Park at Broadheath.

Match report here.

After the draw at Forest Green Rovers on Saturday, Lee Sinnott told the NL Paper, "We're a part-time club and we looked tired. I know my players and their capabilities and we didn't reach those levels, which is understandable after a tough [400-mile round-]trip to Woking when some of them didn't get home till after 4am and were at work again within three hours".

Meanwhile, Forest Green Rovers reported that "Two spectacular finishes in an otherwise dreary encounter saw Forest Green held to a draw once again by Altrincham at The New Lawn, writes Richard Joyce. Kurtis Guthrie's excellent early first half finish was cancelled out by Altrincham defender Tom Marshall's sweeping effort in the second half.

The result saw Rovers record their eleventh draw of the campaign... Ady Pennock was.. made to make a number of enforced changes. David Pipe, Luke Oliver and Clovis Kamdjo all came into the starting eleven, while there was a place on the bench for Lee Hughes. Aarran Racine meanwhile also made a welcome return among the replacements after an eight month injury lay off.

As had been the case last Saturday against Dartford, the match started brightly for Rovers and they pushed ahead after only seven minutes. Jon Parkin's quick throw in fed Elliott Frear down the left, and the England C international's low cross was expertly guided home by the impressive Guthrie...

Alty midfield man Simon Richman then spurned two good opportunities as last season's Conference North play-off winners continued to threaten towards the break. He firstly saw his punt on goal take a knick [sic] off an FGR defender on its way to a corner, and then slammed over from close range, after Marshall's cushioned header had landed in front of him from the subsequent corner.

Forest Green's lead didn't last long after the interval as Altrincham levelled proceedings with another eye catching finish. Shaun Densmore's deep free kick was met by defensive partner Marshall, and the former Kidderminster Harriers centre back caressed the ball accurately out of the reach of the diving Russell...

The introduction of Hughes from off the bench saw FGR change into a 4-3-3 formation, although one time Northern Ireland international James Lawrie was the man to apply the pressure for the visitors with two good strikes on goal... Forest Green had offered little in attack in the second period, although they almost had their opponents to thank following a mix up at the back near full time. A lack of communication between Densmore and keeper Parton led to an uneasy moment for Altrincham, but they managed to hack clear, to confirm a point in nearing frosty conditions in Nailsworth."

The BBC adds that "Tom Marshall's second half strike secured a point for Altrincham at promotion-chasing Forest Green... Simon Richman had a chance to level on the half-hour, but skied his effort after he had latched onto Marshall's knock-down from a corner. But they finally breached the final line of defence when Marshall converted from a Shaun Densmore free-kick.

Forest Green boss Ady Pennock told BBC Radio Gloucestershire, 'We started brightly and scored a very good goal. I thought Kurtis Guthrie and Jon Parkin were a handful, especially in first half, but we conceded a sloppy goal. After that we were huffing and puffing and, in all honesty, I didn't think it was very good at all. It was disappointing and we were deservedly booed off. I totally understand the frustration from supporters. I was very frustrated because we are not killing teams off. We're dominating, but don't have that killer instinct in the box'".

Geoff Morris writes that "The Friends of Altrincham Football Club draw took place on Saturday and the lucky winners were
1st: £100 Stephen Murray #17
2nd: £50 John Gothard #82
3rd £35 Paul Salt #90
4th £15 Ian Langford #34
The next draw should take place at half-time during Saturday's match at the J Davidson stadium against Macclesfield. Details about the draw are here", so why not join up to win a prize and help your football club?

Former Alty striker Kieran Lugsden netted twice in the FA Vase as his Glossop North End side won 2-0 away to 1874 Northwich.
---
6 December 2014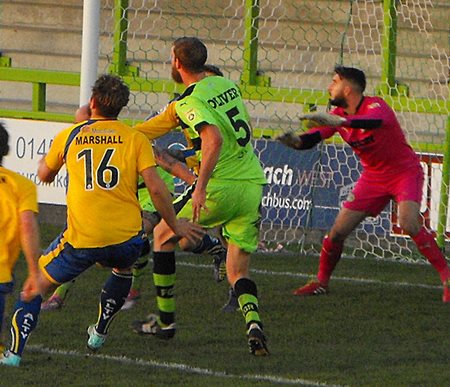 Altrincham earned a deserved point after falling behind at The New Lawn. Match report here.

Right: First half action as Tom Marshall waits for a cross.

Mike Garnett informs us of the historical record between Altrincham and Saturday's opponents, Forest Green Rovers.
Home P7-W3-D3-L1-F12-A12
Away P7-W1-D2-L4-F10-A17
Overall P14-W4-D5-L5-F22-A29
Forest Green Rovers announce that "Altrincham return to The New Lawn on Saturday after a three-season absence from the Vanarama Conference as Forest Green look to get back on track after defeat at FC Halifax Town on Tuesday. Tuesday's loss at The Shay was Rovers' first since September and ended a ten- game unbeaten run that has kept Ady Pennock's side in contention, just outside the play-off zone.
This weekend's visitors have enjoyed a fairly good return to the division this season as they look to retain their place for next year. They also lost in midweek, at highflying Woking... Rovers will not want to miss out on the opportunity to regain momentum heading into the busy Christmas period... Supporters will be hoping they get off to a good start with three points on Saturday.

James Norwood, Dale Bennett and Eddie Oshodi will all be missing through suspension. As a result, there may be recalls for David Pipe, after illness, and Luke Oliver. Aarran Racine is not too far off being considered for contention. However, [ex-Alty man] James Jennings (seen, right in his Alty days, 2008) and Steve Arnold are still continuing their recovery from knee problems.

Alty have kept only three clean sheets in the league this season – their last coming in a home win over Braintree Town in October... BBC Radio Gloucestershire have selected Saturday's game as their main commentary on FM and online. Visit the BBC Radio Gloucestershire website to hear Bob Hunt describing the action from The New Lawn".

Saturday, 6 December
Forest Green Rovers 1-1 Altrincham
Macclesfield Town 2-1 Woking
Nuneaton Town 0-1 Alfreton Town
Torquay United 1-2 Barnet
Welling United 0-0 Bristol Rovers
Through the Years by Howard Watts.
FA Cup
Congratulations go to our own FA Cup conquerors, Blyth Spartans, who advanced to Round Three on Friday night with an away win at Hartlepool United.
Friday, 5 December
Hartlepool U. 1-2 Blyth Spartans
Saturday, 6 December
Wrexham v Maidstone United (5.30pm live on BBC Wales)
Sunday, 6 December @2pm unless stated
Gateshead v Warrington Town (Noon, live on BT Sport)
Aldershot Town v Rochdale
Barnsley v Chester v
Bradford City v Dartford
Bristol City v AFC Telford Utd
Cheltenham Town v Dover Athletic
Scunthorpe United v Worcester City
Southport v Eastleigh
Earlier this season, Alfreton Town had to field an outfield player in goal after injuries affected their two custodians and they were refused an emergency loan. However, the Football Conference reports that, despite having a fit third keeper in their squad, "Bristol Rovers have completed the emergency loan signing of goalkeeper Fabian Spiess from Notts County until 1st January 2015... He has spent time on loan with Lewes and Corby Town.

Manager Darrell Clarke has spent a great deal of time on the telephone since Tuesday night, trying to secure a goalkeeper on an emergency loan following the injury sustained by Steve Mildenhall at Wrexham. Permission also had to be obtained from the Football Conference to bring in another player outside of the transfer window and that was only received late yesterday afternoon. Rovers were given special dispensation to bring in a young goalkeeper only after submitting medical evidence of the injuries sustained by Mildenhall and second-choice keeper Will Puddy.

The only other keeper allocated a squad number, Kieran Preston, is still a second-year scholar and has not played in Rovers first-team".

In addition, the Bristol Post reports that "Bristol Rovers manager Darrell Clarke has labelled the amount of games his side have played already this season as 'crazy'. Rovers will play for the 28th time when they take to the field at Park View Road tomorrow, and Clarke said, 'I've played and managed in this league for a number of season and I've never known anything like it. Our game at Welling on Saturday is the 28th we will have played this season and our fifth in 15 days. The amount of games we have played up until this point just seems crazy to me.

I can understand the reasons for playing midweek games in August and September to compensate for postponements when the weather is not so good later in the season. The problem is that teams in the Conference don't have big squads to cope with the amount of games we have had to play in such a short space of time. We have a treatment room that is full to bursting after the game at Wrexham on Tuesday night. Theoretically, we could do with a bit of a break. I don't really understand the format, but I'm sure the board of the Conference have played plenty of games between them, so they'll know what they are doing'".

The Whites were ejected from the Conference last summer but NL Daily reports that "Steve Claridge is the new manager of Salisbury City after a deal was struck with the administrator. The troubled club will see the former Portsmouth striker team up with a group of avid supporters to build a new future.

A bid launched to the administrator, Portland Business Support & Advice, by Claridge, Jeremy Harwood, David Phillips, Graeme Mundy, and advised by Ian Ridley [who was formerly Claridge's chairman at Weymouth], was accepted earlier today. They fought off competition for the club's assets from a rival party for an unknown fee. They say they will now implement their business plan and enter the Whites into a competitive league next season, bringing back football to their suffering supporters.

The 48-year-old, who was set to succeed Mikey Harris in the summer, will now take the management reins from his predecessor as well as being on the board of directors. Spokesperson Ian Ridley said, 'We always felt we had made a fair and reasonable offer and were the right people to get a new club going'".

We learn from NL Pitchero that "Barnet have announced that Jamal Lowe, George Sykes and Iffy Allen have been placed on the transfer list, with Adam Mekki also made available. All three players are out of contract in the summer and will now be given the opportunity to look for new clubs in order to help further their careers.

The three 20-year-old attackers came through the club's youth system before making their debuts during the 2012/13 season, and are currently out on loan at various local clubs... eanwhile, winger Adam Mekki, who joined the club this summer on a short-term basis, will also be made available to other clubs once the transfer window opens having found first-team opportunities limited."

Elsewhere, "Eastleigh have announced that striker Ben Wright has left the club to join Havant & Waterlooville. Wright linked up with Eastleigh for an initial one month loan spell in February 2014, a deal that was subsequently extended to cover the remainder of the campaign. The prolific [?striker] joined Salisbury City in the summer of 2013 after an injury disturbed season with Forest Green Rovers...

Wright started out at Basingstoke Town and had spells with Andover, Fleet Town, Hampton & Richmond Borough and then Peterborough... Wright was a key figure in last season's promotion-winning campaign but has found first-team opportunities limited this season".

According to the BBC, "Wrexham have lost their appeal against midfielder Rob Evans's red card during Tuesday's 0-0 draw to Bristol Rovers. Referee Ross Joyce sent Evans, 19, off, shortly before half-time, following a challenge on Matty Taylor. Evans will now serve a three-match ban...

'We thought we had a valid case but we have to get on with it', manager Kevin Wilkin said... Wrexham also received two red cards in the defeat to Altrincham in November. After Tuesday's game against Bristol Rovers, Wilkin said, 'I think we're getting a raw deal'".
---
---
5 December 2014 Alty FC Caterer, Richie Bentley, reminds everyone that the snack bars will be open tonight at the J. Davidson Stadium for Manchester United under-18s' clash with Liverpool (7pm). United have announced that entry is free. A helpful Forest Green Rovers supporter writes... "The first major point is to let you know about the ticket system at FGR. There's a ticket office at the ground as soon as you make your way into the stadium where you can pay for your match tickets. If you wish to avoid the queues however you can save time by booking your tickets online. You can then print them off at home or send them to your smartphone device which you can use to get into the stadium. Here's the link for Saturday's tickets: Make sure you select 'away' when you get onto the website...

Car parking is now £4 and our bumper filled match programme costs £3... We have a pub on-site called The Green Man. This warmly welcomes away supporters so feel free to enjoy a pre-match drink and some food in here. There will be the latest live football on big screens... The nearest train station to the ground is in Stroud. This is over 4 miles away so it is not the best idea to choose to walk from the train station however there are usually a number of taxis available outside the station. Or, of course, there is a Stagecoach bus service which runs from Stroud and stops right outside the stadium".
As of Thursday evening, manager Lee Sinnott reported that, in addition to Scott Leather (right), who is suspended for his third match on Saturday, Nicky Clee will again be missing from the squad this Saturday. Nicky's toe injury is healing and he should be in contention for the FA Trophy match on 13 December. A doubt for the FGR game is goalkeeper Stuart Coburn, who suffered a groin injury at Woking on Tuesday. TASC is running a coach to the next Alty game, at Forest Green Rovers on Saturday, 6 December. Details are on the Away Travel page. Bookings can be made by ringing the club (0161 928-1045) during normal office hours on weekdays. Saturday's opponents, Forest Green Rovers announce that"A busy month saw Forest Green battle it out in seven different fixtures over three different competitions in the penultimate month of the year. Ady Pennock's side impressed in their league commitments as they ended November in the top six in the Vanarama Conference - only to start the month of December with a defeat at FC Halifax.

There was activity meanwhile in the FA Cup, as a Gary McSheffrey double was enough to send Rovers out of the competition at the first round stage. While Forest Green also exited the Gloucestershire Senior Cup in the quarter finals against Southern League outfit Yate Town."

And the Western Daily Press tells us that "Rovers had Dale Bennett and Eddie Oshodi red-carded after the final whistle for their part in a touchline scuffle involving players and staff from both teams...

Pennock said, 'Dale and Eddie were sent off in the changing room, I presume for swinging a punch and fighting... They are adamant that they didn't hit anyone'".

The Stroud News & Journal reports that "James Norwood, Dale Bennett and Eddie Oshodi will miss the next three games after Forest Green decided not to appeal against the red cards picked up in the feisty clash at AFC Halifax Town on Tuesday. Rovers lost the Conference game 1-0 and finished with 10 men after James Norwood's sending off on 83 minutes. A brawl broke out on the sidelines after the final whistle and referee Steven Rushton showed red cards to Eddie Oshodi and Dale Bennett.

The Football Association are likely to investigate the matter and a spokesman said they would look at referee Rushton's match report." Mr Rushton refereed our away game at Grimsby and home match with Macclesfield Town earlier this season.

More on this comes from the Gloucester Citizen which says that "Forest Green Rovers can cope without suspended trio, says manager Ady Pennock. Bans for the 'Halifax Three' mean Forest Green must revert to Plan A for the visit of Altrincham...

The now infamous red cards... will test the resources available to manager Ady Pennock. But he is bullish about his side's prospects without the trio, who were all struggling to find places in the first XI at the start of the season. Pennock said, 'I've said before that I believe in every player in my squad and a few lads will now get an opportunity to play. David Pipe and Luke Oliver were in the team at the start of the season when we were very solid and grinding out results, so I would have no qualms about putting them back into my defence. Pipey is my captain and he has been very patient. He's been a bit under the weather after picking up a bug from his little one but I'm sure he is raring to get back in.

Luke is the same. He was unlucky to lose his place after injuring his hamstring and Eddie came in and did very well. We're suddenly a bit short on numbers but I can't complain when players get themselves sent off.'"

With Aarran Racine also nearing a return after an eight-month absence, Pennock does appear to have sufficient cover at the back. But the absence of 10-goal top scorer James Norwood is likely to be more keenly felt, despite a below-par showing from the winger in midweek. Norwood saw red for a late challenge on Scott McManus near halfway, which came less than two minutes after he had seen a penalty kick saved.

It was an increasingly rare indiscretion from the 24-year-old, who has matured markedly in the last couple of seasons. Pennock said, 'You will have to ask James if he lost his head (at Halifax) but I honestly don't think that was the case. He didn't have the best of games and he does tend to get a bit frustrated and down on himself but I think he was unlucky to get a red card and I'm not worried about his temperament'.

Tomorrow's visitors [Altrincham] were widely tipped to struggle this term following promotion from Conference North, yet their defeat at high-fliers Woking on Tuesday came after back-to-back wins. Managed by ex-Port Vale boss Lee Sinnott, they are currently eight points above the relegation zone".

Altrincham's Youth Education Programme team secured an away 1-1 draw at Crewe Alexandra on Wednesday. Some details are here. The latest Conference statistics reveal that the team With "The Most Shots Per Goal" is Altrincham, who net a goal with every 10.08 shots. However, Altrincham's total of shots on target is a commendable 123 (14 clubs have had fewer on target shots). As for off-target shots, Alty's total of 139 is marginally the highest, whilst our 33 offsides are the lowest total in the division. Alty are currently joint sixth in the form guide over the last league six matches. According to the York Press, "The transfer fees for Jake Hyde and Tom Allan were both set at £25,000 following yesterday's Wembley Stadium tribunal hearing. Five-goal striker Hyde's move from Barnet to the Minstermen could rise to £40,000 dependent on appearances, while City will also be entitled to 40 per cent of any future transfer fee current club Gateshead receive for Allan.

Allan, who had been on the Bootham Crescent books from the age of 11, turned down a new deal with the Minstermen over the summer to sign for Gateshead. The fees are believed to match City's valuation of both players, while Barnet wanted a six-figure sum for Hyde and Gateshead offered to pay a four-figure sum for 20-year-old Allan."

From the Lincolnshire Echo we learn that "Lincoln City Football Club has today reached an agreement with Gary Simpson for him to leave the club... Simpson, who helped save the club from relegation in 2013, was relieved of his duties at the beginning of November, when he was put on 'gardening leave'.

The Lincoln City board announced their decision following the club's 3-3 draw with Forest Green Rovers, citing insufficient progress as the reason for their actions. The club put coach Chris Moyses and assistant boss Grant Brown in charge on a temporary basis while they negotiated Simpson's departure from Sincil Bank".

In the Bristol Post we learn that "Bristol Rovers have confirmed that their FA Trophy game at The Memorial Stadium will go ahead on Saturday December 13th despite Bristol City also playing their League One fixture against Crawley Town at Ashton Gate on the same day. The date was subject to change but Rovers have confirmed that extensive communications have been made with Police and safety officials, and they're happy for both matches to go ahead".

The Macclesfield Express tells us that "Chris Holroyd isn't downbeat about being taken out of the frontline attack at Macc. Far from it. He's put his pace and skill to use in a new role on the right of the Silkmen 's midfield, although he admits it's not a completely foreign position to him. He's patrolled the right of midfield before and says he's still finding his feet there but he, and surely many others,are pleased with the progress he's making.

The Macclesfield-born star, who returned for a second spell at the club in summer last year, has three goals to his name this season, each one a winner..

'I'm really enjoying it, it's not a completely new position for me, I played there mostly when I was at Preston, pretty much every game', said the 28-year-old, now one of John Askey's senior squad members. 'So I've done it in the past, I think I've grown into the role and understood more what the gaffer wants from me; basically to work hard and help out in with defending as well. As the weeks have gone by I've enjoyed it more. I'd say it's a harder position though. You can't switch off, especially when opposition full-backs are always looking to bomb on, but I understand my role. I feel like I'm gradually getting better, even though because I've not done it for a while I've had to switch my mentality.

The gaffer's great with his feedback, he helps me understand where I need to be and what I need to do to improve my game'.... Confidence remains sky-high as they get set to welcome Woking this weekend. And rightly so, with eight wins and four draws on home turf, including that victory over the title favourite Bees, Maxonian Holroyd fancies their chances against anyone who comes to Town.

'We were obviously disappointed to lose that Barnet game, especially as we'd been in front at half-time... We don't take as many of our chances as we should. We've got to take games away from other teams, we need to put more pressure on them. But the pleasing thing is that we're creating chances and we're starting to look more creative... We're getting more crosses in and more shots than we were in the early part of the season...

When I'm trying to get a cross in, I know where and when a striker wants it to go, I can see it from the forward's point of view; that definitely helps my wing play'...

The FA Trophy first-round draw has thrown up a second visit down the road to Altrincham. It's a game Holroyd is eagerly awaiting as it represents a chance to right the wrongs from the league defeat there earlier this term. It's not the club he views as Macc's prime rivals however, particularly as his most memorable game in a Macc shirt came against Stockport. That's one he looks back on fondly, for three very good reasons.

'That Alty game was the really disappointing one for us this season', he recalled. 'But we've been given a chance to put it right next week, it's not easy but we'll definitely be looking to get the win there. I know what it means to people around here but, to me, the Stockport County rivalry was always bigger. I remember that game we won 4-3 there a couple of years ago, it's probably the best atmosphere I've seen, it was a really great night. That's definitely my favourite game for Macc'".

Still in Cheshire, the Chester Chronicle says that "Steve Burr would like to re-sign Matty Hughes in January but that depends on how the forward gets on back at Fleetwood Town. Hughes made an excellent impression in his two-month loan spell... but the League One club recalled him... on Tuesday.

Hughes, 22, scored five times in his nine appearances although he did miss three games through suspension after being sent off in the defeat at Eastleigh. Fleetwood, who signed Hughes from non-league Skelmersdale United, have been struggling for goals and have a shortage of forward options...

The loss of Hughes has been compounded because Rhys Oates cannot play against parent club Barnsley and Tom Peers is cup-tied, so Craig Hobson and teenager Ben Greenop are the only available forwards for the FA Cup game this weekend. Hughes has been on the periphery at Fleetwood this season and... Burr will revisit the situation in January and has not ruled out a permanent move.

Burr said... 'We were pleased Fleetwood loaned him out to us in the first place, he's done well and we'll just keep our eye on things when January comes around and see if we can get him back...

Oates, who has two goals in six games so far, will remain with the Blues until after the trip to Barnet on December 20 although Burr plans to talk to Barnsley about extending that arrangement".
---
4 December 2014 "Lee Sinnott reflected on Tuesday night's 2-0 defeat at Woking in a post-match interview with joint Press and Media Officer, John Edwards. Here's what the Alty manager had to say.

'I thought we rode our luck a bit for the first 15 minutes. It was as if one or two were still on the bus, but we grew into the game after that, and I would sum it up by saying we were ok-to-good with a few things we did, but a couple of other things prevented us pushing on from there. Their first goal, for instance. We didn't defend it well enough, the way it travelled through the near post and into a dangerous area. A similar thing happened earlier on, so you have to say we didn't heed the warning. For the second goal, it was a nice ball threaded through a gap, but we have been cutting those out recently.

'If we had shown some of the forward play that has been evident of late, we could still have taken something out of the game. I'm not going to try and make a case for saying we could have won it, but you can argue we could have had something to show for our efforts.
'Not least when you consider how Tom Marshall (right) had a goal chalked off just before half-time, when it was still scoreless. As we came out for the start of the second half, the fourth official told us the referee had disallowed it because there was contact between Tom and the keeper but neither had actually touched the ball.
'That implies Tom just careered into the keeper, which isn't exactly how I saw it, or how Tom did, for that matter. He said he got a touch on the ball, and it's clear it came off him and went in. He's also adamant he didn't foul anyone, but what can you do? Generally, I just think keepers get a bit over-protected.
'Overall, I felt we were good in some areas but not others. We were very much in the game, though. You can go to some places and not be in it, but that wasn't the case here. In fact, one of our best spells was after their first goal, when we had a go at them and threatened a couple of times.
'Woking are a good team, very good going forward, hence their position in the table. So it perhaps shows the progress we are making that we are a bit disappointed at not taking something off them at their own ground.
'You can see some of our attributes shining through. Much as Tols and I want to see us at the top of our game every time, and get frustrated when we're not, I don't want to put too much undue pressure on the players. I get frustrated because I want to see points on the board every game, but you have to take a step back, look at it logically and accept it can't happen like that.
'The important thing is we are continuing to move in the right direction. What I particularly liked against Wrexham and Kidderminster was the way we came back after going behind. We weren't prepared to settle for just getting back on level terms. We wanted to win it, and that got us over the line each time.
'Kidderminster are another good side, very strong and very sharp, but we played good football in pockets, and those pockets were enough to bring us two goals and an excellent three points. The good parts tonight weren't enough, but we are still learning and still striving to improve.
'The idea when we took over was to turn draws into wins and losses into draws, and we are beginning to see that happening. It certainly has, often enough, in the last few games.'

As an injury update, ahead of Saturday's game at Forest Green Rovers, Lee added: 'We need to check on Stuart Coburn (left) later in the week after he needed treatment in the second half. He just opened out a bit, clearing the ball, and he may have tweaked his groin. Everyone else is ok, except for Nicky Clee, who was playing with his little lad the other day and stubbed his toe, which has set him back a bit. He needs some training under his belt as well, so we are probably looking at the FA Trophy tie against Macclesfield or, more likely, the game after that.'"

It was a day for amusing misprints at Woking on Tuesday. Firstly, the Cards' otherwise excellent match programme told us that Altrincham FC manager Lee Sinnott had played in the 1884 FA Cup Final. Then the BBC match report reported that the attendance at Kingfield for the match against Alty was 45,000!" There are highlights of the Woking v Altrincham game on You Tube.

Woking report that "Second half goals from Jack Marriott and the returning Scott Rendell pushed Woking up to second place in the Vanarama Conference table, with a straightforward win over visiting Altrincham on a chilly Tuesday night at Kingfield. Despite clear chances for the home side, the first half ran out goalless. However, Marriott was on hand to tap in Rendell's flick on from a Josh Payne corner just after the interval to put Woking ahead. Rendell then added his name to the score sheet, with a sliding effort on 65 minutes to seal the three points for the Cards after a scything through ball from 'Man of the Match', Payne.

The somewhat surprise inclusion in the starting eleven of top scorer Rendell was the solitary change made by Garry Hill to his side... A refreshingly open start saw Woking begin brightly... This was to be the first of a number of early chances for Garry Hill's men as they regularly threatened to take the lead within 20 minutes... Altrincham were under pressure...

Despite a shaky start, Altrincham grew into the contest... Lee Sinnott's men began to make raids of their own without really testing Ros Worner in the Woking goal. Ryan Crowther burst into the penalty area after 17 minutes but was unable to work a shooting opportunity while the on-loan Worner was able to deal comfortably with a smattering of Altrincham crosses. Woking responded forcefully...

Woking looked much the better side throughout the opening quarter but as the half wore on Altrincham continued to force their way into the game. As the match settled down the play evened out into a more balanced midfield contest as half-time approached.

Altrincham arguably finished the half stronger. They came into the game unbeaten in three matches... The visitors even had the ball in the net as the half drew to a close, when a floated long range free kick was disallowed for a push on Woking stopper Worner as he attempted to claim the cross. As the half time whistle sounded, Woking were the happier of the two sides having created more chances. However some wasteful finishing, and the visitors beginning to assert themselves, was some concern for Garry Hill as his players returned to the dressing room, the scores still level...

As the match ventured into the second half, Woking's superior quality begun to show itself...

Altrincham responded with their most consistent period of pressure... Lee Sinnott's travelling side's only clear cut opening of the evening came as a precise free kick from Densmore found the head of an unmarked Gianluca Havern on the edge of the six yard area but he could only nod the ball down into the grateful arms of the waiting Ros Worner.

This was the only significant defensive blip in what had been a confident and assured performance... Despite the hustle and bustle the away side offered, they were limited to mainly half chances and long range attempts".

Another report comes from Get Surrey adds that "Jack Marriott ended his 12-match goal drought and steered Woking FC up to the heady heights of second in the Vanarama Conference. The 20-year-old Ipswich Town striker set up Tuesday's 2-0 victory over Altrincham when he bundled the ball into the net from close-range three minutes after half time.

It was Marriott's first goal since he netted on his return to the Cards, for a third loan spell from the Championship outfit... on September 27. Strike partner Scott Rendell... added a classy second in the 65th minute before going off as a precaution having taken a whack in the first half". He was actually injured fouling Tom Marshall!

"Cards should have been out of sight much sooner, creating chances galore during an impressive first half-hour when the team clicked into gear, but failing to take them... But the visitors survived the early onslaught, cleared their heads and went on to make a worthy contribution to the night's action... and even got the ball in the net, Densmore's free kick floating straight in only for referee Chris Powell to rule that the Cards' keeper had been impeded by Thomas Marshall as he went to punch clear...

Spirited Alty refused to buckle though, substitute Steven Gillespie heading straight at Worner when a yard either side would have given his side the equaliser... Alty's hopes of a comeback were thwarted by Worner later, the AFC Wimbledon loanee springing to his right to paw away a header from dangerman Damian Reeves".

According to NL Pitchero "Woking have confirmed that mutual agreement has been reached with Aaron Howe for the termination of his contract with immediate effect... and has been first choice keeper for the past four seasons.

Howe said, 'This is a sad day for me, but after battling against so many injuries during the past two years, I feel the time is right to take a break from football, and let my body fully recover'".

Woking FC Club Photographer David Holmes has images of the game".

TASC is running a coach to the next Alty game, at Forest Green Rovers on Saturday, 6 December. Details are on the Away Travel page. Booking can be made by ringing the club (0161 928-1045) during normal office hours on weekdays.

Howard Watts's Through the Years details for Saturday's date are here.

Mike Garnett informs us of the historical record between Altrincham and Saturday's opponents, Forest Green Rovers.
Home P7-W3-D3-L1-F12-A12
Away P7-W1-D2-L4-F10-A17
Overall P14-W4-D5-L5-F22-A29
At The Shay on Tuesday, Forest Green Rovers had James Norwood sent off in the 83rd minute. After the final whistle, both Dale Bennett and Eddie Oshodi also received red cards after a brawl at pitchside. Images are on You Tube. Unless revoked this would mean all three would sit out Saturday's game against Altrincham.

Forest Green Rovers tell us that "James Norwood missed a penalty and was then sent off only three minutes later as Forest Green's magnificent unbeaten run was brought to an end at The Shay, writes Richard Joyce.

An eye catching tie saw two of the Vanarama Conference's stand out teams battle it out in an entertaining clash marred by an ugly brawl after the full time whistle. Rovers actually ended the night with three straight red cards being issued after defensive duo, Dale Bennett and Eddie Oshodi, were sent off by referee Steve Rushton after the game had ended...

Scott Boden's early strike settled the match as Rovers tried their best to rescue a point... Illness prevented experienced striker Lee Hughes from being involved, so Yorkshire native Jon Parkin stepped up to lead the attack alongside Kurtis Guthrie...

Guthrie was proving to be a real livewire for Rovers in the first half... The chances kept on coming for Forest Green at the start of the second half... Rovers continued to look the most likely to score... The persistent Guthrie then earned FGR a crucial opportunity to get back into the game from the penalty spot after he was brought down in the corner of the box.

Norwood took on the responsibility from 12 yards in a crazy couple of minutes for the England C starlet. His spot kick was saved by Glennon and he then saw red, questionably, for a foul in the middle of the park which saw the FC Halifax crowd make their mark with an influential call for his removal from proceedings".

The BBC adds that "Forest Green manager Ady Pennock says the fracas which saw two of his players sent off after full-time at Halifax does not reflect the club's values... A brawl broke out on the sidelines after the final whistle and referee Steven Rushton showed red cards to Eddie Oshodi and Dale Bennett.

'I don't want to be associated with it,' said Pennock. The 43-year-old Rovers boss told BBC Radio Gloucestershire, 'You win graciously and you lose graciously. I'm very disappointed. I thought it was one of our best away performances and how we've lost the game I don't know. That spoiled it at the end. I really don't know what happened, we'll have to look at the DVD. Dale and Eddie have been sent off in the changing rooms as it was assumed they'd swung a punch'...

The defeat was Forest Green's first in 11 league matches, dating back to September. Rovers boss Pennock went on to say he is likely to appeal against Norwood's red card, shown for his tackle on Lois Maynard. 'I didn't think it was a red card. I thought momentum took him through but the referee is adamant he had his studs up,' said Pennock. 'He runs with the ball really fast and he couldn't stop himself. We'll definitely appeal James's red card and we'll see about the other two'".

The Football Conference says that "Forest Green Rovers and forward Luke Rodgers have agreed to part ways with the striker's contract being cancelled by mutual consent. The one-time Shrewsbury, Port Vale, Notts County and New York Red Bulls attacker has made eleven appearances in all competitions for the club this season, scoring one goal.

He joined Rovers in February 2014... having returned to England from a brief spell with Hammarby in Sweden".

And Stroud Life informs us that "Manager Ady Pennock could not disguise his anger after Forest Green's players became involved in an ugly post-match brawl... A proud but frustrated Pennock said, 'We missed a penalty and had five or six really good chances. I was disappointed with the start and conceding a very sloppy goal, but after that it was all us really... I didn't think it was a red card'...

With three suspensions now imminent, Rovers' decision to cancel the contract of striker Luke Rodgers this week will perhaps be called into question".

TASC Geoff Morris writes that he has taken over the Friends of AFC monthly draw from Steve Foster. He writes that "The "Friends of Altrincham FC" monthly draw has not taken place recently but everything is now in place to bring the draws up to date before Christmas. The September draw took place on Wednesday.

The winners were:
1st Ian Jones £100
2nd Niall Flynn £50
3rd Dianne Swindells £35
4th Brian Topping £15.
The next draw (for October) should take place on Radio Robins on Saturday 6 December at half-time during the game against FGR, with the November and December draws taking place during the Macclesfield and Dover games at the J Davidson stadium. All the results will be published on the website as soon as possible after each draw. Details about the draw, including how to enter, can be found on the Club's website here".

Tuesday's attendances were:
454 Alfreton Town v Gateshead
1860 Chester FC v AFC Telford Utd
795 Dover Athletic v Torquay United
1765 Eastleigh v Dartford
1030 FC Halifax Town v Forest Green Rovers
1377 Kidderminster Harriers v Nuneaton Town
2068 Wrexham v Bristol Rovers
The large gate in Hampshire is explained by Eastleigh's announcement that "The new 2,290 seater south stand will be open for tonights FREE game vs Dartford FC. The stand has been officially approved by building control and the health and safety advisory and will be open to spectators free of charge.

'It's not the official opening tonight because we still don't yet have a bar, toilet facilities or turnstiles in place but, to all intents and purposes the stand is ready for use with the super structure and tarmac all completed,' explained Spitfires' chief executive Mark Jewell. 'We're formulating a plan for a half-season ticket for the new stand and we're hoping that by allowing fans to sit in there for a free "taster" tonight it might enthuse a few of them to sit in there on a regular basis. Once we get the turnstiles in, that end will be sectioned off'.

Barring replays in the FA cup or Trophy, tonight's match will be the Spitfires' last taste of home action until Boxing Day when the official stand opening should go ahead." Alty are due at Eastleigh on 3 January.

According to the Football Conference, "Nuneaton Town and Grimsby Town have mutually agreed that the FA Trophy First Round tie to be played on the December 13th will be decided on the day. Should the game be all-square on the 90 minute-mark then 30 minutes extra-time will be played. Should the game still be all-square after extra-time, penalties will decide the tie to avoid any replay".

Elsewhere, "Antigua & Barbudan international Jorrin John has left Nuneaton Town after agreeing to cancel his contract. John has previously been on the books of Aston Villa and Leicester City. He is a versatile player who can play out wide, as an attacking midfielder or as a central striker... The midfielder, 24, was one of former manager Brian Reid's signings during the summer and has failed to cement a place in the starting eleven."

The BBC states that "Wrexham have appealed against midfielder Rob Evans's red card during Tuesday's 0-0 draw to Bristol Rovers. Referee Ross Joyce sent Evans, 19, off shortly before half-time... Wrexham also received two red cards in the defeat to Altrincham in November.

After Tuesday's game, Wrexham manager Kevin Wilkin said, 'I think we're getting a raw deal. The referee shouldn't be the most important person on the field. If we're getting people sent off for dissent and those sort of things then clearly I can do something about that. I can't stop my players tackling and I'm not going to stop them tackling'".

We learn from the Macclesfield Express that "Danny Whitaker's after-hours activity makes him a lethal weapon... The veteran midfielder showed his skill and an eye for goal with the only strike of the midweek game against Torquay United...

'It was a good finish from Danny, we expect him to weigh in with double figures,' said manager John Askey. 'Obviously he's not been 100 per cent fit but the more he plays the better he gets, I thought that was his best game. Having a fully-fit Danny Whitaker will give us all an extra push as well... He strikes a ball as well as anybody.'

A back problem prevented him from kicking a ball in anger throughout September and October but, having recovered... it meant the reformation of arguably the division's top midfield pairing, Whitaker and Paul Turnbull. With Lewis now just a few weeks from his own return it's setting up for a scrap for starting places in the Silkmen's engine room."

Reports in Kent Online tell us that "Tony Burman knows Dartford are going to come in for more criticism after a run of four straight defeats... and have played more games than most of the sides around them.

Burman and his players have inevitably come in for stick on Twitter and the online fans' forum. 'If they read it, they read it at their own peril', the manager said. 'You do get criticism but you've got to get on with it. The supporters care about their club and if there has been criticism, it's been constructive. I don't think it's been personal'...

Burman said, [against Eastleigh] 'We made two mistakes from set-pieces. It's happened over the last three or four games. In between, we matched our opponents in the majority of the game, we matched a good side. To concede 30 seconds from half-time, from someone not concentrating at a corner, and to come in 1-0 down, was a little bit harsh.

I can't fault the guys' effort but we made mistakes at set-pieces... I don't want to knock the players down any more than they already are because it's been a tough two weeks. It's not very pleasant at the moment. In some games we've played very well and come away with nothing'...

Dartford were again without injured strikers Andy Pugh and Harry Crawford at Eastleigh, so Tom Bradbrook led the line. Danny Harris came on for the last 15 minutes as part of a triple substitution but the Darts failed to score for the fourth time in their last five away games".

Cheshire FA press release:

"Football is to honour 1914 Christmas Truce centenary this December. Cheshire Football Association are to commemorate the centenary of one of the most iconic moments of the First World War, the 1914 Christmas Truce, as part of a week of remembrance activity in December 2014. 'Football Remembers Week' will take place from 5-14 December. A joint collaboration between The FA, the Premier League, the Football League and the British Council, the aim is to engage football fans and players at every level about what took place on Christmas Day one hundred years ago on the battlefields in Belgium.

On 25 December 1914, soldiers from both sides put down their weapons and crossed into 'no man's land' to share in an impromptu ceasefire. First-hand accounts from the time include references to football being played and photographs taken.

All photos uploaded to social media using #footballremembers will be automatically uploaded to a special website – www.footballremembers.com. The site shall act as a moment of record of football in 2014, a century on from the First World War, and will be preserved for future generations".

Clubs have been told thaT "For ALL matches taking place from 5-14 December, we would like you or your respective team managers to encourage all players to pose together in a mixed group photograph as a mark of respect to those on both sides that took part in the 1914 Christmas Truce...

We will be sending a briefing to all Cheshire FA referees to make them aware that this is taking place as we would suggest pictures are taken just before kick-off".
---
3 December 2014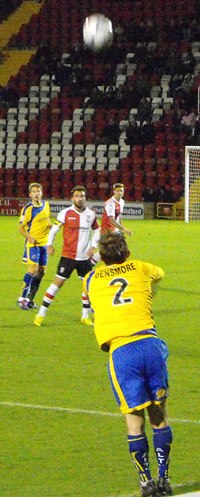 Altrincham gave a good account of themselves at Kingfield...

Match report here.

Right: Shaun Densmore takes a throw-in at Woking.
---
2 December 2014
Vanarama Conference
Tuesday, 2 December
Alfreton Town 1-2 Gateshead
Chester FC 2-0 AFC Telford Utd
Dover Athletic 2-2 Torquay United
Eastleigh 2-0 Dartford
FC Halifax Town 1-0 Forest Green Rovers
Kidderminster Harriers 3-1 Nuneaton Town
Woking 2-0 Altrincham
Wrexham 0-0 Bristol Rovers
Duncan Watmore gave an impressive performance in front of his Sunderland manager Gus Poyet and Everton boss Roberto Martinez as the two clubs clashed in an under-21 fixture on Monday night. Before being subbed in the 78th minute with a leg injury, Duncan had excelled. Everton won the game 3-2. Altrincham have been drawn at home to Cheshire neighbours, Macclesfield Town. The game is on Saturday, 13 December at 3pm.
Nuneaton Town v Grimsby Town
Hyde FC v Spennymoor Town
Altrincham v Macclesfield Town
AFC Fylde v Gainsborough Trinity
Guiseley AFC or Rushall Olympic v Chorley or Stalybridge Celtic
Lincoln City v Alfreton Town
North Ferriby United v Boston United
Gateshead v Halesowen Town
Worcester City v FC Halifax Town
Southport v Wrexham
Ramsbottom United v Stockport County
Bradford Park Avenue v Kidderminster Harriers
AFC Telford United v Chester
Barwell or FC United Of Manchester v Harrogate Town
Aldershot Town v Burgess Hill Town
Weymouth v Havant & Waterlooville
Bishop's Stortford v Torquay United
Lowestoft Town v Dover Athletic
Ebbsfleet United v Welling United
St Albans City or Wealdstone v Hayes & Yeading United
Wimborne Town v Oxford City
Bedford Town or Weston Super Mare v Farnborough
Dartford v Solihull Moors
Woking v Eastleigh
Hemel Hempstead Town v Sutton United
Basingstoke Town v Gosport Borough
Tonbridge Angels or Bromley v Leiston
Forest Green Rovers v Merthyr Town or Didcot Town
Bristol Rovers v Gloucester City or Bath City
Maidenhead United v Staines Town or Poole Town
Braintree Town v St Neot's Town or AFC Sudbury
Concord Rangers v Barnet
You can follow the Woking v Altrincham match (Tuesday, 7.45pm) via this website's minute by minute updates or via Radio Robins. Click on the appropriate icon below to go to your preferred means of following the game. For Twitter and Facebook links see the icons on the side panel, right.

Brian Flynn adds that "Radio Robins, sponsored by Ashley Mowers Garden Machinery, will be broadcasting full live coverage of Tuesday night's game at Kingfield. The match commentary is sponsored by Techknowledgey Ltd, Altrincham Football Club's IT support services provider. Techknowledgey Ltd provide IT support services to home and small business users. They offer services ranging from PC, Mac and Laptop repair to networking and servers and are your local provider of IT maintenance and support.

With over 10 years' experience in IT operations, Techknowledgey Ltd are able to help you get the best out of your computer systems. Need a hand? Call Dan Jones on 0161 883 1692 or e-mail him, or take a look on the web. The commentators are Laurence Howarth and Ian Wilkinson. Coverage starts at 7.35pm with the game kicking off at 7.45pm. You can listen to Radio Robins on the internet at www.radiorobins.com. Leah and Simon Brotherton will be providing regular updates on Twitter (@altrinchamfc) as well as half-time and full time updates on facebook (Altrincham FC).

The Independent schools' FA has announced that its England national under-18s' squad will include Altrincham FC Youth forward, Aaron Goldman, of Manchester Grammar School, who follows in the footsteps of Duncan Watmore in representing his country for the ISFA. Altrincham are expected to be without the injured Nicky Clee, once more, whilst defender Scott Leather continues to serve his suspension.

Before last Saturday's games, Get Surrey had reported that "Crocked Woking striker Scott Rendell said he feared he had broken a bone in his right foot during Tuesday night's 3-1 Vanarama Conference defeat at Grimsby Town. The Cards' leading goalscorer limped off after 32 minutes at Blundell Park after being caught by an opponent's studs, his injury later diagnosed as being no worse than severe bruising".

Rendell was a used sub on Saturday and "is targeting a return next Tuesday when Altrincham visit Kingfield for another league match. Describing the moment, the 28-year-old revealed, 'I heard a bang and tried to run it off but it got progressively worse. I was worried there might be a crack because I felt a tingling in there, but luckily it's not broken; it must have banged a nerve.'

He added, 'The important thing was weight-bearing and I gained a lot of movement overnight, though I'm still walking with a little limp'...

Meanwhile, goalkeeper Jake Cole has said he will be out for 'two weeks minimum' after hurting his groin in the same match. The 29-year-old, previously out with a calf problem, was replaced by Aaron Howe after just six minutes. He groaned, 'I just felt it go. It's very frustrating because I've never had these problems in my life, just niggles in the past.' Cole's latest injury prompted Cards boss Garry Hill to re-recruit AFC Wimbledon's Ross Worner on Thursday for a further month's loan spell".

After meeting Shildon in the FA Cup a couple of seasons ago, Altrincham fans will be interested to read the news from the Evostik League that "Northern League Shildon have applied for membership of the EVO-STIK Northern Premier League next season. The Railwaymen announced on Monday that, depending on the outcome of issues over their ground and whether they finish in the promotion spots, they will accept promotion to First Division North.

The Division One club are currently considering building a new ground elsewhere in the town and will have the option of withdrawing their application after a forthcoming inspection of their Dean Street facilities by EVO-STIK NPL officials.

Manager Gary Forrest said: "We are applying however we will be completing a thorough analysis before making a final decision. The club is still completing its review on whether to move stadium and this will have an influence on the decision as to when to take promotion assuming we finish in a promotion position.

'We have still not completed the development of the club's training centre which will mainly be utilised for the academy teams. There is a lot of positive work taking place at the club and we are a very ambitious club. However, we have followed a very careful growth and development plan over the last few years and will continue to make diligent decisions for the benefit of the club's long term future.'

Another Northern League side, Bishop Auckland, have also submitted their application to join the EVO-STIK NPL".
---
1 December 2014 Altrincham have been drawn at home to Macclesfield Town in the FA Trophy on Saturday 13 December. Rest of draw to follow...

Match report here.

The Alty TV highlights of the game are available, right.

And after the game, Brian Flynn interviewed Alty goalkeeping coach, Ian Senior, for Alty TV. You can watch the interview here.

According to the Worcester News, "Manager Gary Whild was a frustrated figure after watching Harriers let a one-goal [lead] slip in yesterday's 2-1 defeat at Altrincham. Marvin Johnson's excellent effort had fired Kidderminster ahead but the away side faded and James Lawrie and Damian Reeves pounced in the 57th and 86th minutes to seal three points for the hosts.

Whild said, 'I was really disappointed with the two goals we gave away. It was not good enough and it's not like us to concede goals like that. We scored a great goal, which gave us a bit of a lift'... Harriers will be hoping to bounce back when they tackle Nuneaton at home on Tuesday night (7.45pm ko). "

Get Surrey says that "Injured Woking captain Mark Ricketts was full of praise for his team mates after their 1-0 win over Braintree Town took them to fourth in the Vanarama Conference...

Manager Garry Hill made four changes to the side that lost 3-1 at Grimsby on Tuesday night and was rewarded with all three points. Speaking after the game, the injured club captain said, 'That's a massive strong part of us this year, we've such a good squad of players, it's not just the 11 on the pitch. The 18 players we've got in the squad are all exceptional first-team players so the gaffer can call on whoever he needs to and he knows they'll do a job'.

Josh Payne captained the side in the absence of the injured Ricketts and the suspended Joe McNerney and put in a man-of-the-match performance from the centre of midfield, showing a superb range of passing as well as playing a part in the winning goal. 'He's brilliant for us most weeks, he's such a fantastic player,' added Ricketts. 'He should be playing levels up, everyone knows that. We're lucky to have him here. He was brilliant again today just orchestrating and controlling the game.'

There was also praise for goalkeeper Ross Worner who has returned from AFC Wimbledon for his second loan-spell at Kingfield this season. The 25-year-old played a key role in helping the Cards keep their first clean sheet in six games...

'Ross is back on loan again, [and] pulled off a couple of great saves. I think the manager expects whoever is in goal to come and dominate but his six-yard box and 18-yard box where he can. That's a strength of Ross, he can come off his line very quickly and he's got great spring. It relieves to much pressure on the back four. To see your goalkeeper come off his line and collect it is great to have.'

Woking's next game is on Tuesday night at home to Altrincham who currently sit in 17th place and Ricketts is confident of a good result. 'I think we always fancy our chances of three points no matter who we're playing now. It won't be easy again, they've had some good results, they beat Halifax, beat Wrexham, so it's not going to be an easy game. That's [the] thing about this league at the moment, it's how close that top half is. Anyone can beat anyone. We'll give it our all again and hope to get those three points'".
---
FOR EARLIER NEWS, CLICK HERE
---