---
31 July 2014
Match report
here
.
John Edwards, Alty's joint Press Officer, writes that "Lee Sinnott made vastly-experienced former Rochdale midfielder Peter Cavanagh his fifth summer signing on Tuesday night and confidently declared, 'This is now the strongest squad I've had at Altrincham.'
After completing the deal at tea-time and giving Cavanagh his debut against Accrington Stanley a couple of hours later, Sinnott backed his latest acquisition to slot seamlessly into the base of Alty's midfield.
'We are delighted with the signing, because he fits the bill of what we have been looking for,' said the Alty boss, who has also recruited keeper Dave Parton, midfielder Sean Williams, winger Ryan Crowther and striker Steven Gillespie. 'We needed another sitting midfielder, and that is exactly where Cav excels.
'We first touched base with him last week, and it has taken until today to bring him on board, but we are delighted to have him.
'He came through the door at half-five and barely had time for introductions to his new team-mates before getting his kit on and stepping on to the pitch, but you could tell what he's about. He knows that role and performs it superbly. He's got a good 45 minutes under his belt, and you could see he knows what he is doing. He knows the position and how to play it.
'That is primarily his role, anchoring the midfield, and we've got a couple now who can do that. We can play two or three different formations, with either one or two in that position, and it is good to have that flexibility.
'He has bags of experience, and he will talk the game as well, which is something I always think is paramount, absolutely vital. He is very vocal and will talk to people around him and organise them. He will make sure his experience is passed on.
'It wasn't too difficult persuading him to choose us. He had other options, but he has taken up a position at Liverpool, coaching one of the Academy sides, and playing part-time was the avenue he was looking to go down.
'As we said at the beginning of pre-season, there is always one that drops from the tree very late on, and it has proved to be the case again. We held a little bit back, thinking this might happen, and it has paid off, just as it did with Steven Gillespie. We have covered both positions with Football League experience, and that has to be good.
'Cav was at Rochdale last season, playing full-time, but he knows this league well after playing for Fleetwood, so he won't be coming in cold. People sometimes think of the midfield anchor man as someone who just puts his foot in, but you have to be careful with that sort of approach these days, given the interpretation of the laws. The days of the hatchet man have long gone.
'It takes more than that. You need a physical presence, but also an ability to put your foot on the ball and be comfortable in possession, and Cav can do both. You don't need to be six foot two or three to be a physical presence, and he will demonstrate that. As I said, he knows the role.
'I was hoping we would get at least 45 minutes out of him against Accrington, and he will feel the benefit of that. Football-wise, I would expect him to be ready for the start of the season, but we will play that one by ear. Steven Gillespie also arrived late, and we have to be careful with him as well, but he has played around 200 minutes of football already. Cav knows the game and his body, so I fully expect that side of things to be fine.
'He first came on the radar a couple of weeks ago, and taking up a position with Liverpool gave us the edge over others who wanted him. Coaching at Liverpool's Academy is his job now, but I don't envisage too much of a problem about his availability for us.
'To get someone with his experience and knowhow was always going to be invaluable, and we are now ready to go. These are the 19 senior players we will take into the season, and I am pleased with the way the squad has taken shape.
'You can see the balance is there, and the players are going to have to take their A game on to the pitch every time, because there is so much quality in all areas. There are decisions to be made about the starting X1, but that is a nice conundrum to have. The players who get a start against Aldershot have to do enough to make sure they stay in, because there will be people pushing in every position.
'I'd say we've got more strength in depth now than at any time in the last three years, and that can only be good for the club.'
Alty round off their pre-season programme against Shrewsbury at the J.Davidson Stadium on Friday at 7.45pm".
---
30 July 2014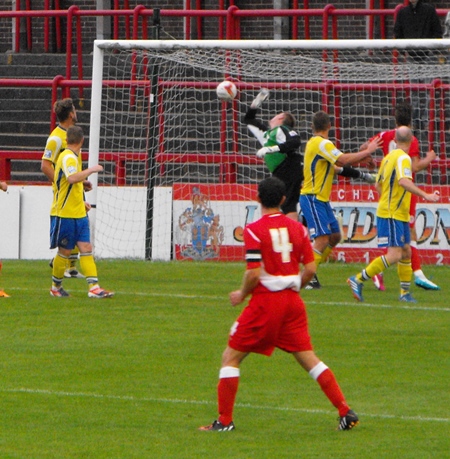 Altrincham again started without several first-choice players but, after a first-half in which the visitors were the better side, Alty were much improved after the break. Stanley had taken a first half lead when Naismith scored from a 20th minute freekick. With Sean Williams outstanding, Altrincham had the better of the second period and deservedly equalised when Simon Richman's excellent through ball set Ryan Crowther free. Crowther, who also had a good game, scored calmly as he faced keeper Iain Turner (50 mins).
Report to follow...
Right: Stanley's goal came from a freekick just outside the box.
ALTRINCHAM: 1. Dave Parton, 2. Shaun Densmore (capt), 3. Adam Griffin, 4. Peter Cavanagh, 5. Tom Marshall, 6. Mike Williams, 7. Simon Richman, 8. Jake Moult, 9. Kyle Perry, 10. Sean Williams, 11. Ryan Crowther. Subs: 12. Gianluca Havern, 14. Scott Leather, 15. Greg Wilkinson, 16. Nicky Clee, 17.Damian Reeves, 18. Stuart Coburn (gk), Steven Gillespie, David Brown, Jeff King.
ACCRINGTON STANLEY: 1. Iain Turner, 14. Adam Buxton, 3. Jordan Mustoe, 4. Luke Joyce (capt), 5. Tom Aldred, 6. Rob Atkinson, 7. Shay McCartan, 8. Nicky Hunt, 9. James Gray, 10. George Bowerman, 11. Kal Naismith, Subs: 22. Luke Simpson, 12. Michael Liddle, 2. Josh Windass, 15. Brett Ormerod, 16. Liam Goulding, 17. James Jenkins, 18. Roman Hickey, 19. Jack Hartley
The times and fares for the TASC supporters' executive coach to Aldershot Town for the game on Saturday, 9 August, are
here
. You can book by ringing the club in normal office hours on 0161 928-1045.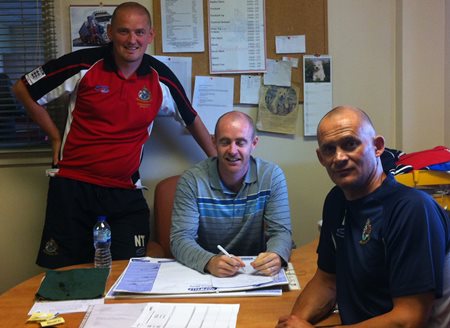 Shortly before Tuesday night's friendly against Accrington Stanley, Altrincham signed former Stanley midfielder Peter Cavanagh. He is pictured, right, with assistant manager Neil Tolson and manager Lee Sinnott. Peter played 161(+6) league games for Accrington (2001-10)38(+1) for Fleetwood Town (2010-12) and 47(+4) for Rochdale (2012-14). He played the first half of last night's game.
With the draw for the Altrincham FC Patrons' scheme taking place on Friday, you have only got a couple of days to join this important fundraising scheme for Altrincham FC> To date, 124 supporters have signed up for the
Patrons
.
Chairman Grahame Rowley explains how the scheme works.
For the bargain sum of £50, your name will appear throughout the season 2014-15 in the matchday programme for every home game and on the club's official website as a Patron of the Football Club.
In August, every Patron will be entered into a prize draw with the winner being match sponsor for an appointed game along with 9 guests. Second prize will be hospitality for 5 people and third prize hospitality for 3 people in the Sponsor Lounge – the value of the 1st prize is £550.
If you are interested in becoming a Patron again this season please forward a cheque payable to "Altrincham FC" for £50 for the attention of Grahame Rowley.
If you require further information, please speak to me on 07720-606897 or email me.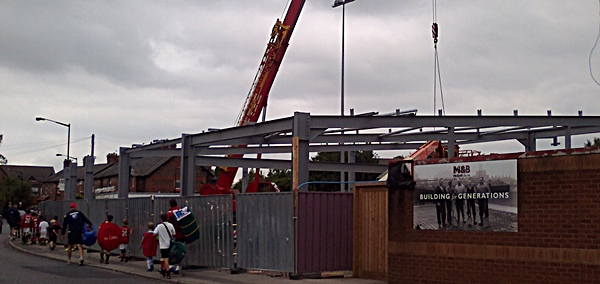 Above, we see the future of Altrincham FC; on the pavement the juniors who attended the Soccer Fun Week on Tuesday whilst in the ground the new Community Sports Hall rises above the perimeter wall.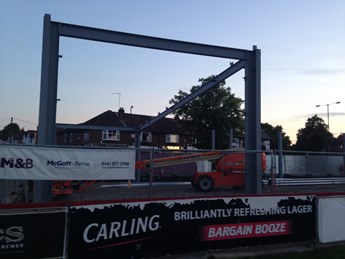 And Grahame Rowley's image, right, shows progress on the construction of the Community Sports Hall from inside the J. Davidson Stadium.
Altrincham FC Youth's first league and cup fixtures have been issued and can be seen
here
.
Also, the Cheshire County FA has announced the dates for the Cheshire Senior Cup 2014-15.
Prelim Round, by w/ending 8th November 2014, w/commencing 03/11/14
1st Round, by w/ending 17th January 2015, w/commencing 12/01/15
2nd Round, by w/ending 14th February 2015, w/commencing 09/02/15
And in the Cheshire FA District FA Youth Cup, the dates are as follows:
Sunday, 7th - 28th September 2014
Sunday, 12th - 19th October 2014
Sunday, 9th November 2014
Final, March / April 2015 This week's Altrincham FC Saturday Yankee results are here. According to NL Pitchero, "Braintree Town have secured the signing of goalkeeper Carl Pentney on a one-year-deal from neighbours Chelmsford City. The 24-year-old has a wealth of experience, having played for Leicester City and Colchester United.

Pentney signed for the Clarets from Bishop's Stortford at the beginning of the 2013/14 season... [He] will battle for the number one spot with Nick Hamann. He replaces Nathan McDonald, who has left the Amlin Stadium".

Elsewhere "Alfreton Town manager Nicky Law has brought former Reds' player Anthony Howell back to the club on a one-year deal... Howell, 28, recently left Mansfield Town after two seasons with the Stags... He is primarily a central midfield player but can also operate as a striker or winger.

Howell was previously with Alfreton for two-and-a-half seasons, helping the club win the Conference North title in the 2010/11 campaign, and is manager Law's eleventh new signing of the summer".

The Shropshire Star reports that "AFC Telford United manager Liam Watson insists the goals will come this season ahead of tonight's pre-season friendly at Nantwich Town... In their warm-up games none of the team's forwards have found the net.

But Watson has faith in his strike force which will include last season's 17-goal top-scorer Adam Farrell as well as Tony Gray, Sam Smith and Andy Owens...

Watson said, 'We have basically tried to look at things defensively in the pre-season. I am not overly worried about us attacking... We have got goal scorers at the club so that will happen but, even though we won the league last year, we conceded too many goals [53]. It was abundantly clear that there were problems there. We hardly ever kept a clean sheet. It was so obvious to me that it was a big issue, and it is something that I specifically wanted to work on'.

Watson has bolstered his back-line with signings of defenders Kristian Platt, Steve Akrigg and Rod McDonald, as well as goalkeeper Jonathan Hedge. And he said, '"The back four is looking to gel and obviously we have a new keeper as well, but I think that the stuff at the other end of the pitch will come with a little bit of sharpness. Forwards need to play together to get an understanding and it is hard to do that when you are trying to juggle things to get 90 minutes into them all'.

Watson expects to complete the signing of ex-Mansfield midfielder Godfrey Poku within the next 24 hours having reached an agreement on a one-year deal. But the Telford chief has opted not to follow up his interest in trialist Moubarak Moumouni".

FC Halifax Town "have confirmed that 27 year-old striker Jamie Jackson has signed for the Shaymen. Jackson, 5ft 6 frontman, scored the winning goal against Notts County at the Shay on Saturday in one of two impressive performances whilst on trial for the Club. Born in Sheffield, he started his career at Chesterfield and has had spells with Matlock Town, Gainsborough Trinity, Sheffield, Worksop Town and Bradford Park Avenue."

---

29 July 2014 Before kick off in tonight's friendly, Altrincham have announced the signing of former Accrington Stanley midfielder, Peter Cavanagh; he will play against his former team tonight. Accrington Stanley report that "Boss James Beattie will give the players training with his squad and looking to win contracts a chance to impress in this week's pre-season friendlies. The Reds travel to Altrincham tonight as Beattie continues preparations for the new campaign.

A number of new faces have been around the Store First Stadium in recent weeks, including former Everton goalkeeper Iain Turner, ex-Norwich midfielder Michael Clunan, former Rochdale youngster Connor Martin and Australian left back Charlie Beverley, and the hopefuls are now set to take centre stage.

'We've got two games this week, against Altrincham and behind closed doors at Birmingham on Wednesday', said Beattie. 'That's a good opportunity for me to get a proper look at the lads who have been training with us. They've only played bit parts in the games so far but that's because I want to get the minutes into our lads' legs and make sure that we're fully prepared. They've been training with us for a while now, we've had to let some go and it's like a little conveyor belt at the moment.

That's no disrespect to the players that have come and gone, it's just the way it is. We need to be a club that takes players on trial for us to have a look at. We only have 15 contracted players at the moment and we'll need more than that to go through a season!'.

Joining the group for Saturday's friendly defeat to Burnley was striker Lee Wort, who scored over 50 goals for non-league Sholing FC as they won the FA Vase last season. The 22-year-old played 20 minutes as a second half substitute and Beattie is keen to see more of him.

'I've monitored Lee's progress for a couple of seasons and my friends in Southampton swear by him', he explained. 'I believe that everyone deserves an opportunity and this is Lee's. I've explained to him what I'll be looking for from him and it's a great chance for him. He knows where the net is and he works hard for the team. That's paramount for the way that we want to play. The forward line is the first form of defence and I suppose if you know where the net is then you know where the net is, simple as that. We just have to get the ball into areas where he can convert chances'".

A combination of factors means that Altrincham FC is short of people to staff the turnstiles at the J. Davidson Stasium on Tuesday evening for the visit of Accrington Stanley. If you can help your Football Club by staffing one of the entry points, it would be greatly appreciated.

As Matchday Secretary George Heslop points out, so much at Altrincham FC relies on supporters' going the extra mile for the Club and staffing the turnstiles is just one instance of that commitment. If you can help, please contact George, as soon as possible, either by e-mail or by ringing him on 07939 890503. Thank you.

This website will be providing minute by minute Matchday Updates fom Tuesday's match against Accrington Stanley. They are available as follows:

For PC users: here. This page auto-updates every two minutes but can be updated at will by pressing the F5 function key or the "refresh" button on your browser.
For mobile phone and handheld devices: via the Matchday Updates link here. Reload/refresh to get the updates.

Right: Gavin Rathbone's image shows Manchester United getting to grips with Alty's Greg Wilkinson in last week's friendly. More of Gavin's images are on his GR photography website.

Brian Flynn advises that "Radio Robins, sponsored by Ashley Mowers Garden Machinery, will be broadcasting full live coverage of Tuesday night's pre-season friendly against Accrington Stanley at The J.Davidson Stadium.

The commentators are Paul Salt and Ian Wilkinson with match summaries from Ryan Daly. Coverage starts at 7.40pm with the game kicking off at 7.45pm. You can listen to Radio Robins on the internet here.

Leah & Simon Brotherton will be providing regular updates on Twitter (@altrinchamfc) as well as half-time & full time updates on facebook (Altrincham FC)".

TASC's Mark Eckersall writes about the supporters' coach transport to away matches in the coming season.

"Thanks to all who supported the coaches last season. We achieved our aim of breaking even and even managed to make an unintended profit thanks to some really good support on some of the later fixtures.

This figure is carried forward in the the accounts and will be used as a float as we again attempt to provide coach travel to all league and major cup games.

Naturally, with the promotion to the Conference national comes much increased coach hire prices and even some trips needing two drivers, so fares will rise in accordance but our policy of getting as many people there as cheaply as possible will continue.

A word of warning comes from Woking on this matter and, hopefully, we can avoid a similar scenario but can only so with your support.

We hope that we can maintain similar levels of support to last season and always look to welcome new travellers with us. Our coachs contain a wide range of ages and are family friendly. We aim to get to afternoon matches around 1:30pm to allow time for a few drinks and to relax before the game. We leave as soon as possible after the match to get people back to families/nights out or whatever people do on Saturday nights.

We pick up in Sale, Timperley, Altrincham and the ground to try and make it as easy as possible for people. All coaches this season will be of an executive standard with on-board toilet facilities and we make service stops along the way as needed.

The times and fares for the opening trip to Aldershot will be at the club on Tuesday evening at the Accrington game ready to take bookings.

If you have an questions at all then email me directly here".

The thanks of all supporters go to Mark for the hard work involved in ensuring the smooth operation of the supporters' transport.

Alty's joint Press Officer, John Edwards, writes that "Lee Sinnott saluted the early impact of Altrincham's new signings after striker Steven Gillespie further underlined his worth with a brilliant assist and a goal of his own at Hyde on Saturday.

Gillespie, snapped up from Bristol Rovers, is already developing a fruitful understanding with Damian Reeves, and the pair were on the same wavelength again in the latest build-up game, ahead of the new campaign.

Pictured, right, by James Lobley, is Adam Griffin in action, watched by Ryan Crowther, at Hyde. More of James's images are on his Flickr site here.

After weaving his way through the Hyde defence on the left, Gillespie set up a simple finish for his strike partner before taking the scoring honours himself with an unerring finish.

Alty are continuing to speak to another potential acquisition but, with Gillespie, Sean Williams, Ryan Crowther and keeper Dave Parton all making a favourable early impression, Sinnott is content with his sumnmer transfer business so far.

'It is still ongoing with a particular individual, and there should be clarification on that in the next few days,' said the Alty manager. 'These pre-season games are a means to an end. Everything is geared to August 9, and our first game in the Conference Premier, but I have been pleased with the way the new signings have settled in.

'There have been no problems whatsoever on that score, and they all bring different attributes that will benefit us. Steven comes with plenty of League experience and has already fitted in really well.

'You can tell straightaway he likes to be fed the ball and has a style of play that suits a team like ours. In his eagerness to be involved, he sometimes comes a bit too deep, but we've had a word about that every now and then. It just shows how keen he is, and he is already linking up with the rest of the team really well.'

The Hyde game came on the back of a 5-0 home defeat by a Manchester United X1, but Sinnott insisted, 'That was a fantastic experience. No one likes being on the end of a scoreline like that, but we learned more and benefitted more than from 10 training sessions. The way they moved the ball and their energy levels was a credit to them and their coach Warren Joyce'".

Altrincham FC Youth player James Farrington has kindly provided a report on the Altrincham FC's participation in the Foyle Cup in Derry, Northern Ireland.

"After an intense pre-season training period, Altrincham FC Youth travelled to Derry, Northern Ireland, to compete in the Foyle Cup which is a five day tournament with matches every day.

Altrincham Youth were led by Manager Paul Fay, Coaches Graham Houghton and Adam Nuttall. The team was put in a group with Inishshowen Youth League, Oldpark Reds, and hosts Derry City. The young Robins finished third in the group, finishing on four points, but had a weaker goal difference than Inishowen, who came second.

Altrincham drew their first game 1-1 with Inishowen Youth League, followed by a comfortable win over Oldpark Reds 4-1 the next day. The final day of the group stages saw Altrincham have a chance of finishing first with a win over Derry city. However, the lads lost to a strong Derry side that went on to win every game in the group stage.

Alty finished third in the group, which led them to enter the Foyle Rose Bowl. The Foyle Rose Bowl consisted of the four teams which finished third out of the four groups. Altrincham drew Mountjoy United, a match which they won 2-0 leading them to the final against Newtowne FC the following day.

Altrincham lost 2-1 after a close game but failure to make the most of their chances meant Alty, sadly, couldn't get the result they desired.

However, the overall experience of getting to play full-time football for the week was a valuable and thoroughly enjoyable experience for each member of the team! Throughout the week it was evident the lads became much closer and it was a great team building exercise, standing them in good stead for the coming season.

Although the results didn't go Altrincham's way, they will hope to capitalise on this experience this season due to the intensity of the competition".

James Farrington".

At Grimsby Town, "The Mariners have completed the signings of striker Jon-Paul Pittman (27) and midfielder Craig Clay (22) on one-year deals. Both players have been on trial with the club.

Jon-Paul Pittman was born born in Oklahoma City, Oklahoma, His career began with Aston Villa's youth academy... before he moved to Nottingham Forest... He was loaned out to Hartlepool United. The following season he went to Bury...

Pittman's eight-year spell at Forest ended in December 2006. January 2007 saw him sign for Doncaster Rovers on a short-term deal. As a free agent Pittman was signed by Steve Evans at Crawley Town... [where] he scored 43 goals in 78 appearances...

Craig Clay was born in Nottingham, and started his career with Chesterfield's youth system... He signed for FC Halifax Town on a one-month contract in January this year".

From the BBC we learn that "The consortium attempting to take over Salisbury City are set to take their case to the High Court. The group of five business people claimed earlier this month that they had overturned the ownership of chairman Outail Touzar.

But the takeover has not yet been ratified by the authorities and the consortium are now taking legal action in a bid to assume control of the club... Touzar and supporter Mark Winter took over the ailing club for £1 in May, with the pair becoming responsible for £150,000 worth of debt.

The latter paid around £75,000 of his own money to try to save the Whites, but Touzar, who owned a 98% stake, had not provided any investment. Winter attempted to overthrow Touzar, but eventually quit as co-owner because of the Moroccan's reluctance to hand over his stake in the club...

A spokesperson for the interested consortium has said they are confident of the club regaining their place in Conference South if the takeover goes through. Meanwhile, Touzar released a statement on Saturday saying his appeal to the Football Association against their demotion from the Conference Premier was in the 'final stages of review'.

He also claimed he was in advanced negotiations with former Barcelona youth team coach Sergio Lobera about becoming the Salisbury manager."

The BBC also reports on another ex-Conference national club, as "Troubled Hereford United will start the new Southern League season after their long-standing winding-up order was again adjourned until 1 September. It is the fourth time the petition, brought by former boss Martin Foyle and Revenue & Customs, has been postponed.

With some debts settled, the Bulls will meet creditors on 15 August to finalise a Companies Voluntary Agreement to sort out the rest of the outstanding bills.

Hereford begin the new season in 12 days' time against St Neots. However, it is not yet clear where that game, scheduled for Edgar Street, will be played as the Bulls' home is still closed on safety grounds.

That has led to a number of pre-season friendlies being cancelled with other matches, including one against Turkish giants Besiktas, being played in West Yorkshire.... The Bulls were accepted into the Southern Premier League for 2014-15...

Monday's decision by the Royal Courts of Justice in London has satisfied the league, for now, that Hereford are worthy of their place in the division... The club still face the threat of potential liquidation when they return to court in 35 days if the structure of the CVA cannot be agreed. "

Again from the BBC, we learn that "Tranmere have signed versatile defender Danny Woodards on a six-month contract... Woodards, 30, was released by Bristol Rovers after their relegation from League Two".

In the Torquay Herald Express we read that "Torquay United are poised to complete manager Chris Hargreaves's eighth summer signing, tall centre-forward Duane O'achie, 21.

Trialist O'achie, formerly with Southend United, has agreed terms for a one-year contract at Plainmoor, and his arrival follows the two-year deal which was confirmed at the weekend for ex-Brighton midfielder Courtney Richards, 20.

It means that four of the players whom Hargreaves had invited to join United's pre-season campaign, defender Angus MacDonald, winger Toby Ajala and now Richards and O'achie, have all turned their trials into permanent signings. P> The Gulls have also recruited former Mansfield winger Louis Briscoe, ex-Plymouth midfielder Luke Young, striker Ryan Bowman from York and goalkeeper Jordan Seabright from Dagenham & Redbridge this summer".

According to the Shropshire Star, "AFC Telford United manager Liam Watson has agreed a one-year contract with trialist Godfrey Poku...

When he puts pen to paper, it will end Watson's year-long chase for the tough-tackling midfielder, reuniting him with the player he borrowed from Southport in 2012-13.

The 24-year-old has switched from Luton Town to Mansfield since then and spent the second of last season on loan at Alfreton, before becoming a free agent with his release from the Stags.

Watson said, 'We have made Godfrey an offer and he's accepted it so, hopefully, it's just a case of him signing now'...

Watson needs Rod McDonald back soon from an ankle injury, if the defender is to figure in their Skrill Conference Premier opener at Welling United...

Watson said, 'I keep on changing my mind and there's things I still want to see, like Andy Owens playing up front with Sam Smith. I want to see more of Adam Farrell, too. It's about getting the balance right and, back-four wise, I think we are looking strong and that's a bonus. Going forward, we are waiting for them to kick in.

I don't think Rod is a million miles away but if he's not involved in any of the games, it's hard to think that he will play on the first day of the season. He would have to work on his fitness levels'...

The Telford chief said, 'The lads are looking extremely fit... We looked a threat in the last 20 minutes, especially when the set plays started going into their box. That's something we haven't really used in pre-season. Over the next 12 days, we will be starting to do that more and more as we get ourselves ready'".

---

28 July 2014 Altrincham's next opponents are Accrington Stanley, who report that "Stanley lost out narrowly to Premier League Burnley at the Store First Stadium... Jason Gilchrist's 73rd minute goal separated the sides but both managers had made multiple changes by that stage as they looked at their squads.

James Beattie has given those already signed up for next season a thorough run out in their friendly matches so far and once again he fielded a strong line-up,,, The only player not signed up who started was former Everton and Preston goalkeeper Iain Turner who is looking to win a contract with the Reds...

The Clarets made 10 changes at the break while Beattie gave his starting XI a longer run out... Stanley made a flurry of substitutions on 70 minutes with Tom Aldred, Brett Ormerod, Lee Wort, Michael Clunan, Charlie Beverley and Connor Martin all entering the fray...

ASFC: Turner, Buxton, Liddle, Hunt, Atkinson, Naismith, Windass, Gray, Bowerman, Mingoia. Subs: Wort, Aldred, Goulding, Jenkins, Ormerod, Martin, Clunan, Beverley, Simpson".

Also, "manager James Beattie was happy with his side's performance despite the 1-0 defeat to Burnley.... after decent shows in the 2-2 draw with Blackburn and the narrow loss to the Clarets.

'It's been a great week for the club having Blackburn and Burnley down here', said Beattie. 'Against Burnley, it was hot and a bit of game management had to come in. We had to hold onto the ball better as we were working so hard to win the ball back and then giving it away cheaply... We are not the finished article by any stretch of the imagination... but we have the core of a very good side'.

Details of the Stanley squad are here.

Next Friday Alty entertain Shrewsbury Town. Before that, the Shrews play Kidderminster Harriers on Tuesday.

Trialist midfielder, Wade Joyce has been released after featuring in three of Altrincham's pre-season games. The Club thanks him for his services and wishes him well in his career.

Altrincham FC Ladies' manager Keith Edleston announces that "We have another friendly organised, v Winsford United Ladies on the 31 August, 2pm k.o., at The Barton Stadium, Kingsway, Winsford CW7 3AE.

Also, last Thursday, we made two more signings to bolster our squad, Georgia Plant (17) an attacking winger (above, left) who has come from Richmond Rovers and Elina Parker (above, right) who twice in the 80s played for England. Elina is a versatile player who now can operate in a number of positions and whoses ability, attributes and cleverness will help the younger players come on".

Wrexham report that "speaking about the two trialists players who started at Hednesford, the manager Kevin Wilkin was very positive about their displays. He also confirmed that something was in the offing with the goalkeeper Dimitar Evtimov, an Under 21 International player with Bulgaria. 'We will look to get a loan deal tied up with Nottingham Forest, as they have agreed to it', he said... 'It's obviously one area we need to shore up with Andy being out injured at the moment. I have worked with him before at Nuneaton, when he came on loan at the start of last season'...

The boss then moved onto central defender Manny Smith, a former Walsall and Notts County player with over 180 appearances to his credit. 'He's strong, quite quick and with respect, he has added something to us there', said Kevin... 'He brings that bit of experience that we have been lacking, but he's still only 25 years-old. Whether we can get the deal thrashed out, we should know in the next few days'.

Appearing as a late substitute in the second half was striker Dan Nti, the former Great Britain Universities' international, who was with Worcester City last season. 'I will speak to his agent but, on the back of what we do with the other two, we'll determine where we go with that one'".

Wrexham's line-up last Saturday was "Dimitar Evtimov, Ross White, Manny Smith, Blaine Hudson, Neil Ashton; Jay Harris, Dean Keates (Joe Clarke, 76), Elliott Durrell, Wes York (Theo Bailey-Jones, 76); Connor Jennings, Andy Bishop (Dan Nt'i 76). Subs: Louis Gray, Anthony Stephens, Steve Tomassen, Jon Royle, Ross Weaver, Rob Evans, Nick Rushton."

According to NL Pitchero, "Torquay United have completed the deal to bring midfielder Courtney Richards to Plainmoor on a two-year contract. The 20-year-old has impressed on trial through the pre-season period... Richards was originally part of the Academy system at Coventry City before moving to Brighton & Hove Albion and he had a spell on loan with Whitehawk in the Conference South last season."

At Dover Athletic, "Immediately after the 2-2 draw with Colchester United, defender Sean Francis signed a deal with the club... the seventh summer signing for Dover Athletic, following on from the earlier announcement that Jake Reid has agreed terms with Whites.

Francis, a tall central defender, joins the club having spent three seasons with Bishop's Stortford, having previously spent time with Braintree Town, Aveley and Billericay Town.

Sean has taken part in five of the club's seven pre-season fixtures thus far and competes with Tyrone Sterling, Richard Orlu and Sean Raggett for a position in the heart of Whites' defence."

Also, Dartford "are pleased to announce that Luke Daley has signed for next season. Tony Burman has said, 'I have been impressed with Luke throughout the pre-season... Luke, at 24, is at a good age, has experience in playing Conference football...

On the other trialists, Tony has said 'I would like to thank both Tom Derry and Jordan Adekunle for their efforts during pre-season, however, at this moment in time, [I am] unable to offer them a deal for next season'".

Reports from the BBC say that "Bristol Rovers have signed ex-Hereford United defender Daniel Leadbitter. Rovers have not confirmed the length of the 23-year-old's deal but he becomes the seventh new arrival since their relegation... Leadbitter made 39 appearances for Hereford last season but was released following their demotion to the Southern Premier for financial reasons. The former Newcastle trainee previously had a spell with Torquay United, where he played 17 first-team games".

---

27 July 2014 Saturday's friendly at Ewen Fields was played for the Ray Stanley Memorial Trophy. With just eight minutes remaining, and disappointingly trailing two-nil to a Hyde squad comprising just six named players and 12 unnamed trialists, Altrincham secured a draw with late goals from Reeves and Gillespie. It took 18 spot kicks to resolve the contest as Altrincham missed five of their nine attempts and Hyde missed four.

Match report here.

Right: Ryan Crowther was one of five ex-Hyde players in Alty's squad on Saturday.

Next up for Alty is the visit of Accrington Stanley on Tuesday night (7.45pm).

Sunderland report on how their "development squad resumed their pre-season campaign with a 1-1 draw at Boston United... Coach Robbie Stockdale named a largely inexperienced starting XI [including Duncan Watmore who played the full match]...

It was Duncan Watmore who was first to test the Boston backline, driving past a host of players before being denied by Rene Steer who made a superb last-ditch tackle... The majority of the side who faced Boston featured for Gus Poyet's first team during two midweek wins but, in the latter stages of the match, they showed no signs of weakness...

Agnew was particularly impressive, making a superb block to stop Carl Piergianni from converting Dayle Southwell's cross before clearing the ball off the line from the resulting corner".

Bulls' News reports that "The trialist Hereford United side played virtually the entirety of their game with lower tier team Droylsden against 10 men, and struggled defensively in a 5-5 draw.

With two weeks to go to the start of the new season, and no further pre-season games announced, the trialist XI took to the field in last season's home kit, still bearing the Conference logos, rather than a new kit that had been claimed to be ready.

While the club's official Twitter posted pictures of the team eating a pre-match 'traditional Islamic' meal, a tweet that caused a storm due to Ramadan taking place currently, having not bothered to travel to the game, it was left to Droylsden sources to report on the actual scoreline.

The Bloods endured a 47 game winless run lasting nearly a year to this March, and had suffered two straight relegations. They fielded over 100 players last season, and ended up with a zero playing budget due to attendances collapsing at the Butcher's Arms ground...

Despite having a man sent off in the opening minutes, the Bloods raced into a 2-0 lead through a Ciaran Kilheeney double before the trialist side pulled one back through "Obi". The hosts scored a third through captain Ben Deegan before "Bilal" pulled one back and, after a series of changes for the Evo-Stik Division 1 side, "Deqin" netted a third for the trialists. Sub Sefton Gonzalez then netted a rebound from the spot, the second penalty of the game for Droylsden, to make it 4-3 before, in the final few minutes, a controversial goal saw "Deqin" net again for 4-4 before the trialist side took the lead for the first time with "Deqin" netting for 5-4.

In the dying moments a diving header saw the hosts claim a 5-5 draw through sub Chris Ahmadi."

Macclesfield Town "have signed winger Adriano Moke after his release from Stockport County in the summer. The player, who began his career at Nottingham Forest spent time with the Glenn Hoddle Academy before joining York City in 2011.

He made 28 appearances in all competitions that season as The Minstermen won promotion back to the Football League... That summer the winger joined Cambridge United as well as a short spell with Tamworth before leaving to join up with Halifax... Moving on to Stockport County last season he featured 25 times for the Hatters".

---

26 July 2014 By way of an experiment the Matchday Updates on this website for Saturday's friendly at Hyde will be produced in a different format, suitable for mobile and other devices as well as from a PC. To get the Updates:

For PC users: click as usual on the Matchday Updates page. You will now find that the page automatically updates itself during matches; currently it is set to do so every two minutes but you can "refresh" sooner if you wish using the F5 key or your browser's refresh button.
For mobiles and handhelds, click here where you will find a menu which includes "Matchday Updates". Click on that and the Updates will be available from the link. Currently the mobile version does not refresh automatically.

As ever, Matchday Updates depend on the signal available at the ground.

Brian Flynn advises that "Radio Robins, sponsored by Ashley Mowers Garden Machinery, is collaborating with Hyde F.C.'s internet radio service, 26 Nil, to provide a simulcast of Saturday afternoon' s Ray Stanley Memorial Shield game at Ewen Fields. The commentators are Ian Burke, Brian Flynn and Luke Edwards with match summaries from John Edwards. Coverage starts at 2.55pm with the game kicking off at 3.00pm. You can listen to the simulcast on Radio Robins or www.26nil.com/.

Leah and Simon Brotherton will be providing regular updates on Twitter (@altrinchamfc) as well as half-time & full time updates on facebook (Altrincham FC)

Speaking on Radio Manchester on Friday evening, Altrincham FC assistant manager Neil Tolson said that "We are looking to bring in another player. We spoke to a lad today, with a bit of experience... It would be a major coup if we can pull off his signing. Hopefully, it will happen in the next 24 hours".

Neil also spoke about the effects of the heatwave on training, a situation which neither he nor manager Lee Sinnitt had faced in their own careers to this extent. Drinks breaks are being used but as Neil said "The work has got to be done". Neil added that "All of the new lads have settled in quite well. We didn't want to make wholesale changes" to the squad which won promotion last season.

According to the BBC "Kidderminster have signed free agents Reece Hales and Jake Green on one-year deals following successful trials... Forward Hales, 19, was released by Birmingham City at the end of last season, having played just one senior game as a substitute in 2013.

Green, 20, is a versatile addition to Gary Whild's side as a full-back capable of also playing on the flanks. He was formerly with Bristol Rovers, but failed to make a senior appearance".

Elsewhere, "Dartford have signed winger Luke Daley on a free transfer following a successful trial... The 24-year-old, a product of Norwich's academy, spent the last two campaigns with Braintree Town, scoring eight goals in 60 league appearances.

'I have been impressed with Luke throughout the pre-season', said Darts' boss Tony Burman. 'Luke has experience in Conference football and will be a good addition'.

Daley made his first-team debut for Norwich in February 2009 and featured 10 times for the Canaries in 2009-10. He has subsequently had spells at Plymouth Argyle and Lincoln City"

Also from the BBC we learn that "Peterborough have signed defender Michael Smith from Bristol Rovers for an undisclosed fee... on a three-year deal. Smith made 50 appearances last season as the Pirates were relegated from the Football League...

The Northern Irishman told BBC Radio Bristol, 'Football is a career, and I need to play as high as I possibly can... I've not had one bad message from the fans. I know last year was a disaster for the team, so for people to give me their blessing is fantastic for me. The club gave me my first chance in professional football and I will be forever grateful'".

Meanwhile, "Nuneaton Town have signed goalkeeper James Wren from Tamworth on a free transfer. The 21-year-old, who has agreed a one-year deal, failed to make a senior appearance for the Lambs after joining them from Burton Albion in 2012.

Nuneaton boss Brian Reid signed Wren after a successful trial, despite the player losing 10 days of pre-season after cutting his knee in training. Wren left Tamworth after their relegation from Conference Premier."

Get Surrey tells us that "Crocked Woking star Kevin Betsy has revealed this week's injury blow is the worst of his long career. The 36-year-old midfielder has been ruled out for three months and will undergo a knee operation in a Harley Street clinic next week.

A surgeon will repair a torn meniscal ligament, which Betsy believes he first weakened in training before the problem increased during last Saturday's goalless draw against Fulham, ironically his daytime employers. 'This is the worst injury I've had', conceded the talismanic wideman, who has sparkled for the Cards since returning to the club in 2012 following a successful league career.

'I've been really lucky, I've never been out for more than a couple of months... I couldn't walk on Monday so went for a scan and it turned out to be a grade two tear, so it will be a few months out'.

With optimism among fans possibly at its highest for years, ahead of the new Conference Premier campaign... Betsy's injury is the first negative of the summer...

Meanwhile, Cards new boy James Clarke hopes to be fit in time to play himself into contention for a place... The 24-year-old has yet to pull on a Woking shirt after making a summer switch from Salisbury City... Clarke, who damaged a groin muscle when he slipped on the ball two weeks into pre-season training, said , 'It's come at a costly time for me because you want to show your value in the team and, unfortunately, I haven't been able to play a part yet... I like the way Woking play and the gaffer's winning mentality. He has brought in hungry players like myself and Theo Lewis'...

Matt Steer, a regular for Combined Counties neighbours Westfield last season, featured as a Woking XI, made up almost completely of trialists, drew 1-1 at Frome Town on Tuesday".

From Get Hampshire comes news that "Andy Scott says he is close to finalising his Aldershot Town squad for the forthcoming season but has warned some of his trialists are entering the last chance saloon in order to earn a new deal. The Shots boss was delighted with a number of young hopefuls during Friday night's 3-2 defeat by an exciting Chelsea Under 21 side before running the rule over a selected few in a behind-closed-doors friendly against a full-strength Millwall on Tuesday afternoon.

Midield dynamo Naby Diallo became the first of his trialists to be handed a permanent deal after agreeing terms to a one-year contract on Monday. And Scott reckons that opportunities will arise for several others, including youth-teamers Rob Gerrard and Matt Rudolph... One of the positions up for grabs is a goalkeeper to compete with new signing Phil Smith for the No.1 shirt with ex-Barnet stopper Nick Jupp leading the way and not far off agreeing terms.

And Scott is also looking at another striker/winger as cover after new arrival Dan Fitchett suffered a hamstring pull against Chelsea which may rule him out of the start of the season.

'Other than that, we're shaping up quite nicely,' Scott told the News & Mail. 'We're almost there but we need another first-team goalkeeper to compete with Phil Smith and, yes, Nick is someone who has done very well for us in the time he has been here. Losing Dan [Fitchett] is a blow. We didn't really need that in that area of the field so we're looking at another striker/winger too now'...

Scott drew plenty more positives from their friendly with a full-strength Millwall side... Scott said, 'Everyone looked fit, got good minutes in the legs and thankfully we came through unscathed too'. Of those to impress was Diallo, 23, said... 'I prefer to play in central midfield, but I can do a job in a few other positions. I bring a lot of energy, strength and attacking play'... And he took his place in midfield alongside Scott's other new recruit last week, Kieron Forbes, who joined the club on loan from Forest Green Rovers until the end of January.

The 23 year-old playmaker has made 107 Conference Premier appearances in four seasons at The New Lawn, and earned four caps for the England C team... Scott added, 'He had a calf injury last year so just wants to play and show what we can do. We are delighted to have him'".

According to the News Post Leader, "The producer of Blyth Spartans' TV channel has decided to leave the club for Gateshead. Stephen Hurst said he had an offer of a paid post and one with broader links to local television companies.

'I am extremely sad to leave the Spartans', he said. 'I've loved every minute of it but the chance to join Gateshead was simply too good an opportunity to turn down. I will be running their YouTube channel and feeding coverage in to the north east TV stations on a regular basis, so it's a foot in the door into broadcasting'".

In the Chester Chronicle we learn that "George Thomson remains a target for Chester FC despite returning to King's Lynn Town after an impressive trial. Attacking midfielder Thomson joined up with Steve Burr's squad for the start of pre-season after the Blues activated a clause in his contract with the Evo-Stik League Premier Division club.

Thomson, who started his career with Nottingham Forest, scored twice in the 4-2 win over Marine and featured in the 1-1 draw with Crewe Alexandra. Burr and first team coach Jon McCarthy were keen on signing the 22-year-old but were unable to offer him a deal owing to budget constraints...

King's Lynn boss Gary Setchell admitted he had expected the Blues to sign Thomson but was pleased to welcome him back into his squad... McCarthy said it was very possible the club would rekindle its interest in him. Burr wants to bring in an additional midfielder but his plans are on hold until the future of transfer-listed goalkeeper John Danby has been resolved...

Danby signed a two-year part-time contract last summer but his work commitments clash with the new daytime training model, meaning the 30-year-old cannot train with the rest of the squad..

In the meantime, Thomson remains a Kings Lynn player but has attracted interest from other clubs. Setchell revealed the midfielder had trained with Wrexham after leaving the Blues".

The Shropshire Star reports that "AFC Telford United boss Liam Watson today hinted there's a deal on the table for Godfrey Poku as the trialist returns for the Middlesbrough friendly. Poku joined up with the Bucks this week and played 71 minutes of Tuesday night's 1-1 draw against Wolves at the New Bucks Head.

The tough-tackling midfielder, along with a number of first-team players, was not involved as pre-season continued at Shawbury United last night, but he is coming back... The Telford manager pursued the player all last summer, only for him to end up seeing out the final year of his contract at Mansfield Town before his release.

Watson said, 'He's got to make up his mind where he wants to be and, if he decides that's here, we will look to try and do something... I know he will give us that bit of bite and strength in the middle of the park and he's an infectious character to have on the pitch'.

The Bucks' chief would take the size of his squad to 20 if Poku comes on board... He said, 'No one knows what the starting line-up is going to be, because I genuinely don't know myself... I can't imagine starting the season and then picking the same team on the Tuesday at home to Macclesfield. We have a variety of options and there's not an area where he don't have genuine competition. I am happy with the strength of the squad we managed to put together'".

---

25 July 2014 Although Alty won at Mossley last week and our next opponents, Hyde, lost there, it is likely to be a close match when Altrincham travel to Ewen Fields this Saturday - even though we could be facing some mystery men. Mossley report that they "continued their pre season progress with a convincing 4-2 win over Conference North neighbours Hyde FC at Seel Park on Tuesday evening.

The Lilywhites got off to a great start inside 3 minutes when Tom Dean's long clearance found Steve Foster bearing down on goal. Foster used all his experience to lose his marker, former Mossley man [amd ex-Alty trialist] Aaron Chalmers named as a Hyde trialist, before placing a delicate chip over Hyde's ex Mossley keeper Christian Thewlis for a classy finish.

Mossley made all the early running... Hyde had created very little in the way of a goal threat but found themslves on the scoresheet a minute before the break. Arron Hevingham mis-timed a challenge in the box and Josh Brizell fired home from the spot.

Hyde made eight changes at the break and for the first time in the game looked a real threat going forward, finally equalising in the 56th minute when a long raking through ball caught the Mossley defence flat footed and Hyde's trialist number 10 raced through to slot the ball past Mossley keeper Liam Higginbotham.

After making several substitutions themselves Mossley recovered their poise and laid siege to the Hyde goal... There was no way back for Hyde when Mossley added a fourth goal in the 81st minute".

As in previous games the Hyde side remained something of a mystery as Mossley confirmed their visitors' line-up, "Hyde FC: 1. Christian Thewlis, 2. Josh Brizell, 3. Darren Thornton, 4. Trialist, 5. Trialist, 6. Adam Thurston, 7. Conor Hughes, 8. Trialist, 9. Steve Tames, 10. Trialist, 11. Trialist. Subs: 12. Trialist, 14. Trialist, 15. Trialist, 16. Trialist, 17. Trialist, 18. Trialist, 19. Trialist, 20. Trialist".

Altrincham FC Ladies' Assistant Manager, John McManus (right) won Gold and Silver Medals in the European Kick Boxing Championships last weekend. The Ladies' administrator and coach, Phil Taylor adds, "Clearly all at AFC Ladies are incredibly proud of John", who is pictured right. Match report here

Manchester United report on Wednesday's game...

"Manchester United's Reserves claimed their first win of the pre-season and embroidered the victory with five goals at the J. Davidson Stadium. Altrincham... celebrated the opening of their new away dressing room before the kick-off with United's Nicky Butt cutting the ribbon.

Both teams took a little while to get into their stride but then, in a matter of minutes, there were attempts on goal at either end. Saidy Janko fired wide for United before, shortly afterwards, James Lawrie had the home fans on their feet with a long-range effort that skimmed Joel Pereira's crossbar.

United, without a goal in two previous pre-season outings against Bray Wanderers in Ireland and at Southport, finally ended that shortcoming in the 28th minute when James Wilson employed all his predatory instincts to force the ball home from close range after meeting Andreas Pereira's cross.

The Reds were beginning to express themselves and it came as no surprise when Italian midfielder David Petrucci's 25-yard thunderbolt increased the lead.

After the break, United moved up a gear after and three further goals completed an excellent evening's work for Warren Joyce's lads. Petrucci claimed his second with a cheeky chip over David Parton after the ball squirmed out of the keeper's grasp.

Paddy McNair added a fourth with a glancing header from an Andreas Pereira assist and Callum Evans, on for the injured Angelo Henriquez, scored in similar circumstances by nodding in a late fifth."

Altrincham FC's former English Schools' captain, Rob Gilroy, has not figured in pre-season. Rob ended last season on loan at Prescot Cables and in their final training session he damaged his back in a fall.

Midfielder Rob is expected to be sidelined for a further eight weeks. He has, however, been assigned a squad number for 2014-15 so, hopefully, he will be back in action by late summer.

Above, Ian Senior, Altrincham FC goalkeeping coach and owner of SKkits, sportswear suppliers, poses in front of his new advertising board at the J. Davidson Stadium.

If you or your company wishes to advertise at Altrincham FC, please contact Barry Pond or ring the club on 0161 928-1045.

The Lincolnshire Echo reports that "Bob Dorrian has told Lincoln City's players they must remain in the top 10 next season if the club is to stay financially stable. It comes after the board was forced to invest another £150,000 in the club over the last seven months to make ends meet.

Dorrian has now laid down the gauntlet to Gary Simpson and his squad, telling them they must get the results that bring the fans back to Sincil Bank...

He said: "We need to be in the top half all season. We need the fans back in the ground. We need to be in a position in the league where we can be in with a good chance of the play-offs. We need to offer something positive after so many years of disappointment. It is vital we don't spend what we don't have but we have cash for two to three players of the right calibre... we are going to get players that can get us in the play-offs'...

However, if the club were to average a gate of 2,900 this coming season, further loans could be avoided. 'At present the situation is unsustainable and it cannot carry on if we want to move the club forward,' said Dorrian... Financially we are very weak. There are three ways for us to raise cash. Firstly, a good cup run. Secondly, to be in the top 10 of the division and thirdly to bring extra investment in...

There are two places on the board and we know there are people out there with the cash and, better still, the ideas that can take Lincoln forward. We want them to come and join us... There are many positive points from last season. The playing side of the club is stable and the strong end to the last season gives us a lot of hope going forward. We have put the building blocks in place for this coming season. It is now down to the management team and the players...

We have to be successful this year. If not then we are not going to be in the position to be able to look to keep the players on the final year of their two-year deals. They will not be wanting to play bottom-half football. This year is a big year. If we end up in the bottom half, the whole plan goes out the window'".

In contrast, finance is not the main issue at Eastleigh who are "Delighted to announce that phase 2 of our planning permission application has been granted. The north and east terracing has now been completed and we have now been granted permission to erect our 2,300 seated stand at south end of the ground. Groundworks are due to begin in the next few weeks".

The BBC reports that "A proposed friendly between Blackpool and Alfreton Town has been called off after the Conference Premier side said their opponents did not confirm the fixture. Blackpool have just eight players under contract and no senior goalkeeper.

In a statement, Alfreton said they believed the fixture was scheduled for Saturday. However, Blackpool insist the match was not part of their pre-season.. A dispute over transfer targets between former Charlton boss Riga, who was appointed in June, and chairman Karl Oyston is yet to be resolved.

Blackpool have made just one summer signing - Estonia international striker Sergei Zenjov. Five trialists, including former Tottenham goalkeeper Ben Alnwick and ex-Aston Villa striker Nathan Delfouneso, appeared in their 4-0 friendly win at Penrith on Saturday. The club's only other confirmed pre-season fixture is against newly-promoted Premier League local rivals Burnley, on Saturday, 2 August".

"Torquay United have received a financial boost after selling 15-year-old goalkeeper Neal Osborn to Southampton for a 'significant fee'" reports the BBC. "The Gulls have suffered cash problems following relegation to the Conference Premier last season. 'This deal represents a five-figure sum for the club, and with add-ons for the future', said youth boss Geoff Harrop".

According to the Stroud News, "Former Forest Green captain Jamie Turley is interesting rivals Bristol Rovers. Turley, 24, turned down a contract offer at Forest Green at the end of the season and was on the verge of penning a deal with Swindon Town. However, the England C captain and former Wycombe and Salisbury City centre-back, broke his arm in June, and his unfortunate injury has put his future on ice.

Gas boss Darrell Clarke, who worked with Turley when the pair were together for a spell at Salisbury City, said, 'Jamie Turley is a very, very good centre-half at Conference Prem level. He is a player that interests me, but as it stands at the moment, he is injured... and we are waiting on a physio report... As a football club we are making sure the injury is recovered, or recovering... Nothing in concrete, as there is a lot of interest elsewhere as well. "I am not making a concrete offer to a player that is injured until I get our medical advice'".

Also from the BBC we learn that "Shrewsbury Town have signed striker Andy Mangan from Forest Green Rovers on a one-year deal". The Shrews visit Altrincham on Friday, 1 August (7.45pm). "The 27-year-old leaves Rovers by mutual consent, with Shrewsbury contributing to the settlement agreement. Mangan's move brings and end to a second spell at the New Lawn, which saw his contract terminated in February before he successfully appealed to have it reinstated in June.

Rovers are now appealing against that decision to the Football Association".

NL Daily says that "Witton Albion will be running out in new home and away kits that are being sponsored by their chairman's company when the new season kicks off.

The logo of Travel Intelligence Network, founded by Albs and Evo-Stik Northern Premier League chairman Mark Harris in 2005 to support providers of travel and event services, will adorn the Premier Division club's 2014-15 strip after agreeing a one-year main sponsorship deal on Wednesday.

While Brian Pritchard's team will still be playing at Wincham Park in the club's traditional white and red striped top with blue shorts, they've switched from a blue and yellow away strip to an all orange kit... provided by a new supplier, Joma.

TIN specialise in helping hotels, airlines and others in the travel and leisure industries market themselves by providing unique written, verbal and visual content. The industry experts create and run conferences, write and publish client magazines, white papers and blogs as well as co-delivering one of the business travel industry's annual awards events.

With the field his company works in, Harris isn't expecting to get any direct business from the deal just yet. Instead, he wants to lead the way and, by taking the club's main sponsorship for the first time, is hoping to encourage other companies and organisations to come on board in the future.

He said, 'The company is sponsoring the shirts because if the chairman can't do it we can't expect others to follow suit. The business is 10 years old and this is the first time we've done any brand-building... As I'm known in the corporate travel world for my football activities as well as my day job, the last line of my official bio is 'After lunch he is chairman of Witton Albion and the Evo-Stik Northern Premier League', it seemed right that we did this...

If another local company wants to become shirt sponsor I will stand aside and sponsor the club in another area'".

---

24 July 2014 As previously reported, Altrincham FC Youth recently appointed former player Dan Millen as Assistant Manager and Team Coach. However, unforeseen family commitments have meant that, although Dan's involvement with the team will continue, the role of Assistant Manager and Team Coach will now be assumed by former Alty left-back, Chris Adams. Most recently Chris has been assistant to Graham Heathcote at Stafford Rangers. The Manchester Evening News reports that "One of Stockport County's new signings has been charged with conspiracy to supply class A drugs. Russell Benjamin, 22, signed for the Hatters last month but was arrested following a series of dawn raids by police... and appeared at Chester Crown Court on July 17.

He did not enter a plea and was remanded in custody. Liverpool-born Mr Benjamin will next appear in court on September 29 for a plea and case management hearing. Mr Benjamin, of Derby Place, Chester, missed County's pre-season friendly at Nantwich Town last Wednesday with the club saying it was because of 'personal circumstances'. He had signed from [AFC] Telford United, who were promoted from the Conference North last season...

Mr Benjamin has also played for Rochdale and Southport and arrived at Edgeley Park for no fee even though he had a year left on his Telford contract".

According to Bulls' News, "Macclesfield manager John Askey says he will have to build a squad with the lowest budget in the Conference this season.

The Silkmen continue to have money troubles after a season of struggle last term, with Askey describing their budget last season as 'bottom 2 or 3' but now seeing it cut further. He says he still needs eight new signings this summer and will speak with club owner Amar Alkhadi over finances this week.

He told the Manchester Evening News that his set budget was 'unrealistic' and 'way below anybody else' and hoped that Thursday's talks would get the club somewhere near to last year's comparative 'fortune' of a budget.

The Silkmen stayed in the Conference only after Alkhadi put money in at the last minute to settle debts at the AGM, with Director Andy Scott having set up a takeover deal following the collapse of moves to turn the club into a Community Interest Company.

Meanwhile, Worcester City have announced a loss of £43,175 for the 2012/13 season. They say that it is 50% cheaper for them to stage matches at Kidderminster, where it costs around £2,000 a game, compared to St George's Lane due to the ageing state of their former ground. They have already sold 250 season tickets for the coming season, and also operate a successful lottery scheme that generates £50,000 a season".

---

23 July 2014 Altrincham kick off their first home friendly of the summer at the J. Davidson Stadium on Wednesday evening (7.45pm).

Altrincham FC confirm that admission prices for all of the pre-season friendlies at the J. Davidson Stadium are as follows:

Adults £7
Concessions £4..
Under 5s are free of charge.
Altrincham FC 2014-15 season ticket holders are also admitted free of charge.

Please note that entry is by cash-only and that away-teams' season tickets are not valid for friendlies at the J. Davidson Stadium.

Regulars will notice the changes at the J. Davidson Stadium caused by the construction of the new Community Sports Hall, which is fenced off. However, the bar will be open as normal and access to it will be possible between the Golf Road End and the bar as well as from the main stand. A club programme shop has been installed in the corner between the Golf Road and and the Popular Side.

Manchester United report that "United's Reserves continue their preparation for the Under-21 season with a friendly against Altrincham on Wednesday night.

Nicky Butt will officially open the new away dressing room at the J. Davidson Stadium ahead of the clash as Warren Joyce's Reds seek to get on the scoresheet for the first time in the pre-season. Following a 1-0 defeat at Bray Wanderers and a goalless draw with Southport on Tuesday, the second-string squad will aim to get off the mark at their former home.

Joyce has used 22 players in the two games and is ensuring everybody is getting important minutes under their belt."

Warren Joyce is father of Alty trialist Wade Joyce.

Manchester United also reported on the goalless draw at Southport. "Warren Joyce again utilised a large squad, as he did at Bray Wanderers on Sunday, with James Wilson starting in attack against the Conference Premier outfit. The crowd of 675 at the Merseyrail Community Stadium may not have seen any goals but there was no doubting the commitment in a feisty encounter.

Wilson, Davide Petrucci and Tom Thorpe all mustered efforts in the first period before Joyce rang the changes with nine substitutions. Although there was only booking, for Luke George, there could have been more as the midfield area became increasingly combative. Chile international Henriquez, who was joined by Ashley Fletcher in attack, could have stolen victory on 80 minutes but was thwarted by Dean Porter in the home goal.

United: O'Hara (J.Pereira 46); Janko (A.Fletcher 76), Thorpe (Love 46), McNair, Varela (C.Evans 46); Bebe (Vermijl 46), Rothwell (Willock 46), Petrucci (Pearson 46), A.Pereira (Harrop 46), Lawrence (Goss 46); Wilson (Henriquez 46)".

John Edwards, Alty's joint Press & Media Officer, writes that "Altrincham make a welcome return to the J.Davidson Stadium tonight, as the build-up continues to an eagerly-awaited Conference Premier campaign, and so too, naturally enough, does The Robins Review.

Though in black and white and with fewer pages than normal, in keeping with programmes for friendlies, there is still plenty worth reading. In 'Captain's Chat', Shaun Densmore relives the unforgettable drama of our promotion play-off final win over Guiseley, while there is also an update on fund-raising and how the community sports hall is progressing.

The reduced size is reflected in a reduced price - it's on sale inside the ground at a bargain £1".

Brian Flynn writes that "Radio Robins, sponsored by Ashley Mowers Garden Machinery, returns to the internet airwaves for Wednesday evening's pre-season friendly at the J.Davidson Stadium against Manchester United Under-21s. The commentators are Ian Wilkinson and Niall Finnegan with match summaries from Jack Jolly.

Coverage starts at 7.40pm with the game kicking off at 7.45pm. You can listen to Radio Robins on the internet here.

Leah & Simon Brotherton will be providing regular updates on Twitter (@altrinchamfc) as well as half-time and full-time updates on facebook (Altrincham FC)".

John Edwards, joint Press Officer at Altrincham FC, writes that "Former England and Manchester United midfielder Nicky Butt will officially open the first phase of an exciting new development at Altrincham's J.Davidson Stadium tomorrow night (Weds). Butt, who is expected to be confirmed as part of Louis van Gaal's coaching staff at Old Trafford, will cut a ribbon across the entrance to a brand new away dressing room, prior to a United X1 taking on Alty in a 7.45pm kick-off.

Newly promoted to the Conference Premier, Alty have also created new changing facilities for match officials and improved the home dressing room as part of a two-phase project that will see a community sports hall built next to the Carole and Fred Nash main stand over the next few months.

'The work so far has been funded by grants from the Football Stadium Improvement Funds, as well as the club itself, and we are delighted our neighbours from Old Trafford will be first to use the new away facilities,' said Alty chairman Grahame Rowley. 'Nicky has kindly agreed to do the honours, at a ribbon-cutting ceremony when the United players arrive, and we are grateful to him.'"

John Edwards, joint Press Officer at Altrincham FC, writes that "Altrincham bosses are urging local businesses to join forces with them and help put the finishing touches to the new community sports hall at the J. Davidson Stadium.

Phase One reached fruition last night, Wednesday, when a Manchester United XI played Alty to mark the completion of a new away dressing room and improved facilities for home players and match officials.

With Phase Two now gathering momentum, Alty chairman Grahame Rowley has taken the opportunity to outline the role local companies can play in providing a venue to be proud of.

'The next phase is basically the building', he said. 'The foundations are already in place, and the appearance of it will become visible very quickly. It is due to be finished by the end of October, and it is an exciting development for everyone in the Altrincham area.

'That much is clear from the number of people who have enquired about using it. There is tremendous interest, but first we have to try and ensure it is finished to the standard required. We have major grants coming in, but there is still some fundraising to be done. We are in the region of £80,000 to £90,000 short of our target, and it would be great if local businesses could rally round and help with a venture that is for the good of the community.

'I think people are fearful we are only looking for large amounts, but that's not the case. All contributions, no matter how small, will make a difference and will be acknowledged with a significant showing in the hall. We are very flexible in what we can offer in return for sponsorship, and it would be a case of sitting down with individuals and tailoring an acknowledgement to their needs.

'It is very much a community initiative, and it is worth stressing that people will be contributing to the community, rather than the football club. I think there are sometimes misgivings about donating to a football club, but money for this will be ring-fenced and used for its intended purpose only.'

Anyone interested in donating or finding out more can contact Grahame Rowley at the club 0161 928 1045 or by email".

This week's winning code in the Saturday Yankee was 3381, which was an unissued sequence. Consequently, the jackpot rises to £3,000. However, six scheme members won £25 each for winning "trebles". The Football Conference says that "Jamie Day, manager of Welling United, has added to his strike force by signing forward Kieron St Aimie. The former Queen`s Park Rangers striker has impressed during pre-season and Day has now made him a permanent addition to the playing staff at Park View Road.

The well-travelled 25-year-old was on the books at Chelmsford City last and, after leaving Loftus Road in 2009, has had spells with the likes of Thurrock, Hitchin Town, Maidenhead United.... Lewes, AFC Hornchurch, Kettering Town, Tamworth, AFC Telford United and Whitehawk.

Day said, 'We are hoping that he can provide that hold-up play that we have lost with Ross Lafayette leaving in the close season. Kieron has good pace and a good ratio of goals per game. He himself has a point to prove stepping back up to this level'".

According to NL Daily, "Martin Foyle, boss of Southport, has announced two more exciting captures. Arriving are midfielder Andrew Mitchell and defender Johnny Lynch.

22-year-old Mitchell, who has had previous spells at Manchester City and Rangers, has made an immediate impact in his first week with the Sandgrounders. Belfast-based Mitchell is looking to get his highly-promising career back on track... Former Wigan Athletic left sided defender Johnny Lynch is Foyle's second signing, with the manager describing the young players as 'tenacious and willing to learn'."

At Gateshead, "manager Gary Mills has completed his ninth signing of the summer with the acquisition of left-back Ryan Wilson. The son of former Chelsea and Derby County striker Kevin Wilson, Ryan was previously with Gateshead assistant-manager Darren Caskey at Ilkeston.

Before that the 21-year-old was an apprentice at Stockport County...

'Ryan has done well on trial, and has settled in well', said Mills. 'Good left-backs are a rare breed and the way he plays will suit my team. I've been quietly impressed with what he has shown so far, and at 21 he will only get better... Left-back has been a problem position for some time and he has the chance to make the position his own'...

Wilson will be in the Heed line-up to face Leyton Orient at the International Stadium on Wednesday night."

The NL Paper tells us that "Former Hyde secretary Anthony Beard has been jailed for three years after stealing almost £50,000 from three sporting organisations including the Tigers and local cricket club Flowery Field.

The 59-year-old served as treasurer of the cricket club as well as secretary for Conference North Hyde and Manchester's Minshull Street Crown Court heard how he had fleeced the football club out of £11,775.

He also stole £7,286 from the cricket club as he fell into debt following the collapse of his job as a self-employed financial advisor.

Beard also took £28,078 from the accounts of the Ashton Trust, a sports trust based in Tameside, who he served as a trustee, which later became insolvent. The offences took place between January 2007 and January 2012 with Beard writing cheques to himself.

A Hyde statement read, 'Hyde Football Club are pleased with the sentence handed to former secretary, Anthony Beard, this morning (Monday) at Minshull Street Crown Court, Manchester. The impact of Mr Beard's dealings has been felt by Hyde Football Club both financially and operationally. Mr Beard had full knowledge of the difficult financial situation at the club yet still chose to steal funds.

This is particularly distressing to many directors and ex-directors who trusted him and who put in their own monies over time, together with supporters' contributions, in order to keep the club afloat'.

Beard's barrister Gareth Roberts added, 'His life has been turned upside down. The matter was clearly aggravated by a massive breach of trust and the amounts involved. He became involved in all three organisations due to interest in the community. He worked tirelessly, and all three benefited at some point from his expertise. He began to take money from the trust and the cricket club. Initially, he did so with the intention to pay the money back. As he became more indebted the criminality continued. He became involved in a spiral'".

---

22 July 2014 Altrincham FC is looking to appoint more stewards for the coming season when the Club is back in the Conference National division. If you are over 16 years of age and would like to help the club in a really practical way then why not become a steward at the J. Davidson Stadium? As well as doing a vital job, you can train for an NVQ and, on match days, you will get a free hot drink and a pie or sandwich!

If you can help the club in this way, please ring the club, (during normal weekday office hours), on (0161) 928-1045 or e-mail Grahame Rowley as soon as possible. Thank you, in advance, for your assistance.

The Altrincham FC first-team squad list has an addition in the shape of goalkeeper Josh Samberg, who will wear number 24. As Alty fans will know, Josh was the Altrincham FC youth team goalkeeper last season and also featured several times in the first-team squad. As reported yesterday, Trafford MBC hosted a reception for Altrincham FC recently. The Council has now issued the following press release...

"Trafford Council host Mayoral reception to mark Altrincham FC's promotion.

A mayoral reception was held at Trafford Town Hall on 16 July to congratulate Altrincham Football on their successful promotion to the Conference Premier League.

Left: Courtesy of Gavin Rathbone, we see Cllr Anstee and the Mayor of Trafford with Alty chairman Grahame Rowley.

This promotion means that they will now play football at a national level, visiting and welcoming fans from places such as Bristol, Dartford, Dover and Gateshead.

Altrincham Football Club has been at the centre of life in Altrincham town since 1910. The team play an important role in the life of the community, they are sponsored by local business and they engage with the local community and have a thriving ladies team and strong junior teams.

The Leader of Trafford council, Councillor Sean Anstee said, 'Congratulations to Altrincham FC on their success. It is a fantastic achievement for the club and the town and strengthens Trafford's strong history with football. Altrincham's huge regeneration works, including the new market development, the improved transport interchange and the fantastic new leisure facilities will also offer improved and more welcoming facilities for visitors on match days'.

Chairman of Altrincham FC Grahame Rowley said, 'It was fantastic that Trafford Council recognised the superb achievements of Altrincham Football Club last season in attaining Conference Premier status. The reception was enjoyed by everyone who attended and gave us a chance to strengthen our links with the many councillors who work so hard for the local residents'".

Carole Nash, OBE, will be known to many supporters. Carole set up, ran, and sold a large locally-based but national motor cycle insurance brokerage business. Carole has in the past been a Club Director and is still a great supporter and has been a sponsor of the Club for many years. She and her husband Fred are now Directors of the Altrincham Football Club Community Charity.

Carole is also the owner of 4,700 shares in the Football Club and she has suggested to the Club that these shares are made available for sale, with the proceeds to be donated to the Community Sports Hall appeal fund. If you are interested in purchasing these shares (in any amounts) please contact Club Chairman Grahame Rowley either by e-mail or by phone on 07720 606897.

Trafford report that their "young side were no match for Conference Premier outfit Altrincham in their pre-season friendly at Shawe View on Saturday.The visitors took just three minutes to take the lead with Shaun Densmore converting a back post header after Tom Read misjudged a deep cross from the left.

And two goals in two minutes by Alty goal machine Damian Reeves virtually finished the game as a contest... To their credit, Trafford fought back with great spirit and Mark Derbyshire reduced the arrears in the 23rd minute when he headed past Dave Parton following a fine run and cross down the left by Rory Fallon.

Parton then produced a superb fingertip save to push a Clevon Beadle drive around the post but in the 42nd minute Steven Gillespie restored Alty's three goal advantage when he headed home following yet another penetrative cross from the flanks...

The effervescent Lawrie broke clear on the hour mark but screwed his shot wide of the far post and then he seemed certain to score but was thwarted by a magnificent block by Trafford centre back Tyler Shaw. The scoring was completed in the 69th minute when Nia Bayunu tripped Lawrie and Greg Wilkinson coolly placed the resultant penalty into the bottom corner".

The Football Conference tells us that "Oldham Athletic have agreed a one-year-deal with Kidderminster Harriers' striker Amari Morgan-Smith. Morgan-Smith first signed for Harriers on loan from Macclesfield Town in January 2013.

The 25-year-old former England C international began his career as a youngster with Wolves before joining Stockport County prior to a switch to non-League football with Ilkeston Town. Powerful and 6ft plus, he was a real menace there... before becoming a hot-property free agent as result of Ilkeston's demise for financial reasons in 2010.

Luton Town snapped up his signature... He then left to join the Silkmen during the summer of 2013 and, following his loan spell, re-joined Harriers on a short-term deal".

Altrincham' first opponents this season, "Aldershot Town have signed former Weston-super-Mare midfielder Naby Diallo on a one-year contract. The 23-year-old impressed in Friday's opening pre-season friendly against Chelsea under-21s, having joined the Shots on trial...

A dynamic and skillful central midfielder known for his versatility, the Moscow-born Guinean began his career in the Bristol City youth academy before continuing his scholarship with Bristol Rovers... Brief spells at Gloucester City and Oldland Abbotonians preceded his move to Weston in Conference South in July 2010...

In January 2013, Diallo also reached the final eleven in the Samsung 'Win A Pro Contract' competition which attracted over 5000 applications to earn deals with Leyton Orient and Swindon Town... Said Diallo, 'I prefer to play in central midfield, but I can do a job in a few other positions. I bring a lot of energy, strength and attacking play...The squad is looking good and I think we'll do really well this year'.

Shots' boss Andy Scott said, 'He was confident enough to come in for pre-season and say "I'll show you what I can do". He's a very talented player, he can play several positions and his versatility will help, but I think he can hold down a position in his own right. He's quick, he's strong, he can tackle, he can use both feet, he's a good passer and he understands the game. Plus he's a really nice young man, and he's fitted in really well'".

The Conference also confirms that "Experienced striker Jon Parkin has signed for Forest Green Rovers on a one-year contract... Parkin has been training with Rovers' league rivals Lincoln City during pre-season while weighing up his playing options...

Forest Green manager Ady Pennock knows the 6'4" target man from his time at Stoke City... Beginning his career at Barnsley, Parkin moved to York City in League Two for two years, before making his mark at Macclesfield Town... He then moved to Championship side Hull City in January 2006 where he continued to score, before going on loan and then permanently to Stoke.

Parkin signed for Preston North End at the start of the 2008/09 season... before moving to Cardiff City in January 2011. Loans spells at Doncaster, Huddersfield and Scunthorpe [followed]... before his transfer to Fleetwood and a further 22 goals over the past two years for the Cod Army. "

At Bristol Rovers, "Former Hartlepool midfielder Andy Monkhouse has become Darrell Clarke's sixth summer signing. The 33 year old, who was released by Hartlepool at the end of last season, can play anywhere in midfield and can also be used up front. He made over 300 appearances for Hartlepool after signing from Swindon Town in January 2007, he scored 52 goals during his time with Hartlepool and last season played in over 40 games for them.

As well as Swindon Town, Monkhouse had a spell with Rotherham United making 80 appearances and scoring 10 times."

Reports in the Western Daily Press tell us that "Forest Green midfielder Kieron Forbes has joined Aldershot Town on a six-month loan deal after falling down the pecking order at the New Lawn.

Signed from Wealdstone by Dave Hockaday in December 2010, the former Watford man was an integral player at the club prior to Ady Pennock's arrival as manager. But the 23-year-old spent the final two months of last season on loan at Conference South outfit Whitehawk, and the arrivals of Sam Wedgbury, Clovis Kamdjo and Rob Sinclair in Nailsworth this summer effectively signalled the end of his Rovers' career.

Forbes is likely to be followed through the exit door in the coming days by striker Andy Mangan, with Shrewsbury boss Micky Mellon confirming a deal is close to being done for the exiled Scouser. Mangan is set for a move to Shropshire despite having two years remaining on his current contract.

Mellon, who managed the 27-year-old at Fleetwood Town, said, 'There's no secret that Andy is the lad we're trying to bring in. I know him very well and I know what he'll bring to the group. He can play anywhere across the front and has got good instincts to get you a few goals... The deal hasn't been 100 percent concluded yet'.

Meanwhile, the pre-season Nailsworth derby between Shortwood United and Forest Green, scheduled for Saturday afternoon, had to be cancelled due to a waterlogged pitch at Meadowbank. Overnight storms and persistent heavy rain in the morning left the surface unplayable and nearby roads very nearly impassable.

Rovers will be in pre-season action again tomorrow, with two squads sent to play at Gloucester and Slimbridge on the same evening. Boss Ady Pennock and a large majority of the first-team squad will be at Wilsoe Road to face Slimbridge, with the rest of the squad facing Conference North club Gloucester at Whaddon Road.

The friendly at Gloucester was hastily-arranged after the Tigers pulled out of a game against crisis club Hereford, due to be played that day."

According to NL Daily, ambitious Celtic Nation, the "Northern League Division One club can confirm that official ownership of the club has passed to co-founder Stephen Skinner. A statement read... 'Changes at the club will see manager Willie McStay, assistant manager Davie Farrell and their backroom team depart... The club asks for patience but can assure supporters that Celtic Nation, both on and off the pitch, will continue to move forwards and aim for promotion'".

---

21 July 2014 Altrincham kick off their first home friendly of the summer at the J. Davidson Stadium on Wednesday evening (7.45pm).

Altrincham FC confirm that admission prices for all of the pre-season friendlies at the J. Davidson Stadium are as follows:

Adults £7
Concessions £4..
Under 5s are free of charge.
Altrincham FC 2014-15 season ticket holders are also admitted free of charge.

Please note that entry is by cash-only and that away-teams' season tickets are not valid for friendlies at the J. Davidson Stadium.

Manchester United report that "Manchester United's Reserves started the pre-season campaign with a 1-0 friendly defeat at Bray Wanderers. Warren Joyce took a large squad to Ireland for the fixture and made 10 changes to the team at half time but saw Jake Kelly score the only goal of the game on 42 minutes...

Only captain Tom Thorpe kept his place for the second half and Joe Rothwell, Saidy Janko and Angelo Henriquez all mustered attempts as the Reds sought an equaliser... United: J.Pereira (O'Hara 46); Love (Varela 46), McConnell (McNair 46), Thorpe, C.Evans (Janko 46); Harrop (Rothwell 46), Goss (Petrucci 46), Pearson (A.Pereira 46), Willock (Lawrence 46), Bebe (Henriquez 46); A.Fletcher (Wilson 46)."

Darren Gregory informs us that on Sunday "Two Altrincham girls' teams, the Skylarks under 11s and Wrens under 10s took part in the excellently organised Unicorn Athletic tournament in Timperley. The Skylarks, pictured above in the new kit, lost in the semi final on penalties but there was better news for the Wrens, who won their age group without losing a single game. They are pictured in their changed kit".

Alty TV's Mark Bennett has produced some excellent DVDs which cover Altrincham's promotion season in 2013-14. They include the Season Highlights DVD and Promotion Semi-Final & Final (full match) DVD. Information about the DVDs is on the adjacent screen shots.

You can order your copies from Mark's website, or on eBay via the links below, or from the club, on 0161 928-1045.

Altrincham FC were treated to a mayoral reception last week. The above picture of the event is courtesy of Gavin Rathbone of GR Photography.

Grahame Rowley adds, "The club were very honoured to be invited to the Town Hall last Thursday for a Civic Reception hosted by the Mayor Mr Ejaz Malik and the Leader of the Council, Mr Sean Anstee.

All the players, management and Board attended the prestigious event and an enjoyable time was had by all. Altrincham FC hopes that this close link with members of the local Council can now flourish and be a mutually beneficial relationship".

In the Western Morning News, we learn that "Torquay United manager Chris Hargreaves has added Toby Ajala to his growing list of new signings this week after the former Bristol City winger gave another highly promising performance in Saturday's 2-1 friendly win over Walsall.

Ajala, 22, has been a target for Hargreaves ever since he played in an end-of-season trial game at Plainmoor in May and penned a one-year deal at Plainmoor yesterday... Hargreaves, who has already agreed terms with other trialists Courtney Richards and Angus MacDonald, said... 'I'm delighted to get Toby nailed down for the new season'. On MacDonald, he added, 'We want him to try and be a future captain'...

As well as ex-Brighton midfielder Richards, former Reading and Salisbury defender MacDonald and now Ajala, Hargreaves is also believed to be talking still to a fourth trialist, ex-Southend United striker Duane O'Achie, 21... Hargreaves revealed later that Krystian Pearce (ankle) could be out for another fortnight; he was hurt in last midweek's 2-2 draw with Yeovil...

Hargreaves's' squad strengthening still has some way to run. 'We are a couple of players off the sort of squad I'm looking for', he said. 'Courtney Richards is a no-nonsense midfield player... We certainly need to sign a couple more. And it may be a case of two in and two out, but we'll see. Last season I didn't have the time to get the players in that I wanted. We were punting most of the time on young players for a couple of hundred quid a week. This summer I've had a bit more time to do my due diligence on players... In a year's time it will be my team'".

At Wrexham, "After a summer of uncertainty, the future of young defender Anthony Stephens has been settled with the 20-year-old signing a new one-year contract with the club... Based in Liverpool, Anthony has enjoyed loan spells to expand his experience, spending most of last season with Colwyn Bay...

While with the Seagulls he played a large number of games at left back rather than his more accustomed role of central defender... He has yet to make his senior debut for the Reds... He will hoping to figure in the squad this time around."

---

20 July 2014

Right: Wade Joyce is seen at Trafford on Saturday. He has been a trialist with Altrincham this summer. Midfielder Wade was previously at Bury, Barnsley and St Johnstone.

In advance of their visit to Altrincham on Wednesday, Manchester United report that "Warren Joyce is looking forward to the Reserves' first friendly of the pre-season campaign as he takes a squad to Ireland to face Bray Wanderers.

The Reds are in action on Sunday with the players who are not involved in the [first team] Tour 2014, presented by Aon, and several younger charges will bid to lay claim to a regular place at Under-21 level next term... James Wilson and Tom Lawrence made their first-team debuts in the 3-1 win against Hull City during the final home match of 2013/14 to show that youngsters can still make their breakthrough to the first team...

Added Joyce... 'It's so much harder to get in the first team if it's being successful'"

On the same subject, we read that "Manchester United are set to take a provisional 19-man Reserves squad to Ireland for Sunday's friendly against Bray Wanderers. Warren Joyce can call upon the services of exciting forward Tom Lawrence, who made his first-team debut last term. A number of other players who reached the Barclays Under-21 Premier League final are travelling and there is plenty of experience in the shape of Tom Thorpe, Marnick Vermijl and Davide Petrucci.

Several Academy graduates have also been promoted to the party, including striker Ashley Fletcher, and they look certain to push for regular inclusion as the second-string's season progresses. Squad: Kieran O'Hara, Joel Castro Pereira; Callum Evans, Donald Love, Tom Thorpe, Ryan McConnell, Paddy McNair, Saidy Janko, Guillermo Varela, Marnick Vermijl; Ben Pearson, Andreas Pereira, Davide Petrucci, Joe Rothwell, Sean Goss, Josh Harrop, Matty Willock; Tom Lawrence, Ashley Fletcher."

Here Is The City adds that "Manchester United's reserves will play a pre-season friendly on Sunday, but with the first team in America, there are two notable omissions. ...

Following the announcement of the travelling party for United's trip to the USA, questions were asked as to why a number of younger players were not involved. Players such as James Wilson and Nick Powell were omitted, but neither of those players have been included in the reserve team squad announced this morning on the club's official website. Of the players who may have thought they had done enough to travel to America, only Tom Lawrence and Andreas Pereira, Saidy Janko and Ben Pearson have been included for the weekend match in Ireland.

Van Gaal is likely to keep a close watch on his younger stars as they attempt to impress him from afar. But the question remains: What next for those players who have not been included in either party? Could loan moves await?".

Darren Gregory advises us that "Justin Thompson of Networks2Go, a parent of one of the girls from Altrincham FC Skylarks, has agreed to provide and sponsor tracksuit-tops for the team for the upcoming season. They are pictured, above, with team manager, Phil Varghese, at Saturday's team presentation at the Trafford Centre. Also present were Altrincham FC Finches".

"Grimsby Town have made their fifth summer signing, with Nathan Arnold the latest addition" reports the Grimsby Telegraph. "The winger, who can also play up front, has finalised a season-long loan deal at Blundell Park.

The 26-year-old penned a two-year contract with Cambridge United last summer, featuring in more than 30 matches... Mariners fans will remember the quickwire attacker from his unsuccessful trial period with the club five years ago. The former Mansfield man went on to enjoy a three-year spell with Alfreton before his switch to the Abbey Stadium."

The Shropshire Star reports that "AFC Telford United manager Liam Watson insisted he's not finished making signings... He's targeting at least one fresh face... Watson is still looking to borrow a couple of players from Football League clubs, but there is cash in the kitty for a late permanent capture, too.

He said, 'That might not be until a bit later on, as two are going to be loans anyway. I am trying to get my own core of players to where they should be first. You never really know what will come along over the next few weeks, we are always looking for players... I have got scope to make one more permanent signing'.

Watson took his players to his former club Witton Albion for their third pre-season friendly today". Witton won.

---

19 July 2014

Right: Damian Reeves and Steven Gillespie were Alty's strike duo in the first half at Trafford.

Altrincham secured a comfortable 5-1 win at Trafford, a ground on which they exited the FA Cup in disappointing fashion last season. With a debut for new signing Steven Gillespie, four crosses produced four first-half goals for the visitors before a second-half penalty completed Altrincham's scoring.

BT Sport has announced some further Conference matches which will be transmitted live by them. The full list is...

Saturday 9 August: Bristol Rovers v Grimsby Town - 12.45pm
Thursday 14 August: Eastleigh v Aldershot Town - 7.45pm
Monday 25 August: Forest Green Rovers v Bristol Rovers - midday
Wednesday 10 September: Dover Athletic v Barnet - 7.45pm
Monday 22 September: Chester v Wrexham - 8pm
Wednesday 9 October: Kidderminster Harriers v Welling United - 7.45pm
Saturday 11 October: Alfreton Town v Torquay United - 5.30pm

Altrincham FC is pleased to announce the signing of striker Steven Gillespie (d.o.b. 4. June 1985, in Liverpool). A 5ft 9inch striker, he started out at Liverpool (2001-4), after which he made 12 league appearances for Bristol City (2004-6). Another 21 league appearances, on loan at Cheltenham Town, followed before he actually joined Town and made a further 67 appearances, netting 21 times in that spell.

From 2008–12 he made 98 league appearances for Colchester United, scoring 25 goals in an injury-affected spell; the Essex side had paid for a fee of £400,000 for him. A return to the north followed with 22 apearances and four goals for Fleetwood Town, who released him in early 2014 after he had briefly been on loan to Cheltenham. In February 2014 he signed for Bristol Rovers, where he made 14 appearances last season.

As a schoolboy, Steven broke Robbie Fowler's record number of goals for Liverpool Schools, an accolade later taken from Steven by Wayne Rooney.

Steve will be involved in today's game at Trafford which, despite persistent rain overnight and this morning, is "definitely on" as of 1.15pm. He is pictured, right, at Shawe View, with Alty chairman Grahame Rowley. He will wear squad number 9 this season.

In advance of Saturday's game, Trafford announce that for the friendly against Altrincham (3pm), entrance prices are £6 for adults and £3 for O.A.Ps. and Juniors.

Brian Flynn confirms that Radio Robins is not covering the friendly at Trafford but he will be providing regular updates on twitter as well as brief half-time and full-time reports on facebook.

For anyone who thought football managers had a restful summer, these two images (courtesy of Keith Edleston), belie that. On the left we see Keith, manager of the Altrincham FC Ladies shaking hands on a deal with local company Impact Signs & Designs. Says Keith, "Impact Signs & Designs have agreed to sponsor our away kit for the coming season. After a few meetings and a bit of negotiation the MD of Impact Signs, Craig Hill, said that he was very happy for his company to assist the Ladies to push futher with their ambitions and also to promote his business when we are on our travels throughout the North West.

This great bit of sponsorship will now hopefully attract more high profile firms like Impact Signs to step forward and join this great Club. Thanks to Craig and all his staff for making this happen. Roll on the 2014/15 season".

And, on the playing front, Keith adds that he has "signed Charlotte Dudley, a striker from Afc Stockport, after her attending training for the last three weeks. Charlotte is a player I have known for a long time right through her junior days, starting at Flixton FC through AFC Urmston Meds and then onto AFC Stockport. She is a prolific striker who knows where the back of the net is. Welcome to the club Charlotte you will be a great asset to the team".

According to the Torquay Herald Express, "Torquay United have agreed terms to sign two of the trialists, defender Angus MacDonald and midfielder Courtney Richards, who have been training and playing with them during pre-season.

Manager Chris Hargreaves is also believed to be continuing contract talks with two more trialists, winger Toby Ajala and striker Duane O'Achie, ahead of the Gulls' fourth friendly of the summer against Walsall at Plainmoor tomorrow (3pm).

MacDonald, 21, is joining United permanently after two previous loan spells at the club... in the 2011/2012 and 2012/2013 seasons. The Hampshire-born centre-back, who can also play at right-back, was a young pro at Reading at the time, but he spent last season in the Conference Premier with Salisbury City.

Richards, 20, was on Hargreaves's radar even before he was released in May by Brighton & Hove Albion, where he had served his traineeship. The Jamaican-born player was one of the first players whom the Gulls' boss invited for a trial, and he has duly impressed in both training sessions and practice matches so far.

'Angus is strong, brave and proved his versatility at Salisbury', said Hargreaves. 'He jumped at the chance to come back here, and we are sure there is improvement in him,' said Hargreaves".

Reports from the BBC confirm that "Barnet have signed defender Bondz N'Gala and striker Charlie MacDonald on one-year deals. Centre-back N'Gala, 24, spent last season with Portsmouth, where he scored three goals in 31 appearances. The former Plymouth, Yeovil and Stevenage man had a brief loan spell with the Bees in the 2012-13 season.

MacDonald, 33, scored five goals in 30 outings for Oldham last season and has previously spent time at Southend, Brentford, MK Dons and Leyton Orient".

---

18 July 2014

Altrincham FC will be back to wearing squad numbers next season in the Conference's national division. To date, the squad numbers assigned for 2014-15 are:

1. Stuart Coburn (gk)
2. Shaun Densmore
3. Adam Griffin
4. Jake Moult
5. Gianluca Havern
6. Scott Leather
7. James Lawrie
8. Simon Richman
10. Damian Reeves
11. Nicky Clee
12. Mike Williams
14. Kyle Perry
15. Greg Wilkinson
16. Tom Marshall
17. Dave Parton (gk)
18. Sean Williams
19. Ryan Crowther
21. Jeff King
22. Rob Gilroy
23. David Brown

Above: As Alty lined up at Mossley on Tuesday night, Greg Wilkinson seemed to be suggesting that his shirt allowed plenty of room for growth!

In the Mossley v Altrincham game, there were seven players who had graduated from George Heslop's youth team at Altrincham. For Mossley these were Arron Hevingham, Andy Keogh, Danny McDonnell and John Bennett, whilst for Alty there were David Brown, Jeff King and Max Pouncey.

Altrincham travel to their nearest neighbours, Trafford FC on Saturday (3pm) for their next pre-season game. Altrincham's first home friendly is on Wednesday 23 July against Manchester United Reserves (7.45pm) whilst Hyde report that their friendly with Altrincham at Ewen Fields on Saturday 26th July (3pm) "has been designated as this season's Ray Stanley Memorial Shield match. This will be the 14th time the Shield has been played for, and is the first time we have faced Altrincham for it.

Over the last 13 seasons, Stalybridge Celtic have won the Shield the most, being victorious 5 times consecutively between 2001-2005. Hyde have won it 4 times in 2006, 2007, 2012 and 2013 and are the current holders after beating Stalybridge Celtic 6-3 last season, while Manchester City have won the Shield on 4 consecutive occasions between 2008-2011. The match will commemorate popular former club secretary Ray Stanley, who passed away in October 2000 aged 42...

Admission prices for the friendly games are as follows: Adults £6, Concession and under 16 £3, Under 12s free when with a paying adult".

And the Football Conference reports that this week "Ashton United hosted neighbours Hyde FC at Hurst Cross in an entertaining friendly. Matty Chadwick gave Ashton a first half lead against a Tigers side who only named four players; the rest were trialists. From the kick-off Ashton doubled their tally through Dimitri Tuaniebe, but 3 minutes later Hyde equalized through a trialist. Richard Bennett made it 3-2 to the home side, but Hyde equalised with a great strike from another un-named trialist to make it 3-3".

The Football Conference says that "Nicky Law, manager of Alfreton Town, has made his tenth signing of summer by bringing in former Mansfield Town attacking midfield player Lee Stevenson on a one-year contract. It will be a second spell with the Reds for the highly-rated and experienced Stevenson, 30, who had a one-month loan spell from the Stags back in October 2011...

A former Sheffield Wednesday trainee, he made his name by netting 96 goals from a midfield position in three seasons with Belper Town and Eastwood Town before moving to Field Mill in the summer of 2011. His prolific touch goalscoring continued as he made over fifty appearances for Mansfield where he netted 17 goals".

According to NL Daily, "Steve Burr, manager of Chester FC, is aiming to add the finishing touches to his squad but admits his hands are tied until goalkeeper John Danby leaves the club. The Blues boss said he was monitoring the situation of an unnamed midfielder but said that until a club came in for the transfer-listed goalkeeper, no more players would be arriving at the Swansway Chester Stadium.

Danby has been out of favour at Chester since Burr's arrival at the club back in January, with the Blues boss bringing in loanee Aaron Chapman for the final months of last season before signing Jon Worsnop this summer.

Bermudan international Freddy Hall played the first half of Saturday's 4-2 win at Marine, with the ex-Toronto FC stopper aiming to win a deal with the Blues to provide cover for Worsnop. But Burr, who declared himself pleased with his side's performance, particularly that of two-goal trialist George Thomson, said...

'There is a midfielder that I would like to bring to the club that would be a good addition. But with us using the surplus budget we had to bring in Gareth Roberts, we will have to wait for John to leave first', said Burr."

In the Shropshire Star we learn that "FC Telford United continue to mark the 10th anniversary of their formation with a celebration of the club in its various guises over the past 125 years. The Supporters' Trust launched an initiative to digitally capture their history at the New Buck's Head last night, an ongoing project, acting as a museum of sorts.

It started to bring together statistics, photographs, programmes and memories, dating back to the original club's inception as the Parish Church Institute in 1872. It's intended to become a living archive that will draw on a number of individuals' collections, holding extensive records and memorabilia covering the last 142 years.

A talk was hosted by the Wellington History group, with the club spending 90 years as Wellington Town before becoming Telford United and then the 'AFC' phoenix outfit. It's one of the famous names in non-league football, with manager Liam Watson saying, 'My earliest memory was an FA Cup tie with Witton Albion at the old Buck's Head in 1995. It was on Match of the Day. I scored a great goal to equalise but we lost 2-1... I hadn't long left Marine at the time...

It's great that the club are celebrating their history and, in time, the lads from last season will go down as part of that with the first league title for 62 years'. The Trust are still appealing for fans and local historians who may have photographs or artefacts to make them available to be scanned, for use in the archive."

The Gloucester Citizen confirms that "Striker Andy Mangan's sorry second spell at Forest Green is coming to an end, with Shrewsbury Town thought to be leading the chase for his services... He was suspended by the New Lawn club for the bulk of last season due to a breach of club discipline, which occurred prior to Ady Pennock's arrival as manager.

Rovers terminated the 27-year-old's contract in February, only for him to successfully appeal against that decision and return early for pre-season training this summer. Yet he did not travel to Scotland with the rest of the squad for a boot camp last week, with Pennock happy to cut his losses...

Mangan's former boss at Fleetwood Town Micky Mellon, now in charge of League Two Shrewsbury, is thought to be keen on ending his footballing exile. A likeable but controversial character, Mangan was hit with a five-month ban from football in the summer of 2009 for breaching betting rules while at previous club Bury. He joined Wrexham in January 2010 and scored 23 goals for the Dragons before moving to Fleetwood Town...

He spurned offers from Football League clubs to re-join Rovers on a bumper three-year deal, but he made only three starts and six substitute appearances in the Skrill Premier last term. Saturday's short trip to Shortwood will be Pennock's third opportunity to run the rule over his new-look squad, having seen them narrowly beaten by Birmingham City and cruise to a 4-0 win at Bishop's Cleeve. Left-back Chris Stokes, sidelined by a hamstring injury since the end of last season, is set to make his first appearance of the summer."

Down at Kent Online it is thought that "Returning defender Mat Mitchel-King may not be the only signing Dartford make this week. Mitchel-King, 30, penned a new deal at Princes Park on Tuesday night and now Darts' boss Tony Burman... said, 'I've got a couple of other players who we're looking to bring in and I'm speaking to one at the moment. Hopefully, something might happen this week. He's got a lot of choices but I'm hoping he'll choose us.

Yes, these players would like to stay full-time if they can but, the closer it gets to the season, if it's not working for them, they might have to consider the part-time option. If they do, I'll be delighted'.

Mitchel-King joined Dartford last summer and experienced a turbulent first few months as Burman's side fell into relegation trouble. But when Rory McAuley joined on loan from Cambridge United in January, Mitchel-King looked more assured alongside him. McAuley's arrival on a permanent deal last month means the two will pick up where they left off..

Burman said... 'Kingy's a lot fitter than what he was last year. He's come back fitter, he's done a lot through the summer when he's been out of the country and he's worked with us".

---

17 July 2014 In advance of Saturday's game, Trafford announce that for the friendly against Altrincham (3pm), entrance prices are £6 for adults and £3 for O.A.Ps. and Juniors.

In their last game, Trafford won 1-0 away at West Didsbury & Chorlton, with a team comprising "Read, Welsh, Ashton, Mason, Bayunu, Andrews, Palmer, J Shaw, Freakes, Hackney, Oates Subs: Black - Hackney 20 mins Fallon - Palmer 45 mins Schofield - Andrews 45 mins. Scorer: Ashton 44 mins".

Last season's squad at Shawe View has remained intact apart from the departure to Salford 92 (formerly Salford City) of former Alty defender, Andy Smart.

The Altrincham FC Saturday Yankee jackpot of £5,000 was won last week; the new jackpot now stands at £2,250. Details of the results are here. Joining the Yankee helps the Club enormously and allows you the chance to win £5,000 for a £1 stake; membership details are here The Football Conference says that "Conference Premier new boys Dover Athletic have signed Christian Nanetti from former Conference South rivals Havant & Waterlooville. Nanetti moved to the United Kingdom to pursue his football career, starting out as a youth player with Queen's Park Rangers. From Rangers he moved to Raith Rovers in September 2010 and then on to Ashford Town (Middx)...

During 2011/12 he played twenty-eight times for Lewes, scoring 3 times, and moved to the Hawks in March 2012... His pace and direct running made him a fans' favourite at Westleigh Park."

Meanwhile, "Nuneaton Town have signed former Coventry City academy midfielder Ryan Quinn. He represented the Sky Blues at both under-18 and under-21 level last season. Manager Brian Reid said of Quinn, 'He is a tenacious player with good technical ability and an excellent work ethic'".

There are worrying developments at Aggbrough where Kidderminster Harriers report that "Events over the last month mean that money that was contractually committed to the Club by other directors to cover the trading performance in the 2013/14 season has not been forthcoming despite written assurances to the contrary.

Recent events with other clubs this summer have illustrated how difficult it can be to run a lower league football club and it is essential that the directors can rely on funding commitments made. Therefore, notwithstanding any historical financial contributions, the failure to meet these most recent, and to date unfulfilled commitments, which the Directors had relied on in pushing for promotion last season, has caused unexpected financial challenges.

Legal advice has been sought in this respect and as a consequence the club shall make no further public comment whatsoever. The Club remains very positive about the forthcoming season and the Directors are keen to achieve a speedy resolution in this matter."

Bulls' News explains that "Kidderminster are to sue some of their own Directors after they failed to come up with funds they promised to the club to cover a shortfall. The club's Supporters Trust has put £21,500 into the club today after they were 'made aware of a short-term cash flow challenge and of the circumstances surrounding that'.

A club statement says they will seek a legal resolution... The club have not stated who the Directors are. Former chairman Mark Serrell and his wife both stood down from the board in February, with Ken Rae stepping up as chairman".

According to NL Daily, "Barnet have agreed to sign experienced forward Charlie MacDonald and centre-back Bondz N'Gala... Thirty-three-year-old MacDonald has so far played in both of the Bees' pre-season fixtures...

Former West Ham United and Plymouth Argyle defender N'Gala, 24, has previously spent time on loan with the Bees... Most recently of League One side Oldham Athletic, MacDonald boasts plentiful Football League experience, having netted one hundred and seventeen league goals for twelve different clubs".

The BBC announces that "Grimsby Town have signed former Gateshead defender Carl Magnay on a one-year deal. The 25-year-old left the Tynesiders at the end of last season after making 67 league appearances. The former Chelsea trainee recently spent a period training with Partick Thistle. He is the fourth player to join the Mariners this summer after defender Aristote Nsiala and midfielders Scott Brown and Jack Mackreth".

---

16 July 2014

Right: Nicky Clee lines up a second-half freekick.

It took a fifth-minute own goal and a penalty on the stroke of half-time to secure Altrincham's win against Peter Band's Mossley, who gave a good account of themselves.

Match report here.

Mossleyweb also has a report.

The scheduled friendly at home to a Tranmere Rovers XI on Tuesday 22 July has been cancelled. Instead, on Wednesday 23 July at 7.45pm Altrincham will play Manchester United Reserves at the J. Davidson Stadium, Moss Lane.

Altrincham FC confirm that admission prices for all of the pre-season friendlies at the J. Davidson Stadium are as follows:

Adults £7
Concessions £4..
Under 5s are free of charge.
Altrincham FC 2014-15 season ticket holders are also admitted free of charge.

Please note that entry is by cash-only and that away-teams' season tickets are not valid for friendlies at the J. Davidson Stadium.

Manchester United "have announced more friendly dates for Warren Joyce's Reserves to add to this Sunday's opening pre-season clash at Bray Wanderers. The Reds, who reached the Barclays Under-21 Premier League final in May, will head to Southport on 22 July before facing Altrincham, the former home venue for the team, the following day.

The United Reserves' and U-21 squad is here.

Above, courtesy of Grahame Rowley, we see Altrincham's players at pre-season training at Newall Green recently.

John Edwards, joint Press Officer at Altrincham FC, reports that "Lee Sinnott insists his Altrincham players are relishing the 'wonderful opportunity' of proving themselves in an increasingly competitive Conference Premier this coming season.

With Bristol Rovers the latest to drop out of League Two, the Conference has never provided a sterner test for part-time clubs like Alty, who booked their return to the national division with a memorable play-off win over Guiseley.

The fixture list confirms as much, with Alty launching their campaign at Aldershot on Saturday, August 9 and following up with home games against Lincoln City on Tuesday the 12th and Bristol Rovers on Saturday the 16th.

It sets the tone for a programme packed with familiar Football League names, but Sinnott is adamant a squad bolstered by new signings Dave Parton, Sean Williams and Ryan Crowther will not be fazed by the challenge.

'Bristol Rovers for our first home Saturday game is ideal, a really attractive fixture that we could probably only have envisaged in the FA Cup a few years ago,' said the Alty manager. 'There are five or six more that fit into the same category, and it is a measure of how non-League football has changed in recent times.

'In the Conference North, the name of Altrincham was one of the biggest around, but we now find ourselves in a situation where there are ex-League clubs everywhere you look.

'That means the pressure is off us and we can just concentrate on doing what we do well. The men in white coats would cart me away if I said we were going for the title, but equally it would be a defeatist mentality to say we are targeting fifth from bottom as a great season.

'We are going to roll the dice and see where we go. It is a wonderful opportunity for the players, an exciting challenge we are all looking forward to. I'm pleased with the players we have brought in, and work is continuing behind the scenes on that front, because there could be room for one more midfielder and a centre-forward.

'The good thing is, we retained 14 out of 17 from last season and brought in three additions nice and early, so we can afford to be patient. There's no complacency on our part, and we are working on things and talking to people. But it is good that we have got ourselves into a position where we know we can assess everything carefully and make sure that, in terms of age, ability and experience, any additional signing will be absolutely right for Altrincham Football Club.'

Reflecting on the acquisition of midfielder Williams, winger Crowther and keeper Parton, Sinnott added, 'Whenever I have watched Sean in opposition, I have always been drawn to his brain and the way he is constantly alive to what is going on around him and always keeping the ball ticking over. He has a bright mind and is comfortable with the ball on either foot. He has dovetailed really well with the other lads, as has Ryan, who has many similar qualities. You can tell he has played in the Conference Premier before. Both have settled in quickly and will help us go on to the next level.

'With Dave [Parton], it is good that we now have a keeper who will push Stuart Coburn and provide competition. It's a nice balance between Stuart's vast experience and Dave's relative youth, and that should prove a good combination. Dave will learn off Stuart and will also push him along.'"

In another piece for the Sale and Altrincham Messenger John Edwards tells us "There will be some famous shirts hanging from the pegs of Altrincham's brand new away dressing room after Manchester United agreed to a prestige friendly at the J.Davidson Stadium next Wednesday (7.45pm). Reserve boss Warren Joyce will be in charge of a United XI for a game that replaces the Tranmere friendly, scheduled for the night before but now cancelled.

'The United players will be the first to use the new facilities, and we couldn't wish for better opponents', said manager Lee Sinnott".

The EvoStik League reports that two ex-Alty players have found new clubs. Aaron Burns has gone from Nantwich Town to Marine, whilst Sam Grimshaw has moved from Altrincham to Radcliffe Borough.

According to NL Pitchero, "Winsford United have confirmed the signing of four quality players to strengthen the squad... The club... can also confirm that a number of players from last season have committed to the club for next season including... Osebi Abadaki", a former Alty Youth player.

The Football Conference reports that "Alfreton Town manager Nicky Law has made ex-Lincoln City player Dan Gray his ninth signing of summer with the former Imp signing a one-year contract. Mansfield-born Gray, 24, began his career with Alfreton, having a `work experience` placement with the Reds before he joined Chesterfield...

He began his career as a central midfield player before being converted into a right-back... After two loan spells at Macclesfield Town... Gray was released by Chesterfield at the end of the 2011/12 season and moved to Lincoln where he has spent the last two seasons, making fifty-two appearances for the Imps."

In the Lincolnshire Echo we learn that "Lincoln City boss Gary Simpson confirmed former Fleetwood Town striker Jon Parkin has been training with the club this week. The experienced forward has played for Barnsley, York City, Macclesfield, Hull City, Stoke City, Preston North End and Cardiff City, but has found himself without a club this summer.

Simpson, who tried to bring Parkin in on loan last season, understands the 32-year-old goal-getter is still aiming to play as high as he can, but is remaining open minded... 'He's tried to go to a few clubs around Yorkshire to train but they said "no". I said "yes"', explained Simpson. 'If, in a few weeks, he hasn't got a club fixed up, then who knows? It's like any of the players out there. Maybe we might have more of a chance to attract them because we have done them a favour and let him train with us.

Maybe when it comes to the start of the season they might look to us because they know us and think they were good enough to help me out. They are using us, we are using them. We could do with a few more at training, so having the trialists in helps'.

Simpson also revealed that Hamza Bencherif, who played 45 minutes for Lincoln City in their 2-0 win over Doncaster Rovers at the weekend, has been training with Cambridge United this week. Right-back Jake Caprice, who played an hour for City against Rovers on Saturday ,has stayed on to train with Lincoln this week".

---

15 July 2014 Altrincham are away to Mossley at Seel Park on Tuesday night (7.45pm). Although there will be no Matchday Updates on this website and no Radio Robins' coverage, a brief summary will appear here after the game and a full match report will follow on Wednesday. In addition, Brian Flynn advises that on Tuesday evening he "will be providing regular updates on twitter and brief half-time and full-time reports on facebook".

Mossley are managed by former Alty player Peter Band and play in the Evo Stik First Division (North). The postcode is OL5 0ES.

In 1998-99, along with Kevin "Killer" Kilcline, former Manchester City midfielder Nigel Gleghorn was briefly joint player-coach at Altrincham. Now the Manchester Evening News reports that the Manchester FA has appointed him Workforce Development Manager. Gleghorn "joins MCFA after a spell coaching the City academy. New responsibilities for delivering the 'Workforce and Better Players' goals of the National Game strategy, the former Nantwich Town boss is tasked with providing a skilled and diverse workforce to develop the grassroots game. That role will include the delivery of community-coaching programmes, developing a casual coaching pool to create sustainability and supporting coach mentors".

There are two Altrincham FC Summer Football Fun Weeks on the horizon. The first, at the J. Davidson Stadium, Moss Lane, runs from 28 July to 1 August; the second is at Altrincham Grammar School for Boys, from 4th to 8th August. Details of the events and an application form are shown above (click to enlarge). For further details contact either Karen Rowley or Chris Bullock on 0161 928-1045 or by e-mail as soon as possible, as these are always popular events.

Get West London reports that "Joey Jones has signed for Woking after failing to secure a deal at AFC Wimbledon. The former Leicester City youngster was training at Wimbeldon's New Malden base earlier this month".

More on this comes from the Football Conference, which says that "Jones originally joined the Cards on loan from Yeovil Town in January, making a dozen appearances in the league and scoring 2 goals... The 20-year-old, who joined Leicester City in 2010 before moving to Yeovil in 2013, is comfortable playing in both defence and midfield...

Meanwhile, Woking have confirmed that Mike Cestor has signed contractual forms for the 2014/15 season. The French left-back or centre-back signed for the Cards in summer 2012 from Leyton Orient, having impressed in three loan spells at Kingfield the previous season. He was originally a youth team player with Italian side A.C.Pisa 1909 before joining the O's youth set-up in the 2009/10 season...

The Cards have also confirmed that Aaron Howe and Joe McNerney have a year remaining on their two-year contracts, and John Nutter will be on non-contract forms due to work commitments. Niall Wright has reluctantly been released due to his family re-locating to the West Country."

Also, NL Pitchero tells us that "Busy Conference Premier club Woking have announced the signing of goalkeeper Jake Cole. Cole, 28, started his career at Queens Park Rangers in 2003, his former clubs include Oxford United and Barnet... Most recently he has been at Plymouth Argyle, making nearly 100 appearances over three seasons for the Pilgrims in League Two."

The Football Conference says that, "Conference Premier promotion finalists Gateshead have brought exciting wide player Alex Rodman to the International Stadium... and manager Gary Mills has strengthened his squad with a raft of summer signings.

Rodman played for Mills at both York City and Tamworth and last season was impressive on the wing for Grimsby Town, who Gateshead beat in the play-offs... Grimsby were keen to keep Rodman...

'It's been a long summer, for one reason or another, and I can`t wait to get started at Gateshead', said Rodman. 'The deal fell through at Hibs and Grimsby wanted me back, while I had a few other good options in the Conference Premier, but I'm really glad to have joined Gateshead... I've played under Gary Mills before and he is a top man. I know how he works and likes to play his football...

He plays football the right way and gets results. I have a lot of respect for him, he's a fantastic manager'... Rodman had three years in the Football League at Aldershot as well as a loan spell at York in League Two, and played forty-one games for Grimsby in 2013/14...

Said Mills, 'He's a player who can turn a game, an exciting player and someone I've always rated... He's a positive player with two good feet who can play on the left or right as well as down the middle... We've now got great options up front and the lack of that bit of quality in the final third just caught up with us last season. I wanted to address that, and I've more than done that with the amount of strikers I've brought in'.

Rodman, Gateshead's seventh signing of the summer, has joined the club on a one-year contract".

NL Pitchero tells us that "Barnet's Mark Byrne has signed for Newport County on a short-term contract until January. Byrne is a versatile midfielder... Byrne, who played under Exiles boss Justin Edinburgh during a spell with Diamonds, has been on trial with County during pre-season".

According to NL Daily, "Bristol Rovers defender Michael Smith has handed in a transfer request. Smith, who has a year left on his current deal, has... been offered a new and improved contract by the club in a bid to persuade him to stay at the Memorial Stadium.

However, the 25-year-old commented, 'This is a decision I've wrestled with all summer. I feel I need to move on in order to progress my career and fulfil my ambition of playing international football'... Smith is believed to have been the subject of interest from a number of League One clubs over the summer".

Reports from the BBC confirm that "Kidderminster have signed right-back Jared Hodgkiss following his release by rivals Forest Green. Stafford-born Hodgkiss, 27, has signed a one-year deal to become Harriers' fifth new signing of the summer."

The Torquay Herald says that "The transfer link between Torquay United and striker Jamie Cureton has almost certainly ended, as the veteran marksman appears to be on the point of agreeing a new deal with Cheltenham Town.

Cureton, 38, whose previous contract with Cheltenham ended this summer, had been talking to Gulls' boss Chris Hargreaves recently, but he returned to Whaddon Road to train with the Robins last week and played the first 45 minutes of their 1-1 friendly draw with Evesham United at the weekend.

Town manager Mark Yates confirmed that a new deal for ex-Bristol Rovers and Exeter City forward Cureton is likely, with the player prepared to take a big cut in wages to stay at the club.

Meanwhile, Hargreaves will use tomorrow night's friendly against Yeovil Town at Plainmoor to rerun the rule over his two trialist strikers, Duane O'Achie and Courtney Baker-Richardson".

At Forest Green Rovers, "Birmingham City visit The New Lawn on Tuesday night as Forest Green fans get first sight of Ady Pennock's revamped Rovers' squad... After a punishing week of fitness work in Scotland, described by one of Rover's more mature players as the 'toughest he's experienced in his career', the pre-season preparation doesn't get any easier with the visit of Lee Clark's men to Gloucestershire...

Barely a whisper was heard from the Forest Green squad during the week long training camp at the Inverclyde National Sports Training Centre in Scotland, as manager Ady Pennock worked the players hard on fitness and team bonding... Pennock said, 'The boys have worked their socks off and credit to all of them they've come back really fit. Each day we had a 7am run, then at 11 o'clock we'd have gym work and then ball work at four in the afternoon. They were tired at the end of each day, it was a proper boot camp...

The new lads really settled in well, they sang they're [their] (introductory songs) and they're [there] were some good voices in there'.

No fewer than seven players could pull on the Forest Green Rovers shirt for the first time on Tuesday evening after the arrival of defenders David Pipe (Newport County) and James Jennings (Mansfield Town); midfielders Sam Wedgbury (Stevenage Borough), Clovis Kamdjo and Rob Sinclair (both Salisbury City); and wide-men Elliott Frear (Salisbury) and Kurtis Guthrie (Welling United).

But new goalkeeper goalkeeper Steve Arnold (former Stevenage Borough) is unlikely to appear after tweaking his knee in training today, while Luke Oliver also has an niggle in his calf that will keep him from playing.

Aarran Racine is still on the long road back to recovery, three months after surgery for a ruptured anterior-cruciate ligament... The game is just too early for Chris Stokes who is also returning from long-term injury".

Alty fans should take note that "Forest Green do not have any seats available for away fans".

---

14 July 2014 Altrincham FC Ladies' manager Keith Edleston is delighted to announce that for the next two seasons the Ladies' training kit will be sponsored by a well-known local jewellery company, Randalls of Altrincham. Randalls are located in the town centre at 16 George Street in the Stamford Quarter of Altrincham (WA14 1SF).

Keith expressed his delight at the new sponsorship, saying "This is another local business supporting the Club which, in my mind, goes to show that the local business community is willing to help out with such a progressive and forward thinking club. We in the Ladies' section are so proud that, along with Dave and Alison at the Blue Dog Bar and Richie Bentley Catering we now have another big name supporting us in Randalls of Altrincham. I would like to say a big "thank you" to Peter Foster for helping to arrange this latest sponsorship".

Pictured right, Keith shakes hands on the deal with Randalls.

Congratulations to Altrincham FC Community Officer, Chris Bullock, who won the Altrincham FC World Cup competition thanks to Germany winning the Final in Rio de Janeiro. http://www.footballconference.co.uk/news/details.php?news_id=12930 "Macclesfield Town are to host three top flight clubs at the Moss Rose in pre-season as Turkish club Besiktas take on Belgians K.V. Oostende on Saturday, 19th July and German side FSV Mainz 05 on Wednesday 23rd July.

Both matches are £10 for adults and £5 for concessions and juniors, with entry on the gate.

Besiktas are preparing for both their Turkish Super Lig season as well as entering the Champions' League at the Third Qualifying Round stage, whilst Oostende finished ninth in last season's Belgian Pro Ligue. Mainz finished seventh in the Bundesliga, qualifying for the Europa League in the process.

And there could be some World Cup stars in action with Mainz and Besiktas boasting six members of World Cup squads between them. The Turkish side currently numbering Portugal's Hugo Almeida and USA's Jermaine Jones amongst their squads whilst Shinji Okazaki of Japan, Costa Rica's Junior Díaz, South Korean captain Koo Ja-Cheol and his team mate Park Joo-ho ply their trade with Mainz.

And whilst we think this is a first for Turkish and Belgian teams at the Moss Rose, the last time a German side used the ground for preparation, it was Euro '96 as Germany were based in Macclesfield before going on to win the tournament. The Silkmen would also be promoted into the Football League the following season."

---

13 July 2014 In the Altrincham FC World Cup competition, with the final being between Argentina and Germany, it's a shoot out between Grahame Rowley (Argentina) and Chris Bullock (Germany) for the first prize. The other prizes, which have already been awarded are:-

First Sending Off - Ian Watmore - Uruguay
Most Goals Conceded - Neil Faulkner - Brazil
Third / Fourth-place teams - Daisy Rowley (Holland) and Neil Faulkner (Brazil)

Many thanks to all who entered the competition; as Grahame Rowley says, "May the best team win tonight"! Chronicle Live tells us that "Young winger Duncan Watmore (right, in his Alty days) has made an impression on Gus Poyet and will train with the first-team during pre-season. Sunderland starlet Duncan Watmore will be handed a chance to shine after being drafted into the Black Cats' first-team pre-season plans.

Winger Watmore joined the Wearsiders from non-league Altrincham last summer and excelled for Kevin Ball's development side.

Boss Gus Poyet rewarded him with a first-team debut in the FA Cup in January before sending him north of the border to spend the second half of the season in the Scottish Premier League with Hibernian, with Poyet saying at the time, 'He's impressed me because of where he's come from and where he's playing. To have an opportunity to go to Hibernian is massive, and we couldn't let it pass'.

Watmore has clearly caught Poyet's eye and this week the 20-year-old has been training alongside the first-team at the Academy of Light. He is likely to stay with the first-team squad for the majority of the pre-season preparations and could be included on the club's trip to Portugal at the end of the month".

In Portugal, Sunderland are set to play in a tournament in Albufeira.

In the Northwich Guardian we read that former Altrincham FC player and, more recently, Alty's youth team assistant manager "Paul Jones has promised young players with potential will have an opportunity to show it at Witton Albion after taking over as reserve team manager. He told the Guardian his number one objective is to challenge a perception that talented boys cannot step up to Evo-Stik Northern Premier League level.

'I want to send a message to those lads that they can flourish here', he said. 'At Witton we have an opportunity, as well as a responsibility, to develop emerging players and create for them an environment in which they can improve. I watch lots of games locally, so I've seen first-hand that there is ability out there'.

He hosts an open trial at Middlewich Leisure Centre this Saturday, from 2pm... Witton's second string will play [alongside Altrincham] in an expanded Cheshire League from next season. Jones's target isn't to deliver collective success but, rather, to promote initially one player to Brian Pritchard's first team squad. He added, 'I've been set a target, but it's realistic. If we can unearth or improve one player that's good enough, then I'm sure that expectation will be increased to two or three lads. As coach, I'll relish that challenge.

It will be great to work with somebody like Nigel Deeley, who is one of the best around for coaching young players'.

Jones coached Altrincham's under 18s in the North West Youth Alliance last term, spending short spells, too, at Cheshire League clubs Denton Town, Barnton and then Barnton Wanderers. Before that, he guided Winnington Avenue to the Crewe and District League Premier Division title.

'Last season was testing for me and I certainly didn't intend to move around so much', he said. 'I learned an awful lot though, particularly about the standards I like to set and what I expect from players that I'm working with'".

---

12 July 2014 Groundsman Neil Brown has some soil available, free of charge, to any Altrincham FC supporter (or friends). The soil, which is a product of Neil's summer work on the pitch at the J. Davidson Stadium, is available free of charge from the area behind the Popular Side at Moss Lane... help yourself! On Saturday 12th July 2014, Altrincham's first team has no game but Altrincham AFC Under-18s take on Accrington Stanley in a friendly match. It kicks off at 12 noon at Partington Sports Centre, Chapel Lane, Partington, M31 4ES. The referee is Tim Willis and the assistant referees are Rohan Anand and Felipe Morais. "The Football Conference is pleased to announce the following fixtures have been selected for exclusively live TV coverage by BT Sport. Note below timings are kick off times. Further matches for live broadcast will be announced at a later date.

Saturday 9 August - Bristol Rovers v Grimsby Town - kick-off 12.45pm
Thursday 14 August - Eastleigh v Aldershot Town - kick-off 7.45pm ex Tuesday 12 August.
Monday 25 August - Forest Green Rovers v Bristol Rovers - kick-off at 12noon

Due to the above date movement involving Eastleigh and Aldershot Town it should be noted that the following fixture will move from Saturday 16th August to Sunday 17th August: AFC Telford United v Aldershot Town.

There will be no change to the Eastleigh v Gateshead fixture on Saturday 16th August, which will remain on that date as scheduled."

Two of Altrincham's friendly opponents this summer met each other this week and as Mossleyweb reports it ended "Abbey Hey (0) 1 Ofori (70) Mossley (3) 5 Carroll (15), Foster (20), Murray (35), Matthews (55), Cawthorne (75)", with Mossley fielding the following squad... 1. Liam Higginbotham, 2. Andy Brown, 3. Tom Fieldhouse, 4. Tom Dean, 5. Ryan Marley, 6. John Bennett, 7. Mike Crosby, 8. Tom Murray, 9. Dougie Carroll, 10. Steve Foster, 11. Brian Matthews. Subs, 12. Sam McClennan (for Foster 50), 14. Danny McDonnell (for Crosby 40), 15. James Blair (for Marley 35), 16. Dan Vinten (for Fieldhouse 46), 17. Jaya Cawthorne (for Carroll 60), GK. Ashley Frith (for Higginbotham 46).

Both Derryn Ofori for Abbey Hey and John Bennett for Mossley were former Alty Youth players.

"Mossley played a hastily arranged friendly against Abbey Hey at Cedar Mount Academy on Thursday night and ran out comfortable 5-1 winners. There were first half goals scored by Dougie Carroll with a delicate 20 yard angled chip shot, Steve Foster with a close range overhead volley and a neat finish by trialist Tom Murray. Carroll and Foster in particular went close on several other occasions. At the other end an Abbey hey free kick hit the post before Liam Higginbotham scooped the ball to safety.

The second half saw Mossley again comfortably in control and Brian Matthews extended the lead with a neat finish before Derryn Ofori, who played briefly for Mossley last season scored a consolation for Abbey Hey. Trialist Jaya Cawthorne pounced to fire home the fifth after the Abbey keeper had parried a right wing Danny McDonnell cross."

Altrincham's next game is on Tuesday (15th) at Mossley, 7.45pm.

The EvoStik League reports that Brian Smikle has moved from Stafford Rangers to Stourbridge. The League also reports that Chukwuka JR Ubah has gone from Altrincham to Carlton Town. NL Pitchero says that "Dover Athletic have announced that Barry Cogan, Liam Bellamy and Lee Hook have all signed... one-year deals... Midfielder Cogan is one of the club's longest-serving players, having joined Whites in November 2010...

Fellow midfielder Liam Bellamy has also agreed a new deal with the club, confirming a second season at Crabble for the 23-year-old... Also signing on for another season is experienced goalkeeper Lee Hook, who has now been at the club for over five years. The 35-year-old made three appearances last season, all in the Kent Senior Cup, but plays a key role as understudy for Mitch Walker."

Elsewhere, "Nicky Law, manager of Alfreton Town, has brought in his eighth new signing of the summer with former York City, Mansfield Town and FC Halifax Town defender Chris Smith signing a one-year contract with the Reds. Derby-born Smith, 33, is a vastly experienced central defender who can also play right-back and has a healthy goalscoring record over the years.

After leaving York by mutual consent in late January, he moved to FC Halifax in February of last season on a free... He was player of the year at Worcester City in the 2006/07 season, won the Conference North title with Tamworth in 2008/09 and captained York to a successful 'double' at Wembley in the 2011/12 campaign".

Meanwhile, "Wrexham have announced the signing of striker Connor Jennings on a one-year contract. The Manchester-born 22-year-old caused something of a sensation last season when arriving on loan at Macclesfield Town, proceeding to score an average of virtually a goal a game during his four month spell in the Cheshire town, which is his now his home... A calf injury ended his time with Macc, but after recovering he enjoyed another loan spell at Grimsby Town...

Released by parent club Scunthorpe United this summer... he has finally settled on a move to the Racecourse. Jennings started his career with Stalybridge Celtic... That was when the goals started to flow, 51 in seventy-nine starts for the Greater Manchester club in the Conference North... and earned him a move to Glanford Park in January 2012... He first went out on loan to Stockport County in November 2012...

He plays like an old-fashioned striker who can contribute both physically and technically. He gains the fans' plaudits through his endless effort in closing players down and tracking back defensively."

Acording to the Football Conference, "Former international Gareth Roberts has signed for Chester FC. The vastly experienced left-back began his career as a trainee at Liverpool before joining Greek side Panionios and then enjoyed a nine-year spell at Tranmere Rovers. The 36-year-old made 338 appearances for the Wirral club before joining Doncaster Rovers and then had spells at Derby County, Bury, and finally was at Notts County last season.

Roberts has also represented Wales nine times. Chester manager Steve Burr... is still looking at other trialists this week at the club's MBNA base as the switch to daytime full-time training continues. The first friendly is on Saturday away at Marine AFC".

---

11 July 2014 The AltrinchamFC Patrons have now grown to 108 in number, with at least 150 being the target. Click on the above link for details of how to join the Patrons and help the club that you support. The latest names to sign up are....

Ben Smith
JE & LCMS O'Mahony
Barry Clout
George Heslop
Ian Foden
Janet Foden
Chris Morfitt
Chris Pringle
John Norbury
Duncan & Lucy Laryea
Bob Green
Julia Green
Rev J B Chantler
Thomas Birt & Diane Walton
Peter Rogers
Val Shaw
Diane Swindells
Andrew Shaw
Neil Dawson

The Club thanks all who have joined this scheme for their support.

For next Tuesday's Altrincham game at Mossley admission prices are £5 for adults, £3 for concessionaries and £1 for 16-18 year-olds. Under-16s are admitted free. The Coventry Telegraph says that "Coventry City could sign a second goalkeeper in a week and immediately loan him out to neighbours Nuneaton Town. Sky Blues' boss Steven Pressley is understood to be considering signing former Arsenal elite squad player Reice Charles-Cook who has been on trial with the club at their Ryton training facility.

Pressley was at Liberty Way on Tuesday night to watch the 20-year-old, who is available following a spell with League Two Bury, in action for Boro' in their opening pre-season friendly with Derby County.

Nuneaton manager Brian Reid, who was recommended for the job by Pressley, is currently looking for two keepers after James Belshaw's switch to rivals Tamworth in June. The Scot has made it clear that he'd like to sign one permanent stopper and take one on a season-long loan from a League club, and highly-rated Charles-Cook appears to fit the bill.

It's understood that if the agile shot stopper does sign for Coventry that he would train full-time with City's development squad and train and play for Boro as required.

Pressley took Ryan Allsop on loan on Friday as part of the deal that saw Callum Wilson go the other way to Bournemouth, and the 22-year-old will compete for the No.1 spot with Lee Burge. Meanwhile, Reid is running the rule over former Derby keeper Saul Deeney who went on as a second half substitute for Boro in the 2-1 midweek defeat by the Rams.

The 31-year-old, who has had two spells with Notts County and Burton Albion, was released by Derby in January, bringing an end to almost five years on the books at Pride Park where he made three appearances...

As for Reid's assessment of Boro's opening pre-season game against Championship opposition, he said, 'I thought it was a good workout against a quality team... We had some trialists in there and I thought we acquitted ourselves well... But we haven't been working too much on finishing at this stage'".

Bristol Rovers report that "Manager Darrell Clarke said that only a couple of the trialists who featured in Tuesday night's game against Cirencester Town will continue to train with his squad.

'If I'm honest, that game disappointed me... but we move on and I'll be running the rule over five more trialists in the next couple of days. It is difficult to make a judgement on players after eight days of fitness training and one game but it wouldn't have been fair to delay making decisions on those who featured on Tuesday'. With regard to potential signings, he said, 'It's no secret that I hope to sign four more players a right-sided midfield, left sided midfield, a striker and a centre half...

I do have one or two things in the pipeline and I have one or two potential loans lined up for the beginning of the season if I need them. I was hoping to have the majority of my squad in place for next week's training camp at the University of South Wales but that's in a perfect world. I have made one or two offers to players but haven't managed to bring any in. It's disappointing when you make an offer and he decides his future lies elsewhere for whatever reason'".

According to the Times Series, Barnet's "Young forward Iffy Allen will miss the start of the season after suffering a broken leg in training and will be sidelined for the next six to eight weeks. Allen, 20, sustained a fracture of the fibula in a training ground collision earlier this week...

Speaking to the club website, Martin Allen said, 'All the players are fit and well apart from young Iffy Allen'".

According to the Worcester News, "Daniel Nti's future could lie away from Worcester City with the top-scorer attracting interest from Nuneaton Town. The 21-year-old, who bagged 16 goals in his debut campaign for the club last season, is on trial with the Conference Premier outfit...

Nti has been offered a new deal by the Blue and Whites, meaning they would be able to claim compensation should he move on as he is under 24. Nuneaton are looking to replace Louis Moult, who has joined Wrexham after scoring 17 goals last term.

It is thought Nti is keen to go full-time having completed his studies at Loughborough University".

From the Torquay Herald & Express comes news that "Torquay United are furious that they have ended up as the biggest losers of the Joss Labadie 'biting' affair, despite trying to 'play by the rules' throughout the case.

In the week that midfielder Labadie moved to League Two Dagenham & Redbridge on a new two-year contract, United are angry that

They lost a key player, suspended for the last ten games of a season which saw them relegated from the Football League.
They had to continue paying Labadie, even though he effectively admitted his guilt by withdrawing his appeal against the FA ban.
When they tried to discipline Labadie themselves, the Professional Footballers' Association, who had not appeared to back him against the FA, then supported Labadie against United.

> It cost the Gulls even more money because they could not dismiss Labadie, or reach a settlement with him, until a drawn-out series of appeals were completed. Manager Chris Hargreaves is still seething about the whole business. And I can reveal that United have now written to the FA, complaining that the disciplinary process favoured the player too heavily and punished the club.

Labadie was not booked or sent off during United's 3-1 defeat at Chesterfield on February 15 and the controversy only surfaced when Banks posted a photograph of an alleged bite on social media... The FA still found Labadie guilty and banned him for ten matches. He appealed, supported by the Gulls, but then withdrew.

Hargreaves says, 'We couldn't sign a replacement AND we had to carry on paying him'...

United's chief executive Andrew Candy confirmed that the club eventually reached a settlement because the time it was taking for the appeal-strewn case to be concluded was threatening to take it beyond the end of his contract on June 30".

At Kidderminster Harriers, "Chairman Ken Rae has played down fears over Kidderminster Harriers' finances after club benefactors Ernie and Kath Lane handed in their resignations as directors... They paid the £60,000 tax bill the club owed to Her Majesty's Revenue and Customs. The Lanes also provided funds to buy the likes of Ryan Rowe, Anthony Malbon and Marvin Johnson over the last few years and have invested an estimated £200,000 into the club.

However, they have decided to quit because of concerns over the management of the club's finances during the last seven months. But Rae insists... 'We've got one or two issues but there are no serious problems. We've obviously got a wage bill to pay but otherwise we are okay'...

The 2013-14 campaign was also one of the most financially successful in the club's history, with a money-spinning run to the FA Cup Fourth Round... However, they had to pay off manager Steve Burr, as well as his successor Andy Thorn and assistant Craig Knight. Manager Gary Whild has been given a smaller budget than last year, when the club pushed the boat out to win the league, but the club have still been able to sign experienced Conference Premier performers Craig Reid, Reece Styche and Jared Hodgkiss.

On a positive note, season ticket sales have also been healthy with approximately 600 sold so far. Meanwhile, Harriers' hopes of signing Birmingham City left-back Amari'i Bell were dashed after he joined Mansfield on-loan until January".

Kent Online tells us that "Dartford winger Ryan Hayes returns from his eight-month injury nightmare this weekend... Hayes hasn't played a single minute of competitive football since November 12, a serious knee injury ruling him out for the rest of last season.

The 28-year-old considered quitting Princes Park at one point, so intense was his frustration, but the club's longest-serving player will pull on a Dartford shirt once again for Saturday's pre-season friendly at Thurrock... But was leaving Dartford ever really on the cards?

'I have to be honest and say yes, I did feel like that', Hayes admitted... 'I wanted a new challenge, things like that, and I thought a couple of the boys might go but I probably would never have gone'".

---

10 July 2014

There are two Altrincham FC Summer Football Fun Weeks on the horizon. The first, at the J. Davidson Stadium, Moss Lane, runs from 28 July to 1 August; the second is at Altrincham Grammar School for Boys, from 4th to 8th August. Details of the events and an application form are shown above (click to enlarge). For further details contact either Karen Rowley or Chris Bullock on 0161 928-1045 or by e-mail as soon as possible, as these are always popular events.

As previously announced, the newly re-formed Altrincham Reserves will be kicking off in the Cheshire Football League, Division Two (N.B. at the time of writing the League's website is not up to date as regards membership). They will be playing their games at the Mersey Valley Sport Club, Banky Lane, Sale, M33 5SL. Directions to the ground are: from M60 leave at junction 8, then at roundabout take the 1st exit onto the A6144 towards Carrington. At the first set of lights, turn right onto Banky Lane and continue for half a mile

The Reserves' strip will be red and white stripes, black shorts and red socks, with the change strip being yellow shirts with blue shorts and socks. Alty Reserves' midweek matches at home will be played om Tuesday evenings. As there are no floodlights at the ground, kick off times will be at times to be announced.

The other teams in Division Two are, Ashton Town Res., Barnton Wanderers, Cheadle Town FC Res., FC Woodford, Irlam Town FC Res., Mersey Valley FC, Moore United FC, West Didsbury & Chorlton Res., Witton Albion FC Res. and Wythenshawe Town.

A page dedicated to the Reserves is being developed on this website.

Steve Foster writes that "On Friday night (11th), an Altrincham FC staff/supporters' team will take on a Sale Sharks supporters' team in a 20/20 cricket match as part of the Ashley Cricket Club Beer Festival. The AFC team will include Grahame Rowley, Neil Tolson, Ian Senior, Luke Pickering and various fans. I hear the Sale Supporters team may include Hendre Fourie, the former England Rugby Union international.

The match will take place at Railway Field, Ashley (postcode WA14 3QE) and will start as close to 6pm as possible. Details of the beer festival can be found here.

Buxton report that "On a terrific night for football, the Bucks lost narrowly to Conference Premier new boys, Altrincham, thanks to a close-range header from Damian Reeves on 68 minutes. With several players unavailable, Buxton boss Martin McIntosh was able to have a look at some new faces including former Celtic forward Ben Hutchinson and former Gainsborough midfielder Jonathan Williams.

The Bucks are next in action this coming Friday with the visit of Macclesfield Town (7.30) when the match will be played for the Keith Alexander Memorial Trophy".

The Buxton Advertsier adds that "Buxton fell to a narrow defeat in their second friendly outing of the summer on Tuesday night... Damian Reeves's header came after a pinpoint cross from James Lawrie to settle the contest. The goal came at a time when the Bucks were enjoying a good spell of possession.

McIntosh started with eight players who began Saturday's 1-1 draw against Chesterfield. Trialists Ben Hutchinson and Jonathan Williams were given starts, whilst Alastair Taylor also began. Taylor had a loan spell at Buxton last season but has since been released by Alfreton.

Goalkeeper Adam Reid and Alex Byrne continued for the Bucks, whilst quartet Shaun Tuton, Josh Davies, Stuart Ludlam and Mark Reed all sat out".

Alty have no game this weekend but next Tuesday (15th), Altrincham are away to Peter Band's Mossley. Mossley beat Stalybridge on Tuesday night, 1-0. Mossley's team, which included several ex-Alty Youth players, was 1. Ashley Frith, 2. Danny McDonnell, 3. Dan Vinten, 4. Tom Dean, 5. Josh Granite, 6. Daryl Weston, 7. James Blair, 8. Aaron Hevingham, 9. Mike Fish, 10. Steve Foster, 11. Andy Keogh. Subs: 12. Tom Fieldhouse (for Blair 46), 14. George Settle (for Weston 46), 15. Dougie Carroll (for Foster 65), 16. Brian Matthews (for Fish 46), 17. Andy Brown (for McDonnell 46), 18. John Bennett (for Vinten 55), 19. Mike Crosby (Hevingham 60), GK. Liam Higginbotham (Frith 46)". According to NL Pitchero "Liam Watson, manager of AFC Telford United, has swooped to sign defender Kristian Platt from former Conference North rivals Stalybridge Celtic. Platt is a product of the academy system at Chester, after he joined them from Rock Ferry... He went onto make ten appearances in the Conference for Chester.

He moved to Stalybridge in the summer of 2010 and became an almost permanent fixture in the squad. The 22-year-old, who can operate in central defence or midfield, totalled 152 appearances for the Bower Fold outfit, scoring 17 goals. He has signed a one-year contract with the Bucks".

NL Daily reports that "Aldershot Town have agreed a deal to sign goalkeeper Phil Smith from Portsmouth on Friday, August 1st... after eighteen months at Fratton Park, which followed distinguished spells at Swindon Town and Crawley Town.

Harrow-born Smith made one hundred and thirty-two appearances for The Robins in six years... He made eighty-three appearances for Crawley Town in two years, and, from 2002 to 2004, seventy-seven appearances for Margate.

Smith began his career at Millwall... 'Straight away, I was interested in signing. It's always seemed like a nice place to come and play', said Smith... 'When I was in the Conference, it was one of the places that you wanted to play... I've done well at this level, and enjoyed it, so I'm hoping to take that to another level with the League experience that I've got...

Aldershot Town are one of the bigger clubs in the Conference and the aim is to get back into the Football League'...

'Phil was somebody that we tried to sign on loan last year', revealed manager Andy Scott... 'His distribution is good, he talks well, he's got physical presence, and he understands the game... There's an aura about him that will hopefully calm our defenders... We kept eleven clean sheets last season and I'd like to get a few more of those. We've got plenty of options in defence, with experience and energy, but physically we're a big side now as well.

We are physically imposing without falling short on the energy... We want to be a big side that can compete but also play as well'".

From a confidentGet Surrey we hear that "A good start to the season in what promises be a tight division could propel Garry Hill's Woking FC to the higher echelons of the Conference Premier. The Cards have the comfort of being among the form teams from January last year and the fact Hill has managed to retain the core of that squad is a pointer to how his men might fare this term.

A trip to Alfreton Town, many people's favourites to be among the relegation candidates, on the opening day is a relatively comfortable start.

In fact, Woking do not face one of the bookies' top eight tips for the Conference title until game number 10; that [is a] trip to relegated Torquay United on September 16 followed by another huge test five days later, at big-spending Bristol Rovers... although they will be wary of bogey teams Dartford (first home game) and Welling United in the opening four fixtures.

September's seven games appear pivotal, among them another difficult encounter away to neighbours Aldershot Town, while there is an energy-sapping cluster of long trips to Southport, Altrincham, FC Halifax Town, Grimsby and Gatehead in a nine-week spell starting in October... Woking will welcome three out of the last five tussles next April being at Kingfield against Welling, Gateshead and Halifax, all winnable on paper.

Apart from Bristol Rovers and Torquay, among the other main protagonists will surely be Forest Green Rovers thanks to their considerable financial backing, while Eastleigh have been recruiting too... The surprise package could be Barnet, under Martin Allen, a man who knows how to win at this level...

In midfielders Keiran Murtagh, Josh Payne and John Goddard they [Woking] have a trio to be reckoned with while Kevin Betsy could still do a job at League Two level. Mobile Theo Lewis's arrival from Salisbury City adds even more quality to that list while up front Scott Rendell will provide the goals.

Without a large squad, Hill is bound to dabble in the loan market once again as he did successfully last term and he will be keen to avoid injuries and suspensions, with no fewer than four red cards received in the opening few matches last season... If you had told a Cards fan in the mid-1990s that Woking would still not have reached the Football League after another 20 years, while a plethora of clubs would stampede past them, they would have scoffed at the suggestion.

And yet, on the other hand, there has only been one relegation to speak of in the past 30 years.. A play-off place is surely a reasonable target."

"Former Huddersfield Town player Danny Schofield is on trial at FC Halifax" according to the Huddersfield Examiner.

The 34-year-old midfielder, who spent a decade at Town, has just left Rotherham. Signed from minnows Brodsworth for £2,000 in 1998, Doncaster-born Schofield made 281 Town appearances, scoring 46 goals. He left for Yeovil in 2008 and later played for Millwall.

Schofield had three seasons at Rotherham, with loan spells at Accrington and Stockport. His former Town teammate Jon Worthington has just been made physio at Halifax."

Still at The Shay, the Halifax Courier adds that "Schofield looks set to feature for FC Halifax Town against Tadcaster. Schofield, 34, will appear as a trialist for the Shaymen in the friendly".

Elsewhere, the Daily Post tells us that "Wrexham expect to resolve the future of goalkeeper Joslain Mayebi by the weekend, according to the club's head of football operations Barry Horne.

The 27-year-old stopper from Cameroon was offered a new contract at the end of last season and, although he did not turn up for the start of pre-season training at the beginning of this month, his agent will be meeting Dragons' boss Kevin Wilkin in the next couple of days.

Horne said... 'At the moment I don't know how that meeting is going to pan out but we'd hope to settle things one way or the other by Saturday'. Notwithstanding the latitude afforded to Mayebi, who went missing for more than a week last season after being given permission to take a short break to visit his family in France, his return is not the top priority for Wilkin, who is still hoping to add to his three summer signings.

England C international Andy Coughlin was first-choice keeper for much of the previous campaign and the Dragons' boss, who already has at least one potential replacement for Mayebi currently on trial with his squad, would be confident of signing an experienced keeper before the season gets under way...

Horne, meanwhile, is optimistic that one, if not more, of Wilkin's four targets will be putting pen to paper in the very near future to join summer arrivals Blaine Hudson, Wes York and Louis Moult in the Wrexham dressing room... 'At this time of the year, the best players are invariably weighing up several options and those we are talking to are all established Conference- level footballers'.

Wilkin will also have the option of dipping into the newly-established Glyndwr University academy which has recruited 14 footballers who plan to combine playing with studying for a degree. The group, all of whom will be registered as Wrexham players, are expected to be introduced to the media tomorrow."

We learn from the Leader "Dean Keates is ready to prove that age is just a number by playing a major role in Wrexham's new-look squad.

Manager Kevin Wilkin has signed defender Blaine Hudson and attackers Wes York and Louis Moult, who are all in their early 20s, this summer, while the likes of Brett Ormerod and Dave Artell were moved on at the end of last season.

Keates, who turned 36 on June 30, and striker Andy Bishop, 31, are the only players over the age of 30 in the current Wrexham set-up... And captain Keates... explained. 'It is good because it brings youthfulness, it makes things quick and sharp, but on the other hand you do need experience and a few older heads knocking around.... You are as old as you feel inside'...

The former Hull, Walsall and Peterborough man admits to having a 'few niggles' in his foot from time to time, but he is determined to get a full pre-season under his belt as he looks to line-up in the heart of midfield".

---

9 July 2014 An excellent 68th minute headed goal by Damian Reeves from a fine James Lawrie cross settled this well-contested friendly at the Silverlands Stadium. Lawrie had just come on, with Sean Williams, as a substitute at a time when the home side were enjoying a good spell and the Alty duo's introduction to the game prompted the visitors to a bright finish.

Right, Damian Reeves and James Lawrie take the plaudits from team-mates Ryan Crowther and Nicky Clee after Altrincham's goal.

The Football Conference says that "Defenders Jaydon Gibbs and Anthony Tonkin have signed new contracts with Aldershot Town... The full-backs are the final players from last season's squad to commit their futures to the Shots and join Chris Barker, Joe Oastler, Jordan Roberts, Mark Molesley, Brett Williams, Josh Scott and Tristan Plummer in signing new deals...

Gibbs (pictured), 23, signed from Chipstead in August 2013... Having arrived as a left-winger, Gibbs converted to right-back and gave some hugely-impressive performances before his season was ended prematurely by a hernia injury...

Tonkin made sixteen appearances for the Shots last season, after suffering a calf injury in pre-season. He has now played fifty-eight games for the club in two years after signing from Oxford United in May 2012. The experienced 34-year-old previously played over 400 senior games for Yeovil Town, Stockport County, Crewe Alexandra, Forest Green Rovers, Grays Athletic and Cambridge United."

Bulls' News tells us that " One of two youngsters who signed a contract to stay with Hereford United at the end of last season, Billy Murphy, has moved to Bristol City on a free transfer... Had Murphy received his overdue pay from Hereford, they would have been able to ask for a fee".

At Lincoln City, the club announces that "midfielder Arnaud Mendy has put pen-to-paper on a new contract. Mendy, who signed for the Imps in February, last week agreed terms on a fresh deal offered to him by manager Gary Simpson... with his contract running until the end of the 2014/15 campaign."

In the Daily Post we learn that "Wrexham manager Kevin Wilkin is resigned to missing out on one of four potential new players on financial grounds... The Dragons' boss yesterday confirmed... 'I've chased four players over the weekend and one could be going elsewhere by the looks of it', he said. 'It's not a done deal, but we certainly can't match the financial area he's looking to get to so I would imagine he will evade us.

We are continuing to work hard on the rest who have offers in front of them and I'd have thought I would have had a decision by now but, if we don't get any of them, we will have to look elsewhere. If we do get the three players the squad would be near to completion'...

With no further concrete news about goalkeeper Joslain Mayebi, who has yet to respond to the contract extension he was offered in May, the Racecourse boss confirmed that goalkeepers are among a number of trialists currently training with his squad.

But with football operations director Barry Horne trying to speak to Mayebi, Wilkin is not yet prepared to close the door on a new deal for the Cameroon-born stopper. 'I don't know what Joslain is doing and the sooner he is back and round the place the sooner we can have a chat with him', he added. 'There are a few triallists with us... There's probably 30 players in our group at the moment and that's enough for us... The most important thing is that I get my front 11 to the point I need them to be and the trialists might have to bide their time'...

Wilkin's training regime has kept pre-season injury problems to a minimum, with striker Andy Bishop the only player to have missed one of 10 sessions last week.. Wilkin added, 'I want to try and avoid soft tissue injuries and needless aches and strains. We had a lot of them last season and they don't allow you to build up any momentum. If we can get to a better level of fitness throughout the whole squad hopefully we will avoid them'".

---

8 July 2014 Buxton confirm that "Altrincham FC visit the Silverlands (Tuesday) in the second of the Bucks pre-season matches. The match will kick off at 7-15 to allow supporters to watch the World Cup Semi-Final in the social club.

'Alty' won promotion back into the Conference Premier through the play-offs back in May and will be looking to stabilise their position in the higher league this term. The Bucks welcome back Mark Reed to the squad for the match but right-back Stuart Ludlam won't be available until Friday's clash with Macclesfield Town.

Admission Prices:

£6 Adults
£4 Concessionaries
Under 14s free with a full payer or £2

As reported yesterday, former Alty defender Greg Young has joined Buxton, who host Altrincham on Tuesday (7.15pm). And now we learn from Ian Senior that goalkeeper Adam Reid is expected to be involved in the game as he is currently on trial at the Derbyshire club.

One of Buxton's other new signings is Shaun Tuton, who has joined from Matlock Town.

There will be a brief summary here on the website on Tuesday night and a match report on the game on Wednesday. Radio Robins is not covering the game but there will be twitter and facebook updates (links in panel, right).

Keith Edleston advises that his Altrincham FC Ladies' team will take on Merseyrail Bootle LFC on Sunday, 17th August, k.o. 2pm. The match is at the Delta Taxis Stadium, Vesty Road, Bootle, L30 1NY. The Sale & Altrincham Messenger reports that "An Altrincham-based construction company has begun work on Altrincham Football Club's new community sports hall. The £75,000 facility will be located next to the main stand at the club's Moss Lane ground and will provide a venue for Alty FC's community charity, including soft sports, community events and functions, as well as providing a new match day bar and improvements in the changing facilities under the main stand.

Work on the multi-use space is estimated to take 22 weeks, with the scheduled completion in late November.

Appointed following a tender process, McGoff & Byrne will manage the 'design and build' and fit out of the project and will be responsible for delivering the completed building on time and within budget. The firm will manage the project from its Broadheath office but will also have a presence on site at the football ground to supervise work on a daily basis.

Declan McGoff, operations director at McGoff & Byrne, said, 'Our work takes us all over the UK and internationally, too, but we are always pleased to win business in the North West and especially happy to help another local business with a construction project that will ultimately help secure the future of the club and enable it to continue to thrive in Altrincham. We are delighted that Altrincham FC has done so well in achieving promotion via the play offs and hope that they can look forward to a great season in 2014-15'"."

---

7 July 2014 Match report here

Pictured here are Altrincham's two outfield signings this summer. Left is Sean Williams and, right, is Ryan Crowther, both of whom made their debuts at Abbey Hey on Saturday.

Following Saturday's match, Abbey Hey's Tom Abram has 125 photos of the match against Altrincham last Saturday.

Abbey Hey report that "It was a disappointing start to Abbey's pre -season schedule, suffering a 6-1 defeat to a strong Altrincham side. Chances were few and far between for the home side with the forward line snuffed out by a well drilled Alty side. Only Ashton United's Martin Pilkington (guesting for Abbey) managed to penetrate the visitors' back line but there was an outstanding performance from John McIlwaine between the sticks.

Despite the eventual scoreline, McIlwaine performed heroics to keep the game at 0-0. And even as the goals started to flow, he continued to keep the majority of shots out as Altrincham carved through the defence time and time again with relative ease.

Abbey made a fist of it in the second half but the game was already out of reach. The arrival of Luke Gibson, in tandem with Matt Harrop, stemmed the tide somewhat but Abbey's lack of firepower up front (bar Pilkington) meant that they were never likely to trouble a side littered with first teamers of Conference National level".

A groundhopper, John Norris, has an account of his visit to see the match here.

Courtesy of Darren Gregory are the adjacent photos of Altrincham FC's participation in Saturday's Altrincham Festival procession. Amongst the events at the festival ground itself was a penalty competition for which Alty Ladies' Lizzie Brereton was one of the goalkeepers giving their time to help raise the Club's profile.

Pictured above are girls from the Altrincham FC Juniors, whilst (right) we see Dawn Abbott and Rocky Robin (aka Andrew Nash) with the Conference North play-off winners' trophy.

Buxton, who are Altrincham's opponents at Silverlands on Tuesday evening (7.15pm), have confirmed that they have signed two ex-Alty defenders. One is Greg Young, who was at Gainsborough Trinity last season and the other is Tim Ryan, briefly an Alty loan player in the 1990s.

Buxton report that "Saturday's match at the Silverlands against Chesterfield saw the first appearance for the club for new centre-half signing Greg Young. 31-year-old Young came through the Sheffield Wednesday junior ranks before making his name at Grimsby Town and Halifax Town before making over 100 appearances for Altrincham (who the Bucks next play at the Silverlands this Tuesday at 7-15).

Brief spells at York City and Alfreton Town followed before making 60 appearances for Gainsborough Trinity before his transfer to the Bucks this summer. Bucks manager Martin McIntosh is delighted to have signed such an experienced centre-half and his partnership with Ash Palmer got off to a great start with yesterday's draw with Chesterfield. Other players to have committed to the Bucks yesterday were Tim Ryan (again Martin's assistant manager) and midfielders Neil Stevens and Derek Niven. Further additions to the squad, including one new face, are expected on Tuesday".

The Club adds that "Buxton, with five new men in the starting line-up plus ex-Chesterfield favourite Derek Niven, held League Two champions Chesterfield. The Evo-Stik Premier side had much the better of the game before the interval, with Jamie Green's in-swinging free kick forcing a corner before the home side took a 29th-minute lead. The new strike partnership of Liam Hardy and Shaun Tuton combined for the latter to shoot home...

Chesterfield's greater number of fresh legs unsurprisingly took control in the last quarter of the match... Midfielder Jay O'Shae netted an equaliser in the 80th minute".

Brian Flynn announces that "Last season, Dan Whitelegg, Simon Brotherton and Leah Brotherton provided excellent twitter and facebook coverage of every Altrincham game. Dan will not be available this season, due to having just taken up a job which involves working on Saturdays, therefore we are looking for another person to help out when Leah and Simon are unavailable to carry out this role.

If you are interested in doing this, please contact Brian Flynn (07860 561011) or by personal message on the Fans' Forum (Username: Brian Flynn)".

NL Pitchero says that "Conference North new boys AFC Fylde have announced the signing of [ex-Alty loanee] Liam Tomsett. Tomsett played the whole of last year at Hyde FC on loan from Blackpool and was one of the Tigers' star performers. As soon as Coasters' boss Dave Challinor heard Tomsett had been released by the Seasiders, he spoke to his agent and was able to put a deal together and, despite having higher offers from other clubs, he has chosen to come to Fylde.

Challinor said, 'I'm delighted that Liam has agreed to join us as he's someone that was on our radar once we knew he wasn't being kept on at Blackpool'">

Statto's Kidderminster Harriers' Site reports that the club's "Trialists Beaten: Littleton 2-0 Harriers. A team made up of young trialists were beaten by Midland Combination side Littleton to begin Harriers' pre-season programme.

Just two first team squad players featured in the sixteen picked by assistant manager Mark Creighton; Tyrone Williams, who captained the side, and the disappointingly poor Freddie Ladapo. Former Harrier David McDermott was amongst the trialists, most of whom are unlikely to be seen again. Also featuring was Chey Dunkley's brother Tristan but he was sent off midway through the first half after stamping on a Littleton defender...

Littleton... took the game with a goal in each half".

More on this comes from the WOrcester News, to the effect that "The Reds fielded just one first team player in the shape of Freddie Ladapo. However, they were reduced to ten men after Tristan Dunkley's dismissal and conceded a goal in each half... With the second half a lethargic affair, it took until 71 minutes for Littleton to secure their second as they took advantage of some tired defending to double the scores with a low finish...

Harriers' XI squad: Brendan Bunn, Jamie Ashmore, Peter Smith, Jamie Moore, Tryone Williams, David Kalonji, David McDermott, Jake Green, Tristan Dunkley, Reece Hales, Freddie Ladapo. Bench: Jordan Harrison, Alex Reid, James Geobey, Obed Obeng, Oli Long".

---

6 July 2014 Buxton, who are Altrincham's opponents at Silverlands on Tuesday evening (7.15pm), have confirmed that they have signed two ex-Alty defenders. One is Greg Young, who was at Gainsborough Trinity last season and the other is Tim Ryan, briefly an Alty loan player in the 1990s.

There is match report on the Abbey Hey v Altrincham game here. Pictured, right, is Ryan Crowther, who played on the left flank on his debut for Alty.

The only totally unexpected face in Alty's line up at Abbey Hey was trialist Wade Joyce. In January 2014 The Courier reported "St Johnstone have signed young English midfielder Wade Joyce. The 19-year-old was available on a free transfer after leaving Barnsley earlier this month and had been in talks with clubs in League One and Two down south, it has been reported.

However, Saints boss Tommy Wright has persuaded Joyce, son of Manchester United reserve chief Warren, to make the move north of the border on an initial deal until the end of the season, with a view to extending it. Joyce began his career with Bury before being snapped up by Premier League Sunderland in 2012".

In the we read that "Macclesfield boss John Askey has been left fuming by the Conference fixtures for next season. 'It's an absolute disgrace,' said Askey. 'Everyone wants to do less travelling over Christmas and to play a local side to boost the gate. Instead they are sending us to Grimsby on New Year's Day and also Bristol. It's poor'.

'I think the league has to look at how they do the fixtures'. Alty boss Lee Sinnott wasn't happy either, although the Robins do face their other Cheshire rivals, Chester FC on Boxing Day. 'We're allowed to request which opponents we'd like over Christmas but we didn't get one of them at all', he said".

Referring to when Alty last met Macc, Askey said, "At the time Altrincham were the bigger club and our biggest rivals. I've still got the scars!".

Lee Sinnott commented on the fixtures saying "It's an interesting start, having Bristol Rovers in our first Saturday home game. We've got a lot of travelling at the back end of the season".

News of an Alty "old boy" comes from Welsh Premier, which says that "Alliance outfit Conwy Borough have signed 31-year-old former Football League midfielder Ian Craney. An England National Game XI international, the Liverpudlian notably had five spells with Accrington Stanley during his career...

After starting his career as a junior at Everton, he got his first break in senior football at Conference National side Altrincham, before moving to Accrington in 2004. He then signed a permanent deal at Swansea City on 9 January 2007 for £150,000... Stanley accepted an undisclosed fee from League 1 side Huddersfield Town for the midfielder.

In July 2009, Craney joined Morecambe, where he was a team-mate of Conwy boss Darren Moss, on a season-long loan ... He joined Fleetwood Town for the 2010-11 season... At the end of the2011-12 season Craney joined Rochdale but was released in January 2013... He then joined AFC Telford United for the rest of the season before a move to Stockport County last May."

Altrincham travel to Silverlands to play Buxton on Tuesday night (7.15pm). According to NL Pitchero, "Evo-Stik Northern Premier League Premier Division club Buxton got their pre-season underway with a very creditable 1-1 draw with League Two side Chesterfield on Saturday. Jay O'Shea equalised for the Spireites in the 80th minute after Shaun Tuton scored a first half opener for the hosts."

Chesterfield add that "The Spireites opened their pre-season programme with a 1-1 draw against Buxton...

The scores were finally level with just ten minutes of normal time left to play, as O'Shea received a short pass from Morsy before calmly finishing past a flailing Reid. An equalising goal seemed to give the Spireites an added boost, with O'Shea once again forcing a strong diving save from Reid who had been much busier in the second 45 minutes."

Altrincham FC were well represented in Saturday's Altrincham Festival. Pictured right is the Alty float, heavily populated by Juniors, just before it set off on the parade. There will be more on the Festival in tomorrow's news. Macclesfield Town report that, "The Silkmen have added another familiar face in Waide Fairhurst who has returned for the coming campaign. Initially joining from Doncaster in 2011, Waide's first season was hit by injuries which limited his appearances, but his second campaign was more profitable for the forward, who bagged 13 goals.

The player, who has also featured in the Football League for Shrewsbury, Southend and Hereford, left the Silkmen to join Lincoln last summer, but returned for a short loan towards the end of the season. After leaving the Silkmen, he moved to Whitehawk FC in March".

The Football Conference has issued a "Statement on Salisbury City FC. Salisbury City Football Club Limited has failed to meet the requirements of the Football Conference which would enable retention of the club's membership in Conference South.

The club has failed to deposit a Bond requested by the Board; failed to pay football creditors outstanding from last season; and furthermore it has subsequently failed to submit an Application for Membership for the 2014/15 season; and failed to remit its subscription for the forthcoming season.

In accordance with its decision made on, and transmitted to the club on 13th June 2014, Salisbury City FC Limited has been expelled from membership of the Football Conference. "

On a happier note, the Conference tells us that "Braintree Town have re-signed 25-year-old striker Charlie Strutton. Strutton is well-known to the Iron fans having scored 6 goals in just seven games while on loan from AFC Wimbledon last season.

He started his career at Chalfont St. Peter before joining AFC Wimbledon in March 2012. After his loan spell with Braintree, Strutton had another loan spell at Aldershot Town, but suffered a broken leg in his first match last November. Since then he has been recovering from his injury, but left AFC Wimbledon at the end of last season. "

---

5 July 2014 Altrincham's 2014-15 league fixtures are here. The draws for the early rounds of the FA Youth Cup have been made and Altrincham have been favoured with a home draw. In the Preliminary Round, to be played in the week commencing 8 September, Alty host Colne at the J. Davidson Stadium. Should they win that tie they would host either Irlam or Glossop North End in the First Round Qualifying, two weeks later.

In the Cheshire County Football Association District Youth Challenge Cup League 1, Altrincham & District FA (comprising Altrincham FC players) play Mid-Cheshire FA (away) on Sunday, 7 September, Chester FA (away) on Sunday, 12 October, Stockport (home) on Sunday, 19 October 2014 and Runcorn (home) on Sunday, 9 November.

Altrincham travel to Gorton on Saturday to play Abbey Hey in their first pre-season game, k.o. 3pm. There will be a post-match report on this and the other pre-season games here on the website.

Brian Flynn adds that Radio Robins will be covering the following pre-season friendlies:-

Tuesday July 22nd: Tranmere Rovers (H)
Saturday July 26th: Hyde FC (A)
Tuesday July 29th: Accrington Stanley (H)
Friday July 1st: Shrewsbury Town (H)

There will be regular updates on Twitter (@altrinchamfc) and half time and full time reports on Facebook (Altrincham FC) for the first four games at Abbey Hey, Buxton, Mossley and Trafford.

Altrincham FC will be represented in the Altrincham Festival on Saturday (5 July). More details are on the Festival Website, which says that "The Grand Parade leaves Altrincham town centre at 11.00am and arrives at the festival field approx 12.15pm". The field is at Beechfields Recreation Ground, Grange Avenue, Timperley WA15 6DY. The Altrincham FC Juniors under-10s held their end of season awards event at Timperley Cricket Club on Wednesday. The following were the individual award winners, who received their trophies from Scott Leather. All the players, award winners or otherwise, received a medallion. Images of the winners will appear on the website at the weekend. Team pictures of the under-10s are below, in the news for 3 July.

Falcons: Manager's Player of the Season: Ben Howard, Players' Player of the Season: Oscar Richardson.
Kestrels: Manager's Player of the Season: Tom Poyser, Players' Player of the Season: Will Murphy.
Eagles: Manager's Player of the Season: Thomas Soars, Players' Player of the Season: Tyler Sykes, Most Improved Player: Josh Donaghey, Clubman of the Year: Oliver Riediger.
Hawks: Manager's Player of the Season: Louis Robinson, Players' Player of the Season: Alex Erlam.

Pictured below, with Scott Leather, are:

Top row: Oscar Richardson, Ben Howard and Tom Poyser

Middle row: Will Murphy, Thomas Soars and Tyler Sykes

Bottom row: Josh Donaghey, Oliver Riediger and Alex Erlam.

Speaking in the Manchester Evening News, Altrincham manager Lee Sinnott says of next season, "We're not just going to make the numbers up. We're going to roll the dice and see how we get on. That way we'll have no pressure but we'll also be going in with a positive mindset.

Last season our budget was probably among the top six in the league; this season we'll be in the bottom six. We're no Bristol Rovers or Torquay, so we have to use our budget accordingly".

Right, courtesy of Barry Pond, is an image of the building works for the new Community Hall at the J. Davidson Stadium.

NL Pitchero says that "Nicky Law, manager of Alfreton Town, has made his seventh signing of the close season and brought highly-rated left-back Lathaniel Rowe-Turner back to the Impact Arena for a third time.

Rowe-Turner, 24, has joined the Reds on a one-year contract. Rowe-Turner can also play in central defence and he enjoyed two hugely successful loan spells with Alfreton from Luton Town last season, making thirty-three league and cup appearances in total."

Elsewhere, "Nuneaton Town have signed versatile 23-year-old Jorrin John from Corby Town... after it had been announced earlier this month that he would be re-joining the Steelmen...The former Aston Villa and Leicester City academy player joined the Steelmen following two years playing in Thailand...

John is a versatile player who can play out wide, as an attacking midfielder or as a central striker... having represented England at under-16, under-17, under-18 and under-19 levels."

The BBC tells us that "Torquay have cancelled the contract of Shaun Cooper by mutual agreement. The former AFC Bournemouth defender moved to Plainmoor on a free transfer in January, but did not make a single appearanceafter injuring his ankle...

Cooper, who has played over 300 games in his career, was one of a number of players transfer-listed in May".

In the Eastleigh News we learn that "Last season's loanee Ben Wright has signed on a permanent deal at Eastleigh from crisis club Salisbury City... The striker netted an impressive 11 goals in 15 games to help the Spitfires clinch the Skill South championship last season.

This is manager Richard Hill's fifth summer signing and his third striker to put the pen on the paper. Wright started his career at Basingstoke Town and played for a number of non league clubs before moving to PeterboroughUnited in 2009. The 25 year old 6ft 2 finisher has since played for Crawley Town and Forest Green Rovers to name a few."

Also in the Eastleigh News comes confirmation that "Eastleigh's captain Glen Southam has left the club after two seasons at the club.... Southam,who recently turned 34, was named man-of-the-match when Eastleigh were crowned champions in April...

Eastleigh chairman Stewart Donald commented on the departure and said, 'I am very close to Glen, who has become not just the club's captain but also a good friend'".

According to Stroud Life we read that "Forest Green Rovers owner Dale Vince says a move to a new stadium 'needs to be done' if the club secures league status.

The green energy millionaire admitted he is on the lookout for a new ground because of where the New Lawn is at the top of a hill, in a corner of Nailsworth. Average crowds of around 1,200 could rise if the conference club gains promotion to the football League but fans are not so sure it is needed.

Mr Vince would not be drawn on where he is looking but the Stonehouse area near the M5 has long been thought of as a possible site among fans.

'I think that the only real downside I can see to Forest Green Rovers is the location, particularly given our ambitions', Mr Vince told the Stroud News and Journal... 'So for a while we have been looking around the area for alternative places and we have got some ideas. If we are lucky we will be able to talk about them before very long... If I don't find the ideal place then I wouldn't do it'.

The club moved from The Lawn, where it played from 1889, to the New Lawn a few hundred yards up the road in 2006 and Mr Vince has led the way in fitting it out with green innovations including solar panels, rainwater collection points, a layer of insulating vegetation on the roof which helps it blend in with the landscape, and an Organic pitch.

Big matches spark parking problems, with some residents unhappy at cars parked across gateways and drives. The ground can only be reached by coming through Nailsworth town centre, or via the narrow single carriageway of Tinkley Lane from Nympsfield.

Longstanding fan Andy Whiting said a move is not needed. The ground holds 5,000 spectators... He said, 'At the end of the day are we going to get 5,000 every week?... If we got a 2,000 average gate that would be a good figure really; if we went up there would be no need to move.... It's all down to the parking...

Next season, Bristol Rovers' visit may well be the first time that away support outnumbers home support but I can't see much bigger crowds than for that unless we have a cup run'".

According to Friday's Shropshire Star, ""Andy Todd was today set to be named AFC Telford's new player-coach. The 35-year-old, who began his career with Nottingham Forest and played in the Football League for Rotherham and Accrington, has agreed a deal and his appointment will be confirmed by tomorrow at the latest.

Bucks' boss Liam Watson is also set to increase his playing squad with the addition of another midfielder within the next 48 hours.

Todd replaces Alan Moogan, who left the club earlier this week to take up a full-time role at Liverpool, and like his predecessor will also be registered as a player.

Known as a tough-tackling midfielder in his heyday, he arrives at the New Bucks Head with a healthy reputation having been player-coach at Mansfield Town when they won the Skrill Conference last year. He left the Stags and switched to Tamworth in an attempt to revive his playing career, making 35 appearances for the Lambs last term...

Watson is also close to snaring his latest target and has described the new arrival, who can play in both defence in midfield, as a 'Mike Grogan-type player'. The deal is all but agreed bar the final bit of red tape... The two arrivals will boost Telford's squad to 21... and the manager has not ruled out more".

Kent Online says that "Missing out on Charlie Sheringham this week has only strengthened Tony Burman's belief that Dartford need to go full-time. Sheringham signed a two-year deal at Ebbsfleet on Monday, turning down the chance to join the Darts for a third spell.

Training three mornings a week with the Fleet ultimately made Sheringham's mind up... Burman said, 'To be fair to Charlie, we spoke and we offered him a deal here which was not a greedy deal. Charlie accepted it was a fair offer but he wanted to stay full-time and that meant training during the day. We offered him to do some training in the daytime, although it wouldn't have been with everybody else... We were very close to signing Charlie, but it was the full-time part which swayed him'...

They're one of the few part-time clubs in the division and Burman knows that has to change... He said, 'We've got to do it. Players will sign and there will be the option for them to train in the morning'".

Across the Thames, the Essex Chronicle reports that "Braintree Town boss Alan Devonshire admitted that it would be a 'miracle' if they were to reach the same heights as last season. The Iron finished in sixth place in the Conference Premier...

He said, 'What we have done over the last three seasons is tremendous. But I am a realist and for us to get to where we did last season again would be a miracle. Our aim is to get 51 points, as Chester went down on that many last year. That target is the key and then we will see how we are going'.

Devonshire will have to do it without two key men this season, with Dean Wells and Dan Holman moving on from the club... Dan Walker is the newest addition to Braintree, after signing a one-year deal from financially troubled Hereford... However, Devonshire is hoping to add one or two more before the season begins".

---

4 July 2014 The full Conference National fixtures for Altrincham in 2014-15 are as follows. Notable dates are Boxing Day away to Chester and New Year's Day, home to Chester. Easter Monday sees us away at Gateshead.

The worst away trip in terms of travelling is to Woking on a Tuesday night, 2 December. Also we finish the season with three aways in the final four fixtures.

Sat. 9.8.14 3pm A Aldershot Town
Tue. 12.8.14 7.45pm H Lincoln City
Sat. 16.8.14 3pm H Bristol Rovers
Sat. 23.8.14 3pm A Southport
Mon. 25.8.14 3pm H Gateshead
Sat. 30.8.14 3pm A Nuneaton Town
Sat. 6.9.14 3pm H Dartford
Tue. 9.9.14 7.45pm A Alfreton Town
Sat. 13.9.14 3pm H Eastleigh
Tue. 16.9.14 7.45pm A Kidderminster Harriers
Sat. 20.9.14 3pm A Barnet
Sat. 27.9.14 3pm H Welling United
Tue. 30.9.14 7.45pm H Macclesfield Town
Sat. 4.10.14 3pm A FC Halifax Town
Tue. 7.10.14 7.45pm A Grimsby Town
Sat. 11.10.14 3pm H Woking
Sat. 18.10.14 3pm H Braintree Town
Sat. 1.11.14 3pm H Alfreton Town
Tue. 4.11.14 7.45pm A Lincoln City
Tue. 11.11.14 7.45pm A AFC Telford United
Sat. 15.11.14 3pm H Grimsby Town
Sat. 22.11.14 3pm A Wrexham
Sat. 29.11.14 3pm H Kidderminster Harriers
Tue. 2.12.14 7.45pm A Woking
Sat. 6.12.14 3pm A Forest Green Rovers
Sat. 20.12.14 3pm H Dover Athletic
Fri. 26.12.14 3pm A Chester
Sun. 28.12.14 3pm H Nuneaton Town
Thu. 1.1.15 3pm H Chester
Sun. 4.1.15 3pm A Eastleigh
Sat. 17.1.15 3pm H Torquay United
Sat. 24.1.15 3pm A Macclesfield Town
Sat. 31.1.15 3pm H Aldershot Town
Sat. 7.2.15 3pm A Dover Athletic
Sat. 14.2.15 3pm H Forest Green Rovers
Sat. 21.2.15 3pm A Bristol Rovers
Sat. 28.2.15 3pm H Barnet
Sat. 7.3.15 3pm A Welling United
Sat. 14.3.15 3pm H Wrexham
Sat. 21.3.15 3pm H FC Halifax Town
Sat. 28.3.15 3pm A Dartford
Sat. 4.4.15 3pm H Southport
Mon. 6.4.15 3pm A Gateshead
Sat. 11.4.15 3pm A Torquay United
Sat. 18.4.15 3pm H AFC Telford United
Sat. 25.4.15 3pm A Braintree Town

On Saturday, 5th July, Alty travel to Gorton to meet Abbey Hey for their first pre-season game, k.o. 3pm.

And, don't forget, on Saturday morning, Altrincham FC will have a float in the Altrincham Festival parade, and a stand at the showground in Timperley.

The Altrincham FC Juniors under-10s held their end of season awards event at Timperley Cricket Club on Wednesday. The following were the individual award winners, who received their trophies from Scott Leather. All the players, award winners or otherwise, received a medallion. Images of the winners will appear on the website at the weekend. Team pictures of the under-10s are below, in the news for 3 July.

Falcons: Manager's Player of the Season: Ben Howard, Players' Player of the Season: Oscar Richardson.
Kestrels: Manager's Player of the Season: Tom Poyser, Players' Player of the Season: Will Murphy.
Eagles: Manager's Player of the Season: Thomas Soars, Players' Player of the Season: Tyler Sykes, Most Improved Player: Josh Donaghey, Clubman of the Year: Oliver Riediger.
Hawks: Manager's Player of the Season: Louis Robinson, Players' Player of the Season: Alex Erlam.

NL Daily reports that "Torquay United have completed the free transfer of striker Ryan Bowman from York City on a two-year deal.

Manager Chris Hargreaves has been pursuing a striker throughout the summer... 'He is an excellent signing and a really good move for the club', said Chris. 'We have a young, hungry striker, who plays on the shoulder of defenders, is good in the air, quick and scores goals. He is a big lad as well and possesses a good leap. He had a real purple patch for Hereford a couple of seasons ago and earned his move to York, where it didn't really happen for him as much as it should because he was in and out of the team'".

According to Bulls'News Eastleigh report that "Glen Southam has left the club with immediate effect citing personal reasons, having been club captain last season".

NL Daily reports that "Former Exeter City player Alan Gow has snubbed the opportunity to earn a long-term deal at Bristol Rovers.

Gow arrived from Exeter City on loan for the remainder of the season at Rovers but managed only three appearances before damaging ankle ligaments... He has been offered the opportunity to join up with the squad for pre-season training in a bid to prove his fitness...

However, he was not amongst the group of players that reported back for pre-season training... and now the 31-year-old is believed to be courted by two other football league clubs".

The Evo-Stik League reports that "The signing of Aldershot Town's Mitchell McDonald by First Division South Chasetown is the stand-out deal of the first transfers of the summer registered with the League since the window opened on July 1".

From the Football Conference we learn that "Stockport County have signed experienced goalkeeper Danny Hurst from Southport.

Hurst was put on the transfer list by Port in the close season, having explained due to family and work commitments he was struggling to train three days a week, in essence a full-time training schedule. He was adamant he needed at this stage in his life to step down the non-League Pyramid, at least for the next twelve months.

Stockport immediately expressed an interest in the highly-rated keeper".

---

3 July 2014 Altrincham travel to Buxton for a pre-season game on Tuesday, 8 July,k.o. 7.15pm. Buxton advise that "Admission prices will be £6 for adults, £4 for concessionaries, Under 14s free with a full payer or £2 if not".

Before that, on Saturday Alty travel to Gorton to meet Abbey Hey for their first pre-season game, k.o. 3pm.

And, don't forget, on Saturday morning, Altrincham FC will have a float in the Altrincham Festival parade, and a stand at the showground in Timperley.

Alty TV's Mark Bennett has produced some excellent DVDs which cover Altrincham's promotion season in 2013-14. They include the Season Highlights DVD and Promotion Semi-Final & Final (full match) DVD. Information about the DVDs is on the adjacent screen shots.

You can order your copies from Mark's website, or on eBay via the links below, or from the club, on 0161 928-1045.

Altrincham FC Juniors held their presentation evening for their under-10 teams for the 2013-14 season at Timperley Cricket Club on Wednesday evening. The event was compered by Graham Houghton with Scott Leather, winner of the first-team Player of the Season awards presenting the trophies. Images of the individual award winners will appear here over the coming weekend.

Below we see, top row left the Kestrels and, right, the Eagles. Bottom row, left, the Falcons and, right, the Hawks. Click on each image for a larger version.

According to the Football Conference, "Nuneaton Town have landed the signature of sought-after midfielder Jack Dyer. The 22-year-old has put pen-to-paper on a two-year deal with Boro. The midfielder started his full-time career at Burton Albion after coming through the youth system at Aston Villa.

He made more than sixty appearances for the Brewers before having a spell at Kidderminster Harriers last year... Boro boss Brian Reid said, 'There were several other Conference sides who were interested in signing Jack, so we are delighted to have him with us'".

And "Dartford have signed defender Rory McAuley from newly-promoted Cambridge United on contract for next season... following a successful loan spell during last season."

Meanwhile, "Torquay United have finalised the signing of young goalkeeper Jordan Seabright in a one-year deal... The 20-year-old will join up with the rest of the squad for the start of pre-season training on Friday. Seabright first made his mark with Poole Town and quickly attracted the attention of AFC Bournemouth before moving onto Dagenham & Redbridge, where he has spent the last two years of his career."

Elsewhere, "Aldershot Town have completed their second signing of the week, with the arrival of versatile midfielder Sam Hatton from rivals Grimsby Town. The 26-year-old is primarily a box-to-box midfielder, with the reputation as a set-piece expert, but initially established himself as a right-back at former club AFC Wimbledon... A graduate of the Stevenage Borough youth academy, Hatton went on to be a regular member of the Grimsby team...

'I am planning on playing in midfield this season', he revealed, 'but it's good to have other positions in your locker. I've got lots of energy and I don't mind a tackle, and hopefully I'll be scoring a few goals this year'...

Said manager Andy Scott, 'He's a dynamic midfielder player, his passing range is excellent and he's got the physicality to compete in the centre of the park. I'm very pleased with how the spine of the team is coming together, we're looking very strong and experienced but also have youth on our side. People can see the calibre of the player that we're trying to bring in, they've all got experience of this League and know what it's like to play 40 or 50 games in a season'".

NL Pitchero tells us that "Salisbury City Football Club advisor Paul Smith has released the following statement. 'During the last five days I have been trying to negotiate the return of Salisbury City Football Club from Outail Touzar the club's 96 per cent majority shareholder... via the social network site WhatsApp. As you can imagine these negotiations were tiresome and prolonged and extremely painful at times dealing with a man who appears to live on an entirely different planet to the rest of us.

Following Mark Winter's decision to reluctantly stand down the only option left open to us was to convince Touzar to stand down and sign over the shares he paid a £1 for and to date has seen him fail to invest a single penny in the club but withdraw £3,950 without explanation. The deeper we dug into Touzar the more we uncovered a trail of lies, deceit and deception. Needless to say it was imperative to keep him on side to safeguard the future of a club facing an uncertain future under his brief tenure.

On Friday, if we fail to lodge a £50,000 bond and pay football creditors around £27,000, the Football Conference will throw Salisbury City out of the league. That will inevitably be followed by a winding up order from the HM Revenue & Customs if we fail to pay an outstanding tax bill for £29,000.

In opening negotiations with Touzar I had managed to secure funding to secure the future of the club from three key investors who were prepared to pay off the immediate debts and allow us to rebuild the club following the loss of the manager and key players. Unfortunately Touzar, whose motives seem to perplex many people, had other ideas. Even though he couldn't raise a single penny, had failed to lift a finger since he took over, he still seemed to think he was sat on a very valuable asset, despite the club facing an imminent demise.

He tried to gauge the wealth of the three investors and demand proof of funding presumably so he could come up with ludicrous demands to relinquish his hold on the club. Yet even I couldn't have envisaged what he was going to propose until he put his demands in writing this morning. Touzar wanted £100,000 for 60 per cent of the club, to remain as chairman for at least 6 months and 35 per cent of any commercial deals he bought into the club. He also wanted 35 per cent of any deal that would see the club relocate from their current ground, and wanted Mark Winter, Michaela Menzel and Rae Hughes banned from any involvement in the club.

Even more bizarrely, given that the lawyers of Prince Khalid had threatened to sue Touzar because he had drawn up a playing contract while the club were under a transfer embargo and accused him of harassing the family for money, he demanded that the player could only sign for Salisbury City if he personally authorised it.

Perhaps this will now confirm what many of us know and, others believe to be true, that this man is only driven by personal greed and has no interest in the well-being of the football club. Touzar would have you believe that his intentions were only honourable and the lies and deception are down to others. I will leave you to draw your own conclusions to that.

When I replied to Touzar with understandable outrage he accused me of breaching a trust by discussing his offer and claimed it was merely a test. Furthermore this morning he sent out a series of emails to players and staff pleading with them to defer payments they were due while at no point has he made a single sacrifice monetary or other. He even complained that a £20,000 cheque from a passionate disabled fan had been stopped preventing him from spending someone else's money.

Sadly it seems this is going to reach an inevitable conclusion and the likelihood is Salisbury City will fold. While the passionate fans will understandably be distraught at the prospect, I dare say its owner, Touzar, won't lose a wink of sleep. We can only assume his only regret is that he couldn't manage to fleece the club of more money than the £3,950 he managed to get his hands on.

When it is more appropriate, we intend to be far more transparent about Touzar's dealings with Salisbury City. But, barring a minor miracle, it's fair to say his brief tenure at the club has been to oversee its complete annihilation'".

A happier tale comes from Macclesfield Town who are "delighted to announce that a group of local business people and MTFC fans have come together to run the football club on behalf of the owners represented by Amar Alkadhi....

Following last week's decision to award first-team manager John Askey a new rolling contract, the club is delighted to announce today that Efe Sodje will continue to work with him as assistant-manager this season... A number of last season's players including club captain Paul Turnbull, Ritchie Branagan, Dan Cowan, Andy Halls and George Pilkington have re-signed for the club and more announcements are expected by tomorrow".

From Alfreton Town we learn that the club "began pre-season training on Tuesday having taken their total of new signings so far this summer to six by bringing in two central defenders...

Last season's Hereford United captain Luke Graham has penned a two-year contract with the Reds whilst Jordan Keane has moved to the Impact Arena after being released by Stoke City where he has served the last three years... In his early years, Graham, who is 6'2'' tall, represented both the Republic of Ireland under-18 team and the Welsh under-19 side.

Standing 6'3'' tall, Nottingham-born Keane, 20, has signed on a one-year contract and is described as a ball-playing centre back with an aggressive streak who has spent the past three seasons with Stoke City, captaining their under-21 side... Primarily a central defender, he can also play right-back and central midfield and he already knows the Conference level having spent the last five months of last season on loan with Tamworth where he made 28 appearances".

Echo News tells us that "Southend United manager Phil Brown is running the rule over Braintree Town striker Dan Holman. The 24-year-old bagged 13 goals in the Conference for the Iron last season and he has now joined the Shrimpers for pre-season training".

In the Daily Post we read that "Wrexham manager Kevin Wilkin says he is looking forward to getting the best from winger Elliott Durrell, who first caught his eye as a 16-year-old rookie playing for Telford United. The Dragons boss inherited an injured Durrell following his appointment to the Racecourse hotseat in March, with the former Hednesford Town star recovering from knee surgery after only three outings for his new club...

Wilkin said, 'He's had a cruciate injury, which can set people back quite a long way, but he's overcome that... He's proved he can score regularly at the level below and the test for him now is whether he can score regularly at this level'...

Wilkin insisted goals would be a priority for the Dragons next season even if that meant less strength in depth elsewhere in the team. He said, 'Ideally I'd like to have cover at every station but in reality that's not likely to be the case. I've made no secret of the fact I'd like to get another striker or two in if I could... We didn't score enough goals across the front line last year... We've got some options wide now with Elliott, Wes (York) and Theo (Bailey-Jones)...

Maybe I'll have to take a bit of a chance in certain areas by hoping that people come through and step up to the plate... We need to be stepping up and achieving, by which I mean aiming at the play-offs... It's not enough to have one good game and four indifferent ones, the ratio needs to be four good games and one indifferent one. If you're playing to that ratio you will be successful'".

BBC Sport reports that "Woking have signed midfielder Theo Lewis following his departure from financially-troubled Salisbury City. The 22-year-old joined the Whites in 2012 and scored three goals in 36 league appearances last season. Lewis spent time at Chelsea and Reading as a youngster and then moved on to Cheltenham Town... Lewis is the second player to join Woking from Salisbury this week, following the arrival of defender James Clarke on Tuesday".

Eastleigh "is delighted to announce Craig Stanley as their fourth signing of the summer. Stanley began his career with Walsall before moving to Hereford United in 2004... Stanley then went on to make over 170 appearances for Morecambe in League two before joining Torquay United, Bristol Rovers and Aldershot town who he left at the end of last season".

Promoted AFC Telford United tell us that "Afc Telford United have completed the signing of 20year old attacking midfielder Jordan Deacey from Bradford Park Avenue. Deacey has been with Bradford since 2011 and has caught the attention of both Scunthorpe and Hartlepool United... Deacey has signed a 1 year deal. Manager Liam Watson said 'Jordan is someone we have been tracking for a good while. He caused us more problems than any other player last season. He is young and hungry and can certainly have a big future here'".

---

2 July 2014 Don't forget that an Altrincham FC Season ticket also confers free entry to the pre-season friendlies at the J. Davidson Stadium. Ring the club (0161 928-1045) or visit the club during weekday office hours to order yours.

Standing: Adults £250 Concessions £145
Seating: Adults £290 Concessions £155
12-16 year olds: £60
Under 12s: £30

The Club thanks all those who have joined the Patrons' scheme to date. Details of the scheme and a full list of members can be found here. This is an important fundraiser for the Club so, please, do consider joining in! "Aldershot Town have signed midfielder Damon Lathrope from Torquay United. A combative and industrious midfielder with an excellent range of passing, the 24-year-old began his career at Cambridge United, before completing his scholarship at Norwich City.

Having joined Torquay United in July 2010, he made 122 appearances for The Gulls in four years... Damon also played eight games for Hereford United in a six-week loan spell at the end of 2013.

'I've had some really good times at Torquay United but this is definitely the right time for me for a change, and Aldershot Town is a great club', said Damon. 'Joe Oastler is one of my best friends in football and he had nothing but good things to say about the club and the staff. It's a new chapter in my career... I do anything to win. I've usually played as a defensive midfielder in the last couple of years, but that's not the only role I can play. My main strength is on the ball, I'm good with both feet and I like to pass the ball. I like to think I can play numerous roles'.

'There are probably Football League clubs that will be kicking themselves that they haven't been able to sign him', said manager Andy Scott. 'He is an out-and-out defensive midfield player , he's strong and agressive and a good organiser, and he will enable us to play different players in different formations... We're bringing in players at a good age and we're hopeful that with us they will reach the peak of their abilities. The players have heard good things about the club, how we help them, the squad that we've got, the cameraderie amongst the group and the facilities that we provide'".

At The Shay, FC Halifax Town "have confirmed the signing of 27 year old centre-half Steve Williams. The 6ft 4in defender played for Shaymen in pre-season last summer but joined Macclesfield Town for the 2013-14 season.

Williams has Football League experience having made 68 appearances for Bradford City... He had a loan spell... with Inverness Caledonian Thistle before returning to play his football in England first with Barrow in 2013 and then joined the Silkmen last summer.

Williams is Neil Aspin's fifth confirmed new signing this summer following the arrivals of Richard Peniket, Scott Boden, Ross Dyer and Kevin Roberts."

A very active club on the signing front is Gateshead where "After six signings yesterday, four new and two re-engaged, busy Gateshead manager Gary Mills has confirmed another two players in his squad...

Experienced striker Lewis Guy, who came through the ranks at Newcastle United, has returned to Tyneside to sign a one-year deal at the International Stadium. Young midfield man Rob Ramshaw, 20, meanwhile, has penned another one-year contract after scoring five goals for The Heed last season.

After leaving Newcastle Guy, 29 next month, played 173 games for Doncaster Rovers... After loan spells at Hartlepool United and Oldham Athletic he moved on to Milton Keynes Dons in 2010. He had two loan spells at Oxford United, and after making 35 appearances for MK Dons moved to... St. Mirren... before he signed for Carlisle United last year...

Said Mills 'He can play through the middle or out wide and was playing in League One last season... I'm still looking to bring in a left-back and have spoken to another front man about coming to Gateshead'. So far Mills has brought in strikers Jon Shaw, Michael Rankine and Lewis Guy; defenders Andrai Jones and Tom Allan as well as midfield man JJ O'Donnell."

At Lincoln City, Red Imps report that "Nat Brown and Todd Jordan have signed new contracts... Both players were offered terms for the new campaign by manager Gary Simpson ...

Experienced centre-back Brown was a virtual ever-present last season whilst the versatile Jordan appeared in a number of positions".

"Woking Football Club "is pleased to announce the signing of James Clarke. James, 24, is a central defender who has been a near ever-present for Salisbury City for the past two seasons, and is comfortable playing in any of the back four positions.

He began his career at Oxford United in 2007, transferring to neighbouring Oxford City in 2009".

---

1 July 2014

Above: The site for the new Community Sports Hall at the J. Davidson Stadium as seen on Monday, 30 June.

Below: McGoff & Byrne, experienced local contractors, are building the new Community Sports Hall. During the excavations, they unearthed a number of old bottles including old glass Bovril and sauce containers, all shown here in a yellow plastic bucket!

Right: The grass at the J. Davidson Stadium is growing very well for the new season, following plenty of hard work on the pitch this summer by groundsman Neil Brown.

Ben Mills was a loanee at Altrincham from Chester and now, from NL Pitchero, we learn that "Lee Casswell, manager of Leek Town, welcomed back his players on Saturday... One player who looks to be on the way out of Harrison Park is forward Ben Mills, who rejoined the club towards the end of last season. It is thought he will be linking up with league rivals Newcastle Town". According to the Football Conference, "Tony Diagne has signed a two-year contract with Lincoln City. Diagne scored twice in seven games for the Imps during the latter part of the 2012/13 season during a loan spell from Macclesfield Town and his contract is set to run until the end of the 2015/16 campaign.

The Frenchman, who spent last season with Morecambe, came through the Nottingham Forest youth set-up but had been playing for Paris-based side FC Municipal d'Aubervilliers when he joined Macclesfield in January 2011".

The Lincolnshire Echo adds that "Mendy will join attacking midfielder Karl Ledsham, strikers Jordan Burrow and Sahr Kabba and defender Tony Diagne as City's summer recruits."

Elsewhere, "Veteran Chris Iwelumo has become the latest high-profile signing for Chester FC. The former Scottish international, who has experience in the Premiership and Championship, has put pen-to-paper on a one year deal... The 6'3" forward has vast experience with over 550 Football League appearances and 120 goals to his name during a career with St Mirren, Stoke City, Colchester United, Charlton Athletic, Wolverhampton Wanderers, Burnley and Watford.

Iwelumo played last season for St Johnstone in the Scottish Premier and has been snapped up by fellow Scot and Chester boss Steve Burr.... Said the Blues boss, 'He's experienced, big and strong and he will be a real handful to play against. When we found out he was available we had a chat and as soon as he came to the stadium and saw the training facilities we have and listened to our plans he wanted to be part of that. He will add some great experience to what is quite a young squad we are working with'".

Meanwhile, the Worcester News reports that "Striker Anthony Malbon has left Kidderminster Harriers by mutual consent. The 22-year-old was a popular figure with fans but has suffered ups and down during his time at Harriers.

Joining for a fee of £7,000 from Newcastle Town... the former Port Vale forward went onto score 35 goals in 107 appearances. His career at Harriers was punctuated by long spells without scoring and absolutely prolific periods... Last season he never regained his predatory touch, bagging seven in just 35 appearances as he struggled with form and fitness...

With strikers Craig Reid and Reece Styche signed this summer and Michael Gash, Nathan Blissett, Freddie Ladapo, Marvin Johnson and Ahmed Obeng capable of playing in the forward roles, there is plenty of competition for places at Aggborough. The forward has been mooted with a move to Stalybridge Celtic but the young hitman is keeping his options open and is hoping to remain at Conference Premier level...

Said manager Gary Whild, 'With the way the squad was shaping up for the new season it was clear his first-team opportunities might be a bit more limited... and in the circumstances it seemed only fair to allow him to leave and pursue a new challenge."

According to NL Pitchero "Gary Mills, manager of Gateshead, has brought in 22-year-old right-back Andrai Jones, who was has spent the last eighteen months at Barnsley, as his second summer signing.

The Merseysider was limited to two appearances for the Oakwell club... Jones had spent the previous three seasons at Bury where he played twenty-one games in League One and Two... While at Bury he had a loan spell in the Conference at Altrincham and last season played ten games on loan at Alfreton Town... [Jones played 45 minutes as a loanee for Alty at Kettering Town in 2010].

Jones had earlier gained more Football League experience on loan at Tranmere Rovers where he was sent-off on in the first half of his debut... Back up goalkeeper Alex Baird, meanwhile, has penned a one-year deal at the International Stadium. The 20-year-old joined Gateshead last season after spells at Derby County, Newcastle United and Dundee."

And "Welling United have boosted their squad with the signing of midfielder Charlie Gorman from Eastbourne Borough. Gorman joined Boro from Hemel Hempstead Town in 2012... Previously with Leverstock Green and Chesham United, the 20-year-old made sixty-six appearances for Boro over two seasons".

The BBC informs us that "Midfielder Alefe Santos has turned down a new deal with Bristol Rovers and is set to join Hull City. The 19-year-old Brazil-born academy player... has since played 28 games. Santos is out of contract at the Conference Premier newcomers and they understand he is now in talks over a move to the KC Stadium. Rovers will be due compensation for the player as he is under the age of 23".

The Daily Post confirms that "Former Nuneaton striker Louis Moult has signed for Wrexham. The 22-year-old [brother of Alty's Jake], who scored 17 league goals for Boro last season, has put pen to paper on a one-year contract. Moult was offered a new deal by Nuneaton, but opted to join up with the club's former manager Kevin Wilkin at the Racecourse...

Moult will also be reunited with winger Wes York who was released by Wilkin's successor Brian Reid at the end of the season. Moult becomes the Dragons third summer signing along with York and former Cambridge centre back Blaine Hudson".

Reports in the Kent News say that "Within minutes of meeting Dartford co-chairman Dave Skinner in the impressive Prince's Park stadium on the edge of town, you have a very clear idea of what this football club is all about. Skinner himself greets you in T-shirt and shorts and buys you a drink, while the walls are adorned with quotes from such literary giants as Albert Camus. Above the players' entrance to the pitch are the words 'This Is Dartford'.

The ambition here is great, but so too is an air of informality and, perhaps above all, friendliness... An ill-fated ground-share with Maidstone United that began in 1988 had culminated in Dartford having to sell their Watling Street home and themselves assume the role of lodgers at, in turn, Cray Wanderers, Erith & Belvedere, Purfleet and Gravesend and Northfleet...

The sale of the ground [was] not enough to spare them the ignominy of having to withdraw from the Southern League just four games into the 1992-93 season. 'That was the year we didn't play senior football', said Skinner. But Dartford did still play some football, thanks in essence to the 400-strong supporters' association. A private limited-liability company was formed in November 1992, allowing an under-18s team to contest and win the John Ullman Cup.

'As long as we played at some level, we were able to keep our senior status and full membership of the Football Association', said Skinner... The following season Dartford were accepted into the Kent League and they were back up and running...

Said Skinner, 'We like to claim we were one of the first supporter-based clubs... Eventually the [Dartford Borough] council came to us, which they'd probably done five times over the year, and said these are the plans. They actually turned up when we were playing a team at the top of the league... and it's been glory ever since'...

In May 2012 they... They had reached non-league football's highest level for the first time since 1986, when they were relegated from the Gola League... Salisbury's fall was to be Dartford's reprieve. Had Skinner had any idea as to what might be unfolding?

'You get to know things through talking to people at the clubs. Some will tell you they're struggling or that players haven't been paid – you pick it up but tend not to pass it on... The first inkling we really had, though, was at the Conference AGM at Celtic Manor when we were sitting in the bar on the Friday evening'...

Does Skinner have any sympathy for the two vanquished clubs? 'No, they bring it entirely on themselves. It's cheating. What really annoyed us was that our manager Tony Burman was desperately trying to get players in on loan during the second half of the season. We had Charlie Sheringham lined up to come here, but he ended up going to Salisbury because they said they would sort him out with a full-time deal. We've heard that he didn't actually get paid'...

Skinner assumed the role of chairman when the club re-formed in 1992. He had been chairman of the supporters' association and for some time put his hand in his pocket to help out the club he so clearly adores. Happily, debts have been repaid and the club are on a far stronger footing, meaning such financial commitment is no longer necessary.

Today he has the title 'co-chairman', Bill Archer having come on board... 'Bill looks after business matters and I do the football, although the roles are totally interchangeable'...

'We know which players we want to retain; this didn't really change when we learnt we were staying up'. Dartford are a semi-professional club playing in what is increasingly a professional world... 'We need players who can commit to training during the day and doing the travelling to away matches. Finance is not always such a big thing – you can pay players a reasonable amount, but it's a question of getting their commitment to give up well-paid jobs'...

'There's no point being in football if you don't aspire to reach the highest level you can', he said. 'Our plan is still in place; we had looked at making the Conference Premier in 10 years and we did it in six, so we're four years in credit'. And that would surely mean a move to full-time... 'We're looking to do that in the foreseeable future... The team last year wasn't good enough. Mistakes were made in recruitment and budgeting; we were all over the place. But we've learnt from our mistakes and are improving things. I also still maintain that last season was exceptional in that we had so many injuries, meaning we had to beg and borrow loan players'".

The Shropshire Star confirms that "AFC Telford have today agreed a new two-year contract with striker Adam Farrell. The 24 year old joined the Bucks on a free transfer last season and made a huge impact by scoring 16 goals in 37 starts...

But manager Liam Watson is on the hunt for new recruits both on the pitch and his back room staff as midfielder and first team coach Alan Moogan and first team scout/coach Kevin Lee have left the club. Moogan is taking up a full time role within the community coaching department at Liverpool Football Club.

The Bucks are though close to agreeing terms with two new midfield players and a new first team coach, which they hope to announce over the coming days."

The Grimsby Telegraph says that "Former Grimsby Town midfielder John Oster is re-signing for rivals Gateshead, along with four mystery new players. The experienced playmaker joins fellow midfielder Rob Ramshaw and goalkeeper Alex Baird in staying on with the Tynesiders.

Meanwhile, boss Gary Mills and assistant Darren Caskey have been working hard in the transfer market, and terms have been agreed with four new players. All four have Football League experience. Two are strikers and the other two defenders – a right-back and centre-half. Mills has also offered a contract to another forward, and is on the look out for a left-back".

---

FOR EARLIER NEWS, CLICK HERE

---