---
31 January 2014
HEDNESFORD TRIP Times and fares for the TASC supporters' coach to Hednesford Town this Saturday are to be found on the Away Travel page. Seats must be booked in advance, by ringing the club on 0161 928-1045. LANDMARKS Last Wednesday's match was Matt Doughty's 150th for the club, a record comprising 135 starts and 15 substitute appearances. He has six goals to his name. And Simon Richman's next appearance will be his 100th for Altrincham. He has made 77 starts and 22 appearances from the bench, so far, and scored 13 goals. When he reaches 100 games he will be the seventh current player to have a century of Alty appearances to his name, joining Stuart Coburn, Shaun Densmore, Damian Reeves, Matt Doughty and James Lawrie.
Sadly, both Matt (left) and Simon (right) were unable to complete Wednesday's game but, hopefully, will be available for Saturday.
Rob Gilroy made an impressive first-team debut on Wednesday. In doing so, he became the tenth Altrincham player to make his Altrincham first-team debut this season, following Adam Griffin, Danny Higginbotham, Tom Marshall, Joe Mwasile, Kyle Perry, Junior Smikle, James Walshaw, Greg Wilkinson and Mike Williams.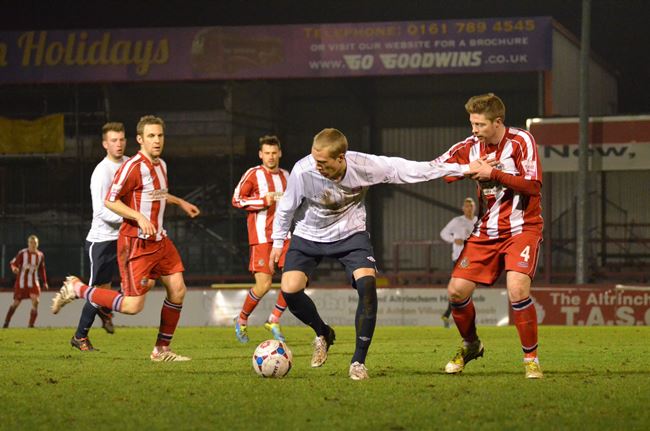 Seven different players scored for Altrincham as they overcame a spirited performance from Stockport Sports in the Cheshire Senior Cup.
Match report here.
Stockport Sports report that at Altrincham "Stockport Sports [were] dumped out of the Cheshire Senior Cup at the first round stage. The opening exchanges were fairly even, but once Walshaw, who was lucky not to have been dismissed for a horrific challenge on Tom Bane, had given the home side the lead, the game was over as a contest.
The Saxons battled hard but failed to make an impact on the game in an attacking capacity, although Jordan Young on the right flank was a constant menace to the home defence".
Michael Ripley's photos of Alty v Stockport Sports may be viewed here
Stockport Sports' photographer James Lobley also has images from the Alty v Stockport Sports game. One of these is shown, right, of Adam Griffin getting to grips with an opponent. (Click on image to enlarge it).
Stockport Sports' photographer, James Lobley, informs us that he has put numerous pictures of the game with Stockport Sports on Flickr, which are downloadable here.
Altrincham have now progressed to the Second Round of the Cheshire Senior Cup, in which they travel to Stalybridge. Other ties are:
Chester FC v Macclesfield Town on 18 February
Stalybridge Celtic FC v Altrincham on a date to be arranged
Runcorn Linnets/ Hyde v Northwich Victoria on a date to be arranged
1874 Northwich v Tranmere Rovers on 19 February
Altrincham FC goalkeeping coach, Ian Senior, reports that the score in the season-long Crossbar Challenge in aid of Mark Maddox's MNDA appeal now stands at 16-12 in Neil Tolson's favour. Ian won the instalment on Wednesday night, 2-1, to close the gap to just four. "Has my luck changed? We'll see at Hednesford on Saturday", says Ian.
According to
The Scotsman
, "Hibs could be set to agree a loan deal for Sunderland kid Duncan Watmore. The English club are keen for the 19-year-old to gain first team experience".
According to the Holker Street Newsletter, after beating Guiseley, Barrow boss Darren Edmondson told the NW Evening Mail, "When a team goes down to ten men that sometimes galvanises them and your mentality just changes slightly, and what can I say about the lads?... It was a magnificent effort and I'm sure that the fans appreciated the effort, and you can tell they did by the way they stayed behind at the end. I'm delighted for the lads, especially the back three, Duran Reynolds, Robbie Williams and Danny O'Donnell, as they have taken a lot of stick this year. They weremagnificent tonight'.
As for [Paddy] Lacey's red-card, the player explained, 'Someone went into the back of me and, as I turned around, his face was in mine. I just pushed his face out of mine, but not aggressively. But the referee deemed that I had raised my hands and said I was sent off. If that happens, then people are getting sent off every week, for me, the lad's made a meal of it'.
The Football Conference says that "Workington have signed striker Alex Salmon. The 19-year-old left Carlisle United by mutual consent earlier this week, and Reds' boss Ian McDonald was quick to sign the talented forward on a short-term deal to bolster his attacking options. Salmon left the Reds' neighbours on Monday after a two-year spell in which he played only three times. He recently had a five-month loan spell with Scottish Championship side Alloa Athletic, but started just once".
Histon report that "Remy Clerima has signed for Brackley Town. The Skipper accepted an offer from the promotion chasers and signed Conference Forms for them. The 23 year old defender was signed by John Beck in the summer of 2010 and was made Club Captain at the start of last season. During his three and a half years at Bridge Road the Frenchman made 129 appearances for the club, scoring 9 goals".
---
30 January 2014
Seven different players scored for Altrincham as they overcame a spirited performance from Stockport Sports in the Cheshire Senior Cup.
Match report here.
1st Round
Altrincham 8-0 Stockport Sports (att. 106)
Runcorn Linnets v Hyde FC POSTPONED
The Altrincham FC Youth Education Programme team lost 2-1 away to Chesterfield on Wednesday in the North Division of the Football Conference Youth Alliance.
The BBC's interview with Mark Maddox on Tuesday evening's Northwest Tonight programme can be found after about 21 minutes and 30 seconds of the
programme
.
According to the
Football Conference
"North West Counties League club Nelson have confirmed that Ben Hoskin has joined Workington. The utility man made sixteen appearances for the Admirals following his move from Colne in October... The 23-year-old, nephew of Burnley Development Squad coach Ashley Hoskin, joined Padiham at the start of the 2010/11 season after being released by Burnley in May 2010.
Accrington-born Hoskin joined Burnley as a youth in 2007, and signed professional forms in 2009, but left Turf Moor following a back injury. He had a spell with Padiham,... moved onto Burscough and then Clitheroe before joining Colne and he was also on dual registration with Barrow AFC last season, who at the time had his dad on the coaching staff".
Meanwhile, "Colwyn Bay have signed 18-year-old Josh Clarke as goalkeeping cover for Chris Sanna following news that Shaun Pearson is to have a knee operation. The 6 feet 5 inches Clarke was released by Northwich Victoria recently... Sanna, 26, who has kept five clean sheets in a run of one defeat in the last nine games, recently made his 200th appearance for the Seagulls and was presented with a special plaque to commemorate the occasion by club chairman David Messom".
The Football Conference announced on Wednesday that at an Emergency General Meeting, it "received a proposal to a change of rule to allow artificial turf pitches. The vote by the member clubs, in compliance with competition regulations, saw the proposal defeated by 21 votes to 11 votes. All 32 votes being cast. This means for 2014/15 season only natural grass turf surfaces will be permitted in all three divisions of the Skrill Conference". This seems to have been prompted by the possible promotion to the Conference of a southern club with an artificial pitch.
And NL Daily reports that "The Football Conference Board have announced that, as in previous seasons, the matches on the final day of the Skrill Premier season will all kick-off simultaneously. The games on April 26th will all kick-off at 5.30pm with one match selected for live broadcast by BT Sport. Matches in the Skrill North and South remain unaffected and will kick-off at the normal time of 3pm".
AT THE RACES The Football Conference announces that...
"SPORT MEDIASTREAM SIGNS EXCLUSIVE DEAL WITH THE FOOTBALL CONFERENCE
At The Races today announced that its new in-house streaming division, Sport Mediastream, has agreed a long term deal with The Football Conference.
Under the terms of the agreement The Football Conference has granted At The Races the exclusive right to produce and distribute an audio/visual service of live coverage from 30 top matches broadcast on BT Sport, archive match coverage and data to licencees in territories worldwide, excluding the UK and Ireland.
The Football Conference comprises 68 clubs and three divisions: Premier, North and South. The Conference's Premier Division is the highest level of non-league, national football in England. Promotion from the Premier Division places clubs into the Football League.
ATR has also agreed terms for the non-exclusive right to use archive coverage of Football Conference matches in specific betting preview programming on its UK and Ireland channel service, which is distributed via Sky, Virgin and UPC to over 13 million homes and registers a monthly reach of around 2 million individuals (BARB and Nielsen).
Sport Mediastream, which was launched on July 1st 2013, has been developed using the latest technologies to meet the specific demands of the betting industry and to deliver a streaming media service with superior latency and picture quality.
Brian Lee, Chairman, The Football Conference, said, 'The Football Conference provides an exciting mix of competitive and high quality professional football. ATR and Sport Mediastream will further enhance our brand awareness to audiences around the world. We are delighted to welcome them as another exciting addition to our ever growing portfolio of leading companies. We as a competition look forward to working with them and I am sure it will be a successful and fruitful partnership'.
Matthew Imi, Chief Executive, At The Races, said, 'Our Sport Mediastream division is proving highly attractive to sports rights' owners who are looking to retain control of their new media platform distribution, particularly in overseas markets. This new agreement demonstrates that our extensive experience in the international distribution of live horse racing resonates with other sports rights' owners. We very much look forward to helping the Football Conference with its ambitions in this area and regard it as a privilege to represent their product in the international streaming market. We also look forward to developing other opportunities with them, as and when they arise'".
Footnote:
At The Races is the UK and Ireland's most watched dedicated horse racing channel. It was launched on June 11th 2004. t is a joint venture between BSkyB, Arena Racing Company and other racecourses.
Following reports earlier this week, the
Manchester Evening News
says that "Bosses at two of Stockport's existing football club say they have reservations over having a fourth team in the borough. As the Express reported earlier this week, Stockport County shareholder Life Leisure wants to create a new semi-professional team.
Council bosses have already distanced themselves from proposals for the potential new outfit. Life Leisure has applied to the FA to register a team to play in Division Oone of the North West Counties Football League next season, based out of its Stockport Sports Village headquarters in Woodley.
The verdict is now likely to be in March. Should the application be successful, the new team would join Stockport County, Stockport Sports and Cheadle Town in Stockport.
Chris Culkin, secretary at Stockport Sports, said the club would suffer should the new team also be based at Stockport Sports Village. He added, 'It's already hard enough trying to attract supporters to matches and to secure sponsors without the added competition of a new club at our level. With three established semi-professional clubs, I can't see what market they are aiming at. I would much rather see investors put money into one of the established clubs.
Having said that, it is difficult to judge whether or not this club would be a good thing; we have not seen their business plan. Had there had been more transparency from the outset, rather than a cloud of secrecy, they may have picked up more support along the way and even been able to approach the other clubs for advice'.
Cheadle Town chairman Chris Davies said, 'Life Leisure has provided a massive boost for sports facilities in Stockport, but we feel a new team should start at a lower level. The league has taken on new teams, such as F.C. United of Manchester and A.F.C. Liverpool, but they all started with a support base from established clubs. There would be no fan base for this new club in Stockport'.
A spokesman for Stockport County said, '"Stockport County value the working relationship we enjoy with Life Leisure, as sponsors and supporters of the football club. We are happy that we continue to enjoy their support and it would not be appropriate for us to comment on their new venture'".
---
29 January 2014
Brian Flynn advises that "Radio Robins, sponsored by Ashley Mowers Garden Machinery, is providing full live commentary of Wednesday night's Cheshire Senior Cup, Round 1 game at The J.Davidson Stadium against Stockport Sports.
The match commentary sponsor is 'E-Cignature' a locally based company supplying a full range of high quality E-Cigarettes & E-Liquids. 'E-Cignature' have a fantastic offer just for Alty fans. Get the NEW 'Radio Robins' Offer Pack which includes:-
Ego T 900mAh Battery
1 x Clear GSH2 Clearomiser
1 x USB Cable
1 x 10ml Bottle of Tobacco Flavour ID E-Liquid
1 x 10ml Bottle of ANY Flavour ID E-Liquid
1 x 10ml Bottle of Non-Tobacco Flavour ID E-Liquid
3 x £5.00 Gift Vouchers
This is normally priced at £49.96 (excluding the gift vouchers) but Alty fans can get it now for just £20 by using the Promo Code "ROBINS"... It's a cracking deal!
To take advantage of this fantastic offer go to the 'E-Cignature' website. Click on the 'Offers' page from the main menu,look for the NEW 'Radio Robins' offer and submit your order using the Promo Code "ROBINS".
The commentary team is Ian Wilkinson & Mike Reeves with match summaries from Paul Salt. Coverage starts at pm 7.40pm with the game kicking off at 7.45pm. You can listen to Radio Robins on the internet at www.radiorobins.com.
Leah and Simon Brotherton will be providing regular updates on Twitter (@altrinchamfc) as well as half-time & full time updates on facebook (Altrincham FC).
As usual, this website will also be providing its live matchday updates throughout the game, starting from as soon as the line-ups are available.

.
Mike Garnett gives us the details of previous encounters between Altrincham and Woodley Sports, the previous identity of Stockport Sports
The games were as follows -
13.11.2001 A (CSC2) 8-1
13.9.2005 A (CSC1) 4-2
Altrincham FC's Neil Faulkner writes...
"Following our very successful 60s 70s and 80s event in October, with more than 70 supporting the event in our Noel White Suite, we are pleased to be organising our second event on Saturday, 15th of February - a Valentine's Night celebration, for £8 per ticket. This will be another night of great music and dancing with Tony and Pat Savage once more providing the entertainment for free, to support our fundraising event for the Community Hall. Tony and Pat have just set up their new dance school in Bowdon, called Topaz, and it is fantastic for them to be supporting the Community scheme again. Their website is here.
The tickets include a hotpot supper provided by our very own Richie Bentley, who is supporting the event by providing the food at a reduced cost, again for the Community. These events are only made possible by the great support provided by Tony, Pat and Richie.
Please order your tickets soon to avoid disappointment, as numbers are limited. They can be had either from the club (contact Jenny Heslop or Karen Rowley on 0161 928-1045 or by e-mail), or e-mail me Neil Faulkner.
Thanks for your support".
Tuesday, 28 January
Barrow 1-0 Guiseley, att.593. Barrow's ex-Alty man Paddy Lacey sent off after 26 mins.
Boston United 0-0 Stockport County, att.917.
Gainsborough Trinity v North Ferriby United POSTPONED
Gloucester City v Histon POSTPONED
Worcester City 3-1 Solihull Moors, att.361.
4640 was the winning code in the Altrincham FC Saturday Yankee last week. As it was an unissued code, the jackpot now stands at £600. However, five members each won £30 for winning trebles.
SKRILL NORTH NEWS According to the Football Conference, "Rob Smith, manager of Hednesford Town, has beaten a number of clubs to the signature of 21-year-old striker Paul Sullivan from Evo-Stik Northern Premier League First Division South side Chasetown... Sullivan is described as a very hard-working centre-forward, who is a natural goalscorer. He was prolific at Wednesfield Town before moving to Chasetown where he has...three hat-tricks to his name already so far this season.
Smith said, 'He is a great prospect and fits the profile of young, hungry players that we already have at the club... Let's hope he can progress and one day get a move just like Elliot Durrell did yesterday'".
In the Shropshire Star we read that "AFC Telford United boss Liam Watson believes the return to contention of defender Chris Lever this weekend will help add some extra steel to his side's leaky defence. Lever has been sidelined for the last four matches after picking up a groin injury...
The versatile former Southport stopper, who has been used largely as a left-back, returned to training last week and is expected to be available for this Saturday's home clash with Guiseley. And Watson... said, 'I think we missed him on Saturday... Chris is a really good, steady defender. Matty McGinn gives us more going forward, but Chris gives us another option so it just gives us a bit more competition with him back in the squad."
Assistant manager Dominic Morley added that 'He can play anywhere across the back four so if we do have injuries or we want to make a change, he gives us an option'. Morley added that the team came through the North Ferriby clash without picking up any more fitness concerns, and with injured midfielder Alan Moogan (hernia) less than two weeks away from a return to training, the squad was in good health.
But Saturday's game, which was the Bucks' seventh straight match without a clean sheet, saw them miss a chance to close the gap on the division's front-runners".
---
28 January 2014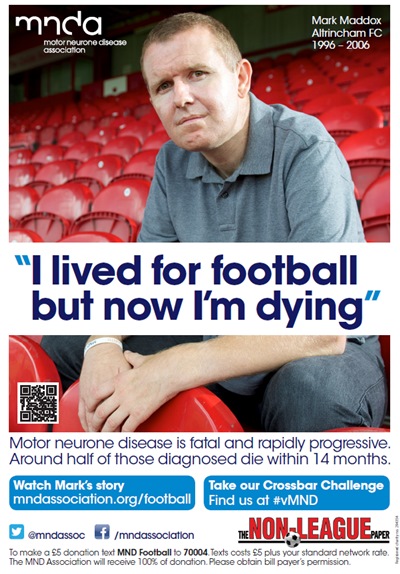 Mark Maddox featured this lunchtime on the BBC 1 North West news programme and will be on the programme again tonight between 6.30pm and 7pm. Interviewed at the J. Davidson Stadium, (not at "Moss Road" as the interviewer claimed), Mark recalled his marathon and skydiving exploits to raise the profile of the Motor Neurone Disease Association. Mark, a Liverpool supporter, has an aim now to get his
MNDA campaign
into every matchday programme in the country. Tonight sees this campaign feature in the Liverpool v Everton match programme. The former Alty captain also confirmed that he intends to compete for a second time in the London Marathon, in April, having already completed the course once, in 2013.
Altrincham's scheduled home game tonight (Tuesday) in the Cheshire Senior Cup against Stockport Sports has been postponed but has been rearranged for tomorrow night (Wednesday) at 7.45pm at the J. Davidson Stadium, Moss Lane. Altrincham FC is grateful to Stockport Sports for their cooperation in rearranging this match.
Following that, Altrincham travel to Hednesford Town on Saturday (1 Feb) for a Skrill North match.
Nicky Clee (right) returns from suspension for Altrincham's next game. Kevin Thompson's Monday show on his
Alty and Sale Sport
site has an interview with him after the Worcester game.
New dates have been agreed for two Altrincham FC fixtures;
Oxford City v Altrincham, Tuesday, 25 February, 7.45pm
Altrincham v Boston United, Tuesday, 4 March, 7.45pm
Press release from the Football Conference:
"League sponsors Skrill are giving away a pair of season-tickets to each Skrill Premier, Skrill North and Skrill South club for the remainder of the season.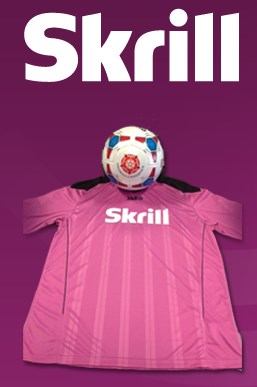 Whether it's an exciting race for the league title, a promotion campaign or a battle to avoid the drop – there is plenty to play for at all 68 clubs. All you have to do is open a Skrill account using this link. Then simply e-mail us (from the account you registered with).
Put the name of the team you support in the subject field and you will go into the draw. Opening a Skrill account is completely free of charge and takes no more than a minute!
A range of benefits is open to all Skrill account holders and your entry into this competition will also enable us to tell you about other great offers and competitions specific to your team!
Entries must be received by Wednesday 5th February at midnight.
Terms and conditions: 1) Closing date for entries is Wednesday 5th February at midnight 2) Winners will be notified on Thursday 6th February, with every provision undertaken to send tickets on the same day. 3) Resale of tickets, privately or by public auction is forbidden (any tickets found for sale will be cancelled) 4) No purchase is necessary, opening a Skrill account is free of charge.
Altrincham's next league opponents are Hednesford Town, on Saturday. The
BBC
reports that "Wrexham are set to sign attacking midfielder Elliott Durrell from Hednesford Town. The 24-year-old has agreed personal terms with the Conference Premier side and a fee [has been] agreed with Hednesford... Durrell has been prolific for the Pitmen over the past two seasons, scoring 58 goals in 95 games".
Details of prices and other aspects of the Pitmen's home at Keys PArk are here.
"Midfielder James Reed has parted company with Boston United. The 19-year-old, who scored twice in 26 senior appearances for the Pilgrims, had been out of contention due to university commitments until a surprise return to the fold against Hednesford Town on January 11. The cancellation of his contract now allows Reed to pursue other football opportunities around Sheffield where he is at university".
According to the Shropshire Star, "AFC Telford United manager Liam Watson warned his side's defending could become their 'Achilles heel' in the quest for promotion. The Bucks back-line allowed Ryan Kendall two free headers in the space of a minute in the 2-2 draw at league leaders North Ferriby United on Saturday.
Telford had bucked their trend of going behind in games, which had occurred in their previous six outings, through Simon Grand's third-minute opener. Kendall then struck twice before Adam Farrell levelled, the sixth time in seven games that they have come from behind to claim points. But Watson, after a seventh fixture without keeping the opposition at bay, is fast losing patience with his leaky rearguard.
He said, 'If you come away from home against the top side in the league and score twice, you should be going home with three points', he said. 'We concede too many goals, simple as. If we don't start sorting that out, we are going to struggle. You can't have free headers like Saturday, you never see our forwards get them. People talk about character to come back and it's great to have that, but top sides do the right things at the right times. The big thing is clean sheets. If we could keep a few more of them, the table would look a lot different. It's our Achilles heel'".
---
27 January 2014
Following his retirement, the
Manchester Evening News
has an article, headed "Danny Higginbotham: why I quit Altrincham"...
"Altrincham is a club very close to my heart and I feel I've let them down a bit. I was previously at Chester and with my media commitments making me busier and the fact I wasn't enjoying football I was genuinely hoping that joining Alty would give me that boost to carry on and get some enjoyment back.
The truth of it it, unfortunately, was that the fantasy was far better than the reality. I really hoped that I would recapture the buzz that I have had for so many years because playing for Altrincham was not just football, it meant more than that because that's where I am from. Going into the Gainsborough game, which ended up being my last, I wasn't looking forward to any of it and, by the time the full time whistle had gone, I had made my mind up that enough was enough.
People say in football your legs go but that's not entirely true. I felt fine fitness-wise but my heart was no longer in it. I suppose it's the same as your legs going because everything becomes a chore when you're not enjoying it and 10 yards can feel like 50. You just don't want to do it any more. If I'd have stayed for the remainder of the season no one would have benefited; the manager, my team mates the supporters or me. I would have been picking up a wage but going through the motions and that's something I could never justify.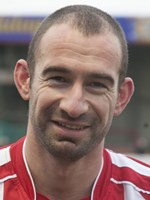 The day after, I rang Lee Sinnott, the Altrincham manager, and explained to him the situation and how I was feeling. He knew where I was because he had been a player himself and he understood. For that I was grateful. I do feel as though I let the fans down but, throughout my career, I have always put others before myself and this was me, for the first time, putting myself and my family first.
It was an emotional time, not because of any regret but because it was the end of something. Football had been my life from the age of five and now it's over but when you're done you're done. Media is my biggest working passion now and the buzz I get from it is far greater than what I was getting from football towards the end. I do love talking more about the sport now than actually playing and that is something I never thought I would hear myself say.
I first got involved with Gibraltar through Twitter, of all places. My uncle, who happens to be the manager, contacted me about my availability and at first I was hesitant. Then, when I took everything in and the fact it was an opportunity to play international football in the twilight of my career, I knew it was something that I would have been a fool to turn down...
After retiring the question I have been asked the most is what will happen with Gibraltar now. It's obvious that without club football you cannot carry on on the international stage and it is probably the only thing that made me question my retirement. The Gibraltar manager recently called me and asked if I would at least play in the two internationals in early March which is something that I feel capable of because I have only recently retired so therefore my fitness is still at a decent level. I still go to the gym and do my work and so March will be my last two games for Gibraltar unless I have a compete u-turn which is highly unlikely".
Alty's next league game is away to Hednesford Town on Saturday. On Saturday the
Pitmen
won 3-2 at Solihull Moors where "Town came from behind with just 17 minutes remaining to earn all three points... The Pitmen went into the game without top scorer Elliott Durrell, who could only take a place on the bench after failing an earlier fitness test, whilst in the warm-up they suffered another blow when Jamey Osborne was forced off with an injury to be replaced by Dave Macpherson...
The game got underway rumbles of thunder could still be heard in the distance, whilst the rain continued to fall onto the already sodden surface... As the ball stopped in a puddle of water Gary Birch was quickest to react to slam home and give his side the lead...
Despite Town being very much on top they suffered a sucker punch in the 73rd minute when a cross into the box was headed back across by Birch for Ryan Beswick to slide home at the back post to double his side's lead.
Hednesford's comeback started in earnest just two minutes later though when Neil Harvey just managed to wriggle the ball through to Wayne Riley who finished smartly from eight yards out... The Pitmen dragged themselves level with Harvey superbly heading home from a Taylor corner... With just three minutes remaining... Francino Francis stabbed home from inside the six-yard box to complete a remarkable turnaround...
Hednesford Town: Crane, Disney, Campion, McCone, Francis (87), Taylor, Macpherson, Thompson-Brown (Riley 62 (75)), Harvey (82)(Bailey 89), Blissett, Thorley. Subs not used: Osborne, Durrell, Woolfe".
---
26 January 2014
YOUTH GAME
Given the appalling weather overnight and this morning, it comes as no surprise that today's scheduled youth team game at Chester has been postponed.
Duncan Watmore was on the Sunderland first-team bench for Saturday's FA CUp tie at home to Kidderminster Harriers. With the Black Cats only winning the game 1-0, Duncan was an unused susbtitute, as the
BBC
reports.
Former Alty reserve keeper, Craig Ellison, has moved to Ashton United from Stalybridge Celtic. Meanwhile, Chris Denham scored a brace for Ramsbottom United as they drew 4-4 at Clitheroe.
In a truncated Skrill North programme on Saturday, four matches were postponed; that at Guiseley being called off less than an hour before kick-off, leaving the Lions with as many as six games to make up against a number of other clubs. The game at Leamington was started but had to be abandoned early in the first half due to the adverse weather conditions.
a name="140126skrill">In a game that was completed, AFC Telford United "and top of the table North Ferriby shared the points at Church Road in an entertaining game between first and third. Telford started brilliantly, and were ahead in the third minute when Simon Grand latched on to Shaun Whalley's corner, drilling in from the edge of the penalty area...
But the high flying home side produced a breathtaking turnaround and were ahead themselves after two goals in the space of two minutes from Ryan Kendall. He produced two top class headers, in the 17th and 18th minute... But Telford had an equaliser in the 33rd minute when top scorer Adam Farrell jinked his way through the North Ferriby defence before squeezing the ball under Adam Nicklin".
Attendances at Saturday's games were...
Brackley v Workington 315
Gainsborough Trinity v Colwyn Bay 371
Harrogate Town v Bradford Park Avenue 577
North Ferriby United v AFC Telford Utd 558
Solihull Moors v Hednesford Town 602
Stockport County v Histon 2070
Vauxhall Motors v Worcester City 172
Alty should have played Boston United yesterday. From This is Lincs, we learn that "Dennis Greene has revealed departures will be inevitable if he is successful in extending the loan spells of Kyle Dixon, Liam Marrs and Liam Agnew. The Boston United boss has been delighted with the impact the trio have made since joining the club on loan and is hopeful of extending their stays until the end of the season. However, that would leave his squad overloaded, forcing Greene to move two or three players out of the club. 'We'll have to see as we've only got Kyle and the two Liams for a month at the moment', said Greene."
CLUB AND SOCIAL EVENTS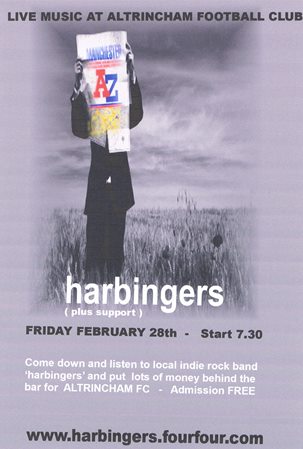 Altrincham FC depends greatly on support for its off-the-field events and activities. So do please support as many of the following events as you can - more details and, where appropriate, tickets, are available from the Club by phone (0161 928-1045) or
e-mail
.
22 February 2014: MEET THE NEW RECRUITS- PART 2

Panel to be announced. Tickets are £15 and include a two-course meal provided by club caterer Richie Bentley

28 February 2014: HARBINGERS plus support, 7.30pm

Indie rock from Harbingers (and support) who include Alty gateman Nigel Hennerley. FREE admission.

6 March 2014: MATT LE TISSIER - SPORTSMAN'S DINNER

To be held at the Cresta Court Hotel, Altrincham. Tickets £40 per head or £350 plus VAT for a table of ten.

21 April 2014: END OF SEASON RACE NIGHT

The annual event which includes the Player of the Season awards presentation.
---
25 January 2014
Saturday's game at home, against Boston United, has been postponed due to a waterlogged pitch.
Saturday 25 January
Altrincham v Boston United POSTPONED
Brackley Town 1-1 Workington
Gainsborough Trinity 0-2 Colwyn Bay
Gloucester City v Barrow POSTPONED
Guiseley v Stalybridge Celtic POSTPONED
Harrogate Town 1-1 Bradford Park Avenue
Leamington v Oxford City ABANDONED
North Ferriby United 2-2 AFC Telford Utd
Solihull Moors 2-3 Hednesford Town
Stockport County 1-0 Histon
Altrincham FC Youth's scheduled game this Sunday is away to Chester FC (2pm).
News of a former Altrincham physio comes from
Barrow
, who tell us that they "Have secured the services of Physio Sean Riley on a contract until the end of the 2016 season. As one of the most important members of the current set-up, Riley has agreed to stay at Holker Street for the next two and a half seasons.
Riley (left) joined Barrow after leaving Altrincham in the summer of 2011, largely due to the persuasive skills of now former-boss Dave Bayliss. Riley has saved the club thousands of pounds with his excellent medical contacts enabling fast and effective treatment for players.
Riley also has an excellent network of physio contacts within football and has overhauled the medical records system at the club.
Football Secretary and Director, Russell Dodd, said 'We were worried when Bayles left that we may lose the services of Sean too, so we opened negotiations with him about signing a contract to provide our physio service for as long as possible. He has been an excellent servant to the club over the last two years and we liaise closely with him over players' injuries and sick notes etc.
'We get him to check out the fitness of players prior to signing contracts whenever possible and he has access to many physios in the full-time game to check players out. Sean travels to all away games in his own car, at his own expense, so that if a player needs to go to hospital he can accompany them without holding the whole squad back. The Danny Hurst situation at Wealdstone being an excellent case in point. He is also extremely knowledgable being a fully-trained physiotherapist'...
Riley said "Since joining the club, over 2 seasons ago, I have really taken to the club and the supporters, and have made some very good friends up in Barrow. From the first day I arrived at Holker Street the chairman and the board have been first class with me. When my very good friend and manager Dave Bayliss parted company with the club there is always the fear that a new manager would bring his own staff in, but the chairman, board and Darren Edmondson where more than happy for me to stay on as the club's physiotherapist.
'I had a meeting with the chairman and Tony Keen and a two and a half year contract was offered to me keeping me at Barrow until April 2016. There is such a good feeling around the club at present that I put pen to paper with no hesitation'."
"The man who secured Gloucester City promotion in 2009, Matt Rose, has rejoined the Tigers as new Assistant Manager. However, in a coaching reshuffle, long-term assistant Adie Harris has decided to leave after the City stalwart declined a new scouting role, a decision that has left Mehew 'gutted'.
The players were informed of this change tonight at training. 'I spoke with Neil Mustoe and Adie about their roles and Adie's was going to change a little to do some scouting', Mehew said. 'But he didn't want to do it and has decided to leave, and I'm gutted about that because he's been involved with the club for eight years and my assistant for six...
It's the end of an era but I needed to do something to freshen things up. I think that Matt will give us a fresh impetus, a fresh set of eyes looking at things and he's a big, big character in the dressing room'".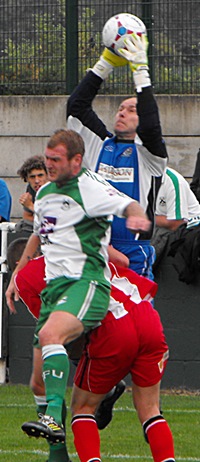 League leaders North Ferriby United report that "Re-construction work began on the main stand at the Eon Visual Media Stadium on Monday. This, along with some other minor work, will secure the necessary grading for the club to meet the grading requirements for the Conference. It means that there will be limited seating for the Telford game and none at all for the FA Trophy game with Gosport.
The Club apologises for any inconvenience this may cause to fans. The reality is that failure to complete the work by 31st March would see the club relegated and, when the original fixture list was published, this period appeared to be the time that would cause the least disruption to home fixtures".
Right: Alty at North Ferriby this season; Stuart Coburn collects the ball.
At Rivacre Park, Vauxhall Motors say that they "have made the loan signing of striker Paul Mullin from Huddersfield Town... which will run until 22nd February. Mullin... has featured for Huddersfield's Under 21 side 12 times so far this campaign...
Huddersfield Town's Senior Professional Development Coach Steve Eyre commented, 'Paul will learn different things during his time at Vauxhall Motors. He'll be playing competitive football against seasoned players, he won't get much time on the ball and he'll learn to look after himself'".
Workington say that "A little bit of history will be made at Brackley Town on Saturday, when a female referees Reds for the first time in Conference competition. Sian Massey will be in charge of the game... which sees the best defence in Skrill North hosting the league's second worst attack".
From the Manchester Evening News, we learn that a "Stockport County sponsor has applied to the FA to register a team to play in Woodley in the North West Counties Football League next season. The brains behind Stockport's fourth potential semi-professional team will find out in a few weeks whether their application has been successful.
County shareholder Life Leisure, whose Stockport Sports Village facility sponsors the Hatters home shirts, has applied to the FA to register a team to play in division one of the North West Counties Football League next season, based out of their SSV headquarters in Woodley.
Last year, Life Leisure examined County's books and it seems the idea for a new team stemmed from that procedure. 'We had a look on behalf of the council and, eventually, we couldn't persuade anyone it was a viable concern', said Life Leisure managing director Malcolm McPhail.
'We've got quite a strong academy base at Stockport Sports Village with nearly 100 kids and we also have Stockport College - it felt like lot of talent was at our disposal'...
The new team would join County, Stockport Sports and Cheadle Town. Mr McPhail said, 'I think Stockport can have another team; there's plenty of capacity for another top-class team in Stockport. This isn't a phoenix team because Stockport County is very much alive and we're very much supporting them. At the end of the day, we don't want to take anything away from Stockport County, Stockport Sports or Cheadle Town.
However, we want to be right up there within four or five seasons; the club will have the backing of the business... I think we'd be at the same level as Cheadle; that's where we'd be allowed to go in but, again, that's pending the ratification of the FA'.
The application also raises speculation as to Life Leisure's current position as a County shareholder as well as home shirt sponsor. Having such an interest in one club and then looking to start another raises a potential conflict of interest...
Mr McPhail added, 'We're the home shirt sponsor for this season and, if we can get a similar deal to the one we have this year, then I'm happy to continue. I'd only be too happy to give up our shareholding for £1 as long as we're comfortable with the new ownership of the club, whoever that may be'."
A bizarre "tail" comes from the Oxford Mail, which says that "Oxford City's French keeper, Victor Francoz, is in the doghouse with his boss Mike Ford after injuring himself while trying to save a cat.
The 23-year-old, who was born near Lyon and made his City debut last September, suffered a bad calf wound after falling out of a tree as he tried to reach the stricken pet. The 5ft 10in stopper has been vying for a place in the starting line-up with Mark Scott this season. But his freak injury means that he now faces a spell on the sidelines.
And Ford is not impressed at the manner of losing his keeper. 'It's ridiculous', he said. 'I've not got any sympathy for him at all because he's done it to himself. He fell out of a tree when he was trying to get a cat. He's got a deep cut and unfortunately now we don't have Victor because he's gone back to France for a couple of weeks to have treatment. You just don't get professional players climbing trees'.
He added, 'It's annoying because I wanted to have a choice with the keepers. Did I want to go with Victor, who is like an outfield player with gloves or Mark? Unfortunately, now I've got no alternative'.
Francoz... made his debut away at Altrincham after replacing Scott, who played in the opening six games".
In the Telegraph & Argus we read that "Mark Bower is hoping his side will finally get their first home game of 2014 played... The last time the Lions ran out in front of their own fans was against another former Bantams defender's current side. Guiseley hosted Altrincham, managed by Lee Sinnott, on December 21...
They have had three Nethermoor fixtures called off since then and an away league game also postponed, leaving the Lions with a glut of midweek fixtures. All of that means frustrations are running deep in the camp.
Bower said,'You are always going to get games called off in winter in England and we all expect that. But it's frustrating because it's happened to us so many times while most of the other clubs are playing. If it was a really severe winter, like the last two, then there would be loads of games off every week and all the clubs would be in the same boat. As it is, the other clubs are not affected and might have one or two outstanding games to fit in.
We are going to be playing Saturday/Tuesday for the next six weeks at least and it is going to be difficult managing that workload and keeping the players fresh'".
CSC
As previously reported, the
NWCFL
confirms that "Runcorn Linnets' Cheshire Senior Cup First Round tie against Hyde will now be played at the Millbank Linnets Stadium following two postponed games at Hyde. The game will be played on Wednesday 29th January 2014".
Meanwhlie, Alty's CSC opponents, "Stockport Sports [report that] Ricky Anane has joined title challenging Evo-Stik League Division One North side, initially on a loan deal. Ricky recently saw a similar move to AFC Fylde end early due to injury".
---
24 January 2014
NEXT TUESDAY
Alty's next game is now next Tuesday at home to Stockport Sports in the Cheshire Senior Cup. Yesterday, Altrincham approached the Stockport club with a view to moving the tie to their all-weather pitch at Woodley. The Sports were happy to do this but found that the ground had already been booked for another game. Accordingly, the game remains scheduled for next Tuesday at the J. Davidson Stadium at 7.45pm.
As Altrincham prepare for Saturday's visit from Boston United, hoping that the weather improves, they have two main injury concerns. Striker James Walshaw is on the mend, following his injury at Gainsborough, but Saturday's game may come too early for him. And defender Tom Marshall has a back-related problem which makes him a doubt, too.
Ian Senior won the latest bout in the Crossbar Challenge for the benefit of the MNDA campaign spearheaded by former Alty captain Mark Maddox. Ian won 1-0 to close the overall gap to 16-11, in his season-long contest with Neil Tolson.
And someone else backing Mark's Motor Neurone Disease appeal is Mark's former team-mate, Kevin Ellison, of Morecambe. On YouTube, Kevin explains why he is supporting "Maddog" and his appeal for the Motor Neurone Disease Association. This Saturday's Morecambe FC v Portsmouth FC match has been designated as a game during which the MNDA will be the focus for an appeal.
There are highlights of Altrincham v Worcester City on
Alty TV
. Decide for yourself if Damian Reeves's "goal" was offside!
Altrincham's Youth Education Programme team lost 4-2 away to Crewe Alexandra on Wednesday; they trailed 3-1 at the interval. Alphabetically the team comprised Marc Bellingham, Tom Clarke, Luke Cousins, Obajimi Folageade, Matthew Hancock, Sam Heathcote, Matthew Johnson, Dan Jones, Aaron Longley, Louis Potts, Tom Westall with subs Adam Bond, Chris Walker. Alty's scorers were Clarke and Potts.
New of our next visitors comes from the
Boston Standard
which says "It won't be third time unlucky! Newsham demands Boston United end their Altrincham hurt. Marc Newsham has warned rivals Altrincham that Boston United won't be pushovers for a third time.
The Robins have stuffed United 7-1 and 6-1 at Moss Lane in the past two seasons. But, as the Pilgrims prepare to travel to the north west this Saturday, striker Newsham is determined not to go through the pain of such a heavy defeat yet again. 'They both really, really hurt', he told The Standard. 'When you've been done 6-1 you don't ever expect that to happen again. But they played really well and we were really poor'. Newsham is the only player left at the club who took to the pitch for both those contests.
And he is adamant that this season's squad are streets above the two teams who were humbled by Lee Sinnott's side... Newsham added 'We don't fear anybody... and I don't see why we can't go there and get a positive result. We've got people bang in form now'. Goals from Scott Garner, Spencer Weir-Daley and Conor Marshall saw Boston beat Altrincham 3-2 at York Street in October".
And the Boston Standard adds that "Kyle Dixon believes Boston United will be the perfect platform for him to show what he can do on the football pitch. The 19-year-old midfielder made his Pilgrims debut during Saturday's 4-1 victory over Solihull Moors, after joining on loan from Notts County...
'I was saying to the lads, the crowd were all getting behind us and I felt a buzz', he said... Dixon caught the eye of Pilgrims boss Dennis Greene after impressing on loan for Grantham Town, where he played alongside fellow United new boy Jamie McGhee...
Dixon added, 'I wanted to go there and get my name out. I've obviously impressed the right people. Now I want to go and impress more people.'".
The Telegraph & Argus reports a "New signing for Guiseley. Guiseley have signed Adam Boyes from Gateshead ... The 23-year-old striker, who lists York City, Scunthorpe United, Boston United and Barrow among his former clubs, will stay at Nethermoor on loan for the remainder of the season".
Also, Guiseley "confirm that the first set of plans to improve facilities at Nethermoor have been submitted to Leeds City Council... The first stage of a proposed four-phase development plan, includes new covered terraces, seated stands and additional amenities to provide visiting away fans a better experience on segregated matchdays.
The key parts of the Phase One plan are:
A new covered stand (terraced) at the Railway End.
A new seated stand on the south (dugouts) side of the ground.
A new covered terraced stand on the south side of the ground.
New turnstiles, plus catering facilities and toilets at the Railway End to allow for easier crowd segregation.
Later phases of the ground development plan include proposals to build new facilities to replace those currently in use for refreshments and hospitality on the North side of the ground, followed by redevelopment of the dressing rooms and finally the addition of covered terracing at the Otley Road end of the ground...
Anyone wishing to view full details of the current application can find them on the Leeds City Council website."
The
Evostik League
reports that "An e-mail received yesterday evening from the Secretary of Eastwood Town Football Club advised the Northern Premier League that the club would not be able to meet current fixture obligations due to a notice being served by Broxtowe Borough Council prohibiting entry to the Coronation Park ground. The full content of the correspondence plus any additional information received from the club will be considered at a League Board Meeting this coming Sunday 26th January".
But there is better news from another recently troubled former foe of Altrincham FC. The Crosby Herald reports that "Phil Brazier has warned his Marine players that Droylsden are no longer the whipping boys of the league... With a transfer embargo now lifted on the club, Droylsden are free to make signings and attempted to lure the Whites' Dale Wright to East Manchester. Wright declined the move but Droylsden have asked Brazier about taking some players on loan from the Arriva Stadium.
The Marine manager does not plan to release any players for loans but says Droylsden's approach should act as a warning to his side this weekend... Said Brazier... 'They have put seven days' notice on about 30 players. So, to say that we will face the same team that has not won a game this season is to underestimate them. They are now paying very competitive money and so I am expecting one of the toughest games of the season"
The
Daily Telegraph
says that "The Premier League's glamour conceals the collapse of grassroots football". Jesse Norman writes that "football in this country is now more than ever like a religion than a sport. The godlike status of the players, the devotees, the rituals, the chanting, the costumes … it's a no-brainer... The Premiership may be flying, boosted by another and even more enormous payout from TV revenues. But most of its biggest clubs have financial models that appear unsustainable.
Either they are supported by hugely rich owners... or they are propped up by mountainous debt, like Manchester United under the Glazer family. It doesn't take a genius to see that if the owners get bored, TV revenues drop or the markets suddenly turn bad, they could be in trouble. Hats off to Arsenal, then, who are top of the table, play one-touch football and have a debt-free new stadium at the Emirates to boot...
A 2012 report found that one in five Football League clubs was in poor financial health... My own local club Hereford United have one of the largest grounds in the country, a proud 90-year history, a name known throughout the leagues, and a loyal and enthusiastic base of supporters. But they are in huge financial difficulties... When Hereford were relegated from the Football League in 2012, their share of rights income dropped from £750,000 a year to a tiny £50,000. Even with a one-off parachute payment to cushion the drop, that's a huge fall in revenue. The result is that the club is on the edge of bankruptcy, and yet for sums that are less than half a single week's wages for a decent Premiership player.
That just doesn't make sense. Those at the top of the game need to invest more in the grass roots — the place from which our football culture derives. They need to reach out to their supporters, not just their media partners. There's huge scope for more co-ops and supporters' trusts to be used at every level of the game".
---
23 January 2014
John Edwards, joint Press Officer for Altrincham FC writes that "Lee Sinnott could not hide his bitter disappointment at seeing Altrincham lose ground in the Skrill North title race with a 2-1 defeat to Worcester City at a windswept, rain-lashed J.Davidson Stadium on Tuesday night.
Alty finally returned to action, after losing three games to the weather, but still had adverse conditions to contend with, as torrential rain fell from start to finish.
They were found wanting, as Worcester scored twice and withstood late pressure sparked by an 80th-minute free-kick from substitute James Lawrie, and Sinnott pulled no punches as he reflected on a second successive league defeat.
'My concern is how the team performed, rather than the weather,' said the Alty manager. 'If you can't adapt to the conditions, you are going to need blue sunny skies from August all the way through to May to get anywhere, and it doesn't work like that.
'We didn't get out of the blocks at all, and when that happens, you are always in danger of a negative result. Starting as sluggishly and slowly as we did is a godsend to an away team, and Worcester took full advantage. There was no rhythm to our play, and we couldn't build any momentum. There's no getting away from it, I'm bitterly disappointed with certain aspects of tonight.
'We didn't do enough to say we should have drawn, let alone won. We did not look threatening all evening. We didn't work their keeper at all, and that is not good enough.
'We are not going to be up at the top playing like that, and the players were told. At half-time, I had a word with them, if you want to call it that. It was more a case of blistering the paint, and you look for a reaction after not only doing that but changing personnel and the system.
'As manager, you stand there and get all the stick in the world, but we knew it would be a big ask to expect 90 minutes from Joe Mwasile on his first appearance on loan from Morecambe in such heavy conditions. Similarly, Matt Doughty was cramping up, and, to be fair, James went on and struck his free-kick really well.
'There are still plenty of games to go, and scope for twists and turns, but the consistency we need is missing. There is plenty to play for, but we have to be better than we showed in this game.'
Nicky Clee returns from suspension and James Walshaw has a chance of being fit against Boston United at the J.Davidson Stadium on Saturday (3pm)".
Following Tuesday's game,
Worcester City
report that they "hauled themselves out of the relegation zone after beating high-flying Altrincham to record their third successive victory in the Skrill North... City had to defend stubbornly for the opening twenty minutes as Joe Mwasile threatened from the right, cutting inside and lashing his shot wide of the near post, before prolific striker Damian Reeves's neat chip over Veiga was ruled out for offside.
But City, buoyed by back to back victories, began to take control of the game... Ellis Deeney's thundering shot from an acute angle on the left hand side cannoned off the crossbar via the fingertips of a full-stretch Coburn on the half hour mark.
The visitors continued to turn up the heat after the restart and it was the turn of the play-off contenders to produce some dogged defending... City's pressure was beginning to take its toll on the home side, who continued to drop deeper. City finally broke the deadlock with fifty-six minutes on the clock. Daniel Nti's sumptuous cross from the right hand side found Adam Brown who steered his header into the far corner of Coburn's net.
It was no more than City deserved... The Blue and Whites did double their lead with just over ten minutes remaining through a goal of the season contender from Daniel Nti. The striker picked up the ball outside the area and unleashed a stunning strike that looped over the goalkeeper and into the top corner for his fourth goal in four games.
The hosts set up a nervy final ten minutes as they hit back instantly. Substitute James Lawrie's low free kick took a kind bobble in the six yard box that sent the ball spinning past Veiga, bobbling off the post before nestling in the back of the net...
Manager Carl Heeley was impressed with his side's performance in what were 'Very difficult conditions'. 'The pitch has cut up, it was very blustery, driving rain, and we adapted to it brilliantly. We scrapped and we did all the ugly things, but we looked a real threat as well', said Heeley... 'What can you say about the second goal? That's good enough in any league. Whatever level of football you watch, that's an unbelievable strike. We've got what we deserved this evening. The belief and the confidence is flowing throughout the camp at the moment and we're on a lovely little run. There's a renewed optimism'".
Worcester City also have video highlights of the game.
Tuesday night's TASC bucket collection raised £47.35 for the club, for which it is very grateful to the donors and collectors, alike.
On Saturday 15 February there will be a Valentine's Day dance with proceeds going to the new Community Sports Hall project. And Altrincham FC will be holding its third annual Beer Festival from Saturday 19 to Monday, 21 April inclusive. More details of both events to follow...
Whoever wins the Alty v Stockport Sports match in the Cheshire Senior Cup next Tuesday will travel to the Bower Fold in the next round after Tuesday's tie in the First Round ended, Stalybridge Celtic 4 Witton Albion 4, with the hosts winning 5-3 on penalties after extra time.
AFC Telford United
advise us that they "have signed winger Shaun Whalley on loan from Luton Town. The move sees the 26 year-old, who can also play up front, reunited with his former manager, Liam Watson. The former Wrexham and Accrington player enjoyed his best form whilst playing under Watson at Southport, where he made 101 appearances... scoring 27 goals in the process. The form earned him a move to Luton Town who paid an undisclosed fee for the player".
According to NL Daily, "Leamington boss Paul Holleran has clinched the signing of Peter Till from Solihull Moors to boost his injury hit squad ahead of Saturday's fixture against Oxford City... The midfielder, who is comfortable on either wing or in attack, scored in the Moors' recent victory at Oxford and had made over 20 appearances... since signing from Tamworth last summer, but having fallen out of favour has agreed to... link up with Brakes.
The 28 year-old has a wealth of experience in both the Football League and the Conference. He began his career at Birmingham City... He then spent a spell on loan with [Scunthorpe United] before further loan moves to Boston United, Leyton Orient and Grimsby Town... During his time with the Mariners, Peter played at Wembley in the Football League Trophy Final.
He spent time at Chesterfield on loan before joining home town club Walsall after leaving Grimsby... He dropped into the Conference in 2010 to sign a one year deal with York City, before spending the following season at Fleetwood Town as they won the title.
Brakes' boss Holleran was pleased... saying, 'He's a good player who was unfortunate with injuries during his Football League days. He can play on the wing or up front'".
NL Pitchero says that "The transfer of Josh Green from Market Drayton Town to Stalybridge Celtic has been finalised. The youngster came on loan to Market Drayton from Macclesfield Town in early November... and was registered by Drayton early in the New Year... Green represented Drayton in thirteen matches, mainly at right-back".
Gloucester City say that "Members of Gloucester City Football Club Management Board met with Paul Baker and directors of Cheltenham Town on Monday 20th January to discuss an extension to the current ground-sharing contract at Whaddon Road for 2014/15...
'Paul and his Board received our delegation in a very positive manner, for which we are grateful', Tigers' chairman Stuart Pike commented... 'Our rent payment schedule is fully up to date with our landlords and, with the plans for our new stadium ongoing, it is clear that ,despite where we currently stand in the Skrill North placing, the club would be unwise, for several reasons, to consider any other venue for the playing of Gloucester City Football Club fixtures until we can return home.
We feel confident though with that in place, we can plan positively for next season irrespective of what competition we will be playing in. Our supporters and sponsors need to know the club is financially back on track'".
---
22 January 2014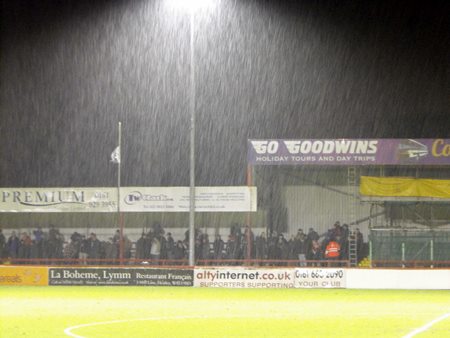 In a game played in difficult conditions; heavy rain, wind and a heavy pitch, the first half was an error-ridden, goalless affair, illuminated only by Deeney's fierce shot which came back off the underside of the bar.
Alty's lacklustre form of the first period continued after the break and City deservedly took a 56th minute lead when Brown headed home unchallenged from Nti's cross from the right. Nti added a second after 78 minutes, with a fine shot, then Lawrie hit home a 30-yard freekick to make it 2-1 two minutes later. But the visitors were good value for their win.
Right: Rain lashes down at Moss Lane.
Tuesday 21 January
Altrincham 1-2 Worcester City
Oxford City 2-3 North Ferriby United
Solihull Moors 0-3 Guiseley
YANKEE JACKPOT WINNER The Altrincham FC Yankee jackpot of £4,700 was won last week with code 1118. There were also four winning trebles, with each einner receiving £37.50. OUT OF THE CUP Altrincham FC Ladies bowed out of the Cheshire County Ladies' Challenge Cup to the holders, Stockport County, last Sunday. County won the game 13-1, which was only Alty Ladies' second defeat of the season. CHESHIRE SENIOR CUP Following the postponement of Tuesday's Cheshire Senior Cup 1st Round match, HYde report that "Due to the rules of the Cheshire Senior Cup, the tie is automatically flipped to the away team as we have had two postponements of the match. The new date will be announced in due course, and will take place at Millbank Linnets Stadium, Runcorn". OFFSIDE! With no Alty action recently, Kevin Thompson's latest podcast on his Alty & Sale Sport website has "the football referees' view on Law 11, the offside rule, which makes interesting listening. HARBINGERS' GIG On Friday, 28 February (7.30pm) in the bar at the J. Davidson Stadiume there will be Indie rock from Harbingers, who include Alty gateman Nigel Hennerley. See poster, right, for details. SKRILL NORTH NEWS The Yorkshire Evening Post says that "Guiseley's fixture congestion may now be reaching alarming levels, but the last thing you will see Mark Bower doing is bemoaning his lot... The tenth-placed side have at least three games in hand on the sides above them and have played five matches fewer than Yorkshire rivals Harrogate Town, their last league opponents on December 26...
All told, Guiseley will play 12 games between now and March 1 and must negotiate eight matches in February, weather permitting... Bower, whose side are 11 points adrift of the team occupying the final play-off position in fifth-placed Altrincham, who have played three matches more than them, said, 'Over the next six midweeks, we've definitely got games, with a couple of long trips thrown in as well. It's a test and we do have a fit bunch of lads... The spirit and fitness is there within the players. And at the end of the day, I think the players would rather be playing than training... If it means changing it about, we will do that. You are also going to pick up little injuries, suspensions, dips in form and tired legs, so it's important we can mix it up a little bit and bring some fresh faces in. It keeps everyone on their toes as well'".
Meanwhile, according to Buckingham Today, "Brackley Town chairman, Francis Oliver, has criticised the use of social media in a statement on the club's website... The statement reads... 'I am afraid you will have to accept that we will not issue any news regarding new player signings until we have their signature and the forms accepted by the Conference. Unfortunately, with the advent of social media, this information is often out there before we can make it official. We cannot control what other clubs, or even players do. However, I would not expect our supporters to be having a dig at us, as has happened, if they find out that way.
We will from now on try to get more first team information out there but we will not be publishing every name of who we put approaches in for as, often, it is the case that these come to nothing, anyhow. Also, sometimes we do not want to release this information until the last minute so please bear with us and let's see how it goes. However, if you have a concern or questions then please come and discuss matters rather than go to social media sites under a pseudonym.
This now leads me on to another issue and that again is social media and people wishing to cause the club problems. Recently we have had cases of people contacting clubs, our manager, and also issuing statements on Twitter under pseudonyms. I for the life of me cannot understand why "supporters" would wish to do this when we are having our most successful season ever. If anyone has any idea who is doing this we would welcome that information.
Now I touched on this season which so far has been an unbelievable journey and I also hope everyone has savoured, as I have, every moment. We are now entering the business end and you will have seen that we are fully behind Jon and his team with the recent signing of Stefan Moore. However, this does not mean there is a bottomless pit of money and, like any other business, we have to balance the books so, unfortunately, some players have had to be released...
We will give everything to make sure we are, at the very least, in the play-offs and, who knows, with a fair wind and bit of luck we may end up as champions'.
Oliver added:, 'With the cup run we obviously had a lot of money come our way. Figures have been bandied about and I am not going to go into details but it has enabled us to clear loans which were taken out to get us our Ground Grading and the all-weather training pitch, so we are in the enviable position as a club of having no debts. We are now in the process of obtaining various quotes to see what we can and cannot achieve as we progress to make the clubhouse and ground better for everyone. We are looking at terracing and new fencing at the cricket club end, upgrading and improving the speaker system in the ground, installation of sprinklers on the pitch, clu bhouse improvements to all the toilets, dance floor, furnishings and carpets.
We are also looking at revamping the old changing room block and top bar area to make this into match-day hospitality and boardroom and to double up as a bar area and for functions, when there is not a match. This all costs money and priorities will have to be made as the season unfolds because, if we get promoted, we will need to upgrade the ground facilities again'".
Pitchero Non-League tells us that "Stalybridge Celtic have announced the signing of central defender Matt Regan, 21, [who] joins having been released by Tamworth recently. Regan struggled to make an impact after joining the Lambs full-time from Nottingham Forest in the summer after a successful period on loan. He has captained England at various youth levels, including the under-17 World Cup...
Regan was on the books of Liverpool for three seasons after they had paid Wrexham a nominal fee for his services. He has had loan spells with Hednesford Town and Worcester City this season".
---
21 January 2104
Radio Robins, sponsored by Ashley Mowers Garden Machinery, is providing full live commentary of Tuesday night's Skrill North game at The J.Davidson Stadium against Worcester City. The match commentary sponsor is 'E-Cignature', a locally based company supplying a full range of high quality E-Cigarettes & E-Liquids.
'E-Cignature' have a fantastic offer just for Alty fans. Get the 'EGO T Pack with USB Charging Cable, 3 Bottles of ID E-Liquid PLUS 3 x £5 Gift Vouchers (KGB), which is normally priced at £44.96, for just £20 by using the Promo Code "ROBINS".
To take advantage of this fantastic offer go to the 'E-Cignature' website.
Click on the Offers page from the main menu and submit your order using the Promo Code "ROBINS".
The commentary team is Paul Salt and Niall Finnegan with match summaries from Ian Watmore.
Coverage starts at 7.35pm with the game kicking off at 7.45pm. You can listen to Radio Robins on the internet at www.radiorobins.com.
Dan Whitelegg will be providing regular updates on Twitter (@altrinchamfc) as well as half-time & full time updates on facebook (Altrincham FC).
As usual, this website will also be providing its live matchday updates throughout the game, starting from as soon as the line-ups are available.

.
Mike Garnett gives us the details of previous encounters between Altrincham and Worcester City
At Altrincham p10-w8-d1-l1-f26-a11
Away p12-w4-d3-l5-f15-a15
All p22-w12-d4-l6-f41-a26
Morecambe
confirm that "Young winger Joe Mwasile has joined Altrincham on loan... for one month to get some regular first team football.
Boss Jim Bentley said, 'Joe has done well when he has come off the bench for us in recent weeks but it is time he had regular football at this stage of his career. He had a good spell at Workington last season and will benefit from this one as well. Altrincham are a good club and they have a lot of games in January and it will be great experience for him'".
Bentley also said that he is confident of bringing in one player on loan this week to cover for Mwasile. He said: "Negotiations have been ongoing and I am hopeful that we will be adding a new face to the squad later this week.'"
Worcester City
confirm that they "head north tomorrow evening (Tuesday) to face promotion contenders Altrincham. Buoyed on by two straight victories City make the journey full of confidence but face a tough task against the free-scoring Robins who recorded two 5-0 victories over Stalybridge during the New Year period, as well as a 5-4 defeat at Gainsborough in their last outing on the 7th January, with two games postponed since then which included Saturday's scheduled trip to Oxford City, (which was to be refereed by Worcester's Neal Radford).
After Saturday's 2-1 win over Colwyn Bay Carl Heeley was quick to state that he would have no problem moving players around due to the intense schedule that City face over the next two weeks. He said, 'With 5 games in a two week period it will be a tough ask, so we will need the whole squad to be firing on all cylinders as they have done for the last two games'.
The sides last met on the opening day of the season, which the Robins won 3-1 at Aggborough. There will be live commentary with BBC Hereford & Worcester with updates via Twitter and the Pitchero App, updates will also appear on the website via the match centre".
MONDAY GAME
Monday 20 January
Bradford Park Avenue 3-2 Leamington
"Altrincham Football Club are proud to announce a Sportsman's Dinner to raise money for the club and local charity St Ann's Hospice. In attendance will be former England international and Southampton player, Matt Le Tissier. Now a Sky Sports pundit, Matt played over 440 games for Southampton, spanning 16 years, as well as making 8 appearances for England. Along with a three-course dinner, there will be a comedian to entertain you and a raffle and auction to raise vital funds for these two causes.
The event will take place on Thursday 6th March with a 7.30pm start at the Cresta Court Hotel, Altrincham with John Havern as the MC for the evening. Tickets are priced at £40 or a table of 10 can be booked for £350 + VAT. To avoid disappointment for what is sure to be a very popular evening please email your requirementsfor the attention of Stacey".
The Football Conference has issued the following press release...
"Press Association named official data supplier for the Football Conference
The Press Association (PA), the UK's leading multimedia news agency and digital content supplier, has been named the official and exclusive supplier of data for the Football Conference.
The agreement, which commences immediately, will run until the end of the 2015/16 season and will see PA collect and deliver high level data from every Skrill Conference Premier game, including information on matches in the Skrill North and South divisions.
This partnership will enhance the Football Conference league's data rights in the UK, ensuring that the provision of rich, consistent and accurate football data is swiftly available to the media sector via PA.
Margaret Hicks-Clarke, PA's Head of Operations, says, 'We have considerable experience both in the collection and commercial use of football data on behalf of rights holders and we look forward to a successful partnership with the Football Conference.
'Our partnership will further enhance the profile of the Football Conference within the media sector of grass roots football, while also delivering a high level data service to the market place through standalone statistics, plus PA's industry leading graphics and datatorials'.
Brian Lee, Chairman at the Football Conference, says, 'We are delighted to enter into this agreement with the Press Association, a renowned and well-respected supplier of sports data to media outlets throughout the country.
'This move will increase publicity and awareness of The Football Conference's growing brand, while satisfying the appetite of sports fans to tap into match data on a regular basis. Our partnership has been cemented already through close cooperation to produce a first-class web based app which is FREE to all football followers world-wide and will supplement our current exposure to an ever increasing fan base'.
The Football Conference app will be officially launched at 11am on Wednesday 29th January and will be available from a link on the Football Conference website".
NL Pitchero
says that "Boston United have announced that [ex-Alty] goalkeeper Ashley Timms's playing contract has been terminated by mutual consent. Both parties are pleased that a mutually beneficial arrangement has been reached which will enable him to move forward with his playing career. The much-travelled 28-year-old made seventeen appearances for the Pilgrims"
Elsewhere, the Football Conference confirms that "Bradford Park Avenue have announced the signing of 29-year-old defender Grant Black. Black came through the junior ranks at Barnsley before impressing as captain at the short-lived AFC Barnsley prior to John Reed taking him to Harrogate Town and then on to Stalybridge Celtic.
[He] followed Reed once again to Buxton in the summer of 2007, he has made 216 appearances in five seasons at Silverlands".
---
20 January 2014
Altrincham FC is delighted to announce the signing, on a one-month loan from Morecambe, of winger Joseph Mwasile (d.o.b. 6 July 1993). Alty fans will recall that he played and scored against us whilst on loan at Workington last season, as well as being in the Morecambe side against Alty in a pre-season game in July 2012. He has made 2(+15) League Two appearances for the Shrimps this season.
Cheshire FA Senior Cup
Tuesday 21 January
Hyde FC v Runcorn Linnets
Stalybridge Celtic v Witton Albion
The
Boston Standard
reports that "After watching his Boston United side beat Solihull Moors 4-1, Pilgrims boss Dennis Greene joked, 'I don't know how to defend'.
Ricky Miller grabbed a hat-trick, his second in consecutive home matches, and Scott Garner also found the net as Boston leapfrogged their opponents to move up to sixth in the Skrill North table. With 53 goals scored in 25 league matches to date, United are level with Altrincham as the division's second-highest scorers. Just Hednesford Town (57) have found the target more.
And after recording 5-2, 5-3 and 4-1 victories in their past three York Street contests, against Vauxhall Motors, Workington and Moors respectively, Greene was full of praise for his front line.
'I don't know how to defend', laughed Greene, a former Wycombe Wanderers striker. 'I was brought up in the Kevin Keegan era, we'll oustcore you'. Much of United's recent success has been attributed to the goals of Ricky Miller, who has scored nine times in his past four matches, since returning from injury... And after netting his first of the afternoon to put the Pilgrims 2-0 up yesterday, Miller charged to the dug-out to celebrate with his manager, knocking his boss to the boggy turf and creating a mass pile-on of players...
He added, 'Ricky came over, I was about to give him a high five and he's jumped on top of me. I've slipped over in my trainers on the mud and I'm on the floor and everyone's on top of me... I'm not going to fine Ricky for that, it was brilliant... Against a good side we've only conceded one goal', Greene continued. 'We were set up to be sterner and I think we were sterner. That was better'".
Video highlights of the game are here.
---
19 January 2014
Saturday, 18 January
AFC Telford Utd 0-1 Barrow
Boston United 4-1 Solihull Moors
Bradford Park Avenue 1-2 Hednesford Town
Gainsborough Trinity 3-0 Workington
Guiseley v Stockport County POSTPONED
Leamington 1-2 Harrogate Town
North Ferriby United 4-4 Histon
Oxford City v Altrincham POSTPONED
Stalybridge Celtic 2-2 Gloucester City
Vauxhall Motors 0-3 Brackley Town
Worcester City 2-1 Colwyn Bay
Saturday's Skrill North attendances were...
AFC Telford United v Barrow 1,684
Boston United v Solihull Moors 1,102
Bradford Park Avenue v Hednesford Town 354
Gainsborough Trinity v Workington 371
Leamington v Harrogate Town 609
North Ferriby United v Histon 389
Stalybridge Celtic v Gloucester City 327
Vauxhall Motors v Brackley Town 146
Worcester City v Colwyn Bay 571
AFC Telford United
's "six-game unbeaten run was brought to an end by in-form Barrow at the New Bucks' Head with Bucks' boss Liam Watson admitting his side were 'second best' at the final whistle.
On a difficult pitch and in swirling wind and rain, Barrow's [ex-Alty loanee] Sam Sheridan produced the game's one moment of real quality when he curled in a wonderful shot in the 75th minute, and... they never looked back.
'I've no complaints at all. We were second best', said an honest Liam... 'We wanted them to try and get it wide and stretch their back five but for some reason we kept coming inside. In conditions like that you just can't do it'...
'We've set a marker now to show what we're capable of', commented Barrow boss Darren Edmondson. 'Other teams in this league will be looking at that and they'll know they're going to get a tough game against Barrow. Grit, determination and togetherness is something you need a lot of in this league. It was a physical game in difficult conditions, and the back five stood up tremendously well to the onslaught from Telford. I can't fault any of them today'". As well as Sheridan, Barrow's side included former Robins Paddy Lacey and Rob Williams.
According to the Football Conference, "North Ferriby United remain top of the Skrill North table, but now only on goal difference after they were held to a draw in a 4-4 thriller at home by Histon and second-placed Hednesford Town won at Bradford Park Avenue.
Histon shocked the leaders at Church Road when they went ahead inside the opening 3 minutes through Lewis Taaffe. Nathan Hicks then put the visitors two-up just 8 minutes later...
Hednesford travelled to the Horsfall Stadium and took a 12th minute lead through Kris Taylor. But it looked as though Avenue had snatched a last-gasp point when Ross Gardner fired home on 90 minutes. But Elliott Durrell popped up with an injury-time winner...
Brackley Town returned to form after a comfortable 3-0 win at Rivacre Road against ten-man Vauxhall Motors... [Motors'] Tom Hannigan received a straight red card right on half-time for a `professional` foul and Moore added number three just past the hour-mark to make sure of the points.
Solihull Moors' failure to win in three games has seen them drop out of the top five after going down to a 4-1 defeat at the Jakeman`s Stadium to a Boston United outfit who leap-frogged them into sixth place...
Workington remain in deep trouble, nine points adrift of the safety-mark after a 3-0 defeat at the Northolme by Gainsborough Trinity". The Reds' new keeper was sent off on his debut in this match. "To make matters worse for the Reds, the two teams immediately above them both picked up points. Worcester City secured an important 2-1 win over play-off chasing Colwyn Bay at Aggborough... Gloucester City salvaged a late point from a 2-2 draw at fellow strugglers Stalybridge Celtic".
Worcester are the next opponents for Altrincham, on Tuesday at the J. Davidson Stadium. Their squad was unchanged from the team that beat Histon last week and comprised Veiga, G Williams, Weir, Grimes, Munday, Brown, Nti, Deeney, Ramsey-Dickson, Nelson-Addy, A Williams. Subs: Taundry, Moore, Leslie, D Williams, Hutchison.
Players leaving Skrill North include:
Umit Eminoglu to Halesowen Town from Hednesford Town
Joshua Lacey to Grantham Town from Gainsborough Trinity
David Stevenson to New Mills from Stalybridge
Adam Quinn to Worksop Town from Bradford Park Avenue (long loan)
In the
Huddersfield Daily Examiner
we learn that "Arsenal [are] in for former Huddersfield Town striker Chris Senior (right). The former striker, who has been working full-time for the club since the summer of 2012, will join the Premier League giants after tomorrow's game at QPR". Chris was the Head Soft Tissue Therapist at Huddersfield Town. The
Football Conference
adds that "Senior, 32, came through the Town academy before forging a successful career in non-league football, playing for Wakefield, Scarborough, Halifax, Altrincham, Alfreton, Darlington and Guiseley. He worked as a masseur for Sheffield United before his return to Town".
Evostik League transfers with Altrincham connections are..
Adam Reid to Prescot Cables from Altrincham
Aaron Chalmers [former trialist and brother of Lewis] to Curzon Ashton from New Mills
Josh Ollerenshaw to Warrington Town from Fleetwood Town (long loan)
In Saturday's match which ended in Graham Heathcote's Stafford Rangers defeating Droylsden 3-1 at Marston Road, two of the Rangers' goals came from ex-Alty men, Ian Craney and James McCarthy, whilst the Bloods' goal came from former Alty Youth Sam Madeley.
There is an encouraging story in the
Nuneaton News
, which tells us that "Hinckley AFC will be the name of the town's newest football club following a public meeting this week. Fans of Hinckley United, who folded last year, are pressing ahead with their plans to create phoenix side from its ashes... The home kit will be red and blue and the away strip violet and white. There is still much work to do though as they are yet to be recognised by the Football Association and do not have a ground to play at...
Meanwhile, Hinckley United's last manager, Stuart Storer said, 'There is a lot of politics involved over who owns the ground we used to play on... I know there is a possibility of another club being set up by the previous board. Whether it is one club or two, I just hope the town has a team for the fans'".
Despite the inclusion of several Altrincham FC youth players, the Cheshire FA Youth team bowed out of the national County Cup at the quarter-final stage on Saturday, losing 0-1 (aet) to Devon FA. The game was transferred from Macclesfield Town's waterlogged Moss Rose to a pitch more than 43 miles away at Vauxhall Motors's sports complex fewer than three hours before the planned kick-off at 1pm. Devon had already arrived at Macclesfield but the hasty trek over to The Wirral did not put them off their stride as they advanced to a semi-final tie.
---
18 January 2014
If you wondered why Alty's game at Oxford was postponed, look at
this
from the
NL Forum
.
Graham Heathcote's
Stafford Rangers
"confirm the following... Ian Craney, aged 31, midfielder, has joined SRFC on loan until the end of the season from Stockport County. Ian has played for [Altrincham], Swansea in addition to England C Team. Matthew Berkeley - A striker who lives in Stafford. He has played for Altrincham and has also played in the Welsh Premier League".
Nantwich Town "are delighted to announce that Mat Bailey has this evening committed to Nantwich Town on a permanent basis... Nantwich Town Manager Danny Johnson said, 'He is a magnificent player with great experience and just what we need at this stage of the season'".
The
Oxford Mail
reports that "Oxford City boss Mike Ford is hoping that new Spanish coach Enrique Guillén can help them pass their way out of the lower reaches of the Skrill North table. Ford said Guillén, who manages the club's Futsal side, would supplement his backroom staff... And Guillen is already having an influence after recommending countryman Julián Serrano to him...
'Enrique has come in to help us with the coaching', said Ford. 'He runs our Futsal team, where the emphasis is on passing and using the ball better. We feel he can bring in some fresh ideas as we are going down this different route. Colwyn was the first opportunity to see what we are trying to do. We kept the ball better and passed it better. I thought Jamie Cook had his best game for us. The result and the way we played was a big fillip to the players'.
Meanwhile, tomorrow's home game with Altrincham is in serious doubt [since postponed]. Wednesday's Oxfordshire Senior Cup tie between Oxford City Nomads and Ardley United at Marsh Lane was called off due to a waterlogged surface. And heavy overnight rain has made the pitch more saturated.
Ford said 'If it's off it will be frustrating as we're looking forward to playing the two best sides in the league'. (They are due to host North Ferriby on Tuesday)... If the match goes ahead, midfielder Liam Malone and keeper Mark Scott could return after recovering from back and groin injuries respectively. Victor Francoz, who replaced the injured Scott in the warm-up at Colwyn Bay, could retain his place. Oxford City (v Altrincham): from Francoz, Benjamin, Stonehouse, Pook, Henderson, Willmott, McNish, Pond, Symons, Cook, Winters, Jackson, Bell, Serrano, Learoyd, Ballard, Scott. "
According to the Football Conference, "Joining Harrogate Town... is Lincoln City striker Adi Yussuf. Yussuf, 21, has been registered on a month's loan and some Town fans may recall that he played against his new team-mates in the pre-season friendly for the Imps and gave them a torrid [time] down the right side. Starting his career at Leicester City, Yussuf was a regular in both the Foxes` youth and reserve side. He gained Conference Premier experience with a loan spell at Tamworth during the 2010/11 season.
Following his release from Leicester, he joined Burton Albion... In the end he played thirty-one times...He joined current club Lincoln City in May 2013 and made his debut against Salisbury City in September. A short loan move to Town`s league rivals Gainsborough Trinity occurred in November...
Manager Simon Weaver commented, 'We are pleased that Adi has chosen to join us on loan. He's young, big, powerful and quick. The biggest attraction for me though is signing someone who is very hungry and is keen to prove himself'".
Meanwhile, "Stalybridge Celtic have taken forward Godwin Abadaki on a month's loan from Rochdale. Abadaki is a young forward who graduated from Rochdale's youth team to earn himself his first professional contract in the summer of 2011, signing a two-year deal at Spotland... The 20-year-old spent much of last season out on loan with Hyde FC and then at Huddersfield Town's Development Squad and had a temporary spell with Southport earlier this season."
Elsewhere, "Taylor McKenzie has re-joined Gainsborough Trinity on a month`s loan from Sheffield Wednesday. The central defender will stay at the Northolme until 15 February. McKenzie joined the Owls on a one-year contract in October 2012 after leaving Norwich City and extended by a further year the following summer. He initially signed for Gainsborough loan in September 2013 before returning to Wednesday, where he has since been handed a squad number for the first-team squad".
The Conference also confirms that "Midfielder Jordan Goddard has re-joined Gloucester City on a month`s loan from Bristol Rovers. Goddard, 20, has spent a number of periods on loan with the Tigers over the last couple of seasons".
And "Workington have taken youngsters Daniel Nizic and Kyle Brownhill on loan from Burnley. Former Sydney FC goalkeeper Nizic (pictured), who has Croatian and Australian parents, and former Stockport County left-back Brownhill have joined the Reds until February 15th. The 18-year-olds will meet up at Borough Park with other former Clarets, David Lynch, Ross Wilson and Joe Jackson, who currently tops the scoring charts for the Cumbrians with eight goals."
"Guiseley AFC have announced the signing of striker Oli Johnson, while defender Ben Parker has committed his immediate future to the Lions with a new contract... Johnson signs after impressing manager Mark Bower... It is the first time the 26-year-old has played outside of the Football League since he turned professional with the Hatters in 2008. He can also play as a midfielder... Former Leeds United defender Parker has until now been part of the squad on a non-contract basis, and has agreed a contract, having made thirteen impressive first-team appearances since joining the club... Danny Ellis may be ready to be part of the matchday squad for tomorrow's home game against Stockport following his lengthy spell out with a knee injury."
At Histon, "Manager Brian Page has added powerful striker Seedy Njie to his squad... Page was pleased to complete the deal, saying 'Seedy is a powerful and intelligent striker and I've been monitoring him for a while'...
The Londoner signed a pro deal with Southend last summer following the completion of his two year Scholarship with the Shrimpers. He has some previous experience in the Skrill Conference North from a loan spell with Bishop's Stortford last season where he started twice and made 4 further appearances from the bench, scoring twice."
In the Shropshire Star we learn that "Versatile Luton Town player Shaun Whalley was today linked with a loan move to AFC Telford. Whalley, 26, can play as a midfielder as well as a striker or a winger. He has made 16 appearances for the Hatters so far this season scoring one goal... Born in Prescot, Merseyside, he played for Norwich City and Southport as a youth before making his Football League debut with Chester City in 2004.
Meanwhile, Bucks' manager Liam Watson today warned there will be nowhere to hide for his players if an inability to defend set-pieces rears its head again... after twice conceding through failing to clear their lines in a 2-2 draw at Harrogate Town... The Bucks chief...said, 'Clean sheets will win the league. If we are going to be right up there at the end of the season, we are going to need more of them along the way... Conceding at set pieces is what gets me. It's just people taking responsibility for their own man. When we set out onto the pitch, every single player has a man identified for them to mark. If their person then scores, it's their fault – end of'...
At Barrow, "Darren Edmondson has taken charge. The new manager has taken them on a five-match unbeaten run. Watson said, 'It's not a surprise to me that Darren has gone in and organised them and, from there, some decent results have followed. I think 3-0 certainly flattered us the last time we played them'".
At Brackley Town it is conformed that "Charlie Griffin has signed for Gloucester City in order to get some games". For their part, Gloucester City "have re-vamped the squad with two new signings today. Veteran striker Charlie Griffin, formerly of Swindon Town, Wycombe Wanderers and Newport County, has signed until the end of the season from Brackley Town and Jordan Goddard has returned for a third loan spell from Bristol Rovers... Goddard, who has previously been on-loan with City in both 2012 and 2013 will bolster the midfield after youngster Matt Liddiard moved to Cirencester Town on a short term loan deal".
---
17 January 2013
In advance of Saturday's scheduled away match for Altrincham at Oxford City, a pitch inspection was held on Friday afternoon. The outcome is that the match has been postponed due to the ground's waterlogged state.
The postponed match at home to AFC Telford United has now been rearranged for Tuesday, 4th February at 7.45pm. Six of Alty's next eight league games are now at home.
The away match at Stockport County has been moved from Saturday, 19th April to Friday, 18th, with a 7.45pm kick off.
Following training on Thursday evening Lee Sinnott expects to have his full squad available for Saturday's game at Oxford City, with the exception of James Walshaw, who injured his ankle at Gainsborough. Howevber, James is making good progress and should be back in action soon.
The draw for the Second Round of the CSC is:
Chester FC v Macclesfield T.
Stalybridge C. or Witton A. v Altrincham or Stockport Sports
Hyde or Runcorn Linnets v Northwich Victoria
Tranmere R. v 1874 Northwich
First Round matches still to be played are...
Tuesday 21 January
Hyde v Runcorn Linnets
Stalybridge C. v Witton A.
Tuesday 28 January
On Saturday next, at 1pm, the Cheshire County Youth team takes on Devon at Macclesfield in the quarter final of the FA County Youth Cup. The squad is: Richard Barnes, David Brown (Altrincham), Tom Peers, Liam Turner, Stephen Bullen (Altrincham), Josh Samberg (Altrincham), Chris Bibby, Lloyd Pownall, Max Pouncey (Altrincham), Carl Fenton, Regan Jolliffe, Callum Woods, Louis Potts (Altrincham), Jack Nichols, Danny Bruce, Jack Mason, Joe Jones, Danny Williams. Admission charges are adults £2 , juniors £1.
The Devon FA announces that "For the first time in over 20 years the Devon FA U18 Rep Side has made it to the Quarter Final of The FA County Youth Cup. On Saturday 18th January we take on Cheshire FA at Macclesfield Town's Moss Rose... Cheshire will provide tough opposition though having defeated holders Manchester FA 1-0 in the 3rd round... There is also the added incentive of a home semi final against the winner of Lancashire v Northumberland"
Stockport County
have issued a "Boardroom Statement". It says, "County have welcomed a three-day visit from a Chinese delegation interested in investing in the football club and creating new jobs in the borough.
During their visit, the delegation, invited to Stockport by County's former Commercial Manager Steve Bellis, met with key shareholders and representatives of the Club as well as senior leadership at Stockport Metropolitan Borough Council and several local business people, before returning to Shenyang earlier today.
Last night they were treated to a farewell banquet by local restaurateur Linda Lam at "Rainbow 88" in Cheadle Hulme where they also met with County boss Alan Lord.
The delegation was led by Chairman Zhao who said, 'We made good progress and we reached some agreements. Our cooperation ten years ago has improved our mutual understanding'...
Steve Bellis said, 'Mr Zhao invited Stockport County to Shenyang 13 years ago and we developed a joint venture at the time but, when the ownership of Stockport County changed in 2004, that partnership sadly ended... Now he feels the time is right to give something back. They are not just a random group of Chinese investors, they have a genuine affinity with Stockport County'...
Mr Zhao was also representing the Tian Xing company who are pioneering a range of green transport solutions, and also used the visit as an opportunity to explore potential sites for a European base to market and distribute electric vehicles, with Stockport being considered as a possible headquarters. He is also looking at the possibility of investing in County's former training ground, Manor Farm in Timperley, to use as an Academy for young footballing talent from China.
Mr Bellis said... 'I believe this is the starting point for our future cooperation'...
Meanwhile, the Club's key shareholders are continuing their dialogue with a delegation of local business people who have also expressed an interest in assisting with the running of the club and taking the business forward. These talks have been very productive and discussions are set to continue with this group. Chief Executive Ryan McKnight said, 'We are delighted to have so many offers of assistance from all over the world... At this stage, we are not ruling out any possibility and we look forward to continuing to talk with anybody who has the club's best interests at heart'".
According to the Gloucester Citizen, "Gloucester City boss Dave Mehew has performed major surgery on the Tigers' squad in a bid to halt a worrying slide down the Skrill North table. After deciding 'enough was enough' during last weekend's 3-2 home defeat at the hands of Bradford Park Avenue, the City boss has wielded the axe.
Out has gone experienced striker Darren Edwards, who has had his contract settled, while young midfielder Matt Liddiard has joined Cirencester Town on loan to gain further first team experience. In have come midfield playmaker Jordan Goddard, who has agreed to join the Tigers for a third loan spell from Bristol Rovers, while Mehew is hoping to add an experienced striker to the squad later...
'Watching the Bradford game, I decided that enough was enough and it could have been one of a few players that could have gone', Mehew said. 'I had to do something to shake the squad up and we've come to a settlement with Darren and he will move on. I have been loyal to all my players, but there has to be a shake-up as they haven't been good enough during the first part of this season... It sends a message out to the players that nobody's position is safe if they are not performing, and this has to lead to an improvement in performances'....
Edwards joined City after a success-filled spell with Bath City where he helped the Romans win promotion to the Conference Premier in 2010...
'We're looking to bring in new players and I'm hopeful of bringing in an experienced Conference Premier striker before the trip to Stalybridge on Saturday'" said the manager.
The revolving door policy has also seen one in and another out in midfield with 20-year-old Goddard coming back for a third spell and Liddiard re-joining Cirencester Town on loan.. 'Lidds is the future of the club and it's my job to keep Gloucester City in Conference North for when he is a regular in the side in the years to come', Mehew said. 'He will go out to Cirencester, play week-in, week-out in a competitive league in aside gunning for promotion and hopefully that will help bring him on as a player. At the moment the players in our midfield aren't looking over their shoulder enough at who is coming into the team to replace them, Jordan Goddard will give us that... He's passionate about the club and will give us something different in the middle of the park'.
And Mehew has not stopped his rebuilding there with a seven-day approach for a forward at a Gloucestershire club due to expire on Monday. A move for Yate Town captain Edd Vahid has fallen through due to the player's work commitments, while Gloucester-based former Cheltenham Town defender Billy Jones has turned down a move...
'I will be speaking to the player we've made an approach for on Monday and we're hopeful of getting that deal done to further strengthen that position... I also spoke to a League One club about getting a striker on loan, but his club wanted to keep hold of him for the time being. But the search will go on'".
In the Lincolnshire Echo, we learn that "Steve Housham has revealed he will have to ship players out before he can add to his squad and shore up his ailing defence. The Gainsborough Trinity boss could again be forced into coping with just one recognised central defender for the visit of Workington on Saturday. With Greg Young (back) still a doubt, Housham is left with teenage loan star Callum Howe as his only centre half..
Said Housham, 'Unfortunately we will have to get someone off the wage bill in order to bring in a central defender. I have spoken to one of our players, he needs games and he will probably be leaving quite soon. In an ideal world, with better finances I would want to keep him. I won't name names, but it won't happen this week, because we don't know who will be fit enough to play. I have not given up hope of bringing Sheffield Wednesday's young centre half Taylor McKenzie back to the club. That is still on-going, but it certainly won't happen this week'.
Housham has described Saturday's visit of bottom club Workington not as a 'must win' game, but as a 'must perform' game. Housham's starting line-up appears likely to include loan teenagers Howe, Jamie Wootton and Caine Winfarah, but the Trinity boss believes they all have the talent to cope with the challenges of a Skrill North 'dogfight'...
'But they must perform week in and week out. I have told them that scouts will be watching them over a run of games and it is no good having a good ten minutes here or there... Far too many come out of the Football League after being let go and they think their world has ended. That's not the case. If they work hard at Skrill North and do well they can soon be on their way back up the football ladder'".
Altrincham FC joint Press & Media Officer, John Edwards, has written the following article in the Daily Mail.
"John Askey has revealed the full extent of Macclesfield's cash crisis by warning they could go out of business within a month, despite their FA Cup windfall against Sheffield Wednesday.
It was widely believed the revenue from their third-round replay at Hillsborough would enable the Conference Premier side to continue paying the players' wages for the rest of the season. But after seeing his side threaten an upset by equalising in the second half and then hitting the bar from six yards before eventually going down 4-1, manager Askey said, 'That's not the case. We had to win against Wednesday and progress to the fourth round to be safe for the season.
'All this has done is given us a month's grace. We are OK now until February, but that is it. The plain fact is, if we had lost the first game at Moss Rose, we wouldn't be here now. The replay meant we still have a football club. Without it, we would have gone under, simple as that.
'That's how serious the situation is, and that's the pressure the players are under every time they step on the pitch. There has been talk of a takeover, but that's all it is at the moment, so the players know they have to win games, if at all possible, to try and increase gates and attract the investment the club so desperately needs.
'It is the only way we will survive. There is a real danger we might not see the season out, but the players have coped terrifically well with what is immense pressure. There have been a few sleepless nights. It is almost impossible to switch off, and you do take your worries home with you.
'How can you not? I never played at the highest level and have still got a mortgage to pay, so when the threat of redundancy or the sack is hanging over you, it is difficult not to worry. I have spent my entire career, as a player and now manager, at Macclesfield, and there is a spirit here that might yet get us through. A hungry fighter is often better than a wealthy one, as they say.
'The club have always paid their wages, and the debt is probably about £150,000, which is nothing compared to some. But if you haven't got enough revenue coming in, and people are screaming for their money, you go under. That is the stark reality, and there is no getting away from it.'"
---
16 January 2014
Altrincham FC captain, Shaun Densmore, produces a "Captain's Chat" column in every issue of the "Robins' Review" which gives an honest and often entertaining insight on dressing room life at the Club. His article for last week's postponed match against AFC Telford United was no exception. To bring it to a wider audience, it is reproduced below...
"It won't change anything, but I still feel an apology is in order for the way we blew the chance of top spot at Gainsborough on Tuesday night.
We have only ourselves to blame for missing out and I would like to say sorry to the staff, board and all the fans who went to the trouble and expense of travelling over there, only to see us contribute to our own downfall in a 5-4 defeat.
I have never played in a game like it, and I hope I never do again. Normally, when you score four goals away from home, you expect to leave with three points but not when you defend like we did.
It was a catalogue of errors and there is a case for saying nearly every one of their goals was avoidable. We were very poor at the back and gifted them far too many easy goals and, when you do that, there is only one likely outcome.
Plenty of opportunities slipped through our fingers at the other end, too, but I would say the defence has to shoulder most of the responsibility for a defeat that was hard to take, given that winning would have lifted us from third to top place.
There were nine goals as it was, but it could have ended up pretty much any score you care to imagine, such was the way goalscoring chances kept cropping up. Not half-chances, either. Proper clear-cut opportunities, most, it has to be said, the result of basic individual errors.
It wasn't so much lack of discipline that cost us. It was more down to individual mistakes, and I can honestly say I have never experienced anything like it before. It wasn't one or two who had an off night. It was the majority of us, and we can only hold our hands up and say sorry to all those who made the journey.
It goes without saying we can ill-afford any repeat performance against Telford this afternoon. Too often in the past, a dodgy result has cost us the chance of claiming top place, and it is imperative we get out of that habit and make sure it does not become a recurring theme.
If we want to cement our position among the promotion frontrunners, we have to seize these opportunities and make the most of them, and that must be our mindset this afternoon.
Of course, we find ourselves without Danny Higginbotham going into today's game – and the rest of the season, for that matter – after his abrupt departure, just a week after he joined us from Chester.
I didn't really get much chance to get to know Danny, given we didn't even have a training session together, due to the midweek game but I do know it is a massive disappointment to us all that a player of his calibre has gone after just two appearances.
We had no inkling in the changing room that he was harbouring any doubts about his appetite for competing, but he knows better than anyone what is going on in his mind and body. It is a shame to lose someone whose experience would have been an asset, but I take my hat off to him for being big enough and man enough to front up to the reality that he couldn't do it anymore and walk away, rather than carry on going through the motions and picking up his money 'under false pretences', as he put it.
It must be hard to do that and call time on your career, and I'm sure he leaves here with the best wishes of everyone.
As you may know, I have been through a difficult time after the death of my grandfather, who I was very close to. I want to thank the manager and chairman for their understanding and good wishes. It meant a lot.
While I was away, Luca Havern (right) took over the captaincy and took the opportunity to cast aspersions on my ability to call correctly at the coin toss. In fact, he claimed I'd got it wrong every time this season. There's a simple enough way to put everyone right on that. At Gainsborough on Tuesday night, he came over and told me to call heads, so I went for tails. And guess what? It was the one thing we got right all night!
He also claimed the armband might be a bit baggy after straining to fit round his biceps. The truth is I thought it had actually shrunk..."
Altrincham FC depends greatly on support for its off-the-field events and activities. So do please support as many of the following events as you can - more details and, where appropriate, tickets, are available from the Club by phone (0161 928-1045) or
e-mail
.
8 February 2014: AN EVENING WITH GRAHAM HEATHCOTE

Paul Fay and Graham Heathcote are arranging several events to raise funds for the Altrincham FC under-17s to compete in the Foyle Cup in Ireland in July. Graham will talk about his 40 years in non-League football. Tickets are £15 and include a two-course meal provided by club caterer Richie Bentley

22 February 2014: MEET THE NEW RECRUITS- PART 2

Panel to be announced. Tickets are £15 and include a two-course meal provided by club caterer Richie Bentley

6 March 2014: MATT LE TISSIER - SPORTSMAN'S DINNER

To be held at the Cresta Court Hotel, Altrincham. Tickets £40 per head or £350 plus VAT for a table of ten.

21 April 2014: END OF SEASON RACE NIGHT

The annual event which includes the Player of the Season awards presentation.
Attendances in the Skrill North on Tuesday were:
Brackley 218
Hednesford 585
Leamington 409
Meanwhile, in the CSC all the gates on Tuesday were under 100...
Cammell Laird 0-2 1874 Northwich, gate 97
Northwich Victoria 1-1 Crewe Alexandra (Vics won 2-0 on pens after extra time) gate 95
Warrington Town 1-3 Tranmere Rovers, gate 93
Boston United
boss Dennis Greene "has swooped to sign highly-rated Grantham Town winger Jamie McGhee. The 24-year-old, who began his career with Mansfield Town, joined the Gingerbreads from Corby Town in 2010 and went on to make a century of appearances at the Meres Stadium. He also scored 29 goals for Grantham."
According to the News & Star, "Workington Reds face a race against time to get players signed up ahead of Saturday's crucial trip to Gainsborough Trinity. Boss Ian McDonald has been identifying targets he would like to bring in before Friday's deadline.
The 60-year-old has already brought in a couple of new faces since taking over from Darren Edmondson last month... It is believed McDonald's priority is to bring in a defender. He is due to speak with chairman Glenn Heathcote about transfers today. Heathcote said that money was available if McDonald wanted to bolster his ranks...
Said Heathcote, 'We want to get some business sorted this week. It would give the entire team a lift if we could add to what we already have'. Workington have been cut adrift at the foot of the Conference North table. They have 14 points, five fewer than their nearest rivals and eight from safety".
In the Banbury Guardian, we read that "Battling Barrow pile the pressure on Brady. Substitute Gareth Arnison came off the bench to grab the late winner and pile more misery on Brackley Town manager Jon Brady.
A combination of tactical nous and a misfiring Stefan Moore saw Saints lose 2-1 against Barrow AFC in Tuesday night's Skrill North clash at St James' Park, leaving them with only two wins in ten outings as they dropped to sixth.
Barrow played in a 3-5-2 formation and the extra man in midfield paid off as they took the lead midway through the first half after a Sam Sheridan cross into Niall Cowperthwaite, whose touch took it past Eddie Nesivic and then poked it past the helpless Billy Turley... Ben Mills put Moore through for his third goal in two games since joining from Leamington.
The new signing could have scored more but for some sensational saves by [ex-Alty keeper] Tony McMillan. Turley also denied Barrow many times... Arnison stole the points with a cute flicked header into the far corner after a cross from deep by Duran Reynolds".
---
15 January 2014
TUESDAY GAMES
Altrincham dropped to fourth after tonight's games...
Brackley Town 1-2 Barrow
Hednesford Town 3-1 Stockport County
Leamington 0-2 North Ferriby United
Altrincham FC announce that they have released winger Brian "Junior" Smikle. Junior played 8(+6) times for the Club after joining in the summer, having been released by Hereford United at the end of last season. All at Altrincham FC thank him for his services and are sorry that he has not been able to establish himself in the team this season. 28 year-old Junior scored once for the Club and Altrincham FC wish him good luck in his future career.
He becomes the third player to leave the Club since New Year, following Danny Higginbotyham's retirement and goalkeeper Adam Reid's departure to seek first-team football.
Tuesday's postponed match against Stockport Sports in the Cheshire Senior Cup has now be reaaranged for Tuesday 28 January at 7.45pm.
Cheshire Senior Cup, 1st Round results and fixtures:
Monday 13th January
Runcorn Town 0-4 Chester FC
Tuesday 14th January
Altrincham v Stockport Sports POSTPONED (Waterlogged pitch. Now 28th Jan)
Cammell Laird 0-2 1874 Northwich, gate 97
Northwich Victoria 1-1 Crewe Alexandra (Vics won 2-0 on pens after extra time)
Stalybridge Celtic v Witton Albion POSTPONED (Waterlogged pitch. Now 21st Jan)
Warrington Town 1-3 Tranmere Rovers, gate 93
The Altrincham FC Saturday Yankee jackpot now stands at £4,700. The winning code last week was 9524 which produced five winning trebles, each netting their code holders £30.
The
Cheshire County FA
reports that its youth team "moved to within three points of table toppers Durham FA in the Association of Northern Counties Youth Competition after thrashing Lincolnshire FA at Vauxhall Motors' Rivacre Park.
Jack Mason, Louis Potts and John Dawson all scored a brace with Joe Woolley and Callum Woods adding a goal apiece as Cheshire ran riot. The result comes at the perfect time, acting as a real confidence boost as the team prepare for their FA County Youth Cup Quarter Final against Devon FA next Saturday... Three goals in as many minutes saw Cheshire race into a five goal lead. [Alty's] Potts started off the madness, finishing smartly to make it four, Woolley added a fifth after Woods saw a penalty saved and then Potts claimed his second showing calmness and composure to rifle past the Lincolnshire custodian.
A half-time a score line of 6-1" led to an 8-3 win "Although they had conceded three, it was almost a perfect performance by the Cheshire lads... If they play like they did here, there is every chance that come Saturday evening the team will be looking forward to the prospect of an FA County Youth Cup Semi Final".
According to the
Football Conference
, "Following Colwyn Bay chairman David Messom's recent appeal for more support, to enable the club to maintain their current squad, a number of incentives are being introduced by the club to try and attract bigger crowds.
For all remaining home matches this season admission for students will be just £3, on presentation of their student card and, for the three home games in February (Harrogate Town on Feb 1st, Gloucester City on the 4th and Boston United on the 15th), all season ticket holders of other football clubs will be allowed admission for £6 by showing their season ticket at the gate.
Messom commented, 'With the FA Cup weekend on February 15th meaning no Premier League matches, it is a chance for us to attract season ticket holders with Premier League and other teams who might be without a game, to come to our game against Boston at a reduced fee'. [Alty are away at Workington on that date].
At the match against Boston all supporters attending will be given a voucher allowing them priority to purchase tickets for the game against Stockport County in April, should the club decide to make that an all-ticket match due to County's big following."
Meanwhile, "Barrow AFC have signed defender Liam Willis and striker Phil Marsh on a month's loan from Southport and league rivals Guiseley AFC respectively. Willis, 20, who has made twenty-two appearances for 'Port, was formerly at Accrington Stanley... Marsh, 27, has played for Northwich Victoria, Forest Green Rovers and Hereford United, having started his career in Manchester United's academy.
Meanwhile, Barrow have cancelled the contract of winger Greg Mills by mutual consent following loan spells at King's Lynn Town and Corby Town. Leicester-based Mills struggled to settle at Holker Street early in the season and is now expected to join Corby on a permanent basis."
The News & Star says that "Workington Reds' captain Kyle May has branded this season as the worst during his 10 years at the club. The experienced defender said problems on and off the Borough Park pitch have led to Workington being stricken at the foot of Conference North, eight points from safety.
May has been at the club for more than a decade, and with more than 400 appearances in the red shirt, is in a good position to judge this term's shortcomings. He highlighted the loss of key players during the summer as David Hewson, Gareth Arnison, Gari Rowntree and Aaran Taylor all left, with Jonny Wright following a month into the new season...
'It's not going to be easy to get out of the mess we are in, but we'll die trying', he added. 'This season has been the worst since I joined Workington. A lot has gone on. We lost a lot of good players, who knew what it took to succeed at this level. And we've replaced them with talented but naive players who are still learning what it takes to play in the Conference North. Losing the likes of Gari, David and Jonny has been hard. We were all friends. Now there's four or five different groups in the dressing room.
We've also been without a goalkeeper all season, which has cost us around 10 points. We've had too many people standing in. It's a problem that has never gone away. It's difficult for the defence to try and get to know a goalkeeper only for them to leave shortly after'".
The Boston Standard asserts that "Dennis Greene says he is unsure whether he will stick with many of the last-minute recruits who were drafted into the Boston United squad for Saturday's 4-2 defeat to Hednesford Town.
With eight first-teamers unavailable for the weekend's trek to Keys Park, the manager spent a frantic Friday looking to patch up his Pilgrims. Defenders Brad Gascoigne and Dan Pritchard, formerly of Corby Town and Nuneaton Griff respectively, Sunderland winger Liam Agnew and striker Pa Sulay Njie answered the call, along with James Reed, whose ties with the club seemingly ended when he left for university. Reserve teamers Ngoni Dongo and Charlie Ward were promoted to the bench.
But while Reed excelled as a second-half substitute and Agnew, with the club on work experience, showed promise, the other trio failed to do themselves justice on a heavy pitch.
'It's too soon to say', said Greene, when asked if his recruits would be given a second chance to shine. 'They were filling in gaps and thanks for helping us, but we just had to get a side out there and try to be competitive'. Liam Marrs, Spencer Weir-Daley, Ben Fairclough and Indy Aujla were the club's injury victims, while Rene Steer and Scott Garner were both suspended for Saturday's match.
Boston's troubles were compounded when Ryan Semple was taken ill on the team coach, while Ian Ross and Conor Marshall both played through injuries...
'We couldn't have done any more', Greene added... 'We just didn't have enough quality on the pitch. Having three of the back four out meant we just conceded too many sloppy goals'. Another reason Greene may be reluctant to stick with his fresh faces is the arrival of on-loan midfielder Kyle Dixon. The Notts County man will link up with the club at training tonight, where an unnamed winger is also likely to sign".
A report from the NL Paper tells us that "Marcus Bignot is half joking when he says he only seems to work with people who have 'no money'. Just before I went to play at Rushden they were going to New York for their end of season', he laughs. 'When I arrived we were lucky to go to Bognor Regis! I always seem to miss out on the gravy train. I left QPR to go to Millwall and then Briatore came in. That's my luck'.
There's certainly no big budget at Solihull Moors,and doesn't the former Kidderminster and Crewe full-back know it... 'I work on the business side of the club so I understand it even more', says Bignot, who took over in June 2011. 'I think it's important, especially at Non-League level, that a manager sees both sides. I played under Graham Allner at Kidderminster and he ran the club on a day-to-day basis with the chairman Dave Reynolds. This is what I'm trying to create at Solihull Moors, a management committee who can run the day-to-day business. It goes from catering, to conferencing, to the bar – the remit is never ending and never stops. We need more hours in the day.
When I first came in there was a few bombshells. After the beginning of last year, where we nearly went to the wall, I said, if I'm going to manage the football club, I need to know everything that's going on financially as well. When I'm standing up in front of the players they need to know everything I'm saying to them is the truth. I don't think people realise what the players did last year. They all took 15 per cent pay cuts, the staff went with no pay from January until the end of the season just so we could see it through.
We're due to have talks with regards to next season soon and I already know as a manager my budget is going to be less. It has to be'.
That the unthinkable almost happened and Solihull finished ninth in Bignot's second season shows what the 39-year-old is building, both for the club and his own management reputation... Now in this third year at the helm, Bignot has led his side into the play-off places and they even reached the summit of the Skrill North before Christmas.
'They say it takes three years to really implement ideas and turn a football club around', says Bignot, who also used to manage Birmingham City Ladies. 'We've probably done that now but with how difficult it is financially, just to stay in this league is an achievement. I've had a vision and a philosophy. I've always said when I came into the club it had a football team. When I do leave, I want to leave a football club. We've really gone to town on the youth and junior. We've got 27 teams; 11 months ago we only had three.
We've seen that in attendances. Although it's purely down to a youth and junior presence at the game, they are up. It's not money through the turnstiles and we'd love that but, as I tell people, we're a new club, only formed in 2007, and we've got a lot of work to do to really build that fanbase'...
Bignot and his management team, including assistant Karl Broadhurst, acted quickly in the summer to get their squad sorted before the end of May by bringing in the likes of Michael Nottingham and Jordan Gough from Step 4 club Gresley.
'We've just signed Alex Dean from Coalville making it three signings from a lower league', Bignot, who concedes the club are still treading water, adds. 'I've got a 20-year-old in the middle of the park, Reece Fleet, who's instrumental to us, and I've got another 20-year-old up top, Omar Bogle. He's getting a lot of rave reviews, so credit to him and the staff. We've got that balance of trying to unearth players from the lower leagues, producing young players and trying to be cute within this league by trying to get your Rob Elvinses of this world, who is our captain'...
For me Omar typifies this football club. We've got some good people and the players are the forefront of that. Omar is a really nice lad and he really wants to get back into the Football League. I have no doubt he'll get there, the only thing I can't answer is when... The club needs to show others if they come and play for Solihull Moors they've got a chance of moving on because we can develop you', Bignot says. 'We've got to produce our own. If he makes that jump into the League he's our flagship'. For now it's about continuing to work towards the pre-season target of 70 points.
'I don't look at the table much but when I do I see the teams around us and you look at their fan-base, financial clout they've got and I do laugh to myself,' he says. 'Little Solihull Moors in amongst it, long may it continue'".
---
14 January 2014
Altrincham's scheduled CSC match against Stockport Sports tonight was called off at 7pm after heavy rain made the pitch unplayable.
TASC is running a supporters' coach to Oxford City on Saturday (18th) for the match against Altrincham. Details are on the
Away Travel
page. Please book in advance by ringing the Club on 0161 928-1045.
Altrincham FC's AGM was held last night. Chairman Grahame Rowley's summary of the year 2012-13 is below...
"The season 2012-13 was a relatively successful season for the Football Club as we improved our standing in the league and eventually made the play-offs by attaining fifth spot. A good home win against Brackley in the first leg of the semi-final was, unfortunately, spoilt by a below par return leg where we were well beaten.
Turnover in the season increased by 14% on last year and gross profit increased by 16%. I'm sure you will notice the exceptional item that has now been added back into the 'Profit and Loss' account, which therefore sees the Club make a "paper" profit of £386,000 for the year.
May I state, straightaway, that this is not money in the bank. It has come about by the Club challenging the longstanding director's loan from an ex-chairman and, after taking legal advice, we are of the belief that this loan is no longer repayable, as the terms of the loan can no longer be met.
The manager, once again, retained the majority of his playing squad and has added quality signings for the season ahead when, once again, we look to make further progress.
Your continued support of the Board and management of the Football Club is, as always,much appreciated as we look to implement some exciting projects during the forthcoming season, the biggest being the building of a Community Sports Hall adjacent to the Main Stand.
We are still awaiting Premier League Facilities Funding approval, which should be decided by the end of January. If the outcome is positive, building should begin following the conclusion of the 2013-14 season. Any support or sponsorship which you could provide for this project would, once again, be most appreciated and would help your Football Club succeed.
Grahame Rowley, Chairman".
Brian Flynn's latest 'Flynnzine' article was due to appear in the 'Robins' Review' last Saturday. With that game being postponed, it is published today whilst its content is still current.
"Just Can't Get Enough!
Since Duncan Watmore's sensational transfer from Altrincham to Sunderland in the summer, I had always hoped that I would be able to get to see our supporters' player of the year make his first appearance for 'The Black Cats'. When the F.A. Cup 3rd Round Draw pitted the Wearsiders with a home tie against Carlisle United from League One, it seemed like an opportunity might be in the offing. When Sunderland rescheduled their Under-21 Development Squad fixture, scheduled for last Monday, it appeared that Gus Poyet was planning to use the F.A. Cup tie to run the rule over a number of his promising young players and that the 'Ginger Messi' might well get his chance.
Fortunately, for me, the game was last Sunday, a day when I could combine going to the game and taking my son back to Newcastle University after the Christmas break. There was always a chance that Duncan would not be included, but that was a risk worth taking.
We got into the impressive 'Stadium of Light' about ten minutes before kick off, not knowing whether he was included or not and it wasn't looking too good until the announcer announced the final substitute as "Number 41... Duncan Watmore".
Surprisingly, particularly considering the important Capital One Cup Semi-Final First Leg tie against Manchester United, Poyet played a strong side with just a couple of Development Squad players on the bench.
This was my second visit to 'The Stadium of Light', the first being in April 2003 when I saw England beat Turkey 2-0 in a hugely important Euro 2004 Qualifier. It was a game in which a 17 year-old Wayne Rooney made his full England debut.
With Sunderland leading 2-1, a couple of Poyet's substitutes, including the boy wonder, were sent for a warm up and, a couple of minutes later, it was clear that he would be entering the fray - a fantastic moment - followed swiftly by the public address announcer announcing, 'A warm welcome to the Stadium of Light to... Duncan Watmore'.
The only tiny sign of any nerves from the 19 year-old was a slightly hurried sign of the cross as he legged it over to the touchline just in front of us to take his right-wing position.
From the word go, he was heavily involved and almost scored within a few minutes. Duncan's style of play is old fashioned and unorthodox but, immediately, Sunderland had a new dimension and an obvious injection of pace. Incredibly, the fans started singing his name. The Alty rendition of "Der..Der..Der…Duncan Watmore to the tune of 'Papa's got a brand new Pigbag' by 'Pigbag' has been replaced by a similar sounding ditty to the tune of 'Just Can't Get Enough' by 'Depeche Mode'.
The thirty or so minutes that Duncan was on the pitch were hugely enjoyable. He was everywhere, made a few errors, but constantly looked a danger. It was just like watching him play for Alty - superb stuff!
Everyone at Alty is tracking Duncan's progress with huge interest. Who knows what the future will bring but, for me, he's just the most exciting footballer that I have seen playing for Alty and there are no limits to what he can achieve!"
Brian Flynn.
More news of Duncan comes from the Northern Echo. "Two home games in 2014, two 3-0 defeats. The need for Colin Cooper to boost his Hartlepool United squad is clear... Pools' strengths and weaknesses have been laid bare... Cooper said last week he had a couple of deals lined up... Middlesbrough's Luke Williams and Sunderland's Duncan Watmore are also high on Cooper's list of loan targets and could arrive soon".
At the weekend five Altrincham FC Youth players were in the Cheshire County FA squad which hammered Lincolnshire 8-3. Two of the goals came from Alty's Louis Potts, whilst Matt Graetzer, Steve Bullen, Josh Samberg were amongst the other Altrincham representatives.
Courtesy of George Heslop there is a brief report on the Youth team's magnificent 8-2 win at Morecambe. The nephew of an Altrincham FC "legend" made his debut for the team on Sunday.
The
Cambridge News
reports that "Jamie Greygoose was probably ordained to become a goalkeeper from the moment he first kicked a football, even if it was not his initial playing position.
Having a father who played over 200 games for Crewe Alexandra in the Football League, as well as starring for a number of semi-professional clubs in a career spanning more than two decades, means you may be expected to follow in his footsteps. Add into that a brother who also donned the gloves and you really are left with no choice.
Greygoose originally played as a central defender, but the career-altering moment came during his time with Crewe's youth team.
'We didn't have a goalkeeper because ours was injured, so I volunteered', recalls Greygoose... 'I could hear the parents who were watching saying I was quite good. That gave me a lot of confidence and I just went from there'.
From there, Greygoose's career took him to Team Bury while studying at West Suffolk College, up to Skrill North outfit Altrincham and then down to Cambridge City's reserves...last season. He is now helping Haverhill Rovers in their quest for promotion from the Thurlow Nunn League, Premier Division, having answered a call from father Dean after he took over as manager in the summer.
Brother Sean is also on the Rovers coaching staff... Greygoose is very keen to do is forge his own reputation rather than rely on the family name to get by. The spell at Altrincham, one of Dean's former clubs, has given him even more of a desire to do that. 'What it did was give me a lot of confidence', said the 20-year-old. 'Before then, I didn't really believe in myself and I was always 
worried about making a mistake... We went on a good run in the FA Cup where we got to the first round and you're playing in front of crowds of over 1,000. It's a great feeling when you get that rush and excitement... I want to show other keepers you can still make it when you've had your dreams broken'".
The
Football Conference
says that "Harrogate Town AFC confirmed the signing, on dual registered terms, of talented striker Nathan Cartman from neighbours Harrogate Railway Athletic in time for him to debut against Stalybridge Celtic on Saturday".
Non-League Pitchero confirms that "Alex Melbourne has joined strugglers Stafford Rangers on loan from promotion-chasing neighbours Hednesford Town. A product of the Wolves academy, Melbourne re-joined the Pitmen in June 2012 from Stafford`s league rivals Rushall Olympic."
Another move involves Southport's "Liam Willis [who] has joined Barrow on loan".
Meanwhile, Boston United "are in the process of tying up a loan deal for Notts County midfielder Kyle Dixon. The 19-year-old is poised to join United for one month initially, having completed a similar spell with Grantham Town on Sunday... He made his Magpies debut in the Johnstone's Paint Trophy against Scunthorpe United last season — and scored once in seven outings for the Gingerbreads during his recent month at the Meres Stadium."
According to the Worksop Guardian, "Gainsborough Trinity boss Steve Housham lamented his side's defensive frailties as they came up short at play-off chasing Brackley Town. But Saints' boss Jon Brady could not have asked for more, Stefan Moore that is, as his side maintained their unbeaten home record...
Moore proved an instant hit, the former Leamington striker bagging a brace on his debut little more than a week after scoring twice to sink stuttering Saints in the New Year's Day derby. He picked up from where he left off against Trinity and forged an partnership with strike partner [ex-Alty loanee] Ben Mills and could have added to his tally.
Trinity, on the other hand, were not the same free-scoring side which put five past Altrincham in midweek. Defensively they were too slow to deal with Moore's pace...
Both teams can take positives from the performances of their respective debutants, man-of-the-match Moore for Saints and Trinity new boys Ashley Burbeary and Cain Winfarah both providing bright moments for the visitors on the flanks. Both managers were happy with their new signings..
However that's where the similarities ended as Housham lamented his side's defensive frailties and their lack of recognised central defenders while Brady added that 'He could name 11 players' who were excellent after a masterclass in counter-attacking football'".
FA Trophy Fourth Round Proper draw, for games to be played on Saturday, 1 February, 2014 is:
Havant & Waterlooville v Aldershot Town
Eastleigh v Cambridge United or Luton Town
North Ferriby United v Gosport Borough
Grimsby Town v Tamworth or Chorley
The tie winners receive £8,000 from FA Prize Fund.
---
13 January 2014
CSC PRICES
The gate prices for Tuesday night's Cheshire Senior Cup match against Stockport Sports will be -
Adults £10
Concessionaries £5
Under-16s £2
Altrincham FC Youth won their away league match against Morecambe "A" 8-2 on Sunday. There will be more on this game on the website tomorrow.
Alty host Stockport Sports in the Cheshire Senior Cup on Tuesday.
Stockport Sports
tell us that their record is, "played 33, average goals 1.55... clean sheets 6, highest attendance 132." Like Alty they had a postponed match last Saturday. The previous week, their win over Maine Road was their first victory in five games. They lie 13th in the 22-team NW Counties Premier Division, three levels below Skrill North. Their record this season is p28, w8, d10, l10, f42, a45, gd-3, pts 34.
Runcorn Linnets have a match report on their match against the Sports on 14 December.
NL Daily
confirms that "Stalybridge Celtic have signed young defender Jordan Tunnicliffe on loan from Barnsley. Jordan, brother of Celtic`s James Tunnicliffe, signed as a scholar for West Bromwich Albion in June 2010 after playing for six years in the junior set-up at The Hawthorns. He then trialled with West Ham in the summer of 2012 before joining the Nike Academy.
He also trialled for Norwich City's and played in their Under-21 Development Squad in April 2013. In the summer of 2013 Tunnicliffe joined Barnsley, but has yet to make his senior bow, playing regularly for the club`s Under-21 side".
According to Workington, "With no game to focus on this weekend, it might be an appropriate time to reflect and take stock of the current situation. We obviously haven't been good enough for the first five months of the season and find ourselves rooted to the foot of Skrill North.
At the moment, it looks as though six clubs have relegation concerns, apart from ourselves, with Stalybridge Celtic, Oxford City, Barrow, Gloucester City and Worcester City occupying lowly positions. Of that sextet, only Barrow are in any sort of form and would appear capable of pulling clear as things stand. Just shows how a few wins can change your perspective.
Reds would need nine points with immediate effect just to get above the dotted line and without our rivals collecting points at the same time. My head says it is an almost impossible task, my heart says it can be done if...
New manager, Ian McDonald, has had a superb response from the players but only one point has been obtained from his six games in charge. The theme now is to recruit 'new' players to replace those who haven't been good enough, and that is a time consuming exercise and even more of a gamble than recruiting players in the close season. At least then you can assess their strengths and weaknesses in pre-season games.
New players at this time of year are thrown in at the deep end, often without knowing their team mates, and it's a case of sink or swim. That doesn't help the player and does little for the team. So, the dilemma facing the manager is a case of stick or twist. Does he work with the under achieving squad he inherited or bring in players to freshen up a group low on morale and confidence...
In recent games, however, we have looked a threat as an attacking force but all the good work going forward is undone by schoolboy defending. Joe Jackson has committed himself to the cause until the end of the season at least and that boosted morale on and off the pitch. The emergence of David Lynch in recent weeks has been another plus as has the form of Ben McKenna, Ross Wilson, Conor Tinnion, Stephen Hindmarch and Scott Allison all now getting to grips with football at this level...
The five stalwarts – Phil McLuckie, Lee Andrews, Dan Wordsworth, Kyle May and Anthony Wright – have not had the best five months of their Borough Park careers but still have much to offer if they see their immediate future in a red shirt.
Obviously, the goalkeeper situation needs addressed and, having being well served in that department for years, illustrates what a key position it is... Do supporters want us to put all our eggs in one basket and do everything possible to salvage our Conference North status? Or should we be planning for next season and putting together a squad now rather than scurrying around in late July/early August signing players who have failed to be fixed up elsewhere!
From a supporters point of view, is it better to struggle at the lower end of Conference North or would they prefer to follow a mid-table team in the Evo-Stik Premier division as we get some solid foundations in place. We cannot keep building on quick sands".
On The Wirral, "Forward Aaron Rey has joined Vauxhall Motors from Witton Albion... Rey has joined Vauxhall Motors for a second time, over 10 years after his first spell with the club.... The quick-footed forward began his career at Rivacre Park in 2003, scoring on his debut for the club. Since then he has played for the likes of Bangor City, Marine and Colwyn Bay".
The Lincolnshire Echo reports on a player who was sent off recently against Altrincham. It says that "After Thomas Hitzlsperger revealed he was gay this week, Gainsborough Trinity winger Liam Davis hopes that coming out as a gay footballer will make others feel confident to do the same...
Davis said, aside from himself, he is unaware of any other footballers currently playing who are gay, but hopes that more feel comfortable to follow in his footsteps before his own career is over.
'There is none that I know of', said Davis. 'I thought about it the other day, they believe that five percent of the population is gay, so if you halve that for gender, that means there is 2.5 per cent gay men. Now, with football played so much from the top level down to non-league, there has to be more than one, statistics say that. So what that says to me [is that] there must be some who are not comfortable to come out.
At the age of 23 I like to think that I've got a good number of years left in the game and a lot of time to make a stand. I personally hope that over the next 10 years I'm not the only gay footballer out there. Nobody wants to be forced out, but I hope they can look and see there is someone out there who has done it. I hope we can get to a stage where it is not a bad thing, that there is no problem and people just get on with it'.
Davis has always been able to count on the support of friends and family since coming out in 2009. However, he admitted that not since joining Trinity last summer has he been able to talk fully about being a gay footballer. 'I came out to my family and friends first. I did not even think about football. I didn't think about hiding it though, because there is nothing to hide', said Davis.
'Coming out was the right thing for me to do... I was at Selby at the time I came out, playing very low down in the football league pyramid. I did not bring it up. Nobody sat down and spoke about it, nobody bothered with it, or took an interest in it. After Selby I moved to Brigg. There was a lot more banter in the dressing room there. The lads knew and there were jokes, but at no point did it cross the line. There was nothing malicious ever said and it was a good place as there was a few of my old youth team mates from Grimsby there who knew me.
I joined Gainsborough in the summer and I kept myself to myself. It was on a team night-out in Sheffield that the question was asked. The goalkeeper Phil Barnes brought it up with me at the bar. I don't know if it was a bit of Dutch courage that made me talk about it, but I think the way Phil asked helped as well. He did it in a jokey way which broke the ice and that was good. I didn't know if people knew. I had intended to just get on with playing football. There had been questions like, "Have you got a girlfriend", and I'd just say "No", because it was the truth, so I had a suspicion that they might have an idea. Then it turned out they all knew from the first day I was at training.
That is the one thing I will say I really enjoy about playing for Gainsborough, is that it is a very close knit group of lads. Some of them have known each other for years and the others that come in are made to feel welcome, nobody is made to feel an outcast'.
Davis's career started in the youth ranks at Grimsby Town... And while even back then he knew he was gay, he said at the time it would have been difficult to discuss it.
'I started to get an idea when I was about 13 to 15. I understood there was something different about me, but nothing came of it until I was about 18... 'I wouldn't have come out then. It was a situation when you have young people around you and their knowledge and experience is not as broad as others... I went to other clubs and it has not been an issue, but it's only since joining Gainsborough that I've had proper discussions about my sexuality, but it's because they are interested in my life.
None of it has been in an intrusive way, but with a good interest, because they care how you are getting on and to try and understand me a bit better'...
The Grimsby-born lad currently co-owns with his partner Neil, the Point Café and Bar in Cleethorpes. Davis works the tables at the front, while Neil does the cooking and he feels that as his sexuality is never an issue to his customers, that it should not be the same in sport. 'My partner and I work in the same place and it will probably come across that we are a couple', said Davis. 'But people do not walk out of our restaurant because of that. They come in for some good food and good service. It should be the same in football. I should be able to picked, or not picked, on merit, not because of my sexuality. You are there to play and do a good job for your team'...
'I'm happy being out and proud of it. I don't see why I should hide who I am. I think further up the football pyramid the harder it will be for a gay footballer to come out... I've only had one incident and that was a few weeks ago. It was two comments off one player', said Davis. 'I didn't react at the time it happened on the pitch, but I spoke about it afterwards. He managed to get hold of my number and sent me a text message to apologise. He said it was not done out of hatred and that it shouldn't have been said. I'd like to think that he came to that conclusion himself and was not told to apologise...
Gainsborough have been brilliant and the way they have treated me has really given me the confidence to talk more about this and feel comfortable playing my football'".
Colwyn Bay "have completed the signing of former Shrewsbury, Wrexham and Kidderminster midfielder Jamie Tolley. The 30-year-old former Wales Under-21 international who has been released by Kidderminster, played nearly 200 times for Shrewsbury and was with Bay manager Frank Sinclair at Wrexham. He has also had spells with Macclesfield Town, Hereford United and Mansfield Town. His signing, however, means that the Seagulls are now likely to release Jamie Matthews who could be joining Warrington, in order to reduce the senior squad to 17."
Meanwhile, Barrow "Have cancelled the contract of winger, Greg Mills, by mutual consent following loan spells at King's Lynn and Corby. Leicester-based Mills struggled to settle at Holker Street early in the season and is now expected to join Corby on a permanent basis".
---
12 January 2014
Today's Altrincham FC Ladies' cup match, away to Chester, has been postponed. Phil Taylor advises us that "The pitch, which was waterlogged, has frozen over. The game will have to be rearranged. Next week we travel to Stockport County in the Cheshire County Cup".
Saturday's Skrill North attendances were...
Brackley Town v Gainsborough Trinity 269
Colwyn Bay v Oxford City 367
Gloucester City v Bradford Park Avenue n/a
Harrogate Town v Stalybridge Celtic 454
Hednesford Town v Boston United 650
Histon v Worcester City 294
Solihull Moors v Leamington 877
The
Football Conference
says that "Gainsborough Trinity have signed well-travelled midfielder Ashley Burbeary from Grantham Town. Signed by Grantham on his return to the UK from Canada, where he had been turning out for Highlanders FC, Burbeary's career has seen him spend time at Droylsden, Vancouver Whitecaps, Mansfield Town, Gainsborough Trinity, Aldershot, Alfreton Town, Stalybridge Celtic, Sheffield FC and Frickley Athletic.
Despite having a number of clubs, the 27-year-old has been respected by many managers for his loyalty. He has now been top scorer at his last two clubs, leading the scoring charts for Highlanders after topping the lists for Worksop Town last season".
Tomorrow's Altrincham FC Ladies' cup match, away to Chester, is now subject to a 9.15am pitch inspection.
Cheshire Senior Cup Round 1
Monday 13 January
Tuesday 14 January
Altrincham v Stockport Sports
Cammell Laird v 1874 Northwich
Northwich Victoria v Crewe Alexandra
Stalybridge Celtic v Witton Albion
Warrington Town v Tranmere Rovers
Already played...
Macclesfield 2 Nantwich 1
The Hyde v Runcorn Linnets tie was postponed on 7th January.
---
11 January 2014
Saturday, 11 January
Skrill North
Altrincham v AFC Telford Utd POSTPONED
Brackley Town 1-1 Oxford City
Gloucester City 2-3 Bradford Park Avenue
Harrogate Town 2-1 Stalybridge Celtic
Hednesford Town 4-2 Boston United
Histon 1-2 Worcester City
Solihull Moors 0-0 Leamington
Stockport County v Vauxhall Motors POSTPONED
FA Carlsberg Trophy
Aldershot Town 3-0 Guiseley
Lincoln City 0-4 North Ferriby United
Following a pitch inspection at the J. Davidson Stadium, today's Altrincham v AFC Telford United match has been postponed. Torrential overnight rain and hail made the pitch unplayable, despite a favourable forecast for later in the day. The next match is on Tuesday night at home to Stockport Sports in the Cheshire Senior Cup.
And as for the free mince pies (see below), these will be available at a subsequent game (details to be announced)!
Altrincham FC goalkeeping coach, Ian Senior, confirms that goalkeeper Adam Reid (right) "has been released in search of first team football. From a coach's perspective, he had an excellent approach to training and, on the few occasions he played for the first team, I believe he showed potential, which he also displayed during loan spells at Clitheroe and Prescot Cables. Both clubs sent positive reports on his progress with them. Unfortunately, with Stuart Coburn retaining his excellent form, Adam's chances in the short term were limited, so he approached Lee Sinnott about leaving, and that request was granted. Good luck Adam!".
19 year-old Adam graduated to the first-team squad from George Heslop's youth team for whom he played from 2010 to 2012. He signed Conference forms in August 2011 and made his first-team debut in the Cheshire Senior Cup in November, 2011 and his first league start, in the BSBN, against Harrogate Town on 21 January 2012. However, after a further league start, at Blyth Spartans, Adam was unfortunate to find himself back on the bench. Before joining Altrincham, Adam was with Accrington Stanley.
Adam went on loan to Goole AFC at the start of October, 2012, with the aim of gaining match experience, and he returned to Moss Lane towards the end of that month. In March 2013 he went to Prescot Cables on loan and finished the season there. In 2013-14 Adam returned to Moss Lane but, after eight times being on the bench as an unused sub, he went on a month's loan on 11 October 2013 to Prescot once more. He made four first-team appearances in total.
Altrincham FC official caterer, Richie Bentley writes that "My crazy life gets better as I went to the wholesalers to buy Topside this morning. 'Do you want a free mince pie?' was the question from Charlie, the assistant manager at Booker Macclesfield. I replied 'Yes, please!'
I then followed that up with the question 'How many?'. Booker have long supported Altrincham FC and me and were happy to donate the remaining stock to me FREE of charge, all with a sell by date of 1/02/2014.
They were simply clearing the shelves for new promotions so I am now the proud owner of 2,000 mince pies. I intend to give these away for FREE to all home and away supporters as a FREE gesture from the Club and its catering staff to thank them for all their support, especially since amazing club stalwart, Keith Davey sadly passed away. I know he would be really proud of the way Dawn, Gemma and the team have run the Catering Units since I and Dawn undertook the privilege of running them for the Club.
Thank you to our amazing fans for using the Club's facilities and I hope our small gesture shows them how amazing we think they all are!"
The
Manchester Evening News
says that "Altrincham begin life without Danny Higginbotham with a top-of-the-table clash at home to AFC Telford... The Robins were rocked this week by the news that, just a week after making Higginbotham one of the most high-profile signings in the club's history, the former United defender would be retiring from football with immediate effect.
The 35-year-old played twice for his hometown club... but he felt it wasn't fair to keep playing for Alty once he realised he was 'going through the motions'. Manager Lee Sinnott had already assembled a squad capable of competing for promotion from the Skrill North though. The third-placed Robins spurned the chance to go top in midweek but they can do so today instead as they are just two points behind Telford"
In the Shropshire Star, "AFC Telford United manager Liam Watson told fans to expect another goal-glut at Altrincham, considering the attacking prowess of both teams. The Bucks travel tomorrow to take on the Skrill Conference North's leading scorers, with 53, having plundered 14 in their last five games themselves.
That has seen Watson's side go fourth in the league's team goal stakes with 43, behind Boston United (47) and Hednesford Town (48), who they have beaten during that run. Telford have yet to come across Alty this season and it's second away at third as they go into play, with the winner standing a great chance of going top of the table.
League leaders North Ferriby United, who have played a game more and are in FA Trophy action this weekend, are only ahead of Telford on goal difference and two points clear of Alty at the summit.
Watson said, 'It's only Alty, Guiseley and Oxford City that we haven't played in the league so far this season. As a player and manager, I have had some ups and downs at Alty in the past. I know most of their players, we have had them watched and they are a good team, with forwards who can score goals, so it won't be an easy game. You could say they are suspect at the back but some might say we are, too. We conceded three against Hednesford and two at Harrogate, so it's likely the emphasis will be on attacking.
We have actually started to climb up the goal-scoring charts, there's only a few now with more than us. It's quite pleasing and I believe we have got good goal-scorers. We shouldn't go to any team in this league looking for a draw, we always set up to win any game'.
Watson is still trying to decide between top scorer Adam Farrell, Tony Gray, [ex-Alty duo] Andy Owens and Mat Bailey for his strike force tomorrow and admitted he's still unsure which is his best pairing. The Bucks boss said, 'You try and stand by them, which I have done, but I can't turn around and say I honestly know what the best pairing is'".
The Football Conference adds that "Both sides start out at Moss Lane knowing that a win will take them top of the table by Saturday tea-time".
We learn in the Shropshire Star that "AFC Telford United captain Simon Grand is as determined than anyone that the club cross the finish line as champions this season, so he can have a stag do!
The father-of-one is getting hitched to his partner Catherine in May and would dearly love a knees-up with his Bucks team-mates before he takes his vows...
The skipper regularly makes the 200-plus mile round trip from his home in Blackpool for twice-a-week training and home matches to play for a 'big club'. He said, 'I think I live the furthest away from Telford but, with the way things are going, it's well worth the journey. It's a club I really want to be at and I knew that when I signed. I have been everywhere, from Carlisle to Aldershot, there's not many areas that I haven't covered, really. I would still rather be playing full-time, but it's strange like that.
I always seemed to have more time to myself then, I would train in the morning and then I would go to the gym if I wanted to later in the day, with my evenings free. When you are part-time, you are kind of waiting for the training session at night, so you can't do that much physically during the day. I don't have a job outside of football. I have got my little one-year-old daughter, Lola, to look after so it's 'daddy day care' for me at the moment. I get married this summer, so we need to win the league. If we are in the play-offs, I don't think I will be able to squeeze a stag do in. The wedding is on May 25 but the champions will be done by April 26!'...
On Tuesday when the league fixture was postponed, he said, 'I was half-an-hour into my journey when Liam phoned me and said 'turn back around'. I set off at 3.30pm and about 4pm I found out the game was off... I ended up frustrated, because I loaded up with pasta and I had all of the energy I needed. In the end, I was sat at home twiddling my thumbs!'.
It was due to be Grand's return after two-and-a-half weeks out with a calf injury, which now looks like it will come tomorrow at Moss Lane. He said, 'I have felt perfectly fine, with no feeling of it, but then the physio gets you on his bed and starts digging his thumbs in and you can still feel the tear there.... I have got a full training session under belt so, hopefully, this is the one for me...
'We have been conceding a lot of goals from set pieces. You can't really point at your defence, it's really down to the team to shore that up or individuals marking their man. You get that different perspective from the stands... It's nothing to worry about, we could end up going the next 10 games without conceding one from a set-piece. But that's where the goals have been going in'".
The
Football Conference
says that "Bradford Park Avenue have signed defender Ryan Qualter from neighbours Ossett Town and striker Danny Glover from league rivals Worcester City. Qualter, 22, was skipper at Ingfield and was one of only a handful to stay with Town after a disappointing 2012/13 season. Town boss Craig Elliott opted to hand the skippers` armband to Qualter... after his arrival from Tadcaster Albion... Qualter was on the books at York City.
Glover, who was in his third season with Worcester over two spells, leaves City after discussions with the management team after a formal approach from Park Avenue at the beginning of the week. Worcester manager Carl Heeley said, 'It has been a tough season for Danny and he is bitterly disappointed and frustrated with his goals return of three to date and a fresh challenge might do him good. I have a lot of time for the player and appreciate his loyalty in staying with the club during the summer'".
According to NL PItchero, "Oxford City have signed Spaniard Juli Serrano from Finnish side Seinajoen Jalkapallokerho (SJK). SJK signed Spaniard Serrano in May 2013 with an option period for 2014. Serrano is a 22-year-old defensive midfielder, who started as a junior in the Espanyol academy. He has also represented the Espanyol reserve side before having spells with two other Spanish teams, Villanovense and Club Gimnastic de Tarragona before moving to Finland."
Elsewhere, the Conference reports that "Paul Casson said that he is willing to inject more than £1m into Barrow AFC over a two-year period following any successful takeover bid. The 'minimum' low seven-figure would be made up of an initial injection of around £250,000 which would be used to pay off some of the club's long-term debt, including their Furness Building Society mortgage.
Significant five-figure monthly payments would also be paid to meet operational costs over the next two years. However, these cash investment figures could change pending further investigation of the club's finances and subsequent negotiations with the board.
In order to invest such a substantial amount of money Casson told the North-West Evening Mail that he wants the club's ownership structure to change from the current club membership model to a share capital structure to reflect his position as the sole owner.
Casson would create a general manager-type role (although this position was identified as a 'director of football' in an open letter to the board) and that person would serve as the 'face of the club' in the town. A manager would continue to look after team affairs. A chief executive-type role could also be created.
Casson's long-time friend, Edinburgh-born Jamie Reid – who is 59 years old and says he has held managerial positions at companies including United Biscuits and now runs an interior design business Stewart Interiors with his partner on Merseyside – would be in line to take on a managerial role at Holker Street at least in the short term.
Casson would be the chairman of a new board of directors, but he would not be in charge of the day-to-day running of the club, as he is based in Dallas. The board of directors would also consist of, but not be limited to, two of Casson's UK-based family members, Reid, two Barrow-based members and two current season-ticket holders. Casson stated that he is also open to the idea of a current director remaining on the board for the purposes of continuity.
Casson would review all existing contracts at the club. He would open a club shop in Dalton Road."
The NW Evening Mail adds that "Prospective Barrow AFC owner Paul Casson says the club's members must scrap their ownership model if they want him to lead a new Holker Street regime... 'The club would have to be restructured to where they actually have shares', Casson told The Evening Mail. 'Initially, they wouldn't be worth a heck of a lot. But the club would have shares and I would be the majority shareholder and so my investment goes into the club as invested capital (as opposed to a loan)... If you have two parties wanting to do the deal then it's always possible'...
In an official AFC statement, published on their official website on September 24 when members were formally notified of Casson's withdrawal of interest, the club stated that they advised the exiled Barrovian that there were still some concerns among some fans over another 'single private owner' getting their hands on the power levers... Asked specifically why he wants the club to switch to a share capital model, Casson added, 'Oh, because otherwise why would I put any money in? So right now there is literally nothing to invest in... Under the club's present format it's impossible to invest. You can give them a loan or you can give them money, you can't invest because there is nothing to invest in. If you want to make a club that's going to grow they are going to have to be prepared to have some kind of vehicle that can take investment and something that is attractive to people; they want to put money in with the possibility that if the whole thing grows they will get their money back with interest. By owning shares it is just a more normal way of owning a business...
At the moment there's no way that you, I or anyone else can invest in that club. I'd own Holker Street and I'd pay, say £700,000, and then the football club, as far as I understood, would still be run by the board of directors at the behest of the members. Being the majority shareholder would allow me to make decisions that I think would help the club go forward'...
In their statement, AFC confirmed that, as a company 'Limited by Guarantee', they can't be sold to an individual as they have no share capital and none can be issued. And as members were told at AFC's most recent AGM the club 'does not have equity, shareholders or owners'. It is the members and elected board of directors who govern the club without actually owning it.
It therefore appears – as highlighted in the club's statement – that Casson would be required to form a new company which would buy Holker Street – which was re-valued at £600,000 in 2010, up from £450,000 in 2005 – plus the ground's fixtures and fittings. The club made it clear to Casson that the sale of the ground should be at current market value.
Casson, the club said, would also require the approval of the Football Association and the Football Conference to 'transfer the Football registration to the new company' – the right to play football is the club's big intangible asset (an asset that can't be physically touched). AFC's mortgage lender Furness Building Society, the club's debenture holders and Barrow firm St Andrews Engineering, who have loaned the club money, would have to agree to the sale of Holker Street as the debts owed to them are secured against the ground.
However, Casson's initial proposal to invest an initial £250,000 to help pay off club debt, and then to inject significant five-figure payments over the next two years – his estimate of what the whole AFC business is worth based on the 'limited' financial information he claims to have received – appears to be incompatible with the criteria set out.
On top of this the club stated, without quoting figures, that there was a significant difference between the amount of money effectively being offered by Casson 'to acquire the asset' and the market value of the ground as per the club's most recent valuations...
'The basic issue is what's the business really worth, that's my question', said Casson. 'Forget about all of the stuff about what the ground might be worth – what is the business worth?... The brand is an intangible asset, that might have some worth, probably not much, and then you can value a business on future earnings. Well, right now, they are all negative, that's the problem... I want the board of directors to tell me what they think it's worth. If they tell me it's worth £750,000 then they are going to have to provide me with information which says that basically the asset is worth £750,000 and that the net present value of the operation of the rest of the club is zero'...
Paul Casson was born in Willow Road, Barrow, in 1953... He left Loughborough University in 1978 with a Ph.D in electrochemical engineering and then emigrated to the US... Casson is the President of Casson-Mark Corporation, a telecommunications service provider firm that he formed in 1993. Casson-Mark's services include erecting mobile phone masts... and the businessman claims his firm employs 400 people and boasts nine sites across America with the headquarters being based in Dallas, America – where Casson resides".
Meanwhile, "Grimsby Town`s youngster Caine Winfarrah is to join Gainsborough Trinity on `work experience`. The player will continue to train with the Mariners but will play for Trinity. Winfarrah, who can play at left-back or left midfield, has featured in the Town first-team this season, including a substitute appearance at Woking".
At the Bower Fold, the Football Confernce reports that "Stalybridge Celtic have signed yet another goalkeeper in 20-year-old Dan East. East was a trainee at Wolverhampton Wanderers before moving to AFC Telford United during 2011. He signed for Brighton later the same year but failed to make a senior appearance...
He had a loan spell with Enfield Town in November 2012 and another with Hastings United in February 2013. He was released by Brighton at the end of last season and re-joined Enfield at the start of this season. He then had trials with Fleetwood Town before signing for Celtic`s league rivals Colwyn Bay towards the end of September".
According to the Lincolnshire Echo, "Boston United have bolstered their depleted squad by making a hat-trick of signings...
Corby Town defender Brad Gascoigne, Sunderland midfielder Liam Agnew and Gambian striker Pasulay Njie have joined Dennis Greene's squad. Gascoigne and Njie have penned non-contract forms, while Agnew has joined the Pilgrims on loan from the Black Cats. Greene has been forced into the triple swoop due to a growing injury list and suspensions".
Boston United confirm that "The signings come with six first team regulars ruled out. Striker Charley Sanders, meanwhile, has penned a contract with United and has immediately joined King's Lynn Town on loan for the remainder of the season".
The Manchester Evening News tells us that "Stockport County are 16th after going four unbeaten and host Vauxhall Motors. The visitors are 12th but a County victory would send them above Vauxhall on goal difference".
---
10 January 2014
Altrincham entertain AFC Telford United on Saturday. And, whilst the Robins will be without the suspended Nicky Clee, and have injury concerns over James Walshaw, the visitors also have some fitness problems, as outlined below.
The Shropshire Star tells us that "The Telford squad report back for training tonight after Tuesday's Skrill Conference North trip to Worcester City was postponed due to the weather. Right-back Wes Baynes is an injury concern after coming off with a groin problem at half-time in last weekend's 2-2 draw at Harrogate Town. Simon Grand, after five games out with a calf injury, will get his first training session under his belt but Chris Lever, who can play anywhere along the back four, is out with a groin problem.
Watson said, 'Wes tweaked his groin earlier in the season on a Tuesday and still played the Saturday, so we are hoping it's something similar'".
The Star adds that "AFC Telford are considering a request from AFC Fylde to extend the loan of winger Sean Cooke. Bucks' boss Liam Watson transfer-listed Cooke in mid-December and shipped him back to his former club, who he left to sign a two-year contract in Shropshire last summer.
His terms are due to expire after Fylde's game at Marine a week on Saturday... Watson said, 'I think Fylde are looking to extend Sean's loan so he's obviously done well for them again. It finishes next Saturday and I am easy about where we go from there. It seems they want to keep him and, while he's playing games, he may as well carry on doing that. But I would never say that anyone has no future. He's a contracted player and it can all change. If he comes back here he will be treated the same as everybody else'.
AFC Telford United themselves report that "Manager Liam Watson has urged against overhype as his second-placed side travel to third-placed Altrincham on Saturday...
Whilst supporters of both clubs are sure to be eagerly anticipating what promises to be a mouth-watering afternoon in Cheshire, Watson knows that Saturday's encounter is just the first step on an undulating road which the Bucks must travel between now and the season's end.
'A few weeks ago Solihull were seventh and went top with one win, so I'm not kidding myself', Watson has said ahead of the match. 'Without a doubt, the leadership of this league will change repeatedly between now and the end of the season. There will be lots of twists and turns'.
Liam continues, 'You only get three points for beating top of the league and you only get three points for beating bottom of the league, although beating teams considered a rival always seems much better because they're not getting any points'.
Altrincham, managed by former Farsley Celtic and Port Vale boss Lee Sinnott, boast a squad full of talent... an embarrassment of attacking riches...
The industrious Carl Rodgers (right)...is also well-known to Telford fans. Indeed, Rodgers remains second on the list of all-time appearance makers for the Bucks, having made 211 outings during a six-season stay.
In defence, too, "Alty" have a number of players with pedigree...
Liam adds, 'They've got a decent wage bill, as have Brackley, Harrogate and North Ferriby, and they were beaten in the play-offs last season so they were always going to be one of the teams to be feared this season. That's proved to be the case. We know what we're going to get and we know all the players at Altrincham. Reeves is as good as anyone goalscorer-wise at this level, but they've certainly got weaknesses as well, which we'll try to exploit. We've just got to concentrate on ourselves'.
It hasn't been a good week for Altrincham so far. A shock 5-4 defeat at struggling Gainsborough on Tuesday was followed by the sudden retirement on Wednesday of former Premier League defender Danny Higginbotham, who only signed for the Robins last week.
Meanwhile the Bucks, who looked tired at Harrogate last Saturday following a hectic Christmas, will hopefully be rejuvenated after Tuesday's scheduled fixture at Worcester fell victim to a waterlogged pitch... 'I gave the players the night off on Tuesday so they've had a nice break and should be refreshed ahead of a good, sharp session on Thursday', Watson adds. 'Altrincham have been to Gainsborough on Tuesday, so hopefully that should be an advantage for us'.
Telford travel to Moss Lane looking to extend a sequence of scoring in each of their first eleven away league games of the season. Not since the days of Wellington Town has a Bucks Head side done so, with neither AFC Telford United nor Telford United having previously managed that feat.
Captain Simon Grand will come back into his manager's thoughts after recovering from injury, but Wes Baynes is doubtful after being forced off at half-time last weekend."
The
Leamington Courier
tells us that "Paul Holleran says he does not blame Stefan Moore for swapping Leamington for a Conference North promotion push with Brackley.
The former Aston Villa striker is expected to complete his move to the Northamptonshire side ahead of their clash with Gainsborough at the weekend and Holleran said there was simply no way Brakes could compete with the financial package offered by their rivals.
'If we'd been talking £100 or £200 difference then Stefan Moore wouldn't have moved on', said Holleran. 'Brackley made him an offer he couldn't refuse. When you consider where he has played before, he described this as his best offer in football. I don't want to make him sound like a mercenary; he could have got more than we offered in the summer and turned down two approaches this season. Stefan has been brilliant for Leamington and I'd sign him again tomorrow if I could.
I certainly wouldn't rule out seeing him in a Leamington shirt again in the future. The football club did a lot to try and hang on to him. But we've got a structure and we've got to try and stay within our means. We don't want to go down the road where we stretch ourselves. The job for us now is to find another Stefan Moore'.
Holleran is hoping that player could be Danny Newton, who has made the move in the opposite direction after joining Brackley earlier in the season. Newton is set to sign a deal until the end of the campaign and his capture signals the end of a long chase for the Brakes' boss.
'I tried to get him from Barwell earlier in the season after he scored ten goals in 13 games and I also tried to sign him when he was at Hinckley and Nuneaton. He's got plenty of pace and he joins a young, exciting group of players'".
Meanwhile, the Wetherby News reports that "Harrogate Town will make a move for goalscoring trialist Nathan Cartman. Cartman impressed for Town during a 45-minute second-half stint in Wednesday night's 3-1 victory over a Leeds United XI. The Harrogate Railway forward has scored 13 goals in Evo-Stik First Division North this season.
And Town boss Simon Weaver confirmed... 'He deserves that opportunity. He started off at Leeds United and I was speaking to Neil Redfearn who is the Under-21s coach, and he rates him. Railway boss Billy Miller thinks the world of him. Maybe we can dual-register him and come to some agreement between the clubs. There's a fluidity of movement between the two clubs in terms of movement. If they can help us and we can help them, it's win, win'".
According to This is Lincs, "Boston United are facing a defensive shortage ahead of Saturday's showdown at promotion rivals Hednesford Town. The Pilgrims must cope without centre-back Scott Garner and left-back Rene Steer for the trip to Keys Park. The pair are both suspended, while right-back Liam Marrs, who has extended his loan spell from Sunderland, is battling to overcome the knee injury he picked up in the defeat at Telford over the festive period.
Greene admits the lack of available defenders is a blow ahead of such a crucial game, but insists he will still be able to field a solid defence".
---
9 January 2013
Last night, Altrincham defender Danny Higginbotham announced his retirement; full story
here
.
"Altrincham Football Club are proud to announce a Sportsman's Dinner to raise money for the club and local charity St Ann's Hospice. In attendance will be former England international and Southampton player, Matt Le Tissier. Now a Sky Sports pundit, Matt played over 440 games for Southampton, spanning 16 years, as well as making 8 appearances for England. Along with a three-course dinner, there will be a comedian to entertain you and a raffle and auction to raise vital funds for these two causes.
The event will take place on Thursday 6th March with a 7.30pm start at the Cresta Court Hotel, Altrincham with John Havern as the MC for the evening. Tickets are priced at £40 or a table of 10 can be booked for £350 + VAT. To avoid disappointment for what is sure to be a very popular evening please email your requirementsfor the attention of Stacey".
Altrincham FC – Football Pontoon 2014.
"With the Christmas period over our sights must be set on attaining promotion in 2014. With this in mind we are proposing to run a football pontoon, starting on Saturday 1st February 2014. To play it will cost you the princely sum of £10 and the winner will receive at least £100 cash. Rules:-
You pick one random team out of a hat and that is your team for the duration of the competition. Premiership, Championship, League 1 & 2 and Skrill teams are available.
Your team has to be the first team to score EXACTLY 21 goals for you to win.
If your team goes over 21 goals, you are bust!
Only competitive games (League or FA Cup games), played on a Friday, Saturday, Sunday or Monday, count towards the goal total.
If more than one team reaches exactly 21 goals on the same day, the prize money will be shared, (there will be no Season Ticket option).
If a particular weekend's matches are missing any teams, due to postponements or blank fixtures, those teams will be awarded 2 goals.
International weekends do not count towards scoring.
An updated table showing each person's team and how they are doing will be posted on the website and in the programme as soon as possible. Let me know if you wish to join up for this exciting game of Pontoon. If you have any questions, do not hesitate to phone me 07720-606897 or contact me by
e-mail
".
Thank you very much, Grahame Rowley".
On Saturday at the game against AFC Telford United, Graham Houghton, Paul Fay and the under 17s' Altrincham FC youth team will be at the stadium selling raffle tickets. The raffle is part of the same fundraising effort as the holding of an 'Evening with Graham Heathcote', namely to help fund a trip to Ireland for the U-17s' teamto play in the Foyle Cup in July.
The tickets are priced at £5 each, with the excellent prize of hospitality for two at Old Trafford for the Manchester United v Liverpool game on March 15th. (This date is still to be confirmed, as it may be moved for TV coverage). The draw will take place on the evening of 8th February during the 'Evening with Graham Heathcote' function in the Manchester Glass Ltd Sponsors' Lounge. Tickets for this event are available from the Club now.
Altrincham FC's Youth Education Programme team got another excellent result on Wednesday when they drew 2-2 away to FC Halifax Town, played at Keighley "due to the recent heavy deluge of rain".
LADIES' MATCH ABANDONED
As previously reported, Altrincham FC Ladies' match, away to Warrington Wolverines, was abandoned after 23 minutes on Sunday. Phil Taylor's report on this is now
here
. Next Sunday the Ladies play Chester in the Challenge cup, details to follow....
Ian Senior reports that he lost again on the Crossbar Challenge instalment which took place before the match at Gainsborough, last Tuesday. "Fading fast!" was all Ian could say as he fell 16-10 behind after another sudden death defeat. "I was hoping to be level in New Year, but it's gone a little pear shaped!", said Alty's goalkeeping coach. However, Ian Senior is reaching for the rule book after Neil was sent off from the touchline during Tuesday's game. If Neil is dealt a three-match suspension, Ian may claim walkovers in the matches affected to reduce his opponent's lead!
Highlights of the Gainsborough v Alty match on Tuesday are
here
; nine goals and a sending off in fewer than seven minutes of video!
Gainsborough Trinity report that "Nine goals, a sending off and three bookings made for a crazy night of football at the Northolme. Gainsborough Trinity celebrated a superb 5-4 win against high-flying Altrincham to follow what was their worst 90 minutes last Saturday. Goals from Liam Davis, Jamie Wootton, a Bradley Barraclough double and one from Simon Russell earned the Blues a welcome and deserved win...
The league's leading scorers huffed and puffed".
According to the
Worcester News
, "Striker Kristian Ramsey-Dickson has become Worcester City's third signing in the space of 24 hours and manager Carl Heeley expects more to follow. The City boss has acted quickly to strengthen his squad following last Saturday's 6-1 defeat at Bradford Park Avenue...
Utility player Aaron Brown agreed a deal with Worcester on Monday and he was joined by centre-half Jamie Grimes on a month's loan from Kidderminster Harriers. Now Ramsey-Dickson, a former Great Britain basketball player, has been drafted in on a permanent deal.
The 24-year-old was most recently at Alfreton Town and would have been available to make his debut in last night's match against Telford United at Aggborough, which was postponed because of a waterlogged pitch.
Heeley said, 'We nearly took him on loan from Alfreton earlier in the season but he brings a presence up front, he's powerful and strong. Going through these winter months, we need big, powerful players and, from the signings we have made, we are trying to look at the core of the side. It probably won't be the last of the signings either. We have got a lot of irons in the fire and we have done a lot of groundwork but the intention is to strengthen the squad'".
Bulls News reports that "Wrexham... youngsters Anthony Stephens and Jonathan Royle will stay on loan at Colwyn Bay while forward Nick Rushton will stay with Barrow as boss Andy Morrell uses the wages saved to try and bolster his first team."
News of Saturday's visitors to Altrincham comes from the Shropshire Star, to the effect that "AFC Telford United held their ground in the Skrill Conference North without kicking a ball after their game was postponed... Alty still trail Liam Watson's side by two points... where[as] Telford's trip to Worcester City was called off late yesterday afternoon.
Heavy rain made the pitch at Kidderminster Harriers' Aggborough ground, where Worcester are tenants, unplayable on the day of the game... It would have been the sixth run-out in 17 days for Watson's troops and they are unbeaten in half-a-dozen Skrill Conference North matches.
Telford now prepare to meet one of the few teams they have yet to face this season and Watson admitted the rest could come at the right time. He said, 'I am pleased for the break, to be honest, we have a few injuries and the lads have had a lot of games lately, so it's good that we can rest. It's the first game we have lost to the weather so we have done well, really. We have had fixtures re-arranged due to the cups, but that's it.
We would have trained tomorrow night, either way, so the players will be back in then and we can see where we are for Saturday. Captain Simon Grand will now be able to get a full training session under his belt before he is considered for selection, after five games out'.
The Bucks' skipper is nearly ready to return, but may face a battle to dislodge the central defensive pairing of Neill Byrne and Dan Preston. Grand pulled his calf muscle in training before the Brackley Town game on Saturday December 21... Watson said, 'If he can get through training tomorrow night, we will have another look at him. It gives me another option, but I think Neill and Dan have done al right in the two games they have played together'".
Cheshire Senior Cup 13-14 - First Round
Macclesfield Town 2-1 Nantwich Town, att. 139.
Northwich Victoria P-P Crewe Alexandra (Waterlogged, now 14/1)
Hyde FC P-P Runcorn Linnets (Waterlogged pitch).
---
8 January 2014
Altrincham FC joint Press and Media Officer, John Edwards, writes...
"An emotional Danny Higginbotham has admitted time has caught up with him and announced his retirement from football with immediate effect.
In a shock development that comes just a week after he signed from Chester, the 34-year old former Manchester United, Southampton and Stoke defender has reluctantly, and with regret, ended his brief Altrincham stay and accepted his career is over.
Describing how joining his home town club was one last attempt to rekindle his love of playing, Higginbotham reflected on a decision that came after days of soul-searching and heart-to-heart talks with friends, family and colleagues in the game.
Speaking to Alty's official website, he said, 'I realise this will come completely out of the blue to a lot of people, but, believe me, it is not a decision that has been taken lightly. It is a massive step to hang up your boots and accept you are finished, but it's one I could not avoid.
'The plain truth is, I have been going on to the pitch recently not wanting to get hurt. It's almost like I've been going through the motions, and that's not me. I haven't been enjoying it, and I haven't been giving my best, and that's not only out of character but something I can't live with. I have never short-changed anyone in my life, and I'm not about to start now, especially with a club and set of supporters as close to my heart as Altrincham.
'That pointed to just one conclusion and, while I'll never forget signing forms at the ground and pulling on the shirt, I'm just desperately sorry it's all over after only two games.
'To be honest, the downward spiral started when I decided I'd had enough of full-time football with still a year left on my contract. That told me something, but I still went to Chester because my media work was taking off and I wanted to show there was still something left in the tank. For the first few weeks, I enjoyed it and thought it might work out.
'I got on brilliantly with everyone, but that enjoyment didn't last. I actually began to find that after every game, I had only one thought in mind. Win, lose or draw, I couldn't wait to get back home.
'That's not right, and it's not me. I'm the first to admit the long and successful career I've had in the game has not been based on technical ability. It has been down to desire and a wholehearted approach. I have always given everything, every last drop but, for a while now, that hasn't been the case. The moment that starts to wane, you've got to think about calling it a day.
'Looking back, I should probably have quit when I left Chester, but I couldn't pass up the chance of joining Alty. I always said I would play for the club I have always supported and I genuinely hoped it would prove the catalyst for firing me up again and getting me back to how I used to be.
'But the harsh reality is, it didn't and, if anything confirms it is time to go, then that's it. It was just surreal wearing the jersey and walking down the tunnel after all those years watching hundreds of games from the terraces, and I wouldn't have missed it.
'But what outweighs everything is that I absolutely refuse to pick up money from the club under false pretences. I signed for the rest of the season, with the option of another season, but if I can't give my best, I'm not going to try and hoodwink anyone.
'It comes to us all at some time or other, but that doesn't make it any easier to accept. I desperately wanted to help us to promotion, as a minimum, but there was simply no hiding from the truth. I've been going through the motions, and that's not right. Even on my debut against Leamington, the other lads were working their socks off to get the result that finally went our way, and it struck me they deserved a place in the side far more than I did.
'Last night at Gainsborough just confirmed it. It wasn't because we lost. I can take a defeat. I just wasn't enjoying it and wasn't putting my body on the line like I used to in my Premier League days, and I just couldn't put it off any longer.
'I spoke to Neil Tolson and asked about how he knew the time was right to finish, and then I spoke to the manager. And I have to say, Lee Sinnott was unbelievable, absolutely brilliant. He asked me how I was feeling, and I poured it all out to him. I told him exactly what was going through my mind and asked what he thought, and he just said: "I think you've answered your own question."
'I have talked this over with so many people, because I have really struggled to get my head round the fact that I have had my fill of playing football and will not miss pulling on a pair of boots on a Saturday afternoon. It is so difficult to accept, and it has been an emotionally-draining few days trying to come to terms with stepping away from it all. But I remember Jamie Carragher saying "leave football before it leaves you", and he was spot-on.
'I have discussed it at great length with my wife and family and former team-mates who have been in the same boat, like Rory Delap, Richard Cresswell and Michael Duberry.
'Michael said: "When the effort is a lot more than the rewards you're getting out of it, then something's not right." Again, spot on. It has been an honour and a privilege to have had such a great career with so many outstanding clubs, and I only hope everyone connected with Altrincham understands why I have taken this step. I wanted it to work more than anything, but I can't reverse what has been gradually taking hold for a while now.
'My parents, wife, colleagues, everyone I've spoken to has arrived at the same conclusion. I'm done for. I can only reiterate that it meant everything to me to tick that last box and call myself an Alty player, and I did it with every intention of making a right go of it and seeing this season out as a bare minimum. I wanted to play a part in getting us back up into the Conference Premier, then sit down in the summer and carefully consider the next step.
'That was the plan, but what matters more to me is giving value for money, and if I'm not putting in performances that justify the club's outlay, it's in everyone's best interests to call a halt.
'One thing that won't change is my allegiance to the club. Altrincham will always be special to me, and I will continue following the push for promotion every step of the way. It is a shame it won't be from closer quarters, but, whichever way you look at it and no matter how hard it was to face up to it, it was a decision that couldn't be put off any longer.
'I had to be true to myself, and if I had carried on pocketing money for the rest of the season, I'd have been letting down the rest of the players, the manager, the supporters and everyone connected with the club. I hope no-one thinks negatively of me, but the plain fact is, I couldn't do that. That is the top and bottom of it, really.'"
Alty's hopes of going to the top of the table took a nosedive with a disastrous first half performance at The Northolme.
Match report here.
TUESDAY GAMES
Tuesday, 7 January
Skrill North
Boston United 5-3 Workington
Gainsborough Trinity 5-4 Altrincham
Stalybridge Celtic 1-3 Barrow
Worcester City v AFC Telford Utd POSTPONED
NL Pitchero
tells us that "Boston United have completed the signing of winger Ryan Semple from Ryman League Premier Division side Bury Town. The 28-year-old, who scored nine goals in ninety-seven appearances for the Pilgrims between 2010 and 2012, is back at The Jakeman`s Stadium for a second spell.
Since his departure in the summer of 2012, Semple has played for Corby Town and, subsequently, scored five times in twenty-seven appearances for Bury this season".
The Altrincham FC Saturday Yankee jackpot now stands at £4,400. The winning code last week was 6207, which produced five winning trebles, each netting their code holders £30.
---
7 January 2014
Alty's last visit to the Northolme was also in midweek and was memorable for a floodlight failure which delayed kick off till 8.45pm. Alty raced into a 4-0 lead inside 37 minutes before emerging 4-2 winners. Damian Reeves netted all four goals. In advance of Alty's trip to The Northolme, the
Lincolnshire Echo
tells us that "Gainsborough Trinity face defensive crisis as Skrill North's top scorers come to town. Steve Housham has urged his side to come back fighting following their heaviest defeat of the season.
Gainsborough Trinity boss Housham said his team lacked desire and heart as they fell to a 5-1 loss against Stockport County at home on Saturday. However, Housham says that can be put down to a 'bad day at the office' as long as the team reacts with a win against Altrincham on Tuesday...
With the club's only centre-half [ex-Alty man] Greg Young having to be helped off the pitch just before half-time on Saturday, Housham has been presented with a defensive crisis. 'If there are any central defenders out there who want to come and play for free, give me a ring', Housham joked. 'Lears (Michael Leary) has played centre-back before in his career so it may be an option we might be forced into. We will have to see. Greg has a couple of days' rest, so I don't know how bad he is just yet. He is the only centre-back we have got at the club, but we have to get on with it. We knew the situation before and, now, from looking at getting into the top 10, we are looking over our shoulders again.
It was the manner of the defeat. I didn't see any heart or any desire and that's the thing that hurts. There were no fully committed challenges from anyone. I think Greg Young did one and got booked for it. But we have to stick together and go again on Tuesday'".
Alty TV has Brian Flynn's post-match interview with Danny Higginbotham, right, in which he explains what happened when the visitors were awarded a penalty.
Kevin Thompson's show on Alty and Sale Sport, yesterday, has match reports and post-match interviews from Altrincham's three Christmas period games, as well as an interview with Danny Higginbotham.
Altrincham FC depends greatly on support for its off-the-field events and activities. So do please support as many of the following events as you can - more details and, where appropriate, tickets, are available from the Club by phone (0161 928-1045) or
e-mail
.
13 January 2014: ALTRINCHAM FC AGM

All shareholders are invited to attend the Club AGM in the Manchester Glass Sponsors' Lounge from 7pm.

8 February 2014: AN EVENING WITH GRAHAM HEATHCOTE

Paul Fay and Graham Heathcote are arranging several events to raise funds for the Altrincham FC under-17s to compete in the Foyle Cup in Ireland in July. Graham will talk about his 40 years in non-League football. Tickets are £15 and include a two-course meal provided by club caterer Richie Bentley

22 February 2014: MEET THE NEW RECRUITS- PART 2

Panel to be announced. Tickets are £15 and include a two-course meal provided by club caterer Richie Bentley

6 March 2014: MATT LE TISSIER - SPORTSMAN'S DINNER

To be held at the Cresta Court Hotel, Altrincham. Tickets £40 per head or £350 plus VAT for a table of ten.

21 April 2014: END OF SEASON RACE NIGHT

The annual event which includes the Player of the Season awards presentation.
LEAMINGTON GAME ARCHIVED
The Radio Robins live commentary on Altrincham v Leamington is available
here
.
Leamington
report that "The recent good run of results may have come to a disappointing end at the home of promotion chasing Altrincham but there were many many positives to take from a stirring display full of character and endeavour by Leamington, who more than matched their hosts for long spells and looked good value for a well earned point after dragging themselves back into the contest from two goals down only to fall to a brilliant 87th minute strike from substitute James Walshaw.
Buoyed by an unbeaten sequence over the festive period against Brackley and Hednesford Town, Brakes signalled their intentions inside the opening minute, skipper Stephan Morley stinging the palms of Alty keeper Stuart Coburn with a powerful drive from fully 30 yards.
Despite this Paul Holleran's side found themselves behind after just 5 minutes when a right wing corner was headed back into the 6 yard box by Tom Marshall, Kyle Perry out jumping Matt Dodd to allow Damian Reeves to loop a header over Tony Breeden into the net...
Altrincham moved two goals clear 8 minutes in, Perry heading in at the second attempt after seeing his initial shot cleared off the line by Mace. Breeden felt he had been impeded by Reeves when vying for the ball as it was played into the box, but couldn't get hands to it, leaving the Alty number 10 to set up his strike partner.
The scoreline was tough on Brakes but to their credit they continued in the same fashion, and were offered a route back into the match within 4 minutes when debutant Danny Higginbotham was penalised for pulling back Stefan Moore as he attempted to latch on to a long throw into the six yard box. Matt Dodd stepped up to outfox Coburn with his run up, calmly placing the ball into the opposite corner to the keeper's dive...
Joe Magunda was inches from connecting with a dangerous cross from Dodd, before the livewire wing man won a free kick on the right on 73 minutes, Morley firing a left footed cross right into the path of Johnson, whose flicked goalbound header was helped into the net by the slightest of touches from Magunda to equalise...
The game looked to be heading towards a draw, which would probably have been a fair result, but the goal that won it was a worthy one, Walshaw doing exactly what Lee Sinnott sent him on to do when he turned sharply onto a pass from Moult on the edge of the box to fire a cracking first time effort around the dive of Breeden into the net".
NL Pitchero
tells us that our Cheshire Senior Cup opponents, next week, "North West Counties League Premier Division club Stockport Sports have announced the signing of pacey striker Ben Brooks from neighbours Cheadle Town and the departure again of Ricky Anane on loan.
Brooks has featured against the Saxons this season playing and scoring for Winsford United in the FA Cup clash between the sides in August. Brooks made his debut for Sports against Maine Road on Saturday, impressing in his first outing and clinching the man of the match award.
Meanwhile, Sports confirmed that Ricky Anane had joined Warrington Town, initially on a loan deal. Anane recently saw a similar move to NPL Premier Division outfit AFC Fylde end early due to injury and he will be keen to make the most of his latest temporary switch".
According to the
Football Conference
, "Colwyn Bay have taken up the option to extend midfielder Jonathan Royle`s loan spell from Wrexham until the end of the season. Royle initially joined Bay on loan from Wrexham, where he is highly rated, at the end of October until January 5th with the option to extend.
He signed a professional contract for the Dragons earlier this year after completing his scholarship, and made his first-team debut in the final game of last season against Mansfield Town. The 19-year-old has now signed for the Seagulls initially until May 1st."
And "Worcester City have signed much-travelled defender Aaron Brown. An experienced campaigner, Brown played for the likes of Stafford Rangers, Reading, Aldershot Town, Tamworth, Yeovil, Burton Albion, AFC Telford United, Truro City, Leyton Orient, Maltese side Floriana and Irish outfit Limerick in his career. The 30 year-old Wolverhampton-born player stands as a towering presence at the back at 6'5".
He agreed a short-term deal with Kidderminster Harriers in time to make the bench in the FA Cup against Sutton United in November after international clearance forced a several-week wait, but he left just before Christmas after making just one appearance".
When Saturday Comes reminds us that "It's four years since Stockport County supporters marched through the snow into Manchester city centre to lobby the club's administrators, Leonard Curtis, as debt threatened the club's existence. The debt didn't kill the club but it may as well have done. Instead, it began a period of agonising and embarrassing decline that led to County falling out of the Football League and beyond. Over the last four years or so, shareholders, owners and potential owners have come and gone – too many to mention here.
The same goes for managers... It completed the fall from the second tier to almost complete irrelevance in just 11 years... Practically four years to the day since the original Manchester march, another march took place.
The 'Sea of Blue' march on December 21, organised by supporter Steve Gibbon and backed by the supporters' co-operative, brought around 500 fans together as they took their message to the streets of a town now dominated by shirts of a lighter blue complexion. The aims were to persuade the club's 'silent" shareholders to write off their loans and hand their shares to those still investing in the club, Chris Brammall and Richard Park.
The march also took aim at the club's chief executive, Ryan McKnight, whose inexperienced decision making... is resulting in many supporters staying away from Edgeley Park. Indeed, enthusiastic mentions of money from China and rumours that Salford City Reds' owner Dr Marwan Koukash was set to invest have come to nothing. Without any additional funding, getting out of the Conference North will be nearly impossible...
The march hasn't brought any concrete results off the pitch yet. The club is still without a chairman after Lord Peter Snape resigned in November and the silent shareholders are still silent. But once again, the supporters have shown how they are the primary asset of the football club. Despite being in the Conference North, around 2,000 fans still attend home games and there is a dedicated away following some Football League clubs would cherish.
With a stadium that still isn't owned by the club, all potential investors have is a name, a group of passionate fans and some also-ran players. Despite a colourful and largely proud history, most would think that it was not worth the bother but someone out there could yet be the force behind arguably English league football's greatest comeback".
We read in the Shropshire Star, that "AFC Telford United faced a selection poser for their trip to Worcester City with right-back Wes Baynes likely to be ruled out. Baynes went off at half-time with a groin injury in Saturday's 2-2 draw at Harrogate Town and had to be replaced by winger Robbie Booth after the break.
Booth, unaccustomed to the role, nearly gave away a penalty... and may not be considered the best option. Baynes could spend up to a fortnight out while Chris Lever, who can play anywhere along the back four, is not yet fit to return after his own groin problems...
The Bucks' boss said, 'Wes felt a little tweak in his groin and we will see how it settles down. He's a major doubt for tomorrow night. Chris won't be fit, so we will have to see what we can do'.
Watson admitted his side may be tired, with the Worcester fixture representing their sixth game in 17 days. All of the previous five have come against favourites to challenge for promotion... He said, 'To be honest, I was a little bit concerned coming into the game, because of the New Year's Day game and the heavy pitch. We haven't trained since then, either. I thought we started off leggy and didn't play well. We showed a bit of character to grind a result out but they will be disappointed. It's hard to be critical when you consider the amount of games that we have played. To come back twice, you can only give them credit. It's definitely a point gained, not two dropped. I am happy and have no complaints. But I am not kidding myself, I know we need to play a lot better than we did on Saturday'".
More comes from the Shropshire Star which says that "AFC Telford United experienced a case of after the Lord Mayor's show at Harrogate but there's just no beating the Bucks whatever happens of late. It was as if Liam Watson's players could walk on water and run through walls on New Year's Day, after going top of the Skrill Conference North with a 5-3 win at home to Hednesford Town.
It was back down to earth with a bang, but not a crash, on Saturday against a Harrogate side who are more serious promotion contenders than their ninth place standing suggests... Make no bones about it, consider this a point gained rather than two dropped after the under-par Bucks, who looked jaded, came back from the brink to go six games unbeaten.
They simply cannot continue going around giving opposing teams a goal head start, but there's every reason to be pleased by the way they respond when they do so. Watson's troops came from behind to net league points for the fifth game in a row and twice, this time, in a roller-coaster ride at Wetherby Road...
In the end, you couldn't even say a draw was all that fair, considering the chances that were squandered by the hosts... There wasn't the killer edge of the festive period, while defensive frailties shone bright on a winter's day. But the only constant is the character the players keep on producing. They just won't give up. The tired and leggy troops now make their away to Aggborough – temporary home of Worcester City up for it but, privately, desperate for a break.
After a trip to Altrincham on Saturday, they will have their first full week off match action since before Christmas. It could do them the power of good".
OLD BOYS
Reports in the
Stoke Sentinel
say that "New Stafford Rangers manager Graham Heathcote watched on as his new side came from behind to beat Stocksbridge Park Steels and end a five-match losing run.
Heathcote became Rangers' third permanent boss this season and will have been encouraged as [ex-Alty striker] James McCarthy, a returning Karl Ashton and Dan Cope were on target to seal only a fourth win of the campaign.
'We did what we needed to do today and to get a win under their belt will give everyone a lift', he said afterwards. 'We're not kidding ourselves, I'm the new manager and if you don't get a response today you never will. Everybody tells me about the doom and gloom but I've seen teams pull out of these situations. You have to have a start and they've got that.
It must have been a hard few weeks as football is about trying to enjoy yourself, which they will. That's what we've come to do, get some results that people can enjoy'.
Heathcote spent eight years as boss of Altrincham and masterminded their return to the Conference Premier in 2006".
---
6 January 2014
MATCHES NOT PLAYED
On Sunday, Altrincham FC Ladies' match, away to Warrington Wolverines, was abandoned after 23 minutes on Sunday. More on this to follow...
Also on Sunday, Altrincham FC Youth's match at home to Abbey Hey was postponed, due to the effect of the heavy rain of recent days on the pitch.

Above: Altrincham line up before kick off on Saturday. Left to right: Reeves, Moult, Richman, Griffin, Higginbotham, Clee, Marshall, Perry, Leather, Coburn and Havern.
Mark Bennett has posted the Alty TV highlights of Altrincham v Leamington here...
Brian Flynn advises that "Danny Higginbotham was interviewed last night by Caroline Barker on 'The Non League Football Show' which was aired on BBC Radio Five Live this morning. You can listen to the programme at the following link and the feature, including Danny's interview starts at 20:00".
YouTube
has highlights of our next opponents, Gainsborough Trinity in action against Stockport County last Saturday.
TASC is running a coach to Gainsborough on Tuesday. Details are here.
And Gainsborough Trinity have a video interview with manager Steve Housham, here.
In his "Press Box Banter" column in the
Robins' Review
, last Saturday, Altrincham FC joint Press & Media Officer, John Edwards interviewed Tom Marshall, who joined Altrincham in December...
"Tom Marshall (below, left) joins me in the Press Box this week for a bit of banter about how he came to sign for us and how Kyle Perry was instrumental in giving us a head start in winning the race for his services.
Tom takes up the story by saying: 'I'd had a bit of time out of the game, setting up my own business and one or two other things, but then I got my foot back in the door at Stafford Rangers earlier this season. I've known the big man Pez longer than I can remember, and started up a band with him two years ago, and he kept going on at me about Altrincham, saying what a good club it was, with a great set of lads and good support, and how well run it was.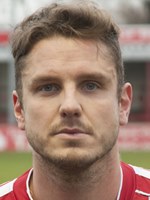 He kept telling me to come along, so I spoke to Neil Tolson, and he knew my pedigree at Conference level over the years and was soon being as persuasive as Pez. He said "Get yourself up here, and we'll get you fit and playing games and back to your best. You won't regret it." I then spoke to the gaffer (Lee Sinnott), and he was the same. I was soon won over, and I'm delighted to be here.
I wasn't on contract at Stafford, so there were no problems. That's all a bit new to me because I've always been contracted to clubs before, but Andy Mutch told me he knew they wouldn't be able to keep me at that level and that I would move on. I'm really pleased with how it has turned out, and I just hope I can repay the gaffer with some good performances in an Alty shirt.
Football brought me and Pez together initially, but we've got music in common as well now after founding the band and really seeing it go from strength to strength. It's funny, because I'd never even picked a guitar up before we started. He was always messing about with guitars, and after going to a few gigs and not being all that impressed, we somehow reached the conclusion we could do better ourselves!
That was how it started, and after a heavy session at the pub one night, we came up with the name Stubblemelt. We wanted something unusual, and someone came up with that after we bounced a few ideas around. It's weird, I know, but it seems to have stuck, and it might have done us a favour, because people seem to remember it.
The general perception to begin with was that we were a couple of footballers having a laugh, but it has really taken off. We've got thousands of followers on Twitter and 4,000 on Facebook, and we've played some really big venues, like the O2 Arena in Birmingham. We've already released an EP and some music videos, and we are about to bring out our debut album. This could be a big year for us, hopefully.
It is strange to think I'd never picked up a guitar to start with, but it's like anything in life. If you put your mind to it, there's no reason why you can't succeed. Kyle (right) is lead vocals and does a bit of rhythm guitar, I play bass, Matt Giles is lead guitar, Dave Ashford is on drums and we have just taken on Amy Collins on keyboards.
I've got happy memories of coming to Moss Lane, as it was then, as a visiting player. I had some great tussles with Damian Reeves, and it always struck me as a good club, with enthusiastic supporters and a really good playing surface.
The same applies now I'm an Alty player, and I would also say there is an aura about the gaffer that tells me we are being led by a strong character who knows his stuff. I have been in the game a decade, even though I'm still only 26, but I've never had any dealings with him, prior to signing. It is already apparent, though, that I can learn from him, particularly given his background as a centre-back at a high level.
So, all in all, the chance to come to such a highly-regarded club with such a well-thought-of manager was too good to miss out on. It is an honour, and I didn't have to think too long about accepting it. There were a few offers from other clubs, but with Pez in my ear about Alty, it was an easy enough decision.
Now it's a case of building up my match sharpness as quickly as possible. I'm generally quite a fit person. I like to go road running, but really you need games to get into peak shape.
I know I've joined a great set of lads who have got real quality about them, and I see no reason why we can't push really hard for one of the promotion slots in the second half of the season. In between the serious business, there has been plenty of banter flying around, but at least I'm ready for the initiation ceremony all new signings face. It is usually a song, isn't it?...'"
Sunderland
report on how, after their FA Cup win, manager Gus Poyet "highlights contributions from Ba and Watmore. Sunderland's two young debutants were a big plus point against Carlisle, according to head coach Gus Poyet.
Duncan Watmore and El Hadji Ba both came off the bench in the second half of the Black Cats' 3-1 win to make their senior bows for the club. Winger Watmore appeared just after the hour and was only denied a debut goal by a good save from Carlisle keeper Greg Fleming.
Ba, who was introduced in the final 10 minutes, did manage to find the net with a neat finish in the final moments, and both youngsters earned praise from the boss afterwards. 'The players that came on from the bench today were refreshing for the team', he said. 'Duncan [Watmore] started running at people and he lifted the supporters and gave them something different. [El Hadji] Ba took his goal very, very well. We've followed Duncan in the under-21s and we've been talking to [U21 coach] Kevin Ball a lot'".
Sunderland also have an interview with Poyet here and a photo of Duncan in action.
The Shields Gazette adds that "Ki and Ji departed for Phil Bardsley and senior debutant Duncan Watmore with 27 minutes remaining, and the former Altrincham striker almost made his mark within five minutes when he fed Altidore and then ran on to the American's back-heeled pass before forcing another good save from Fleming.
The Black Cats assumed complete control as time ran down with Watmore providing fresh legs and an enterprising outlook".
STOMP STOMP STOMP...
Altrincham FC official caterer wrote in the
Robins' Review
this week...
"Who is the idiot who came up with the idea of getting up at the crack of dawn and walking to our fixture versus Stalybridge? ...On New Year's Day!
This was the question posed by Dan Jones at least twice every mile for the duration of our mammoth 17.7 miles walk from our beloved Moss Lane to Bower Fold, Stalybridge for the Stalybridge Stomp Fundraiser for the Community Sports Hall.
The idiot in question was of course me and, as the journey had been done for charity in two instalments prior to my intervention, today was the day to walk the whole route.
We had 8 initially willing walkers.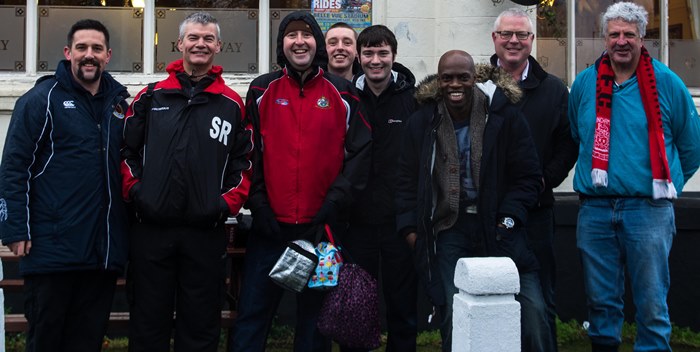 The Stompers, pictured by joint effort of Mike Ripley and Paul Hutson
Talk of new exercise regimes from Nigel of Ashley Mowers and Jon Norbury were soon forgotten as we had to stop in a pub in Hyde to patch up their injuries. Duncan Laryea had slept on the sofa for 3 hours before simply waking up and starting the walk. He was the best dressed by far as he was still wearing last night's clothes; as a mark of respect he was the only stomper defecated on by a seagull!
Michael Ripley decided that, as his wife was away, he would make the most of his free time by strapping a massive backpack and camera equipment to him and joining us for the early march.
Mike Ford (Mike's business has kindly agreed to double the sponsorship money he raised) was well prepared with apps, female running companions and suitable shoes. Dan Jones was not... when the rain came down, the air turned blue with profanities aimed in my direction for making him take part.
During the two-mile hill climb finale he set a huge pace by stomping to the front, cursing profanely what a geographically poor location Stalybridge was situated in. Grahame Rowley had memorised the route and was on hand to reveal no transfer secrets and set the pace in the early stages. He also managed to do the whole walk in Sarah Rowley's waterproof jacket but tried to convince us that the printed "SR" stood for Sean Riley (former Alty physio) and he had simply borrowed it.
We followed the route from Moss Lane to Duncan's house on the Chequers to collect him from his settee, then along Wythenshawe Road to Fallowfield, Longsight, Levenshulme, Denton Crown Point, Hyde, Mottram, then Stalybridge itself. A massive 91 roads, 4000 calories and no shops open that early.
What really strikes you on a New Year's Day, with little traffic to distract you, is that Manchester is an amazing community, split into quite different resonate areas. There are some amazing new builds, vast open spaces, original architecture but huge properties and businesses currently lying derelict or unoccupied. Anybody looking at urban redevelopment rather than countryside green belt building should take the walk through Manchester.
From the top of the hill at Stalybridge we stopped to take a picture. I could see my home in Congleton, Jodrell Bank, the Airport, Hale and Altrincham right over to Oldham, almost half of Cheshire and all of Manchester. We all live and work in an amazing area and sometimes standing back and appreciating it makes the hard work all the more worthwhile.
I also managed to register 13 mph through a digital 30 mile speed camera so the club will not be receiving any speeding tickets. The walk started at 7.55am, finishing at 2pm. We were greeted by a throng of well-wishers on our arrival at a blustery Stalybridge. It was great to see us outnumber the home team also...and what a win!
Many thanks to my fellow walkers for the journey today. It was an achievement to kick the year off and really enjoyed by all. Your time and effort is appreciated by all. Thanks for Radio Robins pushing the Stomp and Karen and the Office staff's support and the lifts home from the Rowleys.
Many thanks to those of you who have already donated to the Stalybridge stomp by sponsoring the walk. Those who wish to also give a donation can do so by visiting the Altrincham Office on Matchday or during the week and ask to speak to Jenny or Karen.
Thanks, Richie".
---
5 January 2014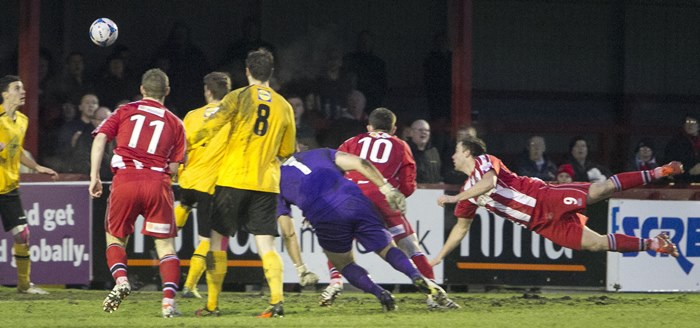 Above: AFC official photographer Gavin Rathbone captures Kyle Perry's goal against Leamington. Gavin has recently set up a Facebook page featuring Altrincham FC images.
Match report here.
Two former Altrincham players, Craig Dootson (from Kendal Town) and Ged Murphy (from Prescot Cables), have joined Droylsden. Meanwhile, Chris Denham has moved to Ramsbottom United from Ashton United and he scored as his new club won 4-3 away to Northwich Victoria, for whom Ashley Stott was a scorer.
Other former Robins who scored on Saturday included Chorley's James Dean. Nantwich Town beat Droylsden 4-0, with goals from Ben Deegan (2), Aaron Burns and Steve Foster.
Following the appointment of former Altrincham player and manager, Graham Heathcote, as manager of Stafford Rangers, it is understood that his assistant is to be former Alty left-back Chris Adams. Until recently, Chris was manager of Knutsford FC. Stafford won 3-1 on Saturday though Graham had not officially taken over the team on Saturday. The Rangers' scorers included former Alty man James McCarthy.
Altrincham's next opponents,
Gainsborough Trinity
report on their 1-5 defeat at home to Stockport County. "In a game where Trinity lost 5-1 it could have all been so different, as Trinity hit the woodwork three times in the first half. Trinity started brightly and had the ball in the back of the net within 2 minutes, but the shot by Jamie Wootton was adjudged offside. That was to be the story of the game as far as Trinity's chances were concerned...
Stockport scored first through Kristian Dennis after 6 minutes when he was left unmarked in the area... 9 minutes later, the Hatters striker had doubled his tally as he rose to head home... Trinity bounced back from the second goal and played the better football for the remainder of the half, with Liam Davis hitting the bar twice...
Darryn Stamp also hit the woodwork with a deflected shot before Stockport scored for the third time... Trinity's Greg Young turned to get the ball, but went down clutching his back with no one near him and the ball ran free to Nicky Platt who helped it on to Iain Howard to slot home past Phil Barnes.
With Michael Leary replacing Greg Young and Johno Williams replacing Alastair Taylor for the second half, Trinity hoped to make an immediate impact, but it wasn't to be as within 10 minutes of the restart the Trinity defence were at 6's & 7's to allow Kristian Dennis to complete his hat trick.
Trinity did manage a consolation goal from Darryn Stamp... but Stockport rounded off the afternoon's scoring with Chris Churchman...
Gainsborough Trinity: Phil Barnes, Josh Lacey, Josh Wilde, Alastair Taylor (Williams 45), Callum Howe, Greg Young (Leary 43), Simon Russell, Cairan Toner, Jamie Wootton, Darryn Stamp, Liam Davis (Batty 77). Subs: Michael Leary, Johno Williams, Josh Batty, Adam Martin, Lynton Karkach".
A player on the move is Gary Mills who hs moved on a long loan from Boston United to Kings Lynn Town.
The Football Conference reports that "Guiseley AFC have confirmed that defender Adam Lockwood has agreed a deal to join Oldham Athletic. He will link up with former team-mate and current Oldham manager Lee Johnson... When Lockwood signed at Nethermoor he made it clear that he would have to consider leaving in January if a suitable offer from a Football League club came along and, as with all players, the club will never stand in the way of those who wish to play at a higher level.
Manager Mark Bower said, 'We put an offer to Adam which he seriously considered, as he expressed how much he had enjoyed his time with us. But, in the end, the prospect of League One football was an offer he couldn't turn down'".
AFC Telford United reports that "AFC Telford United's unbeaten run was extended to six games at Harrogate Town's CNG Stadium, but they had to come from behind twice to ensure they earned a share of the points in a thrilling encounter in Yorkshire... The home side had the lead in first half injury time thanks to a stunning strike from Dave Merris..
Harrogate's profligacy cost them dearly, as Telford's man of the moment Michael Grogan levelled the scores in the 74th minute... But Harrogate were back in front after 74 minutes, when Telford's frail defensive record against set pieces resurfaced. Steve Mallory whipped in a super free kick to the near post which was met by former Buck Shane Killock to glanced his header past Young to make it 2-1.
Incredibly, Telford found another equaliser. McGinn's chip into the box was knocked down by Dan Preston to Tony Gray, who coolly sidefooted past home 'keeper McGillivray...
AFC Telford United: Young, Baynes(Booth 46), McGinn, Byrne, Preston, Grogan, Phenix (Gray 58), Barnett, Owens, Farrell, Benjamin (Clancy 70)".
972 Altrincham v Leamington. (87 Leamington fans through the away turnstiles).
931 Boston United v Vauxhall Motors
288 Bradford Park Avenue v Worcester City
579 Gainsborough Trinity v Stockport County
525 Harrogate Town v AFC Telford Utd
645 Hednesford Town v North Ferriby United
423 Solihull Moors v Stalybridge Celtic
347 Workington v Histon
Cheshire Senior Cup First Round matches this Tuesday (7th January) are:
Macclesfield Town v Nantwich Town
Hyde FC v Runcorn Linnets
Northwich Victoria v Crewe Alexandra
The
Evostik League
report that "Ashton United are the second best form team in Europe! According to online experts at football statistics website www.betstatz.com, only German giants Bayern Munich are in better form than the Premier Division's Robins. While Pep Guardiola and his side have been given a betstatz rating of 84 per cent, the Robins are just one per cent behind.
Ashton United aren't the only Evo-Stik NPL club making the statisticians' New Year's honours list. Rushall Olympic are currently fourth among Europe's form sides with a rating of 81 per cent while Stafford Rangers and Droylsden won't be that happy about their inclusion. The Bloods were rated as the second worst form team across the continent with a rating of just 14 percent while Stafford Rangers at 19 per cent are in fourth spot!"
---
4 January 2014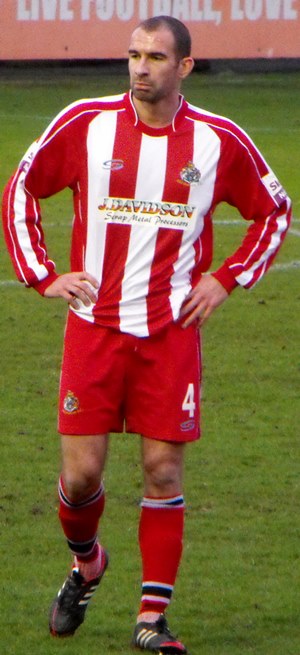 In Danny Higginbotham's debut game for Altrincham, the home side's change of formation to 3-5-2 did not produce the fluency of recent performances.
Match report here.
Right: Danny Higginbotham.
ALTRINCHAM (Red and white striped shirts, red shorts and socks) 1. Stuart Coburn, 2. Scott Leather, 3. Adam Griffin, 4. Danny Higginbotham, 5. Gianluca Havern (capt), 6. Tom Marshall, 7. Simon Richman, 8. Jake Moult, 9. Kyle Perry, 10. Damian Reeves, 11. Nicky Clee. Subs: 12. Matt Doughty, 14. Shaun Densmore,15. Greg Wilkinson, 16. James Walshaw, 17. James Lawrie.
LEAMINGTON (Gold shirts and socks, black shorts) 1. Tony Breedon, 2. Ryan Higgins, 3. Stephan Morley (capt), 4. Joe Magunda, 5. Liam Daly, 6. James Mace, 7. Matt Dodd, 8. Craig Owen, 9. Stefan Moore, 10. Ricky Johnson, 11. Lee Moore Subs: 12. David McNamee, 14. Kieron Morris, 15. Will Green,16. Josh Green, 17. Lewis Fenney.
Fixtures on Saturday 4th January:
Altrincham 3-2 Leamington - Alty are now the division's leading scorers, with 49 goals.
Boston United 5-2 Vauxhall Motors
Brackley Town v Guiseley OFF
Bradford Park Avenue 6-1 Worcester City
Colwyn Bay v Gloucester City OFF
Gainsborough Trinity 1-5 Stockport County
Harrogate Town 2-2 AFC Telford United
Hednesford Town 0-1 North Ferriby United
Oxford City v Barrow OFF
Solihull Moors 3-3 Stalybridge Celtic
Workington 2-3 Histon
Today's game against Leamington is ON, following a pitch inspection this morning.
Other matches in Skrill North are already falling foul of the bad weather with Saturday's games at Oxford City (v Barrow), Brackley Town (v Guiseley) and Colwyn Bay (v Gloucester City) already postponed and pitch inspections needed at Bradford PA (v Worcester C.) amongst other locations.
Fixtures on Saturday 4th January:
Altrincham 3-2 Leamington
Boston United 5-2 Vauxhall Motors
Brackley Town v Guiseley OFF
Bradford Park Avenue 6-1 Worcester City
Colwyn Bay v Gloucester City OFF
Gainsborough Trinity 1-5 Stockport County
Harrogate Town 2-2 AFC Telford United
Hednesford Town 0-1 North Ferriby United
Oxford City v Barrow OFF
Solihull Moors 3-3 Stalybridge Celtic
Workington 2-3 Histon
John Edwards, joint Pres and Media Officer at Altrincham FC, writes that "Recent signing Tom Marshall reveals the Kyle Perry effect behind his move to the J.Davidson Stadium in the latest Robins Review match programme. The 'Press Box Banter' page is given over to an interview with Tom, in which he describes how his long-standing friendship – and musical collaboration - with Alty striker Kyle gave us a head start in the race to sign him. The big defender also outlines his hopes and aspirations for the second half of the season, after signing from Stafford Rangers. The Robins Review will be on sale at the ground, prior to kick-off against Leamington".
On Friday, the
Manchester Evening News
reported that "Former Manchester United defender Danny Higginbotham is set to make his debut for Altrincham as the Robins host Leamington... The 35-year-old had left Skrill Premier side Chester on New Year's Day due to his developing media career...
The Robins signed left-back Adam Griffin from Hyde and centre-half Tom Marshall from Stafford Rangers before Christmas but the arrival of Higginbotham has really made Alty's league rivals sit up and take notice...
'Danny is excited about playing for us and has made it clear he should be available for all our games', Rowley added. 'The extra travel demands of a nationwide fixture list was presenting difficulties, with some overnight trips, but there shouldn't be any problem with us. Also, he wants to remain available for Gibraltar, after playing in their first official international, so it is important to him that he keeps turning out at club level'".
CELTIC GAME IN SOUND AND PICTURE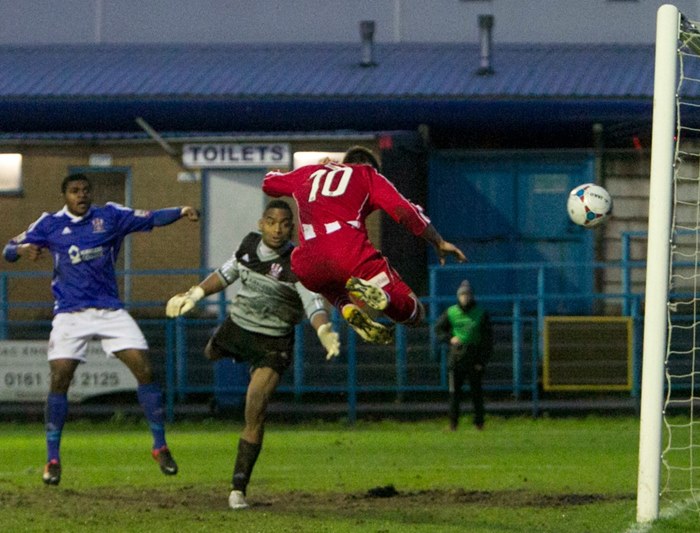 Above: Damian Reeves heads Alty's fifth goal at Stalybridge at the Bower Fold on New Year's Day. This excellent image comes from Gavin Rathbone of GR Photography.
Meanwhile, Gavin tells us that "I've done a new Facebook page for the official match photos as well as them being on my normal website. The page link for the page is here". It has also been added to this site's Links page.
Also, Brian Flynn has made available the sound file from the Radio Robins commentary on the New Year's Day match at Stalybridge. It can be heard here.
GOAL RUSH
TASC's Paul Salt writes that "Altrincham's 10-goal bonanza against Stalybridge Celtic over the Boxing Day and New Year's Day fixtures has taken the total goal tally in competitive matches to 50 goals to date. As a consequence, the draws for both the 40 and 50 goal benchmarks in the TASC Goal Rush scheme will take place live on Radio Robins at half time at the match versus Leamington.
Each lucky winner will have the choice of one of three prizes.
Two complementary tickets for a home Skrill League match of their choice or
Free travel for one person on the TASC organised away match travel to any remaining away match or
A signed photograph taken with the winner's favourite player.
Good luck to all our goal sponsors".
Stafford Rangers
"are pleased to announce the appointment of a new first team football club manager. At 4:.30pm today (Friday), Graham Heathcote formally accepted the position and he will be present at the game tomorrow (v Stocksbridge Park Steels). As originally planned, Martin Prentice (SRFC Head Coach) will be selecting the team and looking after match preparations tomorrow. We trust that you will all support Graham in his new role and wish him success".
This job returns Graham to a managerial role for the first time since he vacated the hot seat at Moss Lane on 14 September 2010. He replaces Andy Mutch who parted company with Rangers earlier this week.
All at Altrincham FC wish Graham well in his new job.
The EvoStik League adds that Graham takes over "following the club's fifth defeat on the spin... As their third manager of the season, Heathcote has a massive task on his hand to save Rangers, currently second from bottom and 17 points adrift of safety with 18 games remaining, from relegation. He will be at Marston Road for Saturday's game against fellow strugglers Stocksbridge Park Steels but the team will be selected by head coach Martin Prentice before he formally takes over for the trip to Blyth Spartans next weekend.
The 59-year-old former midfielder is well respected throughout the game. As well as making more than 500 appearances for Altrincham and scoring nearly 150 goals, he spent eight years managing the club, masterminding their return to the Conference Premier in 2006 before leaving in 2010 during a major shake-up at Moss Lane that also saw the departure then Chairman Geoff Goodwin.
Heathcote, who's enjoyed a long friendship with Stafford President and Director of Football Jon Downing, was previously linked with the Marston Road job in 2010 following his departure from Altrincham."
An unconfirmed Tweet from Brackley Town, whose website has not otherwise been updated recently, says that "Mark Francis has been recalled from his loan with us by Swindon Town".
According to the Football Conference, "Harrogate Town have announced that towering 6'4" defender Matt Heath has joined. Heath, 32, brings just shy of 250 League games of experience to the back line at the CNG Stadium and, with our injury list growing, his arrival couldn't have been timed better.
Starting his career at his home club of Leicester City, Heath made his debut in 2001/02 against Charlton Athletic in the Premiership. During his time with the Foxes he would go on to make 60 appearances (scoring 6 goals) before leaving in 2005. Whilst at Leicester, he also went on loan to Stockport County, who were in League Two at the time.
He then re-joined former manager Micky Adams at Coventry City in 2005, following his release from Leicester City. A year later, he joined Elland Road giants Leeds United on loan, making the move permanent on the 2nd January 2007... Heath was sent on loan to Colchester United and again, he would make this move permanent as soon as his loan spell had finished. During his five year stay with the U's he made over 100 appearances.
During his stay at Colchester, he also made loan appearances at Brighton and Southend United... He moved to Northampton Town on a six-month contract.
Speaking about his new signing, manager Simon Weaver commented, 'We are very pleased that we have been able to bring in someone of Matt's experience and presence. He is an excellent character and his organising at the back will be of huge benefit to the younger defenders that we have at the club'".
Pitchero Non-League says that "Boston United`s midfielder Jake Hall has joined Bishop's Stortford... The 23-year-old has accepted an offer to play closer to his London base and leaves The Jakemans Stadium after scoring one goal in fifteen appearances."
---
3 January 2014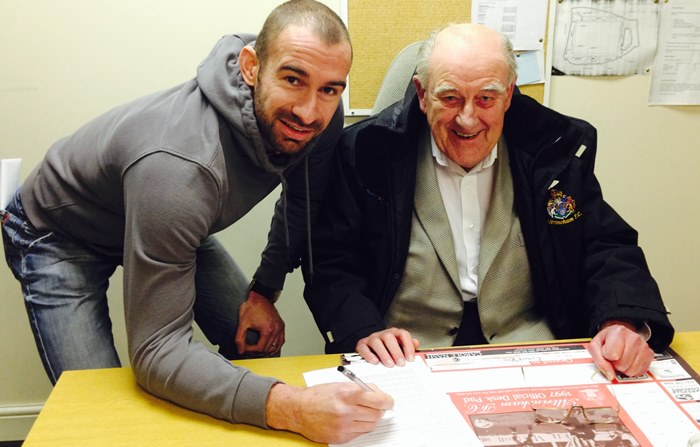 Above: Altrincham FC Club Secretary, Derek Wilshaw, witnesses the signing of Danny Higginbotham for Altrincham FC, his local club.
For full details of yesterday's signing of former Premiership defender and Altrincham lad, Danny Higginbotham, see John Edwards's article below.
Following yesterday's news, the Manchester Evening News added that "Former United defender Danny Higginbotham has fulfilled a long-term ambition by signing for his local non-league side Altrincham. The 35-year-old, from Timperley, left Skrill Premier side Chester on New Year's Day and Alty jumped at the chance to finally bring Higginbotham to the J. Davidson Stadium.
The Robins had already brought in two players over Christmas to boost their bid for promotion to the Skrill Premier and the capture of Higginbotham, one of the most high-profile signings in the club's history, has really sent out a statement of intent to Alty's league rivals".
Ian Senior's SKkits announce that "In conjunction with announcement of Danny Higginbotham's signing, any replica shirt orders, HOME or AWAY, can have HIGGINBOTHAM printed on the shirt-back free of charge. Please contact the club with any orders". That's 12 letters, free of charge!
TASC is running a coach to Altrincham's match against Gainsborough Trinity next Tuesday (7 January 2014). Details are to be found on the
Away Travel
page. As usual, please book your seat by ringing the club on 0161 9287-1045 during normal office hours.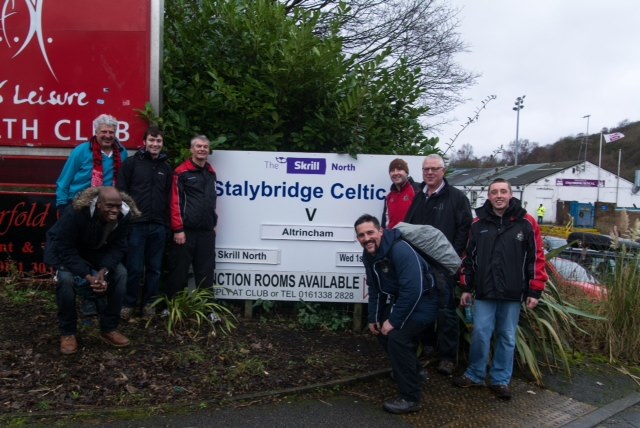 Pictured above, by Paul Hutson and courtesy of Mike Ripley, are the intrepid walkers who completed the 17.6 mile Stalybridge Stomp, a charity walk from Altrincham to the Bower Fold for the New Year's Day clash with Stalybridge Celtic. Look out for more on this in Saturday's "Robins Review" matchday programme.
The Stomp was organised by Altrincham FC official caterer, Richie Bentley, with funds raised going towards the Altrincham Community Sports Trust. Before the walk, Richie advised that the walk would burn off 4,000 calories over five to six hours".
Stacey Rowley, Sales Executive at Altrincham FC, writes...
"Join us in the Manchester Glass Sponsors' Lounge for our home match against AFC Telford United on Saturday 11th January for a special New Year's discounted price.
Season ticket holders can join us for just £20, whilst non-season ticket holders pay just £27.50. Children (under 12) pay only £10. For this Special Offer price you will receive entrance to the game (with reserved seating), a match day programme, a pre-match hot and cold buffet with complimentary drinks, as well as hot drinks served at half time.
Before all of this takes place you will be privileged to hear a pre-match talk from one of the coaching/playing staff of Altrincham FC who will give us the latest from the dressing room and the line-up for the match.
For more information, or to book your place, please contact the club on 0161 928-1045 and ask for Karen or, alternatively, email e-mail the Club".
News of the next visitors to the J. Davidson Stadium comes from the
NL Paper
. It says that "Leamington striker Stefan Moore celebrated receiving the Skrill North Player of the Month award for December by scoring a screamer against Hednesford. The Brakes have been in fantastic form recently with former Aston Villa man Moore banging in the goals. His volley against the Pitmen won the game for Leamington before they beat Brackley 3-1 on New Year's Day". The goal can be seen via the above link.
According to Buckingham Today, "Brackley Town's promotion hopes took another blow on New Year's Day when they suffered a 3-1 away defeat at Leamington. Saints, who have taken just two points from their last four fixtures, are down to sixth in the Conference North table".
There was an "outstanding performance of Brakes' star-man Stefan Moore, who scored twice and turned provider for the third... Leamington were always a threat on the break...
Amid their poor run, Jon Brady has bolstered his squad by signing former Stevenage midfielder David Bridges...
Leamington: Breeden, Higgins, McNamee, Magunda, Daly, Mace, Dodd, Owen, S.Moore (W.Green 90+2), Johnson (Morris 81), L.Moore (J.Green 88)."
The Warwick Courier also has a report on the recent Leamington v Brackley Town game.
Cheshire Senior Cup First Round matches this Tuesday (7th January) are:
Macclesfield Town v Nantwich Town
Northwich Victoria v Crewe Alexandra
Crewe Alexandra report that "Mathias Pogba could make his long awaited return for the club against Northwich Victoria in the Cheshire Senior Cup on Tuesday evening. The striker has not played this season after suffering a cruciate knee ligament against Manchester United in pre-season but the former Wrexham man is available for selection again after six months out.
Crewe take on Vics at Flixton's Ground on Tuesday night with a 7.45pm kick-off".
CONFERENCE ON TV
There is invariably something of interest from Hereford United's
Bulls News
. Recently they reported that "Conference PR chief Alan Alger says the Bulls' [Hereford United's] televised home game with Forest Green drew the lowest TV viewing figures of the competition on BT Sport. 84,000 watched the game for the unusual Saturday night kick off, compared to a BT record 348,000 that watched yesterday's Luton-Barnet match".
The
Sale & Altrincham Messenger
has a piece on an Altrincham FC volunteer. "A Sale author is hoping his new book about Widnes Vikings will appeal to those with an interest in the game. Mike Healing, 63, of Barkers Lane, was late to the game himself, being from Watford originally, but after attending a derby match between the Vikings and Warrington Wolves in 2002 he was 'bitten by the bug' and has rarely missed a home game since.
Mike, who retired in 2006 but was formerly responsible for Trafford's school children's home to school transport, has been a player sponsor, supporters club committee member and statistician at the club at various times, so is more qualified than most to write on the subject.
In fact, his current offering 'Return of the Vikings: From administration to rugby league's top tier' is actually his second book to be published on the Vikings, following on from his successful 'Dreams to Reality: A pivitol year in the history of Widnes Vikings'.
The book has been praised by many in the field, including Martin Lace, a journalist for the rugby league trade press, who described 'Return of the Vikings' as 'among the best Widnes books, if not rugby league book, I have read'. Although a lover of rugby league, Mike is passionate about all sport, having coached at Sale Harriers for 15 years and carrying out a commercial role at Altrincham FC.
Both of Mike's books are available to order from any book store and 'Dreams to Reality' is available to buy as an ebook from Amazon".
---
2 January 2014
Altrincham FC joint Press Officer, John Edwards, writes:
"Altrincham are delighted to announce the signing of Danny Higginbotham in a move that sends out a statement of intent to the rest of the Skrill Conference North and also fulfils a career-long ambition for the vastly-experienced defender.
The club were able to confirm one of the most high-profile transfers in their history at just after 4pm this afternoon (Thursday) after finally receiving word from the Football Conference that it had gone through.
Subject to clearance from the FA, former Manchester United, Derby, Southampton and Stoke favourite Higginbotham will go straight into the Alty squad and could make an eagerly-anticipated debut against Leamington at the J.Davidson Stadium on Saturday.
'Danny has always said he wanted to pull on an Altrincham jersey and play for us, and we are absolutely delighted his wish is about to come true,' said Alty chairman Grahame Rowley. 'When we heard that the extra travelling in the Conference National was making it increasingly difficult for Danny to continue at Chester, with his other commitments, we sensed an opportunity to pull off a transfer coup that I'm sure will excite all our supporters.
'We got in there straightaway, because there's absolutely no question that someone of Danny's undoubted quality would be extremely sought after, and it really is a statement of what we are about that he has signed and is now an Alty player.
'It is also an indication of how we have gone down the right path by waiting for the right calibre of player to become available, rather than signing someone in haste. We always said that if we were going to bring a player in, it had to be someone who would improve us, rather than just an extra body. I think it's fair to say Danny ticks that box.
'He is a player with a wealth of Premier League experience, and it really is a feather in our cap that someone of his standing wants to come and play at the J.Davidson Stadium. Provided we get the necessary confirmation from the FA, he should be available for the Leamington game on Saturday. If he does play, I'm sure the sight of him stepping on to the pitch in our colours is one our supporters will savour.
'I know there have been rumours flying around all day, but we believe in doing things properly. We could not announce anything until it had all been ratified, and that has only just happened. The moment it was confirmed, we made the announcement, and that is how things should be done.
'Danny is excited about playing for us and has made it clear he should be available for all our games. The extra travel demands of a nationwide fixture list was presenting difficulties, with some overnight trips, but there shouldn't be any problem with us. Also, he wants to remain available for Gibraltar, after playing in their first official international, so it is important to him that he keeps turning out at club level.'".
DANNY'S BACKGROUND
Danny Higginbotham is a local lad, (born on 29 December, 1978 at Wythenshawe Hospital), who spent his early football years with Manchester United for whom he made his Premier League debut in 1997-98 season. Danny made a further six first-team appearances for United in 1999-2000. He turned out 29 times for Royal Antwerp in Belgium, whilst on loan from Old Trafford in 1998-99. Danny left United and joined Derby County, where he played for three seasons, making 98 appearances.
Next, a £1.5 million fee took him to Southampton in February 2003, where he made 106 appearances, but like Derby, they were to be relegated and Danny moved on to Stoke City (48 appearances), who were then in the Championship, in August 2006. A season at Sunderland, where he made 22 Premier League appearances, followed before a return to Stoke in the Premier League, making (a further 80 appearances in all competitions). Loans with Nottingham Forest (6 apps) and Ipswich Town (12 apps) followed before a move to Sheffield United (18 apps) in January 2013. From there, he joined Chester FC for whom he made 19 appearances.
Danny has international experience, having played for Gibraltar in November 2013. His family still lives in Altrincham".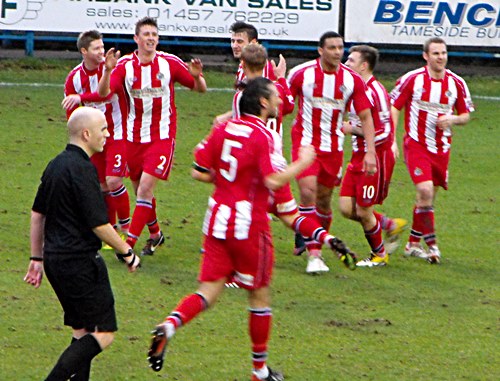 For the second time over the Festive Season, Altrincham beat Stalybridge 5-0 and, on each occasion, there were five different scorers, four of them being the same players to score in each match.
Match report here.
Right: It's now three goals in his last six league games for Sale-based Scott Leather. Here he receives the congratulations of his team-mates after his fine goal at the Bower Fold on New Year's Day.
CROSSBAR CHALLENGE
Ian Senior reports a one-nil defeat to Neil Tolson in the charity Crossbar Challenge for Mark Maddox's Motor Neurone Disease Association charity. So the score is now 14-10 to Neil, but there is a long way to go yet.
The
Football Conference
reports that "The Skrill North lost five of its New Year's Day fixtures to the wet weather but, fortunately, the majority of the games involving the top sides went ahead, including the encounter at the New Bucks Head between AFC Telford United and Hednesford Town. And the crowd of 1,903 saw another thrilling local derby, as a hat-trick from Adam Farrell sent the Bucks to the top of the table after a 5-3 success...
The momentum of the tie swung back and forth like a pendulum, and Hednesford found themselves in front once more in the 24th minute... United had their equaliser 5 minutes after half-time ... Just 3 minutes later Telford snatched the lead when Farrell popped up to score his second of the game, and... Mike Phenix stole in at the far post to smash Andy Owens's knockdown into the bottom right hand corner to give the Bucks a two-goal cushion...
When Blissett grabbed his second of the game... the Pitmen looked like they might be able to set up a grandstand finish. But any hope of a comeback was extinguished in the 79th minute when Farrell raced away after collecting the ball in the Hednesford half before smashing a low drive into the bottom corner to make it 5-3 to the Bucks...
North Ferriby United are back up to second after a second successive win, beating Gainsborough Trinity 2-0 at Church Road...
Altrincham are fourth after a second successive 5-0 hammering of Stalybridge Celtic of the festive season...
Brackley Town missed the opportunity to move back into the top five after they made it four games without a win, beaten 3-1 at the New Windmill Ground by mid-table Leamington [Alty's next opponents]. Once again former Aston Villa striker Stefan Moore proved to be the Brakes' hero... Frank Sinclair`s Colwyn Bay side are now in seventh place... after a good 3-0 win... against mid-table Vauxhall Motors..
Barrow AFC moved to third-bottom after completing a festive 'double' over Workington, who are now bottom... Barrow weathered a second half storm from the Reds with [ex-Alty midfielder] Paddy Lacey's 25-yard drive on 80 minutes sealing the points".
Attendances on Saturday were..
AFC Telford Utd v Hednesford Town - 1,903
Barrow v Workington - 931
Leamington v Brackley Town - 504
North Ferriby United v Gainsborough Trinity - 374
Stalybridge Celtic v Altrincham -684
Vauxhall Motors v Colwyn Bay - 257
Next Tuesday, Alty travel to the Northolme, from where Gainsborough Trinity report on a "Disappointing start to the New Year for Trinity". With injuries, Trinity "played a 4-5-1 formation with assistant manager Darryn Stamp running the line[?]. It may have been a different story if after 8 minutes the referee saw a different view of the clash between Darryn Stamp and Danny Hone, where the former Trinity man appeared to catch Stamp with an elbow. Nothing was called other than a free kick...
Danny Hone... rose from a Jamie Yates header to put Ferriby in the lead 5 minutes before half time... The home side were on top for most of the half... With North Ferriby in the ascendency, Trinity's afternoon was all but over when on 60 minutes Nathan Jarman slipped through the offside trap to drive a low cross into the Trinity box which cannoned off Callum Howe into the back of the net.
The highlight of the day for Trinity was when club captain, Michael Leary, came on as a sub to play his first game since 24th August. Unfortunately his introduction and the subsequent introduction of Lynton Karkach could not turn Trinity's fortunes.
Gainsborough Trinity: Phil Barnes, Josh Lacey, Josh Wilde, Callum Howe, Greg Young, Johno Williams, Simon Russell, Cairan Toner, Liam Davis (Leary 63), Alastair Taylor (Karkach 86), Darryn Stamp. Subs: Josh Batty, Michael Leary, Lynton Karkach, Adam Martin, Mike Emery".
New league leaders AFC Telford United "and Hednesford played out another thrilling local derby at the Bucks Head... 'Going off today, no-one's going to want to come here and play us, especially when the fans get behind us', reflected Liam Watson at the final whistle.
'Today was brilliant. Days like today are the reason I came to Telford. The crowd, the atmosphere, big games, it's what it is. The crowd's got to get us through games, which they are. You couldn't get further away from the Hednesford defeat in the FA Cup to where we are now. It was another performance of immense character. I think, tactically, we got it spot on today'.
AFC Telford United: Young, Baynes, McGinn, Byrne, Preston, Grogan, Phenix (Booth 65), Barnett (Clancy 77), Owens, Farrell, Benjamin. Subs: Bailey, Pryce, Clancy, Booth, Gray"
Boston United confirm that they "have parted company with utility player Netan Sansara by mutual consent. The 24-year-old, who scored once in 19 appearances for the Pilgrims, has been freed due to excessive travelling commitments from his West Midlands base".
---
1 January 2014
Fixtures on New Year's Day:
AFC Telford United 5-3 Hednesford Town
Barrow 2-0 Workington
Bradford Park Avenue v Stockport County OFF
Gloucester City v Oxford City OFF
Guiseley v Harrogate Town OFF
Histon v Boston United OFF
Leamington 3-1 Brackley Town
North Ferriby United 2-0 Gainsborough Trinity
Stalybridge Celtic 0-5 Altrincham
Vauxhall Motors 0-3 Colwyn Bay
Worcester City v Solihull Moors OFF
HAPPY NEW YEAR
Altrincham FC wishes all its supporters a very happy New Year in 2014 and thanks them for their patronage of the Club in the past year. The Club hopes to welcome you all to the remaining fixtures of the current season and also invites you to support as many of the Club's off-field ventures as you can.
DAMIAN STRIKES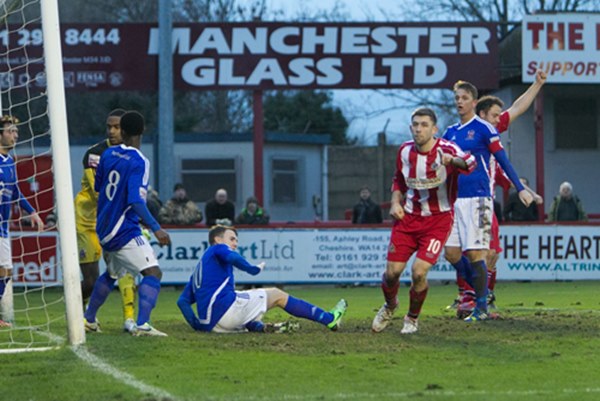 Above: Damian Reeves salutes his goal against Stalybridge Celtic at the J. Davidson Stadium on Boxing Day in this image, courtesy of Gavin Rathbone of GR Photography.
Courtesy of Geoff Morris, here are some Skrill North statistics for the 2013-14 season to date. They show Altrincham's record and that of the club with the highest figure in each category.
Sequences in 2013-14 season up to 31 December 2013
Wins: Altrincham 4, Colwyn Bay 5
Draw sequence: Altrincham 1 BPA/Solihull 3
Losses sequence: Altrincham 2 Gainsboro 6
Games without a win: Altrincham 3 Glos 12
Unbeaten sequence: Altrincham 7 Solihull 12
Clean sheets sequence: Altrincham 1 Brackley/Guiseley 4
Failed to score sequence: Altrincham 1 Worcester 6
Altrincham fans will recall our midweek visit to Gainsborough last season when floodlight failure delayed kick off till 8.45pm. Now
Gainsborough Trinity
report that "In reference to the abandoned game Gainsborough Trinity vs North Ferriby on 26th December, after consultation with the Football Conference it has been decided that this fixture be replayed and a date is to be sorted by both clubs. Gainsborough Trinity have requested to the Football Conference that this fixture be free entry to home and away supporters and this will be discussed and hopefully approved by the Football Conference board.
Gainsborough Trinity directors would like to apologise for this game being abandoned by referee Steven Ross and understand the frustration of many supporters on the day. With the Northolme being an old ground, problems which we can't control do happen. More information will be available when new fixture date is arranged".
Alty travel to Gainsborough next Tuesday for this season's fixture at The Northolme.
The Football Conference reports that "Vauxhall Motors have signed prolific striker Shaun Tuck from Skelmersdale United. Skem re-signed Tuck in September after league rivals Witton Albion had cancelled his contract, which was due to expire at the end of the current campaign. The club originally confirmed their intention to stand by last season's leading scorer following his release from prison. The 27-year-old admitted in July he had written malicious messages on Twitter following the murder in Woolwich of British soldier Lee Rigby. He was punished with a three-month jail term, which he served half before being released. Tuck departs Wincham Park after scoring twenty-six goals in fifty-three appearances.
Tuck arrived at Stormy Corner midway through the 2011/12 season from Cammell Laird and ended the campaign as the NPL First Division North's top scorer. He joined Witton on a two-year contract for an undisclosed fee after they lost Alex Titchiner".
Alty's hosts next Tuesday have also got a new face, as "Gainsborough Trinity have taken midfielder Alastair Taylor on a month`s loan from Alfreton Town. The left-sided player will be with Trinity until February 1st, 2014, inclusive.He is now in his second season with the Reds, having initially joined on non-contract terms... after being released by Barnsley at the end of the 2011/12 season.
Taylor graduated to the Barnsley first-team after being named Academy player of the year in 2009/10... and went on to make three more appearances before his release. He was rewarded with a one-year contract by Alfreton in August 2012 and has since established himself as a valuable member of the squad... making three starts and five substitute appearances for the Reds".
Also, Non-League Pitchero reports that "Brackley Town have signed midfielder David Bridges from Ryman League Bury Town. Bridges joined Bury in the summer from Chelmsford City. Bridges began his career with Cambridge United but enjoyed most of his Football League success at Stevenage Borough...
A former England `C` international, he also turned out for Braintree Town, Histon, Kettering Town and finished last season at Chelmsford".
There is another new face at Barrow where "Barrow boss Darren Edmondson has landed Bradford Park Avenue striker, Tom Corner, on a one-month loan deal ahead of New Year's Day. Twenty-one year old, Corner, joined PA thirteen months ago after impressing for Ossett Albion. The tall poacher has also has spells at Grimsby and Tadcaster and is based in York".
---
FOR EARLIER NEWS, CLICK
HERE
---