---
31 December 2013
As we approach New Year it is timely to compare our league record this season compared with how we stood at the same stage of the last campaign (2012-13).
Firstly, looking at the overall league record, we find that by the end of the calendar year in each of the seasons our record was:
2012-13: P 18, W 8, D3, L 7, F 43, A 31, PTS 27, POS 9th
2013-14: P 20, W 11, D 4, L 5, F 41, A 26, PTS 37, POS 6th
So, whilst goals scored per game have dropped from 2.38 (a figure distorted by 8 against a hapless Hinckley) to 2.05, goals conceded are markedly fewer at 1.3 compared with 1.72, whilst points gained are 1.85 per match compared with 1.5 per game at this stage last season.
There is also a marked improvement on the disciplinary front. By New Year 2013, Alty had amassed 28 yellows and 2 reds from 18 games; by New Year 2014, from two more games, we have just 21 yellows and no reds.
In terms of home record, last season we had won only three of our eight home games by New Year (gaining just nine points from eight games); this season we have won 7, drawn 2 and lost 1 at home (i.e. 23 pts from 10 games). Away, things have not been as good this campaign; last season we had taken 23 points from 10 away trips by New Year; this season we have earned only 14 points from 10 away trips.
This season's leading league scorers to date are James Walshaw (15+4 apps) with 12 and Damian Reeves (17+3 apps) with 10. The leading league appearance makers are Stuart Coburn and Luca Havern (both with the maximum 20 starts). By the end of 2012 we had used 19 different players in league matches; this season so far we have used 20. Our best run this season is seven unbeaten games in a row; it was six by the same stage last year.
Barrow have posted some highlights of last Saturday's game
here
.
According to the NW Evening Mail, "Dogged Barrow AFC surrendered the lead on the way to being held to a draw by promotion contenders Altrincham. But the battling nature of their performance created more festive cheer and cause for optimism over their chances of avoiding a second successive relegation.
It is true that Darren Edmondson's men... rode their luck on occasions after patched-up midfielder Alex-Ray Harvey handed them an early lead.... AFC's nerves jangled in the final 20 minutes, during which time Altrincham hot-shot Damian Reeves levelled matters, while the visitors also hit the woodwork...
They went toe-to-toe with Lee Sinnott's side in the first period as they produced some impressive and fast-paced play when they went on the offensive. At the other end, they defended like lions for the majority of the 90 minutes...
Their resolute showing was even more commendable considering some players were walking wounded, including goalkeeper Tony McMillan, who was unable to take goal-kicks throughout due to his sore hamstring. Then of course there was Harvey, although his festive whack on the head did him little harm...
The 23-year-old, whose wounded head had to be medically treated after he was bottled by a Boxing Day reveller, benefited from Nick Rushton's good work down the left...
The visitors went on to enjoy ample possession, but a mixture of poor finishing, a lack of cutting edge and AFC's sterling defensive efforts, largely thwarted them in front of goal...
Alty began to turn the screw just before the 70th-minute mark... Alty finally found an equaliser on 77 minutes, with Walshaw producing another cross which was deflected to Reeves, who made no mistake in guiding his header home from close range...
If Edmondson's men can continue to replicate the same commitment levels they have shown in their previous two outings, they will surely beat the drop".
Reports from our next opponents
Stalybridge Celtic
are that "Celtic looked a little shell shocked at the start of the match after the Boxing Day mauling [at Altrincham], but James Tunnicliffe put in a man of the match performance across the park to give Celtic a bit of pride against a well drilled Colwyn side that looked massively different from the team Celtic beat earlier in the season.
Craig Ellison looked to have recovered from the nightmare at Altrincham, but there was nothing he could do when two minutes into the game, Sean Williams saw a chink of space and unleashed a thunderbolt from thirty-five yards screaming straight into the top corner...
Then came a rare moment for Celtic: a goal straight from a corner. Callum Warburton's inch perfect corner kick was thumped goalward by James Tunnicliffe... Celtic just could not get any distance on a clearance from a corner, and... Marc Williams was lethal from four yards...
Colwyn Bay capitalised with a clinical finish from Gareth Evans that left Ellison no chance of reaching it... The frustration in the Celtic team was obvious, and Kristian Platt was lucky to stay on the pitch when he kicked out at Marc Williams and earned only a yellow...
A straight red for Stephens reduce[d] the visitors to ten men... A goal was coming, and it came from the quicksilver Adam Pepper, working a bit of space and unleashing a powerful rising drive that Sanna grasped for but couldn't reach...
Celtic were handed a lifeline when the referee punished the relentless Colwyn Bay time wasting by adding six minutes, annoying the manager, Sinclair, who had been the one urging his keeper to slow it down on goal kicks (that earned him a booking), and the rest of his team on every dead ball...
But breaking through the eight man wall was too big an ask... Celtic will have to do it all again on Wednesday as we face Altrincham in the second of the Festive Fixtures. A return of the confidence from the second half today will go someway to ensure that the Boxing Day Match isn't repeated with a knock-out.
Celtic Line-up: Craig Ellison; Kelvin Bleau; Andy McWilliams; Callum Warburton; James Tunnicliffe; Kristian Platt (Conal Platt 75 mins); Adam Pepper; Tom Buckley (Lewis Hatch 60 mins); Phil Marsh; Sean McConville; Obi Anoruo Unused Subs: Louis Smith; Prince Haywood; Jack Cookson".
"Stefan Moore of Leamington FC is the Skrill North 'Player of the Month' for December" reports NL Pitchero. "The former Aston Villa pro hit six goals for the Brakes during the month". And "Colwyn Bay's Frank Sinclair is the Skrill North 'Manager of the Month' for December. After last season's incredible 'great escape' Sinclair takes the division's managerial honour again from a more comfortable eighth place in the table. The Seagulls won all five of their league matches during the month".
The BBC says that "AFC Telford midfielder Mike Phenix hopes that he is now back in control of his life as a footballer after fighting the same bowel condition that plagues Manchester United's Darren Fletcher.
Phenix had a month out with ulcerative colitis, the inflammatory disease which kept Fletcher sidelined for a year... He told BBC Radio Shropshire, 'You don't have as much energy as you'd like. You have to try and keep it under control and just get on with life'.
Phenix, 24, marked his return to action after a month off by scoring Telford's late equaliser in their 3-3 Boxing Day draw with Hednesford Town... 'I've had it a couple of years', he admitted. 'It got really bad again a month ago and I'm now back on steroids... I spoke to a few relatives and close mates and made a decision to call it a day for a few weeks. I can feel it getting better now, but it's a day-to-day thing. It's a case of trying to stop the inflammation. One side of my stomach swells up and I have to try stop to the bleeding inside. I'm on the injections for another four or five weeks then I'm on different tablets which would control it for the next 10 years'".
---
30 December 2013
Brian Flynn interviewed Neil Tolson after the Stalybridge game and this can be heard
here
.
Brian Flynn has posted the Radio Robins commentary from Saturday's draw at Barrow. Brian reports that "We lost our broadcast connection midway through the second half for a few minutes". The first 65 minutes are
here
and from 70 minutes
here
.
Right, we see Alty's central midfield pairing in action at Barrow, Jake Moult and Carl Rodgers.
Carlisle
"boss Graham Kavanagh has decided to allow young 'keeper Danny Eccles to spend a spell on loan with Barrow AFC. The transfer window reopens next week, however clubs could still loan out players to non-league sides, outside of the Conference, which allowed Eccles to move on. Barrow tried to bring Eccles in for him to feature for them in Boxing Day, but registration was just missed so he wasn't able to feature in the draw with Altrincham. Instead, injured first choice 'keeper Tony McMillan had to carry on, and he just made it through the game.
Eccles, Barrow-born by all accounts, is now registered and his youth loan looks set to begin on New Year's Day, when Barrow take on Workington Reds".
---
29 December 2013
SCORE CORRECTED
Virtually all media yesterday reported that North Ferriby United had lost 0-3 to Bradford PA - and some still have it as 0-3 today. In fact, NFU had won 2-1! This has now been corrected on this site. Altrincham are, therefore, sixth in the Skrill North table.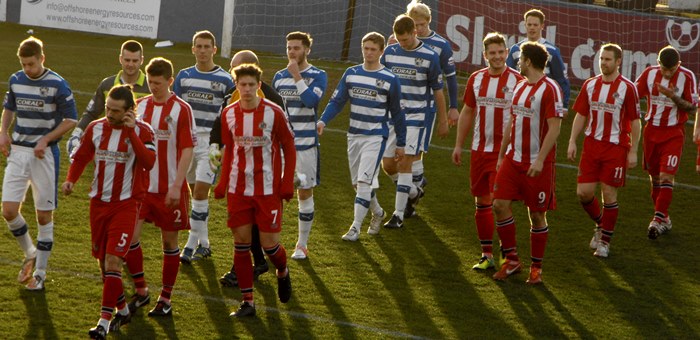 Above: The teams take to the field at Barrow.
Altrincham fell behind to a fourth-minute goal by Harvey...
Match report here
The
NW Evening Mail
reports that "An early strike from embattled midfielder Alex-Ray Harvey put Barrow AFC ahead – but Darren Edmondson's men had to settle for a point as striker Damian Reeves hit a second-half leveller for Altrincham... The Bluebirds were good value for a share of the spoils on effort alone, after producing some excellent attacking play in the first half while they defended in a determined fashion throughout...
Harvey swept into the bottom right-hand corner from seven yards. Harvey celebrated by tapping his head, no doubt to highlight his patched-up cut head - an injury sustained when he was hit over the head with a bottle on Boxing Day while enjoying a night out in a pub... Altrincham were winning the territorial battle but the Bluebirds continued to defend manfully...
Alty squandered a few half chances before another Rushton side-footer was saved by Coburn on 52 minutes... The chances dried up at both ends. That was until Moult got in behind Reynolds on 68 minutes, but on this occasion it was an outstanding challenge from skipper Paul Edwards that cleared the danger. Moult then spurned a glaring opening by volleying over a 72nd-minute cross from Walshaw who then had a goal ruled out for offside.
But the visitors found an equaliser on 77 minutes when Walshaw clipped a cross into the box, the ball deflected off a body and to Reeves who headed home from close range. AFC had a big task on their hands to resist the pressure being imposed on them by Alty who came within inches of taking the lead on 80 minutes as Walshaw crashed a low drive against the foot of the near left-hand post....
Harvey's inclusion spared Edmondson a selection headache. The 23-year-old midfielder was hit over the head with a bottle in the incident and went to hospital where emergency staff glued the wound closed. Bluebirds boss Darren Edmondson named the same side that secured a vital 3-2 win at Cumbrian derby rivals Workington on Boxing Day. Goalkeeper Tony McMillan started despite carrying a hamstring injury".
After Saturday's draw, Barrow Lad reported that they "and Alty share the honours in exciting battle. Barrow, spurred on by strong vocal support among the 736-strong crowd, turned in a gutsy, resilient performance, taking an early lead and dominating much of the first hour. In the final 30 minutes, Altrincham turned on the pressure but we still rescued a point.
Barrow, playing towards the Cross Bar end in the first half, took a 4th minute lead when Alex-Ray Harvey blasted in the rebound from a Rushton cross... It was Barrow who had the edge in the first period... Altrincham did have chances. In the 29th minute, Moult scooped the ball over from inside the penalty area and then seven minutes later had a shot saved by McMillan.
However, Barrow finished the half strongly and deserved the lead at the break...
The second half was end-to-end entertainment as both sides went for the win... With half an hour to play, Alty upped the pressure. McMillan had to save a Reeves shot from close range and Edwards made some fine tackles in dangerous positions to deny the visitors. In the 72nd minute, Moult again blasted over from close range following a cross from substitute Walshaw. A minute later, a Lawrie free kick led to a goalmouth scramble, the ball ending up in the net but being ruled offside.
Eventually the pressure told when another Walshaw cross in the 77th minute was headed in by Damian Reeves. Three minutes later, Barrow were lucky not to go behind when Rodgers raced through our defence and then Walshaw hit the left post from close range. Burns was judged to have brought down Walshaw on the next attack, giving a free kick in a dangerous position but Lawrie shot wide of the left post...
The last two performances give renewed hope for a steady move up the table".
Alty TV has highlights of Altrincham v Stalybridge Celtic in the adjacent window (right).
NEIL WINS THE LATEST CHALLENGE
Neil Tolson won Saturday's instalment of the Cross bar Challenge against Ian Senior. However, the tricky wind meant that the contest went to a sudden death shootout, with Neil hitting the bar with his ninth attempt. Said Ian, who trails 10-13 overall, "We move on to 'Bridge New Years Day!"
The
Football Conference
reports that "Workington have signed forward Kieran Critchley from Droylsden. Critchley joined Droylsden in the summer from Barrow AFC. Preston –born, Critchley started out in the Blackburn Rovers academy, where he spent seven years, before making his way over to Northern Ireland with Glentoran in 2010.
A very pacey player, he then turned out for Salford City before joining the Bluebirds last season."
Elsewhere, "Full-back Ryan Higgins has joined Leamington on a one-month loan from Birmingham City. The loan will run until 25 January. Nineteen-year-old Higgins, has been a regular for the Blues' Development Squad, but has yet to make his first-team bow for the club. It is the Liverpudlian's second time out on loan this season following a spell with Tamworth in October when he made just a solitary start".
In-form "Colwyn Bay have received a major boost heading into the New Year with Wrexham agreeing to extend the loan spells of Anthony Stephens and Jonathon Royle until the end of the season. The two 19-year-olds were due to return to their parent club in January, but Bay boss Frank Sinclair has negotiated an extension that he says will allow him to move forward with some continuity and stability in the squad.
Seagulls' win over Vauxhall Motors on Boxing Day was their fourth win in a row and lifted them to within six points of the play-off places. [They won again on Saturday]. Stephens has been excellent since joining the squad in November and has played his part in the defence keeping three clean sheets in the last four games.
Royle was looking really good before he got injured against Altrincham in November, but he is close to a return after missing seven games and could now be a key player".
Meanwhile, "AFC Telford United moved into second place in the table but had goalkeeper Ryan Young to thank after coming from behind for the third game in a row to net points against fellow promotion-contenders Boston United and record back-to-back home wins. A second half salvo through strikes from Tony Gray on 46 minutes and Robbie Booth on 68 minutes saw off the visiting Pilgrims, who led through Marc Newsham's 41st minute strike at the break. But it was goalkeeper Young who ensured it was a maximum haul for the Bucks with a penalty save from Newsham in
The attendances onSaturday were:
AFC Telford United v Boston United 1,659
Barrow v Altrincham 736
Histon v Brackley Town 408
Leamington v Hednesford Town 803
North Ferriby United v Bradford Park Avenue n/a
Oxford City v Solihull Moors 297
Stalybridge Celtic v Colwyn Bay 340
Stockport County v Workington 2,282
Vauxhall Motors v Harrogate Town 267
Worcester City v Gloucester City 796
Alty old boys who scored on Saturday included Ashton United's Dale Johnson as they beat Stafford 4-0 and Northwich Victoria's Marc Joseph, but Vics lost.
Skrill North and/or ex-Alty men on the move recently include the following EvoStikLeague transfers. Alexander Wimmer to Droylsden from Workington AFC, [ex-Alty reserve] Nathaniel Kerr to Mossley from Ashton United, [former Alty Youth striker] Derryn Ofori to Mossley from Hyde and [former Alty reserve] Ashley Stott to Northwich Victoria from Vauxhall Motors
OFFICE HOURS
The Office at the J. Davidson Stadium will be open as follows...
Tuesday 24th - Closed
Wednesday 25th - Closed
Thursday 26th - open from 12 noon - Hull City v Man Utd then Alty v Stalybridge - then Man City v Liverpool, closed after this.
Friday 27th - Closed
Saturday 28th - Closed, at Barrow
Sunday 29th - Closed
Monday 30th - Open 9-1pm
Tuesday 31st - Closed
Wednesday 1st - Closed, at Stalybridge
Thursday 2nd - Closed
Friday 3rd - Open 9-5pm
Then back to usual times...
---
28 December 2013
Saturday 28th December
AFC Telford United 2-1 Boston United
Barrow 1-1 Altrincham
Guiseley P-P Gainsborough Trinity (waterlogged pitch)
Histon 3-3 Brackley Town
Leamington 2-1 Hednesford Town
North Ferriby United 2-1 Bradford Park Avenue
Oxford City 0-2 Solihull Moors
Stalybridge Celtic 2-3 Colwyn Bay
Stockport County 1-1 Workington
Vauxhall Motors 1-0 Harrogate Town
Worcester City 0-1 Gloucester City
Radio Robins, sponsored by Ashley Mowers Garden Machinery, is providing full live commentary of Saturday's game at Holker Street. The match commentary sponsor is Sale Fencing & Surfacing, who are a driveway & fencing company, who provide free, no obligation quotes for any sized jobs, with options to suit all budgets.
Whether you are looking for a new driveway, beautiful patio, garden fencing, walls or gates, make Sale Fencing & Surfacing your first choice for exterior home improvements. A quality job is not just promised, it is guaranteed. Have a look at the Sale Fencing & Surfacing website.
The commentary team is Tim Ainsworth and Paul Salt with match summaries from Niall Flynn. Coverage starts at 2.50pm with the game kicking off at 3.00pm. You can listen to Radio Robins on the internet at www.radiorobins.com
Leah & Simon Brotherton will be providing regular updates on Twitter (@altrinchamfc) as well as half-time & full time updates on facebook (Altrincham FC).
As usual, this website will also be providing its live matchday updates throughout the game, starting from as soon as the line-ups are available.

.
Mike Garnett reminds us of the previous encounters between our two clubs:
At Altrincham p37 w20 d13 l4 f76 a36
Away p33 w14 d8 l11 f52 a41
All p69 w33 d21 l15 f126 a76
Barrow's new manager Darren Edmondson's programme notes for the Barrow v Maidenhead United game included...
"I was very flattered when Workington chairman Humphrey Dobie told me that Barrow had asked for permission to speak to me. I didn't apply for the job but now I'm here and the work has started... Obviously, the priority is to stay in this Division, the board made that very clear when I had my interview. So I have got to assess the squad as soon as possible, then get the players enjoying their football and bringing the best out of each other. I will be seeking Alex Meechan's input as I look at the players because he knows them well and has possibly had a hand in getting quite a few of them to join the club...
We have got to look at, and develop, the local talent. Of course the squad is always going to be a mix of locals and travellers because you are not going to get 20 bodies from the Furness area but we need them to fill some of the places. It will be a boost to fans, and we need to get more because the club must have a catchment area of 80,000 people when you look to Ulverston and beyond. It will be great for them to see locals trying their heart out for the local club...
However first of all let's put a smile back on people's faces. Let's make our football enjoyable".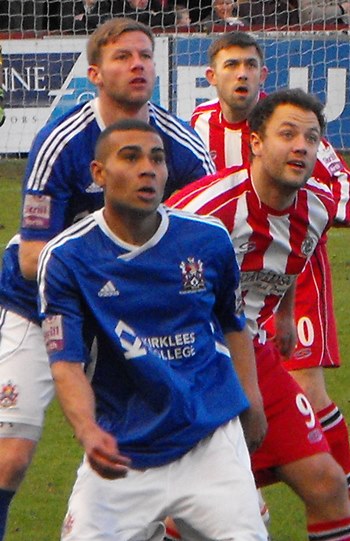 Right: Kyle Perry and Damian Reeves keep their eyes on the ball against Stalybridge on Boxing Day.
Altrincham FC depends greatly on support for its off-the-field events and activities. So do please support as many of the following events as you can - more details and, where appropriate, tickets, are available from the Club by phone (0161 928-1045) or
e-mail
.
1 January 2014: STALYBRIDGE STOMP

Altrincham FC official caterer, Richie Bentley, is organizing a "Stalybridge Stomp" with funds raised going towards the Altrincham Community Sports Trust.

On New Year's Day, when Altrincham travel to the Bower Fold to play Stalybridge Celtic, "The Stalybridge Stomp", a charity fund-raising walk from the J Davidson Stadium to the match will be taking place. The route is via several pubs but drinking will be limited. Fancy dress is an option for participants.

In the event of poor weather cancelling the game, the walk will turn into a pub crawl.

Participants are invited to bring along a change of clothes, which will be transported by the club to the destination. Also transport home from the game will be provided.

To enter the Stomp, there is an entry fee of £25, to be paid to the Club office.

Alty chairman Grahame Rowley has arranged with Stalybridge for the "Stompers" to be admitted to the ground and refreshment will be provided those completing the walk.

Richie advises that the walk will burn off 4,000 calories over five to six hours, with the start being around 7.45 to 8am. He will be providing a packed lunch for the walkers and he is seeking the involvement of other companies in the event. You can get further information or register for the Stomp from Richie by e-mail. Richie's Facebook page has details, too.

Richie Bentley Catering is also proud to be sponsoring the Radio Robins commentary on the Stalybridge match".

13 January 2014: ALTRINCHAM FC AGM

All shareholders are invited to attend the Club AGM in the Manchester Glass Sponsors' Lounge from 7pm.

8 February 2014: AN EVENING WITH GRAHAM HEATHCOTE

Paul Fay and Graham Heathcote are arranging several events to raise funds for the Altrincham FC under-17s to compete in the Foyle Cup in Ireland in July. Graham will talk about his 40 years in non-League football. Tickets are £15 and include a two-course meal provided by club caterer Richie Bentley

22 February 2014: MEET THE NEW RECRUITS- PART 2

Panel to be announced. Tickets are £15 and include a two-course meal provided by club caterer Richie Bentley

6 March 2014: MATT LE TISSIER - SPORTSMAN'S DINNER

To be held at the Cresta Court Hotel, Altrincham. Tickets £40 per head or £350 plus VAT for a table of ten.

21 April 2014: END OF SEASON RACE NIGHT

The annual event which includes the Player of the Season awards presentation.
Jack Jolly writes, "Altrincham FC Supporters are encouraging fans to come and join our expanding squad. The weekly session takes place every Monday night between 7.50 and 9pm at Timperley CC Astro. Despite forming just a few weeks ago, the team has already completed its first fixture, against local rivals and Premier League opposition, Manchester City.
Further games will take place over the next few months, leading up to the annual Altrincham FC Staff vs. Supporters game and potential summer cup competitions. In the New Year, a second weekly session will take place on Saturdays at Beech Fields. Details of this will be annouced closer to the time. For more information contact Jack Jolly on Facebook or by e-mail.
Brian Flynn has kindly provided the link to Saturday's Radio Robins commentary on the Alty v Stalybridge match,
here
.
Stalybridge Celtic report that "A calamitous début from keeper Craig Ellison provided Altrincham with a two-goal cushion on which they had the ability and fire-power to build. Inside the first ten minutes a routine back pass was knocked sideways by Ellison with Damian Reeves bearing down. Reeves recovered quickly and again closed down Ellison, whose clearance between Reeves's legs fell to Jake Moult, forty yards out by the touchline. It was a tricky shot, but one he executed perfectly.
Seconds after Celtic [had] failed to capitalise on a corner, Kyle Perry fired in a wicked shot from just outside the Celtic box. There was a slight deflection, but Ellison remained rooted to the spot despite it not being an unstoppable shot. Two up Altrincham looked comfortable, and Celtic scared every time the ball went in the Celtic box.
Reeves missed the target when it looked easier to score, and saw Ellison make some amends with a stop that had him twisting back on himself to deny Reeves... However, it was Altrincham who scored next, Damian Reeves from eight feet out from a corner...
Any hope that Celtic would settle in the second half were swept aside when Jake Moult found Scott Leather who left Ellison stranded as he put the ball home... After Simon Richman added a gloss to Altrincham's dominance with his seventy minute effort Celtic finally got into gear and started to look a little dangerous... but it was far too little, far too late".
A reminder... On 4 January, when we play Leamington at the J. Davidson Stadium, there will be the annual roll-call for those connected with Altrincham FC who have died in the previous year (i.e. 2013). If you have a friend or relative who was connected with the club, be it as a supporter, ex-player or in any other way, please confirm the name in question to Grahame Rowley. Ideally, please also indicate the date of death, though this is not essential.
As New Year approaches, goalkeeping coach Ian Senior has reduced assistant manager Neil Tolson's lead in the season-long Crossbar Challenge, proceeds from which go to Mark Maddox's motor neurone disease charity, the MNDA. A 1-0 win for Ian on Boxing Day made the score 10-12. Watch the next instalment, before the game at Barrow.
---
27 December 2013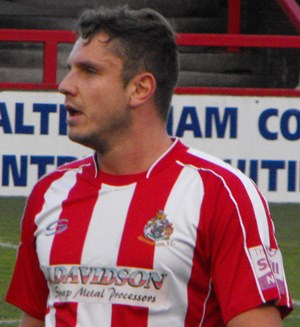 Five different scorers ensured this comfortable victory for an Altrincham side which included debutant Tom Marshall and recent signing Adam Griffin as well as a defence reshuffled after Alty captain Shaun Densmore unfortunately had to miss the game, owing to his grandfather's illness...
Right: Tom Marshall made his first start for Alty on Boxing Day.
Match report here.
Altrincham 5-0 Stalybridge Celtic
Boston United 0-0 Histon
Brackley Town 1-1 Leamington
Colwyn Bay 1-0 Vauxhall Motors
Gainsborough Trinity A-A North Ferriby United (floodlight failure)
Harrogate Town 2-3 Guiseley
Hednesford Town 3-3 AFC Telford United
Oxford City 1-0 Gloucester City
Solihull Moors 1-1 Worcester City
Stockport County 4-1 Bradford Park Avenue
Workington 2-3 Barrow
Gates on Saturday were:
1171: Altrincham v Stalybridge Celtic
1361: Boston United v Histon
520 Brackley Town v Leamington
289 Colwyn Bay v Vauxhall Motors
n/a Gainsborough Trinity v North Ferriby United
828 Harrogate Town v Guiseley
1352 Hednesford Town v AFC Telford Utd
273 Oxford City v Gloucester City
575 Solihull Moors v Worcester City
2108 Stockport County v Bradford Park Avenue
581 Workington v Barrow
TASC's Mark Eckersall writes that "There will not be a coach running to Stalybridge on New Year's Day. We haven't always done one on that Day and, when we have, it's been with very low numbers on it due to the ease of getting there other ways. Bank Holiday supplements also make the coach dearer and, to get anywhere near making only a small loss, the fares would have to be very uncompetitive.
With trains from £4.10, a tram option and only 20 minutes in the car we hope that that this doesn't inconvenience anyone too much. Don't forget the discounted rates for Barrow, book in the club shop today".
Details of the Barrow trip are on the Away Travel page.
Dale Johnson scored as Ashton United defeated FC United of Manchester. All four of Nantwich Town's goals in a 4-1 win over Stafford Rangers were scored by players with Alty connections; ex-youth teamers Osebi Abadaki and Benjamin Deegan, former trialist Steven Foster and ex-first teamer Aaron Burns.
Saturday goalscorers included Kendal Town's Daniel Mitchley, New Mills's Chris Baguley and Curzon Ashton's Ryan Brooke (2).
---
26 December 2013
Radio Robins, sponsored by Ashley Mowers Garden Machinery, is providing full live commentary of the Boxing Day game at the J.Davidson Stadium. The match commentary sponsor is Derek Wilshaw.
The commentary team is Ian Wilkinson and Ian Watmore with match summaries from Lucy Laryea.
As usual, this website will also be providing its live matchday updates throughout the game, starting from as soon as the line-ups are available.
Leah and Simon Brotherton will also be providing regular updates on Twitter (@altrinchamfc) as well as half-time, full time updates on facebook (Altrincham FC).

.
Mike Garnett reminds us of the previous encounters between our two clubs:
At Altrincham p63-w34-d15-l14-f122-a79
Away p69-w18-d12-l39-f105-a148
Neutral p5-w1-d1-l3-f5-a7
All p137-w53-d28-l56-f232-a234
Altrincham travel to Holker Street to meet Barrow on Saturday (28 December, 3pm). TASC is operating a supporters' coach and Mark Eckersall announces that "We are pleased to announce that we are able to offer discounted travel to Barrow on Saturday. Prices will be £10 for adults, £8 for concessions and £6 for under 16s and full time students. We hope this will encourage people to come with us again after the good turnout for the Guiseley coach last Saturday".
The coach times and pick-up points are on the Away Travel page. Please call the club to book your seat or call in the club shop on Boxing Day and add your name to the list.
OFFICE HOURS
The Office at the J. Davidson Stadium will be open as follows...
Tuesday 24th - Closed
Wednesday 25th - Closed
Thursday 26th - open from 12 noon - Hull City v Man Utd then Alty v Stalybridge - then Man City v Liverpool, closed after this.
Friday 27th - Closed
Saturday 28th - Closed, at Barrow
Sunday 29th - Closed
Monday 30th - Open 9-1pm
Tuesday 31st - Closed
Wednesday 1st - Closed, at Stalybridge
Thursday 2nd - Closed
Friday 3rd - Open 9-5pm
Then back to usual times...
Morecambe
announce that "Santa has delivered an extra Christmas present for Shrimps' fans with the news that Kevin Ellison has signed a one-year extension to his current contract. The popular front man's deal was due to run out at the end of the season but he has now committed his future to the Shrimps until the end of the 2014/15 season.
Boss Jim Bentley said he was delighted with the deal. He said, '"Kev was the first player I signed and has proved to be a fantastic person to have around both on and off the field. He is the most committed player you could wish to have and has scored some great and important goals for us over the past couple of seasons. He is someone who motivates others as well and I'm delighted that has has signed up again'...
' The club are planning to mark the occasion with a Kevin Ellison-themed family day and fundraising event in the new year. The day would be based around Kev with funds raised for his former Altrincham team mate Mark Maddox, who has Motor Neurone Disease, and the club's training ground fund."
Thursday, 26th December 2013
Altrincham v Stalybridge Celtic
Boston United v Histon
Brackley Town v Leamington
Bradford Park Avenue v Stockport County POSTPONED
Colwyn Bay v Vauxhall Motors
Gainsborough Trinity v North Ferriby United
Harrogate Town v Guiseley
Hednesford Town v AFC Telford United
Oxford City v Gloucester City
Solihull Moors v Worcester City
Stockport County v Bradford Park Avenue
Workington v Barrow
Through the Years by Howard Watts
Saturday, 28th December 2013
AFC Telford United v Boston United
Barrow v Altrincham
Guiseley v Gainsborough Trinity
Histon v Brackley Town
Leamington v Hednesford Town
North Ferriby United v Bradford Park Avenue
Oxford City v Solihull Moors
Stalybridge Celtic v Colwyn Bay
Stockport County v Workington
Vauxhall Motors v Harrogate Town
Worcester City v Gloucester City
---
25 December 2013

Altrincham FC would like to send its best wishes to all supporters and, indeed, everyone in the town, for a very happy Christmas Day. The club would also like to thank all supporters and sponsors for their support for the Football Club throughout 2013 and it looks forward to their continued support in 2014.
In advance of the Boxing Day clash,
Stalybridge Celtic
say that "Once again we will be facing Altrincham... Altrincham are currently just outside the play-off spots in sixth, eight points and seven places above Celtic, with two games in hand on us, and one on the play-off spots...
Earlier in the season they topped the table after an unbeaten start of seven games, but with just two wins in the last seven, and none in the last three, they have fallen back out of the top five. Only one team has beaten Altrincham at home this season, Hednesford, with a 3-1 win at Moss Lane. Both Histon and Oxford have kept Altrincham to a draw, but they have had six wins out of nine at home this season, and have a strong record there.
Celtic have visited Moss Lane a lot over the years, and in the last fifteen visits have only managed one win, a 2-0 win in the Cheshire Senior Cup back in September 2003. Out of the fifteen visits, Altrincham have won eight and we have drawn six times. Our most recent visit was last season when Altrincham won 2-1, after playing against 10 men for ninety minutes, thanks to Kristian Platt's early sending off. The last time we beat Altrincham was at home, in October 2011, when we won 5-1.
Altrincham have only failed to score once this season, when they lost 2-0 away at Gloucester ending their league record scoring streak. They have kept five clean sheets, four of which were at home. With the close season signing of James Walshaw, it is unsurprising to see him topping the charts, with twelve goals, pushing Damian Reeves into second spot with a mere eight goals this season. Most of Altrincham's thirty-five goals this season have come in the second half, whereas most of their conceding is done in the first half, so getting off to a good start is the order of the day against them.
We will be facing former Celt wunderkind Greg Wilkinson, most likely as Altrincham appear to be injury free ahead of the game... Keith Briggs will hopefully have a full squad to pick from ahead of the game... A win for Celtic could see us into the top ten, whereas a loss could see three teams overtake us and drop us to sixteenth!"
Meanwhile, NL Pitchero reports that "Adam Parkhouse has returned to Stalybridge Celtic after his month`s loan at Wincham Park [Witton Albion]".
The Radio Robins commentary from last Saturday's game at Guiseley is available
here
.
In the
Manchester Evening News
we read that the paper is inviting nominations for "Manchester's sporting heroes. Celebrate our city's great legacy by nominating your heroes for a special award... M.E.N. Sport wants to crown Manchester's greatest sportsman or sportswoman.
We want you to nominate who you think has had the biggest impact on this great city of ours. Who has provided you with memories that will last a lifetime? Who has put their body on the line for the cause? Who is the one who, when you are feeling down, lifts you up with their sporting prowess? Who is Manchester's Sporting Legend?
We are looking for our readers to nominate their favourites from the 1970s, 80s, 90s and 00s.
Our expert panel will then narrow it down to four leading lights from each decade. Then it will go out to a public vote with YOU deciding the four winners. And from that quartet, the legend with the most overall votes will be named King or Queen.
The poll will come to a conclusion at an awards ceremony at Manchester's Hilton Hotel... Nominations can be made for anyone who has either plied their trade in our region or who is from these parts...
Footballers will no doubt have a strong presence throughout the poll... Now it is over to you. You can nominate one of three ways including e-mail... Nominations are open until January 31, 2014".
Mark Maddox should win this but Ryan Giggs probably will.
Vauxhall Motors
"are pleased to announce that Portuguese duo Germano Mendes and Domingos Silveiro have joined the club. Goalkeeper Mendes arrived at the end of last week and was on the substitutes' bench for last Saturday's 2-2 draw against Hednesford Town. The shot-stopper had previously been at Droylsden having arrived in the summer from Portuguese club Oeiras.
Silveiro, 22, is a winger who began his football career at Portuguese giants Benfica and represented Portugal at under-19 level. He too arrives from Droylsden and played alongside Mendes at Oeiras as well, and has also had spells with Sintrense and Pampilhosa. 'Bemvindo' Germano and Domingos!".
Elsewhere, "Hednesford Town have re-signed experienced and much-travelled striker Marvin Robinson from league rivals Oxford City" confirms Non-League Pitchero. "Oxford brought in Robinson from another league rival, Brackley Town, in September. Robinson signed for the Northamptonshire outfit from Hednesford in early February 2012. He has represented England at under-18 level and possesses an impressive list of former clubs including Derby County, Stoke City, Chesterfield, Tranmere, Rushden & Diamonds, Walsall, Lincoln City, Macclesfield Town, Oxford United, Kettering Town, Redditch United and Nantwich Town."
News from the BBC is that "Nobody wants to be out of work at Christmas, a time when money seems to fly out of wallets... Every summer, hundreds of professional footballers are made redundant by clubs... Last year, Ben Parker found himself in that position, having been released by boyhood club Leeds in April 2012, where he made over 50 first-team appearances.
'The funny thing is that when you're playing over Christmas you just wish you had some free time, but last year all I wanted to do was play football', the 26-year-old defender told BBC Sport. 'I found it quite hard, but I enjoyed being able to do a few things that I wouldn't ordinarily be able to like having a drink on Christmas Day'...
Christmas, however, seemed to have come early when Bury agreed to give him a chance but fate had other ideas. 'I joined in December [2012] after I'd been training with them for about six weeks. I knew with their financial situation that they wouldn't be able to offer me much money. I eventually signed on non-contract terms on a Thursday and was looking forward to maybe being involved that weekend, but when I came in for training on Friday, [manager] Kevin Blackwell pulled me to one side and said they'd been given a transfer embargo so the deal couldn't go through'".
After 18 months out of the game - which even included a trial at Sarpsborg in Norway where former Sheffield United forward Brian Deane is manager - Parker finally managed to get back into football with non-league Guiseley...
'I was really surprised with the quality when I first came training here. The standard of play is very high... Coming back after being out of the game for so long is like returning from a long injury and initially I struggled with form... People just think that because you're a footballer, you've got money', said Parker... 'I've seen people who've got in trouble with gambling or drinking when they've found themselves out of work'".
The NW Evening Mail tells us that "Ted Cribley is confident he can make his presence felt in the Conference North after earning his stripes on the American college circuit. The versatile Sheffield-born midfielder joined Barrow AFC on non-contract terms last Friday before making his full debut in Saturday's 2-0 home defeat against Solihull Moors a day later.
He arrived from Sheffield FC, 12 months after returning from the US where his name was initially put forward for the Major League Soccer draft after turning out for New York State institutions Herkimer County Community College and Syracuse University. This year he has overcome a serious knee injury and now he wants to showcase his skills on the highest domestic stage he has performed on...
Cribley said, 'I'm very confident, maybe my performance on Saturday didn't reflect that, but I know English football at this level... I can do well for the club'. Cribley left Sheffield Wednesday's junior set-up at the age of 14 and joined Sheffield FC's youth ranks a few years later, before graduating to the club's senior squad...
'Now that I know the players and how the gaffer (Darren Edmondson) works I'll obviously do a little bit better next time. I like the club and I really like the fans who were able to clap us off at the end; it wasn't exactly a pretty game but they showed a lot of support and that was nice'... AFC attacker Alex Meechan continues to be sidelined with a medial knee ligament injury".
According to the Boston Standard "Developers have pledged they don't want to 'harm' Wyberton with major plans for Boston United's new ground and hundreds of homes. Chestnut Homes managing director and Boston United chairman David Newton and right hand man Neil Kempster presented their plans for The Quadrant to more than 110 residents last Tuesday night...
Mr Newton promised the meeting, 'We do not want to do anything that will harm Wyberton'... He defended the plans against fears that the area does not have the infrastructure to cope with such a massive project, saying studies show it goes along with Boston's 'historical' development... Brian Rush, representing the newly-formed Wyberton Quadrant Action Group, expressed fears over the pressure on services and the impact of having a football ground in the village..
Mr Newton said he realised it would put pressure on existing services, but promised his plan is 'well thought through'. He said, 'We have looked into other locations, this is, as far as we're concerned, the most sustainable area on the A16. If we put it anywhere else it will put even more pressure on the rest of the town'...
The total project value will be £100 million - £5.5 million will be spent on the stadium and £500,000 will be spent before the planning application is submitted".
---
24 December 2013
One Gloucestershire Conference club, Forest Green Rovers, is run by a vegetarian but the
Football Conference
confirms that "Stuart Pike will become chairman of Gloucester City after Nigel Hughes steps down from the role on December 31st. Pike, who is currently a major club sponsor with Burger Star, was previously in the position for a brief period in 2006 but departed due to work commitments with the Royal Air Force.
However, the club is pleased to confirm he is honoured to take up the challenge for a second time and for the foreseeable future...
'With no ground and a limited income stream many would have not taken this position, so a huge thank you to Nigel in making my transition much easier', Pike said... 'My business is at the heart of the Gloucester City community so when I was approached about taking the position it was a no brainer. I have a passion for all sport and Football is top of my menu... On and off the field I believe this is an exciting time for the club and, if we all pull together, we can achieve our goals and put Gloucester City not only firmly on the football map but more importantly back on the map of the City...
'Without a stadium the club will not and cannot achieve its full potential, but I know all those in the background working on this project will deliver a stadium we can all call home and be rightly proud of... One of the reasons why I have accepted the challenge is because everyone involved is singing from the same hymn sheet, with no hidden agendas or egos and all with one common aim to bring success to Gloucester City...
I cannot finish without praising the work of Dave Mehew, his coaching team and the players'".
The Conference also tells us that "Amongst Bath City's squad that made the trip to Hayes & Yeading United on Saturday before the match was postponed was striker Nat Jarvis after he signed from Brackley Town... He joined Brackley on his release from the Bluebirds [Cardiff City] during the summer but found his opportunities with the Saints limited".
According to the NW Evening Mail, "Darren Edmondson is preparing to bolster his goal-shy attack after struggling Barrow AFC once again fired blanks in Saturday's 2-0 home defeat by Solihull Moors...
Edmondson is hoping to make new attacking additions to his AFC squad... They have failed to find the net in their last three games and are the division's second-lowest scorers, having netted just 16 times in 18 league games. The Bluebirds' boss boosted his squad last week by signing defender Niall Cowperthwaite and attacking midfielder Ted Cribley.
But Edmondson revealed his 'frustrating' week also saw him miss out on snapping up more targets, who he described as 'predominantly forward players', as clubs were not willing to release them ahead of the hectic Christmas schedule. Said Edmondson, 'It's a difficult one because we've got to keep the books balanced... So although there's a need to do it very quickly we've still got a hell of a lot of points to play for, so they have got to be the right ones.
'We can't bring them in for a long period of time and then find out in March that they're not the right ones. It's Christmas so everybody's panicking because there are so many games close together, but if you don't win as many games as you want in the next five games, it doesn't mean that you're going to be out of it completely'...
Edmondson is intent on boosting his squad's flagging confidence, with an emphasis being placed on scoring the first goal in a game... But, if required, he will remain patient, with Edmondson adding... 'We have got four or five targets on the back burner, it's just about which ones we can get hold of. Who we can get depends on developments and movements within the clubs the players are at, but I'm assured that there will be movements which will free them up'.
Meanwhile, Wrexham have told Edmondson that they are willing to allow attacker Nick Rushton to extend his loan stay at Holker Street after his existing deal expires on January 1. The manager now plans to hold talks with Rushton to find out if he wants to remain in Furness.
Edmondson is also due to speak with Fleetwood boss Graham Alexander to sound him out over whether Barrow will be allowed to extend Jamie Allen's loan deal, which runs out on January 5. He could also liaise with the board over Alex-Ray Harvey's future this week. Edmondson wants to keep hold of the non-contract operator, if his budget permits him to do so, but the club have yet to open fresh contract talks with the midfielder.
Edmondson still only has 18 senior players at his disposal. And, while he says future departures "might be inevitable" he indicated that the board will back him if he is forced to exceed his budget to ensure his squad boasts sufficient numbers over the coming months",
The Mail adds that "Barrow AFC's squad are getting the star treatment thanks to the ongoing work being carried out by the club's hard-working handymen. The Asset Management Maintenance Team have given Barrow's home dressing room a complete makeover at a cost of £1,200, with the National Supporters' Club (NSC) paying the majority by donating £1,000.
As a result, Darren Edmondson's struggling squad can benefit from a huge dose of inspiration simply by looking up at the dressing room wall, which is adorned by celebratory images taken in the immediate aftermath of some of the club's greatest triumphs.
They include Barrow's two FA Trophy successes and their 2008 Conference North play-off final victory, while a club honours board is also attached to the wall.
The installation of wooden modules means each player now has his own sectioned-off area, with the spruce-up also incorporating leatherette padded seats, a good lick of paint, an on-the-wall tactics board and the restoration of a previously-damaged toilet to its former glory.
The Evening Mail donated pictures for the dressing room refurbishment, with Barrow firm Graphixsigns creating the image and honours boards.
Ian Rainford, who along with other fans, including Tommy Pearce, started doing odd jobs around the ground more than a year ago, said, 'We've completed the work to a pretty professional standard. The feedback from the players has also been very positive. They like the fact it looks more professional and that it's more comfortable. It was a very drab dressing room before the work was done'.
The NSC also contributed £400 to the cost of refurbishing the club's first aid room, a job which has been completed, with the area boasting new units and hot running water. Meanwhile, fans who have visited AFC this season will have noticed the major improvements administered to the Holker Street End.
The back wall of the terrace has been cladded and plaques, displaying the name of fans or their short messages, have been attached to it. The £2,400 cost of the cladding work was met by the sale of 28 plaques, which cost £100 each, thus the team made a tidy £400 profit.
Smaller-scale work, completed over recent months includes the transfer of a ticket office from the Main Stand side of the ground over to the Popular Side, and the unit will now serve as an additional club shop.
Water butts have been acquired to enable the club to store water, which will be utilised during the hotter summer months. One Ulverston-based fan donated a garage, which will house a grass-cutter, while the floor in the team's workshop has been extended.
The maintenance team consists of around 50 volunteers and they have received donations totalling between £13,500 and £14,000 since their formation. Their coffers were recently boosted by sealing a £2,000 sponsorship deal from Barrovian businessman and lifelong fan Shane Brennan... A mystery donor – known as 'Exile' by the group having previously been based abroad – has handed the group around £5,500...
The team have purchased a pitch roller at a cost of £500, with Brennan meeting half of the cost and general fans' donations contributing the other 50 per cent. The mystery donor also footed the bill for the group's one-year anniversary dinner...
'Considering that we don't actively go hunting for sponsorship, it's fantastic that someone like Shane can phone me and, within 10 minutes of him meeting me and finding out what we're doing, he's offering me £2,000 and potentially £4,000, so we're very grateful to him and everyone who has donated', added Rainford...
In a separate development, Furness College have agreed to supply 12 students, who are all learning trades and aged between 17 and 23, to carry out maintenance work at Holker Street in the new year".
On the pitch, "The Bluebirds have not won in the league since late September" after losing to Solihull "who were worthy winners... Barrow's new versatile midfielder Ted Cribley made his full debut. The 23-year-old former Sheffield FC man joined AFC on non-contract terms, as did Niall Cowperthwaite, the ex-Workington defender who is the son of Bluebirds' legend, Colin. But Cowperthwaite was only named as a substitute, a decision influenced by the 21-year-old's lack of match fitness.
Cribley replaced Dan Parkinson in the team... Harvey [was] restored to starting duties as he returned after overcoming a bout of illness. He came in for Alex Meechan who is sidelined after suffering a minor medial knee ligament injury.
With Edmondson setting out a 4-2-3-1 formation, midfielder Richard Davies was recalled to the substitutes' bench after recovering from a knee injury.
Barrow AFC: Tony McMillan, Andy Burns, Duran Reynolds, Danny O'Donnell, Paul Edwards, Sam Sheridan (Richard Davies 65), Paddy Lacey, Ted Cribley, Alex-Ray Harvey (Dan Parkinson 78), Jamie Allen (Nick Rushton 65), Gareth Arnison. Substitutes: Niall Cowperthwaite, Craig Radcliffe."
Further north in Cumbria, the News & Star adds that "Ian McDonald has already started to re-shape his squad after watching Workington Reds lose 2-0 at Leamington. In his first match in charge McDonald admitted he had to use a few strong words at half-time after a sloppy first-half display sent them in 2-0 behind.
'It was very poor and I'm pleased to say there was a spirited response in the second-half. But clearly we have a problem in being able to convert chances into goals... All the players have been told that when they get the chance they have to make it impossible for me to take the shirt off them. Play well and you keep the shirt', he said.
The new manager said he was pleased with the performance of debutant keeper Luke Simpson who had been signed on loan for a month from Oldham. However he expressed surprise that almost halfway through the season the club didn't have its own keeper. McDonald, who played 45 games for the Reds before being transferred to Liverpool in 1974, has already made enquiries about bringing in new faces.
'I have two or three in mind and there could be some movement early in the week ahead of the derby game', he said".
The Gloucester Citizen tells us the "The return of midfield playmaker Lewis Hogg is the perfect Christmas present for Gloucester City boss Dave Mehew... Hogg made his comeback from a knee ligament injury as a substitute during Saturday's 1-0 defeat to Gainsborough Trinity.
The former Bristol Rovers and Bath City schemer is likely to start... on Boxing Day... With record appearance-Tom Webb suspended for the game and fellow midfielder Darren Mullings also a likely absentee, Hogg's return is a timely one...
Mehew said, 'None of the front four players, my two wide players and strikers, or the central midfield two got going. We lacked Webby's energy and drive in that midfield... Hoggy came back in and he looks okay... We know what kind of performances are needed at this time of year and I will maybe look to pick the team accordingly. We have a few players who are champing at the bit to play having not had their chance'".
Belatedly, the
Cheshire FA
reports on "Manchester FA 0 – 1 Cheshire FA.... Cheshire FA's Youth Team advanced to the last eight of the FA County Youth Cup after a 1-0 away victory at bordering neighbours Manchester FA on Saturday (December 14). Joe Woolley from Knutsford FC popped up with a header in the dying seconds of the game to break the deadlock and see Cheshire FA into the next round.
The team's reward is a home tie in the Quarter Finals of the competition against Devon FA. The game was a tight affair with chances at a premium... The breakthrough came when in the 90th minute a successive corner from Manchester FA led to a break away for Cheshire, Callum Woods picked up the ball and struck a fine effort against the crossbar from distance with Joe Woolley on hand to head in the rebound with virtually the last touch of the game.
It was a good all round performance by the Cheshire FA Youth Team, who have built a great spirit within the squad throughout the season and are playing some fantastic football.
Cheshire FA Youth Team Squad for the game: Richard Barnes, Chris Bibby, Danny Brooks, David Brown [Alty], Daniel Bruce, Stephen Bullen [Alty], Ryan Cunliffe, John Dawson, Louis (Carl) Felton, Matthew Graetzer [Alty], Regan Jolliffe, Jack Mason, Jack Nicholls, Louis Potts [Alty], Lloyd Pownall, Josh Samberg (G/K) [Alty], Liam Turner, Danny Williams, Calum Woods (Capt.), Joseph Woolley."
---
23 December 2013
Match report
here
.
After Saturday's draw, the Telegraph & Argus tells us that "A last-gasp equaliser sent the Guiseley fans into delirium and Gavin Rothery on a lap of honour as his side rescued a point. Former Lions boss Lee Sinnott's Altrincham had wrestled the initiative back from the hosts in a ding-dong Skrill North encounter... It had been a gripping contest from the start... The home side were in the ascendancy throughout the first half but just fell short of finding a second goal.
Sinnott made one change at the break and Altrincham dominated the opening period of the second half... The game became very open and was still in the balance when the three minutes of stoppage time were signalled. Even that time had elapsed when a free-kick, just inside Guiseley's half, was launched forward by Drench. The ball was headed on, dropped in a packed area and was drilled in from an angle by Rothery. There was not even time to restart the game.
Lions boss Mark Bower was both happy and relieved, saying, 'It felt like a victory because of the circumstances. We deserved something from the game and it keeps the unbeaten run going. It showed the character of the players we have in our squad and it was a very hard-earned point gained with some of our regular players out. I thought we played very well and were on top. Even when they had a good spell at the start of the second half, we created the best chance at that time'".
YOUTH GAME OFF
The scheduled league game between Witton Albion and Altrincham FC Youth was postponed on Sunday. The next scheduled league match is on Sunday, 5 January, at home to Abbey Hey.
Ian Senior says that "The comeback is now on!" after he won Saturday's "Crossbar Challenge" at Guiseley 1-0. He still trails Neil Tolson 12-9 in the season-long competition.
From our next opponents' forum,
Stalybridge Celtic
report that "Shaun Goater has been training the squad this last week or so and, looking at us going forward yesterday, he's obviously had a positive effect".
NL Daily says that "Mike Ford, manager of Oxford City, has received an early Christmas present after Swindon Town agreed to extend striker Kayden Jackson's loan spell at Marsh Lane. Jackson, 19, has been in hot form since linking up with City, scoring four goals in just six appearances. 'Kayden's going to be with us for the next couple of months', said a delighted Ford".
According to the Manchester Evening News, "Stockport County march organisers heralded an 'unprecedented' day after around 500 disaffected Hatters supporters staged a protest march. The 'Sea of Blue' march, organised by Steve Gibbon, set off off from the Nursery Inn, Heaton Norris, the site of County's original ground, before arriving at Edgeley Park around an hour before their 2-0 win over Oxford City.
There, they sang protest songs against some of the club's hierarchy as well as a rendition of their anthem 'The Scarf My Father Wore'.
The march was devised with four aims in mind; persuading the club's silent shareholders to write off their loans and donate their equity free of charge to the active shareholders; to ensure the club regularly communicates with fans; to ensure those shareholders still investing money - Chris Brammall and Richard Park - speak to the silent shareholders and inform fans of their intentions for a new board structure; and an end to what they call 'the culture of 'Blue-Sky Thinking' and other such meaningless 'management-speak' as regularly expressed by the current Chief Executive Officer, Mr Ryan McKnight.
The first three of those aims have already been successful but McKnight remains in situ and may continue to do so until any new group completes a buyout of the club.
'It was unprecedented really', said Mr Gibbon, when asked about the day. 'To have almost 500 with us for that march was fantastic; it showed there's a need and a want to make things better. The shareholders knew on Monday we were going to do something but I honestly thought between 150 and 200 would turn up. It's a magic start'".
In the Lincolnshire Echo, we read that "Pilgrims' boss Dennis Greene experienced a full gambit of emotions as his side produced a heroic fightback to clinch a deserved 3-3 draw at Stalybridge Celtic. Boston trailed 2-0 and 3-1 and were hit by injuries to striker Ricky Miller and full-back Rene Steer during a see-saw contest at Bower Fold.
But Greene's side fought back superbly with goals from Netan Sansara, substitute Ben Fairclough and finally Marc Newsham's 99th for the club.
'It was just incredible, wasn't it? It was end to end and we looked dead buried twice', reflected the United manager. 'Within 15 minutes we were 2-0 down and had two players come off injured. We were playing uphill and against the wind. At that stage you're thinking "Blimey, where's this game going?".
But then we got ourselves a lifeline with Netan's goal and in the second half we had a breeze in our favour and were playing down the slope. We were thinking we could still go on and win the game then we go and give away a really stupid goal away (to make it 3-1, scored by Phil Marsh), then Ben (Fairclough) hits a worldy to make it 3-2 and we were back in it. When we got the equaliser there was still plenty of time left and either side could have won it....
'I won't suffer the kind of (lack of) effort they gave me last week when we were behind in the game', added Greene. 'But today we were back to our normal selves. The players showed their character and never-say-die attitude'".
---
22 December 2013
Above: Kyle Perry and Carl Rodgers in action at Guiseley on Saturday.
Match report here.
Guiseley report that "Rothery's late, late equaliser secures deserved point. With Guiseley on the verge of relinquishing their fourteen-game unbeaten run to the team that last defeated them, Gavin Rothery popped up to salvage a deserved point with the last kick of a game between two evenly-matched sides.
In a fairly even first half of few clear-cut chances, the home side took an early lead when Wayne Brooksby's free kick was floated in and Alex Johnson beat Stuart Coburn with a deft glancing header into the far corner. The Lions' lead lasted only nine minutes, however, as Gianluca Havern, having been left unmarked at a corner, slotted home from close range to restore parity.
With Brooksby causing all sorts of problems down the right flank it looked as though Guiseley might just sneak another before the break... Altrincham nearly went ahead but Steve Drench pulled off a superb save after ex-Lions favourite James Walshaw's shot had taken a wicked deflection.
Simon Richman missed a good opportunity for the visitors shortly afterwards before Alty took the lead on 69 minutes when Shaun Densmore's decisive run down the right-hand channel set up his low cross that found Carl Rogers, who beat Drench with ease.
But with the clock counting down and Alty playing out time, the Lions were awarded a free kick half-way inside their own half. Goalkeeper Drench launched the ball into the penalty area where a defender got a head to it but it fell to Rothery who shot gleefully past Coburn from eight yards to send his team-mates and the home support into raptures".
Saturday 21st December 2013
AFC Telford United v Brackley Town 1,351
Barrow v Solihull Moors 454
Gloucester City v Gainsborough Trinity 268
Guiseley v Altrincham 613
Histon v Bradford Park Avenue 314
Leamington v Workington 509
North Ferriby United v Colwyn Bay 318
Stalybridge Celtic v Boston United 354
Stockport County v Oxford City 1,884
Vauxhall Motors v Hednesford Town 206
Worcester City v Harrogate Town 403
At
Boston United
, we read of the Pilgrims' 3-3 draw at Alty's next opponents, Stalybridge Celtic. It says, "Boston United roared back to claim a share of the spoils in a pulsating clash against Stalybridge Celtic... United trailed 2-0 and then 3-1, courtesy of two goals from Phil Marsh and a spectacular free-kick from Kristian Platt... Netan Sansara bagged his first goal for the club while Ben Fairclough and Marc Newsham struck crucial second half goals to haul United level".
Stalybridge's line up was "(4-3-3): Arron Jameson; Kelvin Bleau, James Tunnicliffe, Kristian Platt, Andy McWilliams; Prince Haywood (Keith Briggs 59), Callum Warburton, Adam Pepper; Sean McConville, Phil Marsh, Paul Ennis (Tom Buckley 79). Subs (not used): Obi Anoruo, Conal Platt, Craig Ellison (gk)".
On the same game, the Lincolnshire Echo reports that "Marc Newsham scored his 99th goal for the club as Boston United fought back...to salvage a 3-3 draw... The visitors lost striker Ricky Miller and full-back Rene Steer to injury before half-time, but still bossed the second half... The comeback was complete in the 74th minute when Arron Jameson spilled Ian Ross's drive and Newsham converted the rebound from close range."
Thursday, 26th December 2013
Altrincham v Stalybridge Celtic
Boston United v Histon
Brackley Town v Leamington
Bradford Park Avenue v Stockport County POSTPONED
Colwyn Bay v Vauxhall Motors
Gainsborough Trinity v North Ferriby United
Harrogate Town v Guiseley
Hednesford Town v AFC Telford United
Oxford City v Gloucester City
Solihull Moors v Worcester City
Stockport County v Bradford Park Avenue
Workington v Barrow
Through the Years by Howard Watts
Saturday, 28th December 2013
AFC Telford United v Boston United
Barrow v Altrincham
Guiseley v Gainsborough Trinity
Histon v Brackley Town
Leamington v Hednesford Town
North Ferriby United v Bradford Park Avenue
Oxford City v Solihull Moors
Stalybridge Celtic v Colwyn Bay
Stockport County v Workington
Vauxhall Motors v Harrogate Town
Worcester City v Gloucester City
Saturday 21st December 2013 "Old boys" on the move include the following reported by the
EvoStik League
.
Andrew Keogh to Nantwich Town from Mossley
Andrew Pearson to Nantwich Town from FC United of Manchester
Marc Joseph to Northwich Victoria from Witton Albion
Josh Ollerenshaw to Warrington Town from Fleetwood Town (loan)
Former Alty Youth graduates who scored on Saturday include, two of Nantwich Town's scorers in a 5-0 win at Grantham, Benjamin Deegan and Osebi Abadaki. Also on the mark were Ashton United's Joe O'Neill who got a last-minute winner and Kendal Town's Daniel Mitchley who scored twice in a win over Radcliffe Borough.
---
21 December 2013
GUISELEY 2 ALTRINCHAM 2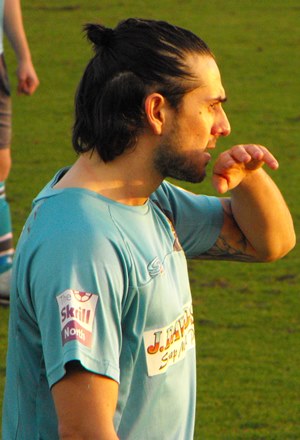 The last kick of the game earned Guiseley a draw at a muddy Nethermoor...
Right: Gianluca Havern looks into the first half sun at Guiseley.
Match report here.
Saturday 21st December
Howard Watts's Through the Years.
AFC Telford United 2-1 Brackley Town
Barrow 0-2 Solihull Moors
Gloucester City 0-1 Gainsborough Trinity
Guiseley 2-2 Altrincham
Histon 1-0 Bradford Park Avenue
Leamington 2-0 Workington
North Ferriby United 2-3 Colwyn Bay
Stalybridge Celtic 3-3 Boston United
Stockport County 2-0 Oxford City
Vauxhall Motors 2-2 Hednesford Town
Worcester City 1-0 Harrogate Town
Radio Robins, sponsored by Ashley Mowers Garden Machinery, is providing full live commentary of Saturday's game at Nethermoor.
The match commentary sponsor is Chris Furlong, who has been supporting Alty since 1978 and now lives in Wexford on the South East coast of the Republic of Ireland.
The commentary team is Ian Watmore and Paul Salt, with match summaries from John Edwards. Coverage starts at 2.50pm with the game kicking off at 3.00pm. You can listen to Radio Robins on the internet at www.radiorobins.com
Leah & Simon Brotherton will be providing regular updates on Twitter (@altrinchamfc) as well as half-time & full time updates on facebook (Altrincham FC).
As usual, this website will also be providing its live matchday updates throughout the game, starting from as soon as the line-ups are available.

.
Mike Garnett reminds us of the previous encounters between our two clubs:
At Altrincham p5-w3-d1-l1-f10-a6
Away p6-w0-d2-l4-f6-a14
All p10-w2-d2-l5-f16-a20
In advance of Saturday's game,
Guiseley
reported that "We are delighted to announce the loan signing of striker Luke Parkin from Leeds United. Eighteen year-old Parkin is highly rated by his parent club, having been signed to a professional contract in March as a reward for his impressive goalscoring record in the Leeds Academy setup...
In other news, Jake Lawlor has signed a new contract with the club, having continued to impress in defence and midfield for the Lions so far this season."
Also from the Lions' camp, we read in the Yorkshire Evening Post that "Boss Mark Bower has called on his thriving Guiseley side to claim overdue revenge against Altrincham tomorrow. The Lions are unbeaten in 13 games and last tasted defeated on October 5...
'Altrincham are the last team that beat us when they beat us 4-1 at their ground back in October', Bower told the YEP. 'The second-half performance we put in that day is something that anyone involved in it would want to put right. They were gifted goals and, after dominating the first half, we were beaten easily and so anyone involved that day, myself and my staff included, will be hoping we can put it right but they are a good side are Altrincham.
We know a couple of their players very well including the likes of James Walshaw, who served Guiseley very well, and we know the strength that he will pose. They have been quite fortunate with injuries so they have managed to pick a pretty settled side throughout the season and they are obviously up there towards the top of the league. We know it's going to be a difficult game but we have got to go there and do our jobs and and take it from there'.
Guiseley themselves have injury problems tomorrow with Danny Forrest joining longer term absentees Jack Rea, Adam Lockwood and Danny Ellis on the sidelines... The Lions will also be without Danny Boshell, who is ineligible through the terms of his signature from Altrincham...
Bower reasoned, 'I certainly think that any team in the top ten in the league at the minute would fancy their chances of getting in the top five. And I don't see any reason why any of those top ten teams can't look at it and think there's a chance to finish top of the pile. We know it's going to be very difficult from the position we are in to do that but we'll certainly be pushing to do that. We're in a good position. We are unbeaten in 13 games, we've been keeping a lot of clean sheets and we are moving in the right direction in the league. Plus we are into the third round of the FA Trophy as well.
We're on a good little run but it's important that we keep our feet on the ground and realise where we came from at the start of that run'.
Also in fine form are sixth-placed Harrogate Town who will be looking to make it four successive league wins when they visit third-bottom Worcester City. Tenth-placed Bradford Park Avenue will be looking to end a run of three games without a victory when they visit sixth-bottom Histon."
From the Telegraph & Argus, we hear that "Mark Bower's message from Nethermoor this week was 'Altrincham not Aldershot' as the clamour began for tickets and information on Guiseley's upcoming FA Trophy tie with the Shots. The Lions boss says he, his staff and the players are all looking forward to the tie after reaching the last 16. But that game is in January and there are five games in 15 hectic days to focus on first.
Bower said, 'It will be a difficult game but it's one that everyone will want to be involved in. Aldershot are one of the Conference big boys even though they are struggling at the moment, so it will be a good test for us all... But we can go there with very little pressure on so we have a chance of getting a result... But I've played Football League and I'm guessing a lot of their players have so I should know something about a few of their players'...
Tomorrow's visit of Altrincham, next Saturday's visit of Gainsborough, which is either side of Boxing Day and New Year's Day derby fixtures against Harrogate Town and the Lions' trip to Brackley Town on Saturday January 4, are all before the Trophy tie. That run of games could decide Guiseley's fate regarding their hunt for a play-off finish. Talk of being three games from Wembley can wait".
Steve Foster writes, "TASC would like to thank everyone who supported the Race afternoon last Saturday, either by buying a horse or race, or by attending the event. We are pleased to announce that the event raised over £500.
As part of the race afternoon, we held a predictions competition for some of the games going on during the event. The competition was won by Luca Havern, with Mike Ford second, and Nicky Clee third. Congratulations to Luca, Mike and Nicky. Luca will be presented with his prize on Boxing Day after the Stalybridge game".
Altrincham FC official caterer, Richie Bentley, sends "A big merry Xmas from me to all friends of Altrincham FC... and to spare a thought for your poor Chefs this Xmas; we have to work extra hard for 2-3 weeks... with very little alcohol.
Firstly: Please sponsor me for the Stalybridge Stomp on New Year's Day or take part - details here. The fundraising total is creeping up.
Secondly: I have started two new contracts recently, which may interest Altrincham fans, friends and family. I can be found in the early hours preparing breakfasts and brunches for exclusive passengers for Virgin Atlantic's new restaurant, The V-room at Terminal 2 at Manchester International Airport. Anybody flying long haul from Manchester should consider using us... an amazing restaurant as shown on the video.
To complement the busy time of the year, I have taken over as Head Chef at one of the oldest pub-restaurants in the North West, the Puss in Boots. My new menu launched on the 19th December and I would love to invite all Altrincham supporters and friends to my New Year cook-off on Monday 6th January 6pm to 9pm, where I will be unveiling our new tapas menu, function food and daily specials - and Ye Olde Englishe favourites. You may also be introduced to the spectre that haunts the large building as described below...
'The Puss in Boots was built in 1830, a year before the Macclesfield Canal. Originally it was a coaching house and the stables were situated where the kitchen now stands. The arches on the canal side were used as stabling for the horses that pulled the barges. The barges themselves were not permitted to use the public bar as they were not considered the "right class" and they had to be served in the cellar.
It has been said that the Puss in Boots is haunted by Violetta. She is believed to have been one of the servants that worked and lived in the original coach house hotel but, unfortunately, ended her life after falling pregnant to Lord Roland of Macclesfield'".
Richie's menus can be seen here. He adds that "I really enjoyed doing the Xmas carvery this year.....I think that is the winning format after 6 previous years of trial runs".
Although he joined Altrincham from Stafford Rangers on Friday, Tom Marshall had only just arrived at Marston Road. The
Staffordshire News
reported recently that "Rangers boss Andy Mutch has revealed that latest signing Tom Marshall has not trained this season. The former Hednesford Town central defender was in a second spell with Tamworth when increased work commitments prevented [his] turning out for the Lambs this season and he was released.
Marshall made his Rangers debut on Saturday and helped earn the Boro a crucial point in a 2-2 home draw against third place AFC Fylde [on 7 December].
'He hasn't done a training session this season. He just turned up today (Saturday) and played', said Mutch, who added that he had been chasing the player for some time and had spoken with Marshall on several occasions. Marshall, who captained the Pitmen at the age of 18, certainly bolstered Rangers' leaky defence, one that had conceded nine goals in their previous two matches.
'He's got the experience and is a tremendous defender and a great character. That's something a lot of clubs miss, not just us. To have him here (Marston Road) was a great boost for everybody, myself, the staff and the players. He put on a performance which I expected him to and I was really pleased with him. I hope we can keep him for the near future'".
Barrow
announce that they are "delighted that defender Niall Cowperthwaite has signed non-contract forms and goes straight into the squad for tomorrow's game against Solihull Moors. Uni. student and Grange over Sands resident, Niall, comes to us after stints with Morecambe, Workington, Kendal and most recently a couple of games with Penrith."
Also, "Sheffield-born midfielder/Winger Ted Cribley, 23, has plyed his trade mostly in American college football, before returning to the UK last season. He today signed non-contract forms... Ted was taken on trial with Sheffield United in 2012, but a nasty knee injury put paid to his chances at the club".
Still in Cumbria, Workington confirm that "Following the recall of Joel Dixon by parent club, Sunderland, earlier this week, Reds have drafted in Luke Simpson. Oldham Athletic's 'keeper Luke Simpson signed a deal to join the Reds on a one-month youth loan deal. Nineteen years old Simpson will become the sixth different goalkeeper to appear between the sticks this season... Simpson will be at Borough Park until January 18th."
Bradford PA stated on Friday that "Due to forecast heavy overnight rain there will be a pitch inspection at 8.30am for tomorrow's away game at Histon FC... [Meanwhile,] Bradford Park Avenue are pleased to announce that striker Paul Beesley has been signed today from Harrogate Town".
NL Daily confirms that "Stockport County fans will take to the streets on Saturday to protest at the situation at the club. The 'Sea of Blue' march will start at The Nursery pub in Heaton Norris at 12.30pm, finishing at Edgeley Park a couple of hours later.
Organiser Steve Gibbon wants to see shareholders write off their loans to the club and ensure the club's board communicates with its fans more. Hundreds of County fans pledged their backing to the march, which will finish before the home game with Oxford City, within hours of it being announced last month.
Fans have held marches and protests in previous years, including in 2010 and 2011. Steve said, 'Sea of Blue asks the fans to go in, watch the game and hopefully see a County win. What the marchers wish to do at 2.45pm is up to them though; it's not for anyone to tell them what they should be doing'.
Former vice-chairman Spencer Fearn called on shareholders in August to write off their loans to safeguard the club's future. It is understood six shareholders have now agreed to walk away from the club and have told senior supporting shareholder Chris Brammall they will donate their equity and write off their loans for £1. In the last couple of months, consortia from China, south Wales and Stockport have all been linked with possible takeovers at Edgeley Park" reports the Manchester Evening News.
News of a former Altrincham reserve comes from Vauxhall Motors who have "placed last season's joint top-scorer Ashley Stott on the transfer list. The prolific striker netted 13 times in 27 appearances last season but has struggled to hold down a regular first team place this season.
The Manchester-born striker signed for the Motormen in November 2012 following his surprise release from Witton Albion. He has been a regular goalscorer during a career which saw him begin at Preston North End before joining Altrincham in 2006. Since then, Stott has had spells at Bangor City, Halifax Town, Hyde and Aberystwyth before trying his luck in Victoria, Australia playing for Dandenong Thunder before returning to England to join New Mills. He joined Witton in February 2012... This season, Stott has scored 5 goals in 17 appearances but has not started a game since 5th November".
A second ex-Alty reserve leaving Rivacre Park is the subject of news that "Stalybridge Celtic have signed goalkeeper Craig Ellison from rivals Vauxhall Motors" according to Pitchero Non-League. "Formerly with Crewe Alexandra, Altrincham, Curzon Ashton, Witton Albion, FC Halifax Town, Garforth Town and Burscough, Ellison signed for the Motormen in October 2012 and comes with a reputation of being a highly-talented goalkeeper.
As well as being a highly-talented keeper in his own right, Ellison was also the founder and technical director of the UK's largest one-to-one goalkeeper coaching school, Reflex Goalkeeper Development Schools. In addition to this, he was once one of the goalkeeper coaches at Burnley FC's prestigious Centre of Excellence, as well as being goalkeeper coach for their Elite Development Centre. He had just returned to Motors following a loan spell with Ashton United."
The Telegraph & Argus reports that "Assistant manager Mark Hume knows it will be a tough holiday period for Park Avenue's stretched squad... It is hard because we have players injured and suspended and it seems to be a case of one in, one out at the moment', said Hume. 'We hope Scoobie (Richard Marshall) will be fine because he missed Tuesday's game with a bout of sickness. But he was one of four players we had out. Another was Adam Clayton with a groin injury and he might be fit enough to play some part (against Histon) but we can't risk him because James Knowles is suspended for Boxing Day and Adam is a natural replacement.
Ideally we would have them both in the team but that just hasn't been an option for us recently... We were in a similar position this time last year. We had players out and dropped too many points over Christmas. That meant we were playing catch-up for the rest of the season and we just came up short. People might look at it and think "What are they doing, haven't they learned from last time?" but we are working within constraints.
It has been a nightmare with injuries and suspensions. We have a squad of 18 but have had as many as six out. Financially we can't keep more than 18 and, even if they came for free, you can't keep a squad of 24 players happy. The ones on the bench get frustrated so what would the ones left sitting in the stands do? They would be on their way. We have tried to bring players in but we have hit a brick wall with three that we have been talking to. They are all at clubs and they won't budge until after Christmas.
There is a chance we might have a player joining us on loan before the (Histon) game but we will see if it happens. We have come to an agreement with another club but there are still things to sort out. He is a forward and we need to strengthen that are'".
A day after being reported as being released, AFC Telford United now say that "Sean Cooke has gone out on loan (subject to paperwork) to AFC Fylde for one month."
In Lincolnshire, Non-League Pitchero reports that "Midfielder Dan Clayton has left Gainsborough Trinity to join promotion-chasing rivals North Ferriby United. The left-sided player joined Trinity towards the end of August from Harrogate Town, although he had actually registered with Glasshoughton Welfare earlier that month.
He joined Harrogate from local football in December 2011 having played for Northallerton Town and Boroughbridge and was dual registered with Knaresborough Town AFC. Clayton was part of the Harrogate squad that reached the Second Round of the FA Cup".
The Conference reports that "BT Sport announce that they have chosen another LIVE Skrill Premier Division fixture to screen.
Forest Green Rovers v Hereford United on Thursday, Jan 9 - BT Sport 1, 7.30pm (originally to be played on Saturday 11th January)".
---
20 December 2013
Altrincham FC have signed central defender Thomas Marshall from Stafford Rangers. Born on 16 November 1987, Tom previously had two spells at Tamworth (2010-11 and 2012-13) with a period in between with Kidderminster Harriers (2011-12). Whilst at Aggbrough he was loaned to Brackley Town during their promotion push to the Conference North. He made 72(+4) league appearances for Tamworth, where he had a spell as captain, and started 23 times for Kidderminster in the Conference National. At Kiddy he was a team mate of Alty's injured defender, Mike Williams. He stands 6ft 4ins tall.
Before he joined Tamworth, Tom had made 170 appearances for Hednesford Town, from the age of 17, before he joined Eastwood Town (summer 2010). At Eastwood, a shoulder injury, sustained in a car accident, hindered his progress.
Altrincham midfielder Jake Moult (right) will miss Saturday's game at Guiseley, having amassed five yellow cards this season, three in the league and two in cup competitions.
At Guiseley, Altrincham should come up against former Moss Lane defender Danny Hall but Danny Boshell is not permitted to play under the terms of the move he made back to Nethermoor. After Thursday training, Alty boss Lee Sinnott confirmed he had no new injury worries. As regards the potential new arrivals at the Club, mentioned by assistant manager Neil Tolson and chairman Grahame Rowley at the recent meeting with supporters, the Alty boss described the situation as "still ongoing".
Guiseley
report that they "will be out for revenge when they host Altrincham in the Skrill North on Saturday, following the visitors' 4-1 win in October. Lee Sinnott's men were the last team to take three points from the Lions, as they secured the win at the J Davidson Stadium two months ago, with Damian Reeves and James Walshaw (3) cancelling out Michael Potts's opener.
While Bower's side are 13 games unbeaten in all competitions since that comprehensive defeat, Altrincham have lost their last three matches in all competitions – although three points could put them back in the play-off positions.
Victory for Guiseley would put them within a point of Altrincham although Bower remains well aware of the attacking threat Saturday's opposition will pose. 'They're a good side, I don't think they're on the best run at the minute but we saw what they did to us at their place in the second half', he said. 'That was a dark day for everyone concerned and we'll certainly use that as motivation. We've come a long way since then. I think everyone knows the record we've had since then and I think that is the big one we'd like to put to rest, that second half performance (against Altrincham)'".
Matchday coverage will include the customary Live Updates on this website.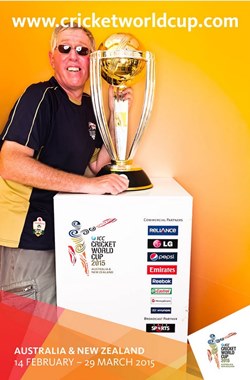 Altrincham FC supporter and member of the Radio Robins commentating team, Ian Wilkinson, has recently returned from watching the Australia v England Ashes series. The photo (right) shows Ian recently at the WACA, Perth, with the ICC Cricket World Cup which is to take place in Australia/New Zealand in 2015. He apologizes for not wearing his Alty shirt on this occasion!
The
Football Conference
says that "BT Sports have selected three more games to screen live from the Skrill Premier in January and February 2014."
16 Jan: Alfreton T. v Tamworth
6 Feb: Kidderminster H. v Cambridge U.
13 Feb: Chester FC v FC Halifax Town
The Football Conference reports that "David Messom, chairman of Colwyn Bay, was delighted to present a special plaque to first-team goalkeeper Chris Sanna to commemorate his achievement of playing 200 times for the club before last Saturday's home match against Histon. Sanna achieved the milestone in the away game against Gloucester City, and as Messom said, 'With the excellent form Chris has shown both this season and many others, we wouldn't be surprised to see him go on to achieve 300 games in two years' time! He has been a wonderful servant for the club and we are all proud of him, including his father who has watched him home and away every week'".
At Stockport County, "In light of recent speculation, we are pleased to report that there has been significant progress made this week in a bid to introduce new investment and new governance to Stockport County. Talks are continuing with the Club's shareholders but we have made good progress and we are hopeful that the club will be in a position to make a positive announcement shortly.
The existing shareholders have also been positive about the current proposals. These are still early days but we believe that this is a significant step forward for the football club and will help us to achieve our long-stated aim to bring more fan representation to the football club. If we succeed in completing a deal in the near future, we will let you know".
According to Non-League Pitchero, "Goalkeeper Germano Luis-Mendes has joined Vauxhall Motors after a short spell with Droylsden. Twenty-two-year-old Luis-Mendes joined the Bloods last month after leaving Portuguese club Oeiras. An international for Guinea-Bissau, Luis-Mendes previously played for another club in Portugal, Chaves FC".
The Shropshire Star tells us that AFC Telford United manager Liam Watson still considers Martyn Jackson a long-term project despite the midfielder's impact out on loan. The former Manchester United and Burnley youngster has excelled at one-month spells with Stafford Rangers and Skelmersdale United.
He returned from Skem last week and travelled with the squad to last weekend's 1-0 Skrill Conference North victory at Workington, where he sat in the stands... Watson won't rush Jackson into the Bucks' first-team... The Telford boss said, 'I have had good reports from wherever Martyn has been and this season was all about bringing him through and then seeing how far he has progressed. When the summer comes along, we will see where we go but, if I need to play him, I will. Depending on how much game time he gets, he may go out on loan again. If he gets a chance and does well, he will stay here. But we wouldn't have looked to have given him a deal if we didn't see a project in his development'...
Transfer-listed defender Dan Preston is out on loan at Stourbridge until the end of the month. Watson has still been checking on his progress along with winger Jake Bennett, 18, who is starring in a temporary spell at Market Drayton Town. The promising Telford-born teenager, the cousin of Norwich midfielder Elliott Bennett and Doncaster's Kyle, is at Greenfields on a dual registration basis".
Further north, reports in the North West Evening Mail say that "Barrow chairman Brian Keen says Darren Edmondson has been given the green light for squad strengthening. Edmondson... underlined his desire to make new additions to the squad during a meeting with the club's board of directors at Holker Street on Tuesday night... as they head into an important Christmas period which brings tough matches against play-off contenders Solihull Moors and Altrincham and two Cumbrian derbies against his former club Workington Reds.
Edmondson's wish-list comprises adding some fresh blood to his small squad and extending the loan spells of his attacking duo, Wrexham's Nick Rushton and Fleetwood's Jamie Allen. And Keen says the former Carlisle, Huddersfield and York defender has the board's full backing in the transfer market. While not going into specific budget figures, Keen said the manager has freedom to go out and negotiate deals for new recruits and loan extensions for Rushton and Allen, although he hinted the quality and number of players he can bring in is linked to the number of fans coming through the Holker Street turnstiles.
Assessing the meeting with Edmondson, Keen said, 'It went extremely well. The full board were there, we sat down and Darren told us his plans and his thoughts, and we told him where we are as a board, what freedom he has, the whole lot. He's happy with what we said, we're happy with his plans. It's early days but we're backing him all the way obviously... we're very confident we're doing the right thing for the fans and the right thing for the club, which is the main thing. Give him a bit of time and I'm sure he will turn things round'.
On Edmondson's player recruitment budget, the long-serving chairman added, 'He has put some very competitive figures to us, some very competitive ideas and we are backing him all the way. He is not short of what he needs. A little bit of fine-tuning is needed, as well as something extra to please the fans. We are trying, as a board, but it isn't easy when we have the financial constraints that most clubs have at the moment. We are not in the market to see Barrow AFC go bust; that's the main thing, to keep the club going'...
'We discussed how we have got to get more people through the gate', said Keen. 'And how we get people through the gate is by winning and picking up points, plus by the quality of the team. We are hoping that those fans staying away will come back and give Darren the best chance to succeed. 100 on the gate gives him more money, 200 on the gate gives him even more. Fans need to sit down and think of the success the club has had over the past 10, 12 years. Now we've had a blip, but it's not through lack of hard work that these things happen. It just hasn't worked, but it will work again, I'm sure of that'".
---
19 December 2013
Altrincham FC have signed youth team goalkeeper Josh Samberg (right) on non-contract forms. Born on 7 September 1995, Josh has been the Altrincham FC Youth team regular keeper this season and last summer was part of the Team GB Under 18 team which won a medal in Israel in the 19th Maccabiah Games.
Paul Fay and Graham Heathcote are arranging several events to try to raise funds to send the Altrincham FC under-17 youth team to Ireland to play in the Foyle Cup next July. One such event is a Prize Draw for which the prize is two tickets, with hospitality, to watch Manchester United play Liverpool at Old Trafford on 15th March 2014. The tickets for the Draw are on sale for £5 each and can be obtained from the ALtrincham FC offices or from any member of the team.
Another event in the fundraising programme will be an evening in the Manchester Glass Sponsors' Lounge with Graham Heathcote talking through his forty-plus years in non-League football. The event is on Saturday, 8th February and there will be more details in the next Robins' Review programme.
On 4 January, when we play Leamington at the J. Davidson Stadium, there will be the annual roll-call for those connected with Altrincham FC who have died in the previous year (i.e. 2013). If you have a friend or relative who was connected with the club, be it as a supporter, ex-player or in any other way, please confirm the name in question to
Grahame Rowley
. Ideally, please also indicate the date of death, though this is not essential.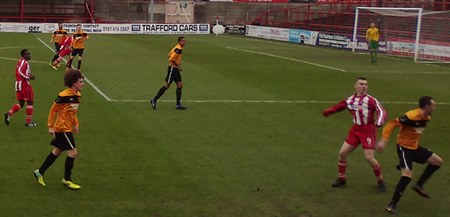 The Altrincham Youth Education Programme team led 2-0 after 32 minutes, thanks to a penalty from Tom Westall and a goal from Matt Graetzer, before County took a 3-2 lead and went on to win 5-3. Match report
here
.
Right: Alty on the attack in the first half.
The
EvoStik League
confirms that after a goalless draw after extra time, Chorley beat Forest Green Rovers 3-1 on penalties.
Garry Flitcroft's trophy hunters will fly the flag for the Evo-Stik NPL at Tamworth in the competition's Third Round in January... Chorley picked up £6,000 in prize money for their 3-1 win in the shoot-out and now travel to the Conference Premier's Lambs on Saturday January 11 with a quarter-final berth and another £7,000 in prize money up for grabs.
Meanwhile, NL Pitchero tels us that "Defences certainly held sway in this tie as last Saturday`s original encounter at Victory Park finished 0-0 as did Tuesday night`s replay, although the visiting Magpies did arguably have the better opportunities to win the match before the lottery of penalties.
Hero of the night turned out to be Chorley`s goalkeeper Sam Ashton, who saved three of Rovers` spot-kicks from Matthew Barnes-Homer, top scorer James Norwood and Paul Green as the underdogs ran out 3-1 victors...
Nuneaton Town were the other Skrill Premier team to bite the dust on their own ground on Tuesday night. Boro were knocked out, also on penalties, by Skrill South strugglers Gosport Borough. The hosts were without key players and it showed as they turned in a disappointing performance... It went to the almost inevitable penalties and [Jake's brother] Louis Moult and James Belshaw - one as a specialist penalty taker - both missed. Gosport scored four of their penalties, giving them a 4-2 win and a trip to Hungerford Town [who beat Alty's conquereors Leek Town] in the Third Round."
NL Daily
says that "Colwyn Bay manager Frank Sinclair says a play-off spot is within his side's grasp as they aim to stretch their unbeaten run at top-of-the-table North Ferriby United on Saturday. The Seagulls are up to 12th... [with an] unbeaten run to four matches, and although they travel to the current league pace-setters this weekend, Sinclair insists the Blue and Clarets have nothing to fear.
He said, 'The team's settled and right now, and with a lot of new faces in the squad, it's coming together really well. I think the signing of Sean Williams and Marc Williams and Anthony Stephens from Wrexham have strengthened us as a team. I think the play-offs are definitely achievable, the form we've been in recently, and even before then, we've matched the teams we've played, even the ones above us. It's just about getting the consistency in results now, which I've spoken to the lads about. The play-offs are something we'll be aiming for, and it won't be easy, but we'll give it a good go'" he told the North Wales Pioneer.
---
18 December 2013
John Edwards, joint Press and Media Officer at Altrincham FC, writes that "Altrincham have made a statement of intent about their promotion ambitions by completing one signing and closing in on another.
Manager Lee Sinnott has significantly strengthened Alty's left-flank options by capturing versatile 29-year old Adam Griffin from Skrill Premier side Hyde.
In addition, he has put seven days' notice in for a left-sided centre-back, as he redoubles his efforts to equip his squad for a concerted promotion push in the second half of the season.
'Adam is a player I have been aware of for a couple of years, and he will improve the balance of the squad no end,' said the Alty boss. 'It is important to have left-sided players, and he can slot into a multitude of different formations, as a left-back, a more advanced wide midfielder or a wing-back, getting up and down the flank.
'We are not going to be able to have two players for every position, but with just Buzz (Matt Doughty) and Nicky Clee on the left, it was important to supplement that area. Adam knows what it takes to get out of this division, and has had a couple of seasons in the Conference Premier, and all that experience should prove valuable to us.
'He is equally comfortable going forward or defending, and the fact that Hyde have had a tough time of it this season won't be a problem, I'm sure. He is at Altrincham now, and as a player, you just want to go out and enjoy your football and express yourself. He will get that opportunity here.
'We have put seven days in on another player, and there are actually a couple under consideration in the same area of the pitch, so I am hoping there will be another coming in before the end of the week. In an ideal world, you pick up the phone in the morning, and it's all done and dusted by the end of the day, but it doesn't work like that.
'There are negotiations with the club and the player, and they can fall down for a variety of reasons, but we are working at bringing the right players to this club.'
Sinnott hopes to have a full squad to choose from, with the exception of Mike Williams, against in-form Guiseley, who will be without Danny Boshell, as part of the agreement that allowed the former Alty midfielder to return to his old club as player-coach.
'They have picked up very well and are playing some decent football,' added Sinnott. 'But we are eager to get a positive run of results going again, and it was pleasing to see Nicky Clee back on the pitch against Southport on Saturday, and marking it with a goal. He gives us different options and has been missed over the last few games.'"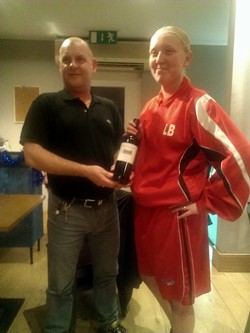 Altrincham Ladies won 5-3 at Wilmslow on Saturday and are now joint top of the division.
Right: Lizzie Brereton receives her Player of the Match Award from Dave of the Blue Dog Bar. Photo courtesy of Keith Edleston.
Courtesy of Phil Taylor and Keith Edleston there is a match report on the Ladies' 5-3 win at Wilmslow.
The Altrincham FC Saturday Yankee jackpot now stands at £3,500 with last week's winning code of 1379 being unissued. Seven members did win Trebles, each earning £21.42.
Hednesford Town 2-0 Bradford PA The Football Conference says that "Nigel Hughes has decided to step down from his position as chairman and head of the Management Board at Gloucester City after five years in the roles from December 31st 2013.

Hughes has indicated he will not be walking away from the Tigers but will remain to be associated as a director to support the new stadium build once the planning application has been approved in the next few months.

'My workload has continued to grow, as the company I work for looks to expand its operations worldwide and, as a consequence, I have more responsibility which means longer hours and more travel', Hughes notes. 'In real terms this means I have less and less time available to dedicate to the Football Club, so with the new Management Board in place the club is now on a far better footing and can look forward positively to the future once we return to the City...

Whoever is appointed to take over the role as chairman will inherit an excellent football management team, in tandem with a thriving youth development set up and more importantly a Management Board, which is now making a big difference to how the club is operating'. Hughes' successor as chairman will be announced in due time."

And "Workington have announced the appointment of Ian McDonald as their new manager and Ashley Hoskin as assistant-manager until the end of the season. McDonald played for the Reds in the 1970s before Bill Shankly took him to Liverpool for what is still a club record fee of £33,333. He then went on to play for several other clubs in the Football League and made 671 League appearances and scored ninety goals before moving into coaching.

McDonald has coached and managed at Aldershot Town, Millwall, Portsmouth, Kingstonian (twice) winning the FA Trophy in 2000 and 2001, Hampton & Richmond Borough, Farnborough (twice) as well a spending some time coaching in Australia. In recent years, he has been scouting in the North West for several clubs including Middlesbrough, Everton, Millwall, Preston North End and Bristol City.

Hoskin brings a vast wealth of coaching knowledge and experience to the club. After a playing career of over 150 League games for Burnley, he progressed from Level 1, 2 and 3 Coaching certificates to achieving... his UEFA A coaching licence in 2010...

Chairman Glenn Heathcote said, 'Ian and Ashley have a wealth of experience in both the Football League and at non-league level which will be invaluable to us as we start work to move the club away from the relegation zone. I remember watching Ian when he was a player here at Borough Park and all though his interview his passion and love for the club came through loud and clear'...

Gavin Skelton's position as player-coach is not affected by these appointments. McDonald and Hoskin are looking forward to working alongside Skelton, who will be a great help to them in the coming weeks and months."

To this the NW Evening Mail adds that "Exciting loan attacker Jamie Allen is willing to consider being part of Darren Edmondson's Holker Street revolution in the second half of the campaign.

Decisions will need to be made about the 18-year-old's short-term future over the coming weeks as his loan deal from Fleetwood Town expires on January 5.

Edmondson, who was appointed Bluebirds boss last week, has already stated that he wants to keep hold of Allen beyond that date... Allen says his first priority is to fight for a squad place at the Highbury Stadium, he is not against the idea of sealing a loan extension if all parties agree that his development will be best served by remaining in Furness.

'I'm playing football, and that's the main thing', said Allen.. 'So if I'm here, playing football and the new manager has got a new philosophy, brings new players in, we start climbing the table and pick points up, then obviously I'd want to stay'...

'I don't want to be playing football with the ball being up in the air. So the manager has come in and, already in the first half, there was a massive improvement... But as far as I'm concerned, I'm going back to Fleetwood in January, and that's all I can say at the moment...

The gaffer's positive, he came in straight away and told us what his ambitions are', he explained... 'He's trying to lift us all up and, to be fair, he has done. In the first half on Saturday you could see that, we completely changed our way of playing for the better and that's only after a couple of days'".

News of Altrincham's next opponents comes from the Telegraph & Argus, which says that "Guiseley have been handed a tough tie against Aldershot in the last 16 of the FA Trophy... The Lions, however, are rocketing up the Conference North table and on an unbeaten 13-match run – 11 of which have been victories.

Lions' boss Mark Bower said... 'To get one of the big Conference clubs away from home, involving all the travelling and logistics, is not what we wanted but we put FC Halifax Town out so there is some hope for us. It's even difficult checking on them because of the distance but we will see their fixture-list and hope they have some games up north before we have to play the Trophy tie against them... We have the busy Christmas period to look at first'".

AFC Fylde have issued a fascinating statement about the recent visit of FC UNited of Manchester. It starts, "Saturday was a pretty bad day for AFC Fylde not because of the defeat but because of the intimidating atmosphere that existed from the minute FC United fans started arriving at the ground. All of which we believe could have been avoided had their committee acted in a more thoughtful manner... A statement was put on the FC United website on Saturday morning... Whilst the posting may seem innocuous... behind the scenes a totally different scenario was unfolding. This was 'tweeted' around by FC United officials and fans who in a very short time had stoked up the fire to the effect that fans decided to boycott the game by not attending.

Those that did attend were informed to boycott everything and not spend a penny. Don't buy a programme, a drink or a pie was the message. One can therefore imagine the scenes that unfolded at the ground. Because of this message FC United fans arrived en-mass at the ground at 2.35 pm and some of them in a pretty aggressive mood...

We have a free U16's policy... The FC United fans totally abused this gate with many fans, clearly in their early twenties, arguing that they were under 16 and others trying to jump over or under the Directors' gate. It was chaos and a very disturbing experience for our gatemen.

Once in the ground a group of thugs then set about harassing the programme and raffle ticket sellers stopping not only FC United fans buying anything but also our own fans, many of whom were women and children... We believe this matter should have been kept between the officials of the club and the matter sorted out with the league. As it was FC United unfortunately chose to air this in public only telling half the story and not giving all the facts which is why we felt it necessary to reply. Luckily no-one was hurt and we only lost a few thousand pounds in revenue but it could have been a lot worse.

We want to put on record that despite a number of troublemakers, the majority of FC United fans were well behaved and courteous".
---
17 December 2013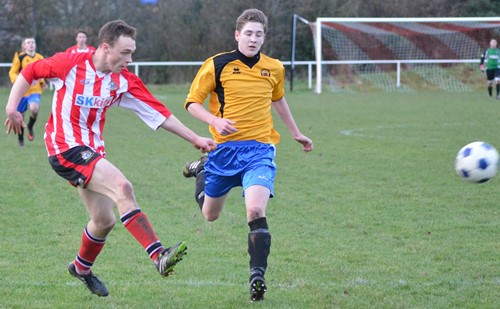 Pictured, right, is James Lobley's image of Rob Gilroy in action on Sunday for Altrincham FC Youth against Prescot Cables in a 2-2 draw. More of James's photos can be found here. The FA Carlsberg Trophy Third Round draw, for ties to be played on Saturday, January 11th 2014 is:
Cambridge United v Luton Town
Aldershot Town v Guiseley AFC
Hungerford Town v Gosport Borough or Nuneaton Town
Eastleigh v Dover Athletic
Tamworth v Chorley or Forest Green Rovers
Lincoln City v North Ferriby United
Grimsby Town v Maidenhead United
Whitehawk or Havant & Waterlooville v Ebbsfleet United
According to the News & Star "Barrow mistakenly tried to snatch one of Workington Reds' prize assets for nothing, not realising he was under contract. Scott Allison was at the centre of a transfer blunder with the Bluebirds putting seven-days' notice on the attacker.

But with Allison already contracted to Workington, Reds officials rejected the confused approach.

The bid was believed to be made late last week but Allison was in the starting line-up for the 1-0 defeat to AFC Telford. Caretaker boss Gavin Skelton branded the conditions 'ridiculous' as howling wind and rain meant little football was played. A fortunate strike by Russell Benjamin condemned Reds to an 11th defeat of the season.

Skelton praised his side's effort, and said they would bounce back.

Alberto Seidi was dismissed after just 15 minutes of coming on, and Skelton said, 'I'm not trying to do an Arsene Wenger but I couldn't see it from where I was. A couple of the lads said Alberto raised his arms, but not to the lad's face. We will have to see the video'.

Skelton said visiting keeper Ryan Young was man of the match after making two world-class saves to deny Seidi. He said, 'The breaks aren't going our way, but I genuinely believe things will change. Their keeper was man of the match because he made three stunning saves'".

As previously reported Stockport County were thrown out of the Cheshire Senior Cup for fielding an ineligble player. As a consequence their tie against Stalybridge Celtic becomes a game between Celtic and Witton Albion who have been re-instated in the competition. Kevin Thompson's advises us that the latest podcast (16 December) on his Alty & Sale Sport site includes Altrincham player movements and news of the Ladies team.
---
16 December 2013 Why not start the Christmas season with a great value trip to watch Altrincham take on in-form Guiseley, where Danny Boshell is now assistant manager? Mark Eckersall confirms that a TASC supporters' coach will be running to Guiseley on Saturday (21 December). A reduced rate will be charged so it will cost just £6 for all adults and £5 for concessions/students.

Please ring the club in weekday office hours to book your seats. Times are to be found on the Away Travel page.

Altrincham FC Ladies' manager Keith Edleston reports that his team won 5-3 away at Wilmslow on Sunday. "Made me age a bit today with us being 3-0 up at half time and Wilmslow pulling it back to 3-3 before we regrouped and scored two late goals.It was a very tough game and one where we weren't at our best but to go to the third-placed team and to win without playing well, well I'll take that every day", he said.

The goalscorers were Heather Scott, Cloe Allsop, Chloe Brereton and a brace from Tracey Blanchard-Webb. Player of the match was Lizzie Brereton. The Ladies' next game is on 5th January, away to Warrington Wolverines.

Altrincham FC Youth drew 2-2 at home to Prescot Cables on Sunday. Kane Hughes and Tom Westall were the scorers, whilst Gary Scott was there to see his son Dylan, who plays for Prescot.

Meanwhile Alty had representatives on both sides in the national FA County Youth Cup match which ended Manchester FA 0 Cheshire FA 1. Cheshire now meet Devon with the winners at home to Lancashire, Cambridgeshire or Northumberland.

Before Saturday's game Manchester County FA "announced their squad to face Cheshire in the third round of the FA County Youth Cup this weekend. Jamie Blood's side saw off Liverpool in an eagerly anticipated second round tie and will have their sights set on taking the County FA a step closer to a second consecutive final... Curzon Ashton's Tameside Stadium will play host on Saturday after the Evostik Northern Premier League outfit agreed to become the home ground of the MCFA representative side, subject to first team fixtures".

The Manchester squad included Alty Youth players Spencer Cunliffe (Xaverian College), Joe Hankinson (Hopwood Hall), Kane Hughes (Hopwood Hall).

The Altrincham FC Youth Education Programme team played on Wednesday at home to Farsley but lost 1-3. Ben Reid was the scorer as he had been also in the previous match at Gateshead. The team now play Stockport County on Wednesday, 18 December at the J. Davidson Stadium, Moss Lane with a 1.30pm kick off. Altrincham FC is pleased to announce that popular long-term supporter Kenny Palin has been made a Life Vice-President of the club. Kenny has become something of a celebrity both at the football club and around the town of Altrincham, with his "Zigger-zagger" chant and his regular exhortation to previous manager Graham Heathcote to "Get your subs on!". He has had recent brushes with ill health but has come through them to allow him to continue his support of The Robins. Though no longer able to travel to away games, those who were there will never forget his enthusiastic rendition of "Old McDonald Had a Farm" which entertained the passengers when the supporters' coach broke down on the motorway some ten years ago! According to Barrow's informative Holker Street Newsletter, "Fresh from appointing Darren Edmondson as the new Barrow manager (duties he will carry out on a part-time basis, as Edmondson works as a sports tutor at The Lakes College), Barrow director, Tony Keen told the Mail, 'Darren's short-term remit is to ensure we stay in this League. I think where we're sat at the moment, at the bottom of the table, we've got to stay in this League...

Following the work we've done on the direction of the club and the criteria we set out to find a manager, Darren was by far the best fit for the job. You've got to look at the resources that have been open to him in his previous job, and he's done a remarkable job at Workington. They've been in that League for six years with him in charge and got into the play-offs three seasons ago. So he's got the potential to take this team to where it deserves to be, with the added value of actually bringing it through the town and not just as an isolated football club in the town. I think that's where we went wrong last time; we got success but we didn't bring the town with us, we did it in isolation almost...

I wouldn't say we're talking about a turnover of players because we're not drastically far off, we're two or three players off putting a stronger team out. There may be one or two faces coming into the club'.

As for paying Workington any compensation, Keen added, 'There has been no discussion about compensation right through the process. There is no issue, it hasn't arisen and it's not been something we've had to discuss... I can massively understand it (whether the appointment of Edmondson will be viewed by some with scepticism)... Some of us experienced what he did when he was a caretaker last time (in late 2006, when he took over from Lee Turnbull on a caretaker basis) and we were impressed with him in that period. He carries himself well, he's an educated lad and he does things the right way...

We've got to look at where we train [Barrow train in Accrington] and things like how we get kids, coming up to the age of 18 and above, integrated into first-team training...

And in the Times and Star, Gavin Skelton tells us, 'I won't be throwing my hat into the ring (to replace Edmondson as Workington's manager), I am happy to help the club out and I am in charge for the match with Telford. But it's not something I want to do right now'".

Skrill North adds that "Alex Meechan has allayed any fears that being overlooked for the Barrow job may result in him leaving the club by agreeing to continue on in his current role... The striker insists he is committed to the cause, going as far as admitting his desire to stay at Holker Street in the long-term.

'Darren asked me about the coaching role and he said it's going to be me and him at the minute', Meechan told the North-West Evening Mail. 'And I said "Yes, that's great" because I'm committed to helping the club and helping him. So it's fantastic to be part of the backroom staff and, obviously, I'm desperate to secure my long-term future as well. I don't just want to be there at the beginning, I want to be there a little bit longer as well, so I can support the gaffer to basically get Barrow where they belong. It will probably be a player/coaching role... I'll give my opinion, I'll be totally professional'".

And "New Barrow boss Darren Edmondson says he is 'pretty confident' he can steer the Skrill North outfit clear of relegation this term.... He told the North West Evening Mail, 'With the budgets I've had at Workington, I enjoyed the man-management and the one-to-one side of management – trying to find out a bit about players, getting into players' heads, trying to build trust with them and being honest with them. I think that's a massive part of management, because if you get the trust of the players you will have a happy camp – that's what we're looking for.

That will bring results and people who enjoy playing football and enjoy turning up to the football club on Saturdays will perform to their best. With the resources I've had at Workington, I've kept the club in the league and in the top half nearly every year. So, experience is part of it. I know a lot of players in this league so, yes, I'm pretty confident we can stay up'".

Elsewhere, Dan Clayton has reportedly left Gainsborough Trinity to sign for North Ferriby United where he will join ex-Trinity players Hone, D'Laryea, Yates, Kendall and Peat.
---
15 December 2013 There is a report on the Altrincham v Southport friendly here.

Before the game, the BBC confirmed that "Jimmy Bell has been appointed as assistant to new manager John Coleman at Southport. The 49-year-old, who served alongside Coleman at his previous clubs Accrington and Rochdale, had been at Port Vale as a development squad coach.

'Both John and myself are here to take Southport forward. I know the club has real potential and we are here to build', he told the club website".

Southport report that they "came away from Altrincham on the wrong end of a 1-0 scoreline after a Nicky Clee goal in the 24th minute was enough to give The Robins victory. New manager John Coleman is using a series of friendlies to assess his squad... Several changes were made in the second half but The Sandgrounders could not find a way through the Altrincham defence".
100 UP
Congratulations to James Lawrie who joined the Altrincham centurions with his 100th appearance for the club last Tuesday against Gloucester City. James has made 78 starts and 22 appearances as a substitute, scoring 21 times in the process. He joins Stuart Coburn (618), Shaun Densmore (234), Nicky Clee (187), Damian Reeves (161) and Matt Doughty (145) in having made more than 100 appearances for Altrincham. After Saturday's friendly a meet the management session, compered by Brian Flynn, was held in the Noel White Suite. Manager Lee Sinnott was unavailable as he had gone at short notice to watch a prospective signing. So it was assistant-manager Neil Tolson and chairman Grahame Rowley who fielded questions from the floor.

The player being watched by Lee, on whom Altrincham had put in seven days' notice last week, was revealed to be a left-sided centre-half.

Asked about Damian Reeves, Neil said it was "just a matter of time" before he started scoring more regularly again. He felt that Damian was displaying a higher work-rate than last season.

Speaking of Brian Smikle, Neil stressed that "He is a really good player and he will come good for Altrincham".

It was announced that both Crosby-based Rob Gilroy and fellow youth team member Max Pouncey will be going out on a month's loan from Monday to Prescot Cables, where goalkeeper Adam Reid recently had a loan spell. Neil felt that such experience would help them become "hardened to men's football".

Grahame and Neil confirmed that recent signing Adam Griffin, from Hyde, had been a player who had interested Altrincham for a couple of years. It had taken protracted negotiation by Grahame and the management to effect the player's move to Moss Lane. It was confirmed that there had been a lot of work done on prospective loan players but that it was pointless bringing in people who were not going to improve the squad. It was revealed that the club had been looking to bring in a particular right-sided player since the beginning of the season but it was hoped that this might still come to fruition.

"We lack competition for places throughout the side" said Neil but "Hopefully an arrival will be sorted next week".

Alty's cup defeats to Trafford and Leek Town were discussed, with Neil saying that the reasons for these were a mystery. Whilst at Trafford "We were shocking, awful", against Leek he felt we had some bad decisions against us and had played "OK".

As for the Skrill North title, there are still 8 or 10 potential winners of the league. As Neil added, "Almost anyone can beat anyone in this league on their day". Referring to the defeat at Gloucester Neil felt we had a dozen shots and failed to score but Gloucester had three chances and netted twice. Of the sides challenging for promotion Grahame felt most of them were long-ball teams, whereas he believes Altrincham play as good football on the ground as anyone in the division. He believes 80 to 82 points could be enough for promotion this season.

Asked about Mike Williams, physio Alan Ainsley reported that the injured defender was making very good progress and could be fit by the end of March. If so, it would then need a "big decision" on when to bring him back into action.

A Southport supporter who was at the meeting then thanked Altrincham for their hospitality and wished our club well, and he received a round of applause for his generosity.

Finally it was confirmed that an Altrincham FC Supporters' football team had been re-formed and it was taking on no lesser a power than Manchester City's Supporters on Sunday.

The BBC has a video interview with the magnificent Mark Maddox, talking about his battle with Motor Neurone Disease. The preface says "The father of three is now a keen MND awareness campaigner. He has run the London Marathon to raise money for the Motor Neurone Disease Association (MNDA). He completed the challenge in just six hours and 35 minutes and is training for this year's event. We met the former semi-professional footballer at his home in Liverpool with his friend Tony, who's also a marathon runner. The MND Association says around two people in every 100,000 will develop the disease each year".
GET YOUR KIT FOR CHRISTMAS
Ian Senior of SKkIts reminds supporters that merchandise rqeuired for Christmas should be ordered by 14th December. Following Tuesday's game, Glouceter City reported that "Connor Waldon's first-half brace saw Gloucester City complete a fantastic four days with another victory over one of the Skrill North's high-flyers.

Matt Groves, impressive throughout, set up both of the Swindon Town loanee's finishes, firstly an excellent header followed by a wickedly deflected shot from 25-yards, during an energetic opening first period.

The Mancunian side had a goal disallowed after Greg Wilkinson's header was adjudged offside, and defender Carl Rodgers struck the crossbar twice.

However, the Tigers long winless run seems a distant memory now, and after these stunning league place defying performances the season is finally in full-swing for Dave Mehew's side...

The Skrill North's third placed team continued to bombard the City defence into the second half, and after Brian Smikle's knock-down Greg Wilkinson flashed his effort wide. The Robins had the ball in the back of Green's net after a fine header from Wilkinson, but the roaming midfielder had strayed marginally offside to keep the Tigers' two goal lead...

As the contest rolled into injury time Rodgers once again struck the crossbar from a corner with a strong header; but luck was on City's side as it bounced away from trouble".

Video highlights of the game are here.
SKRILL NORTH NEWS
AFC Telford United confirm that ""After a meeting with the manager Liam Watson, Sean Cooke, has been placed on the transfer list".

Solihull Moors "are pleased to announce the signing of Alex Dean from Coalville Town, the right-sided player having impressed during the FA Trophy tie between the two sides last month. Alex joined the Northern Premier One South side in the summer from Bedworth United, who he had helped win promotion from the Southern League in 2012. It was his second spell with Bedworth having also spent time at Nuneaton Town playing with his twin brother Gaz Dean.

With Solihull unable to compete financially with other clubs in this league, this continues the clubs transfer policy of looking to unearth hidden gems playing at lower levels, and giving them the chance to impress in the Skrill North. It is hoped that Alex will follow the example set by summer signings Jordan Gough and Michael Nottingham who have both made a successful transition to this level".

The Football Conference reports that "Brackley Town took full advantage to move level on points with the Villagers [NFU] following a 2-0 win at Edgeley Park against Stockport County. In front of a crowd of just under 2,000, the home side held their own against the high-flying Northamptonshire visitors.

Their defence, which had new signing Adam Cowen [who had a trial at ALtrincham earlier this season] making his bow, held firm until the 63rd minute when midfielder Owen Story grabbed the lead for Jon Brady`s side.

And 10 minutes later, Brackley confirmed victory when top scorer Steve Diggin added the second.

Defeat plunged County further towards the bottom three and they are now only three points in front of third-bottom Worcester City".

NL Daily adds that County "Manager Alan Lord has bolstered his backroom staff with the addition of Phil Brown as assistant manager. A UEFA qualified coach and FA Licensed tutor, Phil was formerly assistant manager at Chorley and Lancaster City. Dave Conlon has also joined the club as a first-team coach. Dave, an A-licence coach, was one of only 12 in the country to be invited to complete Level Five status.

Lord said, 'We have managed to add two new coaches at no extra cost to the football club, which has given us a very high level of coaching staff'.

And "Alan Lord confirmed that defender Adam Cowen has been added to his squad. The giant central defender has joined on non-contract terms to bolster Lord's options at the back after impressing in the series of friendlies played recently. Cowen is a central defender from Christchurch, New Zealand and arrives at County from the US... Lord said, 'Adam is the type of defender we need at the moment and I had no hesitation in bringing him to the club when I heard he was available'. Adam played a friendly for Alty earlier this year.

Meanwhile, "Harrogate Town are sixth after a 4-2 win against fourth-bottom Gloucester City at the CNG Stadium. Town`s initiative of charging only a £1 with under-16s free worked as a terrific crowd of 1,428 were attracted".

NL Pitchero says that "Workington's new chairman has said he is determined to see the Reds rise from the chaos which engulfed it this week. Lifelong fan Glenn Heathcote, 56, replaced Humphrey Dobie as chairman in what has been branded one of the blackest weeks in Workington AFC's recent history.

Heathcote was born in Harrington and sat on his grandfather's shoulders to watch Ken Furphy's Reds side win promotion to the old Third Division in 1964. He is managing director of maritime instrument manufacturer Lilley & Gillie. He now lives in the North East and is a relative of Workington councillor John Heathcote, who died in 2008.

Heathcote said, 'I want a football club to be proud of... If we pull in the same direction, it can and will happen... I will be running Workington like any other company. Workington Reds is down in the dumps right now, but we are working on a plan to see things improve'. He said he was already working on a business plan to help Workington improve and has offered hope to the disgruntled fans who were unhappy with how this week's embarrassing saga was handled".

Players moving between the Evostik League and Skrill North include, Brandon Windsor to Mossley from Stockport County and former Alty trialist Aaron Chalmers to New Mills from Southport

Chris Baguley has joined New Mills from Ashton United, whilst Ben Deegan continues to score for Nantwich Town. Ryan Brooke netted midweek for Curzon Ashton as did Ashton United's Dale Johnson. Saturday's Skrill North gates were:
Colwyn Bay v Histon 244
Gainsborough Trinity v Vauxhall Motors 334
Harrogate Town v Gloucester City 1,428
Hednesford Town v Stalybridge Celtic 454
Stockport County v Brackley Town 1,941
Workington v AFC Telford United 346
---
14 December 2013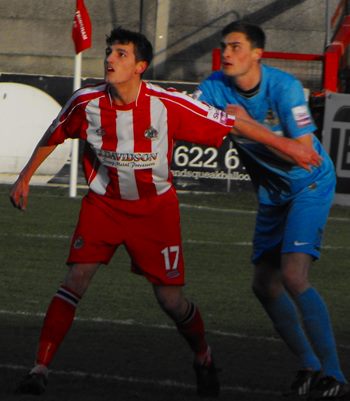 A well-struck first-half goal from Nicky Clee brought Altrincham victory over a Southport side watched by new manager John Coleman.

Right: Youth team striker Max Pouncey came on as a late substitute for Altrincham against Southport.

Report to follow.
Colwyn Bay 1-0 Histon
Gainsborough Trinity 1-1 Vauxhall Motors
Harrogate Town 4-2 Gloucester City
Hednesford Town 4-1 Stalybridge Celtic
Stockport County 0-2 Brackley Town
Workington 0-1 AFC Telford Utd
The league table has now been updated; Alttrincham are now seventh.
TROPHY SCORES
FA Carlsberg Trophy
Aldershot Town 4-1 Worcester City
Barnet 1-2 Grimsby Town
Barrow 0-2 Maidenhead United
Braintree Town 1-3 Lincoln City
Chorley 0-0 Forest Green Rovers
Dover Athletic 2-0 Leamington
Eastleigh 2-0 Gateshead
Gosport Borough 0-0 Nuneaton Town
Guiseley 3-0 Bradford Park Avenue
Leek T. 0-1 Hungerford
Luton Town 2-0 Wrexham
North Ferriby United 4-0 Woking
St Albans City 1-2 Cambridge United
Tamworth 2-0 Boston United
Whitehawk 1-1 Havant & Waterlooville
Whitstable Town 1-2 Ebbsfleet United
---
TASC chairman Brian Flynn announces that "Due to the arrangement of the friendly against Southport for Saturday the 14th December 2013, with a kick off time of 1pm, TASC have decided to change the start time of the Race Night.

The event will now start at 3.30pm with a Questions & Answers Session with Lee Sinnott and Neil Tolson in the Noel White Suite beforehand at 3pm. This is to allow fans to attend this event after the friendly match. As this is after our last game before Christmas, we will be having a Christmas theme throughout.

We are hoping to have some players involved during the Race Night itself. Food will be available after 4pm and there will be a Scores Predictions competition, plus latest scores updates of the important games that kick off at 3pm".

Altrincham are pleased to announce the signing of left-back Adam Griffin from Hyde. Pitchero Non-League writes that Griffin has "nearly 250 Football League appearances under his belt... Able to operate anywhere down the left-hand side, he was club skipper at Ewen Fields. After being a regular at Oldham Athletic, Griffin had loan spells at Oxford United and Stockport County before joining the latter permanently in August 2006.

He was a member of their 2007/08 League Two promotion-winning squad and, either side of a season with Darlington, was named the 2010/11 Stockport player of the year. Amid Boardroom and managerial changes at Edgeley Park, Griffin wasn't offered a contract at County and he subsequently joined Hyde."

Tuesday's Skrill North results were as follows; the league table will be updated shortly! Apologies for the delay.
Gainsborough Trinity 2-2 Brackley Town
Gloucester City 2-0 Altrincham
Hednesford Town 1-3 Harrogate Town
North Ferriby United 4-1 Leamington
Oxford City 1-1 Workington
---
10 December 2013 Radio Robins, sponsored by Ashley Mowers Garden Machinery, is providing full live commentary of Tuesday night's game at The Abbey Business Stadium. The commentary team is Paul Salt and Brian Flynn with match summaries from Mike Reeves.

Coverage starts at 7.35pm with the game kicking off at 7.45pm. You can listen to Radio Robins on the internet at www.radiorobins.com

There will be regular updates on Twitter (@altrinchamfc) as well as half-time and full-time updates on facebook (Altrincham FC).

Unfortunately, there will be no live updates on this website for this particular match.
. Altrincham entertain Southport in a friendly this Saturday (1pm) at the J. Davidson Stadium, Moss Lane. Entry is FREE, but donations are welcomed.
MIDWEEK GAMES
Monday 9th December
Bradford Park Avenue 0-3 Guiseley
Tuesday 10th December
Gainsborough Trinity v Brackley Town
Gloucester City v Altrincham
Hednesford Town v Harrogate Town
North Ferriby United v Leamington
Oxford City v Workington
CHRISTMAS IDEA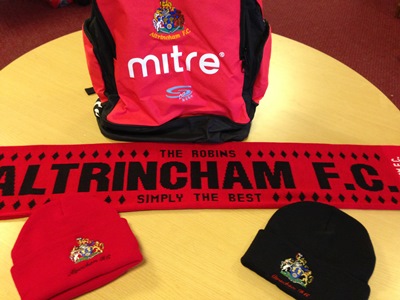 Altrincham FC have launched a red back-pack with a separate boot compartment, as shown right, for just £10. And to ward off the cold weather Alty scarves (£9) and Bronx hats in red or black (£8) are also available. If you buy a hat and scarf together, the cost is just £15. Items are available from the Robins' Shop at the J. Davidson Stadium or via the online shop.
SKRILL NORTH NEWS PT.1
Stockport County say that they "will play no further part in this year's Cheshire Senior Cup. The FA have informed the club that Liam Dickinson was not eligible to play in the Preliminary Round against Witton Albion having been registered after the deadline, and have therefore removed County from the competition. County won the game 1-0. This decision does not affect any other competition involving Stockport County and there is no financial penalty imposed as a result of this ruling. This was a genuine player registration error and we accept the decision of the FA and have no plans to appeal".

Also County are "currently seeking a new chairman to take over from Lord Peter Snape who stepped down from the Board last month. We are hoping this appointment can be allied to some new investment, which is badly needed at Edgeley Park. Talks are ongoing with a number of interested parties, both local and from further afield... By now every one of our supporters is aware of the complex funding arrangements that lie behind the running of Stockport County FC. The club is currently being kept alive by a couple of our dedicated shareholders who continue to provide revenue to support County every month, but this model is both unfair and unreasonable on those who continue to put cash into the business..

Our wage bill alone is around £60,000 per month whilst the business lost more than half a million pounds last year (pre-audit figure). Without significant new investment, this simply is not sustainable without going through the current round of deep and painful cuts, and those losses will be significantly curtailed by the end of this season.

The Board of Directors has always worked on the basis that we will not reduce the playing budget, which was agreed with Ian Bogie at the start of the campaign, so this has remained intact, leaving the Chief Executive with the difficult job of reducing outgoings elsewhere in the business".

Barrow's "Holker Street Newsletter" says that "Humphrey Dobie has resigned as chairman of Workington Reds, at the club's annual meeting last night. He had been on the board for 14 years and has been chairman since 2007, although it should be pointed out that Dobie had originally offered his resignation in May but stayed on after being unable to find a buyer".
Above: The two teams line up before the game to show their support for the Mark Maddox campaign on behalf of the Motor Neurone Disease Association.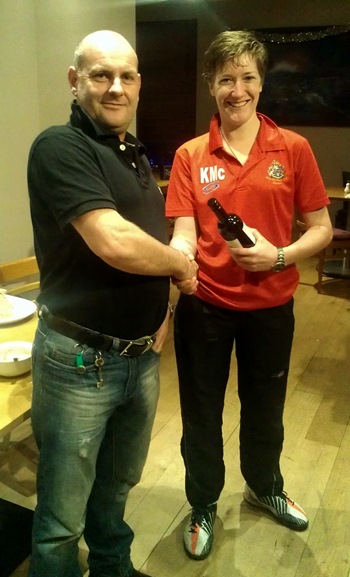 Keith Edleston, manager of the Altrincham FC's Ladies' team, has kindly provided a report by Phil Taylor from Sunday's County Cup Preliminary Round game, in which his team overcame Macclesfield Town Ladies 2-0. The next round is due to be played on the 12th January, though the opponents are not yet known.

Right: Katherine McIntyre receives a post-match award from sponsor, Dave, from the Blue Dog Bar.

Next up for the Ladies is a trip to Wilmslow for a rearranged League fixture next Sunday. Kick-off is at the more usual time of 2pm.

Altrincham FC joint Press Officer, John Edwards, writes in the Advertiser that "Altrincham are throwing open the doors of the J.Davidson Stadium to provide supporters with a glimpse of the present and future this coming Saturday.

The present will be on show for 90 minutes or so from 1pm, when manager Lee Sinnott takes advantage of a gap in Alty's fixture list by putting his players through their paces against Skrill Conference National opposition, in Southport.

With a further seven-day wait before resuming their Skrill North promotion push, at Guiseley the following Saturday, Sinnott is keen to keep his players match sharp and is sure of a stern test against a Southport side eager to impress their new boss, John Coleman.

The future for Alty will be given a public airing before and after the 1pm kick-off, after club bosses decided to combine the friendly fixture with an open day for the exciting new community sports hall development.

Extensive drawings showing how the building will look, and the facilities it will contain, will be available for viewing in the Manchester Glass Sponsors' Lounge before and after the game, while members of the committee set up to oversee the project will be on hand to answer any questions.

Entry to the ground is free, but donations would be welcome and will be split between the club and the community sports hall fund.

'The emphasis is very much on community, with the hall being built for the benefit of local people, so it would be great to see a bumper turn-out,' said chairman Grahame Rowley. 'It promises to be a hugely enjoyable day, with an intriguing game against opponents we have faced countless times down the years, and the chance to see and hear exactly what we are planning with the new development.

'It will be a real community day, and an opportunity to see how the club is progressing. It is a chance to examine the plans and ask what we've done so far and what still needs doing. It should be a really worthwhile afternoon, and I look forward to welcoming supporters old and new to the ground.'

The game will be followed by the TASC Race Night, which will start at around 3.30pm and will incorporate a question and answer session with the management team of Sinnott and Neil Tolson.
KEVIN'S PODCAST
Kevin Thompson's Alty and Sale Sport site now includes a podcast dated 9 December. This covers Altrincham FC's game againt Harrogate as well as reference to the Ladies' team. Also incorprated is a feature in which a football referee wgives his vieiw on the weekend's matches. Altrincham entertain Southport in a friendly this Saturday (1pm) at the J. Davidson Stadium, Moss Lane. Entry is FREE, but donations are welcomed.

Skrill Premier reports that "New Southport boss John Coleman says he will use the same approach at the club that he employed whilst the manager of Accrington Stanley. Coleman steered Accrington to promotion for the top tier of non-league football in the 2005/06 campaign, despite working with one of the smallest budgets...

He told BBC Radio Merseyside, 'What we did was gather together a team of young, hungry footballers that were desperate for success and that has to be our remit here. Probably 20 clubs paid more than us; it's not always about money. Remember, Southport are a League club, you don't have to go as far back as Accrington to see that. The infrastructure is quite good at Southport, they work well off the field'.

Coleman also revealed that he is familiar with the improved standard of football on offer in the Skrill Premier, having done some scouting work for Bolton Wanderers. He added, 'I certainly think since Accrington won, it has definitely improved'".

There is confusion in Cumbria as the News and Star reports that "At a time when Workington Reds' board of directors should be united, they are at loggerheads over the future of manager Darren Edmondson.

An ill-advised statement was published on the struggling football club's website claiming the majority of directors do not want Edmondson as manager, just hours before they were well beaten by Colwyn Bay.

The statement, which was later deleted, admitted the board are divided, with only chairman Humphrey Dobie keen to see the former Carlisle United defender stay at Borough Park. Edmondson held talks with Cumbrian rivals Barrow after permission was granted to speak with Bluebirds' officials about their vacant managerial position.

A compensation package, as Edmondson is under contract until June, is yet to be agreed. Barrow officials are hoping to push through a deal for their first-choice boss early this week.

The statement read, 'It would appear that Darren Edmondson will be in charge of Reds for the final time today as his on/off switch to rivals, Barrow, takes another twist. Barrow did not make the expected announcement yesterday and, as a consequence, Reds couldn't comment either. The Workington board, with the exception of chairman Humphrey Dobie, is not keen to renew Edmo's contract leaving our longest-serving manager in limbo. The only certainty over the past few days has been the uncertainty'.

At Saturday's match, Dobie declined an interview with BBC Radio Cumbria to explain the situation. His decision not to speak on the record came after directors met for almost two hours to discuss the untenable position Edmondson is now in. Edmondson.. said no one from the club had told him to stay away from the ground, and as long as he was Workington manager would give 100 per cent commitment. 'I am manager of Workington', he said. 'I am being paid to lead the club, so that's why I was at the game. No one rang to tell me to stay away so I turned up for work as usual. I am getting on with the job'".

NL Pitchero report that "Stockport County have signed former Torquay United defender James Washburn. Scottish side Dunfermline Athletic parted company with the central defender in September, having only signed him following a successful trial five weeks earlier.

The 19-year-old had not managed to force his way into the East End Park first-team and both manager Jim Jefferies and the player decided that it is in Washburn's best interests to be released. Washburn joined Torquay at the age of 16. The centre-half turned 19 on Saturday".

Northwich Victoria have announced that "Following the recent decision of the appeal board to dismiss Lee As[h]croft's appeal against a 10-match Stadium ban, the club have been placed in a very difficult position in terms of match day leadership for the relatively young squad.

Therefore, after much soul searching and several meetings, the decision has been taken to bring in a new First-Team Manager and change Lee's role to one of Football Director until such time as his stadium match-day ban is complete. Lee will be responsible to the board for the future development of the Football Club going forward and identifying young players to develop for the club's future.

The Directors have spoken with a number of suitable candidates and we are very happy to announce that Jim Gannon, former Stockport County manager, will take the role of First Team Manager with immediate effect. We were very pleased to get Jim on board he has vast experience and holds a UEFA Pro licence".
---
9 December 2013 Steve Foster of TASC has advised us of changes to the Race Night event this Saturday. It will now be a "TASC Afternoon Race Night with Christmas Party". As Steve explains, "Due to the arrangement of the friendly (against Southport at the J Davidson Stadium) for Saturday the 14th December 2013 with a kick off time of 1pm, TASC have decided to change the start time of the Race Night.

We have decided to start the event at 3.30pm. This is to allow fans to attend the event after the friendly match. As this is after our last home game before Christmas, we will be having a Christmas theme to the event. Some of the players and/or management, hopefully, will also feature as part of the event and, additionally, we will be providing updates of the games that are being played during the Race Night. Food will be available during the second half of the event".

Ritchie Semple advises that the new 2014-15 Interactive Sports brochure for the "Football Careers Scholarship and Education Programme for 16 to 19 year-olds in partnership with Altrincham FC" is now available. The Programme's team competes in the Conference Youth Alliance (North Division) and its fixtures are here. Altrincham FC Youth lost 1-0 on the artificial pitch at Curzon Ashton on Sunday. The latest league table shows Altrincham in eighth place but with as many as seven games in hand on the clubs above them.

Youth manager George Heslop has up to seven of his squad playing for one side or the other in the Manchester FA v Cheshire FA match at Curzon Ashton next Saturday (2pm) in the FA County Youth Cup. There is more on this on the Cheshire FA site.
HARROGATE AIRWAVES
The Radio Robins commentary from the game at Harrogate is available here. Altrincham Ladies' good season continued on Sunday as they overcame the higher graded Macclesfield Town Ladies 2-0 in a cup game at Crossford Bridge, Sale. Alty Ladies even enjoyed the luxury of missing a penalty kick.
THROUGH THE YEARS
Courtesy of Howard Watts, the Through the Years files for Tuesday night's game are now available.
DUNCAN
There may be a chance to see former Altrincham player Duncan Watmore when his Sunderland FC Academy side visits the Salford Reds stadium to play Manchester United on Monday 6th January at 7pm.
CROSSBAR CHALLENGE
Ian Senior defeated Neil Tolson, 2-0, in Saturday's instalment of the Crossbar Challenge for the Motor Neurone Disease Association. Neil now leads 11-8 over the season so far. According to the Banbury Guardian, "Brackley Town manager Jon Brady said he was proud of his side's FA Cup run following their 3-2 second round defeat to Macclesfield Town on Saturday. It was Saints' first ever appearance in the second round... Jack Mackreth's 81st minner winner ended Brackley's third round dream...

Brady said, 'It's been fantastic. Financially for the club it's been very rewarding, my players have created history for this club and it's something they can look back on for the rest of their lives. I'm proud of what we've done. Over the last six months we've had six of the biggest games in the club's history and it shows that we're pushing the club to a new level and new heights. This is where we want to play, we want to play in these sort of grounds week in week out and take that support away. I think we've put Brackley on the map'...

Brady added, 'It was a fantastic effort second half. I think first half we sat too deep and let them dictate the play. We had to change our shape so we went from 3-5-2 to 4-4-2. Owen Story and Ben Mills literally changed the game for us, they gave us more impetus and Glenn Walker got on the ball a lot more in the middle of midfield. We created chance after chance after chance and in the end, some very sloppy defending from Curtis McDonald and Izak Reid allowed the third goal... We put crosses in the box and [ex-Alty loanee] Ben Mills showed some desire up front. I've been nursing Ben with a hamstring in the last two or three weeks, which has been frustrating for me because today shows what he can do; he was excellent up there. He roughed them up and showed some quality... To be fair, no team can live with [us] if we play like we can over 90 minutes'".

Bradford Park Avenue "are pleased to announce the signing of 19yr-old defender George Grayson on a 1 month loan from Scunthorpe United"

Alty's next opponents, on Tuesday, are Gloucester City who "demolished title contenders Hednesford Town with a stunning performance to record their first league victory since August 26. Five goals, highlighted by a truly memorable 30-yard looping effort from Connor Waldon, sealed an unlikely win that has re-sparked the Tigers...

Zack Kotwica scored on his home debut, followed quickly by Darren Mullings poking home before Waldon's wonder-strike and a sumptuous brace from Will Morford... The Skrill North's bottom club beat the title contenders convincingly... City's teenage strikeforce of Wilson and Waldon were tormenting the Skrill North's second placed side...

The Tigers continued to look impressive going forward and after a bunch of missed clearances from Hednesford, loan striker Waldon picked up the ball and unleashed a 30-yard looping effort from the right, over Crane and into the back of the net – a truly magnificent goal...

Gloucester City: M. Green, M. Green, M. Giglio, M. Coupe, J. Harris, T. Webb (Liddiard 64), Z. Kotwica, D. Mullings, S. Wilson (Morford 72), C. Waldon (Edwards 84), M. Groves. Subs not used: D. Edwards, L. Binns, J. Parker".

From the other side, Hednesford Town rued "an afternoon of gifted goals which saw The Pitmen crash to a 5-1 defeat" despite "Town very much starting on the front foot" before "a convincing victory for the hosts".
---
8 December 2013
SUNDAY GAME
Worcester City 0-2 Oxford City
Match report here
Attendances on Saturday were
AFC Telford United v Leamington 1,563
Barrow v Gainsborough Trinity 529
Gloucester City v Hednesford Town 421
Guiseley v Boston United 470
Harrogate Town v Altrincham 547
Histon v Stalybridge Celtic 244
North Ferriby United v Solihull Moors 335
Vauxhall Motors v Bradford Park Avenue 180
Workington v Colwyn Bay 314
Harrogate Town reported that "Town banished the shocking performance against Solihull Moors from memory with an early Christmas present of a result against a tenacious Altrincham side. Manager Simon Weaver kept faith with the large majority of the squad that beat FC Halifax in midweek. The only notable exception being Conor Sellars, who made his Town debut at the expense of injured Dominic Rowe.
Adopting a more attacking outlook... Town were out to prove a point in the centre of the park and a crunching double tackle from Adam Bolder and Woods left Gianluca Havern on the floor, however the match official deemed the challenge fair although he did stop the play to allow the stricken player treatment.
Altrincham used pace down the left hand side and this freed Brian Smikle to shoot wide... Woods was the instigator with a powerful run down the right wing and his cross found Worsfold. Still with work to do, the young striker turned well and fired low past Stuart Coburn...
Things got even better for Town four minutes later with a shot that could easily be a contender for Town's goal of the season. Picking the ball up on the halfway line from Craig Nelthorpe's pass, Woods dropped his shoulder and sprinted towards the Altrincham area before releasing a piledriver of a shot from twenty-five yards that left Coburn grasping thin air.
Town's delight was increased in the 22nd minute when they claimed their final goal of the game. Yet again Woods was heavily involved, as was Adam Bolder. The ball fell to Worsfold whose effort was parried by Coburn, but the grounded keeper could only watch in disbelief (as did half the Altrincham defence!) as Woods pounced on the rebound and drilled it home.
Hardly surprisingly, Altrincham reacted like a wounded animal... Three-nil up should have allowed us to play with freedom, but we made life difficult for ourselves again when we allowed defender Scott Leather a free header and his effort looped into the top corner to set teeth on edge.
Suddenly we had a different game on our hands as Altrincham pressed and we were happy to soak up the pressure and then hit them back.. Walshaw was perhaps guilty of the miss of the match when his excellent run was only ruined by a wayward shot that cleared the Town bar with height to spare... The second half started with a double substitution for the visitors and it was of little surprise when the ineffective Walshaw was replaced by Kyle Perry and Carl Rodgers came on for Jake Moult to increase their attacking options...
Altrincham set up a thrilling finale when they scored their second in the 70th minute. Smikle played a weighted ball to Doughty whose deep cross was forced home by Perry... All-in-all a great attacking game of football and it is plain to see why Altrincham are so many people's favourites to gain promotion. However, on this display (apart from the two goals conceded) Town are able to match any team on their day".
THANK YOU
Thanks go to Harrogate Town and their supporters for providing a unique welcome to Altrincham supporters yesterday; a table groaning with sandwiches, sausage rolls and other delights was laid on, free of charge, for those attending yesterday's game. The generous gesture was much appreciated even if the 3-2 defeat on the field was not so welcome! In advance of their visit to Moss Lane for next Saturday's friendly, Southport report that "Football Conference championship-winning manager and ex-Southport star striker John Coleman is the new Southport manager.

John Coleman will be introduced to the Port squad before the start of training on Saturday morning... Chairman Charlie Clapham said 'I am delighted to announce John Coleman as our new manager. John has all the experience and knowledge to take Southport Football Club forward. Everyone connected with the club will acknowledge it has been a very difficult period for the club after recent results, hence the actions the club with regret had to take... I am sure everyone will welcome John back to the club he played for in the 1980's'.

John Coleman has a couple of weeks to prepare his Port squad. The Sandgrounders travel to Salisbury December 21st".

Altrincham "old boys" in the goals on Saturday included, in Evostik 1N, in a remarkable game that ended Kendal Town 6 Mossley 5, Danny Mitchley hit a hat-trick for Kendal and ex-Youth player Andrew Keogh netted for Mossley. Northwich Victoria lost at Padiham but the Vics' goals came from Brian Summerskill and Jamie Phoenix. At Squires Gate, Glossop North End's Kieran Lugsden scored the only goal of the game. Nelson defeated 1874 Northwich with the winners' scorers including George Melling and Peter Wright. Skrill North

Saturday 14th December
Colwyn Bay v Histon
Gainsborough Trinity v Vauxhall Motors
Harrogate Town v Gloucester City
Hednesford Town v Stalybridge Celtic
Workington v AFC Telford United
FA Carlsberg Trophy
Aldershot Town v Worcester City
Barnet v Grimsby Town
Barrow v Maidenhead United
Braintree Town v Lincoln City FC
Chorley v Forest Green Rovers
Dover Athletic v Leamington
Eastleigh v Gateshead
Gosport Borough v Nuneaton Town
Guiseley v Bradford Park Avenue
Luton Town v Wrexham
North Ferriby United v Woking
St Albans City v Cambridge United
Tamworth v Boston United
Whitehawk v Havant & Waterlooville
Whitstable Town v Ebbsfleet United
---
7 December 2013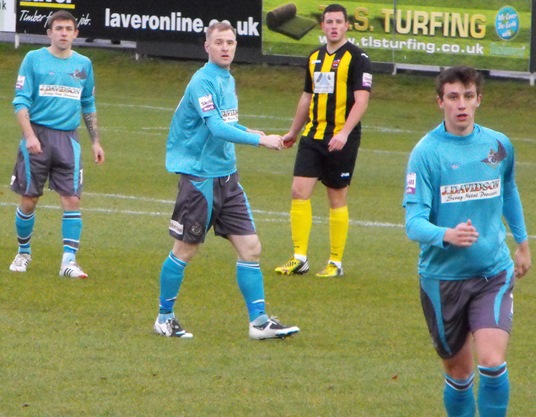 HARROGATE TOWN 3 ALTRINCHAM 2
This game was lost in thirteen disastrous minutes during the first half.

Alty fell behind in the ninth minute when Woods got up the right and his cross found Worsfold, who turned and scored from close range. It was 2-0 after 20 minutes when the lively Woods himself scored, after advancing past Leather and shooting from 25 yards. It got even worse when Woods scored again after an aerial ball had broken off Densmore to Woods, who made it 3-0 (22 mins).

Right: Alty's Greg Wilkinson, James Walshaw and Damian Reeves are seen in the first half at Harrogate.

Alty rallied for a while, with Densmore leading the way. From a Wilkinson corner on the right, Leather's looping header made it 3-1 after 26 minutes and so it remained till the interval.

Alty started the second half quite well. But it was not till 70 minutes that Alty pulled back a goal through substitute Perry from Doughty's cross. Despite ringing the changes in the second half, an equalizer could not be created.

Match report here

On the plus side no one in the top eight (of those who played today) won, so Alty remain third.

Saturday 7 December.
AFC Telford Utd 1-2 Leamington
Barrow 0-6 Gainsborough Trinity
Gloucester City 5-1 Hednesford Town
Guiseley 1-0 Boston United
Harrogate Town 3-2 Altrincham
Histon 1-4 Stalybridge Celtic
North Ferriby United 1-1 Solihull Moors
Vauxhall Motors 0-2 Bradford Park Avenue
Workington 0-3 Colwyn Bay
Sunday 8 December.
Worcester City v Oxford City
Saturday 7 December.
FA Cup
Macclesfield Town 3-2 Brackley Town
Radio Robins, sponsored by Ashley Mowers Garden Machinery, is providing full live commentary of Saturday's game at The CNG Stadium.

The match commentary is sponsored by Premium Collections Limited, who have recently expanded their operations from their head office in Altrincham by opening a new Northern Office in Harrogate.

To find out about Premium Collections Limited's debt management, credit control & full range of other services, take a look at their website. The commentary team is Mike Reeves and Brian Flynn with match summaries from Lucy Laryea.

Coverage starts at 2.50pm with the game kicking off at 3.00pm. You can listen to Radio Robins on the internet at www.radiorobins.com

Leah & Simon Brotherton will be providing regular updates on Twitter (@altrinchamfc) as well as half-time & full time updates on facebook (Altrincham FC).

As usual, this website will also be providing its live matchday updates throughout the game, starting from as soon as the line-ups are available.

.

Mike Garnett reminds us of the previous encounters between our two clubs:
At Altrincham p5-w3-d1-l1-f11-a6
Away p5-w1-d1-l3-f5-a9
All p10-w4-d2-l4-f16-a15
The Harrogate Advertiser reports that "Boss Simon Weaver has urged his Harrogate Town players to replicate Kevin Keegan's famous Newcastle side and attack from all quarters. Weaver admitted Saturday's shocking 3-0 defeat at new leaders Solihull Moors 'bored' him in the dugout.

Ahead of two pivotal Skrill North matches this week against high fliers Altrincham (Saturday) and Hednesford (Tuesday), the boss has instructed his side to play on the front foot. He said, 'Watching the game on Saturday, I was bored. We became predictable. We didn't create chances, we didn't pass the ball. There was no improvisation in the final third. The only way we can play is to attack and allow players to be brave on the ball. If it becomes more like a Kevin Keegan Newcastle team at our level, then so be it. I'm not going to be bored'.

New recruit Steve Mallory, signed from rivals Bradford Park Avenue, made his debut against Solihull. But it was Moors striker Omar Bogle who stole the show with two goals as Town failed to cope with his pace and athleticism. And Town gaffer Weaver, who tried to sign Bogle last season, was full of admiration for his display.

Weaver added, 'He's a terrific player that higher league clubs are watching... When we did play, we went sideways. After a goal went in a few heads dropped. You can't afford any heads to drop at this level'.

Altrincham will present their own fearful strikeforce at the CNG Stadium, with goal machine Damian Reeves and former Guiseley frontman James Walshaw leading the line. But Weaver said his focus will remain on his forward line rather than worry about the opposition's dangers...

'Let's see how creative we can be', he said. 'I would love a clean sheet because I'm a centre half but we are better when we have a positive mindset and throw off the shackles and play'...

Dominic Rowe has been ruled out of both matches after twisting his ankle in Tuesday night's West Riding County Cup 2-1 quarter-final victory over FC Halifax Town. Captain Shane Killock remains a doubt after pulling up injured with a dead leg against Solihull. But midfielder Michael Woods has returned to fitness and played 90 minutes on Tuesday.

Connor Sellars, son of former Leeds United wideman Scott, could make his debut after impressing during his spell at Harrogate Railway. Weaver added, 'If we play route one football and fearful football, we are going to be bored. The Harrogate fans are going to be bored and it's a lottery to whether you're going to win games. We have to be brave, push the fullbacks forward and get the ball down".

More comes from The York Evening Press" which says that "Harrogate Town host Altrincham, who will test potential promotion play-off credentials. Altrincham lie third in Conference North and provide the sort of opposition Town need to beat to underline their own push for success".

TASC chairman Brian Flynn has kindly passed on the following "Invitation from Ged Moloney of Harrogate Town Supporters' Club.

Harrogate Town Supporters Club look forward to welcoming you to the fixture on 7th December. I have arranged for a bite to eat in the 1919 venue for your supporters before the game and can confirm that we will be showing the Man Utd. vs Newcastle game live on the big screen from kick off.

I will ask our guys to cater for 40-45 people and would be grateful if you could confirm a couple of days before the game what time you expect to arrive. I would also appreciate it if you could inform fans that the match will be on live in the 1919 venue at the ground and that we will be providing food.

Look forward to seeing you all".

Goalkeeper Adam Reid has gone on a one-month loan to Clitheroe. Adam has been on the Altrincham bench for eight league games this season. The postponed Skrill North fixture from 14 December, at home to Worcester City, has now been rearranged for Tuesday 21 January at 7.45pm.

The Cheshire Senior Cup match at home to Stockport Sports will take place on Tuesday, 14 January, at 7.45pm.

With Altrincham's exit from the FA Trophy and Worcester City's continued involvement, the scheduled league game on 14 December between the clubs had to be postponed. So, a friendly has now been arranged on Saturday, 14 December at the J. Davidson Stadium at Moss Lane. The opposition will be Skrill National side, Southport, and kick off is 1pm, with free entry for everyone. However, donations to the Football Club are invited from those who attend.

Before and after the game the plans for the Community Sports Hall will be on display in the Manchester Glass Sponsors' Lounge and you are invited to view these and ask any questions that you may have about them.

But it's all change at Haig Avenue as Southport have issued a club statement, saying that "It is with regret Alan Wright is no longer the manager of Southport Football Club. After long discussions and deliberations over the week Alan Wright parted company from Southport Football Club. The club gave Alan Wright his first managerial appointment and everyone has been dedicated to making the season a success but football is a results-driven business and the recent very poor run has led to this decision".

According to the NL Paper "Former Conference champion John Coleman is set to return to Non-League's top-flight as manager of struggling Southport. Coleman, who won the title with Accrington Stanley in 2005-06, has been out of work since being axed by League Two side Rochdale last January. The NLP understands the 51-year-old has agreed to be successor to Alan Wright, who was sacked by the Sandgrounders today after a run of six straight defeats."

Colin Peake, the Football Conference PR & Media Director has issued the following to Conference clubs.

"The Football Conference introduced a system called the 'Financial Initiative' (FI) in 2008/09, with the then primary objective to address the escalating level of club debt, owing to HMRC in respect of PAYE and VAT. Though not always the sole cause of clubs struggling financially, honouring such debt was a major contributory factor in the demise of a number of clubs.

The reality of the situation was the cold fact that 30% of member clubs were in arrears at that time to HMRC amounting to a staggering £1.7m. Besides the FI becoming part of overall financial regulations for member clubs, the rules were upgraded to ensure those who failed to adhere to the overall plan would not benefit by disregarding them or even submitting misleading information. Clubs were required to submit every 3 months their financial position, whereby any clubs failing to do so or presenting misleading information, sanction was available incorporating player embargo and points deductions against clubs failing to meet the standards.

The Board of the Football Conference felt it required new stringent measures to tackle this growing issue, not only to protect the long term interest of the game but the growing frustration of fans.

The Football Conference is therefore pleased to announce since FI was introduced HMRC debt now stands at a mere £80k. Whilst it is a significant reduction, the Football Conference recognises much work remains around other financial areas.

At the 2013 AGM member clubs agreed to a further tightening of rules, mainly in monitoring trading deficits and limiting ways clubs can be funded. The drive was to eliminate "director's loans" and other equity investment. In this respect every club is now required to submit their annual budget for approval by an Independent Financial Panel, having authority to decline a club to play until they are satisfied the club budget is robust to ensure they are able to honour commitments to the competition, safeguard the interests of all member clubs and prove how a shortfall on trading will be managed.

In the first six months of this new initiative alone, overall trading deficits across the membership, has dropped by 30% and the thorny issue of director's loans to clubs reduced by a staggering 80%. As part of the initiative Premier Division clubs are trialling this season those new standards and though North and South Divisions are not compelled to do likewise at this time, they will be included as of next season.

Chairman Brian Lee said 'The Board receives updated information from the IFP and we discuss and evaluate the whole system we have adopted with the consent of the clubs. The figures released shows the hard work involved in drafting these new regulations is paying dividends'.

'We still recognise we have some way to go but we are demonstrating a collective stance. We never said it would be easy and one of the reasons why we have taken such a stubborn stance is because fans of our member clubs demand their clubs are operated in a financially sensible manner. Alongside that basic principle we have to have a framework of legislation being applied fairly'.

'Our long term ambition is to see all our Clubs financially sustainable. The message is clear, in as much we must work together to ensure that relegation and promotion is based solely on what happens on the field rather than off it. It is a battle we shall win and to those who fail to observe financial prudence, not only do you do the game a disservice, you fail to respect your fans and the community in which you play'".

Reports from the NW Evening Mail tell us that "Workington Reds have granted Barrow AFC permission to hold talks with Darren Edmondson over becoming the Bluebirds' new manager. Reds' chairman Humphrey Dobie has today revealed to the Evening Mail that he was contacted by Tony Keen yesterday when the AFC director submitted a formal request to speak to the Reds' 42-year-old boss.

And despite previously stating his desire to keep hold of the former defender Dobie has allowed Edmondson to speak with the Barrow board, enabling him to take a huge step towards succeeding Dave Bayliss in the Holker Street hot-seat. If AFC and Edmondson can successfully finalise a deal the Bluebirds would then need to negotiate a compensation package with their Cumbrian rivals.

'Tony Keen rang me yesterday afternoon and asked me permission to speak with Edmondson', said Dobie. 'So I rang Darren and he said "I will speak to them, certainly". So I rang Tony back and told him that he's got my permission to speak to him. I don't know what's happened after that'.

If Edmondson completes his return to Holker Street, having joined the club as a player in 2005, he will end his six-year managerial reign at Borough Park, while his current deal expires next summer.

'I do want to keep hold of Darren but it's up to him because his contract runs out next summer', added Dobie... 'I'll just wait and see if Edmondson wants to go or not. It will be up to him. We haven't got a lot of money and I don't think Barrow have either – I don't know what they have offered him. Darren's job is up here at The Lakes College so he's got a lot of things to take into consideration'.

When asked if would try and block Edmondson moving to Barrow, Dobie said, 'How can you? You don't want to have people working for you when they want to be somewhere else... If he comes to me and says '"Look, chairman, I want to leave" then I think he would go, although obviously there would be compensation involved'.

If Edmondson is installed as Barrow boss he may wish to bring his current number two and former AFC full-back/midfielder, Gavin Skelton, with him to Holker Street. If that is the case it would cast doubt over the future of caretaker boss and fellow managerial candidate Alex Meechan who is operating on a player's contract which expires next summer".

We learn from NL Pitchero that "Hednesford Town have signed Umit Eminoglu from Turkish side Genclerbirligi. Eminoglu was a regular goalscorer for Aston Villa in the Barclays Premier Academy League... He was released by Villa at the end of last season and he was handed a trial by Turkish side Genclerbirligi, who offered him a three-year deal at the end of those trials. Although he was born in Solihull, Eminoglu is of Turkish descent and he has already represented Turkey at under-16 level".

The Blackpool Gazette says that "AFC Fylde were set to include new loan signing Marcus Carver in their squad for Saturday's clash away to Stafford Rangers... The Accrington Stanley striker has just completed a similar loan spell with Barrow, who had wanted to keep him, but have been foiled by the Coasters... Carver finished his loan spell at Barrow by scoring a brace in the 2-1 FA Trophy win at Chester".

The Football Conference reports that "Leamington have announced that midfielder Kieron Morris has signed on loan from Walsall until January 14th. The 19-year-old, who is a member of the Saddlers` first-team squad, spent a loan spell at rivals Worcester City last season.

He...is a regular member of their reserve side, scoring eight times so far this season. Morris is a pacey, skillful left-sided midfielder who was handed his first professional contract in 2012... He will be a welcome addition to a Brakes squad that will be missing the services of Lee Chilton during the busy month of fixtures in December".

Elsewhere, "Left-sided defender Marcus Giglio is set to make his debut for Gloucester City against Hednesford Town, becoming the latest Hartpury College product to join forces with the Tigers. A former Liverpool trainee, 21-year-old Giglio played a season for Welsh Premier side The New Saints before linking up with Hartpury College.

He played for Team GB [with Alty's Simon Richman] at the World Student Games... He has been playing for Midland Alliance side Westfields this season... City boss Dave Mehew... is also hopeful of completing a deal for an experienced Conference defender in the coming weeks... The two new signings will be offset by the departure of Bristol Rovers midfielder Jordan Goddard, who returns to the League Two outfit after the completion of a one-month loan deal. However, Swindon Town striker Connor Waldon has extended his deal with the Tigers. "
---
6 December 2013 Altrincham FC Youth defender David Brown has reached the final 32 in the selection process for the English Schools' team. David has been invited to Lilleshall in January for the final stage of the squad selection process. David is following in the footsteps of Rob Gilroy, who captained the England Schools side last year. Following changes in the age criteria, Rob is now too old to qualify for this season's team. For those who want to re-visit last Saturday's Radio Robins commentary on the defeat to Leek Town, Brian Flynn has provided the files. Harrogate Town report that "Fresh from our 2-1 victory over FC Halifax Town in the West Riding County Cup Quarter Finals on Tuesday, we now welcome second place Altrincham to the CNG Stadium.

As always, the gates to the ground will be open at midday to allow you to come into the Nineteen Nineteen venue, enjoy some good quality drink, food and the chance to watch the chosen BT Sports match on our big screens...

If you fancy coming down early, we will be opening the gates from midday for good food, good drink and the chance to watch Manchester United take on Newcastle in BT Sport's live match".

However, "It was a bittersweet midweek win for manager Simon Weaver. On one hand we had the successful return of influential playmaker Michael Woods and powerhouse defender Leigh Franks, but two sights that won't have pleased the gaffer, [were] the withdrawal of winger Dominic Rowe and goalscorer Ashley Worsfold through injury as the match progressed. Both players are being treated for their knocks and physio Matt Naylor-Hall is constantly monitoring their progress.

However, at the moment, Dominic Rowe is looking doubtful for Saturday's clash as is captain Shane Killock, who limped off against Solihull at the weekend...

We know from previous experiences, that Altrincham are a difficult team to play and with the addition of James Walshaw up front from Guiseley AFC, they have two proven goalscorers and both he and lethal poacher Damian Reeves have already scored 20 goals between them.

Altrincham have proved to be as efficient on the road as they have been at Moss Lane. Out of the six games they have played they have won four of them and lost the remaining two (Boston United and North Ferriby United). They have scored 13 goals (third highest away total) whilst conceding 9 (second lowest)...

Taking control of this game is referee Mr Neil Sharp, he will be assisted by Mr Michael Gillespie and Mr Paul Stalker...

Our matchday computer has forecast that this game will end in a 2-2 draw – not sure about that one!".

According to the News and Star, "Former Premier League footballer Alberto Seidi is poised to sign for Workington Reds. It is believed the 21-year-old is flying into England ahead of putting pen to paper on a deal that would see him become the third African-born international at the club.

Seidi was released by Southampton in the summer, and returned to his home in Portgual, a country he has represented at Under-21 level. If Seidi does sign, he will join countrymen Bruno and Valter Fernandes, who were also born in Guinea-Bissau.

Seidi will be at training tonight... Colwyn Bay are the visitors to Borough Park, and Seidi is seen as a player that could make an impact straight away.

A source close to the club said 'He's someone Darren Edmondson has been watching, and is keen to have a look at. We need a striker, and although talks with a proven Conference North goal scorer continue to be held, Alberto can come right in and play. If Darren likes what he sees then he could be part of the squad for Colwyn Bay'.

Seidi had a short loan spell with League Two side Aldershot Town during his years with Southampton. He played for Saints Under-21 side, but failed to make it into the first team. Seidi isn't expected to be the only trialist at training tonight with Jibril Gomes, who turned out for Workington's reserve side last week, also taking part".
---
5 December 2013 John Edwards, Altrincham FC's joint Press Officer, writes that "Lee Sinnott was left counting the cost of contentious refereeing decisions after a disallowed goal and 'horrendous' penalty award ended Altrincham's interest in the FA Trophy at the J.Davidson Stadium on Saturday.

Alty were already fuming at being denied a first-half lead, after Luca Havern was harshly pulled up for a foul, when referee David Richardson caused uproar by pointing to the spot, following a perfectly-executed tackle by Scott Leather.

The penalty was converted, and when Leek Town doubled their lead near the end, Alty were heading for more cup disappointment, despite a spectacular injury-time reply by Greg Wilkinson.
'I have watched the highlights again, and they just confirm that the penalty was a horrendous decision,' said Alty boss Sinnott. 'Scott quite clearly connected with the ball, not the player. Their lad's momentum then took him into Scott, but the ball had already been won cleanly.
'I don't want to hide behind things, but there were two major decisions, and they both went against us. Our 'goal' was disallowed for a push by Luca, but, having watched a few reruns, there was nothing in it.
'He just got up earlier than their lad, and there were no hands all over shoulders, or anything like that. If you chalk that off, you're going to be giving free-kicks for eight out of 10 aerial challenges all over the pitch. I found it baffling.
'But that doesn't alter the fact that we moved the ball too slowly at times and didn't use the width of the pitch enough. We should still have had enough to get through, even allowing for those two critical decisions, and it is so disappointing to have fallen short in a cup competition again.
'These same lads are joint-top in the league, yet we have gone out to teams from a lower division in both cups. It's not that they don't care or are not made aware of potential banana skins but, for some reason, it's like we struggle against lesser opposition. We just don't seem able to get our game going, and it is strange, to say the least.'
With Nicky Clee's hamstring problem possibly keeping him out for a fortnight, Alty are actively seeking reinforcements.
'We are hoping Nicky (above right) will prove a quick healer, but it could be a couple of weeks,' added Sinnott. 'We are looking at players, including a left-sider to improve the balance of the team, but it has to be the right person. There are a few boxes to tick, in terms of finance, players being willing and able to join us and their clubs allowing them to. But we have been talking, and we will continue to talk.'".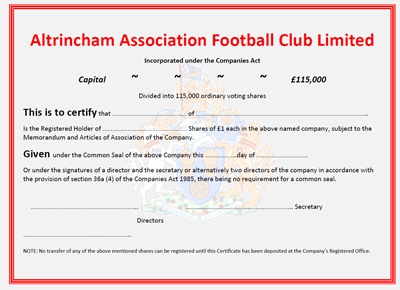 Altrincham FC's PR & Promotions Manager, Peter Foster writes, "The ideal Christmas present for any Alty supporter must be to own a part of the Club. If you are 18 or over, you can do this by joining the share sale initiative to raise funds for the Community Sports Hall project.

This has been a great success, with over 25 supporters buying shares so far. The shares are still available, though, with the minimum purchase being 5 shares at £5 per share. A copy of the certificate is shown (right). Please note that we are not able to send your certificate until payment has been received. If you are interested, send you name and address details by e-mail. Cheques should be sent to the Club and made payable to "Altrincham Football Club Community Sports Co.".

TASC's Steve Foster says that "TASC wish to announce that the mid-season Race Night will still be going ahead on December the 14th, despite the postponement of the Worcester game due to their involvement in the FA Trophy on that date. Further details of exactly when the event will start and what form the event will take will be provided before the end of this week. Please can all owners of horses, and race sponsors who have not named their horses/races e-mail me with the names as soon as possible?"
NARROW DEFEAT
Altrincham FC's Youth Education Programme team suffered a narrow loss up at Gateshead on Wednesday, going down 2-1. The league table shows Altrincham fourth in the The Football Conference Youth Alliance. Our next opponents, Harrogate Town report that they "came from behind to book their place in the West Riding County Cup semi-finals, with a hard won victory over FC Halifax...

But it was Halifax who were looking the more dangerous and after nine minutes they took the lead...

Just before the break, the injured Rowe had to make way for Cleveland Taylor and this proved to be a shot in the arm for Town. Harrogate, playing towards the hospital end took the game to the visitors. The recalled, Michael Woods, instigated a move which saw Taylor and Hardy combine to create a chance for Brad Abbott who tested Senior...

On the hour, Liam Hardy broke down the left and his pinpoint cut-back was driven home by Ashley Worsfold. Halifax hit back strongly and sub [ex-Alty man] Kevin Holsgrove broke through the Town defence to find himself one on one with Craig MacGillivray who brilliantly turned his shot over the top...

On 82 minutes Town snatched the winner... The ball was centred back in for sub Chris Hall to bundle in from close range".

From the other side, FC Halifax Town confirm the Harrogate side as comprising "Craig MacGillivray, 2 Matthew Bloomer, 3 Craig Nelthorpe, 4 Adam Bolder, 5 Leigh Franks, 6 Adam Nowakowski, 7 Liam Hardy, 8 Brad Abbott, 9 Ashley Worsfold (Chris Hall 77), 10 Michael Woods, 11 Dominic Rowe (Cleveland Taylor 41), 14 Dwayne Samuels, 16 Dave Merris, 17 Peter Crook".

NL Daily informs us that "Stockport County FC are holding a unique corporate prize draw for UK businesses with a high-profile promotional opportunity as the headline prize. The club are taking advantage of their unique position beneath the flight path approach into Manchester airport, a position which sees nearly 20 million passengers fly overhead on an annual basis and have made available the huge advertising space on top of the Cheadle Stand roof as first prize.

Measuring 68 metres by 30 metres, the advertising space is a high profile and much sought-after promotional site, which has previously attracted international brands. County are giving a select number of businesses the chance to win this advertising space in their corporate prize draw.

Speaking about the draw County Commercial Manager, Chris Jolley said, 'The advertising space has been independently valued in the tens of thousands of pounds, so for one lucky business it's going to be a fantastic 2014'.

Chief Executive, Ryan McKnight added, 'We've deliberately kept the number of entrants low so that it represents a great chance to make a huge difference to one business'. Tickets for the prize draw will be limited to 500 and cost £200 each".

According to NL Pitchero, "Guiseley AFC have confirmed that [ex-Alty] defender Danny Hall has joined on a permanent basis until the end of the season. Hall initially arrived on a one-month loan from Ebac Northern League leaders Celtic Nation and has impressed during his time at Nethermoor...

As well as helping to shore up Mark Bower's defence since arriving on loan, Hall has also scored twice."

According to the NW Evening Mail, "Workington Reds' chairman Humphrey Dobie has been given no indication that Darren Edmondson is among the five candidates vying to become Barrow AFC's new boss.

The AFC board plan to make a decision over who will replace Dave Bayliss in the manager's hot-seat tomorrow [Thursday]... Reds' boss and ex-Bluebirds defender Edmondson has been linked with the position, but Dobie does not want to lose the club's longest-serving manager, despite some fans calling for the 42-year-old's head recently with his side languishing in the Conference North drop-zone.

Dobie claims that Edmondson is staying at Borough Park... 'Barrow have made no approach to me', said Dobie... 'I wasn't expecting one either because they must know that he's contracted to us. He hasn't been interviewed as far as I know. He's expressed no wish to me that he wants to move to Barrow'...

However, it is understood that Barrow are not required to make an official approach to a club whose manager they wish to interview, as there are no rules which stipulate the need to do this. With all the candidates approaching AFC over the role, and four applying formally, the club are likely to protect any in-work contender by not revealing their application to their employer... For this reason, Edmondson, who has been Reds' manager for six years, cannot be completely ruled out of the equation while 'at least one' of the five shortlisted men hold a job.

The only shortlisted candidate Barrow have identified is the club's caretaker boss Alex Meechan, although it is believed that former Hyde manager Gary Lowe has also been granted an interview. Lowe is sure to be one of the three candidates who have achieved success 'at Barrow's level or above' as he led Hyde to the Conference North title in 2012. With Meechan chasing a first managerial assignment, the other hopeful 'has a managerial track record, but not necessarily at a level as high as the Conference North'...

Barrow director Russell Dodd said, 'We told the candidates on Monday that we hope to make a decision by Thursday. That means they would know whether they had been successful or not by Thursday...The only reason we wouldn't do so is if two or more candidates were so comparable in the first interviews that we feel the need for second interviews. But that's not our plan at the moment. Making the appointment this week will depend on the degree of negotiation with the person involved. At the moment we would offer them a job but then we've got to talk salary, contracts etc.'".

In the Shrospshire Star, "AFC Telford boss Liam Watson branded his team's calamitous first-half display against Worcester City last night as the worst since he joined the club. Watson...saw his side ship three goals in eight first-half minutes on their way to a 3-0 home defeat in last night's FA Trophy replay...

Asked what went wrong on the night Watson said, 'It is hard to say. We have gone from four clean sheets on the bounce to looking like we were going to concede every time Worcester attacked during the first half. I thought Worcester started with a lot more urgency and energy than we did and the first-half performance was certainly my worst 45 minutes since I have been here. I never saw it coming and I don't quite understand it. For the first goal Mike Grogan's not picking his man up for the set-piece, for the second one there is no pressure on the cross-shot and it has ended up going in.

And the third one, Chris Lever has come across, Simon Grand hasn't gone with the runner and all of a sudden the game is over'...

'In terms of effort, desire and drive, what we normally have, that was missing and I couldn't give you an explanation why. I have told the players that the standard we performed at is not acceptable'...

They will return to Skrill North action against Leamington at home on Saturday knowing victory could send them top of the league if other results go their way".
OLD FOES
http://www.nuneaton-news.co.uk/Sport/Hinckley-United-fans-hope-to-resurrect-club-at-public-meeting-20131203140132.htm The Nuneaton News says that "A group of Hinckley United supporters are hoping to resurrect the club under a community owned banner...

A spokesman said, 'When Hinckley lost its football club, it also lost a part of our local history and the fabric of the town. We think a football club is almost unique in the way it brings people together in the community whether that's through supporting, volunteering, playing or just having a laugh with mates... We think that should there be interest in forming a new football club it needs to be owned by the many not the few...

This led us to talk to Supporters Direct, an organisation who have worked with and set up a number of these community owned clubs in the UK'".
NORTH-WEST NEWS
The NW Counties Football League says that "Eight of our clubs have submitted applications to the FA to join a Step 4 League for season 2014-15... slightly less than last season when ten of our clubs submitted applications. It should be noted that if the champion club in any Step 5 League does not wish to be promoted, or fails to meet the required criteria, the clubs finishing in second and third places will be considered for promotion by the FA.

The clubs from our League who have applied are as follows: AFC Liverpool, Bootle, Congleton Town, Glossop North End, Maine Road, Norton United, Runcorn Linnets and Runcorn Town"
---
4 December 2013
TUESDAY SCORES
Skrill North:
Solihull Moors 1-0 Brackley Town att.239
FAT replays:
Northwich Victoria 0-1 Leamington att. 131
AFC Telford United 0-3 Worcester C. This means that Alty v Worcester City scheduled for 14 December is now postponed. Solihull go top of the league.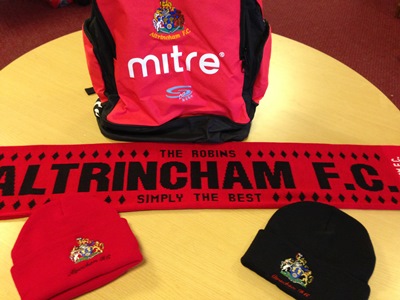 Altrincham FC have launched a red back-pack with a separate boot compartment, as shown right, for just £10. And to ward off the cold weather Alty scarves (£9) and Bronx hats in red or black (£8) are also available. If you buy a hat and scarf together (in the club shop not on the web), the cost is just £15. Items are available from the Robins' Shop at the J. Davidson Stadium or via the online shop, where a full range of Alty merchandise may be viewed.
TASC chairman Brian Flynn writes that "This year's Pensioners' Christmas Lunch will take place in The Manchester Glass Limited Sponsors' Lounge at 12.30pm on Wednesday, December 11th.
Our Christmas Chef is Dave 'The Doorman' Johnson; the menu is as follows:-
Cream of Fresh Vegetable Soup
Roast Cheshire Turkey (Chipolata Sausages/Chestnut Stuffing) with Sprouts, Carrots; Roast Potatoes
Christmas Pudding; Cream
Traditional Mince Pies
Tea or Coffee
Red or white wine and soft drinks will be served with the meal.
All this for just £9.95!
To reserve your place at this festive culinary extravaganza simply pick up the phone and call the Football Club on 0161 928 1045 or send an e-mail.
YANKEE
The winning Yankee code this week was 3277 but the jackpot was not won and now rises to £2,900. Three members won Trebles, receiving £50 each.
Following the departure of Owen Coyle at Wigan, former Altrincham player and assistant manager, Graham Barrow, has been put in caretaker control of the Championship side.
Both of Morecambe's ex-Alty men, Jack Redshaw and Kevin Ellison, scored for the Shrimps last Saturday.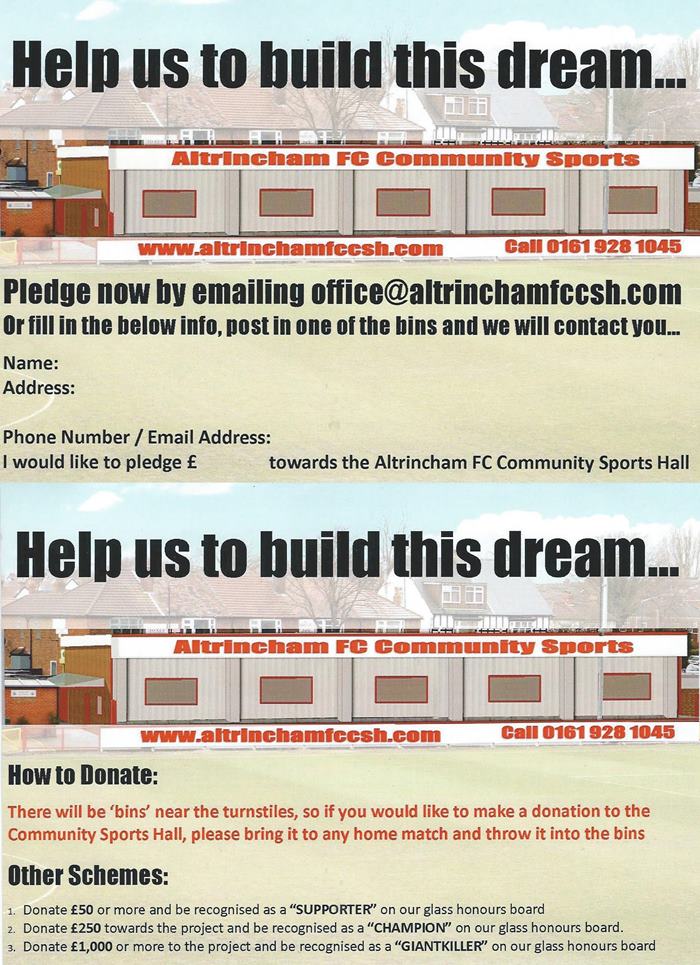 In Saturday's Robins' Review, chairman Grahame Rowley wrote, "The Premier League Facilities Fund will be meeting in the first week of December to deliberate upon our application for grant funding. One of the major factors which they have doubts upon is our ability to raise the required finance to match the grant funding and, with this in mind, if you are thinking of pledging any monies toward the scheme, can I ask you to do so in the next two weeks so that we can inform the grants committeee of our progress prior to their deliberations?"
TASC's Paul Salt writes that "Despite the disappointment of last Saturday's FA Trophy result, Altrincham have amassed a grand total of 35 league and cup goals to date. As a consequence TASC will be holding the 3 draws for the 10, 20 and 30 goal benchmarks at half time on the Radio Robins match commentary for the away match v Gloucester City next Tuesday evening.
Remember, each 25p pledge per goal scored ensures one entry into each draw.
This season's prize structure has been improved and each winner has the choice of one of the following prizes.
Free admission for 2 for a future Skrill North league match of their choice, or
Free coach travel for one person to an away match of their choice on the TASC organised coach, or
3. A signed photo of the winner with their favourite Altrincham player.
In addition, each 25p pledge also qualifies for the end of season draws for a signed match ball and signed shirt.
If you haven't confirmed your renewal from last season or would like to take part and be included in next Tuesday's draw, please send me a personal message on the Fans' Forum confirming the amount you would like to pledge per goal (in multiples of 25p) and we will ensure you are included. A big thank you to all those who have re-joined for this season and the best of luck!"
The
Football Conference
reports that "St Modwen Regional Director John Dodds and Worcester City`s chairman Anthony Hampson have issued a joint statement regarding the new stadium.
"It has been well documented that St Modwen and Worcester City Football Club have been involved in discussions to release the club from the Nunnery Way contract... Both parties can now report that an agreement has been reached over the detailed terms of the Agreement and a Deed of Release has now been signed by both parties.
The effect of this Agreement is to release Worcester City Football Club from the Nunnery Way contract. As previously reported it will allow the Football Club to meet its Capital Gains Tax liability and also provide some funds for investment into a new stadium for the Football Club. The Board of Directors at the club believe that this agreement will go a long way towards securing the club's future and remain grateful to St Modwen for accommodating the club's request".
Meanwhile, "Guiseley AFC have confirmed that young winger Luke Porritt has put pen-to-paper on a contract with the club. Porritt, who scored both goals in the youth academy's 2-1 win over FC Halifax Town on Saturday, is formerly of Doncaster Rovers and joins midfielder Ben Whitfield in signing deals with the first-team. Meanwhile, fellow winger Zack Dale has joined Curzon Ashton on loan with a view to gaining more first-team action".
Elsewhere, "Boston United have secured the services of on-loan defender Scott Garner for the remainder of the season. The 24-year-old centre-half was initially with the Pilgrims until January 6th on loan from Cambridge United, but he will now complete the campaign at The Jakemans Stadium. Garner has been in imperious form alongside Skrill North player of the month Carl Piergianni, and has netted four goals in twenty appearances to date for the Pilgrims.
Striker Charley Sanders, meanwhile, has joined Grantham Town on loan... and is with Town on an indefinite basis to get valuable match time under his belt. Ben Fairclough, who himself spent a month on loan at The Meres, has returned to the Pilgrims' squad".
More on the above comes from NL Pitchero which confirms that "Curzon Ashton have signed two new midfielders from Skrill North teams. Zack Dale joins the Tamesiders from Guiseley AFC and Joel Bembo-Leta from neighbours Stalybridge Celtic... Congolese born, Bembo-Leta is a defensive midfielder, big and powerful he has good ball control.
He made three appearances for the first-team in the Centenary year at Celtic... He is one of three brothers who all started out at the Oldham Athletic youth academy, transferring to the Celtic youth team in 2007... He made over thirty appearances when he properly broke into the first-team at the end of the 2010/11 season... Celtic were sad to hear that he wished to pursue his career further in France. However, when that failed to come off, they were happy to welcome him back. Both players are on loan until the end of December".
---
3 December 2013
The excellent season for the Altrincham FC Ladies continued on Sunday when they won, 4-2 away, at Whitchurch Alport. The scorers were Nat Thornley and Tracey Blanchard-Webb, who hit a hat-trick. The nominated Player of the Match was Sam Briggs. A full report, from Phil Taylor, is
here
.
Describing himself as "a very happy manager", Keith Edleston said, "It was a very long day but, overall, worth it for bringing home the three points". Altrincham, with seven wins and one defeat from their eight games, lie fourth on the league table.
Phil Taylor adds that "Next up for the Ladies is the Cheshire County Cup fixture versus Macclesfield Town FC Ladies, who play a couple of levels above us. Although an Altrincham home game, the match is to be played on the enclosed pitch at Crossford Bridge, Sale, in order to comply with the requirements of the Competition. Kick off is at the earlier time of 1.00pm".
In the season-long Crossbar Challenge for the benefit of
Mark Maddox's Motor Neurone Disease Association's campaign
, Alty assistant boss Neil Tolson again won 1-0 before Saturday's match against Leek Town. Neil now leads Ian Senior, Alty's goalkeeping coacher and owner of SKkits by 11-7. Said Ian, "It's a marathon, not a sprint; there's plenty of time to rein him in!"
One of the latest products from Ian's SKkits is a "hoodie" bearing a striking reproduction of the Altrincham FC Crest, pictured right. It is available from the club shop for £45.
Leek Town, who knocked Altrincham out of the FA Trophy on Saturday, have a home draw in the next round, against Hungerford Town of the Southern League Premier (step 3).
The FA Carlsberg Trophy Second Round Draw includes the following northern clubs...
Eastleigh v Gateshead
Barrow v Maidenhead United
Guiseley v Bradford Park Avenue
Aldershot Town or Weston-super-Mare v Worcester City or AFC Telford United
Tamworth v Boston United
North Ferriby United v Woking
Leek Town v Hungerford Town
East Thurrock United or Dover Athletic v Leamington
Chorley v Dartford or Forest Green Rovers
Kevin Thompson informs us that on the Alty & Sale Sport website, "The 2nd December show is now available. I have included a report on Saturday's Alty v Leek Town match". According to the Football Conference former Alty loanee from Peterborough United, "Carl Piergianni of Boston United is the Skrill North 'Player of the Month' for November. The defender made a key contribution to the Pilgrims' excellent form during the month with three goals... Guiseley's Mark Bower is the Skrill North 'Manager of the Month' for November. Taking over the managerial responsibilities at Nethermoor in September, it's taken hardly any time for Bower [with Danny Boshell] to start producing results for the Lions. The month included an unbeaten league run and an FA Trophy win at Yorkshire rivals FC Halifax Town".

NL Daily says that "In keeping with the wonderful progress being made on the football pitch, North Ferriby Chairman Les Hare has moved to mirror that progress off the pitch too by bolstering The Villagers' board of directors. It is therefore with great pleasure the club can announce Steve and Eman Forster have accepted an invitation to join the board of directors as principal shareholders.

Mr & Mrs Forster have been keen supporters of North Ferriby for many years. Two of their children have benefited from the clubs youth section and via the success of Mr Forster's businesses, they are already generous sponsors.

Les Hare commented, 'The development of North Ferriby over some 90 years has been steady, based on sound principles delivered by good, kind hearted, honest people with a common interest in our local community. Our arrival in The Football Conference wasn't just a 'wham-bam let's have a go' situation. Moreover, good planning and the delivery of measured, achievable targets set through a well thought out football development plan that is ever evolving.

But the club is not just about a 'flagship' first team, it's the continued delivery of an immensely successful youth development scheme. Indeed, North Ferriby was one of the country's first to be awarded FA Charter Community Club status and currently provides footballing opportunities to some 300 boys and girls weekly. This represents one of the highest levels of proportionate participation per capita of local population in England!

Development of our ground and its facilities to accommodate both aspects is a continuous challenge and made all the more difficult given everything has been established on charitable trust land that has consequently no commercial value to attract the interest of the main stream investor.

Mr & Mrs Forster are very much in the tradition of North Ferriby, who share the same values as those of us totally committed to the ongoing progress and development of North Ferriby United'.

Steve Forster added, "Eman [the chairman of Hull City] and I have been actively involved supporting local sport for many years, perhaps most notably squash. My companies have sponsored the squash game from grass root levels right up to the British National Championships in Manchester last year. Through Eon Media, Smartpicture and Springfield Solutions we work with a number of sport clubs and organisations in the region.

Our association with North Ferriby is therefore a natural progression of our involvement and interest in sport within our local community'. At the end of the day, it's very much business as usual down at the Eon Visual Media Stadium, as existing roles and responsibilities remain unaltered.

Hare closed by saying, 'For the avoidance of any doubt, neither I nor my fellow Directors will be standing down. We still have a strong desire to extend an already 100-year combined association in the game. This appointment fits perfectly for the club however, for it aids our ultimate aim of providing sustainability and longevity to the future of North Ferriby United!'".

In the NW Evening Mail, we read that "Alex Meechan But with the initial interview process due to start today and be completed on Wednesday, club director Russell Dodd indicated that Meechan faces stiff competition to land the role. And the Evening Mail understands that Gary Lowe, who guided Hyde to the Conference North title in 2012, has also been granted an interview. But Meechan remains confident in his leadership abilities, saying, 'I think I could do the job, to be honest. I haven't shouted my mouth off and whatever else by saying I'm this and that. But I know what I can give, what I can do and I totally believe in what I've always eaten, drunk and slept,and that's football. If it's me (who becomes manager) there are things around the football club I'd like to sort of change. I'd like to really work with the under-18s a little bit and things like that.

But it's out of my hands really, I've probably done as much as I can do and the board have got decisions to make'.

With Dave Bayliss's former number two looking to land his first managerial assignment, he added, 'I've got nothing to fear. I know this level inside out, I've got contacts everywhere and I'd like to develop players. What else can the club look for really? I'm ambitious and ambition outweighs experience for me, and we'll just see where it takes me this week'...

In describing the quality of the field, Dodd said, 'Three of the five candidates have got very similar records in that they've all had success over a period of time either at this level (Conference North) or above'. Lowe and Meechan were two of around 20 applicants to throw their hats into the ring. Former Wales international John Cornforth also applied, while ex-Bluebirds defender and Vauxhall Motors manager Carl Macauley did not – it is believed that the duo are not on the shortlist.

Other names linked with the vacancy include ex-Accrington boss John Coleman, former Stalybridge manager Jim Harvey, Skelmersdale United chief Tommy Lawson, plus an ex-Barrow trio – Workington boss Darren Edmondson, Penrith manager Matt Henney and Graham Anthony...

Dodd added, 'Once we've interviewed the five candidates we'll see whether we need second interviews or whether we've narrowed it down to one at that stage. We haven't set ourselves a timescale (to appoint a new boss). At the moment, we only have a shortlist of five and our intention is to appoint from one of those candidates. If it turns out that none of those five are appropriate, which I think is unlikely, then we would have to look elsewhere'.

AFC banked £5,000 for progressing from the first round of the Trophy at Chester... Meechan dedicated the win to the 'immense' AFC away support that witnessed Marcus Carver's double strike – which took his Barrow tally to three goals in seven starts. It was the last game of Carver's one-month loan spell from Accrington, as discussions over extending the 20-year-old's stay in Furness continue".

News of Alty's next hosts comes from FC Halifax Town who say that "Neil Aspin will take his side to Harrogate Town on Tuesday night to contest the quarter finals of the West Riding County Cup".
---
2 December 2013 Our next opponents, Harrogate Town report that "It's been a case of two in and one out at the CNG Stadium. Leaving us is Adam Mitchell. The young winger joined us on loan from Sunderland and put in some fantastic performances as we went on an unbeaten run in the league...

Joining us from Bradford Park Avenue ... is Steve Mallory. Steve can play anywhere down the right hand side and also as a centre back should he need to. He lists Glasshoughton Welfare, Yorkshire Amateurs and a brief stay at Farsley AFC as his former clubs.

Also coming into the squad is winger Connor Sellars. Connor will be dual registered with Harrogate Railway Athletic and comes highly recommended by Railway boss Billy Miller. At present, he will remain at Station View to continue his progress".

According to NL Pitchero, "Lee Bearman, manager of Bedford Town, admits to having had better weeks in football! Bearman explains, 'Firstly on Tuesday St Neots Town equalise in the 96th minute to snatch a 2-2 draw, and the next day travellers set up at our ground, break in and cause thousands of pounds worth of damage, And then to top it off, our captain and top scorer Andrew Phillips decides to leave for Histon.

'The Phillips loss is disappointing as Histon don't play on Saturday and don't have a midweek game so I asked Andrew to play today to give me time to get someone in and he agreed but Histon put pressure on him not to. They signed a couple of our players from last season and now Phillips. It`s nice to see players step up a division and I wish him all the best. At the moment Histon can still offer Conference football which was the only factor in his leaving.

Hitchin Town and Kettering Town had been in for him recently and offered more money but it was the level of football that turned his head and I can't blame him for that'.

Phillips made 118 appearances for the Eagles before breaking his leg against Stourbridge in 2009".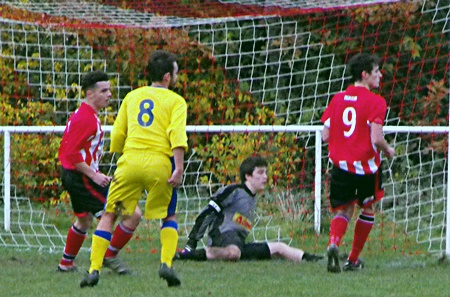 Ashton Athletic, who were Altrincham FC Youth's opponents in Sunday's NWYA Premier match at Clay Lane, were only able to field eight players. Yet the visitors took the lead before going down 7-2. Match report here.

Right, we see Kane Hughes and Max Pouncey involved in second-half goalmouth action.

"AFC Telford United manager Liam Watson today assured [ex-Alty loanee] Mat Bailey his chance will come to stake a proper claim for a first-team spot. Bailey has had to be content with a place on the bench since signing non-contract forms for the Bucks earlier this month, restricted to second-half substitute appearances so far.

But the towering 6ft 7in former Crewe man has been told he has a part to play... The Bucks' boss allowed defender Dan Preston to go back out on loan this week, this time to Stourbridge, safe in the knowledge he has cover.

Although he sees him as a striker, the Telford chief also knows the big forward has a track record as a centre-back. The 27-year-old is fully fit again after a quicker-than-expected road to recovery from a cruciate ligament injury since the summer" reports the Shropshire Star.
---
1 December 2013

Match report here.

Leek Town say that "Blues produced another magnificent performance in the FA Trophy to oust another Skrill North side from the competition, the second in five days.

Lee Casswell's men produced the perfect away performance with a 2-1 victory at Altrincham to add another £5,000 from the FA Prize fund to their winnings this season...

Alty had the ball in the net after 29 minutes but the referee's whistle had blown for a foul before Reeves put the ball in the net. Blues were still seeing plenty of the ball but not creating many openings... Two minutes later, Reeves headed over a good chance and Jamie Walshaw put a header wide just before the break..

The game changed on 65 minutes when Johnson was adjudged to have been brought down in the area by the referee. The home protests were prolonged as they claimed the ball had been won in the tackle but Johnson got up to tuck the spot-kick low into the corner despite the keeper going the right way...

Johnson scored again in the first minute of added time sweeping home John Johnston's cross from the right wing to send the 100 or so visting fans delirious.

There was still time for The Robins to hit back with a 25 yard cracker from Wilkinson to make it 2-1 and Blues had to nervously defend a free-kick and a corner before claiming a famous victory".

Details of TASC's supporters coaches to the away games at Harrogate Town (Saturday 7th) and Gloucester City (Tuesday 10th), are now on the Away Travel page. Mark Eckersall advises that for the trip to Cheltenham to play Gloucester City, "We have managed to hold last year's prices whilst upgrading to a 33-seater coach from a minibus". And, for the Harrogate match, "We have been advised of bad roadworks through Wetherby so we have allowed an extra fifteen minutes".

You can book your seat by ringing the club on 0161 928-1045 during normal office hours.

Attendances on Saturday included...

Skrill North:
Colwyn Bay v Brackley Town 240
Oxford City v Vauxhall Motors 212
Solihull Moors v Harrogate Town 287
FA Trophy:
Altrincham v Leek Town 636
Chorley v Curzon Ashton 595
Leamington v Northwich Victoria 357
Bradford Park Avenue v Kidderminster Harriers 335
FC Halifax Town v Guiseley 935
Gateshead v Hednesford Town 410
Hyde v North Ferriby United 256
Lincoln City v Stalybridge Celtic 1023
Southport v Boston United 496
Worcester City v AFC Telford Utd 764
---
FOR EARLIER NEWS, CLICK HERE
---