---
30 April 2013
CHEERS!
Grahame Rowley announces that "Following the game tonight (Tuesday), we will be selling the remainder of the ales from the Beer Festival in "take home" cartons at £2-50 for a two-pint carton. A bargain!"
TUESDAY'S GAME
Altrincham entertain Brackley Town at Moss Lane on Tuesday evening in the first leg of the semi-final of the BSBN promotion play offs. For Alty it is a chance to take a step towards a third return to the Football Conference's national division. The Robins were ever-present in the Conference (Alliance) from its inception until 1997. Indeed, they won the league for its first two seasons.
They returned to the Conference in 1999, under Bernard Taylor, but were relegated again in 2000. Five years later, Graham Heathcote's team returned to the national division by winning the one and only Conference North v South play-off final against Eastbourne.
Manager Lee Sinnott is also no stranger to play-offs having been successfully involved in them with Farsley Celtic.
Brackley thrashed Alty 4-1 on the opening day of this season at Moss Lane, but Alty got revenge with a 1-0 triumph in the return fixture. Indeed, The Saints started the season like a train with 11 unbeaten games before Harrogate Town beat them 6-1. That started a run of 11 games which included just four wins. In contrast, Alty made a slow start to the season but have recently lost just once in their last 16 league games, the solitary defeat being away at the champions, Chester FC.
MATCHDAY COVERAGE
Brian Flynn advises us that, "Radio Robins, sponsored by Ashley Mowers Garden Machinery, will be broadcasting live coverage of the game against Brackley Town.
The match commentary sponsor is the "Being Frank" Kickstarter Campaign. From May 1st you can help bring to fruition the new documentary telling for the first time the true story of the life and work of Chris Sievey a.k.a Frank Sidebottom. Details can be found here.
The match commentators are Paul Salt and Ian Wilkinson with match summaries from Brian Flynn, Commentary begins at 7.40pm.
You can listen to Radio Robins on the internet at www.radiorobins.com
Alternatively, you can find live-text updates from the game on this site's Matchday Updates page. Quick links to both options are below.
GOAL RUSH
Paul Salt writes that "As the 2012-13 season draws to a conclusion, the TASC 'Goal Rush' scheme has been a successful and important fund raising scheme as a result of the team's extraordinary goal scoring exploits.
With a further six goals hitting the back of the net at last Saturday's win against Droylsden, and a potential further three play off matches to come, the current total of goals scored in all competitive cup matches has now reached 116.
The draws for the 90, 100 and 110 benchmarks took place live on Radio Robins at half-time last Saturday. The successful winners of two free tickets to a home league match of their choice next season were,
90 Goals - No 103 Nicky Clee!
100 Goals - No 98 - Dana Laidlar
110 Goals - No 74 Mike Ray

Many thanks to everyone who has taken part this season. The End Of Season draw for all members for a signed matchball and shirt will take place at half-time on Tuesday evening live on Radio Robins.

The requests for final payment will be made after the outcome of the play off matches has determined the final total. Watch this space for an improved prize structure for next season's scheme"
DROYLSDEN GAME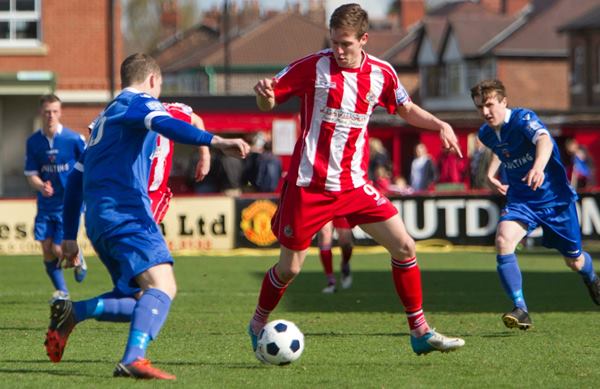 Pictured, right, by Gavin Rathbone of GR Photography, is Ryan Brooke, in action against Droylsden last Saturday. Ryan has netted four times in Alty's last three games.

The half-time bucket collection on Saturday raised an excellent total of £130.40. Thanks go to the donors and collectors alike.
BSBN NEWS
Buckingham Today reports that "Brackley ended their first-ever regular season in the Blue Square North with an enthralling 4-3 win at Boston United.

With one eye on tomorrow's play-off semi-final first leg at Altrincham, Saints' boss Jon Brady juggled his squad in a match that featured seven goals and two missed penalties in front of a 1,100-strong crowd...

Leading 3-1 at the break, Brackley started the second half on top and deservedly scored a fourth through Marvin Robinson. Marc Newsham and Foster then reduced the deficit after Saints' goalkeeper Turley had dramatically missed a penalty to set up a grandstand finale.

Turley was the hero, though, as he produced a superb save seconds from the full-time whistle to earn Saints another three points of a magnificent season.

Brackley Town: Turley, Clifton, Nisevic, Odhiambo (Robinson 71), Sharpe, Austin, Story, Solkhon (Walker 63), Diggin, Louis, Mulligan (Reid 60). Subs not used: McDonald."

According to Chester First, "One of the leading officials at Chester FC has left the club. The Blues announced during the weekend they have parted company with chief executive officer Pat Cluskey.

Mr Cluskey had been involved with the club since shortly after they reformed out of the ashes of Chester City in 2010...

In a statement, a spokesman said, 'The board of Chester FC has recently carried out a review of the club's management structure to ensure the club is fit for purpose moving into this new era as a community-owned entity. Unfortunately this has meant we no longer require the services of the post of CEO and as a result Pat Cluskey has now left the club'...

Mr Cluskey's background was predominantly in rugby league... The review of the club's management structure has been taking place in recent months, since Tony Durkin was elected chairman of the fan-owned club late last year in place of Chris Pilsbury. In January it was revealed the club had sustained projected losses of £70,000, as the new board vowed to get the club's 'house in order'.

Mr Cluskey declined to comment when approached by the Leader, saying the matter is in the hands of solicitors".

And more discontent is recorded by The Leader, which says that "Neil Young is furious after Inverness Caledonian Thistle were close to agreeing a deal for Blues' wing-back Danny Williams. The Chester boss had been hoping to secure the 24-year-old on a permanent contract after being impressed with Williams since he joined the Blues on loan from Kendal Town.

Young believed he had agreed a five-figure fee with Kendal Town and he was putting the final touches to the deal when Inverness stepped in on Friday.

Young said, 'We're gutted we've lost out on the deal. We've got to realise our budget is the same next year and, while I keep hearing we've got to be the best of the part-time teams and we've got to do this and that, without being disrespectful to the other clubs, they are playing in front of 300-400 fans while I'm sitting in front of 3,000 fans and, if I only win 13 games next year, I'll be under pressure.

I've got to try and improve the squad and that costs money so that's why players like Danny Williams are key to what we're trying to do... When a player like Danny gets away who we've scouted and chased it's a massive blow as he fits everything we're trying to do'...

Young confirmed that Conference North champions Chester will be working with one of the smallest budgets in Conference Premier. Young added, 'We know as a football club, particularly on the football side, that we need to improve our football etiquette and professionalism massively, particularly now we're going into the Conference... If we want to compete in the Conference, and I won't be consolidating for nobody because that's not what we do here, we need to improve massively and that costs money'".

This is Lincs tells us that "Outgoing Gainsborough Trinity chairman Peter Swann has wasted no time in renewing his links with football, by joining the board at Scunthorpe United, according to reports on social network site, Twitter.

Five years and around £1.5m after his arrival as owner and chairman of Trinity, Swann decided to call time on his tenure, citing poor health and the inability to purchase the club's ground the Northolme as reasons for his departure.

But now, it seems, Trinity's loss is the Iron's gain as news filtered through this afternoon that Swann was to become chairman at Scunthorpe in the near future. The Scunthorpe United Twitter account reported, 'Discussions have taken place with Peter Swann, who is leaving Gainsborough Trinity, and he has agreed to join the board of Scunthorpe United and take the position of chairman in the near future'".

Meanwhile, This is Lincs adds that "Steve Housham has categorically stated he will still be the Gainsborough Trinity boss next season. Rumour and speculation mounted this afternoon following the news that former Trinity chairman Peter Swann had agreed to join League Two Scunthorpe United's board and take up the role of chairman in the near future...

'I will definitely be manager at Gainsborough Trinity next season', he said. 'I am ambitious and I would like to manage in the Football League one day. Look where Neil Warnock started. But I have a job to do here. This is my home town club and there is a lot of emotion involved. We have come so close to achieving our dreams and myself and, I believe, some of the players, would like to have another go at it'.

Housham, though, was quick to wish his former chairman luck... 'Scunthorpe will be gaining a very bubbly character but, most of all, they will be getting someone who is very ambitious. He will not want to hang around in League Two. He will want to take them back to League One at the first attempt'".

The Gainsborough Standard adds that "Trinity are hopeful of replacing Swann this week, and officials will meet with a potential new chairman this evening".

FC Halifax Town report that "Neil Aspin was left bitterly disappointed after his FC Halifax Town side put in a subdued performance against ten-man Stalybridge Celtic...

The Shay Chief had indicated... that the Stalybridge game was the perfect chance for some players to force themselves into the first leg starting eleven. But after the 1-0 defeat, Aspin revealed, 'It's a reverse. Players are trying to play themselves out of the team. They're not playing themselves into the team; that was certainly my gut reaction at the end of the game... The lads that haven't been playing will be thinking, 'Nobody is trying to force me out of the team'. That is disappointing because you're talking about people who have played a lot of games at this level and they should be putting the pressure on.

"I should be really struggling to pick the team on Tuesday. That's what I want as manager. I want to have options in all positions and I want to have a difficult job. I want players knocking on my door saying, 'Why am I not playing?' And now I question whether anyone can say that?...

'We've had some words after the game but it will be different on Tuesday. The tempo needs to be up and everything needs to be better. The desire, the application, the passing; I could go through the whole lot. Everything needs to be better to get the result'".

Former Alty Youth player, Osebi Abadaki, will have the scars and bruising to remember the game however, after being on the receiving end of the horror tackle from Callum Warburton, which saw the Celtic man instantly dismissed. On the forceful challenge, Aspin said, 'If he hadn't have had a shin pad on then he would have had a broken leg. It was a horrendous tackle'...

But Aspin insists form does not matter going into the end of season extravaganza".

Still in Yorkshire, the Halifax Courier tells us that "Captain Danny Lowe says FC Halifax Town have no reason to fear anyone in the play-offs. The Town skipper admits there's little to choose between the four sides vying for a place in the Conference North...

He said, 'There's nothing to fear. You'd probably say Guiseley are the favourites in the play-offs because they're second but we've had the better chances in both games against them. The margins between the four teams are so fine. It's hard to predict. We're a good side, Guiseley are a good side, Altrincham can score goals and Brackley are solid so it's going to be tough, but I fancy our chances'...

Lowe says Town are a tougher proposition that they were last season... He said, 'I think the players that came in this season are mentally stronger, we're a lot more solid at the back and we're a stronger squad as a whole. We've come through a lot with the pitch problems and injuries to key players, so we've dealt with a lot mentally... With all the injuries and the weather problems, it's been a bit like us against the world if you like. We've worked so hard to get here against the odds and I wouldn't say many teams would have done what we've done to be honest'".
CHESHIRE NEWS
Nantwich Town tell us that they "have unveiled Danny Johnson as their new manager after six years at Ashton United. Johnson, 37, who has made a name for himself in non-league circles firstly at Trafford and Ashton United, will join the Dabbers after their final home game against Blyth Spartans this coming Saturday.

Nantwich Chairman Jon Gold said, 'We are thrilled that Danny has agreed to be our new manager as he was always someone we held in the greatest esteem due to his consistent achievements at Ashton United over a long period of time and he has the passion and all the qualities to build on our past successes and is someone who we firmly believe can introduce some stability and consistency to the club, whilst building a team that will take us forward in the months and years to come.

We had over 50 applicants for the position and the overall quality was very flattering but Danny met all the requirements we advertised for...

Danny Johnson commented, 'I have had six wonderful years as manager at Ashton United... It is with a very heavy heart that I move on. However, I am honoured to have been appointed as the new Nantwich Town manager and I look forward to the challenge of taking the club into the Conference North in the future... I was in need of a fresh challenge and I have landed, in my opinion, one of the best jobs in non-league football'"
---
29 April 2013
PASTING THE OPPOSITION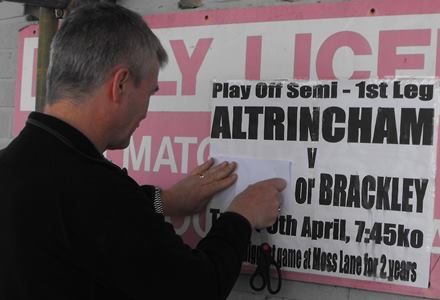 Before Saturday's games, Altrincham's play-off opponents were uncertain so posters at Moss Lane showed the opposition next Tuesday at Moss Lane as either Guiseley or Brackley Town. So, on Sunday, chairman Grahame Rowley was busy changing the posters, as shown in the adjacent image.
TUESDAY PLAY-OFF SEMI-FINAL GAMES
Altrincham v Brackley Town
Guiseley v FC Halifax Town

The return fixtures are on Saturday 4 May at 3pm. The winners of the semi-finals meet at the higher placed club's ground on Sunday 12 May at 3pm.
ALTY TV
Highlights of Alty v Droylsden can be seen on Alty TV.

And if you want to study the next opposition, see the Boston United highlights of their game with Brackley last Saturday.
FAMILIAR FACES RETURN TO MOSS LANE
Sunday not only witnessed the final day of the successful Altrincham FC Beer Festival, but there were two matches played on the Moss Lane pitch.

First, a team of Altrincham's former players took on a team of Altrincham FC Juniors' coaches in a 20-minute each way game. The former players won 4-0, despite the opposition fielding up to 14 players at a time!

Ged Kielty opened the scoring when he converted Gary Scott's right-wing cross in the 6th minute. After Colin Potts's freekick had ended up in Golf Road, it was defender Rob Williams who doubled the lead, despite claims for offside from the opposition (20 mins).

Above; the two teams line up. The former players, in red, are back row left to right, Chris Rowley, Richie Bentley, Gary Scott, Rob Williams, Robbie Lawton, James Coates, Colin Potts, Ged Kielty. Front row, Charles Heathcote, Eddie Hussin, Kevin Street and Sam Heathcote
Goalkeeper James Coates, who played on the wing for the Players showed great crossing ability and he also displayed a firm shot as he netted number three, a couple of minutes into the second half. Potts was denied by a fine save but he then scored a vintage goal. He jinked into the box, sold a couple of dummies and then slotted the ball home to make it 4-0, with two minutes remaining. With the Manchester Marathon causing traffic problems for the invited players, one or two places in the team went to less familiar faces!
ALTRINCHAM FC FORMER PLAYERS: 1. Chris Rowley, 3. Kevin Street, 4. Robbie Lawton, 5. Rob Williams, 6. Eddie Hussin, 7. James Coates, 9. Gary Scott (capt), 10. Colin Potts, 11. Ged Kielty, 12. Sam Heathcote, 14. Richie Bentley.
AQUA SHIRTS OFFER
Ian Senior announces that "All current stock of away Aqua Blue Altrincham FC away shirts are available in sizes 26/28 to XL, at £20. This kit will be worn at Brackley for the Play-Off second leg next week and, if we qualify for the play-off final, should that be at Guiseley. Ian says, "Make Brackley 'a sea of blue'!" Please e-mail Ian or ring the club on 0161 928-1045.
LADIES TEAM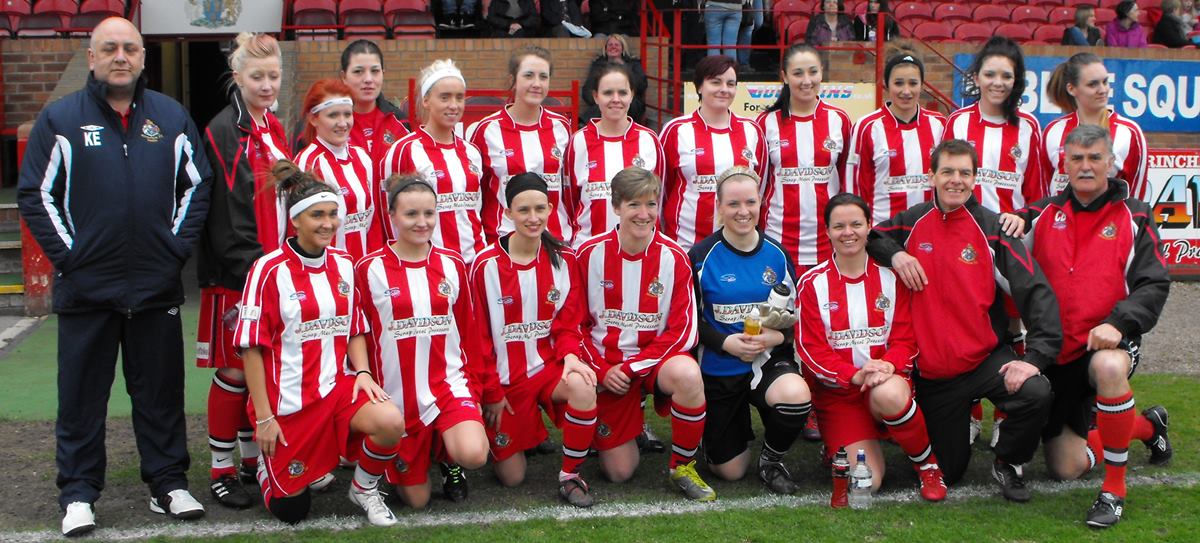 Above, Alty Ladies are pictured before kick off against Wallasey Wanderers on Sunday at Moss Lane.
ALTY YOUTH COME BACK TO DRAW
Altrincham FC Youth came back from a two-goal deficit to draw 2-2 at home to Nantwich Town on Sunday. A match report is here.

Sunday's results in the NWYA included:
FC United of Manchester 0-1 Warrington Town FC
Morecambe 2-4 Prescot Cables

The latest table is here.

The next fixtures are:

Wednesday 8th May 2013
Prescot Cables v Altrincham 18:30

Sunday 12th May 2013
Altrincham v Northwich Victoria 14.30
BSBN NEWS
"Carl Macauley is already planning for next season with Vauxhall Motors, and distanced himself from the vacant Southport job" reports the Liverpool Echo... Macauley has won many admirers in recent seasons for his work with Vauxhall where he manages with success under a limited budget.

Macauley is already relishing the prospect of facing AFC Telford United, Barrow and Stockport County in the Conference North next season. 'I always keep my options open because you want to test yourself at the highest level possible', he said. 'But at the moment I am just concentrating on Vauxhall Motors. I am wheeling and dealing for next season and have already got lads signed up. I played at Southport for two-and-a-half years and know the chairman very well. But anything linking me with the job is just gossip'".

According to the Cambridge News, "Brian Page is hopeful he can keep his Histon players together and prepare a big push for next season after the club secured their Blue Square Bet North status with a goalless draw at Bradford Park ?Avenue.

The assistant manager described their achievement in avoiding relegation as 'nothing short of remarkable'... 'I had my plan one and plan two ready, depending on what happened', he said. 'Plan one is in force and the players will be getting their offers and pre-season plans. We don't want to waste any time, we want to be prepared for a big push in this league next year. I'd love it if the players could stay together. But I've got to be realistic, there are certain players who want to player higher and want to ?move on... but I've got my eye on some other targets'.

Histon's survival came at the expense of Corby Town, who drew 0-0 at home to Gainsborough. The Stutes' superior goal difference, by just one goal, was enough to keep them up.

As he reflected on their achievement, Page cast his mind back to when Histon failed to fulfil an away fixture at Colwyn Bay in November as the club's directors feared the club would be insolvent. 'It's nothing short of remarkable what these lads have achieved and what this club has achieved', he said. 'I remember getting a call from (club secretary) Howard (Wilkins) saying this could be it. He said "I think it's all over, we're going to have to start looking for new jobs".

For the board to turn it around the way they did off the field and for this group of young men to display the performances they have done over and over again and keep putting in the effort, determination and desire has been first class'".

In the Telegraph & Argus, we read that "Stunned Guiseley meet Halifax Town in play-offs - Guiseley 2, Hinckley United 4

The second-placed side lost at home to the basement outfit... The upshot of the drama is that Guiseley will face neighbours FC Halifax Town three times now that the regular league campaign has ended.

The Lions and the Shaymen will compete home and away in the play off semi-finals, with a one-off stab at the remaining promotion place the spoils for the victor, before meeting in the West Riding County Cup final.

There was a stunned silence when Hinckley took the lead in the 14th minute, and the atmosphere at Nethermoor was flat when Luke Richards capitalised on a defensive mix-up to bag his second goal just before the break...

Lee Sinnott's Altrincham ended Halifax's hopes of fourth place with a handsome win on the last day. Sinbad's men won 6-0 at home to Droylsden, who finished second from bottom... while the Shaymen suffered a 1-0 defeat at Stalybridge Celtic, despite their hosts having ten men for three-quarters of the game".
---
28 April 2013
ALTRINCHAM 6 DROYLSDEN 0
Match report
Altrincham confirmed a fourth-placed finish and now meet Brackley Town in the play offs.
Tuesday 30 April, Altrincham v Brackley Town 7.45pm
Saturday 4 May, Brackley Town v Altrincham 3pm

Admission to Moss Lane is by payment at the turnstiles; season tickets are NOT valid for this game.
Standing: Adults - £13, Concessionaries - £8, Aged 12-16 - £5, Aged Under 12 - £2
Sitting: Adults - £15, Concessionaries - £9, Aged 12-16 - £5, Aged Under 12 - £2
Disabled: Disabled - Free, Helpers - £13.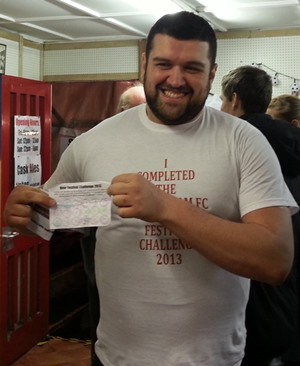 BEER FESTIVAL CONTINUES
The Altrincham FC Beer Festival opened on Friday evening and it only took a couple of hours for the first person to complete the challenge of a half pint of everything on offer. The winner was Matthew Outram who, as the picture shows, was still standing at the conclusion of his feat!

On Sunday afternoon at 2pm at Moss Lane, Altrincham FC Ladies take on Wallasey Wanderers in a Cheshire Womens' League Division 2 game. Spectators are welcome; entry is free. Earlier (noon), an Altrincham team of former players takes on the Club's Juniors' coaches XI.

The Festival continues, today (Sunday). See below for details...
VIEWS ON THE PLAY OFFS
Saturday's Manchester Evening News quoted Damian Reeves on the play-offs. Alty's striker said, "We're feeling confident. To behonst, I don't think we're too fussed about who it is we'll play, as our form is as good as anyone else's right now. Everyone involved with the club has been working really hard to get back into the Conference. It's an age-old saying that you've got to take every game as it comes and that's what we'll be doing. It is just another game to me but you have to remember that it's going to be against a team in the top five".

Damian added, "I know what's involved. I've been in and around it before and I think it helps. For some of the younger players it can be intimidating and there might be nerves. To gain promotion will be great for everyone. With it being a national division and, when you look at the kind of sides you've got playing in it, they're all excellent and they have a big following".

Chairman Grahame Rowley said, "We know what [promotion] will mean for the club - bigger crowds, especially at away matches. We don't get a lot of away support [at Moss Lane] so you don't get that banter between fans...

If you get into a national league, you test yourself against the best, you get better exposure and possibly attract national sponsors. It's nice to have made the play-offs but we need to achieve our aims after that. We've got four teams who are all as good as each other and it just depends who performs best".
PLAYER OF THE SEASON
Apologies for the absence of the usual coverage of the annual player awards ceremony at Moss Lane, as the advertised starting time was changed on the night. I hope to have some information from the event later.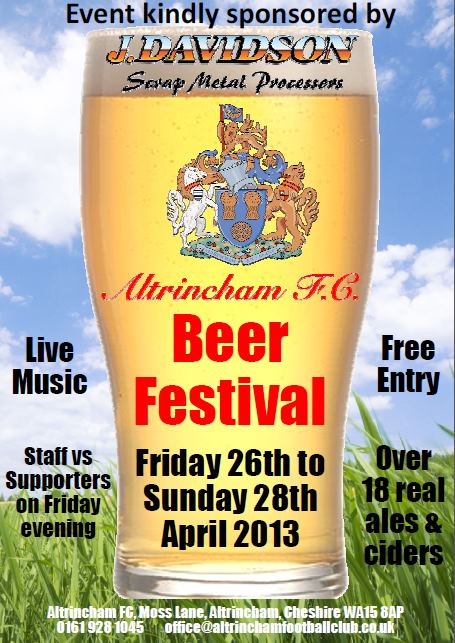 .
ALTY TV
Alty TV has recorded Brian Flynn's interview with Matt Doughty, made after the game against FC Halifax Town. It can be heard here. And the same sources has also put together a compilation of most of the goal of the season candidates.
DANNY'S DECIDER
Alty striker Danny Mitchley scored again for Kendal Town on Saturday. The Kendal loanee netted the match's only goal.
SATURDAY GATES
Altrincham v Droylsden 1,274
Boston United v Brackley Town 1,108
Bradford Park Avenue v Histon 360
Colwyn Bay v Gloucester City 633
Corby Town v Gainsborough Trinity 1,856 - free entry
Guiseley v Hinckley United 750
Oxford City v Bishop's Stortford 345
Solihull Moors v Workington 275
Stalybridge Celtic v FC Halifax Town 744
Vauxhall Motors v Harrogate Town 162
Worcester City v Chester 4,075 - last match at ground
"HEAVEN KNOWS I'M NOT MISERABLE NOW"
In Saturday's "Robins' Review", Barry Pikesley wrote the following review of the season to date, with the above title!

In addition to helping us to secure our participation in the 2012/13 Blue Square Bet North (BSBN) promotion play-offs, last Saturday's six goal demolition of hapless Hinckley United engendered a couple of Alty milestones.

First of all, my perspicacious friend and fellow Alty season ticket holder, Martin Green (who last season inadvertently found himself sponsoring the shirt of such Moss Lane luminaries as Adie Hawes and Marlon Broomes), pointed out that the result at the Greene King Stadium signified that the Robins had now recorded every final scoreline from one to eight during the current season.

Secondly, the aggregate score in our two league fixtures this campaign versus Hinckley United stands at 14-0 in the Robins' favour (and, curiously, Damian Reeves has only scored one of those goals). By my reckoning, that's the highest league double aggregate attained by Alty since the cumulative scoreline of 13-2 registered against Chester Reserves during the 1965/66 Cheshire County League Championship-winning season (5-1 at Moss Lane followed by 8-1 at Sealand Road, in which a certain Jackie Swindells bagged seven).

Meanwhile, the egregious mismanagement and seemingly inexorable meltdown at Stockport County have precipitated their relegation from the Blue Square Bet Premier. I still find it bizarre to envisage that Alty could yet be playing in a higher division than them next season. As relatively recent as March 2002, County were in the Football League Division One and defeating the eventual Champions, Manchester City, at Edgeley Park, whilst the Robins were suffering wretched home losses against the likes of Frickley Athletic and Burscough and generally floundering about in the comparative wilderness of the Unibond Premier League.

Anyhow, back to the present and since there is merely this afternoon's encounter with Droylsden to be fulfilled from our original schedule of 42 BSBN fixtures, it's an opportune time to indulge in a subjective overview of the Robins' 2012/13 season, the second under the supervision of Lee Sinnott and Neil Tolson.

This personal reflection will consist of comparing and contrasting some of the Robins' fortunes this season (no longer burdened by the presence of Michael Twiss) with various events and data from the preceding campaign.

The obvious initial observation is the improvement in our league position. The 2011/12 season generally saw Alty flirt with the play-offs before a disappointing late wane in form saw us finish in 8th position with a total of 61 points. Fast forward to 24th April 2013 and (with one league game remaining) the Robins are occupying fourth spot in the BSBN league table, having both accrued 77 points and guaranteed themselves a role in the forthcoming play-offs.

What has certainly remained a pleasing constant from the escapades of the previous season is our capacity to score goals. Indeed, last season's final aggregate of 90 league goals has already been surpassed. Our impressive current tally of 94 goals scored denotes that we are presently on course to conclude the season as the league's second highest goalscorers, behind the runaway Champions, Chester FC.

In the 49 games played in all competitions this season to date, the Robins have amassed the sum of 110 goals and every outfield player in the current regular squad has scored a goal with the exception of Patrick Lacey and our loanee from Guiseley, Danny Boshell.
Amidst all this entertainment, we have once again been privileged to witness the prolific goalscoring prowess of Damian Reeves, who has followed up last season's outstanding personal exploits (44 goals) with yet another phenomenal effort which has currently accumulated a figure of 41 goals. His present tally of 36 league goals will certainly ensure that he goes on to become the leading goalscorer in the BSBN for the second successive season.
Damian Reeves's best scoring sequence this season comprises the 15 goals he scored in seven consecutive games back in August and September of last year. Meanwhile, his longest drought coincided with that dodgy spell of four games without a victory that the Robins suffered during February 2013.
Without wishing to tempt fate, it's also worth noting just how tremendously durable a character Damian Reeves actually is. Up to this afternoon's fixture, he has started an admirable total of 83 consecutive BSBN games for the Robins. How fortunate we were when he opted to return to Moss Lane last Summer.
Incidentally, I reckon that the only member of the current BSBN against whom Damian Reeves has yet to score a goal is Bishop's Stortford. He certainly had numerous chances at Moss Lane a fortnight ago to rectify that particular oversight!
Of course, this season saw Damian Reeves become only the 10th player to reach the landmark of registering a century of goals for Altrincham FC (via his second goal at Colwyn Bay on Saturday, 16th March 2013). His current personal aggregate of 104 goals in just three seasons at Moss Lane finds him lying only 10 goals adrift of that other renowned Alty marksman of recent times, Colin Little.
The 2011/12 campaign was blighted by a porous defence which was, alas, prone both to horrendous individual blunders and moments of collective self-destruction. Consequently, Alty proceeded to concede a total of 71 goals in their 42 league games and conclude the season with a goal difference of +19.
Thankfully, this season has witnessed a vast improvement in our defensive capabilities. Fewer personnel have been used and a much more effective rearguard unit has gradually evolved. True, we have endured the occasional implosion redolent of last season's calamities (e.g. those two late goals at Solihull Moors or that surreal capitulation on the stroke of half-time at FC Halifax Town in the FA Trophy, when the home side's striker, Gareth Seddon, netted a hat-trick in merely 197 seconds!). However, we have generally defended far better as a team whilst still in no way diminishing our attacking potency. Therefore, with just a solitary league game to play, we have currently conceded a total of 51 goals in the BSBN and our goal difference stands at a mighty +43.
An associated distressing shortcoming during Alty's 2011/12 season was the dearth of clean sheets. The Robins only managed to register three of these in 45 fixtures and they failed to record even a single clean sheet in an away match. Indeed, Lee Sinnott's men commenced this season on the back of a truly wretched run of 27 consecutive matches without keeping a clean sheet.
That long-awaited clean sheet finally arose in the fifth game of this season, when Histon were demolished 5-0 at Moss Lane in Lee Sinnott's 50th match in charge of the Robins. Alty's first clean sheet in an away game during the Sinnott regime then duly ensued four fixtures later via that 3-0 FA Cup Second Qualifying Round victory at Shildon. In the 49 competitive matches they have played so far this season, the Robins have recorded the sum of 15 clean sheets.
Another of last season's bugbears that needed to be redressed was our inconsistency, exemplified by the inability to construct a long unbeaten run at any stage of the campaign. The good news is that this area has exhibited a significant upturn, too.
In September and October of last year, we went nine successive games unbeaten in both the BSBN and FA Cup and, moreover, the second half of the current campaign elicited a run of eight league games without defeat that included a sequence of six consecutive victories (all in March 2013). The latter statistic represents our best accomplishment since the series of seven wins in a row attained during the 1998/99 Unibond Premier League title-winning season.
I sense that this campaign has also seen the gradual evaporation of last season's overriding perception that we would simply not recover if we were to concede the opening goal of a game.
During the previous season, there was only a single occasion in 45 fixtures on which we went on to win a match when the opposition had scored the first goal. However, this season has witnessed four such examples, including that recent enthralling comeback in the 4-3 triumph at FC Halifax Town. Plus, unlike the bulk of the 2011/12 season, there have been instances of Alty bouncing back to draw games after falling behind e.g. the away contests at the likes of Stalybridge Celtic; Guiseley and Bradford Park Avenue. Last season's outfit would have inevitably collapsed under such circumstances, whereas this season's team has exhibited a commendably greater degree of both backbone and resilience.
I'm also delighted to acknowledge that the 2012/13 season has contained some overdue relative success in the FA Cup for the Robins after several barren years.
Last season, Alty exited all three cup competitions at the first hurdle and, thus, failed to procure any prize money whatsoever. This season, our 3-0 FA Trophy Third Qualifying Round victory at Worcester City earned us £4,000 and the advancement to that FA Cup First Round tie at Burton Albion saw Alty collect a cumulative amount of £24,500 in prize money alone. ESPN's hugely welcome decision to broadcast live coverage of that Thursday evening Moss Lane replay versus the Brewers then served to generate additional funds, not to mention the concomitant gate receipts from this season's largest home attendance of 2,428.
The Robins' strong and fruitful conclusion to the 2012/13 campaign is the antithesis of the atrophy that afflicted the latter stages of last season, which largely petered out via a downturn in which Alty gleaned only nine points from their final 10 league matches.
In joyous contrast, Alty's record in the BSBN since 2nd March 2013 (inclusive) reads as follows: played: 13; won: 10; drawn: two; lost: one; goals scored: 33; goals conceded: 12 and points gained: 32 out of a possible maximum amount of 39.
Alty's home form since the New Year has also constituted a remarkable volte-face. I confess that those five defeats in eight league games at Moss Lane prior to Christmas caused me to have profound misgivings about our play-off credentials. However, the Robins' record on home territory since the advent of 2013 has been well-nigh immaculate with a laudable eleven victories and one draw having been attained in our dozen league fixtures to date.
Unfortunately, I can't go any further without mentioning the absurd curse of missed penalties which has plagued the Robins throughout the 2012/13 campaign. Last season, we somehow contrived to concede a tally of 15 penalties. This season, so far, we have been awarded a total of 16 spot kicks…..and missed 10 of them. For the record, the four heroes and villains are as follows: Damian Reeves: scored three and missed six; Matt Doughty: scored one and missed two; Shaun Densmore: scored one and missed one and Ryan Brooke: scored one and missed one. I must have missed John Edwards' press release back in August of last year which announced that Lee Sinnott had appointed Diana Ross as Alty's Penalty Coach.
Best overall performance of the season: that 7-1 annihilation of Boston United at Moss Lane on Tuesday, 29th January 2013. Sharp, fluent, productive and immensely entertaining attacking play. Mind you, there have been some stunning first half spectacles along the way such as the four strikes from Damian Reeves at Gainsborough Trinity and the five goal haul at Corby Town. I would also add that the opening 45 minutes of the FA Cup tie at Burton Albion was one of the best performances from an Altrincham side that I've seen in quite some time.
The nadir of the season generally comprised that blip during February 2013 when we only garnered two points from a spell of four games, including disheartening setbacks at both Histon and Workington. Possibly our worst performance, though, unfolded against Stalybridge Celtic at Moss Lane on New Year's Day, notwithstanding the fact that we did ultimately emerge triumphant. The second half of that particular clash, when we retreated and appeared to run out of ideas against a side who had been reduced to ten men and who also had an outfield player in goal, seemed utterly interminable!
On the subject of the club's Player Of The Season, I give honourable mentions to Stuart Coburn; Gianluca Havern; Damian Reeves and Simon Richman. However, my nomination goes to Duncan Watmore. His flourishing talent has endowed our game with a whole new dimension; one which has repeatedly rendered defenders bamboozled and left them trailing in his wake. His joie de vivre on the pitch has simply been a delight to watch and he's the most exciting player that I've seen at Moss Lane since the wondrous Paul Showler was darting down the left wing during the 1990/91 GM Vauxhall Conference season.
In my view, Duncan Watmore also scored Alty's Goal Of The Season by means of his majestic solo effort against Corby Town at Moss Lane on Saturday, 9th February 2013. Not only a magnificent display of skill, pace, elan and clinical finishing but also the goal that clinched three points in a game that the labouring Robins would otherwise not have won.
Last evening's eminently satisfying completion of a league double over FC Halifax Town (lovely play for Matt Doughty's goal, incidentally) has enhanced our prospects of finishing above the Shaymen in fourth position in the final 2012/13 BSBN league table. That surely represents an outcome which, had it been offered to them before the start of this season, the majority of Alty supporters would have gladly seized with both hands.
Progression has been manifest. We approach the play-offs with momentum, good form and nothing to fear. Let's hope that, come the evening of Sunday, 12th May 2013, we will all be toasting promotion and (to pilfer a phrase from the peerless Morrissey) happy in the haze of a drunken hour".
BSBN NEWS
According to the Banbury Guardian, "Brackley Town will travel to Altrincham for Tuesday's Blue Square Bet North play-off semi-final. Saints take on Altrincham who confirmed fourth spot with a 6-0 final day victory over Droylsden while Jon Brady's side won 4-3 at Boston United on Saturday.

Saints raced into a 3-0 first half lead through goals from James Clifton, Steve Diggin and Jefferson Louis before Nathan Stainfield reduced the arrears before the break. Billy Turley saved a penalty from Marc Newsham in the first period and Marvin Robinson restored Saints' three-goal cushion late in the second half before Boston pulled two goals back from a Newsham penalty and Anton Foster.

Turley also missed a glorious opportunity to get on the scoresheet when Dan Haystead saved his penalty in between Boston's two goals".

From the other side, the Boston Standard reported that "Marc Newsham grabbed his 30th goal of the season, but it wasn't enough to save Boston United from defeat at the hands of Brackley.

In a game of three penalties - two missed, one by a goalkeeper - both sides conjured up a bizarre spectacle... On the half hour mark it was 3-0... It was soon 4-1 when sub marvin Robinson netted in the 73rd minute...

Brackley were awarded a penalty of their own. Keeper Turley fancied his chances but Dan Haystead smothered his low effort, making him look like more of a turkey than a Turley.

And as the ball went up the other end, Turley was back in his goal just in time to pick out Foster's 18-yard drive... Then, at the death, Turley pulled off the save of the match to deny Newsham's four-yard volley.

And that was it... Brackley hung on to claim the points in a bonkers contest...

Brackley: Turley, Clifton (Robinson 72), Nisevic, Odihambo, Sharpe, Austin, Story, Solkhon (Walker 65), Diggin, Louis, Mulligan (Reid); subs (not used): McDonald.

"Brian Cox, chairman of Oxford City, says the club would have no qualms about switching to the Blue Square Bet South. With the number of northern teams coming down, Cox thinks a switch is inevitable.

Although City have racked up the miles, Cox said they had enjoyed the venture.

'I am happy about where we are and from my chats with Mike Ford I think he feels the same', said Cox. 'But I think we will be placed in the South where my main concern would be getting stuck on the M25. We've only been stuck in traffic once this season and that was on the M6 when there was a lorry fire on the way to Chester. We rang the league to explain what was happening, but they still gave us the maximum fine for arriving late'" he told the Oxford Mail.

At a club definitely staying in the North division, "David Hewson, captain of Workington, has announced he is going to retire due to his long-standing knee problem.

After months of soul-searching the 29-year-old has announced today's game at Solihull will be his last. Heartbroken Hewson, who has captained Workington 132 times during a 10-year career, has a hole in his articular cartilage, which has been caused through years of battling in Blue Square Bet North.

He is booked in for surgery next month and will spend the next five months recovering before he can even think about playing sport again.

'I would rather finish my 10 years playing at my best than to come back, struggle, and leave on a low', he said. 'Ending my playing career now means I am going out on my terms. I want people to remember me for the way I am now... It's upsetting to think it was the last time I'll also captain the team at home because Workington Reds has been my life for the last 10 years, but it's the right time for me to go'", he told the News and Star>.
---
27 April 2013
ALTRINCHAM 6 DROYLSDEN 0
Altrincham cruised to a 4-0 interval lead. Clee started the rout with a right-foot chip over Latham.
Match report
The sixth goal was Alty's 100th of the season in the league, 10 more than last season, and the first time they have reached three figures since 1967/68 in the Cheshire County League. Alty have also conceded 20 fewer times this season and gained 19 more points than in the 2011-12 campaign. And this 24th win of the season has not been bettered as a total of victories since 1978/79 in the Northern Premier League. As he had promised on appointment, Lee Sinnott (with Neil Tolson) has put a smile on supporters' faces this season.
Today's result means that Alty will meet Brackley Town in the play-off semi-finals. The home leg is on Tuesday night and the second leg away at Brackley on Saturday afternoon.
Alty player stats
CORBY RELEGATED BY A GOAL
After today's games, Corby Town were relegated on goal difference; they had a one goal disdvantage compared with Histon, who were controversially not docked any points for failing to fulfil a fixture at Colwyn Bay earlier this season.
Saturday 27 April
Through the Years by Howard Watts.
Altrincham 6-0 Droylsden
Boston United 3-4 Brackley Town
Bradford Park Avenue 0-0 Histon
Colwyn Bay 1-0 Gloucester City
Corby Town 0-0 Gainsborough Trinity
Guiseley 2-4 Hinckley United
Oxford City 1-1 Bishop's Stortford
Solihull Moors 2-2 Workington
Stalybridge Celtic 1-0 FC Halifax Town
Vauxhall Motors 0-1 Harrogate Town
Worcester City 0-1 Chester FC
STAFF'S NARROW WIN

Above: The two teams are seen after the match.
| | |
| --- | --- |
| | ALTRINCHAM FC STAFF TEAMSHEET: 1. Andrew Jones, 2. Alan Ainsley (capt), 3. Steve Foster, 4. Ian Senior, 5. Steve Mort, 6. Grahame Rowley, 7. Chris Rowley, 8. Steve Crane, 9. Neil Tolson, 10. Ritchie Semple, 11. Sam Heathcote, 14. Richie Bentley, 15. Luke Pickering, 16. Sam Fishwick, 17. --- , 20. Gavin Rathbone. |
| | ALTRINCHAM FC SUPPORTERS TEAMSHEET: 1. Alex Pugh, 2. Leighton Wright, 3. Matt Turpin, 4. Jack Jolly, 7. Dec Cavanagh, 8. Tim Ainsworth (capt), 9. Matt Pemberton, 11. Dave Barnett, 12. Rob Smith, 14. Wayne Thorley, 15. "Penty", 16. John Williams, 17. Stuart Lamont, 18. Callum Blades, 20. George Aspden, 21. Tom Jacobs, |
Friday evening's Staff v Supporters game was a good quality match, which ended in a 3-2 win for the Staff. The Staff led 3-0 at the interval but, with a blameless Neil Tolson taking over in goal for the second half, the Supporters netted two excellent goals through Stuart Lamont to produce a close finish.
Earlier, Sam Heathcote had scored twice for the Staff, with Ritchie Semple netting the other goal. Alty keeper Stuart Coburn and his son, Finn, handed out the post-match awards and team-mate Scott Leather was also a spectator at the game.
Below, right, winning captain Alan Ainsley displays the trophy.
ON THE SCREEN
In addition to the Alty v Droylsden match on Saturday and the Beer Festival (running through the weekend), the bar will be open from 12 noon on Saturday and will be showing
Manchester City v West Ham (k.o.12.45pm)
Newcastle United v Liverpool (k.o.5.30pm)

The entertainment continues on Sunday with
Reading v QPR (k.o. 1.30pm)
Arsenal v Manchester United (k.o. 4pm)

Steve Foster adds, "To be clear, you will only be able to watch the Manchester City game if you have entered the ground and paid your match admission through a turnstile."
BEER FESTIVAL
Please click on the adjacent image for details of Altrincham FC's second Beer Festival, which takes place from Friday evening.

If you can donate any chocolate bars (any size) to the Club for the tombola which will be run on Sunday as part of the Beer Festival, these would be very gratefully accepted.

Peter Foster has provided the timetable for this weekend's Beer Festival events...

Saturday April 27th
3pm Altrincham v Droylsden
From 4.30pm free admission to Beer Festival; before that adnission is solely through payment of matchday admission at the thrunstiles.
Circa 7pm. Race Night and End of Season presentations There will be normal match-day catering and evening food will also be available. The regular and Festival bars will be open from noon until midnight.

Sunday April 28th
Noon. Past Players v Juniors' Coaches' team (20mins each way)
2pm Altrincham Ladies v Wallasey Wanderers ; note this is a full league match in the Cheshire Womens' League, Division Two.
4pm Arsenal v Manchester United,live Premiership action on TV in the bar

Tombola, a Treasure Hunt, a Bouncy Castle, a Cake stall will be available. Food will be available all day and there will be musical entertainment, as follows;
12.30pm Judith Wilson – sings songs from the Musicals
2pm CANCELLED Little Rach, folk singer/songwriter was scheduled to perform but he has laryngitis, and will not be appearing. Altrincham FC sends its best wishes to him for a speedy recovery.
2.30pm Prof Pangloss, a Jethro Tull/Ian Anderson tribute band

Regular and Festival bars will be open from noon until 6pm.

All timings are approximate. Games are weather dependant, bearing in mind future demands on the pitch.
OLD BOYS
According to the NW Counties Football League, "A dramatic late extra time winner clinched victory for Winsford United over old rivals Northwich Victoria in the final of the Mid-Cheshire Cup. After going a goal down just after half time, [ex-Alty Youth] Andy Keogh equalised for the Blues to take the game into extra time, and the same player became the match winner with almost the last kick of the game deep into extra time...

Brian Summerskill hit the ball over the top, it was collected by Alex Taylor and he slid the ball past Jones to give Vics the lead. Winsford came back with a blistering run down the wing by Brian Matthews... Another scintillating move between Matthews and Hurst resulted in a shot from John Bennett going just wide of the upright...Manager Lloyd Morrison played his masterstroke and brought on Wayne Welbeck. Welbeck changed the course of the game with his pace and power, and combining with Andy Keogh they began to bully the visitors and take control of the game. It was Keogh who grabbed the headlines with the equalizing goal on 77 minutes, smashing it past Steve Dickenson...before the whistle went on 90 minutes.

Charlie Weir and Brian Matthews, having run themselves to a standstill, were replaced... Vics respite was only temporary, as the winner arrived moments later. Welbeck never gave the Vics defence a second's peace, and after Kevin Leadbetter brought him down to concede a free kick, he received a second yellow card and was sent from the field of play.

The resulting free kick ended with Welbeck's shot rebounding off the post and Andy Keogh was the first to react, getting his second goal of the game and more importantly the winning goal, as the referee blew for full time just after the restart".
BSBN NEWS
The Football Conference reports that "Stockport County will be a part-time side in the Conference North next season. The decision has been taken by the Board of Directors following detailed discussions with manager Ian Bogie.

It means that County will now train three times a week instead of four times a week, a total difference of just two training hours. Bogie said the decision was inevitable, adding, 'I have achieved success in this league before on a part-time basis and I would prefer to be given a healthy part-time budget than a massively reduced full-time budget. You also have to question experienced, full-time players who would want to drop down to play at this level. This is the right way to go.

I am pleased the decision has been taken at an early stage. Our preparations are already well under way for next season and myself and Alan Lord have been speaking to several prospective signings. We're in for a very busy summer and, with the backing of the fans, I believe we can put out a really exciting and successful side next season'.

Vice-chairman Spencer Fearn said, 'This decision has not been taken lightly, but it is the most appropriate way to take the club forward and keep Stockport County sustainable in non-League football. Going part-time is, we believe, the right way forward. We were relegated last season despite having a full-time squad, whilst part-time teams such as Dartford and Woking finished well up the Blue Square Bet Premier. This is very much a temporary measure, which we will review when we win promotion.

In addition, we felt that, as custodians of Stockport County, we could not afford to gamble with the future of the club, as we know only too well about the financial difficulties currently affecting other teams not too far away from here'.

Bogie added, 'My budget is competitive, we won't face any full-time teams in this league and I believe we can bounce straight back with the right players on board. We have an opportunity to rebuild the squad from scratch and, with the backing of the supporters, I believe we can take this football club back where it belongs'.
---
26 April 2013
THURSDAY GAMES
Thursday 25 April
FC Halifax Town 1 Chester FC 1 att.1262
Stalybridge Celtic 2 Oxford City 2 att.204
League table
The result at The Shay leaves Altrincham well placed to finish fourth, provided they can beat Droylsden on Saturday. If they do so, Alty will host Brackley Town on Tuesday (30th) and will travel to Brackley on Saturday (4th May) for the play-off semi-final ties. Should Alty finish fifth, however, their opponents on the above dates would be Guiseley.
BEFORE THE GAME
Altrincham's final game of the league season, before the play-offs, is at home to Droylsden on Saturday (3pm).

After Thursday night's training session, manager Lee Sinnott indicated that Carl Rodgers and Danny Boshell were the main injury concerns. However, the other player who was substituted last Tuesday, Nicky Clee trained fully.

Mike Garnett has the statistics on previous encounters between Altrincham and Droylsden
At Altrincham p15-13-2-0-51-15
At Droylsden p14-5-1-8-23-23
All p29-18-3-8-74-38
HALIFAX GAME
Brian Flynn has posted Tuesday night's Radio Robins commentary files on to the internet:
2nd Half
YOUTH NEWS
FC United of Manchester report that on Wednesday night, their youth side defeated Altrincham 3-0. "In a close fought encounter, late strikes by Frank Van Gils and Daniel Maynard added to a first half Yousif Yosif strike. This was perhaps harsh on the visitors who had spent much of the second half in search of an equaliser".

The latest table is here.

Following the abandonment of both the Altrincham FC Youth and Altrincham FC Juniors' matches last weekend in the Manchester FA Youth Cup, the Manchester Evening News quotes Manchester FA Chief Executive, Colin Bridgford as saying there were "three reported instances of abhorrent behaviour in this weekend's MCFA Youth Cup ties. ... We now await the result of our Discipline Department's due process... but anyone whose actions are proved contrary to all that we at MCFA stand for should be assured that their behaviour will be made public".
MARK'S ACHIEVEMENT
The Sale & Altrincham Messenger reports that "Former Altrincham FC star Mark Maddox completed the London Marathon on Sunday, to become the first person suffering from motor neurone disease (MND) to do so.

Mark Maddox, aged 40, was told he was living with the incurable disease two and a half years ago... The former Robins captain ran the London Marathon on behalf of the MND Association, raising more than £5,000 for the charity.

Mark said, 'As soon as I started off, the crowd were amazing and, after three or four miles, I saw an Altrincham fan with an Altrincham football kit on waving to me and that gave me a massive boost. The support has been unbelievable, to be honest, I might be unlucky having MND but I think I am blessed to have the family that I have behind me'.

He was diagnosed with the degenerative disease when he was 37, giving him a life expectancy of up to five years, which was devastating for him and his young family.

Doctors believed he wouldn't be able to finish the marathon but he completed it in six hours and 40 minutes. Mark said, 'They understood that it was my way of coping with it, if I keep my mind focused and give myself challenges. They know that's how I deal with this kind of thing'.

He joined Altrincham Football Club in 1996 and played for them for 10 years. He then completed his UEFA A licence to coach football at a high level when he was diagnosed with MND.

Altrincham Football Club Secretary, Derek Wilshaw, described him as a strong player at the club, which has been supporting him throughout the past two and a half years. Mr Wilshaw said, 'His success is magnificent, [given] the condition that he is suffering from. He is so mentally strong and he won't give in to his condition'.

Mark has three young children; Sonny, aged 12, Vinny, aged seven, and Bo aged four. He said, 'It's hard because I can't even play football with the kids and I can't do stuff that you normally do with young children. I just want to thank everyone who has supported us. It's been absolutely fantastic and I don't think I could have done it without all the support I have got'".
BSBN NEWS
According to the Manchester Evening News, Stockport County "Vice-chairman Spencer Fearn and manager Ian Bogie will meet tomorrow and decide the way forward for next season. County's players will know by the weekend whether they're going to be part-time or full-time footballers following the drop into Conference North.

After that, Bogie will meet with the players on Friday and Saturday to reveal which of them will be offered new deals for next season. A decision to go part-time will raise eyebrows but there are players out there who are making a success of combining football with a full-time job.

Damian Reeves has been a prolific goalscorer for Altrincham despite his day job as a plasterer, contentment that has seen him reject moves to the likes of Oldham Athletic and Gillingham. 'That's something that will be decided when I have a meeting with Ian in Sheffield on Thursday and we take it from there', Mr Fearn said when asked of any switch to part-time status.

'It's an interesting decision. We train four times a week full-time but, part-time, we train three times a week. That's not to say you can't get good players who play part-time; some of them have got really good jobs and are happy to earn a little extra money because they just love playing football. Damian Reeves is a great example of that, while there's a lad at Dartford, whose other half is a City trader on £250,000 a year, and he stays at home looking after the kids'.

One thing that will be staying the same though is the use of Edgeley Park for home games... Mr Fearn ruled out a move from County's base. 'It would be nice to get a reduction but Cheshire Sports have been really good to us and reduced it considerably from what it was previously', he said.

'We have £250,000 worth of costs, we pay £40,000 a year for water alone, so it would be cheaper to move away but we'll never do that. We're stopping at Edgeley Park. It's our home and, yes, we have a lot of costs but we'll just have to get on with it'.

The drop also raised questions as to whether there would be any redundancies behind the scenes at Edgeley Park... Mr Fearn said, 'We're looking at all the jobs and roles; there are a lot of good people at Stockport County and they work extremely hard as a team. We have been looking at budgets and I've been speaking to shareholders, asking them how much they are going to put in.

There are four of us who have kept the club going and all four of us are willing to put in more money next year. We're setting a budget that's going to give us a great opportunity of going straight back up into the Conference Premier. We aren't going down and thinking we need to survive. We're going to go for it but we won't be spending ridiculous amounts of money'".

Meanwhile, Stockoprt County announce that they "have already arranged the first match of our pre-season schedule. The Hatters will take on Northwich Victoria on Saturday, 13th July. The game will take place at Northwich's new home at Valley Road, Flixton. Vics are managed by Lee Ashcroft, who played alongside Ian Bogie during their time together at Preston. They are moving to Flixton's ground next season after spending this season at Stafford's Marston Road".

In the Wharfedale Advertiser, we learn that "Guiseley will find out on Saturday tea-time who they will face in the Blue Square Bet North play-off semi-finals... FC Halifax Town, who host champions Chester tonight in their game in hand, or Lee Sinnott's Altrincham, who are three points ahead of the Shaymen after defeating them 2-0 in midweek but have an inferior goal difference (plus 43 compared to Halifax's plus 49)...

Guiseley manager Steve Kittrick confessed, 'I am not too worried about who we play. There is too much said about that but no one will want us. Our plan is to get into the Conference, and hopefully we will get there'.

More immediately, Kittrick must decide what side to put out against Hinckley, who have had six of the ten points they have gained this season taken off them for failing to pay creditors and failing to fulfil a fixture.

The Lions' boss said, 'We are undecided whether to rest people on Saturday or get a bit of momentum. We will make that decision tonight at training'. However, what he will be seeking is a more consistent performance over 90 minutes, after admitting, 'We are a team of two halves at the moment. Players may have the play-offs on their minds'".

Meanwhile, BSN reports that "Brackley Town manager Jon Brady is unsure whether playing their play-off semi-final second leg on home soil will be an advantage. The third-placed Saints can expect to face either Altrincham or FC Halifax Town...

And regardless of who they end up facing in the play-off semi-finals, Brady and his squad will have to make a lengthy commute for the midweek clash. Brady told the Banbury Guardian, 'Normally, it is better to be at home for the second-leg in any competition but, given that the first-leg is a long midweek trip, I'm not so sure'.

However, Brady doesn't want his players to lose focus on the task at hand, seeing off the challenge of Boston United on the final day of the campaign. He added, 'We would like to go to Boston, and although it is not given, get a positive result and be ready for next Tuesday's play-off game'".

The Worksop Guardian informs us that "Gainsborough Trinity could have a new chairman by the end of the week. Outgoing club owner Peter Swann, whose reign comes to an end after Saturday's game at Corby, told the Standard that a successor had been identified.

Swann is departing after walking away from talks with the Blues Club, owners of the Northolme ground [which] he says he wanted to purchase in order to secure the club's future.

He said, 'We've got someone who would like to do the job, we're still in the process of working on that. Hopefully by the end of the week we'll have a decision in place for the running of the football club'.

Businessman Swann, who revealed he has had a number of calls from clubs inviting him to get involved, said...

'I'm sure the new chairman will be working closely with the Blues Club. It's a good opportunity for them to do what they said they would do and work to try and keep Trinity on a sound base', he said. 'The football club puts on the entertainment and they should get a bit more back from it. I'm sad to be leaving, I'm disappointed. I nearly took the club to the Blue Square Premier and nearly took it to Wembley, I did all I could to prove that what I wanted was success for the club'.

Unfortunately some people think I perhaps had alterior [ulterior] motives, but it was all about my love for football'.

The Blues Club have released a statement detailing their side of the Northolme story, insisting that it was Swann who walked away from talks and that they had remained open to acceptable offers. The chairman was unwilling to comment on that statement...

'I've had so many calls from people who want me on their team,' he said. 'I've learned a lot from these five years, I've always wanted to be hands on, I've been involved in every signing. If I don't stay involved then I just might struggle to come back into the game, because this has been a blow. Hopefully I can still play a role in football, whether that's local or not local'".

The Examiner says that "FC HAlifax Town will look to bounce back tonight after slumping to their first defeat in six Blue Square North outings... The Shaymen were beaten as Altrincham ran out 2-0 winners...

Halifax manager Neil Aspin will hope to put matters right immediately and his side have the perfect opportunity as they take on champions Chester FC at home... Champions Chester have been weakened by the return of loan signings Lewis and Nathan Turner, who have been recalled by Leeds United...

The Shaymen's display at Altrincham saw them grow in confidence with Aspin having made eight changes. But goals from Marsden cricketer Nicky Clee and from former Halifax man Matt Doughty proved decisive. Town struggled to create clear cut chances, apart from the occasional shot from Alex Johnson, but put up a fight".

The Chester Chronicle states that "Chester FC make their way to FC Halifax Town with Neil Young admitting he could never have imagined there being such a big gap between the sides going into the final two games of the season.

The newly champions will kick-off this evening's Shay encounter with a staggering 29-point lead over the pre-season title favourites... Young said, 'Externally, people may use their pitch as an excuse but you don't get 29 points clear because of someone else's problem. You get 29 points clear of someone because you're doing something right. Halifax were my tips to win the division at the start of the season and, don't get me wrong, if they hadn't had the problems they've had with the Shay I think they would be closer.

But if people try to use anything other than our performances this season as the barometer then they would be wrong'.

Young, who is backing third-placed Brackley to win the play-offs, has seen his side lose back-to-back league matches for the first time in three years. He accepts some players may be 'switching off' after winning the title earlier this month and the Cheshire Senior Cup last Wednesday. But he feels tiredness is a bigger factor.

'People have got to realise we haven't got the biggest squad in the world, we're down to 15 players', said Young, who could be hit with a touchline ban after being sent to the stands in Saturday's 1-0 home defeat to Solihull Moors.

'Our job has been done. We've won two trophies. People who criticised us on Saturday have got to be realistic... We've put so much into the season and getting to 103 points has been very difficult'".
---
25 April 2013
A WORD IN THEIR EAR
John Edwards, Altrincham FC's joint Press and Media Officer, writes that "Lee Sinnott leads Altrincham into next week's promotion play-offs, intent on maintaining the drive and energy that arguably makes them the team to fear among the four contenders.

In-form Alty warmed up for Tuesday's semi-final first-leg with a 2-0 win over promotion rivals FC Halifax, but only after a half-time ticking off from taskmaster Sinnott.

'I had a little word in their ear at half-time, because I felt the game had a bit of a testimonial feel about it, and I wanted to make sure we kept our momentum going,' explained the Alty boss, whose side secured a play-off place with a resounding 6-0 win at Hinckley United. 'We played some nice stuff in bits and pieces in the first half, but there wasn't the concerted momentum I was after, and it was pointed out.

'If you're on a race horse and you sense it's getting a bit lazy, you get the whip out and get it going, and that was the case with us. But credit to the players for the reaction I got. The second half pleased me, because it told me what the possibilities ahead could be. I particularly enjoyed the passing move for the second goal. It was incisive, there was a tempo about the passes and Matt Doughty finished superbly to wrong-foot the keeper.

'Now we have to keep that up, because momentum is so important going into the play-offs.'

Alty must wait until after Saturday's visit of Droylsden to discover whether Brackley or Guiseley will be visiting Moss Lane on Tuesday night. It depends whether Alty finish fourth or fifth, but Sinnott isn't bothered either way.

'If you try and manufacture something like that, you can easily lose your focus,' he said. 'When that happens, and you take your foot off the pedal, it can be hard putting it back down again. So I would rather my boys played at full tilt, like they did in the second half against Halifax, and we will take whoever comes our way.

'For me, that shows no fear. It shows a strong mentality, so wherever we finish and whoever we play is fine by me.'

Danny Boshell, Carl Rodgers and Nicky Clee will all be monitored after being substituted in the second half with slight leg muscle complaints.

'Danny had a bit of a twinge in his hamstring at Hinckley last Saturday,' said Sinnott. 'Of course, your body cools down a bit during half-time, so once he felt it slightly, early in the second half, we brought him off. It was the same with Carl, while Nicky started to feel a bit of tightness as well. We weren't prepared to take chances with any of them, but it will be a case of seeing how they progress over the next few days.'"
SCOTT'S THE MAN YOU'RE LOOKING FOR
Altrincham's 20 year-old defender Scott Leather has developed this season as a versatile and dependable player who knows his job and gets on with it. Off the field Scott can, likewise, do an excellent job for any employer seeking an engineering apprentice.

"Attention all Altrincham FC supporters with engineering connections. Our young defender Scott Leather is looking for an engineering apprenticeship to run alongside his football career. Scott is currently completing an NVQ Level 2 in Performing Engineering Operations. Anyone who can help with this request can contact Scott through the club. Please share with friends and associates. Thank you for your support".

You can contact the club during normal office hours on 0161 928-1045 or by e-mail.
TUESDAY'S GATES
Altrincham v FC Halifax Town 990
Harrogate Town v Guiseley 414
Hinckley United v Bishop's Stortford 204
Oxford City v Gainsborough Trinity 180
Solihull Moors v Histon 185
TASC GOAL RUSH
TASC's Paul Salt writes that "Altrincham's fine 2-0 victory over FC Halifax last night takes their total goal tally in all competitive league and cup matches to 110 for the season to date. The TASC Goal Rush Scheme includes a draw for every 10 goals scored, in addition to the end of season draw for two prizes of a signed match ball and shirt.

The draws for the 90th, 100th and 110th goal benchmarks will all take place on Radio Robins at half time during the commentary on Altrincham's final home league game against Droylsden on Saturday 27 April. Don't forget to tune in to Radio Robins for full match commentary starting at 2.55 pm".
OLD BOYS
Old boys in the goals this week include AFC Fylde's Jimmy McCarthy who netted as they beat Frickley 3-2, and Andy Smart scored one of Trafford's four goals at Ossett Town.
BPA VIDEO
Bradford PA have video highlights of last week's windswept game against Altrincham.
BEER FESTIVAL
Steve Foster writes, "I'm sure many of you are aware that this weekend we have the beer festival, as well as the end of season Race Night with the player awards. Both these events are vitally important to the club. The money raised by them will be used to supplement the budget that the club can give to the manager in order to assemble the squad for next season.

We have tried to keep everyone up to date with what's going on over the weekend, and details are available here.

Please feel free to ask any questions about the event, we will try to answer them as best we can. There will be 18 beers, 3 ciders and wine available from the festival bar. The main bar will be open as usual.

We would like to encourage everyone to support the beer festival, and race night, in any way that they can. The organisers of the festival have spent a lot of time organising the festival, and we need your help to make it as much of a success as we hope it will be.

What can you do to help?

Firstly, come along to the festival if you can! The festival will be active from Friday evening all the way through to Sunday early evening. If you can make it along, please do so. Last year, I believe everyone enjoyed the event. Hopefully, it will be as enjoyable again this year.

Secondly, tell your friends about it. The more people who come along to the festival the better.

Thirdly, If you can assist with any jobs, from working on the bar for a while, to helping tidy up over the weekend, please let us know. All assistance would be greatly appreciated. If you can help, please can you email me

Any assistance will help to supplement the playing budget for next year!"
SHAYMEN'S VIEWS
Following Tuesday's defeat, FC Halifax Town report that "A vastly-changed FC Halifax Town side slipped to a defeat away to fellow promotion-chasing Altrincham..

After a top-five place was secured last weekend, Neil Aspin chose to rest a number of his key players for the trip to south Manchester, which resulted in an unusual-looking starting line-up. Making his return from suspension was Ryan Toulson, though he was deployed in central midfield, ahead of returning defender Liam Hogan, who made his first appearance for two months following injury.

Despite the patched-up side, though, Town equalled their hosts across the first 45 minutes, despite Altrincham sending out a full-strength side.

Alex Johnson, who was given a rare starting birth on the left side of midfield, believed that Town were unfortunate to lose, especially considering the equal nature of the first half, during which the Shaymen crafted out a couple of chances of their own.

'We were unlucky tonight', the striker told Shaymen Player. 'We've had a couple of chances in the first half, especially me, one where I half-turned and hit it. [It] could have easily gone in. If I had scuffed that, it could have been one-nil, I think I hit it a bit too clean to be honest.

That was their full strength team and we've made eight changes, so that wasn't our strongest team. I think in the first half we were the better team but in the second half they edged it, to be fair, scoring two goals. They did have their full strength team out and we had a lot of players who have played throughout the season, in every game [ne fewer than Alty have played in the league], needing rest so you have to take that into consideration'...

'There's still pressure on individuals because they want to play in the play-offs. He [Liam Hogan] was class tonight, I think we've missed him to be honest in the last few games. He was solid, so it's great to have him back, he's a brilliant defender...

Neil Aspin made eight changes to the side that drew 1-1 with Guiseley on Saturday... 'It was a big risk', he said. 'Because I know Altrincham are strong and were playing a full strength team. But I couldn't look beyond the fact I had to rest the players and we took that chance by including some lads who are still at college. We had to make the changes and have done that, first-half I was very pleased but there wasn't much in the game really.

I know we didn't make much going forward, but we certainly restricted Altrincham to not many chances on goal, so the players have done well. The main thing for me is that we have been able to give nine or ten lads a rest tonight and we will look how we need to play them on Thursday and Saturday before the playoff games'.

The amount of changes was a surprise to some fans, with them under the impression that yesterday's clash with Altrincham holds more weight than the one against Chester on Thursday. But Aspin has stated... 'It doesn't matter if we finish in fourth of fifth... Obviously Altrincham are a strong opposition, but I had already made my decision and tonight wasn't a case of the result, it was a case of giving some players who haven't played a game, and resting the others. I have to take the result on the chin which is not important in the scheme of things, but it is more aimed at what we need to do next week'...

Aspin added that 'Some of the lads that played tonight will play against Chester and will we mix it up before looking at Saturday's game'".

Town's Liam Hogan said, 'The lads have worked tremendously hard and got themselves in the position where we can afford to put a few people out, get them some minutes and make sure everybody is 100% ready going into the playoffs'".

According to the Halifax Courier, "Neil Aspin said he had to make changes to his side... at play-off rivals Altrincham... The Town chief added, 'We respect the ability of both lads up front for Altrincham, we know they can score a lot of goals, but I thought our defenders did well against them... It was a good workout for us. The result wasn't vital but it was important that the lads who went out gave a good account of themselves. It wouldn't have done to get well beaten at this stage but next week's result is the important one'".
BSBN NEWS
This is Lincs reports that "Dennis Greene has not ruled out a summer swoop on county rivals Gainsborough Trinity as he sets about rebuilding his Pilgrims squad. The Boston United manager is putting together a hit-list of around a dozen players he would like to see at the Jakemans Stadium next season.

And with Gainsborough Trinity looking likely to trim their squad due to the forthcoming departure of chairman Peter Swann, Greene has admitted he will be among the football managers keeping an eye on the situation at the Northlome.

'There are obviously a number of good players at Gainsborough and there are probably three or four of them who I think could do a job here and will be on my list', said Greene... 'With a list of 12 or 13 players, if we can get five or six in at Boston, I would consider that to be a good outcome. For any of the Gainsborough players to come here, I would imagine they would have to lower their expectations in terms of money, because they have been spoiled a little bit over there'.

Greene was disappointed with his side's performance at Histon on Saturday. The Pilgrims boss described the 1-1 draw as possibly the worst performance since he has been at the club...

'Of course I have decisions to make about who should stay and who should go', said Green... 'This squad has been together for quite some time and over the past two or three years, as a group, they have obviously not been quite good enough and something has to be done about that. I want another striker and another midfielder, but the problems have really been at the back, so there are obviously a few defensive players on my list'".
---
24 April 2013
ALTRINCHAM 2 FC HALIFAX TOWN 0
Altrincham moved into fourth place as they completed a league double over the Shaymen.

Match report here.
WELL DONE!
Altrincham FC supporter Graham Jackett completed the London Marathon in a commendable 4 hrs 11 mins and he hopes to have raised in excess of £700 for the Motor Neurone Disease Association, for which he thanks all who have sponsored him. Graham adds, "However I can't let this moment pass without adding my tribute to that amazing man Mark Maddox who, I am sure, makes all who competed feel very humble.

I know how hot it became as the day progressed and for Mark to do as well as he did is truly remarkable. Any aches and pains I have pale into insignificance".
£3,000 JACKPOT TO BE WON
The jackpot in the Altrincham FC Saturday Yankee stands at £3,000, after no one had the winning code of 9379. There were, however, two winning "trebles", each netting £100.
JIMMY McKIERNAN TROPHY
The winner of the Jimmy McKiernan "Goal of the Season" award for 2012-13 will be the Altrincham player who is judged to have scored the best goal in the current campaign. The shortlist of nine goals is:-
Duncan Watmore v Brackley (H).
Duncan Watmore v Harrogate (A)
Damian Reeves v Chester (H)
Duncan Watmore v Corby (A)
James Lawrie v Boston (A) FA Cup.
Simon Richman v Boston (H)
Shaun Densmore v Gloucester City (H)
Duncan Watmore v Corby (H)
Damian Reeves v Oxford City (H)
Please e-mail, or phone the office (0161 928-1045), with your name and choice.
PREMIER TV PLAYER
The Football Conference announces that "Premier Sports have launched their Premier Player offering those without Sky TV in their homes the chance to view their favourite sports. Now you can see 24/7 coverage of the Premier Sports channel, including all the Blue Square Bet Premier action.
This includes a seven-day Catch-Up service allowing you to watch any live or delayed event from the previous week. The service is available in superb quality, (up to 5mps), and is viewable on all major devices from IOS (Apple) to Android and PCs.
If you are interested in the Player, please visit here for more information.
If you are already an existing subscriber with Premier Sports TV, PremierPlayer is a FREE additional means of watching the Play Offs and the Promotion Final this season. Just log onto the service, go to SUBSCRIBE and enter your viewing card number".
---
23 April 2013
MIDWEEK GAMES
Monday 22 April
Bradford Park Avenue 1 Colwyn Bay 2 - Bay's fifth successive win.

Tuesday 23 April
Through the Years by Howard Watts
Altrincham 2 FC Halifax Town 0
Harrogate Town 1 Guiseley 2
Hinckley United 1 Bishop's Stortford 5
Oxford City 1 Gainsborough Trinity 1
Solihull Moors 1 Histon 1

Thursday 25 April
FC Halifax Town v Chester FC
Stalybridge Celtic v Oxford City
LADIES' DATE
Keith Edleston confirms that his Altrincham FC Ladies team's next fixture is in the Cheshire FA Women's League Division Two, at Manor Farm, Ridgeway Road, against Wilmslow Town. The game is on Thursday, 25 April at 6.30pm
AT THE HELM OF RADIO ROBINS
John Edwards, Altrincham FC joint Press and Media Officer writes...
"He has described the action at major events across the world, and internationally-renowned broadcaster John Helm can now add another entry to his impressive CV – Altrincham's Conference North game at Bradford Park Avenue.
Left: Brian Flynn, Tim Ainsworth and John Helm in action.
A veteran of no fewer than eight World Cups, the Bradford-born former ITV commentator's face and voice are instantly recognisable throughout the land, and beyond. He has never forgotten his roots, though, and when Alty's joint press officer Brian Flynn invited him to join the Radio Robins team at Bradford's Horsfall Stadium last week, he did not hesitate.
'Park Avenue have always been my club,' he said, as he prepared to help Brian and Tim Ainsworth cover Alty's 2-2 draw. 'I remember my dad taking me to see them beat Accrington Stanley 4-0 in 1953, and that was it. I was hooked from then on. The atmosphere at the old ground was magical, and it became very much my spiritual home.
'I still follow the lads here at the Horsfall, and I remember going to a game at Hyde and being buttonholed by someone who asked if I would do an interview for them. I said I'd gladly do whatever they wanted, so they then said how about commentating. Brian got to hear about this and sent me a message asking if I would do an Altrincham game. I said I'd be only too delighted, and what better than a game against Park Avenue?
'I've done my research, too. I can tell you the exact starting line-up and formation Lee Sinnott went for last Saturday, so as long as I pronounce the names correctly, I should be all right.
'Broadcasting was part of my upbringing in journalism, from the moment I joined BBC Radio Leeds in 1970, and I love talking about football, so I didn't have to think twice when I got that message from Brian. It's an absolute delight to be making my debut on Radio Robins.
'I'd like to wish Alty all the best for the rest of the season, as well. We have done better than anyone dared imagine, after being promoted last season, but I know expectations at Moss Lane are higher. Funnily enough, I've just been talking to your secretary (Derek Wilshaw) about those famous Cup exploits and names like John King and Graham Heathcote. It would be good if you could get back to that level.'"
PLAYER OF THE SEASON 2012-13
TASC chairman, Brian Flynn, writes, "Have you voted for your 'Player of The Year' yet? You can still vote by email for your 'Player of The Year' until midnight on Wednesday (April 24th). Please email Geoff Morris with your first, second and third choices.

Paper voting forms will also be available in the TASC section of the club shop at the home game with FC Halifax Town on Tuesday night. The winner and runners-up will be announced on Saturday night during the TASC Race Night in The Noel White Suite".
MARK'S MARATHON EFFORT
The BBC Marathon Stories feature the magnificent achievement of Mark Maddox in completing the London Marathon. The section on Mark occurs at 4 hours 3 mins 30 seconds into the recording.
BSBN NEWS
The Nuneaton News reports that "Promotion-chasing Altrincham confirmed their place in the Blue Square Bet North play-offs with a convincing 6-0 win over Hinckley United on Saturday. The Knitters, having drawn 2-2 with Droylsden less than 48 hours earlier, were thin on bodies, and could only name two substitutes – manager Carl Heggs and goalkeeper Rob Peet.

It took the visitors 39 minutes to break the deadlock, but once they did there was no looking back as they took advantage of tired Hinckley legs to score five in the second half. It could have been more too, if it wasn't for Ashley Timms, who made numerous good saves...

Peterborough United scouts are rumoured to be watching Watmore, and it was easy to see why as he struck a sweet strike goalwards, only to see it superbly turned behind by Timms".
Ahead of Tuesday's clash, FC Halifax Town report that "Fresh from securing their playoff place on Saturday, FC Halifax Town now have the chance to secure a clash against Brackley if they beat Altrincham on Tuesday.
The Shaymen cemented their place in the top five with a hard fought draw against second-placed Guiseley... Town gruelling fixture list now sees them face another of their playoff nemesis' on Tuesday, before taking on league champions Chester on Thursday.
With their playoff destiny already secured, you would excuse Manager Neil Aspin for giving his players a rest. However, the Shaymen gaffer will still want to finish as high as possible and thus it is unlikely there will be drastic changes to his side which are now unbeaten in six.
One player that could return is long absentee Liam Hogan. The centre-back is still recovering from a knee injury that has kept him out of the run in, but could be in contention for the playoffs and has been training with the squad.
Jon Worthington also missed out at the weekend after being removed with thigh injury during the clash against Harrogate, but could feature on Tuesday. Captain Danny Lowe, who hasn't missed a single minute of Blue Square Bet North action this season may also be rested...
The Robins' recent form has been impressive and they are currently unbeaten in five games... Altrincham's home form has been much more consistent than on the road this season, having won 13 games, whilst drawing one and losing only five at Moss Lane. Away from home, things have been a little more suspect but ultimately still impressive - winning nine, drawing seven and losing a further five...
Another key player for Altrincham who was influential when the two sides last met is Duncan Watmore. The striker provided all four assists that day and is a constant threat for the Robins with fourteen league goals to his name".
BSBN adds that "FC Halifax Town boss Neil Aspin expressed his relief after seeing his side secure their play-off place... He told the Halifax Courier, 'I'm really pleased. Nobody wants to be going into the last week needing points with the number of games we've had and the difficult games we've got coming up. It's a relief to get over the line... I thought we could have a go at them for 45 minutes but I didn't think we'd be able to press high up for 90 minutes, not with the number of games we've had'".
The Yorkshire Evening Post says that "At half-time Halifax's manager Neil Aspin changed Town's formation and it worked with Lee Gregory equalising just two minutes into the second half...
After the match Guiseley manager Steve Kittrick said, 'We need to stay professional to get through the play-offs'. Halifax boss Aspin enthused... 'If we want to get fourth spot then we will have to beat Altrincham and take points this week'.
Harrogate Town had to settle for a goalless draw with visiting Stalybridge Celtic on Saturday, a result which leaves it impossible for Town to make the play-offs. But it was a case of a point gained for Simon Weaver's men who saw 'keeper Jose da Veiga dismissed after just 11 minutes. Defender Matt Bloomer took over the goalkeeper gloves and pulled off one fantastic save to ensure the hosts took a share of the spoils.
A sixth-placed finish is the best Town can now hope for with the play-offs also out of reach for Bradford Park Avenue".
OLD FOES
According to the Gravesend Reporter, "My Football Club members have voted to relinquish control of troubled Ebbsfleet United today. Almost 70 per cent of those who voted want the club's owners to sell their shares, compared to 17 per cent who want MyFC to sell just enough shares to stay in control and 11 per cent who want the club placed in administration.

Carlos Kabir Kurani, a 38-year-old businessman from the Canary Islands, has been identified as a potential investor and has said he will wipe out the majority of Ebbsfleet's debts if he takes over.

A statement from protest group Fleet Against MyFC said, 'We are delighted that 70 per cent of My Football Club members saw fit to realise that their model of ownership does not work... Although not ideal we hope that the Fleet Trust can seek a solution and work with the club to end the hopeless ownership of My Football Club and that a swift agreement with Carlos Kabir Kurani can be arranged'".
---
22 April 2013
WHAT A MAN!

Former Altrincham FC captain Mark Maddox has completed the full London Marathon despite having suffered from motor neurone disease for more than two years. "Mad Dog" completed the race in 6 hours, 40 minutes and 26 seconds. His progress can be tracked here.

All at Altrincham FC are in awe of his achievement and congratulate him on his success.

Mark was running for the Motor Neurone Disease charity and donations can be made through his Just Giving page.

Mark was cheered on by Kent-based Alty supporter Ian Rosendaal, who has kindly supplied the attached photo (left) of Mark taking part in the Marathon. Mark and his friend Tony Whitfield are pictured, right, at the end of the race, (photo courtesy of Sarah Rowley).

Before he completed the London Marathon on Sunday, the BBC reported that "Mark Maddox, 40, is determined to cross the finish line of the London Marathon, despite doctors warning that his chances of finishing are 'slim'. Diagnosed with motor neurone disease (MND) in 2010, Mark now finds it difficult to walk and talk.

The ex-Altrincham FC footballer will run the 26-mile race on Sunday - his second marathon in the past year. He will be joined by friend Tony Whitfield as they raise money for the MND Association.

'I'm nervous and excited', he said. 'It's going to take a huge amount of effort to get me round'. Mr Maddox played football for Altrincham FC for 10 years and, after attaining his prestigious UEFA "A" Licence, was planning to become a football coach. But, after being diagnosed with MND, he was forced to give up his football career, a situation he described as 'devastating'.

MND is a disease that attacks the nerves in the brain and spinal cord. It generally leads to weakness and muscle wasting as messages from the brain stop reaching muscles...

Sarah Milner, secretary of the Merseyside branch of the MND Association lost her brother to MND. 'It is a horrible disease,' she said. 'Mark is an inspiration to all of us and it's a pleasure to be involved with what he does'...

'I miss the things I used to take for granted the most, like playing with my kids', he said... 'I'm confident that I'll finish', he said. 'When the crowd get behind me I know I'll make it. I want to raise awareness for people with MND who can't take part'.

Mark's wife, Jayne, and three children, Sonny, 12, Vinny, seven, and Bo, four, will be in London to cheer him on and he's had lots of support from friends who have helped with his fundraising. 'I'm unlucky to have MND but very lucky to have the friends and family I have', Mark said.

'I'm blessed; they help me and keep me positive'".
CUNNING PLAN
When Altrincham were promoted to the Conference National in 2005, they needed a penalty shoot out at Nuneaton Borough to ensure their progress towards a successful showdown against Eastbourne Borough at the Britannia Stadium, Stoke.

Mindful of that possibility recurring in 2013, part of the Altrincham campaign to lull their potential play-off opponents into a false sense of security has been to miss ten penalty kicks this season.

In all, Altrincham have been awarded sixteeen spot-kicks this season, which are all listed below. All of them were in league matches unless shown otherwise. Belying accusations that referees are "homers", 12 of the 16 have been awarded in away games. In the four home games in question, two kicks have been converted; in the twelve away from home, just four have been netted.

The effect of the misses has been a total of 10 fewer goals scored, which would have made our goal difference the same as Halifax's. Six league points were also lost through missed penalties as the games against Gloucester City, Guiseley and BPA all ended in draws after a missed Alty penalty. In the FA Cup, Alty lost prize money against Burton Albion and also potential income in later rounds.

But now that at least four potential penalty takers have got the gremlins out of their system, confidence is sky-high that should a shoot-out be necessary, Alty will win it!
4.9.12 v Gainsborough Trinity (away).

MISSED. This was the least damaging miss, as Damian Reeves netted the rebound after the keeper had saved.

8.9.12 v Oxford City (away)

SCORED. Reeves nets just nefore the interval.

8.9.12 v Oxford City (away)

SCORED. Reeves nets again from the spot in the second half.

22.9.12 v Shilton (away), FA Cup2QR

MISSED. Again Reeves's shot which hit the top of the cross bar was not a costly miss as Alty won 3-0.

13.10.12 v Corby Town (away).

MISSED. Reeves's third miss was on target but saved by the keeper. Alty won 5-2 so, again the only damage done was to the goal difference.

13.10.12 v Corby Town (away)

SCORED. Matt Doughty takes over from Damian Reeves and scores.

4.11.12 v Burton Albion (away) FA Cup Round 1

MISSED. Again the keeper saved a Reeves effort. As the game ended 3-3 and Alty lost the replay, this was costly in financial terms.

17.11.12 v Hinckley United (home)

SCORED. Ryan Brooke scores Alty's sixth, from the spot, in an 8-0 win.

26.2.12 v Gloucester City (away)

MISSED. This time Reeves hit the penalty wide and the game ended goalless, so two points were lost as a consequence.

1.1.13 v Stalybridge Celtic (home)

SCORED. Damian Reeves converts the penalty award.

5.1.13 v Harrogate Town (home)

MISSED. Matt Doughty's kick was stopped by the keeper, an outfield player who had taken over from the red-carded custodian. Alty won 3-0 so, again, no loss of points was incurred.

5.3.13 v Droylsden (away)

SCORED. Shaun Densmore takes on the job of penalty-taking and is successful.

13.3.13 v Solihull Moors (home)

MISSED. This time Densmore's kick which is comfortably saved. But Alty won 2-1 to spare the Alty captain's blushes.

11.4.13 v Guiseley (away)

MISSED. Ryan Brooke was the culprit this time - his kick was comfortably saved and apotential win became a draw - two points dropped

17.4.13 v Bradford PA (away)

MISSED. Matt Doughty had his penalty saved in a 2-2 draw, so two points were lost.

20.4.13 v Hinckley United (away)

MISSED. Damian Reeves tries again but blasts his kick well over the bar. However, a 6-0 win meant there was no loss of points.
CHEERS!
The latest ale to be announced for the Altrincham FC beer festival is Northern Brewery's "Hit & Run", 4.5% ABV, sponsored by David Forster and family.
PLAY-OFFS
Altrincham qualified for the BSB North promotional play offs with their win at Hinckley on Saturday. The play offs, as previously announced, will take place as follows.

Tuesday 30 April: Play-Off Semi-Final, First Leg.
Fourth v Third
Fifth v Second

As Altrincham cannot finish higher than fourth, they will be at home on the above date.

Saturday 4 May: Play-Off Semi-Final, Second Leg.
Third v Fourth
Second v Fifth

Sunday 12 May: Play-Off Final

Match to be played at the ground of the higher placed team.

Away goals do NOT count double at any stage of the play-offs. Games go to extra time and, if necessary, penalties if the aggregate scores are level.

Also, please note that Play-Off games are NOT covered by season tickets. Admission will be by payment at the turnstiles.
ADAM'S HAT-TRICK TO NO AVAIL
The FA reports how "Bedfordshire win County Youth Cup on penalties after dramatic comeback against Manchester. Bedfordshire 4-4 Manchester, Bedfordshire won 4-2 on penalties".

Manchester "must still be wondering how this match managed to slip from their grasp. Manchester's three second-half goals through young substitute, Josh Smethurst, and a brace from Adam Bezzina [of Altrincham FC], looked to be sending them comfortably to Cup glory. However, Bedfordshire had other ideas...

Manchester tried to hang on but, with two minutes of stoppage time remaining, Terry was again on hand to grab a dramatic equaliser... Bedfordshire captain Leigh Stevens looked to have sealed the win in the 112th minute, heading powerfully home past Matthew Green. It was not to be, though as two minutes later Manchester levelled from the penalty spot. Bezzina's shot from 12 yards was initially saved, but he followed up to bury the rebound.

With the score level at 4-4 at the end of extra time, the match went to penalties. Two failures from Manchester left Terry with the task of completing Bedfordshire's unlikely resurrection and he slammed his penalty home off the underside of the crossbar to send both his team and their travelling fans into delirium".

Attendance at the game at Rochdale FC was 558.
HINCKLEY - AGAIN
Brian Flynn informs us that the Radio Robins commentary from Hinckley is now available.
Second Half
OLD BOY
Macclesfield Town report that an ex-Alty loanee, "Macclesfield Town's hard-working midfielder, Sam Wedgbury, has won both the fans and players' player of the season awards at an event after the 2-1 win over Cambridge. The player, who has just completed his third season at the Moss Rose made his 100th League appearance for the Silkmen as they came from behind to win this afternoon's game".
---
21 April 2013
YOUTH GAME ABANDONED
Altrincham FC Youth's game on Sunday against NJ Wythenshawe Juniors in the Manchester FA youth competition was abandoned by the referee after barely half an hour of play, following a number of unsavoury incidents. Alty were leading two-nil at the time, with goals by Louis Potts and Oliver Riley.
HINCKLEY UNITED 0 ALTRINCHAM 6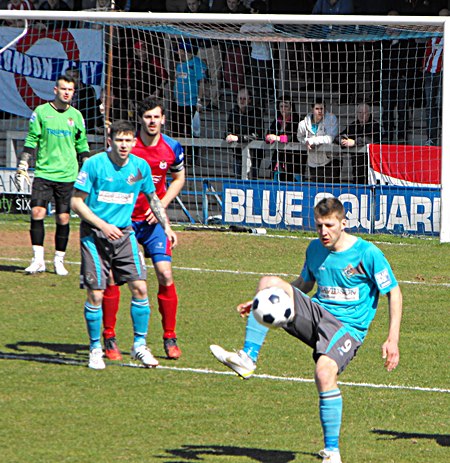 Right: James Lawrie controls the ball at Hinckley as Damian Reeves looks on.
Match report here.
Results elsewhere confirmed Altrincham's place in the play-offs.
LATEST BEER ANNOUNCED
The latest beer to be announced for the Altrincham FC Beer Festival is Northern Brewery Navajo, 3.9% ABV, sponsored by Nic Sellar.

As well as the Altrincham v Droylsden match on Saturday, 27 April, there are three other football matches during the period of the Beer Festival. Don't miss them!
Friday 26 April: Altrincham FC Staff v Altrincham FC Supporters; the annual clash, which is always an entertaining affair, 7pm
Sunday 28 April: Altrincham FC Former Players v Altrincham FC Juniors' Coaches, 11.30am
Sunday 28 April: Altrincham FC Ladies v Wallasey Wanderers, 2pm.

Apart from the first-team match on Saturday afternoon, the other games are subject to the pitch not having been damaged by any bad weather.

Click on the poster for details of the Festival.
GATES
Attendances on Saturday:
Bishop's Stortford 2 1 Bradford Park Avenue 402
Brackley Town 2 0 Worcester City 382
Chester 0 1 Solihull Moors 3,414
Droylsden 1 3 Oxford City 166
FC Halifax Town 1 1 Guiseley 1,598
Gainsborough Trinity 2 1 Vauxhall Motors 431
Gloucester City 0 1 Corby Town 355
Harrogate Town 0 0 Stalybridge Celtic 430
Hinckley United 0 6 Altrincham 534
Histon 1 1 Boston United 487
Workington 1 2 Colwyn Bay 412
DANNY'S BRACE
Danny Mitchley, on loan at Kendal Town, netted twice for the Cumbrians in their 5-3 defeat by Stocksbridge Park Steels on Saturday.
OLD BOYS
Old boys in the goals in the EvoStik League on Saturday included Buxton's Kieran Lugsden and Ashton United's Chris Baguley. Our neighbours Trafford lost to Prescot Cables, where Adam Reid is on loan and one of the Cables' goals came from Carl Furlong.
BSBN NEWS
NL Daily reports that "Oxford City's managing director Colin Taylor has stressed that the appointment of Florida-based businessman Thomas Anthony Guerriero as their new president and director did not mean the club had found its own sugar daddy.

Guerriero, the founder and chief executive officer of WMX Group Holdings Inc, will be part of a new international holding company, Oxford City Football Club LLC, which will jointly own the club, together with the Oxford City Charitable Company.

But Taylor, who has been the club's MD for eight years, said the deal did not mean the Blue Square Bet North club would be splashing the cash.

'Thomas is a wealthy man', said Taylor. ,But as you know, we do things differently here. The last thing we want is someone who will keep writing cheques. It's all about contacts and expertise and the Oxford City brand...

For the past six months we have been in discussions with WMX about raising our profile. The charity will still has control of the club. We are now in a position to get the ball rolling. Thomas spent last week with us and was impressed by what he saw. He knows his football. WMX are very much into sport and education and we were looking for someone to fit our profile."

Guerriero said, 'This is a dream come true for me personally. I plan to build on the great successes over the last 131 years of Oxford City by assisting in the expansion of both the Oxford City brand and the Oxford City Academy globally. We are confident this will put City in a tremendous position to maximize the club's potential on every level'".

Wikipedia tells us that Oxford City's honours since 1882 are:
Best league performance: second in Southern Premier League 2011-12 - Playoff winners
Best league performance: second in Isthmian League, 1934–35 and 1945–46
Best FA Cup performance: Second Round Proper, 1969–70 (First Round also 1933–34, 1966–68, 1970–71, 1999–2000, 2009–10)
Best FA Amateur Cup performance: Winners, 1905–06
Best FA Trophy performance: last 64 (First Round Proper 1995–96, Third Round Proper, 1999–2000 and 2002–03)
Best FA Vase performance: Final, 1994–95

According to the Football Conference, "Evo-Stik League Southern Premier Division club Cambridge City have announced a groundshare agreement with neighbours Histon. The agreement, which will start as from the beginning of next season, will last for two years, with an option to extend.

The deal brings to an end the uncertainty surrounding speculation as to where the Lilywhites will be playing next season...

Both clubs have welcomed the groundshare agreement. Histon chairman Russell Hands said, 'We are pleased to reach an agreement with Cambridge City. Once it became apparent that Cambridge University Press were not going to renew their current ground share arrangement with us, we began dialogue with Kevin Satchell and other representatives from City. We have already formed a strong relationship, and I believe it is in the best interests of both clubs to work and co-operate with each other so we can have a bright future'.

Meanwhile, City chairman Kevin Satchell commented, 'I hope our supporters will now embrace the temporary arrangement with Histon. It will be a new experience for everyone involved with Cambridge City, but it is important that all of our fans stick together during the ground share era whilst we pursue a new permanent home at the proposed site in Sawston'".

Alty's next opponents are FC Halifax Town who drew with Guiseley on Saturday. "The Shaymen only needed one point against Guiseley... Neil Aspin sent his men out in an unusual 5-3-2 formation, with James Bolton and Adam Jackson joining the usual Matt Pearson, Scott McManus and Danny Lowe...

Guiseley took the lead from the penalty spot after Jamie Knowles caught Sebastien Carole in the area and former Town man James Walshaw converted, five minutes before the half time break...

Lee Gregory equalized just three minutes after the break after Scott McManus and Dan Gardner combined down the left wing and McManus's cross found the striker to stab home...

Town kept pushing Guiseley back, mainly due to the skill of Gardner... The atmosphere around the Shay had built as Town created chance after chance to try and ensure their play-off place...

The final whistle blew and [there was] a huge cheer from the fans as they knew the play-off place had been confirmed, after a hard fought draw".

The Halifax Courier adds that "FC Halifax Town secured their place in the play-offs for the second season running as they drew 1-1 with fellow promotion contenders Guiseley at the Shay.

The visitors took a deserved lead through Josh Wilson's penalty, but Town roared back after half-time, just as they had done at Nethermoor at the start of the month and drew level thanks to Lee Gregory and made it seven matches unbeaten thanks to a much-improved second-half showing.

There will be few surprises for either side should they meet again in the play-offs having played each other twice in April, and judging by those two meetings, there'll be little to choose between them.

Neil Aspin again made just two changes from his previous starting eleven, with Adam Jackson making his debut in place of Jon Worthington, while James Knowles replaced Danny Glover.

The Town boss reverted to a back three from the set-up against Harrogate, but Town lacked the early zip they had shown at Wetherby Road, perhaps not surprisingly though given that was less than 48 hours earlier and the cumulative effect of their April schedule.

Guiseley started in confident mood with sighters from the impressive Seb Carole and Gavin Rothery...

Not surprisingly, Aspin made changes at the interval, and his switch to a more attacking system paid off straight after the break when Gardner's superb flick released Scott McManus down the left and his delightful cross was tapped in by Gregory for his 20th of the season too.

The alteration to 4-4-2 was the catalyst for a much-improved Town performance... An energetic cameo from fellow sub Alex Johnson also contributed to a more lively display by the hosts as they offered a far greater threat going forward...

Halifax: Glennon, Bolton, McManus, Jackson (Moke 46), Pearson, Lowe, Worsley, Knowles (A Johnson 46), Williams (Seddon 83), Gardner, Gregory. Subs not used: Senior, Glover

Guiseley: Drench, Hardy, Meynell, Rea, Ellis, Matt Wilson, Carole (Mullen 73), Holdsworth, Josh Wilson, Walshaw (Marsh 68), Rothery (McWilliams 68). Subs not used: Bower, Giles".

From the other side, Guiseley head their report "Lions go for stroll in spring sunshine. With the pressure off after having secured second spot courtesy of Town's draw at Harrogate on Thursday, Guiseley came away from the Shay with a deserved share of the spoils... Whilst Halifax may claim they were unlucky, truth be told, the Lions never really looked under any immediate pressure and broke up the home side's attacks with relative ease".
---
20 April 2013
SATURDAY'S GAMES
Bishop's Stortford 2-1 Bradford Park Avenue
Brackley Town 2-0 Worcester City
Chester 0-1 Solihull Moors
Droylsden 1-3 Oxford City
FC Halifax Town 1-1 Guiseley
Gainsborough Trinity 2-1 Vauxhall Motors
Gloucester City 0-1 Corby Town
Harrogate Town 0-0 Stalybridge Celtic
Hinckley United 0-6 Altrincham
Histon 1-1 Boston United
Workington 1-2 Colwyn Bay
GETTING THE JOB DONE
In the Manchester Evening News, Alty boss Lee Sinnott says, "Mathematically, while it's still possible for others to get in there [play-offs], we just have to give ourselves the best chance. You go from game to game and don't get ahead of yourselves, that is what I have been instilling in the players all season. If things benefit us, then OK, but we need to get our job done first.

The likes of Guiseley have been hovering around the play-off positions for a few years because they can always find a goal from somewhere and find a result. That is what we've done since Christmas; we have played some good stuff and got some good victories".
SATURDAY'S GAMES
Saturday 20 April
Through the Years by Howard Watts
Bishop's Stortford v Bradford Park Avenue
Brackley Town v Worcester City
Chester FC v Solihull Moors
Droylsden v Oxford City
FC Halifax Town v Guiseley
Gainsborough Trinity v Vauxhall Motors
Gloucester City v Corby Town FC
Harrogate Town v Stalybridge Celtic
Hinckley United v Altrincham
Histon v Boston United
Workington v Colwyn Bay
BEFORE THE MATCH
News of our opponents on Saturday comes from Pitchero Non-League which informs us that "Hinckley United are featured in this month's 'Football Focus' magazine. The article focuses on the infrastructure, challenges and ambitions for the Club. The views of the Club's Directors and staff form the main part of the article that can be found on page 133".

And confirmation comes that "Hinckley United's home game against Altrincham on Saturday 20th April, is being held as a community day. The day is being held in conjunction with sponsorship from The Hinckley Times newspaper and fans, supporters and the local community will be able to take a voucher from [the] paper and gain FREE Entry to the Greene King Stadium. The Voucher will contain an area in which the redeemer will need to complete with their name, address and email address if applicable.

St. Mary's Silver Band will take centre stage prior to the game and at half-time and we will also be holding a bucket collection for the club.

The Board of Directors hope that the local community come along and support the team after our great 6-3 win against Corby Town, as we will also have a presence from our 22 Junior teams and our Development structure".

Also the Hinckley Times says that "Hinckley United have once again been docked points, this time for not fulfilling a fixture back in December. A number of injuries and suspensions meant the Knitters had just nine players available for their home tie with Bishops Stortford on December 18 last year... The club was also fined £5,000 with £2,500 suspended for a year, however upon appeal the league decided to drop the suspended part of the fine...

Chairman Mike Sutton put forward Hinckley's case that another club who failed to fulfil a fixture earlier this season, Histon, were fined but did not receive a points deduction. However the authorities stood by their decision to dock the points.

Sutton said, 'The appeal was successful as they knocked it down from £5,000 to £2,500. We used Histon as our example as they did the same thing and had a £5,000 fine with £4,500 suspended, but were not deducted any points. The FA admitted that Histon should have been deducted points but they didn't go about putting it right by not taking our points off. That is typical of the FA who never say that they have done anything wrong.

It was a minor miracle that we only missed one game all season with the embargo in place for so long and they actually nodded when I said it was a shame they had to take this action'.

Despite the setback, Sutton says that plans for next season are going full steam ahead and a budget is set to be announced in the coming weeks.

"We are in negotiating terms for next season's budget which has already been to the board twice and we are confident we can give the manager the budget he requires', said Sutton. 'He has handed in the list of players he wants to retain and we are pretty much sorted on that... We will have a squad of about 18... We won't go in to the new campaign with wages owed from the season before, like we did going in to this season'".

This week Hinckley drew 2-2 with Droylsden, having led 2-0 before one of their players was sent off after retaliating following a Lewis Chalmers' challenge.

The Nuneaton News says that "Hinckley United are now unbeaten in two at home for the first time this season after drawing an action-packed game 2-2 with second bottom Droylsden on Thursday night. The Knitters went two goals ahead thanks to Liam Canavan, but Jack Lane's sending off changed everything, and Droylsden scored two second half goals to share the spoils...

After 39 minutes, the game changed. Lane felt he was fouled twice, once for a tug by Lewis Killeen, and then for a two footed tackle by Lewis Chalmers. Neither were given as fouls by referee Martin Dexter, and Lane retaliated by fouling Chalmers late from behind. A melee followed, in which Chalmers appeared to throw a punch at Lane, and the Hinckley winger was shown the red card.

Droylsden applied the pressure, and got a goal back after 71 minutes when substitute Matty Ward's 25 yard shot swerved past the outstretched fingers of Ashley Timms. Eight minutes later, Carlos Logan's deep cross was nodded in by Rob Sissons to level things up.

The Bloods then had the ball in the net twice, but saw both efforts ruled out for offside, before right at the death, Luke Richards raced in on goal, only to see his weak effort comfortably saved.

Hinckley: Timms, Kalonji, Branch, Chambaud (Bradshaw 72), Towers, Pickering, Lane, Hurren, Canavan, Richards, Brown (Moraka 30). Subs not used: Lopez, R Conway, Peet

Droylsden: Latham, Derbyshire, Killeen, Langford, Logan, Sissons, Chalmers (O'Neill 64), Gallagher, Grant, Gilchrist (Ward 64), Cox. Subs not used: McEvilly, Hall, Lattie".

Meanwhile, "Carl Heggs fears Hinckley United could be hit with another transfer embargo in the near future as they continue to battle debt. Former players including Phil Green insist they are owed wages and if they press their claim with the Football Association another ban on registering players could be introduced.

Heggs said, 'Of course it concerns me. It really frustrates me. No one can appreciate how hard I'm working to put a team together this town can be proud of. I can't worry about it anymore. I've just got to focus on building this team. If it happens it happens. I don't really want to talk any more about it'.

Hinckley's season has generally lurched from disaster to despair... Heggs said the latest points penalty will not impact on the players...

'It won't affect them. They've had plenty of knocks. There's no point looking at the league table', he said. 'I've told them that if they want to feel successful they should turn the table upside down! How many points we get doesn't matter at this stage. We are looking to get this season out the way, do as well as we can before then and look to next season'.

Heggs is hoping for good news as he looks to agree deals with Declan Towers, Harvey Headley and Gavin Hurren. Hinckley host promotion chasing Altrincham tomorrow... At the time of going to print Heggs had a full squad to choose from: M Conway, Timms, Peet, Towers, Malhotra, Branch, Hurren, Hartland, Moraka, R Conway, Chambaud, Kabeya, Agbor, Kalonsi, Lopez, McGrath, D Conway, Headley, Richards, Canavan, Brown, Baldwin, Lane, Pickering, Heggs".
LATEST BEER ANNOUNCEMENT
The latest beer announced for the Altrincham FC Beer Festival on 26-28 April at Moss Lane is Theakston's Dark Mild, sponsored by Ravenscroft and Co.
OLD BOY
NL Daily reports that "Alex Meechan is one of many AFC Telford players wondering whether the Blue Square Bet Premier season-closer at home to Hereford United will be their last game in a Bucks shirt. Several of the club's current squad are expected to depart this summer following Telford's relegation...

But striker Meechan, 33, is hoping to avoid the cull that will happen after tomorrow's game and admits he would love to still be there next season. Now in his second spell with the club, Meechan was brought in to assist caretaker boss John Psaras until the end of the season... Having impressed with his tenacity and fitness in training, he was quickly signed up as a player, too, and has enjoyed significant game time during the Bucks' end-of-season run-in...

Meechan has aspirations to go into full-time management but for now he is convinced that his immediate future remains partially on the pitch... He said, 'I would love nothing more than to be at Telford next season in some capacity and I feel that I have got plenty to offer. I have done my coaching badges and coached at academies and, like virtually everyone at this age, I want to go into management eventually. But I have still got a few years left as a player and my immediate ambition is to keep playing'".
BSBN NEWS
On Thursday, our guests at Moss Lane next Tuesday, FC Halifax Town "moved one step closer to securing their playoff place as they came from behind to draw 1-1 with Harrogate Town. Similar to Tuesday night's trip to Oxford City, Town fell behind in the first-half as Adam Bolder converted a penalty into the top corner after James Bolton's handball. But Bolton rectified this as he equalised for Town...

Neil Aspin made two changes to the side that succumbed to a late Oxford City equaliser on Tuesday night, with Dan Gardner and Jon Worthington replacing Liam Needham and James Knowles FC Halifax Town... 1) Matt Glennon 2) James Bolton 3) Scott McManus 4) Jon Worthington 5) Matt Pearson 6) Danny Lowe © 7) Chris Worsley 8) Sean Williams 9) Danny Glover 10) Dan Gardner 11) Lee Gregory. Subs: 12) Phil Senior 13) Adam Jackson 14) Gareth Seddon 15) Alex Johnson 16) James Knowles".

From the Yorkshire Evening Post, we learn that "Guiseley boss Steve Kittrick admits he has plenty of sympathy for his FC Halifax counterpart Neil Aspin and his side's exhaustive end-of-season schedule. The Lions, who need one point to secure second place in Blue Square North and home advantage in the second leg of the play-offs visit the Shay tomorrow, in what could be the first of four meetings between the derby rivals between now and May 14.

The pair meet in the West Riding County Cup final at Valley Parade in the middle of next month, while there's also a chance that they could face each other in the two-legged play-off semi-finals.

Guiseley have been grateful for a break in their busy schedule this week with no midweek games, but the slog has continued for the Shaymen, who face their tenth game in three weeks against the Lions tomorrow, with no respite afforded after that either.

Halifax face three additional league games next week with the regular season ending next Saturday and with their campaign set to be extended into the play-offs, look likely to have to play three games a week for a five-week spell.

Kittrick, who will adopt a pragmatic approach to selection in the coming days in order to ensure his players are ready for the real business of the play-offs, said, 'This week has been great for us. players have been with their families and rested a few knocks and we will be ready for the last week of the season and the play-offs. But looking at the fixtures overall, it has been ridiculous. Halifax are doing what we did last year.

The worst thing about it is that (third-placed) Brackley have been able to go week to week, Saturday to Saturday and playing the odd Tuesday, while Halifax have recently gone something like Saturday-Tuesday-Thursday-Saturday. It's poor for the league and it is wrong that you become victims of your own success[?]. You should be rewarded'".

Meanwhile, Harrogate Town "boss Simon Weaver, whose side welcome Stalybridge tomorrow,their fourth game in seven days, said, 'Circumstances have been beyond our control and while people have come in and made valuable contributions and given honest displays, we probably have not been cut-throat. That's what made us the form team of the league not so long ago, as we produced attractive football combined with an edge. But we are missing that edge and particularly the drive from midfield that we had earlier in the season. Now the play-offs have slipped away from us'".

Pitchero Non-League says that "Bradford Park Avenue's quest for a place in the play-offs was made even more difficult when they were held to a midweek home draw by Altrincham.

Avenue really needed a win while former Horsfall boss Lee Sinnott's side would have been satisfied with the outcome... as the gap between them remained at six points. With only three games to go, it is increasingly unlikely that Avenue will be able to overhaul Sinnott's men.

They are also in danger of being caught by seventh-placed Harrogate Town, who are level on points after drawing their game in hand at home to FC Halifax Town on Thursday. Yet... everyone inside the Avenue camp steadfastly refuses to give up the fight.

Manager John Deacey, who cut his teeth under the tutelage of Sinnott, still has a few injury concerns but hopes to keep his side in the race with a win at seventeeth-placed Bishop's Stortford on Saturday. Defender Martin Drury and forward Alex Davidson are out of the reckoning for the season – even if Avenue do get into the play-offs. Striker Tom Corner has missed the last two games but has a chance of making the squad for this weekend's trip".

Pitchero Non-League reports that "Chairman Anthony Hampson says he fears for Worcester City's chances of survival in exile at Kidderminster Harriers without sufficient numbers taking up the club's £100 season ticket offer.

City have just one more game left at St George's Lane before their home of more than a century is knocked down for housing in June. They have launched the cut-price ticket scheme, which runs until May 3rd, in a bid to attract fans to Aggborough next term but have so far sold only around forty of a hoped-for 1,500. Hampson reckons they need to shift at least 500 or the very existence of the club could be on the line.

He said, 'Worcester City have been very lucky in the past years to have a pretty good fan-base and now we need those people to come and support us while we're at Kidderminster. If they don't come along then, frankly, it will be extremely difficult to keep the club going. We've only managed to sell something like forty season tickets and, unless people get behind the club we will have serious problems going forward into next season. It will make it very unviable, there's no point in pretending that you can run a club without support.

I'm sure that sponsors will come forward and I'm sure there will be some support for the club but the directors need the comfort that the fans will come to Aggborough. If they don't, then we have serious doubts about being able to maintain the club in its present form'.

The City chief is expected to make a public appeal to fans on the pitch at the final match of the season against Chester on Saturday, April 27th.

Hampson added, 'A minimum requirement as far as I'm concerned would be 500 season ticket sales which I know is a very big ask... I know it's going to be a problem to survive, it was always going to be a problem, and that's the stark situation... The Conference rules of being able to produce a break-even budget, which is what they now require and very sensibly so, means that clubs need to prove that they have viability'".

Details of the NL Paper's Player of the Season awards are here.
CHESHIRE NEWS
200% reports "How Saturday has become a day of reckoning for Stockport County... The continuing decline of Stockport County, however, may only have been put on hold for a few days. On Saturday afternoon... Stockport will travel Aggborough to play a Kidderminster Harriers team that is still chasing the league title and will be desperate for that win it needs to have any chance whatsoever of pipping Mansfield Town at the top of the table.

Should Stockport somehow manage this, though, they will still be dependent on the generosity of others to ensure their survival. Four clubs can still, mathematically speaking, drop on the last day of the season, Lincoln City, Gateshead or Tamworth could all tumble through the trapdoor on Saturday...

It may seem like light years ago now already, but the club's one hundred and six year stay in the Football League only ended two years ago. This, however, could hardly be classed as the start of its troubles. It is not much more than a decade ago that Stockport County were members of the Football League Championship...

A ruinous loan taken out in 2008 turned out to be the beginning of the end of the Trust's ownership of the club, and in April 2009 the club entered into administration with debts of £7.8 million

The club finished its first season in the Blue Square Bet Premier in sixteenth place in the table, but this season has seen the club's downward spiral continue on the pitch..

After losing to Woking in the middle of December, Lord Snape, who was by then the chairman of the club, had some choice barbs aimed in the manager's directio, 'I'm getting pretty fed up of watching part-time teams beat Stockport County. Changes are going to be made unless things improve. Jim Gannon's pretty good at telling me how this club should be run. Well I'm going to tell him that I'm not impressed by the way the team is being run. If we lose a couple of our next games, we're in a relegation battle with a much bigger budget than most of the teams down there with us, which quite frankly is not good enough'...

Yet somehow or other the fans have kept on turning up. Stockport County's average attendance this season has been 3,780 people – the second highest in the division, after Luton Town... Eleven years and one month ago, Stockport County beat Manchester City by two goals to one in a league match, a fact that seems scarcely credible in 2013... Whilst Manchester City prepare for an FA Cup Final and the prospect of more Champions' League football next season, the long-suffering supporters of Stockport County are already bracing themselves for the possibility of trips to the likes of Solihull Moors, Vauxhall Motors and Oxford City, let down by everyone and all the while wondering when this nightmare will end".
---
19 April 2013
LEE PRAISES SQUAD
John Edwards, Alty's Joint Press and Media Officer, tells us that "Lee Sinnott was full of praise for his Altrincham players after they kept the promotion bandwagon rolling, and registered their 100th goal in the process, with a hard-fought 2-1 win over Bishop's Stortford at Moss Lane.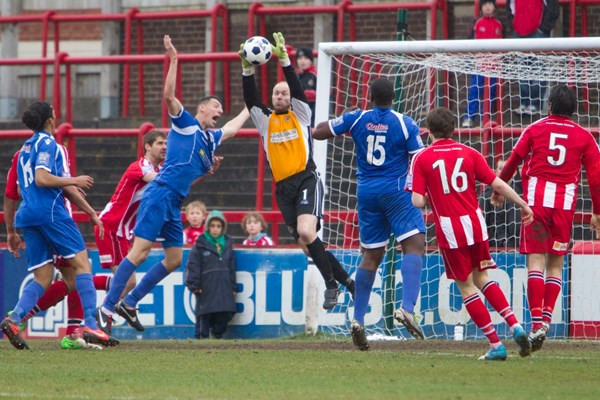 Right: Stuart Coburn makes a vital catch against Bishop's Stortford last Saturday. Photo courtesy of GR Photography
With Damian Reeves and Duncan Watmore forming a lethal alliance this season, Alty were always likely to be a ton of trouble for opposing defences, and so it proved as James Lawrie brought up the century with a late goal that enabled Sinnott's side to withstand an even later reply by the visitors.
As he prepared for Wednesday's night's trip to play-off rivals Bradford Park Avenue, the Alty boss said, 'It's about ticking boxes off, and we have done that a few times in the last few weeks. We have already won more games than last season, and the win at Halifax was our eighth away, beating the seven we managed last time.
'The goals are flying in again as well, and these are all positive signs that we are improving and heading in the right direction. The 100 goals tally shows how many scoring opportunities we have been creating, because you are never going to convert every single one, but we know full well we are in for some tight games between now and the end of the season.
'The message to the players before kick-off on Saturday was to move the ball around the park as quickly and accurately as possible, and they carried it out really well. That incisive, one-touch passing was the key to opening up their defence, and it was pleasing to see us on the front foot, playing our football and creating things.'
Reeves suffered a rare off-day, missing two one-on-one chances, but suggestions of a sympathetic word for Alty's leading scorer brought a wry chuckle from Sinnott, who replied: 'What, with 40 goals to his name? I don't think anyone need feel sorry for Damian. It is important he just keeps getting in the right positions, because history tells us he will score more often than not.
'You can go through the whole squad and see pleasing aspects. I have been particularly impressed with those who have stepped out of the team then come back in and really forced the issue, in terms of staying there. The likes of Jake Moult, Matt Doughty and Carl Rodgers come into the category, and it is great to have players who are so eager to get a place and keep it.'"
RESULTS
Thursday 18 April
Colwyn Bay 3 Oxford City 1, att 303
Harrogate Town 1 FC Halifax Town 1, att 698
Hinckley United 2 Droylsden 2, att 187
HINCKLEY NEXT
Altrincham travel to Leicestershire on Saturday amd Mike Garnett has the statistics on the previous encounters between Altrincham and Hinckley United
At Altrincham p3-w2-d1-l0-14-3
At Hinckley p2-w1-d0-l1-5-3
All games p5-w3-d1-l1-f19-6
BEER FESTIVAL
The latest beer announced for the Altrincham FC Beer Festival (26-28 April 2013) is: Red Willow Reckless 4.8% ABV, sponsored by GR Photography.
BPA GAME
Wednesday's Radio Robins commentary files from Bradford are now available:
2nd Half
Following Wednesday's game, Bradford PA report that they "were denied a late victory in a thrilling second half against Altrincham...
On a windy evening... the away side came close to taking an early advantage. A loose pass from Walker was intercepted by Altrincham winger Shaun Densmore, but his low effort from 16 yards was saved by Bradford's number one, John Lamb.
From the resulting corner, the visitors were awarded a penalty by the referee. The Robins left back Matt Doughty stepped up and was denied by Lamb who saved the penalty.
Despite a lack of goalscoring opportunities, both sides were working hard in difficult weather conditions...
After the break, Altrincham had the wind behind their them... Nevertheless, Bradford scored the opening goal of the game. A long free kick from Lamb was expertly controlled by Marshall, and the number four composed himself to place the ball past Coburn from 12 yards...
The fifth placed side were becoming more dangerous on the attack. A quick passing move from the Robins saw captain Shaun Densmore deliver a teasing cross and substitute Jake Moult struck the ball first time, only for Lamb to tip his effort over the bar. From the resulting corner, Altrincham equalised. A deep delivery[?] was picked up by James Lawrie at the far post, and the striker curled a right-footed effort into the top corner from 18 yards.
As the game was approaching its final five minutes, Jordan Deacey scored a goal that will be remembered by many Bradford supporters to give his side the lead. The Avenue midfielder controlled the ball and dribbled past several Altrincham players, and the number ten struck a right footed effort past Coburn from 20 yards.
A minute later, the score was level again. Altrincham were awarded a free kick and Lawrie's inswinging delivery was nodded by defender Gianluca Havern past the Bradford goalkeeper to the delight of the travelling Altrincham supporters.
Shortly after their goal, the away side nearly took the lead for the first time in the match. A fine run from Lawrie allowed the striker to square the ball to Reeves, but his side footed effort whistled wide of the post..
Somehow, John Deacey's men were denied a late victory. After good work from Duckworth, his cross was controlled by Marshall who spotted Hotte with a pass, but the midfielder's powerful effort was superbly saved by the Robins goalkeeper from close range".
And BPA also quote their manager John Deacey. "The Bradford boss was quick to praise both sides for their effort on Wednesday: 'It was a magnificent game of football in difficult conditions.'
Meanwhile, Deacey felt the home side deserved more than a point. 'I felt we deserved to win. We conceded two poor goals, especially with the goal from a corner. I know people think I give Jordan a lot of accolades, but not only his goal, his performance was superb. Also, Michael Duckworth was excellent... What can you say after a performance like that? Today, I've had 12 fit players, but they have been superb. I'm upset for the right reasons and for the players because they tried their best today'".
ROB HONOURED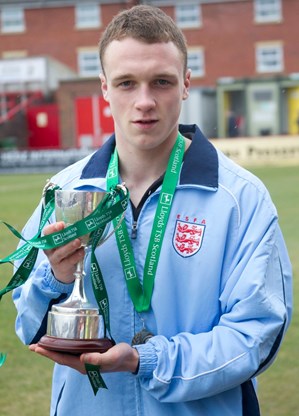 Last Saturday, before the Altrincham v Bishop's Stortford game, Altrincham FC Youth midfielder Rob Gilroy was pictured by Gavin Rathbone of GR Photography. Rob was captain of the England Schools' team which beat Scotland last week. He also scored one of the goals as England won 3-1 at St Johnstone's ground in Perth. The trophy he carries in the adjacent photo was the one received for that victory.
YOUTH WIN
Altrincham FC Youth had an impressive 2-0 win on Thursday night at home to Morecambe. Alty won 2-0 thanks to goals by Louis Potts and Spencer Cunliffe.

On Sunday, the lads entertain NJ Wythenshawe Juniors at Manor Farm (Ridgeway Road) in the Manchester County Cup, k.o. 2pm.
CHESHIRE NEWS
As well as winning the BSBN, Chester FC have now won the Cheshire Senior Cup. Chester FC report that Chester beat Stalybridge Celtic 2-1 at Witton Albion FC. "Goals from Antoni Sarcevic and Tony ensured that Chester clinched their third piece of silverware of the season against a gutsy Celtic side who had been reduced to 10 men" after Bembo-Leta was sent off for a foul. The gate was 1,156.
OLD BOYS
Old boys who scored in midweek included Marc Joseph who got Witton's winner at Kendal, after Steve Foster (who played in a game for Alty) had netted their first goal. North Ferriby's march to promotion was aided by a Liam King goal against his former club Matlock Town. Ex-Alty Youth and reserve, Mark Drew scored for Ramsbottom United in a defeat by Cammell Laird. There was a brace for Mossley's ex-Alty youth striker Sam Madeley, whilst Andrew Smart scored for Trafford against Ossett Albion in Tuesday's 2-2 draw at Shawe View.

The NW Counties Football League reports that "Runcorn Linnets manager Joey Dunn is looking to finish the season on a high. Joey took over the managerial reins at the Millbank Linnets Stadium late last year, initially on a temporary basis, and has steered the team to a good run of form, with a run of six straight wins in February earning him the Premier Division manager of the month award".
BSBN NEWS
Unexpected news comes from Oxford City, who have "formally announced that Thomas Anthony Guerriero has become a director and has accepted the position of club President. A new international holding company Oxford City Football Club LLC has been formed and will jointly own the club together with the established Oxford City Charitable Company, which remains unchanged.

The appointment has been formally approved by the English Football Association...

The decision of Thomas Anthony Guerriero to bring his talents as one of the most successful and influential people around the world[!] to Oxford has been under discussion for some time and now it is a reality.

Oxford City President Thomas Anthony Guerriero said, 'This is a brilliant day for Oxford City, its supporters, and is a dream come true for me personally. I plan to build upon the great successes over the last 131 years of Oxford City Football Club by assisting in the expansion of both the Oxford City brand and the Oxford City Academy globally. We are confident this will put Oxford City in a tremendous position to maximize the club's potential on every level'.

Oxford City Managing Director, Colin Taylor joined in Mr. Guerriero's excitement with the announcement... 'Mr. Guerriero's knowledge and experience both professionally on the pitch and in business will provide a wealth of new opportunities and enable the club to continue the progress we have made in recent years. This a new era in the history of Oxford City Football Club and puts the foundation in place for a sustained and exciting future'...

Thomas Anthony Guerriero is world renowned for being one of the most powerful and influential CEOs in the history of Wall Street. His training programmes are legendary for creating some of the top-producing financial professionals in the world... As the founder and Chief Executive Officer (CEO) of WMX Group Holdings, Inc. Mr. Guerriero has over fourteen years of extensive upper executive experience. Mr. Guerriero began his career in the financial markets in 1998, and soon thereafter earned the position of Senior Vice President of the securities division of First Union (FTU: NYSE), one of the largest institutions in the world with over $400 billion in client assets..

Mr. Guerriero's unique ability to create unique systems both technical and fundamentally, recruit, train, mentor, and inspire individuals through his creative methodologies has led him to be recognized as a global force to be reckoned with... As one of the most talented minds and influential people in the world today he shows no signs in letting up..

In 2011 Mr. Guerriero became one of the youngest owners of a professional sports team. He became an owner of a professional basketball team, the Springfield Armor in the NBA D league... Mr. Guerriero is a former professional soccer player, holds several world records, climbed two of the seven summits[?], been featured in a major motion picture with Oliver Stone, been featured on television around the world, and is a published author with 'How To Understand & Master The Stock Market'... and 'Plan For Crisis'".

The BBC adds, "Guerriero... has set his sights on guiding the club into the Football League. 'I wouldn't be there unless I felt we could be at a level where people take notice', he told BBC Oxford. 'Anything is possible... We are going to open some eyes on many levels', he added".

In contrast to upbeat Oxford, we report downbeat developments at another BSBN club. This is Lincs reports that "Gainsborough Trinity's playing budget next season could be slashed to 20 per cent of its current level. The true extent of Trinity's plight for their next campaign has been revealed by chairman Peter Swann, who is expected to stand down from the role at the end of this season.

In Swann's absence, manager Steve Housham's playing budget may have to come only from revenue generated by the football club itself. And, on current figures, Swann claims that is likely to come up around 80 per cent short of what it has been costing to run the football team.
'The budget for next season will be about 20 per cent of what it has been this season', he said. 'That is the revenue stream the club is actually generating, so that is what will be available to the manager to assemble a squad. My involvement with Gainsborough Trinity will come to an end in June when all the bills will be paid up. But from there my financial involvement will end'.
Swann revealed none of the current playing squad have been spoken to about next season... 'The same thing happened last season, so there is no difference', Swann said... 'This is a talented squad of players and I would not be surprised if some of them have already been approached by other clubs. That kind of thing happens in football, I just hope that they hang on until they know what Gainsborough Trinity can offer them before they make their decisions...
Our home form has just not been good enough this season', Swann added. 'I'm not talking about the games against Guiseley or Chester, but the easier games we had earlier in the season which we have lost. We should have another five wins at home, that's 15 points which would have seen us in the play-offs'.
Swann, though, remains positive and believes with Housham at the helm, the team will at least be competitive in the division. 'The budget will probably be on the same lines as some of the other smaller teams', Swann added. 'Steve Housham is a very good manager and he will be staying. He will have a budget to compete, but I don't expect them to be pushing for the play-offs'".
BSBN says that "Brackley Town boss Jon Brady has urged his side to use Tuesday night's shock 3-1 defeat to struggling Colwyn Bay as a catalyst for the play-offs... The manager has demanded a response against Workington on Saturday...
'I thought we didn't start right. We got punished with the early goal and from then on it was an uphill battle', Brady told Buckingham Today. 'I don't usually like to say this but it was an uphill battle playing against 12-men with the referee and we all saw it tonight. To not even give a booking for all that time-wasting, even early on, was very weak. But that's no excuse for how we played tonight. We know from tonight that if we start like that we will get punished against any team and that's a sharp learning curve.
Tonight is disappointing but it can also be the catalyst where we can turn round and say that won't happen again'".
Unconfirmed reports say that for the 2013-14 season the matches start on August 10 in the Conference Premier and a week later in the North/South divisions.
OLD FOES
Pitchero Non-League reports that "Ebbsfleet United's prospective new owner received the backing of supporters at a public meeting on Wednesday night. Carlos Karani Kabir, 38, spoke to fans about his vision for the Fleet, which would see a group of talented young Spanish players join the club...

Karani would pay wages owed to the club's non-playing staff, debts owed to creditors and running costs from the day of his takeover until the start of next season. Fleet Trust members voted in favour of his proposal, which must now be put to a vote by the club's current owners, MyFootballClub". Fleet chairman Jessica McQueen "admitted the Fleet were on the verge of administration and needed to raise £100,000 in the next fortnight. The future of the club will be decided by MyFC, who will only hand over control to Karani if their members agree to do so via a vote. Karani spoke passionately about wanting to be part of the club's long-term plans but admitted he could not wait indefinitely.

He said, 'I'm starting to get fed up. They should have already gone to a vote. I don't know how long I can wait. My investors are a little bit worried about the situation. They're putting pressure on me. We have investors in England who are pushing very hard... I'll take a risk to wait. But tomorrow, if I receive a call from my investors, they'll move forward'.

There were cheers when Karani told supporters he would change the club's name back to Gravesend & Northfleet if the majority of supporters were behind the switch.

But Mrs McQueen's reminder of the acute financial difficulties facing Ebbsfleet silenced the room. She said, 'The club owes £100,000 to suppliers and PAYE. If we go into administration, the players' and manager's wages will be the first to be paid and then anything owed to HM Revenue & Customs'..

Karani claimed the players he would bring to the club are valued by FIFA at £150,000-£200,000 each. He insisted several times that he was not seeking to make money and promised to change the way the club was run. He said, 'Next season, someone will come over and restructure the club in all aspects. Commercial, football, relations with supporters and relations with the council. Everything is a disaster. Maybe you need someone fresh from the outside who doesn't want to make money. I want to work with football players. I'm not making money, I'm reinvesting money'".

More recent opponents of Altrincham, are the subject of a report from Bulls' News, which says "Darlington are on the verge of promotion in their first season after reformation, but the Northern Football League is in danger of descending into farce. Second place Spennymoor can still catch the phoenix club, with eight games in hand to make up 23 points, but the league have decreed they must complete their season by May 5th to be eligible for promotion. They are already scheduled to play five games after that date - the league's original finish date - with one game, against Dunston, set to be called off as the Dunston squad have booked a group holiday to Spain".
---
18 April 2013
BPA 2 ALTY 2
Match report.
WEDNESDAY'S GAME
Through the Years by Howard Watts.
Bradford Park Avenue 2 Altrincham 2
BEER FESTIVAL
The latest Altrincham FC Beer Festival guest ale is:
Offbeat - Wheat Beer 4.5% ABV sponsored by The Flaggers.
ALTY AND SUPPORTERS DIRECT
Sporting Intelligence has an interesting piece on Altrincham supporter Brian Lomax, the pioneer in forming Supporters' Trusts to save ailing football clubs. As the articles says,

"Brian Lomax, the man who invented supporters' trusts from a housing charity in Rugby, led the movement through its crucial first years, saving dozens of clubs, is not widely known. He should be.

'Brian is a pioneer', says Andy Burnham, shadow Secretary of State for Health and former chairman of Supporters' Direct. 'But, for so long, football hasn't been ready for him. He has been preaching alone'.

The history of supporter ownership is bound up with the life story of Lomax. It began with a boy riding his bike around Cheshire in 1956. When Lomax was seven he was Altrincham's only away fan. He cycled alone around the county, to Northwich in the west and Macclesfield in the east, following his team as they fluttered down the Cheshire division.

Greater Manchester's dogged rainfall doesn't much encourage long bike rides, but Lomax peddled everywhere. 'Eventually the club were told about my bike rides and they let me travel on the team bus', he says.

Lomax's away day travel was warmer and drier but Altrincham continued to underperform, losing 22 matches in a row in 1960. The club looked destined not only for relegation but liquidation. So Lomax, by this point a wizened 11-year-old, wrote a six-page letter to the local paper, pleading for someone to save his beloved Altrincham.

Two local businessmen, Noel White and Peter Swales (latterly of Manchester City) read Lomax's letter and bought the club. His passion, they said, was the reason for their move. The pair wiped out the club's debts, recruited various ex-internationals and built it into a giant-killer.

Attendances shot up; and Lomax was no longer the club's only away fan. Although it took these traditional chairmen's intervention to wipe out the club's debts, with his letter Lomax felt the power of fan activism. And with the majority of player wages coming from fans cranking through the turnstiles, the implications of what engaged supporters could do for balance sheets was clear.

'That feeling that you were turning a club around really hit me', says Lomax...

Yet Lomax is still not widely recognised. Far removed from the self-promoting, self-titled 'football men' that dominate the sport's media coverage, he will consider his low profile nothing other than a relief. He has retired in peace. But his reputation should be addressed.

A man that, from a bicycle in Altrincham, via a housing trust in Northamptonshire, created a bright spot in a sport with depressingly few, deserves a little more acclaim".

Sadly, we hear from another Supporters' Direct's Jacqui Forster that Brian is not in good health at present but we all wish him well.

Sporting Intelligence summarises "How Lomax changed football:
1992: Created the first supporters' trust in 1992, forming Northampton Town. There are now over 170 trusts with over 300,000 members
1996: Launched the first equal opportunities policy in professional football. Almost every league club now has one
2000: Started supporter ownership in the UK, launching Supporters' Direct as its first managing director. Thirty clubs are now owned by their supporters".
---
17 April 2013
WEDNESDAY'S MATCH COVERAGE
"World Cup Commentator on Radio Robins on Wednesday!!

Radio Robins is delighted to advise that John Helm has accepted an invitation to be part of the commentary team at The Horsfall Stadium for our game at Bradford Park Avenue on Wednesday night. The former ITV commentator is a veteran of four World Cup tournaments and is a lifelong fan of Bradford Park Avenue. His most traumatic broadcast took place in 1985 when he witnessed and reported on the Bradford fire tragedy, in which 56 people lost their lives at Bradford City's Valley Parade ground".
TUESDAY'S RESULTS
Bishop's Stortford 0 Worcester City 1, att.261
Brackley Town 1 Colwyn Bay 3 att. 243
Droylsden 0 Workington 1, att.100
Gloucester City 1 Gainsborough Trinity 2, att. 320
Oxford City 2 FC Halifax Town 2, att. 262
Solihull Moors 2 Harrogate Town 0, att. 419
MIDWEEK GAMES
Wednesday 17 April
Through the Years by Howard Watts.
Bradford Park Avenue 2 Altrincham 2

Thursday 18 April
Colwyn Bay v Oxford City
Harrogate Town v FC Halifax Town
Hinckley United v Droylsden
BEER FESTIVAL
The latest beer announced for the Altrincham FC Beer Festival (26-28 April) is Hornbeam Voyager, 3.9% ABV, sponsored by The Sports Business (Sale).
---
16 April 2013
2013-14 KIT
Altrincham FC coach and SK Kits owner, Ian Senior, writes, "I can confirm that having had discussions with the Club, we are retaining the current first-team shirts, with a possibility of a 'Special Cup' shirt similar to both the red/black 'Centenary' and 'Defibrillator' shirts produced over the last year."
ALTY IN THE PRESS
The latest edition of the football magazine, "When Saturday Comes", has a photographic feature of the Altrincham v Worcester City match.
NEXT GAME: WEDNESDAY AT BRADFORD
Bradford PA report that "John Deacey's men host fifth-placed Altrincham at the Horsfall Stadium on Wednesday. The home side are currently one place and six points behind their opponents. Due to their recent good form, Bradford have suffered one defeat in eleven matches. The only loss for the West Yorkshire side was a 2-1 defeat to Oxford City last week. However, the Avenue are unbeaten in their two previous games, as they drew against Mike Ford's men and defeated Droylsden at the weekend. For the fixture against the Robins, John Deacey will be without Aiden Savory due to his dismissal at FC Halifax Town.

Lee Sinnott returns to his former club in charge of Altrincham, who are unbeaten in three matches. Since their defeat to champions Chester FC, the away side have recorded impressive victories against FC Halifax Town and Bishop's Stortford. Also, the men from Moss Lane produced a fine performance to draw against Guiseley AFC, and were denied a late victory after Steve Drench saved a penalty. Currently, the visitors occupy the final playoff position, and have four remaining games left of the regular season".

Admission prices are:
Adults: £10
Senior Citizens: £6
Students (on production of current NUS card): £6
Under 16: £2
Armed Forces Personnel (on production of warrant card): £2".
SATURDAY REVISITED
Saturday's Radio Robins commentary files on the Alty v Bishop's Stortford game are now available.
2nd Half
BEER FESTIVAL UPDATE
The latest beer to be revealed for the Altrincham FC Beer Festival (26-28 April) is George Wright's 'Northern Lights', 5.1% ABV, sponsored by 442 Online Marketing.
BSBN NEWS
According to the Yorkshire Evening Post, "Guiseley gained revenge on league champions Chester FC with a much-deserved 2-1 win at Nethermoor on Saturday. The Blues not only convincingly beat the Lions to the title this campaign, they also hammered them at the Exacta 4-0 earlier on in the season...

Guiseley took the lead shortly after on seven minutes, Josh Wilson proving deadly from a free-kick" before Gray equalised...

While many would have expected the home side to tire in the second half, due to their heavy schedule of games recently, boss Steve Kittrick said he thought his side looked fitter as a result. They got their reward for a stoic defensive display, as well as a creative attacking show, on 70 minutes...

Kittrick was proud, 'It looked like we were back to our best. We were back to doing the right things that we did earlier on in the season that maybe we've not done for a few weeks'," he said...

FC Halifax Town look likely to join Guiseley in the play-offs following Saturday's 2-1 success at Boston United... Departing loanee Alex Titchener bagged the winner... Halifax have six games remaining, starting with tomorrow night's trip to an Oxford City side who dealt a heavy blow to Harrogate Town's promotion bid on Saturday.

Simon Weaver's Town had to settle for a goalless draw and desperately need to win tomorrow night's game in hand at Solihull Moors. Victory would take them above sixth-placed Bradford Park Avenue who continued their play-off push with a 5-0 thumping of visiting Droylsden. All five of Avenue's goals came in the second half...

Delighted Avenue boss John Deacey said, 'Our attitude was superb because Droylsden have picked up some good results. There were five different scorers and we could've had more. We are still mathematically in with a shout and up to this stage of the season, they have been excellent and never fail to amaze me'.

Avenue still have work to do as they are six points behind fifth-placed Altrincham with both teams having six games [four games actually] remaining. But the two promotion hopefuls lock horns in a crucial clash at the Horsfall Stadium on Wednesday evening.

Harrogate Town will move to within three points of Altrincham with four games left if they win at Solihull Moors [on Tuesday]. Town then face another massive game on Thursday evening when they entertain FC Halifax Town".

BSBN reports that "Hinckley United have been deducted three points for failing to fulfill a Blue Square Bet North home fixture, the Football Conference have confirmed.

A statement from the Football Conference read, 'On 18 December 2012 Hinckley United FC failed to fulfill its Blue Square Bet North home fixture against Bishops Stortford FC as it was unable to field a complete team, due to injury, illness and unavailability of some of its players. As well as being ordered to pay their opponents compensation, for its cancelled travel arrangements, Hinckley United FC were deducted three points and fined £5,000 with £2,500 of the fine suspended for one year.

Having settled Bishops Stortford FC's compensation claim, Hinckley United FC appealed the Football Conference Board's decision on the sanctions, on the Grounds of severity of sentence. At a Hearing on 2 April 2013 the Football Association amended the decision by removing the suspended element of the fine. Hinckley United FC must now pay the balance of the fine, £2,500 and will have three points deducted from its League Table score, forthwith".

When Histon failed to fulfil a fixture at Colwyn Bay this season they were fined but suffered no points deduction.
NW NEWS
The BBC reports that "Barrow boss Dave Bayliss has questioned the attitude of some of his players following the club's relegation from Blue Square Bet Premier. Their five-year spell in the division was ended by a 2-1 defeat at Cambridge.

'We've got some mercenaries in there that play football for the wrong reasons', he told BBC Radio Cumbria. 'All they care about is the money at the end of the week and that's really sad. I feel like I've been stabbed in the back by a few of them'.

He continued, 'It's the best game in the world but they don't look like they actually want to play and enjoy the game. I know it's terrible for me to say I've been stabbed in the back, but that's how I feel. Whether I should be saying it or not, well, quite honestly I don't care. I just feel let down by certain players'.

Barrow have suffered from a drop in attendances this season, with figures hovering around the 800-mark for most of the year. With crowds likely to decrease further next season, the club are considering reverting to part-time status in an effort to save money.

Club director Tony Keen told BBC Radio Cumbria, 'Part-time/full-time has been a myth during all our time in Blue Square Bet Premier. We've never paid 52 weeks a year, we pay 40, so if we're talking about going part-time then it's in terms of training, which would reduce the wage bill slightly. Yes, we have financial issues but I would stand up to any player who tries to blame performances this season on that. I'd come out and back up exactly what Dave has already said.

It's tough, but there's no major issue financially. Unfortunately, as a club we've got smaller and smaller these past five years when we needed the complete opposite. We'll rebuild and aim to come straight back. We're no different to a team like Reading in the Premier League, we're not quite big enough to consolidate yet. Dave wears his heart on his sleeve and he's never ducked a question in his life. It's tough to take when a player decides he won't put a shift in'".
---
15 April 2013
100 + 21 = 3 POINTS
James Lawrie's goal against Bishop's Stortford not only won the game for Altrincham, it meant that the team had scored 100 goals in all competitions this season, 84 in the league and 16 in cups. 94 goals were scored in all competitions by Alty last season.

And as Grahame Rowley writes, "Not only did Altrincham win 3 valuable points in their quest for the play-offs but their two goals against Bishop's Stortford gave them exactly 21 goals in the Pontoon Competition and therefore Nigel Bunce wins the £100 prize fund. Well done to Nigel and thanks for everyone who took part in the competition.

The final table is here.
ALTY- A TEAM WITH BITE?
The Facebook site Hale & Altrincham Life has a fascinating photo of Altrincham FC fans boarding the coach to the 1978 FA Trophy Final. Unlike then, most of the passengers on TASC's transport in 2013 have a full set of choppers!

Details of the last two supporters' coaches of the scheduled season are to be found on the Away Travel page. To book a seat, please ring the club on 0161 928-1045.
ALTY- A TEAM WITH TASTE?
The latest beer to be announced for the Altrincham FC Beer Festival is Dunham Brewery's Dunham Porter, 5.2% ABV, sponsored by Premium Collections.
LADIES DRAW
Altrincham FC Ladies drew 1-1 on Sunday at home to Crewe Alexandra. The goal scorer was Nat Thornley. Manager Keith Edleston advises us that "Our next game is against Manor FC Ladies at home, at Manor Farm, Ridgeway Road, on Sunday 21 April, k.o. 2pm". This is a game in the Cheshire Women's League Division 2.
ZIGGER-ZAGGER, ZIGGER-ZAGGER, GET WELL SOON
Altrincham FC supporters will be sad to hear news relayed to the website by Jacqui Forster that Alty's best-known local supporter, Kenny 'Zigger-Zagger' Palin, has had a minor stroke. However, he was well enough to be out and about last Thursday. All at Moss Lane wish him well.
FOR EYES AND EARS
Alty TV has its customary excellent highlights for the Alty v Bishop's Stortford game.

Also, Saturday's Man of the Match, Carl Rodgers is interviewed by Brian Flynn on Alty TV.
YOUTH NEWS
The latest table for Altrincham FC youth team is here. The lads' next fixture is on Thursday 18th April at home to Morecambe FC, k.o. 6.30pm
BSBN NEWS
The Telegraph & Argus reports on "Bradford Park Avenue 5 Droylsden 0.

Bradford Park Avenue's best results this season have come away from home but they treated Horsfall Stadium fans as they stormed to a big home victory over Droylsden...It lifted Avenue above Yorkshire rivals Harrogate Town on goal difference. John Deacey's men are now sixth, just outside the play-off zone, and they host fifth-placed Altrincham on Wednesday.

Already-relegated Droylsden have no shackles so are playing with the freedom of a side who know their fate... After the stern resistance mounted by the visitors in the first half, Avenue raced into a three-goal lead in quick time after the interval".

Elsewhere in Yorkshire, the Halifax Courier reports that "FC Halifax Town made it a club record nine away league games unbeaten as they earned a hard-fought 2-1 win at Boston. Alex Titchiner capped his last game for the club before returning to Fleetwood with a typically hard-working display and by grabbing the decisive goal...

A cold and breezy afternoon in Lincolnshire probably wasn't an especially appealing prospect for the Halifax players at the end of another tiring week, but they battled well against Boston and the blustery conditions to ensure their play-off ambitions weren't blown off course.

Neil Aspin made just two changes from the side that started the 2-0 win over Corby, with Jon Worthington continuing his game on-game-off cycle in place of Jason St Juste and James Bolton, who scored on his debut on Thursday, making his first start for the club in place of Liam Needham.

Perhaps the most significant change was in the shape of the side though, as Bolton lined up alongside James Knowles and Danny Lowe in a back three... Halifax: Glennon, Toulson, McManus, Bolton, Knowles, Lowe, Worsley (Glover 82), Williams, Titchiner (A Johnson 86), Gregory, Worthington. Subs not used: Senior, St Juste, Needham".
---
14 April 2013
ALTRINCHAM YOUTH DRAW
Altrincham FC Youth drew 2-2 today against Curzon Ashton, conceding a late goal which extended their run to six games without a win in the league. There is a report in the youth section.
ALTRINCHAM 2 BISHOP'S STORTFORD 1
Match report
According to the Herts & Essex Observer, the "Plucky Blues gave promotion-chasing Altrincham a late scare before going down 2-1... With Colwyn Bay winning against play-off chasing Gainsborough Trinity, Stortford are now seven points off the drop zone. However, a defeat for fourth-from-bottom Corby at home to Workington leaves Stortford still in a very good position to avoid relegation...
Woodall gave Stortford some hope when he scored seven minutes from time. The on-loan Dagenham striker has now scored six goals for Stortford in a brilliant loan spell which has been a massive boost to Stortford's bid to stay up. However, Blues could not conjure an equaliser against an Altrincham side which could well follow champions Chester into the Conference".
THANK YOU
Today's bucket collections for Mark Maddox who is running the London Marathon for the Motor Neurone Disease Association raised a total of £373.70. Altrincham FC would like to thank everyone for their generosity and support for an Alty Legend!

Via Twitter, Mark has written to express his sincere thanks to all Alty fans for their generosity today and for all the continued fantastic support received over the last couple of years.
BEER FESTIVAL LATEST
The latest beer to be announced for the Altrincham FC Beer Festival (26-28 April) is:
Phoenix Brewery - Wobbly Bob 6% ABV, sponsored by Robinsons Preservation.

The details are on the Beer Festival page.
DANNY ON THE MARK
Danny Mitchley scored twice as his loan spell at Kendal Town continued on Saturday, as the Cumbrians won 3-2 against Ilkeston FC. One of his goals was a penalty.
GUISELEY COMMENTARY
Brian Flynn announces that Thursday night's Radio Robins commentary files from the game at Guiseley are now available:
2nd Half
OLD BOY
The Times reports that "Like most associated with Wigan Athletic, Graham Barrow is unequivocal about who is responsible for the transformation that has taken the club from the brink of relegation from the Football League to a first FA Cup semi-final.

'It all has to go down to the chairman', he says. 'Without him stepping in none of this would have been possible'. The role played by Dave Whelan in Wigan's ascent is indisputable".

"Barrow's personal comeback was replicated by the club itself in 1994/5 as his appointment as manager sparked a remarkable revival that led to Wigan finishing in mid table in the Third Division, having been without a point before his arrival. That escape laid the platform for everything that followed.

'I know quite a bit about the Conference and, had we gone down I'm not sure we'd have come back. It was the poorest squad of players I'd seen in a long time. The club allowed me to add four or five new faces, but those players would not have played Conference football if we went down, they'd have moved on to League clubs. There wasn't the finance here for us to bounce back'.

It was during that campaign that Dave Whelan bought the club for £400,000, ironically after an FA Cup defeat by Altrincham that Barrow believes changed history. 'Had we won that day, we would have been away to Spurs in the next round. The money that would have made for the club would probably have meant that the sale to Dave Whelan wouldn't have happened'".
BSBN NEWS
Saturday's attendances were:
Altrincham 2 1 Bishop's Stortford 807
Boston United 1 2 FC Halifax Town 1,069
Bradford Park Avenue 5 0 Droylsden 350
Colwyn Bay 1 0 Gainsborough Trinity 234
Corby Town 1 3 Workington 314
Guiseley 2 1 Chester 1,535
Oxford City 0 0 Harrogate Town 263
Solihull Moors 0 1 Brackley Town 221
Stalybridge Celtic 4 0 Gloucester City 344
Vauxhall Motors 2 0 Histon 192
Worcester City 3 1 Hinckley United 828

Two of our final four scheduled opponents this season next opponents met on Saturday, as Bradford PA report that they "produced an impressive second half display to defeat ten men Droylsden at the Horsfall Stadium.

The Avenue took the lead as the Bloods' goalkeeper Dale Latham saw his clearance collected by Adam Baker, and the striker found the bottom corner. After the half time whistle, Bradford scored four unanswered goals. The home side doubled their advantage as Paul Walker placed his shot past Latham. Then, the Avenue captain Nathan Hotte extended the lead with a curling effort from inside the box. As the game approached its end, Bradford added two more goals from Richard Marshall and Jamie Jackson.

With a strong wind whistling around the Horsfall Stadium, the Avenue started brightly. After being handed his first start for the club, loanee Adam Baker showed an impressive turn of pace...

Both sides continued to show their intent to create opportunities in an open game". 1-0 up at the break, "Despite the heavy rain, Bradford looked confident and extended their lead... After the hour played, the away side were reduced to ten men. The Avenue's midfielder Deacey was brought down by Jimmy Derbyshire, and the referee reached for his red card...

Bradford (Park Avenue): Lamb, Duckworth, Price, Marshall, Ryan, Clayton, James (Savory 46), Hotte (c), Baker (Jackson 66), Deacey, Walker (Daly 61). Subs not used: Holland, Hume.

Scorers: Baker (45), Walker (51), Hotte (55), Marshall (80), Jackson (82)

Droylsden: Latham, Minihan, Logan, Langford, McEvilly, Sissons (c), Derbyshire, Gallagher, O'Neill, Gilchrist (Grant 70), Hall (Ward 19). Subs not used: Chalmers, Killeen, Cox

Attendance: 350"

Pitchero Non-League says that "Fresh from beating Corby Town 6-3 last Monday night, Carl Heggs, manager of relegated Hinckley United, revealed Declan Towers, Theo Brown and Jarrad Pickering are all close to agreeing terms ahead of today's trip to Worcester City.

Heggs said, 'They should all sign contracts soon. It's another great plus for us. It's something to build on after winning a game. I want people to take pride in the town's team. There are 75,000 people in the area but only 300 watching. That isn't right'.

Heggs was thrilled to guide the Knitters to just their second league win of the most miserable of seasons. 'It's great to have a won a game for the players, for the fans and for myself', he said... 'It's difficult though because we are a team of misfits that no one wanted', he said.'At 4-0 we were so on top then at 4-3 it was difficult. You could tell the players hadn't been in that position before. If we'd lost from there it would have been difficult... Luke Richards has seven goals in a dozen games now. He was playing Sunday League football a few weeks ago. Liam Canavan has only just turned 18 and he was excellent as well'.

Heggs feels the return of Jack Lane to the club was a key factor in the win. He announced he was leaving, but he was soon back when money he was owed by the club was paid. The Knitters boss feels that inspired his team-mates.

'I spoke to the board and questioned their ambition when Jack said he was going. They sorted his situation and that had a big effect on people', he said".

The North Wales Weekly News reports that "Colwyn Bay player-boss Frank Sinclair says he has no intention of walking away from the club, despite his team's disappointing recent form. The Seagulls [went] into Saturday's home game against Gainsborough Trinity with his one-time high hopes of escaping relegation crushed by a dismal run of eight league games without a win.

But the former Chelsea defender said, 'I have had two very positive meetings with the chairman this week about next season. He has told me he wants me to stay and I have told him I want to stay. t is difficult to start planning yet until we know what league we will be in, but wherever that is we will be working very hard during the summer to put together a squad that will be competitive'. Bay won 1-0 on Saturday, from a penalty conceded by former Alty defender, Greg Young".
OLD FOES
Pitchero Non-League reports that "Dave Hockaday is already planning for next season in the Blue Square Bet Premier, when he admits it will be a case of 'play-offs or bust' for his Forest Green Rovers side... 'I'll bounce back because I'm a winner... I'm absolutely devastated that my bunch of players haven't made the play-offs... Next season it's play-offs or bust'".
---
13 April 2013
ALTRINCHAM 2 BISHOP'S STORTFORD 1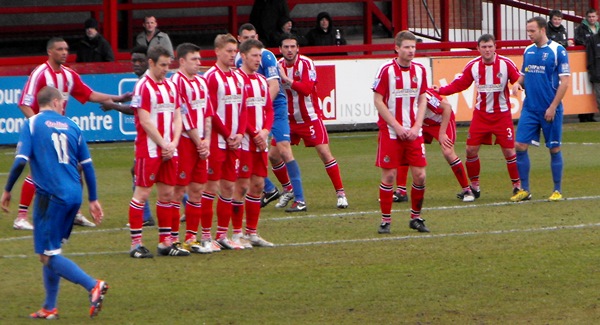 Right: Alty defend a first-half freekick against Bishop's Stortford.
Altrincham 2 Bishop's Stortford 1
Boston United 1 FC Halifax Town 2
Bradford Park Avenue 5 Droylsden 0
Colwyn Bay 1 Gainsborough Trinity 0
Corby Town 1 Workington 3
Guiseley 2 Chester FC 1
Oxford City 0 Harrogate Town 0
Solihull Moors 0 Brackley Town 1
Stalybridge Celtic 4 Gloucester City 0
Vauxhall Motors 2 Histon 0
Worcester City 3 Hinckley United 1
LATEST BEER ANNOUNCED
The latest beer to be announced for the Altrincham FC Beer Festival is:
Northern Brewery - Navajo 3.9% ABV, sponsored by Steve Benyon Decorators
SPINNING THE PLATES
Alty boss Lee Sinnott spoke to Altrincham FC's joint Press and Media Officer, John Edwards, after Thursday's match.

"Lee Sinnott saluted an increasingly convincing push for a play-off place from his in-form Altrincham players and admitted he was beaming with pride at the way they went toe to toe with champions Chester and promotion rivals Guiseley and FC Halifax in a hectic spell of three successive away games.

A six-match winning run may have ended with a narrow defeat at Chester that could have gone either way, but Alty stormed back with a spectacular 4-3 win at Halifax and were desperately unlucky not to take all three points in an enthralling 1-1 draw at Guiseley.

With Alty returning to Moss Lane against Bishop's Stortford on Saturday, Sinnott hardly had time to pause for breath, but he was happy to take stock for the club's website, as he headed away from Guiseley on Thursday night and reflected on a searching test of his side's promotion credentials.

'I thought we started really well against Guiseley and could have been well in front before they scored,' said the Alty manager. 'We took the game to them, and though we were hit by a sucker punch, the reaction was just what I wanted.

'We continued looking strong and playing well, and we deserved something out of the game without a shadow of a doubt. A couple of months ago, you would look at a sequence of Chester, Halifax and Guiseley and think in terms of draws being good results.

'I still maintain there was a case for saying we should have taken something from the Chester game, while Halifax was a great performance and great win and Guiseley would have ticked both boxes as well, but for the penalty curse striking again.

'That was frustrating, of course, to miss from the spot so late on, but coming to Guiseley and taking a point from a dominant performance is no mean feat. That's something like eight penalty misses now, and I think Stuart Coburn is putting his name forward for the next one.

'In all seriousness, we are going to have to think it over and talk it over, but to be fair to Ryan Brooke, he was confident about stepping up and taking it.

'The main thing is, we have played well, and we will not let it distract us from the job in hand, which is moving on to the next game and making sure we are ready for it. We've got barely 36 hours before Bishop's Stortford, and I had a chat with the players, partly to say well done but mainly to stress they have to be mentally right for playing two games in such quick succession.

'I am well pleased with them and proud of what they have done so far. All the games are pressure games now, where you have to try and combat fatigue and make sure you stay on track to achieve your aims. But just like at Chester, the way we responded in the second half at Halifax was just what was required.

'They had a stiff talking to at half-time, because it was turning into the sort of game that sends a manager's blood pressure through the roof. You give them specific instructions, see them ignored for the first 20 minutes or so and feel like banging your head against a brick wall.
'The pitch was soft and led me to think their defenders might struggle if we played Damian (Reeves) and Duncan (Watmore) through. The idea, then, was to turn their defence early on as much as possible, but we just didn't do it. Then, after somehow getting ourselves 2-1 in front while playing poorly, we gifted them two goals, and at that stage, I thought we were in for a repeat of the Trophy tie, when we shipped four in the first half.
'We had to change things for the second half, and, credit to the players, the way they responded was magnificent. I said to them afterwards that was a win that should inspire them, and they certainly looked to have taken it on board, the way they performed at Guiseley.
'I don't like singling out individuals, but I have to say Simon Richman (left) has been phenomenal. He had a difficult time when he came here last season, with injuries and trying to cement a place in the team, but he really has been at the forefront of our midfield with his recent performances.
'I know he won't get player of the season, but when you look at what he has done over the past few months, you really can't fault the lad. His energy is incredible, and he has started adding goals to his game.
'Scott Leather has been prominent as well, and he is a lad who is learning all the time. I know where he is most comfortable, but you have to manage things when you have a small squad, and that is why he has filled every position across the back line.
'It is a case of spinning plates to an extent. It is a small squad but a tight-knit one, and it will have to stay that way to keep us moving in the right direction.'
Sinnott will run fitness checks on Watmore (leg muscle), Nicky Clee (illness) and Richman, whose vision was affected by a kick in the eye at Guiseley, before finalising his line-up against Bishop's Stortford."
COMING TO MOSS LANE
Matt Royle, Altrincham's Marketing Manager, writes, "Come along and support the team during the final run of our push for the play-offs. There are three big home games this month and it would be great to see our fantastic fan base turn out at Moss Lane, as was particularly the case against Vauxhall Motors over the Easter weekend. Please share this poster with friends, work colleagues, etc. displaying where possible with permission. Thank you for your support".

Click on the image, right, for the larger version.
SATURDAY'S GAME
As usual Footy Mad has a prediction for Saturday's game. "Altrincham prepare to entertain Bishop's Stortford at Moss Lane on Saturday afternoon, hoping to break their duck against the visitors. Robins lost the only previous [home, league] game contested between the two teams...
Altrincham have an excellent home record, winning five and losing just one of the last six games... Bishop's Stortford have an average recent record on the road, picking up two good wins, but losing three, from the last six... FootyMad's prediction ... Altrincham may be coming up against a decent side in Bishop's Stortford, but we do believe that its going to result in a narrow home win for the Robins".
CHANGE OF DATE
Brian Flynn announces...

Tony Sanders Tribute Evening

Due to a number of former players being unable to attend on Friday April 19th, we have decided to hold this event in May. We are currently looking at three date options and will confirm the new date next week. Ticket reservations will remain valid for the new date. For further details about this event, please contact Brian Flynn on 07860 561011 or by e-mail.
TV AT MOSS LANE
This Sunday the bar will be open to show:
Stoke City v Manchester United, k.o. 2.05pm, followed by the FA Cup semi-final...
Chelsea v Manchester City (k.o. 4.pm).

The bar opens at 1.35pm.
SHAUN'S VIEWS
Altrincham FC's joint Press and Media Officer, John Edwards, writes that "The Robins' Review presses were kept on hold on Thursday night, to ensure a full account of Altrincham's stirring 1-1 draw at Guiseley could appear in Shaun Densmore's Captain's Chat this Saturday. Shaun has his say on another all-action display by Simon Richman, and how the midfielder has now earned himself his own chant from admiring Alty fans, and has a consoling word for Ryan Brooke after our penalty curse struck again. Do the players practise penalties? Shaun, who also assesses the performances at Chester and Halifax, has the answer in Saturday's match programme". The programme is a bargain at just £2.
BSBN NEWS
From the Telegraph & Argus we read that "Guiseley..finished with ten men and had to settle for a draw at home to play-off rivals Altrincham... But the Lions really rode their luck in the first half against Lee Sinnott's Altrincham, with Damien Reeves going close early on and the home side's keeper Steve Drench tested regularly.

When Drench was beaten, the post came to his rescue, denying Jake Moult. Drench later palmed two very good shots round the upright for corners as the visitors pressed. Having soaked up a lot of pressure, Guiseley took a fortuitous lead into the break. Josh Wilson slotted under Alty keeper Stuart Coburn after breaking into the area in the 35th minute.

Guiseley were reduced in numbers in the 65th minute when Kevin Holsgrove was shown a straight red card and, just over ten minutes later, Moult slotted in the equaliser at the far post.

It could have been a lot worse for the home side as Altrincham were awarded a late penalty, Drench getting a yellow card for his challenge on James Lawrie, but the keeper saved Ryan Brooke's spot-kick".

The Hinckley Times announces "Free entry to Hinckley United v Altrincham for readers.Hinckley United fans are being thanked for their never-ending and loyal support with free entry to this month's home game with Altrincham, courtesy of The Hinckley Times.

Your favourite paper has teamed up with the Knitters to give supporters the offer of watching the game on Saturday April 20 for free, while also enjoying the community day which is also being held that day at the Greene King Stadium.

Although Hinckley's relegation from the Blue Square North was confirmed a matter of weeks ago, the players are still giving the fans plenty to shout about as they prepare for the 2013/14 campaign - including Monday night's 6-3 thumping of Corby Town which will go down in the club's history as a game to remember...

All you have to do is cut out the coupon in next week's edition and take it to the turnstiles to gain free entry. Each coupon will secure entry for one person...

The game promises to be an exciting one with Altrincham flying high in fourth place in the table and boasting the league's top-scorer, Damian Reeves, who has netted 35 times this season.

Paul Moss, one of the directors at Hinckley United, said, 'It has been a long, hard season and now in conjunction with The Hinckley Times we want to show our appreciation of what the supporters have gone through. So people can simply cut out the coupon and bring it along or get tickets in advance from the club and we will be able to give them free entry to the Altrincham game. We have got St Mary's band coming along on the day to help make an event of it and they will be playing on the pitch before the game and then again at half-time as well'".

According to BSBN, "Harrogate Town assistant-manager John McDermott has called on locals to support the club in their quest for the play-offs... With ten games left, McDermott now hopes they can draw crowds similar to the one that watched them narrowly miss out on progression to the FA Cup third round, when nearly 3000 turned up to watch their clash with Hastings United...

'It is a great end to the season for us', he told the Yorkshire Evening Post. 'People talk about pressure and being nervy, especially when you are near the top. But I would certainly rather be where we are than down near the bottom, like we were last year. But the most disappointing thing is that we are playing in front of just 300 fans. People aren't saying it, but it is. The town has been crying out for a team to get into the play-offs for a long time or to get promoted and fans have wanted facilities.

We need everyone to be in the same boat pushing for the same thing, the team on one end and the fans on the other. We have had big four-figure crowds in the ground twice this year. Where are those fans now? People asked for the prices to come down and we have done that, but we need help now'.

The Yorkshire club next face Oxford City at Court Place Farm on Saturday, where a win could bring them to within one point of the play-off places".
---
12 April 2013
TRAVEL WITH TASC
As well as three home matches, Altrincham have just two away games left in which to try and cement their place in the play offs. TASC is running a supporters' coach to each of the awy matches and as the recent trips to Halifax and Guiseley testify, travelling supporters are often treated to some of the team's best displays. Book your place now on the journeys to Bradford PA (next Wednesday) and Hinckley United (a week on Saturday) by ringing the club on 0161 928-1045.

Details of coach times, pick-up points and fares are on the Away Travel page.

The remaining fixtures are:
Sat.13.4.13 BISHOP'S STORTFORD (H) 3pm
Wed.17.4.13 Bradford Park Avenue (A) 7.45pm
Sat.20.4.13 Hinckley United (A) 3pm
Tue.23.4.13 FC HALIFAX TOWN (H) 7.45pm
Sat.27.4.13 DROYLSDEN (H) 3pm
GUISELEY 1 ALTRINCHAM 1
Match report here..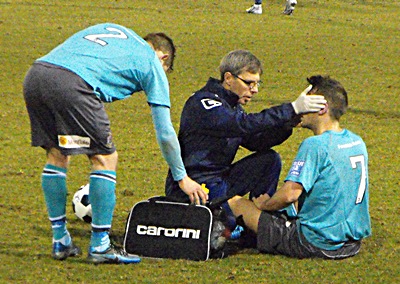 Right: It was a busy night at Guiseley for Alty physio Alan Ainsley. Here, he treats Simon Richman after the midfielder had been kicked in the face and suffered an eye injury. Alty also lost Duncan Watmore to a groin injury, likewise sustained in the first half.
After Thursday's game, Guiseley reported that "Playing their sixth game in thirteen days the Lions showed their class against an Altrincham team chasing a play-off place in what turned out to be a feisty encounter with several bookings, one sending off, two goals and a last gasp penalty save to add to some very contentious refereeing decisions.
The visitors from Cheshire started strongly with James Lawrie flashing a shot just across Steve Drench's g[o]al and Simon Richman bringing a superb tip over from the home custodian before Lawrie [Moult] hit the base of the post. Having absorbed the early onslaught Guiseley started to play their trademark passing game and soon had the visitors defence on the backfoot, a strategy that paid dividends on 32 minutes when Josh Wilson, despite being fouled, maintained his momentum to cut in from the right and shoot under Stuart Coburn for the opener.
The visitors lost the influential Duncan Watmore just before the interval to injury [after being fouled] and he was replaced by Ryan Brooke. The simmering tension that had been building throughout the game finally boiled over with fifteen minutes remaining when Jack Rea and Patrick Lacey got entangled and players from both sides went in for a bout of pushing and shoving, as a result of which referee Martin Coy singled out Kevin Holsgrove with a straight red whilst Alty centre back Gianluca Havern was deemed only worthy of a yellow card much to the disbelief of the home supporters.
Having lost the muscle up front Steve Kittrick brought on James Walshaw for Gavin Rothery and off we went again with Brooke lucky to be only shown a yellow for a scything tackle on Seb Carole. The visitors however failed to make the numerical advantage count although they did score on 78 minutes following a corner which was cleared to Jake Moult who rifled [h]is shot into the far corner.
Even with this setback the Lions looked the most likely to grab all three points... But it was all so nearly undone courtesy of another questionable decision as Drench saved at the feet of Duncan [Damian] Reeves and in the process of trying to recover his position saw another Altrincham player go down in a heap over his outstretched arms with Mr Coy pointing to the penalty spot. Drench however other ideas had and got to his feet to save Lacey's [Brooke's] attempt with ease and ensure a share of the points which edges the Lions towards securing second place but leaves Alty still searching for valuable points to secure a play-offs place."
JIMMY McKIERNAN TROPHY
The winner of the Jimmy McKiernan "Goal of the Season" award for 2012-13 will be the Altrincham player who is judged to have scored the best goal in the current campaign. The shortlist of nine goals is:-
Duncan Watmore v Brackley (H).
Duncan Watmore v Harrogate (A)
Damian Reeves v Chester (H)
Duncan Watmore v Corby (A)
James Lawrie v Boston (A) FA Cup.
Simon Richman v Boston (H)
Shaun Densmore v Gloucester City (H)
Duncan Watmore v Corby (H)
Damian Reeves v Oxford City (H)
Please e-mail, or phone the office (0161 928-1045), with your name and choice
YOUTH GAME
Altrincham FC Youth's next game is at home to Curzon Ashton at Clay Lane, k.o.2.30pm. this Sunday.
BEER FESTIVAL
The latest beers to be announced for the Altrincham FC Beer Festival (26-28 May at Moss Lane) are...
Bollington Brewery - Bollington Best Bitter 4.2% ABV - Sponsored by SK Kits
Dunham Brewery - Little Bollington 3.7% ABV - Sponsored by Sally Cooper
FUN WEEK

The Altrincham FC Easter Fun Week for young footballers was a great success. Above we see a group photo of the players and the team of coaches who made it all happen.

Pictured, above, right, we see some of the youngsters with three of Alty's players, Ryan Brooke, Duncan Watmore and Scott Leather, who all put a lot into helping the event go well both in terms of coaching and signing autographs! The photos have been kindly provided by Gavin Rathbone of GR Photography.
DIG DEEP!
Altrincham FC will be holding a bucket collection on Saturday (for the match at Moss Lane against Bishop's Stortford) with proceeds going to Mark Maddox's fundraising at the London Marathon on behalf of the Motor Neurone Disease charity. Buckets will be at the turnstiles before the game and also passed around at half-time and available throughout the game for anyone to donate to this good cause.
CONTRASTING RESULTS, BUT ALTY LADIES ARE PROGRESSING
Alty Ladies' manager Keith Edleston writes, "Here is a match report from our intrepid reporter John McManus from last Sunday's game v Manor FC Ladiees".

Sunday 7th April 2013: Manor FC Ladies 0 Altrincham FC Ladies 3

Altrincham Ladies travelled to the Wirral on Sunday for a game against Manor FC. Due to the inclement weather this was the first meeting between the sides this season.

Manager Keith Edleston arrived with just eleven fit players for this match. With the pitch very dry and bumpy, close control and concentration would be required by both teams. The game started with both sides pushing for early dominance.

Altrincham Ladies took an early foothold, making several forays into their opponents final third. The Ladies were playing a patient passing game, keeping the ball low and using both channels. Following some fine passing and movement between defence and midfield, the ball came to Sarah McManus who struck from the edge of the box, placing the ball over the goalkeeper into the top corner of the net.

Half time 2-0

Manor FC came back at Altrincham Ladies from the restart, determined to get back on level terms. The Ladies defence were in fine form and were never really put under any real pressure. Altrincham winger Kathryn McIntyre made a run down the left and produced a superb cross, which was met by Sarah McManus, who struck the ball first time into the net to make the score 2-0. The first half came to an end with Altrincham Ladies well worth their lead.

The Second half resumed, just as the first, with Altrincham Ladies pressing forward. Manors FC were restricted to few opportunities, which were dealt with by Rosie Emerson (golkeeper/captain) and her defence.

Left-back Sam Briggs received the ball from midfield and ran it to the edge of the box. Sam was challenged by a defender, who she managed to evade. Following another challenge, Sam still had possession and demonstrated some fine footwork, which took her right in front of goal and, without hesitation, she placed the ball into the net. 3-0 great goal!

There were no further goals in the game.

Full Time 3 - 0

Overall this was a great team performance by the Ladies, who are now focusing on their next game on Thursday evening (11/04) at home v AFC Urmston Meadowside.

Squad: Rosie Emerson, Sam Briggs, Caroline Moran, Louise Edleston, Kathryn Mcintrye, Heather Scott, Gail Simpson, Lauren Thorneycroft, Sarah McManus, Hayley Macardy, Faye Howard

Player of the Match: Gail Simpson".

And a report from Keith on Thursday's game follows...

Altrincham FC Ladies 0 AFC Urmston Meadowside 3

"It was always going to be a tough game against the league leaders and so it proved. 'Meds' opened brightly and opened the scoring on five minutes, from a free kick just outside the box, which went up and round the wall into the bottom corner of Rosie's goal. It seemed to knock the stuffing out of us for a good ten minutess and 'Meds' increased their lead with another well worked goal on twenty minutes. The girls gamely tried to stem the tide of orange shirts until, right on half time, a cross into the box was finished with a cheeky flick over the centre forward's head, which fooled everyone and went in.

Half-time 0-3.

Well, a good team talk was needed to instill a bit of confidence back into the girls and we sent them back out to show a bit of self belief and pride. Just before we kicked the second half off, Rachel had to come off because she was felt sick, so a quick reshuffle with Caroline taking over at right back was made; not the start we wanted!

The second half was a much improved showing, with the girls closing down quicker, looking sharper and having the confidence to play the ball about and build from the back. Alty started to take the game to 'Meds' now and caused a few problems down both wings, but we just couldnt find the way past their keeper. There were no goals scored in the second half and myself, Chris and John were much happier with our upturn in form.

Good luck to Pierce and his team for the rest of the season in their quest to win the league but, for me, I'm a very happy manager at the moment. We are only two years in from starting with 12 players on the grass at the back of BTH School to a team now who are brimming with confidence, playing good football and winning games at well established teams. Things are definitely looking up.

Up the Alty

Squad: Rosie Emerson, Sam Briggs, Louise Edleston, Rachel Bullock, Gail Simpson, Kathryn Macintyre, Heather Scott, Hannah Shufflebotham, Sarah McManus, Faye Howard, Jacquie Farrar, Brogan Walsh, Caroline Moran, Hayley Macardy, Lauren Thorneycroft.

Woman of the Match: Sam Briggs".
---
11 April 2013
GUISELEY 1 ALTRINCHAM 1
Altrincham wasted a glorious chance to take all three points when Ryan Brooke's late spot kick was saved; Alty's eighth penalty miss of the season...
Match report here..

Other result - FC Halifax Town 2 Corby Town 0
BEFORE THE GAME
The Telegraph & Argus reports that "Guiseley ensured themselves a place in the play-offs with a point at Stalybridge Celtic last night but they still want to secure second place...and need just six points from their remaining five games to claim it for a second season on the trot.

They begin the quest for those two wins tomorrow night when they host Altrincham. However, after losing last Saturday at third-placed Brackley Town and then being held to a draw at Stalybridge, the Lions will not be relishing a visit from Lee Sinnott's promotion-chasing Altrincham. The Cheshire side are fourth and are hungry for more points to book themselves a place in the end-of-season extras.

Sinnott's men are ten points adrift of Brackley but have two games in hand so have not given up on third spot. FC Halifax Town are just one poit behind former Bantam Sinbad's Altrincham and they, in turn, have two games in hand on them".

The club itself says that Guiseley "face Altrincham...looking to do the double over them... Last season saw Guiseley draw 2-2 with Altrincham at Moss Lane and gain all three points in the reverse fixture with a 3-2 win at Nethermoor. Earlier this season, they won 3-1 at Moss Lane...

It's a busy time for Guiseley, who welcome the champions to Nethermoor on Saturday before travelling to The Shay to take on FC Halifax Town on Saturday 20th April. Admission, as ever, is just £10 for adults, £6 for concessions and £4 for 12-to-16 year-olds".
MIDWEEK GAMES
Wed 10 April
Oxford City 1 Bradford Park Avenue 1 att.180

Thu 11 April
Through the Years from Howard Watts
FC Halifax Town v Corby Town
Guiseley v Altrincham
BEER FESTIVAL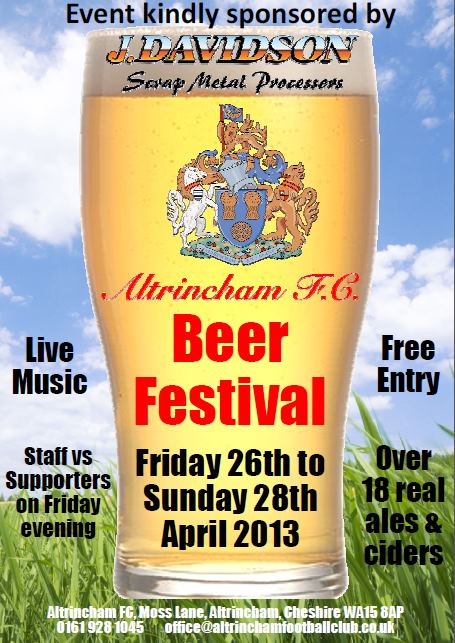 The latest guest ale for the Altrincham FC Beer Festival is Northern Brewery's "Jewel IPA", 4.6% ABV, which is sponsored by Mark Embury.
THANK YOU
The Sale & Altrincham Messenger reports that "A collection by Mid-Cheshire Samaritans at Altrincham Football Club's game on Good Friday raised £65.40".
BSBN NEWS
Alty's next guests at Moss Lane are Bishop's Stortford whose last game, like Alty's was at Halifax Town, who tell us that their team "battled hard from beginning to end, dominated from first whistle to last, yet still, somehow, endured a frustrating evening at The Shay. The 1-1 draw against lowly Bishop's Stortford represented antithesis football at its best, as the long-travelling away side just about managed to squeeze out a point, despite eventually going down to ten men, that moves them closer to mathematical safety.

For Town the match represents a fifth [successive game] at home without victory, despite 89 minutes of total domination in a game where the Shaymen could have racked up a hefty score. The one minute when they didn't dominate was the 32nd, as Stortford took a surprise lead. Liam Needham pegged back the scores, though Neil Aspin's side could not quite snatch another.

The away team's black and white kit portrayed perfectly their attitude going into the fixture, one of negativity...

Rod Stringer deployed his Stortford side, who are themselves still not mathematically clear of the drop zone, in a disappointingly negative 4-5-1 formation, which for vast periods saw every player in white and black inside their own half...

It left Stortford's Brian Woodhall outnumbered and outcast as the lone striker... Such was the gap between Woodhall and the rest of his side, the striker would have had to charter a small plane to cover the vast distance. It's a good job that Bishop's Woodside Park home is sat right next to Stansted Airport.

It would also be worth checking the inner lining of Matt Glennon's goalkeeping gloves to see if they were padded with sheepskin or something similar, as, given how the negativity of Stortford rendered him essentially redundant, it seems the only way frostbite could have been prevented... A long punt forward was chased down by what seemed a solo effort from Woodhall, but the ball dribbled infield where Matt Johnson, who was for the first time making an attacking surge, latched on and struck with power into Glennon's bottom right-hand corner..

For the second period it looked as though, at times, Woodhall has chartered that plane, as he himself wandered back on the defensive. Stortford were sat so deep, they were practically half way back down the M1... Stortford were also trying all the tricks of the time wasting trade, as defensive midfielder Alli Abdullah was cautioned for holding up play instead of his midfield when taking an unnecessary drink at a throw-in...

Boos came from the 926 Town fans, who made up one hundred percent of the crowd, seen [seeing] as there were zero Bishop's fans...

Bishop's Stortford 1, Carl Pentney 2, Ben Sampayo |3, Johnny Herd |4, Reece Prestedge (C) |5, Phil Anderson |6, Sean Francis |7, Matt Johnson |8, Alli Abdullah |9, Brian Woodhall |10, Callum Webb |11, Harry Baker. (Subs: 12, Harry Mattock | 14, Steve Cawley (Baker, 90+1) |15, Lewis Wilson (Webb, 62) | 16, Danny Elmes (Woodhall, 74) | 22, Hayden Dodge)".

More comes from the Halifax Courier, which says that "FC Halifax Town... were held at home by ten-men Bishop's Stortford... Town are getting little home comfort at the moment, and will hope to move back above Altrincham in the table with a win at home to Corby on Thursday as their frantic schedule offers little time to recover.

Neil Aspin made three changes from the side that started against Altrincham three days ago, with James Knowles replacing Ryan Toulson in defence, Jon Worthington coming in for Chris Worsley in midfield and Gareth Seddon returning from injury in place of Adriano Moke.

Bishop's Stortford, with one win in their last ten games, rather predictably set themselves up with two banks of four, which looked more like one bank of eight at times... as they closed down every inch of free space Town managed to work in and around their box... Johnny Herd cleared a goal-bound header off the line with his hand, for which he was sent-off and Town were given a golden opportunity from the spot. But Gardner's penalty was saved by Pentney".

And the Halifax Courier tells us that "Neil Aspin was left cursing his luck... The Town boss said... 'I'm really frustrated because, if ever there was a game [in which] we should have got the points, it was tonight. I can't fault the players for lack of effort, I thought they kept going all game and tried their best to get the winner... I don't want to be accused of being somebody whot trots out excuses but you'd have to say we're not having the luck at the moment. It's got to turn and it needs to turn on Thursday because every game we don't win we make it more difficult for ourselves.

Full credit to Stortford, they set their stall out to sit back and try and catch us on the break and that's what we'd expect... You get a penalty and Dan Gardner, who scored all his penalties last year, you expect him to score but again, it's that top goal and penalty misses prove to be costly when games are tight... You get a couple of players tonight who are injured and suddenly you've got less people to pick from on Thursday, then you've got to play Saturday...

It's not a coincidence that it's more difficult to move the ball quickly when the pitch is so bobbly. When teams sit men behind the ball and you want to break them down, the quickness of the pass is what moves people about and you just can't do that'".

Tuesday's BSBN attendances were:
Brackley Town v Vauxhall Motors 247
Colwyn Bay v Droylsden 197
FC Halifax Town v Bishop's Stortford 926
Gainsborough Trinity v Histon 346
Harrogate Town v Gloucester City 301
---
10 April 2013
FOLLOW ALTY TO GUISELEY
TASC has arranged Away Travel for supporters to Guiseley on Thursday. Book your place by ringing 0161 928-1045.
TUESDAY GAMES
Tue 9 April
Brackley Town 1 Vauxhall Motors 0
Colwyn Bay 1 Droylsden 3
FC Halifax Town 1 Bishop's Stortford 1
Gainsborough Trinity 1 Histon 0
Harrogate Town 1 Gloucester City 0
Stalybridge Celtic 1 Guiseley 1
League table
NEXT FOR THE LADIES
Altrincham FC Ladies' next match is on Thursday (11th) at Manor Farm, Ridgeway Road, Timperley, against AFC Urmston Meadowside at 6.30pm. This is a game in the Cheshire Women's league Division Two.
BEER FESTIVAL
The latest guest ale for the Altrincham FC Beer Festival is Red Willow Brewery's "Endless", 3.8% ABV, which is sponsored by the Altrincham FC Players.
OLD BOY
The Local Guardian reports that "Kingstonian skipper Matt Somner admitted this season has not worked out how he had hoped. The 30-year-old former Brentford midfielder joined the K`s in the summer from Lewes looking for promotion via at the play-offs at the very least. However, Monday night's 1-0 defeat to Hastings United has all but ended K`s hopes of making the play-offs this time round".
YOUTHS GO OUT
Chester FC tell us that "Chester Colts booked their place in the semi-finals of the North West Youth Alliance Open Cup after a 4-0 victory at home to Premier Division side Altrincham... Altrincham began the second half brightly, but the in-form Joe Williams continued his impressive run of goalscoring form, rounding the goalkeeper to slot home to extend Chester's advantage further. Altrincham had the opportunity to reduce the deficit shortly after, Lloyd Pownall guilty of a trip in the area resulting in the award of a penalty. Ryan Neild produced another fine penalty save to keep his clean sheet, before producing two more fantastic saves before the game was out to cap a fine individual performance".
NW NEWS
NLDaily tells us that "1874 Northwich FC and Widnes Vikings FC have been invited to meet with the FA regarding their applications to join the North West Counties League next season... on April 22... The outcome of the meetings will not be known until after the FA Leagues' Committee has met on May 17, when the Non-League structure for the 2013/14 season will be finalised".
BSBN NEWS
In the Yorkshire Evening Post, we read that "Guiseley manager Steve Kittrick is hoping former Leeds United winger Seb Carole will prove a trump card in their quest to crack the play-offs and clinch promotion at the third time of asking.

Gallic schemer Carole recently linked up with the Lions after a short spell at Bury, after spending most of the season at Northern Counties East League Division One high-fliers Knaresborough Town.

The 30-year-old has already made a positive impression, according to Kittrick... Kittrick, whose side travel across the Pennines to Stalybridge Celtic, said, 'Seb was at Bury, but they had no money to pay (to sign him). However, the thing with him is that it's not about the money, but playing football. He has got the skill to get past people and with him and Gavin Rothery in the team, we have quality players to whip the ball in.

Seb wants to do it as well and is a great bloke. It's a great signing for us. He scored the winner against Gainsborough, played well against Workington and had a goal disallowed against Halifax'...

After four games in seven days last week, Guiseley also have a crowded itinerary this week and after tonight's trip to Bower Fold, entertain Lee Sinnott's Altrincham on Thursday before welcoming champions Chester to Nethermoor on Saturday.

With Guiseley virtually nailed on to finish second, despite their 1-0 weekend reverse to third-placed Brackley, Kittrick will adopt a pragmatic policy regarding team selection, given their crowded schedule and will rotate a number of players this week. The Lions chief insists that the name of the game is getting his side in peak form and fresh for the final few games of the season to ensure they head into the play-offs with some valuable momentum.

Kittrick, whose side are still nine points clear of Brackley, having played a game more, said, 'We will regroup and rotate and play some of the younger lads this week to secure second place, which I think is where we will end up. At this time of year, with our run of games, you can't play a settled team. But once we get over this week, it will be easier after the Chester game and things will settle down. We can get into some sort of rhythm for the play-offs'.

On his side's heavy schedule, Kittrick added, 'I said two years ago that teams should play Saturday-Tuesday up to November, then we wouldn't have these problems. It's unfair, not just on us, but on the likes of Halifax and Altrincham as well'".

Elsewhere in Yorkshire, the Halifax Courier reported on Tuesday that "FC Halifax Town can move back above Altrincham with a win against Bishop's Stortford... Town lost 4-3 to the Robins on Saturday, but have an immediate chance to lift themselves back into fourth place...

The Shaymen got their season off to the perfect start with a 2-1 win in the reverse fixture back in August, and since then, Bishop's Stortford have had some punishing away days, including a 5-1 loss at Gloucester and a 4-1 defeat at Chester. Rod Stringer's side are the sixth-lowest scorers in the league and have the sixth-worst defensive record, but are ten points clear of safety in 17th place.

They are currently without a win in their last four games and have only won once in their previous ten matches. Striker Gareth Seddon could be in line for a return to action after missing the last three games since sustaining a dead leg, while Jon Worthington could also be recalled to the team after sitting out the Altrincham defeat".

It adds, "The Shaymen face back-to-back midweek home games with Corby Town also making the journey to West Yorkshire on Thursday. Neil Aspin's team have gone three games without a victory... The Town boss has opted to rotate his team in recent weeks to deal with the fixture pile-up... and Aspin is set to shuffle his pack once again after Lee Gregory and Dan Gardner were both substituted at the weekend through injury.

Gregory is believed to have broken his nose after taking a blow to the face in an aerial challenge which forced him off midway through the first half [against Altrincham]. Gardner was withdrawn at half-time because the midfielder picked up a knock on his knee... Defender, Liam Hogan, is expected to be out for the rest of the season...

Stortford [who visit Moss Lane on Saturday] have found themselves in the lower half of the league for most of the campaign... The Hertfordshire Club have won five times on their travels this season and have suffered seven defeats".
---
9 April 2013
MONDAY SCORES
A night of unexpected results...

Mon 8 April
Bradford Park Avenue 1 Oxford City 2 - Att. 302. Oxford had ten men for more than an hour.
Hinckley United 6 Corby Town 3 - Att. 255. Ex-Alty keeper Ashley Timms was in goal for The Knitters.
YOUTH NEWS
In the NWYA Open Cup quarter finals Chester Colts beat Altrincham Youth 4-0 last Sunday.
LATEST BEER ANNOUNCED
The latest guest ale for the Altrincham FC Beer Festival is George Wright's 'Drunken Duck', 3.9% ABV, sponsored by Tintagel Consultancy Ltd.
BSBN NEWS
According to the Telegraph and Argus, in its report on Brackley 1 Guiseley 0, "A subdued performance in a non-descript away game was fitting as Guiseley's faint hopes of the Blue Square Bet North title were finally snuffed out... A win for Chester FC at home to Boston by the same scoreline saw them crowned as champions...

For Steve Kittrick's Guiseley, it is now all about securing second place for a second successive season to give them the best possible draw in the play-offs. The manager will be expecting much improved performances now that the one automatic promotion issue has been settled.

Brackley were not at their best in a strange third-versus-second encounter. It was as if all the places had already been settled and the sides were going through the motions in a dead rubber. Effectively that is the case as both have points cushions in their current placings. Guiseley only need four points from their remaining six fixtures to seal second spot...

Kittrick did what he could to liven up his side by using all three substitutes. Phil Marsh and James Walshaw were thrown on for Holsgrove and Josh Wilson in a double change. Soon after, Holdsworth made way for Gavin Rothery, who was making his first appearance after a knee injury...

Kittrick said, 'Chester were champions for me before this game and, fair play to them, they have deserved it. They are a good side. I asked Neil (Young, Chester manager) to come to us (next Saturday) and win the league but they have done it now so they can rest. It was a funny game at Brackley. We started poorly and they had three or four chances early doors. The second half was a non-event'".

Meanwhile, the Halifax Courier reports that "Neil Aspin says his FC Halifax Town side need to start winning at the Shay or they won't reach the play-offs after losing 4-3 at home to Altrincham on Saturday...

He said, 'It has to change and if it doesn't we won't get in the play-offs. We've got to win games at home, the more you're not winning games you come under pressure like we were last year, but that's football... I said at half-time it was up to which team defended the best in the second-half, and unfortunately it was Altrincham'".

In Sunday's NL Paper, it was reported that Cambridge City were looking to ground share at Histon, after an arrangement with Weston-super-Mare fell through. And now, Pitchero Non-League tells us that "Cambridge University Press are to withdraw from the Thurlow Nunn League at the end of the season. They are no longer able to groundshare with Histon and, having been unable to find a suitable alternative, will return to play their games at the Cass Centre next season. They hope to be able to re-join the Kershaw League.

Chairman Nigel Atkinson commented, 'Our success this year and possible promotion make it all the more disappointing not to be able to continue'".

According to the Yorkshire Evening Post, "Guiseley will have to make do with the play-offs... [At Brackley], Guiseley seemed to have done enough to get a point, after withstanding a lot of pressure from Brackley... Guiseley will look to bounce back with victory at Stalybridge tomorrow evening.

Harrogate Town also endured a miserable afternoon with a 4-2 loss at home to Solihull Moors... Solihull forced themselves into the game and Omar Bogle grabbed a hat-trick before skipper Tom Kemp smashed in the fourth. Town then saw Adam Bolder dismissed for an alleged handball... Town, who host Gloucester tomorrow, are now level on points with seventh-placed Bradford Park Avenue who continued their recent purple patch with a fine 4-1 success at Hinckley United...

Avenue are back in action this evening at home to 15th-placed Oxford City. A dream day for Avenue was capped with the defeat of fifth-placed FC Halifax Town who slipped to a 4-3 reverse at home to play-off rivals Altrincham who are now up to fourth... Halifax next welcome Bishop's Stortford... [Manager] Aspin added, 'We're under pressure now to get a result on Tuesday and we need to perform'".
---
8 April 2013
CHEERS!
A page on this site, dedicated to the Altrincham FC Beer Festival is here. One of the guest ales is being announced each day. This Sunday's was Dunham Brewery's Milk Stout, 4.2% ABV, sponsored by Barry and Carol Pond.
ALEX IS NUMBER NINE
Alex Weatherby became the latest Alty Youth player to feature in an Altrincham first-team squad when he was named as a substitute at FC Halifax Town last Saturday.

He follows Duncan Watmore, Sam Grimshaw, Steve Bullen, Callum Mooney, Derryn Ofori, Adam Reid, Oliver Riley and Josh Samberg as a former Alty Youth or Junior to have been in a first-team squad this season.
PONTOON UPDATE
Not only did Altrincham pick up 3 valuable points at FC Halifax yesterday but the 4 goals they scored saw Nigel Bunce take the joint lead in the Pontoon Competition along with John Edwards and Chester who are both now on 19 goals. Previous leader Gareth Thomas went bust when BPA scored 4 and gave them a total of 22.

Third now, on 18 goals, is Daisy Sellar and her Gateshead team and joint fourth on 17 goals are Neil Faulkner's Aston Villa, Dana Laidlar's Harrogate Town and Peter Foster's Southampton.

Next update - 14th April.
HALIFAX COMMENTARY
Brian Flynn advises us that the Radio Robins commentary files from Halifax last Saturday are now available.
2nd half
BBSN NEWS
Bradford PA report that "Following the 4-1 victory against Hinckley United, the Avenue manager John Deacey spoke to the official website. The Bradford boss was pleased with the effort of his players:

'It was an excellent performance from us because it was tough. The players worked extremely hard and we did what we had to do which is all I ask for every week... I was happy to give some of our players some game time. It was pleasing to give Ross (Daly) 90 minutes, and I thought Jamie Jackson was excellent when he came on. Also, I felt Tom Corner did well and I'm pleased for Adam (Baker) to score his first goal for the club. We had to be professional and get the job done and prepare for the next game against Oxford City.'"

Meanwhile, Guiseley report that "Substitute Owen Story's late goal gave Brackley a league double over Guiseley and also ensured that the Lions' pursuit of Chester finally came to an end as Lewis Turner's goal a minute after half-time sealed the win and the title for the Cheshire side, ironically against the only side to have beaten them this season, Boston United.

Playing their fourth game in eight days the Lions now need four more points to ensure a second place finish ahead of today's victors Brackley when they travel to Stalybridge on Tuesday before facing Altrincham at Nethermoor on Thursday and then hosting new champions Chester on Saturday".
---
7 April 2013
FC HALIFAX TOWN 3 ALTRINCHAM 4
An excellent second-half performance from Altrincham saw them record a magnificent win after trailing 3-2 at the interval.
Match report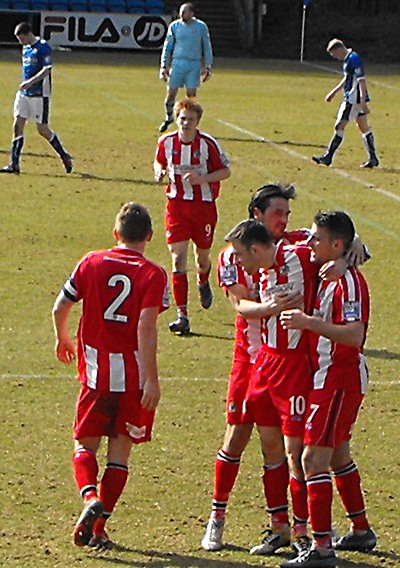 Right; Damian Reeves celebrates his first goal at Halifax.
After Saturday's pulsating game, FC Halifax Town reported that "After 19 clean sheets in all competitions this season the last thing you'd expect goalkeeper Matty Glennon to do is ship four goals. FC Halifax Town's usually squeaky clean defence was breached by a potent Altrincham attack this afternoon, as Neil Aspin's side fell to a 4-3 defeat.
Two goals in each half for the visitors did the damage, and Glennon was as frustrated as anybody at the full time whistle.
'Their quality up front beat us on the day. The two players (Damian Reeves and Simon Richman) who scored the goals did very well and we couldn't score at the other end. Half time wasn't great, it was 3-2, we shouldn't be conceding goals like that. We definitely should have kept it tight in the second half and we've not done that', Glennon said.
Three of the four goals were close-range tap ins, and it appeared that the heavy schedule is beginning to take its toll on the squad.
'The lads looked a bit leggy to be fair, we've had a lot of games in a very short space of time, but it wasn't good enough today. It was always going to be hard, 12 games in a month was going to be tough, but this makes it a bit tougher'.
Now the Shaymen must turn their attention to another busy week ahead, as they prepare to host Bishop's Stortford and Corby Town in mid-week, targeting all six points. Glennon explained, 'Tuesday and Thursday we need two good wins, and we're back in it. We've had 19 clean sheets this year so I'm sure we'll be fine. We've got three days to recover and we've got a big enough squad, so we should be fine'.
Town, who have now dropped to fifth, face another two home games next hoping to cement that play-off spot".
The Shaymen's website adds that "FC Halifax Town were on the wrong end of an entertaining seven-goal game at The Shay, as the Shaymen went a fourth home game without victory for the first time under the management of Neil Aspin.
The match provided what was a contender for the most entertaining half of football played this season, as three goals in the last five minutes of the first half gave Town a 3-2 lead going into the break, before the Shaymen ultimately ended up succumbing to a 4-3 scoreline.
The Shaymen were, rather, on the wrong end of a superb performance from Duncan Watmore. The forward created all four of Altrincham's goals and caused constant threat throughout the Blue Square North encounter.
The result was also a surprise given the domination of the home side for the majority of the first half...
Damian Reeves, out of almost nothing, levelled for the visitors. The league's top scorer notched his 34th of the campaign as Watmore was chipped through, before cutting back to a free Reeves, who just had to tap home in front a healthy travelling support... Five minutes before half time, unbelievably if considered the early domination of the home team, Altrincham took the lead.
Yet again it was Watmore the creator, as yet again he used his pace to round his marker – this time Touslon – before crossing across the face of goal for Simon Richman to tap home".
With Town 3-2 up, came "Another equaliser for Altrincham. Richmond was at hand for another tap-in – the third-such goal that Altrincham scored in the match – after Watmore was played through one-on-one with Glennon... There was nobody to stop Altrincham taking the lead in the match for a second time on70 minutes, as yet again Watmore caused problems, playing through Reeves who had no trouble placing past Glennon from just outside the area, the first time Town have conceded four at home since the last time Altrincham visited in the Blue Square North, last year".
Manager "Neil Aspin's Thoughts... 'We're under a bit of pressure now and we need to be strong. Our home form has to change, we've got win games at home... We've had our better results away from home but if you score three goals at home you expect to win the match... Today, that was a poor performance defensively'. He continued, 'That's why there are league clubs after him' Aspin said of Watmore. 'He's got pace, he's direct, he's very willing with his work rate and he's a good player. You need to stop him and you need to stop Damian Reeves. If you can do that, you've got a chance of winning the game but we didn't do that'.
The match was also an awkward one for Aspin, as he lost two players to injury in the first half. First Lee Gregory took a blow the nose which was loath to stop bleeding, before Dan Gardner picked up an injury to his knee and was unable to return for the second half'".
The Halifax Courier adds that "Altrincham... battled back from behind twice to win 4-3 at the Shay. An amazing game between the two play-off contenders featured more ups and downs than a see-saw in a lift, but the visitors edged a dramatic match to haul themselves above the Shaymen in the table...
Reeves and his team-mates had hardly had a kick in the opening half an hour... Throughout it all, Moke had been a constant threat down the right... The winger was even turning out to be a better outlet than Gardner and gave Scott Leather a real hiding[?] down the Altrincham left. It wasn't too much of a surprise to see a different left-back in former Shaymen Matt Doughty come up against him after the restart...
The hosts were never quite the same electrifying prospect after the interval... Reeves then came to life again like the flick of a switch as he latched on to a through ball and showed all the composure you'd expect of a man about to score his 35th goal of the season as he lifted the ball over Glennon and completed Altrincham's second comeback of the afternoon".
GATES
Saturday's attendances:
Bishop's Stortford v Colwyn Bay 319
Brackley Town v Guiseley 285 - for second v third!
Chester FC v Boston United 3,685
Droylsden v Corby Town 139
FC Halifax Town v Altrincham 1,435
Gainsborough Trinity v Oxford City 446
Gloucester City v Vauxhall Motors 301
Harrogate Town v Solihull Moors 371
Hinckley United v Bradford Park Avenue 250
Histon v Stalybridge Celtic 321
Workington v Worcester City 373
SATURDAY FIXTURES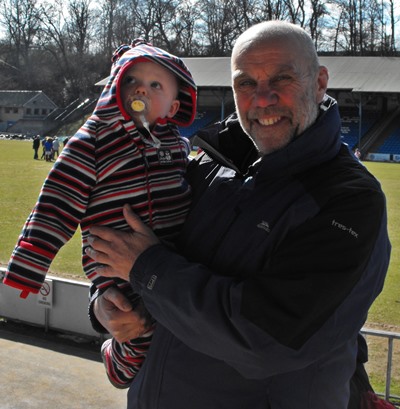 Right: Perhaps the youngest Alty supporter at Halifax on Saturday was Master Oliver Clee, Nicky's son, pictured here before kick off with his grandfather, Norman Clee.
BEER FESTIVAL
Each day, one of the guest beers at the forthcoming Altrincham FC Beer Festival is being announced by TASC's Steve Foster. Today's sponsors are Gallagher Roofing, and the beer is Galaxy Pale Ale (Hornbeam Brewery) 4.1% ABV.

Grahame Rowley reminds us that "Altrincham FC's Second Beer Festival will be running over the weekend of April 26th-28th, 2013. There will be at least four games played at Moss Lane over that weekend and hopefully many supporters/visitors to the Beer Festival. We are looking for volunteers who can help out over that weekend, be it to serve in the Real Ale Bar, help sweep/mop the dressing rooms after the games, or help on our Family Fun Day on Sunday, on stalls.

If you can spare any time, be it half an hour or half a day, please either text/phone me on 07720-606897".

Also, Grahame adds that the Club has 2,000 leaflets advertising the Beer Festival and Bingo Night at Moss Lane, so "If you are friendly with local shopkeepers/newsagents/chippies, etc and wouldn't mind asking them to have a supply of leaflets to distribute to customers, would you please pick up some leaflets from Moss Lane or contact the club by e-mail or by ringing (0161) 928-1045 to arrange for delivery?".
ADAM'S BRACE
The Manchester FA beat Cumberland FA with Alty Youth striker Adam Bezzina scoring two of the goals. Manchester County FA play in the FA County Youth Cup final at Spotland on Saturday 20 April (2pm ko).Admission to the game is £5 for adults and £2 for those 16 and under. Turnstiles will open at 12.30pm with unreserved seating for Manchester supporters through the Main Stand West.
OLD BOY
Carl Furlong netted Prescot Cables' goal in their 4-1 defeat at Mossley.
BSBN NEWS
Alty's next opponents are Guiseley, who lost at Brackley, who have a report on their 1-0 win.

The Banbury Guardian reports that "Substitute Owen Story earned Brackley Town a deserved 1-0 victory over Guiseley... Saints dominated the opening exchanges...

Saints started the better of the two sides again in the second half but still lacked the cutting edge... Substitute Story replaced James Clifton in the closing stages and grabbed the points in the 83rd minute when the ball dropped kindly for him to slot home from ten yards".

This is Lincs tells us that "Boston United trio Marc Newsham, Spencer Weir-Daley and Ian Ross have agreed deals to stay at the club, according to manager Dennis Greene. The Pilgrims boss confirmed the news following [the] 1-0 defeat at Chester FC... Said Greene, 'Those three are definitely on board for next year'".
---
6 April 2013
FC HALIFAX TOWN 3 ALTRINCHAM 4
An excellent second-half performance from Altrincham saw them record a magnificent win after trailing 3-2 at the interval.
Match report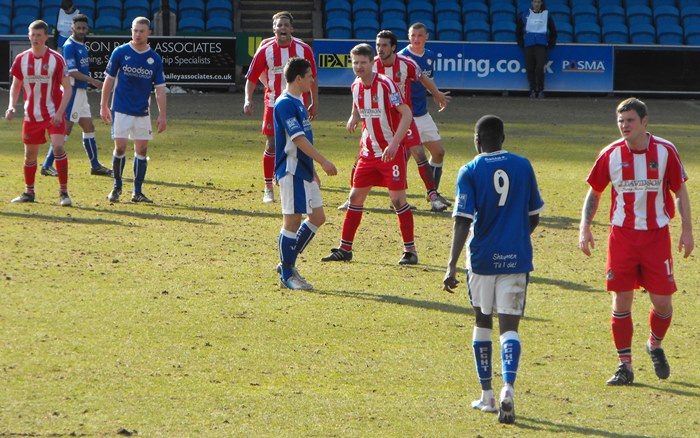 Above: Carl Rodgers organizes the Alty midfield at The Shay; Scott Leather, Danny Boshell, Luca Havern and Matt Doughty are the other Alty players in the picture.
Bishop's Stortford 2-2 Colwyn Bay
Brackley Town 1-0 Guiseley
Chester 1-0 Boston United
Droylsden 2-2 Corby Town
FC Halifax Town 3-4 Altrincham
Gainsborough Trinity 1-2 Oxford City
Gloucester City 1-1 Vauxhall Motors
Harrogate Town 2-4 Solihull Moors
Hinckley United 1-4 Bradford Park Avenue
Histon 0-2 Stalybridge Celtic
Workington 1-0 Worcester City
BEFORE THE MATCH
Today's opponents, FC Halifax Town report thay they "face another play-off rival this weekend as they entertain Altrincham at The Shay. The Shaymen held second place Guiseley at Nethermoor Park to a 1-1 draw on Wednesday night... which left them one point [ahead] of Saturday's opponents having still played three games fewer.

This will be the first [league] encounter between the two sides after postponements had delayed the two teams going head-to-head earlier in the season. However, Town did triumph 5-2 winners in the FA Trophy first round in November on home soil which included a three minute Gareth Seddon hat-trick as well as strikes from Lee Gregory and Dale Johnson.

Aspin has no new injury worries with only Liam Hogan unavailable through injury. Seddon is expected to be available for selection after suffering a dead-leg in the 1-0 win at Workington in which the striker scored the only goal.

New signing, James Knowles, was withdrawn midway through the first half at Guiseley but it is thought the move was tactical with the introduction of Adriano Moke. Midfielder, Jon Worthington, returned to the starting line-up and came through the 90 minutes unscathed so he should be in contention once again.

Defender, Ryan Toulson, is still available for selection, despite being sent off against Bradford Park Avenue on Monday. His suspension does not start until two weeks after the date of the sending off.

On-loan Rochdale centre half, Matt Pearson, is set to prolong his stay with Town after initially being recalled by Rochdale after the Bank Holiday weekend...

The Robins are also the second top scorers in the division with 77 goals but that is still 20 shy of league leaders Chester. Altrincham have won seven times on the road this season, suffering five defeats and drawing the other five. Town are just behind in the overall record having been defeated by the Manchester Club on five occasions compared to the Shaymen's four victories. Last season Halifax were unable to take three points off Sinnott's men after drawing 1-1 away and losing 4-2 at home".

According to the Halifax Courier, "Fourth plays fifth in the Blue Square North on Saturday, when FC Halifax Town face Altrincham at the Shay. It's Town's third game in a row against a side pushing for the play-offs after losing 1-0 to Bradford Park Avenue on Easter Monday and drawing 1-1 at Guiseley on Wednesday.

Altrincham could overtake The Shaymen with a win, but Town boss Neil Aspin stressed that while it is an important match for his side, the prize on offer for a win is the same as any other fixture... Altrincham's 2-0 defeat at leaders Chester on Monday is their only loss in their last ten league games, and brought a run of six straight wins to an end.

Town, meanwhile, have won nine of their previous 14 games in all competitions. Only Chester have conceded fewer goals on their home patch than The Shaymen, while only Harrogate have scored fewer goals on the road than Altrincham in the top eight.

Damian Reeves is Altrincham's and the division's top scorer with 33 league goals, with Town forward Lee Gregory second-top scorer in the Conference North with 19".
SATURDAY'S GAMES
Through the Years by Howard Watts.
Bishop's Stortford v Colwyn Bay
Brackley Town v Guiseley
Chester FC v Boston United
Droylsden v Corby Town
FC Halifax Town v Altrincham
Gainsborough Trinity v Oxford City
Gloucester City v Vauxhall Motors
Harrogate Town v Solihull Moors
Hinckley United v Bradford Park Avenue
Histon v Stalybridge Celtic
Workington v Worcester City
MARK IN NL PAPER
Sunday's NL Paper has a feature on "Mark's Mission – Altrincham legend Mark Maddox is determined to run the London Marathon despite suffering from Motor Neurone disease".
PUPIL AND MASTER
This week's "Sale & Altrincham Advertiser" quotes Duncan Watmore on his partnership with Damian Reeves. "He's such a good influence on me. Sometimes, I'll get passed the ball and be thinking about running with it before I've even got it. So then my touch is gone and I've lost the ball. He's always telling me to get it under control first and have a look before doing anything. Obviously, he's unbelievable at finishing so he's always teaching me the places to go and how to finish goals. I've definitely become a better strker because of him".
SUPPORTERS NEEDED!
Mark Eckersall is once again in charge of recruitment for the Altrincham FC Supporters' team for its annual clash with John "Hairdryer" Skelhorn's Club team on Friday 26th April. Mark writes, "It's that time of year when we start assembling the elite of the Golf Road into a team of galiticos in an attempt to regain our trophy.

We are looking for players for the Supporters' team, managed by Tom Jacobs and Martin Jordan, to play at Moss Lane on Friday 26th April. This is a fundraiser for the club and the cost to play is £25 for the chance to run out on the hallowed turf, this includes a post-match buffet and a souvenir medal for taking part.

We have a few criteria that we would like to start the selection process with and to ensure that we make the game competitive and fair.

Whilst this game is a fun fundraiser it is usually of a decent standard on both teams and Moss Lane is a very big pitch when you get out there.

There are 16 places to be had in the squad, to ensure everyone gets some good time on the pitch for their money

1) Applicants must be physically fit and have actually played football recently, whether that be 5-a-side, Sunday league or higher! You don't need to be Pele but basic control and co-ordination plus ability to not be sick on the Chequers end after seven minutes is a must. (I am allowed to say that as all three rule me out).

2) Applicants must be of a minimum age of leaving school this year. Whilst there are many capable youngsters out there I am sure, it's not fair to ask adults to play against them for fear of injury.

3) We want our team to be as close to a true Alty supporters' team as possible.

Should we get more applicants than places, we will give priority to people who meet (1) and (2) above and attend Moss Lane on a regular basis. We are aware that many reasons prevent people attending every game but we want to try and offer places to those who are the most involved with the club, rather than someone's mate who went to Wembley in '86*

(*we reserve the right to abandon this rule if numbers are low and that mate is mustard).

We will hold a get -together one night before the game on Melrose Park in Hale Barns for people to meet up and have a kick about. Date to be confirmed on that one. If you'd like to put your name down then please email me, titling your email 'Supporters' Team'.

Please advise name, age, preferred position and a bit about your love of the Robins and recent footballing prowess and I'll add you to the list"
CHESTER COMMENTARY
Brian Flynn advises us that Easter Monday's Radio Robins' commentary files from Chester FC v Altrincham are available:
Second Half
BEER FESTIVAL'S FIRST ALE NAMED
TASC's Steve Foster announces that "With 21 days left to the start of the Annual Altrincham Football Club Beer Festival, sponsored by J Davidson, we are pleased to announce the first of the beers that will be available at the festival. This is Timothy Taylor's Landlord. This beer will be kindly sponsored by Manchester Glass who are also the sponsors of the pint glasses available at the event".

Grahame Rowley reminds us that "Altrincham FC's Second Beer Festival will be running over the weekend of April 26th-28th, 2013. There will be at least four games played at Moss Lane over that weekend and hopefully many supporters/visitors to the Beer Festival. We are looking for volunteers who can help out over that weekend, be it to serve in the Real Ale Bar, help sweep/mop the dressing rooms after the games, or help on our Family Fun Day on Sunday, on stalls.

If you can spare any time, be it half an hour or half a day, please either text/phone me on 07720-606897".

Also, Grahame adds that the Club has 2,000 leaflets advertising the Beer Festival and Bingo Night at Moss Lane, so "If you are friendly with local shopkeepers/newsagents/chippies, etc and wouldn't mind asking them to have a supply of leaflets to distribute to customers, would you please pick up some leaflets from Moss Lane or contact the club by e-mail or by ringing (0161) 928-1045 to arrange for delivery?".
DERBY DAY
It may be Grand National weekend but Monday is Derby Day in Manchester.The United versus City clash will be shown, live, in the bar at Moss Lane on Monday. Kick off is at 8pm and the bar opens half an hour beforehand.
SCOTS AT MOSS LANE
This season Altrincham have acquired a keen new convert on the terraces in the form of Glaswegian, Ronnie McLeod, who was an ardent Glasgow Celtic fan till his employment brought him to South Manchester. A couple of recent bits of trivia may help him feel at home at Moss Lane, as our club can boast several ex-Scotsmen amongst its ex-players.

Having recently acquired the Altrincham v Northwich Victoria matchday programme from the politically incorrect year of 1951, we find in it a "Pen Picture of Robert Barrie our very popular goalkeeper. A true Scot of the first water, (or should it be whisky). Born in Glasgow. Played in the Boys' Brigade League, was spotted by Hibs and signed 'pro' at 18 years of age... On demobilisation [after wartime overseas naval service], "Joined Torquay United, then played for Hude United and then to Altrincham. Dubbed by our trainer as one of the toughest men in football. Talks broad Scotch - some opposing forwards think he is a foreigner... Catches a ball as good as any England cricketer".

And a supporter on the Alty Fans' Forum tells us that "Reading the latest issue of 'Backpass' magazine today there is an article on the Berwick Rangers 1 Glasgow Rangers 0 Scottish Cup upset of 1967, generally feted as the biggest cup shock in Scottish history. What I didn't know is that future Alty player Doug Coutts (1972-73) was a member of that Berwick team".
OLD BOY
"Curzon Ashton set up a Doodson Sport Cup final meeting with North Ferriby United after beating Matlock Town 2-1 in their semi-final on Thursday... Curzon's Scott Metcalfe netted what proved to be the winner 11 minutes from time."
BSBN NEWS
The Yorkshire Evening Post tells us that "Hitting the ninety-point mark might have provided the key to league silverware for scores of sides across the land over the years, but for Guiseley, it will be a bittersweet accolade. That's because record-breaking champions-elect Chester, whose crowning is imminent, have already smashed through that barrier by a considerable margin in a campaign in which they have simply taken the Blue Square Bet North by storm.

While Steve Kittrick's second-placed Lions are on course to beat their own milestone –namely last season's point haul of 87 - the play-offs again beckon... Kittrick...said, 'Looking at things, last year we got 87 points and now we have already got 82 with six games left. My disappointment is we will probably get 90-odd points and not win the league. But Chester will deserve it if they get it. It doesn't matter what crowd you have got or budget, you still have to win football games, at the end of the day'.

Kittrick, whose side welcome Chester to Nethermoor next weekend, quipped, 'I have spoken to Neil this week and said, "Don't you be coming to our gaff to win the league or else I will chin you!"'

Guiseley can at least all but rubber-stamp second spot if they triumph at third-placed Brackley tomorrow, but Kittrick admits he would happily take a point – being mindful that the trip to Northamptonshire will represent the first match in a run of four matches in eight days...

'Going down to Brackley will be a tough battle, but we will set our stall out not to get beaten to make sure they don't get three points closer to us. We will try and rotate things. Matty Wilson pulled his hamstring in his warm-up on Monday, but he should be all right for Saturday... If he isn't involved, we have plenty of other bodies.

We have had a tough run of fixtures, but we're going well'". Alty travel to Guiseley next Thursday.
POINTLESS
Alty fans' will not forget that the club was docked 18 points in 2006 when James Robinson proved not to have international clerance despite only coming to us from the republic of Accrington. Now Pitchero Non-League has a similar tale in which "As a result of an administrative oversight involving the registration of a player with the Evo-Stik Southern League, Division One Central club, Chalfont St Peter has been fined and given a massive FIFTEEN point deduction.

The player involved signed with the club towards the end of last year before moving on to another Evo-Stik Southern League club in January. On the back of that transfer, the league ascertained that the original registration form was incorrect. As a result of this oversight, the club has, in accordance with league rules, been fined and given a points deduction for those games in which the player was involved.

Chairman Denis Mair said, 'It is a regret that an off-field failure should have such an impact and our apologies go to the players who have performed so wonderfully this season and to the supporters who have followed them'".
---
5 April 2013
THURSDAY'S RESULT
Gainsborough Trinity 0 Chester FC 2 att. 678
MARK'S MARATHON PLANS
Former Altrincham FC captain >Mark Maddox continues to defy his doctors. Though suffering from motor neurone disease, Mark has recently completed a sky dive and is now planning to run the London Marathon.

On his Just Giving page, he writes, "I am running the London marathon with my mate Tony. I will be the first person ever to run the London Marathon with MND. I was diagnosed with MND in 2010 and, with me being over two years since diagnosis, it is going to be extremely difficult for me to attempt it, never mind complete it. Surely thats worth a pound of anyones money!

The MND Association helps people like me and without their help life would be near on impossible. I cannot train for the marathon because of MND so let's turn up on the day and see what happens! Im making a statement... I will complete it in under 6 hours! MND wont beat me".
PLAYER UPDATE
Following training on Thursday evening, manager Lee Sinnott confirmed that everyone took part, except midfielder Pat Lacey. Pat has a bug but Nicky Clee has recoverd from the virus which meant he started the last game on the bench.

Duncan Watmore who, likewise, was not fit to play 90 minutes at Chester, trained tonight as did goalkeeper Tony McMillan who missed Monday's game with illness. However, Lee cautions that player availability on Saturday depends on whether any of the players have any post-training reaction.
BSBN NEWS
FC Halifax Town report that "Neil Aspin admitted that he was happy with the response of his team after FC Halifax Town's 1-1 draw with Guiseley.

The Shaymen provided a determined performance off the back of their defeat to Bradford Park Avenue two days previous to leave Nethermoor with a point, a result which could have been much more after Town outplayed their opponents for large spells of the game...

'It wasn't so much the performance on Monday but there was a few things I wasn't happy with but I got a response tonight and, as a manager, that's very pleasing. I felt we were the better team tonight, especially in the second half. We've controlled the game, we've passed the ball well and the tempo was good. I'm proud of the players'...

Mark Bower became the second former Shayman to haunt Town in a week after Richard Marshall's winner for Bradford on Monday, but despite both sides costing Aspin's side points, he insisted he held no grudges...

Dan Gardner scored Town's equaliser in the 65th minute, and Aspin praised the young midfielder for his performance against the Lions after being disappointed with him after his performance against Bradford... 'It was quick thinking, a good delivery and a very good finish. He had a particularly bad game against Bradford and I wasn't happy with him, but he's responded in the right manner and that's credit to Dan. He's listened to what I said and he's responded tonight'...

Aspin will lead his side into yet another big game when they host play-off rivals Altrincham on Saturday, however Aspin insisted it was just as important as any other game.

'It's a big game but you get three points for Saturday and you get three points for Tuesday. Every game is important to us and I don't want to build it up more than another. We have to play them twice yet so it is an important game but I don't want to over emphasise it'".

According to the Telegraph & Argus, "Guiseley boss Steve Kittrick [was] happy with a point against Shaymen. Steve Kittrick says the team's focus is now on Brackley...

The Lions were held to a draw at home by promotion-chasing neighbours FC Halifax Town last night, while Harrogate Town were beaten at Bradford Park Avenue. This means that Guiseley's title ambitions were diluted while Brackley's hold on third spot was strengthened...

The Halifax game was Guiseley's third in five days and the Brackley clash marks the start of a run of four in eight days. There could even be another couple against Halifax, who are Guiseley's opponents in the West Riding County Cup final.

After Wednesday's 1-1 draw, Kittrick said, 'It was a fair result. I'm happy with a point from it. We might play them (Halifax) home and away in the play-offs yet but there are no pointers to those games. It doesn't matter who won the league games, play-offs are different altogether... We said to the players that we have to learn that the first ten minutes of each half are critical.

We started well last night and Halifax couldn't live with us but at the start of the second half they were on top, and that swung the game'. Kittrick's main concern has been keeping his players fresh as the games come thick and fast. He has rotated well and so far been fortunate with injuries. Aaron Hardy and James Walshaw have also returned from suspensions".

From the Telegraph & Argus, we learn that "Bradford Park Avenue make the journey to Leicestershire to take on basement outfit Hinckley United tomorrow looking for the expected victory that will keep the bandwagon rolling.

Avenue's midweek victories over Halifax Town and Harrogate Town, on Monday and Wednesday, moved them up the Blue Square Bet North table and back to the brink of the play-offs. The six points was a massive haul given that both opponents were above Bradford, and very much unexpected...

The main threat to Avenue this weekend is complacency but if one man will prevent that it is Bradford boss John Deacey... Deacey's modus operandi is to be the stalking horse. With a fair wind and an inside track, he has every chance of bringing that horse home into a placement finish...

After last night's win, press officer Lewis Sale admitted, 'It was not a pretty game but then the pitch was not in its bet state after the recent weather'...

Jordan Deacey and Ross Daly picked up knocks in the first half against Harrogate and were withdrawn at the break... Matty James could also feature on Saturday after he was recalled from his loan spell at Farsley and came off the bench in midweek.

Nathan Hotte was given the captain's armband last night following the departure of skipper James Knowles to Halifax just before the transfer deadline and vice-captain Drury's absence though injury. Tim Ryan was drafted in to boost Deacey's minimalist squad just before last Thursday's end of business.

The 39-year-old former Doncaster Rovers defender adds experience and he has played with different centre back partners in the last two games. Ryan began against Halifax alongside Adam Clayton but when Drury was injured Clayton switched to left back. Hotte dropped back from midfield and kept that position against Harrogate".
CHESHIRE NEWS
Macclesfield Town announce that management duo "Steve King and Pablo Asensio leave the club. Macclesfield Town have terminated the contracts of Steve King and Pablo Asensio with immediate effect. Youth team manager John Askey will take charge of the side".

Bulls' News adds that "Steve King has been sacked after their play-off hopes effectively ended with a 3-1 home loss to Grimsby. The sharp suited miniature manager is reported to have spent heavily over the season on players, with the club at least twice failing to pay players on time due to the outlay. They sit in eighth place in the table, 12 points short of the Mariners in fifth place. They are the eighth [Conference National] side to dispense with a manager this term".
---
4 April 2013
COME TO HALIFAX!
There was very strong Altrincham support at Chester on Monday and the supporters' help will be important again as the Robins travel to Halifax next Saturday. TASC has arranged coach transport so please check the Away Travel page and book your seat now by ringing 0161 928-1045.
MIDWEEK GAMES
Wed 3 April
Bishop's Stortford 1 Gloucester City 2 att.270
Bradford Park Avenue 1 Harrogate Town 0 att.329
Guiseley 1 FC Halifax Town 1 att.1137
COMING TO MOSS LANE
Matt Royle, Altrincham's Marketing Manager, writes, "Come along and support the team during the final run of our push for the play-offs. There are three big home games this month and it would be great to see our fantastic fan base turn out at Moss Lane, as was particularly the case against Vauxhall Motors over the Easter weekend. Please share this poster with friends, work colleagues, etc. displaying where possible with permission. Thank you for your support".

Click on the image, right, for the larger version.
MILE OF MICE AT MOSS LANE
Altrincham FC director, Paul Daine, advised us recently that "The club board have agreed to host a fundraiser for The Alzheimers Society in the Manchester Glass Sponsors' Lounge on Wednesday 30 October, 2013.

Altrincham FC's Peter Foster adds, "Over the last couple of years the Wellgreen Craft Group known as 'The Nimble Fingers' has been involved in creating a HUGE patchwork blanket that now lives at The Children's Adventure Farm and, last year, we raised £1,650 for the same charity by knitting and selling vast amounts of teddies.

This year we are taking on a massive challenge by attempting to set a world record for knitted mice.

We want to create a Mile of Mice and have advertised for knitters in the North West to give us a hand; so far the response has been great with knitters from far and wide getting in touch and requesting the pattern and sponsor form. Ah yes the dreaded sponsor form I hear you scream, but wait, for every mouse you sponsor money will be raised for the Alzheimer's Society which like most small charities are desperate for cash.

As you maybe aware death from Alzheimer's is on the increase with very few of us not touch by this dreadful disease in some way or other.

Altrincham Football Club has generously agreed to let us measure the mice on the pitch on Wednesday 30th October after which we will be selling them to raise more money for the society.

To complete this challenge we will need over 7,000 mice so we are still looking for anyone who would like to get involved with raising money and being part of a Guinness Book of Records attempt.

The pattern is fairly simple and very little wool is needed so if you know a knitter or you yourself knit please feel free to get in touch with the Club Office (0161 928 1045), or Libby Swindells 01619804743, Elizabeth.Swindells@traffordhousingtrust.co.uk, or facebook page 'mileofmice'".
SUPPORTERS' PLAYER OF YEAR
TASC chairman, Brian Flynn, announces...

"You can now vote by email for your 'Player of The Year'. Please email Geoff Morris, with your first, second & third choices. Voting closes at midnight on Wednesday, April 24th. Paper voting forms will also be available at the home games against Bishop's Stortford and FC Halifax Town".
GOOD FRIDAY DRAW
Brain Flynn reports that the "'Good Friday' Draw ticket sales topped £1,000. The total ticket sales for the 'Good Friday' Draw were £1,026.80. With costs of £204, a profit of £822.80 was realised for Altrincham Football Club... That's an excellent effort!

Thanks again to everyone who helped make the draw a success and, particularly, to the many supporters who bought tickets themselves and sold tickets to family, friends and work colleagues".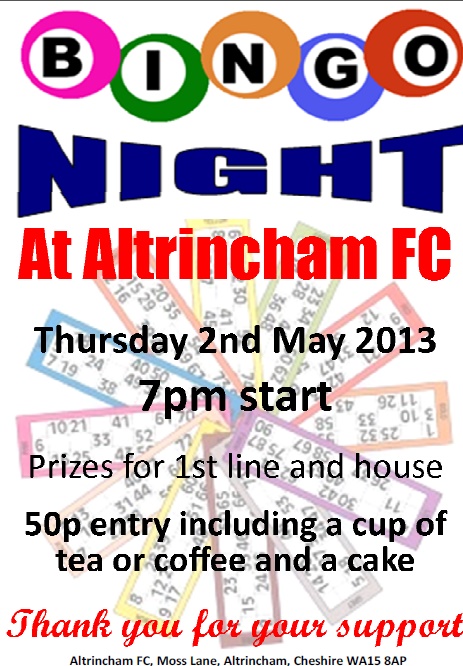 BINGO!
Sarah Rowley confirms that Altrincham FC is holding another of its popular Bingo Nights on Thursday, 2nd May, (7pm). "If anyone has anything that they would like to donate to use as bingo prizes, they would be gratefully received. Items which are needed include:
Tins or packets of food
Bottles or cans of drinks
Toiletries
Stationery items
Cleaning products
Household items eg candles, vases, etc.

If you can help, please bring the items to the club offices during normal office hours or on match days. If this is difficult, please ring the club on 0161 928-1045. Thank you very much for your help". HR> 3 April 2013
DUNCAN LOVES IT HERE
The Manchester Evening News has a feature on Alty's Duncan Watmore.

"Duncan Watmore (below, left) has a touch of brotherly love to thank for his football success. The Altrincham star is enjoying a rich vein of form, scoring 13 goals for the Blue Square North club this season. And the 19-year-old, who has football in his blood, acknowledges his debt to his older, and somewhat brutal, older siblings.

'It's ingrained in our family,' said Watmore, son of former FA chief executive Ian. 'We've always loved football, so my brothers got me playing when I was just a toddler. They always try and take credit'.

Watmore describes a punishing ritual initiated by his brothers, which involved firing a ball from 10 yards at whoever makes a mistake. He learned quickly.

'They got a tough attitude into me,' he said.

The road to Altrincham, where he made the first team last year, started at the age of four when Watmore attended a half-term course with his older brothers, Alex and Guy. Despite being too young for the course, he proved himself to be more than a match for his elders, so much so that one of the coaches remembered him a year later while in the process of setting up a feeder club for United.
He was drafted into the under-6s team and caught the eye of a United scout. He progressed with the Reds until age 12 and admits that being released caused him to question his future in the game, though he remains a staunch United fan.
'I knew I'd always play for fun', he said. "'But I was a bit disillusioned after leaving United'. After a few years with a junior side, Watmore joined Altrincham's youth team. He's now balancing his footballing career with his studies in Economics and Finance at Manchester University.
And for now the ace is happy to remain at Altrincham, despite rumours of interest from clubs such as Peterborough.
'I love it here so much', he said. 'The fans are the best thing about playing at this club. I get such a buzz'".
LEE WINS MANAGER OF THE MONTH
John Edwards, joint Press & Media Officer at Altrincham FC, writes...

"Lee Sinnott insisted on sharing the credit with his Altrincham players after deservedly being named Blue Square Bet North manager of the month for March.

A sixth straight win, against Vauxhall Motors on Good Friday, sealed the award for Sinnott, as his in-form Alty team continued to close in on a place in the promotion play-offs. Though the run ended at Chester on Easter Monday, they were more than a match for the champions-elect and almost made it 1-1 through Damian Reeves, just six minutes before the home side's late second goal.

Assessing the latest stage of Alty's push for a top-five finish, and his BSBN accolade, Alty boss Sinnott saluted the contribution of both players and supporters.

It took a late James Lawrie strike to break the deadlock against Vauxhall, and Sinnott said, 'We kept probing away, but they were very well organised and not only kept their shape but went from box to box very quickly.

'I said at half-time we had to quicken things up, and it was a wonderful finish from James to win it. But it was a late goal, and I thought it was great the way our crowd stuck by the lads. Anxiety could easily have crept in, but they made sure it didn't, and that was hugely appreciated.

'At Chester, there was a strong case for arguing we should have taken something from the game. Both goals were against the run of play. The first came just as we had settled own and got into our stride, and the second was a sucker punch after a dominant second-half display by us.

'Damian was unlucky with his chance just before. He lost sight of the ball, after Luca Havern flicked it on, and it came at him so quickly, it just glanced off his nose and bobbled wide. If he'd had a clear view of it, we'd have been looking at 1-1 and a well-earned point, but there were still a lot of positives to take from the game.

'As for manager of the month, that is down to the players. I look at it as recognition of what they have done during an outstanding run of results.'

Leg muscle fatigue prevented Duncan Watmore starting, while Nicky Clee was still feeling the effects of a bug and Simon Richman picked up a knock near the end. All three should be fit for Saturday's trip to FC Halifax Town".
THANK YOU
Friday's TASC bucket collection raised £57.56. Thanks go to the donors and collectors alike.
YOUTH TEAM
The league table shows where Altrincham Youth stand.

The NWYA Open Cup Quarter-Finals are scheduled for next Sunday:
Altrincham Youth v Morecambe i.e. Alty Juniors
Chester Colts v Altrincham FC i.e. Alty Youth
LADIES
Altrincham FC Ladies' Keith Edleston, informs us that his side's next game is on Sunday (7 April) away to Manor FC in the Cheshire Womens League, Division 2, at the Plymyard Playing Fields, Bridle Road, Eastham, CH62 8AU. Kick Off is at 2pm. Altrincham FC Ladies' remaining home fixtures at Manor Farm, Ridgeway Road are:
11/04/13 Thursday, v. AFC Urmston Meadowside @ 18:30
14/04/13 Sunday, v. Crewe Alexandra @ 14:00
21/04/13 Sunday, v. Manor FC @14:00
25/04/13 Thursday v. Wilmslow Town @18:30
YANKEE
The Altrincham FC Saturday Yankee's winning code this week was 0695; the jackpot was not won and now rises to £2,100. There were six winning trebles, however, each winning their code holder £33.33.
EASTER FUN WEEK
Altrincham FC's Easter Fun Week got under way on Tuesday and, as the adjacent image shows, the boys and girls were soon enjoying themselves on the Moss Lane pitch. And, today (Wednesday) sees three first team players (Duncan Watmore, Scott Leather and Ryan Brooke) coming along to help with the coaching.
CHESTER RATINGS
In its report on Monday's games, Chester First gives player ratings. All of Alty's players were given 7 out of 10 except Reeves and Densmore, who were awarded 8, and James Lawrie, who was given 9. Chester FC gave the away Man of the Match award to Simon Richman.
BSBN NEWS
Altrincham travel to Guiseley on Thursday of next week, from where the Yorkshire Evening Post writes that "Guiseley grabbed another three points thanks to a 2-0 win against Workington...

Hosts Guiseley made the perfect start with Jake Lawlor scoring on the volley from a corner which left Workington's goalkeeper Aaron Taylor with no chance with just seven minutes on the clock... It really was an end to end match... Both sides searched for another goal in the closing stages but... The visitors were then hit with a sucker punch when Guiseley broke away and Zack Dale was able to place a Josh Wilson pass into the bottom corner with five minutes to go...

After the match Guiseley manager Steve Kittrick said, 'It's a job well done, we made five changes and changed our formation a bit and in the second half but we controlled the game...

Chester next travel to Gainsborough on Thursday with Guiseley back in action tomorrow evening at home to FC Halifax Town who lost an ill-tempered derby at home to Bradford Park Avenue 1-0 yesterday. Halifax were reduced to ten men early in the first-half when Ryan Toulson clashed with Martin Drury off-the-ball...

The game then became ten-a-side two minutes later when Aiden Savory picked up a second yellow card for a late lunge...

Avenue boss John Deacey enthused, 'Overall, we were superb. You look at John Lamb, Adam Clayton and the whole of the midfield, and our work rate was superb... It's just a game. We have beaten a team around us, it does not matter who we beat'.

Avenue are back in action tomorrow evening with the re-arranged home clash with Harrogate Town".

The Examiner adds that "Former FC Halifax Town player Richard Marshall scored the only goal as Bradford PA won 1-0 at The Shay. It was only the Shaymen's second defeat in 15 games...

Town's Ryan Toulson – who was alleged to have stamped on Martin Drury – was shown the red card on 26 minutes",

BSBN tells us that "The league's governing body, the Football Conference, has issued the following statement regarding the sponsorship of the Blue Square Bet Premier, North and South divisions...

"The Football Conference confirms that they have been officially advised today that Blue Square Bet, the Title Sponsors of the competition for the past six seasons, has been purchased by Betfair.

Blue Square Bet, through their parent company Rank Group, has been in dialogue for some time with the Football Conference over their future position which we fully understood would likely affect their long standing association with us.

Brian Lee, Chairman of the Football Conference stated, 'Blue Square Bet has been a tremendous partner for six long seasons and we knew that they were likely to end their contract with us at the end of this current one. They have honoured each and every clause of the agreement and we would like to believe that we have responded likewise'...

A brief statement from Betfair added, 'Blue Square Bet will continue to sponsor the Football Conference under the existing titles until the end of the current season. We are then reviewing what to do after that. Furthermore The Board of the Football Conference is to meet on Thursday in London, for a regular monthly meeting, when the subject of 'Title Sponsorship' going forward will be high on the agenda'".

FC Halifax Town relay "Neil Aspin's Thoughts after FC Halifax Town slumped to just their second loss in fifteen games yesterday with a 1-0 defeat against Bradford Park Avenue...

'Any game you don't pick up points is an opportunity gone', he said... 'In the games that have been tight, we have not scored enough goals... We have now had six or seven games where we have not scored and, when the games are tight, these are the games we need to get a goal'.

Town had dependable right back Ryan Toulson dismissed early in the first-half for uncharacteristic alleged stamp...

'I'm not happy about it at all, it was a stupid red card. It cost us the game in some ways', he said. The players have got to be disciplined. I have been sent off in my career, but not for something petty like that. I don't mind aggression, but I hate play acting, I think it's cheating and it's not something I want my own players to do...

I can't fault them defensively, I thought they were solid, but we weren't creating enough'.

Arguably, one positive from the defeat was the performance of defensive loanee Matt Pearson. The centre-back picked up the man of the [match] award... 'I think he played about 30 minutes on one leg but I didn't want to bring him off because he was so committed and he has been a real breath of fresh air... Really I should be saying he is awful so that Rochdale don't want him back but I can't lie, he has been tremendous for us'".

According to the Nuneaton News, "Hinckley United equalled Lancaster City's Football Conference record of 32 matches without a win as they went down 2-1 to Histon on Easter Monday... Despite being the better side in a dour second half, the Knitters couldn't force a deserved equaliser".

From This is Lincs, we learn that there has been "Another twist at Gainsborough Trinity as manager Steve Housham calls for Blues' Club boycott. Gainsborough Trinity Football Club could be plunged into an internal war after manager Steve Housham called for a boycott of the supporters' club and labelled committee members 'dinosaurs'.

The Trinity boss let rip after claims from chairman Peter Swann that his latest offer to buy the Northolme, the club's ground, was turned down by officials at the Blues Club. The failure to buy the ground could see Swann walk away from the club at the end of this season. Housham, whose side earned a 0-0 draw at Harrogate Town on Monday, wants fans to avoid the Blues Club side of the ground and has asked 'real fans' to stand on the side of the football team and the chairman.

'It's just the way dinosaurs are', he said. 'I am going to say it in the papers. The committee is destroying what a bloke is trying to do for this town. He is trying to make this town better. Like I said, I have lived in this town all my life and I have never before seen anyone like Mr Swann come along and do what he is trying to do. It's not fair on the bloke.

We have to try and get the wins for the chairman. I will say it publicly the players will not be going in there (the Blues Club) for drinks after the game'.

In a statement on the club's website, Swann has confirmed the issue has reached a new low point. 'I offered a deal worth near £250,000 for a ground we have been playing on for all of the clubs history', said Swann. 'I was happy to sit down and discuss this offer and was open to anything they had to say. What I got back was the amount was insufficient to take to the members. That's it, no meeting, no compromise, no discussions'...

Housham, meanwhile...is asking supporters to back the football club's stance. If I was a supporter now who is backing the chairman and this football club, I would come and support our side where the dug-outs are', Housham added. 'Come and stand on our side. That's just my feelings. I am very disappointed with a few people on that committee'.

Our attempts to obtain a comment from the Blues Club committee were unsuccessful".
---
2 April 2013
CHESTER FC 2 ALTRINCHAM 0
Right: Simon Richman (foreground) was a deserved Alty Man of the Match at Chester, whilst Carl Rodgers (centre) added some bite to midfield. Also seen is Duncan Watmore.
After Chester had taken a 23rd minute lead through Matty McGinn's effort from 12 yards, Altrincham enjoyed a sustained good spell midway through the second half. They came close to an equalizer when James Lawrie's freekick needed a tap in at the back post but Damian Reeves was unable to convert it. But Chester sealed the game six minutes from time when Altrincham failed to clear their lines and Collins scored.
Report here.
CHESTER REACTION
Following Monday's game against Altrincham, Chester FC have their manager's video reaction.

And Chester FC say that the club "took another massive stride to their third consecutive league title with a hard fought victory over in-form Altrincham. Goals from Matty McGinn and Dom Collins in either half were enough to get the three points for The Blues, who seemed in control for large spells of the game...

The score remained 1-0 until half time, and ... Altrincham saw their best spell of the game saw them get a large appeal for a handball, it did appear to hit Lewis Turner on the arm however there was no distance between the shot and Turner. Moments later James Lawrie's brilliant cross just eluded both Damian Reeves and Carl Rodgers when only the faintest of touches would have saw it goalbound...

With fifteen minutes remaining Altrincham had their best chance to equalise, James Lawrie's free kick was flicked on by Gianluca Havern to top-scorer Damian Reeves at the back post but Reeves couldn't tap home from a couple of yards out.

Dom Collins... made the result safe".

The Chester Chronicle adds that "Matty McGinn's fourth goal in his last seven games gave the table-topping Blues a half-time lead.

It was a lead that Altrincham, on a league run of eight matches without defeat, threatened to cancel out after the break... The victory maintained Chester's 16-point lead at the top and stretched their unbeaten run to 28 games. That represents a league record – as does the fact that they have now won 31 matches. The previous record for most league wins in a single campaign was 30, achieved by Kettering Town in 2007-08.

Blues boss Neil Young, whose side will definitely finish top if they take nine points from their final six games, said, 'I thought the lads dug in well and restricted them to very little apart from Damian Reeves's header at the back stick, which he probably should have scored from. We tired a little bit but overall I thought we thoroughly deserved to win the game'...

After a slow start to the second half... the visitors began to exert a greater attacking influence... It was the Robins who were looking the more dangerous and after James Lawrie skinned McGinn down the right and sent over a superb cross that evaded everyone in the area, hitman Reeves fluffed a golden opportunity to equalise. Lawrie again was the provider, whipping over a free kick that found its way to the back post and to the waiting Reeves.

But the league's leading goalscorer, with 33 goals to his name, could not react quickly enough and his close-range header went wide".
BSBN NEWS
The conference confirms that "David Newton, chairman of Boston United, has confirmed the appointment of Dennis Greene as the Pilgrims' first-team manager for season 2013/14. Greene has won four and drawn one of his opening six matches in charge since coming in as interim boss following the departure of Graham Drury"..

Gates yesterday were:
Boston United v Bishop's Stortford 908
Brackley Town v Corby Town 391
Chester v Altrincham 3,089
FC Halifax Town v Bradford Park Avenue 1,611
Guiseley v Workington 513
Harrogate Town v Gainsborough Trinity 408
Histon v Hinckley United 318
Solihull Moors v Gloucester City 209
Stalybridge Celtic v Colwyn Bay 316
Vauxhall Motors v Droylsden 148
Worcester City v Oxford City 597

Carl Piergianni scored at each end as his Corby side won 4-2 at Brackley Town.
---
1 April 2013
RESULTS
Easter Monday
Boston United 1 Bishop's Stortford 1
Brackley Town 2 Corby Town 4
Chester FC 2 Altrincham 0
FC Halifax Town 0 Bradford Park Avenue 1
Guiseley 2 Workington 0
Harrogate Town 0 Gainsborough Trinity 0
Histon 2 Hinckley United 1
Solihull Moors 2 Gloucester City 3
Stalybridge Celtic 3 Colwyn Bay 3
Vauxhall Motors 4 Droylsden 0
Worcester City 3 Oxford City 2
CHESTER FC v ALTRINCHAM
Altrincham supporters are expected to be housed in the corner of the West Stand at Chester for Monday's game.

Brian Flynn advises us that, "Radio Robins will be broadcasting live coverage of the game at Chester..

The match commentary sponsors are Frederick's Sporting Apparel, a local clothing company offering bespoke team wear and individual orders, inspired by our great British sporting heritage. For more details see Twitter (@FrederickSport) or Facebook (Frederick's Sporting Apparel) or call Jack Cropper on 07845 095211

The match commentators are Ian Wilkinson and Brian Flynn, with match summaries from Paul Salt. Commentary begins at 2.55pm.

Alternatively, you can find live-text updates from the game on this site's Matchday Updates page. Quick links to both options are below.
CHESTER IN GOOD FORM - BUT SO ARE ALTY
Altrincham's next three games are all away, at top-four clubs - Chester, Halifax and Guiseley. Alty go into the games on the back of six successive victories.

News of our next opponents's last game comes from the Chester Chronicle,which says that "An exhilarating individual goal from Antoni Sarcevic put the seal on a superb success for the runaway leaders. There was just seconds left to play when the talented midfielder picked up possession near the corner of his own box. He proceeded to beat two players before finishing a thrilling 75-yard dart down the Bay's right flank with a sublime strike, curled into the far corner.

It was an incredible effort but one that should not take the shine off man-of-the-match Tony Gray's brilliantly taken hat-trick. Nor a long-range Matty McGinn free kick that would have been the goal of the game – if not the season – on any other occasion.

Chester, who were cheered on by more than 1,000 travelling supporters, have now won their last seven Blue Square Bet North league matches and are unbeaten in the league in 27...

The well-beaten Seagulls did reduce the deficit 11 minutes from time when Shelton Payne converted a penalty... Danby was furious at losing his clean sheet...

Chester: Danby, L Turner, Horan, Linwood, D Williams, Hankin, N Turner, Sarcevic, McGinn (Howard 74), Gray (M Williams 72), Jarman. Subs: A Williams, Collins, Brown".

The Chronicle adds that "There was one in, one out at Chester FC on transfer deadline day.

Former Liverpool starlet Michael Roberts arrived on a non-contract deal until the end of the season but Lee Trundle's short stay at the club came to an end after he joined lower-league Marine... He made four appearances in total, two from the bench...

Chester manager Neil Young, 'Lee wanted to play more and I can't guarantee that. Marine can... Michael's been brought in to add to the numbers and hopefully get some games between now and the end of the season so we can have a look at him'".

More from the Chester Chronicle tells us that "Neil Young has revealed a pre-match pep talk inspired Antoni Sarcevic to score one of the best goals of his career... It was the highly rated Sarcevic's 16th goal of the season but his first in the league since January 12.

'I know Ant loves proving me wrong so I said to him before the game, "Isn't it about time you started scoring again"', said Blues' boss Young, who had earlier considered taking Sarcevic off to save him for the Easter Monday home clash with Altrincham.

'I know how Ant works and what makes him tick. He had a cob on but I knew he would go out there, all guns blazing, and determined to prove me wrong. And I certainly don't mind being proved wrong when he scores a goal of that quality. To run 90 yards at that pace and to control himself and bend his shot like that once he got in there was unbelievable'...

Sarcevic stole the show but the man-of-the-match honours deservedly went to hat-trick hero Tony Gray, who today was named the Blue Square Bet North player of the month for March. The former Southport striker now has 11 goals for the season, six of which have come in his last four league outings.

Young said, 'Since he's come back into the team he's been fantastic. Tony probably hadn't had a fair crack of the whip, which was probably my doing, but the one thing I did see was a change in him in training. Whereas other players may have taken to Twitter, he's kept his head down and done everything professionally. He may be saying in his own corner that I'm the biggest you know what but he's got on with his work and he's reaped the rewards by staying professional'...

Matty McGinn... is also in top form. The 29-year-old has netted three goals in the last four league games since switching positions with Danny Williams, who is now operating as an attacking full-back with McGinn tucking in ahead of him.

'We've evolved as the season has gone on', said Young, who hailed the performances of identical twin brothers Nathan and – particularly – Lewis Turner as 'outstanding'. 'Danny Williams's pace has given us so many different options. He can go and play high but he can also help out the two centre-backs as they like to head and kick everything. Danny gives them the confidence to go out and attack the ball'.

The Blues go into tomorrow's visit of fifth-placed Altrincham 16 points clear at the top, knowing that four wins from their final seven matches will definitely secure a third successive title and promotion. Young, who has now won 90 of the 121 league games he has taken charge of at Chester, said, 'They have good players. (Duncan) Watmore is always a danger and (Damian) Reeves has scored 30-odd goals and is always a danger. They've had an extra day's rest but we've got two or three players, who can come in and step up.

Hopefully we'll have a packed Exacta and the fans will make as much noise as the fans did at Colwyn Bay. Hopefully this could be the biggest week in the football club's history'".
YOUTHS PAY FOR A POOR START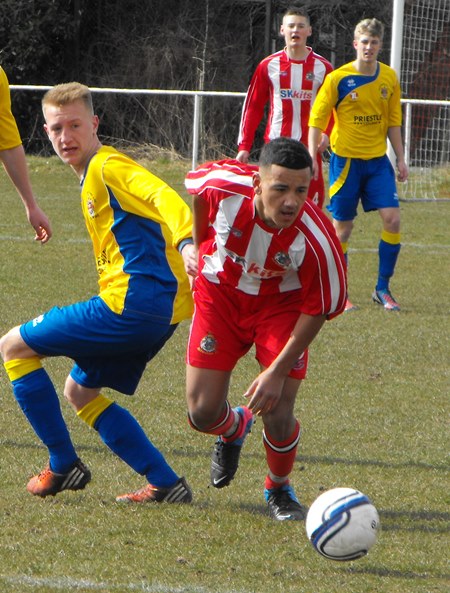 Right: Midfielder Spencer Cunliffe gets away from a Warrington Town opponent, with Jamie McLellan in the background.
After a disastrous first half which saw Altrincham 4-0 down after barely half an hour and a man short following the sending-off of Alex Weatherby, the ten-men rallied in the second half of Sunday's Altrincham Youth league match at home to Warrington Town.
Second-half goals from Spencer Cunliffe and Ollie Riley made the final score a more respectable 2-4. Report on the Youth Page..
VAUXHALL GAME - IN VISION AND SOUND
From Friday's game against Vauxhall Motors, Mark Bennett's Alty TV has its usual excellent highlights as well as a post-match interview with Lee Sinnott.

And the audio record of the game is to be found in the Radio Robins' commentary files:
Second half
PONTOON UPDATE
Grahame Rowley reports that "Gareth Thomas maintains his lead in the Pontoon Competition despite BPA not playing as, by the rules, they are awarded two goals and now stand on 18. However he has been joined at the top, on 18 goals, by John Edwards and his Chester side, after their 5-1 win at Colwyn Bay. There are now six people in equal third place who are:-
Daisy Rowley - Watford
Nigel Bunce - Altrincham
The Cromptons - Barnsley
Dana Laidlar - Harrogate Town
Peter Foster - Southampton
Richard Parris - Birmingham City

Things are really hotting up now and a winner is surely in sight in the next two weeks. Next update 8th April 2013

Tomorrow's games DO NOT count towards the scores in the Competition. The next set of results which count will be Friday 5th/Saturday 6th/Sunday 7th/Monday 8th"
OLD BOYS
Old boys on the move in the EvoStik League:
Richard Battersby to New Mills from Radcliffe Borough
Lewis Chalmers to Stamford from Droylsden
Marc Joseph to Witton Albion from Kendal Town

Old boys scoring at the weekend included Adie Hawes, who scored at both ends as his Grantham Town side beat Rushall Olympic, 2-1. Also scoring a brace were Liam King, who scored twice for North Ferriby United and Peter Wright who did likewise for Leek Town. At Mossley, ex-Youth striker Sam Madeley netted in a 2-0 win over Radcliffe Borough.
FLYNNZINE
Brian Flynn's lates "Flynnzine" appeared on Good Friday...

Walking in an Easter Wonderland!

Well, this is all very exciting, isn't it?

Nine games remain and everything to play for, in terms of taking the season beyond next month. It's a fascinating scenario, made even more interesting by the impact of what seems like the coldest winter ever!

[Snow]...This could be the type of thing we can expect at The Shay Stadium next week or Nethermoor Park when we play Guiseley!

The Conference has been put under pressure in the last couple of weeks to extend the season but, to date, has not made any changes to the existing schedule. It's highly unlikely that any changes will be made to the Blue Square Bet Premier schedule, which, like that of the F.A. Trophy, has been completely driven by... the Champions' League!

With the Champions' League Final being at Wembley on May 25th, there can be no fixtures there in the two preceding weeks and that means that The Blue Square Bet Premier Play-Off Final is on Sunday May 5th. Therefore, the league season finishes on Saturday April 20th which, by any standards was ludicrously early, even before the weather intervened.

There will almost certainly be no changes to the Blue Square Bet North and South plans unless the long procession of postponed matches continues for a couple more weeks, in which case the Conference's hand may be forced.

F.C.Halifax Town face the biggest challenge with over 30% of their league fixtures still to be played...in under a month! 13 games in 29 days by any standards is a huge challenge for everybody connected with the West Yorkshire club.

We have been there!

In 1991, we faced 14 games in the last 42 days of the season and a 28-match unbeaten run in league games transformed into a winless run of 5 games at the death that undoubtedly cost us the GM Vauxhall Conference title and a place in the Football League. The events of April and early May 1991 changed the history of Altrincham Football Club in a big way!

The other strange facet of the impending conclusion to this year's campaign is the fact that the fixture list has thrown together a huge number of games where teams in the top 8 are playing each other, sometimes twice. Halifax play Guiseley and then us next week and the same thing is repeated less than a fortnight later.

It's going to be a very challenging four weeks for all the teams involved in attempting to secure a play-off place. Guiseley may have the opportunity to ease off the gas a bit in the final run-in, but the rest of the combatants may complete the season in all sorts of physical and mental disarray. The Play-Offs themselves could be a complete lottery. We will see!

Happy Easter

Brian Flynn"
IAN'S SHIRT INITIATIVE
Ian Senior was on the BBC Non-League Football Show on Sunday morning on Radio Five Live. Altrincham's goalkeeping coach was talking about the defibrillator fundraising event. The interview is the very last item on the programme and can be heard by listening to the following podcast from about 27 minutes in:-
Podcast
DANNY MAKES HIS MARK
Alty's Danny Mitchley converted a penalty but Kendal Town, where he is on loan, lost 1-5 to FC United of Manchester at the weekend
BSBN NEWS
The Football Conference has a list of "Deadline signings", which includes

ALTRINCHAM
Josh Samberg (Goalkeeper) from Youth

BISHOP'S STORTFORD
Alex Finney (Defender) on `work experience` from Leyton Orient
Cliff Newby-Harris (Forward) from Academy
Ben Sampayo (Defender) on loan from Brighton
Hayes Thomas (Defender) from Waltham Forest

BOSTON UNITED
Kieron Elliott (Midfield) from reserves
Greg Mills (Midfield) on loan from Worcester City
Liam Ogden (Midfield) from reserves
Matt Price (Defender) from reserves
Mark Thompson (Defender) from reserves

BRACKLEY TOWN
Gary Mills (Midfield) Free Agent (ex-Lincoln City)

BRADFORD PARK AVENUE
Tim Ryan (Defender) from Stalybridge Celtic

CHESTER FC
Jack Roberts (Midfield) from Youth
Michael Roberts (Midfield) Free Agent

COLWYN BAY
Chris Moore (Goalkeeper) from Radcliffe Borough

CORBY TOWN
Medi Alalimba (Midfield) from Farnborough FC
Niall Conroy (Goalkeeper) on dual registration from St Neot's Town

DROYLSDEN
Alex Andrews (Forward) from Stalybridge Celtic
Nick Crerand (Midfield) from Salford City
Kyle Cunningham (Defender) from FC United of Manchester
Aaron Ratchford (Goalkeeper) from Stalybridge Celtic
Rob Sissons (Midfield) from Bolton Wanderers

FC HALIFAX TOWN
James Bolton (Defender) on loan from Macclesfield Town
Danny Glover (Forward) on loan from Worcester City
Adam Jackson (Defender) on loan from Middlesbrough

GLOUCESTER CITY
Nathan Phillips (Goalkeeper) from Youth
Kieran Tracey (Forward) from Youth
Sam Turl (Midfield) from Youth

GUISELEY
Dane Hodgson (Midfield) from Youth
Dale Feather (Midfield) from Youth
Josh Robson (Defender) from Youth

HARROGATE TOWN
Danny Hull (Midfield) on dual registration from Harrogate Railway
Jonathan Maloney (Midfield) on dual registration from Harrogate Railway
Alex Metcalfe (Midfield) from Ossett Albion

HISTON
Michael Richens (Defender) on loan from Peterborough United

SOLIHULL MOORS
Joe Ballinger (Utility) from Youth
Jake Gorman (Utility) from Youth

WORCESTER CITY
Jason Beardsley (Defender) from Eastwood Town
Josh Harris-James (Midfield) from Academy
Danny Williams (Defender) from Academy

The Telegraph & Argus report that "Seb Carole made a stunning impact on his Guiseley debut as a second-half substitute as he turned the game in the Lions' favour with an assist and then claimed the winning goal.

It was the archetypal game of two halves as the Lions went into the break a goal down but a remarkable turnaround saw them snatch another victory in the Blue Square Bet North... The visitors were sluggish at the start and it was no surprise when Trinity opened the scoring after dominating the first quarter-hour...

[Former Alty winger, Kevin] Holsgrove, returning from a knee injury that had sidelined him since February, had a good start to the second half but it wasn't until Carole's introduction that he bagged the equaliser... Rhys Meynell found Carole and he controlled the ball before turning it through the six-yard box where Holsgrove pounced to nod home.

Carole netted the winner 14 minutes from time after an Andy Holdsworth free-kick had been flicked on. It was Guiseley's fourth straight victory...

Guiseley manager Steve Kittrick said, 'I didn't think we started particularly well but you have to give credit to Gainsborough because they are trying to get into the play-offs and made life difficult for us. The young lad from Donny struggled in the first half but it's difficult for these lads when they come from the full-time game - it's a learning curve. Seb came on and he is a good footballer. He injected quality but he will always do that...

I've not given up, I still want to win it but, if we finish second, then I want us to do it with the momentum behind us to take into the play-offs'".
---
FOR EARLIER NEWS, CLICK HERE
---