---
31 March 2013
DE-FIB SHIRTS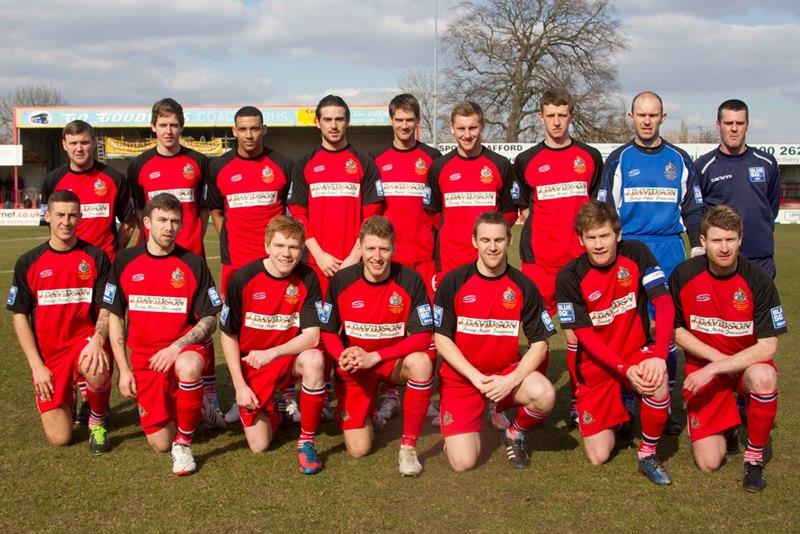 Gavin Rathbone's image shows Altrincham in their one-off SK Kits defibrillator shirts as worn on Good Friday. The players are, back row: Doughty, Brooke, Rodgers, Havern, Hall, Moult, Leather, Coburn, McMillan. Front: Lacey, Reeves, Watmore, Lawrie, Clee, Densmore and Boshell.
Ian Senior of SK Kits says that sponsorship of the shirts has totalled £1,000. Any money left over after financing a defibrillator at Moss Lane will be donated to Mark Maddox's Motor Neurone Disease charity.
CHESTER FC v ALTY
Altrincham travel to Chester on Easter Monday (3pm). The Robins lost the reverse fixture this season, 2-4, at Moss Lane.
Mike Garnett has the statistics on previous encounters between Altrincham and Chester FC / Chester City.
At Altrincham p18-w8-d3-l7-f30-a27
At Chester p18-w3-d4-l11-f33-a60
Neutral: p3-w1-d0-l2-f4-a7
All: p39-w12-d7-l20-f67-a94
SCOTT'S THE MAN YOU'RE LOOKING FOR
Altrincham's 20 year-old defender Scott Leather (right) has shown his versatility again this week. On Friday he started at left-back having played at right-back in the previous game. And, before that, he had played at centre-back. Off the field Scott can, likewise, do a good job for any employer seeking an engineering apprentice.

"Attention all Altrincham FC supporters with engineering connections. Our young defender Scott Leather is looking for an engineering apprenticeship to run alongside his football career. Scott is currently completing an NVQ Level 2 in Performing Engineering Operations. Anyone who can help with this request can contact Scott through the club. Please share with friends and associates. Thank you for your support".

You can contact the club during normal office hours on 0161 928-1045 or by e-mail.
NEIL WINS CROSSBAR CHALLENGE
Whilst Altrincham were winning on Friday, Alty coach Ian Senior was suffering defeat in the season-long Crossbar Challenge against assistant manager Neil Tolson. A 1-0 defeat before the game against Vauxhall meant that Neil had clinched the winner's spot in the Challenge, by 27-17. Ian writes, "Unfortunately, for me that is, the 'cheque is in the post'! After yesterday's 1-0 defeat... £100 is now leaving my account to Mark Maddox's Motor Neurone Disease charity".

Perhaps ex-goalkeeper Ian should challenge ex-striker Neil to a penalty-saving competition next time!
GATES
Bishop's Stortford v Brackley Town 349
Colwyn Bay v Chester 1,463
Corby Town v Worcester City 275
Droylsden v Stalybridge Celtic 356
Gainsborough Trinity v Guiseley 600
Gloucester City v Histon 323
Hinckley United v Boston United 353
Oxford City v Solihull Moors 310
Workington v FC Halifax Town 481
BSBN NEWS
"Bishop's Stortford "have announced a handful of new signings prior to the Easter weekend. Ben Sampayo, a 20-year-old defender, arrives on loan from Brighton & Hove Albion...until the end of the season.

Hayes Thomas, another defender, aged 19, has also signed for the club. He was previously at Waltham Forest.

Fellow defender Alex Finney, 16, joins on work experience from Leyton Orient, while Clifford Newby-Harris from the Blues' Academy has signed for the senior team. The 18-year-old is the divisional top scorer in the Conference Youth Alliance C League.

The club has also confirmed the departure of Curtis Ujah, who has signed for Maidenhead United.
THE LONG AGO GOOD FRIDAY
Barry Pikesley wrote the following article for Friday's "Robins' Review"...

"This afternoon's rearranged Blue Square Bet North match against Vauxhall Motors constitutes the first occasion on which Alty have had a scheduled competitive fixture on Good Friday since way back on 31st March 1972, when Scarborough were vanquished 4-0 in a Northern Premier League (NPL) game staged at Moss Lane.

Those supporters who attended the Robins' last Good Friday fixture almost 41 years ago were privileged to witness something of an Altrincham FC milestone that afternoon in the guise of the first ever goal that a certain midfielder by the name of Graham Heathcote scored for the club. Now, whatever happened to him...?! Anyhow, more on that particular topic later.

Good Friday games were a standard feature of the Robins' fixture schedules back in the late 1960s and early 1970s and, indeed, it was common practice for Alty to play three matches in just four days over the Easter Bank Holiday Weekend.

Prior to that 1972 success against Scarborough, the Robins' preceding six Good Friday fixtures had elicited two victories; three draws and merely a lone defeat.

In the Cheshire County League derby match enacted at Moss Lane on 8th April 1966, the Robins trounced their fierce rivals Macclesfield Town 5-0 courtesy of a Jackie Swindells hat-trick and two goals from Ron Taylor, as they marched inexorably on to claiming the league title under the guidance of Freddie Pye in front of a crowd of 7,329.

The following season saw the fixture reversed on Good Friday, 24th March 1967. A gate of 3,954 at the Moss Rose saw a Derek Halliwell equaliser earn the Robins a point in a 1-1 stalemate, which contributed towards their ultimately successful quest to retain the Cheshire County League title.

When the two sides crossed swords on Good Friday, 12th April 1968, during both clubs' final season as members of the Cheshire County League, it was the Silkmen who triumphed 2-0 and they proceeded to be crowned Champions and thereby thwart Alty's bid for a hat-trick of league titles. Incidentally, the scorer of both of Macc's two goals that day was Dick Young, who went on to register 35 (+4 as sub) appearances for the Robins during the 1971/72 NPL season. It's also worth noting that the attendance at Moss Lane on that particular afternoon comprised a truly impressive 8,721. Oh for such a figure today!

During the inaugural season of the NPL, Alty's Good Friday fixture consisted of a home game versus Ashington on 4th April 1969. The Northumberland club's sole visit to Moss Lane to date did not prove to be a joyous one for them, as they were duly annihilated 6-0 in front of 2,041 observers. The Robins' goalscorers that afternoon were John Fielding; Don Weston; Mick Metcalf; Freddie Stewart and the inevitable Jackie Swindells (2). Three days later, Alty completed the league double over Ashington via a 2-1 win with goals from Don Weston and Jackie Swindells.

The ensuing two NPL seasons both saw the Robins involved in goalless draws on Good Friday. On 27th March 1970, 870 people watched an impasse at South Liverpool and then Boston United comprised the opposition in a deadlock at Moss Lane on 9th April 1971, a game which attracted a crowd of 1,471.

The 1971/72 NPL season would unfold into something of an underachieving, financially challenging and transitional one for the Robins.

Alty had commenced the campaign under the management of John Davis, the former Macclesfield Town Football Team Secretary and Director who had been somewhat surprisingly appointed to the role back in October 1970 following the sacking of Matt Woods. A fairly promising start had ensued and by early October, the Robins' opening fifteen fixtures had produced eight wins; three draws and four defeats, thereby accumulating a total of nineteen points and leaving Alty lying in sixth position in the NPL table, just two points behind the then leaders, Boston United.

However, the Robins' season was soon to be derailed by a couple of embarrassing exits from the two major cup competitions, both times at the hands of a club from a lower league, and these bitter setbacks were to engender severe financial ramifications at Moss Lane.

On Tuesday, 23rd November 1971 (following the postponement of the original fixture on the previous Saturday), the Robins succumbed to a 1-0 reverse at Rossendale United of the Cheshire County League in an FA Cup First Round tie watched by 1,767 spectators. The manager of the Robins' conquerors that day was none other than Les Rigby, who would go on to endure such a controversial and wretched spell as Alty's manager during the 1975/76 season.

The despair generated by this defeat was only exacerbated by the knowledge that it had cost the club the opportunity to stage a potentially lucrative Second Round tie at home to Bolton Wanderers, who were then plying their trade in the old English Football League Division Three.

Crisis point was effectively reached on Saturday, 4th December 1971, when the Robins' lamentable record in the FA Trophy continued by means of a 1-0 Third Qualifying Round defeat at Witton Albion, also then of the Cheshire County League, in front of a gate of 952.

This latest mortifying debacle simply proved too much to stomach for Alty Chairman, Noel White, and his Board of Directors and it entailed the application of drastic action. John Davis was promptly dismissed from his post, as was his assistant/trainer, Alf Craig, and a major re-evaluation of the club's playing budget was instantly undertaken.

Former player, Felix Reilly, who had been a member of the Robins' 1965/66 Cheshire County League Championship-winning team before then going on to manage Northwich Victoria, was recalled to Moss Lane and installed as the club's interim trainer-coach. Meanwhile, the Alty Directors' instigated their pursuit of an inspirational new manager.

Prior to their Good Friday 1972 encounter with Scarborough at Moss Lane, Alty were occupying 16th spot in the NPL table and their league record that season read as follows: played: 36; won: 13; drawn: nine; lost: 14; goals scored: 48; goals conceded: 44 and points gained: 35. The ailing Robins had achieved just a single victory in their preceding dozen games, which had included an ignominious 2-1 Cheshire Senior Cup Quarter-Final loss at Sandbach Ramblers.

By contrast, Scarborough's NPL statistics were: played: 36; won: 16; drawn: 13; lost: seven; goals scored: 53; goals conceded: 32 and points gained: 45. Under the aegis of player-manager, Colin Appleton, the Yorkshire club were located in fourth position in the NPL table and had scored a tally of 16 goals in their last three games, including an 8-1 drubbing of Ellesmere Port Town on the previous Sunday.

The Good Friday fixture represented their second visit to Moss Lane that season, as they had suffered a 2-0 reverse against the Robins in a Watney NPL Cup Quarter-Final played on Monday, 29th November 1971. The erstwhile Macclesfield Town midfielder, Dave Roberts, had scored both goals, as the Robins had prevailed over their opponents notwithstanding having played with only 10 men for much of the contest.

On the afternoon of Friday, 31st March 1972, the Robins lined up as follows: (1) Willie Mailey (2) Derek Halliwell (3) Dave Mobley (4) Merrick Corfield (5) Brian Taylor (6) Barry Ashworth (7) Tony Broadhead (8) Johnny Worth (9) Stuart Burton (10) Graham Heathcote (11) Dennis Fidler (Sub) Peter Smith (for Corfield, 64 minutes).

After containing Scarborough's opening flourish, the Robins took the lead in the 33rd minute when they suddenly came to terms with the visitors' offside trap. Tony Broadhead appeared to have hesitated for too long after a 50-yard run which took him wide of the Seadogs' goalkeeper, Ted Smethurst. However, he eventually contrived to deliver a cross to Alty's young striker, Stuart Burton, who then swiftly hammered the ball into the net.

In only his second appearance for the Robins' starting XI, the 17-year-old former Altrincham FC Youth Team midfielder, Graham Heathcote, then capped a fine all-round performance by scoring his first goal for the club. He would go on to score a further 146 goals in all competitions for the Robins over the next 12 years.

Heathcote had been an unused substitute in the preceding Saturday's 2-0 defeat at Lancaster City but had then proceeded to make his debut for the Robins in a 4-1 NPL victory over Chorley in front of 504 spectators at Moss Lane on Monday, 27th March 1972.

The Altrincham Guardian's sports reporter, Dave Baker, was duly impressed by "a magnificent debut by young local product Graham Heathcote." He continued: "There were several men of experience and knowledge in the main stand enthusing about Heathcote…and understandably so. He always seemed able to create time and space for himself, rarely wasted a ball, took up good positions and several times displayed a fair degree of skill to get out of tight situations."

In the 71st minute, Heathcote powered his way down the middle of the Scarborough defence before calmly slotting the ball past the advancing goalkeeper to put the Robins 2-0 up.

The visitors were now forced to respond by abandoning their counter-attacking strategy and they pushed more men forward in an effort to salvage something from the game. Unfortunately for them, Alty duly capitalised on the increasing number of gaps that were appearing in the Scarborough rearguard and promptly rattled in another two goals, much to the delight of the majority of the attendance of 1,090, who were witnessing the Robins' 11th home victory of the season.

With Barry Ashworth in dominant form, the Robins' third goal arrived after 75 minutes, as they rapidly turned defence into attack. Stuart Burton pounced on a through ball from Dennis Fidler, neatly rounded Smethurst and then steered the ball home from an acute angle. This comprised the youngster's fourth goal for the club and, indeed, represented a tally of four in the space of just five days following his brace against Chorley at Moss Lane on the previous Monday. He went on to score a total of seven goals in 13 appearances for the Robins that season but did not feature at Moss Lane during the ensuing 1972/73 campaign.

Burton was subsequently denied a deserved hat-trick when his shot beat Smethurst, struck the foot of a post and then rebounded to safety. However, just six minutes from the end of the contest, the Robins' leading goalscorer, Tony Broadhead, rounded off a fine personal and team display by diving to head home a low, inswinging corner from Dennis Fidler. This marked Broadhead's 16th goal of the season and the ex-Bangor City and Macclesfield Town forward eventually finished as the club's leading goalscorer in his first season at Moss Lane with a total of 20 in all competitions.

On Easter Saturday, 1st April 1972, a crowd of 991 watched the Robins suffer a 3-2 NPL defeat against the heinous Northwich Victoria at The Drill Field. Barry Ashworth and Graham Heathcote were on the scoresheet for Alty and one of the green slime's goalscorers that afternoon was a certain Mal Bailey, later to be anointed as an Alty legend and famously the scorer of that momentous and unforgettable winning goal in the 1978 FA Trophy Semi-Final Second Leg versus Runcorn at Canal Street.

The evening of Easter Monday, 3rd April 1972, found the Robins recording a delightful 3-0 NPL victory over Macclesfield Town at the Moss Rose in front of a gate of 1,545. The Alty scorers on that occasion were Johnny Worth (another Moss Lane legend, who, alas, died last month after a short battle with cancer); Tony Broadhead and Stuart Burton.

Alty would proceed to finish the season in 10th position in the NPL table whilst exhibiting the following record: played: 46; won: 18; drawn: 11; lost: 17; goals scored: 72; goals conceded: 58 and points amassed: 47.

Business pressures had prevented the Robins' caretaker manager, Felix Reilly, from devoting as much time to the role as he would have liked and his inability to get to the away fixture at Lancaster City on Saturday, 25th March 1972 had brought matters to a head. Following an ensuing conversation between Reilly and Noel White, a mutual agreement had been reached that the one-time Dunfermline Athletic, East Fife and Bradford Park Avenue player should leave Moss Lane at the end of the season.

On Thursday, 20th April 1972, the appointment on a two-year contract of the former Skelmersdale United boss, Roy Rees, as the Robins' new manager was officially confirmed. As expected, he was to be joined at Moss Lane by his right-hand man at Skem, coach Tony Sanders. The subsequent work and influence of these two individuals would prove to be the cornerstone of so much of the club's success over the following 14 seasons.

And yet, it was so nearly an entirely different story. The Board of Directors' initial choice to assume the role of managing the team at Moss Lane had actually been Colin Whitaker, the Buxton manager who had steered the Derbyshire club to the 1972 FA Trophy Quarter-Finals. In fact, Whitaker had only taken the decision to remain as Buxton's manager right at the eleventh hour, just as Alty were in the very process of drawing up his contract!

One of those esoteric Alty 'what if' moments for discussion over a few post match pints in the Noel White Suite...

Barry Pikesley (with thanks to Mike Garnett)
---
30 March 2013
RESULTS
Saturday 30 March
Alty dropped to fifth after Halifax's win.
Bishop's Stortford 1 Brackley Town 3
Bradford Park Avenue v Harrogate Town POSTPONED
Colwyn Bay 1 Chester FC 5
Corby Town 1 Worcester City 0
Droylsden 1 Stalybridge Celtic 1
Gainsborough Trinity 1 Guiseley 2
Gloucester City 1 Histon 1
Hinckley United 2 Boston United 4
Oxford City 1 Solihull Moors 2
Workington 0 FC Halifax Town 1
League table
GOOD FRIDAY DRAW WINNERS
Brian Flynn, chairman of TASC, advises us of the winners of The Altrincham F.C. 'Good Friday' Draw, which took place in the Noel White Suite, following the victory over Vauxhall Motors yesterday.

The winners were:-
LeapFrog LeapPad 2. - an Wilkinson
19" HD Ready LCD TV with DVD Player - D.Forster
2 Tickets to an England International Match at Wembley - Jean Prince
Red Ride on Police Trike - Campbell McLay
Binatone Sat Nav - Peter Warburton
A Pair of Signed Nemanja Vidic Boots - ...Alan Jones
Matchday Hospitality for Four People at an Altrincham F.C. Home Game - Denise Smith
Four-Ball Round of Golf at Heyrose Golf Club, Tabley, Knutsford - Andrew Nash
Set of 3 Travel Cases - an Watmore
Notebook Set - Andrew Salt
Bobby Charlton Book - Chris Rowley
Football Manager 2013 - Anthony Wright
Yankee Candleset - amie Newhall
Football Book - Andrew Nash
Jewellery Box - Grahame Rowley
Tea Set - Campbell Mclay

Thanks to Steve Raftery for compering the draw and, particularly, to the people who helped out selling, writing & folding tickets... and, of course, to everyone who supported the draw by buying tickets.

Congratulations to all of the winners. We will announce a final figure raised as soon as we have it!

A special mention to Jean Prince whose response on her ticket being drawn out to win a pair of England tickets for a match at Wembley was 'I never win anything but tonight I'm going to party like it's 1999'!".
ALTRINCHAM 1 VAUXHALL MOTORS 0
Altrincham made it six wins in succession with this deserved but hard-earned win over a Vauxhall side which looked lively on the counter-attack.
Match report.
BSBN NEWS
Pitchero Non-League says that "Bradford Park Avenue announced the arrival of vastly experienced former England semi-professional international [and ex-Alty] defender Tim Ryan to the Horsfall Stadium. The 39-year-old has joined Avenue following the departure of James Knowles to league rivals FC Halifax Town.

Ryan started his career at Scunthorpe United. Unable to break into the first-team, he joined Buxton in 1996 for a short while, before moving back into the League with Doncaster Rovers. He made twenty-seven appearances for Rovers in his first spell, with a period on loan at Altrincham, and then signing for Southport.

Between 1997 and 2000 Ryan made 114 appearances for the Sandgrounders, scoring twice, before re-joining Doncaster... In 2006 he had a spell with Peterborough, making seven appearances, before moving to Boston United... Between 2007 and 2009 he was at Darlington... A spell on loan at Harrogate Town preluded his move into non-League with Chester City, where he was made caretaker-manager in 2009, and then assistant-manager to Jim Harvey.

At the start of the 2010/11 season, Ryan reprised his role as assistant to Harvey, this time at Stalybridge Celtic".

According to the Football Conference, "Simon Weaver, manager of play-off chasers Harrogate Town, has moved to bolster his squad... Coming into the squad is Alex Metcalfe and Harrogate Railway Athletic duo Jon Maloney and Danny Hull on dual registration.

Metcalfe was training with Hull and was recommended by their Development Coach, Stephen Clemence... He`s been on the books at neighbours Ossett Albion recently. Maloney is experienced... and Danny Hull is a young player that is developing very well... However, Brendan Griffin has not signed for Town. The former Australian under-19 player has come to England, but Harrogate will be unable to obtain his international clearance in time".

Meanwhile, "Worcester City have signed former Derby County defender Jason Beardsley after a short spell with Eastwood Town. Beardsley joined the Badgers from Mickleover Sports earlier this month...

Still only 23, Beardsley made thirteen appearances in total for the Rams and has also played League football for Notts County, where he appeared seventeen times and Macclesfield Town, for whom he played fifteen times... In January 2012, Beardsley had his registration cancelled by the Imps [Lincoln City] and he returned to Mickelover. He started this season with home-town team Uttoxeter Town whilst still being on Mickleover's books".

At Corby Town, "The deadline day for signings saw one move at Steel Park as Chris Plummer secured the signature of Medi Abalimba until the end of the season. Abalimba, 21, is a midfielder and was most recently at Farnborough but has also had spells at Oldham Athletic, Southend United and Derby County."

Elsewhere, Histon report that "Brian Page confirmed the signing of Michael Richens from Peterborough United on loan until the end of the season... Page commented 'Michael is a very good defender and, with Remy's suspension and Zak's injury, we needed someone to come in. He can play centrally or on the right hand side and he will give me options with some big games coming up'. The 18 year old signed a three year pro contract with the Posh last summer after joining from Luton Town in 2010 and is highly regarded at London Road".

Confirmation comes from the Worcester News that "Worcester City striker Danny Glover has joined rivals Halifax Town on loan until the end of the season. Glover's departure comes just a day after winger Greg Mills left the club to sign for Boston United.

Manager Carl Heeley said, 'Danny loves it at Worcester and he wants to be at the club next season. However, there's an opportunity to challenge for honours at Halifax and, unfortunately, we have slipped away. He likes the short-term challenge there and it's a good deal for Worcester City'.

City have also brought in right-sided utility player Daniel Williams on a youth loan from Aston Villa and 23-year-old former Derby full-back Jason Beardsley"

According to Harrogate Town, "Manager Simon Weaver has released information that striker Dominic Knowles has signed for Burton Albion. Dominic joined us at the beginning of the year and... despite only being with us for three months, Dom managed to find the target ten times in fourteen games".

At Halifax Town, "Matt Pearson's time with FC Halifax Town is set to be cut short, with Rochdale set to recall him after Monday's clash with Bradford Park Avenue. Pearson joined the club at the start of March and has made many admirers at The Shay in the absence of Liam Hogan, with the Shaymen yet to concede while Pearson has been on the pitch. However, a string of injuries at Rochdale has forced the Spotland outfit to recall the young defender".

Droylsden report that they have "Nine games in five weeks, hence cover signings, Nick Crerand, Dale Jennings, [ex-Alty Youth] Kyle Cunningham, Alex Andrews and Alex Ratchford".

AT Chester FC "boss Neil Young has confirmed that striker Lee Trundle has left the club to join Marine. The Blues' boss advised that Lee had spoken of his desire to play every game but Young couldn't guarantee that would happen, and so the striker has opted to join Marine, where he will bid to get himself match fit.

It's been a short stay for Trundle, who signed for the club a few weeks ago, but has only featured a handful of times".
---
29 March 2013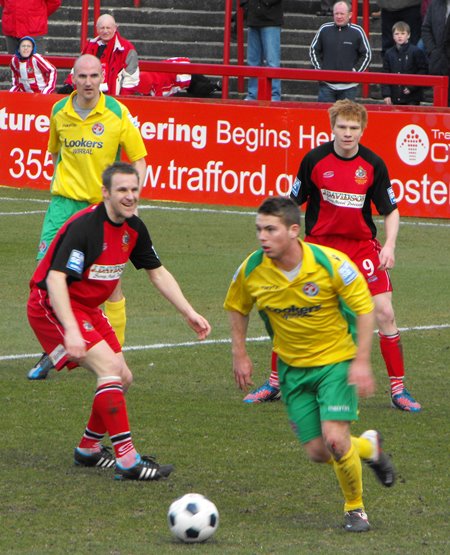 ALTRINCHAM 1 VAUXHALL MOTORS 0
Altrincham made it six wins in succession with this deserved but hard-earned win over a Vauxhall side which looked lively on the counter-attack.
Match report.

Right: Nicky Clee and Duncan Watmore are foiled on this occasion as Vauxhall bring the ball out of their own half.
NEVER ON A SUNDAY
By a curious twist, Altrincham's next eight games see them playing league games on every day of the week except Sunday. After the game today (Friday), we play on a Monday (1st April), then on a Saturday (6th,), a Thursday (11th), another Saturday (13th), a Wednesday (17th), another Saturday (20th) and a Tuesday (23rd). Is this a record?
GOOD FRIDAY DRAW
TASC chairman, Brian Flynn, writes...

"The Altrincham Football Club 'Good Friday' Draw

The 'Good Friday' Draw will take place in the Noel White Suite at 5.30pm, .following the game against Vauxhall Motors.

Prizes are as follows:-
LeapFrog LeapPad 2
19" HD Ready LCD TV with DVD Player
2 Tickets to an England International Match at Wembley
Red Ride on Police Trike
Binatone Sat Nav
A Pair of Signed Nemanja Vidic Boots
Matchday Hospitality for Four People at an Altrincham F.C. Home Game
Four-Ball Round of Golf at Heyrose Golf Club, Tabley, Knutsford
Set of 3 Travel Cases
PLUS MANY MORE!!!!

Your final chance to buy tickets is at tomorrow's game. They are 50p each or £2 for a book of 4!

We desperately need people to help sell tickets before & after the game. If you can give up to an hour of your time to help us out, please contact Steve Foster (07878 767284) or Brian Flynn (07860 561011)".
DEFIBRILLATOR FUND SHIRTS
Grahame Rowley writes, "Congratulations to everyone who was lucky enough to win one of the special Defibrillator fund-raising shirts. The total raised from the 11 starting players shirts was an amazing £795 allowing the club to apply for one of the defibrillators. Orders will be processed by the end of May and delivery should be before the new season begins.

Two people to be trained in its usage are included in the price but our own Club Doctor Richard Parris has kindly offered to train anyone else at the Football Club who is interested in its use once in our possession.

Many thanks once again to everyone who placed a bid and commiserations if you were unfortunate in not winning one of the shirts".
RARE PROGRAMMES
Most Altrincham fans will know Campbell McLay, who runs the football programmes section of the Robins' Shop at Moss Lane. Recently a number of rare Alty and Altrincham-related programmes were brought to him and these are now being offered for sale by sealed bids. The items are listed and illustrated on the Altrincham FC Programmes page. Between now and the close of bidding some further images of individual programmes will be displayed on the website.

A 1950 Alty v Witton programme is shown right.

SEALED BIDDING SYSTEM
1. Decide which programmes you want to bid for. Programmes can be inspected in the club shop on match days.
2. On a sheet of paper enter your name and contact details and list the programmes you wish to bid for and your bid for each programme. (Note that you must enter a separate sum for each programme, a bulk figure for all the programmes you want is not acceptable.)
3. Put the completed sheet in an envelope and seal it. On the front of the envelope write "Altrincham programme sale".
4. Hand the envelope into the club shop on match days or post it to the club. If posting, put the sealed bid envelope inside another envelope and mark it for the attention of Campbell McLay, Altrincham Football Club, Moss Lane, Altrincham, Cheshire, WA15 8AP.
5. Closing date for bids is 2.00pm on Good Friday, 29 March 2013.
6. Successful bidders will be advised and can collect their programmes from the club shop on a match day or the programmes can be posted to them, but in that case the successful bidder will have to pay the postage costs in addition.
TODAY'S MATCH
Brian Flynn advises us that, "Radio Robins will be broadcasting live coverage of the game against Vauxhall Motors.

The match commentary is sponsored by Odin Technology who are industry experts in the delivery of test automation solutions through their Axe platform to clients in the US, Africa, Australia, Europe and India.

You can find out all about Odin on their website.

The match commentators are Niall Finnegan and Tim Ainsworth, with match summaries from Joe Barry. Commentary begins at 2.55pm.

Alternatively, you can find live-text updates from the game on this site's Matchday Updates page. Quick links to both options are below.
DANNY IS "KEY MAN"
Altrincham striker Danny Mitchley, along with ex-Alty keeper Craig Dootson, both figured as their Kendal Town side lost 1-3 at home to Hednesford Town this week; Danny was Man of the Match.

"In the sixth minute Craig Dootson came out of his goal and saved well against the impressive Elliott Durrell... The Black and Whites had a chance against the run of play when debutant Danny Mitchley forced the save after shooting from the edge of the box... Later Mitchley was inches away from pulling one back for Kendal after Maison McGeechan crossed from the right into the danger area, but under the attentions of two defenders and keeper Dan Crane, Mitchley couldn't quite get there...

Dootson tipped the ball over the bar from an Osbourne strike in the first minute of the second half...

The visitors suddenly looked short of composure, with Lee heading goalwards from a corner and Mitchley unable to get his shot away... With 15 minutes left Mitchley shot straight at the keeper... Jack Cook also played a sumptuous through ball for Mitchley, but the striker couldn't get his body into the correct shape as he ran onto the ball and he thrashed his shot wide... while deep into injury time Mitchley had another shot saved by the keeper...

Key man: Danny Mitchley – Showed his pedigree with some classy touches up front, was unlucky not to get on the scoresheet, and given a couple of games to bring his match fitness up to scratch, he could prove to be a valuable asset in the coming month".
OLD BOY
Ex-Alty players on the move include former youth player Osebi Abadaki to Salford City from Farsley.
BSBN NEWS
"Gloucester City would like to say a big thank you to the people of Gloucester for supporting their team on Wednesday night. The attendance of 602, double the season average, was City's highest midweek home crowd since the Southern League play-off semi-final in 2009.

The 'Pay What You Want' scheme can be deemed a huge success as the club collected, as of counting, £5.5k from the donations given last night. A fantastic number and, as it was freely donated, the club do not have to set aside 20% in VAT. To add to the fact that Cheltenham Town were paid yesterday and a deal will be signed for another season at Whaddon Road later today, a lot of positivity can be taken from the last couple days.

The Tigers also received cheques from businesses last night that will be highlighted later on".

We read in the Halifax Courier that "FC Halifax Town's game at Workington on Saturday has 'every chance" of going ahead, according to the club's general manager Alec Graham.

Town travel to Cumbria for their first game in 11 days after their previous two matches against Harrogate and Chester were both postponed...

Graham said, 'The pitch is firm but not frozen'".

Meanwhile, "Groundstaff at the Shay are asking for help clearing snow from the pitch this morning and tomorrow morning ahead of scheduled games for Halifax Rugby League Club and FC Halifax Town. Halifax RLFC are due to play at The Shay tonight (Thursday) but if the game is postponed it will be played on Friday night, leaving groundstaff with the task of making the pitch playable for Town's clash with Bradford Park Avenue on Monday".

BSBN report that "FC Halifax Town have completed the signings of two more players on the last day of the registration window for the campaign. Shaymen boss Neil Aspin added Bradford Park Avenue defender James Knowles to his squad on Wednesday and completed loan deals for two more defenders in Adam Jackson and James Bolton on Thursday.

Jackson joins the Shaymen from Middlesbrough... Bolton, meanwhile, joins from Macclesfield Town after a spell with Workington earlier this season".

BSBN confirms that "Gloucester City and Cheltenham Town have agreed a deal to extend the shared use of Whaddon Road for a fourth season. With the deadline for their registration of their home ground the 31st of March, the deal will be signed and sent off to the Football Conference on Thursday, three days ahead of the time.

The Tigers first took up residence at Whaddon Road in 2010... Gloucester City chairman Nigel Hughes... told This is Gloucestershire, 'We will get it signed today and then scanned in and sent off to the Football Conference ahead of the Bank Holiday weekend. It's the first of many hoops that the club will have to jump through in the next few weeks and months... If we have to extend it beyond this season, then I would sincerely hope that it's with us having our new ground on the way'".

The Chester Chronicle reports that "Colwyn Bay may still hold a special place in Neil Young's heart but the Chester FC boss insists there will be no room for sentiment when he takes his table-topping side to Llanelian Road on Saturday.

These are desperate times for the North Wales club. Third from bottom, they have 10 games to pull themselves out of the Blue Square Bet North relegation places... Young, however, has no intention of going easy... 'It's a club I love and a club I hope do well' said Young, who guided the Bay into the Northern Premier League top flight before dropping back down a division to become the first manager of the reborn Blues...

'Hopefully people respect what we achieved there. I think we gave them the base for where they are today. I brought Dave Challinor to the club as my captain and he took on the manager's job after me and he got them promoted again... But I'm the Chester manager and we will be going there for the three points we need to get'...

Young will rotate his squad for the back-to-back Easter Bank Holiday weekend encounters with the Bay and Altrincham. And if he gets his way, he will have a young midfielder signed up by the end of today. Young was last night in talks to sign the free agent, who has been having trials with Championship clubs".

More comes from the Chester Chronicle which says that "Striker Ben Mills's serious knee injury will rule him out for up to four months. The fans' favourite ruptured his medial collateral ligament while playing in the fourth game of his four-week loan at rivals Altrincham last month.

Chester FC boss Neil Young said, 'Ben has got to have eight injections, which will stop him from having an operation but will probably keep him out of the game for three to four months. Obviously that's not good but, seeing as we're nearly in April, hopefully he'll be back for pre-season in July.

He's got to have another scan to determine if it definitely is only the medial ligament that has been damaged and nothing more severe. It's a grade three, which is the worst you can have, but there is light at the end of the tunnel because we've already started the treatment'.

Young's squad has been weakened further after on-loan winger Brendon Daniels returned to his parent club Crewe Alexandra. The Blues boss said, 'Brendon tore his hamstring in training... We spoke to Crewe and they informed me it's a bad one, which is likely to keep him out until the end of the season. On the back of that we've lost Millsy as well, so we are short of numbers'".

Off the field, "Supporters are being asked to donate memorabilia for Chester FC's soon-to-be-launched eBay account. Funds generated through the account will be used to develop the club".

Amd "Admission prices for Chester FC's Cheshire Senior Cup final against Stalybridge Celtic have been announced. It will cost £8 for adults and £3 for OAPs and children. A child accompanied by an adult will get in for free. The final takes place at Witton Albion's Wincham Park on Wednesday, April 17 (7.45pm)."

The current Bay manager is the subject of news from the BBC "Glenn Hoddle, Ruud Gullit and Gianluca Vialli. That is some trio of player-managers to learn your trade from. Like his fellow former Chelsea team-mates, Frank Sinclair's move into football management may have come a bit quicker than he thought - or indeed wanted...

the 41-year-old is relishing trying to steer strugglers Colwyn Bay away from the relegation zone... Frank Sinclair has been in charge for eight league games, winning two, drawing three and losing three. They have ten games remaining and four of those games are against sides in the bottom eight.

Sinclair, who is also still combining regular work as a pundit with his new role, told BBC Wales Sport. 'I'm coping fine. I have an understanding chairman, and an understanding wife as well - which helps. It's hard work but I have had a good career and it's the right time for me to be stepping into a role like this. It's time-consuming but I am really enjoying it'...

Sinclair's reign started brilliantly. Improved performances and a four-game unbeaten run lifted the gloom around the Welsh seaside resort... He said, 'We got the belief back in the players that we can achieve something and get out of the relegation zone. It was getting the spirit back in the changing rooms. We had missed that since Jon Newby got the sack... I have brought in better players and I have brought back players that care about the club. Fraser McLachlan and Danny Meadowcroft, and people like that who are Colwyn Bay through and through and I think that will help'...

But the veteran defender has since found life a bit tougher... Sinclair will also be missing one of his key men for the half of the remaining games. Namely himself... A red card in the home defeat against Altrincham, his third of the season, means he must serve a five-game suspension... not that he says he has struggled juggling playing and managing.

'I've not really found it a problem', he said. 'I have always been a leader and a talker and have been a skipper at lots of the clubs I have been at. The main difference is making substitutions and tactical changes on the pitch, but sometimes it is an advantage as you see things differently when you are out there... The decisions I have made worked well at the start'.

And Sinclair will seriously think about calling time on a 23-year career at the end of the season. He will be taking his Uefa B coaching licence with an eight day intensive course with the Welsh FA in the summer... 'I have to earn the right to keep this job and for me to do that I need to keep the club up'" , he concluded.

FC Halifax Town say that "Neil Aspin admitted that Liam Hogan may miss the rest of the season after struggling to overcome an ankle injury. Hogan limped off... on March 7th and has remained on the sidelines since, and Aspin hinted... 'He's had his scan and with there being only a few weeks of the season left it's going to be difficult to get Liam playing again before the end of the season'.

The Shaymen have drafted in James Knowles from Bradford Park Avenue to fill the void left by Hogan, a decision that Aspin felt was vital. 'We're really down in numbers in defence. With Liam Hogan's injury we were going into the end of the season with only four defenders at the club, so it was essential that I brought someone in that was playing regular football at this level who's a good age and a good player and James fits those categories'".

In Kent, "Maidenhead United have beaten today's 5pm transfer deadline to sign Curtis Ujah from Bishop's Stortford. The 24-year-old centre-back joined the Blues from St Albans City in January" reports the MAidenhead Advertiser.

The EvoStik League welcomes three players from the BSBN.
Declan Towers to Coalville Town from Hinckley United
Liam Richardson to Stamford from Corby
Oration Morton to Garforth Town from Guiseley
NORTH-WEST NEWS
The NW Counties Football League says that "The League Management Committee has received a further communication from the Football Association regarding the completion of fixtures across all Leagues in the National League System.

Mike Appleby, National Leagues' Manager, has advised that, following a discussion with the Chairman of the Leagues Committee, he has agreed the following.

The previously agreed 'extension' to the 4th May stays in place. However, as this date clashes with the FA Vase Final, the FA has asked for Leagues to allow flexibility for teams with matches scheduled for 4th May to play either on the evening of Friday 3rd May or Sunday 5th May, to encourage as much support as possible for the Vase Final.

The communication also advised, 'It is vital that we are advised of your Step 5 promotion teams by midnight on Tuesday 7th May, as the Step 1 to 4 Club Allocation meeting takes place in Worcester on Wednesday 8 May. This therefore allows an additional couple of days to ensure that your Championship has been decided and your co-operation in this matter would be greatly appreciated'.

NWCFL Secretary John Deal said: "The NWCFL Emergency Committee at their meeting held on 27th March have decided to implement the above instruction. All fixtures MUST be completed by no later than Monday 6th May'".
---
28 March 2013
REVISED AGAIN - NEW GUISELEY DATE
Tuesday's postponed game away at Guiseley was rearranged yesterday, to be played on Thursday April 25th. However, the Football Conference has refused to sanction this as they wish to ensure that there are spare dates in the final week of the season to accommodate any further postponed games. Therefore, Altrincham will now travel to Guiseley on Thursday, 11th April, k.o. at 7.45pm.

In the first three weeks in April, Altrincham now have five away games out of six fixtures.
LAST NIGHT'S GAMES
Gloucester City 2 Colwyn Bay 2 att.602
Solihull Moors v Harrogate Town POSTPONED
League table
JOCKEYING FOR POSITION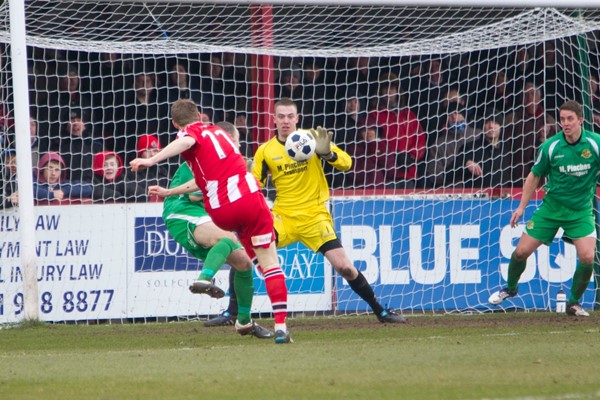 Right: Courtesy of Gavin Rathbone of GR Photography, we see James Lawrie shooting at goal against Worcester City last Saturday.
Joint Press and Media Officer at Moss Lane, John Edwards writes, "Lee Sinnott urged his players to maintain the form that has taken them into the thick of the Blue Square Bet North promotion chase and challenged them to try and drag Brackley into the frantic quest for play-off places.
Goals from winger Nicky Clee and prolific marksman Damian Reeves against Worcester City maintained the momentum for an Altrincham side who have now won five games in a row and lifted themselves to within four points of third-placed Brackley.
The Northamptonshire side once looked the biggest threat to Chester for automatic promotion but Sinnott senses they could face a scrap for a play-off place, if Alty can keep piling the pressure on them.
'We were the only ones to survive the bad weather last Saturday and, if that put us under a bit of pressure, we reversed it by beating Worcester and effectively throwing down the gauntlet to the rest,' said the Alty manager, ahead of the Good Friday home game against Vauxhall Motors. 'That was our game in hand over Brackley, and it was great that we won it and edged closer to them.
'We have got to look at Brackley now and see if we can target them. The question we have to ask ourselves is, can we reel Brackley back into the equation and create another position to aim for?
'It is going to be nip and tuck, and when you look at how many games need squeezing into a relatively short space of time, it's a bit like the home straight in a horse race. Someone gets their nose in front one minute, only to be pulled back the next.
'All I can say is, we've won five on the bounce, after drawing two games that could both quite easily have been wins, and it has been a good response from the players after a bit of a blip earlier on. But we have to keep it going. We can't be the ones who blink first.
'Our crowd can work in our favour by making sure anxiety doesn't creep in if we don't score in the first 10 minutes. It doesn't always go your way from the off, but we have shown in recent weeks that, if we all work together and stick at it, we can get our rewards. I would describe them as workmanlike wins of late, but, at this stage, it's the points that matter most.'
Alty received a boost on the fitness front when x-rays on Shaun Densmore's toe injury showed nothing more than bruising, and he will have a late test before Friday's 3pm kick-off".
SHIRT BIDS
The latest bids for the special shirts being worn on Friday for the defibrillator appeal are:
1 - £70
2 -£60
3- £50
4- £60
5- £40
6 -£40
7 -£50
8 -£50
9 -£150
10- £100
11 -£50
12 -£40
14 -£35
15 -£40
16 -£40
18 -£30

It has now been decided that bids close at 12 noon today, not on Wednesday night as previously announced. Please ring the club on 928-1045 or send an e-mail to make a higher bid.
SHAUN'S CHAT
John Edwards also writes, "As reported in the Sale and Altrincham Messenger this week, Shaun Densmore's toe injury is nothing like as bad as feared in some quarters, and he hopes to be back in action in a matter of days, rather than weeks. But how did it happen?

All is revealed in Captain's Chat this Friday, as our long-serving skipper relives the training ground mishap that left him wincing in pain and describes bumping into a familiar face, as he watched his team-mates reel off a fifth straight Blue Square Bet North win, at Worcester City's expense. Captain's Chat is part of an extensive package of news and views in the Robins Review, available inside the ground prior to kick off against Vauxhall Motors on Friday".
TV IN BAR
As Altrincham are playing at home on Good Friday, there is no live action on the pitch on Saturday but in the bar there will be live televised coverage of Sunderland versus Manchester United, which kicks off at 12.45pm. Subject to confirmation Manchester City v Newcastle United (3pm) may also be shown. The bar opens at 12.15pm
JOSH SIGNS ON
Wednesday evening at 5pm was the deadline for signing new players in the BSBN. Altrincham made one late signing when they added Alty Juniors and Youth keeper Josh Samberg (d..b.7.9.1995) to their ranks of players eligible to play in league games this season. This brings to six the number of goalkeepers on Alty's books; Stuart Coburn, Adam Reid, Joe Collister, Tony McMillan, Steve Bullen and Josh.
OLD BOYS
Congratulations go to Peter Band, now assistant manager of Mossley, who on Wednesday night won the Manchester FA Premier Cup Final at Stockport County's ground. They won 4-2 on penalties against Salford City after the game ended 2-2. Hero on the field was ex-Alty keeper Russell Saunders, who saved two spot kicks.

Two ex-Alty Youth players, Charlie Weir and Andy Keogh starred for Winsford in their latest game.
MYSTIC FLYNNY
Brian Flynn's latest "Flynnzine" is entitled "Easter rising?".

"Three weeks ago, based upon the premise that we were two-thirds through our league campaign, I took a look at what the simple statistics were indicating, based upon extrapolating the team performances to that point.

Since then, we have played four and won four. Logically, therefore, our likely finishing mark has improved. An extrapolation of the top eight teams in the Blue Square Bet North table, as it was on March 2nd and is now, is below and indicates that the final outcome will be as follows:-

Extrapolated Points (as at March 2nd and before last Saturday's game, followed by forecast finishing position)
1. Chester 112 112 (1)
2. Guiseley 99 98 (2)
3. Brackley Town 88 81 (4)
4. FC Halifax Town 86 87 (3)
5. Harrogate Town 77 77 (5)
6. Gainsborough Trinity 72 73 (7)
7. Altrincham 67 75 (6)
8. Bradford Park Avenue 61 65 (8)

Overall, not a huge amount has changed, but we have improved our forecast by 8 points whilst Brackley have been the big losers, dropping 7 points on their statistically generated final points destination.
Right: Please click on Matt Royle's Moss Lane fixture poster, right, for a larger version, which you are invited to print off and display, with permission if necessary, at your place of work, local pub, club, etc.
I would suggest that only the top two are guaranteed a top-five finish and that Halifax, Brackley, Harrogate, Gainsborough and ourselves will battle out the remaining three places. Many people believe that FC Halifax Town are almost home and hosed as far as the Play-Offs are concerned, yet I am not convinced of that, as they have the huge burden of having to play 13 games in 36 days. It's not an easy run in either!
Three weeks ago we were 10 points off the benchmark, now we are just 2. From needing to win a minimum of 9 games out of 14, we now need a minimum of 5, probably 6 wins in reality from 10 games, to give ourselves a really good chance of taking the season into May.
Today's game has all the hallmarks of a home banker. We have taken 22 of the last 24 points available at Moss Lane and Worcester have lost their last 7 games, having failed to score in the last 5. City's fall from grace is quite remarkable. When we won at St. George's Lane in the FA Trophy in mid-November, Carl Heeley's team were 4th in the league, Altrincham were 12th!
We must surely be on our guard, as all teams turn horrible runs around at some stage, and if we are to take all three points, we will have won 5 league games on the bounce for the first time since God knows when, possibly this century.
As you may have gathered by now, I quite like statistics and I was shocked at one that I saw this week. I think that everyone is aware of what a totally wretched season Hinckley United are having, yet their overall dismal league record of just a single win and 3 draws from 33 games with a negative goal difference of 93, hides an even more dramatic statistic in that they have only scored 4 times at home all season.
I was so stunned by this, I verified it by checking their home results and it is true! I'll sign off with another bizarre fact. Hinckley United's solitary victory and Chester's one defeat all season took place on the same the ground...The Jakemans Stadium, home of Boston United!
It is indeed a funny old game!".
BSBN NEWS
BSBN reports that "Guiseley have announced the signing of well-travelled midfielder Sebastien Carole for the remainder of the season. Carole joins the Lions from Bury, with whom he made just three appearances for following his arrival from Knaresborough Town.

Over the course of a professional career spanning almost 14 years, the 30-year-old has played for a host of clubs across England and France. The Frenchman can count Monaco, West Ham, Brighton, Leeds United, Tranmere and Nice amongst his former employers".

We learn from the Football Conference that "Play-off chasers Brackley Town have added two more players from Leamington on dual registration.

Saints' boss Jon Brady has used the excellent relationship with the Brakes to sign goalkeeper Niall Cooper and striker Ricky Johnson on Conference forms. Twenty-two-year-old Cooper started the season at Redditch United, having previously turned out for Sutton Coldfield Town, Romulus, Kettering Town and his local side Sileby Rangers...

Johnson joined the Brakes a few weeks earlier from league rivals and Brackley`s close neighbours, Banbury United. Twenty-four-year-old Johnson was a product of the Puritans' youth system, but played for Easington Sports, Witney United and Hook Norton before joining Woodford United... before re-joining Banbury in December 2011... before signing for the Brakes, despite interest from Oxford City".

Meanwhile, "Boston United have snapped up exciting winger Greg Mills from rivals Worcester City. The 22-year-old former Derby County trainee has shone against the Pilgrims during recent seasons for AFC Telford United and Worcester, although he did not feature against Boston in the match at St George's Lane on March 16th.

During his time at Pride Park, Mills made two senior appearances for the Rams and also spent brief loan spells with Solihull Moors and Macclesfield Town.

United boss Dennis Greene said, 'We have needed an out-and-out winger and Greg fits that bill. He is quick and exciting to watch and delivers real quality into the box'".

Reports from Corby Town tell us that on Tuesday night "Gary King grabbed his first goal since returning to Corby Town as he earned them a 1-1 draw at Vauxhall Motors... Chris Plummer's side fell behind seven minutes into the second period when Michael Burns converted a penalty. But King equalised from a Ryan Semple cross...

It means Corby are now five points clear of the relegation zone, although third-from-bottom Colwyn Bay have three games in hand".

Alty take on Corby's oppponents on Friday and Vauxhall Motors report that "Relegation-threatened Corby Town showed some character in the second half as they came from behind to grab a share of the spoils at Rivacre Park...

Six minutes after the break Craig Mahon ran at the Corby defence before squaring the ball to substitute Karl Noon however his effort was deflected wide for a corner. Karl Clair took the resulting corner which was fumbled by Corby keeper Paul Walker who hauled down Ashley Stott in the area just as he was about to pull the trigger. Substitute Mike Burns stepped up and calmly converted the penalty to give Motors the lead on 52 minutes.

The visitors rarely threatened in the final third however they did find an equaliser on 69 minutes... Motors moved up to 10th... Vauxhall: Jones, Roberts-Nurse, Fearnehough, Hannigan, Nicholas, Noone (Burns 31), Mahon, Clair, Rutter (Noon 46), Stott, Anoruo (Kocsis 82). Subs not used: Wainwright, Ellison (GK). Attendance: 106"

The News & Star says that on Tuesday "Workington Reds boss Darren Edmondson was left to rue his side's defensive mistakes after a dramatic 3-2 loss in stoppage time to 10-man Bishop's Stortford. In-form striker Gareth Arnison scored a double as Reds twice came from behind to level the match but, on the 92nd minute, Brian Woodall's screamer from the edge of the box ended Reds four-match unbeaten run.

Edmondson said, 'When the opposition go down to 10-men you think you are going to win the game. We would have taken 2-2 with the way the game panned out'.

He added that he was angry with his team for taking a quick thrown-in deep in their own half with just minutes to play, which led to the injury time winner. He also thought that goalkeeper Aaran Taylor probably should have saved Woodall's last-minute strike.

But Edmondson was full of praise for the opposition who contained the Reds' attacks throughout the game and were sharp on the counter attack. He said, 'Full credit to Bishop's Stortford. On reflection, they did deserve to win 3-2 but, with only three minutes left, we have to take a 2-2. We have just let ourselves down in the last few minutes. Credit to my players to get back into the match twice. We have got to do some building of confidence for Saturday'".

According to This is Glos, "Coo=mmunity-spirited firms yesterday responded magnificently to The Citizen's rallying cry to save Gloucester City Football Club from collapse.

The Citizen set the ball rolling by pledging £250 to help ensure the Tigers have a future. And, after editor Ian Mean, laid down a challenge for 100 local companies to follow our example, the response was amazing. Yesterday, Lanes Health Products in Gloucester pledged not £250, but a generous £1,000 towards the campaign.

Chairman Janet Groves said, 'Lanes Health are happy to support the local football club and encourage other businesses to support this worthwhile cause'. Avon Metals, of Gloucester, pledged £250 and [so, too, did sevral other companies]...

The Tigers have to find £25,000 by the end of the season on April 27 or risk the club folding. Mr Mean said, 'I have to say I am delighted at the incredible response we have had from local companies who have demonstrated just how much they support the local community'. Tigers' spokesman Colin Peake said, 'I am very pleased with The Citizen's support and the heartening response from local businesses'".
---
27 March 2013
CONGRATULATIONS!
Altrincham FC sends its congratulations to Club caterer Richie Bentley and his wife, Katie, on the birth of a daughter, Poppy, last night. The Club wishes Katie, Richie and Poppy well and is very grateful to them all for ensuring that nature brought about the birth on a non-match day!
LEE INTERVIEWED
Brian Flynn notifies us that "Kevin Thompson's interview with Lee Sinnott following Saturday's game against Worcester City can be heard here.

This was recorded for Wythenshawe FM's Sport Show on Sunday, but the programme was not broadcast, so this is the only place that you can hear it!".
TUESDAY GAMES
FC Halifax Town v Chester FC POSTPONED
Gainsborough Trinity 0 Brackley Town 1
Guiseley v Altrincham POSTPONED
Hinckley United v Droylsden POSTPONED
Stalybridge Celtic v Oxford City POSTPONED
Vauxhall Motors 1 Corby Town 1 att. 106
Workington 2 Bishop's Stortford 3 att. 181
THE GUISELEY POSTPONEMENT
Yesterday, Guiseley confirmed that the "fixture against Altrincham has been postponed due to the weather... The club want to stress that the Conference would not allow us to inspect the pitch or call the game off any earlier" than 12.30pm.

Earlier, the Telepgraph and Argus reported that "Guiseley's home game against Lee Sinnott's Altrincham... is under threat from the wintry conditions... There was still a thick covering of the heavy snow that fell on Friday and Saturday on the Nethermoor pitch today. The club is also taking the safety of supporters of both clubs into account as they look at the conditions in and around the ground. This evening there was ice and a slippery coating on top of the snow on the terraces and pavements".
BSBN NEWS
FC Halifax Town say that "manager Neil Aspin has signed James Knowles from neighbours Bradford Park Avenue. The 29-year-old, who has played for Farsley Celtic, can play in both defence and midfield".

According to the BBC, "Gloucester City's playing and backroom staff will forego part of their wages until the end of the current season. The side recently issued an appeal for £25,000 so they could 'stay in a solvent position'. The club have revealed their total debts are just £7,500 but the reduction in wages, around £4,000, will help their cash flow issues.

'It's testimony to the fact we've got a fantastic club', chairman Nigel Hughes told BBC Gloucestershire. 'The manager [Dave Mehew] doesn't have a lot to go on in the first place. The fact that they can turn around and and save £4,000 in the next five weeks shows what big hearts they've got'...

Hughes was speaking after an open meeting held by the Tigers, at which the club revealed they have reached an agreement with Cheltenham Town to extend their ground share at Whaddon Road for next season...

Plans for a new stadium at the Meadow Park site were submitted to Gloucester City Council in 2011, but have yet to be approved. Having previously shared with Forest Green Rovers and Cirencester, they have been based in Cheltenham since 2010. But the move has seen attendances fall...

The non-league side pay £40,000 a year to play at the League Two club's ground, but were recently threatened with eviction after failing to meet payments".

More on this comes from This is Glos which says that "Manager Dave Mehew revealed to Monday night's packed open meeting that Gloucester City's staff and players have agreed to forego part of their wages in a bid to keep the Tigers alive. Mehew made the revelation to a thunderous round of applause at the Hallmark Hotel in Matson Lane where a crowd of around 100 turned up...

As well as saying that he had unanimous backing from his squad to defer part of their wages for the remainder of the season... Mehew also said. 'I love proving people wrong as Gloucester City manager and I know that there is a passion for football in the city. I honestly believe that with the squad that I've got, and with some of the excellent youngsters that we've got coming through we can catch Forest Green Rovers. I used to play for Forest Green and I know what that club is about, and I want to emulate that.

I firmly believe that with the characters we've got in our dressing room we can push for the play-offs in this league'...

The club's planning advisor Paul Duncliffe revealed that plans were coming together for a new stadium at Meadow Park... Duncliffe explained, 'The previous scheme was difficult to deliver and we decided to scale down the plans... The plan uses the existing stadium which is around five acres and not the other area and will see a new stadium and flood defences...

Hopefully the club will be back banging on the city council's door with these plans by mid April'.

But, the club also confirmed that it was having meetings with third parties regarding other sites in the City and that it was not going to plough on with the Meadow Park scheme regardless. City Council leader Paul James revealed... 'Also there are alternative sites and some that didn't exist when the club was considering the (original) plans. We are looking at those and meetings are happening this week'.

James also agreed with a point made by meeting chairman Colin Peake, who said that it was an embarrassment that the club was still away from home after six years... James said, 'I agree that it's an embarrassment that the club is still away from home and I want to put that right as quickly as we can'...

The club also revealed that talks had taken place with Gloucester Rugby about a possible groundshare at Kingsholm, but that it would have proven far too expensive...in excess of £10,000 per game to play at the home of the rugby club".

In the Worcester News, we learn that "Manager Carl Heeley says he won't stop working in his bid to bring about a revival in Worcester City's fortunes. Last Saturday's 2-0 defeat at Altrincham was City's eighth in a row... The Worcester boss added, 'I thought we were the better side in the first-half at Altrincham as we set up to play like an away side. Our plan worked perfectly for 55 minutes but then we switched off a little bit when we had an opportunity to clear the ball a couple of times in our box. With the firepower they've got, if you keep inviting the pressure they are going to stick one away'".

In Ellesmere Port First we learn that "Neil Young is hoping his club can finish their season with a flourish...

'I haven't known a season like this in terms of postponements at this level of football. It's getting silly now with so many games being called off and having to be rearranged', Young said. 'Our club secretary Calvin (Hughes) has asked the Conference whether they will extend the season, but they are refusing, probably because of the end of season play-off dates. I feel we have been extremely lucky to have played 34 games, but we will have to play on Thursdays and Saturdays in some weeks between now and the end of April'.

Young is keen to keep his players fit and healthy after seeing last Saturday's scheduled match at Gainsborough Trinity being postponed due to two inches of snow on the Northolme pitch, as well as tonight's match at FC Halifax Town with 11 inches of snow on The Shay pitch and more than one foot of snow that has drifted into the stands.

Young said, 'It's knowing what to do for the best in terms of preparation for our remaining matches. It's just unfortunate that the games we are having to rearrange are away fixtures, and it looks like we will be having to play Gainsborough on a Thursday'...

Chester will now face four matches in eight days starting from this Saturday when they travel to Colwyn Bay (1pm), followed by a home match against Altrincham on Monday (3pm), a trip to Gainsborough Trinity on Thursday, (April 4), and a home match against Boston United on Saturday, April 6, (3pm)".

Meanwhile, the Oxford Mail told us on Tuesday that "Oxford City are set to give a debut to keeper Nick Townsend at Stalybridge Celtic tonight. Townsend, 18, who is on loan from Birmingham City, replaces Matt Ingram, who has been recalled by Wycombe.

Boss Mike Ford said it was important his side got off to a good start, having not played a league game for three weeks. 'We need to get out of the traps quickly', he commented. 'Stalybridge have lost eight matches at home, so I want us to go there and attack them'". But the match was postponed.
CHESHIRE NEWS
The Northwich Guardian reports that "Paul Stockton, chairman of 1874 Northwich, met his Winsford United counterpart Mark Loveless on Thursday to sign a ground share agreement between the two clubs.

Their signature ratifies a deal, announced last month, for the newly-formed club to host opponents at Barton Stadium for at least its first two seasons.

'We're glad to be going there and Winsford are delighted to have us', said Stockton... Blues, currently fifth in the North West Counties League's Premier Division, will provide the opposition in a first friendly for 1874 Northwich on a date to be arranged. The clubs have agreed to share money made at the gate for the game too.

Meanwhile Winsford have been boosted by news that a Football Association inspector had recommended to the game's governing body that Barton Stadium is fit to host games in the Evo-Stik Northern Premier League's second tier. It means Lloyd Morrison's men, should they finish in a promotion position at the end of the current campaign, will be permitted to play at a higher level from next season.

His side could come face-to-face with their tenants in a knockout competition after 1874 Northwich announced its application had been accepted to take part in the Mid Cheshire FA Senior Cup next term".
---
26 March 2013
MATCH OFF
Tonight's game at Guiseley has been postponed; up to ten inches of snow are reported on the pitch at Nethermoor, ruling out any possibility of playing Altrincham.
RE-LIVE SATURDAY
You can now reprise Saturday's Radio Robins commentary on the win over Worcester City, last Saturday.
Second half
LADIES BEAT THE WEATHER BUT SUFFER THE BLUES
ALtrincham FC Ladies' manager, Keith Edleston, informs us that his side managed to play their scheduled game on Sunday, despite the bad weather. He writes...

Altrincham FC Ladies 0 Stockport County Ladies FC Blues 5

Altrincham FC Ladies welcomed Stockport County FC Blues to Manor Farm on a bitterly cold day that can only be described as Baltic. And playing the league leaders with only 12 available players was always going to be a tough ask but, as always, we never shirk a challenge!

The game kicked off with the Ladies playing against an extremely strong icy wind and this was going to make the first half difficult to say the least!

Despite the conditions both teams played some attractive football, keeping the ball on the ground as much as possible. Stockport County, with the wind to their backs, enjoyed the majority of possession.

The Altrincham midfield and defence were coping well in the early stages, adapting to the extreme conditions, and we made several forays into the Stockport County final third. This was encouraging for us, as we were hoping to weather the storm up to halftime.

Goal 21 minutes, 0-1 - From a ball over the top, Stockport broke through the Altrincham defence, giving goalkeeper Rosie Emerson no chance.

Undeterred we stuck to our task, playing our style of football with some controlled passing and, when we lost the ball, closed down quickly to try deny Stockport the space to use. To be honest, if the score line had remained at 0-1 until half time it would be just reward for Altrincham Ladies' hard work and endeavour on this freezing and blustery day!

Stockport County Ladies grew in confidence and were now putting the Altrincham defence under further pressure and they were duly rewarded by a second goal on 34 minutes; 0-2.

Using the strong wind to their advantage, Stockport Ladies added further quick goals after 37mins and 39minutes to make it 0–4. Despite the score line, Altrincham Ladies continued to work hard to create an opening in an attempt to reduce the arrears. At halftime Nat had to leave us to get ready to fly to Thailand on holiday which left us with a bare 11 players.

The second half got under way with the Ladies now playing with the wind to their backs and we was optimistic that we could play ourselves back into this game. Goal after 53 minutes; 0-5. A probing run down the left resulted in a through ball clinically despatched into the Altrincham net. This is not what the Ladies had hoped for so early into the half! All credit to the girls as they remained committed to playing their way back into the game.

Midway through the half, substitute Lauren Thorneycroft had to leave the field of play due to injury. Earlier in the first half Lauren had replaced midfielder Heather Scott, who was carrying an injury. All credit to Heather who, although not being 100%, returned without hesitation.

A further setback occurred when goalkeeper Rosie Emerson collided with a Stockport attacker when diving for a fifty-fifty ball. It was a hard but fair challenge that Rosie failed to recover from. Rosie was replaced in goal by midfielder Kate Rawthore. This reduced Altrincham Ladies to nine fit players.

This was now proving to be mission impossible attempting to try and salvage anything from this match, although we still tried to play our passing game and not resort to 'the big boot' upfield and chase! There were no further goals added in the remainder of the second half due mainly to the hard work and commitment of Altrincham Ladies.

WOMAN OF THE MATCH: Caroline Moran

Squad: Rosie Emerson, Sam Briggs, Louise Edleston, Caroline Moran, Kathryn Mcintyre, Heather Scott, Gail Simpson, Kate Rawthore, Faye Howard, Nat Thornley, Sarah McManus, Lauren Thorneycroft".
SOMETHING BIG IS BREWING AT MOSS LANE
John Edwards, Altrincham FC's joint Press Officer writes, "They have been giving it both barrels on the pitch recently and, now, Altrincham are aiming to do the same off it after inviting local brewers to roll out their casks of ale and take part in their latest beer festival at Moss Lane.

In-form Alty are mounting a concerted push for a promotion play-off place and are giving supporters the chance to raise a glass to their prospects at a gala weekend that coincides with the final round of Blue Square Bet North fixtures.

Lee Sinnott's side hope to have secured their play-off position by then and are looking for a bumper turnout to toast their success at a three-day event that kicks off with the always competitive Staff v Supporters game on Friday, April 26.

Live entertainment follows in the Noel White Suite, while on Saturday, Alty's 3pm kick-off against Droylsden is the highlight of a programme that also includes a race night and the annual end-of-season awards.

Football and family fun are at the forefront of Sunday's activities, with a Past Players match and Alty Ladies fixture among the attractions. Finally, Manchester United's Barclays Premier League game at Arsenal is being shown live on the two HD television screens in the bar, while entertainment for kids will be laid on throughout the day.

Entry is free all weekend – other than for the Droylsden game, where normal admission applies – and there are even commemorative T-shirts for those who manage to sample all 18 real ales on offer during the course of the three days. There are also ciders and a selection of wines, while special glasses marking the event will be available for purchase.

'It was our inaugural beer festival last year and it was such a resounding success that we felt it would be well worthwhile holding another one,' said Alty chairman Grahame Rowley. 'There was a fantastic atmosphere that everyone thoroughly enjoyed, and we are hoping for more of the same this time'".
THANK YOU
Saturday's half-time bucket collection raised £69.68.The Club thanks the contributors and collectors alike.
BSBN NEWS
The BSBN promotion play off dates are:
Semi-Final 1 (lower placed sides at home) - Tuesday, 30 April
Semi-Final 2 - Saturday, 4 May
Final - Sunday, 12 May, venue to be decided.

The Halifax Courier tells us that "FC Halifax Town's game against Chester on Tuesday has been postponed until April 25, leaving The Shaymen with 12 games in 27 days next month.

The game was called off after heavy snow in Calderdale over the weekend but the rearrangement has left Town with three games a week, every week, in April, in what promises to be a frenetic schedule. They play Bradford Park Avenue on Monday, April 1 before facing Guiseley on Wednesday, April 3 and Altrincham on Saturday, April 6.

The following week, Town play Bishop's Stortford, Corby and Boston United before facing Oxford City, Harrogate and Guiseley again the week after. The rearranged game against Chester has been squeezed in between trips to Altrincham and Stalybridge at the end of the month".

According to the Football Conference "The relationship between Brackley Town and Leamington continues to blossom with the Saints signing prolific marksman Stefan Moore on dual registration...

Moore, 29, began his career with Romulus before being signed by Aston Villa where he captained them to an FA Youth Cup final victory over Everton in 2002, alongside his younger brother Luke. Having made his Football League debut during a loan spell at Chesterfield in 2001, Stefan scored on his Premier League debut for Villa... A knee injury halted his progress at Villa Park, and he spent spells on loan at Milwall and Leicester City before a transfer to Queens Park Rangers in 2005.

After a three-year spell at Loftus Road which included a loan spell at Port Vale, he had a brief stint at Walsall before dropping into the non-League game with Kidderminster Harriers. Moore really hit the goal trail during the 2009/10 season at Halesowen Town... He made the switch to St Neots... in October 2010...

Earlier this month Brackley signed defenders Jamie Hood, Liam Daly and Stephan Morley and midfielder Richard Batchelor from Leamington, all on similar terms".

"Kaine Sheppard has been recalled from his loan spell at Histon by parent club Braintree Town. The Blue Square Bet Premier outfit have recalled Sheppard with immediate effect owing to a number of injuries within their own squad. It brings to an end the striker's second loan spell with the Stutes this season, which yielded five goals from nine appearances to make six from 15 in total during 2012-13".

Rochdale report that "Sam Minihan will stay out on loan at Droylsden FC for another month. The 19-year-old's current loan spell... came to an end on Saturday... Sam has been out on loan at the Bloods since last month".
NW NEWS
From NL Daily, we learn that "The Evo-Stik Northern Premier League have extended their season by a week, in a bid to help clubs cope with the continuing bad weather. A statement from the League reads... 'The League Board are mindful of the many factors both for and against extending the season by one week. It is however with a responsibility to the welfare of players, extensive midweek travelling and spectators getting to games that reluctantly the decision has been made to extend the season to include a full round of fixtures on Saturday 4th May...

The Promotion Play-Off dates as a result of this announcement will also be revised which will be published later".
---
25 March 2013
AFTER THE WORCESTER GAME
On Saturday, Brian Flynn recorded a post match interview with Alty's loanee midfielder, Danny Boshall, which can be heard here.

And Alty TV has highlights of the Alty v Worcester City match.

The Worcester News reports that "City's torrid run of form continued at Altrincham as, despite a good first-half showing, Carl Heeley's side slipped to their eighth straight defeat. On a day where plummeting temperatures saw almost the whole of the Blue Square Bet North programme wiped out, City's strikers were again frozen out and saw their goalless run stretch to more than 500 minutes.

Danny Edwards' consolation goal at Harrogate on the February 16 was the last time a Worcester player found the net, and the gulf between the two sides was illustrated by the fact that Altrincham's Damian Reeves has now scored eight times in the same period. The striker struck his 33rd goal of a remarkable season to seal the points for the hosts at Moss Lane after Nicky Clee had broken the deadlock early in the second period.

City battled well in the first-half and, after Tom Thorley tested Stuart Coburn inside the opening two minutes, they really should have taken the lead... Robins moved up a gear towards the end of the first-half...

Despite Reeves' goalscoring exploits, it is strike partner Duncan Watmore who has been impressing with his pace and trickery throughout the campaign. Centre-back Rob Elvins was repeatedly caught out of position by the lively Watmore and he was one of a number of defenders who was left for dead when the playmaker jinked his way into the Worcester area".
YOUTH NEWS
In the NWYA the only game played in Altrincham FC Youth's division was
Nantwich Town FC 1 Hyde FC 4.

The latest table is here.

Next Sunday, Alty are scheduled to play at home (Clay Lane) against Warrington Town (2.30pm).
BSBN NEWS
According to the Telegraph and Argus, "The postponement of Guiseley's fixture at Stalybridge Celtic was the second piece of bad news that came out of the club late last week. The Lions confirmed on Friday that Wayne Brooksby had broken his ankle in the final training session before Saturday's game. He will miss the rest of the season...

The Lions are next scheduled to be in action on Tuesday for the rearranged home match against Lee Sinnott's Altrincham but that match must also be in doubt due to the weather".

A photo of the Nethermoor pitch on Sunday is to be found on the Guiseley website.

Next Friday (not Saturday!) Alty welcome Vauxhall Motors to Moss Lane. BSBN tells us that "Vauxhall Motors' manager Carl Macauley has set his side two targets for the run-in. The Motormen are 11th...

'We have got a couple of targets for the rest of the season', he told the club's official website. 'Firstly, we want to finish above 11th in the table, which is our best ever finish to a season, and then we want to get more than the 54 points we got that season. Looking at the games we've got to play, I believe we are on course to achieve these targets'.

Macauley saw his charges slip to a 3-1 defeat against Workington in midweek... He said, 'We probably played the best football we have done all season and should've had five or six goals by half-time. We've created plenty of chances but been punished as we've only scored once. That's football at times but we can take plenty of positives from this game'".

An Altrincham old boy is one of the new signings at a BSBN rival. Pitchero Non-League reports that "Hinckley United, already relegated from the Blue Square Bet North, have added two more players to their squad as they bid to finish the season well. Highly-rated midfielder Roland Agbor has arrived from Stone Dominoes. Manchester-based Agbor joined Dominoes from Evesham United last month. He was previously with Halesowen Town.

Also arriving at the Greene King Stadium is much-travelled goalkeeper Ashley Timms. Timms started out with Manchester City, playing over 100 youth and reserve games. He brings with him plenty of experience having played for a number of clubs including Altrincham, Atherton LR, Curzon Ashton, Mossley, Shrewsbury Town, Runcorn, Accrington Stanley, Bacup Borough, Barrow AFC, Cambridge City and Wakefield. Ashley has also trialled with Norwich City, Bolton Wanderers, Fulham, Oldham Athletic, Macclesfield Town and Leeds United.

A promising career was halted by some errors of judgement off the pitch and, after some time away from the game, he joined Ilkeston FC on a one-year deal. In January 2013, he negotiated his release from Ilkeston and briefly joined league rivals Worksop Town before signing for Hemel Hempstead Town in January".

From the Halifax Courier we learn that "FC Halifax Town now face three games a week for three weeks next month after their postponed match against Harrogate was rearranged for April 18.

The game was called off on Saturday due to heavy snow, but has now been rescheduled... They play Bradford Park Avenue on Monday, April 1 before facing Guiseley on Wednesday, April 3 and Altrincham on Saturday, April 6. The following week, Town play Bishop's Stortford, Corby and Boston United before facing Oxford City, Harrogate and Guiseley again the week after.

Meanwhile, the club are calling on fans to help shift the snow from the Shay pitch at 9am tomorrow in a bid to ensure Tuesday's match against Chester goes ahead".
OLD FOES
A "Statement from the Board of Directors" has been issued by Crawley Town. "Since the current ownership structure of Crawley Town FC took over in the summer 2010 the club has enjoyed unprecedented and sustained success... We have established ourselves in League One under a talented manager in Richie Barker...

The owners are extremely proud of what they have helped achieve... They now feel, however, that in terms of their own personal involvement and financial investment that they would like to begin the task of seeking new owners by making Crawley Town FC available for sale.

The whole process will be driven and executed by Chief Executive Richard Low. He said, 'Our owners have led this football club on a fantastic journey in the last three years... Crawley Town remain ambitious for its future. Our long-term strategy is focused on... pushing upwards into the Championship...

This is not a "fire sale". The current owners are still extremely committed to the club and will not be reducing their financial support until I find new ownership. In my opinion this club is an attractive proposition. We have no debt and a strong partnership with a supportive local authority'".

The Argus adds that the "Reds have enjoyed unprecedented success since the current board, formed of the late Bruce Winfield's widow Silpa, Susan and Ian Carter, Dave Pottinger and unnamed investors in Hong Kong, bought Crawley in the summer of 2010, launching Project Promotion.

On the back of massive spending, Crawley went on to win consecutive promotions... Money has dried up in the last 12 months, however".
---
24 March 2013
YOUTH GAME OFF
The planned match on Sunday (24th) between Chester Colts and Altrincham FC Youth has been postponed due to the snow in the Chester area.
ALTRINCHAM 2 WORCESTER CITY 0
After a goalless first half, in which Altrincham played into a stiff Arctic breeze and snow flurries, the home side moved up a gear after the interval...

Match report here.

The Worcester News reports that "Worcester City lost 2-0 at Altrincham as they suffered their eighth successive defeat in Blue Square Bet North. Goals from Nicky Clee and Damian Reeves in the space of four second-half minutes set the play-off chasing Robins on their way and City could not find a way back.

They have now not scored in their last six matches and a total of 545 minutes of football. They did, however, have chances in the first-half with Tom Thorley forcing a save from Stuart Coburn, who also pulled off a double block from Ethan Moore and Shabir Khan. Danny Boshell also struck the post as Altrincham pressed for a third goal late on".
PHIL'S RUN FOR 'MAD DOG'
Altrincham FC volunteer Phil Taylor tells us that, like fellow Alty supporter Graham Jackett (see below) he is "Taking to the roads, in this case the roads of Manchester and Trafford, to try to raise money and awareness of Motor Neurone Disease. What is known as the Manchester 10K (The Great Manchester Run) takes place on May 26th and, against all my saner instincts, I have signed up to do it entirely because of the bravest and most inspiring man I have ever encountered, my hero as a player and even more so now... Mark Maddox".

You are invited to support Phil's very deserving cause at his Just Giving site.
SCOTT'S THE MAN YOU'RE LOOKING FOR
Altrincham's 20 year-old defender Scott Leather (right) gave an assured and versatile display on Saturday, starting at right-back, finishing at left-back and laying on one of Alty's goals in between. Off the field Scott can, likewise, do a good job for any employer seeking an engineering apprentice.

"Attention all Altrincham FC supporters with engineering connections. Our young defender Scott Leather is looking for an engineering apprenticeship to run alongside his football career. Scott is currently completing an NVQ Level 2 in Performing Engineering Operations. Anyone who can help with this request can contact Scott through the club. Please share with friends and associates. Thank you for your support".

You can contact the club during normal office hours on 0161 928-1045 or by e-mail.
ALTY FC PONTOON
Grahame Rowley reminds us that "As this is an international weekend, according to Rule 7 of the Pontoon competition rules, this weekend's results do not count towards the competition. Therefore places and scores remain the same as last week. The next update will be on 1st April".
THE FAT LADY GARGLES
Following assistant manager Neil Tolson's 1-0 win yesterday in the Crossbar Challenge, coach Ian Senior writes that it is now a case of the "Fat lady gargling! Tols won one-nil, so now leads by 9 with 9 to play". The loser of this season long challenge will make a donation to the Motor Neurone Disease Association.
BSBN FIXTURES
Don't forget that Altrincham's home game at Moss Lane against Vauxhall Motors is on Good Friday at 3pm and NOT on Saturday.

And on Easter Monday, Alty travel to the league leaders. Details of the TASC supporters' travel to Chester on Easter Monday are on the Away Travel page.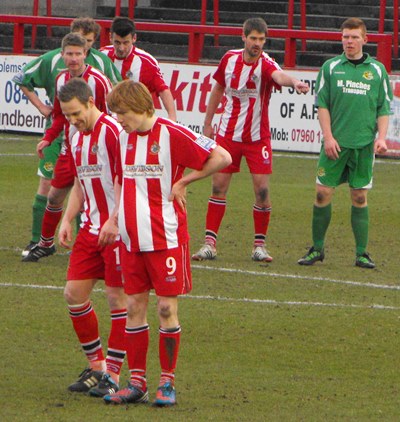 Right: Nicky Clee and Duncan Watmore form the first line of defence against Worcester City on Saturday, as Danny Hall directs Danny Boshell and Simon Richman to their places.
BSBN NEWS
"Oxford City have signed up Nick Townsend, a teenage goalkeeper from Birmingham City, following the decision of Wycombe Wanderers to permanently recall Matt Ingram" reports the Oxford Mail. "The 19-year-old Ingram has starred for City in their first season in Blue Square Bet North, after signing on loan from the Chairboys at the start of the campaign.

But, with Spurs recalling the nPower League Two club's regular keeper Jordan Archer, Ingram will now be first-choice at Adams Park. 'Matt's ready for League Two', said City boss Mike Ford, who originally thought he was losing Ingram for just this weekend, when Archer was called up for Scotland Under-21s. 'We've been very lucky with our keepers recently and Matt's right up there and should have a bright future', added Ford.

Townsend, 18, who joins on loan until the end of the season, was recommended to Ford by former Oxford United manager Malcolm Crosby, who is now Birmingham City's chief scout".

The EvoStik league tells us that Jonathan Breeze has gone to AFC Fylde from Colwyn Bay and Karl Noon has moved to AFC Fylde from Vauxhall Motors. Another player leaving the BSBN is Ashley Palmer who arrives at Buxton from Droylsden.
FA TROPHY FINAL
Pitchero Non-League confirms that "Welsh language broadcaster, S4C, will be showing the FA Carlsberg Trophy Final between Grimsby Town and Wrexham live from Wembley Stadium today [Sunday]. Their coverage, which is available in the UK and Ireland on Sky channel 134, Freesat channel 120 and Virgin channel 167, will begin at 2.45pm, with the game kicking-off at 3pm".
---
23 March 2013
YOUTH GAME OFF
The planned match on Sunday (24th) between Chester Colts and Altrincham FC Youth has been postponed due to the snow in the Chester area.
ALTRINCHAM 2 WORCESTER CITY 0
After a goalless first half, in which Altrincham played into a stiff Arctic breeze and snow flurries, the home side moved up a gear after the interval...

Match report here.
BSBN SATURDAY FIXTURES
Saturday 23 March
Altrincham 2 Worcester City 0
Bishop's Stortford v Gloucester City POSTPONED
Boston United 0 Bradford Park Avenue 4
Brackley Town v Vauxhall Motors POSTPONED
Colwyn Bay v Oxford City POSTPONED
Droylsden v Workington POSTPONED
Gainsborough Trinity v Chester FC POSTPONED
Harrogate Town v FC Halifax Town POSTPONED
Hinckley United v Corby Town POSTPONED
Solihull Moors v Histon POSTPONED
Stalybridge Celtic v Guiseley POSTPONED
TODAY'S GAME IS ON
As shown in the photo above (left), taken this morning, there was no snow or frost on the pitch at Moss Lane this morning. Worcester City have set off on their journey north. Likewise, Alty's Yorkshire-based players will be hoping to reach the Mediterranean climate of Altrincham by 3pm. Others experiencing travel difficulties will include the match referee, who has to come from York and Alty manager Lee Sinnott, who has to get here from Hull. Pictured, right, is the view of Nicky Clee's neighbourhood near Huddersfield!
And Alty tannoy announcer Steve Raftery, who lives in Barnsley, wrote last night "We are currently under over a foot of snow here in Yorkshire so it is not looking good for me!" He has taken the precaution of putting Sale-based Andy Wilson on stand-by to man the microphone but apologizes for his potential, but understandable, absence.
Photos courtesy of Grahame Rowley.
The game at Boston is the only other match to survive the bad weather.
PLEASE SUPPORT GRAHAM AND "MAD DOG"
Altrincham supporter Graham Jackett is running the London Marathon to raise funds for the Motor Neurone Disease Association. All Alty fans will know that this charity is dear to the heart of our former captain Mark Maddox so, if you would like to help, please pledge your donation on Graham's Just Giving page.
BEFORE THE GAME
Mike Garnett has the statistics on previous encounters between Altrincham and Worcester City.
At Altrincham p9-w7-d1-l1-f24-a11
At Worcester p11-w3-d3-l5-f12-a14
All p20-w10-d4-l6-f36-a25

Worcester City announced on Friday that "Weather permitting, City will be heading to Altrincham tomorrow... Except for three players, City have a full squad to choose from.

Ellis Deeney will be missing due to an ankle ligament injury; the swelling is now reducing and there has been a slow improvement in his condition. Jacob Rowe is having an injection in his knee on Saturday and may be able to resume training in the next two weeks whilst Stuart Whitehead has received treatment for his groin strain and is a doubt but he is not yet ruled out of the game".

As usual Footy Mad has statistics that are wrong. It says that "Altrincham prepare to entertain Worcester City at Moss Lane on Saturday afternoon, aiming to preserve their record of never[?] having lost at home to the visitors. The Robins have drawn both[?] of the previous games against their opponents, however.

The most recent encounter between these two sides at Moss Lane was just last season, in September 2011, when they eased past their opponents in a high-scoring 4-1 thriller... Altrincham have an excellent home record, winning five and losing just one of the last six games[?]...

FootyMad's prediction ... Altrincham may be coming up against a decent side in Worcester City, but we do believe that its going to result in a narrow home win for the Robins"

According to the Worcester News, "Worcester City travel to sixth-placed Altrincham... looking to finally end their wretched run. Seven consecutive defeats have dropped the St George's Lane club from play-off contenders to 14th in Blue Square Bet North in a matter of weeks.

Not so long ago, this fixture would have been billed as a clash between two promotion rivals but now City will be happy just to stop the rot.

Carl Heeley's side lost 3-0 at home to Gainsborough Trinity last Monday, taking their wait for a goal to 455 minutes of football. But the manager was pleased with his players' efforts...

'It's no good sulking. I want smiles on faces', he said. 'We haven't got off our sticky run so we'll try again tomorrow and if it doesn't happen then we'll try again in the next game. There's no pressure on the boys whatsoever. If they keeping working with that attitude, it will turn for us'.

Heeley added, 'Altrincham are an average side with two or three top-class players and we've got to deal with them because, if we can, there won't be much between us. They've scored a lot of goals and we've got to get back to being difficult to beat and also not shipping goals. It's difficult being a defender when you've not got a goal to hang on to and it does get a bit demoralising'...

New striker Ethan Moore... could keep his place up front. On-loan Walsall winger Kieron Morris will hope for another chance after failing to get off the bench against Trinity.

Captain Stuart Whitehead is Worcester's chief injury concern with a groin problem to follow fellow defenders Ellis Deeney (ankle) and Jacob Rowe (knee) into the treatment room. Right-back Tyler Weir was rested for the final floodlit game at the Lane and could come back into contention, while Danny Edwards should keep his place on the left.

Lee Sinnott's Altrincham are bidding for a fifth straight victory after wins over Colwyn Bay, Solihull Moors, Droylsden and Oxford City."
BSBN NEWS
"Histon have signed young midfielder Jack Paxman on loan from Southend United until the end of the season", confirms the Football Conference. "A quick and tricky attacker, Paxman has had `work experience` spells with Histon`s neighbours, Soham Town Rangers on several occasions, finishing last season with the Greens and then being recalled by Southend in October 2012".

Meanwhile, "Promotion-chasers Guiseley have had a mixed week... It has been confirmed that Wayne Brooksby suffered a broken ankle in training on Thursday night. He will miss the remainder of the season...

However, Kevin Holsgrove is now available for selection again while manager Steve Kittrick has signed Doncaster Rovers' highly-rated creative midfielder Paddy Mullen on loan until the end of the season. Home-grown right winger Mullen was one of five youth team players to be honoured with a professional contract for his hard work and success at the Keep Moat last season."

Elsewhere, "Bishop`s Stortford have added two more players to their squad... Striker Billy Lobjoit, 19, has joined after being released by Leyton Orient last week following off-field problems. Lobjoit joined Orient in 2008...

Stortford have also signed defender Michael Alaile from Wealdstone. Alaile, 24, had only joined the Stones last month from league rivals Margate, who had released him having signed him from Canvey Island, in the summer. He is primarily a centre-back but can play anywhere across the defence and has also had a spell with Braintree Town".

The Nuneaton News says that "Carl Heggs, manager of Hinckley United, is urging the Knitters' board to get Declan Towers and Harvey Headley on contracts for next season...

He said, 'I've made it clear to the board I want to get them on contracts. They've stayed here when countless others have left. They've stuck by the club and I want the club to stick by them. Declan has been the player of the year probably. He's been consistent in every position he's played.

Harvey had never played in midfield before but he's done well. He's got a bit of steel and know how, plus he has got four goals from midfield'.

Heggs says three other players remain in contract talks with the board. He still feels they will sign despite protracted negotiations. He also revealed he is keen to sign a winger/striker before tomorrow's game".

According to This is Glos, "Crisis club Gloucester City may have been thrown a lifeline by the city council with an offer of a cash advance to help ease their financial fears.

The city council has provided a contribution to the Tigers to help them pay their bills for each season they have been playing at Whaddon Road...

City council leader Paul James has urged supporters to get behind the fundraising plan to make the Tigers' next home game with Colwyn Bay a 'pay what you want' fixture. 'The most sustainable way for the club to continue is for more people to support them', he said".
---
22 March 2013
PLAYER UPDATE
After training on Thursday evening, Altrincham FC manager Lee Sinnott confirmed that, despite the signing on Thursday of goalkeeper Tony McMillan, Joe Collister remains very much in his plans. Despite signing at Moss Lane in early February, Joe has yet to be included in a Robins' first-team squad, owing to a nerve problem in his arm. Lee hopes that this issue will be resolved to allow Joe to be integrated into the squad over the summer, if not sooner.

Joe first arrived at Moss Lane as a loan player from Tamworth on 27 January 2012, for a one-month loan period. He made an impressive start when he saved a third-minute penalty on his debut at Gainsborough the next day; the same match in which Duncan Watmore made his league debut for the club.

Meanwhile, Tony McMillan, despite playing much of his football in the Merseyside area, for Southport, Runcorn and Burscough, is a local resident, who lives in Sale. He has played against Altrincham on a number of occasions for Runcorn, Southport and Lancaster City. As he was sent off last Tuesday whilst playing for Southport, after he handled the ball outside his penalty area, he has to wait till Southport complete a first-team fixture before he becomes eligible for selection by Altrincham.

Related to the departure from Haig Avenue of Tony McMillan, Bulls' News reports that "Southport have signed former Shrewsbury keeper Ben Smith on non-contract terms. The 26 year-old comes in as cover after first choice, and ever-present, Tony McMillan was sent off on Tuesday night".

The rest of the squad all trained on Thursday evening, with Shaun Densmore and Gianluca Havern the only players currently less than 100%, but both should be in contention for Saturday's game.
DAMIAN'S ASPIRATIONS
In the Manchester Evening News we read that "Alty ace Damian Reeves still hopes to hit big time, writes Phil Jones. The Golden Shot Altrincham striker Damian Reeves boasts an incredible strike rate since joining the Moss Lane club. .

There are few guarantees in life, but in the world of goalscoring Damian Reeves comes about as close as you can get to providing one. Altrincham's hot-shot striker scored his 99th and 100th goals for the club in their 3-1 victory at Colwyn Bay on Saturday, in just his 118th start.
Managers are often quoted as searching for that 20-goal-a-season man who can really make a difference to their team. Well, Reeves scored 44 last term, the highest tally in English senior football, and has already notched 37 times with 10 games remaining this season. But having fired the Robins to fifth in the Conference North, the man himself cannot pin down the secret to his success.
'I don't know what it is about Alty, it just seems one of those places, everybody has them', he told M.E.N. Sport. 'You go somewhere, you like it, and then once you start enjoying yourself it just comes with that. I can't really single one goal out from the 100 though, but to hit a century for any club in as short a space of time as I have is such an achievement'.
With last season's heroics came the inevitable interest from Football League clubs but, despite playing in a pre-season friendly for Gillingham, Reeves signed a new two-year deal at Moss Lane. And while manager Lee Sinnott was not expecting his striker to hit the heights of the previous year, he still had high hopes.
'He said "What do you think to 20?"', added Reeves. 'So, I said 30 and we set that target. Now I've got to 30 and with the amount of games left, beating last season's tally isn't too unrealistic. The main thing, though, is for the team to get where we want to be. If I get to 40 or 50 that's a bonus'.
Reeves' contract contains a clause allowing him to leave on a free transfer should he agree terms with a League side and he knows time is running out for a big move to materialise.
'I've never hid the fact I want to play League football but, now I'm 27, it either needs to happen or it's not going to', he said. 'If an offer from a League club was to come in then I'd be seriously thinking about doing it. The only thing I can do now is score as many as I can and, hopefully, someone thinks I'm worth taking a chance on'.
While he turned down a move to Inverness Caledonian Thistle in January, Reeves takes exception to reports his wage demands are too high.
'It gets on your nerves because it's absolutely ridiculous', said the self-employed plasterer. 'I'm not daft enough to think someone will come in and give me two or three grand a week. If somebody comes in, it's got to be seriously considered whatever terms they offer. I'd be quite happy playing for a League side getting similar to what I get now'.
As a youngster, coming through the Leeds United youth system, Reeves played alongside James Milner and Aaron Lennon. A badly broken leg, shortly after signing professional terms, dashed his hopes of making it in West Yorkshire, but his desire to play professionally still burns brightly.
'I don't think the dream ever dies in anybody, everybody's got a kid inside them', added Reeves. 'If it's not a dream, then you shouldn't be playing football. Watching some of the players I've played with on the telly, it is harder to idolise them as you know them personally. There's no two ways about it, though, you would like it to be yourself'".
OLD BOY
The North Wales Daily Post, in its preview of Airbus UK Broughton v Port Talbot Town, alerts us to the fact that "Port Talbot's travelling party will not include Matt Crowell after the former Wrexham midfielder flew out to Australia to join Central Coast Mariners Academy".
BSBN NEWS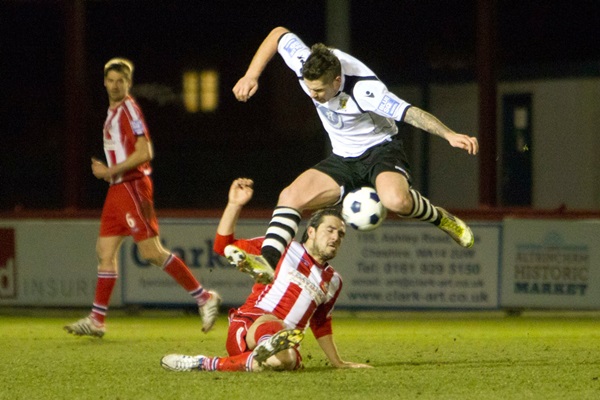 Right: They don't like it up 'em; Gianluca Havern tackles a Solihull player in last week's encounter. Picture courtesy of Gavin Rathbone of GR Photography.
The Football Conference says that "Bradford Park Avenue have announced the signing of Adam Baker on loan for the rest of the season from neighbours Bradford City. A young striker who is tipped to have a big future in the game, Baker was rewarded for some excellent displays in the reserves with a professional contract at the beginning of the season and he has since made five first-team appearances for the Bantams. Earlier this season Baker enjoyed a loan spell with Avenue's league rivals, Harrogate Town, where he made five appearances and scored two goals".
From the Daily Post, we learn that "Colwyn Bay manager Frank Sinclair says he has let himself and his players down after being hit with a five-match ban for his third red card of the season last weekend. It means he will miss a huge chunk of his relegation-threatened side's last nine games from the end of next week.
'I regret what happened, but I'll take my punishment and may look to try and bring somebody else to cover for me while I'm out', he said. But he is more concerned at the moment that the team have suddenly gone off the boil and described Tuesday's lacklustre performance in the 3-0 home defeat to promotion-chasing Halifax as 'worrying'.
'We've not been ourselves in the last couple of games. We've not shown the belief that we have had in the previous games and there are a few questions I have to ask myself about certain performances', he said. 'We're better than that and I've got to try and drive these boys forward because there are still 33 points to play for, which is a lot of points. We can't just pack in. I've said to the boys it is too important. It's important to the club, to me as the new player-manager and it has to be as important to them as well.
It's got to be life or death every time they walk out onto that grass – and I'm demanding that from them'. The team were outfought and outplayed on Tuesday and only the heroics of goalkeeper Chris Sanna prevented what could have been an embarrassing scoreline".
This is Glos tells us that "Light is slowly beginning to appear at the end of the tunnel as Gloucester City Football Club seek to ensure their survival. Chairman Nigel Hughes has revealed the club had virtually 'finalised' a groundshare deal for next season with landlords Cheltenham Town.
The deal, that would see all back-rent paid, as well as a deal struck for next season, would immediately stave off the threat of relegation from Blue Square Bet North. And with the club 'revitalised' by a positive response to their stark admission that they could go under unless £25,000 is found in the next month, Hughes is optimistic for the future.
Steps are being taken to bring supporters back to the club, with the Tigers making Wednesday's home game with Colwyn Bay a 'pay what you want' fixture for all fans. And by then, Hughes expects to have a contract for a further season's groundshare at Whaddon Road lodged with the Football Conference.
'The agreement has now been finalised and we've had a bit of to and fro between the two clubs getting things rubber stamped', Hughes said. 'Once again Cheltenham have been fantastic and I am hopeful we will get the contract signed in the next two or three days, and by early next week at the very, very latest... It's just a case of us transferring the funds over to Cheltenham and getting the contract signed'...
By throwing open the doors to fans for the game against Colwyn Bay, Hughes is hoping to attract a bumper crowd and prove the club has a vibrant future... 'People keep telling us that, if we had a stadium back in Gloucester, they would turn out to support us. With no televised football to compete with, this is now the chance for us to offer those missing supporters an opportunity to demonstrate to us that the club does have a future. All you have to do is give up some of your time, make that effort and help your club.
When you come, it is your decision whether to make a donation and, if you do, you alone are free to decide what amount that should be. There is no minimum'. The Colwyn Bay game will not be ticketed and fans are asked to turn up at the Whaddon Road turnstiles well ahead of the 7.45pm kick-off and donate whatever they feel is a fair admission price into buckets by the gate".
---
21 March 2013
KEEPER SIGNS
With Joe Collister remaining unfit since his recent signing by Altrincham, former Southport goalkeeper Tony McMillan (32) has joined The Robins. Tony was in goal for Southport last Tuesday but was sent off and subsequently released,. He is unable to take part in any Altrincham game till the Sandgrounders complete one first-team fixture.
WEDNESDAY GAME
Corby Town 2 Solihull Moors 3 att. 272. Carl Piergianni got Corby's second in the last minute.
League table.
"PHENOMENAL DAMIAN"
Altrincham FC joint Press and Media Officer, John Edwards writes in the Sale and Altrincham Messenger that "Damian Reeves's finishing was described as 'phenomenal' after the prolific Altrincham striker registered his 100th goal for the club in double quick time at Colwyn Bay on Saturday.

Another double from Reeves, in a 3-1 win, made it seven goals in four games and, more pertinently, 100 in just 118 starts and 12 appearances as substitute. Such remarkable statistics underline his standing as non-League football's outstanding marksman and explain why it was seen as such a coup when he agreed to another spell at Moss Lane last summer.

Several clubs dithered over offering him the Football League opportunity he craved, and their loss is clearly Alty's gain after he took his overall tally this season to 37 and his aggregate for the last two campaigns to 81.

'There is every chance now that he is going to match, or even eclipse, last season's 44-goal mark, which is quite incredible,' said manager Lee Sinnott. 'It is quite phenomenal what he has done over the past two years, and if you are considering where he stands compared to others, you just have to look at the non-League paper.

'They have a table of leading scorers that includes all divisions, and Damian was at the top last season, with someone else either alongside or just behind. This time, he's up there again, but it's a different striker challenging him for first place. That tells you everything about him and how consistently excellent he has been at his job.

'He deserves every accolade going, but I honestly believe his decision to stick with us last summer has benefitted him as well as us. Something fits about Damian and Altrincham FC. He might have gone somewhere else and not quite hit the same heights. I don't know that, but I do know he enjoys playing in this team as much as the others enjoy having him around to finish off all their hard work. Long may that continue.'

Alty hope to have Luca Havern fit for Saturday's home game with Worcester City, while on-loan midfielder Danny Boshell is in line for a home debut".
BSBN NEWS
There is a lot of introspection at our next opponents, from where the Worcester News, reports "Worcester City's worst run of results for nearly 30 years and its impact on the club's future will be top of the agenda at tomorrow night's board meeting. Monday's 3-0 defeat to Gainsborough Trinity at St George's Lane was the first time City have lost seven league games in a row since the 1984-85 season, when they were relegated from the Alliance Premier.

It also took the number of games without scoring a goal to five, something which last happened back in 1966. With player morale and supporter apathy at rock-bottom just weeks before the club leaves the Lane after 108 years, the board are preparing to act after the side slipped to 13th in Blue Square Bet North.

Vice-chairman Colin Layland says the alarming run cannot continue if the club want to get anywhere near their target of selling 1,500 £100 season tickets for the move to Aggborough. He also would not confirm whether manager Carl Heeley, who is coming under increasing fire from fans, would be in charge when the club begin their exile.

'It's a situation that we will be discussing at a board meeting tomorrow', Layland said. 'It's not just the fact we have lost seven games on the trot, it's other things like the season tickets which people are not going to buy if they are watching a team that's losing all the time. With crowds dropping off it's not helping the playing budget for next season. What the answer is I don't know'.

He continued, 'We have monthly meetings when the manager comes and talks to us so maybe he can give us some answers. It will be a general discussion but I can't say what the future of the manager is'.

Fans have taken to internet forums and Facebook to vent their frustrations about the plight but the Supporters' Trust have reiterated their backing for the club. Spokesman Rob Crean said, 'As it is our last few games at St George's Lane it would have been nice to go out with a bang rather than a whimper. But, whatever happens between now and the end of the season, we are looking to the future and no more than two years ground-sharing at Kidderminster Harriers. We have still got confidence in the club and we are still working together'.

Keith Chambers, vice-chairman of the supporters' club, added, 'I think Heeley needs to go back to basics and field what he thinks is his best team that did well earlier in the season and give them another chance. He's tried changing the team and it hasn't worked'".

And the Worcester News asks "Just why are Worcester City in such a slump? In the six years I have been reporting on Worcester City, there have been few times that compare to the utter sense of apathy currently engulfing the club...

Following the most spectacular nosedive in form in living memory, it's almost as if supporters have given up on this last season at the Lane, and it's sad to see... Nobody really knows why this has happened to a team once flirting with the play-offs to now wondering if they have done enough to stay up.

Everyone you speak to, including manager Carl Heeley, is at a loss to explain why City are in such a rut... The last eight games look like being a damage limitation exercise...

Captain Stuart Whitehead said, 'We've just got to try and stay positive and believe because I've been in a run like this with Carlisle United, when we lost 10 on the trot. You just need a spark. You need strong characters when you're going through a run like this because if you don't you're just going to sink...

We are getting sucked into the relegation situation so we need to sort ourselves out, make sure we're safe and start progressing and building for next season. The ability is still there because it's the same squad that was doing it at the start of the season'.

But the former Kidderminster centre-half added, 'Collectively, as a group, the standard of every individual has dropped below what is expected. Even players who were outstanding at the start of the season aren't playing anywhere near their capacity. Everyone's getting dragged under together, every little mistake is being highlighted and it's shocking. We've just got to stay strong and in the end we will come through it'".

And the Worcester News reveals "the first drawing of Worcester City Supporters' Trust's proposal for a new stadium at Perdiswell. Nearly two months after announcing their plans, the group are close to submitting an application to Worcester City Council and will hold a public consultation at Perdiswell Leisure Centre on Thursday, April 4.

As shown, the proposal, a community facility, would feature a stadium with a capacity of 4,130, including a 500-seater stand... To the side of the stadium would be a floodlit all-weather pitch, two nine-a-side grass pitches and three of the exisiting pitches on the Bilford Road site...

Costing around £2million in total, the scheme has been put forward by the trust as a possible new home for Worcester City as there is no sign of anything being built by St Modwen [builders, who acquired St George's Lane] at Nunnery Way".

And there is also an air of gloom at Boston, from where This is Lincs reports that "Pilgrims'chairman David Newton has pleaded for stayaway fans to return to the Jakemans Stadium, starting with Saturday's home clash with Bradford Park Avenue. Attendances have dropped to well under 1,000 following a disappointing season which has seen United sack two managers.

But with things looking up after three straight wins under new boss Dennis Greene, Newton is urging fans to turn up in their droves...

'I am aware that once again we have not delivered the performances on the pitch that we had hoped which, together with the economic climate, has hit the gates this season', said Newton. 'This has affected overall income and the year-on-year financial improvement is not likely to be achieved again this season. Since appointing Dennis (Greene), things have really turned around on the pitch with three wins out of three...

I ask as many fans as possible to come to the Jakemans Stadium to support Dennis and the team as we try to finish as high as possible and start to plan for next season. The additional income would be invaluable to us as we reach the part of the season where cashflow is always difficult. Let's try to get over 1,000 at the last four home games'".

Chester First says thet manager Neil Young has "explained why he wouldn't be asking England international Michael Owen to sign for Chester. The Blues' boss, who idolised the Chester-born footballer when he played for Liverpool, was responding to the news of Owen's retirement from football at the end of this season.

'As a mark of respect to Michael I won't be asking him to be part of the Chester squad in the Conference Premier Division next season', Young said. 'He has made a tough decision to retire at the end of this season... I know he has made the decision for his family and I wouldn't expect [him] to play for Chester in the Football Conference'".

They were promoted from the BSBN last season but the Nuneaton News claims that "Nuneaton Town have until the start of April to complete improvements to their ground or risk compulsory relegation from Blue Square Bet Premier. Work must be done to upgrade the tunnel area, changing rooms and turnstiles at the Triton Showers Community Arena to give it Grade A rating.

If the work does not pass its inspection on April 2, Boro could be kicked out of the league by Conference chiefs, but owner Ian Neale is sure that will not be an issue.

He said, 'We are progressing with the work at the moment. We are waiting to hear back from the Co-Op (Nuneaton Town Supporters' Co-Operative) if they will help us with the turnstiles. If they aren't willing to pay then the club will. It's not major work. The majority of the work is in and around the tunnel and changing rooms, plus the paving area adjacent to the seated stand.

I'm not anticipating any major issues. I'm experienced in ground grading'...

The club were given a season's grace to ensure their ground is up to Conference standards following promotion from Blue Square Bet North. Meanwhile, Neale says Boro were not the subject of an advert placed in Sunday's Non League Paper which offered a Blue Square Bet Premier club for investment or sale".

"With the recall of several loan players, Blue Square Bet North club Bishop's Stortford's manager Rod Stringer has moved swiftly to bolster his squad. Lewis Wilson, a 20-year-old forward, joins on loan from Northampton Town until the end of the season. Wilson has also had a couple of loan spells at Kettering Town this season, where he scored seven goals.

Also arriving is Jack Ward, a 20-year-old utility player who is most comfortable in midfield. He joins from Evo-Stik Southern League Division One Central side Northwood".
---
20 March 2013
CHEERS!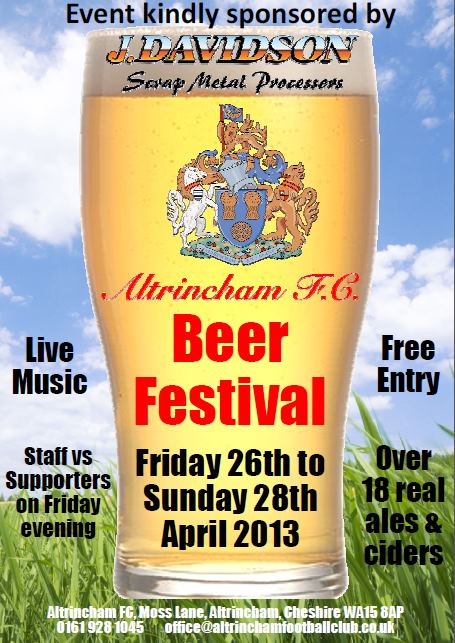 The 2013 Altrincham FC Beer Festival takes place from Friday 26 April until Sunday 28 April at Moss Lane, as shown on the adjacent poster. As well as the drinks, there are plenty of other activities that weekend, including:
Friday 26th April - Staff v Supporters football match on the hallowed turf, followed by live entertainment in the bar
Sat 27th April - Altrincham v Droylsden, the final game of the BSBN season, followed by a Race Night and the annual End of Season awards in the bar
Sunday 28th April - Past Players' football match plus an Altrincham FC Ladies' game in the afternoon, followed by live Premiership action in HD on the TVs in the bar as Arsenal host Manchester United.

And, in addition to the 18 real ales, ciders and wine which will be on sale, commemorative glasses will be available for purchase. So, make a date in your diary now!
TUESDAY GAMES
Tuesday 19 March
Bishop's Stortford 0 Harrogate Town 2
Colwyn Bay 0 FC Halifax Town 3
Guiseley v Altrincham POSTPONED
Vauxhall Motors 1 Workington 3
TAKE HEART
Altrincham FC chairman, Grahame Rowley writes, "Altrincham FC aim to be one of the first Football Clubs to take advantage of the initiative launched this week by the British Heart Foundation and the Football Association which aims at making defibrillators available to all clubs in step 1-6 of the National League System.

The initiative will create thousands of life-savers by giving players, staff and fans access to equipment and information needed to save a life.

Grant funding is available to cover two-thirds of the cost with the other third having to be borne by the club.

With this in mind, our club kit supplier and goalkeeper coach Ian Senior has come up with an exciting offer for the fans and the way for the club to fund their part of the cost of purchase.

For the game against Vauxhall Motors, on Friday 29th March, the team will play in an 'all red' kit provided free of charge by SK Kits. These special 'one-off shirts will be available via an email auction, with all bids having to be received by 12 noon on Thursday, 28th March. Please e-mail the club with your name, bid and shirt number or player name preference, if you have one. All remaining shirts will be sold after the game in the bar.

Please support this initiative whilst helping Altrincham FC purchase this vital life-saving piece of equipment".
LADIES GET BACK TO WINNING WAYS
Keith Edleston, manager of Altrincham FC Ladies has kindly provided a report on his team's win last Sunday.

"In an entertaining match up at Chester FC, the Ladies recovered from an early two-goal salvo to end the first-half on level terms, with a brace from our new signing Tracey Blanchard-Webb.

At the start of the second half Chester came flying out of the blocks to try and re-establish a lead and had a few near misses but our players stood firm and gave nothing away. Indeed, it was Altrincham who, with a great goal from inside the box by Nat Thornley, made it 3-2.

Again Chester kept coming back at us and levelled the score with a 25-yard free-kick, which Rosie could do nothing about, as it went in the top corner... 3-3. This game swung from end to end and, following a fine through ball from Louise to Tracey, she was one v one and drew the keeper, rounded her and slotted it in.

With five minutes to go, a corner from the left saw the keeper parry it out to Faye Howard on the edge of the box and she gratefully smashed the ball into the net off the underside of the crossbar to make it 5-3. It made for a frantic end to the game, as Chester then threw everyone forward to try snatch a goal, but our defence was solid and anything that did get through Rosie swept up and made goalkeeping look easy.

All in all, a great game of football and I think both teams played a part in making it so. Also, a big thank you to Richard and his staff for providing food at the end of the game.

Squad: Rosie Emerson, Caroline Moran, Louise Edleston, Rachel Bullock, Kath Macintyre, Heather Scott, Kaysha Judge, Faye Howard, Nat Thornley, Sarah McManus, Tracey Blanchard-Webb

GoalScorers: Tracey Blanchard-Webb (x3), Nat Thornley (x1), Faye Howard (x1)

Woman of the Match: Rosie Emerson

Up the Alty!".

The Ladies'next game is against Stockport County Blues at Manor Farm, Ridgeway Road, Timperley, at 2pm on Sunday, 24 March. This is a game in the Cheshire Women's League Divison 2; spectators are welcome.
YANKEE
Although there were eight winning trebles, each netting £25 for their code-holders, the main Altrincham FC Saturday Yankee jackpot was not won last week. The jackpot now stands at £1,500. Last week's winning code was 0198.
BINGO!
Sarah Rowley confirms that Altrincham FC is holding another of its popular Bingo Nights in April, (details to be confirmed). If anyone has anything that they would like to donate to use as bingo prizes, they would be gratefully received. Items which are needed include:
Tins or packets of food
Bottles or cans of drinks
Toiletries
Stationery items
Cleaning products
Household items eg candles, vases, etc.

If you can help, please bring the items to the club offices during normal office hours or on match days. If this is difficult, please ring the club on 1061 928-1045. Thank you very much for your help.
PONTOON UPDATE
Grahame Rowley writes that "Barry Pond had a big smile on his face after winning the raffle at Colwyn Bay and he was on the verge of winning the Pontoon Competition, with Kidderminster scoring three goals in the first 58 minutes against Tamworth but Michael Gash spoilt his day with an 84th minutes goal which put Kidderminster on 22 goals and therefore BUST.

The new leader of the competition is Gareth Thomas, with Bradford Park Avenue, who whilst not playing, were awarded 2 goals (as per the rules), which takes them to a total of 16 goals. Joint second on 14 goals are Nigel Bunce (Altrincham), The Cromptons (Barnsley) and Bryan Ford (Workington). Nine players are on 13 goals so it's all to play for. Next update on March 25th."
"THAT'S REEVESEY!"
Before Tuesday's game was postponed, the Yorkshire Evening Post reported that manager "Steve Kittrick is urging his Guiseley side to keep a tight rein on an opposing player he knows well tonight – in the shape Altrincham goal machine Damian Reeves. The former Farsley Celtic and Guiseley goal predator has carried on from where he left off in a goal-laden 2011-12 and has plundered 32 [league] goals already this term, including seven in his last four outings.

Top-scorer in the division last season with a stunning return of 44 goals, the 27-year-old is well on course to achieving that feat again, with the self-employed plasterer reaching his century of goals in Alty colours en route to a brace in their 3-1 weekend win at Colwyn Bay. That was Lee Sinnott's side's fourth straight victory..

On the threat of Reeves... Lions' chief Kittrick said, 'Altrincham obviously need to win to keep that fifth spot and Lee will know they will have to work hard to stay there. But Lee has some good players, including obviously a top goalscorer in Reevesy. He is the sort of player who can be out of a game for 90 minutes and then in the 91st, he will score the winner. That's Reevesy.

He is unorthodox and does what he wants, but scores goals. I know on their forum, some fans have spoken about him not doing much in games. But he can just turn around and say, "32 goals"'.

Second-placed Guiseley head into the contest with some renewed wind in their sails following three straight victories... Kittrick must make do again this evening without suspended striker James Walshaw... Walshaw serves the second game of a three-match ban for Guiseley...

Kittrick added, 'We have had our bad patch and now we are battling back... Going to Corby on a Wednesday night when lads have been working all day wasn't easy, for instance, and after we got off the bus in the early hours of the morning, one or two had an hour's trip after that. It was a long night'".
BSBN NEWS
According to NL Daily, "Talks were taking place last night in a bid to prevent Oxford City from having to play three games in as many days next month. The fixture pile-up has arisen after City's Blue Square Bet North clash at Bradford Park Avenue was called off due to a waterlogged pitch.

The second match in a scheduled quick-fire double-header, between the two clubs, the postponement came hot on the heels of Saturday's game between the pair at Marsh Lane being called off. Now the trip to Bradford's Horsfall Stadium has been rearranged for Monday, April 8, with City to host the Avenue on Wednesday, April 10.

However, sandwiched in between on Tuesday, April 9, City are due to take on Thame United in the Oxfordshire Senior Cup semi-final. And with a league game at Gainsborough Trinity on Saturday, April 6, it would mean they face four games in five days.

But City secretary John Shepperd said that discussions were being held with the Oxfordshire FA with a view to moving the semi-final...

City manager Mike Ford admitted, 'It is not ideal. I think if everyone is fit I have got 18 (players), so I am going to need 18 lads and those that don't play one week may get a game the next because the games will be following very quickly. Unfortunately the Thame cup tie might be getting towards the bottom of our list of priorities. No disrespect to Thame or the OFA, as happened last year when we were going for promotion, gaining three points in Conference North outweighs winning a cup game'", he told the Oxford Mail.

Elsewhere, "Tom Platt has been recalled from his loan spell at Harrogate Town by parent club York City. Although, as stipulated in his loan agreement, Platt cannot leave Harrogate until March 21, manager Simon Weaver has been asked by York City boss Nigel Worthington not to play him today... to allow Platt to be fit for possible inclusion in the York City squad for the weekend.

During his three loan spells with Harrogate, Platt has scored an impressive 13 goals in just 28 appearances", reports Harropgate Town.

And Pitchero Non-League says that "Bishop's Stortford have taken striker Lewis Wilson on loan from Northampton Town until the end of the season. Wilson scored nine goals over two stints with troubled Kettering Town but was taken back to Sixfields yesterday ahead of the end of the temporary deal, which was due to expire at the end of this month.

The Cobblers signed Wilson from Newport Pagnell Town in January 2012. The young striker from Milton Keynes also played for the Rushden & Diamonds youth team after a successful trial. He is a natural goalscorer with quick feet, and can play as a wide midfielder as well as up front".
---
19 March 2013
DANNY GOES ON LOAN
Altrincham striker Danny Mitchley (right) has gone on a one-month loan to Kendal Town. Injury hampered Danny at the start of the season and the prolific form of Damian Reeves combined with the emergence of Duncan Watmore have limited his opportunities at Moss Lane to seven league appearances from the substitutes' bench this season. In addition, he has made one start and three more sub appearances in cup competitions. Earlier this season Danny had a loan spell at Marine.
GAME RE-ARRANGED
Today's postponed match against Guiseley has now been re-arranged for next Tuesday, 26 March 2013, at 7.45pm.
GAME OFF
Tonight's game at Guiseley has been postponed, due to snow and a waterlogged pitch.
BEFORE THE MATCH WAS POSTPONED!
Brian Flynn advises us that, "Radio Robins will be broadcasting live coverage of Tuesday night's game at Guiseley. The match commentary is sponsored by Techknowledgey Ltd.

Techknowledgey Ltd handle all of Altrincham Football Club's IT requirements and their client portfolio includes a dental surgery, estate agents and even a local preparatory school. If your PC or Mac is running slow, why not take advantage of Techknowledgey's great offer to diagnose and carry out a full cleanup of your computer... in fact, a complete healthcheck, for just £40!

Whatever your computer requirements Techknowledgey have got IT covered!

For more details go to their website or call Dan Jones on 01625 348727.

The match commentators are Paul Salt and Brian Flynn, with match summaries from Ian Wilkinson. The broadcast begins at 7.40pm.

Alternatively, you can find live-text updates from the game on this site's Matchday Updates page. Quick links to both options are below.

Footy Mad says that "Altrincham face a trip to Guiseley at Nethermoor Park on Tuesday evening, looking to break their duck against the hosts. The Robins lost the only [?] previous game played between the two... less than a year ago...

Guiseley could not have a more impressive recent home form, having won each of the last six games... Altrincham have an average recent record on the road, with two wins, two draws, and two defeats... Guiseley may poach a narrow victory, according to the Madmen. Home win".

The true stats of previous games come from Mike Garnett:
At Moss Lane: P4-W2-D1-L1-F6-A5
At Guiseley: P5-W0-D1-L4-F5-A13
Overall: P8-W2-D2-L4-F10-A15

The Yorkshire Evening Post tells us that "Ugly was beautiful as far as Guiseley boss Steve Kittrick was concerned after a scrappy 1-0 win over Solihull Moors. A Josh Wilson penalty on 32 minutes proved the difference... Kittrick, whose side host fifth-placed Altrincham tomorrow night, said, 'I think we proved a point that we can play ugly and we might have to be ugly in the play-offs, so it was good to see'...

Guiseley had a let-off late on when Omar Bogle put the ball past Drench, but he was deemed to be just offside".
MONDAY GAMES
Monday 18 March
Bradford Park Avenue v Oxford City POSTPONED - waterlogged pitch
Worcester City 0 Gainsborough Trinity 3
RARE PROGRAMMES
Most Altrincham fans will know Campbell McLay, who runs the football programmes section of the Robins' Shop at Moss Lane. Recently a number of rare Alty and Altrincham-related programmes were brought to him and these are now being offered for sale by sealed bids. The items are listed and illustrated on the Altrincham FC Programmes page. Between now and the close of bidding some further images of individual programmes will be displayed on the website.

A 1950 Alty v Witton programme is shown right.

SEALED BIDDING SYSTEM
1. Decide which programmes you want to bid for. Programmes can be inspected in the club shop on match days.
2. On a sheet of paper enter your name and contact details and list the programmes you wish to bid for and your bid for each programme. (Note that you must enter a separate sum for each programme, a bulk figure for all the programmes you want is not acceptable.)
3. Put the completed sheet in an envelope and seal it. On the front of the envelope write "Altrincham programme sale".
4. Hand the envelope into the club shop on match days or post it to the club. If posting, put the sealed bid envelope inside another envelope and mark it for the attention of Campbell McLay, Altrincham Football Club, Moss Lane, Altrincham, Cheshire, WA15 8AP.
5. Closing date for bids is 2.00pm on Good Friday, 30 March 2013.
6. Successful bidders will be advised and can collect their programmes from the club shop on a match day or the programmes can be posted to them, but in that case the successful bidder will have to pay the postage costs in addition.
YOUTH TEAM
The next Altrincham FC Youth match is on Sunday, 24th March, in the North West Youth Alliance Football Open Cup 12-13, away to Chester Colts. The side which the NWYA labels as "Altrincham Youth", i.e. the Club's Division one Juniors' team, is at home in the same competition, against Morecambe, at Clay Lane, Timperley.
BSBN NEWS
This is Glos reports that "Gloucester City Football Club are a month from going out of business. The crisis-hit Tigers need to find £25,000 by the end of the current season on April 27 in order to keep trading.

Six years without a home and dwindling gates have left the club unable to make ends meet. Unless the money can be found by the time the current Blue Square Bet North season ends, the club will be left with significant bills and with no way of paying them.

Club chairman Nigel Hughes explained... 'If we cannot identify new funds quickly, and very quickly, then we are weeks from going out of business, the situation is as stark as that. We made just £21 from our game against Droylsden when we had a crowd of just 149, and we just cannot survive on gates and revenue like that. Where have all the supporters gone? We had 1,300 supporters turn up to support us against Leyton Orient in the FA Cup, we need them back desperately.

We don't care where the money comes from, we just need it to come from somewhere. The Supporters' Trust are doing their best to help and we have explored every single avenue in terms of funding and where we can play. We have exhausted all options'.

The Tigers have been effectively homeless since the catastrophic Gloucestershire floods of 2007... Last month, The Citizen revealed that the club had fallen behind with their rent payments to current landlords Cheltenham Town owing a figure in excess of £17,000. The club have found a benefactor to pay that bill and The Citizen understands that negotiations are close to being completed on a deal that will see the Robins paid in full and an agreement put in place for next season.

However, dwindling revenues through the turnstiles, that culminated in the record low gate for the Dryolsden game last week, has left the club with significant other financial pressures. In the past, holes in the finances have been plugged by owner Eamonn McGurk, but after 16 years, spending a total of in excess of £1 million on the club, he has had to channel his resources.

The Gloucester-based businessman has already spent £250,000 on the planning application for a new stadium at Meadow Park, only for the plans to be dealt a major blow in September last year... McGurk is now turning his attentions solely to the remodelled plans for the stadium, knowing that for the club to have any sort of long-term future, a permanent home is desperately needed.

On the field, City already operate on one of the smallest playing budgets within the Football Conference and have no staff on the pay-roll other than the players, coaches and physiotherapists. Steps are being taken to restructure the finances for the future, but with contracts to honour until the end of the current season, the desperate need for fresh revenue has become acute".

According to the Football Conference, "Solihull Moors have signed Nigerian, Samson Boher Joseph. Lagos-born, Joseph is a left-back or left-sided midfielder whose last club was Cyprus outfit Olympiakos Nicosia. The 30 year-old had previously spent his career in Portugal, starting out at SC Braga and then having spells with Naval, Felgueiras, Chaves, Rio Ave, Gondomar, Chaves again and then Sporting Covilhã. He joined Olympiakos Nicosia in June 2012".

Pitchero Non-League tells us that "Carl Heeley admits he is flattered to be linked with AFC Telford United... Heeley said, 'I'm not going to lie. To have your name mentioned with a club the size of Telford is flattering but it's speculation and it's nothing more than speculation... I have got nothing to suggest an approach will come but we'll deal with that as and when. It's hypothetical at the moment. What I am respectful of is I am manager of Worcester City, I've been here a very long time and the club's very close to my heart. I want more than anything to get some success at this club.

Yes, we may have some tough times ahead, a lot tougher than they are now, but I'm not one to shirk it'... Despite seeing his side slump to a sixth successive defeat against the Pilgrims, Heeley believes the club can be proud of their efforts this term.

He said, 'we have done well. Maybe I got carried away with myself, I wanted to be right up there challenging for the play-offs and maybe we've been a little bit over optimistic but I still firmly believe in what we have shown at stages this season. If I'm truthful, the clubs who are now in the play-off positions are evolving, making big signings and swapping their squad around and that's something unfortunately we are not in the position to do'.

New signings winger Kieron Morris, on loan from Walsall, and striker Ethan Moore both made their debuts against Boston".

Chesterfield confirms that "Young striker Jacob Hazel has agreed to join Workington on loan until the end of the season... Hazel, who is a product of the youth system at Chesterfield... played in two League Two games later that month. The 18 year-old has also had a spell on loan at Matlock Town this season".
FOLLOWING IN FATHER'S FOOTSTEPS
"Warrington Town have signed a "young up and coming goalkeeper... Christian Dibble, aged 19, has joined on loan from Bury until the end of the season" reports Pitchero Non-League. "He is the son of former Manchester City and Wales [and Altrincham] shot stopper Andy... Dibble has already gained a Welsh under-21 international cap, although his progress was hampered when he suffered a horrific injury towards the end of last season that saw him rushed into hospital for emergency surgery to a badly damaged stomach and intestine".
CSC FINAL
The Cheshire Senior Cup Final, sponsored by Peak Associates, between Chester FC and Stalybridge Celtic will take place on Wednesday, April 17th at Wincham Park, the home of Witton Albion (kick off 7.45pm)
---
18 March 2013
COLWYN BAY REVISITED
The Radio Robins' commentary from Saturday at Colwyn Bay is now available:
Second half
YOUTHS' CUP WIN
Altrincham FC Youth won their Second Round match today in the Manchester FA Youth Cup, defeating Urmston Meadowside Eagles, 4-0. A report can be found in the Youth section.

There was only one game in Alty Youth's division of the NWYA on Sunday.
Morecambe 7 Northwich Victoria 1
League table.
GUISELEY ON TUESDAY
Our next opponents, Guiseley report that they "face Altrincham this Tuesday and will hope to gain another three points following the Lions' win at Moss Lane earlier this season. Currently both sides occupy a place in the play-off places with Guiseley second in the league and Altrincham in fifth place, although Guiseley are currently eighteen points ahead of Altrincham.

They come off the back of three wins on the bounce, with a Josh Wilson penalty just before half-time securing victory against Solihull Moors on Saturday. Talking about the upcoming match, Guiseley manager Steve Kittrick said, 'Altrincham want to get into the play-offs and it will be a tough game. We will have a completely different game plan compared to our game against Solihull Moors'.

Last season Guiseley drew 2-2 with Altrincham away from home and then gained all three points with a 3-2 win at Nethermoor Park. This season Guiseley defeated Altrincham 3-1 back in October thanks to an overhead kick by Nicky Boshell and two late James Walshaw strikes...

Admission is just £10 for adults, £6 for concessions and £4 for 12-to-16 year-olds, kick-off is at 7.45pm."

The Guiseley team last Saturday was Drench; Hardy, Meynell; Rea, Ellis, Bower (Captain); M Wilson (McWilliams, 78), Holdsworth, Marsh (Lawlor, 61), Brooksby (Dale, 81), J Wilson. Subs not used: Pearson, Giles.

According to the Telegraph & Argus, "Josh Wilson's first-half penalty was enough to separate the sides yesterday, even though Guiseley were unconvincing in this home win against ten-man Solihull Moors. Second place in Blue Square Bet North appears to be nailed on for the Lions, and this was a third win on the trot, but they stuttered over the line in a game they controlled for long spells and should have won at a canter...

Three minutes later there was no debate whatsoever as Dominic Langdon brought Josh Wilson down in the area. Wilson had to put his boot back on before spotting the ball and he sent Moors keeper Jasbir Singh the wrong way to give Guiseley a 31st-minute lead... Later, Pierpoint was guilty of another rash challenge on Brooksby midway inside the visitors' half and was shown a second yellow card before the obligatory red...

Lions' boss Steve Kittrick said, 'It is always nervy when you are only 1-0 up but I thought we defended very, very well, and Danny Ellis in particular was outstanding. I went to watch them (Solihull) last Wednesday and they set up as I thought they would so we knew it was going to be tough. We worked them out and worked hard for this win'".

Our next guests at Moss Lane are the subject of a report in the Worcester News. "Just when you thought things couldn't get much worse for Worcester City, they do. Already in one of their worst runs of form in recent years, last Saturday's defeat against Boston United made it six straight losses in Blue Square Bet North.

In failing to hit the net, City have also now gone 365 minutes without a goal and, if truth be told, it is difficult to see when that is going to change. Worcester are a team so devoid of confidence it is beginning to affect the mood around St George's Lane. There was a real sense of dejection around the place following the final whistle, among players, officials and fans.

Even the public address announcer, in a perhaps ill-advised moment, relayed over the loud speakers that he was 'past caring' when Boston introduced their final substitute. Hardly what the players needed to hear in a match that brings the club one closer to leaving the Lane.

There are just four left now before the bulldozers arrive in what is becoming a sorry season for City at their 108-year-old home. Without a victory at the Lane since December 15, they need to beat Gainsborough Trinity tonight (7.45) to avoid another winless month on home soil slipping by.

Quite what has happened to Worcester is difficult to fathom... Nobody could have foreseen such an alarming dip in form. City were a good side not too long ago and occupied a position in the Blue Square Bet North top 10 for around two thirds of the campaign.

Maybe they are burnt out. Perhaps the uncertainty around the club's future, and speculation surrounding manager Carl Heeley's link to Telford United, is playing on their minds... Heeley is right when he says City need something to go their way but it has to be soon because you wonder just how much more of this they can take".
---
17 March 2013
DAMIAN'S VIEW
Brian Flynn interviewed Damian Reeves after the win at Colwyn Bay, in which he scored his 100th goal for the club. You can hear what he said about that and the game itself, here.
BAY WATCH
The North Wales Weekly News reports that "A day that started badly and finished even worse saw Colwyn Bay lose 3-1 at home to high-flying Altrincham today. Midfielder John McKenna went over on an ankle in the pre-match warm up forcing a last-minute change to the starting line up, disrupting the Seagulls' pre-match planning and, then, with seven minutes left, player-boss Frank Sinclair was shown a straight red card, which means he will miss some key forthcoming games.

That was his third red card of the season, but he felt it was a soft dismissal. 'I spoke to the referee afterwards and he said, in his opinion, I elbowed the centre forward, but I didn't. I blocked him off as he went to make a run. He had done the same to me two minutes earlier but the referee obviously felt there was a bit more intent than when he did it. I am disappointed because I don't throw elbows about; I have never been that type of player. I'm just glad it didn't cost us the game because I think the result was near enough decided by then'.

Two close range goals by the league's top scorer Damian Reeves, including his 100th goal for his club in 118 starts and 12 as subsitute, put Altrincham 2-0 up early in the second half. But Colwyn Bay got a goal back almost immediately from what was virtually substitute Jason Lampkin's first touch, shooting through a crowded goal area from 12 yards, and only a fantastic reflex save by keeper Shaun Coburn, to keep out a close range header by Fraser McLachlan, prevented the Bay getting back on terms.

'That was a crucial moment', agreed Sinclair. If that goes in to make it 2-2 we'd have our tails up and it is a completely different game'.

Instead Altrincham rode out the Colwyn Bay pressure and then broke out to seal the game with a well-struck third goal from Duncan Watmore 10 minutes from the end...

Sinclair admitted the loss of McKenna before the kick off had not helped. 'It scuppered our pre-match talk because we had to change the starting line-up (Lee Davey coming in as a last minute replacement) and revise our set play plans. Macca has been an integral part of the success we've had recently, so losing him was a huge blow. In the end we have come out slightly second best, but I don't think Sanna has had that much to do apart from the goal in the first half', summed up Sinclair.

'Reeves has had two tap-ins where they've got behind us, but they were both avoidable goals because they've come from us giving the ball away too cheaply. We've given it a go and tried to be positive and been a bit unlucky at times, but it was always going to a hard test because they are a good side and are not fifth in the table for nothing. They've got the league's top scorer in their side and, unfortunately, we have caught him at a time when he has just started scoring goals again after a lean spell...

These aren't the games that will get us relegated. We've got some big games coming up against teams that are down there with us and it is the results in those games that are going to decide things'".
ATTENDANCES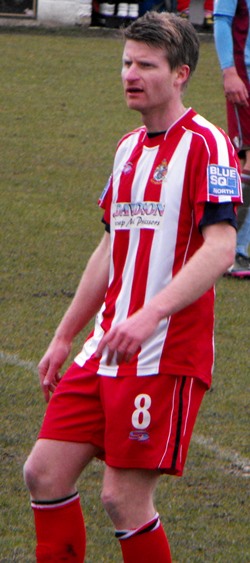 Right, midfielder Danny Boshell made his Altrincham debut at Colwyn Bay. Danny is on loan to Alty from Guiseley.
Saturday's gates were:
Chester FC v Gloucester City 2,626
Colwyn Bay v Altrincham 431
Corby Town v Harrogate Town 273
FC Halifax Town v Brackley Town 1,361
Gainsborough Trinity v Bishop's Stortford 522
Guiseley v Solihull Moors n/a
Vauxhall Motors v Stalybridge Celtic n/a
Worcester City v Boston United n/a
Workington v Histon 304
"DO OR DIE" SAYS IAN
Alty coach Ian Senior says "It's almost 'do or die' time now, after yesterday's Crossbar Challenge left me trailing 17-25 to assistant manager Neil Tolson with just 10 contests to play. Really need to 'up my game' now!".
RADIO ROBINS
The Radio Robins commentary on Wednesday night's match against Solihull is now availalble:
2nd half
OLD BOYS AND A LOANEE
Old boys on target in the EvoStik leagues included Aaron Burns who scored for Ashton United and Tom Baker who was on the mark for Chorley.

Meanwhile, a current Alty player and another former player were involved as Cammell Laird beat Radcliffe Borough 3-2 last Tuesday. Radcliffe Borough report that Altrincham's "Sam Grimshaw was signed in time to replace Mortimer at left-back and it was was Grimshaw who was involved in the first chance of the game inside a minute. Good work by the loanee on the left who saw his cross float into Kevin Sanasy who headed wide of the post...

They found themselves a goal down a few minutes later... [as] Grogan flicked it on past James Coates. On 18 minutes Coates made the first of his 4/5 superb saves in the game".
---
16 March 2013
COLWYN BAY 1 ALTRINCHAM 3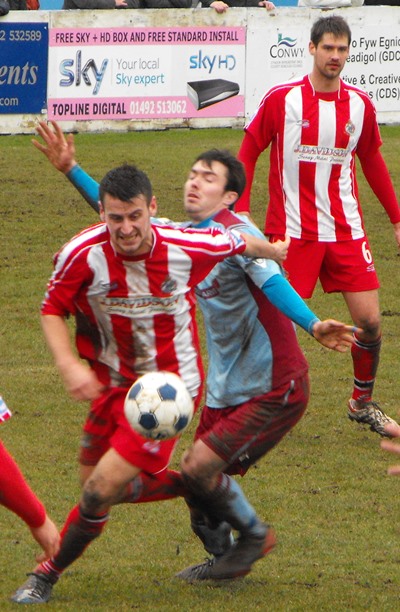 Two goals from Damian Reeves and one from Duncan Watmore saw Altrincham gain a deserved three points. But Bay hit the bar and Stuart Coburn had to make a couple of important saves in a game which saw Bay player-manager Frank Sinclair sent off near the end.
Match report here.

Right: Simon Richman is seen here getting through a lot of hard work for Alty at Colwyn Bay. Danny Hall awaits the outcome.
SATURDAY FIXTURES
Sat 16 March
Chester FC 2 Gloucester City 0
Colwyn Bay 1 Altrincham 3
Corby Town 0 Harrogate Town 2
FC Halifax Town 0 Brackley Town 0
Gainsborough Trinity 2 Bishop's Stortford 2
Guiseley 1 Solihull Moors 0
Hinckley United v Droylsden POSTPONED
Oxford City v Bradford Park Avenue POSTPONED
Vauxhall Motors 0 Stalybridge Celtic 0
Worcester City 0 Boston United 3
Workington 3 Histon 1
DANNY JOINS ON LOAN
Altrincham FC are pleased to confirm the signing on Friday of Guiseley midfielder Danny Boshell (born 30 May, 1981), on loan till the end of the season. Danny was a regular with Guiseley until the manager Steve Kittrick announced in February, "I had a difference of opinion with Danny. We were not singing off the same hymn sheet and we felt it would put his younger brother Nicky in a difficult position, so we decided to put them both on the transfer list".

Danny spent six years of his early career at Oldham Athletic for whom he made 70 League appearances before his departure in 2005. A spell with Stockport County added a further 33 League appearances in 2005-06. Next, he signed for four years with Grimsby Town before joining Chesterfield during 2009-10. After that he joined Guiseley in late August 2010. Danny is not permitted to play for Altrincham against Guiseley next week.
BAY KEEN TO TAKE THE POINTS
BSBN report that "Colwyn Bay have re-signed winger Lee Davey from Conwy Borough ahead of Saturday's big home game against Altrincham. A deal was agreed with Conwy following Tuesday's North Wales Cup game...

Player-boss Frank Sinclair said, 'I was really impressed with Lee on Tuesday night and he gives us another attacking option playing on the left or the right. He knows the club well and is happy to be coming back. He goes straight into the squad against Altrincham.

Anthony Miley is going the other way, until the end of the season, because he needs to get some games. He will then come back to us in the summer because I probably won't be playing much next season and we can use pre-season to prepare him fully to be involved a lot more often'.

Danny Meadowcroft is ruled out by a one-match suspension and although Charlie Joyce has had his loan spell from Southport extended to the end of the season, he may not start against Altrincham because of a broken bone in his hand.

'We have to monitor him carefully because if he gets another bang on the hand it could do a lot of damage', explained the manager. Shelton Payne and Mike Lea come back into the squad after missing the Conwy game. This the first of three home games in eight days and, after taking five points from four tough away games, Sinclair admitted, 'We really need to get more points on the board from these three home games, starting with Altrincham'".

Mike Garnett's statistics tell us that the previous record between Altrincham and Colwyn Bay is:
At Moss Lane: p14-w9-d3-l2-f37-a22
At Colwyn Bay: p9-4-4-1-24-15
All matches: p23-13-7-3-61-37

Meanwhile, the eccentric Footy Mad makes its customary predictions, but based on inaccurate statistics. "Altrincham face a trip to Colwyn Bay at Llanelian Road on Saturday afternoon and will hope to continue their unbeaten record at the ground. It's been a kind fixture in the past, resulting in a win each time for the Robins... [Er, not quite, see above].

Colwyn Bay's woeful home form means they have chalked up just a single victory, with 5 defeats, from the last six... [The actual record is W2, D0, L4]. Altrincham's away form is none too clever either, with two wins, two draws, and two defeats. [Actually, the sequence is 3 draws, 2 losses and 1 win in the last 6 away games]... It's been an indifferent run of form for the Robins of late away from home, but your FootyMad panel sees things improving, starting here at Llanelian Road with Altrincham coasting to victory. Away win".
AFTER THE MOORS
Brian Flynn has provided a post-match interview from Wednesday night with Neil Tolson, Altrincham's assistant manager.
ALTRINCHAM FC COMMUNITY SPORTS COMPANY
Peter Foster writes, "Wednesday night's game v Solihull was sponsored by the Club's Community Co. There was a really good turnout in the Sponsors' Lounge with reps from local schools, Youth Groups, Junior and Ladies Sections, and several companies that provide support to the Club's community efforts. Chris Bullock, our Community Officer, who does a fantastic job, was also there, along with the coaches who help to deliver the various activities.

The article below was included in the matchday programme and is reproduced for those who couldn't make the game".

Altrincham Football Club – Community Sports Co.

The Club's Community activities are probably not as well advertised as they should be and we are sponsoring today's game as a way of bringing to your attention what is going on behind the scenes to maintain the Football Club's profile within the local area.

We have been involved with delivering football-related activities within the local community for several years. These activities accelerated primarily as a result of the support we started to receive from the Football Conference Trust, itself funded by the Premier League and Professional Footballers' Association, in 2011.

This funding enabled the Club to appoint a Community Officer, Chris Bullock, and subsequently it was decided to set up a separate 'not for profit' company that is now the umbrella for the Community activities. Directors of the Community Company include Karen Rowley, Neil Faulkner, Peter Foster, and Carole and Fred Nash.

The Community Sports Co's primary aim is to increase participation in football by encouraging more people, (especially children - boys and girls), to play and watch football and to encourage more people to become interested and to support their local football team by forging closer links between them.

As well as providing coaching and playing opportunities, the Community Co. also gives out thousands (literally) of free, and reduced price tickets to local children and their parents via Clubs and schools during the season. For example, for the Hinckley home game there were over a thousand tickets given out. The take up rate for this game reflected the norm, of approximately 10%.

Some of the activities we are involved with, or are looking to start up, are detailed below. If you are interested in participating in any of these or, if you would like to discuss new ways of promoting football in the community that you feel we could consider, we can be contacted by:
Telephone the Club on 0161 928 1045,
Ring Chris Bullock on 07963 163966.

Schools Coaching

The club provides coaching to local schools on request. Schools have different requirements, e.g. curriculum coaching, after-school clubs, lunch-time clubs. Different schools also request sessions at different times of the year. At present the club are active in the following:
Altrincham C of E
St Vincent's
Cloverlea
Oldfield Brow
Heyes Lane
Forest
Woodheys
Tyntesfield
Springfield Road

Ladies'/Girls' Football The Community Co, via Keith Edleston, was instrumental in the setting up of its Open Age Ladies' team for season 2011/12. The team trains on Thursdays at BTH School, and plays home matches in the Cheshire Womens' & Youth League, Division 2, on Sundays at Manor Farm, Ridgeway Road. More detail and current information is available from the Ladies' Section website.

We also enter teams in a mid-week 5-a-side league and run 'social' football sessions for Ladies. Anyone interested in these should contact the Community Co.

Youth Group Coaching

The club provides and offers free coaching to local youth groups such as Cubs, Scouts, Brownies, Guides, and Cadets etc. Anyone interested in taking up this offer should contact The Community Section.

Football 'Fun Weeks'

The Club has been running Fun Weeks during the school holidays for many years. These vary as regards timescales dependent on timing of school holidays but, typically, these may be run in the Easter, Whitsuntide, or Summer holidays. They are usually located at the Football Club, however occasionally they are run from local schools, such as Altrincham Grammar School, or BTH School. Details of these are always published in the Club programme and website as soon as they are finalised.

School Holiday 'Drop-in' Sessions

The Club has run free 'drop-in sessions' for youths aged 12-18 during school holidays. These are intended to improve the health and football skills of the individuals. Again, details will be published as future sessions are arranged.

'Slow' Football

The Club is intending to start football sessions for 'mature' or unfit individuals. We hope to start these in 2013 and they are intended to enable those of us who are unable to play football at the pace we used to, but still love the game, to participate with minimal distress or health risk. More detail will be provided as soon as arranged.

Education Opportunities

In conjunction with 'interactivesports', the Club is currently hosting year one of a two-year BTEC course. This is proving very successful, with all 18 students having just achieved their Level 1 FA Coaching badges, as well as progressing well with their academic qualifications.

On the football side, the Course Team plays in the English Colleges' League, eight of the players are now playing for one of the Club's Youth teams and Steven Bullen has recently been an unused sub for the first-team. A new course will be starting in September 2013 and full details will be posted on the website.

Junior Football

Although not run as a part of the Community Company activities, the thriving Junior Section does benefit from Chris Bullock's role as a liaison point. The Juniors run over 40 teams, these cover the age ranges 8-17, for boys and girls, with boys teams playing in the Timperley and District Junior Football League, and the girls in the South Manchester Girls' Leagues. There is also a very active and successful Saturday Morning Club run for children aged between 4 and 8; attendance averages 85 at present. More detail and current information is available from the Junior Section website.

As well as the activities above, we also continue to support other activities to raise the Club profile, such as the World Cup Town Centre event and the setting up of the Town Centre Club shop.

Hopefully, this gives you a better insight into the Community Section. If you feel you want to get involved, or just want to know a bit more, we can be contacted by:
Telephone the Club on 0161 928 1045,
Ring Chris Bullock on 07963 163966.
BSBN NEWS
Stalybridge Celtic chairman Rob Gorski has said that "I think the understatement of the year is that everyone involved in Stalybridge Celtic Football Club is massively disappointed with the way this season has gone...

I am embarking on a 'root and branch' analysis of the whole club. That starts with me, through the board, the management and also the players... For various (sometimes legal) reasons - I cannot go in to great details right now about specific players or personnel and who said what on which social media network etc etc. What I can tell you is that the club is hurting very badly with the fall off in attendances. We will average c. 250 less per game this season than last season. If you multiply that up for 21 games, it is TENS AND TENS OF THOUSANDS of pounds that the club needs to find from who knows where...

It is now impossible to give 'The Gaffer" the same amount of money next season as this season. That can only harm the club going forwards. As a consequence of the massive financial shortfall, I am sad to report that Tim Ryan has today left the club. Tim has been an absolute rock in defence and a great guy on the training field. However, the simple fact is that Tim was on non-contract, he did not want to play anymore and he was being paid a lot of money for effectively being an assistant (non-playing) manager. I know that Tim will be feeling pretty rock bottom right now but if we are to survive, we are going to have to look at things through pretty ruthless business eyes from now on and I'm afraid we simply coudn't justify Tim's expense.

It sounds like such a pathetic cliche, but I DO wish Tim all the very best going forward... If you take an almighty step back, we are a full time football club, we train every day, we have full time training costs, manager's costs, assistant manager's costs, players costs and so on. And yet we are now getting 300 gates. It is incredibly difficult to survive on those gates as a part-time club, let alone a full time one...

Some have questioned the full-time philosphy. I would say this. We simply cannot afford the best part-time players and so, if we reverted back to that approach, we would only go backwards. I still 100% believe in this system and I still think that we have some tremendous players at our club. They have learnt a lot this season and ought to come on significantly as a result of that...

I'm intending to take a much more 'hands on" role going forward and I intend to communicate with you on a regular basis. I can't tell you that things are rosy. They are not......far from it! But I am going to work as hard as I can to help ensure we turn the corner".

Harrogate Town say that "Midfielder/striker Robbie Youhill has joined North Ferriby United on loan until the end of the season...Rob, has also been on loan at neighbours Harrogate Railway Athletic this season, as well as making several appearances for us".

According to the Telegraph & Argus, "Guiseley boss Steve Kittrick believes his side are over their late-season blip thanks to back-to-back victories and they will be aiming to make it nine points from nine when Solihull Moors visit Nethermoor on Saturday.

The Lions are 16 points off the summit with just two games in hand but are nine clear of third-placed Brackley Town...

Kittrick said, 'For us to catch Chester they would have to lose four games and they have only lost one all season so far. It is getting more remote but we can't do any more than keep the pressure on them, which we will try to do'.

The victories at Corby Town and Droylsden brought no new injury concerns but Kittrick, who watched Altrincham at home to Solihull on Wednesday, will be without two players. 'There are no injuries in the squad. Everyone is fine', added the manager. 'But Wally (striker James Walshaw) and Aaron (Hardy – full back) both begin suspensions. Wally has three games but Wayne Brooksby comes back into contention and Aaron will miss this and Tuesday against Altrincham.

I was pleased with the two wins, even though we are not playing the fluent football we did early season. I would like to think that the run of poor form is behind us now. We haven't lost many this season but it just proves what a tough division this is because we could finish with 100 points and still miss out on automatic promotion, which is unheard of in football'. [Actually it happened to Emley in 2000-2001 who amassed 101 points and were not promoted.]

The Lions go into this weekend with 72 points on the board and 33 to play for".
---
15 March 2013
BUCKET
Altrincham FC thanks the donors and collectors who raised £38.36 in Wednesday's bucket collection.
ALTY'S PROSPECTS
Thursday's Manchester Evening News has a review of local clubs and their promotion prospects. In it, Lee Sinnott says when asked who is his star player, "I don't go in for favourites but Damian Reeves is probably one who's done particularly well, and he's the top-scorer in the league. He's definitely continued with his fine form from last season".

Lee added "Our aspirations are the same as they were at the beginning of the season, we're looking for a place in the play-offs. It's a bit of a mad dash to the finishing line at this point, with a lot of teams in the shake-up looking for a play-off spot, but our expectations are that we'll be there".

The same feature quotes manager of Mossley, Steve Halford, as nominating as his "star player" a former Alty Youth striker. "Sam Madeley has scored 15 goals in 17 starts and has done well. He has never had a full season because of injuries so he'll be pleased personally. But we need a striker who can score 30 goals a season".
CROSSBAR CHALLENGE
Ian Senior has clawed back another point in his season-long Crossbar Challenge with Neil Tolson. The overall score is now 24 - 17, with 11 to play. "Can Tols 'bottle it'?" asks Ian, whilst Neil states that he has let Ian win this time to make a contest of it.
FLYNNZINE
Brian Flynn's latest "Flynnzine" appeared in Wednesday's "Robins' Review"...

Seel Park Sanctuary!

The disappointment of suffering the postponement of Saturday's scheduled trip to The Horsfall Stadium to take on Bradford Park Avenue was ultimately tempered by a very enjoyable Saturday afternoon as I headed to the hills with Andrew Shaw (Chairman of Vice) and my brother-in law to see the snappily titled Evo-Stik North League (Division 1 North) fixture between Mossley and Trafford.

The afternoon did not start well, as the Sat-Nav threw a bit of a wobble.I'm not sure where it was taking us, but it certainly wasn't anywhere near Seel Park and we arrived after about a quarter of an hour. Inevitably, there was a huge cheer as I negotiated the turnstile and the first action that I saw was the Trafford players celebrating Michael Oates's opening strike.

Andy Smart, who played for Alty during the latter stages of last season, made it 2-0 to the visitors about 10 minutes later, with a well-executed left foot strike, but Trafford were soon down to 10 men as Melford Knight was dismissed, for what can only be described as a somewhat over-zealous challenge. Despite this setback, Trafford held on comfortably to their lead until the interval.

Mossley had underperformed in the first half, but you sensed that all was not lost for them, particularly as they were now playing down the slope. The Lilywhites were back in it within minutes as Adam Mather, who played a number of pre-season games for Altrincham last summer, swiftly halved the deficit from the edge of the area. Urged on by Assistant Manager, Peter Band, the home side dominated and, eventually, it was another former Robin who brought them level. Chris Denham's close range volley fired up the home fans and it wasn't too long before the same player turned smartly to plant a left-foot shot past Tom Read to complete the comeback.

It was a great game in which 4 of the 5 goals were scored by players with Moss Lane connections and Seel Park is always a place that I like to visit, even on a cold, miserable March day".
TASC GOAL RUSH
Paul Salt confirms that "The TASC Goal Rush draws for 60, 70 and 80 goals scored by the team in all competitive matches took place at last night's match against Solihull Moors. The winning numbers were
16 - Bob & Clare Allan
10 - Bob & Clare Allan
126 - Jonny Keen

Each winner wins two free tickets to a home league match of their choice. With a further 2 goals being added after last night's 2-1 victory over Solihull Moors bringing the season's total to 87, the draw for 90 goals should hopefully take place in the not too distant future! Thank you to all those participants who have already made their interim payments upto the 50-goal mark".
SOLIHULL GAME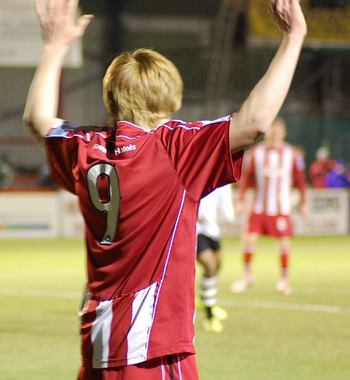 Alty supporter James Lobley has advised us that his images from the midweek game against Solihull are on his Flickr site. The one on the right needs no caption.
After the midweek game at Moss Lane, Solihull Moors report that "Altrincham moved up into the playoffs with a 2-1 win over the Moors who finished with nine men. Junior English's header against the crossbar in the first half was Solihull's best chance of the first half as they nullified Altrincham's attacks in an even first half. The Moors were reduced to 10 men shortly after half time, Dominic Langdon dismissed after bringing down his man in the area, denying a goalscoring opportunity.
Moors keeper Jas Singh saved the resultant spot kick, but Altrincham took the lead a few minutes later, a number of lucky deflections allowing Reeves to score in the six yard box. Despite being a man down Solihull were playing the better football and eventually they got an equaliser through Dior Angus with seven minutes remaining. The Moors looked like the only team likely to get a winner before gifting Lawrie a simple goal in injury time. The Moors had no chance to get an equaliser as Danny Spencer was dismissed soon after leaving the Moors chasing the game with only nine men".
BSBN NEWS
According to the North Wales Weekly News, "Colwyn Bay are through to the semi-finals of the North Wales Coast FA Challenge Cup after a 4-2 win at Conwy Borough...

After taking a 3-0 lead early in the second half they conceded two goals in just over a minute and had to dig in as Conwy chased an equaliser... With a number of first choice players rested, the Bay got the boost of an own goal ... after just three minutes. Tom Smyth then headed a second... Danny Meadowcroft scored a third from another corner... The Bay relaxed and played some nice passing football for a spell before being knocked back by those two quick Conwy goals...

Manager Frank Sinclair said he was happy with the win and the performance. 'We made a few changes and it was important that players who have been on the bench recently and not played much football got 90 minutes under their belts. It was a local derby and I am happy we have got through because it meant a lot to the chairman and the board after what has gone on in the past, but most importantly a few people have put in good performances that will make me have to think about the team for Saturday. They have put their names in the hat to be involved and I can't ask for more than that'.

Jason Lampkin and John McKenna both had to come off after getting knocks, but are expected to be fit for the weekend. Colwn Bay: Sanna, Taylor, Roberts, Meadowcroft, Smyth, Crowther, Evans, Lampkin (Hopley 55mins), Ellison (McKenna 55mins) (Joyce (90mins), Byrne, McLachlan. Sub not used: Sinclair."

More comes from the North Wales Pioneer, "Four out of the Seagulls' next five league games will be played at home, following their 2 -1 'set back' in their relegation battle against Histon... Sinclair said, 'We were obviously disappointed we didn't do enough to take the game, especially in the first half... I learnt a lot about my team, and it was great to see us fighting back so hard under pressure'...

Despite the defeat, Sinclair is still confident his side can avoid relegation. He added, 'We're not out of it. I wouldn't be doing this if I wasn't 100 per cent sure the team could survive. Under the new regime at the club now, we're showing some real promise, and the support of the fans is paramount to where we go from here'...

Meanwhile, the manager is on the lookout to replace striker Alex Meechan who has accepted the assistant manager's post at struggling AFC Telford".

Stalybridge Celtic confirm that "Jack Laird and Jordan Barrow have both been put on the transfer list for either loan or permanent transfer. All Conference Premier and North & South clubs have been circulated".

From the Football Conference, we learn that "Boston United`s interim manager Dennis Greene has confirmed that full-back Gary Silk will be in contention for Saturday's trip to Worcester City. Former boss Graham Drury released Silk in February but Greene has opted to bring back the popular and experienced defender, whose Conference registration at The Jakemans Stadium was never cancelled.

The 28-year-old was preparing to serve a three-match ban at the time of his United release and is now suspension-free... Meanwhile, attacker Jordan Smith has joined neighbours Grantham Town on loan".

The Worcester News tells us that "Worceter City will launch an ambitious scheme to sell 1,500 £100 season tickets in seven weeks on Saturday to help them survive at Kidderminster Harriers. Fans have until Friday, May 3, to snap up the cut-price tickets which will allow them to watch all 21 of City's league matches at Aggborough during the 2013-14 campaign.

Worcester, who are due to leave St George's Lane in June, are distributing 10,000 leaflets to sports clubs and organisations across the city promoting the offer. The £150,000 raised would enable Worcester to survive their first season in exile without the worry of potentially lower attendances and 'put pressure on the board' not to cut manager Carl Heeley's playing budget.

If 1,500 tickets are not sold, supporters can either donate the money to the club, have a refund or put it towards a season ticket. Should the club sell 1,200, those who have already paid can have a season ticket for an extra £20, or £50 if only 1,000 are sold. Fans not taking up the offer face paying up to £252 for a normal season ticket, although match-day admission prices will remain the same.

Coach travel to all 21 Aggborough matches will also be run by the supporters' club at a cost of £100 on top of any season ticket, although there could be flexibility based on demand. There will be five pick-up points in the city.

City are hoping to emulate the success of Hartlepool United who last year broke the 5,000 barrier with a similar initiative.

Director Mike Davis said, 'If you want Worcester City FC to remain in existence and survive these couple of seasons at Kidderminster then it's a great chance to make sure that happens. With the end of St George's Lane just a few weeks away, we realised we'd got to do something different to make people think about the club and attract as many people to Kidderminster as possible. The thinking behind it was that it's been done before and it's succeeded for another club so there's no reason why we shouldn't succeed too'...

We felt it would make people think that it's ambitious but then we want it to be an ambitious target so that there is an in-built impetus for people to get behind it'".

Last week he played against Altrincham for Droylsden but now Lincoln City confirm that "French striker Gomez Dali has signed for Lincoln City on a non-contract basis. Paris-born Dali played for FC Nantes in his homeland before coming to England".

Pitchero Non-League says that "Darren Edmondson, manager of Workington, has been trying to bring controversial Premier League striker Nile Ranger to Borough Park. So far Ranger has not responded and after being released by Newcastle United. He is said to be playing Sunday League football in the north east.

Edmondson is regularly in touch with Newcastle and was given Ranger's number by a member of the coaching staff. 'I got no reply so left a message but have heard nothing back from him. I guess the matter is closed now as he obviously doesn't fancy playing at Workington', said Edmondson. Troubled youth international Ranger, 21, has made more headlines in his native London and in the north-east for his off-field antics rather than his exploits on it.

Reds did have a new player from the north east in the side which drew 0-0 against promotion-chasing Brackley Town on Tuesday night. Teenage midfielder Callum Hope has joined from Sunderland and he was thrust into the limelight after only 9 minutes when he took the place of Jordan Connerton.

Edmondson said, 'Jordan knew right away he had done something. It appears to be a thigh strain, not the pelvic injury which caused him problems earlier in the season. Callum's got a good left foot, and we have been short down that side of the field since Anthony Wright's absence'".

In the News and Star, we read that "Nile Ranger rubbished talk of a shock move to Workington Reds by sending a foul-mouthed message to his army of Twitter followers... Former England Under-19 international Ranger was replying to a question about his future. He Tweeted to his 46,000[!!] followers, 'Lool so now I know there is a lot of dumb ass people in this world. NON LEAGUE LOOOOOOOOL stop it'.

He later posted, 'Might sign 4 ma local pub team'...

Ranger angered Newcastle fans by criticising them for booing after the team lost to Reading the previous weekend. He went on to infuriate large sections of the St James' Park faithful by spelling his name out in £20 notes and posting them on Twitter. Ranger was last night arrested on suspicion of assault after reports of a fight between a couple in Newcastle city centre".

This is Glos says that "They have found the money to pay their rent to landlords Cheltenham Town, but Gloucester City still need to raise £25,000 to plug a black hole in their finances. But the Tigers insist that any financial problems will have no bearing on the funding they have secured to pay landlords Cheltenham Town for use of their Whaddon Road ground.

Victory over the Bloods lifted the Tigers to their best League position in 15 years but the crowd of 149 was the lowest the club had seen since 2001. By the time the match officials and staff were paid for their work, the Tigers were left with the paltry figure of £21 to bank from the game... and club consultant Colin Peake explained how the club were looking at something of a financial black hole.

'We are progressing with the talks with Cheltenham', Peake said. 'The club are just in a position whereby the effects of a terrible winter and six years without a home to call their own are really biting. Tuesday was a prime example, the club had to play in the middle of raceweek in Cheltenham as there were no other available dates and therefore the crowd was very small'...

Chairman Nigel Hughes explained... 'The three current directors of the limited company have a legal responsibility while the executive committee is charged to operate the football side on a day-to-day basis', Hughes said. 'We see the way to go forward is through an eight-strong executive with four business people who we hope will offer their services'".

However, Bulls' News says that "Cheltenham have rejected an offer from Gloucester to pay off their back rent and sign a new agreement to stay at Whaddon Road next season, although talks are ongoing. The Tigers are now seeking £25,000 from fans to stabilise the club's finances and plan for next season".
CSC
In the second semi-final of the Cheshire Senior Cup, Chester FC beat Witton Albion 3-0 and meet Stalybridge Celtic in the final.
---
14 March 2013
BPA DATE
Altrincham's reorganised match away to Bradford PA will now take place on Wednesday, 17 April at 7.45pm.
ROB SIGNS
England Schools international midfielder Rob Gilroy has signed BSBN forms for Altrincham. 17 year-old Rob, a member of the Altrincham FC Youth squad, scored for the England side on his debut recently.
ALTRINCHAM 2 SOLIHULL MOORS 1
A goal, twenty seconds from the end of normal time finally put paid to a robust Solihull Moors, who were to finish the match with just nine men. The win lifts Altrincham back into the play offs in advance of a trip to Colwyn Bay on Saturday. Match report here.
BOOK NOW
After tonight's home game against Solihull Moors, Altrincham have two away matches. These are at Colwyn Bay (this Saturday) and at Guiseley (next Tuesday). TASC is organizing transport to these important matches so please book early to avoid disappointment. You can do so either by ringing the club during normal office hours on weekdays (0161) 928-1045. Details of the times and fares are on the Away Travel page.
OLD BOY
In a Press Release, Runcorn Linnets announce thay they "are delighted to announce the permanent appointments of the management team of Joey Dunn and Stuart Humphreys after an interim spell in charge at the Millbank Linnets Stadium.

Chairman Derek Greenwood said, 'When we initially approached Joey about taking over the vacant manager's role we wanted to ensure that both he and the club had an interim spell to ensure the appointment was right both for Joey and the club. He quickly brought in Stu Humphreys as his number two and the results under their management have been outstanding and after a meeting last night the club was pleased that he and Stuart accepted the positions on a permanent basis'.

Joey Dunn was equally delighted, saying, 'Both Stuart and I have been really pleased with the progress the team has made since our arrival. We have managed to bring in some real quality to add to the good players who were already at the football club... This is a club with great potential and we are now looking to build on the success of the last 3 months and to move the club forward'".
DROYLSDEN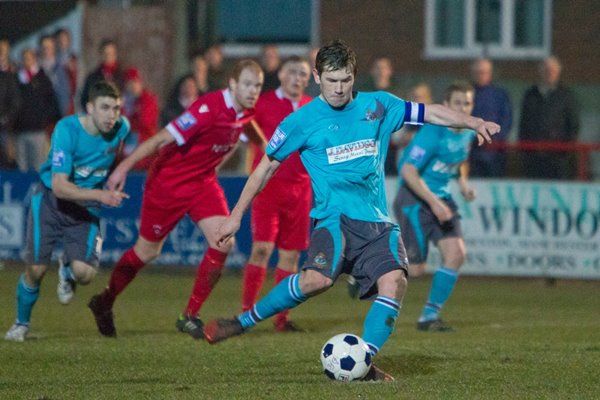 Right: Courtesy of Gavin Rathbone of GR Photography we see Shaun Densmore converting his penalty kick at Droylsden last week, as Damian Reeves looks on.
TRIBUTE TO TONY SANDERS
TASC chairman Brian Flynn writes:

Tribute Evening to Tony Sanders... Altrincham's most successful ever manager!

Altrincham F.C. are pleased to announce further details relating to the 'Tribute Evening to Tony Sanders'.

The event will take place in The Manchester Glass Limited Sponsors' Lounge at Moss Lane on Friday, April 19th, at 7.15pm.

As well as showcasing the contribution of Altrincham's most successful ever manager, we will be launching the 'Altrincham Football Club Hall of Fame' which will be a series of events over the next few years, recognising the contribution of Altrincham F.C. legends.This first event will focus on players who played for Tony Sanders and& featured in more than 500 games for the Football Club, namely Stan Allan, John Davison, Graham Heathcote, Jeff Johnson and John Owens.

There are 50 tickets available for this event, priced at £20, including a two-course meal plus tea or coffee. Demand is expected to be high and tickets are available by contacting either of the following:-
Altrincham Football Club by telephone on 0161 928-1045 or by e-mail.
Brian Flynn by telephone on 07860 561011 or by e-mail
CSC
Tuesday night's Cheshire Senior Cup semi-final game ended, Stalybridge Celtic 3 Northwich Victoria 0, the gate was 101.
---
13 March 2013
BEFORE THE MATCH
Footy Mad has its customary preview of Alty's next match. "Altrincham prepare to entertain Solihull Moors at Moss Lane on Wednesday evening, aiming to preserve their record of never having lost at home to the visitors. The two sides drew on their own [only] previous meeting... a 1-1 final scoreline...

Altrincham have an excellent home record, winning five and losing just one of the last six games... Solihull Moors have an average recent record on the road, collecting 1 win and 3 draws from the last six played...

FootyMad's prediction ... Altrincham may be coming up against a decent side in Solihull Moors but we do believe that it's going to result in a narrow home win for the Robins".
OLD BOY
A former Alty Youth player is the subject of a report from Pitchero Non-League, which says that "Winsford United's Charlie Weir set what is believed to be a club record with a hat-trick in 4 minutes against Stockport Sports on Saturday. Weir struck in the 16th, 17th and 20th minute of the game at the Stockport Sports Village...

The record for the fastest hat-trick is currently held by Kevin Towey, who scored after 30 seconds, 2 minutes and 3 minutes for Runcorn Linnets in the amazing 8-5 win at Stone Dominoes in a Premier Division game on Saturday, 15th October 2011, and thereby edging out Charlie's hat-trick by around a minute...

According to long-serving Blues secretary Bob Astles, it does appear that he has set a new club record. 'Charlie joined the club from Sheffield FC, where they insisted on playing him at left-back, a role that he didn't relish. He has also been a defender at Belper Town, but he joined Winsford on the promise that he was to play up front and he has looked a natural in that position, with his strength on the ball being his main asset'".
Please click on Matt Royle's Moss Lane fixture poster, right, for a larger version, which you are invited to print off and display, with permission if necessary, at your place of work, local pub, club, etc.
MIDWEEK GAMES
Tue 12 March
FC Halifax Town v Corby Town POSTPONED
Gainsborough Trinity 1 Bradford Park Avenue 1 att.414
Gloucester City 4 Droylsden 0
Harrogate Town 2 Bishop's Stortford 2 att.184
Workington 0 Brackley Town 0 att.251

Wed 13 March
Altrincham v Solihull Moors
SAM GOES AGAIN
Altrincham defender Sam Grimshaw has gone on another one-month loan to Radcliffe Borough. His previous loan spell with Borough was curtailed by a broken arm.
GOAL RUSH 2012-13
TASC's Paul Salt writes, "Altrincham's five-goal demolition of local rivals Droylsden, last week, took their season's tally to 69 in the league and, more importantly, 85 in all League and Cup matches so far this season.

This puts the Robins well on the way to breaking the 100 barrier for the season. The latest draws for the 60, 70 and 80 goal benchmarks will take place at half time on Radio Robins' match commentary against Solihull Moors on Wednesday evening.

All those supporters who have pledged their support of 25p denominations for each goal scored throughout the season get one free entry per 25p pledged into each 10-goal benchmark draw for two free tickets for a home league match of their choice, as well as free entry into the end of season draws for a signed shirt and match ball.

Our club chairman has also agreed that, if the total amount pledged exceeds £30 per goal and the team score 100 or more, there will be an additional bonus draw of a free season ticket for the 2013-14 Season.

At the moment we are just short of our minimum target with just £21.25p per goal pledged to date.

If you took part by pledging last season and forgot to renew this season or would like to take part this season and help us get to the £30.00 mark by backdating a pledge then please contact either the club on 0161 928 1045 or e-mail Paul Salt.

We are also seeking an interim collection for the 50-goal mark and a number of supporters have already made payments via the club. We are in the process of contacting all other members for payment, which can be made direct to the club or at the TASC desk in the Club Shop on matchdays".
BSBN NEWS
There is yet another arrival at Droylsden, where "John Grant (Striker) has signed for the club".

The Football Conference adds that "Droylsden have signed former England `C` striker John Grant to aid their battle against relegation. Macclesfield Town signed Grant on non-contract terms in August 2011 but he was released by the Silkmen at the end of last season.

The 31-year-old was previously at Barrow AFC but was released the previous January. The former Crewe trainee has also had spells at Rushden & Diamonds, Northwich Victoria, Hereford United, Telford United, Shrewsbury, Halifax Town, Aldershot and Oxford United. Grant won four caps for the England `C` side whilst on the books at Aldershot".

As reported here yesterday, the Daily Post confirms that "Colwyn Bay have suffered a blow to their squad with the shock departure of experienced striker Alex Meechan. The much travelled 32-year-old, who has played a big part in the Seagulls' recent revival under Frank Sinclair, has been offered the job of assistant manager at Conference Premier strugglers AFC Telford.

Sinclair reported, 'I am very sorry to lose Meeks because he has been great in the dressing room and has helped us turn things round. We will miss him but, although he is sorry to be going, he feels it is too good an opportunity to turn down, so we wish him luck'.

Meechan helped Telford win promotion to the Conference Premier a couple of years ago and has a strong affection for the Shropshire club.

Sinclair is now looking to bring in a replacement as quickly as possible. 'I have a couple of players in mind and hopefully we can get someone in time for Saturday' [against Altrincham] said the player-boss.

Meanwhile, Colwyn Bay play at Conwy in the North Wales Coast FA Cup. Sinclair is using the game to give a run out to players who have been on the bench in recent league games. Danny Meadowcroft, Jamie Crowther, Callum Byrne, Tom Roberts and Jason Lampkin are all expected to get a start, while Mike Lea is unavailable due to work commitments and young defender Anthony Miley is cup-tied.

Despite resting a number of his first choice players, Sinclair said, 'It's a game we want to win because it will mean a lot to the locals. We'll pick a team which we believe will do that, but this will be like Conwy's cup final and we'll have to match the effort that they'll be putting into the game'.

Colwyn Bay: (from) Sanna, Williams, Taylor, Roberts, Meadowcroft, Crowther, Byrne, Lampkin, Evans, Hopley, Ellison, Payne, McLachlan, Sinclair, Smyth, McKenna".

According to the Football Conference, "Gloucester City AFC has met to discuss the way forward whilst the club remains in limbo over the build[ing] of a new stadium and their return to play their football in the City.

Whilst negotiations with Cheltenham Town are still to be formally finalised over ground-share arrangements.. the indications are those are moving towards an amicable agreement...

Having examined all finances of the club in depth, against a backdrop of cash-flow problems due to loss of fixtures due to inclement weather, the club needs to raise around £25,000 to ensure they reach the end of this season in a solvent position. Acquiring this sum will allow the club to plan and financially budget for next season with confidence.

Consultant Colin Peake, who set up the meeting with club officials, said, 'Football at any time can be a precarious business and, with the background to how the Tigers have to exist, they have done really well but, due mainly to the extended delay in being able to return home to the City and a new stadium, it was bound to cause difficulties at some stage. The club has reacted positively by making it publicly known that they have cash-flow issues and require and seek new capital'...

Peake goes on to say, 'It is now that the club must go somewhat 'cap in hand' to those in the community, whether individuals or businesses, who recognise the football club does carry the name of the City of Gloucester'...

The club is appealing to anyone who would be willing to discuss any financial assistance of whatever size to help them over the initial short-term (two years)... The club will restructure for next season in an attempt to secure more advice and guidance from the local business community... It will seek to recruit local business people who not only have a love of sport and a love of the City itself but who are able to bring to the table expertise in four specific areas of: Sales & Marketing, Financial, PR & Communications and Legal Advice".

Meanwhile, "Bishop`s Stortford have brought in former non-League striker Brian Woodall on a month`s loan from Dagenham & Redbridge and have added highly-rated young midfielder Aaron Greene to their squad. Woodall took the Football League by storm in his debut campaign and ended as the Daggers top scorer, having joined from Gresley FC in the summer of 2011...

He began his career with German club SC Herford in the Landesliga Westfalen Ost before returning to England and playing for Hinckley Town... before moving to Gresley Rovers in February 2008...

Greene, 18, has joined Stortford from Biggleswade Town. Greene moved to the Carlsberg Stadium from St Neots Town".

Buckingham Today reports that "Brackley Town Football Club have received a £237,874 grant from the Football Foundation. The funding will allow Brackley to provide a much-needed training and playing facility for local football teams, clubs and the community of Brackley.

The new sports facility will comprise a 60m x 40m third generation artificial grass pitch, with floodlights, which will be open seven days a week. This will be complemented by a new set of purpose built changing rooms that are currently being built ...

Saints' chairman Sara Crannage said, 'As a club that has seen massive growth over the last few years, to the 16 teams we have today, this successful funding application is a testimony to the hard work and commitment shown by all our club officials, coaches, players, parents, volunteers and staff'"
---
12 March 2013
PONTOON UPDATE
Grahame Rowley provides an update on the Altrincham FC Pontoon competition. He writes, "After bursting into an early lead Tom Jacob's FC Halifax went Bust on Saturday when they scored another 3 goals making their total 22. The new leader is now Barry Pond with Kidderminster Harriers, on 18, with Gareth Thomas second with BPA on 14 goals. Third place are the Cromptons with Barnsley, on 13 goals, and joint fourth are Daisy Rowley and Mark Eckersall, on 12 goals, with Watford and Bolton respectively.

Things are hotting up - watch this space for further details".
Updated table
OLD BOYS
According to the Football Conference, "Former striker Alex Meechan has been drafted in to support John Psaras, the new caretaker boss at AFC Telford United. Meechan will form part of the interim management team with Psaras, Ryan Young and Phil Trainer.

Club chairman Lee Carter said, 'Alex, like a lot of former players, is hurting like mad about our current predicament and was on the phone to JP to offer his help. We'd like to thank the Colwyn Bay chairman for allowing Alex to come down and assist. Alex is a great character who is itching to get in and amongst the dressing room. Make no mistake that we will be fighting for the remainder of the season and it is long overdue that we get some character back into the club. We've become a soul-less shell of the club that used to go about its business with a smile on its face win, lose or draw. Rediscovering our soul starts today. We have a group of players who want to fight for everything and give it their all'"...

Elsewhere, NL Daily says that former Alty midfielder Jimmy Holden, now at Stockport Sports, "will stay at the club for the 2013/14 season".
BSBN NEWS
The Cambridge News reports that "Brian Page branded Frank Sinclair's behaviour 'a disgrace' after unpleasant scenes marred Histon's massive 2-1 win over Colwyn Bay on Saturday. The Stutes were 2-0 up in the encounter at the Glass World Stadium two minutes into added time when captain Remy Clerima was sent off following an incident in the visitors' penalty area.

Colwyn Bay later claimed Clerima had spat at substitute Alex Meechan, which sparked a melee in which the Welsh side's player-manager Sinclair threw the ball at Clerima's head. Sinclair then pulled a goal back and there was more pushing and shoving at the final whistle.

And Histon's Jack Uttridge, who was at the game as a spectator, said he was punched in the stomach by a Colwyn Bay player just before the final whistle when he bent down to pick up the ball from over the pitch-side railings.

'I've got a lot of time for Frank Sinclair and what he's done at Colwyn Bay, but to run over and throw the ball against Remy's head when his back's turned is a little bit naughty', said Page, Histon's assistant manager. 'What Remy's done, getting involved in it, he's had it all guns blazing from me. They can have all the arguments they want about what Remy did, sticking his head in there or whatever they accuse him of. But your manager can't throw the ball at the opposition captain's head when he's got his back turned. It's a disgrace."

Sinclair, who has a wealth of Premier League experience... defended his behaviour in the wake of Page's comments. 'It's not as disgraceful as him (Clerima) spitting at one of our players, simple as that', said Sinclair. 'It's not allegedly, I've seen him do it, and that's why I ran and got the ball to take it over to the other side and I threw it at his head. If he (Page) wants to say it's disgraceful that's up to him, but he (Clerima) shouldn't have been on the pitch for me to throw the ball at because he spat at our player and should have been sent off'.

Referee Neil Hair, who is expected to file a report on both teams' behaviour at the final whistle, confirmed Clerima was sent off for violent conduct and Meechan received a yellow card for adopting an aggressive attitude."

Meanwhile, the Daily Post adds that "Frank Sinclair admitted his first defeat as player-manager, to one of Colwyn Bay's relegation rivals, was 'a bitter pill to swallow'. His injury-time goal sparked a frantic and ill-tempered finale to the game in which Histon had skipper Remy Clerima sent off.

The Bay then had a strong shout for a penalty turned down, and saw home keeper Calum Kitscha pull off two outstanding saves to deny them a point. It was a damaging defeat for the Bay on a day when bottom-six rivals Corby and Workington both won to help pile the pressure back on Sinclair's side.

'It is very disappointing, particularly after doing so well recently to pick up points from three of the teams at the top', said the player-boss. 'But we were always going to get beat sooner or later and now it is all about how we respond'. The Seagulls' next three league games are all at home and they will need to pick up points from those".

The Football Conference confirms that "Experienced striker Colin Larkin has joined Harrogate Town. Larkin, 30, has played 300 professional League games in a career that has spanned over thirteen years. Starting his career at Wolverhampton Wanderers... [but] seeing opportunities limited at Molineux, he went on loan to (then) League Two side Kidderminster Harriers in 2001.

After leaving Wolves, he signed for Mansfield Town in a £125,000 deal. Three years later and he was on the move again, this time to... Chesterfield... In 2007, Larkin was snapped up by Northampton Town on a two-year deal. Hartlepool United would become his next club in 2009 and he would stay with the Pools for three seasons before dropping into the Conference Premier and joining Lincoln City in June 2012... before being released."

BSBN reports that "Worcester City manager Carl Heeley has revealed that defender Ellis Deeney faces a lengthy spell on the sidelines with a suspected broken leg and ankle. Deeney was rushed to a nearby hospital after Vauxhall Motors' Steven Wainwright's challenge during Saturday's 1-0 defeat at Rivacre Park left him clutching his leg in pain.

City still await the final prognosis following a series of X-rays, but Heeley reckons the outcome does not look good, and believes referee Andy Hendley should be held accountable for his handling of several questionable incidents.

'If there's a break, he certainly won't play again this season. We'll have to wait and see what the prognosis is but none of us are that optimistic', Heeley told the Worcester News. 'I am gutted for Ellis and fingers crossed for him. We are all thinking about him. He's played a lot of games and done well for us so we're just all hoping the injury is not too bad'. He added, 'I am not impressed with the referee. It was a poor tackle and there was one on Michael Taylor that was clearly a two-footed challenge as well. Quite frankly, I don't know what he saw and he might have an opinion but there's no debating those tackles. They were shocking'".

In the Telegraph & Argus we learn that "The rain-sodden Horsfall Stadium pitch was unplayable on Saturday, forcing Bradford Park Avenue's match against Altrincham to be postponed, the highest profile fixture to fall foul of the weather...

A waterlogged pitch put a dampener on Lee Sinnott's return to Horsfall Stadium. The former Bantams' and Terriers' defender is manager of the Cheshire outfit now and would have been back on his old stomping ground. When he managed Avenue his assistant was current Bradford boss John Deacey. The game was the first of the fixtures featuring local sides to be called off as the club made the announcement before 10am.

Avenue would have been wary of another expensive late decision following the postponement of the match against Colywn Bay by the match referee on February 16, resulting in Deacey's side being hit with a large bill to compensate Frank Sinclair's side for their travelling expenses".
---
11 March 2013
LATE BLOW SINKS YOUTH TEAM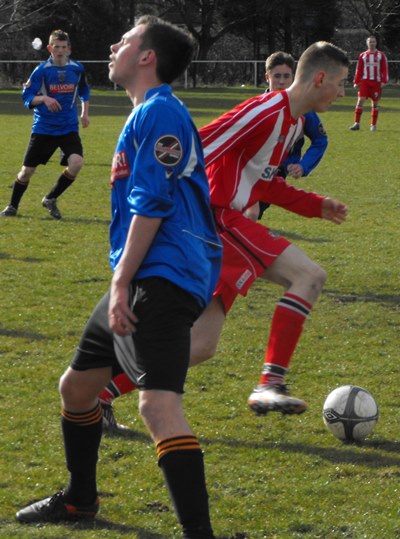 A very late penalty meant a defeat for Altrincham FC Youth on Sunday afternoon. There is a match report here.

Pictured, right, Alty's Jamie McLellan accelerates away from a despairing Prescot Cables opponent. But the Merseysider had the last laugh as his side took the points in Sunday's game. Older supporters may be interested to know that Jamie's grandfather was defender George Greenall, who was Peter Swales's first signing when he took over at Moss Lane in the early 1960s.

The NWYA has produced an updated league table
BSBN NEWS
Bradford Park Avenue report that "The Supporters' Club at Bradford (Park Avenue) have announced a magnificent achievement. Over recent months, the Supporters' Club put out an appeal to raise £2,000 club for a lawn mower to help maintain the playing surface at the Horsfall Stadium. Because of the hard work from the Supporters' Club, and, the generosity of those who donated, the target has been reached".

Elsewhere in Yorkshire, FC Halifax Town report manager "Neil Aspin's views on [how] FC Halifax Town returned to winning ways yesterday when they ran out 3-0 winners against Solihull Moors" who visit Moss Lane this week. "Town survived some early scares before they opened the scoring through a sweeping Liam Needham effort. Jon Worthington then expertly fired Town two in front... And it was made three by a superb counter attacking move...

Manager Neil Aspin has expressed the importance of achieving victory. 'I thought today was going to be a very important game because of the disappointment of Thursday and the effort that the players put in on Thursday, this was always going to be a tricky game', he said.

'I'll admit, leading into the game, I was a little apprehensive because I thought the fact that Solihull didn't have a game this week and they were coming off the back of two results, I felt they would really come at us and it would be difficult. It's a great win. I think you probably think to yourself that, if you are going to win at Solihull, it's probably going to be by the odd goal. So for us to score three and probably make another three or four chances was excellent'.

Jon Worthington had an influential return to the side as he looked composed in midfield and completed the full 90 minutes... 'All the players this week have done a great shift this week in terms of work, effort and commitment and I am really pleased with what I have seen over the past week'. He went on to explain the decision to rest five members before today's game, 'It has had to be a team effort this week. I had always had in my mind that we would make changes heading into Saturday's game. I didn't let the fact that we lost to Harrogate change my mind, I wanted to give some players a run today and it worked out really well'".

Alty travel to North Wales next weekend from where the North Wales Weekly News reports that player-manager "Frank Sinclair scored a late goal to spark a storming finish, but it couldn't prevent his unbeaten run as player-manager ending with a 2-1 defeat at relegation rivals Histon.

Home keeper Calum Kitscha made two excellent late saves, and the Bay were also refused a strong penalty shout when Gaz Evans was brought down in the box, to prevent a last-gasp equaliser. The player-boss admitted defeat against one of their main relegation rivals was 'a bitter pill to swallow', especially after taking points off three top six sides recently, and with Corby and Workington also winning today along with Histon, it piles the pressure back on the Seagulls.

The match ended in ugly fashion with home skipper Remy Clerima red -carded for violent conduct, and a number of players, including Sinclair, involved in confrontations and scuffles both before and after the final whistle.

Referee Neil Hair, who booked two Bay and three from Histon during the game, confirmed no further red cards were shown at the end as players were being pulled apart and ushered off the field, but he would be sending a report on the incident to the league.

Bay's player-boss dismissed it as 'handbags' and put it down to the tension everyone was feeling in what was a crucial game for both sides. It all started when Gaz Evans fell to the ground after appearing to be pushed in the face at a Bay free kick on the edge of the area. That sparked the first scuffle and when the free kick led to a corner, another melee broke out in the goalmouth with Clerima accused of spitting in Alex Meechan's face and then being sent off for thrusting his head into the face of James Ellison.

'I saw the spit and he should have been sent off for that', said Sinclair. 'A few of us reacted to it, including me when I threw the ball at him, but it was all in the heat of the moment'. Meechan was booked for his furious reaction.

The Bay never got going in a first half which Histon dominated, playing the ball around much better than Colwyn Bay could manage on a heavy pitch, and taking the lead on 31 minutes...

They did improve in the second half and were unlucky not to equalise when [ex-Trafford man] Shelton Payne's angled shot hit the far post with the keeper beaten. He then sliced another chance wide before Histon got a second goal...

As the match went into seven minutes of added time Sinclair got a goal back from a Bay corner to spark that frantic finale in which the Bay almost rescued a point.

'We were bit jaded today and particularly in the first half', reflected Sinclair. 'Whether it was the tough game at Harrogate in midweek and then the long journey down here I don't know, but they were much better than us. They played some good football and we struggled to cope with them. I had a dig at some of the boys at half-time and I got a response in the second half'...

On the late penalty claim, he said, 'I was a bit unsighted and didn't see it clearly, but Gaz is upset about it and says he has seen penalties given for far less. I am disappointed in the result, but not in the spirit we showed at the end. We were always going to get beat sooner or later and now it is all about how we respond to that', added Sinclair."
---
10 March 2013
OLD BOYS
Former Altrincham defender Robbie Williams has rejoined Hyde from Colwyn Bay. Another ex-Alty defender, Andy Smart, scored for Trafford on Saturday but they lost at Mossley, having led 2-0. Chris Denham hit Mossley's equalizer in a 3-2 win. Former loanee Liam King scored for North Ferriby United as did Peter Wright for Leek Town. Former Alty reserve Tom Baker has moved to Chorley from Ashton United.
ATTENDANCES
Saturday's gates were:
Bishop's Stortford v Workington 377
Brackley Town v Boston United 383
Corby Town v Stalybridge Celtic 266
Droylsden v Guiseley 211
Gloucester City v Hinckley United 293
Harrogate Town v Chester 815
Histon v Colwyn Bay 309
Solihull Moors v FC Halifax Town 331
Vauxhall Motors v Worcester City 220
BSBN NEWS
Alty's next opponents were hosting FC Halifax Town at the weekend. The Shaymen say that "FC Halifax Town returned to winning ways with a commanding performance in a 3-0 victory over Solihull Moors. The home side looked the more threatening of the two sides in the early exchanges, but that threat was quashed when Liam Needham opened the scoring... After the break Town were two in front with a delightful half-volley from Jon Worthington... And with a minute left on the clock, Dan Gardner broke from his own box, played a quick one-two before slotting home expertly.

Neil Aspin made five changes from the team that lost to Harrogate on Thursday with Adriano Moke, Gareth Seddon, Jason St Juste, Worthington and Matt Pearson all gifted starts. They replaced Lee Gregory, Chris Worsley, Liam Hogan, Dan Gardner and Alex Titchiner as Aspin looked to refresh his attacking options... Dior Angus should have opened the scoring for Solihull when he was set free on the right... Omar Bogle missed Solihull's second glorious opportunity of the game when he, after shrugging off Danny Lowe's challenge, blazed over the bar from eight yards...

The game was lacking in panache, but was littered with fighting spirit as the two sides looked to press their advantage, with big challenges being the story of the midfield battle... Solihull looked to try and make some sort of attacking impetus with the introduction of the sizable Gary Birch...

Solihull Moors: 1) Jasbir Singh 2) Stuart Pierpoint 3) Michael Blackwood 4) Reece Fleet 5) Karl Broadhurst 6) Dominic Langdon 7) Dior Angus (Knights) 8) Jay Denny (Birch) 9) Omar Bogle 10) Junior English 11) Ryan Beswick Subs: 12) Luke Connolly 13) Sheridan Martinez 14) Danny Spencer 15) Darryl Knights 16) Gary Birch"

According to the Football Conference, "Full-back De'Reece Vanderhyde has joined Bishop's Stortford after recently completing a loan spell with Welling United. Seventeen-year-old Vanderhyde is part of the Leyton Orient youth set-up and joins the Blues on loan until the end of the season... Meanwhile, Stoke City loanee Ben Glasgow has returned to his club as they have several injuries in that position".

The Conference adds that "Stortford have followed up the signing of De'Reece Vanderhyde... by bringing in striker Daniel Elmes from Billericay Town. Billericay had only signed Elmes at the beginning of last month following a successful trial at New Lodge. Elmes, 19, was released by Northampton Town at the end of last season and then had spells with Harlow Town and Waltham Abbey before being signed by Billericay".

Results on Saturday confirmed the relegation of Hinckley United but they "have added two more players to their squad. The experienced Gavin Hurren has joined after recently being with Stourbridge. The Glassboys signed the 27-year old from Evesham United last November. He is an experienced and versatile player who mostly plays in central defence or as a defensive midfield man.

He has featured for Evesham, although he started the season with Solihull Moors... Best known for his stint with Kidderminster Harriers where he made over 100 appearances, he has also served the likes of Worcester City, Hednesford Town and Tamworth. Also joining the Knitters is local defender Chris Bradshaw, 25, who has been impressing with Loughborough Athletic."

Arriving at the Butcher's Arms is veteran Lee McEvilly, as Barrow confirm "cancelling the registration of Lee McEvilly to allow him to join Droylsden... in a bid to get more regular football". Indeed, Droylsden have been busy again with player movements as ex-Alty trialist Nat Kerr has left for Warrington Town and Lee Rick has moved to Mossley. Elsewhere Josh Garbutt has gone to Ossett Albion from Harrogate Town on loan, whilst Matthew James has moved to Farsley FC from Bradford Park Avenue.

And Pitchero Non-League confirms that "Droylsden added a fifth player to their squad ahead of Saturday's game against Guiseley. The Bloods brought in youngsters Luke Gallagher and Jason Gilchrist on loan from Burnley and then Tyron Sealey from Mossley and ex-Manchester City and Northern Ireland international Jeff Whitley on Friday, and now the vastly experienced Lee McEvilly has joined from Conference Premier side Barrow AFC... He returned to Barrow having left Warrington Town just before Christmas".

Football Exclusives adds that "Droylsden manager Dave Pace refuses to give up the fight of staying up after seeing his side lose at home to Guiseley 3-0. Pace's side played better than they had done in recent weeks and the Bloods' boss believes that kind of heart and fight on show is something positive to take out of the game:

'I thought we did well today but their finishing was good. Our overall play was great, considering how many new players we had out there'. Droylsden have tried to get in as many new faces as possible to add some determination into the dressing room and Lee McEvilly was handed his debut. Jeff Whitely, the former Manchester city player, wasn't quite fit enough though. McEvilly had to limp off after just seven minutes - something Pace was disappointed about.

'That was unlucky. He was good the first five minutes and he would have calmed things down and talked more. He's got a big voice on him and we missed that. Jeff has been training with us for the last fortnight and declared himself fit but, at the last minute, decided he couldn't make it and didn't want to let us down. With the youngsters in the squad we need some more experience and, if McEvilley and Whitley had played, I think we would have given them more to think about for sure.

We've managed to weed the ones out that don't want to be here and that makes a huge difference, you see that on the pitch. I'm a lot more pleased with today's performance than in the past'.

Pace has huge emotional ties to the club having pretty much single handedly kept the club standing over the past decade but doesn't have any plans to give up following relegation. 'It's looking highly unlikely [i.e. relegation] and everyone would back against it but you do never know in football. Stranger things than that have happened. It's not in me to lie down and die; it's in me to fight. We're up against it financially but the main thing is to weed out the ones who don't want to be here and plan for the future. We'll bounce back. We won't let this club die'".

According to the Worcester News, "Ellis Deeney suffered a suspected broken ankle as Worcester City lost for the fifth game in a row, 1-0 at Vauxhall Motors. The left-back was carried off following a first-half collision with Steven Wainwright and was taken to hospital by ambulance...

Both sides struggled to create opportunities... Worcester have also now failed to score in their last three matches following the 5-0 defeat at Halifax and 1-0 home reverse against Guiseley".
---
9 March 2013
SATURDAY
Through the Years from Howard Watts.
Bishop's Stortford 0 Workington 3
Brackley Town 0 Boston United 2
Bradford Park Avenue v Altrincham POSTPONED
Corby Town 1 Stalybridge Celtic 0
Droylsden 0 Guiseley 3
Gloucester City 4 Hinckley United 1
Harrogate Town 1 Chester FC 3
Histon 2 Colwyn Bay 1
Oxford City v Gainsborough Trinity POSTPONED
Solihull Moors 0 FC Halifax Town 3
Vauxhall Motors 1 Worcester City 0
League table.
GAME OFF
The Bradford Park Avenue v Altrincham game today has been postponed due to a waterlogged pitch.
BEFORE THE MATCH
Assuming the match goes ahead, "Radio Robins, sponsored by Ashley Mowers Garden Machinery will be broadcasting live coverage of Saturday's game at Bradford game at The Butcher's Arms.

On Friday, Bradford PA announced that they will "welcome former manager Lee Sinnott and his Altrincham side to the Horsfall Stadium on Saturday.

The Avenue have won their last four league matches, which has seen them climb into eighth position. Also, Bradford are unbeaten at home since New Years' Day. Most recently, John Deacey's men have managed to find some form after a disappointing run in December. Since their last defeat against Gloucester City at the beginning of February, the Avenue have scored 12 goals and conceded one in four games. Their last performance saw the West Yorkshire outfit overcome a spirited Workington side, 1-0 at the Horsfall Stadium. Ahead of the fixture against Altrincham, John Deacey will assess the fitness of several players who picked up minor knocks in the win against the Reds.

Former manager Lee Sinnott returns to Bradford (Park Avenue) with his current side pushing for a playoff spot. Before kick off, the visitors are two places and four points ahead of their opponents. Meanwhile, the Robins will be looking to repeat their previous performance against Bradford on Saturday. Earlier in the season, Lee Sinnott's side defeated the Avenue 3-1 at Moss Lane. However, in recent weeks, the away side have been able to stop a losing run. During February, Altrincham lost successive fixtures against Histon FC and Workington, but, are now unbeaten in their previous four matches, including back to back victories against Oxford City and Droylsden".
YOUTH TEAM NEWS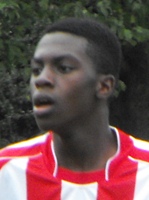 Altrincham FC Youth team manager George Heslop advises us that one of his players, Rob Gilroy scored the England Schools' Under-18s' goal in a 1-4 defeat by Wales. A report on the match is on the ESFA website.

Also, Alty Youth striker Derryn Ofori (right) is just completing a ten-day trial with Stoke City's under-18s.

Alty Youth's next fixture is on Sunday (10th) at home (Clay Lane, 2.30pm) against Prescot Cables.
BSBN NEWS
The Football Conference reports that "play-off chasers Gainsborough Trinity have signed midfielder Conal Platt, who was released by neighbours Lincoln City earlier this week. Platt joined Lincoln on loan from Cambridge United in November 2011 before making the move permanent two months later. The 26-year-old scored three goals in seventeen matches, but was then sidelined for almost a year after breaking his leg in a practice match in February 2012.

Since then he has made only one further appearance for the Imps... Preston-born Platt is a former Liverpool youth who started his career at AFC Bournemouth in 2006 and after loan spells with Morecambe and Weymouth joined the latter on a permanent basis. Platt, who appeared for the sadly now defunct Rushden & Diamonds on loan whilst with Weymouth, was then a regular for Forest Green Rovers over the course of two seasons and joined Cambridge in the summer of 2010".

Elsewhere, "Young midfielder Luke Gallagher and striker Jason Gilchrist have both signed for Droylsden on loan from Burnley until the end of the season. The move to the Bloods will give the 18-year-olds a first taste of senior football as they approach the end of their two-year scholarship deals at Turf Moor. Gilchrist is the current top scorer in the Clarets' youth team... And Gallagher's progress in the youth set-up at Burnley has seen the Dublin-born midfielder represent the Republic of Ireland at under-19 level".

According to the Northampton Chronicle, "Brackley Town boss Jon Brady had demanded a reaction from his players after a 'night to forget' at Histon on Tuesday. The Saints, who had won their previous four games to sit pretty in third in Blue Square Bet North, slumped to a 3-0 defeat against the strugglers...

'On Tuesday we looked jaded', said Brady. 'That's no excuse, though, and you've got to give credit to Histon; they beat us up. We had our goalkeeper (Billy Turley) knocked out after hitting the post and it was a night to forget really.. I fully expect us to be back at it on Saturday. We need a reaction'.

Brady is currently taking a look at former Aston Villa midfielder Ebby Nelson-Addy, with a view to making the youngster a regular member of his squad in the future".

At FC Halifax Town, "Matt Glennon cut a frustrated figure after two early goals condemned FC Halifax Town to defeat at the hands of Harrogate. The Shaymen had the majority of the possession throughout the game but two goals against the run of play, early, ensured Town would lose their first league game since New Year's day.

Despite Dan Gardner pulling one back, Neil Aspin's side struggled to break down a compact Harrogate outfit... Glennon stated... 'It's a disappointing result. We should have scored and at least got a point out of the game. The keeper has made a few saves but for 75 minutes we've absolutely battered them. To have that much possession and that many chances but not score is poor. We've defended badly in the first ten minutes which we've not done a lot this season, but it was there to be won and we should have done that'...

'They've scored a scrappy goal then the other, from a mistake from us, but, apart from that, they've not had anything and we've battered them for 75 minutes. They've parked the bus for 75 minutes but they got their result. That's what they came for and they've played how they need to'...

Liam Hogan limped off half way through the first half in some discomfort and the former Chester goalkeeper admitted that his potential absence from the defence will make a big difference... 'Between him and Danny Lowe they've kept that clean sheet record together so it would be a blow to us'".

This is Glos tells us that "Cheltenham Town chairman Paul Baker remains 'confident' any outstanding issues with tenants Gloucester City can be resolved and an extended groundshare agreed.

The Robins have now received a proposal from the Tigers in regards to their £17,000 owed for back rent and winger Bagasan Graham's loan. Also included in the deal are details of how the remaining payments for this year will be made and plans for how the Tigers plan to pay next term.

Aware City need to have an agreement signed, sealed and delivered for next season by the Football Conference's March 31 deadline, Baker said he expected a deal to be struck. 'We are very keen to continue their relationship with Gloucester City over this season and next', he said. 'We have broad agreement on a continuing groundshare for next season and we have received an initial proposal from Gloucester in terms of this year's situation too...

We have had a proposal which covers the existing agreement and money that is due and also next year's money and we have gone back to them with some alternative proposals that they are currently considering'.

Baker said that relations between the two clubs are still positive and he praised City chairman Nigel Hughes for the professional way in which he has handled negotiations... Baker added, 'We are both very honourable people and I am confident we will be able to reach an agreement that will satisfy both parties, but we are not quite there yet. Ultimately, the deadline is the worry of Gloucester City and not us, as they have to get it sorted by March 31. But there is an outstanding amount due and within the terms of the agreement we can serve notice on them at 14 days at any time. Clearly that is not something that we want to do and if we got to total impasse then we would be obliged to, in order to cut our losses. But that is our absolute worst-case scenario and I can't see that happening'".

On the pitch "Striker Ethan Moore is in line to make his Gloucester City debut when basement boys Hinckley United head to Whaddon Road tomorrow. The one-time Cheltenham Town professional has been in prolific form for Cheltenham Saracens this term and is being trailed by a number of clubs from up the football pyramid.

But Tigers boss Dave Mehew [said]... 'We're hoping to get the deal signed in time for Ethan to play on Saturday, I spoke with him yesterday... I've struck a deal with his agent and Ethan is keen to stay at home, play locally and look to prove himself at this level... Ethan won't have a chance to meet the players ahead of the game because we didn't train last night due to the long journey up to Boston. But he'll come straight in and he's got 13 games left to show what he's about and earn himself a contract'", the manager told This is Gloucestershire.

Pitchero Non-League reports that "Determined to keep battling to avoid the drop from the Blue Square Bet North, Droylsden have added two more players to their squad following from the earlier loan signings of Luke Gallagher and Jason Gilchrist from Burnley.

Arriving at the Butcher's Arms are former Manchester City and Northern Ireland international midfielder Jeff Whitley and striker Tyron Sealey. Whitley, now 34, has been battling alcohol and drug addictions in recent years and now delivers talks on the subject. He started his career with Manchester City and went to make over 120 appearances for the Blues, along with loan spells with Wrexham and Notts County. He transferred to Sunderland in August 2003 after being released by City at the end of the previous season...

He has had short stints with Woodley Sports and Northwich Victoria.

Sealey joins the Bloods from Tameside neighbours Mossley, having signed ... from Irlam in January. London-born Sealey, 23, began his career at Stevenage, progressing to the first-team in the 2006/07 season. He then had spells with Maidenhead United, Hitchin Town, Harrow Borough, Slough Town, Ebbsfleet United, Tooting & Mitcham United, Bedfont Town and Beaconsfield SYCOB. Prior to the current season he had an extensive trial with Southend United, which included playing against a full strength West Ham side before taking up a place at University in Manchester.

He joined Stockport Sports early in the campaign but moved on to Irlam in November".
---
8 March 2013
THURSDAY GAME
FC Halifax Town 1 Harrogate Town 2 att.1133
League table
PONTOON
An update on the Altrincham FC Football Pontoon 2013 table is here.
BEN THANKS ALAN
According to the Chester Chronicle Altrincham loanee "Ben Mills is facing an anxious wait to see if the injury he has sustained will rule him out of a return to Chester FC before the end of the season. The popular striker dislocated his kneecap while playing in the fourth game of his one-month loan at league rivals Altrincham on Tuesday.
Mills (right), sent to Moss Lane to get him back to the blistering form he was showing at the start of the campaign, was still buzzing after scoring his first goal for the Robins when disaster struck shortly after half-time. Although Robins physio Alan Ainsley popped Mills's kneecap back into place immediately, the 23-year-old must undergo a scan to discover the true extent of the ligament damage he fears he has suffered.
Mills said, 'I was getting some game time, I felt I was finding my feet again, and I got back in the goals on the night. It's disappointing but injuries are part and parcel of sport, especially a full-contact sport like football. I've got to stay positive and throw myself into my recovery'.
Chester manager Neil Young was straight on the phone to Mills after the match at Droylsden, which Altrincham won 5-0. He has every intention of recalling the former Nantwich Town man once his loan runs out later this month. Mills has been 'overwhelmed' by the support he has received from Young and Blues fans following the incident.
However, he saved his biggest thanks for Robins' physio Ainsley (left). Mills, who has 12 goals in 21 games for table-topping Chester this season, said, 'Alan was superb. He actually turned up at the accident unit at 1am and stayed with me until 3am. He was very professional and I'd like to thank him'.
Mills, whose injury came about following a tackle from behind, was back in hospital yesterday afternoon. An X-ray gave him the 'all clear' but it will only be after a scan, which Young wants doing quickly, that he will learn whether he will play again before the campaign is out. Mills said, 'It was dislocated but fortunately Alan was there to pop it back into place. That was the most painful bit; I had to bite on my shirt!'
The Blues are away to Harrogate Town on Saturday. It will be Harrogate's fourth game in eight days but Young believes the play-off hopefuls will offer a stern test. He sent his chief scout [another ex-Alty loanee striker] Alex Hay to watch the North Yorkshire outfit in their 2-1 home loss to revived Colwyn Bay on Tuesday...
Young... will welcome back Nathan and Lewis Turner, Brendon Daniels, Lee Trundle and Nathan Jarman after they missed Monday's Cheshire Senior Cup win over Tranmere Rovers. The 1-0 victory set up a semi-final showdown at home to Witton Albion that will take place next Wednesday".
KENNY'S FUNDRAISING
The Sale and Altrincham Messenger reports how "Pub regulars have helped Altrincham Football Club's biggest fan, Kenny Palin, raise £250 for a hospice, which cares for people suffering from life-limiting illnesses.

Crusading Kenny, 67, who recently recovered from cancer of the gullet, featured in the December issue of the club [programme], known as the Robins' [Review]. Then Kenny autographed it and asked customers at Altrincham's Bricklayer's Arms, for donations for St. Ann's Hospice.

He promised the person who made the biggest donation would be able to keep the programme. The joint winners were landlord Phil Harris, 46, and his manageress, Stef Lomax, who stumped up £50 between them.

'Now I am going to have it framed and put it up behind the bar in honour of Kenny', said father-of-two Phil, whose younger brother, David, 43, and their mum, 73-year-old Mrs Joyce Harris, are both recovering from the illness. 'Kenny is a great guy and very popular with my customers and I knew they wouldn't let me down'.

To help boost donations, Steve placed a swear box in the pub and that raised £50, bringing the total to the £250. Kenny said, 'I'm thrilled by the generosity of my pals at the Brickies. I owe a big thank-you to Phil, Stef and everyone else who dug into their pockets for a worthwhile cause'.

Katrina Bury, fundraising manager of St. Ann's Hospice, said, 'We are so grateful to everyone who so generously contributed to raising this money, especially the Bricklayer's Arms, and Kenny for coming up with the idea. This money will really help the people we care for'".
BSBN NEWS
According to Pitchero Non-League, "Peter Swann has revealed talks to hand over Gainsborough Trinity to new owners are gathering pace as he prepares to walk away from the club. After the Blues' Club, owners of the Northolme, rejected his latest offer to buy the ground, Swann is poised to sever ties with the club at the end of the season. However, the Trinity chairman insists he will not leave the club in the lurch and has held talks with 'three or four parties' who are ready to take over the running of the Blues in the summer.

Swann says the new owners will inherit a club fit for purpose in either Conference North or the Premier...

'I've spoken to a mixture of people', said Swann. 'There are individuals and groups containing a mixture of businessmen and fans. None of them have huge amounts of money, but they are all good people and they could take the club on, provided they pass the FA's fit and proper persons test, which I'm sure they would. Whoever comes in, they will inherit a club in a healthy position. The players are there and we have a very good manager. We're in a strong position in the league and we have a great opportunity to go up'...

Swann has held budget talks about next season with manager Steve Housham for both the Blue Conference North and the Conference Premier. 'Based on the money the club has brought in this season and what cash it would generate in the BSP, we can say to the new owners "You can run the club on this figure in North and this figure in the Premier"', explained Swann, who is not prepared to continue running the club without owning the ground".

The NL Paper says that "Worcester City's hopes of packing out St George's Lane for their final game at the ground have been dashed by Worcestershire County Council's Safety Advisory Group. The club will end an 108-year stay at the Lane following their game with Chester FC on April 27 as the stadium is being demolished to make way for housing.

City had hoped to fill the ground to its 4,523 capacity and have already sold 2,000 tickets for the fixture. However, an evaluation by the Council's Safety Advisory Group has ruled that figure must be reduced by 500 due to a lack of crash barriers, which were removed in 2009, on one of the terraces.

Commenting on the ruling, City vice-chairman Colin Layland told Worcester News, ' It's happened and we have got to stick to the rules. We have got to be health and safety conscious. Would we have got that extra 500 in, because we haven't sold all the tickets anyway?'".

Chester FC's "board of directors have released the following statement, in relation to comments attributed to a sole board member in the local press today.

'The Chester FC Board of directors would like to thank all fans for their continued excellent support this season. This was epitomised by a strong turnout for the Cheshire Cup competition earlier in the week, surpassing estimations of the vast majority of the Board. Further to this we would like to clarify that the club does not require gates of 3,000 to survive in the Conference, as recently reported'".

This came after Chester First reported that "Chester Football Club director Bill Smith has called for more fans to come through the gates at the Exacta Stadium. Mr Smith... said he was 'pretty hacked off' attendances were down on last season, despite the Blues topping the Blue Square Conference North.

Mr Smith, whose responsibilities as director include marketing, was disappointed just 820 people watched Chester beat League One side Tranmere 1-0 in the Cheshire Senior Cup on Monday night. Mr Smith said, 'The game against Tranmere was a cracker and was a tribute to manager Neil Young that we not only matched a team four divisions ahead of us in the league and in point of fact fighting for promotion... The fact we only had 800 spectators is disgusting. The board kept admission down to £7, it was a nice night, there was no game on Saturday and high class opposition should have made for a bumper crowd...

We are having a fantastic year, and it is really disappointing crowds have not increased. The fact is we need a minimum attendance of 3,000 to keep us afloat financially in the Conference'".

A report in the Boston Standard says that "If there's one thing we know about David Newton, it's that he doesn't muck about. While King Cnut was sat on his throne watching the tide lap at his feet, the Boston United chairman would have been hiring a Dutch irrigation expert, reclaiming the area as Fenland, and then probably building a housing estate on top.

Although he admits that every dismissal he makes... hurts him to carry out, Newton knows the dangers of sentiment. And it was with that knowledge that, on Monday night, Boston United announced Graham Drury had been sacked. Just 13 matches into his tenure, many thought it was too early to cut Drury adrift. But Newton and his board of Neil Kempster and Chris Cook (we are told everything at York Street is run democratically) stuck to their guns...

T hose managers Newton has let go - Lee, Drury and Tommy Taylor - all lost their jobs because the club wasn't as high up the league table as had been expected. So what of Graham Drury? Well, he and Boston United just didn't click, did they? From the start he wasn't helped by a small band of fans who took against him... The decisions to release the likes of Gary Silk, Gareth Jelleyman and Jason Stokes, favourites on the terraces, backfired.

Graham Drury's legacy at Boston United will be one of regression... He was also extremely knowledgeable about the opposition, much more so than any other United manager I have ever dealt with. However, the brand of football he brought to Boston was as terrible to watch as the results they cultivated".
---
7 March 2013
WEDNESDAY GAME
Corby T. 2 Guiseley 3 att.229
League table
LEE ON THE LAST TWO GAMES
Altrincham FC's joint Press and Media Officer, John Edwards, writes...

Ben Mills's loan spell at Moss Lane may have come to an abrupt end after he was taken to hospital with what looked a serious knee injury at Droylsden on Tuesday night.

Altrincham reinforced their promotion play-off claims with a second win in three days, as they followed up an impressive 3-1 scoreline over Oxford City with a 5-0 demolition of seemingly-doomed Droylsden.

But it was overshadowed by an unpunished challenge from behind on Mills that curtailed his involvement, and possibly his loan stay, shortly after he fired home Alty's second goal. It typified an uncompromising approach by the home side that went largely unchecked by an over-lenient referee.

The Chester striker is on the coaching staff at Stoke City and was seeing a specialist there this afternoon (Weds) to determine the extent of the damage, amid fears he suffered a ligament injury that could keep him out several weeks.

Alty boss Lee Sinnott was unhappy that a lack of protection from the officials left more of his players in danger of injury, and he chose his words carefully, as he said: 'I had a quiet word with the referee afterwards, just to express my concerns, but I'll leave it at that.

'Ben was stretchered off and then taken to hospital, and it is a case now of waiting to hear how bad the injury is. My assistant Neil Tolson spoke to the Chester manager Neil Young straight after the final whistle to put him in the picture, so we will see what the news is.

'It is a shame, because Ben has looked bright so far, and has led the line really well, and he was certainly good value for his goal.'

On a brighter note, Damian Reeves contributed four goals to the six-point haul to confirm his return to form.

'He just loves scoring goals, and it was always going to happen that he would be back on the scoresheet,' added Sinnott, ahead of Saturday's game at Bradford Park Avenue. 'I want to see our forwards banging the goals in, but the point is, we have to supply the ammunition for them. I felt we could have done a bit better in that respect, even if we did score five at Droylsden.

'At this stage of the season, it becomes a mad dash for the line, and you just hope the breaks go your way. You'll take goals going in off someone's backside, if need be, because it's all about points. I actually felt we could have played better at Droylsden, but it's points first and performance second between now and the end of the campaign.'

After a lean spell of two points from four games, Alty faced a test of character when Oxford claimed an early lead on Saturday. They passed it with flying colours by equalising before half-time and pounding the Oxford goal in a second half onslaught that finally yielded its reward.

'It was pleasing to respond like that, and I thought it was a thoroughly deserved win in the end,' added Sinnott. 'After changing the system in the first half, we steadily started playing the way we are capable of doing. The game became a bit more expansive in the second half, and we really came into our own.

'We do like to pass the ball around when we can, and we clicked more into gear as the half wore on. Even so, it was a slight concern to see so many chances go begging, and I was beginning to wonder whether it was going to be one of those days. Even when we finally made the breakthrough with the second goal, I thought Nicky Clee's chip over the keeper was going to clear the bar. Fortunately, it came back into play, and Damian was there to stick it away.

'Droylsden have been on the end of some heavy defeats, but the team talk beforehand was all about treating them like any other opponent. The message was that we would have to work for the three points, and that's what we did. It's going to take that same level of effort every time now. There may only be seven weeks to go to the end of the season, but there's still a large chunk left, in terms of games.

'As I've said before, there are going to be twists and turns, as we saw with Harrogate losing at home to Colwyn Bay and Histon beating Brackley. We are right in there, but there's too much going on to try and predict how it will all turn out. All we can do is concentrate on what is in front of us. You can't afford to look any further ahead'".
TON APPROACHES
A hat-trick for Damian Reeves (right) in the next game or games would bring his Altrincham goal haul to a round total of 100. So far he has played 116+12 times for the Club and netted 97 times. This season, (despite five missed penalties!), he has scored 34 goals, 29 in the league, from a total of 37 appearances in all competitions.
DROYLSDEN COMMENTARY
Brian Flynn announces that the Radio Robins commentary from Droylsden is available for re-listening.
Second Half
CROSSBAR CHALLENGE
Ian Senior got himself back into winning ways with a victory last Tuesday in the latest instalment of the Crossbar Challenge to raise funds for Mark Maddox's nominated motor neurone disease charity. But assistant manager Neil Tolson still has a a healthy lead 24 - 16 in the season-long competition which takes place before each Altrincham match, home or away.
NEEDLE MATCH AT MOSS LANE
Altrincham FC director, Paul Daine, advises us that "The club board have agreed to host a fundraiser for The Alzheimers Society in the Manchester Glass Sponsors' Lounge on Wednesday 30 October, 2013. Further details will be released nearer the time but we will looking for volunteers to knit some mice for the cause!"

Organizer Libby Swindells provides some further information about the "Mile of Mice Knitting Challenge", "Do you fancy getting involved with raising money and being part of a Guinness Book of Records attempt? The Wellgreen Craft & Create group will be knitting mice (pattern on request) this year to hopefully make a Mile of Mice.

We will need as many people as possible to knit the mice, (we need 7,600 approx.), and, of course, people to sponsor our knitters. All money raised will go to the Alzheimer's Society and, after the challenge is complete, we will be selling the mice at the end of the year to raise yet more money".
BSBN NEWS
According to the Worcester News, "At a time when Worcester City are preparing to enter a ground-share agreement, there may be one or two nervous glances towards the plight of Gloucester City. Worcester's M5 corridor rivals were faced with eviction from Whaddon Road by landlords Cheltenham Town at the end of this month until an outstanding £17,000 debt was paid by a benefactor.

But the Tigers, homeless since their Meadow Park stadium was ruined by floods in 2007, could still be relegated from Blue Square Bet North if they haven't renewed their deal with the Robins by March 31...

City might be able to learn from Gloucester as they take a huge step into the unknown... being in exile might not be all bad. After all, Gloucester have been away from their home city for six seasons — also sharing at Forest Green and Cirencester Town — and in that time have won promotion to the second tier of the non-league pyramid...

Dwindling crowds is one Worcester's chief fears when they leave the Lane but Gloucester's current average attendance of 320 is only 57 below that of their last season at Meadow Park. Worcester have a much larger fanbase and will be hopeful of keeping a sizeable chunk through attractive season ticket deals.

Of course, the £1 million backing of club owner Eamonn McGurk over a 16-year period... has helped Gloucester's transition smoother and his decision to stop that funding is one of the reasons they are beginning to feel the pinch...

City's proposed stadium at Nunnery Way is showing no signs of progress more than a year after planning permission was approved, notwithstanding the fact the club can't actually afford to build it. The supporters' trust have come up with an alternative community ground at Perdiswell but best estimates put that at least two years away and plans have yet to be submitted to Worcester City Council.

Gloucester are approaching their seventh year in exile and who knows how many more they will face. Putting the huge hurdle of capital gains tax to one side, Worcester would need to survive as a nomadic club until either a new ground comes to fruition or the contract with St Modwen expires in 2017. Then they could get their hands on the £1.26million currently ear-marked for the land and infrastructure at Nunnery Way.

Nobody knows what the future holds for City but Gloucester's experience will give them a good idea".

More on this comes elsewhere in the Worcester News. "Plans for a proposed new football stadium at Perdiswell will be shown to the public early next month. Worcester City Supporters' Trust, the group behind the project, are holding a public consultation meeting...

The trust want to build a ground... by the end of 2015 because they feel the club's planned move to Nunnery Way won't happen. The Perdiswell proposal would be for a £2million community stadium and a 3G surface alongside the existing pitches".

From Buckingham Today comes a report how "Brackley Town's four-game winning run was ended when they were convincingly beaten 3-0 by relegation-threatened Histon... undone by a penalty and two stunning second half strikes.

It leaves Jon Brady's side third in the table but only nine points ahead of fourth-placed FC Halifax, who have five games in hand... Playing on a difficult pitch, Brackley found it difficult to get going... Histon remained in charge throughout the second half....

The home side added a third to make the game safe... Things then got worse for Brackley when Turley collided with the post and was stretchered off with substitute goalkeeper Laurie Walker coming off the bench...

Meanwhile, Brady has bolstered his squad for the final 12 games of the season by signing former Aston Villa youngster Ebby Nelson-Addy. The 20-year-old, who primarily plays as a defensive midfielder, was released by Villa at the end of last season".

Before last night's game, the Telegraph & Argus claims rather prematurely that "Guiseley must get back to winning ways tonight when they travel to struggling Corby Town or their dreams of landing the Blue Square Bet North title will be over... Steve Kittrick's men have won just one of their last five league fixtures, taking five points from a possible 15. Many feel that, with Chester's lead being a huge 19 points and Guiseley having just three games in hand, the title has already gone but Kittrick begs to differ... The Lions boss said, 'I don't think it's over. We are making it difficult for ourselves but there is a lot of mileage left in this season'".
TROPHY TICKETS
The FA have written to all clubs which competed in this season's FA Carlsberg Trophy to advise them that the "Trophy Final between Grimsby Town and Wrexham will be played on Sunday 24 March 2013, kick-off 3pm...
Tickets to The FA Carlsberg Trophy Final are now on sale from the TheFA.com".
---
6 March 2013
DROYLSDEN 0 ALTRINCHAM 5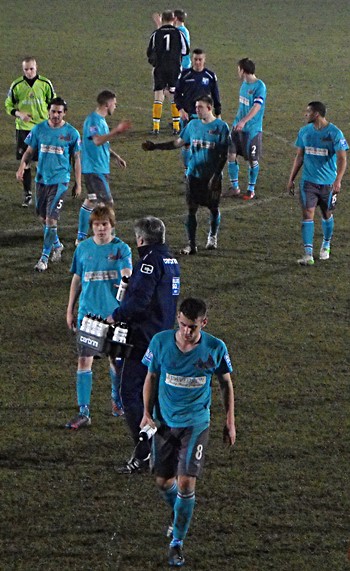 Right: The mood is sombre as Simon Richman leads Altrincham off the pitch at Droyslden. The game had been marred by what looked to be a serious injury to Ben Mills, just after half time.
Altrincham comfortably overcame Droylsden last night with a professional perfomance, but play was overshadowed by Mills's injury.
Match report.

.
Alty line-ups.
GATES
The attendances for Tuesday's BSBN games were
Boston United v Gloucester City 548
Droylsden v Altrincham 258
FC Halifax Town v Hinckley United 900
Harrogate Town v Colwyn Bay 215
Histon v Brackley Town 158
SHAUN'S VIEW
Following Saturday's victory against Oxford City, his 200th appearance for Altrincham, club captain Shaun Densmore spoke to Brian Flynn. The interview is here.
YOUTH NEWS
Altrincham & District FA Youth team's match against Runcorn & District FA in the Cheshire County FA District Cup last Sunday was abandoned by the referee with Altrincham leading 1-0. Protests about the sending off of a Runcorn player led to complaints which, in turn, halted the match.

Meanwhile, Altrincham FC under-18s played Urmston Meadowside on Sunday and won 5-0, with Alty Youth striker Adam Bezzina netting a hat-trick and Jordan Mainoo-Hames scoring one of the other goals.
BSBN NEWS
News of our next opponents comes from the News & Star, which reports on "Bradford PA 1 Workington Reds 0. There had to be a response after two dismal performances against mediocre opposition and Workington boss Darren Edmondson got it last night. But it still wasn't enough to bring something tangible back from the Horsfall Stadium where Bradford completed a Blue Square North double over the Cumbrians.

Eye-catching 6-1 winners at Borough Park in November, Bradford had gone into the contest on the back of a 7-0 win at Droylsden on Saturday but this was a game when goals were going to be in short supply...

In the dimly lit arena Baldry's quick fire turn and shot from 12 yards looked, certainly to the watching Workington fans, to have found the target but it was inches wide... Sadly it was Bradford who responded to the warning with the only goal of the game on 64 minutes. Paul Walker, a class act all night down the right, drifted inside before cleverly spotting the over-lapping full-back Adam Clayton steaming through on the overlap.

Clayton took the ball in his stride and cut into the area before hammering the sweetest of shots low and beyond the diving Joel Dixon into the far corner...

Bradford were solidly impressive at the back and defended well... Bradford, with both the outstanding Walker on the right and Alex Davidson lively along the left, posed problems down the flanks and on several occasions low, whipped-in crosses [which] could have undone the Reds...

Workington's last four outings have been so contrasting it has been difficult to take in. Excellent efforts against Altrincham and Chester have been followed by drab performances against lesser opposition, Hinckley and Gloucester.

This was somewhere in between, not up there with Reds' best but certainly an improvement on the most recent two".

Before their surprise defeat at Histon, the Football Conference reported that "play-off chasers Brackley Town have boosted their squad with the signing of four players on dual registration with Evo-Stik League Southern Premier Division high-flyers Leamington. Defenders Jamie Hood, Liam Daly and Stephan Morley and midfielder Richard Batchelor have all put pen-to-paper on Conference forms for the Saints.

Hood joined the Brakes last season from Halesowen Town where he was captain and a pivotal figure in their defence... Daly is in his third season at the New Windmill Ground... His former clubs include Birmingham City, Evesham United, Redditch United and Solihull Moors.

Morley joined Leamington in October 2010 from Hinckley United and is a versatile player who can play full-back, wide midfield or in central defence... He has seen service with Kettering Town, Halesowen Town and Rugby Town. Batchelor is a strong and combative central midfielder who joined the Brakes in November 2009 from Chasetown... His previous clubs include Romulus and Alvechurch".

According to BSBN, "Dennis Greene is delighted that his wish of managing Boston United has finally come true. The former Histon boss, who has taken over from the sacked Graham Drury, was previously in the frame for the Pilgrims' job, but the club overlooked him in favour of the now departed Drury.

Greene, who won successive promotions as manager of St Neot's Town, revealed his delight at having finally been appointed Pilgrims' manager. He told The Standard, 'When I left St Neots I thought there were two clubs that I'd want to manage. They were Chelmsford, where I used to play, and Boston United. Both are big clubs which should be in the Conference national.

'I was shocked to get the call (from Newton), but now I've got my wish'. He added, 'I like to play open, flowing football but you can't always do that in a relegation fight. You have to take each game as it comes. But I want to lift the club up the table. The players also have to show me they want to be here next season. If they don't they could find themselves playing at lesser clubs next season... After that I want to help bring the club promotion'".

Meanwhile, Tuesday night's other surprise losers Harrogate Town report that "boss Simon Weaver says he won't be holding back in any of his side's four games over the next seven days. Town face Colwyn Bay at home on Tuesday and FC Halifax away on Thursday, before two further home ties against Chester FC on Saturday and Bishop's Stortford on Tuesday.

Despite currently occupying fifth place in the standings, Weaver has refused to preach caution ahead of a run that could potentially make or break their season with 16 games remaining. Weaver told the Yorkshire Evening Post, 'We might have four games in a week, but we won't be making targets or anything. If you say you want nine points out of 12, what happens is that you put pressure on yourselves, especially if you lose the first game. We tend not to adopt that approach and have just said, "Let's go out with all guns blazing".

I want the players to expend all of their energy now and if they are exhausted at the end of the week, so be it. We won't lose out by thinking about targets and won't be worrying about our schedule either. Yes, it will be a massive week with 12 points to play for. But, even regardless of whatever happens, we still won't be out of it'".
---
5 March 2013
MONDAY GAME
Mon. 4 March
Bradford Park Avenue 1 Workington 0
YANKEE
The Saturday Yankee jackpot has risen to £900 after the winning code last week (6167) was found to be an unissued sequence. Six members won Trebles, each netting £33.33.
---
OLD BOYS
"Runcorn Linnets have announced the signing of midfielder Peter Doran from AFC Liverpool. Linnets' boss Joey Dunn said, 'Stuart (Humphreys) knows him well and says he's a good lad with a lot of quality'".

Meanwhile, "Chorley boss Garry Flitcroft has swooped to signed highly rated midfielder Tom Baker from rivals Ashton United. The hard working and creative midfielder counts Barnsley, Altrincham, Gainsborough Trinity, Scarborough, Bradford Park Avenue, FC Halifax Town and Droylsden among his former clubs. Baker played a key role in two promotions while at Halifax, including a spell where he was club captain".
LAST SATURDAY
Alty TV has highlights of the Altrincham v Oxford City match last Saturday, an enjoyable spectacle well worth viewing again.

Thanks go to the donors and collectors who raised £54.81 in Saturday's bucket collection.

The Oxford Mail reports that "Two late goals sent Oxford City crashing to a 3-1 defeat at Altrincham... City had the best of the opening exchanges when a Jamie Cook's free-kick clipped the top of the bar. And it was the visitors who got their noses in front... Altrincham pulled themselves level shortly before half-time when James Lawrie chipped the ball back from the byline onto the head of top-scorer Reeves, who nodded home.

In the second half, City faced an Altrincham onslaught... The visitors' resistance was finally broken when another shot from Lawrie came back off a post and into the path of Reeves, who tapped in. And City then found themselves 3-1 down less than a minute later when Watmore burst through the defence and unleashed an unstoppable right-footed shot which left Ingram with no chance".

And the report adds that "Oxford City manager Mike Ford believes his side could have got more from the 3-1 Blue Square Bet North defeat at Altrincham if they had preserved their lead until half-time. Ford pinpointed Altrincham's leveller just before the interval as the game-changer. He said, 'That was a real turning-point because it gave them a lift. We should have gone in at half time 1-0 up, we were outstanding in the first half. We were compact, we kept the ball really well, we were threatening and then we switched off just before half time. And we go in at 1-1 when we should have been at least a goal up'...

'The period after half-time up until the 80th minute they dominated. But we dominated the first 45 and the last ten, so we had more of the game than them. But, when they had it, they were more threatening and in the end deserved to win'".
FLYNNZINE
Brian Flynn's latest "Flynnzine" was entitled Back to the Benchmarking Future!

"I always think that when you have played twice as many games as there are left to be played, then it's a good time to see how the land lies in terms of the season. We reached that point on Tuesday night down in Gloucestershire, having played 28 games and with 14 left to play before the league campaign concludes on Saturday April 27th.

An extrapolation of the top half of the Blue Square Bet North table indicates that the final outcome will be as follows:-
Chester 112 pts
Guiseley 99
Brackley Town 88
FC Halifax Town 86
Harrogate Town 77
Gainsborough Trinity 72
Altrincham 67
Bradford Park Avenue 61
Oxford City 58
Solihull Moors 58
Worcester City 57
So the benchmark for reaching the play-offs is currently 77/78 points, which means that we may need 32/33 points from our remaining games. That's a tough ask and would indicate that we need to win at least 9 matches in 2 months.
Of course, the projection above is just one way of looking at it, based on the single assumption that the best predictor of future performance is past performance. In reality, there are lots of other variables that will come in to play but, one way or another, it looks like we are going to have to perform at our best to give ourselves a decent chance of a top 5 finish……so hopefully we can get behind the team and the manager to give the players the best support they may well need to perform at the level they have proven that they can reach, albeit not consistently to date.
In terms of historical benchmarking, Tony Sanders is undoubtedly Altrincham Football Club's most successful manager and on Friday April 19th, we will be holding a tribute evening to the great man himself. The initial idea for this, came from the Fans' Forum and there seemed to be a lot of interest and potential support for an event honouring the man who led Altrincham to those historic Conference titles and epic FA Cup runs.
Full details will be announced within the next few days but the venue is The Manchester Glass Limited Sponsors' Lounge, therefore there will be a total of around 70 tickets available. The evening will include a meal and also the launch of the 'Altrincham F.C. Hall of Fame……more of which will be announced very soon!
So, there's plenty happening for Altrincham fans and let's hope the team can start the final third of the season, today, in positive vein by picking up the first of those 9 or 10 wins that will probably be needed to take the season into May!
Enjoy it!
Brian Flynn".
BSBN NEWS
This week the Droylsden FC forum refer to manager Dave Pace's interview on the Non-League Show on Tameside Radio recently. He is quoted as saying "that until it's mathematically impossible to stay up he won't give up". Twitter quotes say that ""Dave Pace stresses that he will not take Droylsden into administration and will pay what he owes. Pace stresses that it is not National Insurance and PAYE that he owes money to, (apparently we owe £100,000)... I will not let this become AFC Droylsden...

Pace says the season is a nightmare, an ongoing battle with transfer embargo which has been lifted. But he thanks the league. 'It will be hard the route I'm taking, but I will be paying the bills. We will get out of this situation'" he asserted.

According to the Football Conference, "Corby Town boss Chris Plummer has confirmed that defender Nathan Horne has left the club. Horne is a 27-year-old right-back who can also play in a variety of positions. He joined Corby in June 2012 from Peterborough Northern Star...

Plummer said, 'We've decided that it's best for Nathan to move on. He's been struggling with a back injury for a while now and he's recently started his own business so as found it difficult to juggle his work and football commitments'".

Boston United confirm that they "have terminated the contract of manager Graham Drury with immediate effect. Pilgrims' chairman David Newton confirmed the news on Monday evening following a run of only two victories in 13 matches since Drury assumed control in December.

Mr Newton told bufc.co.uk, 'Results have not panned out as we all wished and, unfortunately, we have reached the decision to part company with Graham'.

Later reports said that "Boston United chairman David Newton has confirmed the appointment of Dennis Greene as the club's first team manager until the end of the season. The former St Neot's Town and Histon boss has been handed the managerial reins on a short-term basis and will take charge of the Pilgrims for the first time when Gloucester City visit The Jakemans Stadium on Tuesday evening.

Mr Newton told bufc.co.uk, 'We are pleased that Dennis has agreed to take the role on until the end of the season initially'".

Pitchero Non-League tells us that "Brackley Town have signed former Aston Villa youngster Ebby Nelson-Addy. The 20-year-old joins Jon Brady`s play-off chasers from Loughborough University. Nelson-Addy was released at the end of last season by Villa without making the breakthrough into the senior side, although he was a regular in the youth side and made several reserve team appearances.

Just before his release he had trials with St Johnstone but after that came to nothing he decided to take up the chance to join Loughborough University".

And "Workington have signed former Northern Ireland under-19 international Ben McKenna after he impressed during a reserve game last week... The Burnley-born player only managed two first-team appearances for Carlisle United before being released last year. McKenna, 19, was the star of United`s youth team in 2011, but a serious knee injury, followed by a thigh issue meant he was unable to force his way into the first-team picture".

And The Red's "manager Darren Edmondson has brought in the experienced Simon Baldry, who can occupy several positions on the pitch. Baldry played 166 times for Huddersfield and then a further forty-one times for Notts County before going non-League with Ossett Town in 2008. He then played in the Conference North with Bradford Park Avenue and Guiseley AFC before returning to Ossett earlier this season".
---
4 March 2013
TUNE IN ON MONDAY NIGHT
Altrincham FC joint Press & Media Officer, Brian Flynn, says that he "will be a studio guest on Radio Manchester's 'Monday Night Sport' programme. There will also be a representative from another Greater Manchester club. The programme is presented by Jimmy Wagg and is on from 6-7p.m. You can listen to Radio Manchester on 95.1FM or online.
CAPTAIN'S CHAT
Altrincham captain Shaun Densmore's "Captain's Chat" is reproduced here from Saturday's "Robins' Review". As usual, it is an excellent read...

"I had no idea I was closing in on a milestone in my Altrincham career and that today would mark my 200th appearance for the club.

It was pointed out to me during the week and it goes without saying that I feel immensely proud, as well as very grateful, to a lot of people who have helped make it possible.

But I will only be in the mood to celebrate if we can add three points to the one we gained at Gloucester on Tuesday and use it as a launchpad for the sort of unbeaten run that can still take us into the promotion play-offs.

I know we have had a dip of late and results haven't been great over the past couple of weeks but, with 14 games left, we all more than think we can kick on from here and achieve a top-five finish.

Last Saturday against Colwyn Bay was strange because, yet again, we started off brightly for the first 10 minutes or so, but then tailed off for some inexplicable reason and paid the price for failing to press home our advantage.

We couldn't have wished for a better opening than my early goal, even if it needed a helping hand from their keeper. I knew as soon as I hit it that I hadn't caught it properly but he did me a huge favour by diving over it and letting it trickle into the bottom corner in slow motion.

It does seem that teams are coming to Moss Lane this season happy to sit back, rather than trying to force the pace, and maybe that doesn't suit us.

Whatever the reason, we were still only one goal to the good when a second-half corner slipped from Stuey's hands, after he appeared to have caught it, and fell obligingly for one of their players to equalise. It looked at the time as if someone had knocked it from his grasp but he wasn't having that afterwards.

He held his hands up for it, which is just like him, though no-one would dream of attaching any blame to him. Not after the number of times he has saved us, last Saturday included. He pulled off a great stop in the first half, while the one near the end was top drawer, even by his high standards. It was a good little break on the left, and the cutback bounced perfectly for an unchallenged volley from no more than eight yards. It had to be a goal, yet Stuey somehow kept it out to safeguard a point. Brilliant stuff.

If we were a bit below-par, I don't think anyone could disagree that we deserved to win three days later. The manager changed the system, and Gloucester couldn't get to grips with Simon Richman, Bruno Rodgers and Paddy Lacey across the middle, with James Lawrie in the hole behind the two main strikers.

It was different from what they had seen from us at Moss Lane three weeks earlier and it threw them for half-an-hour or so. It genuinely took them by surprise and it's just a shame we couldn't capitalise in that spell with a goal or two.

Up front, Ben Mills showed what he's about. After arriving on loan from Chester, he only trained briefly with us on Thursday night before going straight into the Colwyn Bay game. Even so, there were still glimpses of the physical presence and strong running that makes him such a dangerous striker, and on Tuesday night, I thought he was a real handful.

He wins so many flick-ons and brings others into the game with his ability to hold the ball up, and as he gets sharper and fitter, he is going to be a real asset to us.

It was just unfortunate that when another chance came our way, from the penalty spot in the second half, Damian Reeves wasn't able to stick it away. Fair play to Reevesie, he was happy to put his hand up and take the responsibility. As the manager says, it is down to an individual feeling confident and fancying his chances.

We haven't got what you would call an out-and-out penalty specialist, so that is the obvious way to go, and, after a couple of games without a goal, it would have done Reevesie the world of good, if he had converted it. Unfortunately, he didn't but, if even a half-chance comes his way today, my money will be on it going in. He's that sort of lad.

To finish on a personal note, I would like to thank Graham Heathcote for giving me my chance here and the gaffer, Lee Sinnott, for all he has done over the past 18 months, not least making me captain.

It is a role I have been proud to fill. This is a great club, from the fans right through to the board and all those who volunteer their services to ensure there is not a better-run set-up anywhere in the land. I speak to lads at other clubs, and I soon realise how lucky I am to be an Altrincham player. I have loved every minute, though I still can't quite believe it's four-and-a-half years since it all started!

Shaun".
RARE PROGRAMMES
Most Altrincham fans will know Campbell McLay, who runs the football programmes section of the Robins' Shop at Moss Lane. Recently a number of rare Alty and Altrincham-related programmes were brought to him and these are now being offered for sale by sealed bids. The items are:
1. Altrincham v Northwich Victoria – 5th November 1938 – Cheshire League?

Single sheet, creased vertically and horizontally with small tears round the edges. Reserve price £10.
2. Altrincham v Witton Albion – 2nd February 1952 – Cheshire Senior Cup

8 page programme, creased vertically and horizontally, staple rusted and gone, writing on front, grubby in places, tear on back page. Reserve price £5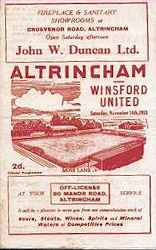 Left: An old Altrincham programme of 1953-54 season - not one of the ones listed here..
3. Altrincham v Witton Albion – 17th January 1948 – Cheshire Senior Cup

8 page programme, creased vertically and horizontally, writing inside, slightly grubby. Reserve price £5
4. Altrincham v Northwich Victoria – 22nd January 1938 – Cheshire League.

8 page programme, creased vertically and horizontally, staple rusted and gone, one corner torn, a few small stains on front. Reserve price £10.
5. Altrincham v Witton Albion – 8th April 1950 – Cheshire League

8 page programme, faint vertical and horizontal creases, one corner torn, staple rusted and gone, writing on front and inside, torn edge and slightly grubby. Reserve price £5.
6. Altrincham v Northwich Victoria – 20th January 1951 – Cheshire League.

8 page programme, faint vertical and horizontal creases, rusted staple, a few slight tears at edges, writing on front and inside. Reserve price £5.
7. Witton Albion v Altrincham – 18 December 1948 – Cheshire League.

6 page foldover programme, pencil writing on front and inside, small tear at top of spine. Reserve Price £5
8. Altrincham v Winsford United (at Northwich) – 13th March 1954 – Cheshire Senior Cup Semi Final.

4 page programme, three horizontal creases, writing on front and inside. Reserve price £10.
9. Tranmere Rovers v Altrincham (at Runcorn) – 14th March 1953 – Cheshire Senior Cup Semi Final.

16 page programme, faint vertical and horizontal creases, pencil writing on front and inside, rusted staple, bottom edge very slightly frayed. Reserve price £10
10. Northwich Victoria v Altrincham – 21st December 1946 – Cheshire League.

Single sheet, both top corners torn off but does not affect content, some damage to top edge. Reserve price £5
11. Northwich Victoria v Altrincham – 23rd April 1949 – Cheshire League.

8 page programme, staple rusted and gone, bottom corner missing and small tear in side, writing inside and on front, slightly grubby in places. Reserve price £5.
12. Northwich Victoria v Altrincham – 5th May 1951 – Cheshire League.

8 page programme, vertical and horizontal creases, rusted staple, writing on front and inside. Reserve price £5.

SEALED BIDDING SYSTEM
1. Decide which programmes you want to bid for. Programmes can be inspected in the club shop on match days.
2. On a sheet of paper enter your name and contact details and list the programmes you wish to bid for and your bid for each programme. (Note that you must enter a separate sum for each programme, a bulk figure for all the programmes you want is not acceptable.)
3. Put the completed sheet in an envelope and seal it. On the front of the envelope write "Altrincham programme sale".
4. Hand the envelope into the club shop on match days or post it to the club. If posting, put the sealed bid envelope inside another envelope and mark it for the attention of Campbell McLay, Altrincham Football Club, Moss Lane, Altrincham, Cheshire, WA15 8AP.
5. Closing date for bids is 2.00pm on Good Friday, 30 March 2013.
6. Successful bidders will be advised and can collect their programmes from the club shop on a match day or the programmes can be posted to them, but in that case the successful bidder will have to pay the postage costs in addition.

The above details will be available for the bidding period on the Alty Programme page of this website.
CROSSBAR CHALLENGE
Another win on Saturday for Neil Tolson in the season-long Crossbar Challenge leaves Ian Senior with a lot to do to retrieve a deficit of 15 to 24. The loser is to make a donation to Mark Maddox's Motor neurone disease charity. Belated best wishes go to Mark, who was 40 last week.
OXFORD OVER AGAIN
The commentary by Radio Robins of Saturday's game against Oxford City is available to review as follows...
Second Half.

There is an interesting "blog" by a Swansea City supporter who watched the Alty v Oxford City game last Saturday. It can be read here.

After Saturday's match, Pitchero Non-League reported that "Oxford City fell to a 3-1 defeat at Altrincham despite taking a first half lead... and the lead could of so nearly been doubled when Jamie Cook's freekick cannoned off the crossbar with the goalkeeper stranded...

The second period belonged to the home side as they lay [laid] seige on City's goal... as Alty missed chance after chance until the 80th minute when Reeves was on hand to put them ahead and just 1 minute later it was 3-1 and game over as Watmore cut into the City defence before lashing his shot low into the corner of the net".
DAN'S IN THE FRAME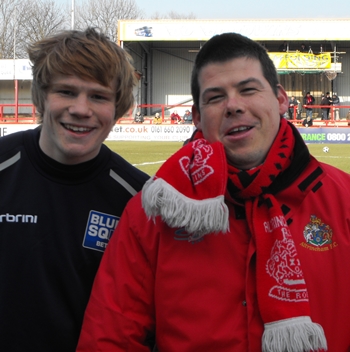 Winner of the recent TASC draw for a photo with an Alty player of his choice was longtime Altrincham supporter and demon bowler with Ashley CC, Daniel Eadie. Daniel is pictured, right, photographed with Duncan Watmore before Saturday's game against Oxford City.

If you are not a member of The Altrincham FC Supporters' Club (TASC), why not join? Amongst other benefits you enjoy discounted travel to away matches. Sign up in the shop at half-time in home matches or by e-mailing TASC chairman, Brian Flynn
PROMOTE ALTY ON TV!
Brian Flynn writes, "BT Sports are looking for an Altrincham supporter to take part in one of their initial programmes that will feature a couple of smaller English clubs.

They are looking for a 'character' who has supported the club for a long time and they will be filming on Wednesday in Leeds, (time to be confirmed but, probably in the evening). Travel expenses will be covered and overnight accommodation provided.

If you are interested in being involved, please send an email to Brian Flynn or call/text 07860 561011.

BT Sports have just bought ESPN's UK & Ireland TV business and will be showing 38 Premier League games from next season".
BSBN NEWS
There is bad news for a team we recently played reported by This is Glos. "Gloucester City will be evicted from the Abbey Business Stadium with immediate effect if they fail to settle debts of nearly £20,000 with landlords Cheltenham Town by the end of this month. Cheltenham have not received any cash from their hard-up tenants since the turn of the year.

The Tigers will face relegation from Blue Square Bet North if they cannot pay money owed in rent and loan-wages for winger Bagasan Graham as well as other sums for match-day hospitality.

Robins' [Cheltenham Town] chairman Paul Baker said he had every sympathy for Gloucester's plight, but the arrangement will not be allowed to continue unless they can stump up the cash. 'Gloucester have fallen into arrears with their payments and, unless all debts are paid by the end of March, they will not be able to use our stadium to stage their home matches', said Baker.

'Before now they have been the perfect tenants and we have had no other issues with them but we cannot allow this to continue unless we are paid in full and we can't afford to let it build up any further. We are not a charity and Gloucester have entered into the terms of a contract and enough is enough.

'I think their chairman (Nigel Hughes) has done a fantastic job and I have huge sympathy for their situation but we have a business to run and they fully accept that. We have been very fair with them and I have spoken to Nigel and I know they are going to do all they can to generate the revenue, but it is going to be difficult for them'.

Baker said an arrangement for next season's groundshare had been agreed but that is now in jeopardy and Gloucester must have it confirmed and signed by the end of March to comply with Blue Square Bet North rules.

'In an ideal world we would carry on helping Gloucester but we are running a business and we need the money too', Baker said. 'I don't want to be in any way responsible for them being relegated or worse. I am not sure of the exact implications if they don't have a ground that meets the league's requirements but I think survival for them is the most important thing at the moment.

'We can't subsidise them and they don't expect us to so, in my view, this needs to be cleared by the end of March and they must be confident they can make further payments'.

Gloucester have been playing at Whaddon Road for the past three seasons having previously shared with Forest Green and Cirencester Town. They have been without a ground of their own since the floods of 2007 destroyed Meadow Park. It was, last week, announced that plans for the redevelopment of Meadow Park and the construction of a £5 million community stadium were 'on the brink of collapse'."

Elsewhere the newspaper says that "Gloucester City will be relegated... unless the Tigers can plug a £40,000 hole in their finances by the end of this month... City have to have a groundshare agreement for next season signed, sealed and delivered to the Football Conference by March 31 in order to keep their place in the league.

Club chairman Nigel Hughes is pleading for new investors to help shore up the club's dwindling revenue streams... as gates and other streams of income continue to fall. In the past club owner Eamonn McGurk has plugged any holes in the club's finances but after ploughing over £1million into the club over 16 years, the well has run dry.

'Without some serious investment we are going to see ourselves in dire straits', Hughes said. 'The club is tired, I am tired and we are continually trying to generate funding in order for us to remain at the level we are at. We're at a stage where we are in a fantastic position on the field, but we can't attract investment and potential buyers aren't going to come forward until we have a route home.

'The bottom line is that we have bills to pay and it's a struggle. Currently, based on our projections, we are going to be somewhere in the region of £40,000 down at the end of this season. We need investors and we need investors to see us through to the end of this season'...

Hughes admitted that... 'Cheltenham have been wonderfully accommodating with us and have been understanding of our situation', Hughes said. 'But we need something to happen soon. Otherwise the city of Gloucester won't have a football club performing as well as they are now'.

If City were evicted from Whaddon Road they would have to find an alternative venue to host their games against Vauxhall Motors on April 6 and Corby Town on April 20. They would have to find an alternate home with facilities with a National Ground Grading Category B certificate. Whaddon Road and Forest Green's New Lawn Stadium are the only two grounds in the county that currently have Category B status'".

Next Saturday, Alty visit the Horsfall Stadium where Bradford PA report that "Following the 7-0 thrashing of Droylsden, Bradford (Park Avenue) manager John Deacey spoke to the official website...

'The first half was awesome, our attitude was superb. I thought Richard Marshall was brilliant today, but, from the 1-14 we used today, they were fantastic. I was pleased for Aiden (Savory) because it was a great strike. The only blow was losing Jordan (Deacey) with a knock...

'It's been a learning curve this season and I think we have done well... I had to try and rest some of my players because we have fixtures coming up. We need to get Martin Drury back, hopefully we will have Matty James back for Monday'".

"The Avenue midfielder Richard Marshall... scored two goals... I'm disappointed I didn't get a hat trick, but we dropped deeper in the second half!'

Following three consecutive victories, Marshall admitted he is looking forward to the rest of the season... 'I knew we could get in the top eight with the players we have'".
---
3 March 2013
EASTER FUN WEEK
Altrincham FC is running its successful Easter Fun Week programme again this year. Details are shown, right. Please click on the image for an application form.
ON THE ROAD
Come and help Altrincham try to secure some more points as they aim for the play-offs by joining the away supporters travelling to Bradford Park Avenue, this Saturday (9th). Details are on the Away Travel page.
SATURDAY'S GAMES
Attendances on Saturday were:
Altrincham 3 Oxford City 1 (740) Match report.
Boston United 0 Vauxhall Motors 1 (800)
Colwyn Bay 1 Corby Town 0 (278)
Droylsden 0 Bradford Park Avenue 7 (254)
FC Halifax Town 5 Worcester City 0 (1,275)
Guiseley 0 Brackley Town 2 (608)
Harrogate Town 2 Histon 0 (478)
Hinckley United 0 Gainsborough Trinity 2 (333)
Stalybridge Celtic 0 Solihull Moors 3 (308)
Workington 0 Gloucester City 1 (356)
OLD BOYS
Two Altrincham "old boys" scored in AFC Fylde's 5-0 win at Blyth. James McCarthy got two and James Dean one.
BSBN NEWS
Alty's next two away opponents played each other on Saturday. Bradford (Park Avenue) report that they "thrashed Droylsden to record their third consecutive victory... A fine display from John Deacey's men saw Bradford score five goals in the first half. The win started with Alex Davidson finding the net after ten minutes. Furthermore, a quick fire double from Paul Walker and James Knowles put the Avenue in a comfortable position. However, Richard Marshall netted twice before the break to extend their lead. After half time, Aiden Savory scored his first goal since his return, and Alex Davidson completed the rout.

John Deacey was forced into one change as Martin Drury was replaced by Jamie Price, meaning there was a reshuffle amongst the back four. Also, Ross Daly returned for Bradford in place of Matty James on the substitutes bench...

At [6-0 down], the Bloods were given a chance to score a consolation. The referee had no option but to award a penalty, as Walker fouled Carlos Logan inside the box. However, Logan's left footed shot from the penalty spot was saved by John Lamb...

Droylsden: Nlate, Mininham, Holden, Palmer (Langford 52), Stimpson, Ahmed, Cox (Dali 34), Watson (Rick 67), O'Neill (c), Logan, Ward. Subs not used: Berkeley, Latham.

Bradford (Park Avenue): Lamb, Clayton, Duckworth, Marshall, Knowles (c), Price, Davidson, Hotte (Holland 52), Corner (Savory 65), Deacey (Daly 45), Walker. Subs not used: Jackson, Hume.

The Boston Standard reports that "Boston United boss Graham Drury has reacted to calls for him to be sacked by vowing to turn the club's ailing fortunes around. Fans flocked to the York Street tunnel at full time to boo Drury down to the dressing room and call on chairman David Newton to axe him.

They were angry after the 1-0 defeat to Vauxhall Motors saw United lose for the third time in eight days and extend their winless streak to seven matches. But Drury remained defiant. He said, 'The fans pay to watch and have the right to say what they want. Of course, criticism hurts but it's the manager who takes it when the side doesn't win. I'm big enough and strong enough to take it. I've got broad shoulders for a small man. I want to turn those jeers into cheers'.

Drury said he is keen to bring in an unnamed winger and target man to the club before the end of next week. But looking ahead to Tuesday's home match with Gloucester City, he managed to crack a joke.

Asked why fans should turn out to support the club instead of watching Champions' League football at home, he said, 'They can bring their eggs and oranges and throw them at me. Maybe I'll take an orange down on the chest and volley it in the net. We need something'".
FIXTURES
Pictured right with his Man of the Match award and with Altrincham FC chairman, Grahame Rowley, is Duncan Watmore, after Saturday's game. (Image courtesy of Ian Watmore).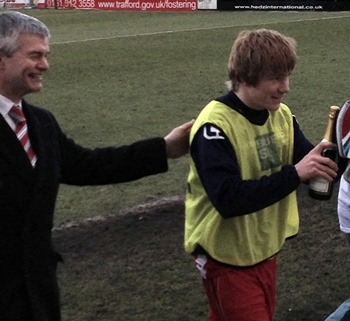 Sat. 9 March
Bishop's Stortford v Workington
Brackley Town v Boston United
Bradford Park Avenue v Altrincham
Corby Town v Stalybridge Celtic
Droylsden v Guiseley
Gloucester City v Hinckley United
Harrogate Town v Chester FC
Histon v Colwyn Bay
Oxford City v Gainsborough Trinity
Solihull Moors v FC Halifax Town
Vauxhall Motors v Worcester City
---
2 March 2013
ALTRINCHAM 3 OXFORD CITY 1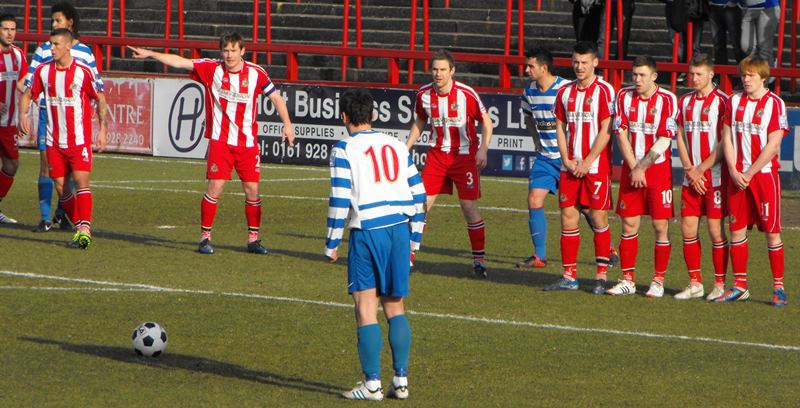 Above: Alty defend an Oxford City freekick.
An impressive second half performance from Altrincham, which included two goals and two more efforts hitting the woodwork, settled this match. Duncan Watmore was the key figure ...
Match report.
SATURDAY FIXTURES
The game at Moss Lane was the only BSBN match in which both teams scored today.
Sat 2 Mar.
Altrincham 3 Oxford City 1
Boston United 0 Vauxhall Motors 1
Colwyn Bay 1 Corby Town 0
Droylsden 0 Bradford Park Avenue 7
FC Halifax Town 5 Worcester City 0
Guiseley 0 Brackley Town 2
Harrogate Town 2 Histon 0
Hinckley United 0 Gainsborough Trinity 2
Stalybridge Celtic 0 Solihull Moors 3
Workington 0 Gloucester City 1
BEFORE THE MATCH
Brian Flynn advises us that, "Radio Robins, sponsored by Ashley Mowers Garden Machinery will be broadcasting live coverage of Saturday's game against Oxford City.

The match commentators are Paul Salt & Ian Wilkinson & the match summariser is Brian Flynn.

The game kicks off at 3.00pm and commentary starts at 2.55pm.

Alternatively, you can find live-text updates from the game on this site's Matchday Updates page. Quick links to both options are below.

In advance of their first-ever visit to Moss Lane, the Oxford Mail tells us that "Oxford City striker Steve Basham could be back from injury within weeks, after a scan identifed his persistent calf problem as scar tissue damage. It was thought that the former Oxford United frontman, 35, would be out for months and, while he misses tomorrow's trip to seventh-placed Altrincham, boss Mike Ford is confident he could return soon.

Basham scored one of City's goals when they drew 2-2 at home to the Cheshire side in September.

'He's been a massive miss for us because we've looked a real threat when he plays. We have no one in double-figures this season. Altrincham have Damian Reeves who has scored 25 goals in the league. If a game is at 0-0, he's the sort that has a chance and it's a 1-0 win. So we have missed the extra 15 goals Steve would have bought us... The main problem is scar tissue below the knee'.

Meanwhile, frontmen Ashan Holgate and Jamie Cook may get the chance to continue their partnership upfront that worked well [in] the 1-1 draw at Histon. 'Jamie did fine and, the fitter Ashan gets, the better he is. My dilemma is whether to play them both up-front or play Felipe Barcelos alongside Holgate and Jamie in the hole.

Our three subs on Saturday, Mark Bell, Callum McNish and Nick Stanley also had an impact which gives me food for thought'. Ford has warned his players not to get carried away by Altrincham's five-match winless run. [It's only four games!]

He said, 'When I looked at the teams that make up our league, I had Altrincham down as a play-off contender and they are going to be chasing for a top-five place again'. As well as Basham, City will be without Liam Malone (ankle).

Oxford City: From Ingram, Gunn, Learoyd, Willmott, Stonehouse, Benjamin, Pond, Ballard, Barcelos, Cook, Holgate, Stanley, McNish, Bell, McEachran, Mulvany. "

Their track record this season is not good but Footy Mad continues to predict the outcome of Alty's matches. It says "Altrincham prepare to entertain Oxford City at Moss Lane on Saturday afternoon, for the first time in their history... Altrincham have an excellent home record, winning five and losing just one of the last six games [?We drew our last home game]....

In complete contrast to Altrincham, Oxford City are having a torrid time on their travels, accumulating just 1 victory and 1 draw from their last six played....

FootyMad's prediction... Altrincham may be coming up against a decent side in Oxford City but we do believe that its going to result in a narrow home win for the Robins. Home Win".
DANNY KEEN TO JOIN US
Sheffield's Star newspaper says that "But for the persuasive powers of Sir Alex Ferguson, Danny Higginbotham could have been preparing to confront former team mate Paul Scholes tomorrow afternoon. Scholes, who spent three years working with the Sheffield United defender at Old Trafford, planned to finish his career with hometown club Oldham Athletic before the wily old Scot convinced him to remain a red instead.

Higginbotham harbours a similar ambition. The subject of his affections, however, resides 20 miles away along the A560.

'I'm from Altrincham and, when I'm too old to be playing professionally, I want to see out my career with them', Higginbotham told The Star earlier this week. 'I used to go and watch them with my mates and I've got a framed shirt on my wall at home. Lots of autographs too. Players like Nick Daws, Jeff Wealands, Ken McKenna and Paul Showler were legends. We used to idolise them from the terraces. Altrincham might not be the most glamorous side in the world but they were the team I grew up supporting so [to] pull on their shirt at some stage would be great'.

First though, Higginbotham has unfinished business to attend in League One where, having joined Danny Wilson's side during January's transfer window, he has established himself as a permanent fixture in United's defence...

'I've hopefully got plenty of years left in me yet and, like the rest of the lads, I'm desperate to get us up. I've been fortunate to play for some great teams during my time in the game and, make no mistake, this is a massive club that should be in the Championship at the very least. Personally, I think we're set up well because we've got some older heads who can steady the ship and also some really good younger players who give us the legs, keep the rest of us fresh and do our running'...

Higginbotham, previously of Manchester United, Derby County, Southampton and Stoke, said... 'The gaffer has been brilliant because he takes that pressure off us and turns it in to something good. That's the sign of a good manager in my book. He tells us just to go out there and play. To express ourselves and enjoy it'".
YOUTH NEWS
Alty Youth striker, Adam Bezzina, who recently signed BSBN forms for the first team, is part of the Manchester County FA team that beat Liverpool County FA to reach the final of the national competition. Manchester now meet either Wiltshire or Bedfordshire in the final at Old Trafford on 20th April.

Altrincham FC Youth manager, George Heslop, has sent the website the following despatch...

"Thursday night saw two very special guests visit the club. Nutritionist, Kit McAvoy and sports psychologist Bill Steven came to deliver an informative and inspirational presentation to the current crop of youth team players.

Bill, who works one to one with top sports people and who was part of Mick McCarthy's Wolverhampton Wanderers back-room staff, talked on the different areas of focus for 'The Complete Sportsperson' paying attention not only to the technical, tactical and physical but also the importance of striving for balance in the players' mentality, emotional life and lifestyle. He talked about how goal setting and working closely with another player/coach/family member can help the players develop to reach their maximum potential and then maintain those high levels. He gave the players some useful tools to help them do this.

Bill was followed by Kit McAvoy. Kit's area of expertise is nutrition and he gave some insightful information into the link between what players eat and drink and their performance. He spoke on how a balanced diet can really improve a player's ability to train and how they can sustain energy levels throughout the game. Kit talked further on what a balanced weekly diet might look like for someone competing at a high level of sport and prompted discussion about the benefits of maintaining this.

We are expecting this to spur the lads on to even greater success in the future.

The players and the staff would like to thank Bill and Kit for their time and knowledge".
BSBN NEWS
The Football Conference says that "At its regular monthly meeting in London on Thursday the Football Conference Board reviewed the difficulties being encountered in all three Divisions, by some clubs. The prolonged spell of inclement weather has led to an above average number of fixture postponements resulting in severe fixture congestion, in some cases.

Because of the extraordinary circumstances that have arisen, the Board has had to assist in providing solutions and using powers vested in it by Rules 4.1 and 4.2 'Powers of the Board'. The Directors have approved the unusual measure of sanctioning the use of alternative venues to enable clubs to fulfil their commitments.

Football Conference fixtures have already been hosted by Doncaster Rovers FC, Hartlepool United FC, Rochdale FC and York City FC and we are very grateful for the assistance these Clubs have provided to our members.

Meanwhile, the Competition's General Manager has been mandated by the Board to uphold the Competition's integrity by ensuring each division's fixture list is completed by [its] respective final dates, i.e. 20th April for Blue Square Bet Premier and 27th April for Blue Square Bet North and South. With the anticipated help and co-operation of all member clubs, it is hoped this aim will be achieved".

They are not just playing games at Spotland but FC Halifax Town announce that "Town have signed 19 year old defender Matthew Pearson on loan from local neighbours Rochdale AFC. The young defender joined Dale after his release from Blackburn Rovers and has made 9 appearances for the Lancashire side".

According to Pitchero Non-League, "Frank Sinclair is calling for Colwyn Bay fans to turn out in force for Saturday's home game against bottom four rivals Corby Town. It could be a massive day for the Seagulls in their fight for survival in the Conference North, as victory would lift them to within four points of Corby with two games in hand, and could also put them within six points of fifth-bottom Histon (who travel to play-off chasing Harrogate Town) with FOUR games in hand.

'A win would put survival firmly back in our own hands so it is obviously a massive game. We all know what is at stake and it would be lovely if we could get a good crowd in to really get behind us', said Sinclair. 'Having that 12th man could make all the difference and I think the lads deserve that after two great performances in two very tough away games over the last twelve days'.

New signings Shelton Payne and James Ellison will both be in the squad and so will the returning Fraser McLachlan. Out of the game, however, are John McKenna with a recurrence of a hamstring injury and [ex-Altrincham] defender Robbie Williams, who has been given permission to talk to Blue Square Premier Hyde after they put in seven days for him. Loanee Arthur Gnahoua is involved for the last time before going back to Macclesfield Town, but Sinclair is hoping to extend Charlie Joyce's loan spell from Southport until the end of the season....

'If we could get him until the end of the season it would be great', said Sinclair. 'Arthur has done well for me. He is a bright young talent who I think has a big future in the game, but he probably needs a bit more time to fully mature'".

This is Lincs says that "A shell-shocked Peter Swann is ready to walk away from Gainsborough Trinity after the owners of the Northolme, the Blues Club, rejected his final offer to buy the ground. The Trinity chairman wanted to purchase the Northolme and make the ground fit for the Blue Square Bet Premier. Swann says he was also prepared to upgrade the Blues Club's facilities.

However, the ground's owners have refused to back down from their long-term stance and this week informed Swann that they are not willing to sell. 'I received an email last night (Thursday) confirming that my offer had been turned down completely', said Swann. 'To say I'm flabbergasted is an understatement. It's been nearly three months since my meeting (with the Blues Club). I've wasted so much time on this (trying to buy the ground), but I'm not going to do it anymore'.

Following the Blues Club's decision, Swann is set to stand down as chairman at the end of the season, saying he is not prepared to plough anymore cash into a club which doesn't own its stadium. 'We've reached the end of the road now', added Swann, who has suffered health problems in the last 12 months. 'I've already put a couple of million pounds into the club, but I can't keep doing it. I'm not prepared to make myself ill over it'.

However, he insists if the club wins promotion to the Blue Square Bet Premier he will reward all members of the current squad with fresh contracts. If Trinity do not go up, he intends to write off loans and leave the club debt free so the club's new owners will start with a clean slate. 'If we don't go up the club will go back to being run how it was before but without the debt it had when I came in', said Swann. 'That's something I'm looking to organise now so I would urge fans not to give up and instead get behind the club. We've got a great manager in Steve Housham and some very good young players'".

News from one of Trinity's competitiors for a play-off place comes from the Telegraph & Argus, which says that "Guiseley boss Steve Kittrick is aiming to leave the league's sponsors with egg on their faces but he knows the enormity of the task his club are undertaking. Kittrick was more frustrated than any of the Nethermoor outfit's supporters when his side took just two points from a possible nine. But, after being held to two draws and suffering a rare defeat, the Lions earned a maximum last time out,- a 1-0 win at play-off hopefuls Worcester City last Saturday.

Conference League title sponsors Blue Square Bet have already paid out to punters who backed Chester FC to win the North Division crown. The Lions go into this weekend trailing Chester by a huge 19-point margin - but they do have four games in hand.

Kittrick said, 'We have to make sure that Blue Square Bet paying out on Chester winning the title is a little previous. It won't come back to bite them in the backside because they will have gained from all the publicity but I want us to show them that they took our challenge too lightly. There is a big points gap at the moment but we have games coming up and we have to make the most of them. If we win our games in hand it would be seven points, and that's what we want. Get it down into single figures and crank up the pressure.

It is all about holding our nerve but we're not the club under pressure, that's all on Chester. They have had a few draws here and there but Neil (Chester boss Young) is a good manager and a strong character and he will be taking each game on its merit'...

The situation with the Boshell brothers Danny and Nicky is still not resolved, and Kittrick admitted that he does not know what the outcome will be. After a disagreement with Danny, neither of the Bradford-born brothers [has] featured in the squad and the man[a]ger insists they will not during his tenure. The boss said, 'I don't know what their intentions are because I haven't had the conversation with them. There may be clubs in for them but I have not heard anything, that's up to the board'".

The Nuneaton News reports that "Carl Heggs has agreed a contract to remain Hinckley United manager until the end of next season and immediately set about getting key players on new deals. Heggs was only given the job until May after Dean Thomas quit, but the Knitters board have seen enough to back him.

Five players are set to be offered contracts before the Knitters host Gainsborough Trinity tomorrow. On his contract, Heggs said, 'It's great because it gives the club the continuity they've not had for a while. The thing now is to look towards next season. I've already give the board a list of five names I want on contract by Monday. I don't want a repeat what we've seen with players going. The players sign here because they want to play for me.

I'll give them opportunity they wouldn't have got here in the Dean Thomas era because of the different financial climate. Luke Richards is a prime example. He's come here from Sunday football and done really well'...

The latest blow has seen defender Ben Everton-Richards quit the club after going to the FA to get his contract cancelled over unpaid wages. 'I'm devastated. I tried all I could to keep him but he feels like he's heard all the promises (over wages) before and enough is enough', said Heggs. 'It's a great shame... We'll have to replace him'.

The Knitters will be without striker Jarrad Pickering (holiday) and Richard Conway (groin) tomorrow as they look to bounce back from the 3-2 last gasp defeat at Droylsden on Tuesday night. 'They were all magnificent. They gave their all but they just ran out of steam', said Heggs.

From This is Glos we learn that "A 'reduced scope' development at Meadow Park could offer Gloucester City hope of a return home from their six-year flood-enforced exile... Club owner Eamonn McGurk said that the club were going to 'reconsider' the ambitions plans for a £5million community stadium at their flood-hit home.

Since then, meetings have been held between the club and Gloucester City Council, while a meeting of the club's executive on Wednesday night tried to plot a forward course. Chairman Nigel Hughes was at that meeting and said... 'We took the decision that the application in its current form is only going to be a long drawn-out affair but it will also be a continual financial drain on the club with no end in sight. The view now is that we are going to reassess the scope of the project. In other words we need to look at what the Club needs to do in order to address our issues and not the wider ones which impact on the businesses around'.

That change would most likely mean that the commercial land, included as part of the original application is likely to be taken out of the new proposals. Hughes said 'We would still need to look at what can be done to alleviate any flooding so we can get something back on the existing footprint of the stadium. The plan that we put forward was to build a stadium and also build flood protection for that whole area. The cost of which would have been in the region of £5million. Clearly there was the intention to use the land around the stadium for business purposes. However, there have continued to be issues which have dragged this process out for almost five years. We are now looking to see if we can scale it back because we still need to fund a football stadium.

Eamonn McGurk is still committed to bringing the Football Club back to Gloucester... What we can't do is continue to spend money with no guarantee of getting anywhere. So clearly what we are going to do is focus on the areas where we can try and go forward. There is already a stadium at Meadow Park so let's see what we can do sooner rather than never'...

Sharing the desire to return home to Gloucester, Supporters' Trust chairman Lee Mill said... 'The owner's commitment to building a stadium for use by the club has been reaffirmed and the Trust is pleased that there has been an agreement to consult and involve The Trust in its design and layout during the planning stages... The Trust will continue to support the owners so long as communication is maintained and its views are taken on board'".
---
1 March 2013
FITNESS UPDATE
Following Thursday evening's training, manager Lee Sinnott hoped to have virtually everyone available for selection this Saturday for the match against Oxford City. Defender Scott Leather who had to be subbed with a cut to his head on Tuesday, has had the wound "glued together" and is fit to play once more. However, goalkeeper Joe Collister remains sidelined by his hand problem, though he has now had an MRI scan and is awaiting the resulting diagnosis of the problem. As a consequence of his injury, Joe has yet to be included in a matchday squad since his recent arrival at Moss Lane, with youth team keeper Stephen Bullen having now provided cover for the last seven league games. Fellow keeper Adam Reid's loan at Prescot Cables continues for another month, though he can be recalled if necessary.
GLOUCESTER GAME REVISITED
The Radio Robins commentary from the Gloucester City v Altrinhcam game last Tuesday can now be heard again:
2nd half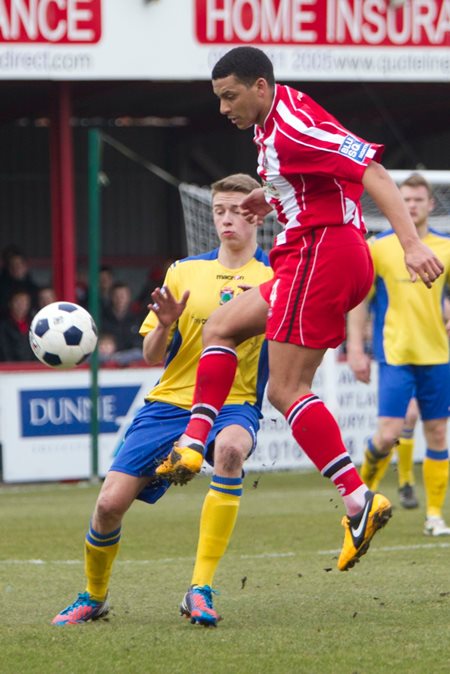 Right, courtesy of Gavin Rathbone of GR Photography, is this image of Carl Rodgers, happily recovered from his allergic reaction in the previous game, in action against Colwyn Bay.
OLD BOYS
Colin Little is still scoring goals; he hit two for Wythenshawe Amateurs in a 3-0 win over Avro in the Manchester League. Altrincham old boy Aaron Burns scored twice on Wednesday for Ashton United who won 4-1 against Kendal Town.
OLD FOES
One of our former opponents in the Conference National are in trouble as Bulls' News reports that "The MyFC owners of Ebbsfleet have seen membership dip below 1,000 for the first time... just 3% of the 32,000 that originally signed up to the venture. Ebbsfleet needed £20,000 in donations to see them through January and require further funding to see them through the season, but Handley says the organisation has received no offers for the club and talks with the Supporters' Trust are at an impasse".
NEXT UP
Altrincham entertain Oxford City this Saturday; it will be the visitors first appearance at Moss Lane, having been promoted to the BSBN this season. The reverse fixture early in the season ended in a 2-2 draw.
Through the Years by Howard Watts for Saturday's date.
BSBN NEWS
BSBN confirms that the divisional "Player of the Month for February is Dan Gardner from FC Halifax Town. Midfielder Gardner has been in fantastic form in February as his side cope with an arduous fixture list. The summer-signing from Droylsden has scored a number of important goals for the Shaymen and provided some vital assists as they challenge for promotion. The former Celtic youngster scored five times in seven matches as Halifax moved up to fourth in the table and competed in the FA Trophy, scoring both goals in their quarter-final exit at Dartford. The award makes it a February double for the Shaymen as Neil Aspin takes the manager prize....

The Shaymen have been playing catch-up in the race for promotion... That hasn't deterred Aspin's side who have climbed to fourth spot in the table with an unbeaten month in the division. Halifax have taken 14 points from a possible 18 during the period including four away wins".

NL Daily reports that "Former Macclesfield Town player Vinny Mukendi has signed for Salford City. Mukendi is a 6'2" striker who started out at Macc and made 47 League appearances for the Silkmen, scoring three goals... Barrow signed Mukendi from Macc in 2012 but he only made four appearances for them before moving on to Droylsden and then Stalybridge Celtic this season. Mukendi has also represented the Democratic Republic of Congo at Under-19 level".

This is Lincs tells us that "Peter Swann has stood firm on his decision to step down as Gainsborough Trinity chairman despite the club's heroics in the FA Trophy...

'Days like this (an FA Trophy semi-final) make me want to carry on but nothing has changed with that', he said. 'That's not to say that things can't change. Of course I would like more of this but I would first have to be confident of two things. Firstly, that my health could cope with staying on and secondly I would have to own the football ground. The situation with the ground is still frustrating me. I am having to chase it.

I'm sure they (current owners the Blues Club) can see this success and I'm sure they can see the investment I have made in this team is giving them a revenue stream. But I can't wait until the end of the season, it has to be sorted out soon. I am still positive, but I would like a forward step from them. I know they are trying to sort out a valuation, but I would like them to tell me where we are'...

The Trophy success has also seen Trinity collect £30,000 in prize money alone, which Swann says will go back into the football club... Added Swann, 'If we had reached the Wembley final, we would probably have broken even this year... If we can reach play-offs this season, we may yet hit budget'".

Elsewhere, "Guiseley manager Steve Kittrick doesn't quite know what to make of Blue Square Bet's decision to pay out already on Chester FC winning the Conference North title" reports the Ilkley Gazette, "'Sometimes I find it laughable, sometimes I find it bizarre and sometimes I find it annoying', said the Lions' boss, 'And I don't think I am the only one'.

However, Alan Alger, of Blue Square Bet...said... 'Guiseley have fought remarkably well to make a race of it but a 2-0 defeat at Vauxhall Motors leaves them with an almost impossible task'...

Kittrick, whose side face third-placed Brackley at Nethermoor on Saturday, added, 'It is too early to make a pay-out decision. Chester still have Gainsborough to play, Harrogate Town away, Halifax Town away and ourselves away (April 13), so there is a lot of football still to be played.

I also think that Chester wouldn't have wanted this to happen either and that some managers might see it as disrespectful. I used it as part of my team talk against Vauxhall Motors, but we lost 2-0!'

Alger added, 'We have put up a new promotion market, and Steve Kittrick's men were installed as the 2-1 favourites to win the North play-offs, with Halifax close behind at 6-4. We then have Brackley Town at 11-4 and Gainsborough Trinity at 7-2'. Guiseley (66 points) still have 14 matches to play, as do Brackley (59), while FC Halifax Town (47) have 19 matches remaining.

On Saturday, the Lions host third-placed Brackley, and Kittrick said, 'All games at this time of the season are difficult as teams are either battling to stay up, battling to get into mid-table, battling to get into the play-offs or fighting to win the title'".
---
FOR EARLIER NEWS, CLICK HERE
---