---
28 February 2013
WEDNESDAY GAMES
Chester FC 3 Gainsborough Trinity 1
Corby Town 2 Bishop's Stortford 2
League table.
PONTOON UPDATE
Grahame Rowley writes that "With FC Halifax (14 goals) faltering over the weekend, drawing 0-0 with Stalybridge Celtic, it gave other teams a chance to catch up in the Pontoon Competition. Tom Jacobs still leads the way but hot on his heels now are Barry Pond's Kidderminster Harriers on 12 goals and The Cromptons' Barnsley on 11 goals. Joint 4th place are Paul Daine, Richie Bentley and Daisy Rowley with Newcastle United, Hereford United and Watford respectively. The next update will be on 5th March 2013.
OLD BOYS
Old boys in action this week in the EvoStik Premier included James Dean, who scored twice for AFC Fylde and Nantwich Town's Kyle Wilson, who scored against Marine.
TROPHY TICKETS
The FA have written to all clubs which competed in this season's FA Carlsberg Trophy to advise them that the "Trophy Final between Grimsby Town and Wrexham will be played on Sunday 24 March 2013, kick-off 3pm...
Tickets to The FA Carlsberg Trophy Final are now on sale from the TheFA.com".
GLADIATORS' PERSPECTIVE
Gloucester City say that "A missed penalty from Altrincham striker Damian Reeves sealed Gloucester City an important point in a scrappy affair at Whaddon Road.

The Blue Square Bet North's leading marksman failed to convert the spot kick as he smashed the ball wide of Mike Green's right hand post.

The draw ends the Tigers' run of consecutive home defeats as they look tantalisingly close to the top half of the league table. Truth be told, the contest was a frustrating one for both sides; with the City defence expertly quelling the Robin's potent strikeforce for a large majority of the game.

The visitors started lively but a tame header from Ben Mills didn't trouble City. Then, after a great piece of interplay in midfield Nicky Clee played in Damian Reeves but the hotshot striker's chance was deflected wide...

The visitors' best chance from open play fell to Mills but his header was saved acrobatically by Green. The striker's rebound was equally well blocked and finally the ball came to Carl Rodgers, but his snatch[ed] shot swerved right of the post...

With half-time looming, the Robins came inches from taking the lead after the ball somehow came off Gianluca Havern, but Andrew was there to clear the ball off the line...

On the hour, the visitors had the perfect opportunity to take the lead. A City defender had brought down Simon Richman as he was about to shoot, only for referee Christopher Powell to award a penalty. Reeves stepped up and blasted the chance wide; a lifeline for City.

After a frustrating second half for both sides the Tigers could've nicked it... With a final throw of the dice the visitors bombed forward but Duncan Watmore's effort was superbly stopped by Green as the game ended scoreless".

Off the field there was bad news for The Tigers before kick off on Tuesday night as This is Glos reported that "Ambitious plans for Gloucester City's new £5 million community stadium are on the brink of collapse, six months after they were minded for approval by the city council. Frustrated by a lack of progress with the plans for a new stadium on the site of the old Meadow Park ground, club bosses are now close to pulling the plug on the project.

Club owner Eamonn McGurk has spent 16 years and more than a £1 million in his efforts to build the Tigers a new home, but admits that he and the club may be forced to reconsider their options. Plans for the new development at Meadow Park, consisting of a stadium, flood defences and commercial land, went before Gloucester City Council planners in September last year.

They were only 'minded for approval' while further flood modelling work was carried out, effectively leaving the club in a state of impasse...

McGurk, who founded and owns Gloucester-based construction company Keyway... [said], 'We're at a stage at present where the pieces aren't lined up so we can progress and, rather than go to countless meeting after meeting, we're going to park up and reconsider things... We spent a lot of money – our own money, not the football club's money, and we have to re-evaluate that every so often'.

McGurk's plans for Meadow Park pre-date the epic 2007 flooding that rendered the ground unusable and uninsurable. He helped pick up the club from the disastrous Keith Gardner era at the turn of the Millennium, wiping out the large part of the historic debt and enabling the club to find its feet again.... 'This has been something that I've been trying to do for 16 years', he said. 'For others it's only since 2007 but I've always had the view that the new stadium there was imperative... Our personal spend in terms of our company is well in excess of £1million now in terms of sponsorship and so on over that 16 years. And at the last count it was well over £200,000 in this particular planning application.

The club isn't a profit-making entity. It just about balances the books every year and any shortfall is made up from key people every year, me being one of them...My personal option is the site in Hempsted... We're not going to abandon it. We are just revisiting what we want to do... But at this present moment I have genuine fears'".

And 200% has the story in historical perspective.

A response is to be found from City's Supporters' Trust, also on This is Glos, which says "Gloucester City Supporters' Trust are extremely disappointed to hear that plans for a new community stadium for Gloucester City Football club are on the verge of collapse. The Trust have not been informed of this development personally by the club's owners prior to the article in The Citizen and, as a major backer, we call upon the owners of the football club to release a full statement to the supporters as to why this situation has come to pass.

We would also like to seek clarification from Gloucester City Council as to their position on the matter....

Over the past few years, the supporters of the club have been repeatedly told that a return to land at the Meadow Park site, raised and defended by a series of flood defence measures, was the only option viable... If these plans are not workable then where does the club go from here?...

Extension after extension to the current ground sharing agreement with Cheltenham Town has been signed along with previous tenancies at Forest Green Rovers and Cirencester Town".

This is Glos adds that "If City's plans for a new stadium on the site of their old Meadow Park ground are destined for failure, then they may have to seek out an alternative site within the City. After being flooded out of their home in 2007, the Tigers and Gloucester City Council did a recce of any available sites within the city boundaries that may have been suitable for development.

A total of ten alternative sites were considered, but quickly dismissed as not being suitable – among them Gloucester Rugby's Kingsholm Stadium, The Railway Triangle and Blackbridge.. Five new sites were put forward for consideration... All four of the sites and any further development at Meadow Park will be costly to bring to fruition however.

Tigers' owner Eamonn McGurk revealed in yesterday's edition of The Citizen that the existing Meadow Park plans had cost in excess of £200,000, even before the diggers moved in. The Meadow Park plan also relied on using the land around the proposed new stadium for commercial purposes, in turn helping to pay for the estimated £5million cost of the build and flood defence work.

None of the four alternative sites offers excess land capable of turning a profit, so the cost of the stadium build will have to be found".

Our opponents next Tuesday are our neighbours, Droylsden. The Nuneaton News reports how The Bloods beat Hinckley United 3-2. "United suffered a cruel injury time defeat at Droylsden on Tuesday night. The Knitters dominated the first hour but failed to press home the advantage as Luke Richards gave Hinckley United an 18th minute lead from 20 yards.

Carlos Logan then scored a hotly disputed penalty against the run of play to make it 1-1... Droylsden led in the 84th minute as Adnan Ahmed steered the ball home after a goalmouth scramble from a corner kick. But within 30 seconds the Knitters were back on level terms as they showed their recently acquired mental strength...

Just when they thought they would leave the Butcher's Arms with a draw, they suffered a hammer blow when they again failed to defend the ball into the box as Steve Hall won it.

Bloods: Nlate; Miniham, Byron, Stimpson, Holden; Ahmed, Chalmers (Hall 52), Logan, Cox; O'Neill, Berkeley (Ward 52); Subs not used: Langford, Rick, Latham".

According to the Football Conference, "Frank Sinclair, player-manager of Colwyn Bay, has brought flying winger Shelton Payne back in time for Saturday's huge game at home to bottom four rivals Corby Town.

And he believes the player, who has electric pace and has scored sixteen goals for Trafford this season (including two hat-tricks), can prove a big asset... Payne had a short spell with the Seagulls last season under Jon Newby but, after an explosive debut... he left after his performances tailed off and he lost his place in the team.

But Sinclair said, 'I have kept in touch with him and we have remained friends. He is still ambitious and, if we can get the best out of him, then he can be a fantastic asset with his pace and the goals he can score. He had a big problem with the travelling when he was here before because he doesn't drive, but we've got other lads from the Manchester area who will look after him', added Sinclair.

The new player-boss is also set to sign striker James Ellison ahead of Saturday's game. The 21-year-old, who is a product of Liverpool's youth academy and has had spells at Burton Albion and Southport, has scored five goals in eleven games for Droylsden this season including a hat-trick against Chester FC in January... but has recently been released after being in dispute with the Manchester club...

Sinclair has also put in seven-days` notice to bring experienced midfielder Fraser McLachlan back to the club. He left in the summer to join Nantwich Town but the move did not work out and he has recently been playing with Warrington Town...

'I think Fraser regrets his decision to go', said Sinclair".

From BSBN we learn that "Worcester City striker Mike Symons is determined to get back to the goal trail after seeing his stunning early-season form go out the window at the turn of the year.

The 26-year-old banged home 11 goals in the first-half of the Blue Square Bet Premier campaign, but has only managed one in 2013, resulting in his relegation to the bench. He did, however, return to the starting XI in last Saturday's 1-0 defeat to Guiseley...

'I have had a bit of a barren spell in the last couple of months and not taken my opportunities but, hopefully, towards the end of the season, I will get a few more goals', Symons told Worcester News. 'You always want to play but I had been a bit off my game. Michael Taylor came in and did really well so I sat there and watched and waited for the opportunity to play again'.

Worcester next take on FC Halifax Town ... He continued... 'It's a good place to go, a big stadium with a lot of people. It's a good environment to play in. We just want to get back to playing how we can, get some consistency'".
---
27 February 2013
LEE ON THE GLOUCESTER GAME
John Edwards, Alty's joint Press Officer writes that "Altrincham were left rueing a second-half penalty miss by Damian Reeves as a vastly-improved performance yielded the scant reward of a solitary point at Gloucester on Tuesday night.

Manager Lee Sinnott made four changes, after a disappointing run of one point from three games, but his revamped side were denied the win they deserved after Reeves fired wide from the spot, following a foul on loan signing Ben Mills.

Sinnott will now discuss penalty-taking duties with his players, ahead of Saturday's home game with Oxford City, after Reeves missed for a fifth time this season.

'I wanted to freshen things up and also try a different system, with James Lawrie operating just behind Damian and Ben,' said Sinnott. 'It was uncanny that we played better than when we beat Gloucester 2-0 at home three weeks ago yet only drew, but that happens in football.

'Gloucester asked questions with three well-delivered corners on the trot just before half-time, and there were a few bits and pieces from them at the start of the second half. But we coped fine with all that and were in the ascendancy for the majority of the game.

'The priority was three points, of course, and it was just a shame we couldn't press home our advantage after looking the better team and creating the better chances. The penalty was the main frustration, though fair play to Damian for having the confidence to pick the ball up and take responsibility.

'He likes nothing better than scoring goals, and confidence is such an important factor for any penalty-taker. Equally, though, we have to take advantage of opportunities like that, particularly in tight games, so we will have a chat at training on Thursday, and again on Saturday, and take it from there.

'You often find with penalty specialists that if they don't have any joy with a couple, they step aside and let someone else take them for a spell and then reconvene when they feel more like their old selves. I don't want to prejudge anything, but the subject will be under consideration when we talk it over.'

Sinnott explained the thinking behind Duncan Watmore taking a turn on the bench after a run of six starts in four weeks. The teenage forward is Alty's most exciting prospect in recent memory, but Sinnott is wary of expectations spiralling out of control and making demands on him that could stunt his development.

'There were signs of tiredness from Duncan on Saturday, and that is when the danger signals start flashing,' he said. 'Ignore them, and keep playing him, and you risk a hamstring and six to eight weeks on the sidelines. That's what happens when fatigue kicks in with a 19-year old kid, and you don't heed the warning. A muscle goes, and he's out for half the 14 games we've still got left.

'For his sake, and the club's, I'm not prepared to risk that. I am determined to protect him where necessary, because if we want him to play every minute of every game, we are going to run him into the ground. He'll be burnt out before you know it. It's easy to start expecting too much of a lad like Duncan, but it is in everyone's interests that he is managed the right way.
'You have to remember he is only 19, still in his first full season and still getting used to a role where opponents can adopt a very physical approach against him. I want him out there hurting teams as much as anyone, but he's not going to be doing that if he is laid up with an injury. We've got another eight games between now and Good Friday, and it's about managing him carefully to make sure we get the maximum out of him, without overdoing it and running the obvious risks.
'That means giving him a breather, when there are signs that he needs one, and bringing him back in when he is ready to go again. I had conversations before the game with all the players who were stepping out of the starting line-up, as well as those coming in, and my words to Duncan were that he was being rested, not dropped.
'He understood totally. He is a great kid, as well as very bright, and he knows what we are doing and why. I always try and explain my thoughts to him, and he appreciates we are doing what is best for him.'
Mills (left) again proved a bustling presence up front, and his loan may not necessarily end after the one month initially agreed with Chester.
'We will see what happens after that, and it may be that Chester have their own plans for him,' added Sinnott. 'We can't second guess what will happen at this stage, but Ben is already showing what he is about.
'I'm not taking anything away from Saturday, when I thought he coped well with a new environment and new set-up, but I thought he improved and played even better at Gloucester. He holds the ball up well, and you can see he is a strong runner and strong leader of the line.
'I felt sorry for him over the penalty incident, because he was in the centre of the goal and about to pull the trigger when he was bulldozed from behind. He was unfortunate not to score in the first half, too, when he got on the end of a cross. It was a good ball in, but it wasn't exactly one he could run on to. He had a bit of work to do, but still got a header in that was blocked on the line.'"
DOUBLE CENTURY
Altrincham FC captain Shaun Densmore's next appearance will be his 200th for Altrincham. He has made 195 starts and four sub appearances, during which he has scored 20 goals, making him the second highest scorer, after Damian Reeves, on Altrincham's books. Shaun has hit five goals this season, all of them in the last 16 league matches.
CROSSBAR CHALLENGE
Ian Senior has it all to do now as assistant manager Neil Tolson extended his lead in the charity Crossbar Challenge to eight points with a win last night at Gloucester City. Neil leads 23-15 with just 14 to play.
GLOUCESTER CITY 0 ALTRINCHAM 0
Alty rang the changes before kick off against Gloucester, as Leather, Lacey, Lawrie and Clee came in whilst Hall, Moult, Watmore and Doughty were named on the bench. But a missed penalty cost Altrincham dear as they otherwise failed to unlock the Gloucester defence.
Alty line-ups.
TUESDAY GAMES
Tue 26 Feb.
Droylsden 3 Hinckley United 2
Gloucester City 0 Altrincham 0
Harrogate Town 4 Boston United 2
Vauxhall Motors 1 FC Halifax Town 3
---
26 February 2013
BEFORE THE MATCH
Brian Flynn advises us that, "Radio Robins will be broadcasting live coverage of Tuesday night's game against Gloucester City.

The match commentary is sponsored by Richie Bentley, our official club caterer for over five years, during which time Richie has catered for Altrincham, Manchester United and charity fixtures at the club as well as many social events held at the club for its patrons and friends.

The Club itself offers:
A competitively priced, well-stocked bar
Function and meeting rooms
A choice of the Manchester Glass Limited Sponsors' Lounge or The Noel White Suite for parties, christenings, funerals, quiz evenings or any family/social occasion you can think of.
A friendly bespoke service to anybody who enquires at the club. Any friend of the football club who uses catering with their party will automatically benefit from a discount.
Richie can cater for hot/cold buffets or a sit-down menu. Prices for room hire and Richie's menus are available from the club by calling 0161 928 1045 or contacting Richie directly on Facebook at Rich Bentley or by e-mail.

Richie will always serve and clear away your event as part of the price and provide guidance on menu choices, food allergies and intolerances, whilst always working to give you the finest service, food and variety for the best price.

The match commentators are Ian Wilkinson and Paul Salt. The match summariser is Brian Flynn. The game kicks off at 7.45pm and commentary starts at 7.40pm".

Alternatively, you can find live-text updates from the game on this site's Matchday Updates page. Quick links to both options are below.
LADIES MATCHES
Manager of Altrincham FC Ladies, Keith Edleston, provides "an update on Sunday's gam; unfortunately, we lost 0-4 to AFC Urmston Meadowside. After a good, very even first-half performance i think that the combination of not playing many games and tiredness in the final 30 minutes took its toll". A report from Keith will follow.
As shown, right, the next games is away to Wallasey Wanderers Youth at The Oval, Old Chester Road, Bebbington CH63 7LF, kick-off at 2pm in the Cheshire Women's & Youth League, Division 2
JACKPOT WON
The Altrincham FC Saturday Yankee jackpot of £300 was won last week with code 1841. Six other members won £33.33 each for winning "trebles".
BUCKET COLLECTION
Many thanks are extended to those who contributed and/or collected £55.94 in Saturday's bucket collection.
BSBN NEWS
"Striker Jordan Ivey-Ward has become the latest player to be added to the squad at Corby Town, after he signed for the Steelmen from Kettering Town. Ivey-Ward made only one appearance for the Poppies and had previous spells this season at MK Dons and Histon before joining Kettering. Ivey-Ward made his debut in the 2-1 defeat at Bradford Park Avenue on Saturday, playing 59 minutes before being substituted".

Sky Sports "understand a host of clubs are chasing Harrogate Town goalkeeper Craig MacGillivray, who has been described as 'the next Joe Hart'. The 20-year-old goalkeeper, who was with Leeds United as a youngster, gave up full-time football to concentrate on his studies. With those now complete... Newcastle United, Wolves and Doncaster Rovers are among the clubs understood to have checked on his progress in recent weeks.

Harrogate Town youth development officer Garry Plant told Sky Sports that they had not yet received any official offers. 'We have not had a formal approach from any club... He is very, very good', Plant said. 'I think he is the next Joe Hart'". MacGillivray was sent off at Moss Lane when Alty beat Harrogate 3-0 at Moss Lane this season.

According to the Halifax Courier, "FC Halifax Town have confirmed they will play their next home game, against Worcester City on Saturday, at The Shay. The club moved their game against Stalybridge to Rochdale's Spotland ground at the weekend after deeming the pitch too unreliable to host the match. But a statement on the club's website said the decision was taken after Halifax Rugby League Club postponed an under-20 game and following work on the pitch by ground staff.

The club said they hope their remaining home fixtures will now be played at The Shay, but that they are able to make alternative arrangements if they are needed again".

Bulls' News reports that "BT have announced the purchase of ESPN's main UK and Ireland channels, cutting the options on the table for a future Conference TV deal. With BT having secured Premier League rights for next season, cutting ESPN out of the deal, both parties were expected to have holes in their football coverage that could have been filled by the Conference. The merging of their rights pools means that BT will have access to the Premier League, FA Cup, Scottish Premier, and German league action next season as well as Europa League coverage. The sale price of ESPN has not been disclosed, but is rumoured to be less than 10% of the £738million BT paid for Premier League rights last year".
---
25 February 2013
SATURDAY REVISITED
If you want to relive the Alty v Colwyn Bay game you can do so both visually and aurally.
Alty TV highlights
First Half Radio Robins
Second Half Radio Robins
YOUTH RESULT
Alty Youth lost 2-1 to Abbey Hey FC at Knutsford on Sunday, leaving the Gorton-based team top of the NWYA Premier League table. Next Sunday Altrincham & District FA Youth take on Runcorn, away, in the deciding match of the group stage of the Cheshire County FA District Youth Cup.
OLD BOYS
Jack Redshaw netted for Morecambe on Saturday whilst Pitchero Non-League tells us that "Cammell Laird manager Tony Sullivan insists his season's work is only half done after collecting January's Evo-Stik NPL First Division North Manager of the Month accolade. Sullivan... described winning his first managerial honour of the campaign as a fantastic achievement but warned he's greedy for more".

Meanwhile, Southport report that "Sean Clancy signed non-contract forms before kick off on Saturday. Clancy returns... having been with the Port back in 2006. Clancy had a very successful spell at Fleetwood after leaving Southport and recently has been at Chester City and Kidderminster Harriers".
BSBN NEWS
Subject to confirmation Gainsborough's Sam Mulready has signed for Kings Lynn, whilst "Ian Robinson and Gary Sucharewycz, managers of Grantham Town, have strengthened their squad with the signing of Lee Ridley from Gainsborough Trinity. He has been released from his contract at Trinity after a recent loan spell at Worksop Town".

Harrogate Town report that their "Long trip to Whaddon Road, Cheltenham, ended in Town's first away win over Gloucester City... Gloucester were completely dominated by a rampant Town, in a one-sided first half... The Tigers tightened up after the break and chances were fewer". City entertain Alty on Tuesday.
FLYNNZINE
The latest Flynnzine, from Brian Flynn, is below...

What's the Scores, Adie Hawes?

From the Caledonian tones of my last article, today we welcome Bae Colwyn to Moss Lane and take a look at what's happening in the 'Land of my Fathers'……….and it's all rather interesting! In fact it's a big weekend for welsh football as Wrexham are strong favourites to overcome Gainsborough Trinity in the FA Trophy semi-final and Swansea City take on Bradford City in the Carling Cup Final at Wembley tomorrow. V The Dragons from North Wales beat Trinity 3-1 at The Racecourse last Saturday in a game screened live on S4C and there may well be a full house at the Northolme for what may not be the foregone conclusion that many people believe. If Wrexham do make it through to the final, then they will probably face Grimsby Town (leading Dartford 3-0 from the 1st leg at Blundell Park) at Wembley on Sunday March 24th. Now that is a very interesting tie, in a year when the competition has potentially been devalued, by moving the final from May to March, to enable the F.A. to celebrate its 150th anniversary, by staging the Champions League Final at the National Stadium. The top Blue Square Bet Premier sides have often deprioritised the importance of the Trophy, for the more important prize of going for a place in The Football League, yet it could be that the top two teams in that division, reach the final. To my knowledge, that has never happened and it certainly would draw in a big crowd for non-league football's annual showpiece occasion.

There is probably no group of fans going through such a bittersweet experience this season as those of Cardiff City. Riding high at the top of the Championship and set to reach The Holy Grail of the Premier League in May. Yet many 'Bluebirds' fans are up in arms at the deplorable way that their newish Malaysian owners have systematically ripped the heart and soul out of the club.

The traditional blue shirts have been replaced by 'lucky' Malaysian red and I believe that by the start of next season, there will not be a single blue seat at 'The Cardiff City Stadium'... don't put any money on it being called that in 5 years time! The 'Bluebirds' have become the 'Red Dragons' and to be honest, who knows where all this nonsense will end.

As for todays visitors, I have always liked Colwyn Bay, as a club and Llanelian Road is one of my favourite grounds to visit, probably helped by the fact that I don't think that we have ever lost there.In fact, I believe that last season's completely bizarre league game here was the first time that we have ever succumbed to the side that currently sit in the 3rd relegation slot in the league table. Frank Sinclair's dramatic late winner gave Bay an amazing 4-3 win, but my enduring memory from that day, took place around 2pm, an hour before kick off.

I exited the ground to meet a chap called Morten Bredal-Thorsen, a Norwegian goalkeeper who plays for Tromsdalen and who was having trials with Stockport County and Telford United during the Norwegian close season. As I met Morten, Adie Hawes, who was on loan from Alfreton Town, came rushing towards the main entrance, completely flustered. It was clear that he was running late, very late.

Adie will be,forever, remembered by Alty fans as the man who was 'slip, slidin' away' at Droylsden on New Year's Day last year, unable to stay on his feet for more than about two minutes at a time, but for me this event topped that. It turned out that Adie had understood that we were playing away and turned up at around 1pm at Llanelian Road, to find it bereft of people. This in itself was a howler in all senses of the word, but it was only later that day that I realised that he had probably become the first player ever to turn up for a game...in the wrong country!"
BACKLOGS
Ours is not the only league with fixture problems. NL Daily reports that "Ebac Northern League chairman Mike Amos says that clubs might have to play on successive days as the fixtures piled up again on Saturday. Just a day after league secretary Tony Golightly distributed the revised fixtures for the rest of the season to clubs, the snowfall on Saturday morning wiped out all but one of the day's 23 fixtures, which means that Shildon and Celtic Nation still have half their league games to play, while Spennymoor have 22.

Moors are also in three cups still and Shildon in two, while it's not beyond the realms of possibility that Moors and the Railwaymen could meet at Wembley in the final on May 4.

'There's the possibility that clubs will have to play two games in two days, and that's not fair on them, but what do you do?', said Amos. "'The FA have told us that games affecting promotion and relegation should be played by May 4th. The Vase final is the same day. It's not fair on teams chasing promotion and the Vase... If other leagues in the country are in the same situation, then maybe we should go cap in hand to the FA and ask for an extension to the season'.

Moors boss Jason Ainsley, whose team could still play another 31 league and cup games this season, said, 'How can it be a fair league if we have to play two games in two days?'", reports the Northern Echo.
---
24 February 2013
ALTRINCHAM 1 COLWYN BAY 1
Match report.

The North Wales Weekly News reports that "Rob Hopley struck another precious equaliser as Colwyn Bay gained their second away point in five days against promotion chasing sides with a 1-1 draw at Altrincham. And, again, the Seagulls might have won it right at the end, when home keeper Stuart Coburn made a fantastic reaction save to deny Bay's top scorer.

The defence dealt superbly with Altrincham's higly-rated and high-scoring attack of Damian Reeves, Duncan Watmore and Ben Mills and, in fact, it was the Bay who created the best chances of the game. That prompted player-boss Frank Sinclair to comment afterwards, 'I am actually disappointed to come away with only a point again but that is a good sign because it shows we are going in the right direction. We made a slow start, sat back too much in the first half and showed them too much respect. At half-time I told the lads we had to be more proactive and get on the front foot more and, to be fair, we done that in the second half.

We've been disciplined again and limited them to few chances, while we have had the best chances in the game and had a gilt-edged one right at the end, which could have won it for us'. That slow start saw the Bay go behind on 10 minutes when Tom Roberts lost possession near the half-way line and Simon Richman raced down the right before pulling the ball back for skipper Shaun Densmore to score...

Meechan had a shot that was tipped over the bar by Coburn and when the keeper fumbled the ball from the resulting corner, Hopley pounced to volley the lose ball into the net from six yards. Altrincham struggled to create too much after that...

So the Bay have banked two precious points from away draws at Guiseley and Altrincham this week and the fact they could easily have had six shows the difference Sinclair has made in his short time in charge...

Sinclair is also expecting to add two more bodies to his squad... 'We were very close to getting one in time for today's game but that deal should be tied up on Monday, and I am also hoping to have another centre forward on board in time for Saturday', the player-boss reported after the match. Meanwhile, Tom Smyth was awarded the man of the match award for his performance alongside Sinclair in the centre of defence today. He said afterwards... 'I am loving being back in my favourite position in the centre of defence'".

Young Altrincham supporter James Lobley has excellent images from the game on his Flickr site.
OLD BOYS
Old boys who scored yesterday included AFC Fylde's James Dean, who scored the only goal of the game at North Ferriby United. There were two goals for Simon Woodford and one for Scott Metcalfe in Curzon Ashton's 4-2 win over Warrington Town, whilst Peter Wright also netted twice, for Leek Town at Brigg Town.
SATURDAY FIXTURES
Sat 2 Mar.
Altrincham v Oxford City
Boston United v Vauxhall Motors
Colwyn Bay v Corby Town
Droylsden v Bradford Park Avenue
FC Halifax Town v Worcester City
Guiseley v Brackley Town
Harrogate Town v Histon
Hinckley United v Gainsborough Trinity
Stalybridge Celtic v Solihull Moors
Workington v Gloucester City
BSBN NEWS
Next up for Altrincham is a visit to Cheltenham to play Gloucester City. On Saturday "A thunderous shot from Tom Platt and a Dominic Knowles penalty saw Harrogate Town defeat a lacklustre Gloucester City at Whaddon Road, writes Simon Clark. The two goals, within the first fifteen minutes of the game, essentially killed the contest...

City had little of the game and were constantly shut out by a very professional performance from the North Yorkshire outfit, however it being the seventh game in 21 days for the Tigers did little to help. Despite the result, it was the Tigers who started the better... The game continued as a war of attrition, with Harrogate producing a thoroughly professional performance and a forgettable second half, halting any chance of a comeback...

Gloucester City: M. Green, M. Green, D. Andrew, M. Coupe (Rawlings 69), C. Holland, T. Webb, L. Hogg, J. Harris, D. Edwards, W. Morford (Davies 61), A. Mann. Subs not used: N. Mustoe, T. Hamblin".

Elsewhere, "Corby Town report that they "have signed defender Stefan Galinski from Stoke City until the end of the season. Galinski had a spell at Steel Park on loan from Derby County earlier in the season, but joined the Potters in January and has now returned to Corby Town on loan. Corby Town manager Chris Plummer was delighted to have re-signed Galinski, saying, 'It's great that we have Stefan back until the end of the season, we know the kind of player he is and what he brings to the squad... He had offers from elsewhere but his affection for the club and the people here made him sign for us. He's played for the Stoke Under-21 team a couple of times, which will benefit both him and us'".
SATURDAY'S GATES
Saturday's gates were:
Altrincham v Colwyn Bay 769
Bishop's Stortford v Droylsden 298
Gloucester C. v Harrogate T. 242
BPA v Corby T. 285
Chester FC v Vauxhall M. 2,192
FC Halifax T. v Stalybridge C. @ Rochdale 1,037
Hinckley U. v Workington 239
Histon v Oxford C. 241
Solihull M. v Boston U. 245
Worcester C. v Guiseley 738
---
23 February 2013
ALTRINCHAM 1 COLWYN BAY 1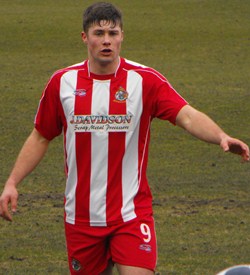 A single-point haul from three successive games against bottom-four teams is not the form of a club hoping to reach the play-offs. But that is Altrincham's record after a disappointing draw against a Colwyn Bay side which had the better chances to win the game.
Match report.

Right: Ben Mills, on loan from Chester FC, made his debut for Altrincham today.

Sat. 23 Feb.
Altrincham 1 Colwyn Bay 1
Bishops Stortford 2 Droylsden 1
Bradford Park Avenue v Corby Town k.o.4pm
Chester FC 2 Vauxhall Motors 0
FC Halifax Town 0 Stalybridge Celtic 0
Gloucester City 0 Harrogate Town
Hinckley United 1 Workington 1
Histon 1 Oxford City 1
Solihull Moors 1 Boston United 0
Worcester City 0 Guiseley 1

FA Carlsberg Trophy SF2
Dartford 0 Grimsby Town 0
Gainsborough Trinity 2 Wrexham 1
COVERS OFF
Above, courtesy of Grahame Rowley, is this image of the band of helpers who removed the frost covers from the Moss Lane pitch this morning. They are, left to right Grahame Rowley, Noel Shield, Brian Flynn, Pete Hughes, Martin Green, Josh Mason and Dave Hudson, not forgetting Elvis the dog!.
ALTRINCHAM v COLWYN BAY
Brian Flynn advises us that, "For the match against Colwyn Bay today (Saturday), Radio Robins, sponsored by Ashley Mowers Garden Machinery, will be broadcasting live coverage. The match commentary is sponsored by Sale Fencing and Surfacing.

Whether you are looking for a new driveway, beautiful patio, garden fencing, walls or gates, make Sale Fencing and Surfacing your first choice for exterior home improvements.

Spring is coming, the perfect time for outside projects and Sale Fencing and Surfacing offer Free No Obligation quotes for any sized jobs, with options to suit all budgets...

A quality job is not just promised, it is guaranteed and you can find out all about Sale Fencing and Surfacing on their website.

The match commentators are Simon Ellis and Tim Ainsworth, with match summaries from Ian Wilkinson. The broadcast begins at 2.55pm.

You can listen to Radio Robins on the internet at www.radiorobins.com. The broadcast begins at 2.55pm. Alternatively, you can find text updates on this site's Matchday Updates page. Quick links to both options are below.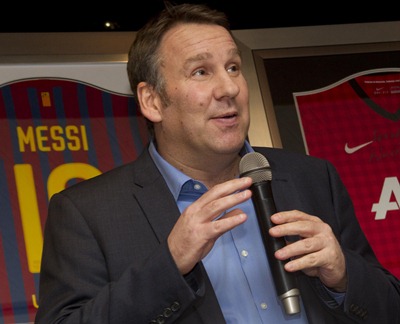 Right: Paul Merson is seen here at the Altrincham FC Sportsman's Dinner at the Cresta Court Hotel on Thursday evening. Photo courtesy of Gavin Rathbone of GR Photography.
BSBN NEWS
The EvoStik League says that Stephen Turnbull has moved to Blyth Spartans from Harrogate Town. Former Alty Youth, Osebi Abadaki, last noted playing for FC Halifax Town, has moved his EvoStik registration to Farsley FC from Salford City.

Attendances on Saturday were:
BEFORE THE GAME
Colwyn Bay visit Moss Lane today (Saturday). Mike Garnett's statistics tell us that the previous record between the clubs is: At Moss Lane: p13-w9-d2-l2-f36-a21 Away: p9-w4-d4-l1-f24-a15 All: p22-w13-d6-l3-f60-a36
The North Wales Weekly News tells us that "With Jason Lampkin still a week to 10 days away from fully recovering from a hamstring injury, Colwyn Bay will have the same squad of 16 that was on duty in the battling 2-2 draw at Guiseley on Tuesday night for Saturday's tough trip to Altrincham.
But although everyone came through that game unscathed, player-boss Frank Sinclair hinted their could possibly be one or two changes to the starting line-up. 'The lads who came off the bench in the second half on Tuesday did very well and have certainly staked a claim for themselves', revealed the player-boss.
The Seagulls also have a new physio on duty for Saturday's game with Dan Nolan joining the backroom staff. 'Dan was recommended to me by Wrexham's physio Ritson Lloyd and is very excited about coming on board with us', said Sinclair.
Frank, himself, is expecting another hostile reception from Altrincham fans after he was booed and heckled throughout last season's game there, because of a tackle he made when he was at Wrexham which resulted in Altrincham player Tom Kearney breaking his leg. But he silenced the fans by scoring the late winner in a thrilling 4-3 Bay victory.
'I'm expecting some more stick from their fans, but I have got broad enough shoulders to deal with that and it is more important how the team get on, rather than what the fans throw at me', he says.
After Tuesday's excellent draw at Guiseley, he added, 'That result has given us a bit of belief and we will go there with our tails up'.
The Moss Lane club have just brought in big-money striker Ben Mills on loan from Chester to further bolster a powerful attack which includes the league's top scorer in 25-goal Damian Reeves, and fellow front-runner Duncan Watmore who is currently interesting Championship strugglers Peterborough. "Ben Mills proved a real handful when he came on against us at Chester and got their winning goal earlier in the season so we know he will be a challenge and they have other very good attacking players, but if we can carry on where we left off on Tuesday then we feel we can get something from the game," added Sinclair.
Altrincham have seen their chase for a play-off spot dented by two successive defeats away to bottom seven sides Histon and Workington in the last fortnight. That has dropped them out of the top five and manager Lee Sinnott has this week told his players to refocus to get their promotion push back on track. "We had a little dip like this in October but soon put together a run of good of form and we need to do that again," he told the local paper. "I saw Colwyn Bay draw at Guiseley on Tuesday and they looked a hard working side who keep their shape well and we will have to apply ourselves."
Only the top two sides, Chester and Guiseley, have scored more league goals than Altrincham this season, but they have been beaten five times in their 13 home games and that will give the Seagulls some encouragement.
Colwyn Bay: (from) Sanna, Taylor, Lea, Sinclair, Smyth, McKenna, Evans, Roberts, Hopley, Byrne, Joyce, Meecham, R Williams, Crowther, Gnahoua, Miley."
They got it wrong again last week but Footy Mad have another prediction as "Altrincham prepare to entertain Colwyn Bay at Moss Lane on Saturday afternoon, with high hopes of improving on their excellent record against the opposition, having managed to conjure up a win from 3 of the previous 4 games... Altrincham have an excellent home record, winning five and losing just one of the last six games...
In complete contrast to Altrincham, Colwyn Bay are having a torrid time on their travels, accumulating just 1 victory and 1 draw from their last six played... FootyMad's prediction ... Altrincham may be coming up against a decent side in Colwyn Bay but we do believe that it's going to result in a narrow home win for the Robins".
MOWER ON ALF STEWARD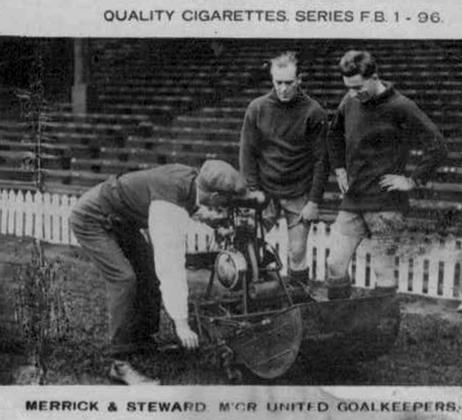 Recently uncovered by the website is the adjacent cigarette-card image of former Altrincham and Manchester United goalkeeper Alf Steward, who was the subject of one of Terry Rowley's biographies in the
Alty Legends
series. Alty groundsman Neil Brown has denied strong rumours that he is the man in the foreground with the mowing machine.
YOUTH REPORT
Altrincham FC Youth defender Callum Harkin has kindly provided a
match report
on his side's 2-2 draw at Chester FC, last Sunday.
BSBN NEWS
According to the
Football Conference
, "Boston United skipper Gareth Jelleyman is poised to leave the club by mutual consent. The Pilgrims' long-serving club captain is leaving after agreeing the mutual termination of his contract. Jelleyman, who enjoyed two loan spells in 1998/99 and 2004/05 with United before a permanent move in 2010, made a total of 122 appearances for the club...
Boss Graham Drury said, 'I wish Gareth all the best for the future. He has been a top player for Boston United. His partner has had a baby in the last few hours and we wish them all well'".
Meanwhile, "Title favourites Chester FC have taken young winger Brendon Daniels on a month's loan from Crewe Alexandra. An academy graduate, Daniels is a talented left footed winger, who can play up front too... The pacey wide-man agreed a deal with Crewe up until the summer of 2013. After his first year as a professional was hampered by shin splints, Daniels was hoping to make his mark on the first-team this season, and after making his debut in the Capital One Cup in August, he has since made five more senior appearances".
On Tuesday, Alty travel to play Gloucester City, from where This is Glos reports that "Dave Mehew believes that Gloucester City hold the trump card when it comes to the anticipated summer scrum to sign hotshot striker Scott Wilson. The former Bristol City Academy star returned to City colours on Tuesday night for a 15-minute cameo in the Tigers' 2-1 defeat to FC Halifax Town.
Despite Gloucester always holding Wilson's registration, the striker has spent the whole season out learning his trade in adult football firstly with Cinderford Town and latterly Yate Town. His achievement in banging in 23 goals in the Southern League has seen Football League scouts reportedly flocking to Lodge Road to check his progress.
But Mehew remains confident that the 20-year-old will return to the City ranks next season and as a better player... Mehew said, 'He will go back to Yate for the rest of the season now so he can play every week. But if we need him and he's available, like he was on Tuesday, then we may call him back... He looks a better player for having the experience of playing every week in competitive football. If teams from a higher league come in for him in the summer then he'll go there but, if it's teams from our level or that below, then I would like to think we hold the trump card.
We've looked after him and I would like to think that I know him better and it looks as though he's now nearly ready for regular Conference North football. The plan has always been to call him back into our squad next season, knowing that he's improved as a player and got the grounding of playing in competitive football'.
Midfielder Matt Liddiard, winger George Lloyd and striker Joe Parker have all spent time away from the Tigers this season and Mehew believes that all three are benefiting from the experience. Liddiard has already forced his way into the first-team squad, having improved with his spell at Bishop's Cleeve, while Lloyd and Parker will continue their development elsewhere.
Mehew said, 'George is perhaps a year behind Scott in his physical development so he will continue with Bitton, while Joe Parker will go out on loan again next season. Liddiard has done really well at Cleeve and hasn't looked out of place when we've used him this season, and we'll bring him back by the end of this season and have a long look at him'".
More on The Tigers comes from This is Glos which says that "Disappointment in defeat to big-spending FC Halifax Town shows that Gloucester City's players are coming of age as Blue Square Bet North performers, according to Tigers' boss Dave Mehew.
City had claimed 19 points from a possible 24 before the Shaymen escaped Whaddon Road with a 2-1 victory on Tuesday night – a result that could be a terminal blow in the Tigers outside play-off hopes. The visitors led 2-0 before a Danny Andrew penalty gave the Tigers hope of turning the tables and although a late siege went unrewarded, Mehew could see the positives.
'It was a decent performance against a strong Halifax side and we were the better side until the first goal', Mehew said. 'That goal knocked the wind out of our sails a bit, but we didn't sulk and came back into it in the second half which is an encouraging sign... If you have to lose a game, you would chose to lose it like that because we gave it our best... We have improved again this year as we have done in all the years I've been here.
And looking at my budget compared to theirs, and given that we didn't have Darren Edwards, Tom Hamblin and Adam Mann only played a bit-part, we did really well to match them. Halifax will easily be in the play-offs at the end of the season and there is one place left that is up for grabs and we have a chance of sneaking it'.
To have any chance of winning a top-five spot, Mehew knows seven points must be garnered from back-to-back home games against Harrogate and Altrincham and next week's trip to Workington. And with Harrogate needing points themselves in order to augment their own play-off charge, the long-serving City boss is anticipating another keenly-contested encounter. 'It will be a tough game as I've been told that they are one of the best teams in this league on their day', Mehew said...
Striker Edwards (knee) and defender Hamblin (neck) were having respective injuries assessed at training last night with the hope that both will be available to play either tomorrow or against Altrincham on Tuesday".
Harrogate Town say that their "play-off chasing quest has been further enhanced with the return of Tom Platt this afternoon. Tom, has returned on loan until the end of the season. Having already spent a large spell at Harrogate Town this season, York City midfielder Tom is more than familiar with his surroundings and, despite a brief loan to rivals FC Halifax Town recently, (which we will forgive him for!), he will be a great asset for us as we look to grab one of those play-off places".
News of yet more player movement at the Butcher's Arms comes from Pitchero Non-League which reports that "Droylsden have re-signed well-travelled [ex-Alty] forward Matthew Berkeley and goalkeeper Yannick Niate. Berkeley, 25, was most recently with rivals Colwyn Bay, having joined them in the summer from Workington, where he had been in his second spell at Borough Park.
He signed for Workington in March 2012, having completed a second stint with Hyde FC, who he rejoined in the summer of 2011 from Welsh Premier side The New Saints. With over half a dozen different clubs to his name by the age of 24, plenty of managers have seen potential in Berkeley, and they include Lester Morris, the head coach of Saint Kitts & Nevis, who called him up for the Caribbean island nation's World Cup qualifiers after a prolific start to the 2011/12 season at Hyde.
Berkeley has also turned out for Altrincham, Leigh Genesis and Mossley, having begun his career at Gretna.
The Bloods have also signed goalkeeper Yannick Niate from Kettering Town. A towering 6'4" tall, Niate played for Red Star '93, Lens, and Creteil-Lusitanos in his native France, and represented the Île de France. Niate joined Haringey Borough when first moving to England, and then spent a year and a half at AFC Wimbledon, helping their reserves to success in 2011/12. He signed as cover for Staines Town in August 2012, but also dual-registered with Merstham before joining the Poppies earlier this season".
And leaving Droylsden is an ex-Alty man in Antonio Bryan, who is departing along with Aaron Walters, James Ellison, Bruno Miguel Silva, Sean Doherty and Andrews Frempong. Frempong has since joined Stockport Sports.
The Worcester News says that "Forward Kyle Patterson's three-month loan from Nuneaton was due to finish at the end of the month but he has made an early return to Liberty Way".
According to This is Grimsby, "Defiant Gainsborough Trinity are refusing to accept their Wembley dream is over. The Blues are trailing by two goals in their FA Trophy semi-final against Wrexham, following a 3-1 defeat in Wales last weekend. However, both Trinity's staff and fans are backing their side to pull off a momentous comeback when they play the second leg of the tie tomorrow...
'I am no Uri Geller, but I want everyone to go to sleep tonight whispering the word "believe"', said Trinity boss Steve Housham. 'And "believe" should be the first word they repeat tomorrow morning. We need everyone to have that belief that we can turn this around. We were gutted to concede a goal right at the end last week to make it 3-1 but it's just a two-goal lead at half-time and it is not insurmountable. I looked into the lads' faces after last week and I can honestly tell you they believe they can do it'".
The Yorkshire Evening Post claims that "Football League venues have brought out the best in Harrogate Town so far in 2012-13 and Simon Weaver is seeking a re-run tomorrow. Eighth-placed Town head to Gloucester City, who play at League Two side Cheltenham Town's Whaddon Road home, with Weaver's troops seeking a fourth victory at a league ground this term.
Pride of place went to the FA Cup first-round triumph against Torquay United at Plainmoor, but Town have also claimed "home" wins in league games against Workington and Corby at York City's Bootham Crescent and Doncaster Rovers' Keepmoat Stadium respectively, after both clubs recently agreed to stage games while ongoing work was being carried out on the CNG Stadium pitch.
Boss Weaver said, 'It would be nice to keep that run at League grounds going. Playing there gets the juices flowing and Whaddon Road is usually a good pitch and should suit our passing style. Our pitch got a bit sticky and dried up the other night against Droylsden. It became rutted and slowed the passing game down and made it hard. On a better pitch, we could have got the ball out to our feet a bit easier.
After two games on the pitch in quick succession, I think it is a welcome release to be playing at any away ground and we will be attacking and having a go'.
As it stands, Town are three points behind Halifax, who occupy the final play-off spot. But with the Shaymen having stacks of games in hand on their rivals, including two on Town, Weaver feels Neil Aspin's side are a shoo-in for one of the top-five spots. He feels his side are battling it out with several others for one place which he believes is open, with Guiseley and Brackley expected to fill the other two and Chester well clear at the top of the table.
Weaver, missing Paul Beesley, who is set to be out for a fortnight after tweaking medial knee ligaments and Alan White (suspended) tomorrow, said, 'I would say there's probably just one spot open, as I feel Halifax have got one and we are scrapping for that final spot. We are six points away with three games in hand on (fourth-placed) Gainsborough and are competing at the right end, simple as that. We have made fantastic progress this season and are proud of it and just want that added bonus of sneaking in under the radar as not many teams are talking about us. We are up there with the big-hitters'.
Second-placed Guiseley head to Worcester tomorrow with Steve Kittrick seeking a reaction and some signs of character after lambasting his side's efforts in Tuesday's draw with Colwyn Bay."
From the Hinckley Times we learn that "Carl Heggs is currently locked in talks to stay in the hotseat at Hinckley United until the end of next season. The current boss took over the reins from Dean Thomas in October and although he has overseen a campaign blighted by financial problems and transfer embargos, his commitment to the cause has not been questioned.
And now the powers that be at the Greene King Stadium are keen to tie Heggs to the club for the 2013/14 season. But before a deal is reached the former King's Lynn and Notts County manager wants certain assurances to be put in place.
Heggs said, 'The board are trying to secure me until the end of next season and there are things that need to be put into place if I'm going to secure myself to the club for 18 months. The board are trying everything to have a sustainable budget for next season and, if I can sign, that would give the players the belief that the club is moving in the right direction and the faith to stay here. I'm picking up the phone to sign players and they are having to buy into me, not just the club.
So if I can sign, it will help the players to know whether they are coming or going. It is stability that this club needs'.
The action on the pitch this week followed the rollercoaster pattern of the season thus far as a hard-earned 1-1 draw at Bishop's Stortford on Saturday was followed by a disappointing 3-0 defeat to Loughborough Dynamo in the Westerby Cup on Tuesday night.
And with the door swinging both ways as players come and go from the Knitters, Heggs hopes that everyone is prepared for more of the same over the coming weeks. He said, 'This is going to happen until the end of the season as we don't have continuity. I took players from four, five and even six leagues below and they put in a great performance on Saturday - I was so proud to be manager of Hinckley United. I wanted us to push on from that but we don't have any consistency levels.
And when you take your foot off the pedal in football you tend to get bitten - we just weren't the same team [at Loughborough]. I had to make two changes as Mario Lopez was injured and Richard Conway was cup-tied and it was disappointing but that's where we are'..
Jack Lane isn't likely to start another game this season through his own injury... Heggs said, 'Mario is struggling after picking up a knock at Bishop's Stortford and he has done ever so well. Jack Lane needs an operation on his shoulder but is willing to sit on the bench and come on for 15 or 20 minutes when we need him. I also want to bring in a couple more players before Saturday and see how we go'".
MANAGEMENT CONTINUITY
As ever,
Bulls' News
has an interesting story, headed "Settled Management Key To Promotion". It says "According to the stats, a club needs a manager in position for nearly two years before they can win promotion from the Conference. BlueSq betting guru Alan Alger posted some interesting stats to Twitter this week saying that, since the Conference went 2up-2down, the average promotion winning manager was in their job for 570 days before the season they won promotion, excluding Graham Turner's mammoth reign at Edgar Street that would push the total past 700 days.
Last season York's Gary Mills was in charge for only two-thirds of a season before winning promotion in his first full term, but Fleetwood's Micky Mellon had nearly three years under his belt before his title winning season".
---
22 February 2013
BEN JOINS TRAINING
Following his arrival at Moss Lane on a one-month loan from Chester FC (see News for 21 February, below), striker Ben Mills joined Altrincham's training session on Thursday evening. Though he includes Port Vale in his CV, Ben was not at the Midlands club when Alty boss Lee Sinnott was manager there.
Whilst Ben joins the squad for Saturday, recent goalkeeper signing, Joe Collister, remains sidelined. Lee Sinnott indicated that Joe, who has yet to appear for the club since his recent signing from AFC Telford United, may need a scan on a neck problem.
Fellow keeper Adam Reid completes his loan spell at Prescot Cables this weekend and Altrincham will then make a decision about a renewal of his loan or a return to Moss Lane. Sam Grimshaw has completed his loan spell with Radcliffe Borough but has picked up a hamstring strain, so did not train this week.
There is good news of Carl Rodgers (right) who has recovered from the allergic reaction he suffered at half-time at Workington, which has been attributed to an energy bar which he had eaten.
BSBN NEWS
According to the
North Wales Pioneer
, "Colwyn Bay FC chairman Bob Paton hopes that new faces at the club will bring a much-needed boost for the club's support. Football pundit and former Chelsea FC legend Frank Sinclair appointed ex-Manchester United and Ireland defender Ashley Grimes onto the coaching staff and promoted coach Gus Williams to assistant manager.
Mr Paton feels these new appointments mean a bright future for the Seagulls. He said, 'The new guys we've got on staff and the level they've played at, it's got to be good for the club. It's great for the profile and I'm hoping these new faces will have a positive effect on our support'.
There was anger and frustration for the club on Saturday as they travelled to Yorkshire, only to be told, as they approached the ground, that their fixture with Bradford Park Avenue was off, due to an unplayable pitch. Mr Paton explained, 'We got in touch on Friday and everything was fine. We then got a call after we'd made the trip. We were on the bus outside their grounds and they told us it was cancelled.
There was no effort to get the pitch sorted. If this was Colwyn Bay, we would have sorted it. We have had to pay all the players because they had travelled and this has cost the club around £3,000 with the transport and everything and all for nothing'. The Bay face a string of tough games ahead as they aim to break their unenviable run of losses.
Mr Paton added, 'There's not a lot of difference between the teams in this league. Anybody can beat anybody else'".
More comes from the Daily Post, which says that "Bay boss Frank Sinclair says he wants more of the same after his side came from 2-0 down to earn a batting 2-2 draw at promotion-chasing Guiseley on Tuesday night... Sinclair said, 'If we are to survive this season then we have to keep producing performances like that... and refuse to lie down... There was a team spirit that I haven't seen at the club for four or five weeks. We will go to Altrincham on Saturday with our tails up and looking for a win'".
Meanwhile Pitchero Non-League tells us that "New signing Lee Trundle believes his grounding in non-League football will help make his shock move to Blue Square Bet North champions-elect Chester FC a success. The 36-year-old former Swansea City and Wrexham striker has spent most of his high-profile career playing in the Football League.
But it is his time at the likes of Chorley and Stalybridge Celtic, when he was first starting out on the road to stardom, that makes the former £1m man confident he can hit the ground running at the Blues. Trundle said, 'This is nothing new to me. I've played in these divisions so it's not as though as I'm a player who's dropping down the leagues who has never encountered anything like this before. This is where I started off. I know it's not easy, it's a good standard, and it's something that I'm relishing'...
Chester manager Neil Young moved for Trundle on Monday after his contract with Preston North End was cancelled by mutual consent. Some Blues fans have questioned Young's decision considering Trundle made only two appearances for the League One outfit after sustaining a knee injury in pre-season....
'I'm feeling fit and it's just about getting that match fitness back', said Trundle, who is on non-contract terms until the end of the campaign... Trundle made his Blues debut in Tuesday's 1-1 draw at Workington... 'The result didn't go our way but at least we didn't get beat on what was a bad pitch', said Trundle...
Young is delighted to have signed a player of Trundle's 'experience and ability'. He added, 'Lee coming here is not about money, it's about football. We've got him on what effectively we had left to pay for Michael Powell so it's been done within the current budget. I think we've managed to pull off a bit of a coup to get Lee in and I'm sure he can have a big part to play'".
CHESHIRE NEWS
Pitchero Non-League
reports that "Cheshire's sports and leisure facilities could soon be thousands of pounds better off thanks to a sale of assets from the Victoria Stadium in Northwich. Cheshire West and Chester Council is set to benefit from a major windfall after the sale was announced this week by agents acting on behalf of Thor Specialities (UK) Limited...
The company is based next to the Victoria Stadium on Wincham Industrial Estate and is expanding onto the site as part of their plans for growth. As part of their agreement with the local authority, all proceeds from the sale will go towards improving sport and leisure in the community... Five major lots are on offer to sporting clubs or community groups with a deadline of Friday 29 March 2013 set for bids.
The lots include two fully equipped sports stadium stands, one a 2,900 terrace stand, the other a 1,200 all-seat stand. Other items include 12 sets of turnstiles, a 30 metre high floodlight column and 14 luminaries".
---
21 February 2013
LOAN SIGNING
At the Thursday evening training session at Moss Lane, Altrincham FC signed striker Ben Mills (d.o.b. 23 March 1989 in Stoke on Trent) from Chester F.C. on a one-month loan. Ben started out at Leek Town and Port Vale before joining Newcastle Town in July 2007 and returning to Leek in 2008. He joined Stafford in summer 2009, with a brief spell at Alfreton Town following. before a return to Marston Road.
Next came a spell with Nantwich Town (2011) followed by a move to Macclesfield Town in early 2012. Ben joined Chester FC in August of 2012 on loan and scored twice against Altrincham at Moss Lane, before returning to the Moss Rose. However, a transfer to Chester occurred in November 2012, with funding provided by the club's supporters.
Right: Ben Mills gets to grips with Danny Hall during Chester's visit to Altrincham last August. Photo courtesy of Gavin Rathbone of GR Photography.
In advance of a signing taking place, the Chester Chronicle reported "Chester FC: Shock Altrincham loan will do Ben Mills 'world of good'.
Neil Young believes his surprise decision to the send fans' favourite Ben Mills out on loan to league rivals Altrincham will reap big benefits for both the player and Chester FC. The striker became an instant hit at the Exacta Stadium after scoring nine times in eight appearances during a one-month loan from Macclesfield Town at the start of the season. But the goals have not flowed quite as freely since he joined the Blues on a permanent transfer in November.
Mills has found the net just three times in 12 games following his four-figure move from the full-time Silkmen and, after closely monitoring his performances, Young reckons a month away at play-off pushing Altrincham will do the 23-year-old a 'world of good'. The Robins have a packed programme of matches in March, including one against second-placed Guiseley, and Young is hopeful they will give Mills the chance to regain his confidence in front of goal.
The Chester manager then plans to recall the former Nantwich Town hitman for his table-topping team's final games of the campaign.
Young said, 'Ben Mills will go out and have four weeks up at Altrincham. I think he's struggled a little bit with the transition from full-time to part-time football, which we can understand. He's a good player and a big part of our plans but he knows himself, and we know from training and the games he's played behind closed doors, that he's lacking in confidence. He needs to be back playing week in week out, scoring goals and getting back to where he was. I think four weeks away will do him the world of good'.
The release of Mills, whose workrate has never diminished in spite of his drop in form, comes after Young made a high-profile swoop for Lee Trundle. It will also enable the Blues boss to complete a one-month loan deal for Crewe Alexandra winger Brendon Daniels. The powerful and pacy 19-year-old has made 10 appearances for the League One outfit this season and is highly rated by the Gresty Road coaching staff, although he is not part of their immediate first-team plans.
Young said, 'Brendon can play on either flank or behind the front, he's very quick and, hopefully, he'll give us something that we've not had since we lost Craig Curran; that goal threat from those areas'".
TWISTS AND TURNS TO COME
John Edwards, Alty's joint Press and Media Officer, writes...
"Lee Sinnott called on his Altrincham players to hold their nerve and refocus for another promotion push after a second successive away defeat effectively cost them their place in the Blue Square Bet North play-off zone.
After slumping to a disappointing defeat at Histon last week, Alty were pipped by a late winner for Workington on Saturday. With FC Halifax and Gainsborough both taking full advantage with wins on Tuesday night, it meant Alty go into Saturday's home game against Colwyn Bay in sixth position.
'It is frustrating, but when we had a dip like this in October, we soon put together a run of good form,' said Alty boss Sinnott. 'It is important now that we do the same once more by refocusing and going again. There are still 16 games left, don't forget, and there are going to be plenty of twists and turns.
'We have to concentrate on ourselves and make sure we are at it against Colwyn Bay. Never mind their league position, I saw them draw at Guiseley on Tuesday night, and they looked a hard-working side who play 4-4-2 and keep their shape well. My philosophy has always been that anything can happen on any given day. You cannot take anything for granted, and we will have to apply ourselves'...
Sinnott remained guarded, saying, 'We are trying to bring someone in before the weekend'.
Alty are also having to contend with interest in their own free-scoring frontrunner Duncan Watmore, with Peterborough manager Darren Ferguson monitoring his progress.
'Myself and the chairman (Grahame Rowley) have had little conversations with Duncan and his dad Ian, but we are very mindful that we don't want the situation to snowball,' added Sinnott. 'What will be will be, and I am glad to say Duncan remains a very level-headed lad who is having no difficulty concentrating fully on our remaining games.
'There is a lot to come into the melting pot, with his university studies, and if anything were to happen, it would have to suit his circumstances. You can't do anything about speculation, but I don't want Duncan batted from pillar to post with all this.'".
PONTOON UPDATE
Grahame Rowley has provided an update to the Altrincham FC Pontoon competition. He writes, "Due to a technical hitch, the leader in the Pontoon Competition last week was announced incorrectly. In fact, the leader was Tom Jacobs who had FC Halifax and, with them scoring another 6 goals last weekend, they remain in pole position on 14 goals. In second place is Barry Pond with Kidderminster Harriers on 9 goals and there are 4 players in joint third position with 8 goals - Steve Foster (Crystal Palace), Jack & Sheila Crompton (Barnsley), James Surridge (Histon) and Daisy Rowley (Watford).
YOUTH REPORT
Chester FC
tell us that their youth team "stretched their unbeaten run in the league to seven games following this very entertaining game at County Officers last Sunday, against an Altrincham side two places above them in the table.
The game started very brightly for the home side. A ball into the Altrincham box was not dealt with, and blues winger Carl Pleavin poked the loose ball home to give the home side the advantage....
The visitors responded well though, and a well struck shot from the edge of the box forced Ollie Foster in the Chester goal to parry the ball back to the onrushing Altrincham forward for the equaliser... Just before the break the home side went ahead...
The second half saw the visitors have a good spell of possession without creating too much. Chester were a real threat on the break... The Robins got the goal their pressure deserved when their captain picked up a loose ball on the edge of the box and went through to score the equaliser, which was the one time the excellent pairing of Sam Rowley and the returning Jordan Grace were found wanting...
A cracking game of football, between two sides who like to pass and move the ball, and who both had some very talented players on view for the 100 or so spectators to see. Man of the match was Sam Rowley, his performance was one of a real leader".
OLD BOYS
Pitchero Non-League
reports that "Ashton United found their squad stretched to the bare bones for a re-arranged clash at Blyth Spartans on Tuesday night. With [ex-Robins] Matty O'Neill and Ben Deegan on the long-term sick list, [ex-Robin] Jamie Baguley, Thomas Moore and Dennis Sherriff all unable to travel and Mark Peers having departed for Australia, manager Danny Johnson was forced to shuffle his pack...
The Ashton bench consisted of skipper [ex-Robin] Chris Lynch, who was nursing a hamstring injury and Ben Smith... plus two teenagers signed on the morning of the game... Johnson's woes increased when Lynch was forced into action after Ashton left-back Danny Caldecott suffered what looked like a serious thigh injury part-way through the first half".
Elsewhere, "Farsley AFC have brought in winger Osebi Abadaki from league rivals Salford City... Abadaki, 21, started out in Blackburn Rovers` Academy and also turned out for Altrincham as a youth before having spells with Stalybridge Celtic and Buxton. [He is] a speedy, attacking player whose skills and direct approach endeared him to Salford supporters after they signed him from Mossley in December 2011".
BSBN NEWS
Football 411
report that "Workington boss Darren Edmondson hailed his team's character as they battled to a 1-1 draw with leaders Chester FC, despite going a man down in the sixth minute...
'I could not be any prouder, as a manager of my team, than I am now', he told the Times & Star. 'We would have taken a point with 11 men but, to do it with 10 and to have a couple of good chances on top of that, was incredible. We pressed, and we put Chester under a lot of pressure. It was backs against the wall, and we had to dig deep, but we found the energy and belief to hold on. We showed a lot of character to not just come back from a goal down, with only 10 men, but we then pushed on'.
Lee Andrews was shown a controversial red card after just six minutes had elapsed in the contest, but Edmondson says there is clear evidence that - once examined - will result in the decision being overturned. 'I have seen a replay of the incident, and Lee is a couple of yards ahead of Nathan. He's shielding the ball, and is about to knock it back to the keeper when there's a coming together', he added. 'I have made my views known, but I can only say so much without being punished. The referee will now have a look at our evidence, and will make a decision from there'.
Edmondson reserved special praise [for] goalscorer Gari Rowntree, whose 20-yard stunner earned the Reds a point. 'Gari was outstanding. His determination and drive was the Gari of two years ago', he said".
Meanwhile, the NL Paper reports that "FC Halifax have become the latest Non-League club to be uprooted from their home as on-going pitch problems force them to take up a temporary groundshare. Following Blue Square Bet Premier Gateshead's move to Hartlepool United, the Shaymen have hired Rochdale's Spotland Stadium for Saturday's clash with Stalybridge Celtic.
Torrid winter weather has wreaked havoc upon the Shay's pitch, leaving the Yorkshire club with a staggering nine games in hand of runaway leaders Chester... But with two Halifax Rugby League fixtures scheduled on the ground before Saturday's BSBN clash, the board simply cannot guarantee the pitch will be in suitable condition".
And another club with pitch problems is the subject of a report in the Harrogate News which says that "Harrogate Town were disappointingly held to a draw by a spirited Droylsden, at the CNG Stadium. Lee Elam made a start...
For the Bloods, new signing from Town, Danny Stimpson,was included in the substitutes, but took no part in the game. Town dominated the first half hour, as the Droylsden team , obviously low on confidence, hardly mounted an attack... On 17 minutes Town took the lead...
After 41 minutes the visitors got onto the scoresheet, when Matty Ward was allowed to dribble through almost the whole Town defence and score a fine individual goal...
The Bloods were giving as good as they got, with the ever dangerous Dali threatening with a spectacular overhead kick... The Bloods held out and had chances to snatch a surprise late winner of their own".
FC Halifax Town reports that the club "can confirm that Sean Kelly has left the club. Kelly has returned to South Melbourne FC after the Australian club offered him a two-year deal. The defender had originally swapped South East Australia for the North of England after his Visa expired. He subsequently joined the Shaymen in October...
Unfortunately, Kelly found his chances in the first team squad restricted".
Elsewhere in Yorkshire, Guiseley report that "On a night when leaders Chester could only manage a draw against ten-man Workington, the Lions contrived to throw away a two-goal lead and two valuable points against a Colwyn Bay team who have won just six matches and were playing their first game under new Player/Manager Frank Sinclair, the third incumbent of the Manager's chair this season.
Guiseley got off to the best possible start after just nine minutes when Wayne Brooksby robbed Michael Lea and scampered down the right before delivering a low cross which James Walshaw swept into the net... In a scrappy second half, Colwyn levelled on 65 minutes courtesy of Rob Hopley's shot across Drench... Smyth spurned a golden opportunity for the visitors at the death, scooping his effort over the bar from six yards out".
There are more new faces reported by Droylsden who tell us of "Two more new signings:
Danny Stimpson (defender)
Sam Minihan (defender) on loan from Rochdale

On Monday, The Bloods had confirmed more arrivals "just before Halifax game:
Adman Ahmed (midfield)
Stefan Cox (winger)

Their team on Tuesday night was Dale Latham, Sam Miniham, Carlos Logan, Mike Byron, Nathaniel Kerr, Lewis Chalmers, Adnan Ahmed, Matt Ward, Joe O'Neill, Gomez Dali, Stefan Cox

And Football Exclusives reports that "Droylsden manager Dave Pace admits his relegation threatened side are struggling to get points on the point after a 6-0 thumping at home to FC Halifax Town extends their losing streak to ten games. With only three wins to their name all season and no win at home since October, the chances of avoiding the drop seem slim at best.

Pace, who also doubles up as the Chairman, retains his passion for the club that he 'built up from nothing'. 'We're struggling big time. We can't buy a win at the moment and that was certainly one of our worst performances. It's the worst season I've ever had... I've been manager for 12 years. We've always been fighting for playoffs or had a cup run but not this year. The financial side of it has been a disaster. We've brought two new players in and we need to bring more in. We will do. We will fight all the way'.

One positive for Droylsden was that they were able to field a full international as Adnan Ahmed joined The Bloods from Nelson. 'We'd been tracking him for a bit and he's come and wants a go. That's what we need; people who want to be here. People like that can help us get out of this. We need 10 wins out of 16 to stay up'".

The North Wales Weekly News tells us that "FRank Sinclair celebrated his first game in management with a battling point from his Colwyn Bay side as they came from 0-2 down to draw 2-2 at promotion-chasing Guiseley.

In fact, they might even have won it with Tom Smyth firing a great chance over the bar from four yards out following a corner late in the game. Guiseley led 2-0 after 44 minutes... [Bay] drew level on 65 minutes when a good passing move ended with Charlie Joyce feeding a pass to Hopley, who stepped inside a defender and fired an angled shot into the far bottom corner of the net.

The Bay had to defend heroically at times, with Sanna making two or three more outstanding saves, but they held out for a great point to end their run of six successive league defeat...

He added, 'It was hard in the first half because they (Guiseley) played very well, to be fair, but Mike Lea's goal right on half-time gave us a lift and a bit of belief. It was the perfect time to score and the players went out in the second half with their tails up and had a real go. We got the equaliser and might even have won it at the end...

We've got to start battling and not give games away... Four weeks ago we would have buckled under the pressure they (Guiseley) put us under at times and would probably have lost, so this performance gives us a lot of encouragement... We've got to turn games we are drawing into wins and games where we are getting beat into draws and refuse to lie down. If we can do that we will be fine. We've enough good players and enough honest lads who will work their socks off...

Colwyn Bay: Sanna, Taylor, Lea, Sinclair, Smyth, McKenna, Evans, Roberts (Gnahoua 72mins), Hopley (Crowther 90mins), Byrne (Meecham 61mins), Joyce. Subs not used: R Williams and Miley".
CHESHIRE NEWS
Winsford United announce that "Winsford United FC and 1874 Northwich FC have agreed a deal which will see the Northwich outfit start life in the NWCFL at Barton Stadium. Winsford chairman, Mark Loveless, revealed last night that both clubs have come to an agreement which will see 1874 Northwich based at Barton for the next two seasons.

Of course, this does depend on the NWCFL allowing 1874 Northwich into the league, this will be ratified at the AGM in the summer".

Supporters' Direct add that "1874 Northwich chairman Paul Stockton said, 'We are very pleased to have concluded a deal with Winsford for a ground-share arrangement for two seasons with a possible one-season extension. We have been talking to the Winsford chairman Mark Loveless for a while now...

We knew that the first major objective would be to secure a home venue as close as possible to Northwich. In reaching an agreement to play at Barton Stadium, for the next few years, we have achieved this aim. This will enable us to progress and establish our club as a key part of the Mid-Cheshire community... We've had a number of meetings with Witton chairman Mark Harris over the past few months. We were unable to come to any agreement that was satisfactory to both parties. However, I want to make it known that the discussions we had with Witton were extremely positive, open and amicable. Indeed, I would personally like to thank Mark for the professional and business-like manner that he dealt with our request to consider hosting 1874 Northwich at Wincham Park...

Finding a home for the club in Northwich will always be one of our principle objectives and we are currently working with a number of organisations in order to make this a reality and we look forward to making some positive announcements in the future'".
---
20 February 2013
TUESDAY GAMES
Altrincham dropped to sixth in the league table, after wins for FC Halifax Town and Gainsborough Trinity on Tuesday night.

Tue. 19 Feb.
Gloucester City 1 FC Halifax Town 2 att. 303
Guiseley 2 Colwyn Bay 2
Harrogate Town 1 Droylsden 1 att. 253
Histon 0 Gainsborough Trinity 3 att. 212
Workington 1 Chester FC 1 att. 531
ALTRINCHAM MAKES IT'S MARK IN THE MEDIA
An Altrincham FC supporter, "Jonathan Wall has been made BBC Radio 5 Live controller" reports the BBC. And an Altrincham resident, Mark Chapman, has been confirmed as the new presenter of BBC Match of the Day 2.
BSBN NEWS
BSBN report that "Chester FC have announced the signing of striker Lee Trundle until the end of the season. The former Preston frontman was released from his contract at the League One side after an injury-plagued season. And Blues' boss Neil Young was delighted to have been able to snap up the 36-year-old, who counts Wrexham, Swansea and Bristol City as some of his previous clubs.

He told the club's official website, 'I spoke to Lee in the summer and he was very interested in what we were trying to do then but there were a number of Football League clubs after his signature. 'Once I heard Lee had agreed to leave Preston then I quickly made contact and thought I would make a cheeky offer, with the money we had, to sign Lee on a non-contract basis, and, to be honest, Lee just wanted to come and play football until the end of the season. So, for me to have his experience to add to squad at this stage and add him to the forwards we already have here was an absolute no brainer'...

Trundle added, 'I [was] convinced by what Neil had to say and have been massively impressed with how far the club has come in such as short space of time. I've spoken to a couple of players who said great things to (me) about what Chester is all about and what the Club want to achieve and the fact that the fans have been so supportive, as the gates both home and away have shown, is unbelievable. It was an easy choice given all the positives'".

Meanwhile Bishop's Stortford "have signed young goalkeeper Haydn Dodge. Dodge joins the Blues from Grays Athletic as cover for Carl Pentney, following the recall of Luke Chambers to Southend United".

Harrogate Town say that "Following his release from Frickley Athletic, former Town player Danny Stimpson has joined up with rival side Droylsden, just in time to face us tonight. Danny joined us in 2011 but his first season was curtailed by a serious injury. Eventually he made his debut in September 2012 against West Auckland Town in the FA Cup. In total, Danny made 4 appearances for us".

FC Halifax Town confirm that Tuesday's game would be "midfielder Tom Platt's last game for the club of his current loan spell [from York City] is due to expire after tonight's game".
---
19 February 2013
MONDAY GAME
Mon. 18 Feb.
Bradford Park Avenue 2 Vauxhall Motors 0 att.272
LADIES'S NEXT GAME
Altrincham FC Ladies' next match is in the Cheshire Women's League Division Two on Sunday, 24 February away to AFC Urmston Meadowside, at Lees Fields, Davyhulme Road, M41 8QA, kick off 2pm.
OLD BOY
According to NL Daily, "Marine have... confirmed at the weekend that defender Paul Jones has left the club".
BSBN NEWS
The Football Conference reports that "Strugglers Droylsden have added two new players to their squad, including Pakistan international winger Adnan Ahmed. Ahmed has had spells at various English clubs such as Huddersfield Town, Lincoln City and Tranmere Rovers as well as Hungarian side Ferencvárosi TC.

He then played in Iran where he had a handful of games for FC Aboomoslem before signing for Bradford Park Avenue in October 2011. In May 2012, he joined North West Counties League side Nelson.

The Bloods have also signed midfielder Stefan Cox, whose contract was terminated by mutual consent by Tameside neighbours Hyde FC last week. Cox, who joined Hyde in pre-season, notched up seventeen appearances for the Conference Premier side in his short spell at Ewen Fields.

Cox spent last year at Conference Premier champions Fleetwood Town... The left winger signed for Fleetwood the previous summer... He previously played for Tooting & Mitcham United and Lewes".

BSBN confirm that "Following Chester FC's 2-1 win over Corby on Saturday, bookmakers Blue Square Bet made the decision to pay out on all bets for the Blues to win the championship...

Alan Alger of Blue Square Bet said, 'Saturday's results in the Blue Square Bet North made us reach for the "payout" button on our trading system and settle Chester FC as title winners... Chester were our second-favourites at the start of the season, priced at 6/1. I took a (now proved incorrect) view that teams could not challenge for promotion in their first season back in the North section...

Whilst my pre-season favourites FC Halifax will have the excuse of a disrupted season, the facts are that even winning their nine games in hand would leave them another 11 points to make up. Guiseley have fought remarkably well to make a race of it but a 2-0 defeat at Vauxhall Motors yesterday leaves them with an almost impossible task. Of course early payouts from bookmakers can sometimes backfire and we lay down the challenge to any other team in the division to force us to pay out twice'".

The Yorkshire Evening Post says that "Guiseley reserved what their manager described as the worst performance of his Nethermoor tenure for Saturday as they went down 2-0 to an efficient Vauxhall Motors outfit.

Kittrick lambasted his side after the game for trying to play pretty football when the conditions and the opposition dictated that a more disciplined and workmanlike approach would be required...

To round off a thoroughly unhappy day for the Lions boss, both Aaron Hardy and substitute Kevin Holsgrove were both forced off with injuries, leaving Guiseley with nine men.

Kittrick said after the game, 'We've been rubbish for large parts of the game but, fair play to Vauxhall, they didn't let us play. I'd like to apologise to the supporters and say that it won't happen again. That's the worst performance since I've been at the club'".

News of Altrincham's next guests at Moss Lane comes from the North Wales Weekly News which says thet "New manager Frank Sinclair faces a massive challenge for what will now be his first game in charge away to second-placed Guiseley on Tuesday. Colwyn Bay have not won in seven league and cup meetings with Guiseley over the last three seasons (two draws and five defeats) and Sinclair admits he will have to rethink the way he was planning to set the team up for last weekend's postponed game at Bradford Park Avenue.

'The plan was to play quite an attack-minded side at Bradford to try and force a win, but Guiseley are a different proposition. They have such quality in their squad and have so many attacking options that we will need to set ourselves up differently to try and stop them playing'.

Sinclair takes the same squad of 16 that travelled to Bradford, with the likely addition of reserve keeper Simon Williams. With Jason Lampkin still injured and [ex-Alty man] Matty Berkeley having left the club, the new boss is short of attacking players but says he is working hard to bring new players in.

'I am talking to players and managers every day to try and strengthen areas of the team that I think need it', he reported. His depleted squad will do well to get anything at Guiseley, as only runaway leaders Chester have won more home games this season than the Yorkshiremen and they are also the league's third highest scorers behind Chester and Altrincham...

Former Colwyn Bay [and Alty] forward Kevin Holsgrove (knee) and midfielder Aaron Hardy (ankle) are both doubtful for Tuesday's game after picking up injuries on Saturday. Colwyn Bay: (from) Sanna, Taylor, Smyth, R Williams, Lea, Crowther, Evans, Joyce, Byrne, Meecham, Hopley, Miley, McKenna, Roberts, Sinclair, Gnahoua, S Williams".
---
18 February 2013
MOSS LANE TV
The bar at Moss Lane will be open tonight (Monday) to show the FA Cup tie between Manchester United and Reading, which kicks off at 8pm. The bar will open c.7.30pm and everyone is welcome.
YOUTHS DRAW
Chester FC and Altrincham FC Youth drew 2-2 on Sunday. The latest league table is on the NWYA site. Alty are away at Abbey Hey next Sunday.
WORKINGTON COMMENTARY
The Radio Robins commentary from Workington is available to be heard again:
Second Half
BSBN NEWS
Enjoying a similar reversal of fortunes to Altrincham are Worcester City. The Worcester News says that "Worcester City's play-off hopes suffered another body blow as they slumped to a dismal defeat at Harrogate Town. Following an impressive run of away form, which had seen City win three on the spin on their travels in recent weeks, the wheels came off at Wetherby Road.

In surrendering that record, the visitors find themselves facing an uphill battle to reach the play-offs and in danger of being overtaken by a host of teams. Remarkably, Worcester are still sixth in Blue Square Bet North, following defeat for promotion rivals Oxford City, but they won't be there for much longer. Both last Saturday's opponents Harrogate and Halifax have a raft of games in hand while those already in the top five can pull further away having also played fewer matches.

With two-thirds of the campaign gone, it is by no means the end of the road as far as the play-offs are concerned, but with each week so the margin for error gets smaller... Having slipped up against Solihull Moors at St George's Lane last Monday, they returned from North Yorkshire with back-to-back defeats, which is hardly the form of a team seeking promotion... City just couldn't get going at Wetherby Road and had shipped three goals by half-time. They were not helped by the worst pitch I have ever seen at this level, newly turfed in places following two months without a match but covered with so much sand it could have been renamed Harrogate-on-Sea.

It was only passed fit for purpose less than an hour before kick-off and cut up almost from the first whistle. Yet, while it undoubtedly stifled City's passing game, both teams had to put up with it and Harrogate adapted much better. Simon Weaver's side were undeterred by the beach-like surroundings and managed to move the ball around with relative ease".
---
17 February 2013
WORKINGTON 2 ALTRINCHAM 1
Report here.
DUNCAN, A TARGET
Pitchero Non-League quotes from the Manchester Evening News in saying that "Lee Sinnott, manager of Altrincham, admits it's no surprise to hear Peterborough United are interested in teenage striker Duncan Watmore. League clubs have been watching the free-scoring Damian Reeves since last season but Watmore is now catching the eye, scoring a superb solo goal in last Saturday's win over Corby Town.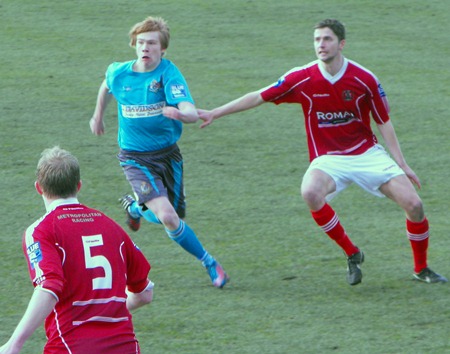 Right: Duncan Watmore in action on Saturday at Workington.
That goal's now gone viral, with almost 3,000 views on YouTube, while Peterborough manager Darren Ferguson attended Alty's 2-0 defeat at Histon on Tuesday night. And Sir Alex's son confirmed the Championship side had been monitoring Watmore for a while, which was news to Sinnott. 'I'm not surprised, though', he said. 'He's a talented lad so he's bound to attract attention. He's only young – he doesn't turn 19 till next month, so there's plenty more development in him yet, which makes him an attractive proposition. People can see the ability he's got at the moment and he can improve on that too.
He's under contract till next season and he's at university in Manchester but, if an offer arise,s then we'll deal with it. Duncan's a level-headed lad and his dad used to work for the FA so I'm sure they'll do what's best for him'".
Sunday's NL Paper also quotes Lee as saying "Non-League's changed a lot over the years and people are looking for players they can bring on and develop. Peterborough have got a record of it. Duncan's just about to turn 19 and he's been getting a bit of press, so people are going to come down and have alook at what the kid's about. He's got four years' development in there still, easily, and that makes him an attractive option to clubs, along with the obvious ability.
I played him wide right, when he first came into the team, so he could acclimatise without getting kicked too much but I always knew we'd move him to the middle, which is his natural position. Since we have, he's thrived on it.
He meanders through people in a snake-like movement, which is hard for defenders to deal with'"...
'Duncan's a great kid and, if a club is serious about him, there'd be a few things coming into the melting pot' added the Moss Lane manager".
IAN DESPAIRS!
In Saturday's instalment of the Crossbar Challenge, to raise funs for Mark Maddox's Motor Neurone Disease charity, assistant manager Neil Tolson defeated Ian Senior 1-0 to extend his lead to 21-15. A quote from Ian, after the event, was short and to the point; "Oh dear!"
OLD BOYS
Ian Craney scored for AFC Telford United, as did AFC Fylde's Adam Carden. Chris Lynch was sent off for Ashton United who drew at Ilkeston with their goals coming from two ex-Alty men in Aaron Burns and Tom Baker. Liam King netted for North Ferriby United, whilst Curzon Ashton's Scott Metcalfe was also on target. Former Alty Youth striker Sam Madeley hit two for Mossley whilst John Miles netted for Warrington Town in a 1-1 draw at Prescot Cables, where Adam Reid is on loan.
BSBN NEWS
The EvoStik League says that Stephen Turnbull has moved to Blyth Spartans from Harrogate Town. Former Alty Youth, Osebi Abadaki, last noted playing for FC Halifax Town, has moved his EvoStik registration to Farsley FC from Salford City.

Attendances on Saturday were:
Bishop's Stortford v Hinckley United 388
Boston United v Stalybridge Celtic 905
Brackley Town v Solihull Moors 330
Corby Town v Chester 768
Droylsden v FC Halifax Town 643
Harrogate Town v Worcester City 412
Oxford City v Gloucester City 446
Vauxhall Motors v Guiseley 357
Workington v Altrincham 374

FC Halifax Town announce that "Following a meeting of senior staff, it has been decided, subject to approval from the Football Conference and agreement from Stalybridge Celtic, to move the scheduled home game at the Shay Stadium on Saturday 23 February 2013 against Stalybridge Celtic to the home ground of Rochdale AFC at the Spotland Stadium.

This decision has not been taken lightly and not without a great deal of consideration for our supporters but we are desperate to avoid any possibility of yet another postponement, particularly with our severe backlog of fixtures. A decision such as this cannot be taken a couple of days before a game is due to be played, so we are announcing the move as soon as reasonably possible.

We recognise that the Shay Stadium pitch is in a very dire state, with mud, sand, loose matter making the surface treacherous after the recent weather and requiring recovery time. With Halifax Rugby League Club playing a scheduled league fixture on Sunday 17 February and then the inclusion of an unscheduled game with Melbourne Storm on Tuesday 19 February, together with some training session time, we simply cannot rely on a suitable pitch for soccer being available to play our home fixture on the 23rd February.

In making this decision there is no implied criticism at all of the Shay Stadium ground staff, who do a great job in extremely difficult circumstances. We would like to express our sincere thanks to Rochdale Council and the two sporting clubs of Rochdale, for allowing us to hire their facility.

Once we have visited Rochdale's ground and discussed the logistics of the fixture, we will provide as much information as possible regarding arrangements, transport options etc.

We are sure you'll understand the reasons for this move, as we try and negotiate our way round the existing, severe pitch problems. We will do everything possible to make the day run smoothly and desperately hope in all the adversity, you will play your part to try and support the team, as we try and get in to the play-off positions".

Fellow Yorkshire club Harrogate have already played some games away from their own stadium due to the state of the playing surface.
---
16 February 2013
WORKINGTON 2 ALTRINCHAM 1

Above: It was a case of everyone back when Stuart Coburn was adjudged to have handled Matt Doughty's back-pass at Workington. Matt is the only player out of shot in the above image.
Workington completed a deserved double over Altrincham with a strong second-half performance during which the visitors barely threatened.
Report here.
Alty line-ups
The Times and Star says that "Captain Jonny Wright left it late to earn Workington Reds all three points against promotion-chasing Altrincham. The striker, who scored both goals, won the match with a well-driven volley on 88 minutes. Lashing home from Mark Boyd's corner to secure the win, Wright finally ended Workington's long wait for a home win.
Not since relegation-threatened Droylsden visited West Cumbria in October had the Borough Park faithful been treated to three points. It was deserved too, as a stunning second-half performance saw Darren Edmondson's men batter their higher-ranked opponents.
Wright gave Workington the lead on 16 minutes, firing home from the edge of the box after a quick break. Less than 30 seconds later, the Altrincham equalised when Jake Moult's lashed effort flew past debutant 'keeper Joel Dixon. The Sunderland shot stopper, who signed work experience forms with Workington, pulled off a stunning save to deny Altrincham's danger man Duncan Watmore during a solid first appearance for the club".
Bishop's Stortford 1-1 Hinckley United
Boston United 2-2 Stalybridge Celtic
Brackley Town 2-1 Solihull Moors
Bradford Park Avenue OFF Colwyn Bay
Corby Town 1-2 Chester
Droylsden 0-6 FC Halifax Town
Gainsborough Trinity OFF Histon
Harrogate Town 3-1 Worcester City
Oxford City 1-2 Gloucester City
Vauxhall Motors 2-0 Guiseley
Workington 2-1 Altrincham
JOHN WORTH
The funeral of former Altrincham FC player, John Worth, will take place at Manchester Crematorium (Southern Cemetery), M21 7GZ, at noon on Friday, 22 February 2013.
WORKINGTON v ALTRINCHAM
For the match at Workington, Radio Robins, sponsored by Ashley Mowers Garden Machinery, will be broadcasting live coverage. The match commentary is sponsored by Leck Construction Limited.

Leck Construction Limited was founded in 1946 and is one of the largest and most experienced Construction and Development Companies in South Lakeland/Cumbria. They have regional offices in Barrow and Manchester and undertake many aspects of construction and development work throughout the North West.

You can find out more about Leck Construction at their website. The commentators are Ian Wilkinson and Brian Flynn; the match summariser is George Heslop.

You can listen to Radio Robins on the internet at www.radiorobins.com. The broadcast begins at 2.55pm. Alternatively, you can find text updates on this site's Matchday Updates page. Quick links to both options are below.
PRE-MATCH: WORKINGTON STRENGTHEN
On Friday, Workington announced that "Hartlepool United defender Paul Johnson returns to the Reds for another loan spell. Paul has previously spent a successful loan period at the Reds."

Also, "The Reds have signed Sunderland AFC Academy goalkeeper Joel Dixon on work experience. Jonathan Mitchell has gone on a two-week trip to Tuscany, Italy to take part in the Torneo di Viareggio tournament with Newcastle United Academy. The Newcastle side started the tournament last Tuesday against AC Milan. Meanwhile, Joel Dixon who has come through the Sunderland academy, after joining at 14 years old, has featured in 12 appearances for the U18's in the 2011/12 season".

More on this comes from the Times and Star which says that "Workington Reds have brought former loan star Paul Johnson back at the club, after Kyle May was ruled out for three weeks with a leg injury. The battle-hardened defender was unable to train with team-mates this week because of a horrific eye injury picked up in the defeat to Oxford City last weekend.

Training alone, it is believed May went over on his ankle while running, and has been sidelined by the injury. Boss Darren Edmondson moved quickly to bring the impressive centre half back to Borough Park..

Workington have also signed Sunderland goalkeeper Joel Dixon... Workington host play-off chasing Altrincham tomorrow".

Hartlepool United report that "Johnson almost joined The Reds on loan at the start of the current campaign only to suffer an ankle injury but boss Darren Edmondson has kept tabs on him throughout the season. The 19-year-old will now go straight in to 16th-placed Workington's squad for the home game against high-flying Altrincham on Saturday".

BSBN must be confusing us with Northwich as they write that "Altrincham have been in scintillating form at home of late, winning all five of their last games... However, the Staffordshire[!] club have been poor away from Moss Lane and are yet to win away in 2013".

Footy Mad has its customary forecast based on inaccurate statistics, saying "Altrincham face a trip to Workington at Borough Park on Saturday afternoon, and will hope to continue their unbeaten record at the ground. Robins won the only previous game contested between the two teams. The only previous meeting between Workington and Altrincham at Borough Park was just last season, in January 2012, with Altrincham inflicting a narrow 1 - 2 defeat upon the Reds...

Workington's disastrous home run has meant they have managed only 2 draws from the last six matches... Altrincham's away form is none too clever either, with two wins, two draws, and two defeats... Workington find themselves struggling down in 16th position in the league having picked up 31 points". Actually they have 27 pts after suffering a points deduction...

It's been an indifferent run of form for the Robins of late away from home, but your FootyMad panel sees things improving, starting here at Borough Park with Altrincham coasting to victory".
FOR MASOCHISTS
We aim to cater for all tastes on the website; so, you can now relive Tuesday's match at Histon via the Radio Robins commentary archive...
Second Half
BSBN NEWS
"Bradford Park Avenue have re-signed striker Aiden Savory from Evo-Stik Northern Premier League First Division North side Goole AFC" reports the Football Conference . "Savory, 25, has recently been playing in Australia for Banbury Forum Force and joined Goole towards the end of last month upon his return to England. He was previously with Harrogate Town and has had two previous spells with Park Avenue, the first beginning in July 2009 after joining from Goole`s league rivals Ossett Town, the second beginning in October 2010 after leaving Harrogate".

But "Striker Bradley Barraclough has le
Lincoln City by mutual consent and has swiftly been snapped up by neighbours [Gainsborough Trinity], with whom he had a successful loan spell recently", including a winning goal against Alty.

Further south, "Bishop's Stortford have taken young midfielder Jordan Roberts on loan for the rest of the season from Aldershot Town. Roberts is a pacey and tricky left-sided winger, who played as a schoolboy for Peterborough United... He registered as a second year scholar with Aldershot early in the 2011/12 season and captained the team on more than one occasion and his eye-catching performances led to him being part of the senior squad in January 2012, when he was an unused substitute in the game against Accrington Stanley...

The following month, Roberts' potential was recognised by him penning a two-and-a-half-year pro deal... He made his first start against Dagenham and Redbridge midway through April 2012 and now has seven senior appearances to his name. The 19-year-old had a loan stint with Havant & Waterlooville and Tamworth earlier this season".

BSBN reports that "Hinckley United boss Carl Heggs has expressed his disappointment in Aaron Cole after he joined the exodus at the basement club. The 20-year-old winger became the latest player to leave this week, following the recent departures of Phil Green, Paul Lister, Aron Wint and Charlie Raglan.

Things are looking bleak for the rock-bottom Knitters, who are a massive 21 points adrift of safety... Heggs told Nuneaton News, 'I'm very disappointed in him. He's a nice lad and I enjoyed coaching him. He's a non contract player and he's been the subject of a few seven-day approaches in the past but, this time, he's gone'..

He added, 'I don't know why he left at this stage though. There's only two months left of the season. All those lads stuck it out for so long, so why not wait a bit longer?' To compound his woes, the impressive Jack Lane is set for a spell on the sidelines as the midfielder requires surgery on his injured shoulder".

The Hinckley Times adds that "While managers and chairmen of Premier League teams have been splashing out on multi-million pound deals in the last few weeks, Carl Heggs has been having to look a lot closer to home. With relegation all but confirmed, the Hinckley United manager is busy preparing for next season and the Knitters' efforts to return to the Blue Square North at the first attempt.

Having lost the likes of Aaron Wint, Charlie Raglan, Paul Lister and Phil Green over the last couple of weeks, Heggs has been busy bringing in replacements as he looks to build a squad for the 2013/14 season. His latest acquisitions are striker Luke Richards from Burbage Old Boys and Richard Conway, the brother of current keeper-turn-winger Martin Conway.

Both will be available for Saturday's trip to Bishop's Stortford and Heggs is hopeful that local players will help bring local pride to the team. He said, 'Luke is a local boy who has scored lots of goals in Sunday morning football and I've seen him play a few times. He will come in and try his best for the club. I'm trying to bring in as many players as I possibly can who want to play for the club as we have used a lot of academy players and some of them need a rest.

Some of them have been outstanding, with a special mention for Liam Canavan and James Hartland and, although I need players in, I am having to look lower down the football pyramid. I want to bring in local players and give them that opportunity. I want to build a side that can bring us back up next season. There is a lot of hard work to be done but I am prepared to do it for this club and I am so determined to get us back up next year and bring a buzz back in to the town'...

'I want to stress how hard the board are working in an effort to turn the club around', said Heggs. 'I know how difficult it is for them and I don't think that they always get the praise they deserve'".
---
15 February 2013
NEARLY ALL FIT
Manager Lee Sinnott reported tonight that Simon Richman, who missed the Histon match, with a dead leg, is expected to be available for Saturday's game at Workington. Luca Havern picked up a knock at Histon but, again, he should be fit for Saturday. So, Joe Collister is likely to be the only squad member unavailable for Saturday. Goalkeeper Joe, who recently signed for Altrincham, has been suffering with an arm problem. He is making progress but not quickly enough to be available this weekend.
ADAM'S LATE STRIKE
Alty Youth striker Adam Bezzina signed BSBN forms for the club a couple of weeks ago and last weekend he saved Manchester County FA from exiting the national FA County Youth Cup with an injury time equalizer. Manchester FA were trailing to West Riding when Adam struck and he was then involved in Manchester's winner, a minute before the end of extra time. They next meet Liverpool County FA. There is a report on the game with West Riding in Thursday's Manchester Evening News.
OLD BOY
"Skelmersdale United are striking while the iron is hot by swooping for experienced forward Mark Beesley. Manager Tommy Lawson is expected to complete the deal today... Skem went top of the Evo-Stik League Division One North on Saturday with a 2-1 win over leaders Mossley and... have a four point lead at the summit and have as many as six games in hand on some of their rivals...

'Bringing players of this calibre in to the squad is a statement of intent', he said... Beesley arrives from Nantwich Town. But the 32-year-old's list of former clubs makes for impressive reading... Born in Burscough, Beesley enjoyed a spell with his hometown club in the 2011-12 season before moving on...

'His arrival has been really well received up here', said Lawson. 'His football history is to be admired. He is really respected as a player and person and we feel Mark will not only be a good addition on the pitch, but also in the dressing room'", the manager told the Ormskirk & Skelmersdale Advertiser.
BSBN NEWS
The Football Conference confirms that "Frank Sinclair, the new player-manager of Colwyn Bay, has appointed former Manchester United and Republic of Ireland international Ashley Grimes to his backroom staff.

The 55-year-old Grimes, who won eighteen caps for the Republic of Ireland, made 107 first-team appearances for United between 1977 and 1983 and scored eleven goals. He got an FA Cup winner's medal in 1983 as a non-playing substitute...

He held coaching posts with Stoke City and Huddersfield. He currently works at Manchester United on the corporate side. Grimes will come in as assistant coach, with Gus Williams promoted to assistant-manager".

According to the Chester Chronicle, "A fundraising committee has been set up with the aim of bringing £100,000 into Chester FC. But Brian Burns has assured followers of the fan-owned club that it is not their money alone that will make or break the committee's chances of hitting its six-figure target.

Lifelong supporter Burns, who has accepted Blues chairman Tony Durkin's invitation to head up the committee... believes that the volunteering of time will be just as crucial... [He] said, 'We are going to be going out there asking people for money against the backdrop of a recession...

So while it's not untrue that we'll be going out to the City Fans United membership and the wider fan base asking them to put their hands into their pockets a little bit more, we need to manage this very carefully and look at the other options in which fans can help'.

Those 'options' include asking supporters to become agents for the Seals' Lottery and Blues' Lotto, two existing revenue streams... Another idea... is a proposed sponsored walk to and from the Exacta Stadium before one of the final home games of this season...

I said to Tony Durkin after accepting the position, "How much do you want us to raise?"... He said to me £100,000'".
---
14 February 2013
OFF THE PACE
John Edwards, Altrincham FC's joint Press and Media Officer, tells us that "Lee Sinnott could not hide his frustration at the way Altrincham's unbeaten Blue Square Bet North run ground to a halt at Histon on Tuesday night.

Just three days after extending it to eight games with a home win over Corby Town, Alty were found wanting against their lowly hosts and slumped to a disappointing 2-0 defeat.

Sinnott pulled no punches, soon after the final whistle, as he pinpointed where his side had gone wrong and urged them to put their promotion campaign back on track at Workington on Saturday.

'We were on the back foot early on, and it stayed that way,' said the Alty boss. 'The first 20 minutes is always a key period. It is important to get your engine running, but too many didn't, and we paid the price. We didn't get anything out of the game, and we didn't deserve to. It may have got slightly better in the second half, but not by much.

'The goals conceded were disappointing as well, especially considering our record for keeping those to a minimum in the last seven or eight games. We didn't show enough dominance about getting to the ball for the first. There were a couple who could have made it theirs, and if you take a bang in the process, you take a bang. We didn't, and their lad was free to score.

'I didn't have a clear view of the penalty award for the second, but, if there was any doubt about it, I wouldn't dream of putting that forward as a reason for things not going right. We were off the pace, and that is putting it mildly.

'We said beforehand we were up against a young, vibrant side full of energy and would have to match those qualities. We didn't, and I had a chat, in inverted commas, with the players at half-time and again at the end. Certain things will remain private, but as we move on and head to Workington, it will be registering with them, the way they performed, or rather didn't, here tonight.

'We have put a lot of hard work in to get where we are, and we don't want it to go to waste, do we? That is the question to be asked now, and we have to answer it in a positive manner.

'I hope they hurt like I do. It is a long journey home for all concerned, and I feel sorry most of all for our supporters. It is a long trip in midweek, and I am just sorry we didn't give them anything to shout about.

'It is important now to remember the lessons from this. They are a good bunch of players, and I could tell from their faces that they want to make amends. You can get setbacks at any time of the season. It is how you react that counts, and we must make sure we respond positively. There can't be any hangover.

'We missed an opportunity at Histon, but there are still 17 games to go and there are another three points up for grabs at Workington. We will have another chat about it at training on Thursday and make sure we head up there determined to put things right. It's not an easy place to go to. They showed what they are capable of when we played them at Moss Lane, so we are going to have to be on our game.'

Simon Richman missed out with a dead leg but should be fit for Saturday.

'He got the injury against Corby on Saturday, and we certainly missed his energy,' added Sinnott. 'That was particularly apparent in the first half, but I am hopeful he will be all right.
PONTOON
Altrincham FC chairman Grahame Rowley says "Not only did Histon beat Altrincham on Tuesday but, over the weekend, they also took over pole position in the Pontoon Competition with their three goals against FC Halifax, bringing their total after two sets of results to six. Thus, Terry Surridge is first in line to achieve the magic figure of 21 goals. In joint second place there are 8 teams, all having scored 5 goals over the last two weekends. Bournemouth, Barnsley, Workington, Walsall, Kidderminster Harriers, Southampton, Aston Villa and Derby County are all hot on the heels of Histon.

Next update - February 19th.
HISTON'S VIEW
The Cambridge News says that "First-half goals from Kaine Sheppard and Jim Stevenson stretched Histon's unbeaten run to seven games as the resurgent Blue Square Bet North side put fourth-placed Altrincham to the sword. It was a thoroughly deserved win for the home side, who controlled the game for long periods, passed the ball well and created the better chances.

The team's confidence was evident from the start and they worked a good opening in the seventh minute with Lewis Taaffe causing problems in the Altrincham penalty area and Levi Porter shooting over...

Histon won a free kick on the left and as Altrincham failed to clear Ben Coker's delivery, Zak Mills drilled in a low shot that Sheppard calmly turned in to the net from close range...

A quick Histon counter-attack in the 24th minute saw Taaffe put Stevenson through on goal and as Carl Rodgers tripped the midfielder, referee Martin Dexter had no hesitation in pointing to the spot. Stevenson picked himself up and sent Stuart Coburn the wrong way to double Histon's lead".

Footnote: Histon Youth lost 4-0 at home to Liverpool Youth in the FA Youth Cup on Wednesday evening.
BSBN NEWS
According to NL Daily, "Graham Drury, manager of Boston United, has made the 'difficult decision' to release experienced full-back Gary Silk. Drury cited Silk's unavailability to train on Thursday evenings as the reason for his release... Speaking to bufc.co.uk, Drury said, 'Gary is a top professional but he cannot train on Thursday evenings due to his university commitments and I need all my players available for training on Thursday nights. That is the crucial time of the week when we work on team shape and set-pieces. I have nothing but respect for Gary and what he has done for the club since I have been here but his unavailability on Thursday nights forced my hand'".

Tuesday night's attendances were:
Gloucester City v Guiseley 220
Histon v Altrincham 240
Stalybridge Celtic v Brackley Town 211

Also, the Boston Standard reports that "Paul Lister believes Boston United aren't far from becoming a side capable of winning the Blue Square Bet North title. Onlookers may look at the league table and raise their eyebrows at his bold boast. However, Lister knows exactly what it takes to win this league, having done so with Alfreton Town in 2011.

The defender made his debut on Saturday, as the Pilgrims lost out 2-1 at second-placed Guiseley. He told The Standard, 'They're not far off being that good at all. This side are, technically, probably, the best in the league. But it's just cutting the individual errors out that needs to be changed. Alfreton were a side that were hard to break down, we need to be like that'.

The 23-year-old left cash-strapped Hinckley United on Wednesday and was expecting to sign for an unnamed club until Boston manager Graham Drury called him on Friday... Lister continued, 'It's the kind of club that, if they ring you, you take note. It's a club people want to play for... Everybody knows it's a big club. The setup's good, they'll bring a lot of fans and now its my turn to be here'".

Altrincham travel to Cumbria on Saturday where the Times and Star says that "Workington Reds have been handed a injury boost ahead of this weekend's home clash with promotion-chasing Altrincham. Niall Cowperthwaite, the impressive fullback, missed the loss to Oxford City but is expected to regain his starting place on Saturday. The 21-year-old was replaced by Dan Wordsworth after injuring his knee in the win at Colwyn Bay earlier this month.

He sat out Saturday's disappointing defeat, a loss that extended Reds' poor home form to six matches without success. But boss Darren Edmondson believes he will be back in contention. 'From Colwyn there was a twist', he said. 'He was inspected by our physio Susan (Pollock), and she thinks he has taken a knock that could have strained his medial ligament. We didn't want to risk too much for the sake of one game, which is why Niall missed the match with Oxford. Niall needed to rest, but now he's back and ready to go'. Workington dropped to 19th in the Blue Square Bet North after last night's matches".

FC Halifax Town "manager Neil Aspin has indicated the Club may need to seek out other potential venues for home games, after the Harrogate Town league fixture was postponed just over an hour before kick-off...Aspin said, 'The postponements are certainly making things very difficult and it is a concern... When we are going to play them and also where are we going to play them?

That has got to be a consideration now because you're not going to wave a magic wand and suddenly get the surface to be good. It is absolutely horrendous at the moment... We may have to look at alternative venues to get the games played'.

Town's prospected [sic] Yorkshire visitors to The Shay on Tuesday have also suffered with similar issues at their Wetherby Road ground, causing them to play recent 'home' games at Doncaster Rovers' Keepmoat Stadium and York City's Bootham Crescent...

'To be fair to Harrogate, their pitch has been really bad and they've been given a couple of favours, I think, in getting other venues for their games. It's not easy to get clubs to agree to that, as you're using their facilities. But if anybody has got any offers for us, I'm willing to listen because we are getting into a desperate situation as we need to get games played'.

As for the ultimate decision to call off the Yorkshire Derby, Aspin indicated the match referee had no other option, declaring, 'It's very disappointing but, when you see the state of the pitch, there is very little else the referee can do. He's there with two teams who are both more than willing to give the game a go but the pitch is the worst I have ever seen it... The pitch tonight was definitely not suitable to play football on'".

Meanwhile, Pitchero Non-League tells us that "Guiseley AFC had the chance to narrow the gap between them and Chester FC at the top of the table to eleven points on Tuesday night, but had to be content with just one as they shared a 2-2 draw at Gloucester City... They had to play the entire second half with ten-men following the dismissal of Wayne Brooksby... Substitute Matt Wilson grabbed a last-gasp stoppage time point for Guiseley.

Third-placed Brackley Town earned a good 3-0 win at Bower Fold against a Stalybridge Celtic side who are suffering from indifferent form at present. Veteran Jefferson Louis gave the visitors a 13th minute lead and then recent signing Izak Reid bagged a brace for Jon Brady`s side".

In the Worcester News "Manager Carl Heeley says he is at a loss as to why Worcester City can't win at St George's Lane. Monday's 3-1 defeat to Solihull Moors was played in front of City's lowest gate of the season — 653 — and was the sixth time they have lost at home in the league this term... having played more games than the teams around them and have now won only once on their own turf in the league since September 15...

Heeley cannot explain his side's yo-yo form. The Worcester boss said, 'For any of our supporters who saw both games, there was a total contrast of performance... Collectively and individually, we just can't perform at home at the moment and it's very frustrating because we've got a core of a side that can do well'...

Heeley has toyed with the idea of bringing in new players, particularly following the recent spate of injuries, but says erratic displays are not helping his thinking. He said, 'After Monday you could probably change nine players... But which players do we need to bring in? You could make an argument for most positions on Monday's performance but on Saturday we didn't think we could improve it with the funds we've got available. It's just playing mind games with us and it's incredibly tough to put your finger on why we can't get any consistency'".
---
13 February 2013
UNITED IN THE BAR
The Real Madrid v Manchester United game in the Champions' League will be shown tonight in HD in the bar at Moss Lane, k.o. 7.45pm. Entry is free to everyone, Alty supporters or otherwise. The bar opens c.7.15pm
NEW DATE
The postponed game away at Droylsden will now be played on Tuesday, 5 March, at 7.45pm.
HISTON 2 ALTRINCHAM 0
A very poor first-half from Altrincham saw them outplayed for 45 minutes by Histon's fast closing down, accurate passing and penetrative play. Alty did not threaten apart from one shot from Watmore. Alty's passing lacked invention and moves ended time and time again in aimless balls forward. They fell behind when Mills was allowed too much space on the right and his mishit shot was turned home by Sheppard (9 mins). Then a foul by Hall conceded a penalty (24 mins) which Stevenson dispatched to give Histon a merited two-goal lead at the break.

Alty brought on Lacey for Moult and then Leather for Lawrie but the visitors made little impression as the game progressed. The Robins mustered no threat on the Histon goal apart from a header from a corner, whch was cleared off the line, as pass after pass went astray. Indeed, Histon went close twice in the closing minutes. Any hopes of staying in the play offs will need a much better showing than this.
Match report here.
150 UP FOR NICKY
Altrincham FC congratulates Nicky Clee (right), who completed his 150th appearance for Altrincham in last Saturday's game against Gloucester City. Following Tuesday's match Nicky has now amassed 127 starts and 24 appearances from the bench for the club. He has found the net 18 times, six of these goals coming this season.

A very popular player at Moss Lane, Nicky joined from Hyde United on 17 July 2009. Nicky is primarily a left-winger and is also an accomplished batsman for Marsden CC near Huddersfield so scoring 150 is not new to him, though his Alty total has all come in singles! At Hyde United he also appeared more than 150 times, making 147(+12) appearances and scoring 21 goals in all for the Tameside club.
JOHNNY WORTH REMEMBERED
As reported yesterday, Altrincham FC is mourning the loss of Johnny Worth, who played for the club between the 1963/64 and 1971/72 seasons.

Reproduced below is Terry Rowley's "Legends" profile of a much-loved fromer Altrincham player...

Johnny Worth
Position: Centre-Forward
Johnny Worth was a typical bustling centre-forward and 'character' who, it is said, would run through brick walls to chase a ball. He was tough but also not without skill and when fit was the perfect foil to the legendary Swindells. Johnny had two spells at Moss Lane, the first during 1963/64, when he joined from Rusholme of the Lancashire and Cheshire League. Although doing reasonably well, (scoring on his debut against Chester Reserves and scoring 8 goals in 13 appearances), he was allowed to join Hyde United, where he spent the next two and a half seasons before Freddie Pye brought him back to Moss Lane, when Len White broke his collar bone, for his second and more permanent spell at Moss Lane.
His first season was his most productive, scoring 34 goals playing alongside Jackie Swindells and, indeed, he scored on his second debut (against Stockport Reserves) and also scored hat-tricks against Witton and Stalybridge and four against Frickley away, as Altrincham won the Cheshire County League and Cheshire Senior Cup.
Unfortunately, a persistent knee injury dogged him throughout his career, forcing him to miss the majority of the 68/69 season. He was back for the 69/70 season and scored 27 goals, including a hat-trick in a 4-a win over his old club Hyde United as he added an NPL Cup winner's medal and a CSC finalist's medal to his collection. His last seasons brought diminishing returns on the goal front (scoring 19 goals, including a hat-trick against Great Harwood in the NWFL in 70/71 and only 8 goals in 71/72) but he picked up a NWFL winner's medal in 70/71. At the end of the 71/72 season he was allowed to move to Runcorn and, finally, Mossley before retiring from the game.
YANKEE
The Altrincham FC Saturday Yankee jackpot now stands at £1,800. Last weekend's winning code was 6763, which produced five Treble winners, (each receiving £40), but there was no jackpot winner.
BUCKET
Thanks go to the contributors and collectors who raised £64.36 for the Club in last Saturday's bucket collection.
CROSSBAR CHALLENGE
In the season-long Crossbar Challenge for the benefit of the Motor Neurone Disease charity, Neil Tolson won the latest contest, at Histon, 2-1 in a sudden death shoot out against coach Ian Senior. Neil now leads 20-15 overall.
---
12 February 2013
MID-WEEK GAMES
Mon 11 Feb.
Worcester City 1 Solihull Moors 3

Tue 12 Feb.
Through the Years from Howard Watts.
FC Halifax Town v Harrogate Town POSTPONED
Gloucester City 2 Guiseley 2
Histon 2 Altrincham 0
Stalybridge Celtic 0 Brackley Town 3
JOHN WORTH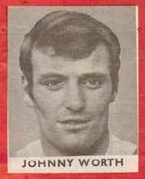 It is with deep regret that Altrincham FC records the death last Sunday of former player John Worth (right), after a short battle with cancer. Our condolences go to his son, John, and to the rest of the Worth family. Between 1963/64 and 1971/72, John made more than 200 appearances for the club and netted 119 goals; he was a key member of the team in that period, when his team-mates included Jackie Swindells.

More on John's illustrious Alty career will appear tomorrow...
GAME ON
Following a pitch inspection this morning, Histon have announced that their match against Altrincham, scheduled for tonight at 7.45pm, will go ahead as planned.
HISTON v ALTRINCHAM
Histon announced late on Monday night that "A precautionary pitch inspection will take place Tuesday 9:30am, subject to Conference approval" in advance of the game against Altrincham

For the match at Histon, Radio Robins, sponsored by Ashley Mowers Garden Machinery, will be broadcasting live coverage. The match commentary is sponsored by Techknowledgey Ltd. Founded by Dan Jones and Sarah Rowley, Techknowledgey Ltd is a full-service IT consulting agency based in Wilmslow. They apply unique technology solutions to enhance any small or medium-sized business.

Find out all about this new, exciting company by visiting their website.

The match commentators are Laurence Howarth and Roger Booker, with match summaries from Paul Salt. The broadcast will be hosted by Brian Flynn and commentary begins at 7.40pm.

You can listen to Radio Robins on the internet at www.radiorobins.com. Alternatively, you can find text updates on this site's Matchday Updates page. Quick links to both options are below.

Mike Garnett's statistics tell us that the previous record between the clubs is:
At Moss Lane: p6-w3-d0-l3-f11-a7
At Histon: p5-w1-d1-l3-f3-a7
All: p10-w4-d1-l6-f14-a14

In the reverse fixture at Moss Lane this season, Altrincham won 5-0 with goals from Rodgers, Lawrie, Reeves (2) and Watmore. In last season's game at Histon, Alty won 3-2 (Lawrie 2, Reeves).
PRE-MATCH GUESSWORK
Footy Mad reports that "Altrincham face a trip to Histon at Bridge Road on Tuesday evening, needing to turn around their fortunes at the ground... which has seen them with only a 20% success rate in the fixture. The most recent encounter between these two sides at Bridge Road was less than a year ago, in March 2012, with Altrincham inflicting a narrow 2-3 defeat upon the Stutes...

Histon have had an average home run of late, winning and losing 3 each of the last six games... Altrincham have an average[?!?!!!] recent record on the road, collecting 2 wins and 3 draws from the last six... Altrincham are in reasonable form away from home coming into this match, and the Madmen are quite confident that they should come away with a comfortable victory from this contest. Away win".
CORBY GAME
The 101 Great Goals reports on ""A sensational solo golazo was scored in the Blue Square Bet North on Saturday in England. Altrincham picked up a 2-1 home win over Corby Town, and the Moss Lane crowd were treated to a wonder-winner from Duncan Whatmore on the stroke of halftime. The action started deep in the Robins own half in the 44th minute.

Corby, looking to arrest a run of two straight defeats, began the sequence of events when they forged an attack down the left hand side. After getting close to the corner flag, Corby's number 17 looked for help by chipping a ball towards the edge of the Altrincham box, and incredibly within seconds the visitors have conceded.

Altrincham's 19-year striker Duncan Watmore, son of former FA chief executive Ian Watmore, first touched the ball on the edge of his area when clearing the Corby attack. Then, after playing a 1-2 with a team-mate and regaining possession a meter away from the halfway-line, the teenager put his head down an went on an incredible run on goal. Tricking his way past two defenders in his moment of magic, Watmore delivered a cool left footed finish for one of the goals of the weekend".

Alty TV has a post match interview with Lee Sinnott following the defeat of Corby Town last Saturday.

His opposite number "Chris Plummer believes 'the points will come' for Corby Town if they continue to replicate the sort of performance they produced at Altrincham... The display was a huge improvement on the previous two in the league, which had ended in heavy defeats to Harrogate Town and FC Halifax Town...

'We don't want to lull ourselves into a false sense of security', the Steelmen boss said. 'We need to pick up points and not just play well and get nothing. We did well at Guiseley but didn't get the points, we did at Stalybridge but again at places like Chester and Altrincham we have performed well but come away with nothing. It's great to perform well but we have to pick up the points as well. I am sure they will come if we carry on performing like we did at Altrincham. Perhaps we got a bit ahead of ourselves a few weeks ago and we have had to remind the lads of what we were doing when we were climbing the league.

Maybe we got a bit complacent. But it wasn't like that at Altrincham and that pleased me... They have come off the pitch at Altrincham tired and drained but that is what it takes to get that sort of performance out of them'" he told the Northants Evening Telegraph.
IRKED AT IRBY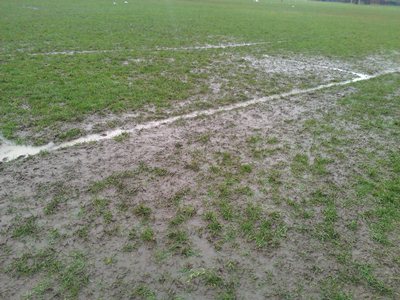 Altrincham FC Ladies' manager Keith Edleston and his team were scheduled to play away at Irby last Sunday. But as Keith writes, "After travelling 50 miles to Eastham, we eventually found the pitche and we quickly realised there was no chance of playing on that or any other surrounding pitches (see accompanying image). Both myself and John had to meet up with their manager and tell him the game was off because of the waterlogged/deep muddiness of the pitches and we had to guarantee the safety of our players. Unfortunately, we had had no contact from Irby to say the game was in danger of a postponement... All in all a long 100-mile round trip in four cars!"
BSBN NEWS
According to the Football Conference, "Boston United winger Kallum Smith has had his contract cancelled by mutual consent by the club and is poised to join Grantham Town on a permanent basis. The 23-year-old, who scored once in twenty-four appearances for the Pilgrims, has been on loan with the Gingerbreads and is primed to move to The Meres on a full-time deal".

BBC Sport says that "Frank Sinclair has stepped into management for the first time after taking over at Colwyn Bay. Former Chelsea defender Sinclair, 41, joined the club a year ago as a player and agreed to take charge following the resignation of Lee Williams on Friday. Williams had lost all four games in charge since succeeding Jon Newby. Sinclair inherits a team with just two wins in their last 14 games, who are languishing in the relegation zone. The Seagulls are currently seven points adrift of safety, but have three games in hand over the team directly above them, Histon...

'I'm chuffed the board have backed me', he told BBC Wales Sport. 'I've really enjoyed my time here. I've been respected by the players, the staff and everyone involved with the club. Now I've been given the task of keeping the club in the Conference North.. You can't play forever and you think about your next step in football', said Sinclair, who played for Jamaica at the 1998 World Cup.

'The opportunity I've been given here now is an unbelievable one. It's a very good level for me to manage at as my first job. I've been lucky enough to have played under some great managers at the likes of Chelsea, Leicester, Burnley and even at Wrexham when I worked with Dean Saunders. I've been given great advice on how to go about being a manager and I'll be picking the brains of managers around the country that I know'".

"Seedy Njie, an 18-year-old striker, has joined Bishop's Stortford on work experience from Southend United. His professional debut for Southend came in August 2012 against Peterborough United in the Football League Cup. Njie had an eventful debut for Stortford on Saturday. He stepped off the bench and had barely been on the pitch five minutes when he equalised against Colwyn Bay, as the Blues went on to win 2-1".

And there is also a new face at Stalybridge Celtic, where "Celtic have today announced the signing of striker Chris Hall. Chris (26) rejoins the Celts after having left at the end of the 2008 season. He has since had spells at Bradford Park Avenue and Mossley before giving up the game in May 2011. In his first spell at Bower Fold Chris made 49 appearances, scoring 19 goals".

Reports from NL Daily say that "Burscough have confirmed the signing of forward David Thompson from Vauxhall Motors. Thompson signed for the Motormen in August 2012 having started out as a 10-year-old at Everton. He then joined Oldham Athletic at the age of 14. Moving on to Bury, he turned professional, making three appearances for the Shakers, with an injury cutting short his career. He made a comeback last season, however, with Droylsden".

Alty travel to Cumbria next Saturday, from where the Times and Star tells us that "Workington Reds' search for an elusive home victory moves into its 104th day as Oxford City extended the dismal run to six winless matches. Not since relegation favourites Droylsden visited on October 30 have the Borough Park faithful had something to celebrate. Four defeats and two draws have followed, including the 6-1 humbling at the hands of Bradford Park Avenue.

Only the three teams occupying the drop zone have worse home records than Workington, who have lost half of their 12 matches on west Cumbrian soil...Oxford netted either side of the break to run out 2-1 winners. And that was despite boss Darren Edmondson having both Jonny Wright and captain David Hewson back.

There were few positives to take from the loss, as Reds, who remain seven points above the relegation zone, again failed to put away their chances... The game became disjointed... with neither side producing much in the attacking third. A flurry of substitutions and time-wasting tactics by Oxford were the only moments of note... until Wright halved the deficit with five minutes left...

Workington Reds: Mitchell, Andrews (Owusu Andrews 67), Rowntree, May, Wordsworth, Hewson (Boyd 70), McLuckie, Greenhalgh (Manship 74), J Wright, Arnison, McGee. Subs: A Wright, Smith... Star man: Joe McGee was a pain for the Oxford defenders. His trickery created numerous openings".

The paper also reports that "Poor defending was to blame as Workington Reds' patchy home form continued with defeat to Oxford City. Boss Darren Edmondson bemoaned his side's lack of communication at the back as first a deflected shot, and then a near-post finish helped gifted the visitors all three points...

Said Edmondson, 'Strikers must be closed down sooner. And if we can't close them down, we must try and show them away from goal. It was poor defending, and a lack of communication didn't help. Both goals could have been prevented. And we have to ask questions about what we do in our own penalty area... There was no tempo to our game... Joe McGee and Mark Boyd helped us to create chances. We got down the wings well, and got in good areas... We will create chances. We always do'".

From the other side, the Oxford Mail tells us that "Oxford City made it seven points from their last three games with a 2-1 victory away at Workington... It was a professional and workmanlike performance from City, but they started the game on the back foot as Workington carved out a good number of chances...

City did an effective job of smothering the game for most of the second half and Workington struggled to break down a well-organised defence".

The Halifax Courier announces that "Neil Aspin said FC Halifax Town should have beaten Histon after his side were held to a frustrating but entertaining 3-3 draw. The Shaymen fought back after half-time to overturn their 2-0 deficit, but the visitors snatched a dramatic equaliser...

Aspin said, 'That's why we all like football because it's certainly not predictable but we should have won the game, there's no doubt about it... The goals we've given away are really poor, we shouldn't be giving goals away like that... Alex Titchiner made an impressive return to the Halifax side after rejoining the club on loan from Fleetwood last Friday, with the striker grabbing one goal and two assists. Aspin said, 'He'll score goals and that's why we've brought him back. Although he's at a club that's full-time, he's not really played a lot of games this season but I felt I needed to throw him in'".

"The Board of Hinckley United have issued a statement to set the record straight regarding the recent group of players leaving the club" reports Pitchero Non-League. "Paul Lister was a non-contract player who was retained on last season's pay structure by the former manager and as such was the club's highest paid player by far. Lister got injured earlier on in the season and was paid in full in line with the club rules for non-contract players. Non-contract players are engaged on weekly expenses based on when they are fit to play and Lister was fully aware of this. Therefore recent comments in the press are somewhat off the mark.

Phil Green was a contract player who, unfortunately, also got injured early on in the season. Green never asked the club to pay for his operation. His conduct has been somewhat disruptive throughout his tenure at the club and he was informed in November that his contract would not be renewed.

Recently Green's conduct resulted in a complaint from sponsors about his behaviour during matches so, as a result of that, the manager asked him to stay away from the club. For Green's statement about outstanding wages to be correct under the terms of his contract he would have needed to be playing in every game, travelling three times a week and scoring a goal a game for the last three months?

Charlie Raglan was another highly-paid contract player due to the length of his commute from his Manchester home. Raglan signed for the previous manager and never wanted to be with us after he left. We have tried to find him another club closer to his home but no one was interested. Like Green, Raglan became disruptive in the dressing room but, now the embargo has been lifted, he was allowed to leave and he goes with our blessing.

Contrary to the gossip, Aaron Wint is still under contract with Hinckley United Football Club. Aaron did inform the manager that his work commitments were changing several weeks ago but it is up to the manager to decide who is retained or released from the club.

As previously stated it would be necessary to make some very difficult decisions during the winter months and one was to pay off the HM Revenue & Customs Winding-Up Order which meant that December's wage bill would be paid late. Whilst we received healthy gate receipts from the Chester game we only managed to generate a gross profit before football wages of £360 from the Brackley Town game and a gross profit before football wages of £56 from the Vauxhall Motors game and this will impact when we pay the January football wages which do not fall due until the end of next week.

Whilst the board of directors are doing everything possible to turn a loss-making club and business into one that breaks even as fast as possible, to obtain the time and cashflow to eventually turn it into a profitable business, it's obvious from the bad press, gossip and rumours that there will always be a small minority intent on focussing on minor setbacks rather than the positives such as the efforts of all involved who are keeping the club afloat.

Nonetheless the board of directors are fully committed to preserving the long-term future of the club and will continue to make these difficult decisions if it helps stabilise the club and gives us the opportunity to start next season on a level playing field".

According to This is Lincs, "Graham Drury is preparing to offload at least two players after revealing he must balance the books at Boston United. After making a string of new signings since arriving from Stamford in December, Drury is now looking to trim his squad, with one player set to be released and another sent out on loan.

'We've got to balance the books. At the moment we're a little bit top heavy. I've brought a lot in without releasing too many', said Drury, whose latest signing, defender Paul Lister, made his debut as substitute in Saturday's 2-1 defeat at Guiseley. 'I totally understand what the chairman will be saying to me and what we've got to do. We'll address that'.

When asked when players would be moved on, Drury replied, 'We might be talking this week... It's part of the job, but it's not nice, nobody wants to let players go. As managers we'd all like to have squads like Gainsborough's, with 21 or 22, or whatever it is. We can't do that, we've got to run with a squad within its budget and I totally understand and respect that. I'll try and get one lad out on loan and I'll be releasing a player'".

Chester First says that "Neil Young insisted the league title race is far from over. The Chester boss is expecting nearest challengers Guiseley to push the Blues all the way to the line...

Young, who watched fourth placed Altrincham grab a 2-1 home victory against Corby Town on Saturday... [said], 'I know the league title race is far from over because I'm aware of Guiseley's ability to put a good run of results on the board', Young said. 'We've done well to amass 75 points from our 28 games and have only lost once so far this season which is phenomenal. But Guiseley are unbeaten in their last 12 games which proves their recent record is as good as ours and I have to give credit to them for that. A few people who are looking at the league table have become very complacent and believe our job is done and dusted, but that couldn't be further from the truth'...

The Yorkshire club can move to within two points of the Blues if they manage to win all four of their games in hand. Young added, 'Guiseley were in a similar situation last season when they were playing catch up on leaders Hyde. They trailed Hyde by 20 points at one point and managed to narrow the gap to five points in the end...

'The frustrating thing from my point of view is that the bad weather isn't allowing us to train on outdoor pitches, but we put the players through a gym session on Saturday morning. I've organised a behind closed doors friendly match today against Airbus UK Broughton and everyone is fully fit... I was quite impressed with Corby when I saw them play Altrincham on Saturday because they worked hard for one another and posed a threat in the final third'.

Midfielder Michael Powell has agreed to cancel his contract with Chester from today after a spell on loan at Curzon Ashton".

The Cambridge News tells us that "Danny Fitzsimons' fourth goal for Histon earned them an excellent point at Halifax and extended their unbeaten run to six games... It could have been more for Nacer Relizani and Brian Page's resurgent side as they led 2-0 at half time...

Said assistant manager Page, 'We did go two goals up, but Halifax were never out of the game, so we're happy with the point'... The Stutes' counter-attacking helped them take a two-goal lead into the interval".
---
11 February 2013
ALTY 2 CORBY TOWN 1
Following Saturday's game, you can relive the day with:
Alty TV highlights - including Duncan Watmore's very special goal.
Radio Robins First Half Part 1 commentary.
Radio Robins First Half Part 2 commentary.
Radio Robins Second Half commentary.
Corby Town picture gallery
YOUTH NEWS
Only two games survived the bad weather in the North West Youth Alliance today:
Curzon Ashton 0-4 Nantwich Town
Hyde 2-2 Chester FC
League table.
OLD BOY
The NL Paper reported on Sunday that Ian Craney, who has now reverted to playing part-time, having recently joined AFC Telford United, is following the paths of former Altrincham players Rod Thornley and Mark Sertori in pursuing a career as a sports masseur. Now a father, Ian said, "I've spoken to Rod and the PFA so I'm hopefully going to be starting a massage course soon. Rod said the same to Mark a few years back, told him to get his qualifications then helped get him a job at Bolton. After going with Sam Alladyce to Newcastle, he's now one of the chief masseurs at Man. City and has worked with Rod in the England set-up".
FLYNNZINE
Brian Flynn's latest "Flynnzine" was published last Saturday...

"Super Caley Go Ballistic... Reevesy is Brilliant!!!

My wife's favourite place in the world is Scotland……we have visited what is a wonderful country many times over the last twenty six years and she just loves the place. At least once a month, she asks 'Can we move to Scotland?' I reply 'No, no we can't', followed by something along the lines of 'How the hell would I get from Loch Lomond to Histon on a Tuesday night?' So I was delighted to see that our leading scorer for the last three seasons has also done the sensible thing and turned down a move north of the border.

January was a nervous month for many Alty fans and I, for one, was mightily relieved when the transfer window closed as the clock struck eleven on the final night of the opening month of 2013.

As it happened, Damian Reeves had been the subject of an offer from Inverness Caledonian Thistle, who play in the Scottish Premier League. Reevesy ultimately decided to stay at Moss Lane, telling the Manchester Evening News that "'It was a big decision and having to move everything up to Scotland for only a bit more than I'm getting at Altrincham didn't seem a sensible thing to do. I told Altrincham I was considering it and they weren't going to stand in my way but I decided I was going to stay. Altrincham have been brilliant with me and we've got ourselves into a good position in the league'.

This is a really interesting quote. Firstly, it gives a very strong indication that Damian is very well and aptly rewarded for his stunning goals record since joining Altrincham in the summer of 2010 (92 goals in 109 appearances plus 12 as a substitute).

Secondly, it gives us an insight into the parlous state of top level Scottish football and its finances. Inverness Caledonian Thistle are currently second in the Scottish Premier League, therefore could easily be playing in the Europa League next season, yet they were unable to prise away a semi-professional player, albeit one of the best in England, from the sixth tier of English football.

On May 25th 1967, Glasgow Celtic defeated Inter Milan in Lisbon by a 2-1 scoreline to win the European Cup and become Champions of Europe, yet this season they are Champions elect of a league that probably has more in common with The League of Ireland than the English Premier League.

Many Alty fans may remember the lads who came down from Edinburgh on a 'Stag Do' in September 2010 for the 2-2 draw at Moss Lane against Grimsby Town in a Blue Square Bet Premier fixture……the game that produced our goal of the season, courtesy of Shaun Densmore's last-minute diving header. These lads were genuinely impressed with the quality of play that day and a couple of months later, I contacted the organiser of the 'Stag Do', to arrange to visit him at his pub in Edinburgh, as we were going up there for my daughter's eighteenth birthday.

He wasn't going to be there, as it coincided with the weekend of the Stag's wedding, but when I told him that my son and I were going to watch Hibernian versus St. Johnstone at Easter Road, the avid Hibees fan advised me that I wouldn't be able to see much difference between the standard in The Scottish Premier League and The Blue Square Bet Premier. I was a bit sceptical regarding this assertion, but he was bang on - it was unbelievably poor footballing fayre.

I wonder if we are in for some more Alty-style liquid football today; I jolly well hope so!".
BSBN NEWS
The North Wales Weekly Times tells us that "Colwyn Bay couldn't defend a 49th minute lead given them by Callum Byrne as they lost 2-1 to Bishop's Stortford. The managerless Seagulls showed plenty of fight, but never looked likely to survive an almost constant second half barrage of pressure from the visitors. Bishop's Stortford were another team of giants who were physically too strong for Colwyn Bay who were unable to keep hold of the ball for any sustained period or gain any sort of control in the game.

They survived to half-time without conceding thanks to a couple of good saves by Chris Sanna and an intervention by Robbie Williams who got back well to throw his body in the way of a shot towards an unguarded net by Reneil Sappleton after the big, bruising forward had muscled his way clear to go round Sanna...

The Bay were under instant pressure in the second half, but broke away to take the lead when Byrne burst through the middle and, spotting keeper Carl Pentney off his line, sent a dipping shot from nearly 30 yards over the keeper and into the net. After that it was pretty much backs to the wall defending by the Bay.

The lead lasted only 15 minutes before substitute Seedy Njie beat Sanna with a low shot from 20 yards... before the visitors got the winner nine minutes from the end

Alex Meechan looked lively when he came on and was denied a late equaliser by a flying one-handed save from Pentney. A sixth successive defeat equals Bay's worst losing run during their time in the Conference North... Chairman Bob Paton took charge of the team today and said he wanted to thank Gus Williams and physio Scott Hobson who came in at the last minute and did a great job in the dressing room.

He said the club have already received over 20 applications for the vacant manager's job, including one from defender Frank Sinclair. He was interviewed after the match. Mr Paton said, 'We are not going to rush into making a decision. We need to be certain that the next appointment is the right one for Colwyn Bay Football Club, even if it takes a couple more weeks to sift through all the applications and interview the people we think are capable of doing the kind of job we need'".

FC Halifax Town report how they "suffered a frustrating afternoon at The Shay, having fought back to lead from two goals down against lowly Histon, only to see the Blue Square North strugglers snatch a late point. Town dominated the match against a young Histon side, who for the majority of the 90 minutes were pegged back just outside their own penalty area.

Town's myriad chances did produce three scores, all of which included high-quality football, though were caught against the run of play twice in the first half, gifting their visitors a two-goal lead at half time".

Aspin said he was "Very disappointed because we've dropped two points. I'm not going to be disrespectful to Histon because I thought they were excellent. With a young team they try to play football in the correct manner and I'm certainly not complaining because of anything Histon did... If you score three goals at home you expect to win the game. With all the possession we've had, all the chances, all the time we've been around their goal, the game should have been over in the first thirty minutes...

The goals we've given away are really poor, you shouldn't be giving away goals like that. It was reminiscent of goals we gave away at home last year... They've only had one corner and we've conceded off that".

Nxet Saturday, Alty are at Workington, who report that "Following on from last week's signing of Roderick Owusu Andrews, who recently returned from playing football in the United States, Red's manager Darren Edmondson added two more players to the squad in time for the trip to Wales to face Colwyn Bay on Saturday. Forward Joseph St Juste, previously with Garforth Town, signed along with loan signing from Morecambe, midfielder Joe McGee".
---
10 February 2013
YOUTH MATCH OFF
Altrincham FC Youth's scheduled match against Warrington Town today has been postponed. The NWYA fixture list shows Alty away at Chester next Sunday.
ALTRINCHAM 2 CORBY TOWN 1
Match report
Corby Town tell us that they "travelled to Altrincham looking to end a run of two heavy defeats in the Blue Square Bet North. Francis Green made his first league start for the Steelmen, whilst new signing Michael Bryan started on the substitutes bench alongside top scorer Josh Moreman...
Corby were having to weather some pressure on their goal and it told on 15 minutes. Sam Ives fouled Nicky Clee 35 yards from goal, and after Walker made a good save from Shaun Densmore's free kick, the division's top scorer Damian Reed prodded home the rebound for his 30th goal of the season.
Altrincham were dominating proceedings but the Steelmen had parity on 24 minutes. A breakaway attack found Liam Richardson in the middle, who did well to find Ryan Semple when under pressure. Semple got into the box and instead of opting for a low cross, drilled the ball into the near post to draw his side level...
Semple almost doubled his tally on 41 minutes with a looping header from Sam Ives's cross, but Stuart Coburn tipped the ball onto the bar. The Altrincham woodwork was rattled 2 minutes later and it was Semple who turned provider, but Jason Crowe's header hit the post and bounced clear.
Whilst Corby were banging on the door to go ahead, it was the hosts who regained the lead right on half time. Duncan Watmore picked up the ball on the halfway line before going on a fine solo run to eventually roll the ball past Paul Walker into the goal and give Altrincham the lead at the break.
The second half started with Corby coming out of the blocks quicker... The Steelmen were having a real go as the game entered the last 10 minutes, with Moreman and Vieira making good runs down the left wing, but failing to cause any real damage to the Altrincham defence... Corby had good chances to draw level in injury time, but the home defence held firm from set pieces to edge out the Steelmen in a narrow game".
In the Northants Evening Telegraph we read that "Chris Plummer felt Corby Town deserved more than they got as they slipped to a 2-1 defeat at play-off contenders Altrincham. The Steelmen turned in a vastly-improved display following 6-1 and 5-1 league defeats to Harrogate Town and FC Halifax Town respectively. But they were undone as the division's top scorer Damian Reeves and then a brilliant solo goal from Duncan Watmore won it for the hosts.
In between, Ryan Semple equalised and then saw a header tipped onto the bar while Jason Crowe also hit the post before Watmore's winner. And the Steelmen also dominated possession after the break without ever really troubling the home defence...
'It was exactly what we needed after the two heavy defeats', the Corby boss said. 'The performance was excellent, I couldn't fault it. I am a bit disappointed with the two goals we have given away. One was a very good individual goal but it was a poor one from our point of view. But he (Watmore) looks quite a special talent. Overall, our performance was excellent and we didn't get anything for our efforts. I thought the least we deserved was a draw. From one to 11 we did really well and even the lads who came on did well for us. Avelino Vieira had to come on early and I think that is the best he has played for a long time, he held the ball up for us.
I thought Sam Ives did well at right-back. I am sure that would have surprised a few people to see him playing there but he did very well. They started really well and we managed to get on top of them. I am proud of the lads, I am just disappointed we have lost a bit of ground in the league. But having been beaten heavily in the two previous matches, I have to be happy with the response'.
One worrying sight for the Steelmen was that of recent signing Francis Green leaving on crutches... Plummer added, 'Francis had a broken leg eight or nine weeks ago, he has taken a blow in a similar place but we are not sure what damage has been done. He saw a doctor at Altrincham and we will get it assessed. Hopefully, it is not too serious but we really don't know just yet'.
Another new signing, Michael Bryan, who signed from Daventry Town on Friday evening, came on as a second-half substitute and, along with Josh Moreman, helped Corby push for the elusive equaliser. 'I think all the lads who played did well', Plummer said. 'Michael is a tidy player and, aside from his first touch where he gave the ball away, I don't think he gave it away after that. But Josh came on and made a difference as well. We need that competition for places'".
CROSSBAR CHALLENGE
It was a good day for assistant manager Neil Tolson as he widened the gap between himself and Ian Senior in the season-long Crossbar Challenge for the benfit of the Motor Neurone Disease charity. Before the Corby match Neil won the latest contest 3-1 to give him a 19-15 advantage.
BSBN NEWS
Our next opponents, Histon drew 3-3 at The Shay from where FC Halifax Town tell us that they "endured a frustrating afternoon at The Shay, as they were held to a 3-3 draw to strugglers, Histon. Alex Titchener scored on his second Halifax debut as Town came back from two goals down to lead with less than ten minutes remaining, though were unable to hold on as a late Danny Fitzsimmons header snatched a point for Histon.

Pleas were made at half time for help in clearing The Shay's turf ahead of anticipated snowfall across the weekend, in a bid to guarantee Tuesday night's match will go ahead. The perceived worry is that it will not take a lot to make the turf unplayable, which was painfully evident today as the players walked out onto a patched-up pitch whose covering was more brown-beige sand than lush, green grass.

Not that this deterred Town from their play-off pursuit, as the Shaymen came out with a high tempo from the offset... A first attack from Histon produced the game's first goal... Young full back Zac Mills strolled forward and, when eventually put under pressure, produced a lovely through-ball with the outside of his right boot that split Town's defence. His intended target latched on to the pass, for which even Jack Wilshire would have been proud, as Cluadiu Hoban took control and held off his marker before rolling the ball, via an arm from Matt Glennon, into the net...

A catalogue of almost comical defending from the visitors somehow did not help Town to break down the Blue Square North strugglers, their defence answered, somehow, everything that was thrown at them. Histon's awkward 4-3-3 counter-attacking setup was showing signs of why they had managed to go five games unbeaten, including a triplet of wins, prior to this encounter. Though they didn't need to rely on their own form as Town gifted their visitors a second goal on the stroke of half time...

It was three minutes into the half that Town replied, and in style... The one-touch build up brought a one-touch cross from Worsley onto which pounced Titchener with a one-touch finish to score on his second debut.... The ball was played long to Titchener who was clever to find space and touch away from Kitscha, who then brought the striker down. Referee Turner pointed to the spot, from which Gardner equalised...

Worsley put Town ahead for the first time in the game... Town looked comfortable, back to controlling the match through scoreline as well as possession. It was not to last as Histon grabbed an unlikely and sucker-punching equaliser. A corner was swung in and Danny Fitzsimmons, Histon's tall number five centre half, rose highest to power home... The goal gave Histon a new wind, as the visitors suddenly played with vigour and with a confidence to keep the ball...

Histon: 1, Callum Kitscha; 2, Zac Mills; 3, Harri Hawkins, 4; Remy Clerima (C); 5, Danny Fitzsimmons; 6, Grant Roberts; 7, Nick Freeman; 8, James Stevenson; 9, Lewis Taffe; 10, Ben Coker; 11, Claudiu Hoban. Subs: Jack Sessions, Barney McLaughlin, Jack Utteridge, Matty Waters, Harry Omalley.

In the Worcester News we read that "Worcester City Supporters' Trust will put their scheme for a new football stadium at Perdiswell to the public before submitting it to Worcester City Council. The organisation last month revealed plans to construct a ground next to the leisure centre in Bilford Road by the end of 2015 because they don't believe the club's proposed relocation to Nunnery Way will ever happen.

Worcester City FC have a contract with developer St Modwen to build on the land next to the M5 until 2017. The Trust had hoped to submit their plans for the community facility, likely to cost around £2million, to Worcester City Council this month but are still making revisions following discussions with the local authority. Keen to ensure no mistakes are made, they will instead call a public meeting in the near future to canvass opinion.

Trust spokesman Rob Crean said, 'The plans are being revised but in the meantime the supporters' trust is looking to do some form of public consultation to outline what the plans are and to seek feedback. It's a one-off deal and we need to make sure it's correct. We are dotting the i's and crossing the t's'".
SATURDAY'S GATES
Altrincham v Corby Town 774
Brackley Town v Harrogate Town 232
Colwyn Bay v Bishop's Stortford 236
Droylsden v Gainsborough Trinity 184
FC Halifax Town v Histon 1,118
Gloucester City v Bradford Park Avenue 303
Guiseley v Boston United 742
Solihull Moors v Vauxhall Motors 162
Stalybridge Celtic v Worcester City 357
Workington v Oxford City 312
OLD BOYS
Adrian Hawes has moved to Grantham Town from Worksop Town on loan. Two of Warrington Town's goals yesterday came from ex-Robins, James McCarten (ex-trialist) and John Miles. Playing for Northwich Victoria, 82 spectators witnessed Brian Summerskill's own goal against Romulus, whilst for Leek Town, Peter Wright was a scorer.
---
9 February 2013
VIEWS ON THE MATCH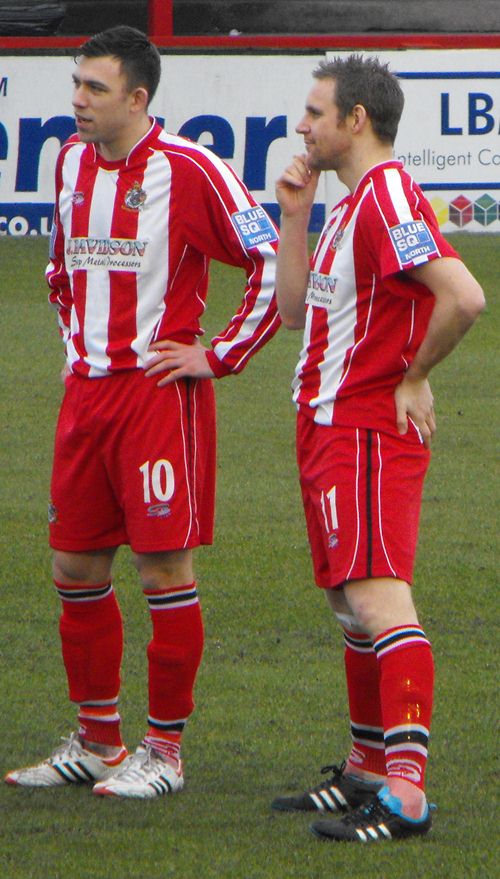 Brain Flynn advises that "There will be three Altrincham interviews on the WFM Sports Talk Show on Sunday. Altrincham F.C. will feature heavily in the first hour of the WFM Sports Talk Show on Wythenshawe FM which broadcasts on Sunday between 11am-1pm. Kevin Thompson interviewed Stuart Coburn, Damian Reeves and manager Lee Sinnott following the 2-1 victory over Corby Town and those interviews are scheduled to air between 11.15-noon. You can listen to Wythenshawe FM on 97.2FM or online.
ALTRINCHAM 2 CORBY TOWN 1
A magnificent goal from Duncan Watmore settled this encounter...
Alty line-ups.

Right: Alty's Yorkshiremen, Damian Reeves and Nicky Clee, discuss their tactics before kick off against Corby Town.
Altrincham 2-1 Corby Town
Brackley Town 2-1 Harrogate Town
Colwyn Bay 1-2 Bishop's Stortford
Droylsden 1-3 Gainsborough Trinity
FC Halifax Town 3-3 Histon
Gloucester City 1-0 Bradford Park Avenue
Guiseley 2-1 Boston United
Solihull Moors 2-3 Vauxhall Motors
Stalybridge Celtic 0-2 Worcester City
Workington 1-2 Oxford City
ALTY v CORBY TOWN
On the eve of Saturday's game, both sides have made signings. Alty have brought in keeper Joe Collister (see below, news dated 8 February) whilst Corby Town "have signed midfielder Michael Bryan from Daventry Town. The 22 year-old has made 11 appearances for Daventry this season and has had previous spells at Watford, Bradford City and Brackley Town. Bryan is available for selection for [the] fixture away at Altrincham".

Wikipedia tells us that Michael Anthony Bryan (born 21 February 1990) is "a winger for Daventry Town, though most notably for Watford. Born and raised in England, he is eligible to play for Northern Ireland through his ancestry and has been selected for the latter at under-19, under-21 and full international levels... He started his career as a schoolboy at Queens Park Rangers... before joining Watford. He made his professional debut for Watford on 15 August 2009 in the Championship... He made a further six appearances for Watford in the 2009–10 season". He played for the full Northern Ireland team in May 2010 against Turkey. He has recently been on a 3 month loan at Daventry from Brackley Town.

For Saturday's match against Corby Town at Moss Lane, Radio Robins, sponsored by Ashley Mowers Garden Machinery, will be broadcasting live coverage. The match commentary is sponsored by Lin McGregor Counselling.

The match commentators are Paul Salt and Ian Wilkinson with Tim Ainsworth as the match summariser. The broadcast begins at 2.55pm. You can listen to Radio Robins on the internet at www.radiorobins.com.

Alternatively, you can find text updates on this site's Matchday Updates page, at the link below

You can follow the match via the following quick links...

Salford City Radio will also be featuring commentary from Radio Robins as part of their 'Sportzone' programme with Ste Finneran, which is broadcast from 3 to 5pm. Commentary is scheduled from 3.25-3.45pm and 4.25-4.45pm. You can listen to Salford City Radio on 94.4FM or online.
CORBY HOPEFUL
At our next opponents, Corby Town, "manager Chris Plummer has challenged his side to build on their midweek win against Desborough Town in the NFA Hillier Cup when they travel to Altrincham on Saturday afternoon.

Plummer told www.corbytownfc.co.uk, 'We have a very tough run of games in the league at the moment, on the back of two extremely disappointing results and performances against Harrogate and Halifax in recent weeks. We know that we need to make significant improvements to what we have been doing recently. At this stage of the season you can tell who the good sides are, as they are still battling it out at the top of the division and Altrincham are still right up there with them. We know that they are a top team and going to their place is never going to be easy, but we feel confident that we can go there and get something.

Altrincham did a job on us earlier in the season at Steel Park [winning 5-2], particularly in the first half. We are looking forward to the game though, followed by another tough one at home to Chester next Saturday. If we are serious about pushing into the top half of the table, then, we really need to start picking up results against these sides."

The Steelmen boss feels that Corby's victory over Desborough Town could also help his side to turn around their league form, after the Steelmen progressed to the NFA Hillier Cup final with a 4-1 victory on Tuesday evening.

'The win against Desborough certainly boosts the players confidence. We were clear favourites for the game. However, we had to do a professional job and successfully progressed to the final. I was very disappointed on Saturday after the Halifax defeat and was extremely pleased that the lads showed a good reaction in the cup. Now we will be challenging them to show another positive reaction in the league against Altrincham. We can certainly do a job, there is no point in us travelling up if we think that we are just turning up to get beat.

We have sat down and analysed the videos, we have seen what went wrong and we know as a group what we need to do better. Everybody has worked very hard this week, in Tuesday's game and at training on Thursday to ensure that we put a number of things right. Now is the time for us to get back to how we played at Stalybridge Celtic, Boston United and Guiseley. We know how tough this game will be, Altrincham are a fantastic side and they are on a great run. They beat Boston 7-1 a couple of weeks back and in Damian Reeves they have the Blue Square Bet North's leading scorer, so we have to be on top of our game.

As I said though, we feel confident that we can go there and get something'".

The Steelmen also report that "Lee Sinnott's side currently sit 4th in the league and will provide another stern test for a Corby Town side which has conceded 11 goals in their last two league fixtures and conceded 5 when the two sides last met. The corresponding fixture at Steel Park back in October ended in a 5-2 victory for the Robins. Goals from debutant Carl Piergianni and Greg Kaziboni were not enough to prevent manager Chris Plummer from losing for the first time on home soil for Corby Town...

Last season's fixture at Moss Lane ended in a 1-1 draw, with Sam Mullarkey scoring a late equaliser for Corby Town. Chris Plummer's men are going through a difficult period at the moment, with only one win in their last six league matches. In contrast Altrincham are unbeaten in 2013, recording five wins and two draws in their last seven matches.

However, the Steelmen will be... hoping to take advantage of Alty's indifferent home form during 2012/13 so far. Whilst the Greater Manchester side have lost just twice on the road this season, five sides have left Moss Lane with all three points during their 13 home league matches to date. Corby Town firmly have the odds stacked against them against the play-off hopefuls, however they only have to look back to the recent victory away at Stalybridge Celtic for inspiration that they can challenge sides at the top end of the table.

Chris Plummer will have [ex-Alty man] Carl Piergianni available for the final time, ahead of his looming three-match ban for his red card at Harrogate Town, whilst Ryan Semple, Josh Moreman and Nat Wedderburn are also set to return to the side after being rested against Desborough Town".

This week's prediction from Footy Mad says that "Altrincham prepare to entertain Corby Town at Moss Lane on Saturday afternoon, aiming to preserve their record of never having lost at home to the visitors. The two sides drew on their own previous meeting...

Altrincham have an excellent home record, winning five and losing just one of the last six games... In complete contrast to Altrincham, Corby Town are having a torrid time on their travels, seeing them win just 1 and draw 2 of the last six... FootyMad's prediction ... Its good news for Altrincham fans, because, with them being in such great nick at home, we just cannot see any further than an emphatic home win for the Robins. Home win".
DANNY DOWN UNDER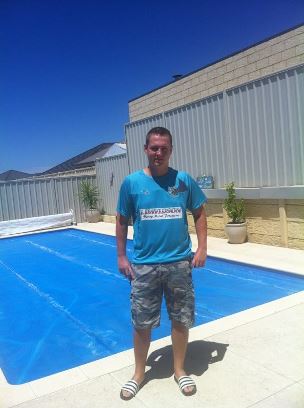 Alty coach Ian Senior has sent us the adjacent image of our former club physio, Danny Fishwick, who is clearly going through a tough time in the harsh Australian climate. Danny is now physio at Armadale FC in Perth.
OLD BOY
According to the EvoStik League, "Nantwich Town parted company with experienced striker Mark Beesley by 'mutual consent' on Friday. The 32-year-old former Chester City man moved to the Weaver Stadium in June 2012 but had found it difficult to maintain his place in the Dabbers' first-team. In October the oufit loaned out the forward to Warrington Town. Dabbers manager Jimmy Quinn paid tribute to his departing striker, saying, 'Mark is a fantastic person and a model professional. It's unfortunate that things have not gone as well as we all expected for him'".
BSBN NEWS
The Nuneaton News reports that "Phil Green is threatening to report Hinckley United to the Football Association after claiming he is owed approximately £1,500 in unpaid wages. The striker has missed the vast majority of the season with a cruciate ligament injury, although he is close to a return to fitness.

He says if the money is not in his bank by today then he will have no choice but to go to the FA, which would almost certainly mean Hinckley's recently lifted embargo is restored. Green said, 'I've left the club and if I don't get the money I'm due paid by (today) then I'll have no choice but to go to the FA about it and then the embargo will be put back. I apologise to the fans for that. They are a good bunch and they put their hands in their pockets to help get it lifted. They are being taken for the same ride as the players'.

The former Aston Villa, Worcester City, Redditch United and King's Lynn player says he has been unable to work since injuring his Anterior Cruciate Ligament (ACL). 'I'm a carpet fitter and, because I hurt my knee, I've not been able to work', he said. 'When you are on a contract it's your security. I've always played with a contract. On the other hand, if I scored 10 goals in 10 games and someone came in for me, then, it could have earned the club £25,000. The club wouldn't pay for my operation. I had to go to the PFA (Professional Footballers' Association) to do that.

It cost £7,000. If I'd never been with Villa I wouldn't have been able to do that, so I was lucky. I didn't need to leave Worcester in the summer. I could've stayed and fought for my place. I knew about the money problems at Hinckley but I was told they were in the past. I'm owed about £1,500 in total. My contract expired on January 29 and I won't be renewing it. I'm owed expenses and I've not been paid at all for December and January. I'm done now. I don't owe the club anything'.

The 24-year-old follows Aaron Wint and Paul Lister in leaving. He says the club is going nowhere and he would recommend for other players not to go there. 'I see no future for the club with the current board in place', he said. 'Morale is at rock bottom for the players. Players have been told they are going to be paid and then don't get the money or, when they do, it's not all there. If another player came to me and asked whether to sign for Hinckley, I'd say stay away'.

Green insists he bears the fans, manager Carl Heggs and his predecessor Dean Thomas no ill will. In fact he says Heggs will turn the club around if given a chance. 'I played for Carl at King's Lynn. He's a very good manager, who could really do well for the club, given some backing. I've got a lot of respect for him and Dean Thomas. Dean has apologised for bringing me to the club but it's not his fault', he said".

At Colwyn Bay, "Chairman Bob Paton has announced that manager Lee Williams has left the club by mutual consent. A run of five successive defeats, three of them at home, have left the team entrenched in the bottom three relegation places. Williams has come in for increasing criticism from fans and in a statment today, Paton said, 'I have had a few meetings with Lee in the last couple of days over the current situation and, in the end, we agreed it was in the best interests of Colwyn Bay Football Club that he steps down'. While the club look for a replacement, Paton is set to take charge of the team for tomorrow's crunch bottom four clash against Bishop's Stortford".

According to the Football Conference, "Ben Coker has returned to Histon, after being released from his contract by Colchester United earlier this week. The 22-year-old defender joined the 'U's from Bury Town in 2010, but has struggled to hold down a regular first-team spot this season, having totalled forty-one whilst with the Essex outfit.

He started his playing career with the Stutes before joining Bury in October 2008 via a short stint at Barton Rovers... Earlier this season, [he] returned to Histon on loan, making five appearances".

The Conference adds that "Promotion-chasers Brackley Town have snapped up midfielder Izak Reid from Morecambe... The 23-year-old wide man, who joined the Shrimps from Macclesfield Town in June 2011, has had his contract terminated by mutual consent. Reid played a total of sixty-three times for Morecambe, scoring three goals".

Pitchero Non-League confirms that "Former Bury striker Domaine Rouse has re-joined Droylsden. Rouse moved from the Bloods to league rivals Colwyn Bay in September 2011 but has more recently been turning out for Stockport Sports. Rouse, 24, began his career with the Shakers and totalled a dozen first-team appearances, as well as two loan spells out at Fleetwood Town and at Droylsden. Disciplinary problems saw Rouse being released from Gigg Lane 2009/10 and he eventually linked up with Hyde United before re-joining their Tameside neighbours Droylsden in the summer of 2010".

In the Times and Star we read that "Crippled with acute hernia pain, Jordan Connerton has been out of action since [Workington] Reds' embarrassing FA Trophy loss on November 10. The 23-year-old had been playing in agony until Ossett Town humbled Workington three months ago, and had to take time out to rest his body.

Connerton is still suffering sharp pains from the hernia on the pelvis, and needs steroid injection and intense rehab to get back to match fitness. Targeting a return to action in time for the trip to bottom club Hinckley in a fortnight, the striker said, 'I've been in agony. The pain became so bad I had to take time away from football. It was unbearable. I was playing knowing I wasn't 100 per cent, and that wasn't fair to my team-mates. It's been frustrating for me because I love football, but now I know what's wrong, I can work towards getting back in a red shirt'.

Connerton has seen a specialist in Manchester... A scan revealed the pelvis hernia, and boss Darren Edmondson has consulted Carlisle United physio Neil Dalton about how to treat the injury. '"Hopefully I'll be back by the end of the month', said Connerton... Connerton had surgery on the hernia 18 months ago. Tomorrow, Workington start a hat-trick of home matches, starting with Oxford City. The Hoops haven't won away from home since beating whipping boys Hinckley 2-0 in October. City hope to have veteran striker Steve Basham available following a calf injury".

The Yorkshire Evening Post reports that "Money can't buy you love, not where new Guiseley striker Phil Marsh is concerned. The 26-year-old has joined the promotion-chasing Lions from Forest Green Rovers on an 18-month deal and could be handed his debut in tomorrow's encounter with Boston United at Nethermoor.

And boss Steve Kittrick revealed that the frontman took a big pay cut to return north. Marsh blazed a prolific goal scoring trail at Stalybridge Celtic ahead of joining Rovers on a two-year contract last summer, firing 52 goals in two seasons for the Bower Fold outfit. But the forward... has endured a testing time at the New Lawn. That resulted in his deal being terminated by mutual consent at the end of last month, with Kittrick confident that Marsh, who also spent a brief spell at Hereford United earlier this season, is a natural-born goal scorer at Conference North level.

On landing Marsh... Kittrick said, 'The logic behind it is that Phil scored 26 goals in this league for Stalybridge last season. But having moved to Forest Green, he did not get much of a chance and he's taken a massive pay cut to come to us, despite having 18 months on his contract still to run. But for Phil, it was not about money, but playing football, so we're really pleased with that'.

Another player whose early academy days were spent at Old Trafford, midfielder Jake Lawlor, 21, has also bolstered Kittrick's hand... Kittrick said, 'Jake looked a player when he played for Harrogate against us. He was at Manchester United for three or four years and has some decent pedigree. Jake is 6ft 2in and we have just offered him terms and he's come here and looks a good player'...

Kittrick is expecting the play-off aspiring Pilgrims... to prove dogged opponents. He said, 'I went to watch them at Gainsborough on Saturday and they have a new manager in Graham who I know quite well. To share the points with Gainsborough, who are flying, brings a bit of positivity at the club. I am sure in time Graham will get it right, but when you are bringing in your own players and others are going out, it is always a difficult time. However, I am sure Saturday will be tough for us'".
---
8 February 2013
JOE RETURNS TO ALTRINCHAM
Altrincham FC is pleased to welcome back to Moss Lane, goalkeeper Joe Collister. Given the number of games to complete before the end of the season, Joe has joined Alty till the end of the campaign as goalkeeping cover.
Pitchero Non-League confirms that "Altrincham have signed goalkeeper Joe Collister from Conference Premier side AFC Telford United. Telford signed free agent Collister on a one-year-deal in August but was released earlier this week to make room for other signings. The 21-year-old had been available on a free transfer following his release from Conference rivals Tamworth this summer. He came through the youth ranks at Tranmere Rovers, and went on to make fourteen appearances for the club. Following his release by Rovers in 2011 Collister joined Tamworth and played three league matches for the Lambs last season".
Joe (d.o.b. The Wirral, 15 December 1991) has had a previous spell at Moss Lane. On that occasion he joined from Tamworth, on 27 January 2012, for a one-month loan period. He had made his League One debut for Tranmere as a substitute in September 2009 and made 14 appearance in all for his local club. He was released at the end of the 2010–11 season and joined Tamworth for the 2011-12 season. From there, he went to Barwell on loan in late September 2011 before making his Tamworth debut on New Year's Day, 2012. Joe had played at Moss Lane previously, having kept goal for a Tranmere Rovers XI against Altrincham in a pre-season game in 2010.
He made an impressive start to his Alty career with a third-minute penalty save at Gainsborough on 28 January 2012 but his one-month loan was interrupted by two postponements. In all he started four times for Altrincham in the 2011-12 season.
Joe is the fifth current Altrincham player to have played previously for AFC Telford United, following James Lawrie, Damian Reeves, Carl Rodgers and Ryan Brooke's arrival at Moss Lane.
HELP, PLEASE!
Due to illnesses and absences, Altrincham FC Matchday Secretary, George Heslop, has an urgent need for additional gate-people to staff the turnstiles at Moss Lane this Saturday for the match against Corby Town. If you can help, please ring George on (0161) 718-0624. Thank you.
EVERYBODY FIT
Following training on Thursday evening, Altrincham manager Lee Sinnott reported that for the first time in a long while, everyone was fit. James Lawrie, who has missed recent games with injury, trained and, hopefully, he will suffer no adverse reaction to that session. Midfielder, nineteen-year old Patrick Lacey (right), has also been passed fit, after blood tests proved negative following his fainting last week. Meanwhile, Damian Reeves, who picked up a knock last week, is also expected to be fit for Saturday.
SIT BACK AND RELAX!
Details of the TASC supporters' travel to Histon (Tuesday 12th) and Workington (Saturday 16th) are on the Away Travel page. Many of Alty's best performances have come away from home this season so why not come along to these games in the company of fellow supporters and avoid the hassle of driving and parking. The coach caters for all ages from 8 (or younger) to 80 (or older)!
WEEKEND VIEWING
The bar at Moss Lane will be open over the weekend for the showing of Premier League matches.
Saturday, 9 Feb. k.o. 12.45pm, Tottenham Hotspur v Newcastle Utd (i.e. before the Alty v Corby game)
Saturday, 9 Feb. k.o. 5.30pm, Southampton v Manchester City (i.e. after the Alty v Corby game)
Sunday 10 Feb. k.o. 4pm Manchester United v Everton
RADIO ROBINS
Brian Flynn writes:

"We are looking for match commentary sponsors for Radio Robins. Priced at £25 for businesses or £20 for private individuals, match commentary sponsorship offers the following benefits:-
Pre-match publicity on Altrincham F.C. Website & Fans Forum
Regular mentions throughout the live full match commentary
Website links to high ranking websites. This is actually worth more than £25 to any business where search engine rankings are important i.e. getting to the top of Google & other major search engines on the internet.
It helps Altrincham Football Club….all funds raised go straight to the club! If you are interested in sponsoring a match commentary, please contact Brian Flynn by e-mail or call 07860 561011.
MATCHDAY SPONSORS
Barry Pond's latest chart of Matchday Sponsors is now on the website. Do, please, ring the club (928-1045) or send an e-mail if you would like to sponsor a game or a matchball.
SAFE HANDLING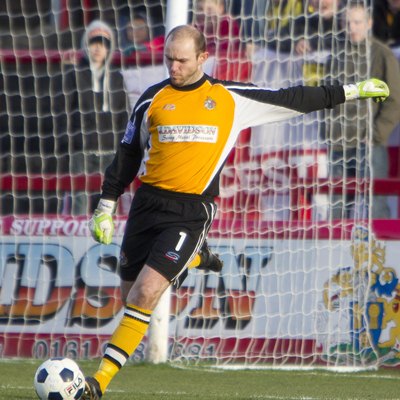 Ian Senior has provided the adjacent image of Stuart Coburn wearing a pair of SKKits new range of goalkeeping gloves; see the SKKIts. website for more information,
BSBN NEWS
The Football Conference has issued a statement, which is reproduced below...

"The Football Conference confirms, despite recent weather causing many fixture postponements, apart from the most recent fixture casualties[?], clubs have worked diligently and proactively to rearrange their outstanding games.

All Clubs have established secretarial staff, many of whom are experienced with handling fixture re-arrangements and the congestion sometimes caused by an above average number of postponements. Clubs will inevitably seek to manage re-arrangements in the best interests of their own club but this can only be achieved after taking into account the circumstances of their opponents and the needs and integrity of the Competition.

Further alterations to the original schedule of fixtures will be required to accommodate Luton Town's forthcoming FA Cup tie and four Semi-Final ties, and a Final tie, in the FA Trophy. And, who knows, there might be another if Luton Town should defeat Millwall FC. Good luck to the Hatters!

Football Conference clubs have responded positively and promptly in a difficult season, for which the Board thanks its Members. We look forward to the remainder of the season in which we anticipate an exciting climax in all three Blue Square Bet Divisions".

From Boston United, we learn that "boss Graham Drury has captured the signature of Peterborough United midfielder Daniel Lawlor on an initial month's loan.T he 18-year-old, who is yet to make a senior appearance for the Posh, is eligible to make his United debut against Guiseley on Saturday".

Alty travel to a rejuvenated Histon next Tuesday, from where the Cambridge News reports on "Oxford City 0 Histon 0.

Histon almost turned one point into three late on as they produced another assured display and continued their climb away from the drop zone at Oxford City last night. The visitors had a string of chances in the final 10 minutes and six minutes of added time, but the hosts stood firm to ensure it ended goalless. Picking up a point means the Stutes are now five games unbeaten and have moved six points clear of the relegation zone, although third-from-bottom Colwyn Bay now have three games in hand over them.

And the clean sheet was their fourth in nine league outings since Nacer Relizani and Brian Page took over from Dennis Greene in early December. The Stutes made one change to the side that started Saturday's 3-1 home win over Droylsden, with Charlie Day getting the nod as the replacement for the injured Kaine Sheppard.

Centre-half Danny Fitzsimons had recovered from illness and kept his place in defence alongside captain Remy Clerima... The referee added on six minutes at the end of the game following an injury to Oxford goalkeeper Matt Ingram. But despite Waters and Nick Freeman, who produced another mature display on the right flank, going close and the Stutes being camped in the hosts' half, they could not claim victory...

Histon: Kitscha, Mills, Clerima, Fitzsimons, Hawkins, Freeman, Roberts, Stevenson, Porter (Hoban), Day (Waters), Taaffe. Not used: Uttridge, Sessions, O'Malley".

On the same game, Oxford City add that "City earned a valuable point against an energetic, high energy Histon... Histon have been receiving a lot of recent praise for the way their side play as was evidenced by their slick passing football, the young players carving out several chances in the first half. The second period saw City under several prolonged spells of pressure as Histon went looking for goals, several shots flashed just wide of the target and goalkeeper Matt Ingram was forced into action on more than one occasion".

Histon themselves say that "It was a disappointing outcome for City, who still harbour hopes of mounting a play-off challenge... But it was the Stutes who [had] the lions' share of the game, especially late on... Histon are unbeaten in the last five matches".
---
7 February 2013
REDRESSING THE BALANCE AT MOSS LANE
Altrincham FC's joint Press & Media Officer, John Edwards, tells us that "Lee Sinnott saluted a fourth straight home win for in-form Altrincham and urged them to go all out for a fifth against Corby Town at Moss Lane on Saturday.

After being over-reliant on away results up to the turn of the year, Alty have provided the balance their manager was looking for by claiming the points against Stalybridge Celtic, Harrogate Town and Boston United and adding another maximum haul with a hard-earned 2-0 win over Gloucester City.

There can be no let-up, though, particularly with Alty's fixture list being given an even more congested look by Tuesday night's postponement at Droylsden.

Sinnott stressed the point, as he assessed the challenge ahead and delivered good news on the injury front after top scorer Damian Reeves hobbled off against Gloucester.

'Damian got a dead leg on his calf, but we took him off in time, before it could get any worse,' said the Alty boss. 'He would have been all right for the Droylsden game, so there shouldn't be any problems for Saturday. Gloucester was different to the Boston game, but I expected that. After a month off due to the weather, I knew they would be champing at the bit, whereas it was our second game after a lay-off, and we didn't have quite the same sharpness in our legs.

'Even so, to score two excellent goals, keep a clean sheet and extend our unbeaten run was very pleasing. It's particularly encouraging that we are doing it at Moss Lane now, because home results were holding us back before Christmas. The key thing now is to keep it going, because with so many games to squeeze into a relatively short space of time, it is going to be very competitive.

'Shaun Densmore showed wonderful technique for his goal. To get that free-kick up and down so quickly, when he struck it with pace, was exceptional. And the second was a classic of its kind, the way Nicky Clee beat his man and crossed from the bye-line and Damian Reeves headed into the top corner.

'Damian doesn't get too many like that, but a combination of pace on the cross and timing of the jump generated real power and gave the keeper no chance. Great goal.'

James Lawrie and Paddy Lacey are Alty's only fitness concerns for Saturday, with both being monitored during the build-up".
FRIENDS OF ALTRINCHAM FC
TASC's Steve Foster announces the recent monthly draw winners:

November
46 Alan Murray £100
38 Niall Flynn £50
67 Mike Jones £35
14 Jonathan Moore £15

December
98 Alan Pennycook £100
42 Nigel Hennerley £50
9 Steve Foster £35
34 Ian Langford £15
OLD BOY
Pitchero Non-League says that "AFC Telford United have completed the signing of Ian Craney, 30, [who] has played over 300 games for seven other previous clubs, including Altrincham, Huddersfield and Fleetwood Town... Craney joins on a short-term contract until the end of the season and was able to join outside the transfer window as he was a free agent".
RESULTS
Wednesday 6 Feb.
Oxford City 0 Histon 0 att.189
FA TROPHY
Wednesday 6 Feb.
Dartford 3 FC Halifax Town 2
BSBN NEWS
Harrogate Town's use of York City's ground on Tuesday night attracted a gate of 284.

The Football Conference reports that "Carl Heggs, manager of BSBN basement side Hinckley United, has made his first serious foray into the transfer market following the lifting of the much publicised transfer embargo by capturing the signature of Aaron Brown to bolster his squad.

Former England 'C' international Brown was sold to Reading in 2006 transfer window for an undisclosed six-figure sum and has since plied his trade at AFC Bournemouth, Walsall, Aldershot, Yeovil and Preston North End before opting to play in the warmer climate of Malta for Premier League mid-table side Floriana...

Former Nuneaton Borough and Rugby Town midfielder Stefan McGrath, who turns 25 next week, defender Joe Latham, former skipper of ChromaSport & Trophies United Counties League side Oadby Town and local striker Jarrad Pickering and midfielder Bradley Jones have also put pen-to-paper for the Knitters".

Corby Town's former Alty defender Carl Piergianni starts a three-match suspension on 12 February so should be available to play against Altrincham this Saturday.

According to the North Wales Weekly News, "Manager Lee Williams has reached agreement with Southport to bring in another player on loan. Charlie Joyce is a 19-year-old midfielder who Southport boss Liam Watson signed in the summer after he was released by Morecambe...

He comes initially for a month. He is set to make his debut in Tuesday's friendly at home to Prestatyn Town (7.30pm). Williams commented, 'He is a very competitive midfielder and is the sort of player we need'. The manager is also expecting ex-Wrexham and Bangor City player Jamie Crowther to sign forms tomorrow after a couple of trial games with the Seagulls. He is seen as a versatile squad player who can play in midfield or central defence when needed".

We learn from This is Lincs that "David Newton admits moving Boston United to a new stadium is proving 'very difficult'... The Pilgrims only have five years left on their current lease at the Jakeman's Stadium owned by the club's former chairman Pat Malkinson.

Boston have no chance of an extension meaning they will have to leave their home of more than 80 years... 'We are working on moving, but it is very difficult to do' said Newton, who runs property firm, Chestnut Homes. 'We are at the point where I think we can see how to deliver it, but funding it is a different matter entirely. We have had talks Boston Borough Council, but we will still press ahead to put a planning application within, hopefully, six months. It is slow progress and much of that is to do with the current financial climate. Not only that, we are also snowed under with other business'".

In the Daily Post is news that "The first leg of Wrexham's FA Trophy semi-final against Gainsborough Trinity is to be televised live. The Racecourse clash, on Saturday, February 16, will be shown live on S4C. The kick-off time is yet to be confirmed but it will be a lunchtime game, starting at either 12.30 or 12.45pm... The away leg on Saturday, February 23 will not be televised but S4C will be recording it to show at a later date".

Optimism is in the air at St George's Lane as the Worcester News says that Expectation is an interesting concept in football... Success, therefore, can often work against teams in the fickle world of football. Which is where Worcester City come in. It is not even three years since the St George's Lane outfit were spared relegation from Conference South. Now they are sitting sixth in Blue Square Bet North and being touted as genuine play-off contenders...

After finishing seventh last term, the expectation level has risen... Of their 38 points to date, only half have come at the Lane... The only difference is on their own turf, where they have suffered two more defeats — five compared to just three on their travels...

On the face of it, City are one of a raft of teams vying for the last of the four play-off spots behind champions-elect Chester, Guiseley and Brackley. This is because Halifax have a whopping eight games in hand on Heeley's men so will easily bridge the two-point gap between the teams.

Being only four adrift of fourth-placed Altrincham, they will almost certainly comfortably leapfrog them too. [Worcester have actually played three MORE games than Alty and are two points BEHIND them]... Which leaves the battle for fifth.

Gainsborough, Altrincham, Oxford City and Bradford Park Avenue are Worcester's main rivals but Stalybridge Celtic, Solihull Moors and Boston United cannot be discounted. Nor for that matter can 13th-placed Harrogate who, because of major problems with their pitch, have played seven games less than Worcester but have ground to make up.

With the exception of Bradford, City still have to play all of these teams again, starting against Stalybridge this Saturday. In that respect, it's in their hands. It is all beginning to come to the boil nicely".

Chester First says that "Neil Young is determined to do all he can to retain the services of his young guns. The Chester manager admitted he has been impressed with the progress and potential of several youth team players such as Tom Peers and Sean Miller who were introduced as second half substitutes in Tuesday night's 6-0 home win against Stockport Sports in the Cheshire FA Senior Cup...

'The chasm between the youth team and the first team has obviously got a lot wider than when we first kicked off because of how well the first team have done during the last few seasons. It's now about trying to bridge that gap and finding the best way forward so that we can develop our youngsters...and we're trying to make sure that we don't lose our best youngsters'.

Young was delighted with his side's performance on Tuesday night which featured a hat-trick from Iain Howard and other goals from Marc Williams, Tony Gray, and Sarcevic. Young added... 'Tony Gray particularly played well for an hour until his legs started to get heavy... Stockport Sports had a few good young players and they looked a good side'...

Young reserved praise for hat-trick hero Howard who revealed in last Wednesday's Leader that he had rejected an offer to join AFC Fylde. He said... 'There is no doubting that he has good ability, but as I have said on numerous occasions what we have said to Iain is that he wants to play football and that he isn't being pushed out of the football club...

I think a few people have been getting a bit carried away by saying that we have made him available for transfer when all we have really said is that if a club comes in for him then they can speak to him and if the deal suits him and takes him into next season as well, then we feel it's only right that he's given a chance to speak to other clubs'".

A report in the Cambridge News tells us that "Kaine Sheppard is being backed to return to the Histon line-up better and stronger than before. The on-loan striker was forced off in the first half of Saturday's 3-1 victory over Droylsden with an ankle injury and has been ruled out of [Wednesday] night's game at Oxford City.

But the Stutes' assistant manager Brian Page said the problem would be assessed later in the week, before discussions with Sheppard's parent club Braintree... Said Page... 'We'll wait and see the extent of the injury and then speak to Braintree so we can work out what's best for the lad'...

Sheppard's absence means the likes of Claudiu Hoban, Matty Waters and Charlie Day are fighting to replace him. Danny Fitzsimons has recovered from illness but Jay Dowie remains sidelined".
---
6 February 2013
RESULTS
Tuesday 5 Feb.
Through the Years by Howard Watts.
Brackley Town 0 Gloucester City 1 att.169
Droylsden v Altrincham POSTPONED
Harrogate Town 3 Workington 1 (at York City)
Hinckley United 0 Vauxhall Motors 6 - att.151
Solihull Moors 0 Bishops Stortford 1 - att.149
League table
FA Trophy
Gainsborough Trinity 2 Barrow 0
LADIES' GAME
Altrincham FC Ladies' next match is away to Irby FC Ladies on Sunday 10 February, k.o. 2pm. The game is at The Plymyards, Plymyard Avenue, Eastham CH62 8AU
AWAY TRAVEL
TASC has arranged supporters' travel for the match at Histon next Tuesday (12 February). Details are on the Away Travel Page
YANKEE
This week's Saturday Yankee's winning code of 7628 produced no jackpot winner but three memebrs did receive £66.66 for Trebles. The jackpot now stands at £1,800.
BUCKET
Thanks got to the donors and collectors who helped Saturday's bucket collection raise £65.20 for the club.
ALTY PONTOON 2013
Grahame Rowley writes, "We are running a football pontoon, which started on Friday 1st February 2013. To play it will cost you the princely sum of £10 and the winner will receive a minimum of £100 in cash.

The rules are simple...
You pick one random team out of a hat and that is your team for the duration of the competition. Premiership, Championship, League 1 & 2 and Blue Square teams available.
Your team has to be the first team to score EXACTLY 21 goals for you to win
If your team goes over 21 goals, you are bust!
Only competitive games (League or FA Cup games) played on a Friday, Saturday, Sunday or Monday count towards the goal total
If more than one team reaches exactly 21 goals on the same day the prize money will be shared
If a particular weekend's matches are lacking any teams, due to postponements or blank fixtures, those teams will be awarded 2 goals
International weekends do not count towards scoring.
An updated table showing each person's team and how they are doing will be posted on the website and in the programme as soon as possible. Let me know if you wish to join up for this exciting game of Pontoon. If you have any questions, please do not hesitate to phone me on 07720-606897 or e-mail me.

Many thanks for your support.

Grahame adds that the rules and a list of numbers is displayed in the bar at Moss Lane.
OLD BOYS
Jody Banim has moved from east London club Clapton to Ilford.

The Football Conference tells us that "Winger Sean Clancy has left Kidderminster Harriers. The former Fleetwood Town [had] made three appearances for Harriers since joining before Christmas after leaving Chester City. He is vastly experienced at non-League level, none more so than from his time with Fleetwood, where he played the best part of 100 games... before moving out on loan to FC Halifax Town where he also impressed, his eventual departure from Highbury coming at the end of the season". ...
YOU SCRATCH MY BACK...
Brian Flynn's latest Flynnzine has a family note...
Altrincham en avant... We're on the crest of a wave!
Well, didn't Tuesday turn out to be a fantastic night! It was great to have a game on in the first place, there were lots of happy smiling faces around the ground before the game with most fans relieved & delighted that we were finally going to get some football to watch.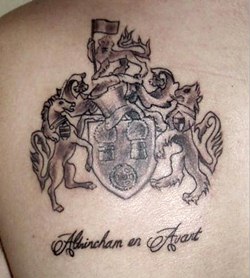 The game itself was brilliant, with a bright and breezy start that led to an early goal and whilst Boston's equaliser was an obvious blow, the players carried on with their game plan, scored two wonderful goals from Super Simon Richman and Duncan 'Das Wunderkind' Watmore, before a looping header gave Richman his second of the evening and put us 4-1 up by the interval.
Three more goals followed and The Pilgrims went back to Lincolnshire with their trousers round their ankles, with manager Graham Drury bemoaning the performance of his team of blockheads.
Our current run of six games unbeaten, including four victories and just four goals conceded has seen the gradual retrenchment of the 'Anti-Sinnott Brigade' on the Fans' Forum, but just one poor performance or defeat will, no doubt, see them resurface with a vengeance, such is football.
There will be wide-ranging views of Lee Sinnott and Neil Tolson as a management team but, looking back over the season to date, across all games, home and away, it has been a very enjoyable one, with some hugely entertaining matches and a brand of football that is as easy on the eye as we have had at this football club for many decades.
I did have one slight bittersweet moment before the game on Tuesday. My son, who is currently teaching in Brazil, had advised me on Sunday that he was going to allow a Colombian gentleman to spend six hours on Monday, tattooing the club crest on his back. He advised me that this information was not to be shared in the public domain, only for me to discover, around forty five minutes before we kicked off against Boston, that he had published a picture of his 'new look' on facebook!
From a personal perspective, I'd place having a tattoo somewhere behind committing Harakiri and buying a Premier League club season ticket, on a list of things that I am most likely to do, but the choice of the Altrincham F.C. crest converted any potential prejudicial response to 'That's my boy'! I must report at this juncture that his mother's reaction was marginally less enthusiastic!
We are looking for match commentary sponsors for Radio Robins. Priced at £25 for businesses and £20 for private individuals, match commentary sponsorship offers the following benefits:-
Pre-match publicity on Altrincham F.C. website and Fans' Forum
Website links to high ranking websites. This is actually worth more than £25 to any business where search engine rankings are important i.e. getting to the top of Google and other major search engines on the internet.
It helps Altrincham Football Club - all funds raised go straight to the club!

If you are interested in sponsoring a match commentary, please contact me by e-mail or call 07860 561011".
BSBN NEWS
"Carl Heggs hopes to make the most of Hinckley United's transfer embargo being lifted by signing at least two players before tonight's visit of Vauxhall Motors... Heggs said, 'Now the transfer embargo has been lifted, we can bring some new players in, which we have needed for a while. However it's difficult, extremely difficult, as I'm trying to bring players in on a shoestring budget. I'm hoping for at least two more faces at the Greene King ready for Tuesday's home game'", he told the Nuneaton News.

ANother team looking at reinforcements are the subject os a report by Pitchero Non-League, which says that "Worcester City are considering bringing in new players to cover for the injury crisis that has enveloped the squad. City are facing the possibility of being without up to five players for this Saturday's trip to Stalybridge Celtic through injury and unavailability. Winger Greg Mills is a major doubt after pulling his hamstring...

On-loan forward Kyle Patterson missed the [last] game through illness, midfielder Matt Birley played despite being under the weather and defender Tyler Weir is still having tests following his fall and facial injury. Fellow defender Shabir Khan is on international duty with Pakistan, while keeper Matt Sargeant has been recalled from Chasetown after James Dormand injured his knee.

With Worcester, who only had four subs on the bench against the Motormen, also hosting Solihull Moors next Monday, Heeley has not ruled out recruiting.

'It may be something we'll have to conside, based on the number of injuries and unavailability we've got', he said. 'Greg pulled up sharply and that isn't generally good news so let's just hope it's not too bad. But he's definitely feeling his hamstring so it doesn't look great for him, certainly for this weekend. He's been a big player for us but injuries are part and parcel of the game. It's frustrating but we can't do anything. It gives opportunities to other lads but we are a little bit light on numbers at the moment'">

Before Tuesday's game, the Yorkshire Evening Post told us that "Harrogate Town are longing for support at Bootham Crescent tonight (7.45pm) with boss Simon Weaver pleading, 'We just want to hear a roar'. With Town's CNG Stadium pitch still enduring problems, Weaver's men are travelling 20 miles east to York City to take on Workington in Blue Square North.

And Weaver hopes his men are given more support than on their recent trip to Doncaster's Keepmoat Stadium where an embarrassing attendance of just 99 watched his side beat Corby Town...

'A few people have said to me they have heard we are playing in York and I think quite a lot are going', said Weaver. 'That's great and the more we get the better. You just want to hear a roar behind your team when you score. You don't get much revenue out of 99 people and it hurts but I guess there was midweek football on the box when we played in Doncaster and it's also quite a way. Of course it hurts financially when you are normally expecting 350 or 400 people at a home game. Hopefully we will get a few more at York'...

Top three Chester, Guiseley and Brackley Town look home and hosed for a top-five berth but Weaver says his battling side will go all out to finish fourth or fifth. 'I still think Altrincham, Halifax and Gainsborough are favourites for those last two play-offs spots and I think there's only two places up for grabs now', said Weaver. 'But we like to be the dark horses and, if people don't fancy us, that's fine because hopefully we can then slip under the radar. We have got a good spirit here and we are playing well and winning games'...

Tonight's game should also be the last at a temporary home with Weaver reporting that the CNG Stadium pitch is on the mend... Weaver added, 'Workington are coming in on the back of a good 4-1 win at Colwyn Bay and have just got a good lad on loan from Morecambe called Joe McGee. They could be a bit slippery tonight but we'll do what we have to do to get the points from the match'".
---
5 February 2013
MATCH OFF
Tonight's match at Droylsden has been postponed due to snow on the Butcher's Arms pitch. This is the fourth time the match has been postponed, for a variety of reasons. Alty's next game is now at home to Corby Town this Saturday, making it three successive home matches for the Robins.
REEVES STAYS!
The Manchester Evening News reports that Damian Reeves turned down an offer last week to join Scottish Premier club Inverness Caledonian Thistle. Damian said, "It was a big decision and having to move everything up to Scotland for only a bit more than I'm getting at Altrincham didn't seem a sensible thing to do. I told Altrincham I was considering it and they weren't going to stand in my way but I decided I was going to stay. Altrincham have been brilliant with me and we've got ourselves into a good position in the league".

Referring to the recent crop of postponements, manager Lee Sinnott added, "Teams are going to be playing three games a week. You may start to see some strange results and we have to make sure we don't fall into that bracket".
DROYLSDEN v ALTRINCHAM
Reliable figures on past Alty v Droylsden games come from Mike Garnett...
At Moss Lane p15-w13-d2-l0-f51-a15
Away p13-w4-d1-l8-f18-a23
All games p28-w17-d3-l8-f69-a38
FIXTURES
Saturday 9 Feb.
Altrincham v Corby Town
Brackley Town v Harrogate Town
Colwyn Bay v Bishops Stortford
Droylsden v Gainsborough Trinity
FC Halifax Town v Histon
Gloucester City v Bradford Park Avenue
Guiseley v Boston United
Solihull Moors v Vauxhall Motors
Stalybridge Celtic v Worcester City
Workington v Oxford City
GLOUCESTER REVISITED
Brian Flynn advises us that "The Radio Robins' commentary files from Saturday's game and a post match interview with captain and Man of The Match, Shaun Densmore, are below".
Interview with Shaun Densmore
OLD BOYS
As reported yesterday, "Steve Halford, manager of Mossley, is delighted to have signed long term target and former Droylsden team-mate Chris Denham from neighbours Ashton United. The 28-year-old is a strong, skilful and experienced forward who is equally comfortable on the right side of attack or down the middle and has a reputation for scoring spectacular goals. He started his career at Prestwich Heys before enjoying a prolific season at another North Manchester club, Stand Athletic...

He joined Altrincham in 2008 remaining there until joining Chorley in 2011 and linking up with Ashton in late 2012" reports Mossleyweb.
BSBN NEWS
BSBN tells us that "Workington boss Darren Edmondson insists that the Reds are not a relegation side following the 4-1 win on Saturday...

'We had dropped into the bottom six but there was no way we deserved to be that far down', the 41-year old told the Times and Star. 'No disrespect to Colwyn Bay, who are in the relegation places, but we were much better than they were and now we are focused on climbing the table as quickly as possible. It was a traumatic week for everyone at the club through losing four points and then going down to Gainsborough 3-0 but there is terrific spirit and togetherness in the group of players we have here and that was exactly the reaction I expected'".

According to The Cambridge News, "Lewis Taaffe scored twice in a game for the first time as he put Histon on the path to victory over Droylsden. It was also his third in two outings since being asked to play behind on-loan striker Kaine Sheppard, rather than be the front man himself. Not bad for a player who is constantly playing through the pain barrier for the cause after returning to action with a broken foot.

'It's still giving me a bit of gip and it's still supposedly broken', said Taaffe, 21. 'I'm just taking it game by game, really... It was my second game in that deeper role and I've scored three goals, so I can't ask for much more. It's only because Jay Dowie's injured that I'm filling in. It is good fun at the moment and winning's nice. It wasn't our best performance today, but we got the three points again and we've got to keep pushing on'...

An injury to Sheppard and the withdrawal of Danny Fitzsimons in the space of three minutes disrupted their flow, with Droylsden captain Joe O'Neill pulling a goal back in between the two incidents. The second half became a nervy affair as the visitors enjoyed more possession and the hosts' passing game did not have the same purpose as it did in the first period...

Another factor in the Stutes getting the game won within 21 minutes was the attacking thrust provided by the full-backs, with Zak Mills in particular giving Shaun Holden a torrid time with his best Cafu impression. 'We work on that and we've got a formula behind that', said the Stutes' assistant manager Brian Page. 'When our full-backs go forward, certain other things happen, so we don't just bomb on for the sake of bombing on and hope for the best. We don't leave ourselves exposed, if the full-back goes, there are other people doing their jobs, filling in and reversing the roles. Zak and Harri and the others that can play in full-back areas are doing really well to become an attacking threat, as well as being hard to break down at the back'...

Histon are playing excellent football and are now five points clear of the relegation zone, but Taaffe knows... 'We've got to believe we can get out of trouble, and recent results show we're doing an excellent job', said Taaffe. 'We're playing great football at the minute, to be fair. Brian's come in and done a great job with us. "I'm one of the most experienced in a very young team, so we've got to keep our heads'".
---
4 February 2013
CHEERS!
After the successful inaugural Altrincham FC Beer Festival last year, the event will be repeated in 2013 at Moss Lane, from Friday 3 May to Sunday 5 May 2013.
MANAGERIAL MASTERSTROKE!

Above: Altrincham & District FA line up before their match against Mid-Cheshire at Trafford FC on Sunday.
Altrincham and District FA Youth produced a remarkable win in the Cheshire County FA District Cup after trailing 2-0 and being reduced to ten men in their match at Trafford FC against Mid-Cheshire FA. There is a match report here.
The latest youth team NWYA Premier League table is here. The youth team's next match is on Sunday 10th February at home to Warrington Town. The game is at Hale Country Club, Clay Lane, Timperley and starts at 2pm.
GLOUCESTER GAME
Alty TV has highlights of Saturday's game.

Gloucester City have an interview with their manager after the 2-0 defeat at Altrincham on Saturday.

Altrincham supporter James Lobley advises that he has images from the Alty v Gloucester match here.
IAN CLOSES THE GAP
Alty coach, Ian Senior, secured a 1-0 win over assistant manager Neil Tolson in the latest Crossbar Challenge contest last Saturday. Neil now leads 18-15 in this season-long contest from which the loser will make a donation to Mark Maddox's Motor Neurone Disease charity.
ROB GETS HIS NUMBER
Alty Youth player Rob Gilroy has been assigned the number eight shirt for the forthcoming internationals to be played by the English Schools team. After a week in Málaga, England take on Wales on St David's Day, 1st March at Lincoln City FC (7pm). The team's other matches in the U-18 Centenary Shield competition are:
8 March: v Northern Ireland at Plymouth Argyle FC (7pm)
12 April: v Scotland at St Johnstone FC (Perth) (7pm)
26 April: v Republic of Ireland at Cork City (7pm).
BSBN NEWS
Blue Square Bet North report that "Corby Town manager Chris Plummer felt the need to apologise to the club's supporters following their 5-1 defeat to FC Halifax Town. This thrashing followed the 6-1 hammering from Harrogate Town on Tuesday, where Plummer's defence was run ragged. And they had very little answer on Saturday as the Shaymen tore them to shreds at Steel Park.

After the game, Plummer told the Northants Telegraph, 'We are very disappointed. At Harrogate, we felt we played well in the first half and a bit of blame laid at the referee's door for what happened in the second half. But, certainly, on this occasion there was no one else to blame apart from ourselves. In the first half we were very poor and easy to score against, which is very disappointing. We need to address that pretty quickly.

We have played some of the top sides like Chester and Guiseley and given a really good account of ourselves and pushed them all the way. But in the last two games, the ugly side of us has reared its head. A few of the lads were throwing their hands in the air and that is not acceptable. It is not acceptable to them, not acceptable to the staff and it is certainly not acceptable to the fans who have turned up and paid good money. All we can do is apologise to those who turned up to watch it'".

Corby are the next visitors to Moss Lane, this Saturday.
---
3 February 2013
NINE YOUTH GRADUATES
Above left: Alty Youth players Oliver Riley (far left), Alex Wetherby (5th from left) and Derryn Ofori (orange bib, second from right) don't seem to be put off by Matt Doughty's balaclava headgear in the warm up on Saturday at Moss Lane. Above centre, Adam Bezzina, also pictured before the game against Gloucester. Above, right, Callum Mooney exchanges a joke with Jake Moult as Duncan Watmore and Damian Reeves walk by..
With the news that defender Alex Weatherby and striker Adam Bezzina had signed BSBN forms making them eligible to play for the Altrincham FC first team in league matches, the total of graduates from Altrincham's youth team who are now in the first-team pool for this season rose to nine, six of whom are still eligible to play in the NW Youth Alliance League.
The three over-age graduates are Duncan Watmore (18), Adam Reid (18) and Sam Grimshaw (19). Duncan played for the first-team on Saturday and has already scored nine league goals this season. Goalkeeper Adam is on loan at Prescot Cables where, despite having to face a penalty, he kept a clean sheet as his team beat Garforth 1-0 yesterday. Sam, recovered from a broken arm, is on loan at Radcliffe Borough.
Players who have signed BSBN forms and are still also in the current under-18s' youth team include midfielders Oliver Riley (17) and Callum Mooney (17) who, with goalkeeper Stephen Bullen (16), were all on the first-team bench yesterday. Striker Derryn Ofori (18) is also eligible for both teams and he, too, was involved in yesterday's pre-match warm-up.
Despite losing players on occasions to first-team duty, youth manager George Heslop, assisted this season by Chris Millington, Ant Small and Joe Reid, have still guided the current youth team to fourth place in the Premier division of the NW Youth Alliance League. Another youth player, Rob Gilroy, is the youngest player in the current England Schools squad.
The Club also has a large-scale Juniors set-up - Duncan Watmore started his Alty days there before joining the Youth team - a growing Football Education Programme and a successful Ladies team so, whatever your age there could be a place for you as a young player at Altrincham FC.
TUNE IN
Brian Flynn writes that "The WFM Sports Talk Show with Kevin Thompson has moved from Tuesday morning to Sunday from 11am-1pm. Today marks the first broadcast at the new time and the two hour programme includes two interviews with Lee Sinnott following the victories over Boston United and Gloucester City this week, as well as the goal highlights from the Radio Robins commentary on the Boston game.

You can listen to Wythenshawe FM on 97.2FM or online".
GLADIATORS' VIEW
After Saturday's game, Gloucester City reported that "A stunning free kick from Shaun Densmore coupled with Damian Reeves's 24th league goal this season were enough for Altrincham to give Gloucester a rough reintroduction to football. Playing only their second game of 2013 City looked rusty at times in the first half, squandering a series of chances and were made to pay in a two-minute period before half time.

With both Will Morford and Steve Davies missing through work commitments the threadbare City squad was shuffled once again with Jack Harris playing in the centre of midfield and Adam Mann partnering Darren Edwards up front. Edwards should have done better on eight minutes, collecting a neat ball from Lewis Hogg, City's top scorer could only shoot wide.

Minutes later Bagasan Graham just failed to connect with a cross from his former Cheltenham Town teammate Danny Andrew. In a fast paced first half it wasn't just Gloucester failing to take their chance... Andrew blocked a shot from Reeves on 19 minutes before Edwards headed over the bar at the other end a minute later.

Tom Webb, never known for his composure in front of goal was the next to face down Stuart Coburn, set up by rampant Edwards but the midfielder scuffed the ball past the wrong side of the post. Adam Mann also panicked when through on goal on 33 minutes...

Matt Coupe gave away a clumsy free kick on the edge of the box and Altrincham captain Stuart Densmore stepped up to the spot, 25 yards out. His free kick curled over the wall into the top left corner to put the home side ahead. Altrincham made it two a minute later, with Reeves rising high to head home a corner... But Altrincham remained dangerous on the break, with keeper Mike Green a busy man for a ten minute spell...

Both teams tired towards the end of the game, giving away needless free kicks and reducing the play to end-to-end hoofing.
OLD BOYS
Rod Thornley was welcomed back at Moss Lane yesterday, where he was doing the match summaries for Radio Robins.

The EvoStik League records several ex-Alty players who have moved clubs recently.
Craig Dootson to Buxton from Kendal Town (loan)
Chris Denham to Mossley from Ashton United
Russell Saunders to Mossley from New Mills

Meanwhile, a former Alty Youth captain and Reserves player, Alex Frost, recorded an own goal whilst playing for Ashton United in their 2-2 draw at Matlock Town.
GATES
Attendances on Saturday were:
Altrincham v Gloucester City 762
Bishop's Stortford v Stalybridge Celtic 328
Bradford Park Avenue v Solihull Moors 285
Chester FC v Brackley Town 2,689
Colwyn Bay v Workington 268
Corby Town v FC Halifax Town 439
Gainsborough Trinity v Boston United 908
Histon v Droylsden 290
Oxford City v Hinckley United 319
Worcester City v Vauxhall Motors 751
FIXTURE
Monday 4 Feb.
Worcester City v Gainsborough Trinity POSTPONED - Trinity in FAT on Tuesday
BSBN NEWS
The Cambridge News says that "Histon bagged another huge three points with a 3-1 victory over Droylsden at the Glass World Stadium. The Stutes took a 12th-minute lead when good vision from Jim Stevenson released Lewis Taaffe, and he calmly slid the ball past Dale Latham. And the attacker scored again six minutes later as Zak Mills darted into acres of space down the right and set him up for a tap-in...

Later Harri Hawkins scored from close range... [Ex-Alty man] Joe O'Neill pulled one back for Droylsden from their first real chance in the 30th minute... Droylsden were reduced to 10 men with 11 minutes remaining when Ashley Palmer picked up a second booking".

BSBN reports that "Harrogate Town have confirmed the signing of midfielder Michael Woods following his brief stay with Doncaster Rovers earlier this season. The 22-year-old joined the Rovers on non-contract terms in October, but he opted to part ways with the club after manager Dean Saunders's switch to Wolverhampton Wanderers.

Woods started his career as a trainee at Leeds United before signing for Chelsea at the age of sixteen. However, Leeds contested Woods's move to Chelsea, accusing the Blues of tapping up the player and a £5 million settlement was eventually agreed between the two clubs. The York-born player has represented England at various youth levels, taking part in the 2009 FIFA U20 World Cup in Egypt most recently."
---
2 February 2013
JAMES SIGNS ON
He may have missed the last few games with a foot injury but Altrincham forward, James Lawrie, has today become the seventh player to commit himself to the club till the end of the 2013-14 season. He joins Simon Richman in pledging himself for a further season at Moss Lane during the past week. Both were amongst manager Lee Sinnott's early signings in summer 2011; Simon joined in pre-season from Worcester City whilst fellow 22 year-old James joined from AFC Telford United on 31 August 2011, initially on a one-month loan. He was later released by Telford and signed for Altrincham.

James has made 56(+8) appearances and scored 14 times, whilst Simon has played 40(+18) times and scored nine goals.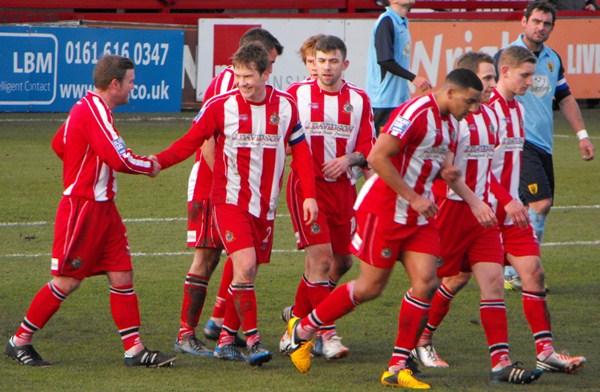 ALTRINCHAM 2 GLOUCESTER CITY 0
Right: Shaun Densmore takes his team mates' congratulations after his freekick broke the deadlock at Moss Lane.
With Altrincham's Danny Hall, James Lawrie and Patrick Lacey all unfit, two goals in a minute decided this match against a City side which had won the corresponding game last season..
Match report.

Saturday 2 Feb.
Through the Years by Howard Watts
Altrincham 2 Gloucester City 0
Bishops Stortford 0 Stalybridge Celtic 0
Bradford Park Avenue 1 Solihull Moors 0
Chester FC 0 Brackley Town 0
Colwyn Bay 1 Workington 4
Corby Town 1 v FC Halifax Town 5
Gainsborough Trinity 2 Boston United 2
Harrogate Town v Guiseley POSTPONED
Histon 3 Droylsden 1
Oxford City 6 Hinckley United 2
Worcester City 2 Vauxhall Motors 2
CONFIDENT GLOUCESTER
News of Saturday'sopponents comes from This is Glos which says that "Legs have been rested and the cobwebs have been blown away so there will be no excuses for Gloucester City's squad when they return to action after their winter break at Altrincham.

It is over a month since City last tasted competitive action with four games in the last four weeks all going by the wayside leaving boss Dave Mehew and his squad desperate for a return to action. A hastily-arranged friendly against Brimscombe and Thrupp on the Hartpury College rubber crumb last Saturday helped ease the ring-rusty squad back into action last week...

The Hellenic League Division One West title chasers triumphed 3-2 in a game consisting of three 30-minute periods during which Mehew shuffled and rotated his squad. 'We needed the game last week against Brimscombe because, to be honest, we were so rusty and sluggish for the first 30 minutes', said Mehew...

'The boys will get a warning that the cobwebs have been blown away and there is no excuse at Altrincham now. Had we gone to Boston and played like that we would have been three or four goals down before we would have known it. But we can go to Altrincham confident in the knowledge that we've won four in five and with the memory of an excellent win there last season, so there's plenty of encouragement'.

Mehew has had the whole of January to mull over the one enforced change to his side since the New Year's Day derby win over Worcester City. Midfield ace Jordan Goddard... has since returned to parent club Worcester City upon the culmination of a three-month loan spell. In his absence Mehew is set to shuffle his midfield with Lewis Hogg shifting inside to allow Adam Mann to return to the side on the left-flank... after a frustrating and injury-hit campaign so far...

Mehew said, 'From his point of view he needs to kick-on and really make that position his own but, to do that, he needs to develop more of an end product. He's a fantastic trainer and in training he's always spot on but he needs to produce that in games, from now on, and that's his challenge starting at Altrincham'. Mehew will make a late decision on the fitness of defender Tom Hamblin who is struggling with a knock picked up in the Worcester win. However, fellow defenders Chris Holland and Mike Green are fit and available for selection after the break allowed them time to recover from their respective hamstring and abdominal strains".
BSBN NEWS
The Football Conference reports that "Colwyn Bay have signed young striker Arthur Gnahoua on a month`s loan from Macclesfield Town. Gnahoua is an exciting striker who burst through Stalybridge Celtic`s reserves and into the first-team...totalling thirty-two games for the Bower Fold outfit in total.

He was so impressive that Altrincham came in for him at the start of this season. However, towards the beginning of September 2012 he joined Macclesfield Town and, although technically a free agent, Stalybridge were entitled to a fee for him as he was under the age of 24. In November, Gnahoua was loaned to ambitious Ryman League Premier Division side Whitehawk until January".

This is confirmed by the North Wales Weekly News which says that "Bay have brought in another forward on loan from Macclesfield Town... Arthur Gnahoua is a speedy 20-year-old left-sided striker who was signed by the Silkmen from Stalybridge for a fee last year and he comes to Colwyn Bay initially on a one month's loan... Seagulls boss Lee Williams is also hoping to complete the loan signing of a midfielder from Southport on Monday and, with that in mind, he has arranged a friendly at home to Prestatyn for next Tuesday night to help bed the new players bed in".

For their part, Stalybridge Celtic, "have announced that Jamie Mullan has left the club and has joined The New Saints FC. Mullan made 24 appearances for the Celts, scoring three goals".

Elsewhere, "Workington have brought in young midfielder Joe McGee on a month`s loan from Morecambe. McGee, 19, was born in Wigan and signed a two-year scholarship with the Shrimps in the summer of 2009. He made his first-team debut for Morecambe in April 2012... coming on as a second half substitute".

Meanwhile, Guiseley "are delighted to be able to announce a double signing. Firstly, 26-year-old striker Phil Marsh has moved to Nethermoor following his departure from Forest Green Rovers. Manager Steve Kittrick has been a long-time admirer of Phil, who began his career with Manchester United and has also plied his trade for FC United of Manchester, Stalybridge Celtic and Hereford United.

The Lions have also added 21-year-old midfielder Jake Lawlor from Harrogate Railway to the squad. Jake also began his career at Old Trafford. If the paperwork can be processed in time then both players will join the squad for tomorrow's game with Harrogate Town".

From Pitchero Non-League we learn that "Bottom-markers Hinckley United have just received confirmation from the Football Conference that the long-standing transfer embargo has now been lifted. This long-standing saga has took several twists and turns after being initiated by a group of disgruntled players from the 2011/12 relegation-reprieved squad for outstanding appearance money and bonuses.

This was further complicated after the repayment plan to clear the 2011/12 PAYE and VAT arrears was rejected by HM Revenue & Customs. This quickly turned into a double whammy when this initial rejection was followed by a final demand for an additional VAT Adjustment from 2008/09 which was initially set aside whilst disputed.

The Football Conference rules imply that member clubs must be up to date with HMRC and/or have a formal repayment plan in place and, as no formal agreement was in place, this debt was simply added as another condition to settle before the embargo was lifted.

With these aged creditor debts clearly creating cash flow problems, current players had little sympathy and chose to use the Football Conference as the mechanism to jump up the priority ladder to be paid first as overtures that the club was going under were getting louder and louder.

During this horrendous period, which has cost over £90,000 to resolve, the board of directors have maintained their focus and objective of securing the long-term future of Hinckley United Football Club Limited and are delighted to confirm this positive news to the shareholders and loyal supporters and hope that everyone will now rally round and make their presence felt by supporting the club through to the end of the season".
---
1 February 2013
PLAYER UPDATE
Following training on Thursday evening, Alty manager Lee Sinnott confirmed that James Lawrie would be out for a further seven to ten days with his foot injury. The only other doubt for Saturday concerns Danny Hall who suffered a foot injury on Tuesday evening.
NEXT GAME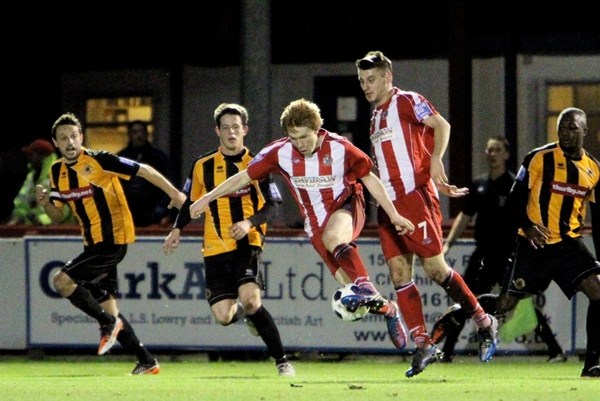 News of Altrincham's next opponents comes from This is Glos which reports that "Gloucester City are the best team in the whole of the Football Conference – at not being able to play games! The postponement of last Saturday's trip to Boston United means that the Tigers will go more than a month without kicking a ball in anger.

Right: Duncan Watmore in full flight against Boston United on Tuesday night. Photo courtesy of Gavin Rathbone of GR Photography.

Dave Mehew's men will attempt to play their first game in 33 days at Altrincham on Saturday, looking to break a run that has seen them usurp all of the 67 other Conference clubs. One major downturn of the inactivity has been the potential harm to the club's coffers after being unable to stage a crucial home game for more than four weeks. It will be six weeks before the Tigers return to action at Whaddon Road against Bradford Park Avenue on February 9, and by then the club could suffer from cash flow problems.

In a bid to deflect these, commercial consultant Colin Peake has been busy trying to generate funds. The club have arranged a sporting dinner with former Arsenal and England midfielder Ray Parlour at Hatton Court Hotel on April 11".

At Moss Lane on Saturday, following the BSBN match against Gloucester City, everyone is welcome to watch in HD the live, televised game between Fulham and Manchester United (k.o. 5.30pm).
BOSTON REFLECTIONS
Alty TV has unmissable highlights of Altricnham's 7-1 win over Boston United last Tuesday.

According to the Boston Standard, "The Crazy Frog song. Adults who wear white ties with black shirts. The TV show 'Miranda'. Boston United's defending at Altrincham. What do the above all have in common, I hear you ask? Well, they've all got to the stage where they were so bad they actually became funny...

Tuesday night's 7-1 rodgering at Altrincham was woeful. The team ethic had the togetherness of (to quote ex-Standard sports writer, Ian Mitchell) Laurel and Costello. But, by the time my car pulled up at home at 2am the following day, the gallows humour had well and truly kicked in. You had to laugh. It beats crying.

So - when Altrincham kindly uploaded the match highlights onto the web for the world to see this week - Pilgrims fans were at the stage where they were ready to sit down with a tub of popcorn as if the 'Life of Brian' was on the box. And, let's be honest, the highlights do the Pilgrims no favours. Especially the painful slow-mos.

The ease in which Damian Reeves brushed off Gareth Jelleyman for goal number one. The space Duncan Watmore was afforded to get his speed up before running at and beyond Tom Ward for number two. The way a simple one-two left three defenders standing still, as if they had a scarecrow's pole up their shorts, for Watmore's goal. The lack of a real challenge on Richman as he headed home number four.

These moments should be screened on Dave on Thursday nights... And that was just the first half... or the whole of Steve Spriggs's United career if you choose to look at it that way... Scott Leather made it five with a 20-yard strike which, although accurate, didn't have the pace to cover United stopper Dan Haystead in glory... He wasn't given too much protection considering the eight-pass move, which involved the Alty keeper and saw Leather set the ball rolling inside his own half, that led to the goal...

Then, for numbers six and seven, the marking was almost non-existent as Reeves and Ryan Brooke found the net. However, like all good comedies the biggest laugh is saved for the end. And the star of the show has to be Nicky Clee for the hilarious way he fell to the floor clutching his face after Gary Silk gave him a shove. If James Corden can win a BAFTA for Best Comedy Performance then this man should be getting his tux dry cleaned. This type of play-acting is too much for me, and despite his faux agony being very good, this will never get to the stage of being funny.

If you're big and tough enough to kick things off by putting your hands on someone, then you should be big and tough enough to stand and take on the situation your actions have got you in to, rather than lead ballooning it...

So what does this 7-1 thrashing mean? Is Graham Drury out of his depth? Has he lost the dressing room? Are his lower-league signings frankly just not good enough? Well, early stats would say the answer to those questions is.... drum roll please.... no! Comparing Drury's first seven games to Jason Lee's first seven games of the season (his first seven as outright manager and not joint boss) shows that not too much has changed... Lee won nine points from seven matches. Drury is - after seven games - just a single point behind, but has actually lost less matches...

The only times Drury has led a side out against teams higher in the structure were against Harrogate and Altrincham. And let's be honest, both opponents couldn't have been more comfortable against United if they were in their slippers, drinking a brandy and listening to a pan pipes CD... No matter who is in charge, this Boston United side just lacks any form of consistency... They're the only side to have beaten stand-out league leaders Chester. Thay're the only side to lose to stand-out relegation fodder Hinckley.

Drury - in his furious post-match interview at Altrincham (incidentally, under Lee United lost 6-1 at Moss Lane last term) - said he cannot be judged until the summer, when he has had a proper crack at moulding his own team... Jason Lee and Graham Drury are polar opposites - chalk and cheese, north and south, Chandler and Joey. But after seven games, they have ground out very similar results".

Boston United report that "United winger Steve Spriggs has departed the club to rejoin King's Lynn Town. The 24-year-old, who played 45 minutes of Tuesday's 7-1 defeat to Altrincham, has requested to leave The Jakemans Stadium only two weeks after putting pen-to-paper to move from King's Lynn. He is poised to return to the Walks Stadium, where he netted 63 goals in 129 appearances for the Linnets".

And, according to Pitchero Non-League, "Midfielder Anthony Tansley has turned down a move to Boston United and opted to stay with East Midlands Counties League club Borrowash Victoria after a seven-day approach. Vics' manager Mark Wilson has spoken of his delight... 'I must applaud his loyalty as many local players jump ship at the sight of the extra money. He could of been financially rewarded at Boston but has stayed for the fight, his energy and quality on the ball is a major plus as well as being an absolute fruit job in the changing room'".

However, The Chad reports that "Rainworth Miners' Welfare's popular and highly-rated wing-back Kieran Walker has moved on to test himself at Conference North level with Boston United. Wrens boss Kevin Gee says it is a great opportunity for Walker to play higher level football with the former Football League club, and has encouraged him to join the Pilgrims.

But Rainworth will retain Walker's Evo-Stik Northern Premier League registration, allowing him to continue to turn out for the club when not required by Graham Drury's side. Gee confirmed 'It represents a big step up for him but he is at an age at which it is worth his while to see whether he can play at that level... He knows that the door is always open to him to return if it happens that things don't work out for him'".

More Boston news comes from This is Lincs which claims that "Lincoln City striker Bradley Barraclough could be set to complete a shock move to Boston United ahead of their derby clash against Gainsborough Trinity this weekend. The Echo understands the Pilgrims want to sign the forward, who was on loan at Trinity earlier this season. The Blues tried to sign Barraclough after he impressed at the Northolme, but the deal fell apart after the two clubs failed to reach an agreement on the player's valuation.

But with the Imps trimming down their squad on transfer deadline day in order to save money, Boston are waiting to pounce. However, they face competition for his signature from Buxton, where Barraclough enjoyed an extremely productive loan spell last season".
BSBN NEWS
The Blue Square Bet North "Player of the Month" for January is Josh Wilson from Guiseley and the "Manager of the Month" is his boss, Steve Kittrick.

Former Alty Youth forward Osebi Abadaki was a substitute for Gareth Seddon as FC Halifax Town drew with Dartford in the FA Trophy on Wednesday evening.

And BSBN adds that "FC Halifax Town have snapped up midfielder Adriano Moke on non-contract terms. The Cambridge United player, who most recently spent time on loan with Tamworth... began his career at York City".

The Chester Chronicle tells us that "Chester FC chairman Tony Durkin has lifted the lid on the club's finances and revealed they are 'not as healthy' as fans may think. Durkin, who has been in the role for two months, expects Chester to announce losses of between £65,000 and £75,000 later this year.

In a frank and exclusive interview he tells Blues supporters;
Most of the club's financial reserves will be gone by the end of the season.
Boss Neil Young has had his playing budget reassessed.
A financial controller has been appointed to keep spending on and off the field in check.
A period of consolidation would be required if, as expected, Chester secure promotion this season. This would last two or three years – maybe more – before the funds could be put into place to launch an assault on the Football League...

Durkin admitted the difficulties he has inherited are down to a 'combination of different things', adding, 'There is an element of uninformed decision making... There's no point looking back. What's done is done. What we've got to do is undo it and make our club a better place and a better business. I can do it, come hell or high water. I'm going to try my very best to turn this club around'...

Lifelong Chester fan Durkin, 59... is the founder of engineering manufacturing company QHP. He was voted on to the Chester FC board at the club's AGM in November and quickly installed as chairman of a new-look board".

Meanwhile, Chester First reveals that a "Police investigation has been launched, after Chester FC discovered thousands of pounds were missing from the club's accounts... Club bosses alerted Cheshire police who have since arrested a man on suspicion of stealing from the community-owned football club.

A 27-year-old from the Hoole area has been released on police bail pending further investigation.... Blues' chairman Tony Durkin and vice-chairman Steve Ashton told CFU members the discovery had been made after the club's new board was elected at the end of November. Although the exact amount unaccounted for was not confirmed, the Leader understands it is at least £20,000.

Mr Durkin said, '"To say the last 60 days have been challenging would be an understatement'. He confirmed the board had uncovered 'financial irregularities' and 'abnormalities', which were now under investigation. 'I can't say very much because it is still being investigated', he said...

Cheshire Police spokesman Rachel Heyes said, 'Cheshire Police are investigating an allegation of theft of money from a business in Bumpers Lane after a complaint was received from the company on January 4, 2013'. A 27-year-old man from Hoole has been arrested on suspicion of theft by an employee'".

Also, "Mr Durkin said... 'What we found was the club was not on track, nowhere near in fact', he said.. 'What we are doing is getting our house in order', he said. He added the forecast loss could be attributed to increased player and staff costs, under-performing commercial contracts and some financial irregularities the club had uncovered.. 'On a positive note, we are still debt free and that will still be the case', said Mr Durkin, although he said any loss would eat into the club's reserves.

Mr Durkin also praised Blues manager Neil Young for the way he had handled the playing budget cut, revealing Sean Clancy, Robbie Booth, Levi Mackin and Luke Denson had all been allowed to leave to reduce the club's wage bill. 'There is no money available at the moment for new players', he said. Vice-chairman Steve Ashton said... the club needed to increase income, make greater use of volunteers and grow its fan base... Figures sent to CFU members in November revealed the club lost £2,970 in the last financial year. The club posted a £107,626 profit in its first season, although that figure included money pledged by supporters to help start the club".

Elsewhere, the Worcester News says that "Chairman Mark Serrell has promised the Aggborough pitch will be protected after Worcester City agreed a deal to play at Kidderminster Harriers.. Said the chairman, 'I know some people are worried about the impact on the playing surface but it has held up remarkably well over the last few months. The groundshare also means there will be a match on at Aggborough virtually every week but I am hoping the Harriers fan who don't go to away matches will go and watch Worcester'".

At Corby Town, "Chairman Kevin Ingram has confirmed that the Steelmen have signed a contract with Kettering Town to extend their facilities hire at Steel Park until the end of the current season. The chairman said, "'There is still great uncertainty surrounding the future of Kettering Town and the on/off sale deal. However we have worked with Ritchie Jeune, who is representing Imraan Ladak in this matter, and Jason Mills at the Southern League to secure a place for Kettering to play until the end of the season. Beyond that, who knows?

Equally, it is important to stress that the deal is fully beneficial to Corby Town and all payments are front-end loaded, so we have no financial exposure. Martin Shepherd at Technical Turf, our Pitch Advisor, is also more than confident that, following the work undertaken last summer, the playing surface will withstand what will now be an intensive period of matches following January's bad weather'".

Leeds United confirm that "Young duo Ross Killock and Alex Cairns have extended their loan deals with Alfreton and Stalybridge respectively... Goalkeeper Alex has spent the biggest part of the season at Stalybridge and has made 28 appearances for the Blue Square North side. Both players loans are for a further month".

In Cumbria, the Times and Star reports that "Workington Reds' defeat to play-off chasing Gainsborough has been overshadowed by secretary Steve Durham's resignation. Durham branded his position as 'untenable" and quit in the wake of Reds' four-point penalty for fielding an ineligible player. Workington were punished for playing Tranmere loanee Will Vaulks against Altrincham and Gainsborough in October.

Submission of the midfielder's paperwork was late reaching the Football Conference but had been received by the Football Association. Reds were charged on December 10, and unsuccessfully appealed.

Durham has written a letter of resignation to chairman Humphrey Dobie, and said, 'I would like to apologise to the chairman and directors, Darren Edmondson and the playing staff, and above all, the supporters of Workington Football Club. While I am not 100 per cent to blame for this administration blunder, I am 100 per cent responsible for the outcome, and do not wish to implicate other parties. I am embarrassed by what is another sad chapter for the club and a traumatic day for me personally...

General manager Alec Graham admitted the severity of the punishment, which included a £500 fine, had left a bitter taste in the mouth of Reds' officials. He said, 'It was our responsibility to ensure the appropriate paperwork was lodged with the authorities. We believed this was the case, and used the members' section of the Football Conference website as a reference. Here, information about players' availability is stored, and it looked from there that Will was eligible to play. We believed what was published on the website was up to date'.

On the pitch, patched-up Workington lost 3-0.Just 191 – a season-low – watched the defeat as Reds ended January without a win".
NW NEWS
The NW Counties Football League reports that "The FA has announced that they are willing to grant Step 5 and 6 Leagues permission to extend their playing season beyond the end of April... until Saturday 4th May if required.

However, in a communication sent to Step 5/6 League Secretaries, FA Leagues and Clubs Manager Mike Appleby said, 'It may be the case that non-promotion related games may be able to take place after this date but we will monitor the situation going forward'.

League Chairman Dave Tomlinson said, 'Our Fixtures' Secretary, John Reid, will continue to work on the basis that the season's end date is 27th April as previously agreed, and clubs will still be expected to play two midweek games during a week if required, to complete their programmes of league fixtures'".
---
FOR EARLIER NEWS, CLICK HERE
---