---
31 January 2013
"THIS IS A GREAT CLUB", SAYS LEE
John Edwards, Altrincham FC's joint Press Officer, writes that "Lee Sinnott saluted an outstanding team performance and called for more of the same after seeing Altrincham hit the ground running on their eagerly-awaited return to action on Tuesday night.
An eye-catching 7-1 scoreline completed a hat-trick of wins over Boston United this season and reinforced Alty's hold on fifth place, at the start of what Sinnott considers a critical phase of their Blue Square Bet North campaign.
'I could not have wished for much better than that, after all the disruption caused by waterlogging and then snow over the past few weeks,' said the Alty manager. 'You can do all the training you like, but you are always a little wary going into a game after a lay-off.
'I tried to simplify it for the players by telling them to show hunger and trust that would transform itself into energy and then into quality. They ticked all three boxes, and I was delighted. Take the goals out of the equation, and there was some outstanding football from us.
'The scoreline speaks for itself, in terms of where this rates compared to other wins in my time here. We had two 6-1s last season, against Boston and Colwyn Bay, and winning 1-0 at Brackley earlier this season was quite something, as was the wonderful stuff we played at Burton Albion in the FA Cup.
'But this was a really pleasing result and performance, right up there with anything else we've done.
'It was so important to start back with three points, because we are entering a very busy month or so, where everyone will be jostling for position. With games coming thick and fast, you can get left behind, if you are not careful. Lose one or two, and you can be blown away, so it is essential we keep it going.'
In-form midfielder Simon Richman (left) matched Damian Reeves's two-goal contribution with a double of his own and celebrated by signing an extended contract until the end of next season.
'He is not the first young player we have signed up, and it is an indication of the strategy I am trying to put in place, with the help of Grahame Rowley and Andrew Shaw,' added Sinnott. 'When I first walked into the job, I made it clear I wanted to build something new, and that was always going to be dependent on not only having young talent but securing it for the good of the club.
'We will look after our young players, because we don't want to lose them come the end of the season, when it tends to become a free-for-all at this level. It can be a little bit here-today-gone-tomorrow in this division, but we are looking to put building blocks in place and do what is best for our young players and the club. That is paramount.
'I knew Simon at Port Vale, and I'm pleased that, after the problems he had with injury and illness last season, people can now see where he is coming from. He does a wonderful job for us, with the energy he puts in. Any team aiming to be successful needs energy, and that is taking nothing away from what he can do on the ball.
Boston had a man sent off near the end, and Sinnott saw clear signs of his players sticking together and standing up for each other, whenever the going got tough physically.
'The ruckus was too far away for me to be sure about who was doing what to who,' he said. 'You don't want to see anyone sent off, but equally you have to stand your corner. You have got to earn the right to play your football. If teams think they can bully you out of it, they will, so it was good to see the players standing up for each other.
'The last thing you want is players wading in with fisticuffs, but keeping people at bay is a different matter. There's nothing wrong with that.
'What did annoy me a bit was a naughty tackle on Duncan Watmore a bit before the fracas. Players can get frustrated in games, when things are going against them, but there is no excuse for frustration transcending into the darker side of things. It could easily have caused more harm than it actually did, and that is what angered me.'
There was a word of gratitude from the Alty boss for the volunteers who cleared the school training pitch in Wythenshawe to enable an invaluable training session and practice match to take place.
'This is a great club with some great people attached to it,' he said. 'I am extremely grateful to all those who put in so much time and effort to make the surface playable. It's no easy task clearing a pitch of snow and ice. I did it when I was younger, and I know it's a good work-out, to say the least. I'm full of admiration for those who helped out, particularly as it could have been a wasted effort, if the snow had come down again. They weren't to know, but it didn't seem to make any difference. They just got on with it, and I thought that was great.'
Alty will again be without injured James Lawrie at home to Gloucester City on Saturday but hope Danny Hall (above right)recovers from a cut on his foot".
RADIO ROBINS
Brian Flynn advises us that the Radio Robins commentary files from Tuesday night's game are now available:
Second Half
PILGRIMS' VIEW
After Tuesday's game, the Boston Standard tells us that 'Boston United were well and truly humbled as Altrincham hit them for seven at Moss Lane. The 90-minute drubbing saw the Robins, who began the day a mere point ahead of the Pilgrims in the league table, hit Graham Drury's side with their heaviest defeat of the campaign.

Alty thrashed Boston 6-1 at Moss Lane last season - a score which was surpassed this evening. The hosts began this evening's clash with the same eagerness to push forward. Duncan Watmore saw a 20-yard effort flash inches over Dan Haystead's crossbar with less than two minutes on the clock. But the Blue Square Bet North's leading scorer Damian Reeves didn't take long to tuck away his 22nd of the campaign.

He latched on to Matt Doughty's perfectly-weighted pass to round Haystead and casually roll the ball into the unguarded net after just 12 minutes. Deadly Damian had plenty to do to see his name on the scoresheet, but the goal came from Doughty's hard work. He disposessed debutant Steve Spriggs in his own half with a fearless tackle, before riding Gary Silk's challenge and popping in a perfect pass...

But Jordan Smith pulled the Pilgrims level with his very own moment of quality...Picking the ball out of his net was about all the Robins stopper had to do all evening. He should have brought his iPod... Two moments of magic and a solid header saw Altrincham finish the first half 4-1 up... Watmore, nicknamed the Ginger Messi in the north west, effectively won the game with a clever finish inside the penalty area...

United's hopes of a comeback were about as realistic as Dick Van Dyke's accent in Mary Poppins... Scott Leather made it 5-1 four minutes after the break... Reeves made it 6-1 with a near-post finish from six yards which gave Haystead no chance. But the icing on the cake came courtesy of substitute Ryan Brooke, sliding in the seventh...

But there was more woe on its way as Gary Silk saw red at the death for throwing Brooke to the floor following a tussle. The 28 hardy, or should that be crazy?, Boston fans who made the three-hour trek to Altrincham didn't have much to warm the cockles, apart from Smith's strike. But they can make their way home knowing this wasn't the worst performance of the season. The good news is that there was more commitment and passion than the defeats at home to Harrogate and away at Vauxhall Motors. The bad news is that they were just totally outclassed from start to finish".

Boston United add that "United crumbled to a 7-1 defeat at the hands of rampant Altrincham... The Pilgrims were put to the sword for the second season running as Altrincham ran amok on their home soil"

Boston have a video interview with "Defender Phil Watt [who] was 'embarrassed' to play his part in Tuesday's 7-1 defeat at Altrincham. One of United's newest signings cut a desolate figure as he briefly reflected on Boston's night to forget". And another video interview with in which "Boston United boss Graham Drury blasted his players as an 'embarrassment' following Tuesday's 7-1 annihilation at the hands of Altrincham... The United manager was critical of his side all over the pitch, including full-back Gary Silk's needless late red card".

Meanwhile the Boston Standard says that "Manager Graham Drury has branded Boston United's 7-1 spanking at Altrincham as 'totally embarrassing'... their heaviest defeat since 1999's 8-0 thumping at Bath City.

'Embarrassing. Totally embarrassing', were the first three words Drury spoke after he left the dressing room. 'I just spoke to the players. People might say it won't do the players any good if you're slagging them off or anything, but I just asked the players what they want me to say to the press. They just said they've let the club down. Not just the management, they've also let the club down. That's come from the players. They didn't work for each other, they didn't do anything that you need to do in a game of football. That was a training game for Altrincham tonight. It was so, so easy for them'...

With a 4-1 interval lead, the gallows humour then kicked in, with travelling supporters joking that the hosts could surpass last season's score, when they humiliated United 6-1. The fans then learned you shouldn't joke about such issues. Altrincham did just that... Gary Silk's frustration got the better of him and he was sent off for a tussle with Brooke.

As the final whistle saved the Pilgrims from further humiliation, Drury launched into an attack on his squad... 'It doesn't matter what formation we use, it doesn't matter what team I pick, we've got to have that desire. I'm afraid you've got to have a group of players to do that. I don't think we have. Should I be looking to next season? Because I don't know if I can work with what we've got here'.

Drury's first seven games in charge have seen United win twice, draw twice and lose on three occasions. It could be argued that the manager's candid comments could be losing him the support of those players in the dressing room who were with the club before his arrival. However, he's not the first man in charge to see this squad slump. Jason Lee certainly had the backing of his players, but he... saw his side lose four consecutive games early on in the campaign, while a winless sequence of six matches, including an FA Trophy exit at Skelmersdale, cost him his job...

There is undoubtedly plenty of talent on the club's books, but consistency is something no manager has achieved at York Street since Rob Scott and Paul Hurst jumped ship for Grimsby Town.

'They haven't turned up. They've not worked hard enough for each other'," Drury continued... 'There were so many problems tonight. You have to blame the players, (Altrincham) have had the same problem as we have (with weather postponing matches). I don't pull any punches, and that was embarrassing'">

" The Standard adds that "That was not the debut Steve Spriggs had in mind when he joined Boston United. After leaving King's Lynn Town for the Pilgrims, the winger pulled on an amber and black shirt for the first time at Altrincham last night. By half time, United were 4-1 down and Spriggs was replaced by Conor Marshall...

'It was a tough game and we didn't turn up', Spriggs admitted. 'We're disappointed, we've let Boston down and the gaffer down... I think the game passed me by. We were under the cosh first half and I'm a player who likes to get on the ball. We didnt see enough of the ball, our ball retention wasn't good enough. It wasn't an ideal debut'".

However, the Football Conference reports that "Graham Drury, manager of Boston United, has announced the signing of defender Keiran Walker from Evo-Stik Northern Premier League First Division South side Rainworth Miners' Welfare... Walker, capable of playing at right-back, centre half or in midfield, possesses a long throw".
CROSSBAR CHALLENGE
The latest instalment of the Crossbar Challenge between coach Ian Senior and assistant manager, Neil Tolson, was won 2-1 by Neil. He now leads 18 - 14, with the loser at the end of the season obliged to make a donation to the Mark Maddox Motor Neurone Disease fund.
BUCKET COLLECTION
Though it was the lowest crowd of the season at Moss Lane on Tuesday, the TASC bucket collection raised £47.65. Thanks go to the donors and collectors alike. Congratulations also go to the 28 Boston fans who made the 250 mile roundtrip to Moss Lane on a dismal Tuesday night for the hastily rearranged match against Altrincham.
WEDNESDAY GAME
Wednesday's FA Carlsberg Trophy match did nothing to help ease FC Halifax Town's fixture backlog, as they now need a replay.

Wednesday 29 Jan.
FC Halifax Town 1 Dartford 1
ROB'S INTERNATIONAL HONOURS
As reported a few weeks ago, one of Altrincham FC's youth players has had the honour of being called up for England Schools. On this subject, the Liverpool Echo reports that "It is almost 30 years since Merseyside held the distinction of fielding two players together in the Under-18 England Schools international team.

Jack Owen (Rainhill High School) and Rob Gilroy (Sacred Heart High School) are both in the squad of 16 and likely to make their international debuts against Wales (March 1 at Lincoln City FC)... 17-year-old Gilroy is a Liverpool supporter. He prides himself on his fitness levels, has played for several clubs and was ambitious to play for England from a young age.

'The confirmation that I had been selected arrived by post', he recalled excitedly. 'I was ecstatic when I read the letter. It was a dream come true. Since the age of 11 I had always wanted to pull on an England shirt and knew that the route to the international team was through Merseyside; it's just crazy. The biggest influences on his football development, after my Mum, Dad and family, were my coaches at Chester FC, Gareth Richards and Kevin Richards.

'They have given me excellent advice and 18 months ago it seemed I reached a turning point with them, which has helped me to make the squad'. Like many youngsters of his age the Crosby-based midfielder has done the rounds of the professional clubs...

'First it was Everton, when I was six', he recalled. 'I then moved to Wrexham and the Blues bought me back when I was nine. I was injured when I was 14 and left and, eventually, moved on to Chester City... I am now in the first team squad at Altrincham'.

The experience he has acquired on his travels may have convinced the teenager of the importance of fitness to his game. Any scout watching him play will notice his speed and stamina around the field, which seems a higher standard than most other players.

'As well as all the work I do when training with my teams, I work hard keep my fitness levels high. On my own I use biometrics to measure my strength and conditioning and plyometrics (jumping and stretching). I run often, practise my skills alone and make sure I eat well. Diet is very important'.

While this will be Gilroy's England international debut he did once play for Great Britain Catholic Schools in a competition against France and memorably scored the equaliser in a 3-3 draw. Currently he is studying A-levels in maths, physical education and physics, although his main aim is to go on and emulate his hero, Cristiano Ronaldo, and become a top class footballer'".
LADIES' LAST GAME
A report on the latest match played by Altrincham FC Ladies comes from John McManus.

Sunday 27th January 2013 Altrincham Ladies 2 Wythenshawe Amateurs 5

After several weeks of bad weather and postponements, this eagerly-awaited cup fixture against 1st Division opposition finally went ahead!

A pitch inspection took place at Manor Farm prior to kick off. Unfortunately, the playing surface was not suitable for this cup tie. Following discussion between management and staff from both clubs, a solution was found. The game was relocated to a 3G pitch in Wythenshawe. Home advantage lost!

The game got underway at a fierce pace, a typical cup tie. Wythenshawe had the better of the early stages being more accustomed to the surface.

Wythenshawe took an early lead after six minutes following a long ball played from deep, which was latched on to by the striker, giving neither the Altrincham defence or keeper little time to react. The first half was mainly dominated by Altrincham, who were only prevented from levelling the score by some very determined defending.

Quite against the run of play, on 43 minutes, Wythenshawe increased their advantage following a rare foray into the Altrincham half.

With the second half underway, Altrincham took to the field of play focused on getting back into a game they were convinced was not beyond them. Nat Thornley pulled a goal back early in the half with a fine strike giving the keeper little chance.

Midway through the half Altrincham Ladies were pressing hard and were duly rewarded. A wonder strike by Nat from outside the box, which rocketed into the top corner, levelled the score. All now looked set for a very close game with Altrincham in the ascendency against their first division opponents.

Unfortunately, that was the high point of this game. Keith Edleston, the Altrincham manager, due to injuries sustained to players had to make several positional changes. Wythenshawe took full advantage and scored three further goals which on paper reflects an easy passage for the opposition.

There will be better days for Altrincham Ladies who are already focused on their next game, away to Wallasey Athletic FC this coming Sunday.

Back to league action, Up the Alty!

Squad - Rosie Emerson, Sam Briggs, Gail Simpson, Tasha Nolan, Louise Edleston, Nat Thornley, Heather Scott, Kate Rawthore, Hayley Macardy, Olivia Smith, Faye Howard, Caroline Moran, Sam Jones, Jacquie Farrar, Sarah McManus

Woman Of The Match : Gail Simpson
BSBN NEWS
The Conference confirms that "Kidderminster Harriers and Worcester City have formally announced the signing of a ground-share agreement which enables City to play their home games at Aggborough Stadium from the start of next season... as their historical stadium at St George's Lane faces demolition... The two clubs have agreed a formal one-season arrangement with an option for this to be extended to a second season, with Worcester City set to pay Harriers a set sum on a match-by-match basis for the hire and use of Aggborough.

City vice-chairman Colin Layland commented... 'The Board remains ambitious and wishes to compete at the highest possible level during its period of ground share. It also wishes to give the Manager the opportunity to continue to play the attractive brand of football and attract the standard of player we have become used to. We really feel that this move allows Worcester City to retain some of its ambition but while also guarding its future'...

Harriers chairman Mark Serrell added, 'It's probably been the world's worst-kept secret while we've been going through negotiations!... I would assure both sets of supporters that from our perspective it is not aimed to be an arrangement that generates profit for the Club, rather all the income we receive from it will go towards maintaining the surface at Aggborough and the work involved in that. We look forward to welcoming Worcester City to Aggborough next season and hope that, however long they are with us, they leave to take up their new, permanent home in a healthy and vibrant state'".

According to Pitchero Non-League, "Not many people would envy the position Hinckley United manager Carl Heggs finds himself in. His side are rooted to the bottom of the Blue Square Bet North with just one point from twenty-four games, their last result [before Tuesday] a 6-0 thumping at the hands of leaders Chester FC. Off the field, it makes equally grim reading.

Disputes over last season's unpaid wages mean they are bound by a transfer embargo, while the debt-ridden club's inability to pay off creditors saw them docked three points, giving Heggs nothing to show for their only league victory of the season.

Heggs has somehow to find a way of putting all this debt and controversy aside and concentrate on keeping his side in the division. 'I have been involved in football for a long time', he said 'If there's one thing I understand, it is that there is nothing that I can say, or do, that will change anything in the boardroom. Unless I win the lottery and decide to give them some money, there is no point me wasting any energy whatsoever in worrying or trying to contribute to anything that's happening in the boardroom because I have no control over it.

What I have control over is making sure my players are fit and organised, and want to wear the shirt with pride and passion – that's my job. So, I don't get sucked into the politics of it all. My job is to get them ready and focused to play a football match... I knew the football club was in a bit of difficulty, like most football clubs', said Heggs, who is in his third spell at Hinckley.

'I was aware there were some things that may have to take a back seat, but I didn't understand the full extent of the problems, I'll be honest. The football club is more important at the minute than the playing side of things because if you don't pay off the necessary bills, you don't have a football club, full stop. But I have never quit anything in my life - I have always seen things through to the bitter end... I always keep myself motivated and that rubs off on everyone else', he said...

'When the game starts, whether you're getting your money on time or not, once the whistle goes, you've got to give yourself every opportunity to be the best player on the pitch. I'm just trying to get a starting eleven out there each week. That's getting more and more difficult... I've got 17 and 18-year-olds playing who should be playing in the under-19s and I'm asking
---
30 January 2013
ALTRINCHAM 7 BOSTON UNITED 1
Match report here.

Alty had their lowest gate of the league season (561) against Boston and other BSBN matches were even more poorly attended on Tuesday night:
Droylsden 0-2 Worcester City, att. 140
Harrogate Town 6-1 Corby Town, att. 99, at Doncaster, where Carl Piergianni was sent off for the Steelmen.
Hinckley United 1-3 Brackley Town att. 152
Solihull Moors 2-0 Colwyn Bay att. 102
SIMON SIGNS UP
Following Tuesday night's win, Altrincham FC are pleased to announce that midfielder Simon Richman has signed an extended contract to the end of the 2013-14 season. Simon scored twice against Boston United and has been enjoying an impressive season for the Robins.
LADIES' NEXT GAME
Altrincham FC Ladies hope to return to action this Sunday (3 February) when they travel to play Wallasey Athletic in a Cheshire Womens' League Division Two game. The match, which starts at 2pm, is at The Oval Pitch 4 Old Chester Road, Bebington, Cheshire CH63 7LF.
YANKEE JACKPOT GROWS
The Altrincham FC Saturday Yankee produced two winning trebles, with thewir two codeholders winning £100 each. The main jackpot, code 6601, was unissued so the jackpot now rises to £1,500.
BSBN NEWS
Before their visit to Moss Lane, NL Daily reported that "Graham Drury, manager of Boston United, has made a change to his backroom staff. Drury has recruited goalkeeping coach Mick Hogg to work closely with stoppers Dan Haystead, Ricky Drury and Sam Vince. The former Lincoln United and Grantham Town coach is an experienced figure and will lend his expertise to the club's goalkeeping trio. Hogg replaces Paul Worley, who had served the Pilgrims since the beginning of the season".

The Football Conference tells us that "Harrogate Town have signed striker Dominic Knowles from rivals Gainsborough Trinity. Trinity released Knowles recently, despite him being their top scorer, after undergoing a trial with Burton Albion without the club`s knowledge. Knowles left Championship outfit Burnley at the end of last season, and signed for Gainsborough towards the end of August 2012. Knowles came through the youth system at Turf Moor and spent two years as a professional after signing his first deal in the summer of 2010...

He had trials at both Stevenage FC and York City during the pre-season and things looked more than hopeful that he'd get a deal with the Minstermen".

In response to Workington's announcement yesterday (see below), the Football Conference says that "An Appeal lodged with the Football Association by Workington FC, against a Football Conference decision to deduct four points from the club's league table score for fielding an ineligible player, was considered by a panel of FA Councillors at Wembley on Monday.

The player's ineligibility arose when the club omitted to lodge, with the Football Conference, the appropriate forms to extend the loan of Will Vaulks on 21st October. The player was fielded in matches on 23rd and 27th October prior to the Competition being able to advise the club of its omission.

Upon the club's own admission, Workington FC was found guilty of fielding an ineligible player in its matches against Altrincham and Gainsborough Trinity and, in accordance with Competition rule, the Football Conference was obliged to deduct the four points gained in these two matches.

The club appealed against the Conference's decision on the grounds the Competition 'Reached a decision no reasonable body could have reached' and on 'Severity of sentence'.

Referring to the rule under which the charge was brought, the FA Appeals Panel emphasised it was a club's responsibility to ensure the eligibility of its players and, since the sentence imposed by the Conference was mandatory, the sentence could not be considered excessive. The Appeal was dismissed on both strands. The club's league table score, showing the deduction of four points, will be adjusted immediately".

Meanwhile, FC Halifax Town "have confirmed that their home FA Trophy match with Dartford has been put back 24 hours. The tie will now be played on Wednesday 30th January". Other news from The Shay is that "Former Town man Jason Jarrett is set to join Airbus UK... The move follows Jarrett's departure from FC Halifax Town earlier this month and will see the former Norwich City man link up former Town centre-back Phil Bolland".

Pitchero Non-League tells us that "Strugglers Hinckley United have escaped a winding-up order. In London's High Court on Monday, the order from HM Revenue & Customs over an undisclosed debt was before the court. It was formally dismissed on the recommendation of HMRC.

The most likely explanation is the debt had been paid or the club had come to an arrangement with HMRC. Had the club been wound up, it would have had its assets sold to pay off the debt, effectively making it bankrupt".
---
29 January 2013
ALTRINCHAM 7 BOSTON UNITED 1
Alty went one better than last season, when they beat Boston 6-1 at Moss Lane. But with the score in this match only 1-1 after 34 minutes, the eventual margin of victory did not look likely at that stage. Despite the parity, Altrincham had been the better side from kick off and went ahead when in the 12th minute when Reeves rounded the keeper to score after a slick move started by Leather and Doughty. But Boston levelled with virtually their first attack of note when Smith hooked the ball into the net off the underside of the crossbar (19 mins).

It was Man of the Match, Duncan Watmore, who helped make Altrincham convert their superiority into goals. His fine run up the left saw him cut smartly between two defenders and feed Simon Richman who scored with a firm shot (35 mins). Four minutes later Watmore himself scored after a smart interchange with Richman. And, as half time neared, Richman's excellent looping header from a Doughty cross made it 4-1.

Left-back Scott Leather advanced upfield to score with a fine shot from the edge of the box, four minutes into the second half. Leather got forward again after 69 minutes and from the resulting cross by Clee, Reeves scored his second, and the team's sixth, goal. Five minutes from time Reeves fed Densmore up the right wing and his low cross was poked in by Ryan Brooke to make it 7-1.

The game ended with fireworks on and off the pitch. First Gary Silk was sent off after a mass brawl, with Nicky Clee being cautioned. And then Patrick Lacey's challenge prompted another melee and he got a booking. And, as the final whistle sounded, one of the floodlight pylons blew a fuse with a puff of smoke.

ALTRINCHAM - 1. Stuart COBURN, 2. Shaun DENSMORE (capt), 3. Scott LEATHER, 4. Carl RODGERS, 5. Gianluca HAVERN, 6. Danny HALL, 7. Simon RICHMAN, 8. Jake MOULT, 9. Duncan WATMORE, 10. Damian REEVES, 11. Matt DOUGHTY. Subs 12. Patrick LACEY, 14. Nicky CLEE, 15. Ryan BROOKE, 16. Callum MOONEY, 18. Stephen BULLEN

BOSTON UNITED - 1. Danny Haystead, 2. Gary Silk, 3. Gareth Jelleyman, 4. Ian Ross, 5. Tom Ward, 6. Phil Hall, 7. Stephen Spriggs, 8. Anton Foster, 9. Marc Newsham, 10. Spencer Weir-Daley, 11. Jordan Smith. Subs: 12. Connor Marshall, 13. Nathan Stainfield, 15. Ben Milnes, 14. James Reed, 17. Ben Fairclough

Report to follow...
Alty line ups
ALTRINCHAM v BOSTON UNITED
Radio Robins, sponsored by Ashley Mowers Garden Machinery, will be broadcasting live coverage of Altrincham's game against Boston United on Tuesday evening. The match commentary is sponsored by Altrincham Football Club Community Sports Ltd - delivering Football in the Community. The directors of Altrincham Football club Community Sports Ltd are Neil Faulkner, Karen Rowley, Carole Nash, Fred Nash, and Peter Foster. The day to day activities are co-ordinated by Chris Bullock, who is contactable by e-mail or by phone on 0161 928-1045. The match commentators are Paul Salt and Brian Flynn with match summaries from Ian Wilkinson. The broadcast begins at 7.40pm. You can listen to Radio Robins on the internet at www.radiorobins.com.

Alternatively, you can find text updates on this site's Matchday Updates page, at the link below

You can follow the match via the following quick links...

Tuesday 29 Jan.
Through the Years by Howard Watts.
Altrincham 7 Boston United 1
Droylsden 0 Worcester City 2
Harrogate Town 6 Corby Town, 1 @ Doncaster
Hinckley United 1 Brackley Town 3
Solihull Moors 2 Colwyn Bay 0
Workington 0 Gainsborough Trinity 3
NEW DATE FOR HALIFAX
At the fifth time of asking, Altrincham hope to play their four-times postponed match at home to FC Halifax Town on Tuesday, 23 April 2013, which will make it the penultimate game of the season.
REDS LOSE FOUR POINTS
Workington announce that "It is with much regret that the club have to inform you we have been deducted four points and fined £500 for playing an ineligible player (Will Vaulks) in the games at Altrincham and Gainsborough. This came about due to Tranmere Rovers forgetting to forward the necessary paperwork to the Conference in time on our behalf. Despite the FA receiving and acknowledging his registration, the Conference argued that the club had failed to notify them although the members' section on the Conference website indicated to us that the club had registered him.

The club felt very strongly that in the circumstances the penalty was severe and the fine harsh and consequently decided to appeal to the FA. Despite travelling down to Wembley at considerable expense it is again with regret, our duty to tell you that the FA have upheld the original decision".

The deduction drops The Reds down to 17th in the league table.
GUISELEY GAME
The recently postponed Guiseley v Altrincham game has now been rearranged for Tuesday 19th March at 7.45pm.
STEWARDS WANTED
Altrincham FC Safety Officer, Allison Lewis, writes, "Over the past few months a number of our stewards have left the club. Some have gone off to University, others have got family commitments or have had a change of job that means that they are unable to make it to games regularly. It is vital for the safety of everyone who comes along to matches that we have stewards on duty, from when the turnstiles open until the gates are locked at the end of a game, but it is getting to the point where we have not got enough stewards to look after all the gates. We are looking for a few new stewards who would be prepared to join our team for both Altrincham games and Man Utd U21 games. If you would like to talk to someone about what is involved, please contact myself or the Chief Steward, Peter Lewis, either at any match or via the football club office, (Tel. 928-1045). Thank you, Allison Lewis".
GOOD FRIDAY DRAW
TASC Chairman, Brian Flynn, announces, "Tickets go on sale at Tuesday night's home game against Boston United for Altrincham Football Club's Annual Draw.

This year's draw will be made at 5.30pm on Good Friday, March 29th 2013 in the Noel White Suite, following the home game with Vauxhall Motors.

Prizes are as follows:-
LeapFrog LeapPad 2
19" HD Ready LCD TV with DVD Player
Two Tickets to an England International Match at Wembley
Red Ride on Police Trike
Binatone Sat Nav
A Pair of Signed Nemanja Vidic Boots
Matchday Hospitality for Four People at an Altrincham F.C. Home Game
Four-Ball Round of Golf at Heyrose Golf Club, Tabley, Knutsford
Set of 3 Travel Cases
PLUS MANY MORE!

Tickets are priced at 50p each, (book of four for £2). This is an important fundraiser for the Football Club. We would like as many supporters as possible to buy tickets for themselves and sell them to their friends and family to make the draw as successful as possible. Tickets will be available on Tuesday night from Anthony Wright or Mike Garnett in the TASC Section in the Club Shop, from Brian Flynn in the Press Area at the back of the Carole Nash Bike Insurance main stand or the omnipresent Steve Foster!".
JORDAN'S DEBUT WATCHED BY LEE
The Huddersfield Examiner reports that "Jordan Sinnott (right) could be back in under-21 action today, less than 48 hours after an impressive first-team debut for Huddersfield Town in the FA Cup. The 18-year-old midfielder is set to skipper Steve Eyre's development side...
Sinnott, the son of former Town skipper and now Altrincham manager Lee, would love to make it three games in five days when the club return to Championship action at home to Crystal Palace on Wednesday. But the first-year professional is certainly not counting his chickens, admitting, 'I'll just keep working hard and see what happens'.
Sinnott didn't see his dad play live but experienced his managerial skills during a recent loan stint at Blue Square North club Altrincham. 'He's been a big influence on me, and I've been kicking a ball ever since I was three', he explained.
Altrincham's game against Guiseley was postponed, so he was able to come and watch me, but I'm not sure whereabouts in the stadium he was. 'That's typical of him because, while he obviously wants me to do well, he's never been that hands-on. He doesn't shout and scream, just has a word in my ear every so often. It's good, because he tells me what I'm doing wrong in a constructive way'.
Sinnott also praised academy chief and now caretaker manager Mark Lillis and development coach Steve Eyre... 'Mark took training at the stadium on Friday and told me I would be playing, and I could hardly believe it'".
BSBN NEWS
According to This is Lincs, "Boston United boss Graham Drury believes the 'battle of the goalscorers' between Marc Newsham and Damian Reeves could decide tomorrow night's clash at Altrincham. After three postponements in a row, the Pilgrims are due to return to action with their rearranged clash at Alty...

The play-off chasing home side boast the hottest striker in the division in Reeves, who has netted 21 times in the league this season. But United ace Marc Newsham is not far behind on 14 league goals and Drury believes the pair will be the key men at Moss Lane.

'Altrincham is a tough place to go, there's no doubt about it', said the Pilgrims' boss. 'They've got the top scorer in the league but the pleasing thing is that we've got one, in Marc Newsham, sniffing after him. It will certainly be the battle of the goalscorers'. But Drury insists Reeves won't be the only threat posed by Lee Sinnott's side. 'Lee (Sinnott) has his teams well organised and Duncan Watmore is a decent player as well', added the former Stamford boss, who has no injury worries ahead of the game".

The Football Conference reports that "Lee Williams, manager of Colwyn Bay, has brought in goalkeeping cover by signing Simon Williams. Williams has recently returned from playing in Australia and impressed in the 2-0 win over Welsh Premier side Airbus UK Broughton in a recent friendly.

The Prestatyn-born keeper joined The New Saints from Chester City in June 2009, before linking-up with his home-town club on loan in 2009/10 and again in 2010/11. He made a handful of appearances for the Seasiders before joining Colwyn Bay and then moving to Australia with the Ballarat Red Devils in March 2012".

Should they win their quarter-final games, both surviving BSBN clubs have been given away ties in the FAT semi-finals, for which the first-legs are on February 16.
Wrexham v Gainsborough Trinity or Gateshead or Barrow
Grimsby Town or Luton Town v FC Halifax Town or Dartford
"SPECTACULAR DEBUT"
The NL Paper described goalkeeper Adam Reid's game last Saturday, on loan, for Prescot Cables as a "spectacular debut". You can see Adam in action on Lancaster City's YouTube coverage.
UNITED IN THE BAR
On Wednesday (30 January), the TVs in the bar at Moss Lane will be showing Premier League action, Manchester United v Southampton, a game which is not being shown on any UK TV channel. Kick off is at 8pm and the bar opens at 7.30pm. Everyone is welcome.
---
28 January 2013
MONDAY GAME OFF
The first midweek BSBN postponement was announced during Sunday as Bradford PA indicated that "The fixture between Bradford (Park Avenue) and Oxford City on Monday evening has been postponed. The pitch at the Horsfall Stadium did not pass an inspection on Sunday afternoon. The playing surface has been covered by snow, and most recently, due to rain and rising temperatures, the pitch has become waterlogged".

Monday 28 Jan.
Bradford Park Avenue v Oxford City POSTPONED
BSBN NEWS
The Worcester News reports that "A handful of Worcester City fans spent much of last week clearing snow from St George's Lane to ensure the Histon match went ahead. At times, they must have wished they had stayed at home and left the pitch covered... This defeat, after all, came against a team that had previously managed just one away win all season and started the day in the relegation zone... This was a golden opportunity to move back into the top five.

Yet City produced a first-half so abjectly lacklustre that Carl Heeley's men were booed off at the break. A much improved second period, inspired by the doggedly determined Michael Taylor, got them back on level terms, however, they were unable to add a third and paid the price four minutes from time.

Two weeks, without so much as even a training session, due to the wintry weather had clearly taken its toll on Worcester. For whatever reason, they were unable to shake themselves out of their slumber in the first-half and, by and large, were completely outplayed.

Histon, full-time but with their oldest player only 25, made the most of a decent surface and took the lead through James Stevenson's penalty, awarded for handball against Ellis Deeney. Lewis Taaffe duly doubled their lead with a fierce drive past Glyn Thompson three minutes before the interval.

Heeley had seen enough and promptly threw on Taylor and Matt Birley at half-time for the ineffectual Mike Symons and Kyle Patterson. The impact was immediate with Taylor refusing to give the opposition defence a moment's peace. His tenacity in shrugging off his marker in the box saw him halve the deficit and, three minutes later, Danny Glover prodded home the equaliser from close-range...

Chances came and went in a frenetic finale without being converted. So when Histon sub Matthew Waters curled in an unstoppable winner from out on the left, City could have had very few complaints".

Histon's win dropped Colwyn Bay into the relegation places. Two ex-Alty men now playing for the Bay feature in the following report from the North Wales Weekly Times which says that "Two first-half goals a depleted Colwyn Bay squad a 2-0 victory in today's hastily arranged friendly against Airbus UK. Six members of the squad were unable to make the game because of last night's heavy snow in many parts of the North West, but even with a number of players having to play out of position, the Seagulls performed well against a side that are currently second in the Welsh Premier League table. Trialist Jamie Crowther, who has been at Wrexham and Bangor, did well as a stand-in centre back alongside the outstanding Robbie Williams, while midfielders Barry Hogan and Tom Roberts had to fill in as fullbacks and stuck to their tasks well.

Up front Alex Meecham continues to impress and is also bringing the best out of Rob Hopley. On Crowther, manager Lee Williams commented, 'He has given me something to think about. He did well and looks as though he would be a very useful squad player'... Overall this was a good workout for the Bay squad ahead of Tuesday's league game at Solihull Moors. That is a game which takes on added significance following Histon's shock win at Worcester City today - a result that drops Colwyn Bay into the bottom three relegation places of the BSB North for the first time".
---
27 January 2013
ADAM'S DEBUT
Alty keeper Adam Reid was the only squad member in action on Saturday as his one-month loan to Prescot Cables sent him to the Giant Axe, where "Lancaster City beat the weather and their opponents Prescot Cables to take all three points in the only game played anywhere in the Evo-Stik Northern Premier League on Saturday.... The match at Giant Axe was the only game to go ahead in all three divisions after an enormous amount of snow had to be cleared from the pitch in the morning...

Danny Gregson opened the scoring after just 4 minutes with a close range finish after Cables' goalkeeper Adam Reid, signed on-loan from Blue Square Bet North side Altrincham, had saved Dave Swarbrick's initial effort. Reid then brought down Tom Kilifin in the box after 26 minutes and Lee Dodgson dispatched the penalty...

Danny Lambert got one back for the visitors... before Swarbrick rounded the keeper with 3 minutes remaining to make it 3-1 to the Dolly Blues".
BSBN NEWS
FC Halifax Town confirm that "FC Halifax Town will entertain Dartford on Tuesday night following the postponement at the Shay today". They add that fellow BSBN club "Gainsborough Trinity are awaiting the Gateshead vs Barrow game to go ahead from the previous round, which was called off again" on Saturday.

According to This is Lincs, "Manager Graham Drury is on the brink of strengthening his Boston United squad again, with up to four new signings on their way to the Jakemans Stadium. Drury has held talk with two players and will be free to speak to two more on Tuesday after lodging seven-day approaches.

The Pilgrims' boss was tight-lipped on the identity of his targets, but at least one could be in place for Tuesday's trip to Altrincham. 'I spoke to a lad today and I'm hoping that will come through soon', said Drury, who is holding a trial game this afternoon [Saturday] after United's scheduled home clash with Gloucester City was postponed. 'He's hopefully going to play in a trial game for us today. If the lad does well I'll be speaking to him after the game. There are a couple of lads I can speak to on Tuesday. And I spoke to a lad at the club on Friday and had a positive chat with him. The financial side may not be what he needs at the moment, but I'm hoping the potential and the opportunity to play for Boston United will win him over'.

Drury has already signed forward Jordan Smith, midfielder Anton Foster, winger Steve Spriggs and defender Phil Watt since arriving from Stamford last month."

The only BSBN game which took place on Saturday was at St George's Lane, from where the Worcester News reports that "A strike four minutes from time condemned Worcester City to defeat against lowly Histon at St George's Lane after fighting back from two goals down. City trailed 2-0 at the break following James Stevenson's 26th-minute penalty, awarded for handball against Ellis Deeney, and Lewis Taaffe's fierce drive 16 minutes later.

However, two goals in three minutes at the start of the second-half turned the game on its head as sub Michael Taylor and Danny Glover pounced to draw Worcester level. But, despite creating several chances to add a third, City failed to capitalise and paid the price in the 86th minute when Histon sub Matthew Waters curled a superb effort into the top corner.

City midfielder Rob Elvins said, 'Everyone was disappointed. These are the kind of games that we should be winning and we need to beat teams that are that low in the table... They went down the other end and scored a bit of a wonder strike... We didn't turn up and that doesn't help at times'".

Off the pitch, the Worcester News adds that "An ambitious scheme to build a new stadium at Perdiswell has been put forward by Worcester City Football Club's Supporters' Trust. The group want to construct a ground next to the leisure centre in Bilford Road for use by Worcester City, their youth teams and community sides, such as schools... with designs ready to be submitted to Worcester City Council within days.

The ground, which could be ready by the end of 2015, would have a capacity of 4,130, including a 500-seater stand, while proposals also feature a 3G all-weather floodlit surface and maintainance of exisiting pitches... Funding for a stadium, expected to cost in the region of £2million, would come from grants... but the trust could have to find half themselves.

They want to launch a community shares scheme, similar to that run by FC United of Manchester, to allow people to invest in the project... The trust want to build the ground because they don't believe the football club's proposed new home at Nunnery Way will ever come to fruition. Developers St Modwen have had planning permission for more than a year but the Birmingham-based firm have until 2017 to start work.

City are due to leave St George's Lane, their home of 108 years, in June when it will be pulled down for housing by Careys New Homes. A deal to share at Kidderminster Harriers' Aggborough stadium from the start of next season is set to be agreed shortly... The football club have already put £1.26million towards the Nunnery Way development, in land and infrastructure costs, but would get that back if nothing has been built by the time the contract with St Modwen expires in four years' time. They are also set to face a six-figure capital gains tax bill in December on the sale of the Lane".

Also, "Monday-night football could be a thing of the past for Worcester City when the groundshare agreement with Kidderminster Harriers is finally signed... There is also the likelihood Worcester would have to move their midweek match night from a Monday to a Tuesday from the start of the 2013-14 campaign. Monday games at the Lane have long been a tradition for City and the Blue Square Bet North club are one of the few teams in the country who play on that night.

However, the Aggborough club would want the pitch free for more than two days after a Saturday game. Harriers will continue to play on Tuesday nights and would take priority in the event of a fixture clash. Kidderminster also want the deal to provide enough money to employ an additional full-time groundsman as well as funds to maintain the pitch and repair equipment.

Worcester vice-chairman Colin Layland [said] 'We would prefer to play on Mondays but we can live with Tuesdays'".

Pitchero Non-League reports that "Droylsden have made a new signing, bringing in French striker Gomez Dali from North West Counties League Premier Division side Stockport Sports. Dali, 24, was signed for Sports, formerly Woodley Sports, by then boss Peter Withe. Paris-born, Dali played for FC Nantes in his homeland and then came over to England and had spells with Woking and Kingstonian before moving north to have trials with several clubs before signing for Sports."

Also, "Colwyn Bay have signed midfielder Jason Lampkin from Total Network Solutions. Lampkin was released by TNS earlier this month... He was previously a member of Aston Villa`s reserve squad. He was previously with Manchester United and had been at United's academy since he was eleven".

The England 'C'` contingency squad for their International Challenge Trophy match against Turkey, on 5 February, at Dartford includes two BSBN players in goalkeeper Paul Walker (Corby Town) and Josh Wilson (Guiseley). Walker will be hoping for better luck than when he was beaten five times by Alty earlier this season.

Meanwhile, Corby Town "have bolstered their front line, with the signing of former Peterborough United striker Francis Green. The experienced front man, who has also had spells with Lincoln City, Oxford United and Macclesfield Town, arrives at Steel Park from Hucknall Town. Steelmen boss Chris Plummer... told www.corbytownfc.co.uk, 'He will provide a lot more know-how to our attack and give us something different in the final third'".
---
26 January 2013
RECORD EQUALLED
Congratulations to Luton Town who today matched Altrincham's acheivement of 1986 of being a non-League club which won away at a top-flight club in the FA Cup. Luton won at Norwich, whilst Alty won at Birmingham City. One significant point, however, is that Norwich started the game with just five of the same players who had started their last league match.
SATURDAY FIXTURES
Only one match survived the snow..
Boston United v Gloucester City - POSTPONED
Brackley Town v Colwyn Bay - POSTPONED
Droylsden v Hinckley United - POSTPONED
Gainsborough Trinity v Bradford Park Avenue - POSTPONED
Guiseley v Altrincham - POSTPONED
Solihull Moors v Harrogate Town - POSTPONED
Stalybridge Celtic v Oxford City - POSTPONED
Vauxhall Motors v Corby Town - POSTPONED
Worcester City 2 Histon 3
Workington v Bishops Stortford - POSTPONED

FA Carlsberg Trophy
FC Halifax Town v Dartford - POSTPONED
TREAT YOURSELF AND HELP THE CLUB
As the fixture change (announced below) means that next Tuesday brings Boston United rather than FC Halifax Town to Moss Lane, the original match sponsors for the Halifax match will now be sponsoring the rearranged visit by the Shaymen, whenever that may be. So, the game against Boston is now without a match sponsor. However, the positive side of this is that everyone can now enjoy the pleasures of the Manchester Glass Sponsors' Lounge at a reduced rate.

For just £20 for Altrincham FC season ticket holders and £30 for everyone else, you can enjoy a hot pre-match meal prepared by Club Catering Manager, Richie Bentley, a free pre-match and half-time drink plus interval refreshments, a matchday programme and, of course, free admission to the match itself. To take advantage of this offer, please contact the club as soon as possible, either by ringing 0161 928-1045 or by sending an e-mail.
HALIFAX OFF, BOSTON ON
Following 12cm snow overnight, FC Halifax Town have confirmed that their match with Dartford in the FA Trophy QF has been postponed and will now be played on Tuesday, January 29th. This, of course, means that the match between Halifax and Altrincham on that night has been postponed. Instead, Altrincham will now host Boston United in an attempt to play this match on a third date, after two postponements.
YOUTH GAME OFF
Sunday's youth team match against Prescot Cables has been postponed. The lads' next match is under the Altrincham & District FA banner in the Cheshire County FA District Cup. The opponents will be Mid-Cheshire FA in a game to be played at Trafford FC (Shawe View), a week on Sunday, (3rd February) k.o. 2pm.
OLD BOYS
"Mossley have signed talented goalkeeper Russell Saunders from league rivals New Mills. The 24-year-old began his career as a trainee with Wigan Athletic but was released in 2009 and joined Ashton United. He then had a spell with Altrincham before joining Hyde FC in 2010 where he was then voted Supporters' Player of the Year. He joined Chorley in 2011 and was their regular no.1 throughout the season." reports Mossleyweb.
BSBN NEWS
The Football Conference reports that "Bishop's Stortford have signed experienced central defender Curtis Ujah from neighbours St Albans City. Ujah joined City in August 2012 after ending the previous season with Boreham Wood and made twenty-three appearances for the Saints, netting three times. [He is] a former Reading youngster who has had spells or trials with Tamworth, Yeovil Town, Crawley Town, Hayes & Yeading United, Tonbridge Angels, Slough Town, Weston-super-Mare, Halesowen Town and Hednesford Town."

The Conference also tells us that "Due to re-arranged football and rugby fixtures, Harrogate Town have been informed that Doncaster Rovers' Keepmoat Stadium will be unavailable for the Blue Square Bet North club to host their match against Workington on the 6th February. However, the club have been working hard with neighbours Guiseley AFC, Bradford City and York City (who have grounds that are graded for Conference North games) in order to make sure that we have venues for our remaining home games.

The club are very pleased to announce that it is York City who have come to the rescue and will be hosting the match against Workington at Bootham Crescent. However, there is a change of date as the club have had to bring the match forward by 24 hours, so the new date is Tuesday, 5th February 2013. The move to York will hopefully enable more of Town supporters to attend the match and once again in an effort to show the club's appreciation they will be arranging coaches for the game".

Pitchero Non-League says that "Russell Hands believes Histon's finances are strong enough to survive the challenging weather conditions...

'It causes everyone a bit of a headache, not just us', said Hands. 'We were due to have a board meeting on Friday but we brought it forward as it suits people better and we can talk about how we resolve this. It's not causing us to panic at this moment in time but we have to be careful with the way we do things'.

A waterlogged pitch led to the postponement of Histon's home match against Altrincham on December 29th and the recent freeze has resulted in their fixtures against Gainsborough Trinity and Brackley Town being rearranged. The FA Youth Cup fourth round tie against Liverpool was due to take place last night but has also been rescheduled and will now be played on February 13th.

'It is frustrating', added Hands, who said the club's outstanding debt stands at around £20,000. 'The FA Youth Cup game would probably have been our best gate for a while. But, looking at where we are at the moment, we're a lot happier as a board and as a club. The finances could be a lot better but we've made every payment we need to make and haven't missed anything. Once we get to the end of the season, life will be much easier. At the end of the season we'll have just one creditor and that will not be a burden to us'".

On the playing field, the Cambridge News reports that "Brian Page is entering the loan market in order to bolster Histon's young squad ahead of a looming hectic schedule. The Stutes' assistant manager hopes to have added a forward before tomorrow's scheduled trip to Worcester... while a defender and a midfielder are also on his radar...

'I wouldn't ever want to bring anybody in that's going to stand in the way of one of our youngsters but we don't want to just chuck these youngsters in if they're not ready for it', said Page. 'That can actually knock their confidence and put them back months and, if it goes badly wrong for them, it could badly dent their chances of progressing. It's important we bring people in that fit the Histon way, fit our ethos and can also help the youngsters come through. We're trying to strengthen the first-team squad but also bearing in mind the youngsters we have coming through, who we'll utilise at the right times to benefit the club in the long run'".

According to the Times and Star, "Workington Reds' captain David Hewson must undergo career-saving surgery on his right knee. The 29-year-old was advised to quit playing by one specialist but sought a second opinion and is now waiting for a date to go under the knife. Hewson admitted his knee needed a make-or-break operation, and requires microfracture surgery to correct the damaged articular cartilage.

Enduring 10 years' wear and tear, from battling in the Blue Square Bet North, Hewson refuses to believe his career may be coming to an end.

'I'm not entertaining the thought of having to quit', he defiantly added. 'My knee is butchered from the wear and tear and my future is now dependant on the outcome of the operation. Between Darren Edmondson and myself, we are managing the situation. I'm not training as much but I'm keeping myself as fit as possible. I love playing football, and I am proud to be captain of Workington Reds. That's what spurs me on. It's disappointing it has come to this but I've had a great 10 years playing at a good level'.

Hewson, a veteran of 300 matches for the Borough Park club, including 119 as captain, will continue to play through the pain. Dr Matthew Dawson, one of the county's top knee specialists, will carry out the operation at Carlisle's Cumberland Infirmary".
---
25 January 2013
ALTY v MOORS GAME REARRANGED
The league match between Altrincham and Solihull Moors, postponed from last Saturday, has been rearranged for Wednesday, 13 March at 7.45pm at Moss Lane.
GUISELEY OFF
Altrincham were scheduled to travel to Guiseley on Saturday for a BSBN match, but Guiseley have just informed the club that due to snow this afternoon, the match tomorrow is postponed.

Before the decision was made, the Telegraph & Argus reported that "Guiseley's home clash with old foe Lee Sinnott's Altrincham is in doubt because of ongoing weather problems. The club is doing everything in its power as they try to come out of an unscheduled winter break following the prolonged cold snap. Club Secretary, Adrian Towers, and his team of volunteers have put a lot of hours in at Nethermoor but their hard work looks like being in vain.

Towers said, 'Tomorrow's match is looking very iffy in the extreme. The main problem has been the amount of snow on the pitch and more is forecast for today. In midweek there was six to eight inches of snow on it and, while that does help to protect the surface from the deep frost, the temperatures of up to minus five are going to have an effect. The contingency is that we have a referee lined up for a pitch inspection either at teatime today or early tomorrow morning depending on the conditions'.

The Lions have not played since beating Oxford City at home on January 12. Since then they have signed Matt Wilson from rivals Boston United. The 25-year-old utility man had a spell at Nethemoor last season, on loan from Nicky Law's Alfreton Town,... Former Bantams' and Terriers' defender Sinnott has managed two of Guiseley's near neighbours in Farsley Celtic and Bradford Park Avenue. His current side, Altrincham, are fifth in the table, just three places behind second placed Guiseley but trail Steve Kittrick's men by 24 points".
KEEPING FIT
As reported yesterday, a large band of volunteers have kept the training facilities for Altrincham FC at Newall Green clear of snow. And, on Thursday night, manager Lee Sinnott was able to confirm that not only had both the scheduled training sessions this week taken place, but all the players had managed to get there, even those who had to come from their homes on the other side of the wintry Pennines.

Lee was also able to report that the first team had been able to play two practice matches with the youth team, which had helped to preserve match sharpness during the current enforced lay-off. The Alty boss hopes to arrange a third first-team/youth match should Saturday's match at Guiseley fall foul of the bad weather.

Lee indicated that everyone in the first-team squad was fit, except for James Lawrie, whose foot injury is likely to keep him sidelined for another fortnight. The Robins' manager also confirmed that, with Adam Reid now on loan at Prescot Cables for the next month, youth-team keeper Stephen Bullen will be employed as cover for Stuart Coburn.
FA CUP ACTION
Whether or not the Altrincham first-team is in action on Saturday, there should be some televised action in the bar at Moss Lane that afternoon. Being shown in the TV screens will be the live FA Cup match between Manchester United and Fulham, which kicks off at 5.30pm; the bar opens half an hour earlier and everyone is welcome.
BSBN NEWS
"Craig Curran's successful loan spell with Chester FC has come to an end... The Blues boss said, 'Craig's been tremendous for us. He'll be a loss for us going into the final part of the season when everyone is strengthening. We've lost a big part of our attacking threat. Now it's about how we plug that gap. The current lads here have got to step up to the plate. I am still scouring the loan market to see if there's anyone out there who can fill that role but, at the moment, it's been to no avail'.

Curran netted seven times in 13 appearances during his two-month stay at the Exacta Stadium... Curran was recalled by Rochdale earlier this week following the sacking of manager John Coleman. New Dale boss Keith Hill wants to run the rule over all the players at his disposal, giving Curran hope he can force his way back into favour with the League Two outfit.

The hard-working forward is earning a full-time wage at Spotland and Chester would not have been able to extend his stay, even if Dale had been willing to let him remain at the Exacta Stadium" reports the Chester Chronicle.

Elsewhere, "Gloucester City are close to finalising an extension to their groundshare agreement with current landlords, Cheltenham Town. The Tigers have played at Whaddon Road for three seasons, after National Ground Grading guidelines prevented them from extending their lease at Cirencester Town...

Tigers' chairman Nigel Hughes confirmed the two clubs were 'very close' to agreeing to an extension to the deal, worth upwards of £45,000 per year to Cheltenham, for another season... 'We need to have that done and sorted within the next two to three weeks'...

The Tigers' return home to Meadow Park suffered a setback at a planning meeting in September, when the club failed to get the go-ahead for their new £5 million community stadium. The plans were 'minded for approval' with the caveat that further flood modelling work was done in order to ascertain the impact of the proposals on the area surrounding the stadium...

'We are at a stage where it is nearly six months from the original planning meeting and we are not that much further down the line', Hughes said. 'However, there is a meeting planned in early February at which we hope to take things on further... We want to be 100 per cent certain that if we are deliver something that costs a great deal of money and time that it is what is required. We can't be in a situation where the plans go forward again and we're told that we haven't produced what has been asked of us'", he told This is Gloucestershire.
NW NEWS
NL Daily reports that our neighbours "Warrington Town have unveiled plans for a stadium complex on the former Burtonwood air base site at Omega. The ambitious plan includes an indoor sport and entertainment venue.

The club's Chief Executive Richard Sutton, who has been driving the plans forward on behalf of the club, said, 'We have made no secret of the fact that our ambition is to deliver a Football League status club with the right facilities and a sustainable business model... It is clear that the stadiums of the future need to have multiple commercial uses, coupled with a much wider appeal to the local population. Creating a destination is the key'.

The club has enlisted the help of Manchester United and England legend Bryan Robson through his sports consultancy company Bryan Robson Sports. Robson and club officials held talks at Warrington Town Hall recently to outline the club's aspirations and proposal to relocate to the Omega South site, close to junction 8 of the M62 Motorway...

The proposed scheme includes:
5-6000 capacity stadium including Gym and function suites
Several full size all weather 3G pitches
An indoor event centre for up to 3-4000 people, hosting concerts, exhibitions, conferencing and indoor sport.
An Education unit, which could house a Football University and link with a Premier League academy.
A community hub including doctors' surgery, chemist, Library.
Affordable housing units within the stadium structure...

'Warrington is a town of over 200,000 people and we are confident that with the right facilities and infrastructure, which we will put in place over the next few years, we can give the town another sporting brand to be proud of. There is no reason why this town cannot emulate the likes of Wigan, Huddersfield Bradford and Leeds in sustaining successful Football and Rugby League teams drawing five-figure crowds to both'" said Mr Sutton.
---
24 January 2013
ADAM GOES ON LOAN AGAIN
Altrincham FC goalkeeper Adam Reid has gone on loan for a month (till 23 February 2013) to Prescot Cables, to gain match experience. Adam is a Merseyside lad so this should be a convenient arrangement for all concerned. Earlier this season Adam had a similar spell at Goole. He has been on the bench 21 times for Alty's league and cup games this season in addition to playing in the Cheshire Senior Cup.
GEOFF STUBBS
Wednesday's Manchester Evening news announced the funeral of longstanding Altrincham supporter, Geoff Stubbs. Although Geoff (72), died on 23 December, his funeral is not until tomorrow, 25th January at Stockport Crematorium (2.15pm). The notice indicates that only family flowers are requested, though donations to the Diabetic Society in Geoff's memory will be very welcome. The Club extends its condolences to Geoff's brothers and to the other members of his family.
PITCHING IN TO CLEAR THE SNOW
Altrincham FC chairman, Grahame Rowley, writes, "Many thanks to everyone who helped clear the snow off the pitch at Newall Green High School making training possible tonight [Tuesday]. The first team played a game against our Youth team which saw the players in action for the first time in 10 days.

Special thanks to Peter Foster, Karen Rowley, John Skelhorn, Chris Bullock, Neil Brown and Steve (caretaker at Newall Green) along with members of our B.Tech course and students from the school".

Below, left and centre, are two images of the work in progress at Newall Green. Meanwhile, above right, we see a snow-covered Moss Lane as seen at 5pm on Monday. The strip which is uncovered was there for the benefit of the referee who inspected the pitch on Tuesday morning before postponing the match with Boston United. Photos courtesy of Grahame Rowley.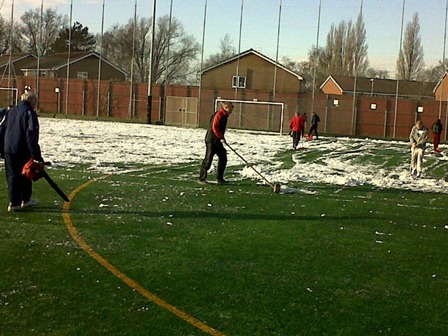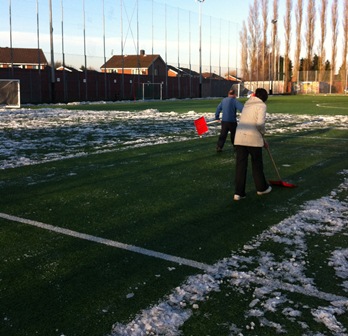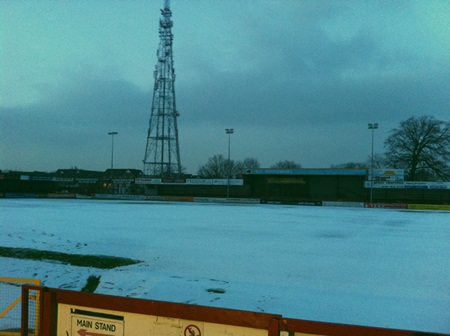 On the same topic, John Edwards, Altrincham FC's joint Press & Media Officer, writes that "Grahame Rowley has underlined his hands-on approach to running Altrincham by leading a hardy group of volunteers in a snow-clearing exercise that gave manager Lee Sinnott valuable preparation time for Saturday's trip to promotion-chasing Guiseley.

After supervising a pitch inspection that led to Tuesday's home game with Boston United being postponed, the Alty chairman drove to Wythenshawe to head up a task force charged with removing several inches of snow and ice from the team's all-weather training pitch at Newall Green school.

'I had a very able group of willing helpers, but it was hard going,' he said. 'The snow was a few inches thick, but it was the ice that made it such a difficult job. To give you an idea, it took 17 of us three hours just to clear one half of the pitch.

'We stuck at it, though, and the volunteers' hard work was really appreciated. After losing three games to the weather in the past week or so, Lee Sinnott was really keen to get the players together, ahead of Saturday. With that in mind, it was well worth the effort.

'It was unfortunate the Boston game had to be called off, but the referee felt he had little option. Though it was sunny during the day, those clear skies meant the temperature was going to drop below zero later on. A 3pm kick-off might have given us a chance, but not 7.45. We wanted the game on as much as anyone else and did our utmost to get the pitch ready but, once the referee was told it was going to freeze during the evening, he had no choice.'

A few tickets, at £40 each, are still available for an evening with former Arsenal and England striker Paul Merson, at the Cresta Court Hotel on Thursday, February 21.

'Paul has promised lots of anecdotes and a no-holds-barred insight into all the ups and downs of his life,' added Rowley. 'It should be riveting to listen to, because he will be very open and frank about the problems he has had and everything that has happened to him.

'It has already proved popular, with upwards of 19 tables already filled and just a couple still available. It is a sportsman's dinner, with lounge suits the dress code, but women are welcome as well. There will be a four-course meal, with an auction and raffle, and Luca Havern's dad John has agreed to be master of ceremonies. It promises to be a really good night.'

Tickets can be bought by phoning the club on 0161 928 1045 or by e-mail".
WEDNESDAY'S GAME
Corby Town FC v Solihull Moors POSTPONED
BSBN NEWS
"Workington's midfielder Mark Boyd has lifted spirits by announcing he plans to return to action early next month. After a consultation with Carlisle United physio Neil Dalton about his ongoing calf problem, Boyd was referred to a specialist in York.

He will visit the clinic next Tuesday and aims to be back on a football pitch in time for the visit of Oxford on February 9. Boyd re-injured his calf during the defeat at Histon earlier this month.

Boyd, 31, said, 'Sitting on the sidelines, watching your mates struggle, is frustrating, especially as I'm not 22 anymore. I know I don't have my whole career ahead of me. There's probably only a couple of seasons left until I retire so I want to play as many games as possible.

It'll be great to finally get the injury sorted. It's annoyed me for a while but I've tried to play through it. I'm still keeping myself fit in the gym. I'm in good shape and don't want to let that go'", he told the News & Star.

Pitchero Non-League tells us that "Republic of Ireland under-19 international defender Ben Glasgow has joined Bishop`s Stortford on a month`s loan from Stoke City,

Stoke signed the young Arsenal academy product on his first professional contract in June 2012 after the 19-year-old right-back had only been offered a one-year extension of his scholarship by the Gunners.

Essex-born Glasgow was restricted to just four Premier Academy League starts last season before a succession of injuries ended his campaign. Glasgow joins Stortford`s two other loan recruits made earlier this week in Colchester duo keeper Carl Pentney and striker Nnamdi Nwachuku".

The North Wales Pioneer tells us that "Despite falling foul of last weekend's arctic conditions, Colwyn Bay FC have enjoyed an eventful week off the pitch with a raft of new signings and departures.

With their crunch league clash against Droylsden called off at the weekend due to a frozen pitch, manager Lee Williams continued this month's transfer activity to aqcuire the signatures of Worcester City striker Alex Meechan and 19 year old central defender Anthony Miley from Conwy Borough.

Both players made an immediate impact, with Meechan hitting a brace during their 6-3 friendly victory over Rhyl last week.

Lee Williams said, 'Alex scored two goals, and showed his experience as well. He was full of life and enthusiasm, and helped lift the team. Miley's a good player and he'll no doubt get his chance to shine this season, with so many games being played.

Signing players is not easy, but we're making the best of what we've got, and we've got to try and sign players who can play the way we want to play, and are comfortable with our passing game'.

Williams has also revealed that the club are looking at a few other players, including former Bangor City midfielder Jamie Crowther and Jamie Lampkin.

One notable departure from the club though is long-serving defender Danny Meadowcroft. The Manchester based centre back has left the club for Witton Albion, to be nearer to his family, after his wife was rushed to hospital last week. He is also the full-time carer of baby daughter Evie, who suffers from short bowel syndrome.

The 27 year old's exit follows Danny Lloyd and Sean Williams' moves away from Llanelian Road last week.

Williams added, 'It's purely and simply down to personal reasons. His daughter is very ill, and his wife was rushed to hospital last week for an emergency operation... Danny Lloyd has gone to Tamworth, and Sean Williams went to Halifax, and they're clubs with aspirations to go higher, and we understand their reasons for leaving and wish them good luck'.

The Seagulls travel to face third-placed Brackley Town this Saturday... 'We've just got to try and have a go. It's pointless to go there and play for a draw... For us, attack, at the minute, is the best form of defence', the Colwyn Bay manager added".
---
23 January 2013
BOOK NOW FOR GUISELEY
Details of the TASC supporters' coach travel arrangements for the match at Guiseley this Saturday (26th) are now on the Away Travel page. Please note that the differential between the fares paid by TASC members and non-members is now £2. Those who are not members of TASC (The Altrincham Supporters' Club) can join by contacting Brian Flynn.
Howard Watts's Through the Years data for Saturday's date.

Mike Garnett's statistics summarise our record against Guiseley:
At Moss Lane, p.4-w2-d1-l1-f6-a5
At Guiseley 5-0-1-4-5-13
All 9-2-2-5-11-18
BSBN NEWS
Before the match was postponed on Tuesday, Boston United reported that "Boss Graham Drury has registered defender Paul Mayo ahead of Tuesday's trip to Altrincham... The 31-year-old has been recruited to provide cover for skipper Gareth Jelleyman, who is battling an Achilles injury. Mayo's short-term deal comes about after his move into the police force following recent playing spells with Corby Town and Stamford AFC. He has also figured predominantly for Lincoln City, Watford, Darlington and Mansfield Town during his career".

According to the Eastern Daily Press, "Winger Steve Spriggs admits the lure of playing higher-level football convinced him to swap King's Lynn Town for Boston United... The 24-year-old, who has scored 18 times this term, said, 'It's definitely not about the money. It's about the opportunity to play as high as I can. I'd like to play above Blue Square North and this could be the perfect stepping stone. You don't know what's around the corner. Playing at a higher level is what I wanted and a chance to jump two leagues doesn't come around a lot. I'm not getting any younger. I don't want to get to my 30s, finish playing, and say I had a really good time at King's Lynn but wonder if I could have played at Conference North. Boston are a big club, an ex-Football League one, and it's still run like one in some respects. No disrespect, but King's Lynn can't offer that at the moment as they've not played in the League'.

Spriggs left Norfolk towards the end of last season to play professional football in Sweden but returned in the summer to spearhead Lynn's fine start to life at Step Four and a memorable run in the FA Trophy. The right-sided midfielder's departure comes as a huge blow having scored a stunning 63 goals in just 129 appearances, but boss Gary Setchell is already planning for life without his wing-wizard".

On Monday, Harrogate Town reported that "After very careful consideration and liaising closely with the Stadium Manager and Groundsman at the Keepmoat [Doncaster], the appointed referee took the decision to call off our match against Workington at The Keepmoat tomorrow Tuesday 22 January. The pitch is in excellent condition but the volume of snow that is on the covers and the parameter [perimeter] makes it impossible to shift in time for the match. There is an added complication in that after clearing snow off the covers on Friday and Saturday last week there is nowhere to clear the snow to. Doncaster Rovers had over 40 volunteers clearing snow last week in preparation of their match against Orient

The Stadium manager also reports that the access ways to the stadium and the car parks are snow-bound, presenting further complications. If any more pressure was needed there is more snow forecast overnight in Doncaster and plummeting temperatures

This is obviously very disappointing to everyone concerned with the club. However, it shows that we are all at the mercy of the weather... After consultation with the Conference our fixture with Workington... will now be played on Wednesday 6th February once again at the Keepmoat Stadium".

Meanwhile, BSBN tells us that "Workington midifelder Will Vaulks has confirmed on Twitter that he will be leaving Borough Park for Falkirk this week... Vaulks tweeted, 'I'm sad to be leaving, but it was always my aim to get back into professional football'...

Vaulks originally joined the Cumbria club on loan from Tranmere, but signed a permanent rolling contract in November 2012 which allowed him to sign for a professional club should the opportunity arise... 'It is true I'm signing a deal with Falkirk', he added".

Elsewhere, "Chester boss Neil Young has told Chester First, 'Irrespective of what league we are in next season the club has decided we will remain part-time. We may decide to train on an extra day, but that hasn't been confirmed at the moment because it will depend on who is at the club and what money the club has in terms of our budget. We have got to make the best use of the finances and I would expect to have those numbers in the next couple of weeks because the club are working hard to get me those figures. We have still got a job to do to get out of the Conference North, but we'll definitely be part-time next year. Whether we'll be fully part time or whether it will just be an extra day will depend on cost and players'.

If Chester do earn promotion this season it will be a third consecutive title for the club and Young".

According to the Cambridge News, "Brian Page will keep working to make Histon a tougher nut to crack in order to get them through their relegation dogfight. The Stutes have kept back-to-back league clean sheets for the first time since April thanks to shutouts against Corby and Workington...

'Certainly, since I've been involved, we've worked on our defensive shape as a team, and even ask[ed] the front boys to defend a bit better in terms of stopping cheap balls coming forward if we can', said Page, whose side have the joint-third worst defensive record in the division. 'That doesn't mean we want them chasing all over the place and getting picked off, and leaving the back four exposed, like we maybe did a little bit against Colwyn Bay. We have worked specifically on the back four winning those first balls and Grant (Roberts) in the hole picking up the second balls. We want to make sure no teams have a good second phase of play. We want to affect it and snuff things out'.

Page and boss Nacer Relizani are calm figures on the touchline, with their trust in the young players giving them the confidence to carry out a game plan... 'We try to guide them to make the right decisions', said Page., 'Giving them the freedom to learn and to learn from their mistakes can often help in the long run'".

At Stalybridge Celtic "There have been some comings and goings over the last week or so. Leaving the club are: Alex Andrews, registration cancelled but staying at the Academy; Dennis Sherriff, signed for Ashton United; Rico Gomes, gone back to Portugal and apparently signed for Boavista [Porto]. Just signed Adam Parkhouse, Australian midfielder (20), who joins us from Atherton LR, Fabrice Bembo-Leta, brother of Joel".

Bradford Park Avenue report that "Following their promotion into the Blue Square Bet North, the club need to improve certain parts of the Horsfall Stadium [by 31 March 2012]. Because of the expensive costs, the improvements are largely funded by the board, but, the club will be doing a share issue to help raise capital. The club would welcome all help, as £1 shares are available to buy in multiples of 100, for example £100, £200".

Corby Town report that "Chris Plummer believes Corby Town's home clash with Solihull Moors on Wednesday night is already in doubt... The Corby boss told the Northants Telegraph, '"The pitch is frozen and now it is covered in snow. Unfortunately, it doesn't look like there is going to be any relenting in the weather so our game on Wednesday is already doubtful... We trained indoors on Wednesday and again on Saturday. We will continue to find places to train while the weather is like this and we will keep things ticking over'".
---
22 January 2013
ALTY v BOSTON UNITED - MATCH POSTPONED
Altrincham's match against Boston United tonight (Tuesday) has been postponed. The pitch has snow on it, which could be cleared, but the referee who inspected the pitch this morning believes it will freeze again this evening and leave it unsafe. As an early decision had to be made for the benefit of Boston United, who have a long way to travel, the game has been called off. Alty's next match is away at Guiseley this Saturday.

Tuesday 22 Jan.
Altrincham v Boston United POSTPONED
Brackley Town v Gloucester City POSTPONED
Harrogate Town v Workington at Doncaster Rovers POSTPONED

Howard Watts's data for Tuesday is on the Through the Years page.
LADIES' GAME
Altrincham FC Ladies' manager Keith Edleston writes that "After ANOTHER blank weekend with the snow etc and having only played one game since the 18th November, this weekend we are scheduled to play at home and the details are as follows:-
At Manor Farm, Ridgeway Road, Timperley
Versus Wythenshawe Amateurs FC Ladies
Kick off 2pm
In the Challenge Cup 1st Round

Spectators welcome!
BSBN NEWS
BSBN reports that "New Boston United signing Steve Spriggs has revealed that the chance to play for the Pilgrims was too good an opportunity to pass up. Spriggs is set to join his new club on Monday [21st] from Northern Premier League Division One South outfit King's Lynn Town...

'I'm 24 and the chance to play two divisions higher was something I couldn't turn down', Spriggs told the Boston Standard. 'I want to play at the highest level I can, and I'm looking forward to playing for Boston but it was a tough decision to leave King's Lynn'...

The midfielder was at the Pilgrims' York Street ground on Friday afternoon for talks with Drury... 'I had a look round and I like the look of the ground', he added. 'I've played in front of a large crowd at King's Lynn, so that won't be a problem for me. Some players go from playing in front of 200 to 900, but it will be different for me. We had a good run in the FA Trophy, and we played in front of about 1,400 at Southport. I like that sort of thing'".
OLD BOYS
According to the Football Conference, "Midfielder Liam Tomsett has had his loan with Hyde FC extended by Blackpool until the end of the season... Tomsett said, 'I'm very happy. I've really enjoyed my time with Hyde. I played loads of games and I've gained great experience. I need to be playing games and have people watching me'.

Arguably his partnership with Chris Sedgwick has been a massive bonus for Hyde and he's hoping this can be continued for the rest of the season, 'It's been good since he arrived. I think that we've started to pick up points up. I think we've started to form a good partnership... If we can put another run in we can sneak into the play-offs but I'm happy with mid-table'".
---
21 January 2013
MID-WEEK
Altrincham are set to entertain Boston United on Tuesday evening and BSBN reports that "Boston United manager Graham Drury has reacted to the departure of Mark Jones by making a move for King's Lynn Town winger Steve Spriggs. In-form striker Jones opted for a switch to rivals Gainsborough Trinity this week, having scored 14 goals in 29 appearances for the Pilgrims this season.

However, Drury has already targeted another goal-scorer in Spriggs, who has netted 18 times for the Northern Premier League Division One South side during the current campaign... Drury told This Is Lincolnshire, 'I'm grateful to King's Lynn because they allowed us to speak to him straight away. I met him at the club on Friday so he is interested. King's Lynn are going to try and persuade him to stay because he's a big player for them. I understand and respect that. They are desperate to keep him because he's hit 18 goals this season from a wide area. That's impressive at any level'".

BSBN

Monday 21 Jan.
Bradford Park Avenue v Vauxhall Motors POSTPONED, due to snow.
LEE ON WFM
Kevin Thompson's interview with Lee Sinnott, which was broadcast live on the WFM Sports Talk Show on Tuesday, is now available to listen to once more:
here.
OLD BOY
Salford City tell us that "Darren Sheridan has resigned from his post as manager. Following a recent review of the club's budget, the manager reluctantly decided against continuing in his role and has left the club with immediate effect. 'Earlier in the week, Salford City club skipper [ex-Alty man] Jimmy Holden left the club by mutual consent... Holden signed on at Moor Lane during the summer of 2012 and has since played 22 games, scoring one goal".
BSBN NEWS
Monday's BSBN match had already been postponed by Sunday afternoon, as Bradford PA announced that "The fixture between Bradford (Park Avenue) and Vauxhall Motors at the Horsfall Stadium has been postponed due to the recent snow".

Next Saturday, Alty travel to Nethermoor, where Guiseley "face Harrogate Railway in the Semi-Final of the West Riding County Cup this Tuesday night. In their previous West Riding ties this season, the Lions have beaten Bradford Park Avenue 4-1 at Nethermoor before recording a dominant 5-0 away win over Harrogate Town... They will be hoping to make it three Finals in a row in this competition... If Guiseley win on Tuesday, they will face either FC Halifax Town or Ossett Town in the Final".

Meanwhile, Bishop's Stortford tell us that there are "New signings At Woodside Park. Carl Pentney a 23 year old goalkeeper from Colchester United joins on loan. Carl formerly of Leicester City has spent time on loan at several Conference clubs including Chelmsford City, Hayes & Yeading and Bath City. Nnamdi Nwachuku is an 18 year old striker who joins on work experience from Colchester United joining his team mate Ryan Melaugh".
---
20 January 2013
IN TOWN, TODAY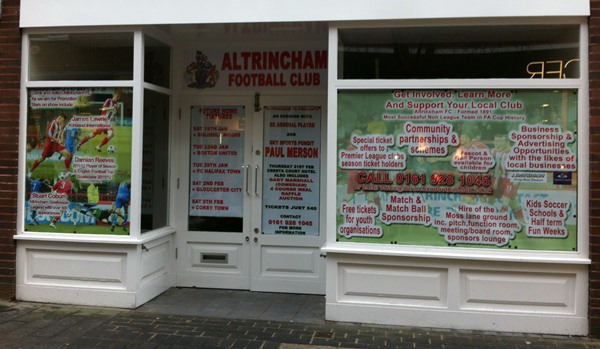 Peter Foster, Altrincham FC's PR & Promotions Manager, has sent the website the adjacent photo and he writes...

In Town Today...

Those supporters who ended up shopping in Altrincham after today's match postponement may have spotted the latest community initiative, which sees the premises vacated following the closure of the 'Thorntons' shop (directly opposite Marks and Spencer) being used to advertise the Club.

There have been discussions going on for a while with the Stamford Quarter, who are responsible for the letting of many of the town centre shops, regarding the possibility of such an initiative, and the Club were delighted to accept the offer of the use of the ex-Thorntons' premises.

We will not be able to use the premises as a retail outlet. However, the visual impact of the windows is high and the level of interest was clear this morning as the 'window dressing' was applied.

The Club would like to thank the Stamford Quarter for their support and co-operation, and Gavin Rathbone, our Club Photographer, for designing, producing, and fixing the displays.
ACTION AT MOSS LANE
The bar at Moss Lane will be open on Sunday (20th) to show live the Tottenham Hotspur v Manchester United game. The bar opens at 3.30pm for the 4pm kick off. Everyone is very welcome to come along and actually see some football at Moss Lane!
OLD BOY
Former Alty Youth and Reserve, Leonard (Rico) Richards has moved to Northwich Victoria from Trafford.
FIXTURES
BSBN
Monday 21 Jan.
Bradford Park Avenue v Vauxhall Motors

Tuesday 22 Jan.
Altrincham v Boston United
Brackley Town v Gloucester City
Harrogate Town v Workington at Doncaster Rovers

Wednesday 23 Jan.
Corby Town FC v Solihull Moors
BSBN NEWS
Pitchero Non-League reports that "Stalybridge Celtic have signed Australian midfielder Adam Parkhouse. The 20-year-old is no stranger to English non-League football after spells in his homeland with Central Coast Lightning, Northern Tigers and Spirit FC. He first came over at the end of 2010 and joined the sadly now defunct Leigh Genesis... He then had spells with Atherton LR and a short sting [?stint] at Skelmersdale United."

Next Saturday's opponents, Guiseley "announce the signing of Matt Wilson, the versatile defender who played a number of times at Nethermoor last season. Matt, 25, played for the Lions on loan from Alfreton last season and has plied his trade for Boston United this season before leaving the Impact Arena this week. He played at both centre back and in midfield last season".

We read in the Times & Star that "Midfielder Will Vaulks is close to agreeing a move away from Workington Reds. Scottish First Division side Falkirk have had the 19-year-old on trial this week, and look set to complete a move for him early next week... He initially joined Workington on loan from Tranmere Rovers.

Starring in the centre of midfield, Vaulks made his move permanent in November, after Rovers boss Ronnie Moore agreed to cancel his contract... Vaulks signed for Reds, and has been the driving force this season. His agreement with Workington always allowed him to go on trial elsewhere in a bid to get back into the professional game....

Reds boss Darren Edmondson said he would be sorry to see Vaulks leave but said he was moving quickly to secure the services of at least three other players. He is aiming to swell the midfield ranks, with injury doubts over David Hewson, and Mark Boyd.

Edmondson said, 'At the moment, Will is our player. We will see what happens next week. I don't want to lose Will. He's been one of our most consistent performers, but he wants to get back into the full-time football. I'm not waiting for any decisions to be made. I'm already making moves to bring new players in. We have been ravaged by injuries, and we must replace those that have been put on the sidelines. I hope we can bring at least a couple of new faces in, because it is important we try and regain our momentum'".
---
19 January 2012
SATURDAY GAMES
Just one game beat the weather, allowing Chester FC to go 16 points clear in the League Table, though they have played more games than the chasing pack. Chester have double the number of points of every other team in the division except second- and third-placed Guiseley and Brackley Town.
Altrincham v Solihull Moors POSTPONED
Bishop's Stortford v Worcester City POSTPONED
Bradford Park Avenue v Workington POSTPONED
Chester FC 4 Stalybridge Celtic 1
Colwyn Bay v Droylsden POSTPONED
Corby Town v Guiseley POSTPONED
Gloucester City v Gainsborough Trinity POSTPONED
Harrogate Town v Boston United POSTPONED
Hinckley United v Vauxhall Motors POSTPONED
Histon v Brackley Town POSTPONED
Oxford City v FC Halifax Town POSTPONED

Howard Watts's files for Saturday's date are on the Through the Years page.
LAST OPPONENTS
Alty should have faced Solihull Moors this weekend. The Solihull News tells us that "You have to be made of stern stuff to watch the final minutes of any Solihull Moors game these days. Against Altrincham, Angus scored the winner in added time, away to Boston Bogle equalised with the last kick of the game, At Gainsborough it was Knights who equalised in added time and at FC Halifax they missed a penalty with the last kick of the game. So what could possibly go wrong against second from bottom Droylsden who have not won away this season?...

Droylsden are not called "The Bloods" for nothing... Moors failed to deal with a cross allowing O'Neill to thump home the ball passed the hapless Moors keeper. Manager Marcus Bignot made two changes at half time; Dior Angus was on for the injured Blackwood and Keenah Rosser for Spencer who had been yellow carded earlier. This gave them more opportunities down the right flank... Angus collected the ball wide on the right, danced passed three defenders and fired a low shot at what seemed an impossible angle; the ball hit the post, rebounded off the keeper's shoulder and Moors were level. Then with one minute remaining, Omar Bogle was up ended just outside the 18 yard box and from the free kick Angus curled a peach of a shot into the top right hand corner to claim all three points. The win pushes the unbeaten league run to 12 games".
OLD BOY
According to the Football Conference "Relegation-threatened Droylsden have brought in midfielder Lewis Chalmers from FC United of Manchester. Chalmers joined FC United in November after a brief spell with Radcliffe Borough. The 26-year-old started his career at Altrincham before joining Aldershot Town where he was an integral part of the Conference title-winning and Conference cup 'double' side in 2008.

Loan moves to Crawley and Oxford United followed before joining Macclesfield Town in 2010 where he spent two years in League Two making fifty-five appearances before leaving in July 2012, subsequently signing for Radcliffe after trialing with Grimsby Town. He is the brother of former Woodley Sports and current Southport player Aaron Chalmers, who has recently been on loan with Droylsden".
BSBN NEWS
Boston United report that their "striker Mark Jones is poised to join Lincolnshire neighbours Gainsborough Trinity. The 23-year-old non-contract striker, who has netted 14 goals for the Pilgrims so far this season, has agreed terms with United's county rivals after Trinity submitted an official seven-day approach for his services last week.

United boss Graham Drury was massively disappointed to lose his striker, but admitted Jones had received an 'unbelievable offer' from the Blues — on a contract until the end of the 2013-2014 season. Drury told bufc.co.uk, 'We desperately wanted to keep Mark and, in fact, offered him more money to stay but we were unable to compete with what was an unbelievable offer from Gainsborough. 'We support the lad with the decision he has made, which is understandable given the fact he is not working away from football at the moment'".

More on this comes fromThis is Lincs, which says that "Boston United have admitted defeat in their bid to keep Mark Jones... However, Trinity chairman However, Trinity chairman Peter Swann insists he did not offer Jones, who has penned a contract until 2014, an 'exuberant[!] amount of money' to join the Blues. 'Both Steve and I have spoken to him over the last few days and we have offered him a contract until 2014', said Swann. "The club have not offered him an exuberant [?exorbitant] amount of money, just a good contract for a quality player'.

He is an excellent talent and one who would benefit from our current set-up of players and the way we are playing. 'We were able to give him such a contract because he was not on a contract at Boston and we did not have to pay them for him. We rate him highly and feel this is an investment for the club'".

Another player on the move is the subject of a report from Gloucester City who announce that "Danny Andrew has joined Gloucester City on a short term deal until the end of the season. The signing follows his departure from Cheltenham Town. Meanwhile the Robins have agreed to extend the loan agreement with Bagasan Graham for a further month.

After joining the Tigers squad on loan in December the pair made a big impact, both netting goals and helping the team enjoy a successful end to 2012. Gloucester City manager Dave Mehew said, 'It is a bonus keeping Bags for an extra month and a bigger bonus keeping Danny for a bit longer. With so many games to fit in during the next month, it is a boost to have another couple of players to choose from. Both Danny and Bags made a good impression during their first month... They've given us an extra dimension going forward'".

According to the Yorkshire Evening Post, "There's no place like home for Harrogate Town chairman Irving Weaver. Faced with a crippling fixture crisis following a host of home postponements due to poor state of the CNG Stadium pitch – unable to 'bed in' since the summer when it was relaid at some cost – Weaver decided to act in a bid to keep the club's play-off hopes alive...

. An old pals' act came off with the Town chief, boss of Doncaster-based housing construction firm Strata Homes, getting in touch with Rovers shareholders and good friends Dick Watson and Terry Bramall and Keepmoat Stadium CEO David Blunt, who answered his call. The net result is that Town will play their home clash with Corby Town fifty miles away from Harrogate at Rovers' Keepmoat base on January 29...

Weaver said, 'I have a few pals involved at Doncaster who have been friends for years and they have really helped the club out. Yes, we would have preferred a more local ground, but we were unable to get a Category B ground capable of staging league games. York and Bradford had fixtures coinciding with the date, while Guiseley are a competitor in the same league and want to protect their pitch. And while we have played cup games already at Harrogate Railway and they are our near-neighbours, their ground doesn't meet league standards and it's the same with Tadcaster and Knaresborough. To be fair to Doncaster, they have let us have the ground just for basic costs. We know it is not ideal for our supporters but we will put buses on at reduced prices to make sure we get some people there shouting for us.

'The Keepmoat is a great surface. It is an interwoven, synthetic pitch which is sustainable, even in adverse weather'. As it stands, mid-table Town have only played 18 of their 42 league games so far... Weaver added, 'If we did not do anything now, we would be faced with playing two night fixtures a week at the end of March and in April, Given that scenario, we had to take action'

18 January 2012
MATCH OFF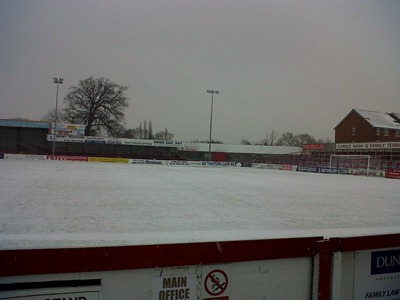 Tomorrow's scheduled game against Solihull Moors has been postponed after a pitch inspection this afternoon. The photo, (right, courtesy of Karen Rowley), shows the snow-covered and frozen scene at Moss Lane.
DROYLSDEN MATCH
The fourth attempt to play the Droylsden v Altrincham game, postponed from 3 November, 11 December and 15 January will be made on Tuesday, 5 February at 7.45pm
BSBN NEWS
Confirmation comes from the Football Conference to the effect that "Colwyn Bay have completed the signing of much-travelled striker Alex Meechan. The 32-year-old Liverpool-based Meechan has been with Harrogate Town and then Worcester City in the Conference North this season but found the travelling too much. He includes spells at Dagenham & Redbridge, Forest Green Rovers (where he scored thirty-three goals in ninety-nine appearances), FC Halifax Town and Chester City and AFC Telford United [and Altrincham] among his previous clubs."

FC Halifax Town report that "Town striker Jamie Rainford is set to join Northwich Victoria on a permanent deal. The striker joined the Shaymen in 2011/12 season on loan from Chester City before making the move permanently in February 2012 making 22 appearances for Town. The move follows a loan spell at Welsh side Colwyn Bay from FC Halifax where the 24 year-old was able to make only six appearances – scoring three goals in the process – including a brace at the weekend against Histon.

The Vics sit in the eighth tier of English football having been demoted from the Northern Premier League at the end of the 2011/12 season".

An arrival at The Shay is also reported as "FC Halifax Town are set to complete the loan signing of York City's Tom Platt on Friday. The 19 year-old midfielder will join the Shaymen after two impressive spells on loan to Harrogate Town. Platt joined the North Yorkshire side in March 2012 after breaking through into the first team from York City's youth team system. The Pontefract-born Platt then linked up with Harrogate Town again in September 2012 – scoring a total six goals in his 15 appearances whilst at the club. Platt also enjoyed FA Trophy successful with the League Two side last season".

The bad weather has already put some of Saturday's games under threat. The Gloucester City v Guiseley match is subject to a pitch inspection on Friday afternoon. Meanwhile, at Chester FC an announcement says "Chester FC are appealing for volunteers to assist with the removal of pitch covers at the Exacta Stadium on Saturday morning at 10am. The pitch covers went down yesterday lunchtime after the scheduled Cheshire Senior Cup match against Stockport Sports was called off due to the condition of the pitch. The covers were put down at the earliest opportunity to help boost the chances of Saturday's game going ahead.

The club are aware of the forecast for the forthcoming days, and will advise if the situation changes, but we are looking for help in removing the covers on Saturday at 10am".

Harrogate Town say that "Simon Weaver's men will be hoping to make it two in a row against the same opposition [Boston Utd] they beat when they last played! Please note that, due to the recent snowfall in Harrogate, this match will have a pitch inspection during Friday afternoon...

With the next couple of home games being scheduled to be played at the Keepmoat Stadium in Doncaster there is a increased sense of determination in the squad that they want to show, starting against The Pilgrims.
Sat 19 Jan. Boston United (H)
Tue 22 Jan. Workington (Keepmoat Stadium) (H)
Tue 29 Jan.Corby Town (Keepmoat Stadium) (H)

According to BSBN, "Chester FC have secured the services of loan signing Nathan Turner until the end of the season. So impressed [were they] by the 20-year-old's performances... they have also snapped up his twin brother Lewis. Chester boss Neil Young revealed his delight at the signings of the Leeds United duo, who he feels will add some quality to his table-topping side.

Young told the Chester Chronicle, 'I've got an agreement in principle to keep Nathan for the rest of the season and to bring Lewis to the football club for the same period of time. Like Nathan, Lewis can play as a full-back on either side or as a midfielder. And, like Nathan, he comes with a glowing reference, which you'd expect as they're identical twins! Nathan has been a great acquisition for the club and in the four games he's started for us he's probably been our best player in two or three of them. At this stage of the season - and when money is tight - to bring in players of their ability until the end of the season is a massive lift for me personally and a massive lift for the team'.

Young also revealed he was unsuccessful in his bid to sign released FC Halifax Town midfielder Jason Jarrett... He added, 'I made Jason an offer that we could afford but what was well below what he had been earning elsewhere. Also we could only commit until the end of the season, when he was looking for something a bit longer'".

News of an departing Chester player comes from Welsh Premier which confirms that "Bangor City have completed a deal to bring Chester midfielder Levi Mackin to Nantporth".

NL Daily reports that "Forward Dennis Sherriff has made the short journey from Stalybridge Celtic to reinforce neighbours Ashton United in the Evo-Stik League Premier Division... Robins' manager Danny Johnson... secured his services with long-term casualty Ben Deegan [ex-Alty] likely to be ruled out for the season and top scorer Aaron Burns[ex-Alty] currently on the casualty list with continuing hamstring problems".
---
17 January 2013
INTERVIEW WITH LEE
Altrincham FC joint Press Officer John Edwards writes "Lee Sinnott saluted Altrincham's new-found defensive solidity after they ground out a 0-0 draw at promotion rivals Worcester City to reclaim a place in the Blue Square Bet North top five.

While the game itself produced few memorable moments, the Alty manager was at least able to reflect on some impressive statistics that suggest they are serious candidates to figure in the end-of-season play-offs.

It was Alty's second successive clean sheet, and their fourth in the last eight games, while they have conceded only three goals in an unbeaten run that now stretches to five matches.

'That is the kind of return you need if you want to be a successful side,' said Sinnott. 'If goals conceded is a lower figure than games played, you are on the right track, and it's great credit to the players that we have achieved that in recent weeks.

'If you look at the personnel at the back, there is no reason why we should not be keeping more clean sheets, but it's not just down to the keeper and back four. There will be times when Stuart Coburn has to make important saves, or lads at the back prevent a goal with a tackle or block, but it's about how the team defend as a whole.

'Whichever combination we have gone for as a midfield four, they have worked hard and protected the lads behind them. It has proved an effective mixture, and we need to continue along those lines.

'Duncan Watmore went close soon after going on at Worcester, and Damian Reeves threatened near the end. Duncan was unlucky, because he connected perfectly and, an inch or two either side of the keeper, would surely have scored, given the speed the ball was travelling at. But Worcester could say they had chances, and certainly Scott Leather went flying in to pull off a wonderful block.

'For a young lad, he has a great knack of getting his body in the way in those situations. If I did that, the ball would probably go flying past me, but he's a bit like John Terry in the way he always manages to block it.

'Like ourselves, Worcester are trying to punch through into the play-off positions and stay there, so it was never likely to be an easy place to go. Their form there has been a bit in and out, but it was still the sort of fixture we may well have lost three months ago.

'Neither team did enough to say they deserved to win, in my book. I said straight after the game that I was content with a 0-0, and I just hope that was not construed as a negative comment. I want to win every game I go into, but, of course, it doesn't work like that. Sometimes, you look at the positives from a game like this, another clean sheet and extending the unbeaten run, and you accept it's not a bad return from a difficult test.

'So probably a more accurate assessment would be that you are content in one sense but not in another, because you want to win every time.'

Tuesday's game at Droylsden was postponed, due to a frozen pitch, and Alty are keeping an anxious eye on the weather, ahead of Saturday's home fixture with Solihull Moors. There is another home game next Tuesday against Boston United.

Sinnott addressed the potential problem of fixture congestion and provided an insight into how Alty are progressing on the fitness front.

'It's a shame Droylsden was off, but at least it's a local venue, so rearranging for another midweek date shouldn't present too much of a problem,' he said. 'It's the long midweek journeys to places like Histon that are far from ideal, but you just have to get on with it.

'We are going to be facing a glut of fixtures, with all these postponements, if we are not careful. The problem with that is, it catches up with you, and results sometimes don't go the way you might have expected. It is manageable for us at the moment, but we wouldn't want too many more games called off.

'Don't forget, we are only in the middle of January, so there could well be more bad weather to come. If there is, I can see Harrogate and Halifax encountering real difficulties. Harrogate have had a long Cup run, and their pitch hasn't exactly been behaving itself, and Halifax have had a similar experience. In fact, they are still in the FA Trophy.

'It means both have fallen a long way behind, in terms of League games played. It's all very well having games in hand but, if you find yourselves having to play two midweek games in the same week, it can take its toll. They might not be far off that.

'If our game at Droylsden had gone ahead, Nicky Clee would not have been fit. He got a dead leg against Harrogate, and the plan was for him to play for an hour at Worcester, then give way to Duncan Watmore for the last 30 minutes. That would have been ideal, because both have been out injured, and it seemed a good way of easing them back in.

'But Nicky's dead leg seized up at half-time, and Duncan had to go on earlier than planned. It worked out all right, though. Duncan did well, and Nicky should be fine for Saturday, with a few days' rest.

'Matt Doughty was on the bench, because he had been suffering from flu, but he should be fine for Solihull. It was funny with Buzz. We had a chat before the game, and it was apparent he would run through a brick wall if need be, he was that desperate to play. But you have to be sensible and we both knew he was not well enough to start.

'James Lawrie is the only worry, with his bruised toe. It's like asking how long a piece of string is. He seems to be pain-free, then it comes back to trouble him, so we'll have to make a late check on how he is at the end of the week'".
YANKEE
The Altrincham Saturday Yankee last week produced four winning trebles, each gaining £50, but the jackpot code of 5456 was unissued. The jackpot now stands at £900.
BSBN NEWS
Harrogate Town have issued a "New Statement From The Chairman... Further planned works on the ground continue to be frustrated by the weather and, with a forecast of more snow ,it seems unlikely that the contractors will be able to get on to the pitch. With this in mind and in liaison with the league, we have taken the decision to play our home fixture against Corby on 29 January at Doncaster Rovers on the first team pitch.

Whilst this is not ideal, at least we will be playing football in a fantastic setting and getting back on track for a play-off spot. We would like our supporters to know that we have tried to secure suitable grounds closer to Harrogate to ease our supporters transport arrangements. However, whilst very helpful, the grounds at Guiseley, Bradford and York were unavailable for the dates required.

Our single most focus is to remedy the pitch at The CNG Stadium so we can play at our own ground. The club will keep everyone up to date with all the developments at The CNG".

Elsewhere, "Two of Colwyn Bay's star players have completed moves to other clubs. Danny Lloyd has signed for Blue Square Bet Premier club Tamworth, despite the Midlands club sacking their manager this week. Lloyd had a clause in his contract which allowed him to be released if a club from a higher league came in for him.

Sean Williams has also agreed terms to join FC Halifax Town. Seagulls boss Lee Williams said, 'We did our best to keep Sean but you can't hold young players back if they think they have a chance to progress their careers. Sean said he was sad to be leaving, but the Halifax offer was too good to turn down'...

Meanwhile, Williams is very hopeful he wil have two new strikers, both of whom have been on the books of Football League clubs, on board ahead of Saturday's crunch game against Droylsden. The club have also completed the signing of 19-year-old defender Anthony Miley from Conwy" reports the North Wales Weekly News.

Meanwhile the Colwyn Bay Forum reports that on Wednesday evening Colwyn Bay played a friendly against Rhyl at Woodley Sports. "The Bay have Alex Meechan playing up front and he scored... his second on the stroke of full time to make it 6-3 " to the Bay. After leaving Harrogate Town for Worcester City last October, in December he joined Witton Albion.

And FC Halifax Town confirm "The signing of 21 year-old Sean Williams from Colwyn Bay. The Liverpool born midfielder has made 21 appearances for the Seagulls scoring two goals after a free transfer from Vauxhall Motors in July 2012. Williams began his career at struggling side Stockport County before moving to Blue Square Bet North champions Hyde on loan in October 2011 where he made five appearances. The midfielder then moved to Vauxhall Motors before committing himself to North Wales side Colwyn Bay in July 2012 on non-contract terms."

According to the Huddersfield Daily Examiner, "FC Halifax Town keeper Matt Glennon is hoping that the team will get the chance to put a string of wins together – sometime soon. The Shaymen's scheduled meeting with Bishop's Stortford last night was postponed... Their season has been hampered by a string of games being called off at the Shay.

'It's strange, but it is all down to the pitch. The surface actually looks fantastic but then, when you step on it, the ground is just so soft', said Glennon. 'But between the club and the council they do need to sort something out with the ground. I know they plan to address the problem because trying to play on this surface is putting extra pressure on the players as they try to get results...

I think we have only been beaten once in ten or 11 games now, so the run is already good... The uncertainty as to whether we are going to get the games on, or if they will be off, isn't helpful... What we want is to get on a nice run and bang some of these games in, get ourselves a few three point returns and get right back in the play-off positions again'"."

In the Boston Standard we learn that "On Saturday Paul Holden made a remarkable return to Boston United following his Christmas Day heart attack. Spencer Weir-Daley was presented with a trophy to mark his 50 goals for Boston. There was a minute's applause in memory of Boston United Community Club player Callum Pite, who tragically lost his battle with cancer. Jordan Nuttell made his debut. New boy Anton Foster put in a solid shift, as did defender Phil Watt.

Plenty of things to discuss, some of which put sport truly into perspective. But after the match there was one thing dominating the chatter from the fans. Mark Jones was the big story, and not just because he stands 6 feet 3 inches tall. Gainsborough Trinity have put in a seven-day approach for the striker, and it's kicked off a war of words.

United boss Graham Drury will not have made any friends at the Northolme when he made those very deliberate comments about Trinity being a small club in contrast to United. Deliberate? Yes. Firstly, he wants his own fans on side with a bit of chest beating. Secondly, his barbed words made the decision to go much harder for Jones (and who would want to lose a 14-goal forward?).

Drury compared the fanbases between the two Lincolnshire rivals, and that is a no-contest in Boston's favour. He then threw in the line that 'the only reason Mark Jones would leave would be for money'. This is attempting to make his striker feel as if he has no choice but to stay, that the only reason he would leave was if he was a cash-chasing mercenary.

Big-spending Gainsborough persuaded Jamie Yates and Shane Clarke to move to the Blue part of the county in the summer of 2011 for improved salaries, and we all know how well that went down here.

Today, Trinity are allowed to officially speak to Jones... They'd love nothing more than to get one over United, to put a big dent in their rivals' strike force... In press and radio interviews, he [Jones] firmly pledged his allegiance to Boston. Joining Gainsborough now may make him look like a mercenary and a man whose word can't be trusted".

In response This is Lincs says "Gainsborough Trinity manager Steve Housham has responded to comments made by Boston United boss Graham Drury over his approach for Pilgrims striker Mark Jones... claiming that if Jones does end up at the Northolme it will be for footballing reasons...

Said Housham.. 'It would be for footballing reasons. He would be coming to a very ambitious football club who have plans to progress. We are always looking to strengthen, but we will not break any budget barriers. So any move to Gainsborough would not just be about money, it would be about coming to a club who's ambitions are high'".

From the Northants Telegraph we learn that "Chris Plummer believes his decision to show his Corby Town players some cold, hard facts helped contribute to their last two encouraging away trips. The Steelmen boss revealed there was a 'flat feeling' around his squad after their 0-0 home draw with struggling Histon just under two weeks ago. But the Corby manager chose to use nothing but statistics to show his players how far they had come under his leadership and he believes it had the desired effect as they were edged out 2-1 by promotion chasers Guisesley before claiming one of their best results of the season so far with a 2-1 success at Stalybridge Celtic...

Plummer stepped up from assistant-manager to replace Ian Sampson... He said, 'We got a few statistics together and I think it gave the lads a lift. We have progressed and it was nice to see it in writing. We have shown in the last two games that we can compete with sides towards the top end of the division. Now the challenge is to carry that on into the rest of the season. We still have a lot to do... but I am certain we are moving in the right direction'".

The Northampton Chronicle reports that "Jon Brady believes Jefferson Louis could be the man to fire Brackley Town into the play-offs this season... after the striker left Newport County.

The hitman was prolific for Brackley last season, scoring 18 goals... He did enough to earn a move to Blue Square Bet Premier side Lincoln City midway through that season, before clinching a deal at Newport during the summer... Brady wasted no time in making his move to bring the frontman back to Brackley, signing him on a deal until the end of the year.

And Louis proved the catalyst for a 3-0 win at Droylsden last weekend... 'We had been creating chances but not been taking them and I felt we needed a freshness up front, which is why I brought Jefferson back', said Brady. 'He scored loads of goals for Lincoln and set the world on fire at Newport at the start of the season but they didn't ?want to trigger his contract and the boss stopped playing him. I was monitoring the situation and brought him back. There are no hard feelings about how he left, because it's a no-brainer to take a move to a higher level. We're looking to make the play-offs this season and I believe Jefferson will help massively as we look to do that'".
OLD FOES
The BBC tells us that "Bath City chairman Manda Rigby says the club could fold unless they sell their stadium in Twerton. They have been based at the 8,000-capacity Mayday Trust Park since 1932. The Romans' relegation last season left the club in financial turmoil and, after posting a deficit for 50 consecutive years, Rigby says they must sell the ground to stay in business.

'We are very serious about having to do this', she told BBC Radio Bristol. 'The board have done a brilliant job at keeping the club going but we're getting to a point where time and money is running out. We've had 50 years of debt accumulating and, at some point, someone is going to have to come up with a plan to pay that back'.

Rigby said redeveloping the current stadium was also an option for the struggling club. 'It's a lovely stadium but we are having to spend more and more money', she continued. 'We said about six months ago that we had two options; to redevelop Twerton Park and/or moving. Now is the time for me to come out and say the plan I've got is to move. People have got to get on board with that or find an alternative'".
---
16 January 2013
NEXT GAME
Altrincham's next scheduled game is at Moss Lane, this Saturday, against Solihull Moors. Mike Garnett reminds us of the record between the two clubs:
At Moss Lane: p1-w0-d1-l0-f1-a1
At Solihull: p2-w0-d0-l2-f1-a4
All matches: p3-w0-d1-l2-f2-a5
BSBN NEWS
The Football Conference confirms that "Droylsden have signed winger Matty Ward from North West Counties League Premier Division club Stockport Sports. Ward, formerly with Ashton Athletic, made thirteen appearances for The Saxons during his time at Stockport Sports Village, scoring four goals.

The Saxons' Director of Operations, Wayne Ashworth, spoke about Ward's transfer, 'Following discussions with both Droylsden and the player we have agreed to allow Matty to sign for The Bloods with immediate effect. That allows him to feature for them in what will be a huge local derby for them this week against Altrincham [ehich was later postponed].

'Matty has been a key player for us this season, great in fact and he leaves here with the full blessing of everyone at Stockport Sports. Matty is a hugely talented player who can now really test himself at a much higher level'".

Elsewhere, "Colwyn Bay have signed defender Anthony Miley from Huws Gray Alliance League One side Conwy Borough. Miley is a tall, imposing, no-nonsense centre half who has a big future in the game. Last season he entered the Samsung competition to `win a pro contract with Swindon Town` and finished in the top ten out of 2,500 entrees. Miley, 20, also represented Liverpool in the Dallas Cup as they came home as champions. He signed for Cowny from North West Counties League side Bootle in July 2012".

Addressing their ground problems, Harrogate Town announce that "The match against Workington that was due to take place at the CNG stadium on the 5th February will now take place next Tuesday, 22nd January... However please note that the venue for this game will be the Keepmoat Stadium, home of Doncaster Rovers".

The Harrogate Observer adds that "Harrogate Town are to play a match at the home of League One Doncaster Rovers... Town have struggled with postponements this season as the Wetherby Road pitch was relaid in the summer, and poor weather has not allowed the new surface to settle. Town currently have eight games in hand over league leaders Chester.

Assistant manager John McDermott told the Harrogate Advertiser... 'There is such a backlog of games now, if we did wait and tried to play them at Wetherby Road we could be playing three times a week near the end of the season. We have arranged to play the match at the Keepmoat Stadium, and hopefully if we can do it, our own pitch will be OK for games after that'. Fans will have to travel 50 miles from Wetherby Road to the 15,000 capacity Keepmoat Stadium".

According to Pitchero Non-League, "Workington midfielder Will Vaulks could be on the verge of a move to Falkirk after having a trial... Vaulks is on a rolling contract with Reds after being released by Tranmere Rovers a month ago. They are expecting to make a decision on the teenager this week and he may be offered a contract.

Any move would mean a double blow for Reds, who are having to adjust to life without Joe Mwasile after the Morecambe man ended his loan spell in Cumbria on Saturday... Workington boss Darren Edmondson said, 'Obviously we are sorry to see Joe go because he's been a breath of fresh air while he's been here. He has scored goals and shown exceptional ability on the ball... What we have to do now is try and find someone to come in and fill the gap left by Joe, which won't be easy.

I have been talking to a few clubs about players they have who may fit in for us at Workington and I hope to be able to tie something up during the week'...

Edmondson was disappointed with the Histon defeat but still feels there is enough ability in the squad to get back into play-off contention. 'The biggest disappointment was that we had enough chances to win the game. Histon took theirs and we didn't or we should have been taking something home with us. I wasn't happy with some of our defending either so really it wasn't a good day for us. But I still have faith in the players to get back up the table'".

Bulls' News reports that "The TV deal with Premier Sports is due to end in the summer. The deal was originally due to make revenue share payments to clubs if subscriptions reached a certain level, but it is understood that those levels have never been reached. Media reports say that talks have been held with BT Vision over their forthcoming sports channel, which is due to carry 38 Premier League matches and top flight rugby next season".

Sky Sports says that "The chairman of the Blue Square Bet Premier League has not ruled out the possibility of [Glasgow] Rangers moving into the division. A proposed restructure of the Scottish leagues has infuriated Rangers chief executive Charles Green, who has proposed his own alternative in addition to threatening to withdraw the Glasgow giants altogether.

The Scottish Football League are to discuss a new arrangement that would see a third tier of 18 clubs next season, meaning that Rangers would remain in the division even if they win it this season.

Last week, Green told talkSPORT, 'I could join the Conference and I would be in a higher league than I'm in. It doesn't matter to me (which league Rangers are in)'.

'There are one or two problems, of course. It's up to FIFA whether a club can change countries or not, so that's the first issue. And the second, and probably the most important, is the problem it would create with promotion and relegation and having an uneven number of teams'" said Lee, who added, 'On Monday we have a mid-season meeting of clubs so that is a topic for conversation... It would be wrong if the Football League would not take Rangers as part of the promotion and relegation system. Otherwise they would be in the Conference keeping out a team who might have the wherewithal to go higher in the pyramid...

They are not insurmountable problems. You will have to have the co-operation of a lot of different organisations to make it possible, but where there is a will there is a way'".
---
15 January 2013
DROYLSDEN MATCH OFF
Following a pitch inspection at the Butcher's Arms, tonight's match against Altrincham has been postponed due to a frozen pitch. Alty's next game is at home to Solihull Moors this Saturday (3pm).
TUESDAY GAMES
Altrincham were set to travel to Droylsden on Tuesday evening for a BSBN game which had already been postponed twice. Mike Garnett's statistics tell us that the previous record between the clubs is:
At Moss Lane: p15-w13-d2-l0-f51-a15
At Droylsden: 13-4-1-8-18-23
All: 28-17-3-8-69-38

The BSBN games on Tuesday are:
Droylsden v Altrincham POSTPONED
FC Halifax Town v Bishops Stortford POSTPONED
Harrogate T. v Colwyn Bay POSTPONED to allow work on the pitch.
Hinckley United v Brackley Town POSTPONED
Histon v Gainsborough Trinity POSTPONED
SPORTSMAN'S DINNER
Paul Merson, the former England and Arsenal striker, and more recently a Sky Sports pundit, is the speaker at a Sportsman's Dinner being organised by Altrincham FC. The event will be held at the Cresta Court Hotel in Altrincham on Thursday, 21 February, 2013. There will be a four-course meal, a comedian, an auction and a raffle, all for £40 per head or £400 (+ VAT) for a table of ten. Please contact the club on 0161 928-1045 or by e-mail.
ALTY PONTOON 2013
Join the Alty Football Pontoon, 2013
Grahame Rowley writes, "We are running a football pontoon, starting on Friday 1st February 2013. To play it will cost you the princely sum of £10 and the winner will receive a minimum of £100 in cash.

The rules are simple...
You pick one random team out of a hat and that is your team for the duration of the competition. Premiership, Championship, League 1 & 2 and Blue Square teams available.
Your team has to be the first team to score EXACTLY 21 goals for you to win
If your team goes over 21 goals, you are bust!
Only competitive games (League or FA Cup games) played on a Friday, Saturday, Sunday or Monday count towards the goal total
If more than one team reaches exactly 21 goals on the same day the prize money will be shared
If a particular weekend's matches are lacking any teams, due to postponements or blank fixtures, those teams will be awarded 2 goals
International weekends do not count towards scoring.
An updated table showing each person's team and how they are doing will be posted on the website and in the programme as soon as possible. Let me know if you wish to join up for this exciting game of Pontoon. If you have any questions, please do not hesitate to phone me on 07720-606897 or e-mail me.

Many thanks for your support.

Grahame adds that the rules and a list of numbers is displayed inthe bar at Moss Lane.
WORCESTER VIEWS
Worcester City have highlights of the game at St George's Lane last Saturday.

Echoing Lee Sinnott, the Worcester News reports that "manager Carl Heeley says Worcester City were quite content with a point from their Altrincham stalemate... Heeley was pleased with the way his players performed and felt that taking something from the contest was imperative.

He said, 'I thought overall it was the correct result and, as 0-0 draws go, it seemed quite an entertaining game. We were the better side in the first-half, shading the possession and the chances, but it was a similar story in the second-half for Altrincham. Overall, we wanted to win the game but not at the expense of losing it and it was a solid performance. It was a game run by two solid defences. We were wary of their threat and they felt likewise. Both sides cancelled each other out to a certain degree and it was only ever going to be about one goal but that didn't come. Not to get beaten is a good result because it was a six-pointer'.

The Worcester boss continued, 'I'm not sure how many teams have kept clean sheets against Altrincham but I wouldn't imagine it's many with (Damian) Reeves, (Nicky) Clee, (Jordan) Sinnott and Duncan Watmore who, for me, are destined for bigger things. We had our work cut out but I thought, as a team, the boys worked hard, stuck to the game-plan and defended incredibly well. When you get your opportunities you need to get yourselves a goal when you're on top of the game. It didn't come and, inevitably, Altrincham were always going to have a spell when they had some chances, albeit I don't think they had that many'...

Heeley added, 'In the Trophy game, when I look back at those who played and the ones we had missing, it wouldn't have been the team selected had we had everyone available. There weren't any excuses this time. We had pretty much a full squad to choose from and we handled what they had to throw at us. I'm a little bit disappointed we couldn't carve out more openings in the second-half but it was a well-earned point which we're quite satisfied with'.

And "Carl Heeley has called on people to watch Worcester City at St George's Lane before the chance goes forever... There are only nine league matches left at the century-old ground before it is demolished for housing in June... with City expected to ground-share with Kidderminster Harriers...

Heeley said, 'We're in the mix and it's nice to say we're in with a chance and challenging for the play-offs. The support of this club can help us... I would say to people, "Come and see us because you're not going to have any opportunities in a few months and it will be gone forever then... We're at a standard of football that's very competitive with good sides and players and we've got some too'.

Meanwhile, keeper James Dormand has returned to City as back-up to Glyn Thompson following Matt Sargeant's loan move to Chasetown. Sargeant has joined the Northern League Division One South side for a month in a bid to stay sharp. Dormand left City in the summer to concentrate on his business commitments but the club have retained his registration and he has been training with the squad.

Heeley added, 'As an outfield player, you've got opportunities to get on the pitch but, as a keeper, invariably you sit on the bench for the whole game. Sarge wanted to go, he lives less than a minute's walk from Chasetown so it suits all'. Left winger Danny Edwards has also gone on loan to Redditch United, while defender Shabir Khan remains at Halesowen Town".
OLD BOYS
Pitchero Non-League tells us that "Worksop Town have signed goalkeeper Ashley Timms from Ilkeston FC. Timms is a former Manchester City trainee who signed a one-year deal with the Robins in July 2012 but has now had that contract cancelled in order that he could search for more regular first-team football. He was at Manchester City with the likes of Micah Richards and Stephen Ireland and he was the first of their group to sign a professional contract.

Bolton wanted to sign him after he impressed during a month on work experience and he also had spells with Fulham and Shrewsbury (as understudy to Joe Hart) before being offered a two-year contract by Norwich.

He has also played for the likes of Altrincham, Atherton LR, Bolton Wanderers, Leeds United, Shrewsbury Town, Moor Green, Curzon Ashton, Mossley, Altrincham, Runcorn, Accrington Stanley and Barrow, Stalybridge Celtic, Barrow again, Tamworth and Bacup Borough".

Welsh Premier reports that "Airbus UK Broughton have signed experience centre-back Phil Bolland from Halifax Town. The 36-year-old has played for more than a dozen clubs in his career, but his most settled period came between 2002 and 2006, when he made 139 appearances in the Football League for Chester City.

After spells with Altrincham, Salford, Trafford and Knowsley United, he signed for Southport in 1997 and spent four season at Haig Avenue".
BSBN NEWS
Harrogate Town report that the club "can put an end to certain rumours that are circulating regarding striker Liam Hardy. Liam has joined Frickley Athletic on duel [dual] registration terms. This means that he is still primarily a Harrogate Town player (not Railway Athletic) as mentioned on Frickley's site but will turn out for Frickley when he is not selected for Town. Manager Simon Weaver wants Liam to get some match fitness under his belt and still sees the striker as part of his plans... He recently completed a very successful loan spell at neighbours Harrogate Railway Athletic".
F.A. TROPHY
The FA Carlsberg Trophy Quarter-Final draw, with ties to be played on Saturday, 26th January 2013, is:
FC Halifax Town v Dartford
Southport v Wrexham
Gainsborough Trinity v Gateshead or Barrow
Grimsby Town v Luton Town
---
14 January 2013
FUNDS FOR MARK'S CHARITY
Altrincham FC coach Ian Senior writes, "On the way back from Worcester, Tols [Neil Tolson] and I decided we will be donating the monies raised from our Crossbar Challenge to Mark Maddox's Charity. Should anyone like to add to the amount the loser is donating, please contact me via the club. Any contributions would be gratefully received. Thanks from Ian Senior".
WORCESTER GAME
You can re-listen to the Radio Robins commentary files from Saturday's game at Worcester via the following links:
Second Half
BSBN NEWS
Sunday's NL Paper confirms that "The Conference could be searching for new title sponsors, with long-term partner Blue Square Bet facing an uncertain future. The NLP can reveal that Non-League's top competition have held discussions with BT Vision and ESPN regarding a television deal, with the Premier Sports TV contract due to expire at the end of the season. Betting firm Blue Square have been put under review by owners The Rank Group, with a renewal of the league's contract, thought to be worth around £700,000 a season, highly unlikely. The NLP understands all Blue Square liabilities will be paid, with clubs guaranteed to receive this season's central funding.

BSB Premier clubs curently receive around £35,000 a season [each] from the Conference, with those in BSB South and North taking £12,500. Not all of that comes from the Blue Square deal... Blue Square are in their sixth season of sponsoring Non-League's top three divisions".

Rank says the BSB, which is a digital-only arm of their operation, makes an operating loss.

The Football Conference reports that "Goalkeeper Luke Chambers has returned to Bishop`s Stortford on loan from Southend United for the remainder of the season. Chambers, who is yet to make a first-team appearance for the Shrimpers since he signed a professional deal in the summer, originally joined the Blues on loan in August. That loan was extended and he made thirteen appearances in total before returning to Roots Hall".
---
13 January 2013
YOUTH GAME OFF
Today's scheduled NWYA Premier match between the youth teams of Altrincham FC and Northwich Victoria has been postponed. The pitch at Clay Lane has frozen sections which make the playing of the game dangerous, especially with the forecast of snow for this afternoon. Alty Youth have no game next week as their projected opponents, Nantwich Town, have numerous players involved in the Cheshire County FA District Cup. The next scheduled game for Altrincham is, therefore, on Sunday 27 January at home to Prescot Cables.
LEE'S ASSESSMENT
After the goalless draw at Worcester, the NL Paper quotes Altrincham manager, Lee Sinnott, as saying, "I thought it was a fair result... I can't say we edged Worcester and deserved to win the game. I thought it was a close, hard-fought affair and, for some reason, there wasn't as much quality in the game as both teams could provide. When you encounter games like that, it's important that you don't lose them and, four months ago, we might have just lost that game. Looking at the whole 90 minutes, we're content with a point".
Match report here.

The Worcester News reported that "City earned a point against play-off rivals Altrincham in an entertaining goalless draw at St George's Lane. Both sides had chances to claim victory in tension-filled match but in the end had to settle for a share of the spoils in the race for the Blue Square Bet North top five.

Altrincham almost broke the deadlock late on when Danny Hall's header was hacked off the line by Tyler Weir, but Robins keeper Stuart Coburn was forced into a number of saves. He denied Greg Mills on more than once occasion, while Mike Symons and Tom Thorley also went close.

Glyn Thompson also produced a double first-half save to thwart Jordan Sinnott, son of Altrincham manager Lee. City striker Danny Glover admitted to mixed emotions after the match.

He said, 'We are bit disappointed not to get three points but I thought we defended well. I think we needed to stay in the game, especially after last time when they beat us 3-0 (in the FA Trophy). I thought we stuck at it and were on top in the first-half. They probably shaded it in the second-half but the weather had a lot to do with that'".
CROSSBAR CHALLENGE
In the latest instalment of the season-long Crossbar Challenge for charity, Alty assistant manager Neil Tolson yesterday extended his lead over coach Ian Senior to 17-14.
BSBN NEWS
According to This is Lincs, "Graham Drury hopes Mark Jones stays at Boston United for footballing reasons after Gainsborough Trinity made a move for the highly-rated striker. Trinity have submitted a seven-day approach for Jones, who is expected to hold talks with United's county rivals this week.

Pilgrims boss Drury admits... 'If it's about money he'll go, there's no doubt about that because they'll double his wages', admitted Drury. 'The decision is Mark's, but I'll try and keep him at the football club. It's going to be down to what Mark Jones wants at the end of the day. Just looked around the place (Boston). When you walk into the car park, you can see it's a proper football club, at Gainsborough there are 300 or 400 (fans). We double that, or can treble it if we're on a winning run.

The fans respect what Mark does and they like him as a player. But money is a big factor in life these days and it will be no different for Mark Jones... He's got to make the right decision for Mark Jones. If he makes the right decision for footballing reasons, he'll stay at Boston United. If financially he needs to do it, he'll go, it's as simple as that'.

Jones scored the only goal as Boston returned to winning ways with a 1-0 victory over Colwyn Bay today. Meanwhile, Trinity booked a place in the quarter-finals of the FA Trophy with a superb 2-1 victory over Tamworth".

In similar vein the Boston Standard reports that "Boston United manager Graham Drury has taken a swipe at county rivals Gainsborough Trinity, stating 'We're a proper club'... Fortunately, for the amber and black fans, Jones has suggested he wants to stay with Boston... Jones said, 'I haven't spoken to Gainsborough. That's how it is. Boston's a fantastic club and Jason Lee signed me here to play for the club this season. The chairman's shown faith in me. The lads, the fans, they've all been great to me and I wouldn't want to turn my back on that'".

In the Times and Star we read that "Joe Mwasile will sign off his Workington Reds career against Histon this afternoon [Saturday] and boss Darren Edmondson is desperate to replace him. The winger has enjoyed a solid 93-day spell at Borough Park from Morecambe, and quickly became a fan favourite. Mwasile's eye-catching performances have pleased the Shrimps, according to Edmondson, who praised Morecambe for their help in loaning the flier.

Said Edmondson, 'It wasn't about how much money they could make from Joe going on loan, it was about the player's development, and how he could help them in the future... With Joe in the side we have had an instant out-ball, and he's added another dimension to our attack. Financially, it's going to be difficult to replace Joe. Morecambe did us a huge favour regarding Joe's wages, and unfortunately, other clubs are not as accommodating. The plan is still to replace Joe. I have scouted potential players, but it's going to be difficult, financially, to get any more in'".
---
12 January 2013
WORCESTER CITY 0 ALTRINCHAM 0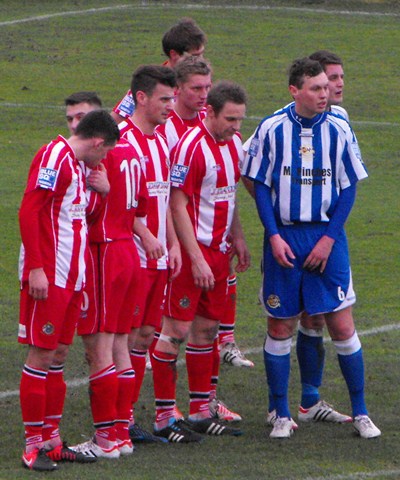 After a goalless first half, poor on quality, but in which the hosts had the upper hand, the second half began in improved fashion with Alty getting forward the better of the two teams. But neither side could break the deadlock...
Match report here.

Right: Alty line up a defensive wall at Worcester.
Alty player stats
SAM GOES TO RADCLIFFE
Alty Youth graduate Sam Grimshaw has joined Radcliffe Borough on a month's loan. Sam has recently recovered from a broken hand.
WORCESTER CITY v ALTRINCHAM
Brian Flynn writes that Radio Robins, sponsored by Ashley Mowers Garden Machinery, will be broadcasting live coverage of the game at Worcester City on Saturday (12th). The match commentary is sponsored by Robinsons Preservation Ltd.

Robinsons Preservation Ltd have been established since 1956 and have, throughout the years, built up the reputation of being one of the leaders in the field of timber restoration and preservation. They have undertaken a variety of different projects ranging from large church restorations and working on projects such as Victoria Baths in Manchester.

You can find out more about Robinsons Preservation Ltd by visiting their website.

The match commentators are Laurence Howarth and Brian Flynn. The broadcast begins at 2.55pm.

Alternatively, you can find text updates on this site's Matchday Updates page, at the link below

You can follow the match via the following quick links...
Boston United 1-0 Colwyn Bay
Brackley Town 3-1 Bradford Park Avenue
Guiseley 1-0 Oxford City
Harrogate Town OFF Gloucester City
Hinckley United 0-6 Chester
Histon 3-0 Workington
Solihull Moors 2-1 Droylsden
Stalybridge Celtic 1-2 Corby Town
Vauxhall Motors 1-3 Bishop's Stortford
Worcester City 0-0 Altrincham
WORCESTER EYE PLAY-OFFS
The Worcester News reports that "Worcester City say back-to-back victories for the first time since August [are] their chief concern against Altrincham tomorrow and not the significance of the match in the play-off race. Only goal difference separates City from the Robins ahead of their encounter...

Manager Carl Heeley is not allowing himself to be preoccupied by the league table and instead wants his team to build on last Saturday's 3-0 win at Colwyn Bay. Doing so would give them their first two league victories on the spin since beating Bishop's Stortford and Corby Town in their first matches at the Lane this term...

Heeley said, 'There's a long way to go and there will be a lot of twists and turns. We put all our efforts into the Colwyn Bay game and now we aren't looking further than Altrincham. Nothing will be decided tomorrow and there are other teams in there, it's very congested. We are concentrating on getting back-to-back wins... The aim was always to be in with a chance at New Year and not be having to play catch-up. If you compare the table to other leagues, it's strange because there are three or four teams setting a trail when normally it's only one or two. It's going to be tough to catch the top four sides and that leaves one play-off spot'.

Midfielder Tom Thorley is expected to be fit to face Altrincham despite suffering a cut shin in the Colwyn Bay triumph. Centre-half Jacob Rowe could also return after missing the north Wales trip with tendonitis in his knee. However, fellow defender Graham Hutchison's loan from Birmingham City has finished. Altrincham, who beat City 3-0 at the Lane in the FA Trophy in November and have 26-goal Damian Reeves in their ranks, are unbeaten in four matches".

For once the eccentric forecasters at Footy Mad are not predicting a goalless draw for Alty, as Alty Mad bizarrely reports that "Altrincham face a trip to Worcester City at St. George's Lane on Saturday afternoon, looking to break their duck against the hosts. Both of the previous encounters have resulted in a drawn game". Yet it then goes on to say, ignoring the FAT game in October, "The most recent encounter between these two sides at St. George's Lane was just last season, in November 2011, with Worcester City running out comfortable 3 - 0 winners in a (Conference) North match. Recent encounters between the teams...
2011/2012 Worcester City 3 - 0 Altrincham
2011/2012 Altrincham 4 - 1 Worcester City
2004/2005 Altrincham 2-0 Worcester City
2004/2005 Worcester City 2 - 1 Altrincham

Worcester City's dreadful home form has resulted in just 1 victory and 1 draw from their last six played... Altrincham's away form is none too clever either, with 3 victories and just 1 loss from the last six... FootyMad's prediction ...

Robins have been performing with great credit on their travels [their away form was described as 'none too clever' a few lines above], and the Madmen see no reason why they should not return from St. George's Lane with an easy victory. Away win".
MANAGER'S VIEWS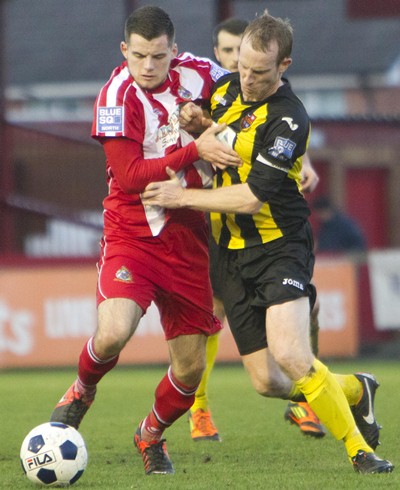 Right: Midfielder Jordan Sinnott makes his last appearance for Altrincham on Saturday as he completes his loan spell from Huddersfield Town. Here he is seen in action against Harrogate Town last week. Photo courtesy of Gavin Rathbone of GR Photography
Brian Flynn advises us that "Kevin Thompson's post match interview with Lee Sinnott recorded last Saturday and broadcast on the Wythenshawe FM Sports Talk Show on Tuesday, can be heard here.
OLD BOYS
News of three ex-Altrincham players comes from Pitchero Non-League, which reports that "Garry Flitcroft, manager of Chorley, may be set for another swoop in the transfer market as he looks to solve the club's goalkeeping problem... which has become something of a problem position since [ex-Alty man] Russell Saunders left Victory Park in the summer...

Striker Darren Stephenson also netted his first goals since returning to the club over the Christmas period. Flitcroft had to bide his time before swooping for the former Southport man – who spent a successful loan period at Victory Park earlier in the season – because he had to get Steve Foster, Ciaran Kilheeney and [ex-Alty forward] Chris Denham off the wage bill. Flitcroft said, 'I had three strikers who I needed to get out, but it was difficult because they were all on contract. They were all picking up good money and maybe didn't want to move on. We finally got them out and I've wanted Darren all the time'...

Chorley are also expected to be boosted this weekend by the expected returns of long-term absentee [ex-Alty defender] Kieran Walmsley".

More on Saunders comes from New Mills which confirms that "Manager Roy Soule has...moved to strengthen the goalkeeping department by signing former Stockport Sports number one Russell Saunders. The twenty-four year-old has experience at a number of clubs including Wigan Athletic, Altrincham, Ashton United, Hyde and Chorley where he was the regular custodian during the 2011/12 season.

Attacking midfielder Wez Wilkinson [another ex-Alty player] replaced Luke Horrocks during the second half at Seel Park. Twenty eight year old Wez has had a number of clubs during his career since leaving Oldham Athletic where he made a handful of Football League appearances during the mid 2000s and is noted for his quick feet and lightning pace."
BSBN NEWS
The Times reports that "Punters placing bets on Blue Square could be approaching the final whistle after a decision by Rank to sell or shut down the online sports bookmaker. Partly as a result of an imminent new tax on offshore online bets, Ian Burke, Rank's chief executive, announced yesterday that the future of the loss-making Blue Square was under review. The leisure company wants to concentrate on its Grosvenor Casinos and Mecca Bingo businesses and on online games such as poker."

To which, the Football Conference has responded as follows. "Following media statements issued by the Rank Group regarding its subsidiary Blue Square Bet, (the title sponsor of The Football Conference), the Football Conference thinks it is appropriate to state it will be meeting Rank and Blue Square next week to discuss and consider the on-going situation. No further statement will be issued until after that meeting".

According to the Football Conference, "AFC Telford United have taken on winger Jason Stokes, who left Boston United earlier this week".

Incoming activity is also reported by Boston United, who confirm that they "have added to their squad by signing combative midfielder Anton Foster from Sheffield FC. The 30-year-old put pen-to-paper on Friday afternoon to link up with the Pilgrims... Foster was part of the all-conquering Eastwood Town side which won the UniBond Premier League and enjoyed tremendous FA Cup success in 2008-2009. In addition to his successful spell with Eastwood, Foster has Blue Square Bet North experience with FC Halifax Town.

Manager Graham Drury told bufc.co.uk, 'The existing players have had five matches to impress and our results, in the main, are still the same. Therefore, I need to start introducing more new players into the squad and Anton is a welcome addition. He will add bite and experience to the midfield and he is a player that I have admired for a long time'. Foster has also previously played for the likes of Buxton, Belper Town and Gedling Town".

The Cumberland News says that "Celtic Nation will make the long trip to Guisborough Town tomorrow without the services of goalkeeper Ryan Smith. Former Oldham trainee Smith, who has been filling in for Dan Lowson between the sticks before the latter's return from injury on Saturday, has made the switch to Blue Square North side Workington Reds. Darren Edmondson's side need back-up for young Newcastle United loanee Jonathan Mitchell in the absence of regular number one Aaron Taylor". The North Wales Weekly Times says that "Colwyn Bay will recall Danny Taylor to the right berth in place of departed Luke Denson for Saturday's long trip to Boston United. Denson, who only returned to the Seagulls four weeks ago on loan from Chester until the end of the season, has this week agreed terms to team up again with former manager Dave Challinor at AFC Fylde.

It is a blow to new boss Lee Williams's small squad, with Joel Richardson and Ashley Dunn having also left the club in the past week, and 20-year-old midfielder Sean Williams is due to have talks with Halifax next week after they put in seven days' [notice] for him... Lee Williams says... 'Every game is tough in this league, but Boston are beatable and we will be going there feeling we can get something from the game'. The Lincolnshire club, in fact, have been struggling recently, losing six of their last 10 games and winning only two.

New boss Graham Drury, who took over from sacked Jason Lee last month, described Tuesday night's 2-1 home defeat to Harrogate Town as 'The worst performance since I have been at the club'. But he has brought in a couple of new signings and is looking for a big response from his players, having set them a target of 13 wins from their remaining 18 games - which he believes will be enough to get them in the play-offs...

Williams says, 'We have still got 22 games left and I am 100 per cent confident that we will be fine', he says".

Meanwhile, This is Lincs adds that "An impassioned Graham Drury refused to write off Boston United's play-off hopes as he targeted 13 wins from their final 18 games. Drury has picked up just one victory in five games since succeeding Jason Lee as Pilgrims boss last month...

Declared Drury, 'We're fortunate that everyone is beating everyone and we've still got a chance. There's 18 games left and we can even afford to lose to the top sides, as long as we put sides like this (Harrogate) to bed. If we win 13 games, that would give us 69 points and I think that would be enough for fifth spot. We're fortunate, because it would normally be 75, but with the way the league has panned out this season, that fifth spot is up for grabs'".
---
11 January 2013
BEFORE THE GAME AT WORCESTER
Following Thursday-night training, manager Lee Sinnott reports that James Lawrie is his major doubt for Saturday's game. James still has the foot injury which ruled him out of the game last week. After his injury, Duncan Watmore trained and, subject to any adverse reaction tomorrow, should be available on Saturday. The same applies to Damian Reeves after his knock from the Harrogate goalkeeper last time out.

Striker Danny Mitchley returns to the squad after his loan spell at Marine but, for midfielder Jordan Sinnott, it will be his last involvement of his loan spell from Huddersfield Town.

This Saturday, for the second time this season, Altrincham travel to St George's Lane, Worcester. Alty won an FA Trophy match 3-0 there in October. Saturday's trip is expected to be our last ever visit to the historic ground as City are set to hand it over to developers at the end of this season. Next year they are expected to ground share, probably at Kidderminster Harriers.

Before Saturday's game Mike Garnett's statistics tell us that the previous record between the clubs is:
At Moss Lane: p9-w7-d1-l1-f24-a11
At Worcester: 10-3-2-5-12-14
All: 19-10-3-6-36-25

Howard Watts's Through the Years.

Worcester City's admission prices are:
Adults: £12
Concessions: £8
Under 21s: £5
Under 16s: £3

The Worcester News reports that "Worcester City have not given up hope of bringing central defender Graham Hutchison back to the club this season. The 19-year-old has returned to parent club Birmingham City after spending the last month on loan at St George's Lane, playing five games...

City are keen to renew his deal but, with Hutchison expected to go for trials at higher-ranked clubs, won't have anything in place for this Saturday's visit of Altrincham. Manager Carl Heeley said, 'Nothing is going to happen before the weekend. There's a bit of interest in him from a couple of league clubs and he's got to look at the long term. There's a possibility something could happen next week. We will continue to talk to him, Birmingham City and his agent. We understand the situation but we will see what happens'.

He added, 'It's disappointing we couldn't continue with the team we had last weekend because there was no real need to chop and change but we knew he would be going back. We have got options in that position so it's not something to panic about'".
TV AT MOSS LANE
At Moss Lane, the bar will be open on Sunday (13th January) when the following matches will be shown, live, in HD:
Manchester United v Liverpool (k.o. 1.30pm)
Arsenal v Man City (k.o. 4pm)

The bar opens half an hour before kick off and everyone is welcome.
BSBN NEWS
The Football Conference tells us that "Droylsden have re-signed former England C defender Michael Byron. Byron returns to the Butcher's Arms from Welsh Premier side Bala Town, who he joined from Northwich Victoria last summer. The Liverpudlian-born is a product of the Hull City academy and was awarded a one-year pro contract by the Tigers in 2006 but spent much of the season on-loan at Hinckley United and then Notts County, for whom he signed permanently in September 2007.

After a permanent move to Hinckley following another loan stint, he switched to Droylsden".

Last Saturday, Chester drew at Bradford PA but the Conference reports that "Chester FC...returned to winning ways on Wednesday night with 2-0 victory over play-off chasers Oxford City to restore their thirteen-point lead at the top of the Blue Square Bet North table.

Kick-off was delayed by 45 minutes as a fire on the M6 meant that Oxford didn't arrive until just before 8pm - the third time this had happened to Chester this season after Histon and Harrogate Town were also delayed en-route".

According to NL Daily, "Gainsborough Trinity's departing striker Dominic Knowles has said he had his reasons for keeping quiet over his recent trial at Burton Albion. The Blues' top goalscorer was axed by Northolme boss Steve Housham after he learned the former Burnley youngster had been training with the Football League club. Housham felt that Knowles had not been honest with him...

'I did have my reasons for not telling them about the trial, but I do not want go into them', said Knowles. 'I enjoyed my time at Gainsborough. I appreciated the opportunity to play some football. I was on a non-contract basis at Gainsborough, and if they felt stronger they could have offered me a contract earlier... It is a shame that it has had to end this way'" reports This is Lincs.

Paul Holleran, manager of Leamington, has reached agreement with his Brackley Town counterpart Jon Brady to bring in goalkeeper Laurie Walker on a short term agreement. Walker replaces Brakes' No 1 Niall Cooper, who is suspended for the next three league fixtures following his sending off at Banbury United on Boxing Day. Walker played all last season in the Blue Square Bet Premier for Kettering Town before moving to Brackley Town early this season. Holleran signed him on dual registration forms earlier this season".

Pitchero Non-League confirms that "Experienced midfielder Simon Russell has signed for Gainsborough Trinity after it was announced earlier today that he had been released by Alfreton Town. Russell, 27, began his career at Hull City, and has also seen action at Kidderminster Harriers, York City, Tamworth, Cambridge United and Lincoln City for whom he played in the 2011/12 season.

Russell, who can play down either flank or in midfield, had been unable to claim a regular starting place with the Reds".

And "Oxford City have signed midfielder Callum McNish from Basingstoke Town. Twenty-year-old McNish spent the 2011/12 season with Exeter City and prior to that, spent seven years going through the ranks at Southampton where he made one first-team appearance for the Saints. Oxford-born McNish joined Stoke in September 2012 having started the season with Braintree Town".

Meanwhile, "Warrington Town have strengthened their squad with experience by signing former Colwyn Bay player-manager Jon Newby and midfielder David Mannix. Warrington-born striker Newby, 34, started his career with Liverpool... Mannix, 27, is also a product of Liverpool's Academy, and played regularly for the reserves, making over sixty appearances... His previous clubs include Accrington Stanley, Chester City and Vauxhall Motors. Warrington manager Shaun Reid said: "Both players will bring a wealth of experience to the club at an important stage in the season."

The signings follow on from the recent additions of former Warrington striker Mike Heverin... and 30-year-old former Mansfield Town, Morecambe and Nantwich Town midfielder Fraser McLachlan", an ex-Alty trialist.
NW NEWS
NL Daily reports that "Barrow AFC have announced that their transfer embargo has been lifted. The embargo was put in place by the Football Conference last week over an unpaid National Insurance bill... As a result, only 13 players were named in the squad for the 6-1 thrashing by Luton on Tuesday. The bill has now been paid by the club and an official announcement on the club website said, 'The Football Conference lifted the club's registration embargo at lunchtime on Wednesday'."
---
10 January 2013
WEDNESDAY SCORE
Chester FC 2 Oxford City 0
League Table
PUTTING THE RECORD STRAIGHT
Altrincham FC's joint Press Officer, John Edwards, writes, "Lee Sinnott sprang to the defence of Damian Reeves after Altrincham's prolific striker was accused of diving in a bitter outburst by beaten Harrogate boss Simon Weaver.

Alty were already leading through a Simon Richman goal when Harrogate keeper Craig MacGillivray conceded a penalty, and received his marching orders, for a challenge that sent Reeves flying.

An angry Weaver branded the straight red card 'a naïve decision influenced by the crowd' and added,'To send Craig off when he did not touch their forward was ridiculous. The lad dived over Craig.'

The evidence suggested otherwise. Reeves had to pass penalty-taking duties on to Matt Doughty, after needing treatment, and was unable to train on Tuesday night, due to bruising to his shin and knee.

'That does rather suggest there was contact,' said Alty boss Sinnott. 'Of course there was, without a shadow of a doubt. Damian has got marks all down his shin and around the knee, and you could tell from the way he went through the air that some extra force had sent him on his way.

'We all make these judgements, and maybe Simon's was made straight after the game. I've done that myself, but you need to look at it again to make a more informed one.

'I do think there were some ifs and buts about the sending off, though. Would Damian have gone on to score? I'm not sure, because it looked like one of their defenders might have got back to cover on the line. I've got some sympathy from that point of view, but, there again it could have been deemed dangerous play.

'What is for sure, though, is that we were in the ascendancy up to that point. There are no guarantees about how it would have panned out, but we were a goal to the good and looking the better side with 11 v 11.

'The performance was much more at the level we are capable of, and to make it six points out of six from two home games so far this year is very pleasing.'

Alty are back on the road at Worcester City on Saturday, with Reeves expected to be fit but James Lawrie (toe) and Duncan Watmore (ankle) facing late fitness tests. On-loan Jordan Sinnott is available for the last time, before returning to Huddersfield, and striker Danny Mitchley is back from his loan spell with Marine".
RE-LIVE THE GAME
Altrincham FC's joint Press Officer, Brian Flynn, writes, "The Radio Robins commentary files from Saturday's game agsinst Harrogate Town are below:-
Second Half
BSBN NEWS
News of our next opponents is to be found in the Worcester News, which says that "Kyle Patterson reckons there is plenty more to come from him in a Worcester City shirt. On loan from Nuneaton Town until the end of next month, the forward has come to life in his last two matches with a goal on each occasion...

Few who witnessed his first three matches at St George's Lane would have believed Patterson capable of his latest strike, a cutely curled effort into the top corner which dipped under the bar at the last moment. But his quality and deft touch, not to mention a light-hearted celebratory swagger, was a welcome surprise...

He said, 'It was a good goal, the wind probably had a little bit to do with it but I did mean to put it there so I was quite pleased with it. I'm very much a confidence player and I think that, with the more games I play, I will improve and get more goals. I'm on loan from Nuneaton but I was out for about three months through injury and I've been sent here to get a few games and match fitness. I'm really enjoying my time here'.

Patterson's route to Worcester isn't exactly orthodox, coming as it has via a stint with LA Galaxy in the Major Soccer League and the slightly less salubrious Tamworth. 'I went to the US from West Brom when I got released from the academy', he added. 'I went to university in the States and from there I got drafted into the MLS and luckily ended up at LA Galaxy with David Beckham and Landon Donovan. It was a great experience for me. I didn't ever play in the same team as Beckham, he was at AC Milan for the first half of the season and that's when I played the most. After that I was more in the background when he came.

The Blue Square Bet North is different but it's still football and something I enjoy doing'. Given his recent exploits, Patterson is certainly in line for a sixth successive start when City take on play-off rivals Altrincham at the Lane on Saturday... Patterson said, 'I think we've got a good team here, I think we've got a chance of getting in the play-offs. Any team in and around the pack are capable of getting in there and then anything can happen'".

The Football Conference reports that "Tyrone Thompson has joined Gainsborough Trinity from Sheffield FC. Thompson started his career in 2002 at Sheffield United although only played in two games for the club... Loan spells at Lincoln and Doncaster Rovers followed, before he moved to Huddersfield Town on a free transfer for the 2003/04 season.

He again only made two first team appearances and at the end of the season signed for Scarborough, where he was an ever-present. However, the club asked him to take a pay cut and the midfielder opted to leave football altogether and instead enrolled at Sheffield College, describing himself as 'disillusioned with the game'.

Eventually in August 2005 Halifax Town came calling and Thompson's career re-started as he combined studying and playing football. He made seventy-nine appearances over the next two seasons, earning an England 'C' call-up in the process. For the 2007/08 season Thompson moved to Crawley Town where he was made captain.

Again he impressed and he moved to League Two side Torquay United where he spent two seasons, making almost fifty appearances. He was released at the end of his contract and then played eighteen games for Mansfield Town, including the FA Trophy Final at Wembley.

A short stay at Grimsby Town followed before he returned to The Shay in October 2011 to join the now-named FC Halifax Town. However, he failed to impress in his second spell with the Shaymen and he re-joined Lincoln unit[ed?] January 2012 when a further deal was agreed until the end of the season.

Thompson joined Sheffield in August after being released by Lincoln to reunite with former Sheffield United team-mate Curtis Woodhouse".

As Thompson arrives, someone else leaves The Northolme as This is Lincs informs us that "Gainborough Trintity's leading scorer Dominic Knowles has been released by the club. Trinity boss Steve Housham revealed today he was disappointed to discover the 21-year-old striker had taken part in a trial at Burton Albion.

While his departure is likely to come as a shock to supporters, Housham insisted he needs to have honesty from his players. 'This is one of those circumstances where a little bit of honesty might have seen him stay at Gainsborough', said Housham. 'I know he was travelling a long way to come to Gainsborough (from Blackburn), but I also discovered the lad has been on trial at Burton Albion when I understood him to be at work'.

Knowles arrived at the Northolme from Burnley after failing to break into the first team at Turf Moor... Said Housham, 'I would rather players are up front and honest with me. I would never stand in the way of any player if he had the chance to go somewhere, especially if it is a Football League club'".

According to the Oxford Mail, "Winger Mark Bell is set to start for Oxford City on Wednesday night when they travel to runaway leaders Chester, after rejoining from Bedford Town. City will be without Jack Mills, who has agreed to join Staines Town, plus Steve Basham, Jamie Cook and Liam Malone (all injured)".

BSBN tells us that "Boston United boss Graham Drury has accepted the blame for the Pilgrims' 2-1 defeat to Harrogate Town on Tuesday evening, but insists he is the right man to turn the club's fortunes around. The Pilgrims were dismal on the night and found themselves overrun by Town, who raced into a two-goal lead through Chibuzor Chilaka.

A late consolation goal from Marc Newsham ensured the close result glossed over the shoddy performance from the home side. Drury was quick to take the blame away from his players, shouldering all the responsibility for the crucial loss.

'This is my job. This is for me to analyse and get right', he told the Boston Standard after the match. 'I'll carry the can. The players in there have shown they want to work hard. They've tried to give me everything at the end'...

The final whistle was met by a cacophony of boos... 'There'll be a lot of negative fans, and I understand that', he added. 'Nobody's more disappointed than me. I promise you I'll get it right... Graham Drury's still smiling. He's still got a job to do. Trust me, there's no negatives in his mind and I'm ready for the battle'".
---
9 January 2013
MIDWEEK BSBN GAMES
Tuesday 8th January
Following Tuesday's games, Altrincham's 48 hours or so in the play-off places have ended as FC Halifax Town and Stalybridge Celtic have moved above them. Celtic, however, have played four more games than Altrincham.
Boston United 1 Harrogate Town 2
FC Halifax Town 0 Solihull Moors 0
Guiseley 2 Corby Town 1
Stalybridge Celtic 3 Bishop's Stortford 1
League table.

Football Web Pages give tonight's attendances as:
Boston United v Harrogate Town 770
FC Halifax Town v Solihull Moors 979
Guiseley v Corby Town 328
Stalybridge Celtic v Bishop's Stortford 149
BUCKET COLLECTION
Saturday's TASC bucket collection raised £52.44, for which the Club thanks the donors and collectors.
JACKPOT WON
The Altrincham FC Saturday Yankee jackpot was won on 5 January, a sum of £4,500 going to the lucky winner. The new jackpot now stands at £600. The winning Yankee codes for the 3 draws over Christmas were 1661, 7434 and 2223. In addition to the big winner, 15 other members of the scheme had winning "trebles" earning them sums varying from £33.33 to £66.66. You can join the scheme for just £1 a week by contacting the club (928-1045).
MSC
Tuesday's game in the Manchester Senior Cup was:
Abbey Hey 1 Droylsden 6
BSBN NEWS
Stalybridge Celtic have announced, "We won't be appealing against Alex [Caines]'s red card [against Altrincham] as, unfortunately, the video evidence was inconclusive. He will indeed miss the Chester game".

The Worcester News tells us that "Worcester City are determined there will be no repeat of the FA Trophy disappointment against Altrincham when the play-off rivals clash on Saturday. Only goal difference separates City from the fifth-placed Robins ahead of the match at St George's Lane.

Carl Heeley's team propelled themselves back into the mix after winning 3-0 at lowly Colwyn Bay last Saturday. They also have a point to prove after losing 3-0 to Altrincham in non-league's premier knock-out competition in November.

'The players are capable and they've proved that because it's tough at Colwyn Bay', the Worcester manager said. 'They've got that skill and a work ethic, sometimes they lack a little bit of knowledge and experience but, if we turn up against anybody, they'll be in for a tough game. Altrincham have got a lot of firepower and we've got to guard against that but we're not too bad ourselves'".

According to the Football Conference, "Graham Drury, manager of Boston United, has confirmed the release of winger Jason Stokes. The 21-year-old, who made twenty-one senior appearances for the Pilgrims, departs as Drury begins reshaping his squad in earnest".

And "Bishop's Stortford have lost the services of popular defender Phil Anderson. Anderson has decided to leave the Blues and will be playing his football at Evo-Stik Southern League Premier Division club Hemel Hempstead Town in the future" reports Bishop's Stortford.

Elsewhere, PItchero Non-League confirms that "Midfielder Mark Bell has re-joined Oxford City from Bedford Town. Bell, who was originally on the books at Oxford United, was released by City boss Mike Ford back in August. Ford said at the time, 'Mark needs to be playing football. He hasn't played a game for two years and I think it is unfair to put him straight into Conference North football.. There was a doubt about his fitness'. He subsequently joined Bedford and has netted seven times from midfielder and impressed with his performances".
FA TROPHY
FA Trophy Third Round Proper, Saturday, 12 January:
King's Lynn Town v Southport
Sutton United v Wrexham
Dartford v Bromley
Welling United v Grimsby Town
FC HALIFAX TOWN v Chelmsford City
Gateshead v Barrow AFC
GAINSBOROUGH TRINITY v Tamworth
Luton Town v Skelmersdale United
NW NEWS
For their heavy defeat on Tuesday at Luton, Barrow were only able to name two substitutes; the Bluebirds have a transfer embargo on them at the moment.
---
8 January 2013
HARROGATE REVIEW
Alty TV has extensive highlights of Altrincham v Harrogate from last Saturday
NEXT OPPONENTS
Altrincham are away at Worcester City this Saturday, where the Worcester News, reports that "Chairman Anthony Hampson says 2013 will be the year Worcester City needs their fans more than ever... as they leave St George's Lane and head into the uncertainty of a ground-share agreement, expected to be with Kidderminster Harriers.

A six-figure capital gains tax bill on the sale of the Lane will also be due in December unless work starts on a new stadium at Nunnery Way... Hampson said, 'We need our existing fans to stay with us but also to attract new blood that can energise the club's efforts to remain at the level of football we now enjoy... A great way of doing this is to support the gold bond draw which has produced significant benefits to the club in a very short space of time'.

Run nationally by Blackpool FC, the draw carries a weekly jackpot of £2,000 but 70p of every £1 stake goes straight into Worcester's coffers. Agreeing a deal to ground-share at Kidderminster is getting closer but the finer details of the arrangement are still being thrashed out. City need to inform the Football Conference by the end of March where they intend to play next term.

Hampson added, 'We are pushing for an answer as we speak, with the number of stewards Kidderminster want to provide us with being an issue'.

Meanwhile, City are hoping Tom Thorley will be fit to face Altrincham at St George's Lane on Saturday. The midfielder suffered a cut shin during last weekend's 3-0 win at Colwyn Bay and will be assessed in training. Centre-half Jacob Rowe could be back in the reckoning after sitting out the north Wales trip with tendonitis in his knee".

The Worcester News also reports that "If ever a result could provide a springboard for greater things, Worcester City's victory at Colwyn Bay might just be it. Having endured a miserable Christmas and New Year, when they suffered back-to-back defeats against local rivals Gloucester, Carl Heeley's men needed a confidence-boosting three points... Except for a brief spell in the second-half, City comfortably swatted aside the Seagulls with a hard-working display.

Kyle Patterson set them on their way with his second goal in as many games before Graham Hutchison, another of Worcester's loan stars, and sub Michael Taylor, with virtually his first touch, sealed the deal late on...

To a man, everyone rolled their sleeves up and did what was required to get the job done. It wasn't pretty, and City have played more attractive football this term, but it was effective. With Stuart Whitehead restored to the defence for his first start since mid-November, Worcester had organisation that had perhaps been lacking in previous matches. Glyn Thompson also proved that a spell on the bench hadn't affected his ability to be a safe pair of hands as he repelled efforts from Danny Lloyd en route to a welcome clean sheet.

In Patterson, City also have a player who is growing in confidence with every game he plays. It is fair to say the on-loan Nuneaton forward has taken time to find his feet but his 37th-minute opener, an exquisite curler from outside the box, showed he has settled in. By contrast, centre-half Hutchison has looked the part since he arrived from Birmingham City...

Hutchison is a useful asset but, with his one-month stay now over, it remains to be seen whether City can keep hold of his services".

Indeed, "City say they will do everything in their power to extend the stay of Graham Hutchison. The central defender has been on loan from Birmingham City for a month... However, his deal runs out today and he may look to seek a move from the Blues before the transfer window shuts at the end of the month. City manager Carl Heeley said, 'He's done ever so well for us but in the transfer window he may be looking to see if there's any options out there. We would be keen to keep the lad... He's a good player but when agents are involved it's hard to say'...

Ashley Sammons did not travel to Colwyn Bay as City had already decided the midfielder wouldn't be involved in the match. Left-back Shabir Khan has been loaned to Halesowen Town in a bid to get match practice".
LADIES' NEXT GAME
Altrincham FC Ladies' next game is on Sunday, 13 January, at 2pm at Manor Farm, Ridgeway Road, Timperley. The opposition is Manor FC Ladies for a game in the Cheshire League, Division 2.
BSBN NEWS
According to This is Lincs, "New signing Phil Watt is poised to make his Boston United debut in tomorrow night's home clash with Harrogate Town. The central defender has joined the Pilgrims from Grantham Town... Boston boss Graham Drury hopes Watt will help shore up a Boston defence which shipped another late goal in the 1-1 draw at Workington on Saturday...

Said Drury, who managed Watt during his spell at Corby Town, 'Phil will run through brick walls. He's a lad that will give us a bit more organisation and should help the other players'". There's obviously mortar his game than just defending.

Boston United add that "winger Kallum Smith is poised to join Grantham Town on a month's loan... The 23-year-old, who is yet to feature since Graham Drury took charge of the Pilgrims, has scored once in seven starts and 13 substitute appearances so far this season".

The Banbury Guardian reports that "Tom Winters struck twice as Brackley Town got back to winning ways... Saints enjoyed a 3-0 success at Droylsden... Jefferson Louis wrapped the points up seven minutes later on his return to the club."

In the North Wales Weekly we learn that "Two goals in the last eight minutes gave a harsh look to the scoreline as Colwyn Bay lost 3-0 at home to Worcester City. It was a tough baptism for new boss Lee Williams...

'If we play like that every week then we will win more games than we lose, without a shadow of a doubt. I thought 3-0 flattered them (Worcester) really. They've probably had three shots on target and scored three goals... We've again dominated much of the second half playing against the wind, but we've got undone at the far post from a set piece late on '" he said.

'I thought Sean Williams was fantastic in midfield with John McKenna, and Rob Hopley has worked his socks off up front for little joy. But there was nobody in the side really you could say didn't perform'...

The Bay defended well in that first half, with new signing Robbie Williams taking the eye, and he helped them play the ball nicely out of defence... The next home game against struggling Droylsden is the game they will surely be targeting for three points and the chance to start to turn things around".
---
7 January 2013
CHANGE OF DATE
Altrincham's home match against Vauxhall Motors has been moved from Easter Saturday to Good Friday (29 March). Kick off remains at 3pm.
HARROGATE TOWN VIEW
Harrogate Town report that "Town went down to a controversial 3-0 defeat at Moss Lane, Altrincham. The Robins made a bright start with the prolific Damian Reeves hitting the bar as early as the second minute. Craig MacGillivray made excellent saves from Nicky Clee and Jake Moult, before Town got a foothold in the game...

Town slipped behind to a goal on the half hour when Moult's cross from the bye line was turned in by Simon Richman. The defining moment in the game came after 38 minutes, when MacGillivray clashed with Reeves as they contested Matt Doughty's ball into the area... Adam Nowakowski took over in goal... Shane Killock and Jonny Allan went close, while at the other end, Nowakowski made several fine saves to keep Town in the game. With a quarter of an hour left, a low drive past the unsighted Nowakowski, made it three".

Manager Simon Weaver asserted that "The penalty was a naive decision by the referee. He seemed to react to the crowd. To send Craig off when he didn't even touch the forward was ridiculous. The lad dived over Craig". For his part Damian Reeves is adamant that he was caught and that his leg could have been broken by the challenge.

Boston United confirm that the club has "completed the signing of Grantham Town centre-half Phil Watt. Watt, who turns 25 on Thursday, put pen-to-paper on Sunday afternoon... The former Lincoln City trainee, who left Sincil Bank in 2008, has played predominantly for the Gingerbreads since, plus a productive spell under Graham Drury's management at Corby Town. Watt won the Southern League with Corby in 2009 and Evo-Stik Division One South with Grantham in 2012".
DISTRICT YOUTH TEAM'S BIG WIN
Matt Eagles in MaccWeb reports on Sunday's CCFA District FA Youth Cup match, which ended Macclesfield & District FA Youth 2 Altrincham & District FA Youth 6 at Congleton Town FC.

"Mark Worthington's young charges put on a brave performance against Altrincham Youth but were ultimately put to the sword in the final quarter of the match by some clinical finishing by the visitors who scored five times in twenty five minutes...The match had been even in the first half...

Altrincham took the lead and it was simplicity itself, Rob Gilroy sprinting clear and finishing low past Ben Gillespie. It certainly sparked a revival and Macclesfield... left back Adam Siddall.. hooked a spectacular shot high into the net which beat Bullen all ends up...

The introduction of fresh legs from the visitors brought urgency to their play and Spencer Cunliffe made an immediate impact working hard to close the ball down and then finding himself on the scoresheet making it 2-1. Max Pouncey and Rob Gilroy made it 4-1 with the hosts hitting the woodwork twice before Matt Williams who had finally managed to rid himself of the attentions of full back Lincoln Gridley by switching wings fired home spectacularly to make it 4-2...

Two goals in stoppage time from Max Pouncey to complete his hat-trick gave the match a rather lopsided final score line but all credit to the visitors for showing a tremendous desire which ultimately proved to be the difference between the two sides".

Meanwhile, Altrincham FC Youth were obviously not in action, but the latest NWYA table has been affected by other games.
BSBN NEWS
FC Halifax Town reports that "On behalf of the Board, Chairman David Bosomworth clarifies some points, following the departure of Jason Jarrett.

'Obviously from general comment and feedback a lot of fans are disappointed to see Jason Jarrett leave the Football Club. Football can be a difficult business, so much of it based on opinions some right and some wrong... At the beginning of the season, we had already recruited the nucleus of our midfield and Jason Jarrett was a late recruitment.

He was always employed on a non-contract basis. As Neil has clearly stated on the website this morning' he was not in a position to be able to offer Jason the security of a full contract' and as a result felt that it would be better for Jason to achieve that elsewhere. From a Board perspective this is a football decision and not a financial one, taken by the Manager. Most Clubs in Blue Square Bet North do not carry the number of 'full contract' players that we do and in terms of mainstream players, until recently only three out of the mainstream squad have been non-contract, now this is reduced to one. Latterly, one of those non-contract players Jason St Juste has been offered and signed a full contract following his excellent level of performances over the season...

'Despite all the frustration over loss of home fixtures, these are not only due to the weather. We have had two Cup runs in both the FA Cup and the FA Trophy.. and you could not write the script that we have a blank Saturday this week, due to Gloucester City playing at Cheltenham, the latter playing Everton in the FA Cup, so our game is cancelled and now we have a long journey midweek!!...

In the league? Well, one of the biggest moans last season was the amount of goals we conceded, 27 after 16 games compared with this season 14 after 16 games and now we have the best defensive record in the league by five clear goals... Our league position is lower than we would like, but if we perform as we hope then we may settle in to third place after games catch up... We are six points lighter than we would like to be at this stage and that has to be down to not scoring enough goals...

We have always been happy to have four strikers to allow for injury, loss of form, notwithstanding competition for places. This is particularly the case now with the long term injury to Dale Johnson and the likely surgery Jason St Juste requires for his injury".

The EvoStik League records the transfers of several players who are either ex-Alty men or who are moving to/from BSBN clubs...
Tom Greaves to FC United of Manchester from Bradford Park Avenue
Astley Mullholland to FC United of Manchester from Ashton United
Shabir Khan to Halesowen Town from Worcester City
Fraser McLachlan to Warrington Town from Nantwich Town.
---
6 January 2013
ALTY 3 HARROGATE TOWN 0
Altrincham lifted themselves into the play-off places for the first time this season with this ultimately comfortable win...
Match report here.

Harrogate Town reported that "Town crashed back down to earth as Altrincham recorded a 3-0 win, however the biggest talking point of the game will be the sending off of goalkeeper Craig MacGillivray! Adam Nowakowski went into goal and pulled off a string off fine saves, including a penalty. Unfortunately Altrincham's keeper was also equal to Danny Forrest's late spot kick to round off a miserable afternoon for Simon Weaver's men".
DANNY'S BACK
Pitchero Non-League confirms that "Danny Mitchley has returned to Altrincham following the completion of his month's loan". Marine lost 2-5 to Whitby Town on Saturday but one of the home goals was a "wonder strike from Mitchley".
BIG MATCH AHEAD
Altrincham travel to Worcester City on Saturday. City lie just behind Alty in sixth place and will be out for revenge for Alty's FA Trophy win at St George's Lane in November. City's side on Saturday at Colwyn Bay was Glyn Thompson, Tyler Weir, Ellis Deeney, Tom Thorley, Stuart Whitehead, Graham Hutchison, Kyle Patterson, Rob Elvins, Mike Symons, Danny Glover, Greg Mills. Subs: Michael Taylor, Matt Breeze, Leer Ayres, Matt Birley, Matt Sargeant.

TASC is running a supporters' coach to this match. Come along and support Altrincham in this important match! Details are on theAway Travel page.
BSBN FIXTURES
Right: Simon Richman was a deserved Man of the Match on Saturday. He is seen here receiving his award from a young gentleman who was with the the game's sponsors. The match sponsors were Robinsons Preservation whilst Premium Collections were the Matchball Sponsors. Picture courtesy of Gavin Rathbone of GR Photography.
Saturday 12th January
Through the Years by Howard Watts
Boston United v Colwyn Bay
Brackley Town v Bradford Park Avenue
Guiseley v Oxford City
Harrogate Town v Gloucester City
Hinckley United v Chester
Histon v Workington
Solihull Moors v Droylsden
Stalybridge Celtic v Corby Town
Vauxhall Motors v Bishop's Stortford
Worcester City v Altrincham
OLD BOYS
Former Alty defender Robbie Williams played for Colwyn Bay on Saturday. Another ex-Moss Laner, Matt Berkeley, was on the bench. Danny Heffernan netted both the goals for Salford City who lost 3-2 at Cammell Laird.
BSBN NEWS
Pitchero Non-League tells us that "Bradford Park Avenue improved their play-off hopes when they held runaway leaders Chester FC to a goalless draw in front of just under 1000... Avenue`s Yorkshire rival Guiseley AFC took full advantage to pull two points back on the leaders after hammering Bishop`s Stortford 5-2 at Woodside Park...

Third-placed Brackley Town returned to winning ways against a now second-bottom Droyslden at the Butcher`s Arms. Tom Winters gave the Northamptonshire side a 7th minute lead that he doubled on 22 minutes. Veteran striker Jefferson Louis scored a third on 29 minutes after returning to the club on a permanent basis.

Worcester City are level on points with Altrincham after winning 3-0 at struggling Colwyn Bay".
ATTENDANCES
Saturday 5th January 2013
Altrincham v Harrogate Town 707
Bishop's Stortford v Guiseley 377
Bradford Park Avenue v Chester 957
Colwyn Bay v Worcester City 303
Corby Town v Histon 410
Droylsden v Brackley Town 192
Gainsborough Trinity v Solihull Moors 515
Hinckley United v Stalybridge Celtic 306
Oxford City v Vauxhall Motors 183
Workington v Boston United 390
NW NEWS
According to the NW Evening Mail "Barrow AFC have been placed under a transfer embargo, a source has told the Evening Mail. The source added that the embargo is because of unpaid tax bills and is the reason as to why the Bluebirds' deal to sign Danny O'Donnell on a free transfer from Stockport County fell through yesterday (Friday)".
CROSSBAR CHALLENGE
Alty coach Ian Senior reports that he "regained some pride today with a 2-0 victory; the overall score is back to 16-14" in favour of assistant manager Neil Tolson in the season long charity Crossbar Challenge which takes place before each Altrincham game. Perhaps both could take lessons from Jake Moult who rattled the bar from 50 yards on Saturday against Harrogate Town!
---
5 January 2013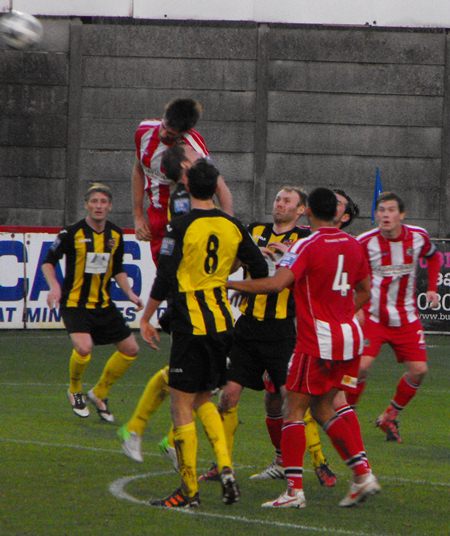 ALTY 3 HARROGATE TOWN 0
Despite being without the injured Duncan Watmore and James Lawrie, Altrincham lifted themselves into the play-off places for the first time this season with this ultimately comfortable win. For the second time in five days at Moss Lane the opposition had its goalkeeper sent off in the first half and did not have a substitute keeper...
Match report here.

Right: Danny Hall heads clear against Harrogate Town
Alty line-ups
RESULTS
Saturday, 5 January:
Altrincham 3-0 Harrogate Town
Bishop's Stortford 2-5 Guiseley
Bradford Park Avenue 0-0 Chester
Colwyn Bay 0-3 Worcester City
Corby Town 0-0 Histon
Droylsden 0-3 Brackley Town
Gainsborough Trinity 1-1 Solihull Moors
Hinckley United 0-3 Stalybridge Celtic
Oxford City 1-1 Vauxhall Motors
Workington 1-1 Boston United
ALTY v HARROGATE TOWN
Mike Garnett's statistics tell us that the previous record between Altrincham and Harrogate Town is:
At Moss Lane: 4-2-1-1-8-6
At Harrogate: 4-1-1-3-5-9
All: 8-3-2-4-13-15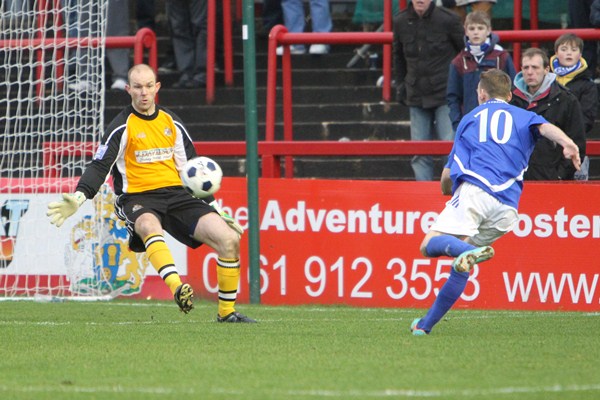 Right: Gavin Rathbone of GR Photography captures Stuart Coburn making an important save against Stalybridge on New Year's Day.
BEFORE THE GAME
They keep on forecasting no-score draws for Altrincham and Footy Mad has done so again as it says that "Altrincham prepare to entertain Harrogate Town... and hold the advantage on previous meetings between the two. Of the 4 games played, Robins have recorded 2 wins, and Harrogate Town have come away with 1 victories [sic].

The most recent encounter between these two sides at Moss Lane was less than a year ago, in January 2012, when they eased past their opponents in a high-scoring 5-2 thriller, in a (Conference) North match.... Altrincham's home form is poor, winning just 2 of the last six, and losing the other 4... The away form of Harrogate Town however, is much more impressive, with 3 victories and just 1 loss from the last six... It's been a distinctly poor show from Altrincham at home in recent games and, though we cannot see a run starting here, we do think the Robins will at least gain a draw. No-score draw".

Meanwhile the Harrogate Advertiser writes that "Promotion chasing Harrogate Town travel to Altrincham on Saturday, playing for a win that may see them climb into the top half of the Blue Square North, on the day they could have been playing Championship side Middlesbrough in the FA Cup.

A second away league win in a row would push Town closer to the coveted play-off positions... Wetherby Road boss insists... 'The players haven't mentioned the cup match, they have put it to bed. I think they have learned from the Hastings United disappointment and they have said that was then, this is now, and we are better now.. Now we can continue to stride forward in the league'.

Altrincham sit eighth in the league, and, if results go Town's way, a win could see them leapfrog the Robins, joining them on 30 points, with a win meaning Town would have a superior goal difference. Town will beware league top scorer Damian Reeves, who has 20 for the season...

However, the manager is hopeful of progress on Saturday afternoon. He said, 'I want to make Saturday a good day, and we are in business if we can even get a point'".
BSBN NEWS
The Football Conference reports that "Neil Aspin, manager of FC Halifax Town has released midfielder Jason Jarrett. Jarrett became a Shayman in July 2012 after a year out of football.

He has a great pedigree in the game, having played for Wigan Athletic as they won promotion from League One to the Premiership, making ninety-five appearances for the Latics, while he also played for Stoke City when they infamously beat Arsenal in the FA Cup in 2005. He then became a journeyman as he moved to the likes of Norwich, Preston, Brighton, Port Vale and Oldham before finally moving to the Shaymen after a successful trial.

However, things haven`t quite worked out for him at The Shay and he has only made a handful of appearances".

Elsewhere, "Droylsden have signed former Everton and Fulham midfielder Sean Doherty. Doherty started his career in Everton's youth academy before moving to Fulham in July 2001 for an undisclosed fee. Since leaving the Cottagers in 2005, he has played for Dutch side ADO Den Haag, Port Vale, Accrington Stanley, Belgian club Royal Antwerp and League of Ireland Premier Division side Sligo Rovers, before moving to Witton Albion in July 2009.

He switched to NPL rivals Marine in February 2010 and then moved to Colwyn Bay in the summer of 2011. He left Bay three months later to work as a scout at Barclays Premier League giants Chelsea. In September 2012, Doherty signed for Old Holts of the Liverpool County Premier League Division One and then joined North West Counties League neighbours AFC Liverpool a couple of months later.

The Football Conference announces that "Lee Williams, the new manager of Colwyn Bay, has brought in three new signings ahead of Saturday's game against Worcester City at Llanellian Road. Former Lincoln City and Altrincham defender Robbie Williams has signed from Hyde FC, along with left-sided midfielder Tom Roberts from AFC Telford United and central midfielder Barry Hogan, who was previously with The New Saints.

Williams is going into his first game in charge, along with assistant Dean Martin, confident the team can stay clear of the relegation zone. 'We have got some good players here and we will be fine', Williams said. 'We just need to work on our shape a bit and show a bit more discipline when we don't have the ball'".

In the North Wales Weekly News, we read that "New Colwyn Bay manager Lee Williams has wasted no time in bringing in three new signings... All three will be involved in some way on Saturday, international clearance permitting...

'I have spoken to everybody in the last couple of days and they have all been quite positive and keen to get on with the job. Nobody has said they want to leave... I saw enough in Tuesday's defeat against Vauxhall to know the potential that is here'", he said.

"The players have all been called in early today for a meeting with the new management team of 44-year-old Williams and assistant Dean Martin, both former Colwyn Bay players, and will then have a light training session on the pitch before the game to go through a few set plays...

Worcester, after looking strong contenders for a top five play-off finish, have stumbled lately, losing four of their last five games... But Williams said, 'They are a big physical side and are not where they are in the table for nothing, so it will be a tough game'. Worcester boss Carl Heeley, who has blamed poor defending and missed chances on his side's sudden slump, has warned his squad this week... 'We've got to start taking on board instructions and being a bit mentally stronger', he said".

The Hinckley Times states that "Hinckley United chairman Mike Sutton has vowed to clear all the club's debts and have the transfer embargo lifted by January 15. Due to cutbacks at the Greene King Stadium, the Knitters fell behind on paying players' wages over Christmas, which added to the money still owed to a handful of players from last season.

This was then compounded by the shock revelation of an unpaid tax bill with HM Revenue and Customs (HMRC) from 2008/09 of about £20,000, as well as a necessary gas bill. The board had to find the money from somewhere and their troubles were multiplied by the cancellation of the Bishop's Stortford and Brackley Town games last month, which would have resulted in a much-needed injection of cash.

However strings have been pulled and the money is now in place to cover all the debts and Sutton has brought everyone in the club, the FA and the Football Conference up to speed. The chairman said, 'We had a meeting with the FA which went very well and ended in handshakes all round. They looked at everything we were doing and said we were on the right course and are doing things the right way. I spoke to the players in the changing room before the Solihull game and explained that the two games called off in December were the ones earmarked where we would have the money to pay their wages.

We then had a considerable tax bill from HMRC from 2008/09 to pay and also the gas bill which had to be paid or we wouldn't have a supplier come the end of January. So we have got the money together for that, which was close to £30,000. Now we have got five home games during January and the big one is Chester on January 12. They have said they are bringing 800 fans and have got the buses all booked so it will be a major payday for us. So I told the players that by January 15 they will be paid up-to-date and they have accepted that.

We now owe just £1,250 from last season and that is being dealt with and will be paid off. Our aim has always been to get the embargo lifted by January 15 and we are on target for that'.

Sutton has also praised the dedicated few who have stayed with the club in what is quite clearly their most difficult season to date and continued to pull on the Knitters shirt week in, week out. He said, 'I spoke to the lads about this being an opportunity at this club to showcase themselves and get paid at the same time, whereas many of them would be playing at academy level and not being paid. This is a wonderful club and they can grasp this opportunity with both hands. We will stick by our word and there is no way that by the end of the season we will be in the same [financial] position as last season. They can then choose whether they want to stick with the club, although maybe in a lower league'".
OLD BOYS
Runcorn Linnets is now the home of former Alty player Levi Kennedy, as well as ex-Robins' trialist Gavin Salmon.
---
4 January 2013
HISTON MATCH
The Altrincham game at Histon, postponed on 29 December, will now take place on Tuesday, 12 February at 7.45pm.
PLAYER UPDATE
Manager Lee Sinnott has indicated that Nicky Clee, whose last appearance was at Brackley Town on 15 December, trained successfully on Thursday night and may be available for the game this Saturday, depending on whether he has any reaction to the training session. Duncan Watmore, however, will miss Saturday's game with Harrogate Town, following his ankle injury on New Year's Day against Stalybridge Celtic.
CALENDAR YEAR PERFORMANCE
As we enter a New Year, a look back to the calendar year of 2012 reveals that Altrincham's record was as follows:
| | | | | | | | | | | | | | |
| --- | --- | --- | --- | --- | --- | --- | --- | --- | --- | --- | --- | --- | --- |
| 2011-12 league season | P | W | D | L | F | A | W | D | L | F | A | GD | PTS |
| | 22 | 3 | 3 | 4 | 19 | 20 | 5 | 2 | 5 | 24 | 19 | 4 | 29 |
| 2012-13 league season | P | W | D | L | F | A | W | D | L | F | A | GD | PTS |
| | 19 | 4 | 0 | 5 | 23 | 16 | 5 | 3 | 2 | 22 | 16 | 13 | 30 |
| TOTALS | P | W | D | L | F | A | W | D | L | F | A | GD | PTS |
| | 41 | 7 | 3 | 9 | 42 | 36 | 10 | 5 | 7 | 46 | 35 | 17 | 59 |
As for Cup games in 2012...
| | | | | | | |
| --- | --- | --- | --- | --- | --- | --- |
| 2011-12 | P | W | D | L | F | A |
| | 0 | 0 | 0 | 0 | 0 | 0 |
| 2012-13 | P | W | D | L | F | A |
| | 8 | 4 | 1 | 3 | 16 | 15 |
| TOTAL | P | W | D | L | F | A |
| | 8 | 4 | 1 | 3 | 16 | 15 |
In 2012, Alty's league record read: Played 45, at home won 11, drew 8, lost 5 scored 49 conceded 33. Away, won 6 drew 3, lost 12, scored 28, conceded 38 goal difference +6, points 62
NEW DATE
A new date has been agreed for the Altrincham v Boston United game, which was postponed on 22 December 2012. The match against The Pilgrims will now take place on Tuesday 22 January at 7.45pm.
BUCKET COLLECTION
The New Year's Day TASC bucket collection raised £66.21, for which the Club is very grateful.
READ ALL ABOUT IT
Altrincham FC's joint Press Officer, John Edwards, asks "Was the right Stalybridge player sent off, did Greg Wilkinson really intend to shoot when he scored their goal and what did the officials have to say about the tackle that cut short Duncan Watmore's involvement at Moss Lane on New Year's Day? All three questions are answered by Shaun Densmore in his Captain's Chat column in the Robins' Review this Saturday. Shaun also has his say on the frustrations of the second half and why Alty's two goals can have a beneficial effect on the two scorers, as well as the team in general". The Robins' Review will be on sale on Saturday as usual, at its bargain price of £2.

Meanwhile, Alty TV has highlights of the Alty win over Stakybridge.
BSBN NEWS
Guiseley have "tweeted" that "Following agreement with Hyde, [former Alty man] Andy Pearson will remain on loan at Nethermoor for the remainder of the season".

Bulls News tells us that "Newport have appointed former Worcester City chairman Dave Boddy as their new Chief Executive. Boddy, who has recently been working with the Conference as assistant General Manager, will take up his new post in February".

Lincoln City announce that "Striker Bradley Barraclough has returned to the Club following the completion of his loan spell at Gainsborough Trinity. Barraclough, who joined Gainsborough back in August, has received rave reviews during recent weeks". He scored in Trinity's win at Alty earlier this season.

More on this transaction comes from This is Lincs, which reports that "Gainsborough Trinity chairman Peter Swann has said he will not do business with Lincoln City again following a row over on-loan striker Bradley Barraclough... Barraclough joined Trinity on loan at the start of the season and has returned to the Imps after he completed his full 93 days.

However, Swann says he believes the Imps over-inflated Barraclough's wages for the initial deal and then used his recent offer to purchase the player as leverage to earn a better deal at another club. 'A couple of months went by when we realised that a mistake had been made on the loan sheet and we were paying almost three times Bradley Barraclough's wages', said Swann.

'We thought, if there was a loan fee, we would not have gone ahead with it. The Football Association has said that they had done nothing wrong. Fair enough. That's happened. I feel it was misleading. I believe if someone tells you something, you believe it and get on with it. I then called Lincoln City about Bradley Barraclough's future. I felt we could get our relationship back on track and I offered a deal of £3,000 for him and to take his wages on. I did not hear anything for about seven days. Then they got back to me and said that wanted £20,000. I could not understand where they were coming from.

'I thought that after all that had happened, that Lincoln City were pushing the boundaries. Then I found out they told another club that I had offered £6,000. I had come to the end of my tether. I had Gainsborough fans asking me why we had not tried to sign Bradley Barraclough and why we had not got other players in on loan. I'm in business, you try your best, but this is a close community. I felt it was out of order.

'I feel for Bradley Barraclough. He just wants to play football. I don't know what is going to happen now he's going back to Lincoln. I've got huge respect for him and how he has represented himself. We won't do business with them again, they have a lot of fringe players we could have taken on loan'.

Lincoln City chief executive Steve Prescott has insisted that all their dealings with the Northolme club have been 'above board', but admits that there will be disagreements with the value of players. 'They have tabled an offer for Bradley Barraclough and we value him more highly and rejected it. It is just the same when we approached them for Andrew Boyce in the summer. We put our price forward and they rejected it and it went to tribunal', he said.

'All our dealings have been fair and honest and deemed so by the Football Association. We have sent all the paper work to them, all the paper work has been agreed and has been signed by them and it is all above board... Bradley Barraclough has good potential, he's a goal scorer and they create a premium. I hold no grudges'".

From the North Wales Weekly Times, we learn that "New Colwyn Bay manager Lee Williams faces a massive task as he takes charge of the side for the first time in Saturday's home game against play-off hopefuls Worcester City. The former Seagulls goalkeeper... takes over after Jon Newby was officially sacked... That has left some players reportedly 'disappointed' and talking of looking for a new club, and the new boss has to lift morale and try and steady the ship.

The Seagulls have slipped into the bottom four... and...they face a really tough run of fixtures over the next month. The 44-year-old Williams is hoping to bring in a couple of new players in time for Saturday's game...

Meanwhile, the departed Newby said he felt he had been 'stabbed in the back' by the club he loves. 'I have no complaints about being sacked', said Newby. 'I have been in football all my life and I know if results are poor you can expect to lose your job. What I can't accept is the way it was done. I got a text at half-time (on Tuesday) from a League of Wales manager saying somebody was phoning around players saying he was the new manager of Colwyn Bay. That means the decision had been made before the game.

I have fallen in love with Colwyn Bay during the time I have been there and have given my all for the club but this has left a very sour taste in my mouth. I feel so disillusioned that I am not even sure if I want to stay in the game any more'".

At the other end of the table, the Chester Chronicle says that "Chester FC will equal an 87-year-old club record if they can beat bogey side Bradford Park Avenue on Saturday. Victory at the Horsfall Stadium would see the table-topping Blues stretch their winning league sequence to 13 games. That would match the club's record run of victories set between November 1925 and February 1926. It would also leave Neil Young's men at least 15 points clear at the summit.

Chester boss Young, the Blue Square Bet North manager of the month for December...said, 'To have 64 points is a remarkable achievement and I hope I'm standing somewhere in March or April and talking about us having Conference football... Bradford have slipped to seventh after losing their last five matches. But they have won one and drawn one of their three meetings with Chester in the past two seasons and they were unlucky to lose 3-2 at the Exacta Stadium in March".
---
3 January 2013
TWO MORE YOUTH TEAMERS SIGN ON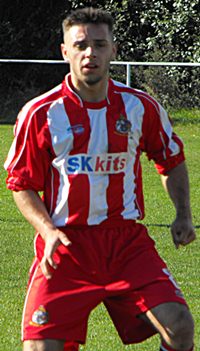 Two more of George Heslop's Altrincham FC Youth team have signed Conference North playing forms. They are goalkeeper Stephen Bullen and midfielder Callum Mooney. Callum is pictured right, whilst Stephen can be seen in an image on the Youth Page for 9 December.

They join Adam Reid, Duncan Watmore, Sam Grimshaw, Derryn Ofori and Ollie Riley as Youth team graduates who have signed league forms for Altrincham this season.
MEET THE MANAGEMENT
After the New Year's Day game, Altrincham manager Lee Sinnott and assistant Neil Tolson held a "Meet the Management" session in the bar, attended by Altrincham supporters and a number from Stalybridge Celtic.

Amongst the topics addressed were "Do we need a beanpole centre-forward?", "Why do we concede so many goals?" and "What is the most appropriate position for Altrincham in the football pyramid?". The respective answers, paraphrased and in a nutshell, were "Yes, we have talked about that", "We are still a young side, with most of the squad under 24 years of age" and, "An analogy for us in the Conference system could be made to a club like Stoke City who are very competitive in the top division and punch above their financial weight".

Discussion also covered the game against Stalybridge which Lee described as a case of "winning ugly", a type of game the boss could not remember us playing in his time in charge. He added that "We've not played well today going forward" and "This was probably our worst performance of the season". Lee added that we would have to wait and see how bad Duncan Watmore's injury is; he "rolled his ankle and may have tweaked his ligaments".

The management duo were also asked about our play-off prospects. Whilst Neil and Lee agreed that Chester FC and Guiseley looked likely to secure a top spot, they felt that more than one of the play-off spots were still up for grabs. Neil added that, on the day we met them, Guiseley were the best side we had played so far this season, though no one could argue that Chester's record was not better.

Footnote: Brian Flynn reports that during the above gathering, a recording was made... "Below is a link to the recording of the Q.& A. session with Lee Sinnott and Neil Tolson... It's the first time that we have recorded one of these and some parts of the recording are difficult to hear. However, most of it is of decent audio quality. Thanks to Dan Jones for doing the technical stuff!"
Recording of the event.
NEXT GAME
When Altrincham host Harrogate Town this Saturday, Howard Watts's Through the Years statistics remind us that it's 39 years since we last won a game on January 5th!

According to the York Press, "Harrogate Town's return to competitive football for a fortnight and their first footing of 2013 yielded a gusty [?gutsy] 2-1 win. The Wetherby Roaders made the long haul to Workington yesterday after an enforced absence caused by several postponements. They bounced back in style going ahead within eight minutes through midfielder Lee Elam. Hosts Workington levelled just on the hour and honours even looked the likeliest outcome until Town striker Adam Baker bagged a winner four minutes from time to move Simon Weaver's men to 12th place in the Blue Square Bet North".

And the Wetherby News adds that "Harrogate Town grabbed maximum points from their New Year's Day trip to Workington, the win lifting them to 12th in Blue Square North... It was a much-needed win for Town, whose Boxing Day game at home to Workington and Saturday's hosting of Droylsden were both postponed due to a waterlogged pitch".

From the Harrogate News, we learn that "Harrogate Town's, New Year's Day journey to the Cumbrian coast, ended in a hard fought victory over Workington... Town also had reason to thank an excellent piece of refereeing by Martin Coy who ignored his assistant's flag and played the advantage rule" in the build-up to Elam's goal...

Town: 1 MacGillivray, 2 Samuels, 3 Merris, 4 Bolder, 5 White, 6 Killock, 7 Bolland(c), 8 Dean (Nowakowski 65), 9 Chilaka (Allan 65), 10 Baker, 11 Elam (Forrest 88). Unused subs, 15 Bloomer, 16 Beesley".
NUMBERS
Should Matt Doughty start Alty's next game against Harrogate Town, it will be the defender's 100th start for the club. Current players who have 100+ Altrincham FC starts to their names are Stuart Coburn (573), Shaun Densmore (186), Nicky Clee (122) and Damian Reeves (105).

Although Saturday witnessed Scott Leather's fifth yellow card of the season, the defender will not be missing a game as suspensions for five bookings cease to apply on 31 December. However, should he reach 10 yellows later this season he would miss two games.

Alty's most booked player this season is Danny Hall with 7 yellows and a red card.
CONDOLENCES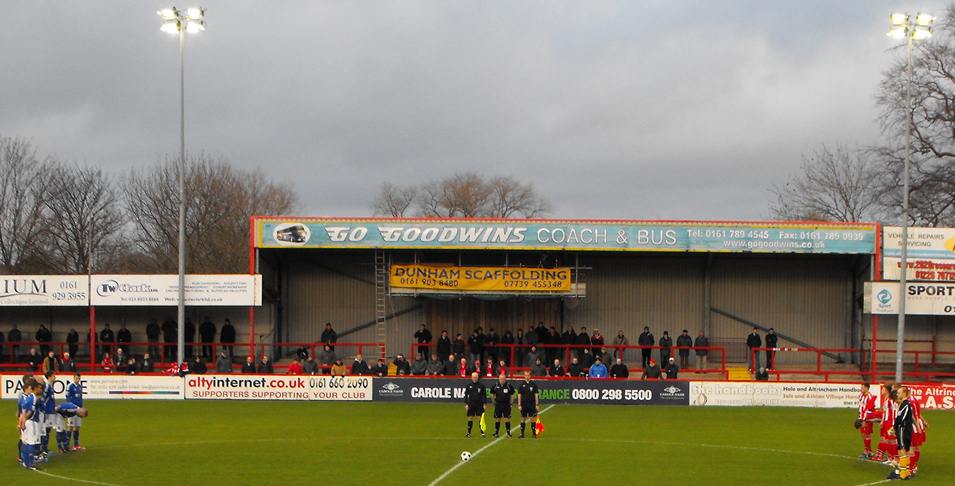 Before kick-off on New Year's Day, spectators witnessed the annual reading of the Roll of Honour by club chaplain Andy Barclay-Watts. The list comprised names of those supporters and people connected with the Football Club who had died in the preceding twelve months. A minute's applause followed and was respectfully completed by supporters of both Altrincham and Stalybridge Celtic.
Sadly, two deaths occurred over Christmas and New Year itself. Long-time supporter Geoff Stubbs died over the Christmas period, and the 98 year-old mother of Jackie Gallimore, whose family connections with the club go back many decades, died on the morning of 2nd January 2013. Geoff had been a regular at both home and away games, though his ability to get to away games had been compromised for the last year or two by the onset of diabetes. Despite this and his family care responsibilites, Geoff will be remembered as an exceptionally good-natured and popular supporter of the club, which extends its condolences to both families.
Above, we see the teams during the minute's applause.
AFTER THE GAME
The Sale and Altrincham Messenger reports that "Altrincham face an anxious wait over the fitness of Duncan Watmore after he hobbled off with an ankle injury in the 2-1 New Year's Day win over Stalybridge Celtic at Moss Lane.

Watmore's first-half withdrawal cast a cloud over a successful conclusion to the festive programme, as Alty made it four points out of six from their double-header with Stalybridge.

The hugely-talented Alty forward is thought to have suffered slight ligament damage to his left ankle, but, after having it strapped up, he will be assessed on Thursday night and has not yet been ruled out of Saturday's home game with Harrogate.

Alty led 2-1 at Stalybridge on Boxing Day, with a Watmore double, before being pegged back by a 61st-minute equaliser. There were no slip-ups on Tuesday, even if they made hard work of beating a team reduced to 10 men following keeper Alex Cairns's first-half dismissal for a foul on James Lawrie.

Damian Reeves equalised from the resulting penalty, against an outfield player in goal in the absence of a reserve keeper and, when Jake Moult fired Alty in front soon after, an emphatic victory looked assured.

Instead, a hesitant, unconvincing second-half performance encouraged Stalybridge to push forward in search of an unlikely equaliser and left Alty hanging on for the points towards the end.

'The players are capable of a lot better but, when you're not at your best, it's vital you try and get over the line,' said manager Lee Sinnott. 'It's called winning ugly, and it is something successful sides have to have in their armoury. I'm quite sure the likes of Guiseley, Chester and Halifax have all played ugly and won, but we haven't really done it before.

'If you were doing it week-in, week-out, there would be a problem, but that's certainly not the case. It can't be free-flowing football all the time, but you have to grind out a result when it's not going your way. Let's be fair, which is preferable, three points like this or what happened in our previous home game, when we laid siege to Gainsborough's goal and had chances galore but lost 1-0?

'Our forward play was nowhere near our true level, but the positive thing was three points and something to build on in terms of our home form.' Nicky Clee should be fit for Saturday".

Following their defeat at Moss Lane, Stalybridge Celtic say that "The entire Celtic team can hold their heads high after putting in a sterling performance after controversially losing goalkeeper Alex Cairns.... Altrincham were struggling to get past the Celtic rear guard, a task made more difficult after a strong but fair challenge by Prince Haywood on Duncan Watmore saw Watmore unable to continue.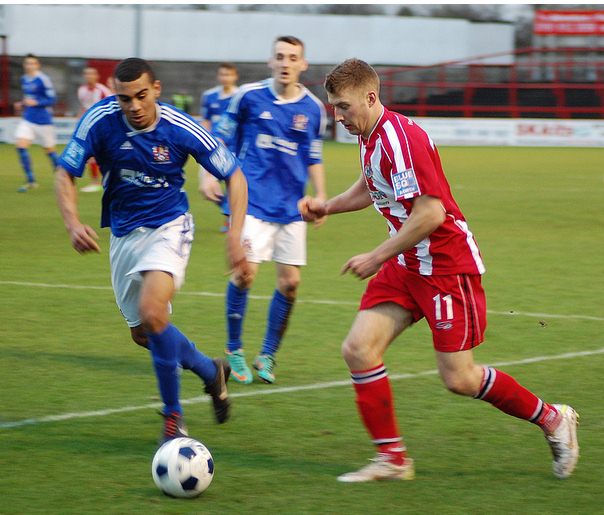 Right, Altrincham supporter James Lobley advises us that he has several images of the game on his Flickr site, one of which is seen here, showing James Lawrie in action.
Controversy struck just after the half hour mark when Jordan Sinnott's fierce shot was parried by Cairns, falling to Damian Reeves who couldn't get the loose ball on target, but was brought crashing down by Kelvin Bleau in the box as the fullback tried to reach the ball. A penalty was justly awarded but the official had completely misread the situation and dismissed goalkeeper Alex Cairns. Jordan Barrow donned the goalkeeper jersey and faced Damian Reeves for the spot kick. The Altrincham hit man added to his already impressive tally from the spot, shooting straight down the middle.
Seconds later, and Barrow pulled off an amazing save to deny Jake Moult, only for the rebound to fall back to Moult, who stabbed home to give Altrincham the lead. Altrincham tried to capitalise further but found Barrow to be a fine stand-in keeper, as he pulled off another spectacular blocking save to deny James Lawrie, so Celtic made it to half time just a goal behind.
Altrincham tried to control the second half with a passing game, that Celtic were content to let them play around the back, only challenging when Altrincham crossed the half way line. Altrincham attacks were rare as the home side showed little adventure against ten man Celtic... [so it was] the points to the home side, but the plaudits to the visitors".
On the Celtic Forum their Press Officer, Keith Trudgeon, writes. "Let's start with yesterday's red card... The club is intending to appeal against Alex's dismissal but this is dependent on the video evidence available being conclusive, in the correct format, and not edited. Should that not prove to be an avenue available to us, or indeed in the event of any appeal being unsuccessful then Alex will have to serve a one match ban... the BSBN game at Chester on January 19.
And now the bad news... Alex's second loan spell officially finishes today. But the good news is... Leeds United have kindly agreed to extend the loan period for another month!"
Brian Flynn advises us that "The Radio Robins commentary files from the match against Stalybridge are available:
Second Half
BSBN NEWS
The North Wales Weekly News, reports that "Lee Williams took over the reins as Colwyn Bay's new manager today and believes the club has the players to stay clear of the relegation zone. The 44-year-old ex-goalkeeper is bringing in another former Bay player Dean Martin, a popular left back during the successful rein of Bryn Jones, as his assistant, and commented, 'It is a big challenge, but I saw enough in the game against Vauxhall yesterday to be optimistic. We should have won that game, there is no doubt about that... but defensively we were poor and tightening things up at the back has to be a priority. I thought we showed great commitment and worked really hard to get back to 2-2... We got too excited chasing more goals and got caught out badly on the break.

But I could see the potential in the squad. I am hoping to bring in a couple of new players before Saturday, but we want to keep as many of the current players as possible and everyone will all be given a chance to show they can help us move forward'.

Williams has not had a chance yet to speak to the players and his plans to meet them in training on Thursday have been hit as the club's training facilities in Chester are currently unavailable due to maintainance work on electricity cables...

Colwyn Bay based Lee, who will be remembered for his fiery temperament during his days as Bay's goalkeeper... was manager of Rhyl in 2002/03... He also managed Bangor City".

Colwyn Bay also issued a statement. "It was with great reluctance that the Colwyn Bay Football Club Chairman and Board of Directors had to ask for the resignation of the club's Player / Manager Jon Newby after the home defeat 2-4 by Vauxhall Motors. As a result of Jon's refusal to resign, the Board were left with no alternative other than to dismiss him from the manager's position.

The recent run of results which has seen the club drop into the bottom 4 of the league, only 5 points above automatic relegation, early exits from both the FA Cup and FA Trophy plus a fall in the size of attendances has culminated in the Board's decision. The Board would like to put on record, their recognition of the hard work and 100% commitment that Jon has put into the club, both as a player and a manager, since he signed for the club in 2010, and only wish that his dedication could have been rewarded with better results on the pitch, and wish him much success for the future.

With a backlog of fixtures to complete over the next few weeks, and the urgent need to gain points, it was imperative that a new manager and assistant should be appointed immediately. As a result, Lee Williams and Dean Martin, both ex-Colwyn Bay players, have been appointed as manager and assistant with immediate effect and will take charge of the team for the next match against Worcester City".

BSBN report that "Guiseley have confirmed Simon Ainge has made his loan stay at Luton Town permanent following some impressive displays... The two clubs agreed an undisclosed fee. Club secretary Adie Towers said, 'It's a win-win situation for all involved. We get a good fee for Simon, Luton get a quality player and Simon gets the chance to play full-time, at a higher level".

BSBN also reports that "Alfreton Town can expect to keep hold of loan signing Ross Killock while Chester will retain the services of Nathan Turner, the players' parent club Leeds United have revealed... Meanwhile, goalkeeper Alex Cairns has agreed a loan extension at Stalybridge Celtic".

"Mark Jones vowed to fight for his first-team place at Boston United after rejecting the chance to return to former club and Corby Town" reports This is Lincs. "The Steelmen approached the Pilgrims striker in the aftermath of Graham Drury's appointment as manager last month, but Jones insists he has no intention of leaving the Jakemans Stadium...

'I had a voicemail from them (Corby) asking me to give them a call', said Jones, who joined Boston from Corby last summer. 'But Boston is a great club and they've treated me well. I rang Graham straight away and asked if he knew anything about it because I'd not contacted them or anything. I told him I wanted to stay at the club. It's where I want to be this season. I want to stay and score more goals for Boston... I've come up from the lower leagues so it's hard for me. But I'm willing to keep working hard and take my chances'...

'Graham brought me to Corby Town from Deeping Rangers last season', recalled Jones. 'Graham's a top bloke, he's a motivator and his man-management skills are second to none. He'll get the team going... He's got into us and, to be honest, he needed to'".

In the Worcester News, we learn that "As a New Year dawns, so the most important 12 months in Worcester City's history begins. For, in 2013, the very existence of one of non-league football's most famous names will be on the line. It is not understating the situation to say City will face a fight for survival and the possibility remains of there being no club this time next year. Within six months they will have said goodbye to St George's Lane, their home of more than a century, and a potentially crippling six-figure capital gains tax bill looms next December.

They are two major obstacles and both will need to be overcome in 2013... 2013 will witness the end of semi-professional football in Worcester...Kidderminster Harriers seems set to be their temporary base for next season and, more likely, the one after as well. Yet all that could be irrelevant if capital gains tax comes into play which City would be liable for on the sale of the Lane if they don't have a home of their own in the next 12 months.

As things stand, there would be little hope of being able to pay. That means developers St Modwen need to start building at Nunnery Way. The company have also had planning permission for almost a year but continue to drag their heels. Yes, they have until 2017, due to the contract City have been lumbered with, so are in no rush but that doesn't help the club. St Modwen don't need to finish a ground, just be seen to be doing something. That alone could be enough to reduce any tax burden.

Whatever happens, surviving outside of the city will be a tough task but it is one that the club are prepared for... If the fans don't go to Aggborough, it will be harder to sustain a challenge at the business end of Blue Square Bet North or even at that level at all.

Manager Carl Heeley...said, '"There's a lot of emphasis put on the fact we are leaving St George's Lane at the end of the season and that will be sad... but our hand's been forced... The next step will be a groundshare, then the major challenge of getting football back into the city and the issue of capital gains tax... We're confident we can remain competitive at this standard of football and that's what we'll strive to do'".

Pitchero Non-League confirms that "Former Norwich City and Charlton striker Leon McKenzie announced his retirement from football after Corby Town's New Year`s Day derby at home to Boston United to pursue a career in professional boxing.

McKenzie, who came on as a 63rd minute substitute in the 2-1 win against the Pilgrims, said, 'It wasn't just a case of waking up one morning and thinking "I want to finish", I'd been enjoying my time playing for Corby both playing and being a "figure" and an experienced player... I'd been considering retirement for a while and will be starting a career in professional boxing in the near future, with my first fight hopefully being around March time. With this in mind I thought I had to retire... I was only ever on a pay-as-you-play deal so it was never about the money'".

From Chester FC we learn that "Blue Square North manager of the month Neil Young was full of relief after the 4-3 win at Droylsden... The Blues boss... said, 'We have to remember all the good work that went on in the first half and that Droylsden should have been dead and buried after going 4-1 down. I had to take George Horan off as he was carrying an injury, but we certainly missed him once he was off the pitch as we looked all over the place and that is something that we'll be working on'.

Former Chester loanee James Ellison struck a hat trick for the home side, and Young was quick to pay tribute to the striker, but also acknowledged that the Chester defence failed to deal with him, 'All credit to James Ellison for his hat trick but we had balls bouncing around our penalty area and nobody was putting their head on it. We were missing chance after chance at the other end, but I have to give credit to Dave Pace and to his side for the way they finished the game... We should have beaten them comfortably after the chances we created in the first half, but we made things hard for ourselves in the second half, so I'm relieved to get trough the game with a win if I'm being honest'.

The Chester manager, announced as December's Manager of the Month on Tuesday night, also confirmed that he had given midfielder Robbie Booth permission to speak to Welsh side Bangor City, and could end up reunited with Levi Mackin who has not had his short term contract at the Exacta Stadium extended, and also Chris Simm, who made the move to Bangor in the summer. Young paid tribute to both players, 'Levi and Robbie leave with our very best wishes'".
NW NEWS
Fighting against the odds in the national Conference is something Altrincham did for six recent seasons. Now, in the NW Evening Mail, we read that Barrow "Manager Dave Bayliss says his team aren't good enough and new players are needed – but insists he will not throw the towel in on Barrow AFC's troublesome season. The Bluebirds, who sit bottom of the Blue Square Bet Premier table, were knocked out of the FA Cup on Saturday... Bayliss has turned his attentions immediately to survival and believes the key to that is signing three or four new players in the January transfer window.

He has warned that Barrow will get relegated if significant changes are not made to the squad, and says he will listen to offers from other clubs for any of the current players, increasing the prospect of a New Year clear-out...

'Game after game, you give lads opportunities. I wouldn't say they let you down on purpose, it's just that some of them are not good enough as footballers at this level and they struggle. The sooner we can change that the better... I want a right-back, a centre-half, a centre-forward and possibly another midfielder... We lack any physical threat and are weak down the spine of the team... Any players I do get in, have to be men. There's no point getting young loan lads, who struggle... The group we have is just not good enough... The players we want to bring in will not come cheap but are they are lads that will make a big difference'...

Asked if he expected any rival clubs to try and sign his players in January, Bayliss said, 'As far as I'm concerned, they can go. I put the lot of them on the list the other day... There's a lot of things behind the scenes that are not great... The board of directors and chairman are fantastic, but we're a small club and don't get great gates so every now and then you're going to struggle to pay on time, but that's how it has always been... I'm very lucky to have that board because if we were putting more money into this club I'd be sacked. But it's because we're not throwing around thousands of pounds per week that I still have a job. It's a results business and I haven't been getting results. But if they can back me, put their hands in pockets and get in a few better players, then we will all start getting results. If we don't, it's my head on the block'".
---
2 January 2013
ALTRINCHAM 2 STALYBRIDGE CELTIC 1
Altrincham were fortunate to take the points against a Celtic side which played with ten men and an outfield player in goal for fifty minutes...
Match report here.
BSBN NEWS
Colwyn Bay "have sacked player-manager Jon Newby after the side slumped to a damaging New Year's Day 4-2 home defeat to Vauxhall Motors. The result saw the Seagulls drop into the bottom four of the Conference North table and just five points clear of the relegation positions with a tough run of games coming up.

Former Colwyn Bay keeper Lee Williams, who has managerial spells at Rhyl and Bangor City, is set to take over and is expected to be in charge of the team at home to Worcester City on Saturday. Chairman Bob Paton commented, 'Things needed freshening up. We asked Jon to resign after the game but he refused so we reluctantly had no choice but to sack him'".
BSBN GATES
Saturday's gates in the BSBN were:
Altrincham v Stalybridge Celtic, att.889
Bishop's Stortford v Histon, 505
Bradford Park Avenue v Guiseley, 703
Colwyn Bay v Vauxhall Motors, 282
Corby Town v Boston United, 572
Droylsden v Chester, 1,056
Gainsborough Trinity v FC Halifax Town, 906
Gloucester City v Worcester City, 640
Hinckley United v Solihull Moors, 338
Oxford City v Brackley Town, 342
Workington v Harrogate Town, 406
OLD BOYS
Two Alty old boys scored as Salford City drew 3-3 with Trafford. Daniel Heffernan netted for the Ammies and Andrew Smart for Trafford.

And our next opponents, Harrogate Town won at Workington, where Lee Elam netted in a 2-1 win.
---
1 January 2013
BSBN RESULTS
Altrincham 2-1 Stalybridge Celtic
Bishop's Stortford 3-1 Histon
Bradford Park Avenue 1-3 Guiseley
Colwyn Bay 2-4 Vauxhall Motors
Corby Town 2-1 Boston United
Droylsden 3-4 Chester
Gainsborough Trinity 3-0 FC Halifax Town
Gloucester City 4-2 Worcester City
Hinckley United 1-1 Solihull Moors
Oxford City 2-1 Brackley Town
Workington 1-2 Harrogate Town
HAPPY NEW YEAR
Altrincham FC extends its best wishes to all supporters for 2013 and thanks them for their excellent support in 2012.
LEE'S Q&A
From 5.30pm Alty manager Lee Sinnott will be responding to supporters' questions in the bar at Moss Lane after the New Year's Day match with Stalybridge Celtic. So please come along and put your enquiries to him on any matter relating to the team, whether they concern past performances or future plans.
ALTY v STALYBRIDGE CELTIC
The signs are good that New Year's Day's match at Moss Lane against Stalybridge Celtic will go ahead despite the continuing rainfall. No pitch inspection is planned in advance of the game.

Brian Flynn writes that Radio Robins, sponsored by Ashley Mowers Garden Machinery, will be broadcasting live coverage of Altrincham's game against Stalybridge Celtic on New Year's Day (3pm). The match commentators are Tim Ainsworth & Brian Flynn. You can listen to Radio Robins on the internet at www.radiorobins.com. The broadcast begins at 2.55pm.

Alternatively, you can find text updates on this site's Matchday Updates page, at the link below

You can follow the match via the following quick links...

Footy Mad has its customary match preview, saying "Altrincham prepare to entertain Stalybridge Celtic at Moss Lane on Tuesday afternoon, aiming to preserve their record of never having lost at home to the visitors, [for FootyMad 'never' means not in the last three home encounters]. The Robins have a healthy record in the fixture, winning 6 from 11 meetings.

The most recent encounter between these two sides at Moss Lane was less than a year ago, in March 2012, the Robins carving out a narrow 2-1 victory in a (Conference) North match...

Altrincham's home form is poor, winning just 2 of the last six, and losing the other 4... Stalybridge Celtic's away form is none too clever either, picking up two good wins, but losing three, from the last six... Altrincham are in pretty poor form at home recently, and the FootyMad are looking no further than a solitary point from this game. No-score draw".
YOUTH TEAM
Altrincham & District FA Youth, whose team wholly comprises members of the Altrincham FC Youth team, start their involvement in the Cheshire County FA District Youth Cup on Sunday, 6 January, with an away match. The game, at Congleton Town (k.o. 11am) is against the Macclesfield and District FA Youth team.
OLD BOY
Pitchero Non-League report that "Darren Finch, the new manager of Stockport Sports, has made three more additions to the squad. [Former Alty trialist] Kevin Gall is a much-travelled and vastly experienced attacking player who began his career with Newcastle United... Gall, a former Wales under-21 international, also spent a period... more recently in the Blue Square Bet North with Guiseley AFC and Workington".
BSBN NEWS
The North Wales Weekly News reports that "Colwyn Bay hope to have a couple of their walking wounded back for the crucial New Year's Day home game against Vauxhall Motors. A victory, to extend their recent unbeaten run to four games, would take Colwyn Bay above Vauxhall on goal difference, with two games in hand. And with two of the bottom four sides (Bishop 's Stortford and Histon) playing each other and second-bottom Droylsden facing runaway leaders Chester, it is a big chance for the Seagulls to take advantage of bottom five rivals dropping points.

Player-boss Jon Newby is hopeful that left back Mike Lea (groin) and Gareth Evans (foot), who were both major doubts for last Saturday's postponed game at Guiseley, will be fit enough to play after an extra three days rest, but Luke Holden (ankle) is still very doubtful. Skipper Danny Meadowcroft (family illness) again looks unlikely to be involved, while Jamie Rainford, who is injured anyway, has returned to Halifax at the end of his loan spell.

Due to postponements and a harsh fixture scheduled that has seen nine of the Seagulls last 13 league and cup fixtures being away games, today (weather permitting) will be only the third match at Llanelian Road's Red Lion Foods Stadium in NINE weeks. [Alty have similarly only had four home league matches in more than nine weeks]. Four of their next six league games are also away from home. That has all had a devastating affect on the club's finances and the club badly need a strong attendance at tomorrow's game.

Newby revealed that he wanted to extend Rainford's loan spell, but the lack of income through the turnstiles over the last two months has meant the club's finances just won't stretch to it at the moment".

Meanwhile, Guiseley "can now announce that Jamie Clarke has left the club in order to take up a coaching position at a football academy in Chang Mai, Thailand. Jamie joined the club in the summer of 2011 and has been a big presence in the back four for much of his time at Nethermoor. His registration will be kept active but it is very unlikely that he will play for the club again this season".

Elsewhere, the Worcester News tells us that "The vast majority of Worcester City fans say they would buy a season ticket for £100 to support the club in the post-St George's Lane era... Around 700 supporters were quizzed ahead of the home match against Workington earlier this month on proposed plans to share with Kidderminster Harriers next season.

Director Mike Davis said an overwhelming 95 per cent were interested in buying a season ticket for £100, an idea City have floated in a bid to boost the bank balance and keep as many supporters as possible. Almost half of those interviewed were also considering buying a season ticket that included subsidised travel. However, only 53 per cent expected to attend as many games next season as this and 30 per cent half as many. Five per cent said they would not attend any games when City leave the Lane in June.

Meanwhile, going ahead with last Saturday's match against Gainsborough Trinity would have risked damaging City's pitch for the rest of the season, says manager Carl Heeley".

BSBN announces its "Player of the month... December awards summary:

Blue Square Bet North
Player of the Month - ANTONI SARCEVIC from Chester
Manager of the Month - NEIL YOUNG from Chester

In the Cambridge News, we read that "Experience and fresh ideas are proving to be the ideal combination at the Glass World Stadium, according to Brian Page. The Histon assistant manager feels the club has the perfect blend as he works alongside interim manager Nacer Relizani.

There has been plenty of chopping and changing in the second half of 2013, with Page stepping up to replace David Livermore as boss, before contract negotiations broke down and Dennis Greene took over. Greene's subsequent departure has seen Page join forces with Relizani, and the duo masterminded their first win when the Stutes defeated Bishop's Stortford 2-0 on Boxing Day.

'They knew me from last year, so we've gone back to how it was last year, with the exact same meeting times and same venues', said Page. 'They know my style of coaching, and I did quite a lot of the coaching last year, with David then stepping in to do the match stuff. They know the way I work and they've really responded to it. A lot of the lads know Nacer from being around the club and they've responded well to the information he's given them on match days. The balance is really good with Nacer's experience and my youthful coaching knowledge'.

Relizani agrees their partnership has all the right ingredients and is a big admirer of Page's abilities. 'Everybody knows Brian's a great coach', he said. 'When it comes to discipline, he's brilliant at it. When we took over the spirit changed. The players responded really well'. Relizani and Page were denied the chance to plot another win on Saturday as the Stutes' home game with Altrincham was postponed due to a waterlogged pitch".

Droylsden confirm their signing of goalkeeper Miguel Silva, who was formerly with Sociedade Recreativa Almancilense, from Loulé in the Algarve region of Portugal.
---
FOR EARLIER NEWS, CLICK HERE
---