---
30 November 2012
CHRISTMAS RACE NIGHT & OTHER EVENTS
TASC's Steve Foster reminds us that "Altrincham Football Club will be holding a Christmas Race Night on Saturday 8th December following the game against Gainsborough Trinity. The night will comprise a race night with, in the middle, the chance to meet the New and Old hands amongst the playing staff. We have asked four fans' favourites to appear, in the form of a questions and answers session, namely Stuart Coburn, Nicky Clee, Duncan Watmore and Scott Leather. To try to get the maximum number along, entry is free and complimentary race cards will be provided. Also, bacon and/or sausage sandwiches will be available to purchase in the bar after the game.
Right: The latest advert for Premier Sports TV sent to all clubs. I think Grimbsy is somewhere near Bostno.
We hope to kick off the first race at 6.30pm. The night will be presented by our very own Brian Flynn and George Heslop. Betting on the races costs 50p per ticket and you can buy as many (or as few) tickets as you like.
Come along, support your club and have an enjoyable night!"
In the run up to Christmas, Altrincham FC is also holding the following events at Moss Lane....
Pensioners' Christmas Lunch, 12.30pm on Wednesday December 5th
TASC chairman Brian Flynn writes...
"This year's Pensioners' Christmas Lunch will take place in The Manchester Glass Limited Sponsors' Lounge at Moss Lane at 12.30pm on Wednesday December 5th. Our Christmas Chef is Dave 'The Doorman' Johnson and the menu is as follows:-
Cream of Fresh Vegetable Soup
Roast Cheshire Turkey (Chipolata Sausages/Chestnut Stuffing) with Sprouts, Carrots & Roast Potatoes
Christmas Pudding & Cream
Traditional Mince Pies
Tea or Coffee

Red or white wine and soft drinks will be served with the meal. All this for just £9.95!!

To reserve your place at this festive culinary extravaganza simply pick up the phone and call the Football Club on 0161 928 1045".
Christmas Carol Concert, 8pm on Thursday, December 20th
Altrincham FC Chaplain, Rev. Andy Barclay-Watts of Sale LifeChurch, will be leading this year's Christmas Carol Concert, in the Noel White Suite at Moss Lane, on Thursday, December 20th. The choir from Andy's church will be in taking part at the event, which starts at 8pm. Mince pies will be served during the evening. Everyone is welcome, Alty supporters or otherwise, so please come along!
NEXT OPPONENTS
Mike Garnett advises us of the historical record between Altrincham and this Saturday's opponents, Boston United;
At Moss Lane 32-15-11-6-64-31
At Boston 33-9-10-14-52-59
All games 65-24-21-20-116-90

Boston United report that "Gary Silk cut a disappointed figure as he reflected on Boston United's FA Trophy exit on Tuesday evening. The Pilgrims were beaten 2-1 by Skelmersdale United and Silk, who played in midfield on the night... looked ahead to Saturday's challenging league fixture against Altrincham" in a video interview.
ALTY SHOP
The Altrincham FC internet shop service is temporarily unavailable as a new-look shop is about to be launched. In the meantime, if you have any queries or wish to place any orders for Altrincham FC merchandise, please contact Jenny Heslop, Robins' Shop manager, as follows;
By visiting the Robins' Shop on matchdays
By telephoning the club on 0161 928-1045
By e-mailing the club offices.

Please place orders for Christmas before 14 December 2012. Thank you!
PROGRAMME FAIR
This year's "Great North-West Programme Fair" takes place on Friday 28th December, at the Cresta Court Hotel, Church Street, Altrincham, WA14 4DP, from 11am to 3pm. Admission is £1 for adults, schoolchildren are admitted free of charge.

John Litster, editor of Programme Monthly magazine and co-organiser of the Great North West Programme Fair writes, "This will be the largest gathering of football traders and collectors in this part of the country this year, providing a perfect opportunity for football memorabilia buyers to browse through hundreds of thousands of items, ranging in value from a few pence to hundreds of pounds, and from pre First World War items to current season issues.

Advice will be on hand for those who wish to develop an interest in the hobby, or have items they wish to sell or have valued. With so many collectables now purchased by mail or internet, this annual gathering gives football collectors an ideal opportunity to view a massive range of items".
BSBN NEWS
The North Wales Weekly News tells us that "Colwyn Bay player-manager Jon Newby is waiting on a response from Halifax after a request to extend the loan spell of forward Jamie Rainford ahead of Saturday's tough trip to Gainsborough Trinity.

The 24-year-old's initial one-month loan ran out last weekend, but his appearances for the Bay have been severely restricted, partly due to a trip abroad and then by a frustrating period in which the Seagulls have now been left without a game for three weeks...

'We have asked Halifax if we can extend his loan period and are awaiting a reply', confirmed Newby. 'Jamie is desperate to stay and he has been a delight in training and shown a really great attitude. The problem is that I understand another club may now have come in with a tentative offer to buy him and Halifax will be keen to recoup some of the money they paid when they bought him from Chester, so we will have to wait and see'...

Newby must also enter the Gainsborough game without suspended John McKenna, as well as injured Tom Smyth. Experienced defender Frank Sinclair, however, is back from suspension... Colwyn Bay's home game against Histon, who controversially pulled out of the original fixture two weeks ago on financial grounds, has now been re-arranged for Saturday, December 15".

According to the Northants Evening Telegraph, "Chris Plummer had mixed feelings after seeing Corby Town's unbeaten run ended in heartbreaking fashion by Blue Square Bet North leaders Chester.

The Steelmen boss admitted his team 'rode their luck' as Chester started Wednesday night's game in blistering fashion before taking an early lead. But Corby fought back and deservedly pulled level when Liam Hughes scored... However, the Steelmen were denied a point they deserved when Chester grabbed an 88th-minute winner shortly after Carl Piergianni had been dismissed for a second bookable offence...

'The lads were sat there after the game absolutely gutted that they didn't get anything from the game', Plummer said. 'I think that is a massive indication of how far they have come as a group and where we are in our development... When it went to 1-1, we looked like being the only side who would go on and get a winner'".

The Manchester Evening News seems to be unaware that, for many years, Altrincham FC's manager has spoken to the guests in the Manchester Glass Sponsors' Lounge before every match at Moss Lane, as it claims that "Stalybridge Celtic give fans unique chance to grill the gaffer... You have to be a bit creative to lure in punters and sponsors, and what better way than to offer a matchday experience like no other? All fans have an opinion on their side's starting line-up. And at Stalybridge Celtic you have the chance to grill the gaffer – just moments after he hands in his team-sheet.

It's an opportunity money can't buy at most clubs. Yet at Bower Fold a three-course meal followed by an audience with manager Jim Harvey costs just £25 a head... 'It's something I'd never heard of before', said Harvey, who's spent 35 years across the top six leagues of English football. 'If I felt it was awkward and I didn't like it then I would have told them "No, I'm not doing it"...

The club doesn't have many supporters but if we get people coming in here they can get close to the manager and the players', said the 54-year-old Ulsterman. 'If we speak to supporters and sponsors directly it makes them feel more involved'...

Having gone five without a win, there had been scrutiny of the revolutionary scheme Harvey has introduced since taking charge in February 2010. Celtic are one of the few Blue Square North clubs to train full-time, yet the players earn far from a full-time wage. Harvey picks up youngsters released by Premier League academies, who don't have commitments like a mortgage and children, and harbour hope of a second shot at League football.

If they're snapped up before 24, like Connor Jennings was in January, Celtic are entitled to a fee. If not, they can move for free on a Bosman and earn better wages, or choose to take up a full-time job while still playing part-time elsewhere...

'We're trying to do things the right way but it's easier said than done, so not many clubs will do this', said the former Morecambe and Chester boss. 'We're in the bottom six in terms of budget so we took a different approach. Maybe full-time coaching will get us a bit further than just relying on your budget alone. All the young boys are after is a bit of pocket money, until they get to a level when the opportunities are there. They saw Connor [Jennings] move to Scunthorpe so they know we're happy to move people on. Then they're prepared to buy into it'".

And the Stalybridge Celtic Forum reports that the club chairman "will be at Wembley tomorrow morning presenting our case to the Tribunal setting the fee for Jack Rea's transfer to Guiseley. He's then heading straight for Tameside Radio to be the studio guest on Pav's Patch, and there could well be fireworks if things haven't gone quite the way he expected!... The show airs between 6.00 and 7.00pm on 103.6FM".

Altrincham played their part in determing the winners of manager and player of the month in Blue Square Bet North for November.
Manager of the Month: Neil Aspin from FC Halifax Town
Player of the Month: Gareth Seddon from FC Halifax Town

In the Times and Star "Darren Edmondson hopes to sign at least one player before Saturday's match with Brackley Town but denied his foray into the transfer market is a response to the 6-1 hammering dished out by Bradford Park Avenue. The 41-year-old is working with a wafer thin squad, as Workington Reds deal with a constant stream of injuries.

Striker Jordan Connerton is a major worry for the home clash with Brackley with a hernia problem, while he also chases a replacement for James Bolton, whose loan deal has now expired. Edmondson said he planned a move into the market before the Bradford defeat, and added, 'I am always looking for players who can come in and make a difference straight away. The Bradford defeat was awful but any players we bring in between now and Saturday are not a result of that defeat. I was hoping to bring new players in even if we had won... It's vital we bolster our ranks'.

Yesterday, Mark Boyd declared himself fit, and Edmondson said his return to action was a good sign".
CHESHIRE NEWS
Having appointed Lee Ashcroft of Kendal Town as their new manager, Northwich Victoria have now reportedly signed seven of Kendal's players, too. They are Jack Duggan, Alex Taylor, Danny Wisdom, Kevin Leadbetter, Scott Harries, Joe Bunney and Ian Kilford
---
29 November 2012
THE WRONG SORT OF CHRISTMAS SHOPPING
John Edwards, joint Press and Media Officer at Moss Lane, writes...

"The Cup exploits have been rewarding in every sense of the word, but Lee Sinnott has challenged his Altrincham players to make their Blue Square Bet North endeavours even more memorable, as they head into a season-shaping spell of eight games in December.

A 5-2 FA Trophy defeat at FC Halifax Town on Saturday marked the end of a lucrative seven-game run in the two main knock-out competitions, but, with two-thirds of their League programme still to go, and play-off places up for grabs, Sinnott was adamant Alty still had plenty to play for.

'We have been saturated with Cup games over the past couple of months, but the league is our bread and butter, and this is a really important time for us,' said Alty's manager, ahead of Saturday's trip to Boston United. 'The FA Cup, in particular, was a great adventure, but we've got some catching up to do in the league now, and we need to try and build some momentum.

'We have to strive for the kind of consistency we showed in September and October, when we went on a nine-game unbeaten run. That's what we have to get back to, and I firmly believe we have the quality to do it.

'What set us back a bit was losing three on the trot after the Cup win at Boston, when we had the chance to force our way into the play-off places. That was an opportunity that passed us by, but we must seize this one.

'I'm not going to say everything in the garden is rosy. There are one or two things that need ironing out. We are conceding too many goals, which is baffling when you look at the personnel in the team, but we will work on that.'

Alty's Trophy hopes were effectively ended by a stunning Gareth Seddon hat-trick inside 197 seconds just before half-time and red card for Danny Hall soon after.

'We started so well, and were a goal up early on, but it turned into a bit of a bizarre day,' said Sinnott. 'I don't want to sound flippant, but we went Christmas shopping after 15 minutes. We just shut down, which was surprising and alarming. You can't do that anywhere, let alone a place like Halifax. It's a point I put to the players vigorously, and we must make sure we learn from it.

'You can't concede three goals in four minutes, then lose a player to a red card. It knocks you flat and effectively ends the tie. There is that old adage about wanting half-time, or not, depending on circumstances. There has been many a time we have been banging the goals in, and I've wanted the first half to go on and on, but not this time.

'I was desperate to get the players into the dressing room, but by the time I did, the damage had been done. You can't be defeatist, and you hope you can somehow claw your way back into it, but logic tells you it doesn't happen very often. I just pointed out that they had dug themselves into a hole, and that the same 11 would have 15 minutes or so to dig themselves out of it.

'After that, at 5-2 down and with 10 men, we had to utilise some fresh legs. Tired legs make mistakes and tend to ship even more goals, which was the last thing we wanted.

'But the bottom line is, we were off our game on Saturday. I've no qualms about it, they were better than us on the day. It sticks in your gullet, but sometimes you have to hold your hands up, just as I'm sure Neil Aspin would have done after we won at The Shay last season.'

Midfielder Carl Rodgers is likely to need another week to recover fully from his hamstring injury".
FA CUP DVD
Altrincham FC Chairman, Grahame Rowley, announces that "Available to order now is a twin pack DVD of both games versus Burton Albion in the FA Cup 1st Round. Cost is £12 (+£2-50 P&P). Please e-mail or phone the club on 928-1045 to reserve your copy".
WEDNESDAY BSBN GAME
Chester FC 2 Corby 1
League table.
FA TROPHY
On Tuesday a number of FA Trophy games were played, being a mixture of replays and previously postponed ties.
Barrow 1 Hyde United 0
Dorchester Town 2 Luton Town 2
Matlock Town 2 Mansfield Town 1
Merthyr Town 1 Tonbridge Angels 2
Skelmersdale United 2 Boston United 1

Wednesday's replay.

Buxton 0 Grimsby Town 1

The draw for the Second Round Proper of the FA Carlsberg Trophy to be played on the weekend of December 15, is...
1 Dartford v Tonbridge Angels
2 Stockport County v Southport
3 Maidenhead United or Sutton United v Oxford City or Bishop's Stortford
4 King's Lynn Town v AFC Telford United
5 Bromley or Boreham Wood v Kidderminster Harriers
6 Forest Green Rovers v Gainsborough Trinity
7 Tamworth v Corby Town
8 Cambridge United v Gateshead
9 Woking v Welling United
0 Wrexham v Solihull Moors
11 Chesham United v Barrow AFC
12 FC Halifax Town v Maidstone United
13 Hereford United v Hampton & Richmond Borough or Chelmsford City
14 Grimsby Town v Braintree Town or Havant & Waterlooville
15 Skelmersdale United v Guiseley AFC
16 Matlock Town v Dorchester Town or Luton Town
ROCKY IN A STEW?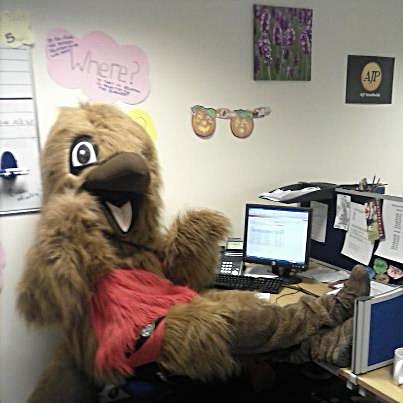 Altrincham FC Official caterer, Richie Bentley, writes...

"I enclose the picture (right) of me at work last week. It was fancy dress for charity and guess who won! I did, however, walk to work, as my pregnant wife's morning sickness meant she could not drive me, so it was two miles of getting beeped at by cars and wagons and followed by kids on the way to school. It was roasting inside the mascot suit but worth it for a few quid to a local charity. I thought it might be interesting for Alty fans to see what Rocky gets up to during the day... It is tough being a semi-professional mascot in the Blue Square North. On the plus side, a Robin is very delicate in flavour and lovely served with chips!"
ALTY LADIES
Keith Edleston, manager of Altrincham FC Ladies, tells us that his side's next game is on Sunday, 2 December, at 2pm, away to Chester FC Ladies at the University Playing Fields, Clifton Drive, Chester, CH1 5LT.
HEAR THE HALIFAX GAME
Courtesy of Brian Flynn, the Radio Robins commentary files from last Saturday's match at Halifax are available via the links below:-
Second Half
BSBN NEWS
A former Altrincham FC reserve is the subject of a report from the Football Conference, which says that "Carl Macauley, manager of Vauxhall Motors, has swooped to sign prolific striker Ashley Stott from Witton Albion. The 24-year-old commenced his career at Preston before joining Altrincham. In 2006 he signed for Bangor City scoring thirty-two goals in eighty-two matches. A move to Halifax Town saw him score twenty-four goals, prior to re-joining Bangor...before moving to Hyde United in August 2010.

After notching eleven goals from his nineteen matches for Witton, he went back to Wales joining Aberystwyth Town... He then played for New Mills... before re-joining Witton again in February 2012.

Macauley said, 'Ash is a player who has been on my radar for some time. He has scored goals wherever he has been and I was very surprised that Witton decided to let him go'">

"Corby Town defender Nathan Fox has joined Kettering Town on a one-month loan deal. Former Notts County left-back Fox will link up with the Northamptonshire club, who are currently rooted to the bottom of the division without a win. This will enable him to gain match fitness following a spell on the sidelines through injury".

The Boston Standard reports how "Boston United crashed out of the FA Trophy away at Skelmersdale United. The West Lancashire side, who are two tiers below the Pilgrims in the football ladder, won 2-1 in last night's replay... The Pilgrims were unable to mount a late rescue, bowing out of the competition after a lacklustre showing". Boston, who face Altrincham this Saturday, fielded the following side...

Boston (4-4-2): Dan Haystead; Conor Marshall, Tom Ward, Nathan Stainfield, Gareth Jelleyman; Ben Fairclough (Kallum Smith 82), Gary Silk, Ian Ross (Ben Milnes 87), Jason Stokes (Mark Jones 61); Spencer Weir-Daley, Marc Newsham. Subs (not used): James Reed, Ricky Drury (gk)".
CHESHIRE NEWS
As ever, 200% makes interesting reading as, now, the column revisits the situation of Northwich Victoria.

"Last weekend on BBC Radio Five Lives Non-League Show, the owner of what is left of Northwich Victoria Football Club, Jim Rushe, made a guest appearance full of claims that he was 'more determined than ever"' to return his club back to the town and making typically disrespectful comments regarding the Northwich Victoria Supporters' Trusts decision to break away from his discredited organisation and start their own club from the start of next season. There was, however, one small event in his life which somehow managed to slip his mind over the course of his interview. On the fifteenth of November at Wigan County Court, on the same day that supporters of the club were voting to form their own club from the start of next season, Jim Rushe was declared bankrupt.

The petition was not one that he raised himself. Rushe's bankruptcy petition came from the Burton-based Else Solicitors, who had acted as the club's legal advisors until earlier this year. The firm had been acting for the club as recently as January of this year, when they issued a public statement for the club with regard to its eviction from The Victoria Stadium, and the unanswered question regarding this is that of, if this bankruptcy order is a result of their involvement with the club, why was it made against Rushe personally? If the debts for legal expenses had come about as a result of Northwich Victorias unpaid legal fees, we might have presumed that these debts would have been in the name of the club rather than any named individual. Whether these debts were a result of a personal guarantee made on behalf of the club or as a result of something else is not known.

Regardless of any plans that Rushe may have had for the future of the club, one thing is for sure. He now fails the Football Association's 'Owners' & Directors' Test'. His bankruptcy is obviously an 'insolvency event' as defined by the FA's rules on the subject..."

Meanwhile, NL Daily tells us that "Lee Ashcroft has resigned as manager of Evo-Stik League Premier Division club Kendal Town to take over at Northwich Victoria in Division One South...

Vics' spokesman Jason Dudley confirmed Ashcroft's appointment. He said, 'Talks have taken place over the last few days with Lee and his present club and were finally concluded on Monday evening... We believe that in Lee Ashcroft we have secured the services of a manager with not only a proven track record at this level, but with the ambition and desire to take a team to the top of non-League football and beyond... We look forward to a long working relationship with Lee to assist him in rebuilding a team that the club and its supporter [sic] can be proud of for many years to come'.

Ashcroft, who had been at Parkside Road since 2004 and manager since 2006, leaves with Kendal just one point above the relegation zone. Kendal Chairman Haydon Munslow... said, 'We've faced some considerable challenges together, but we do not now have sufficient funds to continue on the current basis'".
---
28 November 2012
FA CUP DVD
Altrincham FC Chairman, Grahame Rowley, announces that "Available to order now is a twin pack DVD of both games versus Burton Albion in the FA Cup 1st Round. Cost is £12 (+£2-50 P&P). Please e-mail or phone the club on 928-1045 to reserve your copy".
FA TROPHY
Several FA Trophy games were postponed on Saturday:
Braintree Town v Havant & Waterlooville
Dorchester Town v Luton Town
Maidenhead United v Sutton United
Merthyr Town v Tonbridge Angels
Oxford City v Bishops Stortford

Saturday's Trophy attendances were:
Boston United v Skelmersdale United 710
Chesham United v Bath City 301
Forest Green Rovers v AFC Totton 523
FC Halifax T. v Altrincham 885
Grimsby Town v Buxton 1,369
Hampton & Richmond Borough v Chelmsford City 241
Hednesford Town v Solihull Moors 355
Kingstonian v Dartford 508
Maidstone United v Salisbury City 1,365
Mansfield Town v Matlock Town 1,615
Stafford Rangers v Southport 531
Stockport County v Ossett Town 1,679
Worksop Town v King's Lynn Town 488
Wrexham v Rushall Olympic 1,085
BSBN GATES
Saturday's BSBN attendances were:
Histon v Chester FC 428
Workington v Bradford Park Avenue 397
BSBN GAMES
Tue 27 Nov.
Guiseley v FC Halifax Town
Harrogate Town v Bishops Stortford

Wed 28 Nov.
Chester FC v Corby Town FC
UPDATES
Normal daily updates of this website resume this evening...
---
25 November 2012
FC HALIFAX TOWN 5 ALTRINCHAM 2
Match report here.
After Saturday's game, FC Halifax Town reported that "FC Halifax Town cruised through to the second round of the F.A. Trophy, in a match where Gareth Seddon scored one of the quickest hat tricks in the history of the competition. In fact, his three-minute triple was one of the quickest in British football, let alone non-league's most prestigious cup.
Town were simply sumptuous for the majority of the tie, wading through the Altrincham ranks almost at will in spells.
Lee Gregory and Dale Johnson also scored on return the starting line-up, proving that there are still plenty of goals in this Halifax side, despite Neil Aspin being forced to give up loanee Alex Titchiner who was recalled by parent club Fleetwood Town.
Phil Bolland started his second consecutive game at right back, with Ryan Toulson still continuing his rehabilitation from a knee injury, though the recovering full back was still fit enough to make the bench...
Despite the scoreline and Town's eventual monolithic domination, they were slow to start and paid the price. James Lawrie cut the ball inside from the right flank for Nicky Glee [sic] who, in lots of space on the edge of the area, struck powerfully. Matt Glennon saved well but the rebound fell to an unmarked Damian Reeves who had no trouble in tapping into an empty net, an easy finish for his 21st goal of the season...
Town's build-up play was warming but their finishing was still cold...
The damp atmosphere prompted The Shay's ground staff into action to make sure the match even went ahead, with a large oblong of sand having to be spread toward the half-way line, in front of the travelling Altrincham fans".
After equalizing, "Altrincham were breached again, and with mind blowing consequence. With three minutes until half time, St. Juste's corner was met by Lowe whose header was blocked off the line, though Seddon was in the right place at the right time to put Town ahead, and in doing so become the third Town player to sit on nine goals for the season.
It got better for the home side as Seddon again found an instinctive position to place past Coburn for his tenth of the campaign. But Town were not done there. The floodgates had opened and, unbelievably, a third was scored in three minutes. As Altrincham gave the ball away in midfield, Town shifted to Seddon who did the rest... his first hat trick for Town and one of the quickest hat tricks in British football, let alone the F.A. Trophy...
Depleted, dilapidated and 4-1 down with ten men, Altrincham wilted. Johnson slid in to notch his second in consecutive games from close range. There was some resistance thanks to an outstanding free kick from Nicky Glee[!] that cannoned in off the bar from all of 35 yards. Yet it was merely a bug on the sparkling windscreen that was Town's performance".
The Halifax Courier says that "Nicky Clee's wonderful free-kick pulled one back for the visitors, but they were unable to launch any kind of comeback against a dominant Town side, who were unable to add to their tally despite creating a host of second half chances...
Town made a disastrous start to the game and fell behind inside five minutes when Matt Glennon parried Simon Richman's shot into the path of Damian Reeves, who tapped his side ahead. Altrincham could have been two up a minute later but Reeves failed to connect with Nicky Clee's low cross, and Glennon had to be brave to dive in at Reeves' feet after another jinking Clee run...
Altrincham, rattled by the Seddon show at the end of the first half, were down to ten men just three minutes into the second half after Danny Hall pulled down Gregory after he was released by Hogan. Town capitalised almost immediately, Johnson sliding home from close range after some excellent work by St Juste down the left. Danny Lowe was fortunate to only receive a yellow after bringing down Reeves as the striker spun in on goal - only for Nicky Clee to whip a wonderful left footed effort into the top right hand corner from the resulting free-kick for 5-2.
St Juste was giving Scott Leather a torrid time down the left and saw a host of crosses evade a blue shirt as Town looked for a sixth".
NEXT UPDATE
The next website update will be on Wednesday 28 November.
LADIES RAINED OFF
Altrincham FC Ladies' match against Wythenshawe Amateurs on Sunday (25th) has had to be postponed due to a waterlogged pitch.
YOUTH REPORT
Callum Harkin's report on Altrincham FC Youth v Warrington Town is now available via the Youth page.
ALL SQUARE
In the Charity Crossbar Challenge between Alty coach Ian Senior and assistant manager, Neil Tolson, the score is now 13-13 after Ian's 3-1 win at The Shay on Saturday.
FOR THE GOOD TIMES
Barry Pikesley's article, "For the Good Times", appeared in last week's "Robins' Review"...

FOR THE GOOD TIMES

Please forgive a fleeting wallow in self-indulgence but today marks the eighth occasion on which the Robins have played a game on my birthday since I made my debut at Moss Lane way back in 1971.

In the seven fixtures staged on 17th November during those 41 years, Alty's record reads as follows: won: three; drawn: two; lost: two; goals scored: 11 and goals conceded: 10. The most memorable of those matches comprises the 1984 FA Cup First Round tie at Blackpool, in which the Robins triumphed 1-0 courtesy of Mick Fagan's 34th minute goal.

Whilst listening to the consummate professionalism of our unflappable Radio Robins correspondents as they continued to commentate, notwithstanding the virtual darkness at the rear of the main stand at St George's Lane towards the denouement of our unexpectedly comfortable 3-0 FA Trophy Third Qualifying Round dismantling of Worcester City last Saturday afternoon, my thoughts turned to instigating a statistical analysis of our results so far this season.

'It's a game of two halves' remains one of football's enduring clichés and, therefore, prompted by that truism, I decided to place a particular emphasis on a comparison between how Alty have performed in the two separate 45 minute periods of all their matches to date.

I would advise that these notes are being penned in advance of the Robins' FA Cup First Round Replay versus Burton Albion and the timings of all the goals have been derived from the archives of the peerless John Laidlar's official club website. Prepare for a veritable blitz of statistics!

To date, the Robins have fulfilled a total of 19 fixtures in all competitions, for which the overall statistics comprise: won: nine; drawn: three; lost: seven; goals scored: 43 and goals conceded: 34.

We have managed to keep a total of four clean sheets and there has been just the single instance of Alty failing to score during a match (that utterly forgettable and, in truth, best forgotten 4-0 capitulation at home to Congleton Town in the Cheshire Senior Cup).

In the seven matches staged at Moss Lane, we have registered just a couple of wins and suffered five defeats, scoring 13 goals and conceding 18 goals in the process. Meanwhile, Alty's dozen away fixtures have elicited seven victories, three stalemates and only the two reverses (both times by a 2-1 scoreline - at Vauxhall Motors and Solihull Moors respectively). The Robins have accumulated an impressive total of 30 goals on their travels, whilst the corresponding goals against column displays a tally of 16.

If we look more specifically at the total of 43 goals amassed by the Robins to date during the present campaign, 27 of them (63%) have been scored before half-time, whereas 16 of them (37%) have been second half goals.

Of the sum of 13 goals scored at Moss Lane, six have been netted during the opening 45 minutes and seven have transpired after the half-time interval.

However, the breakdown of the tally of 30 goals recorded in away fixtures by the Robins is more interesting. Alty have scored 70% of these goals (i.e. 21) in the first half, as illustrated by such quickfire barrages as those that have been witnessed against the likes of Corby Town (five); Gainsborough Trinity (four) and Worcester City (three) prior to the half-time oranges even being served.

In away league games alone, 81% of the sum of 16 goals scored by the Robins have been first half strikes.

In the Robins' 19 competitive matches to date, we have been particularly prolific between the 22nd minute and the 41st minute (inclusive), during which period a tally of 19 goals (44%) have been scored.

As for our leading goalscorer, Damian Reeves, 12 of his account of 20 goals to date this season (i.e. 60%) have occurred prior to the sounding of the half-time whistle.

Turning to defensive matters, an examination of the total of 34 goals conceded reveals that Lee Sinnott's men are statistically more prone to allow the opposition to score during the second 45 minutes of their fixtures. To summarise, the Robins have let in a tally of 24 second half goals (i.e. 71%) to date.

This pattern becomes yet more pronounced when the data for just the away games is scrutinised. Of the sum of 16 goals conceded by the Robins during their considerable travels so far this campaign, 14 have befallen after the half-time interval (i.e. 87.5%). Studying league fixtures only, 11 of the total of 12 goals conceded (i.e. 92%) have arisen during the second half of the 90 minutes.

Alty have conceded merely two first half goals during their 12 away fixtures to date, namely at Vauxhall Motors and Boston United respectively.

Our rearguard appears to be noticeably porous during the period covering the 81st minute until the end of any additional time in the lead-up to the final whistle (inclusive), during which timespan the Robins have let in a sum of 12 goals (i.e. 35%).

However, the 52nd minute has constituted the juncture at which our defence has been statistically proven to be at its most vulnerable, as it has been pierced at this precise time in three games: Brackley Town (home); Oxford City (away) and Bradford Park Avenue (home).

Anyhow, enough of this overdose of statistics and on to a couple of other matters. First of all, may I convey my very best wishes to the truly remarkable and inspirational figure of Mark Maddox and his band, Last of a Dying Breed, for a successful gig in the Noel White Suite this evening. Unfortunately, birthday commitments prevent me from being present in the moshpit alongside Andrew Shaw and Brian Flynn.

Secondly, if you do happen to see George Heslop heading towards me during today's post match drinks in the Noel White Suite, I'd be hugely obliged if you'd alert me about his imminent approach. I have been forewarned by a well-wishing club insider that Mister Heslop intends to perform the song Happy Birthday To You in a sultry voice in the style of Marilyn Monroe when she famously sang it to President John F Kennedy during a celebration of his 45th birthday at Madison Square Garden back on Saturday, 19th May 1962.

Please, let's all work together to try and preserve the few remaining vestiges of dignity that George Heslop still possesses and, besides, I'm afraid that he simply hasn't got the figure anymore to carry off wearing that tight-fitting, sheer and flesh-coloured marquisette fabric full length evening dress complete with 2,500 rhinestones sewn into it".
NEXT OPPONENTS
Next for Alty is a second trip in six weeks to Boston United who report that "United and Skelmersdale United will contest an FA Trophy replay after drawing 1-1 at The Jakeman's Stadium on Saturday afternoon. The Evo-Stik Division One North high-flyers took the lead through Kenny Strickland on 51 minutes, with Spencer Weir-Daley levelling for the Pilgrims 13 minutes later. Skelmersdale were reduced to 10 men when Antony Hickey was sent off but held on despite a late Boston onslaught".
---
24 November 2012
FC HALIFAX TOWN 5 ALTRINCHAM 2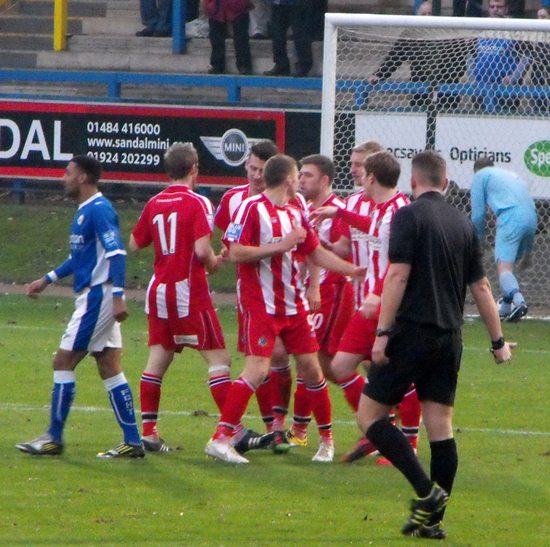 Right: Damian Reeves receives congratulations after scoring Altrincham's opening goal.
After hammering eight goals past Hinckley last week, Altrincham were involved in a seven-goal match today. Sadly, five of them went in at the wrong end- and several more could have done so. The Robins also had a man send off as they conceded a three-minute hat-trick which decided the outcome.
Match report here.
YOUTH GAME OFF
Sunday's youth game at Lancaster has been postponed due to a waterlogged pitch.
RESULTS
BSBN
Sat 24 Nov:
Workington 1 Bradford Park Avenue 6
Histon 1 Chester FC 4

FA Carlsberg Trophy

Fri 23 Nov:
Gateshead 2 Macclesfield T. 0

Sat 24 Nov:
Through the Years by Howard Watts
AFC Telford Utd 1 Nuneaton Town 0
Alfreton Town 1 Kidderminster Harriers 3
Billericay Town 0 Cambridge United 3
Boston United 1 Skelmersdale United 1
Braintree Town v Havant & Waterlooville
Bromley 1 Boreham Wood 1
Chesham United 2 Bath City 1
Corby Town 3 Hayes & Yeading Utd 2
Dorchester Town v Luton Town
Ebbsfleet United 0 Hereford United 1
FC Halifax Town 5 Altrincham 2
Forest Green Rovers 2 AFC Totton 1
Gainsborough Trinity 2 Harrogate Town 0
Grimsby Town 0 Buxton 0
Guiseley 3 Brackley Town 1
Hampton & Richmond Borough 1 Chelmsford City 1
Hednesford Town 1 Solihull Moors 2
Hyde FC 1 Barrow 1
Kingstonian 0 Dartford 4
Maidenhead United v Sutton United
Maidstone United 2 Salisbury City 0
Mansfield Town 1 Matlock Town 1
Merthyr Town v Tonbridge Angels
Oxford City v Bishops Stortford
Stafford Rangers 0 Southport 4
Stockport County 6 Ossett Town 0
Tamworth 3 Lincoln City 1
Welling United 2 Newport County 0
Woking 7 Farnborough 0
Wrexham 5 Rushall Olympic 0
Worksop Town 0 King's Lynn Town 1
SATURDAY'S GAME
For the FC Halifax Town v Altrincham game on Saturday afternoon, there are the usual two ways to keep up to date with the action, if you are unable to get to the match itself.
Radio Robins
Brian Flynn writes, "Radio Robins, sponsored by Ashley Mowers Garden Machinery, will be broadcasting live coverage of Saturday's game at The Shay Stadium.
The match commentary is sponsored by Sale Fencing & Surfacing. Whether you are looking for a new driveway, beautiful patio, garden fencing, walls or gates, make Sale Fencing & Surfacing your first choice for exterior home improvements. Sale Fencing and Surfacing has been a specialist in hard landscaping for over 40 years.
A quality job is not just promised, it is guaranteed. You can find out all about Sale Fencing & Surfacing at their website.
The match commentators are Simon Ellis and Brian Flynn with match summaries from Ian Wilkinson. The broadcast begins at 2.55pm. You can listen to Radio Robins on the internet via the link below.
Matchday updates: You can also follow the match via the website's matchday update service, which aims to start as soon as the team news is available.

You can follow the match via the following quick links...
BEFORE THE GAME
Our opponents, FC Halifax Town say that "History will be made on Saturday as FC Halifax Town's face their first-ever FA Trophy first round tie when Altrincham make the trip to The Shay. The Shaymen reached this stage when they eliminated Cammell Laird from the competition a fortnight ago, a win which is part of four consecutive wins...

Most recently, last Saturday, Town mauled Droylsden 4-1 at The Shay, with Alex Titchener bagging a hat-trick, but he returned to Fleetwood Town this week. Now Halifax face an Altrincham side who eliminated Worcester City with a 3-0 win in the previous round. Last time out the Robins ended a run of three consecutive wins with an emphatic 8-0 victory over rock-bottom Hinckley United. Prior to that victory they'd fell[!] at the feet of Workington, Solihull Moors and Guiseley, but were given some rest bite[!] last weekend...

Halifax proved a bit of a lucky charm for Altrincham last season as they claimed four points from a possible six off The Shaymen... Nowadays the 'Alty' squad has a number of former Football League players including James Lawrie (ex-Port Vale), Danny Mitchley (ex-Blackpool) and Danny Hall (ex-Oldham)...

Last time out Ryan Toulson missed out with injury, whilst Dan Gardner and Lee Gregory were on bench duty whilst they recovered from illness. Toulson is a doubt for Saturday but other than that Aspin is expected to pick from a full-strength squad".

FC Halifax Town add that if you include the previous club Halifax Town, "There have been 18 previous fixtures between these two teams with the spoils shared with nine victories each".

Town's Liam Hogan said of Altrincham, "'They have made a couple of good signings that I know and some of the lads that they have taken on board from last year that we played. They are definitely going to be a strong team'. However, the centre-back believes that they are the sort of opposition that Halifax have to beat if they are going to be serious about their promotion hopes this season... 'We have got Altrincham out of our league and they have had a really good win today [8-0 v Hinckley] and are always going to be a tough opposition'".

Meanwhile, the Telegraph & Argus says that "Albion Sports were looking forward to what may well be the biggest game in their history but have been frustrated as their date with former Football League outfit FC Halifax Town has become flexible.

The one certainty is that Albion, based at Horsfall Stadium, where Bradford Park Avenue also play, will host the Shaymen in the quarter-finals of the West Riding County Cup. The uncertainty is when it will take place.

Albion boss Kulwinder Sandhu said, 'It is scheduled for this Wednesday (November 28) at Horsfall but Halifax are hosting Altrincham in the FA Trophy and if they draw they will be playing the replay instead... There is a lot of planning and work behind the scenes when you play a big club like Halifax at home but we're in limbo... The trouble is that all this "if and maybe" has just taken the wind out of our sails a bit'".
BSBN NEWS
Bishop's Stortford announce "New keeper joins The Blues. 23 year-old Kyle Clancy has joined the Blues. He was previously playing in the Welsh Premier League for Bangor City".

Our next league match on Saturday, 1 December is away at Boston United where The Pilgrims "are in the process of swooping to sign Nottingham Forest defender Jack Andrews. The 19-year-old, capable of playing at left-back or centre-back, is poised to join the Pilgrims on a youth loan on Monday December 3, initially running until Saturday, January 12. Andrews was part of the Forest side which enjoyed a long run in last season's FA Youth Cup".

Chester FC "have signed striker Ben Mills on a permanent basis from Macclesfield Town. Mills spent a successful loan period with the Blues at the beginning of the season, resulting in 9 goals in 7 games, which helped boost Chester's fine start to the 2012/13 campaign.

Neil Young has been working hard to resurrect the deal, after Mills initially decided to stay on at Moss Rose as a full-time footballer. However, the striker has found his appearances limited and is now looking forward to getting back on the goals trail with Chester. Young said, 'I'm delighted to finally sign Ben. He gives us extra options'...

The transfer has taken place as a result of commitments made by supporters who have said that they would be prepared to financially back strengthening of the squad. When Mills's loan period ended, many Blues fans said they would donate to a 'Squad Builder' fund if it helped strengthen the squad, and we can confirm that we'll be launching the 'Squad Builder' initiative imminently, where fans can help in such a way. Based on this, we are inviting donations now towards the Ben Mills transfer with cheques payable to City Fans United...

On the signing, Chairman Chris Pilsbury said, 'I'm delighted to be able to welcome Ben back to the Exacta Stadium.. I'm sure all fans will appreciate that this shows that the current Board is continuing to develop the Club in a professional, prudent and sustainable manner'".

There have been more player movements at The Butcher's Arms, where Droylsden report that "Ashley Dunn has been released, at his own request, to sign for Colwyn Bay. Sam Minihan's loan has expired and [he] has returned to Rochdale. Mike Bakare's loan has expired and he has returned to Southport".

According to Stalybridge Celtic the club is "delighted to announce that they have secured the services of a new goalkeeper after Alex Cairns's loan spell finished on Tuesday. The new keeper is... Alex Cairns! A deal has been agreed that keeps Alex at Bower Fold until January 2nd".

The Football Conference says that "Oxford City have signed former Swindon Town striker Ashan Holgate. The 24year-old started his career with home-town club Swindon where he went on to make nine first-team appearances. During his time at the County Ground he also spent time on loan with Basingstoke Town, Salisbury City, Newport County and Macclesfield Town...

After being released by Swindon, he signed for Weston-super-Mare and then onto Eastleigh the following November. After a loan spell at Cirencester Town, Holgate returned to the Seagulls in March 2008. A switch to Newport County followed in October 2009. However, his contract was terminated... and he signed for Swindon Supermarine. In the summer of 2011 he joined Maidenhead United"

Meanwhile, "Harrogate Town AFC have announced that they have taken Lewis Turner from neighbours Leeds United on loan until January 2nd 2013. Turner, 20, can play in multiple positions across the back line and midfield... His brother Nathan has also gone on loan from Leeds to Harrogate's league rivals Chester FC!"

The Conference also confirms that "Left-back Louis Barnes has joined Vauxhall Motors from neighbours Southport. Barnes arrived at Haig Avenue at the start of this season after two years playing in the Evo-Stik Northern Premier League. A spell at Northwich Victoria was followed by a season with Marine... Earlier this season the 22-year-old spent a month on loan with... Chorley. It is a mark of his talent that, in the autumn of 2010, he spent time on trial with Manchester United, along with his twin brother Sam".

Pitchero Non-League says that "Jamie Jackson and Ross Daly have been sent out on loan but remain part of manager John Deacey's plans at Bradford Park Avenue. The pair have suffered injuries and Deacey wants to get them match-fit by playing regularly.

Jackson has gone to Worksop Town, while Daly is back at his old club Thackley. Deacey said, 'Hopefully we will get them both back fully match fit and that will be a massive boost for us because they are top quality players'.

Daly has not played this term following a hip operation in the close season, while Jackson has been carrying an injury picked up in the first few games...

Deacey signed left-sided player Simon Garner on loan from Chorley and has been trying to secure a centre back and a striker, also initially on loan. He said, 'Me and Mark Hume have been on the phone a lot just lately trying to get the players in that we want but it's been difficult. No one wants to let centre halves out on loan and good strikers are like gold dust', said Deacey...

He said, 'Our squad has been very stretched recently and, even though the lads have done well, it is a very punishing schedule with tough games every week in this league. We have had to manage Jordan Deacey and Richard Marshall and use them sparingly. They both have ankle injuries and Jordan is so important to the side at the minute and Scooby's experience and goals from midfield are also a key part of our team'">

"Jon Brady, manager of promotion-chasers Brackley Town, has extended Ryan Austin's loan from Kidderminster Harriers for another month. The versatile 27-year-old, who can play in central defence or at right-back, joined Harriers in the summer following his surprise release by Burton Albion at the end of last season. Austin made five appearances for Steve Burr's side at the start of the campaign before being sidelined by injury, but has impressed since joining the Saints last month".
---
23 November 2012
CARL LOSES FITNESS BATTLE
Fresh from helping to switch on Altrincham town centre's Christmas lights - in pouring rain - Robins' manager Lee Sinnott told the club website that midfielder Carl Rodgers (right) would not be fit enough to play in Saturday's FA Trophy match. Carl has missed the last two games after limping off with hamstring trouble against Worcester City in the last round of the FA Trophy. Although he took part in Tuesday's training session he felt some reaction and is therefore expected to miss this Saturday's game at Halifax.

Another player missing on Saturday will be Sam Grimshaw who, as previouly reported, has gone on loan to Radcliffe Borough where he previously had a successful spell. So, with Sam and Carl missing, Alty's squad is expected to be reduced to a self-selecting sixteen for the Halifax game.

Should a replay be necessary after the match at The Shay, the replay would be at Moss Lane on Wednesday, 28 November at 7.45pm.
LEE'S INTERVIEW
Brian Flynn advises that "The podcast of Tuesday morning's WFM Sports Talk Show on Wythenshawe FM, featuring an interview with Lee Sinnott interview after Saturday's 8-0 destruction of Hinckley United is here.
SPONSORS
Barry Pond's latest list of Altrincham FC Matchday Sponsors is now on the website.
HALIFAX WANT MORE FROM DALE
In the Halifax Courier we read that "Shay chief Neil Aspin says top scorer Dale Johnson needs to work harder if he is to reclaim his place in the starting line-up. Johnson came off the bench at half time against his former club Droylsden and changed Town's fortunes for the better - even scoring a superb solo goal himself.

His nine goals have come in seven different games and many of them have proved decisive but his form has been disrupted following his sending off at Chester last month and he has started just one of Town's last six games, excluding the County Cup.

Aspin left out both Johnson and Lee Gregory, who has scored just once since mid-September, for the visit of Droylsden, giving young striker Alex Johnson, signed from Clitheroe, a chance to impress alongside Gareth Seddon and loanee Alex Titchiner.

'I think Alex Johnson is a young lad who deserved a start and he needs to be introduced to this level of football', said Aspin. 'I think he did well. He kept the ball and worked hard. It's difficult to make the step up but he showed he can cope with it. But because Droylsden were having a lot of possession I thought it would be better if we could bring Dale on and he could play in the hole, which gives us an extra man in midfield areas, and I thought it worked well. It was more of a tactical switch rather than anything to do with how Alex was doing'.

On Dale himself, Aspin said, 'If you every play against your former club you want to do well. He will be frustrated that he's not come back into the team because he's done well for me this season. He's scored goals and as a goalscorer you can always say 'look at my goal return', and his is good. Dale is a lad I've watched for a number of years at non-league level. He has great feet and great ability but I want him to work harder and if he can do that then he's a very talented goalscorer'".
OLD BOYS
Chorley report that "After Steve Foster's departure last week to Witton Albion, another one of Chorley's centre forwards has been transfer listed. Chris Denham will be leaving Victory Park, after joining the Magpies from Altrincham in the summer of 2011. During the 2011/12 season he appeared 36 times, and scored some spectacular goals that will live long in the memory of some Chorley fans. He's also been unlucky with injuries but is now ready to make a fresh start at a new club.

Magpies manager Garry Flitcroft said, 'All credit to Chris he's been a great servant for Chorley FC. After a long injury last season he's come back fighting and wants to play regular football. He works hard and cares passionately about the game, which is everything you want in a player'... Denham has previously played for Prestwich Heys, Stand Athletic, Bamber Bridge, Stalybridge Celtic, Radcliffe Borough, Droylsden and Altrincham".

Mansfield's Chad says that "Out-of-favour Stags defender Andy Owens has rejoined his former club, Southport, on loan as a central striker with the latest loan deadline window expiring tonight. England C international Owens (23) joined Mansfield in the summer but has been unable to force his way into the first team .

'I wanted to get the lad some games and Liam (Watson) wanted him to play as a big barndoor centre forward, which he played there for them last season', said manager Paul Cox".
ALTY AND HALIFAX
Mike Garnett advises us of Altrincham's competitive record against our next opponents, FC Halifax Town...
At Moss Lane - P1 W0 D1 L0 F1 A1
At Halifax - P1 W1 D0 L0 F4 A2
Overall - P2 W1 D1 L0 F5 A3
BSBN NEWS
According to Pitchero Non-League, "Solihull Moors have added midfielder Lee Dunkley to their squad. Dunkley, 25, has been starring for Midland Combination Premier Division outfit Pilkington XXX this season. Dunkley joined Pilkington following his father Graeme, who had managed him at Shirley Town. In between time he had turned out for Alvechurch in the Midland Alliance".

The Boston Standard states, "Sometimes the stories just write themselves, don't they? Quicker than you can put on a leather jacket and Austrian accent and shout 'I'll be back', both Ben Fairclough and Spencer Weir-Daley have returned from suspension. And before a single ball has been kicked (or sliding tackle made, or alleged fist thrown) in anger, Boston United announce they have re-scheduled a match for December 1. And it's against... drum roll... Altrincham.

Of course, you don't need to be Miss Marple to figure out that it was against the very same opponents where both strikers saw red and picked up their three-match bans. In that game... the duo were sent off in somewhat controversial circumstances...

After the match, Weir-Daley took to Twitter to state he was left 'hurt' by the decision going against him, maintaining both players' behaviour was as bad as each other's. From that point, Alty went on to win the tie with ease. After sitting in the stands smarting for three weeks, the pair are now available for selection (and they'll still be fired up when this match comes around).

And boy, are they needed.... In the absence of the two forwards, Kallum Smith, Jason Stokes and Charley Sanders have all been given a chance to shine. And all three have exceeded all expectations with fantastic displays as United beat derby rivals Gainsborough Trinity and old foes Colwyn Bay. But Saturday's defeat to Guiseley was a step too far. The problem wasn't with the team at all. It was with the bench. I'm afraid to say, without the options of Weir-Daley and Fairclough, the bench is lightweight.

Sam Craven, James Reed, Ricky Drury, Korey Dyer-Stewart and Sanders were the five options... At 3-1 down against one of the league's better teams - four inexperienced young 'uns and a keeper won't make a difference, at least not a two-goal swing... No matter who Jason Lee selects to start, he will now have game changers to throw on. And with a side at full strength, next week's Alty tie will definitely be a belter".

More comes from the Boston Standard, stating that "Pilgrims defender Nathan Stainfield believes he is a completely different player to the one who arrived at York Street 14 months ago. After overcoming injury and a loan spell at Hucknall, he has become a Pilgrims regular... [He] has started all 20 of the club's matches this season...

He told The Standard, 'I'm not making as many errors. I keep my stats and my stats are good'. After conceding four penalties last season, Stainfield is particularly happy not to have done so once this campaign. He added, 'I've played every game and not given penalties away. I'm learning. By nature you're aggressive as a defender. You go for the ball, you make mistakes and you learn from it. I wouldn't say I'm a top defender, but I feel more comfortable'".

And in This is Lincs, we read that "Boston United boss Jason Lee threw his support behind Marc Newsham after the striker endured a night to forget against Solihull Moors on Tuesday. The normally dependable forward put his side 2-1 up with his 15th goal of the season, but then went on to miss a string of second-half chances. That proved costly when Solihull substitute Jermaine Clarke fired home Moors' second equaliser in the second minute of added time...

'I'll back Marc Newsham. He missed one at the end which could have put the game to bed and I'm sure there will be some moans and groans', said the Pilgrims' boss. 'But he's the main man and he scores goals... He won't lack confidence and he's got my full support... and he's our go-to man more often than not... We're obviously disappointed to lose two points, but despite that we played well and bossed the game...

Despite being held, Lee identified several positives to take into Saturday's FA Trophy clash with Skelmersdale... 'I thought James Reed was a worthy man of the match', declared Lee, who also selected Ben Fairclough in his first match after serving a three-match suspension...'He gave us the youthful exuberance we were looking for'...

Meanwhile, the Pilgrims' home clash with Altrincham has been brought forward to Saturday, December 1. It will be the seventh weekend in a row of playing at home, a run which appears to have had a detrimental effect on attendances after Tuesday's clash was watched by just 681 fans. 'I prefer to play at home, but I understand how difficult it is for the supporters to come week in, week out', said Lee. 'We had our lowest attendance of the season on Tuesday, which I fully understand. With games coming up, they have to pick and choose'".

From the other side, the Ormskirk and Skelmersdale Advertiser reports that "Tommy Lawson says Skelmersdale United will strive to enjoy their big FA Trophy date at Boston United this weekend – and believes his high-fliers can pull off an upset. Skem will travel to Lincolnshire buoyed by their terrific start to the campaign. Their 3-2 win over Salford City on Tuesday night extended their unbeaten league run to 13 games...

He said, 'It's a great game for our lads. We are determined to enjoy the occasion, enjoy the game, and if we play like we have been then why can't we spring a surprise. They sent their representatives to watch us against Salford on Saturday, and I guarantee they will be treating us with respect having seen us. Their club website described us "another little mining town", so the fans that travel down there will be going with flat caps and miners' hats, and having a bit of fun with that. It should be a great day'".

As the Gloucester City v Colwyn Bay match was postponed, the North Wales Weekly News points out that "Bay fans unable to travel to last night's (Wednesday) game at Gloucester City should get their first view of new signing Luke Holden in next Tuesday's North Wales Coast FA Challenge Cup game at Llandudno.

The much-travelled 23-year-old winger, who includes spells at Charlton Athletic, Rhyl, Wrexham and The New Saints among his former clubs, has been signed from Warrington Town following news that wideman Paul Ennis will not play at all this season.

Ennis has just had reconstruction surgery on the knee he injured in the pre-season friendly at Airbus and player-boss Jon Newby reports, 'The surgeon says he will need six months rehabilitation which is tough on him because he was working really hard before his injury'...

Defender Tom Smyth also goes into hospital next week for surgery on a torn knee cartilage and will be out of action until the New Year. Newby is likely to use the Llandudno tie to give a full game to squad members who have not been getting a regular start in the league, including former Airbus defender Danny Taylor, winger Danny Lloyd and former Liverpool reserve midfielder Dave Mannix...

Meanwhile, the Seagulls are unhappy that cash-strapped Histon, who failed to fulfil last Saturday's scheduled Conference North fixture at the Red Lion Foods Stadium due to financial problems, have been allowed to bring forward a home game against Chester from February 26 to this Saturday instead of playing the cancelled game at Colwyn Bay.

'I believe we should have given priority', fumed Newby... 'Histon cancelled their trip to us with only 24 hours notice and left us hugely out of pocket. The league apparently say we are not entitled to any compensation and (because of the current dearth of home games) I now face the real possibility of having my budget cut'".
---
22 November 2012
HALIFAX LOSE LOAN STRIKER
Alty travel to Halifax on Saturday, from where FC Halifax Town "have confirmed that striker Alex Titchiner has been recalled by Fleetwood Town. Titchiner has been on loan from the League Two side and returns with immediate effect".

The Halifax Courier confirms that "Halifax Town have suffered a blow with last weekend's hat-trick hero Alex Titchener heading back to Fleetwood. The striker, who starred in the Shaymen's 4-1 home win over Droylsden last Saturday, was due to end a month's loan at the Shay next week. However, the west coast club have recalled him early, meaning boss Neil Aspin may recall Dale Johnson or Lee Gregory for Saturday's home FA Trophy tie with Altrincham".
STUART AND LEE LIGHT UP ALTY
Altrincham FC joint Press and Media Officer, Brian Flynn, writes:

Altrincham Christmas Lights

"As part of the club's objective of increasing its visibility within the local community, manager Lee Sinnott and the club's longest serving player over the last 25 years, goalkeeper Stuart Coburn*, will be on stage at the switching on of the Altrincham Christmas Lights, which takes place in the Stamford Quarter area of the town centre at 5.30pm on Thursday (22nd).

The lights will be switched on by Sky Sports pundit & former Manchester United and England defender, Gary Neville and all three on-stage guests will be interviewed by BBC Television presenter and reporter, Jacey Normand, who will be MC for the proceedings.

Musical entertainment is in the form of Tom, from Manchester band Brouhaha and Altrincham Children's Choir. The event will finish at 6.20pm".

(Footnote: Stuart joined the club in 1997).
SUPPORT ALTY AT HALIFAX!
As the original coach booked by TASC to convey supporters to Saturday's FA Trophy match against FC Halifax Town has been fully booked up, a larger vehicle has now been hired in its place. So, there are now a few seats remaining - please book as soon as possible by ringing the club on 0161 928-1045. Details of times and fares are on the Away Travel page of this website.
YANKEE JACKPOT
Last Saturday the Altrincham FC Saturday Yankee's winning code was 2157, which had not been issued. So, the jackpot has now risen to £3,000. There were four winning Trebles, giving their code-holders £50 each.
MARK'S GIG RAISES VITAL FUNDS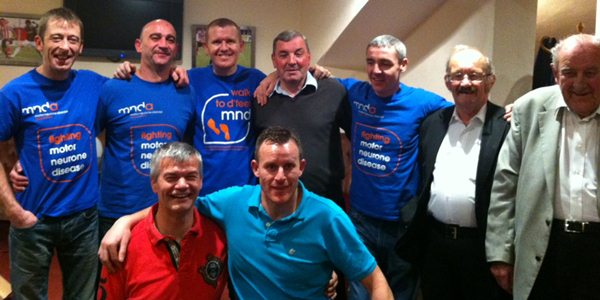 Mark Maddox's band "Last of a Dying Breed" performed a gig at Moss Lane last Saturday which raised £725 for the Motor Neurone Association. Mark and the club thank all of those who attended and those who donated money, even though they could not attend. Chairman Grahame Rowley says, "Mark really enjoyed the night and was so pleased with the total raised".

Right: Many familiar faces were at last Saturday's gig.
EIGHT-GOAL MASTER-CLASS
Altrincham FC joint Press & Media Office, Brian Flynn, writes:

Eight goal Masterclass!

Altrincham responded to the disappointment of going out of the F.A. Cup against Burton Albion, with an incredible 8-0 victory over Hinckley United on Saturday. With less than 48 hours to recover from the exertions of a high-profile game, that saw the Robins ultimately go down by two second-half goals from the League Two side, manager Lee Sinnott was cock-a hoop with his players.

'The energy levels were fantastic and the team moved the ball around the pitch really well. Our one- and two-touch passing was very difficult for Hinckley to deal with and, after such a big night on Thursday on and off the pitch, that was very pleasing, particularly as games against teams at the bottom end of the table can be difficult if you're not physically and mentally right'.

Despite Altrincham's exit from the FA Cup, in front of a live national TV audience, Sinnott was upbeat about the tie. 'The players can be extremely proud of the way they have played, taking a League Two team to the wire over two games and obviously the club have benefitted in a big way financially'.

The cup action is coming thick and fast for the Robins at the moment and, on Saturday, they hope to take a further step towards Wembley with an F.A. Trophy 1st Round tie at F.C. Halifax Town, the ninth weekend out of the last ten that the team and supporters have had to travel.

Before that, on Thursday evening, Lee Sinnott and goalkeeper, Stuart Coburn, will be stage guests, alongside former Manchester United and England defender, Gary Neville, at the switching on of the Altrincham Christmas Lights at 5.30pm in the Stamford Quarter area of the town centre".
THE ROAD TO BOSTON
Details of the TASC supporters' travel to Boston United next Saturday (1 December) are on the Away Travel page.
SATURDAY TV AT MOSS LANE
In the bar at Moss Lane this Saturday you can watch live Premeireship action, Manchester United v QPR (k.o. 3pm). The bar opens at 2.30pm and everyone is welcome to come along.
OLD BOY
The Northwich Guardian says that "Witton say prudence, not performances on the pitch, is the reason for releasing Ashley Stott following last night's Mid-Cheshire FA Senior Cup success against Middlewich. The [former Alty reserve] striker, who scored twice in Albion's promotion play-offs final success in April, was told before kick off that the club could not afford to keep him,

He insisted on playing though, ending his second spell in Wincham with two goals in a 9-1 win.

'I can envisage a day when this decision comes back to bite us on the backside', rued manager Brian Pritchard. 'I don't want to lose Ash, but the club comes first. It's been an agonising decision to make about a player who will be fondly remembered for his contribution, particularly during the run-in last season'.

Stott, 24, will not be short of offers. His goals tally for this term is 11 from 18 starts in league and cup, leaving him with a fine haul of 31 in 55 appearances overall. However the arrival in the past fortnight of Oliver James and Steve Foster, the reigning Evo-Stik Northern Premier League player of the year, means Witton's weekly wages spend is now higher than that budgeted for.

'It's always the manager's choice how the budget is spent, but we have to make sure the books are balanced, that's the number one priority', said chairman Mark Harris. 'We have to be prudent; our business model has been built on sustainability, and I fully intend for it to stay that way while I'm here... Does it mean we're ruling out a push for promotion? No, of course not, but it isn't a case of trying to go up at any cost'...

Stott signed for Witton in February from New Mills, returning to a club he left for Welsh Premier League club Aberystwyth Town in January 2011".
BSBN NEWS
Tuesday's game between Gloucester City and Colwyn Bay was postponed - not only because of a waterlogged pitch at Cheltenham but also due to flooded roads nearby.

In advance of Altrincham's visit, the Huddersfield Daily Examiner reports that "FC Halifax Town know their path to the last 32 of the FA Trophy could be blocked by a proud Yorkshireman. The Shaymen will aim to shut out one of non-league football's deadliest strikers when they host Blue Square North rivals Altrincham in the first round on Saturday.

Doncaster-based Damian Reeves was the highest scorer in the top six tiers of English football last season, when he fired home 44 goals. And the 26-year-old former Leeds trainee, whose hopes of a professional contract at Elland Road were shattered by a badly broken leg, has notched another 20 already this season".

Meanwhile, the Halifax Courier says that "FC Halifax Town have scored twice as many goals at the Shay than they had done by this stage last season - but have still lost the same number of games.

The Shaymen have been in scintillating form in front of goal at home in their first nine games, and, having scored 27 already, are averaging three goals a game at the Shay - a stark improvement on this stage last season, when they had managed just 13. The defensive record shows remarkable improvement too, with just eight goals conceded at home compared to 19 last term. Town have, unsuprisingly, won six of their first nine at home, twice as many as last year - but despite the turn around in goal difference, they have still lost three games at home, exactly the same as last year.

In both league games at home to Colwyn Bay and Boston United, Town have conceded first and struggled to break down the opposition. Neil Aspin has repeated stressed the importance of scoring first, something which the stats would appear to support... He said, 'It's getting that first goal and the two games we haven't won have been where we've conceded first and the other team sits back and ask us to bring them down'".

Our next league opponents, Boston United "have released striker Korey Dyer-Stewart. The 18-year-old, who made eight substitute appearances for the Pilgrims, has been freed to find regular first team football elsewhere. Dyer-Stewart has been dual registered with Evo-Stik Division One North side Rainworth Miners Welfare over the last couple of weeks — and could now join the Wrens on a permanent basis".

Corby Town "have completed a one-month loan deal to bring in versatile Cambridge United striker Liam Hughes. Hughes, who can also play in midfield, is a product of the Scunthorpe United youth system... Liam arrives at Steel Park on a short term deal, with Chris Plummer keen to cover suspensions and injuries to key members of the squad...

He becomes the second loan signing to join this week following defender Mark Cox's move from Peterborough Northern Star. There has also been a departure from the club this week, with French defender Pierrick Briand leaving by mutual consent".

From Harrogate Town, "Here is the new update about the progress of the pitch from Chairman Irving Weaver... 'In order to try to control the state of the pitch, continually troubled by the surface retaining water, the Club has hired a rain cover from JMS Sports for the rest of the season. Delivery will be this Friday...

Continuous rain has left standing water on the surface, with the top layer of soil unable to drain water through to the subsoil, sand and limestone bed which leads to lateral drainage and subsequent collection to perimeter manholes. This is in spite of verti-draining the pitch last week. Long-term improvement will develop from sand slitting in the next close season and deep grass root formation.

We now need a five-day period of dry weather, something that we have not had to date, before we can cover the pitch to ensure a dry pitch on a match day. The pitch cover will also protect the playing surface from frost up to a temperature of -5 degrees C".

According to BSBN, "Workington are set to secure the permanent signature of midfielder Will Vaulks after his Tranmere Rovers contract was cancelled on Tuesday. The 19-year-old, who has made a major impact in the Reds' midfield while on loan at the club, will reportedly sign a short-term deal on Wednesday.

Reds Darren Edmondson... told the Times and Star, 'Will has been the driving force in our midfield. It's fantastic news for this football club that Will wants to play for us... This is a major signing. It's testament to the lads in the dressing room that they have made an environment where top players like Will want to play. He's taken a gamble dropping out of the professional game, but if he continues to show his class with us, he can work his way back'".

From the Cambridge News, we learn that "Histon could face a points deduction after being charged by the Conference for failing to fulfil their fixture at Colwyn Bay last Saturday. The league confirmed yesterday that they could be punished for their decision not to send a team to north Wales...

According to league rules, Histon could be deducted a maximum of three points or fined from £2,500 to £10,000, in addition to paying their opponents' expenses. The club has seven days to respond to the charge and may request a separate hearing to put forward their case...

General manager Dennis Strudwick said, 'The club has been charged with failing to fulfil a fixture and we're currently awaiting their response. I'd like to think it could be sorted out before Christmas'...

Strudwick also defended the league's decision to allow Histon and Chester to bring forward their league match, originally scheduled for February 26, to Saturday, instead of rearranging Histon's match at Colwyn Bay for this weekend. 'Last week Chester made an approach to the Conference and asked if they could bring forward what would have been a midweek fixture', he said. 'The league said yes, so nothing could be done about the Colwyn Bay fixture as tacit approval had already been given to bring forward the Chester game'.

Meanwhile, Histon manager Dennis Greene expressed his relief... he said, 'We've been able to get on as normal in training and had a good session. The players haven't been affected by it'".

But Colwyn Bay have good reason to be unhappy as the N Wales Pioneer tells us that "Colwyn Bay FC are facing a fixture headache after Saturday's cancelled match with Histon left the Seagulls, facing a month without a home match. The financially challenged Cambridge side cancelled Saturday's trip to Llanelian Road, leaving the Bay with a five-week stretch without a money-spinning home game...

Jon Newby is now hoping the club can re-arrange another league match for this Saturday or for the fortnight to soften the financial blow. 'The first we heard about it was on Friday lunchtime, when we were told they couldn't fulfil their fixture', he said... 'The knock-on effect is huge and has left us in a bad situation, as we don't have a home game for five weeks. I think the whole thing has been handled very poorly. With the FA Trophy on, Histon have had a league game re-arranged with Chester on Saturday, but I think we should have had priority for that game and we're now left without a game...

We go to Gloucester on Wednesday night [a match subsequently postponed], where half of my players have had to take half-days at work, and then they're left without a game on Saturday, which means losing more money. We have no ill feeling towards Histon and we don't want to see a club go out of business, but we're a well run club without any debt, and it's given the chairman a hard job to do. At the moment we just have to wait and see, but it could see my playing budget cut'.

A spokesperson for the Football Conference said... 'It's terribly unfortunate what's happened, and the board will now discuss the issue and try to find a solution'".

Guiseley "are pleased to announce that following discussions with the players, both Wayne Brooksby and Gavin Rothery have agreed to extend their contracts... 'This is important news as the Club seeks to build a squad for the coming seasons', said Guiseley CEO Adie Towers".
---
21 November 2012
CAROLE NASH RE-SPONSOR MAIN STAND
The Sale & Altrincham Messenger says that "Altrincham Football Club has secured vital funding by netting a vital sponsorship deal. The Robins have agreed a new contract with long-time supporter Carole Nash which will see the Moss Lane main stand again bearing the name of the Altrincham-based motorcycle insurance company.

The agreement ensures continuation of a 14-year relationship between the Conference North club and Carole Nash Insurance Consultants, which is one of Altrincham's biggest employers. 'This is another fantastic gesture from Carole Nash who have been among the club's greatest supporters for many years', said Altrincham FC's commercial manager Barry Pond. 'It maintains a long and good relationship, which I think we've both benefited from'.

Carole Nash first sponsored the main stand in 1998 and its eponymous founder also joined the club's board for a time. Now retired, Carole and her husband Fred remain actively involved both as fans and supporters of the Altrincham FC Community Trust".
HONOURS EVEN
Courtesy of John McManus comes this report on Altrincham Ladies' 0-0 draw last Sunday...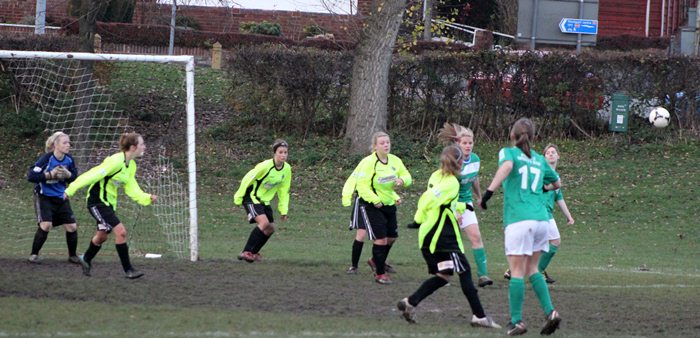 "On a bright cool November afternoon Altrincham Ladies made the short journey to Bredbury to play local rivals AFC Stockport.
Manager Keith Edleston decided to play a 4-4-2 formation due to the dimensions of the pitch which were not conducive to playing the open, expansive football that Altrincham Ladies are noted for. With several key players unavailable, this game was looking far from straightforward.
The game started off with both teams working hard to gain an advantage. AFC Stockport came close in the early stages when a speculative shot struck the crossbar. Much of the first half was keenly contested with Altrincham Ladies having a greater share of possession.
Right: Action from the match, courtesy of Keith Edleston.
The second half got underway, very much as the first, with both teams working very hard in the trying muddy conditions. This game was not for the purist with the ball being pumped forward at every opportunity for AFC's forwards to try and pick up the second ball but our defenders were on top of their game, repelling any glimpse of an opening.
Midway through the half Altrincham Ladies worked an opening down the right hand side, which saw a ball played to Sarah McManus on the left, whose firmly struck shot hit the underside of the bar and came back into play but alas not over the line!
In the later stages AFC Stockport made several forays on the Altrincham goal without success. A special mention must go to Rosie Emerson, who produced a commanding performance in goal collecting all the balls pumped into her area with confidence and making one fingertip save to push the ball over the bar that was simply superb. She was also ably supported by her defence, who stood firm throughout.
Well done, Altrincham Ladies another hard earned point on your travels.
Squad: Rosie Emerson, Sam Briggs, Louise Edleston, Rachel Bullock, Rebecca Corish, Nat Thornley, Lauren Thorneycroft, Gail Simpson, Kathryn Macintyre, Sam Jones, Jaquie Farrar, Caroline Moran, Sarah McManus.
Woman Of The Match: Gail Simpson".
RESULTS
Tue 20 Nov:
Boston United 2 Solihull Moors 2 att. 681
Guiseley 3 Worcester City 3 att. 424
Stalybridge Celtic 1 Harrogate Town 0 att. 367
BSBN NEWS
The Football Conference confirms that "Colwyn Bay have signed midfielder Ashley Dunn from Droylsden. Dunn trialled with several clubs after deciding to leave Kendal Town in the summer to try and play at a higher level. He tried out at Barrow AFC, Lincoln City and Workington before signing for Droylsden at the beginning of October.

Originally with Fleetwood Town, he joined Witton Albion on a permanent basis in March 2009 following a successful loan period from the Cod Army... But the following June he moved to Bamber Bridge and then switched to Kendal in November 2010".

Pitchero Non-League says that "Jason Lee, manager of Boston United, is desperate to end his Solihull Moors jinx. Lee has lost all three of his matches as Pilgrims manager against the Moors... each one a 1-0 defeat...

He told the Boston Standard, 'Solihull? What can I say? They're just a bogey team. It's just not happened for us against them, no matter what we've tried – and we've tried a few things home and away'...

The United boss also stated that having Ben Fairclough and Spencer Weir-Daley back from suspension is like 'signing two new players'. A niggling ankle injury may see Weir-Daley remain sidelined, but Fairclough is ready for action. He said, 'It's been a long three weeks sitting in the stands, but the lads have done well'... Fairclough, who has scored four goals this season, hopes to earn a starting place... 'It'd be nice to walk straight back in but it's up to the gaffer', he added. Fairclough and Weir-Daley both saw red in the 3-1 FA Cup defeat to Altrincham".

Also from Pitchero comes confirmation that "Fans and officials at Histon breathed a sigh of relief last night after the club announced their former directors had agreed to write off loans and guarantees that could have potentially forced the Stutes out of existence... The decision not to travel to Colwyn Bay followed former chief executive Allen Soraff's court victory earlier in the week where he won the right to claim back money he had previously invested in the club.

The board feared the case would pave the way for other former directors to try to reclaim hundreds of thousands of pounds but following a series of hastily arranged meetings between the current board and former directors including Gareth Baldwin, Tony Roche and Angelo Dama, the club received assurances that would not be the case.

'We breathed a sigh of relief tonight', said chairman Russell Hands. 'The judgment really took us by surprise. It wasn't a lot of money we owed in that case but it looked as though Pandora's Box had been opened and things would come back to bite us. We met former directors and spoke to a lot of people and got letters of intent that they will not come after the club for reimbursement for money invested into the club over the last 20 years. This puts us in a much safer position. We can get back to playing football'...

On the club's decision to call off Saturday's match, Hands, who was out of the country until late on Friday, added, 'People maybe panicked a bit when the decision was made not to send a team up to Colwyn Bay in case of breaching company law and spending money. In hindsight I might have done it differently, but I'm not going to criticise anyone for it because people were trying to do things in the right and correct way. The league may not look too kindly on us but we can only explain the situation and hopefully they will not hit us too hard'...

Histon also announced that their league match at home to Chester FC has been brought forward to this Saturday". Colwyn Bay are reportedly not pleased that Histon are not being obliged to play the postponed match against them instead.

From the Northants Telegraph, we glean information that "Corby Town have confirmed they have agreed a 'two-game package' that will see Kettering Town play their next couple of 'home' fixtures at Steel Park...

Corby's chairman Mr Ingram said, 'Ritchie Jeune, acting on behalf of Kettering Town, and I have agreed a deal for Kettering to play their next two games at Steel Park, and potentially a further two more depending on what happens with their planned takeover by a group of investors. This will take us up to the turn of the year and we will review it again at that time. I must stress that this is a commercial ground hire agreement and not a ground share agreement. All monies will be paid up front and all arrangements are now in place'..

And Ingram added, 'With our own FA Trophy game on Saturday against Hayes & Yeading it will be a busy weekend at Steel Park. The cup game is important for us in not only keeping our unbeaten run going but also an opportunity to progress in the competition and look forward to some big games ahead. "We are hoping for a bumper crowd to cheer the team on as Chris (manager Plummer) and his team have done a great job in recent weeks and really do deserve to see a big attendance'".

Harrogate Town have announced that "The rumours are true, there is indeed a free Harrogate Town match coming your way! On the 15th December 2012, Harrogate Town will take on Hinckley United and you can see it for Tickets are being given away as we speak and so far, over 1000 have been snapped up by eager fans.To get your free ticket, or even better tickets, (entry will be available on the day at the gate as well)... call into the ticket office at the CNG Stadium and speak to Charlie. You can also give the ticket office a phone on 01423 880675... Harrogate Town AFC would like to thank Sainsbury's, Football Mundial and Tebays for their assistance in this initiative."

According to the Worcester News, "Stuart Whitehead is facing a spell on the sidelines... The skipper pulled up just half-an-hour into Saturday's 1-1 draw against Workington with a suspected quad muscle problem and had to be stretchered off... It has left City depleted at centre-half with Jacob Rowe missing the Workington match through illness and Shabir Khan on international duty with Pakistan, while Lee Ayres played despite two broken ribs.

Worcester are also without strikers Danny Glover (Achilles) and Michael Taylor (hamstring) as well as midfielder Matt Birley (knee). Manager Carl Heeley, who was only able to name four subs at the weekend because left-back Ellis Deeney was also suspended, said, 'We've got a reasonable-sized squad but, just at the moment, the injuries and unavailability are catastrophic... The players who are available are good, we can't forget that. There have been worse situations than this... It's about team-work and sticking together'...

Heeley said, 'It's refreshing that our neighbours — Evesham, Bromsgrove and Kidderminster — are all willing to help and some of them have been bitter, fierce rivals over the years. That's the football family and I'm really appreciative that they've all offered us help'".
---
20 November 2012
SAM GOES ON LOAN AGAIN
Altrincham's Sam Grimshaw (right) has gone on his second loan of the season. Having recently completed a spell with Goole, left-sided defender/midfielder Sam now moves closer to home to join Radcliffe Borough for a month-long loan.
TWO FIXTURE CHANGES
Altrincham's next scheduled league match was away to Gloucester City on 1 December. Gloucester play at Cheltenham Town's ground. Now, Gloucester City have announced that "Due to FA rules regarding the run-up to a TV game* we will not now be playing Altrincham at home on 1 December. A new date of [Tuesday], 26 February has been agreed. The game of course would have been cancelled had Cheltenham's game not been selected for TV anyway.

* Under the specific rules of the FA Cup any pitch being used for a televised game has to be covered to protect from the elements for three days before the game, so the frost covers will go on on Friday evening in this case".

This also means that our scheduled away trip to Boston United on 26 February has now been moved to the above date, Saturday, 1 December at 3pm.

The website fixture list has been amended to refelect the changes.
RESULT
Bradford PA 4 Hinckley U. 0
League table
LEE ON RADIO
Brian Flynn informs us that Alty manager, "Lee Sinnott was interviewed, after last Saturday's 8-0 destruction of Hinckley United, by Wythenshawe FM's Kevin Thompson. Yyou can listen to the interview on the WFM Sports Talk Show on Tuesday morning from 11.00am-noon. As well as Saturday's extraordinary game, Lee also reflects on Thursday night's FA Cup exit to Burton Albion.

The interview is scheduled to be broadcast early on in the programme and you can listen on 97.2FM or online.
LADIES' DRAW
Altrincham FC Ladies' manager Keith Edleston says of Sunday's game, which ended AFC Stockport 0 Altrincham FC Ladies 0, "Unfortunately, not a goalfest like the men [who won 8-0] but a good away point on a very, very small, muddy pitch. Full report and photo to follow. The Ladies' next game is this coming Sunday (25/11/2012) in the Cheshire Challenge Cup 1st Round, against Wythenshawe Amateurs FC at Manor Farm, Timperley, kick off at 2pm"
TASC GOALRUSH DRAW WINNERS
TASC's Paul Salt writes:

"The first Goalrush draws for the 2012-13 season were made live on Radio Robins at the half-time interval of the recent Cheshire Senior Cup match against Congleton Town. The draws for the 10th, 20th and 30th goal benchmarks achieved by the Robins resulted in the following prize winners:
10 Goals - No 27 Steve Foster
20 Goals - No 130 Stan Riley
30 Goals - No 36 The Flaggers

Each winner wins two complimentary tickets to a league home match of their choice. If you would like to take part and be eligible for future draws, including the end of season draws for a signed matchball and signed shirt, please contact the club on 0161 928 1045 or contact any TASC respresentative.

Pledges can still be made in multiples of 25p per goal for every goal scored by Altrincham in all matches thoughout the season. Each 25p pledged gives you one entry into the draws for every 10th goal scored as well as the end of season draws mentioned above.

If we manage to reach our target of £30 per goal in total, our chairman has agreed to donate a free season ticket for the 2013-14 season to the end of season draw. At the moment the total stands at £24.50 per goal.

Many thanks, Paul Salt".
FLYNNZINE
Brian Flynn's latest "Flynzzine" is reproduced below...

You've played a blinder!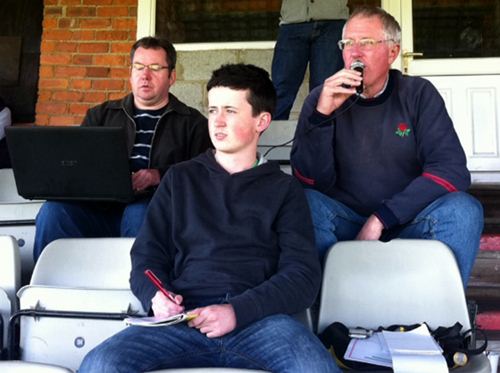 Right: Radio Robins in action at Shildon for the FA Cup game in September. Tim Ainsworth (making copious notes), Ian Wilkinson (holding microphone) and Brian Flynn (checking out the chat room on the laptop).
In the programme for last month's game against Workington, we launched the 'Radio Robins Season Ticket', whereby supporters could make a suggested donation of £10 for receiving the benefit of the club's internet radio service for the 2012/13 season.
We have been delighted with the response and I am pleased to say that donations have been received for over £500 during the last month…..so we are over half way towards achieving our objective of £1,000 for the season!
Many thanks to those who have made a contribution. £10 was the suggested figure, but some people have contributed more than that and we have been delighted to receive some very nice comments in letters and on the Fans' Forum, a small selection of which are below:-
'I agree that there should be open access to your excellent service, (it gets better and better), with voluntary donations. I know that Alty values every penny from everyone, which is why, amongst many other reasons too, it is such a wonderful club'. Alan, Wolverhampton
'Thank you for the hard work that goes into supplying the service. It is much valued'. Rob,Timperley.
'Maintaining Radio Robins for me is essential. I was a regular supporter in the 50's and 60's. Now apart from Bishop's Stortford and Histon, my only live contact is Radio Robins, which I greatly appreciate', Steve,Norwich.
'I absolutely love listening to the commentaries and getting involved with the Chat Room banter'. York Alty
'£10 for what could be up to 50 games coverage is great value for money, 20 pence a game for all us "outcasts". D.A. Alty, Cornwall.

To reach our target for the season, we still need more people to contribute and Season Tickets for Radio Robins can be purchased via the following methods:-
The donate button on the Radio Robins website (www.radiorobins.com) where you can pay using Paypal or a number of credit cards or charge cards.
Sending a cheque for £10 to the Club, payable to Altrincham F.C.
Email office@altrinchamfootballclub.co.uk requesting bank details to pay online.
Thanks again folks, Brian Flynn"
YOUTH TEAM NEWS
Altrincham FC Youth team lost their league match on Sunday at Warrington Town by three goals to one and drop to third in the table. The next fixture is on Sunday 25th November in the NWYA Open Cup 3rd Round, away to Lancaster City, followed on Sunday 2nd December 2012 in The Premier League by a match at home to Morecambe.
LAST GAME
The Alty v Hinckley United game is the subject of a match report in the Nuneaton News. "Hinckley United suffered embarrassment on Saturday as they were humbled 8-0 by Altrincham at Moss Lane. In Blue Square North terms, only Boston United putting nine past Redditch United a couple of seasons ago has been worse, as the Knitters were humiliated by a rampant home side... And yet there was no place on the scoresheet for the league's top scorer Damian Reeves. He spurned several first half chances before being replaced midway through the second period"
BSBN NEWS
News of a former Alty defender comes from Guiseley who are "delighted to announce the extension of Andy Pearson's loan from Hyde FC until January 2013". BSN adds that "Guiseley AFC have confirmed that Chris Mason has parted ways with the side in search of more regular game-time. The striker has moved on to Clitheroe Town [sic]... He joined the Lions in the summer from Bala Town only to be farmed out to Kendal Town".

Alty's next opponents are the subject of a report from BSBN. "FC Halifax Town manager Neil Aspin wasn't too impressed with his side's overall performance on Saturday despite their mauling of Droylsden... A second-half hat-trick from Alex Titchener along with Dale Johnson's late strike saw the Shaymen hammer the struggling Bloods 4-1...

'In the end it was a good win for us but it took a while for everything to click in to gear', he told the Halifax Courier.. 'Neither keeper was tested and there were very few goal mouth incidents and we needed to change that. We know how important getting that first goal at home is because it settles everybody down and opens the game up and creates space which we were able to exploit. But nobody is going to give us a goal early and our passing has to be better if we're going to do that'.

Aspin added, 'Any game when you have a two goal lead and you concede it really makes you nervous. But Dale's goal settled everything down and what a fantastic goal... We've got a lot of lads who can score goals'".

In the Huddersfield Daily Examiner we learn that "FC Halifax Town boss Neil Aspin wants to keep striker Alex Titchiner – if he can. The 21-year-old, who is on loan from League II Fleetwood Town, scored a hat-trick as the Shaymen thumped a struggling Droylsden side 4-1...

'I'd like him to be here all season, but that's not really up to me', said Aspin. 'He's certainly someone that we've watched before and liked. You can't blame any player if they go to a League club and hopefully he's going to do well there, but I'd like to keep him as long as we could'".

According to the Halifax Courier, "Town boss Neil Aspin said his side must pass the ball better if they're going to put together a string of positive results. Town were far from their fluent best for most of the 4-1 win at home to Droylsden...

'In the first half they passed the ball very well and we needed to make the change at half time so we could get a grip of the game', said Aspin of his decision to introduce leading scorer Dale Johnson for new signing, 20-year-old Alex Johnson.... I wouldn't look at Droylsden's position in the league at the moment', said Aspin. 'They've had a lot of changes in personnel and they've had a difficult start but certainly the team that they were able to put out today is equipped enough to win games at this level and I expect them to improve from the position they're in'".

And now news of our most recent opponents, as Pitchero Non-League quotes a statement from the Interim Chairman of Hinckley United....

"With on-going developments at the club, and various comments and rumours flying about I thought it would be useful to provide an update from my perspective as to what's happening at the club.

Firstly, on the playing side. At a Board meeting last Thursday Carl Heggs was offered the job of First Team Manager until the end of the season. Carl is now considering that offer but is aware that there will be further restrictions on the playing budget for the reasons I will detail below.

Last week I had a meeting with Kevin Downes at which I was handed a Statutory Demand from Kevin and Frank Downes, as trustees of the Downes Pension Fund for the sum of £73,833.34. This Statutory Demand is now in the public domain for all to see and therefore I feel I should explain the detail. This sum is the outstanding demand for rent due on the Main Stand for the period 01/03/2010 to 01/10/2012. The full demand was for a sum of £96,000 of which the Gym Facilities rent has already been paid and an instalment from the football club which has already been paid. This rent was never requested by the Downes Family until Kevin was asked to stand down as Chairman and, as a result, the Statutory Demand has now been received for full payment of the rent due going back two and a half years, which we now have to finance.

This is further evidence that, coupled with a second charge on the all-weather pitch of £253,000, that the assets of the club in its present form can be threatened financially when one aspect of the organisation (i.e. the first team and its playing budget) causes debt to be accrued. On this point I would suggest that shareholders should consider their options and formulate their views as to how best protect the club assets in the future.

Following the news over the last seven days that Histon were unable to fulfil their fixture at Colwyn Bay at the weekend, it's clear that the financial situation at this level of the game is affecting not just ourselves but others and I'm sure I don't need to mention that other clubs are going through very real financial hardship. It's further proof that any club that fails to address its financial obligations [is] soon on a road to nowhere. People need to come to their own conclusions as to those facts.

The Board apologise to the staff, shareholders and supporters alike for the lack of budget available for the first team but it is important that the financial structure of the club is put on a sound footing as soon as possible to allow us to bounce back stronger in the future, and I have no doubt that with the support of everyone involved that we can do that.

I understand that there were comments on Radio Leicester at the weekend regarding the non-attendance of Directors at the match at Altrincham on Saturday and I'd like to reply to those comments. Firstly I'd like to thank Dave and Linda Newman for their continuing attendance and support at First Team matches wherever they may be. I have been an ever-present at games this season until Saturday when on the morning of the match my car's energy management system failed. I was therefore unable to attend as the coach had already left. I will however be making the trip to Bradford tomorrow night with fellow Directors.

It should be noted that all the current Directors have full time jobs and/or businesses that are operating in these current austere times, and all of the Directors have committed to manning the office at the Greene King as and when they can during the week and weekends whilst running their own businesses or carrying out their normal jobs, whilst at the same time providing funding to the club. As I speak myself and the Board are spending our Sunday in the office at the Greene King looking at ways of dealing with the current issues that affect the club and we will continue to spend as much time as we can to do the very same.

With regard to the issue of the Player Embargo, I would reiterate that the Board cannot contribute any funds to the lifting of the embargo at this moment in time as the embargo is not a direct and immediate threat to the future of the club as a whole. We have to prioritise on the debts accrued last season that could threaten the future of the club as a whole. In order to answer recent queries we can however say to all shareholders and supporters that any donations made to the club to clear the embargo would go through a loan account held by the club that could either be used to purchase a season ticket for next season irrespective of what league the club may be playing in at that time, or maybe partake in a future share issue which we intend to discuss in full at the forthcoming AGM. If it's a 'rallying cry' the supporters are looking for then this is it. The Board are discussing a resolution to be raised at that AGM regarding a further issue of shares as at present there are no appreciable number shares available for purchase to help raise finance.

Any suggestion that shares purchased recently were purchased for anything solely than to provide the club with funds to satisfy creditors should be considered along with the fact that those shares were available for purchase by all and have been so for some considerable time (i.e. since the merger in 1997). Although I have not personally purchased shares recently, consideration should be given to the fact that the purchase of the shares is a brave decision made by those involved considering the financial constraints faced by the Company and for no financial gain and is to be applauded. As normal a list of current shareholders is available and can be obtained via Companies House.

As for the playing side, Carl Heggs has assured me that should he accept the post, and should the embargo be lifted, he is in a position to recruit a number of players who he feels are able and willing to help the situation on the pitch. Bearing in mind the suspensions coming up, any influx of players would be a big help in assisting the Manager over the coming weeks.

I promised from the start I would keep the shareholders and supporters informed of developments at the club and this message today I hope deals with a number of questions raised by the people who believe in Hinckley United Football Club. As I've said before, the Board are willing to listen to suggestions to help the situation and will continue to be so.

All the very best, Mike Sutton (Interim Chairman)".

Meanwhile, the Nuneaton News reports that "Carl Heggs's first game as permanent manager of Hinckley United ended up being the worst of his time at the club as they were thrashed 8-0 by Altrincham...

He said, 'I had a board meeting on Thursday, and they said I've got the job until the end of the season. So we'll just come in again next week and we'll see what happens with the embargo, and see what happens with the players... That's the worst we've played since I've been at the football club. Nobody took responsibility for their own jobs. The two centre halves couldn't get close enough to the two centre midfielders for them who are making runs into the box.

There are things going off behind the scenes, and I blame that, but I can't elaborate any more as I'm not in a position to say anything. That played a part today. But I thought they had two really sharp centre forwards, two brilliant central midfielders, and we just couldn't cope. We didn't stay with them, and everybody else is throwing their hands in the air and expecting somebody else to do their job. We've got to be absolutely adamant that they're going to do their job properly, otherwise we're going to get turned over. Apart from Aron Wint up front, no one was at it today. Honestly, I'm very sad because I've spent a lot of time in football, it's my life, and I've given these lads loads of credit previously, and they're only kids. But 8-0, whichever way look at it, I feel extremely, extremely let down'".

And news of another troubled club comes from Pitchero Non-League, which says that "The Histon Independent Supporters Trust has pledged to help the football club in any way it can following Friday's shock announcement that they would be unable to fulfil Saturday's fixture at Colwyn Bay.

HIST has issued a statement says that ... 'the Histon FC board's decision not to fulfil their fixture against Colwyn Bay... was taken without prior engagement or communication with the HIST board... The HIST board would like to know how we can assist the club to resolve the situation'".

On Monday, however, came news that Histon Football Club would like to update the local community, supporters, sponsors and all interested parties of the Club on its current status following events that took place during the week of November 12th 2012.

During the last week a legal action against the club was successful and this action gave cause for concern to the current board of Directors that previous Directors who had provided loans or paid guarantees on behalf of the club, could at some stage approach the club or take action to recoup funds and thus place the club in a position where it would neither be able to meet any of the demands or continue to trade.

During the past three days the board have worked day and night to address the issues as explained above and act in what they believe to be the best interest of Histon Football Club Ltd. The previous Directors have now agreed verbally and provided written letters of intent, to write off those potential liabilities and therefore, subject to the completion of the necessary legal documentation, the club is now in a position to move forward.

During the last 72 hours the support and good will from past Directors and Sponsors has enabled the club to now look forward with cautious optimism. In addition the club would like to thank all previous Directors for showing their generosity, good will and cooperation in agreeing to set aside any future claim to funds they have provided to the club during the past twenty years.

Furthermore, our Blue Square Bet North game against Chester has been brought forward and will be played this Saturday 24th November at the Glass World Stadium, kick off 3.00pm. Our thanks go to all at Chester FC and the Football Conference for allowing us to change this fixture at short notice".

Before the Monday statement 200%, wrote that "The name of Histon Football Club may only have been in the broader public consciousness over the course of the years during which they propelled themselves from the East Counties League to the Blue Square Bet Premier, but should this club end up folding after the events of the last few days, weeks and months, it will be one hundred and eight years of history that disappears from the map.

The announcement of the cancellation of this weekends match came as something of a bolt from the blue... The club's current difficulties seem to have come from the period during which they were living the relative high life in the Blue Square Bet Premier. Last Tuesday, the clubs former Finance Director Allen Soraff won a court case against the club for the recovery of monies owed to him. Soraff himself, however, has claimed that this case has nothing to do with the club's predicament...

Such has been the level of silence from the club itself on the matter that it's not difficult to believe Soraff's version of events... One thing does seem clear about the current situation at Histon Football Club, and that is that supporters are very much in the dark with regard to what has been going on behind the scenes... Until this season, failure to fulfil a fixture had come to be regarded as the beginning of the end any football club in the non-league game, but Histon may well have been looking at the remarkable leniency offered to the likes of Kettering Town and Truro City already this season and wondering whether similar leniency would be offered to them...

The good news for supporters of the club is that The Glassworld Stadium itself is not owned by the club, and is therefore unlikely to be swallowed up should it be read the last rites... There does at least seem a reasonable chance of Histon starting afresh at a more manageable level under the auspices of its supporters trust should the worst happen over the next few weeks or so. That it should find itself in this position, many believe, is an inevitable consequence of overspending over a period of some years".

And yet another club in a financial mess is the subject of a BBC report. "Kettering Town will continue to play games at Corby Town's Steel Park until at least Christmas. Former director Ritchie Jeune confirmed the deal to BBC Radio Northampton. The Poppies played their Southern League match against Redditch at Steel Park last weekend because their Nene Park home has no electricity...

Kettering will pay £1,000 per game to hire the pitch and will cover any extra costs. Jeune, who brokered the initial deal with Corby and has described himself as the 'short-term custodian' of the Poppies, said, 'The league requires us to notify them where we are playing until Christmas. Financially it's OK for us and Corby get to generate revenue. It's a commercial arrangement between the teams... I don't want to be generating any new debt. So we need to make sure what is being generated covers our costs'. The Poppies will play on a Sunday if any of their games clash with Blue Square Bet North side Corby's fixtures.

Jeune, who is overseeing the running of the club until a proposed sale by owner Imraan Ladak to a consortium is complete, added that he does not expect to be offered a role at the club under the new regime".

According to the Northants Telegraph, "The electricity at Nene Park remains cut off while there has been no further information on a proposed takeover by a consortium that is understood to still be in negotiations with majority shareholder Imraan Ladak".

New of Kettering's new landlords comes from BSBN which says that "Corby Town manager Chris Plummer is desperate to see more fans come out and support their team as he reckons his side are worth the admission price... Plummer believes the quality of football his players are producing lately needs to be appreciated by more home supporters.

'It's difficult to explain, to be honest, because our form has been very good at home', he told the Northampshire Telegraph. 'We were involved in a very exciting game here last week in the FA Trophy and some of the football we played was a joy to watch. So I am really surprised the fans aren't turning out in more numbers. I think it is great value to come here and be entertained by your local club. Hopefully the lads will hear more voices in the crowd in the future and it would be great to see some new faces coming along to see what we are doing here'".

The Harrogate News tells us that "Harrogate Town Football Club were contacted by the Football Association late Friday afternoon, 16th November and advised that ITV wished to feature the F.A. Cup Second Round tie against Hastings as one of their featured matches to be shown on the ITV Saturday Night F.A. Cup Programme... The consequence is that kick off time has to be brought forward to 1pm from 3pm".

The reason for this only emerges from the opposition, as Hastings United report that "This represents another fantastic development in an already extraordinary campaign from both sides' point of view, and a wonderful opportunity to provide our two clubs, and the non-league game in general, with some excellent exposure on a national scale. Regrettably though, the floodlights at Harrogate's Wetherby Road ground have been deemed to not meet with the broadcaster's requirements so, to allow ITV's coverage to go ahead as planned, it has been necessary for the kick off time to be brought forward two hours to 1.00pm, thus theoretically ensuring that the game will end in daylight.

As a consequence, it will naturally be essential for the supporters' coaches to depart similarly early and they will now set off from the Pilot Field at 5.00am on the Saturday morning. It is fully appreciated that this may make things considerably inconvenient, or even impossible, for some people who have already booked seats, or who were planning to make their own way to Yorkshire on the day of the game".
TWEET YOURSELF TO A GUESS
The Football Conference announces that it held "Its inaugural 'Predict the Crowd' Twitter competition on Saturday with the winner being @LTFCsmithy. Though Peter Smith is a Luton Town fan, he could not guess the crowd at his own club's match, due to the fact they were not playing, so he opted to go for a guess of 1,890 at the Premier division fixture between Macclesfield Town and Ebbsfleet United. He was just 6 out, as the crowd was 1,896 and pipped a few other close calls, especially one from a Wrexham fan.

Peter therefore wins a FREE ticket for a match at Luton Town and was delighted to win. It cost him nothing to enter and he gets that all important FREE ticket.

The Conference will operate the competition at least once a month during the season and to receive a tweet alerting you when you can enter, all you have to do first is 'Follow' @conf_media_man. This will automatically alert you to when the competition is running next. Entries have to be tweeted between 9am and 2pm on the Saturday chosen. You just then guess the crowd at ANY match in ANY of the 3 divisions being played on the day of the competition.

As Peter proved, it does not even have to be a guess at the match where your club is playing. And the winner can choose the FREE ticket for a match at any of our 68 member clubs, providing it is a Conference fixture. The Conference will then make all the necessary arrangements for the winner to collect his/her FREE ticket.

It really is that simple so give it a go! And remember it is open to fans of all 68 member clubs. The only rule is, one guess per twitter account across all 3 divisions".
---
19 November 2012
SEE AND HEAR THE EIGHT GOALS
You can see all of Altrincham's eight goals against Hinckley United on the excellent Alty TV highlights. These clearly show that goalkeeper Peet's challenge on Ryan Brooke was outside the penalty area.

And Brian Flynn advises us that "The Radio Robins commentary files from the Altrincham v Hinckley United game are available:-
Second Half.
HINCKLEY REPORT
After Saturday's game the unofficial Hinckley United website heads its report, with allusion to Michael Palin's 'Ripping Yarns', "Eight nil, eight bloody nil. No one can say that this isn't a record breaking season for Hinckley United! Having set our highest home defeat earlier in the season against Worcester City, today's rout at Moss Lane saw Altrincham rack up 8 (eight) goals and becomes Hinckley's highest ever defeat, home or away.

James Lawrie started the onslaught in the 7th minute, before a superb overhead kick from Jake Moult doubled the score on the half hour. Hinckley tried to get back in the game with a couple of good efforts from Max Harrop, that Coburn was equal to, but were then hit with a 'sucker punch' just before half time. Rob Peet had denied Damian Reeves twice with excellent stops, but couldn't stop a Shaun Densmore free kick right on half time, even though he got a hand to it, the power took it into the net, giving Altrincham a comfortable 3-0 half time score.

Altrincham increased their goal difference again on the hour with a long range effort from Nick Clee creeping over the line when only half stopped by Peet. Densmore scored his second of the game 10 minutes later, another free kick, before the comfortable win turned into a rout in the last 5 minutes. Peet felled Ryan Brooke, judged to be in the area and a penalty was awarded, but the ref also decided to show Peet a red card, despite Brooke moving away from goal and not being a clear goalscoring chance.

Nevertheless Brooke got up to take the penalty and, with no sub keeper available, faced stand-in keeper right winger Jack Lane, who couldn't prevent the sixth goal going in. Six became seven right on time, when Lane saved from Moult, but couldn't stop Duncan Watmore with the rebound. The rout was completed deep into injury time, again by Watmore, as a dejected Hinckley defence allowed him to run through the middle and slot past the part time keeper".
OLD BOYS
The EvoStik League tells us of three moves involving players with Alty links...
Lewis Chalmers to FC United of Manchester from Radcliffe Borough
Gavin Salmon [former Alty trialist] to Northwich Victoria from Salford City
Brian Summerskill to Northwich Victoria from Curzon Ashton
SUNDAY GAME
Gloucester City 0 Chester 1
BSBN NEWS
The Worcester News reports that "Worcester City have revealed they made a last-ditch plea to Careys New Homes to let them extend their stay at St George's Lane. The Blue Square Bet North outfit have to leave their century-old home in June so it can be bulldozed for housing by the developer.

City chairman Anthony Hampson has outlined the club's plan for a ground-share, expected to be with Kidderminster Harriers, but said the board had contacted Careys over the possibility of remaining at the Lane until work was ready to begin.

However, the Wembley-based firm want to move in during the summer, ending 108 years of football at the Lane. Hampson said, 'Prior to approaching any other parties, the club went to Careys to ascertain whether there was any possibility of remaining at St George's Lane beyond June 2013. Careys subsequently confirmed they intended to start development as soon as the ground was vacated by the club... It was therefore imperative alternatives were pursued'.

Although Aggborough is thought to be Worcester's preferred destination, Kidderminster chairman Mark Serrell said... 'We have drawn up an agreement which has been submitted to Worcester with our requirements and City have had a few questions. There will be a fee which will pay for Worcester on a match day and improving the pitch. At the moment, nothing is sealed but there is a will to help them out'.

Hampson also revealed 'The club are committed to rewarding the loyalty of their supporters and, as part of the ground-share arrangements, will be looking to develop affordable season tickets and transport packages to enable the club's supporters to continue to follow the team'".
---
18 November 2012
100 UP
Congratulations go to Matt Doughty, who made his 100th appearance for Altrincham on Saturday. The Altrincham left back has made 96 starts and four appearances from the bench, with a tally of five goals scored.

Another landmark should be reached on Saturday as, in his next game, Damian Reeves will make his 100th start. So far he has made 99+12 appearances and netted a phenomenal 83 goals.

Ten different Altrincham players have now scored league goals this season. Of the outfield players who have made a league start in 2012/13, only defenderss Danny Hall, Luca Havern, Scott Leather and midfielder Pat Lacey have yet to score a league goal for Altrincham.
ALTRINCHAM 8 HINCKLEY UNITED 0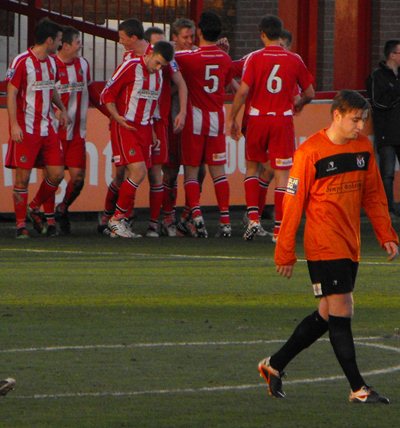 Match report
Right: Alty celebrate as Hinckley concede again at Moss Lane.
News from Hinckley United is that "A number of supporters and stewards have spoken to members of the Board since Tuesday night's fixture against Gainsborough Trinity. Those supporters have requested further information regarding the current embargo on player movements and have been told that the amount required to remove the embargo is approximately £6,500.
The same group have been told that the Board can categorically guarantee that should they wish to take steps to raise the said amount via supporter collections, the monies collected would be used solely to lift the embargo. The Board welcome this approach and fully support the move of arranging a collection at the earliest opportunity and involving such action at the home game against Guiseley on December 1st".
OLD BOYS
Former Alty boys who scored on Saturday included Kevin Holsgrove who netted two of Guiseley's three as they won at Boston and Carl Piergianni who scored Corby's goal against Oxford City. For FC Halifax Town, Dale Johnson scored as did Lee Elam for Harrogate Town. Former loanee, Liam King scored a last minute winner at Chorley for North Ferriby United. There was a brace for Ashton United for Aaron Burns.

Former Alty reserve Ashley Stott scored for Witton Albion, whilst Warrington Town's Mark Beesley hit two. NL Daily report that "Ilkeston have told goalkeeper Ashley Timms that he is free to find another club. Manager Kevin Wilson says the former Manchester city trainee is free to move on - either on loan or as a permanent move - but is also happy if he stays after receiving reassurances from the player that he'll still be fully committed to the cause at the New Manor ground.

Timms signed a one-year deal with the club in July 2012 and has shared the keeping duties with Chris Martin this season. Wilson said, '"It has been a bit of a luxury for me to have two such experienced goalkeepers and we cannot play them both. Ashley wants to be playing regularly, which I can well understand, so we will not stand in his way. But he has assured me that all the while he's at Ilkeston FC, he'll continue to do his best'".
BSBN NEWS
Saturday's BSBN attendances were:
Altrincham v Hinckley United 768
Bishop's Stortford v Gainsborough Trinity 511
Boston United v Guiseley 944
Brackley Town v Stalybridge Celtic 380
Corby Town v Oxford City 299
FC Halifax Town v Droylsden 1,332
Harrogate Town v Vauxhall Motors 393
Solihull Moors v Bradford Park Avenue 252
Worcester City v Workington 817

Altrincham's next opponents, in the FA Trophy next Saturday, are FC Halifax Town who beat Droylsden to 4-1 yesterday in which former Witton Albion striker "Alex Titchiner scored a sublime second-half hat-trick as FC Halifax Town continued their push for promotion in superb fashion against a below-par Droylsden. The sides couldn't be separated in a poor first-half but after the break it was all action...

After last week's stuttered performance against Cammell Laird, Aspin tinkered with his side by bringing in Alex Johnson for Chris Worsley...

Team: Glennon, Bolland, McManus, Hogan, Jarrett, (Worsley, 63 mins) Lowe, Worthington, Alex Johnson (Dale Johnson, 46 mins), Titchiner, Marshall, Seddon (Gregory, 83 mins). Unused subs: Senior, Gardner".

"Neil Davies has called for patience from fans amid concerns over Histon's future" reports tha Cambridge News. "Histon's board is set to meet professional advisors on Monday for talks about the club's financial situation after the scheduled game at Colwyn Bay was called off yesterday because the club was unable to fulfil the fixture.

Director Davies said he could not comment on the reasons for the latest financial problem to beset the club in recent times until after the meeting. He would not confirm if the issue was down to a newly-discovered debt or if the club was set to go into administration. Davies said, 'There will be a full explanation of the current position. It would be wrong for me to comment now because there are peoples' livelihoods at stake and we do need to consider their needs. It's an extremely regrettable situation for the club, but there are good reasons for what we did yesterday. We're hugely saddened and disappointed at the statement we've had to put out.

I appreciate the fans want to know what's happening, but we just ask for patience over the weekend. We try to be completely open with our supporters, but there are good reasons why we can't say anything until then'.

Manager Dennis Greene admitted the first he knew of any problems was after training yesterday. He said, 'I'm as in the dark as anybody, but I had a brief chat with a couple of board members and they just told me there was going to be a meeting on Monday. We'll just carry on as normal – apart from not having a game today – and see what happens. Everyone has been paid on time up until now, so I don't know the full implications of what's going on or how bad the situation is or where we stand. We'll just have to watch this space. We'll just try to stick together and hopefully there's a light at the end of the tunnel and we'll have a game next Saturday. But if this carries on for more than a week, the non-contract players who have got to pay their bills can go'".

According to the Football Conference, "Peterborough Northern Star have allowed central defender Mark Cox to join Corby Town on a month's loan. The highly-rated local lad is on contract at Chestnut Avenue but the city club will not stand in the way of him progressing from the UCL to Conference North level. Cox will be out to impress his former Star manager Chris Plummer, who is now in the Corby hot-seat, in a bid to win a permanent switch to the Steelmen">
---
17 November 2012
ALTRINCHAM 8 HINCKLEY UTD 0
Altrincham overwhelmed a very young but spirited Hinckley United...
Alty line-ups
MATCHES IN THE BSBN
Saturday 17 Nov.
Through the Years by Howard Watts
Altrincham 8 Hinckley United 0
Bishops Stortford 1 Gainsborough Trinity 5
Boston United 1 Guiseley 3
Brackley Town 4 Stalybridge Celtic 1
Colwyn Bay v Histon OFF- Histon unable to fulfil fixture
Corby Town 1 Oxford City 1
FC Halifax Town 4 Droylsden 1
Harrogate Town 3 Vauxhall Motors 1
Solihull Moors 3 Bradford Park Avenue 1
Worcester City 1 Workington 1

Sunday 18 Nov.
Gloucester City v Chester FC

Monday 20 Nov.
Bradford Park Avenue v Hinckley United

Tuesday 21 Nov.
Boston United v Solihull Moors
Guiseley v Worcester City
Stalybridge Celtic v Harrogate Town

Wednesday 22 Nov.
Gloucester City v Colwyn Bay
BURTON MATCH PROGRAMMES
There is a small number of "Robins' Review" matchday progarmmes still available after Thursday's FA Cup replay against Burton Albion. These will be available in the Robins' Shop at today's game with Hinckley United.
CHAIRMAN'S THANKS
Altrincham FC chairman, Grahame Rowley, writes,

"Can I personally thank everyone who helped to make the game against Burton Albion one of the highlights of the season to date? There was so much preparation for such a game, especially with it being on television and with a bigger than usual gate expected.

The ground looked spotless, the boards all tidy, the pitch immaculate. The changing rooms looked spick and span and the bar was awaiting the onrush. People too numerous to mention came forward and ensured that the game was a momumental success both financially and PR-wise. ESPN commented on what a well-run club we were and that it was a pleasure to have visited Moss Lane and hoped to be back soon.

Thank you, each and every one of you who gave up their time to make this a special day - you all made me proud to be the Chairman of Altrincham Football Club".
SATURDAY'S GAME
For Alty v Hinckley United on Saturday afternoon, there are two ways to keep up to date with the action, if you are unable to get to Moss Lane.
Radio Robins
Brian Flynn writes, "Radio Robins, sponsored by Ashley Mowers Garden Machinery, will be broadcasting live coverage of Saturday's game at Moss Lane.
The match commentary is sponsored by sponsored by Removaltrucks.co.uk who have over fifty years experience in buying and selling removal vehicles. Find out more at their website.
The match commentators are Tim Ainsworth and Ian Wilkinson with match summaries from Brian Flynn and the broadcast begins at 2.45pm.
Matchday updates: You can also follow the match via the website's matchday update service, which aims to start as soon as the team news is available.

You can follow the match via the following quick links...
SATURDAY VIEWING
This week, in the bar at Moss Lane, you can watch the following televised Premiership match, live in HD, after our game with Hinckley. Everyone is welcome - home, away or neutral supporters.
Saturday: Norwich City v Manchester United, k.o.5.30pm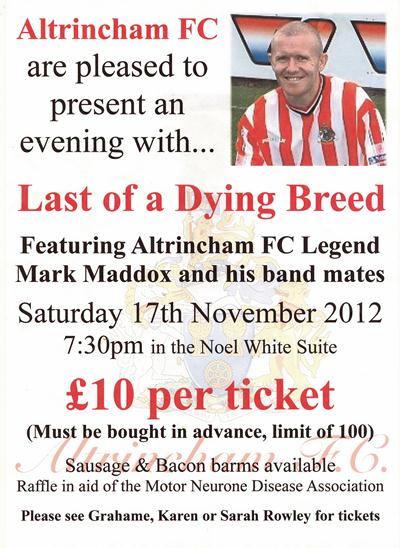 MARK'S GIG
As advertised, right, Mark Maddox and his band, Last of a Dying Breed are performing at Moss Lane tonight in the Noel White Suite. As entry is by ticket only, please make sure you get yours either by contacting the club on 0161 928-1045, by e-mail, or in person at Moss Lane.
FLYNNZINE
Brian Flynn's latest Flynnzine appeared in Thursday's programme..

When the Squarial met the Dish

Tonight's game really seems to have captured the imagination of the Altrincham public. The combination of what still has to be the best cup competition on the planet and the fact that there is live TV coverage on ESPN, have created a level of interest not experienced in these parts for, well, far too long!

Elsewhere in this programme, there will be a feature on the previous games that have been televised live at Moss Lane [see below] and in this article I am going to focus on the first of those, which took place in November 1990.

A 2-2 draw at arch rivals Macclesfield Town in the final qualifying round, put the Robins into the First Round draw and the winners of the replay were drawn at home to Huddersfield Town. We were in the early days of Satellite TV and British Satellite Broadcasting (BSB) announced on the Monday, that they would be covering this game live. This certainly added an extra dimension to the importance of the replay, which we won, surprisingly easily, by three goals without reply from the Silkmen.

So, that's it, we're on... better get BSB installed. It had to be done!

This turned out to be more difficult than anticipated. BSB had started broadcasting in March of that year and there was a huge battle going on between them and Sky, who had been first on the satellite TV scene a year earlier. A merger of the two companies had taken place a few weeks earlier and it was decided that Sky's Astra system was to be used as the broadcasting platform, rather than BSB's Marco Polo system, which boasted the short-lived but infamous square aerial or 'squarial' as it was inevitably marketed. This meant that all of the BSB subscribers would have to have their equipment changed.

The result of all this was that I had to have an enthralling telephone discussion with a BSB representative, explaining why I needed to have BSB installed, to record a match that I was attending, even though, the equipment would need to be changed within a matter of weeks. Undeterred, I managed to persuade them to send an engineer round on the Saturday, a day before the big event on Sunday November 18th 1990. I can't verify this, but I may have been the last person ever to have BSB installed!

The broadcast itself was an interesting double-header of Altrincham v Huddersfield Town and Inter v AC Milan, which elicited the unlikely quote from John Inverdale of 'And now from the San Siro, there's only one place to go and that's Moss Lane Altrincham'. As for the game itself, skipper Paul Rowlands gave us a 17th minute lead, but the visitors prevailed with goals from Iwan Roberts and Iffy Onuora before half-time.

ESPN and their commentary team of Jon Champion and Jim Beglin, will be operating from our 'state of the art' TV gantry on the Popular Side this evening but that Huddersfield game was the only time that I can remember that a TV gantry was erected high in the main stand. I remember Andy Gray, rather gingerly, negotiating what seemed like a very long ladder to make his exit after completing his commentarial duties.

Let's hope that the attending fans and the TV viewers see Alty at their best tonight and that one way or another, we can make it through to a Cheshire derby with Crewe in the second round!"
BURTON ON THE WIRE
Barry Pikesley's article on live televised matches at Moss Lane is reproduced below, from the Robins' Review...

"As we pulled into the car park at The Pirelli Stadium prior to Alty's FA Cup First Round appointment with Burton Albion on the Sunday before last, the song being played on BBC Radio Derby was an old Tom Jones number entitled 'Funny Familiar Forgotten Feelings', which I do recall as being amongst my Dad's record collection back in the 1970s.

Just for an instant, a hopeful thought crossed my mind: could this be a portent heralding an auspicious and overdue renaissance of some of those memorable Alty FA Cup adventures of yore that I had been privileged to witness?

The next song aired by the presenter was The Beach Boys' 'God Only Knows'.

In the aftermath of three consecutive league defeats, I must confess that I travelled to Burton with a considerable degree of trepidation regarding the fate of the Robins. I certainly never entertained the fanciful notion that, on departing from the stadium around 5.00pm, I would be experiencing an underlying sense of deflation that we had 'only' managed to achieve a draw.

The hosts certainly added a new dimension to that cliché about soaking up the pre-match atmosphere by activating the pitch's sprinkler system whilst the Alty players were still undertaking their warm-up routines. And, for a few terrifying seconds, my angst skyrocketed as I lapsed into momentary panic when I thought that we had brought Michael Twiss back specially for this fixture, only for me to then realise that I was in fact gazing at Billy Brewer, the home club's somewhat rotund mascot.

Hats off to the team and the management for that superb first half display at The Pirelli Stadium, which represented as impressive a performance as I've seen an Altrincham side produce in quite some time. We fully merited our two-goal advantage at the interval and I must record a special mention for Carl Rodgers, who had an outstanding game. I trust that the pizzas he concocts in Chester are of a similarly high standard.

Anticipating both a Burton Albion resurgence and a possible Alty comedown during the second 45 minutes, the half-time analysis amongst the Robins' diehards seemed to consist principally of the repeated question: so, just how many do we need to score to win this one then? More than three, unfortunately.

What a pity that the contemptibly paltry highlights package of the match which the abject ITV opted to broadcast later that evening simply failed to do justice to what was a pulsating FA Cup tie replete with drama. That interminable footage of the Dorchester Town versus Plymouth Argyle encounter seemed to go on longer than a Thomas Hardy novel.

ITV didn't even deign to indulge us with a slow motion action replay of Jake Moult's 73rd minute shot striking the underside of the crossbar when we were still leading 2-1. Standing on the terraces behind the goal where that incident occurred, my instinct at the time was that the ball had not crossed the line and, to be honest, I have yet to observe any convincing evidence to the contrary.

The vicissitudes of football can be bizarre. When Calvin Zola popped up with that heartbreaking 93rd minute equaliser, I was all primed to write an open letter entitled 'J'accuse' for publication on the front page of the Sale and Altrincham Messenger, in which I impeached him for potentially robbing us of £18,000 in FA Cup prize money. However, just 48 hours later, it emerged that his goal had actually netted the Robins an unexpected but extremely welcome bonus of £31,900 in the guise of ESPN's decision to televise the ensuing replay at Moss Lane.

Following consultations on the subject with those renowned authorities on the Robins, Messrs. Brian Flynn and Mike Garnett, I have concluded that the presence of ESPN's cameras at the ground this evening will comprise the sixth occasion on which an Altrincham FC match staged at Moss Lane has been broadcast live in its entirety.

For the record, the other five incidences are as follows: (1) a 1-0 defeat inflicted by Huddersfield Town in the FA Cup First Round on Sunday, 18th November 1990 (British Satellite Broadcasting); (2) that momentous 4-1 triumph over Barnet in the GM Vauxhall Conference on Saturday, 30th March 1991 (Sportscast); (3) a 2-1 reverse against Colchester United in the GM Vauxhall Conference on Friday, 28th February 1992 (Sportscast); (4) a 1-0 victory against Stalybridge Celtic in the GM Vauxhall Conference on Tuesday, 27th September 1994 (Wire TV) and (5) a 2-2 draw with Woking in the Blue Square Premier on Thursday, 31st January 2008 (Setanta Sports).

Let's hope that the Brewers droop this evening and someone wearing an Alty shirt can emulate the feat of our erstwhile striker, Leroy Chambers, who currently remains the only man to have scored the winning goal for the Robins against Burton Albion in the Brewers' six previous visits to Moss Lane (a 1-0 success in an FA Trophy Third Round tie played on Monday, 25th January 1999).

Following our preceding ten seasons of hurt in the competition, who would have ever envisaged that our 2012/13 FA Cup campaign would have lasted longer than George Entwistle's tenure as the director-general of the BBC? Whilst our FA Cup run to date has earned us a reputed windfall of circa £70,000, alas, that figure doesn't quite match that bungling oaf's reported pay-off of £450,000. There's still time though".
CROSSBAR CHALLENGE
Ian Senior writes, "Despite last night's disappointment in FA Cup, at least I pulled level in the Crossbar Challenge series, with Neil Tolson, winning 2 - 1, to bring the overall score back to 12 -12". Unfortunately ESPN did not broadcast Ian's achievement.
BURTON GAME
There are highlights of Alty v Burton Albion on You Tube.

Brian Flynn advises that "The Radio Robins' commentary files from Alty v Burton are to be found, as follows:
Second Half
The FA reports that "Chris Palmer and Calvin Zola scored the crucial goals to help Burton book their place in The FA Cup Second Round. The Brewers almost crashed out of the competition eleven days ago when they were held to a 3-3 draw at home... But Palmer eased the nerves of the League Two side when he netted a superb free-kick from 30-yards. Zola then scored from close-range to set up a tie with Crewe in the next round.
All credit must go to Conference North Altrincham for putting up such a battling display over the two games... It could have been a different story had they taken the lead after just eight minutes when Damian Reeves fired the ball just over the bar".
From the Burton Mail we learn that "Albion overcame plucky Altrincham at Moss Lane... The Blue Square Bet North side were never quite able to touch the heights of their 3-3 draw at the Pirelli Stadium 11 days ago as the Brewers wore them down in the first round replay... Albion had to work hard for their win in front of the ESPN cameras...
Albion boss Gary Rowett showed plenty of attacking intent by opting for a 4-3-3 formation... Alty moved the ball around well in pockets of pressure just as they had done in the first half of the original tie".
BSBN NEWS
There is bad news from Histon who announce that "The Directors of Histon Football Club Ltd are seeking professional advice on the financial position of the Club on Monday 19th November and the Club will issue a statement with further information after that meeting. In the meantime the Club has advised the Football Conference that it is unable to fulfil its' fixture at Colwyn Bay on Saturday 17th November".

On this, the BBC reports that "Histon have postponed Saturday's fixture at Colwyn Bay amid a financial crisis at the club. The Stutes, who have paid their players this month, will seek professional financial advice on Monday. Former chief executive Allen Soraff won a court case to redeem an unspecified sum owed to him by the club on Tuesday.

But Soraff, who left Histon in June 2010, told BBC Radio Cambridgeshire, 'This news has got nothing to do with what happened this week with me... I've made it clear I have no intention of putting them under any pressure or any insolvency procedures. There is no way I would have ever have put the club in a situation where they would have to consider going into administration'...

A Conference statement added that the postponement was a result of "circumstances unforeseeable to the present board" at Histon. It is understood chairman Russell Hands is on holiday until next week. 'The disappointing thing is we've got no answers', said manager Dennis Greene. 'The board are just saying to be patient and positive and wait until Monday once they've had a meeting with the financial advisers. The players have been paid up to date but obviously there's a cloud hanging over that now. The players and I will expect some answers on Monday'.

Attendances have been dwindling at the Glassworld Stadium, with only 177 watching last week's FA Trophy tie against Boreham Wood. Since the club's heights of an FA Cup second-round victory over Leeds United and reaching the Blue Square Premier play-offs in the 2008-09 season, the Stutes have struggled financially".

The Hinckley Times reports that "Carl Heggs has revealed the referee apologised for awarding a third-minute penalty against Hinckley United in their FA Trophy replay with Gainsborough Trinity. The Knitters were up against it from the off after the official pointed to the spot following an innocuous challenge inside the penalty area which was dispatched to put the visitors on their way to a 4-1 victory.

And the caretaker boss marched straight to the referee's changing room at half-time where the man in black admitted he had got it wrong. Heggs said, 'In the first five minutes a decision was made that surprised everyone in the ground from the fans to both sets of players. Both players lost track of the ball, ran into each other and the only difference was the Gainsborough player fell to the floor and the referee gave a penalty. It was a very poor decision and I went to see the ref at half-time and he did say it was a soft penalty and did apologise but that doesn't help...

I don't know what it is with Hinckley but we always seem to get wonder goals scored against us. Matt Marshall then kicks out at somebody on the floor right in front of the referee leaving him with no choice but to send him off...

The Knitters return to league action this Saturday against Altrincham before the journey to Yorkshire on Monday night to face Bradford Park Avenue. And the weekend's trip to Moss Lane will see Hinckley come up against the Blue Square North's top goal-scorer Damian Reeves, who has already netted 16 times this season - twice as many times as the Hinckley squad as a whole.

Heggs said, 'He is the one who scores all the goals and we will have to be aware of where he is at all times. But we will work on that in training and I will go there with the same starting 11 and we will be confident. We are not afraid of any team in this league and will go there 100% believing that we will win the game'".

." The same source reports that "Hinckley United returned to the ground [Gainsborough] where they shipped five less than two weeks earlier and forced a replay at the Greene King Stadium on Tuesday night...

HINCKLEY: Peet, Towers, Brown, Marshall (Holt), Raglan, Richards-Everton, Lane, Harrop, Wint (Hicks), Headley, Cole (Coleman)."

According to the Northampton Chronicle "Boss Jon Brady says the big characters in his squad have been the key reason behind Brackley Town's recent unbeaten run. The Saints have put a mini run of back-to-back defeats to bed by recording five games without defeat in recent weeks...

'Big characters come back from big defeats', said the Saints supremo. 'And we've got a lot of big characters in our side. Those defeats were a warning to show what happens when we're not at the races so we know we need to be at our best and if we are, we will get results'. Saturday's opponents Stalybridge should pose plenty of problems but Brady is confident...

'They were a very good team last season and they are full-time', he said. 'We know they're a tough team but we're good at home'.

Meanwhile, Brackley have snapped up centre-back Tom Sharpe on a non-contract basis... The former Kidderminster Harriers captain has been recovering from a cruciate ligament injury and has recently played for rivals Hinckley. But Brady, who has lost defender Wayne Hatswell to retirement, moved quickly to sign 24-year-old Sharpe.

He said, 'Tom has played the last five games for Hinckley but he came back too soon. We think it will take four to eight weeks to get him fit and, if we can do that, he will be a class player'".

The Northampton Chronicle tells us that "Ritchie Jeune is hoping Kettering Town will know where they will play their next two home games by the start of next week. Jeune set up a one-game agreement with Corby Town chairman Kevin Ingram for the Poppies to play their 'home' game with Redditch United at Steel Park last weekend...

Kettering have been through a torrid season so far with their Nene Park home becoming unusable due to the electricity being cut off and they currently have a new-look squad in place, thrown together by manager Alan Doyle. Jeune has been helping the Poppies in a voluntary capacity...

'My personal preference would be Steel Park', Jeune said. 'Obviously there will be clashes with home games with Corby and that is something that would need to be addressed but I think it is the best venue for Kettering supporters'

Meanwhile, "Chris Plummer has confirmed Corby Town hotshot Josh Moreman is beginning to attract the attention of clubs in the Football League... His 13th goal in all competitions helped secure a dramatic 3-2 success over Wealdstone in Wednesday night's FA Carlsberg Trophy...

And Steelmen boss Plummer has revealed that Moreman, who joined Corby from United Counties League side Deeping in the summer, spent the early part of this week training at Stevenage while Gillingham have also expressed an interest... Corby will be entitled to a fee should any offers come in".

The Football Conference says that "Bishop`s Stortford`s Rod Stringer has become the latest Conference manager to take forward or midfielder Michael Thalassitis on a month`s loan from Stevenage... During the 2011/12 season he enjoyed a fruitful loan spell with Boreham Wood... He made a step up to the Conference Premier with a further loan spell and Hayes and Yeading United... before being recalled to Broadhall Way after an injury crisis.

Stevenage announced that Thalassitis had signed a three-year contract extension, and would also be going out on a one-month loan deal to Conference Premier side Cambridge United".

Elsewhere, "Worcester City have signed experienced midfielder Robin Hulbert until the end of the season. The 32-year-old arrived at St George's Lane in the summer nursing a cruciate ligament injury which had side-lined him since October 2011. However, Hulbert has returned to training after making a full recovery, giving the Loyals boss the opportunity to run the rule over the former Swindon Town and Bristol City man, whose last club was Barrow AFC where, whilst injured, ended up assisting Dave Bayliss last season following the departure of joint boss Darren Sheridan".

The Conference also reports that "It promises to be a pivotal three days for Bradford Park Avenue and their hopes of making the play-offs... They travel to struggling Solihull Moors on Saturday and then host rock-bottom Hinckley United on Monday...

Manager John Deacey knows that both are must-win matches... 'Solihull have picked up lately and they beat Guiseley last month, so they are no mugs', he said. 'We have got Simon Garner in, who did well at FC Halifax Town on loan, and we hope to bring a centre half in this week, both on loan at first... There has been no chance of that until now because we have been working with 14 fit players, a couple carrying injuries and Mark Hume on the bench'" he told the Telegraph & Argus.

From Pitchero Non-League comes news that "Colwyn Bay have finally signed much-travelled winger Luke Holden... The 23-year-old has had spells with Rhyl, Wrexham and Welsh Premier side The New Saints... and joins the Seagulls from Warrington Town after having trials with Rochdale in the summer. He also had a short spell with Charlton Athletic, making one appearance against Southampton".

Meanwhile, "Stalybridge Celtic have signed former Liverpool youngster Lewis Hatch. Midfielder Hatch has recently been released by Accrington Stanley. The 19-year-old, who joined Stanley from Liverpool in the summer, failed to make a single appearance for the Crown Ground outfit."

In the Huddersfield Daily Examiner, we learn that "FC Halifax Town midfielder Jason Jarrett plans to become a Premier League referee! The 35-year-old goes into battle against Droylsden at The Shay tomorrow focused on picking up three points, but he's already planning down the line.

'I am not just doing it for the fun of it', said Jarrett. 'My ambitions are to get to the top in the next five or six years... I did the Preston v Blackpool match (friendly) which was the real test to see if I could handle any crowd abuse, but luckily I didn't get any so I must have done okay... Management is fickle with somebody getting sacked every week, so that avenue is not for me," he explained. I have always thought refereeing for a player should be a natural progress and I don't understand why it isn't. My style is to get the players on my side. I like to talk and have a laugh with them'".
OLD FOES
Bulls' News says that "A statement from part-owners the Fleet Trust, which operates both the club's shop and its away travel, has issued a statement calling for new investors with membership of the club's MyFC majority owners slumping.

The MyFC project, which holds 75% of the club shares, had seen membership drop from 32,000 to just 1,200, and is no longer able to cover the shortfall at Stonebridge Road. Ebbsfleet's Club Secretary has torn up his guest membership of the organisation after being the subject of abuse from MyFC members, adding he would no longer work with the group. The Fleet Trust statement says it has agreed to put £9,000 into the club to cover player wages, and a further £2,000 to stock the club shop".
---
16 November 2012
ALTRINCHAM 0 BURTON ALBION 2
Altrincham, without suspended captain Shaun Densmore and the injured Carl Rodgers, gave a good account of themselves and for much of the game they more than matched a full-time Burton Albion side from two leagues above them.
Match report here.
NICKY IS KEEPING HIS FOCUS
On the eve of the Alty v Burton game, the Huddersfield Examiner interviewed Nicky Clee (left). The paper says, "FC Halifaz Town have been warned that their FA Trophy opponents Altrincham won't be distracted by the FA Cup. The Blue Square North rivals clash in the first round of the Trophy at The Shay on Saturday week, November 24.

But the Cheshire side are also involved in the FA Cup, and host League II Burton Albion in a big first-round replay live on ESPN tonight... Altrincham's West Yorkshire-based winger Nicky Clee said, 'The Trophy is just as important to us. The FA Cup is a great competition, and we would love to book a trip to Crewe, which would be a big derby for us. But the Trophy provides a realistic chance of having a lengthy cup run, and we all know it provides the possibility of a Wembley appearance, which is a huge incentive. Whether we win or lose against Burton, we all know we have to remain focused on both the league and the Trophy, and we will do'.

Clee was among the scorers as Altrincham, bossed by former Huddersfield and Bradford player Lee Sinnott, were 3-0 winners at Worcester in the Trophy... on Saturday. Neil Aspin's Halifax reached round one for the first time since the club were reformed by beating Cammell Laird 1-0 in Birkenhead"
BEFORE THE BURTON GAME
Before Thursday's FA Cup tie, the Burton Mail reported that "Gary Rowett has urged his men to appease Burton Albion fans with a winning performance under the gaze of the live television cameras tonight.

The Brewers came in for criticism after a below-par performance almost resulted in a first round exit at the hands of nonleaguers Altrincham at the Pirelli Stadium...

The Brewers' boss said, 'It's a game we want to win and it's a game we need to win to put right the home performance against Altrincham'... Rowett said, 'It was a close call and we're grateful for having another chance to win the tie. We owe that to our fans and we owe it to ourselves to make up for being so poor in the first half of the original tie. We can't afford to start as badly again because we now know what Altrincham are about — and there can be no excuses for being taken by surprise second time around', Rowett is likely to make changes to the side beaten by a solitary late goal in Saturday's League Two encounter with promotion rivals Cheltenham Town.

McCrory is expected to return to the starting line-up with Nathan Stanton reverting back to his usual central defensive role after covering for the suspended left-back at the weekend. Rowett also hopes to have midfielder Jacques Maghoma back in the side, while Billy Kee may be given another chance to recapture last season's scoring form... He said, 'It's worrying that we're only going to have one day to recover for the Dagenham game [as Alty have for their match with Hinckley United] and there has got to be an element of forward thinking involved. But first and foremost we've got to concentrate our efforts on putting the Altrincham tie to bed because we very much want to be the team running out at Crewe in the next round'".
CHESHIRE NEWS
In the Northwich Guardian, we read that "Followers of Northwich Victoria, a team with close to 140 years of history attached to its name, are to vote on whether to set up their own version of Vics.

'It's time to take the future destiny of our club into our hands', said Paul Stockton. 'The current one, which the owner has made clear that he owns outright, is not the true Northwich Victoria'. Mr Stockton is the chairman of Northwich Victoria Supporters' Trust, the 200-strong membership of which will be asked for its verdict at a Special General Meeting (SGM)...

'The vast majority of loyal Vics fans are appalled by the way the club has been run by successive regimes', added Mr Stockton. 'As a result, the once-respected name of Northwich Victoria has been dragged through the mud, leaving many supporters ashamed of their club'.

He has support from an unlikely source too, Vics' owner Jim Rushe. In an interview with the Guardian on Monday, he said he was in favour of a vote. 'I'm all for it', he said. 'I don't want the grind of all the speculation any more. Of course I'd prefer it if the fan base wasn't split, but it is. I hope the Trust forms its own club because, only then, will they find out how hard it is to keep one going. It takes many hours in a week, and I'm not sure they've taken that into consideration, it's an enormous undertaking.

You can't run a football team from behind a desk or on a computer. Sometimes you have to make a decision on the spot, without the help of a committee. Let's see who steps up; who will be the one to make those difficult choices?'

The Trust's board said in May that it would not seek to start their own team while the existing one continued to play matches. Its members have since changed their mind.

'We have tried to engage with the owner to persuade him that the only way for the club to survive was for the supporters to have a say,' said Mr Stockton. 'For reasons that only he can explain, he refused to even consider it. We feel that we've been left with no other option'".
FA CUP ROUND 2
Alty won't be in Round 2 of the FA Cup, but according to the Football Conference, "The Football Association have confirmed the FA Cup with Budweiser Second Round ties selected for live television broadcast.

Sunday 2nd December 2012:
Milton Keynes Dons v AFC Wimbledon (12.30) – Live on ITV1
Alfreton Town v Leyton Orient (3.15) – Live on ESPN

Monday, 3rd December 2012:
Cheltenham Town v Hereford United (7.45) – Live on ESPN

The FA live TV broadcast fee is £67,925 per club".
BSBN NEWS
Carl Heeley, manager of Worcester City writes in the Worcester News that "the performance against Altrincham in the FA Trophy might not have been good enough but it's important to keep things in perspective. We have played 20 games this season and we have had one performance that overall wasn't good enough.

There was a mad six-minute spell that saw us go 3-0 down and their first goal shouldn't have stood because a player was offside and interfering with play. Although it's disappointing to have a performance like that, things like that do happen in football... Looking at last season, the defeats at Droylsden, Altrincham and Guiseley spring to mind as bad performances but I can't think of many others.

Even last Saturday's defeat wasn't a no-show, it was just a major lapse in concentration... It's incredibly easy to point fingers at individuals, as has happened to Ellis Deeney and Glyn Thompson this week, but I would never do that and neither would the players. We are all in it together and we all make mistakes, myself included...

The good thing now is we are recording the matches and can show players what we are telling them during games and on the training pitch... It's about improving and reducing the bad days at the office'".

And the Worcester News adds that "As so often happens after a heavy defeat, it doesn't take long for the blame game to start... I do exactly the same thing in this newspaper. It was no different following Worcester City's wholly disappointing 3-0 loss to Altrincham...

Many theories have been presented for the capitulation by supporters via their internet forum, an online community for City fans. Some simply blamed the whole team, others were critical of individuals, left-back Ellis Deeney among them. But most of the fingers pointed towards goalkeeper Glyn Thompson, particularly for the second and third Altrincham goals...

By and large, I think Thompson has been a good asset for City since his arrival in the summer — his shot-stopping is excellent and he is a safe pair of hands in the air. However, the same can be said of Matt Sargeant... Sargeant can count himself extremely unfortunate not to have played more than the five games he has this term. Plucked from the obscurity of Tipton Town the summer before last, he was nothing short of superb when Thompson was ruled out with a thigh injury earlier in the campaign.

Sargeant kept two clean sheets in four matches and his save to keep City in the FA Cup at Weston-super-Mare in October was arguably the most significant of his career to date. But he was dropped for the next round at Bromley and Thompson brought back in". We read in the Northants Telegraph that "Kevin Ingram insists he understands the concerns of Corby Town's supporters about the possibility of Kettering Town coming to play their 'home' matches at Steel Park on a more permanent basis. The Steelmen chairman held an open meeting with his club's fans ahead of last night's 3-2 win over Wealdstone in the FA Carlsberg Trophy...

The Poppies' home ground, Nene Park, is currently unusable due to the electricity being cut off during their severe financial problems. During the meeting, Ingram confirmed the Steelmen do have a 'manageable' debt of around £200,000 and that a more permanent deal for Kettering to play at Steel Park could bring in much-needed revenue.

Talks have now opened about the Poppies playing in Corby for the remainder of this year, although Ingram confirmed the Steelmen will have priority on any fixture clashes with Kettering likely to play on a Sunday or Monday night in such circumstances.

If a deal was to be done, it would see the Poppies pay £1,000 per game as well as paying a £5,000 bond as Jeune did ahead of the Redditch game. Ingram also revealed that he believes there are four people in the consortium looking to takeover the Poppies while a deal could be completed next week. And he moved to ease concerns from Corby supporters about their fears of a merger between the two clubs in the future. 'Not on my watch', was his response...

And following the meeting, the Corby chairman said, 'I can understand the angst of supporters who have that passion for their football team and an innate dislike for their local rivals, that happens in football. I think they just wanted to hear the truth and learn the facts... We have a big budget to hit yet it is one of the lowest in the league. We have income to bring in and we would like to make a profit so we can start bringing some of our debt down. No deal is tied up for them (Kettering) to play here yet, we just started the conversations yesterday.

I would hope that the people who came along for the meeting will go away and tell their friends, their rival supporters put posts on various forums and websites and say that we are doing good things here. I am not a betting man but, if I was, I would say that Kettering will be playing here again... If we can get a deal done for a longer spell then fine. They want it, we want it'".

The Corby Town Supporters Trust are holding an open meeting of their own at Steel Park tomorrow (Friday) night to discuss the situation".

News of the visitors to Moss Lane this Saturday comes from the Nuneaton News. "Hinckley United crashed to a 4-1 defeat in an FA Trophy replay against Gainsborough Trinity in front of a crowd of just 181... Hinckley did score with their best move of the game after 41 minutes. Wint played a sweeping pass out to Lane, who ran at the Trinity defence and then crossed for Wint to flick the ball into the far corner after a clever dummy from Matt Marshall...

Marshall then tangled with Luke Waterfall, and the referee brandished a straight red card — Hinckley's third dismissal in the two FA Trophy games this season...

Hinckley: Peet, Towers, Brown (Coleman 70), Harrop, Raglan, Richards-Everton, Lane, Headley, Wint, Marshall, Cole (Holt 78). Subs not used: Hicks, Sutherhan, Stenson... Hinckley Star Man: Aron Wint".
---
15 November 2012
FOLLOWING THE GAME
For tonight's Alty v Burton Albion match, there are two ways to keep up to date with the action, if you are unable to get to Moss Lane.
Radio Robins
Brian Flynn writes, "Radio Robins, sponsored by Ashley Mowers Garden Machinery, will be broadcasting live coverage of the match.
The match commentary is sponsored by Altrincham Football Club Community Sports Ltd... delivering Football in the Community.
The directors of Altrincham Football club Community Sports Ltd are Neil Faulkner, Karen Rowley, Carole Nash, Fred Nash, and Peter Foster and the day to day activities are co-ordinated by Chris Bullock who is contactable e-mail or by phone on 0161 928 1045.
The match commentators are Paul Salt and Brian Flynn with match summaries from Ian Wilkinson. The broadcast begins at 7.30pm.
Matchday updates: You can also follow the match via the website's matchday update service, which aims to start as soon as the team news is available.

You can follow the match via the following quick links...
DAMIAN KEEN TO IMPRESS
The Manchester Evening News reports that "Altrincham are out to boost their reputation as the FA Cup's deadliest giantkillers tonight, even though it could mean they lose their star striker.

The are set to bank around £40,000 from their first-round replay against League Two Burton at Moss Lane. And Lee Sinnott's part-timers will need that extra cash if top scorer Damian Reeves makes the most of Alty's big moment in the spotlight.
Reeves (left) was the highest scorer in the top six tiers of English football last season, firing home an incredible 44 goals from 42 league games. And the 26-year-old plasterer has shown that outstanding feat was no fluke.
His goal in Saturday's FA Trophy win at Worcester was his 20th of the season, yet he is still waiting for someone to take a chance on him. That could all change after tonight's game at the Robins' stamping ground, which is being televised live on ESPN...
And the former Leeds trainee is eager to earn another shot at League football and pack away his trowel for good. 'It's not the most glamorous job in the world and I could do without the early mornings', admitted the Robins' hot-shot. 'I think that with me working as well, some clubs think they're going to have to pay more to make it worth my while. But I'd love to play full-time so I'd be happy to finish working. Plenty more people will be watching with the game being on TV and it's a great opportunity to show what I can do'.
Reeves trained with Oldham and Gillingham in the summer and also spoke with hometown club Doncaster. But no offers materialised so instead he signed a new deal with Alty, which allows him to join a League club for free.
'Nobody knows what I can do unless I'm given the chance, but I'm confident in my ability to score goals', Reeves added. 'Scoring goals is all about knowing where chances will fall and when you need to be there. Then you've got to stick them away. I've done that at this level, now I want to show I can do it higher – and it's a great chance to put Altrincham back on the map'.
Right: Jake Moult
The Robins might already be looking forward to a lucrative second-round trip to League One Crewe. Midfielder Jake Moult's shot was deemed not to have crossed the line before Burton claimed a stoppage-time equaliser to make it 3-3.
'Had it been given, at 3-1 we would have shut up shop and it could have changed the whole outcome of the game', said the on-loan Alfreton man [who has actually now signed for Altrincham]. 'But I feel that if we perform like we did at their place then we can be confident of progressing through to the next round. The key for us is to play with no fear, with the backing of our own fans at our own ground, we will get that extra lift we will need'.
Alty currently average around 700 at Moss Lane but are expecting over 2,000 to pack into their famous old ground as they aim to make Burton the club's 17th League scalp – and their first since 1994.
'We weren't really expecting them to be a good passing team and they kind of took us a bit by surprise', admitted Burton's ex-Rochdale centre-half Marcus Holness. 'We started a bit sloppily but we'll go up there and really get at them from the beginning. We will try to put it away early doors and have a comfortable win on our hands'".
HALIFAX TRIP
Details of the TASC supporters' travel to our FA Trophy match at FC Halifax Town on 24 November are on the Away Travel page. As usual, you must book in advance, by ringing the club on 928-1045.

If the match ends in a draw, the replay will be played at Moss Lane on Wednesday 28th November, 7.45pm kick-off.
LEE LOOKS TO FANS TO HELP
Altrincham FC joint Press Officer, John Edwards, writes:

"Lee Sinnott has urged Altrincham's players and supporters to 'bounce off each other' in their quest for another FA Cup giantkilling at Moss Lane tonight.

With ESPN's cameras ready to beam an eagerly-awaited first-round replay live to the nation, the scene is set for another chapter to be added to Alty's proud history of Cup upsets. Sinnott believes it can be done and that the prospects will be all the brighter if a bumper crowd and in-form Alty team join forces and launch a twin offensive against League Two high-flyers Burton Albion.

'There is no doubt our supporters can play a massive part on an occasion like this,' said the Alty manager. 'If they can really get a cracking atmosphere going, it can make a big difference. It's up to the players and supporters to bounce off each other.

'I want the players to inspire the fans and the fans to inspire the players. That's the way to build some momentum and give ourselves the best chance of winning the tie. This club has a great record in the FA Cup, and I am sure the supporters will have played a part in that. It promises to be a special night. Let's try and make it a memorable one.

'There is a lot of excitement, and the players are looking forward to it, but I have just cautioned them a bit about some of the things surrounding the evening. Once they cross the white line, their focus has to be solely on winning the game, not the cameras or size of the crowd. If they think of anything but the job in hand, it can put them off their stride, so I will be reminding them of that.'
Carl Rodgers has been ruled out with a tight hamstring, but Luca Havern (left) returns to central defence, as Alty bid to wipe out the disappointment of being pegged back by a last-second equaliser in the first meeting.
'Carl did really well in central defence at Worcester but felt a bit of tightness just before half-time,' explained Sinnott. 'We have a duty of care to our players, and it would not be right to run the risk of Carl aggravating the injury and being out for anything up to five or six weeks.
'It's a shame, because I thought he looked really accomplished, but the good thing is that Luca trained last night and seems to be ok. It will be good to welcome him back after a couple of games out.
'I had a word with the players straight after the game at Burton and told them they could be despondent for 15 minutes. After that, they should put it aside and think about what they had done. I was extremely proud of the way they played and the result they attained against one of the top teams in League Two.
'The message will be the same again - go out there and show no fear. They've got nothing to prove after that performance at Burton. We have brought a League Two side back to Moss Lane, so let's learn the lessons from that first game and make sure we give it everything we've got'".
THURSDAY MATCH ARRANGEMENTS
Just a reminder- Altrincham FC season tickets are not valid for cup matches so it will be "pay at the turnstiles" for Thursday's FA Cup game against Burton Albion. Please try to arrive early and to present the correct money as this will help speed up entry to the ground. Thank you.
Altrincham FC Marketing Manager, Matt Royle, writes:
"It's exciting times as we welcome the cameras of ESPN to Moss Lane this coming Thursday for our FA Cup 1st Round Replay against The Brewers. We hope as many of you as possible can come down to make and enjoy the special atmosphere that will no doubt be generated under the floodlights.
To help continue to generate interest around the town please forward this great match poster (courtesy of one of our committed fans, Jack Jolly) to friends, family and colleagues, or print and post it to display at your place or work or local community facility. Let's get Alty behind the Robins and continue on the road to Wembley!"
Click on the image, right, for a larger version.
Please note that the poster shows terrace prices only. The full admission price categories are below...
Standing: Adults - £13, Concessionaries - £8, Aged 12-16 - £5, Aged Under 12 - £2
Sitting: Adults - £15, Concessionaries - £9, Aged 12-16 - £5, Aged Under 12 - £2
Disabled: Disabled - Free, Helpers - £13.
BURTON AIM TO BE PROFESSIONAL
The Burton Mail reports that "Chris Palmer has called on his team-mates to make sure quality counts as Burton Albion attempt to make the most of a second bite of the cherry in the FA Cup tomorrow night. The Brewers were only minutes away from making an embarrassing first round exit at the hands of non-league side Altrincham at the Pirelli Stadium 11 days ago.

Calvin Zola's goal in the third minute of added time clinched a 3-3 draw, and Palmer does not want to leave anything to chance in the televised replay at Moss Lane, kick-off 7.45pm. The 29 year-old midfielder said, 'We've just got to go there and be professional about how we do things to make sure we progress to the next round'.

Palmer was an unused substitute in the original tie as he eased his way back after a long injury lay-off. However, he had a part to play in the 2-1 win at Plymouth Arygle three days later - and was rewarded with a place in the starting line-up as the Brewers suffered a rare defeat at Cheltenham Town on Saturday.

Now he is hoping he has done enough to convince manager Gary Rowett he is worthy of keeping his place in the team. Palmer, who suffered a nasty an ankle injury at Rochdale in early September, said, 'I definitely hope to be involved, as I do all the games when I'm fit. I came off the bench and played most of the second half at Plymouth and then played the full game at Cheltenham, and I don't feel to be bad to be fair. I'd been out for nine weeks and it was just great to be back on the pitch and making a little bit of an impact.

After sitting watching for so long, I just want to play games and I'm sure Macca (John McGrath) feels just the same because he's been out a lot longer than me. Hopefully, I can get another start at Altrincham and hopefully we can get the result we missed out on in the game at our place.

I don't think it was a case of under-estimating Altrincham in the first game. I just don't think we started very well and they exploited it. We know we have the quality to beat teams from lower divisions but, obviously, there are always upsets in the FA Cup and we have to make sure we're not on the wrong end of one'.

The winners will be away to League One side Crewe Alexandra in the second round on December 1."
YANKEE JACKPOT
The Altrincham FC Saturday Yankee jackpot has risen to £2,700 after the winning code of 6472 proved to be unissued this week. There were four winning Trebles, whose code holders each won £50.
DISCOUNTED SHIRTS
Ian Senior reminds all Alty fans that new stock was arriving at Moss Lane yesterday and there is a £5 discount on sales/orders of replica shirts before Thursday's game. Please contact Jenny Heslop at the club on 0161-928-1045
WEDNESDAY GAMES
FA Trophy, Third Qualifying Round Replays
Worksop Town 2 Chester FC 0
Corby Town 3 Wealdstone 2

FA Cup Round 1
Gloucester C. 0 Leyton Orient 2
BSBN NEWS
Pitchero Non-League says that "Worcester City are poised to announce where they will be playing football next season — with Kidderminster Harriers expected to get the nod over Bromsgrove Sporting...

Officials have considered four potential venues, the others being Worcester Warriors' Sixways stadium and Evesham United's new ground, and the final decision is due any day following talks with both Kidderminster and Bromsgrove. Harriers' Aggborough stadium ticks all the boxes for City, who want to use a ground that will allow them to play at their current level but also be good enough for the Conference Premier should they achieve promotion.

The club are also keen to generate as much match-day revenue as possible to make up for the anticipated lower attendances. Although moving to Aggborough would not be cheap, money would need to be spent on Sporting's Victoria Ground to bring it up to City's level.

Chairman Anthony Hampson said he wanted to 'give the club the best chance of survival over what is likely to be a turbulent few years'. He said, 'Despite the difficulties facing the club, the board remains ambitious and wishes to compete at the highest possible level during its period of ground-share. It also wishes to give the manager the opportunity to continue to play the attractive brand of football and attract the standard of player we have become used to'.

Hampson and his fellow directors will hold a question and answer session with fans in the Harry Knowles Lounge following Saturday's match against Workington at the Lane. The City chief added, 'The board fully accepts that supporters will have their own preferences. However, it is sure that supporters will recognise the importance of this decision and wishes to assure supporters that its final decision will be one which, taking all factors into account, it genuinely believes is in the best interests of the football club'...

Property developer St Modwen gained planning permission in January for a new City ground at Nunnery Way but the process has been delayed because a bridle path needs to be diverted. Careys New Homes are due to build on the Lane when it is pulled down next year."

Pitchero also tells us that "Lancaster City have announced the signing of winger Jake Simpson from Workington. Simpson, 22, and the son of former Manchester City and Derby County winger Paul Simpson, has previously notched up thirty-eight appearances for Shrewsbury Town whilst also enjoying spells at Stockport County and Hyde FC".
---
14 November 2012
PLEASE HELP THE CLUB
Whatever the outcome on Thursday night, against Burton Albion, there will be a lot of work to do on Friday morning to get the ground tidied up for Saturday's league match against Hinckley United. If you can spare some time to help with this work, it will be much appreciated. Please come to the ground from 9.30am and do your bit for the football club. Thank you.
LEE NOT RUSHING TO REINFORCE
The Manchester Evening News says that "Altrincham are prepared to back manager Lee Sinnott with cash earned from the TV coverage of their FA Cup replay with Burton Albion.

The game at Moss Lane was moved to Thursday so that ESPN could screen the match, meaning the Robins will reap a substantial £31,900 pay-day. This season's FA Cup run has seen Alty net almost £70,000 in prize-money and gate receipts.

Club chairman Grahame Rowley is happy to invest some of that money back into Sinnott's team when the time is right.

'I was talking to Lee over the weekend and money will be made available if he wants it', said Rowley. 'But, if we look at the current squad, we don't need to bring in people for the sake of it. It really has galvanised the club. None of the cup money was budgeted for. When it is all done with, we will sit down and talk about it. We have plenty of plans'.

A gate of around 2,000 is expected for the replay – almost three times that of an average league match at Moss Lane. Sinnott is prepared to be patient with the money that is now available to him, as he does not believe that the small size of his squad is a major issue.

He said, 'The squad is only small, just 18 players but we won't go and buy people willy nilly. If we need to, I will go to the board and put my ideas to them'.

Shaun Densmore will miss the replay on Thursday as he will be serving the second match of his suspension, following a red card at Solihull Moors. Carl Rodgers is also a slight doubt after pulling up with a tight hamstring at the weekend.

Alty have been handed another lucrative cup tie in the first round of the FA Trophy. The Robins have been drawn away to FC Halifax. The Yorkshire outfit average over 1,000 at the Shay and are above Alty in the Blue Square North table".
FA CUP/TROPHY FIXTURES
FA Carlsberg Trophy

Tuesday 13 November:
Bath City 2 Leatherhead 0
Brentwood T. 1 Kingstonian 4
Chesham U. 2 Canvey I. 1
Dover A. 2 Chelmsford C. 4
Hinckley U. 1 Gainsborough T. 4
Staines T. 0 Bromley 2
Merthyr T. 2 Shortwood U. 1
Hampton & R. 3 Leiston 2

Wednesday 14 November
Worksop Town v Chester FC

FA Cup (NL sides only)

Tuesday 13 November:
Walsall 2 Lincoln City 3
Barrow 1 Guiseley 0
Braintree Town 0 Tranmere Rovers 3
Nuneaton Town 0 Luton Town 2
Slough Town 1 Mansfield Town 1, Mansfield win 4-1 on pens.

Wednesday 14 November:
Gloucester City v Leyton Orient

Thursday 15 November
Altrincham v Burton Albion
FOOTBALL MANAGER 2013
Altrincham FC is pleased to announce that copies of the "Football Manager 2013" game for PCs are now available from the Robins' Shop or via the Club offices. The price is just £20.
FAMILIAR TERRITORY
The ESPN television commentators on Thursday night's live transmission from Moss Lane will be the well-known duo of Jon Champion and former Liverpool defender, Jim Beglin. Jim is no stranger to Moss Lane having scored a 25-yarder against Altrincham in a pre-season friendly on 11.8.1984. The result was Altrincham 1 (Bennett) Liverpool Reserves 4 (Thompson 2, Beglin, Jewell) and the Altrincham line up comprised Dance; Fagan, Davison, Edwards, Serella, Gardner, Carrodus, Burke, Ellis, Bennett, Anderson. Subs - Constantine & Heathcote. I am indebted for the information to Howard Watts, conveyed to me by Mike Garnett with the assistance of Barry Pikesley, Brian Flynn and Terry Rowley.
FOR ONCE, REEVESY LOSES OUT TO A DEFENDER
Brian Flynn attended the North West Football Awards 2012, held at The Point, Lancashire County Cricket Club on Monday evening and has kindly provided the following account of events...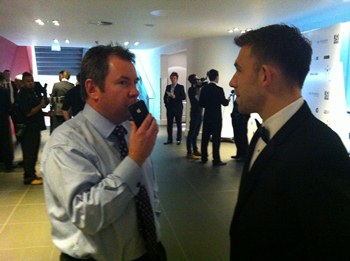 As ever with these "popular votes" the winner in the non-League section came from the club whose nominee had the biggest fanbase so, despite scoring a phenomenal 44 goals in 42 league games last season for Altrincham, which made him the top scorer in the top six levels of UK football, Damian Reeves was beaten to the prize by a defender from Stockport County, Joe Connor.
Brian Flynn interviewed Damian at the event and Grahame Rowley has kindly provided the adjacent photo of the interview showing Damian in his everyday non-footballing attire!
The interview can be heard here
Brian writes,
"The cream of North West football gathered in Manchester last night for the 2012 Northwest Football Awards to celebrate the achievements of clubs and individuals based in the region throughout the last 12 months.
The awards, which took place at The Point, Lancashire County Cricket Club and were hosted by BBC sports reporter Dan Walker, featured a whole host of famous footballing names, including Patrick Vieira, David Moyes and Roberto Martínez.
Following a memorable year for North West football, when clubs from the region have dominated the headlines, as both Manchester giants battled it out for the 2011/12 Premier League title, Liverpool won the League Cup and Everton continued to impress, there were plenty of highlights for the judging panel to consider.
North West football fans responded to online polls by voting in their thousands for their chosen Footballers of the Year, with Liverpool defender Martin Skrtel claiming the Premier League crown, Blackpool's Alex Baptiste topping the pile in Championship, current Preston North End and former Tranmere Rovers star David Buchanan sealing the League One award and Manchester United's Nick Powell winning the League Two accolade for his displays with Crewe Alexandra last season.
The Rising Star Award, which recognises the performances of the region's best young footballers, went to Liverpool and England right-back Martin Kelly, whilst the Blue Square Conference Player of the Year gong was awarded to Stockport County's Joe Connor.
Having guided Manchester City to their first top flight league title since 1968, in the most dramatic of end of season finales, Blues boss Roberto Mancini picked up the Manager of the Year Crown, holding off strong opposition from Everton's David Moyes and Wigan Athletic's Roberto Martínez.
However, the Latics did have cause to celebrate with Chairman Dave Whelan being honoured for his considerable service to Wigan Athletic and the game in general with the Lifetime Achievement to Northwest Football Award.
There were also two extremely poignant moments during the evening, which saw some of families of the 96 men, women and children who tragically lost their lives in the Hillsborough disaster being recognised for their fight for justice over the last 23 years and former Bolton Wanderers midfielder, Fabrice Muamba, presenting the newly named Fabrice Muamba Award for Medical & Sports Science Professional of the Year to Bolton Wanderers Head Physiotherapist, Andy Mitchell.
The awards also celebrated achievements across all areas of professional clubs – from the Premier League to the Blue Square Premier Division, including the best community initiatives, marketing campaigns and sponsorship engagement.
Special categories on the night also honoured the Northwest Football Journalist of the Year, Goal of the Year and an Unsung Hero Award. A full list of winners can be seen on the Northwest Football Awards website".
ALTRINCHAM FC LADIES 2 CHESTER FC LADIES 0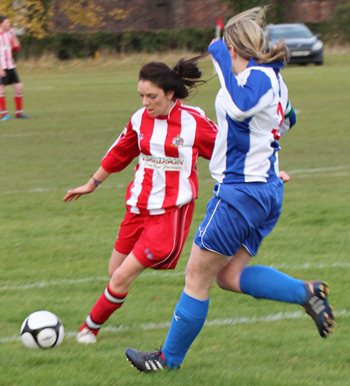 Altrincham FC Ladies' manager Keith Edleston has kindly sent a report and the accompanying image from his side's latest game. The account is written by Keith's guest reporter John McManus.

Chester FC Ladies were the welcome visitors to Manor Farm on Remembrance Sunday. Following a well observed one minute silence, the game got under way.

Altrincham Ladies, playing their usual attacking formation, soon set about their task. The Ladies dominated much of the opening 20 minutes, restricting Chester from advancing beyond the half way line.

Altrincham threatened the Chester goal but were denied on several occasions by some fine goalkeeping.

Hannah Kibble struck on 28 minutes with a superb long range shot, giving the Chester keeper no chance. Chester restarted but were soon under pressure again, finally conceding another goal, slotted in by Hannah Shufflebotham on 34 minutes.

HALF TIME 2-0

The second half followed a similar pattern to the first, with Altrincham advancing almost at will, limiting the opposition to few attacking opportunities. Much credit must go to Chester, who stuck to their task with some resolute defending, with special mention to their goalkeeper, who had a great game.

There was no further goals in the game - another three points to Altrincham".

SQUAD - Rosie Emerson, Sam Briggs, Louise Edleston, Rebecca Corish, Nat Thornley, Hannah Kibble, Heather Scott, Kathryn Macintyre, Hannah Shufflebothom, Sam Jones, Brogan Walsh, Lauren Thorneycroft, Gail Simpson, Sarah McManus, Caroline Moran, Kate Rawthore.

Altrincham Player of the Match:- Sam Briggs.
PENSIONERS' CHRISTMAS DINNER
TASC chairman Brian Flynn has confirmed the details of this year's Altrincham FC Pensioners' Christmas Lunch.

"As notified last week, this year's Pensioners' Christmas Lunch will take place in The Manchester Glass Limited Sponsors' Lounge at Moss Lane at 12.30pm on Wednesday December 5th. Our Christmas Chef is Dave 'The Doorman' Johnson and the menu is as follows:-
Cream of Fresh Vegetable Soup
Roast Cheshire Turkey (Chipolata Sausages/Chestnut Stuffing) with Sprouts, Carrots & Roast Potatoes
Christmas Pudding & Cream
Traditional Mince Pies
Tea or Coffee

Red or white wine and soft drinks will be served with the meal. All this for just £9.95!!

To reserve your place at this festive culinary extravaganza simply pick up the phone and call the Football Club on 0161 928 1045".
OPPONENTS LOOK TO MAGHOMA
According to the Burton Mail, "Gary Rowett is hoping to have Jacques Maghoma back to his 'explosive' best this week. The midfielder missed Saturday's 1-0 League Two defeat at Cheltenham Town through a combination of illness and injury.

However, Rowett is keen to have the former Tottenham Hotspur player back in his side for Thursday's televised FA Cup first round replay at Altrincham.

The Brewers' boss said, 'Jacques needs to feel fit and good about himself to be at his most explosive — and I'm hopeful that will be the case at Altrincham'. Maghoma came off with an ankle injury in the second half of the midweek victory at Plymouth Argyle, but was also feeling the effects of sickness bug that had been doing the rounds at the Pirelli Stadium.

Rowett said, 'There's nothing too sinister about Jacques not being involved at Cheltenham. He was feeling a bit under the weather and then took a bit of a knock during the (Plymouth) game. Jacques is one of those who has played a lot of football so far this season and we just felt he was slipping away from being at his sharpest.

It just seemed the sensible thing to leave him out for the Cheltenham game and give him a breather because he wouldn't have been 100 per cent. He's had the weekend off and I'm really hoping that he is able to make a full recovery for the Altrincham game'.

Maghoma was one of Albion's scorers in their great escape against the Blue Square Bet North side 10 days ago when Rowett's men had to come from 2-0 and 3-2 down to salvage the Moss Lane replay, which will be televised live by ESPN.

That was the Congo-born player's sixth goal of the campaign, which is already two more than he scored in the whole of last season.

Rowett said, 'Jacques is one of the key people in how we want to play, but it's vital we keep him fresh, fit and firing on all cylinders'. The Brewers will also welcome back left-back Damien McCrory, who missed Saturday's game at Cheltenham through suspension".

And "Albion have seats available on their official coach to Altrincham on Thursday, departing the Pirelli Stadium at 5pm. The fare is £10... Albion Independent Supporters are also running a coach to Altrincham".
BSBN NEWS
The Worcester News reports that "Robin Hulbert could agree a deal with Worcester City later this week.

The former Barrow midfielder linked up with City in the summer but was still struggling with the cruciate ligament injury that kept him out for most of last season".

Manager Carl Heeley said, 'Rob is continuing to train with us and hopefully something may happen depending on how he goes through the week in training'.

Meanwhile, striker Danny Glover is taking longer than anticipated to recover from an Achilles problem and is not expected to be fit to face Workington this Saturday. Glover... has missed the last four games with the problem".

News of Alty's next league opponents, this Saturday at Moss Lane, comes from the Coventry Telegraph, which reports that "Hinckley United put together a confidence-building display in a 1-1 draw against Gainsborough Trinity in the third qualifying round at the weekend and a win in tonight's home replay would bring much needed positivity.

A fortnight ago, Knitters were hammered 5-0 at Northolme in Blue Square North by the same rivals but Saturday's battling efforts earned a replay and they will want to make home advantage count".

The Halifax Courier reports that ex-Altrincham "Full-back Ryan Toulson looks set to miss the next two weeks after damaging his medial ligament. Toulson picked up the knock to his knee during Town's trip to Brackley Town on October 27...

Neil Aspin admitted it could be two weeks before Toulson could return. 'He damaged his medial ligament against Brackley two weeks ago', said Aspin. Aspin added that Dan Gardner missed the game at Cammell Laird due to flu."
---
13 November 2012
THURSDAY MATCH ARRANGEMENTS
Thursday's FA Cup replay at Moss Lane against Burton Albion (7.45pm) is NOT an all-ticket game and admission is NOT by advanced ticketing. Entry is by payment at the turnstiles, which will open at 6.30pm.
THURSDAY- HELP NEEDED
With a large attendance expected on Thursday at Moss Lane for the visit of Burton Albion for the FA Cup 1st Round replay, Altrincham FC Matchday Secretary, George Heslop, has appealed for two more "gate-people" to staff the turnstiles for the game. If you can help, please contact George on 0161 718-0624, as soon as possible.
WIN AT WORCESTER
Video highlights of Altrincham's win at Worcester last Saturday are on the City website.

Meanwhile, the Worcester News says that "City manager Carl Heeley admitted to being baffled by what he described as an inept performance against Altrincham... their third consecutive defeat at St George's Lane.

Heeley said, 'The performance wasn't good enough and we know that. The goals we conceded were sloppy and as a consequence we're out of the FA Trophy. It's baffling how we can put that performance in. I thought our passing was astray, we didn't defend well and we didn't look a threat. Although I felt we had a bit of a go in the second-half, it was a bad day at the office all round.

'It's hard to explain individually and as a team how that performance has come about but occasionally it happens. It's the first time this season we have been soundly beaten and deserved nothing. We came up against a side I felt were there to be beaten but they've got a lot of firepower and for our lapses they've punished us and they deserved to go through.

'You've got to try and keep yourself level-headed when you win and play superbly because it has got a habit of kicking you in the teeth and you get a totally inept performance, which we've had. We started off quite brightly but then it was a mad six minutes and we conceded three goals. I thought we were marginally better as a unit in the second-half. We had three or four chances but Altrincham had chances to extend their lead as well'".

Also, "Heeley has demanded a response from Worcester City as they bid to channel their FA Trophy disappointment into league success... He said, 'There are changes there to be made and one of the things we've said to players is if any of them are sitting on the bench next week or in the stands, they can't complain after that performance. We can swap it around a little bit and if people are not playing they can't be too unhappy. It depends how people train in the week because I'm looking for a response'.

He continued, 'I don't think it's going to be difficult to raise the level after last Saturday because I don't think we could get much worse. It was poor... The best teams in the world have bad days but it's about keeping them to a minimum, responding and learning from the things that have contributed to that bad performance'. Left-back Ellis Deeney serves a one-match ban for the visit of Workington, while defensive colleague Shabir Khan is in Singapore on international duty with Pakistan".
HOME AND AWAY
The draw on Monday, which sends Altrincham to play away at FC Halifax Town in the next round, is the sixth successive time that Alty have been drawn away in the FA Trophy; in the FA Cup our last four ties have also all required us to play away. That may be just as well as Altrincham have not won any of their last five home FA Cup ties; our last win being in 2004 against Farsley Celtic. Likewise in the FA Trophy, on the last four occasions that Alty have been drawn to play at home they have failed to win, though they did win a home replay against Wrexham in 2009-10.

It is just over five years since Chris Senior scored Altrincham's last FA Cup goal at home, against Millwall, on 10 November 2007!

All that can change on Thursday night!
FAT1 DRAW
The full draw for FA Trophy Rd 1 is:
Alfreton Town v Kidderminster Harriers
Hednesford Town v Solihull Moors
Gainsborough Trinity or Hinckley United v Harrogate Town
Wrexham v Rushall Olympic
Tamworth v Lincoln City
Boston United v Skelmersdale United
FC Halifax Town v Altrincham
Mansfield Town v Matlock Town
Stafford Rangers v Southport
Guiseley v Brackley Town
Chester FC or Worksop Town v King's Lynn Town
AFC Telford United v Nuneaton Town
Gateshead v Macclesfield Town
Hyde v Barrow
Stockport County v Ossett Town
Grimsby Town v Buxton
Woking v Farnborough
Oxford City v Bishop's Stortford
Kingstonian or Brentwood Town v Dartford
Welling United v Newport County
Ebbsfleet United v Hereford United
Dorchester Town v Luton Town
Braintree Town v Havant & Waterlooville
Canvey Island or Chesham United v Leatherhead or Bath City
Wealdstone or Corby Town v Hayes & Yeading United
Bromley or Staines Town v Boreham Wood
Billericay Town v Cambridge United
Shortwood United or Merthyr Town v Tonbridge Angels
Maidenhead United v Sutton United
Forest Green Rovers v AFC Totton
Maidstone United v Salisbury City
Leiston or Hampton & Richmond Borough v Chelmsford City or Dover Athletic
BSBN NEWS
Corby Town announce that "Following the enormous interest shown with regards to the club's decision to allow Kettering Town to play at Steel Park last Saturday and the upset this has caused to many, the Board is to hold an open meeting. This will take place on Wednesday evening at 6.30pm in the Steelmen Social Club bar prior to the FA Trophy replay against Wealdstone at Steel Park.

Chairman Kevin Ingram and directors David Mallinger and Graham Starmer will address fans and take questions from the floor. Ingram told www.corbytownfc.co.uk, 'Irrespective of last week's decision, I am happy that the Board did the right thing and we are happy to debate this on Wednesday evening'".

The Football Conference reports that "Midfielder Simon Garner has joined Bradford Park Avenue on a month`s loan from Chorley. Garner had been placed on the transfer list by Magpies' manager Garry Flitcroft last week. A combative central midfielder, the 30-year-old joined Chorley from FC Halifax Town in the summer and has also featured at left-back since moving to Victory Park.

At The Shay he played forty-three games in the season Halifax were promoted from the NPL Premier League... He has previously appeared for Accrington Stanley, Fleetwood Town, Stalybridge Celtic and FC United of Manchester".
---
12 November 2012
NEW DATE
FC Halifax Town "have confirmed... The Blue Square North match between Altrincham and FC Halifax Town which was scheduled for tonight has been arranged for Tuesday 18th December, 7.45pm kick-off. This is due to Altrincham's FA Cup replay with Burton Albion this week".
AWAY YET AGAIN!
In today's draw for the FA Trophy, Altrincham have been drawn away to FC Halifax Town on Saturday, 24 November.
RE-LIVING WORCESTER GAME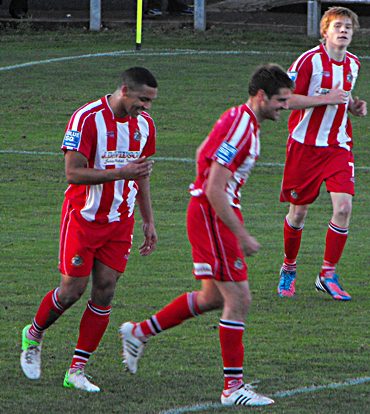 The Worcester News says that "Worcester City crashed out of the FA Cup with a 3-0 defeat to Altrincham at St George's Lane. Three goals in six first-half minutes stunned the hosts as Nicky Clee, Danny Hall and Damian Reeves fired the Robins into the first round proper. City rallied after the break but were unable to find a way back into the match, while Altrincham had chances to extend their advantage.

Centre-half Jacob Rowe, who had Worcester's best opening when he headed wide in the second period, said, 'It was disappointing and, in general, we weren't quite at it. We started better than we did against Hinckley last week but there were 15 or 20 minutes in the first-half where we were just completely off the pace and that cost us. Altrincham are a good side and if you're not doing well then they'll punish you'2.

Also from the Worcester News, we read that "It's a shame that Worcester City had to bring the curtain down on cup games at St George's Lane like this...With the club due to leave their home of more than a century next June, that means the 785 who ventured out last Saturday witnessed City's final bow as far as cup competitions are concerned at the ground. There was a strange atmosphere after the final whistle. One of disbelief at how City could have capitulated so dramatically, as they did in the space of six first-half minutes which proved decisive.

The playing of the highly emotive theme from Saving Private Ryan, known as the Hymn To The Fallen, as the teams left the field was equally as surreal given the poignancy of the weekend. Unusually, too, the players said little as they trudged out of the changing rooms, the overwhelming sense of disappointment etched on their faces.

Manager Carl Heeley, himself part of so many joyous cup occasions down the years at the Lane, also cut a slightly subdued figure... For 20 minutes, City looked like a team riding high in the league. They were in the ascendancy and producing some attractive football. Yet, as has so often been the case this term, it lacked a cutting edge and, boy, did Altrincham make them pay.

Left: Carl Rodgers (left) and Duncan Watmore (right) come to salute Danny Hall, scorer of Alty's second goal at Worcester..

Nicky Clee drilled home the opener from the edge of the 18-yard box, although James Moult's presence in front of keeper Glyn Thompson could have been seen as interfering with play. Then, in the space of 60 seconds, Danny Hall doubled the visitors' lead from close range and the prolific Damian Reeves made it 20 goals for the season with a simple tap-in as City's defence crumbled...

Provider of all three goals, and at the centre of everything the Mancunians did, was ginger-haired dynamo Duncan Watmore. He was to Altrincham like Tom Thorley is to Worcester — instrumental and pivotal to their chances of success. Watmore shone, and was even clapped off by the City faithful when he was replaced eight minutes from time. Thorley, on the other hand, fell short of his usual high standards and his side struggled".

Brian Flynn reports that the SoundCloud commentary files from yesterday's game are now available:
Second Half
CARL TUNES UP TO DELIVER ANOTHER PIZZA F.A. CUP HISTORY
Midfielder Carl Rodgers (right) will be battling to be fit for Thursday's game against Burton Albion in the FA Cup after having to come off, injured, in the FA Trophy game at Worcester City on Saturday. In the NL Paper, Carl is interviewed, having scored the opening goal in the 3-3 draw at Burton a week ago. The article refers to the Second Round draw for Alty or Burton against Crewe Alexandra and "With his dad's family hailing from Crewe... Rodgers would love to go to Gresty Road. But first he laid his cards on the deck over what he does for a living, after it was mistakenly reported that he was a full-time DJ".

Carl told the NLP that "I like to DJ as a hobby but I actually work at Pizza Hut in Chester, near where I live. I've been doing it part-time for a couple of years while I juggle football and training to be an electrician. I've done a few nights playing house music but nothing as a resident DJ or anything like that. Normally, I am stuck in the kitchen dishing up meat feast pizzas and pasta".

Referring to the 3-3 draw at Burton, Carl added, "We should have hung on last week and I don't think we have that much to worry about if we play how we can. We know we can trouble them and, although Damian Reeves is obviously our main threat, we can get goals all over the park with lads like James Lawrie, Nicky Clee, Simon Richman and Duncan Watmore.

"I got to the first round with Telford... Southend beat us 2-0 in the replay. We are more capable of beating Burton being back at home than [Telford] were going down to Essex back then.

"There's a real buzz around the place with the TV cameras coming and we all know why they are. They hope they might witness a giant-killing and, if our fans get behind us like they did at Burton, where they outsang their fans, we'll hopefully deliver".

Altrincham have only once before played an FA Cup tie on November 15th. Howard Watts's Through the Years reveals all...
LADIES' WIN
Alty Ladies beat Chester Ladies 2-0 on Sunday. The Ladies' next game is on Sunday 18 November away to AFC Stockport at Daisy Fields, Bredbury, kick off is at 2pm.
SUNDAY FA TROPHY GAME
Gloucester City 0 Maidenhead United 1
---
11 November 2012
REMEMBRANCE DAY

Left, Altrincham players show their respect for the nation's fallen in the pre-match minute's silence at Worcester yesterday.

See the Altrincham War Memorial and list of the 405 Altrincham residents who died, at the Carlscam website.
GET BEHIND THE ROBINS!
Altrincham entertain Burton Albion in the FA Cup Round One replay at Moss Lane on Thursday evening (7.45pm). It promises to be the biggest match at Moss Lane in the FA Cup since the visit of Luton four years ago, also in a First Round replay. The winners this year travel to League One Crewe Alexandra in Round 2. Alty's historic FA Cup record is to be found below:
Pre-WW2
Mike Garnett advises us of Altrincham's competitive record against Burton Albion...
Home - p.6 w.1 d.1 l.4 f.5 a.10
Away - p.7 w.1 d.3 l.3 f.9 a.11
Overall -p.13 w.2 d.4 l.7 f.14 a.21
First played - February 2nd 1985 (FA Trophy 2nd round) Won 2-1 (away)
Last played - January 24th 2009 (Blue Square Premier) Drew 1-1 (away)

Both Altrincham victories were in FA Trophy matches (in 1985, as above, and on January 25th 1999 [Rd 3], home, 1-0)

The full record, with Alty score first is below. In summary, Alty have never won a league match against the Brewers, whilst the Brewers have never beaten Altrincham in a cup competition.

FA CUP
2012/13 Rd1 A 3-3

FA TROPHY
1984/85 Rd2 A 2-1
1998/99 Rd3 H 1-0

UNIBOND NORTHERN PREMIER LEAGUE
27.8.01 H 0-2
15.12.01 A 1-1

CONFERENCE NATIONAL
Sun 30.10.05 A 0-1
Sat 25.3.06 H 1-2
Sat 2.12.06 H 2-3
Fri 2.3.07 A 1-2
Tue.9.10.07 H 0-0
Tue.8.4.08 A 1-2
Sat.20.12.08 H 1-3
Sat.24.1.09 A 1-1
BURTON UPDATE
Before Saturday's game, the Burton Mail told us that "Damien McCrory's suspension has left Burton Albion boss Gary Rowett with a defensive headache ahead of this afternoon's League Two clash against Cheltenham Town... Albion's left-back will be missing for the first time this season after picking up his fifth yellow card of the campaign in Wednesday's 2-1 win at Plymouth Argyle.

Rowett admitted the loss of his summer signing from Dagenham & Redbridge was 'a bit of a problem'. Long-serving Aaron Webster is Albion's only other recognised left-back but has not played for three weeks because of a hamstring problem... The Brewers boss could hand the shirt to the versatile Andy Corbett, who once played almost an entire season at left-back during Albion's Conference days. However, he also has the option of utilising the return to fitness of Marcus Holness. The summer signing from Rochdale could partner skipper Zander Diamond at the heart of the defence, with Nathan Stanton switching to left-back".

After the game, Burton Albion reported that "Chris Zebroski's 85th minute goal was all that seperated the Brewers and the Robins and it was hard luck on Albion as they battled superbly to repel all of Cheltenham's best efforts only for a late corner to be their undoing as Mark Oxley failed to safely collect at the far post allowing the former Torquay and Bristol Rovers man to poke home from close range.

The home side had dominated for long periods in the first half but it looked like Albion were good for a point until the late drama that unfolded. Gary Rowett rang the changes for the visit to promotion chasing Cheltenham Town despite winning 2-1 at Plymouth Argyle in the week. Chris Palmer was rewarded for his role in Wednesday's victory with a starting role on the left hand side of midfield with Nathan Stanton moving across to left back to cover for the absence of the suspended Damien McCrory. The former Plymouth and Dagenham full back had played every minute of every game up to Wednesday but picked up his fifth yellow card of the season at Home Park to miss out on the trip... Marcus Holness was drafted into the centre of defence to fill the gap left by Stanton.

Albion returned to a 4-4-2 formation which allowed Matt Paterson to return to the starting line-up alongside leading scorer Calvin Zola. There was also a first appearance in the squad this season for club captain John McGrath. The midfielder had been missing from action since the end of February following a foot injury but he made the bench as Jacques Maghoma missed out altogether with an ankle knock picked up at Plymouth...

Burton were struggling to get out of their own half... Just when it looked like Albion were going to hold out their defence was finally breached on 85 minutes. Another teasing corner from Billy Jones caused havoc in the Burton six yard box and when Mark Oxley dropped the ball at the back post Chris Zebroski was first to react and poke home...

Burton: Oxley; O'Connor, Holness, Diamond, Stanton; Dyer, Weir, Bell, Palmer; Zola, Paterson. Substitutes: Corbett, McGrath, Taylor, Richards, M.Palmer, Lyness, Kee.
CROSSBAR CHALLENGE
Ian Senior closed the gap to 11-12 in the instalment at Worcester of the Charity Crossbar Challenge competition the Alty coach is having with Assistant Manager, Neil Tolson. Ian writes, "The latest leg of the challenge saw a 3 - 2 "sudden death" victory to me to bring the score back to 12 - 11 yesterday, with the 'Live on TV Challenge' on the horizon. This time, it was Neil who wilted under the pressure, claiming his current knee problem was affecting his performance'".
FAT GATES
Selected attendances from Saturday's FA Trophy games were:
Cammell Laird v FC Halifax Town 301
Chester v Worksop Town 1,410
Droylsden v Rushall Olympic 211
Guiseley v Whitby Town 506
Matlock Town v Stalybridge Celtic 402
Ossett Town v Workington 158
Stafford Rangers v Bradford Park Avenue 419
Thurrock v Brackley Town 99 (ninety nine!)
Wealdstone v Corby Town 405
OLD BOYS
Pitchero Non-League report that "Jimmy Quinn, manager of Nantwich Town, has moved to strengthen his squad... with the capture of experienced right-back Adam Carden. Carden, 27, joined the Dabbers at the Weaver Stadium on Friday on an initial month's loan from league rivals AFC Fylde. The defender, who can also play in midfield, includes Southport, Burscough, Accrington Stanley, Altrincham and FC United of Manchester among his former clubs".

In Saturday's games in the Evo-Stik League, Ashton United beat Chorley 3-2, with all the Ashton goals scored by ex-Robins; Aaron Burns (16, 62pen) and Chris Lynch (60). In Division1N EvoStik 1N Mossley won 2-1 at Ramsbttom with goals from ex-Alty Youth, Sam Madeley and last summer's trialist Adam Mather. Warrington Town lost 1-4 at home to Garforth Town with Adam Flynn (88) the scorer for Warrington.
---
10 November 2012
WORCESTER CITY 0 ALTY 3
Without the injured Havern and the suspended Densmore, three goals in six minutes midway through the first half put Alty in command...
Report here

Right: Alty celebrate Nicky Clee's goal.
Alty cup match line-ups and bookings
Third Round Qualifying:
Matlock Town 2 - 1 Stalybridge Celtic. The FA wrongly has this score as 1-2.
Guiseley 7 - 0 Whitby Town
Cammell Laird 0 - 1 FC Halifax Town
Gainsborough Trinity 1 - 1 Hinckley United
Worcester City 0 - 3 Altrincham
Vauxhall Motors 1 - 3 Harrogate Town
Stamford 0 - 2 Buxton
Chester 2 - 2 Worksop Town
Skelmersdale United 3 - 1 New Mills
Stafford Rangers 3 - 1 Bradford Park Avenue
Solihull Moors 2 - 1 AFC Fylde
Droylsden 1 - 2 Rushall Olympic
Boston United 3 - 1 Colwyn Bay
Ossett Town 2 - 1 Workington AFC
Thurrock 0 - 2 Brackley Town
King's Lynn Town 3 - 0 Eastbourne Borough
Histon 1-2 Borehamwood
Sutton United 2 - 0 Ramsgate
Canvey Island 1 - 1 Chesham United
Bromley 1 - 1 Staines Town
Kingstonian 2 - 2 Brentwood Town
Maidstone United 3 - 2 Whitehawk
AFC Hornchurch 2 - 3 Bishop's Stortford
Wealdstone 1 - 1 Corby Town
Tonbridge Angels 2 - 1 Hitchin Town
Billericay Town 3 - 2 Enfield Town
Chelmsford City 1 - 1 Dover Athletic
Leiston 1 - 1 Hampton & Richmond Borough
Sholing 0 - 1 Oxford City
AFC Totton 3 - 0 Basingstoke Town
Didcot Town 1 - 2 Dorchester Town
Eastleigh 1 - 4 Hayes & Yeading United
Farnborough 3 - 2 Truro City
Leatherhead 4 - 4 Bath City
Shortwood United 1 - 1 Merthyr Town
Bognor Regis Town 1 - 4 Havant & Waterlooville
Salisbury City 3 - 0 Weston Super Mare
FA TROPHY AT WORCESTER
Altrincham FC will be wearing their red and white striped "home" kit at Worcester tomorrow, rather than their away aquamarine shirts.

As usual there are two ways to keep update with Altrincham's matches...

Brian Flynn writes, "Radio Robins, sponsored by Ashley Mowers Garden Machinery, will be broadcasting live coverage of Saturday's game against Worcester City in the FA Trophy.

The match commentary is sponsored by Altrincham Football Club Community Sports Ltd, which is the umbrella organisation that manages the Club's community activities. Formed in March, Altrincham Football Club Community Sports Limited helps in obtaining the funding for, and managing of, these activities.

The day to day management and operation of the community activities is carried out by the Club's Community Officer, Chris Bullock. Altrincham Football Club is already active with community-based activities within the local area, particularly in Junior football where the Junior section currently runs 37 teams, as well as a Saturday Morning Club.

The Club provides coaching in several local schools, runs Fun Weeks during the school holidays and, last season, started an Open Age Ladies' team.

At present, the Club is looking to start new health and education projects with mature adults, following the introduction of a two-year football-based BTEC Course, run at Moss Lane, which started in August. However, anyone with ideas regarding new community projects that may benefit from resources or facilities available from Altrincham Football Club should e-mail Chris Bullock or contact him by phone on 0161 928 1045.

The match commentators are Ian Wilkinson and Brian Flynn with match summaries from Shaun Densmore. Commentary begins at 2.55pm".

You can also follow the match via the website's matchday update service, which aims to start as soon as the team news is available.

You can follow the match via the following quick links...

The Worcester News reports that "Shabir Khan is set to earn more international recognition after being called up by Pakistan. The Worcester City defender, who can play either centre-half or left-back, is part of his nation's squad travelling to Singapore for a FIFA ranking match on Monday, November 19.

Shabir is available for tomorrow's FA Trophy match against Altrincham at St George's Lane but is due to fly out on Tuesday ahead of a warm-up game against Singapore Under 21s next Friday... The 26-year-old was last called up by his country, the birthplace of his father, three years ago and he is eager to be involved again.

'It's a great honour to go over and play', Shabir said. 'It's been a long time since the last time I was called up. They did contact me but that was when I was still recovering from my knee injury... but now I am back fit again. With me not being in the City starting 11 at the moment it's been easier to go and get games'".

Meanwhile, "Manager Carl Heeley believes his Worcester City side have what it takes to book a place in Monday's FA Trophy first round draw. City are enjoying one of their best seasons of recent times and take on Altrincham in a third qualifying round tie at St George's Lane tomorrow (3pm)...

Altrincham will be buoyed for the match, which carries £4,000 in prize money, by earning an FA Cup first round replay against League Two Burton Albion following a 3-3 draw last weekend.

But Heeley is focused on his own team and said 'It's an opportunity to have a decent run. We have got a tough draw and Altrincham went to Burton last week and were unfortunate not to win the game. I'm sure they will fancy their chances in the replay. But this is a different game against us and we have got to be on our mettle. If we are on our game, we can win the tie'...

Although striker Danny Glover is still struggling with an Achilles injury, Worcester expect to have the same 11 available that put Hinckley to the sword. That would see Matt Breeze and Charlie Reece retained on the flanks and eight-goal Mike Symons paired up front with new signing Alex Meechan [who is ex-Alty, of course].

Altrincham, who have former City midfielder Simon Richman on their books, lost 3-0 at the Lane when the sides met in the league last season almost a year to the day.

Manager Lee Sinnott insists his side will not be distracted by their FA Cup replay against Burton next Thursday. 'The FA Cup is a wonderful competition but so is the Trophy so we will be concentrating on Worcester tomorrow rather than Burton next week', he said. 'We had a good performance at Burton so we will be looking to carry that on. At the moment we are surrounded by cup games and the league goes on the back burner but it's going to be a tough test'.

If the game is drawn, the Moss Lane replay would not take place until Tuesday, November 20, because of Altrincham's FA Cup involvement".
LOUD AND CLEAR
Supporters at Moss Lane will be aware that there have been problems with the public announcement system at the ground over the past few weeks. But, now, Altrincham FC chairman Grahame Rowley says that "The Club is pleased to announce that, following a visit to Moss Lane, by Bob Large and his trusty helper, Norman, the new PA system system that was recently purchased, via Paul Davies, is now fully operational.

We apologise for the inconvenience that this problem has caused over the last few weeks and look forward, now, to many years of trouble-free announcements!"
ANDREW SHAW INTERVIEW
Interviewed on BBC Radio Manchester on Friday evening, Altrincham FC Deputy Chairman, Andrew Shaw said it was no secret that the 2012 FA Cup run has netted Altrincham some £70,000 to date, including television fees. He confirmed that that figure was net of a cup- win bonus scheme for the players. Andrew added that the £70K is a windfall "as the club budgets for nothing" from cup matches over the season.

The Deputy Chairman confirmed that the Board would be receptive to manager Lee Sinnott should he put any requests to them to strengthen the playing squad, "but he won't get all of the £70,000"! As Andrew added, the club's priority is promotion. He went on to describe Altrincham as a "Great and well-known club - but we haven't any money"! As a Manchester City supporter, Andrew nevertheless stated that the arrangement whereby Manchester United Reserves play at Moss Lane was working well. "United are very good tenants to have", he concluded.
TV AT MOSS LANE
The bar at Moss Lane will be open this weekend to show the following live Premiership matches in HD:
Saturday, k.o. 5.30pm - Aston Villa v Manchester United
SUnday, k.o. 1.30pm - Manchester City v Tottenham Hotspur

The bar will open about 30 minutes before kick off and is open to everyone.
YOUTH TEAM PHOTO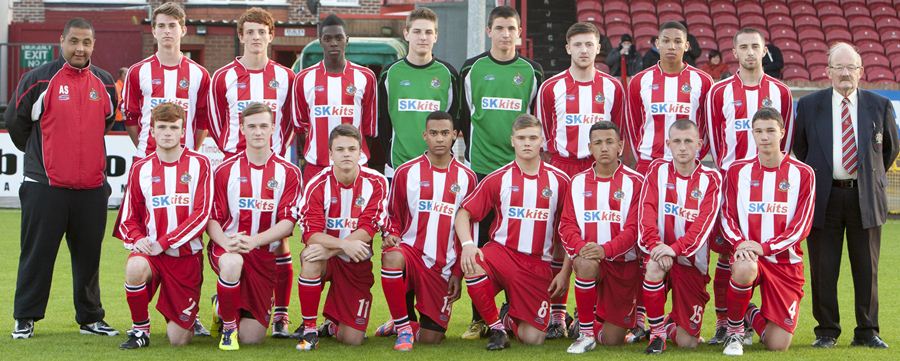 Courtesy of Altrincham FC Club Photographer, Gavin Rathbone, of GR Photography, comes this team photo of Altrincham FC Youth.
BACK. Ant Small (coach), Alex Weatherby, Tom Lyons, Derryn Ofori, Benn Hall, Steven Bullen, Rory McGoldrick, Louis Brown, Adam Bezzina, George Heslop (manager).
FRONT: Callum Harkin, Joe Hand, Michael King, Jordan Mainoo-Hames, Oliver Riley, Spencer Cunliffe, Sam Bowles, David Brown
FIXTURES
Saturday 10 Nov.
FA Trophy
AFC Hornchurch v Bishops Stortford
AFC Totton v Basingstoke Town
Billericay Town v Enfield Town
Bognor Regis Town v Havant & Waterlooville
Boston United v Colwyn Bay
Bromley v Staines Town
Cammell Laird v FC Halifax Town
Leatherhead v Bath City
Salisbury City v Weston-Super-Mare

Sunday 11 Nov.

FA Trophy
Cray Wanderers v Welling United
Gloucester City v Maidenhead United
YOUTH ACTION
This Sunday, Altrincham FC Youth are playing an away tie in the NWYA Open Cup 3rd Round at Lancaster City.
FA CUP FOES
News of next Thursday's FA Cup opponents comes from the
Burton Mail
which says that "Gary Rowett has praised the doggedness of his Burton Albion play-off hopefuls — and wants more of the same tomorrow. The Brewers climbed to fifth in the League Two table after a smash-and-grab victory over Plymouth Argyle at Home Park on Wednesday evening.
Rowett admitted his men were sadly lacking in terms of skill and craft, but had nothing but praise for the never-say-die attitude that earned them an unlikely 2-1 victory with two goals late in the game. The Brewers boss will call for more of the same in what on paper is an even tougher assignment against fellow highfliers Cheltenham Town at Whaddon Road tomorrow, kick-off 3pm.
Rowett said, 'It was far from a good performance at Plymouth, but what you saw was a team that never gives up... Our recruitment in the summer was based on the philosopy of bringing in people with character and I think we're seeing the benefit of having the right type of players on board'... Rowett said, 'We just couldn't get up the pitch because we didn't show enough composure on the ball and we didn't pass it well enough... I thought Chris Palmer made a big difference when he came on'... after a six-week injury lay-off.
Rowett said, 'Chris did a really good job when he came on because he played with composure and control to get us back in the game'. Palmer may have done enough to earn a place in the starting line-up at Cheltenham, especially if Rowett again decides to start the game with Calvin Zola operating as a lone striker... The Brewers boss had to revert to a 4-4- 2 formation in the second half at Plymouth".
BSBN NEWS
According to the
Football Conference
, "Neil Young, manager of Chester FC, has boosted his attacking options by signing former Tranmere Rovers and Carlisle United striker Craig Curran on a month's loan from Rochdale. Curran, 23, spent four seasons at Tranmere ending in 2010 where he'd made nearly 100 appearances, scoring fourteen times... and became the youngest player to score a hat-trick for the club since the late great Dixie Dean.
The young striker then signed for Carlisle in 2010... before then finding his starts limited".
Elsewhere, "Histon have signed goalkeeper Carl Pentney on a month's loan from Colchester United. Pentney, 23, initially signed for the 'U's on a non-contract basis before signing a permanent deal in September 2010, penning a new one year contract in the summer of 2012... Pentney had previously spent five years with Leicester City... Whilst on Leicester`s books he had loan spells with York, Ilkeston Town, Fisher Athletic, Woking and Leamington. And since moving to Layer Road he has spent time out at Bath City, Chelmsford City and Hayes & Yeading United".
And the Conference also confirms that "Jon Newby, player-manager of Colwyn Bay, has negotiated a new deal with Stockport County that has further extended Cameron Darkwah's loan spell until the end of the year, and made him available for tomorrow's FA Trophy tie at Boston United. Stockport had been expected to insist that the 20-year-old forward miss the trip to Lincolnshire to avoid him being cup-tied...
It is a big boost for Newby, who goes into the tie without first choice defenders Frank Sinclair (suspended) and Tom Smyth (injured), while another loan player, Jamie Rainford, is away and unavailable. Bay, however, are hopeful of also extending Rainford's loan deal when he returns, as the player is keen to stay".
OLD BOY
The NW Counties Football League reports that former Altrincham Youth player, Matthew Fearon, has joined Nelson.
MIDWEEK FIXTURES
Tuesday 13 Nov.
FA Cup 1 Replay/Postponed Games
Walsall v Lincoln City FC (3pm)
Barrow v Guiseley
Braintree Town v Tranmere Rovers
Nuneaton Town v Luton Town
Slough Town v Mansfield Town

Wednesday 14 Nov.

FA Cup 1 Replay
Gloucester City v Leyton Orient

Thursday 15 Nov.

FA Cup 1 Replay
Altrincham v Burton Albion
---
9 November 2012
ANDREW SHAW ON RADIO TONIGHT
Andrew Shaw, Deputy Chairman of Altrincham FC, is being interviewed on BBC Radio Manchester tonight around 7.10pm.
CONGLETON GAME
There is now a report on Alty's defeat to Congleton Town on Wednesday night,
here
.
JAKE MOULT HAS JOINED - ON THURSDAY!
Contrary to various reports on Wednesday, loanee midfielder Jake Moult (right) had not signed for Altrincham at that point. As supporters are aware, the midfielder has been on loan to the Robins from Alfreton Town since August, 2012 and, in that capacity, he played as a used substitute in the Cheshire Senior Cup match on Wednesday night.
The procedure necessary to ensure that the Alfreton Town midfielder could join Altrincham on a "permanent" basis was that he had to be recalled by his parent club, which duly occurred after Wednesday's CSC game. He was then granted a free transfer by Alfreton Town, which allowed him to move to Moss Lane on Wednesday. His move was confirmed late on Thursday afternoon and he will now be at Altrincham until the end of next season (April 2014).
All at Moss Lane now welcome Jake to the club on a "permanent" basis. To date he has made 14(+2) appearances and scored twice for Altrincham since his arrival in August 2012.
TROPHY OPPONENTS' SELF-ASSESSMENT
Alty's next opponents are the subject of an article by manager Carl Heeley in the
Worcester News
, which says that "As Worcester City prepare for the FA Trophy on Saturday, there is an opportunity to reflect on the first third of our league campaign. With 14 games played, we find ourselves fourth in Blue Square Bet North and well placed to push on when we face Workington the following weekend.
We don't put any targets on a league position or points tally but we know where we need to be, based on last year. It was important that we improved our goal difference by conceding less and scoring more and if you look at that this season we are way ahead of where we were...
We have been in contention in most games and not been soundly beaten by anyone. It hasn't necessarily been a case of being beaten by better sides either, sometimes we have contributed to our own downfall so there's room for improvement in that respect...
I have also been impressed by the way some of my players have stepped up to the plate this season. It was a blow when Kevin O'Connor left us in the summer... But I haven't heard his name mentioned by anyone this season and that's not to his detriment, it's the biggest compliment I can pay to the other players in midfield such as Rob Elvins, Tom Thorley and Matt Breeze.
Rob gives us a physical presence, he's tidy and disciplined in what he does. That then gives Tom and Matt the freedom to go and play and that has shown in Tom's return of five goals. Rob provides the security in midfield and Tom's confidence has been boosted as a result, something his free-kicks have demonstrated.
Another good thing about our players is they are honest in their appraisals of their own performances. If we tell a player what we feel they can do better it's not very often they disagree with us."
CSC
The draw for the next round of the Cheshire Senior Challenge Cup is as follows:
Stalybridge Celtic v Macclesfield Town FC
Chester v Stockport Sports
Crewe Alexandra v Northwich Victoria
Nantwich Town v Tranmere Rovers
Vauxhall Motors v Hyde FC
Runcorn Town v Witton Albion
Congleton Town v Winsford United
Runcorn Linnets v Alsager Town
BURTON UP TO FIFTH
Alty's FA Cup opponents scored only their fifth and sixth away goals of the League Two season on Tuesday as the Burton Mail reports on their eighth away match of the season. He scored an own goal against ALtrincham but "Nathan Stanton bagged only the second goal of his career, and his first for Burton Albion, as the Brewers completed a remarkable and unlikely comeback to snatch three points at Plymouth Argyle and move up to fifth in the League Two table.

Stanton, who was making his 431st league appearance, headed home at the second attempt in the 74th minute... and he could not have picked a better time to break his Albion duck with his side having looked toothless in attack prior to his intervention. The turnaround was completed five minutes later when midfielder Robbie Weir headed home Palmer's teasing cross from the left at the far post.

The comeback must have stunned all in attendance at Home Park as the visitors had failed to muster a single shot on target until the melee which led to Stanton's goal...

However, Albion's victory was not without some controversy as striker Billy Kee appeared as a second-half substitute despite the fact he did not appear on the Brewers' team-sheet. Brewers boss Gary Rowett decided on a change of formation, switching from his usual 4-4-2 to a 4-2-3-1 line-up. There was no change in the back four which lined up in front of goalkeeper Mark Oxley, but Jack Dyer came into the team alongside Lee Bell as the two holding midfielders.

In front of them were the recalled Cleveland Taylor, who replaced on-loan Jordan Chapell, who picked up an injury in training, Weir and Jacques Maghoma. Calvin Zola led the line on his own, with Kee the other man to drop out following Sunday's 3-3 FA Cup first round Pirelli Stadium draw with Altrincham...

In a move which baffled everyone, Kee replaced Taylor after 55 minutes... Rowett made his second change on 61 minutes, with Palmer replacing Jacques Maghoma for his first appearance since injuring his ankle at Rochdale in September... The introduction of Palmer proved crucial as he created both Albion goals".
BSBN NEWS
Pitchero Non-League reports that "Neil Young, manager of Chester FC, has revealed that midfielder Michael Powell is set for a three-month loan to Curzon Ashton".

According to the Halifax Courier, "Town loanee Alex Titchiner said he was delighted to mark his home debut with a goal... Front man Titchiner, 21, joined the Shaymen at the end of last month on a one month loan deal from Fleetwood Town.

The Welshman scored 44 goals in all competitions for Witton Albion as they won promotion last season... Titchiner made his first appearance for Town just two days after the loan was confirmed at Brackley Town, and didn't have to wait long for his first start as boss Neil Aspin aims to make best use of his services before his return to his parent club - where last season his new strike partner Gareth Seddon featured prominently.

'As soon as I found out about my loan the first thing the Fleetwood lads said was about Gareth Seddon', said Titchiner. 'They said he'll win the flicks on, which he did for the goal against Vauxhall Motors... I didn't train at all last week because I was ill, so I've only had the Brackley game to try and form a relationship with him... The first day when I got on the bus for the Brackley game everyone came over and shook my hand and welcomed me to the club', he said.

'I knew a few of them already when helped, but they're a good group and they've welcomed me and so I've enjoyed it so far'".
---
8 November 2012
ALTRINCHAM 0 CONGLETON TOWN 4
In this Cheshire Senior Cup tie, Alty started the game brightly but fell behind after just seven minutes to a Congleton side from three steps lower in the football pyramid. A ball up the middle was missed by Leather and Congleton, after playing the ball about through several passes, went ahead from a fine shot from the left by Graham, which gave Reid no chance. Congleton doubled their lead after 30 minutes through an excellent chip over Reid by Koral. Alty were playing like a side unfamiliar with each other, as was indeed the case; their side started the game with six teenagers in its ranks and another player only just into his twenties. In fact, five of the players were making their first start for the first team this season and four of those were making their first-ever start for the first team.

In the second half, Alty huffed and puffed but there were too many individual errors. A goal seemed unlikely for either side in the first half hour of the second period. But it was Congleton who scored again after 79 minutes, with a great strike from the impressive Graham from 30 yards. An injury time penalty was converted by Graham to complete his hat-trick and compound Alty's misery on a night when just 172 souls turned out to watch. Congleton well deserved the win in a game against a disjointed Altrincham.

Report to follow.

ALTRINCHAM 1. Adam REID, 2. Shaun DENSMORE (capt), 3. Sam GRIMSHAW, 4. Oliver RILEY, 5. Matt DOUGHTY, 6. Scott LEATHER, 7. Derryn OFORI, 8. Patrick LACEY, 9. Danny MITCHLEY, 10. Ryan BROOKE, 11. Duncan WATMORE, Subs: 12. James LAWRIE, 14. Damian REEVES, 15. Simon RICHMAN, 16. Nicky CLEE, 17. Jake MOULT

CONGLETON TOWN: 1. Michael Langley, 2. Dan Schwartz, 3. Louis James, 4. Ian Willis, 5. Andy Alston (capt), 6. Matthew Woolley, 7. Kurtis Gill, 8. Matthew Worrall, 9. Christopher Smith, 10. Mike Koral, 11. Jack Graham. Subs: 12. Dan Doherty, 14. Geoff Basford, 15. Jamie Turner, 16. Liam Newman, 17. Gareth Creswell.
ON THE ROAD
Saturday's FA Trophy game at Worcester City will be Altrincham's tenth successive away trip in national FA cup competitions. It is the fifth succesive away tie in the FA Trophy - but these have involved six journeys...
2009-10 AFC Wimbledon
2010-11 Curzon Ashton - this tie involved two trips as the original match was abandoned due to floodlight failure and had to be replayed.
2010-11 Blyth Spartans
2011-12 FC United of Manchester
2012-13 Worcester City

In the FA Cup this season Alty have already travelled to:
Shildon
Leek Town
Boston United
Burton Albion
ALTRINCHAM EXPOSURE
John Edwards has provided the following extended version of an article appearing in the Sale and Altrincham Messenger...

"Altrincham's stirring FA Cup exploits have brought them nationwide exposure after ESPN announced next Thursday's first-round replay with Burton Albion will be beamed live across the country.

In a move that will add a further £31,900 to this season's Cup takings, ESPN will bring their cameras to Moss Lane and broadcast every minute of Alty's battle to land a second-round tie at Crewe.

It is fitting reward for a memorable performance at Burton on Sunday, when they were seconds away from eliminating the League Two high-flyers before being pegged back in injury-time.

Chairman Grahame Rowley captured the sense of anticipation sweeping through the town but admitted there was an initial moment of panic in his household when the live TV date was confirmed.

'My wife, Karen, pointed out that we haven't got ESPN, but we acted swiftly to put that right,' he said. 'I think there will be a surge in ESPN subscriptions locally, because there is a real buzz around the club and beyond. The invigorating effect on the town as a whole over the past few days has been amazing.

'I went to a local pub on Sunday night and heard two elderly blokes chatting over a pint. The live TV coverage had only been confirmed a few hours earlier, but that was all they were talking about.

'It really is the magic of the FA Cup, and I'm particularly pleased it should help some of our younger fans appreciate what that means. Our Cup deeds in the late 70s and early 80s made us the talk of the country, but we have had a lean time of it more recently. Now, when you consider the exposure and excitement that comes from ESPN's coverage of these ties, I think the younger element will begin to understand what it is all about.'

With prize money and gate receipts boosting the overall Cup income to around £70,000, Alty are ready to put their windfall to good use.

'When you add prize money to the TV revenue and also factor in gate receipts, it is close on £70,000 going into the club's coffers,' said Rowley. 'That is just for wat has happened so far, and, of course, we all hope there may yet be more to come.

'It is a fantastic financial boost for the club, particularly as, at the start of each season, we budget for no more than around £5,000 from the FA Cup and FA Trophy. The only guarantee is that we will have one tie in each competition, and it would be foolhardy to assume anything else, especially when you consider how we have fared in recent seasons.

'So when something like this happens, it is just an incredible bonus, and we will ensure the money is used to benefit the club. I will be speaking to the rest of the board about it, but I think it's safe to say funds will be available for the manager.

'Lee (Sinnott) knew the budget at the start of the season and went for quality, rather than quantity. He kept the core of the players he wanted from last season and brought in some quality additions, rather than choosing to load the squad with signings who might not have been quite so good.

'Now there is a bit more flexibility, and if Lee feels he needs extra competition for places, we should be able to help. That will be his call, but it is good that we can respond, if need be. There are also capital projects we are working on to maintain a balance between on-field and off-field activities and make the club more sustainable.'

There will be little recovery time for Alty's Cup heroes, after efforts to have the Blue Square Bet North game at Hinckley put back 24 hours were thwarted. It means Alty will face Burton next Thursday night, with the possibility of extra-time, and Hinckley less than 48 hours later, on the Saturday afternoon.

Rowley attached no blame to Alty's Conference North rivals, though, as he relived a hectic couple of days that began with news of ESPN's plans and was swiftly followed by attempts to alleviate fixture congestion.

'It was actually the FA who called me to say ESPN were interested in screening a replay but that it was slightly complicated by England's game against Sweden being on the Wednesday,' he said. 'I knew ITV were going for the Braintree game on the Monday, so that left us with the slightly unusual option of playing on Thursday.

'I checked with Burton, and they were happy to go along with it, so really it was just too good to turn down. I was slightly concerned about it being so close to Saturday, so I phoned the Hinckley secretary to see if our League game there could be put back to the Sunday.

'To be fair, he couldn't have been more helpful or understanding and said he would put it to their directors. That sounded hopeful, but he called back soon after and just said: "Oops, sorry Grahame, I had forgotten we've got another game the following Monday. We can't really play twice in successive days."

'It's just one of those things, but I still maintain that our replay going out live on nationwide television, and all that will do for the profile of our club, was an opportunity we could not miss. The exposure you get from something like this can do you so much good.

'I am really proud of our efforts so far, and the players should be, as well. I suppose the entire club felt a slight sense of disappointment on Sunday after we had come so close to wnning and achieving our goal of a place in the second round.

'When I went into the dressing room afterwards, heads were down, but I just said: "Have your moment of disappointment, but pick yourselves up after that and do not forget how well you have done." If you had offered anyone a replay before the game, they would have taken it.

'In fact, when I went round some of our supporters at half-time and discussed the 2-0 scoreline, some asked whether I would take 2-2 there and then. I thought for a moment, and said yes. You have to remember this was a top League Two side we were up against, on their pitch, and there was nothing more certain than a Burton fightback in the second half.

'They were always going to come at us, and I thought we coped really well. I came away feeling immensely proud of all concerned - players, travelling fans, everyone.

'I know the saying about only having one bite of the cherry, but no-one should start thinking that's it, our Cup run is over. Don't forget, Burton put out a strong side on Sunday, so it's not like there are some big guns hidden away who are going to be rolled out for the replay.

'They know our strengths, and we know theirs - it should be some night'".
FA TROPHY OPPONENTS
The Worcester News reports that "Worcester City have a point to prove. Tuning into the FA Cup highlights on ITV last Saturday and seeing Bromley taking on Fleetwood Town in the first round won't have sat easy with those at St George's Lane.The Kent outfit may have been comfortably despatched 3-0 by the League Two high-fliers but City must have been wondering what could have been, had they held out for a few seconds more at Hayes Lane.

As it was, Carl Heeley's side were busy routing Hinckley United 5-0 in Blue Square Bet North and laying down another marker for their play-off rivals. But this Saturday Worcester really have an opportunity to make up for that heart-break of three weeks ago when they embark in the FA Trophy. It is their last chance to enjoy a cup run this season and therefore their last at St George's Lane before it is pulled down next June.

In Altrincham they face tricky opponents, who have 19-goal Damian Reeves in their ranks, but City are eight places above them in Blue Square Bet North... City have to believe they can do it and one player never found wanting in that department is Charlie Reece....

'We want to win every game that we play in so this competition is really important to us', he said. 'I've never played in this competition but it's going to be a good game and we are going in to win it. We are bitterly disappointed that we lost to Bromley, I know I didn't play myself but I was frustrated just as much as the lads who did play. The suspension really frustrated me and I'm really glad to be playing again'.

Reece added, 'I'm a bit of an optimist, I wanted to win the FA Cup but with Man United and Chelsea that's not likely! But I can't see why we can't win the Trophy and I also don't see why — and this is just my personal view — we can't really go for promotion either... I also get a sense from some of the other lads that, although we have lost some games at home, at the start we believe we are going to win every single game'. Time to prove it against Altrincham".

The News also says that "City are aiming to cash in on the FA Trophy in their final season at St George's Lane... Non-league's premier knock-out competition provides a chance to pocket even more vital funds before they leave their home in June. There is £4,000 for booking a place in the first round proper and a bumper crowd in excess of 1,000 — the net gate receipts of which are split 50/50 between the clubs — would further boost that figure.

Chairman Anthony Hampson... said, 'Naturally, we are keen to beat any team put in front of us and Altrincham will be no exception. Given the additional win bonus, we will need to get out of the blocks and make an early impact. Winning will provide the club with a financial fillip but more importantly it gives us more use of the Lane while we still have it'. Hampson is also expecting the largest attendance of the season for the clash and the Lane's fourth successive four-figure gate...

The City chief added, 'I would be surprised, given the quality of football the lads are now playing, if 1,000 was not the minimum gate and hopefully 1,500 wouldn't be out of the question'.

Meanwhile, striker Danny Glover's chances of being involved at the weekend remain in the balance as he continues to recover from an Achilles problem. The former Nuneaton Town hitman has scored five goals this season but missed the last three matches. Manager Carl Heeley said, 'He's not quite right. There's no point trying to risk him, we've got to get the boys 100 per cent fit because they'll all play a big part this season'".
YOUTH FAIR-PLAY
Altrincham FC Youth play in the NW Youth Alliance which has a Fair-Play League, in which Alty lie sixth (at 7 October). Fair-Play League winners obtain free entry to the NWYA League for the following season, and there is a sliding scale of fees reductions depending on the disciplinary points accumulated.
BSBN NEWS
PIitchero Non-League reports that "Tommy Lawson, manager of Skelmersdale United, has signed Michael Phenix from Droylsden to increase his side's fire power. Phenix was at Bolton Wanderers for seven years as a youth and Lawson swooped for the prolific goalscorer to boost Skem's push for the title. The 22-year-old signed for the Bloods in August from Lancashire club Hindsford, where he was leading scorer last season. Described as a tricky winger who likes to attack down the flanks, he's also played for Pennington and Atherton LR".

According to the BBC, "Kettering Town will return to action on Saturday by playing a home game against Redditch at Corby Town. The Poppies have not played since 6 October after the power at their Nene Park home was turned off. Corby chairman Kevin Ingram told BBC Radio Northampton, 'There is no ground hire but they're going to pick up all the costs, just for one game. It's taken a massive amount of work, primarily between [former Kettering director] Ritchie Jeune and I'.

Jeune was thought to have taken the role of Kettering Town chairman in August, after George Rolls was banned from football for five years, but the club's majority shareholder Imraan Ladak returned to take control soon after. The club have not played since a 7-0 defeat by Bashley last month, when they were only able to field 10 players.

Caretaker manager Alan Doyle has been re-assembling the squad after they were left with just three players under contract before the League lifted their transfer embargo on 23 October. Ingram had previously indicated it was 'highly unlikely' that his club would agree to host the Redditch game for Kettering. 'We'd have to put some kind of bond in place, to begin with', he said on Monday. 'We'd have to deal with insurances, we'd have to deal with the safety certificate and we'd have to get permission from the Borough Council, whose facility it is. In the short-term, I'd be willing to help Kettering out and not necessarily charge them an unreasonable amount of money. If it was a short-term agreement, I'd be willing to let them play there and just cover our costs. I would hope that if it was the other way around, they'd do the same for us'.

However, Ingram hinted that he would be open to a long-term deal between the two clubs. 'Football is a business', he added. 'If we could bring in some income by allowing another football team to play at our facilities, it wouldn't cause me a problem if Kettering came and played on our pitch for the next 10 or 20 years'".
FA CUP OPPONENTS
The Burton Mail says that "Billy Kee could be given another chance tonight to prove he can recapture his goalscoring form for Burton Albion. After a sparkling start to his Albion career, the 21-year-old striker has had a miserable 2012 in which he has been dogged by injury and loss of form.

Kee has struggled to hold down a regular place in Gary Rowett's starting line-up — and he has been taken off in his last two appearances after failing to add to his modest return of just three goals since the turn of the year.

However, Rowett is likely to keep faith with the Northern Ireland under-21 international in tonight's League Two encounter with Plymouth Argyle...

The Brewers' boss said, 'I'm just hoping it's a confidence issue with Billy. I'm not seeing too much from him at the moment in terms of what he is contributing, but it might be the time to persevere with him. We have to play a certain way with Billy in the side and it can take something away from the team when he is not scoring'.

Kee had a stunning impact after joining the Brewers from Torquay United in a £20,000 deal in August of last year. He scored 12 times in 13 starts... But... Kee was already feeling the effects of a groin problem and made only one more full appearance before undergoing surgery...

Rowett could recall winger Cleveland Taylor after giving loan signing Jordan Chapell a run out in Sunday's 3-3 FA Cup thriller against non-league Altrincham, but he has ruled out a return to the squad for club skipper John McGrath... with McGrath likely to be needed at some point during a run of five games in 13 days. On-loan goalkeeper Mark Oxley has been given the all clear after picking up a thumb injury against Alty".
---
7 November 2012
ALTY v CONGLETON TOWN
As usual there are two ways to keep update with Altrincham's matches...

Radio Robins, sponsored by Ashley Mowers Garden Machinery, will be broadcasting live coverage of Wednesday's game against Congleton Town in the Cheshire Senior Cup.

The match commentary is sponsored by Jonny Keen on behalf of the Neil Tolson Fan Club, supporting Neil Tolson 100%.......Get Tolse On!

The match commentators are Paul Salt and Ian Wilkinson. The match summariser is Gareth Thomas. The broadcast begins at 7.15pm.

You can also follow the match via the website's matchday update service, which aims to start as soon as the team news is available.

You can follow the match via the following quick links...

Mike Garnett has kindly provided the historical record of games between Altrincham and Congleton Town:
Home p.43 w.26 d.8 l.9 f.96 a.50
Away p.41 w.16 d.7 l.18 f.80 a.107
Neutral Grounds p.2 w.2 f.5 a.1
Overall p.86 w.44 d.15 l.27 f.181 a.158
NB - one result is missing.

Record in Cheshire Senior Cup:
Home p.3 w.1 d.2 l.0 f.3 a.1
Away p.2 w.1 d.0 l.1 f.1 a.1
Neutral p.1 w.1 d.0 l.0 f.1 a.0
Overall p.6 w.3 d.2 l.1 f.5 a.2
YANKEE
The Altrincham FC Saturday Yankee jackpot now stands at £2,400, for a £1 stake. Last week there were three winning Trebles, each netting £66.66. The winning code was 1323.
PENSIONERS' CHRISTMAS DINNER
Altrincham FC will be holding its annual Pensioners' Christmas Dinner on Wednesday, 5 December. Further details to follow...
JAMIE LOOKING FOR NEW CLUB
Pitchero Non-League says that "Goalkeeper Jamie Greygoose has just helped out at Altrincham as cover for Stuart Coburn whilst current number two Adam Reid gained valuable experience at Goole AFC. Now Reid has returned to Moss Lane, club coach Ian Senior, the well-travelled former Bolton keeper and Pitchero Non-League are trying to help Greygoose, 19, get fixed up more local to his home in Cambridge.

Greygoose signed for Altrincham in early October 2012, following in the footsteps of his father Dean, who played in goal for Altrincham in 1999/2000 on loan from Northwich Victoria. Before joining Altrincham, Jamie was playing for Ely City... Any clubs looking for a goalkeeper with plenty of potential can contact Ian Senior anytime on 07960 137232".
RESULTS
Tuesday 6 Nov.
BSBN
FC Halifax Town 4 Vauxhall Motors 0

Cheshire FA Senior Cup
Alsager Town 3 Cammell Laird 1
Warrington Town 0 Runcorn Town 5
MARK'S GIG
As advertised, below, Mark Maddox and his band, Last of a Dying Breed are performing at Moss Lane on 17 November in the Noel White Suite. As entry is by ticket only and numbers are limited, please make sure you get yours as soon as possible by contacting the club on 0161 928-1045, by e-mail, or in person at Moss Lane.
FIXTURES

Wednesday 7 Nov.

BSBN

Altrincham v Congleton Town
Cheadle Town v Chester FC

Saturday 10 Nov.

FA Trophy

AFC Hornchurch v Bishops Stortford
AFC Totton v Basingstoke Town
Billericay Town v Enfield Town
Bognor Regis Town v Havant & Waterlooville
Boston United v Colwyn Bay
Bromley v Staines Town
Cammell Laird v FC Halifax Town
Leatherhead v Bath City
Salisbury City v Weston-Super-Mare

Sunday 11 Nov.

FA Trophy

Cray Wanderers v Welling United
Gloucester City v Maidenhead United
&nbsp
Tuesday 13 Nov.

FA Cup 1 Replay/Postponed Games

Walsall v Lincoln City FC (3pm)
Barrow v Guiseley
Braintree Town v Tranmere Rovers
Nuneaton Town v Luton Town
Slough Town v Mansfield Town

Wednesday 14 Nov.

FA Cup 1 Replay

Gloucester City v Leyton Orient

Thursday 15 Nov.

FA Cup 1 Replay

Altrincham v Burton Albion
BSBN NEWS
According to the Football Conference "Brackley Town`s defender Wayne Hatswell has decided to retire from football with immediate effect. A vastly experienced defender who joined Brackley at the start of this season, Hatswell made nearly 500 senior appearances and won four England `C` caps. He played for Forest Green Rovers, Chester City, Oxford United, Kidderminster Harriers, Cambridge United, Newport County and the sadly now defunct Rushden & Diamonds".

BSBN reports that "Bishop's Stortford have snapped up winger Harry Baker after he was released by Welling United last week. The 22-year-old, who began his career at Leyton Orient, joined the Wings in January from league rivals Dover Athletic. Baker went on to make 13 appearances for Jamie Day's side, scoring three goals in the process, but he left Park View Road last week after becoming surplus to requirements this season".

Our FA Trophy opponents, Worcester City have video highlights of their game last Saturday, when they beat Hinckley United 5-0.

In their last game Worcester announced that "Captain Stuart Whitehead returns to the team, as do Rob Elvins and Charlie Reece at the expense of Greg Mills and Danny Edwards. Danny Glover is still not fit enough for the bench, while Shabir Khan is among the substitutes instead of Lee Ayres. Worcester City: Thompson, Weir, Deeney, Thorley, Whitehead, Rowe, Reece, Elvins, Symons, Meechan, Breeze. Subs: Mills, Taylor, Shabir, Edwards, Sargeant".
FA CUP
"The FA has confirmed that ITV's cameras will be returning to Braintree Town for The FA Cup with Budweiser First Round while ESPN has chosen two replays for live broadcast.

Heavy rain in Essex prompted The Iron's game with League One leaders Tranmere Rovers to be called off on Sunday morning but ITV will head back to the Amlin Stadium when the two sides meet on Tuesday 13 November at 7.45pm. However the game has switched channels with ITV4 now carrying the First Round tie... Both sides receive £63,800 in FA live broadcast fees...

ESPN's First Round replay coverage continues with a trip to Moss Lane and Altrincham v Burton Albion on Thursday 15 November at 7.45pm. The Conference North side came within 90 seconds of a giantkilling on Sunday but... Altrincham were denied an away trip to Crewe Alexandra's Gresty Road in Round Two by Zola's last gasp goal as the game finally ended 3-3. All four clubs in ESPN's replay coverage receive £31,900 from the live broadcast fund" confirms the FA. Quite what the rationale is for replays only generating half the income of first-time clashes is one of life's mysteries.

The Burton Mail adds that "Albion are set for a £31,000 FA Cup windfall thanks to a decision to televise their replay at Altrincham next week. The tie has been put back 48 hours to Thursday, November 15, kick-off 7.45pm, and will be broadcast live by ESPN.

Albion chairman Ben Robinson, left, described the news as 'a welcome boost' to the club's coffers. Altrincham will also be delighted the tie has been selected for television coverage after narrowly missing out on £18,000 in prize money from Sunday's tie at the Pirelli Stadium... The revised date for the fixture means Albion will have to play three games in six days.

They host Dagenham & Redbridge two days later and entertain Aldershot Town the following Tuesday".

The FA announces that "Four players from Non-League clubs have been nominated for the Budweiser Player of the Round award following their performance in The FA Cup First Round Proper. A panel of judges will nominate their candidates after each round (from the First Round Proper up to and including the Semi-Final) and you can vote for your favourite.

The First Round panel comprises commentator Mark Pougatch, The Sun journalist Justin Allen, FA Historian David Barber, who has attended 419 FA Cup ties, and Southampton fan Aidan Mills. Aidan secured his place on the panel after entering an online competition in conjunction with Budweiser.

The selections for the First Round Proper are as follows:
Ryan Bowman, Hereford United (David Barber)
Chib Chilaka, Harrogate Town (Justin Allen)
Tony Diagne, Macclesfield Town (Aidan Mills)
Donovan Simmonds, Chelmsford City (Mark Pougatch)...

You have until midday on Monday 19 November to vote for your favourite. The person who tops the poll will receive a commemorative Budweiser Player of the Round trophy and he will also be invited to The FA Cup Final at Wembley next May as a guest of The FA and Budweiser. Vote at www.thefa.com.

News of Alty's FA Cup opponents comes from TeamTalk which previews Burton's midweek trip to Plymouth Argyle, saying, "Burton manager Gary Rowett could welcome duo Marcus Holness and Chris Palmer back into the starting XI. Central defender Holness (hamstring) and midfielder Palmer (Achilles/calf) were both unused substitutes during Burton's 3-3 draw with Altrincham in the FA Cup on Sunday. Brewers skipper John McGrath, who has spent eight months on the sidelines with torn foot ligaments, looks set to miss out once more but is close to making a return to first-team action. Defender Aaron Webster will not feature as he is still nursing a hamstring problem, while the game looks to have come too soon for striker Adi Yussuf, who remains sidelined with a groin injury he sustained in training last month".
TRAFFIC PROBLEM RESOLVED
For those who are wondering why there are such long queues on Park Road, Timperley, on the return from Burton on Sunday SAM explains that "Commuters faced lengthy delays on Park Road this morning. Drivers travelling along Park Road, who were heading onto the A56, were stuck in a mile-long traffic jam that went back to Constables newsagents. A problem with the timing of the traffic lights at the Park Road/A56 junction caused the hold-up. A spokesperson for Transport for Greater Manchester said, 'There was a communication fault with the traffic signalling at the junction of Park Road and the A56, which has now been corrected. Once we identified the problem late last week, a repair was made on Monday morning. Traffic will have been affected during the previous week – and may have been heavier on Sunday due to the partial M60 closure – but the signalling is now working again and will be closely monitored".
---
6 November 2012
LEE'S POST-MATCH VIEWS ON BURTON
Brian Flynn has now uploaded a post-match interview, from yesterday, with Lee Sinnott; it can be found here.
NEXT GAME: CSC v CONGLETON TOWN
On Wednesday, Altrincham entertain Congleton Town of the NW Counties Premier division in the Cheshire Senior Cup. On Saturday The Bears lost 0-1 at home to Colne; they lie sixth in the league currently. Their starting line-up for their last game comprised: 1. Michael Langley, 2. Matthew Worrall, 3. Ian Willis, 4. Ben Alston, 5. Andy Alston, 6. Jack Graham, 7. Kurtis Gill, 8. Richard Bailey, 9. Christopher Smith, 10. Liam Newman, 11. Mike Koral. Subs: 12. Geoff Basford, 13. Dan Schwartz, 14. Jamie Turner, 15. Ryan Read, 16. Dan Doherty.

The club is managed by Jim Vince junior, who played for Altrincham in his younger days. In their last game, "Congleton were without the suspended Louis James so Ian Willis swapped to the left back role and Matt Woolley dropped back from midfield to the right back position. Club captain Andy Alston returned to the centre of defence". The club's report says "A very disappointing result for the Bears who never seemed to engage top gear in this game. Congleton may have had the majority of possession but the visitors had a host of clear chances and only an outstanding series of saves from Mike Langley in the Congleton goal prevented the result from being far worse. A more worrying statistic is that Congleton have lost all four league games when playing fellow teams in the top third of the league".
Through the Years for 7 November, by Howard Watts.
ALTY v BURTON, LIVE ON TV
The Altrincham v Burton Albion FA Cup 1st Round replay has been moved to Thursday, 15 November, k.o. 7.45pm and will be televised live on ESPN.
LADIES DRAW 3-3 TOO
Altrincham FC Ladies' manager has provided the following report on his team's latest game - like the first team's match at Burton, it was a 3-3 draw after holding a two-goal lead.

Well earned point on the road.

"On Sunday, the Ladies returned from Wilmslow with a well earned point although, really, it should have been all three with Town's equalizing goal having more than a touch of suspicion of 'palm ball' about is. But the ref allowed it and we have to move on.

Unfortunately, I couldn't be there for this game so the squad was ably taken by Chris, Jamie and John, although John was texting me throughout the game so I didn't miss any of the action.

Chris had made a couple of changes from our last game v Irby and we settled quite well but an early goal for Wilmslow did then knock us out of our stride for a little bit. But we picked ourselves up, responded well and selected a higher gear to go forward with.

We settled back into our rhythm and had at least 80% of the remainder of the half using the ball well and stopping any attemps Wilmslow had. Ironically, Rosie sustained an injury to the face late on in the half from a Wilmslow attack and, as we didn't have a reserve keeper on the bench, up stepped Heather, (the smallest player on the pitch), to have a go as we finished the half strongly.

A lovely goal from Brogan Walsh happily sent us in at halftime, 1-1.

Into the second half and a great strike by Sarah McManus put us 2-1 up. That was quickly followed by a third from a penalty, after Sam Jones was crudely felled in the box by the keeper. Hannah Shufflebotham stepped up to firmly despatch it in the corner to make it 3-1 and that should have seen us home.

Wilmslow were still in the match and Heather was having a great game but even she couldn't stop a second Wilmslow goal, which came out of the blue. After that, we sat back to deep allowing them to come onto us and, with five mins to go, they launched a ball into the box, which fell kindly to their forward, who scored with a goal that really shouldn't have counted but the ref said he was 'unsighted' and couldn't see their forward palming the ball into the net for the equalizer and the points were shared.

All in all, it's another point on the board towards our final goal, so we've got to be pleased".

Altrincham Squad: Rosie Emerson, Sam Briggs, Louise Edleston, Rach Bullock, Gail Simpson, Lauren Thorneycroft, Hannah Kibble, Hannah Shufflebothom, Sam Jones, Sarah McManus, Hayley Macardy, Kathryn Macintyre, Heather Scott, Brogan Walsh, Caroline Moran, Nat Thornley
Goalcorers: Brogan Walsh, Sarah McManus, Hannah Shufflebotham.

The Ladies' next match is on Sunday, 11 November at Manor Farm, Ridgeway Rd, Timperley, kick off 2pm, against Chester FC Ladies. All support is welcome.
PUT IAN'S SHIRTS ON YOUR BACK, BUT DON'T PUT YOUR SHIRT ON IAN
Ian Senior of SKKits announces that he is discounting by £5 all Altrincham FC replica shirts that are sold between now and the FA Cup replay with Burton on 13 November. Please contact the club on 0161 928-1045 or visit the Robins' Shop on matchdays to secure yours.

Ian, who is also Altrincham FC Coach, adds that, in the latest instalment of their Charity Crossbar Challenge, played out before each Alty game this season, assistant manager "Neil Tolson regained his two-point advantage with a 'sudden death' 1-0 victory at Burton on Sunday, to lead the series 13-11. I couldn't handle the pressure in front of the TV cameras. Still a long way to go, though". Ian must now be seriously worried as the Burton replay will not only be on TV but will be broadcast live to the nation by ESPN!
BURTON MATCH RADIO COMMENTARY
Altrincham FC joint Press & Media Officer has made available the Radio Robins' commentary from Burton on Sunday afternoon.
Second Half
BURTON VIEWS
The Derby Telegraph reports that "Whatever the wealthiest clubs may think of the FA Cup, ties such as the one Burton Albion and Altrincham served up keep on proving that it remains a thrilling competition further down the football food chain.

Altrincham were once renowned as the game's most consistent non-League giant-killers and, while it has been a few years since they were involved in an upset, today's Alty came very close to adding to the list at the Pirelli Stadium yesterday.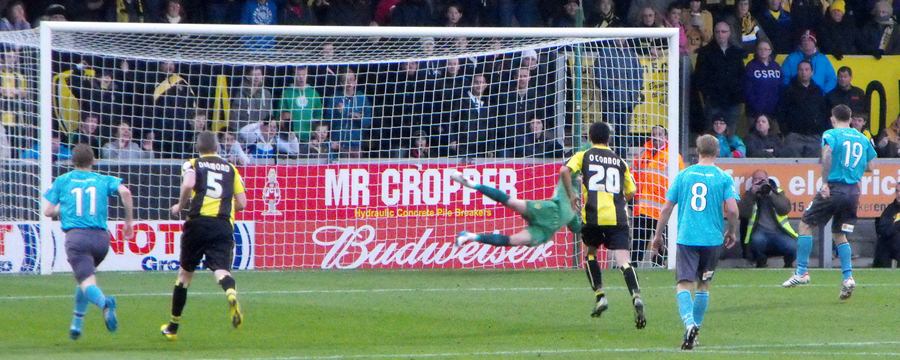 Above: Damian Reeves (19) sees his spot kick saved at Burton.
The Brewers, knocked out of their stride from the first whistle by an exceptional performance from the Blue Square Bet North side, claimed a replay by the skin of their teeth with a goal in added time, after first falling two goals behind, fighting back and then conceding the lead again.
Both sides missed penalties and Jake Moult, on loan from Alfreton Town, cracked the underside of the bar with a shot for Altrincham as fortunes ebbed and flowed in a game that made up for in incident what it lacked in quality.
Altrincham started well and, in the first half at least, did not look back.
They could have been in front in the fourth minute when Moult played Simon Richman through and keeper Mark Oxley tripped him as he dived to try to reach the ball, referee Michael Bull pointing to the penalty spot. Oxley looked a little hard done by but then kept Damian Reeves's spot-kick out with a firm hand high to his left.
It was already more action than he had seen in the whole of his debut against Bradford City the previous week. James Lawrie was off target with a couple of efforts as Altrincham continued to make all of the running...
Wayne[!] Densmore and Nicky Clee worked a short free kick on the right and Clee gave Damien McCrory the slip before hitting a hard, low cross which Carl Rodgers turned in ahead of Oxley from close range...
Altrincham doubled their lead in the 34th minute. Clee's corner from the right was missed by Oxley and, as he tried to clear the ball at the far post, Nathan Stanton could only turn it into the roof of the net.
Oxley kept Burton alive a minute before the break when Altrincham top scorer Reeves charged clear, the keeper blocking the shot with his legs, then pouncing on the rebound...
Burton were back in the game in the 53rd minute... and they should have equalised after 63 minutes when Moult needlessly stuck up an arm to stop McCrory's cross, conceding a penalty which Weir launched embarrassingly out of the stadium.
While the chances kept coming for the Brewers, Altrincham suddenly produced a brilliant attack full of first-time passes and when Lawrie crossed from the right, Moult swept the ball against the underside of the bar from 12 yards, with Reeves unable to reach the rebound.
Having got away with that, Burton equalised in the 76th minute. Anthony O'Connor was fouled on the right and, this time, Bell's free kick went to the far post, where Diamond at first seemed to get the vital touch but Maghoma claimed the goal.
Back came Altrincham and, with five minutes left, substitute Duncan Watmore hit what looked a harmless cross from the right but McCrory stuck out a foot to stop it and succeeded only in diverting the ball over Oxley and into the net.
The visitors looked like they had done enough to earn victory but, three minutes into stoppage time, Chapell did exceptionally well to dig out a driven cross from near the right corner flag and Zola glanced in a header at the near post.
Burton's second-half efforts had just about earned them that but, equally, they could hardly have complained if Altrincham had held on".
In the same source, we read that "Gary Rowett lavished praise on Altrincham after the Blue Square Bet North side came within a minute of knocking Burton Albion out of the FA Cup in a pulsating first round tie...
'Anyone who says the FA Cup is not a magical competition can think again after that game because it had a little bit of everything', said Rowett. 'Altrincham were absolutely fantastic and that's what the Cup is about. I take my hat off to them. For spells of the game, they did really, really well. One thing we had said before the game was that Altrincham didn't have a lot of physicality when we'd seen them but they did move the ball well – so playing here perhaps suited them, because the pitch is conducive to that.
I think that is the most anyone's created against us this season. That's poor defensively for us – but great credit must go to them... We had said it was about the start. We said we had to play with real tempo from the start', he said...
I said to them at half-time, 'Everything we asked you to do – they've done it and we haven't... We were too far off them and too slow to react to the ball, too slow moving it and poor defensively, I thought. You could argue that they could have gone in at half-time with a few more goals... We changed formation at half-time, just moving Jacques Maghoma inside a little, and I felt that gave us a bit of impetus in their half. We got the full-backs forward better in the second half and we moved the ball forward quicker.
I was tempted to make changes at half-time but, if you do, you don't give people the chance to put something right and I felt one or two individuals did a bit more in the second half; therefore I didn't need to make substitutions. At 2-2, I thought there was only going to be one winner and then Altrincham went down the other end and nicked another... But we hung in there and we live to fight another day'...
'One thing I'd put my hat on is that it will be slightly tougher for Altrincham next time', he added. 'I'm sure the pitch won't be quite as good as this and that they won't have the occasion in terms of being the underdogs. There will be a bit more pressure on them at their place, so it will be about us going there, being professional and seeing the tie out. They have got to try to play that well again, which will be a challenge for them. I'm not saying they can't do that in front of their own fans. But we've got away with it once and we have a chance to do something about it now'".
The Burton manager also spoke to Radio Derby, which has an Audio interview with Rowett.
The Daily Star adds that "Calvin Zola broke Altrincham's hearts as he headed Burton level three minutes into added time in this pulsating tie. It was rough justice on the Blue Square Bet North side, who had taken the game to the Brewers and looked set to earn themselves a second round tie away to near neighbours Crewe...
Burton boss Gary Rowett knows that his side can expect a tough time in the replay at Moss Lane but said, 'At least we are there. We got that late chance to be there. Now it is about us being professional but it will be hard – they've got to play like this again after we got away with it. I think that Altrincham did a tremendous job here. I take my hat off to them but we had the character to keep going all of the way to the end. They were terrific from the start and gave us problems but we came back in the second half, moved the ball around, changed our formation and got back into it'...
Altrincham boss Lee Sinnott said, 'I told them to play without fear. They did and they gave their all'".
The FA says that "After a busy weekend of FA Cup First Round action we've got highlights from all of the games". ITV also have highlights and a report.
CREWE HAPPY
The oppponents in Round Two for either Alty or Burton are Crewe Alexandra, who report that "Steve Davis, the Crewe Alexandra manager says he is pleased with another home draw in the FA Cup after the Railwaymen were paired with either Burton or Altrincham... Steve told the club's official web-site, '"I watched the draw at home with the family and we came out of the hat fairly early. I was pleased we came out first, meaning we have another home draw and can play in front of our own supporters. That always helps. It is something we can look forward to and I am not really bothered who we face. We will be ready for it and it will be tough whoever wins the replay. We will have the opportunity to go and watch the replay and whoever we get will be fairly local, so hopefully it will be a well-attended.

You never know in the FA Cup and there are always upsets. That is what makes it great and we just have to make sure we approach it right to make sure we get into the third round. Our focus is on the league until we have that cup game and it will be a tough challenge because anything can happen on the day'".
WORCESTER BOSS FANCIES HIS SIDE AGAINST ALTY
In next week's FA Trophy match, Alty travel to Worcester City, where the Worcester News reports that "Manager Carl Heeley believes the next six weeks will be a stern test of Worcester City's play-off credentials. City moved up to fourth in the table with a 5-0 thrashing of Hinckley United... However, between now and December 15, they will take on Guiseley and Chester, currently third and second respectively, as well as Halifax and Bradford Park Avenue, two teams just outside the top five.

There is also the small matter of the FA Trophy third qualifying round against Altrincham at St George's Lane on Saturday.

'We're into November and we're in the play-off positions. There's a long way to go and we've got a very tough month coming up and into December when we play teams around the top five', Heeley said. 'That will be a test of how close we are but we've got as much chance as anyone else and we're doing OK. I've got faith in the boys that we can have a good go at it... it's about progression and improving on last season.

I think we have improved, we've got better players and a stronger squad. We're pleased with how we're going but it's one game at a time. "We can't worry about anyone else, we'll worry about what we're doing... We have got a tough game on Saturday and it's a tough one for Altrincham as well but I fancy us, I think we've got a chance. If we're ruthless and do things right then we'll be a match for anyone. It's good to have a home draw and we'll give it all we've got. I am sure we'll be close to getting through, I really fancy us... It's a break from the league and it's an opportunity to bring some funds in through prize money'...

Striker Danny Glover is still sidelined by an Achilles problem, while defender Lee Ayres and midfielder Matt Birley are both nursing minor knee injuries".
BSBN NEWS
The BBC reports that "Gloucester City manager David Mehew has criticised the decision to postpone Sunday's FA Cup tie with Leyton Orient. Referee Steve Rushton called the first-round match off at 12:00 GMT because of a waterlogged pitch at Whaddon Road - the Tigers' temporary home...

Mehew said he was left particularly frustrated because the decision was made before he arrived at the ground. 'Russell Slade [Orient boss] was there at 11.30 saying he wanted it off', Mehew told BBC Gloucestershire. 'That's four hours before the game, on a pitch that drains very well. I don't know Russell, and I've heard he's a really nice guy, but I'm the home manager and I haven't had any say. Naturally, we would have wanted the game on and I just can't understand why they didn't wait for 10 minutes. I was there at 12 minutes past 12'.

'I'm not having a go at the ref; he knows he's the villain at the moment, but he could have waited'...

Mehew confirmed the re-arranged Cup tie is set to take place on Wednesday, 14 November, and with the match taking place midweek, the club are preparing for a lower attendance and therefore a drop in much-needed revenue. 'If it turns out we are on the TV, which I'm told is a possibility, then we'll be looking at it in a different way', added Mehew. 'But I know every player was having an extra 10 or 15 people. That alone is double the normal crowd we get. It might sound like I'm ranting and raving, and I probably am, but this is how I feel. It always seems to happen to us. It's so frustrating'".

According to the Halifax Courier, "FC Halifax Town have seen another game called off as a backlog of fixtures threatens to derail their promotion bid. The Shaymen were due to play Altrincham on November 13 in a game that has already been postponed once due to Town's FA Cup replay with Chester last month.

But the game has been postponed again, this time because Alty face an FA Cup replay of their own against Burton Albion on that date. Tomorrow they face Vauxhall Motors in a game that has already been postponed twice due to the Shay pitch being waterlogged.

They were also due to face Harrogate Town in the Conference North last Tuesday but that game was postponed due to the Shaymen's involvement in the County Cup, and Saturday's trip to Guiseley was also postponed due to their involvement in the FA Cup.

Next Saturday Town are in FA Trophy action, which means their league game at home to Droylsden on 17 November will be just their fifth Conference North game in 10 weeks".

The Football Conference says that "The Board of Directors of Hinckley United Football Club Limited have provided an update to our shareholders and loyal fans.

'Firstly, we find ourselves in a ludicrous scenario where we are fighting to save the actual existence of our football club as we know it simply because the assets and liabilities are all under the same controlling entity. This means all the creditors that have been, until now, ignored over the years in preference to paying the players' wages that the club simply could not afford, has finally caught up with us [sic].

We are an asset rich organisation now with serious liabilities so ignoring and/or breeching the creditor terms of HM Revenue & Customs, our utility companies and other secured creditors is no longer an option. Whilst this trend was very apparent in the past, those same creditors have lost faith in our organisation following years of broken promises and want settling up in full now.

The gamble of risking financial suicide in favour of an over inflated wage bill simply has not paid off. We have achieved the play-offs once in eight seasons and failed to pay the players' wages by the end of the season for the last four years. Hindsight is a wonderful thing but someone has to be held accountable for what is now a very serious demise.

This board is now having to pick up the pieces from this previous approach, which means settling creditors whilst maintaining a football club, and that is no easy task when there are simply insufficient funds to satisfy all concerned. Our business cost of operation is affordable but the legacy debt is crippling us.

Even more concerning is the fact that, under the previous stewardship, title changes have taken place and charges placed on various assets which have now become part of an intense legal investigation. As this company and assets is owned by the shareholders, then, if these changes have not been approved at an AGM or EGM the fact remains that they are disputable and must be undone until formally ratified or rejected.

When these impacts on our assets were brought to the attention of the board, we stood firm and gave the previous chairman the vote of no confidence resulting in his subsequent resignation. The vice-chairman chose to side with the former chairman and their resignations were submitted together. From that moment onwards we knew we were in for a fight because of what we had uncovered and because of what they needed to hide.

This board is now fighting to recover what belongs to the people of Hinckley and more importantly the shareholders of Hinckley United Football Club Limited. This is a real fight and one that shareholders need to be united on. This board is not hiding anything from either the shareholders or our loyal fans, neither are we stalling over an AGM. Our accountants have been trying to deliver management accounts based on facts, whilst the external manoeuvres of those trying to force the business out of existence to cover their tracks actually has a serious impact which will have major repercussions for the Knitters if misrepresented.

Therefore, it is so important that the accounts are a true reflection of the business and not some miscued representation to paint over the cracks. So, if that takes an extra week or so to achieve, then we, as a board of directors, support that. Our intention is to help our accountants deliver a meaningful and accurate set of management accounts as soon as humanly possible so that we can then share our strategy with you on how to safeguard the long-term future of Hinckley United Football Club and guarantee senior football in the town of Hinckley indefinitely".

Non-League attendance figures can be found on the NL Matters website.
CHESHIRE NEWS
The Northwich Guardian tells us that "Northwich Victoria start a search for a fifth manager of the calendar year after Andy Mutch walked out following Saturday's defeat against Belper Town. The former Burscough boss tendered his resignation in the minutes after nine-man Vics' 2-1 reverse, which leaves them four points adrift of the play-offs places.

Coach Adriano Rigoglioso quit too. 'Andy has grown fed up with the players' performances', said owner Jim Rushe. 'I told him I'd rather he changed the team than leave himself but he said he'd brought those lads to the club and had to hold up his hands for recent results'...

Alan Wright is likely to pick the team when Vics play Northwich Villa in the Mid-Cheshire FA Senior Cup at Flixton on Wednesday, kick off 7.45pm"

And of the pitch, there are more problems, according to Devachat, "The notice below was published in the London Gazette on 30 October...

"Companies' Act 2006

Notice is hereby given... that, at the nend of three months from the date of publication of this notice, the names of the companies listed below will, unless cause is shown to the contrary be struck off the Register and the companies will be dissolved". The companies involved include "The Northwich Victoria Football Club 2007 Ltd".
---
5 November 2012
ALTY v BURTON, LIVE ON TV
The Altrincham v Burton Albion FA Cup 1st Round replay has been moved to Thursday, 15 November, k.o. 7.45pm and will be televised live on ESPN.
WELL DONE, EVERYBODY

Match report here.

In today's Manchester Evening News, Alty keeper Stuart Coburn said of Sunday's 3-3 draw at the Pirelli Stadium, "We would have taken that before the game but it felt like a kick in the teeth. We played really well. The first half, you couldn't tell who was the League club. But, 2-0 up at half-time, we knew they'd come back at us.

We were undone at set pieces. They signalled five minutes' stoppage time, I don't know where they got that from, and Burton gradually pressed us further and further back. It would be great to play Crewe [in Round 2] but, at least, we have another chance. I just hope that wasn't our chance gone today".

Right: Courtesy of Keith Clayton, we see how Simon Richman was brought down by Burton keeper, Oxley, for Alty's penalty. The keeper was not booked but saved the resulting spot kick from Damian Reeves.

But it was not just the team that did well on Sunday. The supporters of Altrincham turned out in large numbers. There were 338 in the away terraces and dozens more in the stand, making a total of more than 400 away fans in a crowd of under 2,000, which was a magnificent turnout. And the supporters' singing and chanting was incessant, including one or two good-natured barbs directed at their hosts. Alluding to Alty's three FA Trophy appearances at the Twin Towers, the supporters sang "1, 2, 3 times to Wembley, and you've won the Staffordshire Cup!".

More seriously, the Burton Albion Football Club provided a friendly welcome to Altrincham and their manager Gary Rowett was very generous in his post-match appreciation of Alty's performance in his interview on ITV last night. What's more, the Burton chief steward told Alty chairman Grahame Rowley that he would like to thank Alty's fans "for their impeccable behaviour. They were a great credit to your club", he said.
Above: Just a section of the Altrincham support at the Pirelli Stadium on Sunday.

FA CUP ROUND TWO

Alty and Burton knew their potential opponents in the next round before their game kicked off yesterday. Sunday's draw was as follows.

In the adjacent list, Nuneaton Town replace the defunct Nuneaton Borough, which is how the club name appears in the draw on the FA's own website!

1 Preston North End v Gillingham
2 Bury v Southend United
3 Sheffield United v Port Vale
4 Carlisle United v AFC Bournemouth
5 Crewe Alexandra v Burton Alb / Altrincham
6 Northampton T / Bradford C v Brentford
7 Luton Town / Nuneaton T. v Dorchester Town
8 Alfreton Town v Gloucester C / Leyton O
9 Oldham Athletic v Doncaster Rovers
10 Braintree / Tranmere v Chesterfield
11 Rotherham United v Notts County
12 Cheltenham Town v Hereford United
13 Guiseley / Barrow AFC v Macclesfield Town
14 Accrington Stanley v Oxford United
15 Lincoln C / Walsall v Mansfield / Slough Town
16 Harrogate Town v Hastings United
17 Coventry City v Morecambe / Rochdale
18 Cambridge C / MK Dons v York City / AFC Wimbledon
19 Crawley Town v Chelmsford City
20 Fleetwood Town v Aldershot Town
---
4 November 2012
BURTON ALBION 3 ALTRINCHAM 3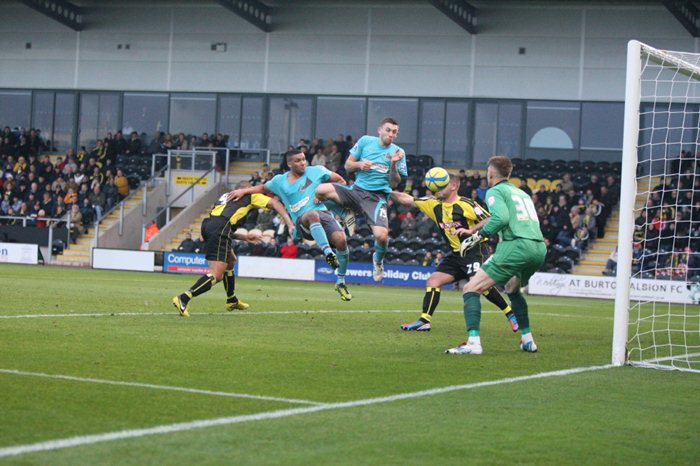 Above: For those who blinked and missed Alty's first goal on ITV's coverage last night, here is Keith Clayton's excellent shot of Carl Rodgers's goal.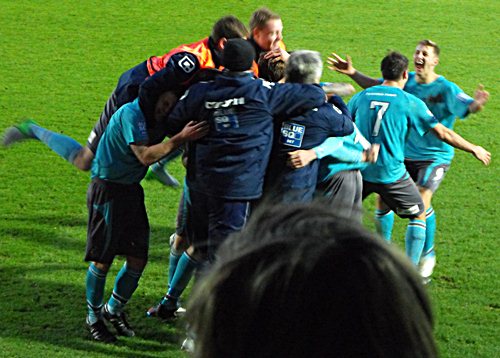 Right: Alty substitutes, assistant manager, coach and players alike pile on top of Duncan Watmore after his cross had forced an own goal for Altrincam's third goal at Burton
A tremendous first half from Altrincham saw them deservedly lead 2-0 at the break, and they had also missed a fifth-minute penalty when Reeves's kick was saved. But Burton rallied in the second half and secured a replay with a goal deep into added time.
Match report here.
The replay is on Tuesday 13 November.
Burton Albion have a report on the game. It includes..."Burton Albion are still in this season's FA Cup but only just. Calvin Zola's header three minutes into added time ensured a replay at Moss Lane after Altrincham had shaken the Brewers by racing into a two goal lead by half time and missing an early penalty...
The Blue Square Bet North side looked anything but the underdogs in the early stages...
In the 29th minute as Altrincham deservedly took the lead. Clee worked hard on the right hand side of the penalty area and got away all too easily from two Albion markers before putting the ball into the six yard box for Carl RODGERS to volley home... Things got worse for Albion five minutes later as they found themselves two goals down. Alty won a corner on the right and when Clee swung the ball in Oxley missed it and Nathan STANTON at the far post could do nothing but help it into the net under pressure from Rodgers...
The early goal that Albion needed came in the 53rd minute as they capitalised on a set piece. Jordan Chapell was upended on the right and Lee Bell's delivery was perfect for Zander DIAMOND to steer the ball wide of Coburn and into the net...
They had a chance to equalise in the 63rd minute when they were awarded a penalty after a needless handball inside the area by Jake Moult... The midfielder strode up but blasted his spot kick wastefully over the top of the goal...
Just when it looked like Albion were getting themselves back into it Altrincham almost stunned them with a third. A flowing move across the pitch ended with Moult in space inside the box to hit a shot that rattled the underside of the crossbar...
Reeves went into the book for a foul on O'Connor and from another teasing Bell delivery the ball ended up in the back of the net with both MAGHOMA claiming the vital touch although Diamond was on hand to apply a touch had it been needed...
The introduction of substitute Duncan Watmore proved crucial as Alty took the lead with five minutes remaining. The youngster slung in an innocuous looking cross and Damien McCRORY was the unlucky man to skew the ball past the helpless Oxley.
It took the wind out of Albion's sails but they had a late chance in stoppage time to equlaise and they took it. Jordan Chapell swung over a teasing cross and Calvin ZOLA was there to head home from close range. A get out of jail card if ever the Brewers needed it".
CUP DRAW
The winners of the FA Cup tie between Burton Albion and Altrincham will travel to Crewe Alexandra in Round Two.
BURTON GAME
Mike Garnett advises us of Altrincham's competitive record against our opponents...
Home - p.6 w.1 d.1 l.4 f.5 a.10
Away - p.6 w.1 d.2 l.3 f.6 a.8
Overall -p.12 w.2 d.3 l.7 f.11 a.18
First played - February 2nd 1985 (FA Trophy 2nd round) Won 2-1 (away)
Last played - January 24th 2009 (Blue Square Premier) Drew 1-1 (away)

Both our victories were in FA Trophy matches (in 1985, as above, and on January 25th 1999 [Rd 3], home, 1-0)

According to the Burton Mail, "Manager Gary Rowett says Burton Albion will go into tomorrow's FA Cup first round tie at home to Altrincham feeling like it is their most important game of the season. The Brewers will be big favourites to progress to the second round against the mid-table Blue Square Bet North side, kick-off 3pm, but Rowett says he will not be making wholesale changes — even with the prospect of a long trip to Plymouth in the league three days later.

The Brewers' boss said, 'It is not particularly the game to make six or seven changes; I don't like making too many changes. The fact Altrincham are a couple of divisions below us does not mean I will disrespect them and start resting players. We need to be at our best as Altrincham will love the tie, they will have nothing to lose. I have been on the end of shocks and there is a responsibility that comes with being favourites in a tie. If you take games lightly, football has a way of smacking you in the face.

I guarantee the players will feel like they are going into their most important game of the season. Altrincham stand in our way of being successful in the competition and they have some good individual players. I've been on the end of upsets and it's not a nice feeling. There are no guarantees, but if we do everything right and play as well as we can then we should get the result....

'I don't think a four-hour trip to Plymouth on the day of the game is ideal, but the players will have three days to recover [from Sunday]. If we choose to make changes, it will be to do with picking the best side to beat Altrincham, not resting people for the Plymouth game'.

Central defender Marcus Holness and midfielder Chris Palmer could return to the squad having made their comebacks from injury for the reserves in midweek. Holness has not featured since picking up a hamstring injury... on September 19, while Palmer has been out with an Achilles tendon injury suffered ... on September 8. However, both played the full 90 minutes as Albion's second string won 2-1 at Shrewsbury Town's Greenhous Meadow on Tuesday.

Midfielder Jack Dyer missed that game because of illness, but Rowett expects him to have recovered in time to be considered tomorrow, leaving Aaron Webster (hamstring) and Jimmy Phillips (metatarsal) as the only absentees. John McGrath, who made his comeback after eight months out with a foot injury by playing 71 minutes at Shrewsbury, is unlikely to be risked".

The Mail also has a column by McGrath, the club captain...

"This weekend we put our league priorities to one side and turn our attention to this year's FA Cup... We welcome Altrincham to the Pirelli tomorrow for our Sunday afternoon kick off... It's been a long, hard few months but I've had some good people looking after me who have kept my spirits up... I look forward to seeing you all at the Pirelli tomorrow for what could be the first step to a trip to Old Trafford or the Etihad'".
SUNDAY FA CUP GAMES
Sunday 4 November, 3pm
Braintree Town v Tranmere Rovers (12.30pm ITV1)
Gloucester City v Leyton Orient
Burton Albion v Altrincham
Dorchester Town v Plymouth Argyle (4.30pm ESPN)
MIDWEEK BSBN GAME
Tuesday, 6 November
FC Halifax Town v Vauxhall Motors
CSC
Altrincham FC's next home game is on Wednesday against Congleton Town in the Cheshire Senior Cup. For that match, season tickets are not valid; turnstile prices will be:
Adults £10
Concessionaries £5
Under-12s £2

Cheshire FA Senior Cup games next week are:

Monday 5 November
Cheadle Town v Chester FC

Wednesday 7 November
Altrincham v Congleton Town

On Saturday, in the NWCL Premier Division, Congleton Town lost 0-1 at home to Colne.
BSBN CLUBS IN THE FA CUP
The Yorkshire Post reports that "Harrogate Town are in the second round of the FA Cup... Guiseley are still in the hat despite blowing a two-goal lead.

Torquay United 0-1 Harrogate Town

Harrogate Town pulled off a major shock as they won on the south coast against a side two divisions above them. Chib Chilaka was Harrogate's hero as he drove a shot in off the post from just inside the area in the first half to give the Blue Square North side a famous win over League Two opposition. It is the first time in the club's history that they have reached the second round of the oldest cup competition in the world...

Guiseley 2-2 Barrow

Guiseley blew a two-goal lead against Barrow... Wayne Brooksby put the Yorkshire side ahead against higher league opposition in the 14th minute. Danny Boshell the doubled the lead with a diving header 10 minutes before the break. But Barrow pulled a goal back on the stroke of half-time through Adam Boyes and that proved crucial. Garry Hunter then pounced on a weak header from Mark Bower to equalise and force a replay".

Attendances at the FA Cup games iinvolving BSBN clubs on Saturday were:
Bishop's Stortford v Hastings United, att. 1,212
Doncaster Rovers v Bradford Park Avenue, att 4,062
Guiseley v Barrow, att 1,605
Torquay United v Harrogate Town, att 1,817

The FA "Cyrille Regis and John Wark will make Sunday's Second Round draw live on TheFA.com... at around 2.40pm on Sunday afternoon, and you can watch it live on ITV1". As it takes place before Burton meet Alty, both will be in the hat, with number 35.
BSBN NEWS
The Football Conference reports that "Vauxhall Motors have taken winger Robbie Booth on a month`s loan from neighbours and rivals Chester FC. Booth started his second spell with Chester in mid-September 2010 when he was signed from Droylsden. He first joined the former Chester club in 2004 when he was released by Everton and he went on to make eleven League appearances, scoring one goal.

When he was released a year later he linked up with Southport and then Burscough, playing over 100 games in all before moving to Droylsden. The winger, who has won back-to-back titles with the re-born club, was out of action for two months with a troublesome back injury he sustained in his day job before making his comeback last month".

BSBN says that "In the Blue Square Bet North the 'Player of the Month' for October is Josh Moreman from Corby Town. Moreman helped his side out of the division's relegation zone with a hat-trick in the 5-0 win over Droylsden in the first week. The striker then helped with a number of assists as well as FA Cup goals in games against Histon and Hendon".

And "'Manager of the Month' award for October goes to Bradford Park Avenue manager John Deacey... Deacey has taken his side to sixth place in the table with a run which included three league wins and a valuable draw at Chester as well as setting up a weekend Yorkshire derby with Doncaster Rovers in the FA Cup First Round Proper after beating Ossett Albion 4-1".

Before Saturday's 0-5 home defeat, the Nuneaton News reported that "Hinckley United have lost two players before tomorrow's visit of Worcester City — and caretaker manager Carl Heggs admits more could follow. Central defender Tom Sharpe, on loan from Kidderminster Harriers, has gone to Brackley Town while Sean Wilkins is set to move abroad. Heggs insists the biggest reason for their exit is uncertainty over his own future.

He said, 'Tom Sharpe has gone, Shaun Wilkins has left and another player is threatening to go. It's not because they want to. It's because of uncertainty over my position. They want me to be manager but at the moment I'm still caretaker. There's too much uncertainty. We've got some terrific young players that can make this club a success, but we've got to get them on contract'".

In the Daily Post, we read that "Colwyn Bay have suffered another major injury blow with defender Tom Smyth now possibly facing a lengthy lay-off from the game with a knee injury. Player-boss Jon Newby was hoping the 21-year-old would be able to return for [the] long trip to fourth-placed Oxford City after missing the previous two games.

Newby said, 'We were very optimistic we would have him back, but he has suffered a setback with his knee and is going to have a scan on it. It is a massive blow, although we hope it is not as serious as Paul Ennis (who has been out of action all season after injuring his knee in a pre-season game at Airbus)'. With Frank Sinclair still suspended, Colwyn Bay are again without two key defenders against one of the league's top five goalscoring teams.

Newby has hinted that he may put himself back into the starting line-up and restore his partnership with Rob Hopley up front. 'Without blowing my own trumpet I feel on reflection that we may get the best out of Rob when I'm playing alongside him', said Newby. 'We have played together for a couple of seasons and know what each other is going to do and it is something we will look at'".
---
3 November 2012
BSBN RESULTS
Boston United 2 Gainsborough T. 1 att 1079
Hinckley United 0 Worcester City 5
Histon 3 Corby Town 4 att 305
Oxford City 1 Colwyn Bay 2 243
Vauxhall Motors 0 Brackley Town 2
Workington 1 Solihull Moors 1
League table.
FA CUP 1st ROUND RESULTS
AFC Fylde 1-4 Accrington Stanley
Aldershot Town 2-1 Hendon
Barnet 0-2 Oxford United
Bishop's Stortford 1-2 Hastings United
Boreham Wood 0-2 Brentford
Bournemouth 4-0 Dagenham & Redbridge
Bristol Rovers 1-2 Sheffield United
Bury 1-0 Exeter City
Carlisle United 4-2 Ebbsfleet United
Chelmsford City 3-1 Colchester United
Cheltenham Town 3-0 Yate Town
Chesterfield 6-1 Hartlepool United
Coventry City 3-0 Arlesey Town
Crewe Alexandra 4-1 Wycombe Wanderers
Doncaster Rovers 3-1 Bradford Park Avenue
Fleetwood Town 3-0 Bromley
Forest Green Rovers 2-3 Port Vale
Gillingham 4-0 Scunthorpe United
Guiseley 2-2 Barrow
Hereford United 3-1 Shrewsbury Town
Kidderminster Harriers 0-2 Oldham Athletic
Lincoln City 1-1 Walsall
Luton Town 1-1 Nuneaton Town
Mansfield Town 0-0 Slough Town
Metropolitan Police 1-2 Crawley Town
Morecambe 1-0 Rochdale
Northampton Town 1-1 Bradford City
Portsmouth 0-2 Notts County
Preston North End 3-0 Yeovil Town
Rotherham United 3-2 Stevenage
Southend United 3-0 Stockport County
Swindon Town 0-2 Macclesfield Town
Torquay United 0-1 Harrogate Town
Wrexham 2-4 Alfreton Town
York City 1-1 AFC Wimbledon
DEREK'S 50 YEARS OF SERVICE
Last Tuesday, there was a pre-match presentation on the pitch to Altrincham FC club secretary, Derek Wilshaw (pictured, below). This was an FA award to mark Derek's more than fifty-year involvement with football as a club official and referee in Cheshire. In the Robins' Review programme, Derek wrote the following article...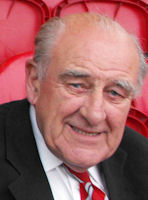 "I am honoured to receive this 50-year acknowledgement from the Football Association for my involvement in football and thank the Macclesfield & District's Chairman Barry McQuinn who, on their behalf, made the nomination.
As a young lad from Mobberley I would be there, along with many of the villagers, to support my local team. In 1955 I was invited to become club secretary, my qualifications being that 'I had been to grammar school'. After two years away (National Service 1956-1958), I returned to that role and helped re-start the club, which had been dormant for a season.
Registering as a referee prevented me from attending Mobberley's games and I relinquished the role as secretary but carried on as Treasurer. I then became involved in local league admin. and, over a period of time, was either Fixture Secretary or Treasurer of the Wilmslow League and North East Cheshire and East Cheshire League. For many years I have held the position of East Cheshire Football League Chairman.
My involvement with Altrincham started as a supporter at the start of the Noel White and Peter Swales era, being attracted by the former Football League players, who had joined the club. Like many people at that time I caught the 'bug' and became a regular at home games but soon joined the travelling away support.
In 1996 I gave up a ''proper job' and offered to help on the admin. side with Graham Heathcote, who had recently been appointed Secretary, a position I was asked to take on when Graham wanted to concentrate on football matters.
I have had many happy days with good people in a 'hobby' which has given me great satisfaction.
Finally, thank you to Dave Edmonds from the Football Association and Cheshire County Football Association for coming to present the award".
FA CUP: BURTON ALBION v ALTY
The ITV FA Cup highlights on Sunday night at 10.45pm include Burton Albion v Altrincham as one of the ties being covered.

In its preview, the BBC says there will be "coverage: BBC Sport website, BBC Radio 5 live, BBC Radio Derby, BBC Radio Manchester". It adds, "Burton Albion duo Marcus Holness and Chris Palmer could both feature. Defender Holness (hamstring) and midfielder Palmer (Achilles) both played 90 minutes for the reserves on Tuesday but captain John McGrath is not yet ready despite also playing.

As an 18-year-old, Altrincham manager Lee Sinnott played in the 1984 FA Cup final for Watford against Everton. Sinnott hopes defender Luca Havern and winger Nicky Clee will recover from slight injuries in time to play. Altrincham have a proud history of victories against Football League clubs in the FA Cup - the last came during the 1994-95 season, when a solitary goal from Chris Sharratt was enough to beat Wigan Athletic and secure a third-round tie against Tottenham Hotspur.

If they are to cause another upset on Sunday, Damian Reeves is likely to be their hero. The striker scored 44 league goals last season - the most by any player in the top six tiers of England football - and has already found the net 16 times in the Blue Square Bet North this term. Reeves, a plasterer by trade, had a trial with League Two leaders Gillingham in the summer but opted to sign a new contract at Moss Lane".
LAST MEETING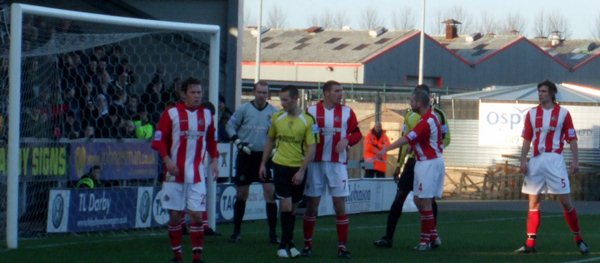 Right: Alty and Burton's last meeting on January 24th, 2009. Here we see Shaun Densmore and Stuart Coburn, who remain in Alty's side, with Robbie Lawton, Marc McGregor and Greg Young, who have since moved on.
Mike Garnett advises us of Altrincham's competitive record against our opponents...
Home - p.6 w.1 d.1 l.4 f.5 a.10
Away - p.6 w.1 d.2 l.3 f.6 a.8
Overall -p.12 w.2 d.3 l.7 f.11 a.18
First played - February 2nd 1985 (FA Trophy 2nd round) Won 2-1 (away)
Last played - January 24th 2009 (Blue Square Premier) Drew 1-1 (away)

Both our victories were in FA Trophy matches (in 1985, as above, and on January 25th 1999 [Rd 3], home, 1-0)
STUART LOOKING FORWARD TO CUP
In Friday's Manchester Evening News we read that "Goalkeeper Stuart Coburn is fed up of hearing about Altrincham's FA Cup heroics – now he wants a taste of it himself. The Robins are rightly proud of being non-league's deadliest giant-killers having knocked out more League sides than any other club.
The Blue Square North side are the lowest-ranked Greater Manchester club left in this season's competition and are hoping to make Burton Albion their 17th League scalp in the first round this weekend.
Coburn is now in his 15th season at Moss Lane and is set to make his 564th Alty appearance on Sunday, joining Stan Allan on the second highest number of games for the club. But he is yet to play his part in a Cup shock as Alty's last victim was Wigan way back in 1994.
'Everyone remembers Altrincham for their Cup record', said the 37-year-old, who was brought up in Stretford and now lives in Sale. 'You hear about the club's history, playing at places like Liverpool and Tottenham. Some of the old players had it year in, year out, but I've never experienced that.
'We've played Darlington, Millwall and Luton in recent years but didn't quite manage to beat them.
'Last year we got beat by Witton Albion so I was beginning to think it'd never happen – hopefully this will be our year. We're all really looking forward to it, even after the last three games."
Alty were unbeaten in nine until losing three league games in eight days, hardly the best preparation for facing a League Two side 52 places above them.
'We've just got to forget about the league for now and focus on the Cup', Coburn added. 'It could be a nice distraction. If we get walloped then people will say 'well, they're two leagues below you', so there's no pressure on us, we've just got to enjoy it'".
And Stu will be a popular figure at the Pirelli if the following from This is Derbyshire is to be believed. It says that "Sunday's FA Cup tie will emphasise how rapidly fortunes can change in football. Burton Albion and Altrincham competed on the same platform, in the Blue Square Bet Conference, in the 2008-9 season.
At the end of that season, Altrincham memorably held Cambridge United to a 0-0 draw, a result that ensured the Brewers would be promoted to the Football League as champions, although they were losing 2-1 to Torquay United on the same day.
For that reason alone, goalkeeper Stuart Coburn will deserve a warm welcome from Burton supporters at the Pirelli Stadium. The man who held Cambridge at bay with a string of saves is still first choice between the sticks at Moss Lane. Two other squad members from that game, captain Stuart Densmore and Matt Doughty, are also still at the club.
For three successive years, Altrincham, one of the few remaining part-time clubs at BSB Premier level, escaped relegation after finishing in the bottom places because of other clubs' financial shortcomings. Relegation finally came last season [actually the season before].
A promising start to this season under manager Lee Sinnott saw Alty compile a nine-game unbeaten run. But they go into Sunday's tie on the back of a run of three defeats in a week, which has slipped them back into mid-table and caused Sinnott to issue a severe warning to his players'".
BURTON SHOW ALTY RESPECT
This is Derbyshire says that "Gary Rowett has declared himself one of the managers who still believes completely in the magic of the FA Cup. That means Blue Square Bet North opponents Altrincham will be afforded full respect by Burton Albion...

'You should afford respect to your opponents in any game, from a friendly to a cup final and I would assure anyone who's interested that we won't be taking Altrincham lightly in any way at all', said the Brewers' boss. 'We've watched them play, we've had reports on them and we're treating them no differently to any other opponents.

'I won't be making five or six changes to the team either – that would be disrespectful to them. As far as I'm concerned, I'll be putting out the strongest side I can'...

It looks like being one in, one out in terms of the availability of the two players Burton currently have on short-term loans. Goalkeeper Mark Oxley [from Hull City] will be able to play, following his debut in last Saturday's 1-0 win over Bradford City...

Said Rowett, 'I don't think (Sheffield United's) Jordan Chapell will be allowed to play... Altrincham will relish the day as a chance to upset a League Two side and we will relish it because we fancy the chance of going on a run in it again'".
BURTON PLAYERS' COMEBACKS
The BBC confirms that "Burton Albion midfielder John McGrath could feature in Sunday's FA Cup tie against Altrincham following an eight-month injury lay-off. McGrath played 70 minutes for the reserves in their game at Shrewsbury Town on Tuesday.

It was his first match since tearing a ligament in his foot in February... [He] had to have surgery in March".

The Burton Mail says that "Nathan Stanton has expressed his delight at returning to action for Burton Albion after admitting to feeling downhearted during his spell amongst the substitutes.

The central defender was restored to the line-up as the Brewers beat Bradford City 1-0 at the Pirelli Stadium on Saturday after being the victim of circumstances and finding himself confined to the bench for six games.

Stanton picked up an Achilles injury... It was initially thought the 31-year-old would be out for two or three weeks and with fellow centre-back Marcus Holness already on the sidelines because of a hamstring injury, boss Gary Rowett moved to bring in Robbie Kiernan on a month's loan from Wigan Athletic.

As it turned out, Stanton's injury was not as bad as first feared and he returned four days later, but had to settle for a place on the bench as Rowett made the most of Kiernan's arrival. With Kiernan returning to the DW Stadium after Saturday's game, Rowett threw Stanton back into the fold...

He said , 'It was just a sore Achilles and the diagnosis was two to three weeks, but after one or two days it settled right down. I ended up training but, by that time, they had brought Robbie in on loan, who did very well, so there was no problem at all. I obviously had to wait for my chance and here it is — and hopefully I've taken that.

You can never argue with that if players are doing well and the team is doing well, you can never argue with that. I've always said I'll never question the manager's team selection... If you want to be successful you've got to fit into the regimes. I said to myself when you're not in the team you've got to be ready for your chance, and you've got to take your chance when it comes'...

Stanton impressed on his return, helping the Brewers keep a clean sheet and get back to winning ways following a 4-1 defeat at League Two leaders Gillingham and a 1-1 home draw with second-placed Port Vale. However, Albion had to wait until the 81st minute for the winner against a Bradford side who had been reduced to 10 men ...

'For some reason it always seems to get harder against 10 men, any team will tell you that, because they basically just try and shut up shop, keep one up front and he keeps on working', said the central defender...

The Brewers host Altrincham on Sunday in the first round and Stanton said, 'Yeah, I'm looking forward to the cup, the FA Cup is brilliant to play in... I've been to about three finals with Liverpool'..

As well as McGrath, "There was further good news for Rowett as both midfielder Chris Palmer and central defender Marcus Holness got through the 90 minutes... as they made their own comebacks from injury...

Palmer and Holness will now be in contention to return to Albion's first-team squad for the visit of Altrincham in the first round of the FA Cup on Sunday...

The Brewers' boss said, 'It was really good to have the three of them back... However, the Brewers boss says 32-year-old McGrath will need a couple more reserve team games before he is considered for a return to first-team action... Palmer and Holness are more likely to be considered for an immediate return to first-team duty, with Rowett saying, 'It is nice to have the two of them back available. Whether they are thrown straight back in is another matter. Like every other fit player, they are available and we will assess it as the week progresses'".

Teamtalk reports "Team news ahead of Sunday's FA Cup first-round clash between Burton Albion and Altrincham. Burton could have Marcus Holness and Chris Palmer back in contention on Sunday...but the first round clash against Blue Square Bet North side Altrincham will come too soon for midfielder McGrath.

Winger Jimmy Phillips remains sidelined having broken a bone in his foot during pre-season, while defender Aaron Webster is still nursing a hamstring problem.

Winger Luke Rooney and central defender Robbie Kiernan have returned to Swindon and Wigan respectively following their one-month loan spells at the Pirelli Stadium".
CSC
In Cheshire Senior Cup 1st Round matches played on Wednesday and Thursday, the results were:
Macclesfield Town 1 Stockport County 0
Hyde 6 Northwich Villa 0
BSBN GAMES ON SATURDAY
Boston United v Gainsborough Trinity
Hinckley United v Worcester City
Histon v Corby Town FC
Oxford City v Colwyn Bay
Vauxhall Motors v Brackley Town
Workington v Solihull Moors
BSBN NEWS
FC United confirm the "signing of 20-year-old striker Tom Fisher from neighbours Droylsden. Wythenshawe-born Fisher learnt his trade at Stockport County and made nearly 40 appearances in the Football League for the Hatters before being released when they were relegated at the end of 2010–11 season.

Since then, Fisher has struggled to settle at a new club with spells at Macclesfield, Hyde and more recently The Bloods".

At Histon, "Striker Shane Tolley has signed for the Club after his release from Spalding United. Devon born Tolley started his career at Peterborough United and had a brief spell at FK Riga in Latvia before returning to... spend three years at Truro. He then moved to home town club Barnstaple Town before linking up with Dennis Greene at St Neots Town in 2010...

Tolley was released by St Neots in the summer and signed for Spalding...

In other squad news, five of our scholars have signed First Team Forms this week. Prolific striker Matty Waters made his senior debut in Tuesday's draw against Solihull Moors whilst fellow striker Casey Logan, defenders Jack Uttridge and Harry O'Malley and midfielder Nick Freeman are all now registered for Conference football".
---
2 November 2012
CHAIRMAN ON THE RADIO
Tonight, Friday, on the BBC Radio Manchester programme, from 7pm the special guests are Altrincham FC chairman, Grahame Rowley and Ashton United's manager, Danny Johnson.
EXCESS OF ALCOHOL AFFECTS WEBSITE
Apologies for the delay in today's website update. This was due to an excess of alcohol...

The website "editing team" was caught up in the following incident yesterday evening... "Train lines between Cardiff and Newport have reopened after services were stopped following a chemical incident near tracks at Rumney. British Transport Police said a gas container at the Wentloog Freightliner Depot overfilled with ethanol, and there were fears it could explode. The depot was cordoned off and passengers were warned of 'extensive delays' with rail services suspended" reports the BBC. Wikipedia tells us that "ethanol, also called ethyl alcohol, pure alcohol, grain alcohol, or drinking alcohol, is a volatile, flammable, colorless liquid".
YOUTH GAME OFF
Altrincham FC Youth's match this Sunday at Abbey Hey has been postponed due to their other team being at home on the same day. So, the Alty Youth team's next game is now on Sunday, 11 November. This will be a Third Round Open Cup match, away to Lancaster City F.C. on their ground at The Giant Axe, West Road, Lancaster, LA1 5PE.
ALTY IN FA CUP SECOND ROUND ALREADY (BUT SO ARE BURTON)
The FA advises that in the FA Cup, "The draw for the Second Round Proper will be on Sunday 4 November 2012 and will be televised live on ITV1 at approx 2.40pm after the live tie between Braintree Town and Tranmere Rovers and the draw guests are Cyrille Regis and John Wark. Cyrille Regis won Goal of the Season with his FA Cup strike for WBA against Norwich City in 1981-82. and John Wark scored a header for Ipswich Town against Cyrille and WBA in the 1978 FA Cup Semi-Final at Highbury. John famously hit the post twice with almost identical shots in the 1978 FA Cup Final and starred in the wartime based football film, Escape to Victory, alongside Michael Caine and Sylvester Stallone".

As Alty do not play Burton till 3pm on Sunday, both clubs will be in the Second Round Draw. Altrincham and Burton's number in the draw will be 35. Should Alty and the Brewers need a replay, it would be at Moss Lane on Tuesday, 13th November, when FC Halifax Town are due at Moss Lane for a BSBN match.
SATURDAY ACTION
As Alty have no match this Saturday, a couple of local alternatives for watching football are:
Trafford v Goole, at Shawe View, Flixton at 3pm
Wythenshawe Amateurs v Walshaw Sports at 2pm at Wythenshawe Cricket Club, Longley Lane, Northenden.
GOAL RUSH
TASC's Paul Salt writes...

2012-13 Goal Rush Draw

With Altrincham having scored 37 goals to date in league and cup matches, the first draws in the 2012-13 Goal Rush Scheme for the 10th, 20th and 30th goal marks will take place live on Radio Robins at half-time at next week's Cheshire Senior Cup match v Congleton Town.

There is still time to enrol in this season's Goal Rush Sponsorship Scheme and be included in next week's first draws of the season for free home match tickets.

For every 25p per goal pledged and scored by Altrincham in Blue Square Bet North League, FA Cup, FA Trophy, and Cheshire Senior Cup games, you are entered into the regular draws for two match tickets for every 10th goal scored as well as the end of season draw for a signed shirt and matchball.

If we manage to achieve over £30 of pledges per goal and Altrincham score 100 goals then our Chairman has pledged to include a season ticket for the 2013-14 Season in the end of season draw.

If you haven't already renewed your pledge for this season, or would like to take part for the first time by pledging any amount in denominations of 25p, please contact Paul Salt or Steve Foster (Fozzie), Brian Flynn or the Club direct on 0161 928 1045.

Remember - If you're not in it, you can't win it!"
GUISELEY GAME
Brian Flynn announces that you can hear the Radio Robins' commentary on Alty v Guiseley, last Tuesday, as follows:
Second Half.
---
1 November 2012
FOLLOW THE ALTY TO WORCESTER
Details of the TASC supporters' transport for the FA Trophy game at Worcester on 10 November are on the Away Travel page.
"WE LET OURSELVES DOWN" SAYS LEE
John Edwards has kindly provided the following article, based on a post-match Wythenshawe FM interview by Kevin Thompson with Alty manager, Lee Sinnott, after Tuesday's game...

"Lee Sinnott pulled no punches as he reflected on three straight defeats in the Blue Square Bet North and bluntly told his Altrincham players they had 'let themselves down'.

The Alty manager could not hide his anger, and offered an apology to supporters, after Guiseley rounded off a miserable week by helping themselves to a 3-1 win at Moss Lane.
Already beaten by Workington and Solihull Moors in the previous seven days, Sinnott conducted a lengthy dressing room inquest before finally emerging and telling Wythenshawe FM: 'It is now 11 o'clock, and you don't have a chat with your players for an hour after a game when things have gone well and according to plan.
'We met a team tonight who have been on the verge of promotion two seasons running and look like doing the same again. You could see what is required to be up there, and I have to say we were lacking. They were sharper, they were brighter, they worked harder, they worked quicker and they showed more desire.
'The list could go on, and I am bitterly disappointed. If you look at the three league games since we beat Boston in the FA Cup, our standards have not been good enough, on or off the ball. We are giving information to the players, but you can't force them to run and close people down. Does this sound like a disappointed man? Of course it does, because that's what I am.
'Now it is Burton Albion in the Cup on Sunday – and who is to say what will happen there? – but I will still be thinking of the nine points dropped in between the two ties.
'It is a fine balance in football. When things are going your way, you tend to work even harder to make sure they keep going your way. Does that mean we have subconsciously taken our foot off the pedal over the past week? People who have seen all three games will have their own observations and will probably say we have, which you simply can't afford to do.
'Without a shadow of a doubt, Guiseley deserved their victory, and I am bitterly disappointed with how we performed, just as I was with the way we gift-wrapped three points like a Christmas present for Solihull and started against Workington, even if we did play better in the second half.
'They have taken their eye off the ball in those three games and paid the price. They were warned about that, but I do still believe in them. I had a right go at them for an hour in the dressing room, but, come Friday, we will train in preparation for Sunday's game, and I will be supportive of them.'
Asked if freshening up his squad with the injection of one or two new faces might be an option, the Alty boss replied:
'As things stand, we've got the FA Cup on Sunday, County Cup in midweek and then FA Trophy the following Saturday, and there is no chance of bringing anyone in for any of those games. Once that sequence is over, though, I wouldn't rule out the possibility.
'If your foot isn't all the way down on the pedal, it doesn't really matter what competition you are in or even what sport you are playing. It could be tiddlywinks, and the plain fact is, you won't win. That is something the players need to take on board. They've got ability. They have shown that. But this was a test against one of the top teams, and we were found wanting, just as we were against the top five last season. It's like winning your first trophy. It gives you the confidence to believe you can go on and win another.
'This was a chance to make that sort of breakthrough, but we let ourselves down, and I can only apologise to our supporters. That is all I can do, other than try and make sure there is a reaction on Sunday. We know what can happen in the Cup, but if we perform as we did tonight, it is going to be a very hard 90 minutes.
'I challenged the players to show what they've got, to stand up and be counted. Every time you step on the pitch, you have got to be determined to be better than your opposite number, or at least that he is not going to get the better of you. We didn't win anything like enough of those individual battles against Guiseley.
'I had to change things in the first half, because their midfield three were causing us massive problems. They had so much possession in the first 18 minutes that something had to be done while it was still 0-0, or we could have been dead and buried. You just can't afford four, five or even six players not performing to their maximum when you are up against a team who've got 11 playing to their maximum.
'It's not like facing some teams, when you can have three or four not quite at their best but still carry it off. I changed things to try and stem the flow a bit, but they still kept coming at us. I know their centre-half Mark Bower, and, full credit to him, he has had a great career. But if someone like him can do what he did three minutes from half-time, and play a one-two before strolling past someone from 15 yards away, then it tells me my team are not at the races.
'We have simply got to take these lessons on board. Every minute out on the pitch is important, but, for me, there are particular times when you look for certain things. The first 20 minutes are vital, because you've got to get your engine running, or you risk your opponent trampling all over you. Ten minutes either side of half-time can have such an effect psychologically, and the last few minutes and added time are also crucial.
'I am always reinforcing that message to stay switched on, beforehand and during the game, You shout, '80th minute – last 10.' But then you see incidents like tonight barely a minute later, when Jamie Walshaw was allowed to waltz into the area and shoot past Stuart Coburn. You see people switching off, and that is the annoying part, when you have told them and reminded them, yet it doesn't sink in.
'You can't play brilliant football all the time. You've got to come up with answers against the top teams, but we were second best for too much of the game.
'Is it because of the Cup that we have lost three in a row? I don't know, but it shouldn't be, because that is no reason at all. They have had a rollicking, so let's see how they react. It's a man's game, and we have to face up to the challenge. Burton will not do us any favours and will want to swipe up out of the way. We have to be ready to stand up to that.'
Sinnott hopes Luca Havern (above left) will shake off a knock in time for Sunday and that Nicky Clee will be passed fit after missing Tuesday's game with a thigh injury".
GUISELEY VIEW
Curiously, the following report claims that Lee Sinnott was not at Moss Lane on Tuesday; he may have wished he wasn't. Guiseley report that "Altrincham Manager Lee Sinnott probably made the right decision tonight in going to watch Sunday's FA Cup opponents Burton Albion, as the Lions delivered perhaps their best performance of the season. Despite going a goal behind, they eventually pulled it back through Nicky Boshell before a James Walshaw brace wrapped up a comfortable win to see the Lions reclaim second place in the table...

Although they enjoyed the better of the possession it was the Lions who went behind on 22 minutes, when Simon Richman's shot took a heavy deflection to wrongfoot Steve Drench. Home defender Gianluca Havern was lucky to stay on the field after slicing down Mark Bower in full flight just outside the area, an offence for which he was duly cautioned, but having injured himself in the process he had to be substituted shortly afterwards.

The younger Boshell finally got the reward that Guiseley's free-flowing football deserved, executing a superb volleyed scissors kick to leave Coburn stranded on 29 minutes after the impressive Kevin Holsgrove had chased a ball down and pulled it back for his strike partner...

With six minutes remaining, a long clearance from Drench was headed on by Wilson into the path of Walshaw, who made no mistake in firing past Coburn to put the Lions in the lead. Four minutes later he played a ball out to Wayne Brooksby on the right flank and it was drilled back in with pinpoint accuracy. Walshaw headed home at the near post to wrap up a well-deserved victory ".
SUNDAY'S MAN IN CHARGE
For Sunday's fame, the FA announces that the referee of Burton Albion v Altrincham will be Michael Bull, with assistant referees Michael Blackledge & Geoff Law, and Fourth Official Geoffrey Russell.
RESULTS
Wednesday, 31 October
Corby Town 3 Gloucester City 2 att.237

FA Cup 4QR replay Wednesday, 31 October
Harrogate Town 1 Hyde FC 0 aet (at Harrogate Railway). Winners away at Torquay United.
YANKEE
The winning code in Saturday's Yankee was 7989, which was unissued. However, two lucky punters won £100 each for winning trebles.
BUCKET COLLECTION
Tuesday's bucket collection raised £38.28 for which the Club thanks both the donors and collectors.
BSBN NEWS
Before Tuesday's game, the NW Evening Mail reported that "Barrow AFC manager Dave Bayliss is undertaking an FA Cup spying mission tonight... The Bluebirds boss will be at Moss Lane to run the rule over Saturday's first round opponents Guiseley, who are set to take on Altrincham in Blue Square Bet North..

Bayliss, whose side were beaten 3-2 by Guiseley in the FA Trophy first round the last time the two teams met in December 2010, is looking forward to another crack at the West Yorkshire outfit and said, 'I'm glad we have got Guiseley because we owe them one. It's a game I'm really looking forward too. They have one or two different players from last time we met but they still play the same way. I'm glad we have got a tough game, because had we been drawn against some team we don't know anything about then it would have been a trip into the unknown. But I know plenty about Guiseley...

Barrow are also this week using FA Cup match balls, provided by the Football Association, in training, ahead of Saturday's tie, the winners of which will earn £18,000 in prize money and a place in the second round... Experienced Guiseley defender and skipper Mark Bower... told Guiseley's official club website, 'We'll go in as underdogs but we fancy our chances, especially against a team who will come out and play against us. We've had quite a few teams down here who sit back behind the ball and just let us come on to them, which can get a bit frustrating at times, so hopefully it'll be a good game where both teams have a good go at each other. We've got enough quality to spring a little shock and win'".

News of our FA Trophy opponents comes in the Worcester News, which says that "Worcester City have renewed their interest in signing former Barrow captain Robin Hulbert. The 32-year-old midfielder was on the club's radar during pre-season after leaving Holker Street but wasn't taken on because of a knee injury.

Hulbert missed the majority of last season with the Cumbrians through cruciate ligament damage and has spent recent months working on his fitness, including a spell at Lilleshall National Sports Centre. However, the player who led Barrow to FA Trophy success in 2010 is ready to return to the game and is back in training with City. He took part in the warm-up before Monday night's 2-1 defeat against Brackley Town at St George's Lane and could sign in the near future.

City have added forward Alex Meechan to their squad in the past week but have money available from their FA Cup run to fund a deal. Manager Carl Heeley said, 'Robin came training with us at the start of pre-season but he's recovering from a cruciate ligament injury and at the time he felt his knee wasn't quite right... He wants to get involved so he's doing a bit of training with us and we'll take it from there... It will be slow with him but he's vastly experienced, knows the game and he'd be a good player for us so there's a possibility something could happen'.

Meanwhile, striker Danny Glover continues to be sidelined by an Achilles problem... Glover has missed the last two matches against Boston United and Brackley with the injury and has been told to rest it for seven days... Captain Stuart Whitehead should be fit after being withdrawn early in the second-half on Monday to protect a tight hamstring. Left-back Ellis Deeney will serve a one-match suspension after picking up his fifth yellow card of the season in the Brackley defeat. His ban starts in two weeks, meaning he would miss the visit of Workington on Saturday, November 17, or a potential FA Trophy replay against Altrincham".

BSBN reports that "Gloucester City have released a statement regarding the Blue Square Bet North's position on developing the club's ground. The statement read:

'GCAFC have been evaluating the position statement provided by Gloucester City Council and assessing the extent of work that would be required to be progressed in relation to the flood risk modelling and detailed design elements. GCAFC consider that it is critical to ensure that they have a fully informed (and agreed) scope of works to enable the Executive Board to make an informed decision. At this stage, GCAFC have not completed their assessements, however, progress is being made.

GCAFC hope to be in a position to request a formal meeting of the City Council appointed Technical Working Group on or before the 16th November 2012. A further update will be provided at the end of November'".
---
FOR EARLIER NEWS, CLICK HERE
---