---
31 August 2012
BACK IN BUSINESS
Over the past nine days this website, like many others which use McAfee anti-virus security, (which comes by default, whether you like it or not, with Dell PCs), has been affected by McAfee's recent botched automatic update. This meant that no connections could be made to the internet, a failing which McAfee only admitted on Thursday when they issued some imperfect instructions on how to remedy their defective update. In the meantime I and others had wasted hours of their own and their internet service providers' time looking for the cause of the problem. Thankfully, I was able to keep this website updated, with great inconvenience, via an alternative machine which uses another brand of more efficient anti-virus software.
I am extremely grateful to Altrincham supporter Dan Jones for his expertise in getting my PC linking to the internet once again and would thoroughly recommend his services should you have a similar problem or, indeed, any need for technical assistance with your computing. After a number of years working for an IT company, Dan has recently set up on his own as Techknowledgey Ltd and can be e-mailed should you need any assistance in computer-related matters of any kind.
YOUTH FIXTURES
Altrincham FC's youth team NWYA Premier League match at Morecambe on Thursday night was postponed because of a waterlogged pitch. The lads' next match is at home to Hyde at Hale Country Club, Clay Lane, Timperley this Sunday, k.o. 2.30pm. Following their 8-0 defeat at home to Warrington Town on Thursday,
Hyde FC
announce that "Our recently-formed youth team are looking for defenders to strengthen our squad. Players should have had experience with Football League clubs or played representative football, and must be confident of being up to the challenge of playing in the very competitive North West Youth Alliance Football League".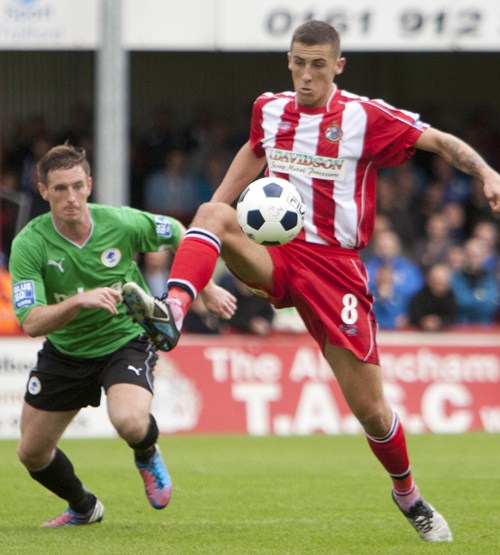 FOLLOW ALTY ON THEIR AWAY TRIPS
Travel times and fares for the TASC supporters' transport to the next two matches are now on the
Away Travel
page.
Tuesday 4 Sept, away at Gainsborough Trinity
Saturday 8 Sept. away at Oxford City

Right: Patrick Lacey in action against Chester FC last Monday, as photographed by Gavin Rathbone of GR Photography
LADIES DELAYED
Keith Edelston, manager of the Altrincham FC Ladies, advises us that "Our season has been moved back one week so, now, our first game is Sunday 9th September (Away) v Stockport County Blues at Stockport Sports Village (old Woodley Sports), Lambeth Grove, Woodley, kick off 2pm".
OLD BOYS
Kendal Town report on a 2-2 home draw against AFC Fylde in which ex-Alty man and "Town skipper Marc Joseph is considering involving the police after he was allegedly bitten on the stomach during the Black and Whites 2-2 draw with AFC Fylde. The incident between [ex-Alty loanee] striker James Dean and Antiguan international Joseph sparked an ugly brawl on the stroke of half time, which saw Kendal [and ex-Alty] keeper Craig Dootson sent off when he retaliated to being punched in the face by Harry Winter, who was also given an early bath by referee Paul Hodgkinson. Dean and Joseph were both shown yellow cards".

And Pitchero Non-League tells us that "AFC Telford United have signed former Tamworth goalkeeper Joe Collister. Collister, 20, started his career with home-town club Tranmere Rovers and went on to ten first-team appearances for the Prenton Park outfit. However, at the end of his initial two-year professional contract, Rovers released him and he subsequently signed for Tamworth in August 2011... He also had spells out on loan with Barwell and Altrincham before then Fleetwood Town beat the transfer loan deadline to secure his services until the end of the season".

Laurence Tonn advises the website that former Altrincham FC Youth player Stuart Cook is now playing for Northwich Victoria and last Sunday he was a starter in their FA Cup game at Stafford and also in the replay on Tuesday. As well as being a regular now for the Vics, he is also a member of the England international Futsal team
FLYNNZINE
Brian Flynn's latest "Flynnzine" appear on Monday...

"Coming In Your Ears!

Radio Robins is Altrincham Football Club's internet radio station and aims to bring full live coverage of all Altrincham's games. We are up and running for the season with a brand new main sponsor in Ashley Mowers Garden Machinery.

Many thanks to Nigel and Elizabeth Wright, who own and run Ashley Mowers, for their support of our internet radio service. They are longstanding supporters and sponsors of Altrincham Football Club and I'm sure that their group will have a great time at Moss Lane this afternoon.

You can find out all about our new main sponsors at www.ashleymowers.com

We are looking for match commentary sponsors for Radio Robins. Priced at £25 for businesses and £20 for private individuals, match commentary sponsorship offers the following benefits:-
Pre-match publicity on Altrincham F.C. website and Fans Forum
Regular mentions throughout the live full match commentary
Website links to four high-ranking websites (www.altrinchamfc.com/www.altyfans.co.uk/www.t-a-s-c.com/www.radiorobins.com). This is actually worth more than £25 to any business where search engine rankings are important i.e. getting to the top of Google and other major search engines on the internet.
It helps Altrincham Football Club as all funds raised go straight to the club!

There are also additional ad-hoc benefits, such as last Saturday, when Salford City Radio took a live feed of the Radio Robins commentary on their 'Sportzone' programme which broadcasts on 94.4FM and online at www.salfordcityradio.org.

If you would like to sponsor a match commentary, please contact me via one of the following:-
Email: brianflynn59@hotmail.com
Mobile: 07860 561011

Or, speak to me at a game. I'm usually in the Press area at the top of the main stand or loitering around the ground somewhere. In the next programme, I will introduce you to the Radio Robins Commentary team for 2012/13 season.

Brian Flynn".
WFM ON ALTY
Tuesday's Wythenshawe FM Sports Talk Show is now available here. The first half of the programme focuses on the bank holiday clash with Chester and features interviews with Lee Sinnott, Chester manager Neil Young and Alty keeper Stuart Coburn".
BSBN NEWS
According to the Football Conference, "Bradford Park Avenue have signed former Huddersfield United defender or midfielder Harrison Blakey. Blakey was on trial during pre-season with Carlisle United having been released by Huddersfield at the end of last season.

The teenager, son of former Yorkshire and England cricketer Richard Blakey, was...originally with Leeds United at academy level".

Meanwhile, "Jon Newby, player-manager of Colwyn Bay, has completed the signing of midfielder David Mannix. Twenty-six-year-old former England Youth international Mannix was with Liverpool for three years as a teenager and later had two spells with Accrington Stanley, one with Chester City and a season playing in Norway with Ham-Kam. He was with league rivals Vauxhall Motors last season and Newby commented, 'He is a midfield player we see as someone who can hopefully get on the ball and make things happen'".

Pitchero Non-League tells us that "Histon have signed midfielder Harry Agombar on a month`s loan from Macclesfield Town. Agombar, who has been a youth player at both Arsenal and Tottenham Hotspur, made his senior debut for Grays Athletic in the Conference aged just 16 and went on to play twenty times for the club before a move to Barnet... He returned to Grays and spent last season as a regular, playing forty-four times and scoring ten goals from his attacking midfield position as the club reached the play-offs.

His ability and performances saw him attracting attention from the continent which saw a trial at Partizan Belgrade, and he has also trained with West Ham, who had asked him to remain for more training before he opted to join the Silkmen for pre-season and signing his deal at the club".

Elsewhere, "Hinckley United have placed goalkeeper Martin Conway on Conference forms. Conway is dual-registered with United Counties League Premier Division side AFC Kempston Rovers. Conway joined AFC Kempston in March 2010 from Leicestershire Constabulary".

And "Midfielder George Washbourne is set to join Gloucester City on loan from Forest Green Rovers. George, who signed for FGR from Nuneaton in the summer, is a left sided midfielder who can also play at left back. Manager Dave Mehew said, 'George has come in as cover on the left, with Adam Mann out with his broken foot and Ben Hunt struggling with a groin injury I felt we needed someone else in on the left'".

News of Alty's next away opponents comes from the Gainsborough Standard reports that "Trinity remain winless in four Blue Square Bet North outings, after Monday's 1-1 draw at home to Harrogate Town... After five minutes Trinity started to dominate and show some spirit... Trinity then won their second penalty in as many games after Alan White was deemed to have handled the ball inside the area. Hawkridge made no mistake from the spot and sent Trinity into the lead for the first time this season...

Although Harrogate were down to 10 men, they were soon on level terms... Gainsborough: Budtz, Roma, Wilde, Waterfall, Young, Leary, D'Laryea, Clarke, Barraclough (Godden 56), Connor, Hawkridge. Subs: Hone, Stamp, Yates, R. Williams".
---
30 August 2012
LEE SEES HOPEFUL SIGNS
John Edwards, Altrincham's joint Press and Media Officer writes that "Lee Sinnott could not hide his disappointment at two straight defeats but still insisted there were signs of Altrincham showing their true quality in a gripping Bank Holiday Monday showdown with Chester at Moss Lane.

Stung by a 2-1 defeat at Vauxhall Motors at the weekend, and trailing to two early goals against one of the Blue Square Bet North promotion favourites, Alty roared back with two stunning strikes either side of half-time.

Two further Chester goals in the last 10 minutes stopped the revival in its tracks, but there were indications, at least, of Alty producing the attacking football Sinnott believes is within their compass.

'I have to say, it is disappointing and frustrating that, after a really good, all-hands-to-the-pump away performance at Harrogate, we were unable to do the same at Vauxhall. No disrespect to them, but getting a good result there should have been within our grasp.

'Anyone who wasn't at the Chester game might have looked at the score and thought it was a repeat of the Brackley performance, when it was anything but.

'For the last 20 minutes of the first half and first 20 of the second, we were in the ascendancy, producing the sort of football we are capable of and looking like we could go on to win it. If there was one criticism, we might have done more after getting back to 2-2. They were rocking, and we should have clicked up a gear, instead of letting them steady their feet a bit.

'The other lesson we have to learn is dealing with crosses. It was a wonderful cross for the opener, and their lad drifted off towards the far post to head it in. I have tried to defend those in my time, and I know they are difficult. But that is what you are there for, as a centre-half, and we have to make sure we don't get caught out again.

'There were similar mistakes for the second and third goals, and it is about working with the players on the training ground, and making sure their concentration levels are right up there, from start to finish. The individuals involved are not fools and know what they did wrong. They will be determined to ensure there is no repeat.

'I gave the players a rollicking after Brackley and Vauxhall, but I felt I had to take on board how much they put in against Chester. We were putting together moves and cutting them open at times, and if we play like that, wth one or two tweaks to our defending, we will give ourselves every chance of picking up points.

'We have to work our way through it and show a bit of bravery now to build on the positive aspects of the Chester performance.'

Nicky Clee is available again after concussion for Saturday's home game with Histon".
CONFIDENT OF RECOVERY
The Advertiser reports that "Altrincham manager Lee Sinnott refused to make excuses after the Robins suffered successive defeats over the Bank Holiday weekend.

Alty lost 2-1 at Vauxhall Motors on Saturday before going down to a 4-2 home loss against Chester on Monday.

Losing to Chester is no disgrace as they are favourites for the Blue Square North title – but that was little consolation to Sinnott...

'We must do better', said Sinnott. 'Chester started off like a steam train but we contributed to our own downfall with the goals we conceded. It was a disappointing result because we got back in the game and then let it slip, and there was a sense of déjà-vu after the Vauxhall game. We were 1-0 down, pushing to get an equaliser, and then they made it 2-0 against the run of play.

Maybe we deserved more from the two games but the scoreline doesn't lie. I felt we took a breather instead on pushing on again, which brought Chester back into the game. We've conceded 11 goals in four games and, with the personnel we've got, we should be conceding a lot fewer than that'...

With hundreds of fans then making the short trip from Chester on Monday, there was a bumper crowd of 1,940 at Moss Lane...

'I had a good chat with the players after the game', said Sinnott. 'But you've got to be careful not to hammer them down too much. I could see they were all very disappointed. We all want to fix things and we've been working hard on that. We've just got to regroup, get our heads down and get on with it. I feel the personnel we've got is good enough but it's about confidence as well.

We had opportunities against Chester and had we been more confident we'd have taken them. Chester were ruthless, we weren't. Collectively, we've got to defend better too. I think we just need to get a couple of results under our belt to gather some momentum and get the confidence going. We've got Histon at home on Saturday and we need a win'".
NEXT UP
News on Altrincham's next opponents comes from the Cambridge News as it reports how the Stutes won 1-0 at Hinckley United.

"Adrian Sear grabbed a dramatic last-minute winner as Histon made it six points out of six from the bank holiday weekend. The captain leapt above the Hinckley defence to head home Jack Eades' inswinging corner as stoppage time approached.

'Searsy scored a few for me at St Neots and that was a really good header', said manager Dennis Greene. 'He is getting stronger and stronger, picking up the second balls. He's a winner – he breaks things up, gets headers in and wins tackles. He doesn't do anything fancy and he's the type of player every team needs. You can see the spirit's there in the team and we're now getting our rewards'.

The Stutes started the game with real energy and looked like they were the home team, pressing their opponents well and forcing mistakes. Claudiu Hoban was a good outlet on the left flank with his pace and dribbling ability, while Zak Mills quickly got on top in his duel with Aaron Cole on the right, the full-back pushing on and attacking well...

Hoban continued to be a menace to right-back Declan Towers, with his end product being of a high standard – crosses were fizzed in and a low drive tested shot-stopper Robert Peet. Ian Gayle has impressed in every game so far at the heart of the Histon defence and he did so again, his positional sense and pace alleviating danger...

The Stutes suffered a blow before the break when Kaine Sheppard was forced off with injury and replaced by Jim Stevenson... Eades had to be employed as an emergency striker...

Hinckley were there for the taking, their passing getting worse and worse as the game wore on, and their coaching staff getting more and more irate in their technical area...

Greene said Sheppard was suffering from a dead leg and that he expects the striker to be fit for Saturday's trip to Altrincham...

Histon: Mellings, Mills, Gayle, Fitzsimons, Hawkins, Sear, Dowie (Thomson, 66), Roberts (Ola, 79), Eades, Hoban, Sheppard (Stevenson, 41). Not used: York, Kitscha".
ROLLING SUBS
I am grateful to Altrincham FC supporter Phil Taylor, a qualified football referee, who has clarfied yesterday's report from the NL Daily concerning the experimental use of rolling substitutes in the Cheshire League. Phil writes, "Just to clarify the rolling substitute trial only operates below Supply League level and hence, in the Cheshire League will apply only in the Second and Reserve Divisions as the First Division is classed as a Supply League. I believe that this trial will also run in the League in which Altrincham Ladies play".
LAST OF A DYING BREED
Altrincham playing "legend", Mark Maddox, writes "Just thought I would keep people upto date with what's going on I am doing a gig for MND (Motor Neurone Disease) with our band (Last of a Dying Breed) on the 7th September in Liverpool and I will speak to Karen or Grahame Rowley to see If we can do a night at Moss Lane, which I would like as it would be my way of saying thanks for all the fantastic support everyone involved with Altrincham FC has given me and my family.

I am also taking part in the Liverpool Marathon with members of my family and loads of mates in October, again all for MND (that should be fun!!) so hopefully we might raise some much needed awareness. Again, thanks for all your support.

Mads".
OLD BOYS
Some familiar faces were involved as Curzon Ashton knocked Northwich Vics out of the FA Cup at the weekend, in a penalty shoot out after a 2-2 draw. Ex-Alty men in action included Brian Summerskill and Curzon keeper Josh Ollerenshaw.
BSBN NEWS
"In the Blue Square Bet North the 'Manager of the Month' award for August goes to Brackley Town manager Jon Brady... Brady's side signalled their intentions with a 4-1 win at promotion contenders Altrincham on the opening weekend and rounded the month off in style with a 4-0 demolition of local rivals Corby Town on their own patch".

And "In the Blue Square Bet North, the 'Player of the Month' for August is Gavin Rothery from Guiseley. The striker has found his way on to the scoresheet in all four games for his side so far this season" reports Blue Square Bet.

The Times and Star reports that "Mark Sloan stunned his Workington Reds team-mates by revealing on social networking site Twitter that he has quit the club. The midfielder announced his move to Belgium hours after Workington's 2-0 defeat to unbeaten league leaders Guiseley.

Sloan was left out of the squad for the match, and afterwards tweeted, 'Off to Belgium for 12 months to play football. It's come around so fast but too good to turn down. I'm gutted to be leaving some people, but excited also'...

The midfielder had just begun to find his feet at Borough Park, and boss Darren Edmondson said he was disappointed to lose the 19-year-old. Workington do have cover with loanees Josh Todd and Will Vaulks capable of stepping in. Both have done well since joining from Carlisle United and Tranmere Rovers respectively. Phil McLuckie, Mark Boyd and captain David Hewson can also rotate in the middle of midfield.

Edmondson was aware Sloan had been talking with clubs on the continent, and said, 'You can't blame the lad for wanting to try his luck in Europe. It's a great opportunity for him to develop as a footballer. We're fortunate that Mark plays in a position where we already have cover, and his departure gives another player a chance to come into the team and prove their worth. In time I might have to look for an alternative, and bring a player in, but as it stands, we have enough quality in the tea'," the manager said.
---
29 August 2012
WATCH THE MATCH IN STYLE
This Saturday, when Altrincham entertain Histon at Moss Lane, there is a special offer allowing you to enjoy matchday hospitality in the Manchester Glass Sponsors' Lounge at a bargain rate of just £20 for Alty season ticket holders and £30 for everybody else.

The package includes a pre-match and interval drink, a hot meal before kick off prepared by club caterer Richie Bentley, free matchday programme and half-time refreshments. To book your place, please ring the club as soon as possible on 0161 928-1045 or send an e-mail to the club office.
YANKEE
The Altrincham FC Saturday Yankee jackpot of £1,200 was won last week with code 6345. Four winning trebles were also recorded, with each member netting £50.
MISTAKEN IDENTITIES!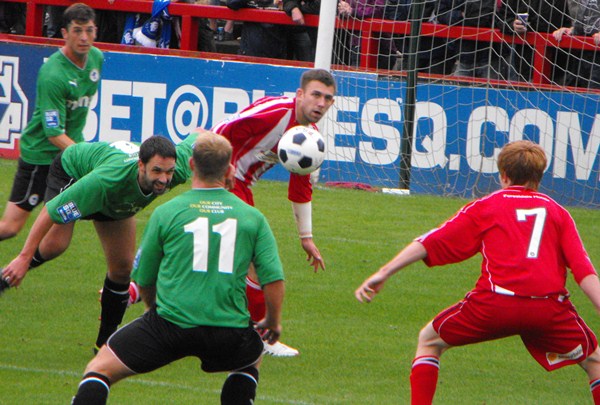 Right: Damian Reeves keeps his eye on the ball, against Chester, with Duncan Watmore also in attendance.
After Monday's game against Chester, all the football news sites, including the BBC (and this website!), gave James Lawrie credit for Altrincham's second goal. But the indisputable evidence from the excellent Alty TV shows that Damian definitely got the 2nd goal. The images prove that Lawrie's shot was actually diverted into the net by the quick-thinking Reeves's forehead. This means that, despite Alty's faltering start to the campaign, Damian has now netted three times already this season.
There was also some confusion over the bookings which took place in the match on Monday. In the first half, the referee showed a yellow card to Michael Powell before apparently realising he had mistaken the Chester captain for Michael Taylor, whom he then booked as well. Apparently, at half time, Mr England rescinded his mistaken booking of Powell, which was just as well as that player was cautioned (again) in the second half! Also, in the aftermath of Shaun Densmore's caution, when Mr England showed his second yellow card to Powell he seemed also to wave one at Alty's Danny Hall. Seemingly Hall was not actually cautioned.
So, apologies are due to both Damian and Danny. Damian's netting of both goals has been recorded on the post-match paperwork sent to the league so should be included in the official statistics.
After his 44 goals last season, Damian is now nearing another landmark as he approaches 100 appearances for Altrincham. He has now made 95 appearances for the Robins and in his 83 starts and 12 appearances from the bench, he has hit a phenomenal 66 goals.
ERIC HARDMAN
Altrincham FC is sad to report the death of a supporter who has followed the club for some 25 years. A season-ticket holder, Mr Eric Hardman died last week aged 76. Condolences are extended to his daughter, Mrs Janet Myers and all of Eric's family and friends.
BIG NAME AT MOSS LANE
Manchester United Reserves entertain Tottenham Hotspur's reserves tonight (Wednesday, 7pm) at Moss Lane. United are expected to field Darren Fletcher in their team for this match.
POST-MATCH VIEWS
After the game against Chester on Monday, Lee Sinnott and Stuart Coburn were interviewed by Kevin Thompson from Wythenshawe FM.The interviews were broadcast on the 'Sports Talk Show' between 11am-noon on Tuesday but is expected to be available on the programme archive shortly. You can listen to Wythenshawe FM on 97.2 FM or online.
MONDAY'S GAME
Altrincham steward Ian Kershaw and supporter Gary Stuart were both injured on the Golf Road terraces on Monday at Moss Lane. Both were taken to hospital and Ian was kept in overnight.

Chester FC has now made an "official statement about Monday's game at Altrincham.

Chester FC were disappointed to see and condemn the actions of a number of individuals at yesterday's match at Altrincham at which two people were injured and a steward being verbally abused with foul language. We wish the two people a speedy recovery.

Chester FC would like to make it clear that any fans that are involved in such actions are running the high risk of being banned from the Exacta Stadium, if proof of their involvement is identified by video or photographic evidence.

The Club will work together with Altrincham Football Club to establish the facts, whilst assuring them that everything will be done to identify those involved, and would offer a reminder to those individuals that should any action be taken by the footballing authorities against the Club for such incidents, it will ultimately undo all the hard work both on and off the pitch at Chester FC.

Penalties against the club could potentially involve points deductions and/or large fines. In addition to this it could lead to increased police costs and restrictions, which the Club can well do without. Anyone found guilty of participating in violence or anti social behaviour will be subject to the relevant penalties available to the football club.

As a Community based football club run by and for the fans, we would hope that those involved in these criminal activities will, in future, stay away from all away games, and are unwelcome at the Exacta Stadium where we have a proud and untarnished record. We are trying to create a football club that is the very best of our Community. Every supporter is an ambassador for the Club and as such we expect everyone to act individually and collectively in ways that reflect well on our Club and our City.

Whatever the circumstances of the incidents yesterday, those involved must ask themselves whether their actions lived up to those standards".

The Chester Chronicle reports that "Neil Young cut a relieved but delighted figure after Chester FC won 4-2 at Altrincham to record their fourth Blue Square Bet North victory out of four.

The Blues boss admitted a draw would have been a fairer result but that the introduction of substitutes Matty McGinn, Sean Clancy and Marc Williams had swung the match back in his side's favour after the Robins had battled back from two goals down.

Young said, 'It was a very difficult game. Altrincham are a very good side with great forward players. You saw the quality of Damian Reeves with his finish and we knew all about the danger of the young lad Duncan Watmore. They made it really difficult for us but we also knew we could get at them in wide areas and we did that early doors.

We got two early goals but then we sat back and if you sit back against a team like Altrincham they will hit you and that's what they did. For 15-20 minutes of the second half we were right under the cosh and I was wondering whether we'd get anything out of the game. They were the better team and really causing us problems.

But we made some decent substitutions, Marc Williams started getting on the ball and causing their defence different problems, Matty McGinn came on and helped with our shape, and Sean Clancy gave us a lot of energy. From then on we looked better and Michael Powell has scored a fantastic goal to put us in front. I'll take the three points but probably a draw would have been a fairer result'...

Young could not have asked for a better start to the season but feels his team have yet to fully hit their stride. He said, 'Four wins from four but I'd say we've been workmanlike rather than being fantastic. That said, in terms of effort, I can't ask for more from the players'".
ALTY & CHESTER CONNECTIONS
Barry Pikesley wrote the following for the Robins' Review last Monday...

Q: Are We Not Men? A: We Are DevA!

As you would expect when contemplating the relative proximity of Altrincham and Chester (circa 27 miles, as the crow/robin flies), there has been an abundance of connections between the two football clubs through the years. Indeed, simply far too many to attempt to chronicle within this article, so what follows is primarily an overview of some of those individuals whose careers have included spells with both the Robins and the Blues.

Two distinguished names to open with: the erstwhile Chester City manager, Harry McNally, and Alty's esteemed former Chairman, Noel White.

Renowned as one of football's great characters and a bon vivant, the late Harry McNally occupied the role of Chester City manager between July 1985 and October 1992, guiding the Blues to promotion to the old Football League Third Division in 1985/86 and overseeing the club as it negotiated its perilous two year exile in the wastelands of Macclesfield during the 1990/91 and 1991/92 seasons.

During the inaugural season of the Alliance Premier League back in 1979/80, the Robins' manager, Tony Sanders, had appointed McNally to his backroom staff as the club's chief scout, the two men having previously worked together at Skelmersdale United. McNally then joined the coaching personnel at Wigan Athletic in the Summer of 1981.

Prior to his pivotal appointment to the Board of Directors at Moss Lane in tandem with the late Peter Swales in 1961, Noel White had played as a centre half for Chester reserves in the Cheshire County League in the 1950s but never progressed to attaining an appearance for the first team.

There are a few individuals currently associated with either Alty or Chester who have registered first team appearances for both clubs. The Blues' Summer acquisition from Fleetwood Town, Sean Clancy, returned from a spell in the USA to sign for Alty towards the end of August 2007. He proceeded to make 1 (+4 as sub) appearances for the Robins, with his sole selection in the starting XI being at left full back in the 3-2 home victory against Droylsden on 22nd September 2007. However, Graham Heathcote opted to release him merely five days later.

Also poised to haunt Moss Lane today is Wes Baynes, who originally joined the Robins on a 93-day loan from Wrexham on 22nd October 2010, which was subsequently extended. As a member of the Robins' team which would ultimately capitulate to relegation from the Blue Square Bet Premier at the conclusion of the harrowing 2010/11 season, he accumulated 25 (+7 as sub) appearances and scored a total of six goals, all of which occurred within the space of 12 days during the month of February 2011 (including four in that 12-1 Cheshire Senior Cup Semi-Final annihilation of the hapless Alsager Town at Moss Lane).

Chester's present first team coach, Gary Powell, was signed from Bury by Alty's player-manager, Paul Rowlands, back in December 1993. He went on to record 10 (+2 as sub) appearances as a centre forward, whilst finding the back of the net on just a single occasion (in a 2-0 home success in the GM Vauxhall Conference versus Dover Athletic on Saturday, 26th February 1994). On the eve of the transfer deadline in early April 1994, he was part of an exchange deal brokered with Macclesfield Town which saw both him and fellow ex-Chester City man, Mick Hayde, transfer across to the Moss Rose whilst left winger Chris Sharratt (astutely) headed in the opposite direction.

The visitors' current club scout, Alex Hay, is another one-time Alty player, having been signed on loan from Tranmere Rovers by the Robins' player-manager, Mark Ward, in October 2000. In his 18 appearances for the club, he contributed a personal tally of eight goals, prior to then returning to Prenton Park during the 2000 Christmas holiday period.

Three members of the present Moss Lane personnel can exhibit a previous link with Chester City.

The Robins' recent recruit from AFC Telford, Carl Rodgers, was a youth team player at the Deva Stadium prior to joining Caernarfon Town in the Summer of 2002, whilst assistant manager, Neil Tolson, clocked up 3 (+1 as sub) appearances (but no goals!) for the Blues during a spell on loan from Bradford City in January 1995.

Currently enjoying his second tenure at Moss Lane, left full back Matt Doughty signed professional terms with Chester City at the age of 16 and made his debut for the Blues as a 17-year-old in the 82nd minute of the opening game of the 1999/2000 Football League Division Three campaign in a 2-0 reverse against Barnet at the Deva Stadium. He proceeded to amass the sum of 69 (+17 as sub) appearances for the club, scoring a couple of goals in the process, until his free transfer to Rochdale in July 2001. Just five months earlier, an inopportune injury had put the kibosh on a proposed trial with the then Premiership side Southampton. In the wake of his departure from Halifax Town, Matt's original Alty debut transpired in a 2-1 Blue Square Premier triumph at Woking on Saturday, 9th August 2008.

Since the inception of the Northern Premier League in August 1968, the ensuing individuals have all played for Alty and then subsequently worn the colours of Chester/Chester City: Graham Barrow (who also had two terms as the manager at the Deva Stadium: October 1992 to June 1994 and May 2000 to June 2001, in addition to a spell as Graham Heathcote's assistant manager at Moss Lane from January 2008 to July 2009); Eddie Bishop; Steve Johnson; Don Page; Phil Bolland; Neil Parsley; Tim Ryan; Paul Ellender; Tony Hemmings; Kevin Ellison; Dean Greygoose; Ally Pickering; Mark Quayle; Ben Wilkinson and the Chester FC 2011/12 Player Of The Season, Matt McNeil.

By contrast, the following characters had registered first team appearances for Chester/Chester City prior to their (post-August 1968) arrival on the playing staff at Moss Lane: Mike (Mick) Metcalf; Don Weston; Andy Haddock; Tony McLoughlin; Barry Ashworth; Paul Johnson; David Murray; John Butcher; Bobby Coy; Ricky Greenough; Mick Hayde; Neil Morton; Barry Butler; Marc Limbert; Brian Croft; Leroy Chambers; Stephen Rose; Tony Kelly; Steve Finney; Kevin Hulme, Joe O'Neill; Gary Williams; Chris Lane; Alex Meechan; Lee Elam; Mark Beesley and, of course, that immovable object at Moss Lane throughout the last two seasons, one Michael Twiss.

Finally, to a few random reflections on our opening two fixtures of the 2012/13 Blue Square Bet North season.

What a treat it was yesterday evening to be present to witness our first ever victory at The CNG Stadium (the ground formerly known as Wetherby Road) in Harrogate. And what an overwhelming relief it was to see us collect our first three points of the campaign by virtue of an archetypal battling performance, particularly in the light of the general embarrassment of poverty that was our wretched display versus Brackley Town at Moss Lane just three days earlier (the 'defending' for their fourth goal will torment me in nightmares for years to come!).

Duncan Watmore seems to be conducting his own personal Goal Of The Season competition and my initial thoughts were that his marvellous strike at Harrogate Town was even superior to the delightful goal he scored against Brackley Town. If Moss Lane's very own Yoda, the venerable George Heslop, is acting as Duncan's agent, he could well be in line to receive an extremely lucrative consultancy fee when Barcelona duly swoop to sign our Wunderkind!

For any diehard Alty supporter of a certain vintage, any fixture against Chester at Moss Lane will inevitably evoke misty-eyed memories of that stupendous Clive Freeman goal at the Golf Road End during that FA Cup First Round Replay back on Wednesday, 25th November 1992. Whilst I'd more than settle for Alty emulating that 2-0 scoreline against the Blues this afternoon, I somehow doubt that today's contest will be blessed with such a spectacular goal. However, considering the phenomenal way that Watmore has started the season, something equally memorable may yet ensue. In the words of Alexander Pope: "Hope springs eternal in the human breast." But, then again, he never experienced an away game at Vauxhall Motors.

BARRY PIKESLEY
BSBN NEWS
Gainsborough Trinity's chairman is resigning, as he announced on the club forum.

"It is with regret that from the end of the season I will be stepping down as Chairman of the Club and relinquishing my ownership... It is my health which has decided my future and one that has made me very sad and only a few people know at the club.

At the end of last season, during the playoffs, I lost a good friend and colleague at The Sands and had a difficult time trying to comfort the staff and Management through this traumatic period. In mid June I was rushed into hospital with what is called a "Thunderclap Headache". To be honest I am a robust person and do not get ill, so this came as a huge shock, but may have been something to do with all the pressure and stress. With a blood pressure of 200/120 everyone thought I had a brain hemorrhage. After Ct and MRI scans, a lesion of about 12mm was found on my right side of the brain and diagnosed as a cavernoma. It is not sure if this caused the headache, but the actual headache lasted 4 weeks! I have recently come off medication and I am trying to get back to what I was doing, but I am finding it impossible and the headaches are reoccurring.

With the delay in the new stadium now taking it to a two-year project, I just can not commit to 2 years and so had one last go, at trying to secure tenure at the Northolme for the club and fans. This again has been rebuffed by the committee. I need to spend time away from the club and will try and attend when I can, but my priority is my health...

The club is financed until the end of the season and will push for honors and of course Steve and the players have my full support and will continue to be paid up until the end of their contracts... As I have stated, when I leave the club, it will have no debt, no overdraft and a secure lease, here at the Northolme.

I am hopeful that a new owner and Chairman can be found for the club, although it is difficult to get investors in something you do not own, hence my last try!... Thankyou, Peter Swann, Chairman."

The Gainsborough Standard adds that "Swann's departure will throw the Blues' future into doubt... Without Swann's support, or the emergence of a new financial backer, it is unlikely Trinity could continue to challenge at the top end of the Conference North or maintain the current wage bill"...

"Steve Housham wants to achieve success on the pitch to repay outgoing Trinity chairman Peter Swann... He said, 'As I told him, health comes before anything and I just wish him a speedy recovery... and my aim is to finish what he started and get Gainsborough Trinity as high as possible'...

The chairman has looked after every player who has come to the club and I'm sure they'll want to go out and do it for him and stick together'.

The manager is the only one at the club on a contract that extends beyond May 2013, but he's bullish about his own future. 'I'm a Gainsborough lad and until I'm told otherwise I will continue to work my hardest and do my best for this football club. Times are tough on the pitch at the moment so I'm fighting with everything I've got and will continue to do that'".

The Football Conference tells us that "Corby Town are currently simply not good enough, according to the... club's manager Ian Sampson. Speaking after his side's fourth defeat on the bounce... the Steelmen boss pulled no punches.

'I can't even say there are points on the horizon, not if we play like that. We either need to improve or get new players in because at the moment, we're not good enough. And if I was to bring people in, I'd have to let people go, in terms of the budget. It'd be a like-for-like swap. So if there's no budget forthcoming we'll have to work harder with the players we're got...

We just can't defend set pieces and we got caught again on Monday... I think maybe we've underestimated the division as a team - not just the players but the staff as well. You do get lulled into a false sense of security when you have such a good pre-season. Hopefully we can rediscover some of that form. Four games down, no points. It isn't the best, but there's still thirty-eight games to go'".

Alty travel to Oxford City next week and there are highlights of their last game, versus Worcester City on YouTube.

Pitchero Non-League says that "Making his debut on Bank Holiday Monday for Bishop`s Stortford in the... win against Boston United was young striker Afolabi Obafemi, who has joined on loan from Leyton Orient.

Obafemi began his career with Watford's youth academy before switching to Orient. He was also a talented sprinter, winning the 100 metres final at the London Youth Games in 2009, in a time of 11.6 seconds. In his first season in Orient's youth team, Obafemi was top scorer with eighteen goals... Obafemi made his full Orient debut as a substitute in the 2–1 home win against Rochdale on the final game of last season".

According to the Boston Standard, "Boston United sign Korey Dyer-Stewart, nephew of former Watford and Crystal Palace striker Bruce Dyer... The fast-footed forward spent pre-season attempting to impress manager Jason Lee while on trial. And the Boston boss is keen to keep tabs on the striker, so much so he has signed Lincs League forms with the Pilgrims. This means he is eligible to play for the reserves while he gets his fitness levels up to scratch... Dyer-Stewart was previously on the books of Burton Albion."
CHESHIRE NEWS
NL Daily reports that "Runcorn Town's reserve team player Jordan Dwyer created a bit of history last week when he became Town's first ever 'rolling sub' in the Cheshire League.

The League has this season adopted rolling substitutes as part of a two year trial by FIFA. The idea is that when a player comes off, he then becomes a substitute himself and can rejoin the action again later on".
FOOTBALL CONFERENCE YOUTH ALLIANCE
"The Football Conference Youth Alliance is pleased to make two major announcements concerning its future.

From Monday 3rd September the Youth Alliance will occupy office premises in Foregate Street, Worcester, where the administration arm of the competition will operate. In conjunction with this move grateful thanks are extended to Abbey Business Equipment for its help with furniture and office requirements...

Graham Hill will continue as Secretary, and oversee the control of the league membership of 84 clubs and co-educational colleges. Part of the reasoning behind the move is to prepare for the likely increase in membership from season 2013/14. An application has been made to the Football Association to increase the Competition's complement to 120 member clubs; such is the nationwide interest in co-educational style links between clubs and local community colleges.

The competition is currently divided into 7 divisions of 12 teams and covers the whole of the country from Gateshead to Dover. The membership comprises clubs from the Football Conference and many others above & below Steps 1 & 2 of the National League System, and caters for 16 to 19 year olds.

To coincide with the move to new premises, for the first time since the formation of the Youth Alliance in 2000, there will be title sponsorship partners in the form of Prospect Training Services (PTS) and Education Through Sport (ETS). A 3 year agreement has been signed with both Partners. PTS operate many government backed schemes for young people and work closely with ETS, which is headed by Dean Holdsworth the current Aldershot Town manager.

Louise Pinnell, Managing Director at PTS said 'As a leading provider of youth training, Prospect Training Services and Education Through Sport are delighted to be sponsoring the Football Conference Youth Alliance. The young people nurtured through the Youth Alliance framework level are our footballers and coaches of the future and we are very proud to be associated with them'.

Wayne Allen, Chairman of the Youth Alliance commented 'Our competition is growing, almost at an alarming rate; and though it is pleasing in some respects, it does bring administrative issues which need to be addressed. Due to the new title sponsorship package we are able to open new offices dedicated to giving professional support to the largest youth league in the country. We anticipate growing more over the next two seasons so it is vital to give a professional approach to our clubs and their partner colleges. We are, therefore, grateful to PTS and ETS for their financial support. We look forward to a long and fruitful ".
---
28 August 2012
GATES
Attendances at Monday's games were:
Altrincham v Chester 1,940
Bishop's Stortford v Boston United 559
Bradford Park Avenue v FC Halifax Town 1,614
Colwyn Bay v Stalybridge Celtic 365
Corby Town v Brackley Town 644
Droylsden v Vauxhall Motors 550
Gainsborough Trinity v Harrogate Tow 470
Gloucester City v Solihull Moors 323
Hinckley United v Histon 363
Oxford City v Worcester City 365
Workington v Guiseley 374
CROSSBAR CHALLENGE
In Monday's stage of the Crossbar Challenge, coach Ians Senior extended his lead over assistant manager Neil Tolson to 5 games to 3, after winning the competition on "sudden death", 3-2, before the game against Chester. The loser at the end of the season will make a donation to charity.
BSBN NEWS
Our next opponents are Histon and the Cambridge News reports on their win at Hinckley on Monday. "Histon made it two wins out of two with a 1-0 win at Hinckley... They suffered a blow towards the end of the opening period when striker Sheppard was forced off with injury, and goalkeeper Joe Mellings had to pull off a good save to keep out Aron Wint's free kick at the end of the half.

The second half was low on quality, but the Stutes continued to press...Adrian Sear then headed the winner in the 90th minute from Jack Eades' corner."

Elsewhere, Pitchero Non-League tells us that "Oxford City battled to a 2-2 draw with Worcester City... Worcester took the lead in the second half when Symons got on the wrong side of City defender Andy Gunn before powering a shot into the bottom corner... With Worcester still leading the game headed into it's final stages, City introduced Albi Skendi from the bench and with 89 minutes on the clock the youngster made the most of a goalmouth scramble to fire home for 1-1.

Worcester had other ideas, with the game entering injury time the visitors won a freekick some 25 yards out which Thorley stepped up to fire home past Carter via the post sending the visiting supporters wild with delight and calling for the final whistle... Step forward Declan Benjamin who, with his first touch of the ball, hustled and bustled his way into the penalty area before coolly slotting the ball home to once again level the scores".
ALTY 2 CHESTER 4
In an entertaining game, two late Chester goals finished off Altrincham after they had fought back to 2-2 from a two goal deficit...

Right: Alty celebrate their equalizer.
Alty line-ups, bookings
The Chester Chronicle reports that "Michael Powell and Matty McGinn scored late on as Chester won a thriller to maintain their 100% winning start to the Blue Square Bet North season.
The red-hot Ben Mills gave Neil Young's much-changed side a two-goal lead only for Altrincham to fight back through Damian Reeves and James Lawrie.
The enthralling encounter remained in the balance until stand-in skipper Powell and substitute McGinn struck to ensure the Blues made it four wins from four.
The game burst into life in the 13th minute when Mills – handed his first start after scoring the winners against Workington and Colwyn Bay – headed Chester into the lead...
The 23-year-old did not have to wait long for his second goal of the afternoon... The impressive Hankin was the creator once more, pulling the ball back for Mills to send a clinical side-footed 10-yard shot past Coburn...
Reeves halved the deficit with a sublime volley which gave John Danby no chance... The momentum had shifted in the home team's favour and, after Shaun Densmore saw a 20-yard drive deflected just over, they levelled the contest in the 50th minute. Having done well to parry an effort from the lively Watmore, Danby was given no chance by Lawrie's fiercely struck follow-up...
At this stage of the game, Altrincham were well on top... Then, with nine minutes to play, Powell produced his moment of magic... And better was to follow for the massive travelling support when McGinn hammered home a stunner from 30 yards in injury-time".
CLUB STATEMENT
Altrincham chairman Grahame Rowley writes:

"Following comments made after the game between Altrincham FC and Chester FC this afternoon the club would like to make people aware of the preparation that went into holding this game in the weeks leading up to it.

As with all fixtures that are due to attract large away support I met with the Chief Steward and the Chief Safety Officer to discuss the requirements for the match.

Correspondence was entered into with the opposing club as well as the intelligence unit at Greater Manchester Police. Steward numbers were reviewed and intelligence on previous away fixtures for the visiting club was also sought. After a comprehensive review of all the participating parties views it was agreed that the fixture required increased stewarding and 10 extra stewards from Chester were arranged as well as the complement from Altrincham FC.

Police presence was not requested but the local constabulary were alerted to the potential problems that may arise if the anticipated crowd arrived.

The incident pre-match was caused due to a small number of Chester fans entering the home end of the ground and provoking resistance to their presence from the home fans.

Once the situation was noted ,swift action was taken to eject the Chester fans and escort them to the away end of the ground. Unfortunately, during this incident an Altrincham fan and one of our stewards were injured and had to be taken to hospital. Everyone at the Football Club wishes them a swift recovery.

These incidents are unfortunate and would not have occurred if fans adhered to the segregation that was in place for this game. The reaction of fans to these occurrences is unfortunate but sometimes understandable - the incident will be thoroughly investigated, including looking at video and photographic evidence and appropriate action taken.

This incident spoilt what was for many an enjoyable afternoon of football and was a very unfortunate occurrence.

Fans can rest assured that the club does everything in its power to ensure the safety of all fans whilst visiting Moss Lane and will continue to collaborate with all the authorities to ensure that this happens.

Grahame Rowley

Chairman".
---
27 August 2012
MONDAY'S GAME
Live updates from the Altrincham v Chester FC game will be on the Matchday Updates page of this website during the afternoon.

And Brian Flynn advises that you can listen to live commentary of the match on Radio Robins here. Radio Robins......SPONSORED BY ASHLEY MOWERS GARDEN MACHINERY.... will be broadcasting live coverage of Monday's game against Chester.

The match commentary is sponsored by Cheshire Removals & Storage. Cheshire Removals & Storage offer a full range of professional moving and storage services for your home and business. You can find out more at their website.

The match commentators are Niall Finnegan and Brian Flynn with match summaries from John Edwards. Commentary begins at 2.55pm.

Mike Garnett's statistics detail the previous encounters between Altrincham and Chester/Chester City;
At Moss Lane: P17-W8-D3-L6-F28-A23
At Chester: P18-w3-D4-L11-F33-A60
Neutral: P3-W1-D0-L2-F4-A7
All: P38-W12-D7-L19-F55-A90

Some much more dubious statistics and history come from Altrincham Mad which says that "Altrincham play host to Chester at Moss Lane on Monday afternoon, aiming to preserve their record of never having lost at home to the visitors. The Robins won the only previous game contested between the two. The only previous meeting between Altrincham and Chester at Moss Lane was well over fifteen years ago, back in November 1992, with Altrincham running out comfortable 2-0 winners in a F.A. Cup match...

Altrincham's disastrous home run has meant they have managed only 2 draws from the last six matches... Chester's away form is none too clever either, seeing them pick up six wins out of six [??]. The Blues have put away 14 chances in these games, and let in just 2...

Nothing seems to be going right for the Robins at home recently, and we can see no immediate turn around in fortunes as the Blues come away with an easy victory. Prediction: Away win".
BANK HOLIDAY MONDAY MATCHES
Altrincham 2 Chester FC 4
Bishops Stortford 1 Boston United 0
Bradford Park Avenue 1 FC Halifax Town 1
Colwyn Bay 2 Stalybridge Celtic 2
Corby Town 0 Brackley Town 4
Droylsden 3 Vauxhall Motors 1
Gainsborough Trinity 1 Harrogate Town 1
Gloucester City 1 Solihull Moors 1
Hinckley United 0 Histon 1
Oxford City 2 Worcester City 2
Workington 0 Guiseley 2
WIN TICKETS FOR ALTY v HISTON
Altrincham FC's joint Press and Media Officer, Brian Flynn, writes: "There is a competition to win two tickets for next Saturday's game at home to Histon on the WFM Sports Talk Show Facebook page, which you can access here. If you click the 'like' button then you will be able to see details of the competition and how to enter, which you can do until 11.30am on Tuesday".
YOUTH TEAM
Altrincham FC Youth team lost its first league game of the season on Sunday, 3-0 at Curzon Ashton. The NWYA has the league table.

Altrincham FC's Youth team fixtures have been added to the website here.
VAUXHALL'S VIEW
After Saturday's game, Vauxhall Motors reported that "10 man Motors grinded [sic] out maximum points at Rivacre Park thanks to goals from David Thompson and on-loan Dan Parkinson.

Altrincham started brightly and had the better of the opening exchanges with Luca Havern and James Lawrie going close in the opening 10 minutes. It was the home side however who took the lead on 24 minutes... Motors grew in confidence after their opening goal and had the better of the remainder of the half...

The away side piled on the pressure in the second half but they were unable to find a way past a stubborn Motors defence... On 84 minutes, Motors doubled their advantage when sub Tom Rutter made progress on the right wing then squared the ball for Parkinson who slid in and beat keeper Stuart Coburn from 2 yards out.

It was a nervy last few minutes as Reeves scrambled the ball home following a Lawrie corner to make it 2-1 on 90 minutes however Motors clung on to claim all three points".

Attendances on Saturday 25th August were:
Boston United v Hinckley United 1,105
Brackley Town v Bishop's Stortford 358
Chester v Colwyn Bay 2,404
FC Halifax Town v Workington 1,167
Guiseley v Gainsborough Trinity 462
Harrogate Town v Bradford Park Avenue 548
Histon v Gloucester City 221
Solihull Moors v Oxford City 189
Stalybridge Celtic v Droylsden 546
Vauxhall Motors v Altrincham 300
Worcester City v Corby Town 738
BSBN NEWS
Soon to be our opponents at Moss Lane, Histon report that "Following the acceptance on Thursday of bids from two Clubs for the transfer of Dan Holman, we can confirm that the player has today signed for Braintree Town. As part of the deal striker Kaine Sheppard returns to the Glass World Stadium on loan, initially for a month and was signed in time to play against Gloucester City yesterday. Kaine spent time with us last season on a youth loan from Leyton Orient making 4 appearances before signing for Braintree Town in July and scoring on his debut for the Iron against Hyde.

Whilst the transfer fee remains confidential [the NL Paper says it is 'five figures'], we can say that the deal does include a sell on clause and a number of add ons that will escalate the value of the deal upwards and reflect the players' and Braintree Town's future success.

Dan scored 30 goals for Histon in 47 appearances as a Histon player after signing from Long Buckby in July 2011, a goalscoring record that speaks for itself".

According to BSBN, "Corby Town boss Ian Sampson feels 'too many individual errors' were the reason his side ended up on the wrong side of a 5-1 mauling by Worcester City...

It was Corby's third defeat in as many matches with Sampson telling the Northamptonshire Telegraph, 'It may sound daft but I wasn't as disappointed as I was after we lost at Solihull last Tuesday. We were right in the game in the first half and we were creating chances, which was good to see. At Solihull it was a collective effort that put us in trouble and I think we rectified that. But there too many individual errors in key areas of the pitch and that has cost us...

It is frustrating and it has not been an ideal start to the season by any stretch of the imagination. But we will keep working and we will do everything we can to turn it around'".

The Halifax Courier reports that "Defender Phil Bolland could make his first appearance for FC Halifax Town at Bradford Park Avenue after joining the club on a non-contract basis.

The centre-back, 35, has been drafted in while the future of defender Ben Futcher, who has returned to parent club Bury, remains unresolved.

Bolland, who has played well over 100 games for both Chester and Barrow, as well as having spells at Southport, Peterborough, Wrexham and Cambridge United [and Altrincham], was recently released by Droylsden.

And, after training with Town and being involved in the warm-up at the Shay on Saturday, he could be in contention for his first appearance in a Town shirt at Bradford Park Avenue on Monday.

Town boss Neil Aspin said, 'We've gone into the season without Ben Futcher and we have no cover at the back. Conor Qualter is the only cover we've had but that's not enough with the games coming up and I knew that if we were to get any injuries against Workington, I wouldn't have enough defenders for Monday. Phil is someone who has become available and we can sign him on non-contract terms so we can have a look at him. It's an opportunity for him. He's experienced and I know that if I need to play him or throw him on he'll be able to do the job. I can't be waiting week to week for Ben to decide what he's doing at Bury. I have to get players because I need to get results', he said."

According to Pitchero Non-League, "Macclesfield Town`s Andre Costa and James Bolton have joined Workington on loan... The midfielder [Costa] spent last season with Dulwich Hamlet. Prior to that, he had played in Cyprus with Nea Salamis after a spell with AFC Bournemouth that was cut short by the club's financial woes.

The pacey midfielder scored six goals in his first twelve appearances for Dulwich, but was hit by injury ... Another graduate from the youth academy, young defender Bolton is looking to force his way into the first-team reckoning this season after signing a one-year deal in the summer".
OLD BOYS AND OTHERS ON THE MOVE
The Evo-Stik Northern Premier League confirms the moves of a few Alty old boys:
Tom Baker to Ashton United - from Droylsden
Nick Swirad to Stocksbridge Park Steels- from New Mills

And some players who are moving from clubs in the BSBN to the NPL include:
Aujla Inderjeet to Frickley Athletic - Hinckley United
Jake Picton to Frickley Athletic - from Harrogate Town
Danny Greaves to Garforth Town - from Harrogate Town
Patrece Liburd to Garforth Town - from Harrogate Town
---
26 August 2012
VAUXHALL MOTORS 2 ALTRINCHAM 1
Match report
WFM RADIO ON ALTY
Brian Flynn advises that "The WFM Sports Talk Show from Tuesday is now available to listen to here. The Altrincham F.C. feature is at the start of the programme and includes an interview with Lee Sinnott following last Saturday's game against Brackley Town".
BSBN NEWS
Colwyn Bay manager Jon Newby "was left furious that a give-away goal cost Colwyn Bay their unbeaten record in a 2-1 defeat at Chester".The Seagulls thoroughly deserved at least a draw, but paid a heavy price when John McKenna dwelt too long on the ball during a Bay attack. Chester's Nathan Jarman was able to nick it off him and from his pass the home side broke quickly up field to score the matchwinning goal with just 17 minutes left.

The day also ended badly for keeper Chris Sanna who had to be taken to hospital with severe concussion and is certainly out of Monday's game against Stalybridge. The linesman has to take the blame for that injury. He raised his offside flag far too late to prevent Sanna having to race out of his area to try and head the ball clear and colliding heavily with Chester's Ben Mills as he did so.

Reported Newby afterwards.'It just adds to a bad day. We spoke at half-time that if we continued getting caught on the ball in midfield we were going to pay the price, but people didn't listen and the winning goal has come from us being caught in possession again... Chester have not created a single clear cut chance in the second half'...

Chester boss Neil Young admitted, 'It was a very tough game. Colwyn Bay were what you expect, hard working and well organised and we are just relieved to have come out of it with a win'...

Chester did take the lead on 26 minutes when Colwyn Bay backed off... Two minutes later, however, Colwyn Bay were level as Holsgrove powered through the middle of Chester's defence from Danny Lloyd's pass and shot past John Danby. 'Kevin has shown again what a threat he is for us', said Newby. 'But he got no protection from he referee who booked him for persistent fouling when he was being held and pushed every time he went near the ball'...

The Bay were looking good value for a point, but they threw it away in the 73rd minute".

Bradford PA report that "Since promotion... John Deacey's side remain unbeaten, after their draw against Harrogate Town... Deacey was content to come away from the game with a point:

'In the first half we were excellent, but in the second, we were not as good. They (Harrogate Town) changed their pattern and put us under pressure all over the place, but, I'm happy with a point, it was a fair result... We have conceded four goals this year, and every one of those is from a set piece, we have to look at it, and cure the problem'".
OLD FOES
The BBC says that "The future of Kettering Town is again in doubt after Ritchie Jeune stood down after only a few days as chairman. Owner Imraan Ladak, who had taken a back seat since June, said Jeune and the Supporters' Trust did not have the funds to run the club.

'I've been asked to come in and try to fix the problems and bring some parties together to make the club sustainable before handing it over', he commented. Kettering... dropped two divisions after entering a Company Voluntary Arrangement. It was intended to lead to a transfer of ownership from Imraan Ladak to George Rolls. But Rolls was banned from football for five years in July for breaches of betting rules... Because of the ban, Jeune was installed as acting chairman and announced earlier this month that he had taken on the job full-time...

Ladak told BBC Radio Northampton that his involvement would only be temporary. 'I've got other commitments, I haven't got time for the football club and with everything that happened last year, even if I was to be writing big cheques, I don't think that would be best for the club'".
CHESHIRE NEWS
Pitchero Non-League says that "Northwich Victoria will ask experts trained to solve sporting conflicts to give their verdict on where the team should play its home matches this season.

Vics, currently hosting opponents at Stafford Rangers' ground, plans to invite both the Football Association and the Northern Premier League to attend independent arbitration. It could serve papers on both before the month's end.

'This is not the first time we've looked at this option', said Graham Bean, whose Football Factors firm will represent Vics. 'We asked the league to attend voluntary arbitration with us before, but it refused'...

Bean applied to the Court of Arbitration for Sport (CAS), based in Switzerland, to intervene only for that body to rule earlier this week that it could not...

Vics' owner Jim Rushe asked the league in June to allow Northwich use a pitch in Greater Manchester that used to be home to North West Counties League club Flixton. But officials refused, saying the request was made too late for a ground not up to scratch to host matches at a higher level...

Rushe agreed a three-years lease with Flixton Football Leisure, which runs Valley Road on behalf of landowners Trafford Borough Council... He has spent time, and money, improving the facilities. No FA inspector has approved any of the changes, although Rushe says he invited one to visit...

If Football Factors submits Vics' case before the end of next week, then a decision could be made in September... Vics' owner acted quickly in March to find an alternative host after his first choice, Skelmersdale United's West Lancashire College Stadium, was rated unfit by inspectors.

He says he picked Stafford, more than forty miles from town, because the team were on course to be promoted to the Football Conference, so needed a temporary home fit for a higher level. However the players, second on the pitch to champions Chester FC, were barred from taking part in the play-offs as part of the club's punishment for breaking finance rules. Vics suffered a forced demotion to the league's First Division South as well.

A crowd of just 86 watched last Saturday's campaign curtain-raiser at Stafford, when Stamford AFC were the visitors. Never before has such a small number of supporters watched Northwich Victoria play a league match."
---
25 August 2012
VAUXHALL MOTORS 2 ALTRINCHAM 1
Right: Altrincham defend their goal in the first half.
Alty failed to overcome ten-man Vauxhall...
Boston U. 1 Hinckley U. 2
Brackley T. 1 Bishop's Stortford 0
Chester FC 2 Colwyn Bay 1
FC Halifax Town 5 workington 1
Guiseley 2 Gainsborough T. 0
Harrogate T. 1 Bradford PA 1
Histon 2 Gloucester C. 0
Solihull M. 1 Oxford C. 2
Stalybridge C. 0 Droylsden 0
Vauxhall Motors 2 Altrincham 1
Worcester C. 3 Corby T. 1
SUNDAY VIEWING
The bar at Moss Lane will be open for Liverpool v Manchester City. Kick off is 4pm and the bar opens half an hour earlier.
SATURDAY'S GAME
Live updates from the Vauxhall Motors v Altrincham game will be on the Matchday Updates page of this website during the afternoon.

And Brian Flynn advises thet you can listen to live commentary of the match on Radio Robins here. Radio Robins......SPONSORED BY ASHLEY MOWERS GARDEN MACHINERY.... will be broadcasting live coverage of Saturday's game at Vauxhall Motors. The match commentary is sponsored by Premium Collections Ltd. Premium Collections Ltd operate nationally and internationally and can offer a solution to meet all of your credit management requirements. Find out more here.

The match commentators are Niall Finnegan & Brian Flynn with Tim Ainsworth carrying out the summarising role and commentary begins at 2.55pm. You can listen to Radio Robins here
OLD BOYS
Pitchero Non-League says that "Peter Withe, manager of North West Counties League Premier Division club Stockport Sports, has announced the... appointment of Joey Dunn as his assistant-manager. Dunn, who has a vast knowledge of players and clubs at this level, will bring with him a wealth of experience ... Dunn's previous post was at Evo-Stik Northern Premier League First Division North side Warrington Town where he was first-team manager"

Pitchero Non-League also reports that "Hyde FC have signed Liam Tomsett on a month's loan from Blackpool. A classy central midfielder, Tomsett was rewarded for his fine performances for the Tangerine's youth and reserve sides with a professional deal at the end of last season. The 19-year-old was also awarded the young player of the year award for his contribution over the past twelve months. In December 2011 he joined Conference North side Altrincham on a month`s loan and made five appearances for the Robins. A month later he was sent on loan to Scottish First Division side Ayr United... He has played just once for Blackpool thus far, in the Third Round of the FA Cup"
BSBN NEWS
Pitchero Non-League tells us that "Hinckley United have snapped up young winger Aaron Cole, who was released by... Barrow AFC earlier this week. The 19-year-old former Derby County winger had only signed for the Bluebirds at the beginning of August. Cole spent much of last season on loan at Stockport County and was released by the Pride Park outfit at the end of last season.

The Knitters have also signed front man Danny Campbell, who has previously served the likes of Bromsgrove Rovers, Stourbridge, Stafford Rangers, Tipton Town and Rushall Olympic."

And the Hinckley Times adds that "Two games, two losses, seven goals conceded and already it's time for Hinckley United boss Dean Thomas to start the search for new blood.

Defeats to Harrogate Town and Brackley Town have created a distinctly inauspicious start to the campaign for the Knitters...

Thomas said, 'I am trying to bring people in before Saturday and we're in talks with other clubs now but I haven't got any names. We have inexperienced, young players at the moment and Tuesday night was a great example of that'.

One stumbling block for the manager is the difficulty in signing players when he has such a restricted budget. Thomas has had to release defender Indy Aujla in order for him to bring in new players. 'We can only sign players that are available in our budget and unfortunately the budget just isn't quite available - we are what we are', he said. 'It's a difficult league for young kids'.

Despite the result, the United boss believes his team didn't play badly in their opening league game. Thomas said, 'I thought it was quite close, we controlled the game quite well for an hour and looked well organised but then an error cost us a goal. The second half we were doing better and I thought we were quite evenly matched but then we got caught out by a sucker punch from the corner. We just couldn't get back into the game after that'.

Turning his attention to Tuesday night's disappointing 5-0 defeat to Brackley, Thomas said, 'Brackley are a big, strong side and I knew we had to stay strong and go toe-to-toe with them. We just didn't cope with it at all... It turned out to be men against boys'...

Hinckley's next match is away at freescoring Boston, who beat Histon 6-0 on Tuesday. Thomas said: "We have got to go thinking we can turn things around. If we go there with a negative attitude we won't win and that is it."

Thomas hopes his side can pick up points at Boston and bring that energy back to the Greene King for Saturday's clash with Histon, saying, 'Histon is an important match. It is a home game so we are hoping to pick up points. In the league you have two leagues; the teams at the top and the teams at the bottom. We have got to make it count when we play teams at our level'".

According to the Times and Star, "Workington Reds chairman Humphrey Dobie hopes the main stand at Borough Park will be open in time for Bank Holiday Monday's match against Guiseley. The Popular Side stand was cordoned off by Cumbria County Council before Reds' first match against Stalybridge last weekend. Work is being done to the stand and a structural engineer is to inspect it today.

The structural engineer, from AJ Robinson and Partners, who confirmed the ground was safe in his report in June, is away on holiday so the club has had to use another company. Mr Dobie said, 'We are hoping to have it open by Monday'".
---
24 August 2012
URGENT: HELP NEEDED, PLEASE!
With a large crowd expected at Moss Lane on Monday when Altrincham entertain Chester, Matchday Secretary George Heslop is in urgent need of two additional gatepersons. If you can possibly help, please do contact the club as soon as possible by ringing 0161 928-1045. Thank you.

Chester's home gate on Wednesday was 3,007 to see them beat Workington 1-0.
PLAYER UPDATE
Following training on Thursday night, Altrincham FC assistant manager, Neil Tolson, told the website that a number of players had suffered minor niggles after Tuesday night's match at Harrogate, where the pitch was poor and the game hard. However, the main doubts for the weekend are the two players who had to go off injured, Nicky Clee and Matt Doughty, plus Danny Mitchley who missed Tuesday's game with a strain which he picked up in the opening match of the season.

Neil confirmed that Matt Doughty's cut had been very deep and "was not a pretty sight" but the Alty left-back is keen to play at the weekend. Nicky Clee suffered concussion and is unlikely to be involved on Saturday as a consequence. The assistant manager added that with manager Lee Sinnott also in the sick bay, suffering with a knee problem, "For once, I am fitter than he is!"

Neil also confirmed the loan signing of Jake Moult who, though he numbers Port Vale as a former club, was not with the Valiants at the time that Alty boss Lee Sinnott was manager there. Jake does, however, know a number of Alty's current squad including James Lawrie and Simon Richman which will help him to settle in.

Before each game this season, Neil and coach Ian Senior plan to undertake a "Crossbar Challenge" in which each of them has five attempts to hit the crossbar with a shot. After Ian had taken an early lead in pre-season, Neil has stormed back to level the scores at 3-3, with the season's loser pledging a donation to charity. The surface at Harrogate meant that they did not carry out the competition on Tuesday but they hope to resume again at Vauxhall Motors on Saturday.
SATURDAY GAMES
Our next opponents, Vauxhall Motors "suffered a disappointing 3-1 home defeat against newly promoted Bradford Park Avenue on Tuesday night. The Yorkshire club looked sharper and fitter throughout the contest and looked full value for the three points on offer... Motors reacted angrily when referee M Ackerman changed his mind having initially awarded Vauxhall a penalty in the 60th minute. Danny Fernehough was grounded in the area after being challenged by visiting keeper Tim Deasy, and Ackerman pointed to the spot, but then awarded a corner after consulting his assistant.

New signing James Ellison did manage to reduce Motors' arrears in the 65th minute when he volleyed home from a well judged Mike Burns free kick. But Vauxhall found it hard to break down a resolute Avenue defence and finished the match empty handed.

Team: Jones, Noone, Dames, Clowes, Hannigan, Nicholas, Burns, Fearnehough, Ellison, Parkinson, Thompson (Mahon 46). Subs not used: Egerton, Wainwright, Rutter, Courtney (GK)"
OLD BOY
At Stockport County ex-Alty loanee "Carl Piergianni and Cameron Darkwah will be leaving Edgeley Park at the end of August 2012 as their existing contracts come to an end. Both players were offered new deals in the summer but chose not to take up the offers made to them. FA regulations state that if a player that has been offered a new contract, fails to join another club, then the original club are obligated to re-engage the player on his original terms until August 31st. As the club is working to very strict budgetary controls, Stockport County are not in a position to offer further contracts to either player and as such have agreed with them, that they can leave as free agents in the hope of finding another club as soon as possible.

Manager James Gannon said earlier 'Naturally I am disappointed at the circumstances that have led to the current expiration of both players' contracts, but my overriding concern is that I must continue to be mindful of our financial responsibility to bring the playing budget to within a sustainable level'".
BSBN NEWS
Brackley Town confirm that they "have completed the signing of Eddie Nisevic from Nuneaton. The defender, who became a firm favourite when on loan during the Southern League campaign last season, has now signed permanently and goes straight into the squad for Saturday's home fixture against Bishop's Stortford".

Alty's next guests at Moss Lane, on Monday (3pm), are Chester FC, who report that "Neil Young spoke after Chester's 1-0 win at home to Workington, and said he is delighted with the start that his team have made to the season, and praised Ashley Williams for his workrate and goalscorer Ben Mills for his quality strike that turned out to be the winner at last night's game.

The Blues boss said, 'I think you have to give a lot of credit to Workington, they couldn't have asked any more of their players on commitment. They put a tremendous shift in for their gaffer and travelling fans, and that's what we're going to have to put up with. I went to watch Halifax last night and Colwyn Bay were exactly the same at their place'.

Chester were knocked early on quite literally when midfielder Dave Hankin was taken off as a precaution...

'I don't believe there is a better player around at the moment than Ashley Williams, he's been superb so far in both games. I don't think it was Marc Williams' night, they did a good job on him stifling his attack, but we have four strikers and each of them have something different about them, and Ben obviously came on and got a great goal. We've had them playing diagonals like Wes Baynes's pass, then the first time cross from Jarmo and the first time finish from Ben was worthy of winning any game'" added the manager.

Talking about Ben Mills, who joined the club last week on loan from Macclesfield, 'I was surprised when I met Ben how big he actually is, he doesn't look as big on the pitch as off it, he's even bigger than Gary Jones! He's a big strong lad, and what I like is that when he's receiving the ball, he's already on the turn with it which is good as it gives more work for defenders to do'...

On the standard of football in the Conference North, the Blues boss said 'I don't think there will be any easy games for anybody in this league. I've watched another 2 games as well as ours and they have been tight affairs... I've seen three 1-0s in the last 4 days. The main difference you notice is the organisation and work rate of the teams. We've played a good Oxford City team and a Workington side who have worked their socks off for their team and manager, so we've got to be patient.

We started with 7 of last year's team tonight, with 3 new lads added in, so to keep 2 clean sheets is a great record so far. There is a difference in class but we have upped our game as well,'...

Young revealed that Robbie Booth would miss at least another four weeks through his injured back... 'whilst Hanks got a head injury from heading the ball after which he felt queasy - and the instructions from physio is to not take any risks with him which, with any head injuries, you cannot do. Tayls and Adam were not involved in the squad tonight, but we have two big games in 3 days coming up, so the whole squad will be used. I've made the mistake of putting the same first team out twice last season, I won't be making that mistake again'.

Next up for the Blues is the home encounter with former employers Colwyn Bay...'I watched them on Tuesday night at Halifax and Jon Newby has got them well organised, the same as Workington. They have Kevin Holsgrove up front, who is quick, lively and strong. We've got to be on our metal [mettle] and break them down... Colwyn Bay won't be as physical as they don't really have the big players and Rob Hopley isn't available though on Saturday. They are quick on the break though, so we know that when these teams sit back we cannot switch off at the back'".

Gloucester City "are pleased to announce that plans for the club's new ground will be discussed at the next meeting of Gloucester City Council's Planning Committee... on Tuesday September 4...

The planning committee will discuss the planning application for a new ground on Sudmeadow Road submitted by the club in January 201... Coming five years, one month and 10 days after our old ground Meadow Park was destroyed by flood water we hope this meeting will allow the club to finally begin its journey back to our home City. The date of the meeting does clash with our league fixture against Brackley but efforts are being made to rearrange the game".
---
23 August 2012
NEW LOAN SIGNING
Altrincham FC have signed midfielder Jake Moult (dob 10 February, 1989) on a 93-day loan from Alfreton Town. Jake, pictured right, is not new to Altrincham, having been a summer trialist in 2007, (as seen, right, with Chris Senior and Graham Barrow at Abbey Hey). A midfielder, born in Stoke on Trent, he joined Alfreton on 1 July 2010.

Before his arrival at Alfreton, Jake had been with Stafford Rangers. His early career was with Port Vale and Plymouth Argyle.
TONIGHT'S GAME
Wednesday, 22 August, 7.45pm
Chester FC 1 Workington 0
League table
CLIMBING OFF THE CANVAS
Following Tuesday's win at Harrogate, Altrincham FC's joint Press and Media Officer, John Edwards interviewed Lee Sinnott...

"Lee Sinnott likened Altrincham to a boxer climbing off the canvas after seeing them bounce back with a stirring 2-1 win at Harrogate Town on Tuesday night.

Dismayed at the way his side folded to a 4-1 opening-day home defeat to newly-promoted Brackley, the Alty manager was full of praise for a performance and result that restored optimism for the season ahead.

'It was chalk and cheese, really,' he said. 'We just didn't turn up on Saturday, and talking to the players at some length afterwards, I could tell they were shocked by what had happened.

'It was a bit like a boxer who has all the tools of the trade but is caught by a sledgehammer blow from nowhere. He has to clear his head and get his focus back as quickly as possible, and, in terms of commitment and desire, I couldn't have asked for any more at Harrogate.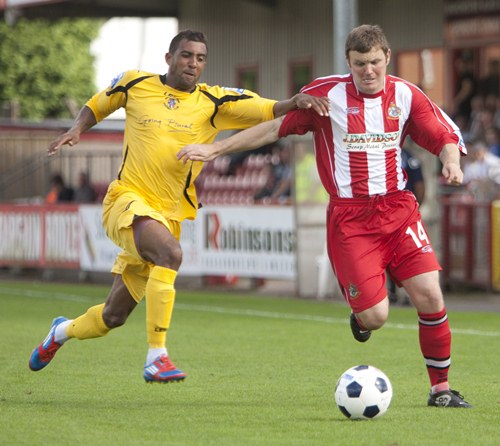 Right: Matt Doughty has made a welcome return to the Altrincham line-up this season. Here he is seen aganst Brackley, courtesy of Gavin Rathbone of GR Photography.
'For me, it was plain and simple on Saturday. We just didn't get started. We didn't get out of the blocks. We did our homework on Brackley. We received a couple of reports on them, and we worked on a few things in training, but we just didn't get going.
'We fleetingly caused their back line a few problems in the first half, but there was no urgency about us and no fluidity to our game. There was nothing there, and it was just bizarre.
'We knew they had a certain style of play and put a lot of work into their set-pieces, so what did we do? We conceded something like 14 or 15 corners, certainly into double figures, which was asking for trouble. I actually felt that, overall, we defended corners fairly well, but if you have that many to deal with, you are going to get caught out eventually.
'We conceded that many because we weren't playing our normal game. If you are in the ascendancy, you are not going to be defending corners, but we played into their hands by giving the ball away too much, finding ourselves on the back foot and conceding twice as many as we should have done.
'There is no point talking round the houses, we just didn't show up. We had a long chat in the dressing room, because we hadn't given ourselves a chance to show our true abilities. For some reason, we had played as if we were in pre-season mode, whereas Brackley had gone at it in FA Cup mode.
'But it was a different dressing room at 10 o'clock on Tuesday night. We ticked so many boxes, and I was really proud of the players. I said to them that the record books will show the season started on Saturday, but ours started three days later. There is still more to come, in terms of playing football and passing the ball better, but the willingness to work for each other and stand up to the challenge was great to see and must have been pleasing for those supporters who travelled over.
'There was pressure on the players, because we wanted our first away win of the season as quickly as possible and we wanted to avoid back-to-back defeats at all costs. It is a really tight schedule, with the first four games coming thick and fast inside nine days, and it is imperative we don't lose ground.
'I actually thought Harrogate looked a better team than last season, when they beat us 3-2 on the opening day and, if they counted themselves a trifle unfortunate not to take something from the game, I wouldn't argue. But my players stood up to the challenge and really battled. A few passes still went astray, meaning there are still aspects to work on, but the output, in a physically bruising game on a really heavy pitch, could not have been better.'
Duncan Watmore added to his catalogue of spectacular goals with another long-range special, but Sinnott warned against loading excessive expectations on teenage shoulders.
'That is actually three exceptional goals in as many games, when you think back to the end of last season,' he said. 'But I think we need to remember he is an 18 year-old kid still learning his trade. For instance, he has to understand his own abilities and how to use them over 90 minutes, rather than in little flashes.
'These are things that will come in time, but it illustrates why we should not expect too much too soon. There will inevitably be a levelling off period, then he will kick on again. That's how it is with youngsters, but he is on the right path, and you have to say he doesn't lack confidence. He has started the season really positively and hopefully that will continue.'
Sinnott was delighted for Simon Richman (left), after the midfielder went on as substitute at Harrogate and fired home a smartly-taken late winner.
'I understand that people have their favourites,' he said. 'That's how it is in football, but what I will say about Simon is that he gives his all in every game. To me, he is an unsung hero.
'When you make a substitution, you ask the player going on to try and make a difference, and he did that in spades. No one can perform at their absolute peak for an entire game, but when you look at what Simon actually does, he deserves credit. He won the three points for us. If he hadn't gone on and performed like that, and scored the second goal, it would have finished all-square. Credit where credit's due.
'It was also good to see Damian Reeves getting closer to his old self. Let's be fair, we didn't perform or create anything on Saturday, and Tuesday was a tough away game where you were never going to see chances flying round left, right and centre. We need to keep improving, football-wise, and start creating more opportunities, and he will be absolutely fine. There are no worries about Damian whatsoever.'
Alty are awaiting fitness checks on Matt Doughty (ankle) and Danny Mitchley (groin) before facing Vauxhall Motors away on Saturday and Chester at home on Bank Holiday Monday. Nicky Clee seems certain to miss both games with concussion.
'Danny pulled his groin against Brackley and will be touch and go for Saturday,' added Sinnott. 'Nicky got a bang on the head, and because of the rules governing injuries like that, I would not expect him to be available for either game. Buzz got a nasty cut quite high up on his ankle, but he was assuring everyone he would be all right for Saturday. That's Buzz for you, and I wouldn't rule him out, but we will have to monitor him as the week unfolds'".
NEXT GAME
Altrincham's record at Rivacre Park is poor, but as Tuesday night showed, historical results have no bearing on future outcomes. Mike Garnett has provided the following statistics of previous Alty v Vauxhall Motors encounters:
At Moss Lane: P9-W6-D0-L3-F18-A12
At Rivacre Park: P7-W1-D2-L4-F8-A15
All games: P16-W7-D2-L7-F26-A27
SPONSORS
Barry Pond's updated list of Matchday Sponsors is now available.
YANKEE
Altrincham FC's Saturday Yankee now has a jackpot of £1,200. Last week's winning code 2974 was unissued but there were two winning Trebles, each netting £200.
HARROGATE VIEWS
Harrogate Town reports that "Town went down to a close 2-1 defeat at the new look CNG Stadium. The newly levelled pitch survived a pre-match downpour and stood up well to the rigours of ninety minutes football.
Town kept the same line up that was successful at Hinckley. The visitors were the first to settle and only a superb block from Shane Killock prevented them from taking a first minute lead. However, with only four minutes on the clock, Duncan Watmore picked up the ball in midfield, advanced, and lashed a thirty yard screamer past Jose Veiga...
After 47 minutes, Altrincham only half cleared a Bolland free kick, the ball was quickly played back in to Chilaka and he lashed it past Coburn to equalise. Town, roared on by a large crowd, pushed forward, but this left them vulnerable to swift Alty counter attacks... With less than 15 minutes to play Reeves broke clear and although Veira parried his goalbound shot, the ball broke to Simon Richman who scored via the inside of the post".
Alty's two goals can be seen on You Tube:
Duncan Watmore: here
Simon Richman: here.

Brian Flynn adds that "We will be re-running last night's commentary on Radio Robins as follows:-
First Half: Will be on Wednesday night from 6pm-midnight
Second Half: Will be on Thursday night from 6pm-midnight

The attendances on Tuesday night in the BSBN were:
Boston United v Histon 968
Brackley Town v Hinckley United 303
FC Halifax Town v Colwyn Bay n/a
Gloucester City v Oxford City 338
Guiseley v Droylsden 431
Harrogate Town v Altrincham 532
Solihull Moors v Corby Town 195
Stalybridge Celtic v Gainsborough Trinity 382
Vauxhall Motors v Bradford Park Avenue 235
OLD BOYS
Several old boys scored in the EvoStik League games on Tuesday night. Both James Dean (AFC Fylde) and Ben Deegan (Ashton) scored in the Tameside club's 2-1 win. Likewise, Mossley won at Cammell Laird, with Cavell Coo scoring. James Holden's goal could not stop Salford City from losing at Farsley, whilst Griff Jones netted for Radcliffe Borough. And Andy Smart scored as Trafford only won 7-0 at home to Wakefield; they won 8-0 away at Ossett Albion last Saturday!

Welsh Premier says that "Airbus UK Broughton have ended a search for a central defender by signing Paul Jones, who made 26 Football League appearances for Oldham Athletic between 1999 and 2002. But the 34-year-old made his name in the English non-league pyramid, making 249 appearances for Barrow... In March 2011, Jones joined Conference North side Droylsden on a one-month loan in a bid to improve his match fitness but joined Altrincham in July the same year before being released and signing for league rivals Vauxhall Motors".
BSBN NEWS
The Football Conference reports that "Droylsden have dual-signed former FA Vase final hero Matt Walwyn with Northwich Victoria. Walwyn started out as a junior at Blackburn Rovers as a junior before joining Kirkham & Wesham where he scored twice at Wembley for them in the FA Vase Final. When Kirkham became AFC Fylde he stayed on and made a name for himself as a great finisher.

He left Fylde on the summer of 2011, going on trial at Southport before joining Skelmersdale United where he smashed in eleven times in just seven appearances before switching to Chorley in mid-October 2011. He trialled with the Bloods in pre-season and also scored twice on his debut for Vics on Tuesday night in the 5-0 win at Sutton Coldfield Town".

BSBN reports that "FC Halifax Town boss Neil Aspin believes his side deserved at least a point following their 1-0 loss to Colwyn Bay on Tuesday night. Town... were this time undone by [ex-Alty man] Kevin Holsgrove's 75th minute goal at The Shay Stadium - much to Aspin's disappointment.

'I think we deserved at least a point but we certainly need to be better if we're going to win games', he said in the Halifax Courier. 'It's disappointing to lose, but also to not score is doubly disappointing... We didn't create enough chances in the final third and as we've seen before, the longer the game goes on the more the visiting team grow in confidence', he said.

'They had a game plan, they sat back and tried to catch us on the break, and as you're pushing forward you're always vulnerable to the counter attack. We need to be scoring the first goal and bring the opposition out and then hopefully we can settle down and not play in such a hurried fashion'".

Meanwhile, "Boston United manager Jason Lee saluted his team's fitness following their 6-0 thrashing of Histon at York Street... Lee feels his outfit are benefiting from a programme set up by former Notts County conditioning coach Ian Freeman.

'Ian Freeman is good at what he does', Lee said in the Boston Target. 'I think we've done it right, we've had a good seven weeks of pre-season, with a lot of games. You wouldn't have got much more than that at a full-time professional club. We've tried to implement that sort of programme. It's been well structured and we've told the boys to trust in their fitness. It will count in the last 10 or 15 minutes. I feel we'll be strong then. That's when you can win games and see games out'.

Boston next host Hinckley United on Saturday, with Lee wary of complacency creeping in among his buoyant charges. 'We won't write any team off lightly', said Lee. 'There were some big scores and surprise results on Saturday. Altrincham and Stalybridge both lost, who would have thought that?'"

According to the Telegraph and Argus, "Bradford City Football Club has left the race to save its sporting rivals Bradford Bulls from collapse, it was revealed last night. Julian Rhodes, Bantams' co-chairman, told the Telegraph & Argus the club was no longer in the running to take over the stricken Super League side...

The Rugby Football League had set a deadline of yesterday for four parties vying to buy the club to submit their formal business plans – including football club Bradford Park Avenue, Bradford businessman Omar Khan and Super League (Europe)... Former Sports Minister Gerry Sutcliffe, who is supporting Mr Khan's bid, revealed a business plan from the restaurant owner was handed into the RFL on Monday night. He said he believed all submissions would be discussed during a meeting tomorrow.

Bob Blackburn, the chief executive of Bradford Park Avenue, declined to comment when asked by the T&A last night if he had submitted a business plan".

From Pitchero Non-League we learn that "Workington have signed young midfielder Josh Todd on a month's youth loan from Carlisle United. Todd impressed whilst with the Carlisle`s YTS programme and earned himself a one-year professional deal for this season. Energetic and comfortable in possession, he rarely wastes a pass and can be good going forward or in a holding role".
CHESHIRE NEWS
NL Daily reports that "The Evo-Stik Northern Premier League have received a communication from The Court of Arbitration for Sport (CAS) confirming that it does not have jurisdiction to entertain the appeal filed by Division One South club Northwich Victoria. Therefore the arbitration procedure - Northwich Victoria Football Club v The Northern Premier League Limited - is terminated and removed from the CAS roll. The League will not be making any further comment in relation to this matter". Vics had been hoping to move their home games to Flixton rather than at Stafford, where they initially arranged to play this season.
---
22 August 2012
HARROGATE TOWN 1 ALTY 2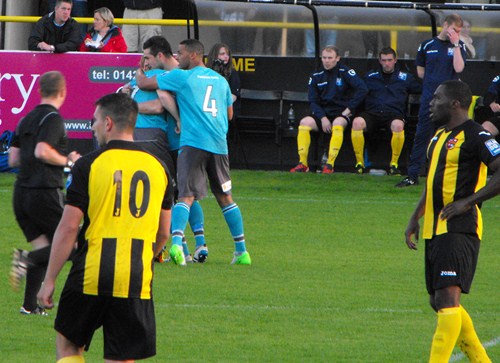 Right: Duncan Watmore is hugged by Gianluca Havern and Carl Rodgers after scoring at Harrogate. In the background, on the Harrogate bench, the sentiments are less happy.
Alty secured their first ever win at Harrogate with a hard working performance...
Match report
NEXT OPPONENTS
Alty's next opponents are Vauxhall Motors and the Wirral Globe tells us that "New club captain Tom Hannigan scored the only goal of the game to give new-look Motors all three points at Steel Park [last Saturday]. Motors, who started the game with just four players from last season's squad, had the first chance of the game on seven minutes...

On 30 minutes, Vauxhall took a deserved lead when Mike Burns floated a corner into the penalty area and Hannigan was left unmarked to place a powerful header past Walker from 10 yards out. For the remainder of the first half, the hosts could not find a way through a strong Motors backline which included the experienced Andy Nicholas and loan signing Leon Clowes... The Motormen were happy to soak up the Corby pressure however still looked dangerous on the counter attack...

Team: Jones, Noone, Dames, Clowes, Hannigan, Nicholas, Burns (Egerton), Fearnehough, Ellison (Mahon), Parkinson, Thompson (Rutter) Subs not used: Wainwright, Courtney (GK) The Motormen face Altrincham this Saturday August 25. Kick-off at Rivacre Park is 3pm".
BSBN NEWS
Before Tuesday's game, the Football Conference confirmed that "Harrogate Town have added young goalkeeper Craig MacGillivray to their squad. Locally born, MacGillivray was originally with Town's neighbours, Harrogate Railway Athletic. He was on the fringe of `Rail`s first-team and made a few appearances in the senior side, mainly in friendlies.

In October 2011 he moved across the Pennines and joined Stalybridge Celtic... After a bad injury, he never returned to the Celtic line-up, however, and after totalling four appearances, left in June".

Another BSBN club has signed a keeper, too... "Following a suspected broken leg suffered by goalkeeper Andy Ralph on his debut for Stalybridge Celtic on Saturday, the club have taken 19-year-old Alex Cairns on a month`s loan from Leeds United. Yorkshire-born Cairns signed his first professional contract during the summer of 2011. He joined Leeds` Academy in 2006 and has excelled in recent years... and joined the first-team squad on their tour of Scotland during the summer of 2011. He made his first team debut as a second half substitute against Blackpool at Elland Road in November 2011. He was also an unused substitute on several occasions during the season and had a loan spell with Barrow during last term".

Elsewhere, "Dennis Greene, manager of Histon, has signed another promising young player in striker Louie Theophanous. The 20-year-old from Kennington started out at Millwall at the age 13... and signed for Dagenham & Redbridge as a scholar in January 2010. However, he failed to make it with the Daggers and wrote to AFC Wimbledon asking for a trial. They liked what they saw and signed him on youth forms, eventually earning a professional contract in December 2011".

Further north, "Striker Bradley Barraclough has joined Gainsborough Trinity on loan from neighbours Lincoln City. Barraclough, who spent the majority of last season on loan with Buxton, will be at the Northolme until January 2nd 2013... Barraclough initially penned a one-year contract with the Imps in the summer of 2011... Nuneaton-born Barraclough had spent the previous three years in the United States... Barraclough combined his football in the States with his studies for a degree in psychology and was a regular goalscorer during his time with the Bellarmine University Knights and Cincinatti Kings sides.

Returning to England in May 2011, he was invited to a trial by former Imps' boss Steve Tilson having sent him a YouTube video clip of his exploits across the pond... He impressed enough to earn himself a twelve-month professional contract... He was loaned to Buxton in November 2011 by Tilson's successor David Holdsworth with the deal being extended until the end of the season four weeks later. A regular on the scoresheet whilst at the Silverlands, his hard work was rewarded recently with a season-long extension to his City contract".

The NW Counties Football League reports that "After the success of events in 2010 and 2011, the organisers of Non-League Day are working hard to publicise the 2012 event. The event is now in its third season and was the brainchild of QPR and Harrow Borough fan James Doe. As well as receiving the full support of the Football Supporters Federation and Supporters Direct, NLD also has received national media coverage from the likes of the BBC, Guardian, Sky Sports, and Talksport.

This year, the event takes place on Saturday 13th October, [when Alty are away at Corby Town], after the two previous events were held in early September. The slightly later date this year has been chosen to avoid a clash with the Paralympics and a round of FA Cup fixtures".

According to Pitchero Non-League, "Workington have taken young defender Will Vaulks on a month`s loan from Tranmere Rovers. Vaulks is a first year professional who signed a six-month contract with Rovers following the end of the 2011/12 season. Able to play at centre back and right-back, the Wirral youngster spent time on loan with Cammell Laird last season".

From Retrford Today we learn that "Gainsborough Trinity manager Steve Housham described his side as 'they're [their?] own worst enemy' after they lost their first game of the 2012/13 season on home soil to Gloucester City. Darren Mullings strike early into the first period was enough to see off newly promoted skipper Michael Leary's side to their first defeat of the campaign.

'I can't defend my players, 90 per cent of them did not perform, and we have gone from being a professional unit in pre-season, and now they were all scared to have the ball', said Housham. A defensive error inside the first minute from summer signing Greg Young [ex-Alty] allowed Gloucester to take possession on the edge of Trinity's area, but [ex-Alty] Luke Waterfall's vital last ditch interception proved vital in keeping Trinity in the game...

Gloucester deservedly took the lead after 14 minutes. A defensive mix up inside Trinity's penalty area allowed Edwards room to shoot. Budtz saved the first attempt excellently but Trinity then failed to clear and Mullings blasted into a empty net...

After the match, Housham issued the players with warnings, telling them there will be changes. 'I said to the lads after the game, "Don't be surprised if there is changes in the side". They just didn't perform on the day and like I said there will be changes', he added".

In the Herts & Essex Observer, we learn that "Bishop's Stortford slipped to defeat at Worcester City in the Blue Square Bet North tonight (Monday August 20). Worcester went ahead through Michael Symons on 36 minutes. The lead was doubled when the same home player scored on 86 minutes. Stortford's line-up included striker Ricky Sappleton who has come back from a trial in Bulgaria.

He came in for Cliff Akurang whom Blues' manager Rod Stringer rested. The result followed the Blues 2-1 home defeat to FC Halifax Town in their opening game on Saturday. It means that Stortford are still looking for their first points of the season when they take on Brackley Town away this Saturday".
---
21 August 2012
MIDWEEK GAMES
Tuesday, 21 August, 7.45pm
Boston United 6 Histon 0
Brackley Town 5 Hinckley United 0
FC Halifax Town 0 Colwyn Bay 1
Gloucester City 0 Oxford City 1
Guiseley 7 Droylsden 1
Harrogate Town 1 Altrincham 2
Solihull Moors 3 Corby Town 0
Stalybridge Celtic 1 Gainsborough Trinity 1
Vauxhall Motors 1 Bradford Park Avenue 3
TONIGHT'S GAME
Before kick off the Wetherby News reported, "Beware the wounded animal, that will be the response of Simon Weaver to his Harrogate Town side tonight. Altrincham, who travel to Wetherby Road tonight, were beaten 4-1 by Blue Square North new boys Brackley Town on Saturday. Town, meanwhile, were 2-0 winners over Hinckley United. Chib Chilaka and Shane Killock scoring the goals.

The match will be a historical moment for the club. It will be their first home game since the pitch was flattened in the summer. The new-look ground has also had a facelift off the pitch with a new hospitality suite opened and the club shop refurbished".
ALTY CLIMB A PLACE!
Bishop's Stortford's defeat on Monday night drops them behind Altrincham on alphabetical order!
Worcester City 2 Bishop's Stortford 0
League table.
LEE'S VIEWS ON SATURDAY
Find out what the Altrincham manager thought about Saturday's 4-1 home defeat at Moss Lane last Saturday by listening to Lee Sinnott's interview on Wythenshawe FM. Brian Flynn writes, "Altrincham manager Lee Sinnott was interviewed after Saturday's opening day defeat against Brackley Town and the interview will feature on the WFM Sports Talk Show, which is broadcast on Wythenshawe FM from 11.00am-noon on Tuesday. Altrincham are normally featured early on during the programme. You can listen to Wythenshawe Radio on the radio on 97.2FM or online here.
ALTY AT HARROGATE
Mike Garnett's statistics confirm that our record against today's opponents is as follows:
At Moss Lane: P4-W2-D1-L1-F8-A6
At Harrogate: P4-W0-D1-L3-F3-A8
All games: P8-W2-D2-L4-F11-A14

In advance of Tuesday night's match MAD predicts a narrow win for Harrogate Town over Altrincham.

Harrogate Town themselves foresee "a much different game from that we played on Saturday. Not only will it be the first time that the new playing surface has been played on but it will give you all chance to visit the newly refurbished bar. Altrincham will be looking to put a terrible display in their opening day surprise 4-1 defeat to Brackley Town behind them, however, we will be looking to build on the performance against Hinckley United and will be wanting all the points for ourselves!

With a full squad for Simon to choose from, it should be very close to the team that started the match against Hinckley that takes to the field. Our visitors have also reinforced their squad in the summer and should be one of the teams that are up in the mix come the end of the season".

Harrogate Town report that "An excellent all round performance saw Town leave Hinckley with all three points. Lee Elam and Craig Radcliffe were the unlucky duo to be left out of the Town line up.

On a sweltering afternoon both sides found it hard to establish early superiority. Town's Adam Bolder and Luke Dean both tested home keeper Robert Peet, while at the other end, the impressive Phil Green exploited hesitancy in the Town defence, but shot well wide. Harrogate's Jose Veiga showed a safe pair of hands to cut out Hinckley's crosses and Ben Richards-Everton headed onto the roof of the Town net, but it was the visitors who opened the scoring...

Charlie Raglan totally miskicked Paul Bolland's free kick, leaving Chib Chilaka to slot home from close range... Just as in the first half Samuels was fouled, and this time it was Shane Killock who soared above the home defence to head in Bolland's free kick. Town's travelling supporters were sent home happy as Town dominated the last 25 minutes".

From the other side, the NUneaton News says that "Hinckley United slipped to an opening day defeat... Harrogate were always in control of the game. Such has been the disruption [at Hinckley] in the close season, only three players that ended last season started this game and quite clearly, it is a side that will take time to settle...

Manager Dean Thomas was in a philosophical mood after the game. He said, 'I'm not too disappointed with our overall play, I'm disappointed with the mistakes we made which led to the goals. I don't think there was much between the sides in the first half, but then we give away a silly free-kick, we're behind and there was no need for it. I thought we took the game to them at the start of the second half, but then we gave away another free-kick in the same area as the first goal. It's all about individual mistakes...

It's been difficult building a football team in six weeks, it's not easy starting from scratch and I defy anyone to do that... There are plenty of clubs in this league spending lots of money and I like the challenge of taking on those clubs'".
THANK YOU
Altrincham FC thanks donors and collectors alike for the Bucket Collection last Saturday, which raised £68.39.
SAINTS REJOICE
Following their win at Moss Lane, Buckingham Today reports that "Brackley Town begun their 2012/13 Blue Square North campaign in perfect fashion with a stunning 4-1 win away at Altrincham on Saturday. Following an even first half that saw the scores level at the break, Saints dominated the second to celebrate their first win at this level in style.

Brackley boss Jon Brady gave debuts to Eddie Odhiambo and Wayne Hatswell in a squad that highlighted Brackley's strength in depth with Stephen Diggin and Will Green on the bench... On 19 minutes, Sandy's hard running was rewarded as he was needlessly felled by Altrincham captain Shaun Densmore conceding a clear penalty... But Altrincham struck back on 26 minutes through a superb goal from the ex-Man United junior Duncan Watmore.

After shrugging off three challenges, the 18-year-old Watmore unleashed a powerful effort from the edge of the box to beat Turley as the ball dipped over the keeper. The hosts almost took the lead just moments later when debutant Ryan Brooke [James Lawrie] came close with a speculative shot from 50 yards as Turley back-peddled [pedalled]... It ended with Brackley picking up a memorable victory after a superb display."
3D RESPECT CAMPAIGN
The Football Conference has issued a press release and poster (adjacent). It says that "Six posters will be sent to each club shortly and they must be visually displayed as follows:
One each in Home, Away and Match Officials' changing rooms
One in the Boardroom
Two at locations where they will have maximum impact from a visual perspective to supporters.

The Football Conference will again be operating their unique campaign to improve respect, amongst member clubs this season.

Entitled '3D Respect Campaign 2012-13' it will continue to concentrate on three key areas with an emphasis of encouraging managers and fans to make a meaningful contribution, let alone players during matches.

Recognising football is emotive and stirs obvious passions, people in the game still need to often step back, take ownership of what one is about to do or say and so avoid the consequences of those actions. Often the outcome reflects badly, not only on their club and the reputation of football in general but importantly the way others view those actions, deeds or words.

The member club earning the end of season accolade will need to demonstrate many attitudes from the boardroom to the terrace. The overall winning clubs from all three divisions will receive the 'Respect Trophy' and two other clubs will be presented with certificates of commendation for their efforts towards the campaign. As a further incentive Blue Square Bet, sponsors of the Football Conference, will be making financial awards to the top three clubs.

Last season, overall winners, Altrincham FC were set a fine example by Manager, Lee Sinnott. Chairman Grahame Rowley commented, after receiving the trophy, on behalf of all connected with his club, 'With Altrincham Football club's increased presence in the local community we were proud winners of this award in its inaugural year, as it epitomises what the club stands for – fair play, respect for all and good sportsmanship'.

Conference Chairman, Brian Lee summed up his feeling towards the campaign, 'Last year was a success, so much indeed that the LMA and PGMO have adopted for the Premier League and Football League our initiative of match officials being allowed to exit the field of play at half time and full time with dignity, advocating and encouraging managers to make a respectful approach behind closed doors and out of sight of fans and cameras. Doing so on the field gives the wrong impression and managers should be role models to players and youngsters who attend our matches. All managers in our competition, like Lee Sinnott did last season, have to set high standards'.

In monitoring behaviour, all avenues of social networking and other media streams will be checked away from the field of play and if supporters feel that another club has shown that they can go that extra mile to make it a pleasant day out, then if they wish to share their experiences, they can do so by emailing media@footballconference.co.uk .
BRIAN'S FLYNNZINE
Brian Flynn's Flynnzine article from last Saturday is reproduced, below, courtesy of the author...

"Opening Day Paranoia????

Most Altrincham fans are all bright-eyed and bushy tailed for today's opening encounter of the season and it's certainly an intriguing start as we cross swords with brand new opponents in the shape of Brackley Town.

For most people, the Northamptonshire side are the Blue Square Bet North equivalent of one of the virtually unknown Eastern European sides that British and Irish teams meet in the early rounds of the Champions League or Europa League.

So….where is Brackley? It's in the South Western extremities of Northamptonshire between Banbury and Buckingham, about ten miles north of Bicester……..'Ahhhhhhh Bicester' and quite convenient for the M40.

The absolute vast majority of us may know little or nothing about them, but don't be sucked in to thinking that this is going to be a very pleasant walk in the park with three points virtually guaranteed by five o'clock this afternoon…….Brackley have headed up the M40, M5 and M6 with a hugely experienced squad! Not only do they have experience, but we are very familiar with many of the players that we will be up against this afternoon, as we have played against them on many occasions, primarily in the Blue Square Bet Premier.

The likes of Billy Turley, who I saw keep a clean sheet at Maine Road for Northampton Town against Manchester City in 1999, Wayne Hatswell, Tommy Jaszczun and Brett Solkhon are familiar opponents from games against the likes of Kettering, Cambridge United and Rushden and Diamonds, but further inspection unearths the slightly worrying facts that a number of the people involved for Brackley today have done rather well against us!

Curtis McDonald joined today's opponents from Newport County, but scored a wonder goal against us for Forest Green Rovers in a vital relegation encounter for both clubs in April last year. It was a moment of brilliance, completely at odds with the rest of a turgid contest as McDonald lashed a 25 yard angled shot into Stuart Coburn's top corner in the 71st minute. Critically, it turned out to be the goal that ultimately condemned Altrincham to relegation three weeks later, as a draw that day, rather than a 1-0 defeat, would have seen us survive and Forest Green relegated - so damn you Curtis McDonald!

Brackley's management team of Jon Brady and Darren Collins have locked horns with us before as well. Brady , playing at right back, scored for Hayes on their first ever visit to this particular part of Cheshire in 1997 and then converted a free-kick as Rushden and Diamonds won 2-1 here in 1999.My recollections of Collins are less vivid, but as he is Rushden and Diamonds' all time leading scorer, I'm sure that he must have scored at least once against us, possibly in one or both matches in 1996/7, when Diamonds played their first ever Conference game here in that memorable opening day encounter when we scored twice in the last ten minutes to win 4-3. Oddly enough, the return game was on the last day of the season as we bowed out of the Conference with a 3-2 reverse at Nene Park.

But perhaps the oddest fact of all is that when Oxford United visited Moss Lane for the first time in 2007, all three of their goalscorers that day, could be on view this afternoon for our opponents.

Eddie Anaclet, now Eddie Odhiambo, two fantastic names by the way, Michael Corcoran, a footballer who also boxes, and Marvin Robinson, who sounds like he should be a boxer, were the scorers, as Oxford ran out 3-0 winners. Corcoran and Anaclet were in the Oxford back four that day with the latter's goal, the opener midway through the first half, being a cross that bizarrely took a weird bounce and was then picked up by the wind as it sailed over the despairing Stuart Coburn.

My sense of unease is growing as I complete this article, as I realise that every game referred to above took place in a season in which we were relegated…….well we were reprieved in 2007, but I'm sure that you get my drift!

I think that we'd better keep this lot out this afternoon!

It's good to be back!

Brian".
YOUTH NEWS
Altrincham Youth had no game last Sunday but the other "Premier League" results were:
Abbey Hey 3 Hyde 3
Nantwich Town 1 FC United of Manchester 2
Northwich Victoria 0 Morecambe 6

In the First Division, Altrincham FC's juniors won 3-1 at Lancaster City.

In the NWYA Neil Thomason Cup, 1st Round, on Sunday, September 23rd, the draw includes:
Altrincham v Morecambe

In the NWYA Open Cup, 2nd Round on Sunday, October 14th:
Altrincham v Glossop NE/Curzon Ashton
BSBN NEWS
There is a sense of deja vu about the 2012-13 campaign. In Altrincham's first five BSBN fixtures this season we meet three of the clubs who opposed us in the first four fixtures of last season! As already mentioned here, our first away game this year is at Harrogate just as it was our first away match in 2011. But we also meet Vauxhall Motors (again away) and Histon (at home like last year) in our next three fixtures.

News of one of these clubs, the Motormen, comes from the NOrthants Evening Telegraph which says that "Ian Sampson is glad Corby Town don't have to wait too long as they look to bounce back from their opening-day misery. After an unbeaten pre-season, the Steelmen suffered a 1-0 home defeat to Vauxhall Motors...

'Hopefully we can put it right at Solihull. We had a real go in the second half on Saturday but we lacked quality and that can happen at this level, sometimes you get it and sometimes you don't... We weren't the only team to get beaten on the first day of the season. It's now a matter of how we respond and react to having our backs against the wall'".

And news of one of the other repeated opponents is found in the Cambridge News which reports on Histon 1 Guiseley 4. It says that "Two gorgeous Guiseley goals right at the end made things look a little ugly for Histon on the opening day of the Blue Square Bet North season... But anyone seeing the scoreline and assuming the Stutes had been well beaten by a side that lost in the play-offs last term would be wrong.

Yes, the Yorkshiremen deserved to win due to their superior finishing and their ability to keep possession better, but the hosts made them work hard for their victory and competed valiantly until the closing stages. Indeed, the outcome could have been different had the Stutes been able to hold on to the lead given to them by Dan Holman in the 40th minute until half time...

There were plenty of encouraging signs on day one. 'We were beaten by a better side and you hold your hands up to that', said [manager] Greene. 'They're a very good side and we might be where they are in five years' time when all our players are 25... We've held a very good side for an hour of the game and were always in it up until 10 minutes to go'...

One of the loanees was the star of the show for the Stutes, with Ian Gayle really looking a cut above at the centre of the defence. His partner Max York also defended solidly in captain Remy Clerima's absence, but it was Gayle who shone brightest, with both his positional play and springy leap... Greene went with a 4-5-1 as he looked to frustrate the visitors and Holman did his usual sterling work in the lone striking role, but getting more support up to him will again be crucial this season... 'We went 4-5-1 and we've got five really good middle-of-midfield players, with George (Thomson) and Jay (Dowie) on the bench for this game, so we're strong in that area', said Greene... Adrian Sear, who donned the captain's armband, came off with blister trouble but should be fine for tomorrow's trip to Boston United, although Grant Roberts is a doubt".

Droylsden confirm "More new signings:
Cliff Moyo (defender) ex-Barrow
Rob Sissons (midfield) ex-Bolton
Peter Montieth (GK) local
Aaron Walters (defender) ex-Bacup".

According to the Football Conference, "Guiseley AFC have added 24-year-old midfielder Stephen Brogan to their squad. The former England `C` international joins from league rivals Stalybridge Celtic after attracting interest from a number of Football League clubs over the summer. Brogan spent his early career at Rotherham, coming from their youth Academy. He signed a two-year deal with the Millers in 2007, and he had been scouted by several Premiership teams.

He had a severe injury in 2008 with a double fracture of his leg after a collision with the MK Dons goalkeeper... He joined Stalybridge initially on loan from Rotherham before being released from the Millers in 2011, after which he joined Conference North champions Alfreton Town. But unable to settle at the Impact Arena he rejoined Celtic. Brogan scored fourteen goals in forty-eight appearances at Bower Fold before leaving in June to join up with Southend United in pre-season. However, in the end the Shrimpers were unable to come to an agreement with the player.

Meanwhile, "Boston United boss Jason Lee is hopeful that striker Spencer Weir-Daley could return for Tuesday's home clash against Histon. The 26-year-old forward missed Saturday's 1-0 win at Droylsden due to a back injury... Tom Ward, meanwhile, is still sidelined with an ankle injury and will play no part against Histon".
---
20 August 2012
PREMIER LEAGUE AT MOSS LANE TONIGHT
The bar at Moss Lane is open tonight from 7.30pm so that you can watch the Everton v Manchester United match in HD (k.o. 8pm).
LUCKY NUMBERS
Altrincham FC is running a Bonus Ball competition again this season, in which the Bonus Ball which is drawn each week in the national Lotto determines who is the cash prizewinner. To join, you pay £1 a week and receive a number between 1 and 49. The winner each week gets £25 and the residue goes towards Club funds. There are currently five numbers still available, 15, 23, 36 41 and 46. If you would like to take part, please contact Karen Rowley or Jennie Heslop at the club on 0161 928-1045 or by e-mail. You can pay weekly, monthly or even yearly! Many thanks to all participants.
RE-LIVING SATURDAY
The excellent Alty TV has highlights of the Altrincham v Brackley game last Saturday. And Brackley Town have a match report.
TUESDAY AT HARROGATE
For the second season running, Altrincham's first away game is at Harrogate Town, this Tuesday. (And, for the second year running our second away game of the season will be at Vauxhall Motors, next Saturday). Last Saturday Harrogate Town won 2-0 at Hinckley. Hinckley United reported that "9 players made their debut for Hinckley in the match, including 3 players signed the day before. Hinckley started with new signings Jack Lane, Declan Towers, Robert Peet, Inderjeet Aujla, Phil Green, Harvey Headley and Aron Wint. Wint signed on the friday having been with Scunthorpe last season. The other 2 signings from Friday making an appearance from the subs bench were Richard Bryan, formally of Aston Villa and Matthew Marshall, formerly of Notts County.

The first half was pretty even with both sides getting to grips with competitive football after the season break... Harrogate took the lead after the half hour with their first effort on target when a free kick was played in low across the area and not cleared leaving Chibuza Chilaka a simple task of side footing it into goal...

The second half was pretty much controlled by Harrogate, as Hinckley's midfield couldn't keep possession and struggled to get the ball forward to the lone striker. Just past the hour Harrogate extended their lead with another gift when a free kick was played into the area and Shane Killock found himself unmarked to head the ball past Peet into the goal. Harrogate had the luxury of bringing on striker Jonny Allan from the subs bench, and he almost made it three".

The Harrogate team was Veiga, Samuels, Merris, Bolder, White, Killock, Nowakowski, Bolland, Chilaka, Beesley, Dean. Subs: Allan, Bloomer, Meechan, Youhill, Stimpson. Obviously Meechan has worn the Altrincham shirt in the past and some of the other names will be familiar as opponents previously.

Last season, Alty threw away the game by conceding two penalties and having Adam Flynn sent off in a 3-2 reverse. Only Matt Bloomer and Adam Nowakowski survived from that game to play last Saturday for Harrogate. Altrincham have five players still at the club who were in the squad for the 2011 game; Stuart Coburn, Shaun Densmore, Nicky Clee, Damian Reeves and Simon Richman.

Another change that Alty supporters will notice is that Harrogate Town's Wetherby Road ground has been levelled over the summer and Tuesday's game will be the first league match on the new surface. Previously the pitch had a decided slope, most obvious at one of the ends, where the corner flag was several feet lower than the goalmouth area.
---
19 August 2012
ALTRINCHAM 1 BRACKLEY TOWN 4
Match report here.
OPENING DAY
Barry Pikesley's article, "Alty on the Opening Day", appeared in Saturday's "Robins' Review" and is reproduced here by his kind permission...

33 SEASONS IN ONE DAY

Cue the familiar Bruce Springsteen countdown of '1-2-3-4!' because another season is upon us and the Robins are born to run once again.

The opening day of the new league campaign can elicit uncharacteristic optimism from even the most pragmatic and seasoned members of the Alty faithful. However, such a sanguine perspective has been known to evaporate within the space of 90 sobering minutes, as illustrated by that deflating 3-2 reverse at a sun-drenched Harrogate Town last year which did rather serve to become the template for much of our ensuing erratic season. Let's hope for a far more auspicious outcome against Brackley Town this afternoon.

Since the advent of the inaugural season of the Alliance Premier League (APL) back in 1979/80, Alty's record in the opening fixture of the new league campaign reads as follows: played: 33; won: 13; drawn: 11; lost: nine; goals scored: 46; goals conceded: 46.

Of those 33 opening day matches, a total of 19 were staged at Moss Lane, for which the statistics reveal the following: won: eight; drawn: six; lost: five; goals scored: 29; goals conceded: 30.

You have to go back to the onset of the 2006/07 Nationwide Conference season to locate Alty's last home triumph in the first league fixture of the campaign, when Stevenage Borough were eclipsed 2-1 courtesy of a Colin Little volley and a Steve Aspinall penalty.

The Robins' largest margin of victory at Moss Lane on the opening day occurred on Saturday, 14th August 2004 at the inception of the Nationwide Conference North season, which would culminate blissfully in Alty attaining promotion via that momentous Sunday afternoon in Stoke-on-Trent. Trailing 1-0 to Gainsborough Trinity with 65 minutes of the match having elapsed, Graham Heathcote's charges finally rallied and secured the three points by means of a Colin Potts strike and goals on their respective league debuts for the club by the diminutive Peter Wright (2) and a certain Colin Little.

Other visitors to have been conquered at Moss Lane on the opening day have included: Maidstone United (1-0 in 1983/84 through a 66th minute John Davison penalty in front of a gate of 1,366 - the highest opening day attendance at Moss Lane during the last 33 seasons); Kettering Town (2-1 in 1984/85 by virtue of a Graham Bennett strike and a debut goal from the perma-tanned and permed Colin Chesters); Barnet (2-1 in 1989/90 via goals from John McMahon and Wayne Entwistle); Gateshead (3-2 in Mark Ward's first match as the Robins' player-manager back in 2000/01, during which he scored the 90th minute winner from the penalty spot) and Whitby Town (1-0 in 2001/02 by dint of a Carl Furlong header witnessed by Andy Cole and Juan Verón in the home Directors' Box).

Incidentally, there has never been an instance of a goalless draw at Moss Lane on the opening day of a new league season. Any stalemates on home territory have either concluded in a scoreline of 1-1 (Bath City in 1986/87; Kettering Town in 1991/92; Frickley Athletic in 1998/99 and Ebbsfleet United in 2009/10) or 2-2 (Kettering Town in 1985/86 and Barrow in 1997/98).

The nadir of Alty's home opening day fixtures transpired on Saturday, 17th August 2002, when newly-promoted Harrogate Town trounced Bernard Taylor and Andy May's feckless team 4-0 in a Unibond Premier League encounter watched by merely 552 spectators, the lowest Moss Lane attendance for the first match of a league campaign during the past 33 seasons.

The other four opening day defeats at Moss Lane were inflicted respectively by: Wealdstone (0-1 in 1982/83); Kettering Town (1-3 in 1995/96 in the wake of the Maunders exodus); Stevenage Borough (0-1 in 1999/2000) and Exeter City (1-4 in 2007/08, which prompted manager Graham Heathcote's famously entertaining post-match rant in the Noel White Suite pertaining to the pre-match distractions he had faced in the form of having to sweep the tunnel and mow the pitch!).

The Robins' record in their opening day away fixtures over the past 33 seasons comprises: played: 14; won: five; drawn: five; lost: four; goals scored: 17; goals conceded: 16.

That quintet of victories has encompassed: Stafford Rangers (3-1 as Alty commenced the defence of their APL title in 1980/81 by means of goals from Graham Heathcote; Graham Barrow and Barry Howard); Aylesbury United (Jeff Johnson's side kicking off the 1988/89 season with a 2-1 success via goals from Ronnie Ellis and Gary Stewart); Kidderminster Harriers (1992/93 - Ricky Harris scores the solitary goal of this clash, which constituted Gerry Quinn's baptism as the Robins' manager) and Yeovil Town (3-1 in 1994/95; John King's men triumph in Somerset courtesy of Paul France and a brace from Ricky Harris).

Alty have registered just the sole 1-1 impasse (Frickley Athletic in 1981/82) and four 0-0 draws (Weymouth in 1979/80; Fisher Athletic in 1990/91; Merthyr Tydfil in 1993/94 and Alfreton Town in 2003/04) on their opening day expeditions.

However, it should be noted that an ostensibly unremarkable goalless draw on the opening day can actually be the harbinger of a truly memorable season. That (on the day unknowingly) ultra-precious point gained in Dorset 33 seasons ago on Alty's APL debut would ultimately prove to be invaluable, as the Terras duly emerged as the Robins' principal rivals for the league title. And who amongst those gallant Alty supporters swelling the meagre crowd of 468 at the Surrey Docks Stadium on Saturday, 18th August 1990 would ever have anticipated the subsequent jewels of excitement that the likes of Showler, McKenna, Brady, Shaw, Wiggins, Daws, Rowlands et al would proceed to deliver?

The opening day defeats suffered on their travels by the Robins consist of the following: Dagenham (2-3 in 1987/88); Stevenage Borough (0-3 on our return to the Nationwide Conference in 2005/06); Luton Town (1-2 in front of 6,665 observers in 2010/11) and, of course, last season's trauma in North Yorkshire.

This afternoon marks Alty's inaugural competitive fixture against Brackley Town. If you are looking for any omens, then (since 1979) the Robins have experienced their first-ever meetings with teams on three previous opening days of the season, including the aforementioned 1988/89 win at Aylesbury United; that 2002/03 capitulation at home to Harrogate Town and an enthralling 4-3 victory versus the much-vaunted Rushden & Diamonds at Moss Lane on Saturday, 17th August 1996 (via strikes from Chris Sharratt; Stuart Terry and Niell Hardy plus a Nick Ashby own goal in what was Mark Maddox's league debut for the club).

And here's a positive portent to cling to: Damian Reeves has scored for Alty in both of the opening league fixtures of his two seasons with the club to date!

In terms of what we can expect from the Robins in the imminent season, I can only hope that we may be inspired by some of the recent sporting achievements in London and adhere successfully to the words of the Olympic motto: "Citius, Altius, Fortius" (with particular emphasis on the "Altius" constituent as regards our final standing in the 2012/13 Blue Square Bet North league table).

Whatever may unfold, in the words of Lou Reed on his peerless 1989 album New York: "It's the beginning of a great adventure..." Barry Pikesley.
BSBN NEWS
The EvoStik League confirms that Frickley Athletic "manager Karl Rose admitted yesterday he was sorry to see Kelvin Bleau finally leave for Stalybridge Celtic. The Blues say negotiations for the former Bradford City defender had been ongoing with the Conference North club before a deal was struck to enable the transfer to go ahead for an initial four-figure fee plus add-ons. Rose was disappointed to lose Bleau who would have been an important part of the side for the coming Evo-Stik NPL campaign but didn't stand in his way once the player had made his mind up.

Chairman Gareth Dando said the deal was in the best interests of both the player and club and wished Bleau well. 'We've made it clear to Kelvin over the past few weeks that we wanted to keep him at the club and play a major role this season', he said. 'However, he wanted the opportunity to play full-time at a higher level and so we've agreed a deal with Stalybridge and Kelvin goes with our best wishes'".

Newcomers Oxford City had Saturday's biggest BSBN gate, for the visit of Chester.
Oxford City 1,025
Altrincham 716
Bishop's Stortford 622
Corby Town 548
Gainsborough Trinity 538
Bradford Park Avenue 453
Workington 446
Droylsden 344
Colwyn Bay 310
Histon 303
Hinckley United 301
Some of the BSBN crowds were better than in the national division:
Alfreton Town v Hereford United, 690
Gateshead FC v Forest Green Rovers, 531
Ebbsfleet United v Wrexham 843

The Football Conference says that the "stand-out result on the opening day of the 2012/13 Blue Square Bet North season was at Moss Lane where newly-promoted Brackley Town comprehensively beat Altrincham 4-1... Fancied Boston United started their campaign with a sixth successive opening day victory, this time at the Butcher`s Arms against Droylsden... Fancied FC Halifax Town earned a 2-1 win at Bishop`s Stortford, thanks to an own goal...

Harrogate Town turned in a good performance to bag all three points in a 2-0 win against Hinckley United at the Greene King Stadium. The goals came from Chib Chilaka after 36 minutes and Shane Killock in the 64th. Guiseley were another to earn a good away win on the opening day, beating Histon 4-1 at the Glassworld Stadium. And they had to come from being a 41st minute Dan Holman goal behind when he netted with a terrific long-range strike... Colwyn Bay were winners, beating Solihull Moors 3-1 at Llanelian Road. The home side took a 23rd minute lead through Sean Williams and 9 minutes later that lead was doubled by Danny Lloyd. [Ex-Alty man] Kevin Holsgrove made sure of victory with a third".
OLD BOYS
Our commiserations go to former Alty goalkeeper Andy Ralph, who suffered a suspected double fracture of his just three minutes into Saturday's game for Stalybridge Celtic at Workington. Andy was expected to have an operation on Sunday. All at Moss Lane wish him a full and speedy recovery. Nantwich Town won 5-0 at Matlock Town with Kyle Wilson scoring twice after 16 and 65 minutes and Mark Beesley on 35... Grantham Town, "who came up via the play-offs, lost 4-2 at the Meres to FC United of Manchester, whose followers boosted the attendance to 1,220... FC United were 3-1 ahead through Adam Jones, Jerome Wright and Carlos Roca, with Mike Norton adding a fourth".

Ashton United's Ben Deegan got two and Aaron Burns one as they beat Worksop.
CHESHIRE NEWS
Northwich Vics lost 3-4 at home (Stafford) to Stamford 4. The attendance was 86.
---
18 August 2012
ALTRINCHAM 1 BRACKLEY TOWN 4
Altrincham were comprehensively outplayed on the opening day of the season by newly promoted Brackley Town in a game which echoed the first game of the 2002-03 season when newly promoted Harrogate Town thumped Alty 4-0 at Moss Lane.

Things started to go wrong before kick off when centre-back Luca Havern suffered a back spasm in the warm up and had to be replaced ...
Match report here.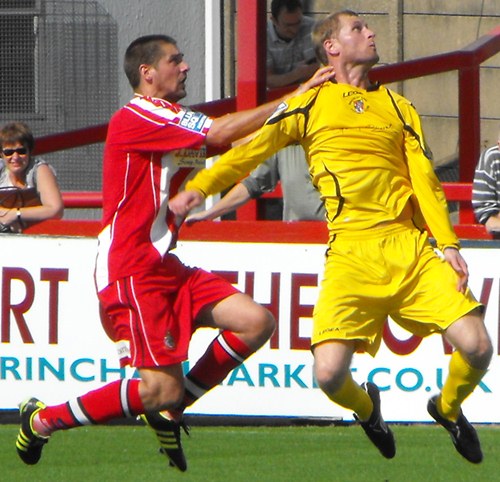 Right: Danny Hall in action against Brackley.
On a poor date for home teams, only Colwyn Bay and Workington won at home and eight host-teams lost!
Saturday 18th August, 3pm
Altrincham 1 Brackley Town 4
Bishop's Stortford 1 FC Halifax Town 2
Bradford Park Avenue 2 Worcester City 2
Colwyn Bay 3 Solihull Moors 1
Corby Town 0 Vauxhall Motors 1
Droylsden 0 Boston United 1
Gainsborough Trinity 0 Gloucester City 1
Hinckley United 0 Harrogate Town 2
Histon 1 Guiseley 4
Oxford City 0 Chester FC 1
Workington 4 Stalybridge Celtic 1
BRACKLEY'S PLANS
In advance of their first match of the season at Altrincham, BBC Radio Oxford reports on Brackley Town's plans.

"Brackley Town will keep faith with much of the team that brought the Southern League championship to St James' Park... 'I've said to my players I'll give them the opportunity to prove themselves in the first 10 games', manager Jon Brady told BBC Radio Oxford. 'I'm being faithful to the boys that got us there last year. I've given them the opportunity and we believe they can perform'.

The Saints, who were playing in the Hellenic League just a decade ago, completed a remarkable rise to non-league's second tier after winning the Southern League... Brackley's summer transfers have added a wealth of higher league experience to the squad, with former Oxford United trio Michael Corcoran, Eddie Odhiambo and Wayne Hatswell arriving at the club. New signing Hatswell believes the experience he will bring to the squad will help some of the younger players adjust to the higher league.

'We've got a few young players who are stepping up and it'll be a tough league', said Hatswell.... 'It's the first time the club's been in this kind of position. There's a little bit of expectancy on everybody now because they delivered last year, but we've kept the nucleus of that team and the manager wants to build on that'.

Brackley's St James' Park ground has undergone a transformation over the summer in order to meet the ground grading requirements of the Conference. But chairwoman Sara Crannage says there is plenty more to be done... 'We've got three large projects which we're trying to complete at the moment, so we're very busy with planning applications... We're realistic enough to know it's a big step for us, but it's an exciting time for the club'".
THE SEASON STARTS...
Live updates from the Altrincham v Brackley Town game will be on the Matchday Updates page of this website. As previously announced, the CoverIt Live software used last season has now become a chargeable service and, as such, is too expensive to be used. Therefore, we will revert to simple text updates as used before CoverIT Live came into use last season.

Brian Flynn announces that there is a:

New Main Sponsor for Radio Robins!!

Radio Robins is delighted to announce that its new main sponsor for this season is Ashley Mowers Garden Machinery. Ashley Mowers Garden Machinery are a family-run business owned and run by Nigel and Elizabeth Wright. They are based in Ashley, near Altrincham and are longstanding supporters and sponsors of Altrincham Football Club. They provide quality gardening tools and machinery, as well as a comprehensive maintenance and repair service.

You can find out more by visiting their website. Radio Robins is very excited by this new deal and looks forward to delivering excellent value for money to its new main sponsors. Radio Robins would like to thank Paradox Computers.com for their sponsorship last season".

And, Brian continues,

"Radio Robins......SPONSORED BY ASHLEY MOWERS GARDEN MACHINERY.... will be broadcasting live coverage of Saturday's opening game of the season against newly promoted Brackley Town.

Ashley Mowers Garden Machinery will be making their debut as the new main sponsors of Radio Robins. They are a family business which provides a friendly, personal service and a comprehensive choice of quality garden products from the leading manufacturers.

The match commentator is Brian Flynn, with John Edwards carrying out the summarising role. There will be a pre-match interview with Altrincham Chairman, Grahame Rowley, which you can hear on a repeat loop from 2pm and the commentary starts at 2.55pm.

You can listen to Radio Robins here.

Following a disastrous opening day last season, when Alty conceded two penalties and had Adam Flynn sent off as they lost 3-2 at Harrogate Town, the Robins will be looking for a better start on Saturday when Brackley Town pay their first ever visit to Moss Lane (3pm).

Our opponents, Brackley Town announce that "Saints travel to Altrincham for the season's curtain-raiser with a squad that includes Jamie Grimes, Curtis McDonald, Wayne Hatswell, Chris Zyricki and Eddie Odhiambo, all signed by boss Jon Brady over the summer. Brady said, ' We're positive and confident and we're looking forward to it. We've got a couple of injuries, Michael Corcoran is unavailable but apart from that we're looking good. We've had a look at Altrincham and they're a good footballing side. They've improved their squad and kept Damien Reid[!!], who scored 44 goals last season, so it will be a test. We're excited by the challenge but there's also a bit of apprehension. We're keen to get started and we believe we can go far'".
YOUTH GAME OFF
Altrincham FC Youth team manager, George Heslop reports that his team's scheduled fixture, this Sunday, versus Chester F.C. has been postponed as Altrincham have had three players selected for Cheshire County F.A., who are playing Herefordshire (Away) on Sunday. The three players selected are Derryn Ofori, Alex Weatherby and Ollie Riley. The season therefore starts on Sunday week (26th), away at Curzon Ashton.
LADIES PREPARE
Above: Altrincham FC Ladies Squad Photo 2012/13, courtesy of Gavin Rathbone.
Back row: Nat Thornley, Sam Jones, Rosie Emerson, Brogan Walsh, Rachel Bullock
Middle row: Heather Scott, Hayley Macardy, Kate Rawthore, Louise Edleston, Sarah McManus, Jaquie Farrar
Front row: Lauren Brennan (Physio), Melissa Cain, Faye Howard, Keith Edleston (Manager), Gail Simpson, Chris Bullock (Ass-Manager), Sam Briggs, Tasha Nolan, Rick Brennan (Ladies/Girls Secretary)

Missing from the photograph are Caroline Moran, Lauren Thorneycroft, Hannah Kibble, Kelly Leigh, Jamie Bunster (Goalkeeper Coach)

Keith Edleston writes, "Our first pre-season game is a 45 minute three-team round-robin session in which the first game is v. Blackpool Wren Rovers on 19 August and then we play Accrington Stanley away at Squires Gate FC".
BSBN NEWS
The Football Conference says that "Goalkeeper Jose Veiga has joined Harrogate Town AFC. Veiga, who made a single pre-season appearance for Town against neighbours Harrogate Railway in the 2009/10 campaign, started his career at Benfica before moves to FC Alverca, Levante, Real Valladolid, CF Estrela da Amadora and SC Olhanense.

He moved to England in time for the 2006/07 season and hooked up with Tamworth, Atherstone Town, Hereford United and Macclesfield Town. He has also represented his country, Cape Verde, in over a dozen matches.

Meanwhile, Conference Premier side Mansfield Town have allowed Paul Bolland to come back to Harrogate on a season-long loan. Originally on the books of home-town club Bradford City, Bolland made a total of fourteen appearances before a £75,000 move to Notts County happened... The year 2005 saw Bolland move to Grimsby Town... he joined Macclesfield Town in 2009 ...

Refusing a new deal at Macclesfield, Bolland joined current club Mansfield in 2011... Bolland, who made nineteen appearances whilst on loan with Harrogate last season, has been handed the captain`s armband for the forthcoming season".

Elsewhere, "Gloucester City have taken young defender Jordan Tillson on a month`s loan from Exeter City. Nineteen-year-old Tillson had only joined the Grecians last month. Tillson, son of Exeter`s development coach Andy, had previously been with Bristol Rovers, who released him at the end of last season, and the Nike Academy".

Closer to home, "Neil Young, manager of Chester FC, has confirmed that striker Ben Mills has joined on loan from Macclesfield Town and goes straight into the squad for Saturday's opener at Oxford City. Mills, 23, played for Nantwich Town against Chester last season...

'We've been watching Ben, and I'm delighted that he's joining us, initially for a month, and will go straight into contention for Saturday's match'" said the manager.

The Conference also tells us that "Gainsborough Trinity have signed midfielder Ollie Banks, who has been on trial... Banks, 19, is the son of former Leicester, Huddersfield, Barnsley and Emley player Ian Banks, and made his senior debut for Rotherham United in May 2011, scoring in his first appearance. In January 2011 he joined Sheffield FC on `work experience` and the following November signed for Buxton on loan. In January 2012 he again went out on loan, this time to Stalybridge Celtic. He was released by Rotherham in May and had a trial with newly-promoted npower League Two side York City before trying his luck with Gainsborough".

And "Oxford City have re-signed former England under-19 international defender Jack Mills. Mills came through the Reading youth academy to sign professional forms with the club in summer 2010. He was loaned out to City in August 2010 and the following January he was loaned out to Dutch Eerste Divisie side Telstar. He made his senior debut for Reading in August 2011 in the Carling Cup and four days later made his Championship debut against Hull City... He was released by the Royals at the end of last season and had been trialling with Bradford City before rejoining City".

Meanwhile, "Bishop`s Stortford have been busy... and the latest to join the Blues are experienced striker Cliff Akurang and young goalkeeper Luke Chambers. AKurang is a renowned striker who started in Chelsea and Luton Town's youth teams before settling at Chesham United... He moved to Hitchin Town in 2000/01 from where Thurrock picked him up... A further twenty-four strikes in sixteen outings at Heybridge Swifts alerted Dagenham & Redbridge, who took him on loan and eventually made him a fixture in their 2006/07 Conference National title-winning side.

A short spell back on loan at Thurrock was succeeded by a goal in every other game for Histon in the Conference again in 2007/08. He returned to Football League action with Barnet between 2008 and 2010, the second year largely being spent at Rushden & Diamonds on loan, and he also appeared for Weymouth. His return to the semi-professional game saw him spend more time with Thurrock and he spent the majority of 2010/11 with Maidenhead United. He switched to Braintree Town... before joining Chelmsford City in June 2011. City released him at the end of last season.

Chambers arrives on a month's loan from Southend United. The 18-year-old first year professional has been allowed out following the arrival of Bury keeper Cameron Belford on a one-month loan deal".

According to BSBN "The Football Conference will again be operating their unique campaign to improve respect, amongst member clubs this season. Entitled '3D Respect Campaign 2012-13', it will continue to concentrate on three key areas with an emphasis of encouraging managers and fans to make a meaningful contribution, let alone players, during matches.

Recognising football is emotive and stirs obvious passions, people in the game still need to often step back, take ownership of what one is about to do or say and so avoid the consequences of those actions. Often the outcome reflects badly, not only on their club and the reputation of football in general but importantly the way others view those actions, deeds or words.

The member club earning the end of season accolade will need to demonstrate many attitudes from the boardroom to the terrace. The overall winning clubs from all three divisions will receive the 'Respect Trophy' and two other clubs will be presented with certificates of commendation for their efforts towards the campaign. As a further incentive Blue Square Bet, sponsors of the Football Conference, will be making financial awards to the top three clubs.

Last season, overall winners, Altrincham FC, were set a fine example by manager Lee Sinnott. Chairman Grahame Rowley commented after receiving the trophy on behalf of all connected with his club, 'With Altrincham Football club's increased presence in the local community we were proud winners of this award in its inaugural year, as it epitomises what the club stands for - fair play, respect for all and good sportsmanship'.

Conference Chairman, Brian Lee summed up his feeling towards the campaign, 'Last year was a success, so much indeed that the LMA and PGMO have adopted for the Premier League and Football League our initiative of match officials being allowed to exit the field of play at half time and full time with dignity, advocating and encouraging managers to make a respectful approach behind closed doors and out of sight of fans and cameras. Doing so on the field gives the wrong impression and managers should be role models to players and youngsters who attend our matches. All managers in our competition, like Lee Sinnott did last season, have to set high standards".

In monitoring behaviour, all avenues of social networking and other media streams will be checked away from the field of play and, if supporters feel that another club has shown that they can go that extra mile to make it a pleasant day out, then, if they wish to share their experiences, they can do so by emailing media@footballconference.co.uk"

NL Daily reports that "Bradford Park Avenue are taking a step into the unknown this weekend as they host Worcester City in their first Blue Square Bet North fixture for seven years. The division was known as the Nationwide North when Carl Shutt's Avenue were relegated at the end of their first season. Now it is the Blue Square Bet North and the constitution has changed a lot.

Bradford boss John Deacey has suffered heartbreak in his quest to get the club back to step two of the Non-League ladder but is looking forward to the new season. Deacey was at the helm when Avenue were beaten in the play-off final by Boston United and had returned for a second spell when his side went out at home to FC United of Manchester in the semi-finals 12 months later.

They met FC United at Horsfall Stadium again last May, and this time Deacey led his side to glory...

Deacey said, 'We have got a strong squad, there are no big names in there but that is how we got here. It is a young group of players but youth is the way forward these days'.

Their last two friendlies, a 3-1 win at home to neighbours Bradford City, followed by a 3-0 defeat at Whitby Town, were chalk and cheese but neither game saw Deacey allowed the luxury of selecting from his full complement of players. The boss added, 'We didn't have our top two forwards (new signings Danny Holland and Jamie Jackson) against City and we only had four substitutes that travelled with us to Whitby, and one of them (Greaves) was injured. We also had Adam Clayton out for the last few friendly matches and we had let a couple of players go from the big squad we had in pre-season. It has been all preparation for the last week and I can't wait for us all to get going against Worcester. It is a higher level than last season and it won't be easy but if we can hold our own in this league, and I do hope we can for our supporters, then I'll be happy this season'" reports the Telegraph and Argus.

According to Pitchero Non-League, "Gainsborough Trinity have taken young striker Matt Godden back on a month's loan from Scunthorpe United. Godden, 21, signed pro terms with the Iron at the end of the 2008/09 season. The forward endured an injury-hit final campaign as a trainee, but his prowess in front of goal went a long way in securing him a deal with Scunthorpe... he penned a new two-year deal in March 2011.

Godden joined Brigg Town on loan for three months at the start of his first year as a professional... A loan stay at Ilkeston Town followed before he ended the campaign prolifically for the reserve team. A hip injury kept him out for most of 2011/12, although he regained match fitness towards the end of the campaign, and had an eight-game loan spell at Gainsborough towards the end of last term".

The news from the Times and Star is that "Phil McLuckie has agreed a pay-as-you-play deal at Workington Reds. The midfielder will start tomorrow's curtain raiser against Stalybridge Celtic, and will be joined in the squad by 6ft 4in striker Callum Hassan.

The duo both agreed terms before the weekend deadline. McLuckie's future has been in doubt for weeks, and he thought about calling quits on his football career after changing jobs. Unable to commit to every game, McLuckie started training with the club again earlier this month, and this afternoon, agreed a deal.

Hassan, who previously worked with Reds' assistant Tony Elliott at Whitby, impressed boss Darren Edmondson during pre-season, before trying his luck with Huddersfield Town. Hassan was released by Hartlepool United, and the 19-year-old could play a big role, according to Edmondson, who said:, 'To have Phil back is a big boost for the club. He's a quality player, and will play a role for us this year when he's available. It is a pay-as-you-play deal, the same as Callum's, but means we have cover across the park. It was important that we brought extra bodies in, especially with some tough games in the coming weeks'.

Workington failed to agree personal terms with veteran Wayne Curtis, while Blackburn Rovers product, and former Ireland U21 international Josh O'Keefe also rejected an offer. Striker Jordan Connerton is expected to be involved, despite having a slight ankle problem, while David Hewson and Lee Andrews, will be in the squad">

Hassan played against Altrincham for Harrogate Town in the opening match of last season.

And Pitchero also confirms earlier reports that "Solihull Moors have made what could turn out to be a coup signing. Moors have given former Trinidad & Tobago international striker Stern John a chance to make a comeback after a year out of the game. John made his international debut for Trinidad in February 1995...and represented his country on 114 occasions scoring seventy goals.

He is the fourth highest international goalscorer behind Pelé, Ferenc Puskás and Ali Daei. He started his soccer career in the USA playing for Columbus Crew in Ohio and New Orleans Riverboat Gamblers and moved to Nottingham Forest in 1999. He remains a legend at Birmingham City and Coventry City and also played for Southampton and Crystal Palace. During his professional career he has played 467 league games and scored 163 goals.

Moors have also signed midfielder Reece Fleet. Fleet started his career in the youth academy at Birmingham City. He was released at the close of the 2010/11 season, but as the son of ex-Oxford City keeper Colin Fleet, it was no surprise that he joined City for the start of last season when they won promotion to the Conference North".
---
17 August 2012
SATURDAY'S GAME
Earlier this week we reported on some of the well-known faces in Brackley Town's squad and management, as the Northamptonshire club visits Moss Lane for its first ever game against Altrincham, this Saturday (3pm). Those wondering what lies behind the Northamptonshire club's rise to the highest tier of non-League football that they have ever played in, may be interested to know that the "official club sponsor of Brackley Town" is Allan Leighton, described by his own Going Plural website as "the man who sold ASDA to U.S retail giant Wal-Mart for £6.7 billion".

Wikipedia adds that Allan Leighton was "Educated at Magdalen College School, Brackley he harboured thoughts of becoming a professional footballer, but broke his leg in six places aged 15.After graduation from North Oxford Polytechnic, he joined Lloyds Bank as a cashier in 1972. Leighton left to join Mars UK in Slough 1974 as a salesman, where he spent 18 years...

He joined Archie Norman's management team at Asda as Marketing Director in 1992... After he replaced the departed Norman in 1996, Leighton sold the business to Wal-Mart...for £6.7 billion in 1999... Leighton walked out in 2000 looking for a new challenge, and whenever asked what he was doing next, Leighton would always reply, 'I am going plural'. To this ends he took on a number of different roles... [including]
Advising friend Sir Philip Green at BHS. Leighton tried to buy Green out in 2007, but Green rejected the approach
Non-executive Chairman of Lastminute.com, advising Brent Hoberman and Martha Lane Fox[3]
Advising friend Sir James Dyson, where he is on the board of Dyson
Advising Rupert and James Murdoch at BSkyB, by becoming a non-executive director where he is paid £50,000pa

Currently based half of the time in Toronto, Canada, he is advising retail magnate Galen Weston and his son (G1 and G2, as Leighton calls them) on Canadian retail chain Loblaw Companies (for which he is being paid C$1million), and is Deputy Chairman of Selfridges & Co. On April 21, 2008, Loblaw Companies announced that Leighton will take on the role of President of the company...

Leighton has made a one-man bid to raise £1m for Breast Cancer Care, the charity to which he pledges all his earnings from television, speeches and his book 'On Leadership'... He supports Leeds United (where he was Deputy Chairman), Saracens rugby team, Northamptonshire County Cricket Club and the Toronto Maple Leafs ice-hockey team".
Altrincham FC marketing manager, Matt Royle, has produced the poster, right, advertising the new season's opening games at Moss Lane. You can click on the image, which can be displayed in your workplace, local pub, etc.
EXAM SUCCESS
Congratulations to Altrincham FC's Duncan Watmore who learnt on Thursday that his excellent A-level results would grant him access to read economics and finance at the University of Manchester. This means that the 18 year-old Altrincham forward will be able to study for his degree and play semi-pro football for Alty, hopefully for the full three years of the course. And congratulations, too, to anyone else connected with the club who has achieved good A level results.

The examinations for the full Altrincham squad start on Saturday at home to Brackley Town!
JOIN THE GOAL RUSH!
TASC's Paul Salt writes: "With the new season almost upon us, it is no too late to enrol for the TASC Goal Rush sponsorship scheme. You can still enrol and pledge any amount per goal, in multiples of 25p for each goal, scored by The Robins in the forthcoming 2012-13 Season.

For each 25p pledged you receive one entry to the regular draws for each tenth goal scored, as well as the end of season draw for a signed shirt and matchball.

Can the mighty Robins, with the help of Damien Reeves and Lee Sinnott's new signings, beat last year's total of 96 goals in League and Cup matches? Remember, if the team manages to break the 100 barrier, then all participating members will be entered into an additional draw to win a season ticket for the following, 2013-14, Season.

Pledge forms are available from the club office and you can PM me on the Fans' Forum with the amount you wish to pledge. Last year we had £32.50 pledged for each goal scored, which helped to raise over £3,000 for the club. So far this season renewed pledges total £20.00. If you haven't renewed, please contact either the club, Brian Flynn, Steve Foster or Paul Salt".
ALTY ON THE RADIO
Brian Flynn advises us that "The WFM (Wythenshawe FM) Sports Talk Show from Tuesday is now available to listen to here. The broadcast features an interview with Altrincham FC Press & Media Officer, John Edwards, which can be heard at 13 minutes 50 seconds into the show".
LADIES' FIRST GAME
Altrincham FC Ladies' team opens its 2012-13 season on Sunday, 2 September when Liverpool Sports FC come to play Alty on Pitch One, Manor Farm, Ridgeway Road, Timperley. Kick off is at 2pm.
ALTY TV
Alty TV announces that "An updated version of the Damian Reeves video from Christmas, which now contains 25 of his Moss Lane goals" from last season is now available to watch here.
BSBN NEWS
The Times and Star reports that "Workington Reds have been forced to shut their main stand after council chiefs deemed it was a 'serious risk to spectators'.

On the eve of the new season, Borough Park officials have been rocked by the news that leaves the stadium below the required standard to compete at Blue Square Bet North level. The corroded Popular Side stand, which is the main seating area inside the stadium, will be closed for Saturday's first game of the season against Stalybridge Celtic. But football bosses at the Conference will not call off the match with Stalybridge Celtic, despite the stadium failing to have 250 covered seats, and an overall capacity of 3,000.

Alec Graham, the club's general manager, said, 'We are working to rectify this issue as soon as possible. There is a varying difference in opinion from the structural engineer we employed in June, and the council's. We knew the stand needed attention but did not think it would be closed. We never expected this. It's disappointing because we have tried to do the right thing'.

Dominic Harrison, Cumbria County Council's Safer and Stronger Communities Corporate Director, said, 'Following an inspection of the Popular Side stand, it was decided the stand was a serious risk to spectators due to its corroded structure and perforated sheeting. A notice has been served by the Sports Grounds' Licensing Officer, which stops public access to the stand during specified activities or any other event that would require the issuing of a Special Safety Certificate.

It's been agreed that either remedial work must to be taken to make the framework and sheeting safe, or that the roof is removed completely. The notice will remain until this work is completed and accepted by the safety advisory group'.

A spokesman for the Football Conference said they had not been notified by Workington but would 'look into it'. He said, 'At this late stage, we would not be looking to call off the match between Workington and Stalybridge but this is an issue we need to speak to the club about'".

On the pitch, "Despite Workington Reds' hellish start to the season, boss Darren Edmondson said his troops have nothing to fear. The much-fancied Stalybridge Celtic kick things off for Workington, at Borough Park on Saturday (3pm), before Chester, Halifax and Guiseley make up the opposition... That doesn't faze Edmondson, who predicts Workington will cause a stir this year.

He said, 'On paper, it's a tough start, but names on a sheet of A4 mean nothing when that whistle goes. We have nothing to be scared of. Stalybridge are a good team, but they are just 11 men, who have no form, or momentum going into the game. This is the day where we all stand level on points, and anything can happen'.

Workington have been plagued with injuries, and Edmondson is hoping to have at least one new face in the squad in time for Celtic's visit. Veteran midfielder Wayne Curtis, who can also play as a striker, has been offered a contract after impressing Edmondson during pre-season. The 32-year-old ex-Football League player would add steel to the middle of the park, according to Edmondson, who said, 'I have offered Wayne a contract, but we are still working on the specifics... He's a player that offers a lot to the team because he can play different positions. His hold-up play is excellent and he brings others into play'".

According to the Football Conference "Midfielder Deakan Napier, defender Max York and goalkeeper Joe Mellings have all signed for Histon... Napier is a pacey and versatile attacking midfielder and joins from Ryman League Division One North side Needham Market, whilst Mellings will bring competition for the number one shirt and joins from Evo-Stik League Southern Division One Central outfit Daventry Town.

Former Rushden & Diamonds defender York... returns, having had spells at Bedford Town and Kettering Town last season. Manager Dennis Greene is also expecting to finalise the loan of Ian Gayle in the next day or so".

Elsewhere, "Bishop`s Stortford have added two attackers to their squad... Having only signed for Conference South side Boreham Wood in June, Donovan Simmonds has switched to the Blues. Simmonds can play up front or on the wing, with pace and creativity two of his strengths. The 23-year-old, who was released by Dover Athletic at the end of last season, started his youth career at Charlton Athletic, spending three years with the club... Simmonds turned out for the likes of Greenock Morton, Rushden & Diamonds and Nuneaton Town before arriving at Dover in December 2010.

Also joining Stortford, albeit on a temporary basis, is Cambridge United`s Adam Marriott, who had a run-out with Stortford in their 1-0 defeat at home to Colchester last weekend. In May, the 21-year-old U's youth product was given another season to prove he can match the expectancy he has carried since his debut in November 2009. He scored ninety goals in three seasons for Cambridge's youth team and has netted eleven times in forty-seven games for the senior side".

Closer to home, The Conference says that "Droylsden have taken 18-year-old local boy Ryan Hopper on a three-month loan deal from Accrington Stanley. The Droylsden born midfielder had to cope with a few set-backs in his early career, having been released by Manchester United and Blackburn Rovers. He went to Oldham Athletic for a season but didn't make it until a trial game for Accrington in 2010 ended with a scholarship.

He signed his first professional deal with the club in the summer of 2012 after coming through the youth set-up at the Crown Ground. A former youth team captain, Hopper, nicknamed 'Scholesy', was thrust into the first-team equation towards the end of the 2011/12 season".

Over the Pennines, "BSBN Newcomers Bradford Park Avenue have taken teenage midfielder Liam Wakefield on a month`s loan from Doncaster Rovers. Wakefield, 18, was part of Doncaster's Youth Alliance Cup-winning team in 2012".

At Boston United, "Winger Jason Stokes has received international clearance... The 21-year-old, who played for Racing Montegnée in Belgium last season, has finally been granted the necessary permission to play in competitive matches... Stokes, who has previously played for Barnsley and Rossington Main, had been granted special dispensation to play in pre-season friendlies while his international clearance was ratified".

And "Boston United trio Jason Field, Travis Munn and Michael Emery have joined Boston Town on match-by-match loan deals. Field and Munn have formed part of Jason Lee's squad during the pre-season, but have been allowed to move across town to Tattershall Road with first team opportunities set to be limited in the opening weeks of the season. United reserve team keeper Emery, meanwhile, was a summer signing from Gainsborough Trinity and will fill the void left by Town's injured keeper and former Pilgrim, Chris Wright.

Sixteen-year-old keeper Sam Vince, who saved three penalties in Wednesday evening's behind-closed-doors friendly against a Nottingham Forest XI, is the likely beneficiary of Emery's temporary switch to the United Counties League".

From Corby Town, we learn that "boss Ian Sampson has completed the deal to bring in-form striker Ricky Miller to Steel Park... The young hitman will not be available for the first two matches of the Blue Square Bet North campaign, as he is serving a suspension which has been carried over from last season...

Sampson told www.corbytownfc.co.uk, 'It is great to finally have Ricky as a Corby Town striker, the deal was delayed because we had to wait for clearance from Stamford who he had also signed for. Ricky is a pest of a centre forward, he can run in behind the opposition and scores goals. He certainly adds to the team and provides us with a great balance and mix of strikers at the club now along with Leon McKenzie, Avelino Vieira, Josh Moreman'".

Pitchero Non-League confirms that "Vauxhall Motors have taken young local defender Leon Clowes on a six-month loan from Wrexham... Clowes, 20, had been on the fringe of the Dragons senior side before making his league debut at Newport County towards the end of last season. Graduating through the club's youth ranks, the Ellesmere Port-based centre half has been a regular in the reserves for the last few years".

Someone we won't be seeing, after all, this season in the BSBN is the subject of another Pitchero report, as "One of the most travelled players on the non-League circuit, Richard Pacquette, has added another club to his list after signing for Blue Square Bet South Bromley... Pacquette, still only 29, had recently been on trial with Conference North side Gainsborough Trinity after being released by Conference Premier outfit Lincoln City".

Meanwhile, at the Northolme, Retford Today tells us that "Ambitious plans for a community football stadium and multi-sports facility have been submitted by Gainsborough Trinity Football Club. Fans will soon be able to view the proposals, including detailed designs, on the West Lindsey District Council website.

It is hoped the stadium, on the old Castle Hills School site, off the Little Belt Road, could be ready for the start of the 2013/14 season... The 9.4 acre development will feature a 4,000 capacity stadium, a 3G floodlit all-weather training pitch, 5-a-side-pitches and changing rooms. Jason Ainsworth, project architect at wcec architects, said the stadium would be 'state of the art'. 'Our latest stadium designs for Gainsborough Trinity football club combines wcec's creative design flare with expert understanding of the technical issues surrounding a development of this nature', said Mr Ainsworth.

'The scheme proposes to interact the on-field activities with the off-field commercial opportunities that a state of the art venue will attract'... The Blue Square Bet North club has been at its current Northolme ground since 1873 but does not own it... The show of support from fans at a public meeting in May was overwhelming, and they applauded Mr Swann's continued investment in the club...

'With a 3G floodlit all-weather training pitch open seven days a week, function rooms, catering facilities, a physiotherapy suite and a creche, the club's income stream will be more sustainable', said Mr Swann".

Another club on the move features in the Worcester News, which says that "A new season is about to dawn for Worcester City – one that will be greeted with anticipation and trepidation in equal measure. This, after all, will be City's last campaign at St George's Lane. After 108 years of history, it will all come crashing down with the Careys New Homes bulldozers next June.

It is sure to be emotional but wouldn't it be fitting, almost poetic, if the team provided the perfect send-off for the old place by finally winning promotion to non-league's top table? That's not to put undue pressure on Carl Heeley's men but the prospect has to be considered. There's your anticipation. It's the trepidation that, quite rightly, won't be sitting well with directors and fans alike as the clock ticks down on more than a century of memories...

Post-June 2013 looms large. They will be technically homeless, although Kidderminster Harriers' Aggborough ground looks set to be their temporary base at least for a season. After that, who knows? The club cannot afford to move to Nunnery Way, yet it is legally bound to tow the St Modwen line until 2017. Planning permission has been approved but if nothing is seen to be built on the site by December 2013, a capital gains tax bill will likely take them under.

That's not scaremongering, it could very well become a reality and City chairman Anthony Hampson has said as much...

Few will argue that manager Heeley, along with the efforts of assistant Matt Gardiner, have [sic] assembled a fine squad. The acquisition of Danny Glover was both a statement of intent and a feather in the cap for the management team's negotiating skills. If he and Mike Symons hit it off as a strike pairing, City will have a threat to rival the likes of Guiseley, Altrincham, Halifax and Chester.

Midfield has seen the most work with exciting prospects Charlie Reece and Matt Breeze joining Tom Thorley, along with Jay Denny, since the departure of Kevin O'Connor, which will no doubt have helped fund some of the new recruits. Defensively, not a lot has changed after the hard work to retain Tyler Weir and Ellis Deeney. However, along with Glover, it is the arrival of goalkeeper Glyn Thompson that could prove the most crucial.

It is fair to say City had not even considered a change in this area until James Dormand's decision to focus on his coaching business. That one of non-league's most respected custodians was available was very timely indeed".

In the Principality, the North Wales Weekly News advises us that "Colwyn Bay have suffered a major injury blow ahead of Saturday's opening league game against Solihull Moors. Winger Paul Ennis, who has been in good form, looks like being ruled out for several weeks after suffering knee ligament damage in last weekend's 6-1 win at Airbus.

Heavy knee swelling means it has been difficult for the hospital to make a full diagnosis, but player-boss Jon Newby reported, 'It looks quite a bad one and he could be out for several weeks. It is a blow for us and I feel sorry for Paul because he has worked really hard in pre-season and had a very good chance of being in the starting line-up on Saturday'.

Full-back Mike Lea is also doubtful after having an operation on his nose, which he broke last season. But Newby is going into the new season with the belief he has a stronger squad in depth than last season with his summer signings, particularly [ex-Alty] striker Kevin Holsgrove, who has struck up a promising looking partnership with Rob Hopley and scored a six minute hat-trick at Airbus last weekend in a 6-1 triumph.

'We have a really tough start to the season, with massive away games next week at Halifax and Chester, so it would be good to get three points in the bag on Saturday', added Newby. 'That won't be easy. Solihull are very solid and had one of the best defensive records in the division last season. Their problem was scoring but they have strengthened their attack with some very good signings.

It is imperative we improve our home record which let us down a bit last season. I don't know whether it was a mental thing that we seemed to play better away, but we have to make it much more difficult for sides coming to our place, particularly when they have had a long journey. We must take advantage of that better than we did last term'".

"Chester FC manager Neil Young [is] hoping to add some foreign flair to his attack", according to the CHester Chronicle. "Young has agreed a deal to sign a South American striker on loan but, as The Chronicle was going to press, he was waiting to hear whether his 'young and exciting' transfer target has been granted a work permit.

If he has, the unnamed forward will go straight into Chester's squad for Saturday's big opener at Oxford City. If not, Young will turn his attentions elsewhere. The Blues boss has spent the week attempting to strengthen his frontline.

A move for a League One youngster fell through after the player in question scored in midweek for his club. Young is also monitoring the availability of a former Evo-Stik Northern Premier League hitman who is on the books of a Blue Square Bet Premier outfit. Robbie Booth (back) will be the only absentee from the playing squad for Saturday...

Young has never won an opening game since taking over the Exacta Stadium reins but he is hoping the travelling support can help change that statistic. Young, whose side will stay overnight before the match, said, 'I'm expecting a massive following and, like they did so many times last season, I'm hoping they'll give Oxford a little bit of a shock in terms of the noise they can make'.

Young, barring one midfield position, has decided on his starting line-up for the meeting with Oxford".
BLUE SQUARE BET ASSESSMENT
Blue Square Bet announce: "Here at Blue Square Bet, as we are now known, we've had a whole brand re-launch this summer and last weekend saw our new TV ad go live during the Community Shield on ITV. For those of you who haven't seen our TV ads, they can be found on the Blue Square Bet You Tube page. I have also attached some print ads which highlight our new campaign of 'No Nonsense' betting...

Now for our horse racing offer this weekend and next Wednesday. Saturday 18th August. If your horse is beaten by less than a length and finishes second in any live race on Channel 4, we'll give you your money back! Terms & conditions apply.
Above: One of the BSB ads, (as received).
Wednesday 22nd – Saturday 25th August. Next week is The Ebor Festival which is a four day race meeting held at York. There will be racing on Channel 4 every day of the festival and we have the following offer: If your horse is beaten by less than a length and finishes second in any live race on Channel 4, we'll give you your money back! Terms & conditions apply.
Blue Square Bet North Season Preview by Alan Alger from Blue Square Bet:
"With title winners priced at 50/1 and 22/1 in two of the last four seasons the Blue Square Bet North has been profitable for bookmakers and consequently difficult for punters to weigh up. The market for this season is pointing clearly at two teams at two of the shortest pre-season prices we've seen in a long while.
Keep in mind that Fleetwood were 11/2 favourites in the 2009/10 season, when they could only finish second, to then realise that FC Halifax Town and Chester have been backed almost to the exclusion of other clubs to sit at 3/1 and 7/2 respectively. There is then a huge gap to third favourites Gainsborough Trinity at 8/1.
We are one of only two bookmakers to have Halifax as favourites ahead of Chester. Our reasoning for this, on top of big liabilities, is that newly promoted sides usually need a season to adjust before fighting for a place in the Blue Square Bet Premier. Chester have made good signings and do look equipped to challenge but that extra experience of the division that Neil Aspin's side possess could be the difference.
Halifax look solid across most positions especially up front with Gareth Seddon who is prolific at this level. Losing play-off finalists Gainsborough have performed so well under Steve Housham since he stepped up to take over from Brian Little, we can definitely expect them to challenge again.
Next in the betting are last year's runners-up Guiseley who are improving year-on-year. They are 9/1 this time, compared to 12/1 last year and despite having a slightly weaker squad will no doubt provide some interest for each-way purposes at least.
Altrincham's first season back in the North – after six seasons in the Premier – resulted in an eighth place finish. Their problems were away from home against their fellow top-half sides where they took just 4 points from a possible 30! Their signings from 2011/12 champions Hyde - and the re-signing of Damian Reeves could give them the backbone to challenge and I believe they will (at the very least) better last season's efforts.
Bishop's Stortford finished last season incredibly well and we're keeping them at a relatively short price of 12/1 as they look to ease the problems of the geographical switch for a second season. Worcester City at 22/1 could be dark-horses as they have slowly improved over the last two seasons to take 16th and then 7th place.
Of the newly promoted sides we have Brackley the shortest [apart from Chester] at 10/1. The bottom end of the table produced an incredible final few weeks last season as the gap between relegation and mid-table was paper thin. 13 points separated Altrincham in 8th down to Hinckley in 20th who eventually earned a reprieve.
Alan's Tips: Champions – FC HALIFAX TOWN. Play-Off Teams – Gainsborough Trinity, Guiseley, Altrincham, Chester.
Remember you can earn money for your club when you register and place bets with Blue Square Bet – visit www.bluesq.com/fans for more details. You can follow me on Twitter - @AlanBlueSquare You can follow Blue Square Bet on Twitter - @bluesq".
CONFERENCE NATIONAL NEWS
This is Cornwall says that "The 'West Briton' can exclusively reveal the identity of the mystery man who intends to save Truro City Football Club (TCFC). The club has been in crisis with unpaid players threatening to leave, continuing High Court battles over alleged unpaid debts and rumours rife surrounding the future of chairman, Kevin Heaney.

But William Harrison-Allan, chairman of rivals Salisbury City FC, confirmed his company, CGA Holdings, paid the players' wages and is working on a deal to secure the club's future. Mr Harrison-Allan made it clear the deal was nothing to do with Salisbury City. He described Mr Heaney as 'a mate' and said the deal being developed should reassure concerned fans.

He said, 'CGA Holdings paid the wages last week. I wanted to make sure the players got their money and that was done with Kevin Heaney's agreement'. Mr Harrison-Allan ... has been credited with rescuing Salisbury City from a £500,000 annual loss.

He said, 'We are not investing in TCFC. It's a property deal that will help Kevin Heaney make sure that TCFC keeps going – it will secure the future of TCFC... He paid tribute to property developer Mr Heaney, who has overseen Truro's success in gaining five promotions in six years and a victory in the FA Vase. He said, 'Kevin Heaney is a mate of mine. He needs somebody on his side. He is a bit of a colourful character. He has put his heart and soul into getting TCFC where it is'".
---
16 August 2012
"SOMETHING NEW AND FRESH"
Altrincham FC joint Press & Media Officer, John Edwards, writes...

"The sudden departure of Scott Phelan may have been an unwanted disruption, but nothing could dampen the sense of excitement and anticipation around Moss Lane at the advent of another eagerly-awaited football season.

If Olympic fever gripped the nation for two weeks, the days since Sunday's closing ceremony have been, for Altrincham supporters, all about counting down to Saturday's opening Blue Square Bet North fixture at home to Brackley Town.

Weeks of careful planning and preparation are at an end, and manager Lee Sinnott declared himself ready for the challenge ahead, even if he could have done without the last-minute hitch of Phelan leaving for a full-time coaching job at Everton's Academy.

'I didn't see that one coming, but, to be fair to Scott, he had the good grace to explain everything to me face to face, rather than over the phone,' said Sinnott. 'I have worked in an Academy system, and I know what a great opportunity it is for him. Even so, I could tell he was torn, because the commitments are such, he will have no time for playing.

'Effectively, he may have hung up his boots at 24, but I wish him all the best in his new career, and I am sure he will do well. It was quite a decision for him, but I know a lot of people applied for the post, so that tells you how highly Everton rate him.

'The flip side is he can't carry on playing, but he was understandably flattered by the offer and rightly saw it as too good an opportunity to turn down. He did well for us. His attitude and application were always first class and, of course, his departure leaves us one short.

'It won't be a case of rushing out and signing someone straightaway, just to bring the numbers back up again. I'm not saying we won't bring someone in, but it has to be the right candidate. We are looking, but it could be days or it could be weeks. In the meantime, the people in the building will serve us more than adequately.'

After seeing Hyde take the division by storm last season, despite starting as unfancied outsiders, the Alty boss is wary of making predictions. But he feels all his players are ready for the challenge ahead, even Damian Reeves, who has had little preparation time after a summer of turmoil and uncertainty.

'There is a positive feeling round the place,' he said. 'We will have had an eight-week build-up come Saturday, which has given us plenty of time to work on things, but we all know that when the league programme starts and points are at stake, everything ratchets up three levels. Pre-season serves its purpose, but there is an extra intensity when you are playing for League places, and we have to be ready for that.

'I have been observing players in training and games during the past eight weeks, adjusting here and fine-tuning there, and everything has been positive.

'It has been difficult for Damian. It has been well documented that he hasn't had the easiest of summers, and it is only three weeks since his future was finally resolved. The only way to address the problem of preparation time was to give him as many minutes as possible on the pitch. It would have been asking for trouble keeping him out there 90 minutes at a time, game after game, but we have given him as many 60 and 70-minute outings as possible, and he is getting there.

'It was important not to overdo it, or we would have been inviting problems, but he is the sort of player who will get up to speed and hit the ground pretty quickly, anyway. We know what we are dealing with here. I have known him a good while, and the Altrincham public have seen him in action a couple of seasons now, and we are all well aware of his capabilities. There is no problem there.

'I don't want to give anything away by saying what the formation will be on Saturday, but it was important in pre-season to try a few different things. Anyone can play 4-4-2 with their eyes shut, but it's good to know you can revert to something different during the season, when and if the need arises.

'I'm not one for sticking my neck out and making brash forecasts. That only puts pressure on people, but I am pleased with the blend we've got and I will say we are looking to make progress and improve on last season. Let's roll the dice and see how we go.

'The make-up of the squad is looking good, with 11 players under 25 and that youthful exuberance complemented by experienced campaigners like Stuart Coburn, Danny Hall and Carl Rodgers. I said when I took over that I wanted to create something new and fresh, and I think we are heading in the right direction.

'I believe in being logical and putting things in context. That's how I am with everything, but if I don't go round shouting the odds, that shouldn't be interpreted as not being ambitious. That simply isn't the case. Far from it, in fact. No-one can ever accuse me of lacking ambition, and I am looking forward to the challenge ahead. Like our supporters, I am excited about heading into another season, and I am confident that if we play to our capabilities, you will see us gaining points.

'As I say, there is a positive feeling round the place. Let's hope we can keep it that way.'
LOOKING FOR AN IMPROVEMENT
The Advertiser reports that "Lee Sinnott has told his Altrincham players they must take the heat off star striker Damian Reeves when the new season kicks off on Saturday... Sinnott has stressed the Robins can't rely on Reeves repeating his feat of scoring almost half their goals.

'Damian came back in late but he knows all about us and we know all about him', he said. 'He's only been training with us for three weeks but he's managed to get in a lot of game-time. You can see he's getting stronger with each session. Getting him back was a big boost for everyone at the club. He's a quality striker and is coming into his prime years, but we're not a one-man team.

We can't expect another 44 goals from him. If a striker scores above 20 goals then he's doing the business so that shows it was an exceptional season'. While Reeves has extended his stay at Moss Lane, it was on the condition he could leave for free if a league club comes in. 'You'd rather have Damian with that clause than be without him', said Sinnott. 'He said he'd only leave for a league club and one wasn't available so he was true to his word. You have to admire him for that'.

Only league champions Hyde scored as many goals as Alty (90) last season but they conceded almost half as many – 36 compared to 71. Sinnott has tried to remedy the problem this summer, boosting his rearguard with the signings of Gianluca Havern, Danny Hall and Scott Leather, along with defensive midfielder Carl Rodgers.

'We had no trouble creating chances and converting them, it was at the other end we struggled', said the former Watford and Bradford defender. 'We played some attractive football so we want to maintain that. But we're doing a lot on defence too and we need to continue working on it'.

Alty suffered a 2-0 defeat by FC United in their final friendly last week and have since lost midfielder Scott Phelan, who took up a full-time coaching position at Everton. But for a replacement for Phelan, Sinnott is happy with his 17-man squad heading into Saturday's opener at home to newly-promoted Brackley Town.

However, he is wary of setting targets for this season after the Robins missed out on the Blue Square North play-offs last term. 'You have to be careful', Sinnott added. 'Everyone had their tips last season then Hyde blitzed everybody. We finished eighth last season and we're just looking to improve on that – individually and collectively'".
BSBN NEWS
"New-look Vauxhall Motors have been tipped to get off to a flying start to the Blue Square Bet North season. Carl Macauley's men kick-off their campaign with a trip to Northamptonshire to take on bogey team Corby Town...

The Cheshire derby completes a tricky opening set of fixtures for Motors, who have undergone a major overhaul in the summer. But chairman Alan Bartlam said, 'Some might say we have a testing opening few games but to me they are also winnable. We start at Corby on Saturday, where we haven't enjoyed much success in recent times, but I think we can go there and gain a real confidence-boosting result, ahead of our home double against newly promoted Bradford Park Avenue and then against highly rated Altrincham'.

Motors' boss Macauley put the finishing touches to his squad late last week by signing three players. James Ellison, 20, is a former England Under 16s international, who started his career at Liverpool, and counts Burton Albion, Chester FC, Hyde and, most recently, Southport among his former clubs. Winger Dan Parkinson has returned for a second spell on loan with the Ellesmere Port club from Morecambe. The 19-year-old, who scored two goals in 13 appearances for Motors last season, has signed a two-month deal.

Macauley has also snapped up vastly-experienced former Swindon Town and Barrow centre-back Andrew Nicholas, 28.

Bartlam said, 'This promises to be a pivotal season for Vauxhall Motors and I believe that manager Carl Macauley has assembled an excellent squad for what promises to be another terrifically exciting season at Rivacre Park'" reports the Ellesmere Port Pioneer.

Meanwhile, "Remy Clerima has given Histon a fitness concern ahead of their first league game after limping off in last night's 2-0 friendly defeat at Biggleswade. The French centre-half, who has been made captain by manager Dennis Greene, had a short warm-up as he and some team-mates got lost on their way to the ground. And he felt a sharp pain in his right leg when he went to clear the ball after only six minutes and was replaced by trialist Taylor Nathaniel.

Clerima, who watched the second half from the stands, said he was seeing a doctor on Thursday and was crossing his fingers he would be passed fit to take on Guiseley on Saturday. There was some good news for Histon supporters, however, as Deakin Napier was poised to agree non-contract terms with the club last night" reports the Cambridge News.

In the Worcester News we learn that "Worcester City have challenged every person who lives in the city to attend at least one game in the club's final season at St George's Lane. City, who kick-off at Bradford Park Avenue on Saturday before hosting Bishop's Stortford on Monday night, will move out of their 108-year-old home next June when it will be demolished for housing.

A leaflet entitled 'One City One Club', sponsored by West Midlands MEP Nikki Sinclaire, will be delivered to every household in Worcester throwing down the gauntlet. City director Rich Widdowson said:, 'Worcester City Football Club is Worcester's local club. We have strong family values and are increasingly offering opportunities for young players to get involved at Worcester City, from playing on the pitch before the game free of charge, to offering free tickets to youth football teams.

We want as many people in Worcester to experience football at St George's Lane before it leaves us forever, as well as welcoming fans into the new era of Worcester City Football Club when we move into our new stadium'.

A ground-share with Kidderminster Harriers is on the cards after next June because, although planning permission has been granted for a basic ground at Nunnery Way, more funds still have to be raised. Sinclaire added, 'Worcester are a fantastic family-orientated club in this terrific old ground and we should give them the send-off they deserve. With low priced tickets and a welcoming atmosphere, anybody in Worcester would feel at home at this club'".

According to the Northants Telegraph, "Ian Sampson insists Corby Town won't be 'putting the club in jeopardy' when it comes to the playing budget for the new season. The Steelmen kick of the campaign against Vauxhall Motors at Steel Park on Saturday having enjoyed an unbeaten run in pre-season...

Sampson is on the verge of finalising his squad after his was confirmed that Tom McGowan, Nathaniel Wedderburn, Greg Kaziboni and Liam Richardson have all signed up at Steel Park. Striker Ricky Miller is set to be the final piece of the puzzle as Sampson looks to complete a long-awaited move for the frontman before the weekend, even though he is suspended for the first two league matches...

'We have got to create a culture at this club where it has got to be sustainable', Sampson said. 'And we will not be putting the club in jeopardy by trying to stretch the budget. It is a new chairman, a new manager and new players and we don't want to have the same, well-documented problems that Rushden & Diamonds and Kettering Town have had. It just can't happen. We had nearly 500 there against Birmingham and there were a lot of kids in as well. If we overstretched our budget and go bust, where are these kids going to go and watch football?'...

'This is a new bunch of players and they have been together for six or seven weeks', he added. 'I will be playing everything down in terms of expectations. We want to finish higher than last season and, if we do that, it will be a bonus'".

The Football Conference says that "The BBC Non-League Show returns this Sunday. Bigger than ever before! This Sunday will see the first broadcast of the all new 5Live Non-League Football Show.

As always this show is about promoting non-League football and the great quality of stories and above all people that make it so special. This is where you come in! We'd love your stories - you can email nonelague@bbc.co.uk but we would also love your voices! If you have a smartphone, or access to recording equipment, record 30 seconds about your story, your club, your match report, or just your thoughts on a non-League topic and we could hear you on the show!

Just email in any format to nonleague@bbc.co.uk - think of it as an audio letters page and your chance to get your club heard nationally. Just make sure you start the message with your name and club. We're recording every Saturday night at 8pm, so have a deadline of 6.30pm for that night's show, but we can play your content out throughout the week via Twitter (www.twitter.com/nonleagueshow and Audioboo www.audioboo.fm/nonleagueshow)

You are our eyes and ears! So, if something happens at your club or match and you can't record it, please just drop me an email nonleague@bbc.co.uk".
---
15 August 2012
NO CONSPIRACY!
One or two Alty fans have queried why a story which appeared on this website yesterday about Damian Reeves had disappeared by today! In fact, what had happened was that the local Hale, Altrincham and Sale Independent newspaper had issued a story this week, which included extensive quotes from Damian Reeves. They had "topped and tailed" these with some text of their own. It was not until after I had put quotes from the article on this website that Altrincham FC's joint Press Officer, John Edwards, contacted me to point out that what the Hale, Altrincham and Sale Independent had published in mid-August was essentially the same as John had submitted to the Sale and Altrincham Messenger almost a month earlier - but the Independent had passed it off as their own several weeks later! I therefore removed the Independent version from the website, but the original text by John has remained on this site, in the news for 23 July.
YANKEE
The Altrincham FC Saturday Yankee jackpot has risen to £900 after last week's winning code 4062 proved to be unissued. However, six members of the Yankee each netted £33.33 for winning trebles.
BSBN NEWS
The Hemsworth & South Elmsall Express reports that "Stalybridge Celtic are close to completing a deal to sign Frickley Athletic defender Kelvin Bleau. The Blue Square Bet North side have already had a £2,000 bid turned down by the South Elmsall side but Blues boss Karl Rose says an agreement is 'just about there' and expects the full-back to leave Westfield Lane.

'I think he'll be a Stalybridge player soon', Rose said. 'We dismissed a bid of £2,000 from them two weeks ago but we wanted £5,000 and I think we're just about there in agreeing a deal'. Bleau signed in the summer of 2011 after spells with Bradford Park Avenue, Ossett Town and Huddersfield Town".

According to BSBN, "Corby Town boss Ian Sampson is hopeful of completing a deal for Nat Wedderburn after the midfielder impressed in the 3-1 win over a Birmingham City XI in the club's final pre-season friendly. Leon McKenzie, Avelino Vieira and Josh Moreman netted the goals that secured the victory and maintained the Steelmen's unbeaten pre-season run.

Following the clash, Sampson revealed he has had his eye on the former Northampton Town player for some time. He told the Northamptonshire Telegraph, 'When I first took over, one of the first phone calls I made was to Nat but he wanted to stay in the Football League. I know he has been playing for a Conference team during pre-season and it has not worked out. We are fortunate that he has picked the phone up and asked if I was still interested. Obviously I am and that will probably be the final piece of the squad if we can get that done.

Greg [Kaziboni] is a crowd pleaser. He will be frustrating as wingers are and Ryan Semple will be the same. But when they are on their game and they are giving full-backs a tough time, they are great to watch. I know these players. It's not as if I am bringing them in blind. I know what they can do and Chris Plummer knows the other lads who have come in'".

And "Corby Town have completed the signing of four players... A statement on the club's official website read, 'Former Cobblers trainees Greg Kaziboni, Nathaniel Wedderburn, Liam Richardson and Tom McGowan have all put pen to paper on deals for the new season at Corby Town...

Wedderburn is a product of the Stoke City academy... Nathaniel also spent time on loan at Notts County and Hereford United... Kaziboni is a product of the academy at Sixfields, however was released by manager Aidy Boothroyd in February 2012... Liam Richardson and Tom McGowan are also former Northampton trainees, with the former spending last season at Banbury United, whilst McGowan ended the 2011/12 season at Corby Town. He becomes just the second player from last season to sign on for 2012/13 after impressing new boss Ian Sampson".

Meanwhile the BBC adds that "Corby Town defender Andy Holt has retired from football aged 34 following a knee injury. Holt made over 450 career appearances and joined the Blue Square Bet North team this summer after his release from Northampton Town, who he captained. He told BBC Northampton, 'It did seem ideal at Corby, training a couple of times a week and playing Saturdays. But I didn't want to just pick up some money. If I couldn't give 100% I didn't want to let the manager down'.

He added, 'It's very frustrating, I've felt my knee getting worse and worse. I've always wanted to go into the coaching side because football is all I've known. I'm doing a bit of coaching with young kids now, which I love... It is disappointing because I was looking forward to playing with Crowe, McKenzie and Walker', he said".

Elsewhere, "Gloucester City boss Dave Mehew revealed his delight at having signed striker Ben Hunt... The 22-year-old former Bristol Rovers, Dover, Lewes, Weston-super-Mare and Bishop's Stortford frontman netted four goals during the club's pre-season campaign. He has previously spent time on loan with City... Mehew told his club's official site, 'I always say I want players to show passion and Ben has come here and done that. He's finished the top scorer from pre-season and played in every game. Ben gives us another option up front and he can play out on the left too, which gives us a bit more versatility'".

"Histon boss Dennis Greene will be assessing a clutch of trialists as he contemplates adding more bodies to his squad... The Stutes' manager is regularly being made aware of players interested about a move to the Glass World Stadium, with at least three expected to feature in their final pre-season game at Biggleswade Town tonight. Greene, who led his side to a 2-1 victory over Cambridge City in the Cambs Professional Cup final on Saturday, may also run the rule over some players currently outside his first-choice line-up.

'We had a really good performance on Saturday, so we're pretty much there,' said Greene. 'I might rest some and have a look at some who might be on the fringes to make sure everyone's fit for the weekend. I've got agents phoning me up every five minutes, and there are about three players we'll probably be having a look at tonight. Hopefully, one or two might be okay to join the squad, and that's what I'm really using the game for'.

One man who has already done enough to earn a place in Greene's plans is Ian Gayle, with the manager confirming the defender has joined on loan from Dagenham & Redbridge. 'We've done a three-month loan deal with Dagenham, so he's with us and he'll be fine,', said Greene. 'I had him at St Neots, when we won the UCL, and he's developed since then. He was on loan at Kingstonian in the Ryman League last season and they want him to play at the next level now'" he told the Cambridge News.

At Solihull Moors, "midfielder Alex Price will begin the season on loan at Redditch United in order to gain match fitness. Since his horrific leg injury last season, Alex has been on a long road of recovery, and although he has been able to take part in some of pre-season he is still short of being 100%".
NW NEWS
Malta Today tells us that "Former Chester City owner Stephen Vaughan, Floriana FC's new club patron, comes with the promise to take the Greens out of their financial straits, but English boxing promoter... Vaughan, 50, comes with quite some baggage to the Xaghra field.

The former football club owner has faced various fraud charges in British courts as well as becoming the first owner of a professional football club required to reduce his shareholding because, according to the English FA rules, he was no longer a 'fit and proper person'.

Floriana's new president Justin Attard, of Attard & Harding boxing promotions, announced a new deal with Vaughan today, details of which are to be revealed on Friday 17 August. But according to his latest Wikipedia entry, Vaughan's son Stephen is touted as Floriana's new chairman...

Vaughan, a Liverpool businessman who acquired the Conference league club Chester City in 2001, was disqualified in 2009 from acting as a director of any company until November 2020, following his involvement in a £500,000 VAT fraud while a director of Widnes Vikings rugby league club, which was then in administration.The charges stated that he "caused" Widnes to buy clothes from a UK company in three transactions worth £2.9 million, plus VAT of £505,265. Payment for the clothes were made to an account at the First Curaçao International Bank, based in the Netherlands Antilles. The clothes were sold on the same day to a company based in Spain; overseas buyers do not have to pay VAT, and Vaughan tried to reclaim the £505,265 for the club from HM Revenue and Customs.

Proceedings were begun against Vaughan which led to him admitting the transactions were a 'carousel' in which the VAT was fraudulently claimed from HMRC... He quit as Chester City chairman in December 2008 but remained the owner, before selling off his stake. He previously owned Barrow FC but left in 1997 before returning for a short second spell in 1998...

New Floriana coach Mark Wright was until recently listed as chairman of Widnes FC. In March 2011, the Liverpool Echo reported that Vaughan and his son were sentenced for having attacked a police officer in a drunken rage. Vaughan was jailed at North Liverpool Community Justice Centre after assaulting a police constable. Vaughan's barrister Anthony Barraclough blamed the drink-fuelled 'outburst' on the pressures Vaughan faced as the club's owner and pleaded for a suspended sentence... But in sentencing Vaughan to 15 months in prison Judge David Fletcher CBE said it had been a "nasty" and "cowardly" attack carried out against a lone officer doing his job... Vaughan was released from prison in September 2011.

According to their website, the newly created football club Widnes Town FC, an offshoot of the Rugby League club, has current Floriana FC coach (and former Liverpool and England squad player, as well as former Chester manager) Mark Wright as its chairman; while Stephen Vaughan junior is club manager in a bizarre role-reversal for the two figures".
---
14 August 2012
OLD BOYS
"Steve Halford, manager of Mossley, completed his squad with five more players putting pen to paper on Saturday. Mark Haslam, Ben Fallows, Cavell Coo, Brad Yearwood and Chris Rowney all signed under the watchful eye of Assistant Manager Peter Band following a morning training session held at Seel Park... Cavell Coo, now in his third season, has re-signed" reports Mossleyweb.

Rceent reports stated that Leek Town had signed former Alty defender George Melling but the EvoStik League says that "Kendal Town boss Lee Ashcroft is throwing down the gauntlet to his players to push for starting places in Town's opening league game on Saturday. Ashcroft also revealed that George Melling's work commitments mean he will not be playing for Kendal this term. Melling was unavailable for midweek matches so he will play for West Lancashire Premier Division outfit Charnock Richard instead".
BSBN NEWS
"Jacob Rowe hopes his knee problem will not force him to miss too many of Worcester City's opening games" reports the Worcester News. "The centre-half, last season's young player-of-the-year, has seen his pre-season disrupted by a recurrence of tendonitis that he first suffered while on the books at Birmingham City. He didn't play in Saturday's final warm-up game at Leamington and is also expected to sit out the league curtain-raiser at Bradford Park Avenue next Saturday and the first home match against Bishop's Stortford the following Monday.

But, having seen a specialist to treat the injury, he thinks the game against Corby Town at St George's Lane on Saturday, August 25, is a realistic possibility. Rowe said, 'I had a steroid injection in my knee so I have got to rest up over the weekend and then I will be able to start training. I could be struggling for the start of the season'".

According to Pitchero Non-League "Gainsborough Trinity have re-signed winger Craig Nelthorpe. Something of a set-piece specialist, Nelthorpe originally joined Trinity in June 2011 after chipping in five goals from thirty-four games for Gateshead the previous season. Nelthorpe started out with Brodsworth Welfare and has then enjoyed spells at Frickley Athletic, Doncaster Rovers, Kidderminster Harriers, Oxford United and York City ahead of moving to the International Stadium.

He left Gainsborough after less than six months after failing to live up to expectations and had short stops at Matlock Town, Eastwood Town, Brigg Town and then back at Frickley. However, following his dismissal against Marine after just 9 minutes on the pitch on his debut, Frickley cancelled his registration".

Gloucester City report that "Goalkeeper Conor Thompson has signed a non-contract deal with the club. The 17 year-old impressed during games last week against Yate and Bristol Rovers. Conor is part of the Northern Irish U-17 squad and has previously been on the books at Swindon Town".

In the Boston Standard, we learn that "Boston United have come through their warm-up tests well and are almost ready for the season's curtain-raiser, says boss Jason Lee. After tests against Hull City, Mansfield Town, Peterborough United and Chelmsford City XIs, the boss believes his squad have been pushed hard.

He said, 'I have been pleased with how things have progressed in the matches so far. We did well early on with plenty of goals and some good victories. But the past couple of games have, with due respect to the likes of Sleaford and Spalding, seen us tested more fully by sides who are smarter and who have posed us a few questions. Some people might have got carried away with the initial results, but I have always known our learning curve would get steeper, which it certainly has'.

The first match of the Blue Square Bet North campaign is at Droylsden on Saturday. But which formation will Lee favour? He has hinted at maybe shoring things up with the 4-3-3 style he favoured last season. He added, 'Against Hull and Mansfield, we have encountered a few problems but have then changed a few things from a 4-4-2 to 4-3-3 formation and turned in some good displays that have left me reasonably happy'".

The Halifax Courier says that "Town boss Neil Aspin said the Shaymen's physical game at North Ferriby was just what his side needed a week ahead of the new season. Three goals from hitman Lee Gregory sealed a seventh win in eight pre-season games. And with the Shaymen set to visit Bishop's Stortford on Saturday for the eagerly anticipated curtain raiser, Aspin was glad his side had been given a tough workout.

'I felt it was poor in parts', said Aspin of Town's win in East Yorkshire. 'It was difficult with the conditions, but also because Ferriby worked very hard to close us down. The game didn't flow and it was very scrappy, but it was great preparation for the season because that's what it's going to be like. I'm really pleased we've had this game. We've had games at home where it has been nice to pass the ball around, but today it was about what non-league football can be like, where there are tackles are flying in, it's aggressive, there isn't a lot of space and you get the wind making conditions not ideal for playing football', he said.

'You need to be able to play but you also need to be able to scrap and we did that today.', he added".

Droylsden report "Another signing. Michael Phenix, forward". Lancashire club Hindsford provide details of Phenix, saying he is a winger, aged 22, whose previous clubs include Pennington and Atherton LR. They say he is a "Prolific goalscoring winger who runs full backs regularly into the ground. Decision making has vastly improved and the Tonics are now benefitting from an end product. Leading goalscorer at the club 2011/12".
---
13 August 2012
BEST LAID PLANS
The unexpected departure of midfielder Scott Phelan, reported yesterday, has added to a summer of unpredictability for manager Lee Sinnott and his assistant, Neil Tolson. Whilst top scorer Damian Reeves was expected to leave the club over the close season, the BSBN's top scorer last season was a welcome returnee to Moss Lane after a frustrating summer of trials with Football League outfits.

His fellow striker, Leighton McGivern, was expected to return to Altrincham for 2012-13, having signed off with a hat-trick in his last appearance in 2011-12. But the Merseysider failed to respond to Lee Sinnott's attempts to contact him over the summer and his whereabouts remain unknown.

Midfielder/defender Chris Lynch was also expected to stay at Moss Lane but the offer of a coaching role lured him to Ashton United, whilst Scott Phelan has likewise now taken the perfectly understandable decision to pursue a full-time career as a coach at Everton in preference to part-time football. Add to that, Andy Smart's decision to return to Trafford as he completes his degree studies, and the Altrincham management can be forgiven for thinking that fellow Trafford-based manager Sir Alex Ferguson has had a less difficult summer!
FAMILIAR FACES
Altrincham's first opponents this coming season are Brackley Town, a club which has never played against Altrincham previously. However, the Northamptonshire club includes many faces familiar to Moss Laners.

The Brackley manager is Australian-born, former Kettering and Rushden player, Jon Brady and his assistant is Rushden's all-time leading scorer, Darren Collins. Brackley's goalkeeper is 39 year-old former Rushden custodian, Billy Turley.

Another well-known face is that of Tommy Jaszczun (34), whose previous non-League experience includes spells with Corby Town and Kettering Town. Striker Marvin Robinson (32) lists Rushden & Diamonds, Oxford United, Kettering Town, Redditch United, Nantwich Town and Hednesford Town in his non-League pedigree.

Curtis McDonald joined Town towards the end of last season and he has played for Newport County and Forest Green Rovers, who released him to join Brackley. Tanzanian defender/midfielder Eddie Odhiambo (formerly Anaclet) has crossed our path with Oxford United, whilst Brett Solkhon has faced us whilst playing for Kettering Town and Corby Town.

37 year-old defender Wayne Hatswell has numbered Chester City as his former employers but has also played for Kidderminster Harriers, Rushden & Diamonds, Cambridge United and Newport County.

Michael Corcoran (24) is a recent signing, but he has also played against Altrincham in the past and the Irishman includes Dover Athletic, Rushden & Diamonds and Oxford United as his former clubs.
OLD BOYS
Robbie Williams was a used sub for Hyde who had former Alty defender Andrew Pearson sent off at half-time after an incident in the tunnel. Former Alty keeper Russ Saunders has now joined Northwich, after being at Chorley.
BSBN NEWS
Former Coventry City striker, Stern John, has signed for Solihull Moors.
---
12 August 2012
ALTY OLYMPIANS
Altrincham FC supporter Graham Jackett and his wife, Linda, have been members of the impressive army of volunteers at the London 2012 Olympics. And, now, Linda has been chosen to be one of just four volunteers who have been picked to represent all of their volunteering colleagues on the main stage at tonight's Olympic Closing Ceremony. The Football Club sends its best wishes to Linda and Graham and hopes to see them both back at Moss Lane for the start of the new season!
SCOTT LEAVING
Altrincham FC have been dealt a blow on the eve of the new season with the news that 24 year-old midfielder Scott Phelan (right) is expected to leave the Club tomorrow (Monday). Scott has been doing voluntary working coaching at Everton FC. To his surprise, he was called into the Merseyside team's office on Friday and offered a full-time job as a coach to 9-11 year-olds with the Premiership club. He is expected to sign a contract with the Toffeemen tomorrow. Scott is sad to be leaving Moss Lane but, as chairman Grahame Rowley stated tonight, "It is a great opportunity for Scott, at a Premiership club, and we wish him well".

Scott Phelan was signed by Altrincham on 6 March 2012, two weeks after he had joined Vauxhall Motors, where he had been on loan since December 2011, from Kidderminster Harriers. The Harriers released him in February 2012. As a youngster, Scott was with Everton where his path crossed with Alty's captain, Shaun Densmore. Scott was captain of the Toffeemen's under-18s and reserves before he was released in 2007. A contract with Bradford City followed and it was with The Bantams that he made his Football League debut, as a substitute, in August, 2007. He went on to make 13 Football League and three cup appearances for the Yorkshire club. In a mass clearout at the Bantams, Scott was released at the end of the 2007-08 season.

Next, Scott joined FC Halifax Town in September 2008 before he signed for Kidderminster Harriers. He made his Alty debut as a substitute against Stalybridge on 6 March 2012. Scott had made 10(+1) appearances for Altrincham and had scored 2 goals before his unexpected departure..
SEASON TICKETS
There is still time to get yourself an Altrincham FC season ticket. To do so, please ring the club on (0161) 928-1045 or send an e-mail. They are great value, as listed below...
Standing: Adult - £225
Standing:Concession - £115
Sitting: Adult - £265
Sitting: Concession - £125
Anywhere: Age 12-16 - £50
Anywhere: Under-12 - £25
BSBN NEWS
Stalybridge Celtic report that they have signed a former Altrincham player, "goalkeeper Andy Ralph. Andy joins us from New Zealand club Waitakere United and will be in the squad for Celtic's Blue Square North opener at Workington next Saturday subject to International Clearance being obtained. Older Celtic fans may remember Andy making seven appearances for the Celts in season 2003-04".

In fact, "Celtic have announced four further signings as Jim Harvey beefs up his squad for the 2012-13 season. Defenders Sam Edgerton and Jonathan (Jonny) Lindsay have signed on the dotted line alongside midfielders Jordan Barrow and Corey Gregory. Sam was formerly at Lancaster City while Jonny joins us from Scottish Division One side Partick Thistle. Jordan arrives at Celtic having been with the Everton Academy while Corey's last club was Sheffield United".

Pitchero Non-League reports that "Oxford City lost a close contest with Oxford United on Friday evening in both clubs' final pre-season friendlies. Tom Craddock scored a goal in each half to give United a victory while City gave a trial/debut to Warren Carter (formerly of Maidenhead and Holyport) in goal".
---
11 August 2012
AWAY STRIP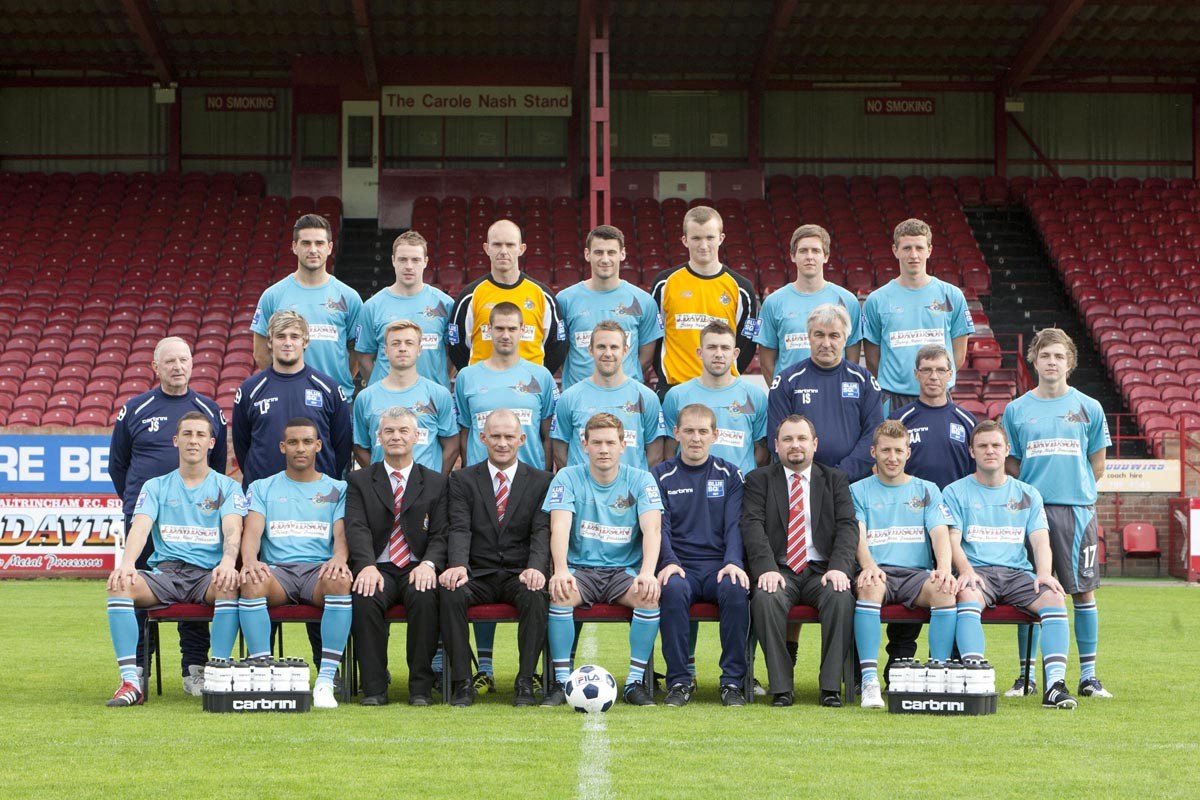 Following yesterday's publication here of a copy of the official Altrincham FC team picture for 2012-13, courtesy of Gavin Rathbone of GR Photography we see Gavin's photo of the squad in the 2012-13 away kit. Click on the image for a larger version. Pictured, back row, left to right are: Gianluca Havern, Danny Mitchley, Stuart Coburn, Simon Richman, Adam Reid, Ryan Brooke, Scott Leather. Middle row: John Skelhorn (kitman), Luke Pickering (kitman), Scott Phelan, Danny Hall, Nicky Clee, Damian Reeves, Ian Senior (coach), Alan Ainsley (physio), Sam Grimshaw. Front row: Patrick Lacey, Carl Rodgers, Grahame Rowley (chairman), Lee Sinnott (manager), Shaun Densmore (captain), Neil Tolson (assistant manager), Paul Daine (director), James Lawrie, Matt Doughty.
Missing from the photo is Duncan Watmore, who was on holiday when the photo was taken.
If you want to see the first appearance of the new away kit, book yourself on the TASC Away Travel to Harrogate (21 Aug) and Vauxhall Motors (25 Aug)!
BUCKET COLLECTION
Altrincham FC thanks those who gave and those who collected the £31.82 raised by Thursday night's TASC bucket collection.
FCUM'S VIEW
After Thursday's game, FC United of Manchester reported that they "sealed an impressive 2-0 victory over Altrincham FC at a sunny and warm Moss Lane with headed goals from Lee Neville and ex-Robins' player Carlos Roca.

The Reds started brightly... A few minutes later the home side had a good chance when Damian Reeves lobbed the ball goalwards, but it drifted wide. On 20 minutes, the home keeper Stuart Coburn performed miracles in the Altrincham goal with a superb double save. The ball was played through to Wolfenden who saw his shot saved, the ball dropping to Norton who in turn saw his shot tipped wide...

Two minutes later, sub Kris Amadi had a great chance to double the lead as he latched onto a weak header from a home defender and rounded Coburn. Sadly he couldn't keep his shot down and the ball flew over the goal. A minute later, the lead was doubled as a good move found Stephen Johnson on the left, he crossed into the box, where fellow sub Roca was poised and he headed the ball emphatically into the net.

Straight from the restart, Sam Grimshaw ran at the FC defence and his low shot flew just wide of the goal. It was a well deserved victory for FC who at time played some outstanding football, with a special mention to the midfield trio of Jake Cottrell, Dave Birch and Nicky Platt who never gave the home players a minute's peace",
OLD BOYS
Pitchero Non-League says that "Hyde FC have signed defender Robbie Williams... Williams, 25, is a 6`5" centre back and joins the Tigers after being with AFC Telford United last season. Williams signed for the Bucks from relegated Altrincham in June 2011.

He had joined Altrincham in July 2009... He won the first of three Wales under-23 semi-pro caps in March 2010 when he scored against Portugal and he has also played against England and Poland".

Another ex-Alty central defender is also on the move as "Lee Casswell, manager of Leek Town, finally landed the central defender he has been looking for all pre-season when George Melling put pen to paper. The experienced tough-tackling defender put pen to paper after playing for the Blues at Ball Haye Green. He also turned out against Port Vale".
BSBN NEWS
The Football Conference reports that "Vauxhall Motors have bolstered their attacking options by snapping up James Ellison from neighbours Southport and Dan Parkinson on loan from Morecambe.

Ellison started his career at Liverpool, coming through their youth system and representing England at under-16 level before leaving in July 2010 and joining Burton Albion... The 20-year-old joined Hyde FC but only made three appearances before joining Southport in January 2012...

Winger Parkinson has re-joined Motors on an initial two-month loan deal from the Shrimps. He enjoyed a successful loan spell at Rivacre Park last season, making thirteen appearances and scoring two goals".

According to BSBN, "Hinckley United have bolstered their squad... with the signing of utility player Indy Aujla. The British-born player, who is of Indian origin, put pen to paper with the Knitters this week after turning out for Scottish Premier League side Inverness earlier in pre-season.

He was on the books of Belgian fourth division outfit Royal Racing FC Montegnee last season and was eventually handed the role of head coach despite being just 24 years of age. The former Bradford trainee also holds the honour of being shortlisted for the inaugural Asian Football Awards at Wembley in January. Aujla was vying for the player of the year crown with Zesh Rehman and Ipswich striker Michael Chopra.

Aujla, who can operate as a full-back or in a central midfield berth, was released by Bradford in 2006 and has gone on to represent the likes of Chester City, Guiseley, American side CCBC Essex in Baltimore and Garforth Town".

Further south, "Dennis Greene, manager of Histon, has rued the departure of third-year scholars Jack Sessions and Charlie Day who have left Histon in search of more regular first team football. Fellow scholar Eugene Libertucci could also follow them out of the Glass World Stadium after trying out for Bedford Town earlier in the week.

Stutes boss Greene said he had hoped they would stay at the club and was disappointed to see them leave. 'How are they going to develop if they keep dropping down the levels?', he said. 'But it's their decision, not mine. I wanted to keep them at the club and develop them here. They would have had opportunities at some stage this season and in a year's time could have been decent players'.

Greene said Sessions and Day informed him of their decision to leave but he also said that Libertucci, who has not been at the last two training sessions according to Greene, has not been in touch" reports Cambridge News.

Meanwhile, the Oxford Mail confirms that "Oxford City have been dealt a blow just a week before their Blue Square Bet North campaign kicks-off after keeper Mikuael Jaiomoz Ruiz signed a contract with AFC Wimbledon.

Boss Mike Ford thought he had got his man after the former Dover stopper made his debut in the 1-0 win at Rugby Town last weekend. But hours before Tuesday's home friendly with Hayes & Yeading he rang Ford to tell him the news, so 16-year-old youth team keeper, Christian Lawrence, played.

'I'm now missing a goalkeeper; he disappeared on Tuesday', sid Ford. 'He rang on the afternoon of the game to say he was signing a full-time contract with Wimbledon. When someone is offered the chance to play for a League Two club you can't really stop them going. Christian did very well, but I'm looking to bring in an experienced keeper. I have got a couple of irons in the fire and hopefully the one that plays against Oxford United will be here for the rest of the season'.

Meanwhile, former Oxford United defender Steven Kinniburgh will not be joining the Court Place Farm outfit... Ford said, 'Someone contacted me to ask if I could give him some game-time and you can't turn down someone with his pedigree. He played 25 minutes, but he looked like he was carrying a bit and and hadn't played much football. He was no better than what we have here. I had a chat with him and we won't be pursuing that'.

Ford will decide the futures of Michael Alexis and Andy Gunn after the U's friendly".
---
10 August 2012
TEAM PHOTO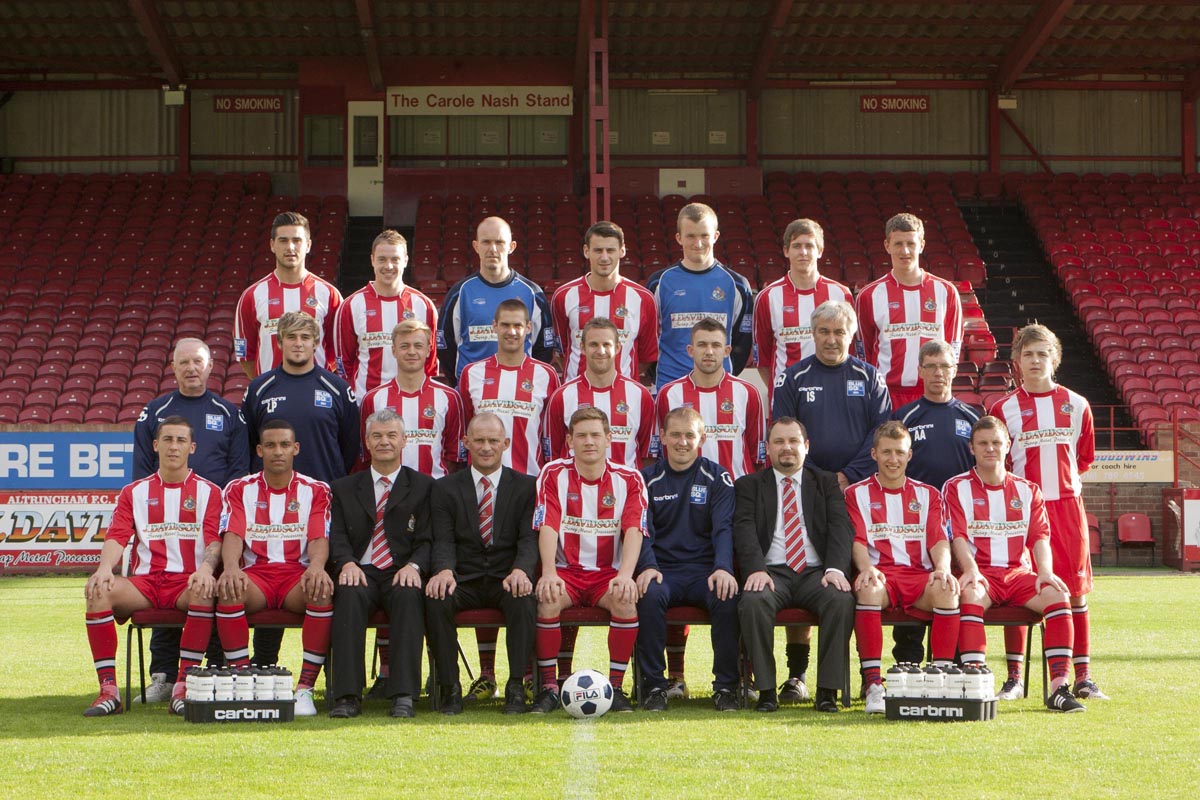 Courtesy of Gavin Rathbone of GR Photography we see the Altrincham FC official team photo for 2012-13. Click on the image for a larger version. Pictured, back row, left to right are: Gianluca Havern, Danny Mitchley, Stuart Coburn, Simon Richman, Adam Reid, Ryan Brooke, Scott Leather. Middle row: John Skelhorn (kitman), Luke Pickering (kitman), Scott Phelan, Danny Hall, Nicky Clee, Damian Reeves, Ian Senior (coach), Alan Ainsley (physio), Sam Grimshaw. Front row: Patrick Lacey, Carl Rodgers, Grahame Rowley (chairman), Lee Sinnott (manager), Shaun Densmore (captain), Neil Tolson (assistant manager), Paul Daine (director), James Lawrie, Matt Doughty.
Missing from the photo is Duncan Watmore, who was on holiday when the photo was taken.
ALTRINCHAM 0 FC UNITED OF MANCHESTER 2
Altrincham put in their poorest performance of pre-season in losing 0-2 to an FC United side which showed more determination throughout...

Match report here.
ALTY WELCOMED THE WORLD
Peter Foster, PR & Promotions Manager of Altrincham FC, is quoted in "The Advertiser", discussing the recent "Trafford Welcomes The World" initiative which aimed to "showcase the culture and traditions of some of the football teams playing at the Theatre of Dreams", [i.e. at Old Trafford, during the Olympic Games]. The paper reports how "Altrincham Football Club gave children the chance to practise their foootball skills and were giving away free tickets to their games. Peter Foster,from the Club, said, 'We've always had great support from Trafford Council so we were delighted to get involved in this event and link into the Olympics by promoting sport at a local level. Boys and girls of all ages got involved with the football and we met overseas visitors who have come to Trafford to watch the Olympic football. It was just a lovely day with a great atmosphere".
OLD BOYS
"Manager Kevin Lynch admits Marine could face a midfield crisis ahead of the new season, with four players currently struggling with injuries... Both Robbie Lawton and Jon Goulding, two mainstays from last season's side, have picked up ankle problems in training"reports the Crosby Herald.

A more recent departure from Moss LAne is the subject of a report from NL Daily which says that "New signing Chris Lynch lifted a trophy on his debut as captain after succeeding Danny Caldecott at Ashton United. The Robins' skipper led his new club to victory in Tuesday night's Arthur Clancy Memorial Cup with a 4-1 win over Curzon Ashton. The annual preseason silverware is named in honour of the former director and head groundsman at United's neighbours."
BSBN NEWS
Pitchero Non-League says that "Oxford City have released striker Aaron Woodley and midfielder Mark Bell. Meanwhile, Ford has hailed the arrival of new keeper Mikuael Jaimez-Ruiz... However, earlier today, npower League Two side AFC Wimbledon announced they had signed the ex-Barnet and Aldershot keeper".

From This is Lincs comes news that "Gainsborough Trinity boss Steve Housham has revealed he could swoop for former Lincoln City striker Richard Pacquette. The Blues boss says the 29-year-old 'ticked all the boxes' during an all-action display for Trinity in their 4-0 pre-season win over Doncaster Rovers on Tuesday evening. Pacquette, who began his football career at Queens Park Rangers, scored one goal and helped create a number of chances as Housham's side completed their pre-season schedule unbeaten...

'We are looking for a striker, as everyone knows, and this was Richard's first chance to impress us and he did just that. I thought he was excellent on the night... but that doesn't mean he will definitely be coming to Gainsborough Trinity, there is a lot to sort out before that could happen...

The impressive result was the perfect way for the Blues to prepare for their first competitive fixture of the new season on Saturday, when they meet county rivals Grantham Town in the semi-final of the Lincolnshire Senior Shield at the Northolme... Housham said, 'There is no thought of the game being a distraction or of less importance, we see it as a chance to win something and, as always, we will go out to win the game'...

Housham admits to having all but completed his team building for this season. However, as well as the Pacquette issue, he is also mulling over the possibility of bringing in another midfielder, with Rotherham teenager Ollie Banks also on trial. 'We were impressed with Ollie Banks', Housham added. 'He is only 19 years of age and he showed quite a bit of class. He got on the ball and played it around and we liked what we saw. Our problem is, he has arrived here at a time when we have a lot of midfielders'".

Meanwhile, "The new home of Gainsborough Trinity FC will be the best sporting venue in the town, according to its planners. The 4,000-capacity community stadium will operate as a multiple-sport and retail complex for seven days a week. The 9.4-acre development will include a synthetic pitch training facility next to the ground, and a separate five-a-side pitch with changing rooms and floodlights...

Situated at The Little Belt, north of the town centre, the completed scheme will have a club shop, office space, physiotherapy centre, creche and space for another retail unit. There will be 272 parking spaces – something that is lacking at Trinity's current ground, The Northolme. Gainsborough Trinity chairman Peter Swann has submitted planning application to West Lindsey District Council. It is hoped the Blues will kick off the 2013-14 season in their new home.

Andy Booth, of planning consultants Global Limited, told the Echo, 'It will be as state-of-the-art as it can be... We are confident everything will get the go-ahead'. The Blue Square Bet North club thought its plans were scuppered when it discovered a covenant on the former Castle Hills School site – which said only rugby could be played there. Gainsborough Rugby Club used to play on the site before moving to Queen Elizabeth's High School. But that obstacle appears to have been resolved after Mr Swann offered the rugby club the chance to use the new community stadium as its training base.

Mark Sturgess, director of regeneration and planning at West Lindsey District Council, said 'The council fully supports Gainsborough Trinity's desire to improve its facilities for the benefit of the town as a whole'".
---
9 August 2012
HELP NEEDED
Two more volunteers are needed to assist Matchday Secretary George Heslop in staffing the turnstiles at Moss Lane tonight (Thursday evening) for the pre-season game against FC United (k.o. 7.45pm). If you can help, please contact the club as soon as possible by phone (0161 928-1045) or e-mail.
ALTY v FCUM
Admission for the Altrincham v FCUM match is £7 for adults, £3 for concessionaries and is free for under-5s. Altrincham FC season tickets gain free admission on production of their ticket.

Brian Flynn confirms that "Radio Robins will be broadcasting live coverage of Thursday night's final Pre-Season Friendly against F.C. United of Manchester. The commentators are Niall Finnegan and Brian Flynn, with match summaries by Joe Barry and Niall Flynn. Coverage starts at 7.40pm. You can listen to Radio Robins here.
SHAPING UP NICELY!
Joint Press and Media Officer at Moss Lane, Brian Flynn, writes: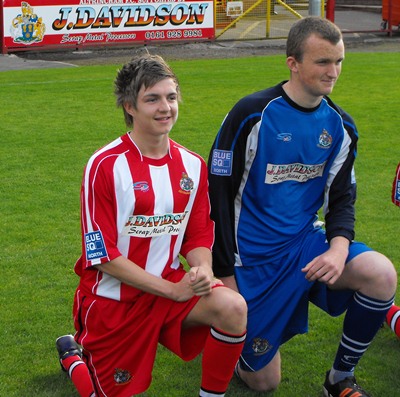 "Altrincham manager Lee Sinnott pronounced that he was pleased with his team's performance as the Robins looked the better side in a 1-1 draw with Blue Square Bet Premier Wrexham in the penultimate game of an eight match pre-season schedule.
'We limited Wrexham to producing not too much action at all against Stuart Coburn and it's nice to get a good result under our belts. Burnley were, understandably, much too strong for us, a couple of weeks ago, but I feel that we have acquitted ourselves well against the other two teams from higher divisions that we have played and I was pleased with our performances against both Morecambe and Wrexham.
Right: Two of the graduates from George Heslop's Altrincham FC youth team are Sam Grimshaw and Adam Reid, who will be seeking to impress in the coming seasons as members of the first-team squad at Moss Lane.
On Saturday, we made ourselves hard to be penetrated and created some good opportunities ourselves against a team that went very close to getting back into The Football League last season'.
Altrincham's final pre-season game takes place on Thursday evening when F.C. United of Manchester come to Moss Lane for a 7.45pm kick-off, leaving more than a week to prepare for the eagerly awaited opening league encounter against Brackley Town on Saturday August 18th.
'I see F.C. United as ideal opponents to complete our friendly fixtures but, obviously, everything is geared up to Brackley game on the eighteenth and the nine league matches that we play before the end of September. We don't want a repeat of last season when a couple of teams flew out of the blocks and got a long way ahead of us early on'.
Sinnott is going into his second campaign as manager, believing that his squad has got a good balanced look. 'Half the squad have remained from last season but half are new and with a dozen players under 25. We know that we are not the finished article yet but we have plenty of opportunity to make progress'.
And Lee has also spoken to the Advertiser, which reports that "Altrincham manager Lee Sinnott remains pleased with his side's pre-season preparations but is keen for continued improvement as the season begins...
'We need to keep the good work going', said Sinnott. 'We have improved as pre-season has gone on but how many times have people said you can have a good pre-season but don't always carry it into the league? We are very aware that we need to be ready, come the opening game'...
Sinnott was pleased with the improvement that was made following the disappointing 1-1 draw with Mossley last week. 'I was very pleased with Saturday', Sinnott said, 'we protected our goalkeeper Stuart Coburn very well, were wise with possession and created some very good chances so it was very pleasing'. Sinnott last week told the Advertiser that he would not be making any further additions to his squad before the season, so trialists are not expected for Alty in the final friendly".
LEE AND DAMIAN ON WYTHENSHAWE FM
Brian Flynn informs us that "The WFM Sports Talk Show from Tuesday is now available to listen to here. The broadcast features interviews with Lee Sinnott and Damian Reeves at the beginning of the broadcast".
OUR OPPONENTS
Our opponents tonight played their most recent friendly against Mossley - who drew with Alty last week.

FC United of Manchester state that "A young FC United side were beaten by Mossley in the latest pre-season friendly. The game started in a lacklustre manner from both sides and it took to the 12th minute before there was a chance on goal, [ex-Alty youth] Sam Madeley [of Mossley] feeding Nathan Taylor who saw his shot saved by Jon Worsnop...

On 36 mins it was 2-0 as a free kick from the right caused confusion in the FC defence, the ball falling to Madeley who rolled it into the empty net. Deep into 1st half injury time, the lead should have been extended when a ball played through found Madeley in on an open goal but somehow he hit the post, Worsnop managing to smother the ball on the line as it looked to be rolling in. Just after the break, [ex-Alty youth] Theo Kidd was unlucky with a chip that dipped just over the bar and Poizer blasted a shot over the bar.

The main talking point of the 2nd half came on 78 minutes when the floodlights down one side of the pitch went out. The referee decided to continue with the game and Mossley sub [ex-Alty trialist] Ashley Young found himself through on Worsnop, but the keeper was up to the task of keeping the ball out.

All in all the game was a decent run out for the young FC side, with good performances from Richard Smith, Cedric Krou and Theo Kidd in particular".

From the opposition perspective, Mossley say that "Mossley rounded off their pre season program[me] with a comfortable win over a youthful FC United of Manchester line-up... The new look Lilywhites controlled the game from start to finish and once Mossley had taken the lead that their almost total dominance deserved there was only ever going to be one winner.

Mossley's pass and move football had United for the most part chasing shadows in a one-sided first half".
BSBN NEWS
FC Halifax Town manager "Neil Aspin has been dealt a blow with the news that on loan defender Ben Futcher has been appointed temporary assistant manager at Gigg Lane to Peter Shirtliff. The duo are due to take charge of the Shakers for their match with Middlesbrough at the weekend, following the departure of boss Ritchie Barker to become the new manager of Crawley Town. Therefore Futcher will at least not be part of the Town squad for tomorrow's match with Bolton Wanderers or North Ferriby United on Saturday and time will tell whether he will be able to return to the Shay or whether he will stay as part of any new management team".

According to the Football Conference, "Boston United have completed the signing of full-back Gary Silk. The 27-year-old, who played for the Pilgrims during a loan spell in 2006, has put pen-to-paper to return ahead of the 2012/13 season and appeared as a second half substitute in Tuesday's 3-1 friendly win over a Peterborough United XI. Silk left Grimsby Town earlier in the summer and has previously represented Notts County and Mansfield Town. He was on Portsmouth's books when he enjoyed his initial sixteen-match loan spell with the Pilgrims".

Elsewhere, "Carl Macauley wants a 'prolific striker' to put the finishing touches to his squad at Vauxhall Motors. The Motors' boss has been busy in the market but he is still chasing a player he believes can fill the boots of England C international Josh Wilson, who has joined rivals Guiseley. Macauley, who has made a number of signings in the last week, said, 'Our main priority is to bring in a prolific striker after losing Josh Wilson and as soon as we get one onboard that is our squad completed for the season ahead.

We have targeted someone and, hopefully, the deal will be all tied up by next week'. Macauley has re-signed left-back Lee Dames, forward Mark Winslade and back-up goalkeeper Gary Spotswood. He has also drafted in ex-Tranmere Rovers youth team duo Steve Wainwright and Conor Roberts in addition to David Thompson, formerly of Bury. Wainwright can play either right-back or right-midfield and has been signed following a number of impressive displays in pre-season.

Roberts progressed through the Rovers youth system and has played for Burscough and Spanish minnows Racing Club Portuense since his release from Prenton Park. Thompson was on the books of Everton and Oldham Athletic as a youngster and played three times for Bury before injury seemingly cut short his career. Thompson made a comeback last season with Droylsden, however, and was snapped up by Macauley after he scored in the 1-1 draws at Prescot Cables last Tuesday and at Hednesford Town on Saturday" reports the Ellesmere Port Reporter.

One of our new opponents this season, "Oxford City, have released striker Aaron Woodley and midfielder Mark Bell. Boss Mike Ford said the move would allow the duo to find other clubs. 'Mark needs to be playing football', said Ford. 'He hasn't played a game for two years and I think it is unfair to put him straight into Conference North football. There is no question about his talent, but there was a doubt about his fitness. Aaron was only going to be sub and is good enough to play for another side. I just felt he has lost his way. Three years ago he signed for Oxford United and had the world at his feet. He later came on loan to us and Banbury. Then his United contract wasn't renewed. He needs to get back playing again' reports the Oxford Mail.

Meanwhile, Ford has hailed the arrival of new keeper Mikhael Jaimez Ruiz. Ruiz, 28, kept a clean sheet on his debut in Saturday's 1-0 success at Rugby Town. 'He's a keeper I can rely on to do a good job,', said Ford. 'He played 42 times for Dover Athletic in Conference South last season. He's a good talker, can make important saves and his place-kicking is good'. A Venezuelean, Ruiz has featured in Aldershot Town's squad versus Altrincham previously.

From the Birmingham Mail we learn that "Former Aston Villa star Julian Joachim looks likely to be without a club this season after failing to agree a deal with Boston Town. The club have been busy trying to sign the striker but the club and the player felt that commuting from his home in Leicestershire would be too much". Joachim turned out for Boston United last season.
---
8 August 2012
YANKEE
The Altrincham FC Saturday Yankee produced four winning trebles, with each member receiving £50. The jackpot went unclaimed as the winning code of 0819 had not been issued. The jackpot now stands at £600.
IAN'S SPONSORSHIP
The NW Counties Football League reports that "Maine Road FC have agreed a sponsorship deal with sports kit suppliers SKkits. As part of the deal the firm will be supplying the club's tracksuits and rain jackets, meaning that Maine Road will be turned out in SKkits own range, advertising the local brand throughout the league and continuing their links with the NWCFL. SKkits will also appear in the club's match day programme ensuring maximum visibility of the SKkits brand.

Road's Joint Manager Chris Thomas said, 'After a number of deals had fallen through for the Tracksuit and Jacket sponsorship, [Alty FC coach] Ian Senior of SKkits stepped in to the breach'".
BSBN NEWS
The Worcester News says that "Progress is being made on plans for Worcester City Football Club's new stadium. The period during which a judicial review could be lodged over the site has now passed without any objections. Developers St Modwen gained planning permission to construct a new ground in Nunnery Way in January, but the process has been delayed because a bridle path needs to be moved before work can start.

The company will now be free to submit a fresh application to move the pathway, safe in the knowledge there cannot be a judicial review into plans to build the actual ground. The Blue Square Bet North outfit, who have to be out of their St George's Lane home next June, have held regular meetings with St Modwen and say they have been encouraging. Club officials are happy with the progress made over the last few months.

Chairman Anthony Hampson said, 'We are moving forward shoulder to shoulder with St Modwen'. Signs are expected to be put in place declaring the site as City's new home and St Modwen should be in a position to mark out the new stadium's location. The city council's planning department now say the developers will need to hand in a specific application asking for the bridle path to be shifted before work can get underway.

Worcester director Mike Davis, who oversees the pitch at the Lane, said he plans to take soil samples from Nunnery Way in preparation for the new surface. St Modwen have a contract with the club to build the ground until 2017. But City will be homeless within 12 months, with county neighbours Kidderminster Harriers their likely temporary base. Talks have also been held with Bromsgrove Sporting over the possibility of sharing at the Victoria Ground. The Lane was sold to property developer Careys New Homes for £3.19 million and will be demolished in 2013".

In the Times & Star, "Jordan Connerton will finally complete his on-off transfer to Workington Reds tonight. The striker held talks with boss Darren Edmondson after his release from Crewe, but looked destined to sign for Lancaster City, his hometown club, after communications broke down.

Dolly Blues' boss Mike Hoyle even announced the 22-year-old's signature. But less than 24 hours later, everything changed, and Hoyle issued a statement... He said, 'Jordan was given an offer he could not refuse and we wish him well. We can not deny him the opportunity'... [Workington boss] Edmondson confirmed that Connerton would be putting pen to paper, and said he was pleased to add an attacker to his ranks. Connerton will join Gareth Arnison, Jonny Wright, Stefan Scott and Ryan Hall up front".
---
7 August 2012
YOUTH CUP DATE
Altrincham FC Youth team take on Macclesfield Town at Moss Lane in the FA Youth Cup Preliminary Round. The date for this has now been fixed as Tuesday, 11 September at 7.45pm. This is a week after the prescribed date for that round but special dispensation has been agreed by the FA.
AWAY TRAVEL - BOOK NOW!
For the second season running, Altrincham's first two away games in 2012/13 are, firstly, at Harrogate and, secondly, at Vauxhall Motors, though this time the Yorkshire trip is on a Tuesday and the journey to Ellesmere Port is on a Saturday. TASC Travel Coordinator, Tom Jacobs, has announced details of the supporters' travel to both of these matches. Transport for Harrogate will be by coach and for Vauxhall the mode of transport will depend on the numbers booking. So, please do book for both trips as soon as possible to avoid disappointment. Time and fare details are on the Away Travel page.

You can book by ringing the club on (0161) 928-1045, by e-mail or in person, in the club shop at Thursday's match against FC United of Manchester.
PUT YOURSELF IN THE PICTURE
Altrincham FC's annual team photo-shoot is set to take place on Tuesday, 7th August at 6.15pm at Moss Lane. And, you can have your photo taken, with the 2012-13 squad, by Club Photographer, Gavin Rathbone. Two team photos will be taken; one in the home kit and the other in the new away kit, so you can choose your preference. The cost is a bargain at just £10 for a souvenir photograph to put on your wall. If you want to have both a home and away photo of yourself with the team, the cost is extra value at only £15 for the two.

To take up this offer, please either ring the club on (0161) 928-1045 or send an e-mail now.
BUCKET
The TASC bucket collection during the game against Wrexham last Saturday raised £28.28. The Club thanks the collectors and donors alike.
TWO BIG INTERVIEWS
Brian Flynn, Alty's joint Press Officer advises us that "This week's WFM Sports Talk Show on Tuesday morning features interviews with Lee Sinnott and Damian Reeves. The show is presented by Kevin Thompson and James Murphy. Altrincham F.C. are normally featured at the start of the broadcast. You can listen to the programme on Wythenshawe FM on 97.2FM or here.
WREXHAM BOSS ON ALTY GAME
In the Daily Post, "Andy Morrell, player-manager of Wrexham, admits he is glad to see the back of pre-season matches and relieved that only three players are carrying knocks. Glen Little, Stephen Wright and Adrian Cieslewicz were not involved on Saturday at Altrincham, where the Dragons put in a below-par performance on the back of their previous 4-1 victory over Coventry City.

Morrell said, 'We've still got a few things to work on but I'm glad all these games are out of the way. But we weren't as good as we were against Coventry and we can't have that. We can't have such a vast difference, although there will be some difference because you can't maintain good performances right through. But you can defend right, you can pass the ball right and as individuals keep your own standards high'".
UNEXPURGATED PIKESLEY!
In Saturday's "Robins' Review", Barry Pikesley's article on "Alty and Wrexham Connections" was abridged, for reasons of space. So, here is the full version, courtesy of the author...

BRING ON YOUR WREXHAM BALL

Whilst enjoying a well-earned respite from scrutinising the nuances of the digging and spiking tactics at the London 2012 Olympic Games Women's Beach Volleyball tournament at Horse Guards Parade, I opted to undertake an overview of some of those players who have registered first team appearances for both the Robins and Wrexham during the last five decades.

As far as I can ascertain, Alty's recent close season signing, Danny Mitchley, constitutes the only current playing connection between the two clubs, having recorded 3 (+3 as sub) appearances for the Dragons during March and April 2010 whilst being on loan from Blackpool.

Heading back to the 1960s, the one-time Manchester City winger, Clive Colbridge, clocked up over a century of games for Wrexham between 1962 and 1965 before being enticed to Moss Lane by the charismatic Freddie Pye. During his two-year stint with the Robins, he became an integral member of a fondly-remembered team which won two consecutive Cheshire County League titles, for which he made 77 appearances and scored 16 goals in the process.

The Robins' final Cheshire County League season in 1967/68 witnessed the arrival at Moss Lane of the former Wrexham and Chester full back, Reg Holland, who had been a member of Manchester United's 1955/56 and 1956/57 FA Youth Cup winning teams, together with winger Dave Carrick, who had 24 league appearances for the Dragons under his belt. After subsequent spells with Port Vale, Preston North End and Rochdale, Carrick would make a brief return to Moss Lane during the 1975/76 Northern Premier League (NPL) campaign.

Other erstwhile Wrexham players who featured for Alty during the late 1960s include the Jackson twins, David and Peter, who had been on the North Wales club's books during the 1954/55 season when their father, Peter, had been the manager at the Racecourse Ground; the ex-Chester schemer, Mike (Mick) Metcalf, who had scored 58 goals in 121 league fixtures for the Dragons between 1957 and 1963, and the former Manchester City and Stockport County goalkeeper, Steve Fleet.

Full back/central defender, Peter Jones, had registered a lone first team appearance for Manchester United prior to joining Wrexham in March 1960. After in excess of 200 games for the Dragons and two subsequent seasons with Stockport County, he relocated to Moss Lane at the onset of the inaugural season of the NPL in 1968/69. His two-year term with the Robins saw him accumulate a total of 103 appearances.

Striker Don Weston's career had contained two separate tenures at Y Cae Ras before his unforgettable Alty debut at Moss Lane on Saturday, 25th January 1969, whereupon he proceeded to score a hat-trick in the Robins' sublime 8-1 annihilation of the heinous Northwich Victoria. Following 16 games for Alty, during which he scored nine goals, Weston would sign for Bethesda.

The 20-year-old local prodigy, Frank Carrodus, had recorded merely 3 (+1 as sub) appearances for Alty when Malcolm Allison swooped to capture him on behalf of Manchester City by virtue of a then record incoming transfer fee for the Robins of £3,000 in November 1969. He went on to play for the likes of Aston Villa; Wrexham (1979-82); Birmingham City and Runcorn prior to making a fleeting return to Moss Lane during the 1986/87 season comprising a further 1 (+3 as sub) appearances and his solitary goal for the Robins.

Between two separate spells with Wrexham (1977-84 & 1986-90), during which he attained an aggregate of 229 (+72 as sub) appearances and notched 66 goals, winger Steve Buxton compiled 5 (+6 as sub) appearances for Alty during the 1985/86 Gola League campaign. He converted a penalty on his debut in January 1986 and performed a cameo role in the Robins' FA Trophy run of that particular season (which culminated in that momentous triumph over Runcorn at Wembley), in the guise of a place in the starting XI for the 2-0 Quarter-Final victory at Cheltenham Town on Monday, 10th March 1986.

Some other names to conjure with: nomadic Scottish forward, Barry Diamond (Wrexham: 1986/87 and Alty: 1989/90); towering central defender, Phil Bolland (Alty: 1994/95 & 1995/96 and Wrexham: 2007/08); that bewilderingly-coiffured midfielder, Dave Esdaille (Wrexham: 1992/93 and Alty: 1993/94) and left winger turned left full back, Paul Edwards (Alty: 2000/01 and Wrexham: 2002-04).

The Welsh International and former Manchester City and Glasgow Rangers goalkeeper, Andy Dibble, endured 12 somewhat erratic appearances during Alty's anticlimactic opening to their 1998/99 campaign. Perhaps the sphere of the Unibond League unexpectedly contrived to spook his brain or he simply didn't fancy any more experiences akin to his personal nightmare in a 2-1 home defeat against Lancaster City? Whatever transpired, Dibble's performances were certainly not top category and he was swiftly dropped in favour of Stuart Coburn. However, he subsequently returned to the Football League and accrued a tally of 88 appearances for Wrexham from 2002-2005.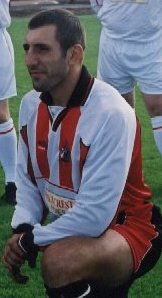 Alty's 2001/02 squad included that uncompromising centre half, Mark Sertori (left), who achieved the sum of 62 appearances during that Unibond Premier League season. Presently employed as a masseur for both Manchester City and the England national team, Sertori had clocked up 129 (+6 as sub) appearances for the Dragons between February 1990 and July 1994.
Composed defender, Mark McGregor, made 49 (+1 as sub) appearances for Alty during the 2008/09 Blue Square Premier League season before departing to become the player-manager at Cymru Alliance club Gap Connah's Quay FC on 28th July 2009. Having commenced his career as a trainee at the Racecourse Ground, he went on to amass a total of 309 (+9 as sub) appearances for Wrexham between 1995 and 2001.
Itinerant midfielder, Matt Crowell (Wrexham: 2003-08), compiled a dozen (+2 as sub) appearances in his two short spells for the Robins (interspersed with a sojourn in Australia) during the 2009/10 and 2010/11 seasons respectively.
That lumbering oaf of a centre forward, John McAliskey, trundled into Moss Lane via Witton Albion on 20th November 2009. In the aftermath of 15 (+6 as sub) appearances and a couple of goals for the Robins, he was released at the end of the 2009/10 season. He had previously spent a month on loan at Wrexham (19th September 2006 to 19th October 2006) from his hometown club, Huddersfield Town, which amounted to a quartet of appearances.
The much-missed creative central midfielder, Tom Kearney, joined Wrexham from Halifax Town in July 2008 and went on to record 13 (+2 as sub) appearances for the Dragons. However, the appointment of Dean Saunders as the manager at the Racecourse Ground sounded the death knell for his prospects at Wrexham and he duly moved to Moss Lane in July 2009. His 34 (+1 as sub) games for the Robins included two goals.
Ironically, Kearney's final Alty appearance occurred in a Blue Square Premier League fixture against his former employers at the Racecourse Ground on Tuesday, 9th March 2010. On the brink of half-time, he was the recipient of a poor challenge from the one-time Chelsea defender, Frank Sinclair. Sinclair was sent off; Kearney was stretchered off. It was later disclosed that he had incurred a double fracture (tibia and fibula) of his leg, which to this day appears to have effectively ended his career.
Finally, let's not forget (though, believe me, I really, really do try to) a certain Wes Baynes, who originally arrived at Moss Lane on a 93-day loan from Wrexham on 22nd October 2010 and then registered 25 (+7 as sub) appearances for the Robins. For me, he remains one of 'the unforgiven' from the squad when this club was ignominiously relegated from the 2010/11 Blue Square Bet Premier League. As one of my musical heroes, Morrissey, so astutely declares: 'Beware! I bear more grudges than lonely high court judges'. BARRY PIKESLEY".
BSBN NEWS
According to the Football Conference, "Midfielder Adrian Sear has signed forms for Histon. Sear joins the Stutes from Evo-Stik League Southern Premier Division side St Neots Town, whom he signed for from Burnham in the summer of 2011, having previously played for Beaconsfield SYCOB...

Sear stated that... the opportunity to reunite with his former boss Dennis Greene at the Glassworld Stadium and play at a higher level was too good miss. Also signing for Histon is Theo Ola, who caught the eye with a number of impressive performances in pre-season. Happy on either wing, Ola capped another fine game with a goal against Leiston on Saturday and signs after having spent last season with Thurrock's Academy".

BSBN reports that "Gainsborough boss Steve Housham says the acquisition of 33-year-old goalkeeper Jan Budtz is vital to the club's chances in the Blue Square Bet North this season. The former Doncaster Rovers, Hartlepool United and Stalybridge Celtic stopper joined the club along with Sam Mulready and Danny Hone. And, having used six goalkeepers last season, Housham is delighted to have secured someone of Budtz's experience to sure up his squad.

With Phil Barnes having joined Alfreton it left Jason White as the club's only potential first-choice keeper. Housham told This is Lincolnshire, 'It looks like I have a tough choice now. Jan's come in but his arrival was absolutely vital. We need two keepers this year because to go through six last year must have broken some kind of record. It nearly cost us in November of last season because we only claimed one point then. To bring somebody in of Jan's quality is brilliant for the club and good for Jason.

They will push each other and as a manager there is nothing better than having competition for places'.

Commenting on Hone's arrival, who will battle it out for a place in defence with Greg Young and Luke Waterfall, Housham added, 'He trained brilliantly with us and it was certainly an area we needed to strengthen. We only had Youngy and Luke Waterfall, so we were a bit short in that area. But Danny has come in. He's versatile, he can play at right-back or centre-back'".
CHESHIRE NEWS
The Northwich Guardian reports that "The start of the Evo-Stik Northern Premier League season could be postponed while legal experts decide whether Division One South club Northwich Victoria should be allowed host opponents closer to home. Northwich owner Jim Rushe says he has asked the Court of Arbitration for Sport (CAS) to judge whether league bosses have acted unfairly in forcing the club to honour a ground share agreement with Stafford. He paid 1,000 Swiss francs on Friday to send a file to the Lausanne-based body.

'We feel we have no other choice', said Rushe. 'That's why we've listened to advice and decided to take the route we have in full confidence that we can finally get somewhere with this matter'.

Graham Bean, whose Football Factors firm is representing the club, has requested that the case be heard prior to the season's opening round in a fortnight. If CAS cannot, then it could order the campaign's start to be put back. In June, an FA disciplinary panel rejected Vics' appeal against the Northern Premier League's insistence that Northwich stick to Stafford – a club with which Rushe reached a deal in March – as its home venue.

The league has since refused, after being invited by the club, to attend arbitration overseen by the FA. Rushe has signed a three-years' lease for Vics to play at Flixton, near Manchester, as an alternative. However the ground was not up to the required standard for Northern Premier League matches before an FA-imposed deadline at the end of March. He has since overseen, and paid for, work there to improve facilities. Indeed, it has been marketed already as Northwich Victoria's new home in an advert for a charity football match later this month.

'Our circumstances have changed', said Rushe. 'The team was challenging for promotion, so I had to sign a share with a club capable of hosting Conference matches. That's when Stafford kindly stepped in'.

Despite finishing as runners-up to Premier Division champions Chester, Vics were barred from taking part in the promotion play-offs and relegated as punishment for breaking finance rules. The club was subsequently allocated a place in Division One South by the FA's leagues' committee based on its signed accord with Stafford. However Vics have not announced admission prices, or attempted to sell season tickets, for matches there.

'My aims are simple; I just want to run Northwich Victoria from Flixton while I continue to work on getting the club back to town as soon as possible', added Rushe. The CAS must now decide if Vics have a case. It will invite the Northern Premier League's management committee to reply to the club's complaint, although it cannot be forced to. Indeed, CAS arbitrators can proceed without its co-operation if they want.

'The Northern Premier League's board made its decision, which was upheld on appeal by an FA disciplinary panel', a league source told the Northwich Guardian. 'The members of that same group made clear their decision was final and binding'. The league's spokesman added that it had yet to receive formal notification that Vics had approached CAS, so could not comment any further".

In the meantime, last Saturday, Northwich Vics lost a pre-season game at Rhyl, 2-1. Their side was 1. Craig Vernon, 2. Travis Gray, 3. Grant Niblett, 4. Sam Christensen, 5. John Hardiker (capt), 6. Paul Mooney, 7. Joe Guest, 8. Connor Millington, 9. Odilon Koubemba, 10. Jordan Nield, 11. Lee Dodgson. Subs: Adriano Rigoglioso, Chris Luby, Izzy Mbire, Ross Farran, Theo Thompson.
---
6 August 2012
WREXHAM IMAGES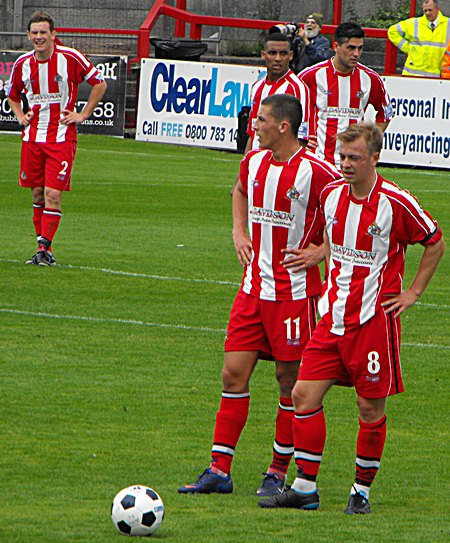 Right: We see Paddy Lacey and Scott Phelan making sure that against Wrexham last Saturday there is no repeat of last Tuesday's quick freekick which caught out Alty at Mossley. In the background can be seen a happy Shaun Densmore as well as Carl Rodgers and Gianluca Havern.
There is a gallery of 17 photos from the Altrincham v Wrexham games on the Wrexham website.
NEXT VISITORS
Altrincham entertain FC United of Manchester this Thursday (7.45pm) at Moss Lane. FCUM report on their recent 2-0 loss in a friendly at Macclesfield Town. Their team for that game was:
1. Jon Worsnop, 2. Kyle Jacobs (capt), 3. Lee Neville, 4. Dave Birch, 5. Adam Jones, 6. Dean Stott, 7. Nicky Platt, 8. Jake Cottrell, 9. Kris Amadi, 10. Jerome Wright, 11. Matty Wolfenden. Subs: 12. Stephen Johnson, 13. James Spencer, 14. Carlos Roca, 15. Daniel Grimshaw, 16. Chris Curley, 17. Paul Jones, 18. Scott Cheetham, 19. Karl Munroe, 20. Mike Norton.
CSC DRAW
The Cheshire Senior Cup draw for 2012-13 has been made by the Cheshire County FA. "There were 22 team entries into the draw and they were as follows:
1 ALSAGER TOWN
2 ALTRINCHAM
3 CAMMELL LAIRD
4 CHEADLE TOWN
5 CHESTER FC
6 CONGLETON TOWN
7 CREWE ALEXANDRA
8 HYDE UNITED [! i.e. HYDE FC]
9 MACCLESFIELD TOWN
10 NANTWICH TOWN
11 NORTHWICH VICTORIA
12 NORTHWICH VILLA
13 RUNCORN LINNETS
14 RUNCORN TOWN
15 STALYBRIDGE CELTIC
16 STOCKPORT COUNTY
17 TRANMERE ROVERS
18 VAUXHALL MOTORS
19 WARRINGTON TOWN
20 WINSFORD UNITED
21 WITTON ALBION
22 STOCKPORT SPORTS

Preliminary Round – to be played by Saturday 10th November 2012 (week commencing Monday 5th November 2012)

6 games = 12 teams + 4 exempt + 6 byes = 22 entries
9 MACCLESFIELD TOWN v 16 STOCKPORT COUNTY
2 ALTRINCHAM v 6 CONGLETON TOWN
1 ALSAGER TOWN v 3 CAMMELL LAIRD
12 NORTHWICH VILLA v 8 HYDE UNITED [sic]
19 WARRINGTON TOWN v 14 RUNCORN TOWN
4 CHEADLE TOWN v 5 CHESTER FC

Exempt – 7, 10, 15 & 17. Byes – 11, 13, 18, 20, 21 & 22.

Future Rounds:
1st Round – Saturday 19th January 2013 ( w/c Monday 14th January 2013)
2nd Round – Saturday 16th February 2013 (w/c Monday 11th February 2013)
Semi Finals – Saturday 16th March 2013 (w/c Monday 11th March 2013)

The Cheshire Senior Cup is being sponsored by Peak Associates for the 2012-13 Season."

Altrincham's opponents, Congleton Town report that "All the preparation for the new season has been done. [Ex-Alty player] Jim Vince has assembled his squad and training and pre-season matches have got them ready for this Saturday's opening fixture. A fine performance at home to Northwich Victoria saw the Bears triumph by a solitary goal scored by Mike Koral. His cool finish was just reward for a performance where the Bears hit the bar twice and went close on a number of occasions. It certainly left the home supporters in good spirits ready for the visit of Bootle to Booth Street this Saturday KO 3pm. That is followed by the trip to Runcorn Town on Monday 6th August KO 7.45. These two tough opening league fixtures are against sides that the Bears have failed to beat since their recent promotion to the Premier Division...

Jim Vince has made the additional signings of James Marrow from Alsager Town and local goalkeeper Gareth Cresswell as he puts some final touches to his squad".
GREAT NEW ALTY MERCHANDISE
Altrincham FC club photographer, Gavin Rathbone of GR Photography has produced some attractive merchandise which will interest all supporters. Gavin writes...
Mug: £6
There are three options for your mug:
An "Altrincham Aces" collage, as shown above (front and back). This features Stuart Coburn, Damian Reeves, Nicky Clee, James Lawrie and Shaun Densmore.
An individual player collage (please advise which player you want to be featured at the time of ordering).
The Altrincham FC 2012-13 team photo. This will be available after 7th August.

i-Phone Cover: £10

Please note that this is available for iPhone 4/4s only. There is a choice of image, as follows:
Any individual player can be featured on the cover; the Damian Reeves version is shown above. Please advise which player you want to be featured at the time of ordering.
The Altrincham FC crest.

Currently orders can be placed via the following methods -
Contact the club on 0161 928 1045 and give your order to Karen Rowley.
e-mail Gavin Rathbone with your order, providing the necessary details.

Orders can be collected and paid for at Moss Lane. For orders that need posting, please contact me or Karen to confirm availability.

More products and more ways to order will follow!".
BSBN NEWS
Worcester City report that "Breeze and Mills sign up. Greg [Mills] finally put pen to paper on a deal that will see him return to The Lane after originally joining from Telford in the January transfer window early this year. Greg went into the summer break with the blessing of [manager Carl] Heeley, hoping to seal a full time role back in the football League or Conference Premier. Greg started his career with Derby County and had been hoping to return to full time football.

He told Carl that if he was unsuccessful, the only side he wanted to play for in the second tier of non-league football was with Worcester City and he was good to his word by penning a new deal before the loss to Shrewsbury Town.

Also to sign... was Matt Breeze after negotiating a release from the final year of his Peterborough contract. Matt had spent time on loan at Histon last year but was very happy to return to his family home in Worcester after recently living and commuting from Birmingham. Matt will also be looking to make an impact at St. George's Lane whilst starting a new full time role outside of football".
---
5 August 2012
ALTRINCHAM 1 WREXHAM 1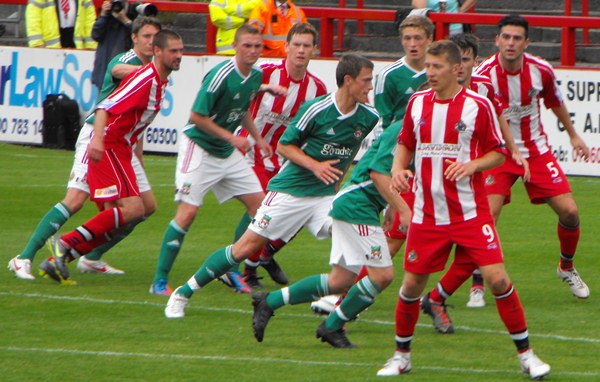 Left, L. to R.: Danny Hall, Shaun Densmore, James Lawrie, Simon Richman and Gianluca Havern, defend Alty's goal against Wrexham.
Match report here.

After Saturday's game at Moss Lane, Wrexham report that "Alty took the lead on 25 minutes, after Westwood conceded a penalty for a foul on Richman. Damian Reeves fired the ball straight down the middle to put home team in front...

It was all level on 30 minutes and in spectacular fashion. Rushton fouled by Phelan 30-yards from goal, Simon Hackney curled the free kick round the wall, keeper hand to it, but couldn't stop it...

Nice play from defence by Alty saw the ball fed through to Richman on the edge of the Wrexham box, but the midfielder's effort was rushed and he pulled the ball wide of the left hand post.

Two minutes into the second half and Richman robbed Ashton outside the box raced in on goal, but Mayebi tipped over his shot for a corner. He should really have scored with all the goal to shoot at...

Phelan was then unlucky to fire across face of the Wrexham goal after turning inside Stephens. Then Lawrie ran from the half way line before a combination of Creighton and Coughlin blocked him for a corner...

Shouts of hand ball against Westwood as Mitchley's snap shot bounced up and hit the Wrexham defender. This all came after a surging run by Sam Grimshaw down the left flank for the Robins. A fair result in the end".

Before the game, the Daily Post had written that "Midfielder Simon Hackney will be playing for a contract when Wrexham take on Altrincham...

The former Bury and Rochdale player has been with the Dragons for more than a month, but his stay has been blighted by injury and his time on the pitch restricted to a cameo appearance off the bench in Tuesday's 4-1 victory over Coventry City... Wrexham player-manager Andy Morrell said, 'Simon will start tomorrow because we need to take a look at him and make a decision about him'...

Still keen to add a midfield player and a striker to his squad, the Racecourse boss confirmed in a roundabout way his interest in Fleetwood Town's Danny Rose... With only defender Stephen Wright unavailable through injury, Morrell wants to see a performance today to match that on Tuesday when his side gave their League One opposition a mauling...

And Morrell believes his first pre-season as a manager could not have gone much better, adding, 'We've got the balance right in terms of opposition; we have played a couple of teams that are higher in the pyramid than us and a couple that are lower. The Vauxhalls and the Altrinchams are very similar to us and could very well be in the same league as us, so they are the games you look at because they represent more accurately the challenge we face this season.

It's all very well winning all your pre-season games but that counts for nothing in the first league game and I think everyone is looking forward to getting started now. I don't think it could have gone much better'".
OLD BOYS
The NW Counties Football League reports that "Kelvin Lugsden grabbed an 89th minute equaliser for Glossop North End at home to Stone Dominoes."

And at Droylsden, Burnley's development squad won the Tony Downes Memorial Trophy 4-0, against a Bloods' team which included former Alty man Joe O'Neill.
BSBN NEWS
Pitchero Non-League reports that "Chester FC's Marc Williams scored three second half goals to help the Blue Square Bet North newcomers beat North Ferriby United and win the Peter Swales Challenge Shield.

The promoted Evo-Stik Northern Premier League Premier Division champions head into the Conference North campaign with their first silverware of the season after Williams struck on 56, 58 and 90 minutes to overcome Doodson Sport League Cup winners North Ferriby United...

Chester`s new league rivals, Brackley Town, won the Evo-Stik Southern League Championship Match by beating Red Insure League Cup winners Clevedon Town 2-1 at St James's Park. Brackley went ahead through Brett Solkhon after just 6 minutes, but the Southern Division One South & West visitors bounced back to level after 20 minutes with Joe Flurry the scorer... The Northamptonshire side won it after 57 minutes as Eddie Odhiambo set Owen Story off down the right and his cross to the back post was headed in by Gary Mulligan from close range".

From the Times and Star we learn that "Versatile veteran Wayne Curtis has been handed a second chance to impress Workington Reds' boss Darren Edmondson. The 32-year-old former Morecambe man will be part of the team that travels to Lancaster City this afternoon (2pm).

Edmondson liked what he saw from the midfielder, who can also play as a striker, during his 65-minute spell in the 0-0 draw with Barrow, and said, 'Wayne deserves another chance to prove his worth. I was pleased with his performance against Barrow, and he will be with us with the trip to Lancaster. It's a game we will use to blood a couple more trialists'...

Mark Sloan is expected to start in the middle of midfield following David Hewson's knee cartilage problem with Mark Boyd and Anthony Wright also back in contention. Gari Rowntree and Gareth Arnison are missing through other commitments".
---
4 August 2012
ALTRINCHAM 1 WREXHAM 1
For the second time in a week, Altrincham drew a pre-season game 1-1 but this time it will be they who will have been the happier team, as they more than matched a side from the Conference's Premier Division and their goalkeeper, Stuart Coburn, had less to do than his counterparts, who shared the net-minding duties, in the Wrexham goal.

Altrincham took the lead, in the 26th minute, when Simon Richman was tripped on the outer edge of the box and Damian Reeves stepped up to convert the resulting penalty (seen, right). Just four minutes later, following a foul by Scott Phelan, Simon Hackney scored from 25 yards with a well-struck freekick to make it 1-1.

Numerous changes disrupted the game's second half flow but it was Altrincham who had more chances to score but failed to take them.

ALTRINCHAM (Red & white striped shirts, red shorts and socks): 1. Stuart COBURN, 2. Shaun DENSMORE, 5. Gianluca HAVERN, 6. Danny HALL, 3. Matt DOUGHTY, 7. Simon RICHMAN, 4. Carl RODGERS, 8. Scott PHELAN, 11. Patrick LACEY, 9. James LAWRIE, 10. Damian REEVES. Subs: 12. Scott LEATHER, 14. Nicky CLEE, 15. Ryan BROOKE, 16. Danny MITCHLEY, 17. Sam GRIMSHAW, 18. Adam REID (gk).

WREXHAM (Green shirts and socks, white shorts): 1. Joslin MAYBEI, 2. Steve TOMMASSEN, 3. Neil ASHTON, 6. Martin RILEY, 8. Jay HARRIS, 11. Simon HACKNEY, 14. Joe CLARKE, 15. Rob OGLEBY, 16. John HUNT, 19. Nick RUSHTON, 23. Chris WESTWOOD. Subs: 5. Mark CREIGHTON, 9. Danny WRIGHT, 10. Brett ORMEROD, 12. Dean KEATS, 13. Andy COUGHLIN (gk), 17. Andy MORRELL, 18. Declan WALKER, 21. Jay COLBECK, *. Anthony STEPHENS.
WREXHAM GAME
Brian Flynn advises us that "Radio Robins is broadcasting a live commentary of Saturday's game at home to Wrexham. The commentators are Niall Finnegan and Brian Flynn. The match summarisers are Joe Barry and Niall Flynn. Coverage begins at 2.55pm and you can listen to Radio Robinshere.

The Leader informs us that "Midfielder Glen Little is optimistic he will be available for selection when the new Conference campaign kicks-off in 10 days time. An ankle injury sustained in Saturday's clash with Blackpool meant Little missed last night's friendly against Coventry City at The Racecourse, and the 36-year-old is unlikely to be risked when Wrexham complete their pre-season programme at Altrincham on Saturday.

But Little believes he will be fit for the home game against Woking on the opening day of the season. 'I am a bit disappointed because Blackpool and Coventry are good games, you are playing against the better teams', said Little. 'I was looking forward to those two. I was a bit unfortunate to come off against Blackpool and miss Coventry, which are the best two friendlies. I don't want to risk it at Altrincham if it is not quite 100 per cent, there is no point'".
BSBN NEWS
Droylsden confirm that the club has signed the following players for next season, [ex-Alty players or trialists are in bold]: Chris Brown, Tom Baker, Phil Bolland, Antonio Bryan, Michael Connor, Tom Fisher, Steve Hall, Shaun Holden , Nat Kerr, Lewis Killeen, Andy Longford, Carlos Logan, Martin Ormesher, Joe O'Neill, Paul Phillips, Joe Reidy, Lee Rick".

And from Guiseley, comes news that they "are pleased to announce the signing of exciting young defender Macaulay Parkinson. Macaulay joins the Lions following a number of impressive performances in the friendlies to date, as well as strong showings in training. He is 16 years-of-age and is highly rated, having been at Sheffield United as a junior".

According to the Football Conference, "Dennis Greene, manager of Histon, has made the first additions to his squad... Joining the club are Claudiu Hoban and George Thomson. Hoban is a Romanian by birth, but a British passport holder, that played at Daventry Town last season and was previously at Kettering Town and Leicester City. The left-sided winger impressed in pre-season games...

Thomson is a central midfielder and a graduate of the Glenn Hoddle Academy in Spain. He made a couple of appearances last season with Hinckley United and will add competition for places in the centre of the park. One further important signing is that of Remy Clerima, who has signed a new contract.

Clerima has been a mainstay of the defence for two seasons now and has also been made club captain ahead of his third season in a Stutes' shirt".

Confirmation comes from the Conference that "Colwyn Bay have signed Kevin Holsgrove from league rivals Vauxhall Motors. A former Everton trainee, Holsgrove joined Motors in October 2011 from league rivals FC Halifax Town. He had only joined Boston United from Hyde FC a few months earlier but reluctantly left the Pilgrims due to the distance travelling from his North West home. The 24-year-old winger scored seven goals in twenty-one appearances for Hyde in 2010/11 and has also represented Colwyn Bay, NEWI Cefn Druids and Altrincham during his career".
BLUE SQUARE BET STEWARDS' CUP – HORSES FOR CLUBS!

The following has been issued by the Football Conference to replace its earlier press release:

It's the summer race that everyone looks forward to and at Blue Square Bet HQ in midweek the top 68 horses in the weights for the 2012 renewal of the Blue Square Bet Stewards' Cup were paired with the 68 clubs that make up the Blue Square Bet Premier, North and South. Thursday saw the final declarations for the race and a stall draw which took place in the Glorious Goodwood winners' enclosure featuring Olivia Godfrey from Sky Sports News. 28 clubs will now be willing their horse on to win a prize of at least £3000 and a number of other clubs will be cheering their horse on in the consolation race.

The bookmaker which sponsors the three Football Conference divisions, allocate a horse from their prestigious Glorious Goodwood race to every club. The horse which wins the valuable six furlong sprint – which takes place at the Sussex track at 3.55 on Saturday (live on Channel 4) – will earn one club a cash windfall on the eve of the new season. Blue Square Bet will give the club that 'owns' the winner £2000 plus the equivalent of a £100 bet at the Blue Square Bet SP on their runner. Last year Workington from the Blue Square Bet North scooped a huge £2700 when favourite Hoof It scored under Kieren Fallon at a Blue Square Bet SP of 7/1!

It's a wide open race this year and Blue Square Bet's current market has three co-favourites at 10/1. They are Hawkeyethenoo representing Hinckley United, Jamesie running for Corby Town and Victoire De Lyphar representing Tonbridge Angels. A random draw was made at Blue Square's offices on Tuesday morning and the top 68 entries in the race were allocated between the clubs. A maximum of 28 runners will go to post on Saturday, but there will be an extra chance to win for any clubs who miss out on the main event. A special consolation race will be run on the same day. The Get Your Bet On At Bluesq.com Stewards' Sprint Stakes will go off at 2.05 (also live on Channel 4) and will contain 28 horses which didn't make the cut for the original race. Any club with a horse in the consolation race will win £1000 if their runner is successful, with the extra boost of the equivalent winnings from a £100 bet on that horse at the exclusive Blue Square Bet SP.

The full draw for both races is alongside:

The following clubs had horses that were unfortunately eliminated: Bath City, Billericay, Braintree, Chester, Colwyn Bay, Dartford, Ebbsfleet United, Farnborough, Gateshead, Guiseley, Hayes & Yeading, Hornchurch, Newport County, Southport, Stalybridge, Worcester City, Wrexham.

The latest prices for both races are available on www.bluesq.com.
---
3 August 2012
LEE GOES WITH 18-MAN SQUAD
The Advertiser reports that "Lee Sinnott isn't planning on adding any more new faces to his Altrincham squad before the new season starts. The Robins' boss took the size of his squad up to 18 last week with the signing of 19-year-old midfielder Patrick Lacey, who played for Droylsden last season.

And that, according to Sinnott, is the final piece in the jigsaw...

'We are up to 18 players now and I am not planning on bringing anybody else in', said Sinnott, who is preparing for his second season in charge of the Robins. 'I am happy with the work we have done this summer. It is no secret that although we finished joint top scorers in the division last season, we conceded too many goals... We have to tighten up and that is one of the areas we have been concentrating on'.

Sinnott is hoping the addition of Hyde duo Luca Havern and Danny Hall in defence will go some way to doing that. But the biggest signing of the nine players he has brought in this summer is that of Damian Reeves...

'It is great he has come back', said Sinnott. 'But he is under no pressure. We have told him and the rest of the players that we can't expect him to repeat the season he had last year. If a striker scores 20 goals in a season then he has had a good campaign. So if Damian does anything above that then we will be delighted... We have been back in training six weeks now, and that is a fairly long time', he said. 'We know we have to put the work in, but really we are all itching to get going now. We all know what we need to do and we are all looking forward to it'".
ALTY ON WYTHENSHAWE FM
Brian Flynn advises us that "The WFM Sports Talk Show from Tuesday is now available to listen to here. There is an interview with John Edwards (Press & Media Officer) at the beginning of the broadcast".
MOSSLEY PICTURES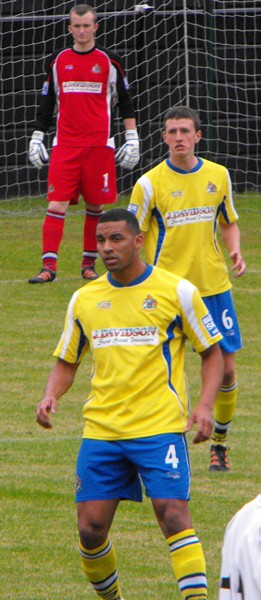 Right: Carl Rodgers, Scott Leather and Adam Reid are all in a line as they defend Alty's goal at Mossley last Tuesday.
From the Mossley side, there are photos of the draw at Mossley on the Six Tame Sides site.
BSBN NEWS
According to BSBN, "Halifax Town boss Neil Aspin revealed he will not make an offer for defender Luke O'Brien until he has a clearer picture of when Scott McManus will return from injury. The 23-year-old former Bradford City and Exeter full-back has been training with Town since his release from the Grecians at the end of last season...

He [Aspin] told the Halifax Courier, 'It's not wrong to say that Luke O'Brien is on trial but I think we know that he can play at this level. But we're just having to gauge it, with Scott McManus's injury and what we're going to do formation-wise. We're giving Luke match practice but if he got an offer that was attractive to him he would have to take that. Out of respect for him I don't want to use him, but it benefits us and him at the moment. Luke is a good lad and it would be wrong to say he was a trialist because he's proved he can play in the Football League so I don't think his ability is in doubt, but I've got other players who I have got signed up for next season and I've got that to consider as well'.

And while Aspin was delighted at his side's 4-1 win over Salford City, striker Lee Gregory revealed his intention is to help the Shaymen win the league this season... Gregory... added, 'We come to win every game and win the league. We're not here to aim for playoffs we're here to win the league'".

Elsewhere, "Yeovil Town will continue to trial Oxford City defender James Clarke before committing to signing the player, manager Gary Johnson has revealed... Johnson told This is Somerset: 'He was injured and he left us for a week to get rehabilitation and a bit of treatment. He has just come back...[and] joined us for the two games. We have got to see a little bit more of him but he has shown us bits and pieces. There are a lot of clubs interested in him at the moment but he would like to join us more than anybody else so we will have to wait and see'".

And "Boston United have confirmed the three-month loan signing of utility player Matt Wilson from Alfreton Town. The 25-year-old, who signed with the Reds ahead of the 2007/08 season, will already feature in pre-season for the Pilgrims following his temporary deal agreement with United. He joins Jason Lee's side having spent part of last term on loan at Guiseley...

'I see it as a great signing. Matt can play either at centre back or in midfield. He is a great competitor', the Pilgrims' boss told the club's official website. 'We plan to use him in the centre of the park to start with where he should give us good and imposing presence. This is a deal I have been chasing all summer. We have had to bide our time to work on things and check his availability. He is desperate to play and had offers from other clubs, but has preferred to come here'".

Our first league opponents are Brackley Town, whose website has a match report on their recent 0-0 draw with Luton Town.

According to the Times and Star, "Broken promises are to blame for Workington Reds' lack of transfer activity, according to boss Darren Edmondson. The 40-year-old has been let down by 'disrespectful' players and agents...

Edmondson has spoken to more than 20 players but has been left in the dark by those who have decided not to show up. He said, 'What can I do when a player agrees to join us for training and doesn't turn up? It's incredibly annoying and disrespectful to be told one thing by a player or his agent and to be left waiting when they don't arrive as planned. I have been let down by people who have not told the truth. We have agreed for players to turn up for games, only for the phone to ring a couple of hours before kick off with the same excuses.

Blaming geography is an easy get-out but I can't move Workington closer to Manchester, Liverpool or Leeds. Players know where we are, and give positive answers at first, only to use travelling as an excuse not to come. Wage demands are the other stumbling block. I know Workington can't offer massive wages. There is no bottomless pot of cash, but we offer competitive wages and a good standard of football'.

It's not all doom and gloom with goalkeeper Aaran Taylor poised to sign a new deal and Phil McLuckie back training with the club. Taylor, who left for a crack at professional football with Carlisle Utd, is ready to commit to the club... He said, 'There are things I still need to talk about with Darren but I want to complete my move back to Workington as quickly as I can, and get on with preparing for the new season'...

McLuckie played for the reserve team against Ambleside on Wednesday night but said he couldn't guarantee he would be around all season. Work commitments have stopped the 23-year-old rejoining full-time. He said, 'Nothing is guaranteed. If I do come back it will be a pay-as-you-play deal because I cannot be available for every game... Nothing is sorted. I haven't signed anything'".
---
2 August 2012
LEE NOT HAPPY WITH PERFORMANCE
Joint Press and Media Officer at Moss Lane, John Edwards, writes:

"Lee Sinnott demanded a reaction from his Altrincham players after a sluggish performance was almost punished by Evo-Stik League side Mossley at Seel Park on Tuesday night.

Despite leading through a crisp strike from second-half substitute Ryan Brooke, a misfiring Alty were caught napping from a quickly-taken free-kick and could have few complaints about being held to a 1-1 draw.

Wrexham seem certain to field a full-strength at Moss Lane on Saturday (3pm), just seven days before launching their Blue Square Bet Premier campaign, and Alty manager Sinnott has reminded his side there can be no repeat of Tuesday night's shortcomings.

'I'm sure Wrexham will bring the team they intend using the following Saturday, and I'll be expecting a reaction from my players. The Mossley game showed me a few things, and certain things were said afterwards. They were said behind closed doors, and that's where they will stay, but the players know where they went wrong and will be keen to put matters right.

'We were OK for the first 10 to 15 minutes but, after that, we didn't pass the ball as we should, we were not composed enough in possession and our movement was not good enough. We were playing individually, rather than collectively.

'In a way, I don't mind it happening now. Better to stand by the dug-out getting more and more frustrated in a pre-season friendly than when there are League points or Cup places at stake.'

Sinnott was at least encouraged by a more convincing 3-1 win at Trafford last Thursday and by the way his summer signings were able to integrate with the rest of his squad at a weekend get-together at the town's Cresta Court Hotel.

'We trained Saturday and Sunday, and the players met some of our supporters at the club on Saturday evening, and, all in all, it was a very worthwhile, beneficial exercise,' he said. 'It is something the club have been doing for a few years now, and I'm all in favour. I think it's a great idea.

'It was good to see Damian Reeves open his account at Trafford, and there were two very well-taken goals from Simon Richman and James Lawrie. But there are always lessons to be learned in pre-season games, and I want the players to recognise that when you are 3-1 up near the end, it's time to shut up shop a bit.

'I don't mean go ultra-defensive, and if we still manage to score a fourth, all well and good. But we have to make sure the opposition don't sneak a second goal, and I just hope they have taken that on board.

'Pre-season games are about using 16 or 17 players, not 11 or 12, and things can get a bit disjointed. But I am getting close to deciding on the line-up I want for the opening Conference game against Brackley. The good thing is, we have real competition for places, and I can double up all over the pitch.

'That's what you want, and it's good that players are pushing each other all the time, but I am beginning to formulate things in my mind.'

Carl Rodgers proved his return to fitness by excelling in central midfield and central defence at Mossley, while Matt Doughty and Danny Hall both hope to shake off thigh injuries in time to face Wrexham.
NEW AWAY KIT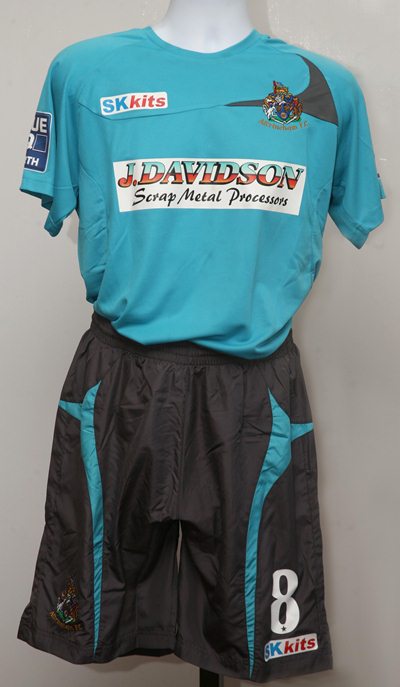 Coach Ian Senior informs us that he now leads Altrincham FC Assistant manager, Neil Tolson by two games to one in their pre-season "Crossbar Challenge", following Ian's success on Tuesday before the Mossley game.

Ian is also the Club's kit supplier, through his SK Kits company and he advises us about the new away kit (right) for 2012/13. He says, "After a few delays in production, the latest orders have been despatched [from the makers] and should be with me by Friday. Shirts will be available at the club shop at the Wrexham game on Saturday".
LAST GAME
Mossley report that they "continued their pre season preparations with an impressive performance in drawing 1-1 against a [nearly] full strength Altrincham side at Seel Park on Tuesday night. Lilywhites' boss Steve Halford named his strongest side of pre season so far and his team were far from overawed by their illustrious opposition who included the country's top scorer last season - 44 goal Damien Reeves.

As it was Mossley skipper Dave Young had an excellent game marking Reeves to the point that Reeves' contribution to the game was minimal and he was never allowed any scoring opportunities. Altrincham's greatest threat came from teenage winger Duncan Watmore, who on this evidence looks an exciting prospect.

Mossley were boosted by the arrival of ex-Hyde midfielder Ashley Young and the return to the fold of Cavell Coo. Chances for either team were limited by the quality of defending but that didn't mean that the game lacked entertainment as both sides played some attractive flowing football throughout.

Chris Rowney and Gavin Salmon came closest for Mossley in the early stages while at the other end Watmore opened the Mossley defence only to square the ball when a shot looked the best option and the chance was lost. Altrincham also fortuitously hit the woodwork when a clearance rebounded off an Alty player against the post.

The game continues to ebb and flow in the second period with Kayde Coppin enjoying some terrific play on the left wing but still scoring chances were few.

Mossley were denied a 'nailed on' penalty when Sam Hind was clearly upended by Altrincham keeper Reid but the referee chose to award a goal-kick. Mossley came close when a Dave Young free kick flashed narrowly past the post with visitors keeper Adam Reid beaten.

Mossley had just enjoyed their longest spell of pressure of the game when Altrincham broke the deadlock against the run of play on 71 minutes. The ball was played to a central position and Ryan Brooke got to it first to flash an unstoppable drive into the bottom corner from 25 yards.

Altrincham, buoyed by the goal laid siege but continued to be well marshalled and despite good possession were unable to forge any further openings.

At the other end, Mossley were awarded a free kick for a foul on Sam Madeley some 25 yards out. While Altrincham keeper Reid was out of position organising his defensive wall and the quick thinking Kayde Coppin stroked the ball into the unguarded net for a deserved 79th minute equaliser".

Mossley also report that they "have appointed Matthew Kirkwood as a Football Analyst. Matthew's remit will be to watch future opposition for the club and provide detailed analysis on players, formations, etc... Matthew is an FA Level 2 Coach (which he completed at just 17 years old) is about to take a UEFA 'B' badge and is also currently studying for FA Youth Modules as well as working as a scout for Everton Football Club... 21 years old Matthew has a 2:1 BA (Hons) Degree in PE & School Sport from Edge Hill University."

And Mossley con firm that "Several more players have put pen to paper for Mossley over the last few days, the latest two being midfielder [ex-Alty trialist] Ashley Young and striker Sam Hind. Also now signed with the Lilywhites for the 2012/13 season are Martin Pearson, Kayde Coppin, Dave Young, Keil O'Brien, Gary Gee, Jay Gorton, Nathan Taylor, Ben Richardson and [ex-Alty trialist] Gavin Salmon".
NEXT UP
On Saturday, Alty entertain Wrexham at Moss Lane. Wrexham's latest game ended "Wrexham 4 Coventry City 1 Wrexham returned to winning ways with this comprehensive success over Midlands giants Coventry City... Former Coventry City striker Rob Ogleby played to the referee's whistle, while others preferred to look at a linesman's flag, running through to fire home and put the Dragons into a lead they would hold for the rest of the evening.

Full back Neil Ashton doubled that advantage on 30 minutes, when converting from the penalty spot following a foul on Johnny Hunt... Dean Keates got onto the scoresheet following a dazzling run that swept him through a static City defence and ended with a chip over the keeper. The evening was made complete on 72 minutes with Hunt firing a lovely effort into the top corner of the Coventry goal...

Striker Brett Ormerod had to be content with the provider of two of the Wrexham goals...

Wrexham: Mayebi (Coughlin 77), Walker, Creighton (Riley 73), Westwood, Ashton; Harris (Colbeck 70), Keates, Hunt (Clarke 84); Ogleby (Rushton 84), D Wright (Cieslewicz 77), Ormerod (Hackney 75)".

"There was no disguising the manager's delight after watching from the sidelines as his team ran out comfortable winners against their League 1 opponents', said manager Andy Morrell. 'The front three were a real handful and the passing was great... Getting closer to the season, I wanted to turn things around and put teams under pressure, especially for the first 15 minutes. When you have got Rob and Dan, who are better facing the opposition goal, running and constantly on the move, then we will be a handful and cause them problems...

The passing and the movement of the middle three, the lads at the back looking really comfortable I'm really pleased'"
OLD BOYS
Our pre-season opponents last Thursday, Trafford, had a good win over Witton, 4-2 at Shawe View this week. Witton report that former Alty man Steve Connors was Man of the Match for them. A former Alty trialist Tom Schofield, playing at centre-back, and former reserve striker Ashley Stott were in Albion's side.

Witton say that "The first half was dominated by Witton Albion, mainly to 2 outstanding performances by Anthony Sheehan and Stevie Connors in the heart of the Witton midfield. Time after time they read the oppositions attempts to pass the ball out of defence, before setting up the forwards... Ashley Stott was put through down the channel, and he very coolly picked his spot in the corner of the net" to give Albion the lead" before Trafford turned the game around".
---
1 August 2012
MOSSLEY 1 ALTRINCHAM 1

Above: Mossley's Seel Park has an impressive backdrop as we see Alty in action on Tuesday night.
Match report here.
WFM SPORTS
Brian Flynn advises us that an interview with his co-Press and Media Officer at Moss Lane, John Edwards was featured on WFM Sports Show, with Kevin Thompson on Tuesday morning. The programme can be heard on 97.2 FM or online.
COMMUNITY DROP-IN SESSIONS
Altrincham FC PR & Promotions Manager, Pete Foster, writes:

"Altrincham Football Club's Community Section will be running 'Drop-in' sessions offering football activities during afternoons throughout the school holidays. These sessions would be for young people, boys and girls, aged 11-18 for 2 hours, two afternoons each week (Tuesday and Thursday from 1pm until 3pm). The location for the sessions is Timperley Sports Club. The sessions will be run by qualified coaches and they are open to anyone from Altrincham, Timperley, Sale, Wythenshawe areas who is able to get to the Timperley location. There is no charge for attendance, with the costs being subsidised by Trafford Borough Council".
YANKEE
With last week's Altrincham FC Saturday Yankee producing no member with the winning code 2666, this week's three "Treble" winners had their prizes doubled to £133.33 each. The jackpot of £600 was won by the lucky holder of code 7273.
BSBN NEWS
BSBN reports that "Bradford Park Avenue manager John Deacey was pleased with his side's showing as they drew 3-3 with Doncaster Rovers in a pre-season friendly clash at Horsfall Stadium... [which ended in a] a share of the spoils on a sunny Saturday afternoon.

After the match, Deacey told the club's official website, 'I thought we let them back in the game, and I will say, the goalkeeper made a couple of mistakes, but, we did well! We saw some great signs, I thought (James) Riley did well, and, when (Paul) Walker came on, he showed great feet. I thought (Matt) Dempsey at centre half did well, (James) Knowles and (Rob) O'Brien were good and (Jamie) Jackson had a good game. Also, Holland's goal was a great finish. It was good all round, against a very, very strong Doncaster (Rovers) side, it was their full side.

I'm cutting the squad down this week. I may let some people go to EvoStik sides and keep them on dual registration".

At Stalybridge Celtic "Jim Harvey [has] added six signings to his squad... Five of them are familiar names with Mitchell Austin, [ex-Alty man] Mark Lees, Kristian Platt, [ex-Alty] Tim Ryan and Callum Warburton all putting pen to paper... The first new face in the squad is midfielder Adam Pepper who has impressed in his pre-season outings so far. Adam (20) spent last season in the Welsh Premier League with Aberystwyth Town, and lists Liverpool among his previous clubs".
---
FOR EARLIER NEWS, CLICK HERE
---