Altrincham FC Archived News
July, 2012
---
31 July 2012
ALTRINCHAM FESTIVAL
TASC's Steve Foster writes:
"Altrincham Football Club, Altrincham Football Club Community Company, Altrincham Football Club Juniors and Altrincham Football Club Ladies joined forces to provide a presence at the Altrincham Festival on the 7th July.
A float decorated to promote all sections of the Football Club was entered on the parade, with a large number of fans, players and parents of players travelling on, or by foot with, the float.
At the field, the stall, which was manned by representatives of all four sections of the club, raised a total of £242, which was split between the sections of the Club.
On behalf of all involved in Altrincham Football Club, we would like to thank the following people who helped out to make this event possible.
All the juniors and the parents of juniors who participated in the parade, Karen, Grahame and Sarah Rowley, Dan and Phil Jones, Pete Foster, Anthony Wright, Louise and Jack Bowyer, Colin Mitchell, Stacey Lee, Graham Houghton, Rick Brennan, Brian Flynn, Mike Ford, Jack Jolly, Dawn Abbott and Ian Gallagher.
We would also like to add a further thank you to Ian Gallagher of Gallagher Roofing, for their kind loan of a flatbed truck which we used as the float".
TRAFFORD WELCOMES THE WORLD
Above, courtesy of Darren Gregory, we see the Altrincham FC Juniors in the main shopping precinct in Altrincham as part of last Saturday's "Trafford Welcomes the World" initiative. The event was tied in with the London 2012 Olympic Games, for which some of the football games are being played in the Borough of Trafford, at Manchester United's Old Trafford stadium.
The Altrincham FC representation included street football and juggling competitions.
OLD BOYS
Two Alty "old boys" who are likely to face Altrincham this season were in action last Saturday; Greg Young conceded a penalty for his new club, Gainsborough, whilst Kevin Holsgrove turned out for Colwyn Bay.
BSBN NEWS
Bishop's Stortford
announce that a "Centre-back signs. After a solid performance against Cambridge United, Rod Stringer got David Obaze the 6'4", 23 year-old Nigerian to sign for the Blues. David has previously played for Weymouth, Grays Athletic and most recently Sutton Utd in the Blue Square Bet South".
There is an international flavour at Corby Town where they club has "completed the signing of French central defender Briand Pierrick, subject to international clearance. Pierrick, who has previously played in the third tier in France and at Dover Athletic, arrived at Steel Park in June for a trial.
Following outstanding displays alongside skipper Paul Malone... the Frenchman has now earned himself a deal. Manager Sampson said, 'I am very pleased that we have managed to sign Briand... He has been very influential and impressive during pre-season and showed a great hunger and desire to get himself over from France for a trial at Corby'".
PRE-SEASON FRIENDLIES
After their away friendly at Mossley tonight [Tuesday], Altrincham's next home friendly is this Saturday, against
Wrexham
who have announced their squad numbers for 2012/13.
1 Joslain Mayebi
2 Stephen Wright
3 Neil Ashton
4 -
5 Mark Creighton
6 Martin Riley
7 Adrian Cieslewicz
8 Jay Harris
9 Danny Wright
10 Brett Ormerod
11 Andy Morrell
12 Dean Keates
13 Andy Coughlin
14 Joe Clarke
15 Rob Ogleby
16 John Hunt
17 Glen Little
18 Declan Walker
19 Nick Rushton
20 Leon Clowes
21 Jay Colbeck
22 -
23 Chris Westwood
24 -
Manager Andy Morrell told the Wrexham reports that "The boss came up against one of his former clubs [Blackpool] on Saturday and despite losing out declared himself happy with what he witnessed.
'They keep the ball unbelievably well but play with no striker, I think Ian Holloway has been watching plenty of Barcelona in action', he said. 'Kevin Phillips drops into holes, they play 4by3, 5by3, with the wingers coming in - but they always had an option going to get in behind us. It caused us more than enough problems, especially in the first half...
Obviously they had an advantage of bringing on a fresh set of legs for the second 45 minutes, while we had a few tiring bodies because we need those 90 minutes under our belts', remarked Andy... 'We did alright in the first half at times, so generally I was pleased. Having said that, the couple of goals that we gave away were pants really! We were in possession of the ball a couple of seconds before both goals... Our final ball in the last third was not good today. We didn't seem to be able to pick the right option', said Andy.
'We are three weeks in and have two weeks left, so we'll be looking to sharpen up those tools at the right end of the pitch from Tuesday night on'".
Admission charges on Saturday at Moss Lane are:
Adults £7
O.A.Ps and Students (on production of a valid student card) £3
FREE ENTRY FOR UNDER 5s & ALTRINCHAM FC SEASON TICKET HOLDERS
CHESHIRE NEWS
The A href="http://www.northwichguardian.co.uk/sport/witton/9842193.Witton__no__to_relocation/">Northwich Guardian reports that "Witton Albion's reluctance to move to a new stadium could force developers to draw again plans for what Wincham will look like in the future. The club used last Thursday's meeting of Cheshire West and Chester Council's strategic planning committee to make clear again its policy of preferring to stay put.

Chairman Mark Harris did the same in a letter to the local authority in May. 'If Witton move it will be on their terms', said council planning officer Paul Friston. 'As landowners, they alone must decide whether to allow development on their plot. Their current intention is not to'.

Witton's board was unhappy earlier this year when Emery Planning Partnership, advising house builders Gladedale and Russell Homes, told the council's planners what a new home for the club could [look] like elsewhere in the town. Albion officials were not asked for their opinion.

'I find it remarkable that such discussions could take place, never mind be made public, without the club being involved', wrote Mr Harris.

No detail of where a replacement stadium might be built was included in a plan for 1,000 new homes in Wincham approved by councillors...

Witton board member Reg Hardingham... told members that his seven-words utterance would be the briefest yet at a Cheshire West and Chester Council meeting. 'The club has no plans to move', he said slowly before returning to his seat".
---
30 July 2012
NEXT GAME
Altrincham travel to Mossley for their next pre-season game on Tuesday night (k.o. 7.45pm). The game is at Mossley's Seel Park, for which the postcode is OL5 0ES.

With Stuart Coburn still on holiday, Adam Reid will keep goal for the third successive match.
DAMIAN'S SAD SUMMER
In Sunday's NL Paper, Damian Reeves explains the sad circumstances of his return to Altrincham. In late June, Damian's "girlfriend, Lauren Hathaway miscarried their first child just days before he was due to start training at League One club Preston North End". Lauren and Damian then had to arrange the child's funeral.

Damian told the NLP, "I've had people questioning my ambition and calling me all sorts on Twitter and internet forums but they don't know the truth. Maybe when they read this they'll step back and think, 'Yeah, he made the right decision for his family'. It's been a nightmare few weeks'.

The NLP adds, "Reeves, who had already rejected a move to Kilmarnock and had been talking to hometown club Doncaster Rovers... was set to train with Graham Westley's Preston North End".

Regarding when he went to play a friendly for Gillingham recently, Damian said, "I was expecting to have a medical and sign but manager Martin Allen knew I was a bit behind [with fitness] and the reason for it and wanted me to play in a game. I played at Dartford and did well without scoring... but he wanted me to go away, work on my fitness and go back in a fortnight to play again'".

Damian and Lauren decided not to pursue the matter with Gillingham as "The goalposts kept getting moved and, financially, I couldn't afford another fortnight without working. I was completely broke with the time I'd had to have off [work]".

Damian had nothing but praise for Alty chairman Grahame Rowley and manager Lee Sinnott, saying, "Grahame and Lee... have been first class. If I'd gone anywhere else on a two-year contract [which Alty have now given him], no one would have allowed me to have that clause", allowing a move to a Football League club. Damian added that over the summer Grahame and Lee "have never pestered me... Gainsborough made me a better financial offer and it's closer to where I live, while Lincoln was tempting because that's where Lauren is from originally. But I'd promised Grahame and Lee I wouldn't go to another non-League club and I had to keep to that.

I love the club. I'm working for people I respect and they know that I've still got ambitions to play in the Football League but, at 26, it's got to be this year. They are happy with the situation that I've got to perform for them on the field to stand any chance of the clause being activated. I'm totally focused on doing well for Altrincham and helping them get promoted'".

Needless to say, everyone connected with Altrincham FC greatly admires Damian for his honesty and commitment to his word throughout this sad episode and extend to Lauren and him every good wish for the future.
BSBN NEWS
The NL Paper reports that Eddie [Anaclet] Odhiambo, who played against Alty for Oxford United, could face us again next season as he is trialing at Brackley Town.

BSBN tells us that "FC Halifax Town manager Neil Aspin has confirmed the signings of midfield duo Jason Jarrett and Paul Marshall... Their arrival brings the squad number to 17 players, with a few more trialists still looking to prove their worth.

Full Confirmed Squad: Matt Glennon, Phil Senior, Ryan Toulson, Danny Lowe, Ben Futcher, Scott McManus, Jason St Juste, Chris Worsley, Jon Worthington, Liam Needham, Dan Gardner, Jason Jarrett, Paul Marshall, Gareth Seddon, Dale Johnson, Lee Gregory, Jamie Rainford".

BSBN also reports that "Worcester City boss Carl Heeley has confirmed Phil Green has joined rivals Hinckley United. Green's exit at St George's Lane follows closely that of former Mansfield Town striker Simon Brown, who left in search of regular game-time.

'I am hoping to go into the new term with a squad of around 18 or 19 players and will be making further announcements on those we intend on keeping this season', Heeley told Worcester News. 'We have already started to trim the squad down, with Simon leaving us, and I spoke to Phil after the weekend to say that he would not be a first-team regular this season, but we would help him find opportunities. Phil really helped us out last season when Mike Symons and Michael Taylor were injured. He was a good squad player and we want to thank him and wish him all the best. I spoke to Dean Thomas, the manager at Hinckley, this week and he has agreed a deal with Phil'".

At Vauxhall Motors, "Carl Macauley has continued to strengthen his squad with the signings of Craig Mahon and striker Tom Rutter. Skilful winger Mahon has signed a 12-month contract and has looked impressive in Motors' pre-season games. The ex-Wigan Athletic youth player has been with the Motormen since September 2010 and has made 88 appearances to date, scoring 8 goals.

Rutter has been signed after a successful trial with the club. Last season he played for Knutsford FC and scored an outstanding 26 goals in just 21 appearances. The Cheshire youngster has previously played for Northwich Victoria, Witton Albion, Radcliffe Borough and Runcorn Town. He has also represented England Schoolboys against Northern Ireland, New Zealand, China and Wales".
---
29 July 2012
MEETING THE PLAYERS AND MANAGEMENT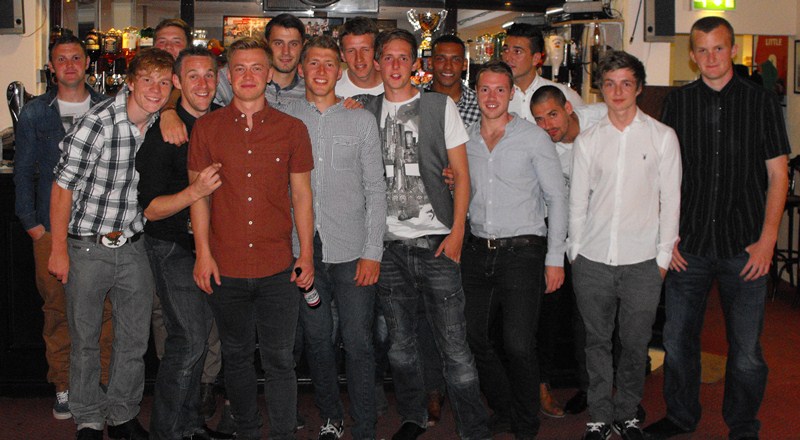 Nearly all of Altrincham's 18-man squad were at Moss Lane on Saturday evening, along with manager Lee Sinnott and assistant boss Neil Tolson, for a "Meet the Team and Management" event, open to all supporters.
The evening started with the players and management being available in the bar for supporters to meet. Manager Lee Sinnott and assistant Neil Tolson meanwhile moved around the room talking with groups and individuals.
Nicky Clee then suggested to TASC chairman Brian Flynn that a "Question and Answer" session be held and he proposed a panel comprising captain Shaun Densmore and new striker Ryan Brooke, who has quickly established a reputation at Moss Lane as what one of his team-mates termed, a "soft lad"! Ryan preferred to describe himself as someone who likes to liven up the dressing room with his banter. In his recent matchday programme article, Shaun had described Ryan as "He's got to be the oddest man I've ever met. Really strange, but funny. Turned up for the first game, looking as if he had just rolled out of bed. Looked like he was wearing pyjamas. Didn't get much better on Tuesday night, when he fell asleep during the manager's team talk! Honestly, I thought Reevesey was laidback, but Ryan takes it to a whole new level".
Responding to these allegations of falling asleep, Ryan insisted he had merely closed his eyes to reflect on the game.
The management team of Lee Sinnott and Neil Tolson joined Ryan and Shaun on the panel and it was Neil who dropped the first bombshell. The former silky Football League front man announced his retirement from competitive football, having been registered last season as a player at Moss Lane, though he had only figured as an unused substitute.
Asked about the coming season, Lee said that as well as the "usual suspects", namely those teams which had done well last season and those spending money this campaign, you could always expect one or more of the less fancied teams to "emerge from the pack". Hyde had been a prime example of that last season.
Shaun Densmore was then put on the spot as Lee mischieviously suggested that the Alty captain should give us a 20 second resume of each of the new players, which Shaun gamely did. Describing Matt Doughty as "My hero, my fellow full-back", he bracketed "Buzz" alongside his other full-back hero, Leighton Baines. Unfortunately, one attendee whose name will not be mentioned, mis-heared this reference as being to Wes Baynes, the former Alty winger, which caused some consternation in the room.
Amongst the revelations about the new players was the information that Carl Rodgers had cleaned Matt Doughty's boots whilst both were at Chester City! Discussing the three players (Adam Reid, Duncan Watmore and Sam Grimshaw) who have joined the first team from the youth squad, we heard how Sam's bright red plimsolls had created quite an impression on manager Lee Sinnott in particular.
After defenders Scott Leather, Luca Havern and Danny Hall had been subjected to Shaun's analysis, striker Danny Mitchley was described as "the oldest 22 year-old in the world" and Ryan Brooke was characterised as "never shutting up". Shaun also welcomed Paddy Lacey, Alty's most recent signing, in his absence. Shaun portrayed the signing of this "Scouser" as part of his plan for the "Liverpool Mafia" to take over control of the dressing room, which he thought was currently in the hands of the Yorkshire contingent - presumably Nicky Clee and Damian Reeves!
Apart from Paddy, the only players not in attendance were Damian Reeves, who had been sent home to nurse a bad throat, and goalkeeper Stuart Coburn, whose stated age increased each time he was mentioned by his team-mates as the evening progressed. On the subject of age, compere Brian Flynn apologised to Adam Reid for stating that he was 19 in his recent NL Paper match report; Alty's young keeper has, in fact, only recently had his 18th birthday (29 June). Adam will again keep goal at Mossley on Tuesday night.
Discussion about individual fitness indicated that James Lawrie and Simon Richman were the chief candidates for the title of most physically fit player at Moss Lane. Simon had even brought his dog along to the pre-season game against Nantwich with some suggestion being made that he had actually outpaced his canine whilst running to the ground.
The adjustment from full-time to part-time was raised and Neil made the point that full-time footballers, as he had been, were cocooned from reality but, once a player went part-time, he appreciated the game more. Matt Doughty supported this view, saying how each Tuesday he looked forward to that evening's match from the moment he got up to go to work at 6am.
Asked about Damian Reeves, Lee Sinnott and Neil Tolson both indicated that they would be happy if each of the club's strikers got 20 goals this season as they felt that expecting Damian to repeat his haul off 44 strikes would place unfair pressure on the him. The management also stressed that Damian's achievement had owed a lot to team-mates creating chances in addition to his individual skill in putting the ball in the net.
Lee explained that he and Neil had assembled a squad of 18 players and acknowledged that it was a younger group than last season. He said that he was "looking to build something that is fresh, combined with a measure of experience". This season only Stuart Coburn (36) and Matt Doughty (30) are 30 years old or more.
Lee added that it was vital that the 18 man squad worked as a unit and he concluded by pointing out that he and Neil had "many permutations" available to them, given that so many of the squad could play in a variety of positions on the field.
The players, based for the weekend at the Cresta Court Hotel in Altrincham, were then released to enjoy the rest of the evening before they were due to return on Sunday for further pre-season preparations.
BSBN NEWS
The Football Conference reports that "Following the turbulence of the last couple of weeks the new board of Hinckley United believe that things are starting to take shape both on and off the field and there is more than a glimmer of light at the end of the tunnel.

'The Board would like to thank all the sponsors both new and old who have entered this season's shirt draw. The draw which takes place on Friday 10th August in the Holiday Lounge is shaping up to be another successful event. Tickets are £495 + VAT and will be available right up to the draw.

On the field the new squad is starting to take shape with the likes of Robert Peet (goalkeeper), defenders Ben Everton Richards, Paul Lister, Jack Lane, Declan Towers and Charlie Raglan; midfielders Dan Bragoli, Jake Holt and Mark Dudley; attacking options of Aman Verma and Phil Green so far all agreeing terms with manager Dean Thomas.

To further re-emphasise the stability and belief that is growing down at Leicester Road, seven of this cluster have already agreed contract terms to further underpin the fact that we expect to be "having-a-go" this season rather than just making up the numbers, as was initially thought by some. The togetherness and belief is equally as strong within the newly formed U21 camp where another seven players have also agreed contract terms with Neil Lyne.

'For those unaware the under-21's will be playing in the Midland Combination League... Under-21 games are also included in the season ticket price.

Off the field the conference and banqueting activities are also starting to take shape with over 460 delegates per month already confirmed on conferences between August and January 2013 and additional bookings already pending for September through to May 2013.

The new board feel that it is imperative that the conference and banqueting side of the business is built up to underpin the football club because historically this has always been operated at a loss. The current financial situation is that our overall cost of operation is at a sensible level and manageable, this now includes the 2012-2013 football budget. However, the aged creditor portfolio and legacy liabilities are what have traditionally created the negative cashflow that we suffered in previous years and especially in the first and second quarters of this year.

The new board of directors will continue to build up the non-football activities as the mechanism for paying off this legacy debt whilst ring fencing our cost of operation and preserving our football budget".

The Daily Post reports that "Colwyn Bay player-boss Jon Newby is hoping to complete the signing of midfielder Michael Thomas when he faces his former club Macclesfield Town... The 19-year-old, who has played a part in all Bay's pre-season games so far, was released by Macclesfield in May after being with them for three years...

Newby said, 'We are hopeful of getting something done with Michael after the Macclesfield game'. The Seagulls will also have a trialist keeper on duty as both Chris Sanna (on a physio course) and Andy Metcalf (holiday) are again unavailable.

Newby said, 'We plan to have a look at a lad who is currently Southport's number two keeper but who is looking for the chance to get more regular first team football... I know we need to be sharper in the final third, but that is usually the last thing to come in any pre-season build-up. What I would really like on Saturday is for us shut up shop at the back and stop conceding soft goals'".
---
28 July 2012
SATURDAY NIGHT - MEET THE MANAGEMENT AND PLAYERS
This Saturday (28th July), supporters are invited to the club to meet the Altrincham FC management and players in the bar at Moss Lane, from 8pm. It will be an opportunity to put any questions that you have to Lee Sinnott and Neil Tolson about the forthcoming campaign.
SPONSOR A PLAYER!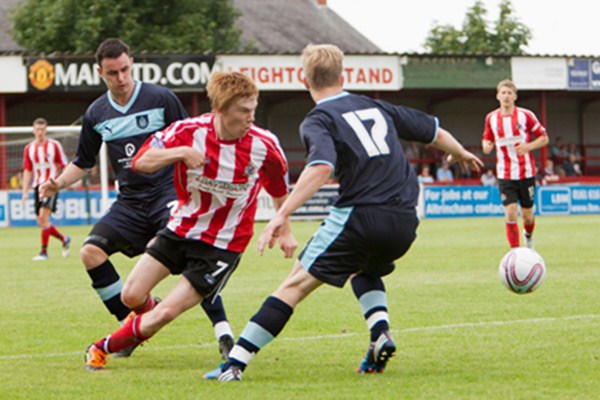 Right: Duncan Watmore in action against Burnley, last Saturday, photographed by Gavin Rathbone of GR Photography.
Altrincham FC is offering sponsorship of its players and coaching staff for the coming season. The price is just £150 to sponsor a player's shirt for the whole season or a bargain £250 if you want to sponsor two shirts (e.g. home and away)! As a sponsor, your name will be in each match-day programme, printed under an image of your chosen player, and your name will also appear in the Manchester Glass Sponsors' Lounge, under a photograph of your chosen player. At the end of the season you will recieve the shirt of the player you have sponsored, personally signed to you, by him! (You will receive the numbered shirt that the player has worn most times during the season).
The players/ staff who have already been sponsored are:
Lee Sinnott - Home
Stuart Coburn - Home and Away.
Shaun Densmore (right) - Home
James Lawrie - Home and Away
Nicky Clee - Home and Away
Danny Hall - Home
Duncan Watmore - Home and Away
Sam Grimshaw - Home
Damian Reeves - Home and Away
Matt Doughty - Home
Gianluca Havern - Home and Away
OLD BOYS
On Thursday, Abbey Hey played FC United of Manchester, whose team included recent Altrincham trialist defender Nick Swirad and, on the bench, was former Alty Youth, Theo Kidd.

Alty's next game is away at Mossley on Tuesday night. Mossley's team last Tuesday for their friendly with Prestwich Heys, (which they won 5-2), was 1. Martin Pearson, 2. Mark Haslam, 3. Ben Fallows, 4. Brad Yearwood, 5. Dave Young (c), 6. Mark Rogers, 7. Greg Traynor, 8. Chris Rowney, 9. Sam Hind, 10. Matt Landregan. 11. Ben Richardson Subs: 12. Kris King, 14. Sam Madeley [ex-Alty Youth], 15. Kayde Coppin, 16. Jordan Stepien, 17. Steve Yarwood.
LAST THURSDAY'S GAME
Trafford report that "Non-league aristocrats Altrincham edged an entertaining pre-season friendly at Shawe View on Thursday night. The visitors deservedly took the lead after 15 minutes when Trafford's young right back Ally Brown carelessly conceded a penalty that Alty's leading goalscorer from last season, Damian Reeves, blasted past [ex-Alty Youth keeper] Tom Read.

Kamahl Whight twice fired over as Trafford came more into the game but in the 39th minute Simon Richman made it two when he outpaced the home defence and coolly clipped the ball home.

Two minutes later left back Andy Smart reduced the arrears with a superbly flighted free kick just inside the far post from 30 yards.

The opening minutes of the second period were closely fought with Trafford giving as good as they got but, in the 61st minute, James Lawrie made it 3-1 with a tremendous drive from 25 yards that left keeper Sam Lynch with no chance.

Lynch made several excellent saves as Alty pressed for a fourth but Trafford created a number of chances themselves with Melford Knight twice going close and Scott Barlow crashing in a drive that was brilliantly pushed behind".
BSBN NEWS
BSBN tells us that "Workington boss Darren Edmondson is hopeful of re-signing goalkeeper Aaran Taylor after handing deals to trialists Niall Cowperthwaite and Chris Wraighte. Taylor left the Reds, in an attempt to further his career in the Football League, but has returned to the Blue Square Bet North side after failing to secure a contract from Carlisle United.

Edmondson told the Times and Star, 'Negotiations are underway with Aaran. He was one of our stand-out performers last year, and had to try his luck in the professional game. Unfortunately, it hasn't worked out for him this time, but he is a great goalkeeper, and I hope he'll rejoin us. Niall and Chris have come in and proven themselves. Both have an incredible attitude. They want to work, they listen and they're learning all the time. We need players who can play in a variety of roles, and these two offer us something different'.

With Lee Andrews ruled out for up to three months with acute tendonitis, Edmondson hopes his new signings will make up for the loss...'It's extremely disappointing to lose Lee for so long', he admitted. 'He's been a mainstay in this team for a couple of years now and his absence will be felt... There's no contact for at least three months, and then he will have to build himself back up to play'".

Gainsborough Trinity say that "We can announce that Jan Budtz and Sam Mulready have signed for the club and that we have also agreed terms with Danny Hone for the coming season... We hope to announce shortly the loan signing of a striker until January 2013 along with another young striker on loan from a League club".

At Histon, "Remy Clerima is 48 hours away from putting pen to paper on a new deal... according to first team manager Dennis Greene. The French defender was out of contract following the end of last season but has continued to train with the Stutes during the summer... His presence at the heart of the Histon defence is likely to be crucial in Histon's Blue Square Bet North campaign.

'Remy will be signing a deal in the next 24 to 48 hours', said Greene. 'We've agreed something in principle. He wants to be at the football club and he's a good player'...

Histon are involved in two friendlies tomorrow – an away match at Needham Market and a home game against Mark Wright's Essex United, a team made up of the stars of television show Mark Wright's Hollywood Nights. The established first team will take on Needham under the watchful eye of Greene's assistant Tony Scully, while a squad made up predominantly of trialists will take entertain the Essex side at the Glass World Stadium.

'Essex played Chelmsford a few days ago and were only 2-0 down at half time so they've definitely got something about them', said Greene... 'I came in late in pre-season so I've got to get people into a more competitive environment before making a decision on players I'm looking for'", he told Cambridge News.
---
27 July 2012
FINAL PIECE IN THE JIGSAW
John Edwards, joint Press and Media Officer at Moss Lane, writes:

"Altrincham have added the final piece to the jigsaw for their coming Blue Square North campaign after signing teenage midfielder Patrick Lacey. The one-time Sheffield Wednesday apprentice and Bradford City prospect was on trial at Morecambe and played against Alty in last week's 0-0 draw at Moss Lane.

Morecambe boss Jim Bentley was unable to find room for him in his squad for next season but was sufficiently impressed with his input to recommend him to Alty counterpart Lee Sinnott. Having already heard encouraging reports about the 19-year old, and witnessed first-hand his work rate and passing ability, the Alty boss wasted no time snapping him up and giving him an early debut as a 60th-minute substitute in the pre-season friendly win at Trafford.

With Damian Reeves and Matt Doughty back on board, Sinnott is now up to speed with strengthening his squad and ready for the challenge ahead.

'Patrick is the final signing, and I must say we are pleased with the quality of the squad for the new season,' said chairman Grahame Rowley. 'We do look stronger than this time last year, and we are looking forward to giving it our best shot.'"
TRAFFORD 1 ALTRINCHAM 3
I am very grateful to John Edwards, joint Press & Media Officer for providing the following report.

"Damian Reeves marked his return to Altrincham colours in familiar style by scoring within 15 minutes of a convincing 3-1 pre-season friendly win at Evo-Stik League Division One North side Trafford.

Last season's 44-goal leading marksman started alongside Ryan Brooke and wasted no time reminding travelling Alty supporters of the scoring prowess that made him a target for clubs in the Football League and Conference National during the summer.

That he turned them down and re-signed for Alty on a two-year deal was greeted with widespread jubilation in and around Moss Lane, and there were more cheers as he fired the Robins in front from a 15th-minute penalty.

Alty had already gone close twice, through Brooke in the third minute and Simon Richman six minutes later, when Trafford's defence was left floundering by a clever interchange between James Lawrie and Matt Doughty.

Lawrie turned brilliantly on the left flank and timed a delayed pass to perfection to send the overlapping Doughty charging into the area. When the Alty-left-back was sent sprawling by a clear trip from behind, Reeves stepped up to blast an unerring spot-kick past the keeper and into the roof of the net.

As if Reeves' movement and positioning was not enough to contend with, Trafford also had to deal with more surging runs from Duncan Watmore, and a second goal may well have resulted after the Alty youngster manoeuvred Andy Smart off the ball in the 20th minute and made inroads towards the area. After cutting inside and setting up Brooke, though, the chance was lost, as Alty's recent signing shot wide.

There was a liveliness about Alty's approach work, and Trafford were stretched once more in the 22nd minute, as Richman played Reeves through with an expertly-weighted pass. A one-on-one involving Reeves goes his way more often than not, but Alty's prolific frontrunner for once lost out in the battle of wits as Trafford's keeper blocked his shot with his legs.

Another purposeful burst by Watmore set up a 27th-minute shooting chance for Doughty that was parried by the keeper and scrambled clear, as Alty kept up the pressure on the home goal.

An overworked Trafford keeper denied Richman with a diving save on the half-hour and he was relieved to see a Richman header fly wide soon after, following another impressive combination between Lawrie and Doughty on the left.

There was nothing he could do about Alty's second goal in the 38th minute, though, as perseverance paid off for Richman. Sensing a long ball out of defence might cause problems, he gave chase and was left with just the keeper to beat after it bounced over a defender's head. A perfectly-executed lob did the rest, as Alty deservedly moved two goals clear.

Smart had warned of the consequences of conceding free-kicks within range of goal by curling one narrowly wide, with Adam Reid struggling to get across to it, in the 26th minute. It went unheeded, and Alty paid the price in the 41st minute as the former Robins left-back took careful aim from another set-piece 25 yards out and bent it into the left corner.

HT: 1-2

Smart was at it again, seven minutes into the second half, once more rendering a defensive wall wholly ineffective with a free-kick that was uncomfortably close to Reid's left-hand post.

Alty replied with a 54th-minute near-miss by Shaun Densmore, after a slick one-two with Richman, and a third goal of outstanding quality from the industrious and enterprising Lawrie on the hour.

Taking a pass from Richman in his stride, he unleashed an unstoppable 25-yard drive that arrowed past the keeper and went in off the inside of the left post.

Whether inspired by Reeves' arrival is a matter of conjecture, but it was noticeable how the goal attempts kept coming thick and fast, as Scott Phelan skimmed the bar from long range in the 63rd minute and Lawrie lifted a golden opportunity over after being sent clear by a brilliant Densmore through ball seven minutes later.

Phelan was out of luck again, with a 77th-minute shot that was cleared off the line, but, to his credit, the Alty midfielder was not deterred. When the ball fell to him on the halfway line, 10 minutes from time, he had no hesitation trying his luck with an audacious effort that just cleared the bar, with the keeper back-pedalling desperately.

When Trafford finally managed to exert some pressure near the end, Reid once more underlined his potential with two smart stops in quick succession, as Alty's preparations for the new season continued in encouraging style.

Altrincham – Reid; Densmore (Ofori 82), Havern, Hall, Doughty; Watmore (Leather 60), Richman (Lacey 60), Phelan, Lawrie (Grimshaw 77); Reeves (Walters 82), Brooke (Mitchley 60)".
NEW SIGNING
Altrincham FC have signed midfielder Patrick Lacey, who until he played the final half hour at Trafford on Thursday evening, had not played for Alty in pre-season but, ironically, played against The Robins, for Morecambe last week!

Patrick (d.o.b. 16 March 1993) spent his apprenticeship with Sheffield Wednesday. In July 2011, following his release from Hillsborough, he moved to Bradford City on a one-year contract, at which point Bradford manager Peter Jackson said, "I think Sheffield Wednesday have made a bit of a mistake letting him go".

Whilst with Bradford, Patrick Lacey had a month's loan in 2011/12 season at Vauxhall Motors, which was cut short in October, 2011, when he had to have knee surgery, following an injury sustained playing against Harrogate Town. But he returned to the Wirral side on a three-month loan in December 2011. In March 2012 he joined Droylsden, scoring for the Bloods against Gainsborough Trinity. He finished last season at the Butcher's Arms.
TRAFFORD GAME
Altrincham travel to our near neighbours, Trafford on Thursday night, kick off 7.45pm. Possibly facing the Robins will be Andy Smart who joined Altrincham from Trafford in the latter part of last season but who is now believed to be back at Shawe View.

Brian Flynn will use the Radio Robins' Chatroom for pre-match team news and match updates. There is no Radio Robins live commentary of this game.

This Saturday, Alty have no game but, if you are looking for local action, Trafford are at home in another friendly, this time aginst Welsh side Airbus, managed by former Vics' manager, Andy Preece. Trafford FC play at Shawe View, Pennybridge Lane, Flixton, M41 5DL.
GREAT NEW ALTY MERCHANDISE
Altrincham FC club photographer, Gavin Rathbone of GR Photography has produced some attractive merchandise which will interest all supporters. Gavin writes...
Mug: £6
There are three options for your mug:
An "Altrincham Aces" collage, as shown above (front and back). This features Stuart Coburn, Damian Reeves, Nicky Clee, James Lawrie and Shaun Densmore.
An individual player collage (please advise which player you want to be featured at the time of ordering).
The Altrincham FC 2012-13 team photo. This will be available after 7th August.

i-Phone Cover: £10

Please note that this is available for iPhone 4/4s only. There is a choice of image, as follows:
Any individual player can be featured on the cover; the Damian Reeves version is shown above. Please advise which player you want to be featured at the time of ordering.
The Altrincham FC crest.

Currently orders can be placed via the following methods -
Contact the club on 0161 928 1045 and give your order to Karen Rowley.
e-mail Gavin Rathbone with your order, providing the necessary details.

Orders can be collected and paid for at Moss Lane. For orders that need posting, please contact me or Karen to confirm availability.

More products and more ways to order will follow!".
ALTY ON THE AIRWAVES
Altrincham F.C. featured once more on Wythenshawe FM and the The WFM Sports Talk Show from last Tuesday is now available to listen to here. There is an interview with Lee Sinnott at the beginning of the programme and Altrincham fans' views are featured after 39 minutes.
OLD BOYS
Six former Alty players or trialists figured as "Marine recorded their first pre season win on Tuesday night, beating Warrington Town by 4-0 at Cantilever Park, reports Pitchero Non-League. During the gameFowler nearly decapitated the Chairman with a powerful volley with Wire replying at the other end, Peter Doran flashing a shot across the face of goal and John Miles having a free kick deflected over.

Warrington Town: Adam Judge, Peter Doran, Colin Flood, Phil Mooney, Mick Douglas, James McCarten, John Miles, Fraser Ablett, Ashley Ruane, Dean Ennion, Liam Shipton. Marine: Ryan McMahon (Callum Williams 45), Shaun Dowling (Karl McKenna 63), John Shaw (Liam Duff 70), Danny Grannon (Lee McEvilly 70), Matty Brown, Connor Millington (Thomas Moore 53), Paul Brown (Robbie Lawton 53), Liam Rice (John Driscoll 63), Nick Rogan, Andy Fowler (Paul Brown 63), Michael Ordish (Matty Devine 45)."

Droylsden report that against Curzon Ashton this week, "Two goals from Carlos Logan (18, 38pen) and a third from Rob Sissons (55) had put the Bloods 2 - 3 up until that dramatic late penalty equaliser for the home side. Final score 3 - 3".
BSBN NEWS
At Corby Town, "manager Ian Sampson has expressed his delight following the signings of former Cobblers' pair Jason Crowe and Andy Holt... Sampson said.. 'It goes without saying that their experience will be invaluable this year if we can get them in the team every game... They are coming to the end of their professional careers now and, in that respect, we have been lucky to get them. They are both local lads and their personal lives have allowed us to bring them in. Between Crowe, Holt and McKenzie (who signed on 12th July) they have played nearly a thousand league games, so hopefully they will do OK for Corby. Their experience will be perfect for the younger members of the squad'...

Despite signing two high-profile players from the Football League and witnessing his side make an emphatic start to their pre-season campaign, Sampson is keen that his side keep their feet firmly on the ground... 'It will be as tough for these lads coming out of the Football League as it will be for those coming up from lower levels. It will be a challenge for all of us. I'm sure their experience will help them through. It's a new league for them, they have come from the Football League into the Conference North so it will be a challenge'...

'Hopefully within the next seven days we can get a few more signed up. Its small steps at the moment here at Corby, it's a new start and we don't want to raise expectation levels too high'".

From the Nuneaton News we learn that "Hinckley United manager Dean Thomas feels his squad is moving in the right direction after agreeing terms with four new players.

Former Leicester City central midfielder Aman Verma heads the list of new arrivals at the Greene King Stadium. Verma. 25, will be joined by striker Phil Green from Worcester City, ex-Port Vale defender and former Knitters' loanee, Charlie Raglan, and ex-Hull City keeper, Rob Peet.

Thomas said, 'We are bringing in experienced Conference North quality players. The additions will improve us. Aman wants to come here so we are sorting a deal out. We've agreed with the others already. Aman, Phil and Charlie have all played at this level or beyond.

'Rob was with Hull City. He's only 19, but he's 6ft 3in and I'm happy with what I've seen from him'. The Knitters lost their latest friendly 4-1 at home to Leicester, however, Thomas was happy to see an improved performance as a crowd of 3,411 watched on... More than 5,000 saw Hinckley beaten by the Foxes and Coventry City. Thomas admits the gates receipts from those games will be of serious significance.

'It's fantastic for the club. We need every bit of help we can get. To get so many people through the gates is a massive bonus. I know (Coventry boss) Andy Thorn, (Coventry coach) Steve Ogrizovic and (Leicester No 2) Craig Shakespeare. They've helped me out. Both clubs have been brilliant for us', he said".

Less happy news comes as "Outgoing Hinckley United chairman Kevin Downes has spoken of his 'heartbreaking' decision to leave the club after 15 years at the helm. His decision to resign from his post, along with vice-chairman Rob Mayne, a fortnight ago, came after both men became unhappy with the direction they believed the current board want to take the club. Downes was a major driving force behind the forming of Hinckley United in June 1997, when cross-town enemies Hinckley Town and Hinckley Athletic formed an unlikely merger.

He has overseen United make the stride upwards through the Non-League pyramid, enjoyed several memorable FA Cup runs, and helped negotiate the move to new premises at the Greene King Stadium that are the envy of many other teams in the Blue Square Bet North...

'We are not happy with the route that we think they want to take the club down', said Downes. 'It made our position totally untenable and we have reluctantly decided to let them get on with it. We just couldn't be a party to it. It was an awful decision to have to make and I still feel bad now. It's heartbreaking not to be a part of it any more'.

Downes added, 'Rob and I might have made some mistakes in the past. When we look back... Maybe we shouldn't have paid the players so much in 2004, 2005 and 2006 when we nearly got promotion. I also wish we had kept some money from the (sale of the) old ground and not spent it all on the new one... But I can honestly say that, with every decision me and Rob made, we thought we were doing it in the interests of Hinckley United. I can't be a part of what is going on now'" he told THis is Leicestershire.

FC Halifax Town confirm that "Left back Scott McManus will receive an operation ahead of the new campaign. The 23-year-old has missed all three of Town's pre-season friendlies with a groin injury and will go under the knife in a bid to get him back as soon as possible...

Manager Neil Aspin said, 'It's a big blow as he did very well for us last season'... McManus was suffering from the injury at the backend of last season, and it was hoped that rest over the summer would solve the problem, but that wasn't the case. The gaffer is hopeful however that the Shaymen will be without McManus for a matter of weeks rather than months...

'I'm always sure of who can play where and what cover I have but whether I need to bring someone else in, or use what I've already got, well games will dictate that. I have options, so I'll decide over the next two weeks what I'm going to do'".

At Bishop's Stortford, "In an exclusive interview after the first pre-season game Rod gave his thoughts... Rod was pleased with how last season's players continued with the same discipline as they had previously shown. Currently working with a squad of 36 which will need to be whittled down to 20-odd, he will have more of an idea of the players he will retain after the trip to Stanway Rovers on Thursday night...

Rod has high hopes for the likes of Lewwis Spence who is still to regain full fitness, Scott Ginty and Peter Davies. Steve Cawley played out of position but is in the mould of Reece Prestedge and David Obaze was a strong presence in defence. He was pleased Nathan Gordon scored a goal as he is stepping up a level and believes he is a player that will be strong and run at defenders. Johnny Herd also stood out playing some clever football.

Rod said it was clear that Ricky [Sappleton] had picked up some pace during the break and that with some more games under his belt he should be a strong asset for the coming season. On the keeper front Ross Kitteridge was given a good workout but the Spurs keeper Jonathan Miles would need to be looked at again as he wasn't really tested during the second half...

When asked how [assistant manager] Paul Hilton and the team were getting on in training he said that Paul was doing a great job and that everyone had taken to the new training regime".

NL 365 says that "Steve Housham will intensify his search for a striker after missing out on the in-demand Damian Reeves. The Blues had been hoping to lure last season's goalscoring sensation to the Northolme after he scored 44 goals for Altrincham, writes Leigh Curtis.

But despite tabling a lucrative bid for the former Leeds forward, he opted to remain with Altrincham by signing a two-year deal... meaning Gainsborough are still looking for a number nine...

'We made a good offer for Damian, but I'm told he wants to stay at Altrincham', he said. 'Apparently unless it was a league club, he would not have left them and he has stayed true to his word. But fair play to the lad because loyalty is rare in this day and age. We would have loved to have signed him and pursuing players of his calibre shows you the kind of player we are looking at. It now means we will have to look elsewhere, but we will not be rushed in to making a snap decision'...

Gainsborough's need for a striker has been heightened by the departure of Leon Mettam and Ryan Kendall, who both left for Worksop and North Ferriby United respectively. Not one Gainsborough striker broke the 20-goal barrier last season and Housham is eager to improve the goalscoring ratio...

'One area we can improve on is our goalscoring', he said...'It's such an important position which is why myself and the chairman are taking time in making sure we get the right man in. We want to be more ruthless up front and you don't get that by making rash moves in the transfer market'...

He is also looking to strengthen the centre of defence. The Blues have Danny Hone on trial and Housham is yet to make a decision on the former Lincoln City centre-back... 'We do need to strengthen that area. We have Greg Young and Luke Waterfall [both ex-Altrincham players], but it's highly unlikely they will play all 42 games next season. There will be injuries and suspension which is why you need good strength in depth'".
---
26 July 2012
MEET THE MANAGER - AND THE PLAYERS
As well as being able to "Meet the Manager" this Saturday at 8pm in the bar at Moss Lane, this will also be an opportunity to meet the players who make up Altrincham's squad for the coming season. So please come along and find the answers to the questions that you may have!
REEVES'S RETURN
From Altrincham FC joint Press & Media Officer, John Edwards, we learn that "Damian Reeves will make an eagerly-anticipated return to action for Altrincham at Trafford on Thursday evening and, if it is sure to be greeted with smiles all round among travelling supporters, few will be beaming more broadly than Lee Sinnott.

The Moss Lane boss confirmed that the country's most lethal marksman, back in Alty colours after a signing coup to rival anything in the club's recent history, will be involved in the latest pre-season friendly.

And as he looked forward to a fast-approaching Blue Square North campaign, Alty's manager delivered an upbeat appraisal of his prolific marksman's physical shape by backing him to be fully fit and raring to go by the time Brackley Town arrive at Moss Lane on August 18.

'He is four games behind the rest of the lads and needs minutes on the pitch, so he will be out there against Trafford,' said Sinnott. 'He will play some part, at least, and I'm looking forward to seeing him in an Altrincham shirt again.

'I have heard about the fans' reaction to having Damian back at the club, and I share their sense of excitement. He is a great lad, as well as a player who knows his craft inside out, and, now we have finally secured his services for a second time, the priority is to make sure he is ready for our first League game.

'There's still the best part of a month to go, and knowing the individual as I do, I am pretty sure he will be up to speed and fully fit by the time we kick off our League campaign.

'He needs games, and he will get them during the remainder of out pre-season programme. Beyond that, it will be a case of maybe tweaking things a little bit in training. I don't want to overdo it, and run the legs off him, but there will be times in sessions where we will do different things with Damian to help build him up. It's about trying to make sure he is fully sharp and fit, and I'm confident he will be.

'It has been a strange one, in many ways, when you consider how long we have been trying to get him to commit to us again. The chairman (Grahame Rowley) said it right when he stated that we actually started talking about next season last February. In the back of my mind, there was always the thought that, having amassed 44 goals, he was bound to attract an awful lot of attention.

'Sure enough, he did. But we were always there for him, always providing reassurance that we would keep something on the table for as long as we possibly could. That won the day in the end, and full credit to Grahame and Damian for sorting it out between them.

'I think patience is a better word than persistence, for describing how we went about it, because we never put pressure on him. There were never any ultimatums, just a quiet reminder every now and then that we were there for him.

'We knew there were certain areas where we could not compete, but the great thing in our favour was that he knew what he'd be getting by coming back to us. I have worked with him before, and he needed no reminding of how much our supporters value him, so there was a settling aspect to joining us again.

'I honestly did expect him to find employment in the Football League, but there was always that thought that things might not pan out that way. That's why we kept the door open – and it was great to see him walk through it again.

'It is a tremendous piece of business, for a player who knows how to go about his job and, at 27 this coming December, is in his prime. You can tell what it means to the supporters, and it goes without saying that I am absolutely delighted to have him back on board. Naturally, I hope he scores as many goals as he did last season, but let's be fair – if he breaks the 20 barrier, he will have done his job'".
BSBN NEWS
The Football Conference says that "Solihull Moors are sad to announce that club captain and long-serving defender Phil Midworth has reached the decision to leave Damson Park. His growing work and family commitments have meant that he felt he was unable to fully commit to Solihull Moors this season. Although the club were happy to work round his schedule, he felt that it was in the best interest of the club and his team-mates that he depart, as these demands on his time had increased recently due to his promotion at work, as well as recently becoming a father".

In Lincolnshire, Boston United confirm that "Three more recruits have been added to the squad list. Youngsters Travis Munn, Joe French and Jason Stokes have completed the paperwork to join the Pilgrims' fold. Manager Jason Lee said, 'They all came to us at the start of our pre-season work and we have decided to keep them. Whether they are ready for first team action remains to be seen. But they are all hungry to achieve things, have shown the right desire and want to work with good players.

At 18, Travis is another young centre half; Joe is an exciting raw talent; and Jason had good attributes as a wide player. We have decided that all three will be part of our squad going forward. It means we now have good numbers but it doesn't mean we have stopped looking. Ideally it would be nice to bring in two more bodies and, in fact, we hope to tie up a deal to bring in a loan player later this week, which would be another boost for us'".

Meanhwhile, FC Halifax Town "have confirmed that they will not be offering deals to Shelton Payne and Charlie Binns... The duo have been on trial over pre-season and have been unable to force their way into Neil Aspin's plans for the season. Payne has re-signed for Blue Square Premier side Hyde".

More on this comes from the Halifax Courier, which tells us that "Payne has re-signed for last season's Blue Square North winners Hyde, who released him earlier in the summer, while Binns, who was released from York City, has also been told his future does not lie with the Shaymen. Both players made two appearances on loan for Town in pre-season.

Aspin said, 'We weren't in a position to offer Shelton Payne anything so he has dropped out and young Charlie Binns from York has been let go because I think it will be difficult for him to get into the team with the midfield players that we have in front of him. That's why we take players on trial, to have a look at but, if you get better quality players in, that pushes the bar up and you've got to be a good player to get into this squad'.

He also confirmed that Conor Qualter would be signing for the Shaymen, and that the futures of Jason Jarrett, Paul Marshall and Luke O'Brien would be resolved soon. 'I definitely want to keep Conor. He's a young lad and he has proved that he can play at this level. He's acquitted himself well and is somebody I want to keep. You don't have to be a genius to see that Jason Jarrett and Paul Marshall have played League football, so they can play at this level, but we'll have to see what develops because we're still a couple of bodies short', he added".
---
25 July 2012
MATT DOUGHTY SIGNS
Following the "return" to the club on Sunday of Damian Reeves, after it had seemed that he would leave for a Football League club, Wednesday brings news that former Altrincham left-back Matt Doughty (right) has also re-signed for the club. Matt, whose career was threatened by serious injury in his initial spell at Moss Lane, has featured in the Altrincham friendlies this summer and now makes a welcome return to the club's payroll.

A left-back, Matt was born in Warrington, on 2 November 1981. He first joined Alty from Halifax Town in mid-June 2008, having been with the Shaymen since July 2004, a club he joined from Rochdale. He had previously also played for Chester City, for whom he signed professionally when just 16. Matt was a regular for Chester for two seasons (1999-2001) making 53(+17) League/Conference appearances for them. In 2001 he moved to Rochdale as a left back and had a trial with Southampton, but a broken leg halted the prospects of a move to Hampshire. At Rochdale he made 93(+12) appearances in the League. Another broken leg hampered the 5ft 8inch defender's career at The Shay but he still managed 119(+12) league appearances for the club.

Matt made his Alty league debut on 9 August 2008 and he became one of the team's most consistent players, as well as its penalty taker, but he sadly suffered cruciate ligament damage against Salisbury City in February 2010, which effectively ended his career at Moss Lane. He had made 79(+3) appearances and scored four goals for Altrincham.

After leaving Altrincham, in March 2011 Matt joined Hyde, after a spell with Witton Albion.
LEIGHTON'S "NO SHOW"
Altrincham FC's joint Press and Media Officer, John Edwards writes:

"Leighton McGivern has been released by Altrincham after failing to show up for any of the pre-season games or training sessions so far.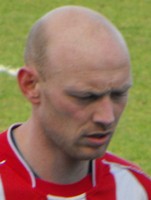 Lee Sinnott made repeated attempts to contact the missing Alty striker and was left with no option but to end his spell at Moss Lane after he failed to answer any of the manager's calls or messages.
'It is a bit mystifying,' said Alty boss Sinnott. 'If there is a problem with Leighton, we have been unable to get to the bottom of it, for the simple reason we've been unable to speak to him.
'At the end of last season, we decided which players we were going to let go and which we were going to renegotiate with, and Leighton was in the latter category. There was no hint of anything being wrong then, but here we are, starting the fifth week of our pre-season programme, and there is no sign of him and no word from him.
'When he didn't turn up for the first session, I tried to contact him to find out why, as did [assistant manager] Neil Tolson and [chairman] Grahame Rowley. In week two, a message reached us that he would be in touch. He was going to contact us, but we are four weeks down the line now, and that call still hasn't materialised.
'I have left countless messages, because I was starting to become concerned there may be something wrong. Each time, I said, "Leighton, I hope everything is OK. Give me a call and let me know."
'There comes a time in these situations where you have to make a decision, and that time has arrived. It is just disappointing and a bit unfortunate that when I had to tell him he was no longer an Altrincham player, I couldn't do it face to face or at least by speaking directly to him. I haven't had a conversation with him since the end of last season, and when I called him for the last time, it went on to answer machine, as it has done all along.
'I did my best to communicate with him but, for whatever reason, it wasn't possible, so I just wished him all the best, hoped everything was OK and thanked him for his service. It was time to move on, and that probably applies to Leighton as well. I think he needed to know, so he can move forward and sort out what he wants to do'".
Footnote: McGivern, who will start 2012-13 with a suspension to complete after being sent off against Halifax, two games before the end of last season, made 7(+2) appearances for Altrincham, scoring four goals, three of them a hat-trick at Eastwood Town in his last appearance in a Robins' shirt.
SHAUN'S LOW-DOWN ON NEW TEAM MATES!
In his first "Captain's Column" of the new season, Altrincham's Shaun Densmore has produced an amusing perspective on his new team-mates at Moss Lane..

"There have been a fair few changes to the squad during the brief summer break, but the early signs suggest we could go into the new campaign a bit stronger all round, compared to this time last year.

The manager has stressed that it's a bit early for making judgements and he's right. You can't read too much into pre-season games and we are all well aware that what matters is making sure we are properly prepared and ready to put it all together when Brackley Town visit Moss Lane on August 18.

But the evidence so far has been encouraging. We reported back a bit early, for one thing, and that gave the new lads every opportunity to get to know the rest of us, as well as helping build up our fitness levels.

There were plenty of long runs, to begin with, to get us all back into shape, and they were followed by more short, sharp stuff, once we started playing some games.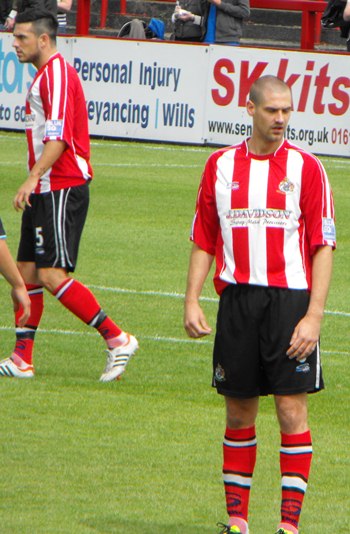 Today's visit of Burnley marks the fourth game of our pre-season programme and it's been good to see all five summer signings slotting in so effectively.
I think most people would agree that the priority was making sure we tightened up a bit at the back, after the number of goals we conceded last season, and we couldn't have done much better than bringing in a ready-made central defensive partnership in Luca Havern and Danny Hall.
It's important to have a settled combination at the heart of defence, and you can see the understanding Luca and Danny developed at Hyde last season. It is still there, and they have looked solid so far.
They are not the only new faces, of course, with Carl Rodgers making a real impact in midfield and Danny Mitchley and Ryan Brooke bringing their qualities to a new-look frontline.
Here's what I've made of them so far...
LUCA HAVERN - on the pitch, he's a really good talker and organiser. He's quick to give orders out and make sure everything is dealt with, which is what you want from your centre-backs. Off it, he hasn't got quite so much to say for himself. Really nice lad but quiet. Big, strong defender and good in the air. Settled into things fairly easily.
DANNY HALL – if Luca is a bit on the quiet side, you can't say the same about Hally. Straight from the off, he's been a bit lively. Came in on Tuesday night with such a severe haircut, we all thought he was unwell. He looked terrible! It looked like he'd dropped about a stone, and, needless to say, he got plenty of stick. Nice and bubbly, and it's great the way he complements Luca on the pitch.

Luca and Danny, with his "severe haircut", seen at Moss Lane, last Saturday.
CARL RODGERS – doesn't exactly hold back in the tackle, does he? A big, strong lad who makes his presence felt in midfield, yet he's like Luca off the pitch, really quiet. Apart from adding bite to midfield, he's got some engine on him. After being restricted previously to 45 minutes each, a few of us had a full 90 minutes on Tuesday, and I remember seeing Carl go on a lung-bursting run after about 85 minutes and thinking, 'How did he manage that?'
DANNY MITCHLEY – from what I've seen so far, he's good at holding the ball up and dropping deep to link up with others. Reevesey may have scored a hatful of goals last season, but I still think we missed someone who could do what Danny does. He's a great lad, and he travels in with the rest of the Merseyside contingent, though, coming from Skelmersdale, I'm not sure he's entitled to call himself a Scouser. In fact, I'm sure he's not, but I suppose we can make allowances for him.
RYAN BROOKE – he's got to be the oddest man I've ever met. Really strange, but funny. Turned up for the first game, looking as if he had just rolled out of bed. Looked like he was wearing pyjamas. Didn't get much better on Tuesday night, when he fell asleep during the manager's team talk! Honestly, I thought Reevesey was laidback, but Ryan takes it to a whole new level. Likes to crack a few jokes (when he's awake!) and looks like being good value for the changing room. Should be the same on the pitch, from the evidence so far. Took his goal well at Nantwich and works really hard.

Finally, it was good to catch up with [former Alty manager] Ken McKenna again on Tuesday and see he hasn't changed – he was ranting and raving on the touchline all night, and he had a pop at Luca at one stage over a tackle! He wished us all the best and was impressed with how solid we looked and how threatening we were on the break. Let's hope we hear more remarks like that, as the season unfolds.

Shaun".
SPONSORS
Barry Pond's latest update of the Matchday Sponsors is now on the website.
DAMIAN'S RETURN
More on the return of Damian Reeves to Moss Lane comes from the South Yorkshire Times, which reports that "Doncaster lad Damian Reeves has re-signed for Altrincham after his hometown club snubbed the opportunity to sign him. The prolific non-league striker... would have jumped at the chance to join Doncaster, it is understood.

But that opportunity never arrived, despite Rovers boss Dean Saunders making contact with the 26-year-old earlier this summer. Reeves, a plasterer by trade, who works and lives in Doncaster, was one of several strikers on a list of possible targets Saunders drew up at the end of last season... The former Leeds trainee appeared to fit the bill as both a free agent and as a player with a point to prove at a higher level. His modest wage demands were also unlikely to have caused a problem, despite Rovers' well documented £1 million budget deficit.

But Saunders chose not to follow up his initial interest in Reeves, instead opting to target forwards who can offer more experience at League level. Saunders wants to sign a big, physical striker".

And Blue Square Football adds that "Wrexham player-manager Andy Morrell has explained why he didn't follow through with his interest in Altrincham striker Damian Reeves. Morrell had considered a move for the 26-year-old, and held preliminary talks for the player...

The Dragons' boss told The Daily Post, 'I spoke to his agent and it was just a case of whether he would fit into our system and our team. We've got Danny Wright, Rob Ogleby and myself who play down the middle and he (Reeves) does the same as well. If we are going to bring anyone in, I believe we need someone to play down the side. Brett (Ormerod) can do that and we can all play there, but I'd like a little bit of pace, so that's what I'm looking for rather than a main central striker.

Obviously he got a shed-full of goals last season but he's had to weigh up what teams would pay, because there's not a lot of money flying around, against what he can do. He can earn a good living as a plasterer without the football on top, so to sign a good part-time football contract and carry on plastering he's going to earn a very good living. To ditch the plastering and go full-time he would have had to be offered a good deal and I think that's where the stumbling block has been. He was somebody on our radar but I just felt we needed a winger/striker at the moment. Having said that he'll probably score a hat-trick against us in the friendly!'

Wrexham play Altrincham in their final pre-season friendly on Saturday, August 4".
OLD BOYS
He was a model professional when he was at Altrincham on loan but This is Staffs reports that "Stoke City ace Ryan Shotton is due in court this week charged with assault after an incident outside a Potteries nightspot – but is almost 4,000 miles away on a pre-season tour of America.

The 23-year-old has been accused of assaulting a man close to the Pink Lounge Bar and Club, in Hanley, in an early morning altercation last month. Fenton-born Shotton, named Young Player of the Year at the Britannia Stadium last season, is due before North Staffordshire Magistrates' Court charged with assault by beating on Friday. But he is understood to have flown out with the rest of the first team squad for the club's pre-season tour of the U.S.. With players and staff flying out for the 11-day tour yesterday afternoon, the club has been unavailable to comment or confirm if Shotton will complete the tour as planned.

Shotton's charge relates to an incident at 2.30am on Sunday, June 24, which is alleged to have happened close to the Piccadilly nightspot. It is alleged a man was punched after an argument in the club and needed stitches for a facial wound. Police say three men were involved in the incident. A 22-year-old was also arrested, but was later released without charge.

Vinny Bolina, spokesman for the Crown Prosecution Service in the West Midlands, said, 'We can confirm that Ryan Shotton has been charged with assault by beating and will be appearing at magistrates' court on July 27'.

Shotton, who lives in Newcastle [Staffs], travelled with the squad to last week's training camp in Switzerland and started at right-back in the 1-0 win against FC Sion...

A spokesman for Staffordshire Police said, 'A 23-year-old man has been charged with assault following an altercation in Pall Mall, Hanley. The man, from Newcastle, is due to appear at North Staffordshire Magistrates' Court, in Fenton, on Friday, July 27'...

Shotton, a product of the club's youth academy, is known among football fans for emulating teammate Rory Delap's trademark long throw-ins. The versatile 6' 3" defender made his Premier League debut for the Potters in an away game at Blackpool in April 2011".

And PItchero Non-League tells us that "Goalkeeper Ashley Timms has agreed a deal to join Evo-Stik Northern Premier League Premier Division new boys Ilkeston FC... to become manager Kevin Wilson`s fourth signing of the close season.

The capture of former Manchester City trainee Timms brings to an end Wilson's summer-long hunt for a quality shot-stopper. The Robins largely relied on loan players between the sticks last season... Said Wilson, 'Potentially Ash has everything. The only thing he hasn't really got at the moment is minutes under his belt, but that's something we can give him in pre-season. He has an excellent pedigree football-wise, a real presence and is a 'keeper who I believe can go from strength to strength'.

Timms has served time in prison in the past but Wilson is keen to give the player a clean slate. He said, 'He's made some mistakes in the past but hopefully now he has learned from them and is moving his life forward'".
BSBN NEWS
According to NL365, "Gloucester City AFC have announced that Colin Peake has been signed up to the club as a consultant. Colin left neighbours Forest Green Rovers this summer after 20 years of jointly overseeing their rise from the depths of the Southern League and as well as two championship winning promotions into the Football Conference (Blue Square Bet Premier) and two FA Trophy finals, he was also instrumental in the move of the club to their new stadium in 2006.

Part of the attraction for City in securing Colin's services is their impending move back to Gloucester and the completion of a new home for the club, which lost its home at Meadow Park in the floods of 2007.

City Chairman Nigel Hughes welcomed Colin to the club. He said, 'We are delighted to have someone of Colin's calibre, knowledge, drive and enthusiasm for the game join the Club. The Executive Committee has been extremely impressed by the commitment he has shown already and feel that Colin will have a significant impact as we strive towards a return home'.

Club owner Eamonn McGurk said, 'With Colin now on board we can power up off the field. We welcome him and, likewise, we welcome any local companies or individuals getting in touch with him to see what benefits a partnership can bring'...

Colin, who was recently reappointed to the Board of the Football Conference Limited for a fourth term, as their PR and Media Director in support of the 68 member clubs, has confirmed that any association with City, who are currently members of the Blue Square Bet North, would not compromise his position in carrying out his duties transparently to the competition as a whole.

Colin has indicated that his role with the club is purely as a consultant. He will not be seeking to become a Director, member of the Club Executive or have any involvement in football administration with them and expressed an unequivocal view that those positions were already held by extremely dedicated personnel at the club. With his years of experience behind him and an impressive footballing CV, he will concentrate on building and strengthening ties off the field whilst others do the building on it...

Colin said, 'I am astounded really how they have kept excellent financial prudence since the calamity which struck the club in 2007. Others with less mettle would have caved in. If what they can achieve whilst playing and entertaining people in a neighbours' house (reference to the current ground share arrangement with Cheltenham Town) and in the process get promoted, one can only imagine what they can do when back in their state-of-the-art stadium in the near future... Gloucester is predominantly known as a rugby stronghold but as a long standing born and bred resident, I know that the vibrancy being injected into the City by its council and brand led businesses will easily support a go ahead football club'".

The Football Conference says that "Former Lincoln City defender Kern Miller has signed to Boston United for the forthcoming season. Miller, 20, spent six seasons at Lincoln City before moving to Barnsley. The central defender then had spells atAccrington Stanley and, more recently, Hereford United up to the end of last season".

"Calum Kitscha looks set to be Histon's first-choice goalkeeper following the departure of Austrian shot-stopper Jorg Stadelmann. Stutes' manager Dennis Greene said Stadelmann, who was first choice last season under former boss David Livermore, was not in his squad... There could still be a place in the squad for midfielder Grant Roberts, while former Stute Max York is also training with the club...

Lewis Taaffe is still a fortnight away from returning from a broken metatarsal, but defender Sam Hearn, who broke his leg in two places during a loan spell with Harborough in November, could feature" in the next friendly, reports the Cambridge News.

PItchero also tells us that "Former Oxford City duo Michael Alexis and Andy Gunn could return, should a trial prove a success. Midfielder Alexis, who spent last season with Hemel Hempstead Town, and defender Gunn, from Aylesbury United, played in City's 1-0 friendly win at Banbury United on Saturday...

'I know Michael very well', said Ford. 'He thought he wouldn't get a regular place here, but then Darren Pond was injured, so he probably would have played anyway. With Gunny, I offered him a deal, but he just decided to leave. They both rang me in the summer and said they would like to have a crack at playing at this level'".
---
24 July 2012
ALTY FEATURE ON RADIO WFM
Brian Flynn advises that "Altrincham Football Club will be heavily featured on this weeks 'WFM Sports Show' with features which include interviews with manager Lee Sinnott and with a number of Altrincham fans. The show is presented by Kevin Thompson and James Murphy and is broadcast on Wythenshawe FM (97.2FM) from 11.00am until noon on Tuesday (today).
NOT SO FAMILIAR FACES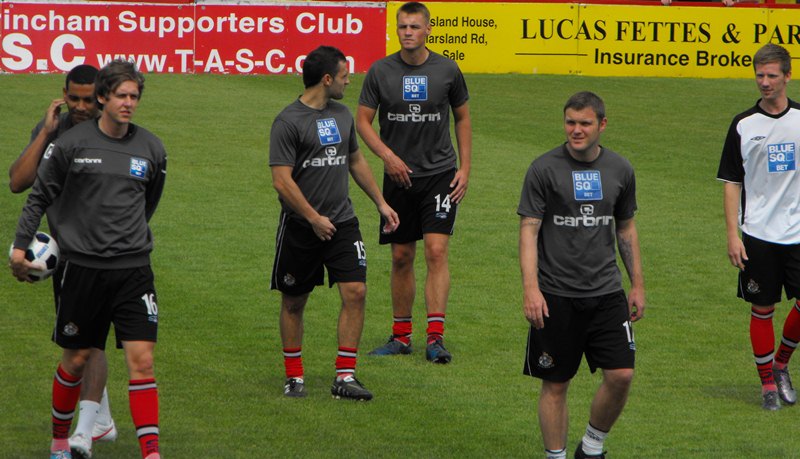 Every pre-season sets a challenge to spectators as they watch unfamiliar faces appearing for their team. The picture above, from last Saturday, shows six men who are either trialists or new signings. They are, left to right, Carl Rodgers and Ryan Brooke, who have signed for 2012/13, and four trialists; Ashley Young, James McCarten, the well-known face of Matt Doughty and Adam Mather.
SEASON TICKETS
An Altrincham FC season ticket is great value...
Standing Adult £225
Standing Concession £115
Sitting Adult £265
Sitting Concession £125
Anywhere in the Ground for ages 12-16 £50
Anywhere in the ground for under-12s £25

Full details and an application form are here.

And, don't forget that if you have an Altrincham FC season ticket for 2012-13, entry to the pre-season friendlies at Moss Lane is FREE. For anyone paying at the turnstiles, the prices for the home friendlies are:
Adults: £7
Concessionaries: £3
Under 5s: FREE

Altrincham's remaining home friendlies this summer are:
Sat. 4.8.12 at 3pm versus WREXHAM
Thu. 9.8.12 at 7.45pm versus FC UNITED OF MANCHESTER

All Alty fans are also encouraged to join The Altrincham Supporters' Club (TASC), which costs just £10 a year.
THANK YOU
The TASC bucket collection on Saturday raised £54.44, for which the club thanks all donors and collectors.
OLD BOYS
According to Pitchero Non-League "Northern Counties East League Division One club Shirebrook Town received a massive boost ahead of the new season with the signing of experienced central defender Chris Timons [the former Altrincham captain]. Shirebrook beat off interest from several local clubs for the in-demand 37-year-old, and manager Gary Castledine said, 'Chris Timons is a great signing for the club. He'll bring leadership to the side'.

Shirebrook-born Timons's former clubs include Mansfield Town, Halifax Town, Chesterfield, Leyton Orient, Stafford Rangers, Gainsborough Trinity, Altrincham, Stalybridge Celtic, Ilkeston Town and Harrogate Town. In September 2007, he was appointed caretaker-manager of Hucknall Town following the resignation of Andy Legg. His only game in charge was a defeat at Burscough. Timons left Hucknall for Ilkeston Town in the summer of 2008 but returned to Watnall Road in September 2008, before joining Glapwell the following season.

He then stayed at Hall Corner for two successful seasons but left after Glapwell resigned from the Evo-Stik Northern Premier League First Division South and he joined their local rivals Rainworth Miners Welfare at the start of last season. Timons was released by the Kirklington Road club just before Christmas 2011."

And a former Altrincham team-mate of Timons is the subject of a report from the Northants Telegraph, according to which ex-goalkeeper "Dean Greygoose was pleased to see the work that has been done on the training pitch pay off as Kettering Town made it two wins out of two in pre-season. The Poppies followed up their 1-0 victory over Southend Manor with a comfortable 5-0 success at Cogenhoe United on Wednesday. The game saw Kettering give a first run-out to their contracted players, although a number of trialists featured once again as the club prepares for the Evo-Stik Southern League Premier Division campaign.

And assistant-manager Greygoose was pleased with what he saw at Compton Park. 'John (Beck) and myself were very happy with it', Greygoose said".

From more recent times, NL Daiy reports that "Jimmy Quinn, manager of Nantwich Town, has further added to his squad with the capture of prolific marksman Kyle Wilson from Welsh Premier League side Bangor City. "
DAMIAN'S DILEMMA
Kent Online reports that "Non-league hot-shot Damian Reeves has opted to re-sign for Altrincham instead of fighting for a deal at Gillingham. The striker hit 44 league goals in Blue Square Bet North last season and made an appearance for the Gills in Saturday's friendly match at Dartford.

But Doncaster-based Reeves, a plaster [plasterer!] by trade, declined the offer from Gills' boss Martin Allen of returning to the club when fitter. He tweeted, 'Would love to have signed but the manager wanted me to go away and come back again in 2 weeks. With season so close and, financially as well, my wallet just couldn't take it. I said no. It didn't make sense and couldn't really afford to do it either. I wasn't financially able to last another two weeks without anything concrete at the end of it'".
BSBN NEWS
From the Northants Telegraph we learn that "Corby Town boss Ian Sampson says he will sit down with star striker Ricky Miller following Monday night's friendly clash with Stoke City to try and thrash out a deal to keep the player at Steel Park. Miller has yet to put pen to paper on a deal with the Steelmen, but he was hugely impressive in Saturday's excellent 2-1 win over npower League Two side Northampton Town.

Miller scored both goals in an electrifying first-half display, showing great tenacity to dispossess Cobblers' goalkeeper Neal Kitson for the first and, then, great quality to hammer home a right-foot volley for the second. Miller was taken off at half-time to keep him fresh for the visit of Stoke tonight, and Sampson admits he would love to tie him down to a permanent deal with the Steelmen.

'Ricky is certainly making it difficult for me not to sign him on', said the Corby boss. 'I am very happy with what he has done, he is a busy player and is a real pest, and that is off the field as well! He really makes it difficult for defenders. I asked him to make the two Northampton centre-backs' life a misery on Saturday and he did. He will run in behind, and he is one of those players that thinks he will score every time he plays. So we will sit down with him after Monday's game and try and work something out'.

Sampson fielded 20 players in Saturday's showdown with the Cobblers, but with only half of those committed to the club, he knows he still has a lot of work to do before the Blue Square North season gets underway. 'There are probably about 10 signed on from the whole squad that played on Saturday', said Sampson.... Two key players in the first half against Northampton at the weekend were former Cobblers pair Andy Holt and Jason Crowe... and although Sampson would love to see them stay at Corby, he says he will not wait indefinitely".

Worcester City announce that "Greg Mills is set to join the squad to play Aston Villa and Greg is hoping to convince the club, Matt and Carl that he is worth a place and contract for the new campaign. This news is tempered with the fact that Simon Brown has decided against another season with the City after an injury ravaged 2011-12 season...

Mills, had been hoping to find a position with a full time club back in the league or Blue Square Premier following his move to Worcester from Telford in the January transfer window. However, manager Carl Heeley had left the door open for Greg to return should he not find a full time role. Greg had already told Carl that the only club he would play for in the Blue Square North league was Worcester City and now hopefully he can play in the Premier league with us too. Should he impress then Greg might be seen as the finishing touch to a squad so full of talent, the likes of which have not been seen at the Lane for many a year'".

This is Lincs confirms that "Gainsborough Trinity have a number of trialists who are training with the club during this pre-season. Among them is former Lincoln City defender Danny Hone... Assistant manager Lee Warren said, 'He scored for us against Brigg and both myself and Steve (Housham) like him. We think he would be good for Gainsborough Trinity. But I am not sure how much money there is left in the kitty, that's the chairman's domain. But there are a number of trialists at the club at the moment and they will all want an answer from us. I think we will be making those decisions on Friday'".

The BBC says that "Brian Page is to stay with Histon FC despite being overlooked for the manager's job. Page was set to succeed David Livermore but failed to agree terms and refused to oversee training. Instead, the board last week appointed ex-St Neot's boss Dennis Greene - but Page is to stay on as youth coach.

'The board made their decision, I'm happy with that and I'm just going to get on with the job I've been asked to do', he told BBC Radio Cambridgeshire. Page was announced as manager on the club's website following Livermore's departure last month... Page said he accepted his share of responsibility for any confusion caused.

'We maybe announced it too early without finalising those finer details and that's something both myself and the club can learn from', he commented. 'The scholars, the youth players, are the bread and butter of what this club stands for. I still believe it's the way forward for the club to try and produce as many (of its own players) as it can so I'm happy to continue with my role and, hopefully, next season you'll see a few more young players come through', Page added."

"Boston United assistant-boss Graham Hyde has already identified a handful of players he believes can cut it" reports NL365... After quitting his role as Redditch manager at the end of the campaign, he believes some of his former players could do the business at a higher level.

He told The Standard, 'I've already spoken to two or three players I've identified from my time there. It is a factor getting players across from the Birmingham area, admittedly. But we've had conversations with players at Redditch who are good young players with good physical attributes that I think can step up'.

By talking to younger players, Hyde agrees that manager Jason Lee's plans to bring in and blood young players together is the right option... 'It is a young man's game', he added. 'To have the energy and aggression, it is important to look at kids. We need to blend experience in there in certain areas as well. But with 14 players signed already, we just need a bit on tinkering. This shows continuity'".

The Gainsborough Standard claims that "Trinity may not be ready to move to their new ground for the start of the 2013/14 season. Speaking to the BBC, club chairman Peter Swann said the development at the former Castle Hills site in Gainsborough was 'in limbo' but definitely would happen...

He said, 'Timescales are getting tight... If the worst comes to worst we end up delaying it a bit, but the target is to move and that will happen'".

Buckingham Today tells us that "Brackley Town opened up their pre-season campaign with a 1-0 loss to Nuneaton Town at St James' Park on Tuesday. The match was a timid affair that was overshadowed by a serious injury to Nuneaton skipper Mark Noon. Play was delayed for more than 40 minutes after the 28-year-old appeared to break his leg following an innocuous challenge.

Once play resumed, Nuneaton took little time to open the scoring when hesitancy from Brett Solkhon in his own penalty area allowed Andy Brown to nip in and fire past the helpless Billy Turley...

[The first half had] little quality in a match that was being played at walking pace. Brackley made several substitutions at half time, including bringing on former Luton Town left back Sol Davis".
---
23 July 2012
MEET THE MANAGER
This Saturday (28th July), there will be a "Meet the Manager" session at Moss Lane, at which supporters are invited to put their questions to Alty boss, Lee Sinnott. The event starts at 8pm in the bar at Moss Lane.

Altrincham have no match this weekend but the players will be enjoying a training weekend instead. Alty's next game is On Thursday (26th) away to Trafford at Shawe View (7.45pm).
MAKING THE STEP UP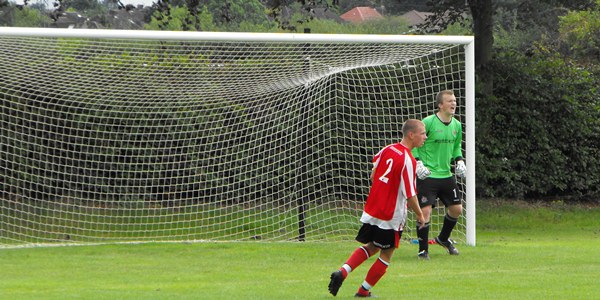 2011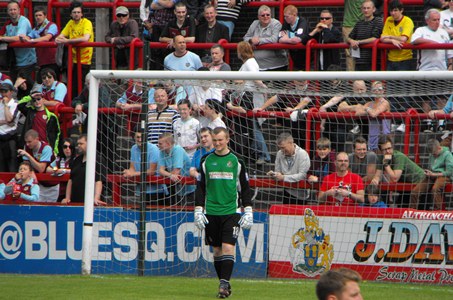 2012
Over the last few months several of George Heslop's Altrincham FC youth team have stepped up to first-team level. These two pictures of goalkeeper Adam Reid (who turned 18 only three weeks ago) illustrate the progress that he has made from youth team matches last season in front of only a handful of spectators to keeping goal against the Championship squad of Burnley last Saturday, where the terrace behind his goal was well covered by away supporters. In his match report in the NL Paper, Brian Flynn named Adam "Man of the Match".
A rival for that accolade on Saturday was fellow youth team graduate Duncan Watmore, whilst last season's youth team captain Sam Grimshaw also impressed as a substitute against Burnley. And, although they were not in Saturday's line-up, fellow youth teamers Alex Wetherby, Derryn Ofori and Denico Walters were involved in the warm-up, whilst another ex-youth player, Matt Fearon (seen above with Adam in 2011), has also played - and scored - in the pre-season games this summer.
FRIENDLY FOES
"Steve Halford, manager of Mossley [who host Alty this pre-season, on 31 July], is biding his time over signing players for the coming season, but four players put pen to paper following Saturday's game against Hyde FC. Goalkeeper Martin Pearson and central defenders Dave Young and Keil O'Brien all signed Evo-Stik League forms for a second season with the Lilywhites along with new arrival [and former Alty trialist] Gavin Salmon, who played last season for Salford City and Warrington Town. Experienced striker Salmon who has also played for Hyde, Droylsden, Leigh RMI and Witton Albion previously had a brief spell with Mossley back in the 2004/05 season" reports Mossleyweb.
BSBN NEWS
According to BSBN, "Corby Town boss Ian Sampson says it would be wise not too look too much into their 2-1 pre-season friendly victory over League Two side Northampton Town. Ricky Miller netted both the goals at Steel Park on Saturday to make it two wins from two, following their previous victory over UCL Premier Division side Harborough Town...

The former Cobblers' player and manager told the Northampton Chronicle, 'I think everyone can be very happy with their performance... but it's the first league game against Vauxhall Motors that counts so don't read too much into this result'...

In total 20 players got a run out against Northampton, with Sampson revealing he is still some way off from deciding on his starting eleven. He added, 'The team that played in the first half is not the first team, and the team that played the second half is not the first team either'".

In the Principality, "Danny Lloyd is back at Colwyn Bay after agreeing to sign a one-year contract with the club. The 20-year-old ex-Southport left winger left the Bay to go full-time with Lincoln City last January but, although he initially did well there, he was unable to agree a new deal... and was released in the summer.

'It is just one of those things; I couldn't agree a new deal at Lincoln', Lloyd said. 'Now Jon (Newby) has sorted me out and I am very happy to be back at the Bay and looking forward to the new season'. Popular ex-Tranmere full-back Luke Denson, who had been unsuccessful in a bid to get back into full-time football, has agreed to stay with Colwyn Bay on non-contract terms".

Also at Colwyn Bay, the club has "completed the signing of defender Joel Richardson. Joel, who can play anywhere along the back four, was in the same Tranmere Rovers youth team as Luke Denson, and last year played 15 times for Conference North champions Hyde...

Player-boss Jon Newby commented, 'Joel can play anywhere along the back four so I see him as a very useful addition to the squad. I believe we are now getting together a squad that is stronger than last year, with more depth and will provide better competition for places'. Winger Paul Ennis has also now officially signed on for next season".

BSBN reports that "New Hinckley United interim chairman Mike Sutton has vowed to be open and honest with the club's plans for the future following the resignation of Kevin Downes. Rob Mayne also stepped down, as vice-chairman of the Blue Square Bet North club on Friday, before Sutton was voted in as chairman after previously being a shareholder with Hickley.

Sutton told the Hinckley Times, 'We've had embargos and lots of debts come out of the woodwork but, now, we have got to have transparency with the fans and the shareholders. I've told all the directors they have to be approachable as I hate secrets. We are not a secret society, we are a football club. The fans are the club and have to be treated as such. Before they have been treated almost as if it wasn't their business and that it is not the way things should be run...

We have engaged solicitors who are collecting all the information at the moment. We are not saying anyone has done anything wrong, we just need to know exactly where we are, if anyone has taken any charges - we want to see it all written down so we know exactly what is going on. The situation right now is that the accounts can't be concluded for an AGM to take place. There are a lot of questions that need to be answered before we can finalise the accounts...

We are managing to pay our creditors and keep people quite happy. The playing budget is a revised one that was agreed a couple of board meetings ago. However there are a lot of people wanting to come on board and the potential sponsorship has increased and maybe that is because people want to give the new regime a boost. A few people that have got in touch are big-hitters and we have asked them to put things into writing as it has all been spoken so far'".

Elsewhere, "Bishop's Stortford could be set to snap up Tottenham Hotspur Academy goalkeeper Jonathan Miles on a season-long loan deal. The 19-year-old, who played for Spurs in a friendly win over Kingstonian on Monday, was given the thumbs up from Blues' first-team coach Paul Hilton when he trained with Stortford last Saturday.

Stortford boss Rod Stringer told the Herts and Essex Observer, 'We need to see him in games first to make up our minds. You would like to think that if he is at Spurs he will be decent'. Miles, who made 11 appearances for the Spurs U-18s in 2010/11, will play two pre-season friendlies for Stortford... The Stortford boss has a number of goalkeeping options with Ross Kitteridge and Matt Gill all potential stoppers for the club".

Other news from BIshop's Stortford is that "Striker Ricky Sappleton returns to Woodside Park as part of Rod's new look squad for the 2012/13 season. Ricky returned to training last week".

Bradford PA say that "Following the deserved draw against Doncaster Rovers, the Bradford manager John Deacey shared his thoughts...'I thought we let them back in the game and, I will say, the goalkeeper made a couple of mistakes, but, we did well! We saw some great signs, I thought (James) Riley did well, and, when (Paul) Walker came on, he showed great feet. I thought (Matt) Dempsey at centre half did well, (James) Knowles and (Rob) O'Brien were good and (Jamie) Jackson had a good game. Also, Holland's goal was a great finish. It was good all round, against a very, very strong Doncaster (Rovers) side, it was their full side'...

Furthermore, Deacey admitted... 'I'm cutting the squad down this week. I may let some people go to Evostik sides and keep them on dual registration'. Also, his son has been attracting interest during pre-season from Football League clubs. 'Jordan (Deacey) might be a sad loss to us, but, that's life and we have to get on with it... The fitness levels are ok, we don't do any running in training, we play football, because I want to join in!'".
---
22 July 2012
DAMIAN IS BACK!
Altrincham FC joint Press and Media Officer, John Edwards, writes:

"Altrincham have pulled off one of their most spectacular transfer coups in recent memory after persuading the country's most prolific marksman last season to join them for a second time.

After racking up a remarkable 44 goals, and becoming the highest scorer in English football's top seven divisions in the process, Damian Reeves looked destined to fulfil his dream of testing himself in League Two or even higher.

But after tiring of being 'passed from pillar to post', he turned his back on his various suitors and kept a promise to Alty chairman Grahame Rowley that he would return to Moss Lane, rather than join another club outside the Football League.

Courted by Doncaster and Gillingham and approached by Gainsborough and Lincoln, Reeves phoned an elated Rowley with his decision on Saturday night and followed up by signing a two-year contract the following morning.

At just 26, he still hopes to forge a full-time career in the game, and his contract contains a clause allowing him to leave for nothing, should a League club come in for him.
Right: Courtesy of Grahame Rowley comes this photo of Damian re-signing for Altrincham, with the Altrincham FC chairman.
'It would have to be a League club,' he stressed. 'I wouldn't leave Altrincham for another Conference club, not even in the Conference National, but I hope people can appreciate that I am still ambitious about playing in the Football League.
'That's why the clause is there, but I'm not even thinking of that now. I'm just glad it is all sorted out and I'm an Alty player again, and all I'm thinking of is pulling the jersey on again and trying to score even more goals than last season, if I possibly can.'
A jubilant Rowley described it as a triumph for persistence after tracking Reeves throughout the summer and never abandoning hope of luring him back.
'There have been so many ups and downs, but I never gave up hope of getting Damian back, and neither did Lee Sinnott,' said the Alty chairman. 'Even when he went down to Gillingham on Saturday to play against Dartford, and it seemed for all the world he would end up joining them, I still clung on to the hope it might yet go our way.
'I was out with my wife Karen and a few friends at a restaurant on Saturday night, and I warned them I was expecting a fairly important phone call. Sure enough, Damian called and explained how the game had gone well, but Martin Allen had asked him to go back again in another two weeks. It seemed to be the final straw, because he said he wasn't doing that. Then he just said: "If the offer is still there, Grahame, I'd like to re-sign for Altrincham."
'Lee and I have worked long and hard to make sure we have stayed at the forefront of Damian's thoughts, but it was worth every minute when I heard those words. It is a massive breakthrough for us, a real feather in our cap and a real statement of intent about our ambition. I think everyone, Damian included, believed we had seen the last of him in an Altrincham shirt, because of the interest created by his phenomenal scoring exploits last season.
'But while others seem to have messed him around, I think he could see we were being honest and straight with him, right down the line. We actually started trying to put something together with him last February. We have been proactive throughout, and we did our best then to secure his services for this coming season.
'We kept talking to him, but he wanted to keep his options open, and it became clear, as the season drew to a close, there were going to be plenty of options for him to consider. When we parted at the end of the campaign, he said he wanted his future sorted out quickly, and we all imagined it would be. But nothing came to fruition, and the more he was kept waiting for concrete offers to materialise, the more fed up he became.
'Of course, we needed to know what was happening as well, so we could formulate our plans. We couldn't afford to be caught between two stools by hanging on too long, but, equally, if there was a chance of having Damian in our team again next season, we didn't want to miss out on it.
'I think communication was the key. We have been straight and fair with him throughout, and I think he appreciated that. We never put pressure on him or set deadlines. We just said we were here if things didn't work out, and even the night before he played for Gillingham against Dartford, I texted him to wish him all the best. I just said: "Good luck, let us know how you get on."
'I kept reminding him of the virtues of our club, the atmosphere of the place, how much he meant to the fans and how we had a manager who knew how to get the best out of him. Not only that, but whatever we offered to pay him, we would pay him. It might not be the biggest financial deal on the table, but it was one that would be honoured every week.
'That perseverance has finally paid off, and I was just so excited last night when the call came through from Damian, saying he was rejoining us. It does show our ambition that we have pulled it off, and there is no doubt Damian is going to be an integral part of our squad next season. Talking to him today, he has already looked at the additions we have made to the squad, and he's excited about our prospects. He thinks we look stronger and better placed for a promotion push, and there is even more reason for thinking along those lines, now we've got him back on board.'
As he savoured the prospect of a first training session with team-mates old and new on Tuesday, and a possible role in Thursday's friendly at Trafford, a relieved Reeves said:
'I'm just glad it is all sorted, and I can look forward to returning to Moss Lane, because I really have been passed from pillar to post during the summer. It has not been a pleasant experience at all.
'At one point, everyone in the country seemed to think I was signing for Doncaster, and I thought I was, as well. But the goalposts kept moving, just as they did at Gillingham, and the whole thing turned into a bit of a nightmare. I was supposed to be signing for Gillingham last week, then the manager decided he wanted to see me in match action, so I headed down there on Saturday, thinking it would all be completed after the game.
'I fitted in well with the rest of the lads, and Martin Allen said he was certain I would score goals in League Two. Rather than sign me there and then, though, he wanted me to go away for two weeks and work on my fitness. With the start of the season so close, that wasn't what I wanted to hear, so after setting off on the journey home, I stopped halfway and told him I'd leave it.
'To be honest, I think his plans had changed. He sold his keeper to a Premier League club and signed three new players on the Friday, and I can't help thinking that had something to do with it.
'Anyway, at that point, the only thought I had was coming back to Alty. Gainsborough had offered me more money, and the chance to join Lincoln was tempting, because that is where my wife is from. But I had given Grahame and Lee my word that if I was going to leave Moss Lane, it would only be for a League club, not one in the Conference.
'For all the frustrations I've been through, I can honestly say I am genuinely excited about playing for Altrincham again and seeing if we can go one better than last season. I really do think we look stronger, and it wouldn't surprise me one bit if we are right in there, challenging for promotion.
'I just hope I can play my part. Your aim always has to be to try and beat your previous tally. I know it's going to take some doing, and I'm not daft enough to stand up in front of everyone and say I am going to score 50 goals next season.
'But, believe me, that's what I'll be aiming for. Certainly, I've no qualms about coming back. It is such a well-run club, and the supporters are brilliant, so I will be doing my utmost to carry on where I left off. The most important thing is the team, rather than any one individual, so while I'm setting my sights on trying to beat last season's tally, if I can score 30 and we end up being promoted, that will do for me.'
BURNLEY VERDICTS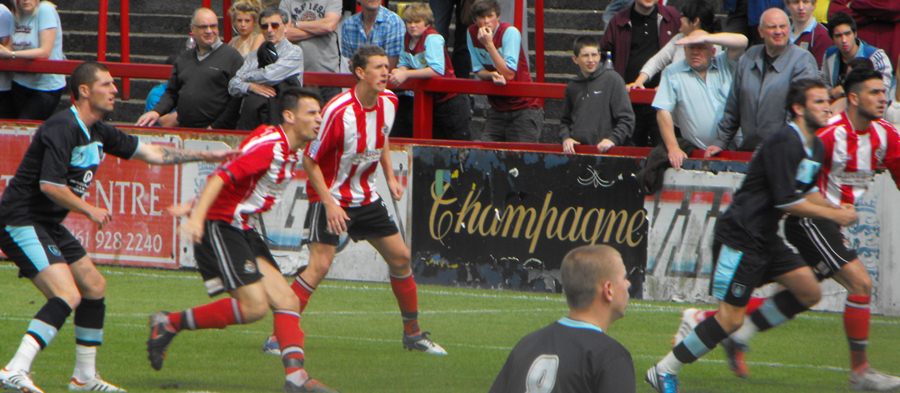 Above: Simon Richman, Scott Leather and Gianluca Havern help to see off a Burnley attack at Moss Lane on Saturday.
Match report.

Burnley report that "Burnley made hay, as the sun finally shone, to open their pre-season schedule with a convincing win at Altrincham. Strikers Charlie Austin and Danny Ings both turned up the heat on Alty after the break, opening their accounts for the season with classy strikes, following Chris McCann's first half sizzler.

And despite a consolation by Robins' sub James McCarten, Austin wrapped up a comfortable win in the last minute. Boss Eddie Howe would have been delighted with the outcome as the majority of his squad each got 45 minutes' action in the tank.

Howe fielded two different sides in each half, with three of the summer signings - centre back and new club captain Jason Shackell and full backs Luke O'Neill and Joseph Mills - all making their first appearances for the club.

David Edgar, who only returned to pre-season training last week, and Marvin Bartley, who missed out with a leg injury, were the only outfield players to sit out the game, along with keeper Brian Jensen.

And it was a bright start by the Clarets, with Steven Hewitt seeing an early shot blocked and a Junior Stanislas' 30-yard drive well parried by keeper Adam Reid. As Burnley dominated, it took just 13 minutes for the deadlock to be broken as McCann made no mistake, rifling home a left foot drive from 18 yards...

Nothing had been seen of the Altrincham attack, but four minutes before the break they came within a whisker of snatching an equaliser when Duncan Watmore's 20-yard drive beat Lee Grant and struck the inside of the post.

It was all change at the break as the Clarets made 11 changes, including summer arrival from Leyton Orient, George Porter... Ings was first to strike with a superb solo effort two minutes into the half, driving into the box and finding the bottom corner with a classy right-foot finish. And not to be outdone, Austin lashed home the third three minutes later from Danny Lafferty's square ball across the box.

The pace then naturally slowed, but Altrincham refused to roll over and reduced the arrears midway through the half when sub McCarten rifled home after second half keeper Jon Stewart failed to hold a cross. Alty then had a goal disallowed for offside as they gained confidence from the goal. But Burnley ended the game as they began it, in the ascendency.

Austin headed just wide and Porter saw his audacious effort tipped over before Austin put the gloss on the afternoon with a classy fourth in the last minute".

The Clarets Mad site adds that "Burnley's first team players got the pre-season underway this afternoon just as they did a year ago with four goals in what proved to be a comfortable win at Altrincham...

Manager Eddie Howe confirmed after the game that Shackell, who has previously been captain at both Norwich and Barnsley, is the new club captain.

[Howe added], As for McCann; I felt he was one of our stand out players in the first half and I was also very impressed with new left back Joseph Mills'".

The report adds, "There was even a goal back for Alty. Goalkeeper Jon Stewart dropped a cross and allowed John McCarten the easiest of chances. Things might have been worse too. Altrincham scored again only for the assistant's flag to go up for offside".

And in the Burnley Express, we read that "It's been all change since the Clarets faced the Blue Square North outfit at Moss Lane 12 months ago. When Eddie Howe's side last visited Moss Lane both Chris Eagles and Chris Iwelumo scored in a 4-2 victory...

Expectedly the opening 45 minutes were played out at a training ground tempo, though the Clarets were dominant. Minus Duncan Watmore's thunderous effort, which cannoned off the inside of the post with Lee Grant well beaten, in the latter stages of the half, Burnley were well in control...

Howe made wholesale changes for the second half, though it made little impact on the complexion of the game... The pace of the game was pedestrian, which benefitted the Clarets who had time on the ball and exploited the opposition with precision. James McCartan pulled a goal back for the hosts when profitting from Jon Stewart's error when failing to claim a corner...

Simon Richman had a close range effort ruled out for offside, James Lawrie flashed an effort wide from distance, Reid turned Porter's effort, which looked destined for the top corner, around the angle and Austin flashed a header wide of the post as the half progressed... It was a positive performance, a routine win".
TECHNICAL PROBLEMS
Altrincham FC matchday announcer, Steve Raftery, was faced with a number of technical "issues" during Saturday's game which accounted for some breaks in the usual service. Running repairs were carried out by Steve and Dan Jones and service was restored before the final whistle. The Club apologizes for any inconvenience caused to spectators during the game!
BRIAN ON THE AIRWAVES
Brian Flynn informs us that his weekly contribution to Wythenshawe FM on the topic of Altrincham FC is at the following link, about seven minutes in to the programme.
CROSSBAR CHALLENGE
Before Saturday's game against Burnley, Altrincham FC, assistant manager Neil Tolson and coach Ian Senior took part in the first Crossbar Challenge of the new season on the pitch at Moss Lane. Ian was delighted to claim the bragging rights, winning 3-0. But Neil had the last word against ex-goalkeeper Ian, explaining his defeat by claiming that, as an ex-striker, "I'm used to hitting the target, not missing it!".
OLD BOYS
Damian Reeves played the first hour of the game between Gillingham and Dartford on Saturday, a game The Gills won 1-0. Gillingham report that "A scrambled 73rd minute effort from new signing Ben Strevens saw the Gills to victory over Dartford... The Gills used 22 players including new signings Charlie Allen, Stuart Nelson and goalscorer Strevens in the travelling party while trialists Dean Morgan, who played at Chesterfield and Oxford United (loan) last season, Damian Reeves, scorer of a lot of goals at Altrincham and former Northampton Town midfielder Ryan Gilligan also featured...

A neat touch from Reeves sent Chris Whelpdale forward, he in turn found Morgan who cut inside from the left before sending a terrific curling shot towards the top corner of the net which Wells did brilliantly well in turning over the top. Morgan scuffed a shot at the keeper and Reeves slipped at an unfortunate time when through on the keeper...

With 26 minutes on the clock Barry Fuller played a good ball in from the right but Reeves couldn't steer his header on target... On the hour mark there was the strange sight of the entire Gills side being changed with a different eleven".

Also on trial was Lewis Chalmers, who turned out for Macclesfield Town at Witton on Saturday. However, his fellow ex-Alty midfielder, Steve Connors, was recorded as unfit to play for Witton in this game. In another of Saturday's friendlies, Ossett Albion 2-2 Harrogate Town, Alex Meechan and Lee Elam netted for Town.
BSBN NEWS
From the News and Star we learn that "The striker who secured Workington's status last season is back training with the club. Jordan Connerton has been without a club since his release from Crewe Alexandra but teamed up with Darren Edmondson's squad for training on Thursday. The 22-year-old netted the only goal as Workington beat Worcester on the final day of last season to preserve their tier six standing.

He was joined by experienced former Morecambe utility man Wayne Curtis. Able to play as a striker and in midfield was a major plus for Edmondson...

Edmondson said, 'We all know the qualities Jordan has. He's a goal scorer who provides us with a different option than Jonny (Wright) and Gareth (Arnison). Jordan can work well with the forwards we've got, as well as on his own, which offers us variety. Wayne is a player that has been around for a long time, but is still young enough to make a difference. He's a player who can play up front or in midfield, which is vital at this level. We need players who can play a number of positions because our budget is not the biggest. No decisions will be made for a couple of weeks, but it's great that we have these players involved'".

AT the southern end of the BSBN, "Dennis Greene believes guiding Histon to a mid-table finish in the Blue Square Bet North would be like winning a championship. The new Stutes' boss is under no illusions as to the size of the task facing him and his players, but he is confident he can at least keep the club up for another season. It is quite a turnaround for Greene, who enjoyed back-to-back promotions with St Neots Town before resigning as manager in June.

'When you're used to fighting for titles it's quite different to be battling relegation', he said. 'We've lost a few players and are three weeks from starting the season, so to finish in mid-table would feel like winning a championship. That's the next challenge'. While last year's skipper, Daniel Sparkes, has left for Braintree, Greene hopes to have a significant number of last year's squad to call on...

'The board have given me a budget I feel I can work with', said Greene. 'It's going to be difficult, but over the next week to 10 days I'll be looking to get some players in. The budget is not substantially less than I had at St Neots. We can't afford to take older players who have jobs because we train full time, so we'll be looking at first year pros and young players. That's all we can afford'" he told the Cambridge News.

Closer to home, FC Halifax Town report that "FC Halifax Town continued their pre-season preparations with a win over Blue Square Bet Premier League side, Stockport County at The Shay. It was not all good news, however, as the first match between the pair at The Shay for 22 years was marred by a bad-looking injury to new signing Dan Gardner...

Town were very much on top against their professional counterparts. Dale Johnson's goal had given Town an early lead in the match, courtesy of a rather friendly deflection in the build up. Ryan Toulson's tackle in the middle of the pitch resulted in the ball ballooning up and over the Stockport defence for Johnson to run on to. Entering the right-hand side of the box, Johnson shot tamely at Ian Ormson in the Stockport goal, who should have done better than letting the effort run through his legs...

There was a jovial atmosphere inside The Shay, that is, until a horrific injury to new signing Dan Gardner after 38 minutes... The game was paused for five minutes following Gardner's injury... The twisting action of his leg in attempting to pass, under no pressure, looked to have resulted in the midfielder twisting his knee as he instantly collapsed to the floor in quite obvious agony. He left the field on a stretcher to warm applause from the crowd, quickly followed by Neil Aspin down the tunnel... Gardner had been the best player on the pitch...

Connor Qualter – signed hours before kick-off after impressing on trial – came on for Futcher and former Bradford player Luke O'Brien, on trial, replaced Jason St. Juste at left back... Given the narrow nature of Town's 4-4-2 diamond formation, which transformed into 4-3-3 in attack thanks to the fluidity of Town's play, Liam Hogan was in action a number of times at right-back...

Nearly the entire Stockport side was by now full of trial players... After a minute of private deliberation and an unhelpful glance to his assistant, referee Whitely gave the penalty that Jamie Rainford chipped down the middle of the goal in cheeky fashion".

Still in Yorkshire, we learn that Guiseley "are delighted to announce that they have completed the signing of 22 year-old attacking midfielder Wayne Brooksby. Driffield-based Brooksby has been impressive in pre-season and last season at North Ferriby United, and featured in today's 1-0 friendly victory over Huddersfield Town. Brooksby was previously with Scarborough Town".
---
21 July 2012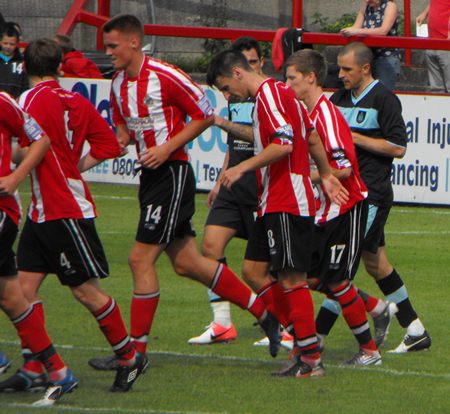 ALTRINCHAM 1 BURNLEY XI 4
The Clarets quite deservedly won this match but a fierce first-half shot against the post from Duncan Watmore and a second-half disallowed goal could have narrowed the margin in a game which finished with only James Lawrie and Simon Richman of last season's regular starters on the pitch for the Robins...
Match report.

Right: Trialist defender James McCarten (no.14) is congratulated on his goal for Altrincham.
SPONSOR A PLAYER!
Altrincham FC is offering sposnsorship of its players and coaching staff for the coming season. The price is just £150 to sponsor a player's shirt for the whole season or a bargain £250 if you want to sponsor two shirts (e.g. home and away)! As a sponsor, your name will be in each match-day programme, printed under an image of your chosen player, and your name will also appear in the Manchester Glass Sponsors' Lounge, under a photograph of your chosen player. At the end of the season you will recieve the shirt of the player you have sponsored, personally signed to you, by him! (You will receive the numbered shirt that the player has worn most times during the season).

The players/ staff who have already been sponsored are:
Lee Sinnott
Stuart Coburn - Home and Away.
Shaun Densmore (right) - Home
James Lawrie - Home and Away
Nicky Clee - Home
Danny Hall - Home
Duncan Watmore - Home and Away
Sam Grimshaw - Home
BURNLEY GAME
Altrincham joint Press and Media Officer, Brian Flynn, confirms...

"Burnley to Bring Full Strength First Team Squad to Altrincham

Burnley have confirmed that they will be bringing a full strength first team squad to Cheshire on Saturday to take on Blue Square Bet North side Altrincham. The game kicks off at 3pm at Altrincham's Moss Lane Ground and admission prices are as follows:-
Adults £7
O.A.Ps and Students £3
FREE ENTRY FOR UNDER 5s & ALTRINCHAM FC SEASON TICKET HOLDERS

Altrincham manager, Lee Sinnott, will include new signing Scott Leather in his squad.The 19 year old full back, who made two first team appearances at Preston North End, before being released at the end of last season, signed on Thursday for the Robins, having played as a second half substitute in Tuesday night's 0-0 draw with Morecambe".

Also, "Radio Robins will be broadcasting live coverage of Saturday's Pre-Season Friendly at Moss Lane against Burnley. The commentators will be Paul Salt and Brian Flynn, with match summaries by Niall Finnegan and John Edwards. Coverage starts at 2.55pm. You can listen to Radio Robins here.

Burnley report that manager "Eddie Howe insists fitness is the key as the Clarets gear-up to get their pre-season campaign underway at Altrincham.

Following the postponement of the scheduled opener at Accrington Stanley in midweek, Burnley's warm-up games begin at Moss Lane on Saturday (3pm KO). The entire first team squad, supplemented by several of the club's Development squad, will make the trip to the Blue Square bet North outfit.

Boss Howe said, 'Pre-season flies by, but the boys have been excellent so far and we're looking forward to getting started. The lads will all be given 45 minutes, so we can mix and match things. We'll take the first team squad and use the Development Squad too, from time to time as we go on, but we have a squad we need to give game time to.

We are looking to see an improvement with each game but, first and foremost, we will be looking at all the work we have done tactically, the players' attitudes to the game and fitness levels. Finally, it will be the result and if we get all the aforementioned then I'm sure the result will match it'.

Howe should have all his four summer signings - Jason Shackell, Luke O'Neill, George Porter and Joseph Mills - on display for the first time. And after making defence recruitments a priority, he admitted he was now looking to other areas to strengthen before the Championship season gets underway against Bolton Wanderers in four weeks time.

Howe explained, 'We are really pleased with our defensive unit. The three new lads will add competition for places and good balance as well. We now have four good, attacking full backs and four excellent centre backs, so I am well pleased and now we'll turn the focus towards other areas of the pitch. I still think we need to add in certain areas, so I hope our business isn't done yet'"

When Alty and Burnley met in the corresponding match last July, the sides were:
ALTRINCHAM: 1. Stuart COBURN, 2. Chris LYNCH, 6. Mark LEES, 5. Adam FLYNN, 3. Ryan BROWN; 7. Simon RICHMAN, 4. Robbie LAWTON (capt), 8. Shaun DENSMORE, 11. Nicky CLEE; 9. Nick CHADWICK, 10. Damian REEVES. Subs: 12. Paul JONES, 13. James COATES, 14. Anthony DANYLYK, 15. Brian SUMMERSKILL, 17. Kevin GALL, 18. Michael JUKES, 19. Steve HALL, 20. Matt FEARON, 21. Jake BARNABAS also present but not on the teamsheet was Sam LANGFORD
BURNLEY: 1. Lee Grant, 2. Tyrone Mears, 4. Alex-Ray Harvey, 5. Andre Bikey, 7. Chris Eagles, 6. Michael Duff, 8. Chris McCann, 3. Brian Easton, 11. Ross Wallace, 10. Martin Paterson, 9. Alex Macdonald. Subs: 12. Brian Jensen, 17. Leon Cort, 15. Daniel Fox, 20. Wade Elliott, 14. Kevin Long, 16. Marvin Bartley, 18. David Edgar, 19. Dean Marney, 22. Wes Fletcher, 21. Jay Rodriguez, 23. Chris Iwelumo, GK Stewart, 24.Dominic Knowles, 25. Joe McKee, 26. Mehdi Lazaar.
BSBN NEWS
The Football Conference tells us that "Histon have announced the appointment of Dennis Greene as first-team manager. Greene led St Neots Town to back-to-back promotions over the last two seasons and came into the club last week to take first-team training, initially on a short-term basis. Greene will be joined by Tony Scully, who was his assistant-manager at St Neots, and as a player made over 250 senior professional appearances.

Discussions are continuing with Brian Page as it is the Board's strong desire that he continue in his role as scholars' Lead Co-Ordinator, a role in which he excels.

On reflection it is the Board's belief that the club is best served by enabling staff to excel in their roles rather than ask them to continually increase their workload and responsibilities, particularly when we are not in a position to offer the remuneration that would be reasonably expected. Page has indicated that he is happy to continue in this role but the Board are aware that his contract requires attention. It is hoped that an agreement can be made quickly that is acceptable to him and that will allow everyone to move on and prepare for what promises to be an important and exciting year for the Scholars.

The club has also announced the appointment of Angus Meichan to the role of Academy Manager. Meichan has been with the Academy for some time as a coach and steps up to fill the role vacated by Howard Willmott...

A statement from the club said, 'There has been considerable speculation and concern amongst supporters in the wake of recent events and developments, perceived or otherwise, fuelled by half-truths, guesswork and outright inaccuracies. As a Board we recognise that we have made mistakes over the last couple of weeks. Communicating the progress of important and often delicate discussions in a way that is informative but that protects and respects the privacy of those involved is an art in which we are not skilled and for that we apologise to our supporters. We would however like to explain our position now.

When David Livermore resigned as manager, we were united in our desire that Brian Page be installed as his replacement. He has been at the club for a number of years, playing a key role in the development of our young players and an invaluable role as assistant to David during his two years in the post. There were, of course, discussions between ourselves and Brian and we believed we had an agreement in principle, albeit subject to contract but neither party anticipated further problems. The appointment was therefore publicly announced.

However, although Brian was aware that the confirmation of his player and staff budgets was dependent upon our securing new sponsorship funds into the club, discussions with parties interested in bringing financial support into the club have, and are, taking longer than we had hoped. This, in turn, meant that we were unable to make the financial commitments that Brian needed and wanted and therefore he stepped down as first-team manager. Whilst we as a Board understand the importance of securing players to new contracts, offering new players terms and putting in place a coaching team to support the manager, we will not under any circumstances put this club in a position whereby we cannot service our contractual financial commitments.

We are acutely aware that preparation for the coming season has been less than ideal but we will not risk the existence of this club by signing players or staff that we cannot pay for. It is true that a number of candidates put themselves forward for the role of first-team manager and the club conducted a number of interviews but, at no time, has there been any attempt to find a replacement for Brian as Scholars' Lead Co-Ordinator, nor will there be.

It is important that supporters understand that Histon FC is in no danger of "collapse". Our outstanding historical debt is under control now, we have use of our ground indefinitely for a peppercorn annual rent and the £26,000 loaned by a supporter in March to help us through to the end of last season is being paid back over a two-year period. The budget and cash flow forecasting that has been done by the Board allow us to continue with the squad we have now but new funds must be secured before we make further commitments in terms of playing staff.

We realise that this has been a frustrating and worrying time for supporters but the Board was voted into position by the shareholders to safeguard the future of the club and that is exactly what we are doing, although we recognise that, at this time of the year, supporters wish to see new signings and the club energetically pushing forward with preparations for the coming season.

The new coaching structure of the club, we believe, gives us a platform to move forward and build for the future and does not put us in a position whereby we might be at risk of defaulting on our financial commitments. With Dennis, Brian, Angus and the rest of the coaching staff working together towards a common goal we believe that we now have a strong team in place. It is the Board's responsibility to source further financial support in order to be able to give the staff and players the backing they deserve and to that end we remain in constant negotiation with interested parties'".

Elsewhere, "Hinckley United's 8-0 drubbing by Coventry City last Saturday perfectly illustrated the size of the task facing manager Dean Thomas this pre-season. The Knitters have lost some of their best players, including intended skipper Rich Lavery to neighbours Barwell, and Thomas is having to build a side virtually from scratch.

With the beginning of their Blue Square Bet North campaign still a month away and several trialists being looked at by the club, Thomas admitted that his side were 'not ready' to face an outfit as clinical as Coventry...

With movements going on behind the scenes at the club in the wake of chairman Kevin Downes's resignation last week, Thomas is battling to get a squad in place on the pitch in time for their season opener against Harrogate on August 18.

'Trying to put the team together has been very difficult this season', said Thomas. 'In the past, I have had a nucleus of players here and we have tried to build around that platform. This time, with so many changes, that nucleus is not there. It is taking much longer to put a side together because we have had less bodies here in the first place. I am looking at a lot of trialists and, as you would expect at this stage, it has been like a revolving door. I know exactly what I want, it is just a case of finding those players, crucially, at the right price. Games against the professional clubs are about the occasion, but we were not ready for it as a team... I know it's all about getting us ready for August 18, that is the most important date'", he told the This is Leicestershire.

According to NL365, "After shedding 21 pounds, Mark Boyd hopes his new light-weight figure will lead to improved performances for Workington Reds. The midfielder has stuck to a rigorous diet and fitness programme and has returned to training looking leaner and meaner. Boyd said turning 30 was the catalyst for his new regime, and said, 'It's no secret that I needed to lose a few pounds'.

Before starting the programme six weeks ago, Boyd weighed 14 stone five pounds, but now weighs just 12st 12lbs, and is aiming to lose another 6lbs. He added, 'I'm at a stage of my career where I need to look after myself better or risk being left behind by the younger lads. I have had weight issues throughout my career, but I want to play a major role for Workington this year... I still want to lose another few pounds to hit my target weight'...

He said, 'By the end of last year I didn't want the season to end. I was getting better and felt I was contributing more to games. This year I feel great. I feel 100 per cent ready for the season and I want to make a big difference to the team'...

Boyd admitted being impressed with some of the trialists boss Darren Edmondson has brought in with defender Niall Cowperthwaite standing out. Workington's pre-season continues with the visit of Scottish side Queen of the South... The match will see Reds players wearing specially-made shirts, which will be sold after the game with proceeds being donated to the Great North Air Ambulance's Pride of Cumbria aircraft.

Boyd said, 'We aren't getting carried away like last year. There is a sense of realism, but there is no reason why Workington can't be contenders this year. It's a tough start to the season with Stalybridge, Chester, Halifax and Guiseley starting things, but this could be a good time to get those games out of the way. I'm not saying Workington will win the league; there is a lot of work to do but we are a strong unit who plays for each other'".
---
20 July 2012
PRE-SEASON AT MOSS LANE
Altrincham FC marketing manager, Matt Royle, has produced the poster, right, advertising the pre-season games at Moss Lane. You can click on the image, which can be displayed in your workplace, local pub, etc.
Don't forget that if you have an Altrincham FC season ticket for 2012-13, entry to all of the pre-season friendlies at Moss Lane is FREE. For anyone paying at the turnstiles, the prices are:
Adults: £7
Concessionaries: £3
Under 5s: FREE
OLD BOY
Kelvin Lugsden is pictured in the Manchester Evening News (Thursday) as captain of Glossop North End.
BSBN NEWS
According to BSBN "Corby Town manager Ian Sampson is keen to sign Andy Holt and Jason Crowe but is aware the veteran duo have other options. The former Northampton players featured in the Steelmen's 4-1 win at Harborough Town on Wednesday night.

'Andy and Jason played in the first half and we might get one of the two', Sampson said in the Northampton Chronicle and Echo. 'If we are really lucky we might get both of them and if that were to happen then it would be a great coup. But it is probably a long shot because they have other irons in the fire... I never read anything into pre-season results because you are only going to be in trouble if you think you have cracked it after one game. Having said that, to get a win is always a bonus'.

Sampson has already enlisted former Norwich striker Leon McKenzie".

BSBN also says that "Chester FC chief executive Pat Cluskey has poured cold water on talk that the Blue Square Bet North newcomers might soon become a full-time club... [They] have been listed as 4/1 pre-season title favourites...

'The board have a difficult choice to make as to how far the club wish to progress down the line and, likewise the supporters, as the board would have to make recommendations to the members I'd assume', he told the Chester Chronicle. 'It's not like the old days where you could sit down with a chairman and say we need X amount of thousands of pounds to do this and he'd say there you go. We're not in that situation so we've got to be very careful not to over-commit ourselves financially. Full-time has been mentioned and there was also mention of a part-time, full-time element. But it's hard to put a timescale on as it's something we're constantly reviewing. We've had a couple of strategy days already, there's another planned for next month. Full-time is not on the horizon, certainly for this season. But let's say we have a cup run this year, amass a lot of money, and do get promoted, then it could be a different prospect. It is in everyone's thoughts but we can only work to our income and it is the challenge of myself and the staff to increase that income'".

From Harrogate Town, we learn that "Since the beginning of July, the weather has done its level best to disrupt proceedings with the new pitch. However, thanks to the fantastic work done by our ground-staff and the companies involved with the ground work there is a fine playing surface coming through... There is still work to be done, but the opening home fixture against Altrincham on the 21st August will give us the chance to show off a pitch, and ground, that we can rightly be proud of".

Also at Harrogate "Simon Weaver has secured the signature of dynamic midfielder Adam Bolder. Adam, 31, was recently on the books of Burton Albion where he spent two seasons making over 80 appearances. His career started at Hull City before moves to Derby County, QPR, Sheffield Wednesday, Millwall and Bradford City. Described as an "highly experienced and influential midfielder", this is seen by many as a very shrewd move by Simon."
OLD FOES
The Football Conference is saddened by the news of the departure from Newport County AFC of their Chairman Chris Blight.

Not only does this mean that he is forced to relinquish his position on the Board of the Football Conference with immediate effect, it will also mean that late and significant changes will have to be made to the duties on the board itself, ahead of the new season fast approaching. Discussions will be held shortly to decide how the vacancy will be filled.

The directors of the competition are astounded, yet sadly not surprised in today's climate, that politics within clubs can be manipulated by certain individuals in the way it has brought the resignation of a principled individual, who has been an integral and important part of the team which runs the Football Conference.

Chairman Brian Lee responded to the news, 'Chris will be missed not only by his fellow directors here at the Football Conference but his loss is to football generally. Those who follow clubs in our membership will not be aware of the additional sacrifices made by my fellow directors who give of their time freely to represent the whole membership. Each is elected by other club Chairmen and in his time Chris has carried out those duties on their behalf in a fair, considered and practical manner, bringing with him personal and business related qualities which are fundamental to our day to day operations.

For anyone to be the subject of malicious personal abuse is difficult but when it affects those close to them, who in turn only support their presence on our Board through support, love and understanding, it is no surprise that Chris and others like him decide to step away... Not only does the actions of anonymous people have a lot to answer to over the resignation of Chris, importantly it will cause others, who may consider and relish the challenge of leading any other club, to ask in the first place whether they really do want to take on such a position'".

The BBC explains that "Chris Blight has announced that he is to step down as chairman and director of Newport County after 10 years. Blight has hinted that abuse directed at him by some disgruntled fans may have been a factor... Blight has reportedly received abusive telephone calls both on his mobile and at home from individuals, unhappy at suggestions that he had blocked potential new investment in the club"

Bulls' News reports that "Mansfield have the budget for a 'wow' striker to complete their attacking line up. At a fans' forum last night, chairman John Radford told fans he had put £2.5million into the club and that a planned training facility would cost him more than buying the Field Mill stadium back from former club owner Keith Haslam did.

Radford told fans he believed the club had a top three budget 'if not the top', telling fans that 'at present' the wage budget was 80% of income with his company's sponsorship of the stadium boosting revenue.

Meanwhile, Ludlow Town have gone bust owing at least £400,000".
---
19 July 2012
DAMIAN REEVES
Altrincham FC have tonight confirmed that striker Damian Reeves, who netted 44 goals for the club last season, travelled down to Kent to meet League Two Gillingham boss Martin Allen on Tuesday (17th July). As a result, Damian is set to line up for The Gills' in their friendly, this Saturday, against Dartford.

Earlier Sky Sports had reported that "Gillingham are hoping to win the race to land non-league scoring sensation Damien Reeves, Sky Sports understands. The Gills have emerged as front-runners for the 26-year-old, who bagged over 40 goals for Altrincham in the Blue Square North. Clubs from the Championship, SPL, League One and Two have been tracking Reeves.

Doncaster Rovers were thought to be favourites, but now Martin Allen's Gillingham have made their move. Sky Sports understands Reeves is now closing on a deal with the Gills and should soon seal a move into the professional game".

And Gills Connect adds that the "Gills are chasing Altrincham 26-year old striker Damian Reeves who has scored 44 goals in the Blue Square North last season and another in a FA Trophy match[?]. Damian has scored a phenomenal 63 goals in his last 79 starts and 12 substitute appearances and he has the confidence starting every game believing he can score.

Gills' boss Martin Allen is about to make a move, although there is bound to be a substantial amount of interest in Damian... Although now playing in non-league Damian has had spells with Doncaster, Leeds & Barnsley before dropping down the leagues to Altrincham in the Blue Square North.

In a recent interview with the Daily Mail the hot-shot striker said, 'If I don't do it at this level, I'm not going to get a chance to play at the next level. If you put me a level or two above, I'm sure you'd still get a return'".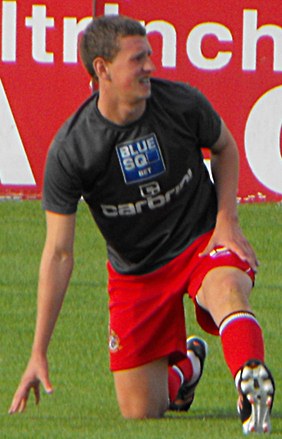 NEW SIGNING
Altrincham have made their sixth external signing of the close season with the announcement this evening of right-back and central defender, Scott Leather. Born in Manchester on 20 September, 1992, 19 year-old Scott figured for just 29 minutes on his Altrincham debut in Tuesday night's friendly against Morecambe but it was obviously enough to confirm the impression gained from training that Scott would be a very useful addition to the playing staff. Amongst Scott's admirers as a defender are former Alty striker Colin Little, who used to work at the Crewe Alexandra academy, where Scott spent some eight years until he moved on to Preston North End in 2009.

Scott made two League appearances at Deepdale but was released by Preston at the end of last season. Earlier this summer he had a trial at Barrow and, as recently as last week, was involved in the Bluebirds' game with Welsh club Airbus.

Scott is pictured, right, in the warm-up before the match on Tuesday night.
STRONG BURNLEY SQUAD ON SATURDAY
Altrincham FC are very grateful to manager Eddie Howe, who is sending the Burnley first-team squad to Moss Lane for Saturday's game (3pm) against Altrincham i.e. NOT the Development Squad, which has played an earlier friendly this summer.

The Burnley first-team squad, as notified to Altrincham FC is:

Goalkeepers
Lee Grant
Brian Jensen
Jon Stewart

Defenders
Luke O'Neill
Jason Shackell
Kieran Trippier
Danny Lafferty
Michael Duff
David Edgar
Kevin Long
Ben Mee
Joseph Mills

Midfielders
Chris McCann
Ross Wallace
Dean Marney
Junior Stanislas
Marvin Bartley
Keith Treacy
George Porter

Strikers
Martin Paterson
Danny Ings
Charlie Austin
Alex MacDonald
THREE OR MORE TO COME
Altrincham FC joint Press and Media Officer, John Edwards, writes, "Lee Sinnott hailed Altrincham's new-found defensive solidity after a strong Morecambe side were held to a goalless draw at Moss Lane on Tuesday night.

The Alty boss vowed to remedy last season's most glaring weakness and appears to have succeeded, after new signings Luca Havern and Danny Hall once more marshalled a well-drilled defence and limited their League Two opponents to a bare minimum of scoring opportunities.

Indeed, for all Morecambe's possession, Alty might have claimed a notable scalp, but for two flying second-half saves by Barry Roche from James Lawrie and the impressive Duncan Watmore.

'Stuart Coburn wasn't exactly over-worked, and it's probably fair to say their keeper had more to do,' said Sinnott. 'It has been well documented that keeping clean sheets was a problem for us last season, so it was pleasing to keep one against that calibre of opposition, and with such a good performance.

'When you talk about defences, you always think of the keeper and back four. But everyone, from the front all the way back, did what was required to make sure Stuart was well protected.

'Morecambe were going for it. They never took their foot off the pedal, as you might expect from a side managed by Jim Bentley and Ken McKenna, so it was encouraging to see us play some good stuff and actually create the better chances.

'It was a decent exercise for us, but I keep drumming into the players that the date that matters most is August 18, when the League campaign starts.

'The two new lads up front, Ryan Brooke and Danny Mitchley, faced a tough task, given the opposition. They had to work for everything they got, but that will have done them good. There were a lot of pleasing aspects.'

Trialists such as Matt Doughty and former Preston right-back Scott Leather are likely to be given another chance to impress, as Alty's pre-season programme continues, against Burnley at Moss Lane on Saturday (3pm).

'I'm still looking to bring in three or four more players,' added Sinnott. 'Who knows, maybe at least some are already in the building'".
SHRIMPS' VIEW
Morecambe report that "The Shrimps drew 0-0 at Altrincham. Boss Jim Bentley fielded a strong side but, despite some decent approach play, they failed to break through the home defence. Izak Reid went close in the first half but that proved to be a rare moment of threat for the Shrimps. Joe Mwasile was given a start and caused the Robins' defence problems in the first half".

The Lancaster Guardian adds that "A strong Morecambe side were held to a goalless draw at Altrincham last night... Shrimps forward Jack Redshaw started against his former club as Jim Bentley's side knocked the ball about well in the opening period without threatening Stuart Coburn in the home goal.

Morecambe's best openings came through wide men Izak Reid and Joe Mwasile, who both cut in and came close, the former forcing Coburn to get down well to save and the latter firing just wide. The home side were more direct and, with better finishing, could have been ahead at the break. With the focus firmly on match fitness, the volume of substitutions in the second half meant the game turned into a disjointed affair.

Joe McGee, as against Everton in Bentley's testimonial on Saturday, looked composed in the middle of the park with new signing Andy Wright assured playing in front of the back four, being strong in the tackle and more often than not picking the right pass. Midfield trialist Patrick Lacey improved on his showing against the Toffees and trialist goalkeeper Ben Woodhead also got another run out.

For all their composure in the middle of the park, the Shrimps still lacked a cutting edge, but the presence of potential loan signing Richard Brodie in the crowd at Moss Lane will give Morecambe fans plenty of heart".
OLD BOY
Port Talbot Town confirm that "Matthew Crowell returns for his second spell at the GenQuip stadium... Crowell has signed an 18-month deal with the club. Crowell, 28, originally joined Port Talbot last summer but his move was cut short after being offered a full-time deal to play for Spanish side C.D Ourense. The midfielder however has been training with the Steelmen throughout pre-season and featured in last week's victory over AFC Porth, before agreeing terms on a new deal, becoming the club's eighth summer signing".
BSBN NEWS
According to BSBN, "Gainsborough Trinity are hopeful they can land prolific hitman Damian Reeves amid rival interest from Football League sides. Reeves, a free agent, was the Blue Square Bet North's leading marksman last term, netting 44 goals for Altrincham.

The Holy Blues have made an offer to Reeves, with the club waiting to hear back from the in-demand 26-year-old.

'It is no secret that we are looking to increase our options up front', Trinity assistant manager Lee Warren told the Lincolnshire Echo. 'If the player has already reported on a social network site that we are interested, then I suppose I can say that we have been talking to him. We would like to bring him to the Northolme and we have made him a very good offer. He has a very good package in front of him but I believe he wants to play League football. I can't blame him, as a player you want to play at the highest level you can. From what I am hearing, Reeves is favouring a higher level and he has a number of options. We can only keep our fingers crossed. Nothing is certain yet'".

The Football Conference tells us that "Solihull Moors have confirmed that both Craig Hinton and Lee Morris have left Damson Park to take up academy coaching positions. Hinton takes up a coaching role at West Bromwich Albion's Academy, working with the under-15s and under-16s. Whilst his appearances for the Moors were limited last season due to the club`s wealth of centre backs, he was an integral part of the coaching staff and a leader in the dressing room.

Morris has returned to Derby County, the club who signed him for £3 million in 1999, to coach the Academy under-13s. Despite injury problems last season, Morris showed his class on many occasions, most memorably in the FA Trophy game at York City. He finished the season as Solihull's top league goalscorer".

The Conference also says that "Simon Weaver, manager of Harrogate Town, has strengthened his midfield with the signing of former Bradford City player Luke Dean. Dean, 21, who had two loan spells at Harrogate last season, made ten appearances and scored one goal against Worcester City during his time at the CNG Stadium. He had previous Conference North experience when he played for Hinckley United and has also played for FC Halifax Town and Ossett Town on loan a couple of seasons ago".
---
18 July 2012
ALTRINCHAM 0 MORECAMBE 0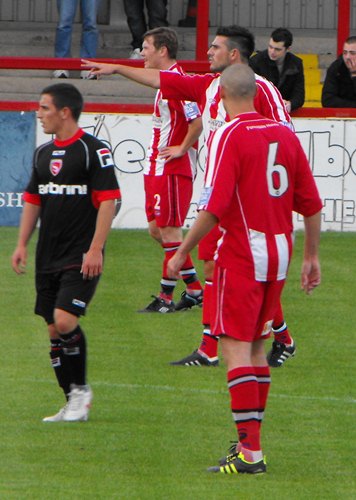 Right: Gianluca Havern points the way as he, Danny Hall (6) and Shaun Densmore keep an eye on Morecambe's former Alty striker, Jack Redshaw.
Altrincham gave a strong Morecambe side as good as they got in the Robins' first goalless draw in a match since February 2011...
Match report here.

ALTRINCHAM: 1. Stuart COBURN, 2. Shaun DENSMORE (capt), 5. Gianluca HAVERN, 6. Danny HALL, 3. Nicky CLEE; 7. Duncan WATMORE, 4. Carl RODGERS, 8. Scott PHELAN, 11. James LAWRIE; 9. Danny MITCHLEY, 10. Ryan BROOKE. Subs: 12. Matt DOUGHTY, 14. Simon RICHMAN, 15. Scott LEATHER, 16. Greg PEARSON, 17. Sam GRIMSHAW, 18. Adam REID (gk), John McCARTEN, 8*. Adam MATHER.

MORECAMBE: 1. Barry ROCHE, 2. Andy PARRISH, 3. Robert THRELFALL, 5. Chris McCREADY (capt), 8. Andy WRIGHT, 10. Jack REDSHAW, 16. Stewart DRUMMOND, 17. Izak REID, 18. Gary McDONALD, 20. Joe MWASILE, 22. Danny CARLTON. Subs: 12. Ben WOODHEAD (gk), 4. Joe McGEE, 7. Andy FLEMING, 9. Lewis ALESSANDRA, 11. Kevin ELLISON, 14. Jordan BURROW, 15. Dan PARKINSON, 21. Paddy LACEY, 23. Chris DOYLE, 24. James SHORT.
JOIN IN THE GOAL RUSH FOR 2012-13
TASC's Paul Salt reports that "The Altrincham Supporters' Club (TASC) are pleased to announce that, following the success of our sponsored Goal Rush scheme for the 2011-12 season, we will be running the scheme again for the 2012-13 season.

The TASC Goal Rush scheme was first introduced at the start of the 2011-12 Season and has proved to be a roaring success as the team notched up 94 league and cup goals to help raise over £3,200 from the total pledges of £34.25p per goal made by supporters last season.

The target has been set to try and beat last year's total pledges per goal as the Robins press for another successful season in front of goal. Many of last year's sponsors have already reconfirmed their pledges for the forthcoming season. If you haven't yet renewed, or would like to join this season, forms will be available at the pre-season games or can be picked up from the office.

The scheme is simple, and anyone can sponsor the mighty Robins any amount they wish in multiples of 25p per goal for each goal the team scores throughout the 2012-13 season in all Blue Square Bet League, FA Cup, FA Trophy and Cheshire Senior Cup matches.

For example, If Altrincham score a total of 75 goals in the 2012/13 season, for each 25p sponsored goal you would be paying £18.75 for the whole season.

For every 10th goal scored, each sponsor will be entered into a free draw based on one entry for each 25p sponsored, i.e If you agree to donate 50p per goal, you receive 2 entries, £2.00 per goal receives 8 entries etc.

The club have kindly agreed to donate TWO FREE TICKETS for a forthcoming home game for every 10th goal scored to the winner of each draw.

In addition, there will be an end of the season draw for TWO PRIZES of a signed shirt and matchball and, if the team score 100 goals, there will be an additional draw for a FREE SEASON TICKET for the following 2013-14 season".
OLD BOYS
From Pitchero Non-League, we learn that "Marine opened their pre-season friendly programme with a narrow home defeat, going down by the odd goal in three to Accrington Stanley. Stanley looked sharp early on and took the lead after only 3 minutes, Gray racing clear to round Ryan McMahon before coolly rolling the ball home...

Marine pulled a goal back 4 minutes before the break, Robbie Lawton [right] pulling one out of the hat with a lovely curled effort from 22 yards".

Elsewhere, "There were very few familiar names in the Ashton squad, although Ged Murphy was captain... Glyn Barker was amongst the second half subs... Trialist midfielder/winger [ex-Alty Youth] Dion Depeiaza got Ashton's goal as the game ran towards its conclusion, however Darwen rallied to seal a win".
YANKEE WINNER NETS £3,600!
The Altrincham FC Saturday Yankee jackpot of £3,600 was won last week by a lucky member of the scheme. In addition, three other participants each won £66.66 for having "Winning Trebles". The winning code was 9074.
BSBN NEWS
Droylsden announce that "Some of you may be aware that this coming season we will be running a reserve side, playing all their home games here at the Butcher's Arms. They will be competing in the Galaxy Lancs West division. The fixtures are not yet released but we will advise as soon as they are available".

"Vastly experienced left-back Kevin Sandwith has signed for Buxton. "Sandwith can list Chester City and Doncaster Rovers among his former clubs. He joins the Bucks after being released by Gainsborough Trinity".

According to the Coventry Telegraph, "Nuneaton Town continue their pre-season programme tonight [Tuesday] with a trip to Brackley Town's St James Park...

Boro' boss Kevin Wilkin... was delighted with Friday's display against Oswestry-based TNS... Having been demolished 6-0 at Liberty Way in the 2010 play-offs for a Conference North place, Brackley step up as Southern League champions this term. And under the leadership of Jon Brady and Darren Collins (the latter fondly remembered by Boro fans for notching 97 goals in 100 appearances) they boast a solid-looking squad that features the midfield experience of ex-Sky Blue Barry Quinn and Northampton old boy Paul Demspey".

In the Times & Star, "Teenager Ryan Hall is being tipped to make an impact at Workington Reds this season. The 17-year-old striker is a favourite of boss Darren Edmondson, who will put his trust in Hall.

He said, 'Ryan is a player that caught my eye and has continued to impress. There's no doubt he will have a role to play this year. We have agreed a contract with Ryan and it's exciting to have him on board'". a
---
17 July 2012
STRONG SHRIMPS TONIGHT
Morecambe confirm that "The Shrimps will be taking a full strength squad to Altrincham on Tuesday night as they continue their pre season campaign. Boss Jim Bentley is keen for players to get as much match time as possible in the first few weeks of the pre season and will see the majority of his squad play some part in the game.

Bentley said, 'This will be a really tough test and is a perfect pre season game for us. We will change things around slightly but we will go very strong and look to build on Saturday's game against Everton and continue to work on a few things'.

Former Altrincham striker Jack Redshaw is set to start".
MOSS LANE, TONIGHT: ALTY v MORECAMBE
Tonight (Tuesday, 7.45pm) Altrincham play their first home friendly of the summer against League Two club Morecambe, managed by Jim Bentley and former Alty player and manager, Ken McKenna. Don't forget that if you have an Altrincham FC season ticket for 2012-13, entry to the pre-season friendlies at Moss Lane is FREE. For anyone paying at the turnstiles, the prices are:
Adults: £7
Concessionaries: £3
Under 5s: FREE

Brian Flynn confirms that "Radio Robins will be broadcasting live coverage of the first pre-season friendly at Moss Lane against Morecambe on Tuesday evening. The commentators will be Simon Ellis and Brian Flynn, with match summaries by Niall Finnegan. Coverage starts at 7.40pm, here.

Brian adds that "Altrincham fans will have the opportunity to be interviewed on Wythenshawe FM at tomorrow night's pre-season friendly with Morecambe. Kevin Thompson and James Murphy, the presenters of the weekly WFM Sports Show on Wythenshawe FM, will be at the game, getting the views of Alty fans on the season ahead. These interviews and a post-match interview with Altrincham manager Lee Sinnott, will be broadcast on the WFM Sports Show on Tuesday July 24th at 11am.

Wythenshawe FM broadcasts on 97.2 or online here.
PUT YOURSELF IN THE PICTURE
Altrincham FC's annual team photo-shoot is provisionally arranged to take place on Tuesday, 7th August at 6.15pm at Moss Lane. And, you can have your photo taken, with the 2012-13 squad, by Club Photographer, Gavin Rathbone. Two team photos will be taken; one in the home kit and the other in the new away kit, so you can choose your preference. The cost is a bargain at just £10 for a souvenir photograph to put on your wall.

To take up this offer, please either ring the club on (0161) 928-1045 or send an e-mail in advance of the above date.
BSBN NEWS
Bulls' News reports that "Released Silkmen keeper, and ex-Bull, Jose Veiga has signed for Conf North side Harrogate Town".

According to the BBC, "Histon FC have had to put Dennis Greene in temporary charge of the first team while negotiations continue over their new manager's contract. Former assistant boss Brian Page was announced as manager last month after predecessor David Livermore left to join the coaching staff at Millwall.

However, he has yet to agree terms and has refused to oversee training. 'We're continuing to talk with Brian and he remains first choice to manage the side', said chairman Russell Hands. The board have now drafted in former St Neots boss Greene while the protracted negotiations are concluded. 'Dennis will be working with the players until the situation is resolved', Hands told BBC Radio Cambridgeshire".
---
16 July 2012
MOSSLEY GAME
Altrincham have a pre-season game against Mossley on Tuesday, 31 July. In their most recent pre-season games, Mossley have included ex-Alty Youth Ryan Stewart, former Alty trialist Gavin Salmon and ex-reserve Cayne Hanley. In one of the friendlies, against FC Halifax Town admission prices were: Adults £5, Concessions £3, Children £1 or free if accompanied by an adult.

The excellent Mossleyweb provides directions to Seel Park. "M62 junction 22 towards Saddleworth (Oldham), turn left onto Huddersfield Road A640. Follow A6052 for 2.5 miles (Delph Road), turn right onto A62 and then immediate left into Delph New Road for a mile. Turn right into Dobcross New Road, turn right at mini roundabout for High Street for 3.5 miles. Market Street is straight on.

M60 junction 23, left at end of slip road following A635 Ashton-under-Lyne, take 3rd exit off roundabout (bypass), along bypass, at roundabout 3rd exit to next roundabout, take 3rd exit (Mossley A670), at junction turn right on Mossley Road, through traffic lights, after approx 2 1/2 miles you will drop down hill and enter Mossley Town Centre, pass supermarket on left and turn right before you reach next set of lights, up hill and left into Market Street. Ground approx 200 yards on left".

For those who have not been to Mossley's ground for a while, recent developments are outlined by Mossleyweb:
2008 - Terracing on the Hanover Street side was completed meaning that Seel Park's concrete terracing was complete on all four sides. Dressing Rooms re-designed and extended. Social Club refurbished.
2009 - Disaster struck at the end of 2009 as two floodlight pylons collapsed and following inspections the remaining six pylons were condemned.
2010 - A new six pylon floodlighting system costing just over £30,000 was installed in the summer thanks to money raised by supporters and donations from local businesses and Tameside MBC.
LAST GAME
After Saturday's game, Nantwich Town report that "Two early goals rocked the Dabbers in their first warm-up game against Altrincham at the Weaver Stadium. Ryan Brooke (13 mins) and Duncan Brooke [Watmore] (16) put Alty in the driving seat and they went 3-0 up on 53 minutes through a Matt Fearon free-kick. Dabbers' Man of the Match, Lewis Short, pulled a goal back 4 minutes later".
BSBN NEWS
NL Pitchero confirms that "Rod Stringer, manager of Bishop's Stortford, has a new-look squad at his disposal.

Stringer had already brought in midfielder Lewwis Spence, who played at Crystal Palace, ex-Ebbsfleet United forward Scott Ginty and right winger Nathan Gordon earlier this summer, while Sean Francis [and] Alli Abdullahi have returned from holiday and have re-signed for the Blues along with former MK Dons left-back Harry Milton and midfielder Max Lette Jallow. Stringer also reported that he has signed 23-year-old Johnny Herd, a left-back who played for Ebbsfleet last season alongside Ginty. Prior to this he was at Southend United and was instrumental in Southend's equaliser against Chelsea in the FA Cup Third Round in May 2011 by virtue of his long throw.

Alongside Herd, Stringer has brought in another ex-Southend player, centre half David Obaze, who also numbers Sutton United, Grays Athletic, Weymouth, Histon, Bromley and Harlow Town amongst his previous clubs, Lynvall Duncan, another centre half, who returns to the club after a spell with Aveley, Matt Pooley, who has switched from Stringer's former club Braintree Town, and Matt Redgrave, who was released by Colchester United at the end of last season.

Stringer also hopes to land a 'gem' in the shape of another former Braintree player in Peter Davies, who has recently returned to the UK after a spell playing professionally in the USA.

Former Stortford goalkeeper Ross Kitteridge has returned for a trial as the Blues look for a new keeper to replace Jordan Archer, while midfielder Junior Dadson has been released by Stringer".
OLD BOYS
According to Blue Square Football, "Wrexham player-manager Andy Morrell admits he will consider the possibility of signing free-agents Chris McPhee and Damian Reeves...

He told the Daily Post, 'We're talking to a few and they are names (McPhee and Reeves) that have been put to us. It's a matter of picking them out and seeing where we really need to strengthen. Obviously we need to replace (Mathias) Pogba'".
CHESHIRE NEWS
200% updates us on events at Northwich Victoria...

"It has been a difficult summer for Northwich Victoria Football Club; two months of ongoing rancour which remains seemingly destined to end in the eventual closure of a club that is two years shy of celebrating its one hundred and fortieth anniversary...

While the rest of the football world's head was being turned by the European Championships and the Premier League's new television deal, though, Northwich supporters were enduring a summer of uncertainty which hasn't yet been satisfactorily been concluded. May saw the release of an open letter signed by more than one hundred members of the Northwich Victoria Supporters Trust to owner Jim Rushe...

In May, Jim Rushe stated publicly that 'The FA says we can't play at Warrington' following the breakdown of an attempt to move Northwich a little closer to the town itself, although this was later contradicted by the CEO of Warrington Town FC, Toby Macormac, who stated that, 'We as a board decided that logistically it's not right for us at the current time'... while the Northern Premier League itself told the Northwich Guardian that, 'Northwich Victoria has not made an application to ground share with another club'...

Manager Andy Preece departed for Welsh Premier League club Airbus UK and was followed across the border by six of his former Northwich players, while the former Wolverhampton Wanderers striker Andy Mutch was brought in to replace him...

It seems likely that the new season will start with more questions than answers concerning Northwich Victoria. The biggest single question – that of how a club that will be playing more than forty miles from its home town and which seems likely to have very few people actually making that journey every other week can possibly manage to pay its bills over the coming months – is still one that hasn't been satisfactorily answered".
---
15 July 2012
100 UP
Grahame Rowley writes:

"Congratulations to Ann Wilshaw, who has become our 100th Altrincham FC Patron for the 2012-13 season. Many thanks to everyone who has joined the scheme this season but there's still time for YOU to join before the draw is made at the FC United game on August 9th. Last season we had 144 Patrons and you can read how you can help the Club by joining the scheme here.

For the cost of £50, your name will appear throughout the coming season in the matchday programme as a Patron of Altrincham Football Club. At the beginning of the season, every member will be entered into a prize draw, with the winner being match sponsor for an appointed game along with nine guests. Second prize will be hospitality for five people and third prize will be hospitality for 3 people in the Manchester Glass Sponsors' Lounge.

If you are interested in becoming a Patron for next season, please forward a cheque for £50, payable to Altrincham Football Club, for Grahame Rowley's attention. If you require any further information please speak to me (Grahame Rowley) on 07720-606897 or e-mail me. Thank you for your support".
NANTWICH GAME
There is a match report here.

At Nantwich on Saturday, Altrincham fielded only one additional trialist other than those who had featured last Saturday at Abbey Hey. The new man was central defender James McCarten (d.o.b. 8 November 1990 in Netherton, Merseyside). Last season he played for Aberystwyth Town but started off as a youngster at Everton, where he became the Toffees' under-18 player of the year for 2008–09. James joined League Two Accrington Stanley on a short loan in March 2010, and made one appearance for the Lancashire side. After his release from Goodison Park, he signed for Aberystwyth Town.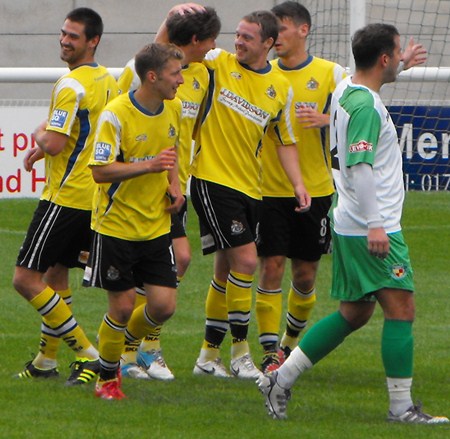 Right: Ryan Brooke is congratulated on his opening goal for Altrincham at Nantwich on Saturday. Left to right we see Greg Hall, James Lawrie, Ryan Brooke, Danny Midgley and Simon Richman.
BRIAN SPREADS THE WORD
Altrincham Football Club will be featuring each week on the WFM Sports Show, with Kevin Thompson and James Murphy, which is broadcast from 11am-noon each Tuesday on Wythenshawe FM radio station, which you can hear on 97.2FM.

Last Tuesday's Show featured an interview with Altrincham FC Joint Press and Media Officer, Brian Flynn, which can be listened to, about four minutes into the programme, here.
WATCH IN STYLE
When Burnley bring their players to Moss Lane on Saturday, 21 July, you can enjoy a hot pre-match meal prepared by club caterer Richie Bentley and half-time hospitality in the Manchester Glass Sponsors' Lounge at Moss Lane for just £15 if you are an Altrincham season-ticket holder, or £20 for all other spectators. To take advantage of this offer please telephone the club (0161 928-1045) or send an e-mail.
FAMILIAR FACES
As well as former Altrincham employees, Jack Redshaw and Ken McKenna, there could be another face well known to Alty fans in the Shrimps' side when Morecambe call at Moss Lane for a friendly this Tuesday evening (7.45pm). For Bulls' News reports that Hereford United "target Richard Brodie has accepted a move to play for Morecambe for the coming season. The decision was relayed to the Bulls this morning, with the news sweeping round Edgar Street before the match with Yeovil".
YOUTH FIXTURES
The North West Youth Alliance has announced its first batch of fixtures for Altrincham FC Youth in 2012/13.
Sunday 19th August 2012: Altrincham v Chester FC, 14:30
Sunday 26th August 2012: Curzon Ashton v Altrincham, NB 14:00
Thursday 30th August 2012: Morecambe v Altrincham, 18:30
Sunday 2nd September 2012: Nantwich Town v Altrincham, 14:30
Sunday 9th September 2012: Altrincham v Hyde, 14:30
Sunday 16th September 2012: Northwich Victoria v Altrincham, 14:30
BSBN NEWS
Alty's first away game of the season will be on Tuesday 21 August at Harrogate Town, who report that new signing from Gateshead, "Kris Gate has decided that he wants to take up the opportunity of doing a plumbing course and that the commitment needed to concentrate on this course would mean that his travelling to play for Harrogate would have to be sacrificed.

Speaking about this development, manager Simon Weaver commented, 'Kris is a good lad and I respect his decision. We are better off knowing the situation now rather than having an ongoing problem throughout the season. We wish him the best of success. I have made it clear to all the lads that we don't want want any negatives in people's minds when they enter the club, for whatever reason. If we can help players in any way we will.

However, in factors beyond our control such as the travelling, we cannot change the dynamics. We currently have got a great group of lads, all full of enthusiasm and endeavour, and we also have taken a lot of calls from players wanting to be a part of it, so there is clearly no need to carry anyone whose heart isn't fully in playing for Harrogate Town in the season ahead".

Elsewhere in Yorkshire, on Saturday, there is news of another signing that may fall through as the Telegraph & Argus reported that "Former Bradford City keeper Simon Eastwood will not be making his debut for Bradford Park Avenue in today's friendly after a surprise development. Avenue thought they had captured the keeper from rivals FC Halifax Town.

Eastwood, who had a spell on loan with the Bantams, did sign for Avenue but is currently on trial with Portsmouth. John Deacey... confirmed that Eastwood would not be playing any part in this game and that he was looking for a replacement.

'He got a chance to go to Portsmouth and good luck to him', said Deacey. 'He signed for us in good faith but this opportunity came up soon after and we won't stand in anybody's way at this club. I don't know if he will end up playing in League One next season but we have switched our sights to a couple of possible targets. We have keepers at the club so there is no great rush to bring someone in just for the sake of it'.

The Bradford manager will also be without midfielder Ross Daly, who he signed from Thackley. He will miss the whole of pre-season and the first month of Avenue's league campaign through injury. Deacey said, 'He has had his operation and is off his crutches now but he is three weeks away from resuming training. It could be the first week in September before we can consider him for the squad and we have Michael Duckworth suspended for the first two games. Luke Sharry has been training with us though and he looks very sharp'".
---
14 July 2012
NANTWICH TOWN 1 ALTRINCHAM 3

Above: At half-time, manager Lee Sinnott debriefs the players who turned out for Altrincham in the first-half at Nantwich.
Altrincham won their second successive pre-season game on Saturday, at The Weaver Stadium, with manager Lee Sinnott and assistant Neil Tolson using the same formula as previously of deploying two separate teams in each half of the game. This time, however, goalkeeper Stuart Coburn played the full ninety minutes.
Altrincham started well and a bright start from the visitors saw Ryan Brooke smartly heading home an excellent left wing cross from trialist Matt Doughty in the 13th minute. The lively Duncan Watmore added a second in the 16th minute. Nantwich enjoyed a better spell as the half progressed. However, with ten replacement outfield players, Altrincham made it 3-0 four minutes after the break when Matt Fearon's freekick from the wide left drifted into the net as it evaded everyone in the Nantwich box.
The Dabbers failed to take several chances in the second half, several of them engineered by winger Lewis Short. But they got a goal back when Short volleyed home at the back post from a Lowe cross from the right after 56 minutes. Ofori went close to scoring again for Altrincham with a fine lob and Alty squandered a couple of one on ones with the goalkeeper before the final whistle sounded on another satisfactory step in the pre-season preparations. Report to follow.
ALTRINCHAM (First Half): 1. Stuart COBURN, 2. Shaun DENSMORE, 5. Gianluca HAVERN, 6. Danny HALL, 3. Matt DOUGHTY; 7. Duncan WATMORE, 4. Carl RODGERS, 8. Simon RICHMAN, 11. James LAWRIE; 9. Danny MITCHLEY, 10. Ryan BROOKE.
ALTRINCHAM (Second Half): 1. Stuart COBURN, 4. Nick SWIRAD, 5. James McCARTEN, 14. Greg PEARSON, 12. Sam GRIMSHAW; 17. Ashley YOUNG, 6. Matt FEARON, 15. Scott PHELAN, * Adam MATHER; * Derryn OFORI, 16. Denico WALTERS.
Sub not used: 18. Adam REID.
NANTWICH TOWN v ALTRINCHAM
Saturday's match at Nantwich will be covered by Radio Robins.

Brian Flynn adds, "Radio Robins is back in action on Saturday afternoon with live coverage of the pre-season friendly at Nantwich Town. The commentators are Jack Jolly, Simon Ellis & Brian Flynn. Coverage starts at 2.55pm".

In advance of Saturday's friendly at The Weaver Stadium, Nantwich Town announce that "The Dabbers commence their pre-season schedule on Saturday (14th July) when Blue Square Bet North outfit Altrincham visit the Weaver Stadium.

Close season captures Mark Beesley [ex-Alty], Fraser McLachlan [ex-Alty trialist] and Lewis Short will all feature as Jimmy Quinn's men gear up for the forthcoming Evo-Stik NPL Premier Division campaign. Midfielder Christian Smith, who helped Chester to the league title last season, has been training with the club and is also set to be involved. Meanwhile, Player of the Season Jon Brain is a doubt having sustained a leg injury at work.

Former Macclesfield Town youth keeper Ryan Moss, who was with Eccleshall last season, has been brought in as cover. Quinn and Assistant Martin Stubbs may also give game time to a number of trialists who have been taking part in pre-season training.

Nantwich squad: Jon Brain, Matt Lowe, Darren Moss, Rod McDonald, Mat Bailey [ex-Alty], JJ Bailey, Christian Smith, Sean Cooke, Chris Flynn, Fraser McLachlan, Niall Maguire, Caspar Hughes, Mark Beesley, Lewis Short, Josh Lane, Zack Foster, Ryan Moss, Lyndon Campbell, Josh Rowley.

Altrincham have already had a pre-season run-out, winning 4-0 at North West Counties' side Abbey Hey last Saturday. Managed by former Port Vale boss Lee Sinnott, the Robins fielded ex-Dabbers defender Matt Doughty amongst their ranks as they cruised to victory.

Kick off at the Weaver Stadium is at 3pm. Admission prices are: Adults £5, Concessions £3 and Children £1. Supporters are reminded that a £1.50 charge for parking at the stadium comes into effect with this game, (matchday parking remains free for NTFC season ticket holders)".
WATCH IN STYLE
When Burnley bring their players to Moss Lane on Saturday, 21 July, you can enjoy a hot pre-match meal prepared by club caterer Richie Bentley and half-time hospitality in the Manchester Glass Sponsors' Lounge at Moss Lane for just £15 if you are an Altrincham season-ticket holder, or £20 for all other spectators. To take advantage of this offer please telephone the club (0161 928-1045) or send an e-mail.
OLD BOYS
The Northern Echo says that "Darlington's FA Trophy final hero, Chris Senior, has brought his playing days to an end, just 14 months after scoring Quakers' winning goal at Wembley...

He has quit playing to join the backroom staff at Huddersfield Town as a masseur. Senior, however, has not ruled out signing for a club on non-contract terms so that he could play when Huddersfield are not in action. The 30 year-old was released by Darlington after Wembley and started last season at Alfreton before being sent on loan to Guiseley".

Bulls' News reports that "Grimsby have released trialist Lewis Chalmers, despite the player previously claiming he had agreed a deal to sign for the club".
SUMMER FUN WEEKS
Football in the Community - Summer Fun Weeks
If you want to keep your children entertained during the school holidays, you will be pleased to hear that there will be two Summer Fun Weeks this summer, organised by the Altrincham FC "Football in the Community" programme. Each Fun Week will run from 9.15am to 3.15pm, with parents able to "drop-off" their children from 8.45am.
6-10 August 2012 at Altrincham FC, Moss Lane.
13-17 August 2012 at Altrincham Boys' Grammar School.

To book places, please contact Karen Rowley or Chris Bullock on 0161 928-1045 or send an e-mail.

Alternatively, please print off the adjacent application form and either send it to Altrincham FC, Moss Lane, Altrincham WA15 8AP, or bring it to the Club offices, as soon as you can.
BSBN NEWS
According to the Football Conference, "The Board of Directors of Hinckley United have made the following statement...

'Kevin Downes and Robert Mayne have resigned from the positions of chairman and vice-chairman respectively with immediate effect. These two resignations will have no impact on any fixtures. Michael Sutton was unanimously voted in as the interim chairman with immediate effect. The Board are committed to releasing at least one statement a week to keep our shareholders, staff and supporters updated'".

THe Conference also tells us that "Jon Brady, manager of newcomers Brackley Town, is to hand three vastly experienced players in Andy Holt, Wayne Hatswell and Sol Davis a chance to earn deals during pre-season the friendlies. Holt, 34, was released by Northampton Town at the end of last season, ending a six-year spell at Sixfields during which time he made almost 200 appearances.

Holt, who played around 300 times for the likes of Oldham Athletic, Hull City and Wrexham before joining the Cobblers in summer of 2006, has also wanted by Brackley`s county rivals and new league rivals Corby Town, now managed by Holt's former team-mate Ian Sampson.

Davis, 32, has spent the last two years with troubled Kettering Town after a professional career in which he took in over 200 games for Luton Town, 114 for Swindon and a shorter spell with MK Dons before signing for the Poppies in June 2010.

Hatswell, now 37, has most recently been player-coach with Newport County. He played with Brady at Chester City after spells with Forest Green Rovers and Oxford United. He went on to play for Kidderminster Harriers, Rushden & Diamonds and Dundalk before signing for the Exiles in December 2010.

Brady has snapped up midfielder Michael Corcoran from Conference South side Dover Athletic. Corcoran signed for Dover in June 2011 from Rushden & Diamonds. The former Northern Ireland under-21 international moved to Crabble after four seasons at Nene Park, where he was a regular for Diamonds".

Confirmation comes from Buckingham Today that "Brackley Town have made two new signings as the 2012/13 season nears. Brady, who has largely kept last season's victorious squad together, has brought in Michael Corcoran and Jamie Grimes... 23-year-old centre-back Grimes was signed from Redditch United...

Brady said, 'They are both very good young players and we will look to add to the squad over the next few weeks if we feel the need to do so'. Meanwhile, Brady has also convinced Curtis McDonald to stay put at Brackley after he joined the club near the end of last season".

From BSBN comes news that "Chester City new boy Paul [i.e. Sean] Clancy has revealed the role that brother-in-law Peter Crouch played in his decision to sign for Chester FC. The 24-year-old was on holiday with his sister and the England international when Blues' boss Neil Young contacted him about a possible move to Deva Stadium.

And, after speaking to Crouch about Chester's interest, there was no doubt in Clancy's mind about joining newly-promoted Blue Square Bet North outfit. He told Leader Live, 'Neil Young rang me to negotiate a deal at Chester while I was sitting by the pool on holiday with Abbie and Peter. When I came off the phone Peter told me that Chester would be a good move for me because they were an established club and he, like me, believed they are on track to get back to where the club was a few years ago.

Peter also reminded me that Chester have a big fan-base and that I would be looked after. He also told me there were a lot of positives by moving to Chester and it then became an easy choice for me to sign for them'".

Elsewhere, "Hinckley United have confirmed the departure of Richard Lavery to Barwell. The Knitters' skipper made 312 appearances during two separate spells at the Greene King Stadium and was recently offered a new deal by manager Dean Thoma... Thomas told The Hinckley Times, 'He has gone to Barwell for personal reasons and he feels that is the best choice for him. We would have liked to have kept him and I am disappointed as he has always been a good character for us'".

FC Halifax Town "are pleased to announce the signing of goalkeeper Matt Glennon. Glennon, 33, signs from Chester FC and has played for a host of clubs, most notably Carlisle, Huddersfield and Stockport County. Town's signing of Matt signals a replacement for Simon Eastwood, and he will challenge Phil Senior for the number one jersey in the upcoming season".
FA CUP
According to Pitchero Non-League, "The Football Association will allow clubs who play on artificial pitches to be used in qualifying rounds of the FA Cup. The decision also affects matches in six other FA competitions, including the FA Trophy and Vase. Last month a consultation found widespread opposition to introduction in the Football League.

The FA's competitions' manager Steve Clark confirmed, 'In the FA Cup competition proper, all ties must be played on natural grass pitches'.

The topic was discussed at the Football League's annual general meeting on May 31st but it emerged that the Premier League and Professional Footballers' Association were among the official bodies against their reintroduction.

There was no support for the idea in the Championship and just two clubs were keen in League One, although a 13-11 majority were in favour of artificial surfaces in League Two. The FA explained that, 'If any club with an artificial pitch reaches the First Round Proper and is drawn at home, then they will need to switch to a ground of a club who are both an FA Cup entrant and have a natural grass pitch'.

This decision will be good news for the likes of Sutton Coldfield Town, Romulus, Durham City and Stockport Sports, who all currently play on 3G pitches".
NL SHOW ON RADIO 5 LIVE
The Football Conference's Colin Peake has sent the following to all BSBN clubs...

BBC Non League Football Show to Broadcast on Radio 5 live

BBC Radio 5 live has a new offering for the 2012/13 football season as it brings the popular BBC The Non League Show to a national audience. Part of BBC London 94.9 output since 2006, the new nationwide show will now broadcast from August 19, 2012, each Sunday from 5.30am.

The live show will be available to listen [to] again all week via the BBC iPlayer, plus there will be a longer version available each Sunday via free download from the 5 live website, www.bbc.co.uk/5live.

Hosted by Caroline Barker, the show has a long history of championing the game and will continue to look at the current issues affecting all levels of football below the Football League.

Commenting on the new addition to the 5 Live schedule, Deputy Controller, Jonathan Wall said, 'We are delighted to make this the new weekly home for non-league football fans. It shows our commitment to all levels of the game in this country. The passion and the commitment from Caroline and her network of contacts will ensure we cover all the best stories each week'.

Caroline said, 'The show finding a new home on 5 Live is a real endorsement of the work of non-league football in raising the profile of the game. With more fans of our level of football than ever before, this is a fantastic opportunity to show off the work of the clubs and, most importantly, the fans that make those teams tick'.

The show has strong links with the non-league, along with the wider footballing community including the FA. Brian Lee, the Chairman of the Football Conference Ltd, whose clubs play at the pinnacle of the non-league game said, 'This is tremendous and a great statement to the game that we are being recognised in such a fashion. At a time when we as a competition are pursuing more parity with a drive for three up and three down between ourselves and the professional game, it could not be better received'.

Kelly Simmons, the FA's Head of the National Game said, 'It's great to see non-league football receiving national exposure. The growth of the game, especially at grassroots level deserves a platform like BBC Radio 5 live'.

One of the key areas for the show will be the voice of the fans, encouraging interaction across multimedia platforms to highlight the real strength and importance of fans to the grassroots game.

Kevin Rye from the fans' group, Supporters' Direct said, 'It's critical that the big issues that affect supporters, whatever level their clubs plays at, are discussed. I can think of no better proponents than the biggest radio station in the country and the show that helped to bring the nation's attention to non-league football'.

Alan Alger from Blue Square Bet commented, 'The Non-League show has highlighted the strength and depth of feeling for the game outside of the Premier League and Football League. Our clubs are given a fantastic platform for stories and initiatives that would otherwise be ignored by the wider media. The popularity of the show never ceases to amaze me and on my travels up and down the country I meet many online listeners who would be grateful of the national platform'.

David Emery, editor of The Non-League Paper, said, 'It's fantastic news that the Non-League Show is able to go on showcasing all the great work being carried out in grass-roots football up and down the country. For fans to be able to listen to the show at the same time as reading their hot-off-the-press NLP is the perfect combination over breakfast on a Sunday morning!'".

The BBC Non League Football Show will broadcast on Radio 5 live, Sunday mornings 5.30am to 6.00am from August 18.

Colin Peake, PR & Media Board Director, The Football Conference".
---
13 July 2012
NEXT UP
Altrincham's second pre-season game will be on Saturday at The Weaver Stadium, against Nantwich Town, kick off 3pm. The postcode of the ground is CW5 5BS.
FLYNNY BLOWS HIS OWN TRUMPET!
Altrincham joint Press and Media Officer, Brian Flynn, is rarely caught blowing his own trumpet but here (above, left) he is captured by TASC committee member Colin Mitchell's camera at last Saturday's Altrincham Festival! With Brian is TASC's Membership Secretary, Anthony Wright. Also photographed by Colin is one of Alty's best-known supporters, Kenny Palin (above, right), alongside Rocky Robin, who, on Saturday, was Jack Jolly.
OLD BOYS
According to Pitchero Non-League, "Gary Norton, manager of Gresley FC, faces a battle to keep his championship-winning outfit together... The Moat boss has already lost the services of star midfielder Danny Holmes. The 25-year-old, who won the Conference title with Burton Albion, has accepted a full-time job training Derby County's under-16 academy side and is unable to commit to playing on Saturdays".

Elsewhere, in a pre-season game, "Rhys Healey got Gap Connah's Quay off the mark in the first minute at home to Runcorn Town. A 22nd-minute penalty from Ricky Evans was blocked but Dean Canning was on hand to stab in the rebound. Player-manager Marc McGregor headed a third".
BSBN NEWS
For the second year running, Harrogate Town's first home game of the season will be against Altrincham. But all is not yet ready at the Yorkshire club as "Following a meeting with the Contractors and Consultants it has been decided that reluctantly, the pre-season friendlies at home against Blackburn Rovers on the 8th August and Middlesbrough on the 11th of August have been cancelled, to allow more time for the pitch to be ready for our opening home game against Altringham [sic] on Tuesday 21st August.

Since the last game at home, which was held on 21st April, the adverse inclement weather has caused 3 weeks delay and subsequently localised flooding following seeding, will result in re-seeding patches. To carry out this over-seeding, the pitch will have to be dry and firm, a dry period of several days is essential. The specialist team are confident that a pitch of excellence will be ready for the start of the season".

According to the Football Conference, "Stalybridge Celtic's Stephen Brogan, who has previously been a pro with Rotherham United, has landed a trial with Exeter City. Brogan suffered a severe injury whilst with Rotherham in 2008, with a double fracture of his leg after a collision with the MK Dons goalkeeper...

He appeared on 'Come Dine With Me' alongside the Chuckle Brothers in February 2010, making him eligible for 'I'm a Celebrity Get Me Out of Here'!. He joined Stalybridge on loan from Rotherham before being released from the Millers in 2011, after which he joined Conference North champions Alfreton Town. Unable to settle at Alfreton, he rejoined Celtic.

Exeter manager Paul Tisdale said, 'He was a good young player but had a bad injury. He is on the way back up again and had a very good season at Stalybridge last year and played for the England `C` team. I said to him that when he was back and firing again I would give him an opportunity to come here and he has chosen to do that'".

Meanwhile, "Carl Heeley, manager of Worcester City, has announced the signing of Charlie Reece from Bristol Rovers. The 23-year-old midfielder, who spent time on loan with Tamworth last season, has signed a one-year contract. He began his career at Aston Villa then joined Bristol Rovers in 2007... He had not been a regular first team player for Rovers when Paul Buckle took over as manager and has had spells on loan at Gloucester City, Solihull Moors and most recently Tamworth in the Conference Premier.

Heeley said, 'He can play central and wide midfield and has a terrific turn of pace and is very skillful. He will be a good addition to our squad'".

Elsewhere, "Corby Town have completed the signings of midfielder Sam Ives and defender Nathan Fox. Ives has re-joined Corby following a spell with the club last season. The former Cambridge United trainee joined the Steelmen in the summer of 2011... Following his departure in November he had a spell at Oxford City. Fox is a former Notts County scholar... before having a spell with Derby County.

Corby manager Ian Sampson said, 'Sam and Nathan... are both young players - 19 and 21 - who are very good technically. Nathan is a talented left-back, whilst Sam can play in either central midfield, or just off the striker'".

Still at Corby, Pitchero Non-League confirms that "Corby Town have completed a third signing of the day by bringing former Premier League striker Leon McKenzie [34] to Steel Park. McKenzie, who has played for Crystal Palace, Fulham, Peterborough United, Coventry City, Charlton Athletic, Northampton Town and Kettering Town, is best remembered for his successful spell in the Premier League at Norwich City.

Manager Ian Sampson said, 'Signing Leon is great for the club. He is at the opposite end of the spectrum compared to Sam Ives and Nathan Fox, who have both signed. He has done pretty much everything during his career and has a vast amount of experience which will be invaluable to some of the younger members of our squad. I have managed Leon previously at Northampton and we get on really well with each other. I know that no matter who I play with him, he will get the best out of them'.

Sampson also believes that McKenzie can be the man to lead the line for his side this campaign. 'The one thing that you can guarantee with Leon is goals. No matter where he has played from the Premier League down to the Football Conference he has scored goals and I am sure that will continue in a Corby Town shirt'. McKenzie has recently been released after being jailed for six months for sending bogus letters to the police in a bid to avoid a driving ban last February".

Accoding to This is Lincs, "David Newton has promised to deliver Boston United a new stadium despite revealing the project has encountered a setback. The Pilgrims chairman updated supporters on the club's search for a new home at a fans' forum last week.

United have just six years left on their current lease at the Jakemans Stadium, with construction of a new ground set to take around two years. Newton has narrowed his search by pinpointing two preferred sites. But for the project to succeed, an enabling development – like shops, bars and a hotel – is essential to fund it...

'Because we haven't got any money, we need an enabling development. Obviously, the current climate is not the best for that... We did think a couple of months ago we were almost there but the companies we were talking to are all reviewing what they are doing. For example, we were talking to a hotel operator and things looked quite good... But they revised their rooms rates across the whole country and as result of that, the value of their product came down and therefore they reduced their offer...

We will deliver a new ground, it's just timing', added Newton, the boss of property firm Chestnut Homes... 'We've got to move because we've only got six years left on the lease'".

Vauxhall Motors confirm that "Carl Macauley has made his third significant signing of the close season by bringing in promising young defender Callum Henry from Forest Green Rovers... Henry joins former AFC Fylde goalkeeper Zac Jones and ex-Liverpool youth Michael Burns as new signings at Rivacre Road. In addition, a couple of familiar faces, namely Jonathan Egerton and Chris Noone have put pen to paper and signed on for next season. Going in the opposite direction is midfielder Mattie Burke who has joined Ashton United".

"Although the FC Halifax Town squad has endured two tough training sessions, one man has had to miss out. Scott McManus has had to watch his teammates prepare for the new season as a spectator after a groin injury he picked up last season failed to fully recover, and he told all about his injury woes.

'I picked it up half way through last season and never really shook it off. I was using anti-inflammatories because I wouldn't have been able to get through the games without them and they did calm the pain down but once they wore off I was in a bit of pain again... I don't have a clue what it could be. The physio has a good idea what it could be but I'm having a scan on Thursday which should hopefully give some answers'. The defender, who picked up the fans and players player of year awards last season, confirmed that the injury could require a small operation".

From Bishop's Stortford, we learn that "Rod [Stringer] and new coach Paul Hilton took the first training session of the 2012/13 season with 26 players attending. Rod reported that the session went well and that Paul gave a good coaching session. Sean Francis and Alli Abdullahi have returned from holiday and have resigned for The Blues. Rod also reported that he has signed 23 year old Johnny Herd, a left back who played for Ebbsfleet last season. Prior to this Johnny was at Southend Utd and was instrumental in Southend's equaliser against Chelsea in the FA Cup third round in May 2011 by virtue of his long throw. Ex-Blues' keeper Ross Kitteridge returned for a trial in goal as The Blues look for a new keeper to replace Jordan Archer".
---
12 July 2012
CHRIS LYNCH LEAVES
Altrincham FC is sorry to report that defender Chris Lynch (right) has left Moss Lane. Chris, who joined the Club from Hyde in the summer of 2011 and went on to play an important role in the side's achieving eighth place in the BSBN last season, has decided on a change of career which, in turn, has resulted in his decision to join Ashton United. Chris has been a painter and decorator outside football but has now decided that his long-term goal is to be successful in the field of football coaching. Therefore, he has accepted an offer from Ashton manager Danny Johnson which combines football coaching in the community alongside a playing role at Hurst Cross.

Chris is sorry to be leaving Altrincham but chairman Grahame Rowley and his Board are fully appreciative of the sound reasons for Chris's decision and they thank him for his dedicated service last season, when he played several times when injury would have ruled out lesser players. Altrincham FC wishes him good luck in his future career. He made 32(+6) appearances for the Robins and scored two goals.
GOOD SIGNS IN PRE-SEASON
John Edwards, joint Press Officer at Moss Lane reports:

Altrincham launched their build-up to the new season with a performance that may have left manager Lee Sinnott largely unmoved but had beaten opponents Abbey Hey singing their praises.

While Alty boss Sinnott wisely chose to keep his feet planted firmly on the ground, Abbey Hey's programme editor Gordon Lester wrote to chairman Grahame Rowley, thanking everyone who travelled from Moss Lane for 'a very enjoyable day' and adding:

'We would be delighted if you could fit us into your pre-season plans next year. Best wishes to everyone at Altrincham, and have a great season, both on and off the pitch.'

Explaining why he opted for a slightly less exuberant appraisal of a resounding 4-0 win, Sinnott said, 'As an opening work-out, it was very positive, but you can't read too much into your first game back, especially as the players only had 45 minutes each. We stuck to the plan of limiting involvement to one half per player, to safeguard against injury, and from that aspect, it worked well.

'It's nice Abbey Hey took the trouble to write to us, and we certainly appreciated being made so welcome. The pitch was in very good condition, and we were even lucky with the weather.

'The main priority was getting players into match mode, and there were some good signs. At the back, you could see Luca (Havern) and Danny (Hall) know each other well, and there were some nice touches up front from Ryan Brooke and Danny Mitchley.

'But you can't expect players to look the finished article at this early stage. The key thing is to make sure they are by the time the season starts and that we hit the ground running on the opening day. We will keep using these friendly games, and monitoring availability of players, to try and ensure that happens.'

Former Moss Lane favourite Matt Doughty was among the trialists at Abbey Hey and may have further opportunities to prove himself, as Alty face Nantwich away on Saturday (3pm) and Morecambe at home on Tuesday (7.45pm).

'Matt has been training with us and has done well, but we will see how he progresses,' said Sinnott. 'That goes for all the lads. It would be unfair to comment on individuals at this early stage. We are observing players throughout the pre-season programme and will make decisions in due course'".
OLD BOY
Bulls' News tells us that "Midfielder Lewis Chalmers says he has signed for Grimsby after a trial. The former Macclesfield man has told the Manchester press he felt betrayed to be released from Moss Rose just days after being told he would be offered a new deal".
BSBN NEWS
The BBC informs us that "Harrogate Town goalkeeper Mark Cook could be set to join Peruvian top-flight club Universitario, who are managed by Nolberto Solano. The 23-year-old was at Newcastle and Hartlepool at the same time as the 37-year-old former Peru midfielder.

Town manager Simon Weaver told BBC Radio York, 'We're happy for him to go but we need things properly agreed. It's agreed in principle but we need confirmation and it done in an appropriate manner'. Cook joined Blue Square Bet North side Harrogate Town from Gateshead in 2010 and won last season's player's player of the year award.

Weaver said, 'If a player's mind is totally set on leaving and having a different challenge and moving to a different country, then I don't think we as a Conference North club at the minute are in a position to withhold his signature at all costs and be so stubborn about it and say a flat "no". We've talked for quite a while about this and an agent has become involved on behalf of Nobby Solano and the club over there... We've got to make sure everyone at Harrogate Town definitely wants to be at Harrogate Town, and behind everything we're trying to achieve. There's no need to rush and panic and take up the first offer of someone who says they'd like to be the new keeper'".

According to the Football Conference. "Guiseley AFC have announced the singing of winger Zack Dale. Dale is a young prospect formerly of the Blackburn Rovers, Preston North End and Everton academies and signs after impressing in pre-season. Last season Dale turned out for Padiham in the North West Counties League Premier Division".

From the North Wales Weekly News, "Colwyn Bay player-boss Jon Newby has added to his revamped squad by signing creative midfielder Sean Williams. The 20-year-old was with Hyde last season, before switching to Skelmersdale United, and has been signed as a non-contract player. He was previously on the books of Vauxhall Motors after starting his career with Stockport County. Williams will make his debut for the Seagulls, along with other summer signings Matty Berkeley and Tom Smyth in Saturday's opening pre-season friendly at Llandudno".

Pitchero Non-League reports that "Oxford City have completed the capture of left back Paul Stonehouse from Bath City. The 24 year-old began his career at Forest Green Rovers, where he broke the record of becoming the youngest player to reach 100 competitive appearances in the Conference National. He went on to make 170 appearances for Rovers and became captain of the side...

He switched to Mansfield Town for the 10/11 season and spent last season with in the same Bath City side as fellow new signing Jamie Cook. 5'8" Stonehouse is predominantly a left back who can also play on the left of midfield or centre of defence, he is described as a fantastic tackler and very quick".
FA PRIZE MONEY
The FA has confirmed the prize money for its cup competitions for 2012-13.

The FA Carlsberg Trophy
Preliminary Round winners £2,300
First Round Qualifying winners £2,550
Second Round Qualifying winner £3,250
Third Round Qualifying winners £4,000
First Round Proper winners £5,000
Second Round Proper winners £6,000
Third Round Proper winners £7,000
Fourth Round Proper winners £8,000
Semi Final winners £16,000
Final runners-up £25,000
Final winners £50,000

The FA Cup with Budweiser
Extra Preliminary Round winners £1,000
Preliminary Round winners £1,750
First Round Qualifying winners £3,000
Second Round Qualifying winners £4,500
Third Round Qualifying winners £7,500
Fourth Round Qualifying winners £12,500
First Round Proper winners £18,000
Second Round Proper winners £27,000
Third Round Proper winners £67,500
Fourth Round Proper winners £90,000
Fifth Round Proper winners £180,000
Sixth Round Proper winners £360,000
Semi-Final winners £900,000
Semi-Final runners-up £450,000
Final runners-up £900,000
Final winners £1,800,000

Amounts are per club in each round.
---
11 July 2012
BSBN NEWS
NL Daily reports that Chester have pulled off another coup by attracting Premier League Aston Villa to the Exacta Stadium on Saturday 28th July.

Paul Lambert's side will be the second top flight club to visit the Exacta to play a warm-up match this month – a Liverpool XI is due to face Neil Young's Blue Square Bet North squad on Wednesday 25th.

Chester's warm-up campaign also includes a home match against Scottish Premier League outfit Kilmarnock on Saturday 21st July...

Young's side commence their build-up programme next Thursday when they travel to meet Buckley Town... the first of 10 pre-season matches for the club.

'It is really hard work in pre season, but it needs to be that way early doors, because we have to ensure that every player experiences endurance work before we are ready to start the quicker stuff', manager Young told the Daily Post.
---
10 July 2012
THANKS FROM ABBEY
Gordon Lester, the Programme Editor at Abbey Hey FC, has written to Altrincham FC Chairman, Grahame Rowley, saying "thank you very much to all the committee, playing staff and your excellent supporters for a very enjoyable day, last Saturday. I hope you all thought the pitch, changing facilities and the hospitality upstairs and down were up to standard, and all at Abbey Hey would be delighted if you could fit us into your pre-season plans for next season. Best wishes to everyone at Altrincham and have a great season both on and off the pitch. Thanks once again".
BSBN NEWS
"The Corby Town Supporters' Trust steering group has announced that the Corby Town Supporters' Trust is now officially recognised as a legal entity, having been registered by the FSA under the Industrial and Provident Societies Act 1965 on 3 July 2012.

The Corby Town Supporters' Society Was actually formed before this date, with the model rules signed by the first four original members of the trust...

Corby Town Supporters' Trust chairman Robbie Dunion said, 'As supporters of Corby Town we have a great opportunity to gain more influence in how our club is run and make a positive difference. This is the first step in achieving that...

After some turbulent times at Corby Town FC in recent years, this is the opportunity for a fresh start for everyone at Steel Park. We have a new chairman, new board, new manager, new players and a new trust... Now is the time for us to once again show the rest of the country just how great the people of Corby can be, especially when we work together'" reports NL Daily.

The Worcester News tells us that "Worcester City have been linked to a possible move for former Newport County goalkeeper Glyn Thompson. Reports in south Wales claim the 31-year-old is a target for the St George's Lane club following his release from Rodney Parade.

City already have two keepers on their books — James Dormand and Matt Sargeant — but are thought to be keeping tabs on the player. Thompson is vastly experienced in Non-League having spent five years at County, being part of their team that won promotion from Blue Square Bet South...

He was sidelined last summer and told to stay away from the Blue Square Bet Premier club because he did not want to sign full-time, but returned to feature against York City in May's FA Trophy final at Wembley...

Thompson, who has also been on the books of Hereford United and Shrewsbury Town, was also a County team-mate of left-back Lee Baker, who is currently training with City. Baker is one of several left-backs trying to earn a deal for the 2012-13 campaign, with ex-Gainsborough Trinity player Kevin Sandwith and Shabir Khan also reporting for pre-season training. They have been joined by other new faces keen to make an impression on manager Carl Heeley as he continues to shape his squad".

"Carl Macauley, manager of Vauxhall Motors, has made his third significant signing of the close season by bringing in promising young defender Callum Henry from Forest Green Rovers,,,

Henry joins former AFC Fylde goalkeeper Zac Jones and ex-Liverpool youth Michael Burns as new signings at Rivacre Road. In addition, a couple of familiar faces, namely Jonathan Egerton and Chris Noone, have put pen to paper and signed on for next season. Going in the opposite direction is midfielder Mattie Burke who has joined Evo-Stik League Premier Division side Ashton United".
---
9 July 2012
LUCA HAPPY TO BE WITH US
In the Non-League Paper, Alty's new signing from Hyde, Gianluca Havern says 'As a player, I want to play as high as I can. I didn't have much contact with the current Hyde manager (Scott McNiven) and other clubs were showing an interest. After meeting the manager, Lee Sinnott, I knew I wanted to sign for Altrincham. I bought into this plans for the future of the club and I knew I wanted to be part of it... I will never forget last season with Hyde. The fans were unbelievable and I still have a lot of friends there. But I'm an Altrincham player now. I can't wait to get the season started and, hopefully, we can achieve the same success'".
ABBEY HEY GAME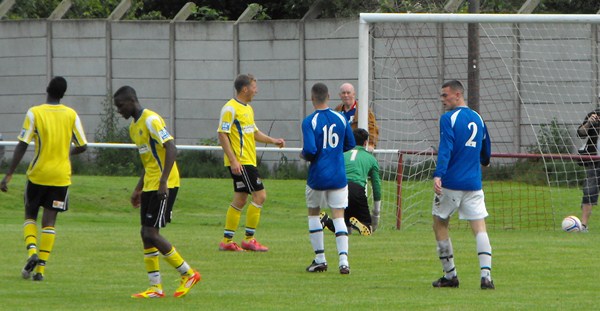 Right: James Lawrie celebrates converting his penalty at Abbey Hey.
Meanwhile, Abbey Hey have 60 photos from Saturday's game.
OLD BOYS
According to the Evostik League "The new season's squad is shaping up well with new faces joining Ashton United... Manager Danny Johnson was very enthusiastic about the fact that most of last season`s squad turned out in force, with four new faces, Matty Barlow, Matty Burke, Ben Deegan and Astley Mulholland, adding to an already confident squad".
LOCAL NEWS
The Evostik League reports that "Trafford's Football Secretary, Graham Foxall, has won the Manchester FA's Gold Long Service Award... for completing over 15 years as Trafford's secretary.

Trafford's green-fingered Foxall is proving multi-talented. He's received news that he's also won a national honour again for his work at the club's Shawe View ground after finishing third in the the 2011-12 Groundsmen of the Year Awards and as runner-up in Evo-Stik NPL category. Last season Foxall won the league award and was third nationally".

Altrincham will playing on the Shawe View pitch on Thursday, July 26th in a pre-season friendly.

The EvoStik also announces that "The original date for the publication of next season's fixtures, Friday 13th July, may need to be revised.. The fixtures are compiled by Atos. Unfortunately, Glenn Thompson who manages the fixture compilation is having to deal with some tragic family news. Under such circumstances the Evo-Stik League can only be supportive to Glenn who has promised the first drafts for checking over the coming week... The Evo-Stik League will of course advise all visitors of the actual date of fixture publication once it is known".
BSBN NEWS
Bradford PA say that they "have signed three more players... The club have signed Simon Baldry, Simon Eastwood [as reported yesterday] and Paul Walker. John Deacey has already added Aaron Hardy, Danny Holland and Jamie Jackson to the promotion winning side.

Simon Baldry returns to the club from Guiseley AFC. The 36 year old midfielder played against his new club last year, and scored the Lions' winning goal in the West Riding County Cup Final in the final minute. Joining his former FC Halifax Town teammates; Aaron Hardy and Danny Holland, goalkeeper Simon Eastwood will be challenging for the number one shirt at the Horsfall Stadium. The young goalkeeper started his career at Huddersfield Town, and has also appeared for Bradford City.

Also joining the Avenue is Paul Walker. The striker was part of the team that reached the Playoff Semi Final, and, he was named in the Northern First Division North Team of the Year for Garforth Town in 2012".
---
8 July 2012
IDENTITIES
As the teams were not announced yesterday, it is not surprising that there was some confusion over player identities. The unofficial team list had one of Alty's central defenders in the second half as youth teamer Jacob Malachi-Brown. In fact, it was not him, but was Nick Swirad (who was not on the team list) who played at number 6. Apologies for any confusion caused!

Nick, d.o.b. 28th May 1991, joined Mossley in 2011 from New Mills after a spell with FC United of Manchester.
ALTY AT THE FESTIVAL
Altrincham FC took its place in Saturday's "Altrincham Festival", with a float kindly loaned by sponsors Dunham Scaffolding. Led by members of TASC and with a full load of Altrincham FC Juniors on board, the lorry made its way to the showground in Timperley where the Club also had a stall through which to spread the word to the visitors. Fortunately, the weather was much better than it had been recently.
Altrincham FC would like to thank TASC and all those involved in helping the Club have a presence at the Festival.
ALTY'S WIN AT ABBEY HEY
Match report here.

Left to right: New faces against Abbey Hey included, Ashley Young (trialist), Sam Grimshaw (youth team graduate), Danny Midgley (new signing), Nick Swirad (trialist), Adam Mather (trialist), Gianluca Havern (new signing).
BSBN NEWS
The Telegraph & Argus reports that "John Deacey has confirmed two more Bradford Park Avenue signings this week to bring the total of newcomers to five. The arrivals of Danny Holland and Richard Hardy from FC Halifax Town and Jamie Jackson from Worksop Town were announced last month. Now goalkeeper Simon Eastwood and winger Simon Baldry have joined them at Horsfall.

Avenue boss Deacey said, 'I'm delighted we have got Simon Eastwood from Halifax as we needed another experienced keeper. We have also brought Simon Baldry back from Guiseley and he has always been a quality player'.

Nicky Boshell has gone in the opposite direction, joining his elder brother Danny at Guiseley, while Deacey's own son could also be departing. Jordan Deacey has been looked at by several Football League clubs and has been invited for trials. Deacey senior explained, 'Jordan is training with a couple of clubs here and there in pre-season, so it depends how he gets on. You can't stand in the way of players who have a chance to play at a higher level. If he goes he will be a big loss because he did well for us, especially towards the end of the season'.

While his son's future remains undecided, Deacey is confident Avenue have made some decent signings to boost their squad. 'Holland gives us something we haven't had up front and Jackson is a very good player', he said. 'Many people were surprised when Hardy was released by Halifax. It must have been a difficult decision but, maybe, they had a replacement in mind. Simon Baldry is very versatile and that commodity is priceless. He is knocking on a bit but he is a very fit lad who obviously looks after himself well and loves playing'.

Deacey added, 'Matty James had his operation in April and played a small part in the play-offs but he will be like a new signing. I think we will have a half-decent squad but you just don't know in this division because it is new to us – and look at the money that the likes of Chester, Halifax, Harrogate Town and Guiseley are putting into their promotion bids. The board have been excellent and backed us, so we just hope the crowd will support us as well. There are a few local derbies in the mix and we need the Bradford public behind us.

I think, of the four of us (Avenue, Guiseley, Halifax and Harrogate), we are definitely the underdogs. But it's the start of a new season and we will go into it with an open mind and try to play the style of football that we did last season'".

The Football Conference says that "Vauxhall Motors have made a third significant recruit of the close season in bringing promising young defender Callum Henry in from Forest Green Rovers. Henry, 21, emerged via the youth system at Forest Green.

During the 2009/10 season, the tall centre back was a regular at the heart of defence for the Rovers' reserve team and spent several months out on loan at Frome Town. He has subsequently spent time on loan at Evesham United before being released by Rovers' boss Dave Hockaday at the end of the season. Henry joins former Harrogate Town and Forest Green goalkeeper Zac Jones, who signed in May from AFC Fylde, and Guiseley`s Michael Burns as new signings at Rivacre Road so far".

From BSBN comes news that "Workington Reds have been dealt a blow with the confirmation that midfielder Phil McLuckie has decided to hang up his boots. The 23-year-old has made the decision to accept a new job at Sellafield, which means he will no longer be able to continue his career as a footballer. McLuckie joined the Reds towards the end of 2007 after progressing through Morecambe's youth system, and has since gone on to rack up 190 appearances.

Workington boss Darren Edmondson is disappointed to be losing the services of McLuckie but understands the reasons for the winger choosing to depart the club. Edmondson told the Times & Star, 'With the attributes he possessed and his unrelenting work-rate, Phil often set the tempo of the game. He also offered help to the defence and covered every blade of grass for the Workington cause during 90 minutes... He didn't have a choice, but I am gutted to lose him'".

Former Alty reserve and FC Halifax Town captain, Tom Baker, has indicated that he has now joined Droylsden.

"King's Lynn Town defender Jordan Yong has turned down an offer from Blue Square Bet North outfit Histon... Lynn's attacking left-back was offered a full-time deal by the Blue Square Bet North outfit, who are managed by Brian Page... Linnets boss Gary Setchell said, 'I'm absolutely delighted that Jordan is staying... He was offered a full-time deal and more money, but it's nice to know that there is still some loyalty in football after doing a handshake'" reports Lynn News.
OLD FOES
According to Pitchero Non-League "Kettering Town has confirmed, with immediate effect, George Rolls has withdrawn from all footballing activities for the club. This is in line with the FA ruling barring Rolls from any involvement in football for a period of five years. A statement from the club reads, 'The club would like to take this opportunity to thank George Rolls and his family for their support during a very difficult time in the clubs 140-year history. The club also acknowledges the stability and structure George Rolls brought to the club, without which the club may not have survived to see the start of this new season.

The board will be meeting over the weekend, where the vote for the new chairman will be undertaken and announced. The board are committed to building on the structure put in place, to make Kettering Town FC self-sustainable and community focused'.

Rolls said, 'I am flabbergasted and shocked at the decision that the disciplinary panel has taken in context to the charges levied against myself. I would like to make a few points quite clear. The FA has a responsibility to all 'Participants' and that clear guidelines should be given to new 'Participants', I received neither of these. I believe thousands of participants are falling foul of the FA rules as they are not aware of them and I am sure many more people will fall unwittingly into the same trap as I have done and further charges may well be levied against individuals.

My involvement as club chairman will have to cease with immediate effect for the next five years but, during the meantime, the hard work that has already been going on behind the scenes at Kettering Town and with strong leadership qualities from the new board alongside the new manager will hopefully continue. This matter has never been a criminal investigation and I will not incur a criminal record because of it - I have merely fallen foul of FA rules, for which I am very sorry'".
---
7 July 2012
ABBEY HEY 0 ALTRINCHAM 4
On a sunny afternoon in Gorton, Altrincham played two entirely different elevens in each half of this pre-season friendly against the NW Counties' club. Two goals in each half and a clean sheet were a very satisfactory outcome for a team including many unfamiliar faces. The opener came when Duncan Watmore's effort came off the post and then a defender into the Abbey Hey net, whilst the second was also arguably an own goal, as Shaun Densmore's freekick took a large deflection past the keeper.

James Lawrie added a second-half brace, the first being a penalty after youth team striker Denico Walters had been upended. The second was laid on by an Ofori pass.

A match report and pictures will appear later this evening. Pictured, right, is one of Altrincham's summer signings, midfielder Carl Rodgers, in action at Abbey Hey.

ALTRINCHAM - First-Half Team: 1. Stuart COBURN; 2. Shaun DENSMORE, 5. Gianluca HAVERN, 6. Danny HALL, 3. Sam GRIMSHAW; 7. Duncan WATMORE, 4. Carl RODGERS, 8. Scott PHELAN, 11. Adam MATHER; 10. Ryan BROOKE, 9. Danny MITCHLEY.

ALTRINCHAM - Second-Half Team: 18. Adam REID; 12. Matt DOUGHTY, 5. tbc, 6. Greg PEARSON, *. Ashley YOUNG; 14. James LAWRIE, 4. Matthew FEARON, 16. Simon RICHMAN, 17. Nicky CLEE; *. Derryn OFORI, *. Denico WALTERS. (* indicates players who wore unnumbered shirts).

ABBEY HEY: 1. Ross HEYWOOD, 2. Tyler DEVLIN, 3. Danny HEWITT, 4. Barry LAWSON, 5. Carl BORRELL, 6. Luke GIBSON, 7. Liam MURRAY, 8. Mike O'CONNOR, 9. Danny MURRAY, 10. Martin PILKINGTON, 11. Wesley HARRIS. Subs: 12. Paul SUNDERLAND, 13. Sam JONES, 14. David McDONALD, 15. Paul SMITH.

The trialists who played for Altrincham were:
Matt DOUGHTY

Former Alty left-back, who left the club after suffering a cruciate ligament injury in February, 2010.
Adam MATHER

Adam played on the left wing at Abbey Hey. After six years and 250 appearances for New Mills, Adam moved to Woodley (now Stockport) Sports in summer 2011. In 2010-11 he was New Mills's manager's and supporters' player of the year.

Adam was the North West Counties Division Two player of the season in 2006-07.
Ashley YOUNG

Ashley played in central defence against Abbey Hey. He was at Hyde, where he made his debut on 13 November 2010;. Before joining The Tigers, he had played at Curzon Ashton, from where he joined Burnley as an apprentice. Next, he went to Bury before moving into Scottish football with Falkirk. After playing for Erie Admirals in Pennsylvania, USA, he joined Hyde in November 2010.
Greg PEARSON (d.o.b. 25/12/1992)

Greg played in central defence at Abbey Hey. Halifax-born, he is a former Huddersfield Town player. Whilst at the Yorkshire club he had a loan spell with Blyth Spartans. He can play at left-back or in central defence. He captained Huddersfield under-18s and won a professional contract for 2011/12 season.
NICK SRIWAD.

Nick was previously at FC Utd and New Mills; he played in central defence today.

Also playing today were Altrincham Youth team graduates: Sam Grimshaw (left-back), Derryn Ofori (striker), Denico Walters (striker).

The new Altrincham signings on show at Abbey Hey were:
Gianluca Havern - former Hyde defender
Danny Hall - experienced Football League defender and a former Crawley Town player
Carl Rodgers - midfielder, who spent six seasons at Telford
Ryan Brooke - former Oldham Athletic striker
Danny Mitchley - striker, whose former clubs include Blackpool
RADIO ROBINS
Brian Flynn announces that "Radio Robins is planning to cover all the pre-season games that are scheduled to take place at Moss Lane, as well as the away game at Nantwich Town on Saturday July 14th".
YOUTH CUP
The draw for the FA Youth Cup has been made...

Preliminary Round, w/c/ 3 September 2012:
Altrincham v Macclesfield Town

1st Round Qualifying, w/c 17 September 2012:
Bootle v Altrincham or Macclesfield Town

2nd Round Qualifying, w/c 1 October 2012:
Bootle or Altrincham or Macclesfield Town v Warrington Town or Wrexham
CAN YOU HELP?
Peter Foster of Altrincham FC writes:

"As you may be aware, the Football Club will be hosting a two-year football based BTEC course, starting in August.

Following interviews and football trials, we have a good number of interested potential students, including some living outside the Manchester area. Students are male, aged 16-18.

As a result, we are looking for suitable accomodation with families, preferably in the Altrincham area, who are able to provide Bed, Breakfast, and an Evening Meal. The accommodation may be required for Monday to Friday, or possibly the full week, and would be funded by the students.

If you think you may be able to help, please email Altrincham FC, or ring the club on 0161 928 1045".
ALTRINCHAM FESTIVAL
TASC's Steve Foster writes:

Altrincham Football Club, Altrincham Football Club Community Company, Altrincham Football Club Juniors and Altrincham Football Club Ladies will be joining forces to provide a presence at the Altrincham Festival on the 7th July. The parade starts at 11am in St Margaret's Road. Activities on the field at Grange Avenue Timperley tend to start at about 12 noon.

We plan to have a float in the parade, and a stall on the field.

Can you help?

We need people to assist on the parade with the float, and we need people to assist with the stall on the field. We want to have as many people as possible in attendance wearing their 'home' , red and white kits, to create a mass of red and white, particularly around the float, but also near the stall. If you can't attend, assistance before the event would also be appreciated, or, perhaps you can donate an item to the tombola, which we plan to have as part of our activities on the field?

If you can assist, please can you email Steve Foster?

"The Altrincham Festival Grand Parade leaves St Margaret's road in Altrincham prompt at 11.00am. It travels through Altrincham town centre into Barrington Road where it turns right at the traffic lights onto Woodlands Parkway. This year, the judging point for all entries will be at Station House on Stamford New Road... It continues along Stockport Road past the Altrincham Golf Club and at the Hare and Hounds it bears left, still on Stockport Road, into Timperley Village.

At the centre of the village the parade turns left into Park Road and travels approx 800 yards and turns into Grange Road and the into Grange Avenue. At the end of Grange Avenue the parade enters the Festival Showground where presentations are made by the Mayor and Mayoress of Trafford to the winning entries and the Family Fun Day on the Showground swings fully into action.
ANDREW CONTINUES ON CONFERENCE BOARD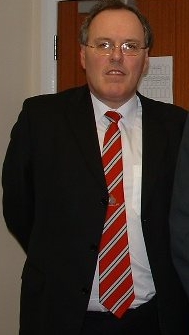 The Football Conference reports that "Andrew Shaw and Colin Peake, former Directors of the Football Conference for the past six and three years respectively, have been co-opted back onto the Board for a further year to continue with their specific responsibilities as part of the long-term strategy of the competition in key areas of continued development.

Altrincham vice-chairman, Andrew, a Divisional Representative of the FA Council, will continue his activities on the Ground Grading Committee, using his experience as a Chartered Surveyor to advise on all matters relating to ground tenure, including the tenure on the Competition's Office premises.

He will also be retained as the Conference Director responsible for the competition's liaison with the 'Level Playing Fields' organisation (formerly the National Association of Disabled Supporters) and the Football Supporters' Federation.

Colin, whilst no longer a director or officer of any member club, will continue his role with regards to the Competition's PR & Media as well as participating on the Ground Grading Committee, Rules Committee, and the Committee of the Football Conference Youth Alliance.

Brian Lee, Chairman of the Football Conference Board, stated, 'We are delighted to have the opportunity to continue working with Andrew and Colin, and to take advantage of the years of football experience they command'".
BSBN NEWS
The Football Conference confirms that "FC Halifax Town have announced the signings of Gareth Seddon and Dan Gardner for the upcoming season. Seddon was part of Fleetwood Town's Conference Premier championship-winning campaign last season, scoring eight goals. Seddon, 32, has been a proven goalscorer throughout his career with a goal ratio of almost one every other game and he, along with Lee Gregory, Jamie Rainford and Dale Johnson, should provide a formidable strike force for the upcoming season.

Meanwhile, Gardner has joined the club from league rivals Droylsden following an impressive spell with the Bloods. The midfielder had taken interest from clubs several divisions higher after providing some fantastic displays for the Bloods, most notably against his new employers when he ran the show in October as he scored two goals and [gave] a man of the match performance for Droylsden".

According to BSBN, "Corby Town have been dealt a blow with the news that defender Phil Gulliver has decided to join King's Lynn Town. The 29-year-old had already confirmed his intention to stay at Steel Park for the 2012/13 campaign, but had a change of heart after talks with the Evo-Stik Northern League Division One side...

Gulliver joined the Steelmen from Oxford City in 2008 and has also turned out for the likes of Rushden & Diamonds, Hereford United and Middlesbrough".

Bulls' News reports that "Alfreton have signed...keeper Phil Barnes from Gainsborough. The 33 year old has signed a one year deal after racking up over 250 League appearances for the likes of Blackpool and Grimsby".

We learn from the Hinckley Times that "Dean Thomas has been busy recruiting new faces that he believes can help Hinckley United regain their rightful place in the upper echelons of the Blue Square North. Preparations for the 2012/13 season are certainly underway...

Jason Bradley is the latest addition at the Greene King Stadium and his new boss will be hoping his firepower can guide Hinckley on their way following the forward's signing from Eastwood Town. He is one of the four new faces at the Knitters along with the duo of Jack Lane and Declan Towers, who join from Oadby Town, and goalkeeper Scott Furlong, who was on the books at Nottingham Forest last season.

And, although a number of players have passed through the door in the opposite direction, Thomas is confident... The gaffer said, 'We have got Paul Lister, Mark Dudley, Dan Bragoli, Ben Richards-Everton and Jake Holt all signed on again from last season. We are also hoping that Richard Lavery will stay on which would be a great bonus as we want him to be skipper again. I know he has spoken to one or two other clubs but we really hope he will stay on and then, on top of that, we have got about 15 or 16 trialists coming along to training for us to look at.

'Several of them are young players coming from the professional game and it goes towards us wanting to have a young energetic side this season and we have to give these young lads a chance. However we do have six weeks to sort things out and the players you see now might completely change by the start of the season. We need the players to buy into the principle of how we want to play as it is going to be a hard league again'...

He said, 'We have got nine pre-season friendlies and I won't be thinking about the Harrogate game [to start the season] until after them. They were one of the league's under-achievers last season though, after spending a lot of money, so they will be looking to redress that. Brackley are a new side to the league and then we go to Boston, which is never the easiest of places to go...

We don't have the money we used to have so we will need to have that team spirit. It is going to be a massive challenge and I don't want us to be scratching around at the bottom, I want to be pushing up the table'".
OLD FOES
The BBC says that "Kettering Town have been issued with a winding-up petition, with the case expected to be heard next Monday. In May, it was revealed the Poppies' debts totalled £1.2m and the club were relegated two divisions from the Blue Square Bet Premier. And on Friday, the football club appeared on the Her Majesty's Courts and Tribunal Service Companies Court Winding-Up list. A Poppies' board meeting is expected imminently to discuss the matter".
---
6 July 2012
FRIENDLIES START ON SATURDAY
Amongst the new faces in Altrincham's squad for 2012-13 are (left), 21 year-old former Oldham Athletic and AFC Telford United striker, striker Ryan Brooke and 28 year-old defender Danny Hall, from Hyde. Danny's former clubs include Crawley Town, Forest Green Rovers and Stockport County.

Altrincham's first friendly of the summer is away at Gorton based Abbey Hey. Hey's first planned friendly, last Tuesday against Glossop North End, was rained off.

Many Alty fans will have enjoyed previous pre-season matches at the friendly Manchester club but for those unfamiliar with the route, the directions given by the Club are:

"Take the M60 to junction 24, take A57 towards Manchester City Centre for approx 1 mile. At first set of major traffic lights (McDonalds on right) pass through for approx 300 yards, turn left immediatley before the overhead railway bridge (A.H.F.C. sign) into Woodland Avenue. Take first right, pass under railway bridge, turn first left into Goredale Avenue".

There is parking within the ground area.
OLD BOYS
"Cambridge United have announced the signing of Lance Key as goalkeeping coach on a part-time basis. Key, younger brother of former United goalkeeper Richard, will be a familiar face to many U's fans after making 124 appearances for neighbours Histon. The 44-year-old is a veteran of many League clubs, having started his professional career at Sheffield Wednesday before making appearances for Oxford United and Rochdale amongst others. Key was highly thought of during a similar spell as coach with Rushden & Diamonds in the 2010/11 season and will bring a wealth of experience to his new role".

From NL Daily we learn that "After a fortunate reprieve from Evo-Stik League Division One North relegation in the 2011-12 campaign, Cammell Laird manager Tony Sullivan is determined not to have a repeat of last season and points to evolution rather than revolution as the possible answer to the issues that have troubled the side on and off the park over the last couple of campaigns...

'Pre-season plans are going well so far', he said. 'Last season we finished bottom of the table and that is just completely unacceptable but in many ways we need to change the mentality of the players and, to an extent, some of the people around the club too. I'm keen to get the players firing on all cylinders and keen on the joy of winning, maybe some of that determination has been lacking recently... Pre-Season there is a lot of trial-esque angles to it, we've invited some players back from last season and there are some that we have not. We are not a club who are financially strong and there have perhaps been players here of late who are money orientated'".

At one of our pre-season opponents, Nantwich Town, "Manager Jimmy Quinn has strengthened his squad ahead of the new season with the signing of [former Alty trialist] Fraser McLachlan from Colwyn Bay. The 29 year old midfielder enjoyed a successful couple of months on loan at the Weaver Stadium in the early part of last season... Quinn is delighted to have captured the former Stockport County and Morecambe player on a permanent basis".

A trialist who chose not to join Alty a few years back is the subject ofa report in the Southport Visiter, which confirms that "Southport made their second signing of the summer this week when recruiting Aaron Chalmers from Stockport Sports [formerly Woodley Sports].

The 21-year-old former Oldham Athletic player could be the first of many to make the switch to Port after the two clubs reaffirmed an existing agreement. 'Basically, there was a relationship prior to me coming back, set up by Haydn Preece', explained Watson. 'I believe the idea at Stockport is to form a kind of Glenn Hoddle Academy, where they take on lads who have been released, a little like what we do here. We won't necessarily get first refusal on players, but the club will receive recommendations of players who may be too good for their level and who may be of interest to us. We had to pay a small fee for Chalmers'".
BSBN NEWS
According to BSBN, "Midfielder Tyler Weir has signed a one-year deal with Worcester City for the upcoming season following his departure from Hereford. The 21-year-old, who made almost 20 appearances for City on loan towards the end of last term, was released by the Bulls ahead of their 2012/13 Blue Square Bet Premier campaign.

Weir spent the better part of last season at Gloucester City, where he scored three goals, and Worcester manager Carl Heeley is delighted to have secured the player's services on a permanent basis. 'Tyler's another player who's got great improvement in him', the City tactician told the Worcester News... 'He's versatile, can play either full-back or in the centre of midfield and having a little bit of flexibility in your squad is always a big plus. It's been another drawn-out negotiation with him, we've had to be patient. There was interest from Gloucester and a Blue Square Bet South club... It's his first summer coming out of the professional game and he will have learned a lot'".

Blue Square Bet North reports that "FC Halifax Town have announced the signing of defender Ben Futcher and striker Dale Johnson. Centre-half Futcher has joined the Shaymen on a season-long loan from Bury and will be familiar with the level of competition in the Blue Square Bet Premier after a stint on loan at AFC Telford United last term.

The 31-year-old also turned out for relegated League Two side Macclesfield Town towards the end of last season. Joining Futcher at the Shay is 27-year-old striker Johnson, who was on the books of fellow Blue Square Bet North side Droylsden this past campaign.

Meanwhile, the club have received another welcome boost with the news that Danny Lowe, Scott McManus, Ryan Toulson and Lee Gregory have signed contract extensions. Liam Hogan, Liam Needham and Jamie Rainford have entered the second year of their respective contracts, while Phil Senior and Jason St Juste are expected to commit to the club in the near future".

Reprieved "Hinckley United are waiting on Richard Lavery to commit to the club ahead of the new season after being offered the captaincy. Knitters' boss Dean Thomas wants the 35-year-old midfielder to end speculation over his future and lead his side next season. Lavery is reportedly considering a number of offers elsewhere, but he will seemingly put talks on hold as he awaits the birth of his child.

Thomas told This is Leicestershire, 'Richard has not made up his mind yet and there are a few other clubs chasing his signature. But now is a time for him to concentrate on his baby. He has told me that he would like to finish his career at Hinckley United but there are a few issues to deal with before he can commit'.

If Lavery, who has made 312 appearances in three spells at United, decides to stay, he will join Paul Lister, Mark Dudley, Dan Bragoli, Ben Richards-Everton and Jake Holt who have all penned new deals for next season. In addition to the signatures of Scott Furlong, Jack Lane and Declan Towers and Jason Bradley, Thomas will also be running the rule over a number of trialists.

He continued, 'Some of the young lads from our development team are now too old for that set-up so I will be having a look at them and seeing how far they have come. There is likely to be plenty more movement with regards to players both in and out before the season gets under way. Players who don't get in at other clubs look for other openings and we may find what we are looking for late-on instead of straightaway'".

The Chester Chronicle reports that "Non-League hotshot Jordan Connerton will not be joining Chester FC. Neil Young invited the 22-year-old striker to train with the Blues during pre-season following his release from Crewe Alexandra. But Connerton, whose prolific goalscoring record at Lancaster City earned him a £35,000 move to Crewe, has turned down the chance.

Chester boss Young said, 'Jordan gave me a call to say he wouldn't be coming to pre-season. He wants first-team football and he felt he may not get that here. I explained to him that there are no favourites and, if he did come here and he scored goals, then he would play. But fair play to him, he's not played a lot for Crewe and he'd like to be guaranteed football'. Defenders Cliff Moyo and Tom Smith remain on trial with the Blues".

Altrincham played Eastwood Town last season from where the Eastwood Advertiser reports that "Eastwood Town owner Steve Lynch says he believes the club still has a future despite a planned takeover falling through this week. An unknown consortium pulled out of a deal to buy the Badgers on Tuesday with issues surrounding unpaid debts from previous regimes believed to be the main reason.

Lynch posted a statement on the club's official website explaining the situation, and speaking to the Advertiser he reiterated the difficulties the club faces. He said, 'We're in limbo at the moment. There are outstanding and substantial bills from when Robert Yong was in charge that still haven't been paid despite his claims at the time that they would be and, as a result, it is Eastwood Town FC that is now liable.

There is a stand-off between DTD Poker (Robert Yong's company), the council and ourselves, and, while we just want to move on, we can't due to the weight of the bills. We can't even pay them and then take legal action to get the money back as we simply don't have the funds. Until this is resolved we're stuck as we are. I'd be willing to talk to Mr Yong but have never had any direct contact with him. We're meeting the council this week to discuss things with them as they're affected by this too'.

In terms of the club's immediate future, Lynch is optimistic it will survive. He said, 'We've a budget in place that may vary depending on gate receipts and cup runs etc, but I believe the club will remain in business. In my view, the worst case scenario would be having to take a CVA (Company Voluntary Arrangement) and a ten-point deduction in order to sort these bills out, but I'm hopeful things can be resolved before that. The club itself didn't 'spend' this money but, due to changes in ownership and the signing over of various responsibilities, we're now responsible for it.

The affected businesses are rightly taking legal action to recoup what they're owed. If everything could just get paid as was originally planned then the situation will be sorted and we can all move on'.

Lynch also clarified his current role with Halesowen Town FC amid fans' fears it could jeopardise Eastwood's place in the FA Cup and FA Trophy. He added, 'I am now only a shareholder there and occasionally get to games. All the paperwork has been sent to the FA and I expect Eastwood to be included in the cup competitions next season'".
YOUTH LEAGUE SHAKE-UP
The NW Youth Alliance League, in whose Premier League Altrincham FC Youth have played for a many years, has undergone a reorganisation with its other two divisions now being termed "La Liga" and "Bundesliga". A number of new teams have joined the NWYA and some old ones have apparently left. The constitution of the three divisions is as follows:

NWYA Premier League: Abbey Hey, Altrincham, Chester, Curzon Ashton, FC United of Manchester, Morecambe, Hyde, Nantwich Town, Northwich Victoria, Prescot Cables, Warrington Town,

NWYA La Liga: AFC Fylde, Altrincham Youth, Ashton Athletic, Bolton Wyresdale, Formby, Glossop North End, Hindsford, Lancaster City, Salford City, Skelmersdale United, St Helens Town, Walshaw Sports,

NWYA Bundesliga: Abbey Hey Youth, Ashton Town, Atherton Town, Avro, Chester Colts, Irlam Steel, Marine, Ramsbottom United, Runcorn Linnets, Runcorn Town, Salford City Youth, Stockport Georgians.
CUP DATES
The FA reports that "The early draws for The FA Cup, Trophy, Vase and Youth Cup will be revealed on 6 July".

Meanwhile, the dates for The FA Cup are:
Extra Preliminary Round, Saturday 11 August 2012
Preliminary Round, Saturday 25 August 2012
First Round Qualifying, Saturday 8 September 2012
Second Round Qualifying, Saturday 22 September 2012 - Altrincham enter at this stage.
Third Round Qualifying, Saturday 6 October 2012
Fourth Round Qualifying, Saturday 20 October 2012
First Round Proper, Saturday 3 November 2012
Second Round Proper, Saturday 1 December 2012
Third Round Proper, Saturday 5 January 2013
Fourth Round Proper, Saturday 26 January 2013
Fifth Round Proper, Saturday 16 February 2013
Sixth Round Proper, Saturday 9 March 2013
Semi Final, Saturday 13 and Sunday 14 April 2013
The Final, Saturday 11 May 2013

The FA Youth Cup Round dates are:

Qualifying Competition – ties must be played in the week commencing:
Preliminary Round, Monday 3 September 2013
First Round Qualifying, Monday 17 September 2012
Second Round Qualifying, Monday 1 October 2012
Third Round Qualifying, Monday 15 October 2012
OLD FOES
Bulls' News tells us that "Crawley boss Sean O'Driscoll has told the local press the club's financial limitations are hampering his summer transfer activity. The former Doncaster boss has missed out on several players as other teams are offering better wages. He told the Crawley Argus, 'People have got to realise that we might have been a big club in the Conference and League Two but now we are punching above our weight. There seems to be a perception that Crawley have got bundles of money but that is not the case. We have got to work within the constraints that have been outlined.

'It is no longer a case that we can pay a little bit more to attract players. We have got to go for players that fit our budget. We are the smallest club in League One so we can only pay competitive wages up to a point'. The Red Devils saw seven players depart in the summer, but have brought in just three with the club lumbering under an already hefty wage bill left by former boss Steve Evans. O'Driscoll is shopping in the bargain basement section, 'Players everybody wants will go to the clubs with the most money so we have got to look for the ones we can develop'.

O'Driscoll's only option to extend his budget is to offload some of the 22 players currently contracted to the club, with Bulls target Richard Brodie nearest to the exit door."
---
5 July 2012
ENTRY TO FRIENDLIES
Don't forget that if you have an Altrincham FC season ticket for 2012-13, entry to the pre-season friendlies at Moss Lane is FREE. For anyone paying at the turnstiles, the prices are:
Adults: £7
Concessionaries: £3
Under 5s: FREE

Altrincham's home friendlies this summer are:
Tue. 17.7.12 at 7.45pm versus MORECAMBE
Sat. 21.7.12 at 3pm versus a BURNLEY XI
Sat. 4.8.12 at 3pm versus WREXHAM
Thu. 9.8.12 at 7.45pm versus FC UNITED OF MANCHESTER
LEE ON NEW SIGNINGS
John Edwards, joint Press and Media Officer at Altrincham FC writes...

"Lee Sinnott has taken a decisive step towards solving his most pressing problem by recreating a defensive partnership that helped make Hyde FC Blue Square Bet North champions last season. Having already snapped up Danny Hall, the Altrincham boss appears to have found the ideal partner for him by launching another raid on Hyde's title-winning squad to sign fellow centre-back Gianluca Havern (23).

More additions are expected before next month's big kick-off, but there was no mistaking Sinnott's delight at his latest transfer breakthrough, as he said: 'Luca ticks all the boxes and is a very important signing for us, from a positional point of view.

'Like Danny, he knows what it takes to get out of this league, and while he is still learning his trade, he made over 30 appearances for Hyde last season, which says something about him.

'He knows Danny very well, and while they didn't always play alongside each other last season, you can tell they complement each other. He signed for us at 6 o'clock last night and was training with us an hour later, which was great. It was clear straightaway they seemed to know automatically what the other was doing. The understanding was there for everyone to see, and that is always important in any partnership.

'Before Luca's arrival, we were looking at bringing in three or four new faces, so we haven't finished yet. Work is still being done on that, and it's my hope that two or three will be at the back.'

Looking ahead to Saturday's first pre-season friendly, at Abbey Hey (3pm), Sinnott added: 'This is an ideal opportunity to have a look at a few trialists and a few youth team players. Don't forget, that's how Adam Reid and Duncan Watmore came to our attention last season. It's an example of what George Heslop has achieved with the youth set-up, and if they are good enough, they will get a chance.

'It will be a valuable exercise for getting players back into match mode, but, in an ideal world, I wouldn't want to give anyone longer than 45 minutes. At this early stage, there is always a risk of players overstretching and picking up injuries, and I want to avoid that'".
BACK IN TRAINING
Altrincham FC joint Press and Media Officer, John Edwards, writes:

"Lee Sinnott supervised his first pre-season training session on Tuesday night and admitted he can't wait for the real thing after running the rule over two of his four summer signings.

While Carl Rodgers and Danny Mitchley were missing, due to pre-arranged holidays, 28-year old centre-back Danny Hall and 21-year old striker Ryan Brooke joined the rest of the Alty squad for a lively first work-out, ahead of their opening friendly at Abbey Hey a week on Saturday.

More transfer activity seems certain before the 2012-13 Blue Square Bet North campaign kicks off, but Sinnott is already heartened by the balance that has been struck between youth and experience.

'You don't go at it hammer and tongs in your first session back, but we got through some decent work,' said the Alty manager. 'The lads aren't match fit, needless to say, after two months off, but the overall level of fitness was pleasing.

'We made early progress, in terms of shaping the squad for next season, and it was good to see Danny and Ryan going through their paces with the rest of the lads.

'Danny and Carl Rodgers will bring us similar qualities in many ways. Both are in their late 20s, both have played in this division and at a higher level, and both should give us the sort of experience and know-how you need.

'At the other end of the spectrum, we've got two young lads, in Ryan and Danny, who will complement the forwards already here and bring something fresh to the squad. You need experience, but I like the idea of working with exciting young lads like these two. I'm looking forward to it and seeing what we can achieve together over the course of the season.

'We are still looking at bringing in three or four more new faces, and we plan to speak to one player at the end of this week. It is a very competitive business, trying to secure the players you want, but we are working at it.'

Damian Reeves's future has yet to be resolved, but Sinnott added: 'You can bet your bottom dollar he will sign for someone. He was great for us, but his contract ran out and we couldn't persuade him to sign another, hard though we tried. Good luck to him, but our main concern now is replacing his goals with the players here'".
BSBN NEWS
The Football Conference reports that "Guiseley AFC have announced the arrival of Chris Mason to Nethermoor, subject to international clearance. The 20-year-old Blackburn-based striker was a regular in the Welsh Premier last season with a successful Bala Town side".

Meanwhile, "Guiseley AFC have announce the signing of Andy McWilliams from rivals Stalybridge Celtic. McWilliams, 22, is a product of the York City youth system, making his senior debut in 2008, going on to make twenty-six first-team appearances for the Minstermen. The speedy full-back can also play left midfield, and after a season-long loan to Stalybridge from York, he made the switch permanent for the 2011/12 season, but after a year of travelling down from the North-East, decided that the travelling was too much and decided to move to Nethermoor."

Also, "Guiseley have signed midfielder Nicky Boshell from new league rivals and Yorkshire neighbours Bradford Park Avenue. Boshell, who teams-up with brother Danny at Nethermoor, joined Avenue in January 2011 from Brighouse Town".

Across the Pennines, "Stalybridge Celtic have today announced the signing of midfielder Jamie Mullan. Mullan, 24, joins Celtic from Alfreton Town, and lists Fleetwood and Northwich Victoria among his previous clubs. He's a versatile winger who can operate on both flanks and becomes Stalybridge boss Jim Harvey's second signing of the summer after Oldham`s Jack Laird checked in at Bower Fold".

The Conference also reports that "Harrogate Town have released a statement about the plans to go full-time. Talking about the move, manager Simon Weaver said, 'Last year, we announced our intentions to go full-time. Whilst, at the stage of the announcement we believed that it was the right course of action to take, we have undergone many changes, both on and off the pitch, and as such we are now convinced that this may not be in the best interest of the players and club as a whole at this time.

Over the last few months of the past season, the squad became very close and it is this unity of spirit that I wish to take forward into the new campaign. We have a squad of very close- knit players who I know will graft for the club. Becoming full-time would have severely altered the make-up of our squad and this could well have undermined the spirit in the dressing room.

We are not ruling out the possibility of going full-time in the future, but at the moment we will be keeping our part-time status until we are 100% convinced that it is the right time to make the change. We are sure the fans will understand our need for continuity. We feel that by keeping faith with the nucleus of the squad from last season we are reaffirming our values in togetherness'".

Elsewhere, "Boston United have bolstered their goalkeeping options for the 2012/13 season. Former Gainsborough Trinity and Rushden & Diamonds keeper Michael Emery has agreed to join the squad ahead of the new campaign and he will be joined by youth team stopper Sam Vince.

Emery, 21, made a handful of appearances for Trinity in Conference North last season following his switch from Skegness Town and he has now agreed to sign for the Pilgrims in pursuit of regular match action".

And "Danny Glover will be returning to Worcester City to lead the attack alongside last season`s goal hero Mike Symons. Glover has signed a one-year deal which brings him back to St George`s Lane. He was top scorer at play-off winners Nuneaton Town last season which followed up the same achievement for the City the previous season."
---
4 July 2012
NEW DEFENDER
Altrincham FC is pleased to confirm the signing of former Hyde FC defender, Gianluca Havern. Gianluca, born in Gorton, Manchester, on 24 September 1988, spent his early footballing days at Stockport County, where he was captain of their under-18 side. Whilst at County he went on loan at Radcliffe Borough and Ashton United, before making his Stockport County debut in May 2008, a game in which he also scored.

Released by County in January 2009, he briefly joined Mansfield Town, before returning to Stockport County. He left Edgeley Park, again, at the end of August 2010 and joined Mossley before moving on to Ashton United. By June 2011, he had signed for Hyde, where he was a key member of their championship-winning side last season.
FIXTURES
Altrincham kick off the new season on Saturday, 18 August by welcoming promoted Brackley Town to Moss Lane. The following Tuesday, Alty travel to Harrogate Town before another trip takes them to Vauxhall Motors on Saturday, 25 August. Altrincham have three midweek away fixtures next season, which are at Harrogate, Gainsborough and Boston. The full fixtures are here.
---
---